Fugu at Zuboraya: Dining with Danger in Osaka, Japan
Looking up at that giant pufferfish lantern, I was reminded of the many food experiences waiting to be checked off my bucket list.
Some, like freshly harvested truffles in the South of France (sorry, cliched I know), are there for the obvious reasons of taste and decadence. Others, like fried tarantulas in Cambodia or sannakji (live octopus) in South Korea, make the list primarily on notoriety. More adventurous than epicurean, they're been-there-done-that type of foods.
With a powerful neurotoxin that's 1,200 times stronger than cyanide, and with no available antidote, guess which group fugu or blowfish belongs to?
According to statistics, the average fatality rate of fugu poisoning in Japan from 1996 to 2006 was 6.8%. Based on my calculations, that's roughly 3 deaths out of an average 49 annual poisoning cases. A disconcerting number yes, but not too alarming I don't think, considering that almost all those deaths involved fishermen eating their own catch. With strict regulations mandating that chefs go through an extensive training program, restaurant goers have little to fear these days.
At least, that's what I told myself. 😆
Standing beneath that cute but ominous lantern, Ren and I gave each other a final, reassuring nod before marching into the restaurant. "Fuck it", we said, it was time to scratch this fish off our bucket list.
Fugu Sushi – ¥900
We already had lunch at this point, so we were here just for a taste. We started off with this three-piece sushi set, which was pretty reasonable we thought at just ¥900. A dish of fugu can easily run you ¥5,000, with a full, eight-course meal costing ¥10,000–20,000 or more.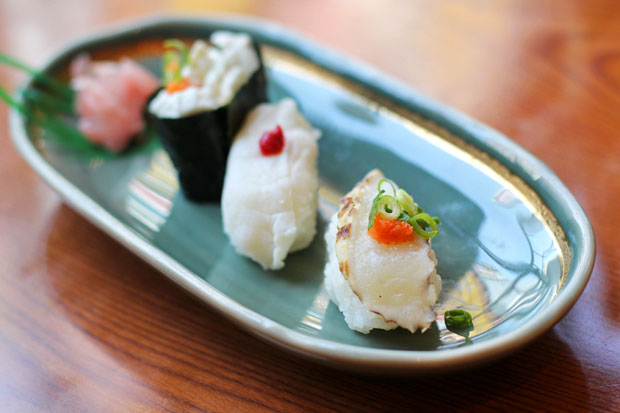 Fugu Sashimi – ¥1,400
The most popular way fugu is served. Using knives with exceptionally thin blades, the fish is cut into translucent slices and arranged in a circular, flower-like pattern. I don't know what they're called, but there were a few other fugu preparations on this plate, including an orange mound that appeared to be the fish's soft roe.
Fugu may also be fried, baked, stewed, or served in salads, with its milt and ovaries being some of the most prized parts of the fish. Though you can get it year-round, fugu is best enjoyed in winter when the fish is at it's fattiest.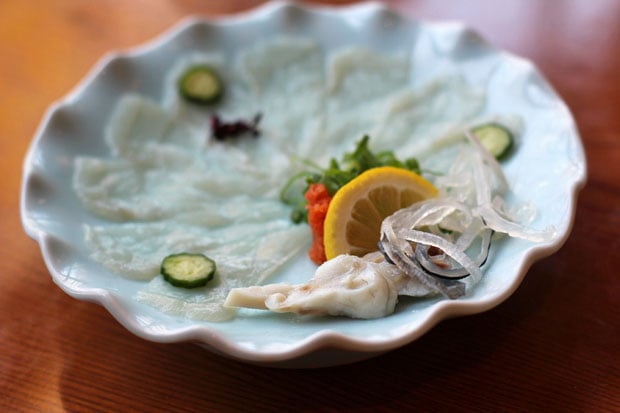 Prepared incorrectly, symptoms from ingesting a lethal dose of fugu's tetrodotoxin may include dizziness, exhaustion, headache, nausea, and difficulty breathing. Unable to speak nor move, the victim remains conscious until breathing stops and asphyxiation begins. Let's eat! 😆
Fugu with Asahi Black (photobombed by an ashtray and Ren's bag)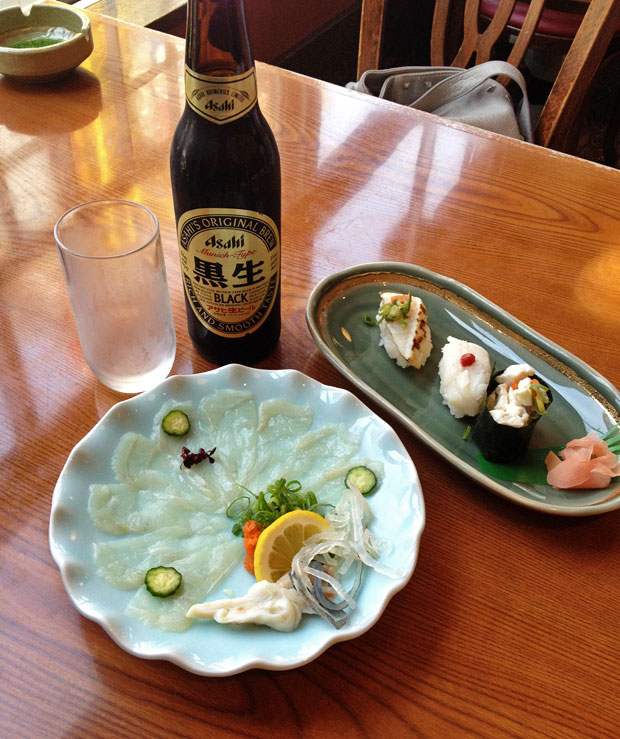 Sitting by the window, I held up a sliver of fugu sashimi between my chopsticks and marveled at how thinly sliced it was. Masterfully cut, I could almost see the light passing through it. Either I'm just too trusting of the chef's skills or too stupid to understand the potential danger, but I plopped that slice in my mouth without giving it a second thought.
True to its reputation, the flesh was indeed tasteless and a little rubbery in texture, but no dizziness nor choking followed, not even a hint of that tingling, numbing sensation from the poison that I had so often read about. I took a second slice, still nothing. Third, and I'm still here. As my Japanese friend Tom puts it, it isn't much different (nor any more dangerous it seems) than eating tai (snapper).
Polishing off our plates, unsurprised to be alive after our first and likely only encounter with this deadly delicacy, what did I think about the experience might you ask?
Been there, done that.
Zuboraya
1-6-10, Dotonbori, Chuo-ku, Osaka-shi, Osaka, 542-0071, Japan
Tel: +81 6 6211-0181
Website: zuboraya.co.jp
Operating Hours: Mon-Sun, 11AM-11PM
Expect to spend: ¥2,000-3,000 per person with drinks (lunch)
Reservations: Not required
JB is one half of Will Fly for Food and its chief itinerary maker.  He's the one to blame for all the crappy photos and verbal diarrhea on this blog.  Don't listen to him.
Latest posts by JB Macatulad (see all)