Jinen Shimizucho: A Lesson in Sushi in Osaka, Japan
"This one already has salt, so no need for any soy sauce."
That's what our server advised, when she set before us the wooden sushi plate with blow-torched salmon. Interesting.
Sushi is my favorite food, something that I've been eating practically all my life, but I've never had anyone tell me not to dip it in soy sauce before. I thought that it was just part of the whole sushi eating ritual. Like pouring milk into a bowl of cereal, or dousing sisig with Maggi seasoning and hot sauce, I thought that dunking sushi into a soy sauce-wasabi dish was an automatic and universal act, something that you were supposed to do without thinking.
Apparently not. But then again, I had never eaten sushi in Japan before.
Our very first meal in Osaka, this taught me just how important exactness was to the Japanese. It was the first of many subtle lessons that I learned on this trip, lessons that made me appreciate even more the finer art of Japanese cuisine.
Ika Geso (squid tentacles)
This was a first. Like most non-Japanese, I'm accustomed to eating ika sushi cut from the squid's raw mantle or hood. This one was poached and made with its tentacles. Delicious.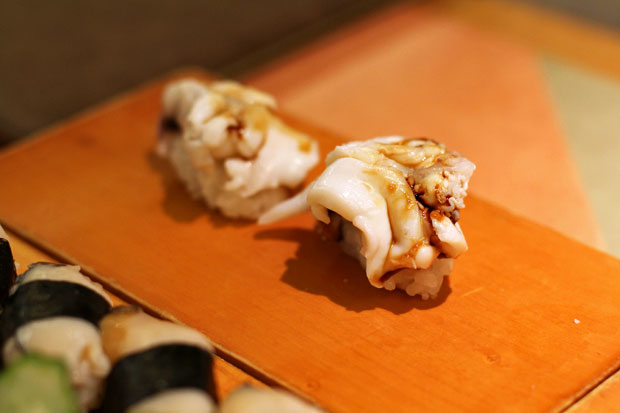 Unagi (freshwater eel) and Anago (sea eel)
Another first, I've enjoyed many an unagi before but never an anago, but only because I haven't seen it outside Japan. Unlike unagi which is usually barbecued with a sauce, anago is boiled. This gives it a softer texture that's also less fatty, which the Japanese apparently prefer along with its more subtle flavor. Both were sensational, though I was still partial to the unagi.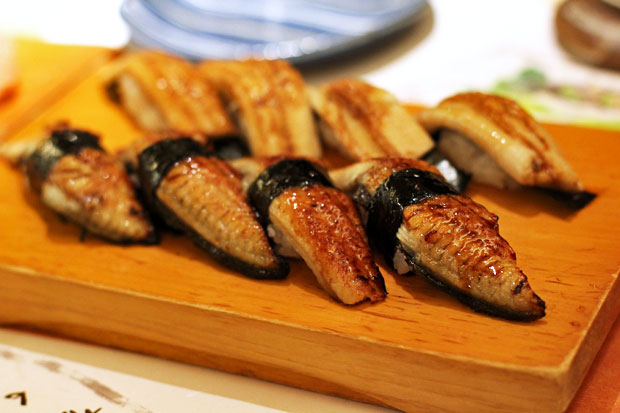 Awabi (abalone), Uni (sea urchin), and Katsuo (bonito)
Yet another first. I've had abalone before but never in sushi form. It's similar to squid or giant clam, but with more bite.
The awabi here, as I would later learn, was just ok. It was a little too chewy. We had awabi on two other occasions during this trip and both were superior to this. Same went for the uni. Though fresh, these were a little sparse in comparison to the uni we had at Gion Kappa in Kyoto. The katsuo though was terrific. You can see it hiding behind the uni below.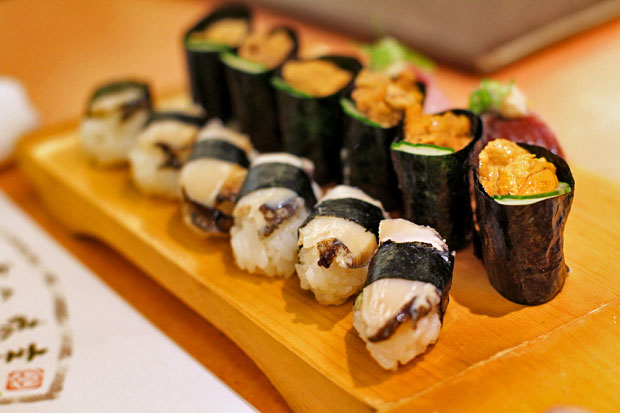 Foreground: Hamachi (yellowtail) and Tai (sea bream)
Amazingly fresh and clean-tasting, these practically dissolved in your mouth.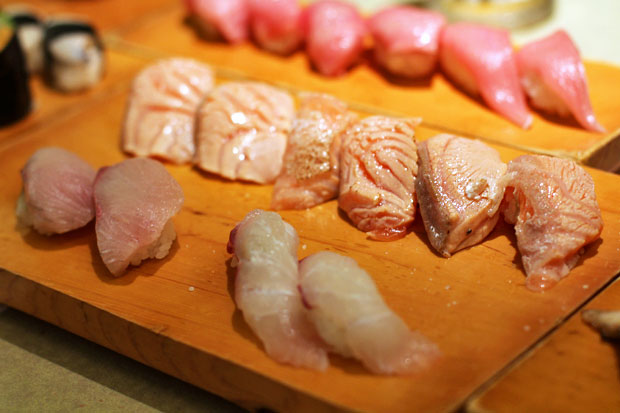 Blow-torched Shake (salmon) and Chuo Toro (medium fatty tuna)
As melt-in-your-mouth delicious as the chuo toro was, the blow-torched salmon stole the show. I've seen it described on the Food Network's "Best Thing I ever Ate", so my eyes practically popped out of my head when our server set this plate down.
Made smokey and slightly chewy by the blow-torching method, it was without question one of the best things that we ate on this trip. As described up top, it was finished with a sprinkling of salt so no soy sauce was necessary. Absolutely delicious.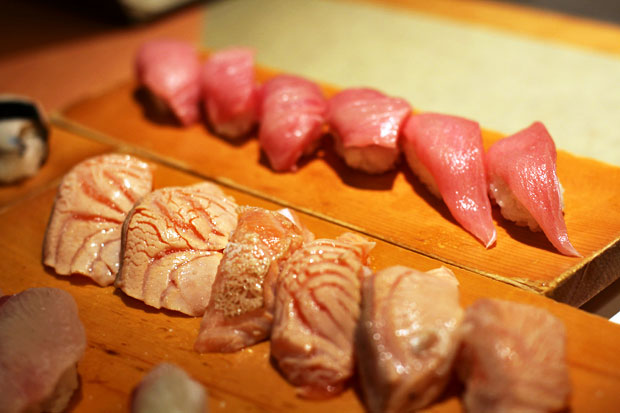 These pieces of blow-torched salmon taught me that soaking sushi in soy sauce and wasabi isn't always the optimal way of enjoying it. Sometimes, subtlety is best. It allows you to better appreciate the natural flavors and textures of the fish.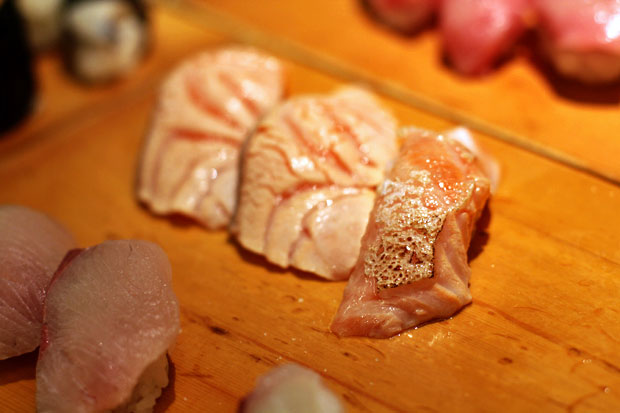 Precision, texture, flavor pairing, quality of ingredients, these things mean so much to the Japanese. It's fascinating how much effort and exactness they put into their food.
Take this Kobe beef yakiniku dinner as another example. As good as the beef was, what impressed me the most was that each cut of meat had its own unique set of sauces. No two were the same, with every sauce concocted to perfectly complement each cut's texture, fat content, and recommended level of doneness. And the results, as you can imagine, were to die for.
With Japanese being my favorite cuisine, I really didn't think that visiting Japan would make me love it even more than I already do, but it did. Thanks in part to these perfect pieces of sushi.
Jinen
1 Chome-8-26 Higashishinsaibashi, Chuo Ward, Osaka, Osaka Prefecture 542-0083, Japan
Tel: +81 6-6244-4111
Website: jinen.org
Operating Hours: Mon-Sun, 11AM-4AM
Expect to spend: ¥4,000 per person with drinks
Reservations: Not required, but a good idea
JB is one half of Will Fly for Food and its chief itinerary maker.  He's the one to blame for all the crappy photos and verbal diarrhea on this blog.  Don't listen to him.
Latest posts by JB Macatulad (see all)