Osaka Food Trip: 12 Things to Eat in Osaka, Japan
If you're planning a trip to Osaka, then chances are you have an insatiable love for Japanese food.
Known as the "nation's kitchen", food critics and writers have described this merchant city as the food capitol not just of Japan, but of the entire world. Attracting millions of tourists annually with beloved regional dishes like okonomiyaki, takoyaki, and udon, the Osakan love for food is so legendary that it's given rise to the saying: "Kyotoites are financially ruined by overspending on clothing, Osakans are ruined by spending on food."
Mostly affordable and all addictive, here are twelve delicious dishes that can lead to your financial ruin in Osaka.
1. Sushi
Simply put, the BEST sushi I have ever had in my entire life. Sushi is my favorite food but I've never had it this good. The quality and freshness of ingredients are second to none. For an inexpensive and fun sushi experience, I highly recommend the popular, nationwide kaiten-zushi (conveyor belt) chain, Kura Sushi. Don't let the ¥100 ($1) a plate prices fool you. This place serves quality sushi. If you're staying in the Shinsaibashi-Dotonbori area, then Jinen is another good choice.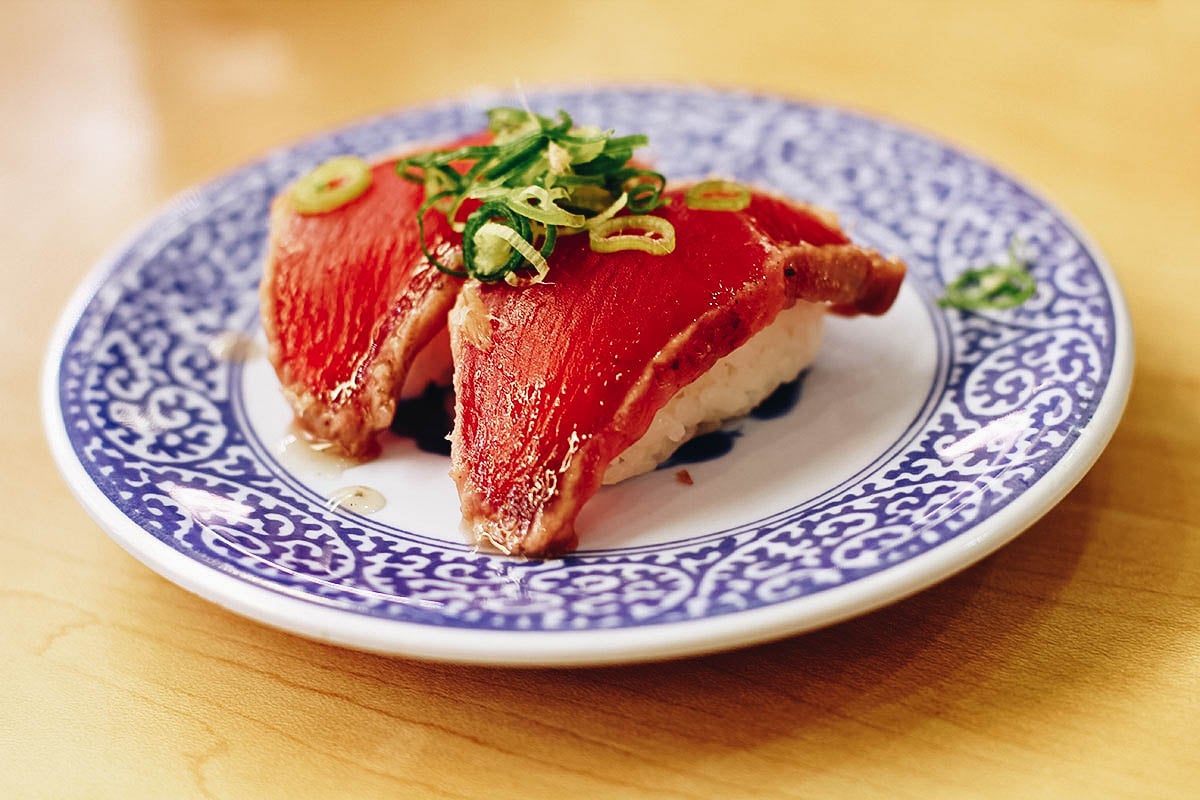 2. Okonomiyaki
A popular Osakan dish, okonomiyaki is a savory pancake containing a variety of ingredients like green onion, pork belly, octopus, squid, shrimp, vegetables, mochi, and cheese. A trip to Osaka wouldn't be complete without trying this. You can find many okonomiyaki restaurants in the Dotonbori area, though Okonomiyaki Kiji, located at the basement level of the Umeda Sky building, appears to be a strong contender for best okomoyiaki in Osaka.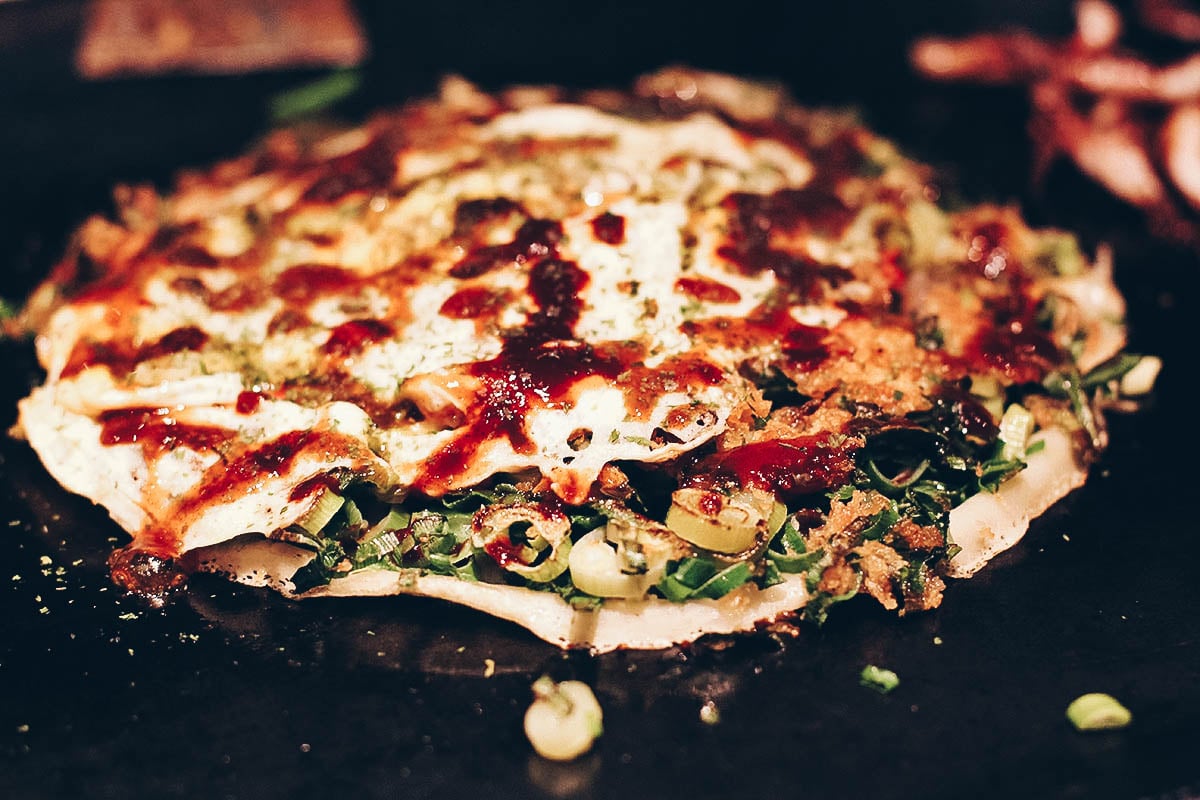 3. Takoyaki
Together with okonomiyaki, takoyaki is arguably the most iconic Osakan dish. A popular ball-shaped Japanese snack, takoyaki is made with a wheat-flour-based batter and filled with diced octopus, tempura scraps, pickled ginger, and green onion. It's then brushed with takoyaki sauce and mayonnaise before being sprinkled with green laver and shavings of dried bonito. Cheap and delicious, takoyaki stands are ubiquitous in the Dotonbori area.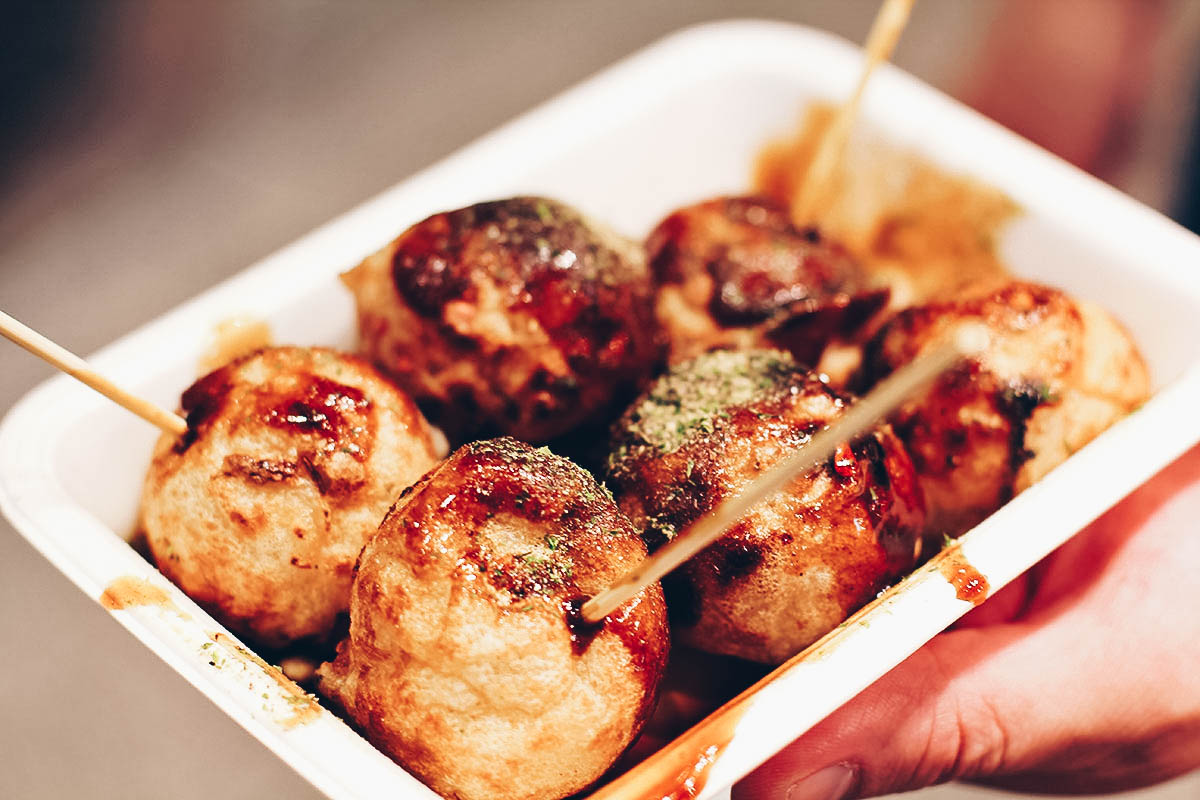 4. Kobe Beef
Without exaggeration, one of the most sublime things that you will ever put in your mouth. Everything you've ever heard about Kobe beef is absolutely true. It's THAT good. Normally pricey, can you believe that this premium brand of beef can be had as street food at Kuromon Ichiba Market? For a more formal but still affordable yakiniku experience, I highly recommend Tsurugyu. If you have a few extra yen to spare, then I suggest having dinner there at least once. You won't regret it.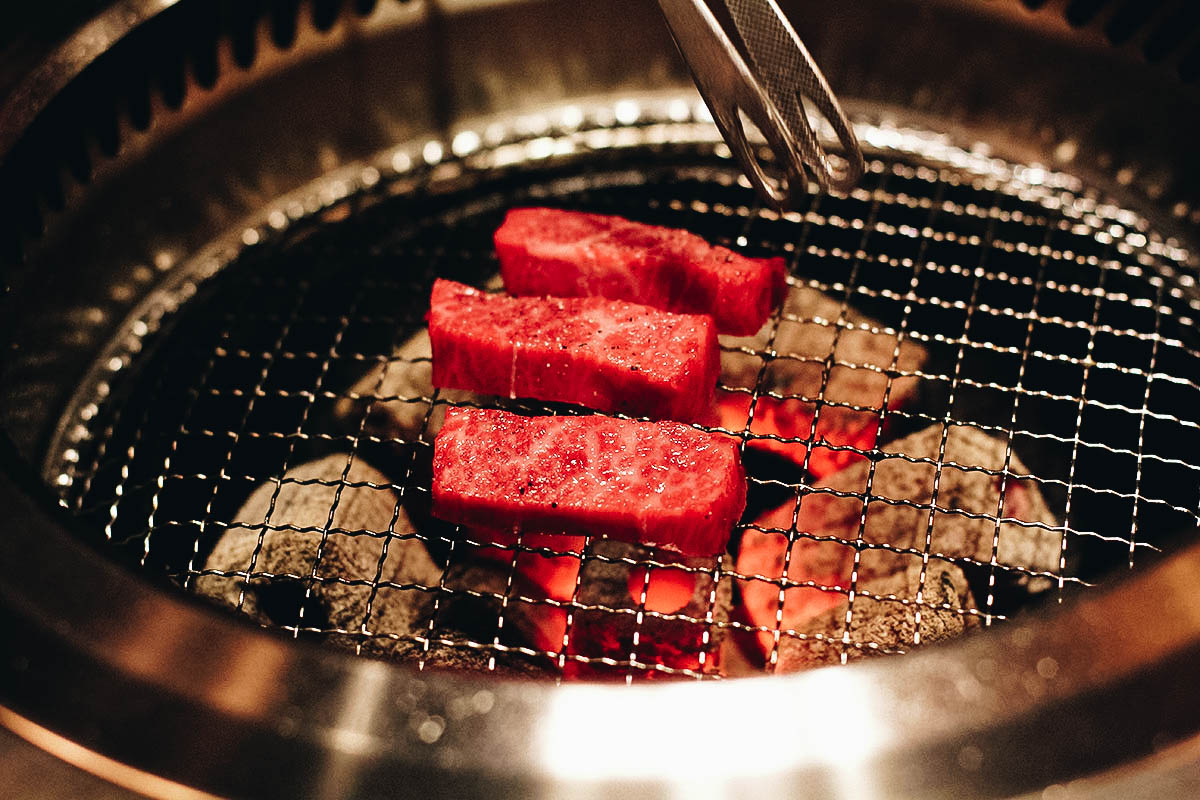 5. Udon
I'm not as big a fan of noodles as I am of rice, but this was the best damn bowl of udon that I have ever tasted in my life. The texture was out of this world. With noodles this good, it's no wonder that the Japanese slurp when they eat this! Like okonomiyaki and takoyaki, you can pretty much walk into any random udon restaurant in Dotonbori and be blown away.
As it turns out, the Japanese prefer cold udon during summer (this one is called bukkake udon)…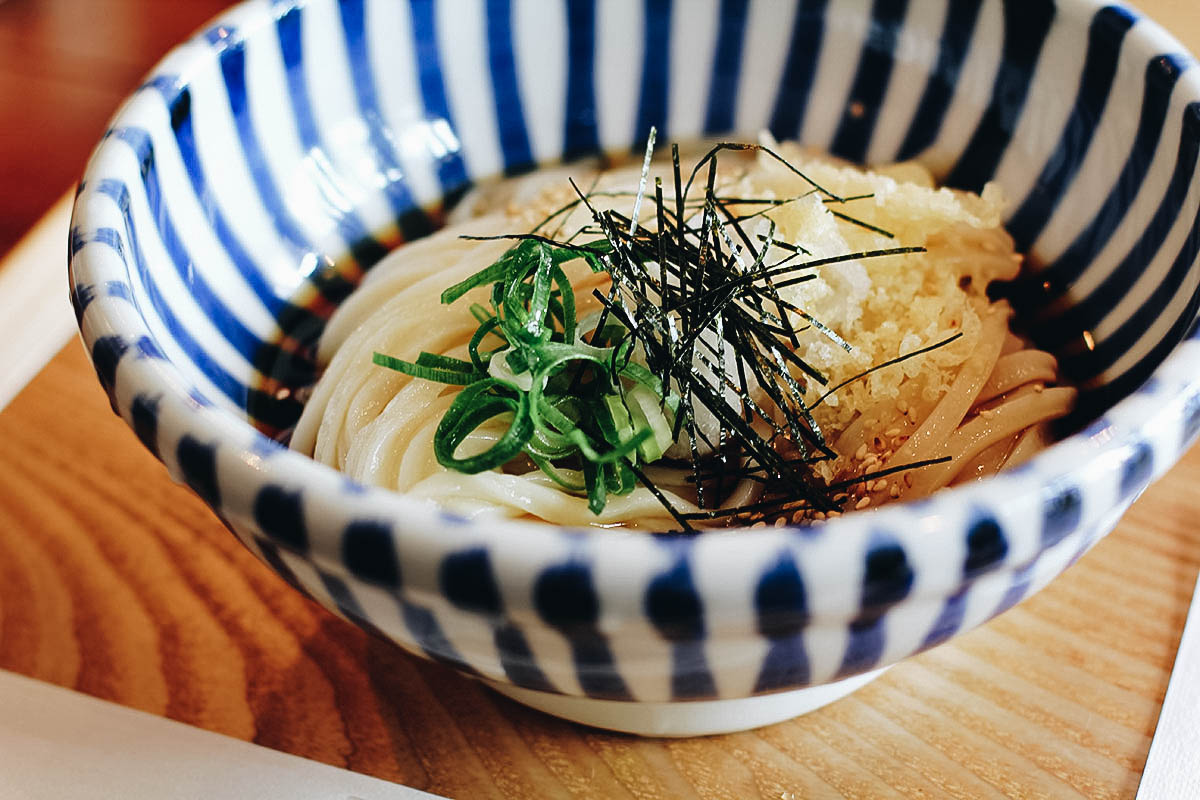 …and hot udon in winter. Makes sense. 🙂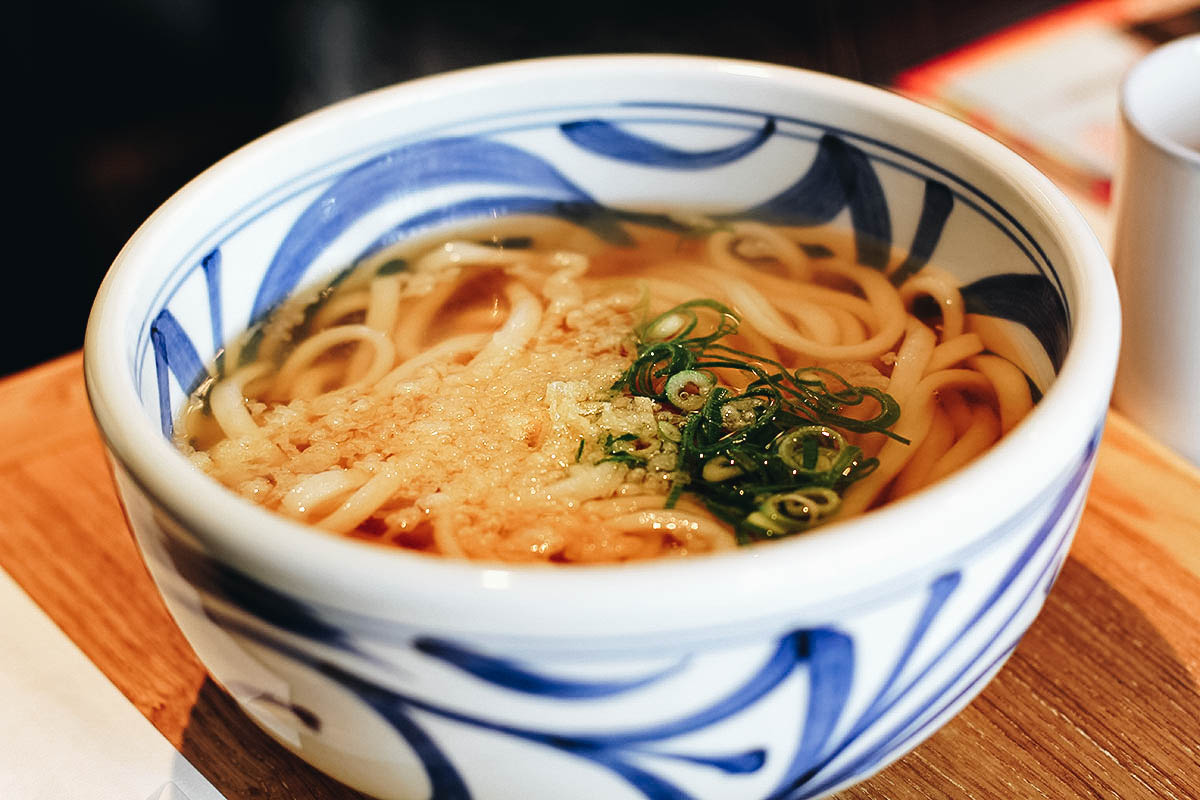 6. Fugu
For me, the only been-there-done-that dish on this list. I found that it's reputation far exceeds its taste. Even then, it's something that you absolutely must try based on notoriety alone. With a toxin that's 1,200 times stronger than cyanide, and with no readily available antidote, fugu or blowfish is definitely a bucket-list-worthy dish. Zuboraya, a chain of restaurants that specializes in fugu, is a popular choice to try this deadly delicacy. Just don't expect too much in the way of flavor. Even my Japanese friend Tom admitted that he can't really differentiate it from tai (snapper).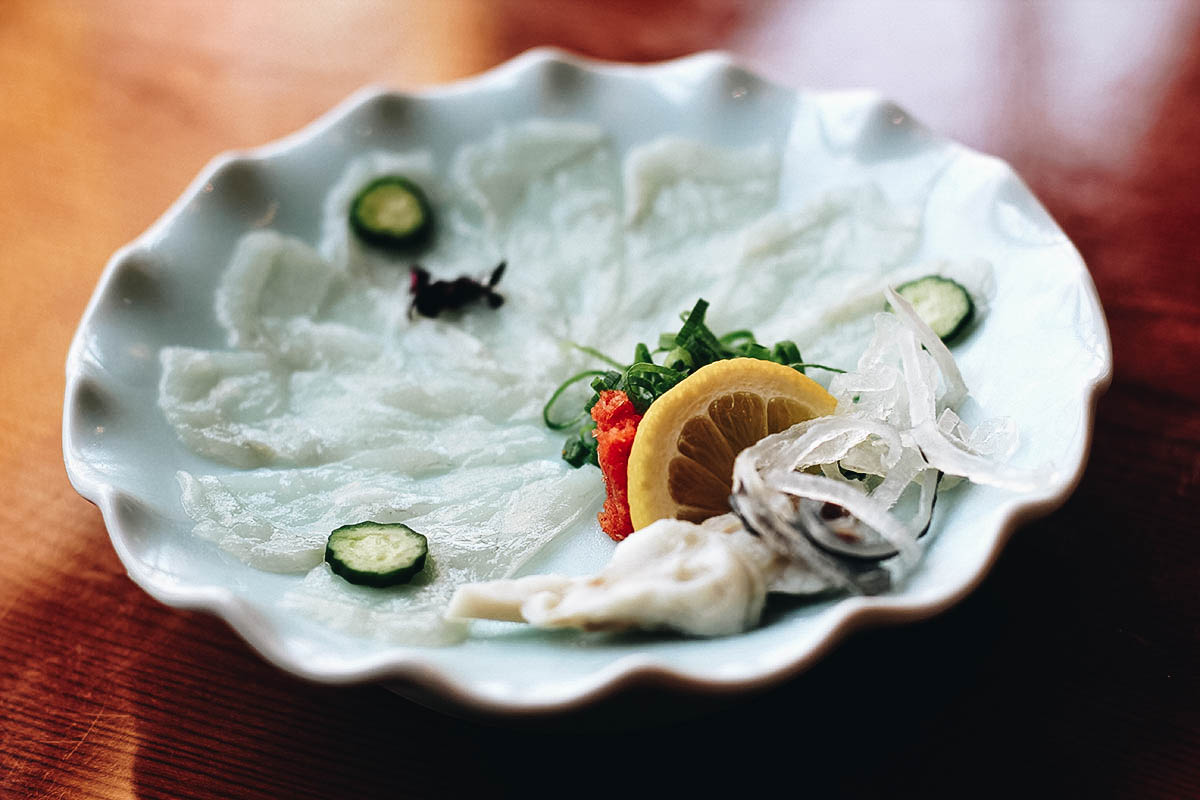 7. Hiyashi Ame
A popular summer refreshment in Western Japan, this cold ginger drink gave Ren the idea for a post called "Things you can only know about with a Japanese Guide". Too bad we didn't have enough material for it because it would have been awesome. 🙁 Cold and supremely refreshing, a tall glass of hiyashi ame will serve you well after a long day of walking (and eating).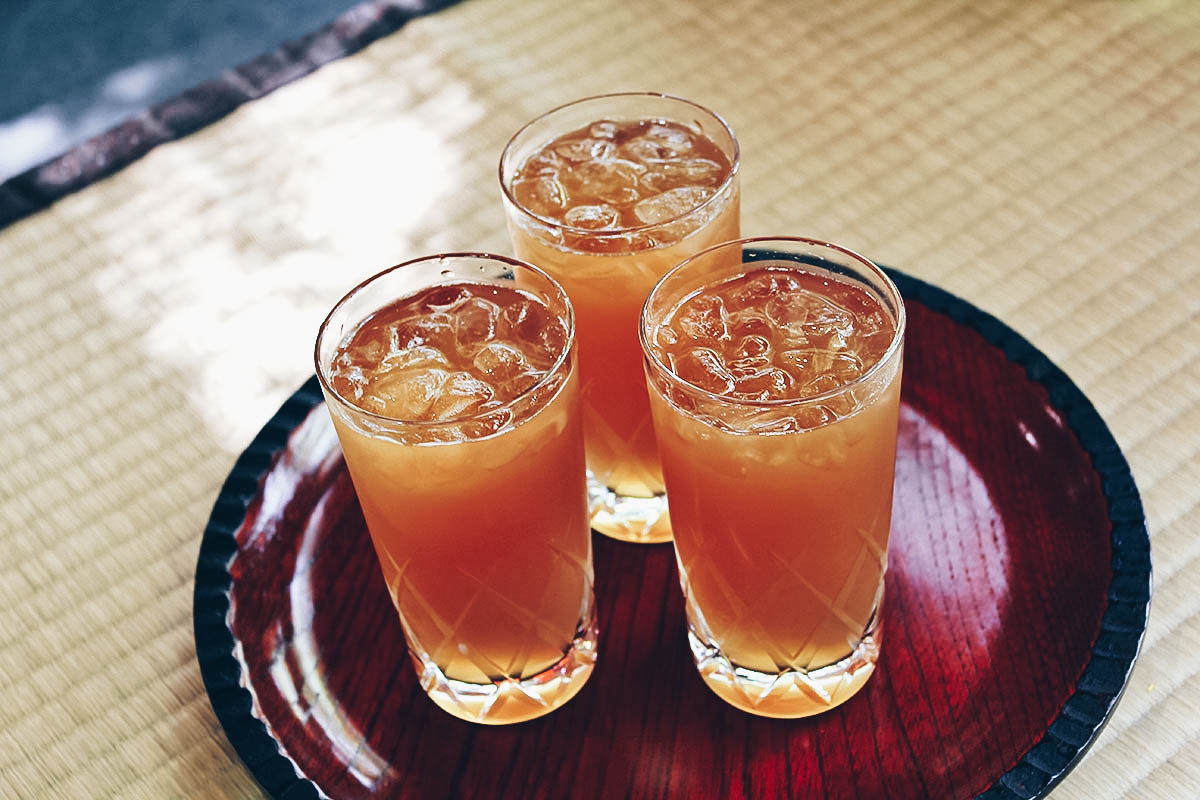 8. Otoro
I know that this is sushi, and should belong to the first group on this list, but it's so darn good that it deserves its own spot. One of the choicest pieces of sushi that you will ever eat, otoro is made from the fattiest part of the tuna. It truly is melt-in-your-mouth delicious and will have you closing your eyes and smacking the table with delight. Costing an arm and a leg anywhere else in the world, otoro can be had for cheap in Osaka. It's even sold as street food at Kuromon Ichiba Market! We enjoyed it several times during this trip and it had us smacking the table every single time. So unbelievably good.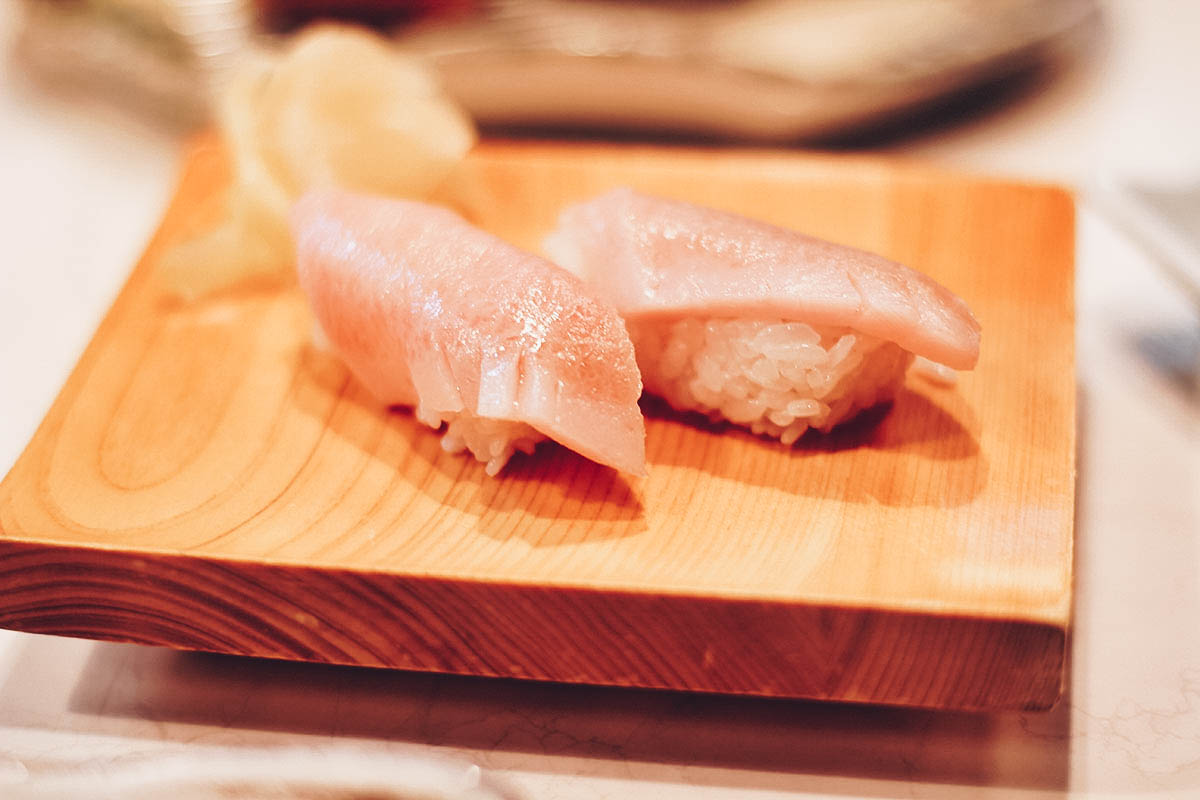 9. Unagi
Unagi is one of my favorite things in the world. If you've never had it, it's grilled freshwater eel served over rice with a thick, sweet/savory sauce. It's smokey, sweet, a little chewy, and absolutely delicious. I was blown away the first time I tasted unagi over 30 years ago and I still am today. Some restaurants specialize only in unagi so I suggest seeking those places out.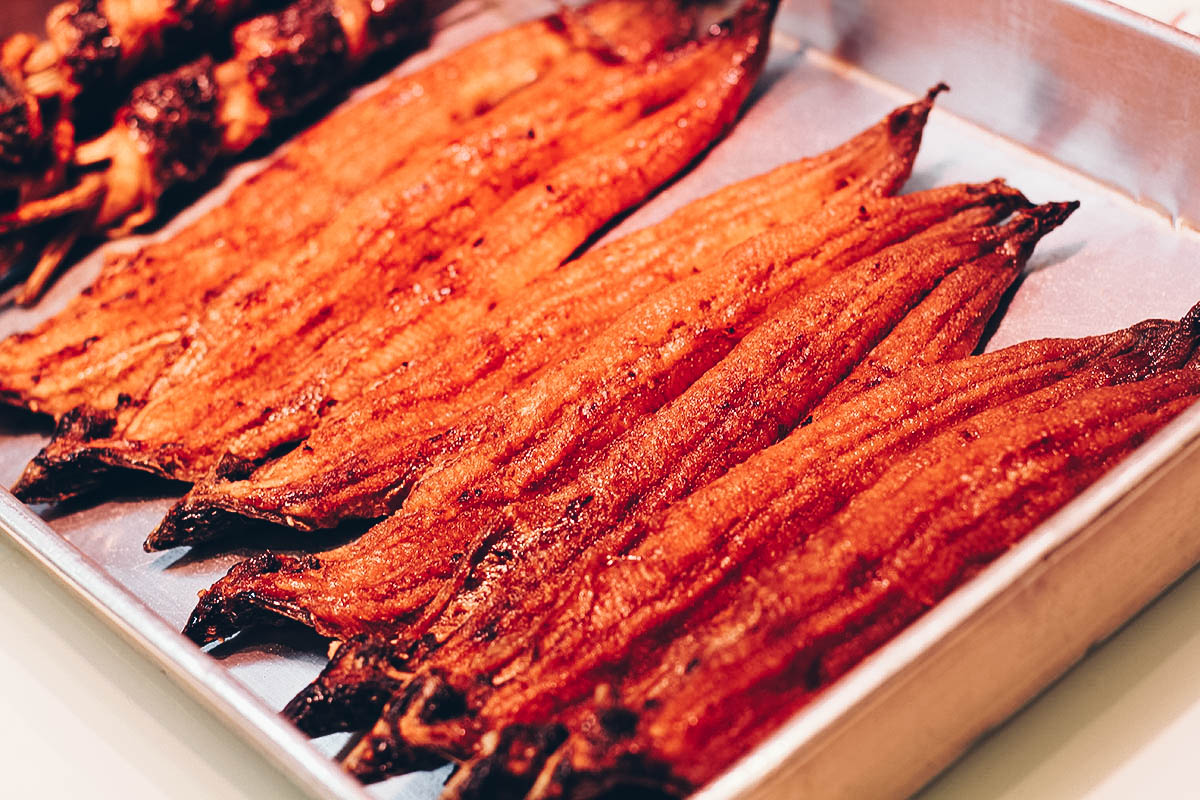 10. Tako Tamago
Ubiquitous as street food, these glazed baby octopusus have whole quail eggs stuffed in their heads. Tender, delicious, and inexpensive, you can snack on these eight-legged eggheads at Kuromon Ichiba Market.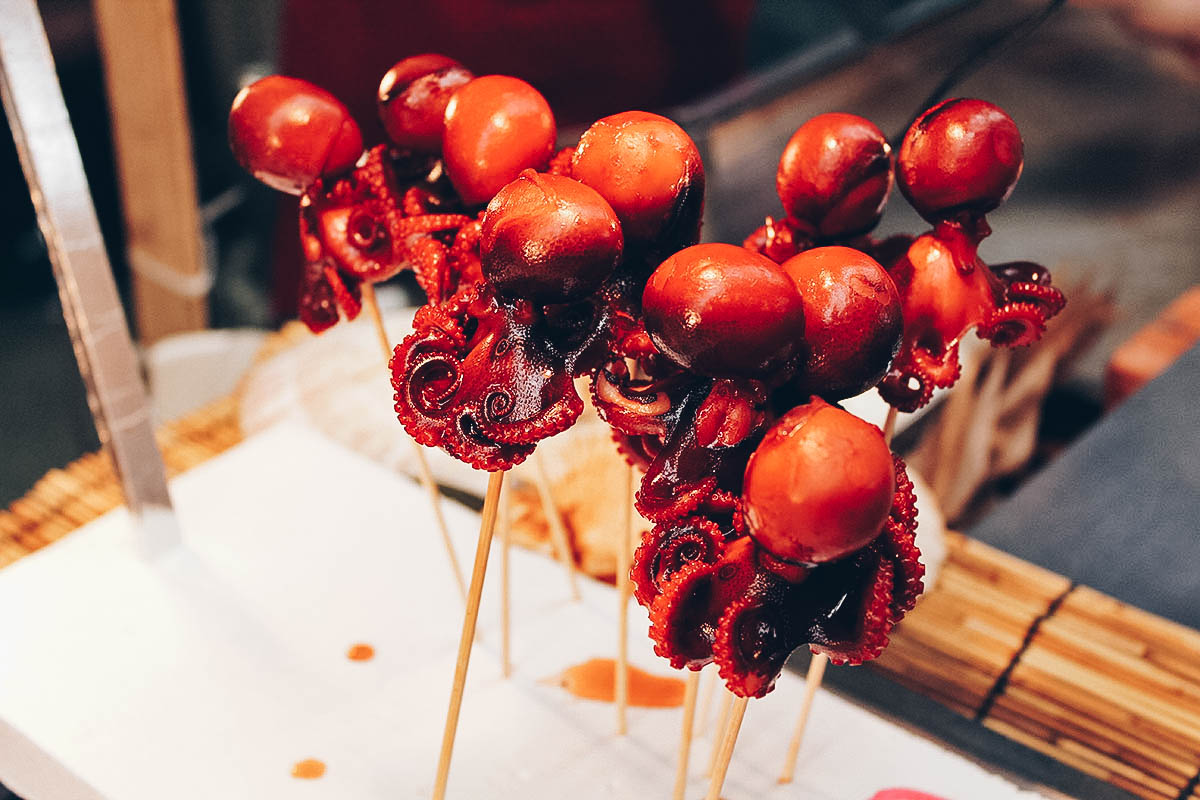 11. Amao Strawberries
One of just two things we could think of for that hypothetical post: "Things you can only know about with a Japanese Guide", Amao is apparently the best fresh strawberry brand in all of Japan. Buying a pack at the supermarket, Tom remarked that the insides of the strawberries are almost entirely red. I thought that he was exaggerating at first, until I took a bite. See for yourself below.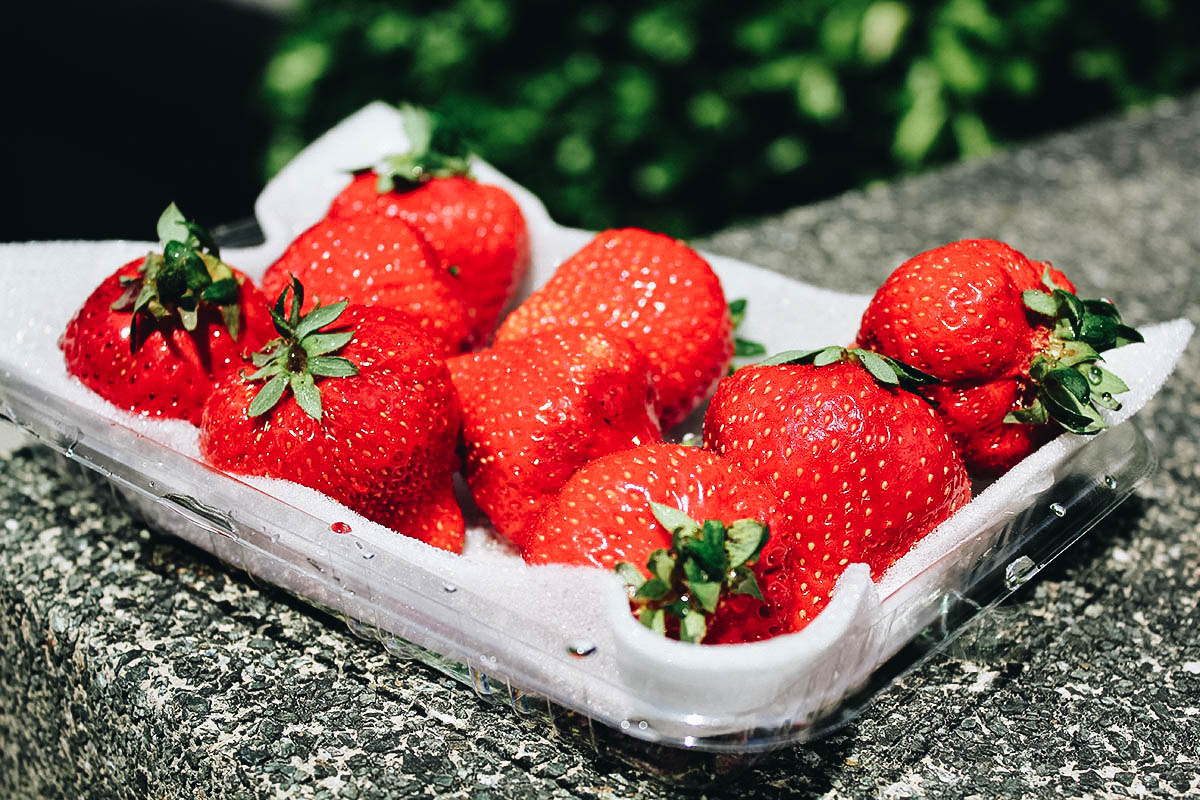 Tom wasn't kidding. Almost pure red, the strawberries were indeed very sweet with just a hint of tartness.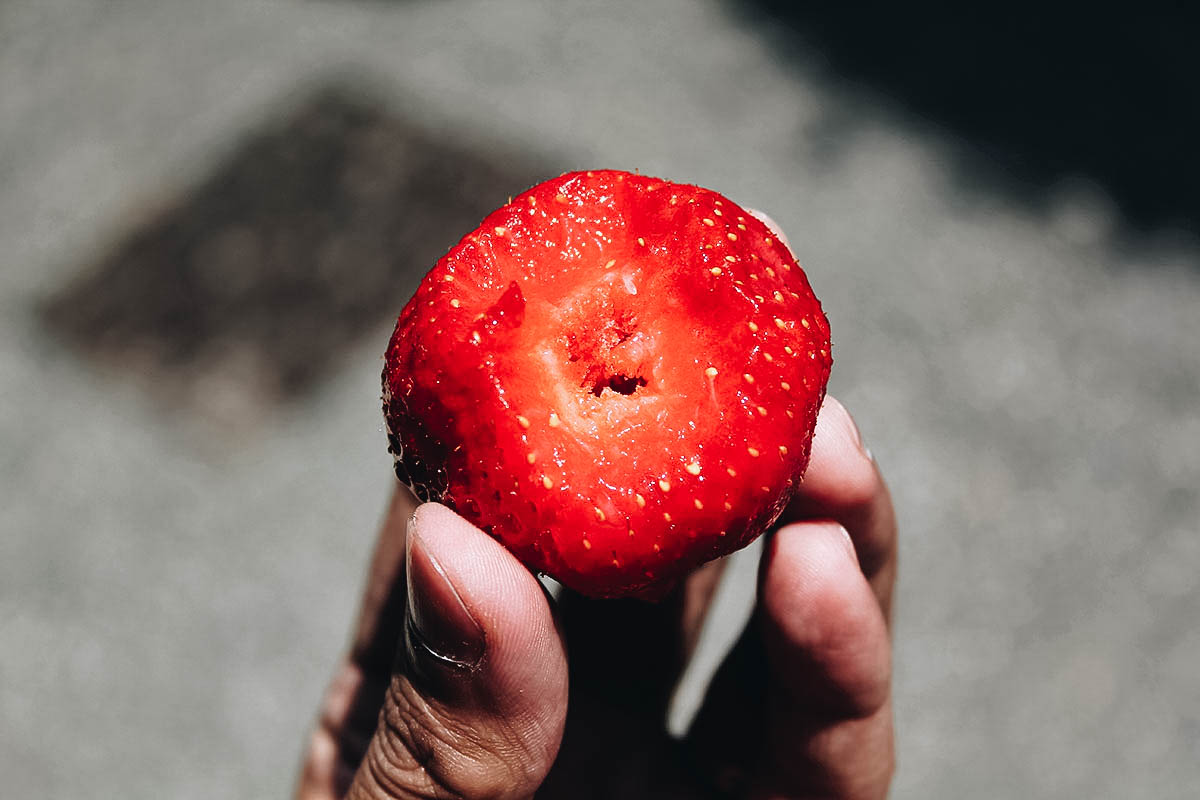 12. Anything with Matcha
From cakes to coffee to chocolates to mochi, you'll find this finely milled green tea enhancing many different types of food in Osaka. This Haagen-Dazs Japonais ice cream was one of our favorites. Available at any 7-Eleven, one scoop will have you wanting matcha more! Four layers of deliciousness: Caramel, matcha, red bean, and vanilla. 😯 Can someone please tell me why this isn't available in the Philippines?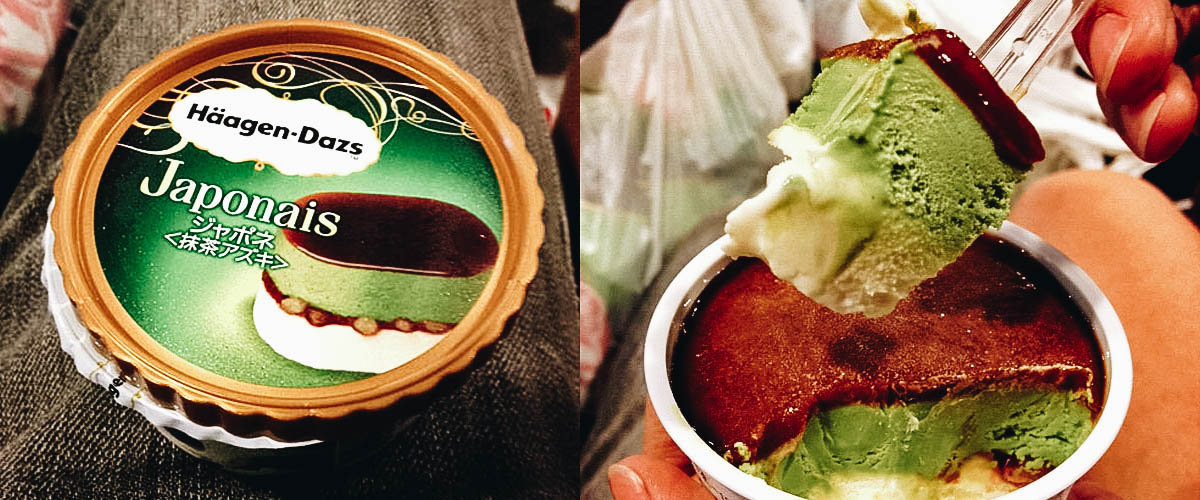 Kaiseki
I've already listed 12 but I thought I'd mention kaiseki as well. Kaiseki isn't a specific food item but a dining experience. If you have enough yen to spare, then I highly recommend splurging on a Michelin-starred kaiseki (set) dinner. We did, and it forever changed the way we look at food.
Second only to France in its number of Michelin stars, the food in Japan is at such a high level that it isn't surprising to find 91 restaurants with at least one Michelin star in Osaka alone. With so many top-caliber restaurants, it would be a shame to vacation in this city without visiting at least one. If you do, be sure to go with the kaiseki. Characetrized by its multiple courses of small, carefully balanced dishes, all of which are crafted by the chef based on what's seasonally available, a kasieki meal for me is the ultimate expression of Japanese cuisine.
We were lucky enough to experience two kaiseki meals during this trip – a 7-course lunch at 2 Michelin-starred Fujiya 1935 (formerly 3-star), and a 13-course dinner at 1 Michelin-starred Iroha. Both were sensational.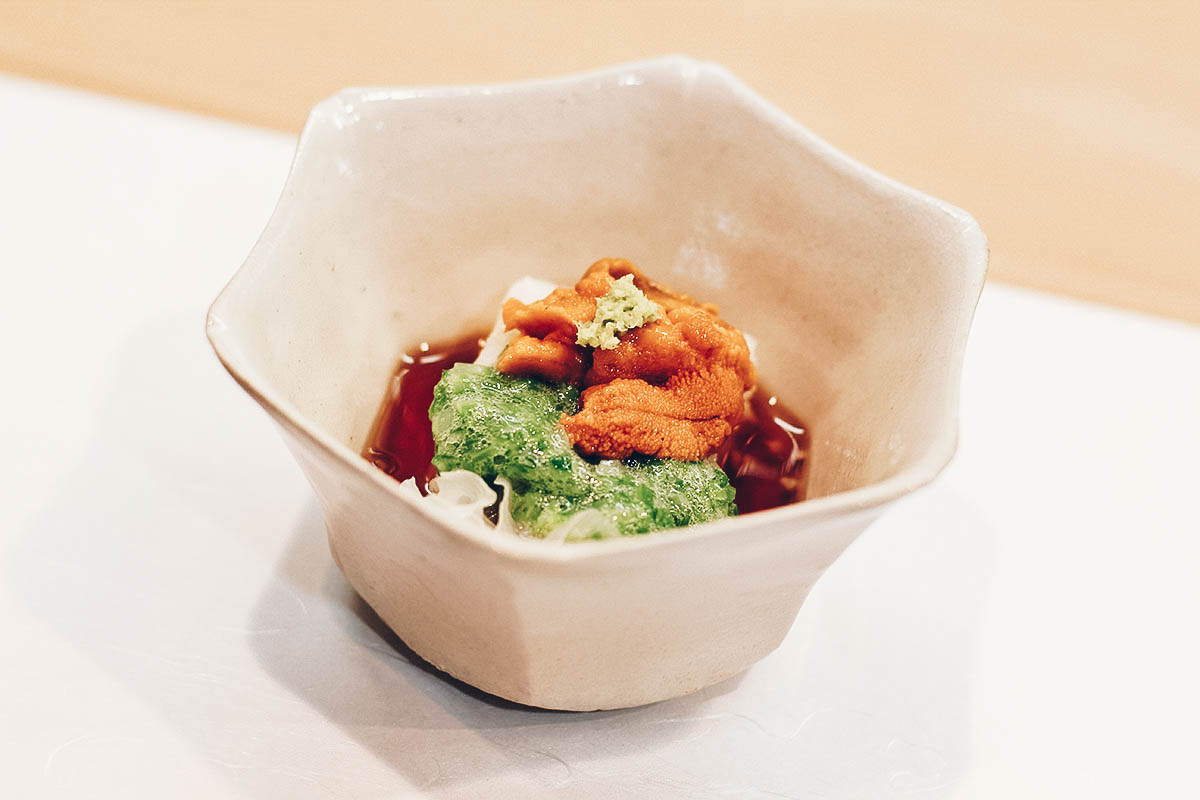 After spending three full days eating in Osaka, we weren't quite in financial ruin as that proverb predicted, but we did leave with gaping holes in our pockets. With that said, it was some of the best money that we've ever spent, and we can't wait to spend more.
Enjoy your food trip. It will be epic, I promise you.
JB is one half of Will Fly for Food and its chief itinerary maker.  He's the one to blame for all the crappy photos and verbal diarrhea on this blog.  Don't listen to him.
Latest posts by JB Macatulad (see all)