EDITOR'S NOTE: Please be advised that this Jakarta travel guide hasn't been updated to reflect 2023 prices and travel guidelines. We'll update it as soon as we can. Thanks for your patience.
When people talk about the most interesting destinations in Indonesia, Jakarta is rarely in the conversation. Like my home city of Manila, it's mostly glossed over and treated as a pitstop rather than a destination.
When I was doing research for this trip, I was trying to figure out how best to allocate our two weeks in the country. We were arriving via Jakarta but I almost didn't give it more than an overnight stay. I couldn't find enough interesting activities to merit more than that but in the end, I decided to give it two nights to allow us one full day in the city.
24 hours may not be a lot but it was enough to give me a read on this well-known but often overlooked Indonesian capital city.
Save This on Pinterest!
No time to read this now? Click on the red save button and pin it for later!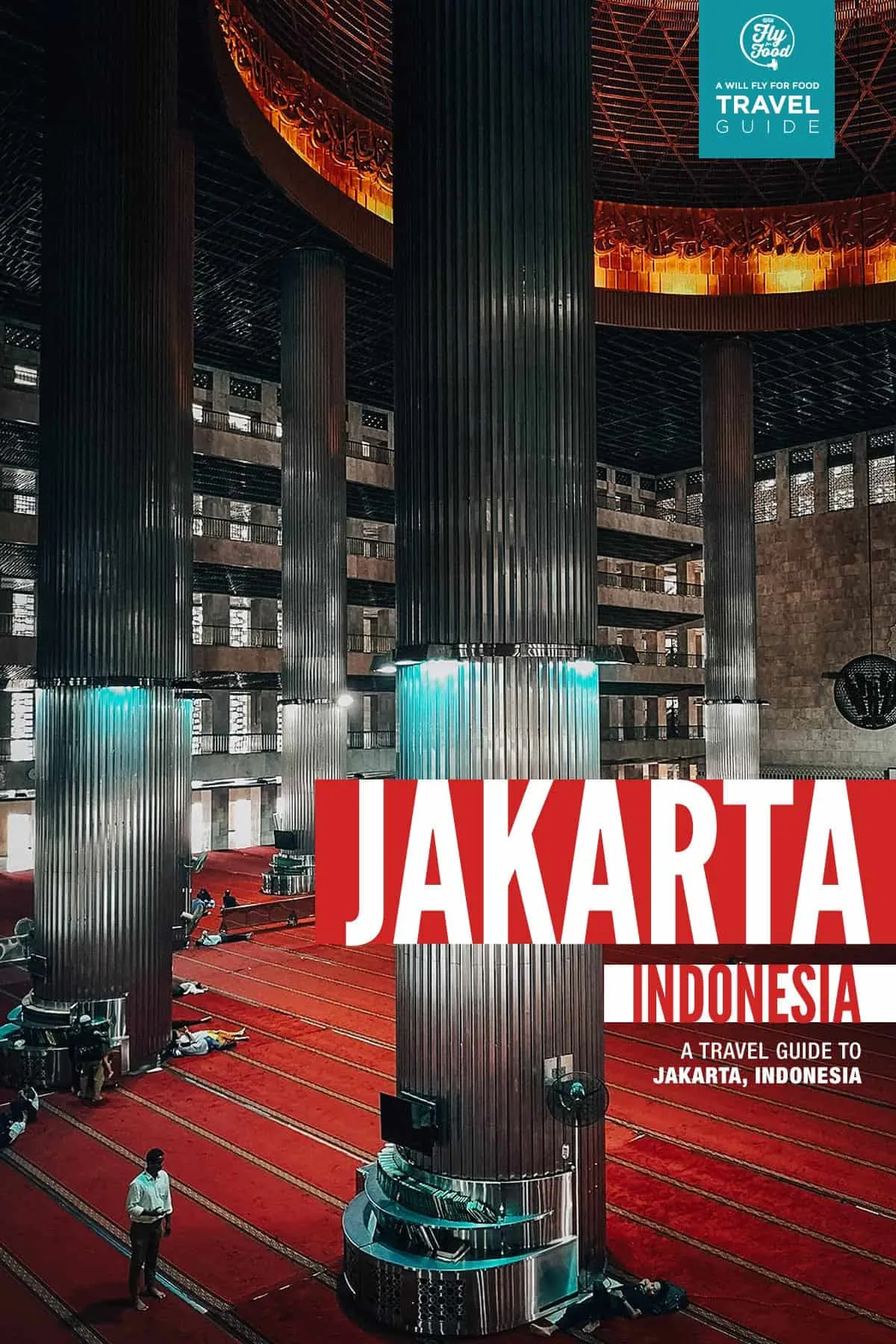 GUIDE TABLE OF CONTENTS
TRAVEL RESTRICTIONS
Because of the current global situation, travel guidelines change regularly. Our friends at SafetyWing created a website that lists detailed information on travel restrictions around the globe.
Before planning a trip to Jakarta, be sure to check the Flatten the Curve website for information on travel restrictions to Indonesia.
JAKARTA AT A GLANCE
Located on the northwest coast of Java, Jakarta is the capital and largest city in Indonesia. It has an estimated population of over 10 million, making it the most populous city not just in Indonesia, but in all of Southeast Asia.
But as big as Jakarta is, it isn't a major destination for international travelers. Like similarly crowded and chaotic cities in Southeast Asia (with the exception of Bangkok), it functions more as a stopover to other destinations in the region like Bandung, Yogyakarta, Bali, and Lombok.
This guide assumes you're one of those travelers and gives you suggestions on what you can do with one full day in the city. If you're searching for upcoming events and the latest happenings in Jakarta, then you can check out What's New Indonesia.
BEST TIME TO VISIT
Like many cities in Southeast Asia, Jakarta basically has just two seasons – wet and dry. The dry season is from June till September. Temperatures fluctuate little over the course of the year so the dry season is the best time to go sightseeing in the city.
JUN-SEPT: As described, this is the dry season in Jakarta and typically the best time to go. You'll be treated to clear skies and about 11-12 hours of sunlight everyday.
OCT-MAY: This is rainy season in Jakarta and not an ideal time to go. As you can see in the rainfall graphs below, January and February are the wettest months.
Climate: Annual Monthly Weather in Jakarta
To help you better understand the climate in Jakarta, I've created the average temperature and annual rainfall graphs below. Suggested months to visit are highlighted in orange.
Average Temperature


Annual Rainfall


TRAVELING TO JAKARTA
Most travelers looking to explore the island of Java will probably enter Indonesia through Soekarno-Hatta International Airport in Jakarta. Located around 29 km (18 miles) west of central Jakarta, there are several ways to get to the city from the airport.
BY TRAIN: The recently built Airport Rail Link is arguably the best way of getting into the city. It departs from Terminal 1 and costs IDR 70,000 each way. If your flight arrives at Terminals 2 or 3, then you can take the Skytrain to Terminal 1. You can then take the Airport Rail Link to Sudirman Baru (BNI City) Station (45 mins) which is about 4 km south of Merdeka Square.
BY BUS: The Damri Bus is the cheapest way of getting into the city from the airport, just IDR 40,000 each way. The most central stop is Gambir Station. Located just east of Merdeka Square, it's Jakarta's main train station and where you'll probably go to catch a train to other destinations in Java. Based on my research, Damri buses to Gambir Station run from 3AM-9PM, and you can purchase a ticket inside the bus or at the Damri Bus counter.
BY PRIVATE TRANSFER: This is what we did. We arrived just before midnight so we pre-arranged for a one-way transfer through our hotel for IDR 250,000. If you're traveling with enough people, then this may be your most convenient option. If your hotel doesn't provide transfers, then you can book one in advance through Bookaway.
BY TAXI: From what I understand, there are two types of taxis – premium and regular. Premium taxis have no queue but the fare will be double that of regular taxis. For regular taxis, you'll need to get a queueing number from a machine that offers two options – Blue Bird and non-Blue Bird taxis. While other taxi companies aren't necessarily bad, Blue Bird seems to be the best which is why most people use them. Expect to pay between IDR 200,000-250,000 to get to central Jakarta from the airport.
I've only covered flights into Jakarta, but if you're already in Java or in other nearby areas then you can check Bookaway to find transportation options available to you. You can click on the link or use the widget below.
WHERE TO EXCHANGE CURRENCY
The unit of currency in Indonesia is the Indonesian Rupiah (IDR). Most foreign exchange shops in Jakarta are located inside shopping malls, making it safe and convenient to change your currency. We were staying near Plaza Indonesia Shopping Mall so I exchanged currency at Dua Sisi Money Changer located in the mall's basement level. You can refer to this Jakarta currency exchange guide to find a shop near you.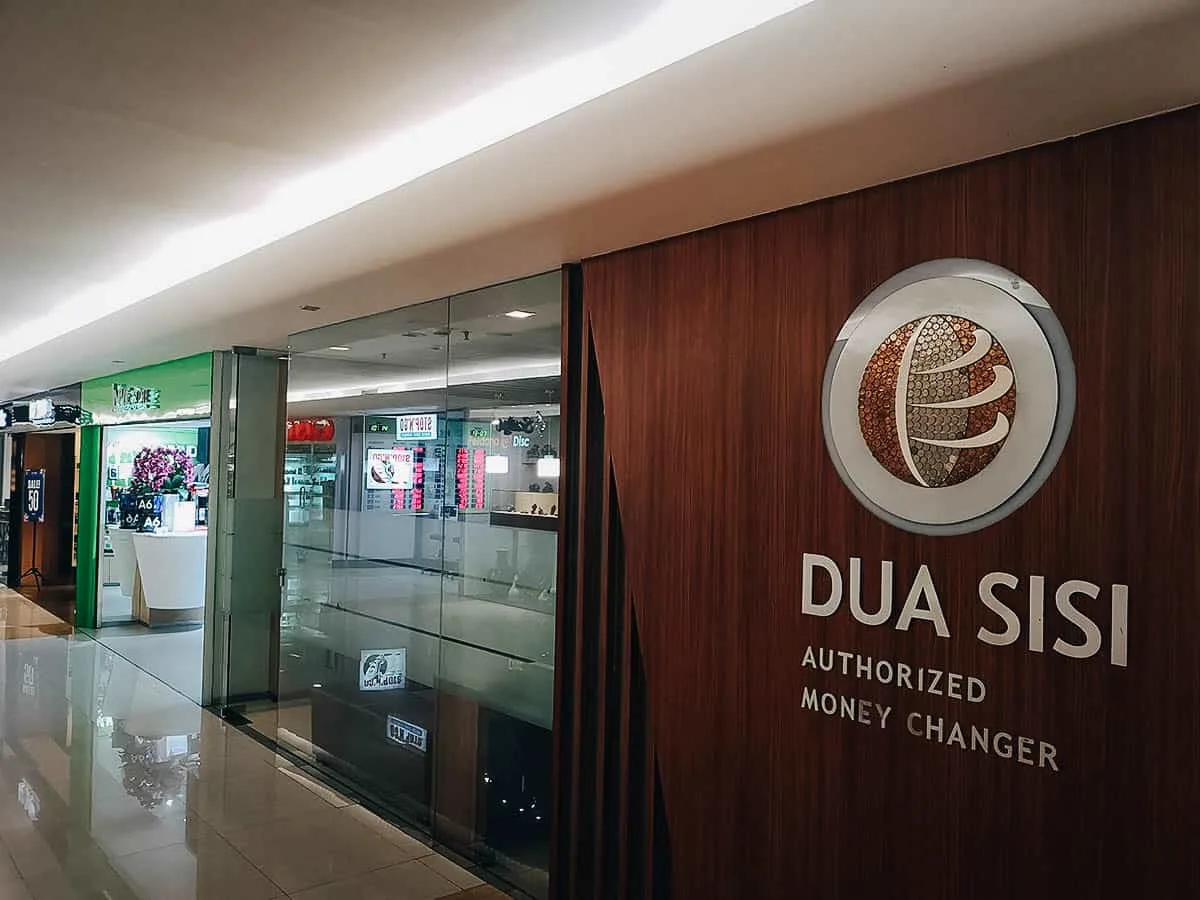 If you'd rather not bring too much foreign currency into Indonesia, then an alternative would be to withdraw IDR using an ATM. The rates are comparable, some say even better. Just be sure to advise your bank that you plan on using your ATM card abroad so you don't run into any issues. In my experience, my card works in some machines but not in others.
NOTE: Some ATMs will ask if you'd like to proceed "with or without conversion". Always choose WITHOUT conversion. If you choose "with conversion", then that allows the foreign bank operating the ATM to do the exchange, usually at terrible rates. The has happened to me and the difference in rates is shocking, in some cases up to 10%.
BEST AREAS TO STAY
This guide assumes you'll be staying in Jakarta for no more than a day before moving to other destinations in Java. If that's the case, then it's best to stay near Gambir Railway Station or around Soekarno-Hatta International Airport.
I've created the color-coded map below to help you better understand where these recommended areas are. Click on the link for an interactive version of the map. (Please note that marked areas are approximations only)
RED – Menteng
PURPLE – Kemang
GREEN – Gambir
BLUE – Near Soekarno-Hatta Airport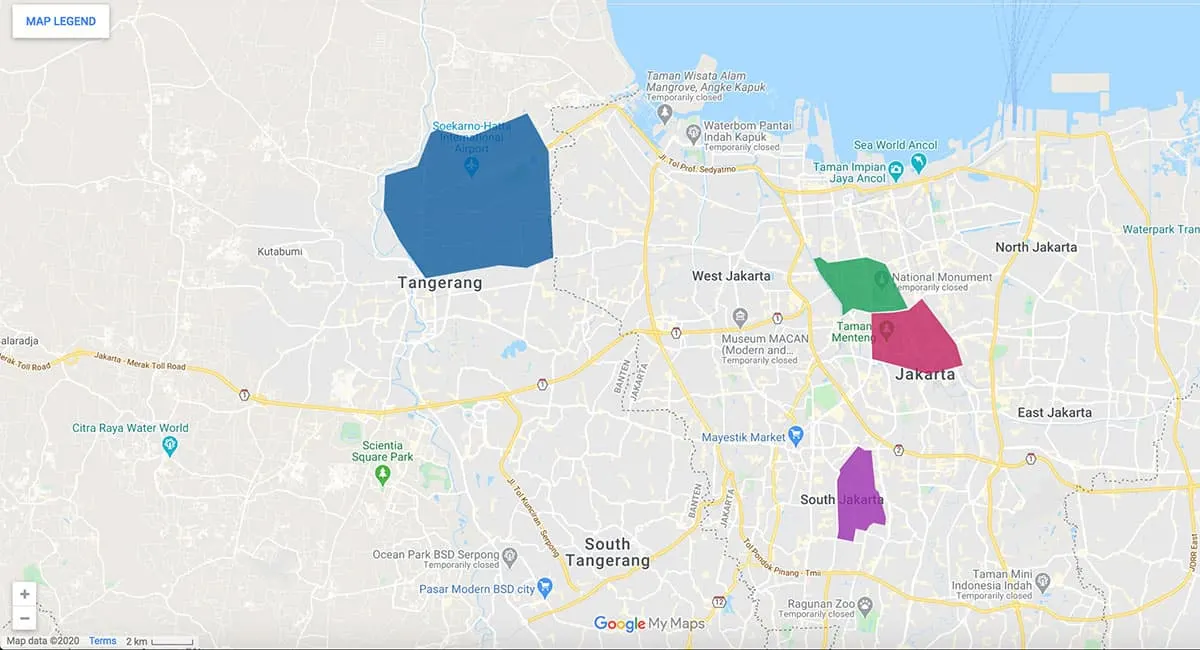 MENTENG: Menteng House
This is where we stayed. Menteng is the administrative center of Jakarta and within walking distance to many popular tourist spots like the National Monument, Istiqlal Mosque, and Plaza Indonesia Shopping Mall. It's also just a short Grab or taxi ride away from Gambir Railway Station.
We stayed at Menteng House which is a simple and inexpensive hostel with dorm and private rooms. It isn't the nicest hotel but it's good enough for a quick stay. You can book a room at Menteng House on Booking.com or Agoda.
If you'd like to stay in the Menteng area but don't think this is the right place for you, then you can check out alternate listings on Booking.com or Agoda.
Approximate Room Rate: USD 32 per night for a deluxe double (as of July 2019)
KEMANG
Kemang is located farther south but if you want to have fun in Jakarta, then this is probably where you should stay. It's described as the hipster area of Jakarta that's home to interesting boutiques, cafes, bars, and restaurants. Check out Booking.com or Agoda for a list of accommodations in Kemang.
GAMBIR
This is the area just north of Menteng. It's where the National Monument, Istiqlal Mosque, and the National Museum are located, not to mention Gambir Railway Station. But aside from these key spots, it doesn't seem to have as much in the way of commercial areas so only stay here if you need to be as close as possible to Gambir Station. Otherwise, it's probably better to stay in Menteng. You can find a place to stay in Gambir on Booking.com.
NEAR SOEKARNO-HATTA AIRPORT
If you need to fly out of Jakarta, then staying near the airport may be your best option considering the city's terrible traffic. You can check out Agoda for listings near Soekarno-Hatta Airport.
PLACES TO VISIT
1. National Monument
Without question, the National Monument or Monas (short for Monumen Nasional) is Jakarta's most recognizable structure. Standing at 132 meters (433 ft) in the center of Merdeka Square, it was built from 1961-1975 to commemorate Indonesia's struggle for independence from the Dutch empire.
I didn't realize this until recently, but the monument's cup and tower structure was designed to resemble a lingga and yoni – two Hindu symbols often shown together to represent male and female energies. Together, they symbolize harmony, balance, fertility and eternal life.
Entrance to the park is free but you'll need to pay IDR 15,000 to enter the monument itself. This will give you access to the National History Museum and both viewing platforms, including the one at the top which is 115 meters (377 ft) above ground level.
I went to the National Monument on my own but you can also go on this guided tour that takes you to Monas, the Indonesia in Miniature Park, and the Museum of Indonesia.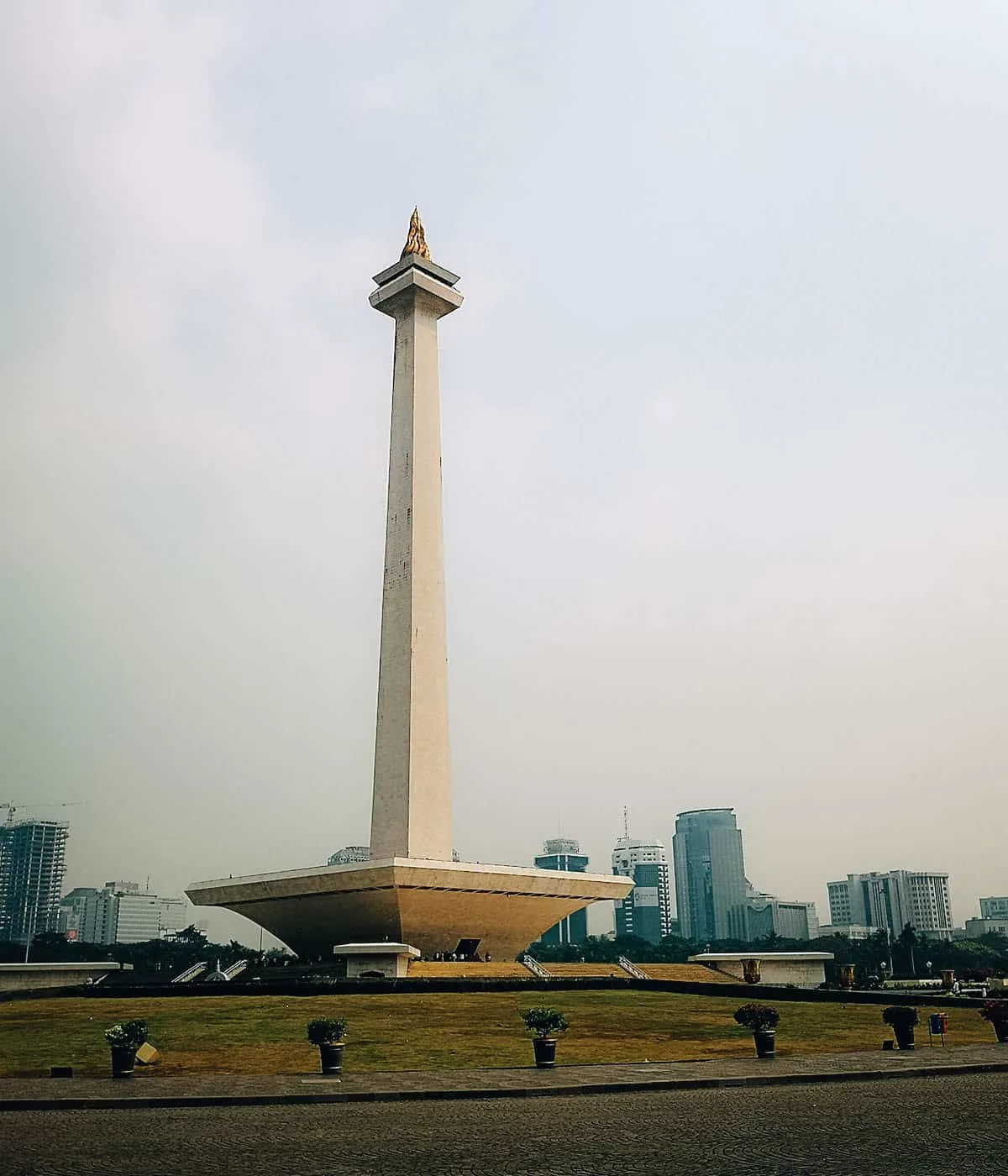 Suggested Length of Visit: 1-2 hours / Admission: IDR 15,000
2. Istiqlal Mosque
Istiqlal Mosque is the largest mosque in Southeast Asia. Like Monas, it was built to commemorate Indonesian independence from the Dutch, with the name istiqlal meaning "independence" in Arabic.
Pictured below is the grand domed prayer hall with its twelve massive stainless steel-covered columns. I wasn't expecting it but Istiqlal Mosque turned out to be one of my favorite stops in Jakarta. It felt so calm and peaceful here. With more time, I would have loved to just lay down and enjoy the atmosphere.
The mosque is located to the northeast of Merdeka Square so you can go here after visiting the National Monument.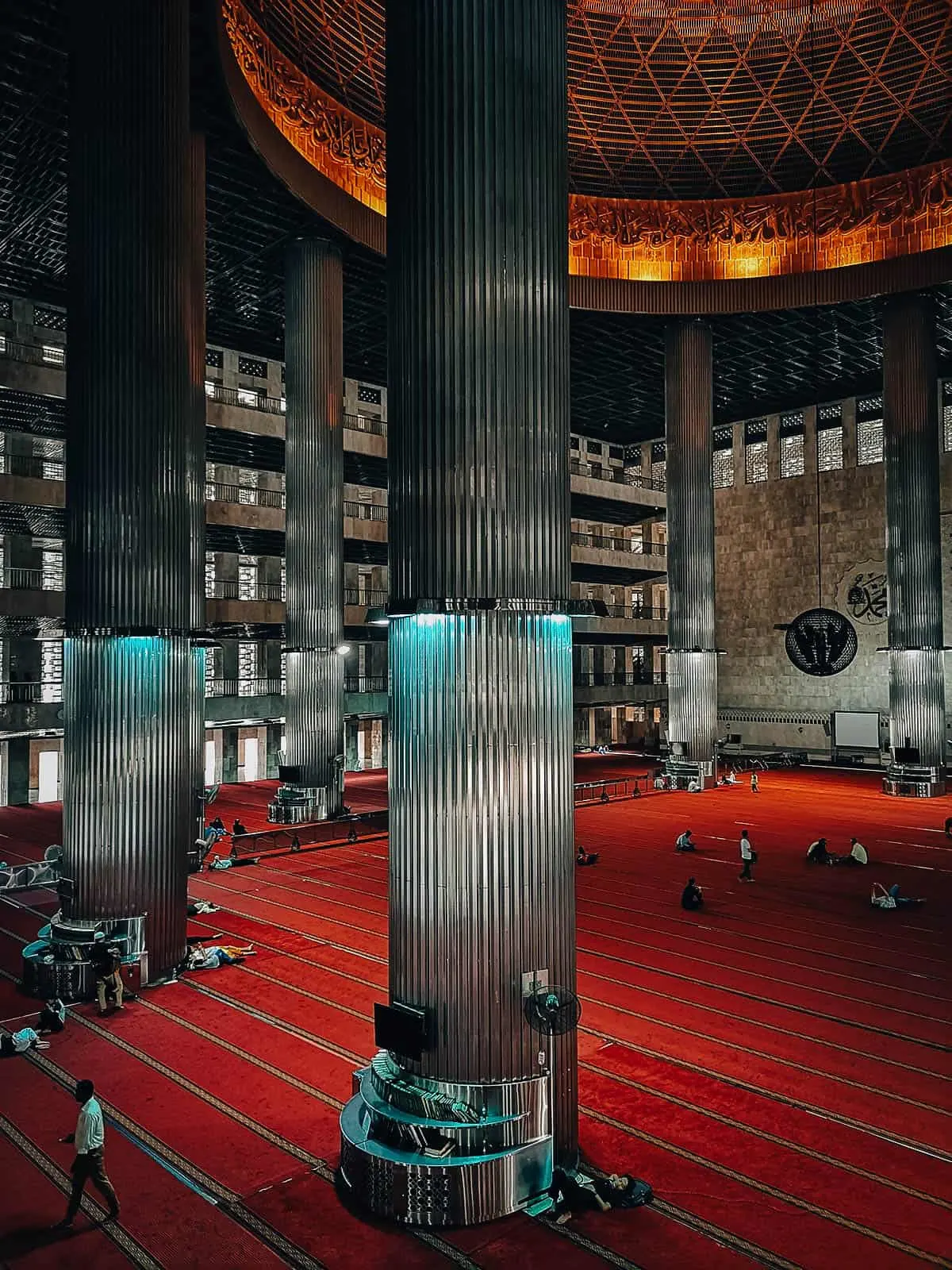 Suggested Length of Visit: 1 hour / Admission: FREE
3. Jakarta Cathedral
In a show of religious tolerance and diversity, standing directly in front of Istiqlal Mosque is Jakarta Cathedral. Built in 1901, it's a Roman Catholic cathedral that serves as the seat of the Archbishop of Jakarta. Indonesia is predominantly Muslim but it does have a Catholic Christian community amounting to about 3% of the country's population.
The cathedral is literally a stone's throw away so you can make a quick stop here after visiting Istiqlal Mosque. It's interesting to see two important structures from two different religions standing so close to each other. I read that former president Soekarno did this on purpose as a show of religious tolerance and unity.

Suggested Length of Visit: 30 mins / Admission: FREE
4. National Museum
I was planning on spending a couple of hours here, but after walking to Istiqlal Mosque from Monas under Jakarta's intense afternoon sun, I didn't have the drive to walk back.
Also known as the Elephant Museum thanks to the elephant statue in front, the National Museum of Indonesia is regarded as one of the best and most complete museums in the country. There you'll find over 160,000 objects ranging from ancient artifacts, textiles, statues, and ceramics that tell the story of Indonesia's territories and its long history.
If I could do this day over, then I'd start here then make my way to Monas before proceeding to Istiqlal Mosque and Jakarta Cathedral. Admission to the museum is just IDR 10,000.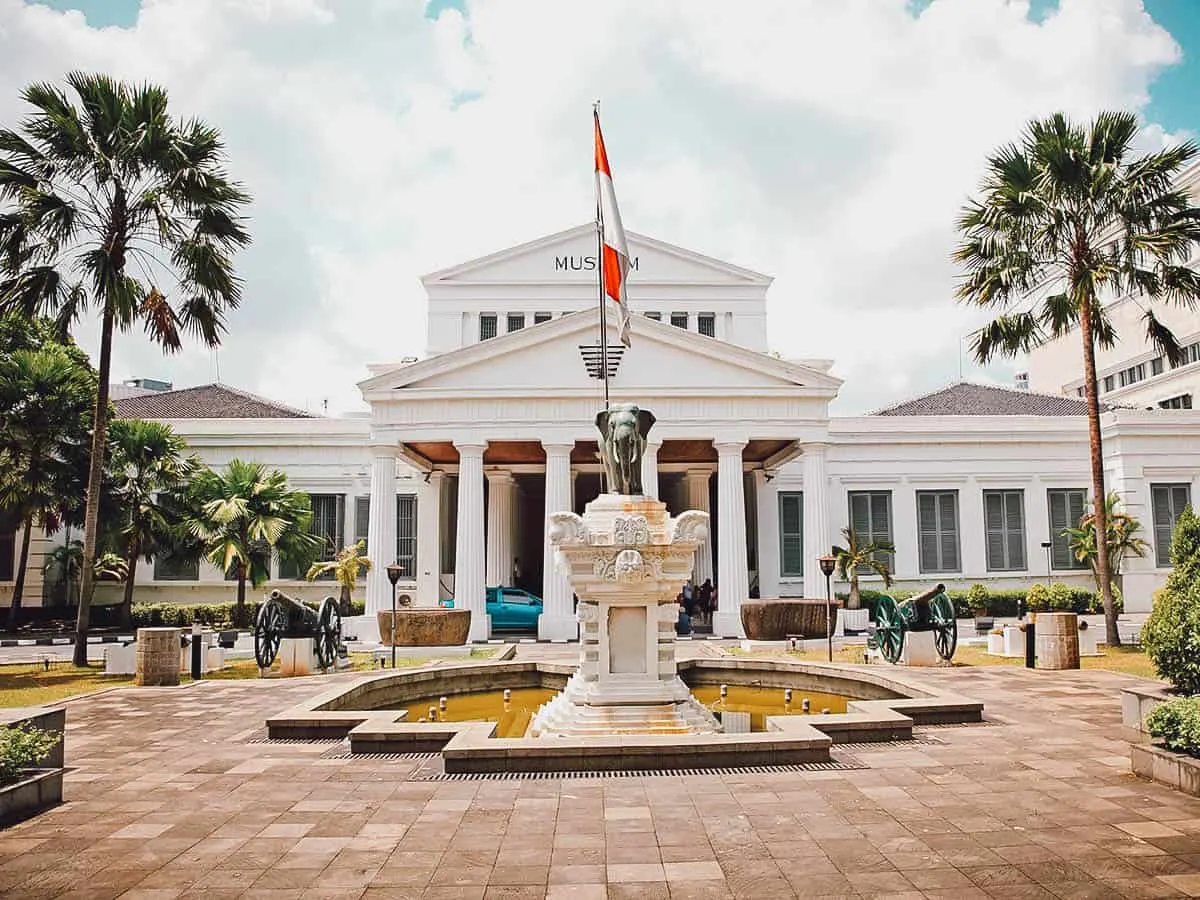 Suggested Length of Visit: 2-3 hours / Admission: IDR 10,000
Photo by Aleksandar Todorovic via Shutterstock
5. Kota Tua (Old Town / Old Batavia)
This was my favorite stop in Jakarta. Kota tua means "old city" and refers to a neighborhood comprising the original downtown area of Jakarta. Here you'll find Dutch buildings dating back to the 17th century, to the time of the spice trade when this former walled settlement served as the Asian headquarters of the Dutch East India Company. Today, it's a vibrant area that's popular with both locals and tourists alike.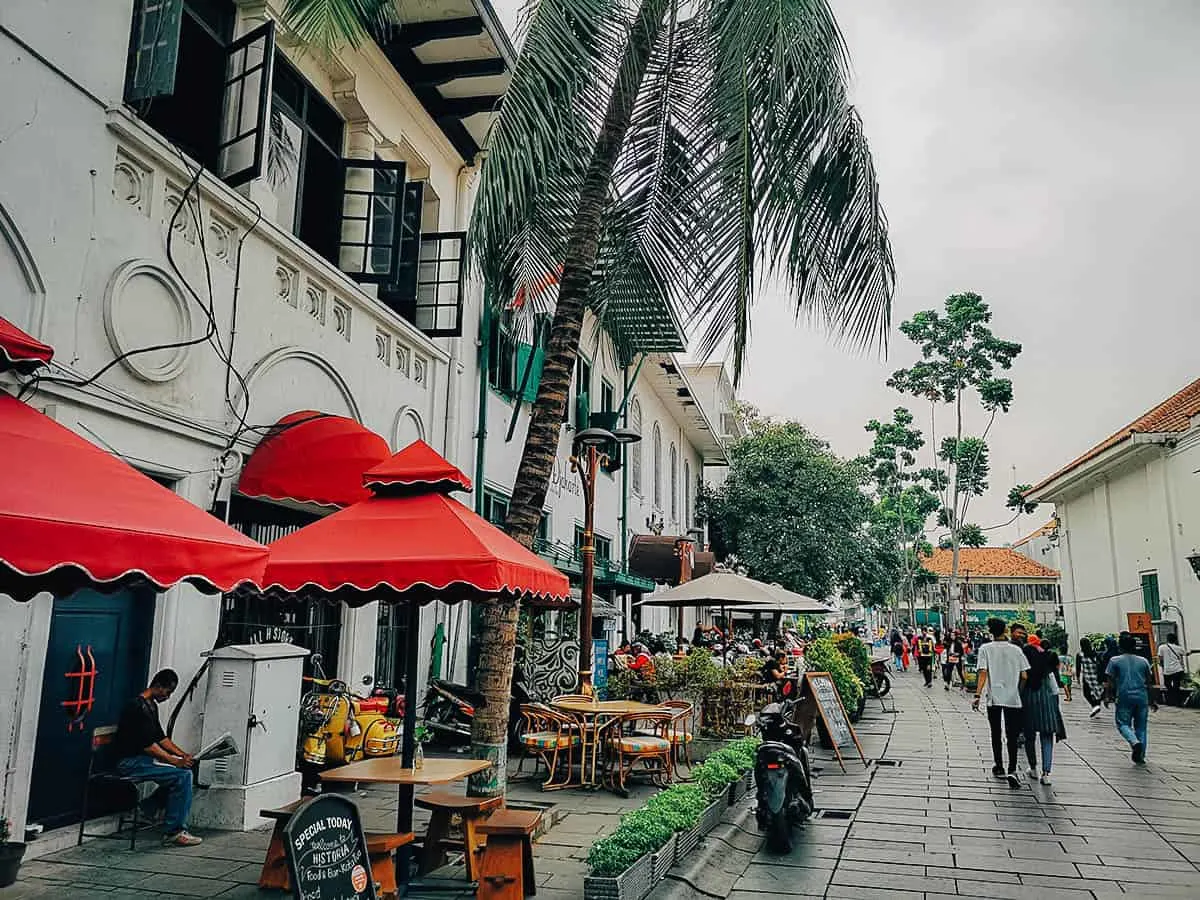 I had fun just walking around Kota Tua and enjoying its atmosphere but there are a few small museums you can visit here as well. There's a history museum, a fine arts and ceramics museum, an Indonesian wayang puppet museum, and two bank museums.
It's easy enough to visit Kota Tua on your own but if you'd like to go on a guided tour, then you can book one through Get Your Guide (Option 1 | Option 2).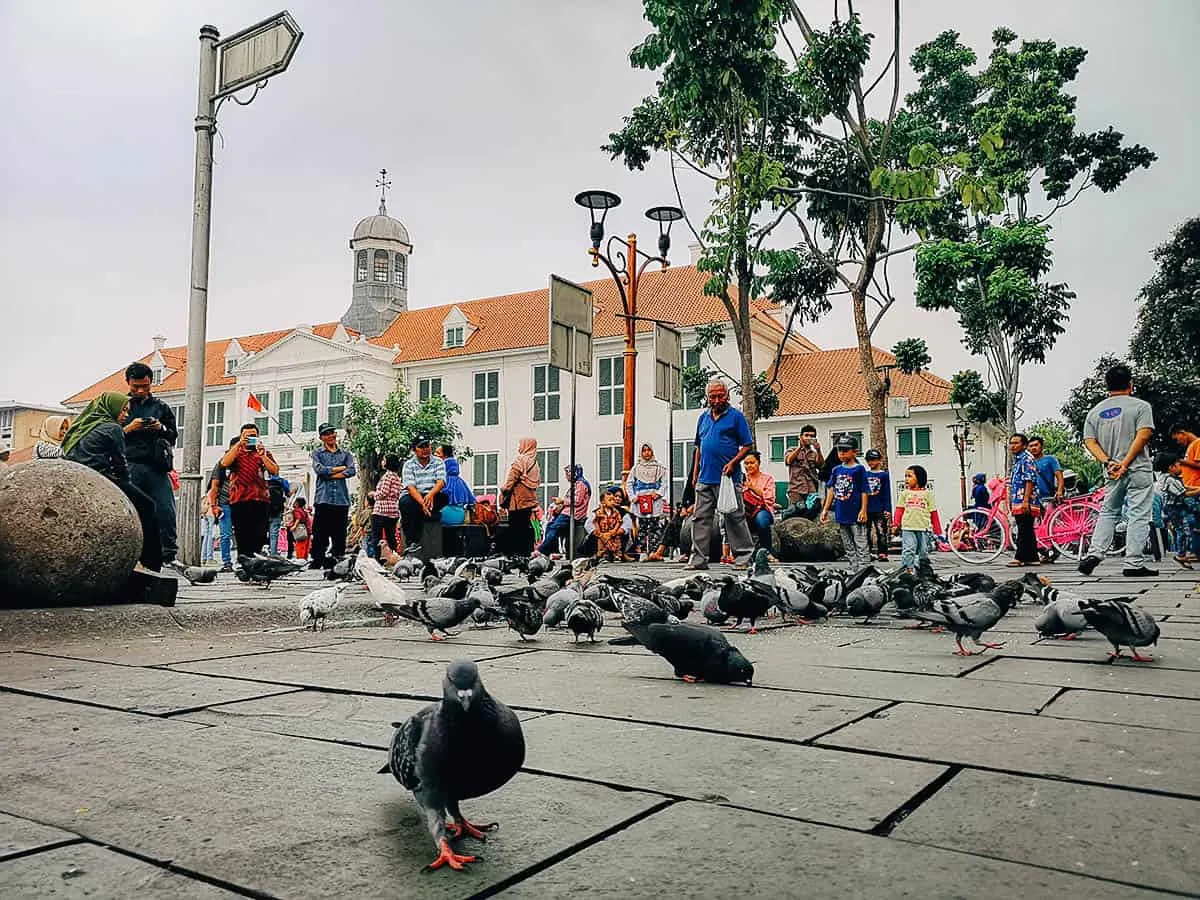 At the heart of Kota Tua is Fatahillah Square where you'll find these colorful antique bikes called sepeda ontel. You can rent them for IDR 20,000 and ride them around the square's open areas for thirty minutes. Each bike comes with a matching floppy hat.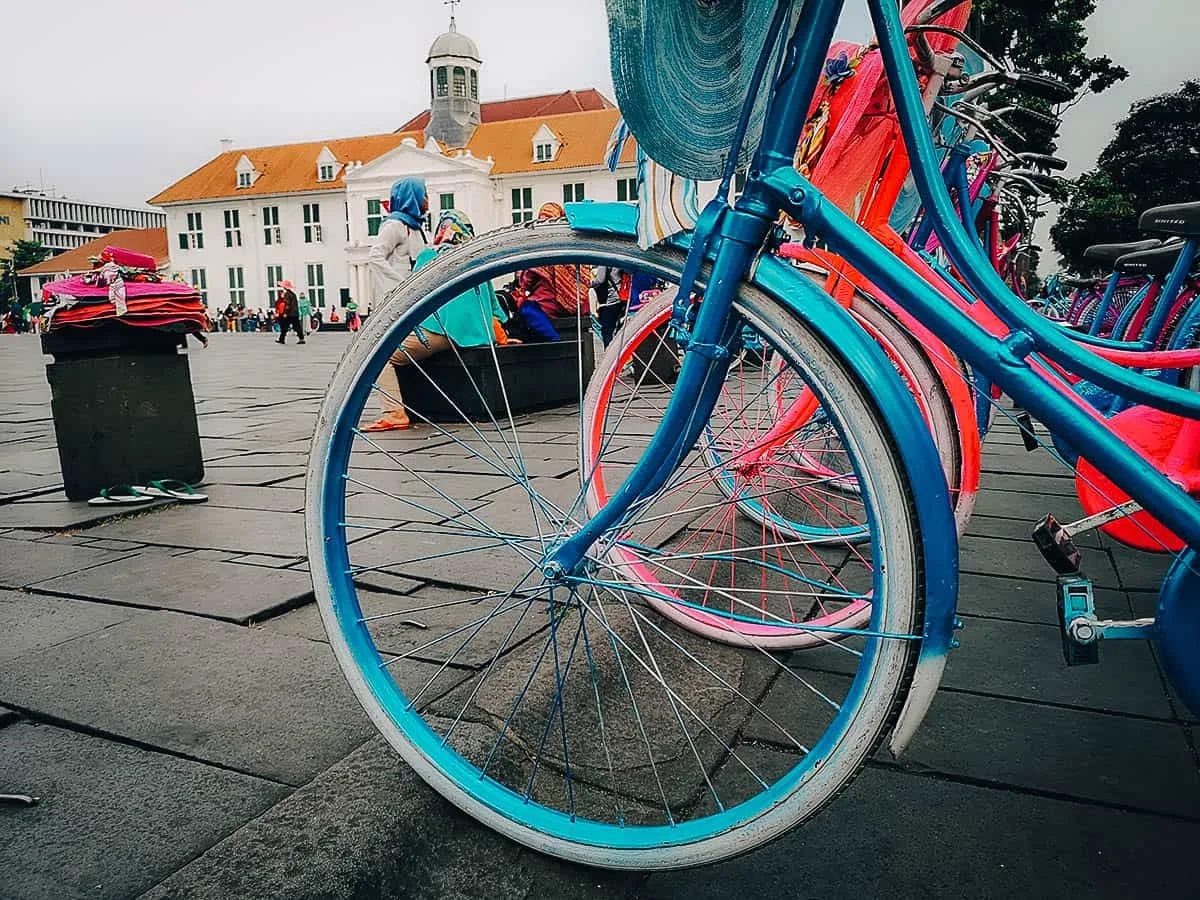 Suggested Length of Visit: 2-3 hours / Admission: FREE
INDONESIAN FOOD GUIDE
If you aren't as familiar with Indonesian cuisine but want to eat traditional dishes, then check out our Indonesian food guide for a list of some of the best dishes to look for in Jakarta and Indonesia. If you have a sweet tooth, then be sure to check out our article on the most delicious Indonesian desserts as well.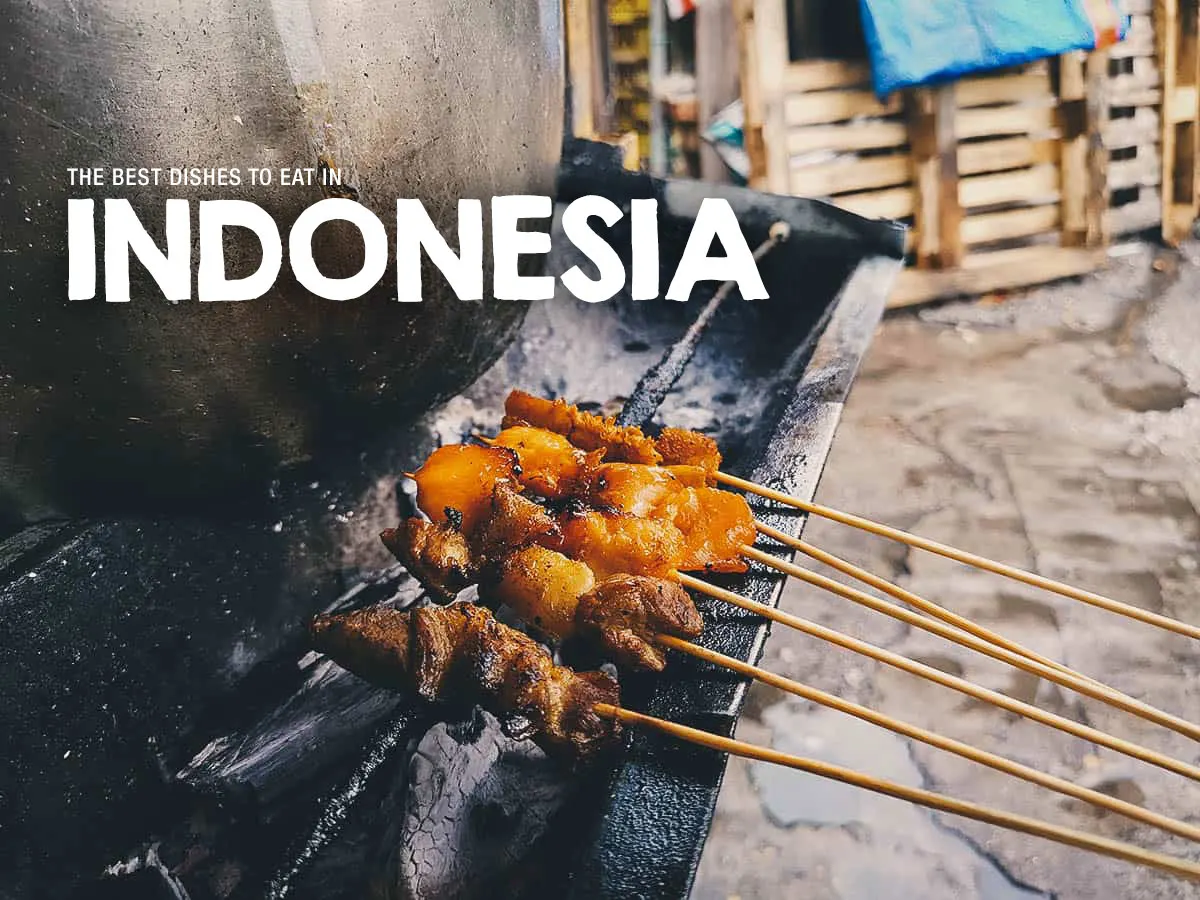 WHERE TO EAT
1. Tesate
What's the first dish that comes to mind when you think of Indonesian cuisine? For me, it's sate – that deliciously seasoned and skewered meat dish that originated right here on the island of Java. They're made with different types of meat marinated in kecap manis (sweet soy sauce) and other ingredients before being grilled over hot coals and served with a variety of sauces. So beloved is sate that it's recognized by many as an Indonesian national dish.
I googled "best sate in jakarta" and Tesate was one of the results that caught my eye, due to its good reviews and proximity to our hotel in Menteng.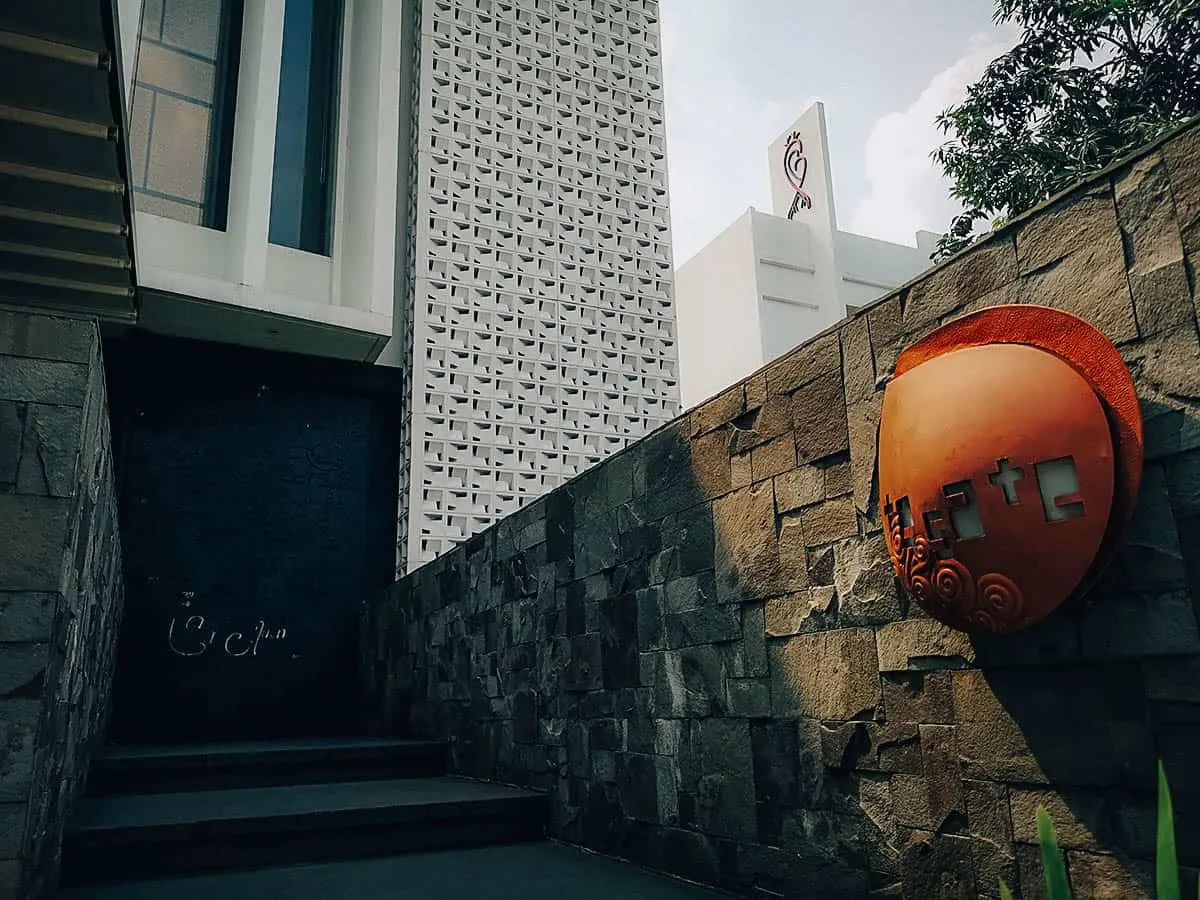 Now how beautiful does that look? This was our first meal in Indonesia so I think we may have gotten carried away with our order. It looks like we ordered everything on their menu! Along with different types of chicken, lamb, and beef sate, we also got a plate of their nasi goreng buntut bumbu belacan which is Indonesian fried rice made with shrimp paste and oxtail.
I think this picture pretty much speaks for itself. The sate was moist and juicy and charred in parts, giving it that nice bit of crunchy caramelization. The chicken and lamb were drenched in a classic sweet peanut sauce while the spiced beef was served dry but with the aromatic flavor of toasted coconut. Everything was absolutely delicious.
Sate is often served as street food but as you can probably tell from these pictures, Tesate is a more upscale restaurant. It's a lovely modern space, the type you can go to on a date, so expect to pay more for your sate here. Follow the link to see where Tesate is on a map.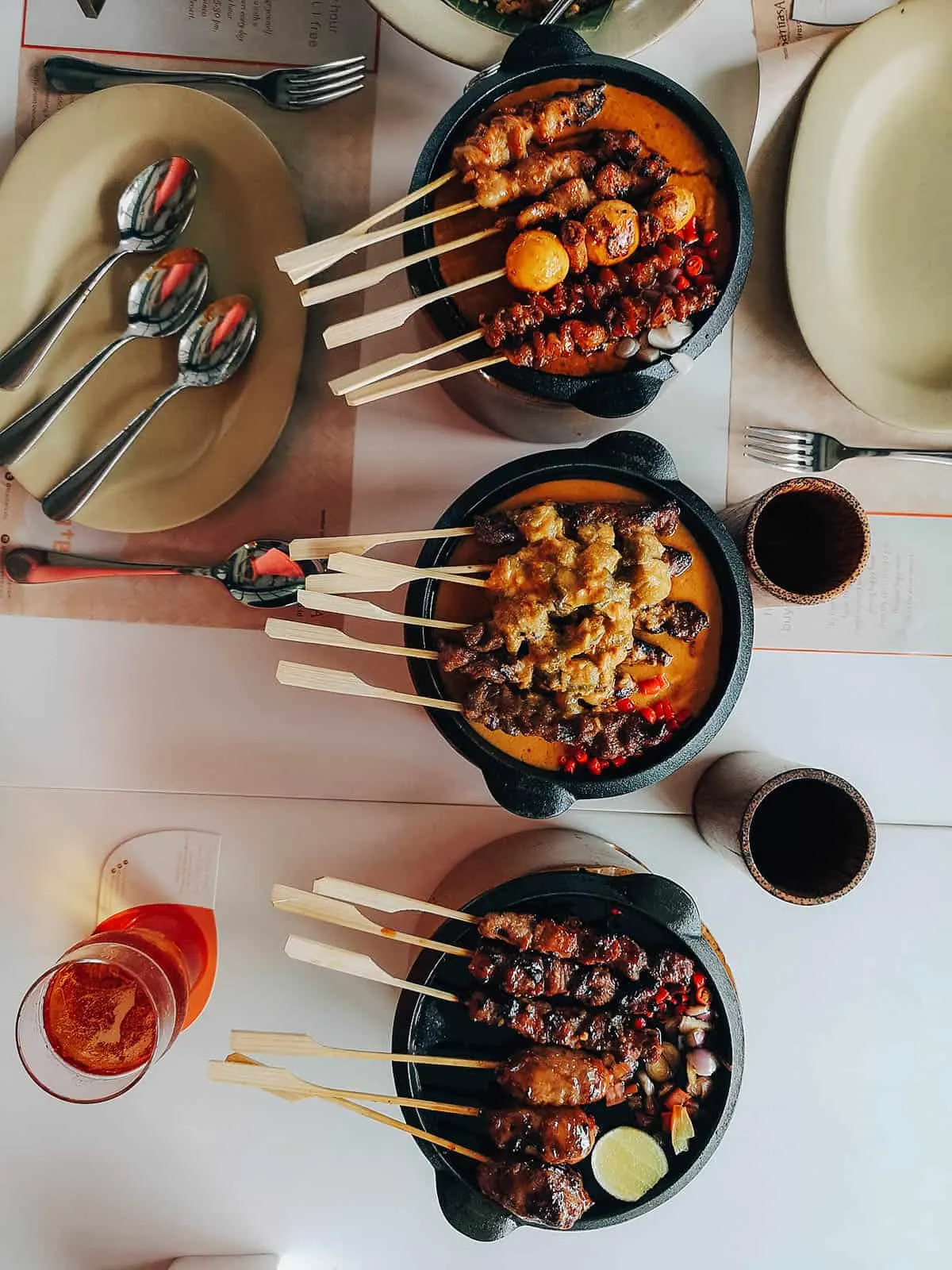 Expect to Pay: IDR 73,000-123,000 per order of sate (6 sticks)
2. Nasi Goreng Kambing Kebon Sirih
Markedly different from Tesate, this humble but legendary street food stall has been serving some of the best goat fried rice in Jakarta for decades. Nasi Goreng Kambing Kebon Sirih is an unassuming open-air warung situated in this alley off Jalan Kebon Sirih, just south of Merdeka Square.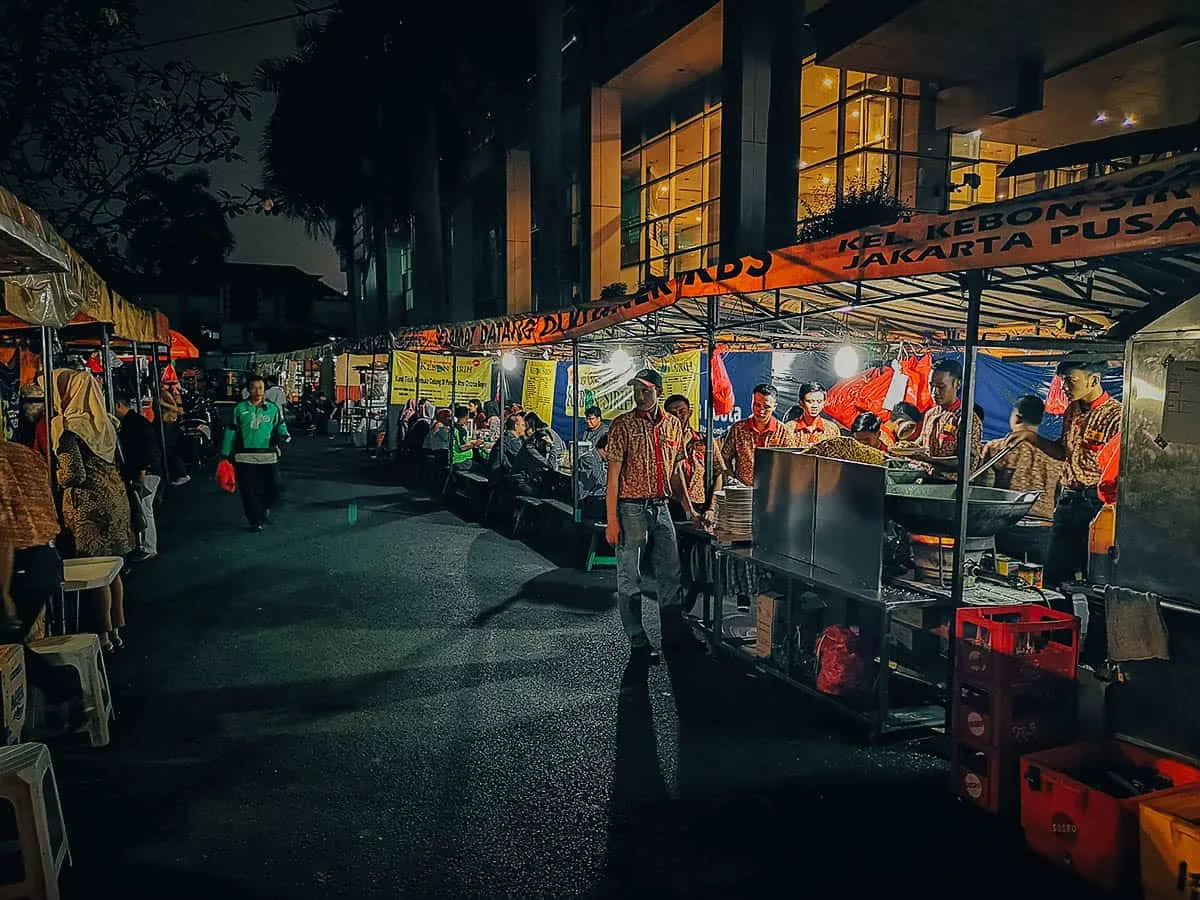 They offer a few goat and chicken dishes but this beautiful mound of rice – known as nasi goreng kambing or "goat fried rice" – is what they're really known for.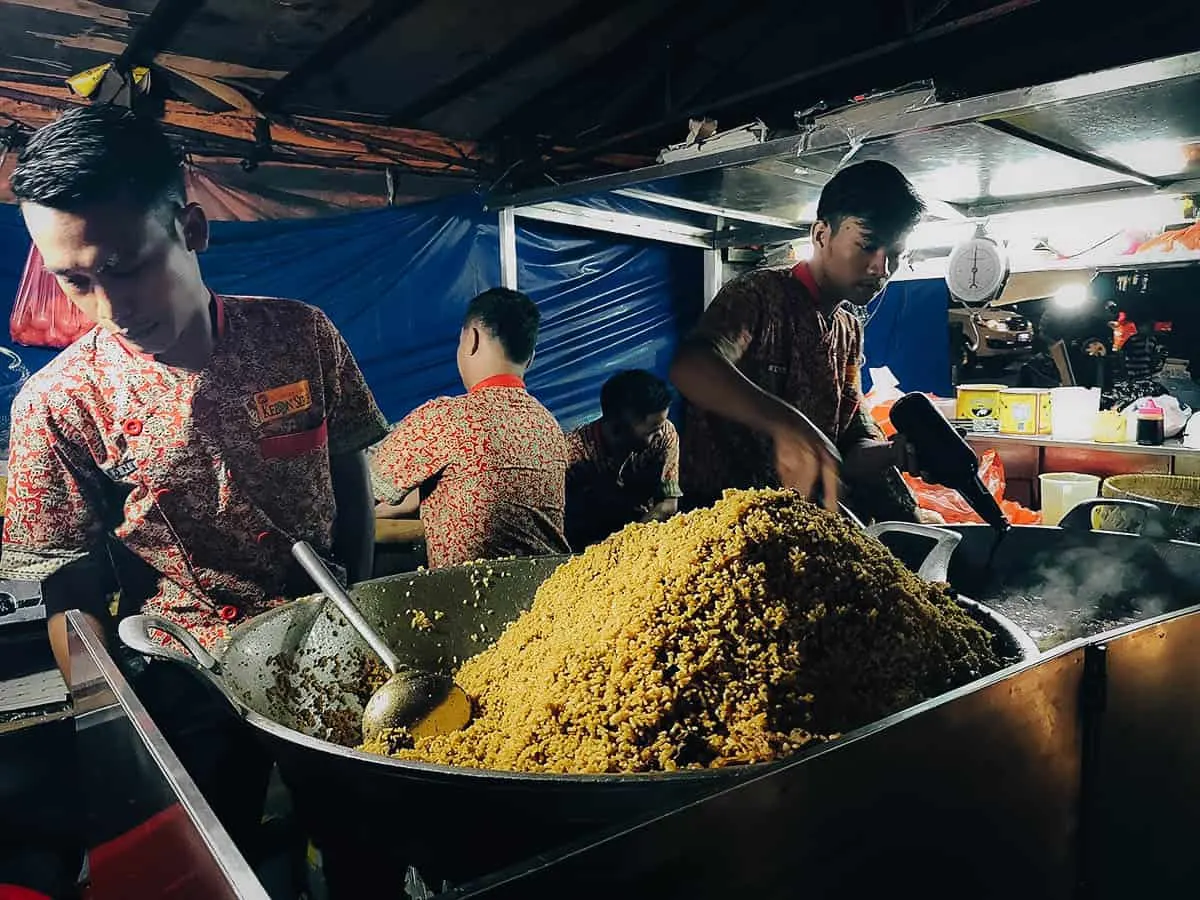 Like sate, nasi goreng is one of the most beloved Indonesian dishes. At its core, it's basically fried rice seasoned with kecap manis and other ingredients like garlic, shrimp paste, and chilli. A host of other ingredients like chicken and prawn are added along with egg, pickles, and krupuk (traditional crackers). In this case, they make it with the most succulent and juicy pieces of mutton.
If you were to eat just two dishes in Indonesia, then it should probably be sate and nasi goreng.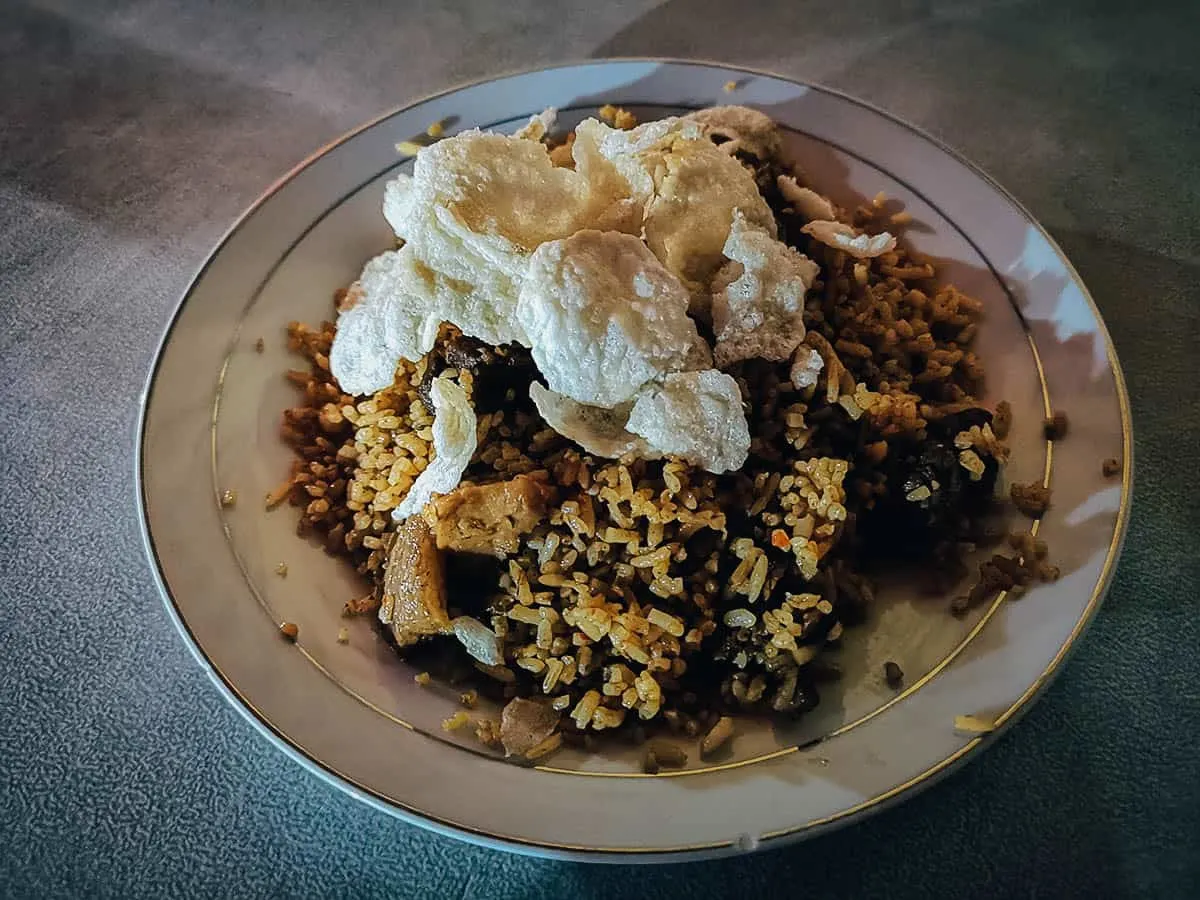 Expect to Pay: IDR 41,000 for a full portion, IDR 31,000 for half
3. Martabak Boss
Martabak Boss is a fun chain of restaurants and food stalls specializing in martabak. Martabak is a type of thick stuffed pancake that can be either sweet or savory. Like sate and nasi goreng, it's a popular street food snack in Indonesia that's commonly eaten in other pats of Asia as well like Malaysia and Singapore.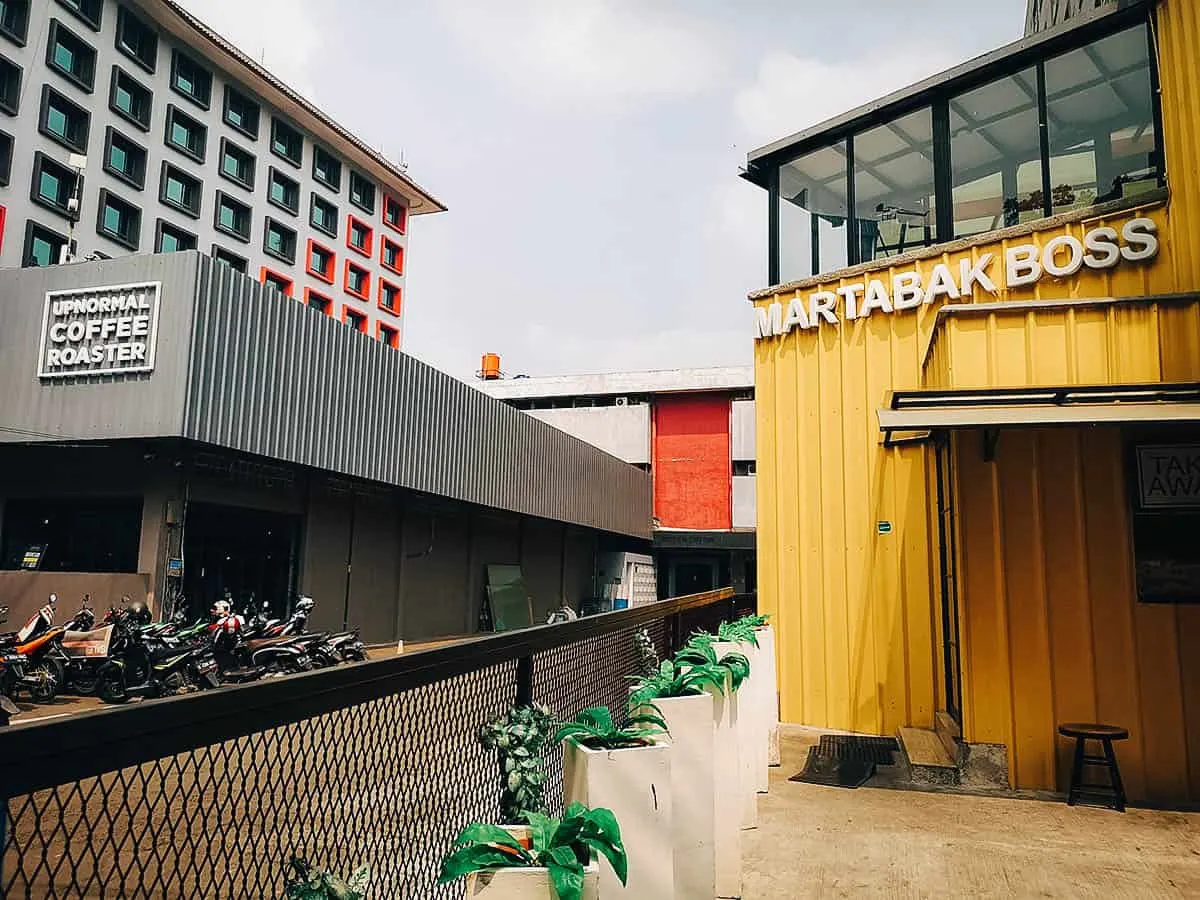 Martabak is one of those dishes that can be made in an infinite number of ways. Even the sweet and savory versions of martabak look completely different! We didn't try it in Indonesia but we had savory martabak in Singapore which looks like a large stuffed crepe. Sweet martabak, on the other hand, more closely resembles thick pancakes topped with a variety of ingredients. I believe this sweet version of martabak is unique to Indonesia.
The most common topping is dark chocolate but they make them with many different ingredients. We tried the taro and black chocolate lava martabak, both of which were outstanding. They're buttery and fluffy like American pancakes with a nice crispy edge that forms from being cooked in a cast iron pan.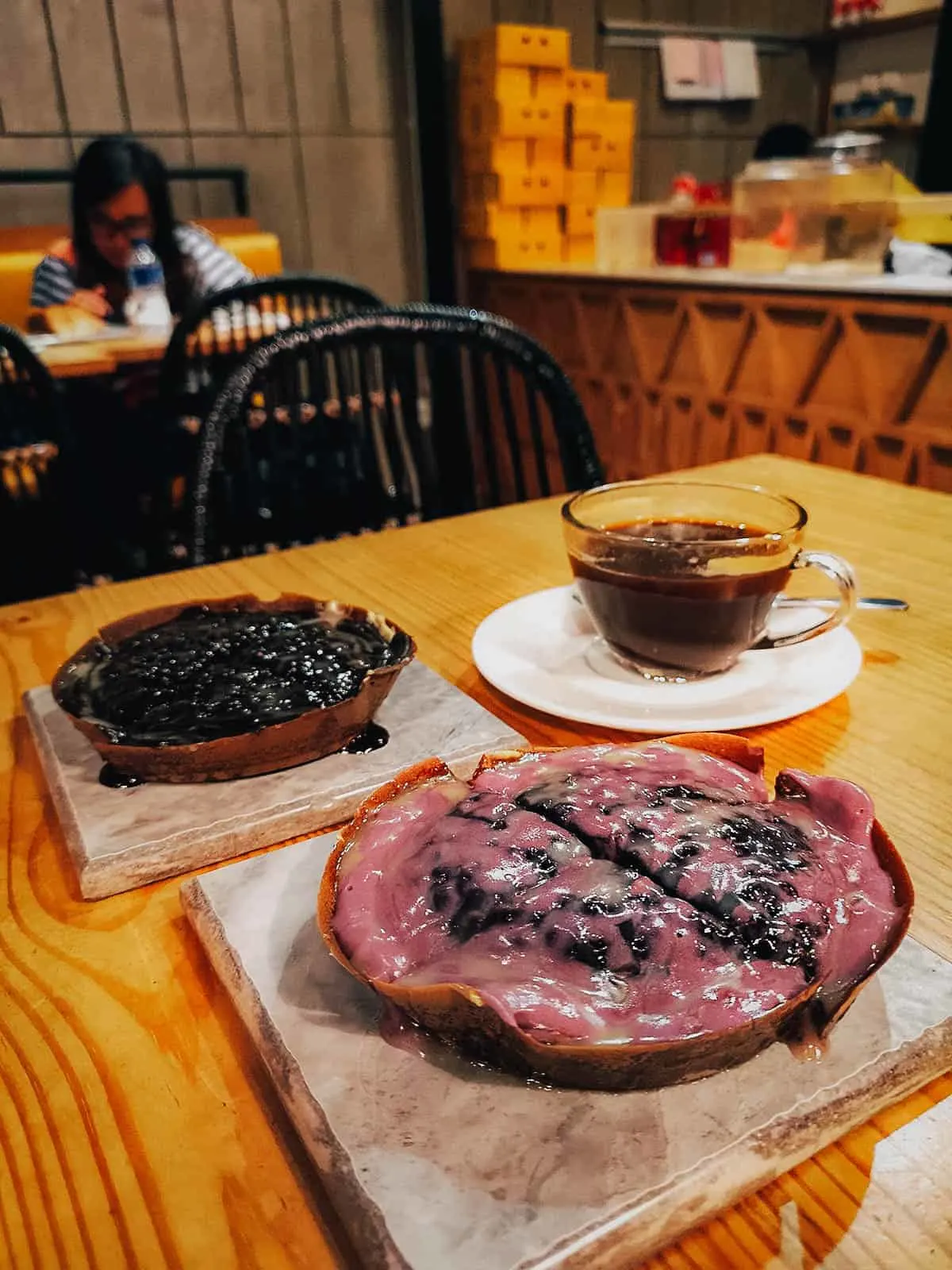 Expect to Pay: Between IDR 25,000-150,000 per martabak, depending on the flavor and size
4. Cafe Batavia
Cafe Batavia is a historic restaurant fronting Fatahillah Square in Kota Tua. It's located in a colonial building that's the second oldest in the square, behind only the former City Hall building of Batavia.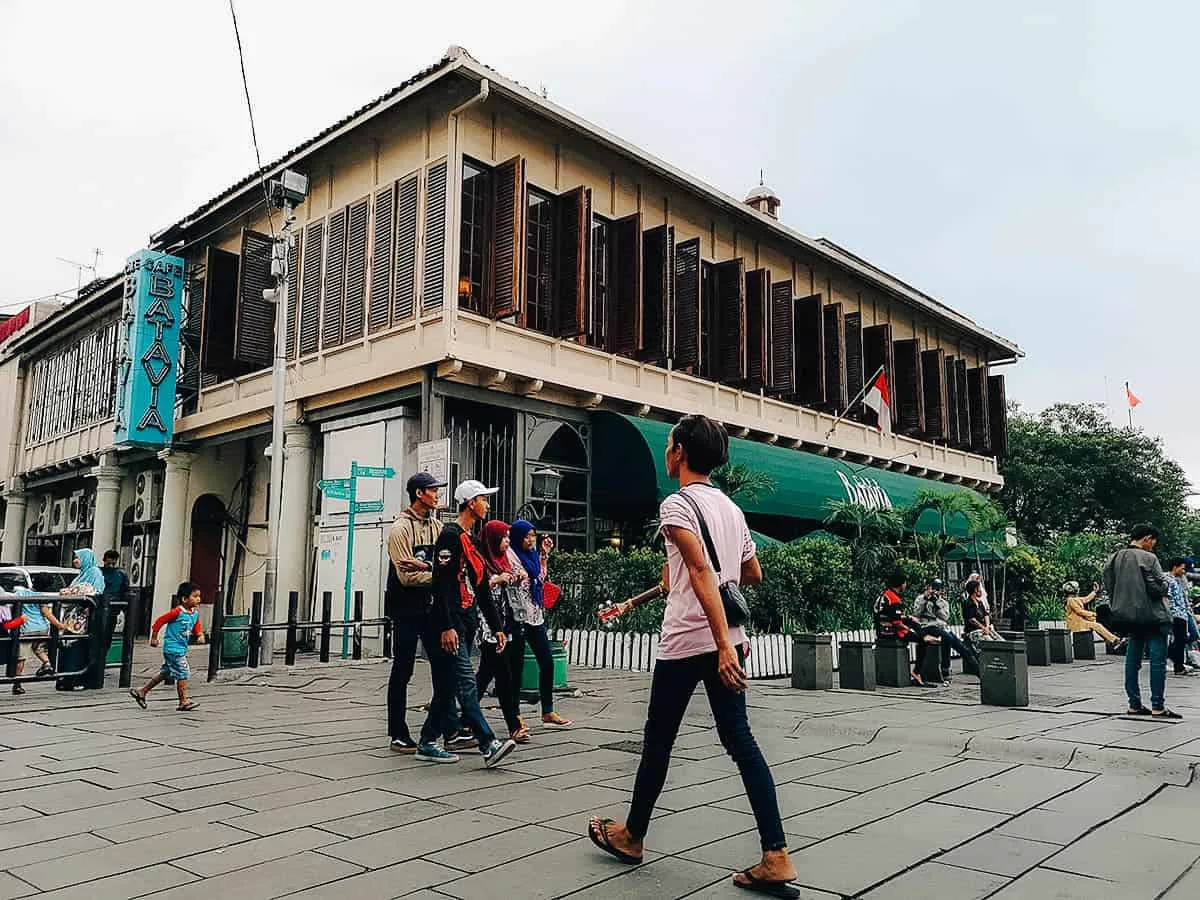 Walking into Cafe Batavia is like stepping into a time capsule. Inside you'll find a dimly lit salon made mostly of wood with chandeliers and large shuttered windows looking out into Fatahillah Square. On the walls are these vintage photographs of celebrities from the 1930s. I'm not sure when the restaurant was opened, but the building itself was constructed in the 1830s and used as an administration office for the Dutch East India Company.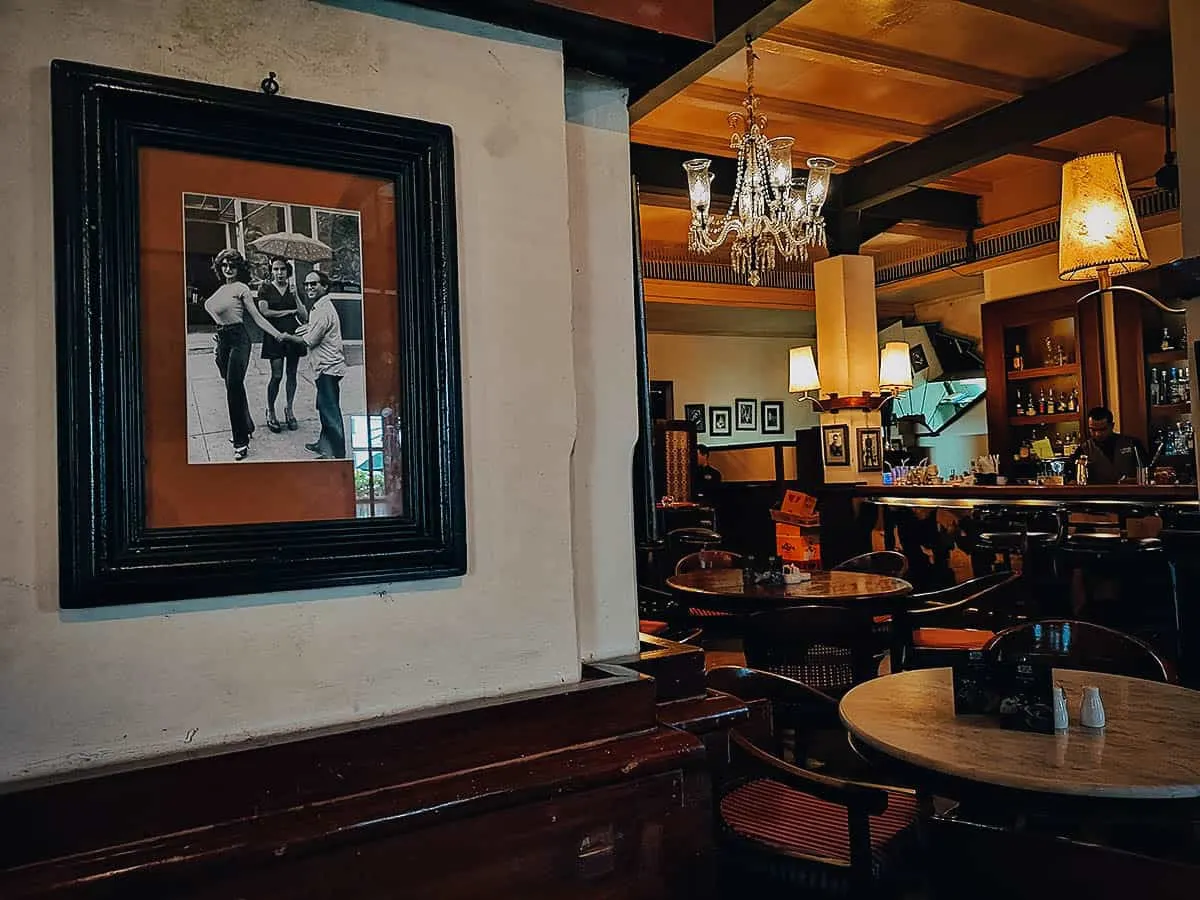 Cafe Batavia has a full menu offering both western and Asian dishes. From what I've read, the food is ok and perhaps a little expensive, but it's the ambiance and history that people come for. I was still full at this point so I didn't eat anything, but I did cool myself down with a tall glass of iced coffee. If you're visiting Kota Tua, then this is a great place to relax and enjoy a drink to escape Jakarta's oppressive heat.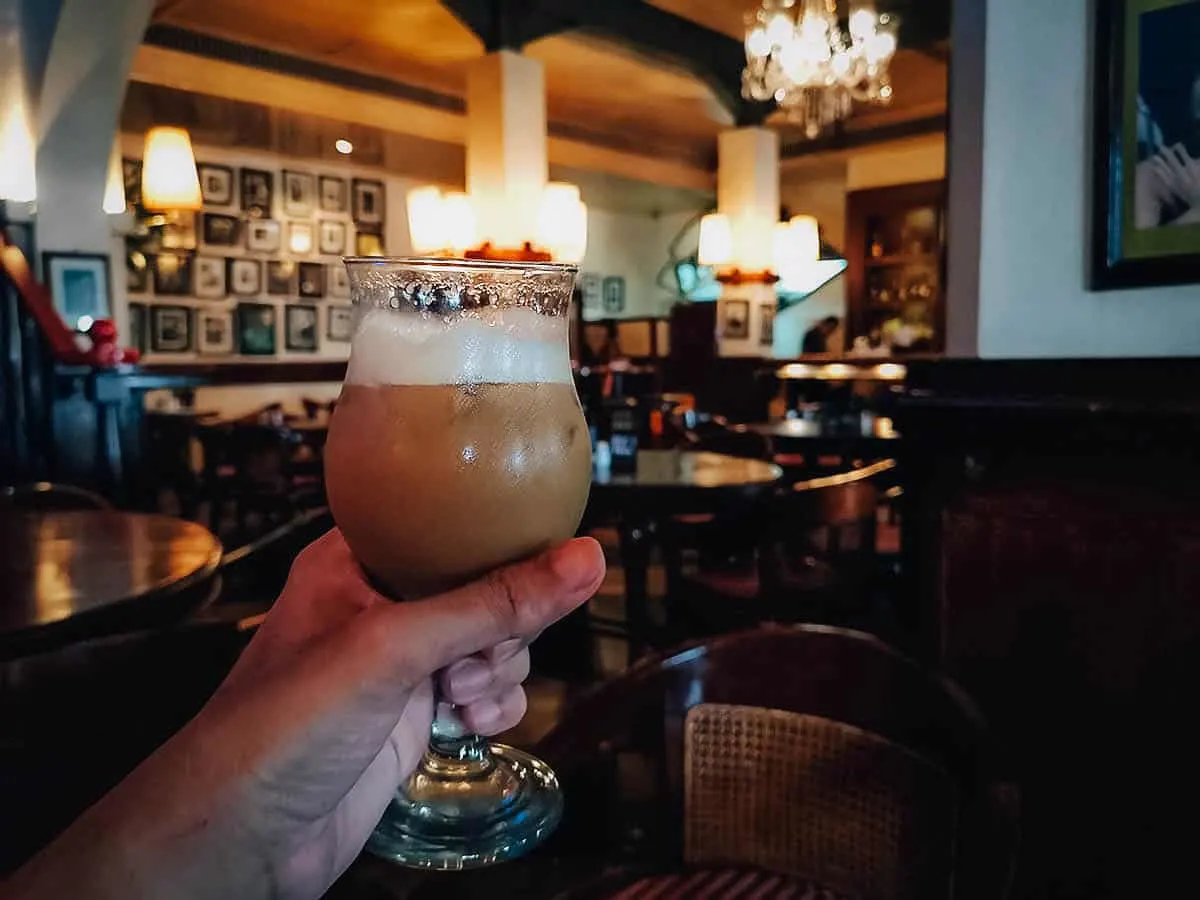 Expect to Pay: About IDR 80,000-150,000 per entree
POINTS OF INTEREST IN JAKARTA
To help you visualize where everything is, I've pinned all the places recommended in this guide on this map.
HOW TO GET AROUND
The Jakarta MRT is currently being constructed. At the time of this writing, only Phase I of the project has been completed (Lebak Bulus to Bundaran HI) so it probably won't be for another few years before the MRT becomes a viable means of transport for tourists.
When we were there, we got around mostly by walking. Other than Kota Tua, all the places I visited were in the Menteng and Gambir areas. I was able to get from one place to the next on foot, though actual distances are longer than they seem on a map, especially under the unforgiving Jakarta sun.
If you don't enjoy too much walking, then you may want to use public transportation or an app-based transportation service like Grab or Go-Jek. I used Grab Car to go from Jakarta Cathedral to Kota Tua, then Grab Bike to get back to our hotel. Grab Bike is more fun and less expensive, not to mention faster because motorbikes can weave through Jakarta's heavy traffic.
If you want to travel in the cheapest way possible, then going by the Transjakarta Busway is probably best. I didn't use it but the Transjakarta Busway is a network of air-conditioned buses that run on reserved busways so they aren't slowed down by traffic. According to their website, fares cost IDR 2,000 between 5-7AM and IDR 3,500 at all other times. You'll need to pay for fares with a reusable stored value card available for purchase at any Transjakarta station (IDR 40,000 with IDR 20,000 credit). You can check the Transjakarta website for a network map.
If you've never used it, then I suggest planning your route using the handy Google Maps app (iOS|Android). It'll tell you the best ways to get from point A to point B using any form of public transportation. We use it on every trip and it's always accurate and very reliable.
HOW MANY DAYS TO STAY / SAMPLE ITINERARY
This guide assumes you're staying for just one full day in Jakarta. This is what you can do with that one day. As previously mentioned, I suggest starting south then making your way north.
24 HOURS IN JAKARTA
• Plaza Indonesia
• National Museum
• National Monument
• Istiqlal Mosque
• Jakarta Cathedral
• Kota Tua
BUDGET / SUMMARY OF EXPENSES
Jakarta isn't expensive. It may be pricier than other destinations in Java but it's still relatively inexpensive. Assuming you're staying just one full day in Jakarta and sharing mid-level accommodations with one other person, then a total budget of around IDR 375,000 should be enough. This takes into account your accommodations, transportation, admission fees, meals, drinks, and pocket wifi rental. Here's a quick breakdown of expenses:
ACCOMMODATIONS
This is highly variable. It depends on hotel preference and how many people you'll be traveling with. We rented a private room at Menteng House for a modest USD 32 a night. Expect to pay less if you stay in a dorm room.
MEALS
Food is cheap in Indonesia, especially street food. If you stick to local food, then expect to pay around IDR 60,000-80,000 per day on meals.
ENTRANCE FEES
Entrance fees to the National Museum and National Monument amount to just IDR 25,000.
TRANSPORTATION
A stored value card for the Transjakarta Busway costs IDR 40,000, but you may not need it if you stay in Jakarta for just one day and keep to the Menteng/Merdeka Square areas. I suggest getting it only if you plan on spending time in Kota Tua. For reference, a ride from Merdeka Square to Kota Tua costs about IDR 22,000 with Grab Car and IDR 15,000 with Grab Bike.
POCKET WIFI RENTAL
If you're sharing the cost with one other person, then you'll each be paying at least USD 1.50 per day.
TOTAL


This comes out to about IDR 375,000 per person for the whole day. Ren and I are middle of the road travelers who enjoy good food and drink, so the recommended budget is a good baseline for travelers like us. Adjust accordingly based on your own travel habits.
TRAVEL TIPS
1. Plan your Trip with Sygic Travel
I've been using this free travel app to create our itineraries for many years now. It allows me to plot points of interest on a map – like our hotel, restaurants, and attractions – so I can see where everything is. That way I can create as efficient an itinerary as possible. Check out my post on the Sygic Travel app for more information.
Sygic Travel is what I used to create the location map above. You can also view it as a day-to-day itinerary on Sygic Travel or download it in editable Word format from our EAT-ineraries page. It covers Jakarta, Bandung, Yogyakarta, and Bali.
2. Rent a Pocket Wifi Device
Having a steady wifi connection is so important these days, especially when you're away on a trip. It allows you to navigate, do research, convert currencies, and just stay connected. No way would we go anywhere now without a reliable wifi connection.
For our two-week trip through Indonesia, we rented a 4G pocket wifi device from Java Mifi. If you're arriving via Soekarno–Hatta International Airport (Terminal 2 or 3) and would rather use a sim card, then you can purchase one in advance through Klook.
3. Check for Discount Passes
I check several websites to find travel deals, but other than Bali, there don't seem to be as many in Indonesia. Among the sites I use, Klook and Get Your Guide seem to have the most in Jakarta. I didn't get any in Jakarta but I did get vouchers for airport transfers and private car charters in Bandung, Yogyakarta, and Bali.
If you want to find deals on tours, transfers, private car charters, etc, then you can search through these lists of Jakarta deals on Klook and Get Your Guide.
4. Get Travel Insurance
Whether or not to get travel insurance is something we think about before every trip. Basically, if we plan on doing any physical activities like biking or skiing, then we'll get it. But if all we'll be doing is traveleating for a few days and not doing anything that could cause us physical harm, then we won't. Our credit cards give us free travel insurance anyway that covers basic things like missed connecting flights and trip cancellations.
When we do decide to get it, we buy insurance from SafetyWing. They're a popular travel insurance provider used by many long-term travelers. You can follow the link to get a free quote from SafetyWing.
5. Bring the Right Power Adapter
You'll find Type C or Type F electrical outlets in Indonesia so make sure you bring the right power adapters for your devices. Electrical voltage is 220/110V and the standard frequency is 50Hz.
Have fun!
After just one full day in this massive city, no way am I an expert on Jakarta but I do hope this travel guide helps you plan your trip. I'm only sharing some of the things I learned from our time there. If you have any comments or suggestions, then please let us know in the comment section below. You're welcome to join our Facebook Travel Group as well.
Thanks for stopping by and enjoy your time in Jakarta!
Disclosure
This article contains affiliate links, meaning we'll earn a small commission if you make a booking at no extra cost to you. We only recommend products and services that we use ourselves and firmly believe in. We really appreciate your support as it helps us make more of these free travel guides. Thank you!