Outside of seeing the cherry blossoms, eating sannakji or "live" octopus was the one thing I was most excited about on this trip. I couldn't wait to try it.
If you've never heard of sannakji before, it's basically just octopus sashimi. Sounds innocuous enough right? What makes it so notorious though is that the tentacles are still squirming when the octopus is served to you. Bought live before being chopped up and served raw on a plate, the tentacles continue to wriggle about for a long time despite being detached from the octopus' body. Kinda like a gecko's dropped tail I guess.
I rarely get queasy with food so I didn't find the moving tentacles off-putting, but I can understand why many people do. The sight of food dancing about on your plate is plenty bizarre on its own. Add to that the possibility of it killing you, and sannakji without question becomes one of the strangest, most extreme things I've ever eaten.
More on the biology and risk of eating sannakji below.
Noryangjin Fish Market
Noryangjin Fish Market is one of the most popular places in Seoul to try sannakji, at least for tourists. It's huge, occupying an entire warehouse. On the first floor is the market, and on the second floor the numerous restaurants to cook your fresh seafood.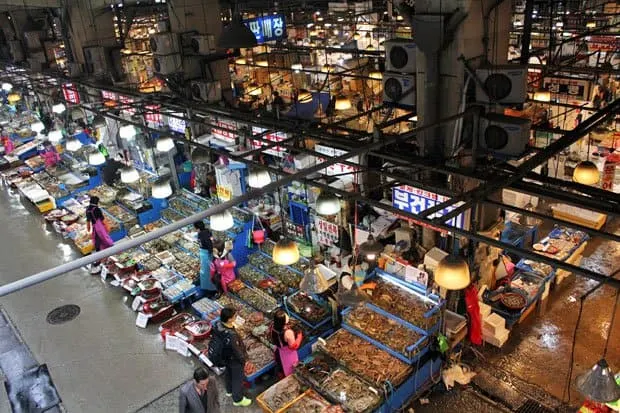 If it poops in the sea, then chances are you'll find it here at Noryangjin.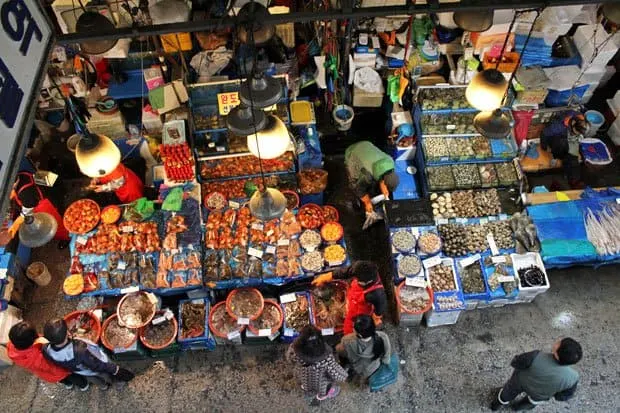 Huge scallops and other shellfish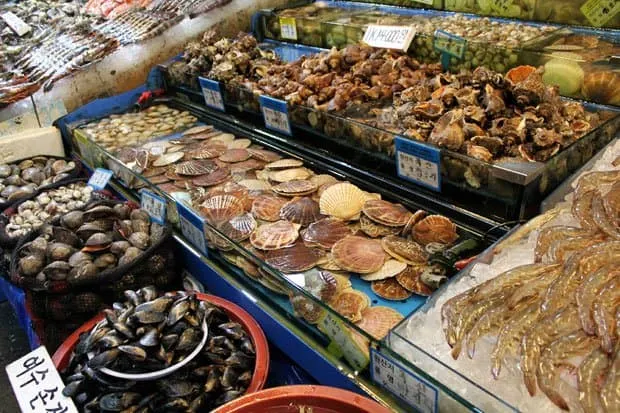 An assortment of sea snails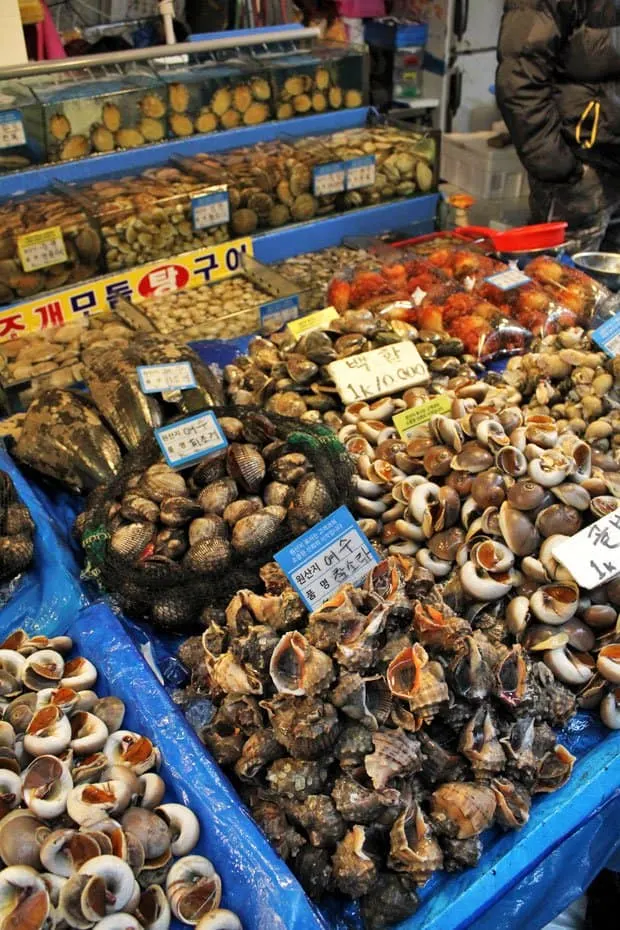 Huge prawns and sea squirts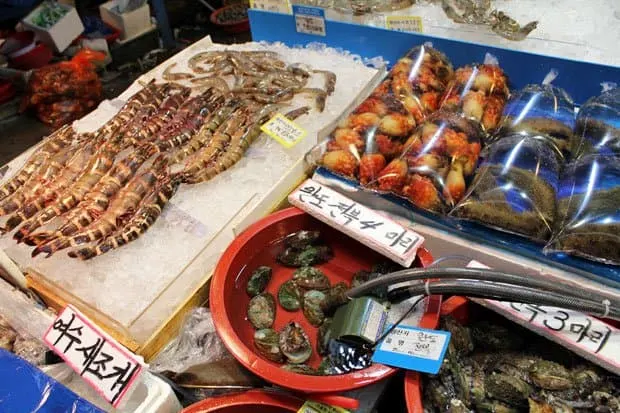 The bizarre but (barely) edible creature known as the sea squirt. Ren and I tried a small bag of these once but we didn't know how to prepare it properly. The ensuing texture was awful and off-putting so we never tried it again ha ha…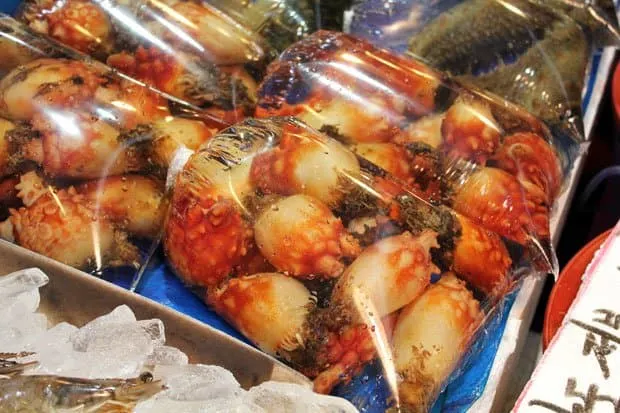 Massive lobsters and king crabs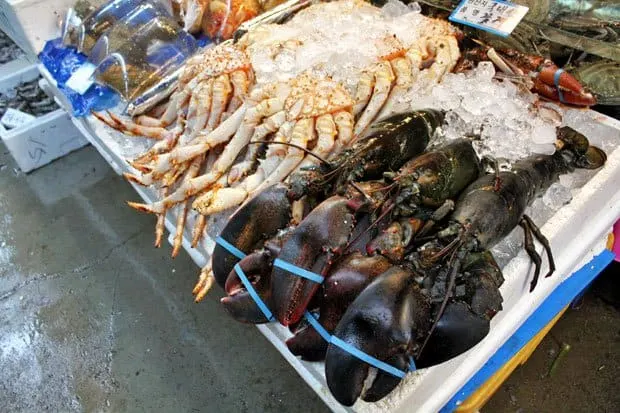 "Anyway, like I was sayin', shrimp is the fruit of the sea. You can barbecue it, boil it, broil it, bake it, saute it. Dey's uh, shrimp-kabobs, shrimp creole, shrimp gumbo. Pan fried, deep fried, stir-fried…"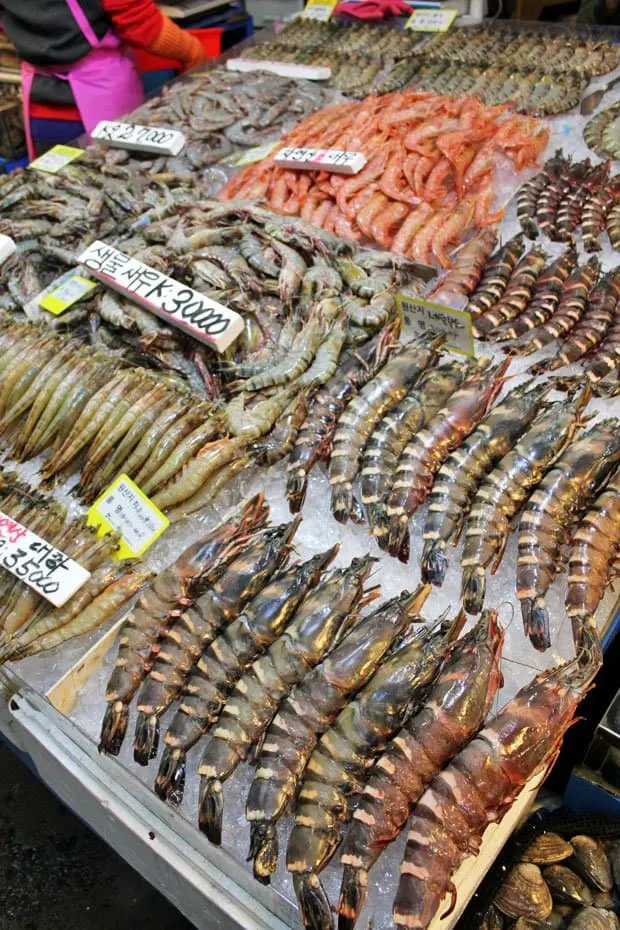 Oysters and little sea squirts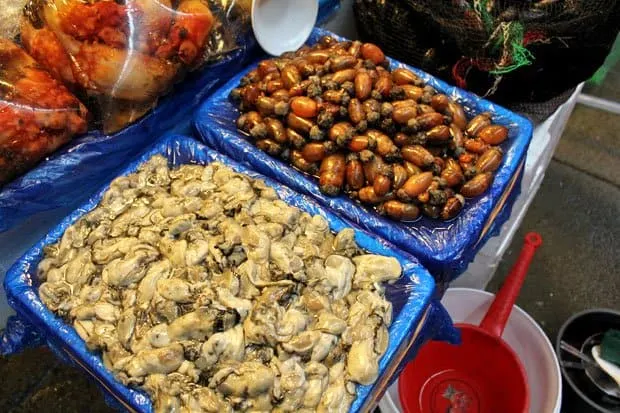 More bizarre seafood. See those big black things that look like giant mussels? According to the vendor, those are actually a type of scallop that are as big as my feet.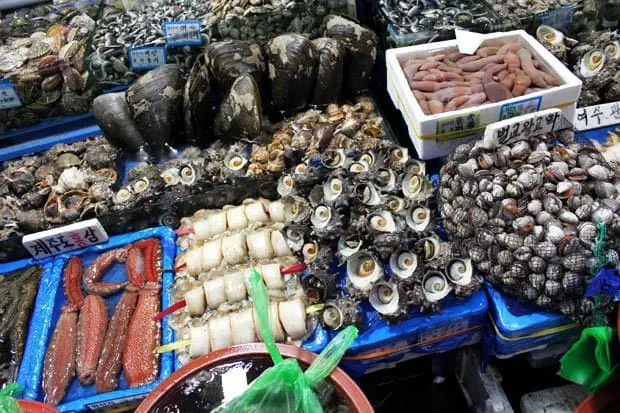 Aquariums overflowing with spindly crabs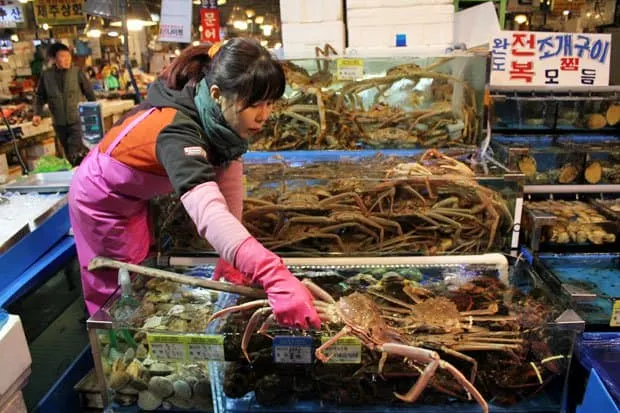 And what we came here for — sannakji! Each small octopus went for 5,000 KRW, though I think we could have bargained it down a bit. I've read that they tend to jack up the prices here for foreigners. 5,000 KRW wasn't too bad though so I just went with it. We picked up four small pieces of live abalone as well for 10,000 KRW.
After purchasing your seafood, you can take it to any restaurant upstairs to cook. Cooking cost is separate and negotiable as well. We were originally quoted 20,000 KRW which I thought was too high just to grill up some abalone and chop up an octopus, so I bargained it down to 15,000 KRW.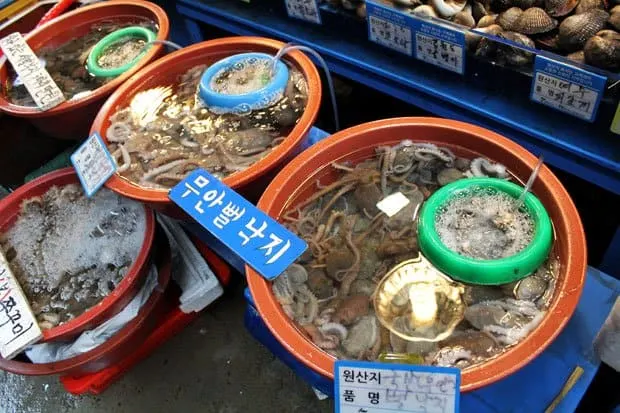 If you think that eating sannakji is cruel, don't. The octopus is chopped up into small pieces before being served to you so it's already dead. Only the tentacles are still moving. The reason for that is because they contain ganglia which can operate separately from the octopus' body. When an octopus loses an arm, it can no longer control it. But since the ganglia are still intact, it's capable of operating independently of the octopus and reacting to stimuli, hence the continued movement. (Yes, Google is my friend.)
Our four pieces of grilled abalone that were absurdly delicious. Like the sannakji, definitely one of the best things that I ate on this trip.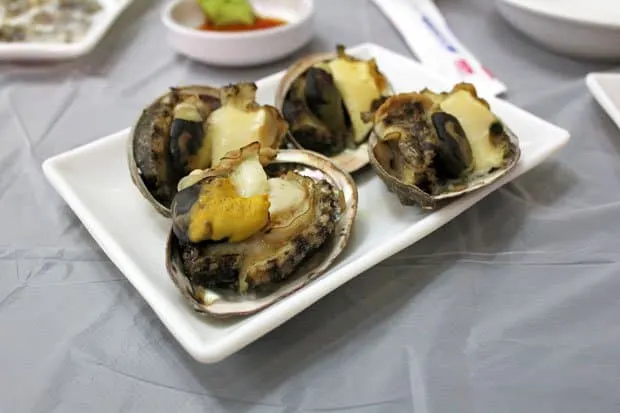 The 15,000 KRW cooking charge came with all the Korean food that you see here.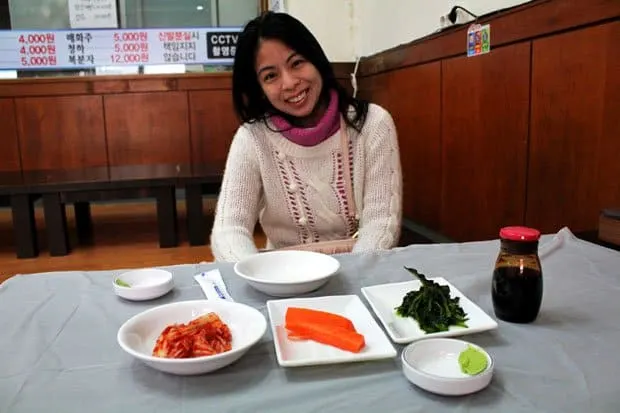 If you like sashimi and can get past the sight of squirming tentacles, then I strongly urge you to try sannakji. It's really good, even better than how I imagined it to be. I've had raw octopus and squid tentacles before but none quite as good as this. I guess the freshness has a lot to do with it.
Like it or not though, eating sannakji is definitely an experience that you won't soon forget. For more on sannakji and other bizarre foods, check out this interesting article on the 20 weirdest foods from around the world.
Noryangjin Fish Market, Seoul, South Korea
노량진수산시장
688 Nodeul-ro, Dongjak-gu, Seoul, South Korea
서울특별시 동작구 노들로 688 (노량진동)
Tel: +82 2 814 2211
Fax: +82 2 812 4940
Hours of Operation: Mon-Sun, 24 hrs (high-class fish market)
Expect to spend: Around 10,000 KRW per octopus (with preparation)
HOW TO GET THERE:
By subway, get off at Noryangjin station (line 1 or 9), exit 1. Walk 100m over the bridge to the fish market.
For travel tips to Seoul, check out our First-Timer's Travel Guide to Seoul, South Korea