We love exploring local food. It's why we travel.
Whenever we visit a new city, we try to experience as much of the regional cuisine as we can. We rarely go to restaurants that serve non-local food so if that means having to ignore a Japanese restaurant in Bangkok in spite of its great reviews and my love affair with sushi, then so be it.
But Bali is different.
We learned that on our first visit to the island in 2009. We stayed the entire time in Ubud and I remember having more difficulty finding authentic warungs (simple Indonesian restaurant) than restaurants serving European food. That's what our guide Kadek told us too. There are just more international restaurants in Bali now.
I think a lot of that has to do with the fact that Bali has been such a popular tourist destination for so long that it's become very international in feel. It looks and feels different from similar island destinations in Asia like Phuket or Bohol.
You'll notice it in the island's myriad hotels, boutiques, cafes, and restaurants, many of which are so polished conceptually that they'd probably succeed even in major cities.
Sure, you can find great babi guling and bebek goreng restaurants but I think limiting yourself to just Indonesian food would be doing yourself a disservice in Bali. For me, it would be like going to New York City and eating just hamburgers and hot dogs. You'd seriously be missing out.
The food in Bali is so diverse. For the first time ever, we've set aside that "local food only" mentality and focused on finding the best restaurants in Bali regardless of the cuisine. This Bali restaurant guide is what we came up with.
RESTAURANTS IN BALI QUICK LINKS
To help with your Bali trip planning, I've compiled links to hotels, tours, and other services here.
HOTELS
Top-rated hotels in Seminyak, one of the best areas to stay for first-time visitors to Bali.
TOURS
OTHER SERVICES
BALI TRAVEL GUIDE
If you're planning a trip to this amazing island, then be sure to check out our detailed Bali and Ubud travel guides. It'll have all the information you need – like where to stay, when to go, how to get around, etc. – to help you plan your trip.
Save This on Pinterest!
No time to read this guide on the best restaurants in Bali? Click on the save button and pin it for later!
THE BEST RESTAURANTS IN BALI
On our most recent trip, we spent a week in Bali and divided our time between popular tourists hotspots Ubud and Seminyak. Of course, there's a lot more to Bali than these two areas but most visitors to the island will probably be spending time in either or both places. If you do, then here are fourteen Bali restaurants, cafes, and bars you should check out.
SEMINYAK
1. Pak Malen
I can't think of a better way to start this list than with babi guling or roast suckling pig. It's a Bali food favorite and one the island's most famous Indonesian dishes. It consists of a suckling pig stuffed with an Indonesian spice mixture called basa gede, then roasted on a hand-churned spit over an open fire.
It's typically served over steamed white rice with vegetables, pork satay, blood sausage, a spicy Indonesian sambal, and my personal favorite – a smashingly crisp shard of glistening pork skin.
Roast pig is an extremely popular Indonesian dish in Bali so every local has an opinion on which warung serves the best. I was on a private tour one day and I asked my driver to take me to his favorite suckling pig restaurant in Bali. He took me here, to Pak Malen, a no-nonsense Indonesian warung that's known for serving some of the best roast pig in Bali.
As you can see below, they serve it with pork satay, lawar (vegetables with coconut), pork belly chips, sambal, soup, and the crispiest square of pork skin.
I've only had roast pig twice in Bali, the first at the famed Ibu Oka in Ubud which I loved, but this was clearly superior. The meat was juicier, the skin crispier, and the host of accompaniments more varied in taste and texture. I LOVED it.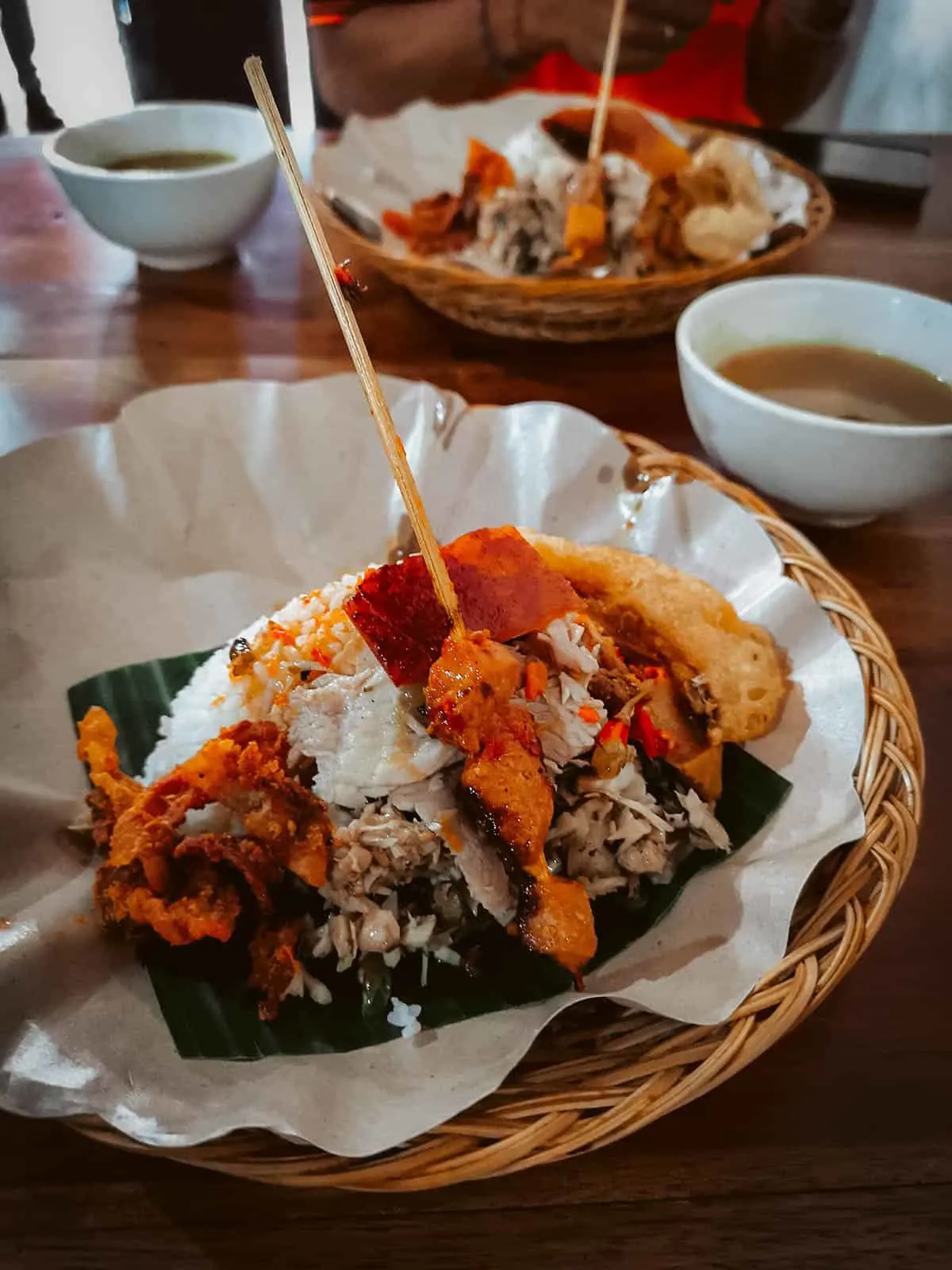 For many locals, Pak Malen is one of the best Indonesian restaurants in Bali so be prepared for a wait if you go at peak times. It's located along central Sunset Road in Seminyak.
Pak Malen
Address: Jalan Sunset Road No.554, Seminyak, Kuta, Seminyak, Kuta, Kabupaten Badung, Bali 80361, Indonesia
Operating Hours: 8:30AM-7PM, daily
Expect to Pay: IDR 40,000 per order of roast suckling pig
2. Naughty Nuri's
Naughty Nuri's is a Bali legend. They first opened in 1995 in Ubud and became known for their Indonesian barbecued pork ribs and martinis which the late great Anthony Bourdain famously declared the "best martinis outside of New York". It was Bourdain's ringing endorsement that made us visit Naughty Nuri's for the first time back in 2009.
The humble warung has since grown by leaps and bounds. On top of growing to four branches in Bali and one in Jakarta, they opened for franchise and expanded internationally to Kuala Lumpur, Phuket, Macau, and Melbourne. Their ribs and martinis are delicious but I can't help but think that Mr. Borudain had much to do with their incredible success.
On our most recent trip, we tried to eat at the original branch in Ubud but it was closed at the time. We ate at the Seminyak outlet instead which is the newest in the franchise.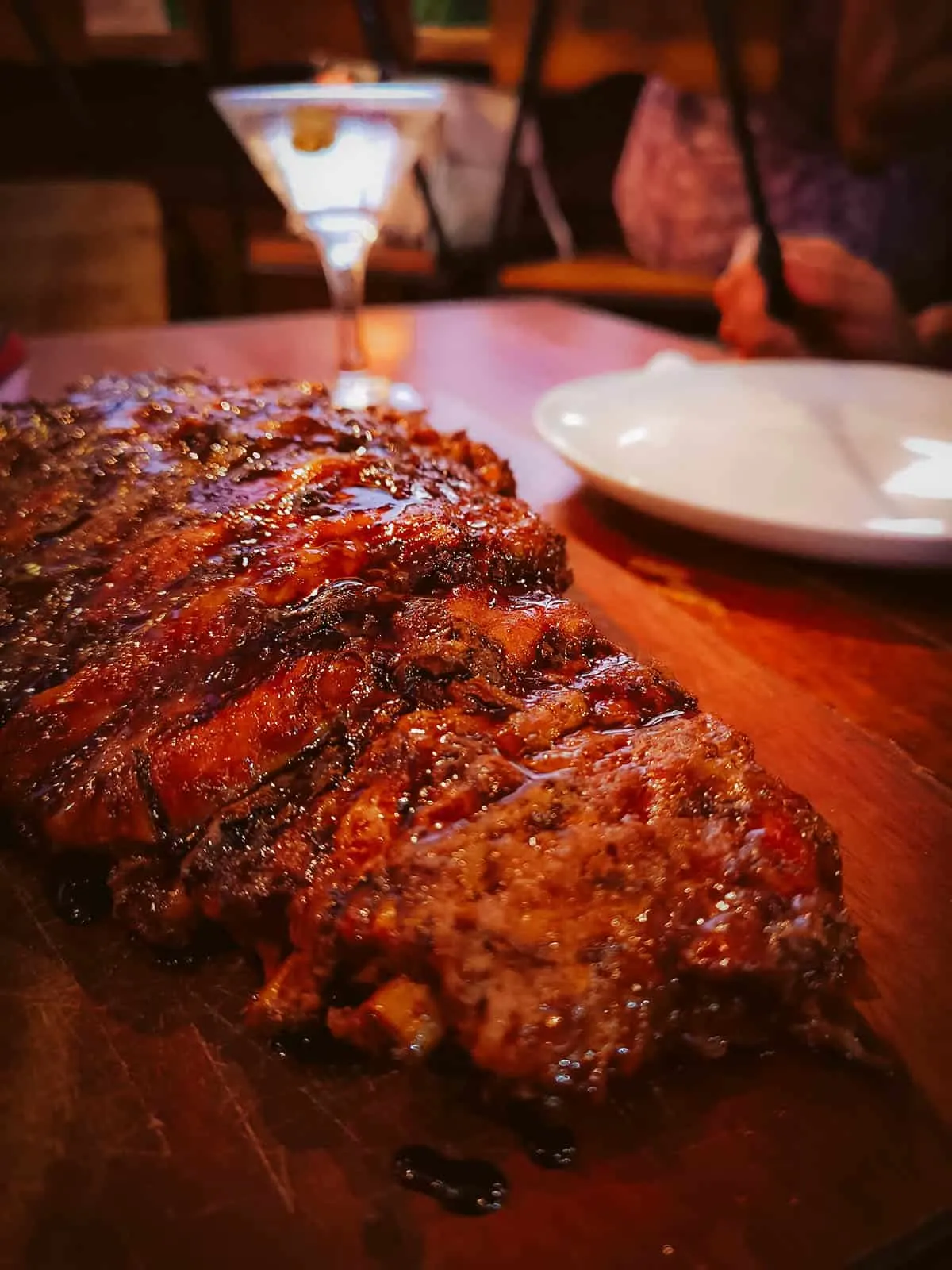 Much has changed in the ten years since our last meal at Naughty Nuri's, but one thing remains the same – their ribs are still fall-off-the-bone delicious. It's a fun dining experience and one we'll always look forward to on every return trip to Bali.
Like roast pig, Indonesian pork ribs is one of the best dishes in Bali. They're made by boiling the ribs till fork tender then marinating and cooking them in a spice mixture made with a host of ingredients like kecap manis (Indonesian sweet soy sauce), lemongrass, shallots, galangal, coriander seed, and turmeric.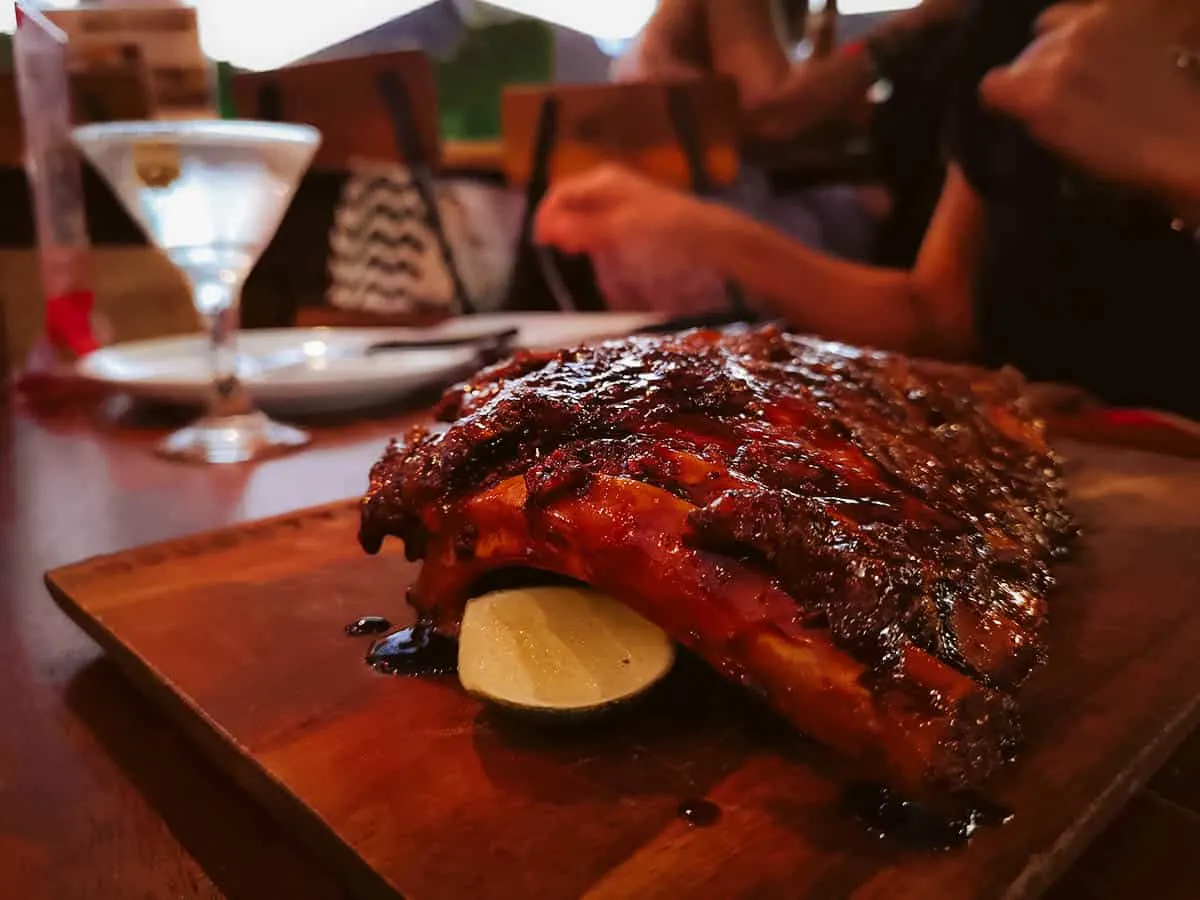 Of course, we had to have the ribs with Naughty Nuri's famed martinis. I'm not a martini drinker so I can't say if these are indeed the best martinis outside of New York, but they're very good.
They didn't do this when we ordered a martini at Naughty Nuri's Ubud ten years ago, but here at Seminyak, the Indonesian servers will dance around your table and sing "Shake It Off" while preparing your martini. It's fun but a bit embarrassing since the whole restaurant turns to look at you. Ha!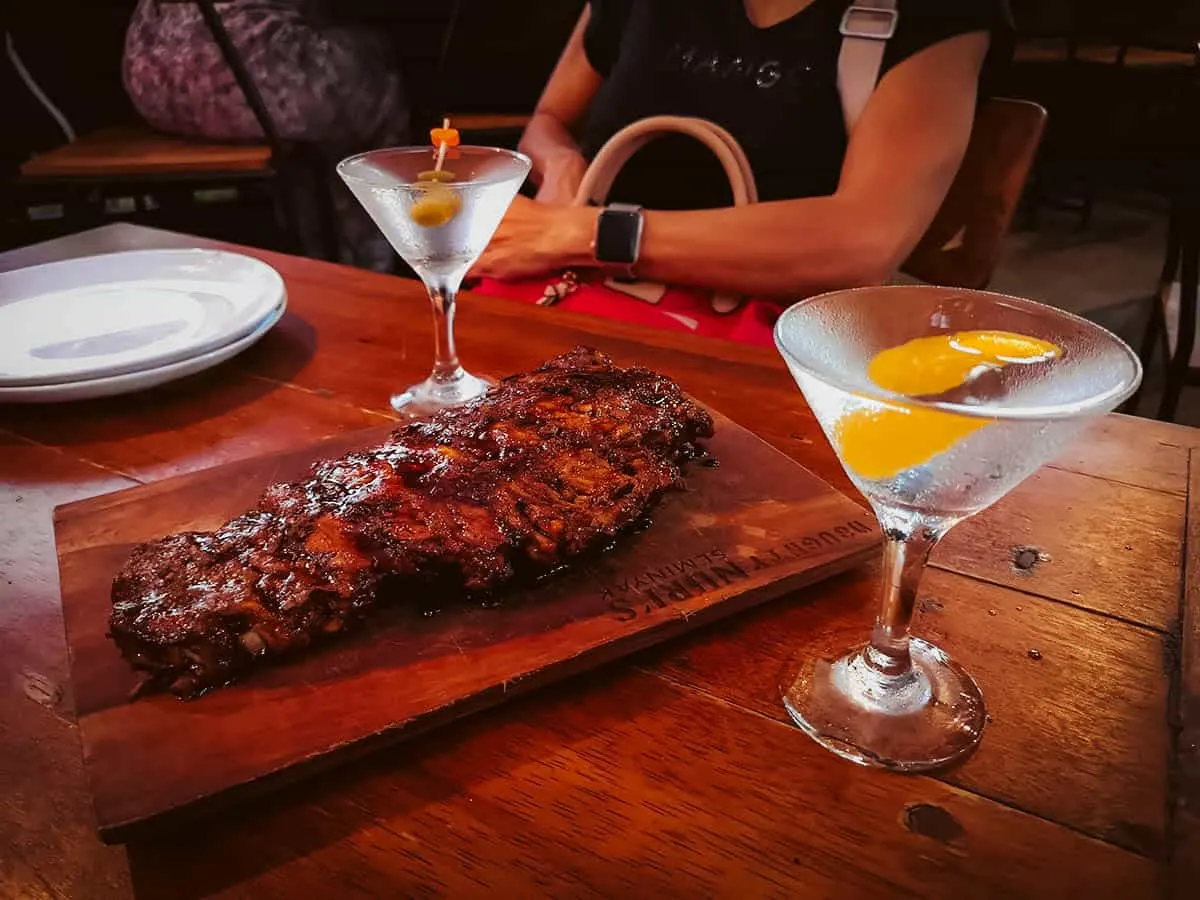 If a restaurant has multiple branches, then we'll try to go to the original though this Seminyak branch may have surpassed the original. It's fun and fresh compared to the Ubud branch which feels a bit tired. You get that sense from their TripAdvisor reviews as well. The food sounds like it's still great though.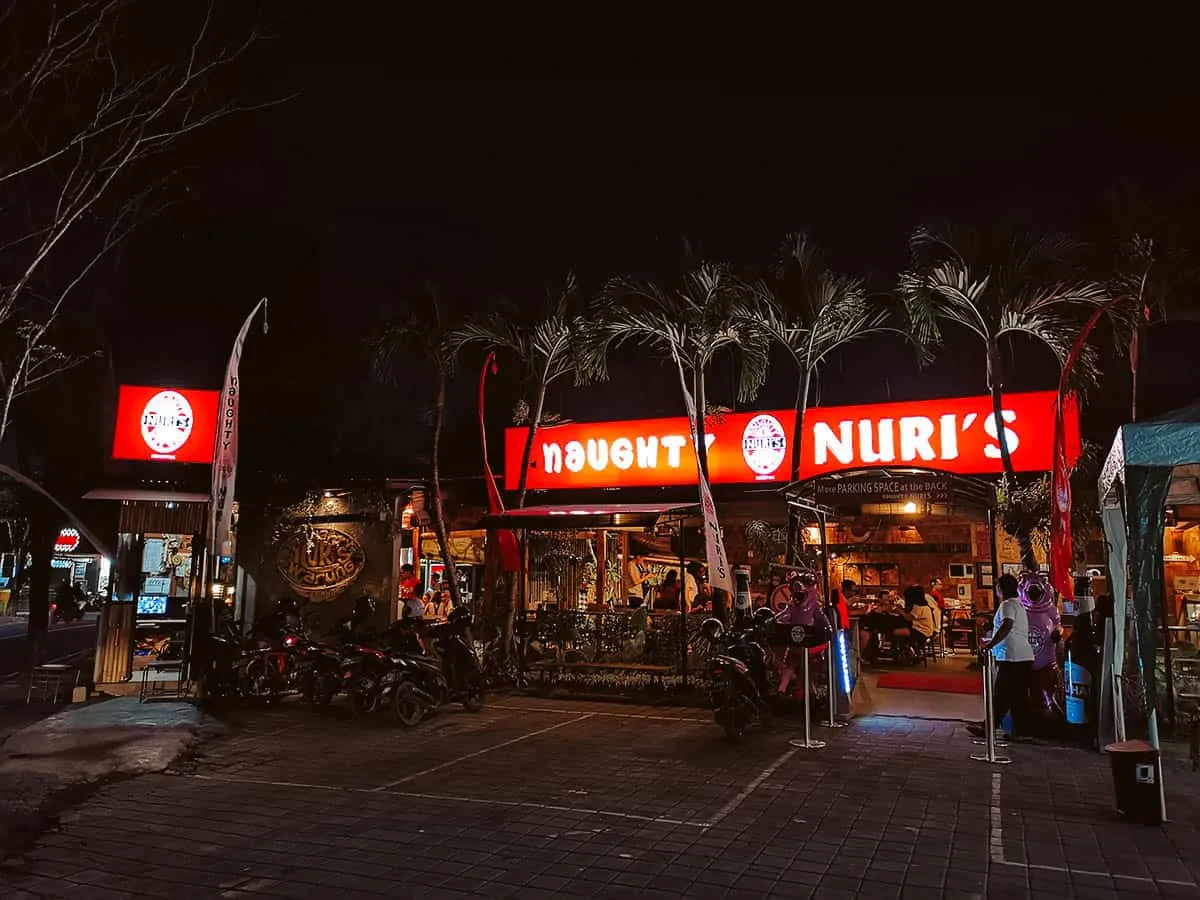 Check out these cute flying pigs at Naughty Nuri's Seminyak. Not only does Naughty Nuri's serve some of the best food in Bali, but it's one of the most fun as well.
In case you're wondering, the restaurant was named after the owner Isnuri "Nuri" Suryatmi. Her nickname for her late husband – Brian Kenney Aldinger of New York – was "naughty", hence "Naughty Nuri's". Sadly, Brian passed away in 2012.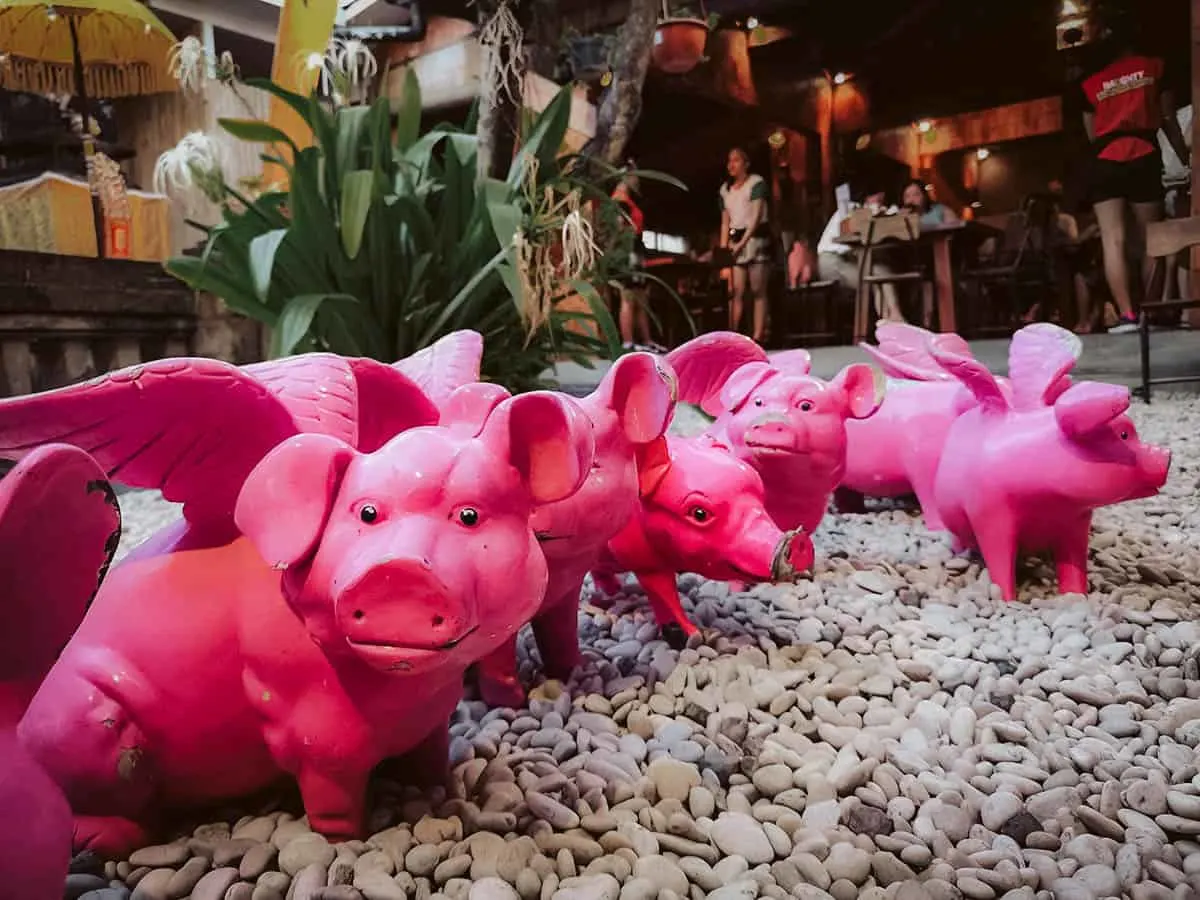 Naughty Nuri's
Address: Jalan Mertanadi No. 62 Kerobokan Seminyak, Kerobokan Kelod, Kec. Kuta Utara, Kabupaten Badung, Bali 80361, Indonesia
Operating Hours: 11AM-10PM, daily
Expect to Pay: IDR 153,000 for the pork spare ribs, IDR 125,000 for the signature martini
3. Chandi
Bebek betutu is an Indonesian dish we have fond memories of from our first trip to Bali in 2009. I did a search for "best bebek betutu in bali" and the Chandi restaurant often came up.
Bebek betutu is another Bali food classic. It's a special Indonesian dish of steamed Balinese duck heavily seasoned with an Indonesian spice mixture called betutu.
The mixture is made by grinding over a dozen spices and ingredients like turmeric, ginger, galangal, garlic, candle nuts, and peanuts into a fine paste then sauteing it with coconut oil. It's a time-consuming dish to make so you'll need to order it at least a day in advance.
At Chandi, they make their bebek betutu with a blend of sixteen spices and serve it with duck sate over sugarcane and a salted duck egg salad.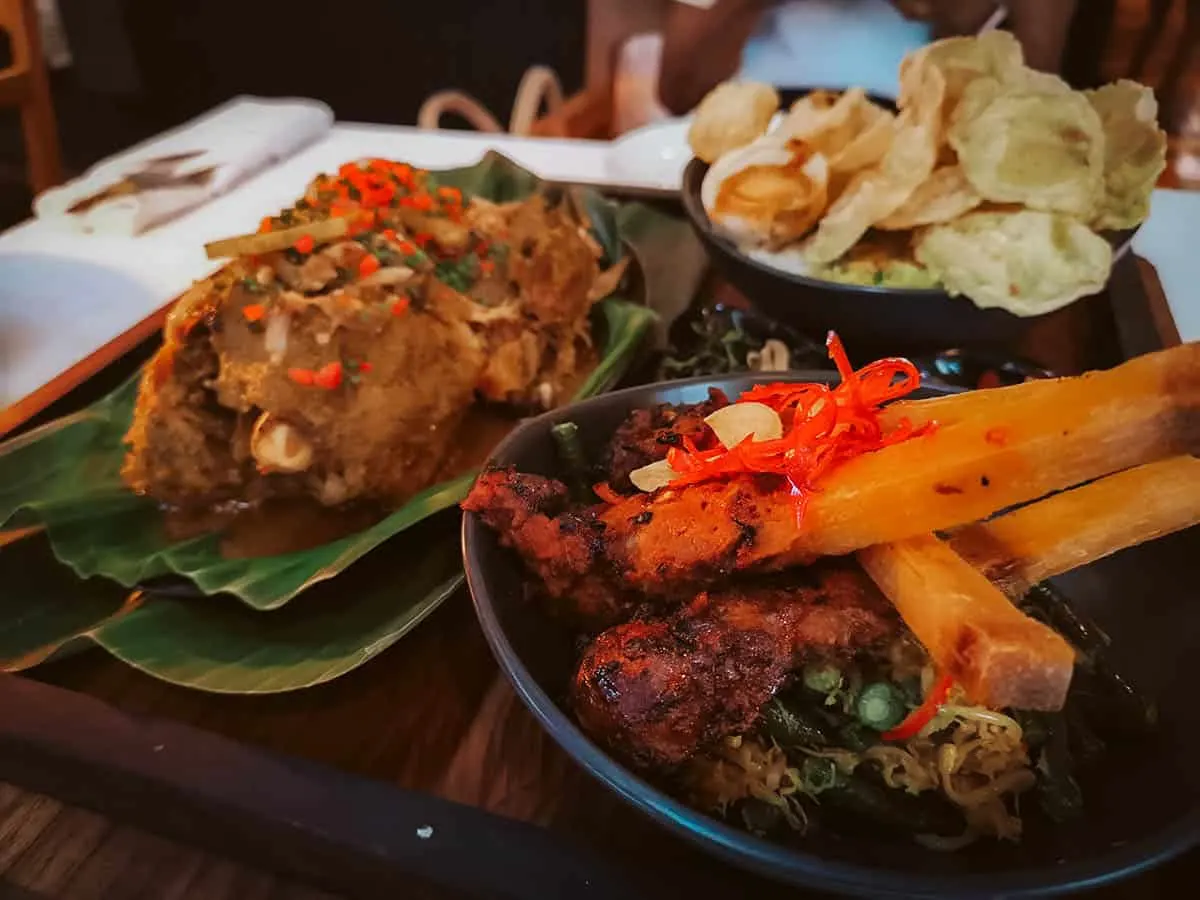 Bebek betutu is incredibly moist and tender and practically shreds off the bone the moment it touches your knife. It's also very aromatic to the point of being perfume-y. You can tell when you taste it that a whole lot of spices went into making this dish.
It's traditionally a Balinese ceremonial dish so it's a great one to try if you're looking for a memorable Indonesian dining experience.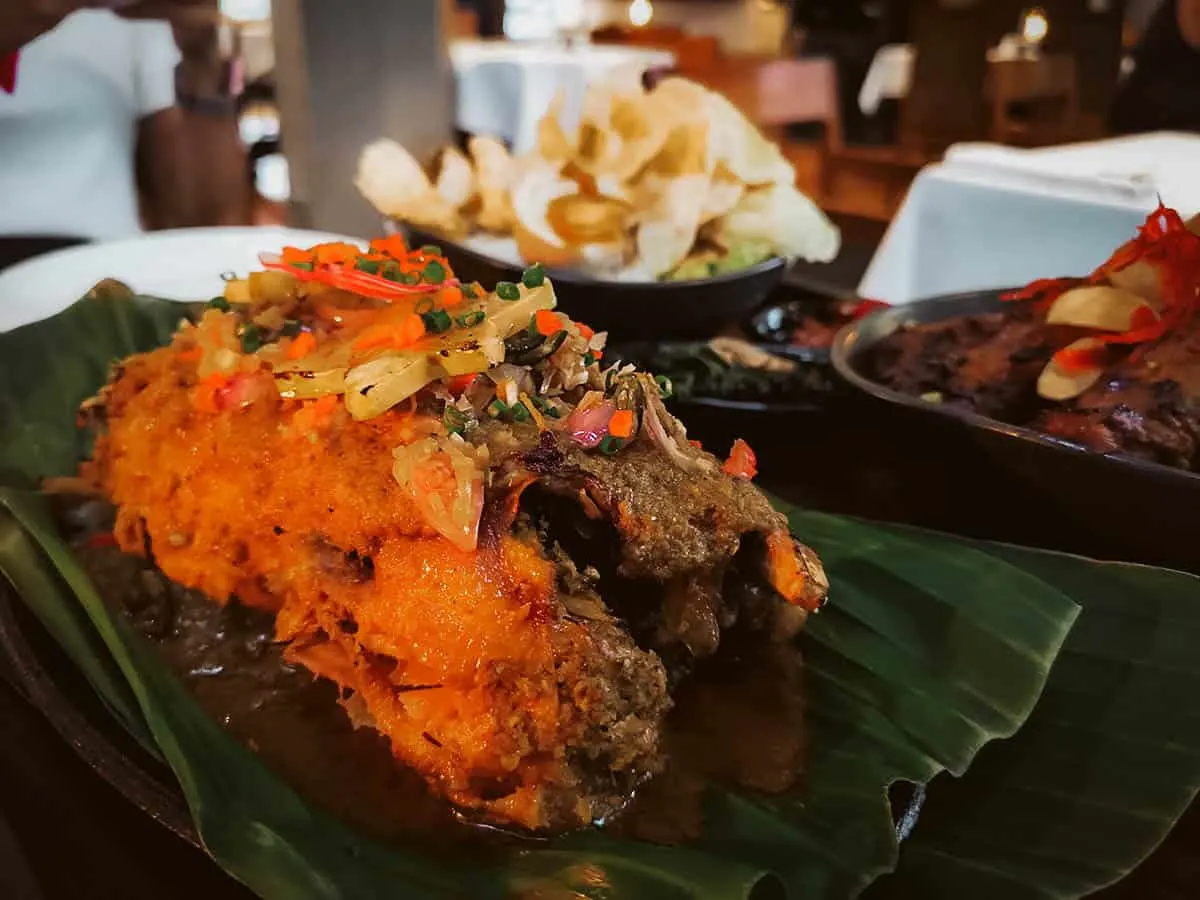 Chandi is located along busy Jalan Kayu Aya in Seminyak so it's easy to find.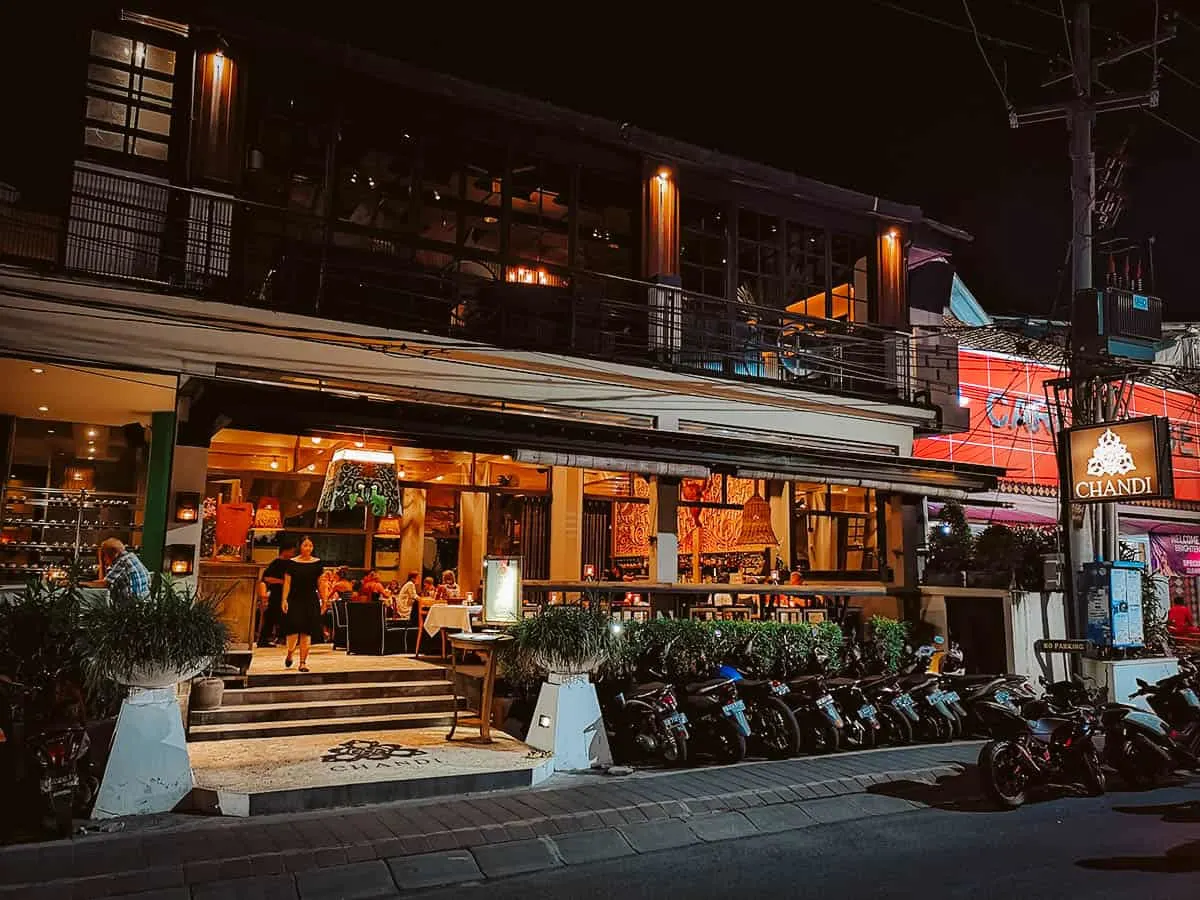 Chandi is a lovely Indonesian restaurant so it's a great opportunity for you to get dolled up over a ceremonial platter of bebek betutu. As you can tell from their stellar reviews, Chandi is one of the best places to eat in Bali.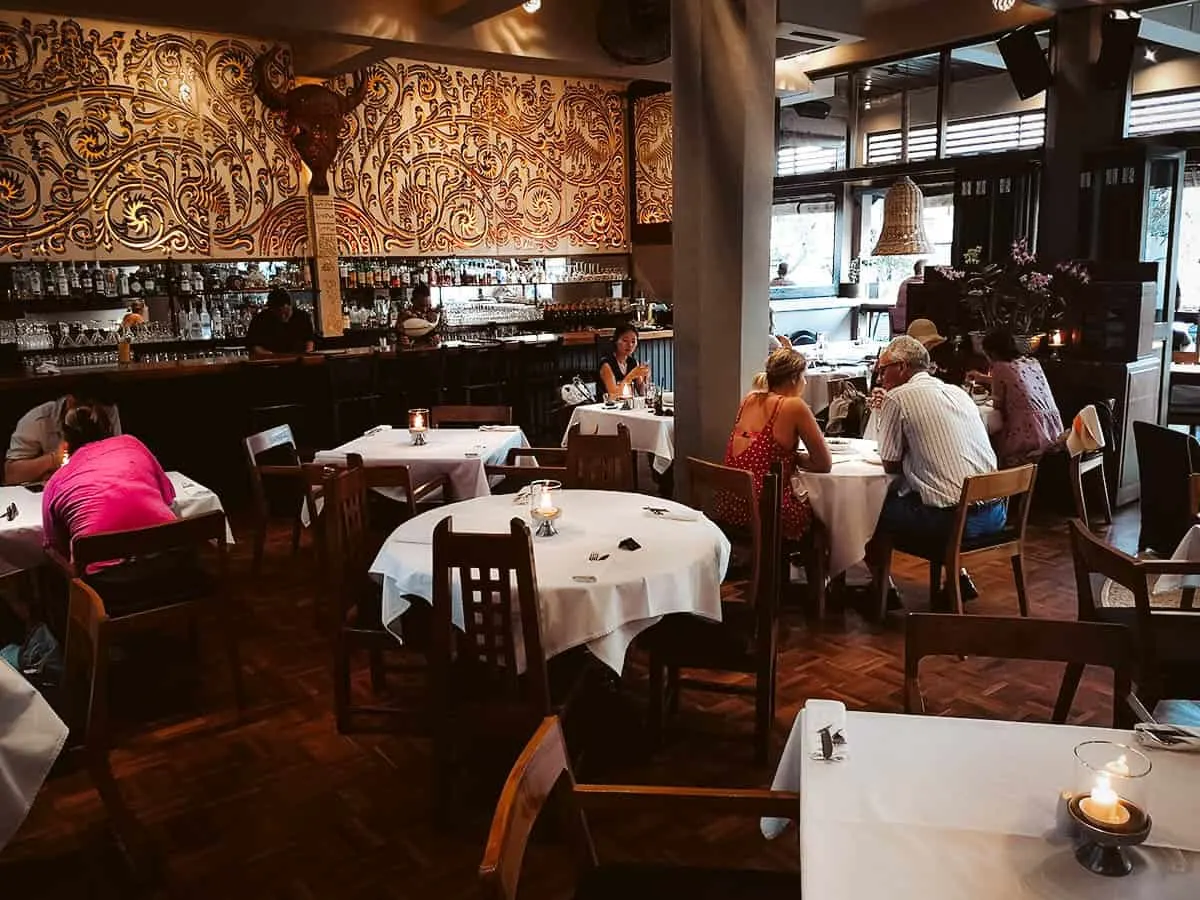 Chandi
Address: Jl. Kayu Aya No.72, Seminyak, Kec. Kuta Utara, Kabupaten Badung, Bali 80361, Indonesia
Operating Hours: 12NN-12MN, daily
Expect to Pay: IDR 390,000 for a whole bebek betutu, IDR 210,000 for half
4. Warung Eropa
Bebek goreng is a another dish we enjoyed on our first trip to this island many years ago. Bebek goreng refers to a Bali food staple of crispy fried duck served with white rice, sambal, and a vegetable salad. It's crisp and lean but still juicy with a nice bit of gaminess that you won't taste in chicken.
Ten years ago, we had bebek goreng at one of the most famous Ubud restaurants called Bebek Bengil. This time, I had it at Warung Eropa which was cited by more than one source as having the best crispy duck in Bali.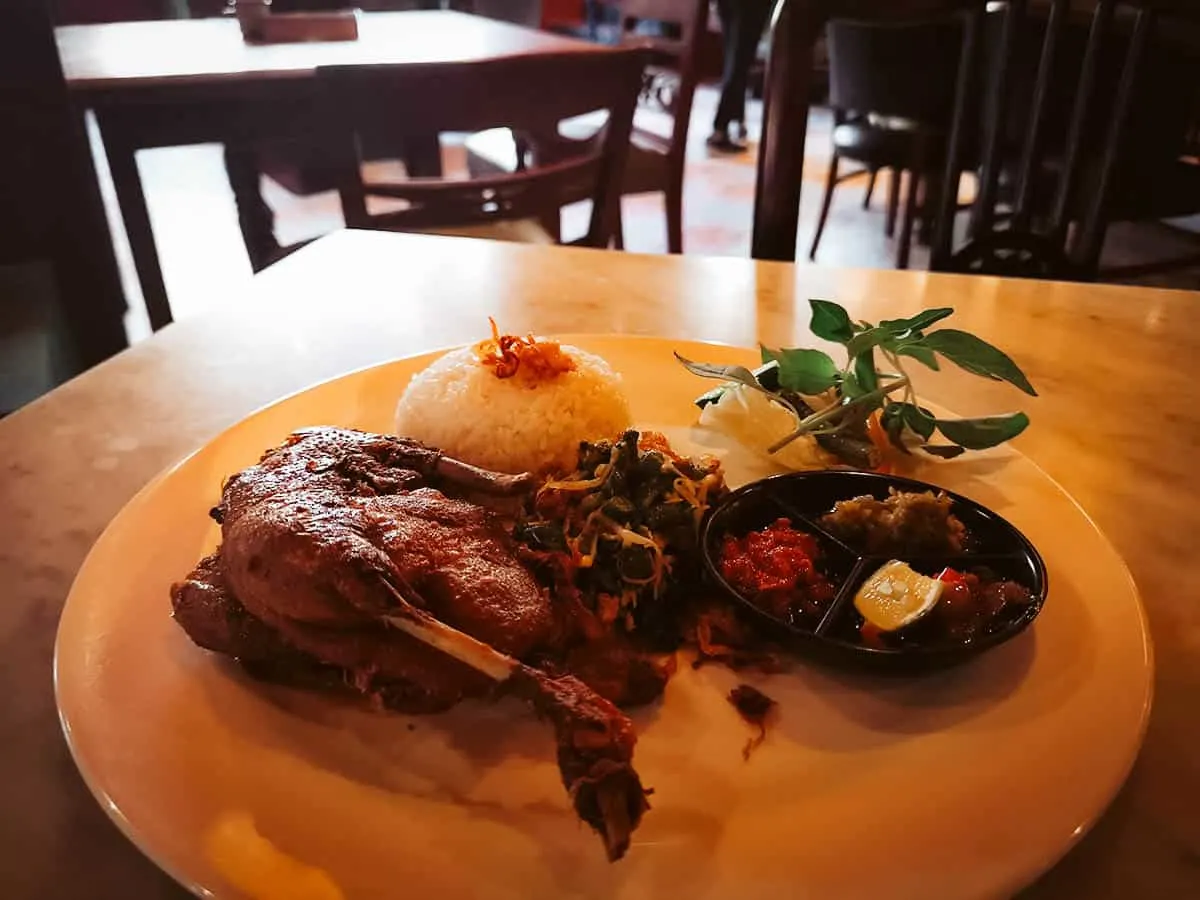 I'm a sucker for snails so I ordered this buttery and garlicky platter of escargot to go with my bebek goreng.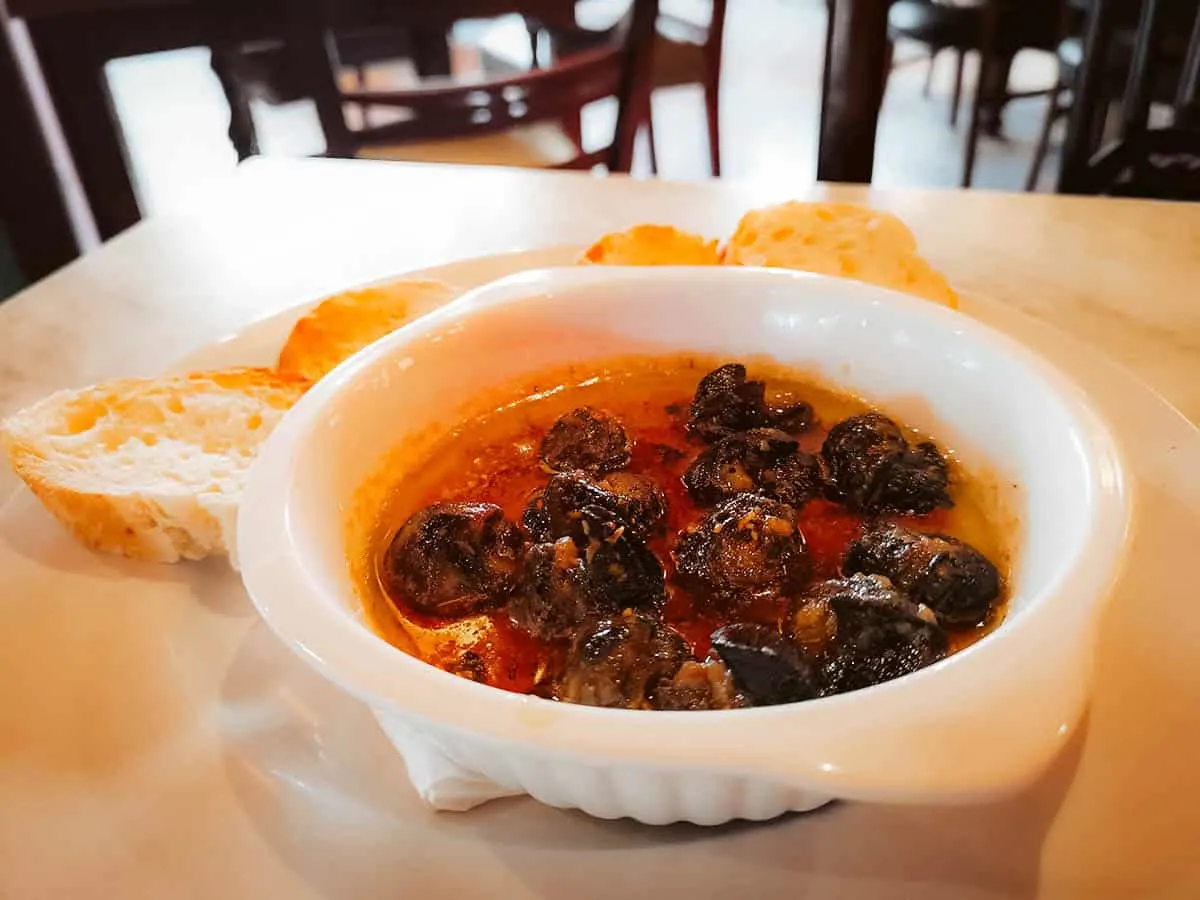 Warung Eropa is a TripAdvisor Certificate of Excellence awardee with a solid 4-star rating. When it comes to bebek goreng, it's one of the best restaurants in Bali.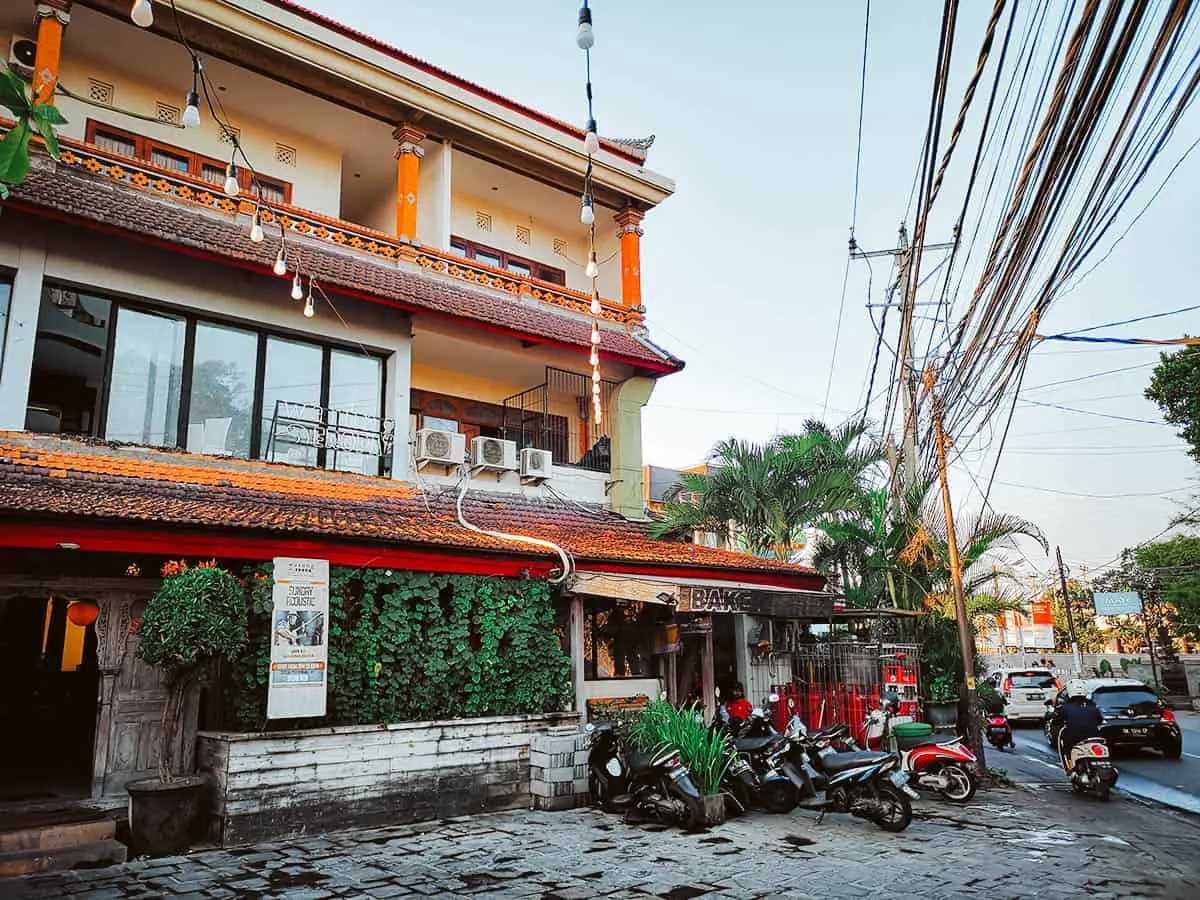 Warung Eropa's plain facade belies a dark and sexy interior. RAWR… *bites into that bebek goreng*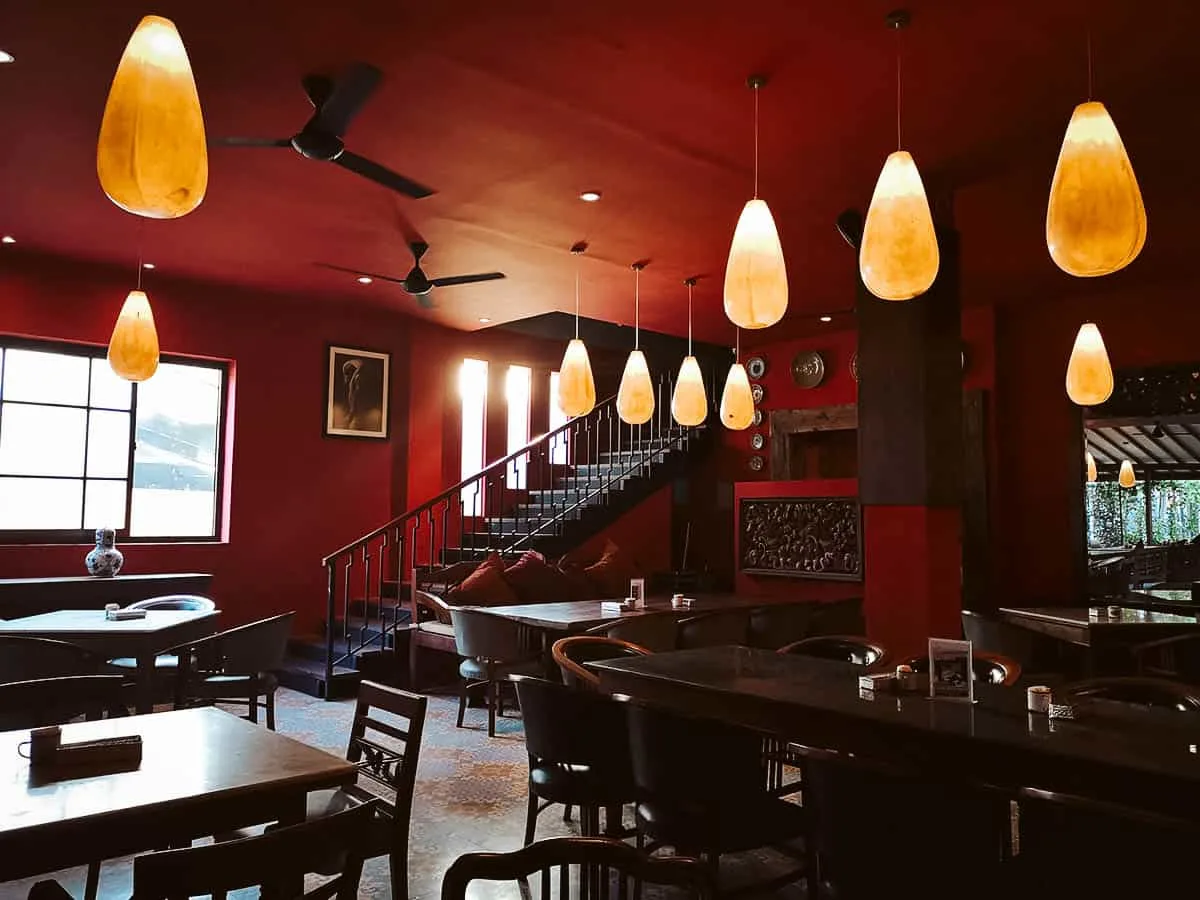 Warung Eropa
Address: Jl. Petitenget No.9D, Kerobokan Kelod, Kec. Kuta Utara, Kabupaten Badung, Bali 80361, Indonesia
Operating Hours: 10AM-10:30PM, daily
Expect to Pay: IDR 115,000 for bebek goreng
5. Boss Man
The good-old fashioned hamburger is one of my favorite comfort foods. It's the first thing I look for after weeks of eating delicious but unfamiliar food.
Boss Man is a premium burger bar that offers just six types of signature burgers. I always go for the classic at every new burger joint so I went with their Original Gangster burger made with 160 grams of Australian dry-aged chuck steak.
It's topped with a host of ingredients like cheddar cheese, iceberg lettuce, tomatoes, grilled onions, thousand island dressing, and horseradish aioli. It was juicy and delicious and something I'd love to have again on our next trip to Bali.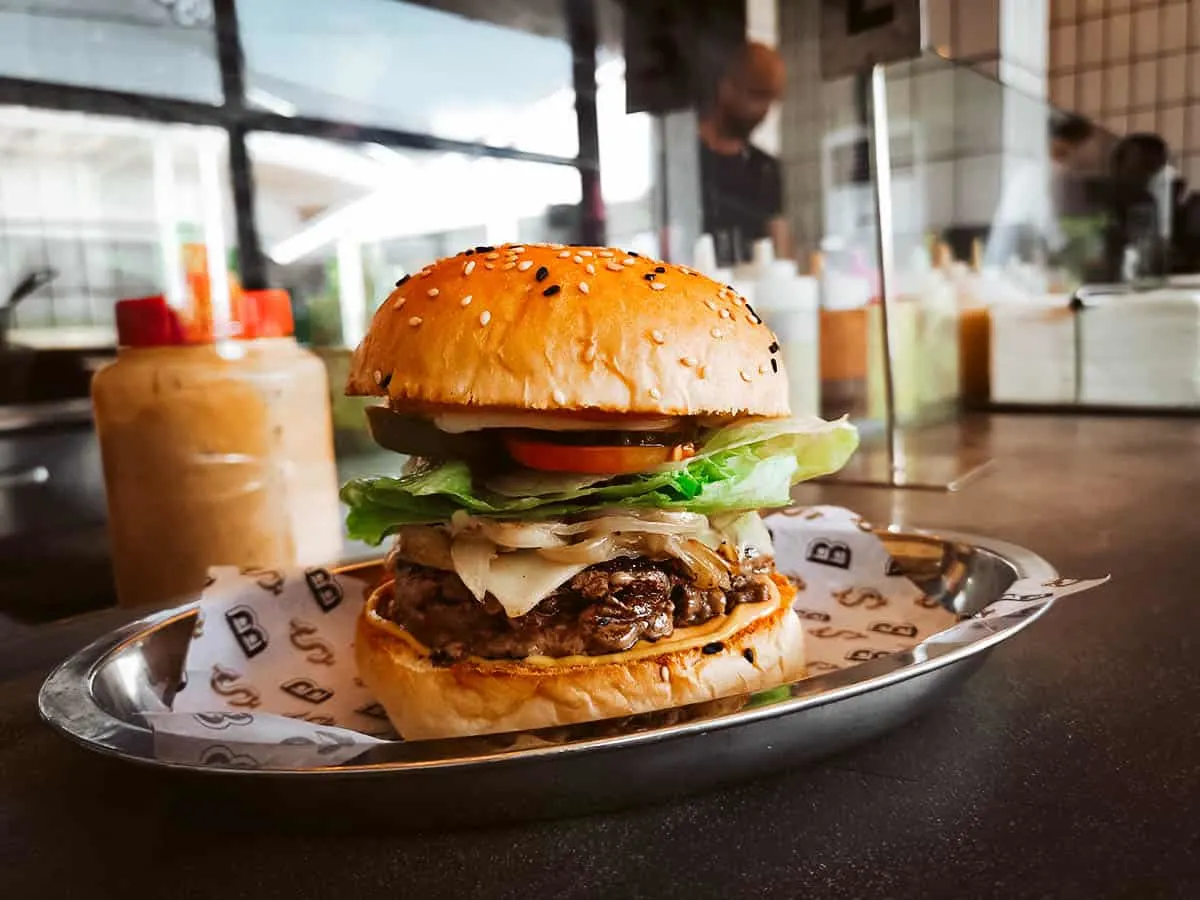 Boss Man is owned by Sisterfields Cafe which is a popular Australian-owned restaurant located next door.
Boss Man
Address: Jalan Kayu Cendana No. 8B, Seminyak, Kerobokan Kelod, Kec. Kuta Utara, Kabupaten Badung, Bali 80361, Indonesia
Operating Hours: 11AM-4AM, daily
Expect to Pay: IDR 90,000-95,000 per burger
6. Sisterfields Cafe
Sisterfields Cafe is a popular all-day dining cafe off Jalan Kayu Aya in Seminyak. We stayed near this place and there always seemed to be people around. In fact, walk by this Bali restaurant at around noon and you'll find throngs of people waiting outside for a table.
Owned and operated by the same group as Boss Man, Sisterfields is an Australian cafe known for serving a modern all-day brunch menu.
I didn't know about this but apparently, Australian-style brunch is a thing that's catching on with the rest of the world these days. Looking at their menu, it seems to be characterized by lighter fare like breakfast bowls, eggs benedict, and smashed avocado on toast.
Ren had brunch here on her own when I was touring southern Bali and had this Vietnamese poached chicken salad with nam jim (Thai dipping sauce), pomelo, textured rice, fresh herbs, and coconut cream dressing.
She messaged me to say it was fantastic then washed it all down with a smooth glass of gin and tonic. A perfect brunch indeed!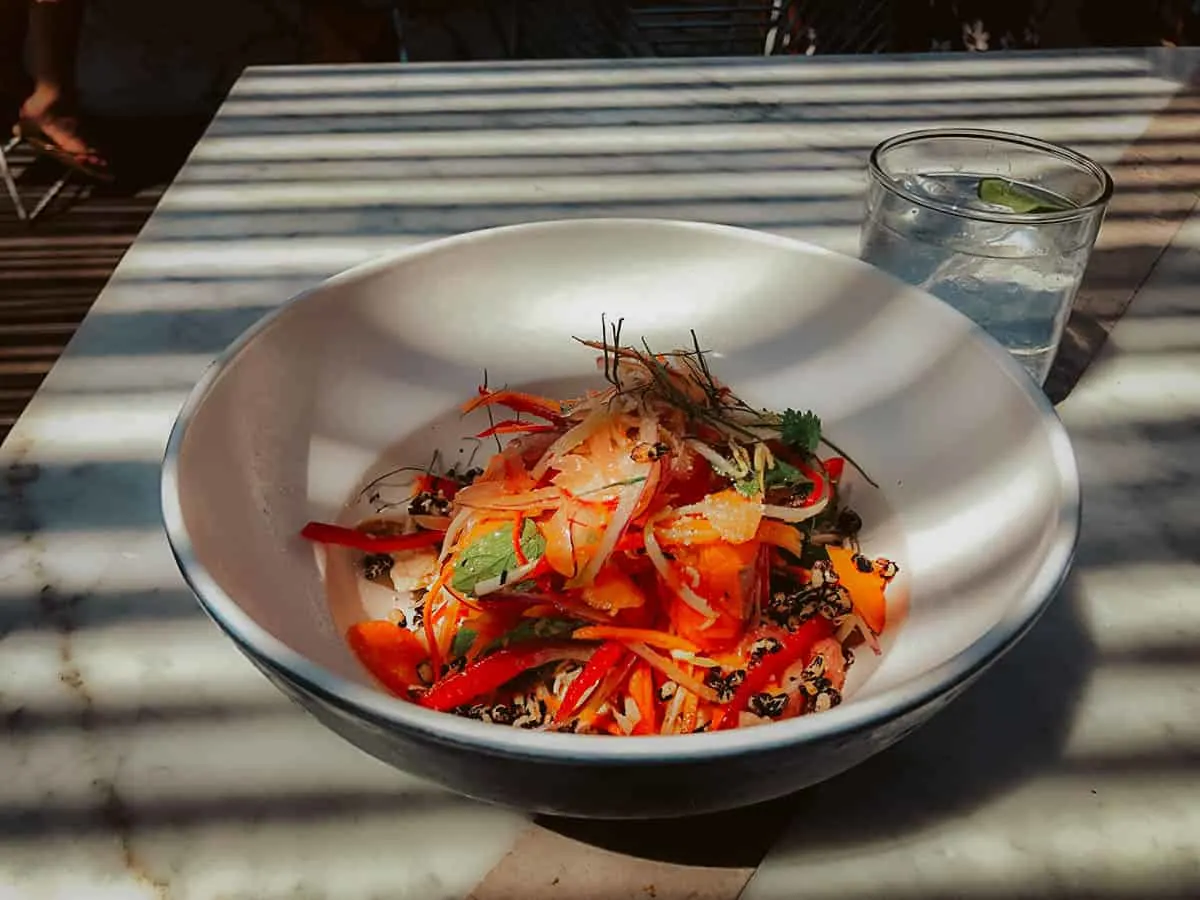 This was taken early in the morning, perhaps one of the few times you won't find people hanging out in front. Read the reviews and you'll find that Sisterfields Cafe serves some of the best food in Bali.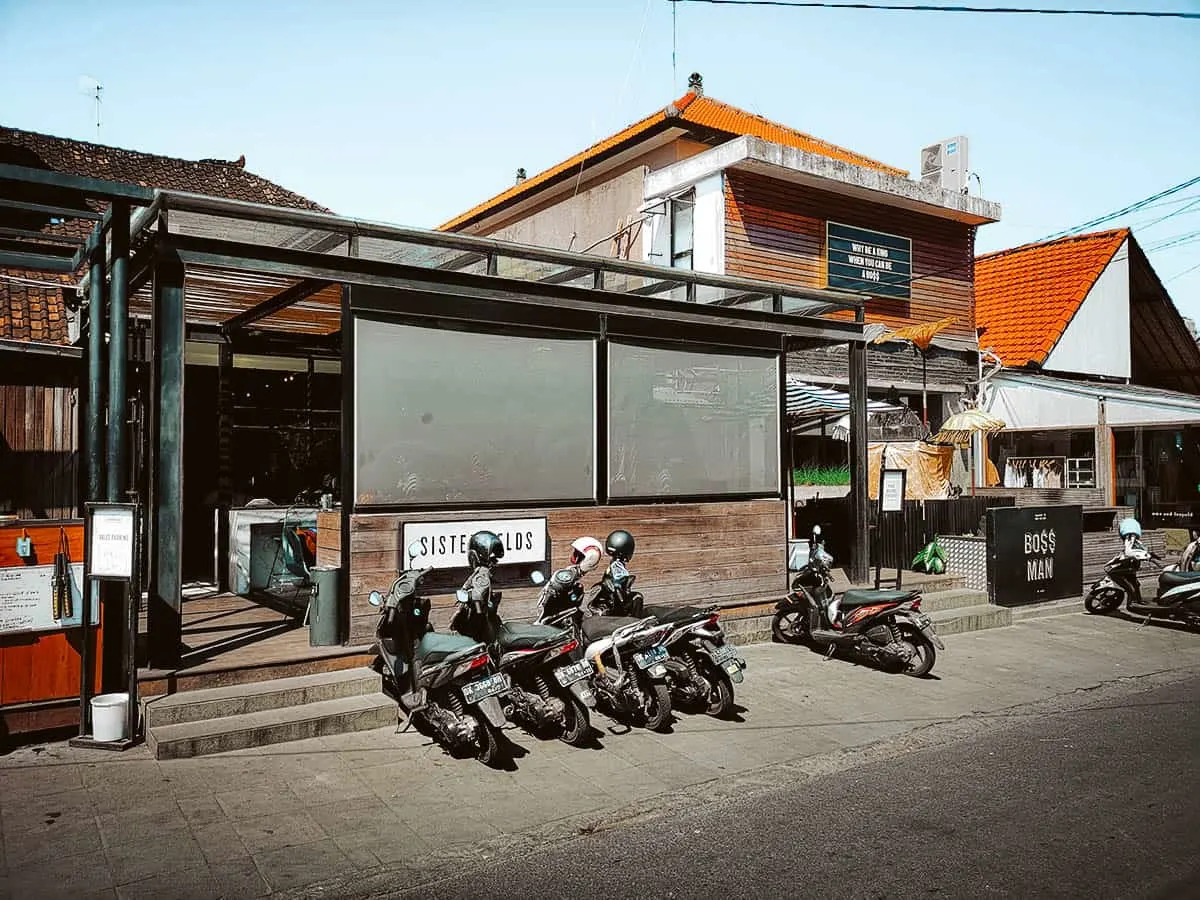 Sisterfields Cafe
Address: Jalan Kayu Cendana No. 7, Seminyak, Kuta, Kerobokan Kelod, Kuta Utara, Kerobokan Kelod, Kec. Kuta Utara, Kabupaten Badung, Bali 80361, Indonesia
Operating Hours: 7AM-10PM, daily
Expect to Pay: Around IDR 85,000-140,000 per entree
7. Motel Mexicola
Motel Mexicola has to be one of the coolest and most colorful restaurants in Bali. As its name suggests, it has a Mexican theme though it isn't a motel. Helmed by Chef Steven Skelly, it's a Mexican restaurant by day that transforms into a bar and club at night.
We're beyond the age of partying so I was here strictly for the food. Pictured below are the taco baja (fish) and taco de pollo (spicy chicken), both of which were very good.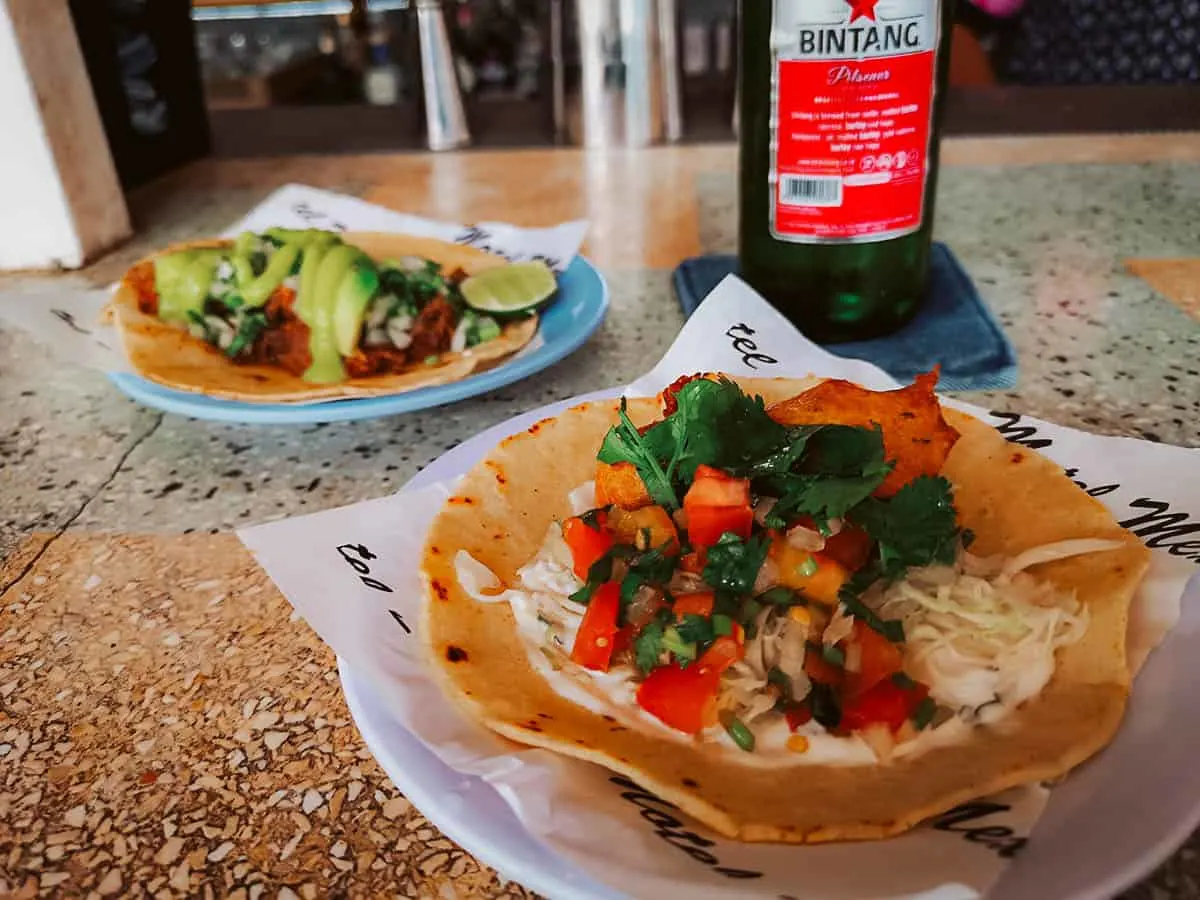 Here's another look at the chicken taco. I couldn't decide whether I was more impressed with the food or the space. Wait till you see the interior of this place.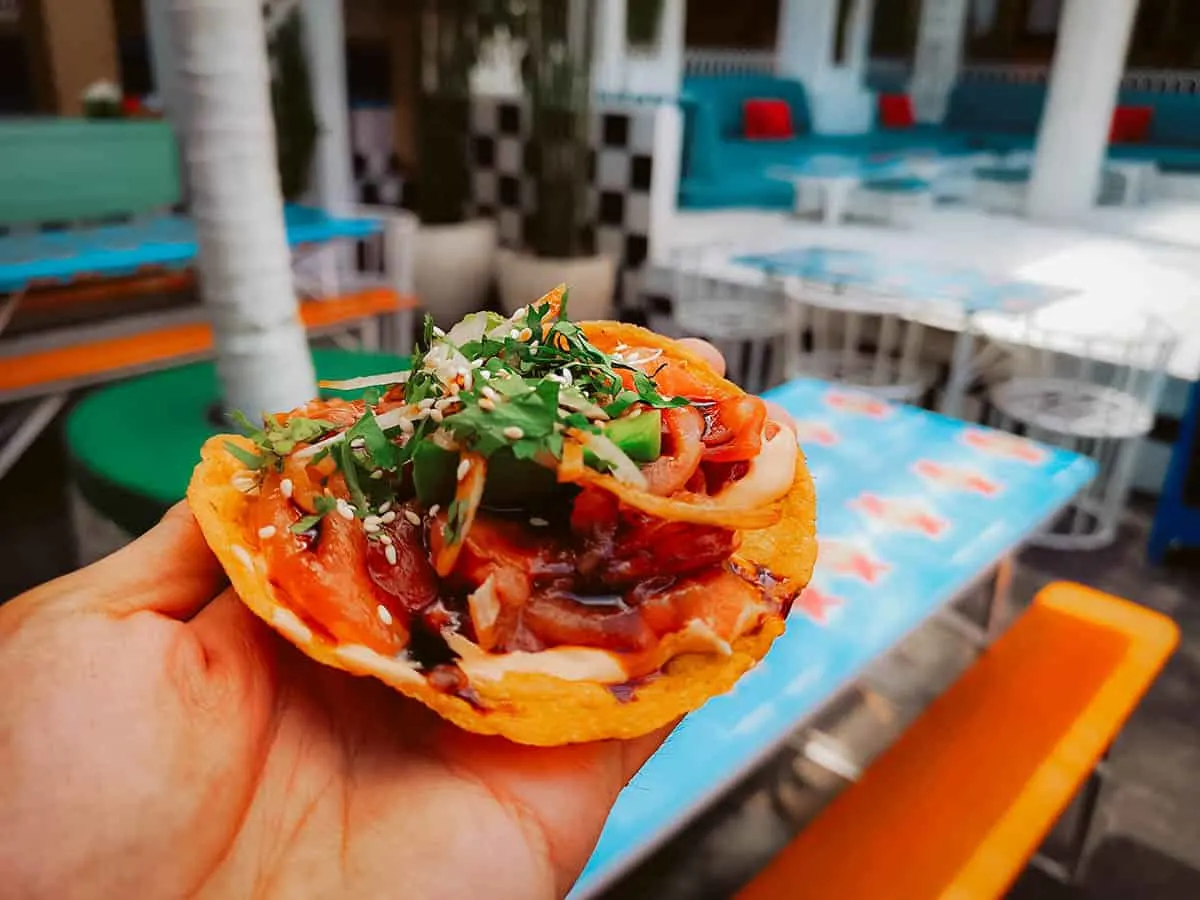 You can't help but notice this restaurant when you walk by. Motel Mexicola looks like a scene from a Wes Anderson movie. It's so eye-catching and rife with detail!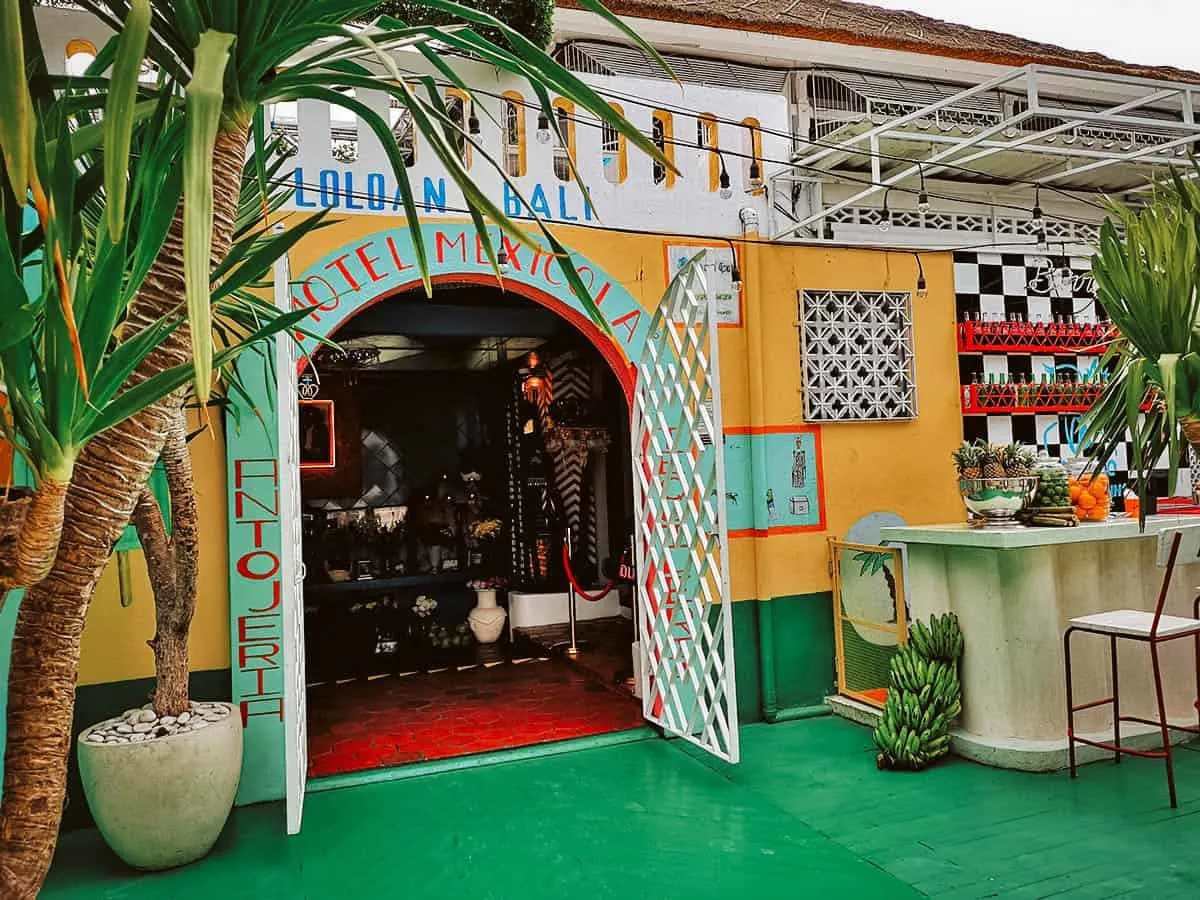 Like I said, this has to be one of the most festive-looking restaurants in Bali. Standing inside, it feels like you're in a piñata! The colors and textures are so striking.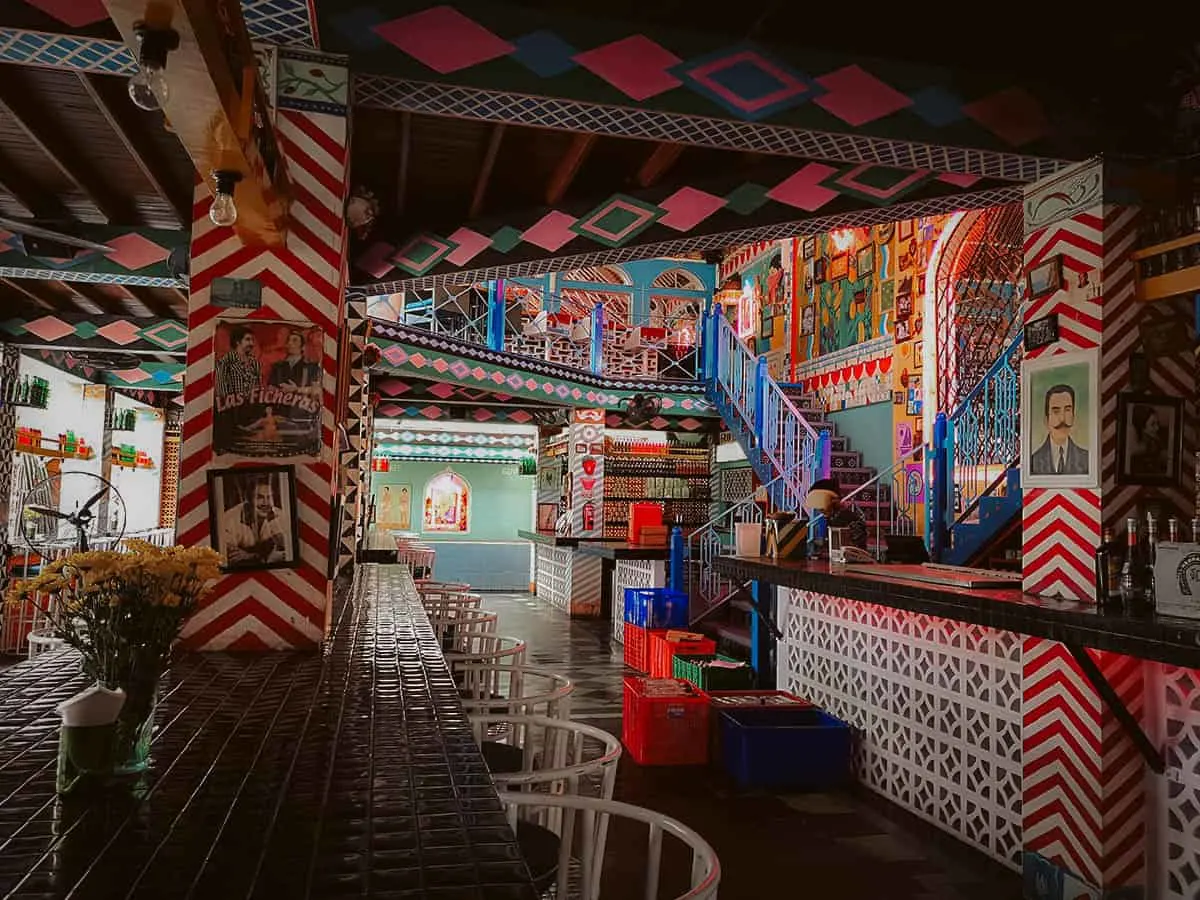 I can only imagine how bouncy this place gets at night. You could feel its energy even during the daytime.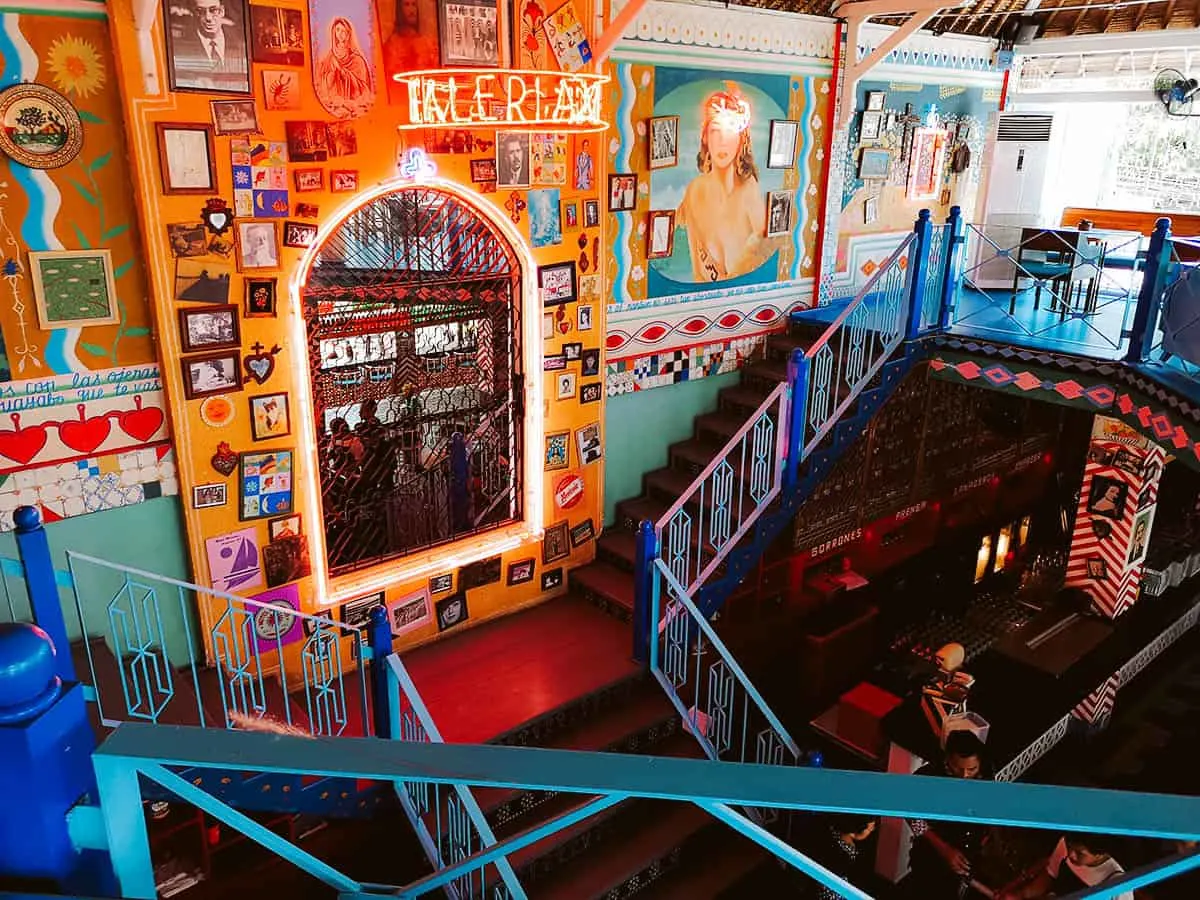 One last look before I go. Motel Mexicola is huge with every section unique in color and design. I absolutely loved this place. They should have lucha libre nights here with winners getting free tacos.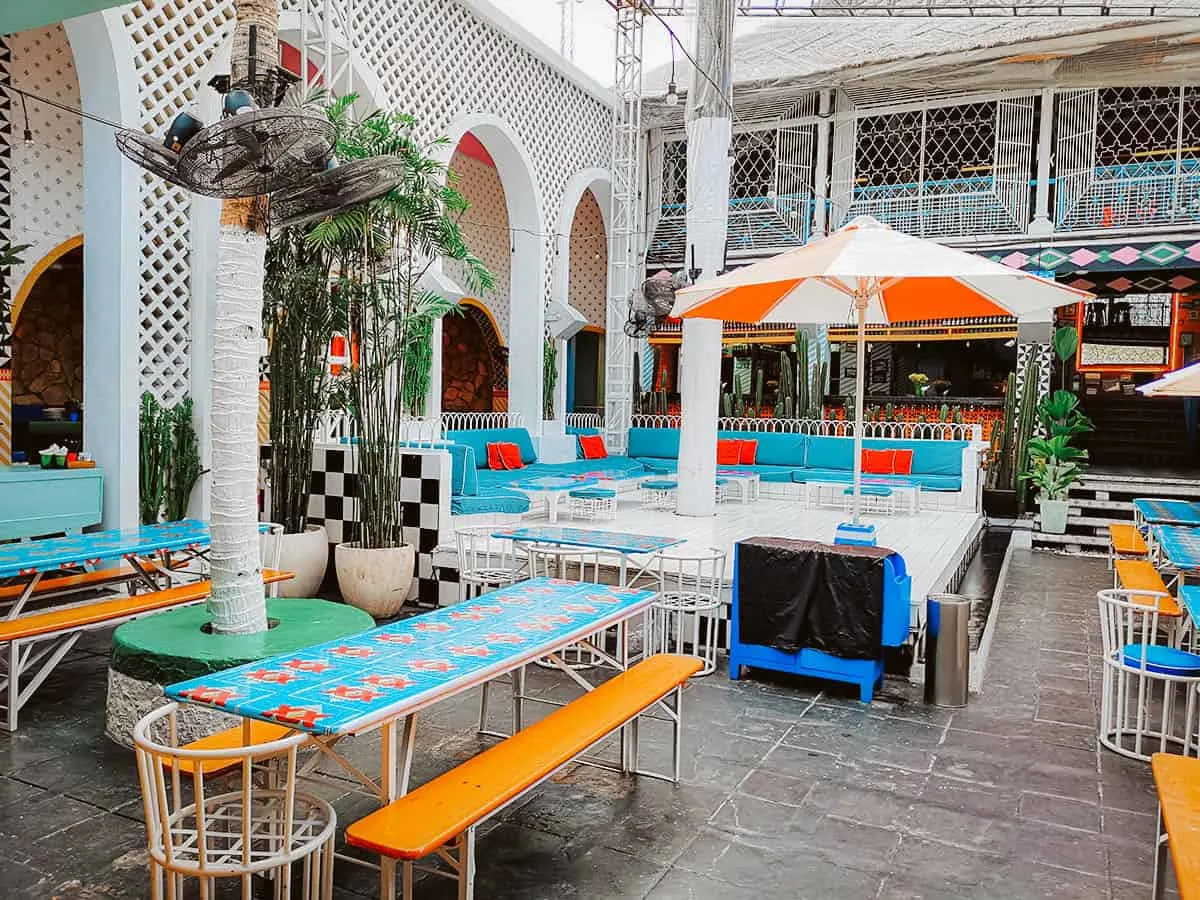 Motel Mexicola
Address: Jalan Kayu Jati No. 9X, Petitenget, Kerobokan Kelod, Kec. Kuta Utara, Kabupaten Badung, Bali 80361, Indonesia
Operating Hours: 11AM-1AM, daily
Expect to Pay: IDR 30,000-35,000 per taco
8. Revolver Espresso
Google "best coffee in seminyak" and this cafe will find its way to most lists. By many accounts, Revolver Espresso is a coffee pioneer and legend in Seminyak.
I tucked in for a black coffee (ristretto, espresso, long black) but you can have breakfast here along with burgers, sandwiches, tacos, and poke bowls, among other dishes.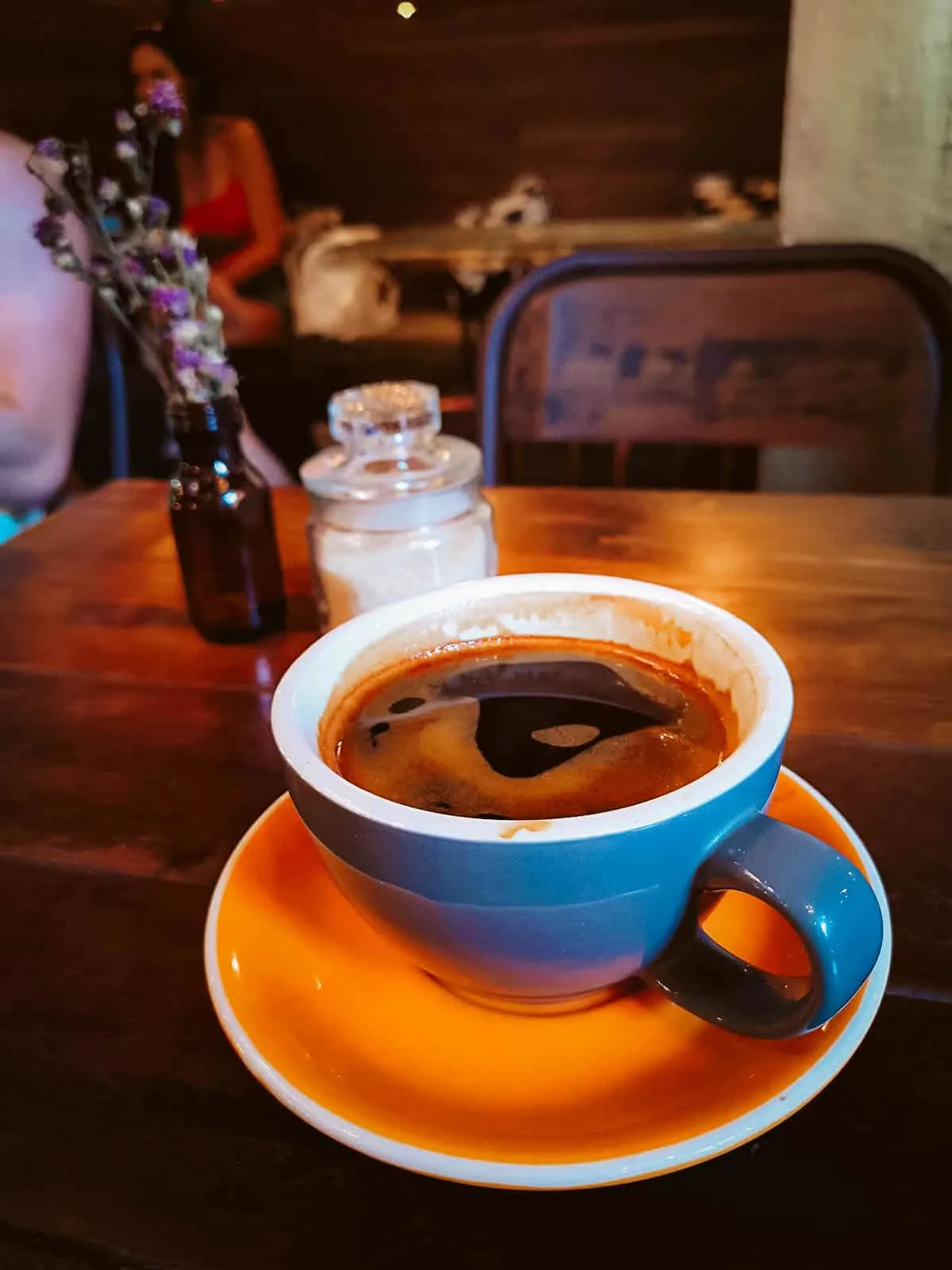 Revolver Espresso is in an alley just off Jalan Kayu Aya. As you can probably tell from its name and exterior, it has a wild west theme.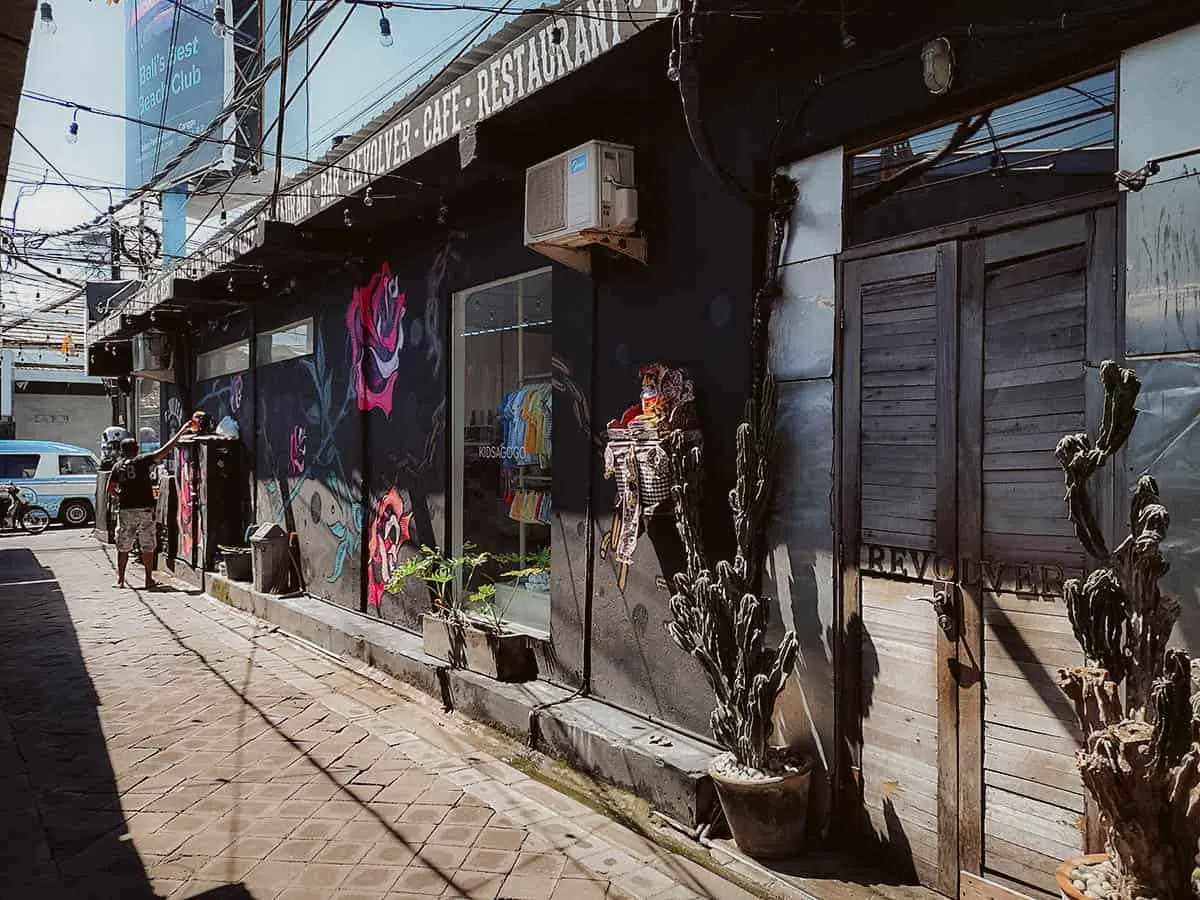 Like many restaurants in Bali, I couldn't decide whether I liked the food or the venue more. Walking into this place was like stepping into the American frontier!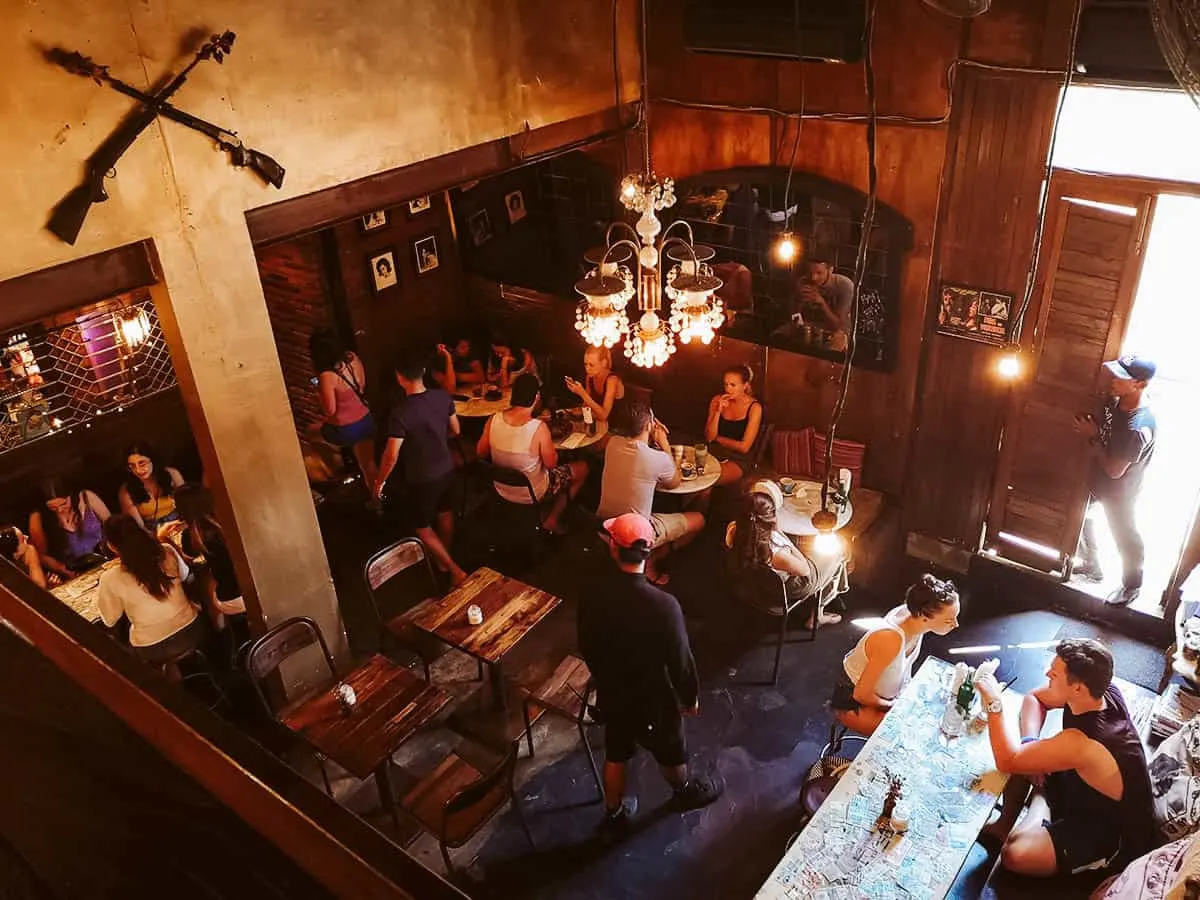 Revolver Espresso
Address: Jl. Kayu Aya Gang 51, Seminyak, Kuta, Seminyak, Kuta, Kabupaten Badung, Bali 80361, Indonesia
Operating Hours: 7AM-11PM, Sun-Thurs / 7AM-11:30PM, Fri-Sat
Expect to Pay: IDR 25,000-49,000 for a cup of coffee
UBUD
9. Clear Cafe
If we ever make the leap to vegetarianism, then we're definitely moving to Ubud. There are so many vegetarian and vegan restaurants here. It's a yoga hotspot and magnet for all things health-related.
We had lunch reservations at Locavore and wanted to kill time so we tucked into Clear Cafe, one of Ubud's most highly-rated vegetarian restaurants. Google "best vegetarian in ubud" and you'll find that Clear Cafe is one of the best places to get healthy but delicious food in Bali.
They serve breakfast and have an extensive menu of local and international dishes. They offer a ton of juices, smoothies, tonics, and power drinks as well.
In the foreground below is their moringa power drink. We have moringa where we're from and I've always heard that leaves from the moringa tree are among the healthiest foods you can eat.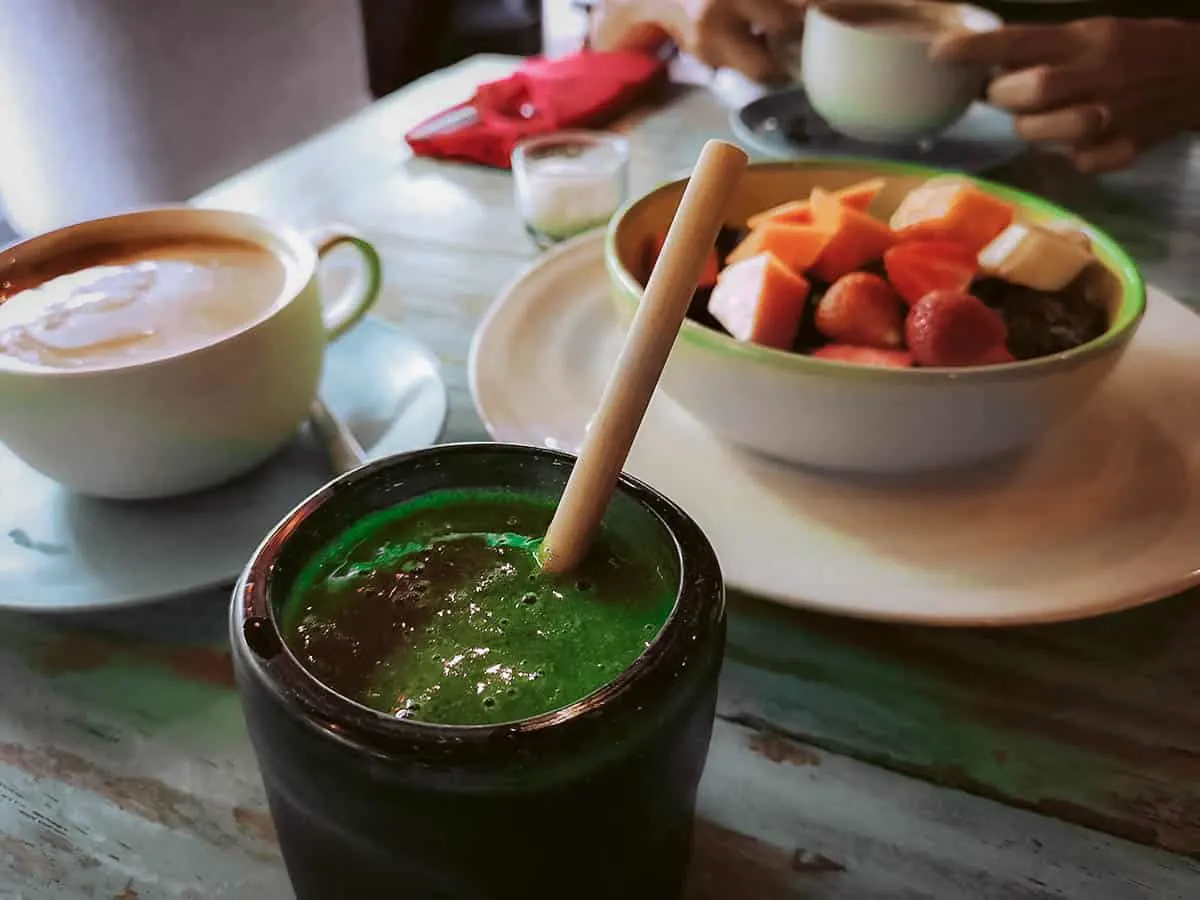 A nice bowl of muesli with fresh fruit and yogurt to start the day.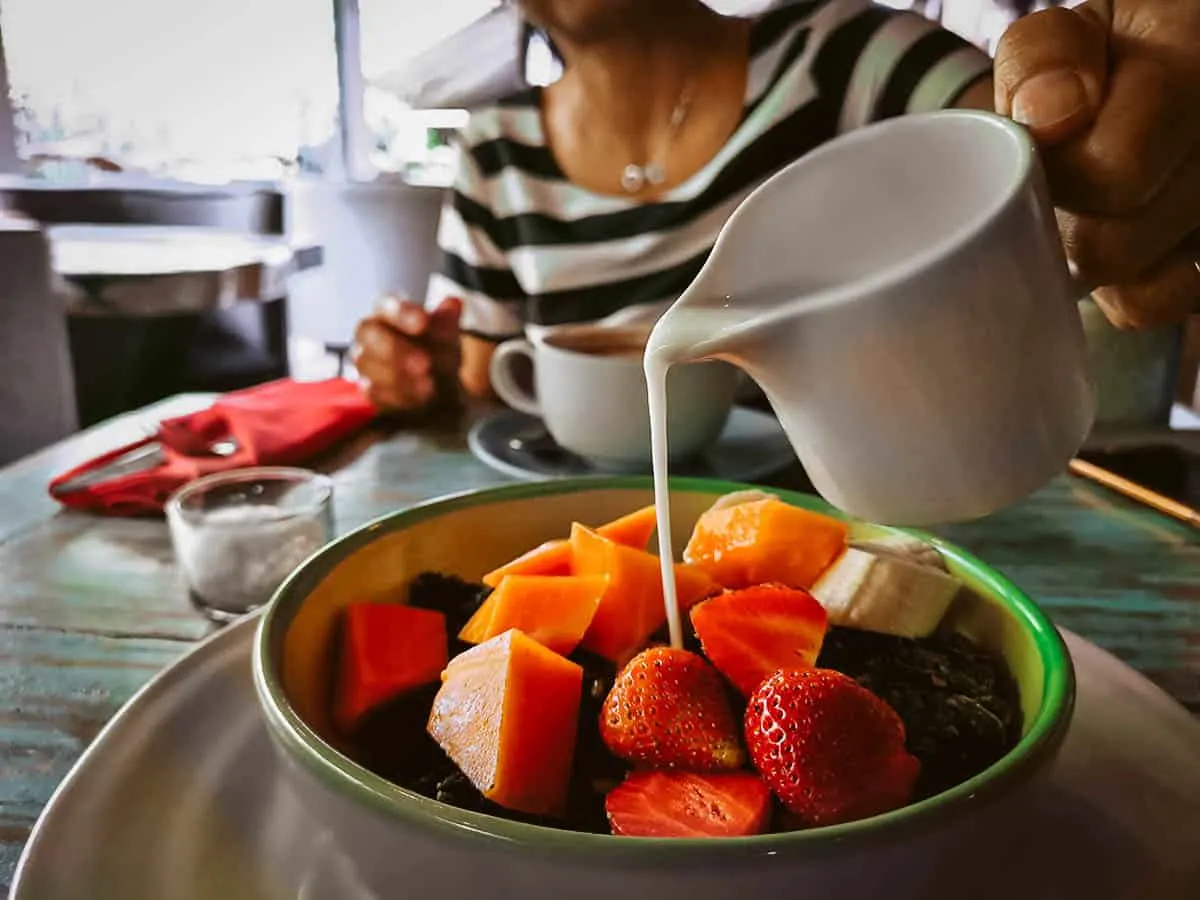 Clear Cafe is one of the best and busiest Ubud restaurants. We often walked by this place during the afternoons and evenings and it was always full.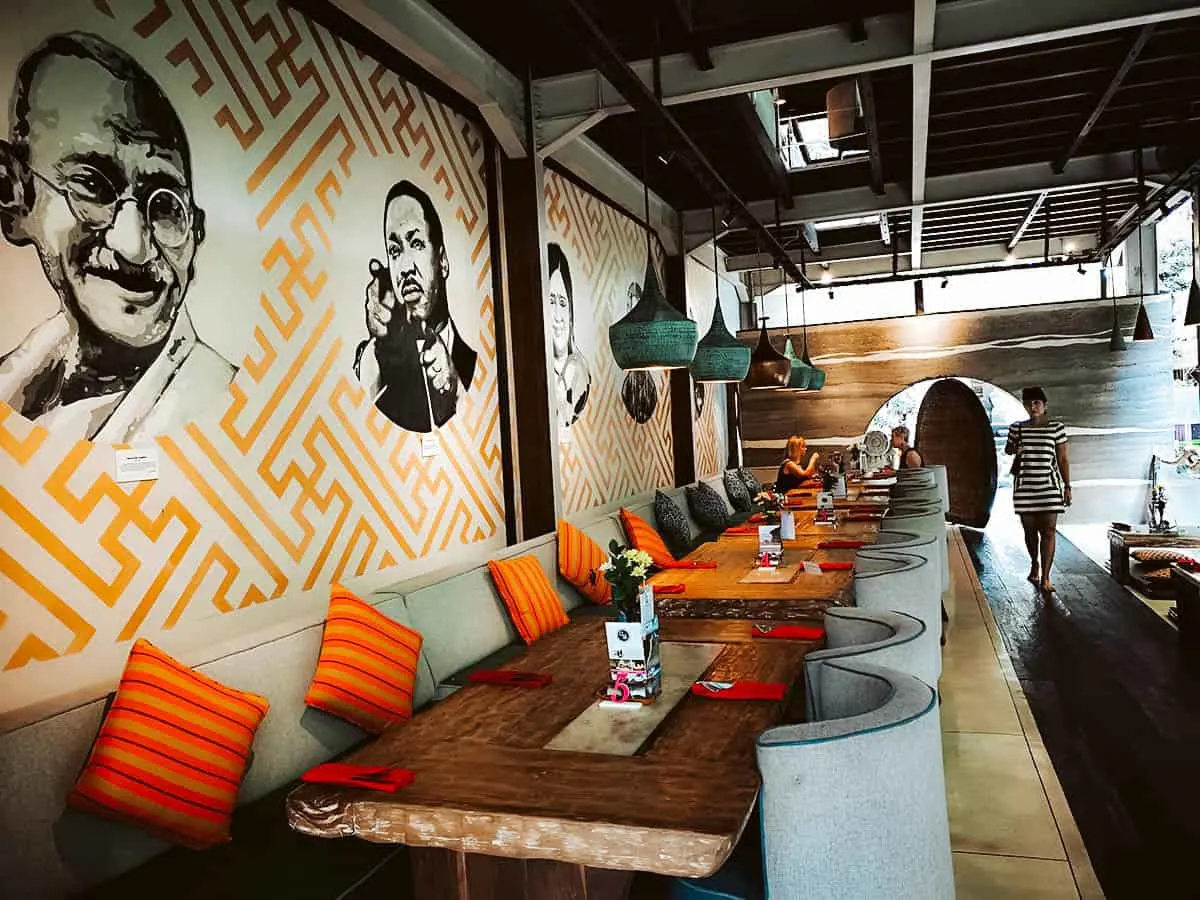 Clear Cafe
Address: Jl. Hanoman No.8, Ubud, Kecamatan Ubud, Kabupaten Gianyar, Bali 80571, Indonesia
Operating Hours: 8AM-11PM, daily
Expect to Pay: Around IDR 50,000-70,000 per entree
10. Ibu Oka
Ibu Oka will always be special to us for two reasons. One, this was where we first tasted the magic of babi guling many years ago. And two, Anthony Bourdain recommended this place and turned it into one of the most iconic Ubud restaurants.
Like Naughty Nuri's and many of the places Anthony features on his travel shows, Ibu Oka has come a long way since that Bali episode of "No Reservations" many years ago.
They've gone from a humble warung to a brick and mortar Bali restaurant with river valley views. I believe they've expanded and opened more branches as well.
While their roast pig is indeed very tasty, many locals feel that their "best babi guling" reputation is undeserved. I would agree.
As described, the roast pig at Pak Malen was noticeably better. I'm not sure how true it is, but according to my driver, Ibu Oka uses older pigs which is why theirs isn't as succulent or juicy.
Nonetheless, we enjoyed their roast pig anyway and were happy to see how far this place has come in the ten years since we've been here. If you're a fan of Anthony Bourdain and roast pig, then you should definitely give this Ubud legend a try.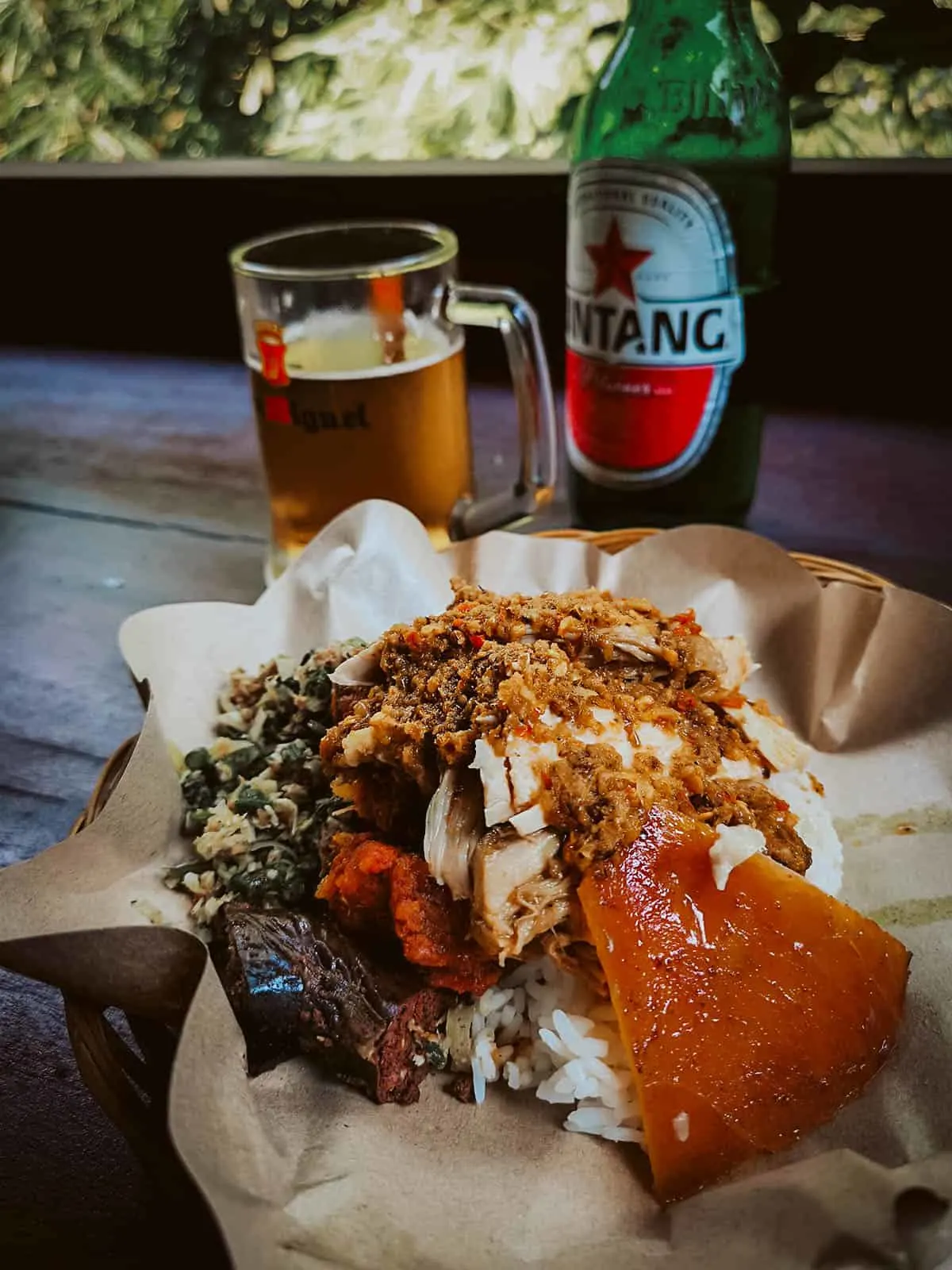 It's truly remarkable to see how much influence Anthony Bourdain has. He literally transformed Ibu Oka from a simple open-air warung to a Balinese empire.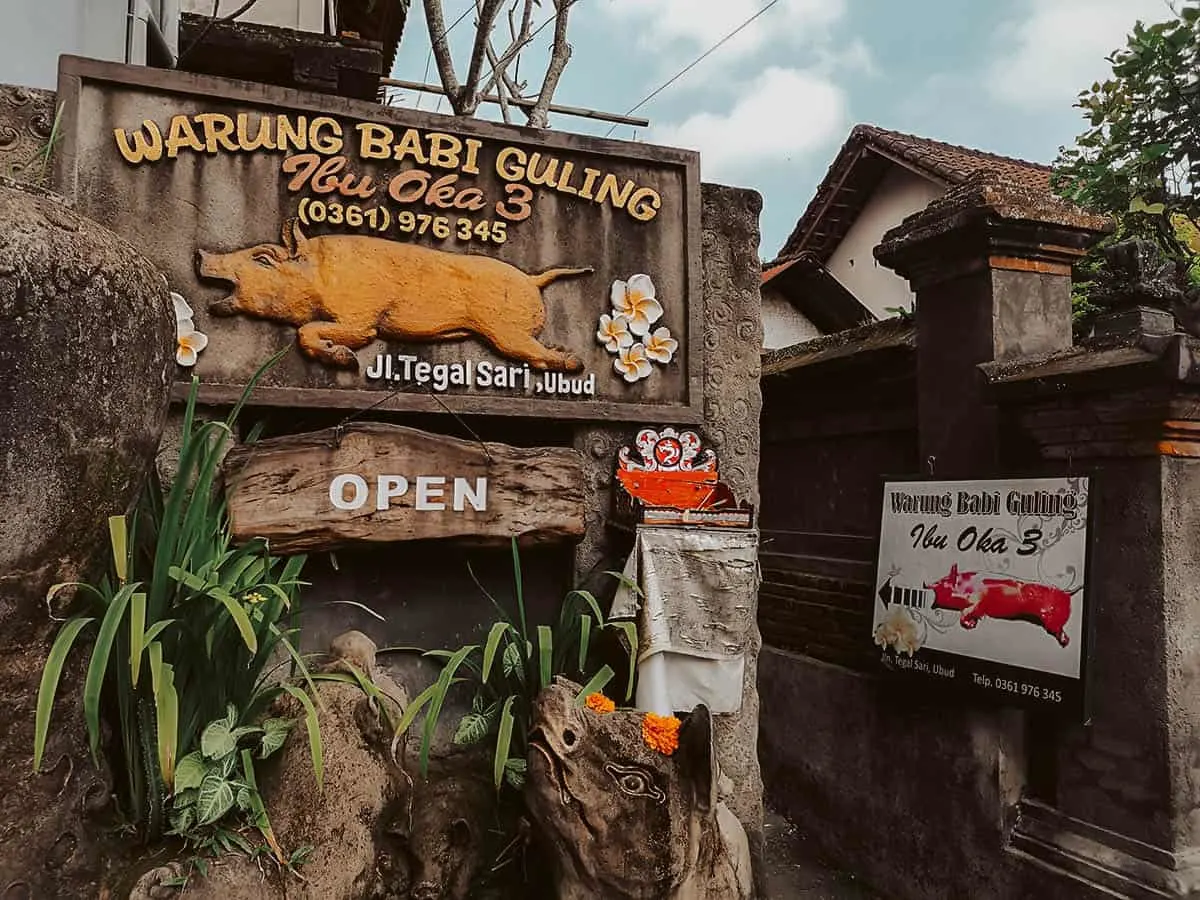 Ibu Oka
Address: Jalan Tegal Sari No. 2, Ubud Tengah, Ubud, Kecamatan Ubud, Kabupaten Gianyar, Bali 80571, Indonesia
Operating Hours: 11AM-6PM, daily
Expect to Pay: IDR 55,000 for roast pig
11. Murni's Warung
Murni's Warung is one of the most famous Ubud restaurants. Open since 1974, they're allegedly one of the first "true" restaurants in Bali, one that's become equally famous for its boutique selling Indonesian antiques and collectibles.
Though they do serve traditional Indonesian dishes like nasi goreng istimewa and this fish in tauco sauce (fermented yellow soybean) – both of which were quite tasty – they also offer a mixed bag of global dishes like burgers, hot dogs, steaks, spaghetti bolognese, and vegetarian/vegan options.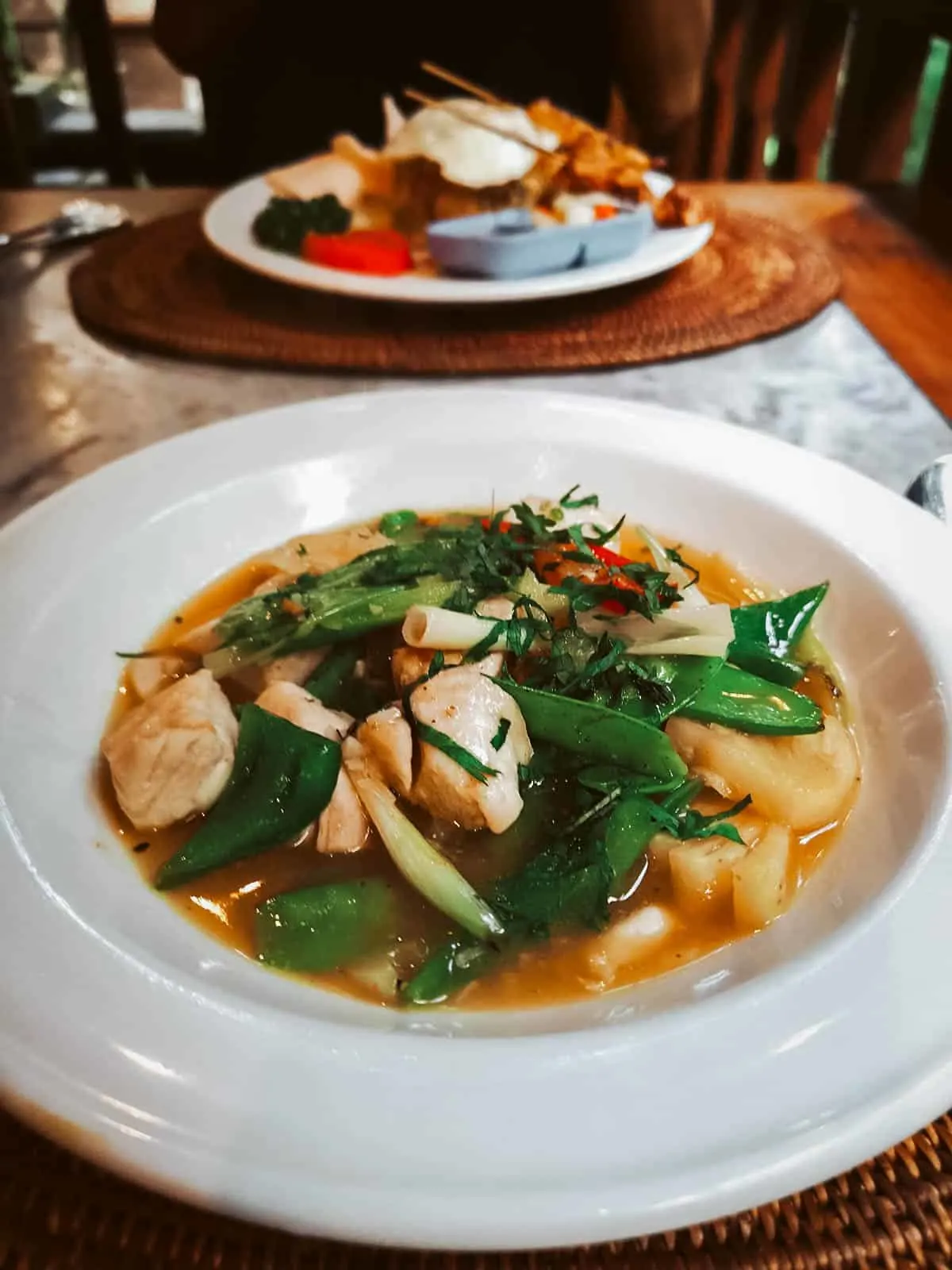 Murni's Warung is located near the mouth of Campuhan Ridge Walk so it's a great place to stop for refreshments or a bite to eat after your walk.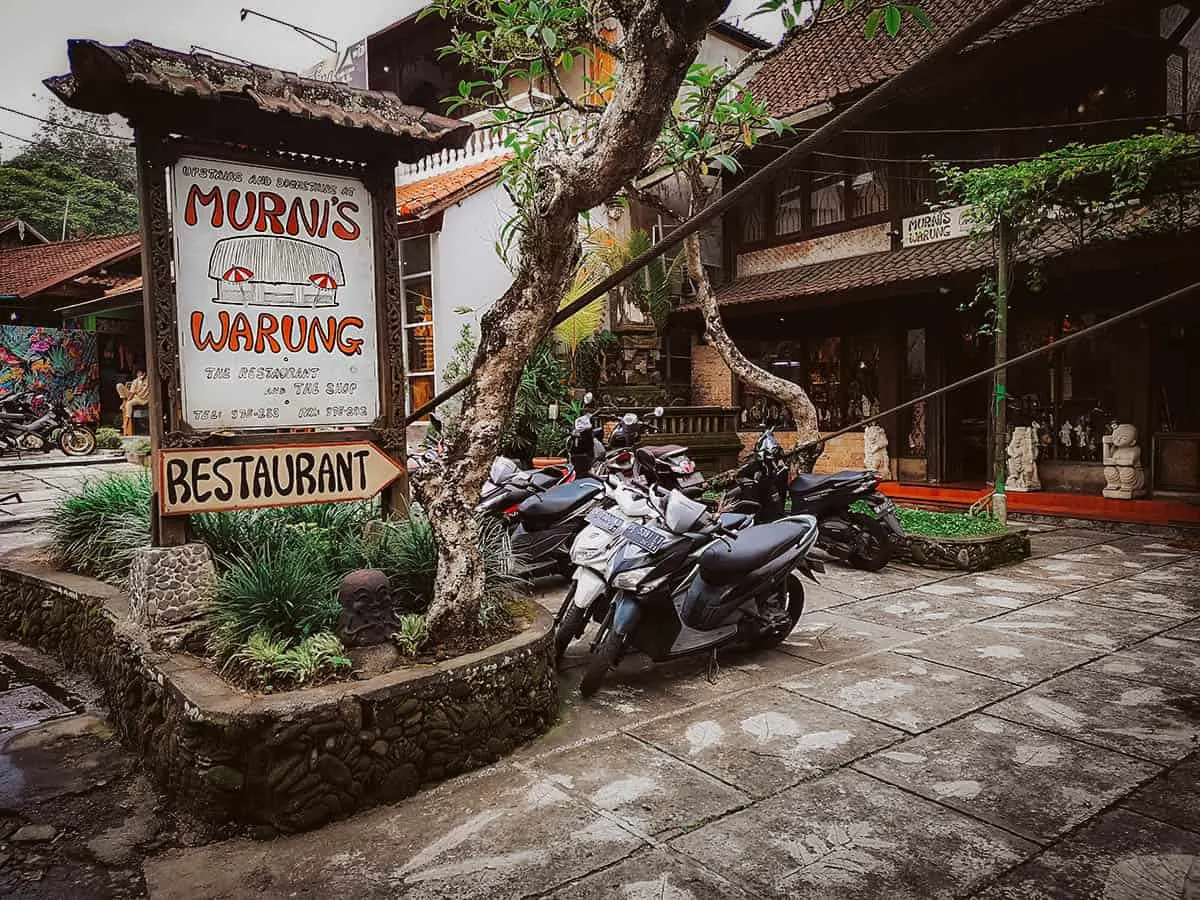 Like many places on this list, I couldn't decide whether I liked the food or the venue more. Murni's Warung is comprised of about four or five levels of intimate open-air spaces fronting a lush river valley.
You enter the restaurant from the top level then make your way down. The lower you go, the more pronounced the sound of the stream flowing at the bottom, but you do have to make your way back up. It's worth it.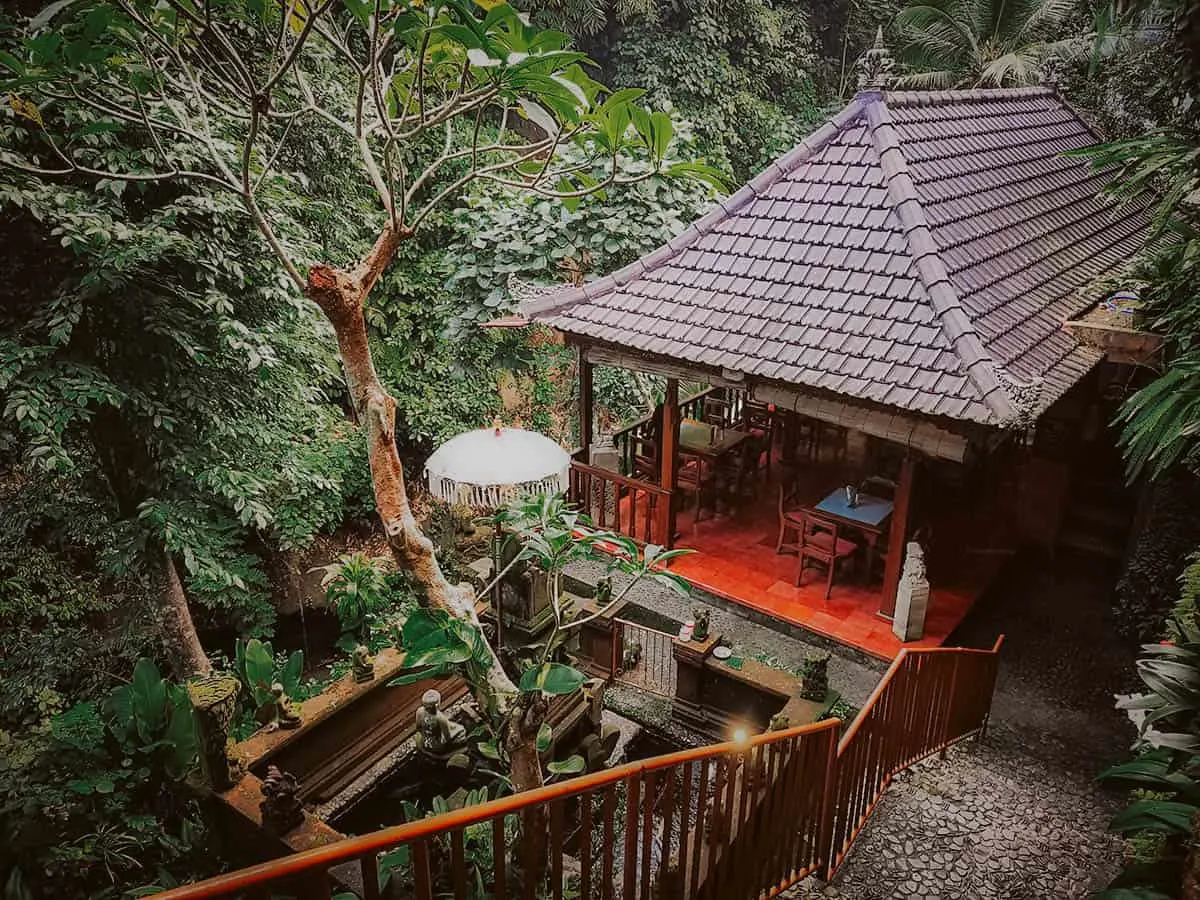 Murni's Warung
Address: Jl. Raya Campuan, Ubud, Kecamatan Ubud, Kabupaten Gianyar, Bali 80571, Indonesia
Operating Hours: 8AM-11PM, daily
Expect to Pay: Arounf IDR 50,000-100,000 per entree
12. Warung Biah Biah
As good as the international food in Bali is, I still prioritize local food so it's important for me to find great local restaurants.
In Ubud, my research led me to Warung Biah Biah which is often cited as one of the best local restaurants in Bali. The long line of people waiting for a table seemed proof of that.
Unlike Murni's Warung, Warung Biah Biah only serves traditional Indonesian food. The different types of nasi goreng dishes were tempting, but I was starving after that wait so I went for this big boy – the nasi campur.
Nasi campur is an Indonesian dish of white rice surrounded by any mix of sides like meats, vegetables, tempeh (fermented soybean), peanuts, egg, and krupuk (shrimp crackers). If you're hungry and want a mini-buffet of different flavors and textures, then nasi campur is always a satisfying choice.
It can be a bit confusing but you'll find similar dishes within Indonesia and in other countries like Malaysia – dishes like nasi padang and nasi kandar. From what I understand, the variations pertain to where the dishes are from and what sides are used. The word nasi means "rice".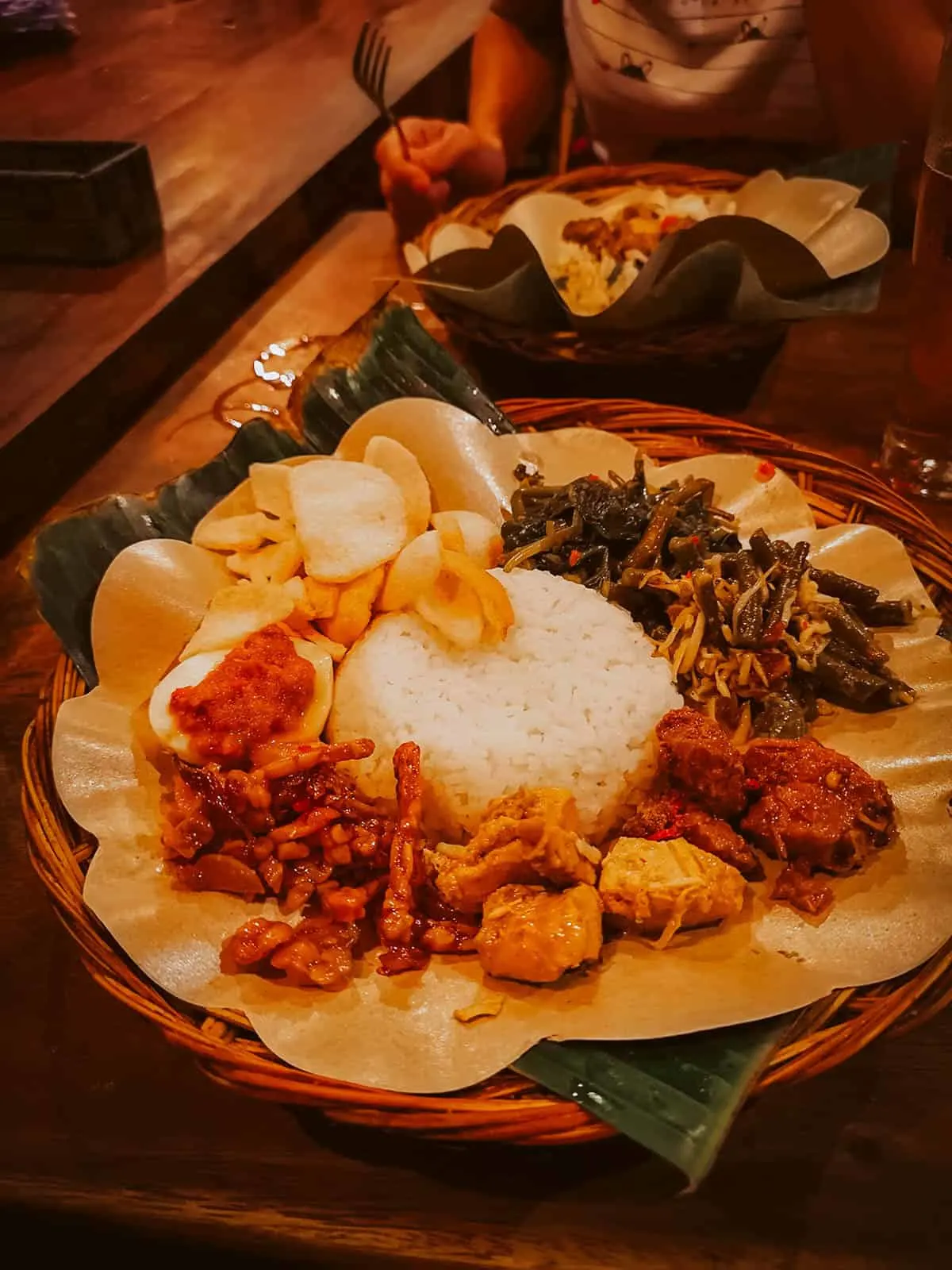 They have delicious Indonesian desserts as well. We had the kelepon which are boiled rice cakes rolled in grated coconut. Take a bite and a pool of liquified palm sugar explodes into your mouth. It's so good.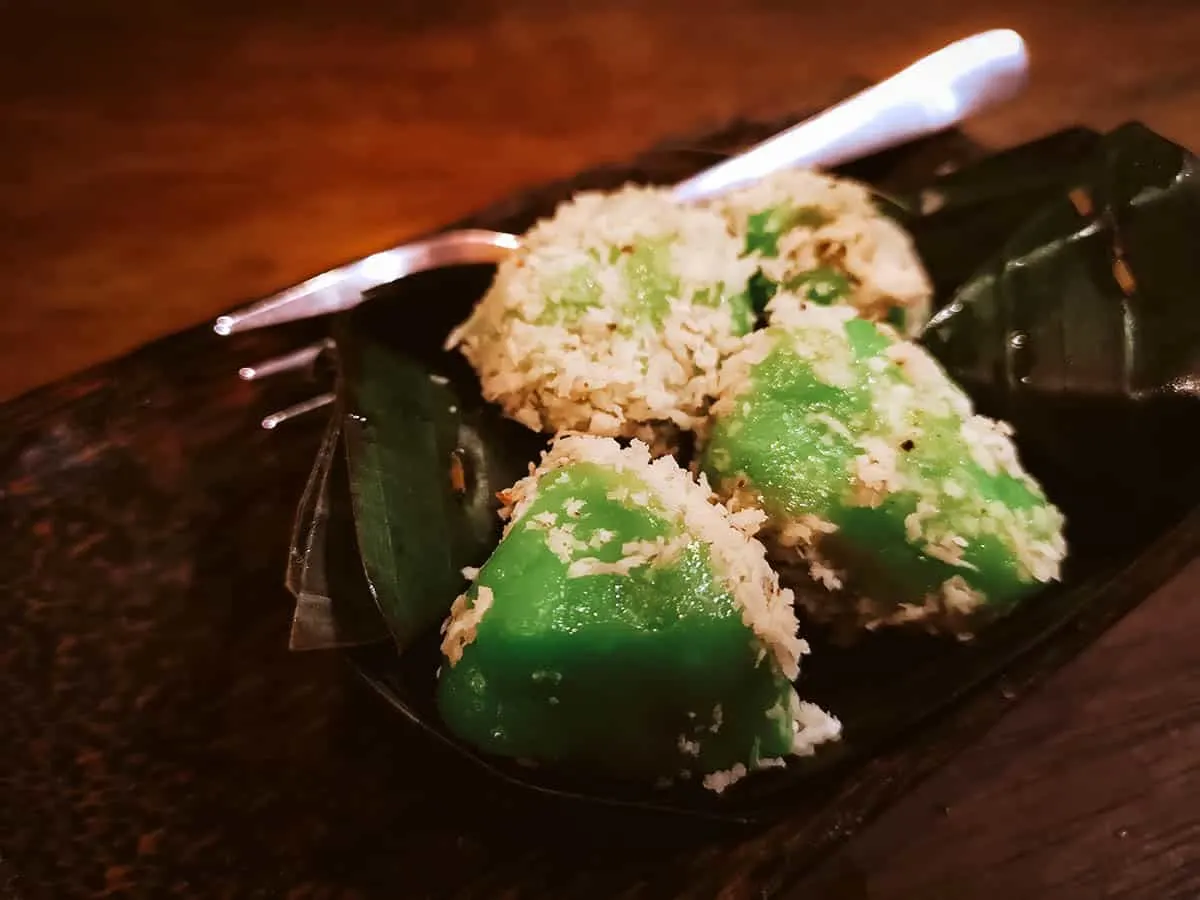 See what I mean about the line? This was pretty late too, at around 9PM if I remember correctly. When it comes to local Indonesian food, Warung Biah Biah serves some of the best food in Bali so be prepared for a wait.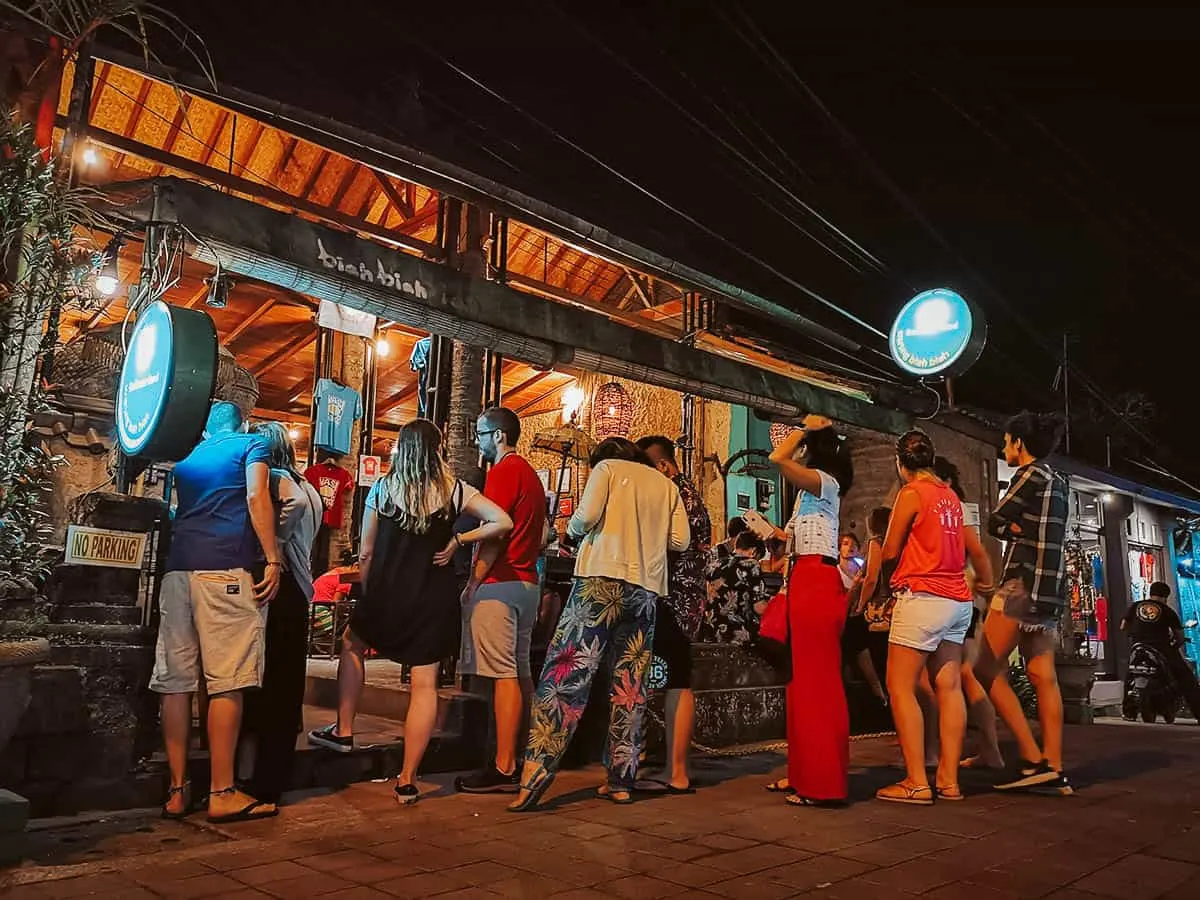 Warung Biah Biah
Address: Jl. Goutama Sel. No.13, Ubud, Kecamatan Ubud, Kabupaten Gianyar, Bali 80571, Indonesia
Operating Hours: 11AM-11PM, daily
Expect to Pay: IDR 22,000-26,000 for nasi goreng/campur
13. Locavore
As much as we love simple warungs and street food, we try to leave room for one gourmet dining experience on every trip. In Ubud, that was Locavore – a true fine dining destination and one of the best restaurants in Bali.
Locavore is a European-Indonesian restaurant that creates modern cuisine using the freshest sustainably sourced local ingredients.
It's the signature restaurant of Dutch-born chef Eelke Plasmeijer and Indonesian chef Ray Adriansyah. They're consistently recognized as one of the top 50 restaurants in Asia and the best in Indonesia. If you're looking for a place to have a truly special dining experience in Ubud, then Locavore should be on your short list.
Pictured below is one of the courses from their tasting menu – a sweet "potato chip" made with yam and sprinkled with turmeric powder and wild flowers. It's just one of many beautiful and inventive dishes offered on their degustation menus. Check out my full article on Locavore in Ubud for more information and pictures of every course.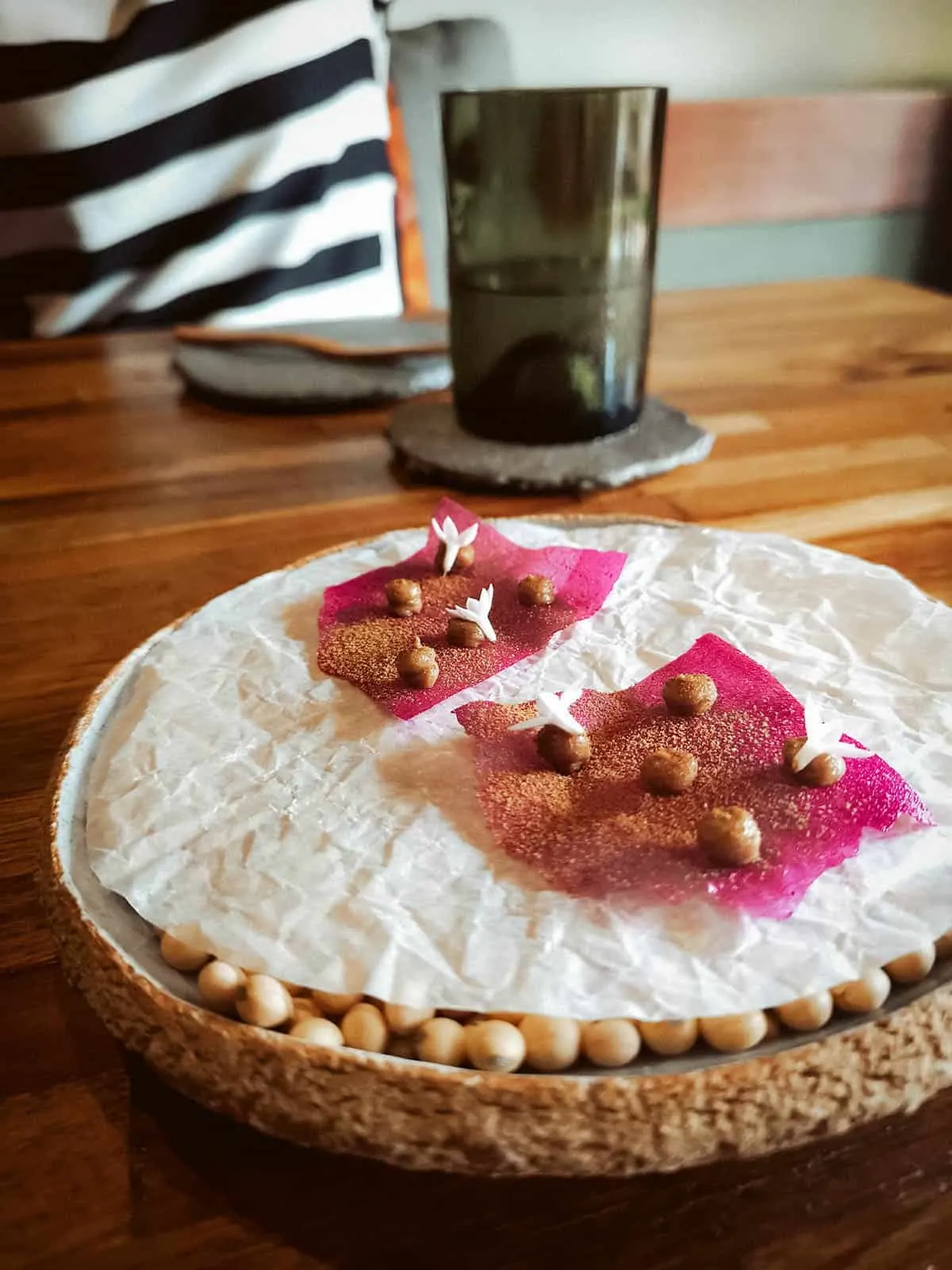 Another course from their tasting menu – black rice blini topped with smoked egg emulsion and brown rice puffs.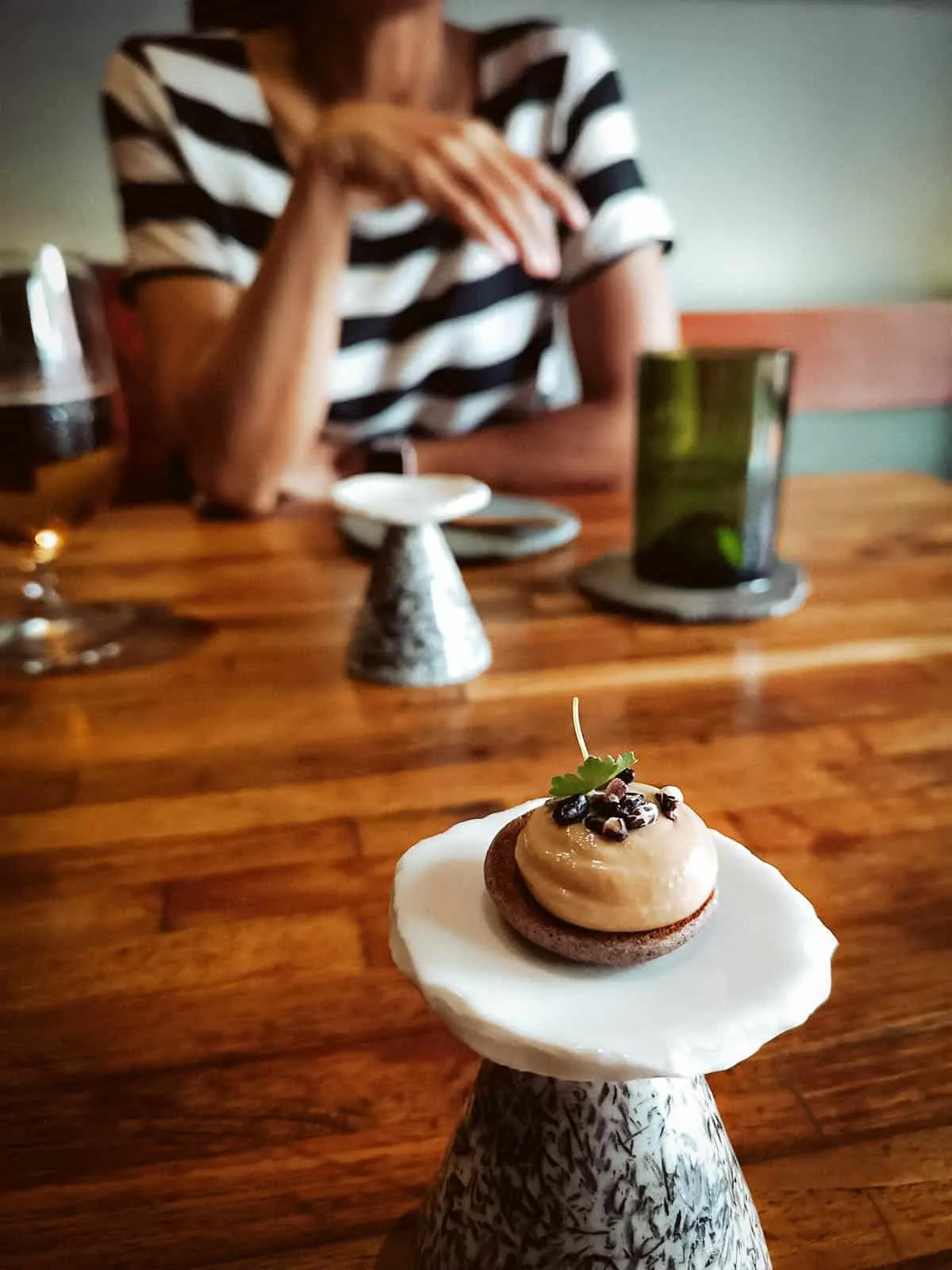 This was one of my favorite courses from their tasting menus, largely because of its creative presentation. What you're looking at is a congklak board with different types of chocolate in every well. What a fun and amazing dining experience!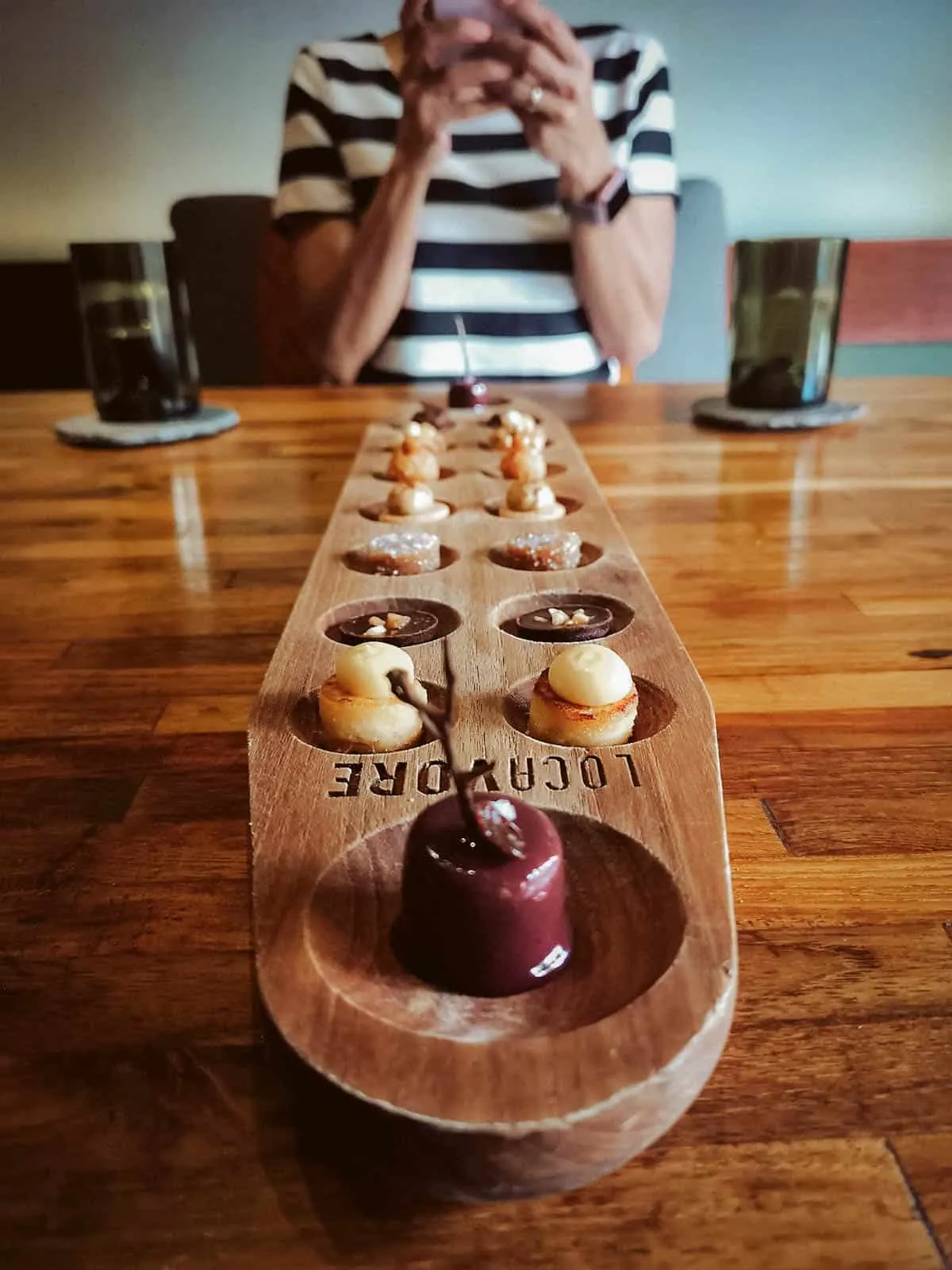 Locavore is located in the heart of Ubud. As you'd expect from a restaurant of this caliber, they're a TripAdvisor Traveller's Choice awardee with a near perfect 4.5 rating.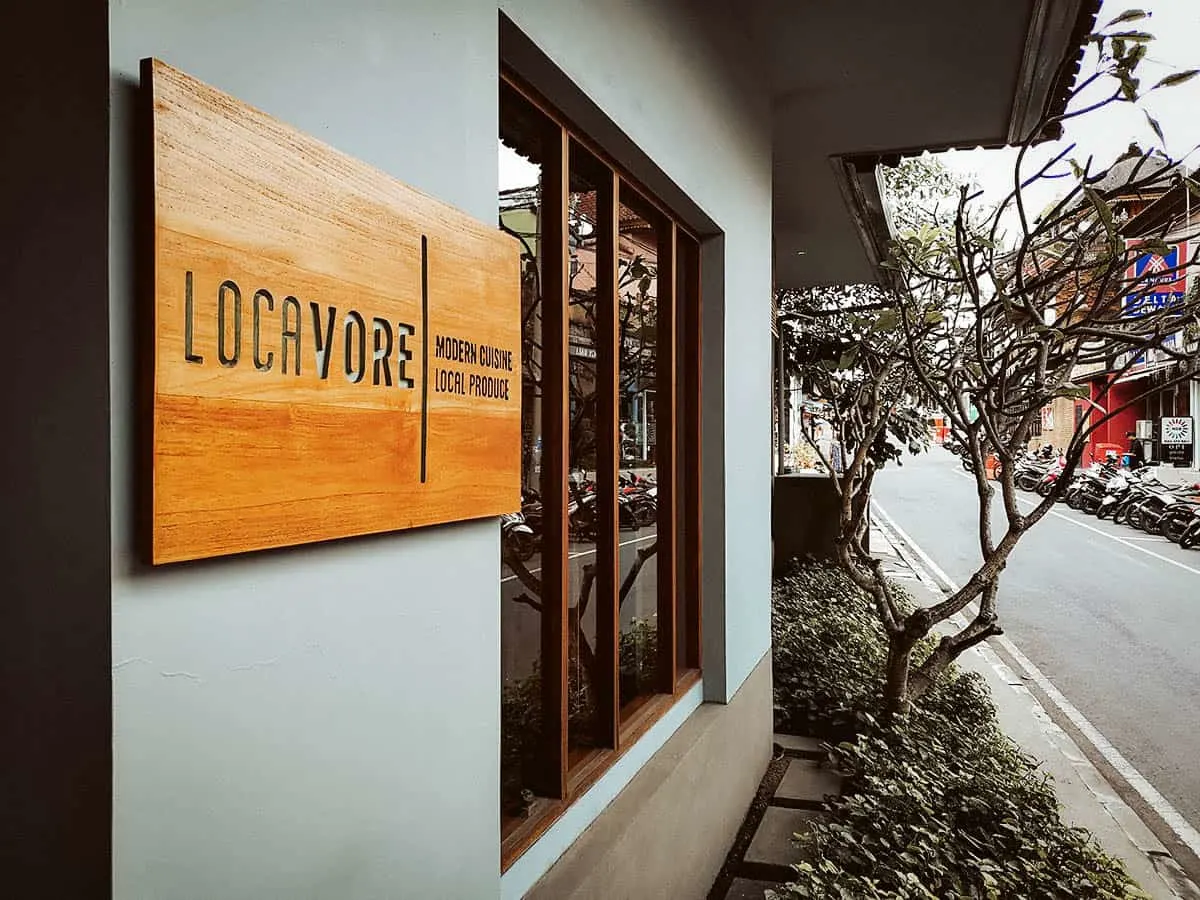 Locavore serves excellent food minus the pretension. There doesn't seem to be a dress code here. The two gentlemen sitting next to us were enjoying their lunch in shorts, flip-flops, and singlets. This is Bali after all.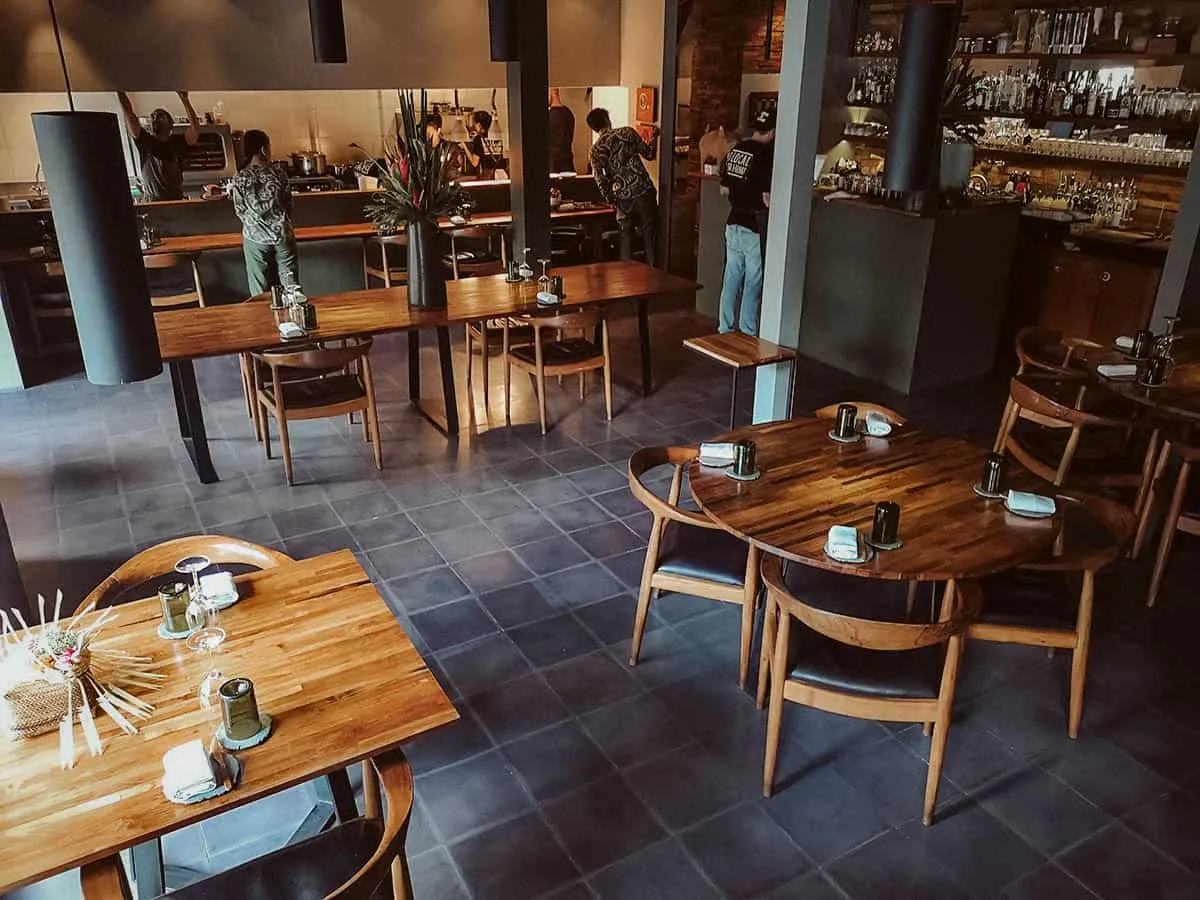 Locavore
Address: Jl. Dewisita No.10, Banjar Padang, Tegal, Kabupaten Gianyar, Bali 80571, Indonesia
Operating Hours: 11AM-11PM, Mon-Sat (closed Sundays)
Expect to Pay: Tasting menus start at IDR 795,000++
14. Kedai Kakul – CLOSED
Remember what I said about the snails at Warung Eropa? Well, I love them, which is why this unexpected Bali restaurant turned out to be one of my favorites. Kakul refers to a type of local freshwater snail that this restaurant specializes in.
We were on a private car charter and visiting the many temples and attractions in Ubud. I asked our driver to take us to a nice Ubud restaurant for lunch and he took us here.
Kedai Kakul is a lovely open-air restaurant by the side of an obscure road surrounded by rice terraces. I can't even tell you where it is because it felt like we were in the middle of nowhere. You can refer to the map at the bottom of this post for its exact location.
I've had satay many times before in different forms, but this was the first time I've ever tried sate kakul or snail satay. Slathered in a spicy sambal and served with a sweet-savory peanut sauce, it was absolutely delicious and one of my favorite dishes to eat on this trip.
The snails were grilled so they had a nice smokey flavor to go with that gummy, chewy, snappy texture. I loved it.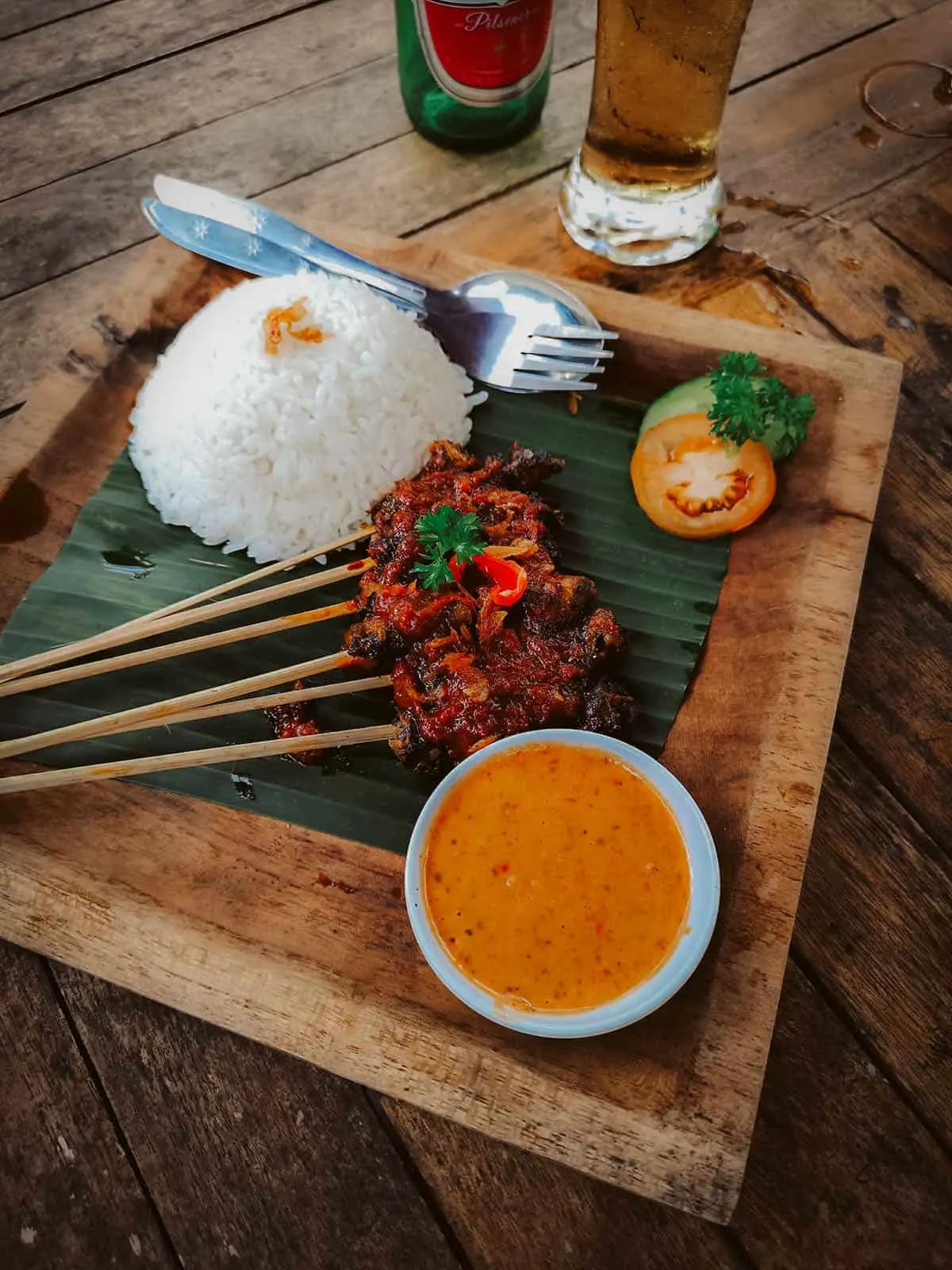 Ren had this beautiful bowl of soto ayam or chicken soup with vegetables and egg. It was hearty and very delicious.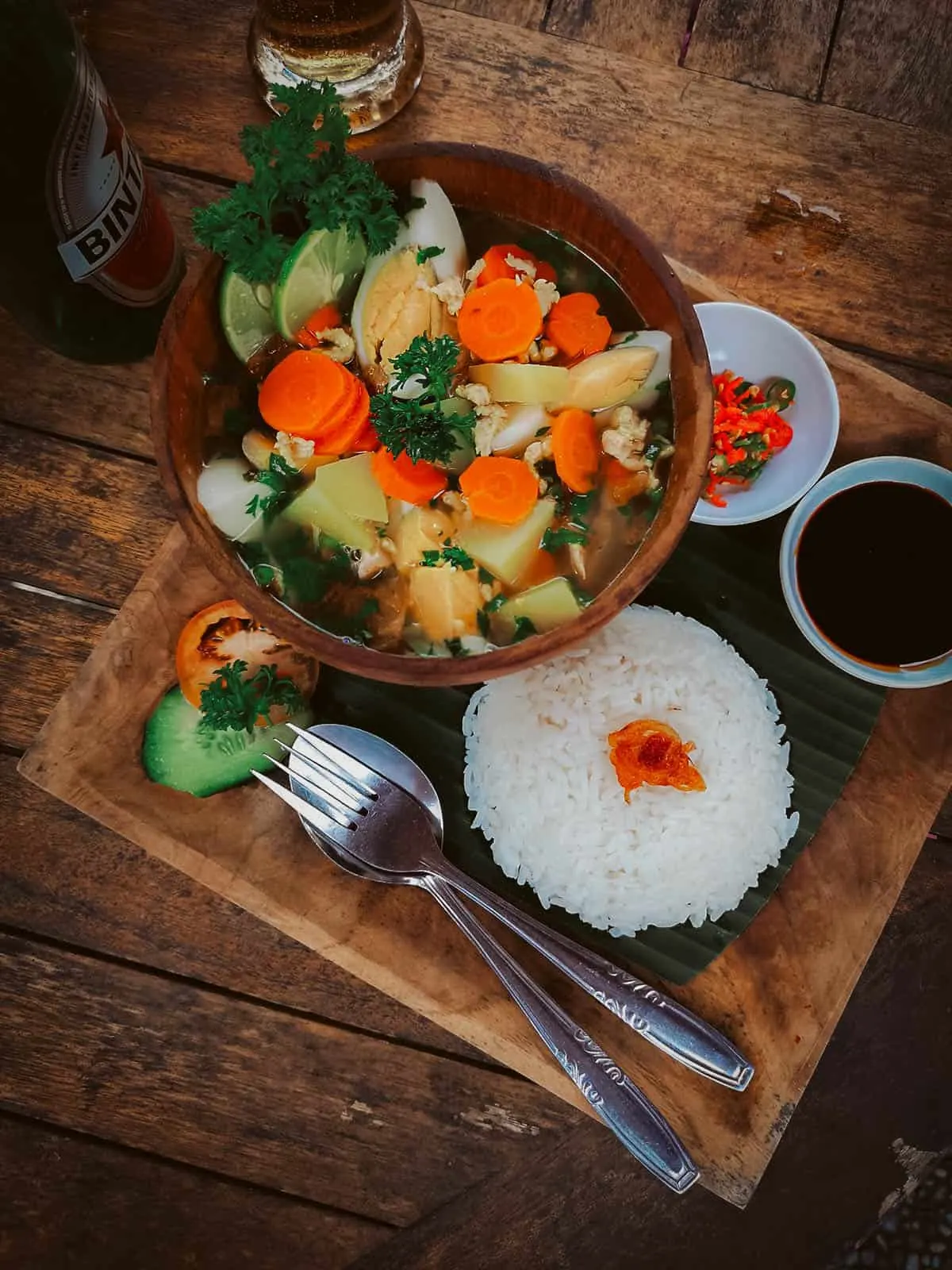 If you have a private car charter in Ubud, then you may want to check out Kedai Kakul for lunch. The food is great and the views are wonderful. Surrounded by nature with the sounds of rustling leaves and flowing water, it felt very relaxing to be here.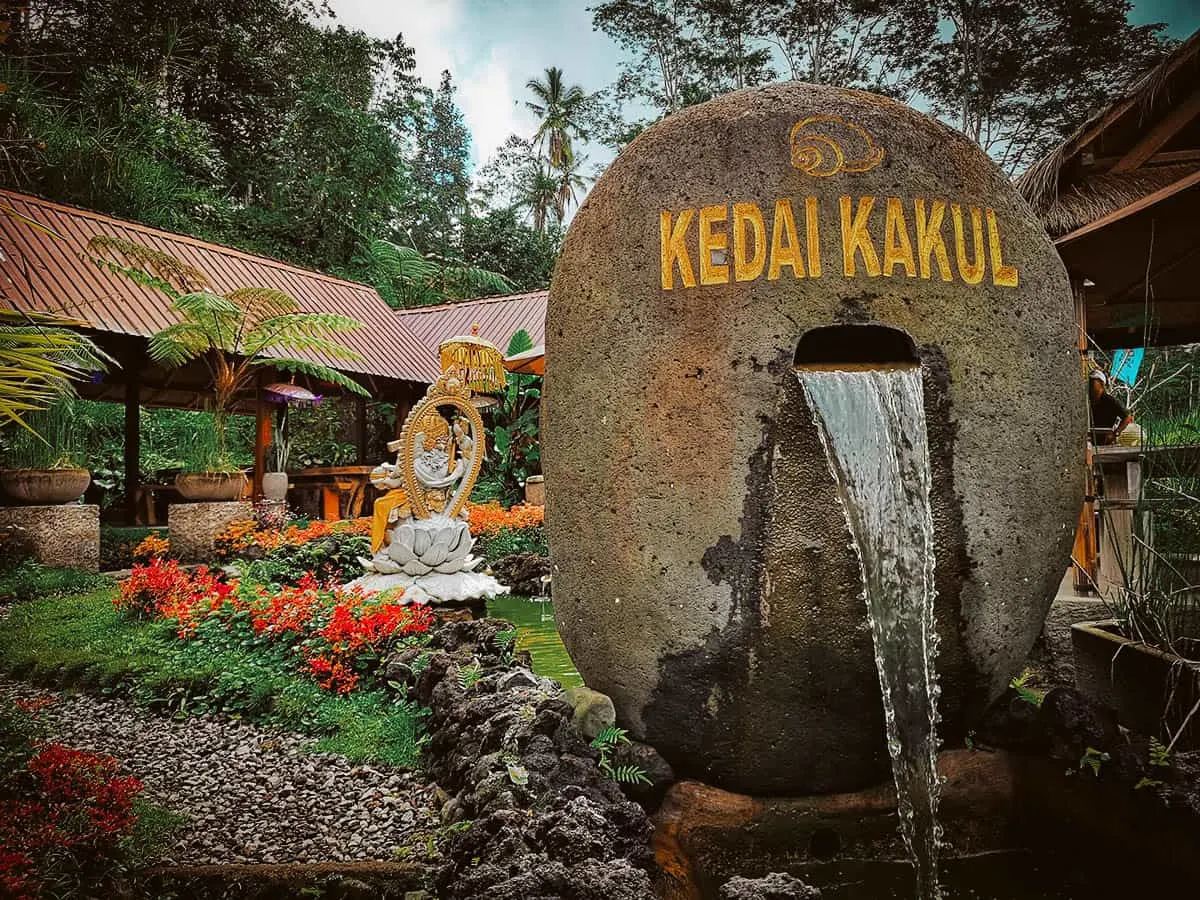 Kedai Kakul – CLOSED
Address: Jl. Sentanu, Tampaksiring, Kabupaten Gianyar, Bali 80552, Indonesia
Operating Hours: 11AM-6PM, daily
Expect to Pay: Around IDR 40,000-80,000 per entree
BONUS: Selingsing Cepaka
In my research, I chanced upon this article that spoke of the legend of Bali's best babi guling. Surprisingly, it was written by a non-Indonesian expat living in Bali.
Like me, his Indonesian friends were skeptical of his claim so he made a standing bet with them. If it was indeed the best roast pig they've ever tasted, then they would pay for his meal. If it wasn't, then he'd pay for theirs. According to him, it's a bet he's never lost.
What made this place even more enticing was its odd location and even stranger hours. It's in a small town called Buduk and only opens from 4-9AM. It was challenging for me to get there on my own so I rented a car and asked the driver to take me to Buduk first thing in the morning.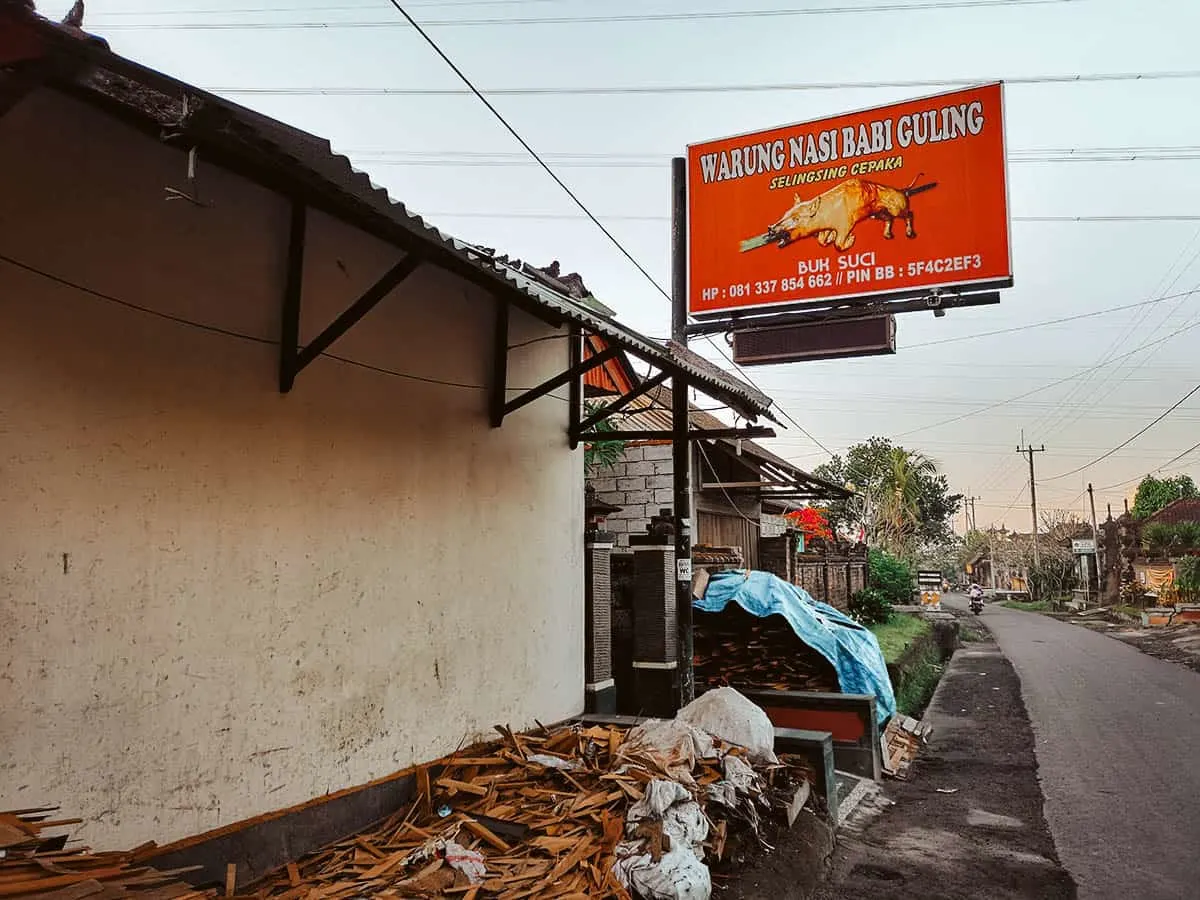 We found the place but to my absolute dismay, it was closed. Apparently, they had changed their hours since the publication of that article and now operated between the more convenient time of 5PM-12MN. I was so disappointed.
If you're a fan of the dish and want to try the best roast pig in Bali, then Selingsing Cepaka needs to be on your itinerary. As obscure a place as it is, it's made its way to TripAdvisor and currently has a perfect 5-star rating.
Selingsing Cepaka
Address: Jl. Desa Cepaka, Cepaka, Kec. Kediri, Kabupaten Tabanan, Bali 82121, Indonesia
Operating Hours: 5PM-12MN, daily
LOCATION MAP
People who've never been there often don't know how big Bali it is. It's huge with many interesting areas.
As described, the Bali restaurants in this guide are spread out between two main tourist hotpsots – Seminyak and Ubud. To help you find them, I've pinned them all on the map below. Click on this link for an interactive version of the map.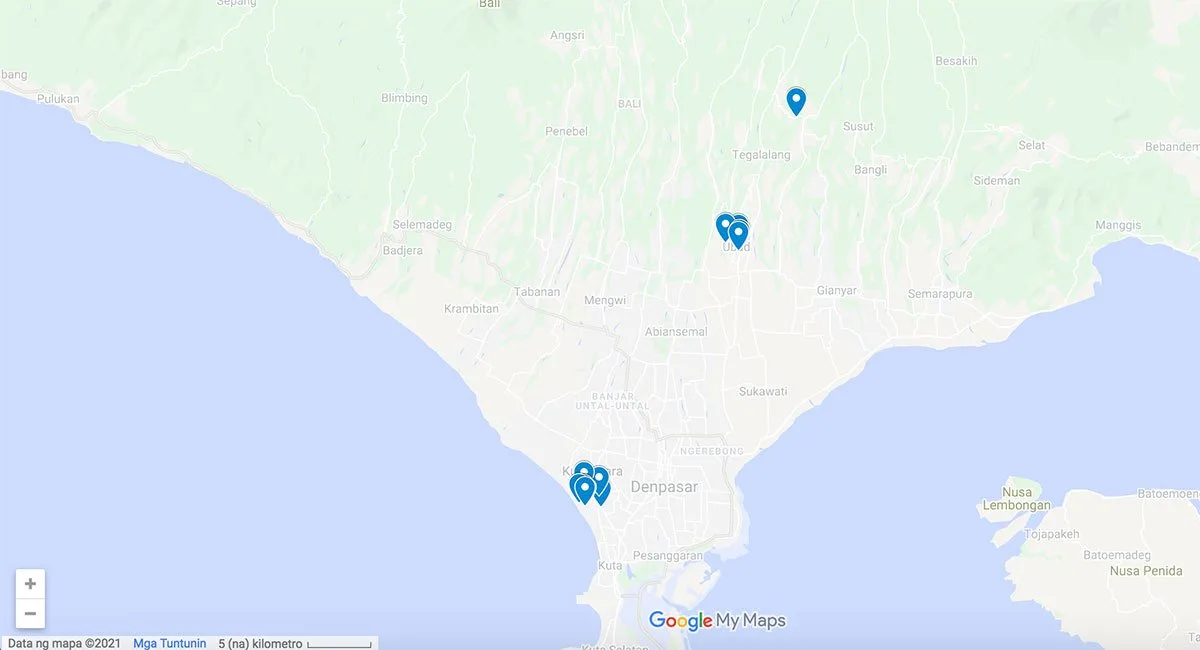 BALI FOOD TOURS
It's easy enough to find great places to eat in Bali, but if you want to really dive into the local cuisine, then you may want to go on a food tour. Simply put, no one knows Indonesian food better than a local so what better way to experience the best of Bali cuisine than by going on a food tour? Check out Get Your Guide for a list of Indonesian food tours in Bali.
FINAL THOUGHTS ON THE FOOD IN BALI
The island of Bali is one of those places that begs to be explored long-term. We've been there twice but we've fallen in love with it so we'll definitely make return trips often. You can expect this guide to expand after every visit. We intend to cover the best restaurants in other areas like Nusa Dua, Canggu, and Denpasar as well.
Other famous restaurants on our hit list include Sarong and Hujan Locale by Chef Will Meyrick, Merah Putih by Chef Kieran Morland, and Mauri by Chef Maurizio Bombini. From what I've heard, they're just as amazing as Locavore. Being an island surrounded by sweeping ocean views, a great seafood restaurant and a Japanese sushi bar would be awesome as well.
It's funny, coming from a similarly tropical country like the Philippines, I never thought Bali would captivate us, but it has. As I said at the top of this post, it's different.
From its vibe to the quality and diversity of the food in Bali, this island paradise truly is in a class of its own.
Disclosure
Some of the links in this Bali food guide are affiliate links, meaning we'll earn a small commission if you make a reservation at no added expense to you. We really appreciate your support as this helps us keep this website going. Thank you!