I was invited to Sri Lanka in October 2018 to attend TBC Asia. It's a biennial event organized by Cinnamon Hotels to honor the best travel bloggers in the business. We were a nominee for best travel food blog and came away with silver. Hooray!
Before the awards ceremony, all sixty nominees were taken on one of four press trips throughout the country. I went on the south tour and visited idyllic places along the coast like Hikkaduwa, Beruwala, Galle, and Mirissa. I saw blue whales for the first and only time in my life and got to go on safari at Yala National Park, a wildlife reserve known for having one of the highest concentration of leopards in the world. Unfortunately, we didn't see any but it was still a highlight of the trip.
Most of my fellow nominees had been to Sri Lanka before so they left right after the awards ceremony. But not me. It was my first time here and after that incredible press trip, I wanted to see more.
I extended my stay so I could explore more of this beautiful country which Lonely Planet named its best place to visit in 2019.
My first stop? Kandy.
VISIT KANDY QUICK LINKS
This travel guide to Kandy is long. For your convenience, I've compiled links to hotels, tours, and other services here.
HOTELS
Top-rated hotels in central Kandy, the most convenient area to stay for first-time visitors.
TOURS
OTHER SERVICES
Save This on Pinterest!
No time to read this Kandy travel guide now? Click on the save button and pin it for later!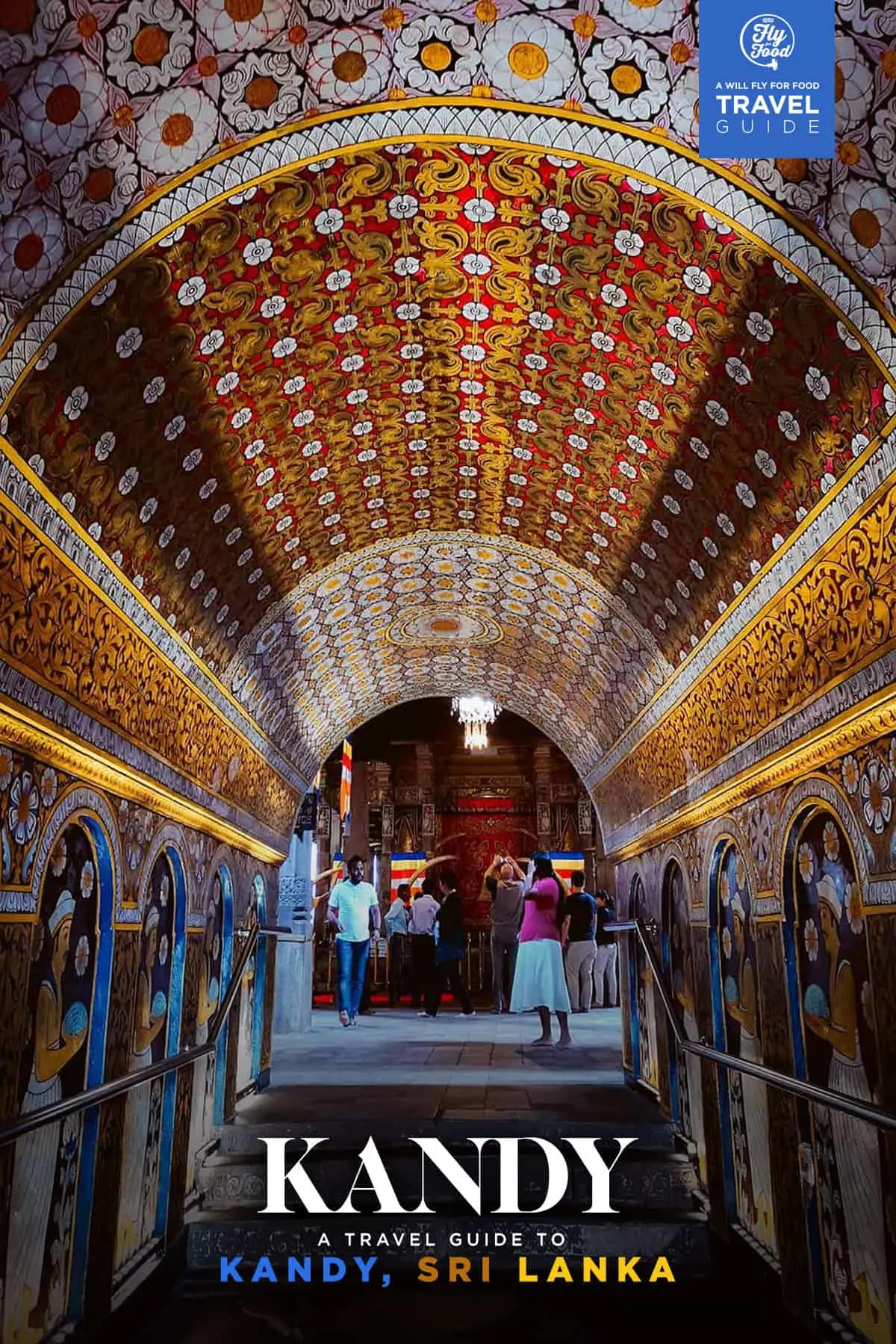 GUIDE TABLE OF CONTENTS
KANDY TRAVEL RESTRICTIONS
Because of the current global situation, Kandy travel guidelines change on a regular basis. Our friends at Booking.com created a website that lists detailed information on travel restrictions around the globe.
Before planning a trip to Kandy, be sure to check Booking.com for information on travel restrictions to Sri Lanka. If you do decide to visit Kandy, then you may want to seriously consider getting travel insurance with COVID coverage.
HOW TO APPLY FOR AN ETA TO SRI LANKA
Applying for an ETA (Electronic Travel Authorization) to Sri Lanka was super fast and easy. Everything is done through the Sri Lanka ETA website and it was emailed to me within minutes of submitting the application and making payment. You can check my post on applying for an ETA to Sri Lanka for a step-by-step process. You can also apply for an ETA through iVisa.com.
KANDY AT A GLANCE
Located less than three hours northeast of Colombo, the historic city of Kandy is the capital of the Central province of Sri Lanka. It was the last capital of the Sinhala Kingdom, a monarchy that flourished for over 2,300 years until it was ended by colonial rule and absorbed by the British Empire in 1815.
A popular pilgrimage site, Kandy is regarded as a holy city and is home to The Temple of the Tooth Relic (the sacred tooth of the Buddha), one of the most sacred places of worship in Buddhism. It's a key religious site not just in Sri Lanka, but in the entire Buddhist world. Because of its historic and religious significance, Kandy was declared a UNESCO World Heritage Site in 1988 and is often referred to as the cultural capital of Sri Lanka.
BEST TIME TO VISIT KANDY
Sri Lanka experiences two monsoon seasons – Yala and Maha. The Yala monsoon season happens around May till August and affects the southwestern part of the country. The Maha monsoon season goes from October till January and affects the northeastern parts of Sri Lanka. Kandy is located towards the center of the island and will be affected by both monsoon seasons to some degree, bad not as badly as coastal cities.
I went in early November and didn't experience much rain in Kandy, but I did see a lot of rain in Sigiriya and Ella. I got stuck on Lion Rock in Sigiriya during a heavy downpour and I experienced rain everyday in Ella that kept me indoors for much of the time. It sucked.
If you can, then it's best to go sometime between mid-January and March as this is typically the driest time of the year in Kandy and the rest of the country in general.
JAN-APR: In terms of the weather, this is the best time of the year to visit Kandy. The weather is dry and mostly pleasant, especially in February and March. Central Sri Lanka is known for its hiking trails and other outdoor attractions so going when the weather is driest would be ideal.
MAY-SEPT: As described, this is Yala monsoon season in Sri Lanka. It doesn't rain as heavily in Kandy yet but you can expect more rain.
OCT-DEC: This is Maha monsoon season and the wettest time of the year in Kandy. As described, I went in early November and though I was lucky not to see heavy rain, it was overcast everyday with light showers throughout the day.
Climate: Annual Monthly Weather in Kandy
For more on Kandy's weather, check out these climate graphs from timeanddate.com. I've also created average temperature and annual rainfall graphs with the most ideal months to visit marked in orange.
Average Temperature

Annual Rainfall

TRAVELING TO KANDY
Kandy is located in central Sri Lanka. There are many ways to get there depending on where you are, though the majority of tourists will probably be coming from either Colombo or Ella. It's common to visit Sri Lanka's most popular destinations on a loop, either going clockwise or counterclockwise from Colombo.
From Colombo Fort
Colombo is where most people will be coming from when they visit Kandy. After flying into Sri Lanka, they'll spend a day or two in the capital before taking the 2.5-3 hr train ride to Kandy.
You can book train tickets from Colombo to Kandy on Bookaway. If you can, then I suggest reserving as early as possible. This route isn't as popular as Kandy-Ella but it's still a good idea to book early.
If you're wondering which train class is best, then you can jump to the KANDY TRAVEL TIPS section of this guide for more information on classes and which one you should pick.
You can go from Colombo by bus or private transfer as well, though traveling to Kandy by road may not be as scenic as the train.
From Ella
One of Sri Lanka's most popular attractions isn't actually a place, but a train ride. This Ella-Kandy leg (and vice-versa) has often been called the most beautiful train ride in the world. It's a 6-7 hr journey that takes you through a lush mountainous terrain with tea plantations as far as the eye can see.
This is by far the most popular train route in Sri Lanka and the most difficult to book, so it's HIGHLY RECOMMENDED that you reserve early. Again, you can read about my experience booking train tickets in Sri Lanka in the KANDY TRAVEL TIPS section.
Like the Colombo Fort – Kandy route, you can book tickets from Ella to Kandy on Bookaway. There are two departures from Ella to Kandy everyday, at 6:40AM and 9:24AM. If it's your first time experiencing this train ride, then it's best to take 2nd class.
I started from Colombo so I took the Kandy-Ella route. If you're going counterclockwise on the tourist loop, then you'll be going from Ella to Kandy. If for some reason you don't like scenic train rides, then you can go by bus or private transfer from Ella to Kandy, but it will probably be a lot less scenic.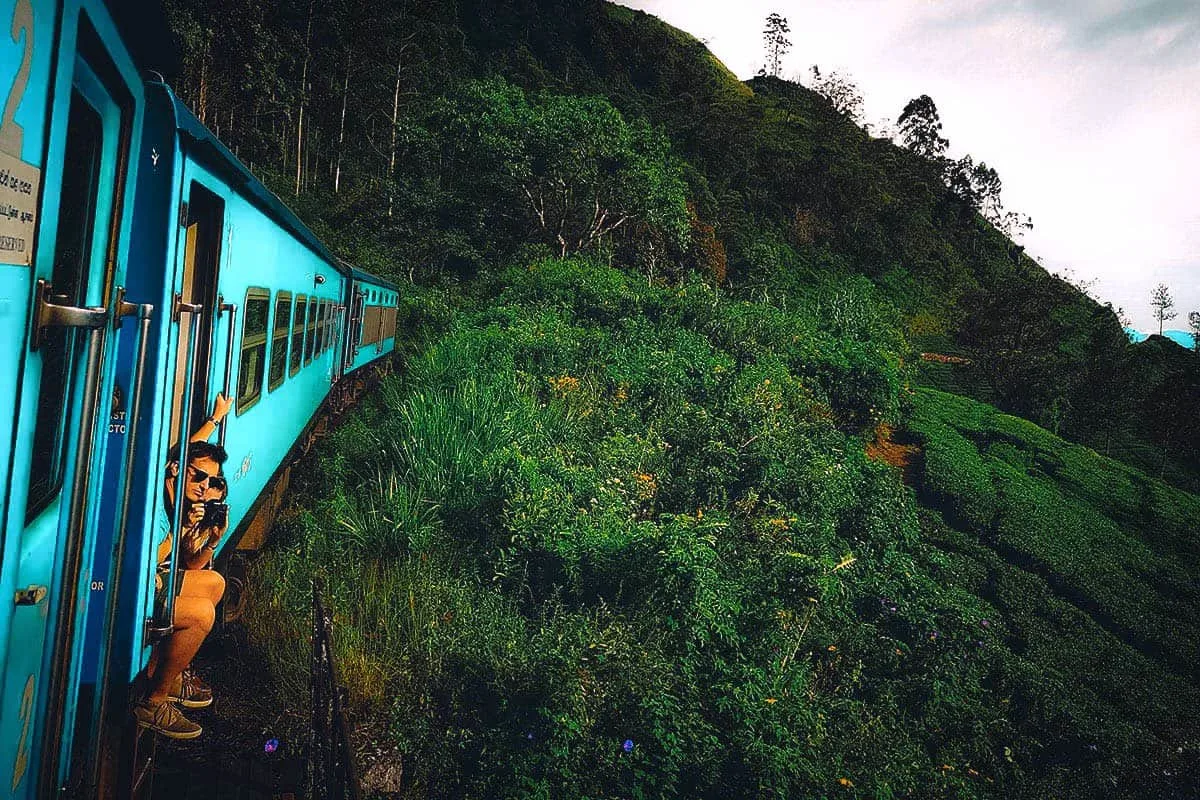 NOTE: There are other ways to get to Kandy from either Colombo or Ella but train travel is widely considered to be the best. Buses may be cheaper but they won't be as comfortable.
I rode buses going between Dambulla, Polonnaruwa, and Kandy and the rides were always bumpy and crowded. Plus, there's no luggage compartment on these public buses so you can't take large pieces of luggage with you.
If you're going straight to Kandy from Bandaranaike International Airport, then one option would be to book a private transfer. It's more expensive but it'll save you the trouble of having to go to Colombo Fort train station first. Bandaranaike International Airport isn't actually in Colombo but in Negombo, about an hour north of the capital city.
Regardless of how you get to Kandy, train travel is such a big part of the Sri Lanka experience that you should definitely experience it on your first trip to the country. As advised, the most popular routes sell out quickly, even during low season, so it's VERY IMPORTANT to reserve your seat as early as possible. Jump to the KANDY TRAVEL TIPS section of this guide for more details.
From Other Cities
I focused on Colombo and Ella because most travelers will be coming from either place to get to Kandy. If you're coming from somewhere else, then you can check Bookaway for available transportation options. You can click on the link or use the widget below.
WHERE TO EXCHANGE CURRENCY
The unit of currency in Sri Lanka is the Sri Lankan Rupee (LKR).
Kandy won't be your port of entry into Sri Lanka so you'll probably already have LKR with you. I've often read that the best place to exchange currency is at Bandaranaike International Airport so that's what I did. I exchanged enough to last me my entire trip.
But if you need to exchange currency in Kandy, then the best place to do it is at a bank or a licensed currency exchange office. You can check Google Maps for a list of banks and licensed money changers in downtown Kandy.
Another option is to withdraw LKR from an ATM. Rates are competitive. Some people say ATM rates can even be better. Just make sure you tell your bank you'll be using your ATM card overseas so you don't run into any issues. In my experience, my card works in some machines but not in others.
NOTE: Some ATM machines may ask if you'd like to proceed "with or without conversion". NEVER proceed "with conversion" because this leads to unfavorable rates. Instead, choose "without conversion" so the local bank in your country does the conversion. Based on this article on Medium, the difference can often be as high as 10%.
BEST AREAS TO STAY IN KANDY
The way I see it, there are three ideal areas to stay for first-time visitors to Kandy. Central Kandy puts you closest to restaurants, tourist attractions, and the train station but it's also the busiest and noisiest part of town. If you'd like to have more peace and quiet, then you might want to stay a little farther away in the Anniewatta area.
I've created the color-coded map below to help you visualize where all these recommended areas are. Click on the link for a live version of the map. (Please note that marked areas are approximations only)
RED – Central Kandy
GREEN – Anniewatta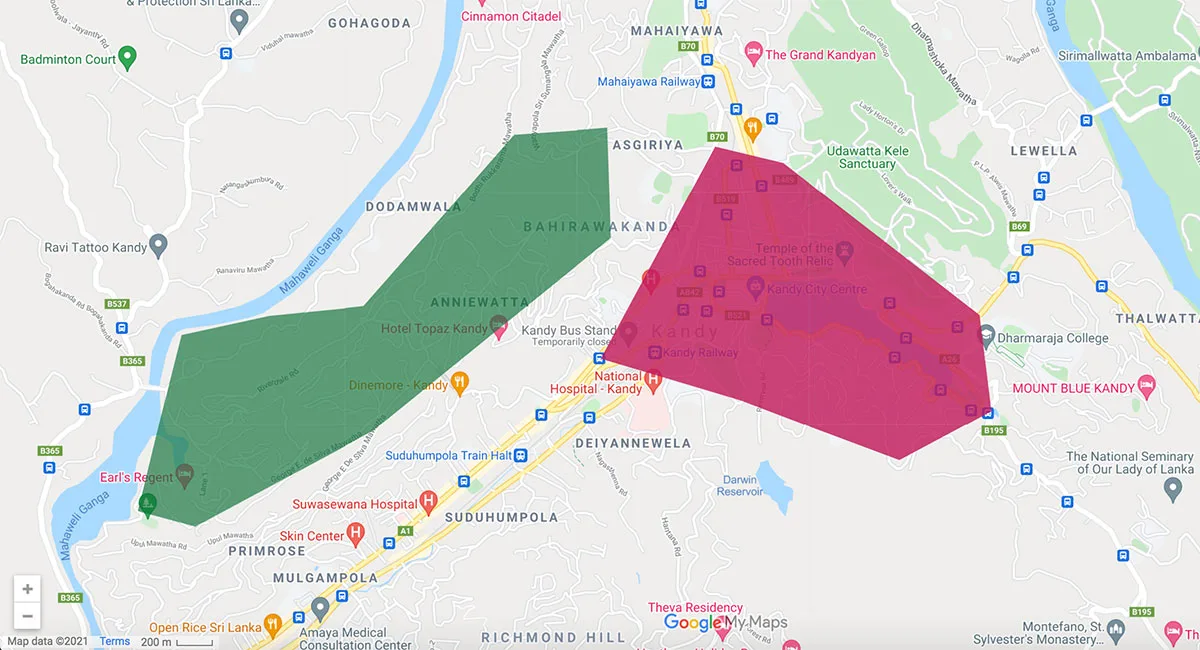 ANNIEWATTA
This is where I stayed when I visited Kandy. It's a more peaceful suburban area that's higher up on a hill and offers great views of the city. My homestay hosts made me a delicious Sri Lankan breakfast everyday which I'd enjoy on their rooftop terrace surrounded by trees and troops of passing monkeys hoping to share in my meal.
Anniewata is a large area so I suggest staying closer to the eastern half of the section marked in green in the map above. That way you don't have to walk too far to get to the city center. I stayed in that eastern half and it would take me about 10-15 minutes to walk to the downtown area. No worries if you don't like to walk as plenty of tuk-tuks pass by the main road.
I booked a room in Bernard's home on AirBnB. He, his wife, and their staff are lovely people who really went out of their way to make my stay as comfortable as possible. I enjoyed my time there and would be happy to recommend them. But if you'd like to see what else is available in the Anniewatta area, then you can do so on Agoda. Check out some of the top-rated hotels in Anniewatta:
CENTRAL KANDY
As described, this is the most convenient area to stay in Kandy as it puts you close to everything. But as with any city center, it may not be the most pleasant. But if you want to be close to restaurants and the Temple of the Sacred Tooth Relic, then this is where you should stay. You can search for accommodations in central Kandy on Booking.com or Agoda. Check out some of the top-rated hotels in the area:
You can also book hotels and home stays in Kandy using the handy map below.
THINGS TO DO IN KANDY
1. Visit the Temple of the Sacred Tooth Relic
As described, the Temple of the Tooth (Sri Dalada Maligawa) is one of the most sacred places of worship in Buddhism and a big reason why Kandy is a UNESCO World Heritage Site. It's said to house the sacred tooth relic of the Buddha.
According to Sri Lankan legend, when the Buddha died in 543 BC, his body was cremated and his left canine tooth was retrieved from the funeral pyre. A belief then grew that whoever possessed the tooth relic had a divine right to rule that land.
The Temple of the Tooth is located inside the royal palace complex. Through the tunnel pictured below is the inner shrine where the tooth relic is kept. I wasn't there at the right time but a daily ritual service called tevava is held there three times a day. If you're lucky, then you may just get a glimpse of the jewelled casket containing the sacred tooth relic.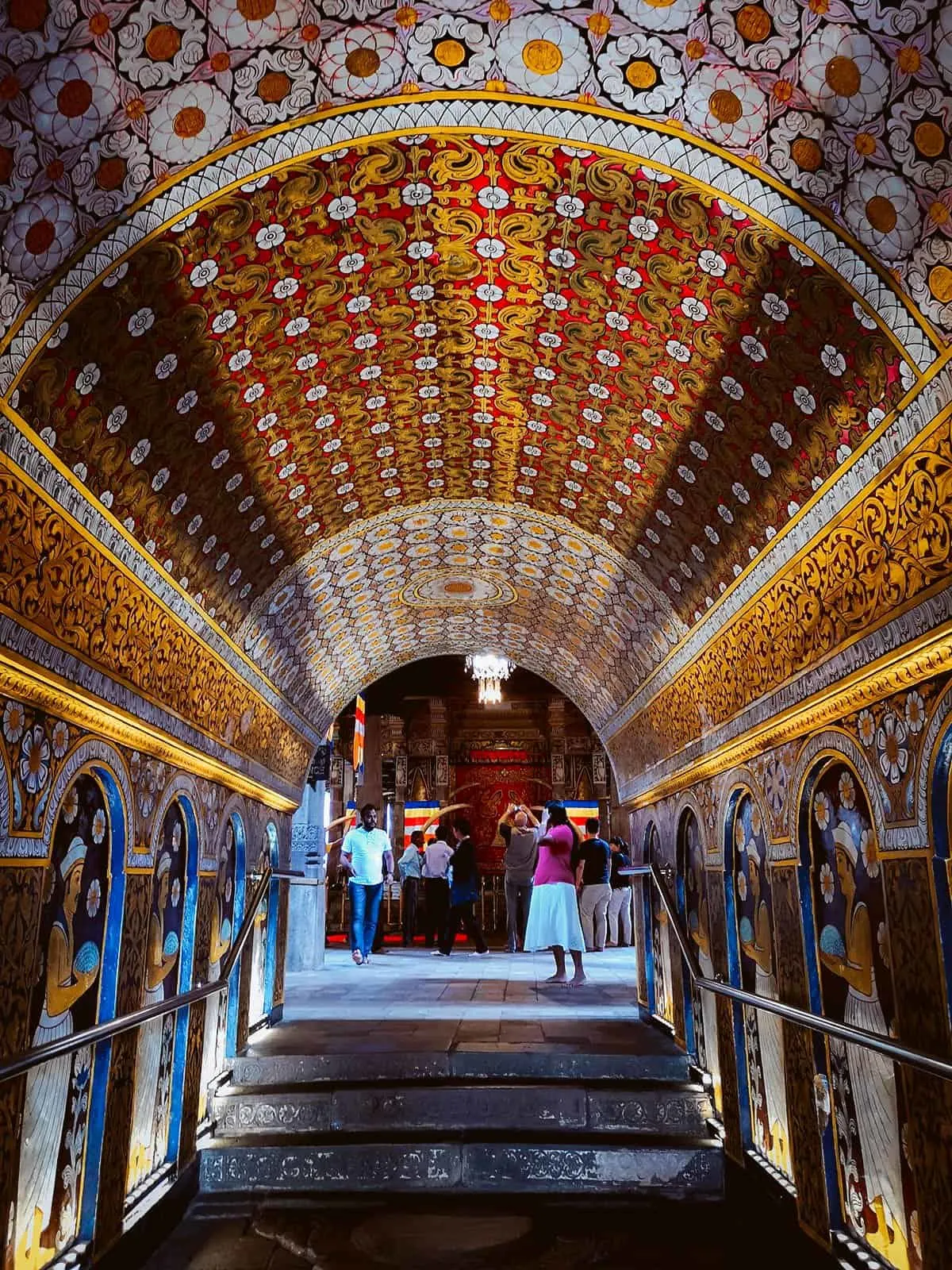 This was taken on the second floor of the temple. On that long table was a mound of fresh flowers left by devotees to honor the sacred tooth relic.
I was here mid-afternoon but I read that evening is the best time to visit the Temple of the Tooth. Aside from getting a chance to see the casket during tevava, the temple is lit up and looks most dramatic at night.
If you have a particular interest in the tooth relic, then July/August would be a great time to visit Kandy. That's when the grand 10-day Esala Perahera Festival is held.
I visited the temple on my own but if you'd like to have a guide explain everything to you, then you may want to book a guided tour (Option 1 | Option 2 | Option 3).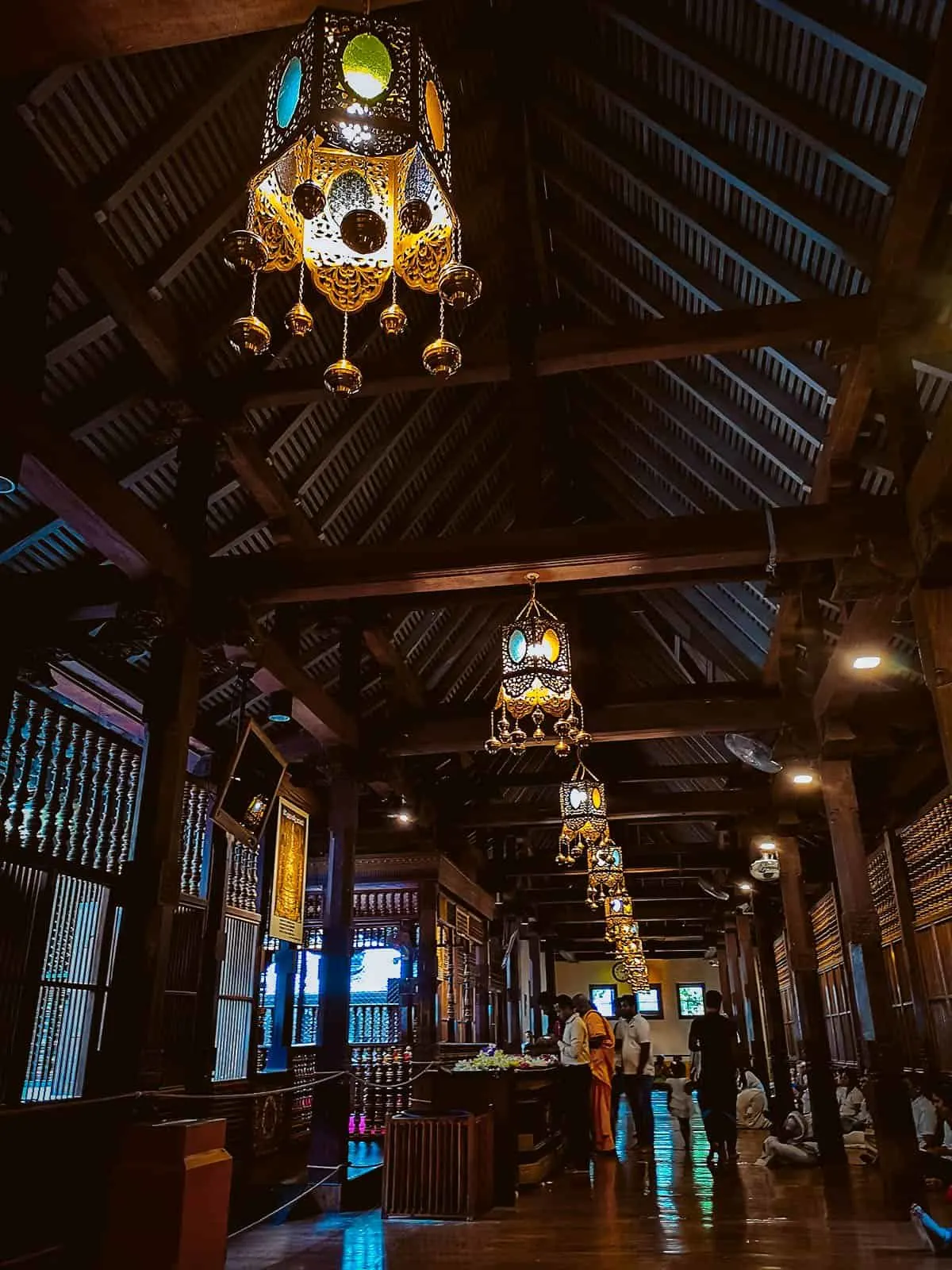 Suggested Length of Visit: About 2-3 hours
Admission: LKR 1,500
2. Take a Stroll Around Kandy Lake
Kandy Lake is an artificial lake situated right next to the Temple of the Tooth. It's a beautiful area and a great place to go for a stroll before or after visiting the temple.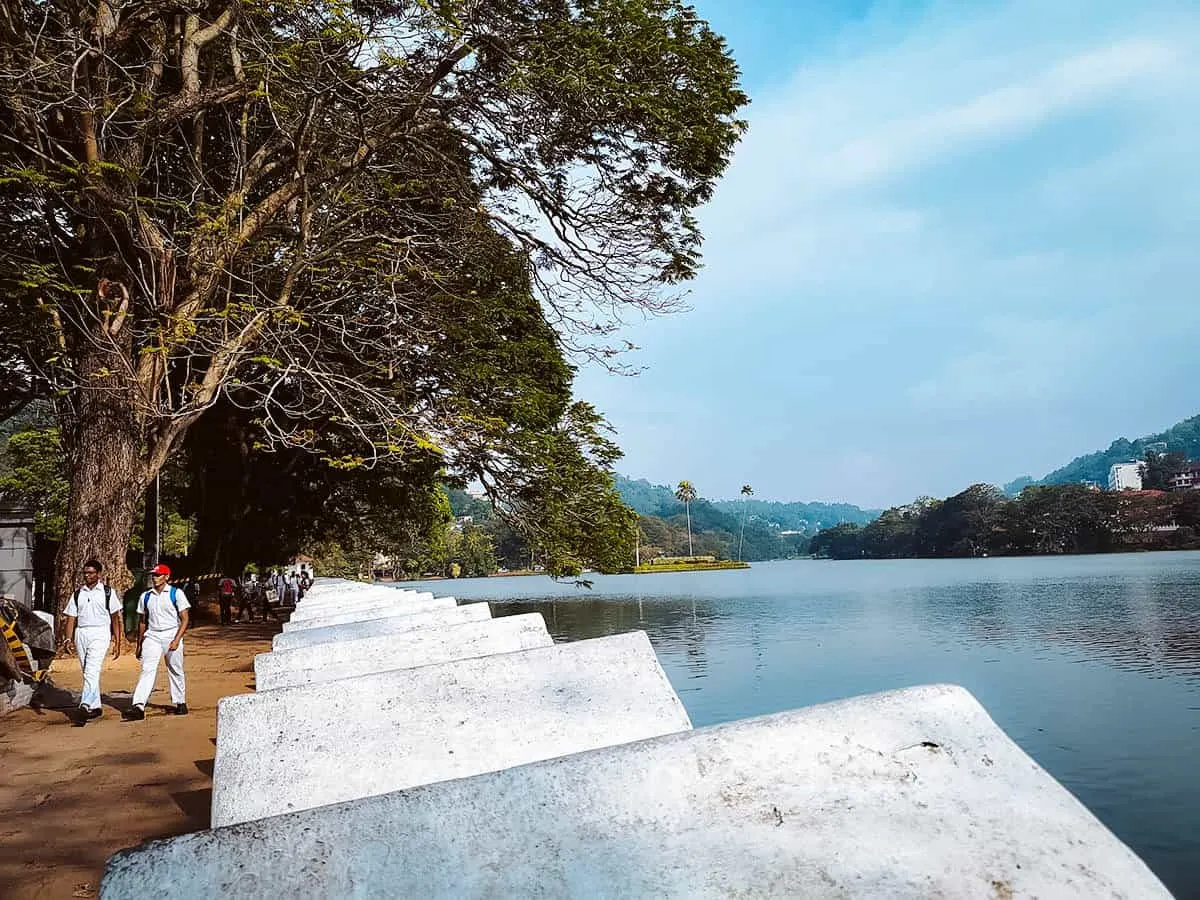 Suggested Length of Visit: About 2-3 hours
3. Have Dinner at Helga's Folly
I think this is the first time I can add a place into the where to stay, what to do, and where to eat sections of a travel guide.
Helga's Folly is a hotel in the jungle hills of Kandy. It's one of the strangest hotels I've ever been to and without a doubt the most unique hotel in the city.
Characterized by eclectic furnishings like candelabras covered in decades of wax, nearly every square inch of the hotel is covered in murals, mostly by the hand of its eccentric socialite owner Helga De Silva Blow Perera. Check out my post on Helga's Folly for more pictures and information.
I didn't stay at Helga's Folly but I had dinner here one night so I could see the hotel for myself. Though interesting as a hotel, I think it's a little too far from the city center to be practical for many travelers.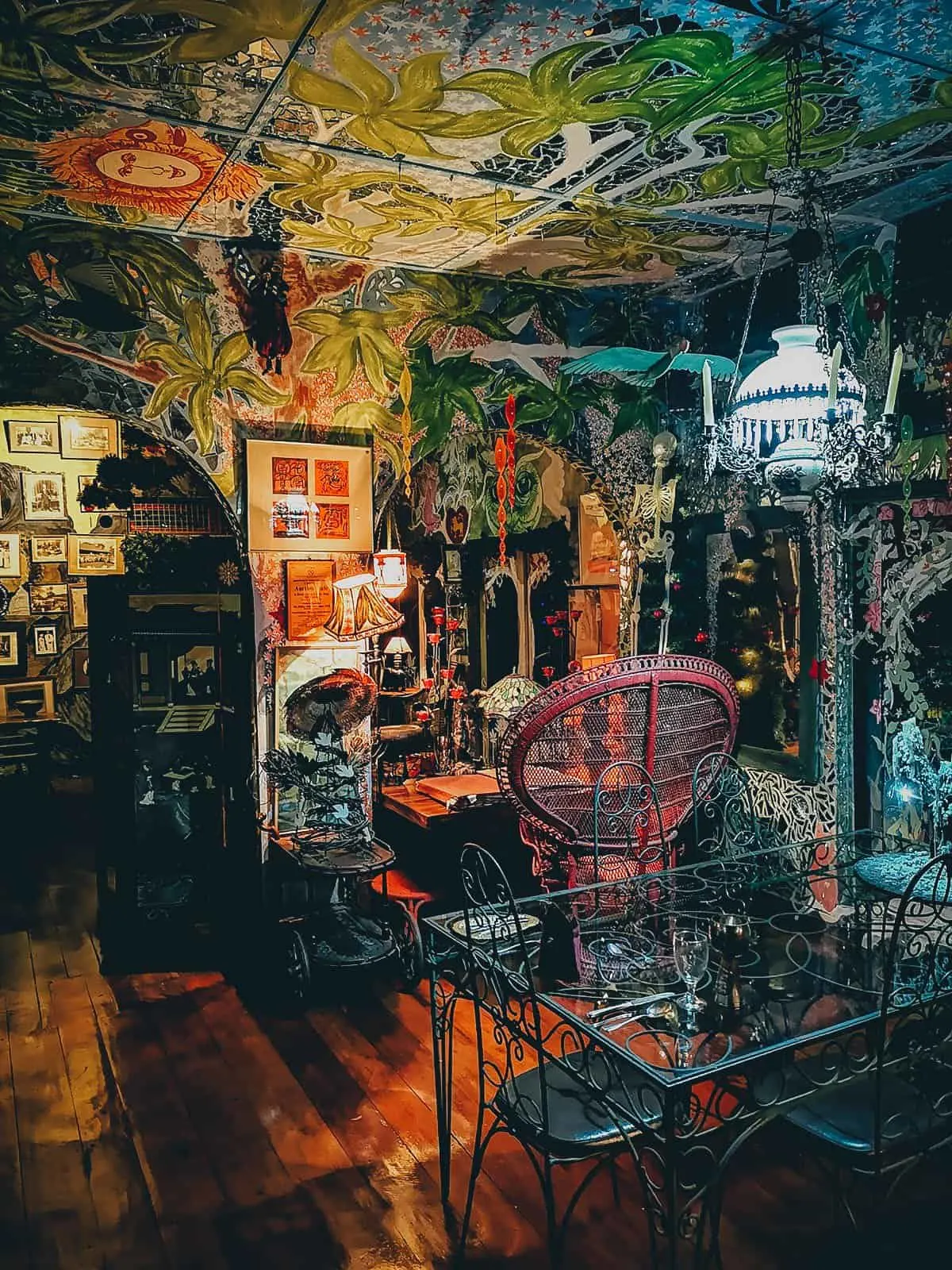 Suggested Length of Visit: 2-3 hours
4. Enjoy the Greenery at Udawattakele Forest Reserve
Udawattakele is a protected forest reserve and sanctuary just north of the Temple of the Tooth. It covers an area of 104 hectares (257 acres) and is home to an extensive array of birds, plants, trees, giant lianas, and small mammals. None of the hiking trails are difficult so you can easily cover the entire reserve in a couple of hours or so.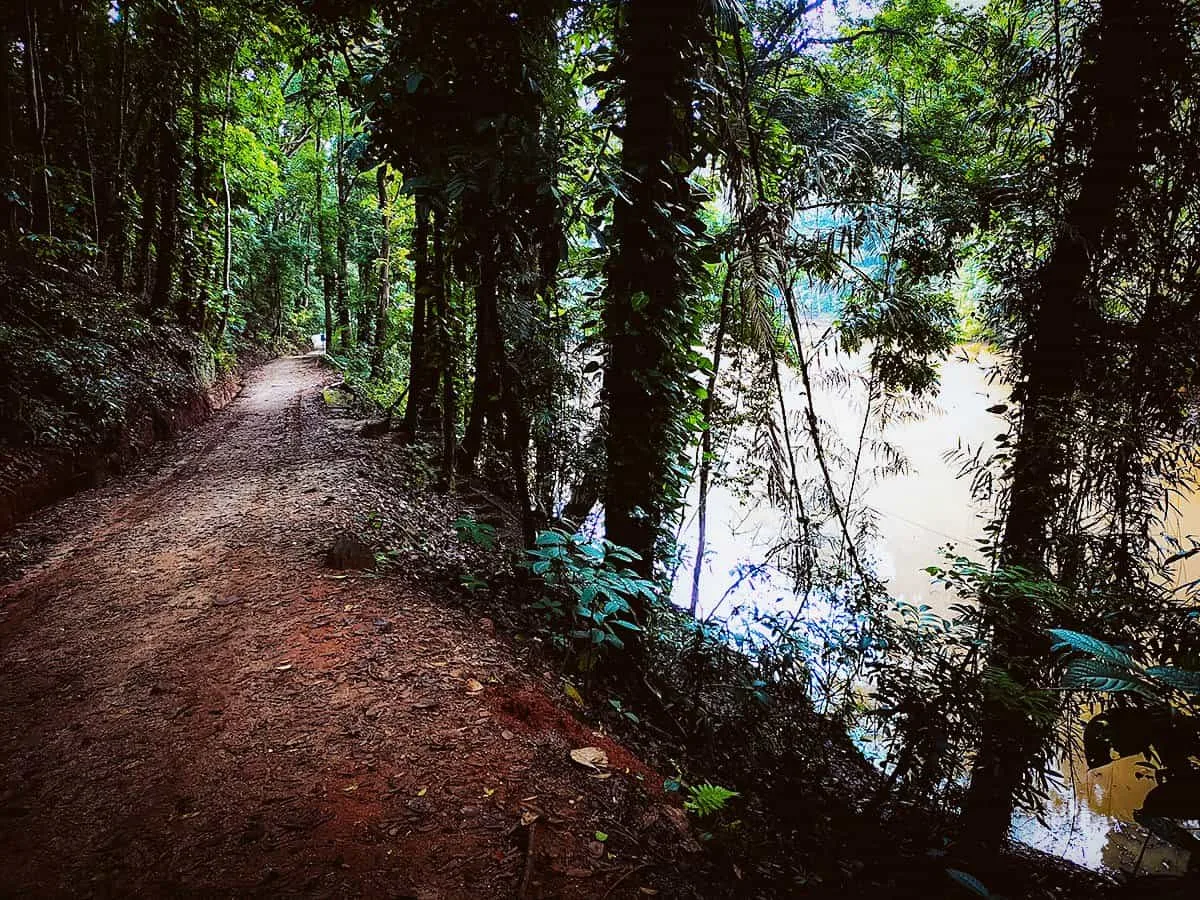 Suggested Length of Visit: 2-3 hours
Admission: Around LKR 700
5. Watch a Kandyan Dance Performance
If you're in the mood for a cultural experience in Kandy, then watching a Kandyan dance performance is one of the best things you can do. It's regarded as Sri Lanka's primary cultural export and covers a wide range of dance forms, many of which are native to Kandy.
There are a few venues where you can watch a Kandyan dance performance, but I read that one of the best is held at the Kandy Lake Club from 5-6PM everyday.
If you're planning on joining a city tour, then you may be interested in this Kandy cultural tour. It includes a stop at the Temple of the Tooth and ends with a Kandyan dance performance.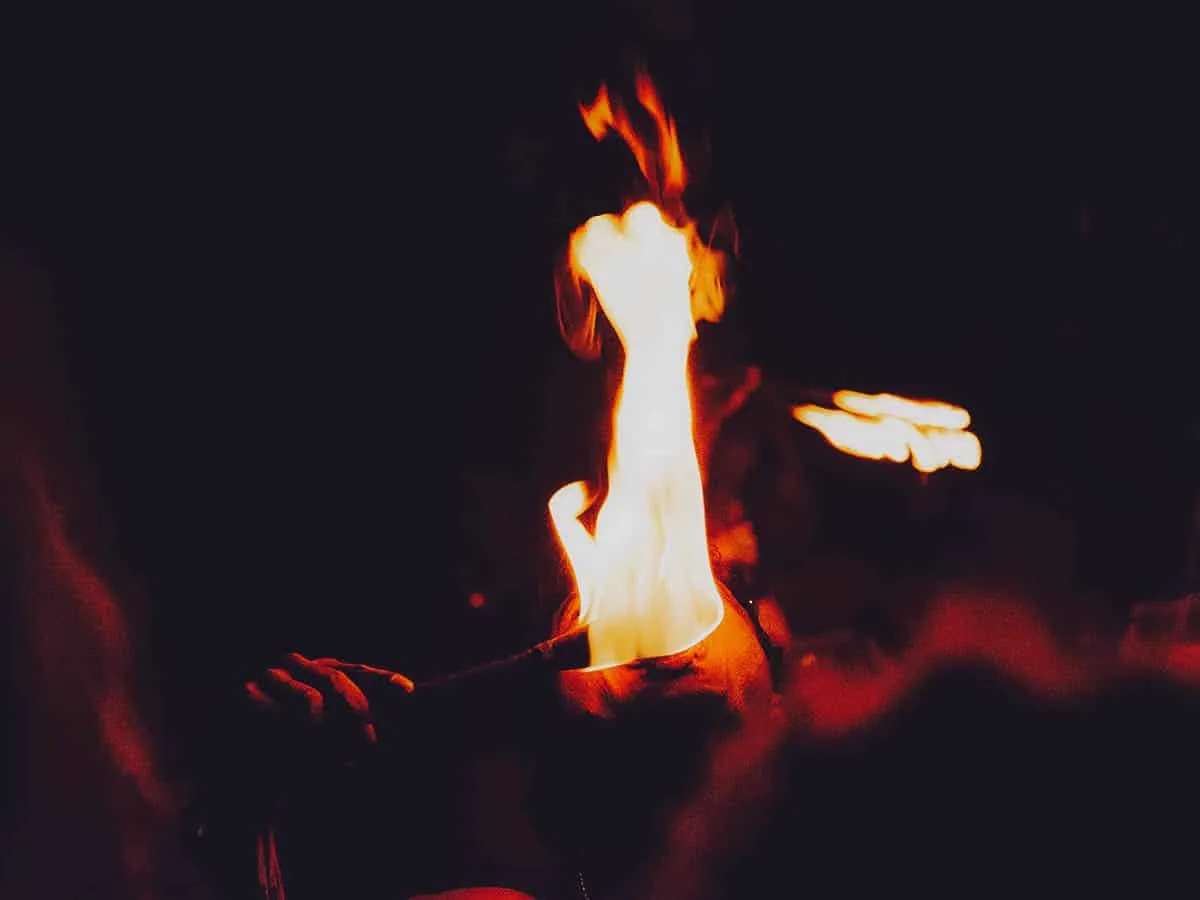 Photo by Ryanthill via Shutterstock
Length of Show: Around 1 hr
Cost: LKR 1,250
6. Unwind & Enjoy the Views
Kandy City is surrounded by hills on all sides so there are plenty of vantage points to enjoy the view. If you stay in elevated areas, then you'll be treated to views like this one.
As previously mentioned, I stayed at a homestay in the Anniewatta area and enjoyed this view every morning over a home-cooked breakfast. When I had to work on my laptop, my hosts would prepare a full pot of hot tea and biscuits for me. It was one of the highlights of my stay in Kandy.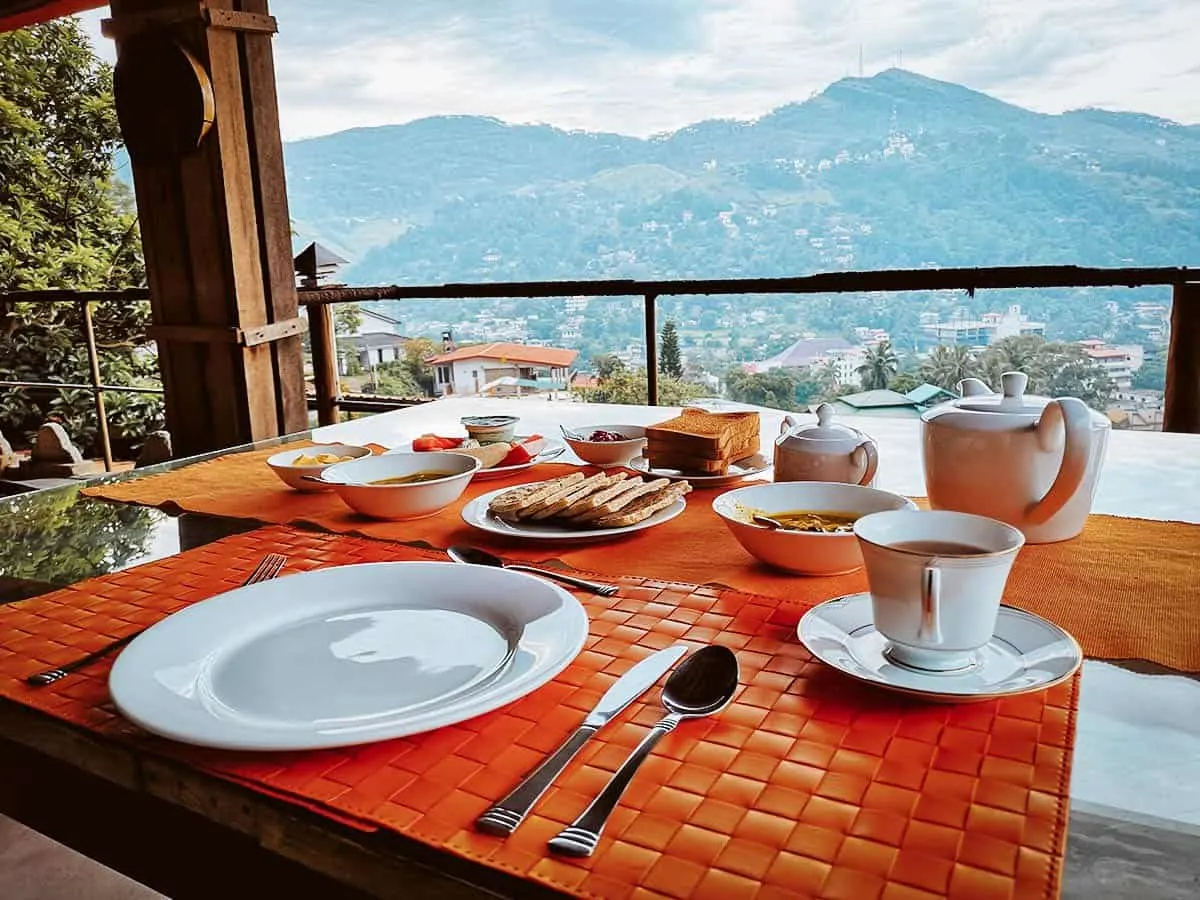 Here's a night view of Kandy Lake from a viewing point en route to Helga's Folly. In this area are many hotels with views as beautiful as this one.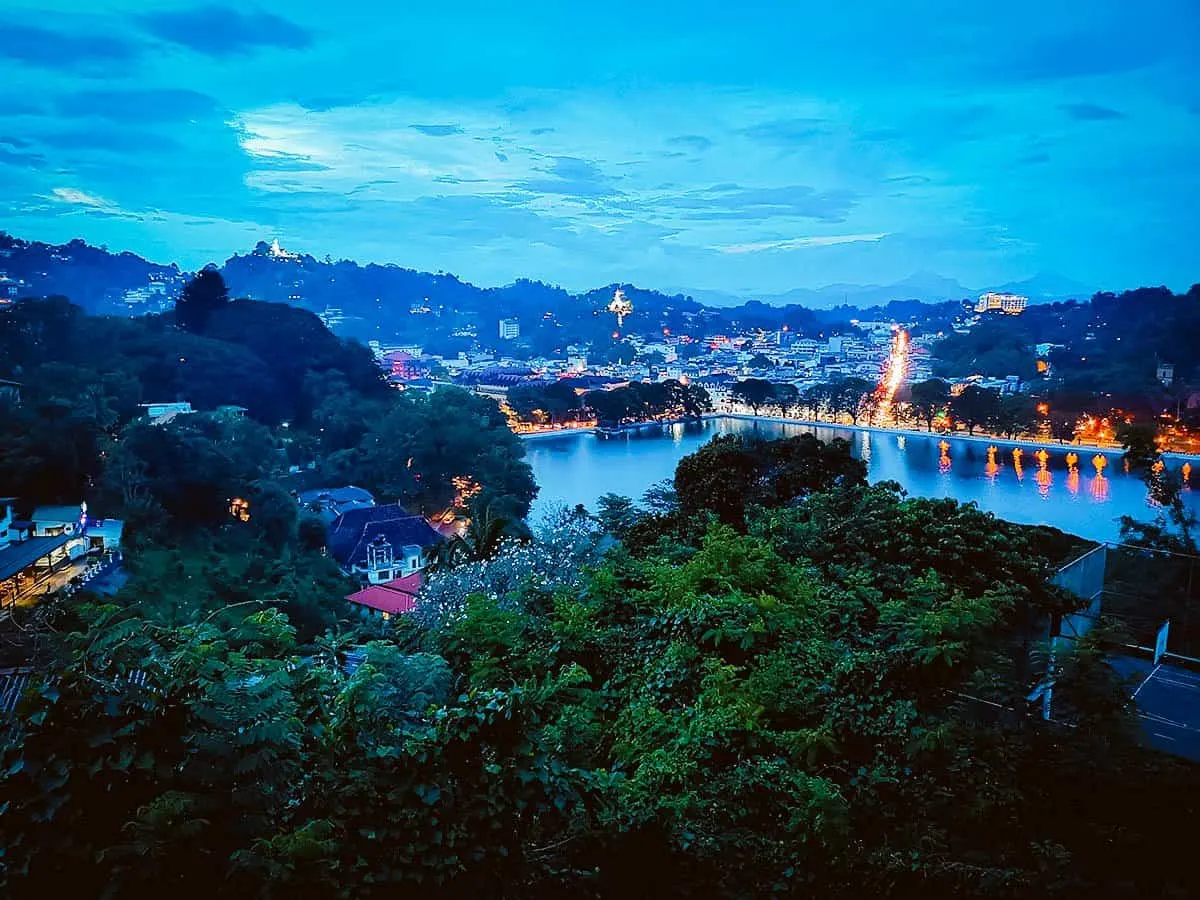 SIDE TRIPS FROM KANDY
Kandy makes for a great base to visit other places of interest in Central Sri Lanka. Here are some of the most popular.
1. Sigiriya (Lion Rock)
Sigiriya or Lion Rock is an ancient rock fortress sitting on top of a massive column of rock nearly 200 meters (660 ft) high. To get there, you have to climb about 1,200 steps first.
But not to worry, there are plenty of opportunities to rest and the views from the top are absolutely spectacular and worth every step. Sigiriya is a UNESCO World Heritage Site and one of the country's most popular attractions.
Sigiriya is located about three hours north of Kandy in northern Matale District, near Dambulla. Though it's near enough to visit on a day trip from Kandy, it may be best to do it on an overnight trip so you can visit Dambulla Cave Temple and Polonnaruwa as well. That's what I did.
I took a minibus to Dambulla and stayed the night near Sigiriya before taking a bus to Polonnaruwa the next day and heading back to Kandy at night. Full details to come in a separate guide.
Sigiriya is easy enough to visit on your own but if you'd rather go on a guided tour, then you can book one through Klook or Get Your Guide.
NOTE: This picture was obviously taken with a drone. It's legal to fly drones in Sri Lanka but you'll need to get a permit first. Jump to the KANDY TRAVEL TIPS section of this guide for more information.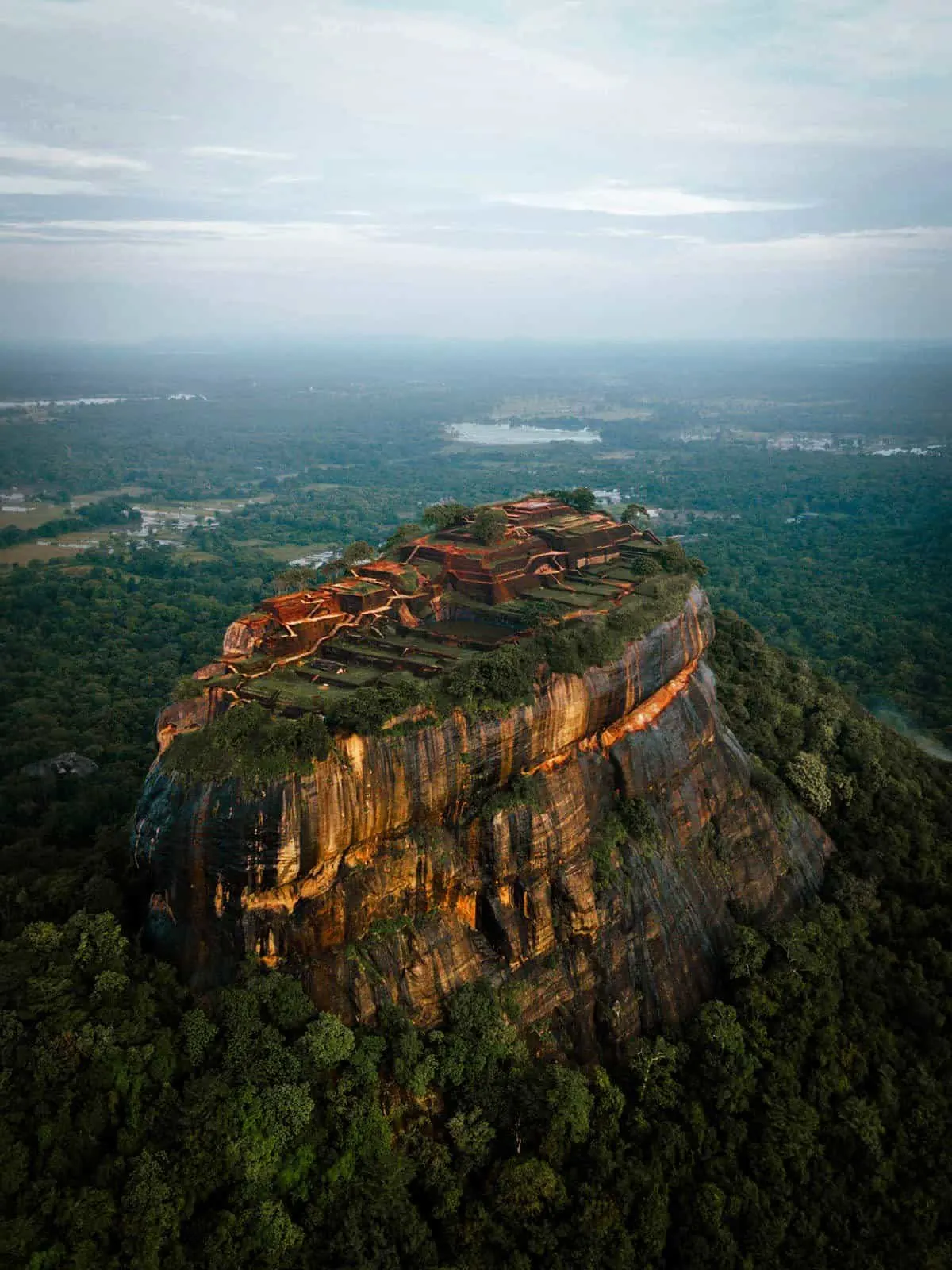 Estimated Time Needed: About 3-4 hrs
Admission: USD 30
2. Dambulla Cave Temple
Before climbing up Sigiriya, I visited Dambulla Cave Temple first. It's the biggest and most well-preserved cave temple complex in Sri Lanka. Like Sigiriya, it's a UNESCO World Heritage Site situated on top of a large rock about 160 meters (525 ft) above the ground.
Dambulla Cave Temple a beautiful network of caves noted for its 153 Buddha statues and intricate murals covering an area of about 2,100 square meters (23,000 sq ft). Note the gorgeous murals on the ceiling. They look almost like hand-painted fabrics.
Dambulla is less than half an hour south of Sigiriya so I suggest visiting this cave temple first, soon as you arrive by bus from Kandy. You can then climb up Lion Rock later in the afternoon when it isn't as hot.
If you'd prefer to visit Dambulla Cave Temple on a guided tour, then you can book one through Get Your Guide.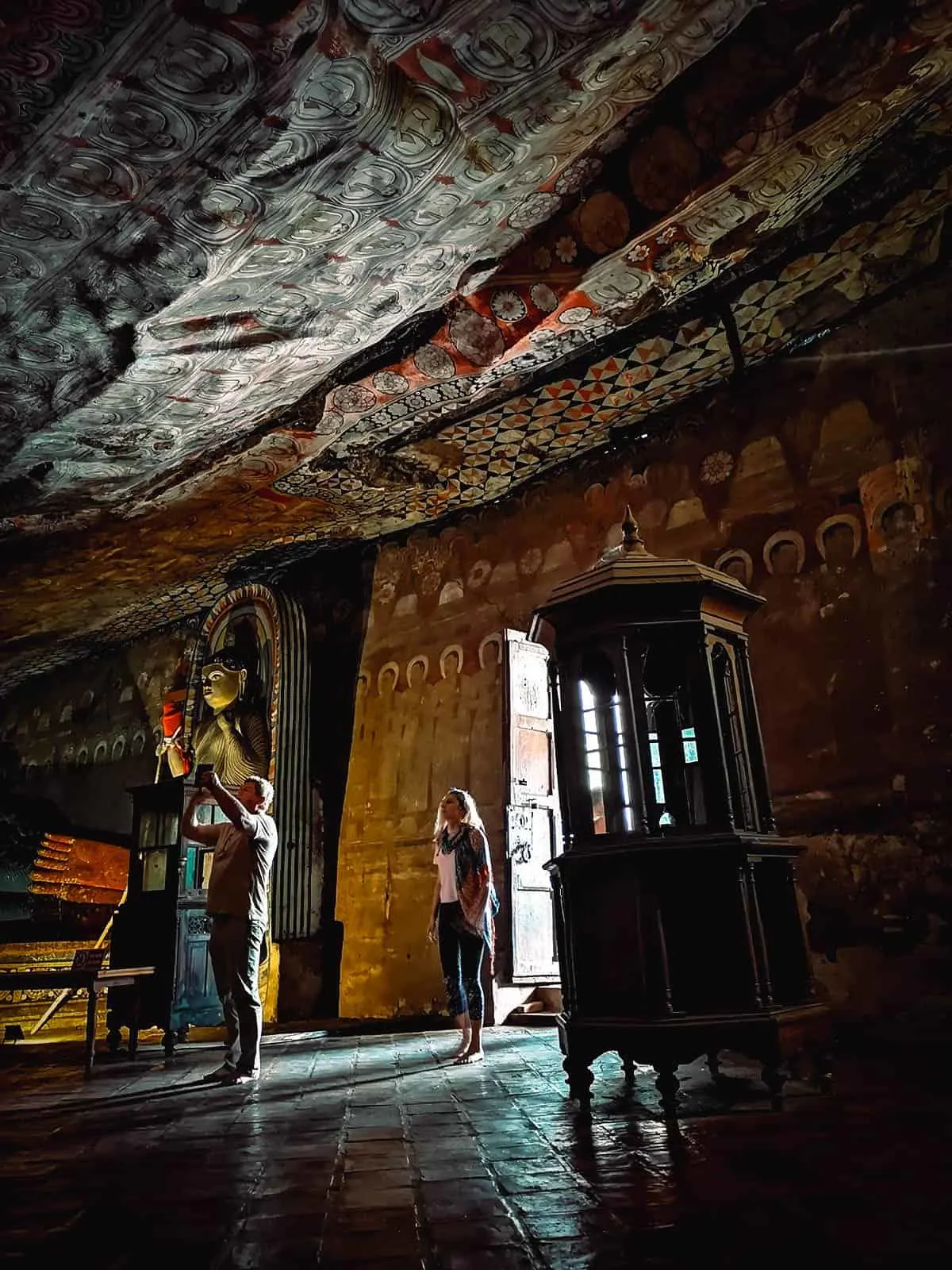 Estimated Time Needed: About 2-3 hrs
Admission: LKR 1,500
3. Ancient City of Polonnaruwa
The ancient city of Polonnaruwa is an archaeological site located about an hour-and-a-half east of Dambulla. It served as the second capital of Sri Lanka after the destruction of Anuradhapura in 993.
Like Sigiriya and Dambulla Cave Temple, Polonnaruwa is a UNESCO World Heritage Site and considered one of the best planned archaeological relic cities in the country. If you like visiting archaeological sites like Angkor Wat, Bagan, or My Son Sanctuary, then you'll have fun exploring Polonnaruwa by bicycle.
You can take a 4-hr bus from Kandy to Polonnaruwa. I was already in Sigiriya so I took a bus from Dambulla instead. Buses between Dambulla and Polonarruwa run frequently and takes about an hour and a half.
Just be sure to tell the conductor where to get off for Polonnaruwa, otherwise you'll wind up at Kaduruwela bus station which is about 5 km away. Again, I'll describe it in more detail in a separate guide.
If you'd rather not bother with public transportation, then you can visit Polonnaruwa on a guided day tour that you can book through Klook or Get Your Guide. The latter is a 2-day tour that takes you through Sri Lanka's "Cultural Triangle".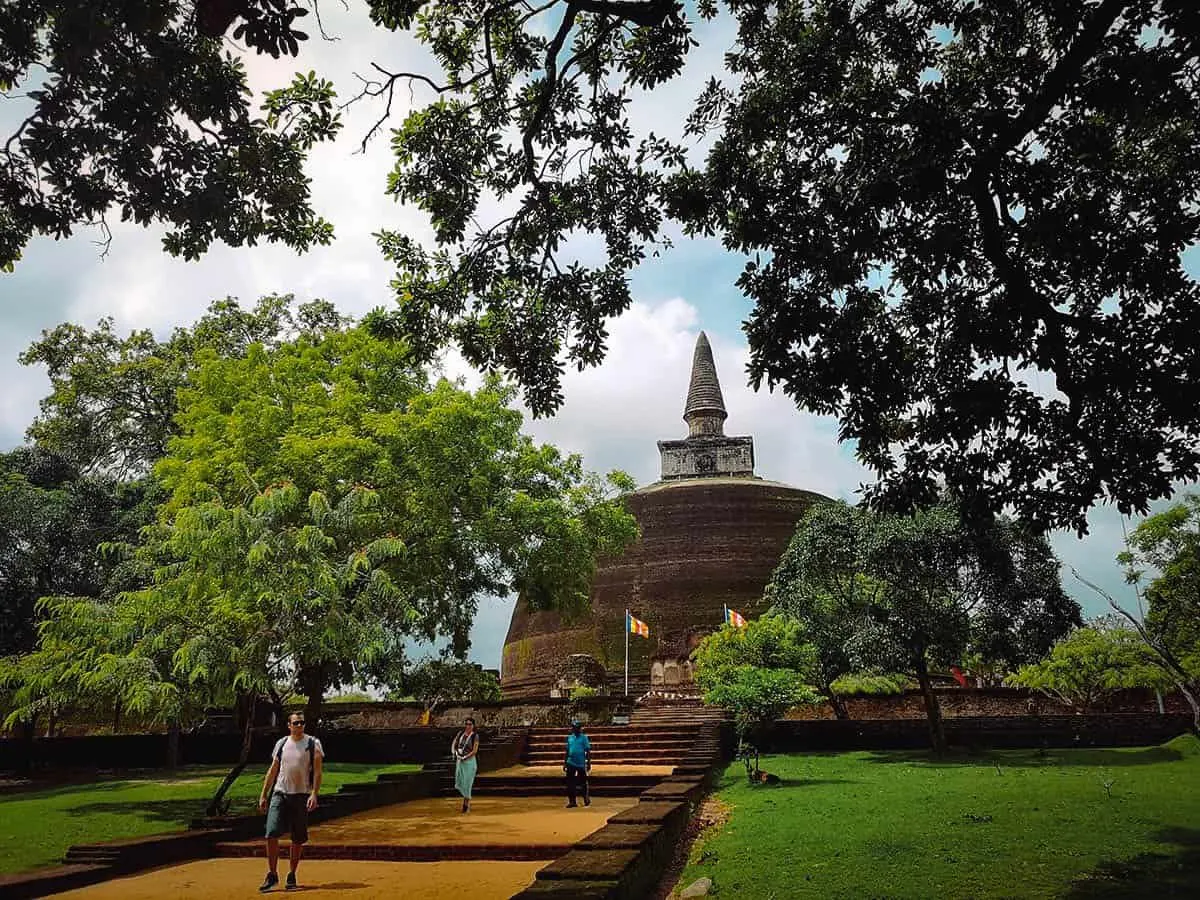 Estimated Time Needed: About 4-5 hrs
Admission: USD 25
4. Knuckles Mountain Range
Most first-time visitors to Sri Lanka will probably do the majority of their hiking in Ella, but if you're really into hiking and want to challenge yourself, then you may want to spend a day or two in the Knuckles mountain range.
It's less than two hours northeast of Kandy and is home to some of the most scenic but toughest hiking trails in the country. My homestay host and his family spent a couple of nights there while I was staying with them in Kandy. Check out this hiker's guide to Knuckles for more information.
Based on this TripAdvisor thread, you can take a bus from Kandy to Mahiyangana and get off at Hunasgiriya. From there, you can take a tuk-tuk to the Knuckles Range Conservation Centre.
People say it's possible to go on a day trip but you may want to stay the night to fully appreciate the area. For your safety, be sure to hire a guide no matter your skill level.
If you'd rather go on an organized day trip, then you can book this Knuckles day hike from Kandy.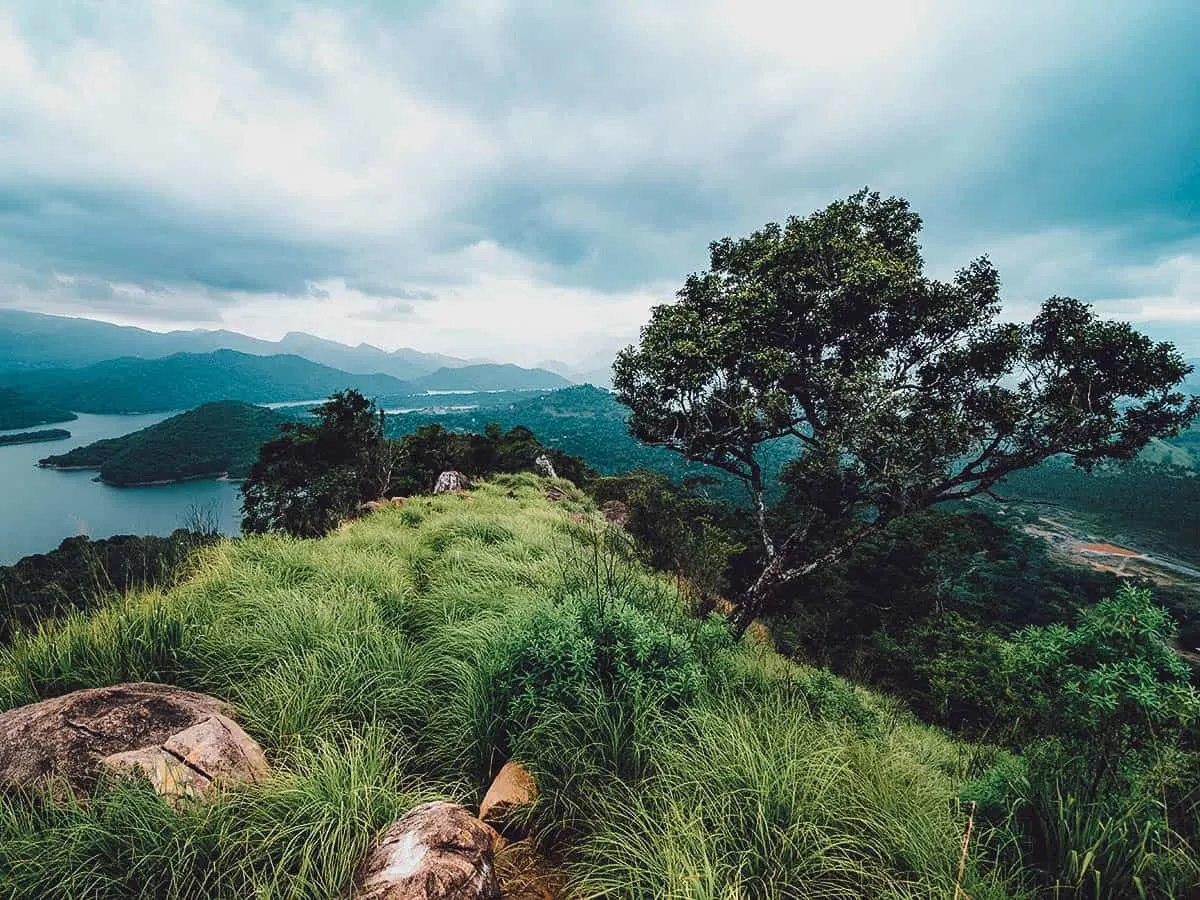 Photo by Martijn van den Enk via Shutterstock
Estimated Time Needed: Full day
NOTE: There are other places you can visit on a day or overnight trip from Kandy, like Nuwara Eliya. But that's south of Kandy and along the famous Kandy to Ella train route. It's closer to Ella than it is to Kandy so it makes more sense to stop there on your way to or from Ella.
For the purpose of this guide, I focused only on the places that are located to the north of Kandy and best visited from Kandy.
WHERE TO EAT IN KANDY
1. Soya Food Centre
Nearly every "where to eat" list in Kandy recommended this place so it was the very first place I went to after checking in to my homestay. Located in the YMCA building, the Soya Centre is a Kandy institution offering strictly vegetarian products, all of which are made from soya beans.
Pictured on the left is the soya roti which is one of the most popular items at Soya Centre. I got one of that and a smaller roll that was breaded and deep-fried.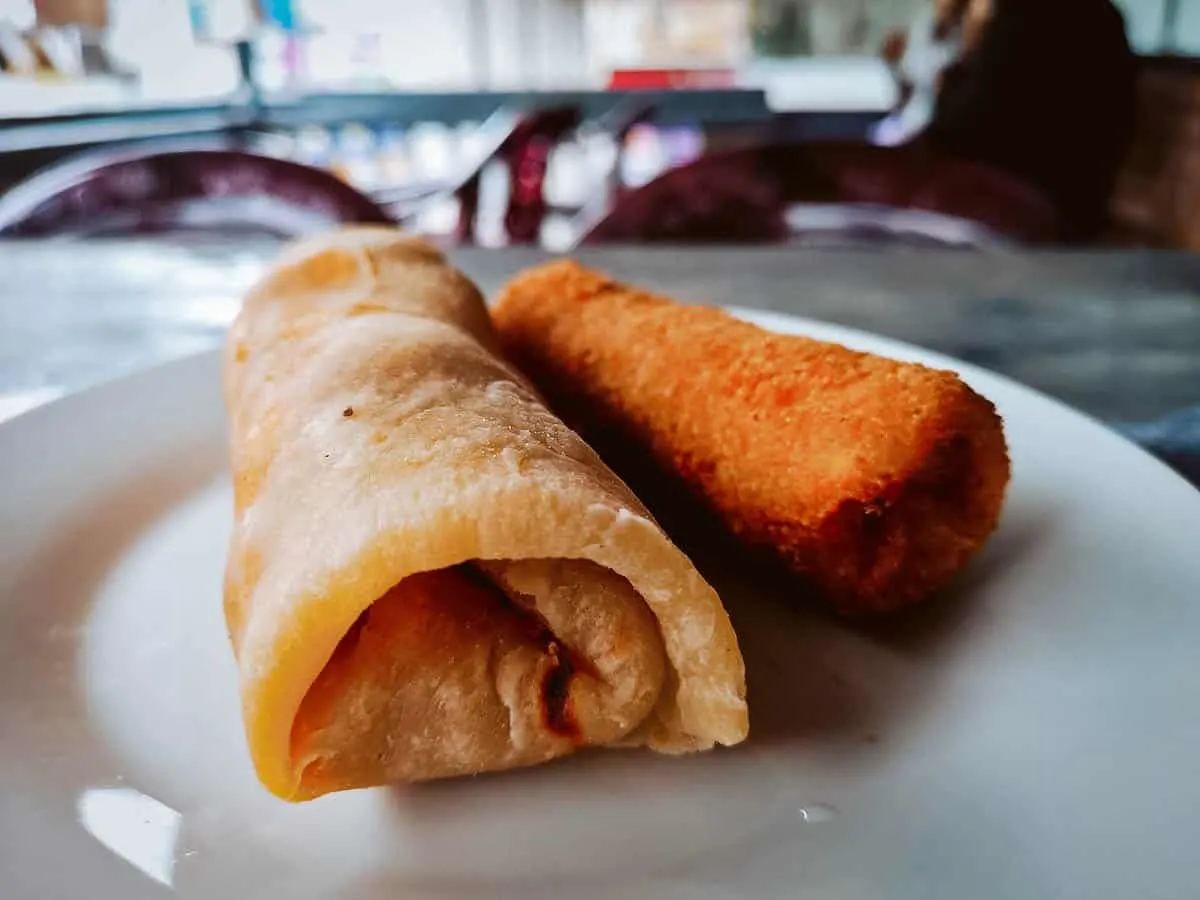 If no one told me this didn't contain any meat, then I wouldn't have believed them. It tasted just like a chorizo roll. It was deceptively delicious and something I wouldn't mind having all the time. The smaller roll had a filling similar to this one except it was crunchier because of the breaded coating.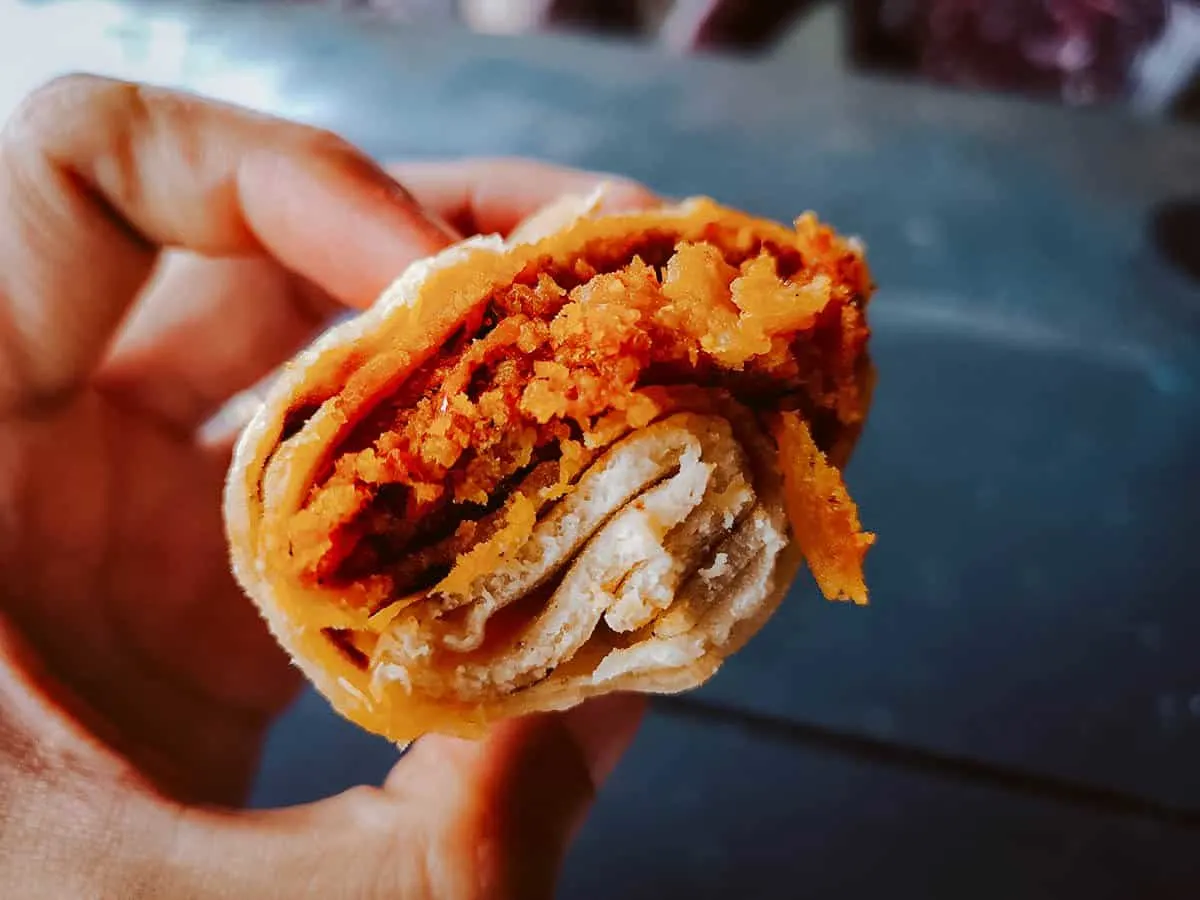 No matter what dish anyone starts with here, everyone ends with a cone of soft serve soy ice cream. It's clearly the shop's most popular item. It's surprisingly delicious considering it isn't made with any dairy.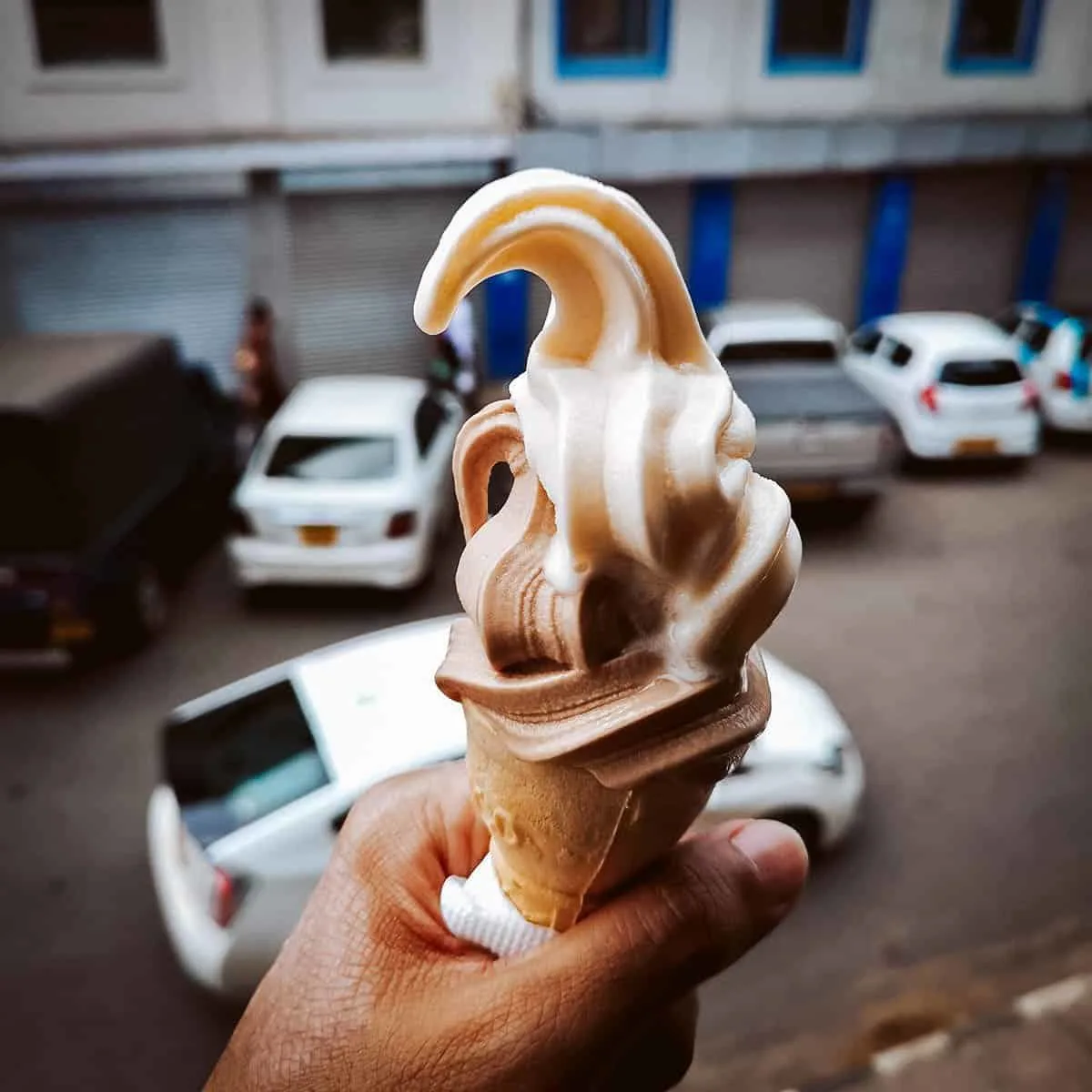 Soya Food Centre is located in the YMCA building in downtown Kandy. It's a TripAdvisor Certificate of Excellence awardee so if you're looking for delicious and affordable healthy food, then this is one of the best places you can go. Getting one each of the soya roti and ice cream will cost you just a little over one US dollar.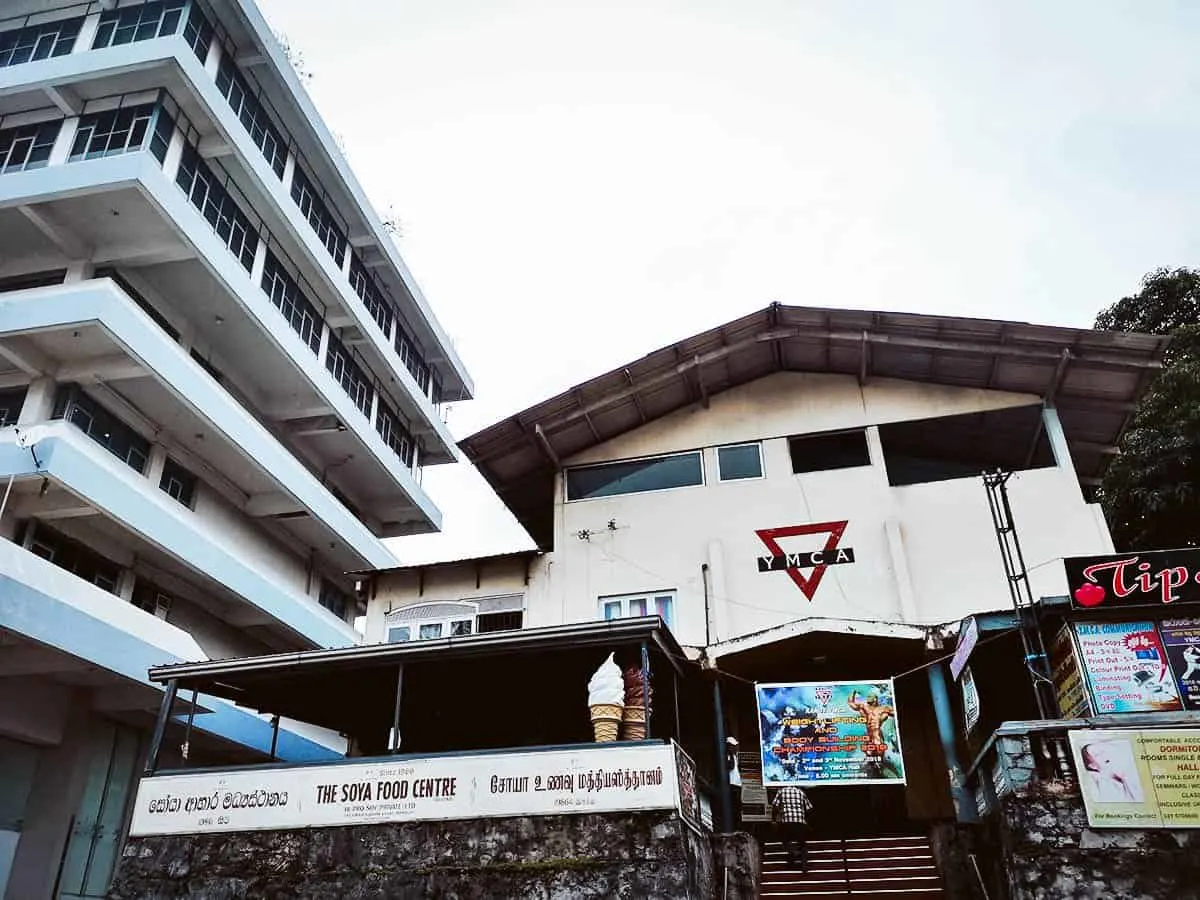 2. The Empire Cafe – CLOSED
Located just a short walk from the Temple of the Tooth, the Empire Cafe is a stylish restaurant offering a range of Sri Lankan and western dishes. One of their specialties is the Sri Lankan national dish of rice and curry.
It's served with chicken or fish and 2-3 vegetable curries along with papadum (crispy flatbread), pol sambol (coconut condiment), and mallung (vegetables with coconut). It was delicious and something you need to have at least once in Sri Lanka.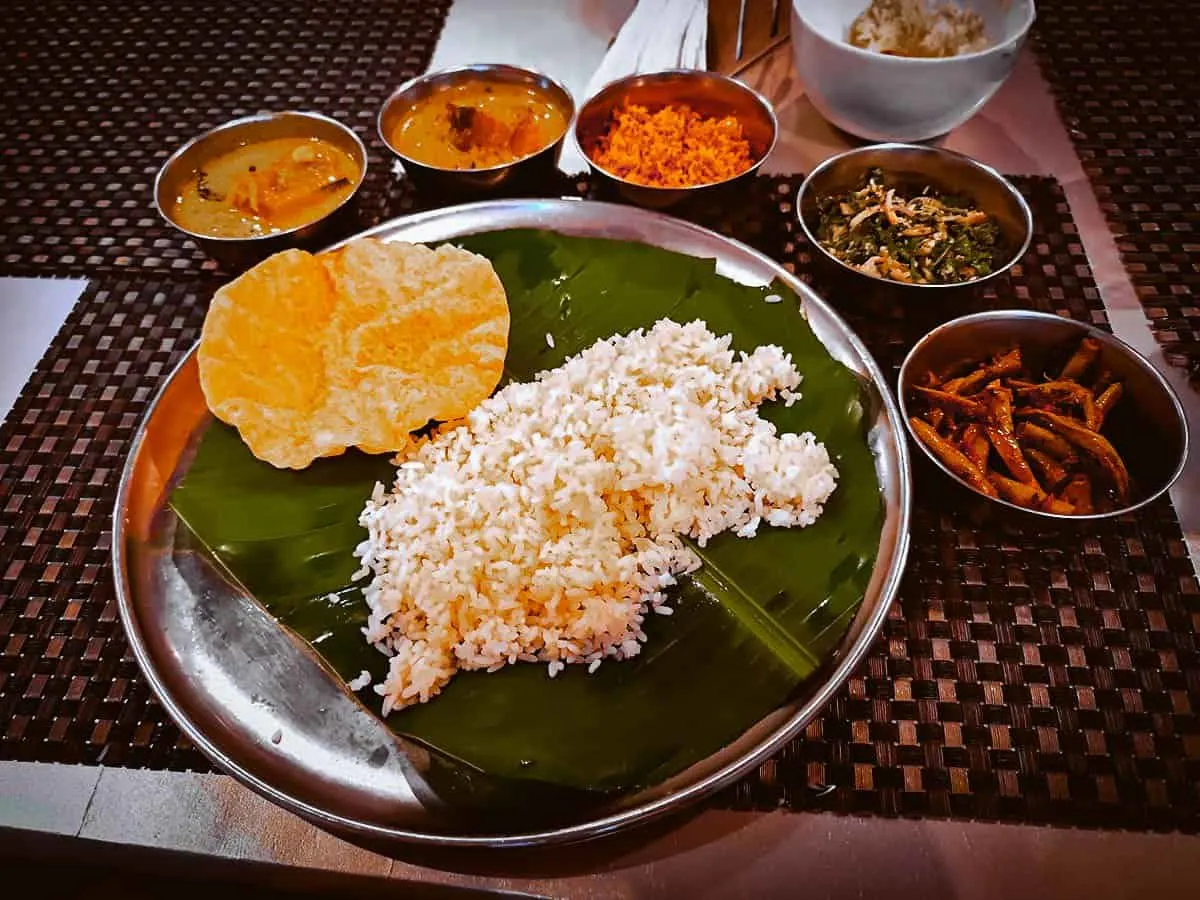 The Empire cafe is located inside the Olde Empire Hotel. Like Soya Food Centre, it's also a TripAdvisor Certificate of Excellence awardee and popular with both locals and tourists alike. It appears to be one of a series of restaurants operated by the same group in Sri Lanka.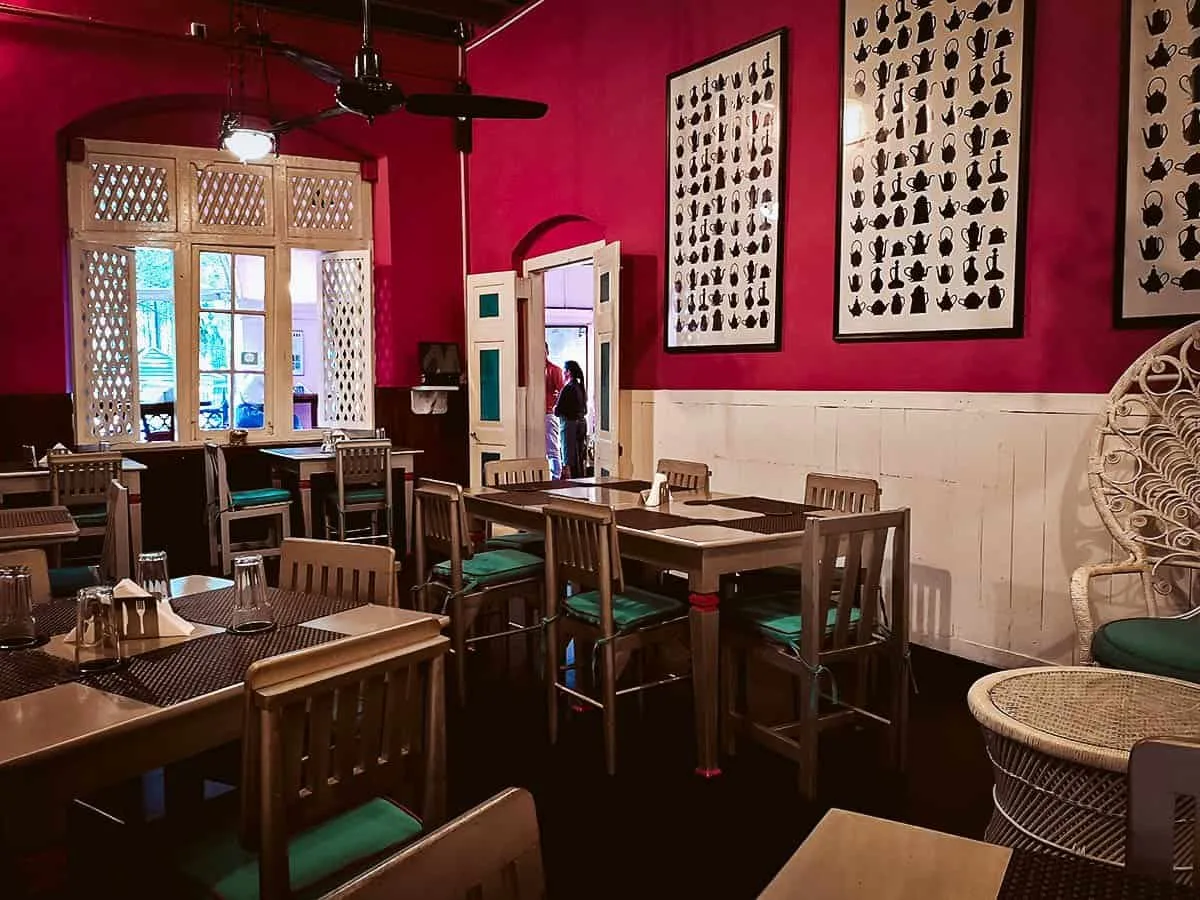 3. Balaji Dosai
Balaji Dosai is a chain of vegetarian restaurants offering Sri Lankan and South Indian cuisine. As their name suggests, they specialize in dosas which are pancake-like dishes made from a fermented batter of rice and black gram. You can get it plain or stuffed with a variety of ingredients like cheese, onion, and mushroom.
I had the masala dosa which was stuffed with potato, leeks, and spices. It was served with a side of sambar (lentil stew) and chutneys.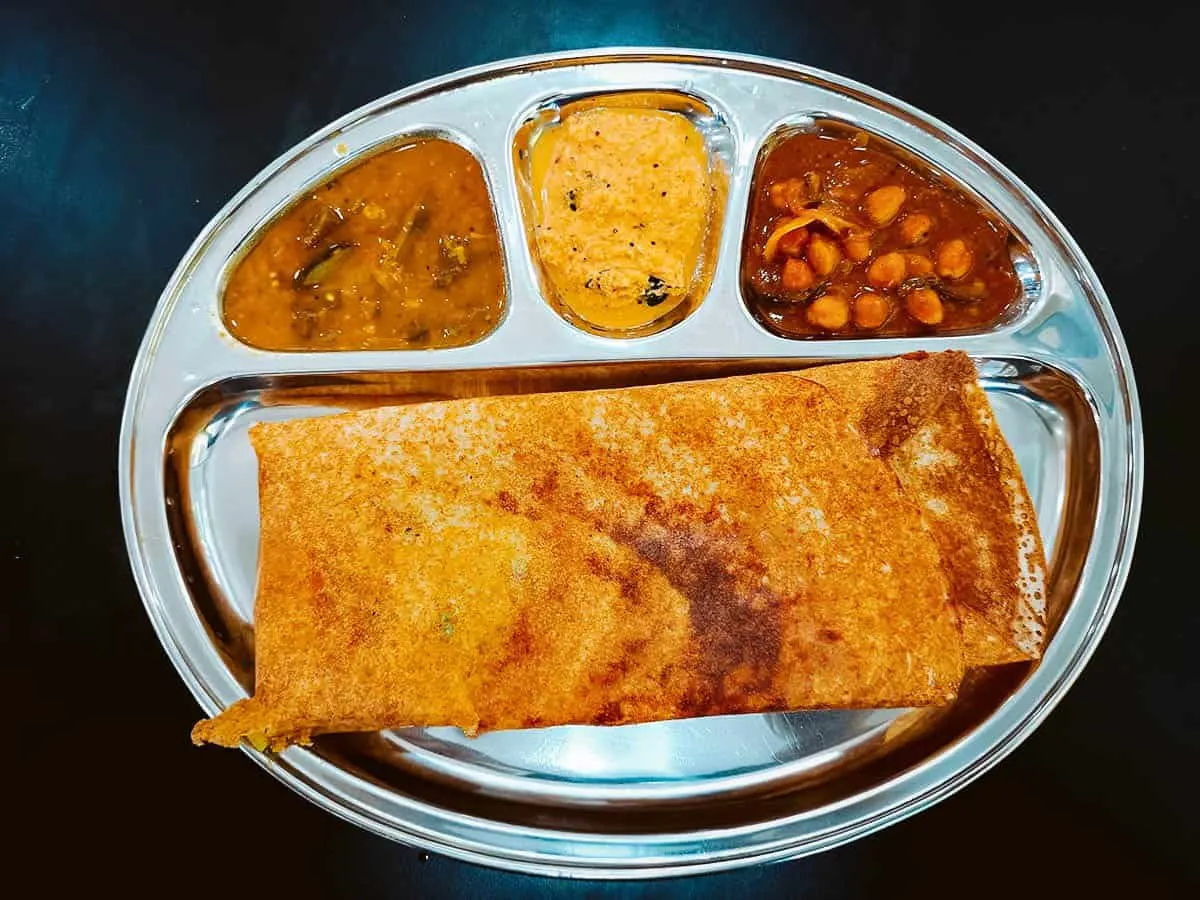 I went to the branch near my homestay in Anniewatta but there's one near the Temple of the Tooth as well. Balaji Dosai it also a TripAdvisor Certificate of Excellence awardee.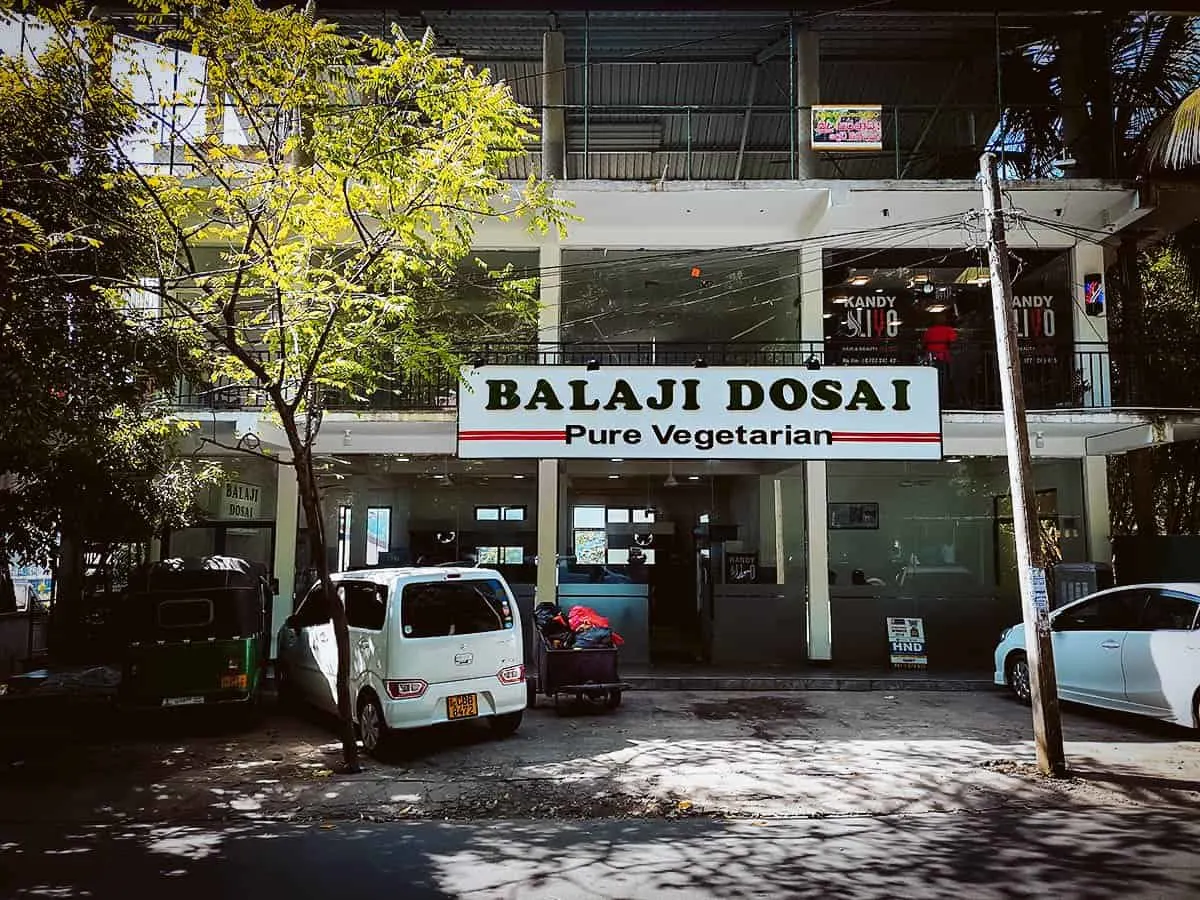 4. BUONO
I needed a place to work one day and I was so happy I found this place. BUONO is a cafe that offers coffee, tea, smoothies, a few sandwiches, and dessert.
I had a veggie mushroom burger and a papaya smoothie, both of which were delicious. BUONO serves breakfast as well so you might want to start here before heading off to the Temple of the Tooth or Kandy Lake.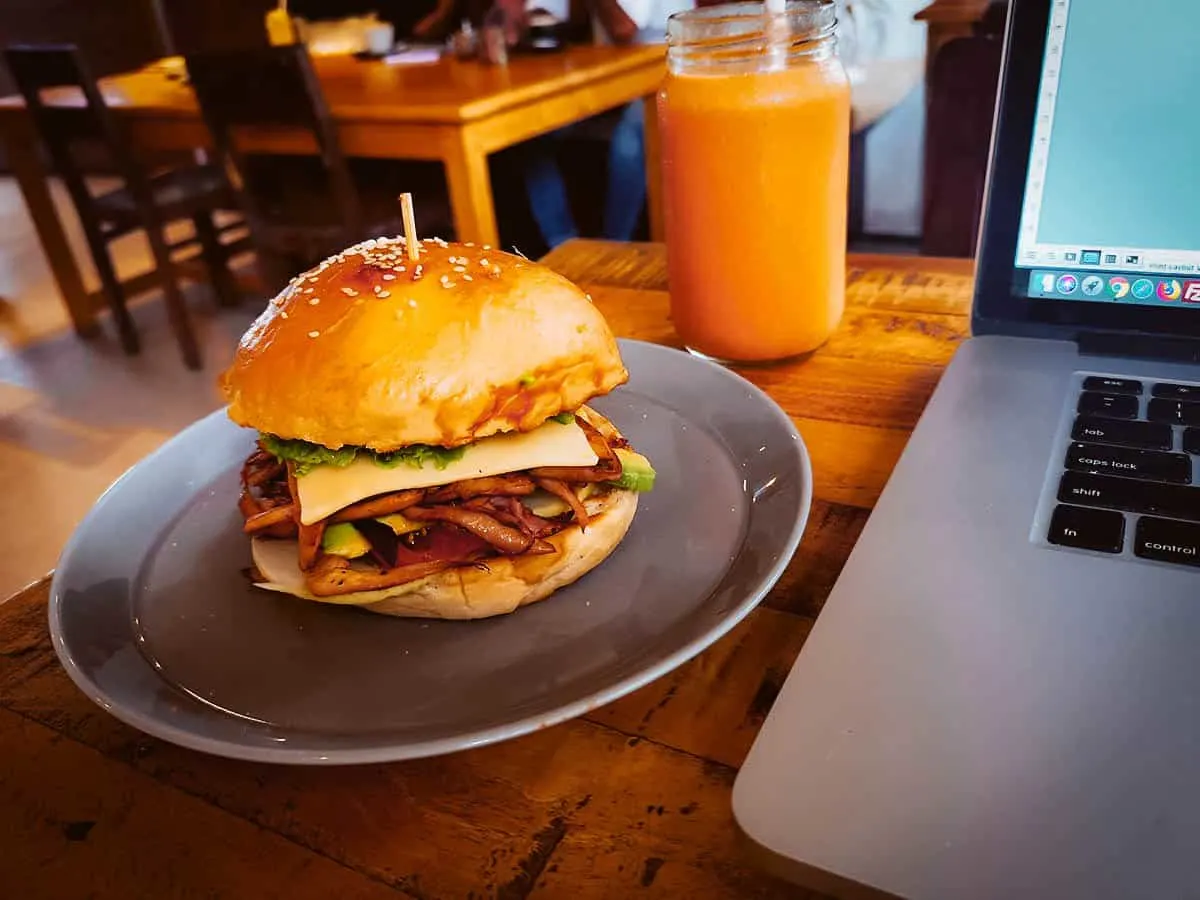 A nice cup of cappuccino to power me up while I wrote an article for a client. I love this digital nomadic life.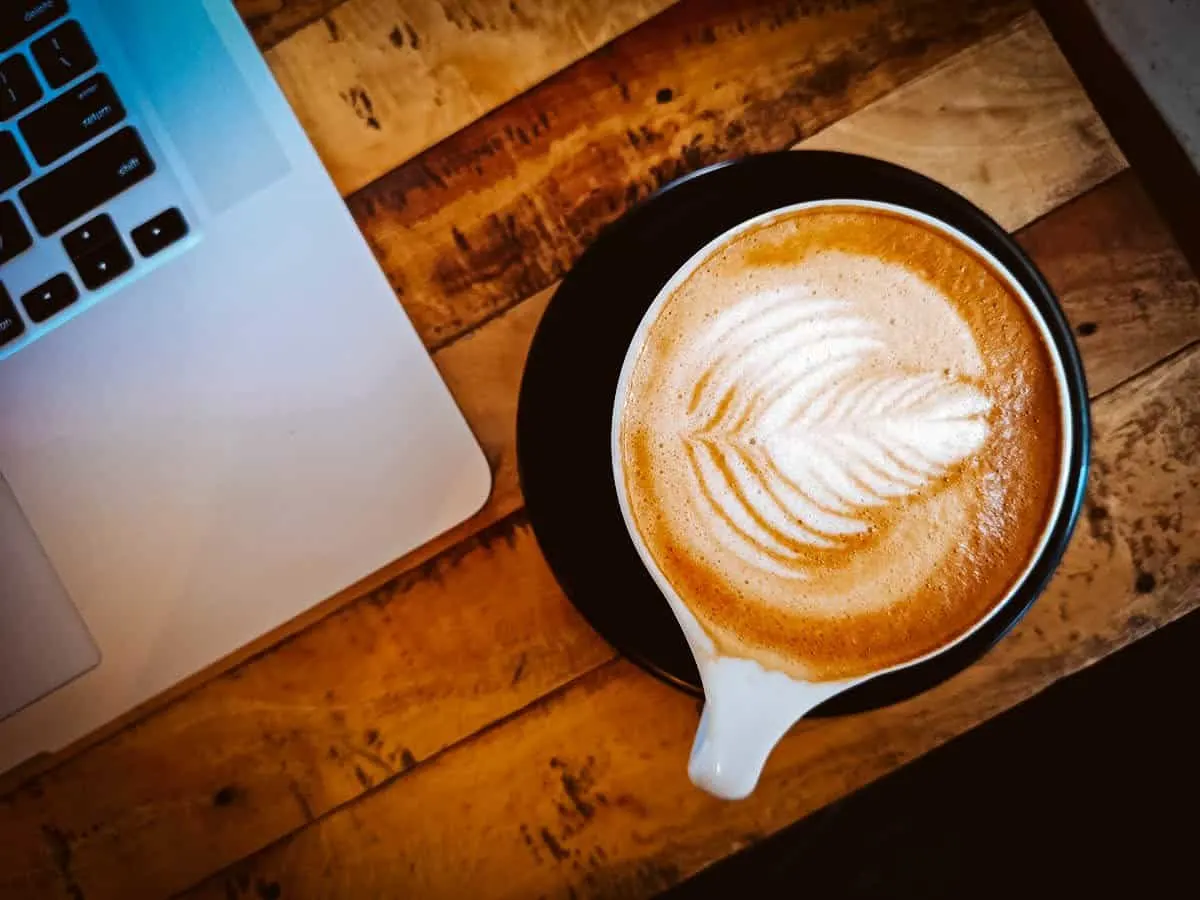 BUONO is in downtown Kandy so it can be a be a little hard to spot. Do you need that brown BUONO sign on the left? Follow the arrow on the sign to see another sign just like it on the right. BUONO is on the second floor.
Like everything on this list so far, it's also a TripAdvisor Certificate of Excellence awardee. Starting to notice a pattern here?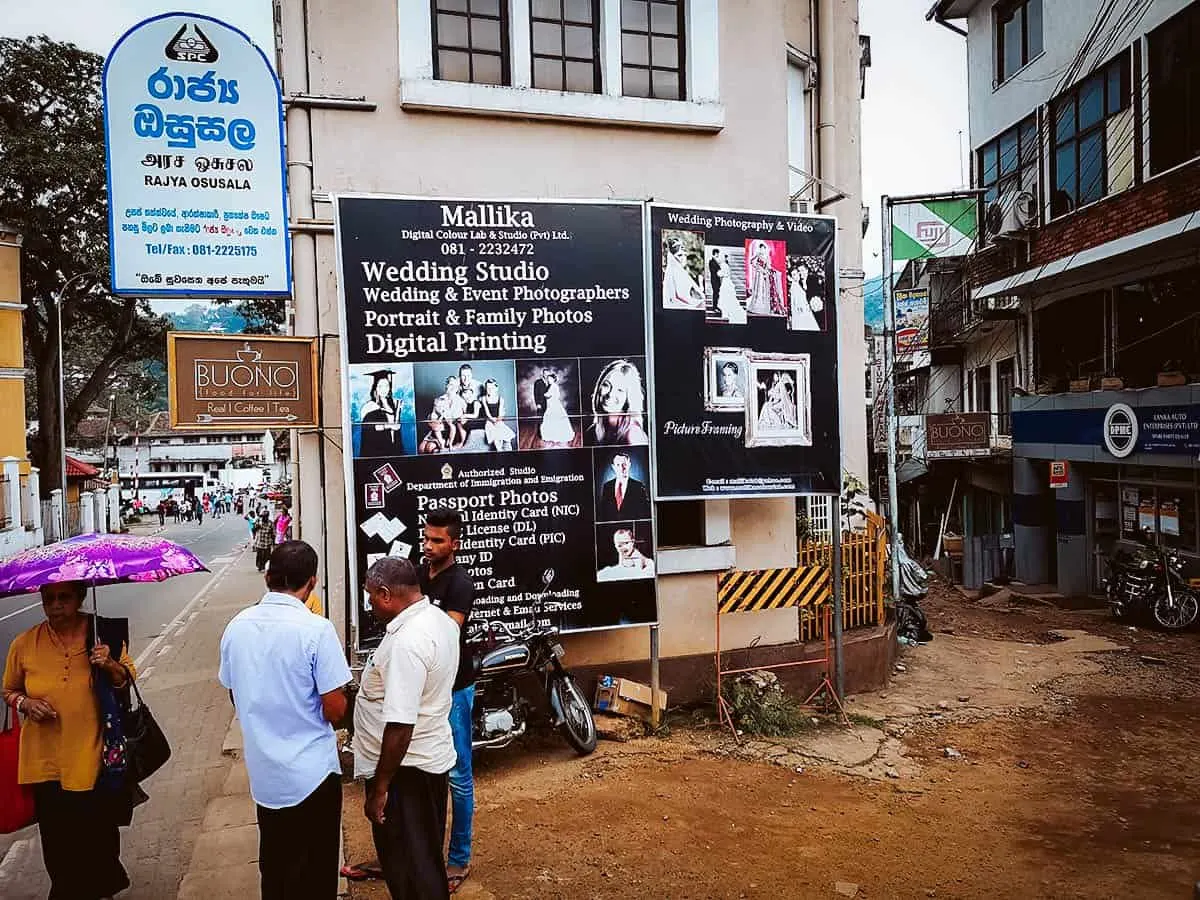 5. Biger Bites – CLOSED
After several days of vegetarian fare, I was craving for something meaty and grilled. I usually do research and plan every meal in advance, but when I walked past this Pakistani restaurant grilling chicken over coals by the side of the road, I had to break protocol.
I ordered grilled chicken barbecue and two pieces of butter garlic naan. Yes, it was every bit as delicious as it looks.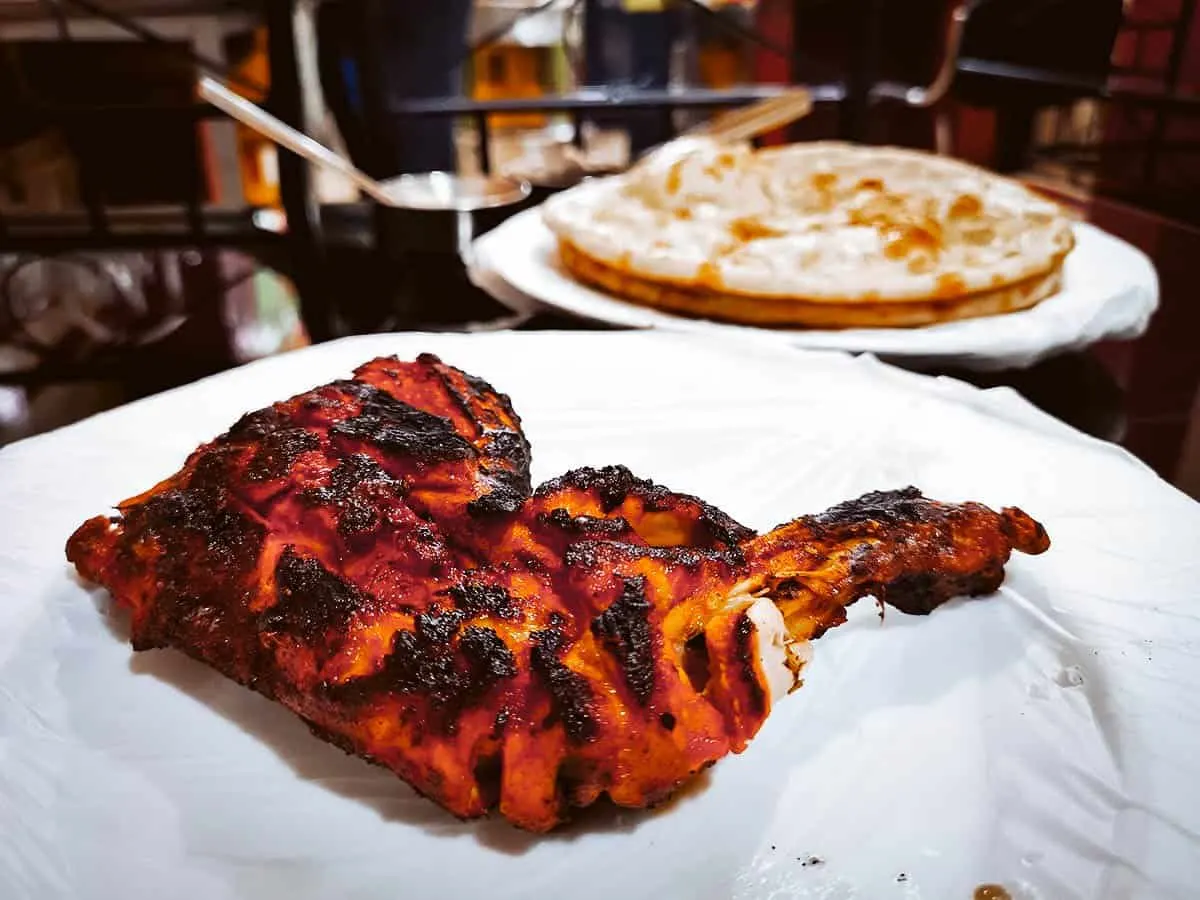 Few things in life elicit as much joy as a glistening, freshly baked piece of naan bread. My god was this good.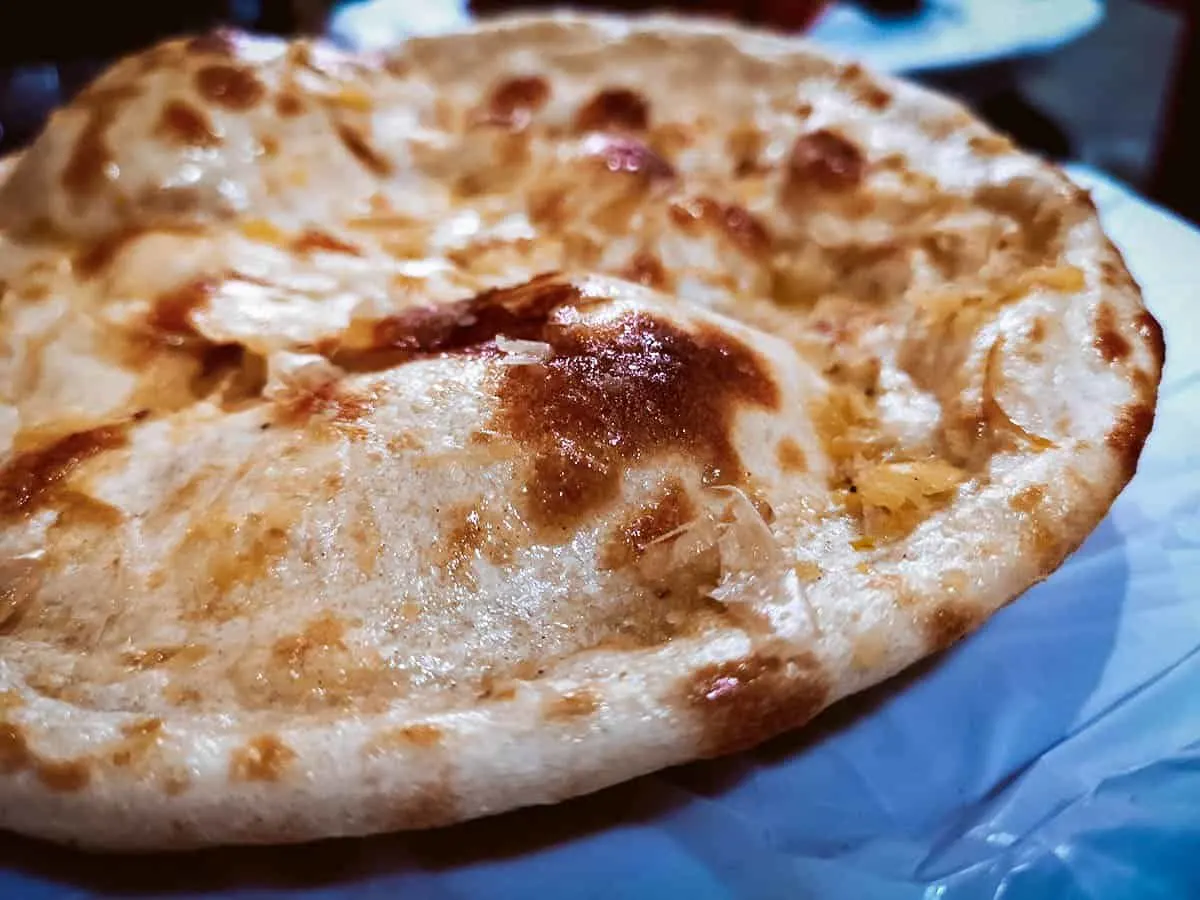 These guys really know what they're doing. Grilling so close to the street like that, how can anyone resist?!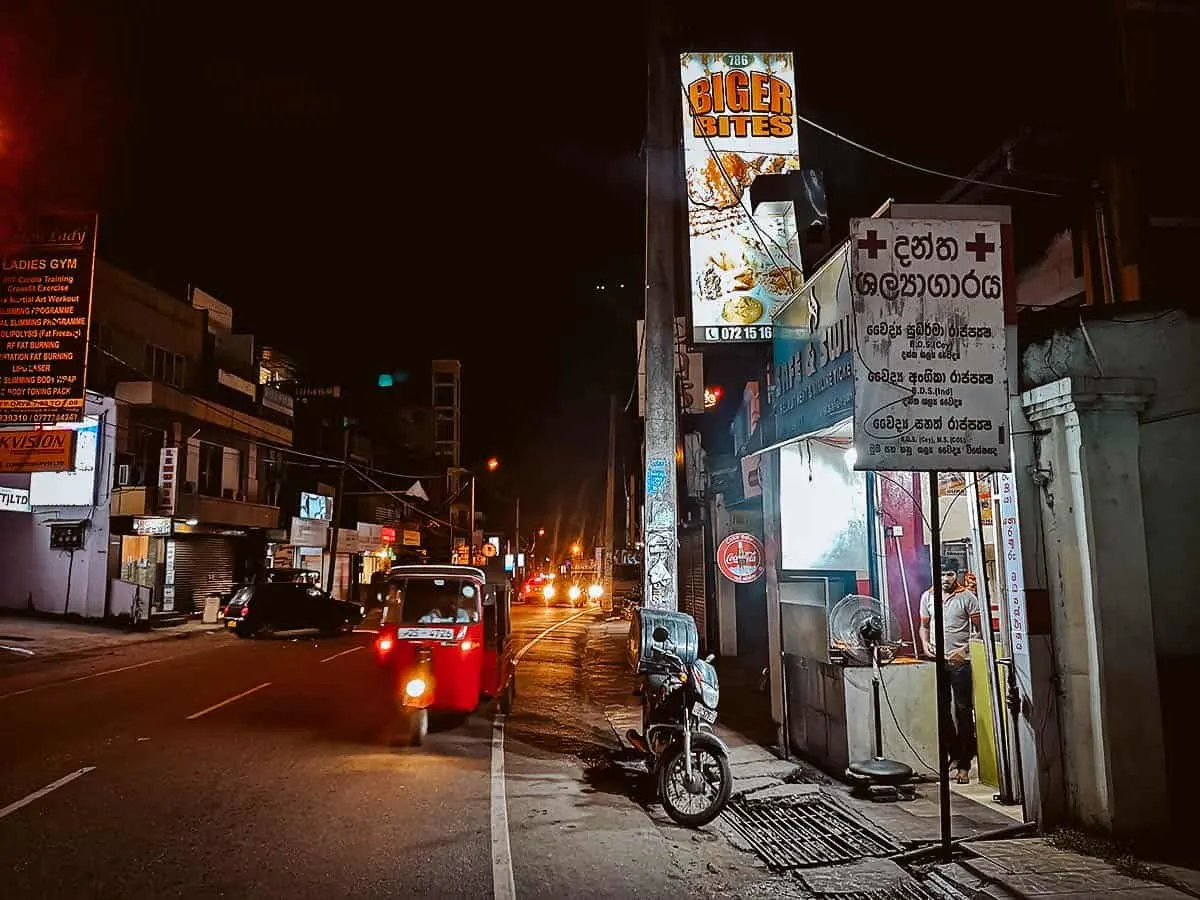 POINTS OF INTEREST IN KANDY
To make it easier for you to understand where everything is in relation to one another, I've pinned most of the places recommended in this guide on this map. Click on the link for a live version of the map.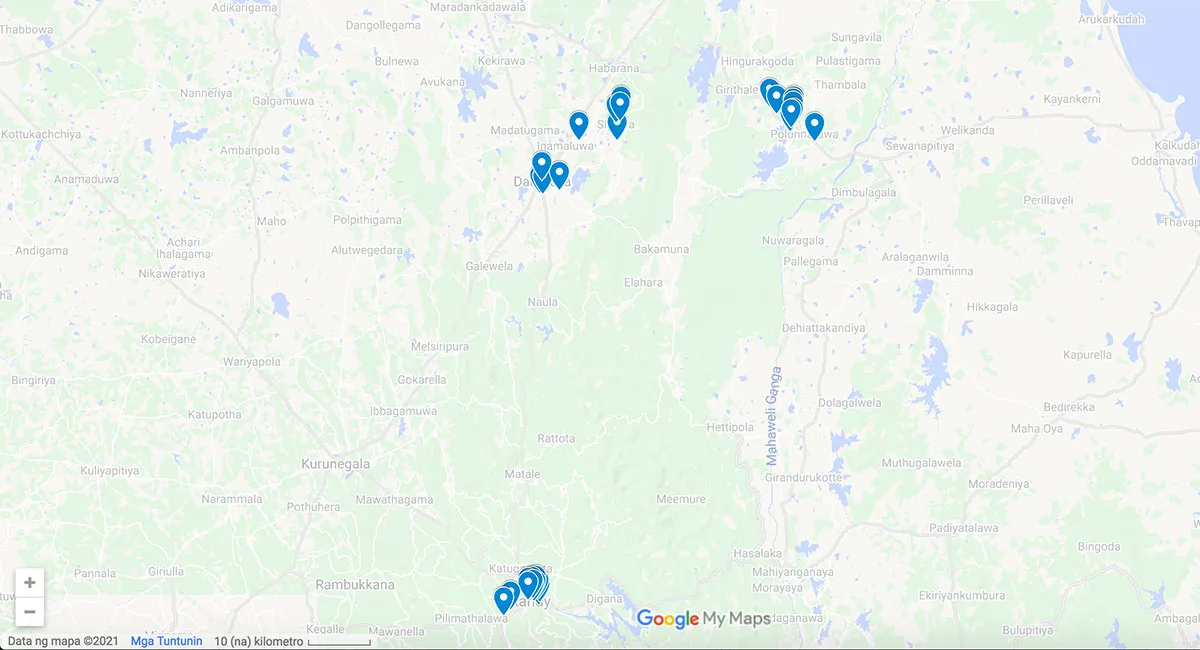 HOW TO GET AROUND IN KANDY
Kandy is a relatively small city. Aside from Colombo, it's bigger than any other city I visited in Sri Lanka but not big enough to make it impossible to get around on foot.
You can explore most of the major sites by walking but be prepared to do a lot of it. This is hill country so you'll often be walking up and down inclines. I stayed in the elevated Anniewatta area and had to walk up and down a hill everyday.
If you don't like to walk or have mobility issues, then you can get around by tuk-tuk. There are a lot of them all over the city. The only problem is, tuk-tuks in Kandy don't have the best reputation. You can refer to this TripAdvisor thread to see what I mean.
There's a Sri Lankan transportation app called PickMe (iOS | Android). I've read mixed reviews about it, that it works better in some cities than in others. I didn't use it in Kandy but I did try it in Ella without much luck. I think it works better in bigger cities like Colombo or Kandy.
In any case, I suggest downloading the app anyway because it can tell you approximately how much a trip should cost. Knowing that will help you negotiate. As a general rule of thumb, I read that tuk-tuk rides in Kandy should cost you LKR 50 for the first km, then around LKR 40 for every subsequent km.
I took a tuk-tuk just once during my entire stay in Kandy. I took it to Helga's Folly which is over 4 km uphill from the city center. I paid LKR 600 each way. I may have been taken for a ride.
HOW MANY DAYS TO STAY / KANDY ITINERARY
Kandy isn't that big so you can actually visit its top attractions in a day. With that said, it makes a great base for side trips to Dambulla, Sigiriya, and Polonnaruwa.
If you plan on visiting those destinations, then I suggest planning to stay for at least three full days in Kandy. I stayed for three and a half and had plenty of extra leisure time. Here's a 3D/4N Kandy itinerary to help you plan your trip.
NOTE: If you're traveling with big pieces of luggage, then it may be a good idea to keep your accommodations in Kandy while you're on an overnight trip to Dambulla, Sigiriya, and Polonnaruwa. This is why I'm suggesting staying in Kandy for 3D/4N.
Public buses won't let you take large pieces of luggage on board so it's best to leave them in Kandy and just bring a smaller overnight bag with you.
DAY ONE
• Temple of the Sacred Tooth Relic
• Kandy Lake
• Udawattakele Forest Reserve
• Kandyan Dance Performance
• Helga's Folly
DAY TWO
• Minibus to Dambulla
• Dambulla Cave Temple
• Lion Rock
• Overnight stay in Sigiriya
DAY THREE
• Bus to Polonnaruwa
• Ancient City of Polonnaruwa
• Bus back to Kandy
KANDY TRAVEL TIPS
1. Plan your Trip with Sygic Travel
I've been using Sygic Travel for many years now, back when it still used to be called Tripomatic. It allows me to visualize where everything is on a map so I can plan our itinerary efficiently. Check out my post on Sygic Travel for more information.
You can view my Kandy itinerary on Sygic Travel or download it in Word format from our EAT-ineraries page. It covers Kandy, Dambulla, Sigiriya, Polonnaruwa, and Ella.
2. Rent a Pocket Wifi Device
It goes without saying that a steady wifi connection is a must when traveling these days. You'll need it to do research, figure out the transportation system, convert currencies, etc.
You can get a constant wifi connection by either buying a sim card or renting a pocket wifi device. Personally, I find pocket wifi devices simpler so I don't mind paying more for them.
As described, I was flown to Sri Lanka by Cinnamon Hotels to attend TBC Asia 2018. They provided all bloggers and media with sim cards which I continued to use after the press trip and conference. It worked fine for the most part. The connection was steady and I could easily top it up when it ran low.
However, there was an issue with daytime and nighttime data usage that caused me to lose my connection a few times. It happened once at night when I needed it badly to navigate. It's for this very reason why I prefer renting pocket wifi devices with unlimited data.
I didn't rent one in Sri Lanka but a quick Google search led me to go-lanka.com. I haven't used them so I can't personally voucher for them, so proceed at your own discretion. You may have other options available to you as well depending on where you're coming from.
If you'd rather buy a sim card, then you can get one in advance through Klook. It'll be delivered and waiting for you at your hotel in Kandy when you arrive.
3. Book Train Tickets Early
As previously mentioned, it's very important to book your train tickets early no matter what time of the year you go. I went in early November, during Maha monsoon season, and I couldn't even get my first choice of ticket for the Kandy-Ella route in spite of putting in the request thirty days in advance!
That's how popular some of these train routes are, especially that Kandy-Ella route (and vice-versa), so it's absolutely critical that you book as early as possible. Forget trying to buy it on the spot because chances are, they'll be long gone by then.
My homestay host was a former travel agent and he told me that companies snap up these tickets soon as they become available and then resell them at a markup. The government has tried to limit the number of tickets people can buy but they always seem to find a way around the restrictions.
If you're on a strict schedule and can't afford to miss the train you want, then I suggest putting in the booking request well in advance, maybe 45+ days before your intended date of departure.
Though tickets don't become available till about 30 days before, it's a good idea to make the request early so you're higher up on the list. As described, you can book Sri Lanka train tickets through Bookaway.
4. Choose the Right Train Class
Choosing the right train class can be just as important as booking your tickets early, especially if it's your first time visiting Sri Lanka. Here's a quick breakdown on the different reserved train classes, the kinds you can book on Bookaway.
1st Class: 1st class cars are air-conditioned so you can't open the windows. This would be less of an issue anywhere else but in Sri Lanka, the scenery is such an important part of the journey. You'll be forced to take pictures through somewhat grimy windows that are considerably smaller than the windows in 2nd class. If it's your first time taking the Kandy-Ella route, then 1st class isn't ideal.
1st Class Observation Car: I took this from Colombo to Kandy. The observation car is the very last car on the train. Passengers sit in reverse facing large rear windows that give them a clear view of the tracks. Observation class isn't offered on every train so you may want to try it if it's available.
2nd Class: This is the best class to take for the famous Kandy-Ella route. Windows are large and can be opened so you can take unobstructed pictures of the view. You can even stick your head out if you want. 2nd class cars aren't air-conditioned but a good breeze flows through the trains so you don't feel hot. Not sure what it's like in summer but from what I've read, it isn't too bad either.
Please note that there are unreserved 2nd and 3rd class cars as well. These are considerably cheaper than reserved seats and don't sell out as quickly. If you weren't able to secure reserved tickets in advance, then you can try buying unreserved 2nd or 3rd class tickets on the spot. Just be prepared to stand as you probably won't be able to find a seat.
Regardless of which class you choose, you'll be able to freely move through the train which is something you'll probably want to do, especially if you like taking pictures. Many train doors are left open during the journey so you'll often find passengers sitting by them for much of the trip.
5. Check for Discount Passes
There are many online tour providers but the ones I use and trust the most are Klook and Get Your Guide. Between the two, Klook offers the most deals in Kandy.
The pickings are still slim compared to other destinations, but you may want to go through their list of Kandy activities to see if anything interests you. I often find activities I wouldn't normally think of myself so it's always worth a look.
6. Get Travel Insurance
Though we buy it more often now, travel insurance isn't something we always get before every trip. Our decision to purchase travel insurance depends on where we're going, how long we're staying there, and what we'll be doing. For this trip to Sri Lanka, I found it absolutely necessary with all the outdoor activities I had on my agenda.
We buy travel insurance from SafetyWing or Heymondo. They're popular travel insurance companies used by many long-term travelers. Click on the links to get a free quote from SafetyWing or Heymondo. Get 5% off on Heymondo when using our link.
7. Bring the Right Power Adapter
Sri Lanka has Type D, Type G, or Type M electrical outlets so be sure to bring the right power adapters for your devices. Electrical voltage is 230V and the standard frequency is 50Hz.
8. Change Back Any Unused Sri Lankan Rupees
It's illegal to bring more than LKR 5,000 in or out of the country. If you have an excessive amount of LKR left over at the end of your trip, then you need to spend it or change it to a different currency before you leave. You can do so at the airport.
Have Fun!
I'm not an expert on Kandy but I hope you found this guide helpful. I'm only sharing some of the things I learned from my trip. If you have any questions or comments, then please leave them in the comment section below. You're welcome to join our Facebook Travel Group as well. We'd love to hear from you.
Thanks for stopping by and have a great time in Kandy!
OUR GEAR
These are some of the things I brought with me to Sri Lanka. Have a look inside our backpack to see what other gear we use. (NOTE: The following links are Amazon affiliate links.)
Disclosure
Some of the links in this Kandy travel guide are affiliate links. We'll get a small commission if you make a purchase at no additional cost to you. We only recommend products and services that we use ourselves and firmly believe in. We really appreciate your support as it helps us make more of these free travel guides. Thank you!