Granada is our favorite city in Spain. Of all the places we visited, it's one of two cities that we could really see ourselves living in. Oviedo is the other.
Framed by the nearby Sierra Nevada mountains, there's so much to love and so many things to do in Granada. The Alhambra is remarkable but what we enjoyed the most was the city's atmosphere and its relaxed university vibe. It's slower in pace than bigger cities like Barcelona and Madrid, which is just right for middle-aged travelers like us.
But more than anything, we loved the Spanish food. We visited over ten cities and towns in Spain and Granada was the only place that offered free tapas with every drink. That alone merits a more permanent stay.
The Alhambra Palace is the main draw but there's so much more to love about this intriguing city in the Andalusian region of Spain. If it's your first time visiting, then recommended in this guide are ten of the most popular things to do in Granada.
GRANADA ATTRACTIONS QUICK LINKS
To help you plan your trip to Granada, we've put together links to top-rated hotels, tours, and other travel-related services here.
HOTELS
Recommended hotels in the city center, the most convenient area to stay for first-time visitors to Granada.
TOURS
OTHER SERVICES
GRANADA TRAVEL GUIDE
If you're visiting Granada for the first time, then be sure to check out our detailed Granada travel guide. It'll have all the information you need – like where to stay, whch tourist attractions to visit, where to eat, etc. – to help you plan your trip.
Save This on Pinterest!
No time to read this guide on the best things to do in Granada, Spain? Click on the save button and pin it for later!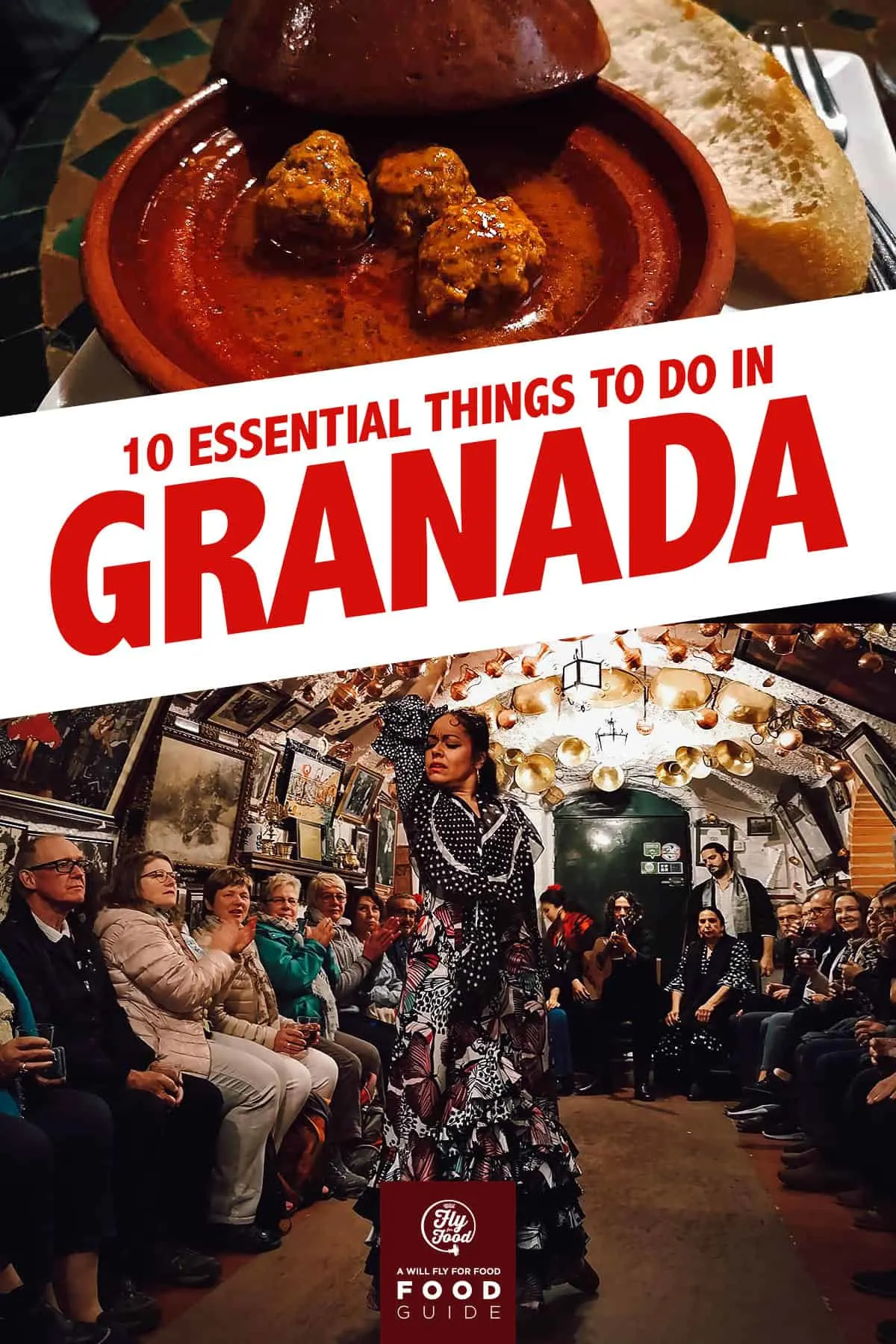 THINGS TO DO IN GRANADA, SPAIN
1. Enjoy Free Tapas
We travel for food so it's no surprise that Granada's free tapas is first on our list. If you travel for food like we do, then it's one of the most fun things to do in Granada. As far as I know, it's just one of a handful of cities in Spain that gives you a free plate of tapas with every order of a drink.
When we were checking into our AirBnB, our host was describing to us the magic of Granada's tapas bars. She explained that any bar that tries to charge you for tapas is a tourist trap. Turn around and walk out because local bars will never charge you for it.
I did my research beforehand so we knew where to go, but understand that most bars in Granada will give you a free plate of tapas each time you order a drink. To avoid any tourist traps, be sure to check out our food guide for some of the best tapas bars in Granada.
Theoretically, you never have to order a la carte in Granada because the tapas they give you are real Spanish dishes like boquerones, albondigas, and paella. No peanuts or pretzels here! They come in small portions but order three or four drinks and you've got a full meal. Pictured below is a plate of lomo or pork tenderloin good for three people.
We never stayed for more than two drinks at any bar, but you can expect a different dish with each drink. If you enjoy bar hopping, then you're going to fall in love with Granada.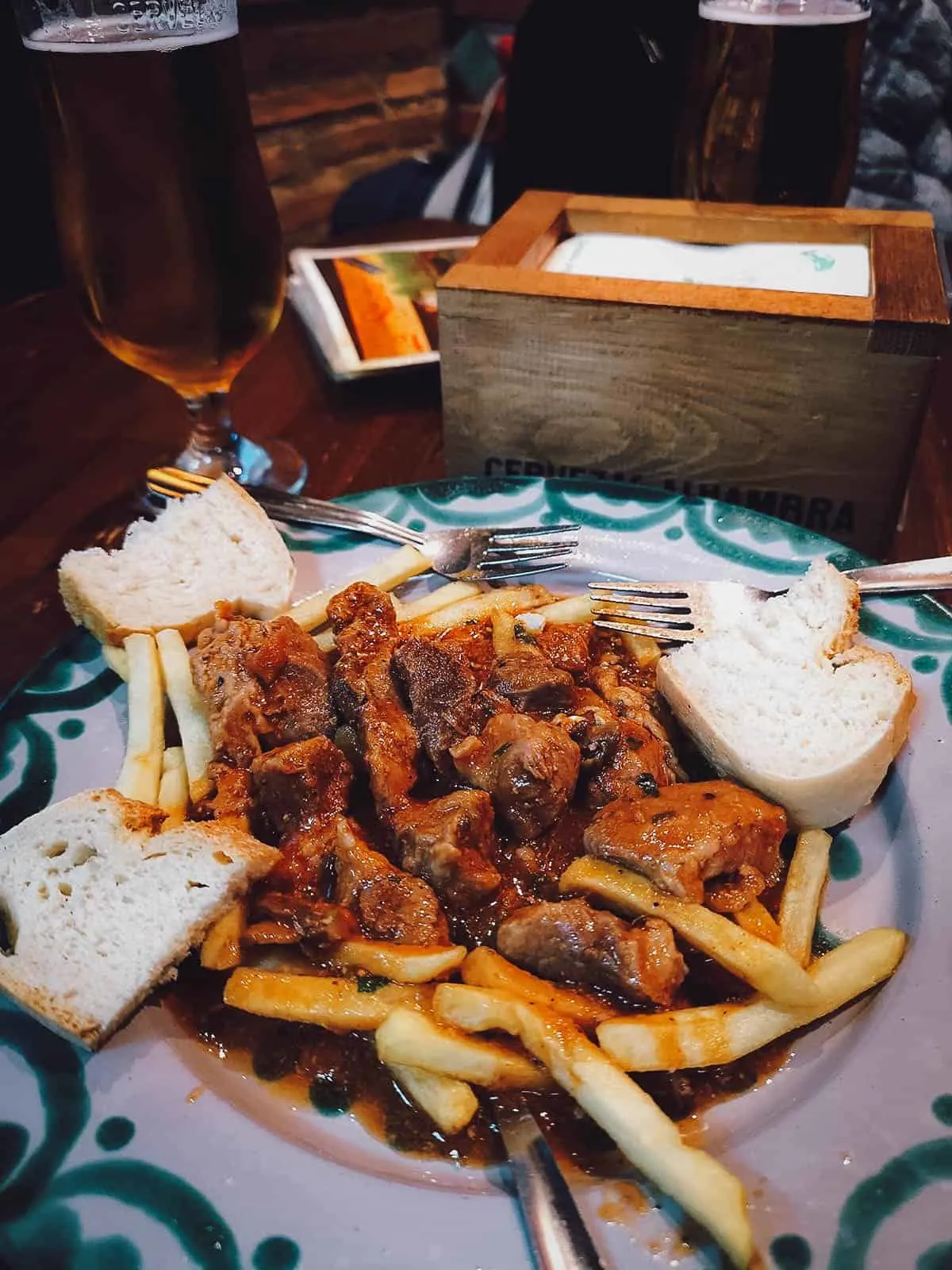 2. Explore the Alhambra
Without question, the Alhambra is the top attraction in Granada. It's one of the hottest tickets in Europe and the main reason why people visit Granada. Built in the 8th century, it's a remnant of the Nasrid Dynasty – the last Islamic kingdom in Western Europe – and is the only surviving palatine city of the Islamic Golden Age.
The Alhambra is a UNESCO World Heritage Site spanning around 10.5 hectares (26 acres) of land. Protected by 2 km (1.2 miles) of fortress walls, it's a massive structure that needs several hours to fully explore.
As described, the Alhambra Palace is one of the most popular attractions in Granada so it's highly recommended that you purchase your tickets as early as possible.
We were happy to explore the Alhambra on our own so we bought entry tickets from the official website. If you'd rather go on a guided tour, then you can book one through Get Your Guide.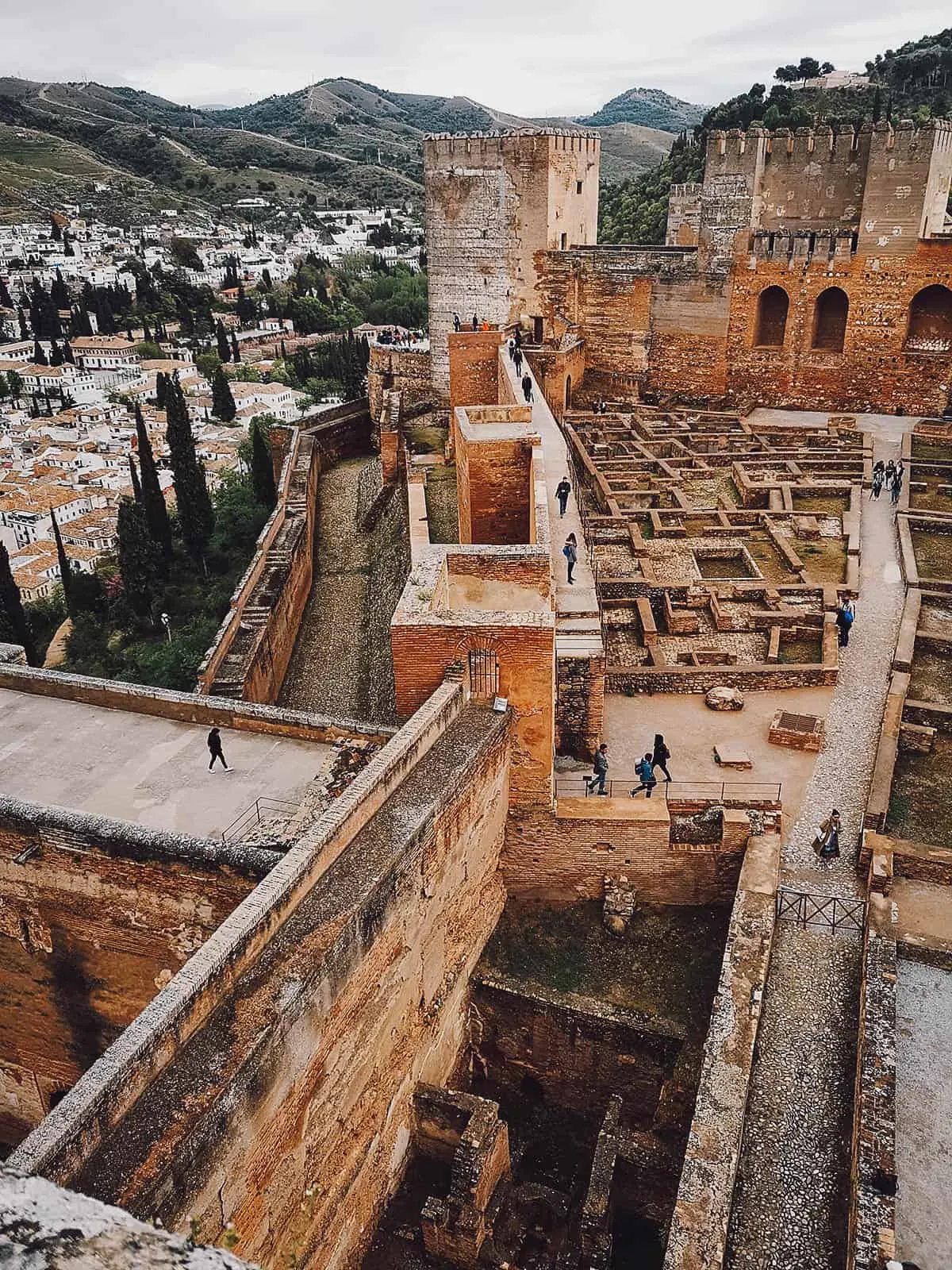 The Alhambra consists of three main sections – the Alzacaba (for soldiers), the Medina (for court officials), and the palatial zone. The palatial zone is where you'll find the Nasrid Palaces. It's the most spectacular part of the complex with nearly every square inch of space covered in elaborate carvings.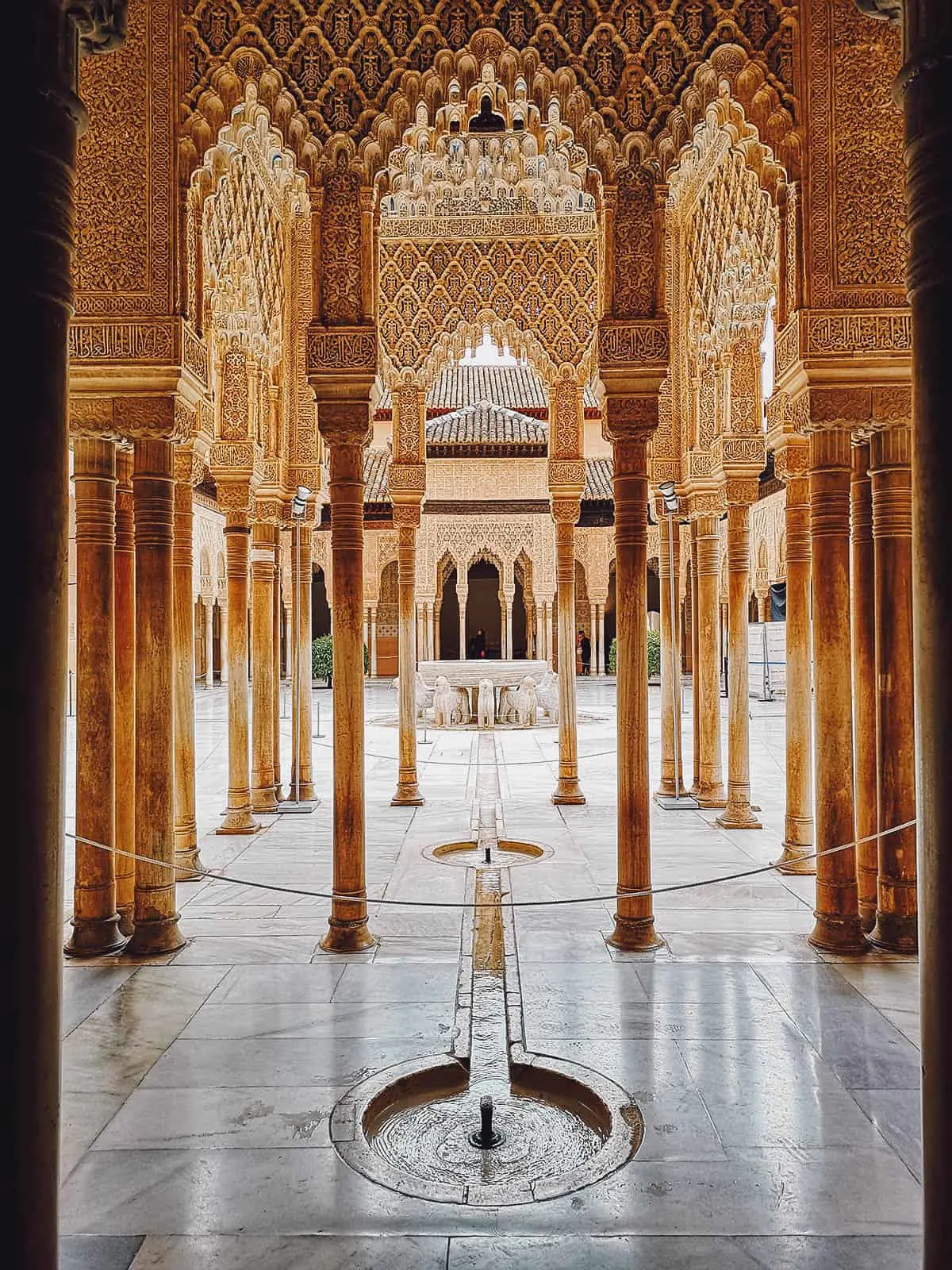 Exploring Nasrid Palaces is one of the most fascinating things to do in Granada. It's by far the most popular section of the Alhambra so to keep it from getting clogged with tourists, each person is given a maximum stay of just 30 minutes.
When you purchase a ticket through the official website, you'll be asked to select a specific time slot. You can't ask for a later time slot if you miss yours so make sure you arrive on time!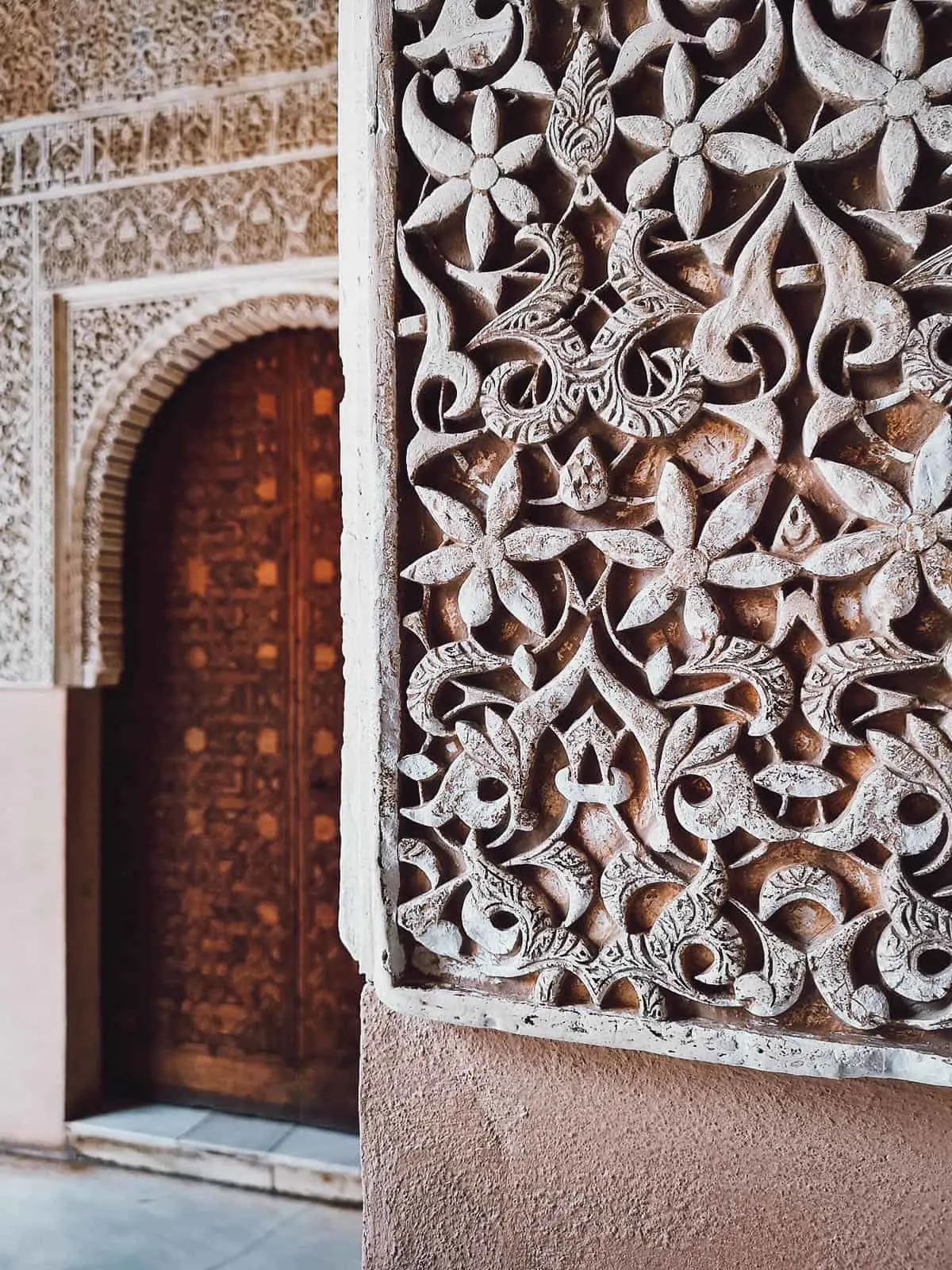 The Generalife was the summer palace of the Nasrid rulers. Located about a 10-15 minute walk from Nasrid Palaces, it was built as a place of rest and relaxation for the sultans residing in the Alhambra.
It contains a few modest structures but it's main draw are its many large gardens that are considered among the most well-preserved Moorish gardens in Spain.
Purchasing a general ticket will give you access to both the Alhambra (including Nasrid Palaces) and the Generalife.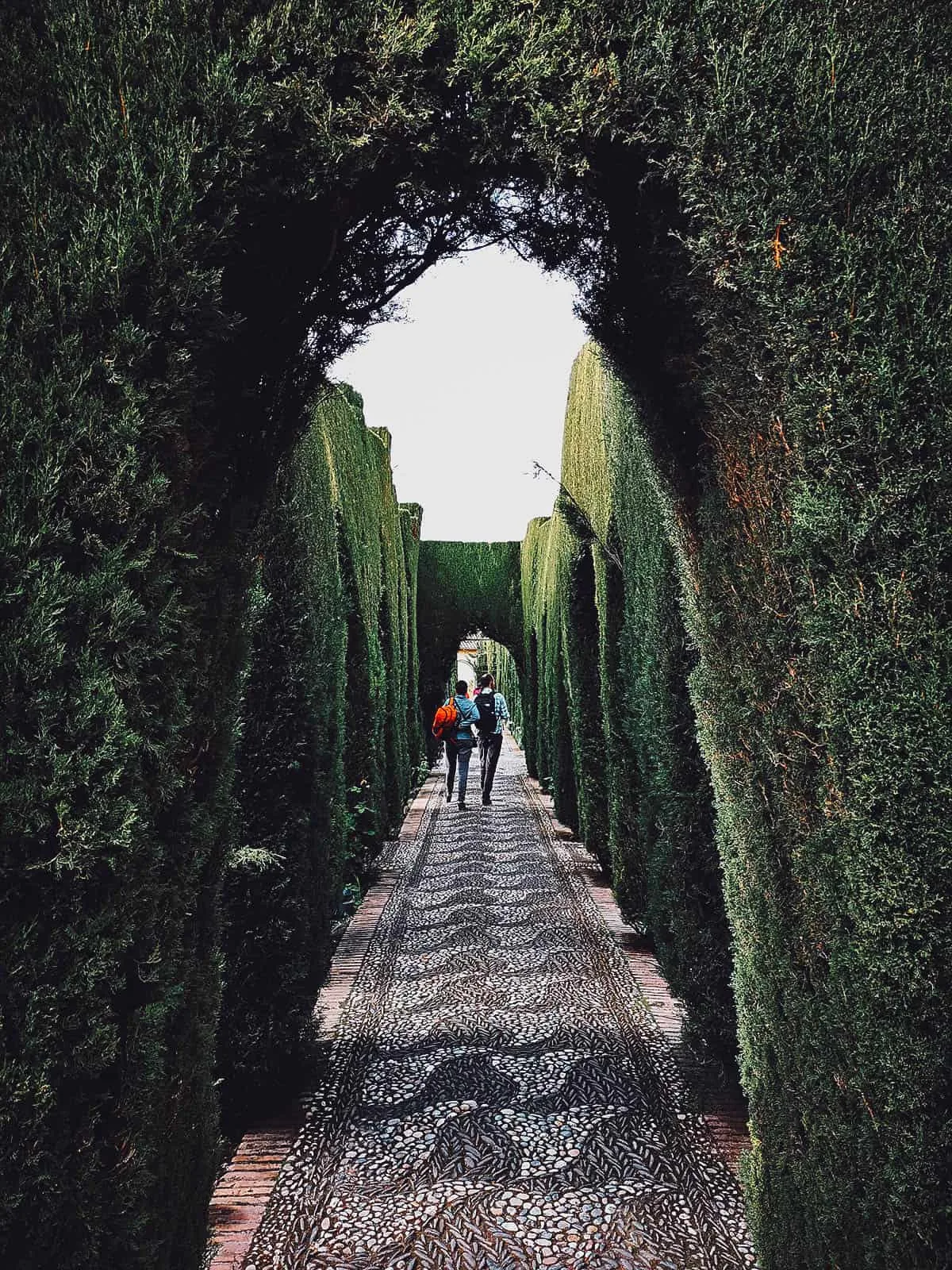 Operating Hours: 8:30AM-6PM (Oct 15 – Mar 31) / 8:30AM-8PM (Apr 1 – Oct 14)
Admission: EUR 14
3. Shop at the Alcaiceria and Calle Elvira
Aside from drinking beer and eating free tapas, one of the most interesting things to do in Granada is to explore its network of narrow alleyways filled with interesting shops.
Colorful shawls, bags, and farolas are hung from shop fronts so it feels like you're walking through a centuries-old bazaar, which is exactly what the Alcaiceria is.
The Alcaiceria was once home to the Great Bazaar of Granada. At its peak, it was a labyrinth of streets packed with more than 200 shops selling silk, spices, and other precious goods. It was built in the 15th century but much of the original bazaar was destroyed by fire in the 19th century.
Today, all that remains is this one street that begins at Calle Reyes Catolicos and extends to Granada Cathedral. Among the many items for sale are Arabic crafts, farolas, ethnic clothing, and other knick-knacks.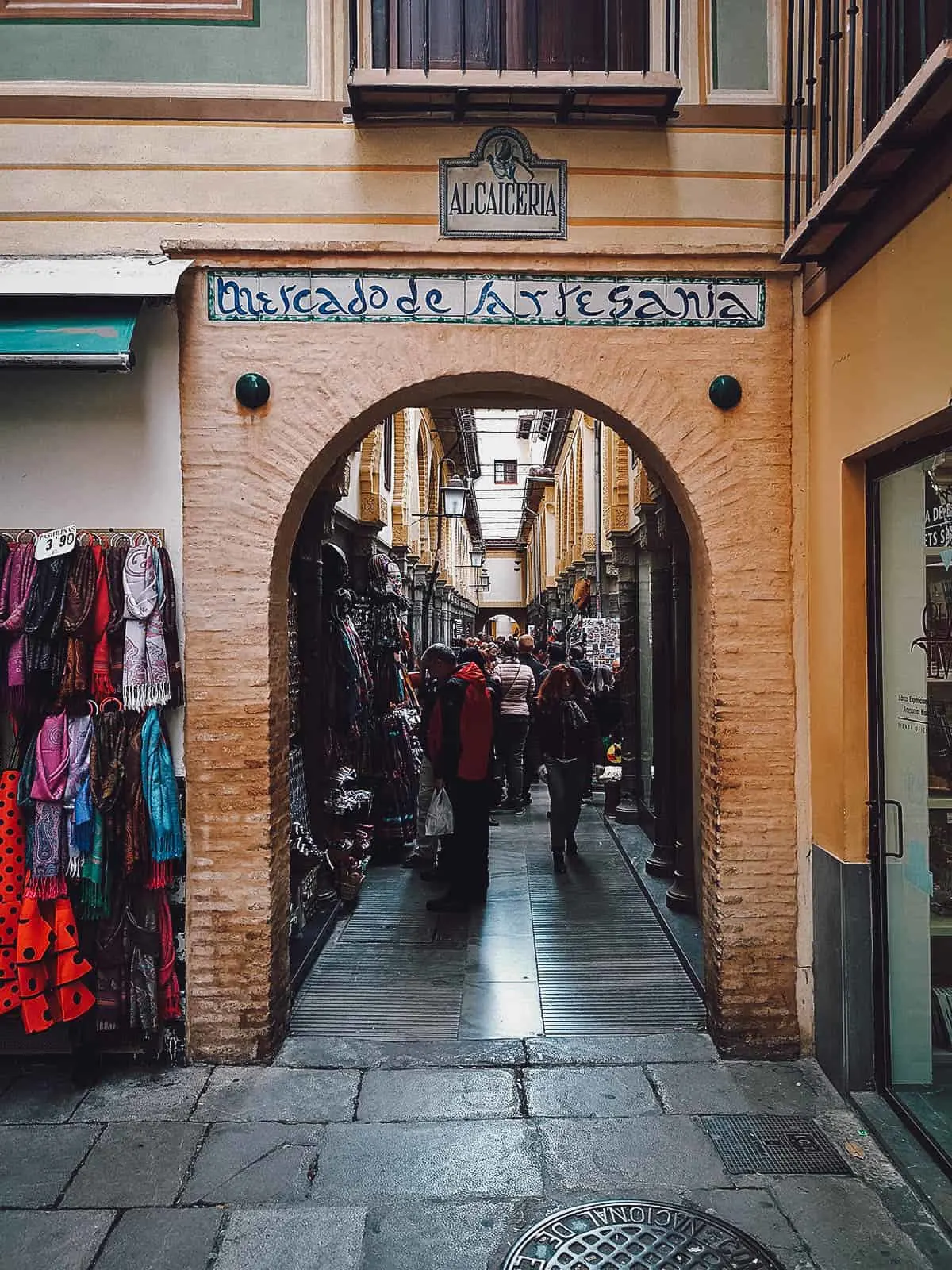 Calle Elvira is one of the most popular shopping streets in Granada. It's similar to the Alcaiceria, though perhaps a little less formal. Aside from its many shops selling items like slippers, teapots, and hookahs, you'll also find many restaurants and bars along the street.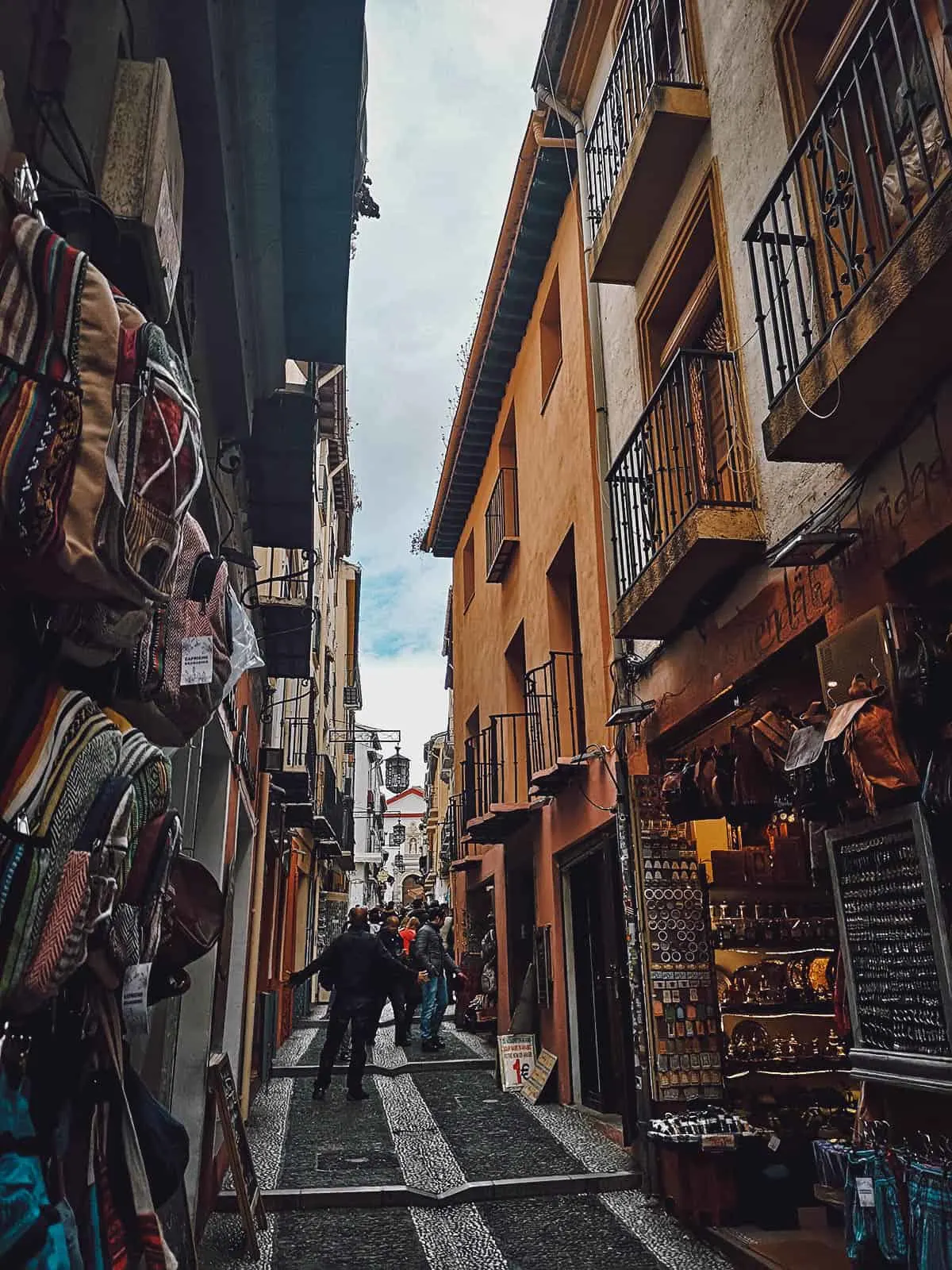 Operating Hours: 10AM-2PM, 5-8PM, daily
4. Get Lost in the Albayzin
Getting lost in the Albayzin (or Albaicin) was one of my favorite things to do in Granada. It refers to a medieval Moorish district with predominantly white houses and miradores offering dramatic views of the Alhambra.
Together with Generalife Garden and the Alhambra, it's one of three UNESCO World Heritage Sites in Granada. At its peak, it was home to an estimated 40,000 inhabitants and thirty mosques.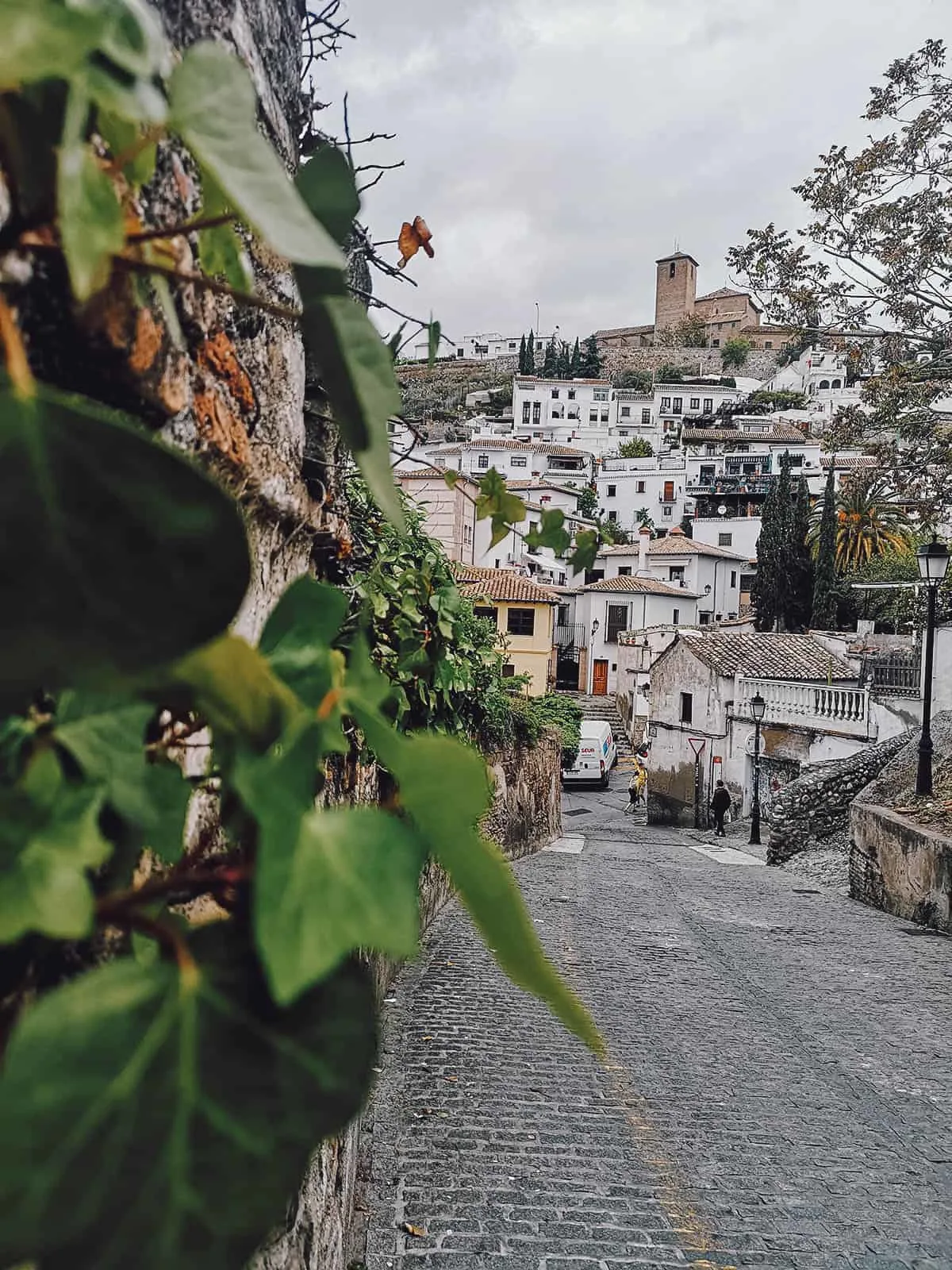 The Albayzin is about 1.5 km (1 mile) from Calle Elvira and can be reached in about half an hour on foot. You'll be going mostly uphill through narrow meandering alleyways and streets, many of which have steps.
It's a lovely and very clean-looking neighborhood that's far less crowded than the areas around Calle Elvira and the Alcaiceria.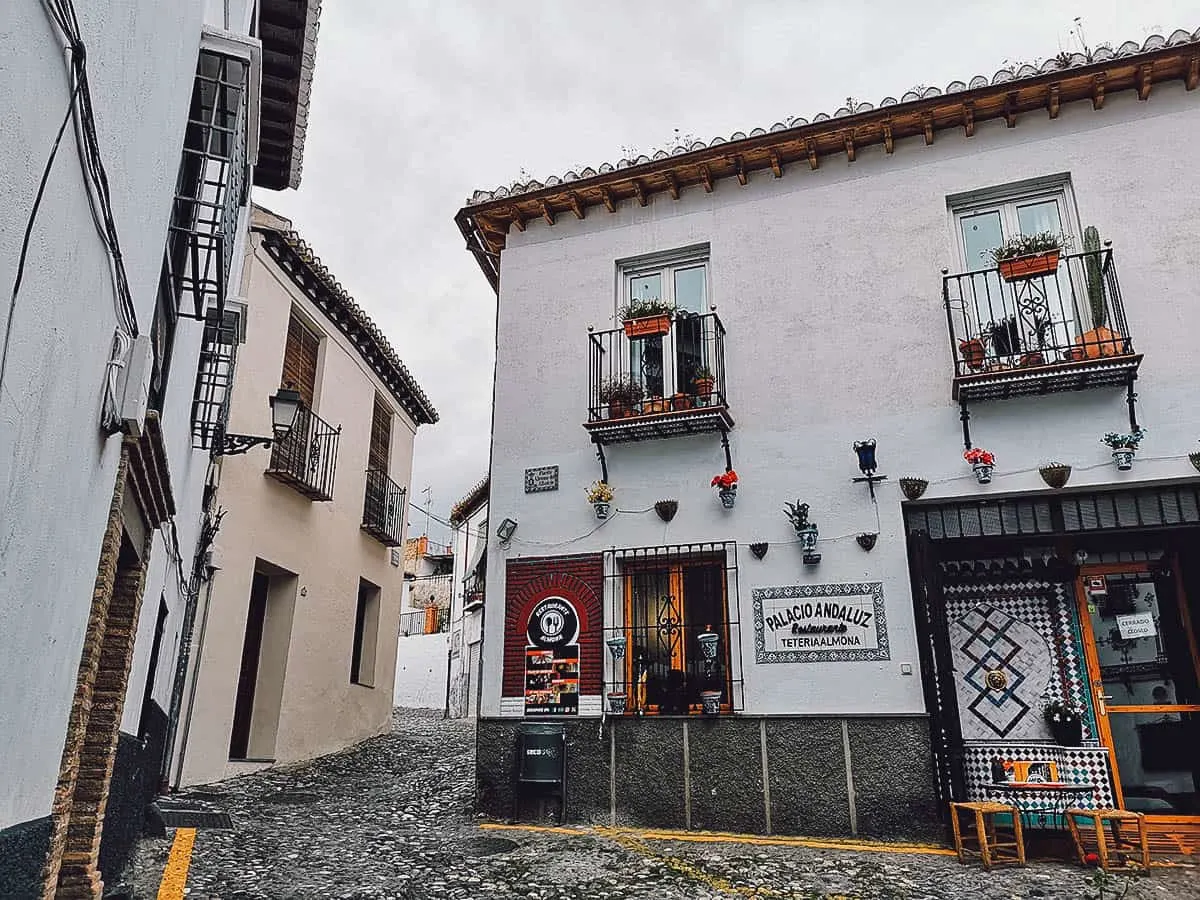 I didn't have any particular destinations in mind when I found myself in the Albayzin, which I think made the experience even more memorable. I had fun just aimlessly walking about and getting lost in its labyrinth of alleyways.
The Albayzin is a pleasant area that's described as one of the best places to appreciate Moorish architecture in Granada. You can easily visit on your own or go on a guided tour. It's adjacent to Sacromonte so many tours will cover both areas.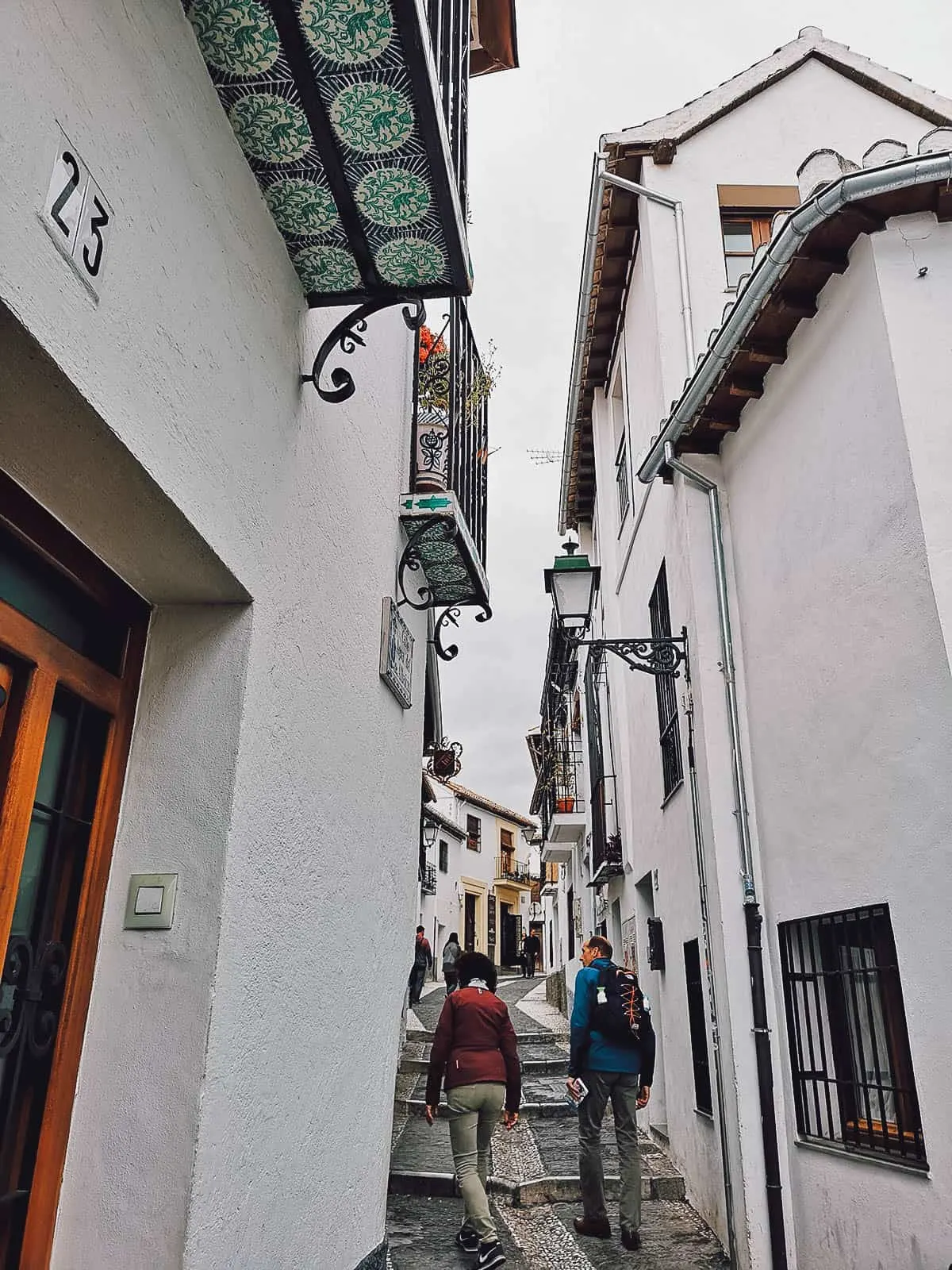 5. Enjoy the View from Mirador de San Miguel
If you continue up the hill past Albayzin, then you'll find several miradores offering breathtaking views of the Alhambra. Mirador means "lookout" or "viewing point" in Spanish.
Of the many miradores in these hills, Mirador de San Miguel is one of the most popular and offers some of the best views, both of the Alhambra and the Albayzin. From here, you can appreciate just how grand the Alhambra really is. It's a great spot to just sit and while away the time.
Not too far from Mirador de San Miguel (about 1 km) is Mirador de San Nicolas. Located at Plaza de San Nicolas, it's another great lookout point that you may want to check out as well.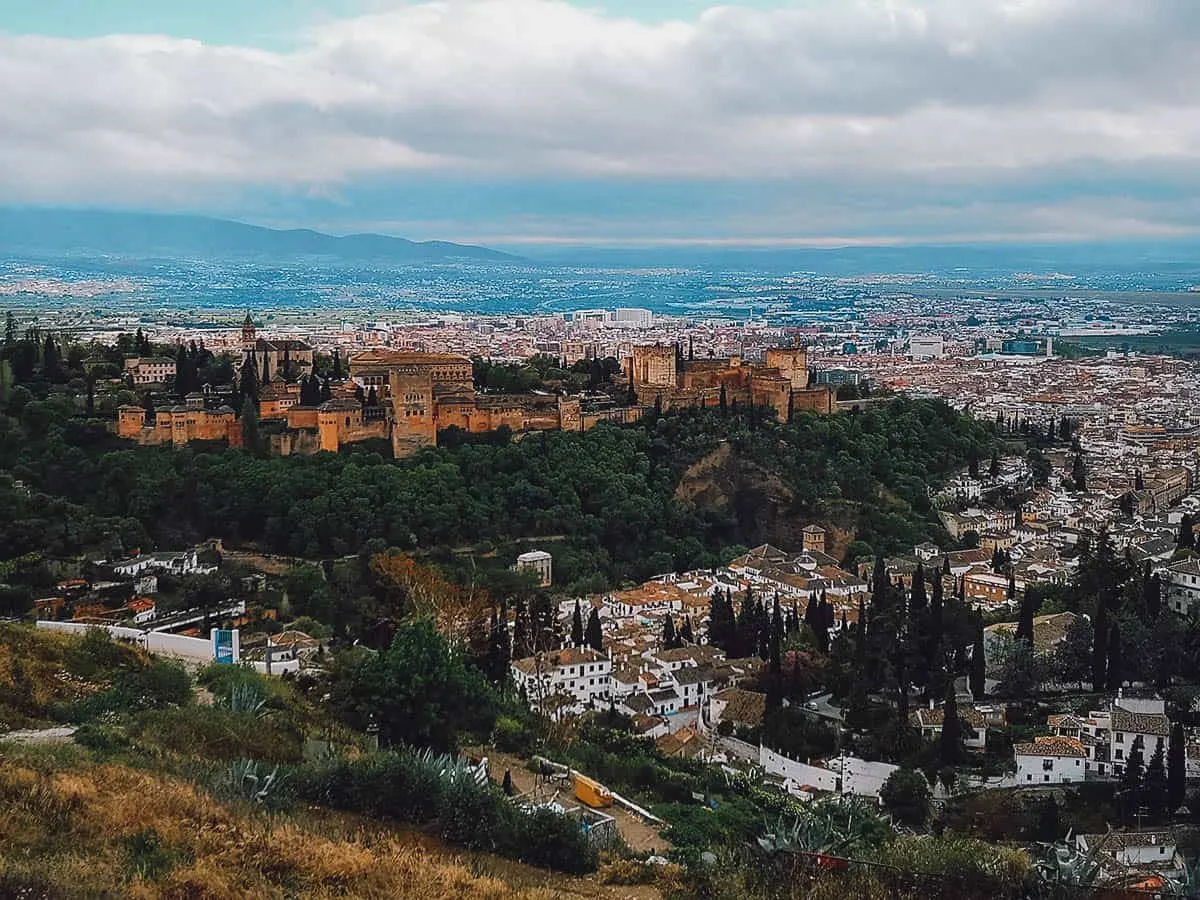 6. Watch a Flamenco Performance Inside a Cave
Watching a live flamenco performance inside a cave is one of the most memorable things to do in Granada. The passion these women dance with will leave you breathless (and a little lightheaded). When they stomp on the floor, you feel it in your chest.
Flamenco is a Spanish art form made up of three parts – song, dance, and guitar playing. It originated in the Andalusian region of southern Spain and is thought to have evolved from the centuries-long intermingling of cultures between the nomadic Romani people (gitanos) and the Sephardic Jews and Moors.
Romanis from Rajasthan migrated to Spain between the 9th and 14th centuries and settled in Sacromonte, where they carved their cave dwellings from the hillsides. Inside these caves is where you can experience some of the most unique and memorable flamenco performances in Spain.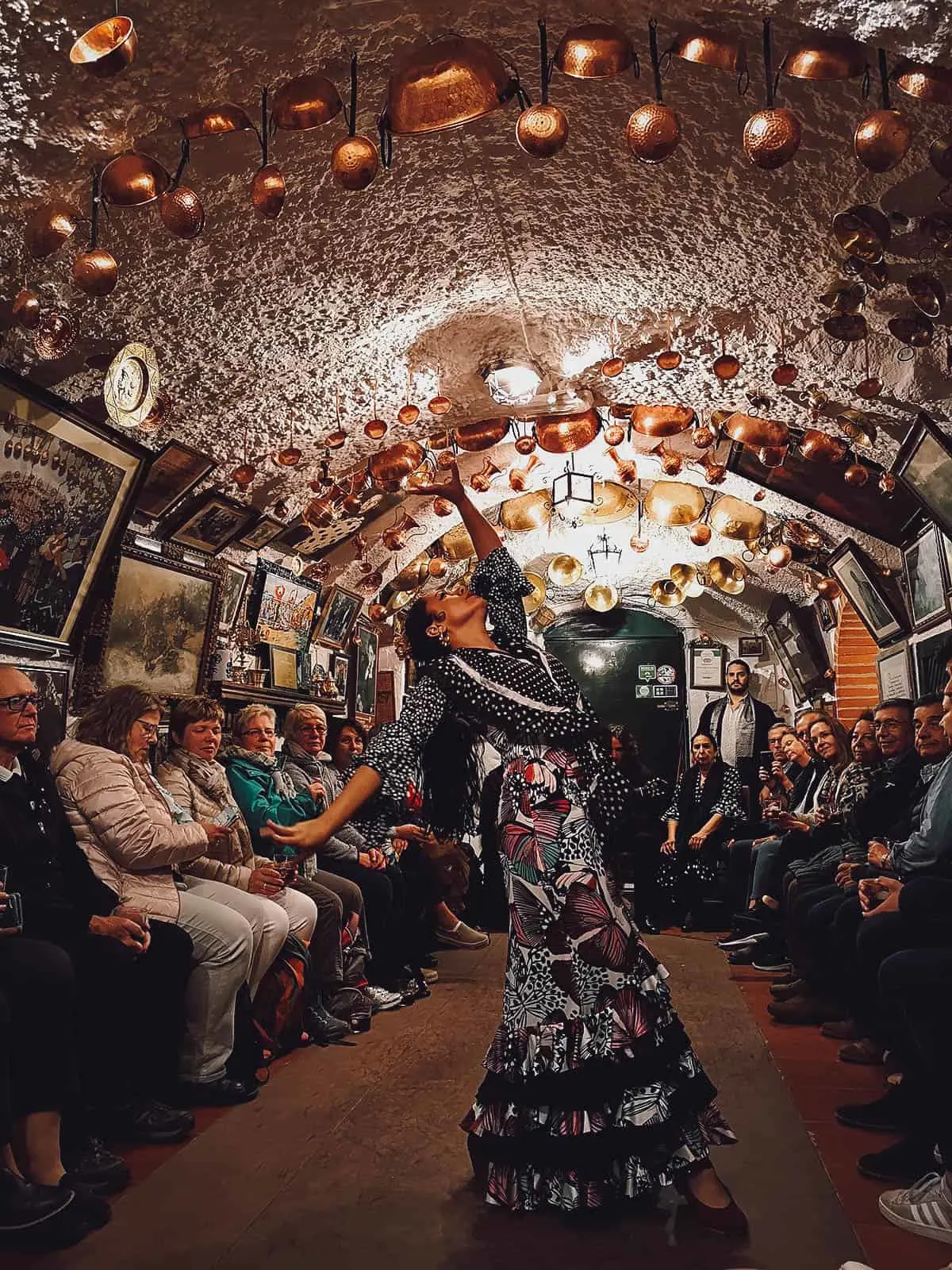 Guests are served glasses of sangria to enjoy during the show. This was a once-in-a-lifetime experience so I wanted to find the best venue to watch flamenco in Sacromonte. My research led me to Zambra Maria la Canastera, a venue that's been showcasing flamenco performances for over half a century.
I put in a reservation request through their website. It costs EUR 29 per person with pickup from Granada, and there are options that include a full-course dinner as well. You can also book Sacromonte flamenco shows through Get Your Guide.
7. Visit Granada Cathedral
Walk through and out of the Alcaiceria and you'll find yourself looking up at the magnificent Granada Cathedral. It's the biggest church in the city and considered one of the most beautiful in Spain.
Started in 1523, it took 181 years to complete the cathedral which is considered a masterpiece of Spanish Renaissance architecture. Interestingly, it was built over the former site of the Great Mosque to symbolize the end of 600 years of Muslim dominance in Granada.
You can visit Granada Cathedral on your own, but if you'd like to go with a guide, then you can book a tour on Get Your Guide (Option 1 | Option 2 | Option 3). These tours will take you to the Royal Chapel as well which is located right next to the Cathedral.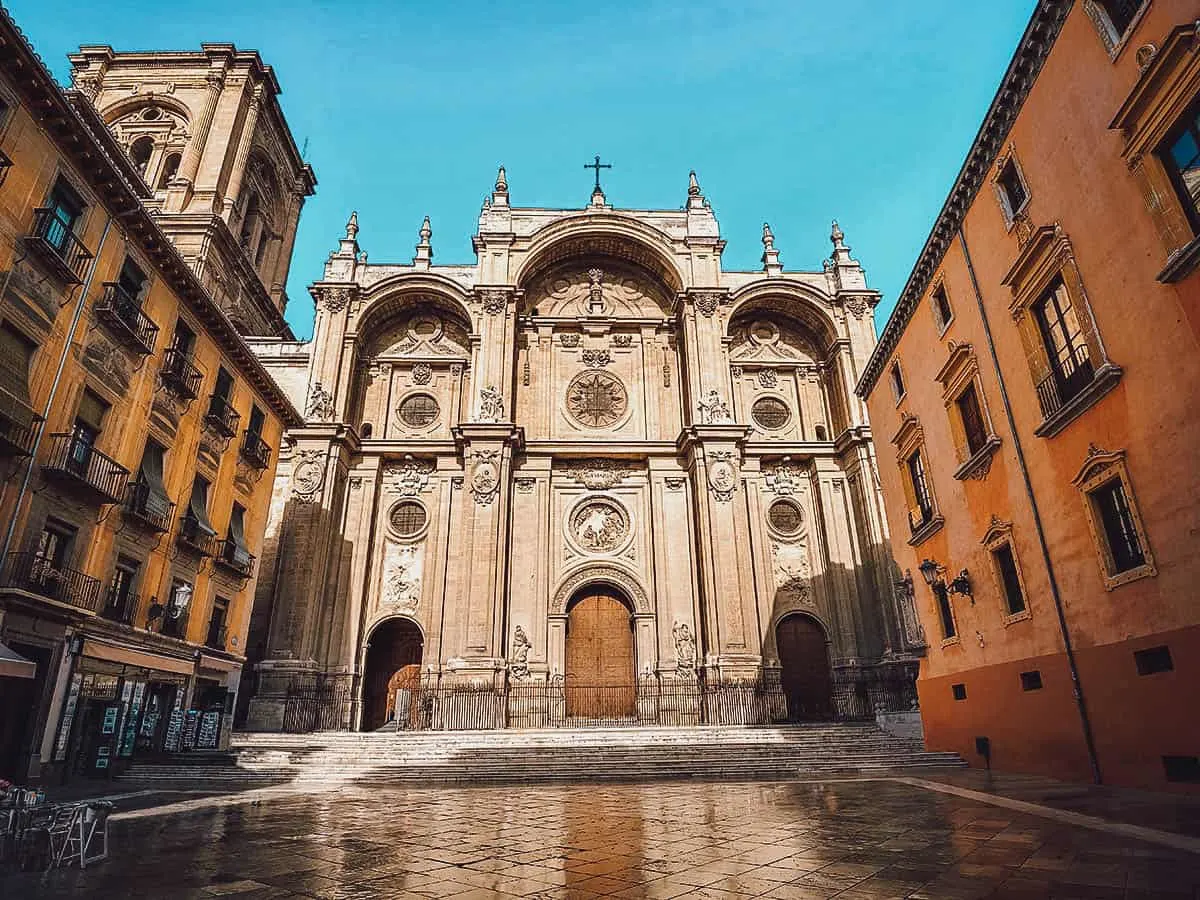 Photo by Valery Bareta via Shutterstock
Hours of Operation: 10AM-6:30PM, Mon-Sat / 3-6PM, Sun
Admission: EUR 5 (audioguide included)
8. Eat Pionono
Around town you'll find many shops selling these Spanish pastries called pionono. They're originally from Santa Fe which is a small town about 12.5 km (7.8 miles) west of Granada.
As you can see from the picture below, a pionono consists of two parts – a bottom layer of rolled pastry drenched with syrup and a crown of toasted cream. Soft, sweet, and spongey, it's typically consumed in just a few bites.
There are many pionono shops in Granada but Pasteleria Casa Ysla is said to be one of the best. We tried it at Pasteleria Lopez-Mezquita.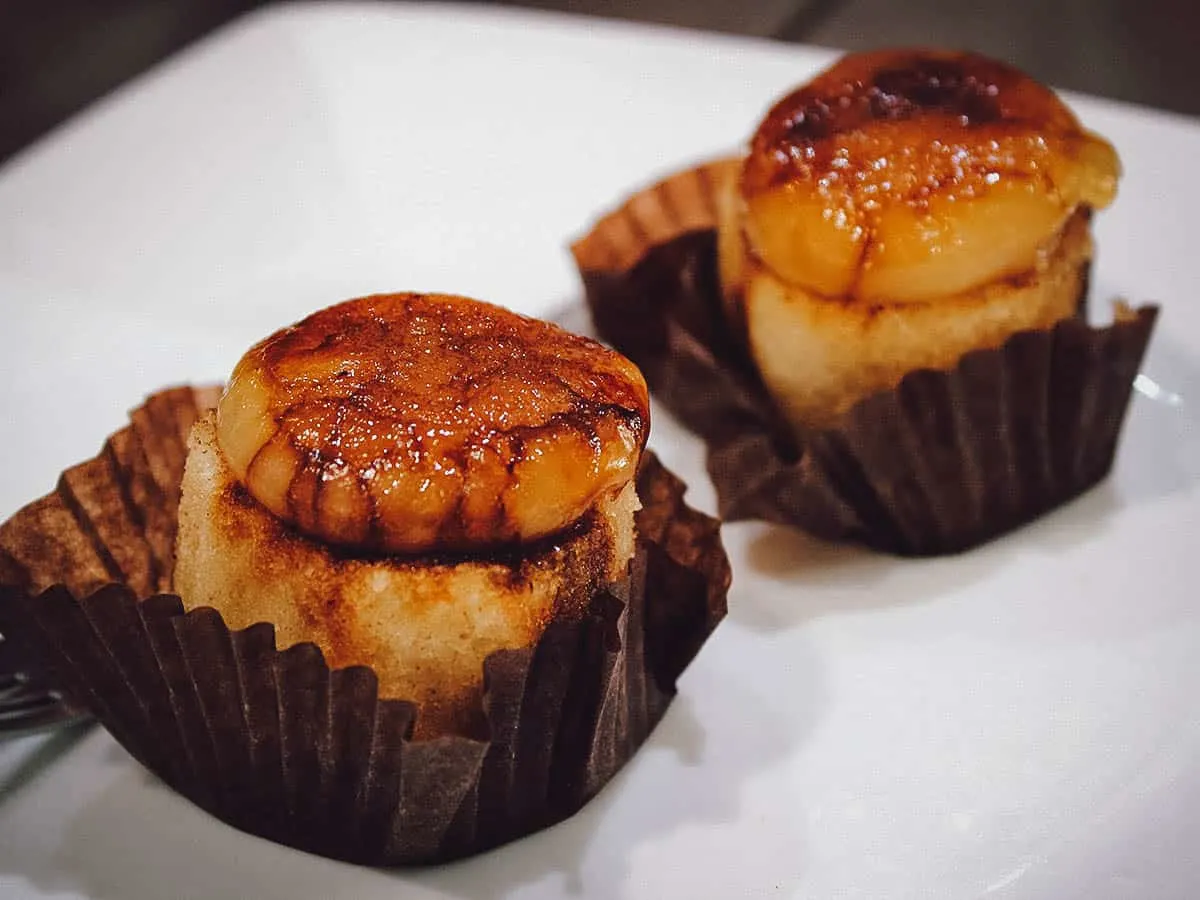 Photo by Jimenezar via Shutterstock
9. Soak in an Arab Bath
If you like thermal spas, then you'll enjoy Hammam Al Andalus. It's an Arab bath just off Calle Carrera del Darro near the Alhambra.
Interestingly, these Arab baths were a point of religious contention centuries ago. To Arabs, water was a symbol of purity and these public Arab baths, like mosques, were key components to Moorish social life. But to Christians, they symbolized decadent and hedonistic behavior so the Catholic monarchs had them banned and destroyed.
Five centuries after they were shut down in Spain, Hammam Al Andalus was the first to reopen in 1998. It's housed in a 13th century building and features seven pools with varying temperatures. Soaking in these pools is one of the most relaxing things to do in Granada.
You probably won't need reservations to soak in the pools but if you'd like to get a treatment, then it's a good idea to book ahead. Get Your Guide offers vouchers for a bath session at Hammam Al Andalus with an optional massage or bundled with a ticket to the Alhambra.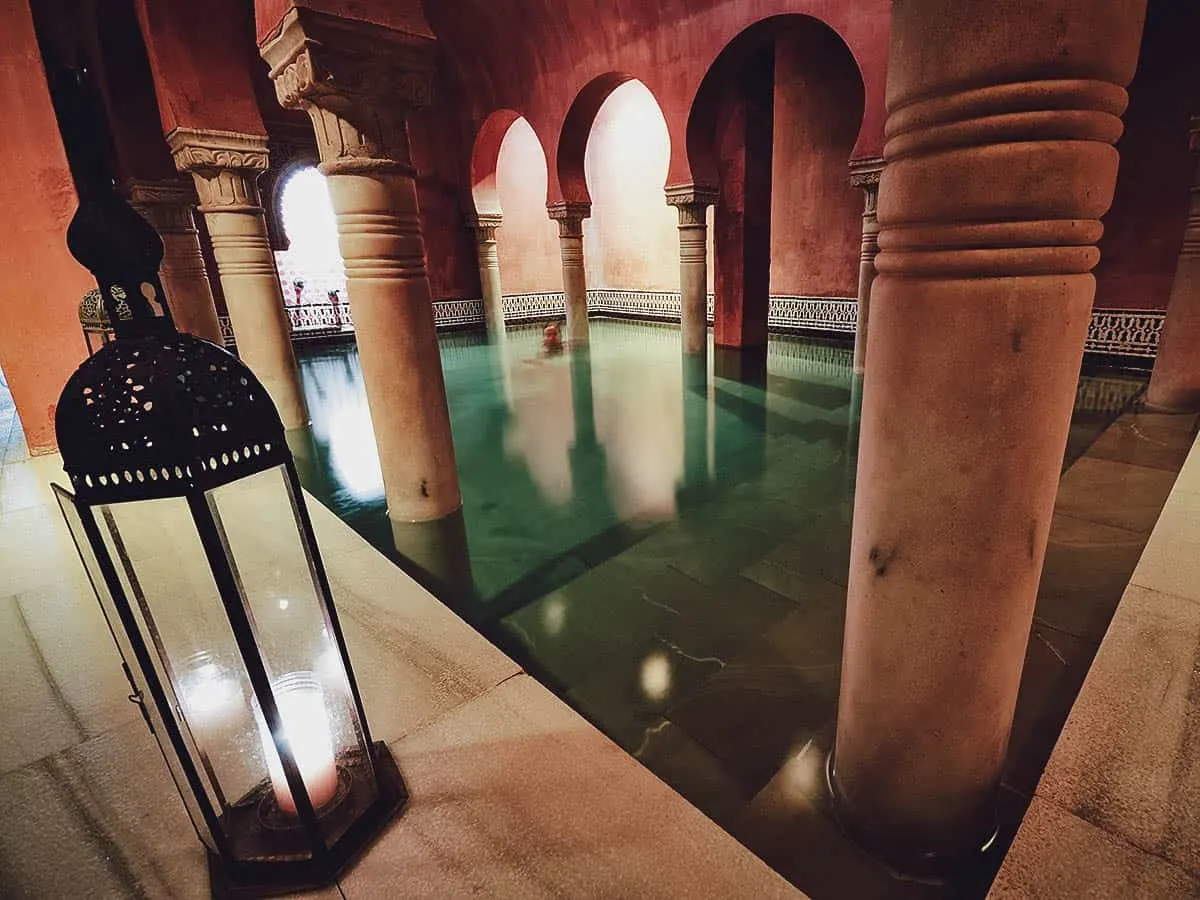 Photo by javi_indy via Shutterstock
10. Take a Stroll Along Carrera del Darro to Paseo de los Tristes
After soaking at Hammam Al Andalus, you can take a leisurely stroll along Calle Carrera del Darro. It's a lovely and romantic cobblestone street that takes you to Paseo de los Tristes, a plaza that was once the busiest gathering spot in Granada.
Located near the Alhambra, Carrera del Darro runs parallel to the Darro River. You can start from Plaza Nueva and walk along Calle Carrera del Darro all the way to Paseo de los Tristes. The area is filled with interesting shops, restaurants, cafes, and bars. If you have time to kill, then this is a great place to grab a coffee (or beer) and do some people-watching.
I enjoyed Carrera del Darro but it's a narrow street that sees a good amount of foot traffic. It's perhaps best appreciated early in the morning.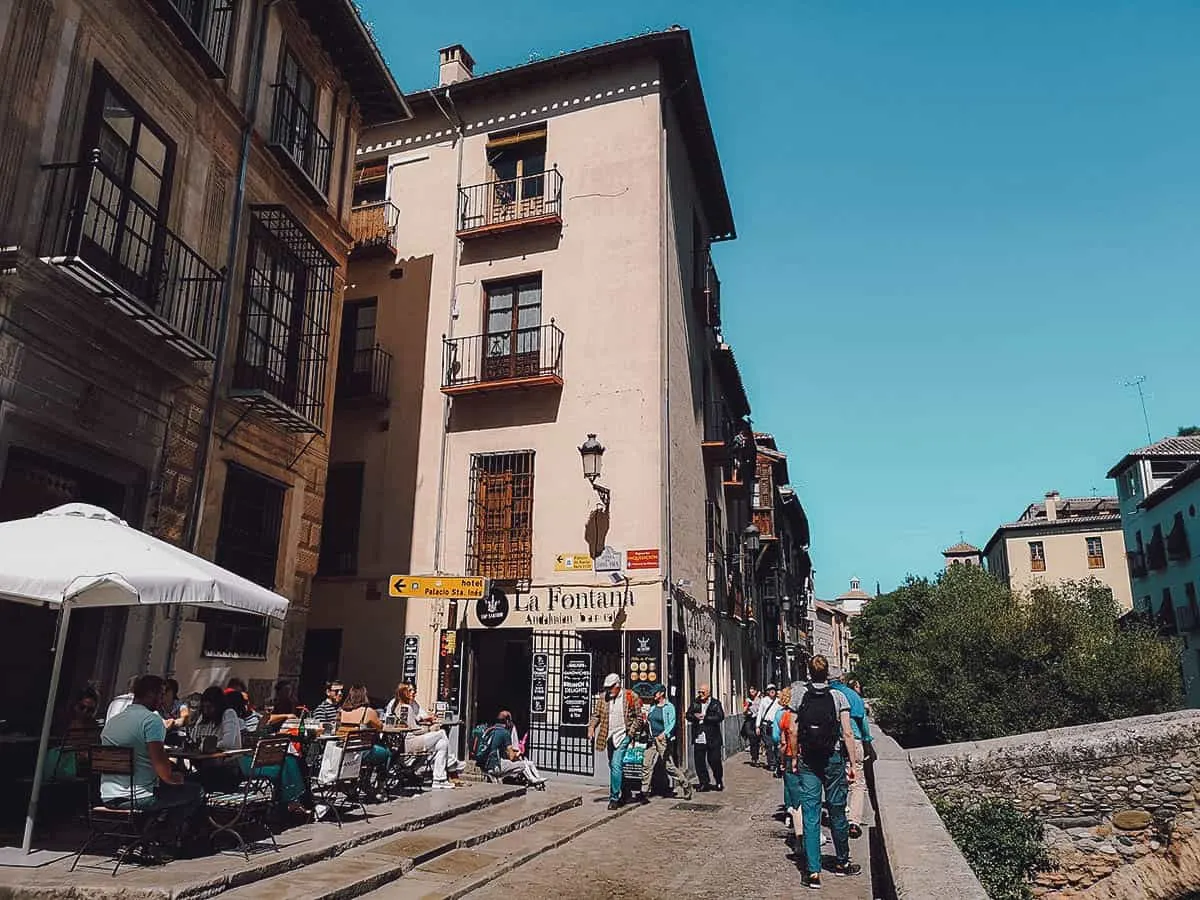 Located along Carrera del Darro is El Bañuelo, a well-preserved Arab bath that escaped destruction by the Catholic monarchs centuries ago. It's one of the few that survived and is believed to the oldest and most well-preserved Arab bath in Spain.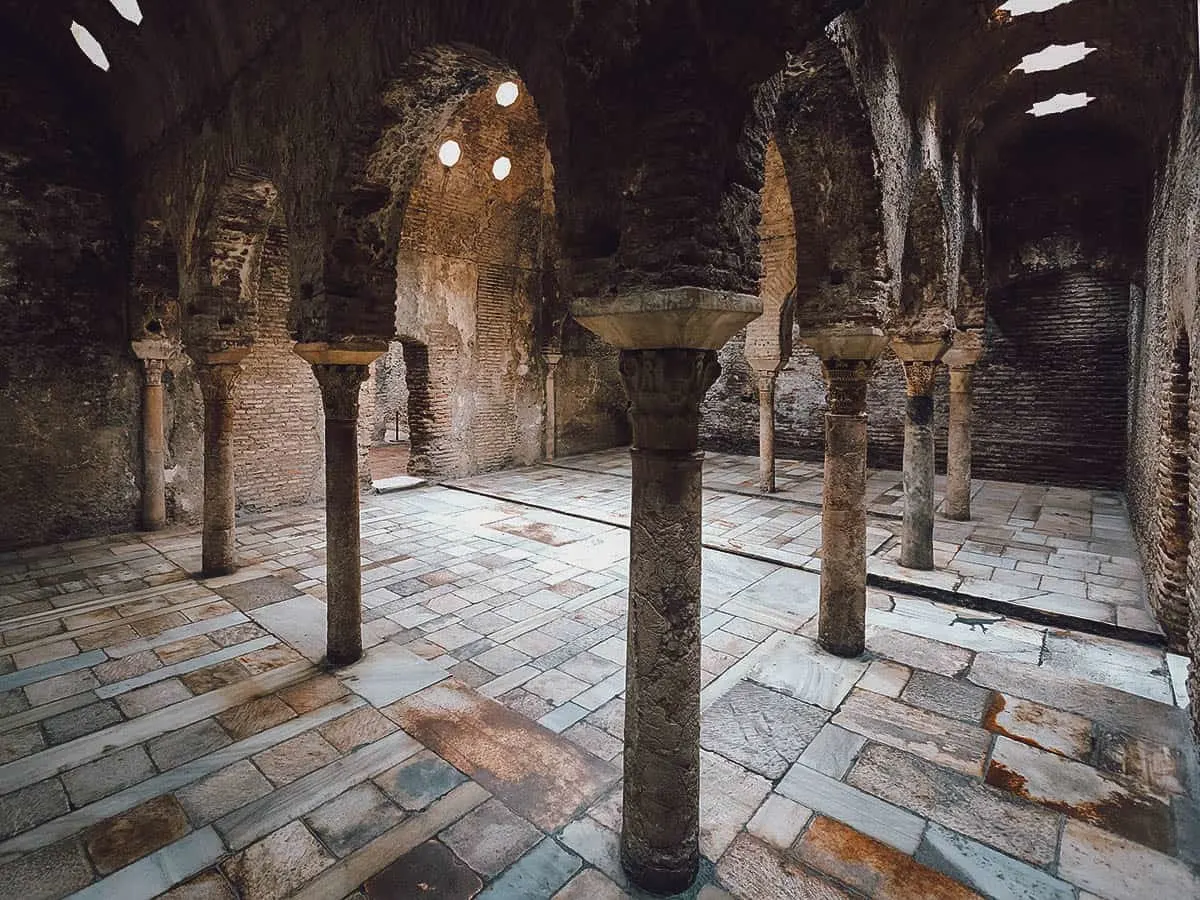 Photo by Iakov Filimonov via Shutterstock
Hours of Operation: 10AM-5PM (Sept 15 – Apr 30) / 9AM-2:30PM, 5-8:30PM (May 1 – Sept 14)
Admission: EUR 5 (includes admission to Dar al-Horra Palace, Horno de Oro House, and Corral del Carbon)
FINAL THOUGHTS ON THE BEST THINGS TO DO IN GRANADA, SPAIN
Granada is mesmerizing. We fell in love with it within minutes of arriving. It has an ideal balance of size, atmosphere, and pace. The food is fantastic and the fact that you can get free tapas each time you order a drink makes it all the more alluring.
Like many people, the Alhambra is what drew us to Granada but the city itself is what makes us want to stay. It was one of our favorite cities in Spain and a destination we'll definitely visit again.
Thanks for reading and I hope this guide on the best things to do in Granada helps you plan your trip. Have an incredible time in Spain!
Disclosure
This article on the best things to do in Granada, Spain contains affiliate links, from which we'll make a small commission if you make a purchase at no additional cost to you. As always, we only recommend products and services that we use ourselves and firmly believe in. We really appreciate your support as this helps us make more of these free travel guides. Thank you!