NOTE: It looks like Stand25 Bisztro has since changed locations. They're now located along Attila Street on the Buda side. You can check the Stand25 website for more information.
I know next to nothing about Hungarian food. I don't think I've ever been to an Hungarian restaurant all my life and before this trip, I couldn't even name a single Hungarian dish other than goulash or sausage.
Knowing so little about the cuisine, I didn't really know where to begin when putting together our food itinerary for this trip. I read about classic comfort food like langos and kurtoskalacs which I happily added to our itinerary. I also learned where to find good examples of traditional fare like chicken paprikash with spatzle and Hungary's national dish goulash. Dobos torte sounded good so I added that too.
Our Budapest food itinerary was shaping up nicely, but nothing I had found at that point really stood out and got me excited about Hungarian food, until I found this place.
Located inside a market / food hall in Budapest, Stand25 Bisztró is a casual dining space that serves traditional but refined Hungarian food. They're also the proud owner of a Michelin Bib Gourmand award.
I may not know much about Hungarian cuisine, but I knew what that distinction meant. We were about to experience some really, really good food.
Save This on Pinterest!
No time to read this now? Click on the red save button and pin it for later!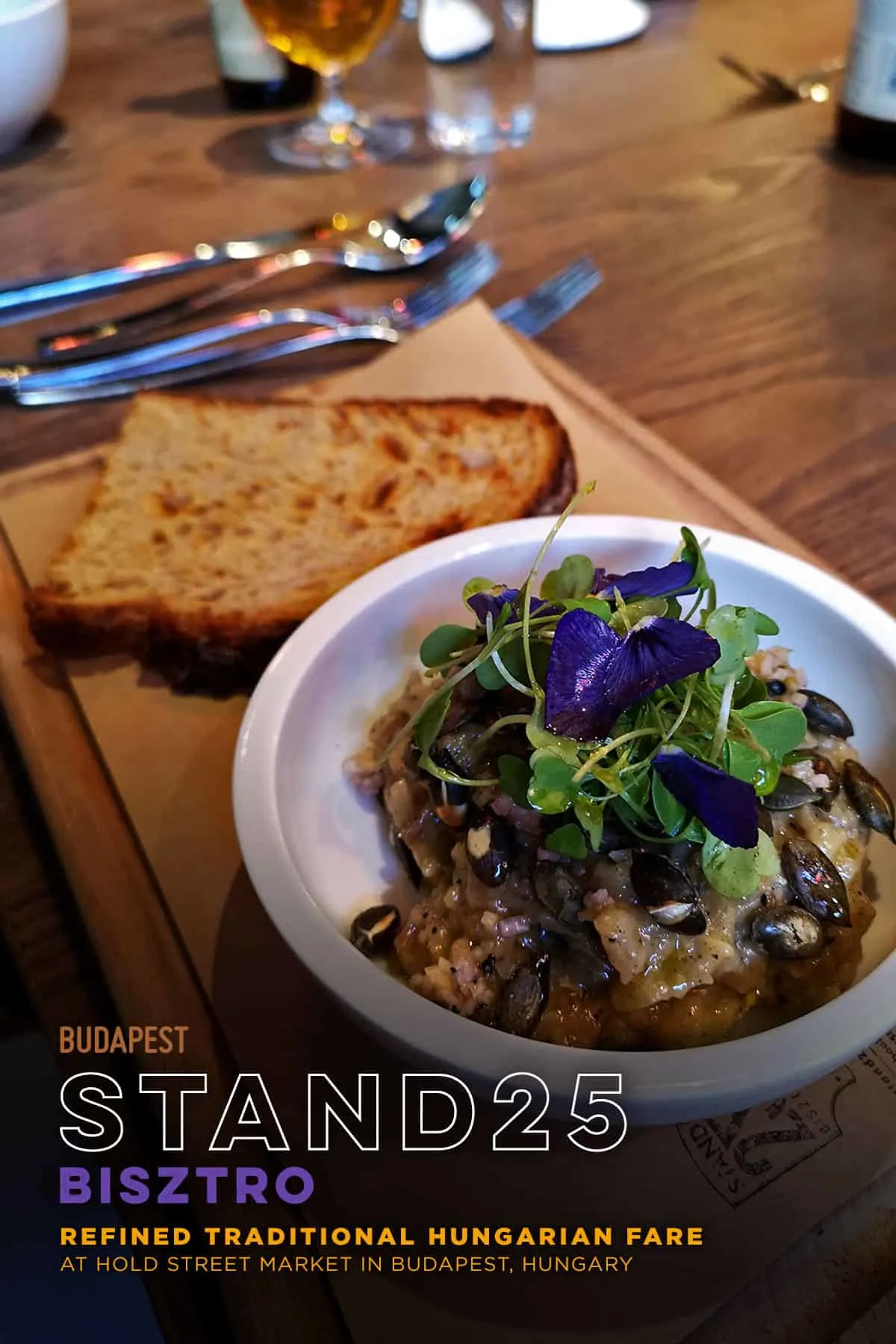 HOLD UTCA FOOD MARKET
Stand25 Bisztró is located inside the Hold Utca Food Market (utca means "street"). It's a charming fresh food market that sells a variety of produce like fruits, vegetables, meats, and spices. Like many similar food markets in Europe, inside are several cafes and restaurants offering prepared food, none more noteworthy perhaps than Stand25 Bisztró.

Hold Utca Food Market is much smaller than Budapest's famed Great Market Hall, but it's also more pleasant and less touristy. I liked it here a lot more.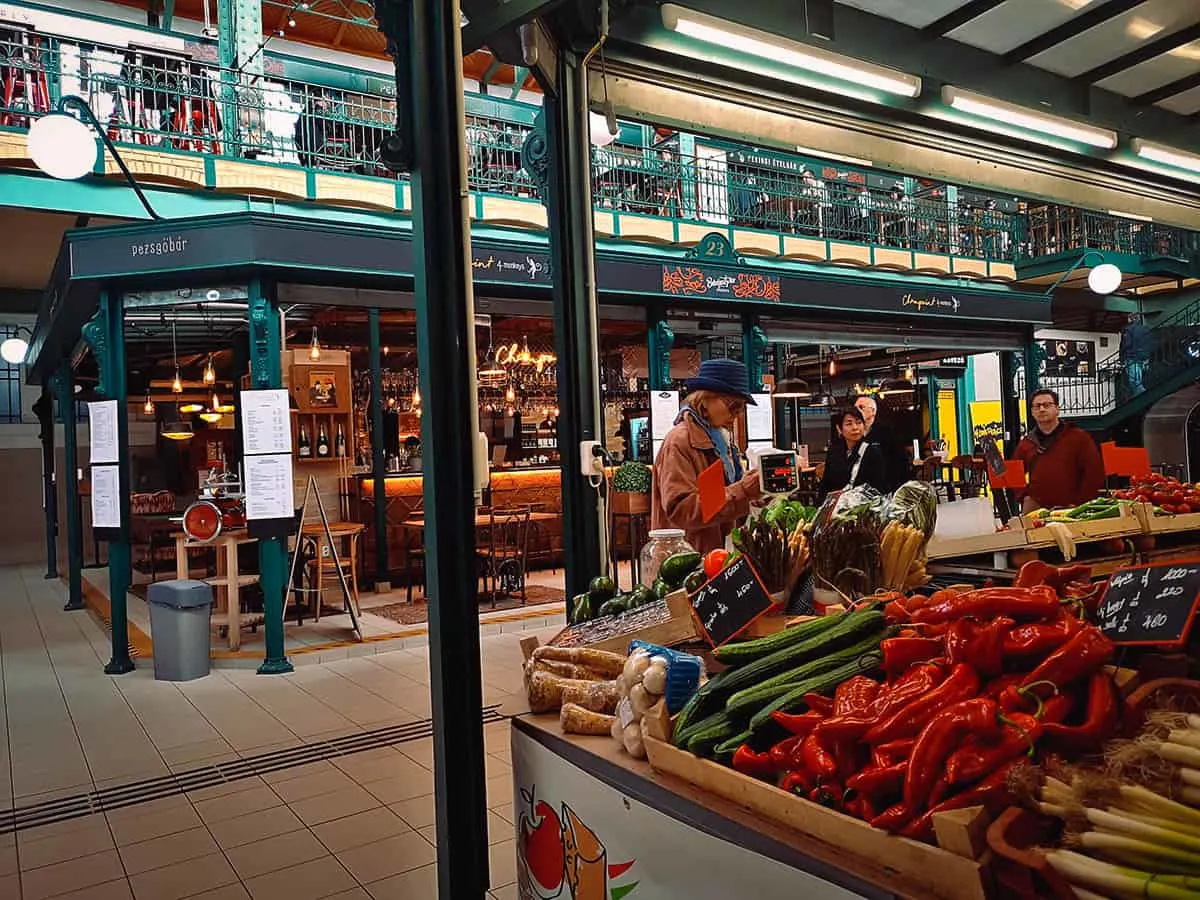 A vitrine of cured meat products. At the market you'll find many Hungarian specialties like grey cattle beef and mangalica pork.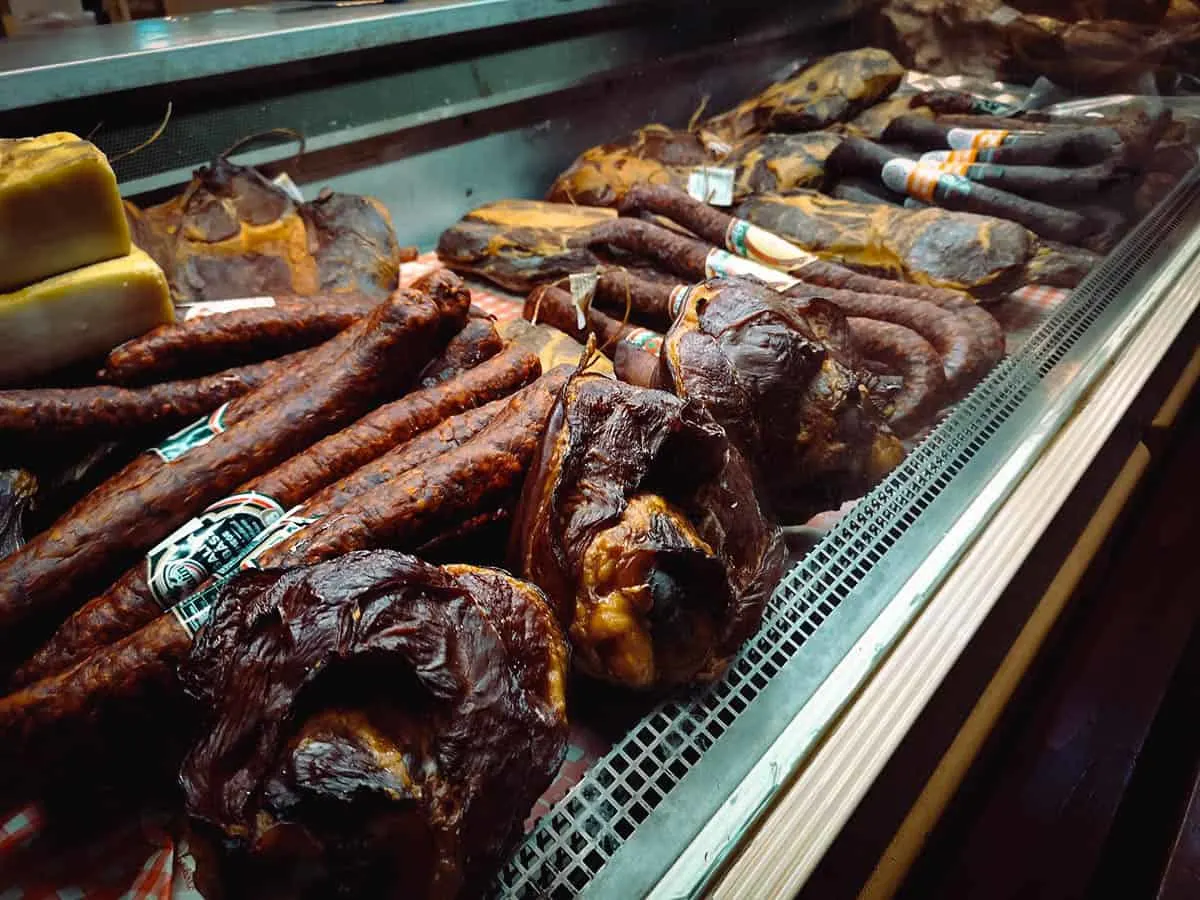 Canned foie gras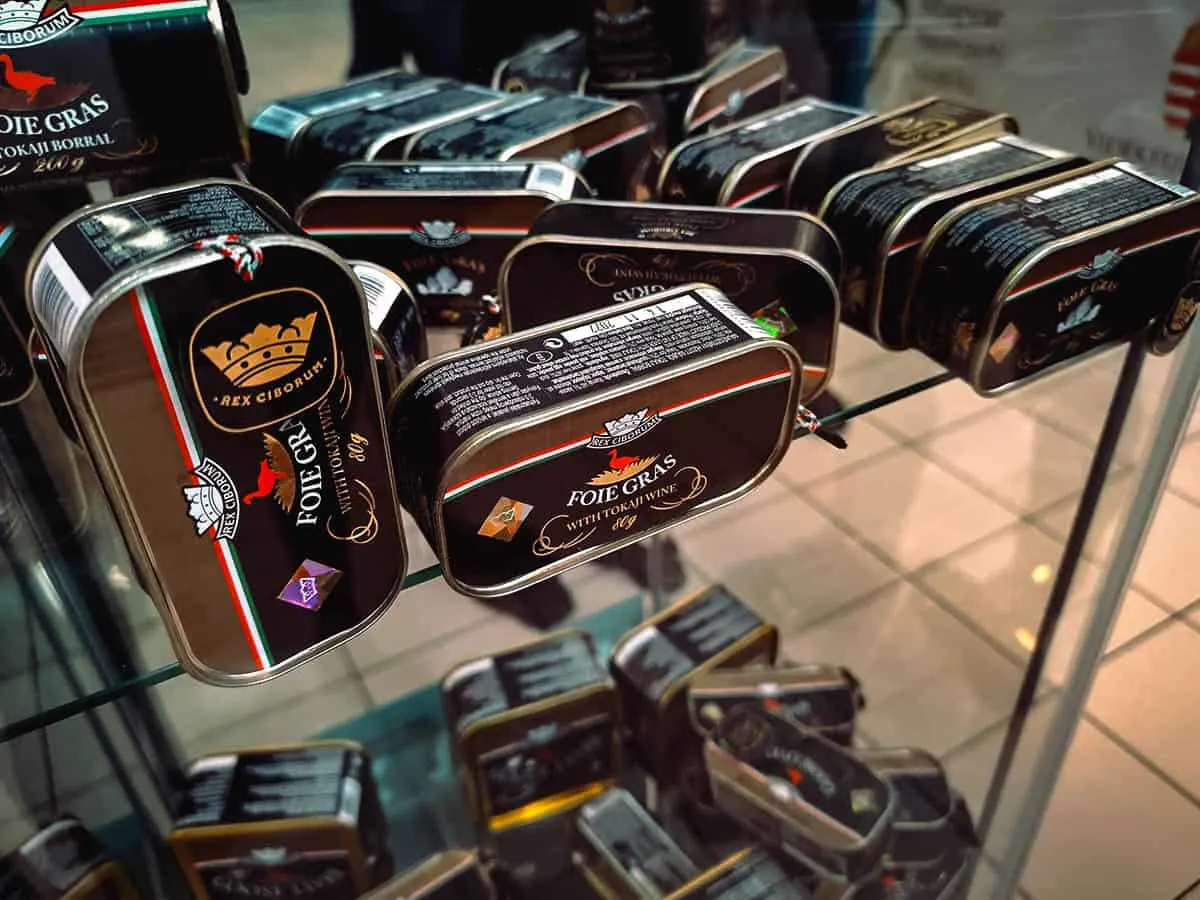 A happy girl getting a free taste of cured meat.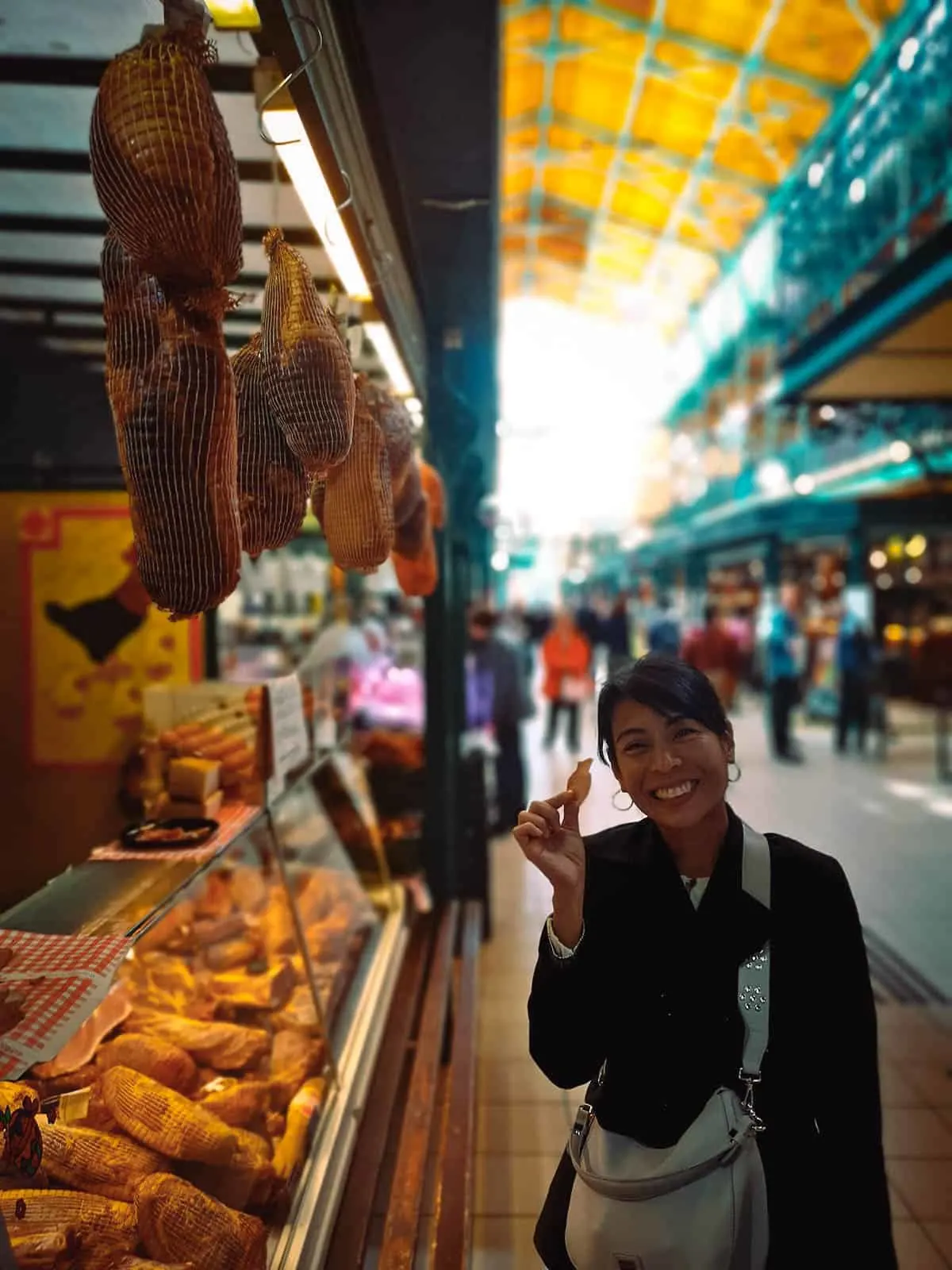 Hold Utca Food Market is located close to Hungary's Parliament. It's a great place to have lunch after a ferry ride on the Danube River and a visit to the Parliament building.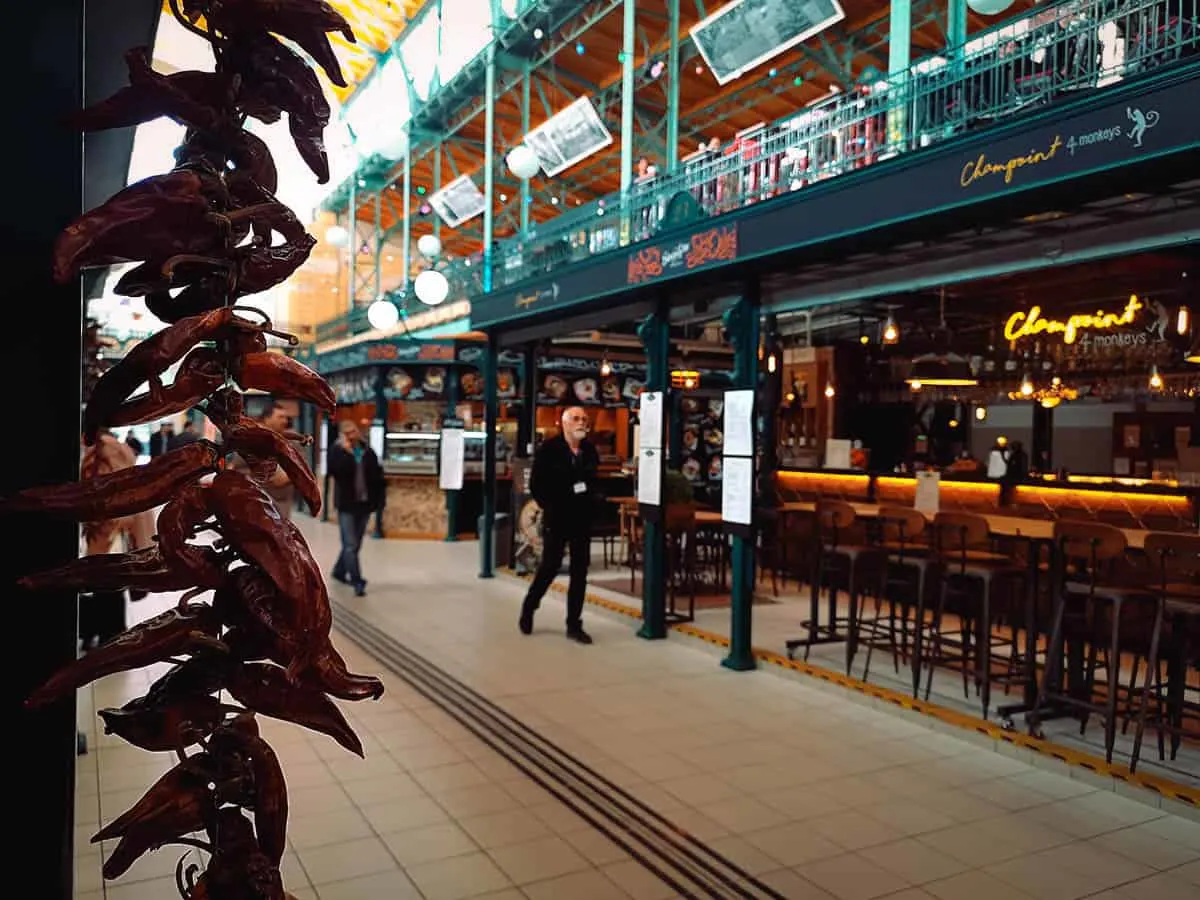 And there she is, a Michelin-recommended restaurant located in an open-air food market space. I LOVE places like this.
Stand25 Bisztró is helmed by Chefs Szulló Szabina and Tamás Széll, the latter a winner of the Bocuse d'Or European Chef Championship in 2016. They've been working as a duo for many years, together earning a Michelin star at Budapest's Onyx restaurant in 2011. They earned a Bib Gourmand award within a year of opening Stand25, a feat they eclipsed in 2019 when they were awarded a Michelin star less than a year after opening Stand, their fine dining restaurant.
As you can see below, Stand25 Bisztró is almost always filled to capacity so making advanced reservations is a must.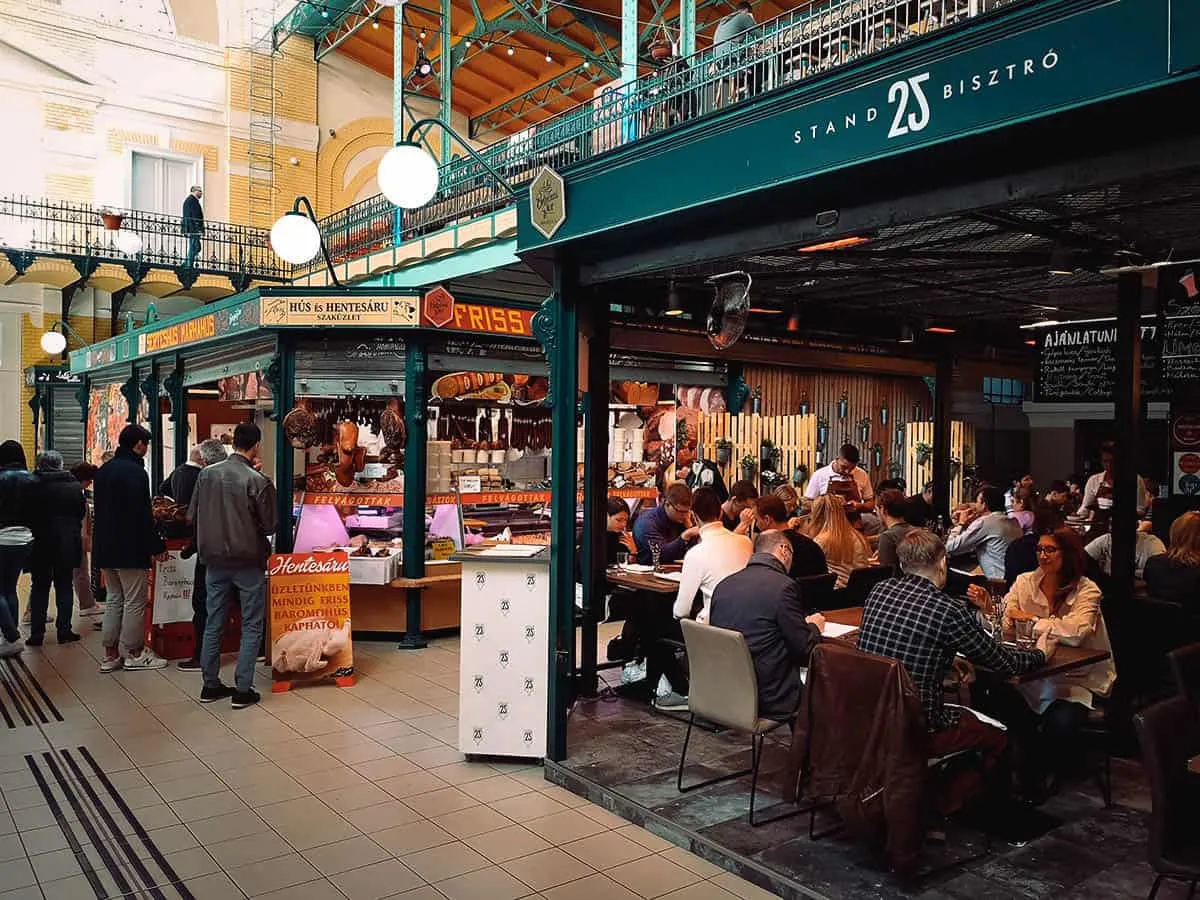 STAND25 BISZTRO
Stand25 offers 2- or 3-course lunch and dinner menus. As far as I know, they don't offer anything ala carte.
2- and 3-course menus go for HUF 4,500 and HUF 5,400 respectively, plus a 10% service fee. You'll have a choice between three or four dishes per course, with some dishes requiring an additional charge. Every dish comes with an optional wine pairing. Be sure to check the Stand25 website for the latest menus.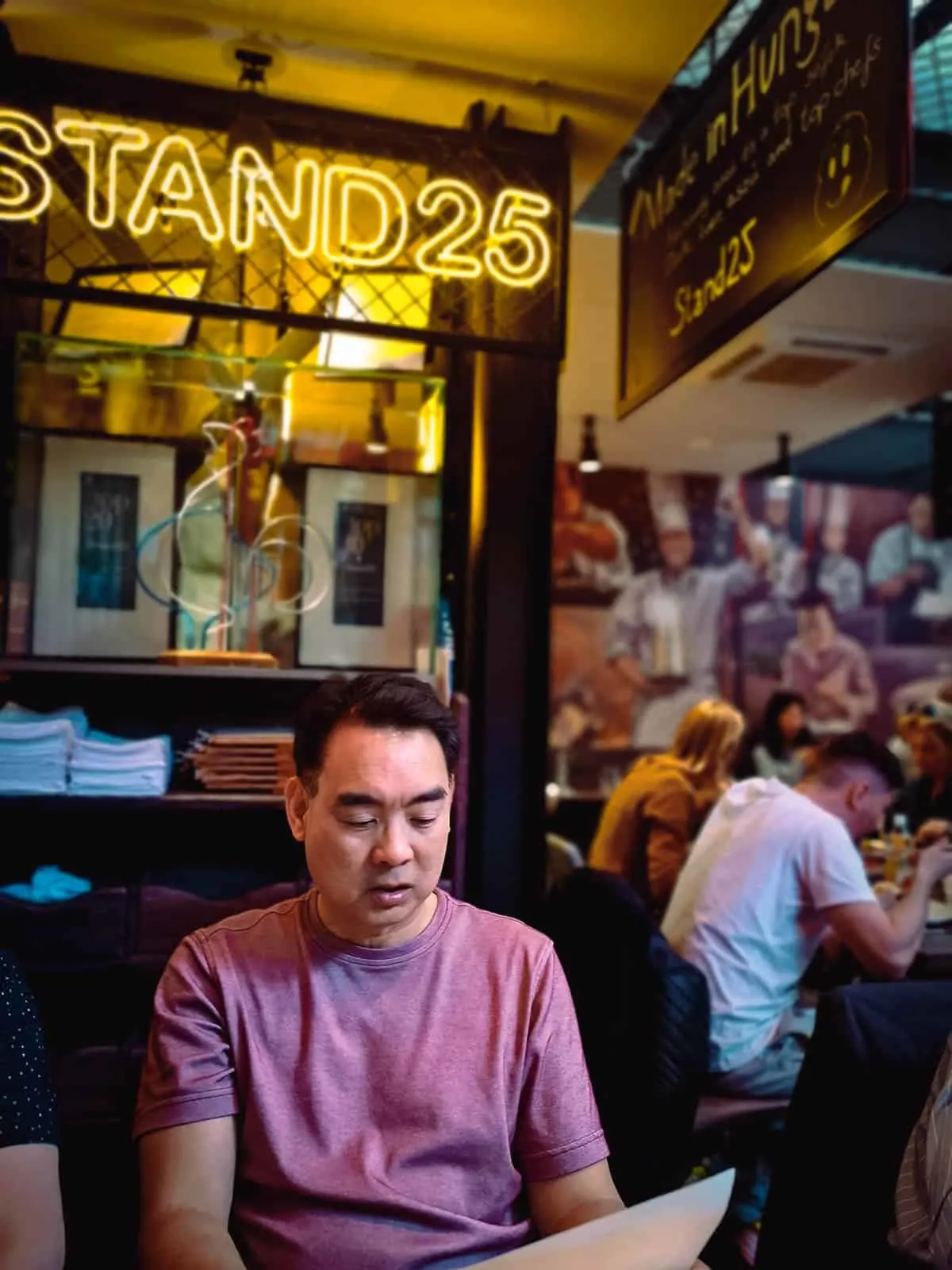 I'm not a wine drinker so I went with a bottle of Monarchista pilsner (HUF 950) to pair with my meal.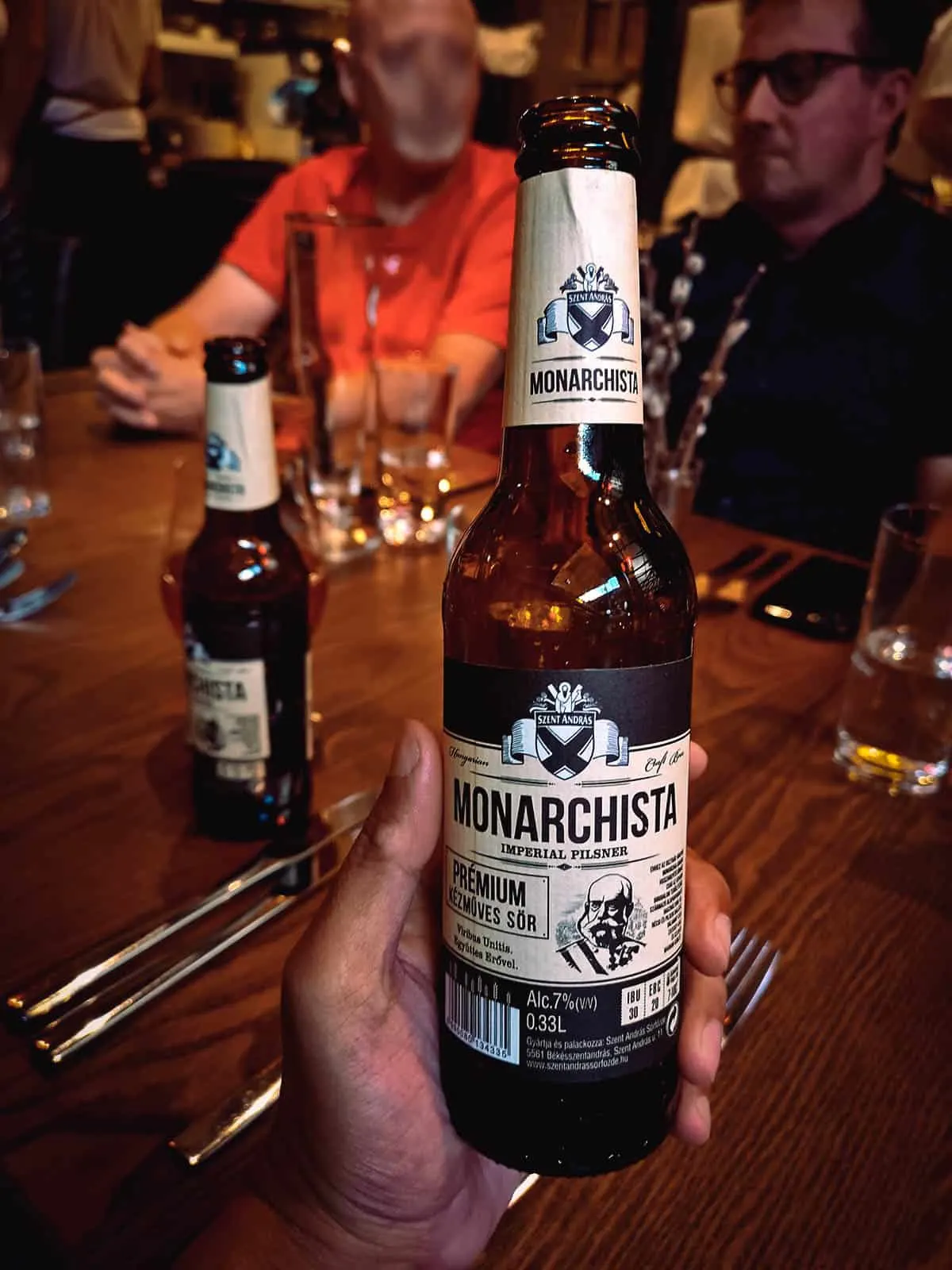 Starter
For the starter course, I had this mushroom consomme with spatzle and ramsons. A spatzle or nokedli is an Hungarian egg noodle dumpling. I didn't know what a ramson was so I Googled it. It's a member of the onion family and closely related to chives.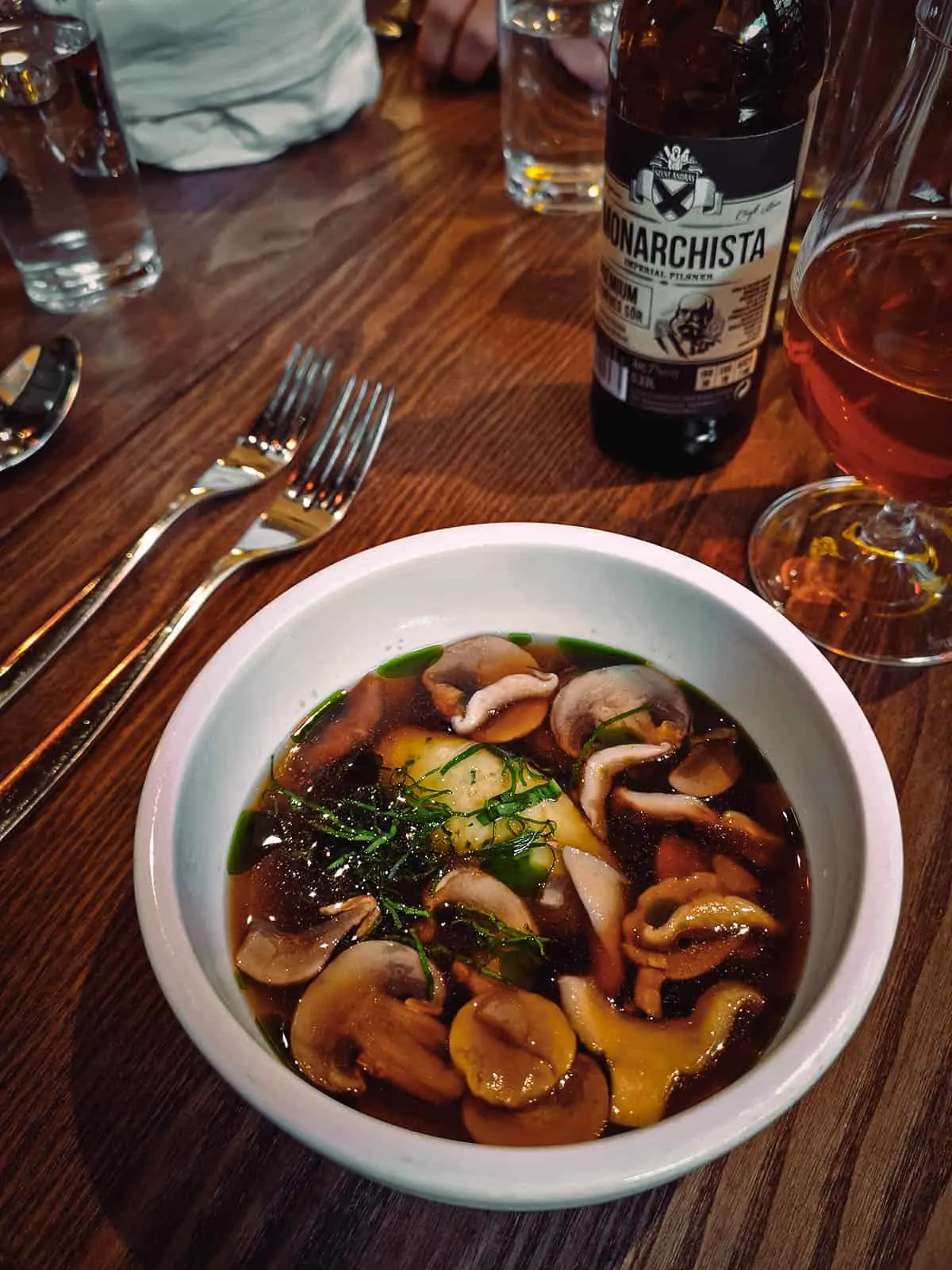 This mushroom soup was very tasty – clean and earthy with a nice garlic flavor, which apparently comes from the ramsons. I read that ramsons are called "bear's garlic" in Latin because of its strong garlic odor.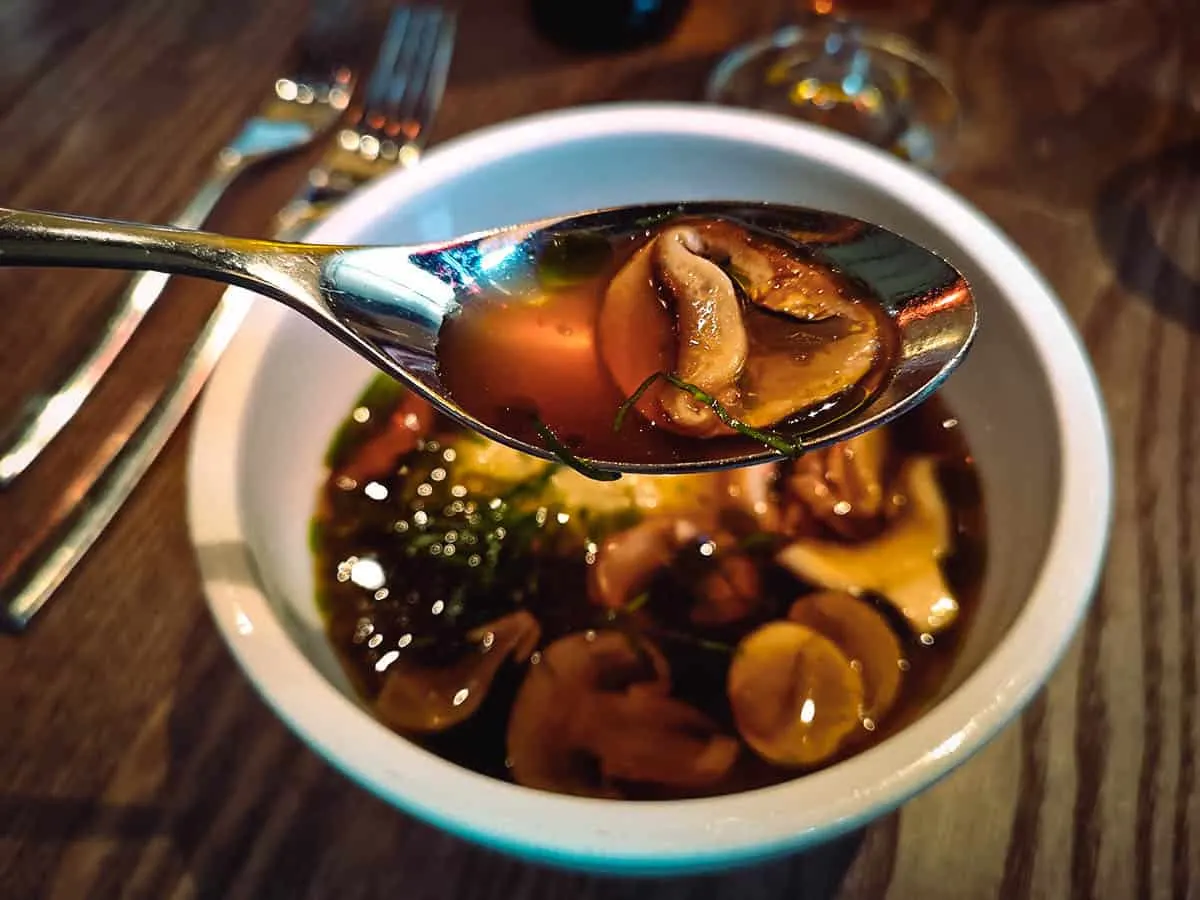 For her starter, Ren had this equally delicious grilled eggplant tatar with Vaszoly cheese and pumpkin seeds. Like the ramson, I did't know what tatar was so I Googled it. I think it may be the Hungarian word for "tartare". The eggplant appears to have been mashed and seasoned before being refrigerated and served with toast.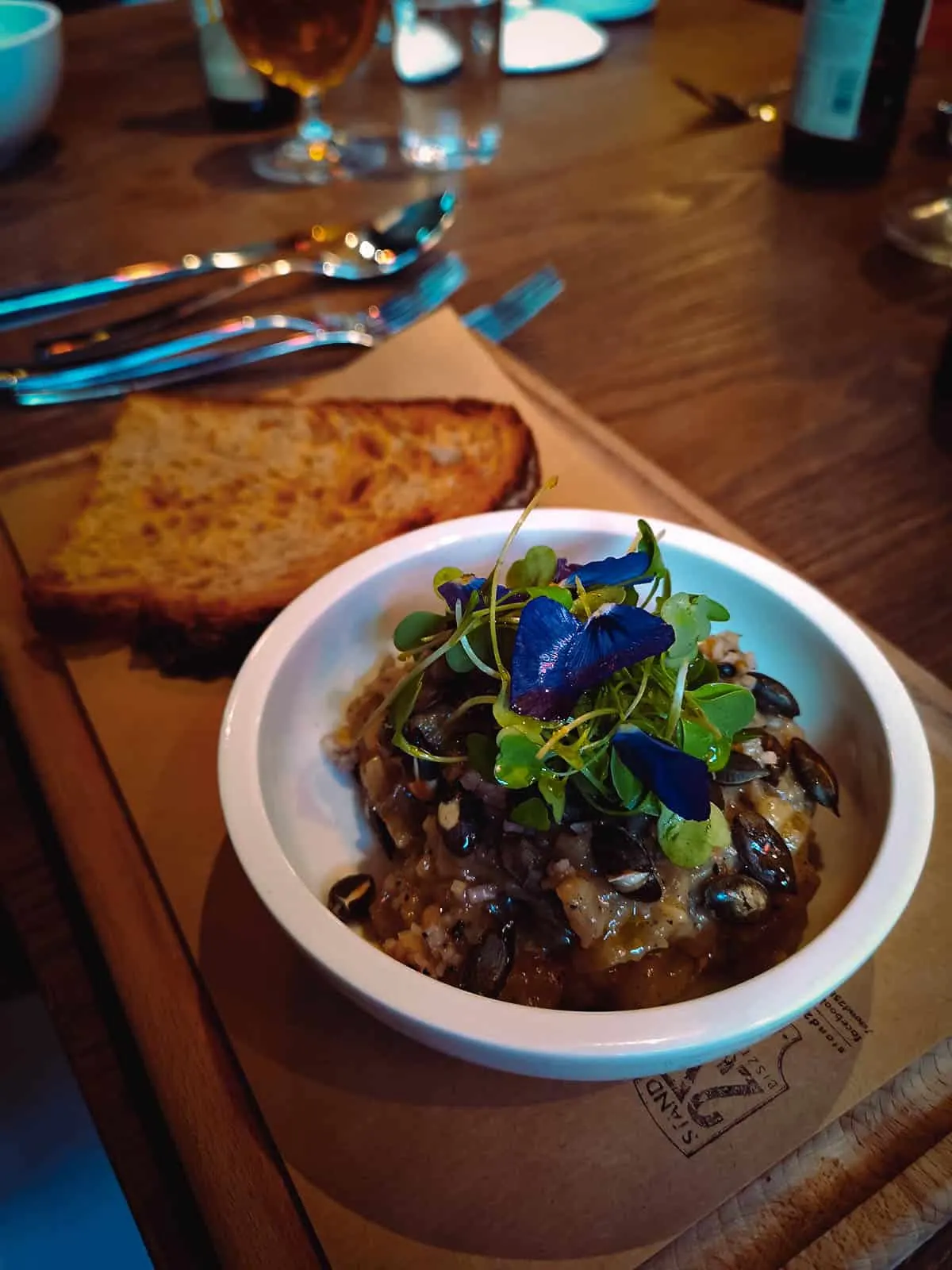 Main Course
For my main course, I had this fantastic meatloaf with yellow pea puree and gravy. I've had typical American meatloaf with ketchup many times before, but never like this. This was infinitely better. I read that it's made with Mangalica pork which is an Hungarian breed of domestic pig.
My brother-in-law is a degree short of being a chef and he proclaimed this to be the best meatloaf he's ever had in his life. It was elevated meatloaf and absolutely delicious.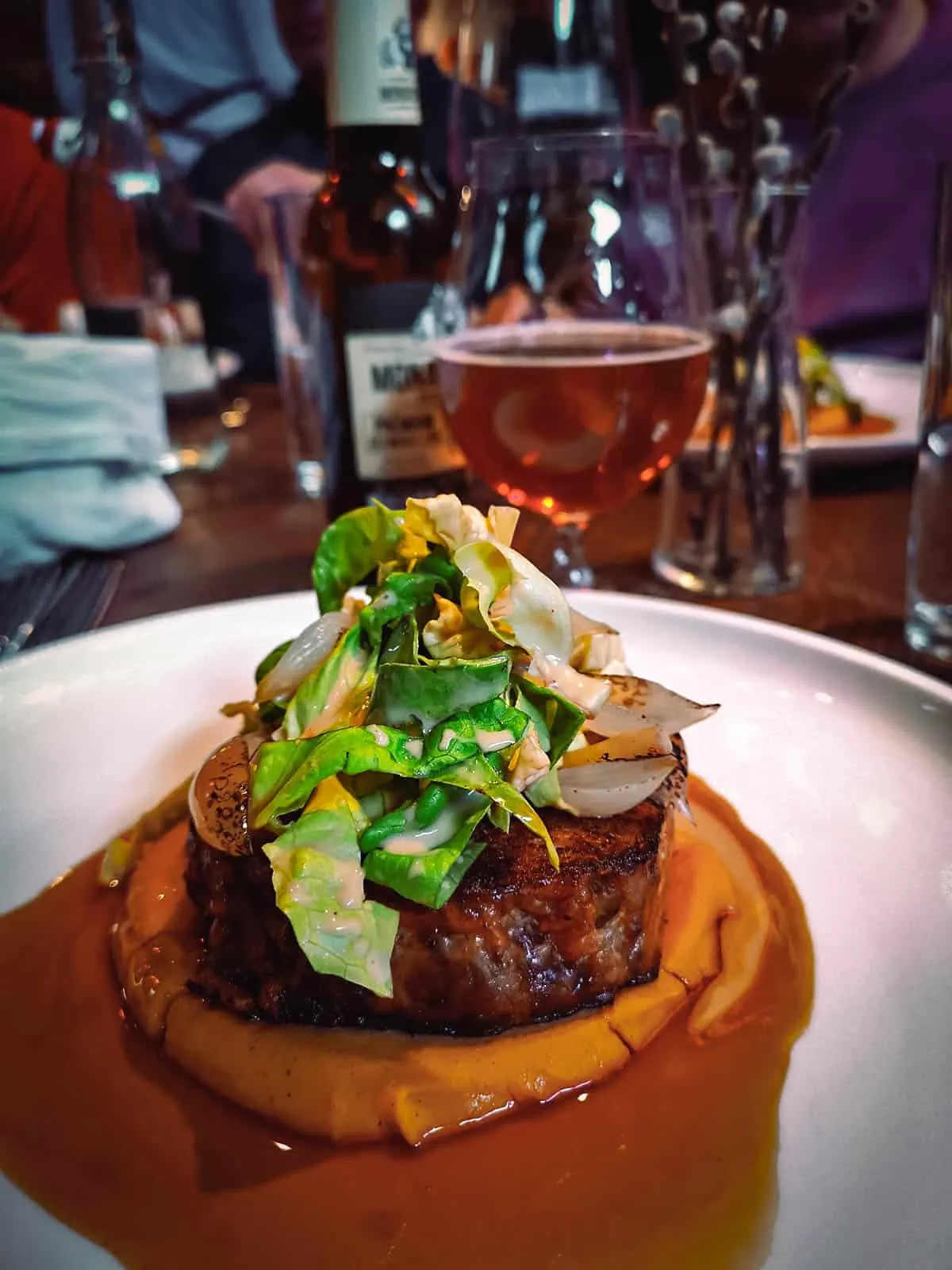 When I was reading the reviews for this restaurant, people were always recommending the layered potatoes with sausages and beetroot salad. Everyone was gushing about it and rightfully so. It was delicious.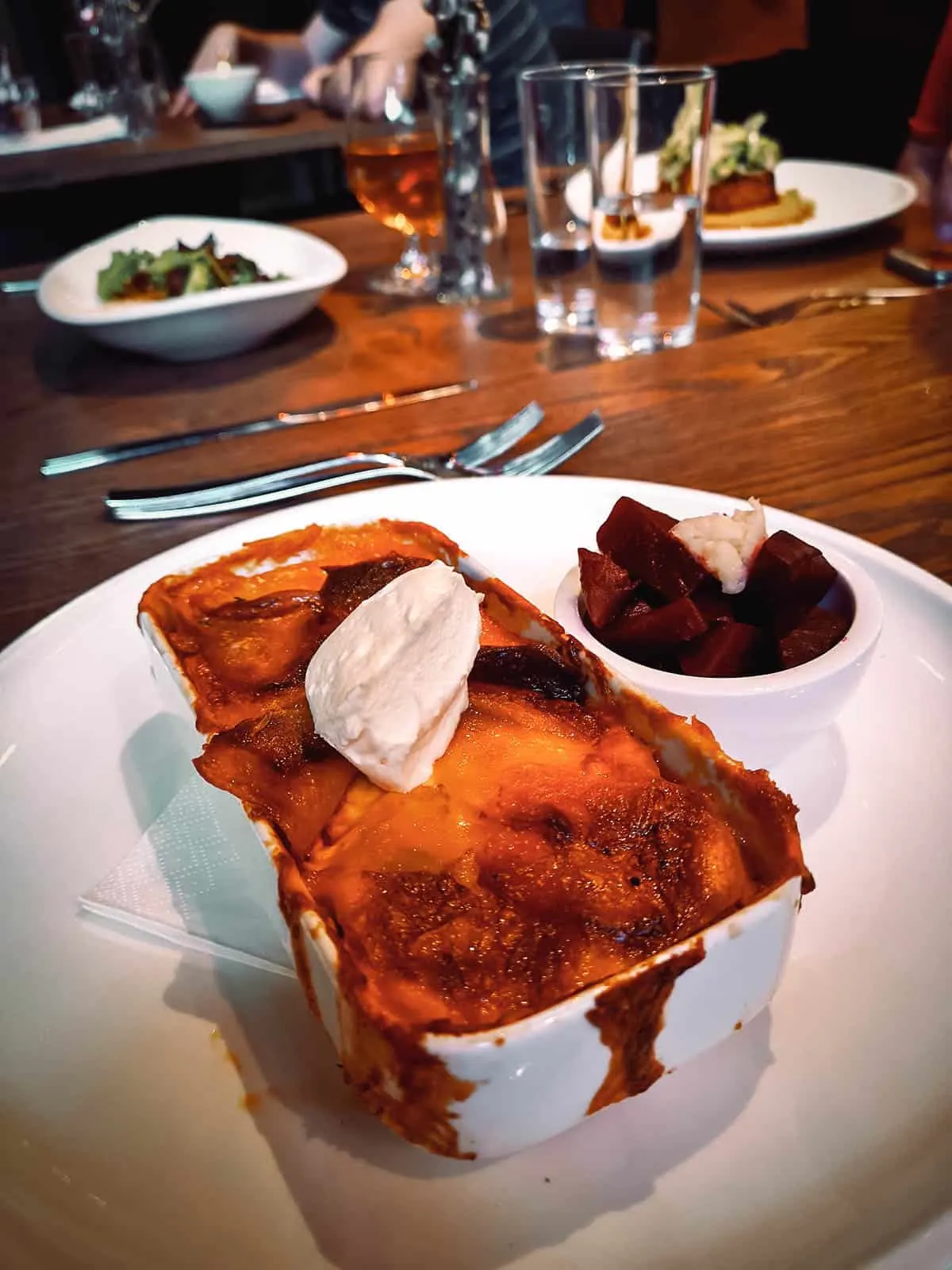 Like everything we had today, there was nothing fancy about these layered potatoes. It was simple and well-made, not to mention very comforting, the type of dish you'd want on a cold wintry day. Rich and creamy, Ren and I both loved it. It's clearly one of the restaurant's most popular dishes as nearly every table had it.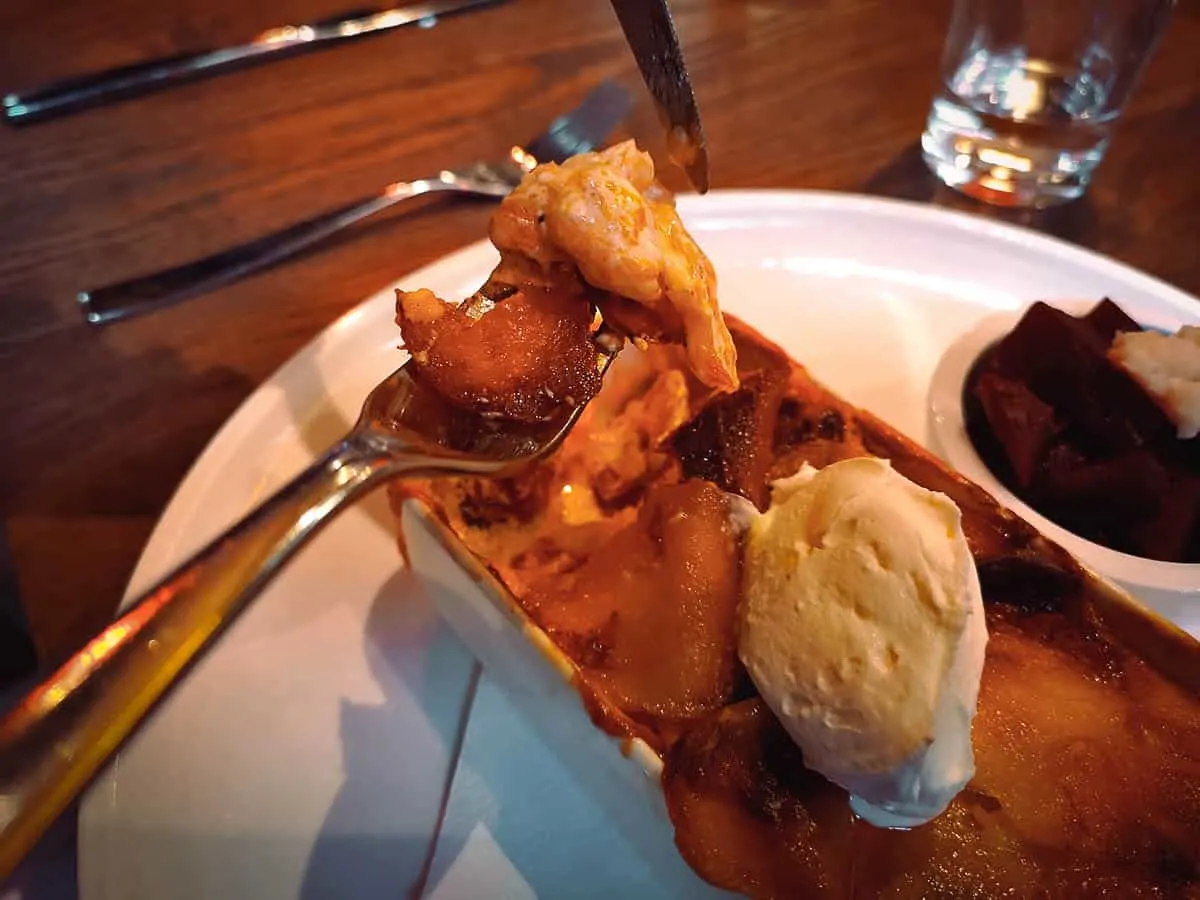 Dessert
For dessert, Ren and I both went with these delicious cottage cheese dumplings with sour cream and sour cherry. The cottage cheese balls were coated with toasted breadcrumbs giving them a nice crunchy coating. They weren't too sweet either and went well with the tanginess of the sour cherry.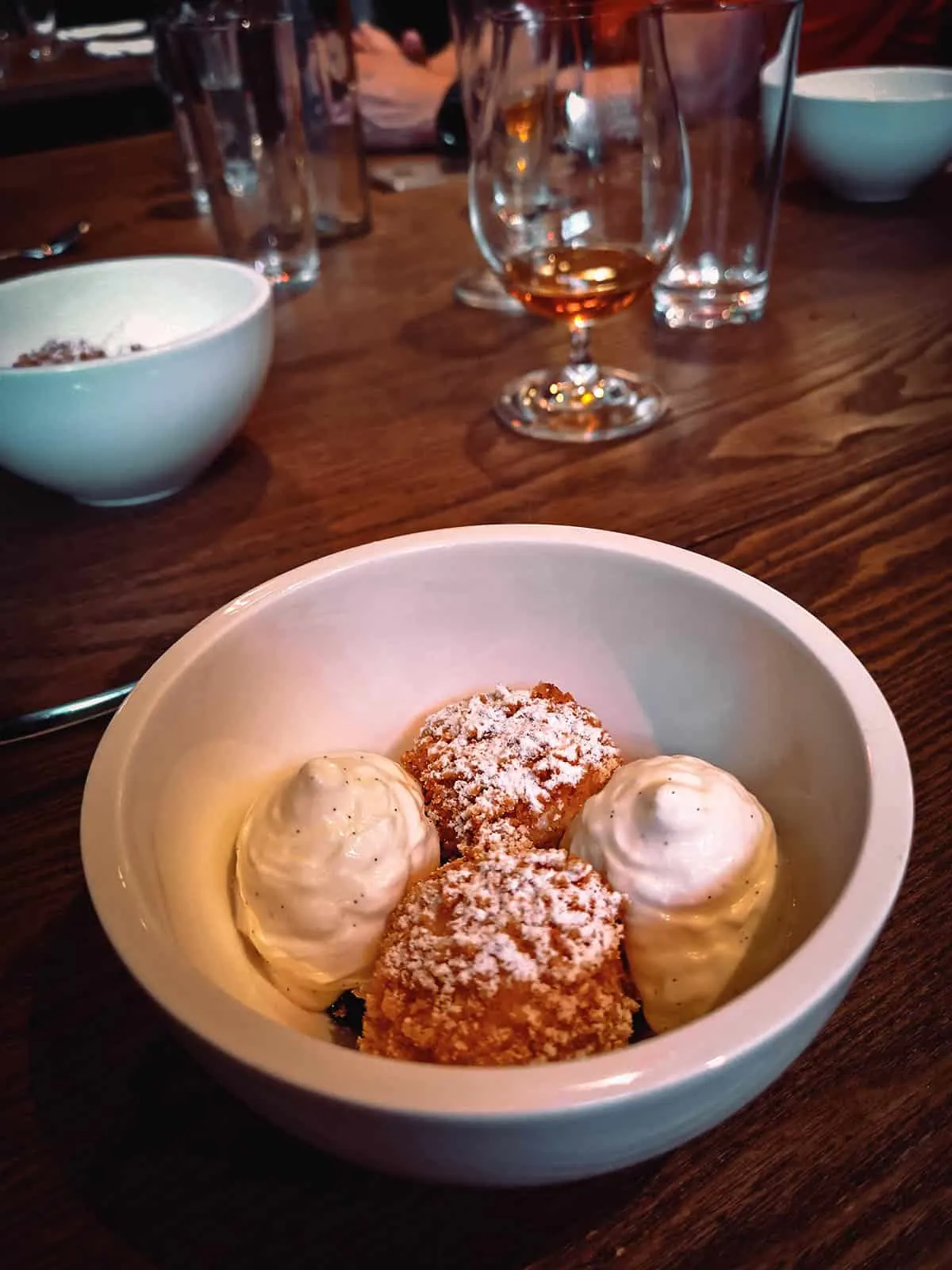 Photobombed by our jovial server. This picture pretty much sums up what dining at Stand25 is like. The atmosphere is refined but fun and unpretentious, much like their food.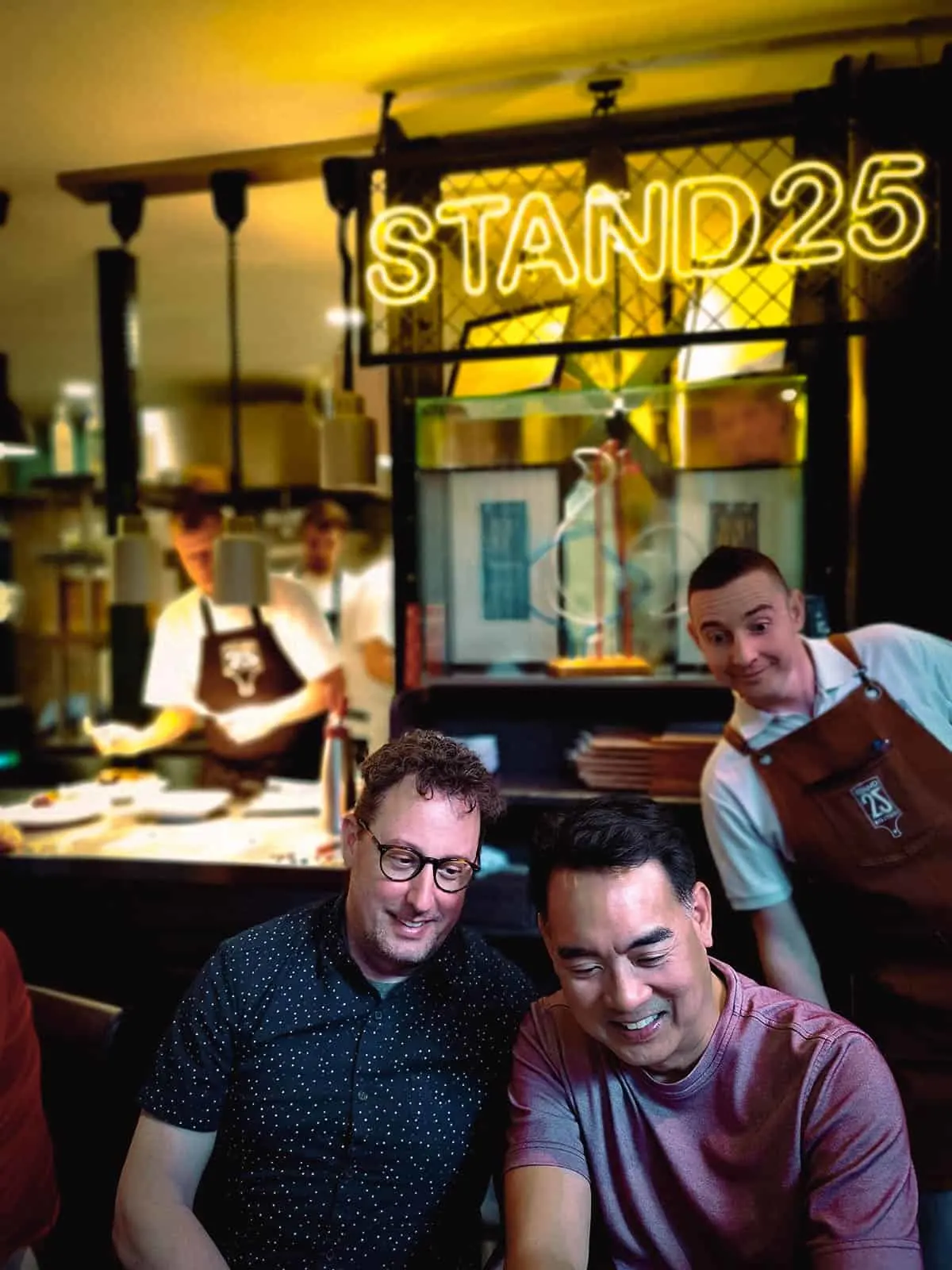 CONCLUSION
After just three days in Budapest, I can't claim to understand Hungarian food well. But the little that we experienced I enjoyed very much, and it's something I'd love to learn more about on future trips.
I won't get into it too much in this post, but there's a thriving food culture in Budapest, though much of it seems to involve other types of cuisine like burgers, pasta, hot dogs, and pizza. In fact, we were surprised to find so many contemporary burger concepts in the city! With more time, I would have loved to write an article on the best burgers in Budapest.
A local food expert explained that it's taken the city's restaurant scene over twenty years to move on from its communist past. But thanks to young foreign-trained chefs and better access to quality ingredients, the dining scene in Budapest is progressing and rapidly moving forward.
Stand25 Bisztró is a great example of that.
Stand25 Bisztró
Budapest, Attila út 10, 1013 Hungary
Tel: +36 30 961 3262
Operating Hours: 12NN-2PM, 6-10PM, Mon-Sat (closed Sundays)
Website: stand25.hu
Facebook: stand25bisztro
Instagram: stand25bisztro
Expect to Pay: At least HUF 4,500++ (2-course) / HUF 5,400++ (3-course)
HOW TO GET THERE: Take the metro to Arany Janos utca station. Exit the station and walk north on Vadasz utca. The entrance to Hold Utca Food Market will be a block away on your left.