We LOVED Budapest.
The fact that it was our favorite city on a recent 5-week trip to Europe was surprising to both of us.
Before our trip, we knew very little about Budapest. Other than Szechenyi thermal baths being popular and goulash soup having beef, we really didn't know what to expect.
I knew it was a treasure trove of Gothic architecture*. I knew the Danube River divided Buda from Pest but what I didn't expect, was to find a cool and trendy city with an edginess that belied its classical feel and recent socialist past.
We loved Budapest so much that we're already planning a return trip back. And when that happens, we'll stay for no less than a month. Budapest resonated with us to such a degree that we want to experience what it's like to actually live there, even for just a month.
Not everyone has a month so if you have limited time, then I'd say three full days is enough. It'll give you a good taste of the city and hopefully make you fall in love with it as much as we did.
This Budapest itinerary lists many of the city's top attractions and restaurants to help first-time visitors plan the perfect three days in Budapest.
*I know very little about architecture. I don't feel comfortable talking about it but it's such a key part of the Budapest experience that it's important to describe it in some capacity. I apologize in advance for any incorrect descriptions.
WHAT TO DO IN BUDAPEST IN 3 DAYS
Listed below are Budapest's top attractions and a few recommended restaurants. You can jump to the location map at the bottom of this post to see exactly where they are in the city.
Budapest has a great public transportation system so getting around shouldn't be a problem. We explored Budapest on our own but if you'd rather go on a guided tour, then you can choose one from the many offered on Get Your Guide or Klook.
QUICK GLANCE
DAY ONE
• Andrassy Avenue
• 9BAR (breakfast)
• St. Stephen's Basilica
• Erzsebetvaros
• Great Synagogue
• Bors GasztroBar (lunch)
• Heroes' Square
• Szechenyi Thermal Bath
• Karavan Street Food (dinner)
• Szimpla Kert (drinks)

DAY TWO
• Szechenyi Chain Bridge
• Matthias Church
• Fisherman's Bastion
• Baltazar Budapest Grill and Boutique Hotel (lunch)
• Ruszwurm Confectionery (dessert)
• Buda Castle
• House of Terror or Flippermuzeum
• Mazel Tov (dinner and drinks)
DAY THREE
• Molnar's Kurtoskalacs (breakfast)
• Great Market Hall (takeaway)
• Danube River Cruise
• Margaret Island
• Hungarian Parliament Building
• Shoes on the Danube Bank
• Stand25 Bisztro (dinner)
DAY 1: THE PEST SIDE
Andrassy Avenue
Andrassy Avenue is the main boulevard in Budapest. It's about a 2.3 km stretch that starts in central Pest and goes all the way to Heroes' Square.
On either side are beautiful Neo-Renaissance buildings with cafes, restaurants, luxury boutiques, and embassies. The Hungarian State Opera House, considered by many to be one of the world's most beautiful opera houses, is located along Andrassy Avenue.
Inscribed as a UNESCO World Heritage Site in 2002, Andrassy Avenue is a chic shopping street and a great place to get a feel for the city.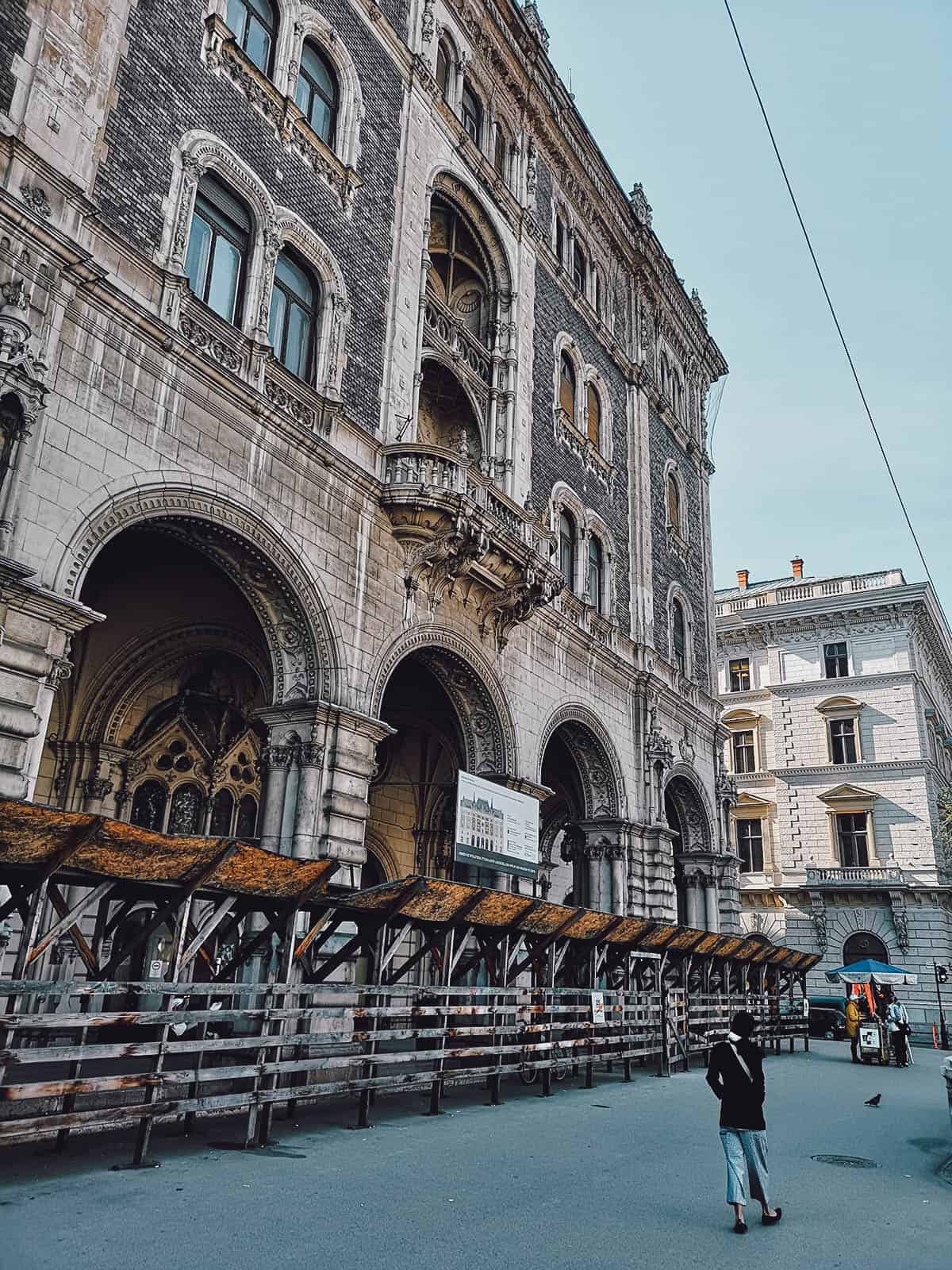 9BAR
From our AirBnB in Liszt Ferenc Square, we walked down Andrassy Avenue to have breakfast at 9BAR, a terrific little cafe near St. Stephen's Basilica. They make great croissants and serve a good selection of sandwiches and cakes.
St. Stephen's Basilica
After breakfast at 9BAR, you can proceed to St. Stephen's Basilica which is less than a 5-minute walk away.
Completed in 1905, St. Stephen's Basilica is the biggest church in Budapest and considered the most sacred Catholic church in all of Hungary. It's named after Stephen I, the first King of Hungary, and houses his mummified right hand.
St. Stephen's Basilica was designed by Miklos Ybl, one of Hungary's most influential architects and the same person responsible for building the Hungarian State Opera House.
Entrance to the church is a nominal HUF 200 per person. We didn't do it but you can climb up to the basilica's dome for an additional HUF 600.
Erzsebetvaros (District VII) and the Jewish Quarter
This was my favorite neighborhood in Budapest. Erzsebetvaros or Elizabeth Town refers to an area south of Andrassy Avenue. It's home to the Jewish Quarter and the Great Synagogue, not to mention the city's ruin pubs.
The Jewish Quarter is where we spent most of our evenings in Budapest. It's a youthful and vibrant area with plenty of interesting dining options. In fact, we enjoyed some of our most memorable Budapest food experiences here in the Jewish Quarter.
I suggest walking around the area for a bit before lunch, and then coming back later in the evening to experience what it's like at night.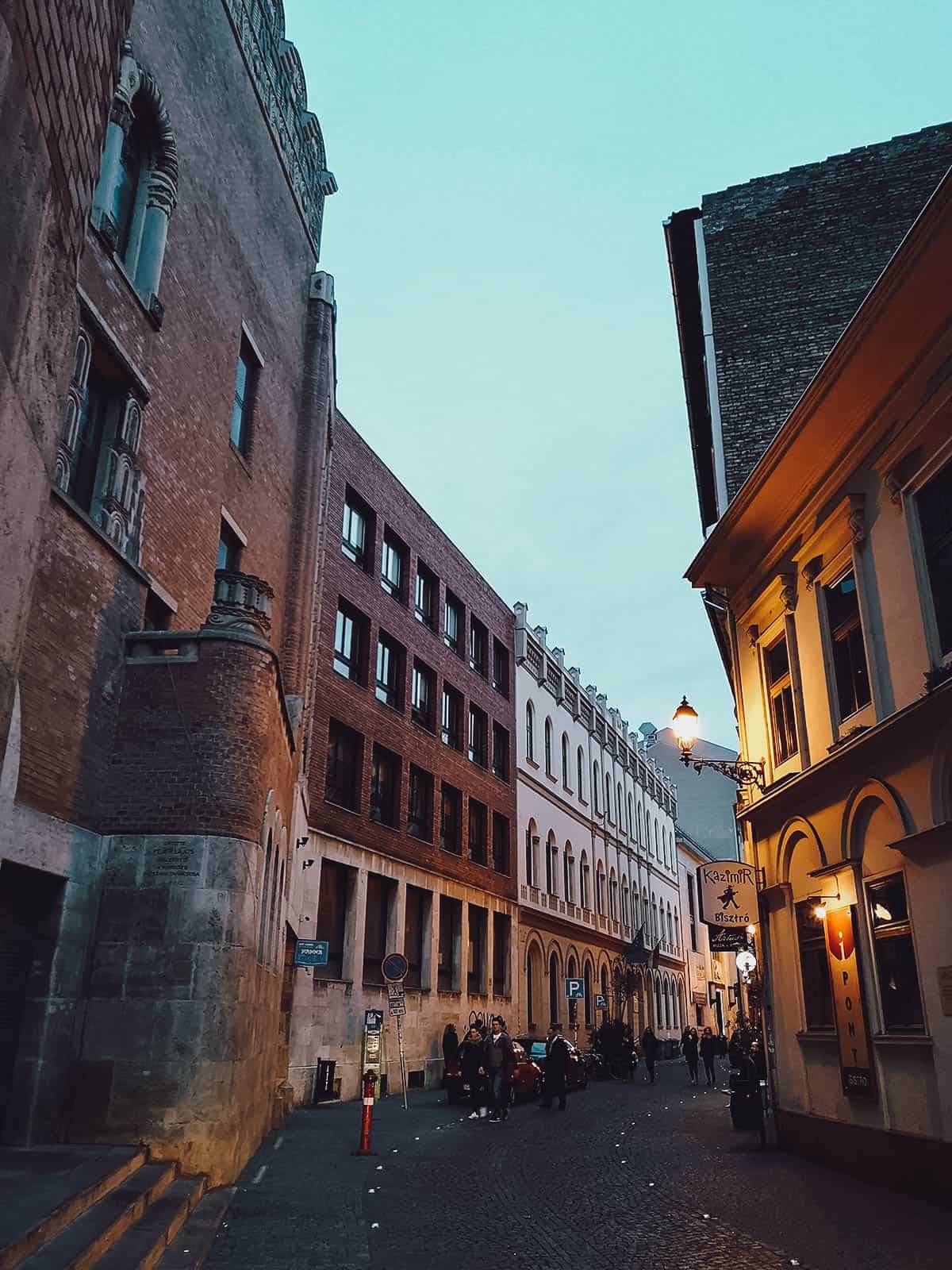 Great Synagogue
The Great Synagogue or the Dohany Street Synagogue is the largest synagogue in Europe. It was built in 1859 and designed in the Moorish Revival style with a mixture of Byzantine, Gothic, and Romantic elements.
I didn't go inside but there's a HUF 5,000 admission fee which gives you access to the Heroes' Temple, the Jewish Museum, a graveyard, a memorial site, and the synagogue itself.
Bors GasztroBar
About a 5-minute walk from Dohany Street Synagogue is Bors Gasztrobar, a tiny street food joint where we enjoyed one of our best meals in Budapest. They make gourmet interpretations of Hungarian street food like baguette sandwiches, soups, and stews.
We had this terrific baguette sandwich made with chicken breast, raspberry onion jam, and edamer cheese. It was so unbelievably delicious. The soup we had was fantastic as well.
Heroes' Square
After lunch, it's time for a bath. If you need to go back to your hotel for a change of clothing, then go ahead and do that before taking the bus or metro to Heroes' Square.
Located at the eastern end of Andrassy Avenue, Hosok Tere or Heroes' Square is one Budapest's major squares. It's known for its statue complex featuring the Seven Chieftains of the Magyars and the Memorial Stone of Heroes.
Szechenyi Thermal Bath
Szechenyi Thermal Bath is one of the most popular attractions in Budapest. It's the largest medicinal bath facility in Europe, featuring fifteen indoor thermal pools and three outdoor pools, including one with a whirlpool.
The water in these thermal pools reach temperatures of up to 40°C (104°F). They're rich in calcium, magnesium, and hydrogen carbonate and are said to be good for joint pain, arthritis, blood circulation, and disorders of the nervous system.
We visited Szechenyi Thermal Bath but we didn't bathe in the pools, which was a decision I would later regret. Everyone we know who's done it says it's one of the best things they did in Budapest. In one friend's words: "I wish I did it everyday." Be like him.
Karavan Street Food
After your spa experience, head back to the Jewish Quarter for dinner. As described, there are plenty of interesting restaurants in the area, but if you want more street food, then check out Karavan.
Karavan is a food park on the same street as Bors GasztroBar. There are about 10-15 food stalls to choose from but we were here specifically for one place – Langos Burger.
As their name suggests, they make burger versions of langos which is a classic Hungarian food made with deep-fried dough. Langos Burger was voted one of the ten best street food stalls in Europe in 2018.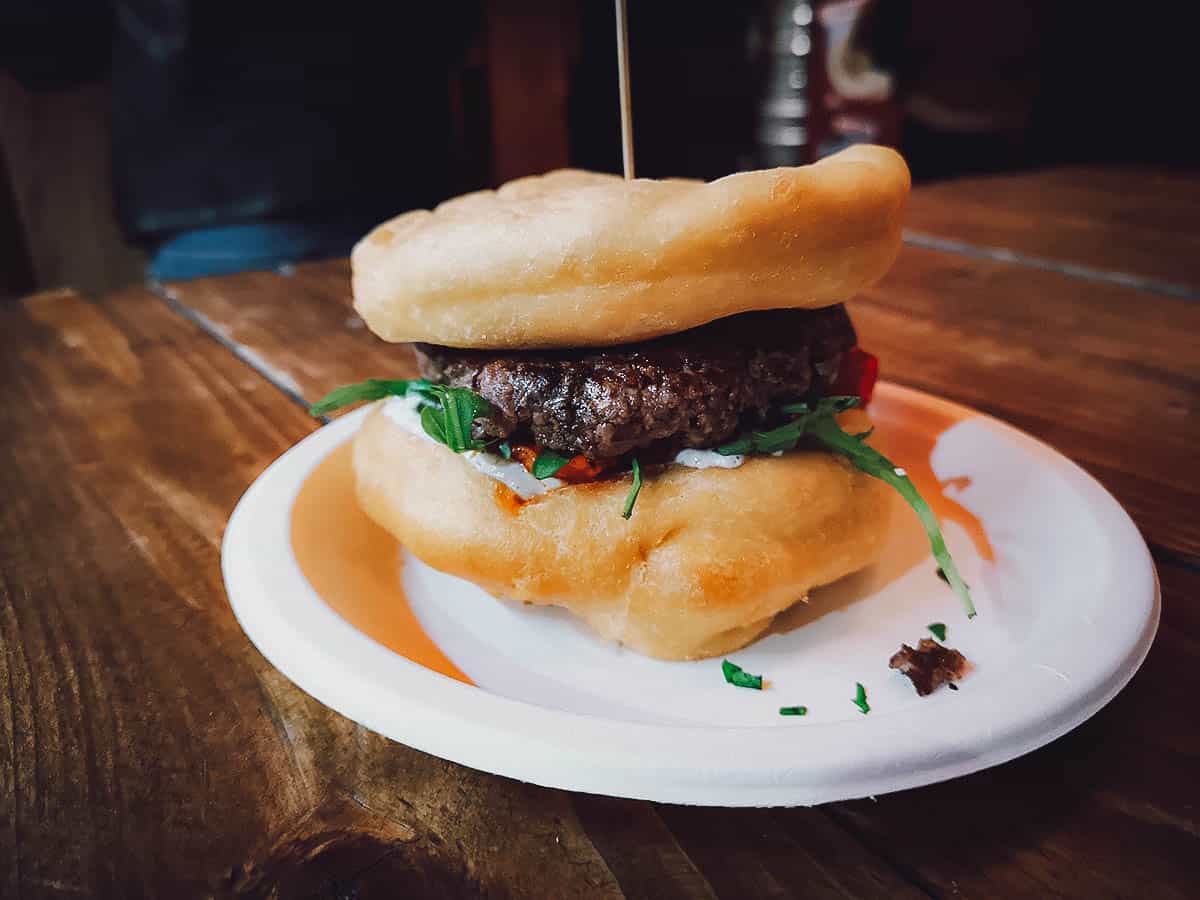 Szimpla Kert
Located two doors down from Karavan, Szimpla Kert is the original romkocsma. Romkocsma means "ruin pub" in Hungarian.
A ruin pub is basically a drinking establishment set up in an old abandoned building. Szimpla Kert was the first and most iconic, but many others have sprouted in and around the Jewish Quarter.
Ruin pubs have become so popular over the years that they've become synonymous with the Budapest experience. They cater mostly to the young and creative so many ruin pubs can be loud and club-like in feel, though some like Mazel Tov have evolved to become more elegant dining spaces.
DAY 2: THE BUDA SIDE
Szechenyi Chain Bridge
After exploring the Pest side on your first day, it's time to walk along Szechenyi Chain Bridge and cross over to the Buda side. The bridge is only 375 meters long (1,230 ft) so it takes less than 10 minutes to get to the other side.
The Buda side's top attractions are at the top of a hill so walking will be difficult. You can either ride the funicular to Buda Castle Hill, pay for a hop-on hop-off castle shuttle, or go on a guided tour.
The line to the funicular was too long so we chose the hop-on hop-off castle shuttle. If you'd like to explore Buda's historical attractions with a guide, then a fun way to do that would be to go on these segway or bike tours.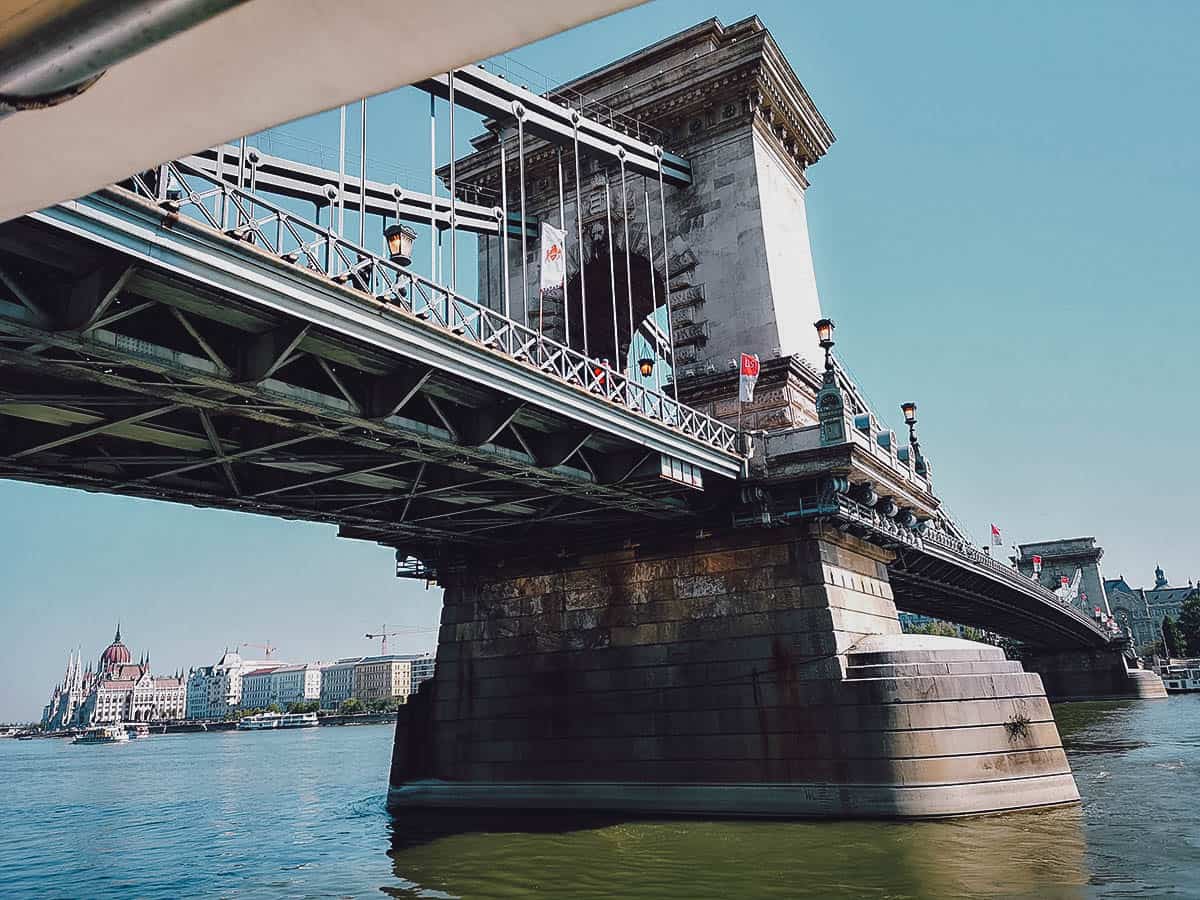 Matthias Church
St. Stephen's Basilica may be larger and more physically impressive but I found Matthias Church to be more beautiful.
Originally built in the 11th century, Matthias Church is a strikingly beautiful church with a colorful roof covered in diamond-patterned tiles. It was used for centuries as a coronation church by Hungarian kings and a mosque by Ottoman Turks before becoming the Roman Catholic church that it is today.
Fisherman's Bastion
Just a few steps away from Matthias Church is Fisherman's Bastion, one of the city's most popular monuments. It was built in the early 20th century by Frigyes Schulek, the same architect responsible for the restoration of Matthias Church.
Though Fisherman's Bastion looks like a fortification, it was designed primarily as a viewing platform where people could appreciate some of the best views of the city and the Danube River. It gets its name from the medieval guild of fishermen responsible for defending this section of castle wall.
Some people claim that Fisherman's Bastion served as the inspiration for the Walt Disney logo. I think this is a stretch. What do you think?
Baltazar Budapest Grill and Boutique Hotel
About 500 meters from Matthias Church and Fisherman's Bastion is Baltazar Grill, an Hungarian restaurant and boutique hotel which some say serves some of the best beef goulash in Budapest.
Ruszwurm Confectionery
Ruszwurm Confectionery is a great place to have coffee and cake. Located less than a hundred meters from Matthias Church, it's one of the city's oldest pastry shops with a reputation for serving some of the best dobos torte in Budapest.
Dobos torte or drum torte is Hungary's signature cake. It's a type of sponge cake layered with chocolate buttercream and topped with a hard caramel coating.
Buda Castle
After polishing off your cake, you can jump into the hop-on hop-off shuttle or walk to Buda Castle. It's a little over a kilometer away.
The term "Buda Castle" was confusing to me at first. If I understand correctly, it can be used to refer to both the actual structure and the castle district or quarter.
Buda Castle, the physical castle, is located within a fortified complex called the Castle Quarter (Varnegyed), which is located on top of a hill known as Castle Hill (Varhegy). Buda Castle, Matthias Church, and Fisherman's Bastion are all located within the Castle Quarter.
Much of the Castle Quarter is now residential so you're free to explore the area. Buda Castle is home to the Hungarian National Gallery and the Budapest History Museum. You can explore the area around Buda Castle for free but you'll need tickets to enter the national gallery or museum.
We were perfectly happy exploring the castle district on our own, but if you'd like to go on a guided tour, then you can book one through Get Your Guide.
House of Terror
The House of Terror is a museum along Andrassy Avenue, located inside a beautiful building that once served as the headquarters to both the Hungarian Arrow Cross Party (Hungary's Nazi Party) and AVO/AVH Communist Terrorist Organizations.
Flippermuzeum
I wanted to be entertained, not depressed, so I skipped the House of Terror and went to Flippermuzeum instead. Flippermuzeum is both a museum and an arcade featuring fully functioning pinball machines from every era.
Mazel Tov
I wanted to have dinner at Mazel Tov but I read about the long waits so we decided against it. It's one of the more popular ruin bars in the Jewish Quarter that's evolved into a more upscale but unpretentious dining space.
Middle Eastern cuisine and Israeli fusion dishes are the specialty here. As described, it's a popular place so reservations are highly recommended.
Address: Budapest, Akácfa u. 47, 1072 Hungary
Operating Hours: 11AM-1AM, Sun-Wed / 11AM-2AM, Thurs-Sat
DAY 3: THE DANUBE RIVER
Molnar's Kurtoskalacs
Now that you've explored the Buda and Pest sides of the city, it's time to take a cruise on the river that divides them. But before then, you need to have a breakfast of kurtoskalacs, a delicious spit cake that was one of our favorite things to eat in Budapest.
Kurtoskalacs or chimney cakes are spit cakes that are specific to Hungarians from Transylvania. Popular in Hungary and Romania, they're made by wrapping yeast dough around baking spits and roasting them over charcoal.
While roasting, they're basted with butter until they turn a deep golden brown. They're then dusted with toppings like ground walnut, powdered cinnamon, sliced almond, or grated coconut.
Crisp and caramelized on the outside but soft and buttery on the inside, they're absolutely delicious and go great with coffee.
Great Market Hall
Before proceeding to the dock, I suggest making a stop at Great Market Hall, the biggest and oldest indoor market in Budapest. It's less than a kilometer south of Molnar's Kurtoskalacs so you can either walk there or take the riverside tram.
Danube River Cruise
Like the Chao Phraya River in Bangkok, locals commute to work on the Danube River everyday. If a quick ferry ride is all you're interested in, then keep reading. Otherwise, you can book a proper Danube River cruise on Get Your Guide.
If you're happy to experience the Danube River on a ferry, then take the tram from Great Market Hall to the Boraros ter H tram stop. You're looking for the Boraros ter H (Petofi hid) ferry terminal which is about a 2-minute walk north of the tram stop.
You're going to take the D12 ferry to Margaret Island. The one-way fare is HUF 750 and you can get off at Margitsziget, Centenariumi emlekmu ferry terminal which is seven stops away. You can refer to this ferry map for more details.
Margaret Island
Margaret Island is a small island sitting in the middle of the Danube River. It's connected to the Buda and Pest sides by two bridges on the northern and southern ends of the island.
Margaret Island is a pleasant green space that offers good views of some of the city's grandest attractions like the Hungarian Parliament Building, Buda Castle, and Matthias Church. Attractions on the island include a Japanese garden, an Art Nouveau water tower (pictured below), and the Palatinus Strand Thermal Bath.
If you'd like to explore the 2.5 km long island, then you can do so in fun vehicles like golf carts, egg-shaped cars, electric scooters, and Segways. A few guided tours will take you to Margaret Island as well.
Hungarian Parliament Building
From Margaret Island, you can take the ferry or bus to the Hungarian Parliament Building, the grandest and most impressive architectural point of interest in Budapest.
Completed in 1902, the Hungarian Parliament Building is an architectural marvel built in the Gothic Revival style. It's the third-largest parliament building in the world and contains 691 interior rooms, 10 courtyards, and 12.5 miles of staircase.
There are many impressive buildings in Budapest but this was by far the most spectacular. To fully appreciate it, you need to view it from a distance. From a boat on the Danube River or directly opposite on the Buda side is perfect.
Shoes on the Danube Bank
A short walk from the Parliament Building is this haunting tribute to the thousands of Jews murdered by Hungary's Nazi Party.
Approximately 20,000 Jews were shot along the banks of the Danube River by the Arrow Cross Party in 1944-1945. Shoes were a valuable commodity during WWII so the victims were made to remove them before being shot into the river.
Stand25 Bisztro
For a special meal in Budapest, you can take a taxi or bus to Stand25 Bisztro, a Michelin Bib Gourmand restaurant that offers 2- or 3-course menus featuring modern interpretations of traditional Hungarian food. We had lunch at their former Hold Street Market location but it looks like they've since moved to the Buda side.
We had many fantastic dishes at Stand25, some of the most memorable being their meatloaf with yellow pea puree and a delicious layered potato dish with sausages and beetroot salad.
LOCATION MAP
I made a map to help you understand where these attractions and restaurants are in Budapest. Click on the link to open the interactive map in a new window.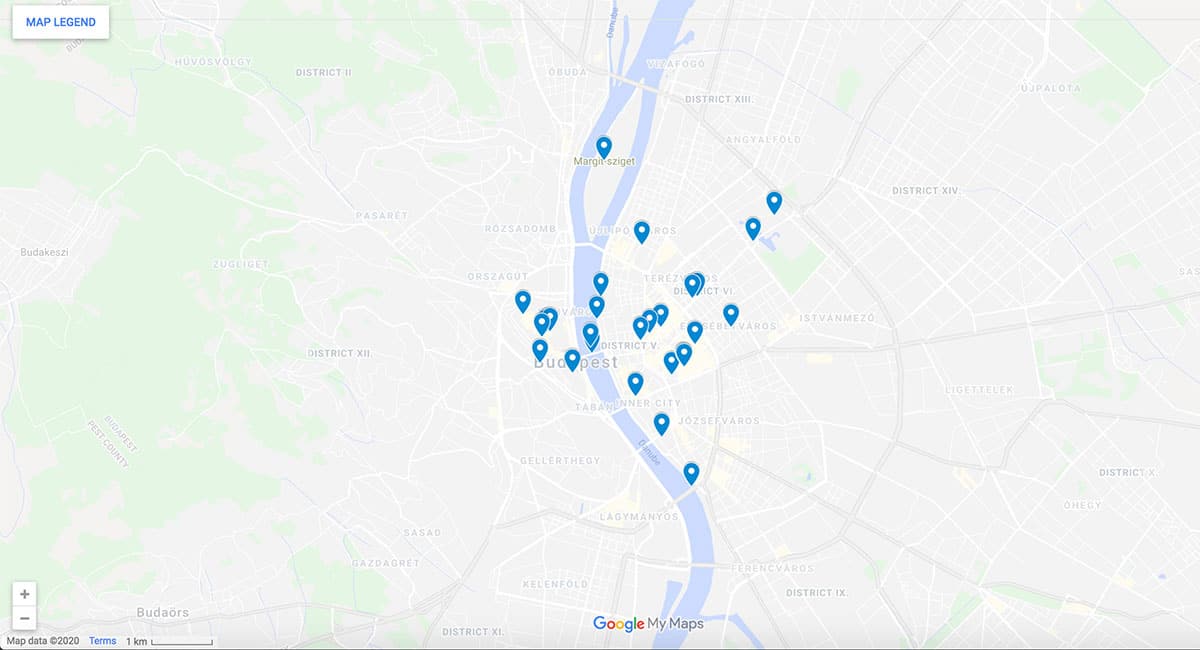 Disclosure
Some of the links in this guide are affiliate links, meaning we'll get a small commission if you make a purchase at NO extra cost to you. We only recommend products and services that we use ourselves and firmly believe in. We really appreciate your support as this helps us make more of these free travel guides. Thank you!