The Day-Tripper's Travel Guide to Macau (from Hong Kong)
We recently booked eight nights in Hong Kong. Eight nights is a lot for a city we've been to several times before so we decided to spend a day in nearby Macau. I had never been to Macau but I had a good idea of what to expect. For one, I had seen enough selfies of people with the Ruins of St. Paul on my Facebook feed! Friends who've been there almost always talk about three things — its architecture, the food, and the casinos.
I've never been into gambling so I didn't care much for the casinos, but I am into food and architecture, two of my favorite things when traveling. Portugal has long been at the top of my bucket list so the thought of eating Portuguese food in a former Portuguese settlement was very appealing to me.
To be honest, a day isn't a lot for a destination with as much to offer as Macau, but it's enough to give you a good taste. If you aren't that into gambling and want to spend a day experiencing the old Macau, then this day tripper's guide is for you.
GUIDE TABLE OF CONTENTS
HOW TO GET THERE
This guide assumes you'll be taking a day trip from Hong Kong so the best way to get there is by fast ferry. It takes about an hour each way and ferries sail around the clock. You have two choices of ferry companies — TurboJet and Cotai Water Jet. We went via TurboJet and paid HKD 366 each roundtrip over the weekend (economy, night sailing return). They sail from Kowloon and Hong Kong so you can check their website for fares and sailing times from each port.
We bought our tickets at the ferry terminal but you can get discounts from either company if you purchase them through Klook or Kkday. Follow these links to get roundtrip discount tickets from Klook (TurboJet | Cotai Water Jet) or Kkday (TurboJet | Cotai Water Jet).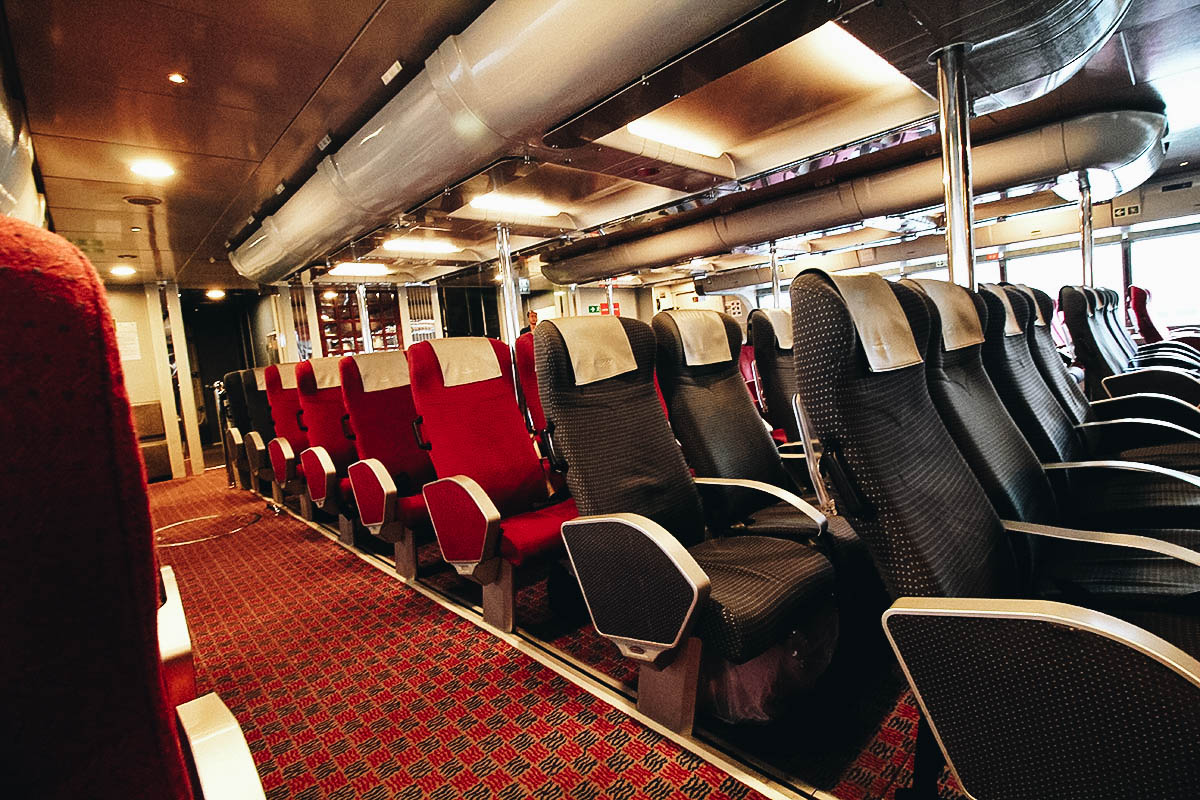 HOW MUCH MONEY TO BRING
We went to Macau mainly to eat so the brunt of our spending went to ferry tickets and food. A Petisqueira was a little pricey (but totally worth it) so I wound up spending around HKD 800 for the day, which included two cab rides. But if you don't want to spend too much on food and are happy using the free shuttles and public buses, then a budget of around HKD 500 should be enough. This takes into account roundtrip ferry tickets, meals, transportation, entrance fees, and pocket wifi rental. If you plan on eating at better restaurants, shopping, and/or gambling (especially gambling!), then feel free to adjust. But I don't think you can do it for significantly less than HKD 500 since most of that will go to roundtrip ferry tickets.
WHERE TO EXCHANGE CURRENCY
HKD (Hong Kong Dollars) is accepted everywhere in Macau so there's no need to convert your currency to MOP (Macanese Pataca). You don't want to be stuck with any leftover MOP when you go back to Hong Kong anyway. Conveniently, the exchange rate is almost 1:1. This guide assumes you'll be coming from Hong Kong and already have HKD. If you don't, then a great place to exchange your currency to HKD in Hong Kong is at Chungking Mansions in Tsim Sha Tsui.
WHERE TO GO / WHAT TO DO
1. Walk from Senado Square to the Ruins of St. Paul
Senado Square and the Ruins of St. Paul are the heart of old Macau and its most iconic attractions. They're part of the Historic Centre of Macau which is a UNESCO World Heritage Site. Awash with Iberian influence, you'll feel like you're in Europe and not Asia with all its pastel-colored buildings and cobblestone streets! There are many shops and restaurants in the area so apart from admiring the architecture, you can easily spend a few hours here shopping and sampling all the delicious Macanese goodies.
For more pictures and information, check out our post on Senado Square and the Ruins of St. Paul.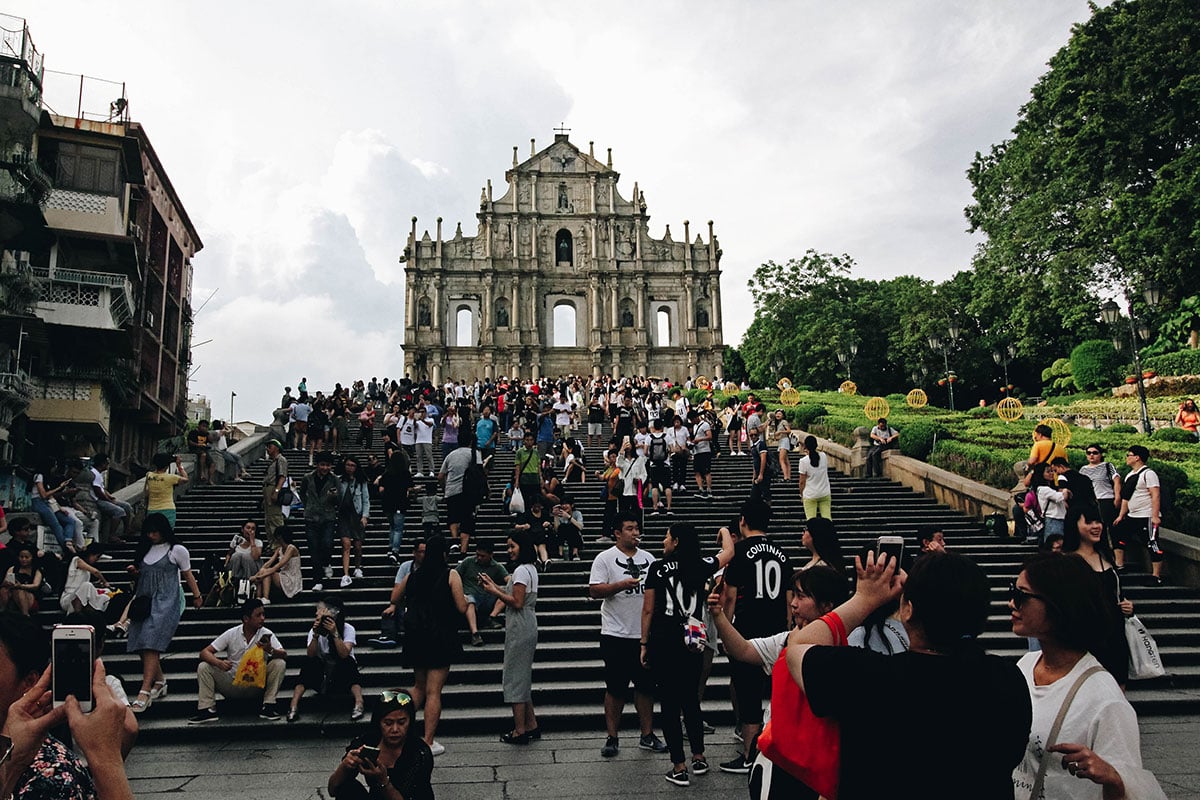 Approximate time needed: About 3-4 hours
2. Explore Taipa
Taipa is a charming village located south of the Macau Peninsula. There you'll find Cunha Street (Rua do Cunha) and its many Chinese shops and restaurants set amidst a network of narrow alleyways and pastel-colored houses. It's a fun place to explore and get lost in. Just off Cunha Street is the aforementioned A Petisqueira, a terrific little Portuguese restaurant known for its bacalhau (codfish) and fried clams. We enjoyed one of our best meals there so we highly recommend it. Also interesting is the Taipa Houses Museum which is about a 5-minute walk from Cunha Street. It's a complex of five colonial houses displaying various artefacts and exhibits from the Portuguese era. Unfortunately, it was closed for renovation when I went so you may want to call before visiting (+853 8988-4000).
To give you a better feel for the place, here's a short video I took walking around Cunha Street.
Approximate time needed: About 2-3 hours
3. Enjoy Coloane's Old World Charm
Coloane is the southernmost part of Macau. It used to be its own island but its now physically connected to Taipa via reclaimed land (known as Cotai). Away from the big casinos of Cotai and the peninsula, it's a much quieter part of Macau and home to some lovely Portuguese houses and churches. Coloane is also where you'll find the very first branch of Lord Stow's Bakery, makers of what many believe to be Macau's best Portuguese egg tarts.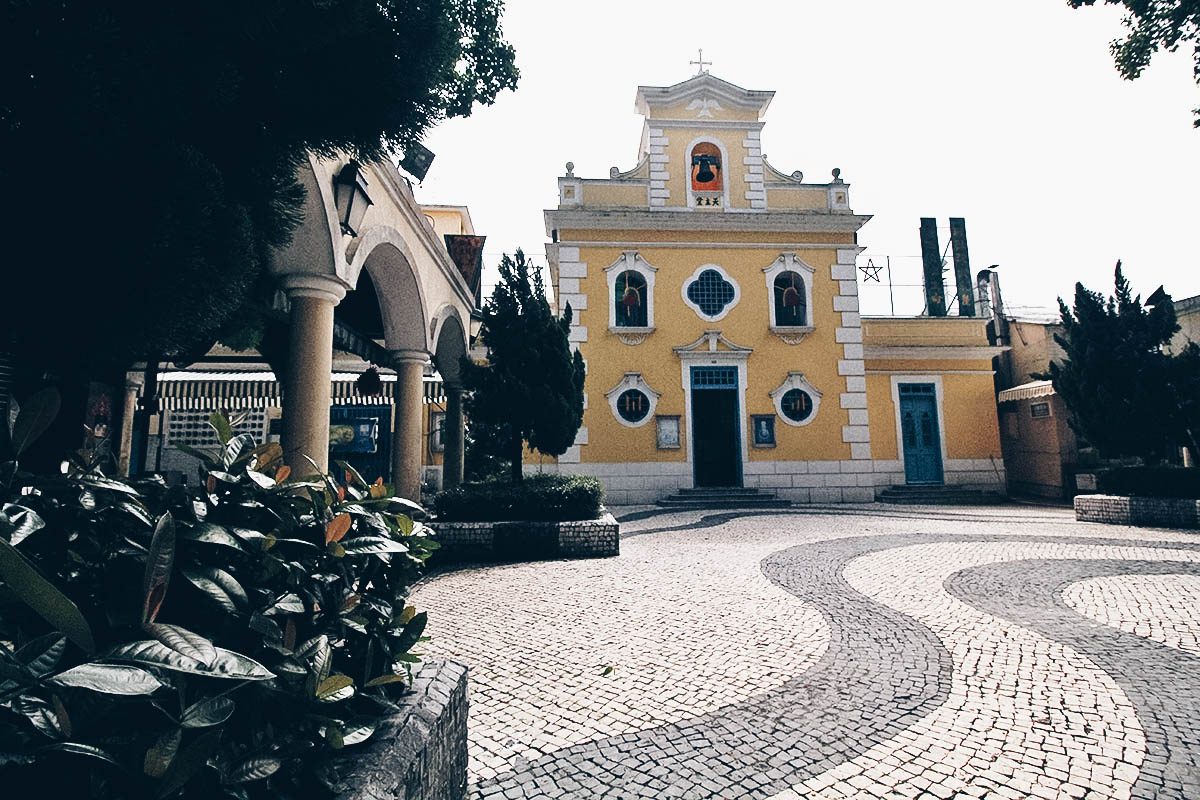 Approximate time needed: About 1-2 hours
4. Learn about Macau's History at the Museum of Macau
If museums are your thing, then you may want to spend an hour or so at the Museum of Macau. Located inside Mount Fortress right next to the Ruins of St. Paul, it's comprised of three floors of exhibits that take you from Macau's early days as a fishing port to the neon-lit gambling mecca that it is today.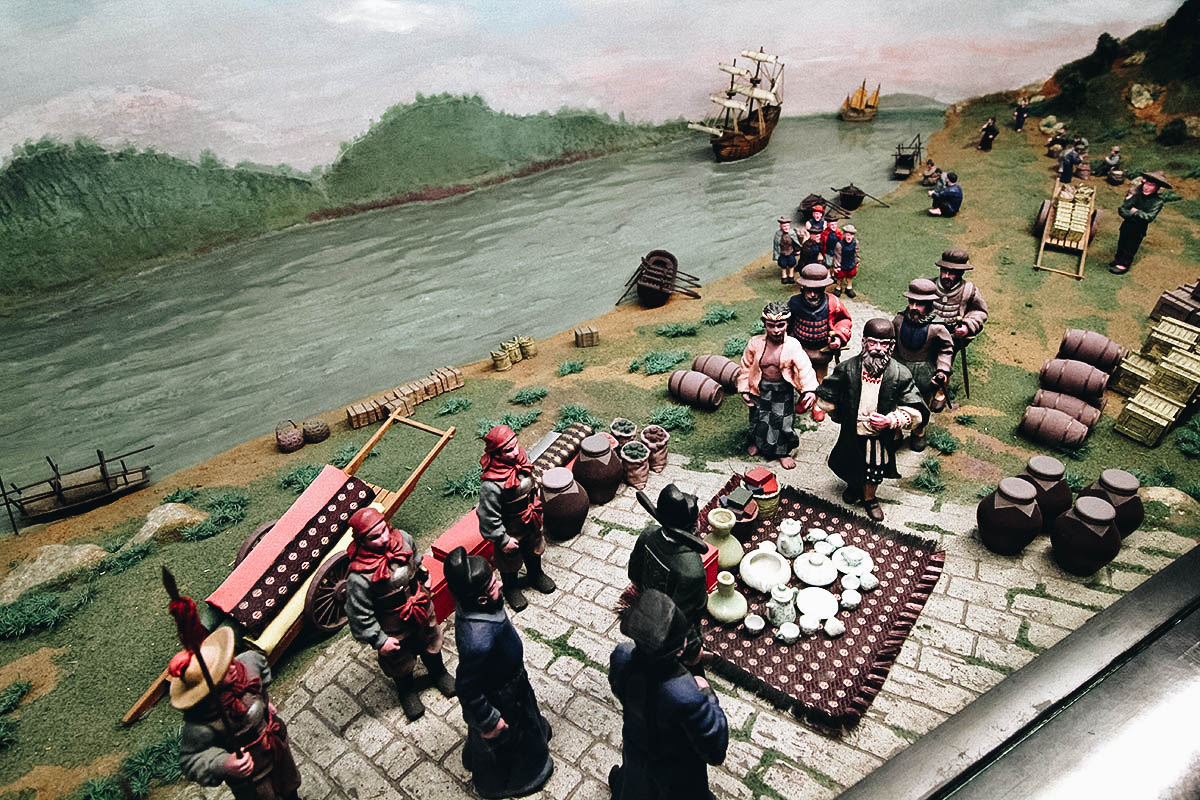 Approximate time needed: About 1 hour | Admission: MOP 15
5. Go Gambling
Macau is considered the Las Vegas of Asia so many tourists come here to do one thing — gamble. There are casinos everywhere in Macau and they're every bit as impressive (or ostentatious, depending on how you look at it) as the ones in Sin City.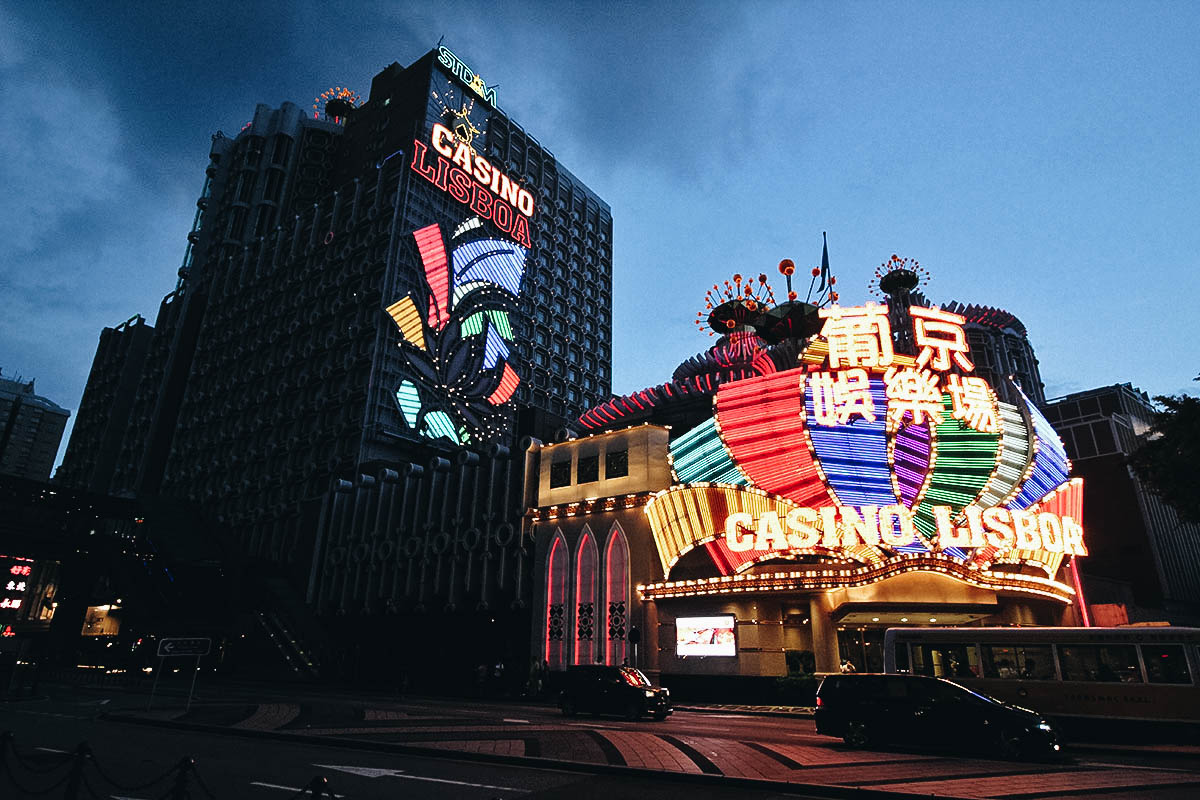 Approximate time needed: Until your money runs out
WHERE TO EAT
1. A Petisqueira (Taipa)
As described above, this place serves great Portuguese food. Everything we had from start to end was delicious. In fact, we wanted to try more restaurants in Macau but A Petisqueira was so good we wound up eating too much! 😆 If you plan on taking a day trip to Macau and following this guide, then I suggest having lunch here. It's a little pricey but worth it. Reservations are a must.
Check out our post on A Petisqueira for more pictures and information.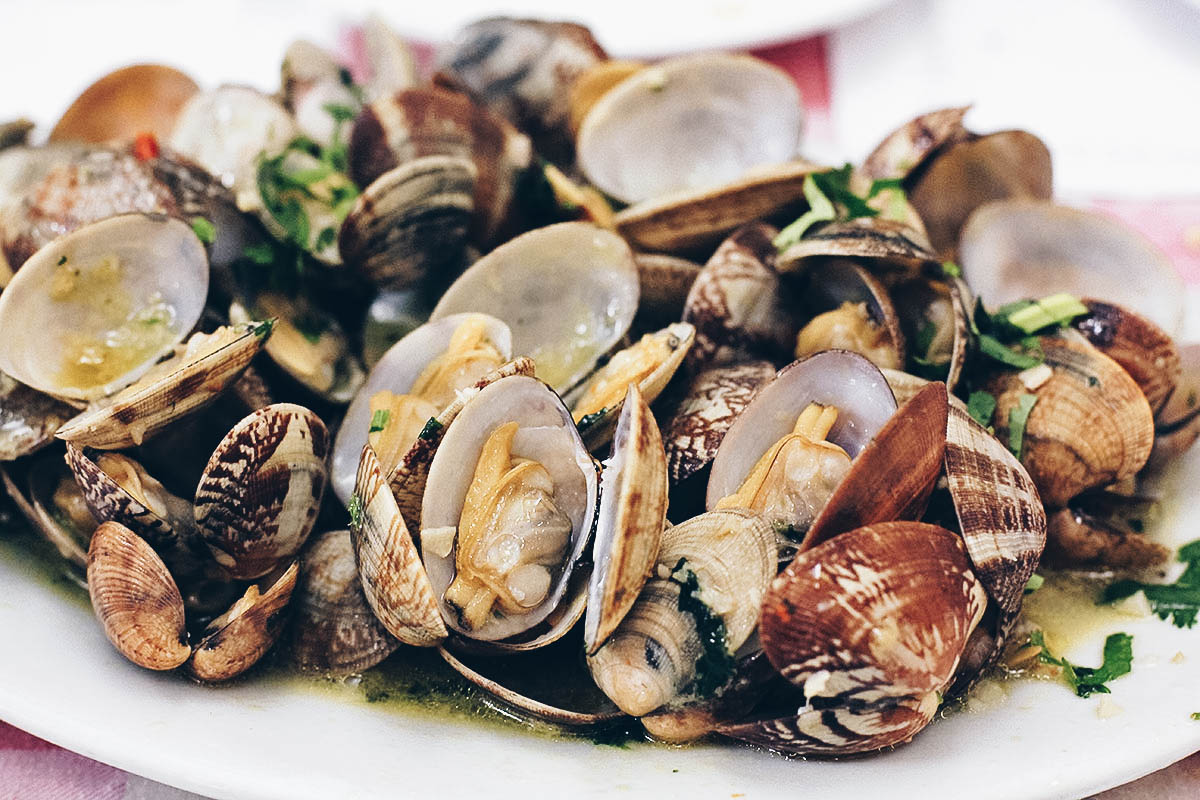 What We Paid: HKD 763.40 (between 3 people) including a carafe of white sangria
2. Lord Stow's Bakery (Coloane)
As described above, the first branch of Lord Stow's Bakery is in Coloane. If you're a fan of their egg tarts, then a stop here is a must. I caught the first ferry out of Kowloon at 7AM to give myself time to explore Coloane and have one of these egg tarts for breakfast. Delicious!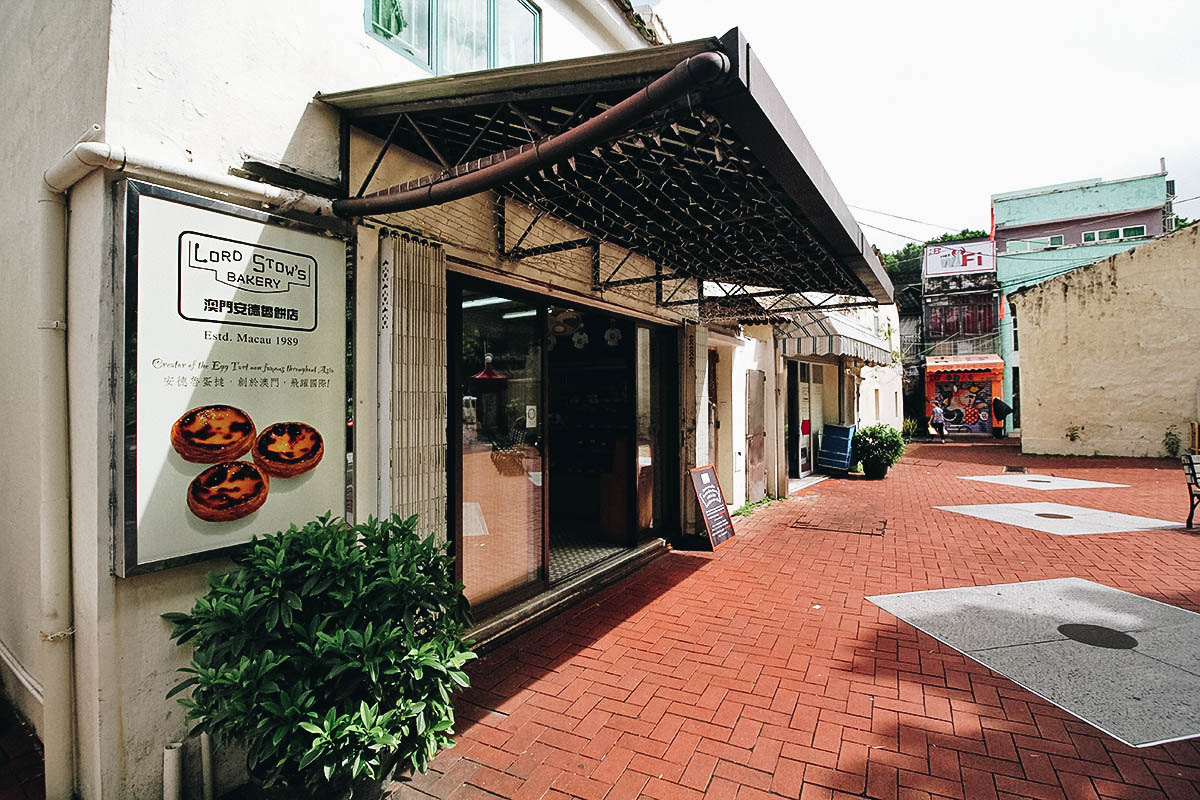 Silky smooth custard with a buttery, flaky crust. Lord Stow's egg tarts are devilishly good! 😈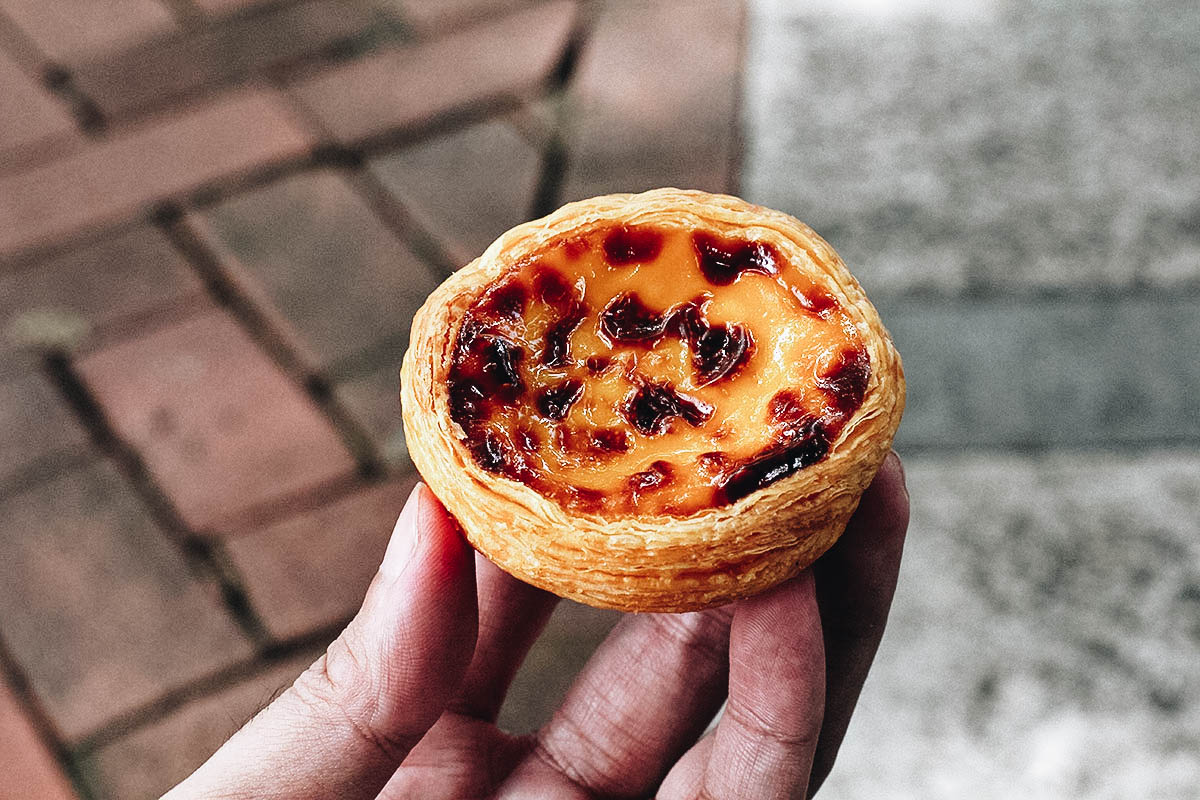 What We Paid: HKD 50 for a box of 6 egg tarts
3. Tai Lei Loi Kei (Macau & Taipa)
As stuffed as we were from lunch at A Petisqueira, we couldn't leave Macau without trying their famous pork chop bun. As its name suggests, it's basically a pork chop sandwiched in a bun. Tai Lei Loi Kei is known for having some of the best pork chop buns in Macau. It was delicious, so succulent and juicy! We saw two Tai Lei Loi Kei branches while we were there, one just off Cunha Street in Taipa and another on the first side street to the left of the Ruins of St. Paul. As you can see below, it's a hefty sandwich so you can split one if you're still reeling from a big lunch like we were. 😆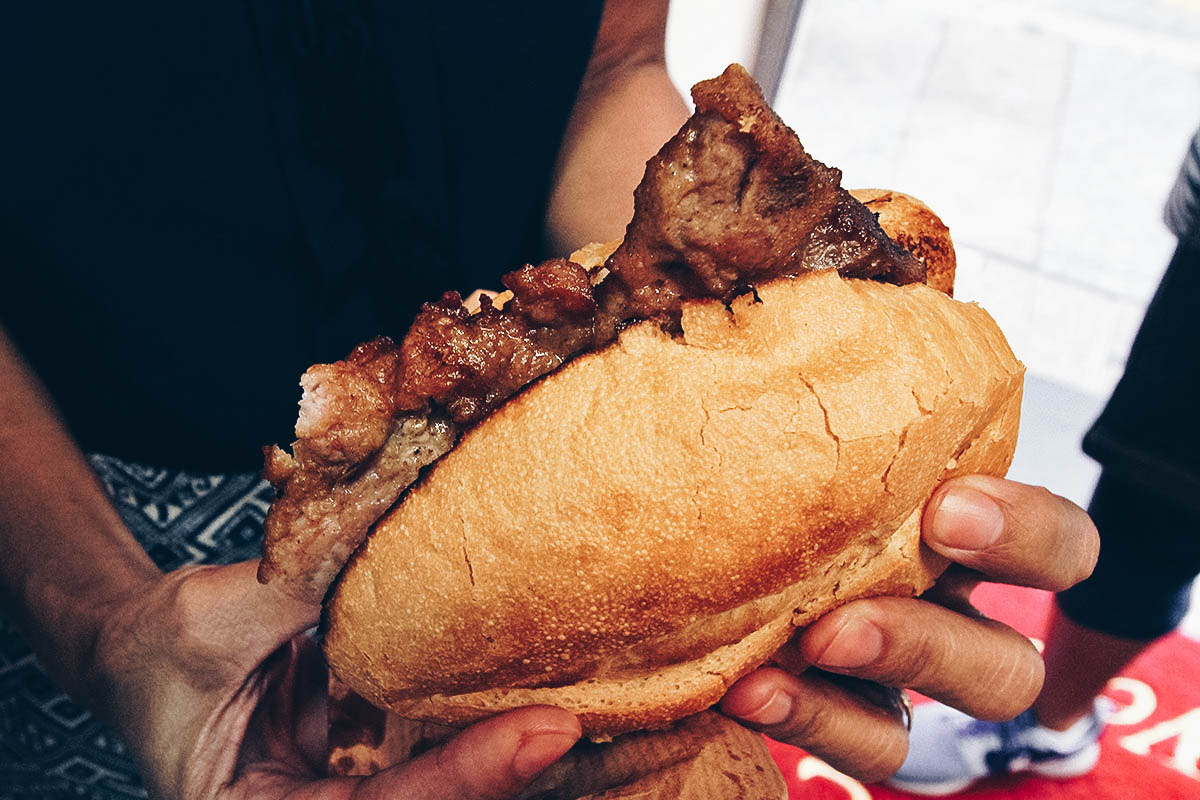 Tai Lei Loi Kei founder — Ms. Kwok Loi-ho — showing Ren and Brooke proper pork chop bun technique. 😆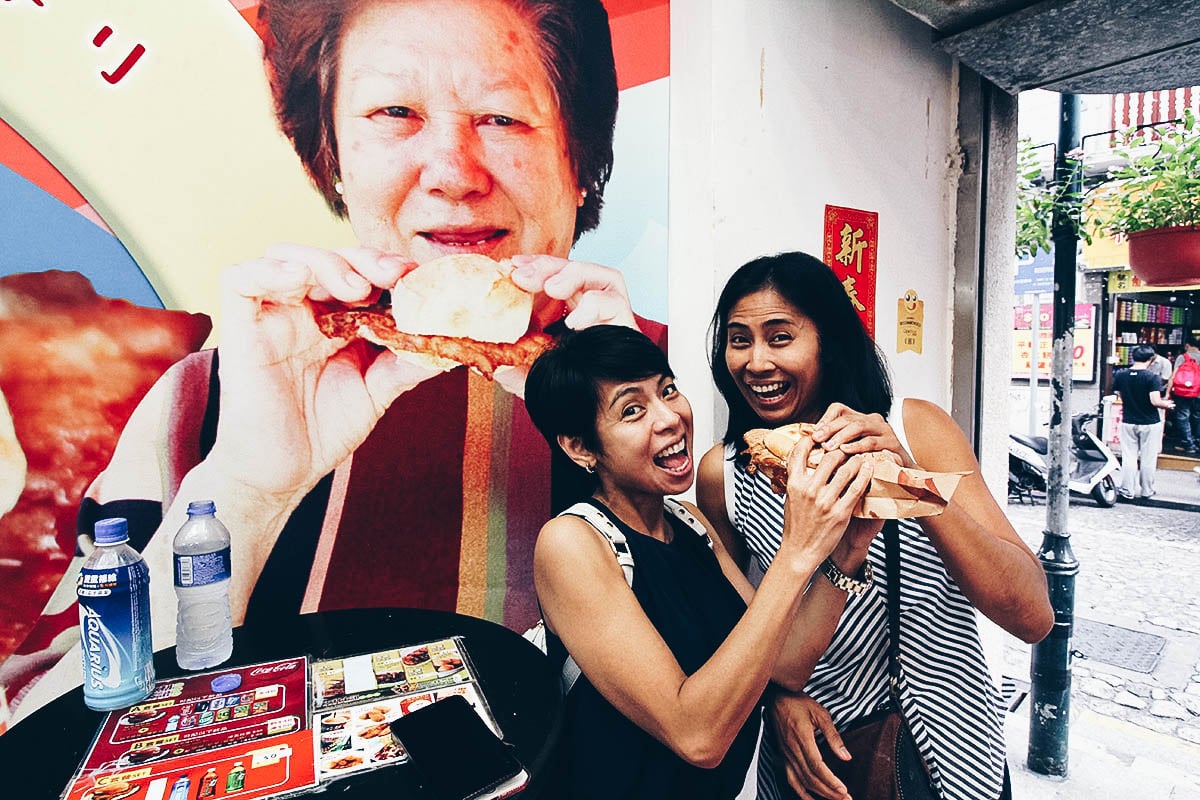 What We Paid: HKD 38 per pork chop bun
SAMPLE 1-DAY ITINERARY
This guide compresses the best of old Macau into one day so time is of the essence. If you plan on visiting all the places mentioned in this guide, then it's best to do so in a certain order so you don't waste time traveling. Here's how I did it.
7-8AM – TurboJet ferry from Kowloon to Macau Outer Harbour Ferry Terminal
8:30AM – Arrive at Cotai Strip via free shuttle bus. I suggest catching a shuttle to any of the big hotels on the strip like Sands Cotai Central, The Venetian, Parisian Macao, or Studio City Macau. If you'd like to go to Coloane via taxi, then you can catch one from any of the hotel lobbies. It'll cost around MOP 37 from here to Coloane. If you'd rather go by bus, then make your way to the bus stop pictured below. It's next to the Sheraton Grand Macao Hotel and in front of the Parisian Macao Eiffel Tower. Buses 15, 21, 21A 25, 26 and 26A will take you to Coloane. The fare should be MOP 3.20 or 3.60 depending on the route. Be sure to have the exact fare (HKD is fine) because the driver can't give you any change. You can refer to the Macau public transportation or Metroplasia websites for more information.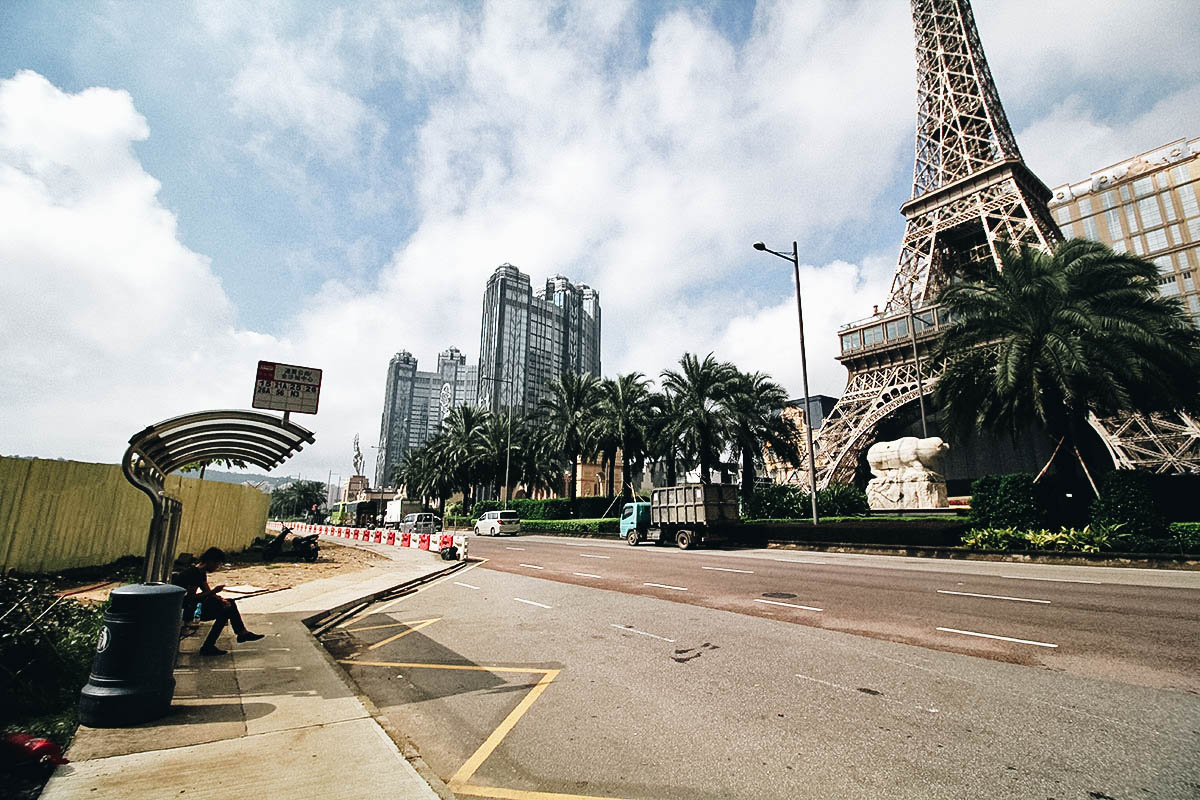 9-10:30AM – Arrive in Coloane (Vila de Colane-2). You'll know you're there when the bus reaches this roundabout. Get off here and explore Coloane. Lord Stow's Bakery is located near the roundabout so you can start there. Visit the Chapel of St. Francis Xavier.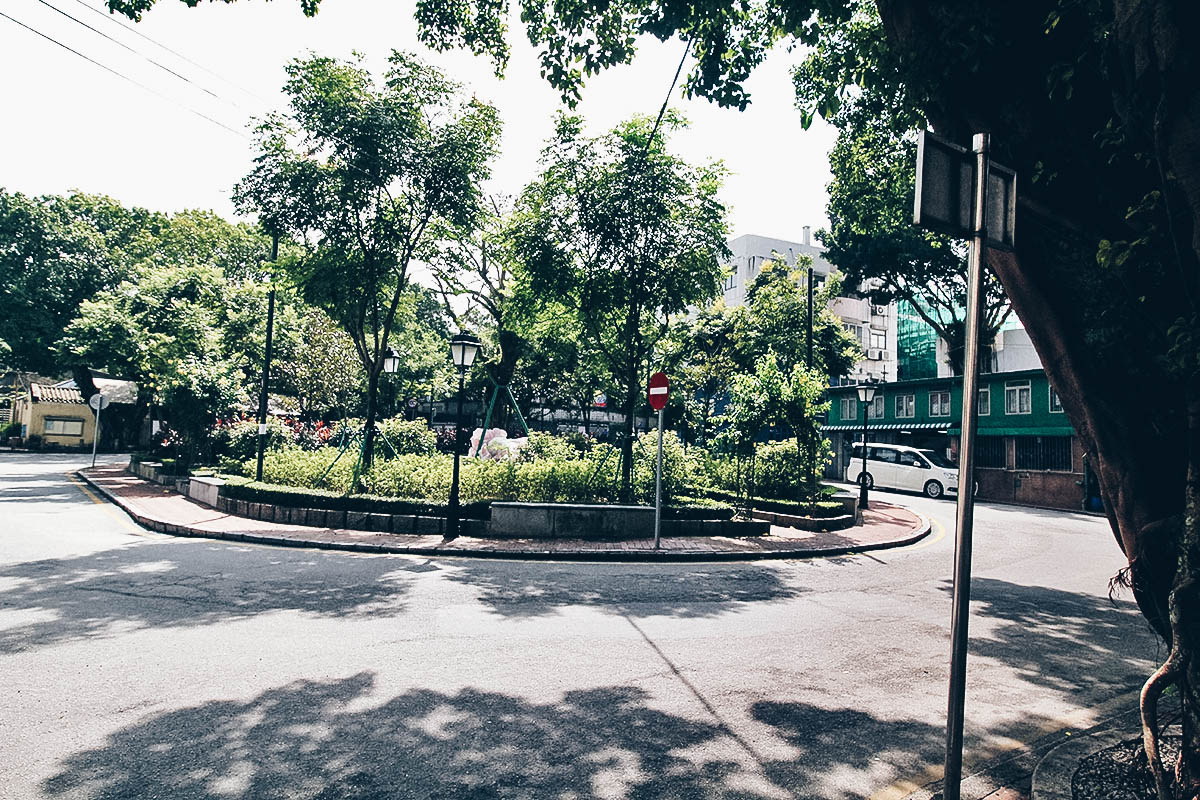 11AM-1PM – Arrive at Cunha Street. To get there, take Bus 15 from Coloane to Rua do Cunha. The fare should be the same. If you're not sure where to get off, just tell the driver you're going to Cunha Street. If you prefer to go by taxi, the fare will be around MOP 49. Explore Cunha Street and the Taipa Houses Museum.
1-2:30PM – Have lunch at A Petisqueira.
3-6PM – Arrive at Senado Square. To get there, take Bus 11 or 33 from Rua do Cunha to Senado Square. Explore Senado Square and the Ruins of St. Paul. Go window shopping and taste as many Macanese delicacies as you can. Visit Mount Fortress and Macau Museum. Take a bunch of selfies. You're in the heart of old Macau so have fun!
6-6:30PM – Eat a pork chop bun at Tai Lei Loi Kei near the Ruins of St. Paul.
6:30-10PM – Do some more exploring or go casino hopping. Place a bet if you're feeling lucky. Get a drink somewhere to while away the time. Just be sure you're back at the terminal before your ferry. We walked from Senado Square all the way to the terminal. It's a long walk but we wanted to see the sights so we started early and walked slowly. If you're running short of time, you can always hop into a cab or take one of the free hotel shuttles to the terminal.
10:05PM – TurboJet ferry back to Kowloon.
I created the map below to help you better understand the island and our suggested 1-day itinerary.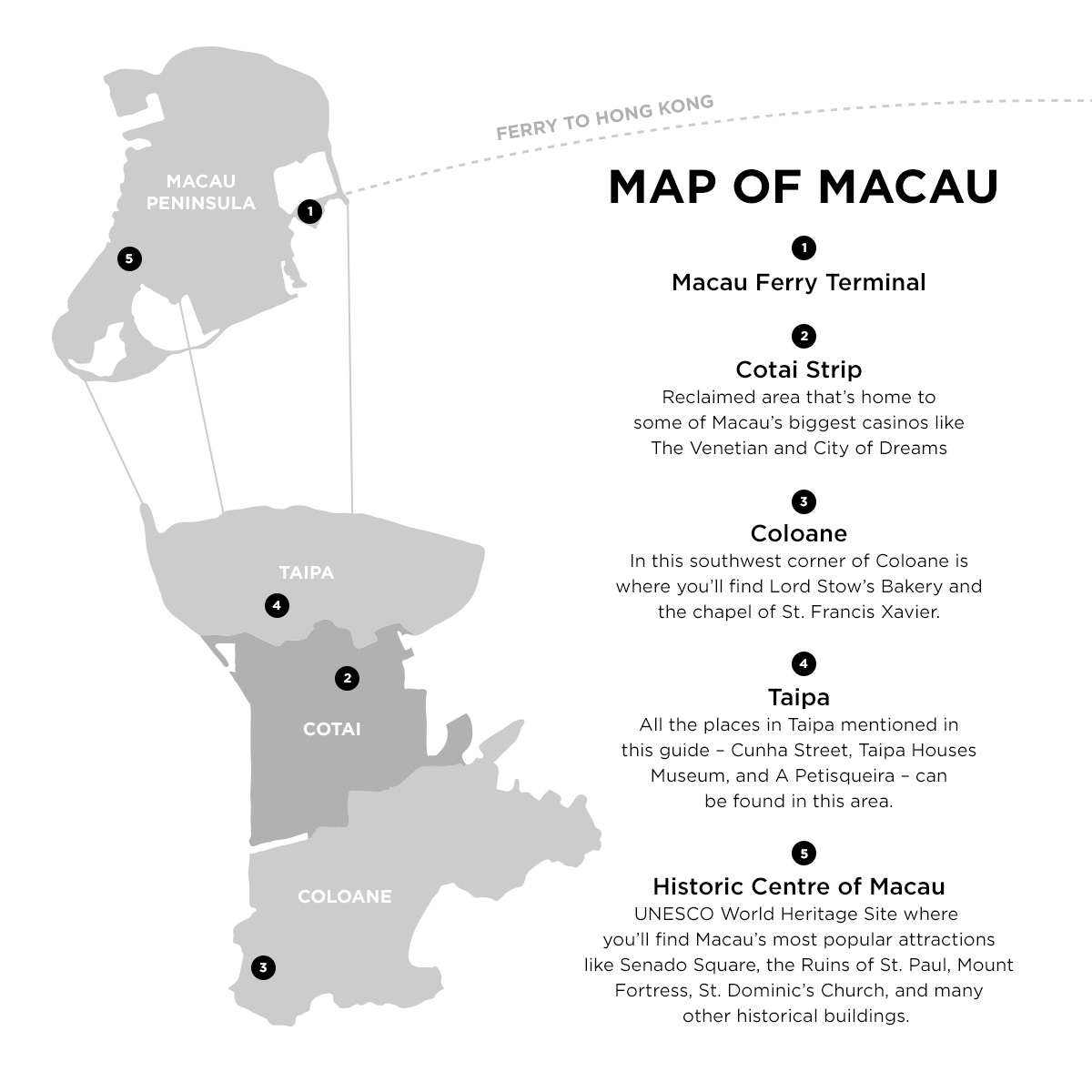 TRAVEL TIPS
1. Plan your Trip with Sygic Travel (formerly Tripomatic)
This is my go-to travel app. I use it to create all our itineraries. With this free app that you can use on your desktop and mobile devices, you can plot points of interest on a map, including your hotel, so you can see exactly how far you need to travel between points. It allows you to create an efficient itinerary by grouping attractions together per day based on location. With pocket wifi, it can turn your mobile phone into a GPS tracking device so you can easily find your way between points. Pretty sweet right? Check out my full post on the Sygic Travel app for more information.
Follow this link to check out our 7-day Hong Kong / Macau eat-inerary on Sygic Travel. There you'll find all the places mentioned in this guide pinned on a map. You can also download it in editable Word format by signing up for our FREE newsletter below.
2. Rent a Pocket Wifi Device
A constant wifi connection is a must when traveling these days. You'll need it to do research, convert currencies, navigate with GPS, etc. We never go anywhere now without renting a pocket wifi device first.
We needed a device that could service both Hong Kong and Macau and thankfully, we found devices on Klook and Kkday. Both sites offers discounts to many things like attractions, transfers, and pocket wifi rental. We were able to rent a 3G pocket wifi device from Klook (unlimited data) for just HKD 28 a day. The closest competitor I could find online? HKD 60 a day from Y5 Buddy (3.5G, unlimited data). That's more than double! I had reservations about the device considering how big the price difference was but we were completely happy with it. It was fast, the battery life was decent (about 7 hrs), and there were no hidden charges. So awesome!
Follow the link to rent a Hong Kong / Macau pocket wifi device from Klook or Kkday. The pick up and drop off point for the device is at Hong Kong International Airport.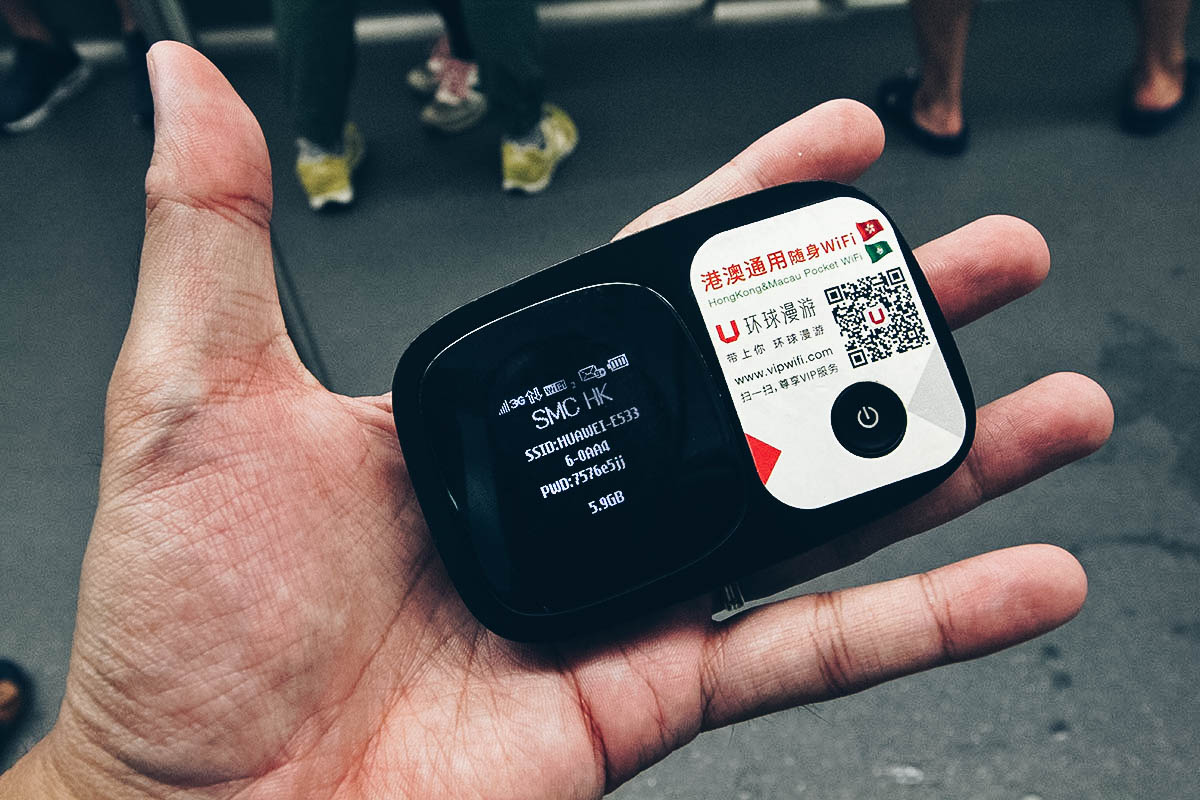 3. Bring your Passport
You'll need your passport to travel to and from Macau so don't forget to bring it! It's just like any international airport where you have to present your passport to go through customs and immigration.
4. Go during the Week
If you can, go to Macau during the week. We had no choice but to go on a Sunday and it was crazy crowded, especially in Senado Square and the Ruins of St. Paul. It's because many mainlanders stay in Macau over the weekend to gamble. We still had a good time but thinner crowds would have made for a more pleasant experience.
5. Buy Advanced Ferry Tickets
Many people take day trips to Macau so tickets sell out fast, especially on weekends, so it's best to buy a return ticket from Hong Kong. Don't wait until evening in Macau to get one because chances are they'll be sold out of economy tickets. You have to specify which ferry you'd like to take back so if you go on TurboJet, then the 9:05PM or 10:05PM should be good. I caught the 7AM ferry from Hong Kong and that gave me enough time to do everything in this guide. Ferries do run around the clock so if you want to stay longer to watch a show or go gambling, then you can catch a night ferry back. You can check the TurboJet and Cotai Water Jet websites for sailing schedules. As advised, you can save on the tickets if you buy them through Klook or Kkday. Follow the links to get discount roundtrip tickets from Klook (TurboJet | Cotai Water Jet) or Kkday (TurboJet | Cotai Water Jet).
6. Get Discount Tickets
There are many websites that offer discount passes to tours and services. The websites I've used the most are Klook and Kkday. They offer deals in many cities around the world, including Macau. They offer discounts to shows, tours, ferry tickets, pocket wifi rental, even buffets. Check their websites for a complete list of Macau deals on Klook and Kkday. You'll often find interesting activities that you wouldn't normally think of yourself so it's definitely worth a look.
Another good website to look through is Viator. I haven't used it as much (probably because of the less pleasing interface) but they're actually one of the leading online providers of tours and activities. They're owned by TripAdvisor so you know they're solid. You can follow this link to search through tours and activities in Macau on Viator.
7. Get Travel Insurance
To be honest, it was only recently when we started buying travel insurance. Back when we traveled just once or twice a year, travel insurance felt more like an added expense, one we didn't need. But now that we travel more, I understand how important it is to have it. Fact is, you never know what can happen on the road. It's one of those things that you hope you never have to use, but if you do wind up needing it, then you'll be thanking the gods that you had it. Or cursing them if you didn't.
Though I do find it more necessary now, it's still up to you if you think you need it. A 3-day trip to Singapore just shopping and eating may not really call for insurance but if you plan on doing more active things like bungee jumping, jungle trekking, or going on a hot air balloon ride, then I'd say travel insurance is a must.
We buy travel insurance from World Nomads because every long-term traveler I know recommends it. From the sound of it, they're the best in the industry by a mile. Not only do they provide a high coverage limit for medical expenses (up to USD 5 million with the Standard package), they also cover things like trip delays, missed flight connections, theft/loss of passport and luggage, etc. Follow the link or use the widget below to learn more and get a free travel insurance quote from World Nomads. It's super quick and easy.
HOW TO GET AROUND
If you're interested in visiting Macau peninsula, Taipa, and Cotai, then you can get around easily using the free shuttle buses. They shuttle passengers (and potential gamblers) between the ferry terminal and the big casino hotels in Macau peninsula and Cotai. Cunha Street in Taipa is about a 15-20 minute walk from the Galaxy Macau Hotel.
But if you want to go all the way down to Coloane, the you'll need to take a public bus or taxi. Taxis are metered in Macau so you don't have to worry about being overcharged. They're not that expensive either so it may be worth it if you're traveling with other people. As described above, the taxi from Cotai Strip to Coloane was MOP 37, and MOP 49 from Coloane to Cunha Street. Not bad if you split it between 2 or 3 people. But of course, going by bus is the cheapest option. You can refer to our SAMPLE ITINERARY above for more information if you haven't already.
For Filipinos
VISA INFORMATION
Filipinos don't need a tourist visa to visit Macau for stays up to 30 days.
Have fun!
I'm not an expert on Macau but I do hope that you find this guide useful. I'm only sharing some of the things I learned from our trip. If you have any suggestions or simply want to share your own experiences, then please feel free to do so in the comments section below. You're welcome to join our Facebook Travel Group as well. We'd love to hear from you.
Thanks for stopping by and have an awesome day trip to Macau!
OUR GEAR
These are some of the things we brought with us to Macau. As you can tell, I document a lot of content for this blog so most of the things I bring are photo and video equipment. 😆 If you'd like to see what other gear we use, then you can check out our "What's in Our Backpack?" post. (NOTE: The following links are Amazon affiliate links.)
Disclosure
Some of the links in this guide are affiliate links, meaning we'll get a small commission if you make a purchase at NO extra cost to you. We only recommend products and services that we use ourselves and firmly believe in. We really appreciate your support as this helps us make more of these free travel guides. Thank you!