I had never been to Macau before nor had I ever tried authentic Portuguese food. Everyone I know who's been there mentions the architecture and the food so I was super excited to experience both.
By coincidence, a subscriber to our blog emailed me a few weeks prior to our trip and suggested that we fly for food to Macau! I told her that we were in fact going soon, so she sent us this very helpful email with tons of restaurant suggestions and tips. Of course, Portuguese food was mentioned so she offered Antonio's or A Petisqueira as recommendations. Both looked great, but we eventually went with A Petisqueira because it was also mentioned in TripAdvisor's guide to Macau.
I'm happy she emailed us because this lunch at A Petisqueira turned out to be one of the best meals we had in Hong Kong and Macau. It was so damn good. Thanks Jing! 🙂
Delicious Portuguese Food at A Petisqueira
A Petisqueira is located just off Cunha Street in Taipa.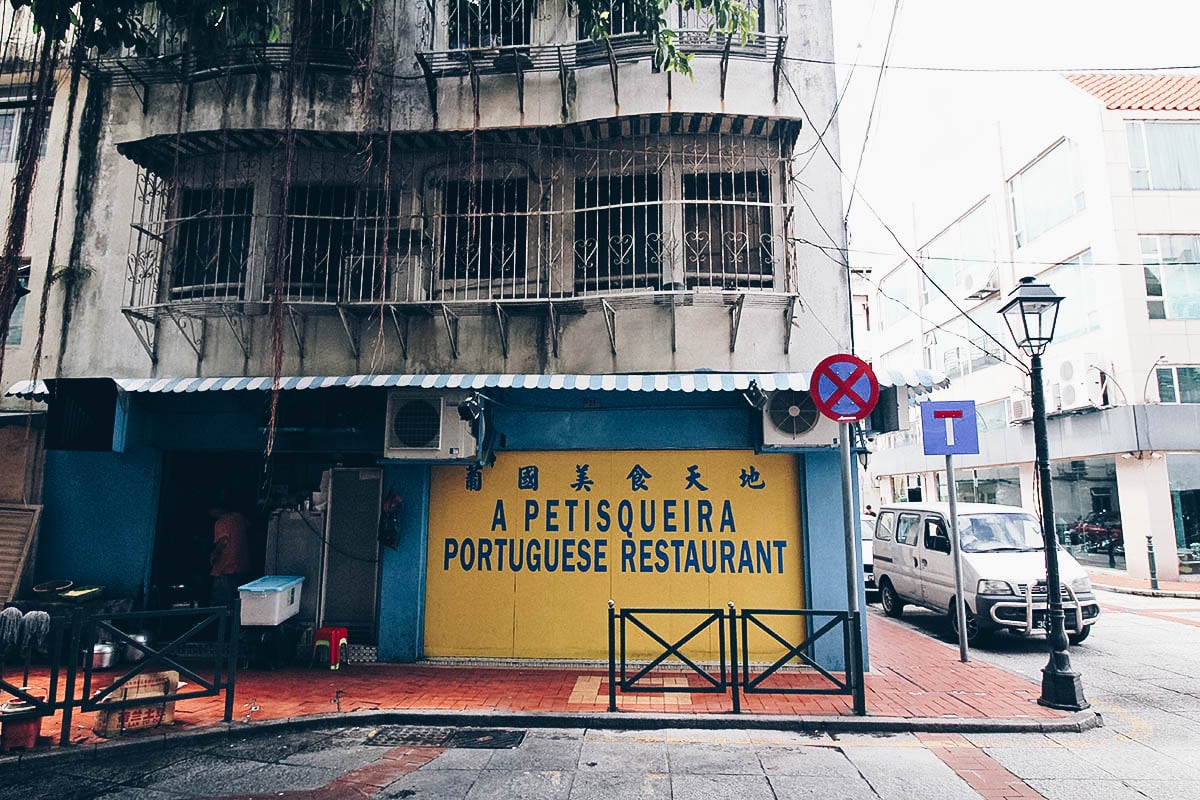 Based on what I've read online, A Petisquiera used to be on the Michelin guide a few years ago but not anymore. I think they may have had one star at some point but lost it.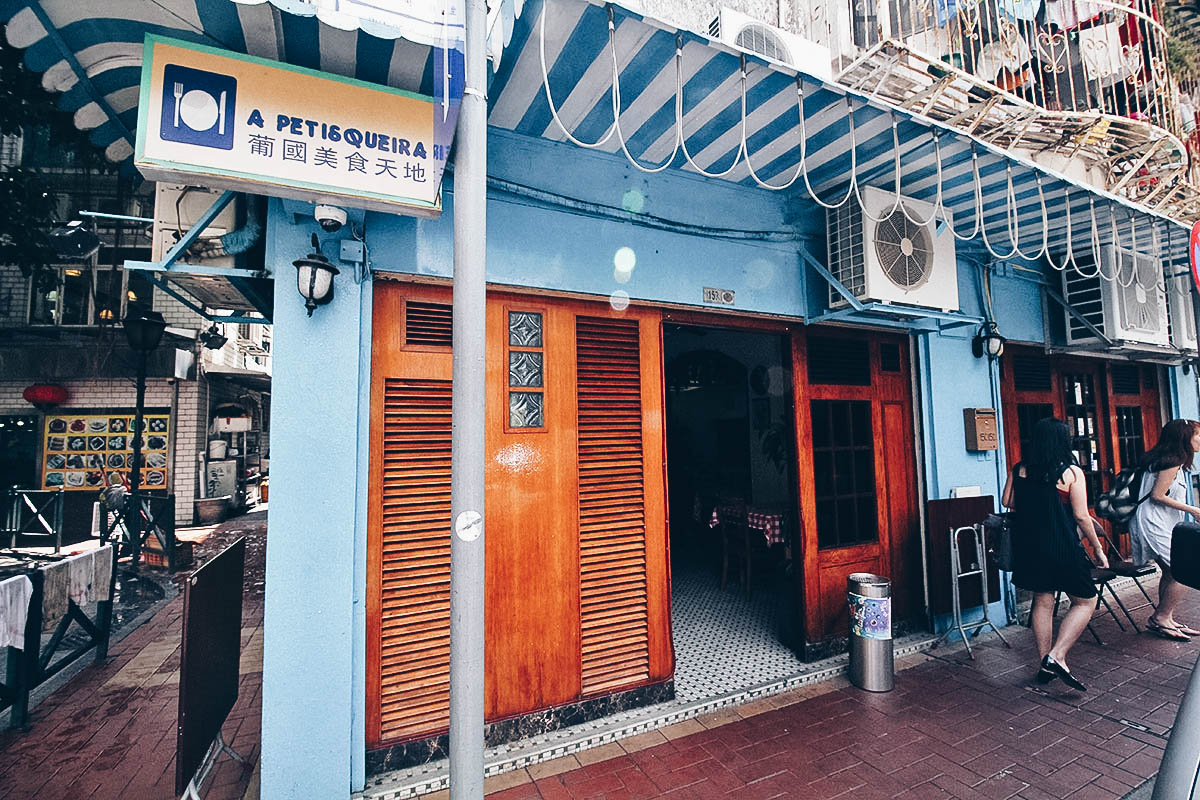 The restaurant is small with checkerboard tablecloths and rustic decor. Despite falling off the Michelin Guide, it's still quite popular so be sure to make reservations before you go. A few walk-ins were turned away when we were there because the restaurant was fully booked, even for lunch.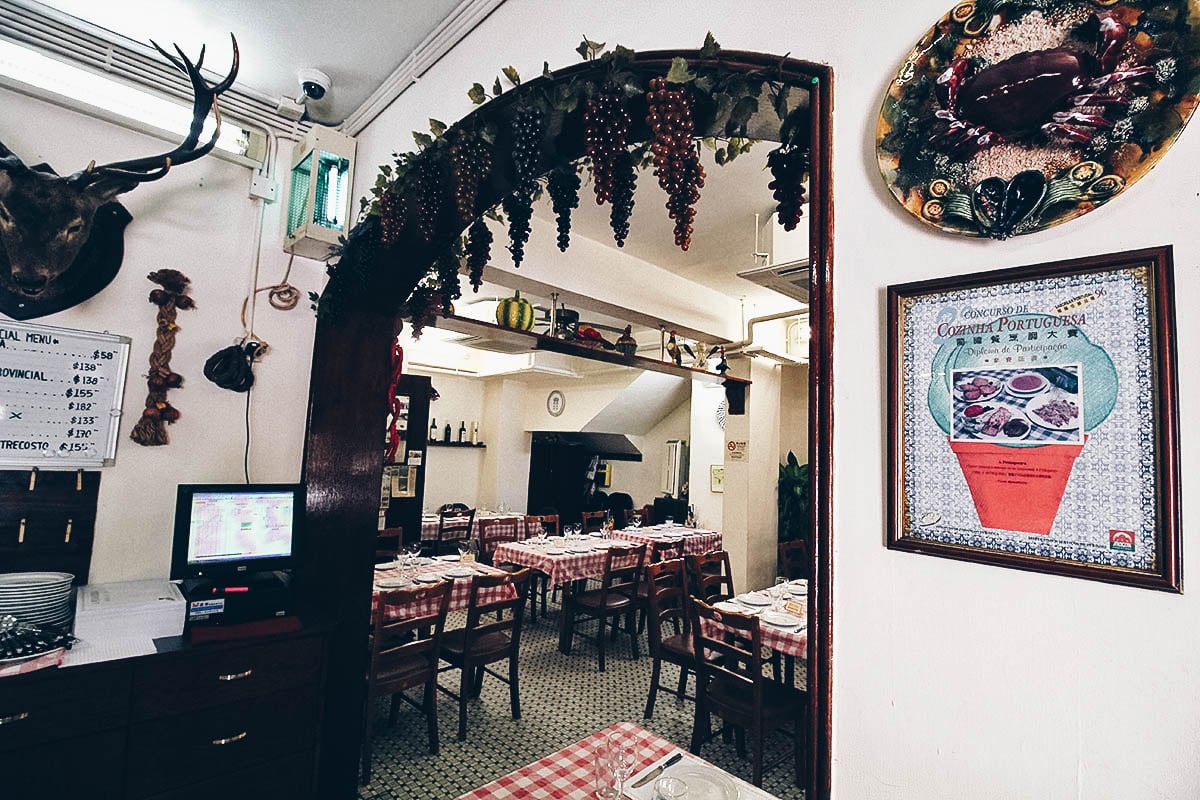 Octopus Salad — HKD 95
Oh my God this was so good. I love octopus but I'm wary of ordering octopus salad at restaurants because the texture is sometimes off or its served too cold. This one was perfect though. It was tender and served at room temperature with crunchy bits of onion and cilantro that went perfectly with the texture of the octopus. Delicious!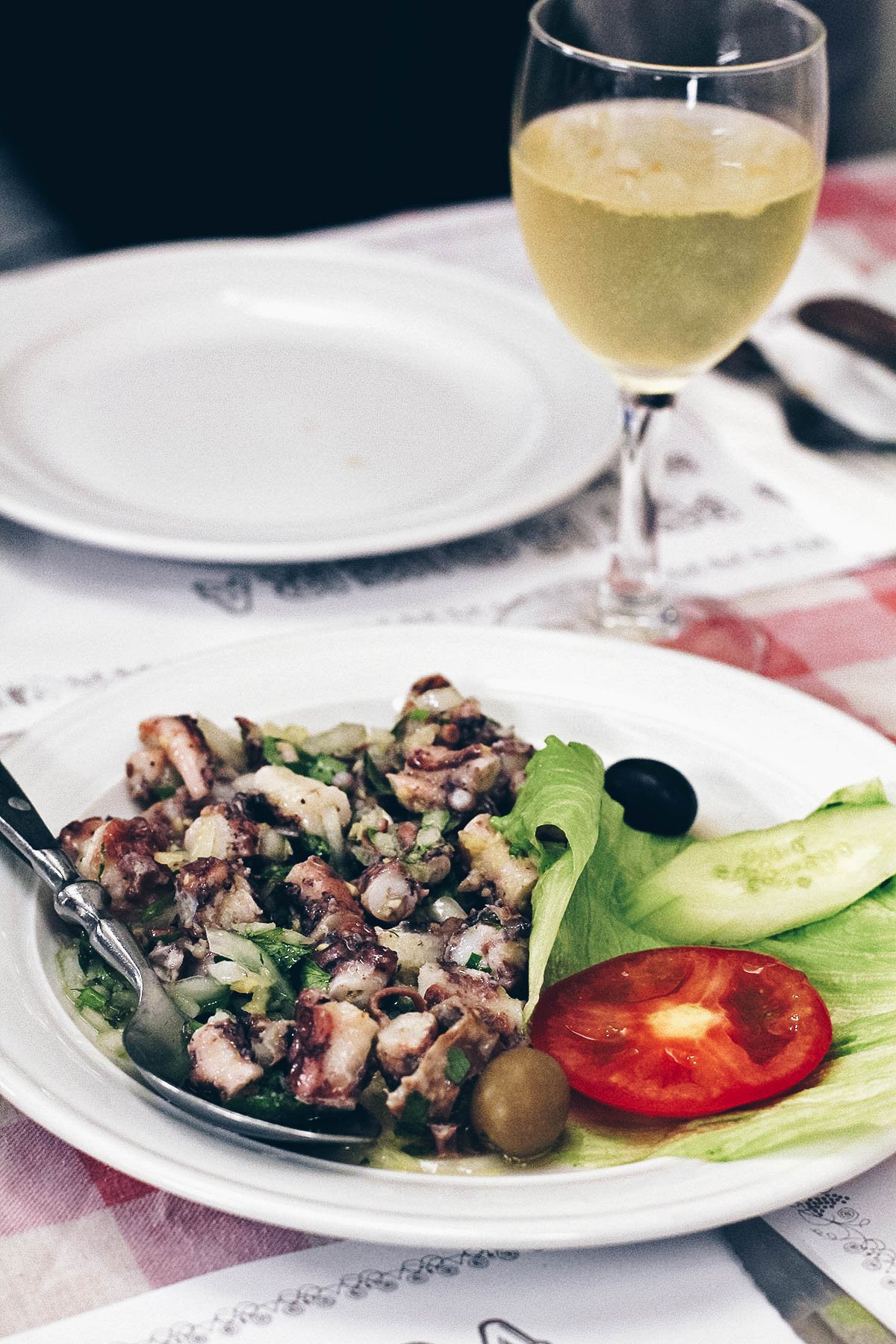 Fried Clams — HKD 138
Fried clams seem to be a specialty at Portuguese restaurants in Macau so you have to order this. I'm not exactly sure why they call it "fried clams" though because it looks sauteed to me, but who cares? It's delicious.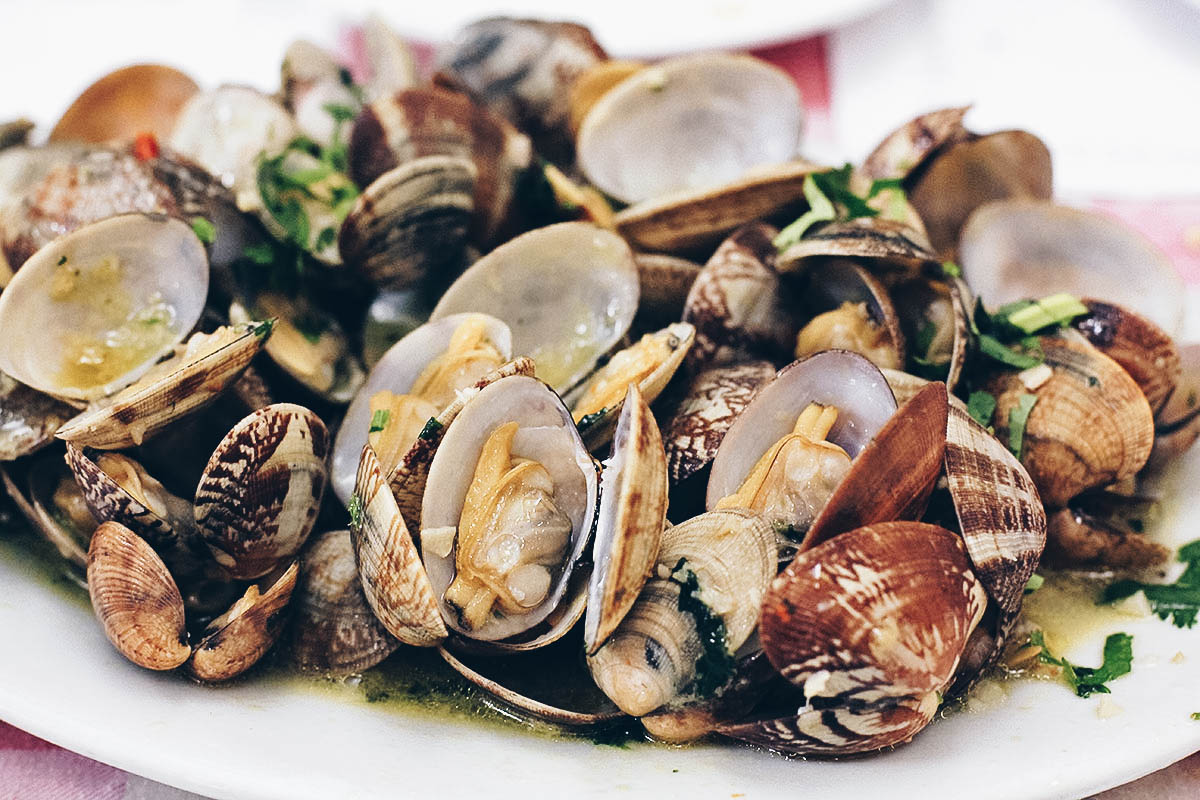 Grilled Chicken — HKD 138
We were choosing between steak or chicken but went with this grilled chicken upon our server's recommendation. I don't usually order chicken at restaurants because it's not as sexy a protein but she was spot on with her suggestion. This may have been the best chicken dish I've ever eaten. It's so tender and flavorful.

Roasted Codfish (Bacalhau) — HKD 168
Bacalhau or codfish is the unofficial national dish of Portugal so you have to order it. They serve it here either grilled, roasted, boiled, or shredded. Again, we asked our server for recommendations and she suggested we get it shredded. Unfortunately, they were all out of shredded so we got roasted instead. It's served on a bed of fried potatoes and garnished with onion, tomato, and cilantro. Like everything else today, it was awesome.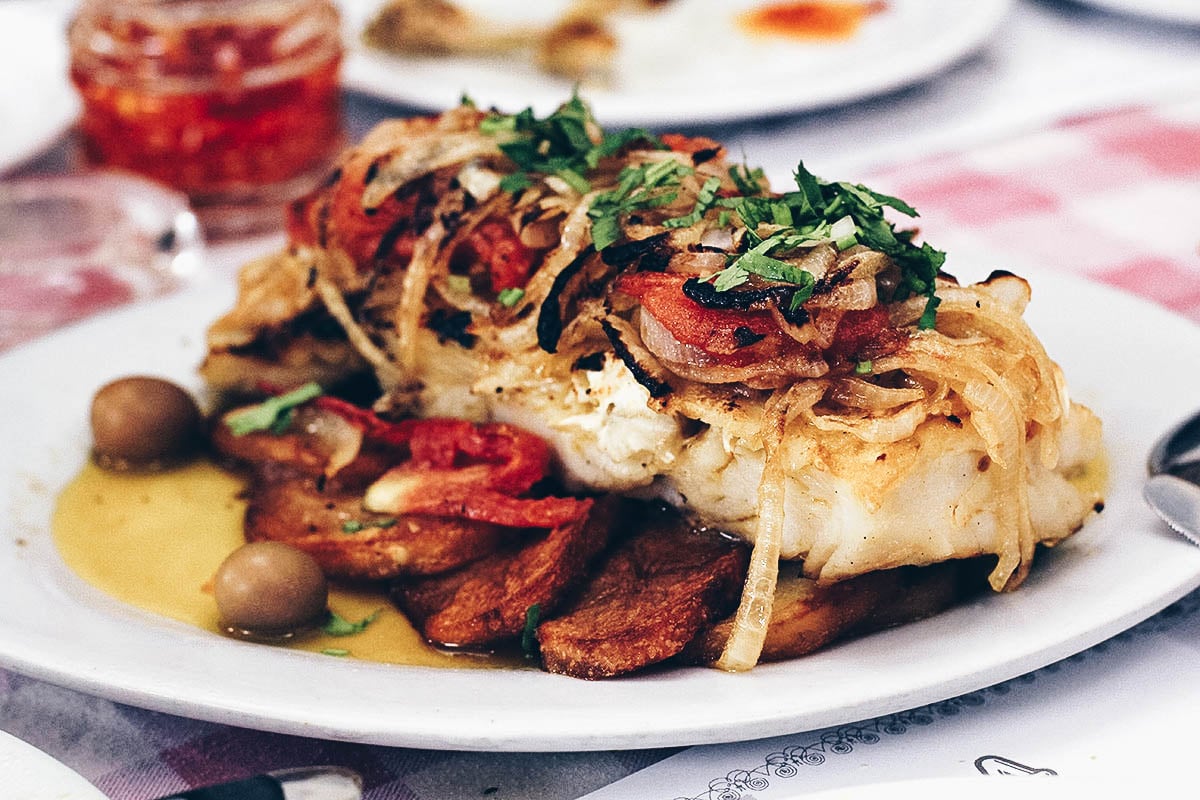 I don't know what the story is with the Michelin Guide but it doesn't matter. This place is delicious. Just be sure to make reservations before you go because it's popular. As far as I know, they don't have an email address nor any social media pages so you'll need to call them via the number below.
We ordered a pitcher of white sangria which went super well with the food. Our bill came out to HKD 763.40 between 3 people which is a little pricey yes, but worth it. The servings are big and we were stuffed to the gills. We probably could have done away with one of the dishes, but which dish, I don't want to decide. 😆
A Petisqueira, Taipa, Macau
15 R. de São Joao, Taipa, Macau
Tel: +853 2882 5354
Operating Hours: Tue-Sun, 12:30-11:15PM
What we paid: HKD 763.40 (between 3 people) including a carafe of white sangria
HOW TO GET THERE:
From the ferry terminal, take a free shuttle to one of the casinos in Cotai like The Venetian, City of Dreams, or Sands Cotai Central. From there, you can take a taxi to A Petisqueira (around HKD 20-25). If the driver doesn't know it, you can ask him to take you to Cunha Street in Taipa. A Petisqueira is located on a side street just off Cunha Street.
For travel tips to Macau, check out our Day-Tripper's Travel Guide to Macau