We were in Hong Kong to chase down Michelin's street food recommendations but we did squeeze in a few tourist attractions between meals. 😆 Riding the Peak Tram up to Victoria Peak is one of Hong Kong's most popular activities and a must-do for any first-time visitor to the city.
The tram itself is interesting and a fun ride but the views from Sky Terrace 428? Holy crap! It's the highest viewing platform in Hong Kong and offers the most stunning open air views of the city. I'm often underwhelmed by the views from these observatories but not here. It truly was spectacular.
As beautiful as it is, The Peak isn't just about the view either. There's a mall up there too with plenty of restaurants and other tourist attractions like Madame Tussauds Wax Museum and Trick Eye Museum. We had a blast at the Trick Eye Museum in Singapore so we took Ren's cousin there to experience it.
Peak Tram and Sky Terrace 428
As described, Victoria Peak is immensely popular so be prepared for a queue when riding the tram. We went on a Monday just after lunch so the line wasn't that bad, but on weekends it can extend all the way to the other side of the terminus where I was standing to take this picture. Ren's cousin recently went on a Sunday and they waited in line for over an hour and a half each way. If you can, avoid weekends and go during the week.
Round trip tickets with admission to Sky Terrace 428 are HKD 99 for adults and HKD 47 for children and seniors, but you can get discounts if you buy advanced tickets through Klook. That's what we did. They even offer Fast Track tickets that allow you to bypass the line. Scroll down for more information.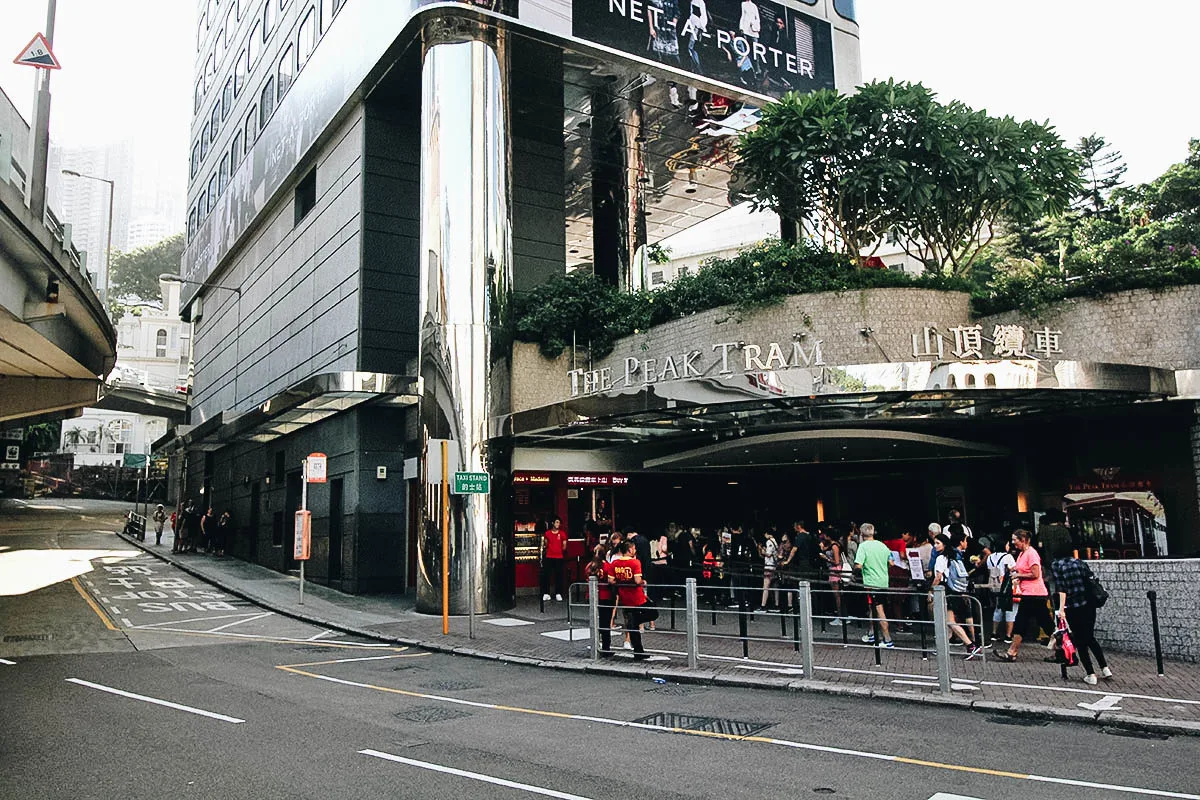 And away we go! Our wait wasn't that bad, maybe around 30 minutes. The Peak Tram is the steepest funicular railway in the world and takes about seven minutes to reach the top.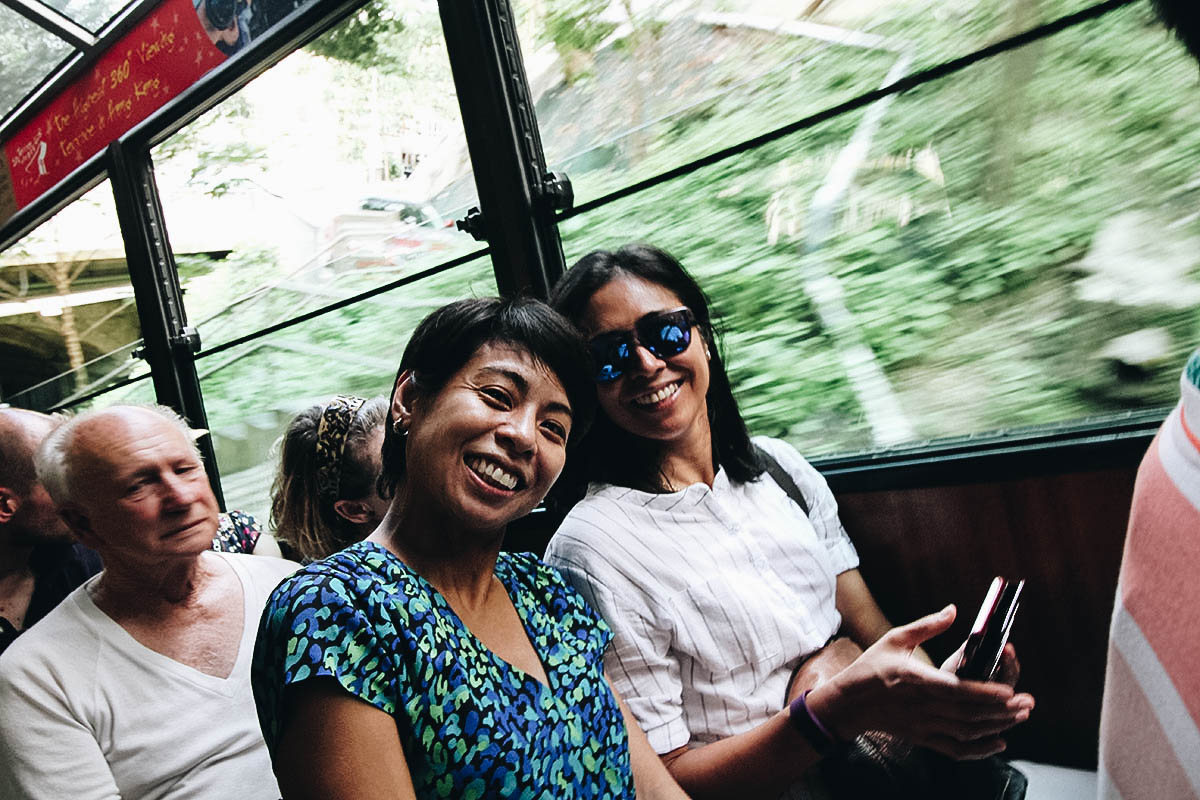 The tram will take you to the upper terminus and The Peak Tower which is like a mini mall with restaurants and shops. Madame Tussauds Wax Museum is there as well. On the roof of The Peak Tower is Sky Terrace 428. It gets its name because the viewing deck is 428 meters above sea level. When traveling, I usually go up similar observatories like Taipei 101 and N Seoul Tower but this one tops them all (pun intended). Being out in the open like this instead of behind glass makes the experience so much better.

Yes, the queue sucks but The Peak and Tram are so quintessentially Hong Kong that every first-timer should do it. The views alone are worth it. As mentioned earlier, you can get discounted tickets to The Peak Tram and Sky Terrace 428 through Klook.
If you'd like to skip the line altogether, then you can purchase a Fast Track ticket. This is essentially a guided tour that lets you bypass the queue. A tour guide will meet you at a designated place at your chosen booking time. He'll share some facts with you before taking you through a special line that shoots you right to the front. Soon as you reach the top, he'll leave you with your return ticket so you can spend as much time at The Peak as you like. Cool right? We actually wanted to do this but we weren't sure we could make it to the designated meeting time. You can follow the link to buy a Peak Tram Fast Track Pass through Klook.
Peak Tram / Sky Terrace 428, Victoria Peak, Hong Kong
Tel: +852 2522 0922 (Peak Tram) / +852 2849 0668 (Sky Terrace 428)
Fax: +852 2849 6237 (Peak Tram)
Website: thepeak.com.hk
Instagram: thepeakhk
Email: [email protected]
OPERATING HOURS:
Peak Tram – Mon-Sun, 7AM-12MN
Sky Terrace 428 – Mon-Fri, 10AM-11PM / Sat-Sun, 8AM-11PM
ADMISSION:
Peak Tram
Adult (12-64) – HKD 52 return, HKD 37 single
Child (3-11) & Senior (65+) – HKD 23 return, HKD 14 single
Peak Tram & Sky Terrace 428
Adult (12-64) – HKD 99 return, HKD 84 single
Child (3-11) & Senior (65+) – HKD 47 return, HKD 38 single
HOW TO GET THERE:
Take the MTR to Central station. From Exit J2, turn right through Chater Garden and cross Queen's Road Central. Make your way up Garden Road. You'll pass the Bank of China Tower and Citibank Plaza on your left and St John's Cathedral on your right before reaching the Peak Tram Lower Terminus.
Trick Eye Museum
As described, we had so much fun at the Trick Eye Museum in Singapore that we decided to go again in Hong Kong. If you haven't been to one of these Trick Eye Museums before, they're a chain of optical illusion museums that started in Seoul. They encourage museum-goers to interact and take pictures with the exhibits to come up with some pretty mind-bending and funny images. 😆
Trick Eye Museum Hong Kong is located at The Peak Galleria which is just outside The Peak Tower. Entrance is HKD 150 for adults and HKD 100 for children and seniors, though discounts are available. More information at the bottom of this post.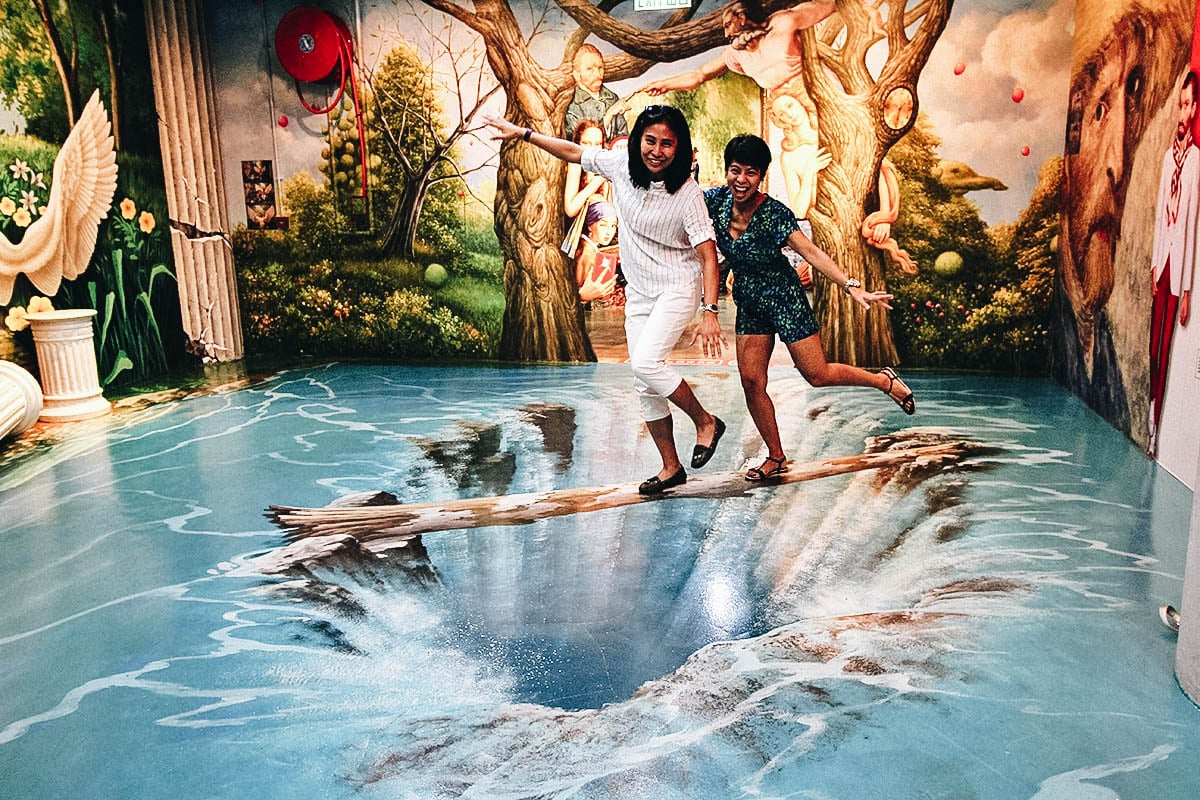 L: Brooke with wings
R: What lunacy is this? 😆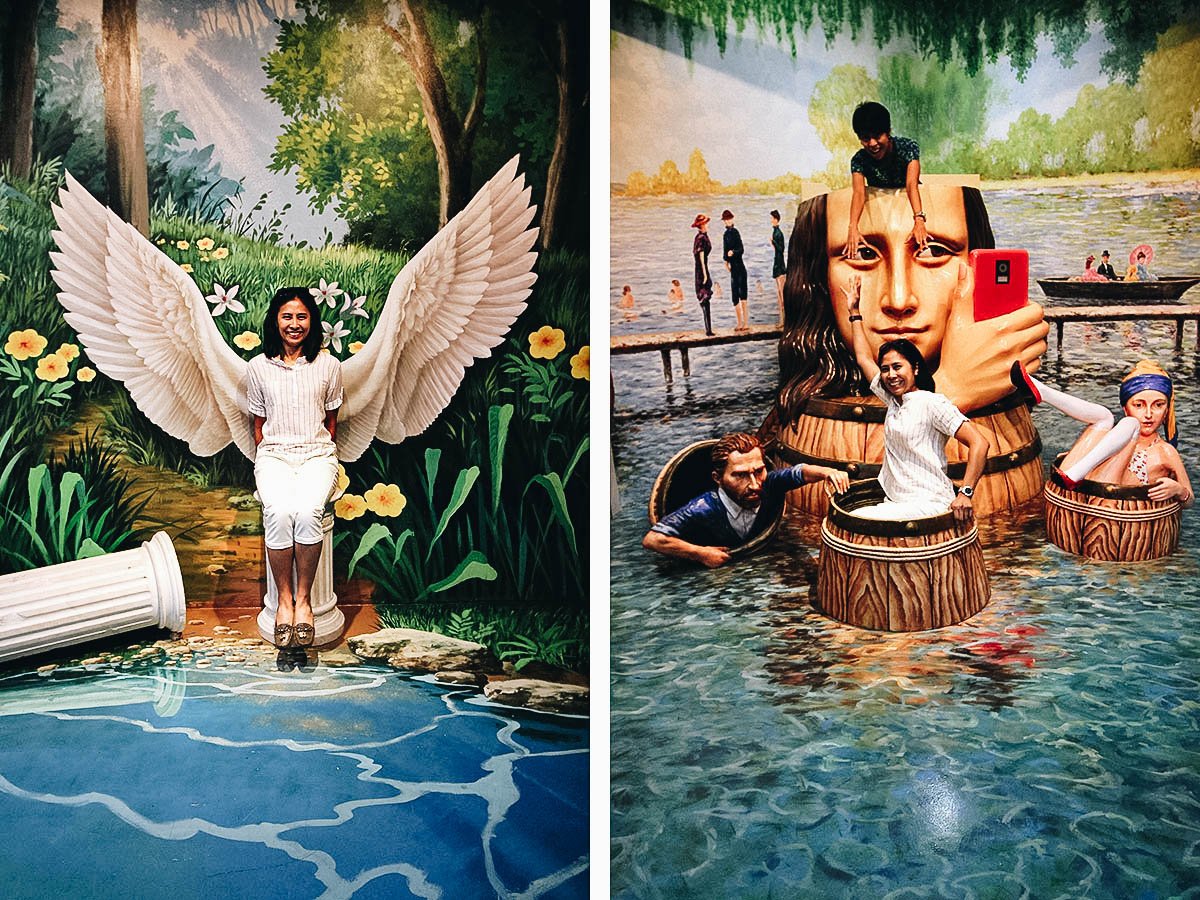 Brooke rolling out the barrel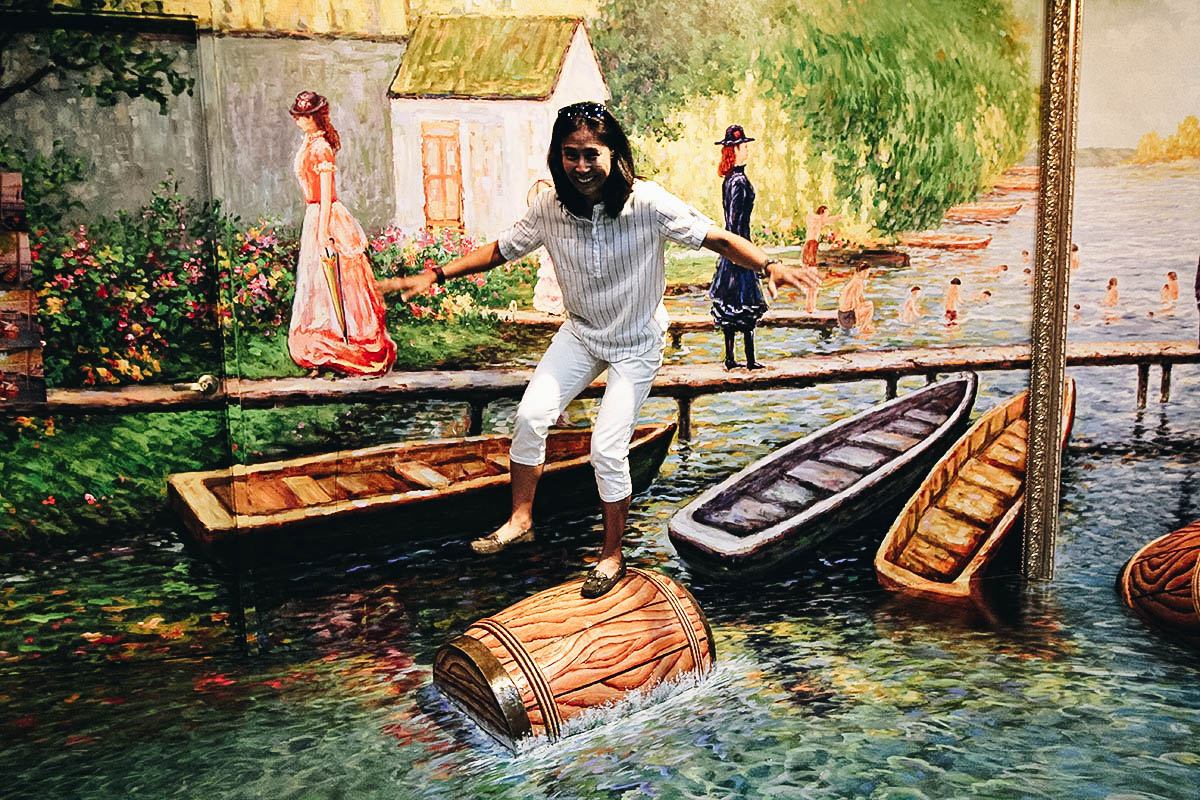 Ok, here's the plan. First, you boost me up and out of the museum. Two, I'll hitch a ride on fat David's back. Three, I have no idea.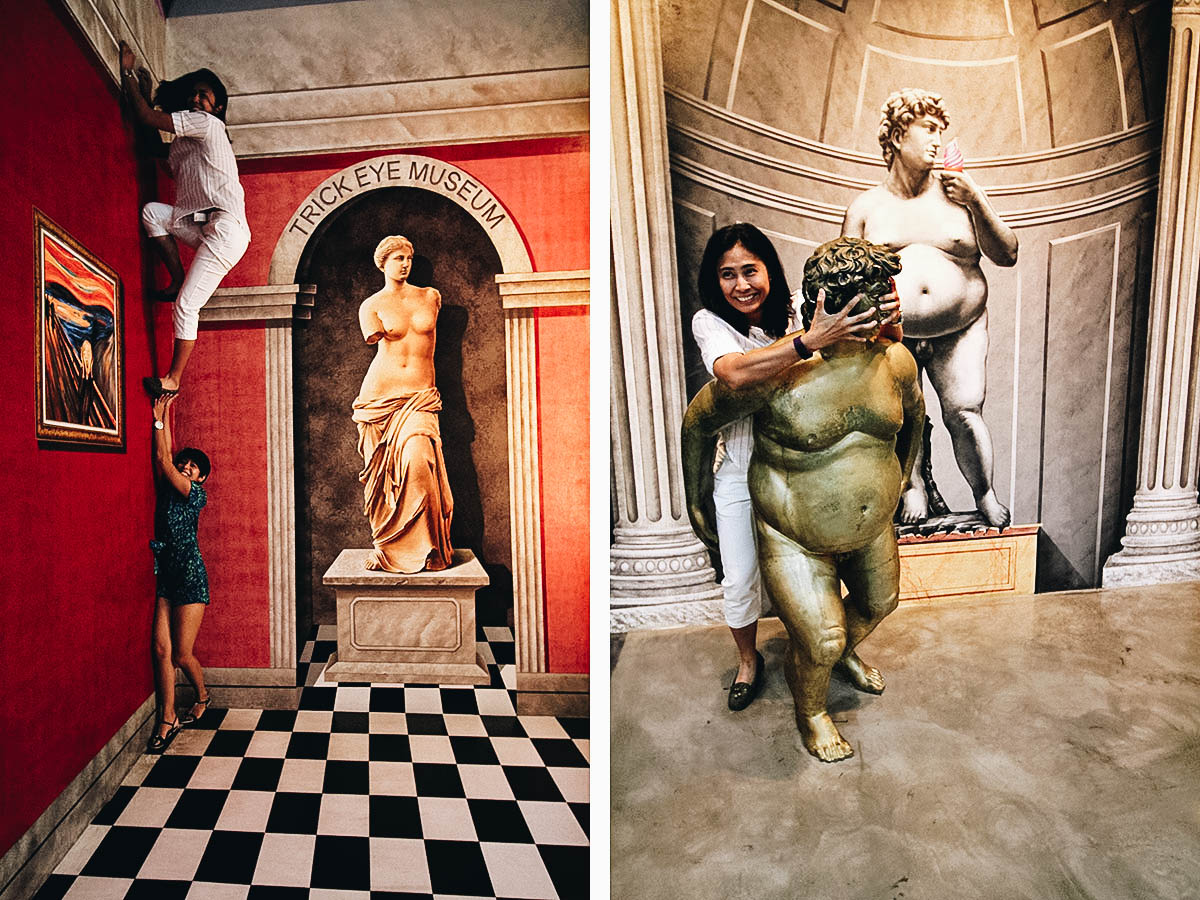 Nothing to see here, just Vincent pulling two Filipinos along on giant chickens.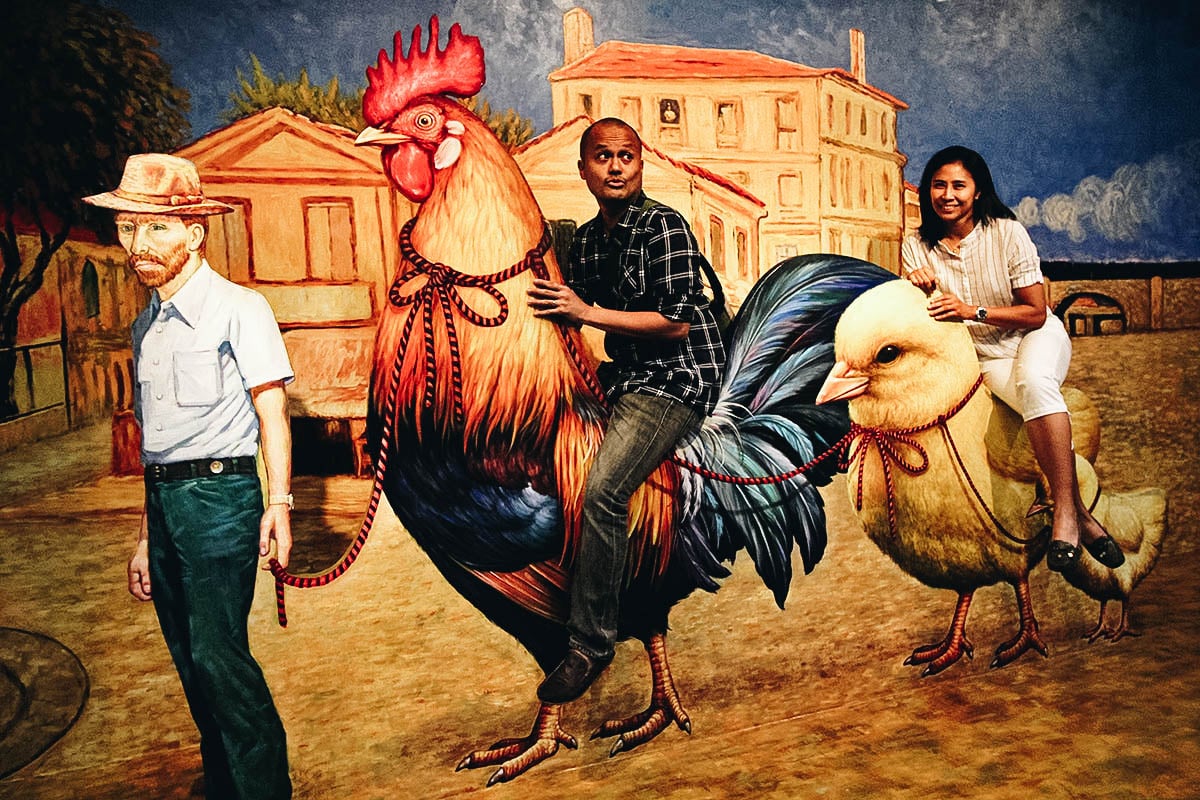 Who wore the tutu best? Brooke?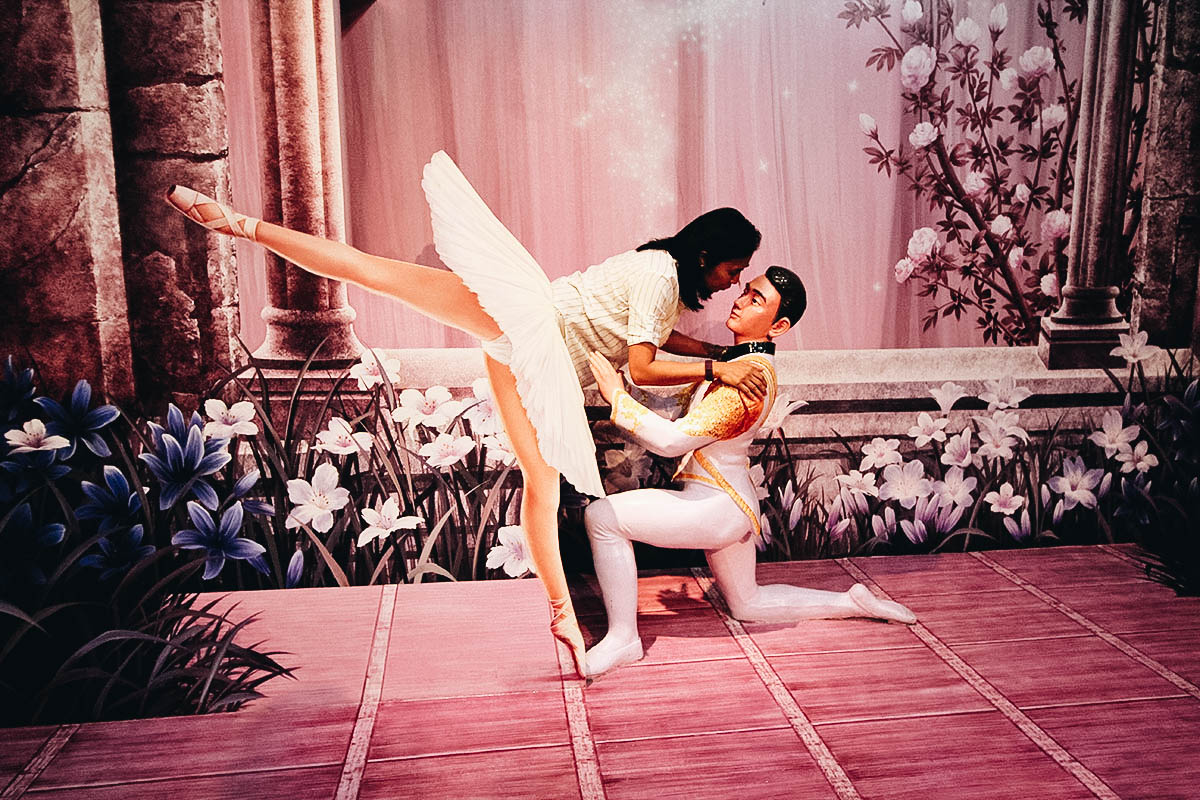 Or me? I love you Shin Jun-Yeong! 😆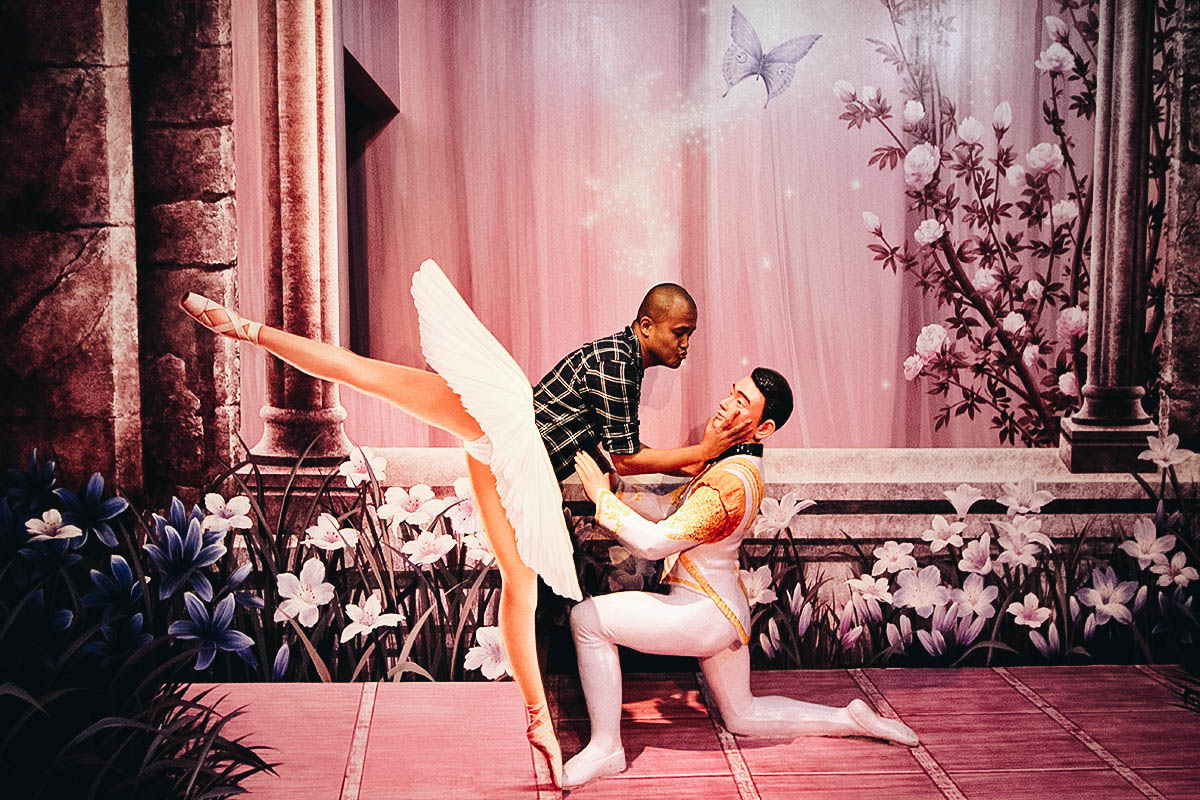 Madame? I know you're friendly and all, but I can't paint your portrait with you leaning on my arm like this. — Seurat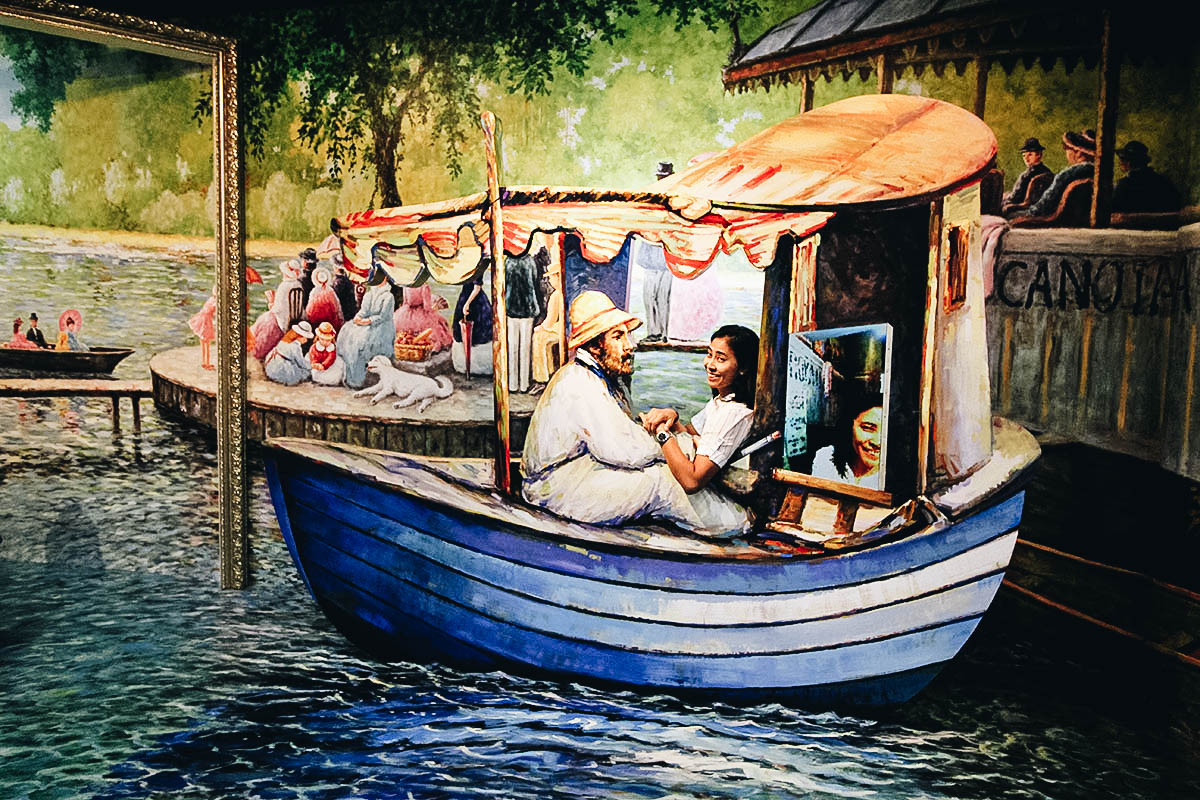 What sorcery is this?! 😆 I wanted to do this in Singapore but we didn't have a third person to take the picture. If you can, it's best to go to these Trick Eye Museums with at least three people to best enjoy exhibits like this.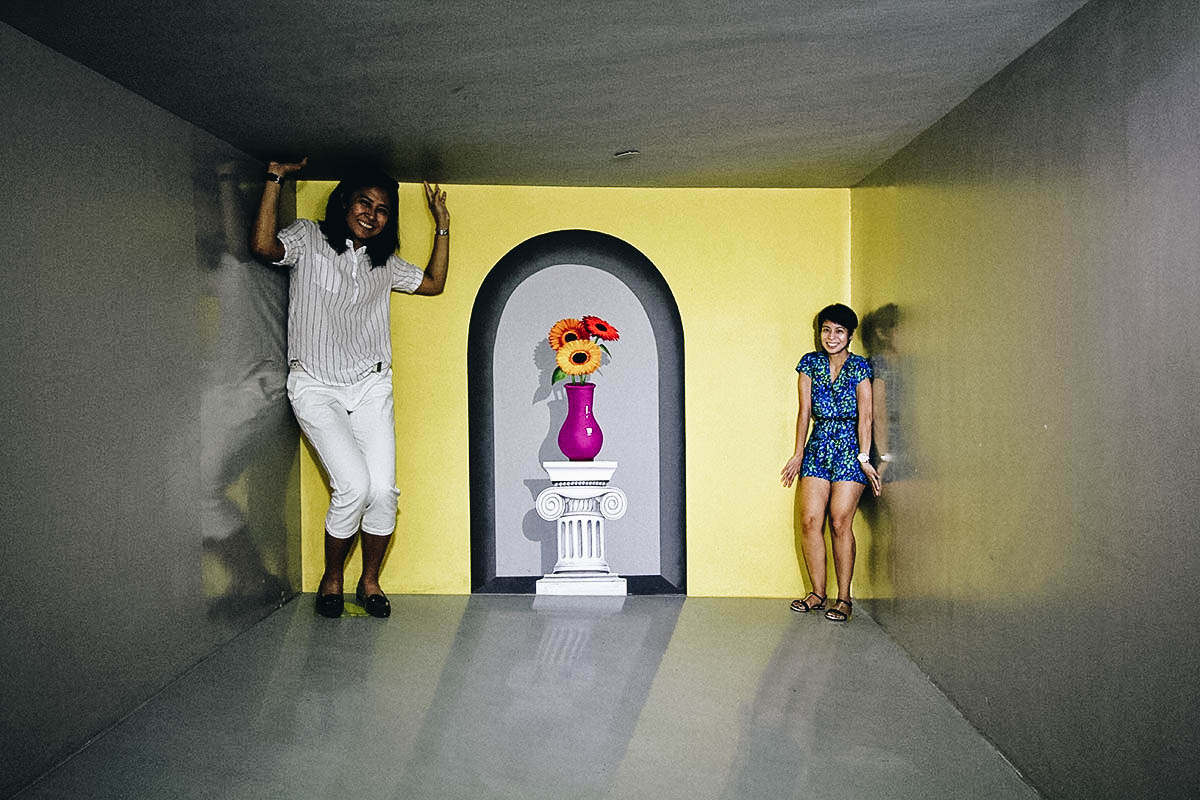 Brooke's about to fall into the lava! Yay! Go Trick Eye. — Mona Lisa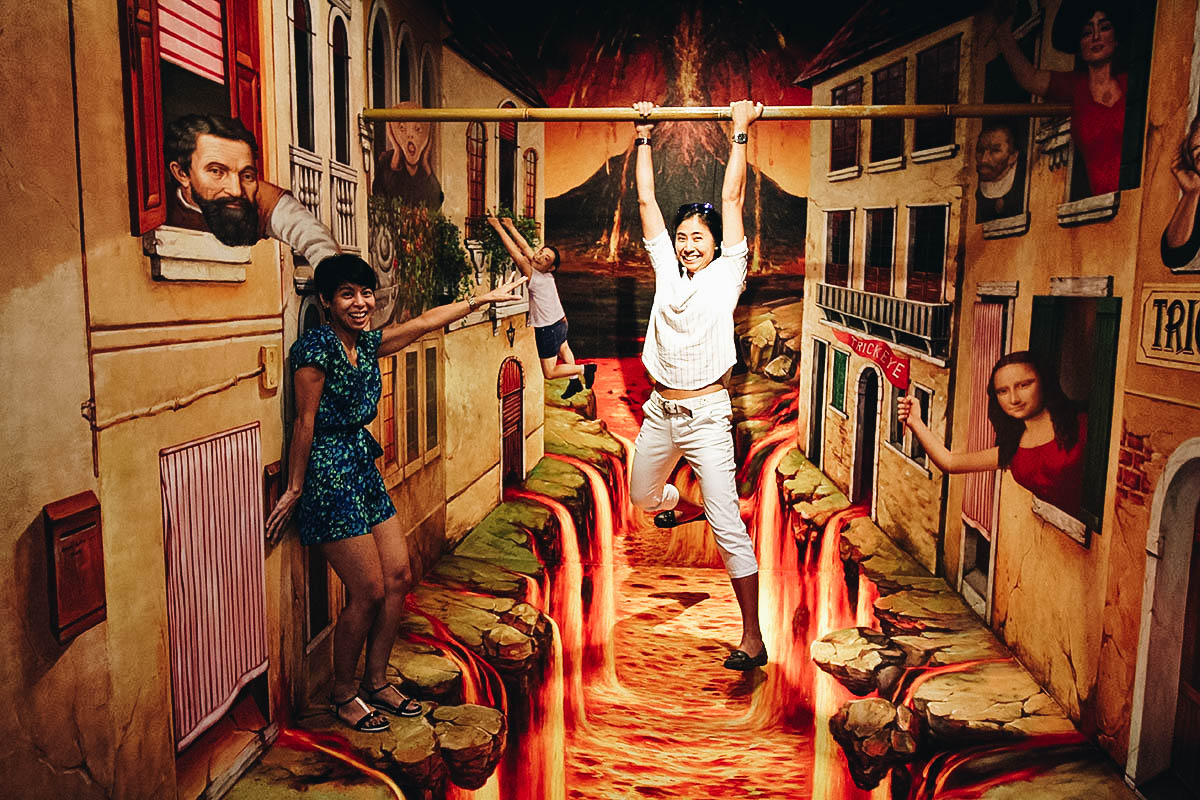 Vroom vroom! I do wheelies and shit.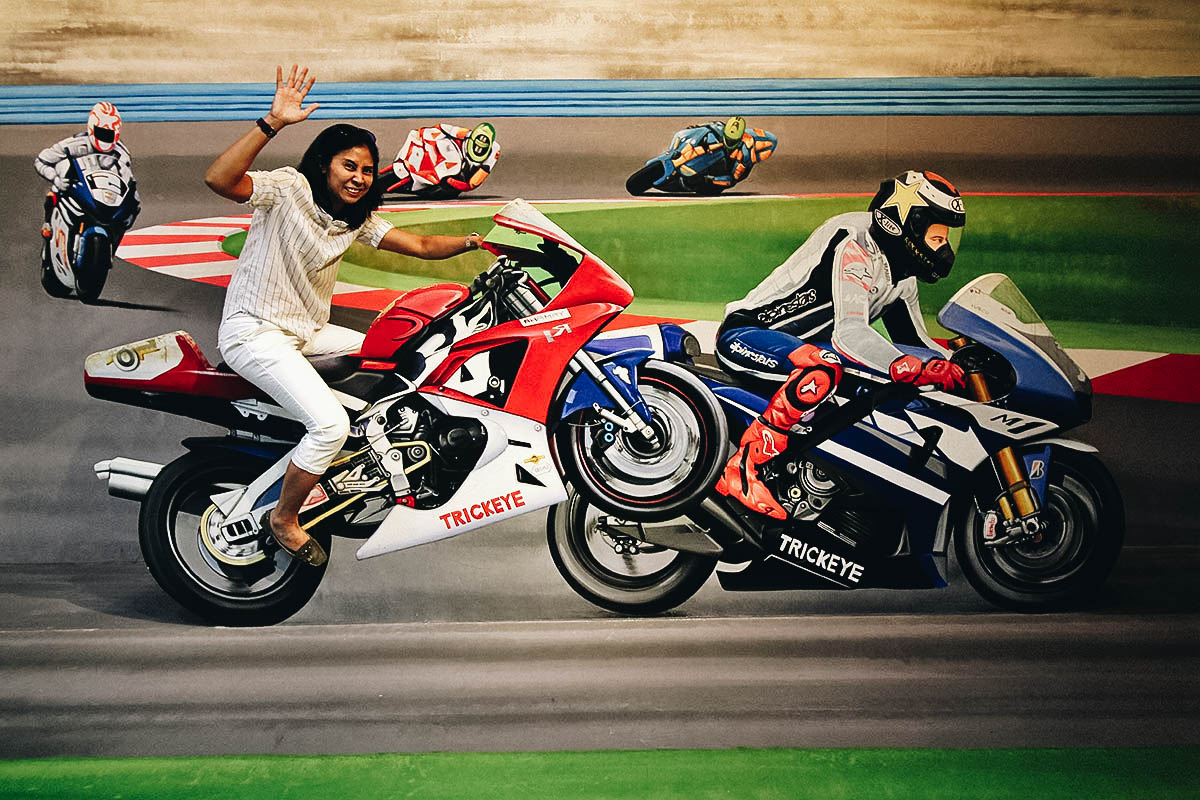 L: Ren hanging by her fingertips
R: Cowabunga dude!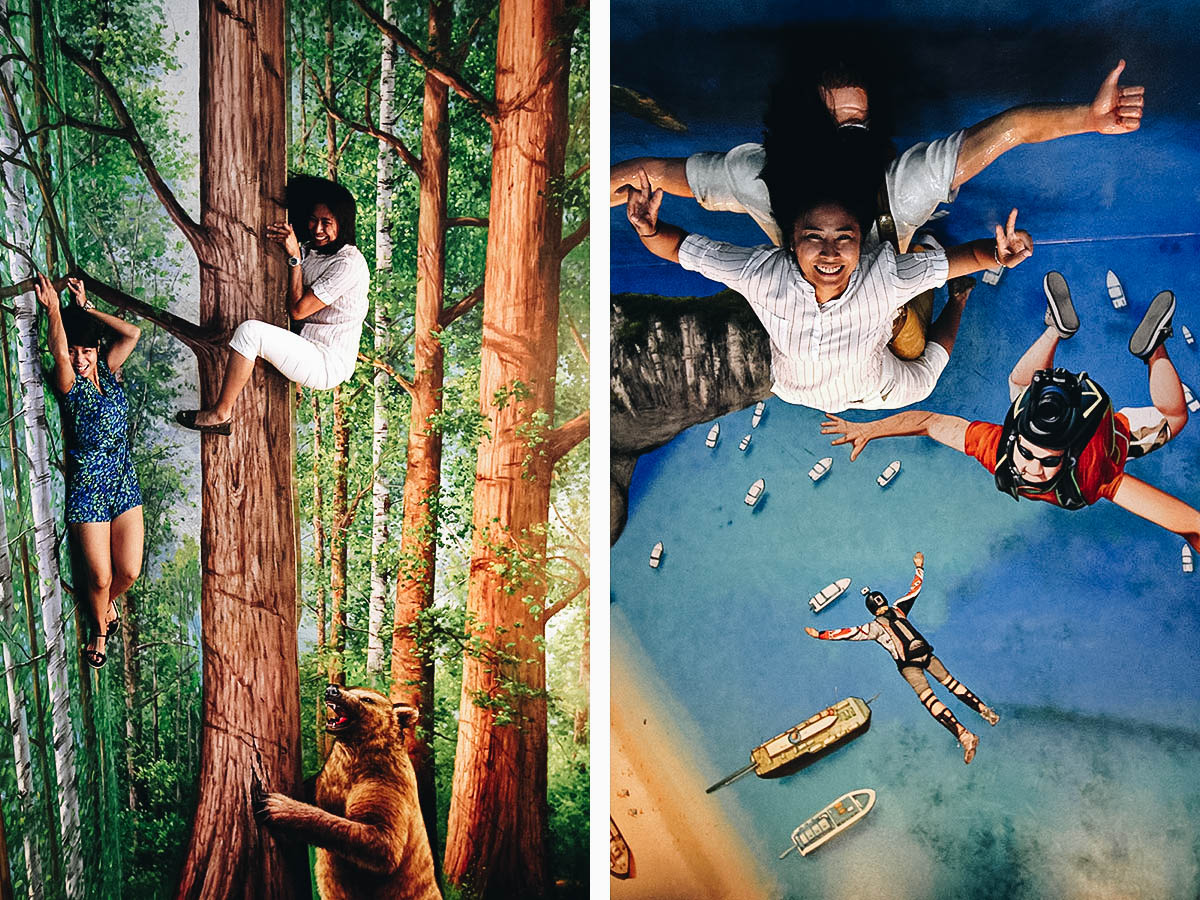 Cowabunga yo face! Gaaaaaahhhh!!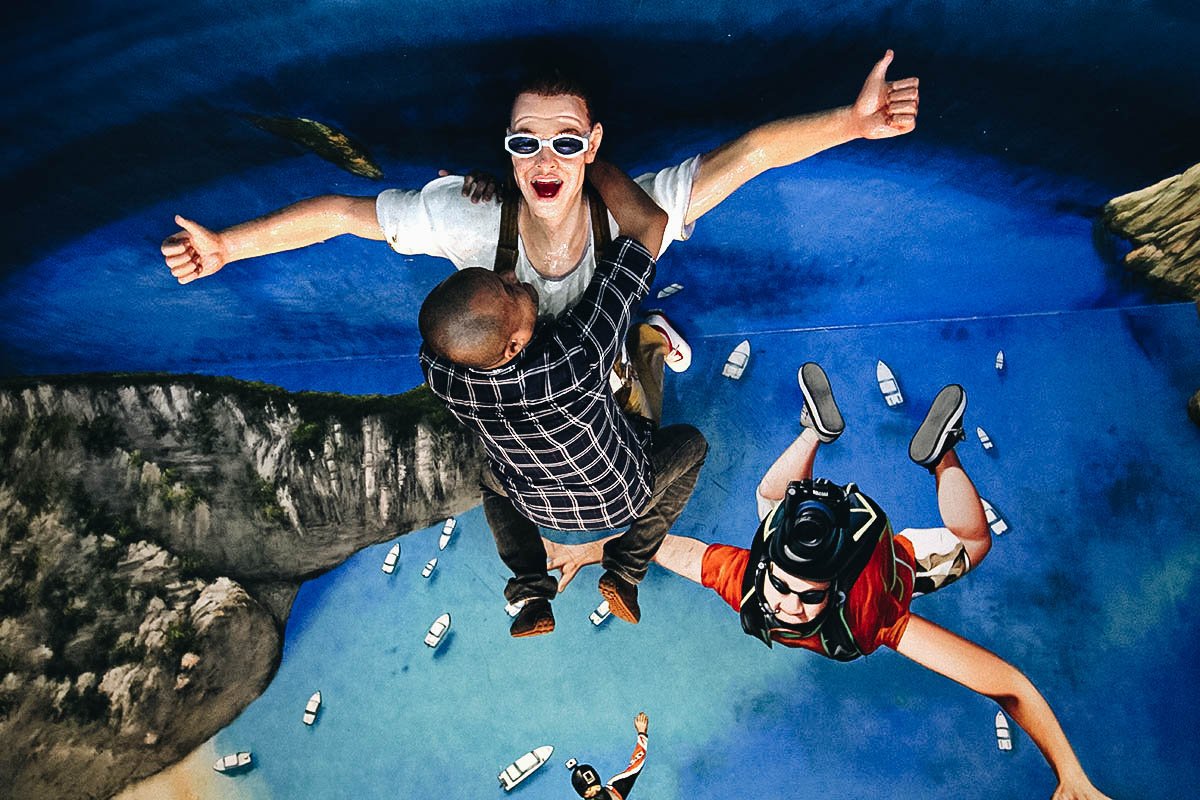 Get a room you two.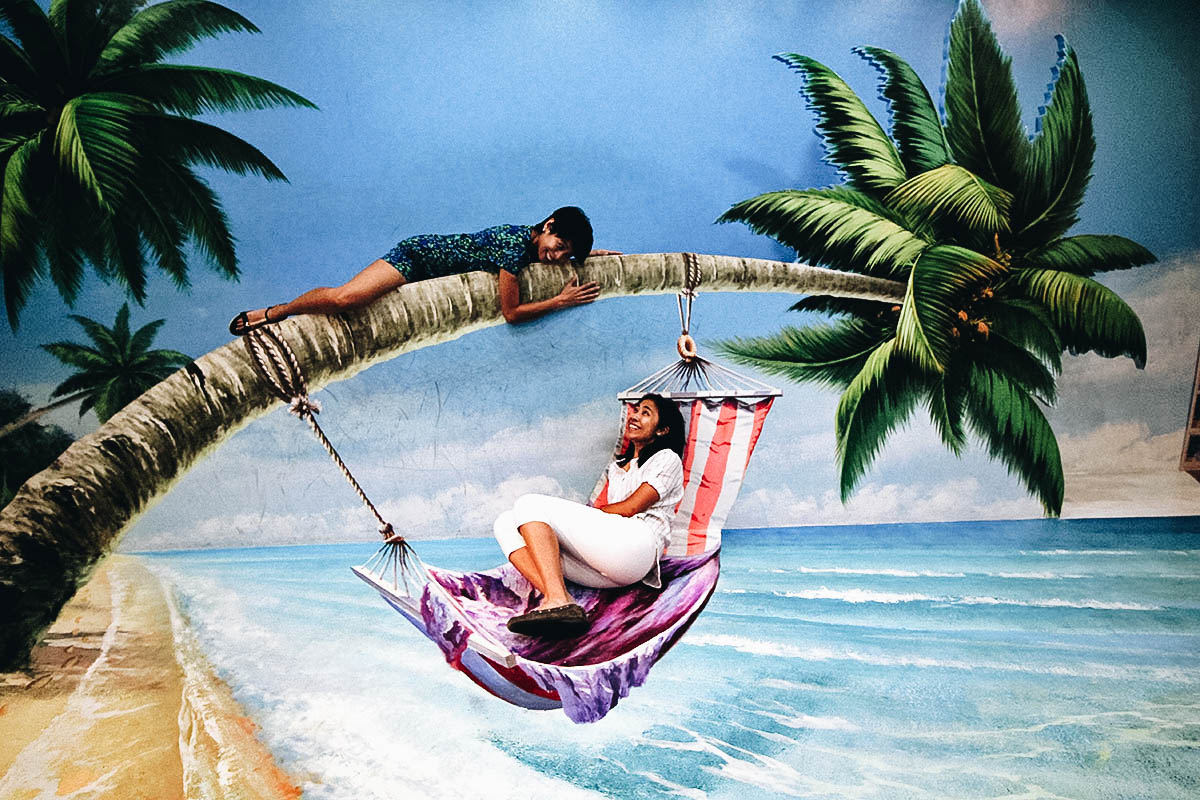 Brooke…floating.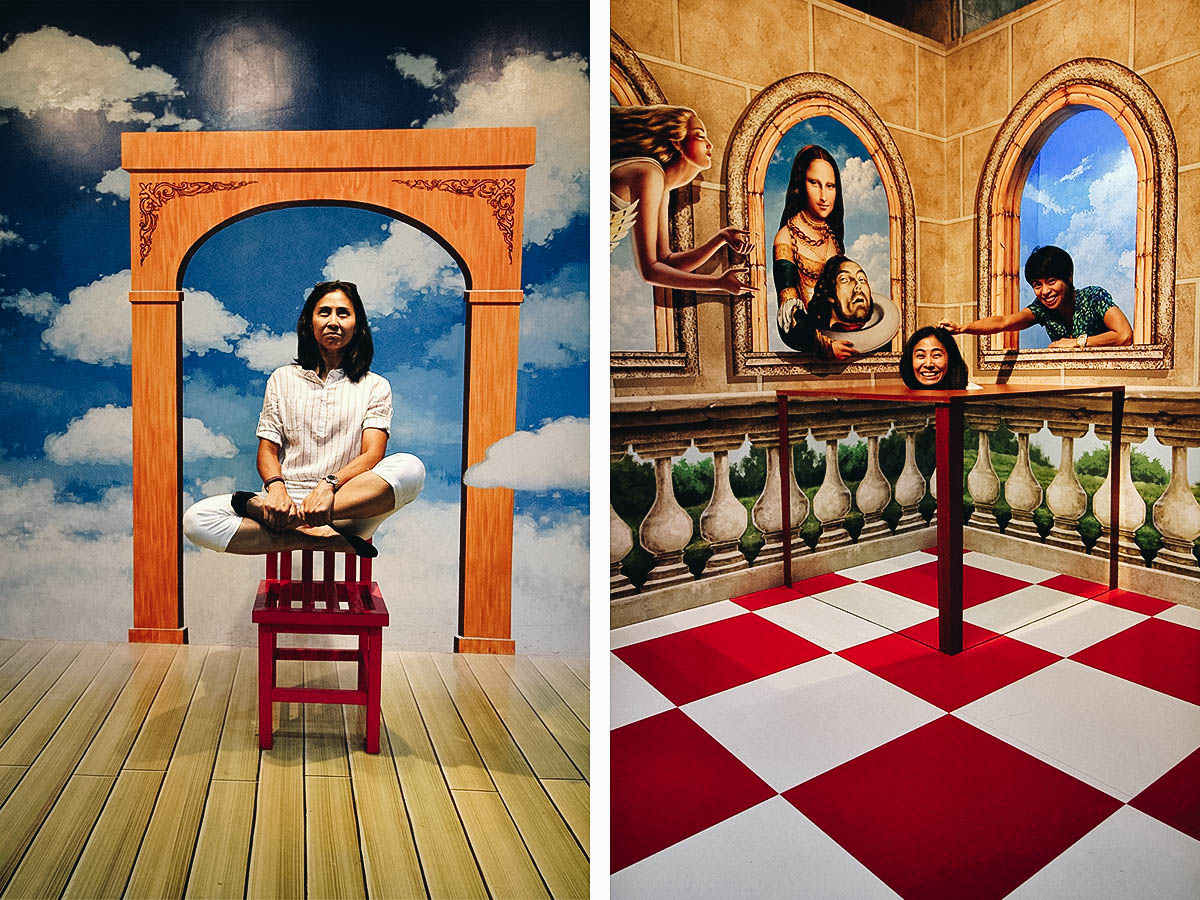 Pull me up guys! Another awesome illusion.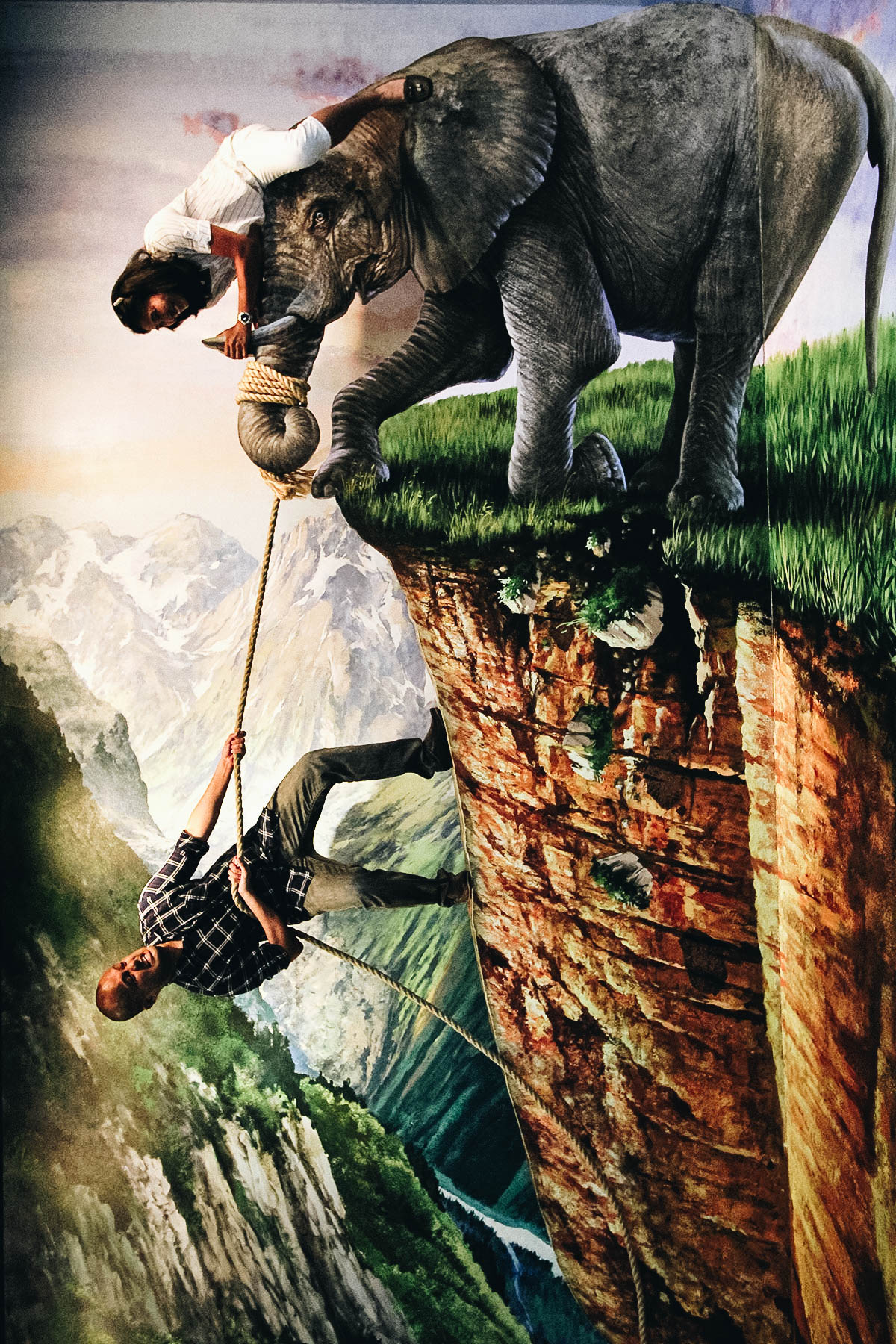 Ren proving that she never skips leg day at the gym.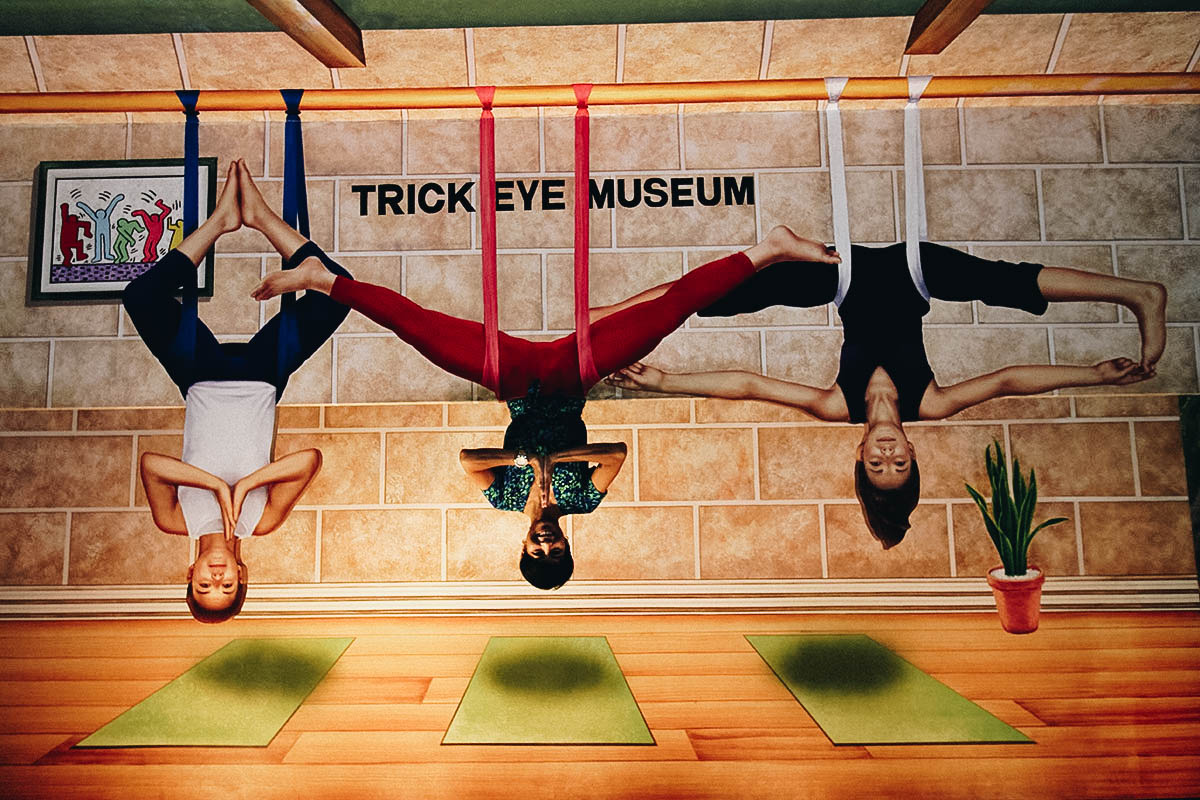 I like cats.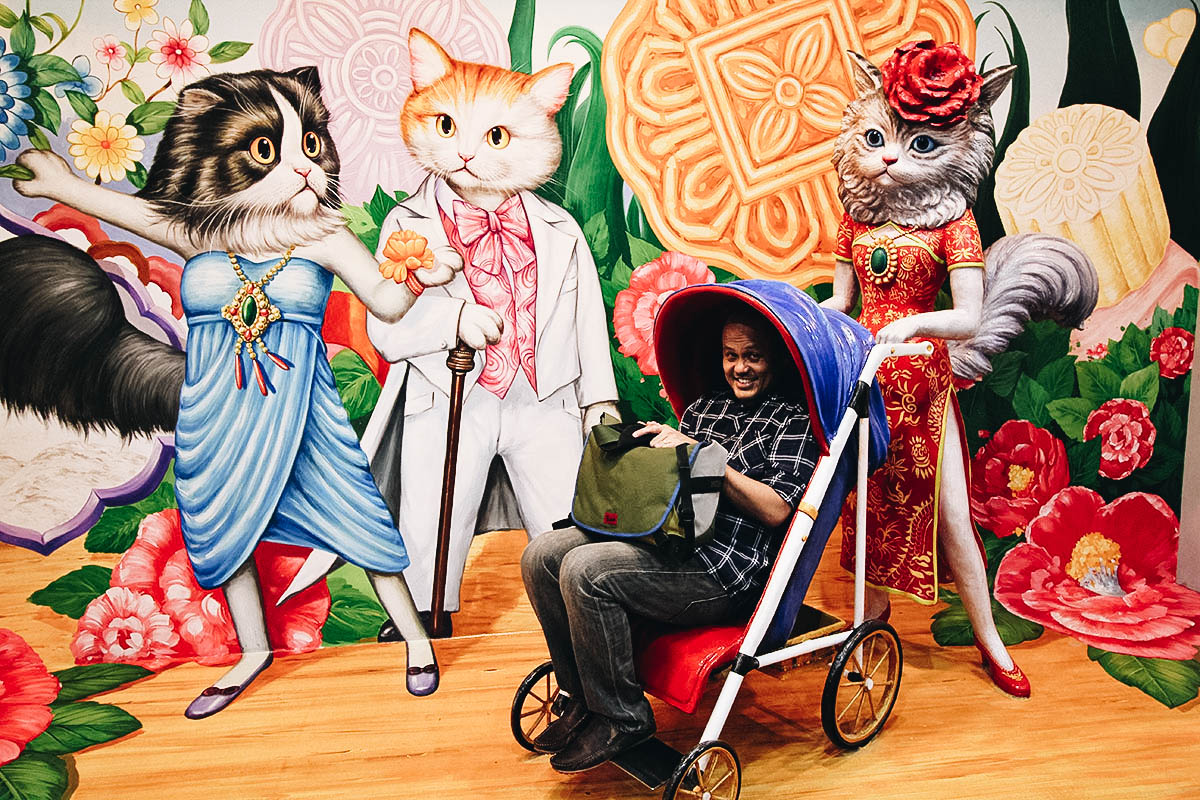 "Om" or "rock on dude"?

No matter how dire the situation, these two always find a way to smile. 🙂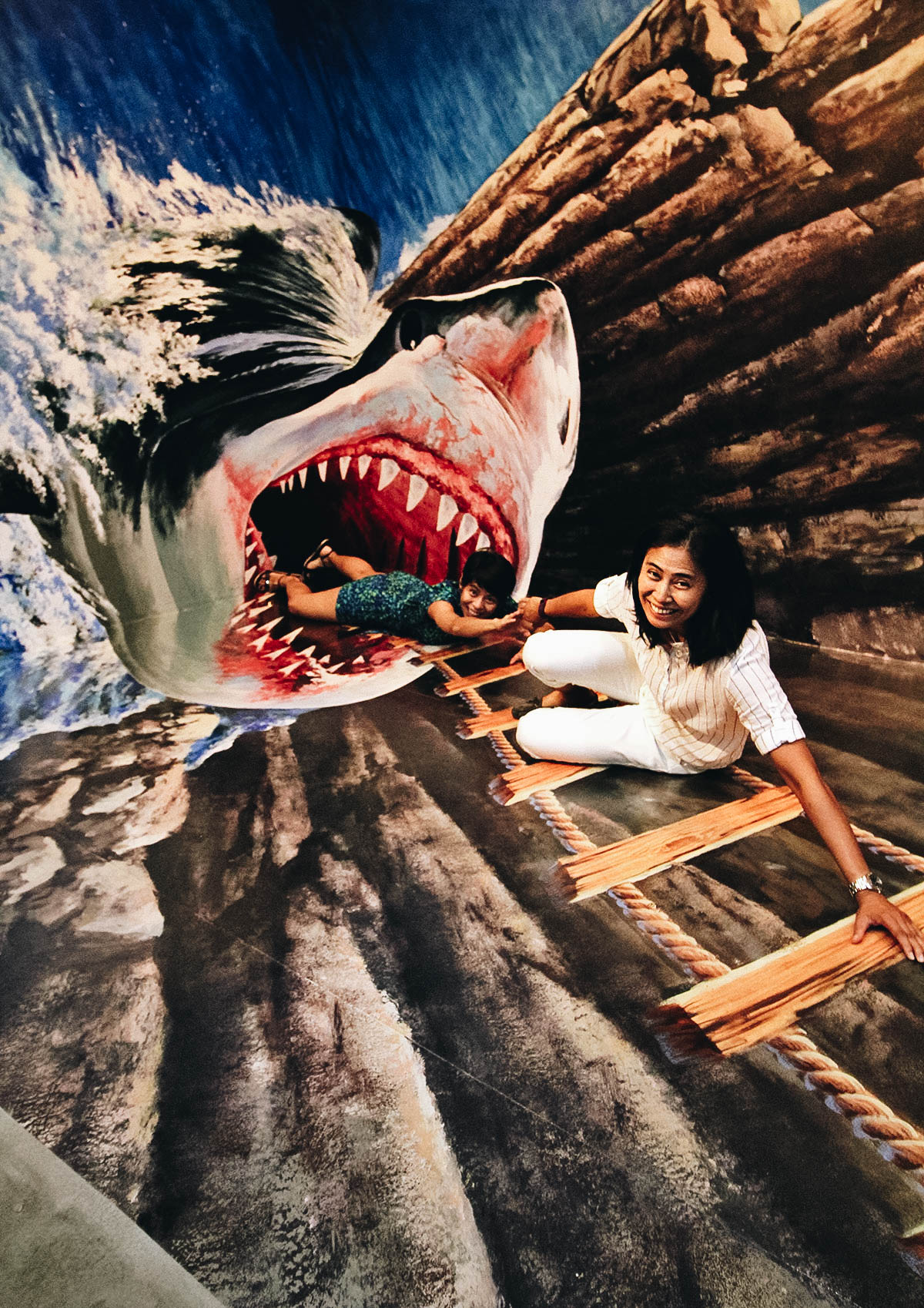 Escape from Hong Kong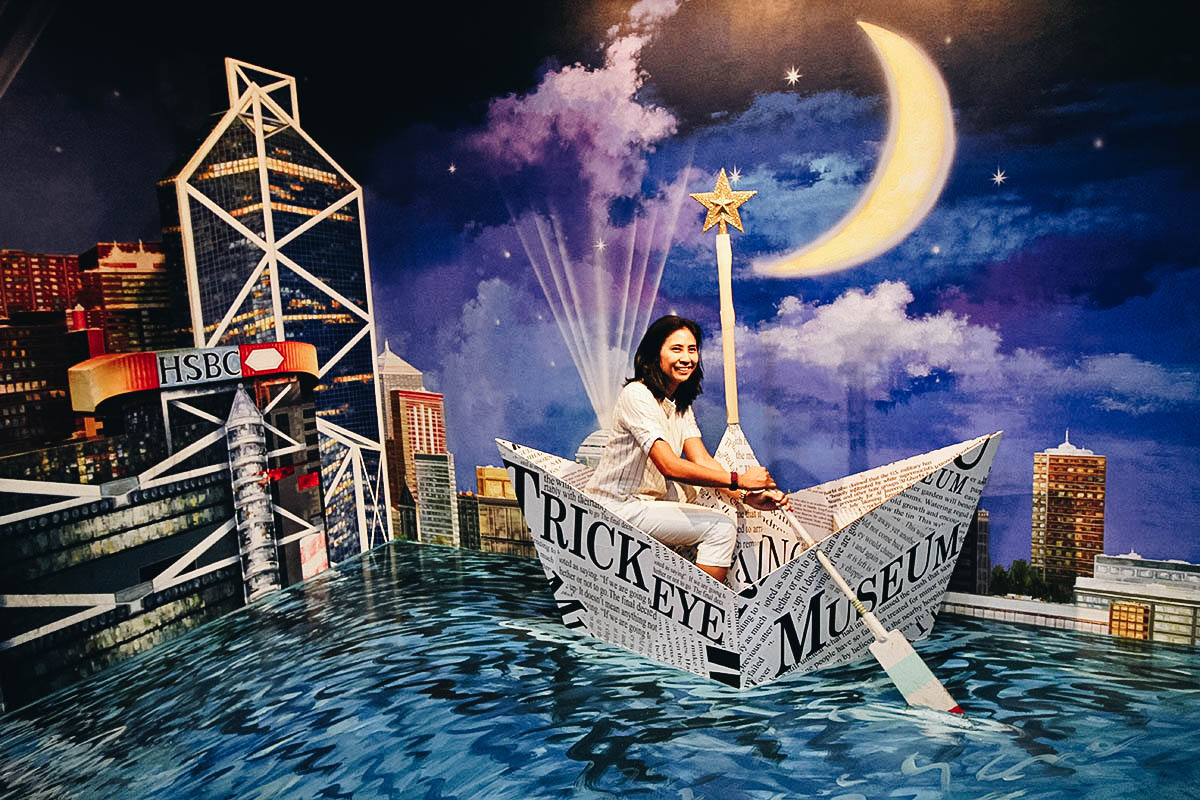 L: What is it with Brooke and killer fishes?!
R: Shin Jun-Yeong! 😆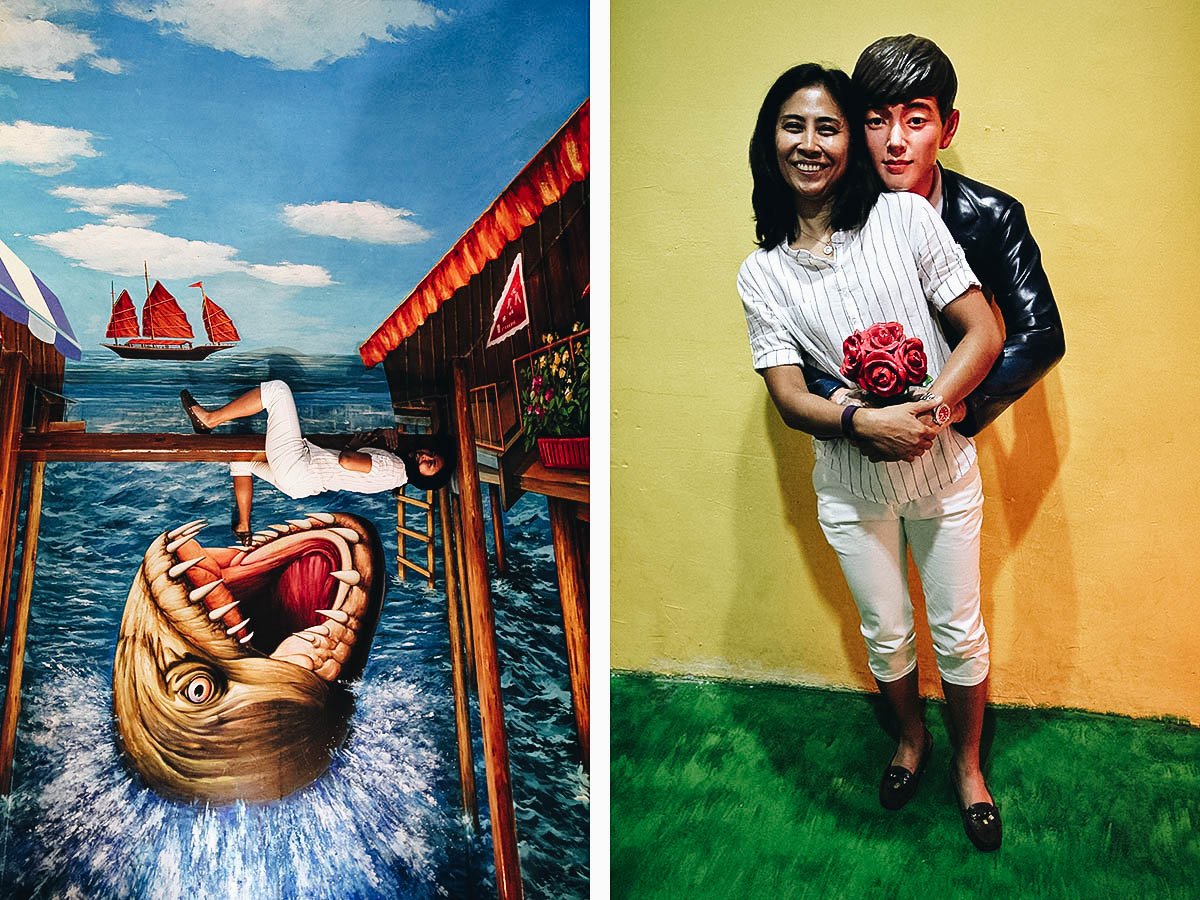 If you're looking for something else to do other than the Sky Terrace 428, then you may want to visit the Trick Eye Museum. It isn't as big as the one in Singapore but it's just as much fun. Admittedly, the novelty of the experience had eroded a bit after our first visit. These Trick Eye Museums are pretty much the same everywhere so it's probably an experience best enjoyed once. If you've never been to one, then you'll have a blast.
Trick Eye Museum, Hong Kong
Shop No. 1 on Level 3, The Peak Galleria, 118 Peak Road, Victoria Peak, Hong Kong
Tel: +852 2813 1686
Website: trickeye.com/hongkong
Facebook: trickeyeHongKong
Instagram: trickeyehk
Twitter: trickeyehk
Email: [email protected]
Operating Hours: Mon-Sun, 10AM-10PM
ADMISSION:
Adult (12-64) – HKD 150
Child (3-11) & Senior (65+) – HKD 100
HOW TO GET THERE:
Trick Eye Museum is on the 3rd level of The Peak Galleria which is just outside The Peak Tower.
Disclosure
We were guests of Trick Eye Museum Hong Kong and given free admission. As always, all the photos, words, and opinions on this post are mine and mine alone. Some of the links in this post are affiliate links, meaning we'll get a small commission if you make a purchase at NO extra cost to you. We really appreciate your support as this helps us keep this website going. Thank you!