Malaysian Chicken Satay with Peanut Sauce
They say that 93% of all daily communication is nonverbal. 55% is conveyed through body language, 38% through the tone of voice, and just 7% through actual words spoken. Being the dense, thick-headed neanderthal that I am, it's no surprise then that I often heard the words "You never listen to me!" early on in our marriage. 😆
In making this plate of chicken satay however, I instantly got the feeling that Ren was trying to tell me something. Her second Malaysian dish in a row, and follow-up to this beautiful Nasi Lemak, this simple, wordless gesture clued me in as to how excited she was about our upcoming trip to Langkawi.
Going to Kuala Lumpur and Langkawi for two weeks in September to celebrate our eighth wedding anniversary, we chose Malaysia just as much for its diverse cuisine as its physical beauty. Having been entranced by what we'd seen on the food and travel network, I totally got her enthusiasm, excited as I was to try all those mouth-watering Malaysian dishes like bakuteh, hokien mee, nasi kandar, Tanjung Tualang prawns, and of course, satay and nasi lemak.
Calling her out on this nonverbal cue, her eyes lit up like sparklers, confirming my suspicions. "Yeah! I've been thinking about it na nga eh!", she said excitedly. "Score!", I thought to myself. In understanding what she meant, I realized that I had just sent her a nonverbal message myself:
"Sweetheart, I may still be a neanderthal, but at least I'm getting better at this marriage thing." (pats self on back) 😉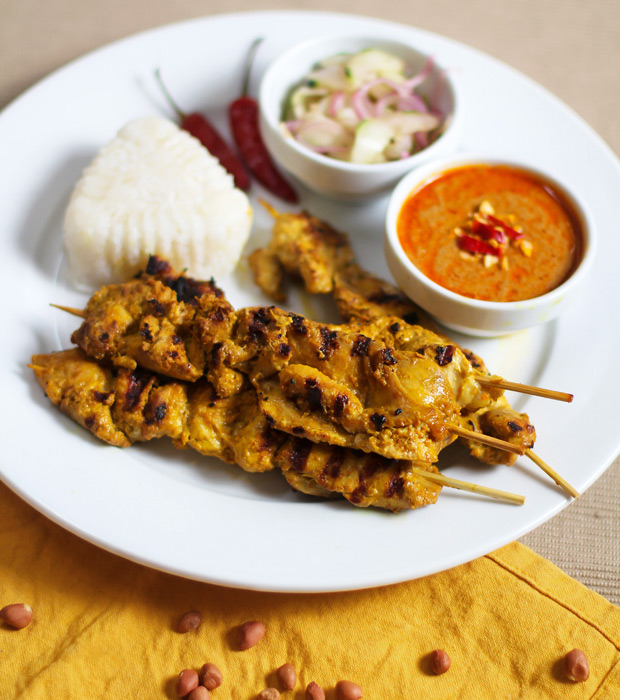 Ren dhungar-smoked the chicken for an added layer of smokiness. Marinated for 48 hours, the chicken managed to stay tender and juicy despite her use of breast meat.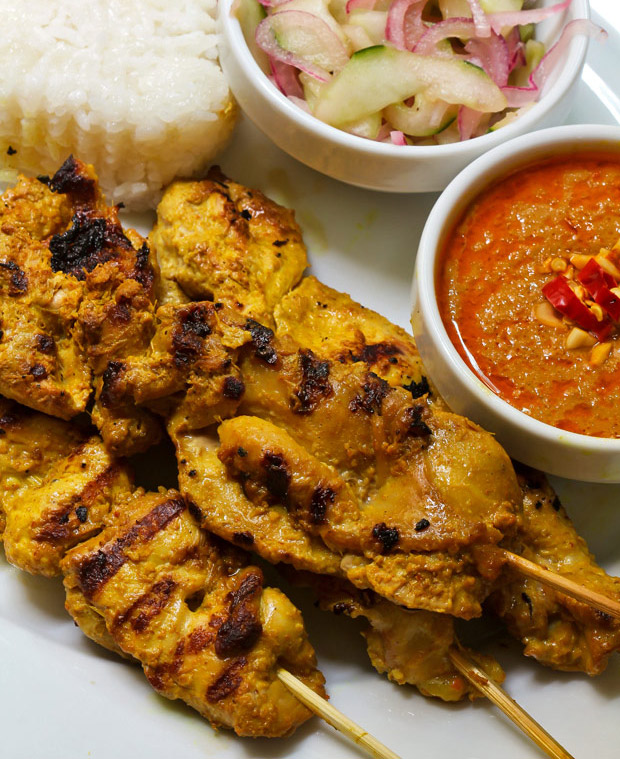 rasamalaysia.com.
Ingredients
CHICKEN SATAY
4 chicken legs and thighs (preferred) or 4 chicken breasts, boneless and skinless
FOR SPICE PASTE
1 tsp coriander powder
2 stalks lemongrass, white parts only
6 shallots, peeled
2 cloves garlic, peeled
4 Tbsps cooking oil
1 tsp chili powder
2 tsps turmeric powder
4 tsps of kecap manis (Indonesian sweet soy sauce)
1 tsp oyster sauce
Bamboo skewers (soaked in water for 2 hours to avoid burning)
1 cucumber, skin peeled and cut into small pieces
1 small onion, quartered
SATAY PEANUT SAUCE
1 1/2 cup dry roasted peanuts (unsalted)
1 cup water
1 Tbsp sweet soy sauce (Kecap manis)
1 1/2 Tbsp sugar (palm sugar preferred)
1/8 tsp salt
1/4 cup oil
1 heaping Tbsp tamarind pulp (soaked in 1/4 cup water for 15 minutes, squeeze tamarind pulp for juice and discard pulp)
FOR SPICE PASTE
6-8 dried red chilies, seeded and soaked in warm water
3 cloves garlic
3 shallots
2 lemon grass (white parts only)
1 inch ginger (galangal preferred)
1 Tbsp coriander powder (optional)
Directions
FOR CHICKEN SATAY
Cut chicken meat into small cubes.
Grind spice paste ingredients in food processor. Add in a little water if needed. Marinate chicken pieces with spice paste for at least 12 hours, not to exceed 48.
Thread meat onto bamboo skewers and grill for 2-3 minutes on each side. Serve hot with fresh cucumber slices and onions.
FOR SATAY PEANUT SAUCE
Crush peanuts coarsely with mortar and pestle or mini food processor then set aside.
Chop spice paste ingredients and blend until fine. Heat oil and fry spice paste until aromatic and. Add peanuts, tamarind juice, water, sugar, and sweet soy sauce, then stir thoroughly. Simmer in low heat and continue stirring for about 3 minutes until peanut sauce becomes smooth. Serve at room temperature with chicken satay.
JB is one half of Will Fly for Food and its chief itinerary maker.  He's the one to blame for all the crappy photos and verbal diarrhea on this blog.  Don't listen to him.
Latest posts by JB Macatulad (see all)