EDITOR'S NOTE: Traveleater Sep Simborio shares with us ten of the most delicious dishes to try on your next visit to Albania.
Planning a trip to Europe can be a bit challenging with all the gorgeous countries to visit. As a Traveleater, it's a must to tick the more popular countries off the list. But once the attention is shifted to the in-betweens, that's where the trip could be a lot more interesting.
Sure, France, Italy, Spain, and Greece are on the top of that list for their stunning views and downright delicious food. But for the more adventurous, their neighboring countries in the Balkans are worth a visit. They're such pleasant surprises if one just goes "off the beaten path," so to speak.
One of the underrated countries to visit for another epic gastronomic quest is nestled between Greece and the azure waters of Italy. Albania, a country with a captivating history, natural beauty, and eccentricity waiting at every corner, is an attractive option for epicureans looking to elevate their palatal experience.
Save This on Pinterest!
No time to read this Albanian food guide now? Click on the save button and pin it for later!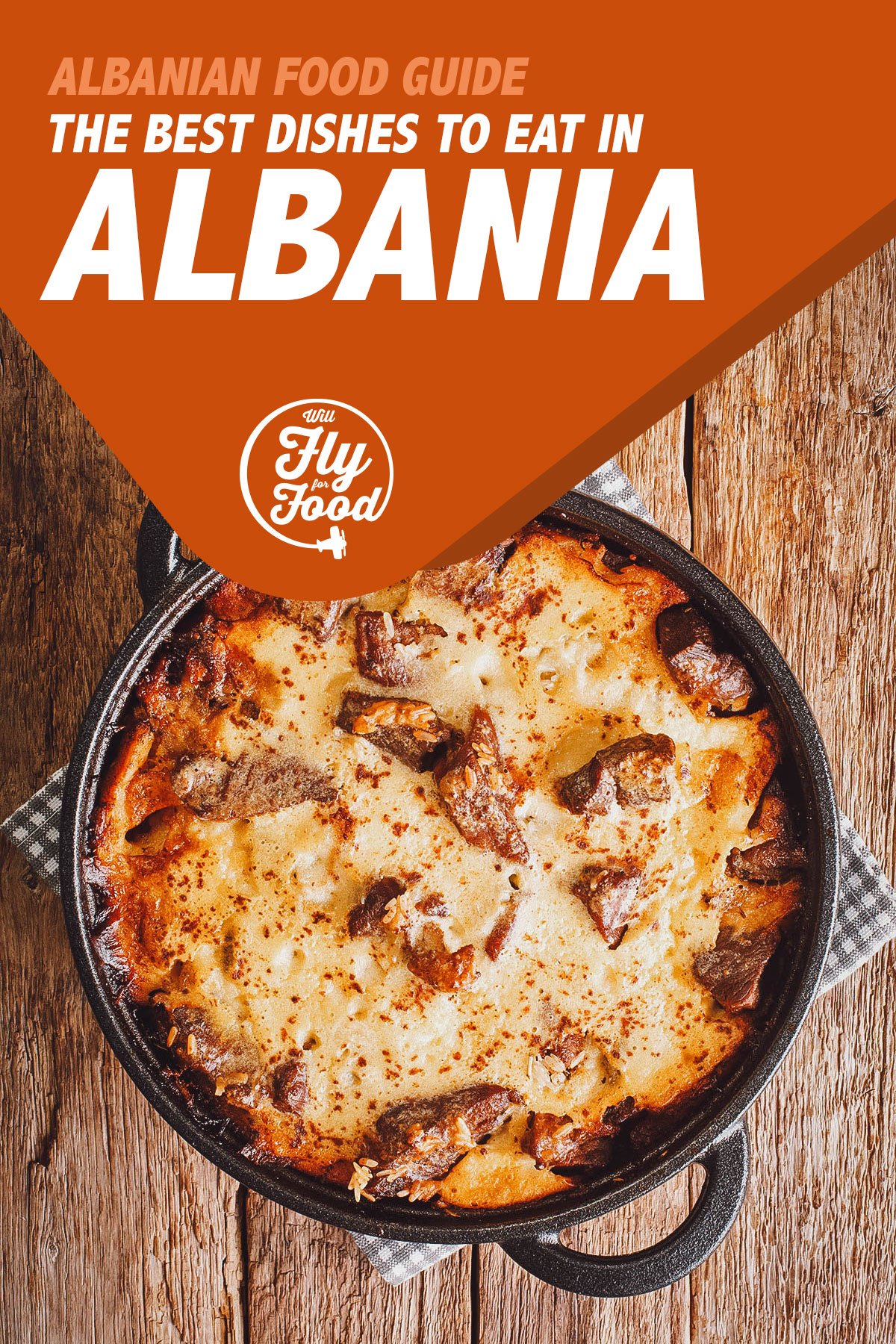 Photo by lenyvavsha
WHAT IS TRADITIONAL ALBANIAN FOOD?
From its location on the map, Albanian food is largely Mediterranean, with roots dating back to the ancient Ottoman Empire. The combination of its fertile soil, long coastline, and cultural influences from its neighboring countries have given rise to modern Albanian cuisine that's simple yet diverse.
But when it comes to traditional Albanian food, fruits, vegetables, and seafood are typically served along with the abundant use of olive oil. Various meats are also used in dishes. When it comes to regional Albanian cuisine, the country is divided into three – the north, central, and south – and ingredients are primarily based on the area, climate, and land where produce are grown.
THE BEST FOOD IN ALBANIA
Arguably one of the most underrated countries in Europe when it comes to food, Albania is a country worth visiting to satiate that palate. Here are some of the best dishes that Albanian cuisine has to offer.
1. Tarator
After a long night of throwing back raki, mornings can be rough. A good hangover remedy is a refreshing bowl of tarator.
Tarator is essentially cold cucumber and yogurt soup. It also has dill, salt, and garlic added to the mix to elevate the flavor. One of the easiest ways to enjoy this dish is with a side of feta cheese and fresh bread. Fruits, olives, nuts, and hummus with pita bread also go well with it.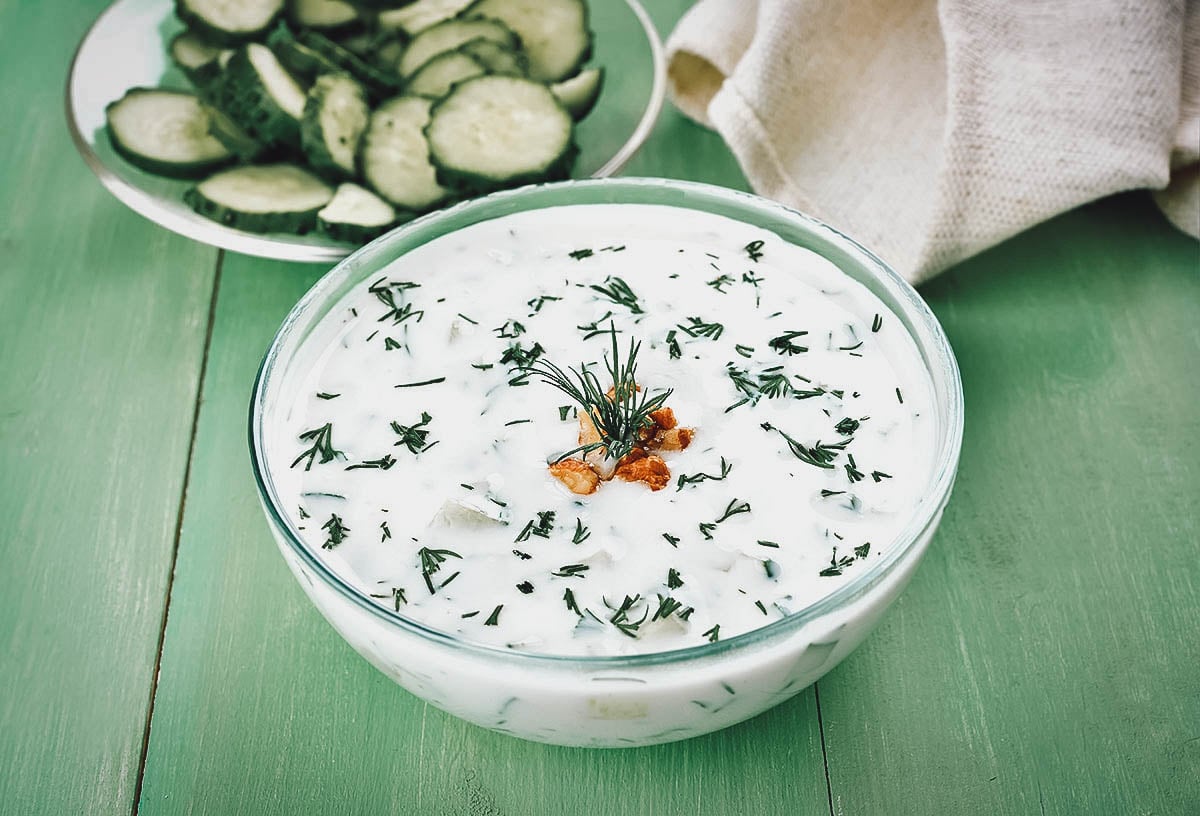 Photo by voltan1
2. Dolma
Dolma is another dish of Ottoman origin that means "to stuff" in Turkish. This dish is popular across the Balkans, Middle East, and Central Asia. Essentially, dolmas are stuffed grape leaves, and can be eaten either cold or warm. The traditional dolma recipe involves meat fillings and is served warm with garlic-flavored yogurt sauce.
Also known as japrak, Albanian dolma uses cabbage if there are no vine leaves available and is stuffed with minced lamb, rice, onions, herbs, and seasoning. The rolls are simmered until tender and served with cold yogurt soup.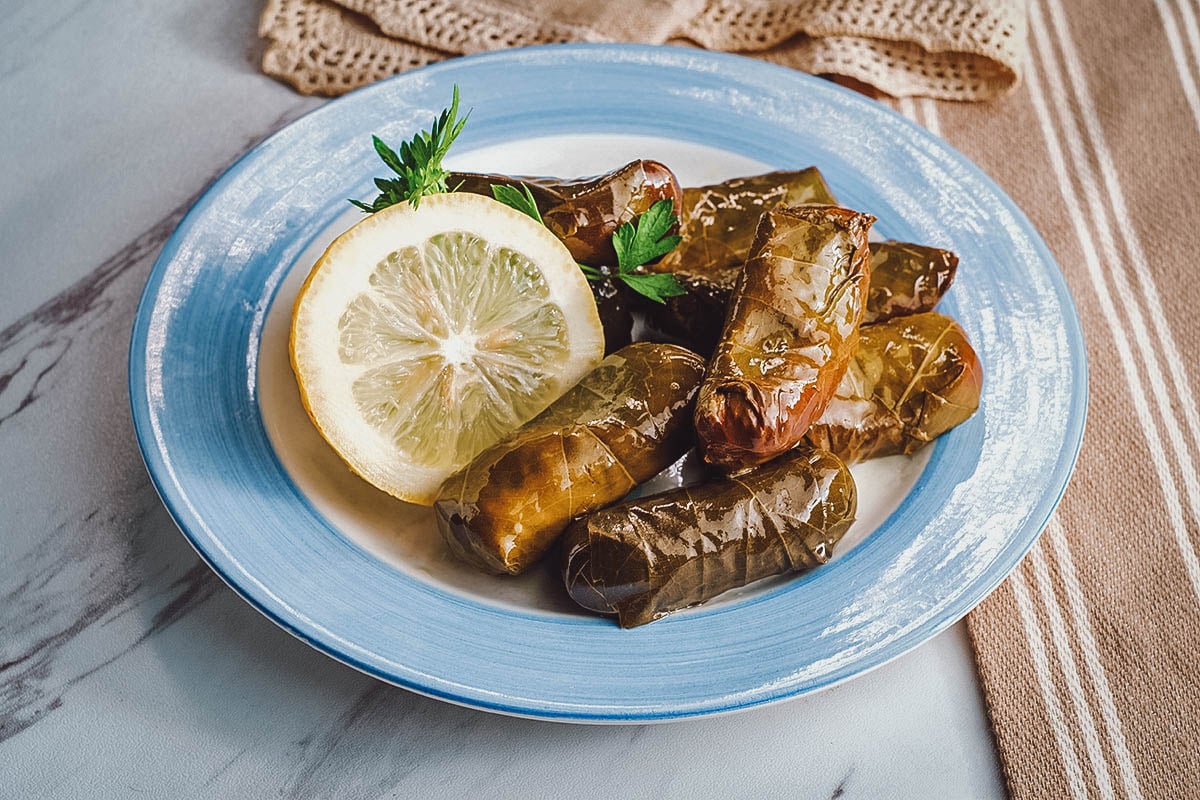 Photo by ezumeimages
Aside from dishes wrapped in vine or cabbage leaves, dolma can also refer to Albanian dishes made from hollowed out and stuffed vegetables like bell peppers, onions, and tomatoes. Pictured below is kungulleshka të mbushura, a type of dolma made with zucchini stuffed with cheese, egg, and spices.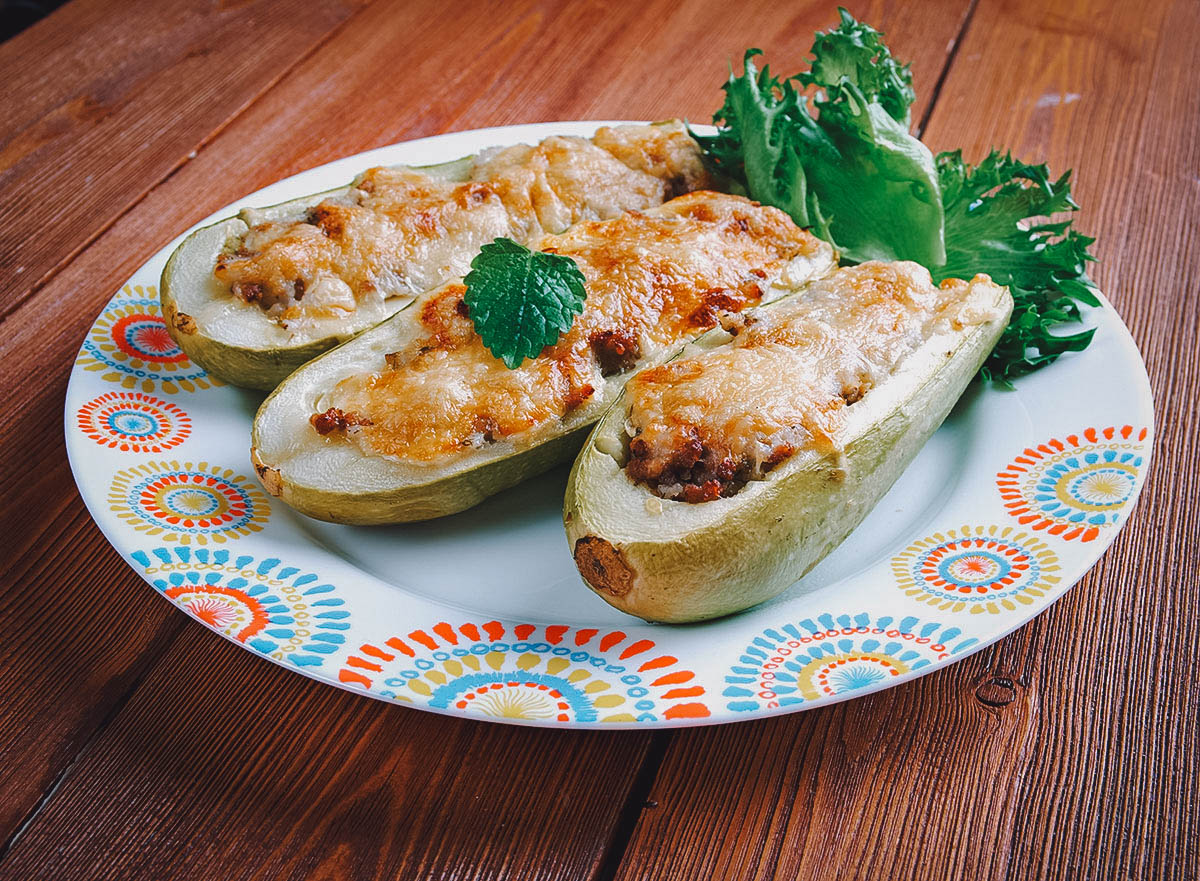 Photo by fanfon
3. Qifqi
Gjirokaster is a lovely southern Albanian town well-known for two things – one, its old town is recognized as a UNESCO World Heritage Site, and two, it's the home of qifqi.
Qifqi is made with rice and shaped into balls. They're held together by eggs, seasoned, and fried in olive oil. Occasionally, cheese is known to be added. Resembling risotto balls, qifqi is a vegetarian-friendly dish that's sure to hit the spot when looking for a quick, tasty meal.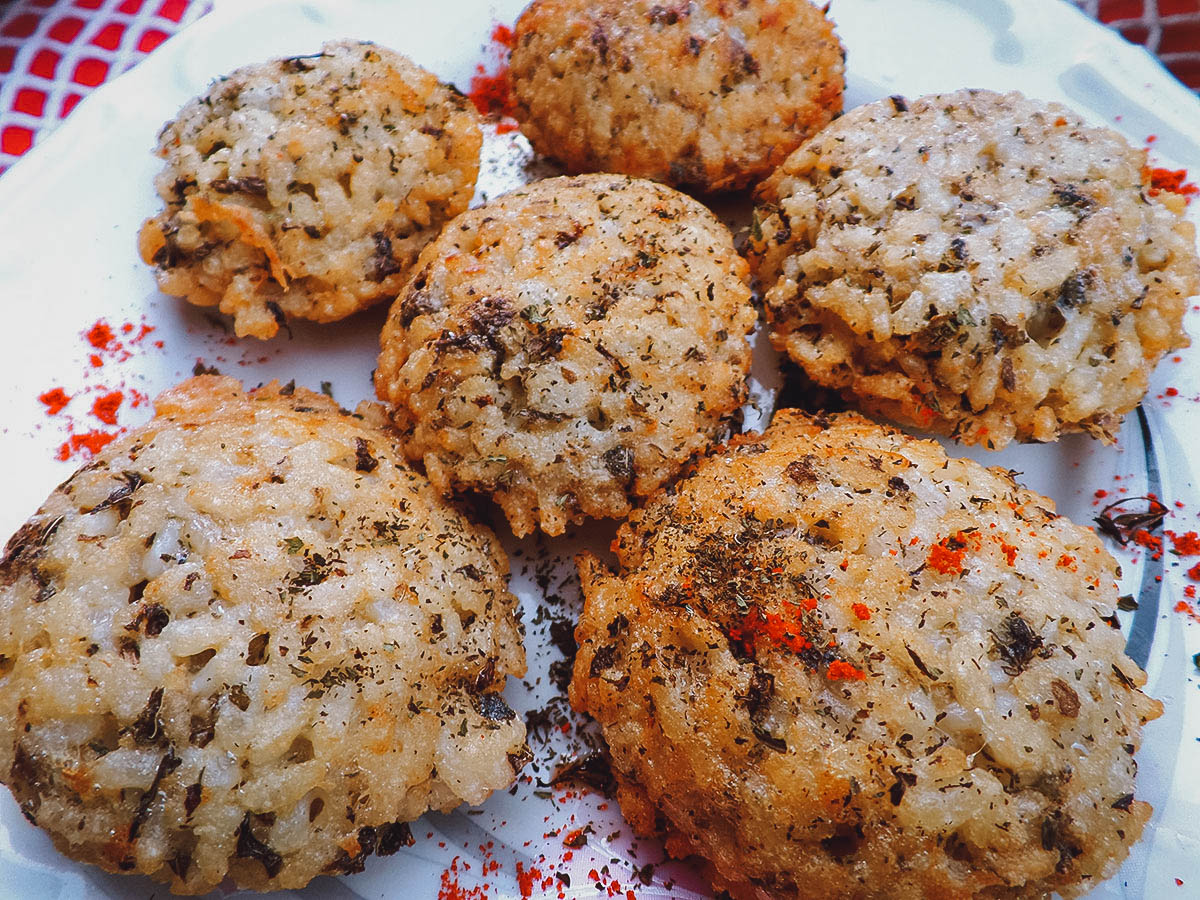 Photo by shinylion
4. Byrek
A Traveleater never leaves a country without indulging in street food. If it were the street food Olympics, Albania would have byrek as one of its Olympians.
Also known as borek, burek, bourekas, or lakror, byrek is a family of baked or fried stuffed pastries made of thin flaky dough called yufka or phyllo. It's popular across the Balkan region, with each country having its own version of this delectable pie.
Albanian byrek is often filled with savory ingredients, with spinach the most common. In the city capital of Tirana, cheese and eggs are options, with meat and sweet pumpkin also a choice filling. The final form could be one big pie cut into smaller pieces before serving, or smaller triangular pieces commonly sold by street vendors.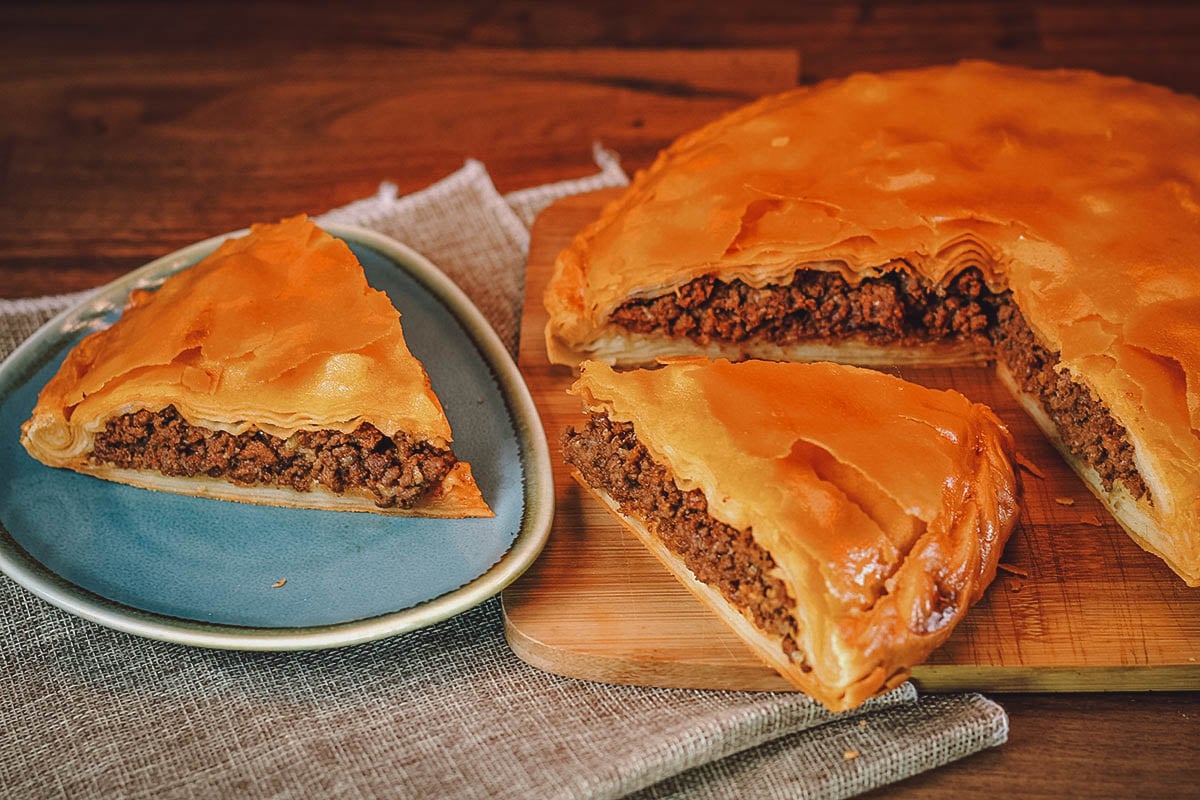 Photo by Wirestock
5. Fergese
One of Albania's national dishes, fergese is made with bell peppers, tomatoes, and salted cottage cheese (feta can be used as a substitute). It originated in the country's capital of Tirana and is widely consumed in the central region.
This Albanian dish is made by sauteing the vegetables, while butter and flour are mixed to make a roux with melted cheese set over it. All the ingredients are combined and seasoned in a clay pot before baking in an oven. Once it has slightly cooled down, the dish is ready to serve with a side of homemade crusty bread.
Another version of fergese is made by adding chopped liver and garlic. Typically, the vegetarian version is prepared as a side dish, while the meaty variant is served as the main course.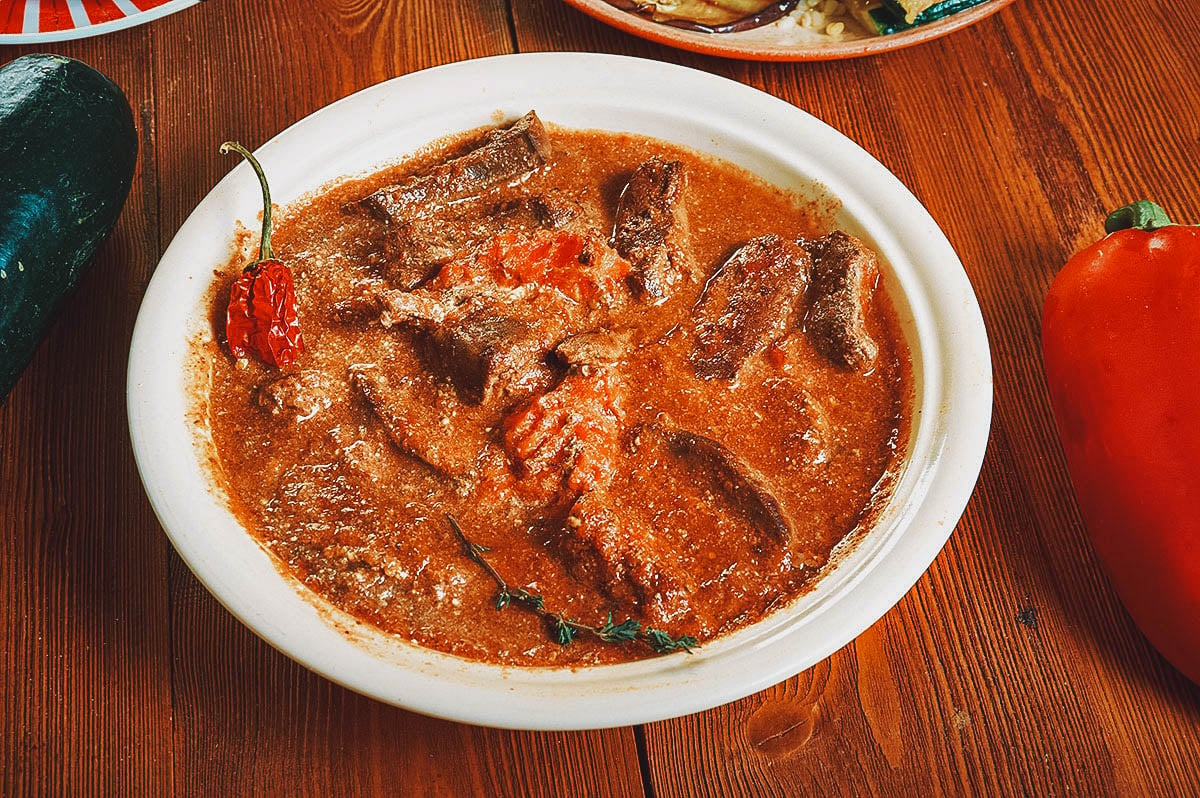 Photo by fanfon
6. Tavë Kosi
Tavë kosi is a national dish in Albania. It has a rich history, thanks to the Ottomans, who greatly influenced Albania's cuisine. The Islamic traditions of the country's occupying rulers prompted Albanians to adjust their customs. As a result, lamb became the staple meat in place of forbidden pork, giving rise to this delicious Albanian dish.
The dish's translated name gives away the tavë kosi recipe – tavë in English means "casserole," and kos refers to goat or ewe milk yogurt. Other base ingredients such as eggs and rice make up the dish with garlic and oregano added for more flavor.
The lamb is mixed with the rice and topped with creamy flavored yogurt sauce. It's baked until golden brown and typically served with a refreshing vegetable salad.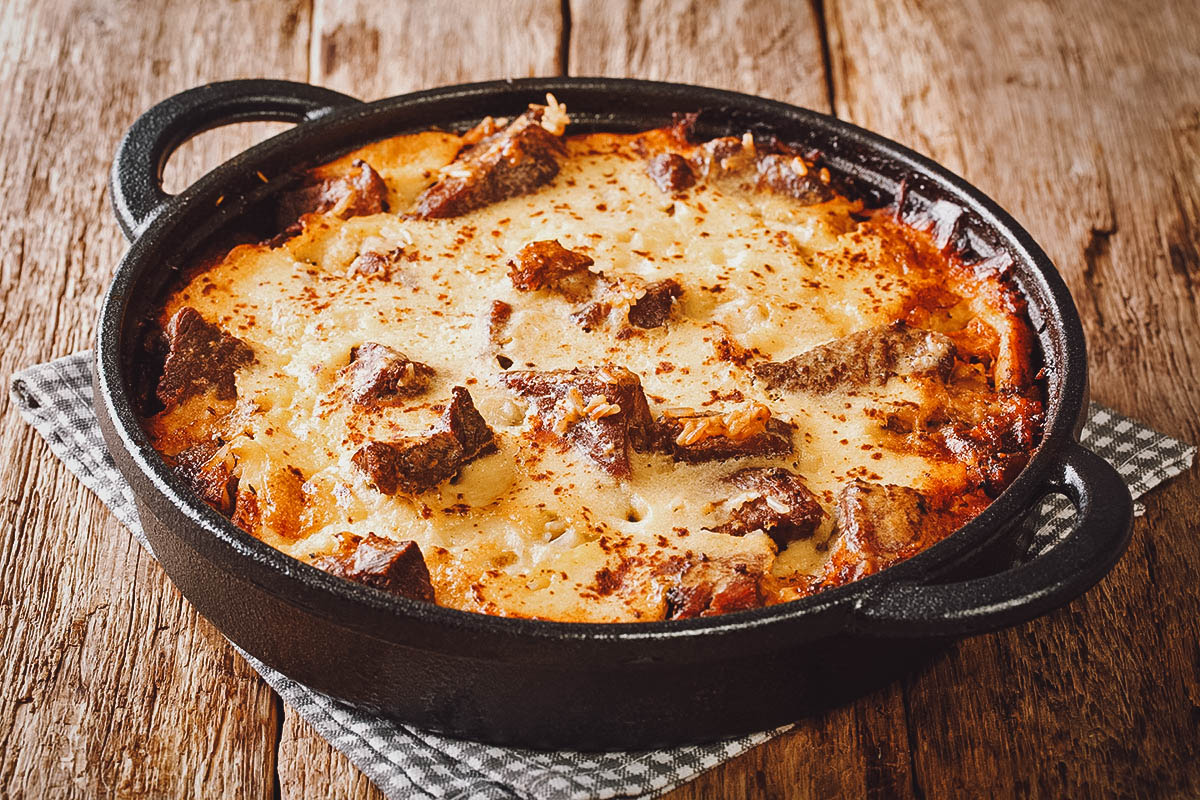 Photo by lenyvavsha
7. Petulla
Children cannot resist the allure of donuts during snack time, which is also the case for police officers. Albania also has its own traditional version of these chewy, doughy goodness kids learn to prepare with their parents for their afternoon snacks called petulla.
Petulla is the country's version of fried dough and can be eaten sweet with powdered sugar, just like donuts, or savory with feta cheese.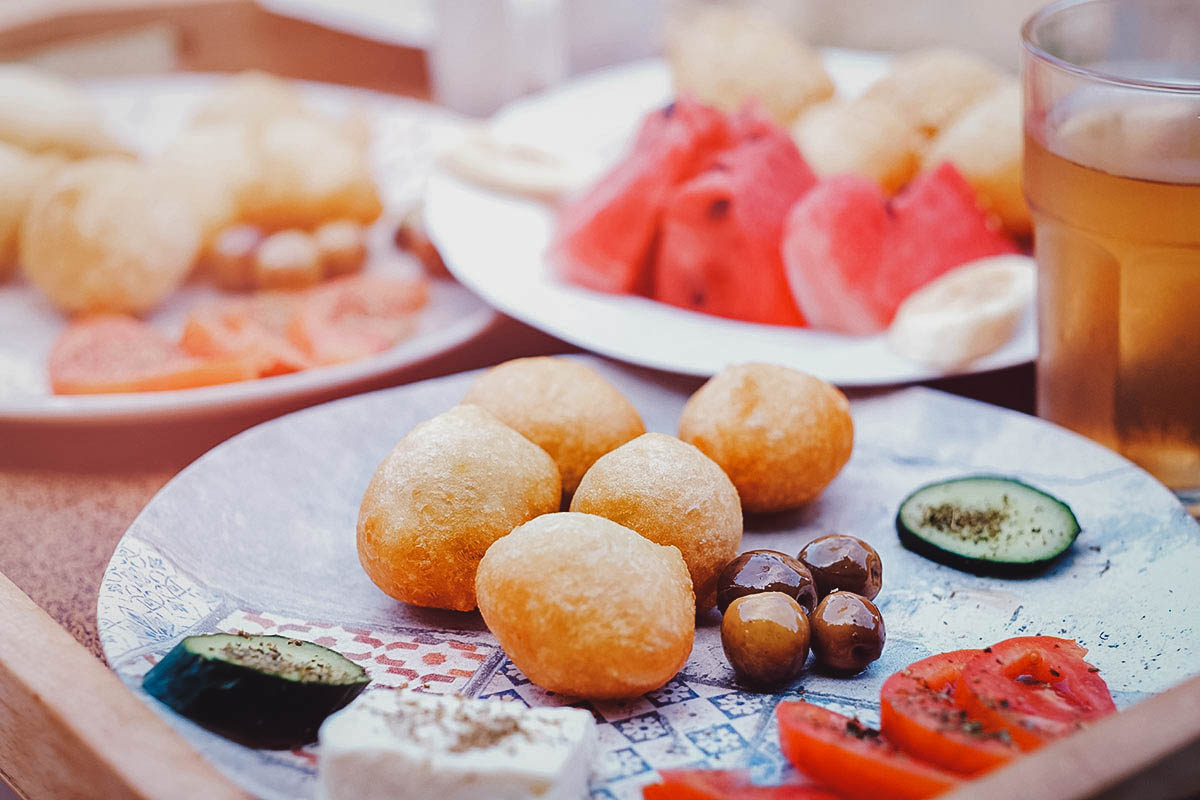 Photo by allasimacheva
8. Trilece
From the name itself, trilece is essentially a cake made of three kinds of milk and topped with caramel – a delightful Albanian dessert popular across Europe.
Similar to tres leches, trilece appears as a simple cake, but one bite of its melt-in-the-mouth goodness reveals its mystery. It has a light, airy texture with a creamy and sweet combination due to the eggs, milk, and caramel.
While the modern version has many iterations due to the different combinations of milk and cream used, the traditional trilece is made with goat milk, cow milk, and buffalo milk.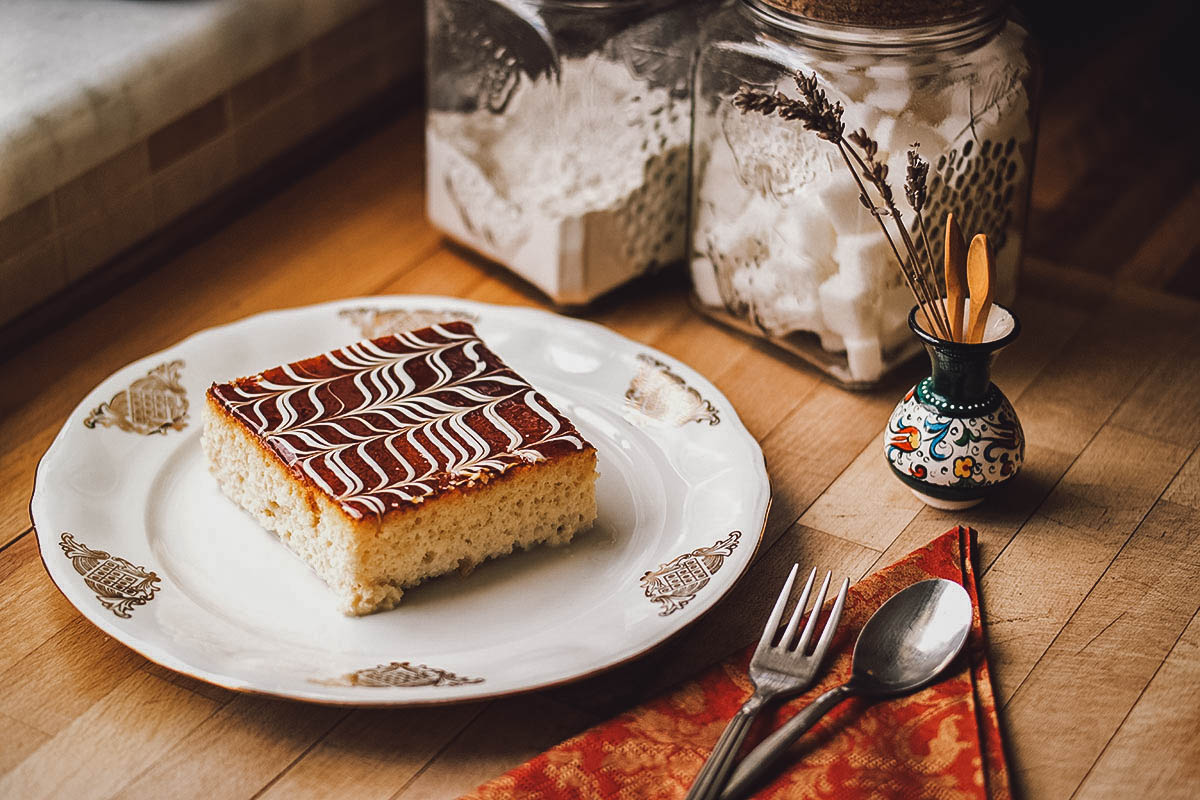 Photo by Alp_Aksoy
9. Kadaif
Another dessert dish on this list is kadaif, a sweet and crispy traditional Albanian food made of shredded phyllo dough. It's also a popular Middle Eastern and Turkish dessert where some kadaif recipes use cheese. However, Albanian kadaif calls for chopped walnuts sprinkled with vanilla sugar and baked to perfection.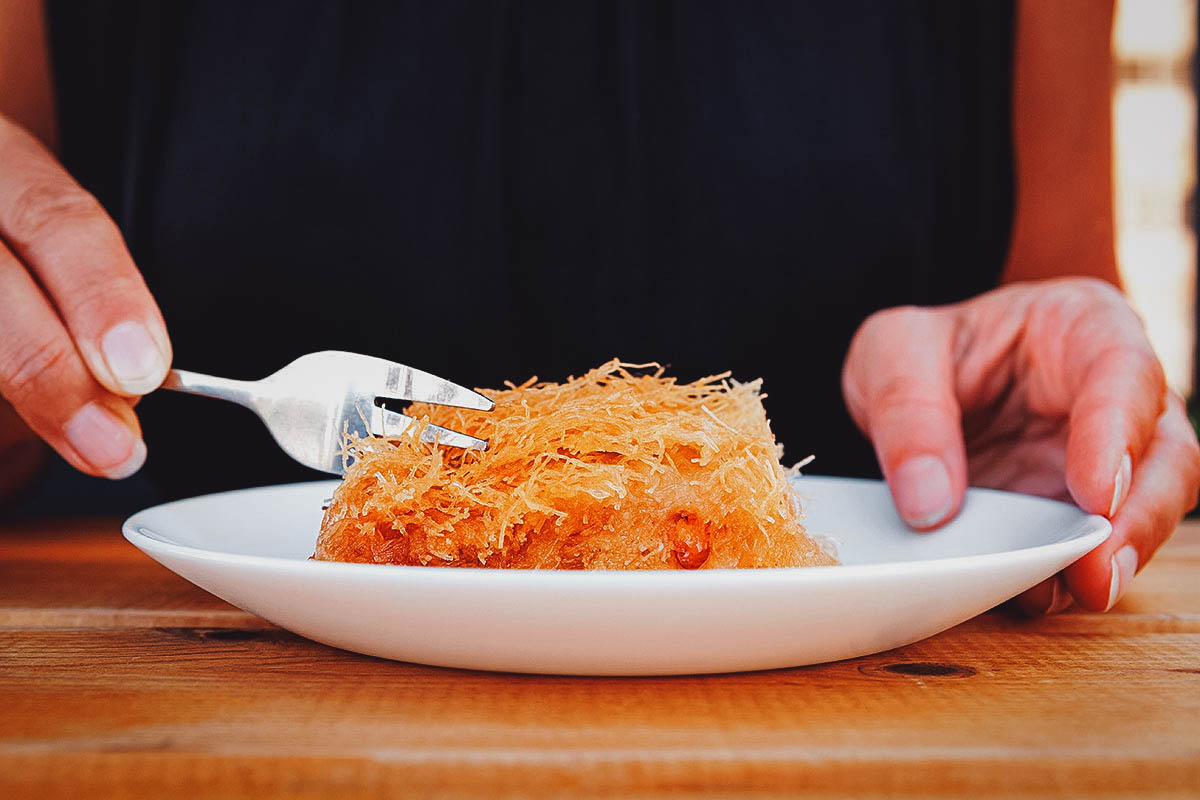 Photo by eskymaks
10. Boza
All these mouthwatering Albanian dishes deserve a delicious drink to wash everything down, and that beverage is boza.
Boza is an ancient drink that first came to be in Mesopotamia around 10,000 to 11,000 years ago. The invading Turks later introduced it to the Balkans. Derived from the Persian word buze, which means millet, the early version of the drink was sour and contained small amounts of alcohol. This evolved to the sweet non-alcoholic Albanian boza that's popular across the country.
This thick malt drink is made by fermenting grains such as corn, barley, millet, wheat. It's served either hot or cold. Most first-time drinkers may be surprised and say it's an acquired taste, but this drink won't last for millennia if it isn't good.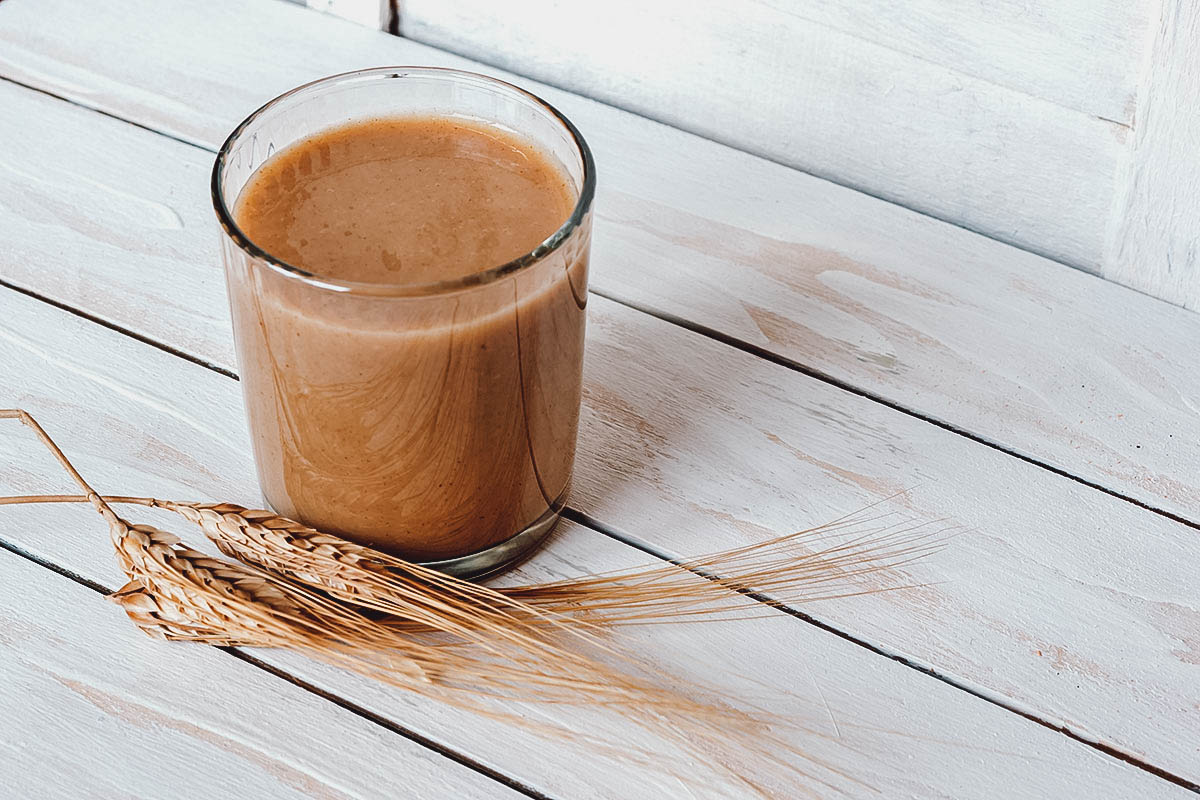 Photo by stoyanh
ALBANIAN FOOD TOURS
It goes without saying that no one knows Albanian food better than a local, so what better way to get the best of Albanian cuisine than by going on a guided food tour? A food-obsessed local will take you to the city's best spots so all you have to do is follow, listen, and eat. Check out Get Your Guide for a list of Albanian food tours in Tirana and other cities throughout the country.
FINAL THOUGHTS ON ALBANIAN FOOD
Albania has never looked more enticing after going through this Albanian food guide. Perhaps it's time to book a trip and experience what this "less popular" country can offer. It's like an underdog winning a gold medal.
Delicious, historical, and perfect for the curious Traveleater – this is how one could describe a gastronomic adventure to this underrated country in the Balkans. See the stunning sights of Albania and let the country tell its fascinating story through its delectable cuisine.
Disclosure
Some of the links in this Albanian food guide are affiliate links. If you make a booking, then we'll make a small commission at no extra expense to you. As always, we only recommend products and services that we use ourselves and firmly believe in. We really appreciate your support as it helps us make more of these free travel and food guides. Thank you!
Cover photo by lenyvavsha. Stock images via Depositphotos.