When people think of Santorini, many will imagine the island's white cycladic houses cascading down a sheer cliff. It's an iconic sight and one of the main reasons why tourists flock to the island.
But what many people may not know, is that the towns in which those sugarcube houses are in are among the island's most crowded. They're overrun by tourists pretty much every day of the year. Touristy areas equate to touristy restaurants, which is something we consciously avoid on every trip.
Thankfully, there are still quieter villages on the island that haven't been overrun by tourism, quaint little towns like Megalochori and Exo Gonia. In those villages is where we had our best taste of local Greek cuisine, at family-run restaurants like Tzanakis.
Save This on Pinterest!
No time to read this now? Click on the red save button and pin it for later!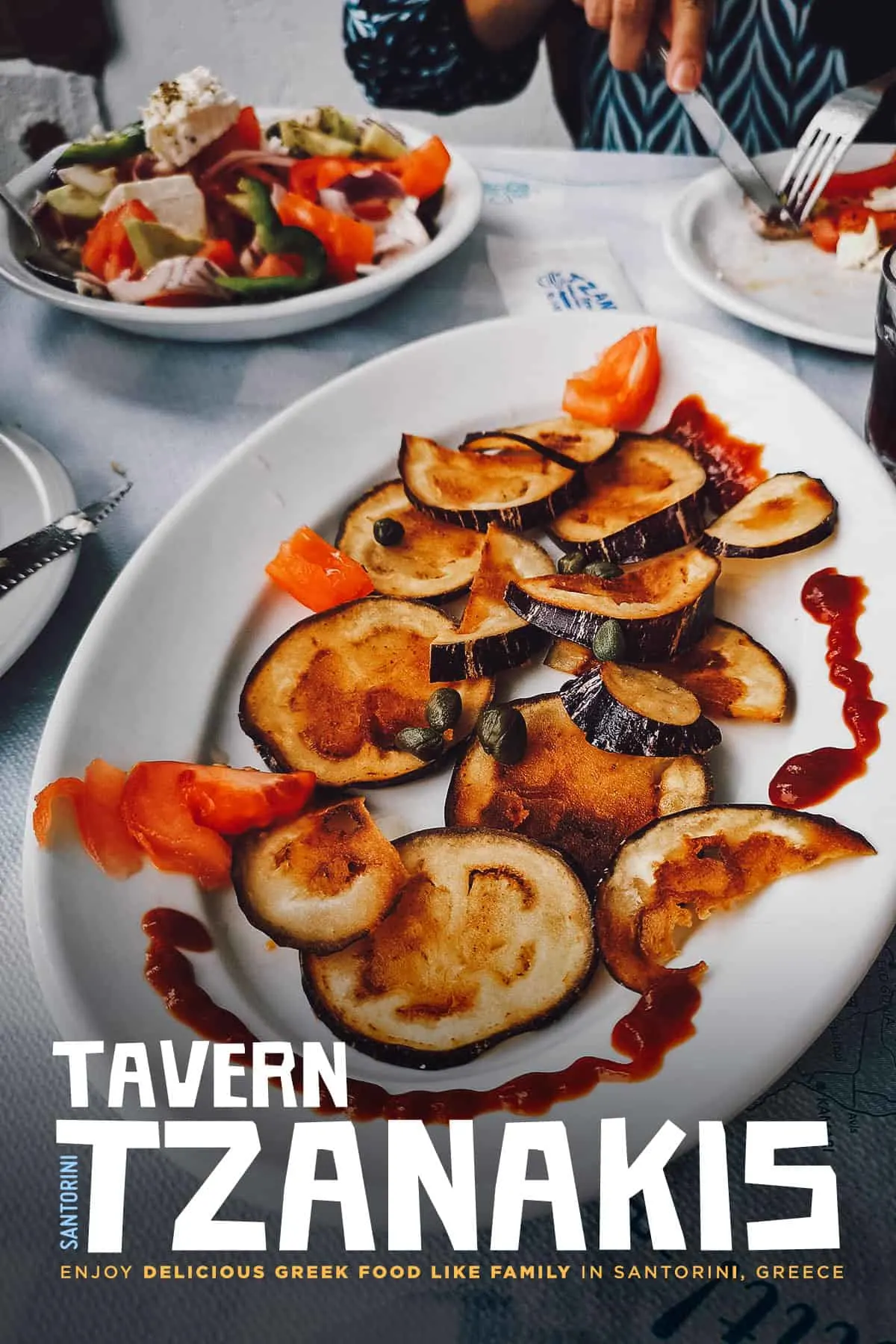 WHAT IS TAVERN TZANAKIS?
Tavern Tzanakis is a Greek restaurant in Megalochori, a village in the southwestern half of Santorini. It's owned and operated by a lovely Greek family offering the most delicious examples of classic Santorinian fare like fava, ntomatokeftedes, saganaki, and dolmadakia.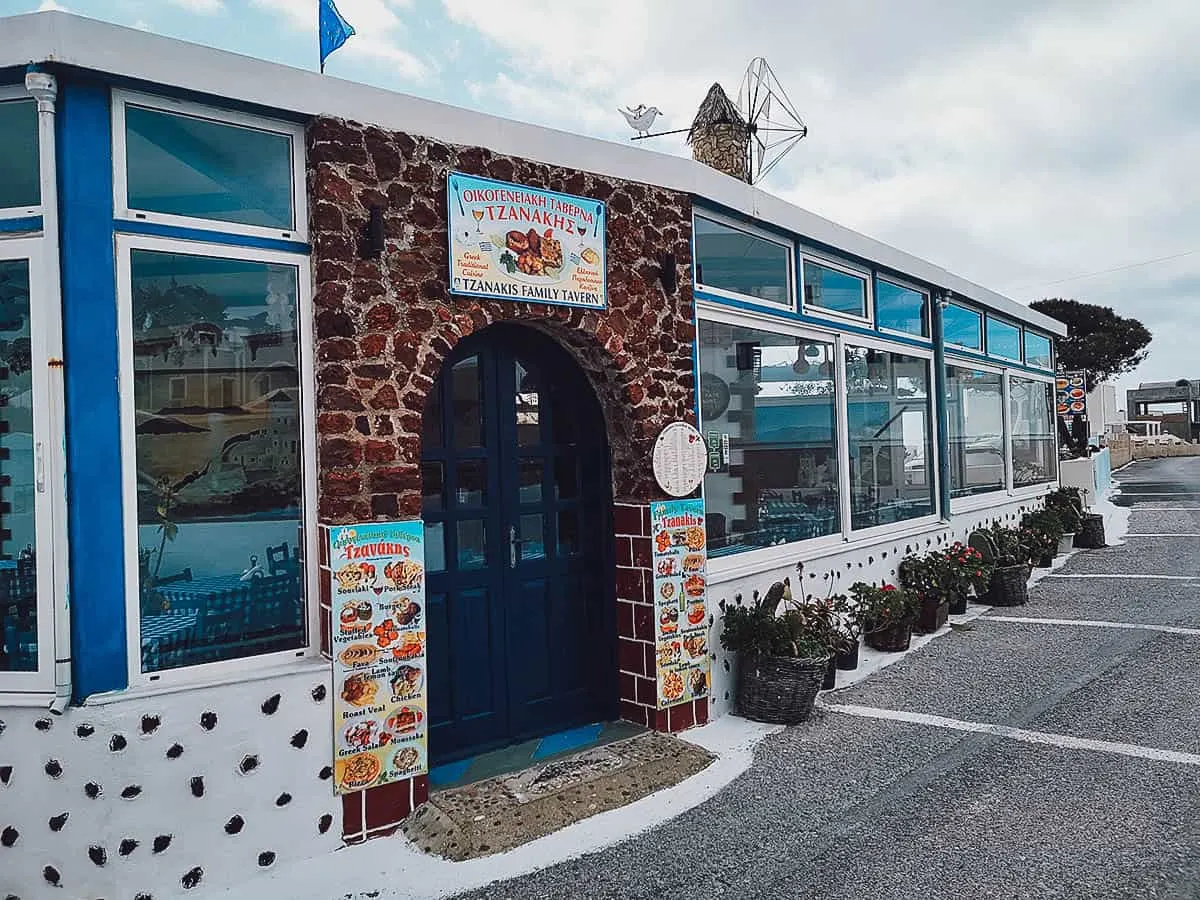 Draped in the colors of the Greek flag, Tzanakis looks and feels like a family restaurant. There are large windows all around that let in a constant stream of natural light. The space feels very warm and welcoming.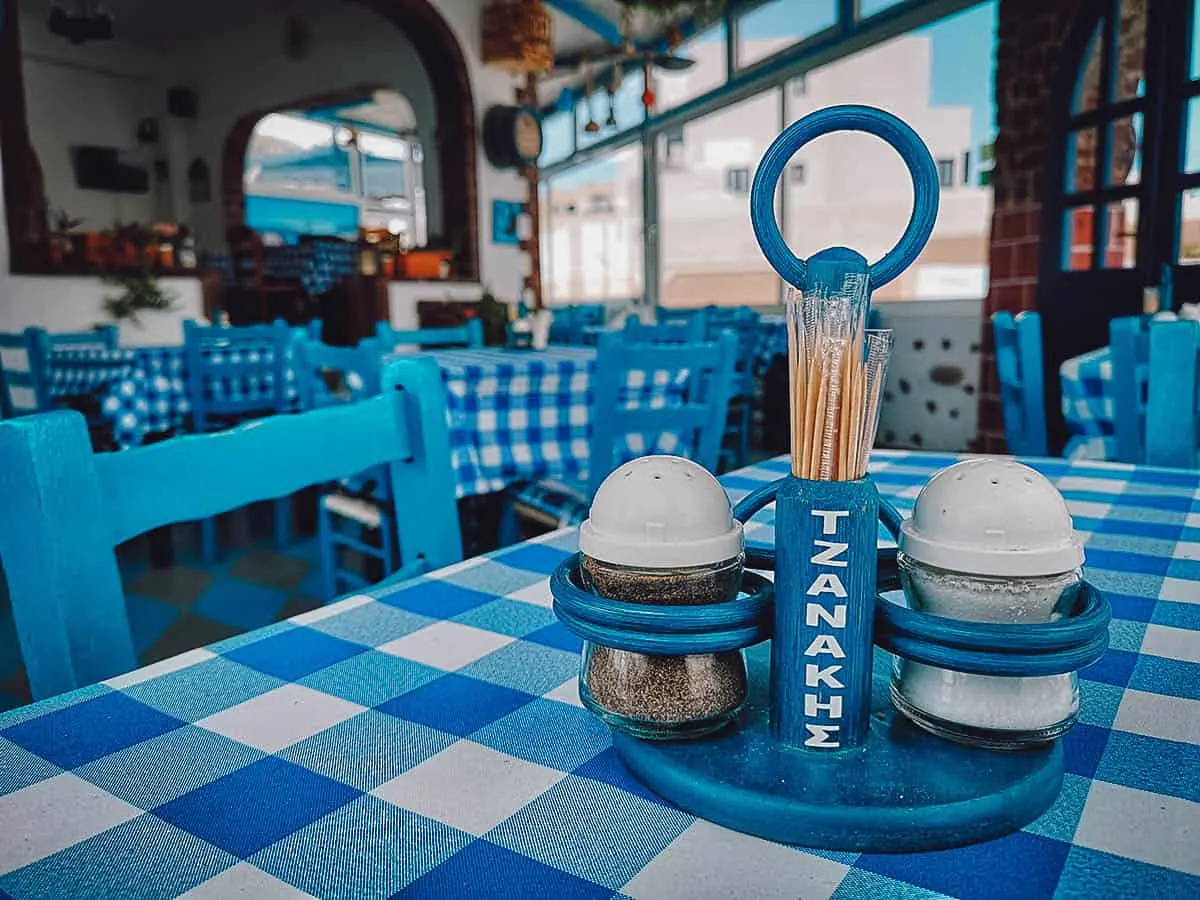 DELICIOUS HOME-COOKED GREEK FOOD
Before visiting Santorini, I made a list of must-eat Greek dishes and I was pleased to find pretty much all of them here. We started with this crisp and refreshing Greek salad (EUR 8) made with Santorini cherry tomato, cucumber, onion, feta cheese, capers, and olives.
Good Greek food is characterized by the freshness of its ingredients and this salad is a great example of that. Everything tasted so bright and fresh, like the ingredients were picked off the vine just minutes before.
Santorini is known for a specific variety of cherry tomatoes that have been cultivated on the island for one and a half centuries. They're known for their capers as well, both ingredients figuring prominently in this delicious salad.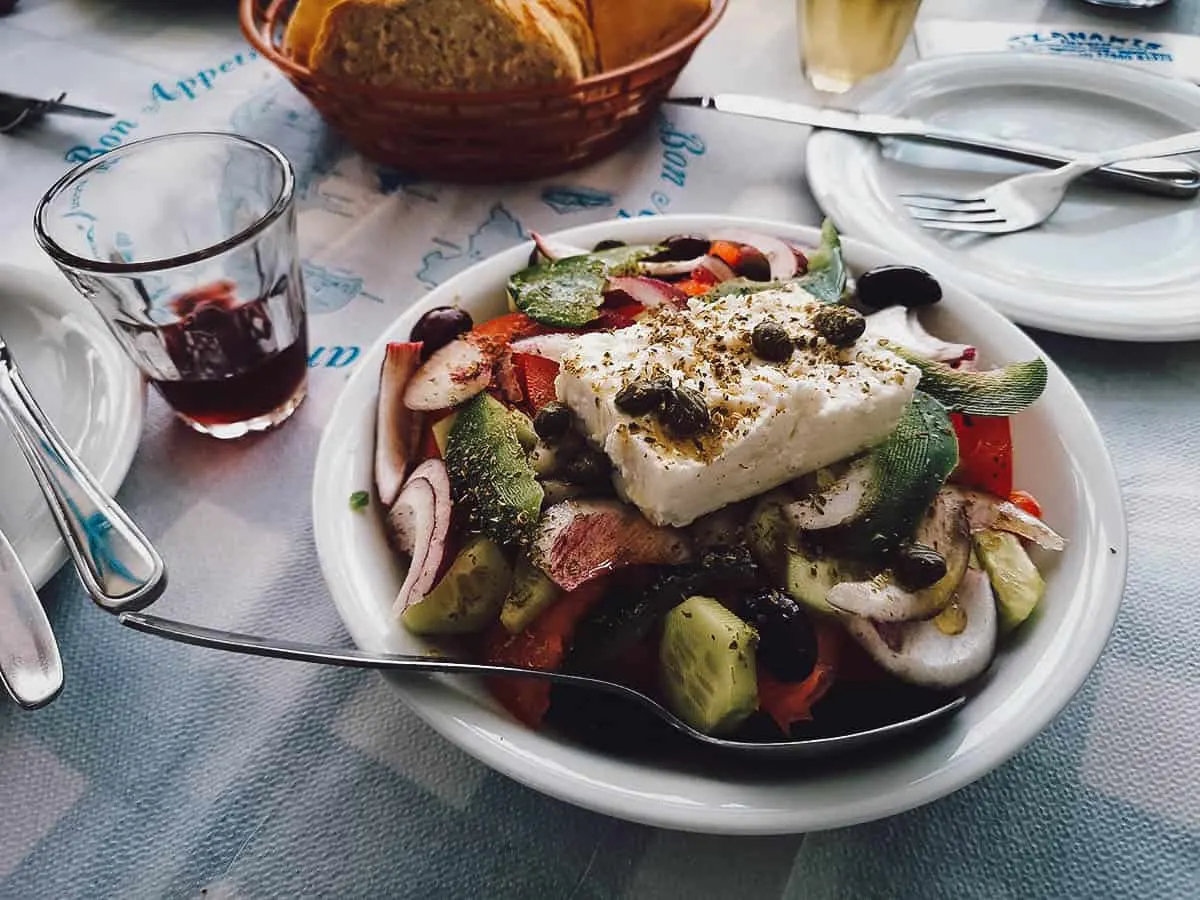 One of the most important dishes in Santorini is fava (EUR 6), which is a yellow split pea puree. Served with onion, herbs, capers, and olive oil, think of it as the Santorinian equivalent of hummus. It's mildly flavored and best eaten with bread.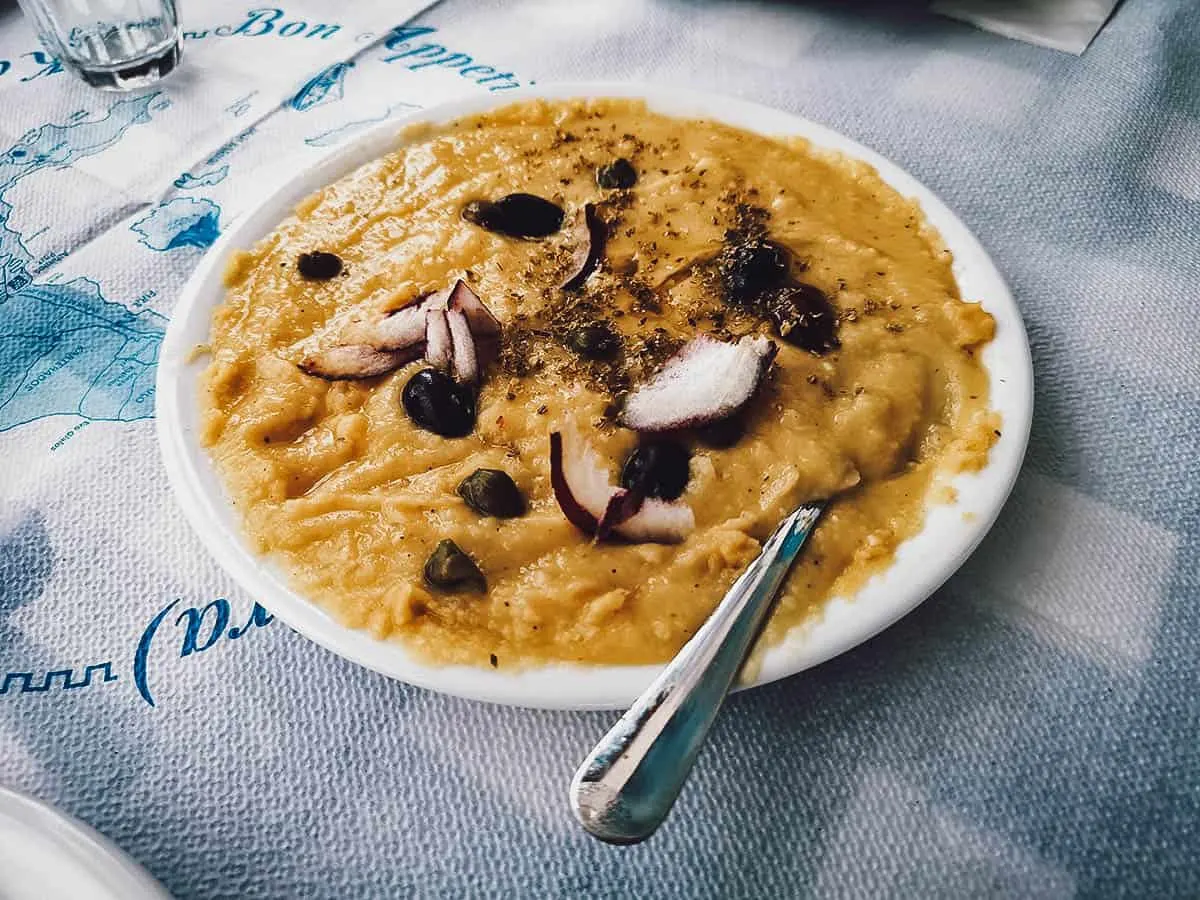 This was probably one of my favorite things to eat in Greece. Dolmadakia or dolmades (EUR 5.50) refers to vine leaves stuffed with rice, herbs, and other ingredients. They're shaped like little cigars and boiled so the leaves are tender with bite, almost like moistened nori (seaweed).
Drizzled with lemon, they're bright-tasting and delicious, like little parcels of Greek sunshine. I've only had vegetarian dolmades but it looks like there are versions made with meat as well.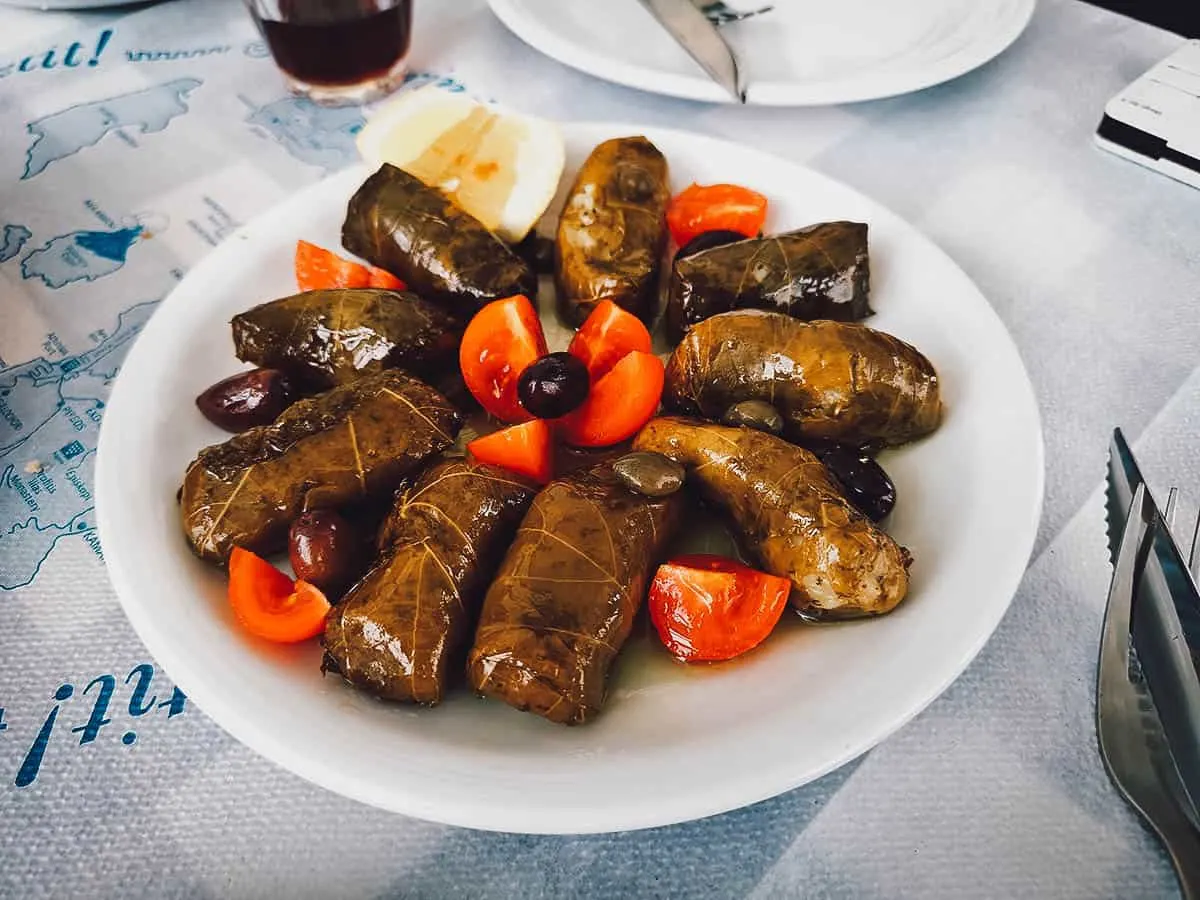 This is another must-try dish in Santorini. Ntomatokeftedes (EUR 6) are crunchy and juicy fritters made with Santorini's famed cherry tomatoes. Like the island's vineyards, Santorini's tomato plants aren't irrigated. They receive all their moisture from evening mist, resulting in tomatoes that are sweeter and less watery.
The abundance of tomatoes led to the production of ntomatokeftedes, which like fava have become ambassadors for traditional Santorinian cuisine.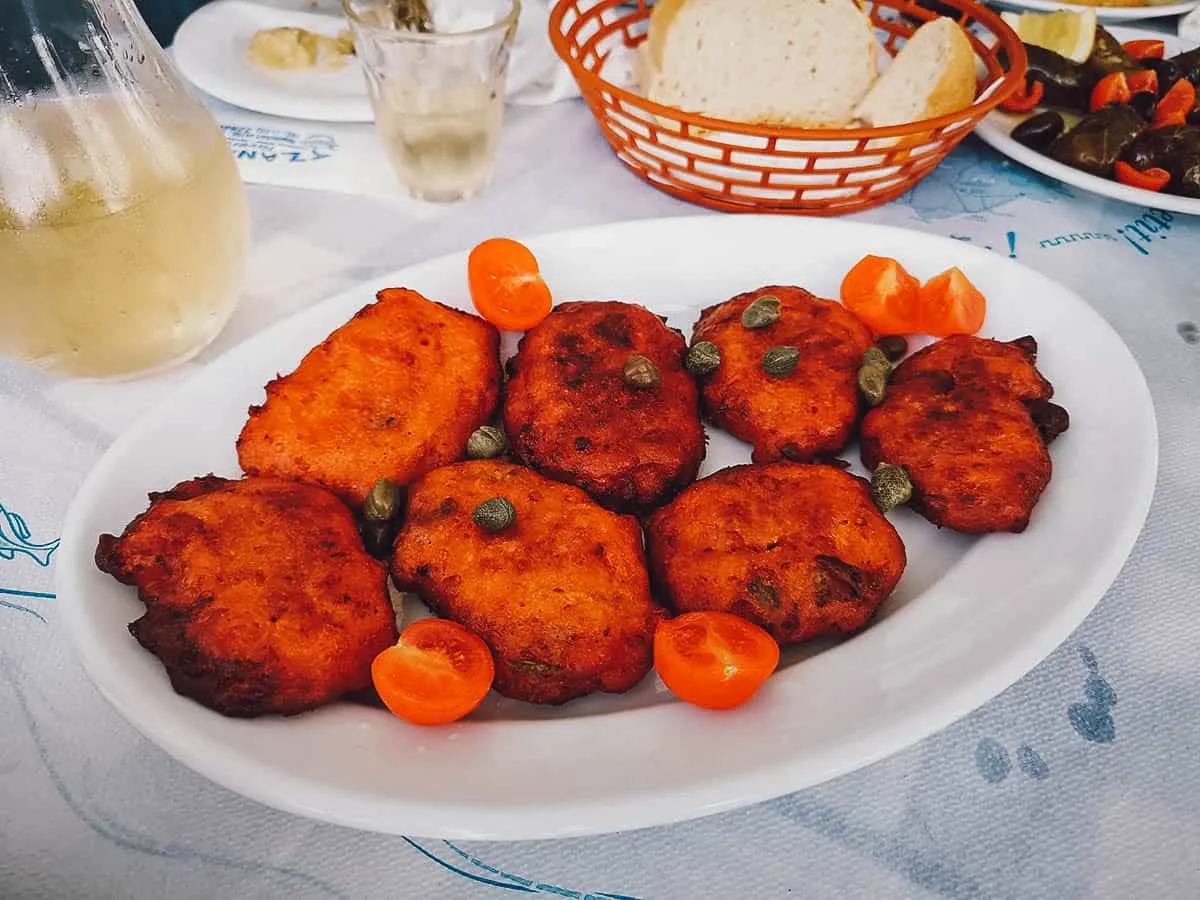 I love saganaki (EUR 5.50). It refers to a delicious appetizer of fried cheese made in a small frying pan called a saganaki. Crunchy on the outside, it has a wonderful sharp taste with a nice chewy texture and a pungent aroma.
We always order saganaki at this one Greek restaurant in the Philippines. The servers flambée the cheese after frying then gather around your table. They shout "opa!" while putting out the fire with a sprinkling of lemon, before serving the saganaki to you. Thankfully, they didn't do that here.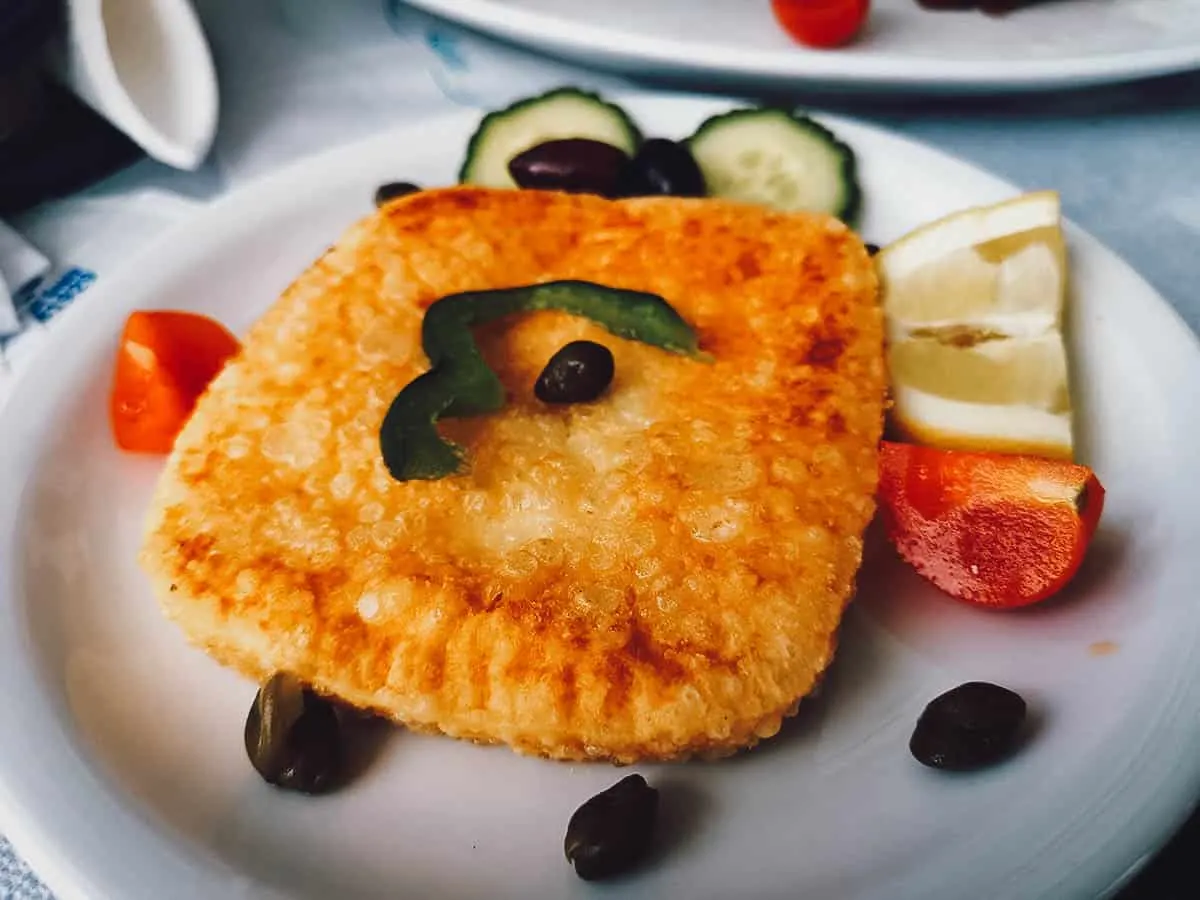 Another simple but delicious dish of eggplant salad (EUR 3.50) made with Santorini tomato, green peppers, black olives, capers, and cheese.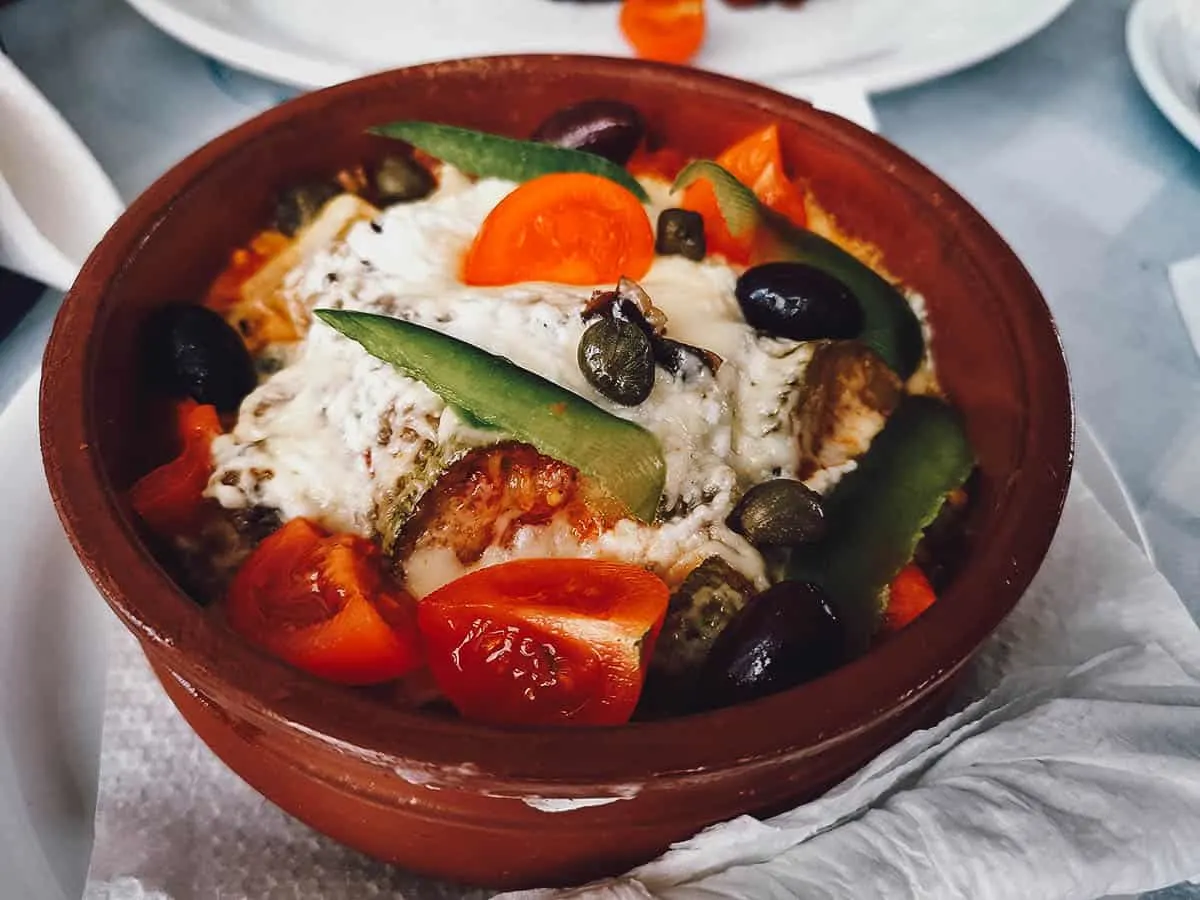 Eggplant seems to be a specialty at Tzanakis. This one consists of thinly sliced fried eggplant (EUR 5.50) with Santorini tomato, capers, and a dark sauce.
We were here for lunch but if you eat at Tzanakis for dinner, then you can have the grilled white eggplant which they only serve in the evenings. White eggplant is a more rare variety that has fewer seeds and is sweeter than its purple counterpart. It's definitely another must-try in Santorini. In fact, the family who owns this place was inviting us to come back at night just to try it.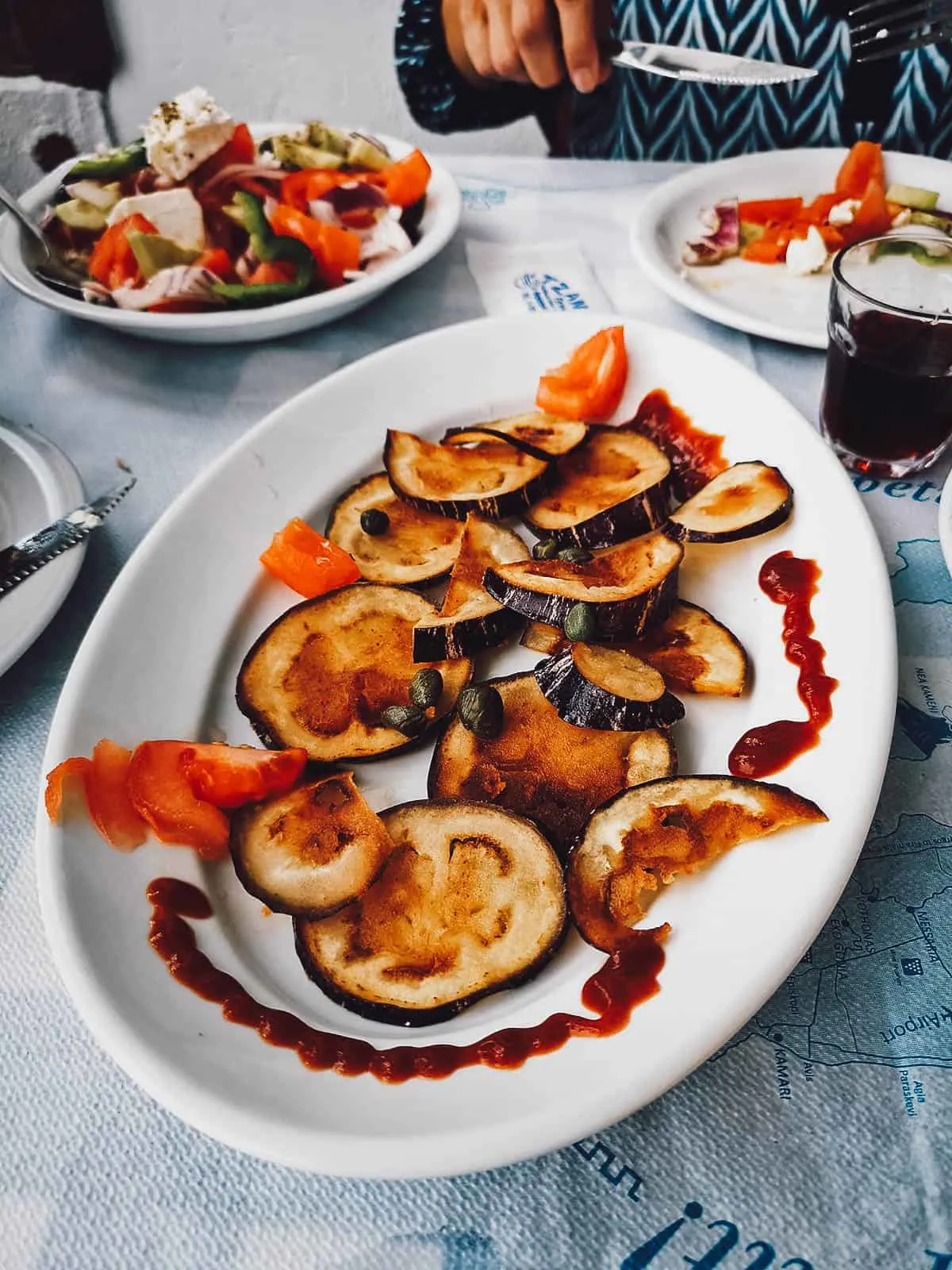 No visit to Greece is ever complete without having souvlaki. It's a popular dish that consists of small pieces of meat or vegetables grilled on a skewer. We had this tasty chicken souvlaki (EUR 10) served with pita bread, fried potatoes, onions, Santorini tomato, tzatziki, and a wedge of lemon. Delicious!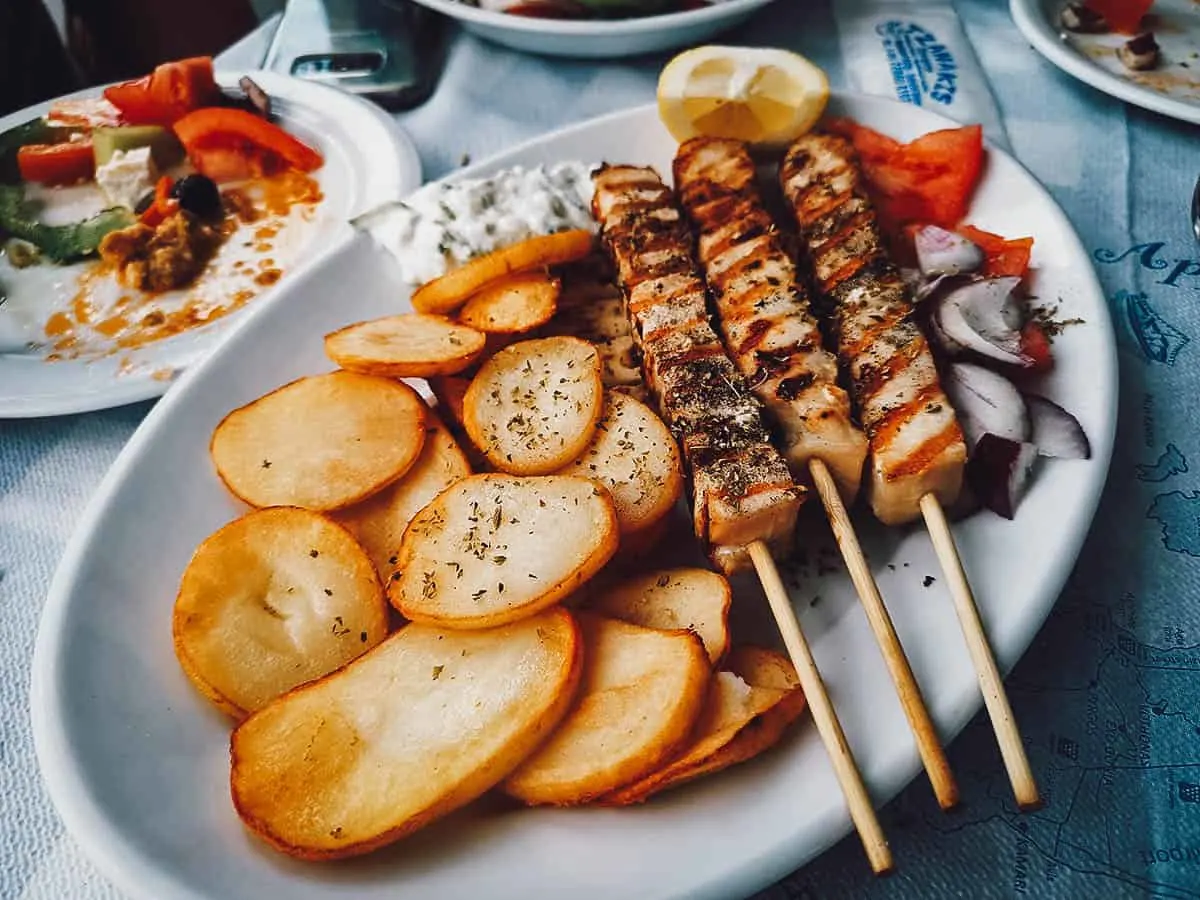 We had the pork souvlaki (EUR 9) as well, which from what I understand is the most common type in Greece. Souvlaki can be made with beef or lamb as well.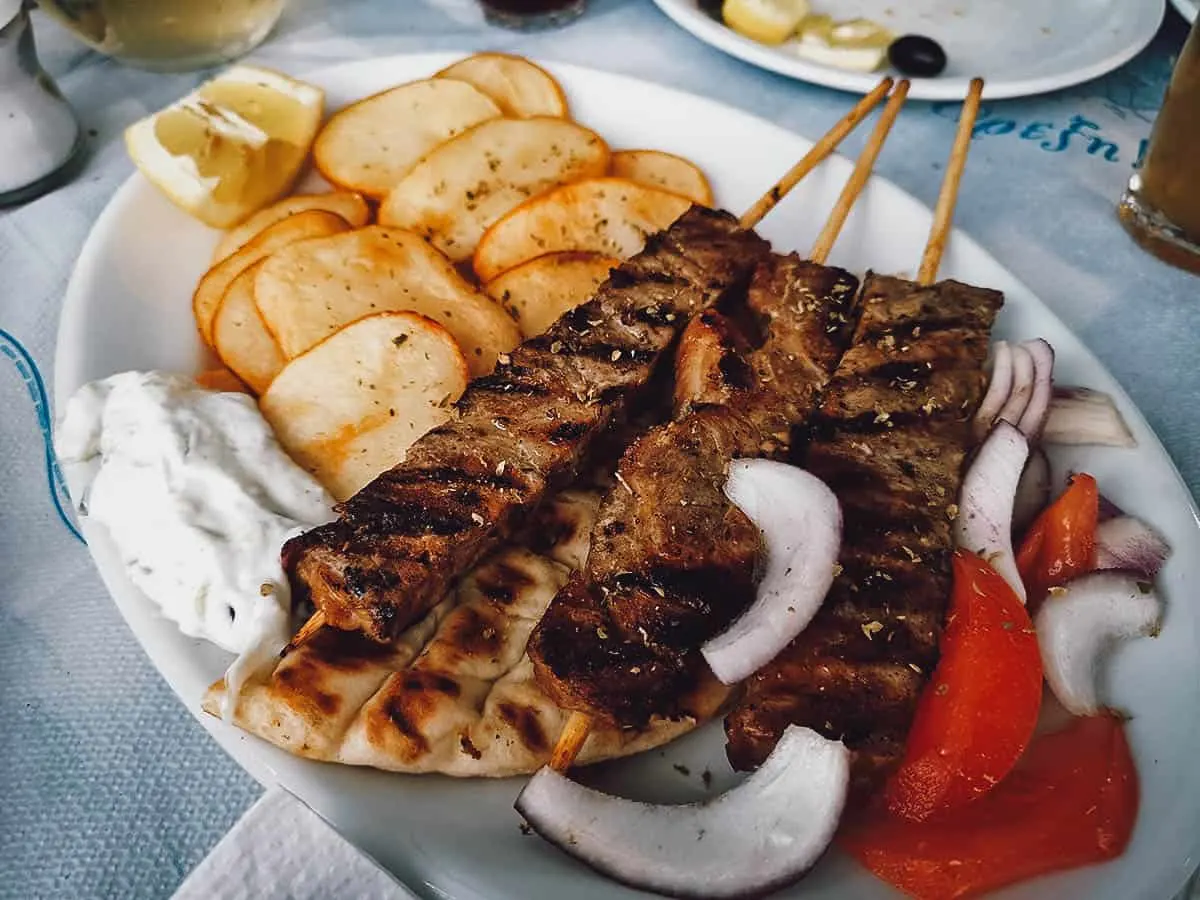 Our last dish was this platter of grilled Santorini sausages (EUR 7.50) which I believe is a type of smoked pork sausage.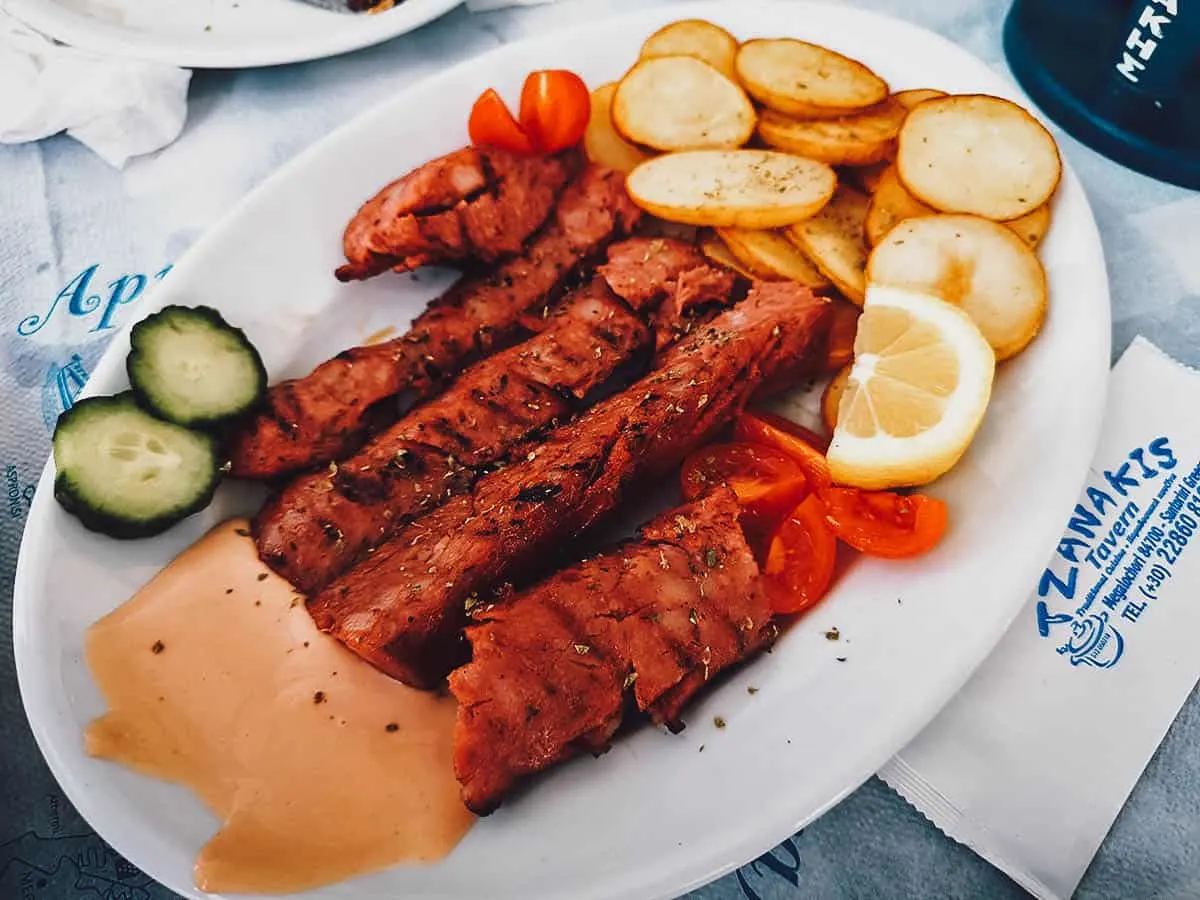 The lovely family running Tzanakis was so pleased we enjoyed their food that they offered each of us a free portion of baklava and a shot of vinsanto. Efcharistó!
Baklava is a popular Balkan and Central Asian pastry made with layers of phyllo and chopped nuts held together by a thick sweet syrup or honey. I didn't know this until we arrived but Santorini is an important winemaking region known for several varieties of wine, none more prized than its vinsanto dessert wines. We went on this interesting wine tour that took us to three of the island's best wineries.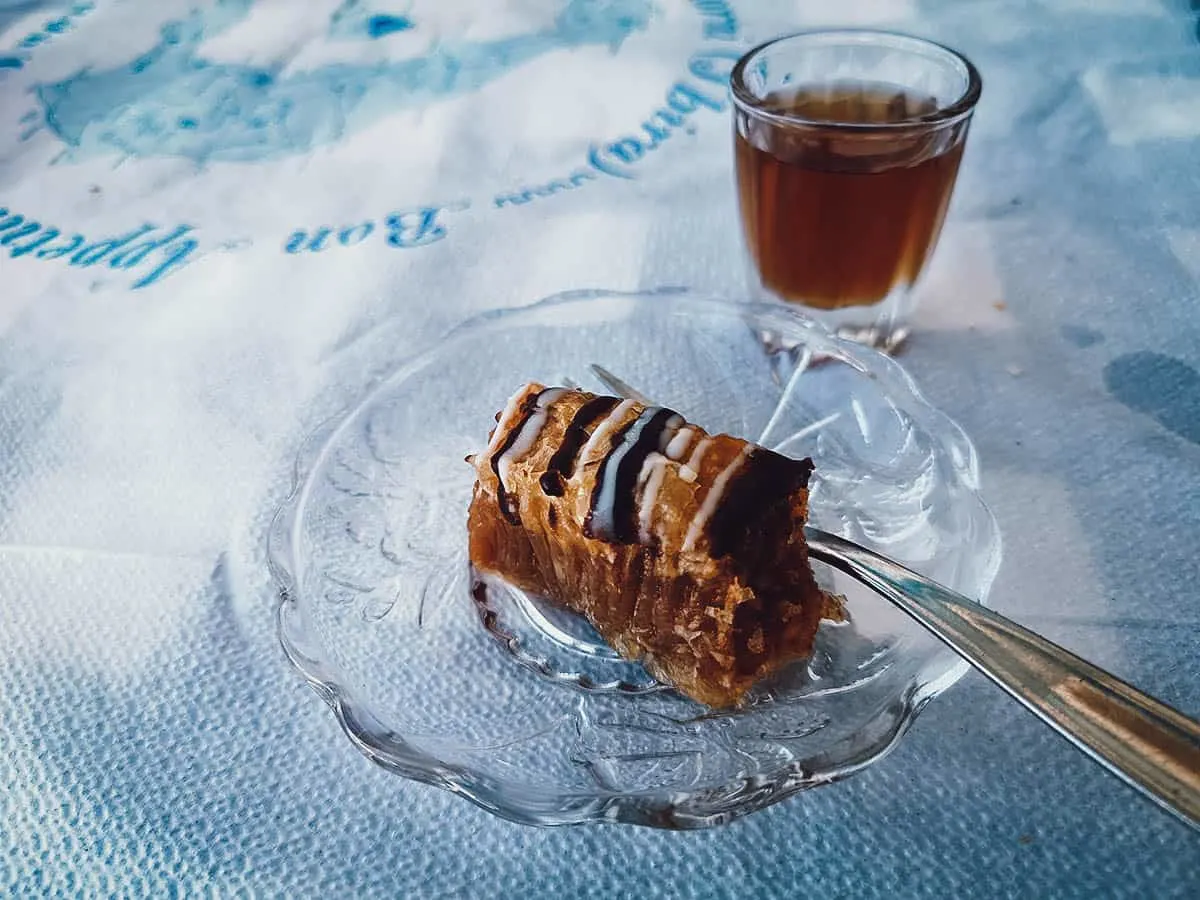 FINAL THOUGHTS
The majority of tourists who visit Santorini will stay in the most popular towns of Fira and Oia. Understandable considering those are two of the most beautiful areas on the island and a big reason why many people visit Santorini. But they've become overrun with hotels and tourists and seem to have no semblance to what Santorini used to be. Megalochori is different.
I'm grateful we stayed in a village like Megalochori because it gave us a taste of what traditional life on the island is like. Visiting is one thing, but if I were to live in Santorini, then it would definitely be in a village like Megalochori. It may not be as visually striking as Oia or Fira, but it feels more authentic and real, much like the food at Tzanakis.
Tavern Tzanakis is a gem of a restaurant that's been serving delicious Greek food for over two and a half decades. When you're there, it feels like you're sitting down to a nice home-cooked meal with family. Their food is simple but comforting and for me, a taste of the real Santorini.
Tavern Tzanakis
Megalochori, Thira 847 00, Greece
Tel: +30 22860 81929
Operating Hours: 12NN-12MN, daily
Expect to Pay: About EUR 8-10 per entree
HOW TO GET THERE: Tavern Tzanakis is located in Megalochori just off the main road of Epar.Od. Firon-Ormou Perissis. Not all streets have names there, including the one Tzanakis is on, so it's best to navigate using Google Maps or a similar navigation app. Google Maps knows the restaurant ("Tzanakis").
Check out our Santorini Food Guide for more restaurant recommendations.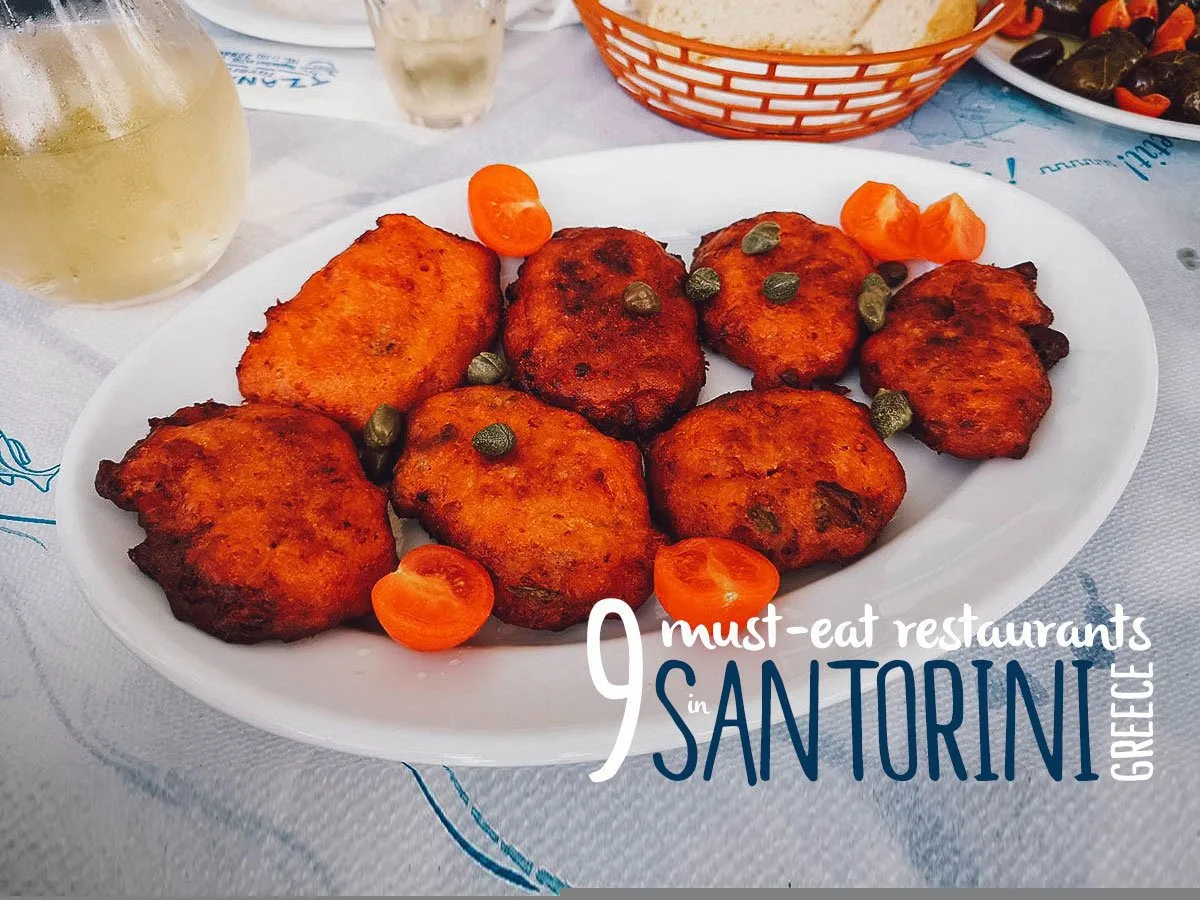 Disclosure
The TripAdvisor link in this post is an affiliate link, meaning we'll earn a small commission if you make a purchase or booking at no extra cost to you. We really appreciate your support as this helps us keep this website going. Thank you!