As much as I love big modern cities like Osaka and Sapporo, it's the little rural towns like this one that I love most. They make me feel like I'm in the real Japan.
I went on a FAM trip to Western Japan earlier this year and one of the places we visited was Kinosaki Onsen in Hyogo. Like Kurokawa Onsen, it's a beautiful and atmospheric onsen town known for its wooden buildings, ryokans, and numerous hot spring baths.
The Japanese would go there to engage in rotemburo meguri – the practice of hopping from one onsen to another – so it was common to find people walking around town wearing only yukatas and getas. It was an exceedingly charming town, one that looked straight out of a Japanese period film. It made me yearn for a full onsen experience.
I had read nothing but wonderful things about Kurokawa Onsen. Tucked away high up in the mountains of Kumamoto, it's known for being one of the most beautiful onsen towns in Japan, making it the ideal final stop on our week-long tour of Northern Kyushu.
Welcome to Kurokawa Onsen!
Kurokawa Onsen is a small hot spring town about 20 km north of Mount Aso in Kumamoto prefecture. The only way to get there is by highway bus. We took one from Yufuin in Oita, another onsen town about an hour and a half away.

Here's a cute illustrated map of Kurokawa Onsen.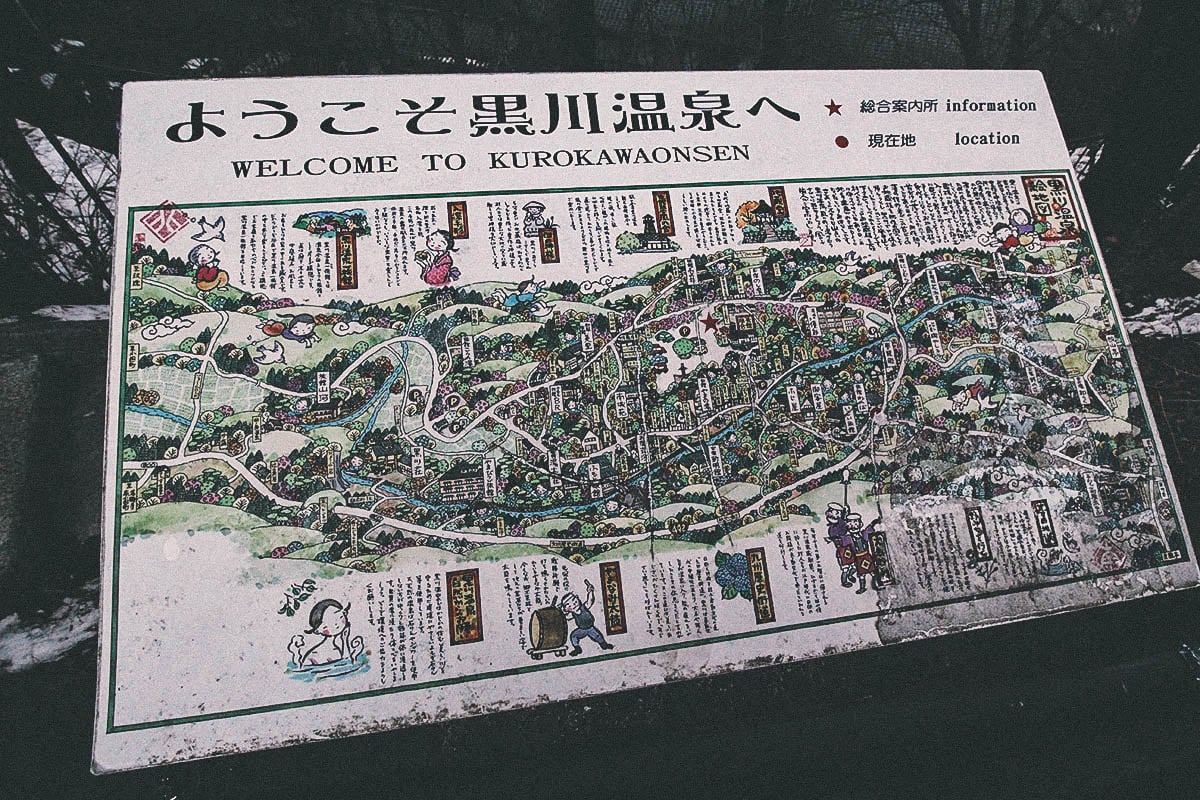 It was mid-February when we went so there was still snow all around. And it was cold!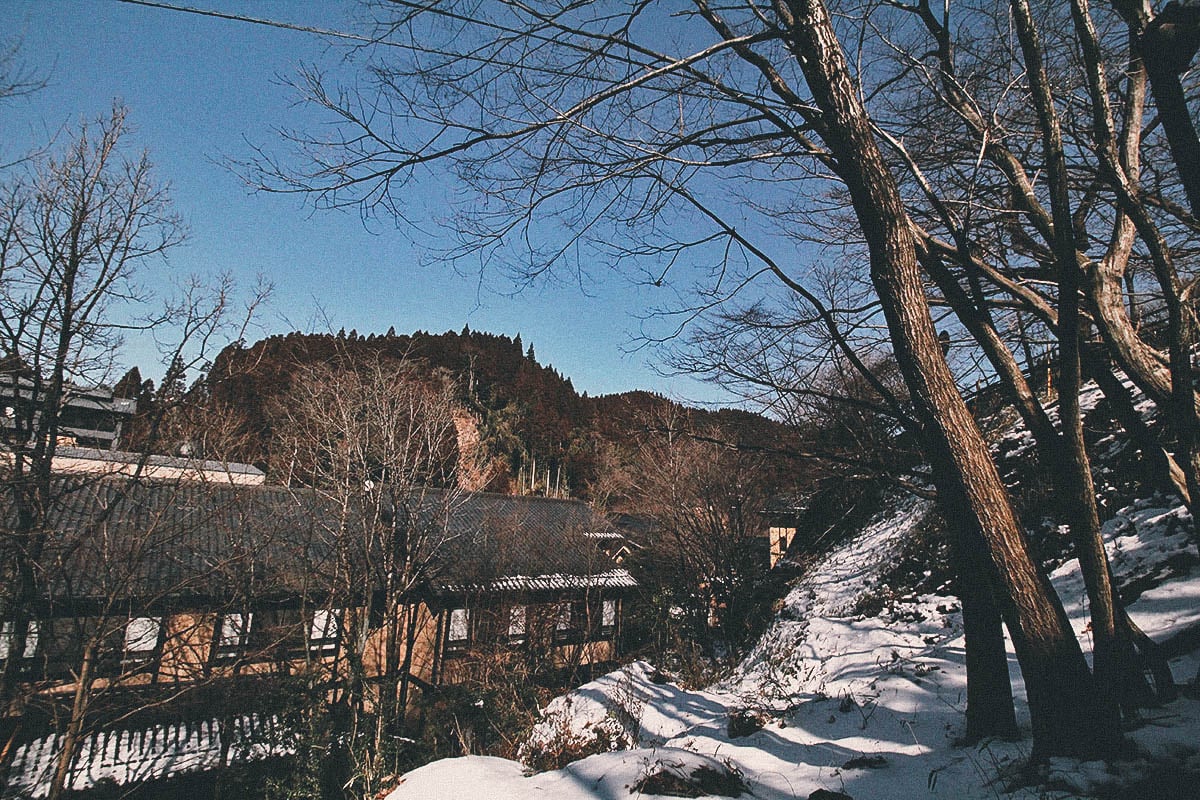 From the welcome sign, you can continue walking along the road or down these steps into town.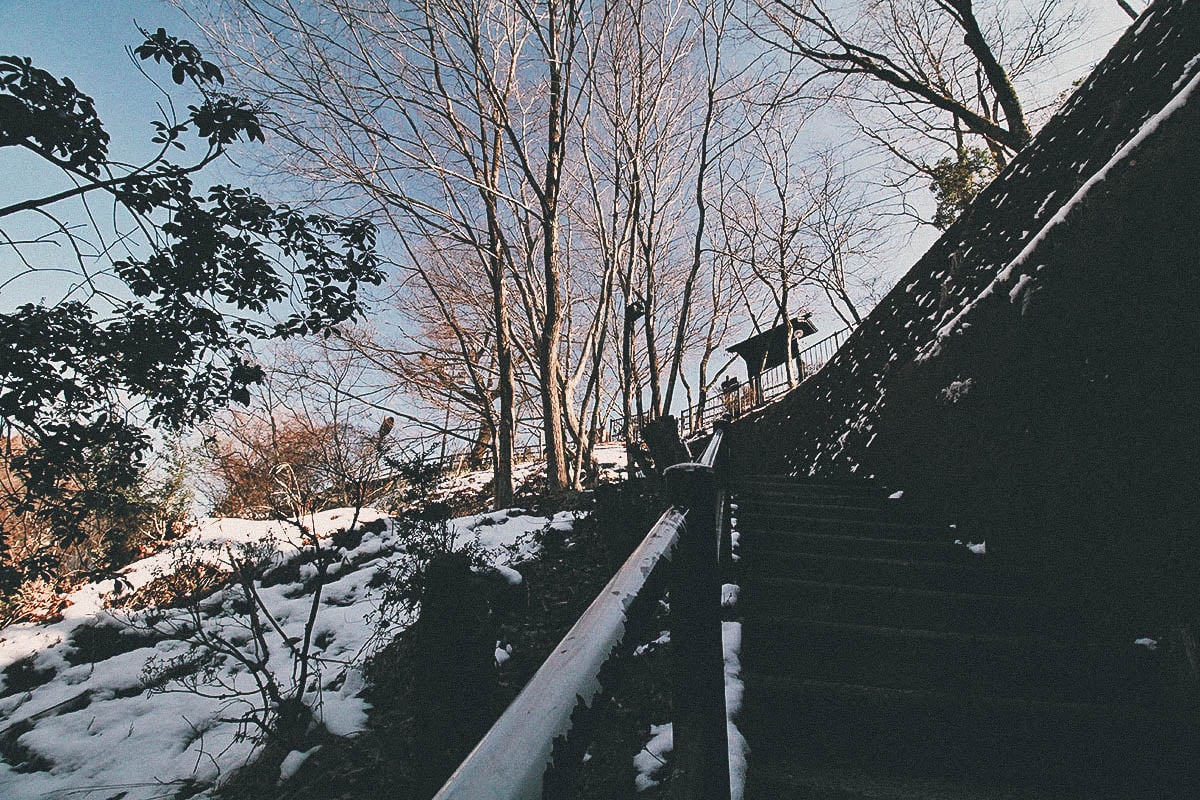 Don't eat the snow Reneelicious, we'll be having lunch soon.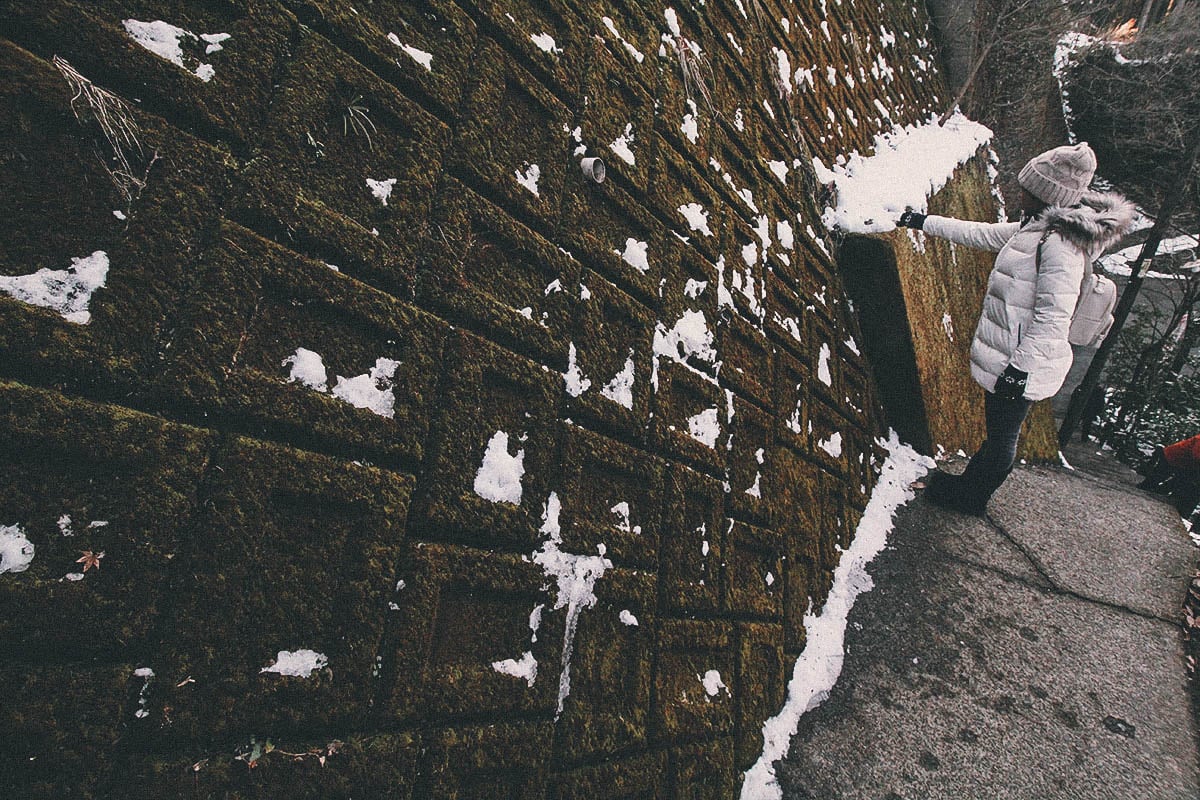 Kurokawa Onsen is a small town so you can get from one end to the other in about 20-30 minutes. The thing is, it's so beautiful you'll find yourself walking very slowly. These signs point to the many ryokans in town.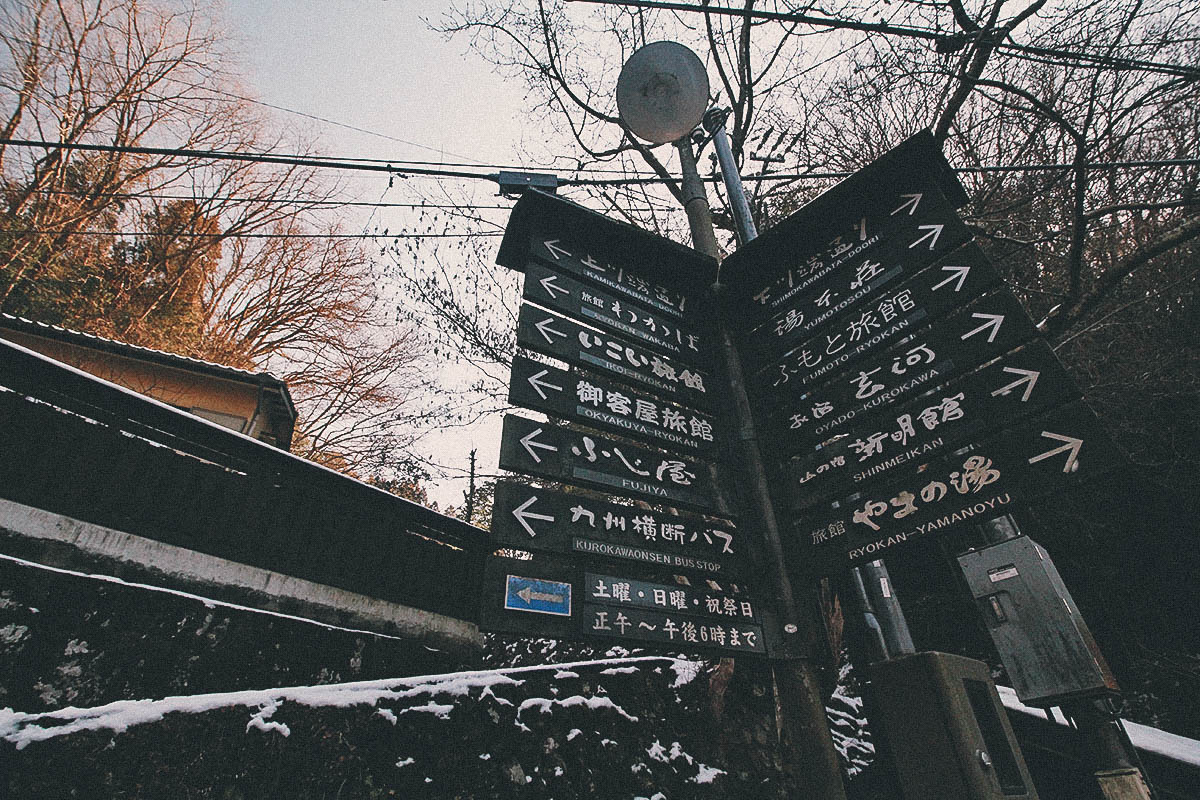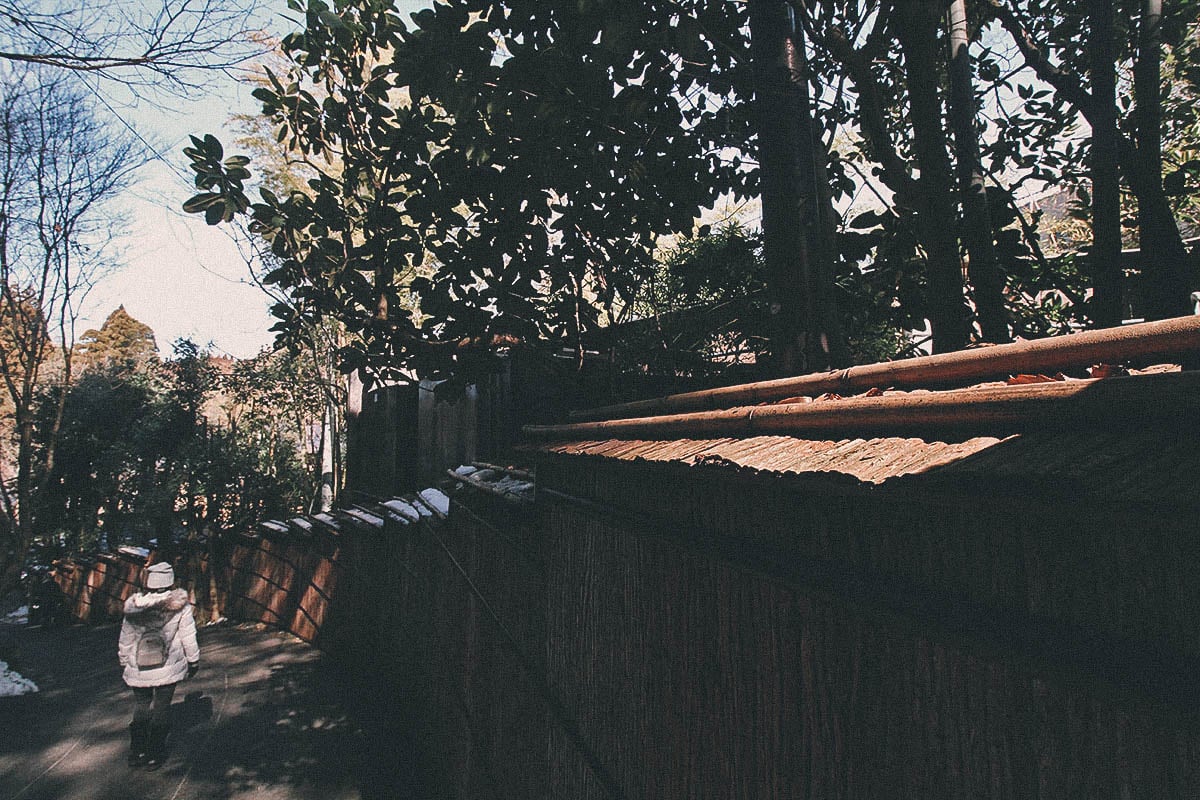 These are the types of buildings you'll find in Kurokawa Onsen. There are no large concrete hotels here, no neon signs. Just traditional wooden buildings, bath houses, small shops, and cafes. And lots and lots of trees. ♥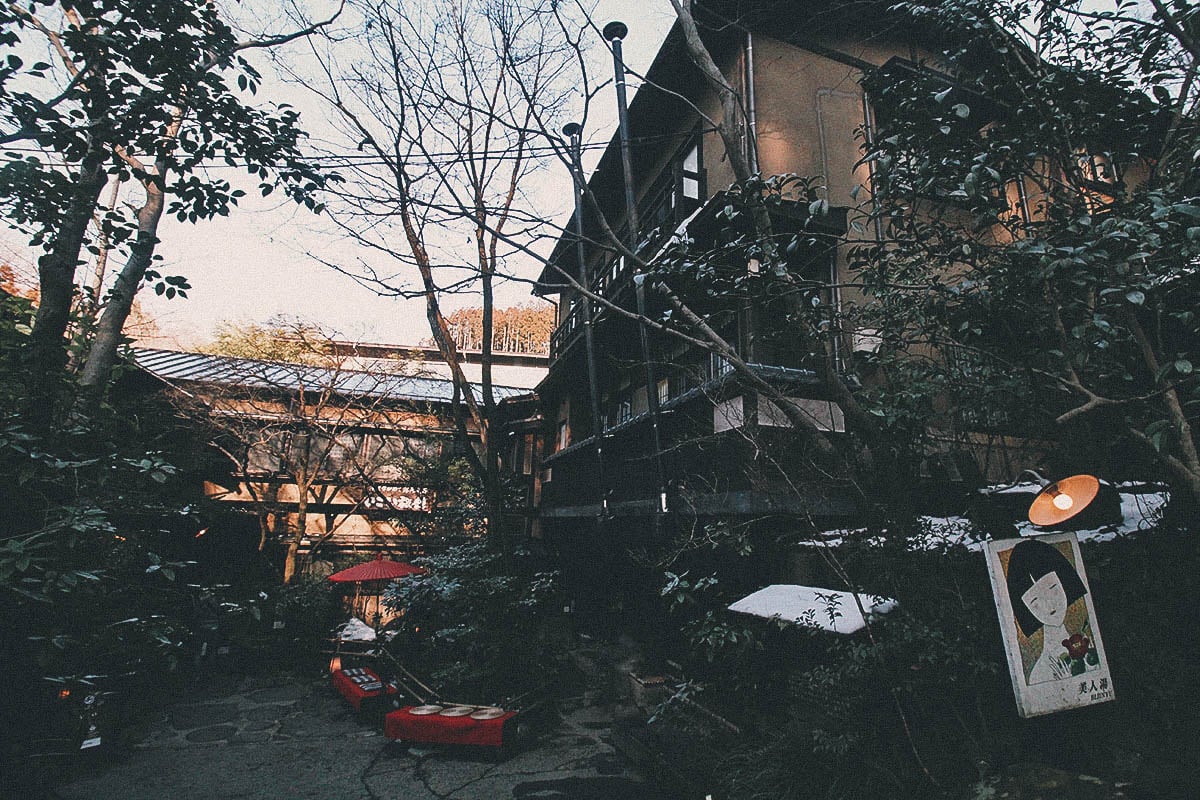 Kurokawa Onsen is in the mountains so the streets are hilly. People with mobility issues may have a harder time getting around.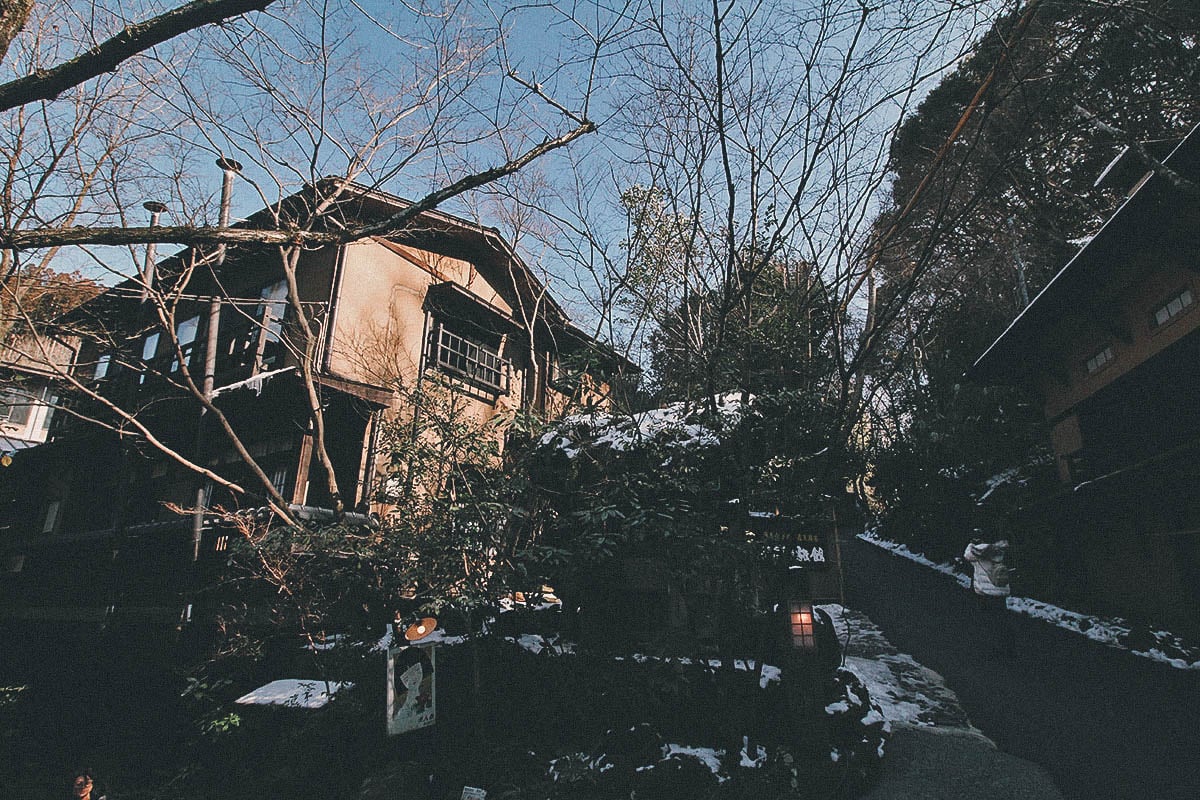 I believe there are around thirty ryokans here, all of which have their own onsen facilities. We stayed at Semonotokan Yumerindo, a lovely ryokan by the river.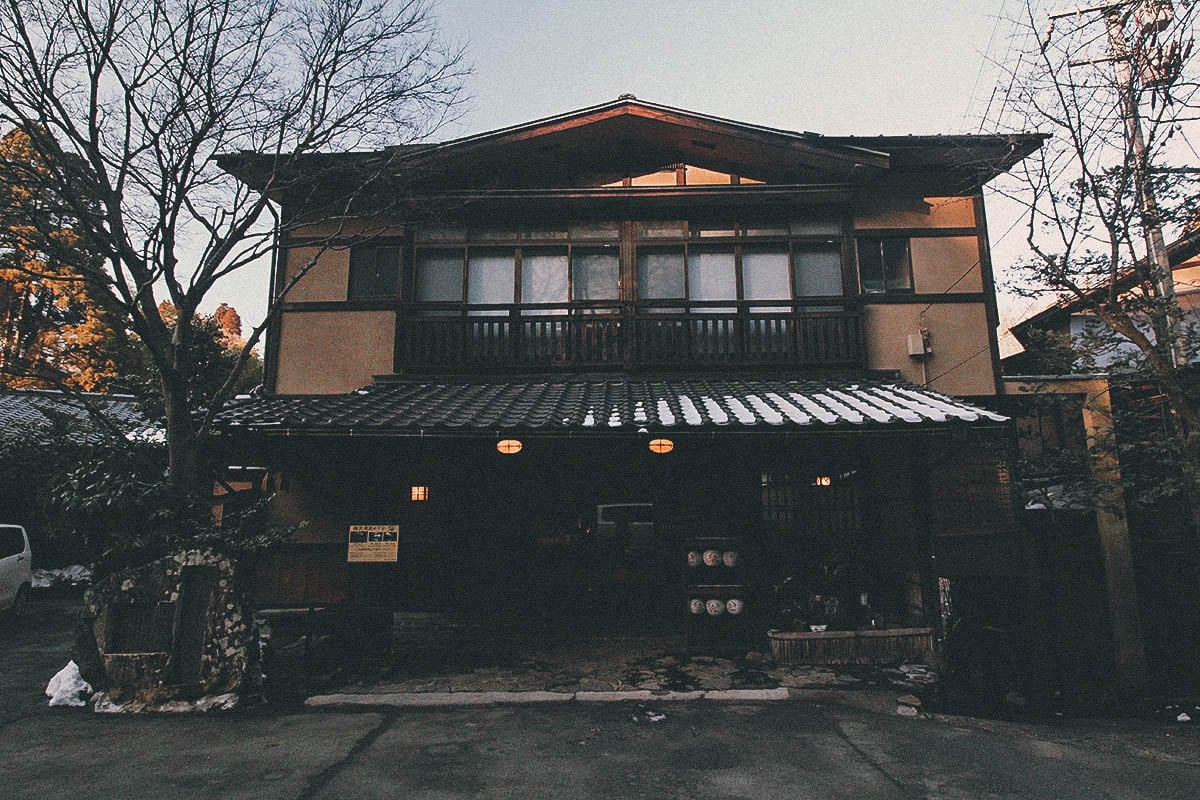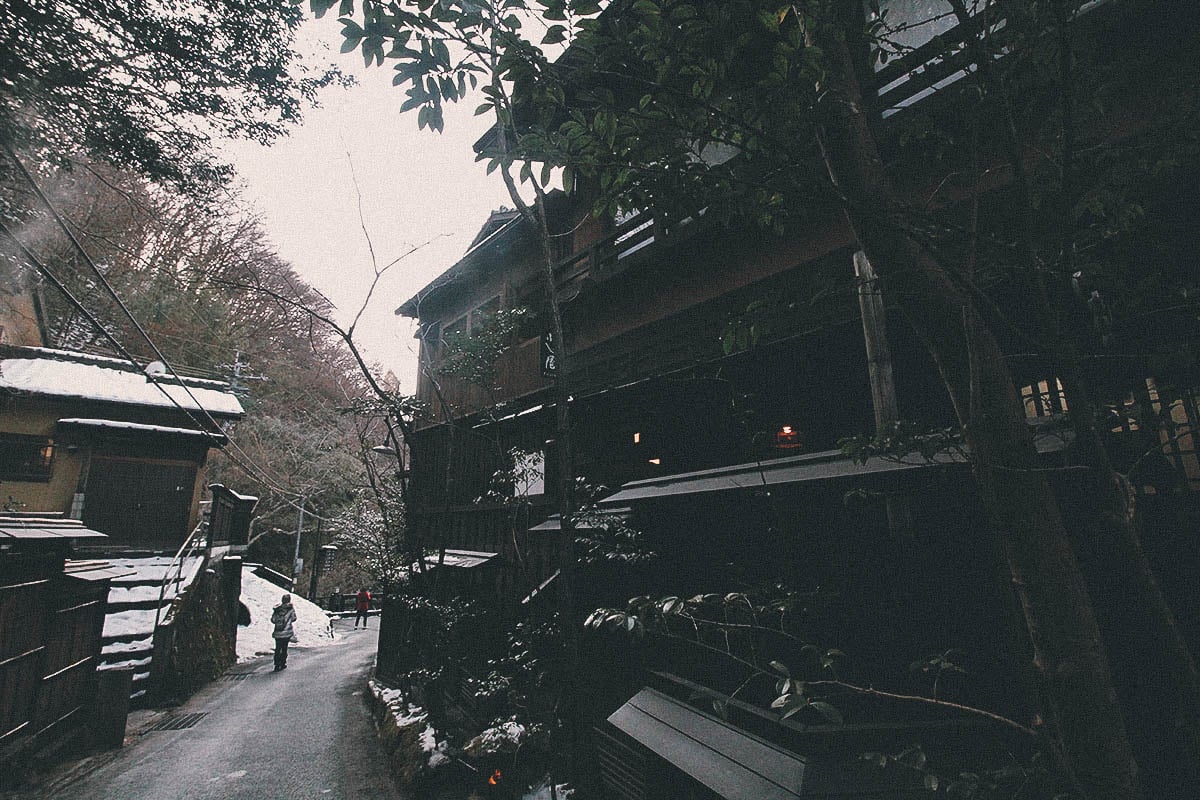 I find Japanese wooden architecture so calming to look at. ♥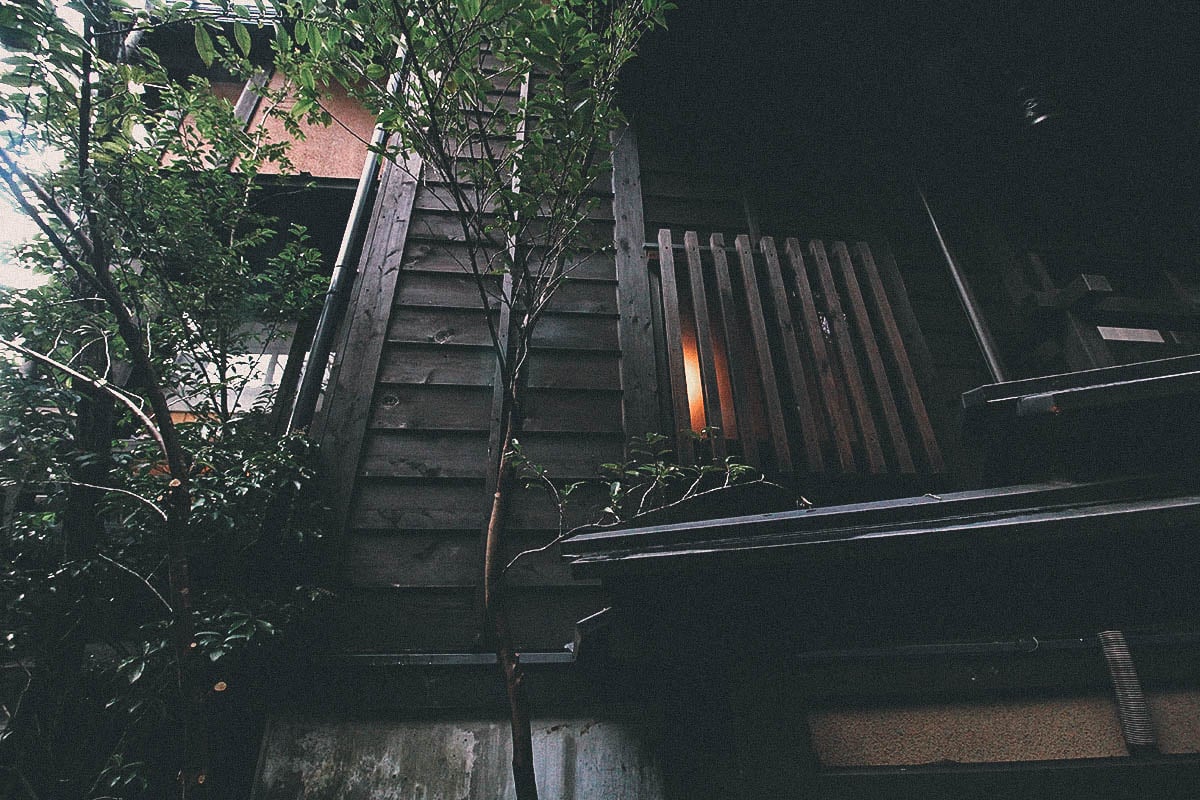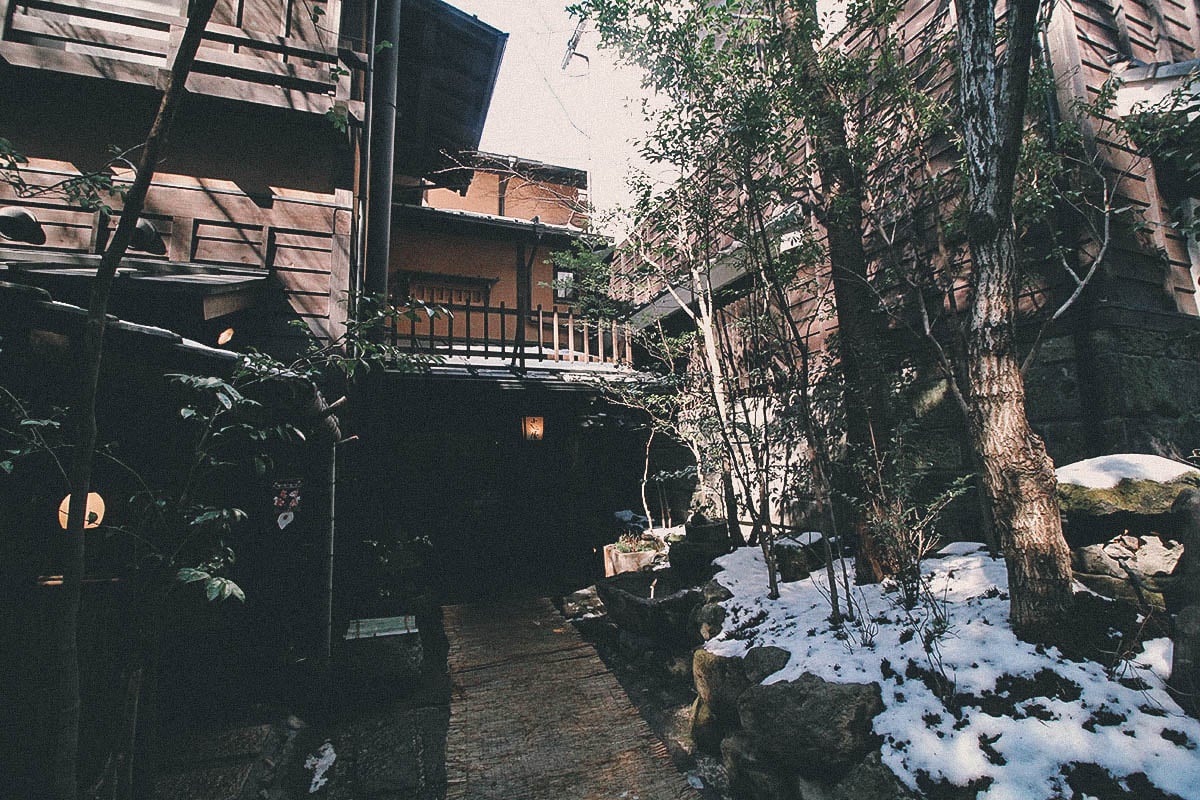 Ryokans are typically more expensive than Western-style hotels. In Kurokawa Onsen, they go for around USD 300 a night but we were able to get a good deal at Semonotokan Yumerindo. We paid just USD 120 for one night in February 2017.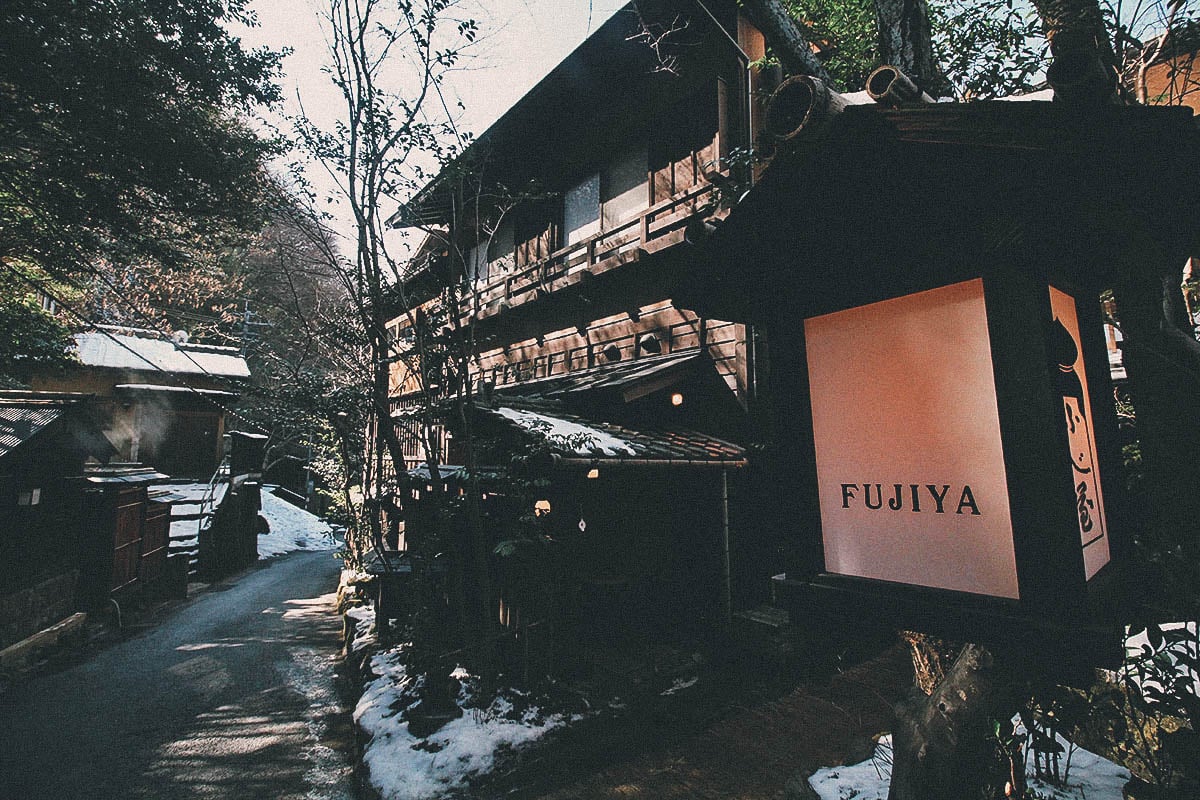 On this street you'll get a strong smell of sulphur. Scroll down to see why.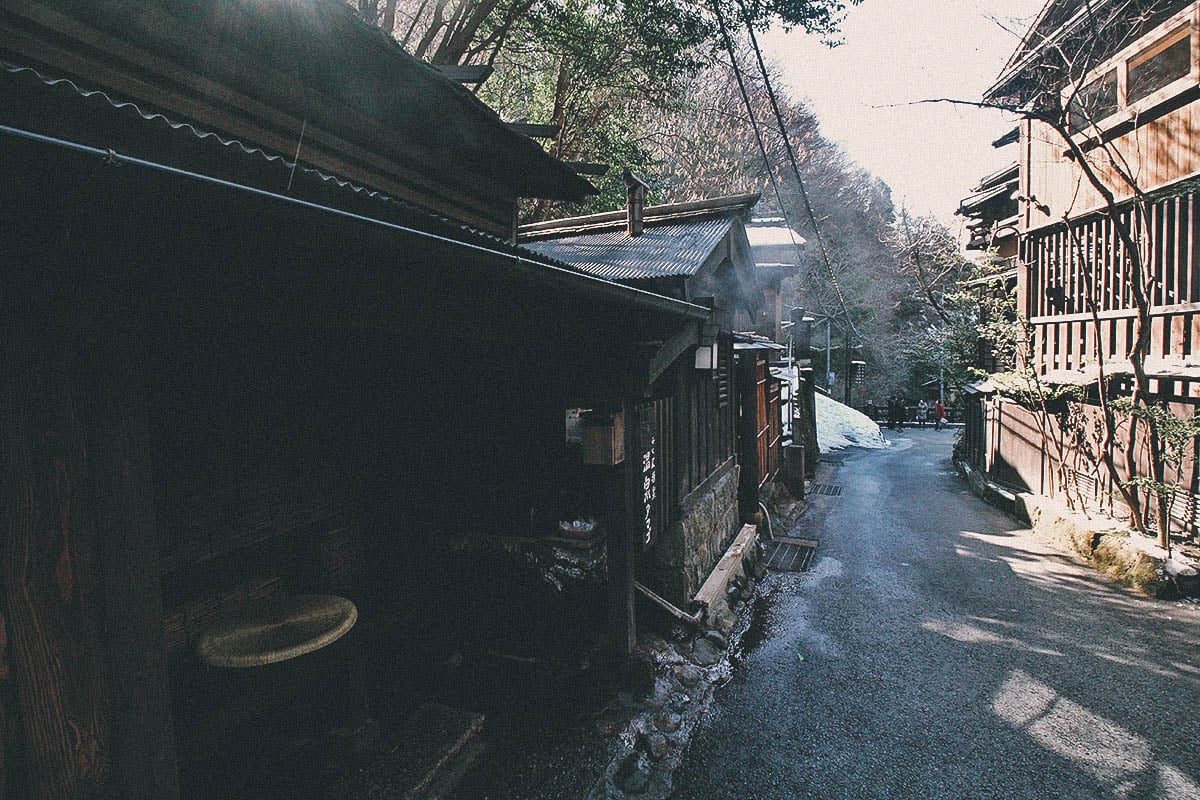 In this well they sell onsen eggs for JPY 50 apiece. Just put a coin in the basket and help yourself to an egg.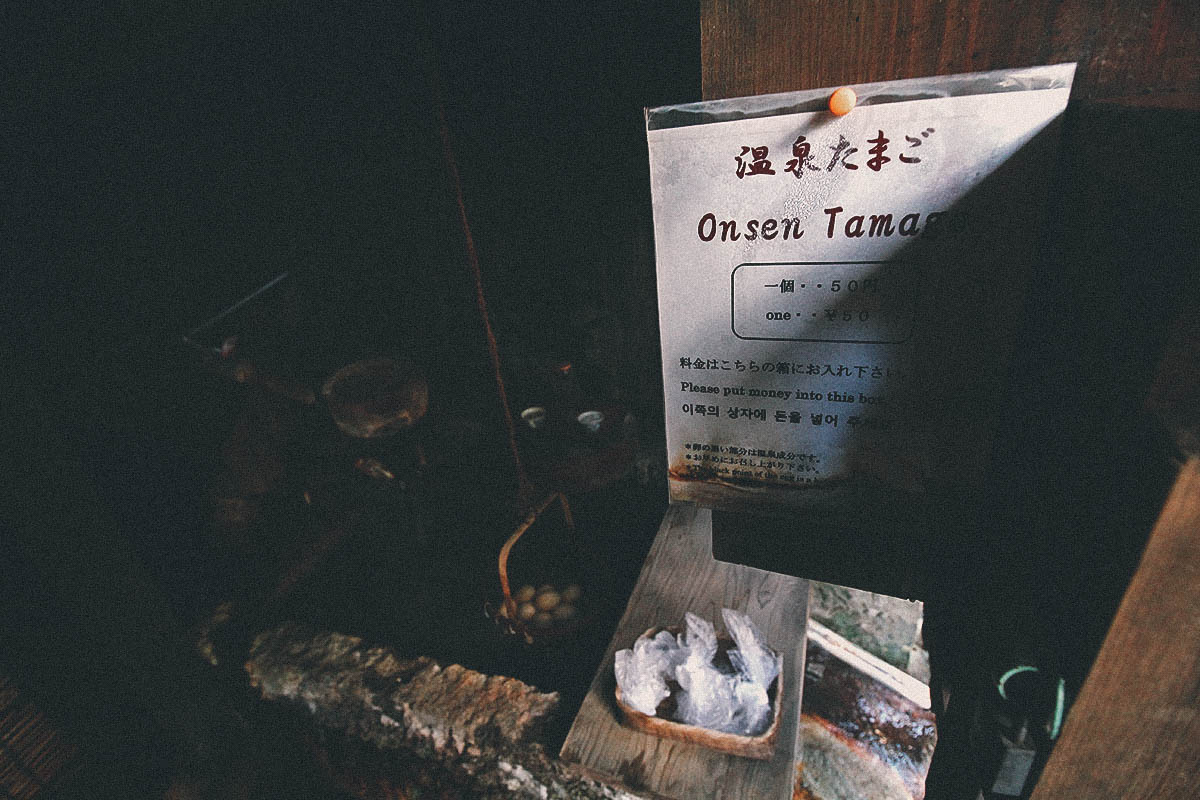 An onsen tamago is a traditional Japanese egg slow cooked in hot spring water. It's like a Japanese soft-boiled egg. It's unique in texture in that the white part is milky and soft, but the yellow is firm while still retaining the color and creamy texture of an uncooked yolk.
We weren't planning on buying any but a Korean mother and daughter whom we had just met at a cafe came running to give us a couple of onsen eggs. They were so sweet! It's little things like that which I remember and appreciate most from a trip.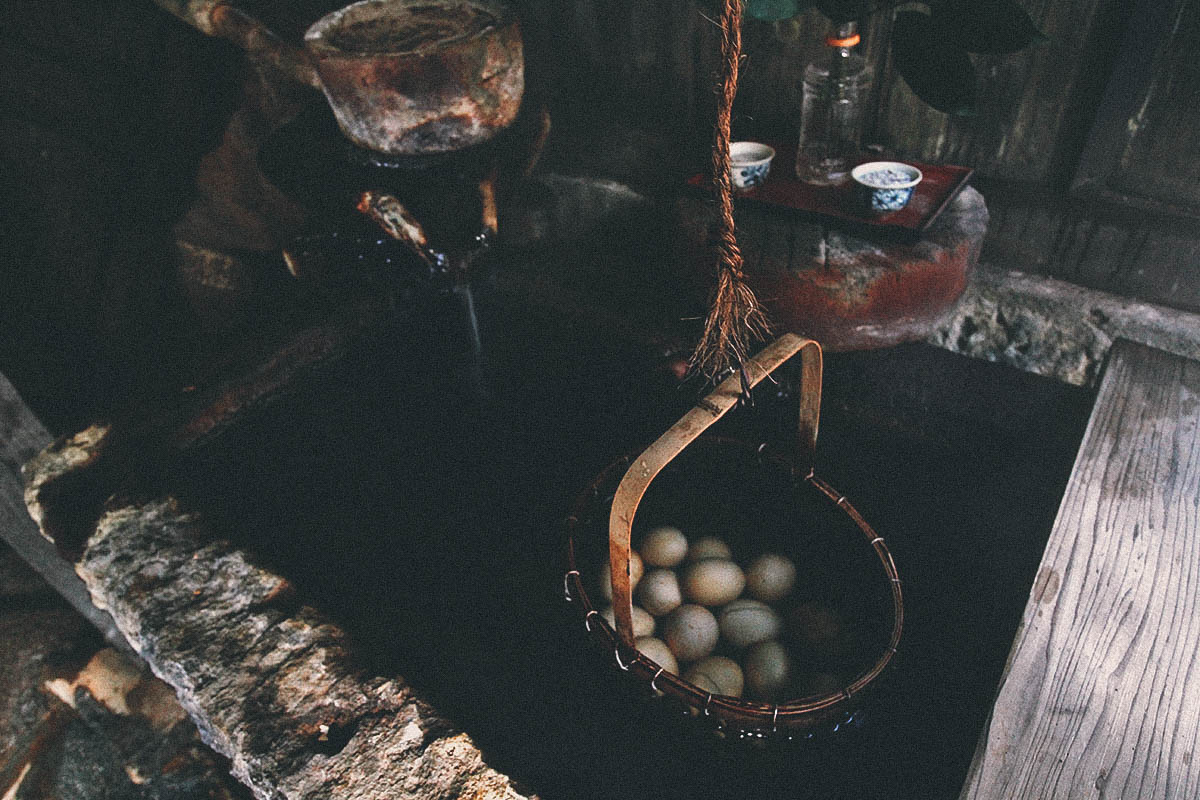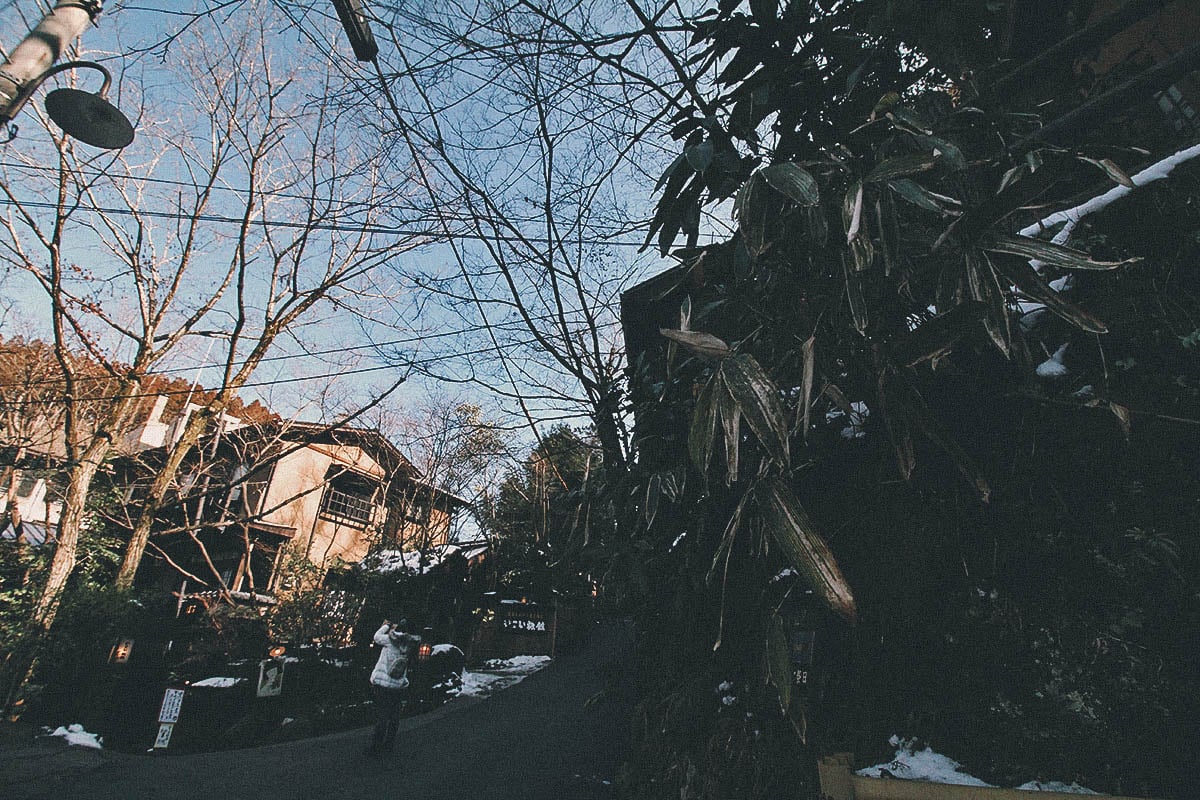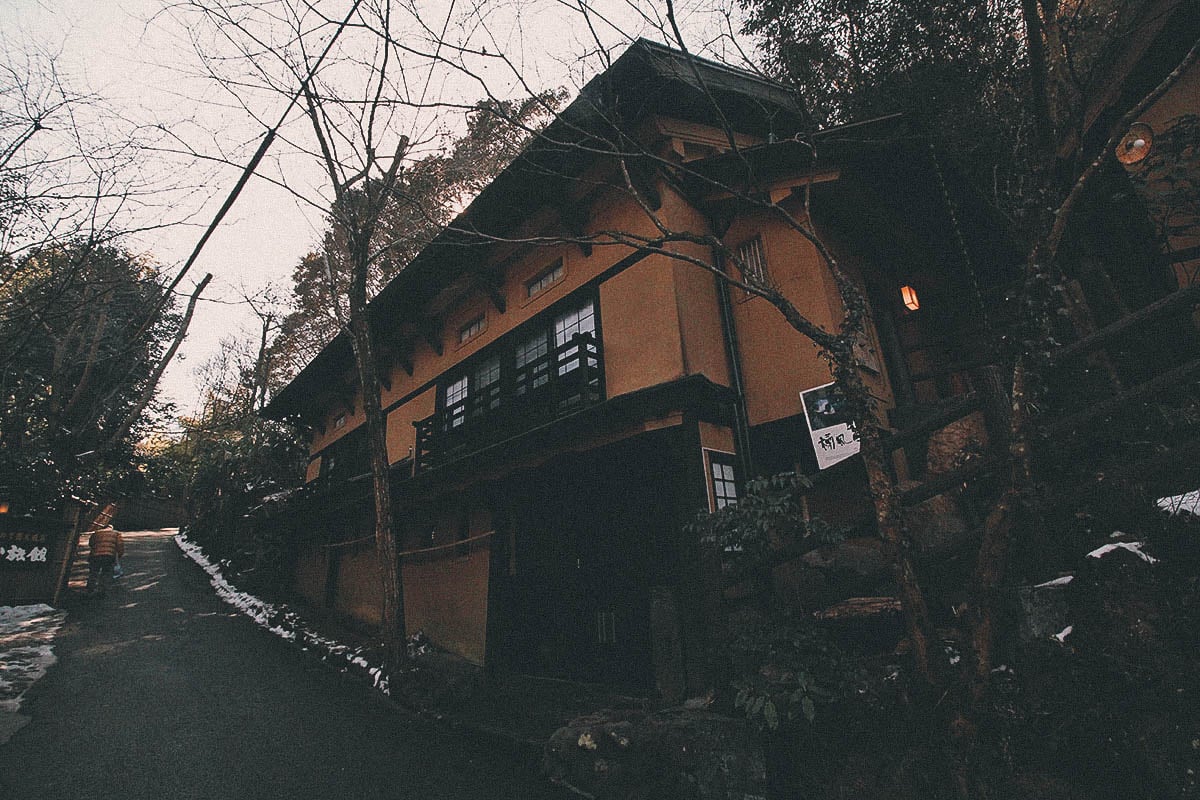 On the right is a phone booth. Cute right?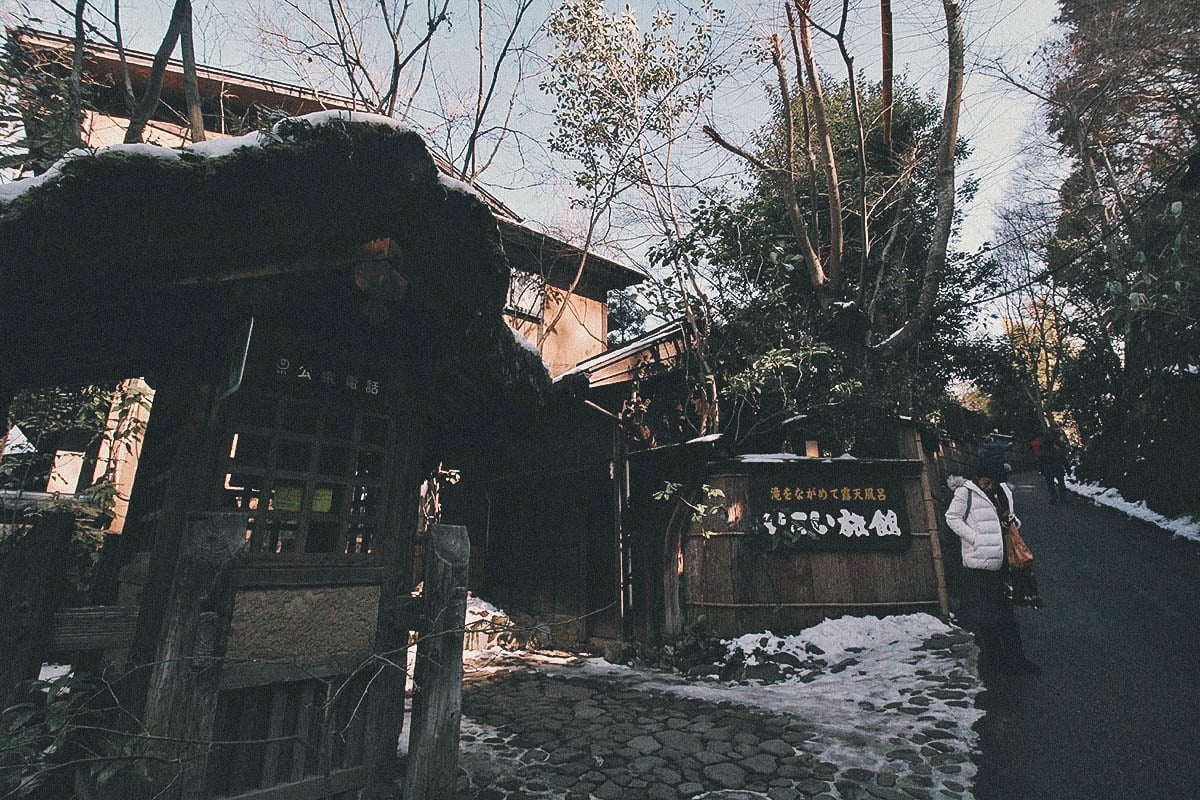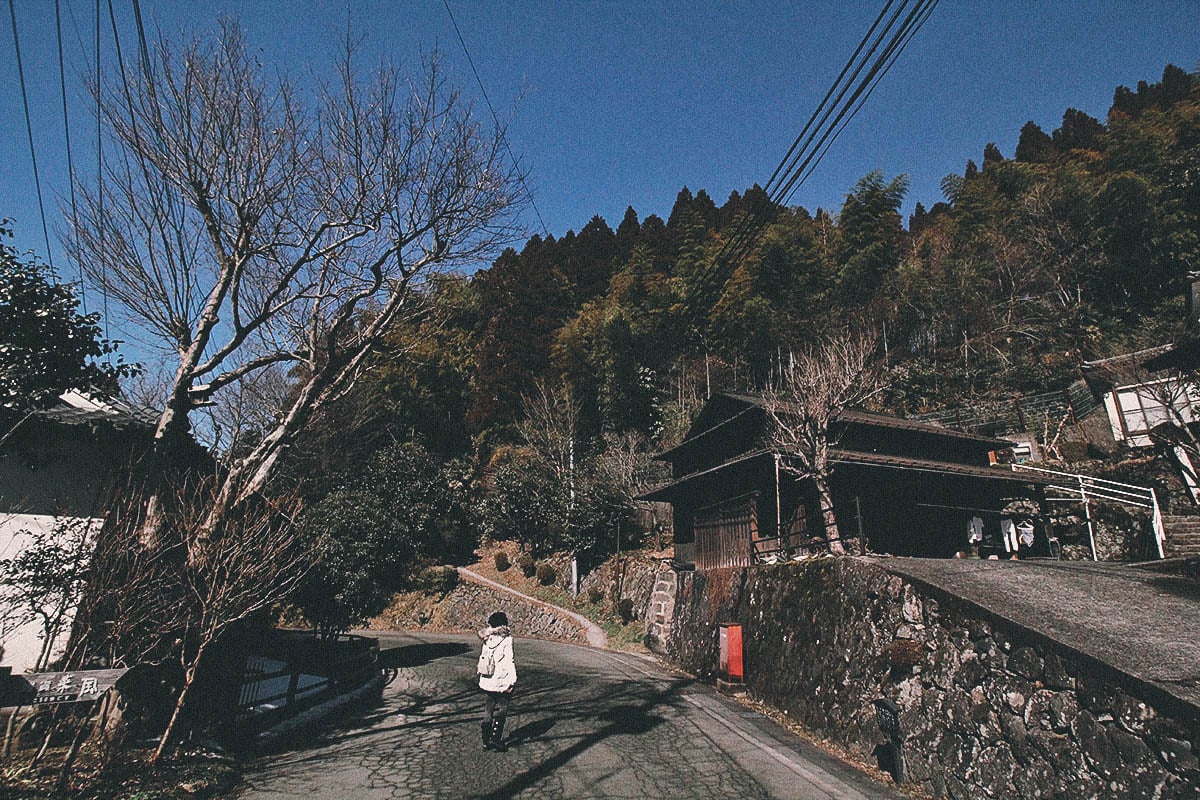 Nothing but trees and traditional Japanese houses. It was so nice not having any tall buildings in sight.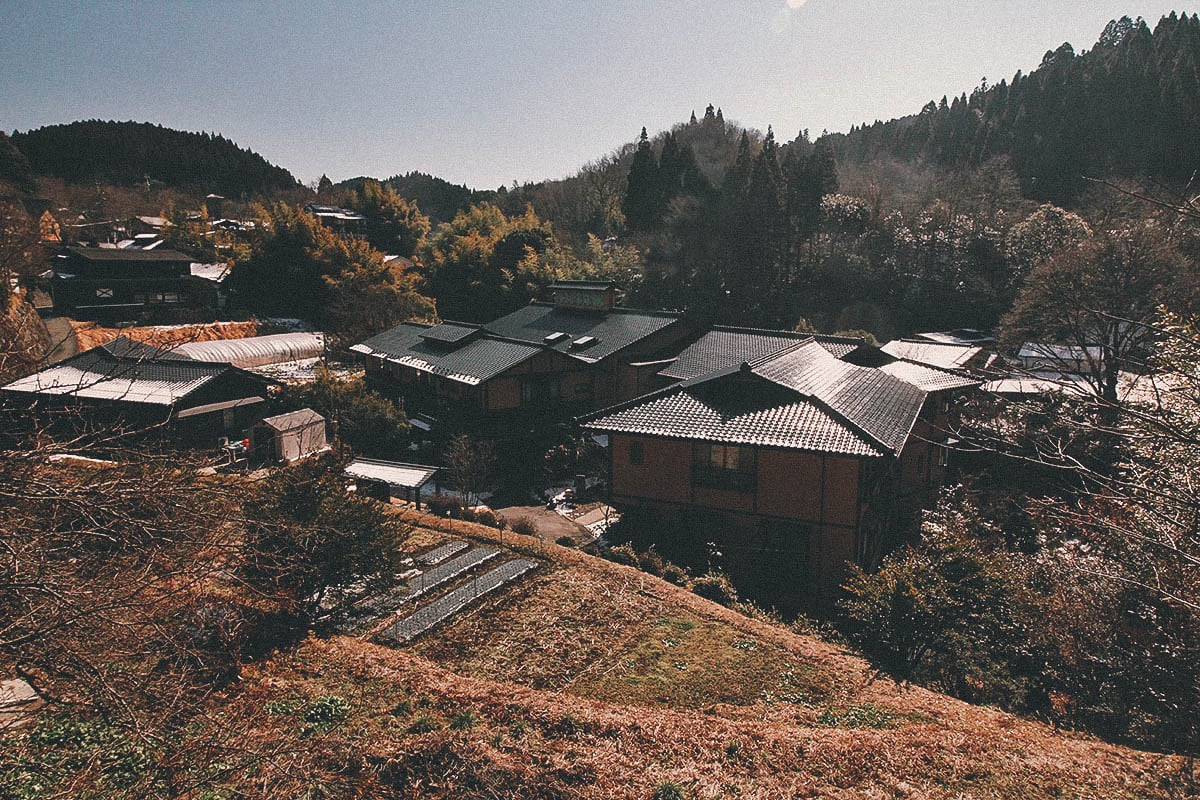 This was taken at the other end of town on our way to Iromomiji Restaurant. They make some pretty awesome soba noodles so they're well worth the trek.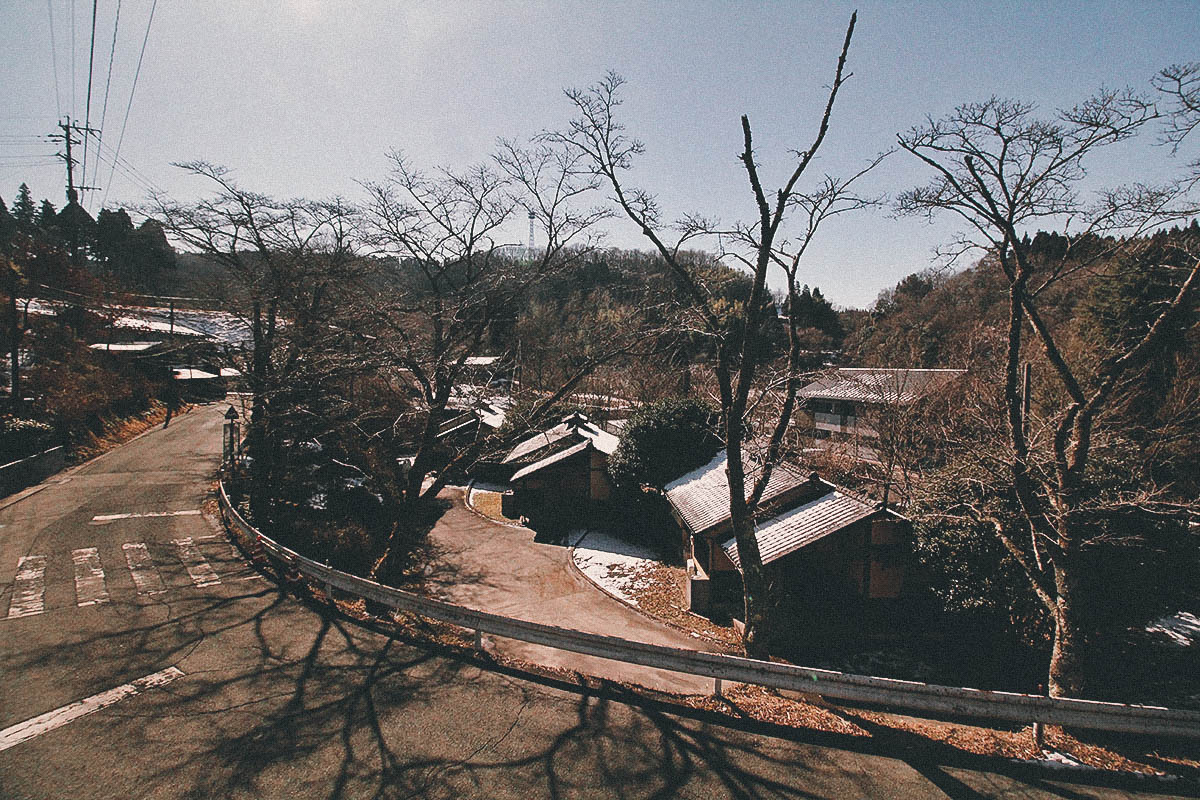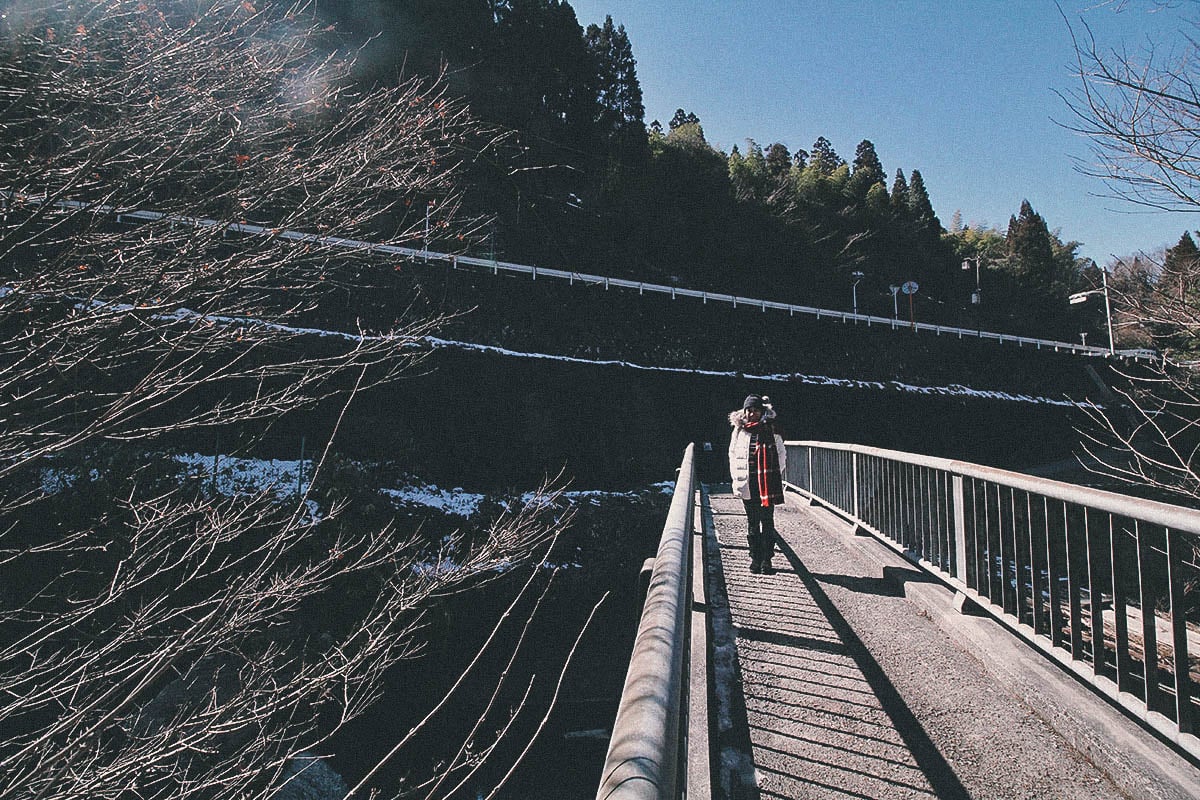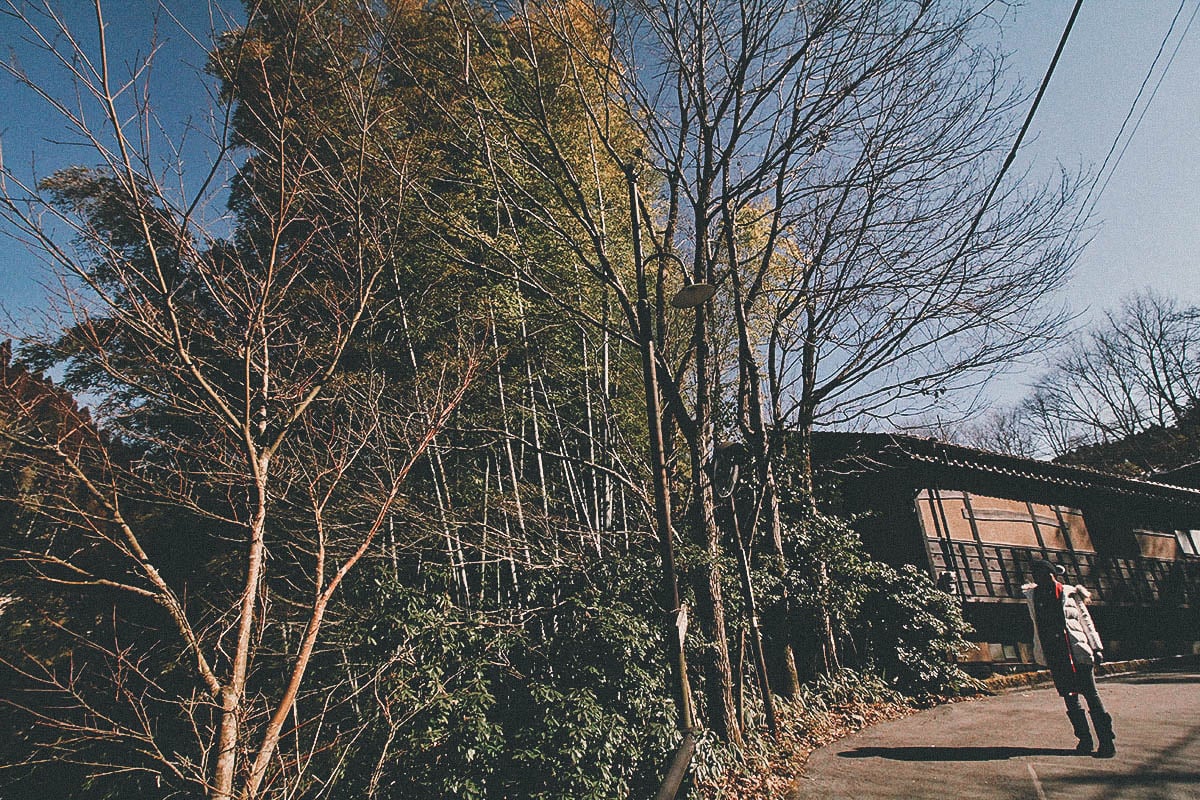 Nothing to see here, just Reneelicious kicking up some snow.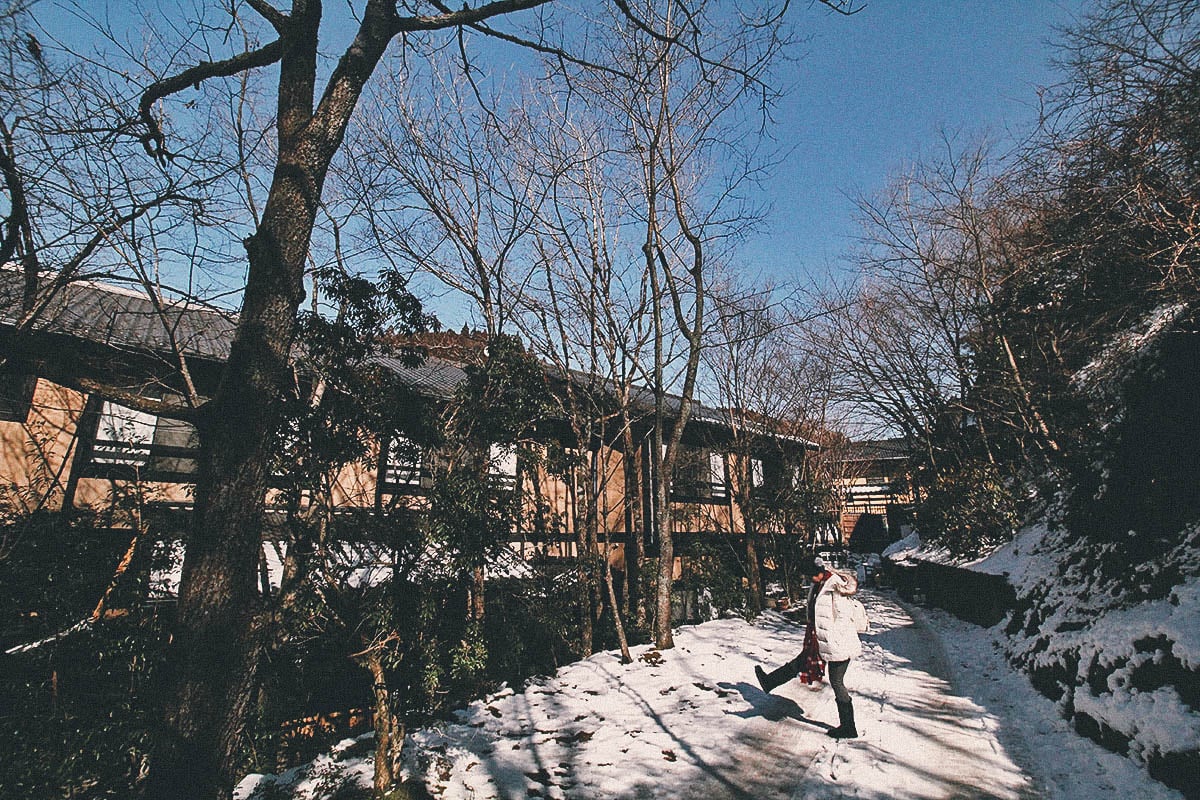 A river flows through the center of town, adding to the atmosphere.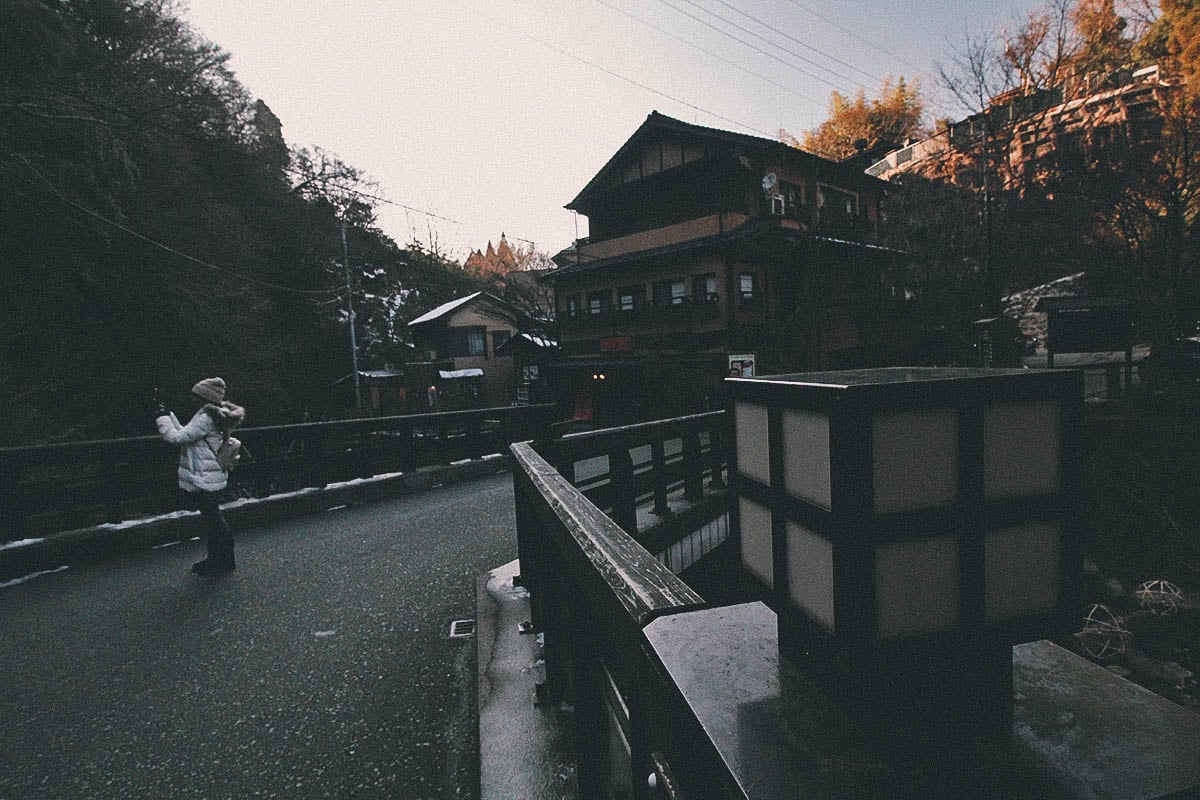 So pretty right? We saw two older Japanese dudes bathing buck naked at that onsen across the river. 😆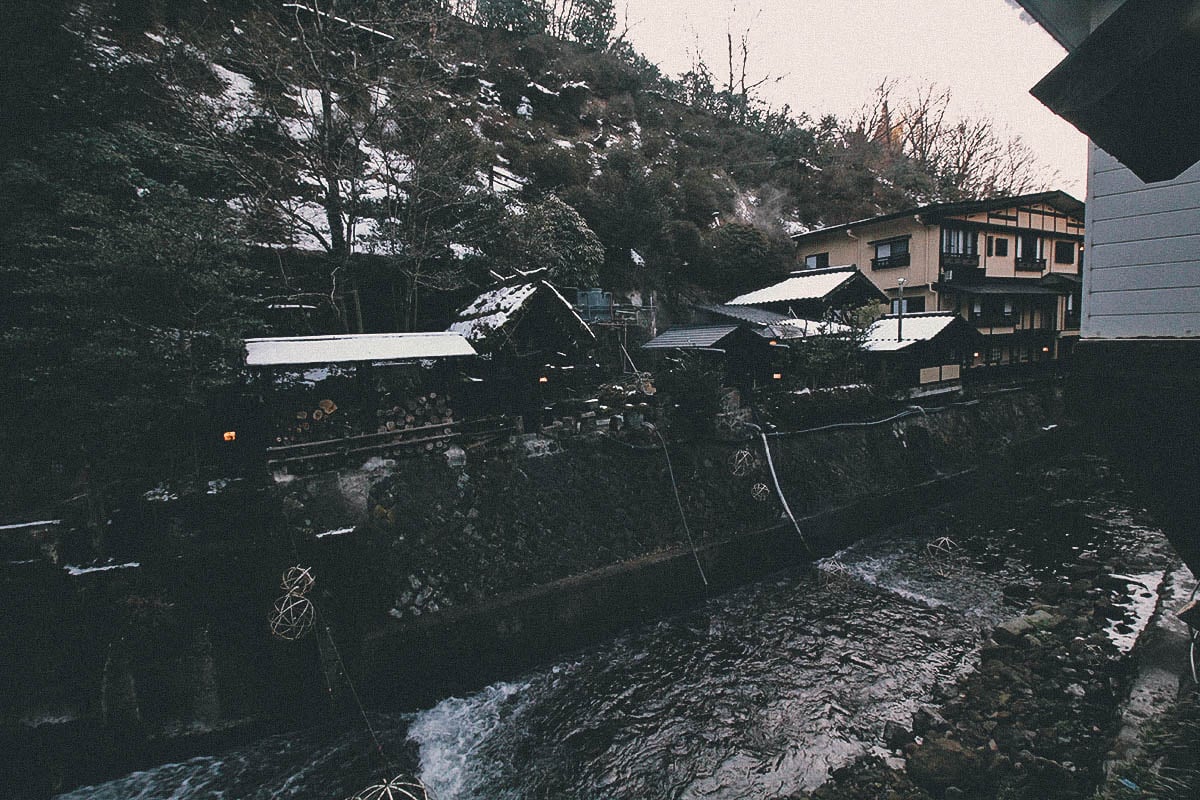 I think they had lights wrapped around these bamboo structures which they would illuminate at night.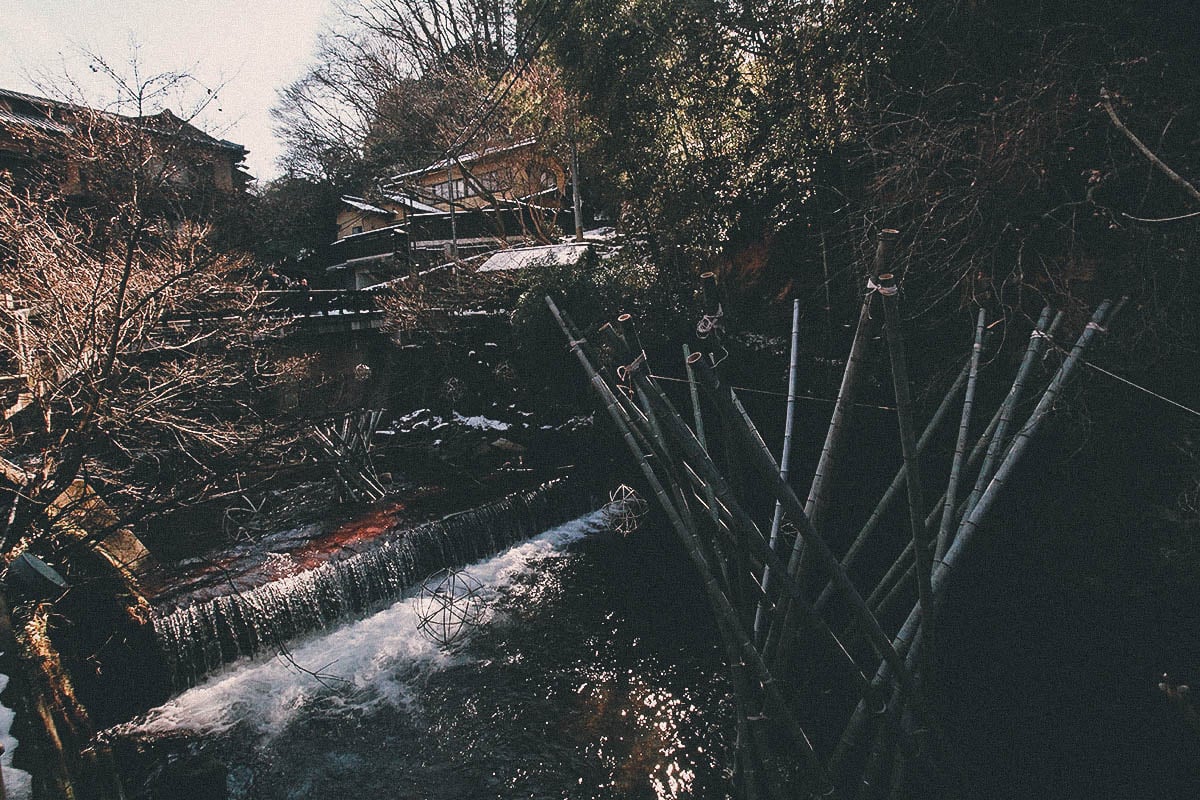 See those balls hanging just above the river? Like the bamboo, they each had lights in the center. I tried to go out at night to take pictures but the front door of our ryokan was already closed! Boo!
Kurokawa Onsen is a sleepy town so it pretty much shuts down for the night after 9PM or so. Most shops and restaurants close by 6PM. It would have been really cool to see the river all lit up.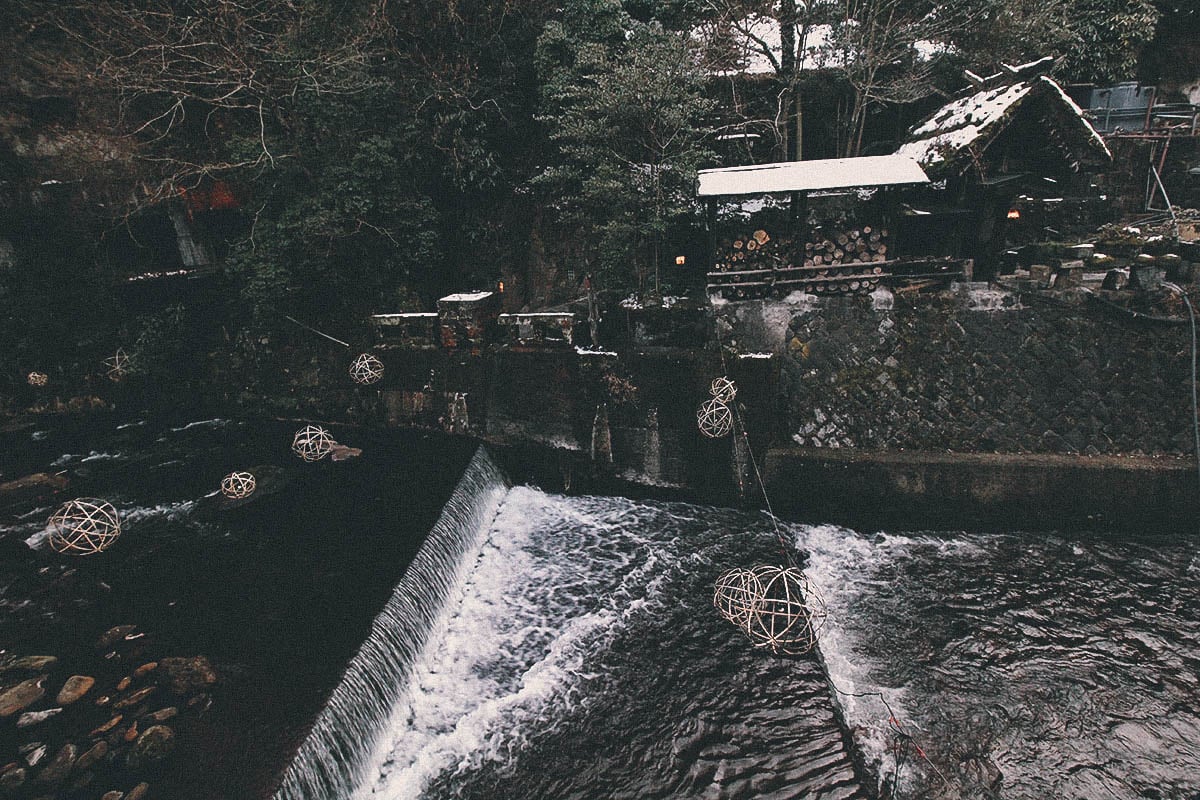 What's in that shed? Let's have a look.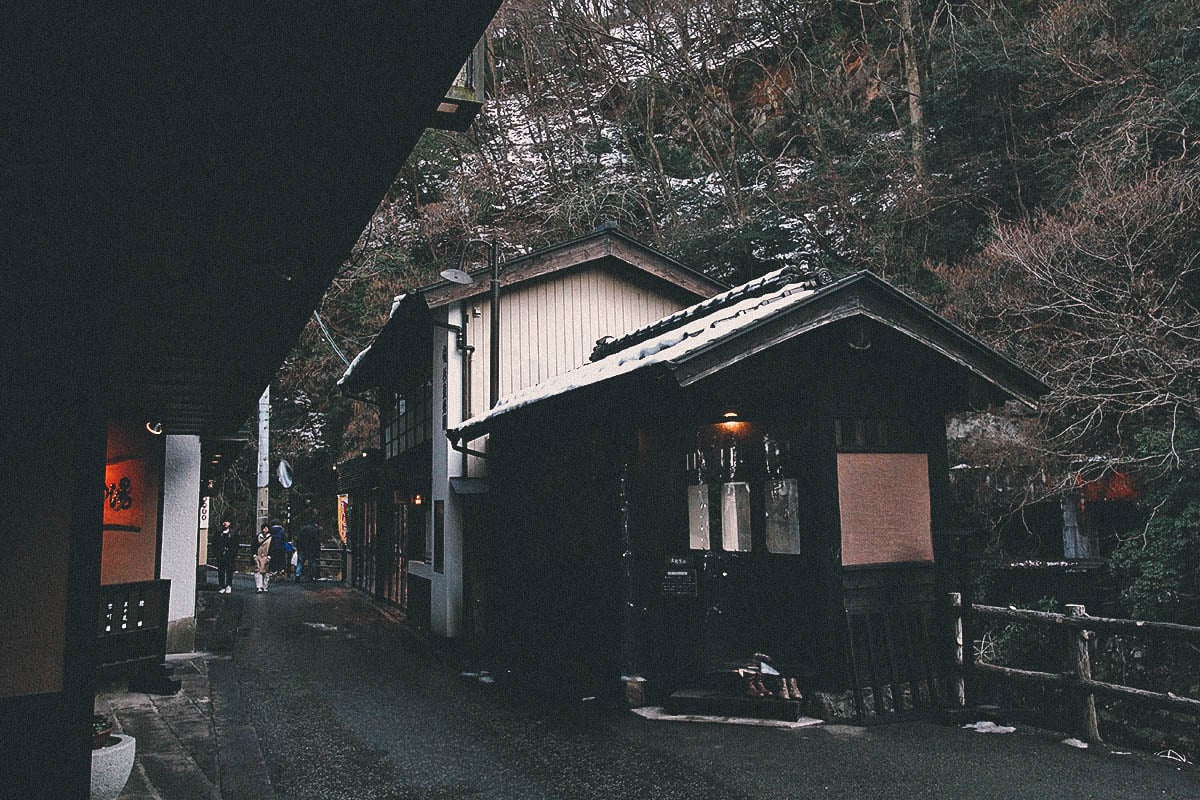 It's a hot foot bath! There are many of these throughout town.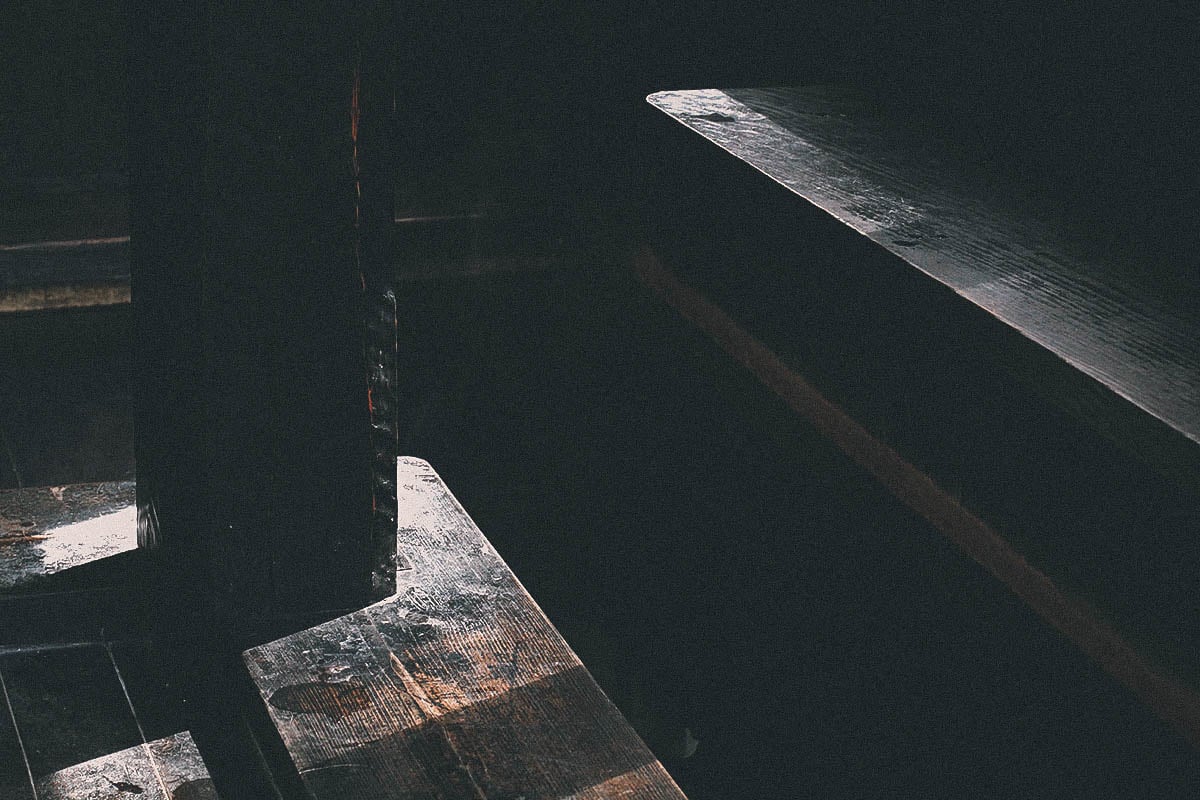 Earthenware for sale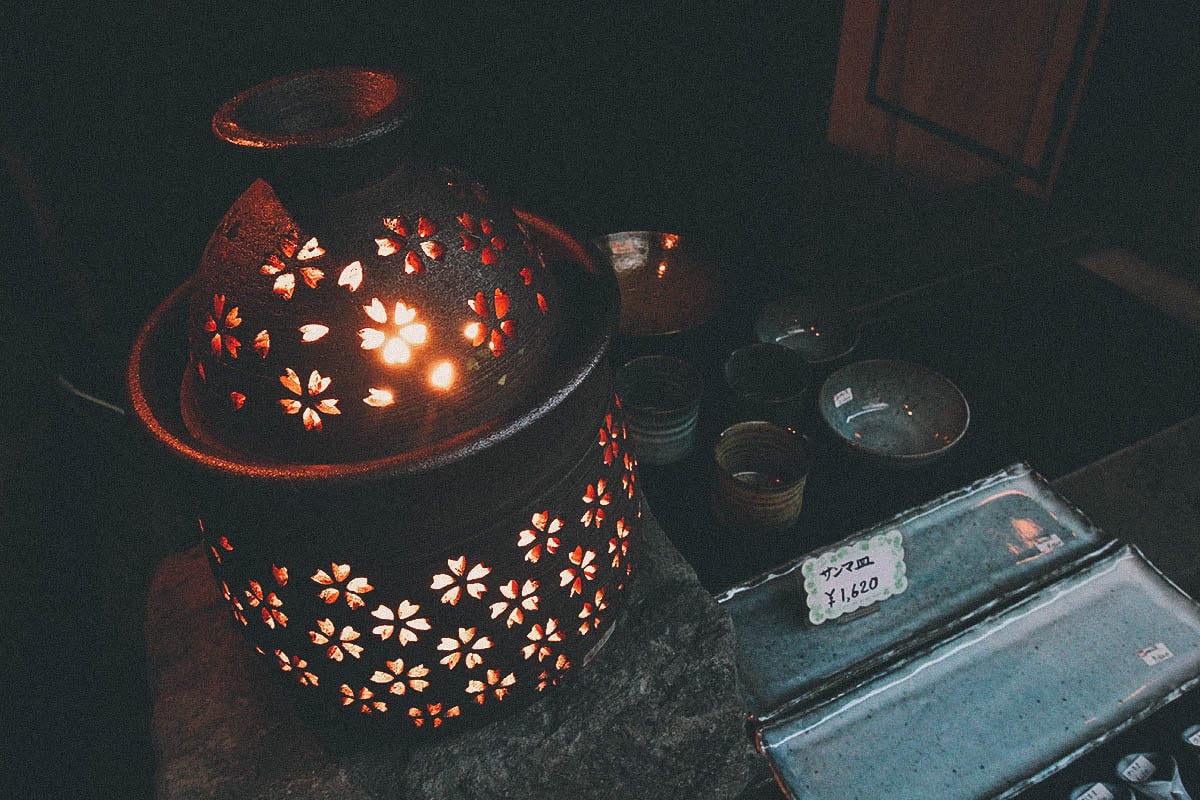 I'm not sure what it's name was but this was one of the bigger ryokans in town.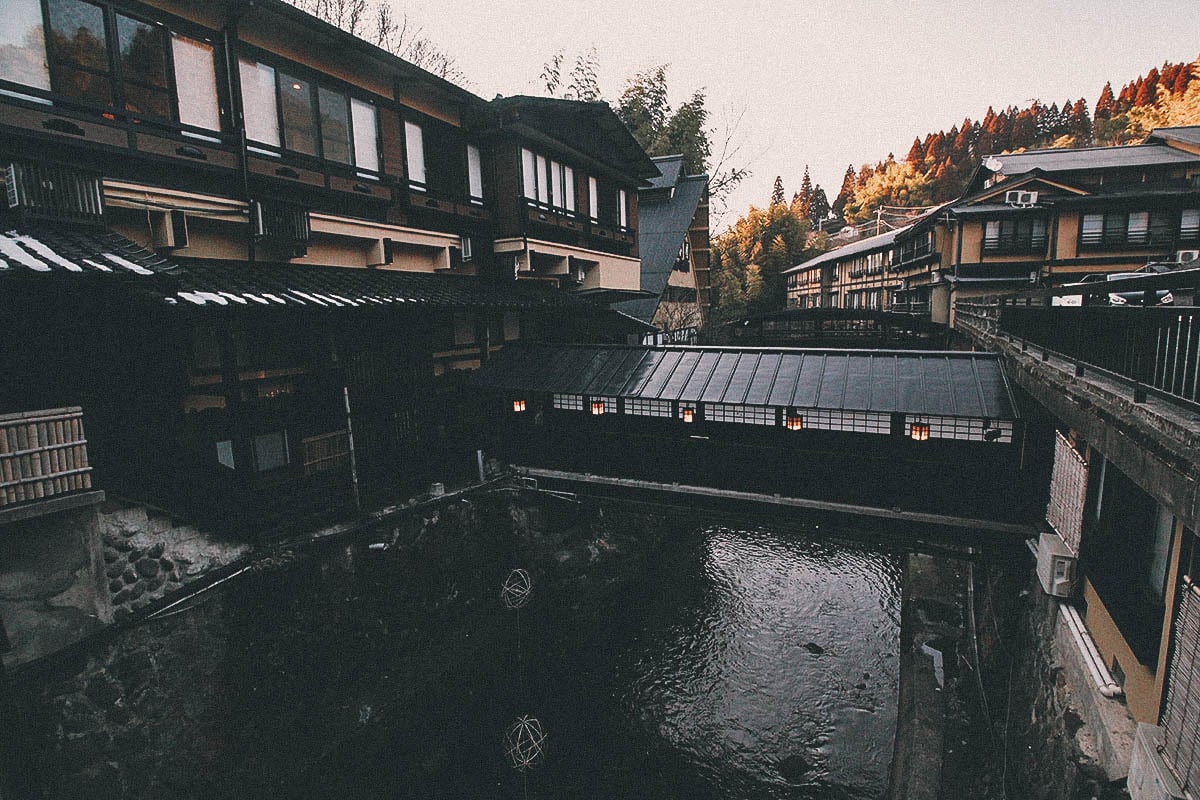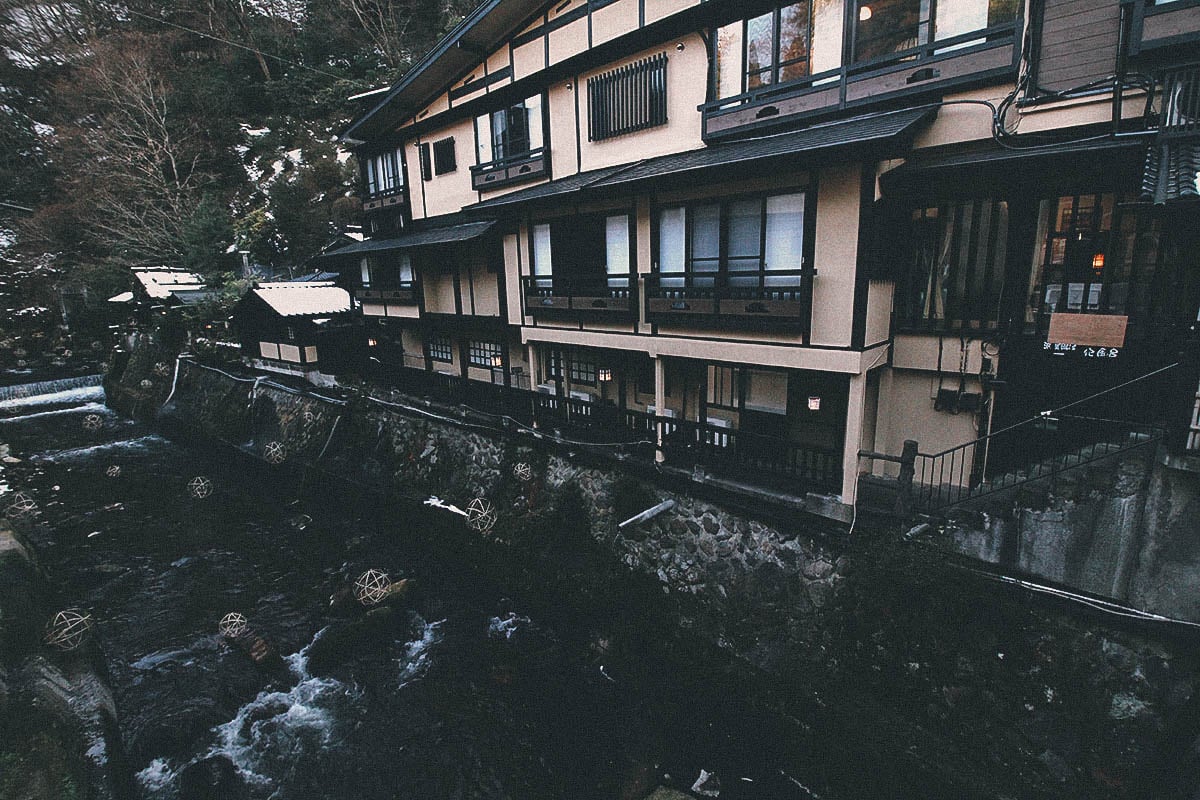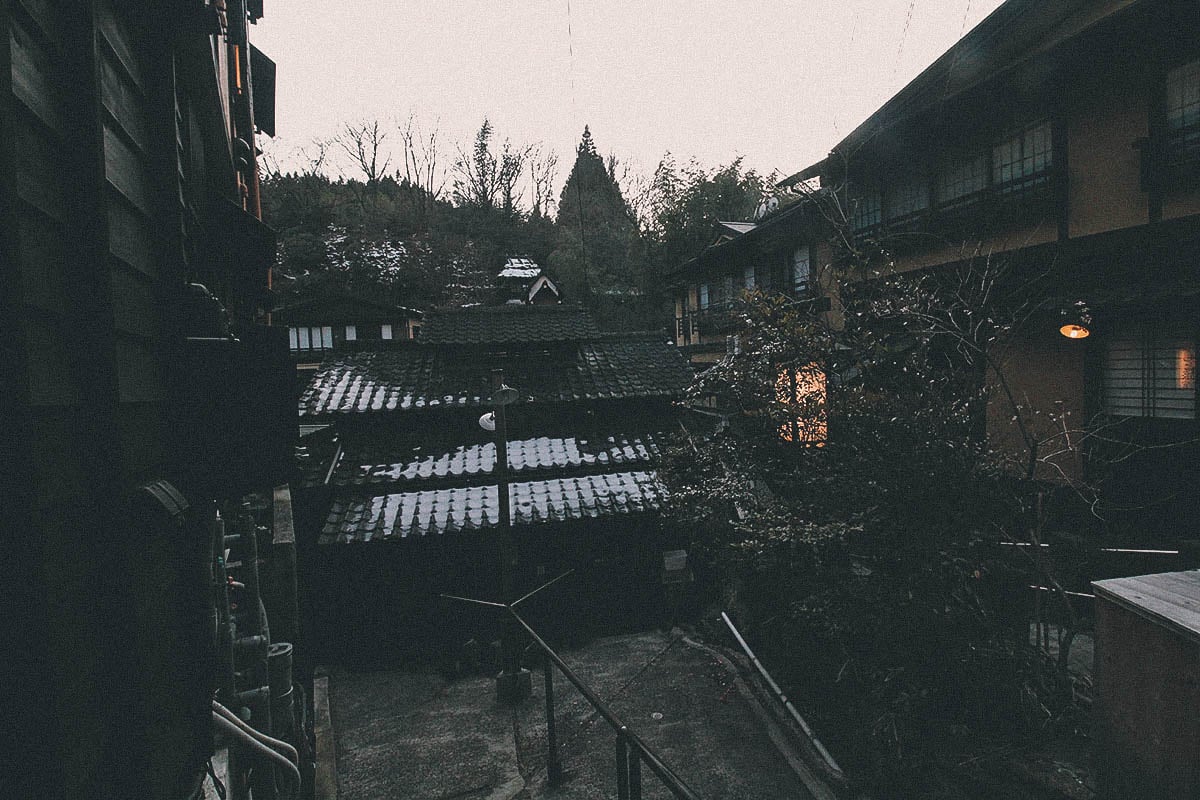 They had these holes where you could get a whiff of the hot spring water. I guess things like that matter to frequent onsen-goers.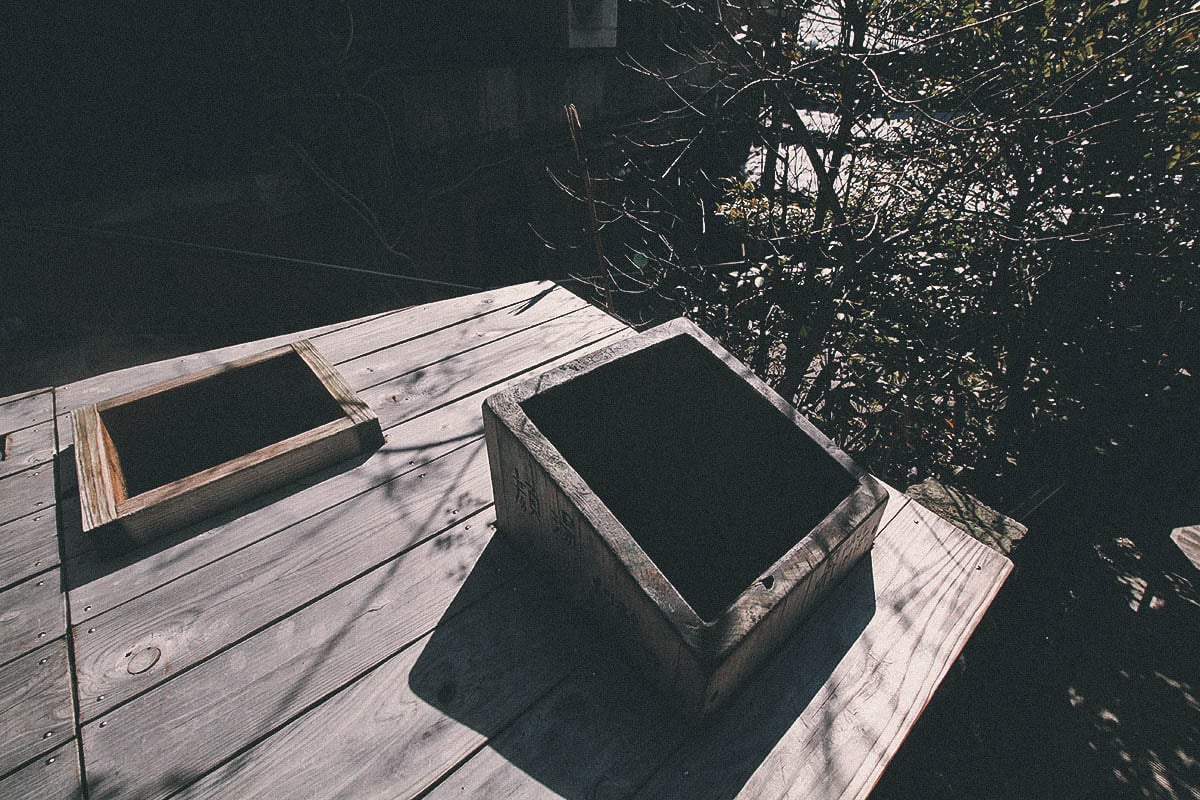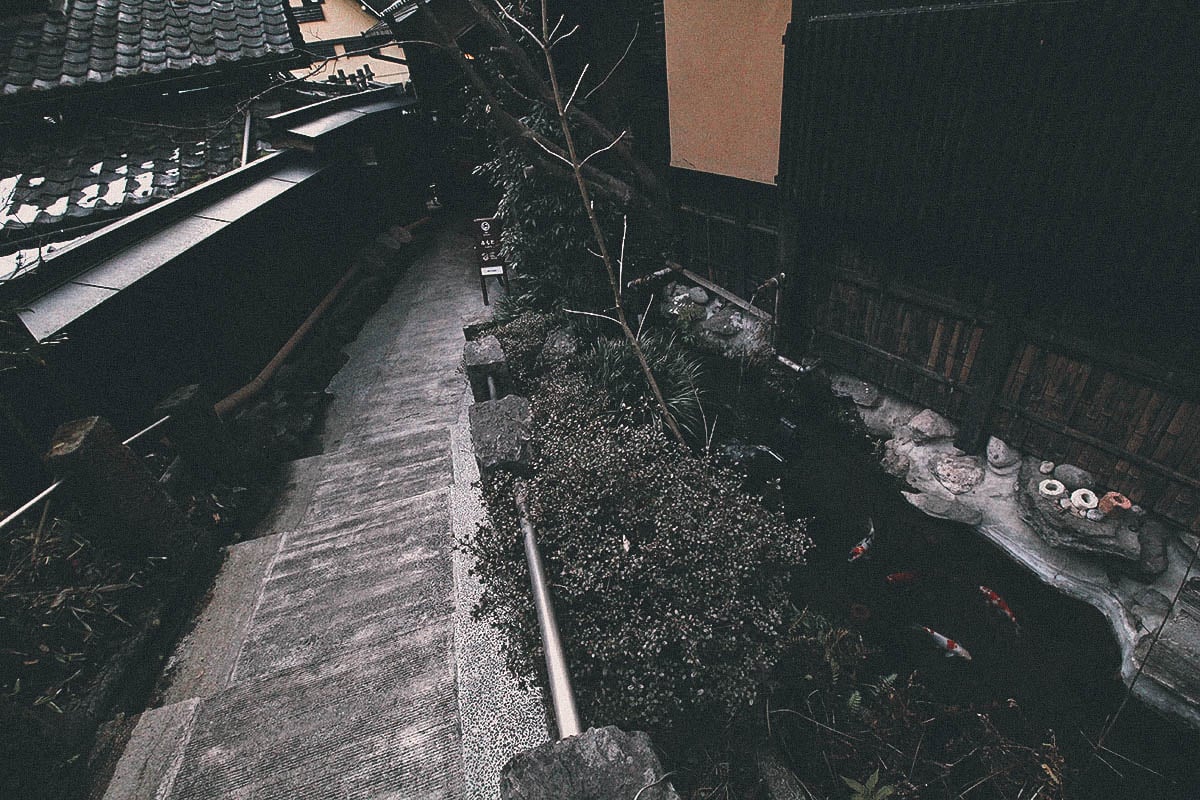 Remember what I said about rotemburo meguri? At Kurokawa Onsen, you can buy these wooden passes or tegatas for JPY 1,300. They allow you admission to up to three different onsens of your choice. You can buy them at the tourist information center. Alternatively, you can pay JPY 500 per onsen.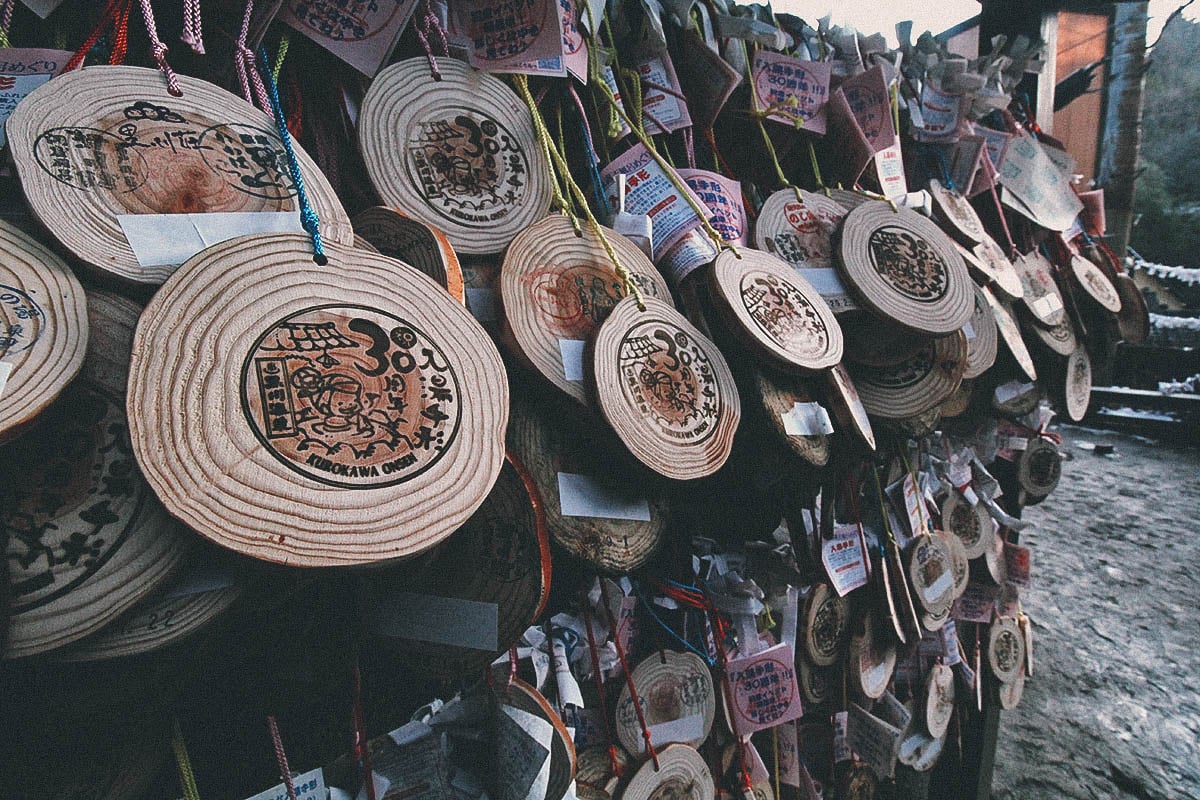 There are a few cute boutiques and restaurants in town.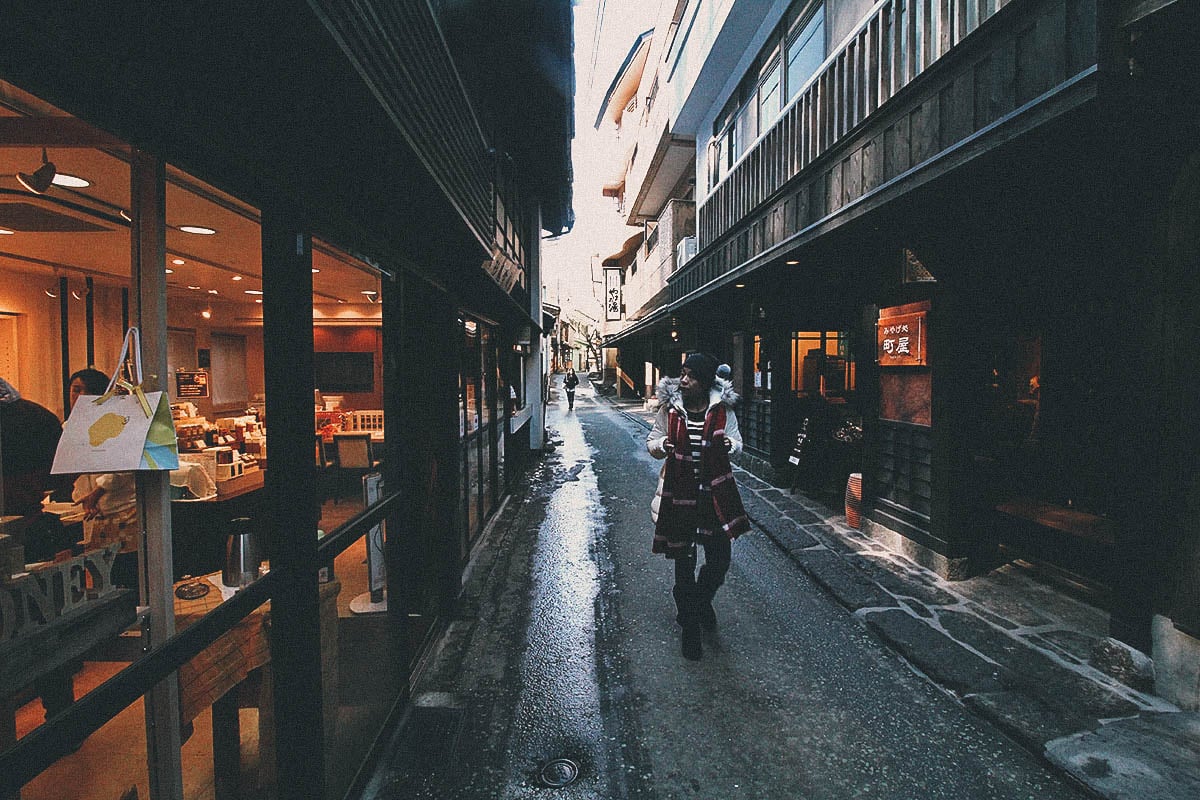 As cold as it was outside, we couldn't help but get a cup of this honey soft serve. It was so creamy and delicious!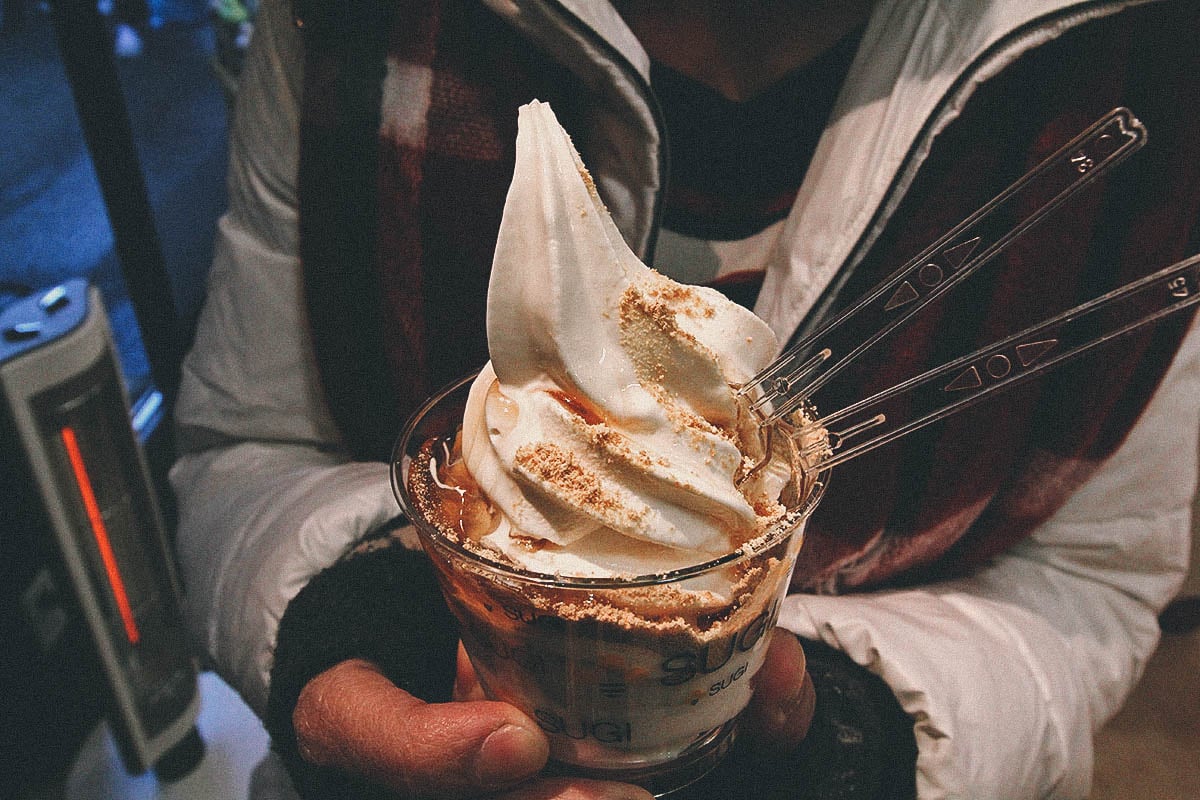 Japanese crackers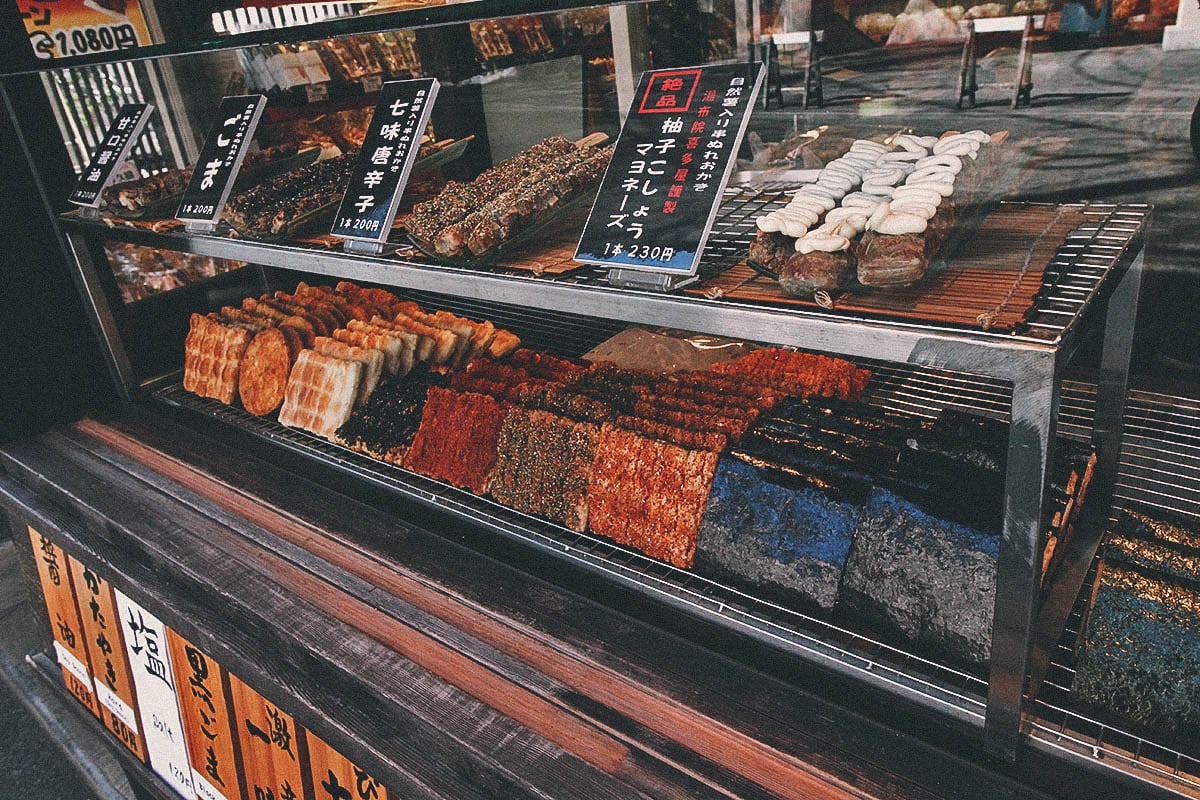 Croquette with horse meat. Kumamoto is one of the few prefectures in Japan that farms horses for meat, so many of the restaurants here serve it in various Japanese dishes. We had it in a curry and as sashimi as well.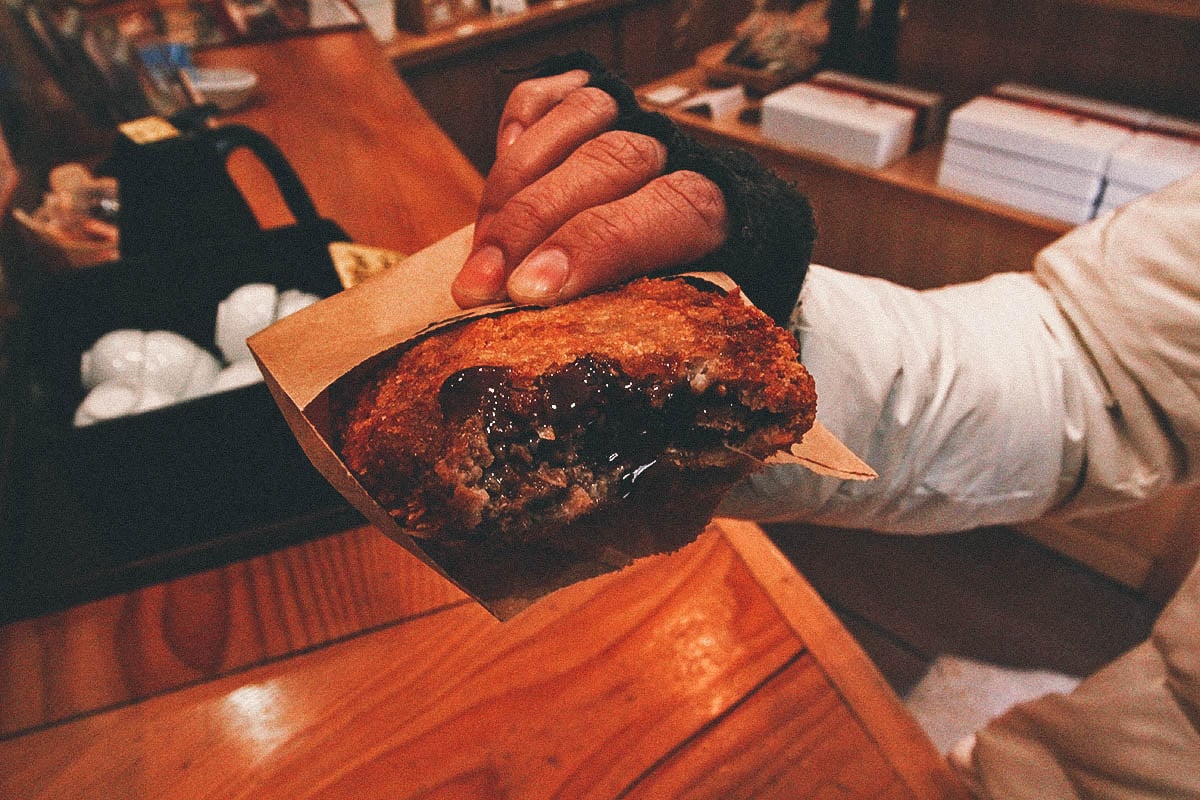 A plateful of mochi. What do you call a plate of all green mochi? Mucho matcha mochi.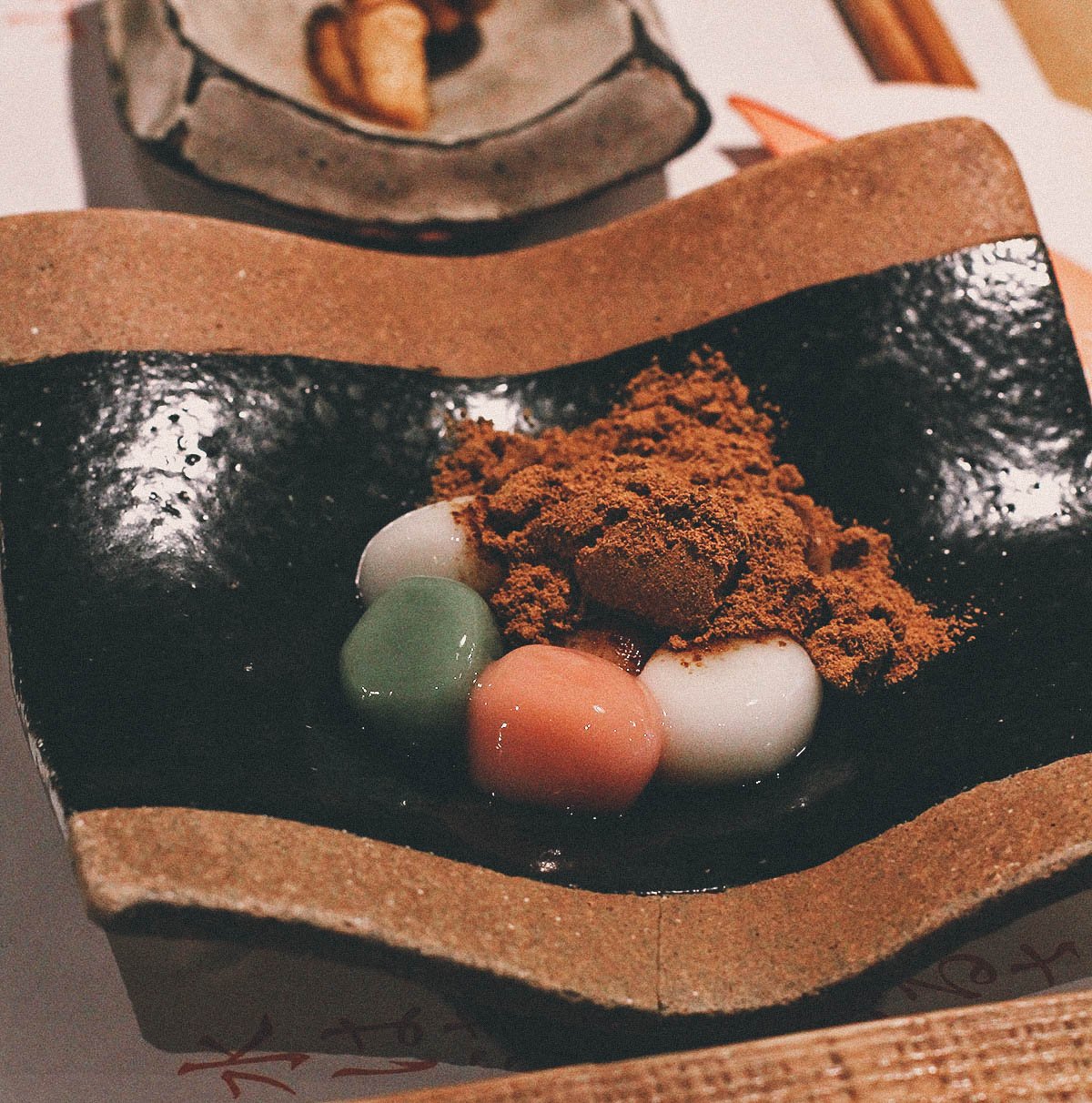 The sun was coming down so we started to make our way back to our ryokan. You have to reserve the private onsens in advance so we had ours booked from 8-9PM.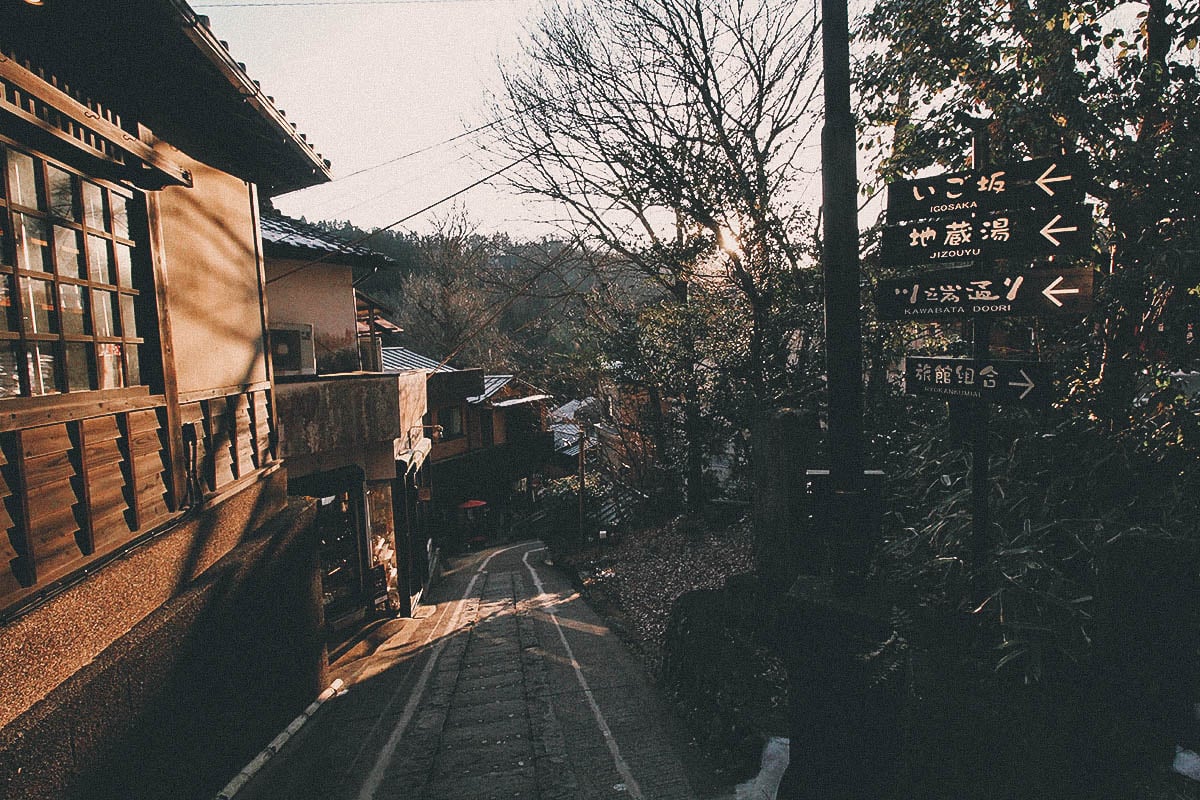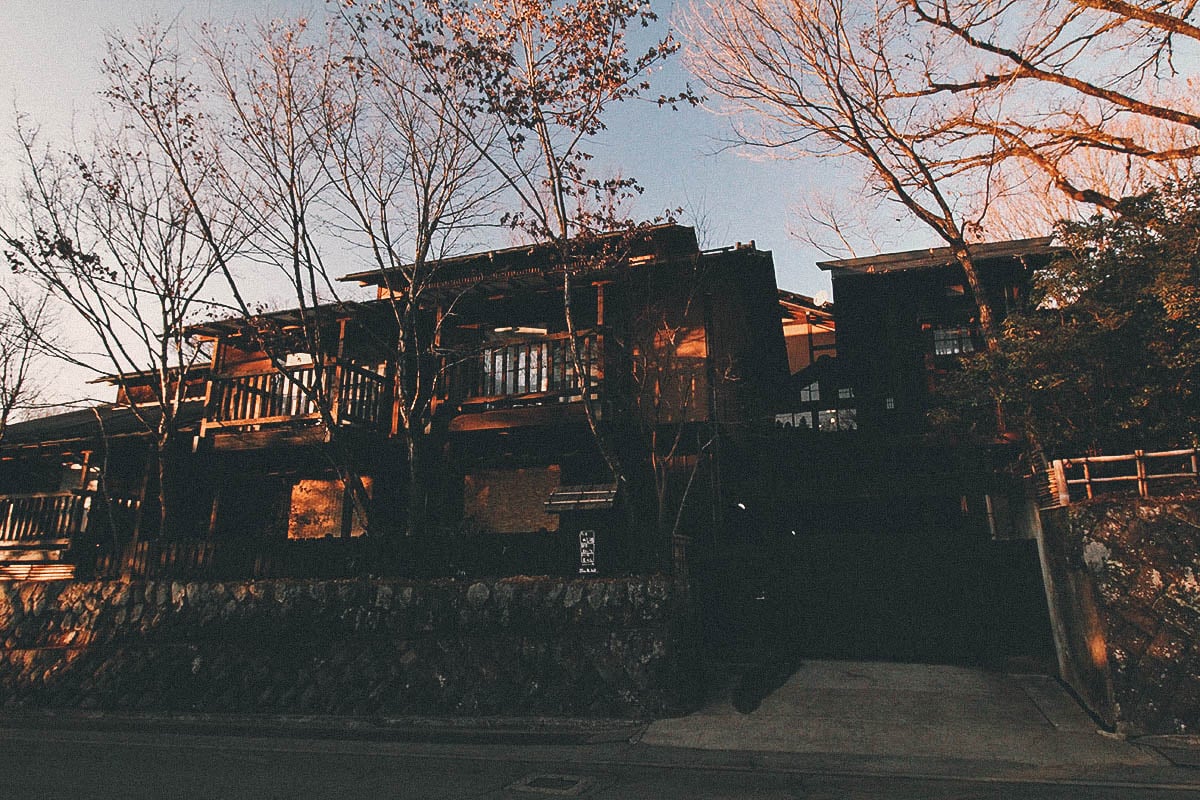 As beautiful as this town is, it's even more stunning at sunset.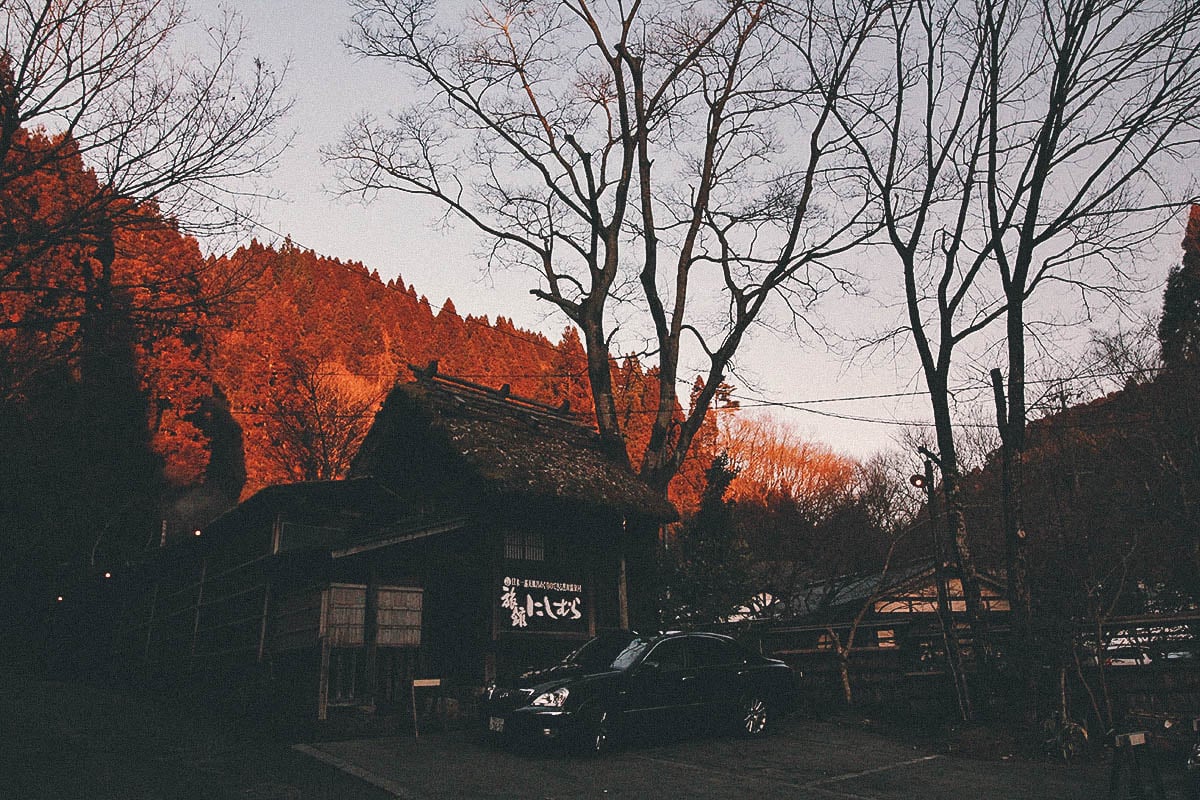 There's our Ryokan now, coming into view.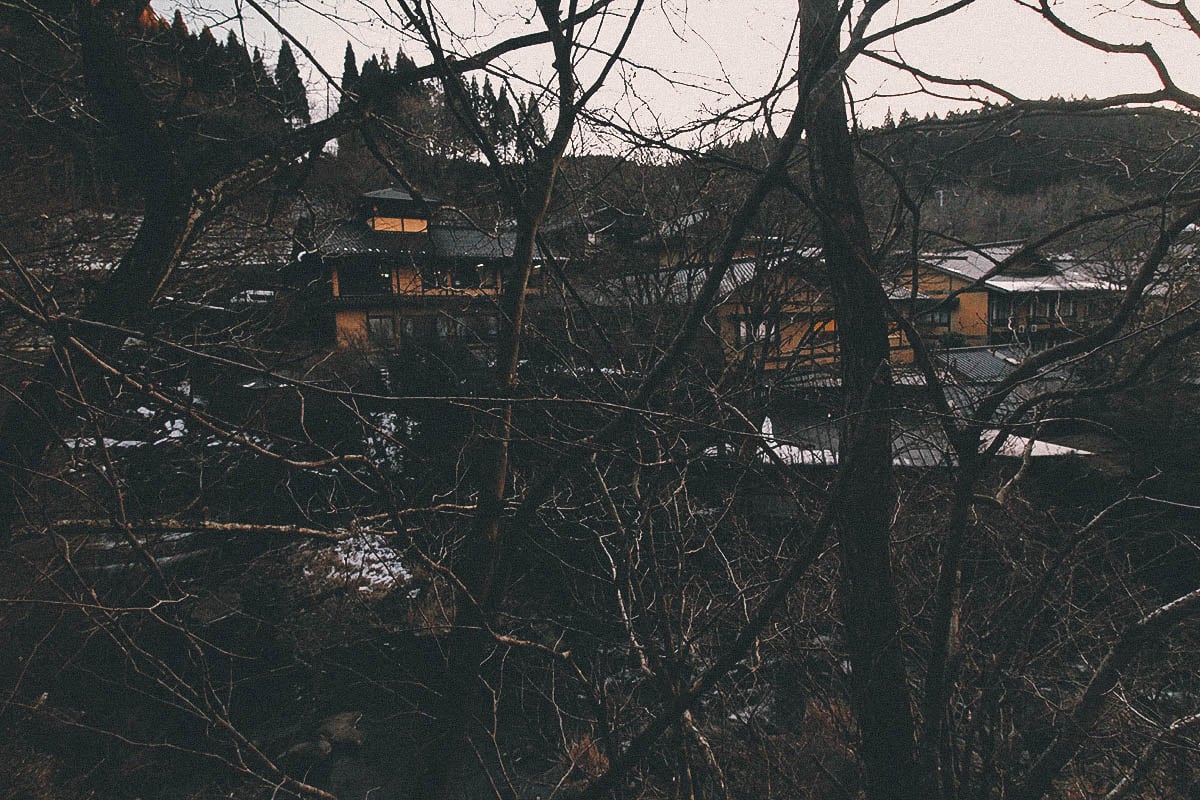 Semonotokan Yumerindo is a gorgeous multi-level ryokan located by the river. You can follow the link to check out our room and the ryokan's onsens. They have public onsens as well as private onsens for couples and families.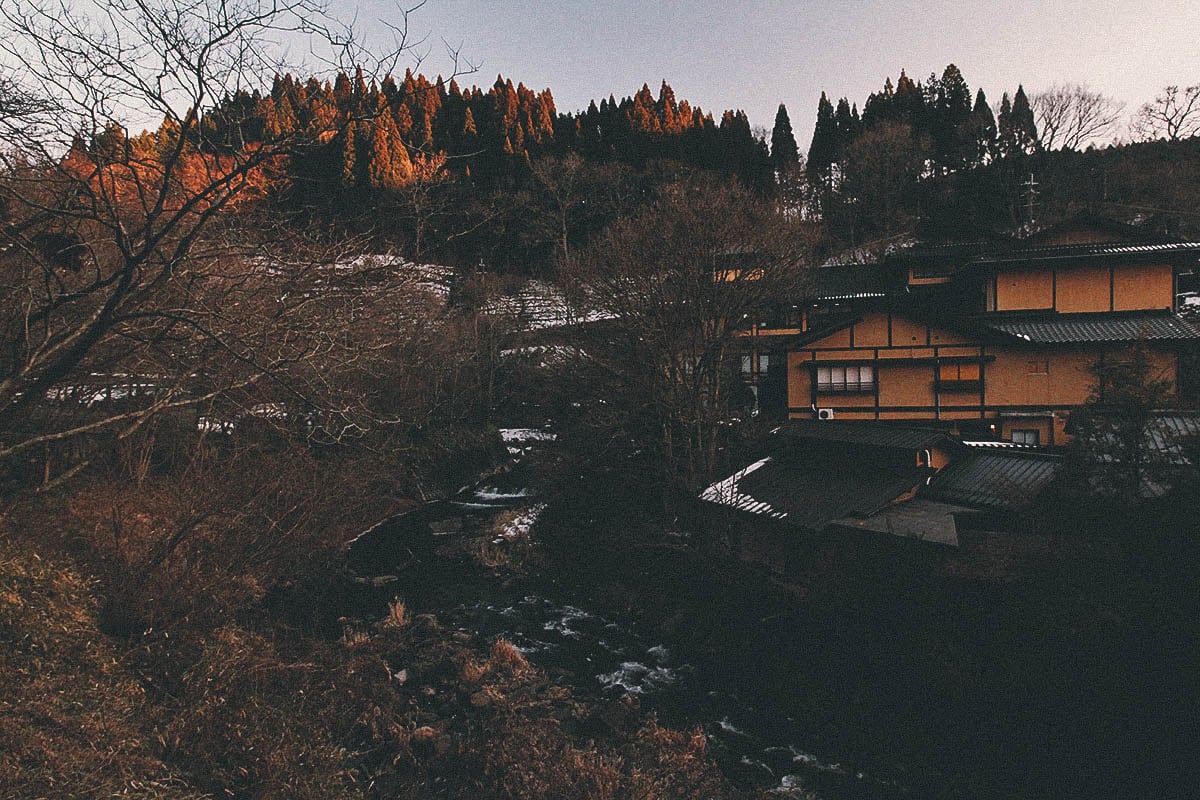 Ren took this cute picture on our way back to town from Iromomiji.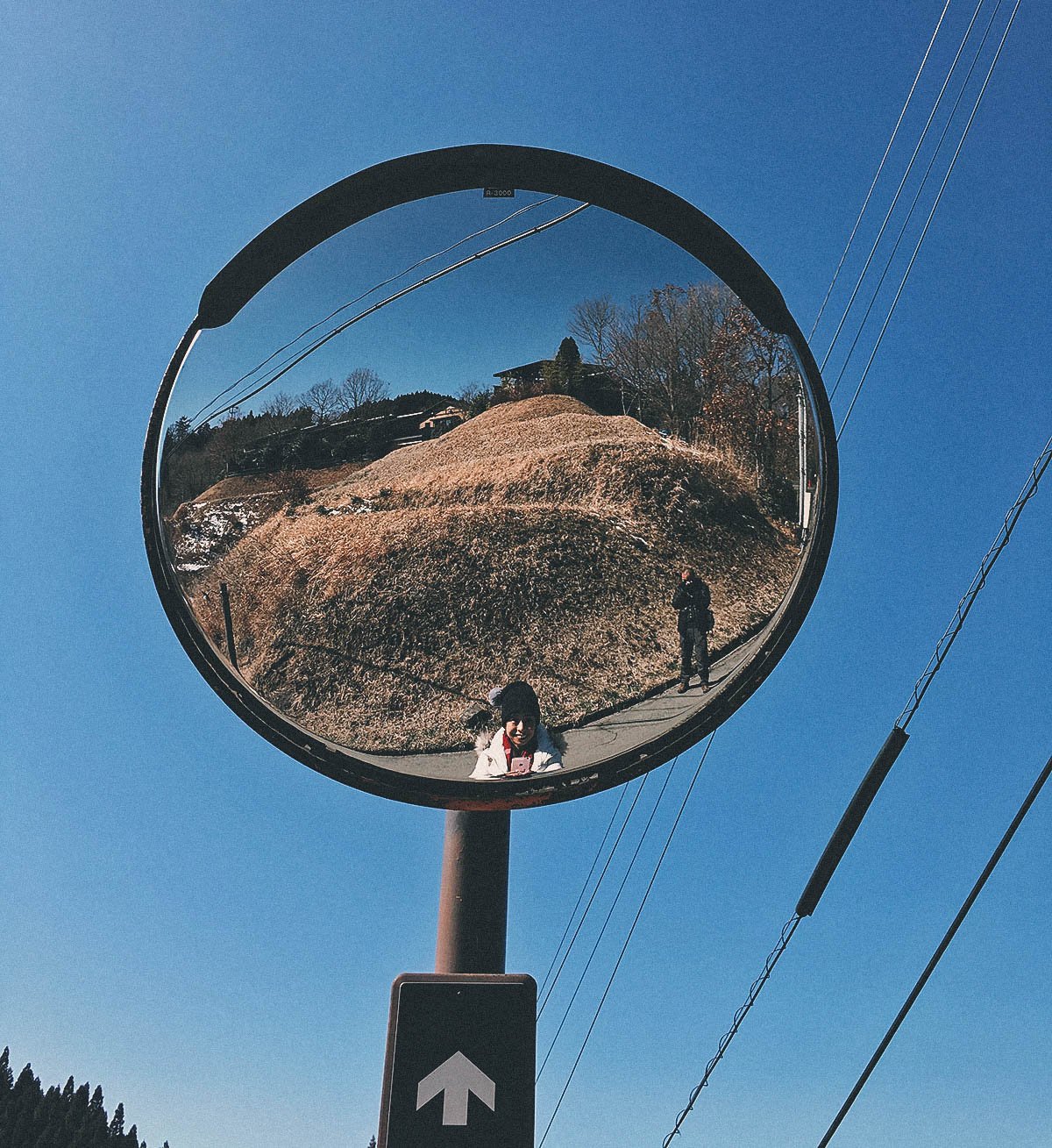 As described in my post about Semonotokan Yumerindo, I didn't fully understand the allure of onsens until I actually tried one. Your body feels so amazingly good and warm after that you become almost impervious to the cold. It's no wonder onsens are so popular among the Japanese in winter. We didn't do the rotemburo meguri this time but that's something I definitely want to experience on our next trip to Japan, most likely in Kinosaki Onsen.
If you ever find yourself in Kyushu, then an overnight stay in Kurokawa Onsen is a must. It really is a beautiful town and a nice change of pace from the hustle and bustle of the big cities. For me, it was the most memorable stop on our two-week, five-prefecture trip to Japan. ♥
Kurokawa Onsen Tourist Inn Cooperative, Kumamoto, Japan
〒869-2402 Kumamoto Prefecture, Aso District, 南小国町大字満願寺6594−3
Tel: +81 967-44-0076
Website: kurokawaonsen.or.jp
Operating Hours: Mon-Sun, 9AM-6PM
HOW TO GET THERE:
Kurokawa Onsen is accessible only by highway bus. Once you're on the island of Kysuhu, you can catch direct buses from Fukuoka, Kumamoto, and Yufuin/Beppu. Check out the Kurokawa Onsen Ryokan Association website for more information.
For travel tips to Kurokawa Onsen, check out our First-Timer's Travel Guide to Kurokawa Onsen, Japan