It was our last meal in Japan.
We had just checked out of Yumerindo, our ryokan in Kurokawa Onsen, and we were looking for a place to have lunch and pass the time while waiting to catch the bus to Fukuoka International Airport. After two weeks and five prefectures in Japan, everything on our itinerary had already been ticked off.
Practically all the meals we had on this trip were planned and carefully researched beforehand. It's important for us to find the best places to eat on our trips so we hardly ever walk into random restaurants. This was one of those rare times, and by chance, it turned out to be one of our best.
In our travel guides, I mention the importance of planning well but also leaving room for spontaneity. As cliched as it may sound, the best experiences do often come when you aren't expecting it. This is another example of that.
Yakiniku and Yakitori at Ufufu
From the looks of it, Ufufu is the restaurant of another ryokan. They had a picture of yakiniku outside which is what drew us in.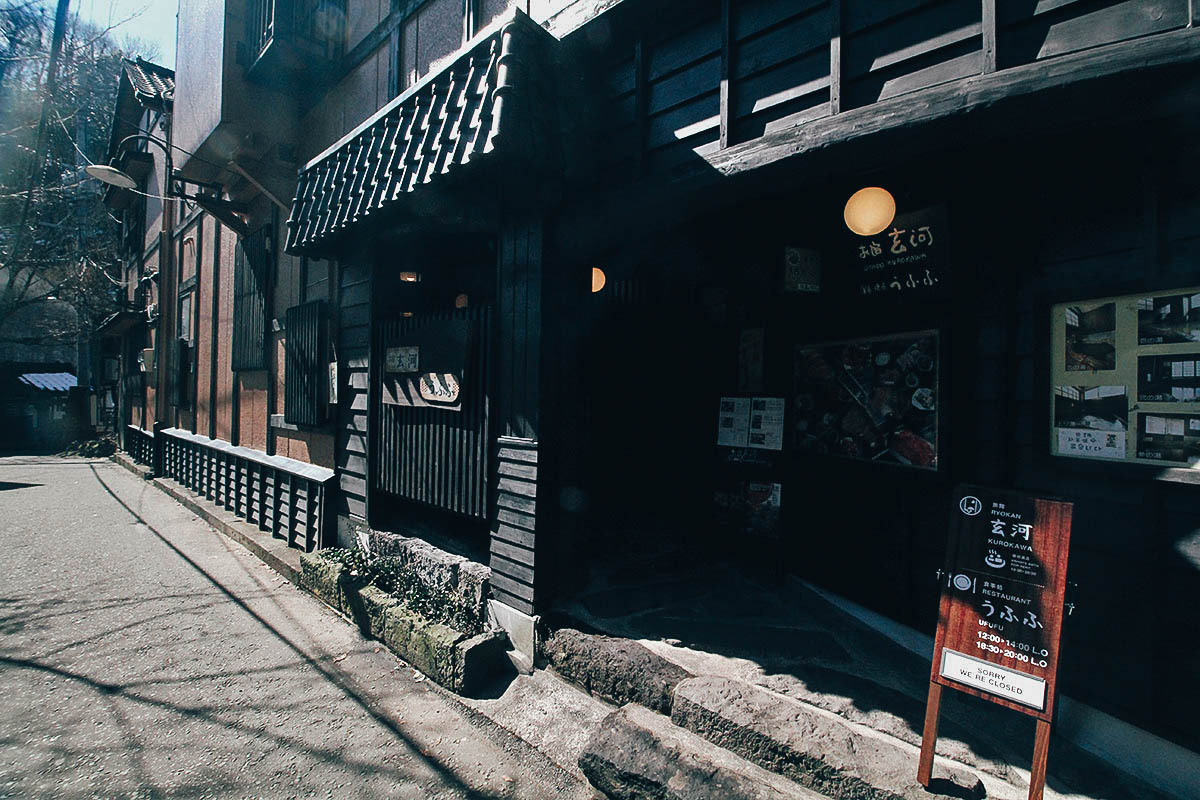 We loved the interior of this restaurant. It's so dark and cozy. Down that hallway are curtained private rooms, which is where we ate.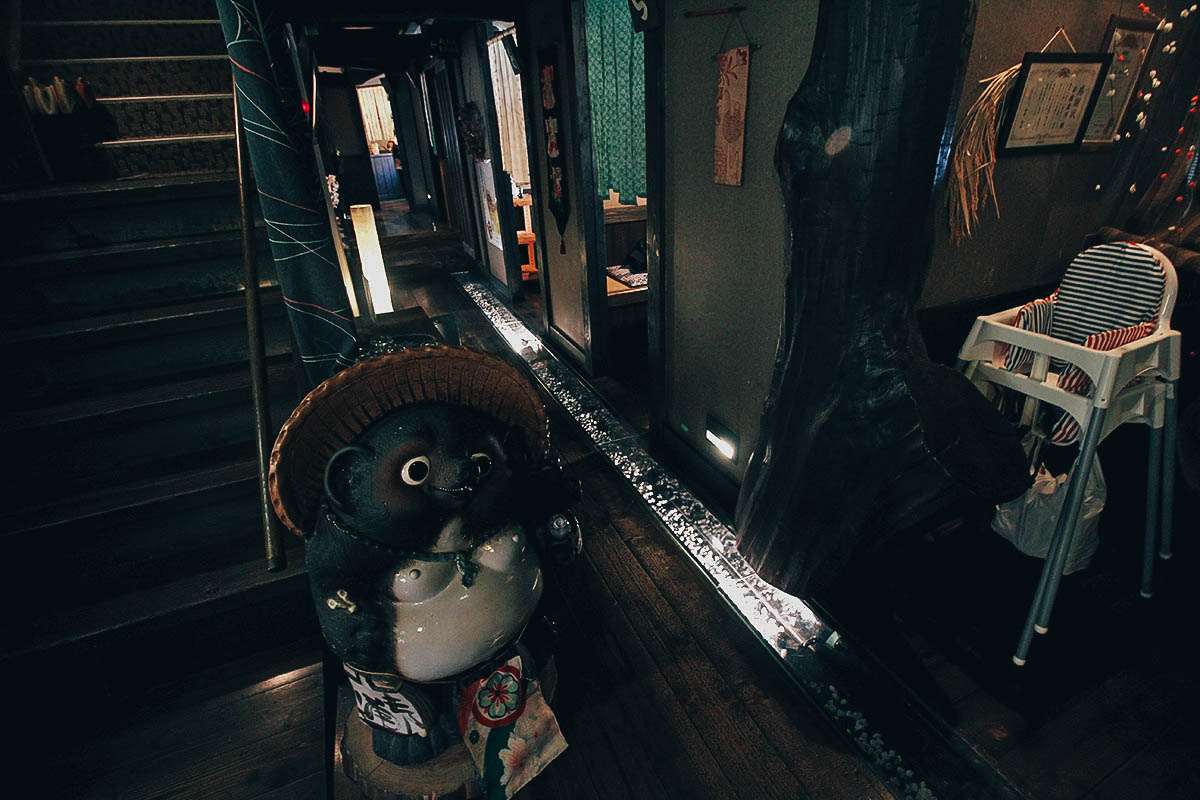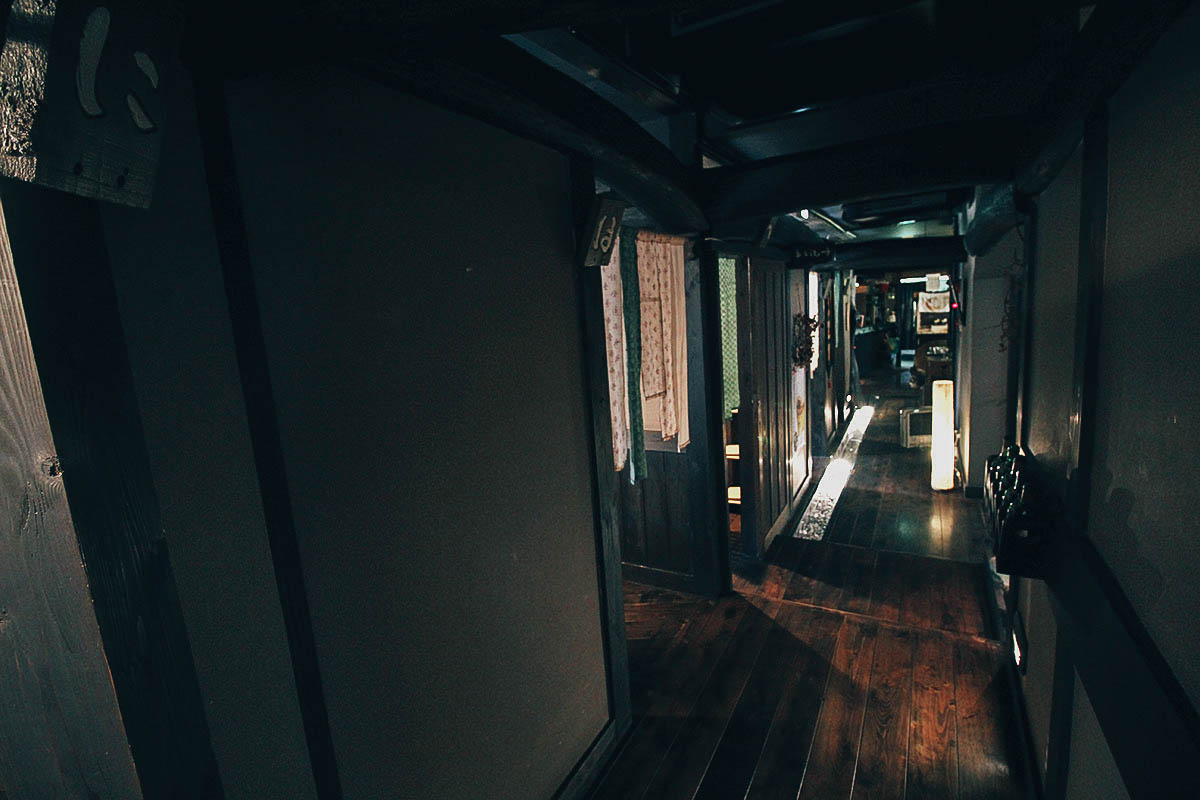 Our corner nook of deliciousness. In two weeks in Japan, we never had a room like this to ourselves. It was so awesome to have it on our very last meal!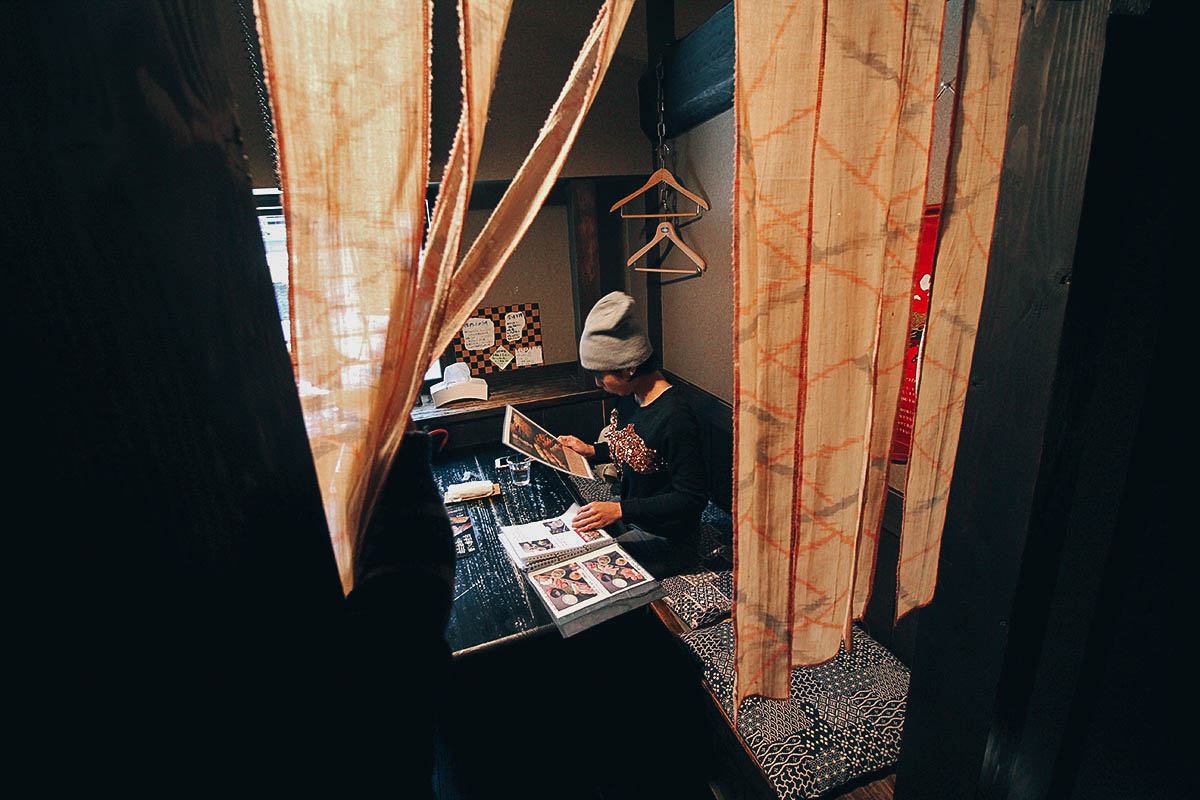 Our lunchtime view. ♥ Surrounded by trees high up in the mountains of Kumamoto, Kurokawa Onsen is known for being one of Japan's most scenic onsen towns.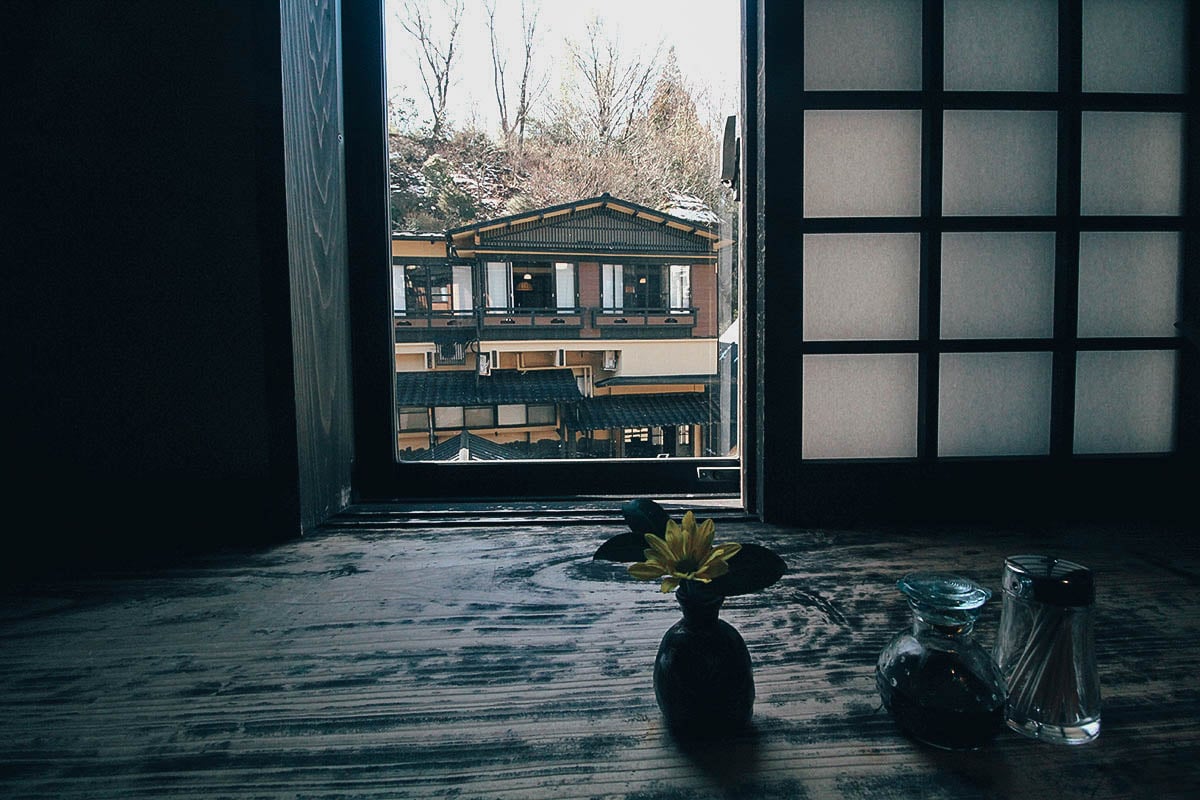 The walls of the room were dark which made for some pretty dramatic-looking photos.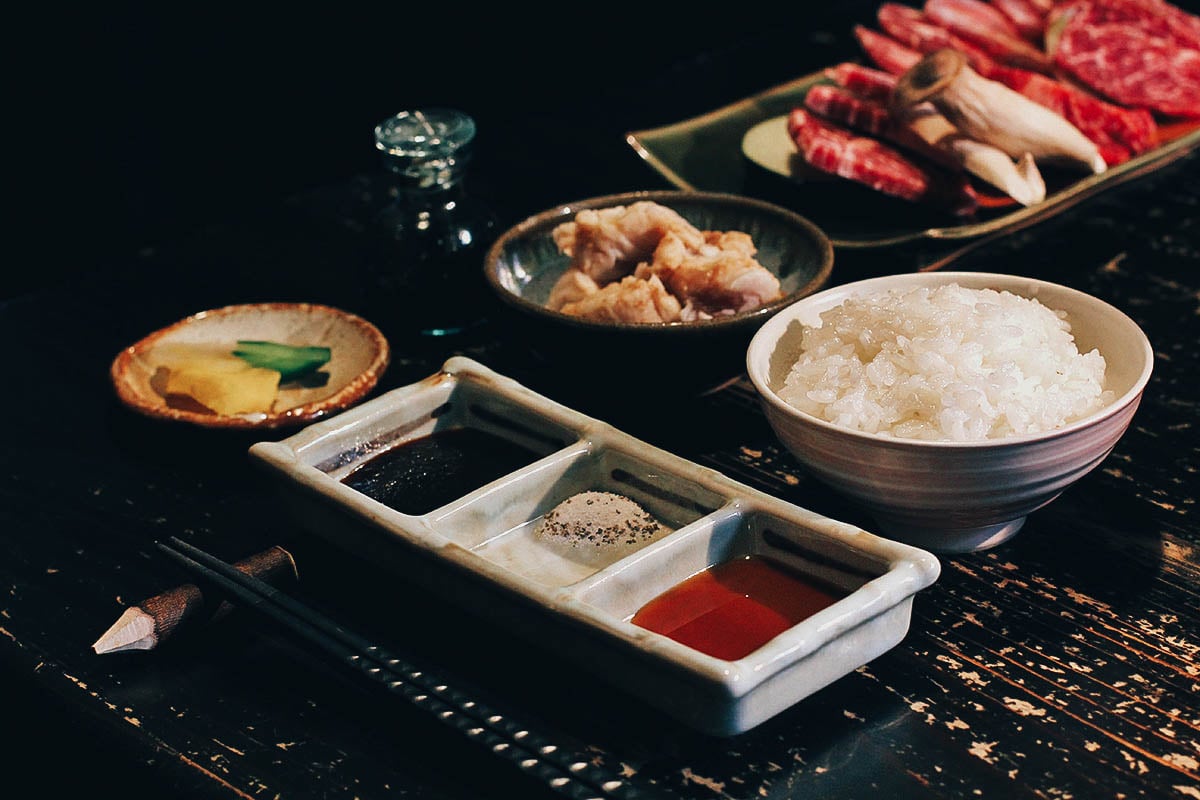 They offer many different cuts of meat for your yakiniku. At our server's recommendation, we had this beef loin and beef offal for JPY 1,500 and JPY 800 respectively. Look at that marbling!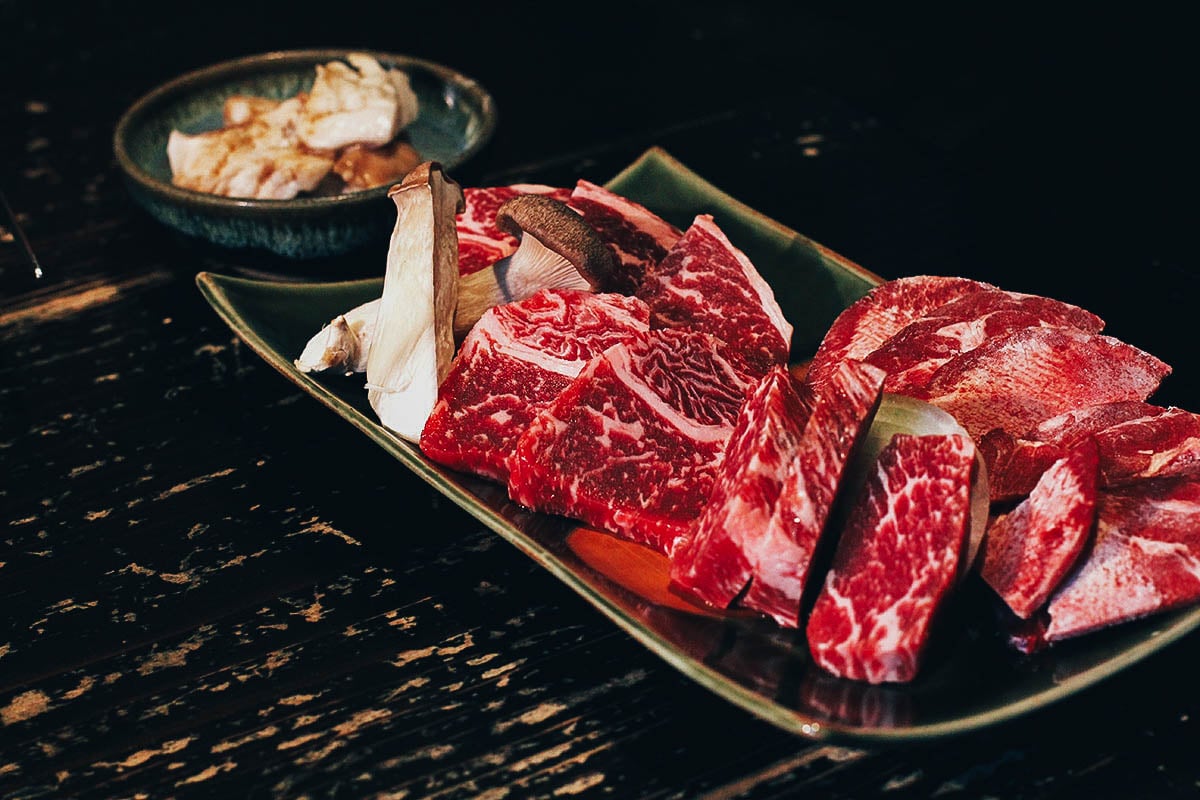 To get us started, we ordered this 5-piece yakitori and kushiyaki sampler for JPY 1,250. How good does that look?! The term yakitori is often used to described skewered meat but it actually refers specifically to skewered grilled chicken. The proper blanket term to describe any Japanese dish made with skewered meat grilled over charcoals is kushiyaki.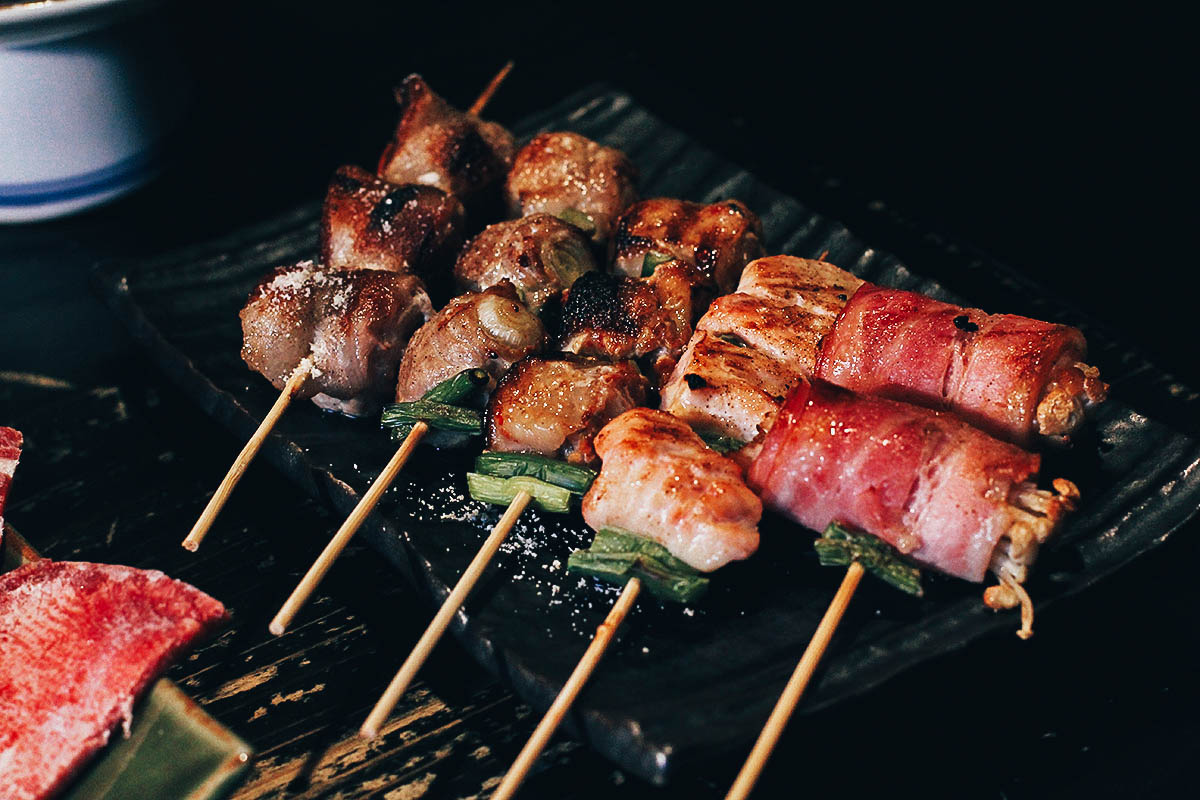 With Kurokawa Onsen being in Kumamoto, some form of horse meat or sakuraniku was on the menu of nearly every restaurant we ate at. Kumamoto is one of the few prefectures in Japan that farms horses for meat. This order of basashi or horse meat sashimi went for JPY 2,000. It's typically served cold along with a soy sauce, garlic, and wasabi dipping sauce.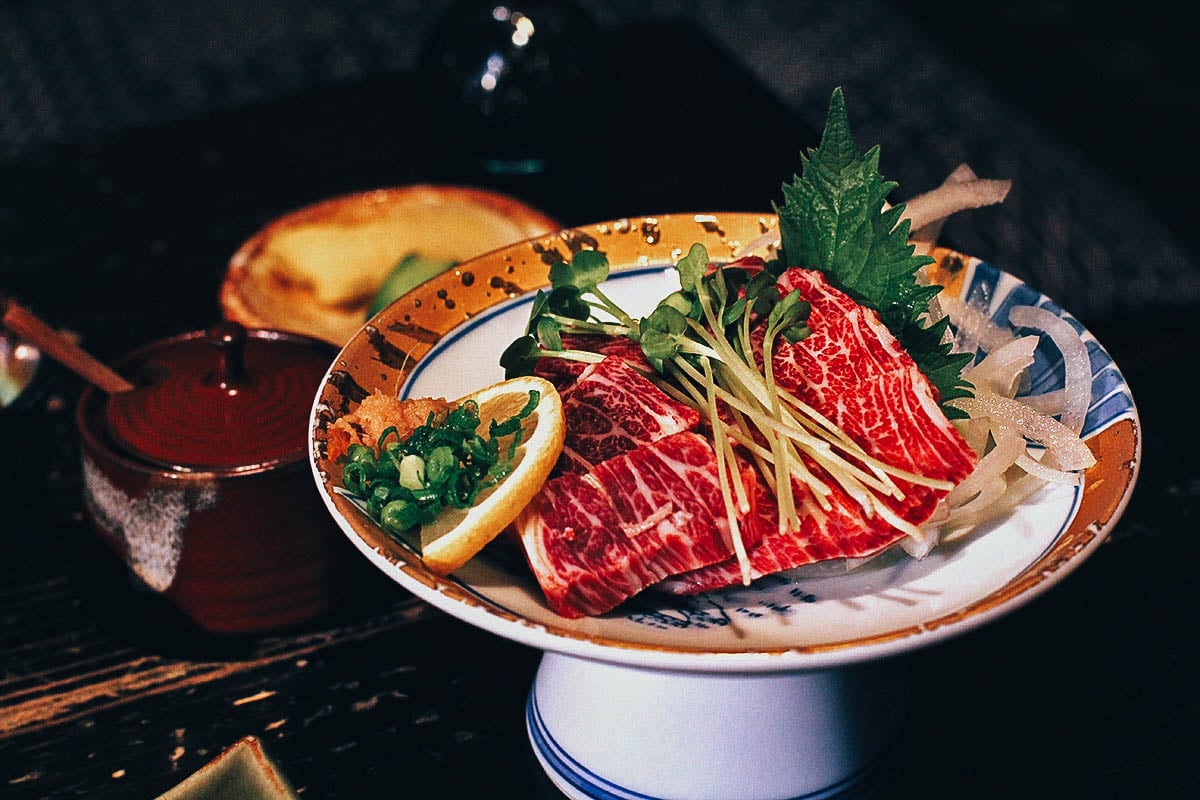 The afternoon's haul. Let's eat!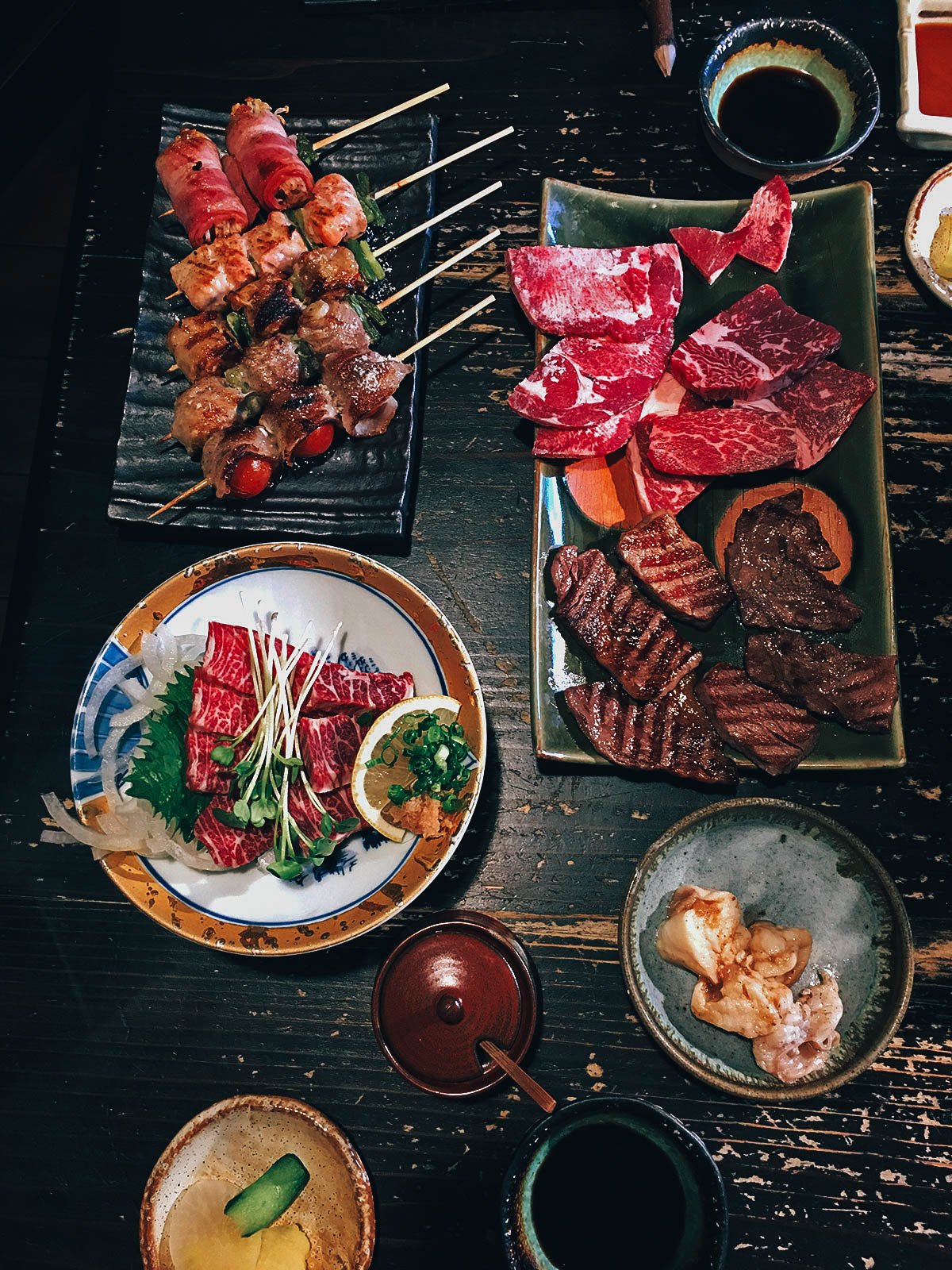 Ren gets things started by rubbing a piece of fatty offal all over the grill.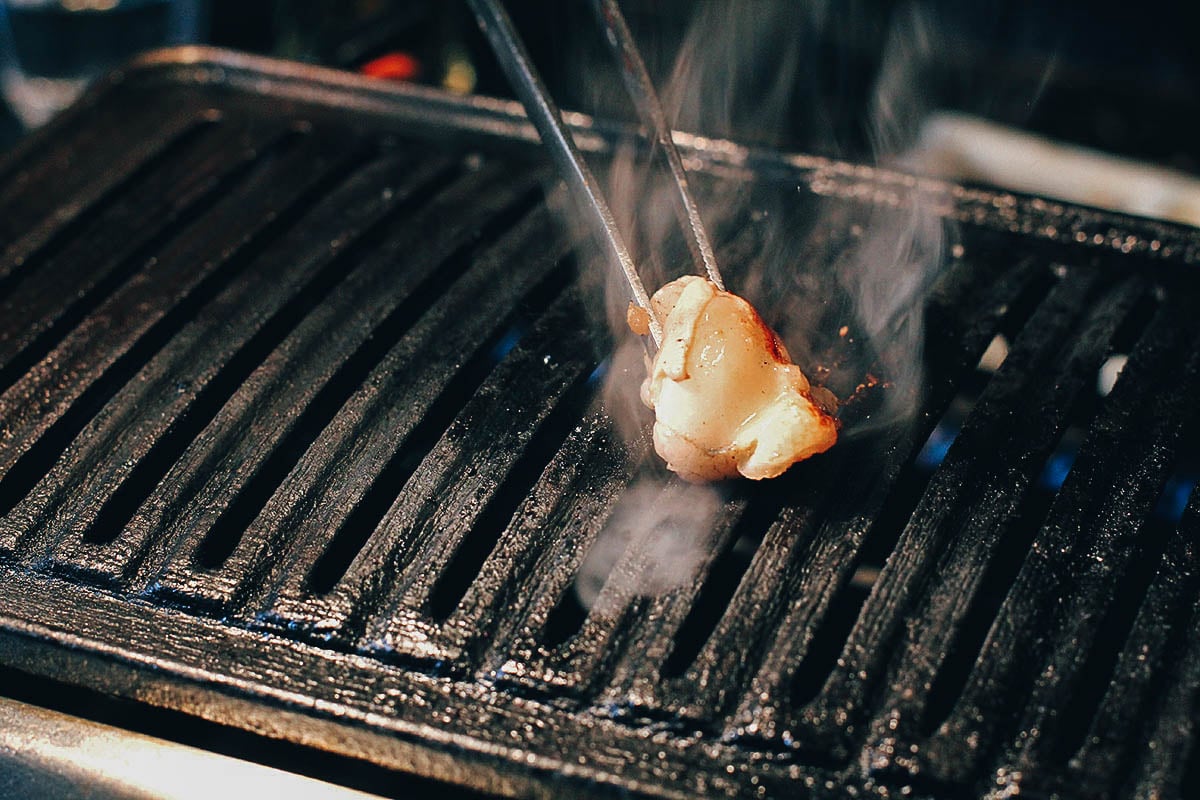 The first few slices of beef loin start sizzling on the grill. Though the term yakiniku refers to the Japanese way of grilling meat, it's a style of cooking that's widely considered to have Korean roots. It's believed to be a variant of Korean bulgogi or galbi that became widespread in Japan after WWII.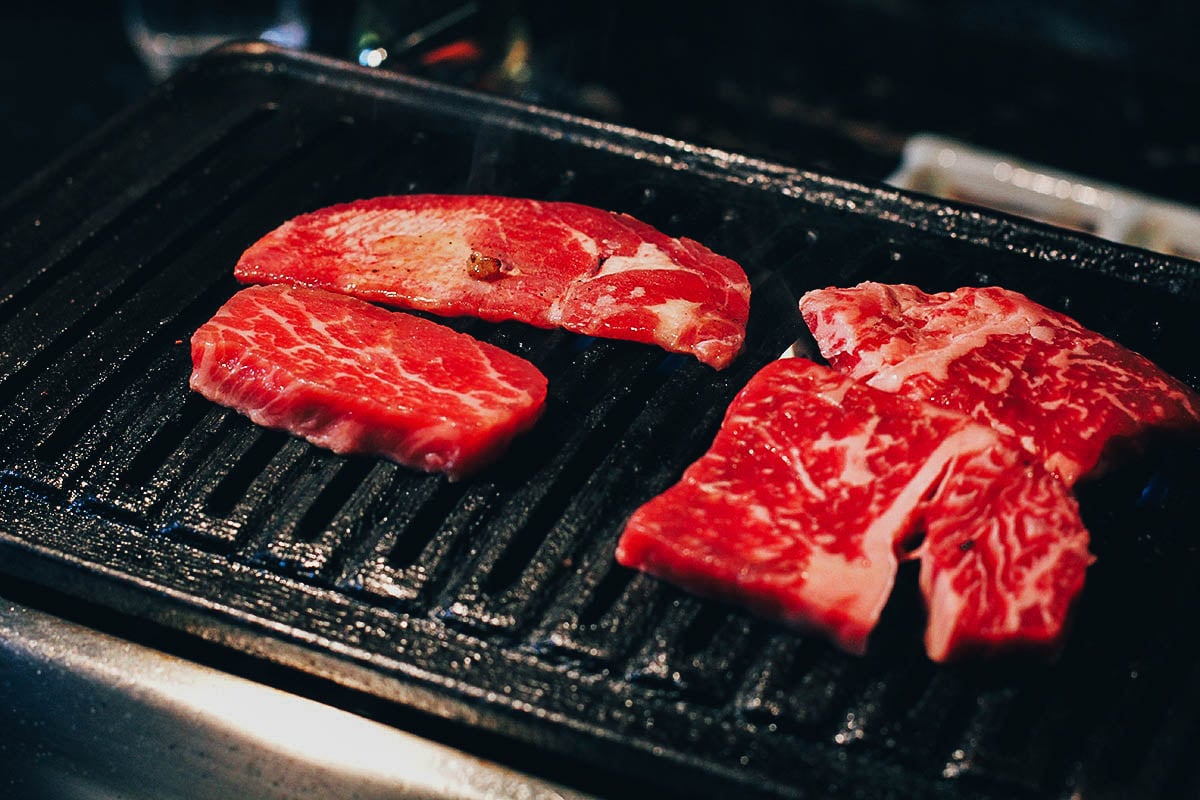 Slide that piece of offal on the grill and….whoosh! We got fire! 😈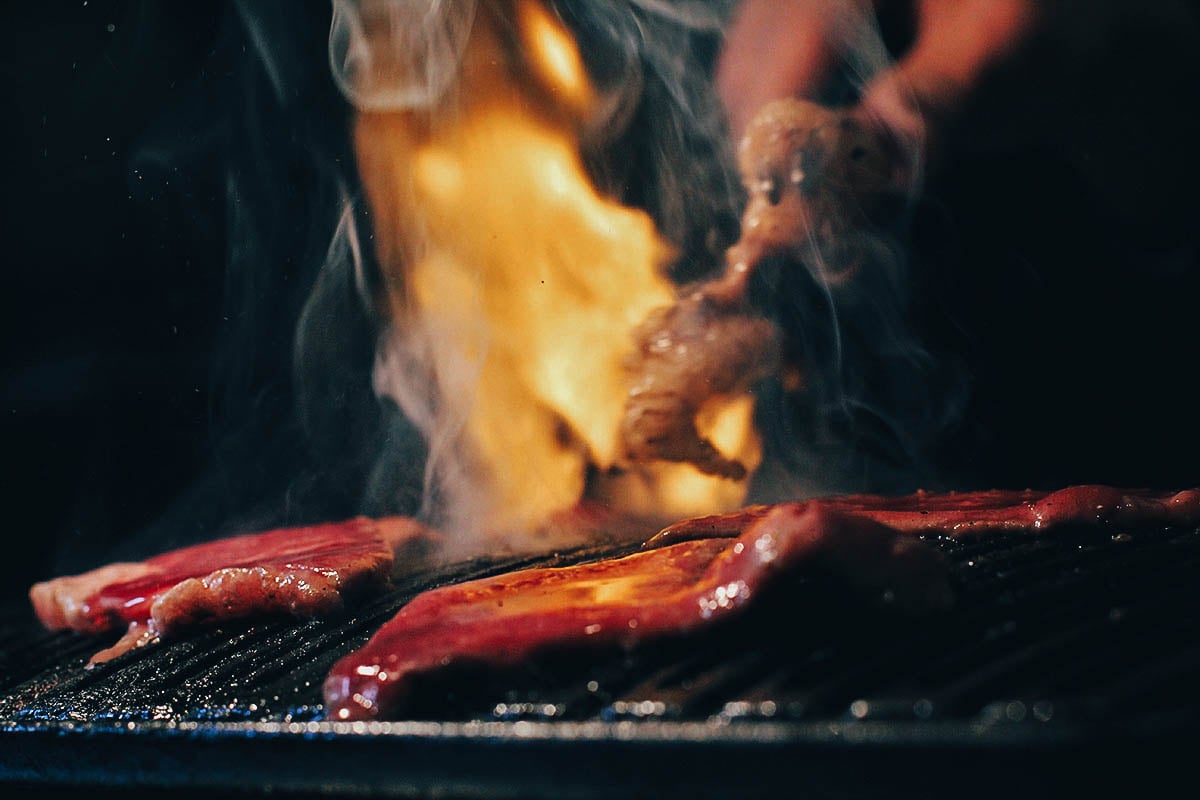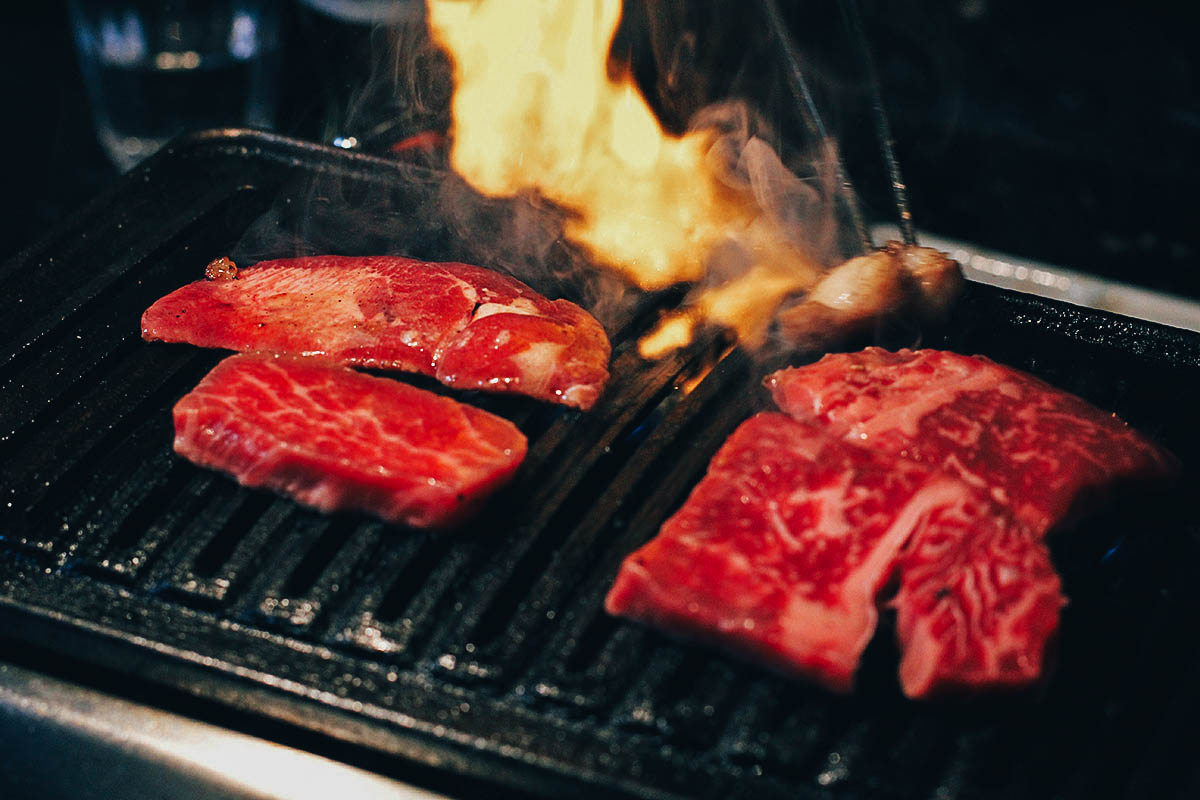 Ren the black magic woman conjuring her voodoo to cook up some delicious yakiniku.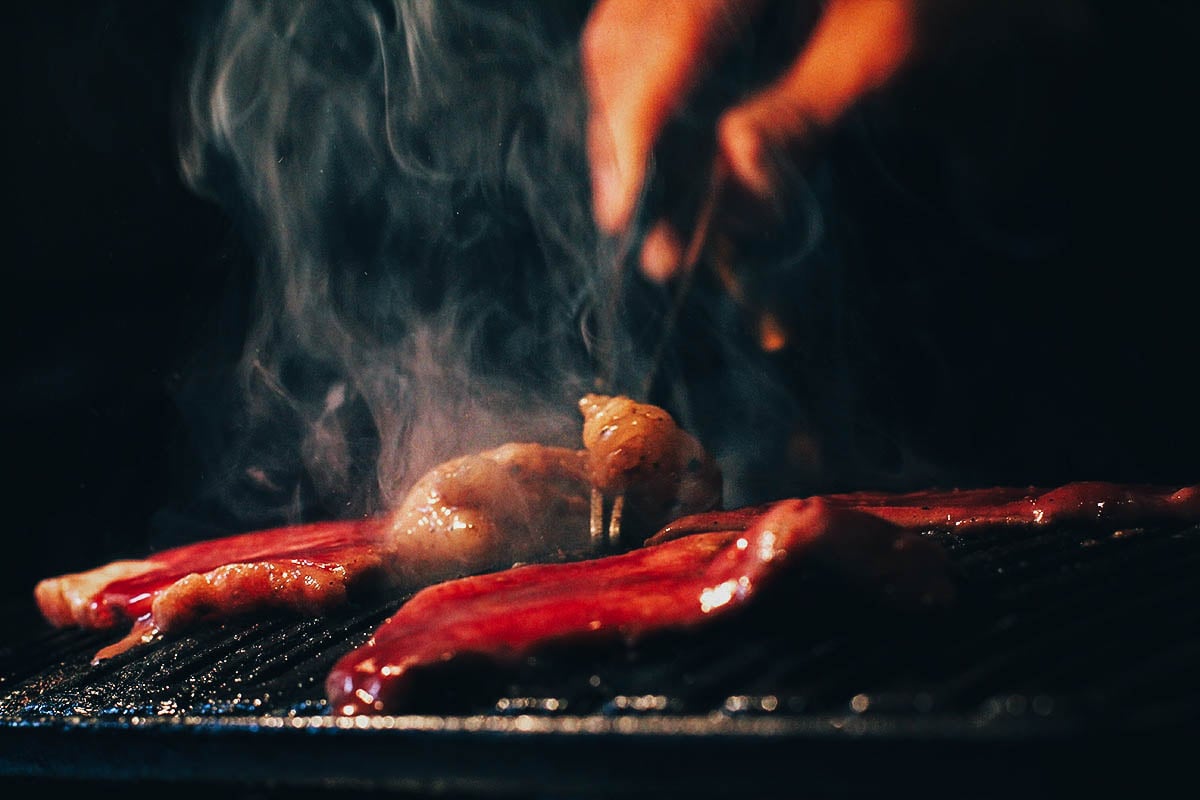 We had such a wonderful two weeks in Japan so this meal was bittersweet. It was delicious but sad at the same time because it was our last meal in Japan, at least until our next trip. Japan, I love you. You never disappoint me. And looking at these pictures now is making me yearn to go back again. When it comes to Japan, it doesn't take much for me. 🙂
If you ever find yourself exploring the island of Kyushu, I strongly recommend you visit Kurokawa Onsen. Stay the night at a ryokan, bathe in an onsen, and eat yakiniku at Ufufu. Like us, you will love every minute of it.
Ufufu, Kurokawa Onsen, Kumamoto, Japan
6606 Manganji | 1F Oyado Kurokawa, Aso-gun, Minamioguni-machi 869-2402, Kumamoto Prefecture
Tel: +81 967-44-0651
What we paid: Around JPY 3,000 each with drinks
HOW TO GET THERE:
Kurokawa Onsen is a small town so you won't have trouble finding anything. Just look for the restaurant pictured at the top of this post.
For travel tips to Kurokawa Onsen, check out our First-Timer's Travel Guide to Kurokawa Onsen, Japan