It's widely believed that the best dairy products in Japan come from Hokkaido. I heard that A LOT before our trip to Sapporo. With all that hype, I fully expected to be blown away by all their dairy products, and I was. From the soft cream to the cheese tarts to the milk pudding to the double fromage LeTao cheesecakes (yummers!), every bite was divine, every first taste unforgettable. Even the dairy products at convenience stores were outstanding!
But as much as Hokkaido's dairy products lived up to the hype, what surprised me was that the single best dairy product I ate on this trip didn't come from Sapporo. It came from an unassuming little patisserie high up in the mountains of Kumamoto.
I love Japan.
Heavenly Desserts at Patisserie Roku
Patisserie Roku is a small dessert shop in Kurokawa Onsen, a picturesque onsen town in the mountains of Kumamoto prefecture in Kyushu. When doing research for this trip, I saw how they were the number one rated restaurant on TripAdvisor. I expected them to be good, but more in a "good for this small town" kind of way. I didn't expect to like them as much as I did!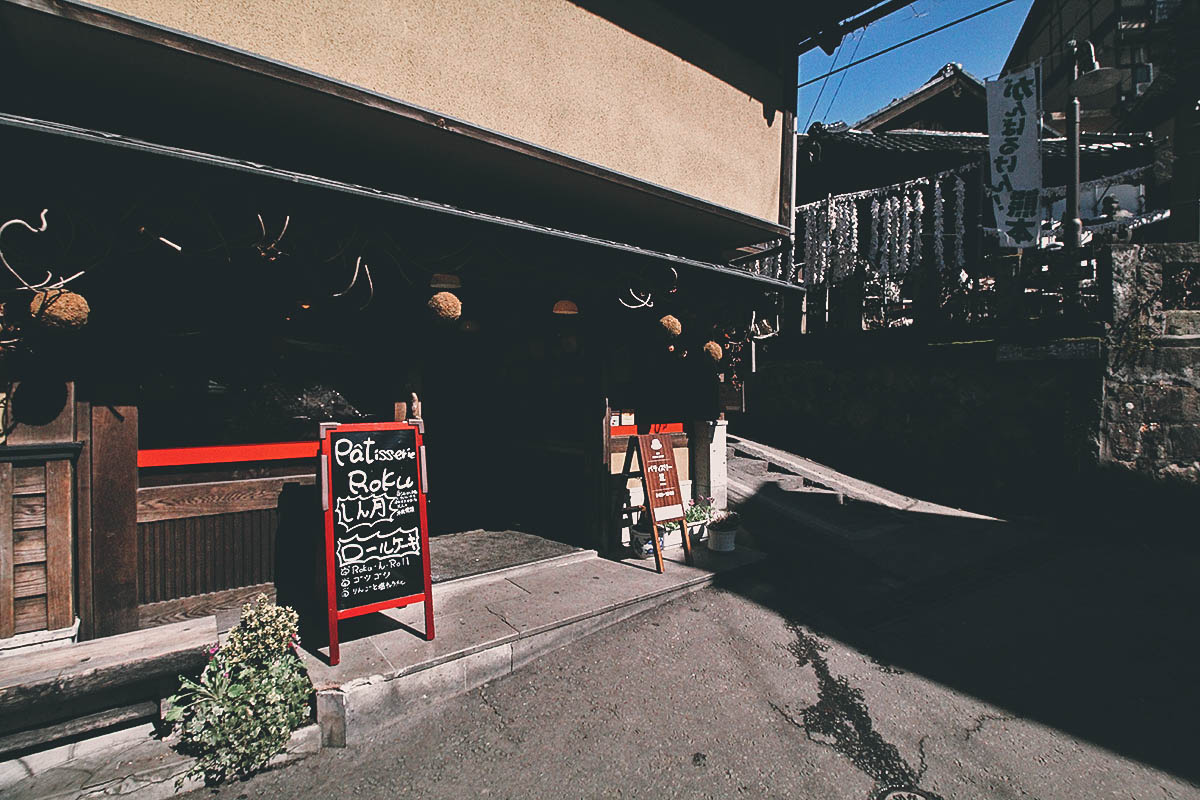 The smell of the freshly baked pastries is irresistible. I dare you to stand on this spot and not want to go in!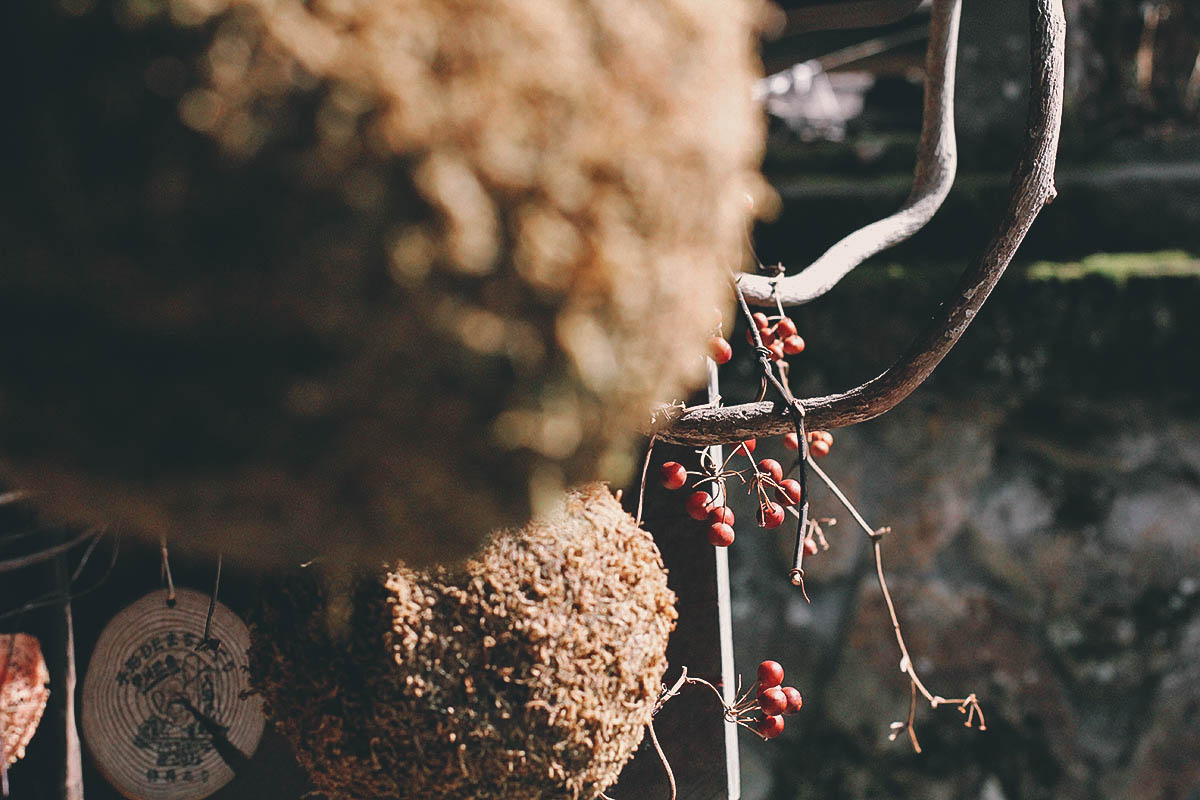 A vitrine filled with mouthwatering pastries. We stayed in Kurokawa Onsen for just one night but we visited Patisserie Roku twice. We even got some takeout! How I wish we could have tried everything here.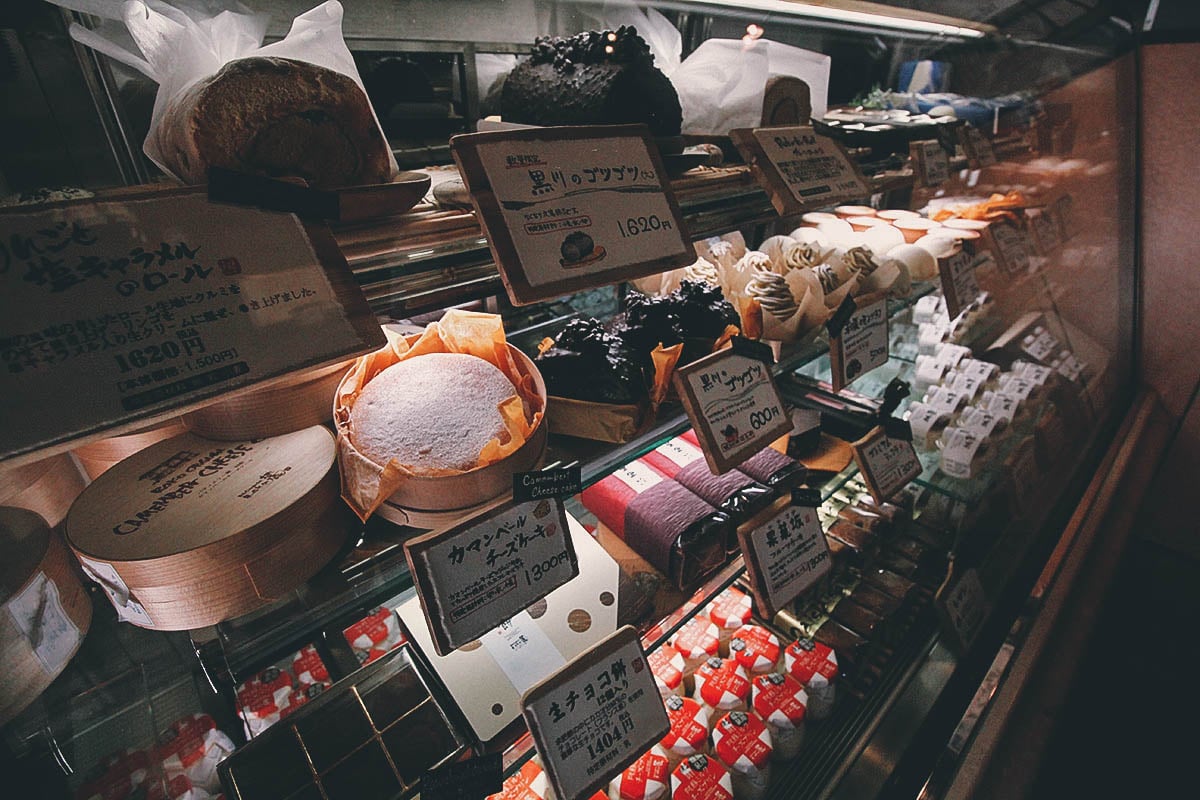 Milk cheese pudding made with Aso dairy. Isn't the packaging awesome? Aso is a city in Kumamoto prefecture also known for their beef. If I remember correctly, this jar of cheese pudding went for about JPY 340.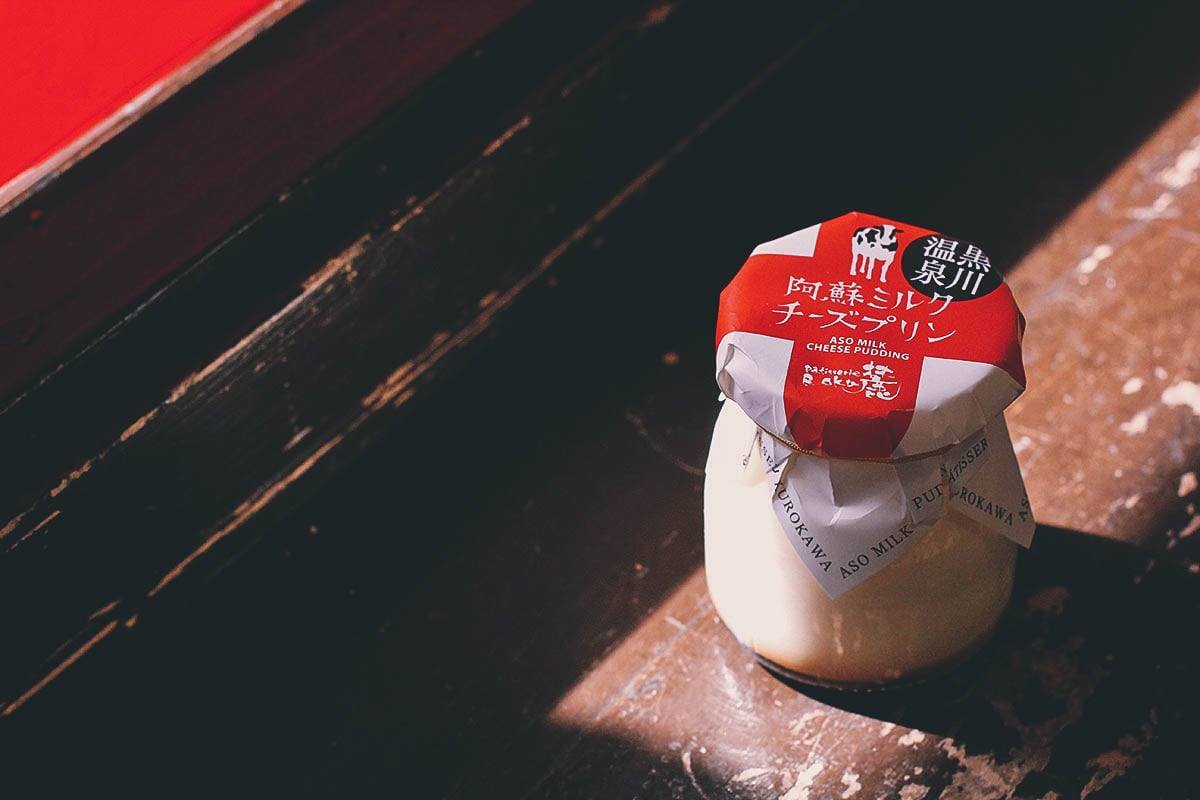 Creamy, milky, caramel-ly pudding. This was delicious but it wasn't the dairy product that blew me away.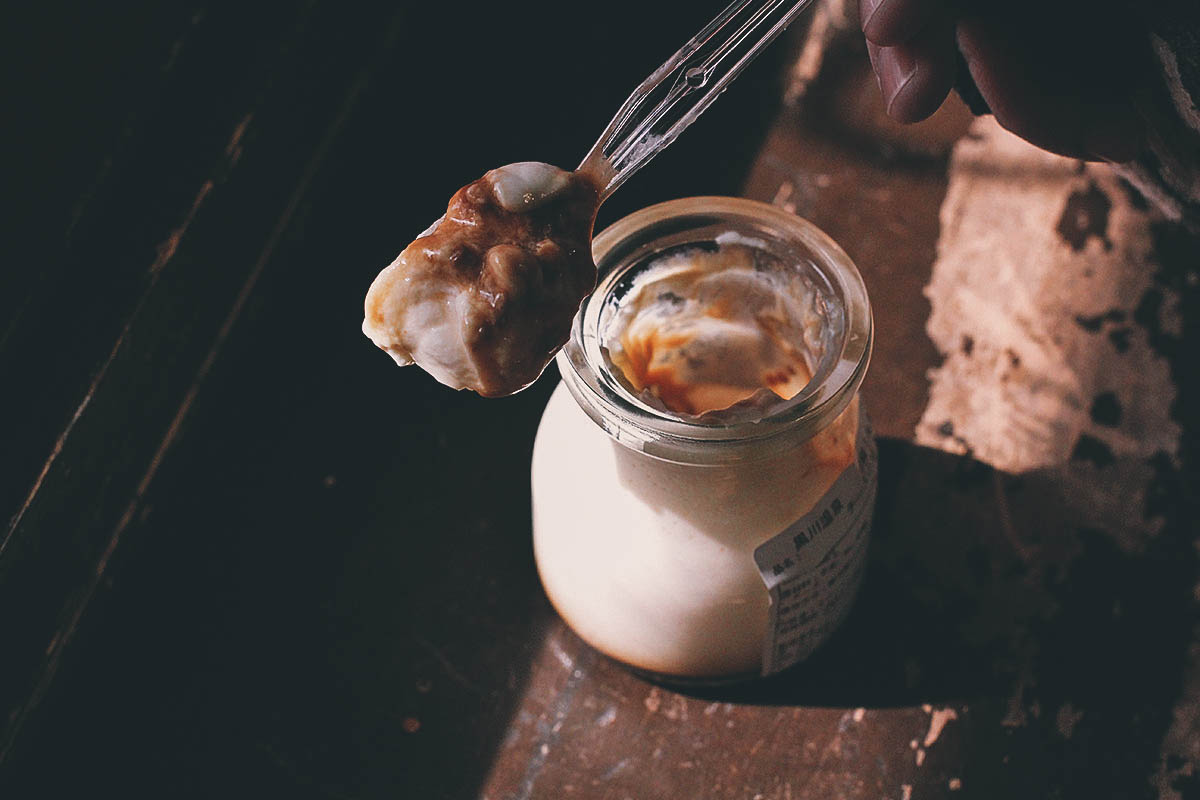 This was the one. These crusty golden brown cream puffs rocked my world. We had cream puffs at two shops in two different cities, both of which were good, but these were on a different level. They were big – about the size of hamburger buns – and overflowing with rich vanilla cream inside a crisp choux pastry shell. Each one of these beauties goes for JPY 220.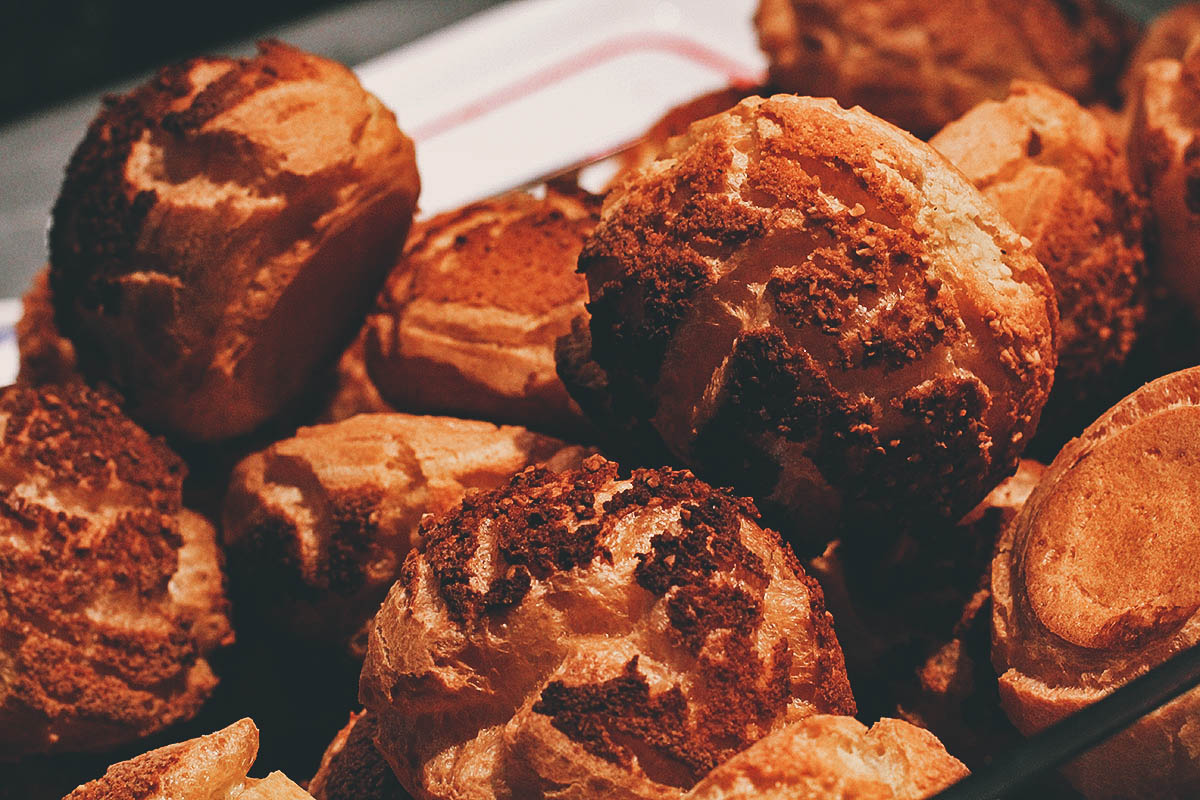 Take a bite and an ocean of cream bursts onto your face. I'm not kidding when I say that either. These things are filled with so much cream that you can't eat them without getting a little messy. Just be careful not to drop any on the floor cause you'll be crying like a baby if you did. They're so damn good! ♥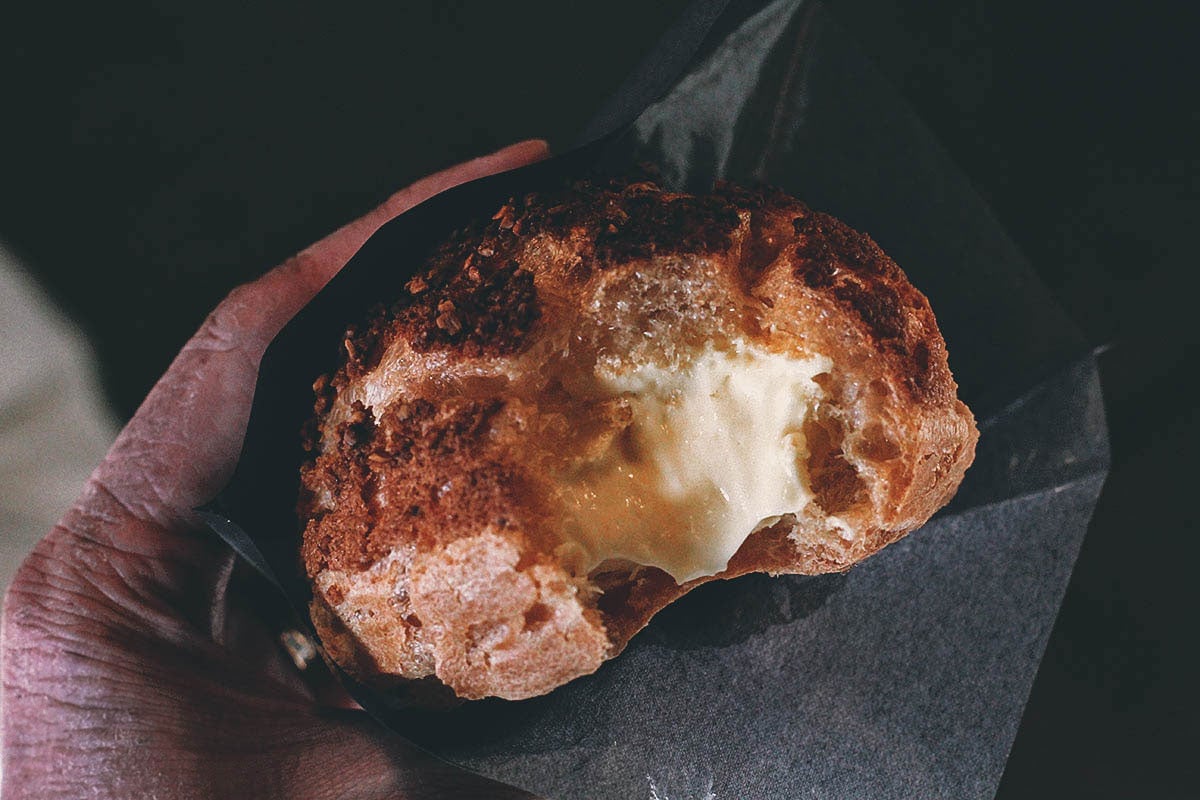 We like to try as many restaurants as we can when we travel so we rarely eat at the same place twice. Obviously, that didn't apply here. As described, we ate at Patisserie Roku twice in the span of one and a half days, and we even brought home a few cream puffs to enjoy for later.
The saleslady told us they'd be good for just three hours but they were still delicious even after a few days! Don't tell her we waited that long to eat them though. In Japan, they insist you eat things right away when they're at their freshest.
Kurokawa Onsen is a small town so there's no way you can miss this place. You'll know you're there anyway when you're casually walking by and get a whiff of those freshly baked cream puffs wafting from the store. Like I said, it's impossible to resist.
Patisserie Roku, Kurokawa Onsen, Kumamoto, Japan
6610-1 Manganji, Aso-gun, Minamioguni-machi, Kumamoto Prefecture, Japan
Tel: +81 967-48-8101
Operating Hours: Wed-Mon, 9AM-6PM
What we paid: JPY 220 per cream puff and about JPY 340 for the cheese pudding
HOW TO GET THERE:
Kurokawa Onsen is a small town so you won't have trouble finding this place.
Disclosure
The TripAdvisor links in this post are affiliate links, meaning we'll get a small commission if you make a purchase or reservation at NO extra cost to you. We really appreciate your support as this helps us keep this website going. Thank you!
For travel tips to Kurokawa Onsen, check out our First-Timer's Travel Guide to Kurokawa Onsen, Japan