Kurokawa Onsen was the last stop on our recent two-week trip to Japan. We spent the first week in Hokkaido to attend the Sapporo Snow Festival before flying to Kyushu to explore its northern prefectures. All in all, we stayed in six different hotels. None were more memorable than Yumerindo.
Yumerindo is a ryokan in Kurokawa Onsen, a quaint hot spring town high up in the mountains of Kumamoto. Set in a forested valley with a river running through it, Kurokawa Onsen is known for being one of Japan's most attractive onsen towns. There are no large concrete hotels here. No 7-Elevens, no Pachinko parlors. Instead, you'll be treated to an idyllic atmosphere of wooden buildings, trees, and traditional Japanese ryokans miles away from the distractions of modern Japan.
If you've followed us on our travels, then you'll know we don't usually spend a lot for accommodations. But with this being our last night in Japan, and in such a special place too, it was the perfect time to make an exception. Plus, I don't think there are cheap places to stay here anyway. 😆
The Ryokan
Kurokawa Onsen is accessible only by highway bus. It really is a beautiful place surrounded on all sides by mountains and lush forests.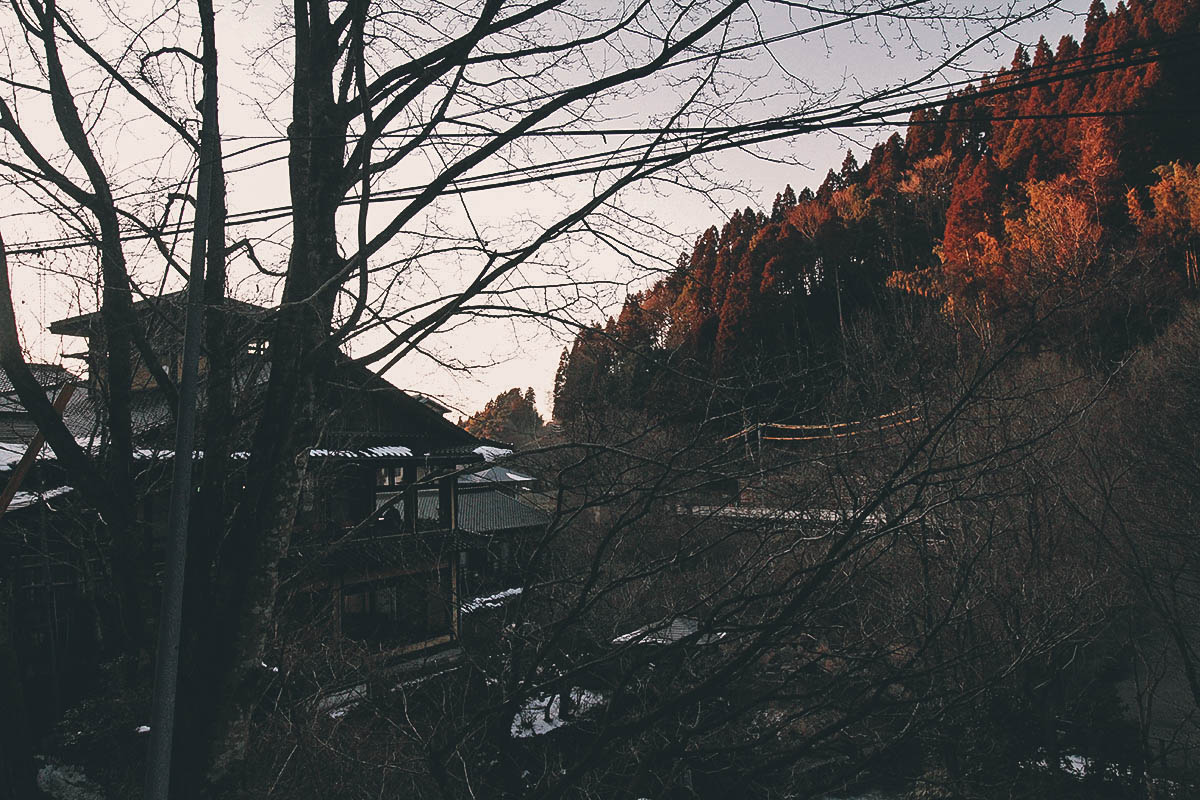 It was the middle of February when we went so there was still snow all around.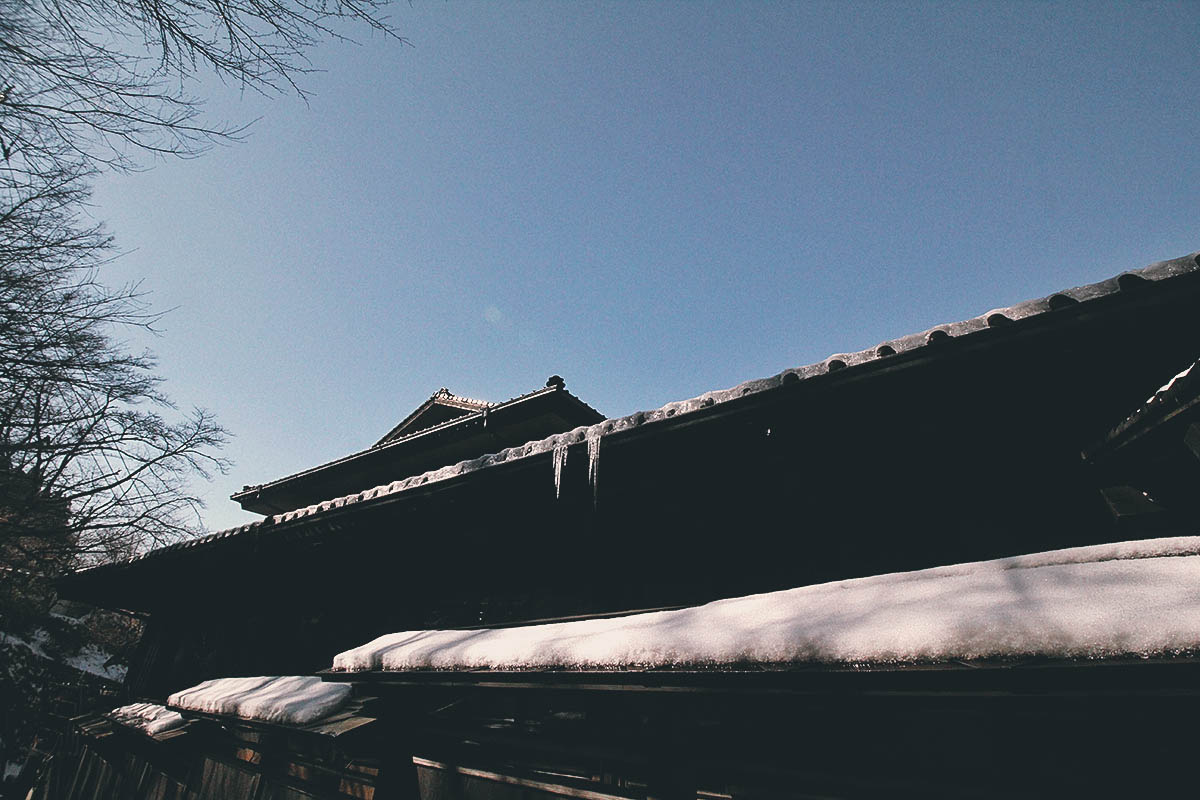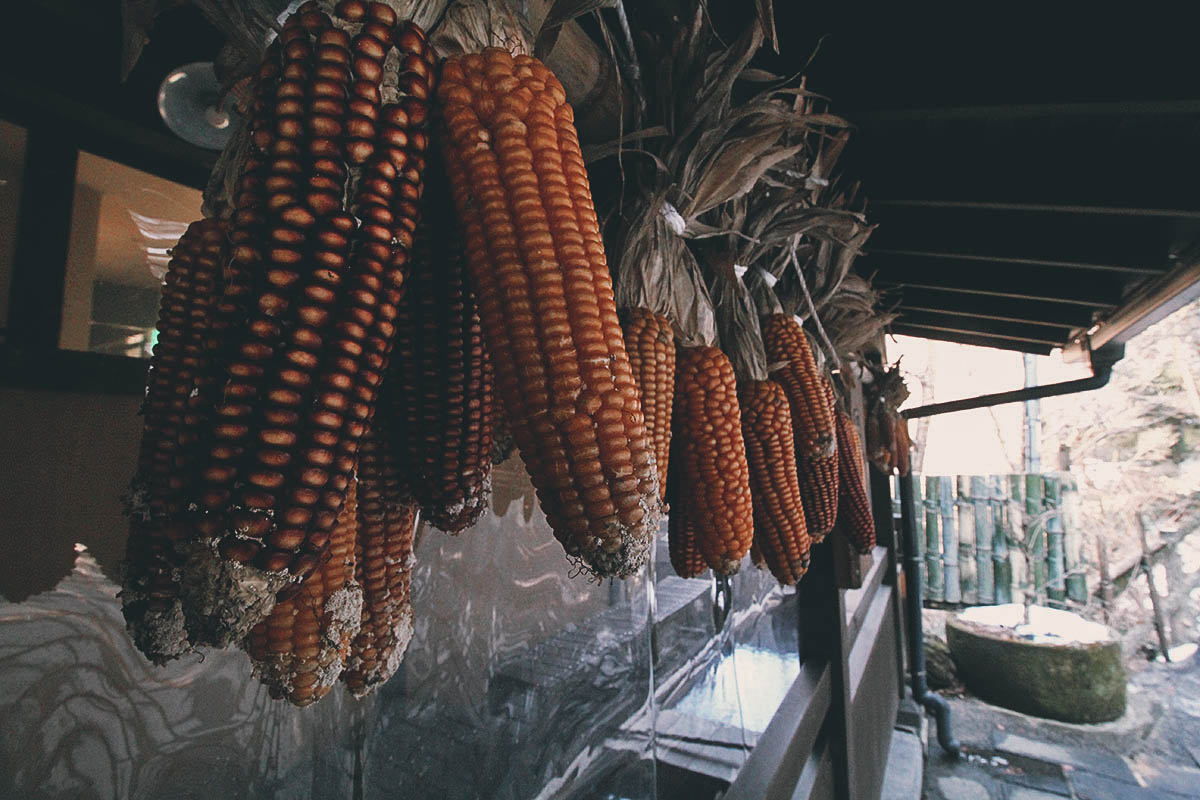 Hot foot bath at Yumerindo. You'll find many of these throughout Kurokawa Onsen.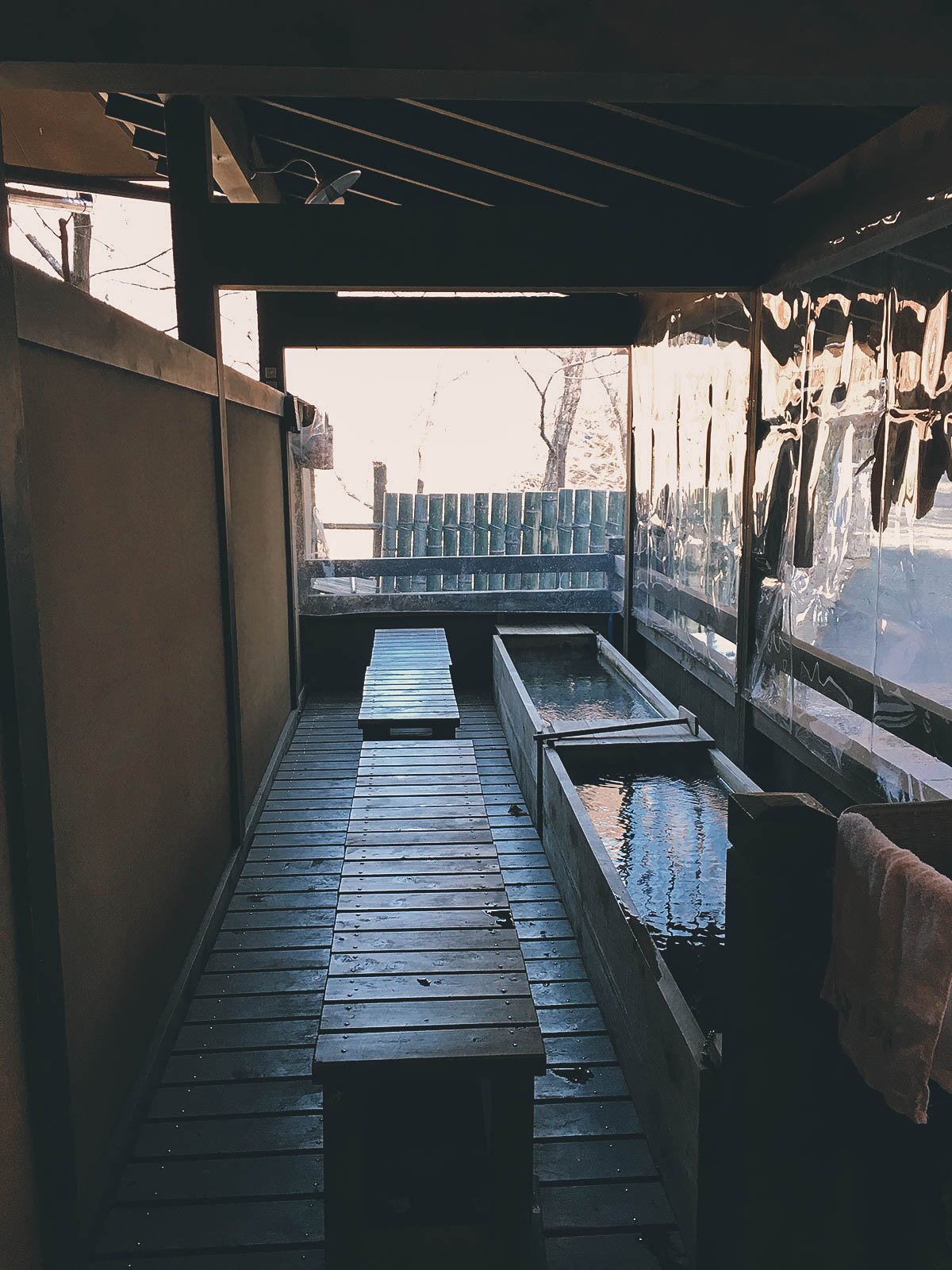 Yumerindo lobby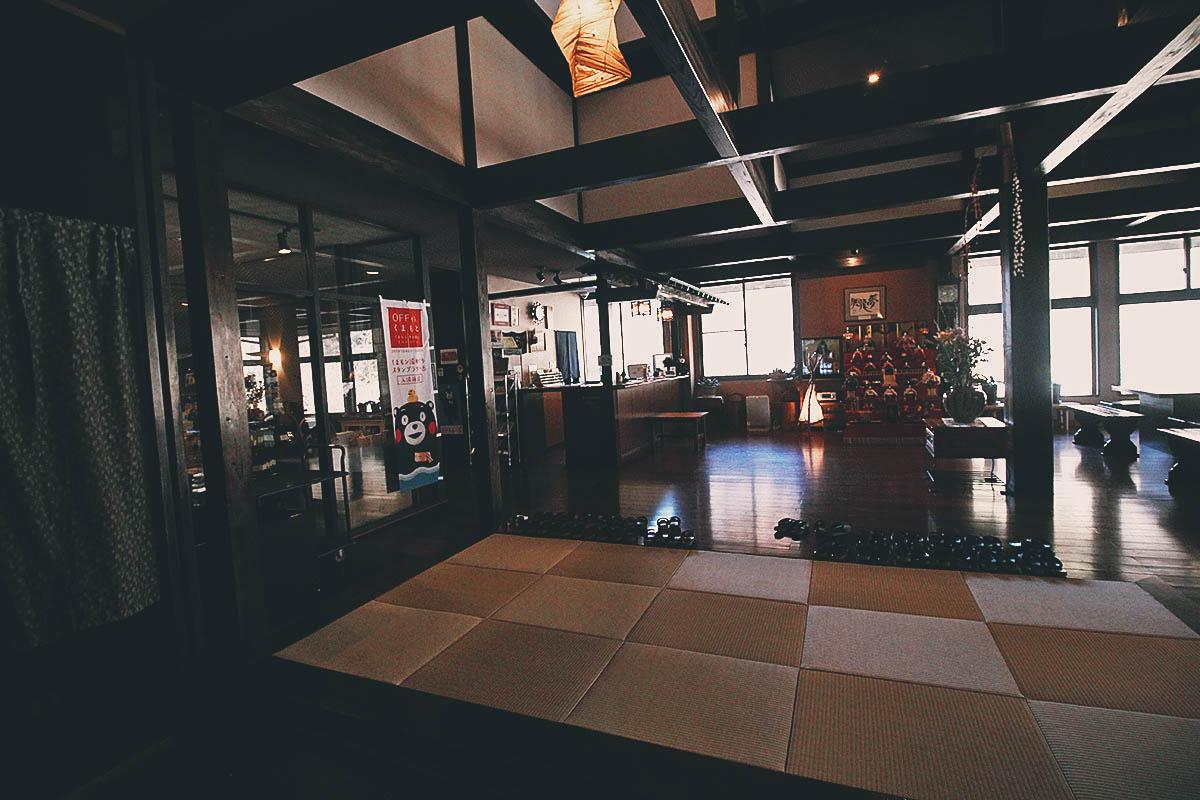 Gotta take off the shoes! That black cartoon bear in the background is Kumamon, the mascot of Kumamoto prefecture.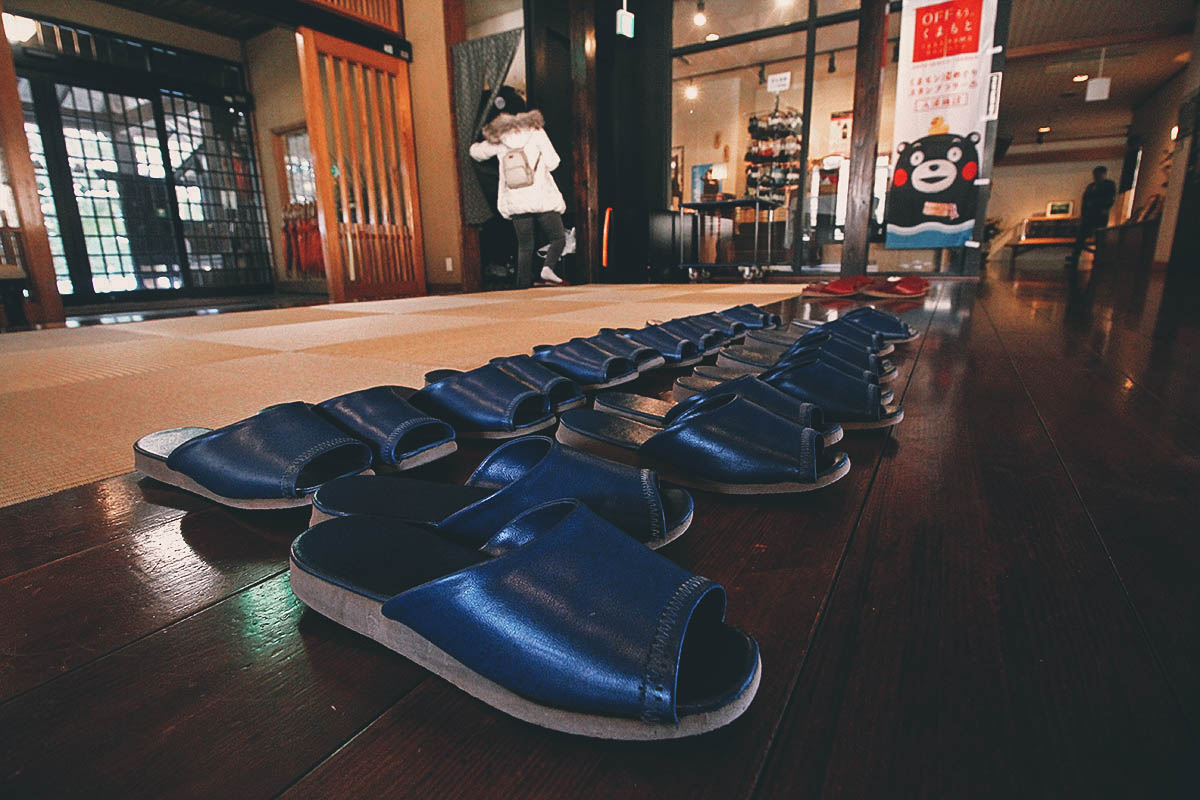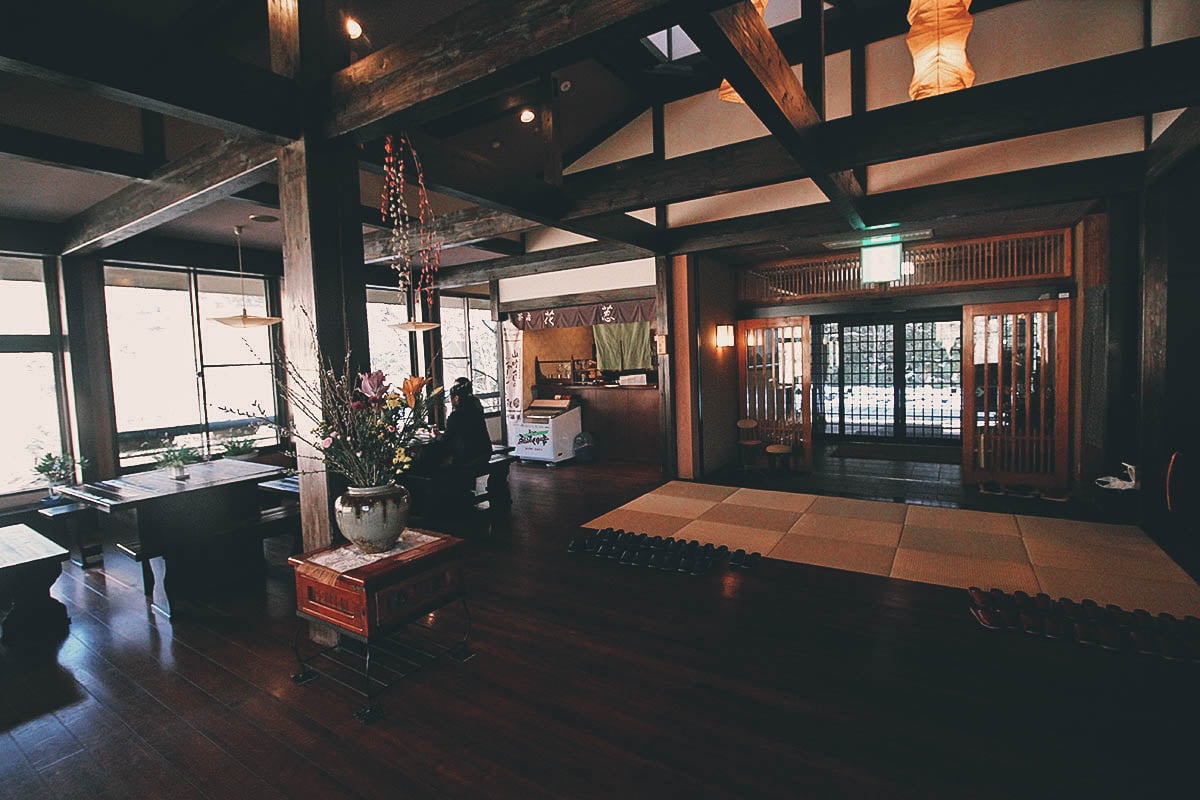 Lovely ryokan lobby. Yumerindo is a multi-story ryokan located by the river.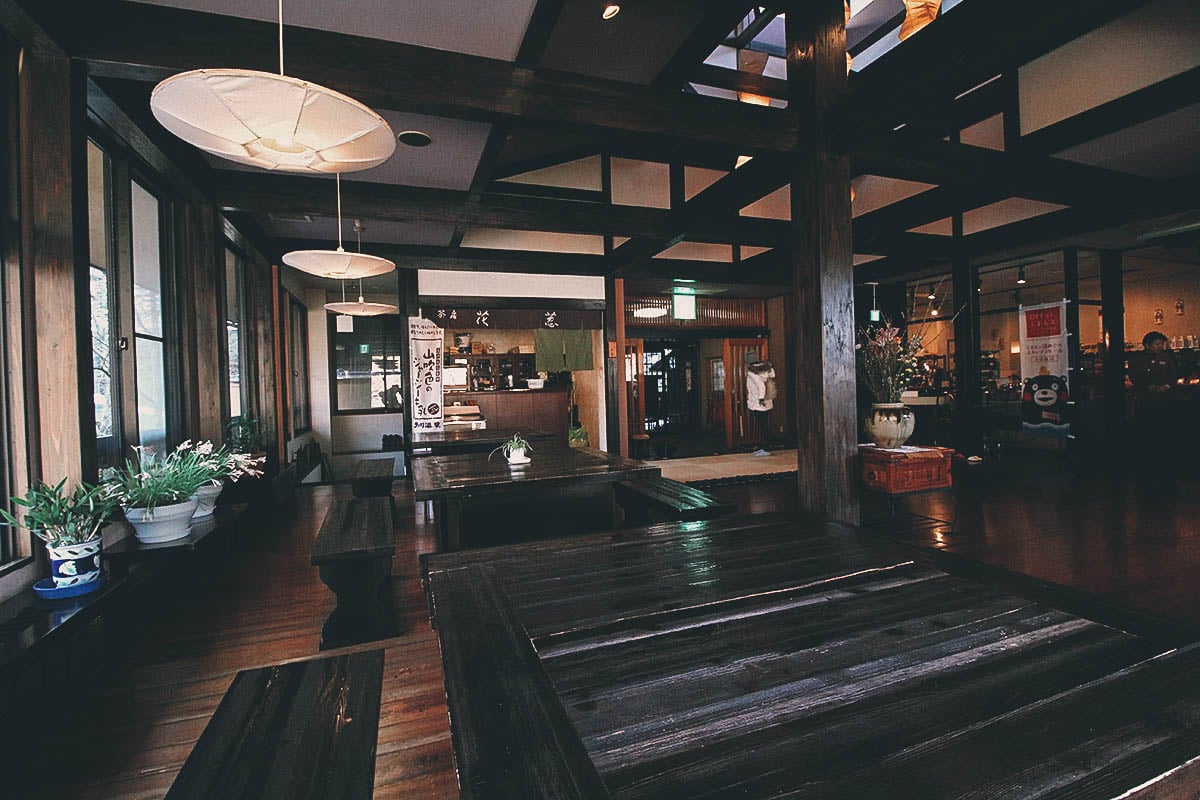 Kurokawa Onsen may be far away from the trappings of modern society but it isn't without its conveniences. There's Ren Instagramming away using the hotel's wifi.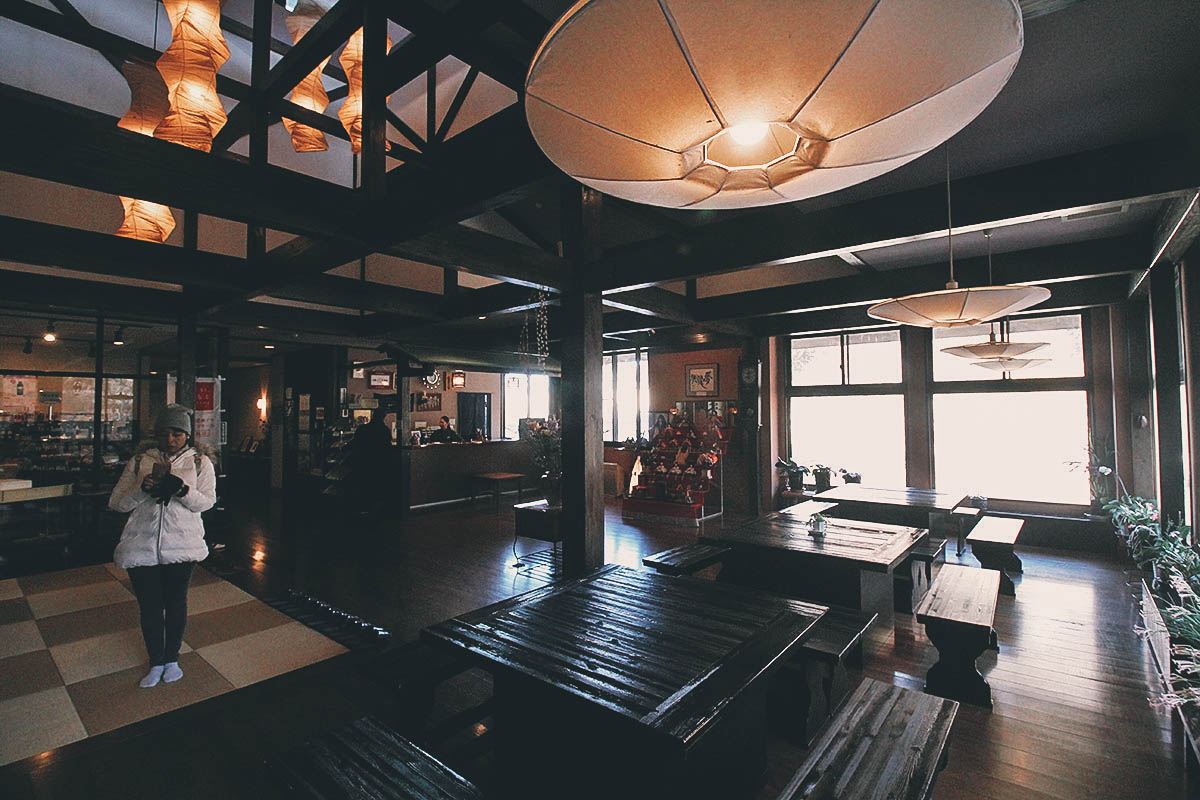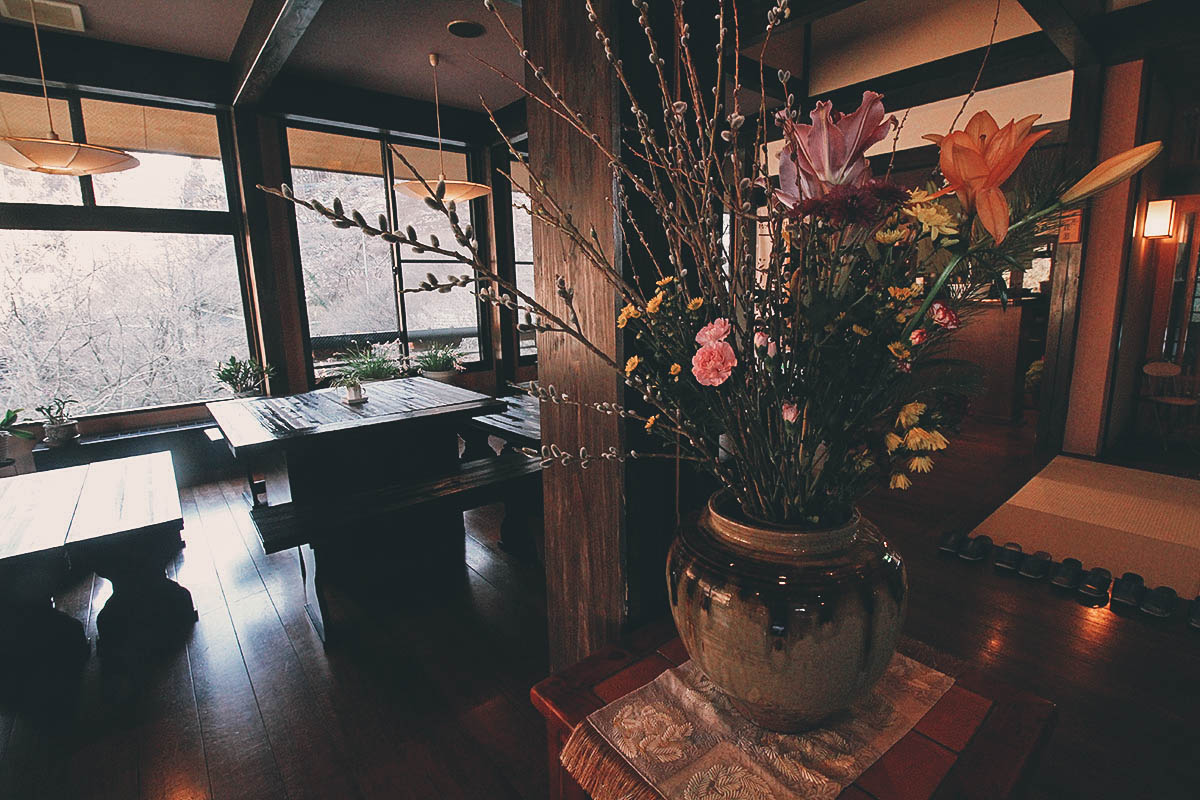 There's a small souvenir store by the lobby.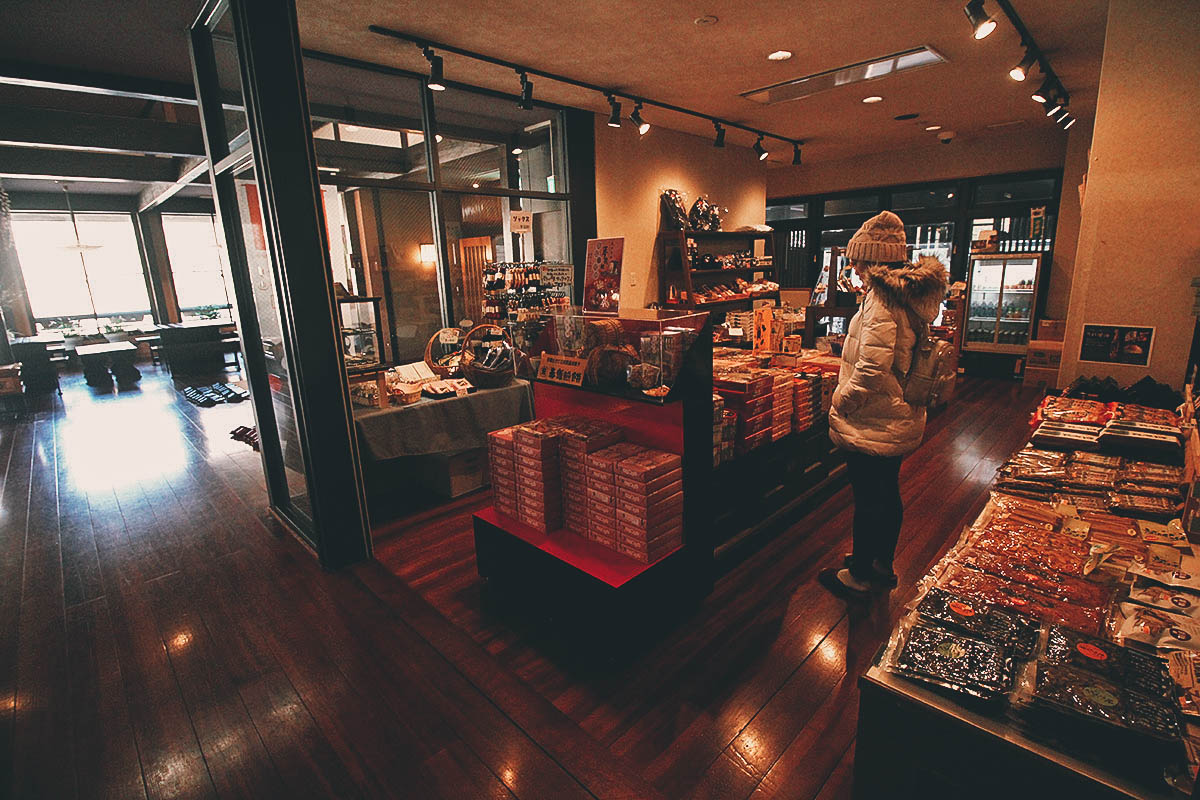 The lobby is at the top floor so you can either take the lift or stairs down to the rooms and onsen baths.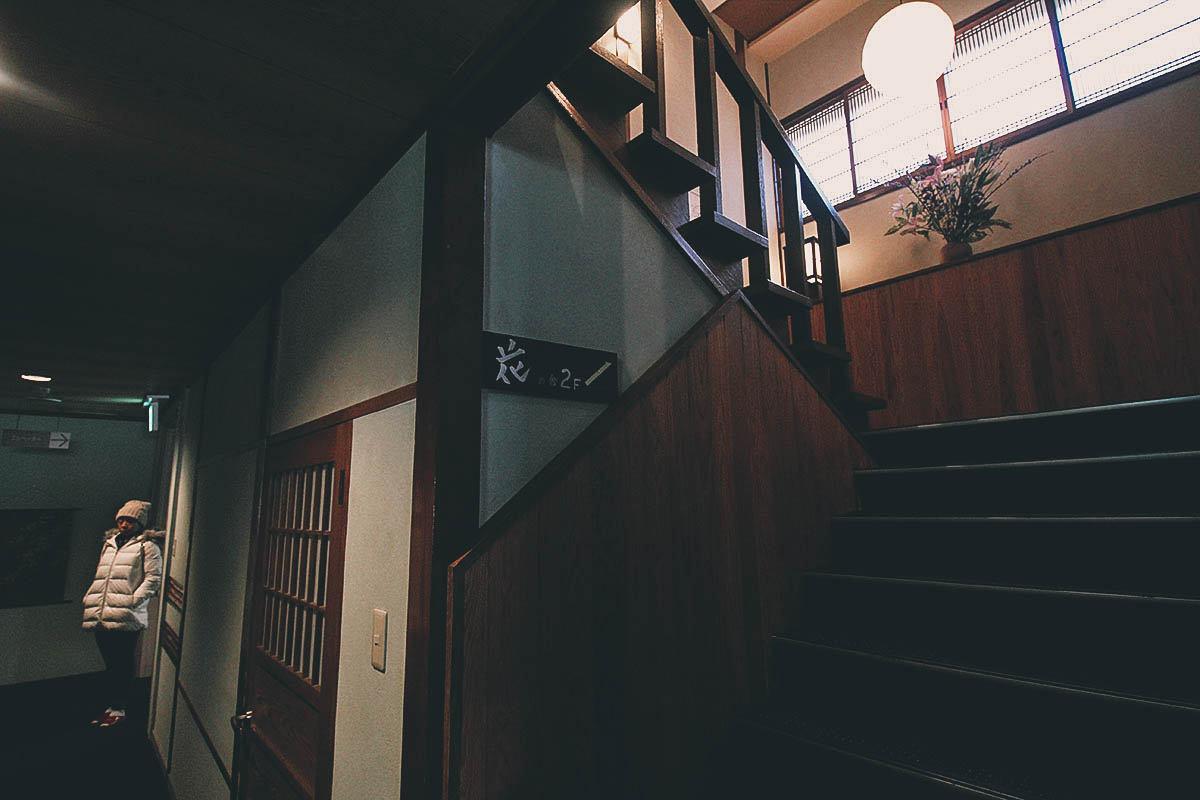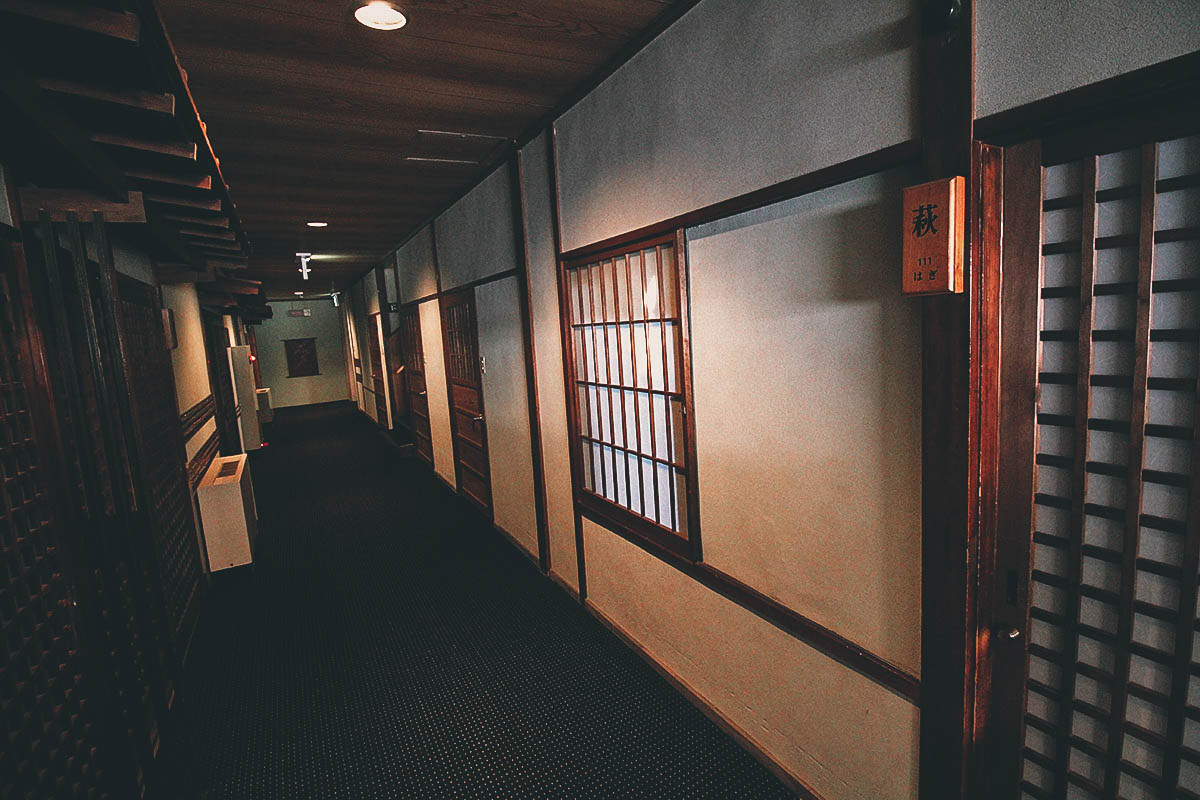 The Room
Sliding door to our room.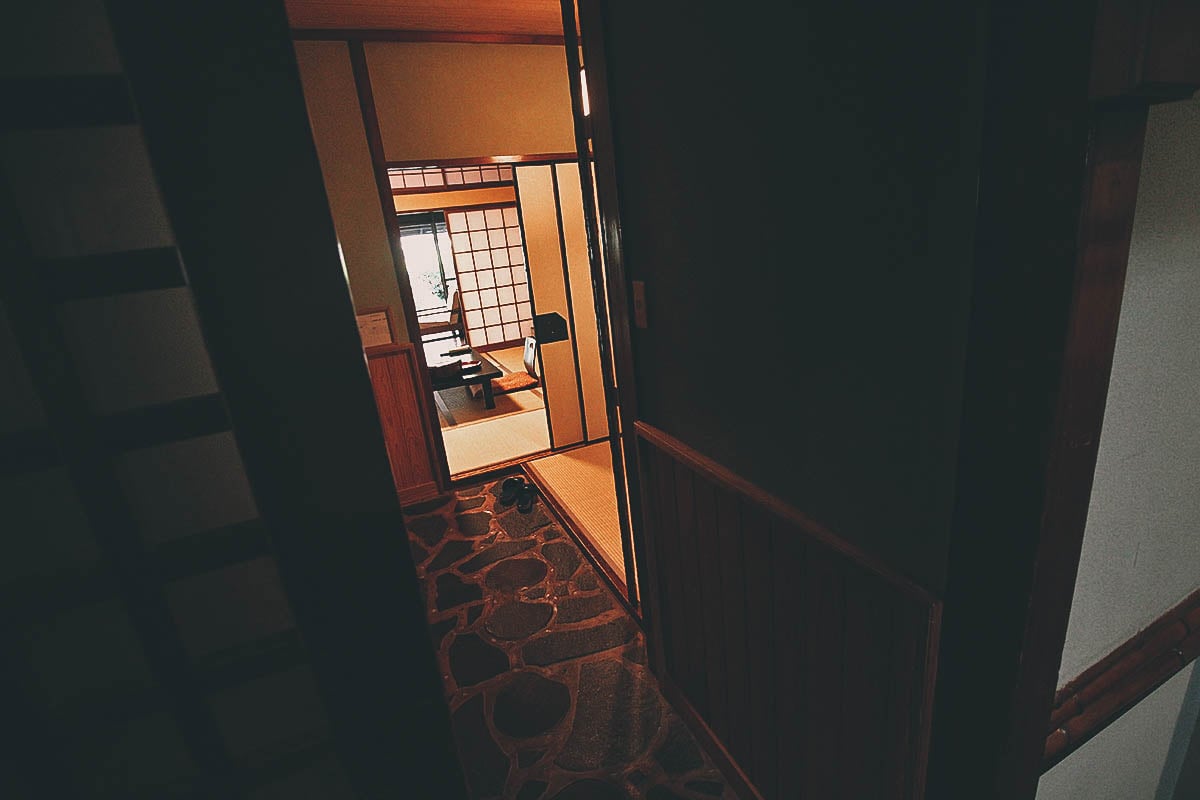 Soon as you enter, there's a space to your right for luggage.

On the left is the toilet. As far as I know, there are no private showers at ryokans because you're meant to use the public onsens to bathe. In our experience, toilet floors in Japan are never heated which is why they provide slippers just for the toilet.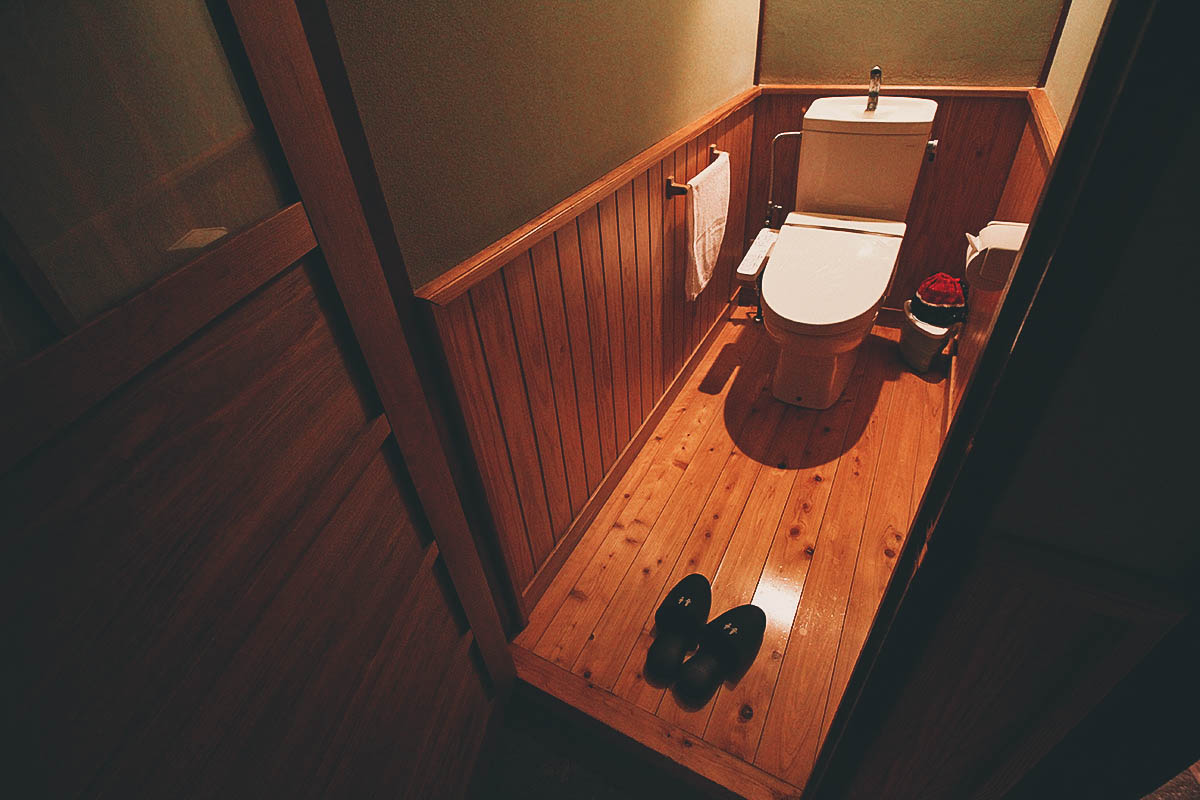 Our traditional Japanese room with tatami mats. We stayed at three of these ryokan-type rooms on this trip but this was by far the nicest. There was a flat screen TV, refrigerator, and private balcony overlooking a koi pond and Japanese garden.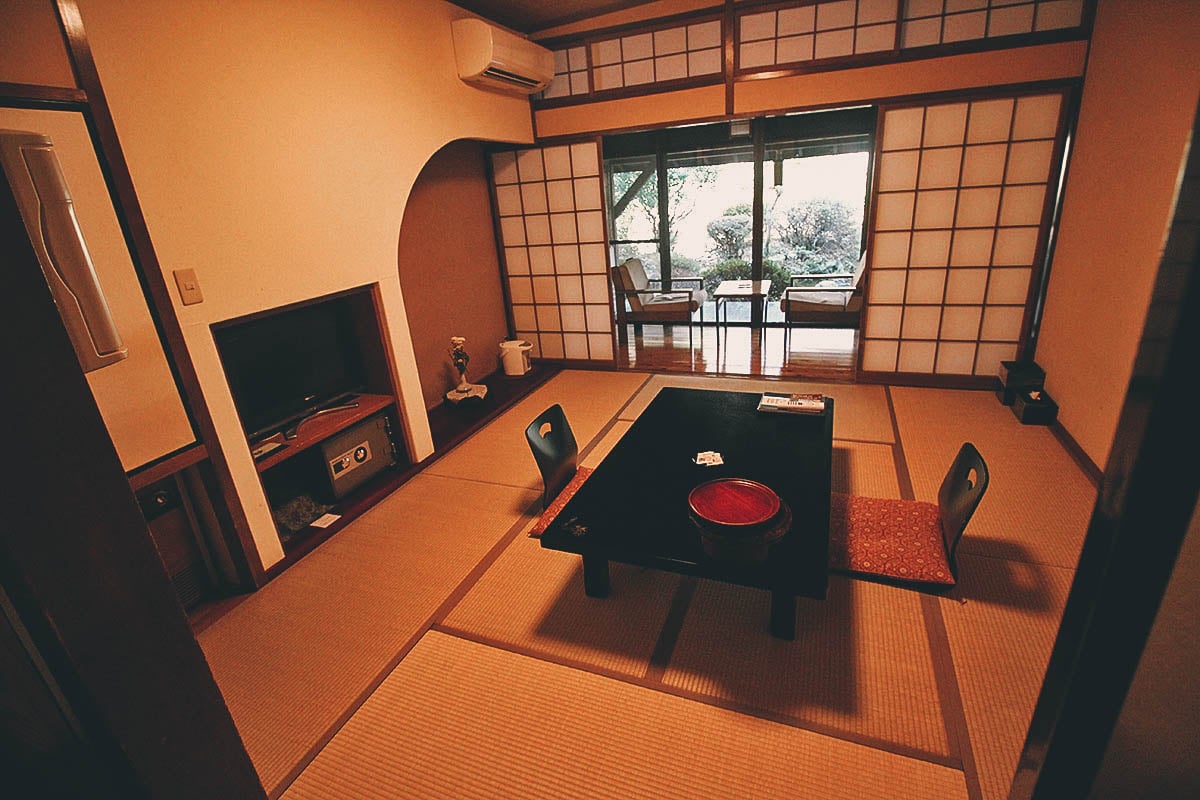 Japanese low-lying table. At night, the ryokan staff will prepare your Japanese-style beds and futons for sleeping. The floors at ryokans are heated, making for a supremely comfortable sleep. I have a bad back so I had my doubts if I could sleep well on the floor like this, but I did. Very well in fact, even better than on Western-style beds!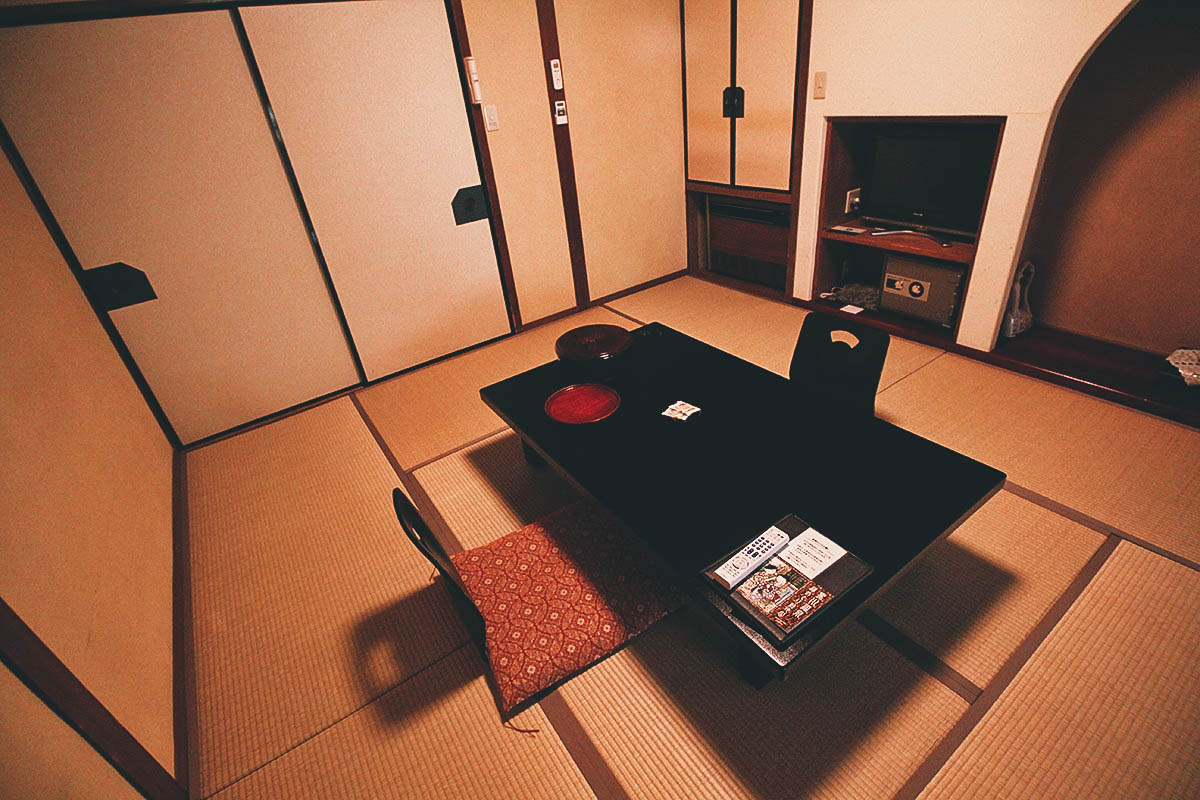 Even though we paid a little more than usual for this room, it still wasn't a lot. We paid JPY 12,960 for this room which at the time of this writing is about USD 116. Ryokans tend to be more expensive so that's a really good price, especially for a place like Kurokawa Onsen. If I remember correctly, the room rate didn't include use of the onsen. For that, we had to pay an additional JPY 500 each.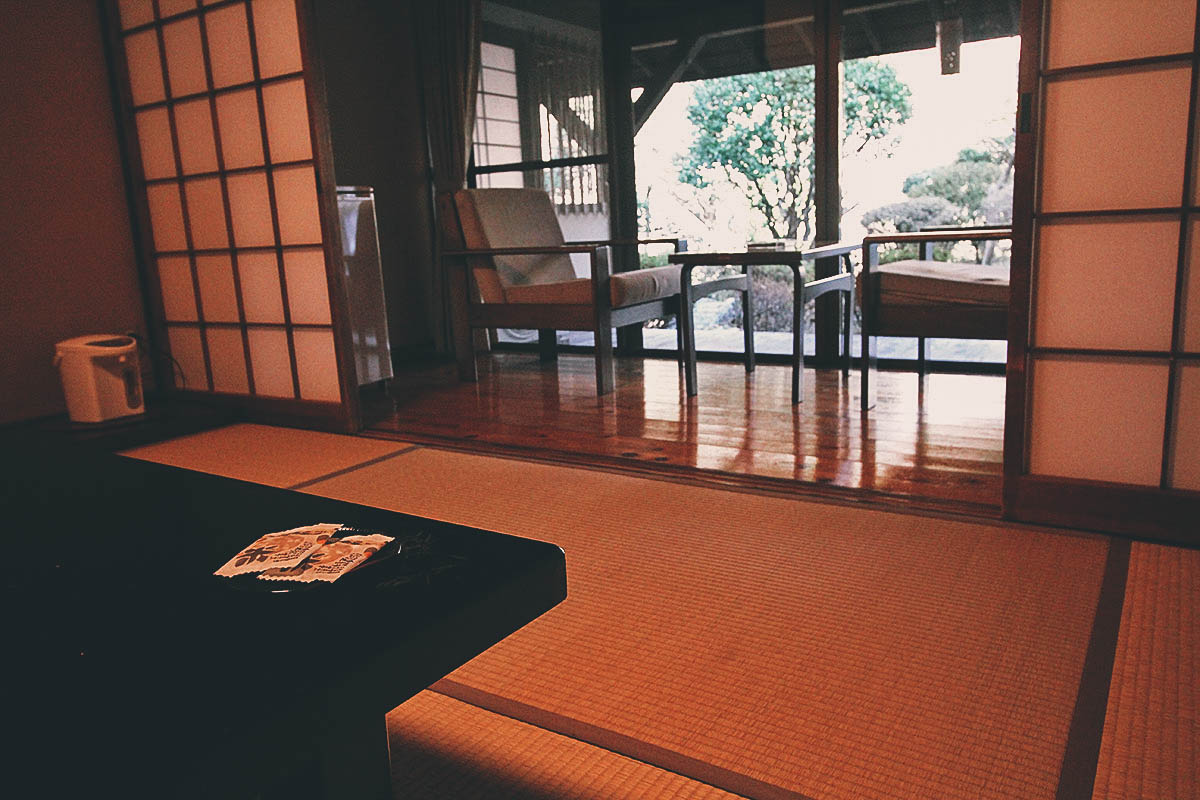 Lacquer box with tea set. There was a box like this at every ryokan we stayed at.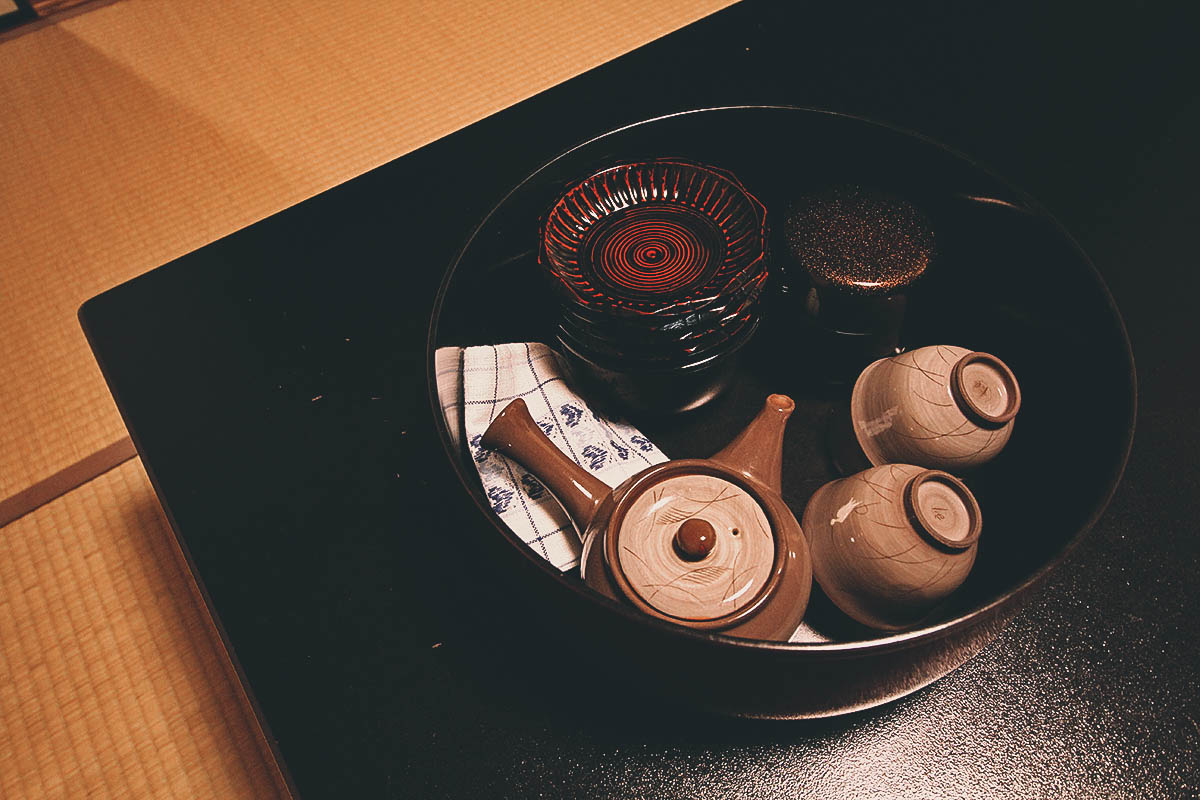 Let's check out the balcony.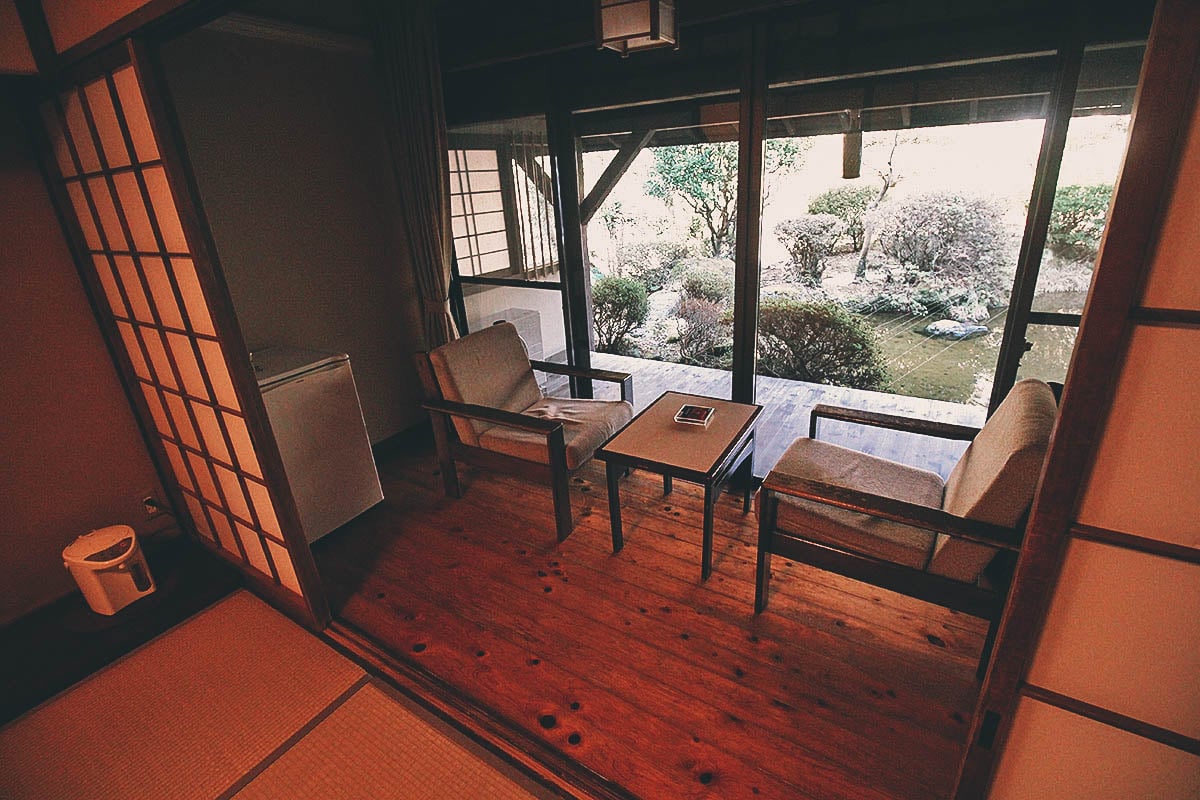 As you know, the Japanese are all about keeping their floors clean so they provide a separate pair of slippers just for the balcony. And if you choose to go down to the garden, they have another pair of slippers for that too!

Japanese gardens are so lovely.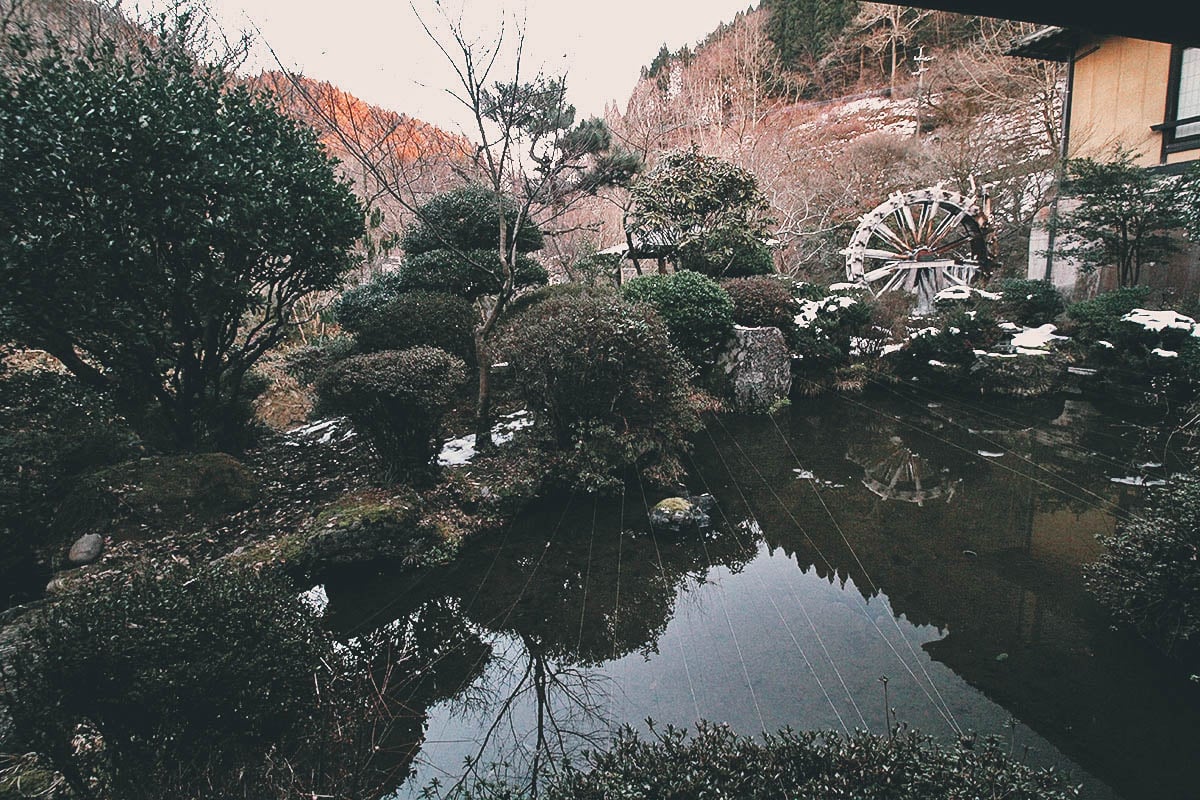 Koi pond with bridge. It was pretty cold outside so these guys were barely moving. Koi carp don't actually hibernate but they remain sedentary during the winter months.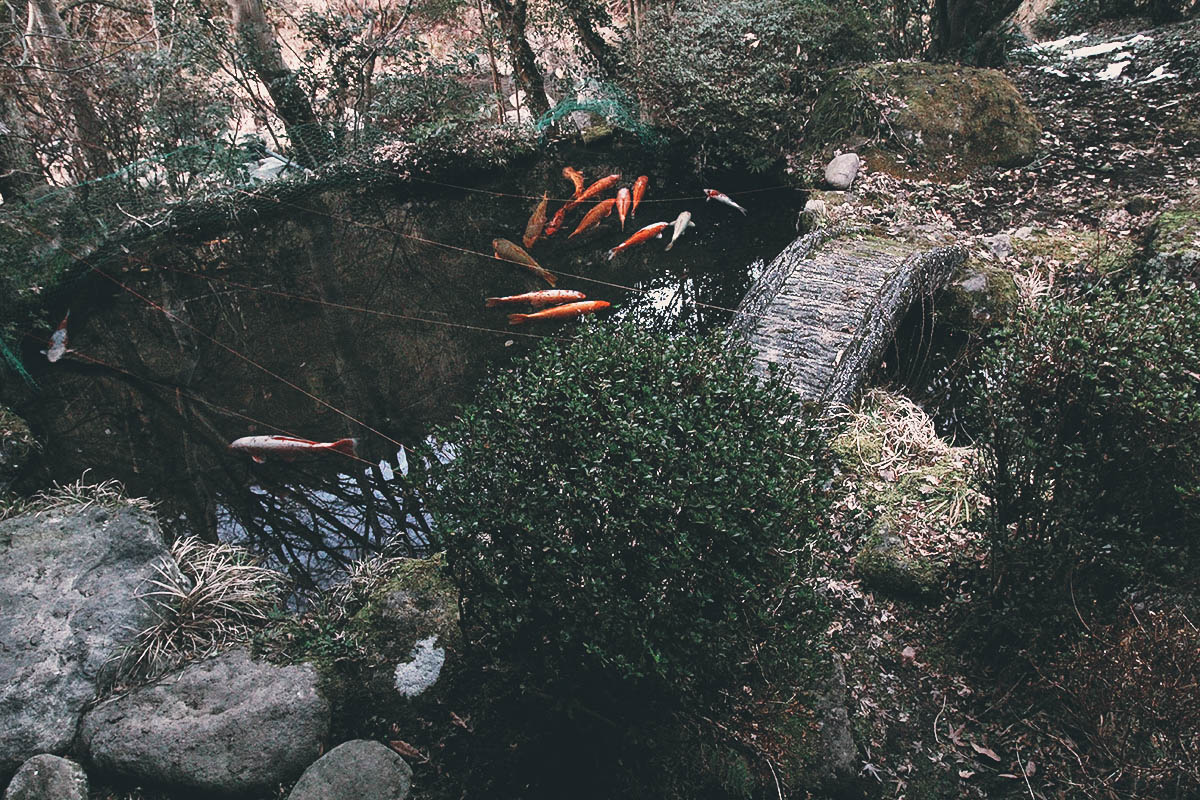 Onsen
Unless I'm mistaken, Yumerindo has three floors of rooms. Our room was on the lowest floor which leads to this ante room. There are changing rooms here as well as coin-operated massage chairs and beer vending machines. When you're ready, you go through that door on the opposite side to access Yumerindo's onsens. They have open air baths, indoor baths, and private kashikiri baths which is what we used.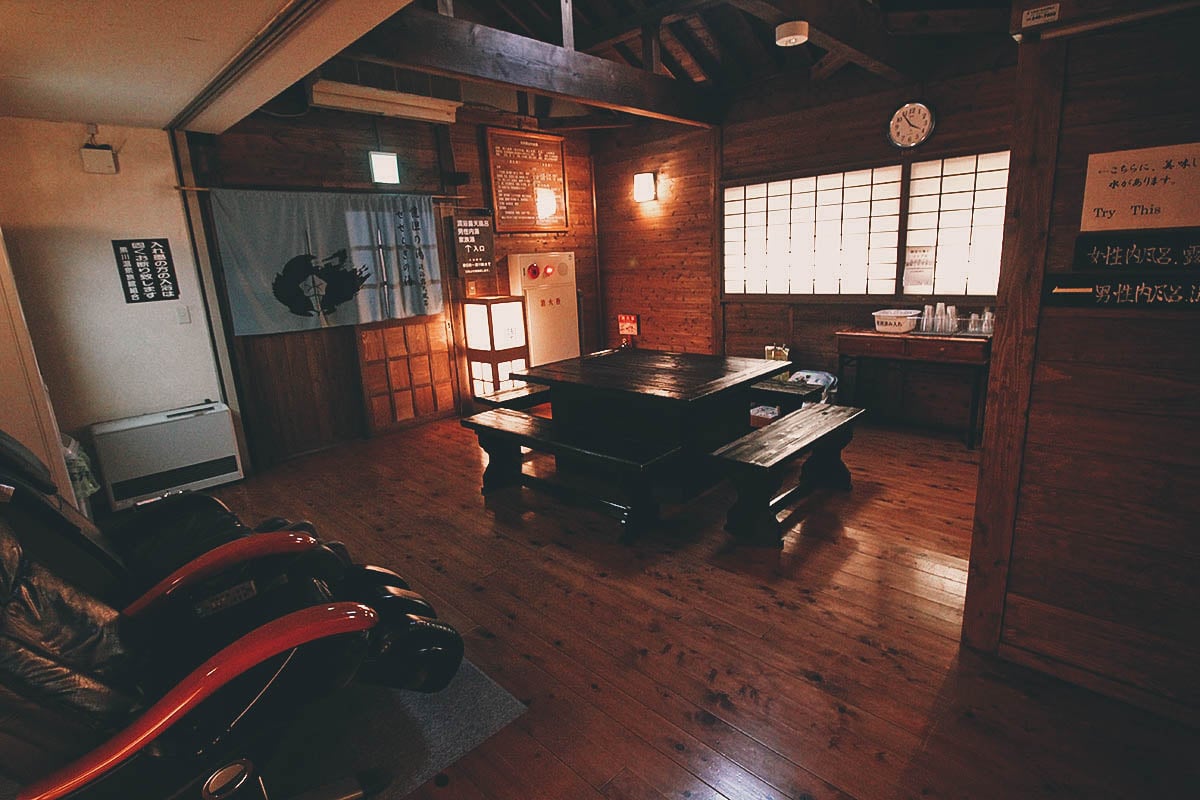 There's Ren looking cute in her yukata. Being guests at Yumerindo, we had yukatas waiting for us in our room.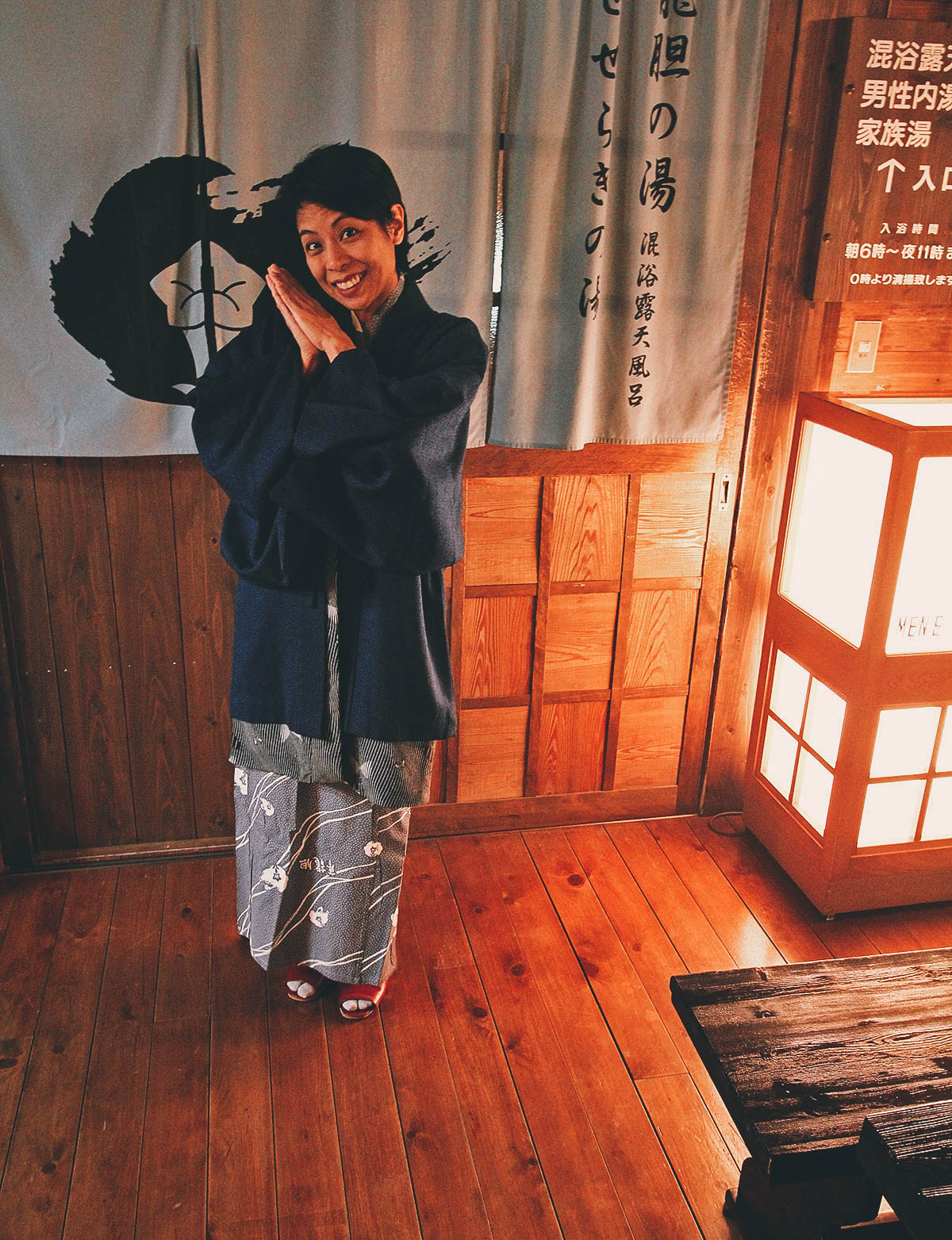 Here's me showing off my funky Japanese socks. They have little black dots of rubber underneath for grip.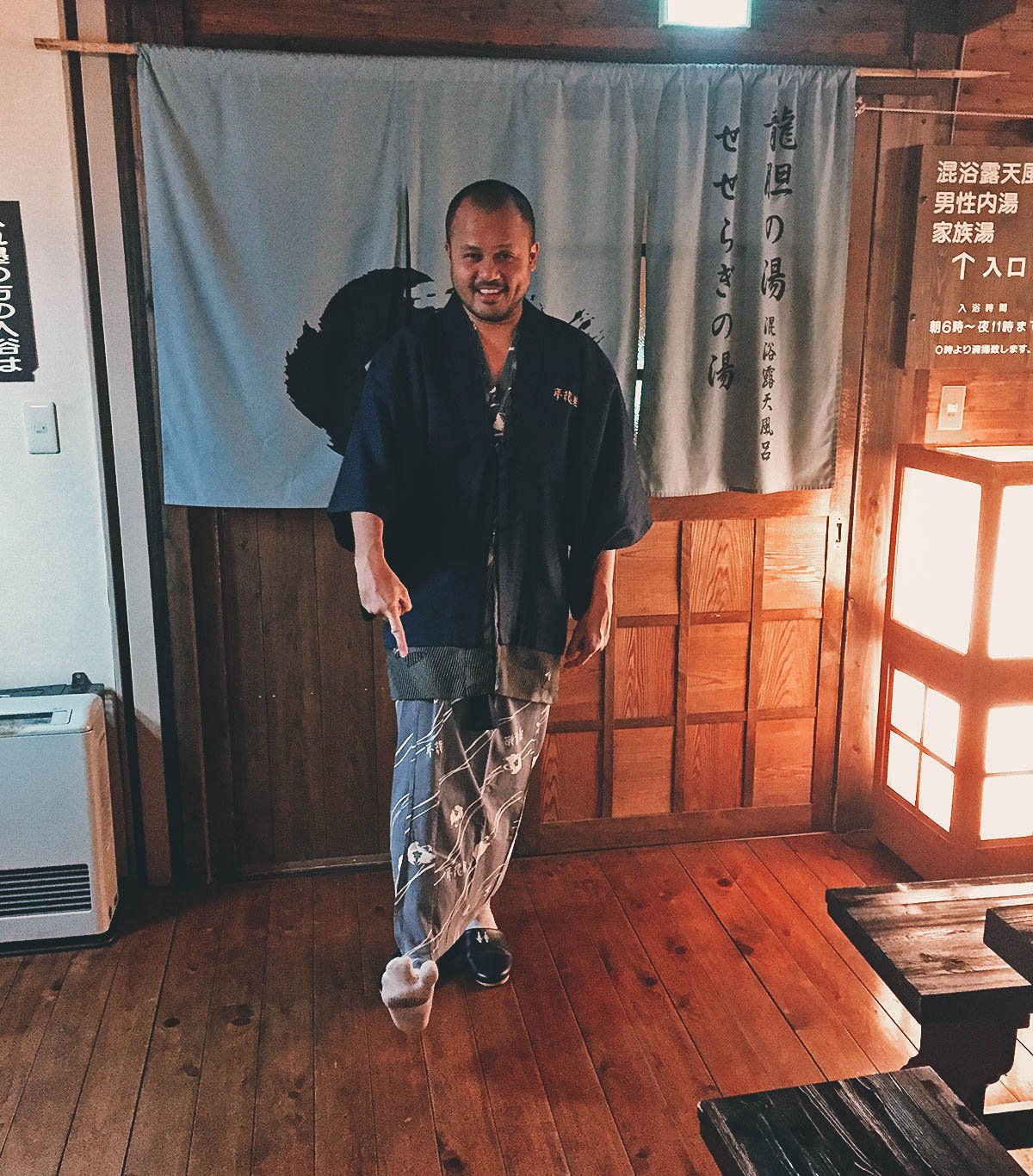 And out we go. It was the middle of February so it was butt-fucking freezing outside.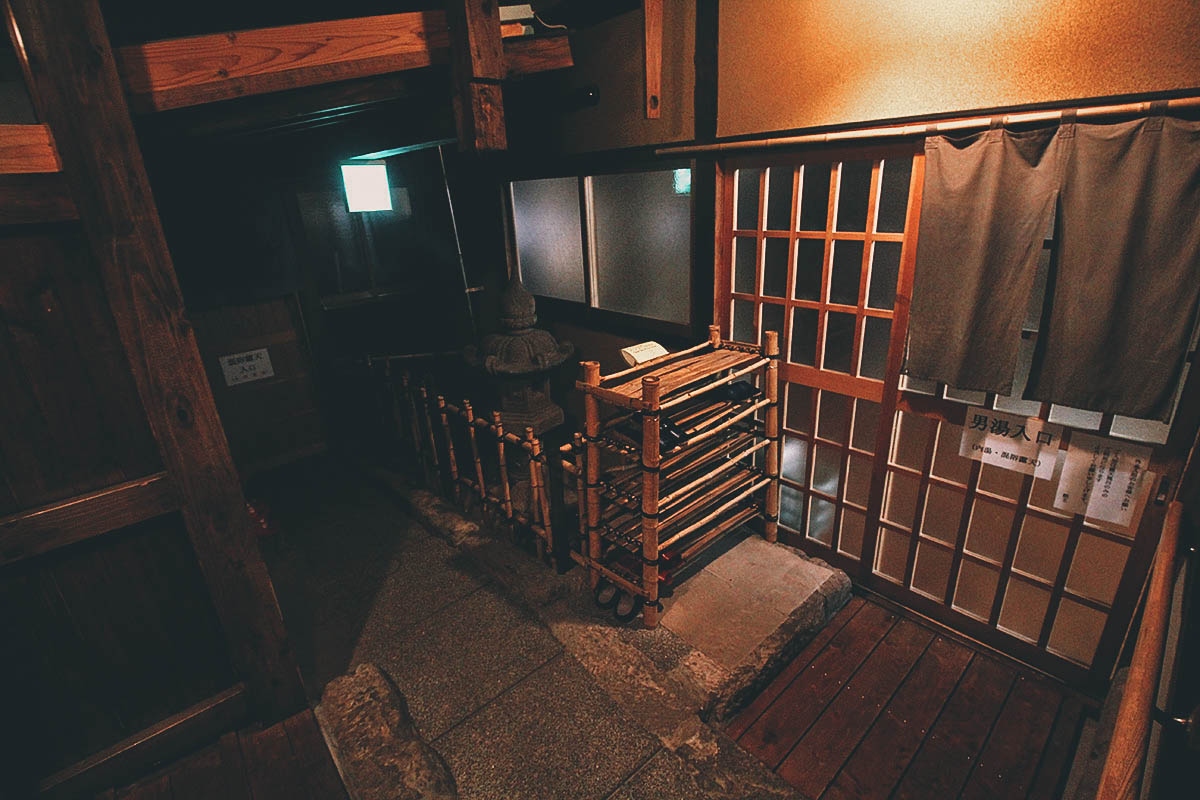 There's the building for the kashikiri baths. Unlike public baths, kashikiri baths can be used privately by locking the door behind you. They're meant to be used by families or couples.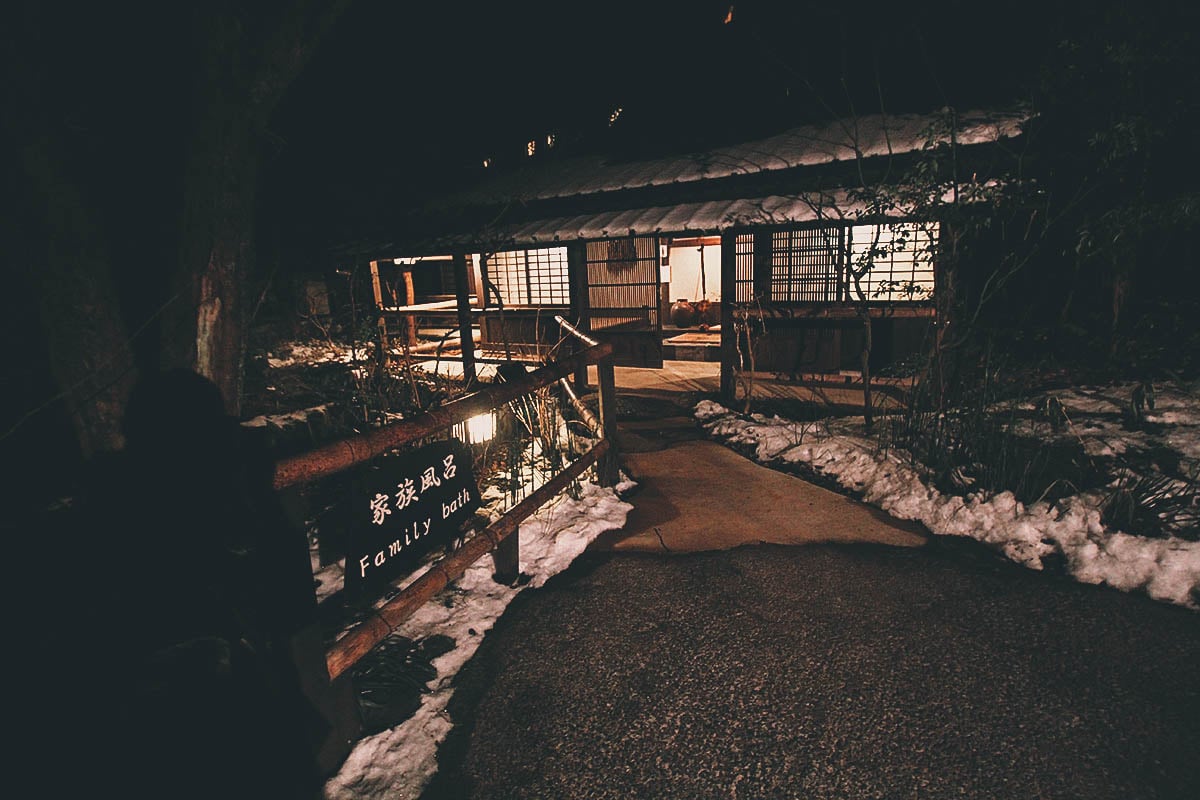 I believe this is called an inori or Japanese sunken hearth. It's used for heating homes and cooking traditional Japanese food.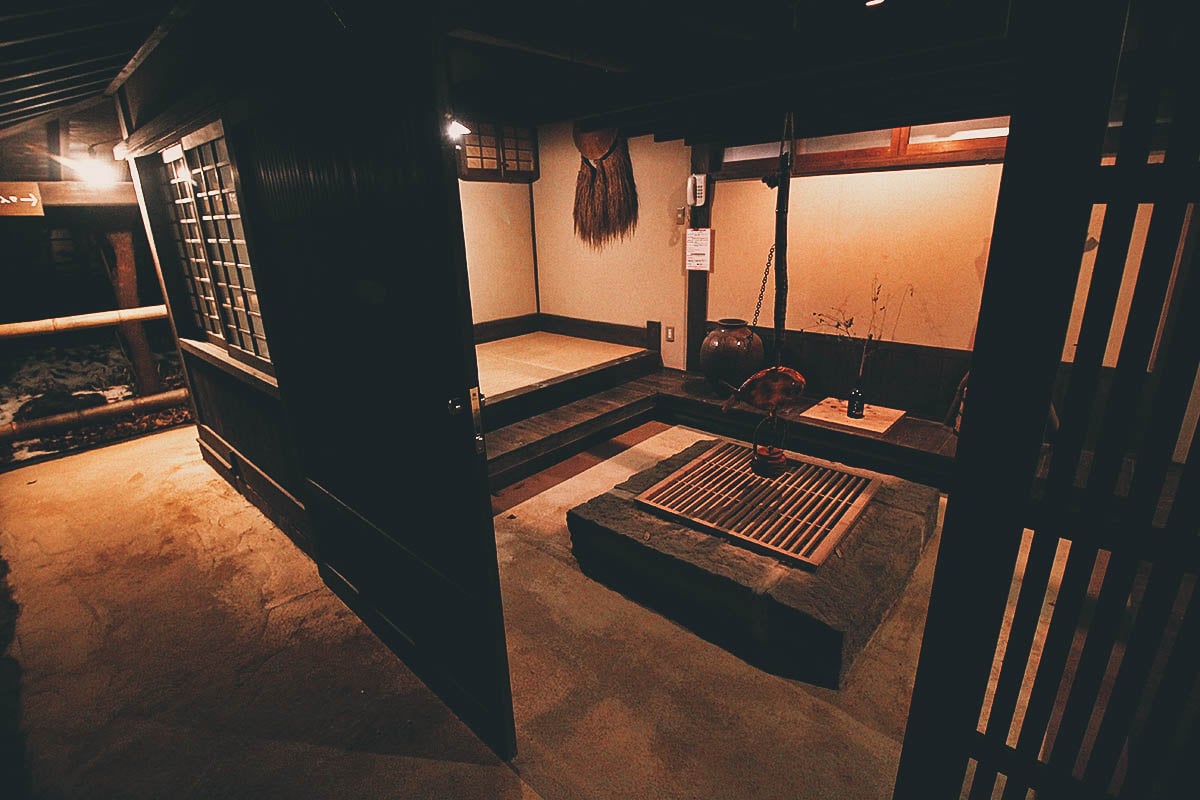 It was so damn cold we were moving as quickly as we could to the onsen!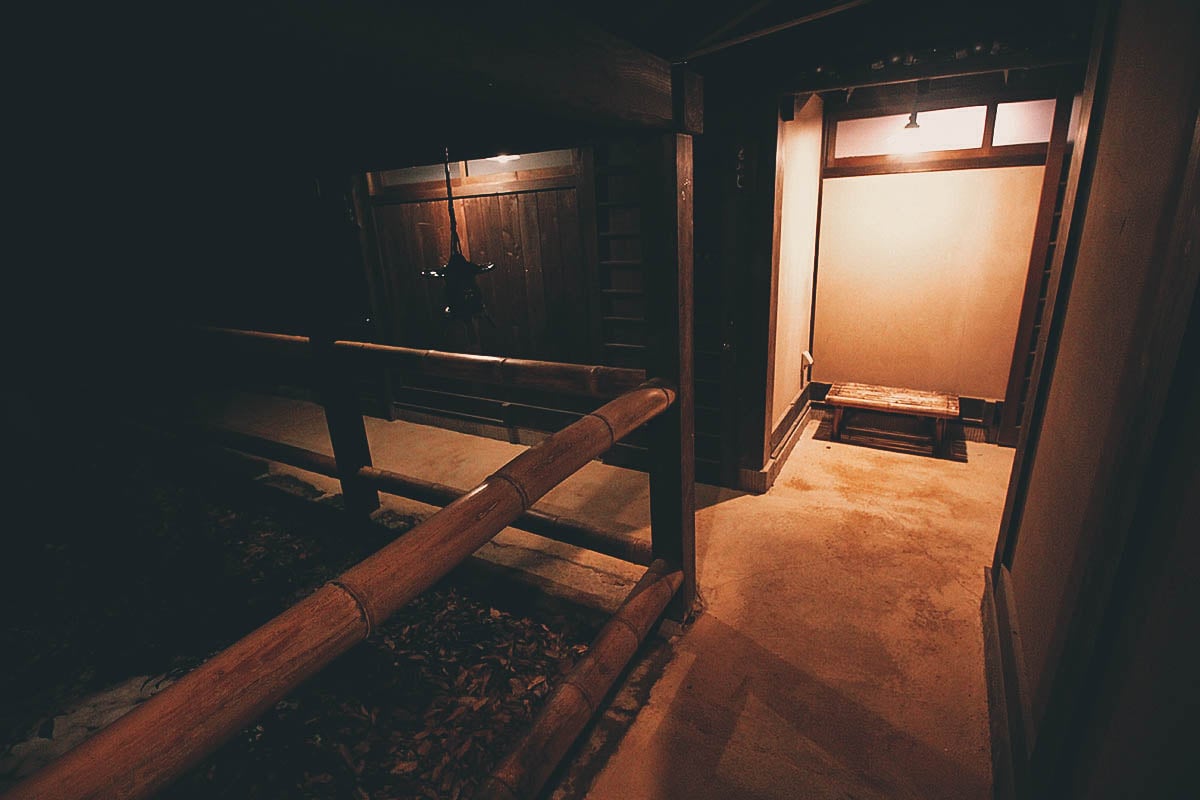 If I remember correctly, they have three of these private baths here. The maximum amount of time you can spend in these private baths is one hour. No one will come knocking on the door when your time is up but it's common courtesy to observe these time limits. This is Japan so rules matter!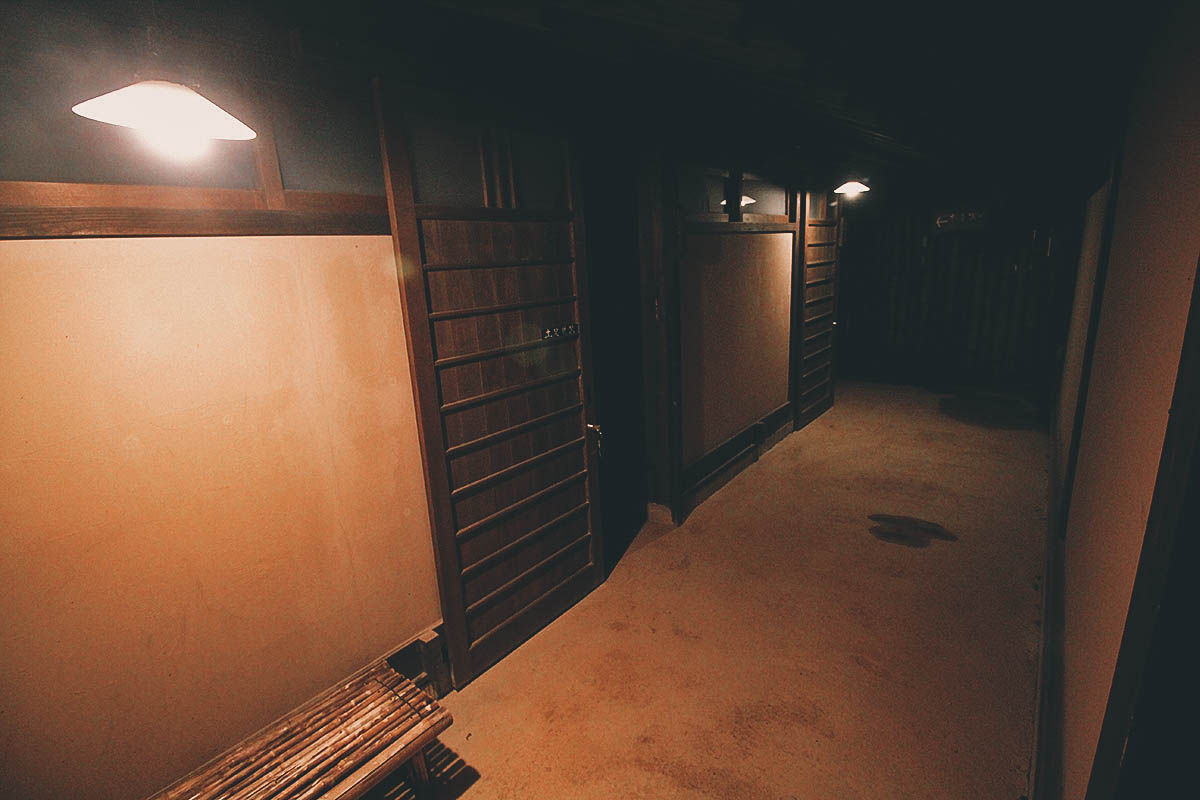 You have to register a time slot at the front desk so we had this all to ourselves from 8-9PM. You'll change out of your yukata in this room before going into the actual onsen.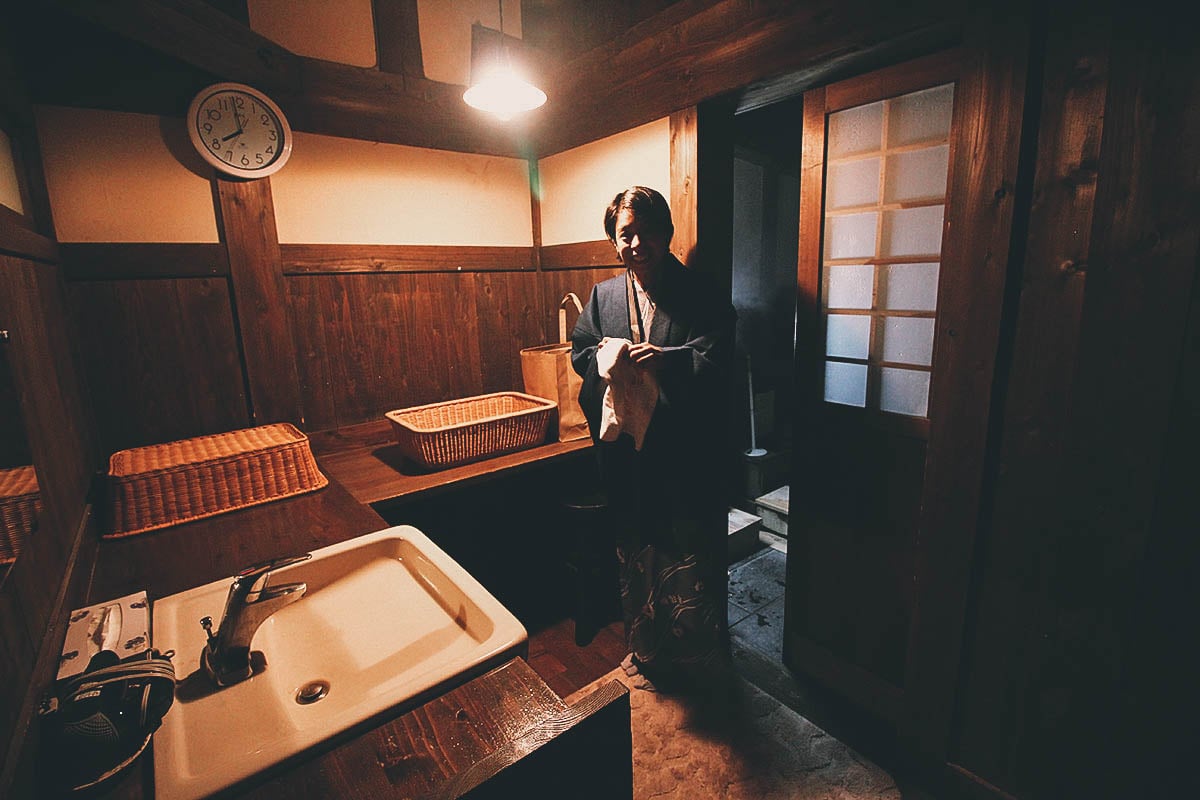 And there it is. Proper onsen etiquette expects you to rinse first before getting into the tub. As I described at our previous onsen experience in Yufuin, I didn't understand the allure of onsens until I actually tried one. When you first get into the water, it feels so scaldingly hot that your initial instinct is to get out. But your body quickly adjusts to the heat and it feels perfect thereafter.
Bathing in the onsen heats your body up to such a degree that you become almost impervious to the cold. Remember how nut-shrinking cold I said it was outside? Well after an hour bathing in this onsen, I could have moonwalked my way back to our room completely buck naked and not felt a damn thing. That's how good onsens make you feel!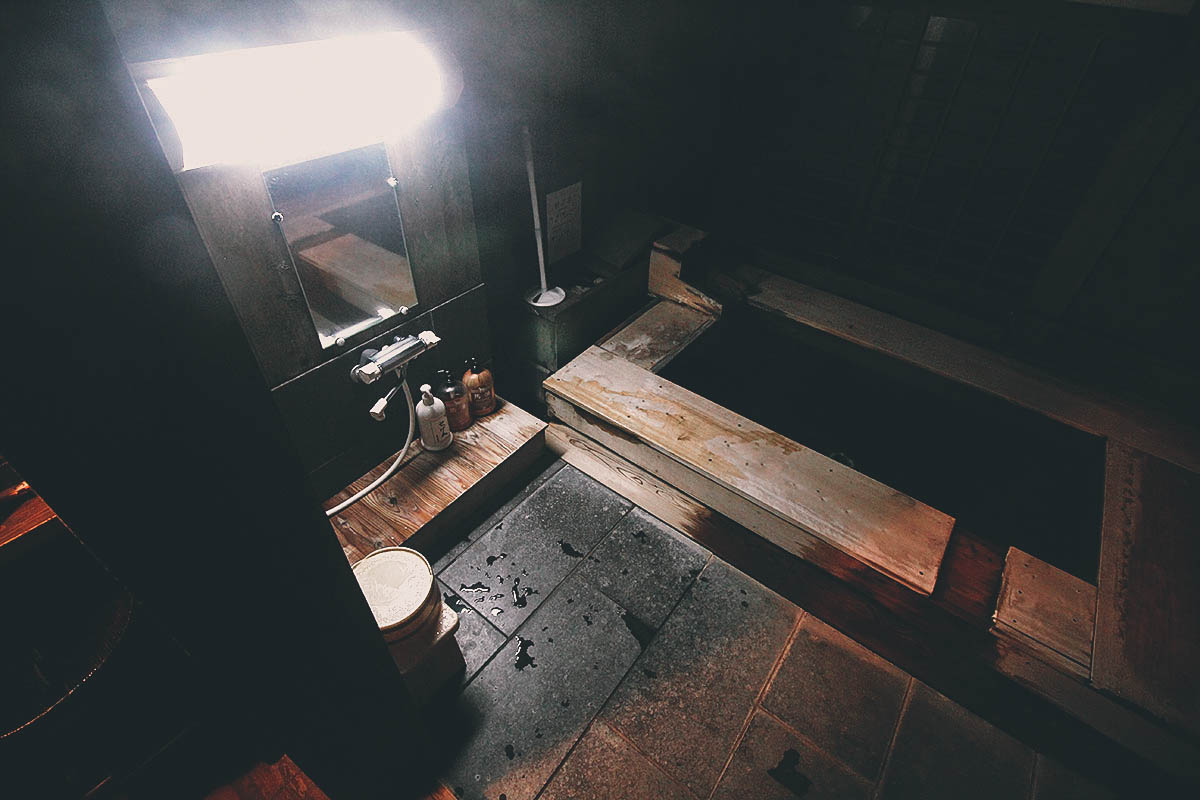 After our hour was up, we chilled out in the ante room and warmed ourselves up some more with ice-cold cans of Sapporo beer. Here I am enjoying a few minutes of heaven on this massage chair, quietly thanking God for this onsen experience.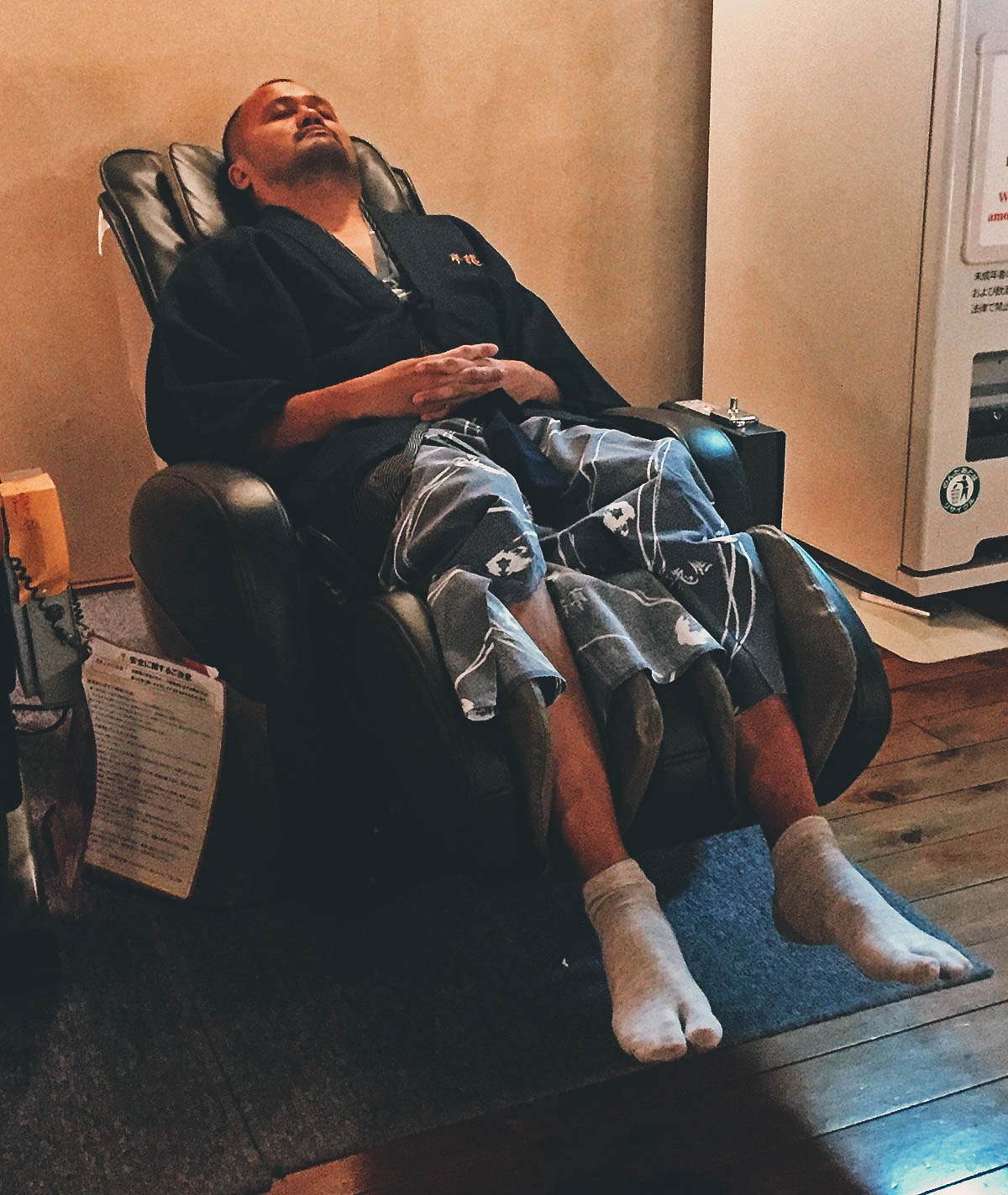 As described, I wasn't a believer of onsens before but I am now, so much so that I'll be looking for it on every winter return trip to Japan. You just feel so unbelievably good after.
Serious onsen goers often partake in the onsen-hopping practice known as rotemburo meguri. Onsen towns offer passes that allow guests to use the onsens of multiple ryokans. Here at Kurokawa Onsen, you can purchase a wooden pass or tegata from the tourist information center for JPY 1,300. It'll allow you entry to three different ryokans of your choice. Alternatively, you can pay JPY 500 per onsen bath. After getting a taste of the onsen experience, an all-day rotemburo meguri is now on my bucket list. 🙂
If you'd like to make a reservation at Yumerindo, then you can do so through Booking.com or Agoda. You can browse through those links for other listings in Kurokawa Onsen as well.
Senomotokan Yumerindo, Kurokawa Onsen, Kumamoto, Japan
869-2402 Kumamoto, Minamioguni, Manganji 6430-1, Japan
Tel: +81 967-44-0321
Fax: +81 967-44-0323
Approximate Room rate: JPY 12,960 per night without breakfast (as of February 2017)
HOW TO GET THERE:
Yumerindo is one of the first hotels you'll see when you enter Kurokawa Onsen town. After the bus drops you off at the side of the highway, cross the road and walk down the road into town. Yumerindo will be on your left.
MAKE A RESERVATION: Booking.com | Agoda
Disclosure
Some of the links in this post are affiliate links, meaning we'll get a small commission if you make a purchase at NO extra cost to you. We really appreciate your support as it helps us keep this website going. Thank you!
For travel tips to Kurokawa Onsen, check out our First-Timer's Travel Guide to Kurokawa Onsen, Japan