Peruvian food is one of the most interesting cuisines not just in South America, but in the world. It combines Spanish, Moorish, African, Japanese, and Chinese influences to create world-famous Peruvian dishes like ceviche, lomo saltado, and pollo a la brasa.
Peru's plethora of delicious savory dishes makes it arguably the best culinary destination in South America, but equally noteworthy are its desserts. Picarones and alfajores with manjar blanco are a given, but they're just two of the many popular Peruvian desserts that should be on your list.
If you have a sweet tooth, then check out these fifteen traditional Peruvian desserts on your next visit to Lima and Peru.
PERUVIAN DESSERT QUICK LINKS
If you're planning a trip to Peru and want to really dive into the cuisine, then you may be interested in going on a food tour or taking a cooking class.
TOURS
Save This on Pinterest!
No time to read this article on traditional Peruvian desserts? Click on the save button and pin it for later!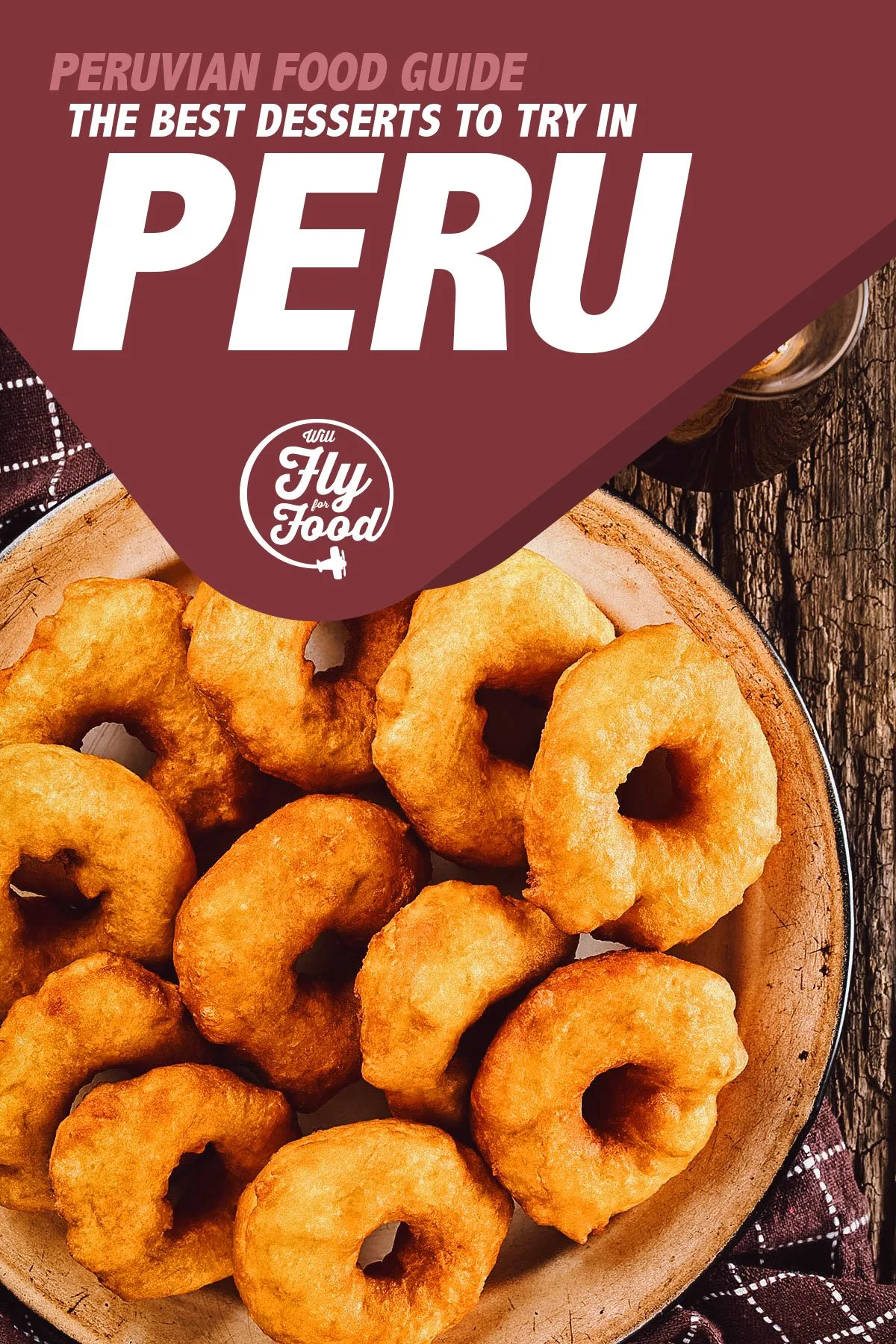 Photo by ildi_papp
THE BEST PERUVIAN DESSERTS
1. Mazamorra Morada (Purple Corn Dessert)
If you're looking for a unique Peruvian dessert, then there's no better way to start this list than with mazamorra morada or Peruvian purple corn pudding. It refers to a classic Peruvian dessert made with purple corn, fruits, and sweet potato flour.
This purple corn pudding is one of the most popular Peruvian desserts in the country. Known for its deep purple / burgundy color and jelly-like consistency, Peruvian purple corn is what gives the dish its characteristic color and flavor. Morada, in English, means "purple".
Mazamorra morada is thickened with sweet potato starch (or corn starch) and can be made with different types of fruit like raisins, prunes, peaches, apricot, sour cherries, and pineapple.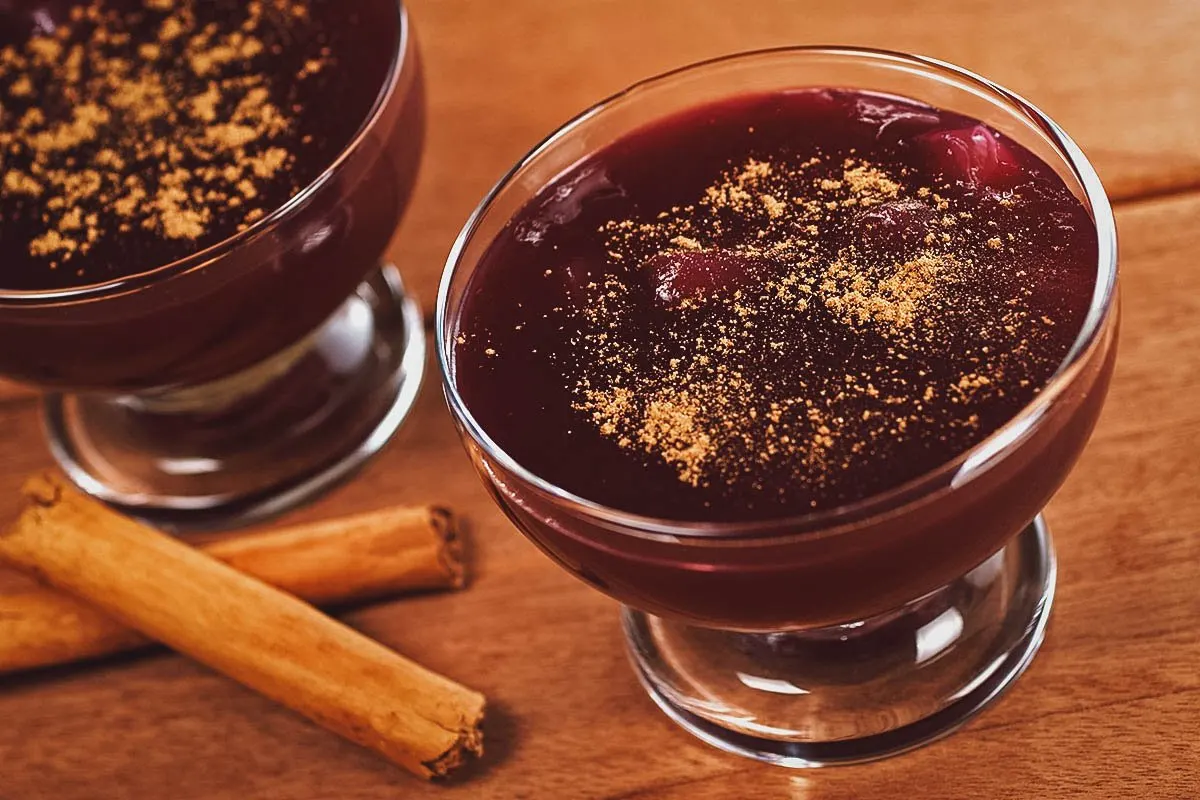 Photo by ildi_papp
2. Picarones
Just as popular as mazamorra morada are picarones. It refers to a type of Peruvian doughnut made with sweet potatoes and squash deep-fried in boiling vegetable oil and drenched in chancaca sauce – a syrup made from raw unrefined sugar. It's one of the most common street food desserts in Peru.
This popular street food snack is said to be derived from buñuelos, a type of Spanish doughnut brought to Peru by the conquistadores. At the time, the ingredients for buñuelos were too expensive so Peruvians substituted them with squash and sweet potato.
Today, picarones is one of the most popular Peruvian desserts. It's commonly eaten for dessert after snacking on anticuchos, another popular Peruvian street food.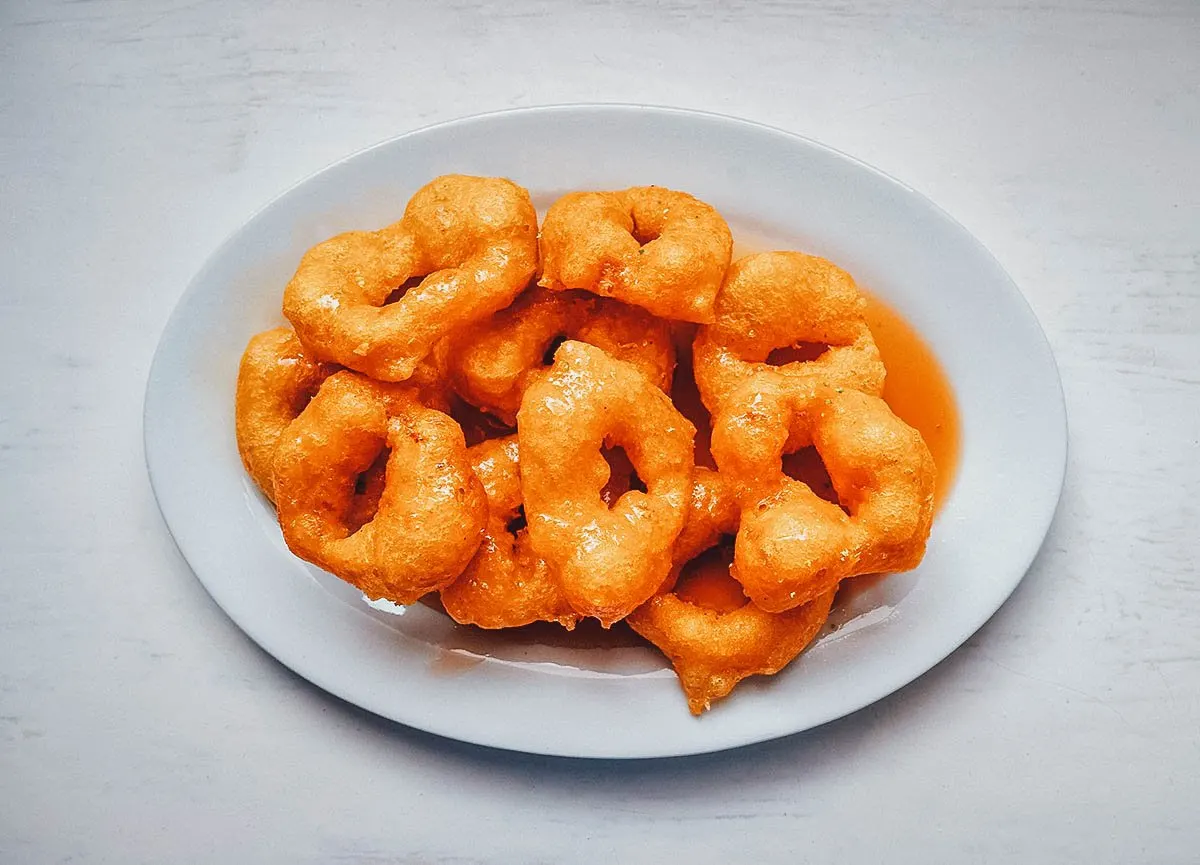 Photo by alexandrelaprise
3. Alfajores
If you're familiar with South American and Spanish desserts, then alfajores need little introduction. Originally from Spain but popular in many former Spanish colonies like Peru, Argentina, Colombia, Uruguay, Paraguay, Venezuela, and the Philippines, it refers to a type of cookie sandwich made with manjar blanco or dulce de leche as its filling.
Depending on where they're from, alfajores can be made in different ways, shapes, and sizes. The Peruvian version is typically about 1-2 inches wide and made with lots of butter and equal parts white flour and corn starch. The two cookies are held together with a generous amount of manjar blanco and then dusted with powdered sugar before serving.
If you've never heard of it, manjar blanco is very similar to dulce de leche – a sweet caramel cream made with thickened milk sweetened with sugar.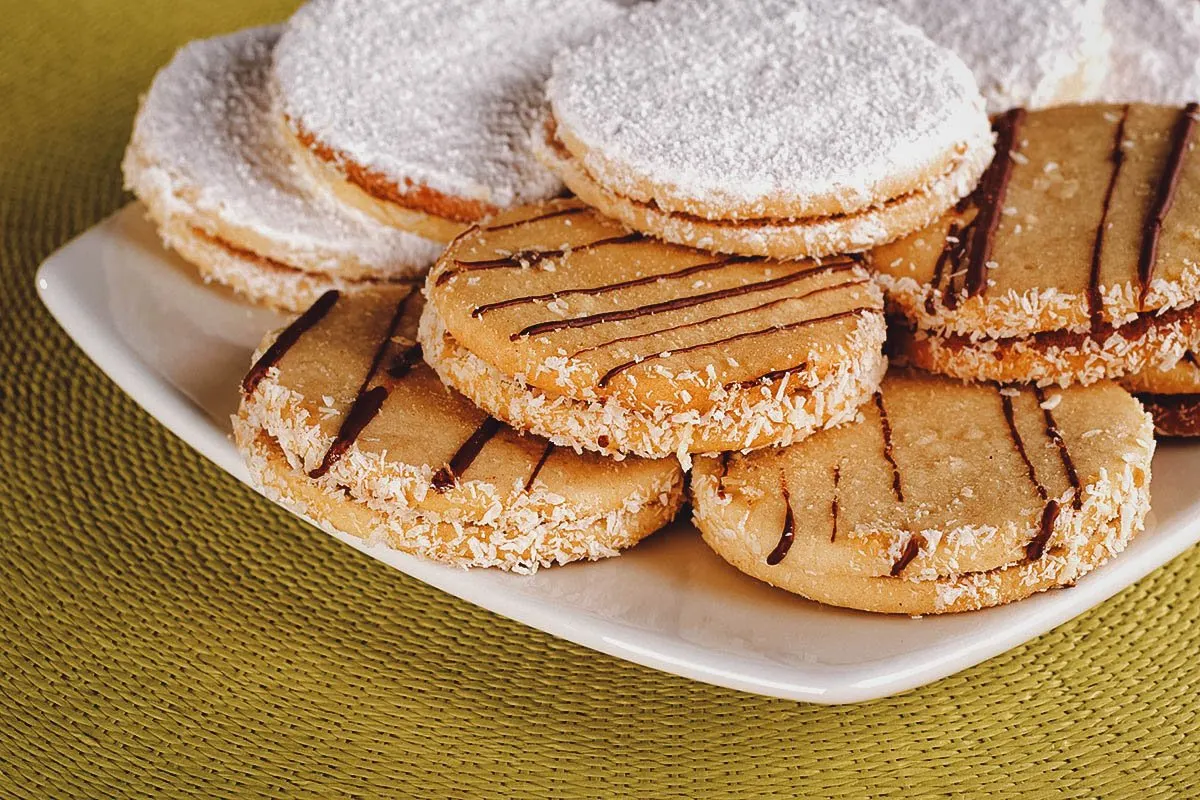 Photo by ildi_papp
4. Lucuma Ice Cream
If you like exotic fruits, then you need to try Peruvian desserts made with lucuma. It refers to an Andean Valley fruit native to Peru, Bolivia, Chile, and Ecuador.
Lucuma has a unique flavor reminiscent of sweet potato, butterscotch, or maple syrup. However, it's a bit mealy and dry in texture when eaten raw, so it's typically used as a flavoring agent in Peruvian desserts and drinks. One of the most popular is helado de lúcuma or lucuma ice cream.
Lucuma ice cream is available everywhere in Peru, but if you can get your hands on some frozen lucuma pulp (usually at Latin grocery stores), then you can try making it yourself. Other ingredients include evaporated milk (or dulce de leche), egg yolks, vanilla extract, whipped cream, and sugar.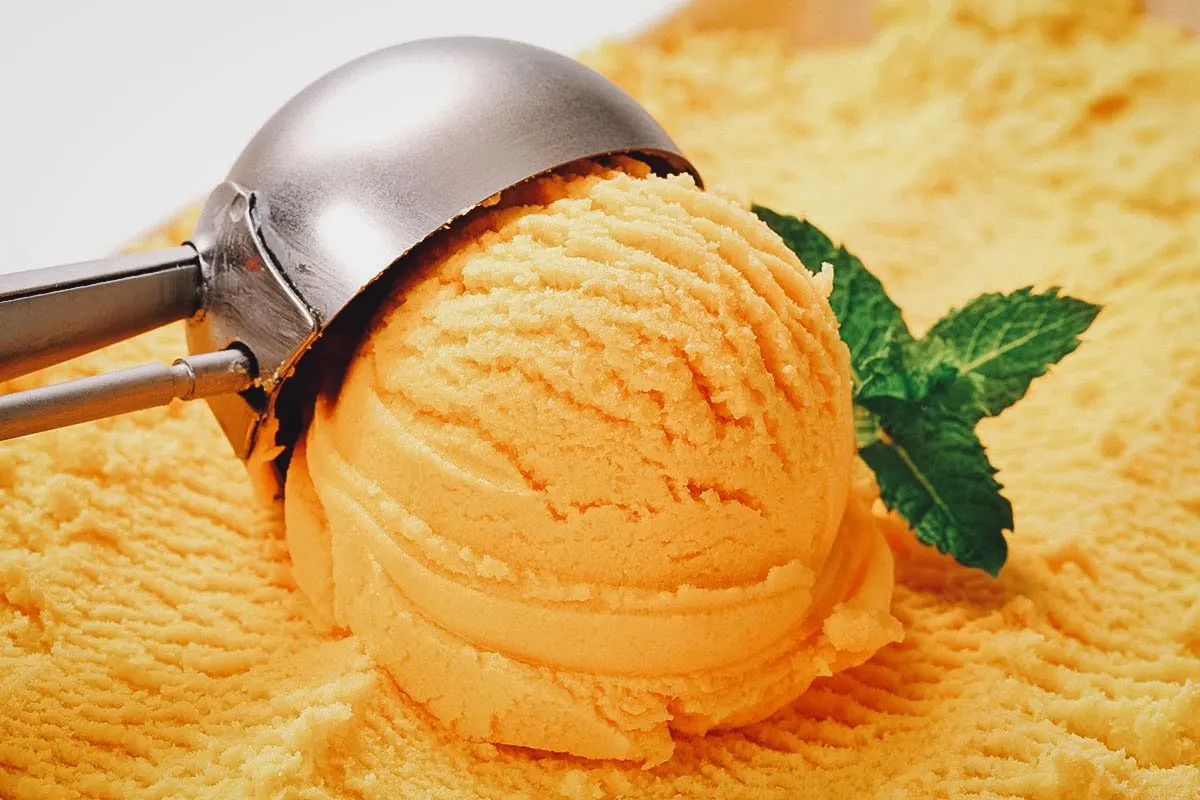 Photo by ajafoto
Ice cream may be the most popular but lucuma is commonly made into milkshakes and juices as well.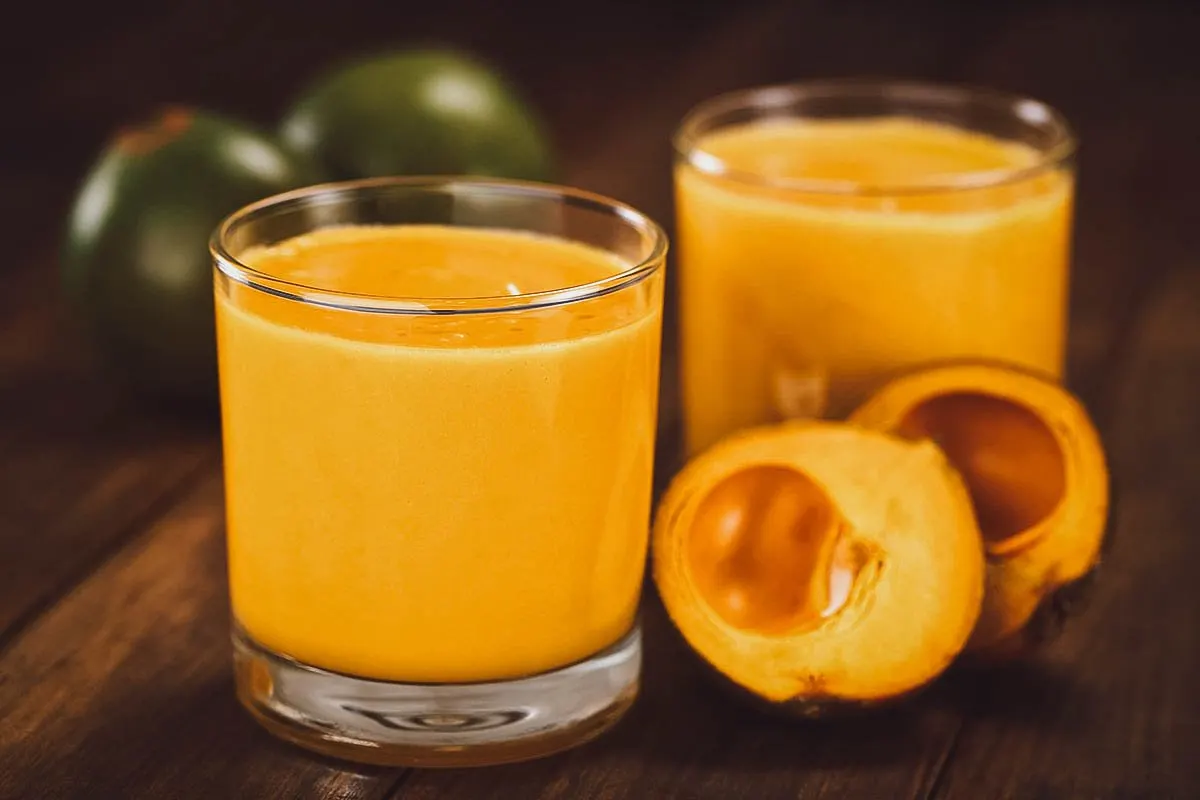 Photo by ildi_papp
Chocolate cake is a popular dessert in Peru. Here's a version made with layers of lucuma.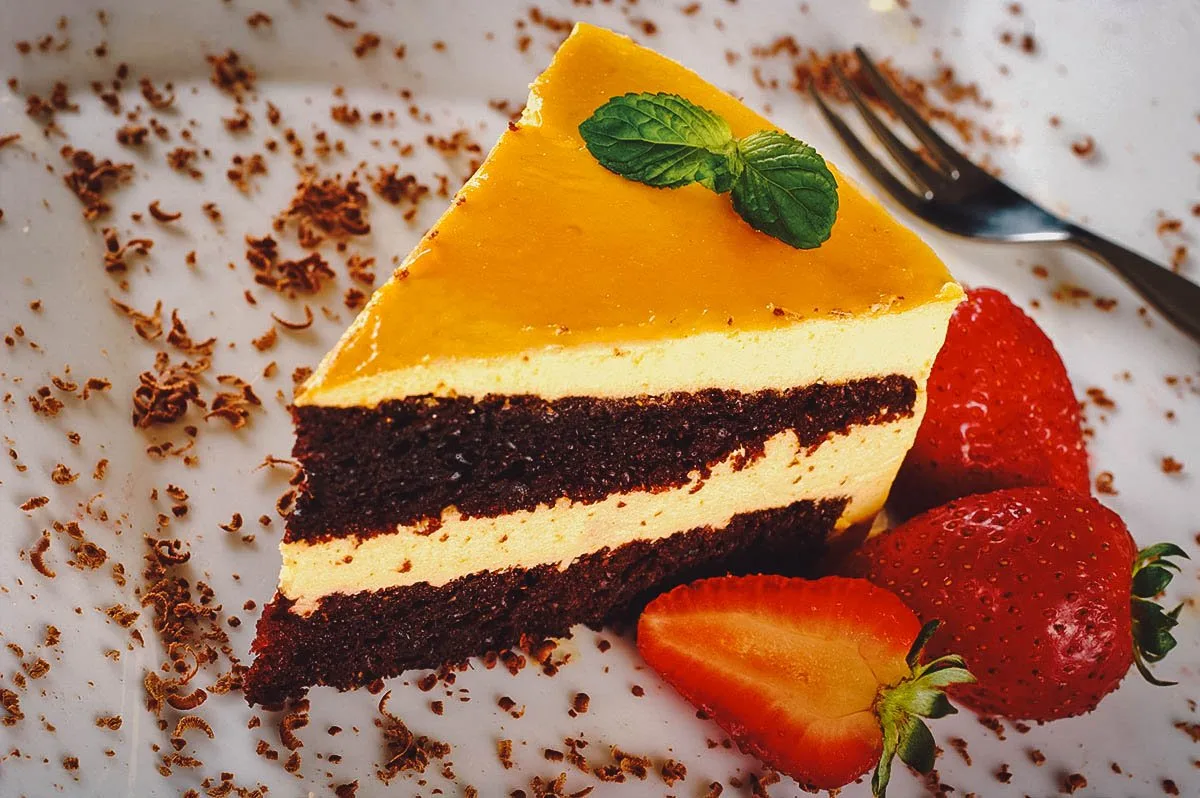 Photo by ildi_papp
This is what lucuma looks like in its natural state. It's one of the most interesting Peruvian fruits and something you need to try in Peru.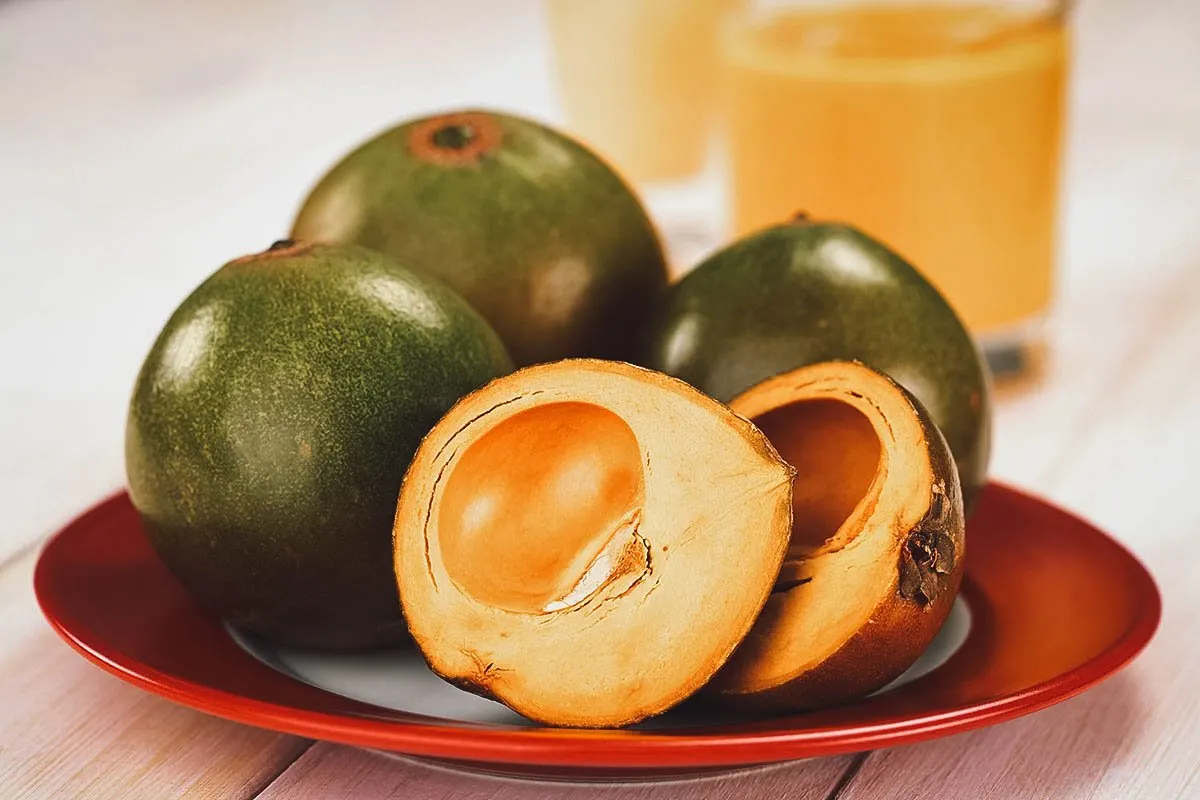 Photo by ildi_papp
5. Torta Helada
Torta helada is as delicious as it is colorful. It refers to a classic Peruvian dessert made with layers of vanilla sponge cake, chantilly whipped cream, and strawberry gelatin. Meaning "iced cake", it's a Peruvian cake typically served cold in summer, hence the name.
Torta helada is a traditional Peruvian dessert commonly served at children's parties. It's typically made with strawberry though it can be made with peach or orange as well, or even a combination of the three.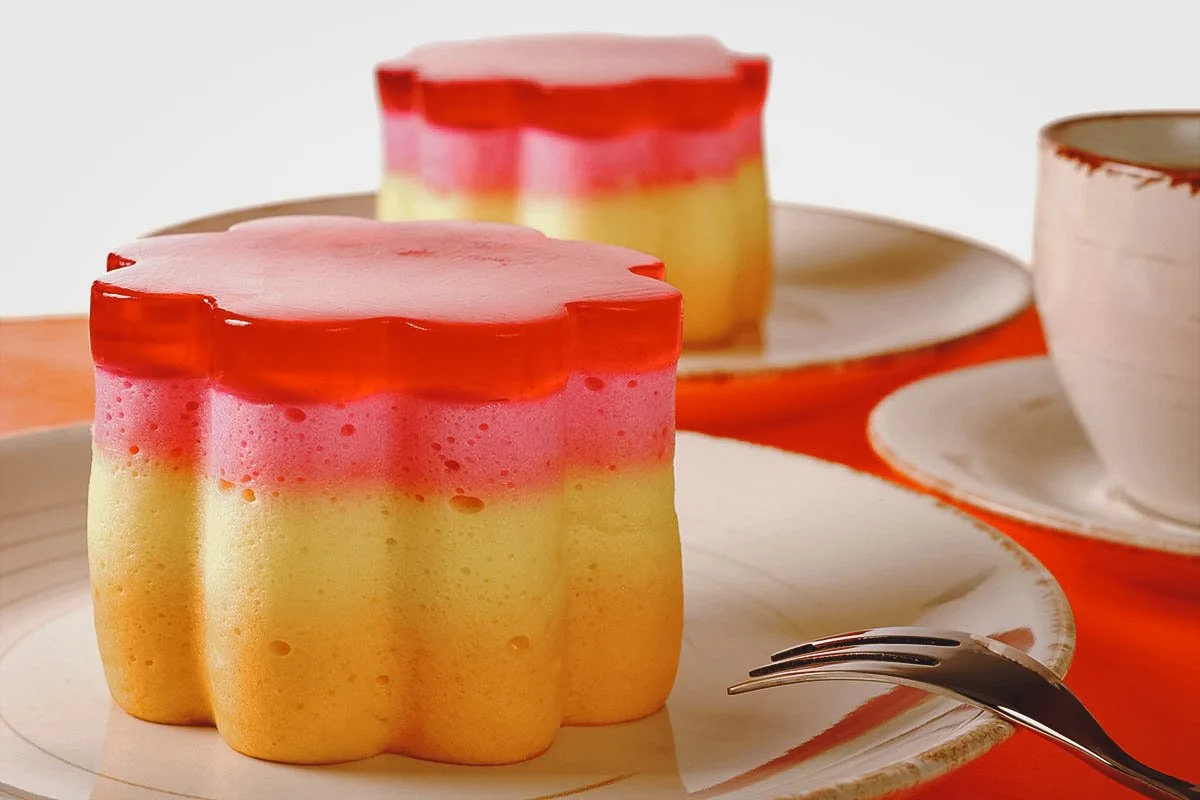 Photo by ildi_papp
6. Cocadas
Cocadas are coconut macaroons. They're common in many countries throughout Latin America like Peru, Brazil, Chile, the Dominican Republic, Mexico, and Panama.
Peruvian cocadas are made with grated coconut, condensed milk, egg whites, vanilla, and sugar. They can be eaten plain or topped with additional ingredients like powdered sugar, cinnamon, chopped nuts, or manjar blanco.
Cocadas are often enjoyed with coffee or hot chocolate in Peru, either as a snack or as an after-dinner dessert.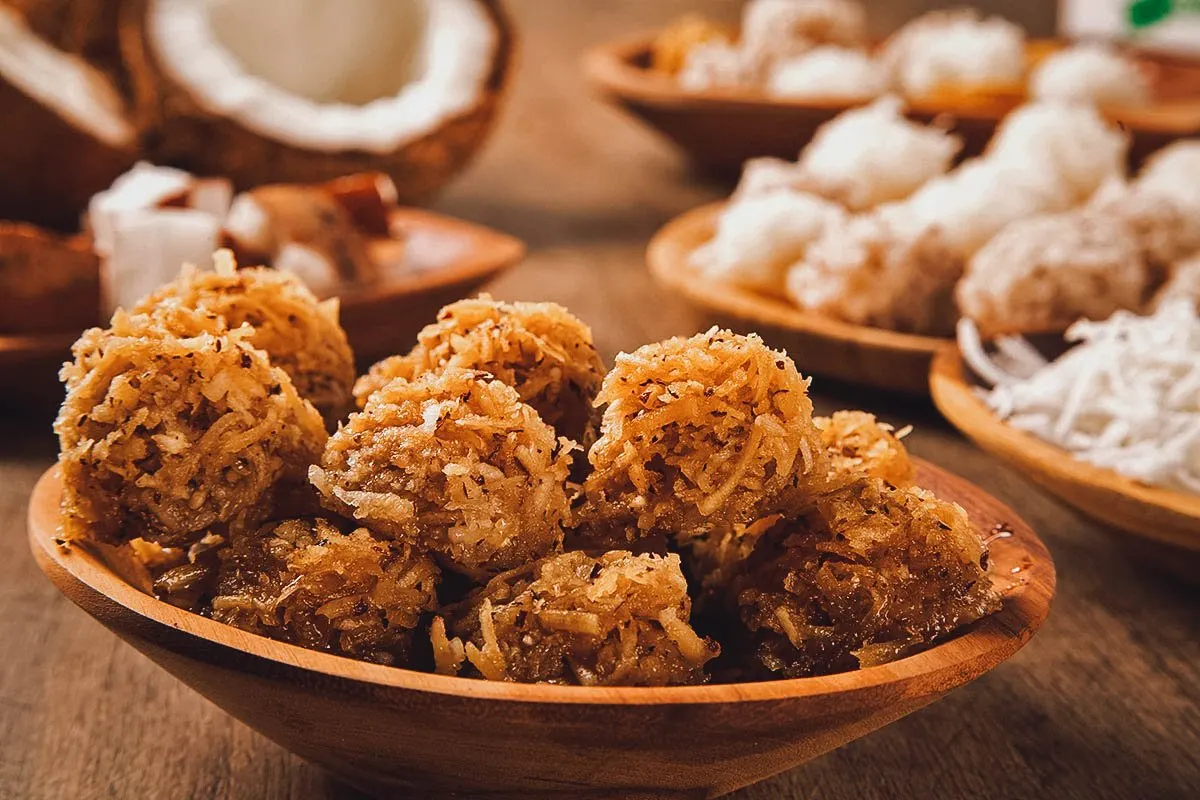 Photo by Paulovilela
7. Arroz Zambito
Arroz con leche is a popular dessert found in many countries throughout the world. It refers to a type of rice pudding dessert made with short-grain rice mixed with evaporated milk, sweetened milk, and other ingredients like raisins, cinnamon, and cloves.
Although arroz con leche is popular in Peru, arroz zambito refers to a specific type of Peruvian rice pudding made with chancaca, the same dark brown sugar used in picarones syrup. The addition of chancaca is what gives arroz zambito its signature brown color.
During colonial times, the term "zambo" was used to refer to people of African descent. Today, zambito is a colloquial term used (mainly in Lima) to describe Peruvian people with darker skin.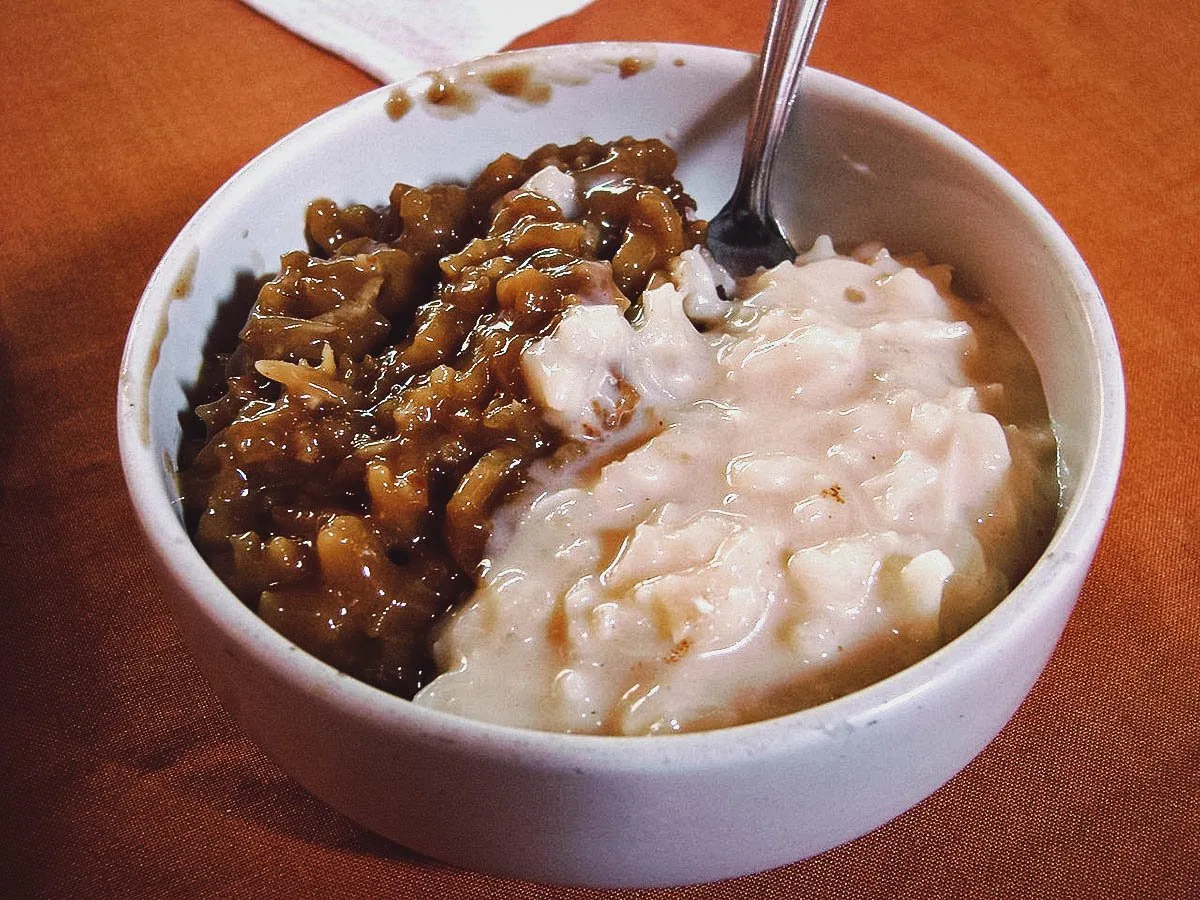 Dtarazona, CC BY-SA 3.0, via Wikimedia Commons
8. Crema Volteada
Crema volteada is the Peruvian version of crème caramel. It's a rich and luscious dessert made with just a few ingredients – eggs, evaporated milk, sweetened condensed milk, vanilla extract, and lemon zest.
Crema volteada literally means "upside down cream" and is in reference to how the dessert is made. Baked in a baño maria or bain marie bath, this traditional Peruvian dessert is prepared in a ring mold which is flipped over after cooling to serve the caramel custard. Drowned in a rich caramel sauce, it can be eaten as is or topped with fresh berries.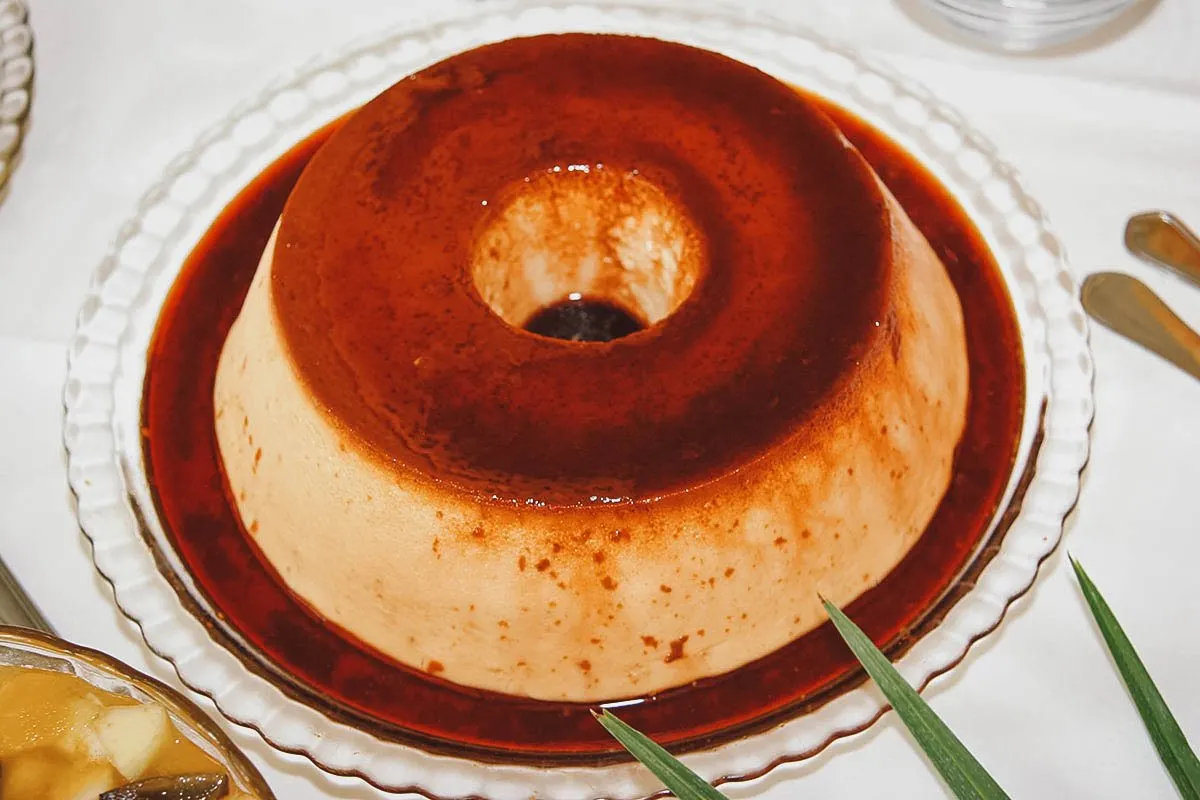 Photo by fnalphotos
9. Suspiro de Limeña
Suspiro de Limeña (or Suspiro a la Limeña) is as interesting as it is delicious. A traditional dessert from Lima, its name roughly translates to "sigh of the lady from Lima" and is in reference to its lightness, like a woman's sigh.
Suspiro de Limeña was invented in the 19th century by Amparo Ayarza, wife of the Peruvian poet José Gálvez Barrenechea. It's a light but extremely sweet dessert consisting of manjar blanco (dulce de leche) and egg yolks topped with a fluffy meringue made from egg whites and port wine syrup.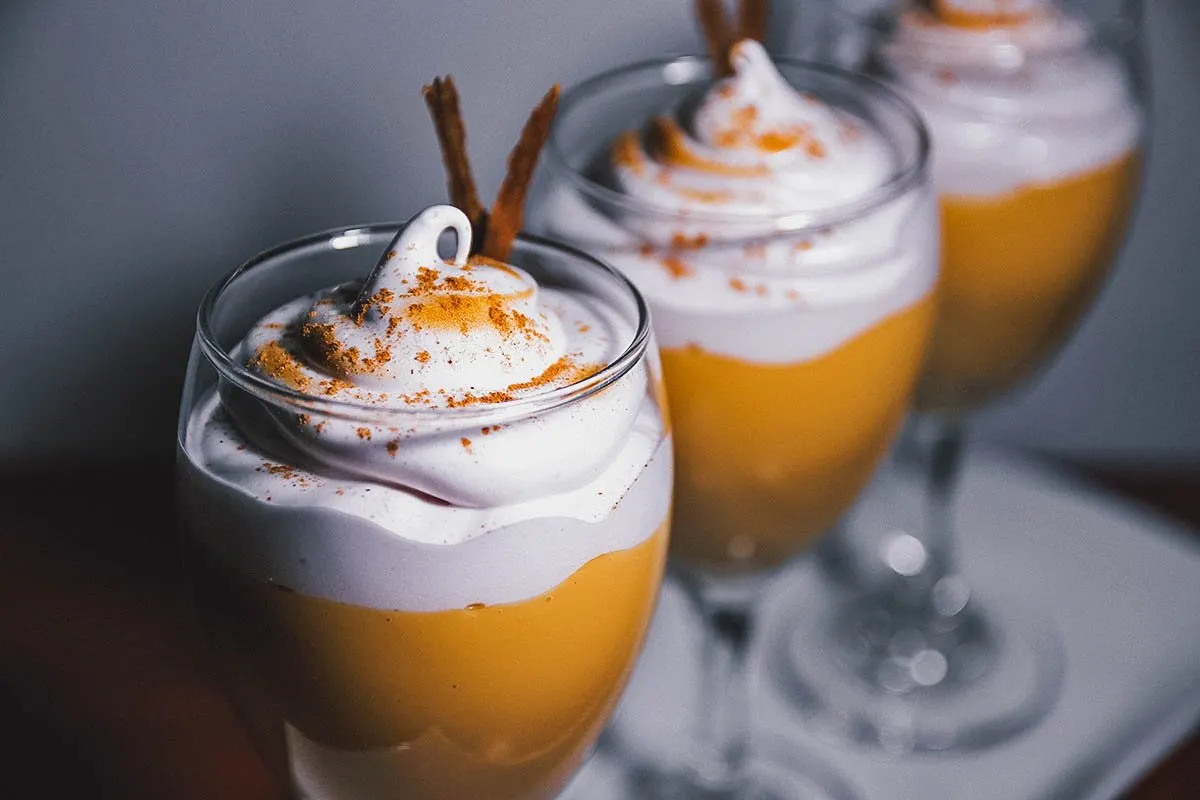 Photo by Gerar16
10. Frejol Colado
Frejol colado is an interesting Peruvian dessert with African influences. It's a type of sweetened black bean dessert made with skinned and puréed black beans cooked with sugar, milk, cloves, anise seeds, and toasted sesame seeds. It's traditionally made for Easter though it can be enjoyed at any time of the year.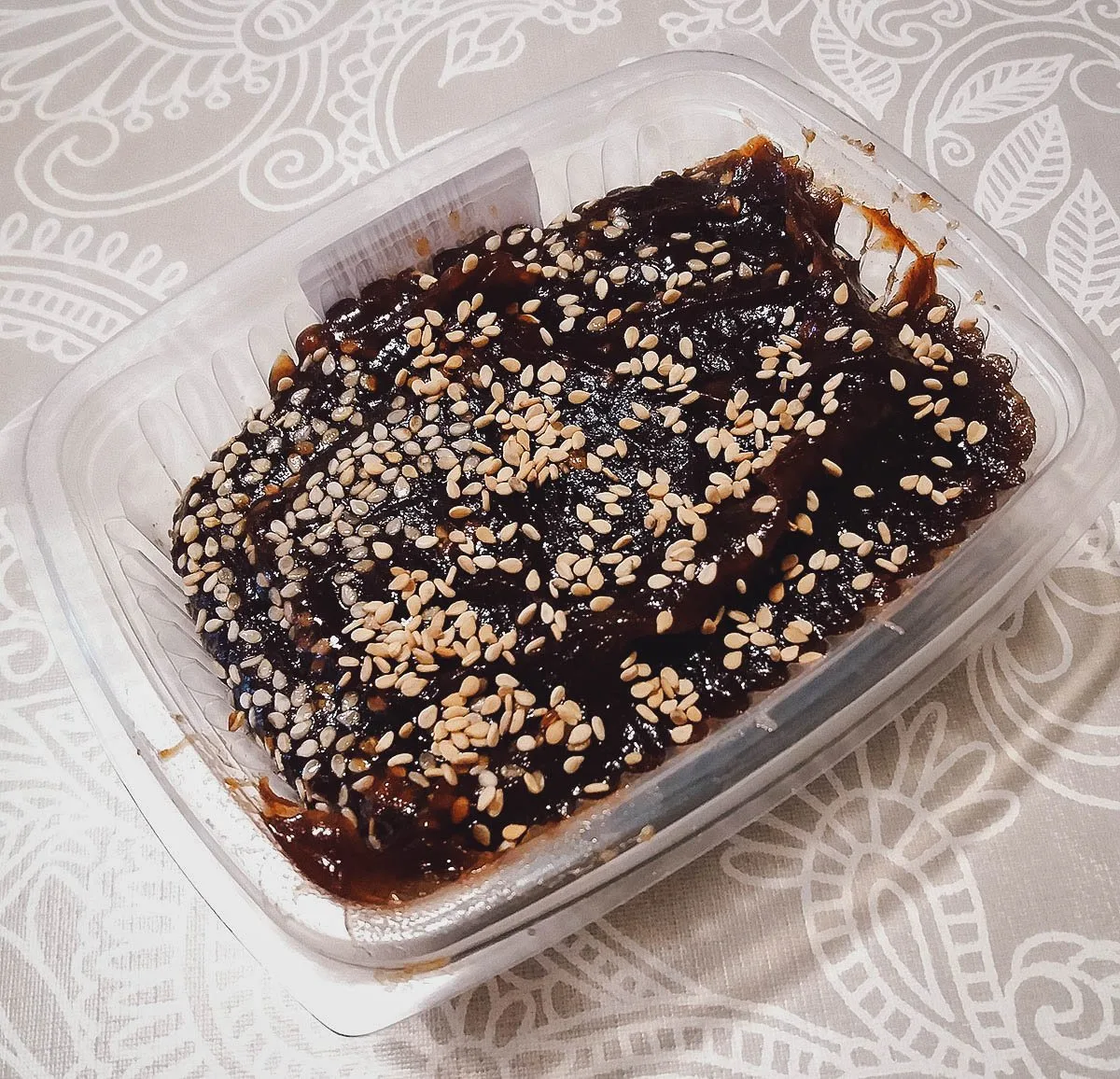 MiguelAlanCS, CC BY-SA 4.0, via Wikimedia Commons
11. Turron de Doña Pepa
When it comes to colorful Peruvian desserts, nothing beats turron de doña pepa. It refers to a unique Peruvian dessert made with crumbly bars of anise-flavored nougat soaked in chancaca (dark brown sugar syrup) and topped with candy sprinkles. It can be prepared at any time of the year though it's traditionally associated with El Mes Morado, or the Purple Month.
Every October, a series of religious processions is held in Lima to commemorate El Señor de los Milagros (The Lord of Miracles) – an image of Jesus Christ painted in the 17th century. Even after much of Lima was destroyed in earthquakes in the 17th and 18th centuries, the mural was left standing, leading to this annual procession that remains one of the oldest Catholic traditions in Peru. Purple is the color of the Nazarenas nuns in Lima, hence the name El Mes Morado.
Decorated with colorful candies, this visually striking dessert tastes just as colorful as it looks. It's flavored with anise seeds and chancaca and a host of other flavorings like lime juice, orange zest, vanilla, cloves, cinnamon, and allspice.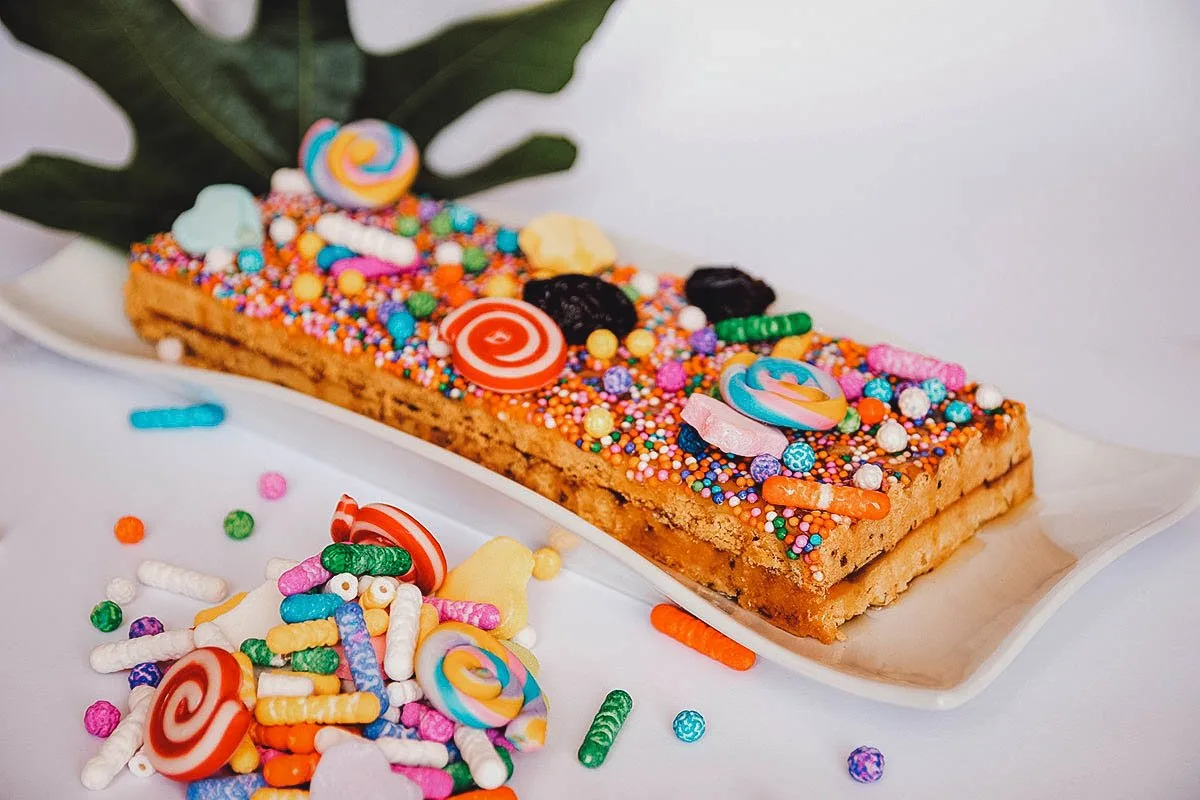 Photo by Gerar16
12. Tres Leches
If you're familiar with Latin American desserts, then tres leches cake needs little introduction. Meaning "three milks" in Spanish, it refers to a popular sponge cake soaked in three types of milk – evaporated milk, sweetened condensed milk, and heavy cream. It's often topped with whipped cream or meringue and dusted with cinnamon.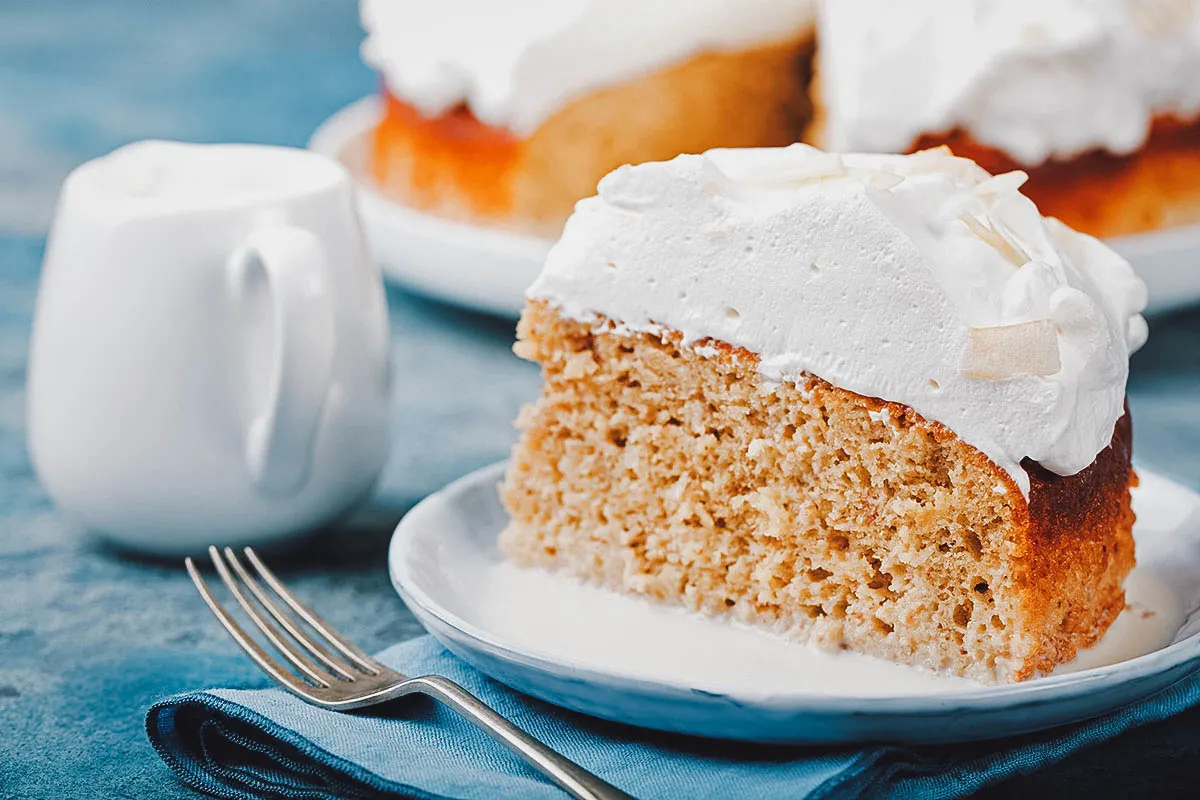 Photo by anna.pustynnikova
13. Pionono
Pionono refers to a popular Peruvian sponge cake roll. It's typically filled with manjar blanco though it can be made with other fillings like dulce de leche, pastry cream, jelly, chantilly cream, or chocolate cream. It's a soft and delicious dessert that's best paired with a cup of Peruvian coffee or hot chocolate.
If you're familiar with desserts from southern Spain, then you may recognize pionono. The Spanish original is a much smaller rolled pastry that originated in Santa Fe, a small town just west of Granada.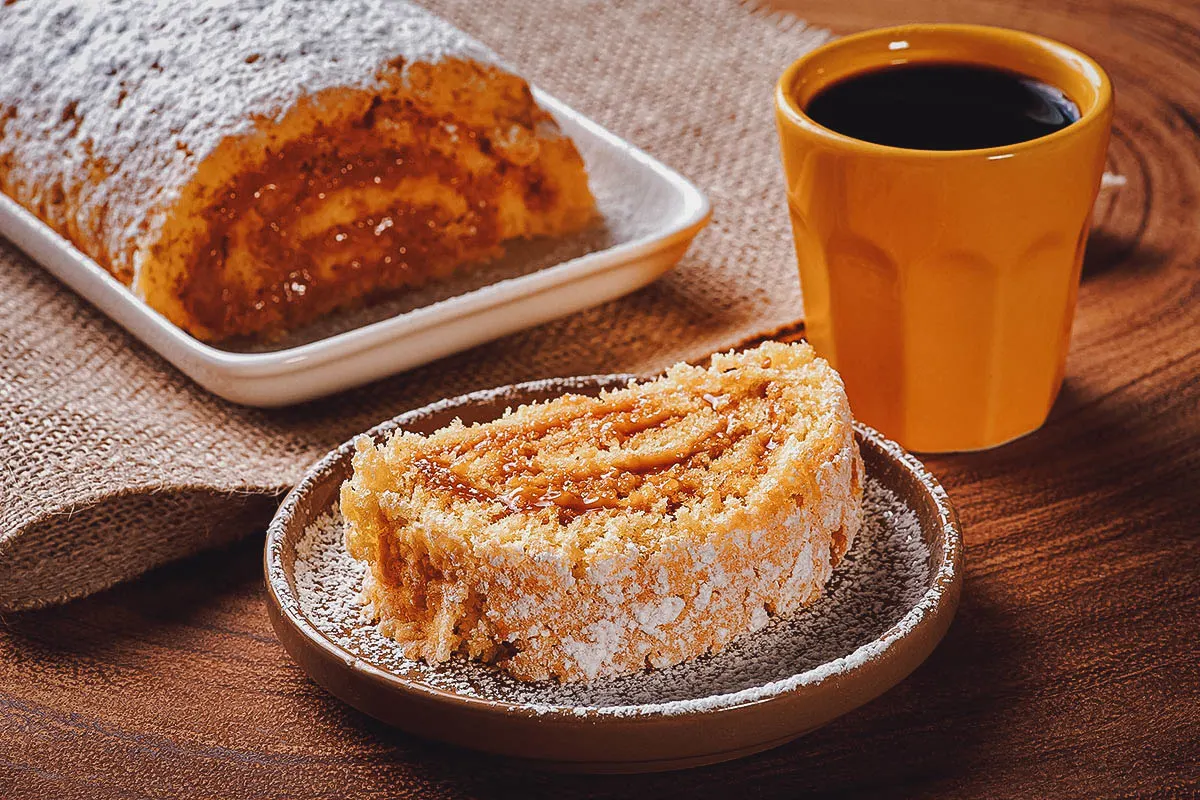 Photo by flanovais
14. Pie de Limon
Pie de limon is what Peruvians call lemon meringue pie. But unlike your typical lemon meringue pie, it's made with local limes for a uniquely Peruvian twist.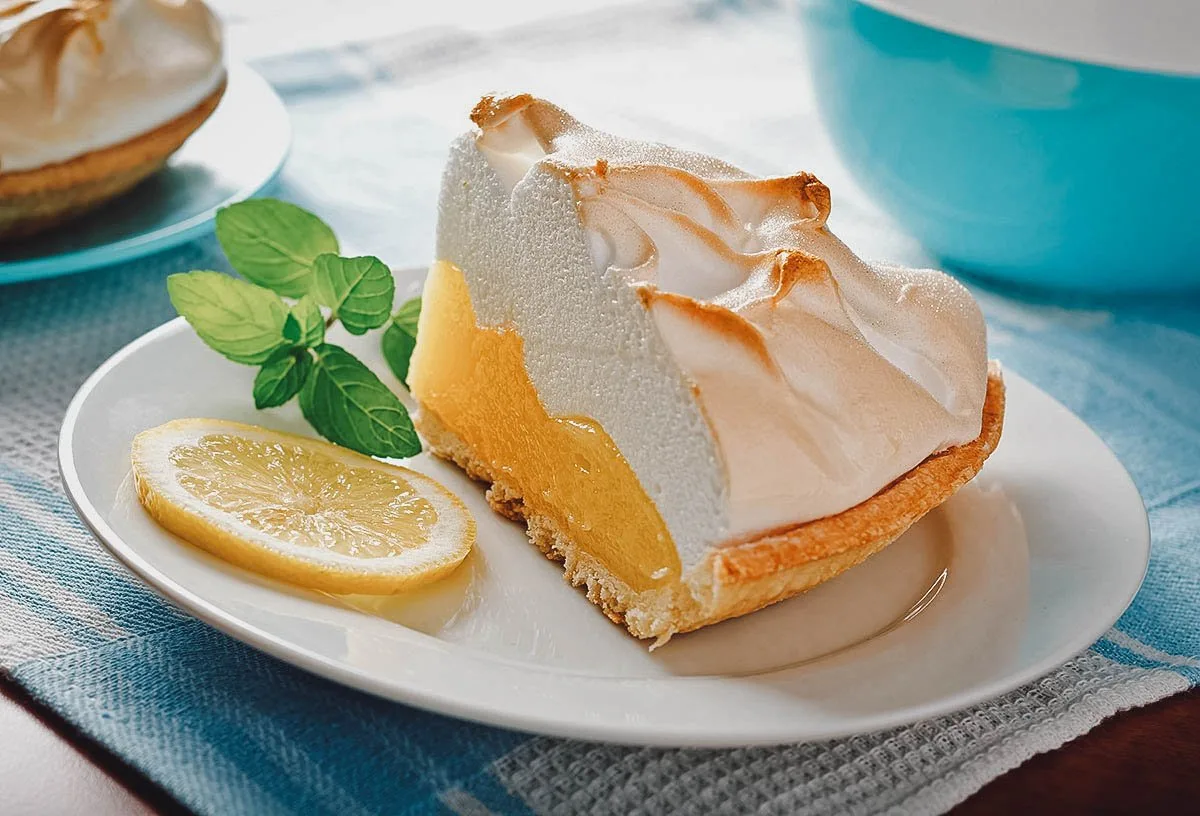 Photo by fudio
15. Torta de Chocolate
As you can probably guess from its name, torta de chocolate refers to Peruvian chocolate cake. It isn't the most unique or exotic Peruvian dessert on this list, but it's delicious and one of the most popular desserts in Peru.
When done right, Peruvian torta de chocolate is perfectly moist, fluffy, and chocolatey. It's topped with a rich chocolate frosting and sometimes with fresh Peruvian fruits like aguaymanto (Peruvian groundcherries).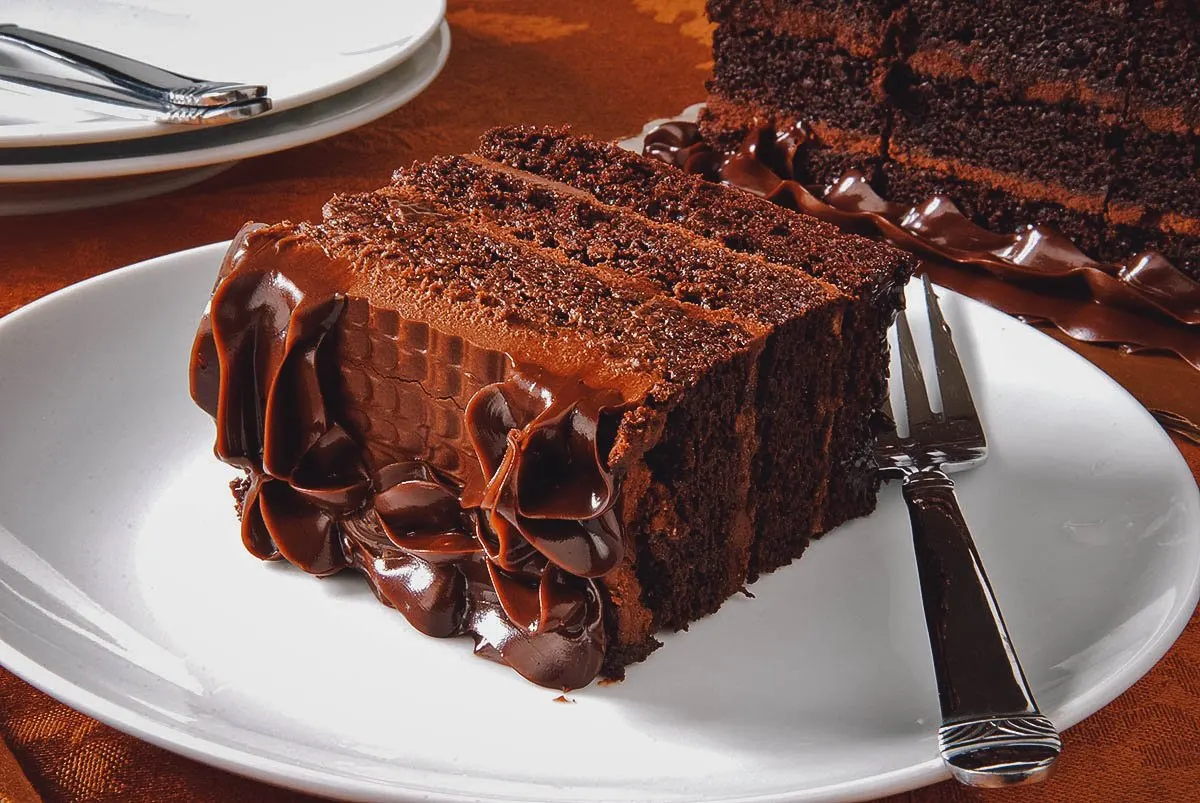 Photo by MSPhotographic
PERUVIAN FOOD TOURS
Simply put, no one knows Peruvian desserts better than a local, so what better way to experience the cuisine than by going on a food tour? Not only will a local guide take you to the city's best Peruvian markets, restaurants, and food stalls, but they'll be able to explain all the dishes to you in more detail. Check out Get Your Guide for a list of food tours in Lima, Cusco, and other destinations throughout Peru.
PERUVIAN COOKING CLASSES
Going on a food tour will lead you to the city's best local restaurants and markets, but if you want to really learn about Peruvian cuisine, then you may be interested in taking a cooking class. Check out Cookly for a list of cooking classes in Lima and Cusco.
FINAL THOUGHTS ON PERUVIAN DESSERTS
When discussing trademark dishes in Peruvian cuisine, savory foods like ceviche and pollo a la brasa dominate the conversation. But as this list shows, authentic Peruvian desserts like mazamorra morada and suspiro de limeña should be part of the discussion.
With so much going for it like Machu Picchu, the Inca Trail, and Rainbow Mountain, there are many compelling reasons to visit Peru, not the least of which is Peruvian cuisine and its delicious traditional desserts.
Disclosure
Some of the links in this article on Peruvian desserts are affiliate links, meaning we'll earn a small commission if we make a sale at no additional expense to you. As always, we only recommend products and services that we use ourselves and firmly believe in. We really appreciate your support as this helps us make more of these free travel guides. Thank you!
Featured image by ildi_papp. Stock images via Depositphotos.