Two things struck me about the Albert Adria episode of Chef's Table on Netflix.
One, he seemed to be the true creative force behind El Bulli and not his more celebrated brother Ferran. And two, he went to a restaurant where he had this most unusual-looking dish of sow udder served in an upturned ceramic pig. Pig udder is memorable enough, but the unconventional manner in which it was presented seared an indelible image into my brain. We had to have it.
We were celebrating Ren's 50th birthday in Barcelona so I did some research and found the restaurant responsible for this intriguing dish – Dos Pebrots.
Save This on Pinterest!
No time to read this now? Click on the red save button and pin it for later!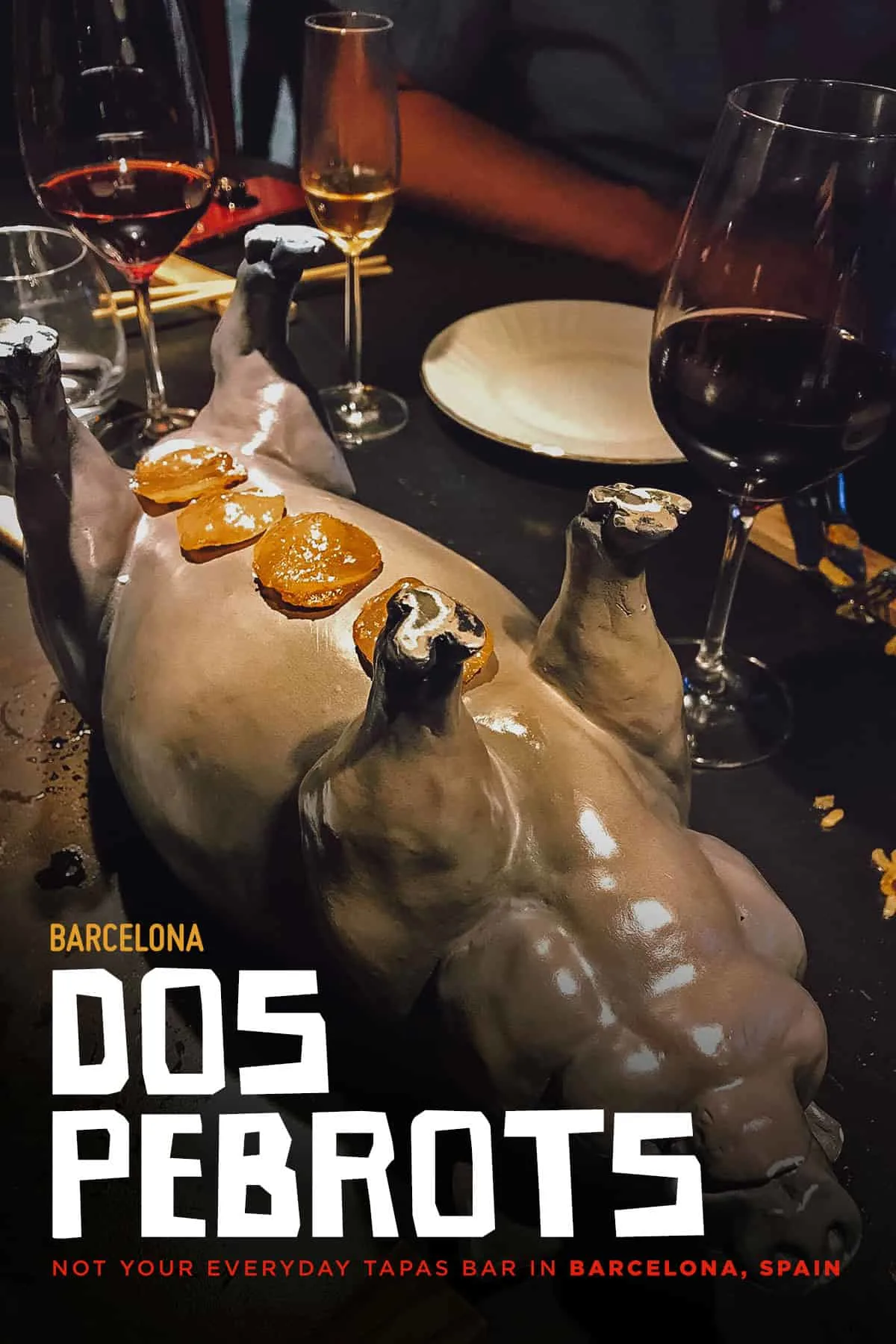 WHAT IS DOS PEBROTS?
Dos Pebrots is the second restaurant of Chef Albert Raurich, former head chef at Ferran and Albert Adria's mythical El Bulli. Located in Barcelona's Raval neighborhood, the restaurant offers an interesting menu of tapas inspired by historic Mediterranean dishes. Go to their website and you'll find a timeline of dishes and ingredients dating back to the paleolithic and neolithic periods.
Chef Raurich studied the origins, recipes, and cooking techniques of historic dishes from Mediterranean regions like ancient Rome, Greece, Persia, and medieval Catalonia to come up with his own modern interpretations. The history of every reimagined dish is briefly described on their menu, which reads less like a restaurant menu and more like a culinary anthropologist's field notes.
I'm not sure of its significance, but the name dos pebrots means "two peppers".
Try not to let Ren's stylish ways distract you from the fact that there are penis- and boobie-shaped fishes on Dos Pebrots' front door.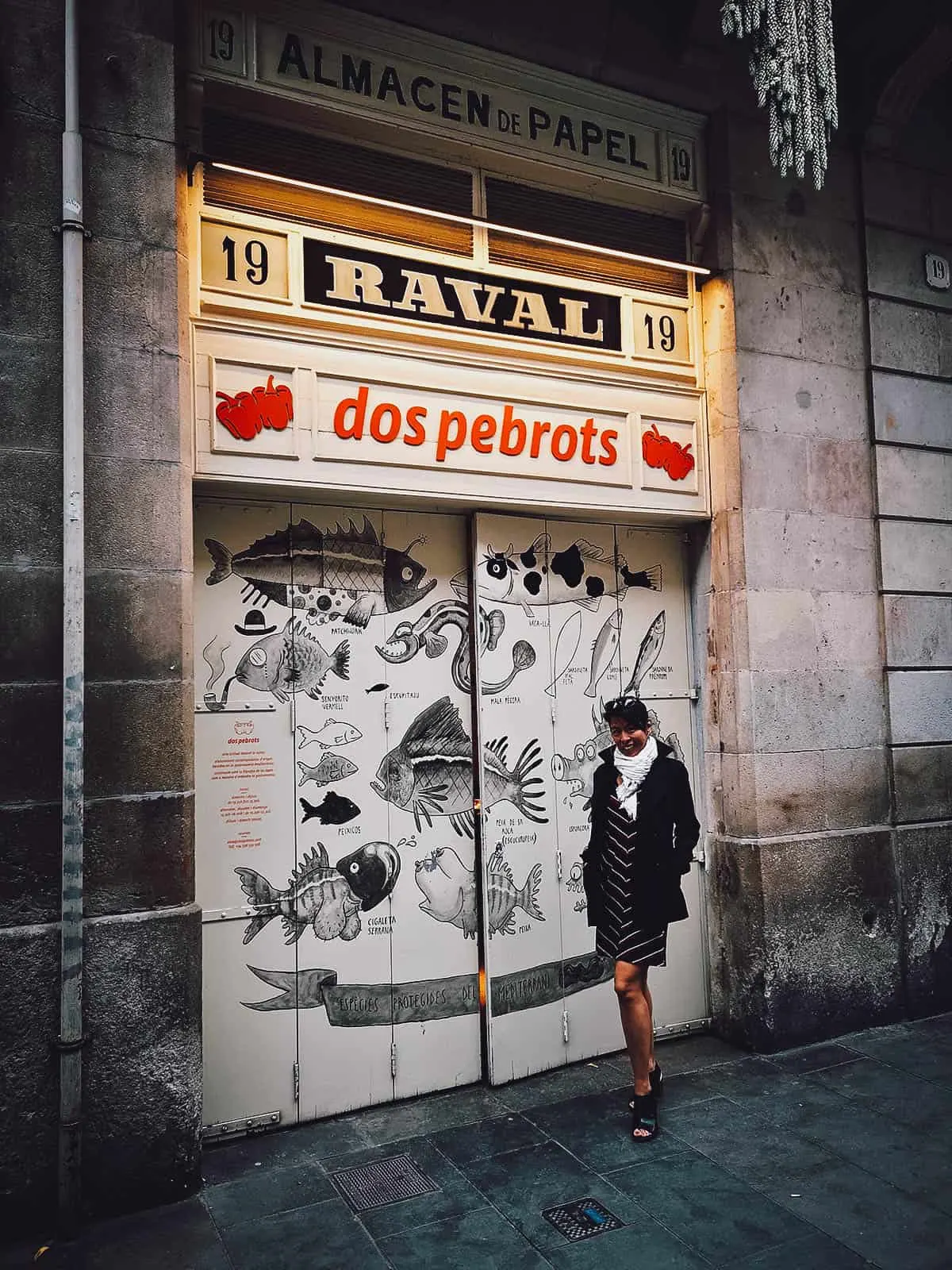 Dos Pebrots has a modern but warm interior, characterized by a neutral palette with the only splash of color coming from its red napkins.

The restaurant offers both table and bar seating. We were the first to arrive so we had the option of sitting at the bar, to have a better view of the chefs at work.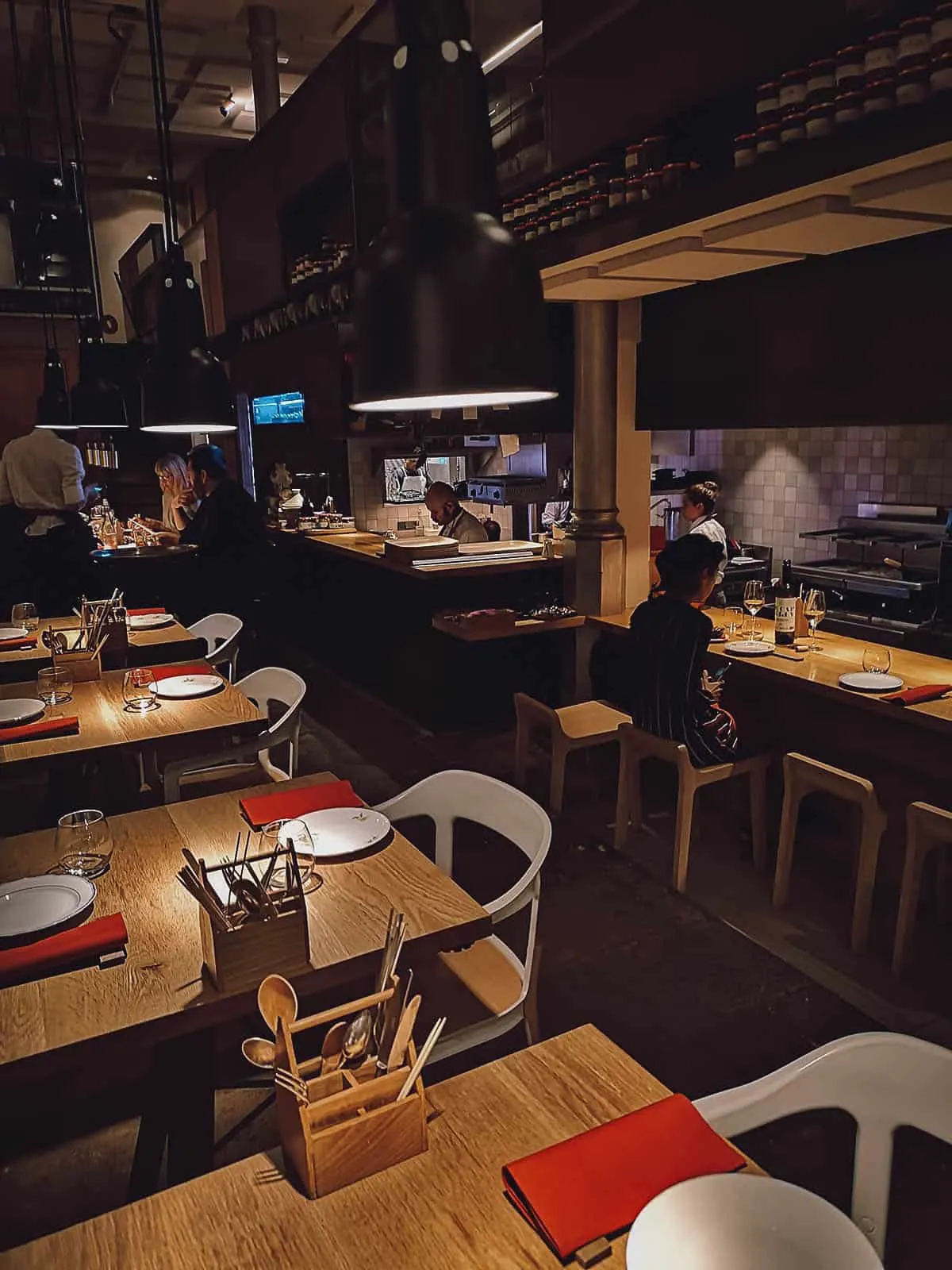 WHO IS ALBERT RAURICH?
Born in Barcelona, Chef Albert Raurich received his degree from the Barcelona School of Hotel Management and Catering. He joined El Bulli's team in 1997 and worked there for ten years, serving as Chef de Cuisine from 2000-2007.
In 2008, he opened his first restaurant Dos Palillos which offers Spanish-Asian fusion cuisine inspired by dishes from Japan, China, Thailand, and Vietnam. Dos Palillos earned its first Michelin star in 2012.
Shifting his focus to Mediterranean fare, Chef Raurich would open Dos Pebrots four years later in August 2016.
THE WEIRDER, THE BETTER
Dos Pebrots offers ala carte and three types of tasting menus – 1 pepper (4-5 dishes), 1.5 pepper (7-8 dishes), and 2 pepper (12-13 dishes). We wanted the full range of dishes so we both opted for the two pepper. I'm not sure how much the smaller tasting menus are, but the 2 pepper goes for EUR 70 per person.
On their website, you'll find a list of every dish offered in each tasting menu, though I believe this varies from day to day. It's up to the chefs so we told them "the weirder, the better." We're Asian after all. Every dish on their tasting menus is selected from the ala carte menu, with ala carte prices ranging between 6 and 34 euros.
We ordered a bottle of white wine to enjoy with our meal. Note the caddy of utensils on the bar. It holds a variety of different utensils from forks to chopsticks to tweezers to wooden spoons. You're free to use whichever you like.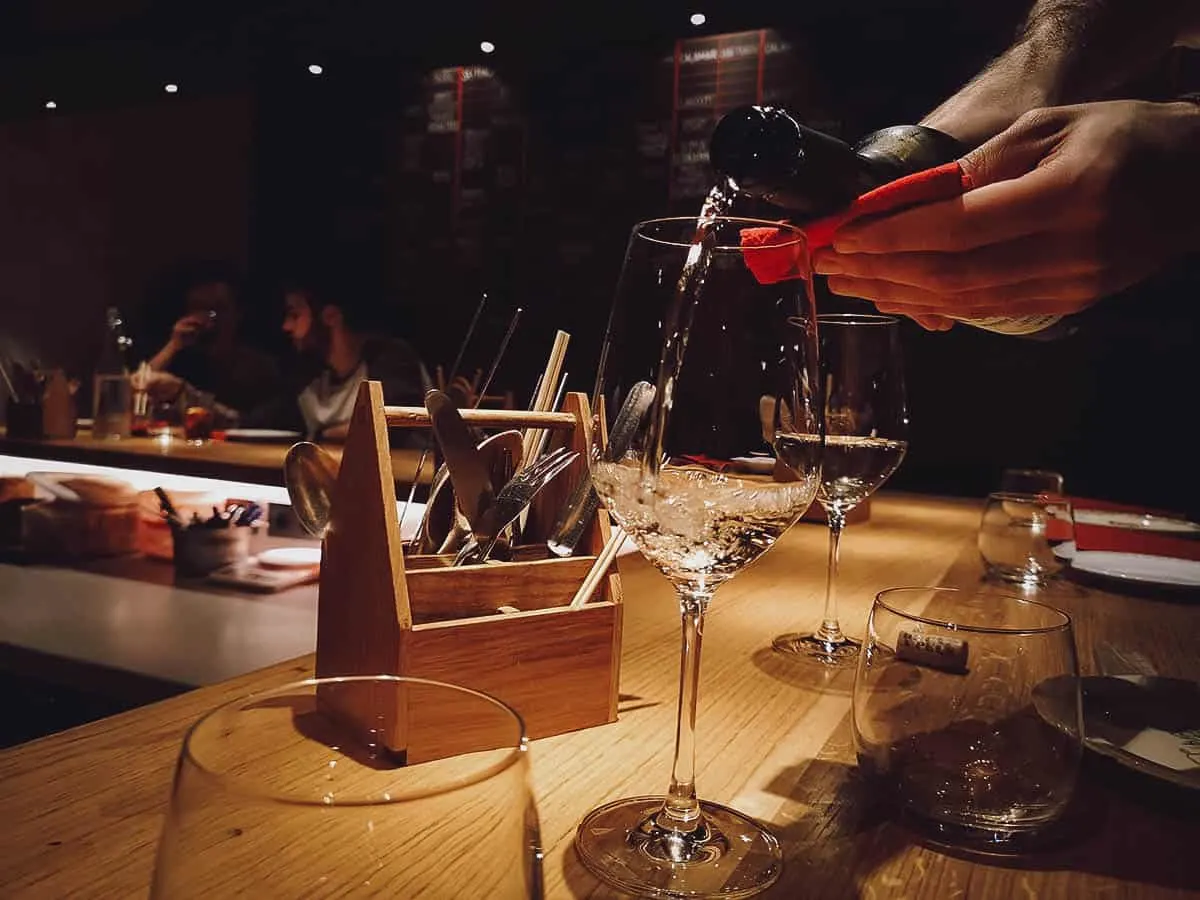 A starter of green olives. I didn't know this until a driver in Athens told us, but Spain is the largest producer of olives in the world, followed by Italy then Greece.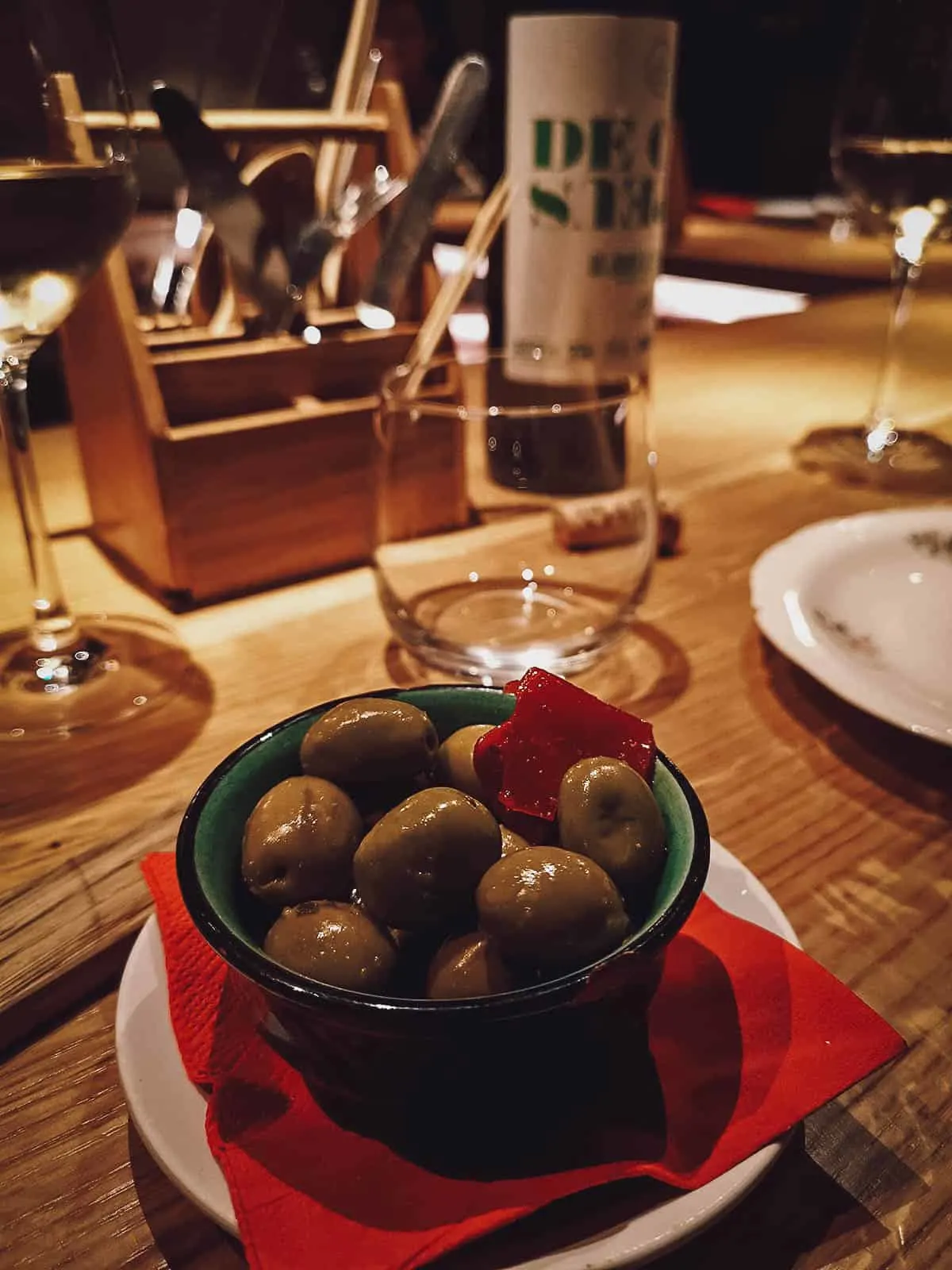 FIRST COURSE: Our first dish was this fruit bowl filled with ice, herbs, and different types of liqueur-infused fruit. Called xarab, they saturate the fruit with liqueur using vacuum bag osmosis, giving it a strong, slightly bitter flavor. According to the menu, it's a 10th century dish from Al-Andalus or Muslim Spain.
I looked up the meaning of xarab and it appears to be the root for the word "syrup". The word may be Azerbaijani in origin and refers to a cocktail of fruits, spices, flowers, and herbs.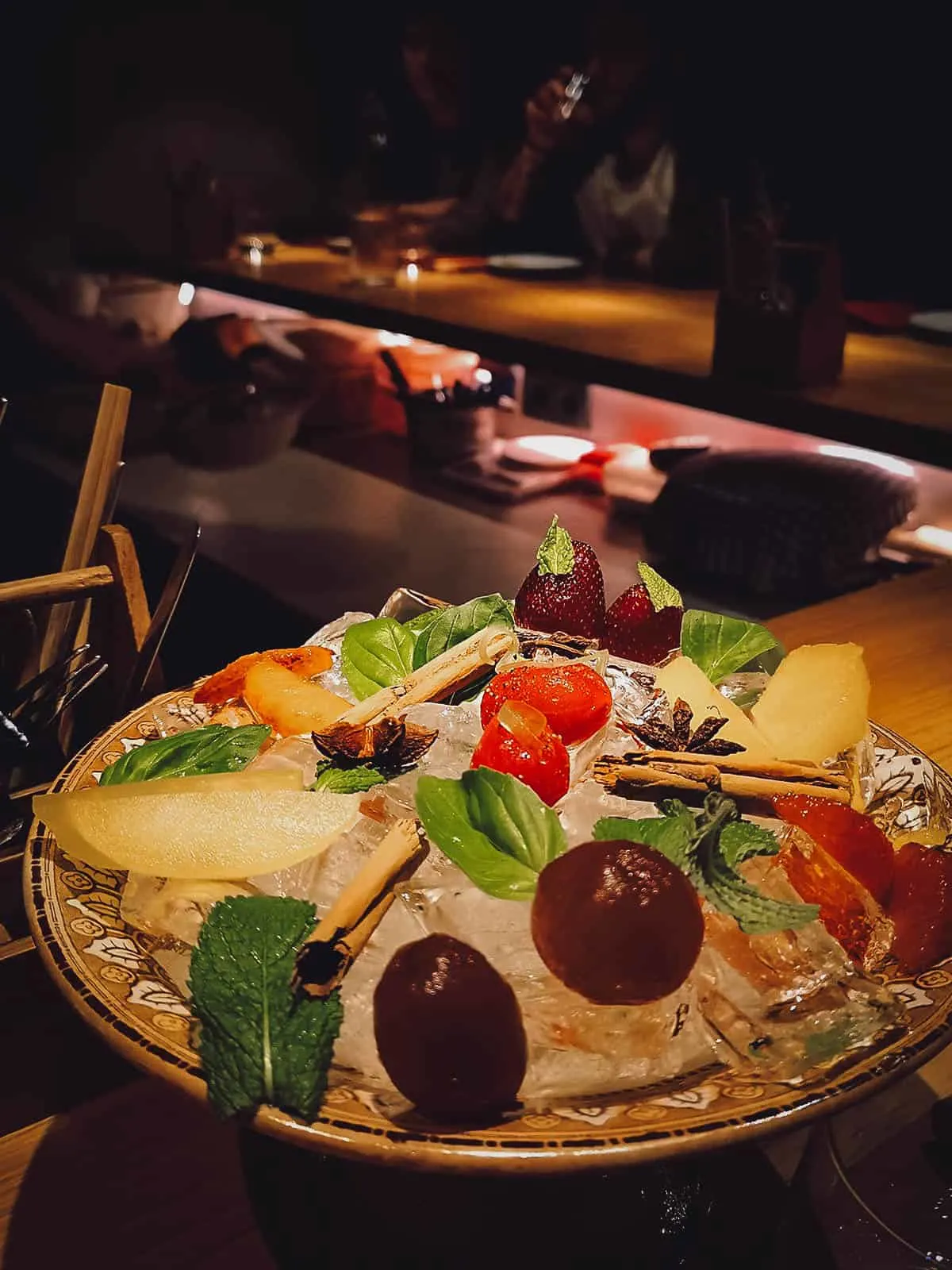 SECOND COURSE: Following the xarab was this bowl of grilled mollusks containing clams, mussels, sea snails, and gooseneck barnacles. According to their culinary timeline, homo sapiens have been harvesting and grilling mollusks since 150000 BC.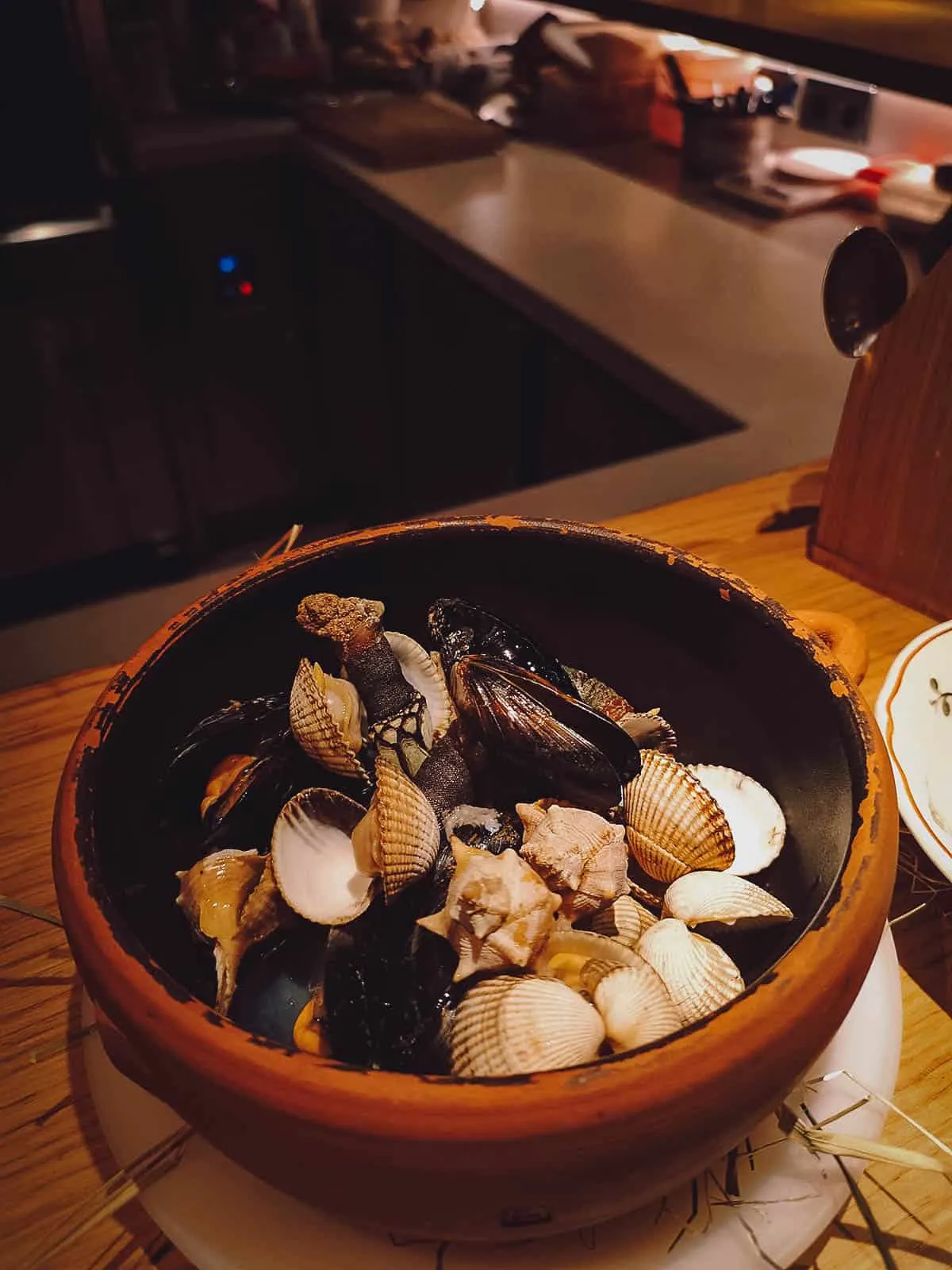 This bowl gave us our first taste of percebes or gooseneck barnacles, more colorfully known as "Lucifer's Fingers". Can you see it in the bowl?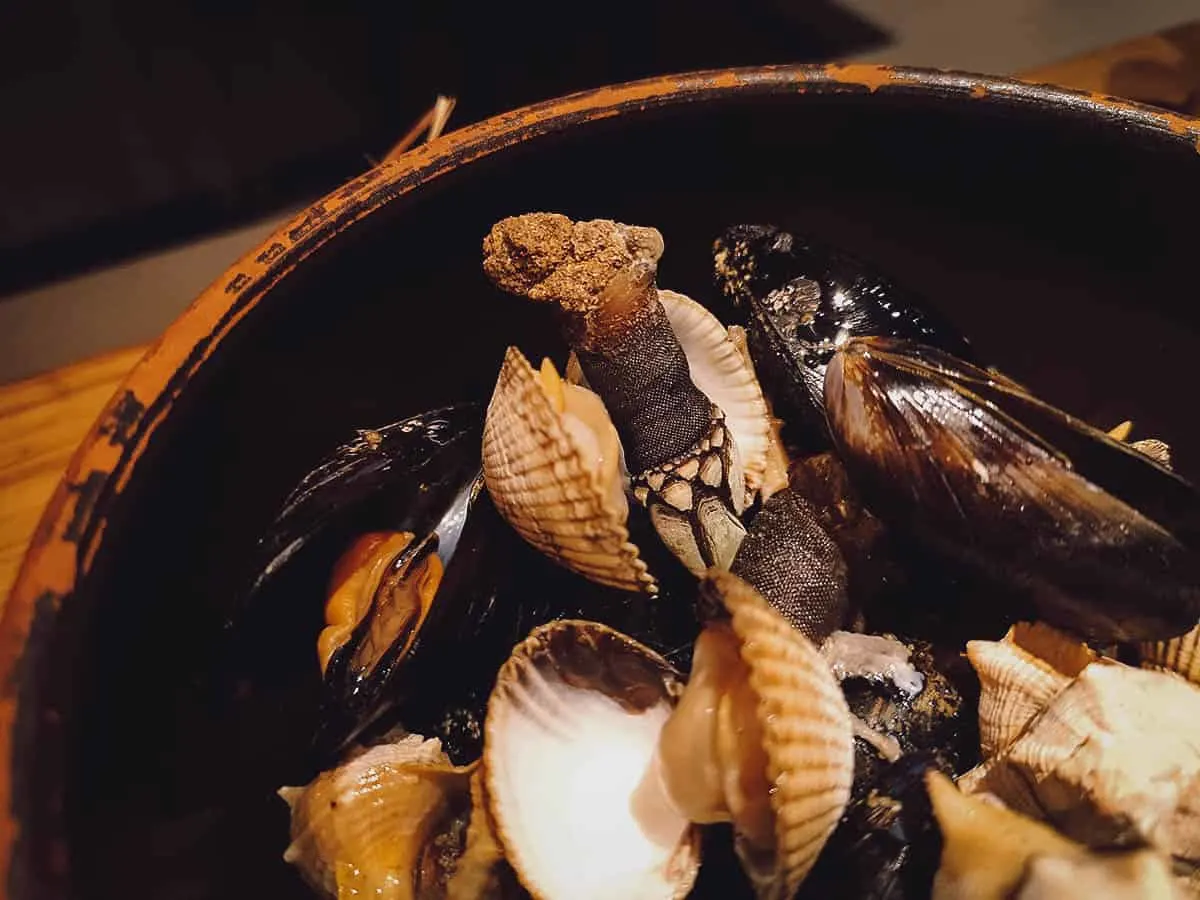 Percebes gets its nickname not just from its odd, somewhat claw-like appearance, but also from the inherent dangers in harvesting them. Gooseneck barnacles thrive on sharp rocks in the ocean's intertidal zone where crashing waves feed them with plankton. This makes them impossible to farm, forcing divers to risk life and limb to harvest them.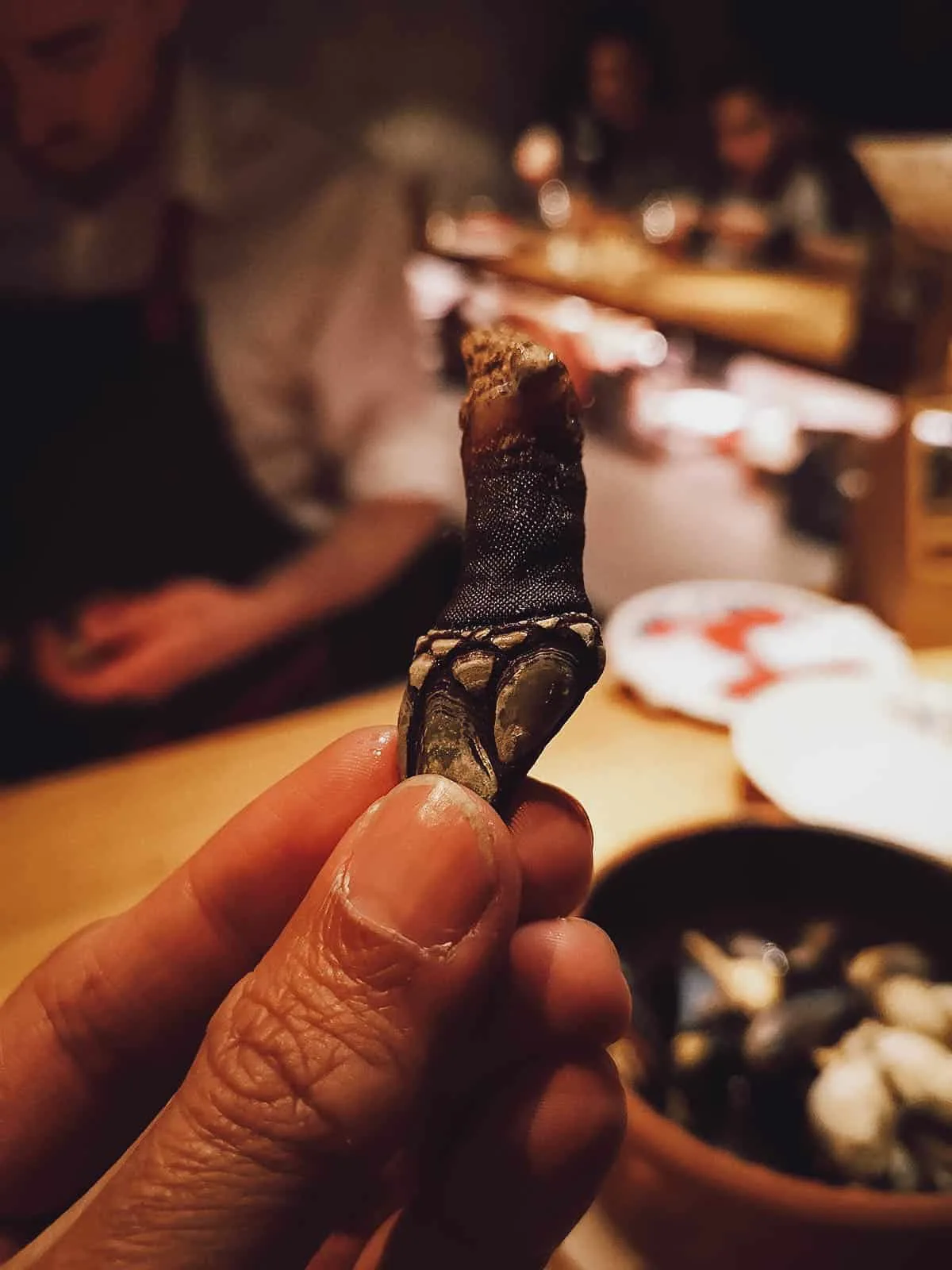 You split open the top and push from the bottom to get the fleshy meat out in one piece. Boiled in seawater, they're briny and taste similar to sea snails, except they're firmer in texture.
The difficulty in harvesting percebes makes them a bit pricey, but they're worth it. We had them a few times on this trip, in Santiago de Compostela and in Lisbon.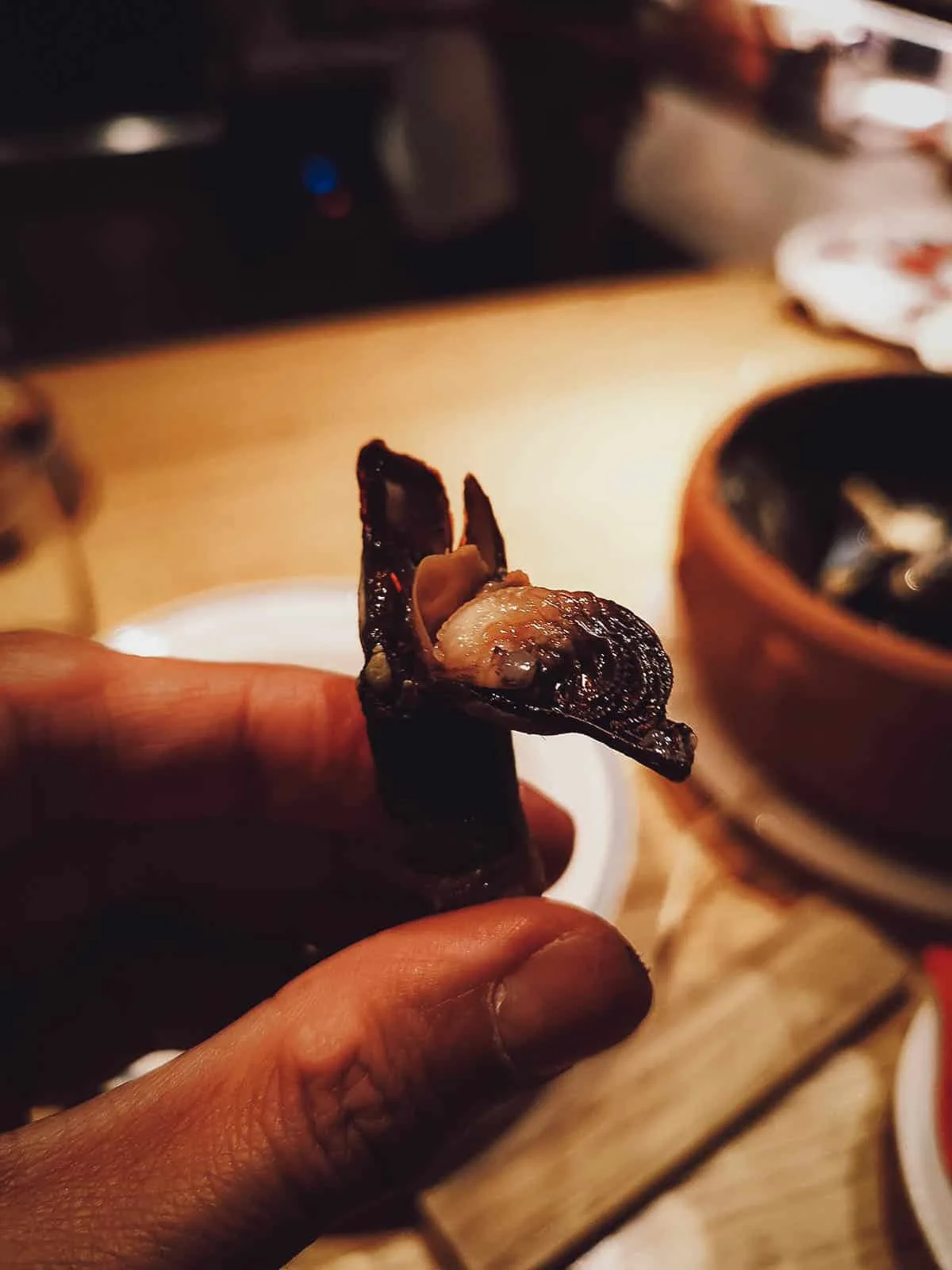 THIRD COURSE: The next dish was this octopus in a "green sauce" made with garlic, parsley, and fish stock. The octopus was sliced thinly like Galician-style octopus and perfectly cooked.
This dish is apparently from an old recipe that appeared in a cookbook called "Libre del Coch". Written in Catalan, it was published in Barcelona in 1520.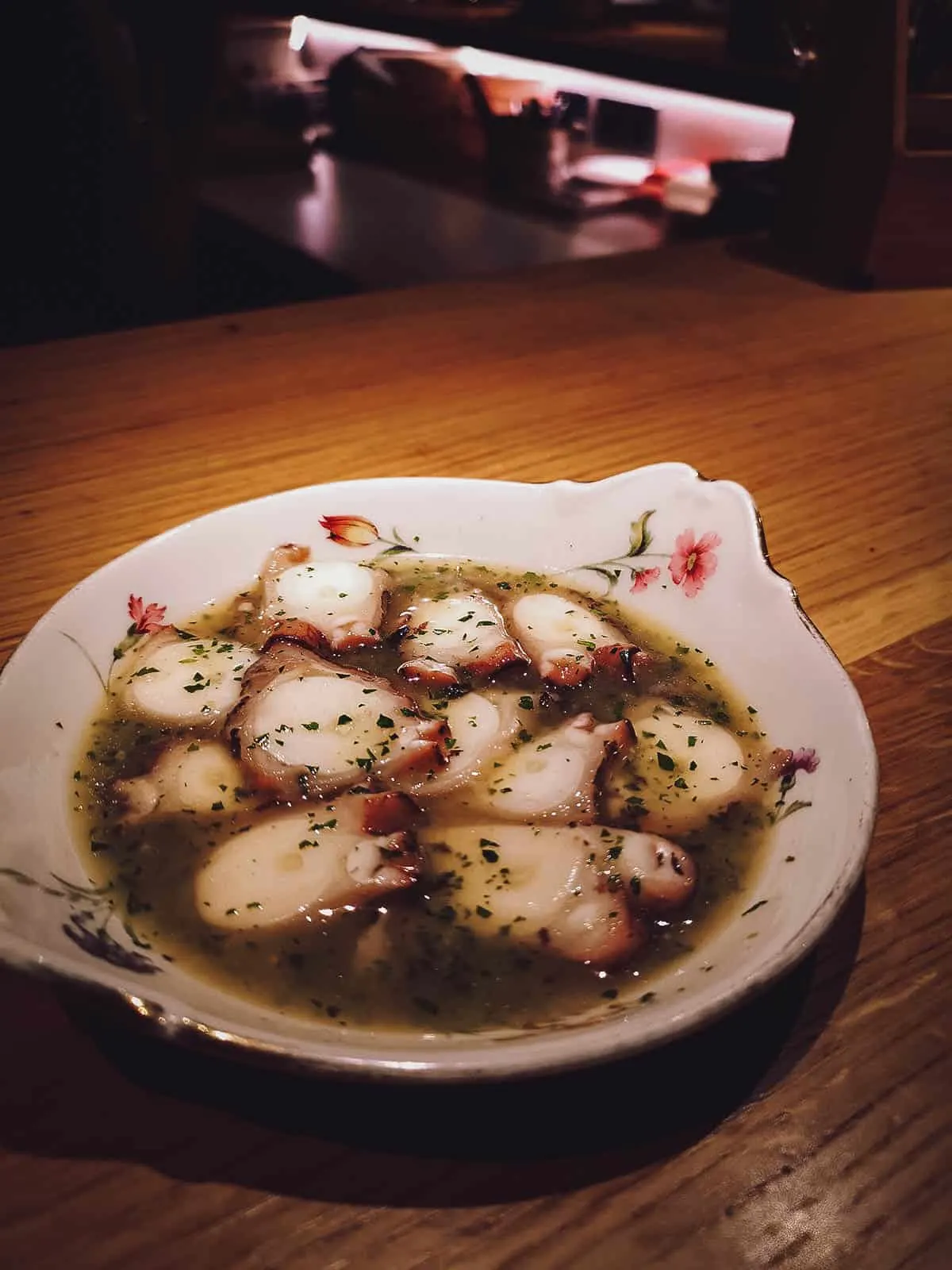 FOURTH COURSE: This was one of our favorite dishes. Called white asparagus to "koxkera", it's made with asparagus, egg, pea, and fish stock. What makes it so interesting is that they chop white asparagus into even-sized portions then cook them for different lengths of time – 5 mins, 8 mins, 10 mins, etc – resulting in different textures and flavors. Some were firmer and slightly bitter while other pieces were softer and sweeter. Such a simple idea but brilliant in its results!
According to the menu's notes, this dish was first conceived in 1917 and could be considered as the first example of "green sauce".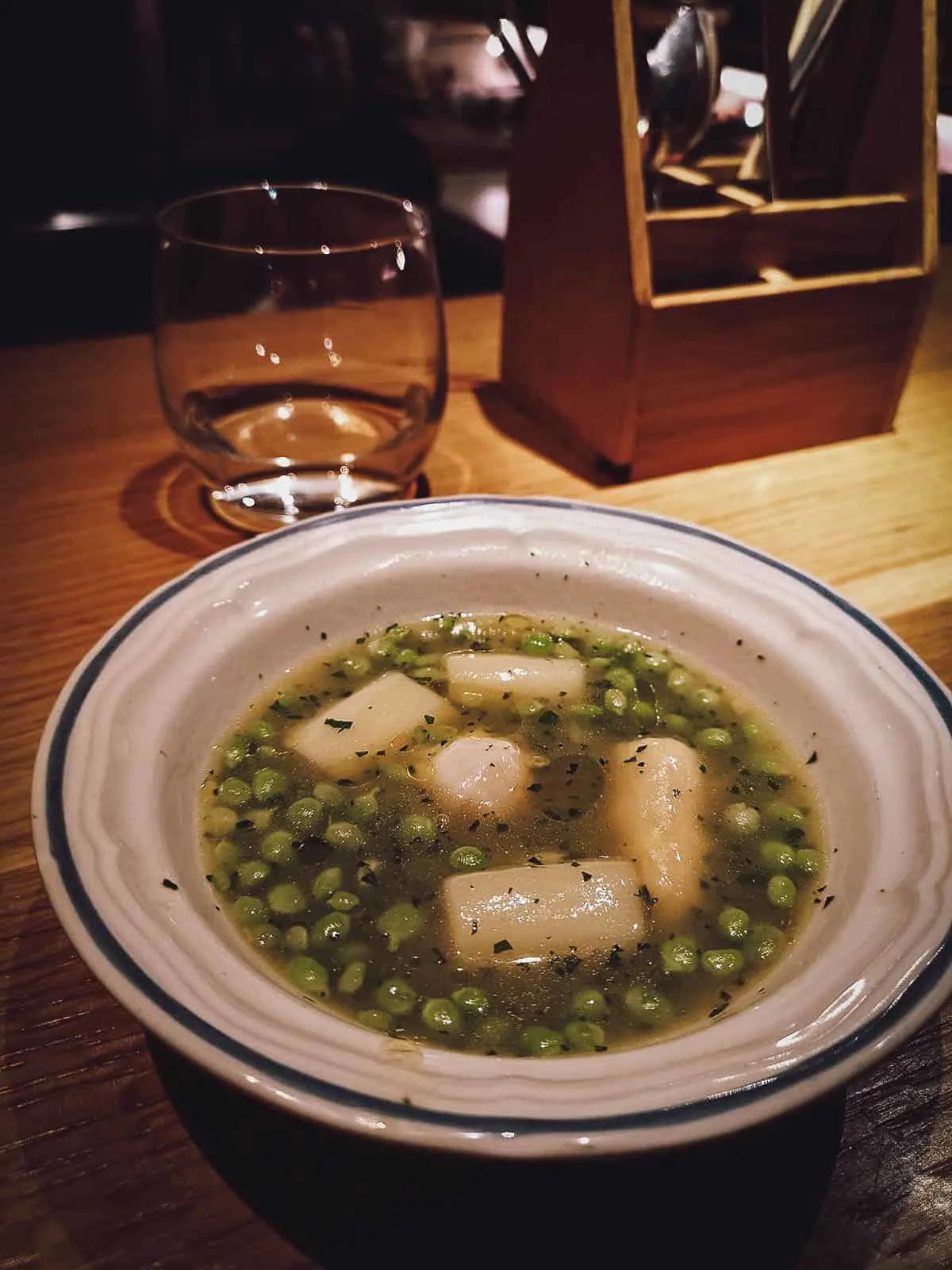 FIFTH COURSE: Next came this terrific medley of salted and cured fish. I don't remember exactly but on the spoons may have been some type of salted roe.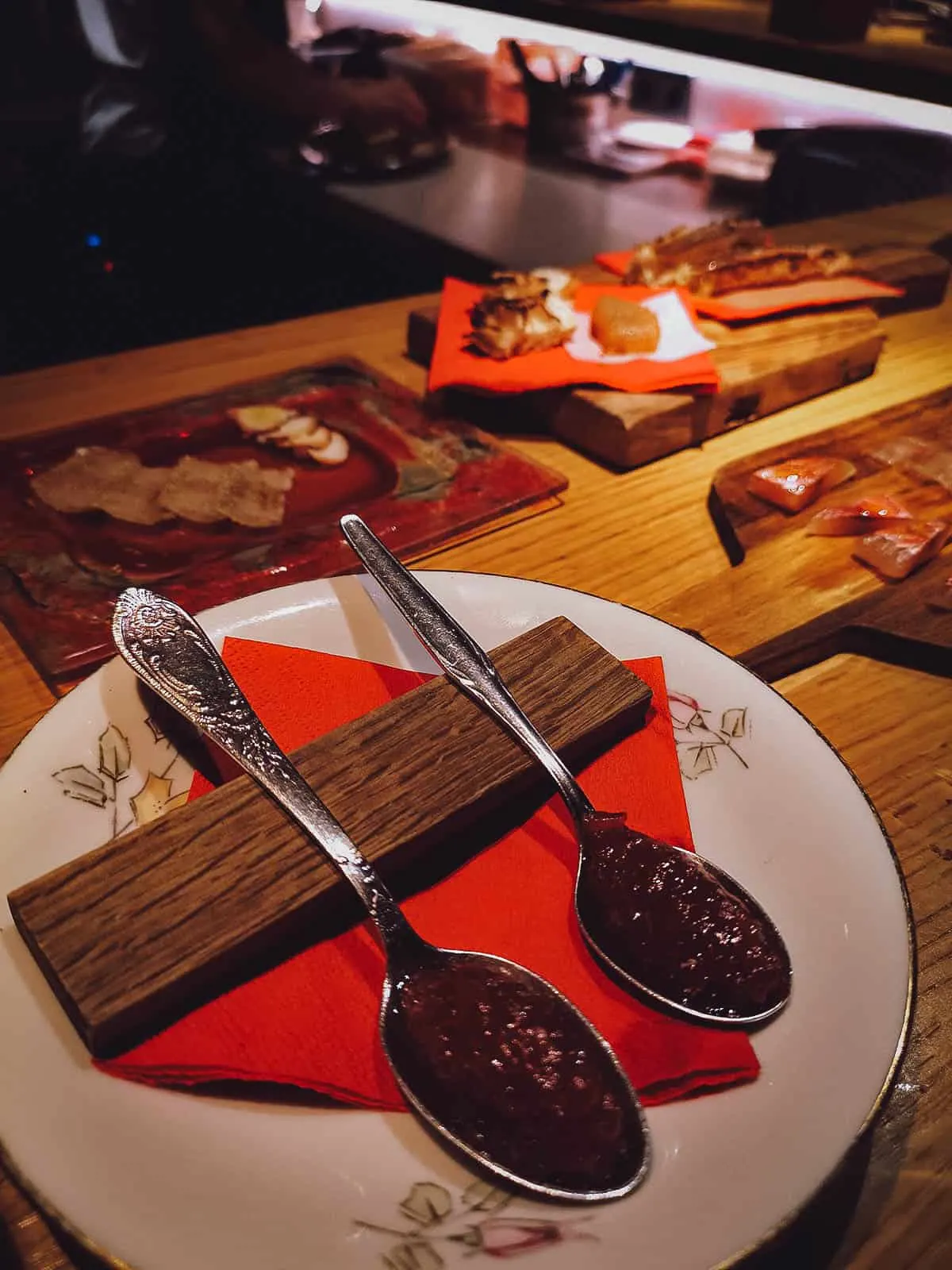 According to the menu's notes, cured fish and salted roe are two of the most ancient methods of food preparation in the Mediterranean. Phoenecians were already doing it as early as 2000 BC.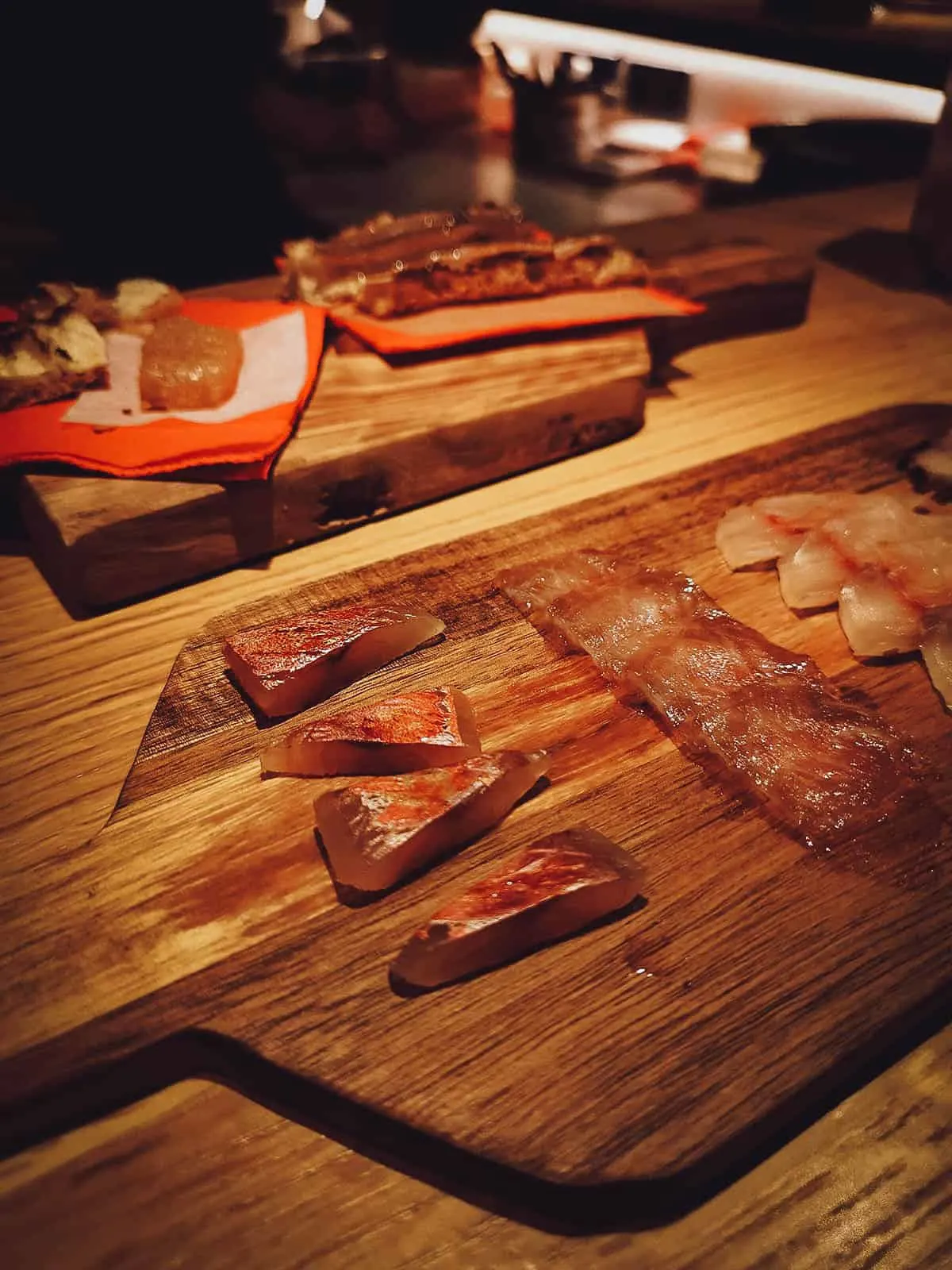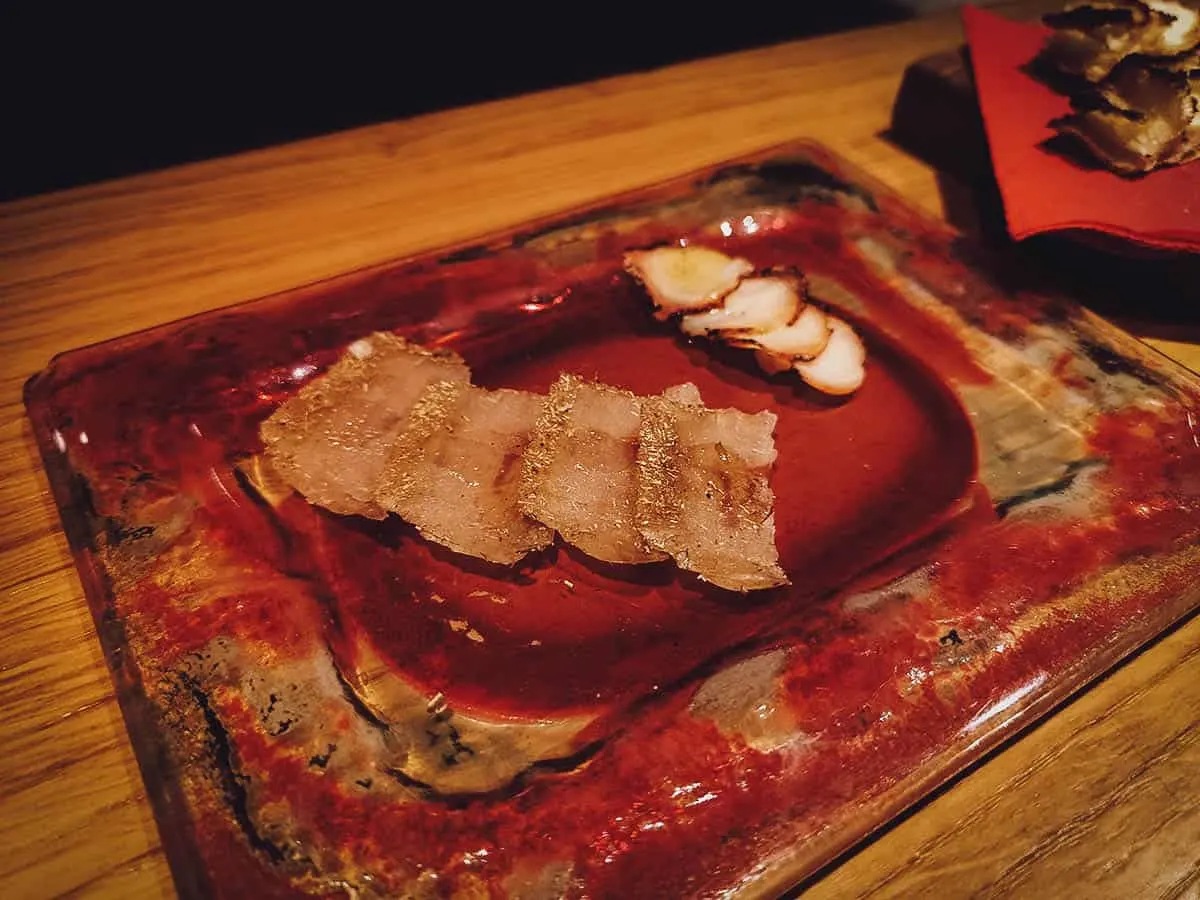 Toasted slivers of bread with anchovies in the background, toasted bread with a block of bottarga in front. Bottarga is the Italian word for salted, cured fish roe.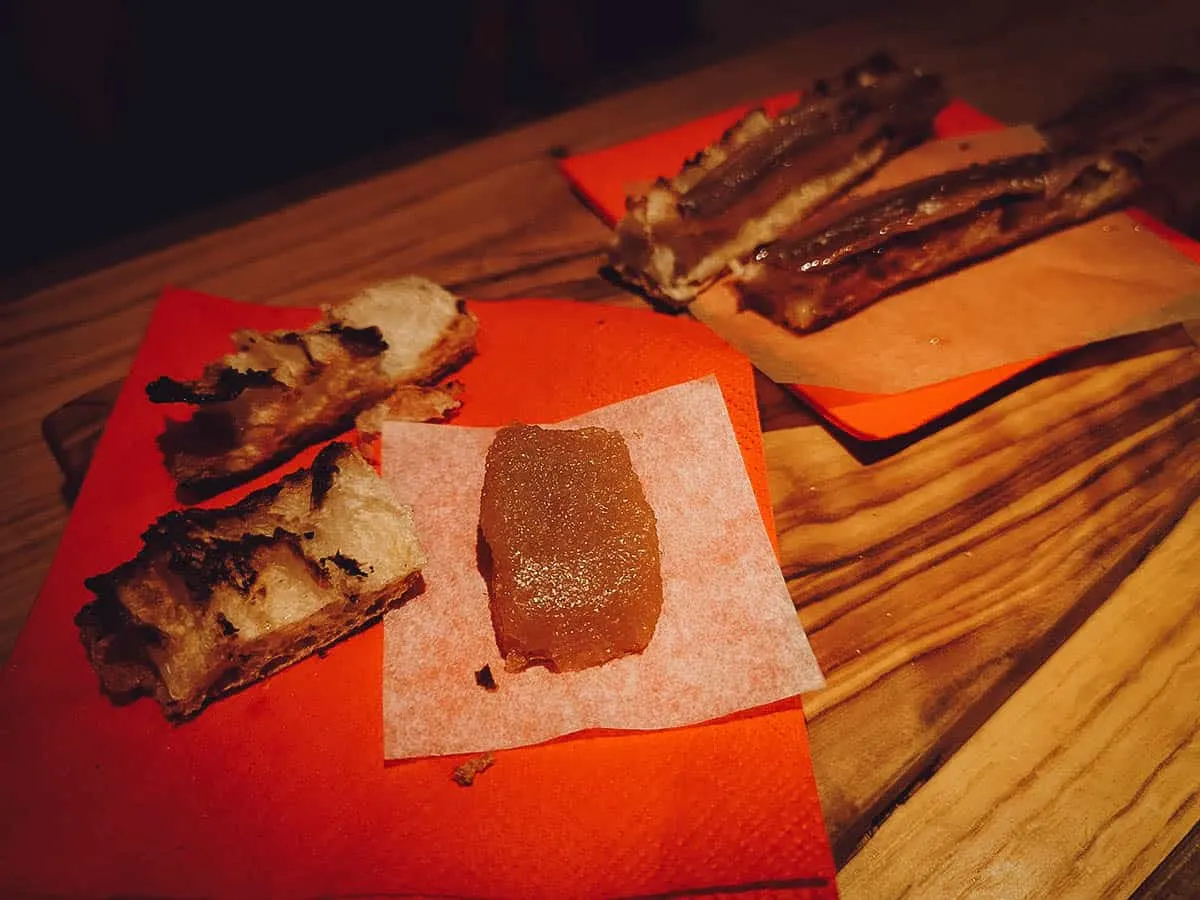 SIXTH COURSE: For me, the simplest dishes at Dos Pebrots were the best. Being prepared here are bowls of broad beans with herbs and almond milk. The recipe for this dish was included in the "Llibre de Sent Sovi" published in 1324, and is recognized as the very first recipe in medieval Catalan cuisine.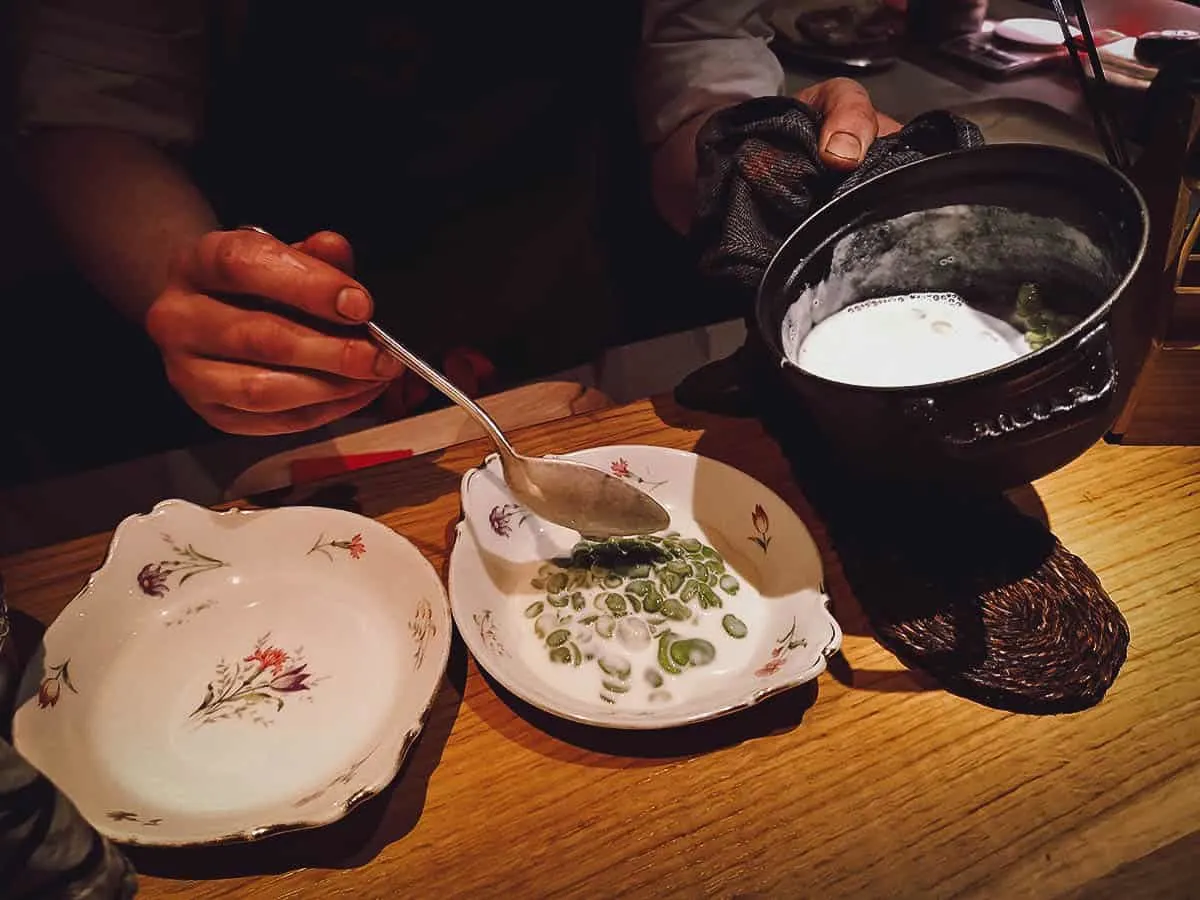 Here's the chef garnishing our bowls with liquified herbs from a pipette.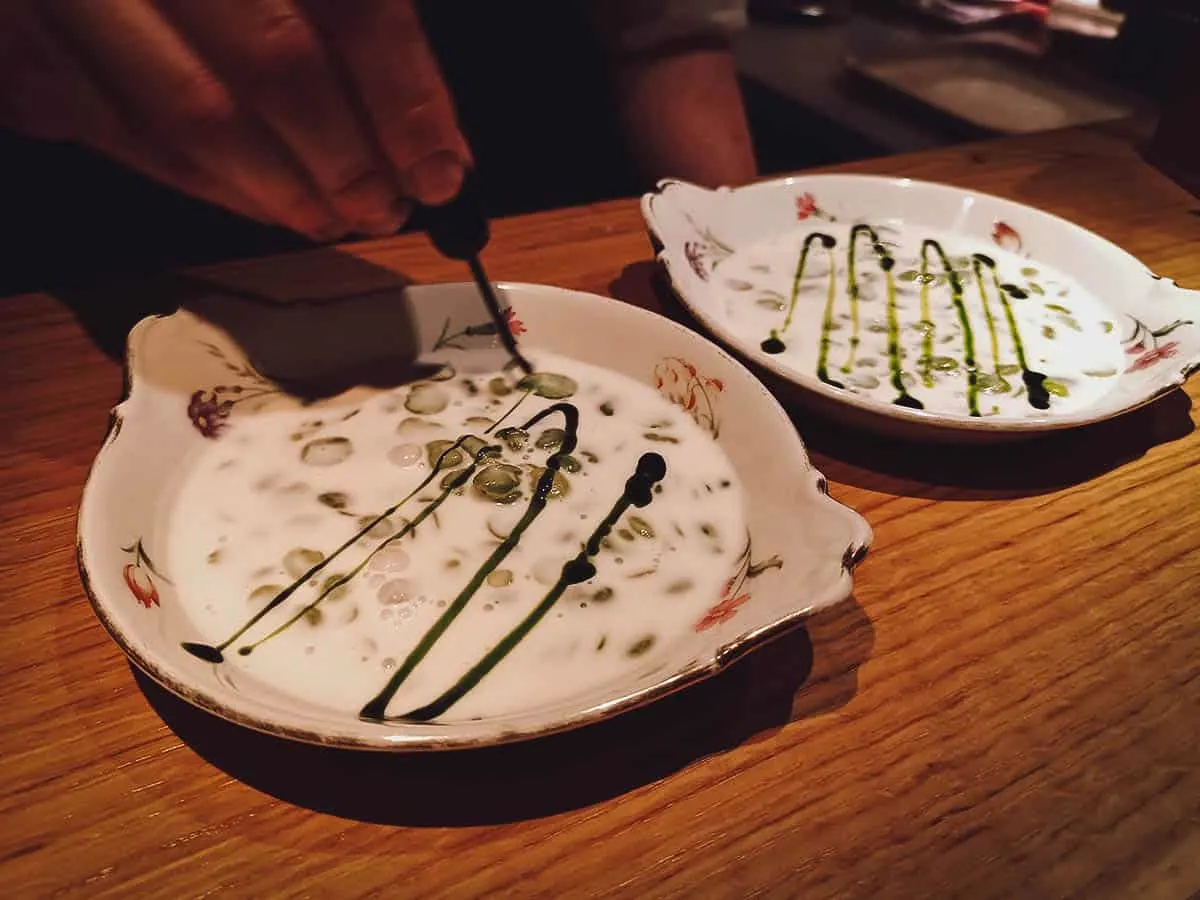 He then added these cubes of what may have been congealed pork stock.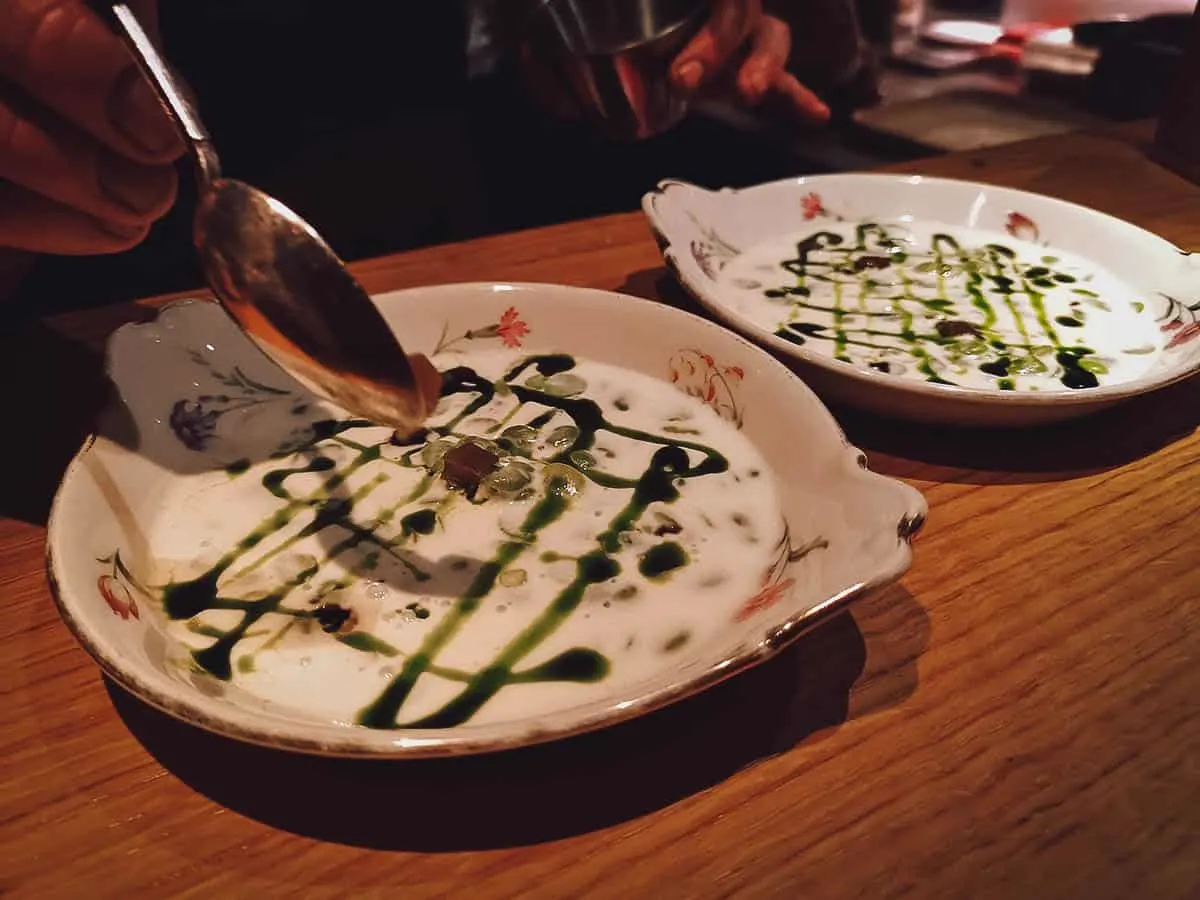 Mix them all up and you have a refreshing bowl of sweet firm broad beans in cool almond milk. I don't have a lot of experience with Catalan food but when I think of this regional cuisine, I think of dishes heavy on fresh vegetables and legumes. This seems like a modern interpretation of classic Catalan food.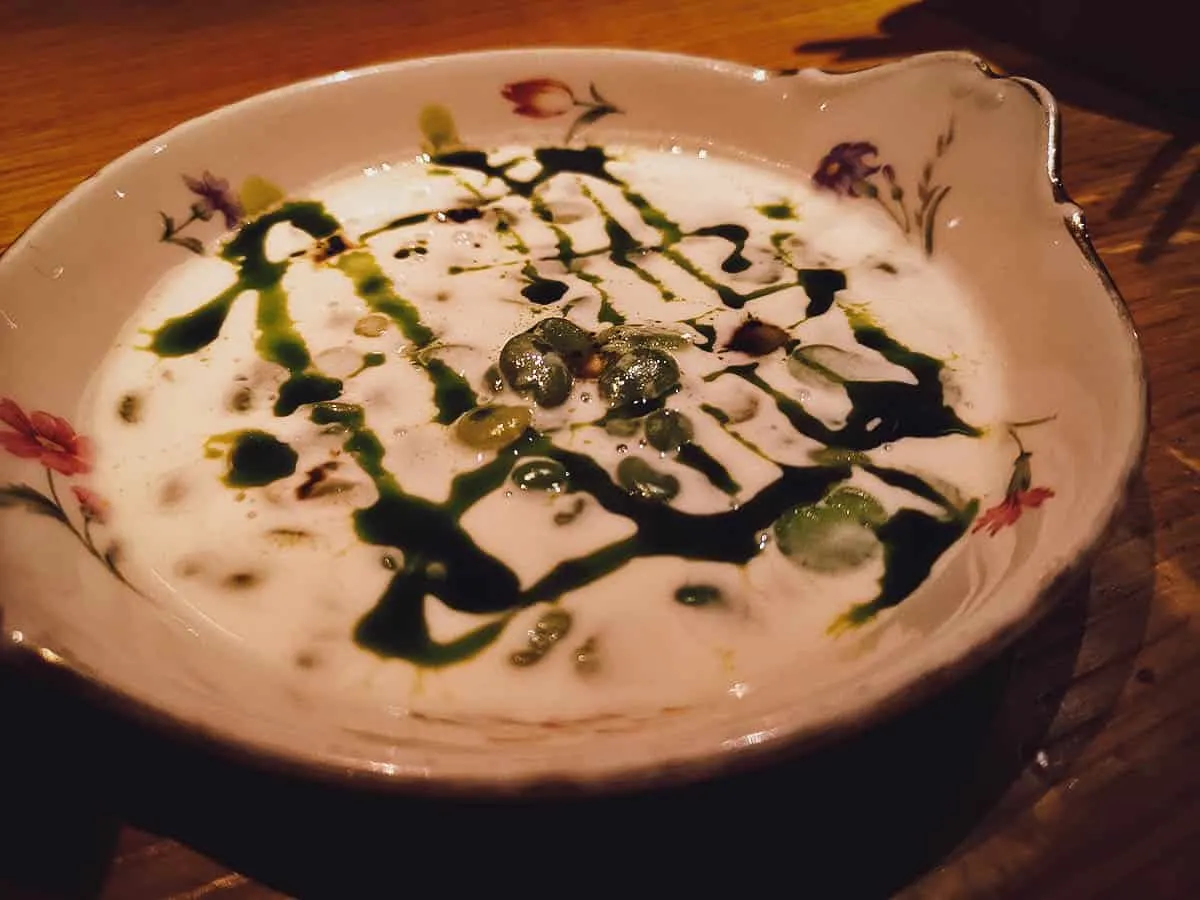 SEVENTH COURSE: Next was this dish called napolitana vegetables "sott' olio" made with beetroot, carrot, cabbage, fennel, vinegar, and olive oil. According to their timeline, the recipe for this dish was based on a conservation technique used by Italian sailors who preserved cooked vegetables in an aromatic vinaigrette.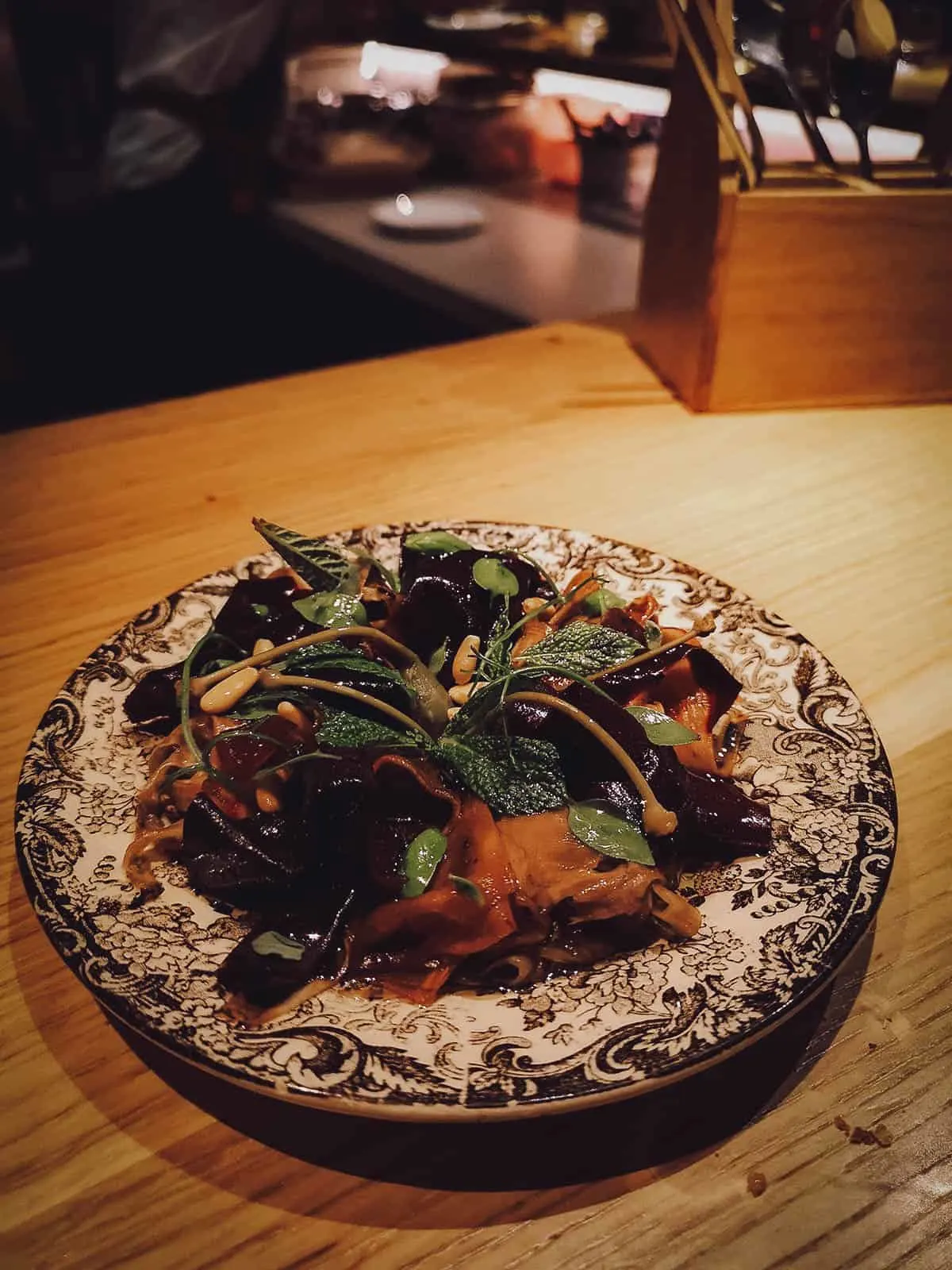 EIGTH COURSE: I read that Chef Raurich has a passion for Italian pasta and worked for two years at an Italian restaurant early in his career. This is his Etruscan pasta topped with bottarga.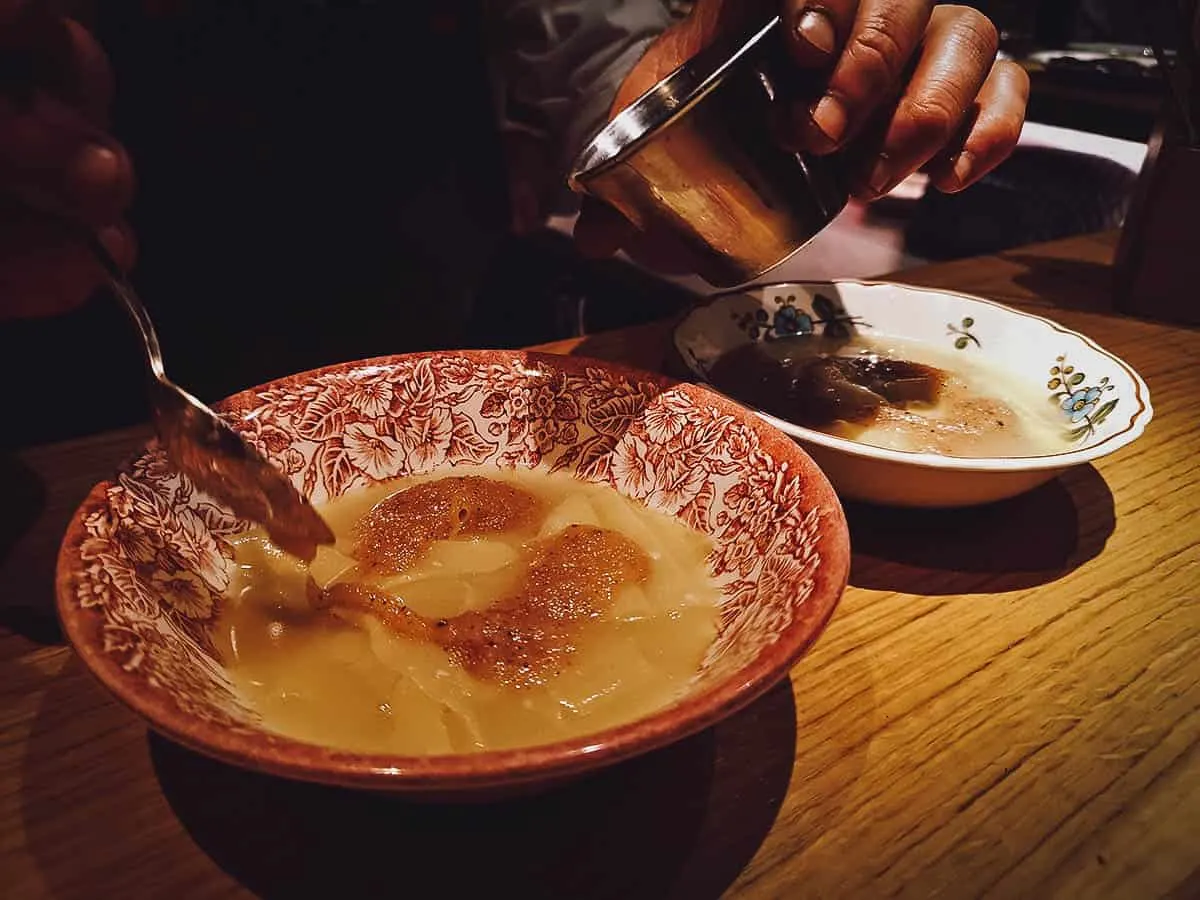 I didn't know what "Etruscan pasta" was so I googled it. Interestingly, it refers to a type of pasta made with water, flour, and salt sliced into triangular shapes. Described as the earliest recorded pasta, it's an ancient type of pasta which originated from the Etruscan civilization of Italy.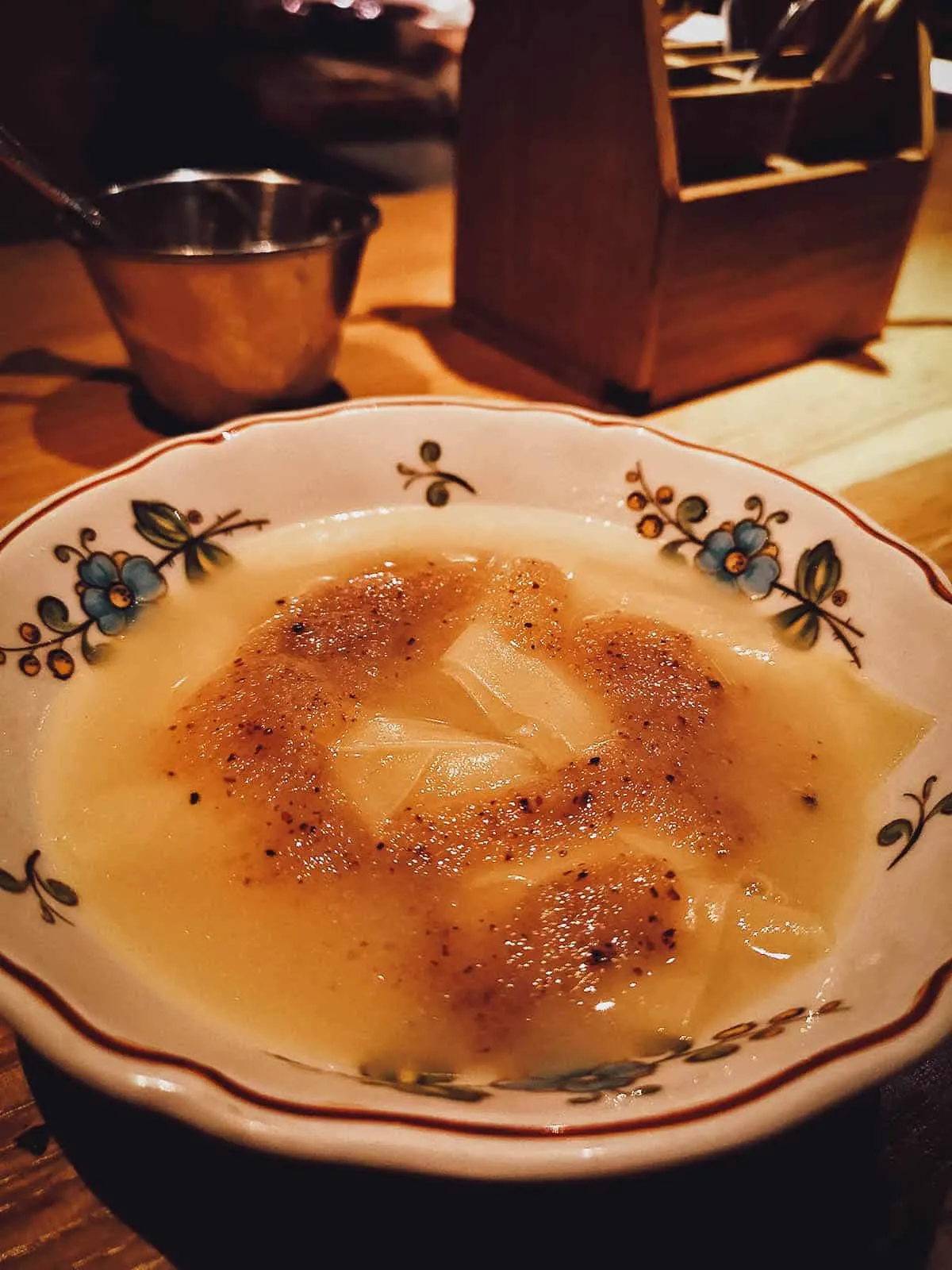 NINTH COURSE: When the chef started rolling out pieces of pita bread and quickly cooking them on the grill, we knew this next course was going to be good. It was.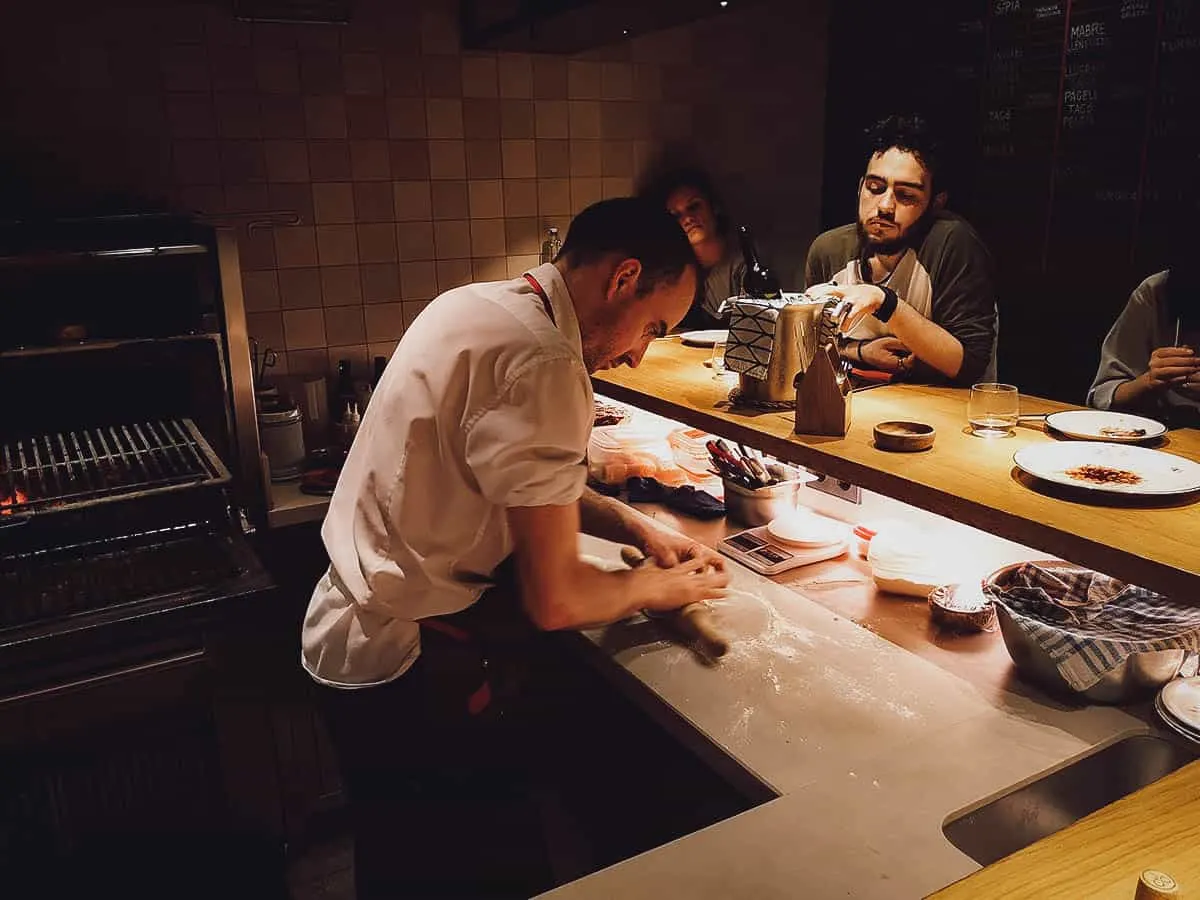 What you're looking at here is a cast iron pan of slow-cooked lamb kebabs with freshly made pita bread, yoghurt, and hot fresh tomato sauce. Made in ancient Persia as early as 1500 BC, many consider kebabs with pita to be the world's very first sandwich.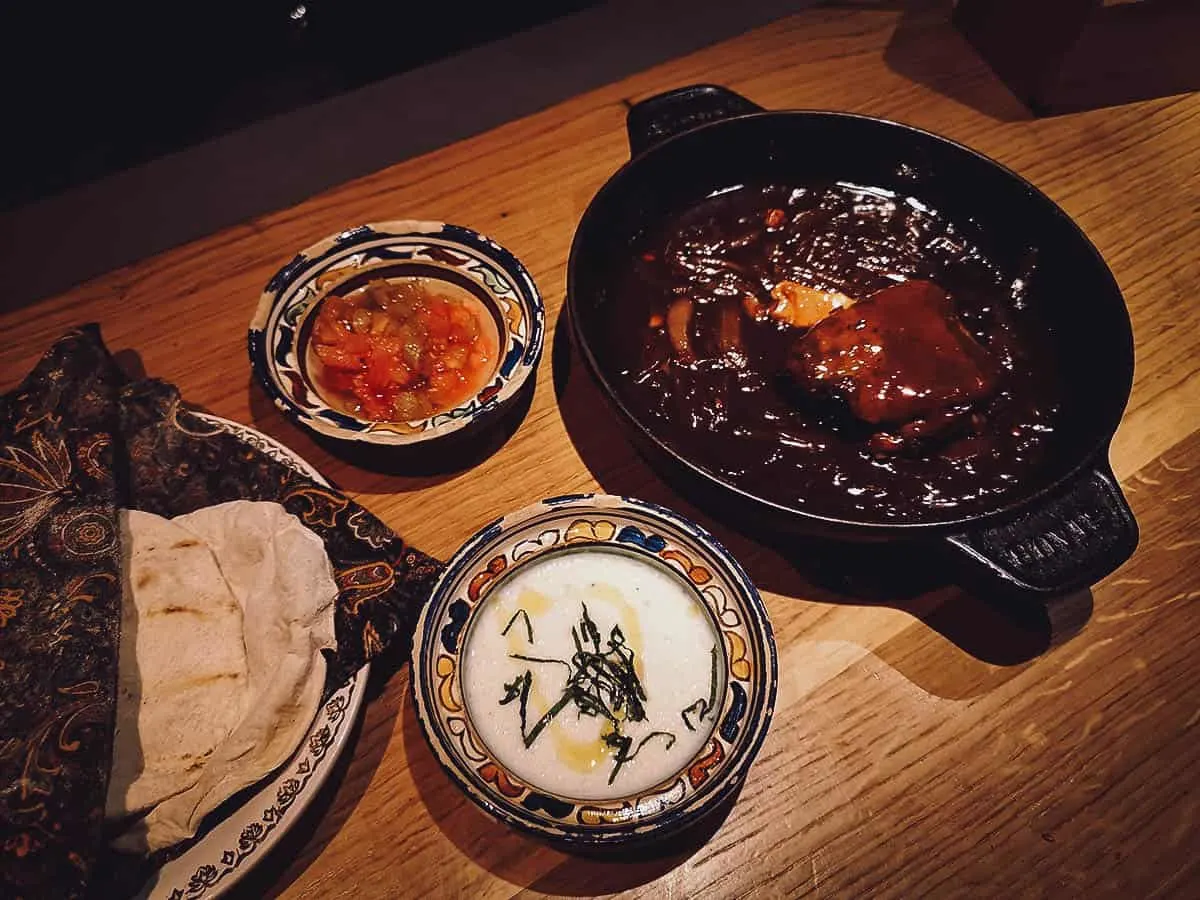 The lamb kebabs were delicious and fall-off-the-bone tender. Here you can see the chef shredding the lamb for us because he's a nice guy. This would be the last savory course from tonight's tasting menu.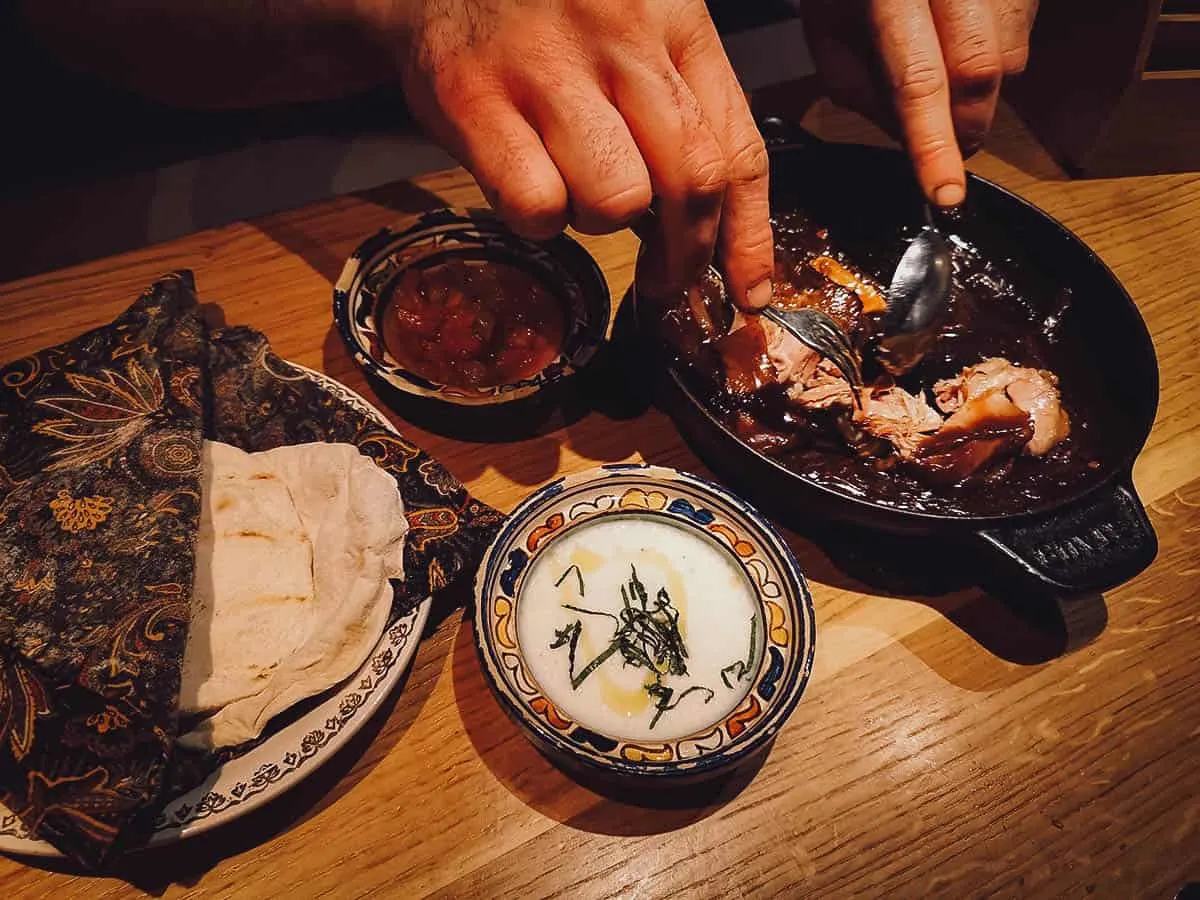 TENTH COURSE: To cleanse our palates, we were served this refreshing lemon sorbet with olive oil.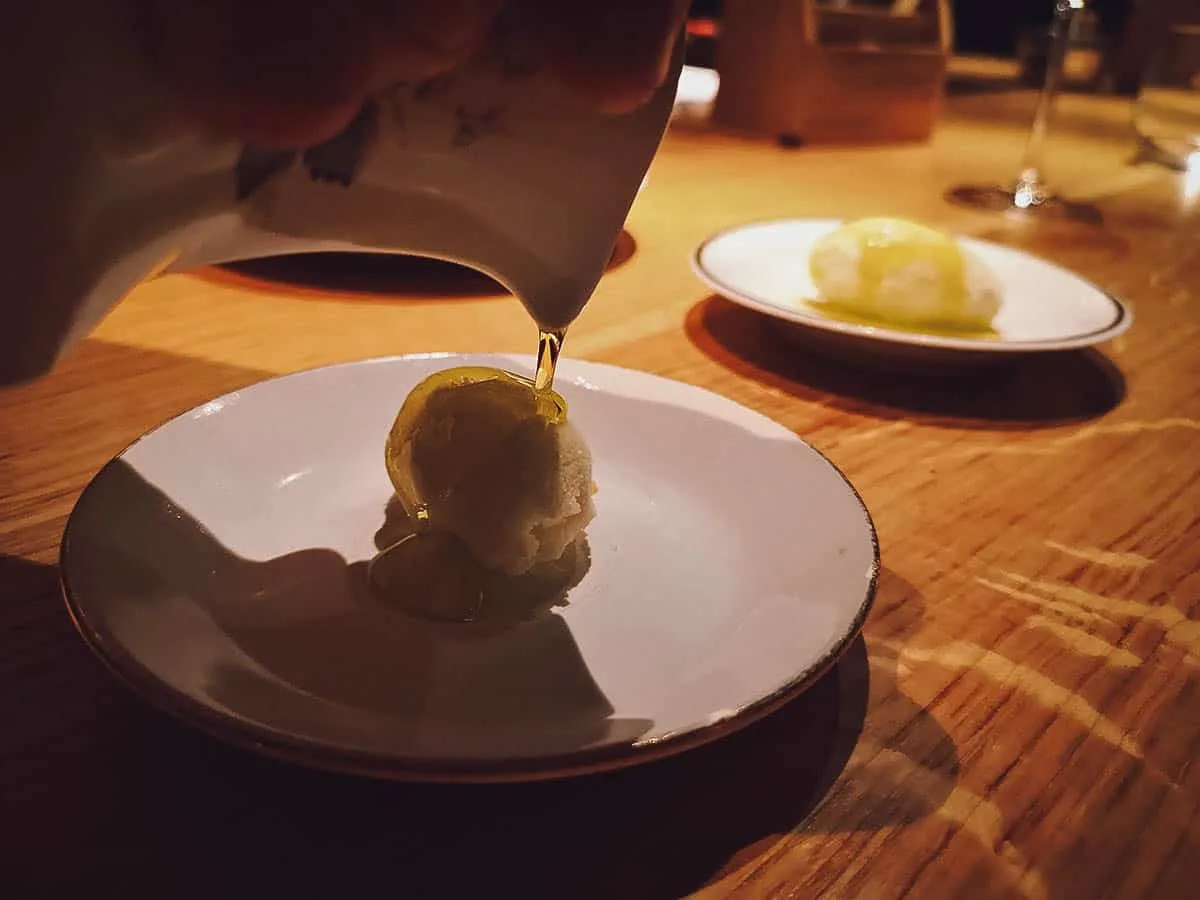 ELEVENTH COURSE: Our next dessert was this delicious tocinillo de cielo. This rich and creamy dessert is similar to flan, except its made with just egg yolks, water, and sugar as opposed to whole eggs and milk. There's an interesting story as to how this dish came to be.
It was invented in the Andalusian city of Jerez de la Frontera sometime in the 1300s. Jerez specializes in sherry production, the method calling for egg whites to clarify the sherry. This resulted in a surplus of egg yolks which were donated to the nuns at the Convent of the Sacred Spirit, who then used them to come up with this dish.
The name tocinillo de cielo translates to "bacon from heaven" which is believed to be in reference to the dessert's high fat content and holy origins. There is no actual bacon in this dish.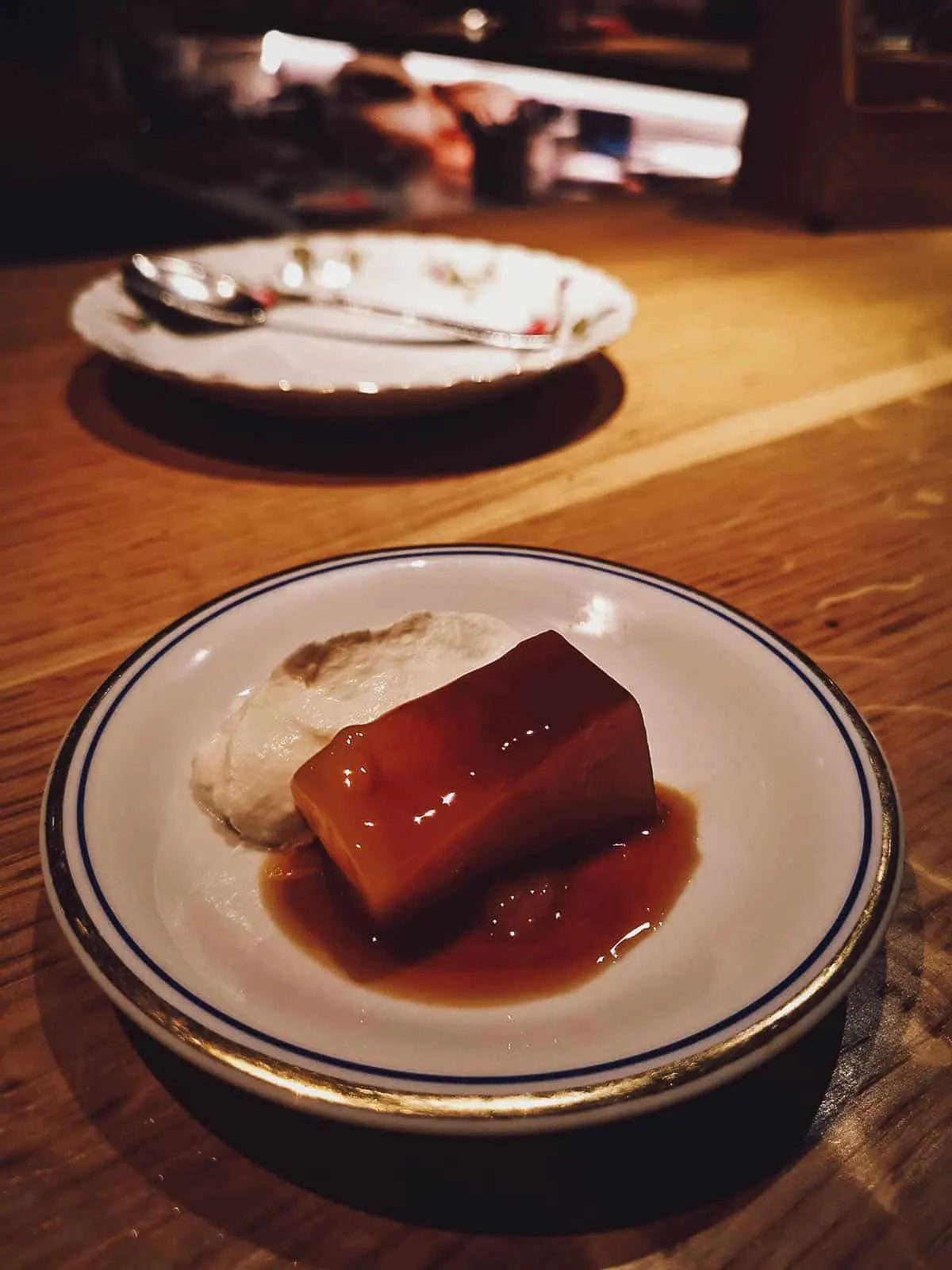 TWELFTH COURSE: Next came this dessert they call raval garden which is made with frozen yoghurt, herbs, and citrus fruits. It was sharp and refreshing with minty herbs and crunchy bits of meringue.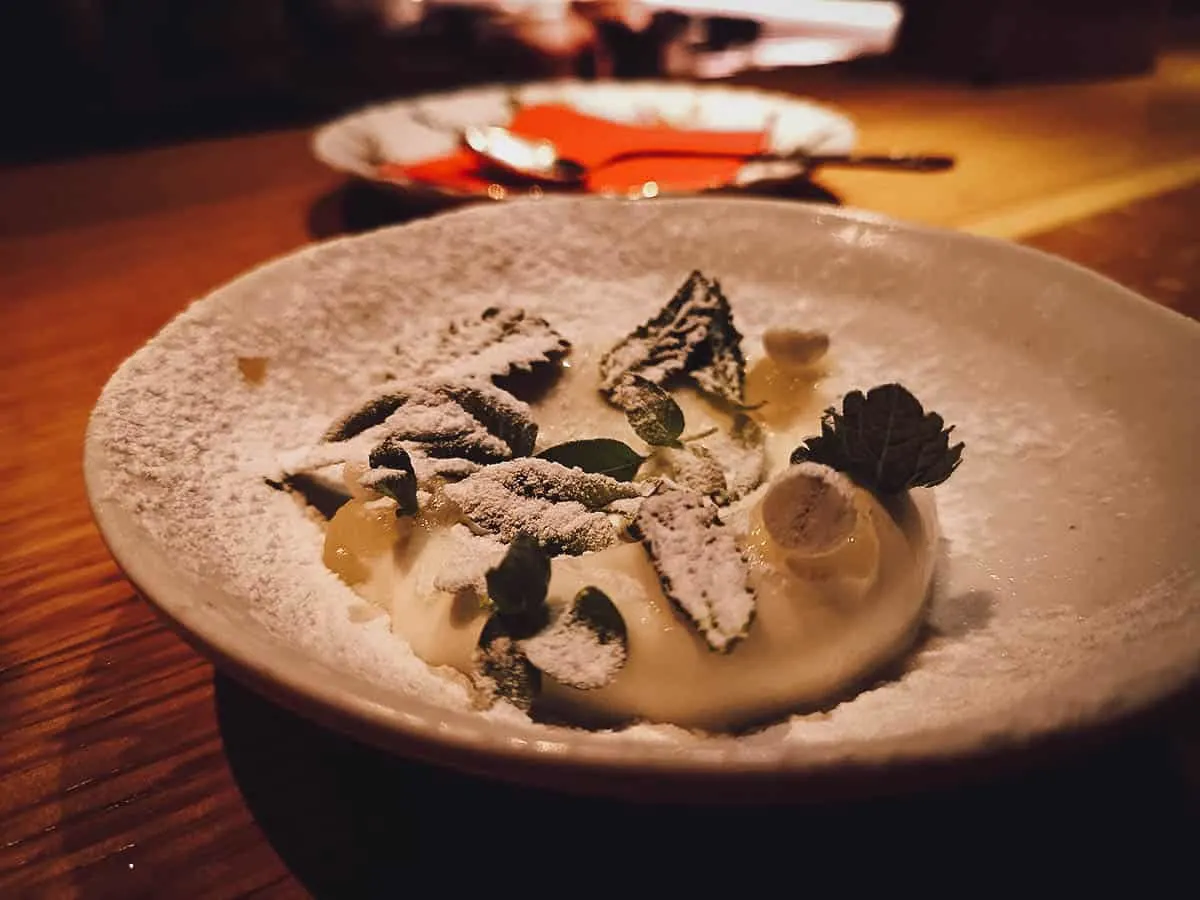 THIRTEENTH COURSE: To end tonight's fabulous tasting menu, they served us these cute loops of churros con chocolate.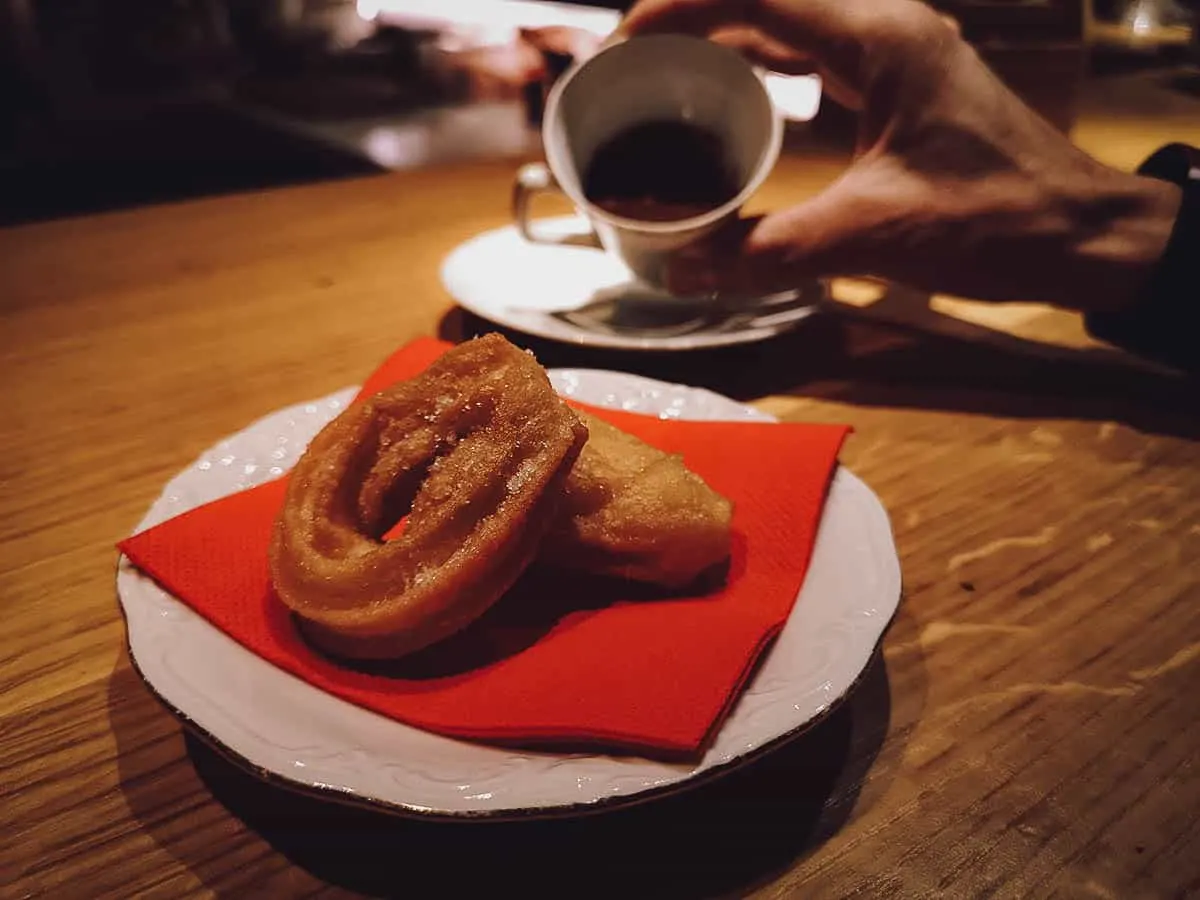 Churros are deep-fried dough pastries similar to doughnuts. Served with a hot cup of bittersweet chocolate, they're absolutely delicious and one of the most popular desserts in Spain.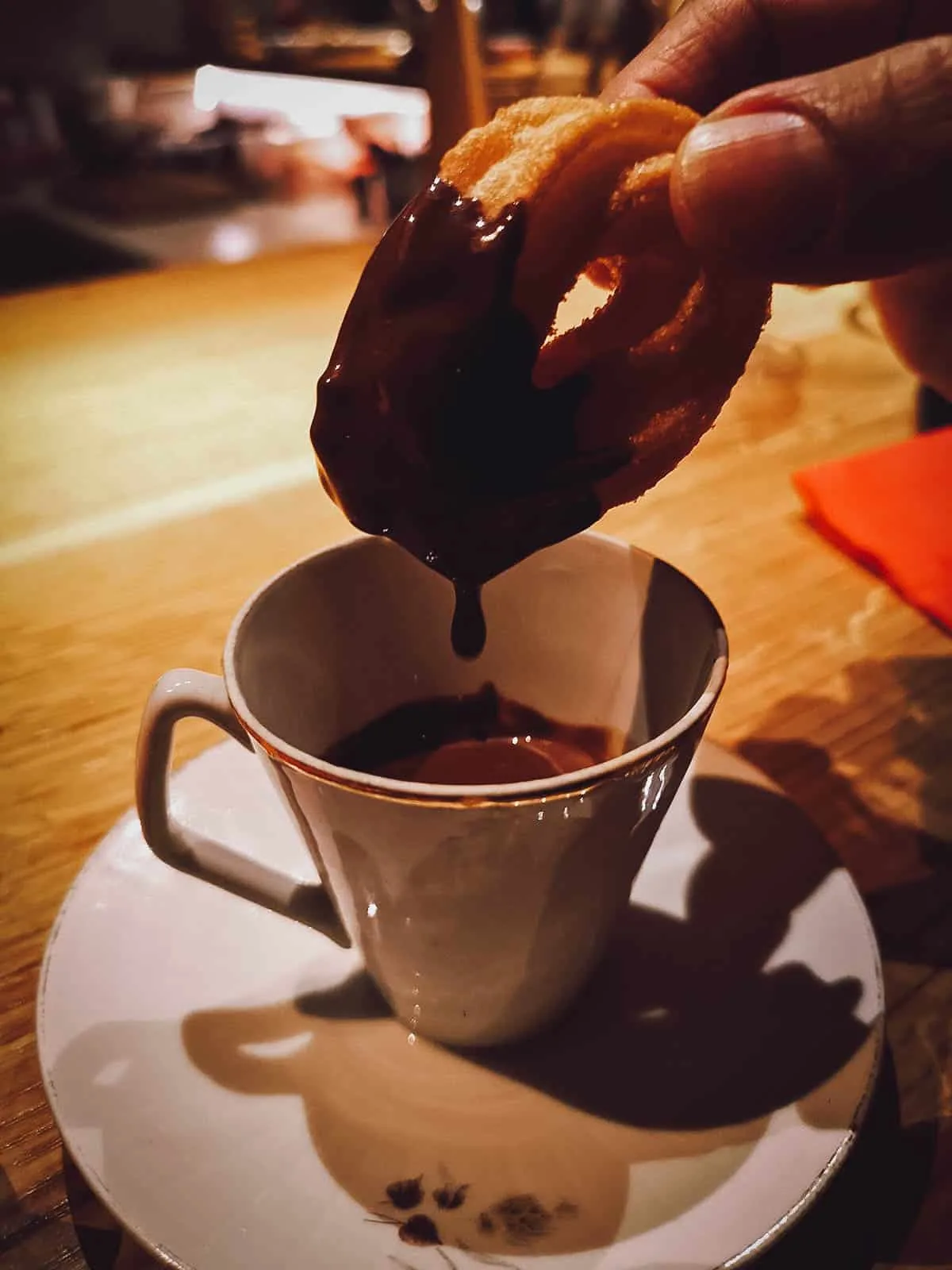 If you remember how I started this post, then you're probably wondering how I got all the way to dessert without talking about the one dish that brought us here in the first place – the confit pig udders. Well, we did try to order them, but unfortunately, they were out of them tonight. Major boo!
We were in Barcelona during Easter so many restaurants and tapas bars were closed. Dos Pebrots was obviously open but I'm guessing they weren't operating at full capacity due to the holidays. Oh well. I guess it just wasn't meant to be.
As a consolation, my brother and his wife visited Barcelona a couple months later and had dinner at Dos Pebrots upon my suggestion. They were luckier than we were and got to try the sow udder. According to him, it was the star of their meal. They serve it with jamon broth in small champagne flutes which you're meant to sip while chewing on the udder. He described it as a very unique experience and a must-try at Dos Pebrots.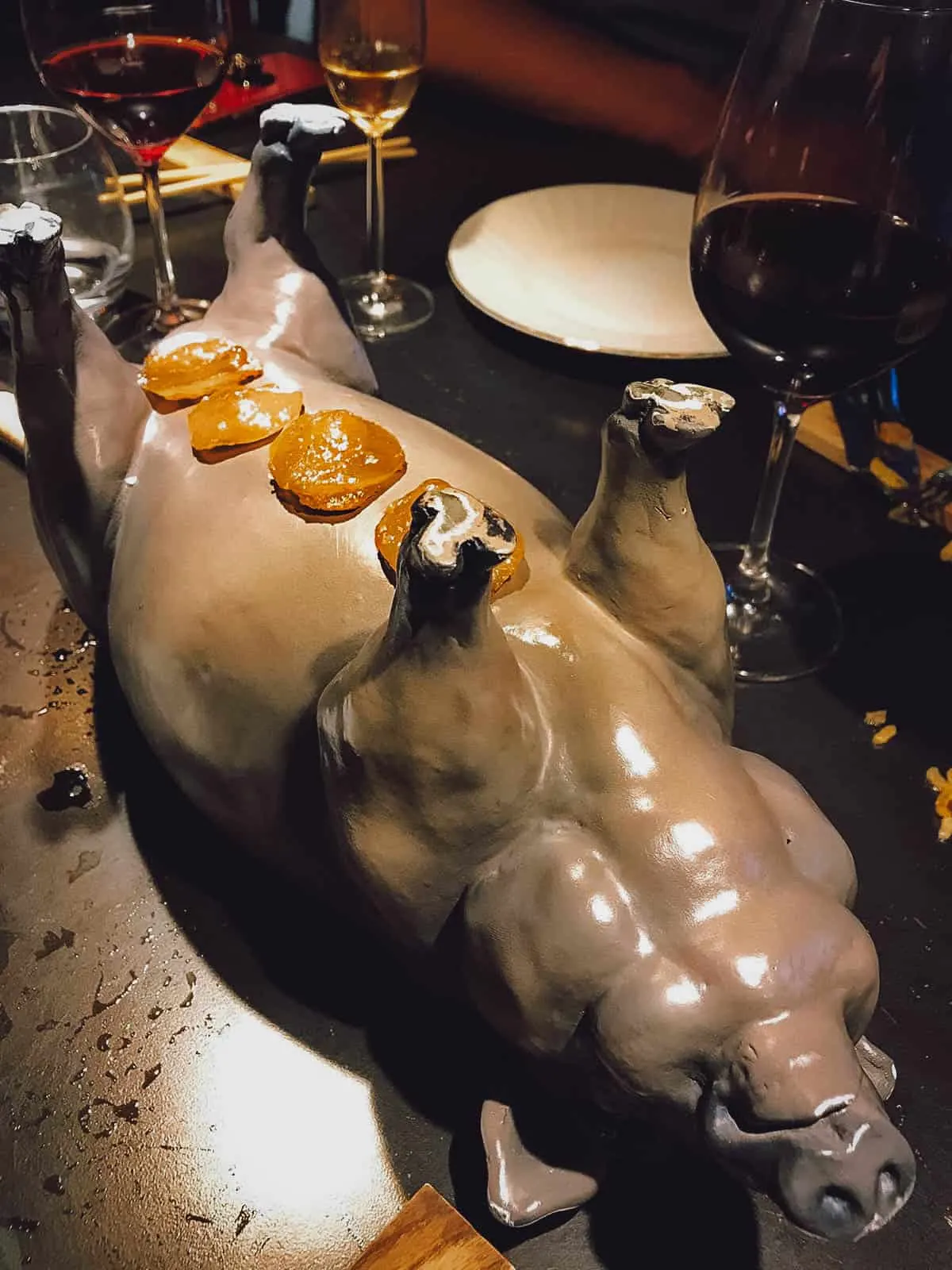 FINAL THOUGHTS
We went to Dos Pebrots for the pig udder, but we still enjoyed our meal immensely even without it. The food is simple but delicious, the presentation straightforward and unpretentious. It doesn't wow you like a molecular gastronomy experience. Instead, it feels more like refined rustic Spanish cuisine (if that makes any sense).
I have an interest in the story and cultural significance of food so I found the anthropological concept to be intriguing as well. In some ways, it reminded me of similar dining experiences we've had at Ciya Sofrasi in Istanbul and Suan Bua in Bangkok. When you dine at restaurants that seek to preserve age-old recipes, perhaps even reimagining them to make them more palatable to the modern day diner, you don't just get a fabulous dinner, but you get a lesson in history and culture as well.
Based on its reviews, people seem to find the prices at Dos Pebrots to be very reasonable. I would agree. Seventy euros for what we had was an excellent value, and a price point you may not see for very long the more popular this restaurant gets.
As Conde Nast Traveler puts it:
"Don't hesitate to try Dos Pebrots for a glimpse of a Michelin-star chef's considerable talents, all at a fraction of the price you'd pay in his other restaurant."
If you're visiting Barcelona and looking for an interesting meal from a high-pedigree chef, then Dos Pebrots is an excellent choice. Reservations are a must.
Dos Pebrots
Carrer del Dr. Dou, 19, 08001 Barcelona, Spain
Tel: +34 938 53 95 98
Operating Hours: 1:30-4PM, 7:30-11:30PM, Fri-Sun / 7:30-11:30PM, Wed-Thurs (closed Mon-Tue)
Website: dospebrots.com
Facebook: Dos-Pebrots
Instagram: dospebrots
Email: [email protected]
Expect to Pay: EUR 70 for the tasting menu
HOW TO GET THERE: Take the MRT to Liceu station. Exit the station and walk north on La Rambla. Make a left at Carrer del Pintor Fortuny. Walk straight then make a right at Carrer del Dr Dou. The restaurant will be on your left.
Disclosure
The TripAdvisor link in this post is an affiliate link, meaning we'll earn a small commission if you make a purchase or booking at no extra cost to you. We really appreciate your support as this helps us keep this website going. Thank you!