Barcelona has it all. It's got history, unique architecture, and a wealth of great museums. It has about 4 km (2.5 miles) of sandy beaches and some of the best food in Spain.
With all that it has going for it, it's no surprise that Barcelona is one of the most popular tourist destinations in the world. No matter what time of the year you go, you'll almost always find the city teeming with people.
As lovely as Barcelona is, the crowds can get a bit overwhelming at times. There's much to see and do in Barcelona but if you've already experienced its top tourist attractions, then it's time to escape the city and go on a day trip.
Save This on Pinterest!
No time to read this now? Click on the red save button and pin it for later!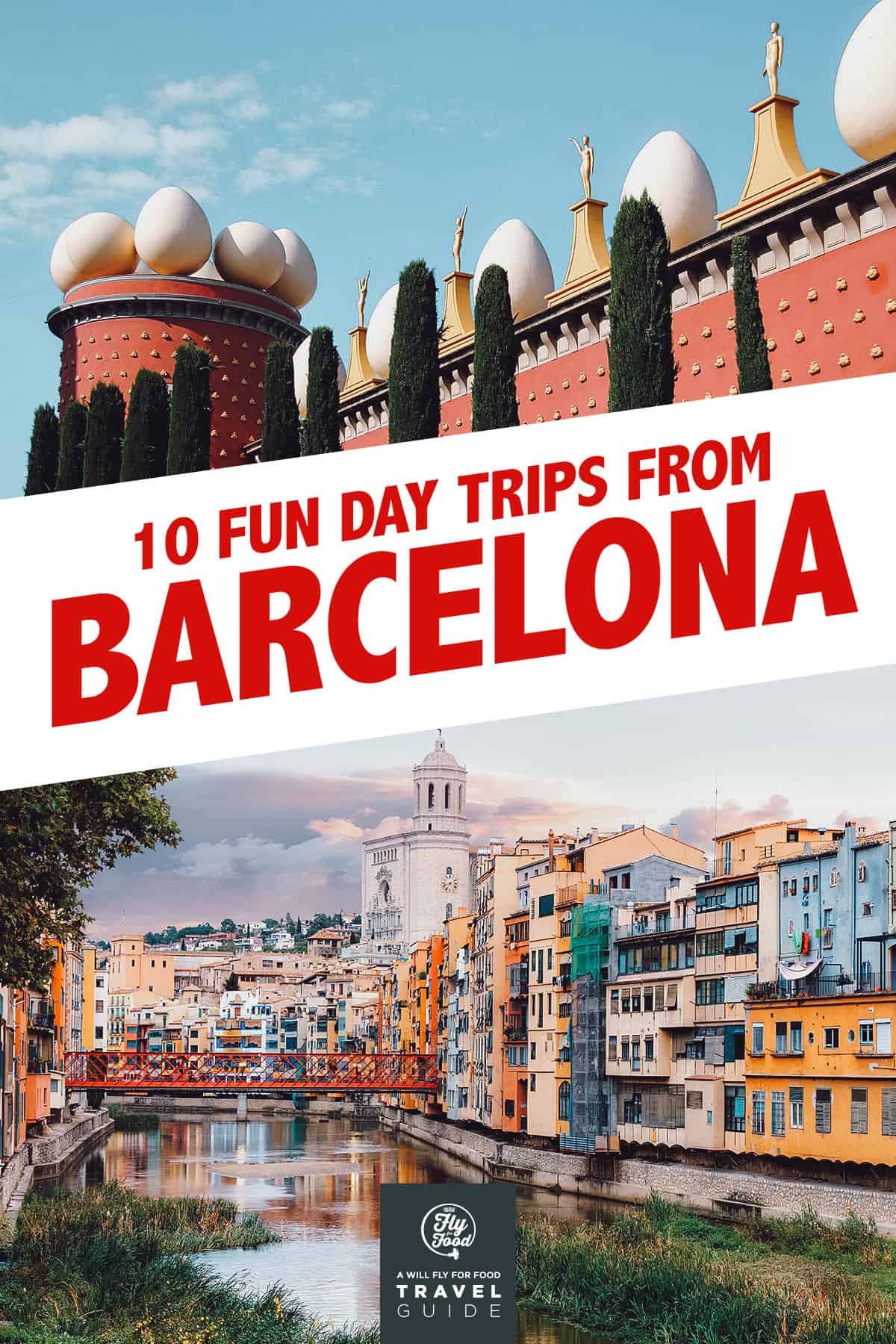 BEST DAY TRIPS FROM BARCELONA
It's easy to go on day trips from Barcelona thanks to Spain's efficient and convenient railway system. But if you'd like the most freedom, then perhaps you'd be interested in renting a car. Trains and buses are great but driving is the best way to experience Spain and Europe.
We rented a car to go from San Sebastian to Santiago de Compostela and it turned out to be one of the most fun legs of our trip. It allowed us to travel on our own schedule and stop wherever we wanted, whenever we wanted.
1. Serra de Collserola
If you'd like to go hiking but don't want to stray too far from the city, then Serra de Collserola is the perfect place for a day trip. It's a mountain range and protected park located just outside Barcelona.
Collserola is one of the biggest metropolitan parks in the world. It spans an area of 8,000 hectares which is about 22 times the size of Central Park in New York! It's home to numerous hiking trails and an abundance of flora and fauna, making it a convenient destination for people wanting to go hiking or bike riding from Barcelona.
There are several hiking trails to enjoy in Collserola, one of the most popular being Carretera de les Aigues – a 9 km (5.6 miles) path offering spectacular views of the city.
You can go hiking at Collserola on your own or join a tour. Get Your Guide offers hiking tours (Option 1 | Option 2) and a wine tour.

How to Get There: Based on my research, there are many ways to get to Collserola depending on which part of the park you'd like to visit. If you're going to Carretera de les Aigues, then you can take a train from Barcelona to Peu del Funicular station. Ride the funicular one stop to Carretera de les Aigues station. It's listed as a request stop so you'll probably need to inform the driver that you'd like to get off.
Average Travel Time: About 30 mins
2. Sitges
Sitges is a coastal town about 35 km (22 miles) southwest of Barcelona. It's famous for its beaches, festivals, pulsating nightlife, and LGBTQ-friendly atmosphere.
Sitges is known for its excellent microclimate which sees around 300 days of sunshine per year. Its mild weather and many beaches along a 2.5 km (1.6 miles) promenade make it a favorite destination for beachgoers.
Depending on what time of the year you go, you can attend one of its many events and festivals like Gay Pride, the Sitges Carnival, and the Sitges International Film Festival. The Sitges carnaval attracts over 250,000 revelers each year while the film festival is recognized as one of the world's leading fantasy and horror film festivals.
Sitges has its share of cultural attractions as well like the Church of Sant Bartomeu and Santa Tecla, but clearly, its beaches and festive atmosphere are its main draws. If you like to party, then Sitges should definitely be on your itinerary.
It's easy to visit Sitges on your own, but if you'd like to go on a guided tour, then you can book one through Get Your Guide (Option 1 | Option 2 | Option 3). These tours combine Sitges with other destinations recommended in this guide.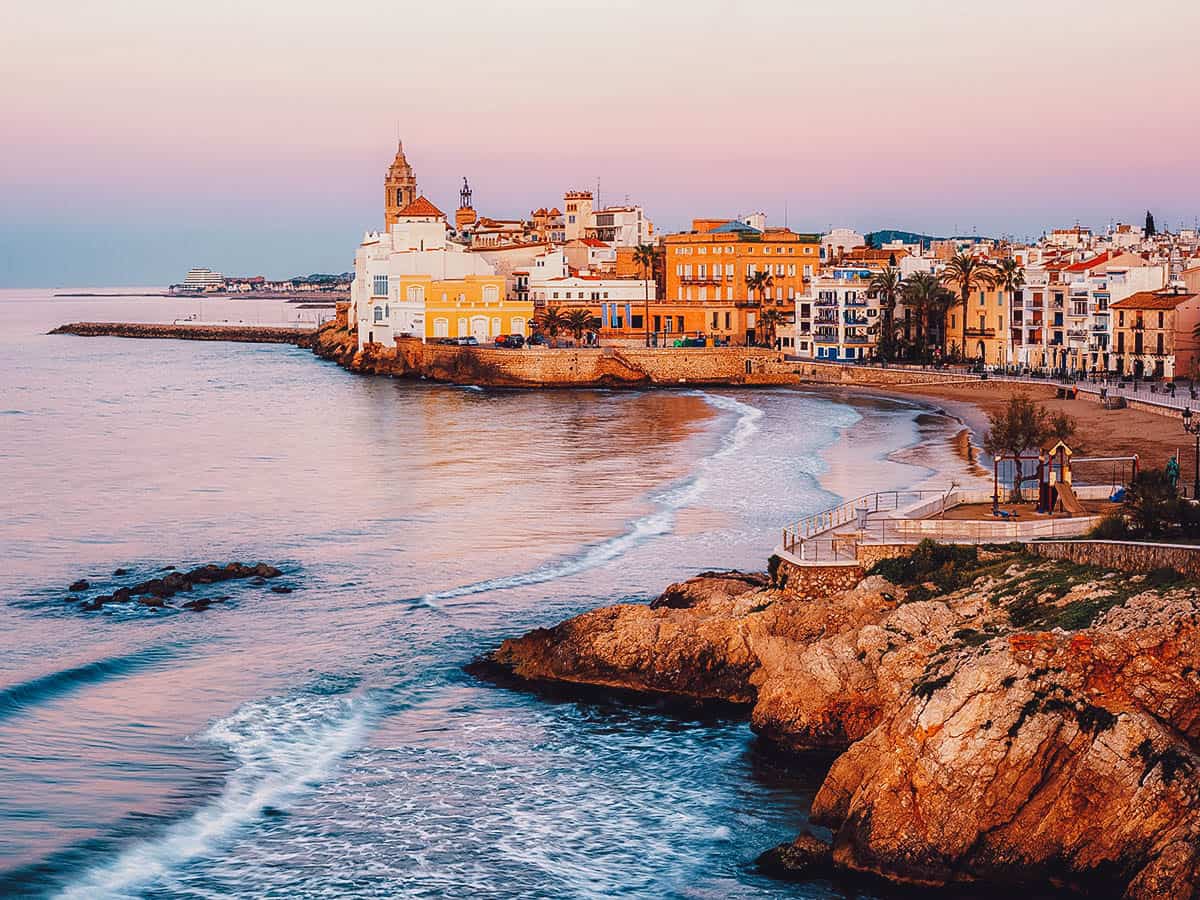 How to Get There: Take the train from Barcelona-Sants station to Sitges station.
Average Travel Time: About 40 mins
3. Montserrat
Montserrat refers to both the multi-peaked mountain range and the large Benedictine abbey (Santa Maria de Montserrat) perched near its summit.
Measuring 1,236 meters (4,055 ft) at its peak, it's the highest point of the Catalan lowlands. The name Monsterrat literally means "serrated mountain" and is in reference to the mountain range's many jagged peaks.
The site of reported visions, Monsterrat is considered the holiest site in Catalonia. It receives over two million visitors annually, many from pilgrims coming to see the famed Black Madonna statue.
If you arrive at Santa Maria de Montserrat before 1PM, then you can catch a performance by the Escolania, one of the oldest boys choirs in Europe.
Montserrat is equally popular with hikers and rock climbers looking to enjoy its many hiking trails and rock formations. You can trek to the peak of Sant Jeroni for some of the most spectacular views of Catalonia.
4. Penedes Wine Region
Penedes is a wine-producing region and DOP (Denominación de Origen Protegida) for wines in Catalonia, about an hour west of Barcelona. After the Rioja, it's considered one of the best wine-producing regions in Spain.
The Penedes region produces a range of red and white wines, none more famous perhaps than its cava, a type of Spanish sparkling wine similar to champagne or prosecco.
Cava enjoys Denominacion de Origen (DO) status, meaning it must be produced in a specific region using traditional methods for it to be labeled as "cava". As such, about 95% of all cava is produced in the Penedes region.
5. Figueres
Figueres is a small town within the coastal Costa Brava region, about half an hour south of the French border. It's best known as the birthplace of Salvador Dali and where his main museum is located.
The Dali Theater and Museum is the second most visited museum in Spain, after the Prado. Designed by Dali himself, the building is as quirky as the famed surrealist. As you can see below, it features giant eggs and golden statues sitting on its roof!
The eggs instantly catch your attention but only when you get close will you notice the building's maroon exterior covered in life-sized casts of bread.
It's a bizarre but apt preview to a museum housing the biggest and best collection of Dali's art in the world. Fittingly, the remains of the artist are buried in a crypt beneath the stage.
6. Tarragona
Located about 60 km down the coast from Sitges is Tarragona, a port city that combines Roman ruins with a beach atmosphere. It's considerably larger than Sitges and is home to one of the most important Roman archaeological sites in Spain.
Tarragona's Roman ruins are a UNESCO World Heritage Site and collectively known as the Archaeological Ensemble of Tarraco. It consists of over a dozen well-preserved monuments, some of the most remarkable being its seaside amphitheatre and its colossal aqueduct measuring 27.5 meters (90 ft) high.
7. Vic
If your day trip from Barcelona falls on a Tuesday or Saturday, then perhaps you'd be interested in going to Vic. It's a medieval town known for its well-preserved architecture and colorful biweekly markets.
Vic's Placa Major has been hosting these markets since the 9th century. Every Tuesday and Saturday, it turns into a festive labyrinth of stalls selling local produce, crafts, flowers, and various knick-knacks.
If you travel for food like we do, then be sure to look out for embutidos or traditional cured meats. Vic is famous for its embutidos like fuet (dried pork sausage), botifarra (raw pork sausage) and bull negre (cured pork sausage with pork blood). Vic's embutidos are widely considered to be some of the best in the region.
Vic is located about 75 km (46.6 miles) north of Barcelona, en route to the Pyrenees. It makes for an interesting day trip on any day, but to maximize your trip, it's best to go on market day.
8. Girona
Girona is a millennia-old city with one of the oldest and most well-preserved Jewish quarters in Europe. It's an atmospheric town known for its network of narrow cobblestone streets, stone buildings, and botanical gardens.
So picture perfect is the medieval city of Girona that it was used as a filming location for the Game of Thrones. It served as the backdrop for Braavos and King's Landing, setting the stage for some of the show's most memorable scenes like Cersei Lannister's walk of shame.
Girona is home to many museums and historical attractions like Girona Cathedral and the Arab baths. The multi-colored houses by the edge of the River Onyar are among the city's most photographed. It's just one of just many photo opportunities you'll find in this beautiful town.
If you watch a lot of travel food shows, then you may recognize Girona as the home of El Celler de Can Roca. It's a 3 Michelin-starred Catalan restaurant consistently lauded as one of the world's best.
9. Tossa de Mar
Tossa de Mar is a municipality in the southernmost region of the Costa Brava, about 40 km (25 miles) south of Girona City. It's a charming seaside resort town famous for its sandy beaches and its 14th century medieval castle.
So beautiful is Tossa de Mar that it was once a favorite destination for artists and intellectuals. Marc Chagall famously called it the "blue paradise". It became a popular tourist destination in the 1950s after appearing in the film Pandora and the Flying Dutchman with Ava Gardner.
People come to enjoy it's 14 km (8.7 miles) stretch of beaches and coves, and to explore the Vila Vella. An icon of Tossa de Mar, it's the only remaining medieval walled town along the Catalan coast. Explore its labyrinth of alleys and climb along its ancient walls for spectacular views of the Mediterranean.
10. Cadaques
I first heard about Cadaques many years ago. My brother and his Spanish girlfriend spent the day there from Barcelona. He described it as a sleepy but charming fishing village made famous by Salvador Dali.
Cadaques is a small town in the province of Girona about 20 km south of the French border. It's known for its lovely whitewashed houses and relaxed seaside atmosphere.
It's said to have been an inspiration to Dali who spent family holidays there in his youth. He would spend the latter part of his life at nearby Port Lligat, in a quirky dreamlike house that's now open to tourists.
Disclosure
Some of the links in this guide are affiliate links, meaning we'll get a small commission if you make a purchase at NO extra cost to you. We only recommend products and services that we use ourselves and firmly believe in. We really appreciate your support as this helps us make more of these free travel guides. Thank you!