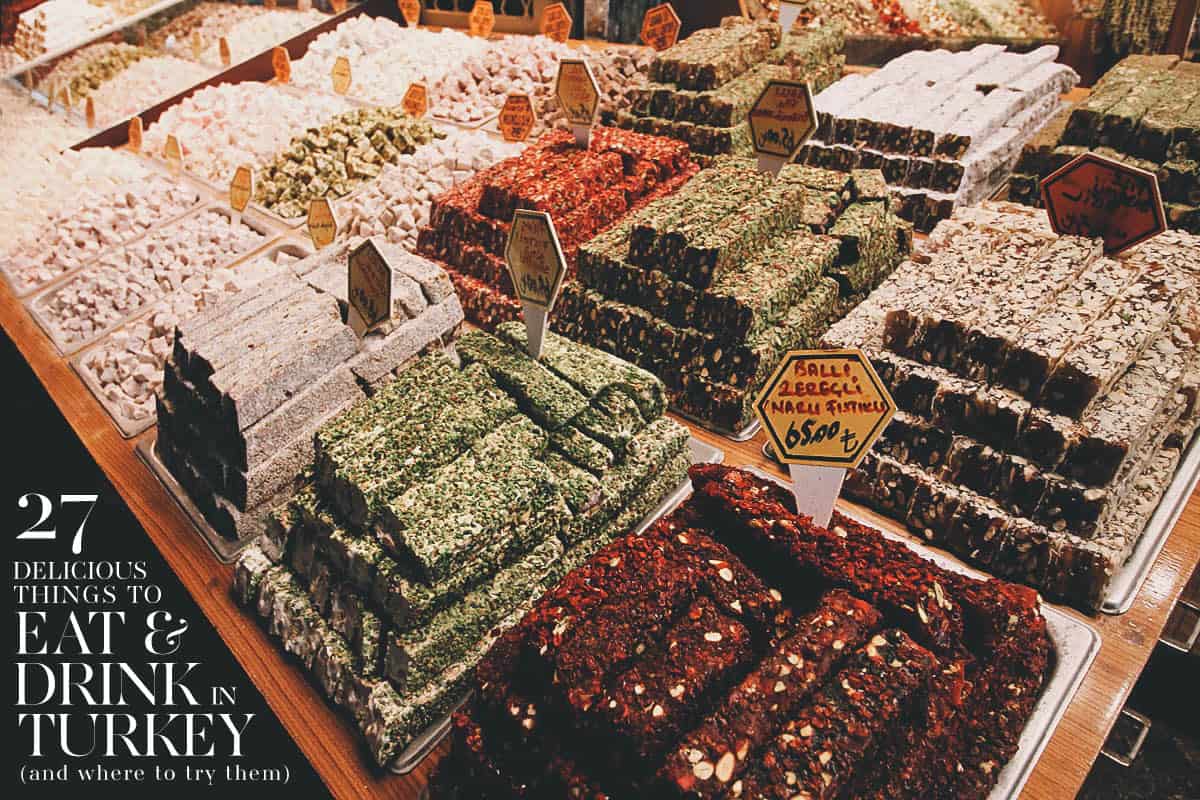 Turkish Food Guide: 27 Delicious Things to Eat & Drink in Turkey (and Where to Try Them)
NOTICE: Your health and safety come first. Please adhere to the WHO recommendations and avoid any non-essential travel at this time. If travel is unavoidable for you, then please refer to these advisories on COVID-19 coverage from our friends at World Nomads and SafetyWing. Please be advised that all information on this website is for travel pre-COVID-19. We'll update the information soon as new travel guidelines become clearer.
DISCLOSURE: Some of our articles contain affiliate links. The ones that do will have a disclosure statement at the bottom. You can refer to our privacy policy and terms of use for more information.
I think it was after taking a bite out of a Dürümzade wrap that I realized what an awesome culinary destination Turkey is. Or maybe it was after tasting the delectably crisp lahmacun and stretchy künefe at Halil Usta. Or was it after downing my nth piece of midye dolmas followed by a crunchy bite of halka tatlısı?
I don't remember exactly when it was, but the point is that there is much to love about Turkish cuisine that this list barely scratches the surface. Inadequate as it may be, here are 27 delicious things to whet your appetite on that upcoming trip to Turkey.
1. Menemen
Menemen is a traditional Turkish dish made with eggs, onions, tomatoes, green peppers, and spices. It's usually cooked in olive or sunflower oil and eaten with bread. We tried menemen at Coffeedocia in Göreme, though I think you can find it pretty much anywhere that serves Turkish breakfast.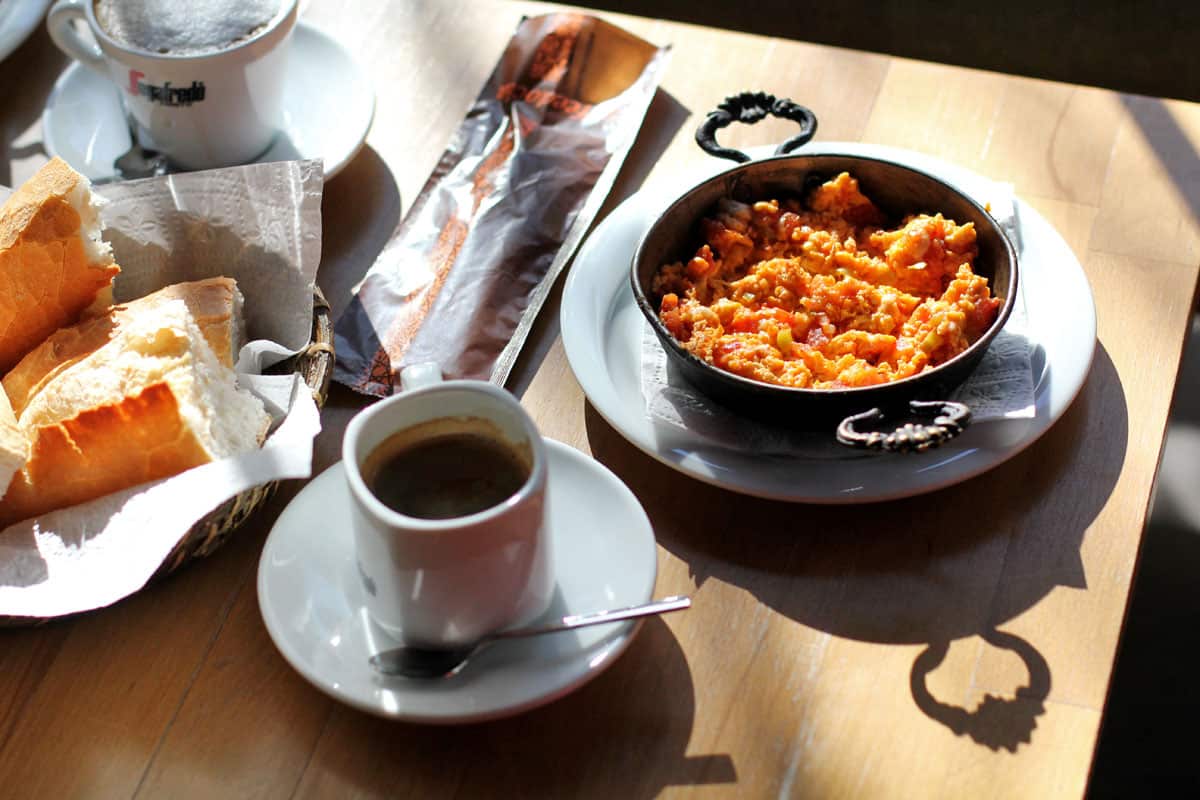 What we paid: 9TL per order (served with bread)
2. Leblebi
Leblebi is a street snack of roasted chickpeas. They can be roasted plain or seasoned with salt, hot spices, or dried cloves, even candy coated. As you'd expect, these went great with beer. Unlike chestnut carts that were everywhere, we didn't see leblebi often. We found this one cart near Hotel Kuk in Bakırköy, Istanbul.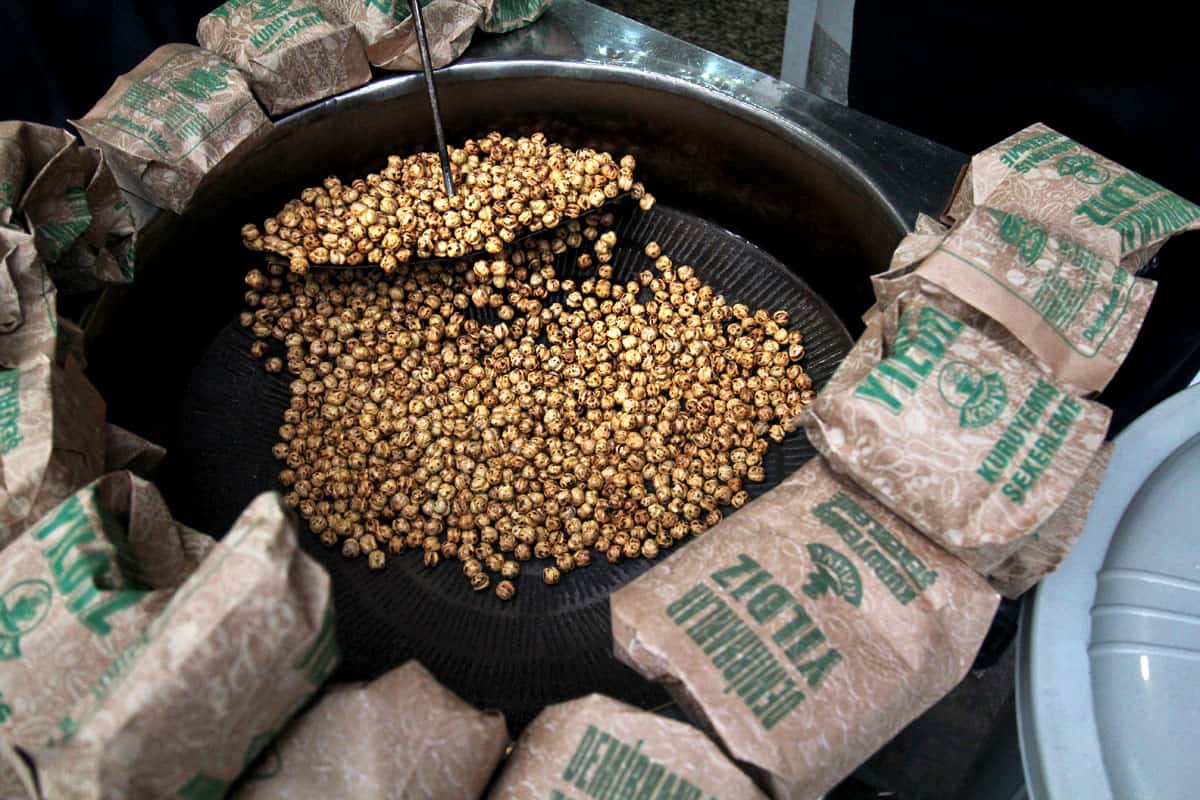 What we paid: Around 3TL per bag (sorry, can't remember exactly)
3. Simit
Like a Turkish bagel, simit is circular and typically encrusted with sesame seeds. It's crunchy and chewy and makes for a great inexpensive street snack. Available pretty much everywhere, it's commonly sold in these red pushcarts as well as in many coffee shops, including the airport.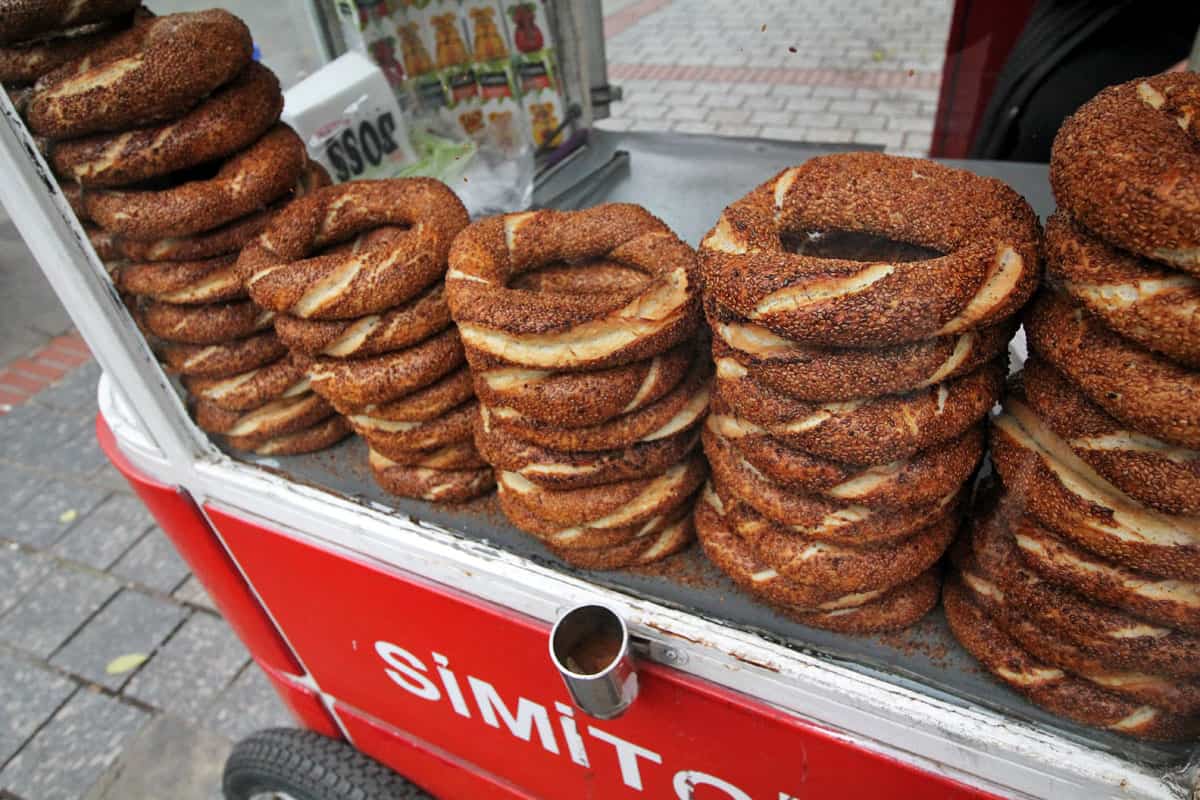 What we paid: 1-2TL per simit
4. Meze Platters
Meze means "appetizer" and can refer to a host of small dishes like purees, salads, meatballs, pastries, dips, cheeses, etc. A great way to start any meal, you can find meze anywhere in Turkey. We had this delicious vegetarian platter at Mehmet and Ali Baba Kebab House in Selçuk.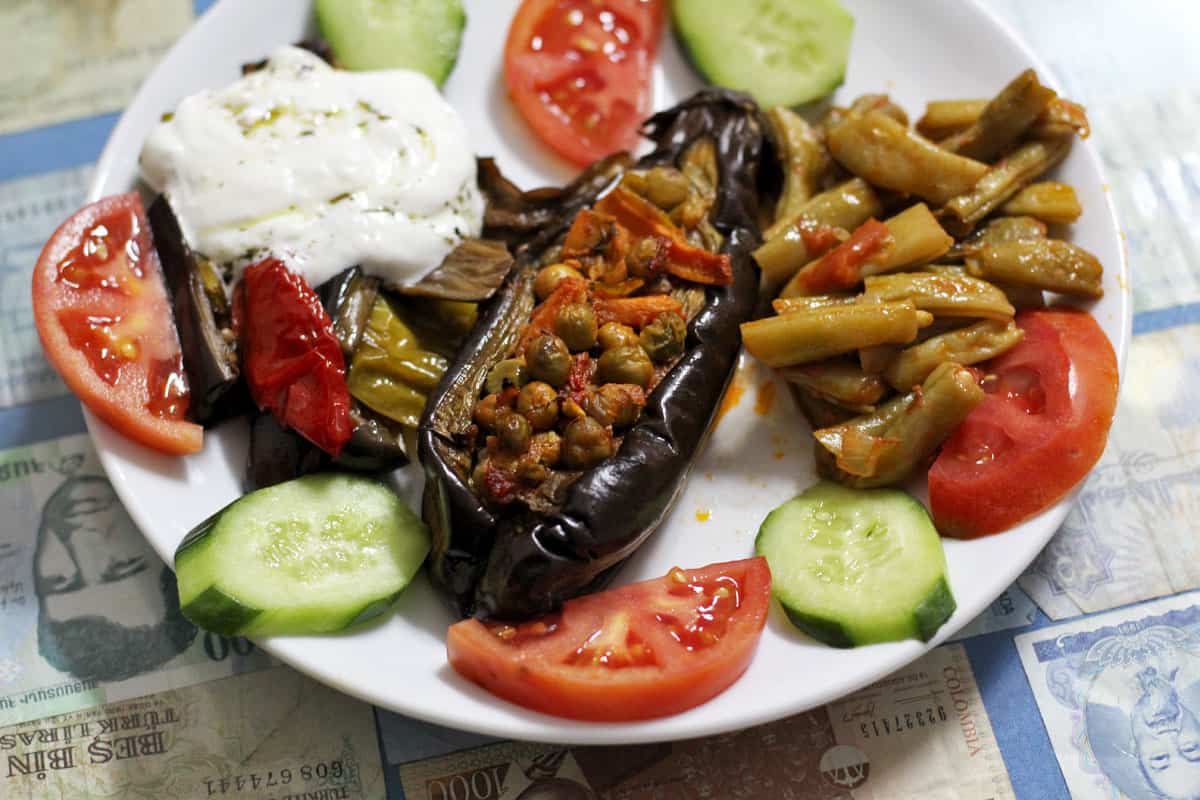 What we paid: Anywhere from 10-25TL per order depending on the platter size and restaurant (served with bread)
5. Börek
Börek refers to filled filo (or yufka) pastries popular in Ottoman cuisine. Available in many regional varieties and fillings, we had this patatesli (potato) börek at Nazar Börek in Göreme. It had a soft moist texture that was reminiscent of Spanish tortilla de patata, but in pastry form. It was really good and one of my favorite things to eat in Turkey.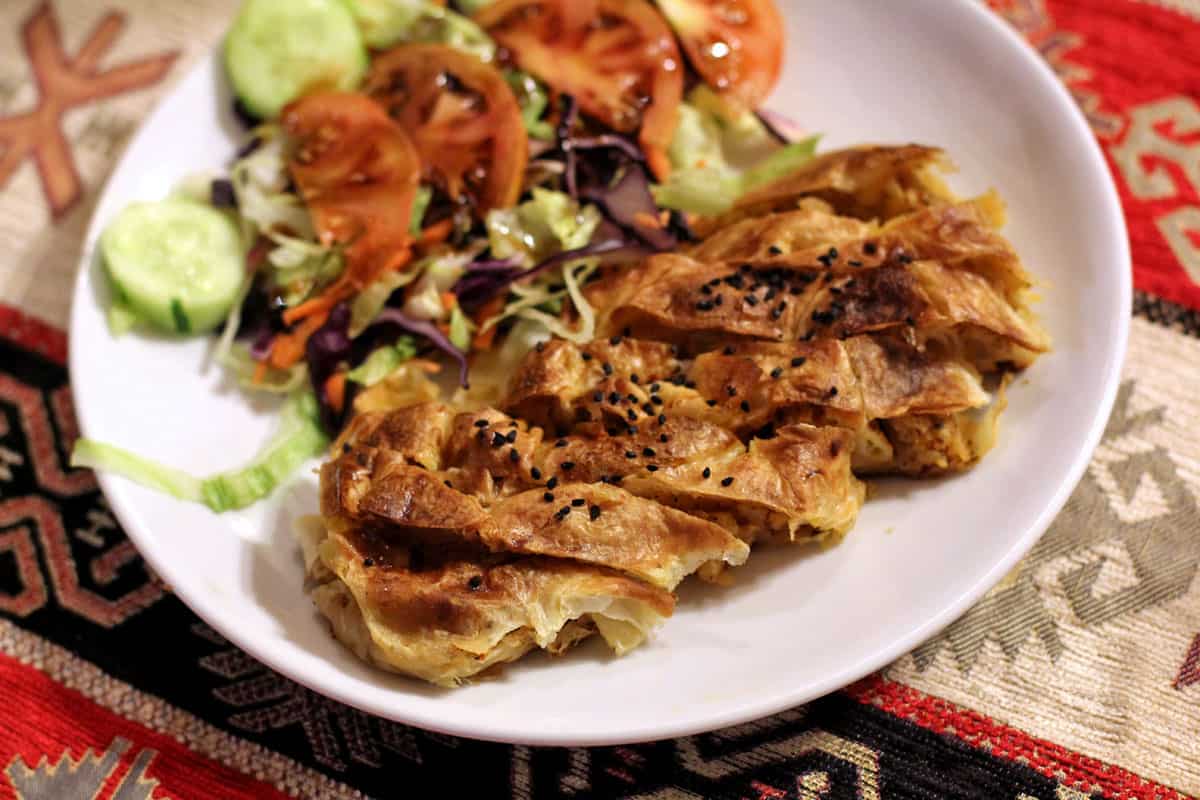 What we paid: 8TL per order
6. Imam Bayildi
Imam Bayildi refers to whole eggplant that's stuffed with onion, garlic, and tomato, and simmered in olive oil. Served at room temperature, it's a delicious vegetarian dish that's substantial enough as an entree. It's funny, you'd think that imam bayildi means "stuffed eggplant" in Turkish, but it doesn't. It means "imam who fainted". CLICK HERE to find out why. We had this beautiful specimen at Ejder Restaurant in Selçuk.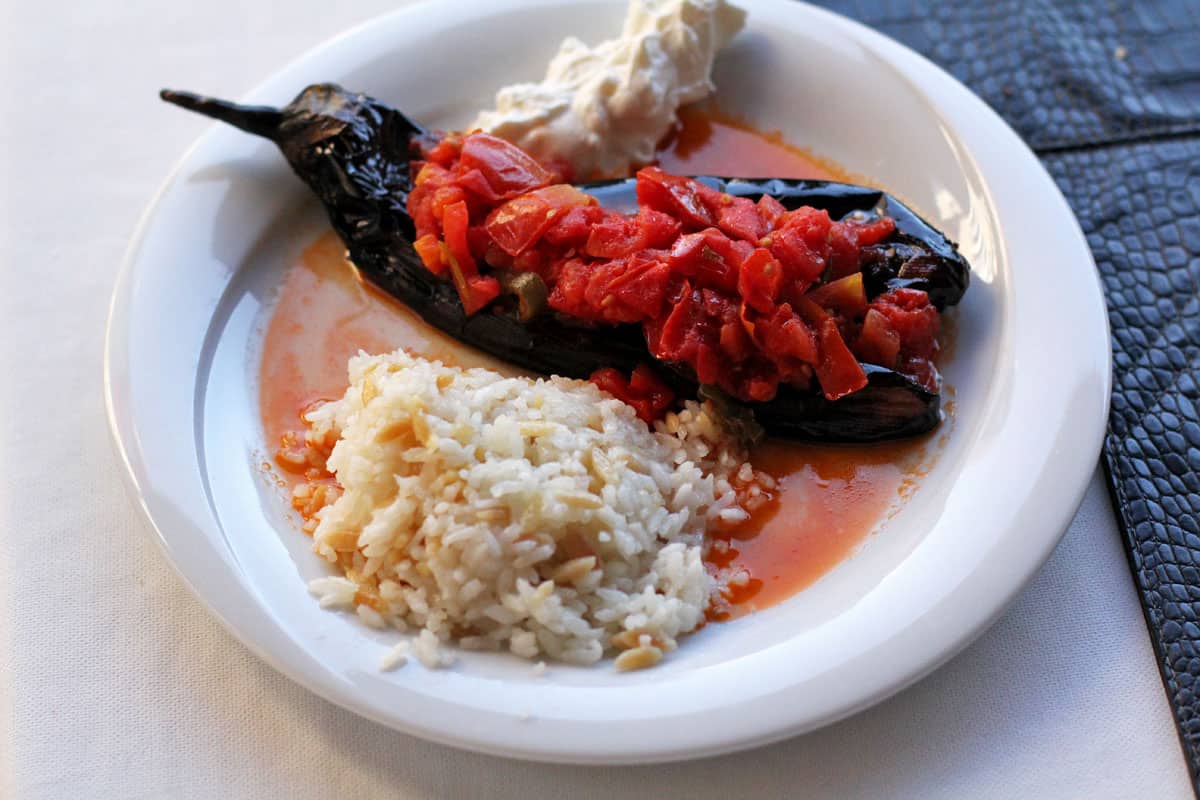 What we paid: Around 10-15TL per order depending on the restaurant (served with bread)
7. Midye Dolmas
Loved these. Midye dolmas are mussels stuffed with herbed rice, pine nuts, and currants. They're sold as a street food and spritzed with lemon. Though not as ubiquitous as roasted chestnut or simit carts, you'll find streetside vendors selling midye dolmas throughout Istanbul.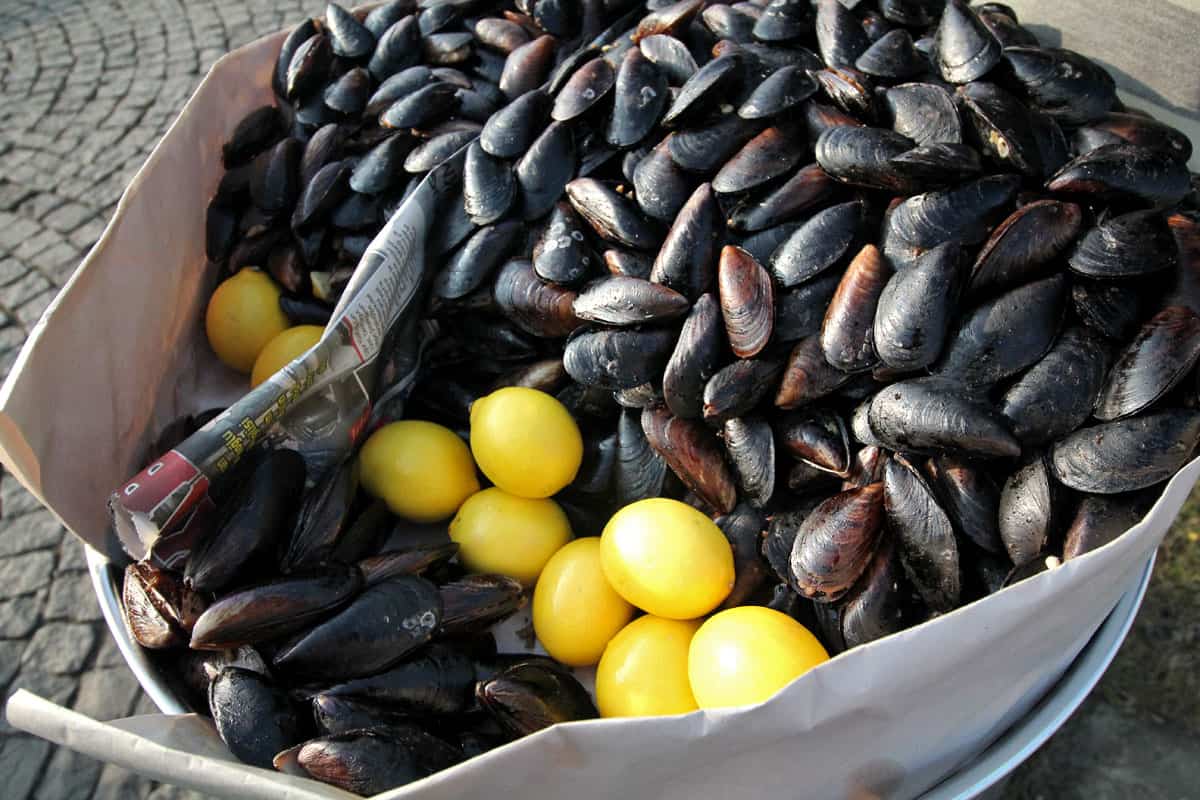 How delicious does this look? Midye dolmas was Ren's favorite thing to eat in Turkey.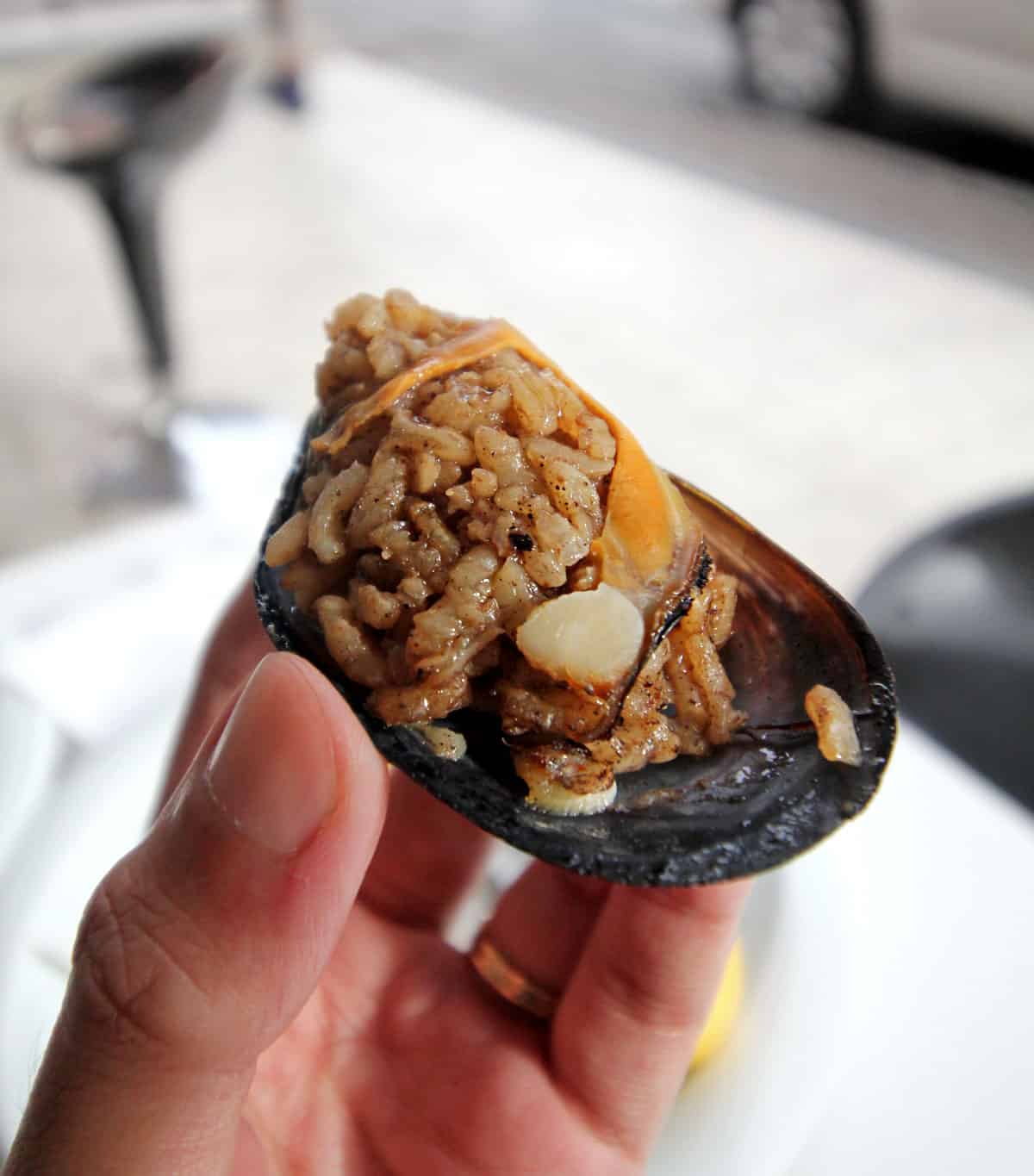 What we paid: 1-2TL per mussel (depending on the size)
8. Pide
Pide refers to boat-shaped flat bread baked in a brick or stone oven. Like pizza, it's topped with a variety of ingredients like cheese, onion, pepper, tomato, sausage, pastrami, egg, mushroom, ground beef, and parsley. It's an important component of Turkish cuisine so you can find it anywhere, even in street carts.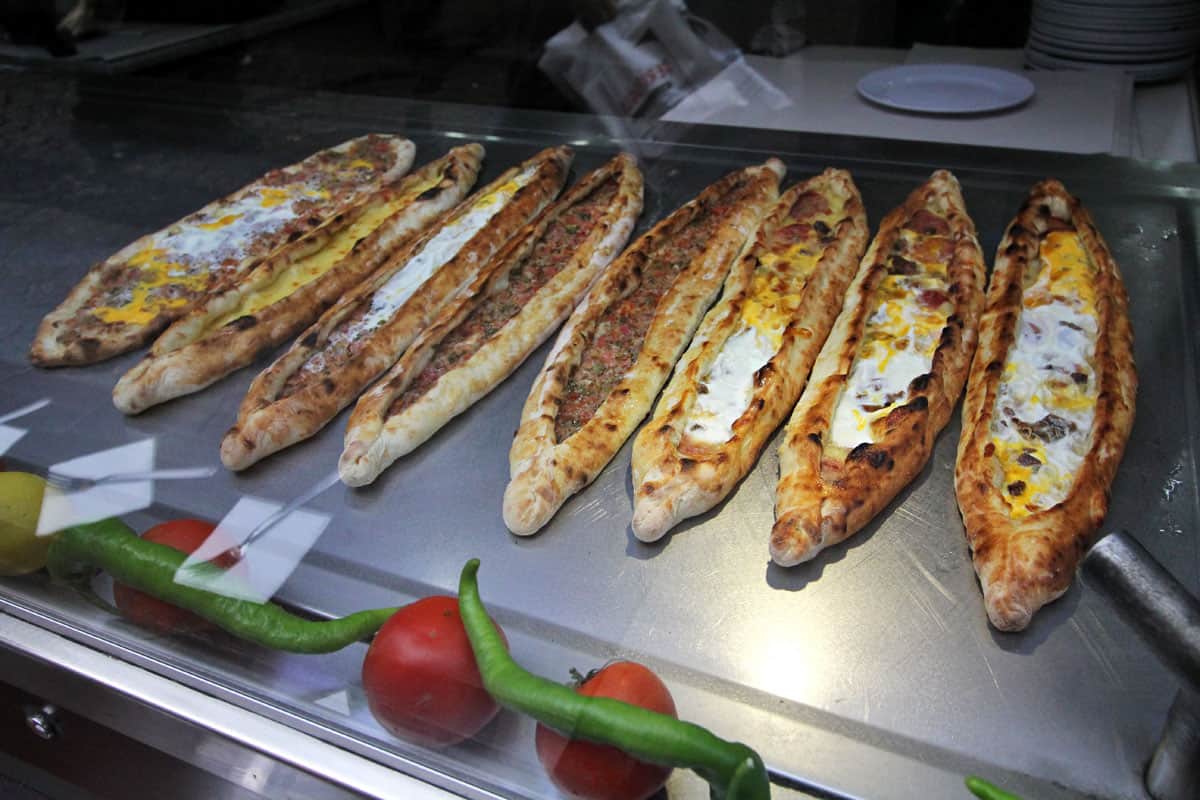 For the best experience, I suggest going to a restaurant that specializes in pide. We listed a couple of places on our Istanbul itinerary but we just didn't have time to go (too much good food to try!). We bought this one off a street vendor and it just wasn't as good.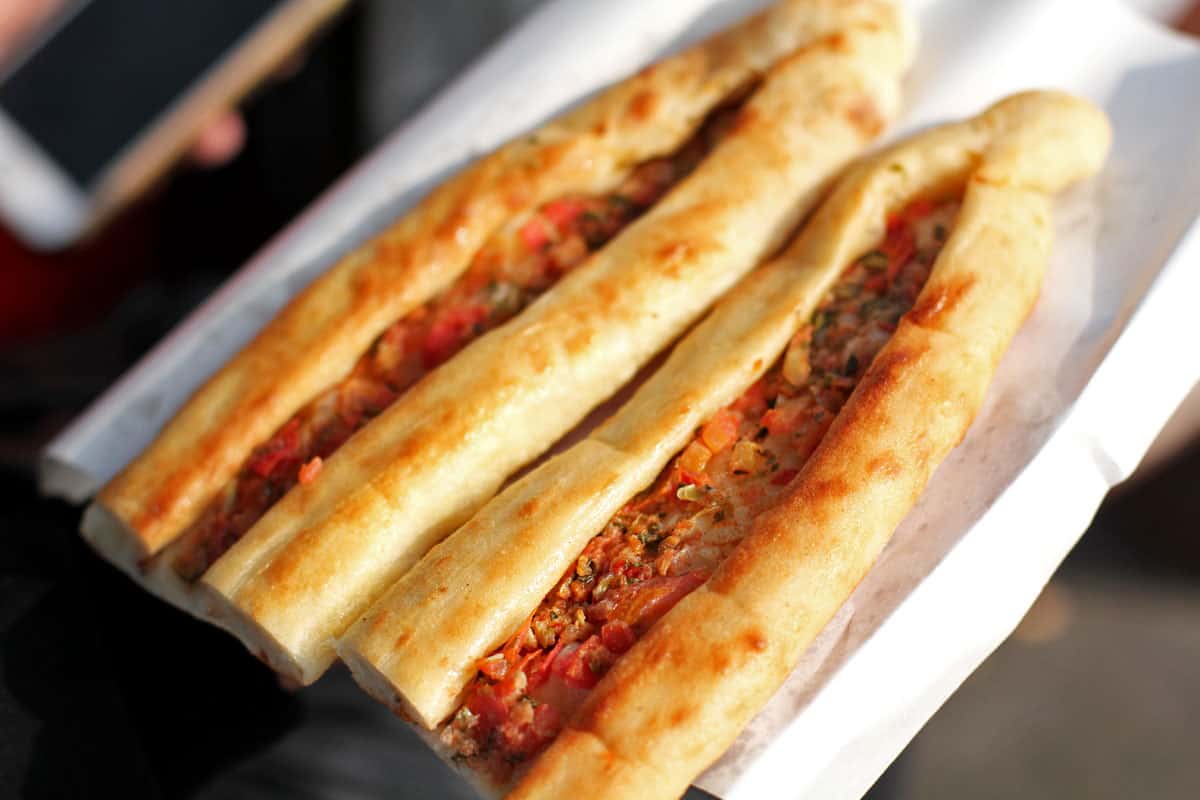 What we paid: Around 5-10TL per pide depending on the toppings
9. Gözleme
A savory Turkish pastry, gözleme is made with hand-rolled leaves of yufka dough that are lightly brushed with butter and eggs, filled with various toppings, sealed, then cooked over a griddle. Like börek, there are many variations that differ from region to region. We had this delicious kiymali (minced meat) gözleme at Nazar Börek in Göreme as well.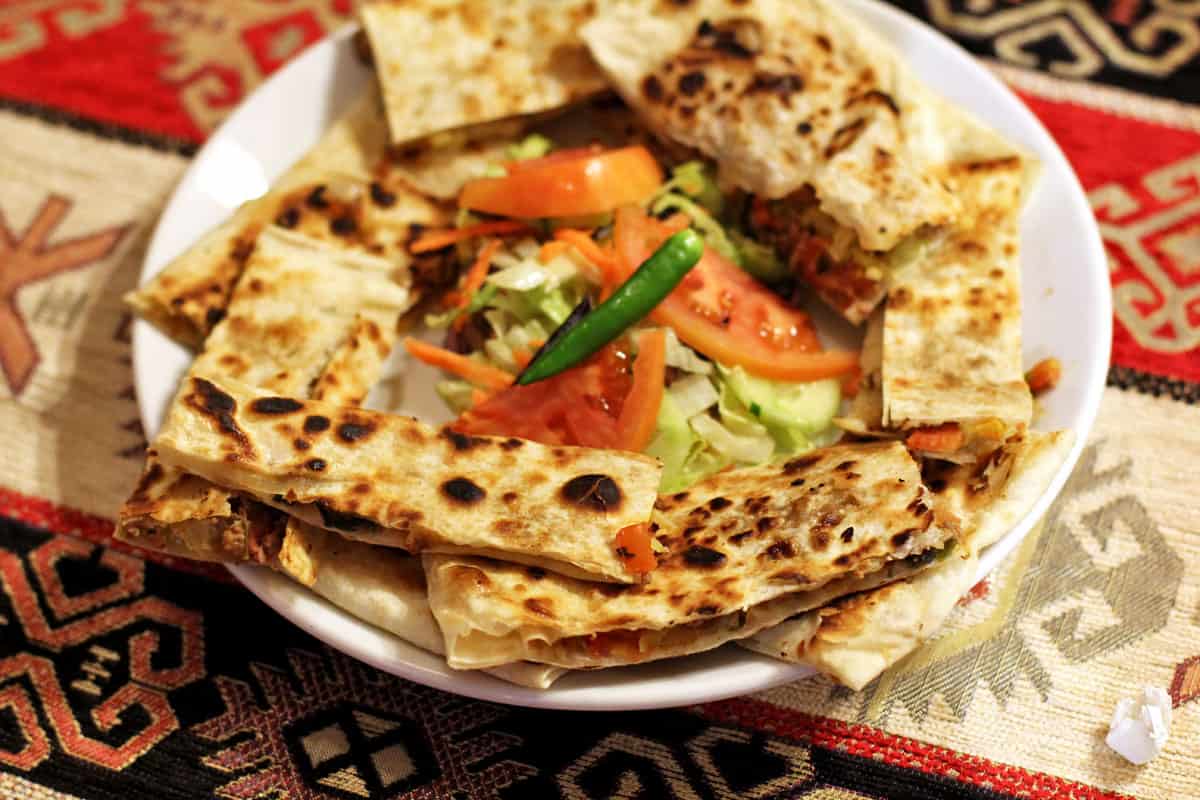 What we paid: 9TL per order
10. Lahmacun
Though it resembles a thin cheese-less pizza, lahmacun is actually a type of wrap topped with minced meat (commonly beef or lamb), vegetables, herbs, onions, tomatoes, and parsley. Wafer-thin, crisp around the edges but chewy towards the center, you roll it up like a burrito to eat.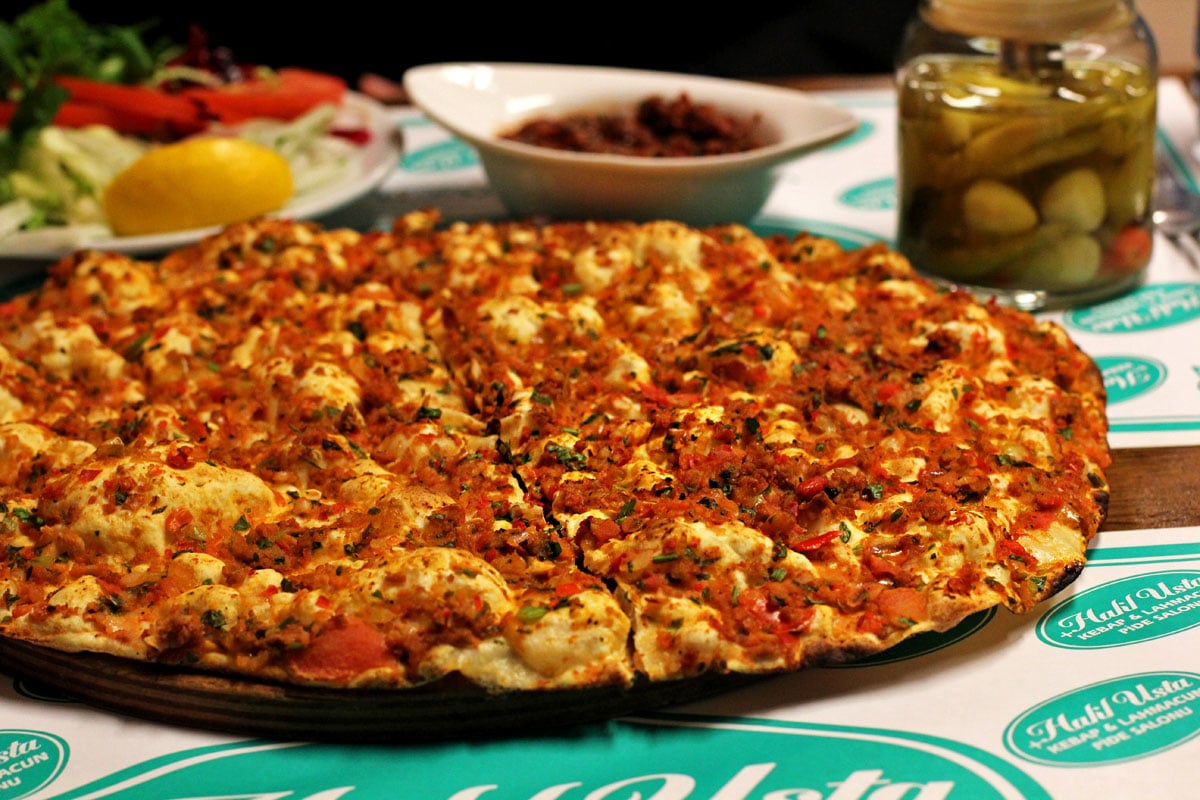 Like so. We had lahmacun twice in Istanbul and the first one was a soggy mess that wasn't very good. This one — at Halil Usta near Taksim Square — was outstanding. It was crisp with just the right amount of toppings.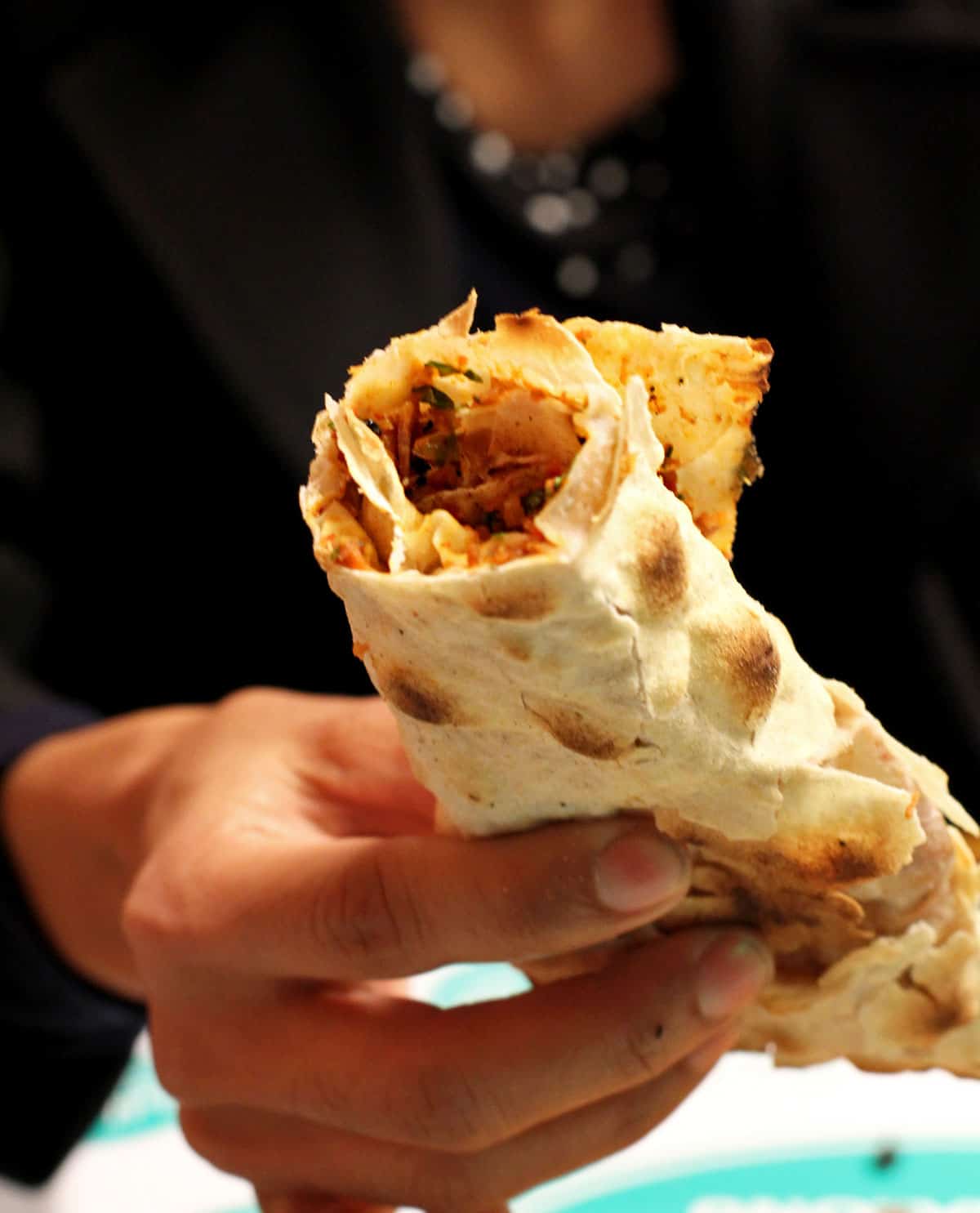 What we paid: 4TL per order (served with fresh salad, spicy paste, pickled peppers)
11. Balik Ekmek
Balik ekmek translates to "fish bread", which is exactly what it is — a fish sandwich. It consists of a grilled mackerel fillet with onion, lettuce, tomato, and a spritz of lemon. On either side of Galata Bridge in Istanbul — at Eminönü and Karaköy — are several restaurants and stalls selling balik ekmek. If you take the Bosphorus Cruise, then you'll find it at the various ports as well.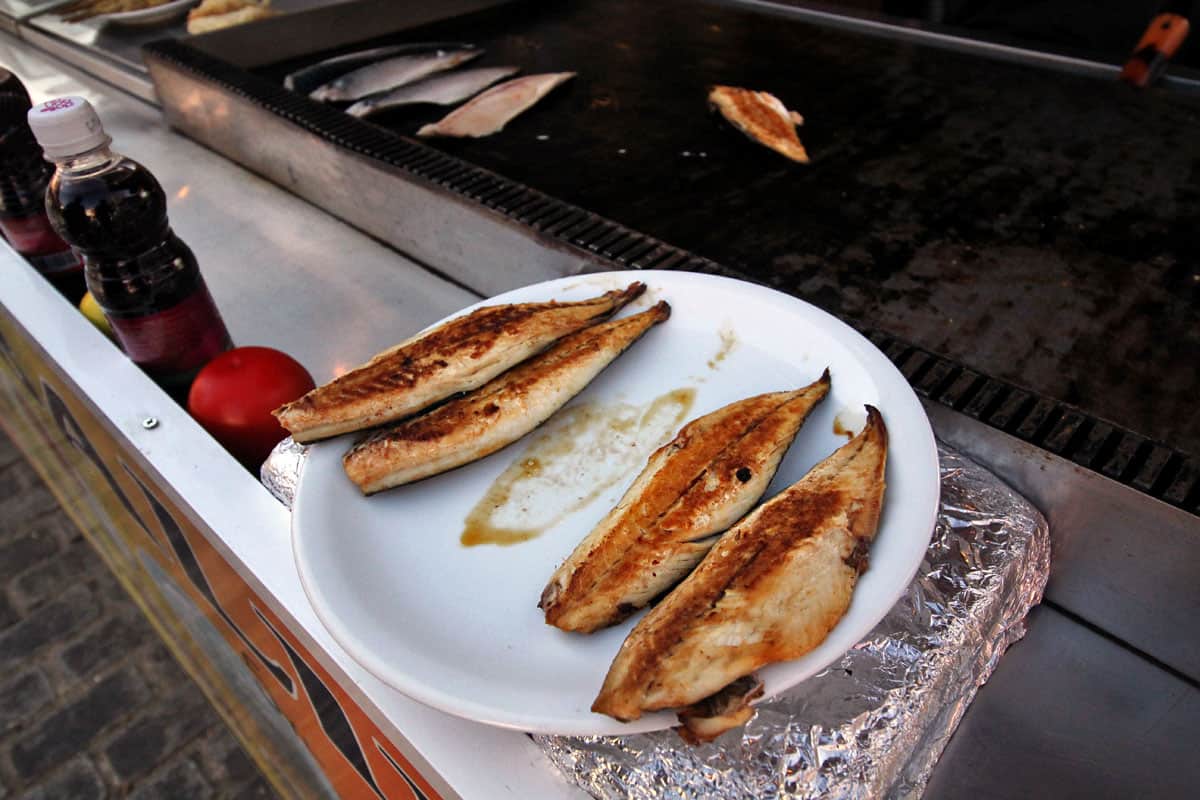 Balik ekmek tastes bright and fresh and is best enjoyed by the sea.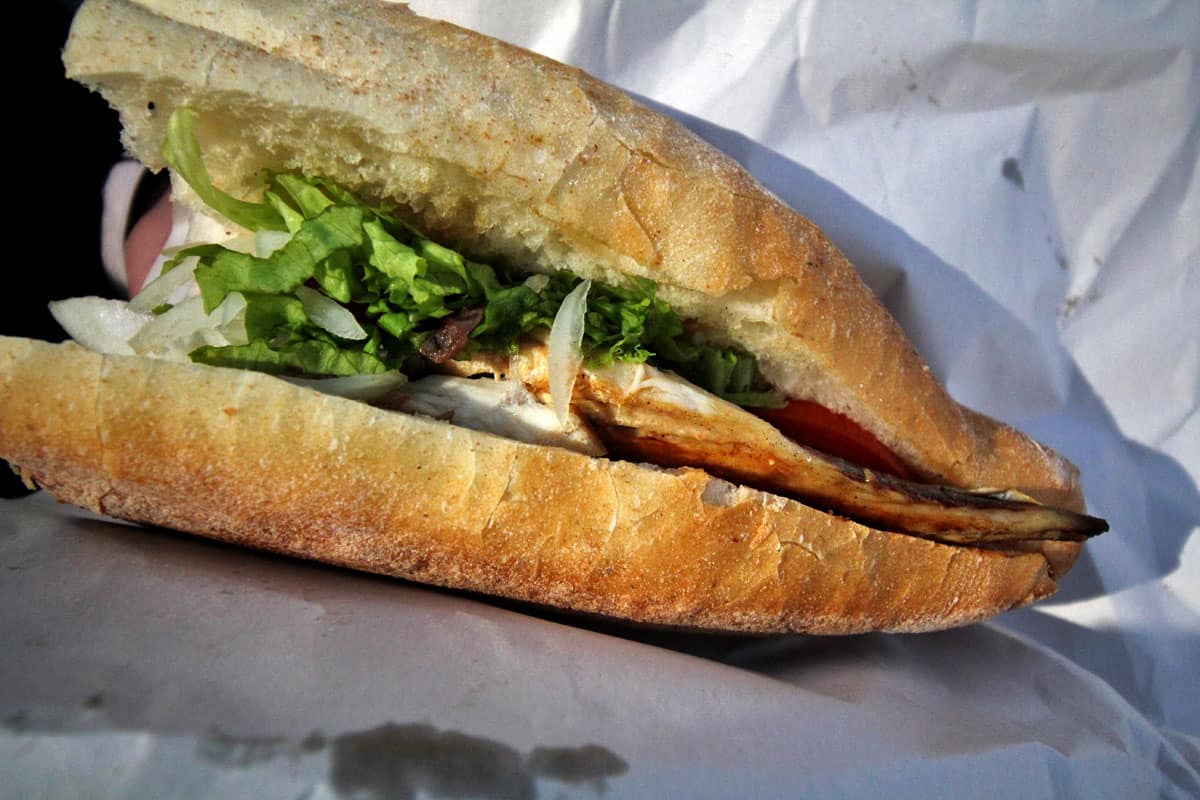 What we paid: 6-8TL per sandwich
12. Dürüm
Dürüm means "roll" and refers to sandwiches or wraps commonly filled with kebab ingredients. The dürüm is arguably the most beloved of all Turkish street foods and can be found everywhere. One of my favorite things to eat in Turkey, we enjoyed it on multiple occasions but the best ones were from Dürümzade in Istanbul (featured on No Reservations with Anthony Bourdain) and Mehmet and Ali Baba Kebab House in Selçuk.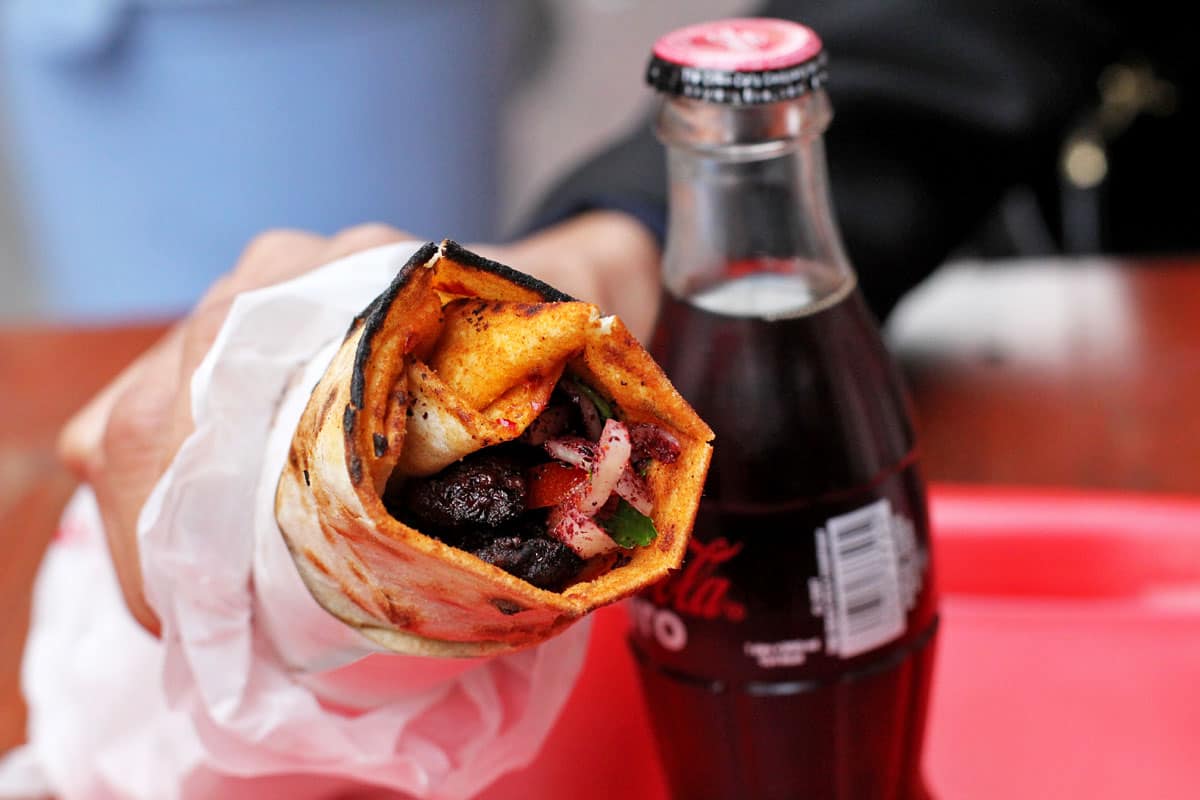 These döner kebab vertical rotisseries are ubiquitous in Turkey, especially in Istanbul. The sliced meat is the most common ingredient in a dürüm. I want one in my living room.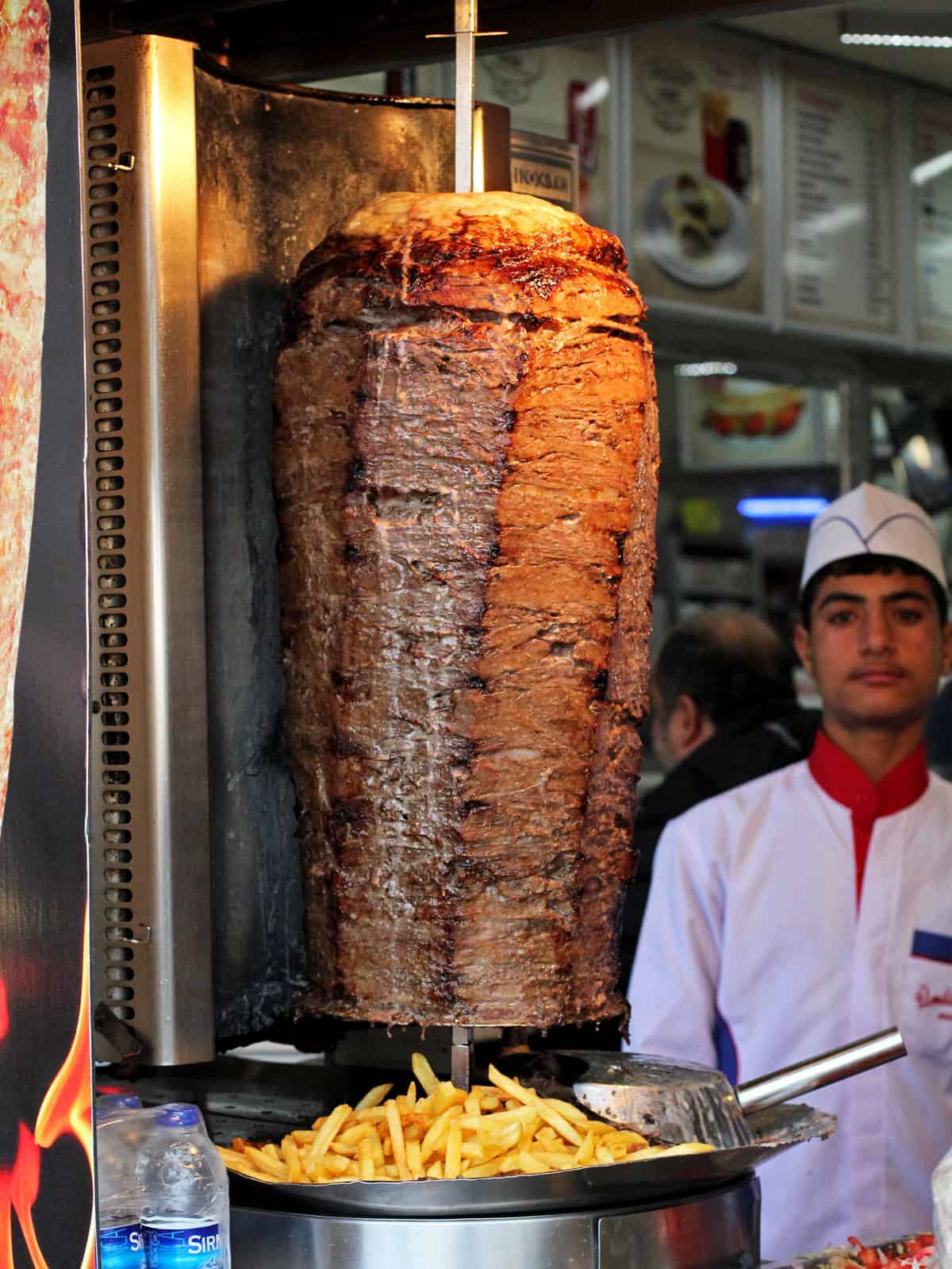 What we paid: Around 10-15TL per dürüm depending on the restaurant
13. Çiğ Köfte
Çiğ köfte is traditionally a raw meat dish made with either beef or lamb and commonly served cold as a meze or in a dürüm. Kneaded into a thick mixture, it's made with very finely ground fatless raw beef together with bulgur and a slew of spices and other ingredients like onion, tomato, fresh mint, and parsley. Vegetarians will be pleased to know however, that the sale of authentic çiğ köfte — the kind made with actual raw meat — has been banned since 2009 as a health precaution. Most commercially available çiğ köfte are now made without meat. We tried it at a Lezizhan near Chora Church where it was served with lettuce and flatbread and eaten as a wrap. Raw meat or not, it was one of the most interesting dishes we had in Turkey.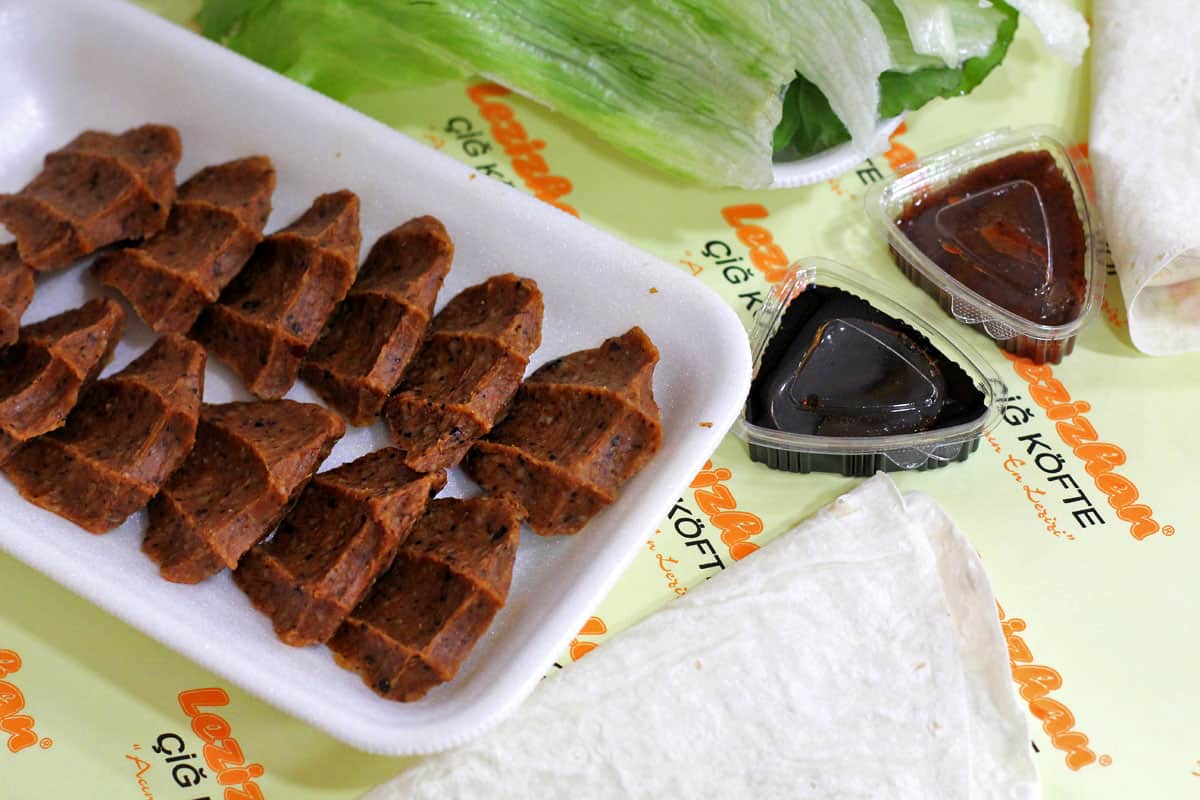 What we paid: 3-12TL depending on the portion size
14. Islak or "Wet" Burger
Drunk food at its ugliest and best. Soggy and greasy and mashed together in a radioactive orange mess, wet burgers get their color from being dunked in a garlicky tomato sauce and left to steam in a hamam-style glass box. Moist, chewy, and garlicky, they're not much to look at but they're oddly satisfying. Kizilkayalar in Taksim Square is famous for their wet burgers. They're a favorite among late night boozers and was one of the restaurants featured in the Istanbul episode of No Reservations with Anthony Bourdain.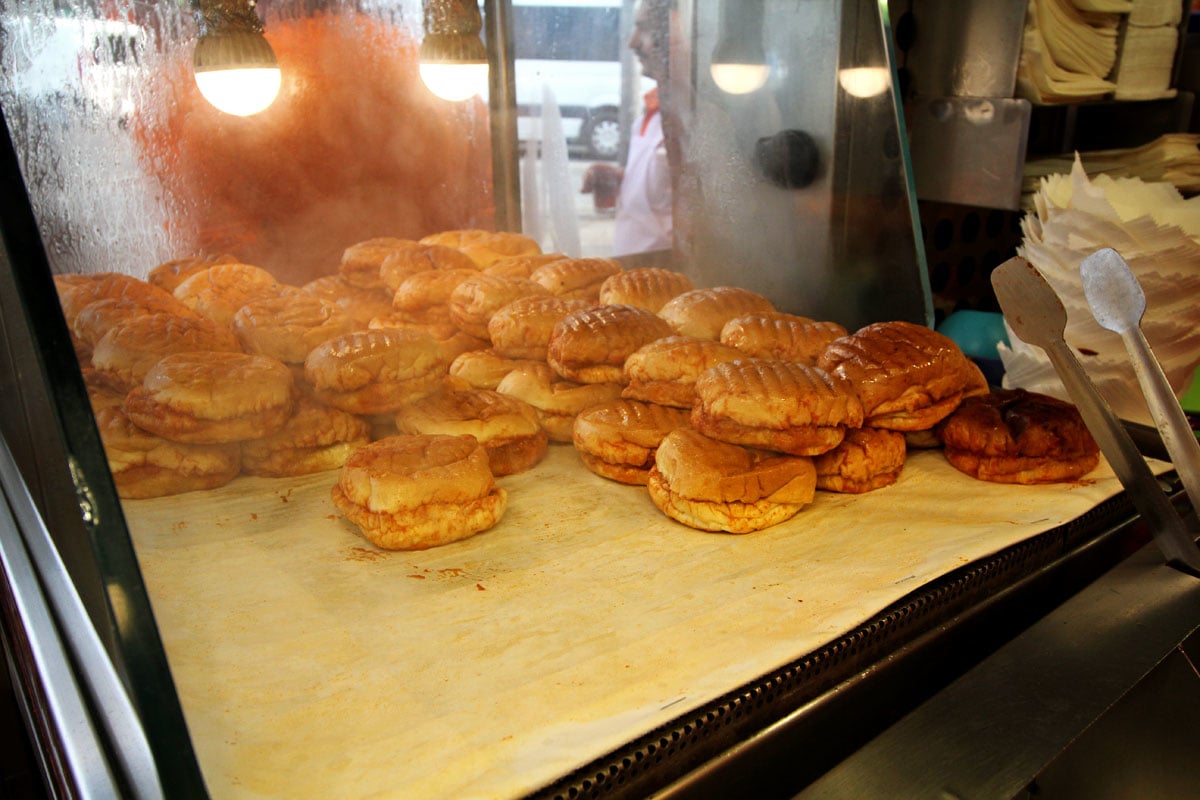 What we paid: 3TL per burger
15. Mushroom with cheese
This appetizer is exactly what it sounds like. You may find different variations of it — some made with köfte (meatballs) for example — but it's basically mushrooms and cheese baked in a clay pot. I like mushrooms so I enjoyed this three times on our trip, once in Pamukkale and twice in Cappadocia. You can probably find it in many restaurants that serve traditional Turkish cuisine.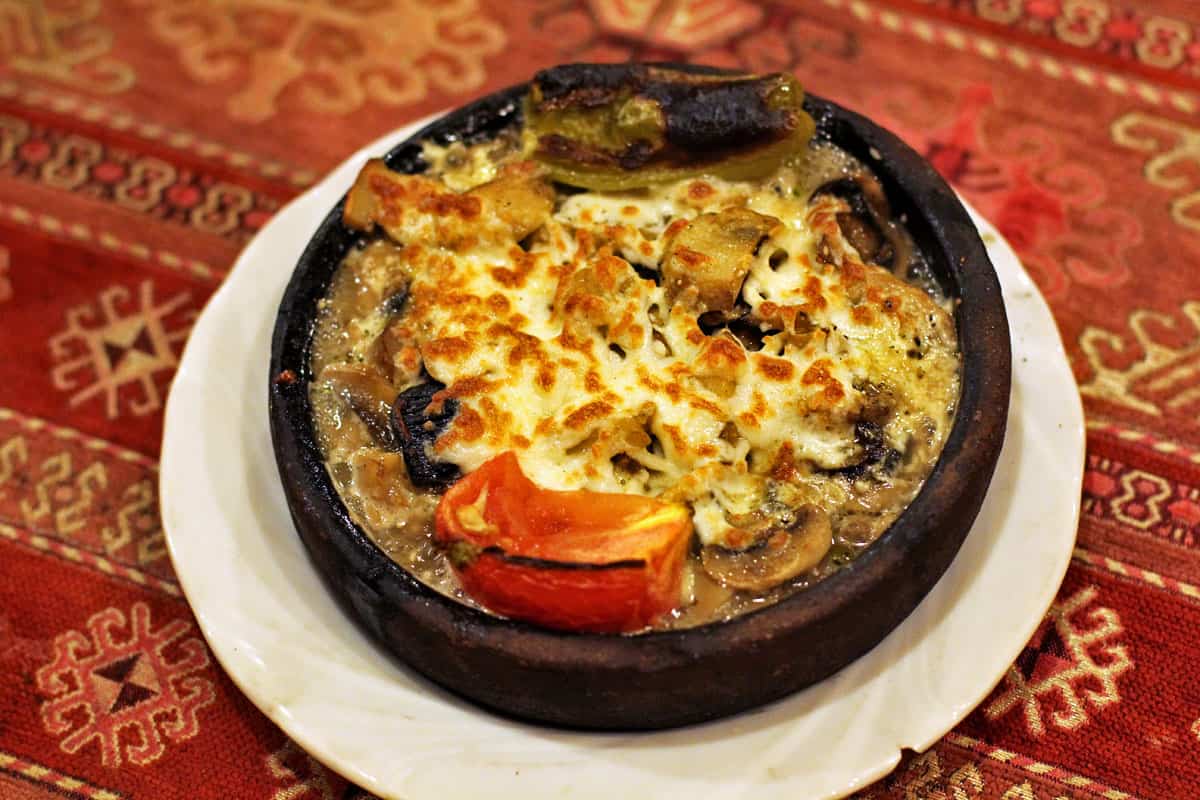 What we paid: Around 15TL per order (served with bread)
16. Fresh Fish
Turkey is surrounded by four seas so seafood in its coastal cities is fresh and abundant. Istanbul, in particular, is surrounded (and divided) by water so you'll often find many types of fish being offered at different times of the year. There are plenty of seafood restaurants in Istanbul. We enjoyed bonito at Ahırkapı Balıkçısı in Sultanahmet and sea bass at Kavak Baba in Anadolu Kavağı.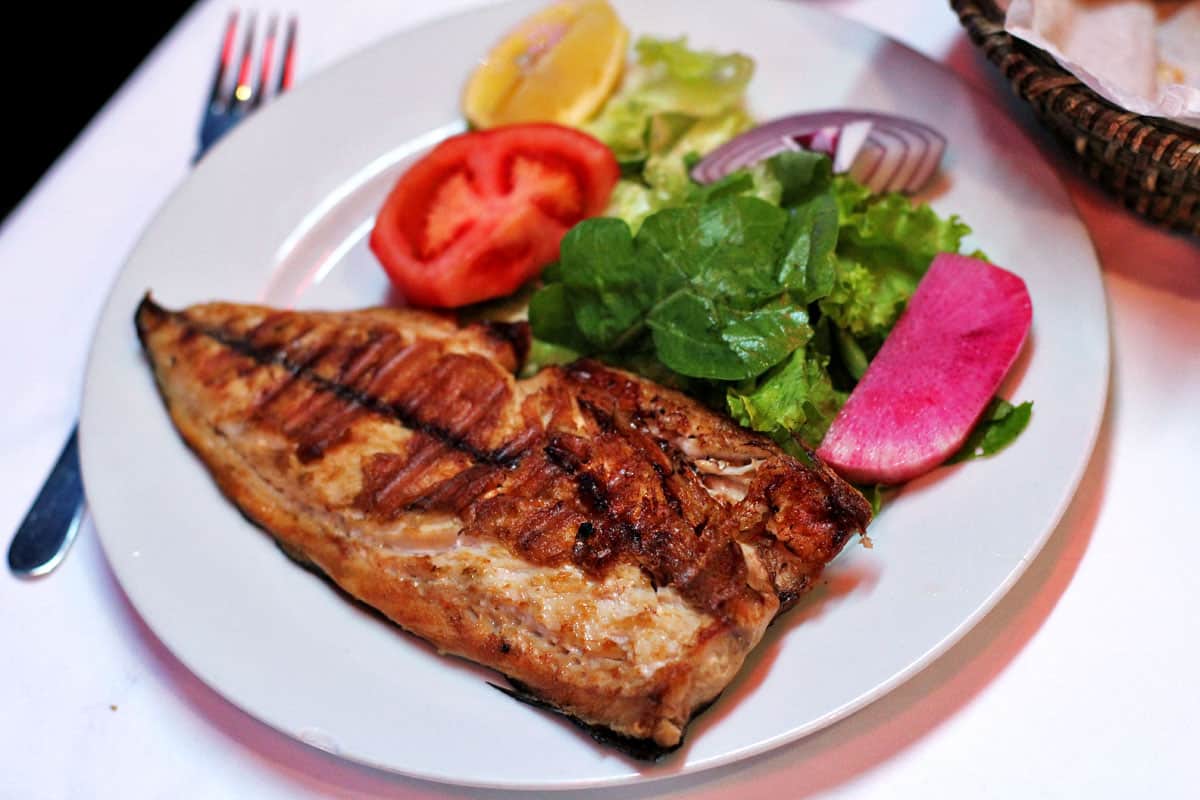 Sea bass enjoyed by the water in Anadolu Kavağı, which is the last stop on the Bosphorus Cruise.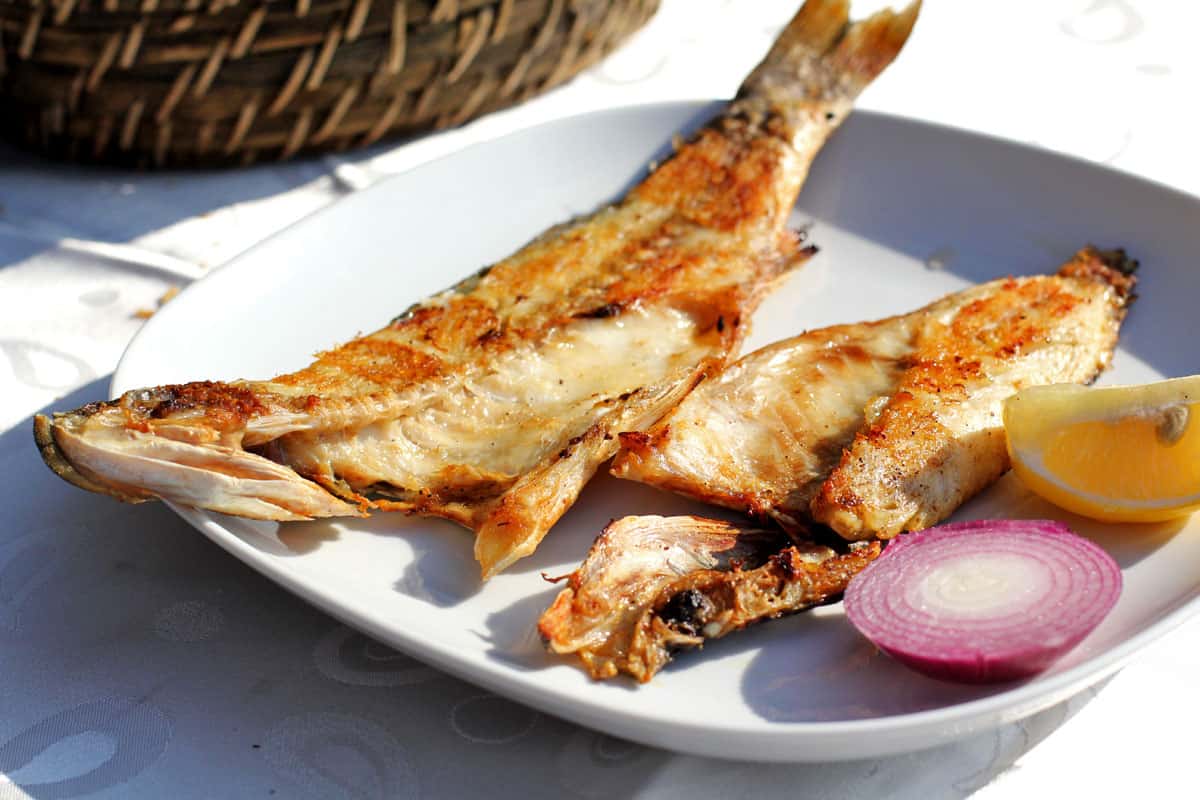 What we paid: Around 30-60TL depending on the type of fish and restaurant
17. Köfte
Köfte is a type of meat ball or patty made with minced or ground meat — usually beef or lamb — mixed with onions, herbs, and spices. If you're staying or taking a tour in the Sultanahmet area in Istanbul, then Tarihi Sultanahmet Koftecisi Selim Usta is a good place to try them.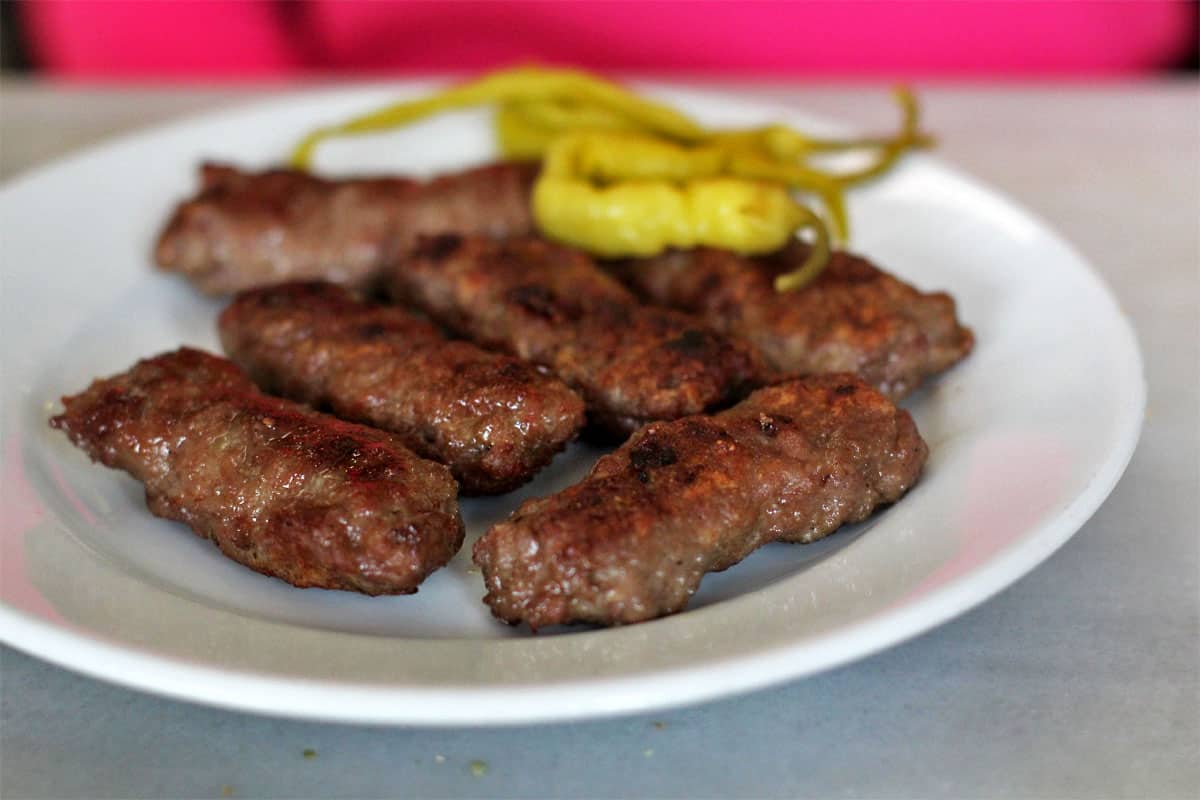 What we paid: 17TL per order (served with bread and pickled peppers)
18. Lamb
We quickly learned that when someone says "meat" in Turkey, more often than not they're referring to lamb. Turkish people eat a lot of lamb so you can find it many forms like kebabs, chops, rolls, ragout, and casserole. Ren and I both enjoy lamb so we had it as often as we could on this trip.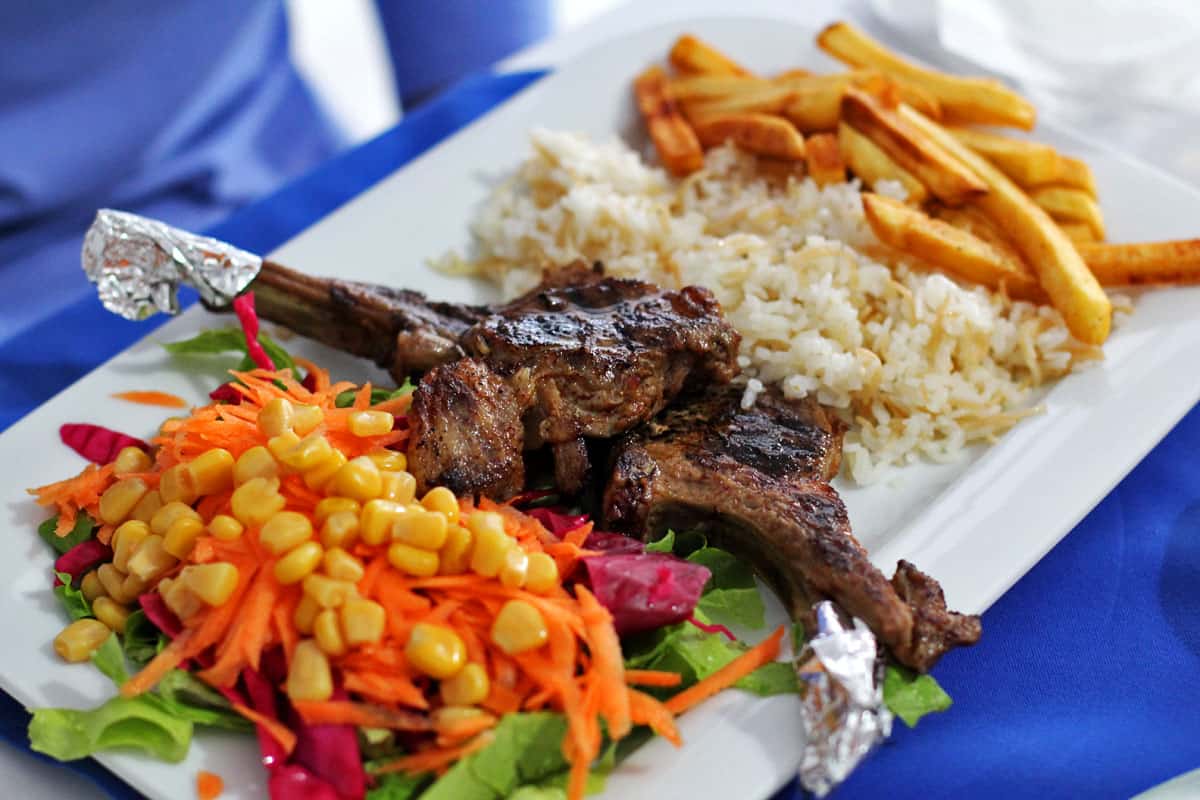 For lamb dürüm, I suggest Dürümzade in Istanbul (featured in No Reservations with Anthony Bourdain). In Cappadocia, you can try lamb testi kebab. If you're visiting Pamukkale, then a stop at White House Restaurant & Cafe to try their lamb chops (pictured above) is recommended. In Selçuk, the lamb rolls (pictured below) at Ejder Restaurant are outstanding as are the lamb kebabs at Mehmet and Ali Baba Kebab House.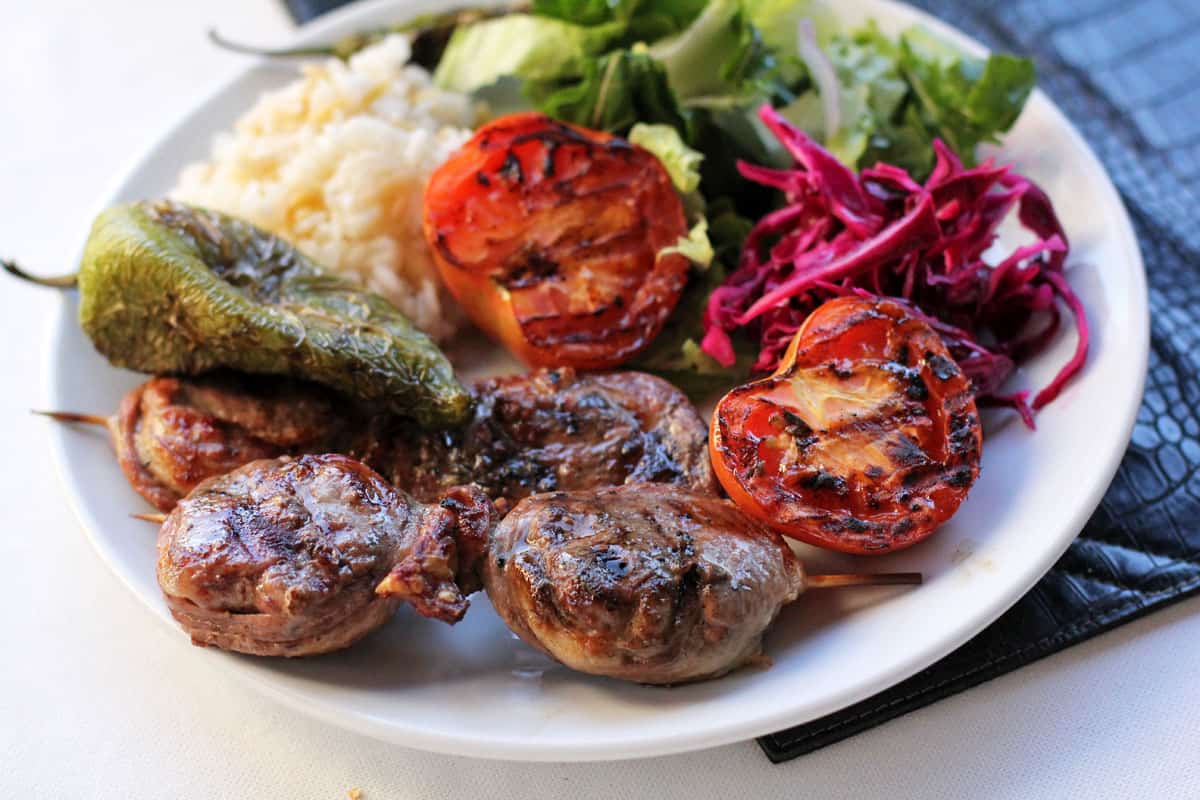 What we paid: Around 10-15TL per dürüm, 20-30TL per entree depending on the restaurant
19. Testi Kebap
One of the most interesting dishes we had in Turkey, testi or "pottery" kebab is an Anatolian speciality prepared in a clay pot or jug. It's usually made with lamb, beef, or chicken with vegetables like carrots, celery, onions, garlic, and potatoes. Traditionally cooked in a tandoor or clay oven, the pot is sealed with bread dough and left to simmer in its own juices for hours. When ready, the jug is brought out and cracked tableside, releasing its aroma while treating the diners to a little theater. A must-try for anyone visiting Cappadocia, proper testi kebab takes hours to prepare so I suggest making a reservation with a restaurant that requires advanced booking. CLICK HERE for more pictures and information.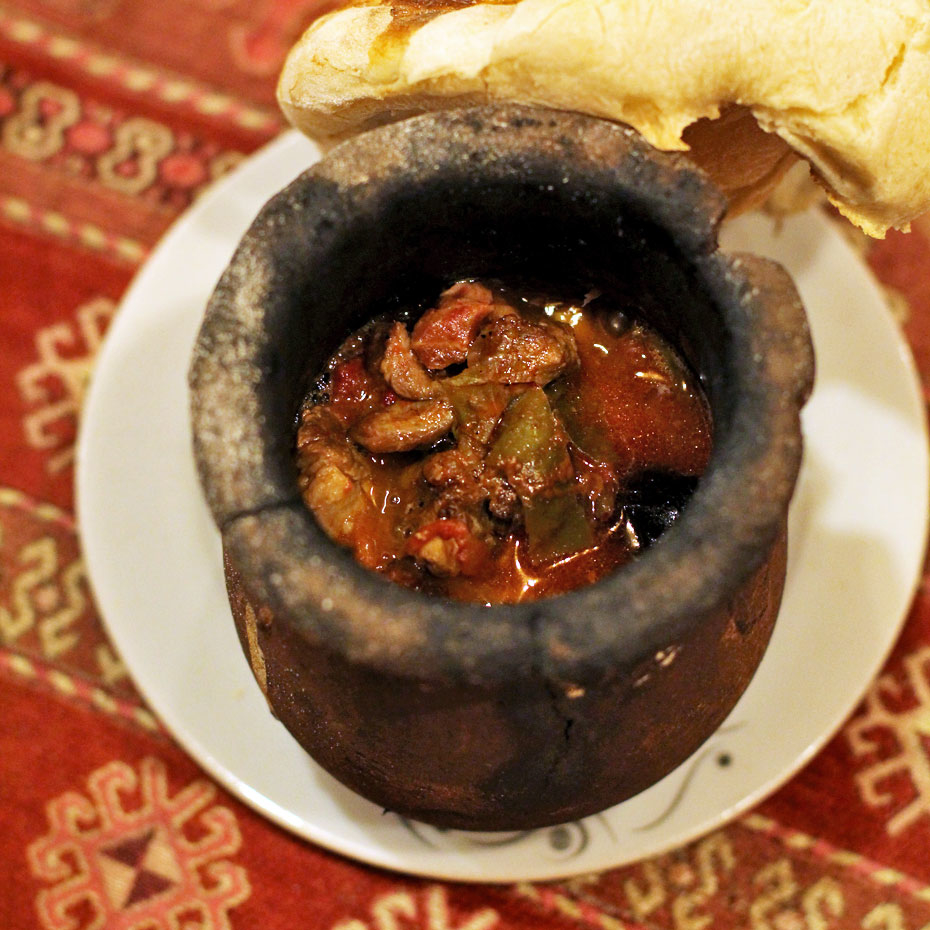 What we paid: 20-25TL per order (served with rice and bread)
20. Künefe
This dessert was a revelation. Originating from the Southeastern region of Turkey, künefe is a crisp cheese-filled dessert made with shredded kadayıf dough soaked in sweet syrup and topped with clotted cream. You have to eat it soon as it comes out of the oven so the cheese is soft and stringy like this. You can find this in many places but we had ours at Halil Usta near Taksim Square. It was ridiculously good and one of the best things we ate in Turkey.

What we paid: 8TL per order
21. Baklava
I've always wondered where baklava comes from and it's interesting to find out that it may have its origins in Ottoman cuisine. Its current form believed to have been developed in the imperial kitchens of Topkapı Palace, baklava is a rich, sweet pastry made with layers of filo dough packed with chopped nuts and held together with syrup or honey. You can find baklava pretty much anywhere in Turkey but we had this delicious specimen at Nazar Börek in Göreme.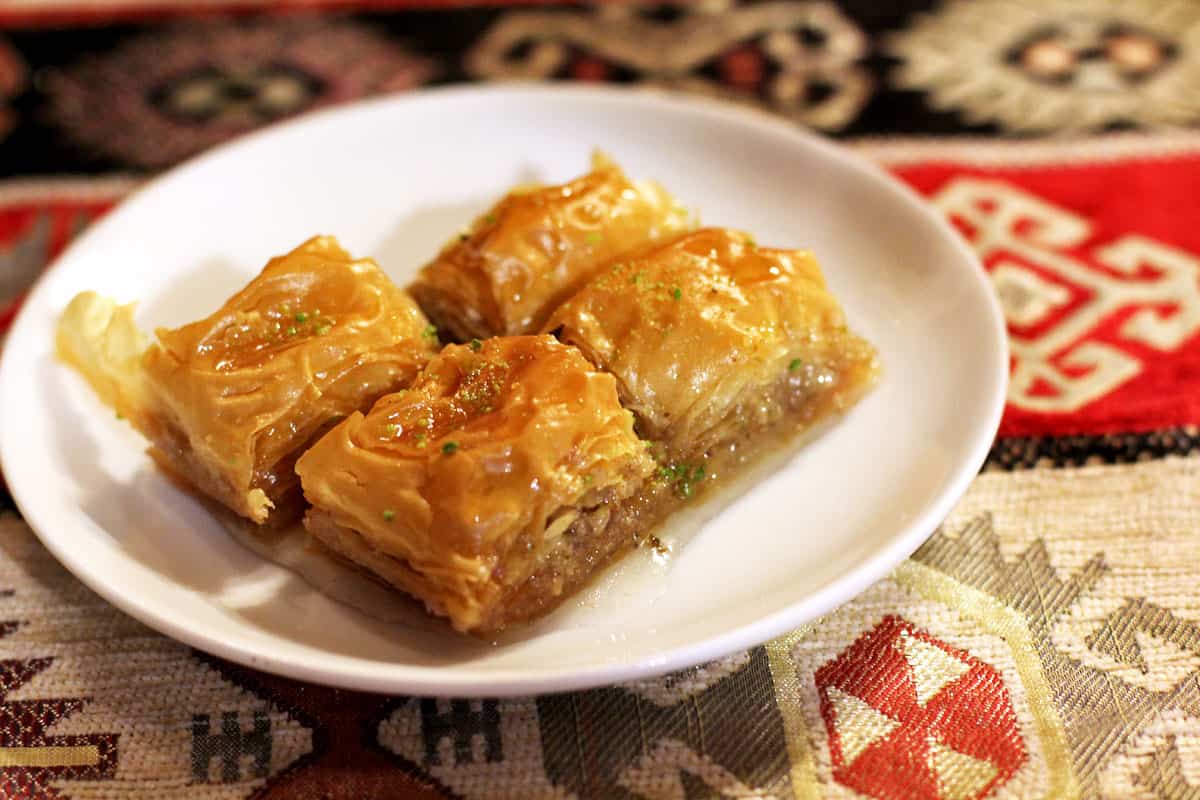 What we paid: Around 8TL per order
22. Sambali
Sambali is a type of semolina cake made with milk or yogurt, molasses, sugar, almonds, and lemon juice. A rich and sticky dessert, we bought this off a cart in Selçuk though I think you can find it in many pastry shops.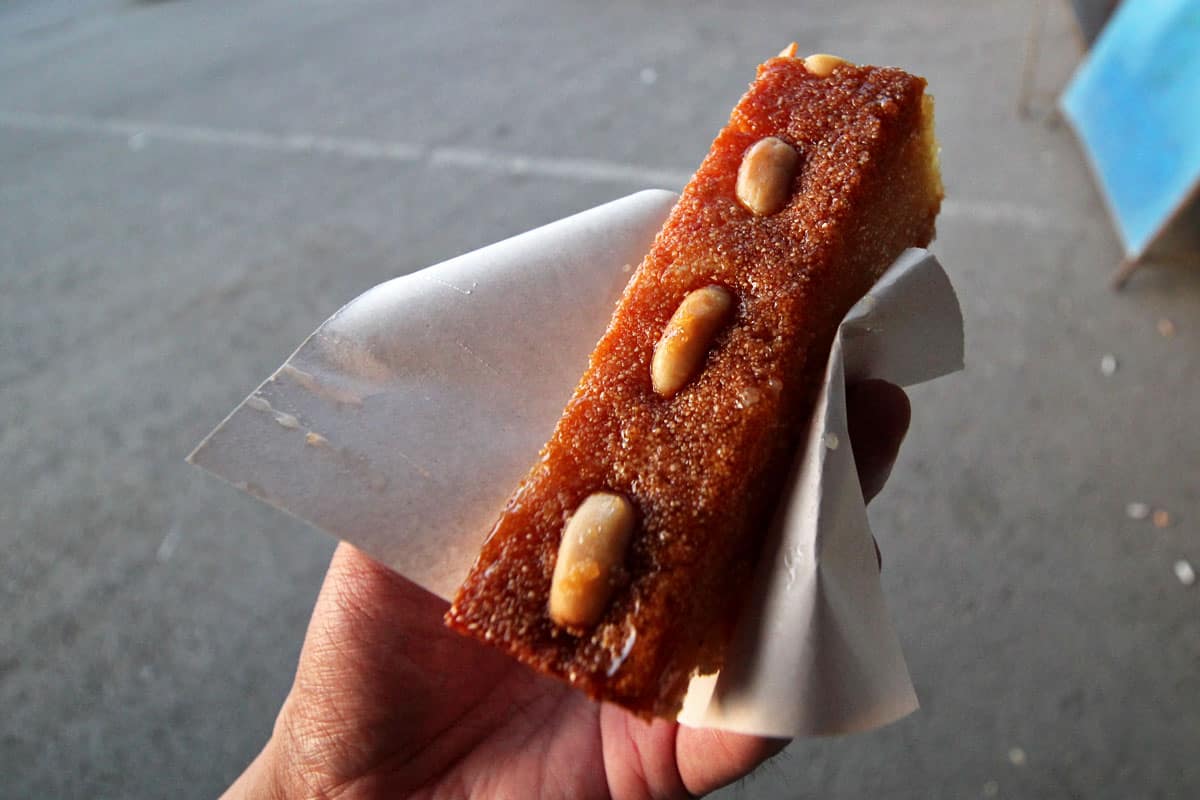 What we paid: 1-2TL per piece
23. Halka Tatlısı
A popular street dessert, halka tatlısı is a fried dessert dipped in sweet syrup. Think of it as Turkish churros. Delicious!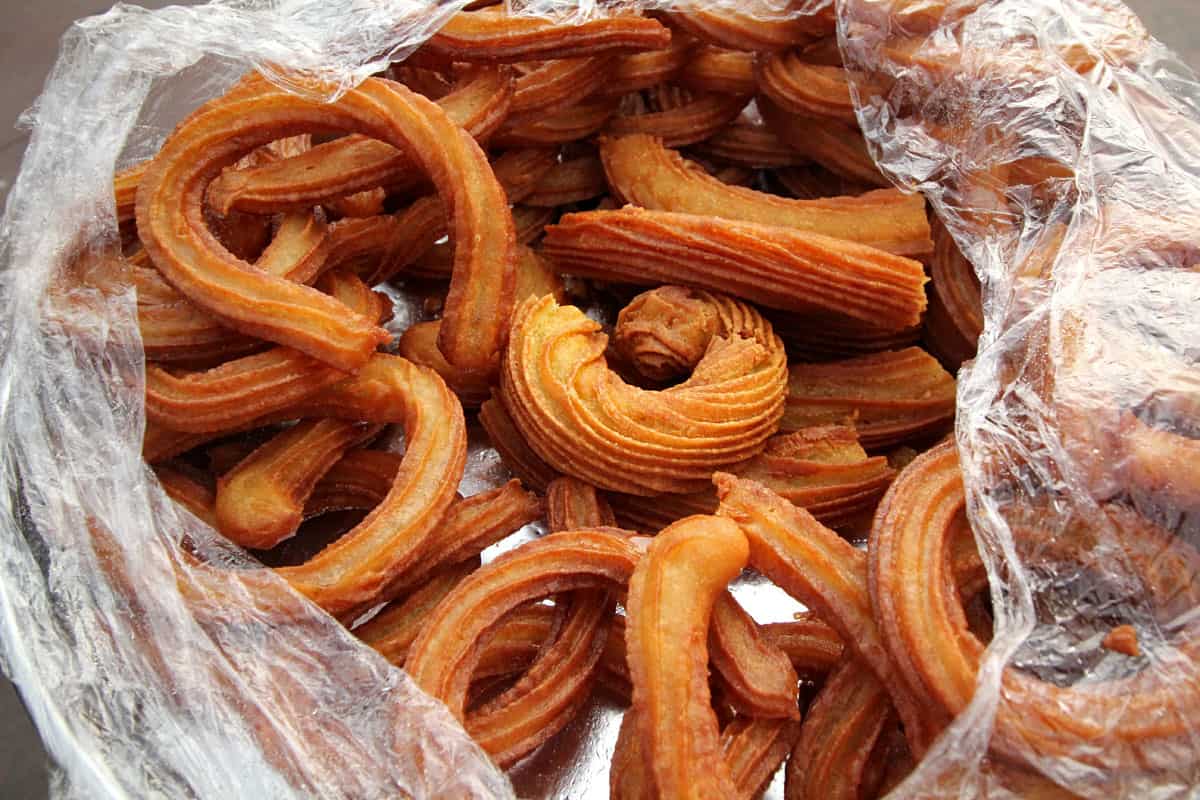 What we paid: 1-2TL per piece
24. Dondurma
Here's something that you're sure to love. Dondurma is Turkish ice cream. But unlike the ice cream that most of us are used to, it's made with salep and mastic so it's chewier in texture and more resistant to melting. Really good and some of the best ice cream I've ever had.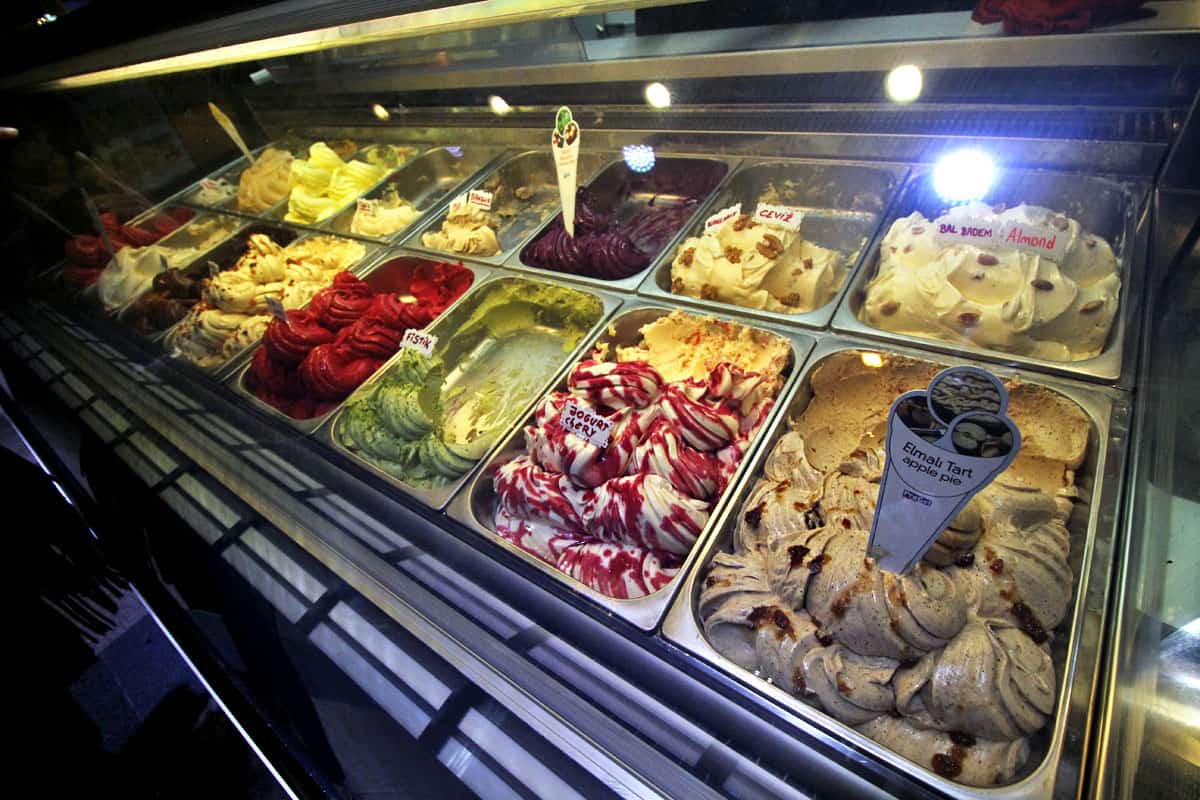 Like chestnut or simit carts, dondurma shops are everywhere in Istanbul. It was a nippy November night when we had this but we didn't care. It's never a bad time for ice cream no matter what the temperature. 😛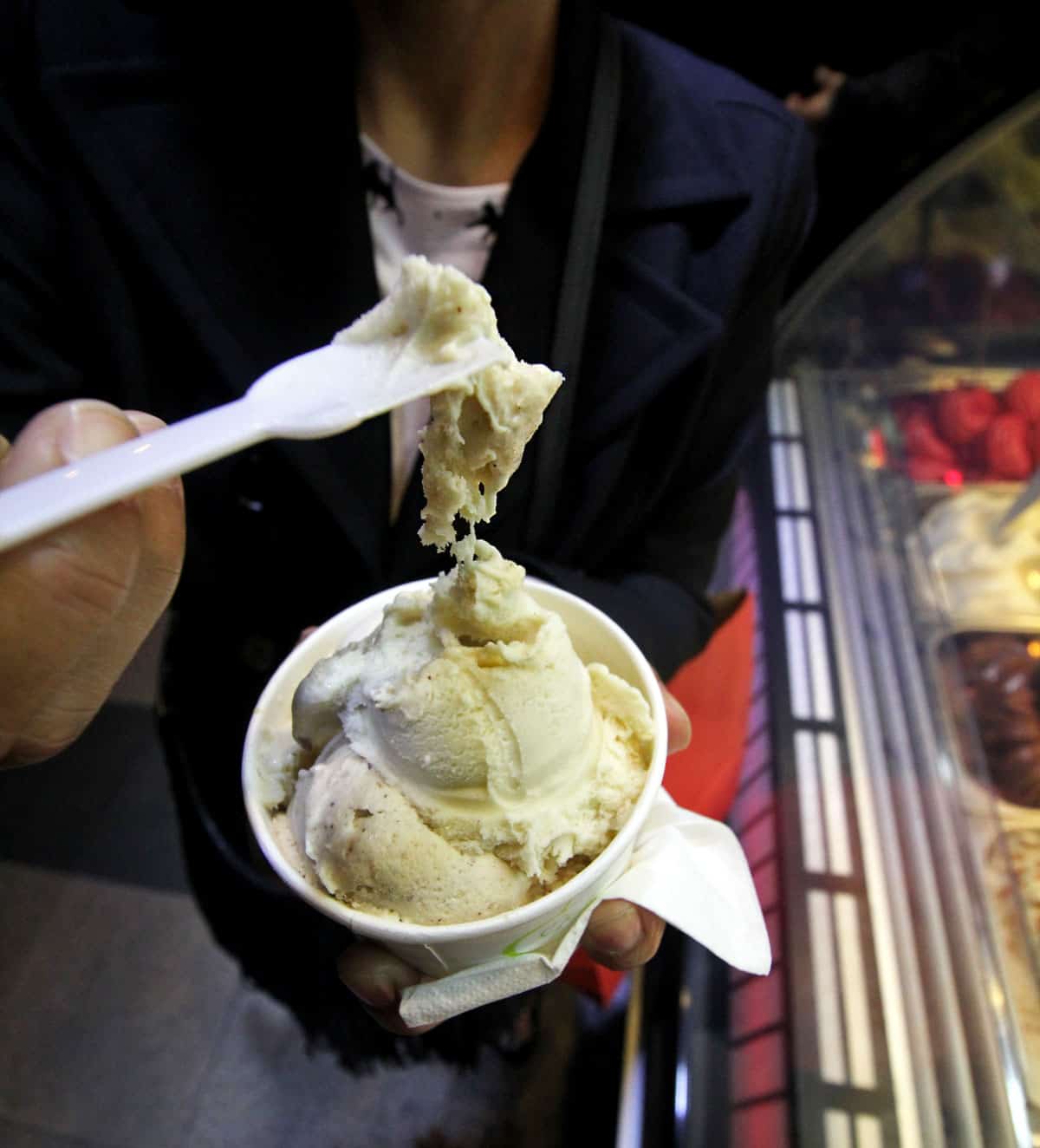 What we paid: Around 2TL per scoop
25. Turkish Delight
Arguably the most iconic dish on this list, Turkish Delight or lokum refers to a family of gelatinous confections commonly flavored with rosewater, mastic, bergamot orange, or lemon. It's often cut and eaten in small cubes dusted with powdered sugar to prevent clinging. As you can see below, premium varieties have other ingredients bound to the gel like chopped dates, pistachios, hazelnuts, and walnuts. Turkish Delight makes for a great gift and can be found in many shops throughout Istanbul. We bought ours at the Egyptian Spice Bazaar.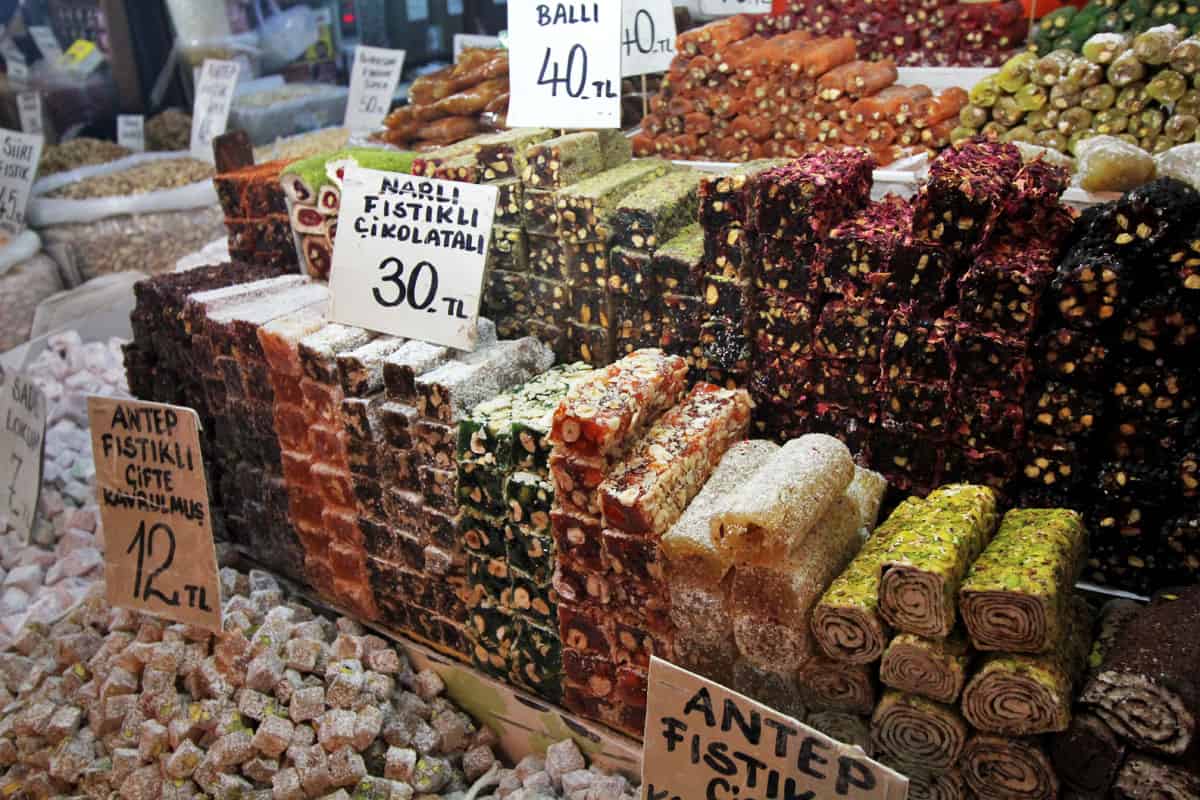 What we paid: Around 5-8TL per small box of regular, 15-30TL per small box of premium
26. Fresh Pomegranate Juice
Turkey is one of the world's largest producers of pomegranate so you can find many of these fresh juice stands everywhere. They were particularly ubiquitous in Selçuk and made for a refreshing drink after visiting the Ephesus ruins.



Fresh pomegranate juice is tart and mildly chalky.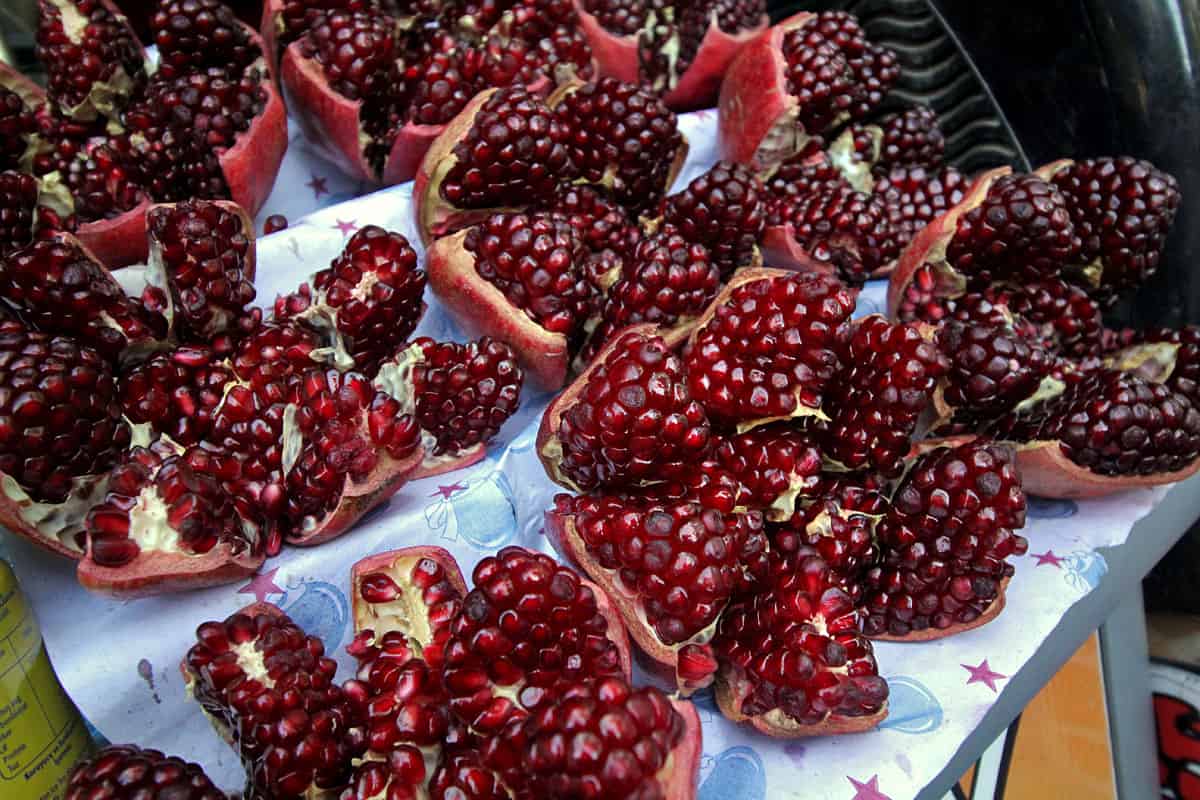 What we paid: Around 3-4TL per cup
27. Salep
This was interesting. Salep is a flour made from orchid tubers containing a nutritious, starchy polysaccharide called glucomannan. Dusted with cinnamon and enjoyed as a dessert beverage, it's sweet and intensely rich with a unique, somewhat floral flavor. It was almost like drinking a milky, watered down porridge infused with orchid. We tried it in Şirince — a rural hill town near Selçuk — but many places offer salep in winter. It's usually served piping hot so be careful when you drink it.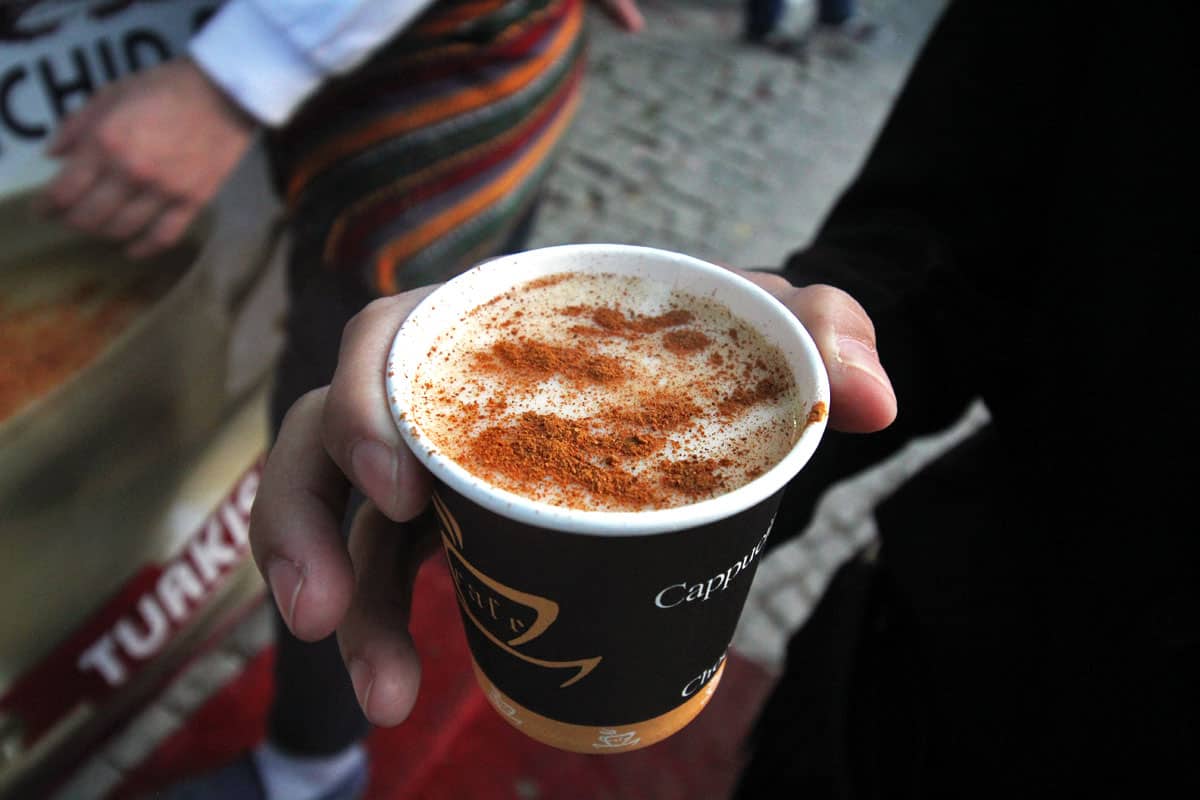 What we paid: 5TL per cup
As described up top, this list just barely scratches the surface of what Turkish cuisine has to offer. There is so much good food to be had here that two weeks was hardly enough time. Considered one of the world's greatest cuisines based on its diversity, long history, and the legacy left behind by an imperial kitchen, it seemed that every region we visited had something interesting on the table.
We went to just four cities on this trip so I can only imagine what the rest of the country has to offer. With so many places yet to explore in the world, we rarely want to revisit a country so soon. Japan is one of those countries, Turkey is another. And unsurprisingly, much of that has to do with the food. Turkey for me was the second most delicious country we've been to thus far, behind only Japan. For Ren, Turkey is second to none. ♥
You can download our entire 2-week Turkey itinerary in editable Word format from our EAT-ineraries page. Thanks and have an awesome trip!