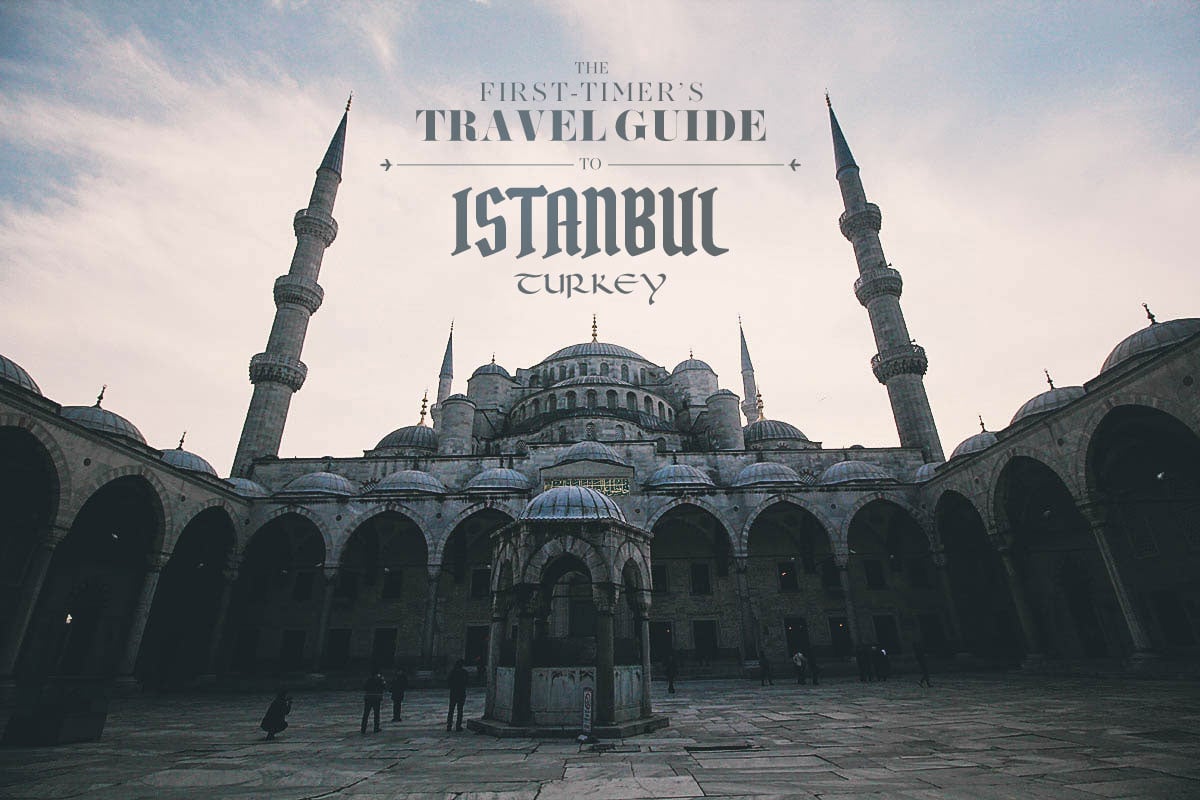 The First-Timer's Travel Guide to Istanbul, Turkey
Istanbul is incredible. It's one of the most awe-inspiring cities we've been to thus far. Home to breathtaking architecture, delicious food, and some of the warmest, most genuinely hospitable people we've ever met on our travels, it's a city we would love to visit again and again.
If you're looking to visit Istanbul for the first time, then I hope this comprehensive travel guide can help you plan your trip. It will tell you everything you need to know from where to stay, which sights to see, and of course, what food to eat.
We enjoyed Istanbul so much that we could honestly see ourselves living there. Spend just one day in this captivating city and I won't be surprised if you feel the same way too.
GUIDE TABLE OF CONTENTS
HOW TO APPLY FOR AN E-VISA TO TURKEY
Applying for an e-visa to Turkey was a cinch. Travelers used to purchase their tourist visas upon arrival in Turkey but the government decided to transition to e-Visas in 2015 to reduce waiting times at border crossings. If you're eligible, approval is instantaneous and you'll be able to print out your e-Visa from the comfort of your own home in minutes. Check out my post on how to apply for an e-Visa to Turkey for a step-by-step process.
ISTANBUL AT A GLANCE
Istanbul is the economic, financial, and cultural center of Turkey. It's also the country's biggest city with a population of just over 15 million people, making it one of the largest cities in Europe and the world. For those reasons, it's natural to assume that Istanbul is Turkey's capital but it isn't. That distinction goes to Ankara.
Located on both sides of the Bosphorus, what makes Istanbul geographically interesting is that it's one of a handful of cities that straddles two continents. The western half of the city is situated in Europe while the eastern half is located in Asia. The Asian side is largely residential so you'll find most of the city's major attractions clustered within two districts on the European side – Sultanahmet and Beyoğlu. First-time visitors to the city will be spending much of their time in those two districts.
Istanbul is a city steeped in history and culture so there is much to see and do there. From its Byzantine churches adorned with mosaics and frescoes to its magnificent mosques decorated by sky-high minarets, Istanbul is a city that will mesmerize you at every turn.
BEST TIME TO VISIT ISTANBUL
Spring (March-May) is the best time to visit Istanbul, followed by Autumn (September-November). Crowds are thinner and the weather is moderate during both seasons, though Autumn sees more rain than Spring. We went in early November and the weather was near perfect. I was comfortable walking around in a light jacket with just a t-shirt inside. It was overcast on a couple of days but it never rained.
Fans of tulips — which are originally from Turkey, not Holland — will be pleased to know that the International Tulip Festival is held in April with millions of tulips in bloom throughout the city.
MAR-MAY: This is the ideal time to visit Istanbul for the reasons outlined above. The weather is relatively mild and dry and the city will be awash with color. The next time we visit Istanbul, it will definitely be in April to take part in the tulip festival.
JUNE-AUG: Apart from being the busiest time of the year, June till August can get pretty hot and humid — up to 28°C/82°F. Lines are at their longest and prices at their peak during this time.
SEPT-NOV: Like Spring, Autumn is a great time to visit Istanbul. The weather is similar although it does get rainier in the Fall as described. While Spring has the Tulip Festival, Autumn has its share of festivals as well like the Akbank Jazz Festival and the Istanbul Theater Festival, both of which are in November.
DEC-FEB: December till February is low season in Istanbul. It's the wettest and coldest time of the year so be sure to dress appropriately. It can get rainy and snowy with temperatures dropping down to a frigid 3°C/37°F.
Climate: Annual Monthly Weather in Istanbul
To help you better understand the weather in Istanbul, I've included average temperature and annual rainfall graphs below. Suggested months to visit are indicated in orange.
Average Temperature


Annual Rainfall


TRAVELING TO ISTANBUL
International flights will be arriving at either Atatürk or Sabiha Gökçen Airport. Between the two, Atatürk is closer to the city center. Assuming you'll be staying in either Sultanahmet or Taksim (Beyoğlu), here's how you get to both areas from either airport.
NOTE: Istanbul New Airport has been under construction and is set to be inaugurated on 29 October 2018. It's said to be the biggest airport in the world with a 150 million annual passenger capacity. Atatürk Airport will be closed down once the new airport is operational. I'll be sure to update this guide when that happens.
From Atatürk
To Sultanahmet: A taxi to Sultanahmet will run you around 54TL. A private transfer will cost around 27 Euros. If you don't mind taking the metro with your luggage in tow, then that would be the cheapest option. To go by metro, take the M1A train going towards Yenikapı. Get off at Zeytinburnu which is the 6th stop. Transfer to the T1 tram going towards Eminönü or Kabataş, then get off at Sultanahmet station. Each ride and transfer on the Istanbul metro system costs 5TL, so a ride to Sultanahmet from Atatürk will cost you 10TL.
To Taksim: A taxi to Taksim will cost you around 67TL. A private transfer will cost around 32 Euros. The cheapest way would be to go by Havabus airport shuttle bus. Exit the airport and take the Havabus bound for Taksim. They depart every 30 minutes between 4AM and 1AM and will drop you off close to Taksim Square. The fare from Atatürk is 14TL and the ride takes around forty minutes.
From Sabiha Gökçen
To Sultanahmet: A taxi to Sultanahmet will cost you around 123TL. A private transfer will cost around 55 Euros. Going by Havabus airport shuttle bus is much cheaper. Take the Havabus bound for Taksim. The fare from Sabiha Gökçen is 18TL and the ride takes around an hour and a half. From Taksim, you can either take a taxi to Sultanahmet (around 17TL) or walk to the Taksim metro station and take the F1 funicular to Kabataş. Transfer to the T1 tram bound for Bağcılar and get off at Sultanahmet station. These are two rides so it'll cost you 10TL.
Alternatively, you can take the Havabus from the airport to Kadıköy. The fare is 14TL and the ride takes around an hour. Once in Kadıköy, walk to the Şehir Hatları dock and take a 15-minute ferry ride to Eminönü. From there, you can either take a taxi to your hotel in Sultanahmet (5 minutes or so) or walk to the Eminönü station and take the T1 tram bound for Bağcılar and get off at Sultanahmet station. Ferry rides cost the same as the metro so the trip from Kadıköy to Sultanahmet will run you 10TL.
To Taksim: A taxi to Taksim will cost you around 107TL. A private transfer will cost around 55 Euros. To go by airport shuttle, take the Havabus to Taksim for 18TL (same as above).
Things to Remember
You'll need Turkish Liras (TL) in smaller denominations (5, 10, 20) to pay for the transportation services mentioned above. You can withdraw TL from an ATM or exchange a small amount of foreign currency at either airport. Jump to the WHERE TO EXCHANGE CURRENCY section of this guide for more information.
If you'll be taking the metro and/or ferry, then you can save on the fare by purchasing an Istanbulkart. Jump to the TRAVEL TIPS section of this guide for more information.
There are countless hotels in Istanbul. If you'll be taking a taxi, then it's best that you have a printout or screenshot of your hotel's complete address and telephone number to show the driver. We stayed one night at an airport near Atatürk and the taxi driver didn't know where our hotel was even with a printed location map. Luckily, he was able to find it with GPS.
*Approximate taxi fares indicated above were derived from The Istanbul Insider.
WHERE TO EXCHANGE CURRENCY
Turkey's unit of currency is the Turkish Lira (TL). You can exchange currency at popular tourist areas like Sultanahmet, the Grand Bazaar, around Taksim Square and Istiklal Cadessi, etc. Rates are said to be best at the Grand Bazaar and Sultanahmet but the differences may be insignificant. You won't get the best rates at the airports so if you need to exchange currency to get into the city, then you should only change a small amount.
Instead of exchanging currency, a common practice by travelers in Turkey is to withdraw TL from an ATM instead. That's what we did. Not only is it the quickest and most convenient way to get TL, but ATMs are said to give the best rates as well. There are plenty of ATMs in Istanbul, including the airport. Depending on which one you use, your bank may impose daily withdrawal limits and charge you a processing fee per withdrawal. You should clarify this with your bank before your trip. You may have to activate your ATM card for overseas use as well. I did.
On top of bringing your ATM card, I suggest bringing some cash and credit cards in the event that your ATM card is rejected. You never know what could happen so it's good to have a backup plan.
NOTE: When an ATM asks if you want to proceed "with or without conversion", always choose WITHOUT conversion. Proceeding "with conversion" means that the foreign bank operating the ATM does the conversion (instead of your local bank). In my experience, this has always led to terrible exchange rates. According to this excellent article, the difference between rates offered can be as high as 10% or more.
WHERE TO STAY IN ISTANBUL
Based on what we learned from our trip, there are two ideal places to stay in Istanbul for first-time visitors — Sultanahmet and Beyoğlu.
Sultanahmet
The Sultanahmet area is where most of the major tourist sites are located. If you're visiting Istanbul to appreciate its historic sites, then there's no better place to stay than Sultanahmet.
When we visited Istanbul, we stayed at a great boutique hotel not too far from the Blue Mosque called Antique House. Unfortunately, it seems to have changed hands since our last trip and is now known as Dos Hermanos Hotel. The location is ideal – about a 10-15 minute walk from all the historical attractions like Hagia Sophia and Basilica Cistern – but I can't vouch for it other than that. You can check these sites to search for hotels in the Sultanahmet area: AirBnB | Booking.com | Agoda. If you're new to AirBnB, then you can get up to USD 43 free travel credit when you sign up via this link.
Beyoğlu
If you want a more contemporary side to Istanbul whilst still having easy access to the Sultanahmet area, then Beyoğlu around Taksim Square may be the better choice. It's home to the popular shopping street of Istiklal Caddesi (Independence Avenue) as well as a number of trendy bars and clubs. It's just a funicular and tram ride away to Sultanahmet making it ideal for first-time visitors as well. We'll probably stay here on our next trip to Istanbul.
You can check these sites to search for hotels around Taksim Square: AirBnB | Booking.com | Agoda. As described, new AirBnB users can get up to USD 43 free travel credit by signing up through this link.
Near Atatürk Airport
If you have a flight out of Atatürk early in the morning and need to stay near the airport, then a good hotel to consider is Hotel Kuk. It's about a 10-15 minute taxi ride away from the airport and there are plenty of shops and restaurants in the area. We stayed here for one night when we had to catch a flight to İzmir early one morning. You can book a room at Hotel Kuk through Booking.com or Agoda.
If you'd like to stay in a different hotel near Atatürk Airport, then you can check AirBnB and Booking.com for listings. As advised, you can get up to USD 43 free travel credit if you're new to AirBnB and sign up via this link.
THINGS TO DO IN ISTANBUL
1. Visit Sultanahmet's Top Tourist Attractions
As described above, Sultanahmet is home to the city's most important attractions like Ayasofya, Topkapi Palace, the Basilica Cistern, and the Blue Mosque. No first-time visit to Istanbul can be complete without visiting all these places. Travelers pressed for time can click on the link below to learn how you can visit these attractions in one day. But if you have more time, then it would be best to spread them out over two days. You can check my post on the top attractions at Sultanahmet Square in Istanbul for more pictures and information, but here's a quick rundown of what you a can find there:
Ayasofya: The most iconic site in Istanbul and once considered the greatest church in Christendom.
Sultanahmet: One of the most striking mosques in Istanbul.
Basilica Cistern: The largest surviving Byzantine cistern in Istanbul.
At Meydani: The former location of the Hippodrome of Constantinople.
Ibrahim Pasa Palace: Museum featuring an impressive collection of calligraphy and rugs.
Topkapi Palace: The court of the Ottoman Empire from the 15th to the 19th centuries.
Istanbul Archaeology Museums: Museum of the Ancient Orient, Tiled Pavilion, Archaeological Museum.
We visited all these sites on our own but if you want a more in-depth experience, then you may want to go on a guided tour. Get Your Guide offers many different types of Istanbul tours, two of their most popular being the Highlights of Istanbul Tour and the Half-Day Highlights Guided Tour.
If you just want easy access to Istanbul's top attractions without a guide, then another option would be to go on a Big Bus Tour. For me, there's no better way to become acquainted with a new city than these Hop On Hop Off Tours. Double decker buses ply set routes that take you to many of the top attractions in Istanbul, and you can hop on and off as many times as you want for the duration of your pass. Very convenient indeed.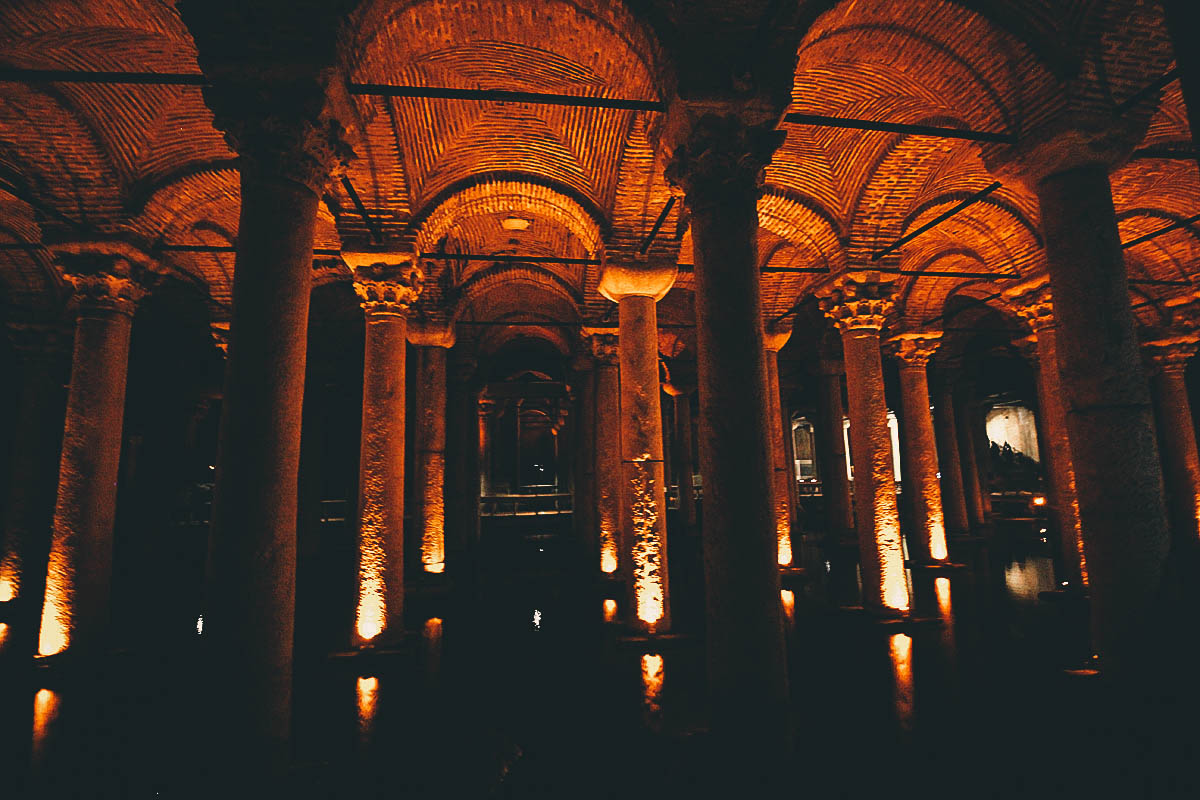 Activity Duration: 1-2 days / Admission Fees: Varies between attractions.
2. Shop like a Sultan at the Grand and Egyptian Spice Bazaars
The Grand and Egyptian Spice Bazaars are Istanbul's most popular bazaars. One of the largest and oldest covered markets in the world with over 3,000 shops, you can buy all sorts of things at the Grand Bazaar like leather goods, jewelry, carpets, clothing, furniture, ceramics, and souvenirs.
Considerably smaller than the Grand Bazaar, the Spice Bazaar is home to around a hundred shops selling dried fruits, nuts, spices, tea, Turkish Delight, and other goodies. Both are walking distance from Sultanahmet Square. Follow the link for a DIY walking tour of Istanbul's Bazaars and Rüstem Pasha Mosque, a small but beautiful mosque near the Spice Bazaar.
You can easily visit the Grand and Spice Bazaars on your own but if you'd like to go on a guided tour, then you can book one through Get Your Guide. Having a guide will be helpful, especially at the Grand bazaar because it's so big. Follow the link to check out Get Your Guide's Grand and Spice Bazaar tours.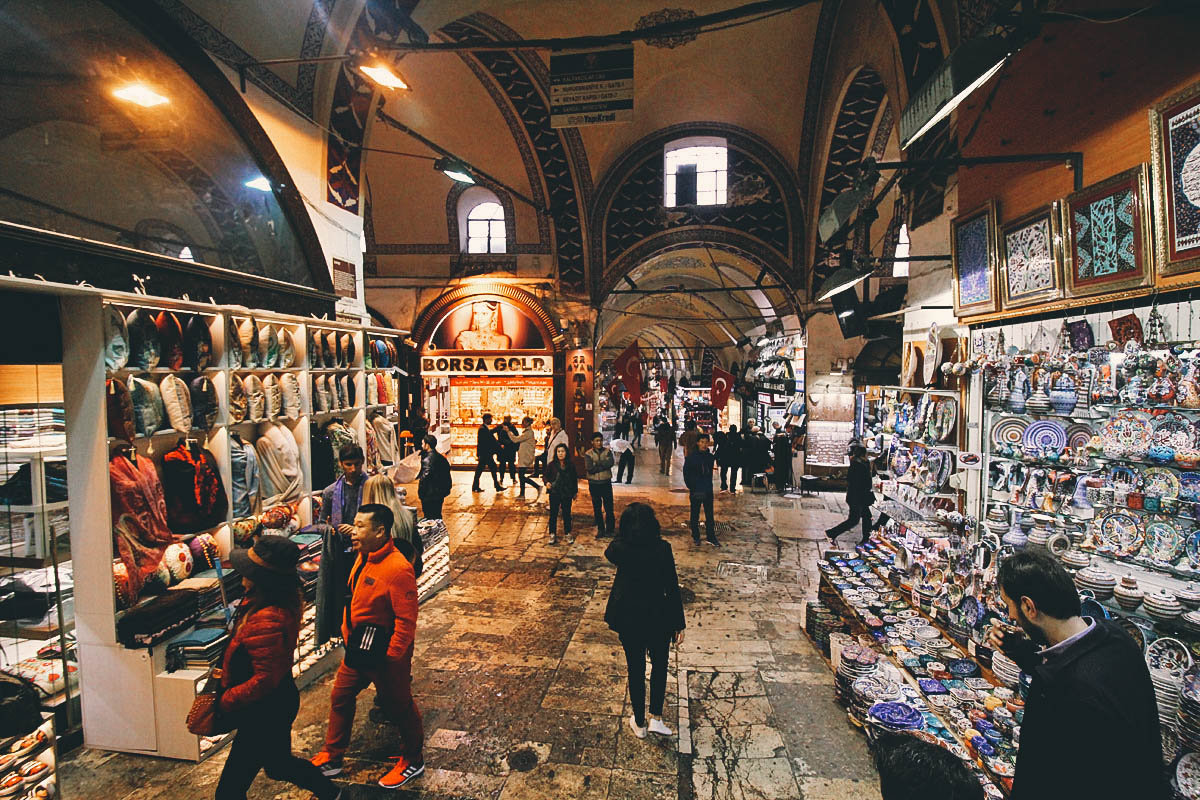 Activity Duration: Around 4-6 hrs, depending on how much shopping you want to do
3. Walk Across Galata Bridge and Explore Beyoğlu and Dolmabahce Palace
Home to the iconic Galata Tower and Dolmabahce Palace as well as the city's most fashionable boulevard in Istiklal Caddesi, the neighborhoods across Galata Bridge provide an interesting mix of old and new that's different in feel to the time-honored charm of Sultanahmet. If you enjoy shopping, good food, and perhaps a taste of Istanbul's nightlife, then this is where you need to be. You can check my post on Galata Bridge, Beyoğlu, and Dolmabahce Palace in Istanbul for more pictures and information, but here's a quick rundown of what you a can find there:
Galata Bridge: Bridge connecting the north and south of European Istanbul.
Galata Tower: Former watchtower offering great views of the city.
Istiklal Caddesi: The heart of Beyoğlu and Istanbul's most famous street.
Dolmabahce Palace: The biggest palace in Turkey.
As described, you can visit all these sites on your own, but you may want to consider a guided tour as well, especially if you want to learn more about each place. Get Your Guide's 2-Day Highlights of Istanbul Tour covers Dolmabahce Palace, Istiklal Street, and Taksim. The Big Bus Tour will take you to these places as well.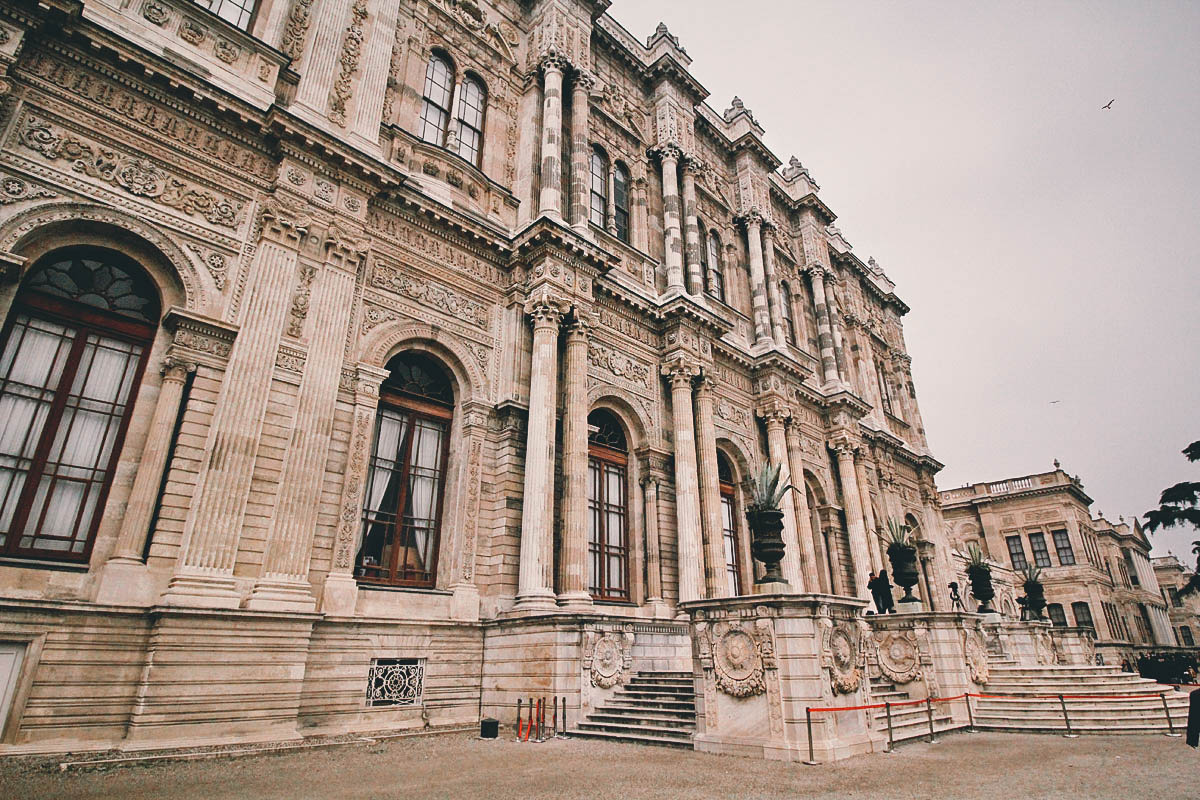 Activity Duration: Whole day / Admission Fees: Varies between attractions.
4. Take a Cruise on the Bosphorus with Şehir Hatları
Going on a scenic all-day cruise of the Bosphorus is one of Istanbul's greatest pleasures according to many. They're right. Şehir Hatları is Istanbul's official ferry company and offers three Bosphorus Cruises — Full, Short, and Moonlight (Evening). The Short Cruise takes you on a two-hour loop while the Full and Moonlight Cruises last for six hours and take you all the way to Anadolu Kavağı, which is the last dock before the Black Sea. It's a charming seaside town where you can have a delicious seafood lunch or dinner by the water. Check out my post on the Bosphorus Cruise with Şehir Hatları for more pictures and information.
You can easily book a Bosphorus cruise yourself at the ferry dock, but you can arrange for one in advance as well through Get Your Guide. They offer many variations of the Bosphorus cruise, some even bundled with onboard dinner and a show. Follow the link to check out Bosphorus cruise options on Get Your Guide.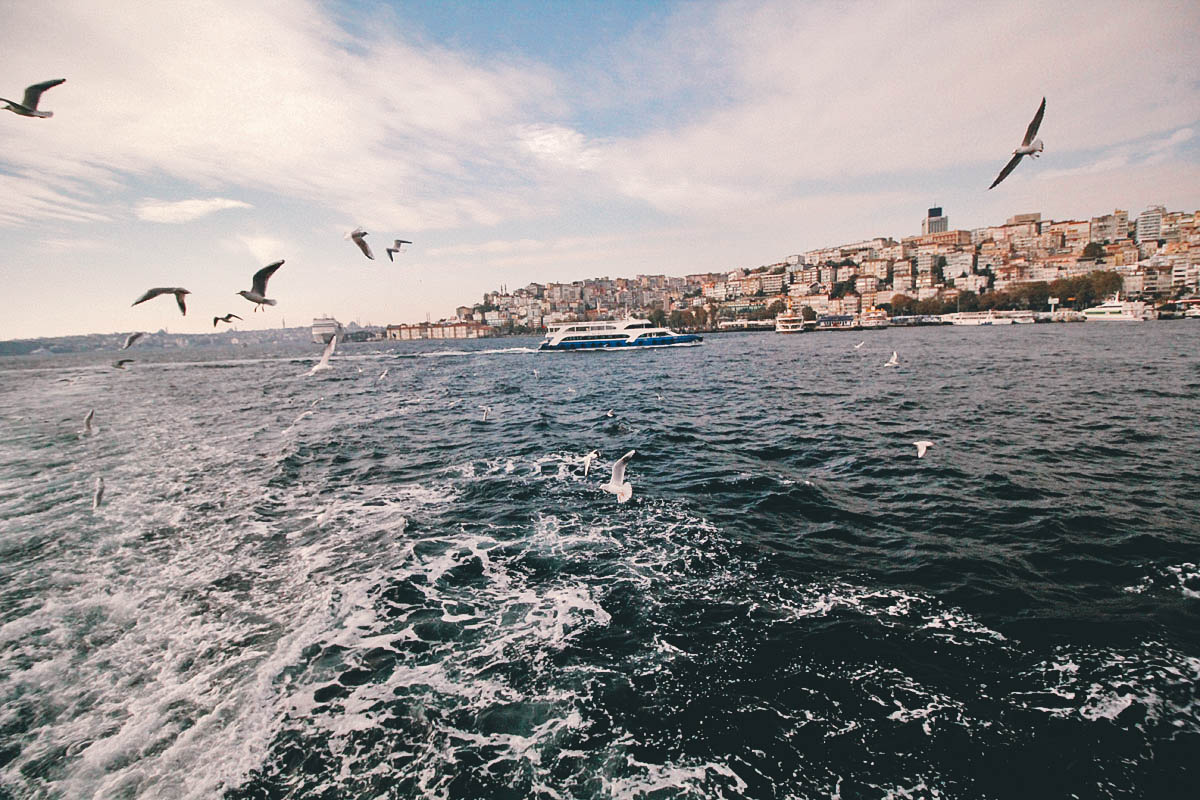 Activity Duration: 2 or 6 hrs / Cost: 25TL (Full), 12TL (Short), 20TL (Moonlight)
5. Marvel at the Mosaics in Chora Church
Compared to other attractions, Chora Church is out of the way but it's worth the effort. A small Byzantine church converted to a mosque before being turned into a museum, it's home to what many call the most stunning mosaics in Istanbul. Check out my post on Chora Church (Kariye Museum) in Istanbul for more pictures and information.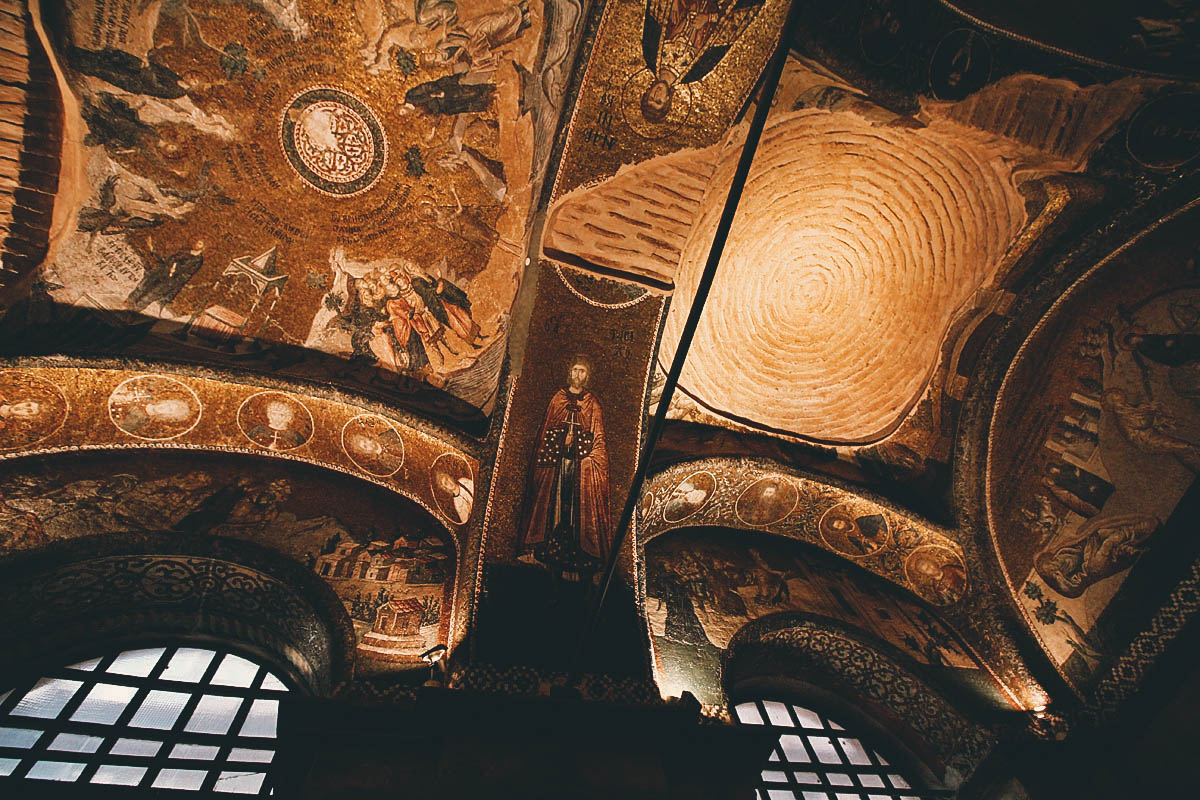 Activity Duration: Less than 1 hr / Admission: 45TL (included in 5-day Istanbul Museum Pass)
6. Explore the Trendy Asian Side
With the majority of tourist attractions located on the European side, most first-time travelers to Istanbul don't venture into the Asian side of the city. Had it not been for Çiya Sofrası and Walter's Coffee Roastery, then we wouldn't have gone there either. Home to a maze of cafes, bars, restaurants, and some trendy neighborhoods, the Asian side has much to offer and is well worth a day if you can spare it.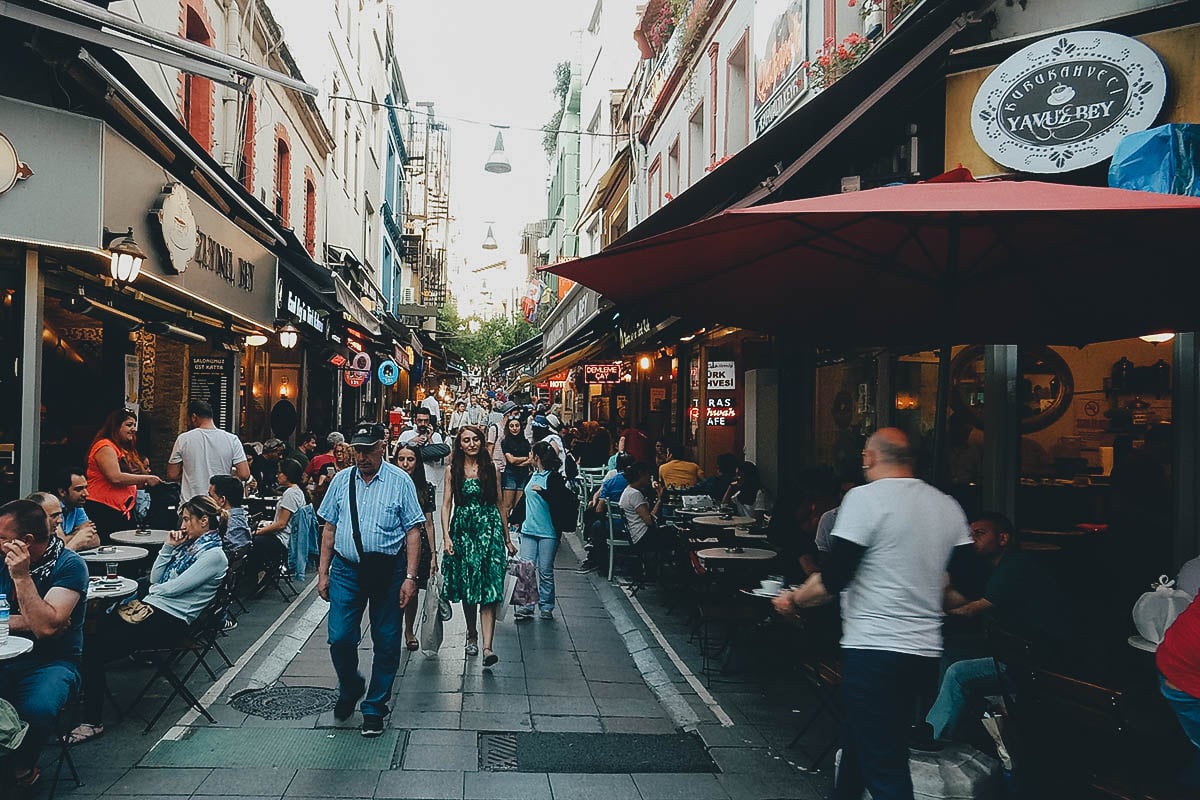 "DSCN1046_1117" by zenm, used under CC BY 2.0 / Processed in Photoshop and Lightroom
Estimated Time to Spend: At least half a day
7. Take a Cooking Class
We haven't done this in Turkey but we often take cooking classes whenever we travel. It's a fun, hands-on way of learning about the local cuisine. If you're spending enough time in Istanbul and want to take a cooking class, then I suggest searching through Cookly. As far as I know, there isn't a more comprehensive site for one-day cooking classes around the world than Cookly. Follow the link for a list of available cooking classes in Istanbul.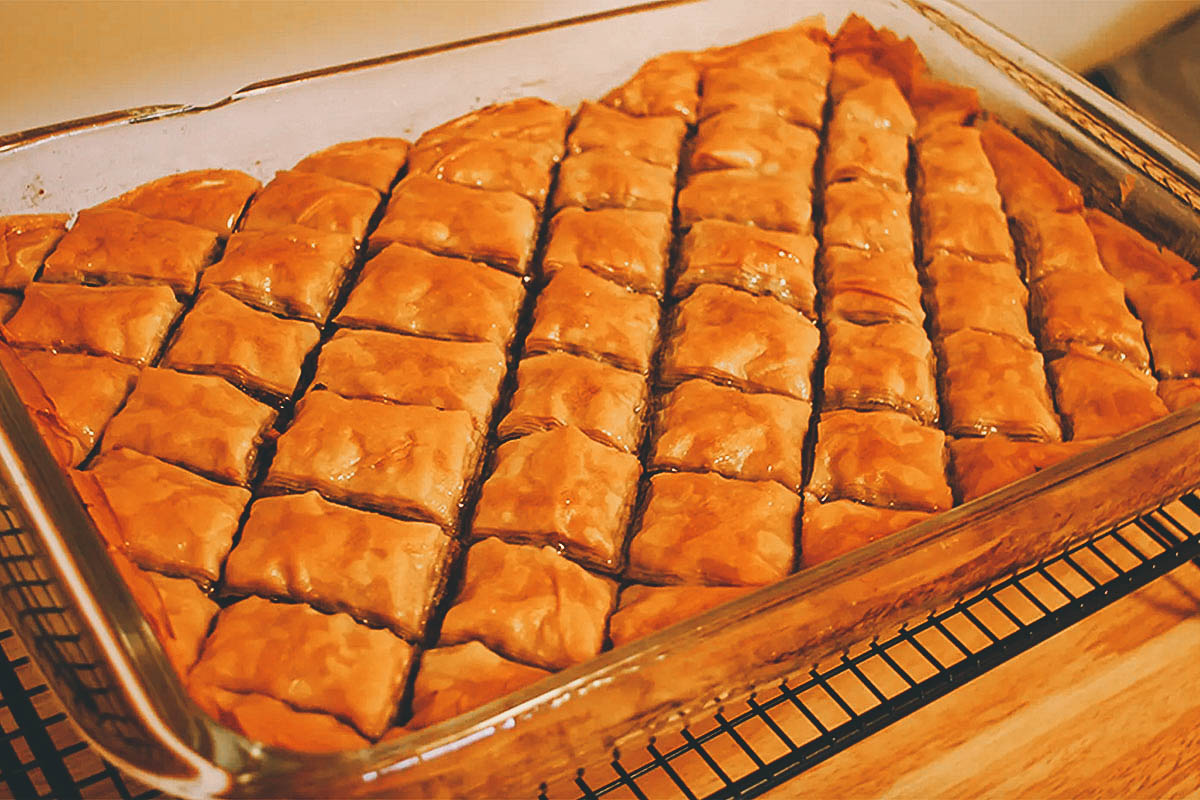 Pictured borrowed from cookly.me
DAY TRIPS FROM ISTANBUL
We traveled around Turkey for two weeks so we went to these places on our own, but if you don't have as much time, then you can visit them on day trips from Istanbul as well. Domestic flights are inexpensive and efficient in Turkey, making these day trips to other regions highly possible.
1. Ride a Hot Air Balloon in Cappadocia
This was one of the best things we did in our two weeks in Turkey. Cappadocia in Central Anatolia is best known for its unique moon-like landscape dotted with strange rock formations known as fairy chimneys. It's a spectacular sight from the ground, but even more stunning when viewed from a hot air balloon.
Cappadocia was our favorite destination in Turkey so it's well worth spending a few days there. But if you're pressed for time, then you can book a day tour with flights through Get Your Guide. They offer this 1-day tour that takes you to Cappadocia's top attractions. But if you want to do the hot air balloon ride as well, then you'll need to book this 2-day tour. Follow the links for more information and to book the tours.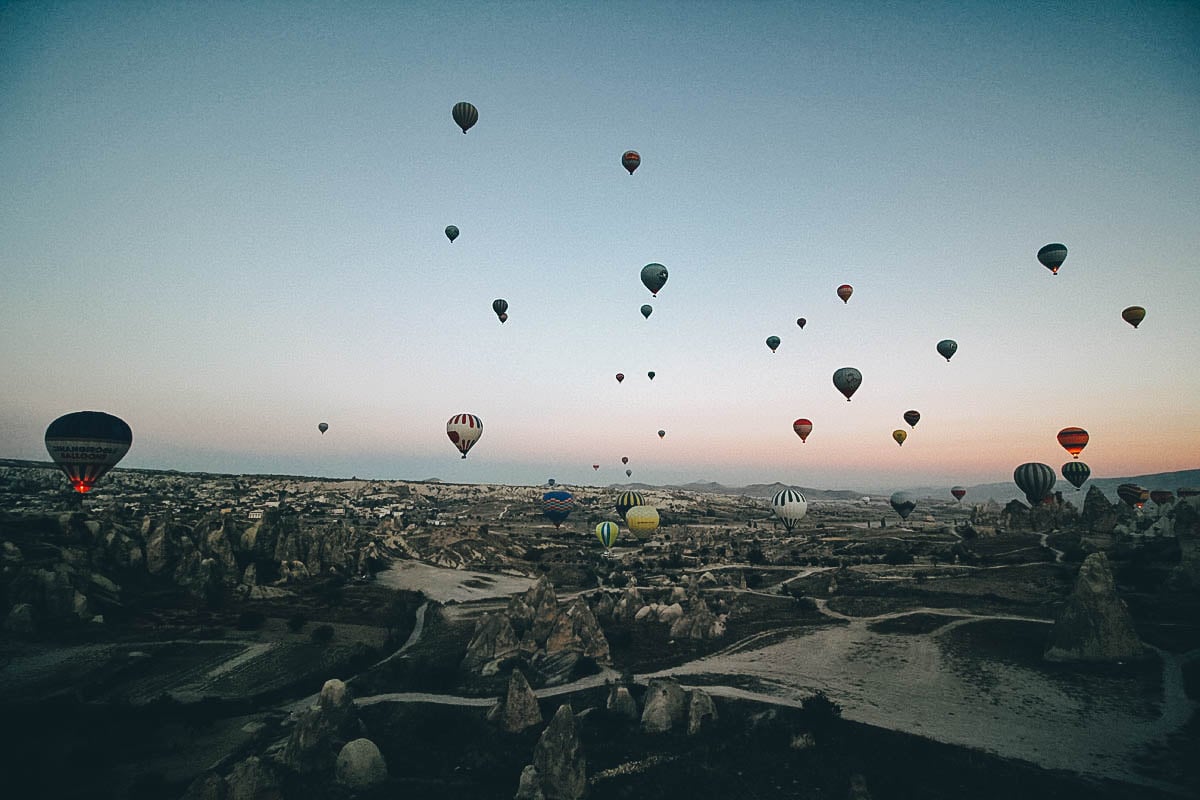 2. Walk on the Calcium Travertines of Pamukkale
One of the things we loved most about Turkey was the diversity of its landscape. The moonscape of Cappadocia was the most stunning for us, but not far behind were the calcium travertines of Pamukkale. This ancient spa city is famous for its white terraces made of travertine, a sedimentary rock deposited by water from the seventeen naturally occurring hot springs in the area. What makes this area even more interesting is that the travertines aren't its only attraction. Walk to the top of the plateau to explore the ruins of Hierapolis then swim in the mineral-rich waters of Cleopatra's Pool. At the bottom of this picturesque tree-lined pool are Roman marble columns dating back to the 2nd century BC.
Pamukkale is often visited on a day trip between cities, so going on a day trip from Istanbul is perfect. Get Your Guide offers a 1-day tour of Pamukkale and Hierapolis with flights. You can also do this 2-day tour which includes Aphrodisias as well. We visited many ruins in Turkey and Aphordisias was by far the most beautiful and well-preserved.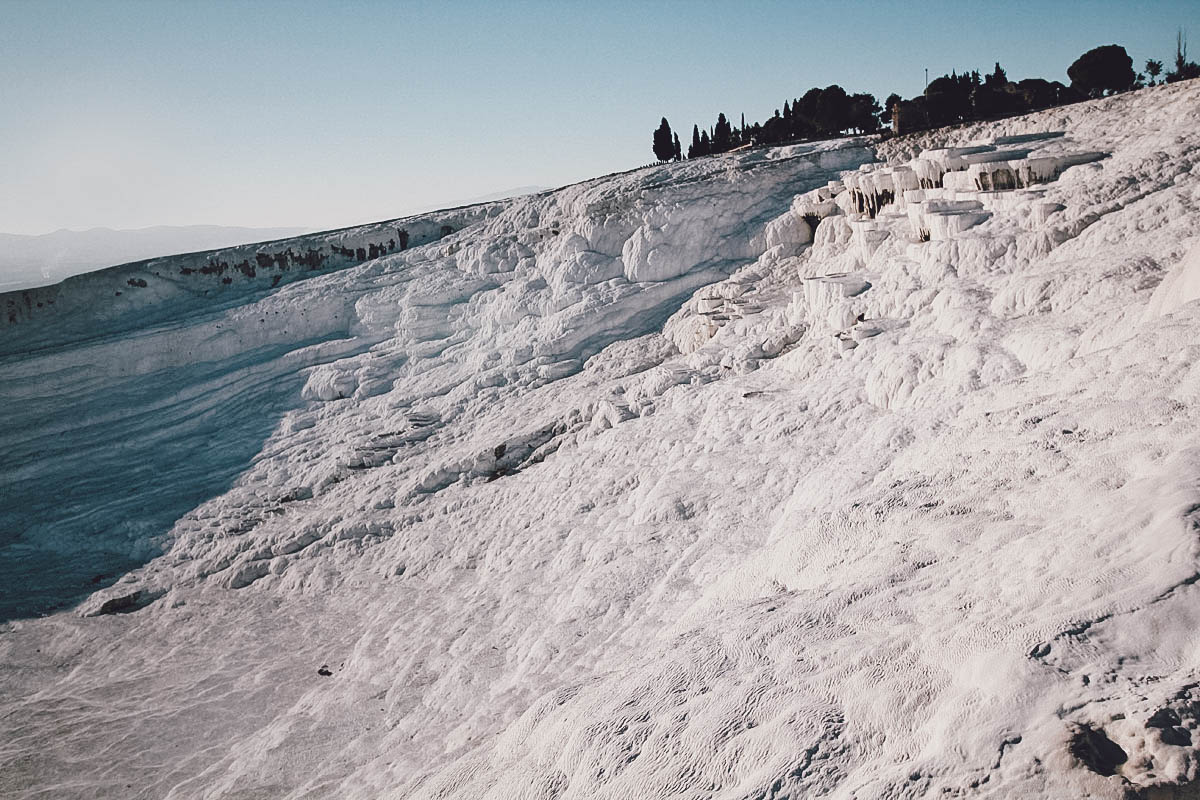 3. Explore the Ancient City of Ephesus
Ephesus in Selçuk-Izmir is one of the most visited attractions in Turkey. Built in the 10th Century BC, this ancient city was a key seaport that was once the center of trade and commerce in the ancient world as well as being a hub for early Christianity. We visited several ruins throughout the country and Ephesus was the biggest and most impressive.
We spent a few days in Selçuk to fully explore the area, but you can visit on a 1-day tour from Istanbul as well. This Ephesus day tour with flights from Get Your Guide will take you to Ephesus and Meryem Ana Evi, the final home of the Virgin Mary.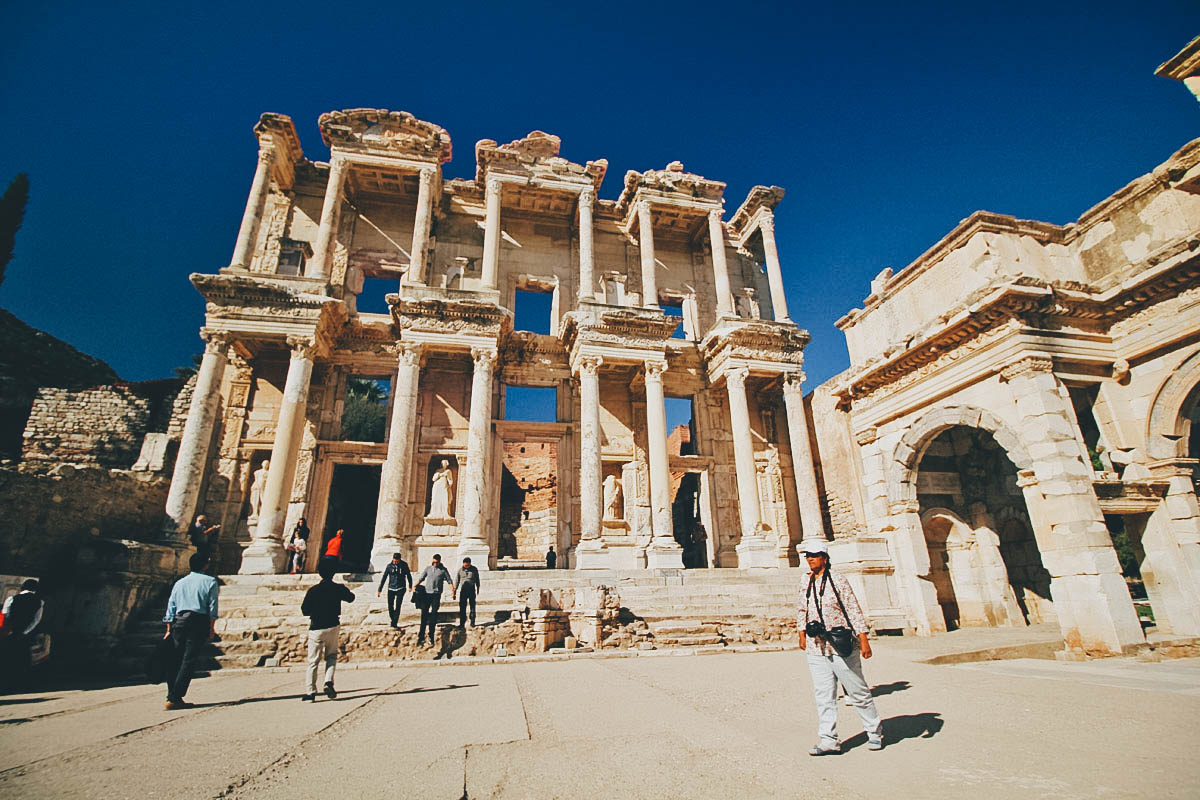 TURKISH FOOD GUIDE
Considered one of the world's greatest cuisines because of its diversity, long history, and the legacy left behind by an imperial kitchen, it seemed that every region we visited had something interesting and tasty to offer. Check out my post for a list of 27 delicious things to eat and drink in Turkey.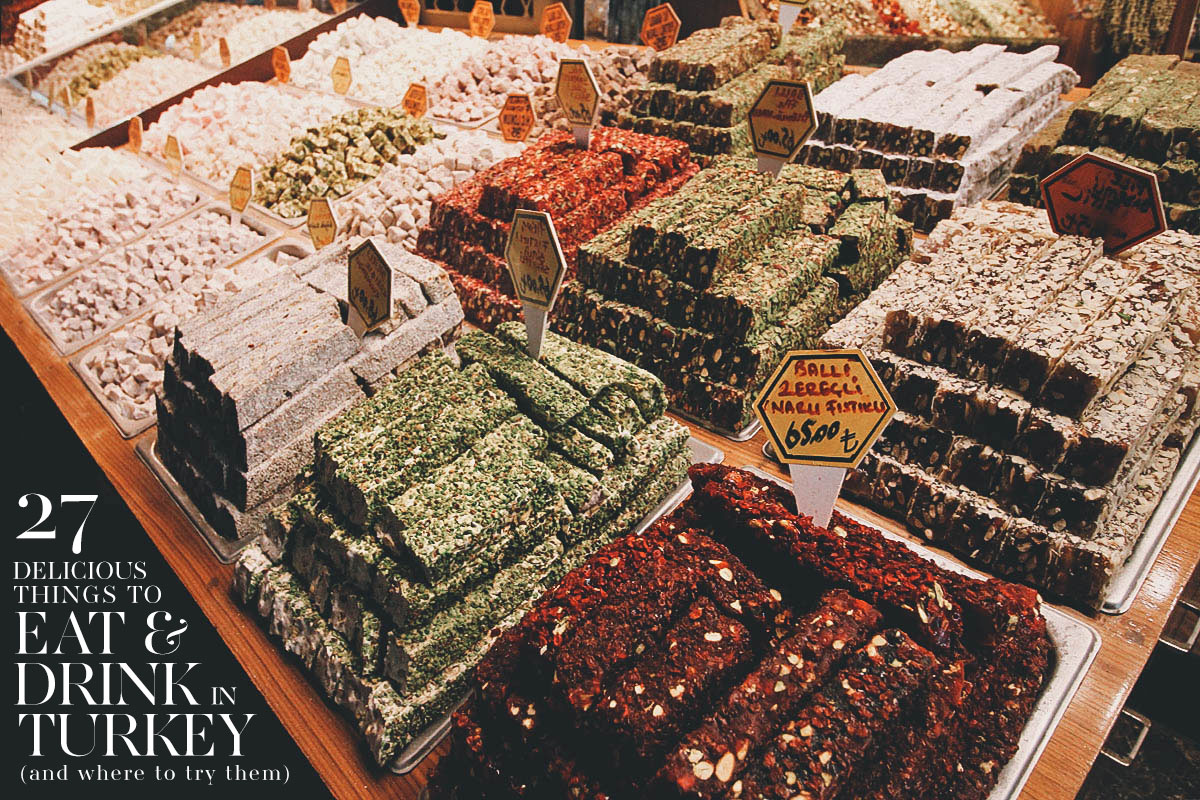 WHERE TO EAT IN ISTANBUL
1. Çiya Sofrası
Located in bustling Kadıköy Market on the Asian side of Istanbul, Çiya Sofrası has been hailed by more than one source as possibly the best restaurant in all of Istanbul. What makes it unique is that the owner Musa Dağdeviren isn't just a chef, he's also a culinary anthropologist. Collecting recipes from all over Turkey, he frequently offers unusual regional dishes that you won't find anywhere else. Highly recommended and one of the best meals we had in Istanbul. Check out my post on Çiya Sofrası in Istanbul for more pictures and information.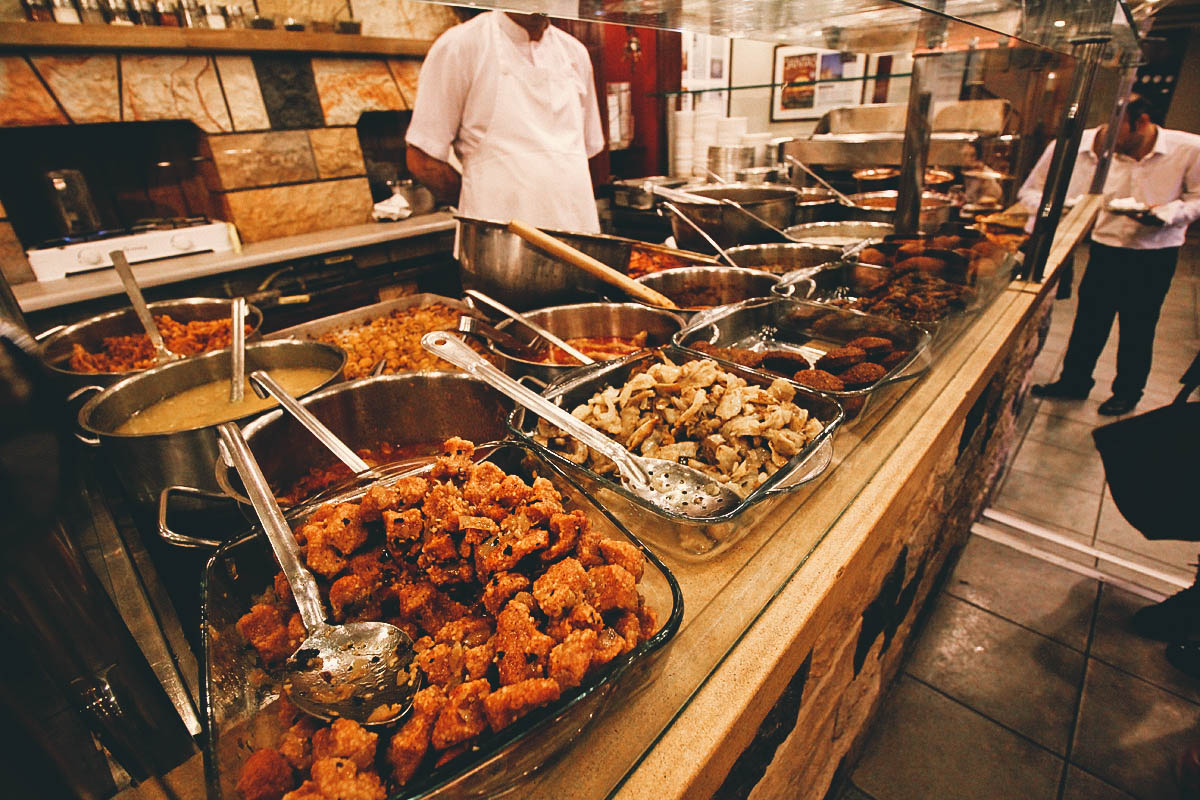 Çiya Sofrası is located in Kadıköy Market. Away from the touristy European side, this vibrant area on the Asian side features a fish market as well as a maze of cafes, bars, and restaurants.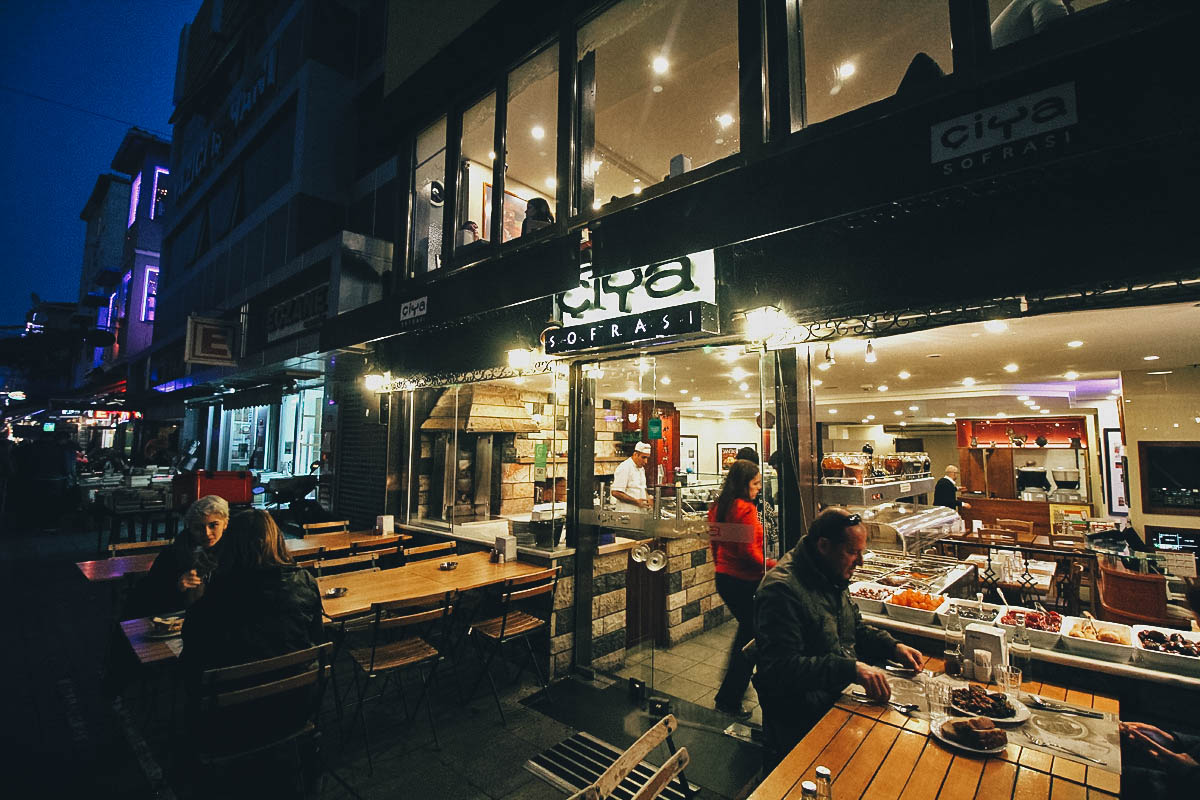 Çiya Sofrası
Address: Caferaga Mah. Güneslibahce Sk. No:43 Kadiköy – Istanbul, Turkey
Operating Hours: 11AM-10PM, daily
What to Eat: Everything
Expect to Spend: About 25-30TL per person with drinks
How to Get There: Find your way to Kadıköy and Muvakkıthane Caddesi. Walk straight (through the square) and make a right on Güneslibahce Sokak. Walk straight and Çiya Sofrası should be on your right.
2. Dürümzade
Dürümzade was one of the restaurants featured on the Istanbul episode of No Reservations with my hero, the late great Anthony Bourdain. They specialize in dürüm, a type of sandwich made by rolling flatbread around döner kebab fillings. We tried dürüm four times at different restaurants in two weeks. All were good but the offerings at Dürümzade were a cut above the rest. It was probably the single best thing I ate in Turkey. Check out my post on Dürümzade in Istanbul for more pictures and information.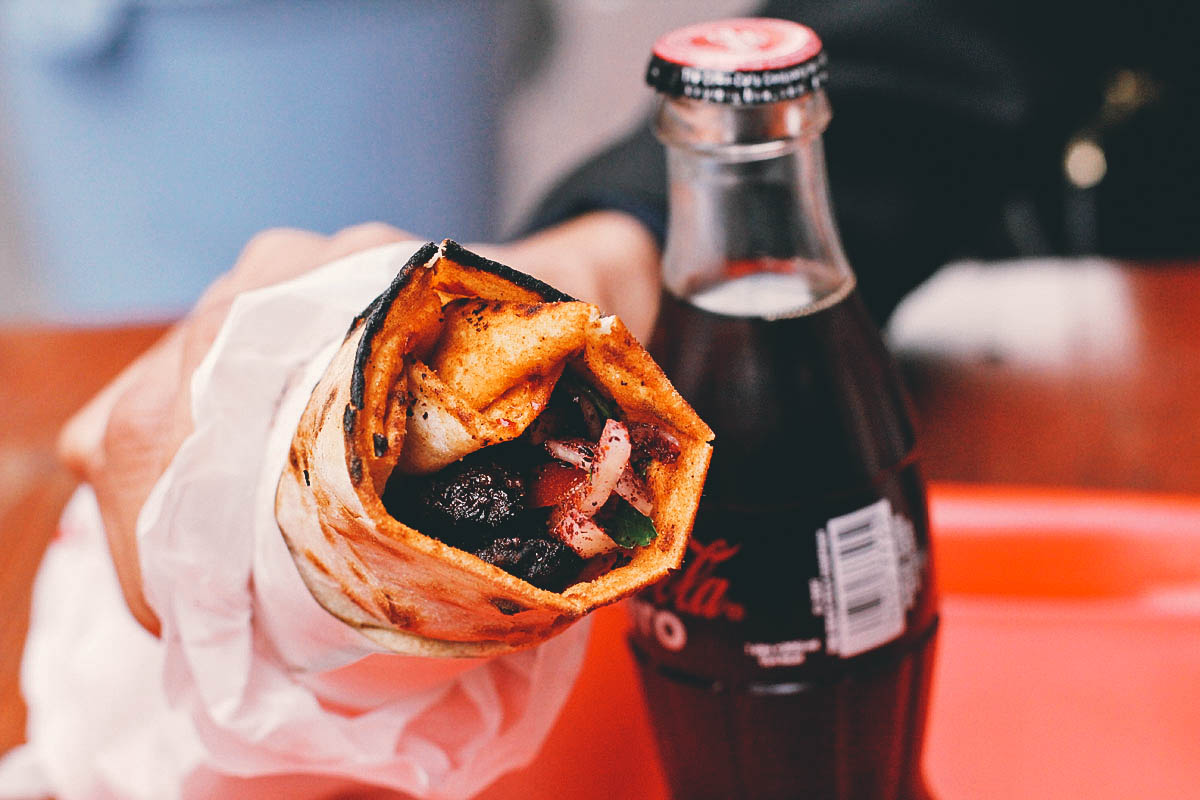 Dürümzade is just a few minutes' walk from İstiklâl Caddesi (Independence Avanue) in Beyoğlu. If you look closely, you can see Anthony's picture on the side of the restaurant. Dürümzade is just one of many restaurants worldwide that owes its success, in part, to that man.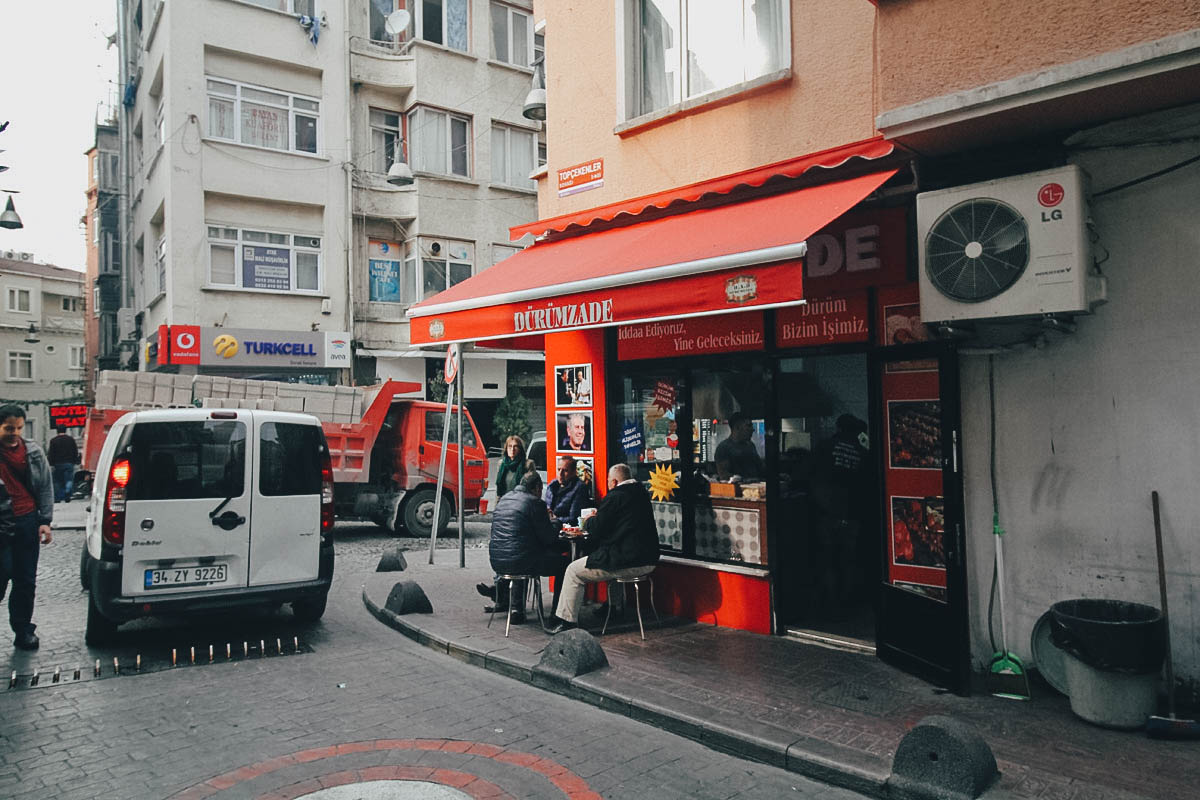 Dürümzade
Address: Topcekenler Sokagi No. 1, Beyoğlu, Istanbul, Turkey
Operating Hours: 24 hrs
What to Eat: Duble Kuzu Dürüm
Expect to Spend: Around 12TL per dürüm
How to Get There: Walking along İstiklâl Caddesi from Taksim Square, turn right into Balo Sokak. Walk about 100 m then turn left into Topcekenler Sokak. Walk straight and you'll see Dürümzade at the corner of Topcekenler Sokak and Kamer Hatun Caddesi.
3. Kizilkayalar
Another restaurant featured on No Reservations, Kizilkayalar is home to these strange but appealing "wet" (islak) burgers. They get their radioactive orange coloring from being dunked in a garlicky tomato sauce then being left to steam in a hamam-style glass box. A staple among late night boozers in Taksim Square, they're moist, chewy, garlicky, and dangerously addictive.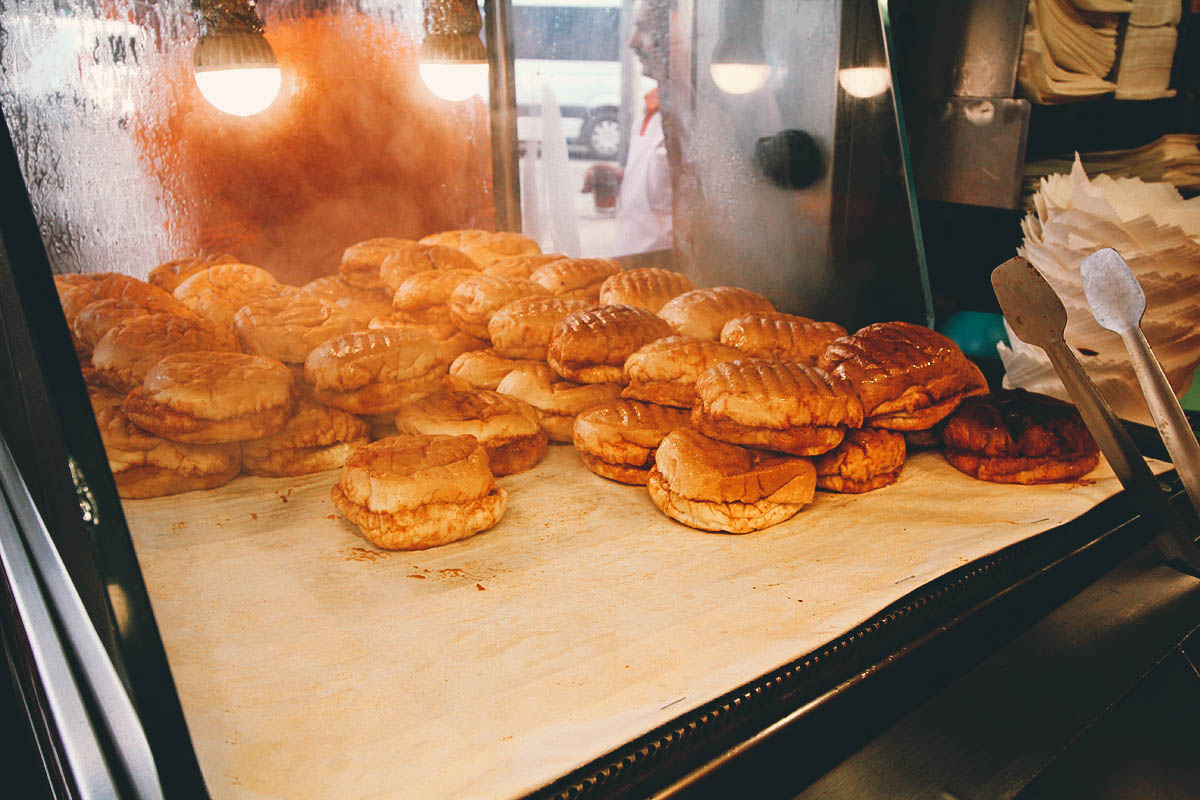 Kizilkayalar is right on Taksim Square so just look out for their sign. It's as orange as their burgers.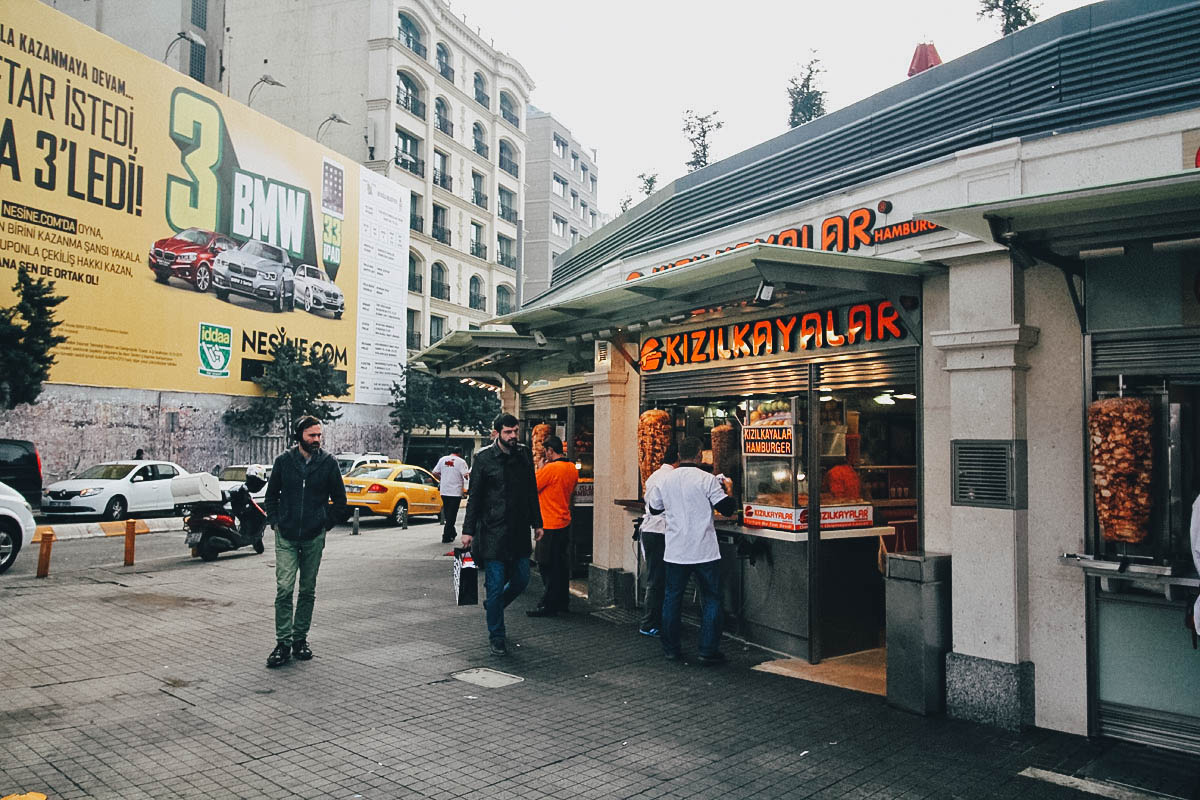 Kizilkayalar
Address: Sira Selviler Cad. No:2/L | Taksim MeydanI Istiklal Girisi, Istanbul, Turkey
Operating Hours: 7AM-6AM, daily
What to Eat: Islak
Expect to Spend: Around 6TL per person with drinks
How to Get There: Take the M2 metro to Taksim station. Kizilkayalar is just a few minutes' walk from the exit.
4. Ismail Usta Kebap ve Pide Salonu
This restaurant just off Taksim Square in Beyoğlu was home to some seriously delicious lahmacun. Resembling a thin cheese-less pizza, lahmacun is actually a type of wrap topped with minced meat (commonly beef or lamb), vegetables, herbs, onions, tomatoes, and parsley. Wafer-thin, crisp around the edges but chewy towards the center, you roll it up like a burrito to eat. So good.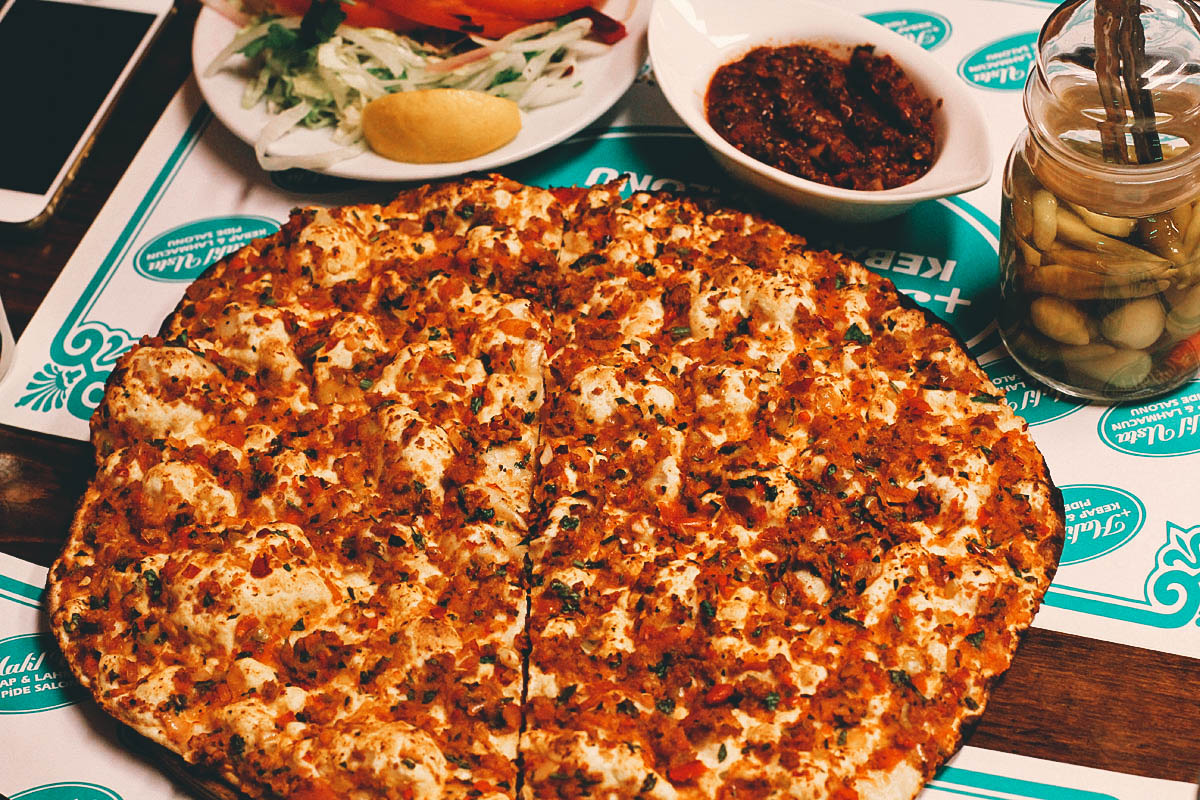 The restaurant is located in an alley not too far from Taksim Square.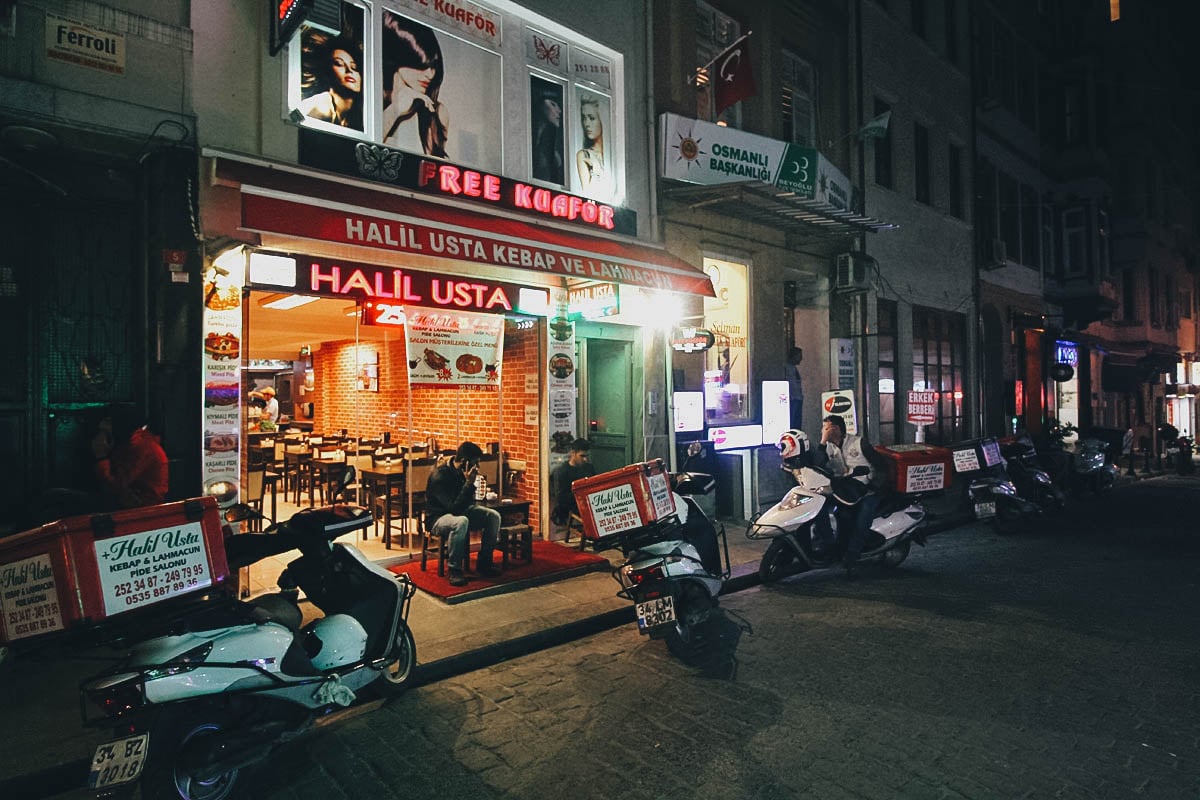 Ismail Usta Kebap ve Pide Salonu
Address: Cihangir Mahallesi, Sıraselviler Cd. No:7, 34433 Beyoğlu/İstanbul, Turkey
Operating Hours: 11AM-12MN, daily
What to Eat: Lahmacun, künefe
Expect to Spend: About 10-15TL per person with drinks
How to Get There: Take the M2 metro to Taksim station. Walk down Sira Selviller Caddesi and turn right into Hoca Zade Sokak. The restaurant will be on your left.
5. Tarihi Sultanahmet Koftecisi Selim Usta
Being a tourist hub, there are plenty of restaurants to choose from in Sultanahmet. Unfortunately, most are touristy offering subpar, overpriced food. This mouthful of a restaurant — said to serve some of the best kofte (meatballs) in Istanbul — is an exception. Moist, smokey, and fork tender, they serve their delicious grilled meatballs with a side of green peppers and a basket of crusty bread.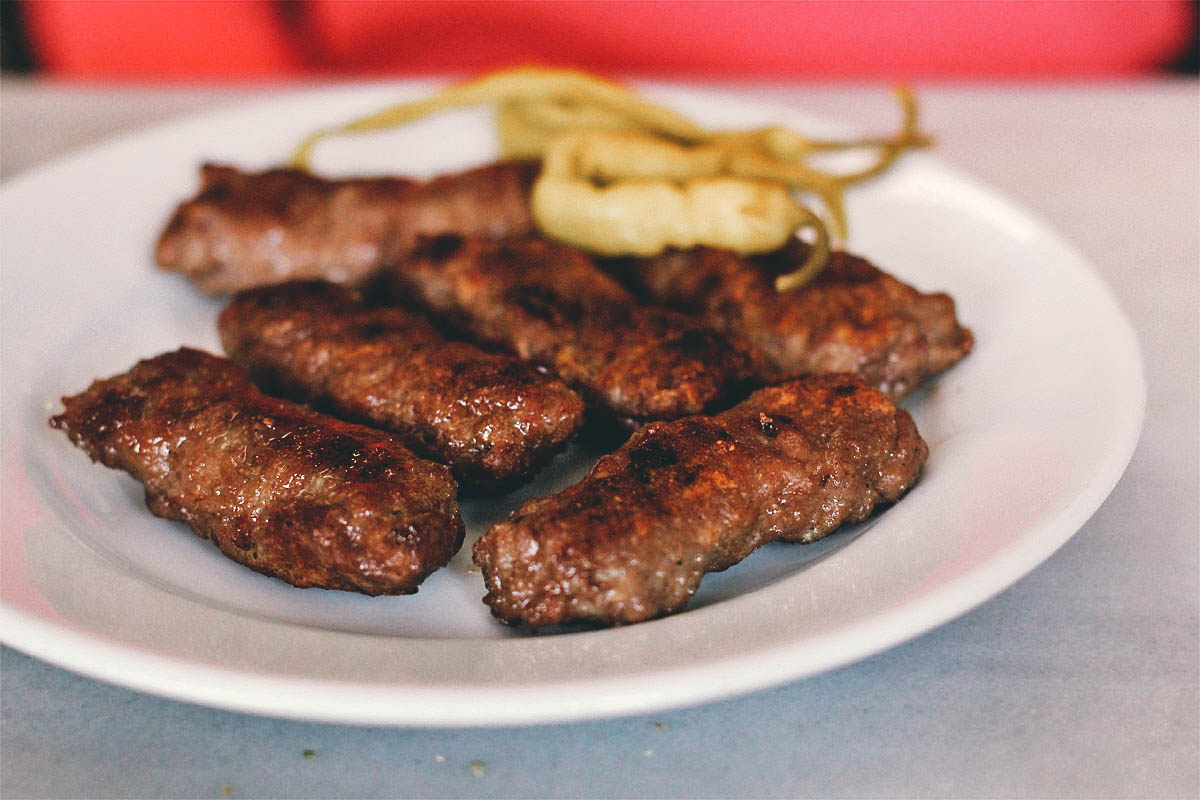 The restaurant is located just minutes from the stop so keep an eye out for it the moment you get off the tram in Sultanahmet. Be aware that a few copycats seem to have sprouted around it bearing similar names. The one you want, pictured below, has the words "Selim Usta" in the name. It's not on the red awning, but if you look above, at the brown wooden sign, you'll see it there.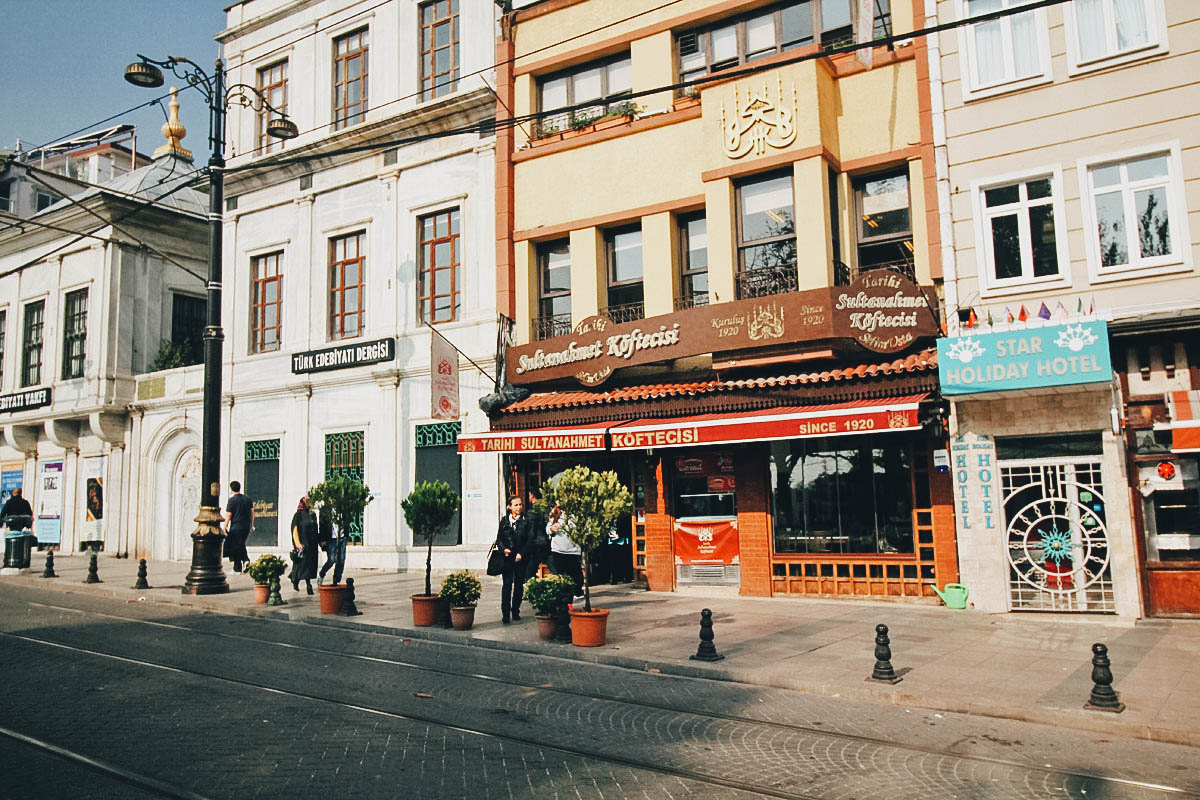 Tarihi Sultanahmet Koftecisi Selim Usta
Address: Alemdar Mh., Divanyolu Cad. No:12 34200 Istanbul, Turkey
Operating Hours: 10:30AM-11PM, daily
What to Eat: Izgara Köfte
Expect to Spend: About 20-25TL per person with drinks
How to Get There: The restaurant is located just minutes away from the Sultanahmet tram stop. Look for the restaurant with the words "Selim Usta" in the sign.
6. Ahırkapı Balıkçısı
Istanbul is a fish lover's paradise. It's surrounded (and divided) by water so fresh seafood is abundant year round. I've read that over twenty types of fish are available at different times of the year, from anchovy and bonito in the colder waters of December to turbot, sea bass, and swordfish in April. With all that fresh seafood to be had, it's no surprise that there are many good seafood restaurants in Istanbul. One that was highly recommended was Ahırkapı Balıkçısı. It's located in Sultanahmet making it a great choice for dinner after visiting the area's historical sites.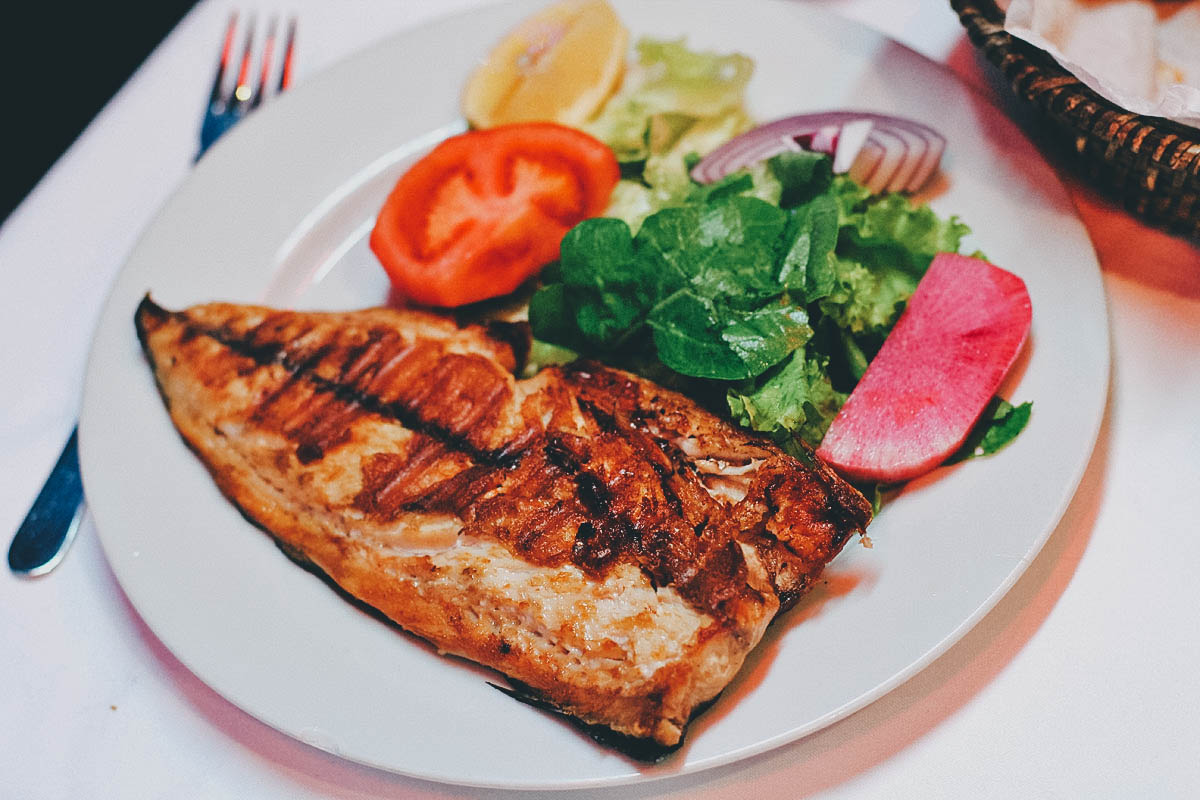 Ahırkapı Balıkçısı is located close to the water in what appears to be a more residential neighborhood. When we got there, we were confused because there were two restaurants opposite each other with similar names. According to TripAdvisor reviewers, one is an alleged copycat. The original is the one pictured to the left below with the word "orijinal" in the awning. Look closely at the name as well. The correct one only has one "h" in the first word — Ahırkapı Balıkçısı. The other one is named "Ahhir Kapi", spelled with two "h"s. It also has the words "fish home" in its name. That's not the one you want.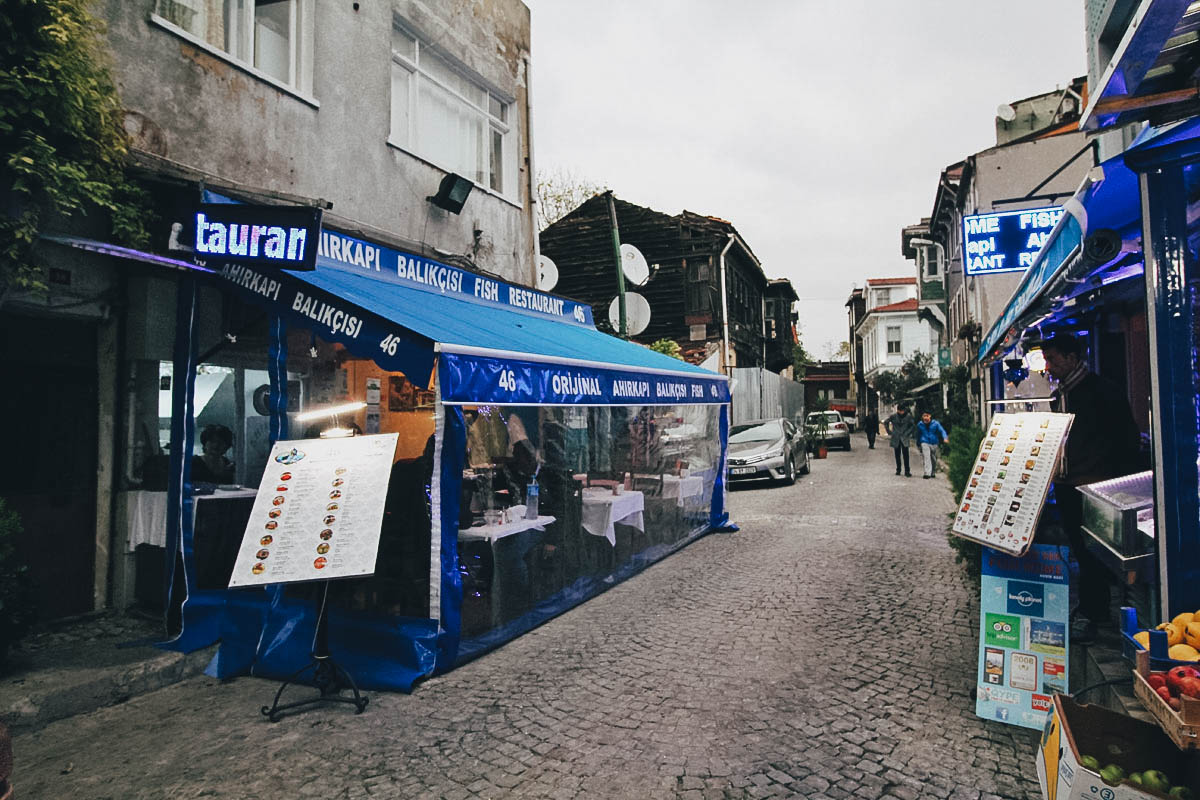 Ahırkapı Balıkçısı
Address: Cankurtaran Mah. Keresteci Hakkı, Sokak No:38/A Cankurtaran, Sultanahmet, Istanbul
Operating Hours: 1-11PM, daily
What to Eat: Fresh fish
Expect to Spend: About 30-40TL per person with drinks (depending on the type of fish)
How to Get There: Ahırkapı Balıkçısı is located in Sultanahmet just a short walk from the Blue Mosque. Make your way to Kabasakal Caddesi from the Blue Mosque. Turn right into Mimar Mehmet Ağa Caddesi. Walk all the way down to the end and make a right on Amiral Tafdil Sokak. Walk straight then make a left on Akbıyık Caddesi, then another left on Cankurtaran Caddesi. Ahırkapı Balıkçısı should be on your left.
7. Lezizhan
We found this place by accident when visiting Chora Church. Lezizhan specializes in çiğ köfte, which is traditionally a raw meat dish made with either beef or lamb and commonly served cold as a meze or in a dürüm. Cold and spicy with a distinct peppery flavor, it was without a doubt one of the most interesting dishes we had in Turkey. Ironically, most commercially sold çiğ köfte nowadays (including Lezizhan) is required by law to be vegetarian for health precautions.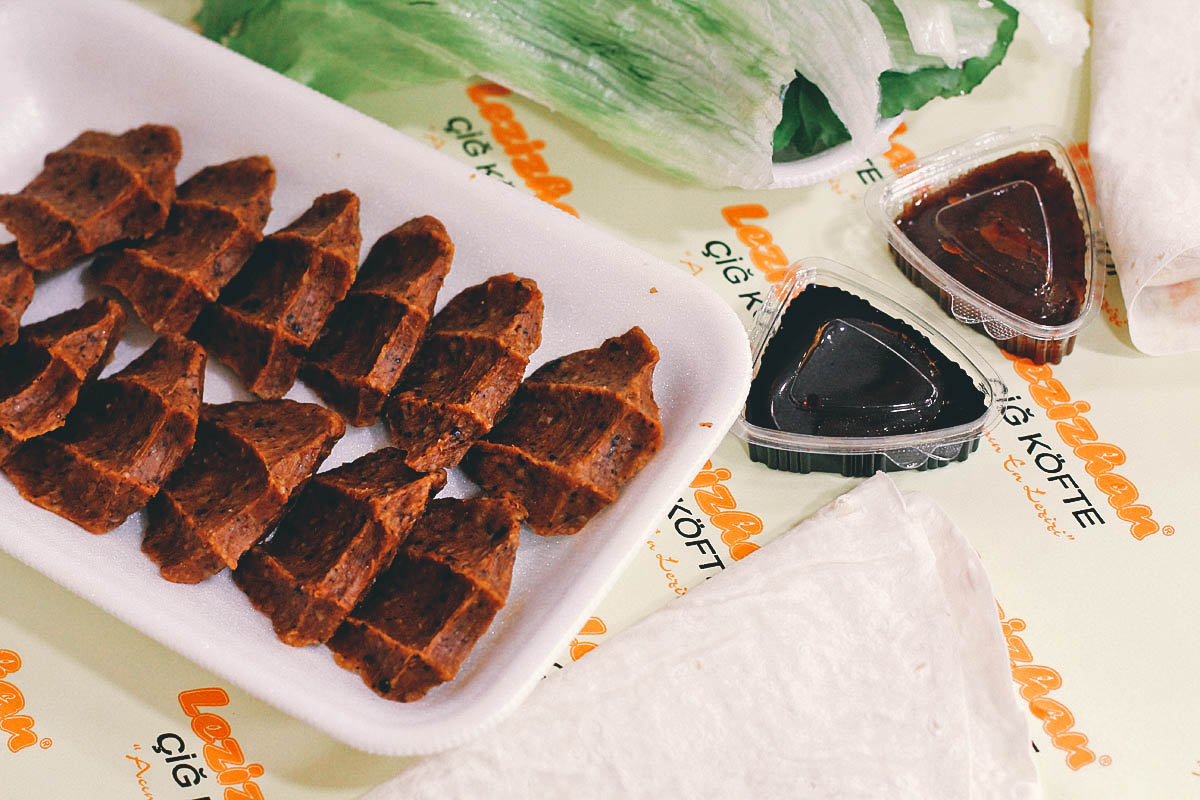 Lezizhan is a chain of restaurants with many branches throughout Istanbul. The one we went to is on the corner of Neşter Sokak and Şeyh Eyüp Sokak in Edirnekapi. It's en route to Chora Church from the Edirnekapi Tram stop.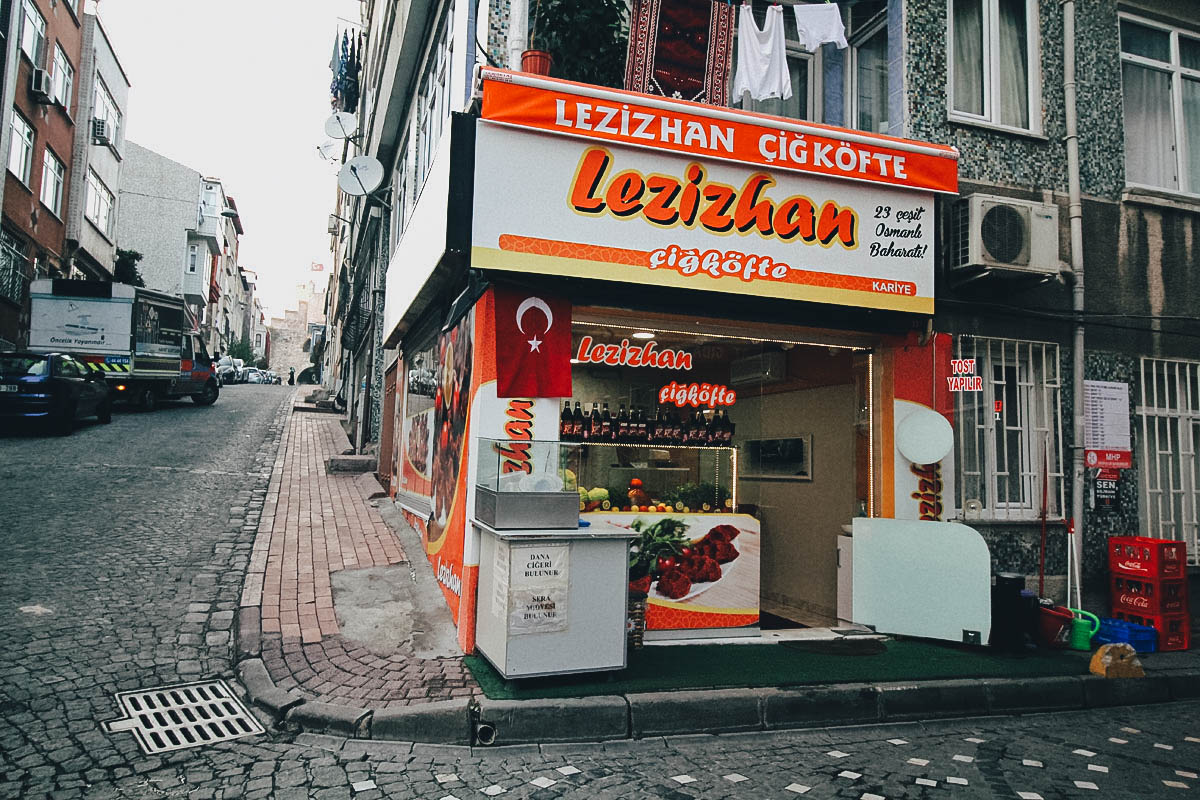 Lezizhan
What to Eat: Çiğ köfte
Expect to Spend: About 6-9TL per person with drinks
How to Get There: There are many Lezizhan branches in Istanbul. Visit their website to find one near you.
8. Walter's Coffee Roastery
Yo, Breaking Bad is one of my all-time favorite TV shows so I became super excited when I learned about this cafe in Istanbul. Located on the Asian side, it's a fun coffee shop inspired by the series. Dubbed as a "coffee super lab", it takes familiar elements from the show to create a unique meth lab setting complete with yellow hazmat suits, periodic table menus, and cappuccinos served in flasks and beakers. If you're a fan of the show, then you need to check it out bitch.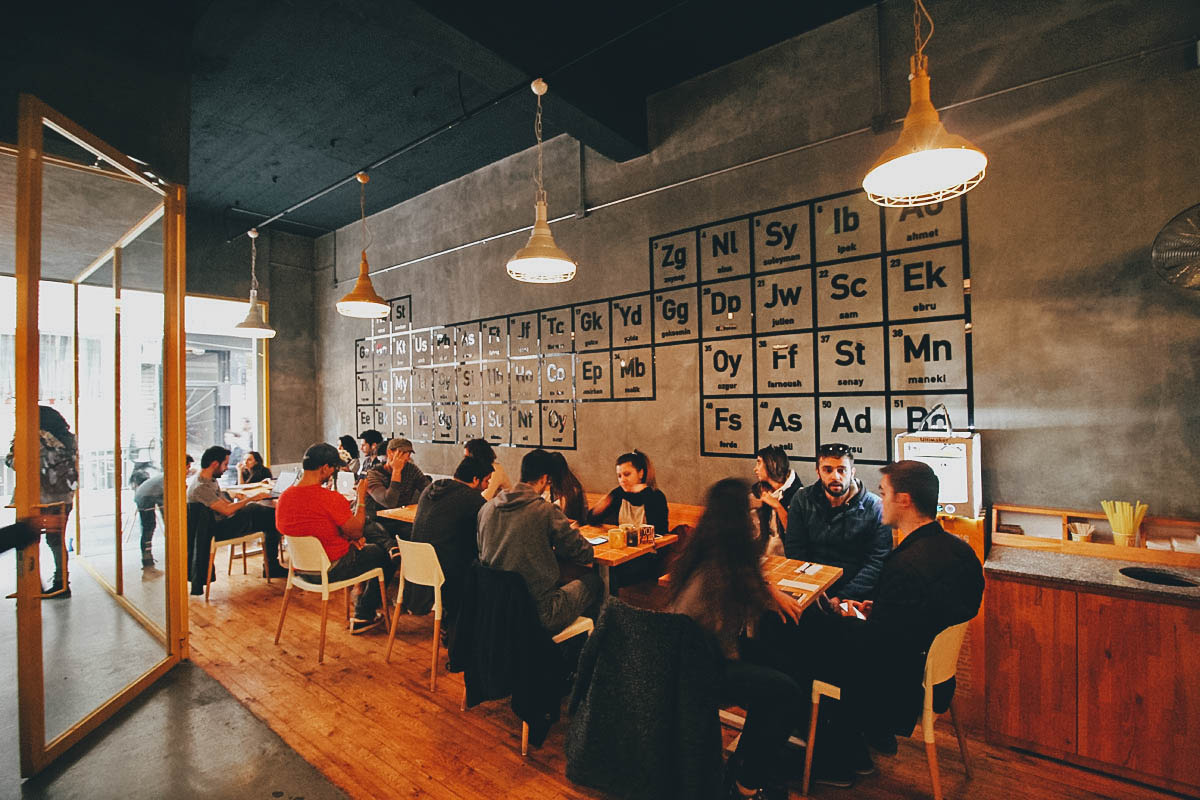 Walter's Coffee Roastery is located in a more residential neighborhood in the Asian side of Istanbul. It may be near a university as there were many students there at the time.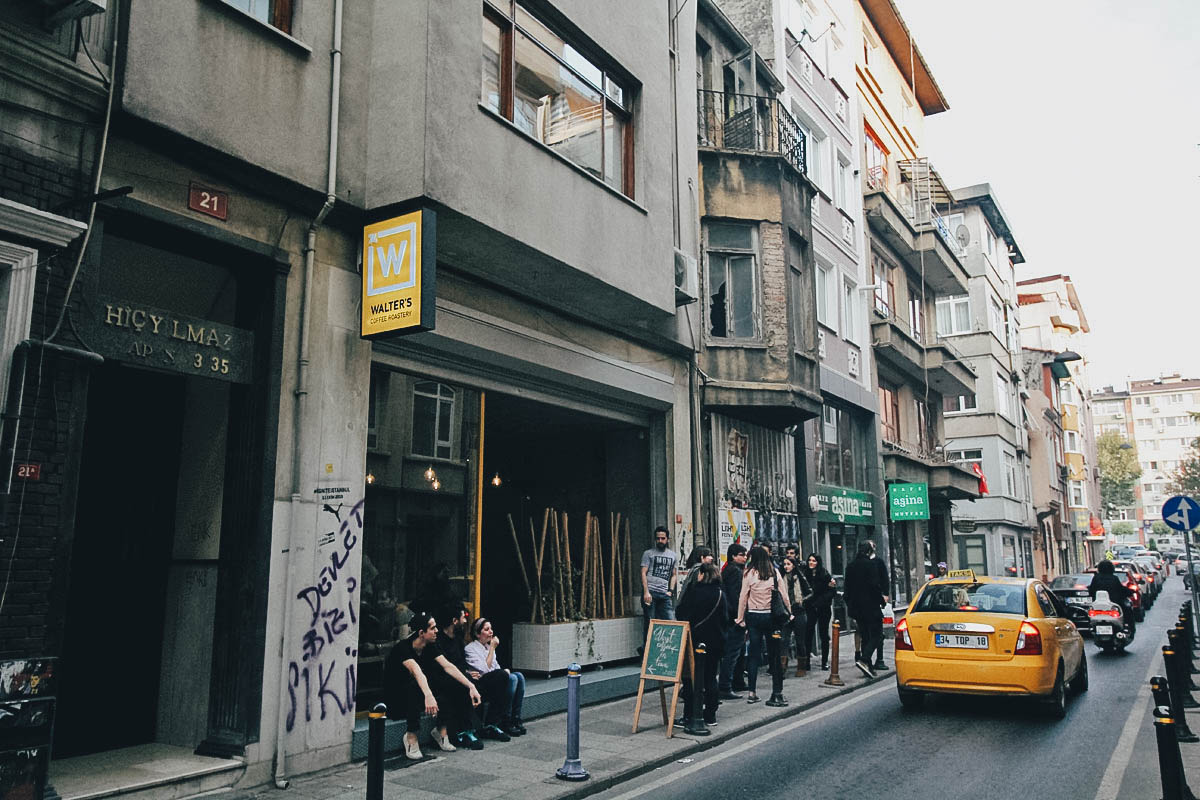 Walter's Coffee Roastery
Address: Caferağa Mahallesi, Badem Altı, Bademaltı Sk. No:21, 34710 Kadıköy/İstanbul, Turkey
Operating Hours: 10AM-11PM, daily
How to Get There: Find your way to Kadıköy and Muvakkıthane Caddesi. Walk straight (through the square) and make a right on Üzerlik Sokak. Walk straight and Üzerlik Sokak will become Moda Caddesi. Keep walking along Moda Caddesi then make a left on Badem Altı Sokak. Walter's Coffee Roastery will be on your left. Walking at a leisurely pace, the cafe is about 15-20 minutes from the Kadıköy metro station.
POINTS OF INTEREST IN ISTANBUL
To help you get your bearings, I've created this map so you get a better sense of where everything is. All of the places recommended in this guide are pinned on this map.
HOW TO GET AROUND ISTANBUL
The Istanbul public transportation system is like the former Jolie-Pitt family — it's diverse. It's comprised of metro lines, trams, funiculars, cable cars, ferries, and buses. Unlike city rail systems where you pay the total fare at the start regardless of how many transfers you need to make to get to your destination, each ride and transfer on the Istanbul system costs 5TL. So if it takes three rides to get to your destination, then the total fare will be 15TL (5TL x 3). At first, I thought 5TL a ride was cheap, but it can get pretty expensive if you're paying 10-15TL per one-way trip. If you plan on taking the public transportation system often, then the Istanbulkart as described in the TRAVEL TIPS section would be a good investment.
As advised in the THINGS TO DO section of this post, a great way to get around Istanbul to see its top attractions is by Big Bus Tour. It'll take you to many of its popular attractions and you can get on and off as often as you like for the duration of your pass. If you like visiting places on your own without a guide, then I think it's definitely worth it.
HOW MANY DAYS TO STAY / SAMPLE ITINERARY
Istanbul is a fascinating city with lots to see and do. We stayed five nights and it still didn't feel long enough. At the very least, you should allow yourself four full days. It'll be a bit rushed but four days will give you enough time to see the major sights. For a more comfortable pace with room for spontaneity, I'd say six full days would be perfect, even longer if you can. Here's a four-day itinerary to help you plan your trip.
DAY ONE

• Topkapi Palace
• Istanbul Archaeology Museums
• Chora Church

DAY TWO

• Basilica Cistern
• Ayasofya (Hagia Sophia)
• At Meydani (Sultanahmet Square)
• Ibrahim Pasa Palace (Turkish and Islamic Arts Museum)
• Sultanahmet (Blue Mosque)
DAY THREE

• Grand Bazaar
• Rüstem Pasha Mosque
• Egyptian Spice Bazaar
• Bosphorus Cruise
DAY FOUR

• Galata Bridge
• Galata Tower
• Istiklal Caddesi (Independence Avenue)
• Dolmabahce Palace
BUDGET / SUMMARY OF EXPENSES
The unit of currency in Turkey is the Turkish Lira (TL), though Euros and US Dollars are widely accepted as well. But just because you can pay for things with Euros or USD doesn't mean that you should. Some things are better off paid in TL because they can turn out to be more expensive when converted to Euros or USD. Basically anything that was quoted in Euros or USD — like hotels and tours — I paid for with USD, and everything else — like meals, souvenirs, transportation, entrance fees, etc. — I paid for with TL.
Assuming you'll be sharing a hotel room with one other person and doing everything in this guide, then a budget of around 220-250TL per day should be plenty. This takes into account your hotel room, the 5-day Istanbul Museum Pass, other entrance fees, transportation, meals, pocket wifi rental, and some light shopping. Keep in mind that this estimated daily budget is for a 4-day stay in Istanbul and not necessarily applicable anywhere else in Turkey.
ACCOMMODATIONS

This is highly subjective. It depends on several factors like hotel preference and number of travel companions. We booked a room at the former Antique Hotel for about TL 132 a night. Expect to pay much less if you're staying in a dorm room.
MEALS

Again, this is subjective, but based on our experience, I'd say around 50TL for the day per person with drinks. Budget more if you plan on dining at fancier restaurants.
POCKET WIFI RENTAL

If you're sharing the cost with one other person, then you'll each be paying about 14TL per day.
TRANSPORTATION

As advised, it's a good idea to invest in an Istanbulkart if you plan on taking public transportation a lot. The base cost of an Istanbulkart is 10TL plus whatever amount you'll be needing. A transportation budget of around 60TL for the entire four days should be enough for most people. You can always top up if you need more.
TOUR & ENTRANCE FEES

Factoring in the cost of the 5-day Istanbul Museum Pass, then the total cost for all museums and attractions mentioned in this guide is 345TL.
TOTAL



This comes out to about 220TL per day for each person. Ren and I are middle of the road travelers who enjoy good food and drink, so this is a budget that works for us. Feel free to adjust based on your own travel habits.
TRAVEL TIPS
1. Plan your Trip with Sygic Travel (formerly Tripomatic)
This is my favorite travel app. I use it to plan all our trips. With this free app that you can use on your desktop and mobile devices, you can plot points of interest on a map, including your hotel, so you can see exactly how far you need to travel between points. It allows you to group attractions together per day based on location. With pocket wifi, it can turn your mobile phone into a GPS tracking device so you can easily make your way between points. Pretty awesome right? Check out my full post on the Sygic Travel app for more information.
You can follow the link to check out our Istanbul itinerary on Sygic Travel. You can also get a download link to our entire 2-week Turkey itinerary in editable Word format from our EAT-ineraries page.
2. Rent a Pocket Wifi Device
A constant wifi connection is a must when traveling these days, especially with Sygic Travel's GPS tool being such a lifesaver. We never go anywhere now without renting a pocket wifi device first.
We rented the device from Alldaywifi for just USD 6 a day with unlimited data. We used it all throughout our Turkey trip — from Istanbul to Selçuk to Pamukkale to Cappadocia — without experiencing any interruptions in service. It also came with a powerbank which proved very handy. After using the device the entire day, the battery would go red around 6-7PM so we'd plug it in to the powerbank for a couple more hours of juice.
You can have it delivered to any hotel in Istanbul or pick it up at Ataturk Airport. Before departing Turkey, you can leave it with your hotel's reception desk as they currently don't offer airport drop-off. Delivery and pickup within Istanbul is free, but anywhere else may incur additional shipment costs.
Follow the link to rent a pocket wifi device from Alldaywifi. I suggest reserving it at least a week before your trip.


3. Invest in a Tourist Discount Pass
The 5-day Istanbul Museum Pass was perfect for us but there are a couple of other discount cards you can get depending on what you want to do in Istanbul. Here's a quick breakdown of each.
Istanbul Museum Pass
For 185TL, the Istanbul Museum Pass gives you access to most of the sites mentioned in this guide along with a few others within 120 hours after its first use. To give you an idea how much money you'll be saving, admission to the museums suggested here — Ayasofya, Topkapi Palace (with Harem), and the Archaeology Museums — amounts to 185TL, so you'll already be recouping your investment just by visiting those three sites. On top of that, a valid museum pass entitles you to 25% off on a Short Bosphorus Cruise and 20% off on a Full Bosphorus Tour with Şehir Hatları.
The Istanbul Museum Pass will save you a lot of time as well since you won't have to line up to buy tickets at every site. Some of these museums are hugely popular, especially during peak seasons, so lines can get pretty long. Check out the Müze Kart website for a list of participating museums.
Istanbul Tourist Pass
If you want something more comprehensive than the Museum Pass, then you may want to look into getting an Istanbul Tourist Pass. It's considerably more expensive but it'll cover almost everything you'll want to do in Istanbul. Available in 3-, 5-, and 7-day passes, it'll entitle you to Hagia Sophia and Topkapi Palace guided tours, a Bosphorus cruise, Big Bus tour tickets, a Whirling Dervish ceremony, and more. It'll even provide you with unlimited internet access and one-way transfers from the airport. Follow the link for more information and to purchase an Istanbul Tourist Pass from Get Your Guide.
Istanbul Welcome Card
Another option is to get an Istanbul Welcome Card. It comes in four variations and provides a similar range of services as the Istanbul Tourist Pass, but with a few differences. Follow these links for more information and to purchase a Classic, Premium, Deluxe, or Family Istanbul Welcome Card. You'll get a discount if you purchase them using these links.
4. Know When Museums are Closed
Many of Istanbul's museums and attractions are closed one or two days of the week. Know when they close so you can plan your trip accordingly.
Ayasofya — Monday
Istanbul Archaeology Museums — Monday
Dolmabahce Palace — Monday and Thursday
Topkapi Palace — Tuesday
Chora Church — Wednesday
Grand Bazaar — Sunday
5. Save Money with an Istanbulkart
To be honest, we didn't get an Istanbulkart because I found its discount scheme confusing. I figured we'd be saving an insignificant amount anyway so it wasn't worth the hassle. I was wrong. With each ride AND every transfer on Istanbul's public transportation system costing 5TL, the cost can quickly add up. If you'll be staying in the city for more than a couple of days and taking public transportation often, then it's worth the investment.
With an Istanbulkart, you'll pay just 3TL for the first ride instead of the usual 5TL. On top of that, you'll get up to five discounted transfers within two hours of your first ride. Here's the discount scheme as derived from the IETT website:
First ride — 2.60TL
1st transfer — 1.85TL
2nd transfer — 1.40TL
3rd, 4th, 5th transfer — 0.90TL each
To put that in practical terms, going from Atatürk to Taksim requires two transfers and would normally cost you 15TL (5TL x 3). With an Istanbulkart, that same trip will cost you just 5.85TL (2.60TL + 1.85TL + 1.40TL). You can use one Istanbulkart for up to five people, but according to this TripAdvisor thread, it's best to get one each if you plan to use it extensively. Multiple passengers can use the same card but only one person will get a discount.
You can purchase an Istanbulkart at major metro stations like the airport, Sultanahmet, or Eminönü. You can also buy it at newspaper kiosks, though the cost is slightly higher. At metro station machines, the initial investment is 10TL. 6TL is for the cost of the card, leaving you with 4TL initial credit. You can then top it up as you wish, though 20TL per person should be a good start since any unused amount at the end of your trip is non-refundable.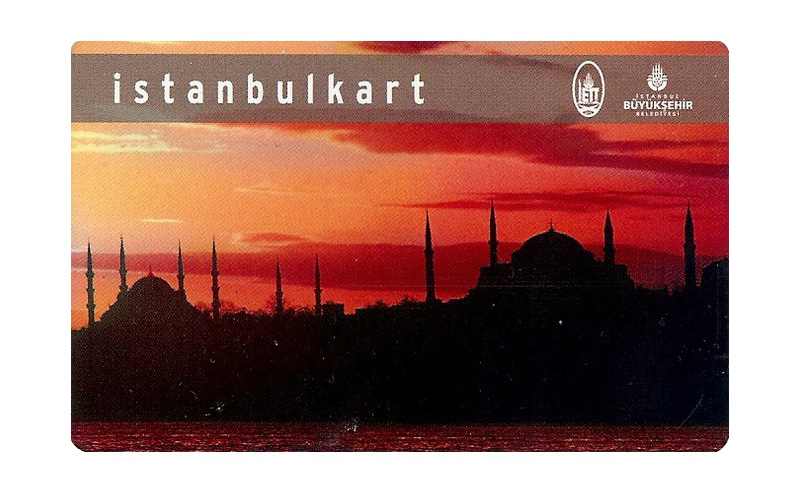 6. Check for Discount Passes
There are many websites that offer discount passes to tours and services. Among the sites I use, the ones with the most activities in Istanbul are Get Your Guide and Viator. Both are solid, reputable companies that offer tours and activities to many cities around the world, including Istanbul. If you're looking for deals on tours, transfers, shows, etc., then you may want to search through the Get Your Guide and Viator websites for a list of attractions deals in Istanbul. Here's a quick look at some of Get Your Guide's most popular deals in Istanbul: (pictures borrowed from getyourguide.com)
7. Get Travel Insurance
To be honest, it was only recently when we started buying travel insurance. Back when we traveled just once or twice a year, travel insurance felt more like an added expense, one we didn't need. But now that we travel more, I understand how important it is to have it. Fact is, you never know what can happen on the road. It's one of those things that you hope you never have to use, but if you do wind up needing it, then you'll be thanking the gods that you had it. Or cursing them if you didn't.
Though I do find it more necessary now, it's still up to you if you think you need it. A 3-day trip to Osaka just shopping and eating may not really call for insurance but if you plan on doing more active things like bungee jumping, horseback riding, or going on a hot air balloon ride, then I'd say travel insurance is a must.
We buy travel insurance from World Nomads because every long-term traveler I know recommends it. From the sound of it, they're the best in the industry by a mile. Not only do they provide a high coverage limit for medical expenses (up to USD 5 million with the Standard package), they also cover things like trip delays, missed flight connections, theft/loss of passport and luggage, etc. Follow the link or use the widget below to learn more and get a free travel insurance quote from World Nomads. It's super quick and easy.
8. Know When and How Much to Tip
Tipping is generally modest in Turkey, around 5% at restaurants and a few lira for porters and other similar services. Try to tip in TL as much as possible and give it directly to your server. At inexpensive restaurants, around 5% is enough. At fine dining establishments, 10-15% is expected. For porters at hotels, airports, or train and bus stations, 2-3TL per bag should suffice. Taxi drivers usually aren't given a tip, but you should round the fare up to a convenient amount (ie 20.30TL to 21TL). Tips to tour guides and drivers are at your discretion. If you were happy with the day's tour, then a group tip of around 20TL for the guide and 15TL for the driver would be appreciated. Keep in mind that this is the total tip from the entire group, not each individual.
9. Bring the Right Power Adapter
Electrical outlets in Turkey are round so plugs are typically Type C or Type F. Be sure to bring the right power adapters for your devices. Electrical voltage is 230V.
10. Consult Turkey Travel Planner
A bible for all things Turkey. Tom Brosnahan is an American travel writer who's been visiting Turkey for the greater part of 40 years. He's about as knowledgeable and well-connected as any non-local, and his website — turkeytravelplanner.com — was an invaluable resource when planning our trip. The navigation is a little confusing but the wealth of information is impressive. I suggest referring to it should you need more in-depth knowledge of Turkey.
Have fun!
I'm not an expert on Istanbul nor Turkey but I do hope that you find this guide useful. I'm only sharing some of the things I learned from our trip. If you have any suggestions or simply want to share your own experiences, then please feel free to do so in the comments section below. You're welcome to join our Facebook Travel Group as well. We'd love to hear from you.
Thanks for stopping by and have an awesome time exploring the mesmerizing city of Istanbul!
OUR GEAR
These are some of the things we brought with us to Istanbul. As you can tell, I document a lot of content for this blog so most of the things I bring are photo and video equipment. 😆 If you'd like to see what other gear we use, then you can check out our "What's in Our Backpack?" post. (NOTE: The following links are Amazon affiliate links.)
Disclosure
Some of the links in this guide are affiliate links, meaning we'll get a small commission if you make a purchase at NO extra cost to you. We only recommend products and services that we use ourselves and firmly believe in. We really appreciate your support as this helps us make more of these free travel guides. Thank you!