Chora Church isn't the easiest attraction to get to. It isn't like Hagia Sophia, the Blue Mosque, or Basilica Cistern that are all within walking distance of each other in touristy Sultanahmet. Located in a more residential neighborhood in Edirnekpai, you'll need to get there either by multiple tram rides or by taxi. It doesn't have much around it either. No shops, restaurants, hotels, or currency exchange booths that cater to tourists. If you make the trip to Chora Church, then you'll pretty much just be going to Chora Church.
Even then, I can't recommend it highly enough.
Despite being out of the way, this tiny museum that's just a fraction of the size of its more celebrated counterparts was my favorite historic site in Istanbul. It wasn't even close. The mosaics and frescoes adorning its walls and ceilings are drop dead stunning and will make the effort worthwhile.
Kariye Museum
You enter Chora Church through this lobby area called a narthex. Opposite the church's main altar, a narthex is an architectural element typical of early Christian and Byzantine churches. Divided into two parts, what you're looking at here is the exonarthex or outer narthex. The door to the left with the mosaic of Christ over it takes you into the esonarthex or inner narthex.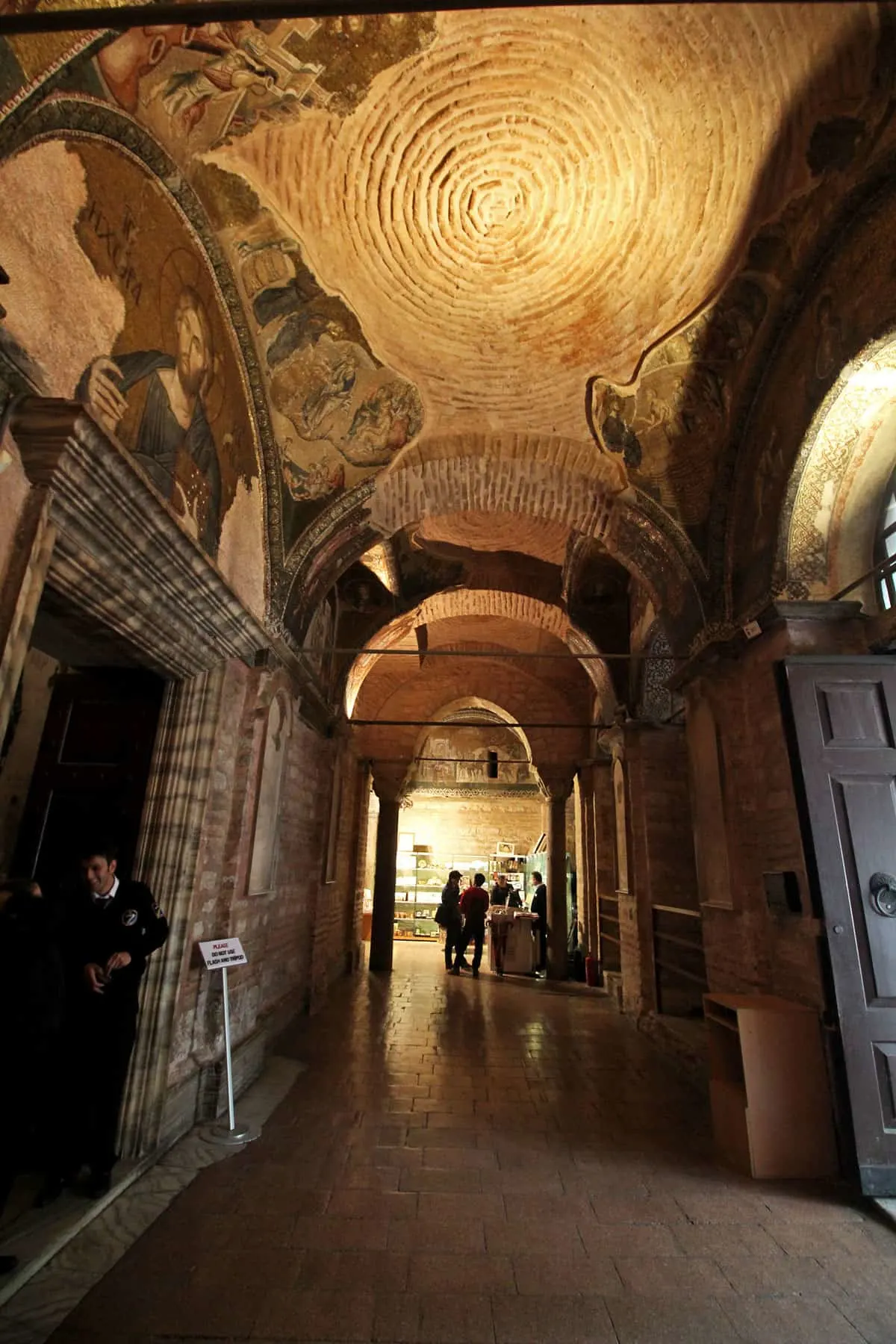 Both parts of the narthex showcase Chora Church's famed mosaics. There are over thirty in these two sections with three more in the nave.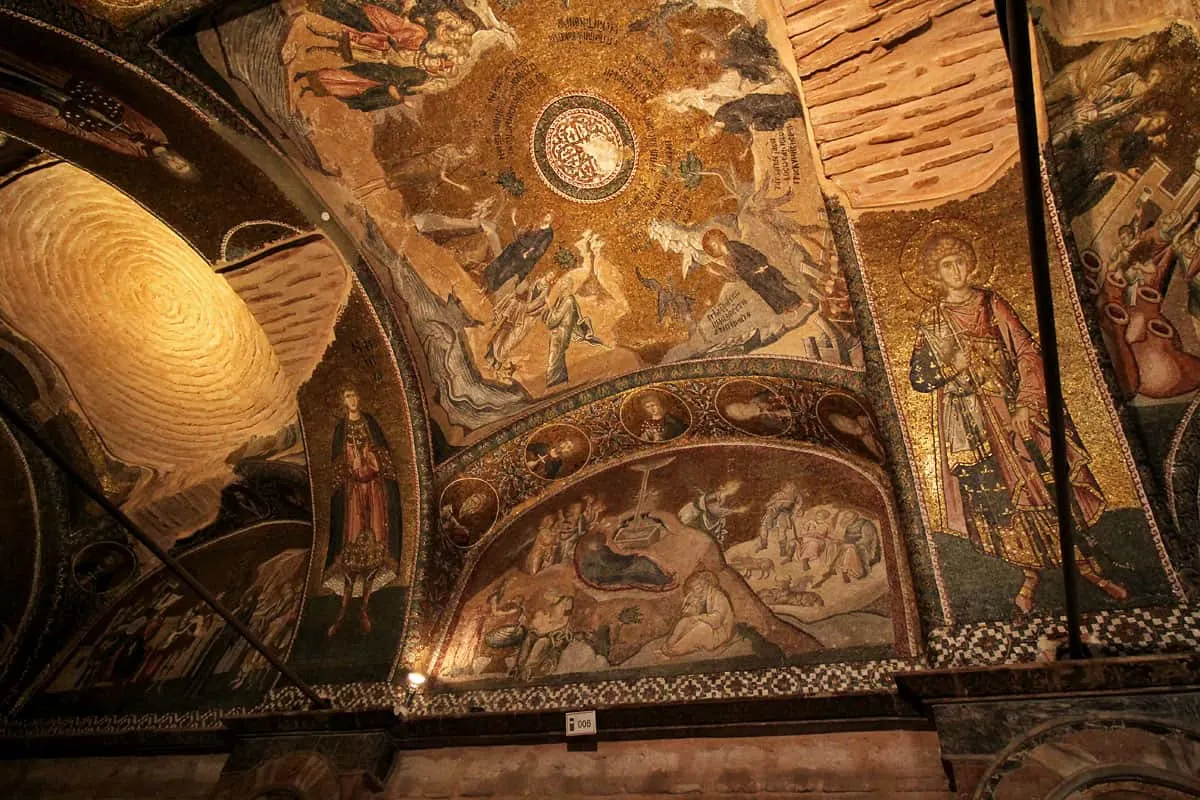 Originally built as a Byzantine church, it was later converted to an Ottoman mosque in the 16th century before being turned into a museum in 1948. Chora Church is included in the 5-day Istanbul Museum Pass but if you don't have one, then entrance is 20TL. It's closed every Wednesday.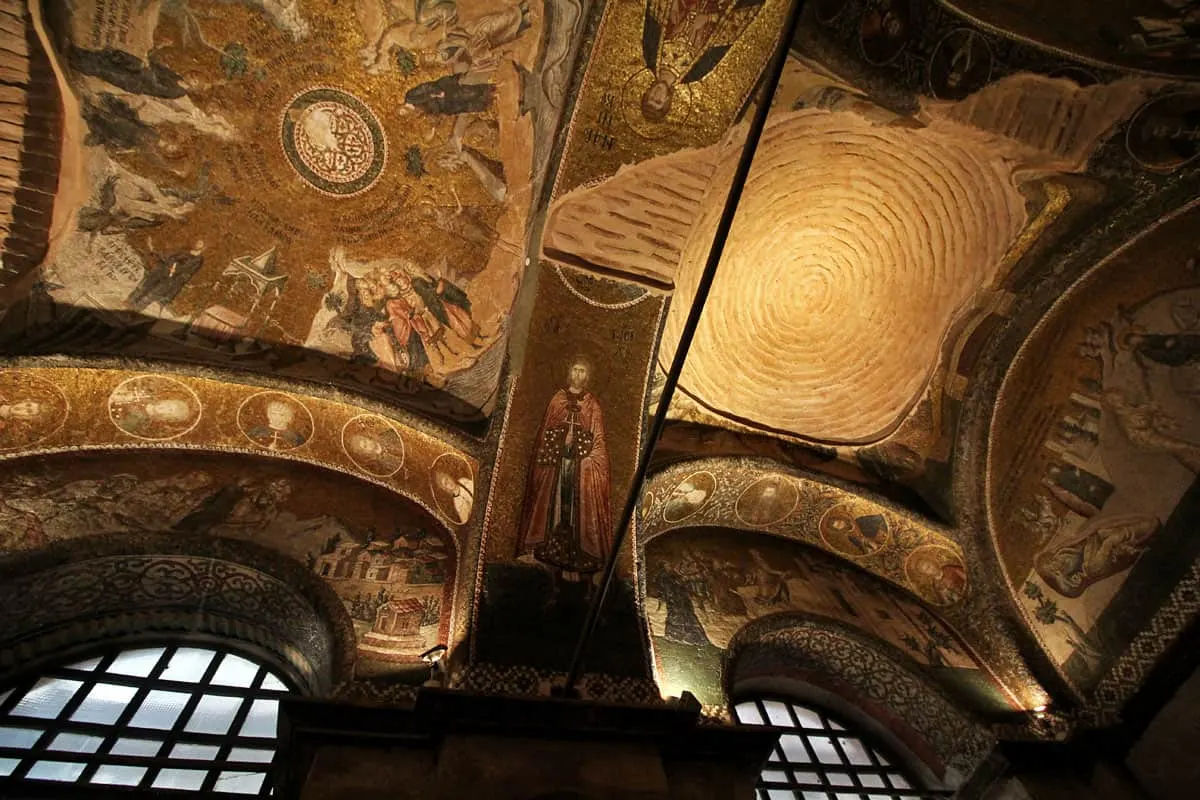 Well-preserved and glittering thanks to dramatic lighting, the mosaics at this tiny church are second to none.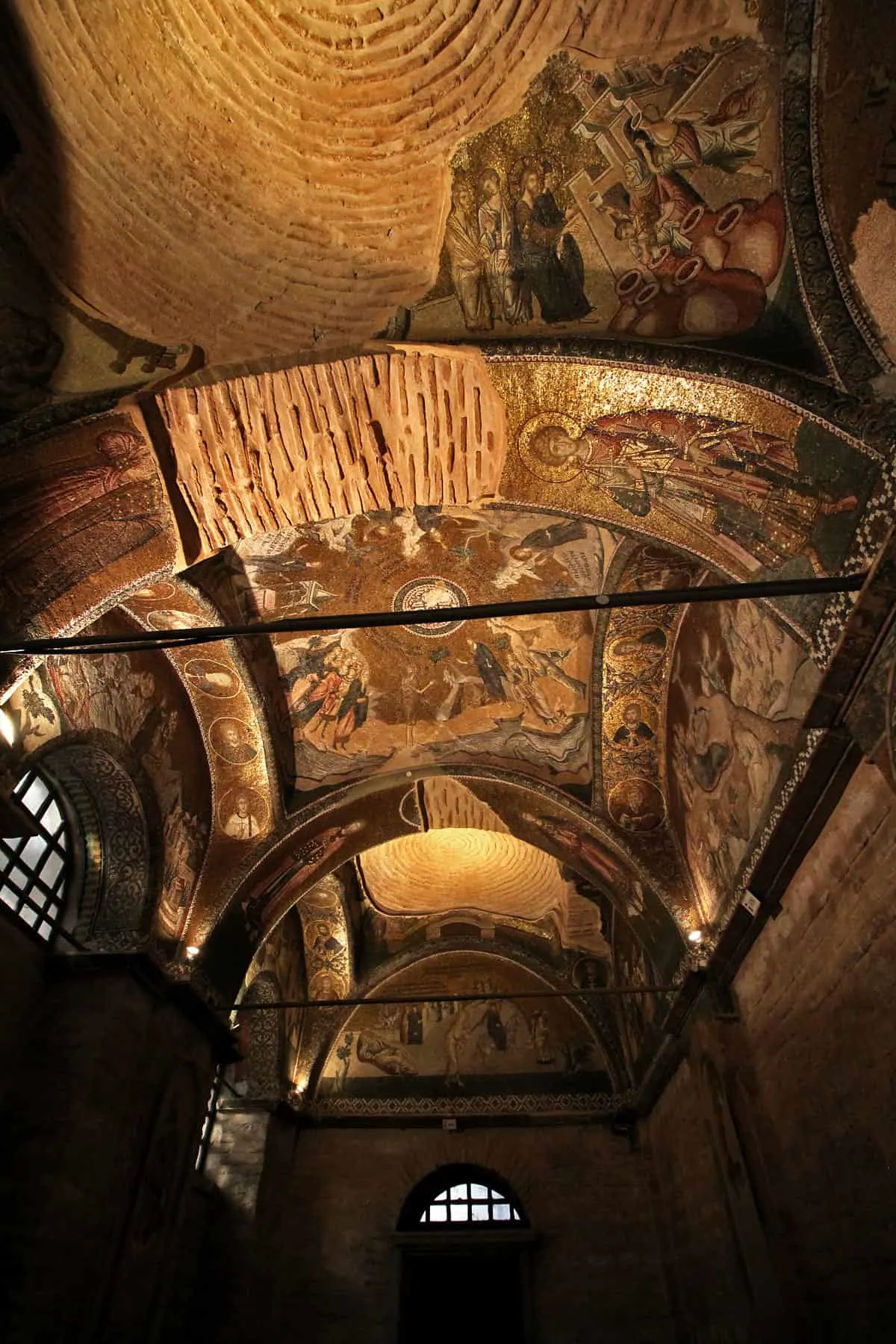 Inside the esonarthex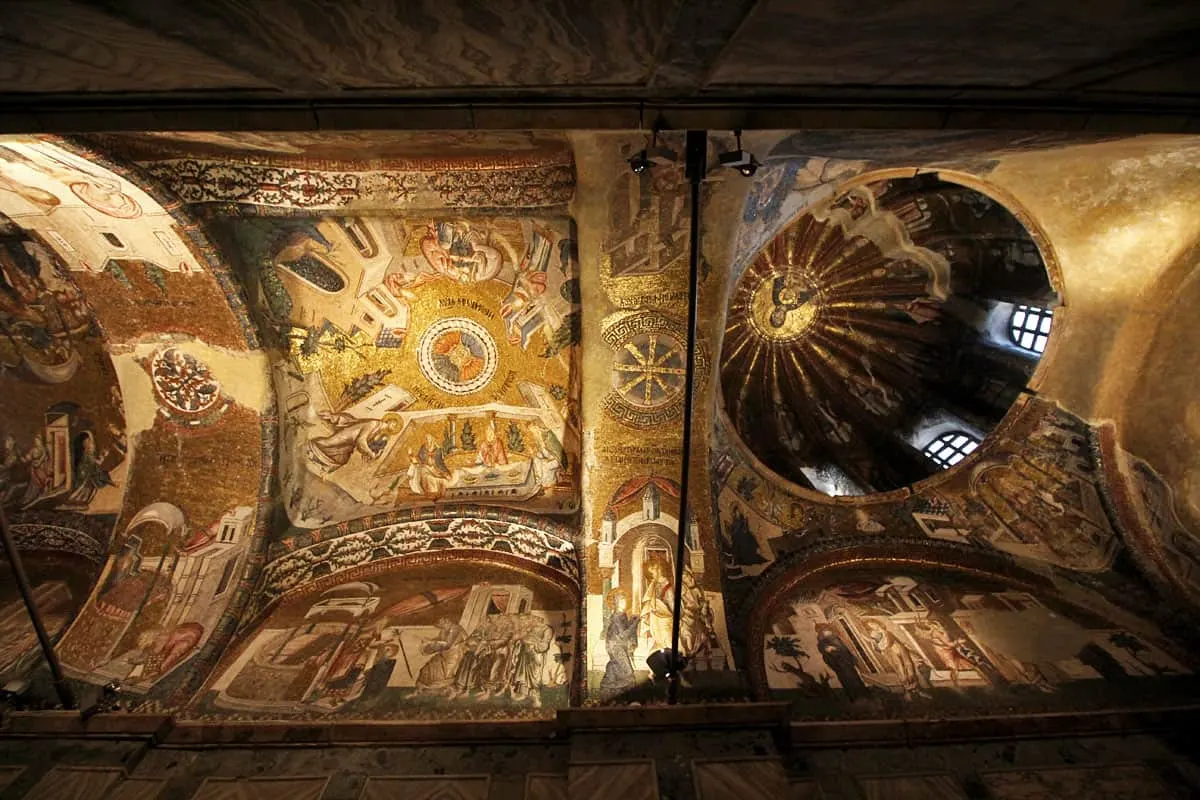 The esonarthex contains two domes. This north dome features a mosaic of the Virgin Mother with child.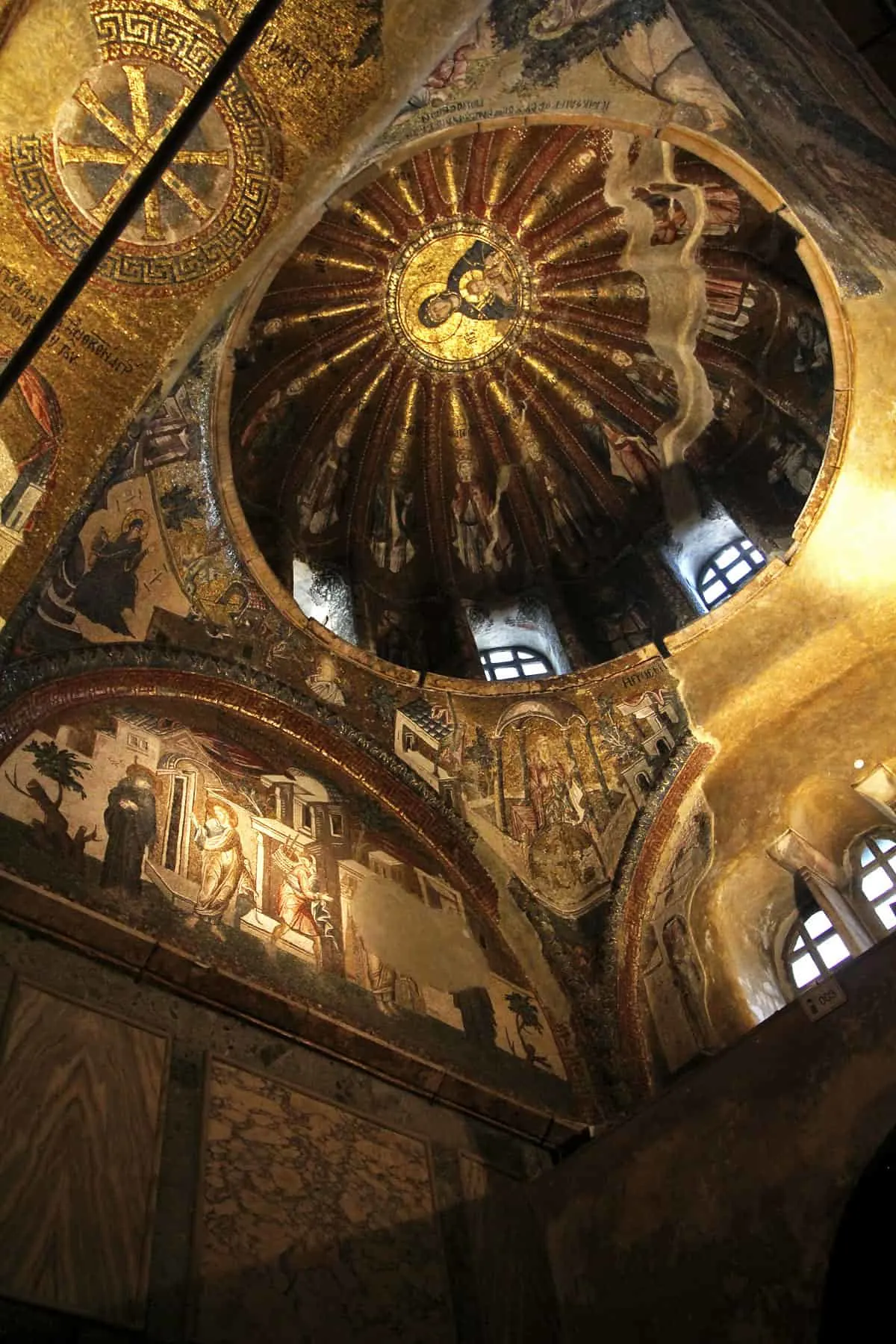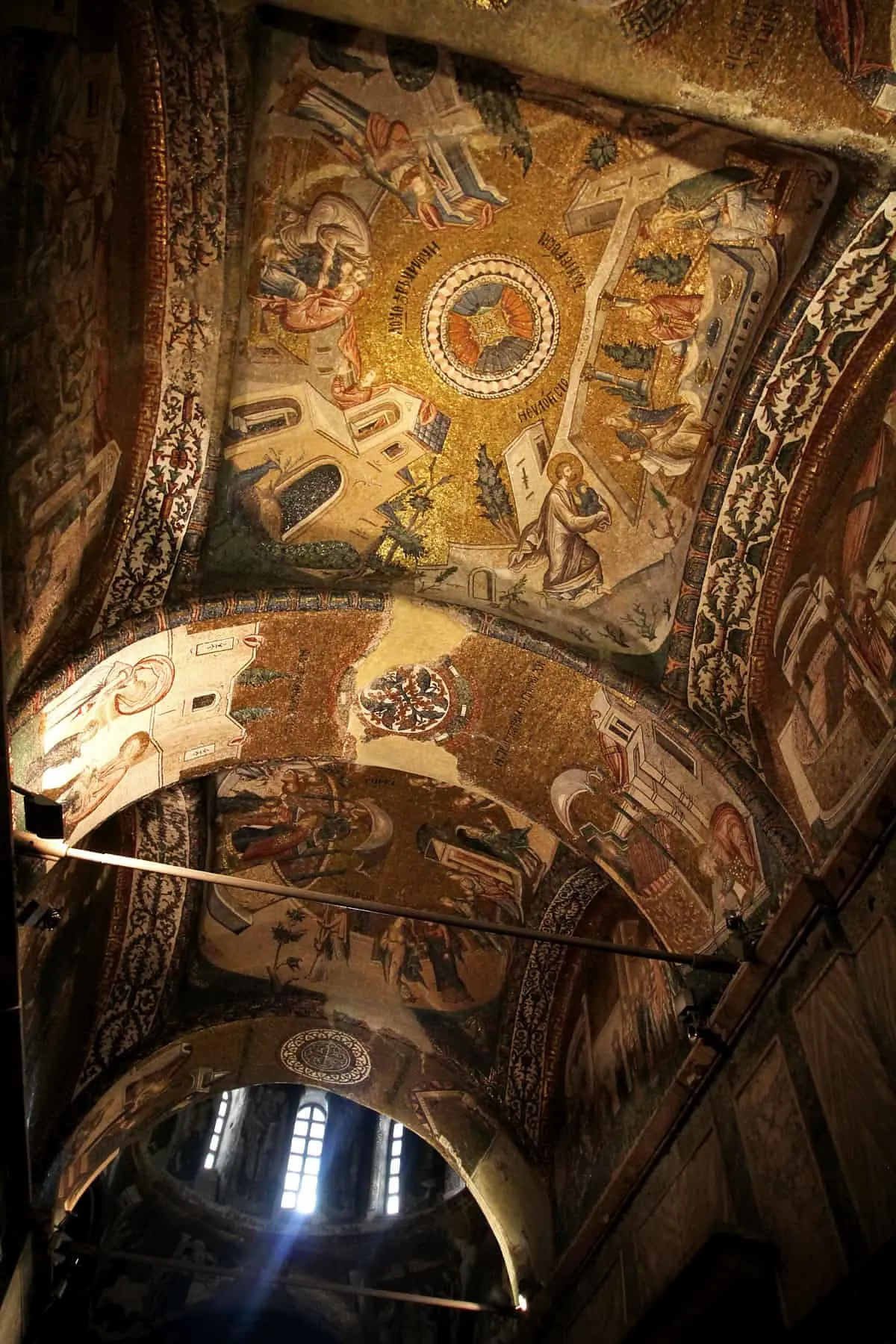 The south dome features a mosaic of Christ Pantocrator. I didn't know what it meant so I looked it up. "Pantocrator", as it turns out, refers to a specific depiction of Christ.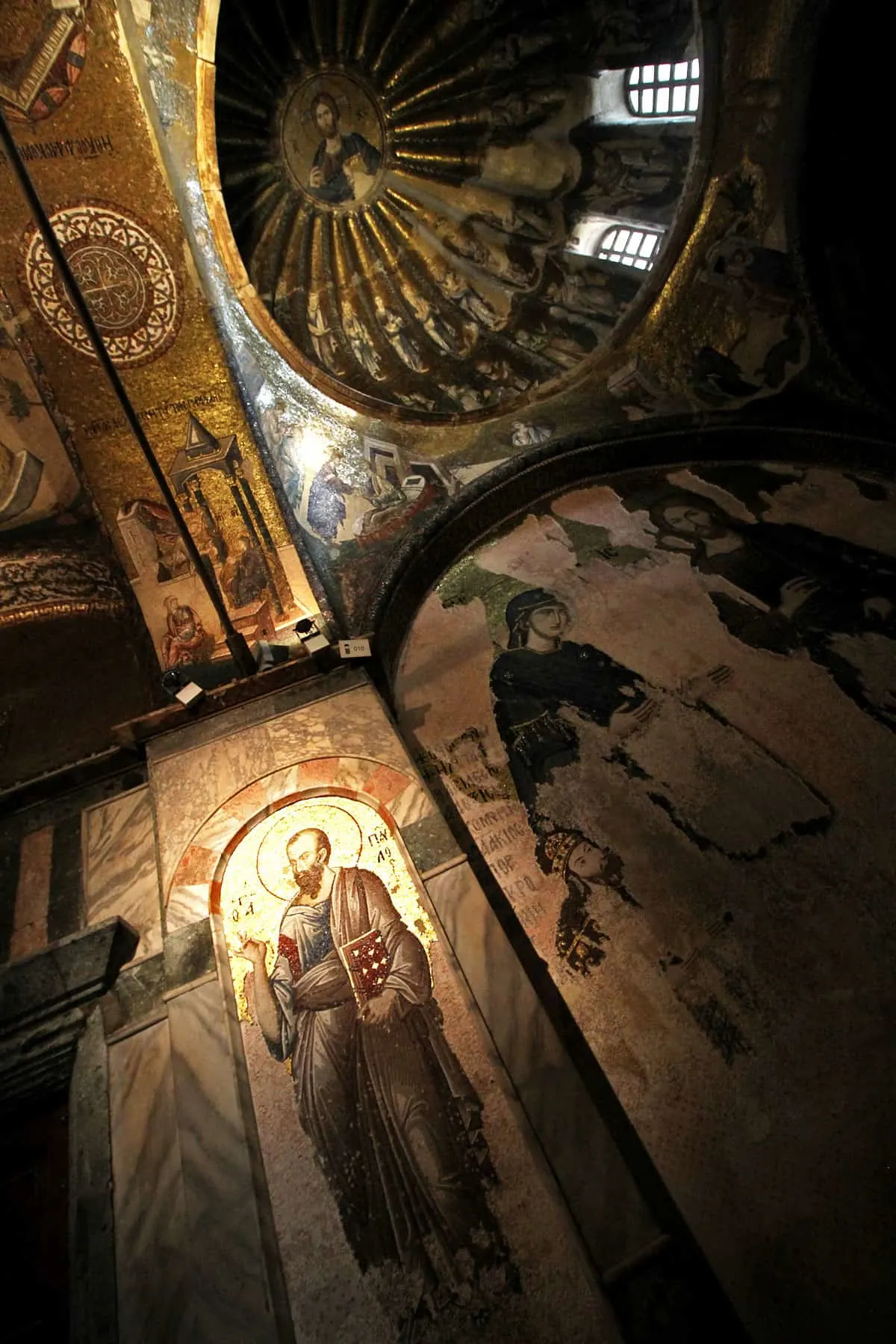 To the right of the esonarthex is the parecclesion, an area used as a mortuary chapel for family burials and memorials. Here you'll find frescoes instead of mosaics adorning the walls and ceilings.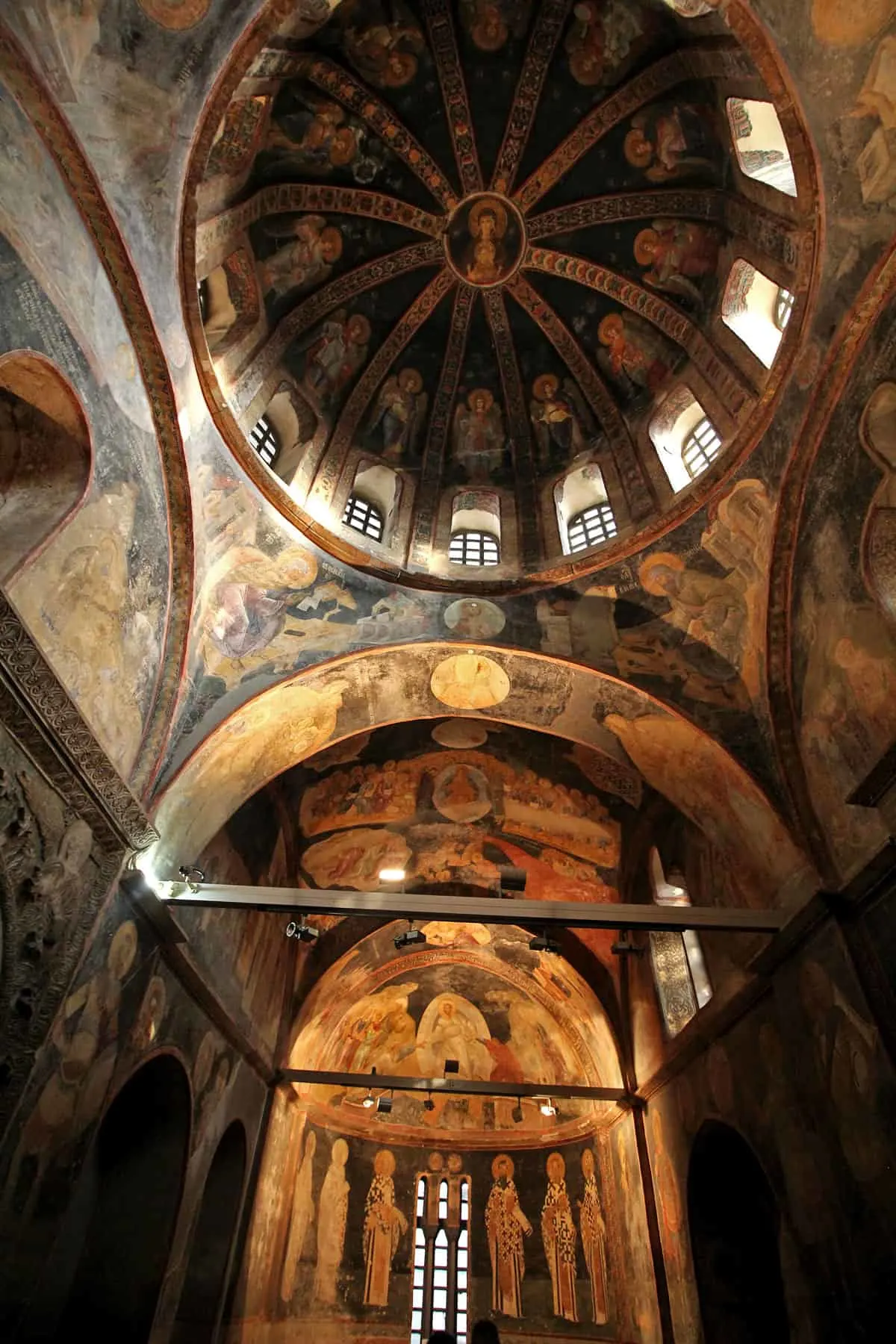 This ceiling fresco depicts the Anastasis or Resurrection of Christ.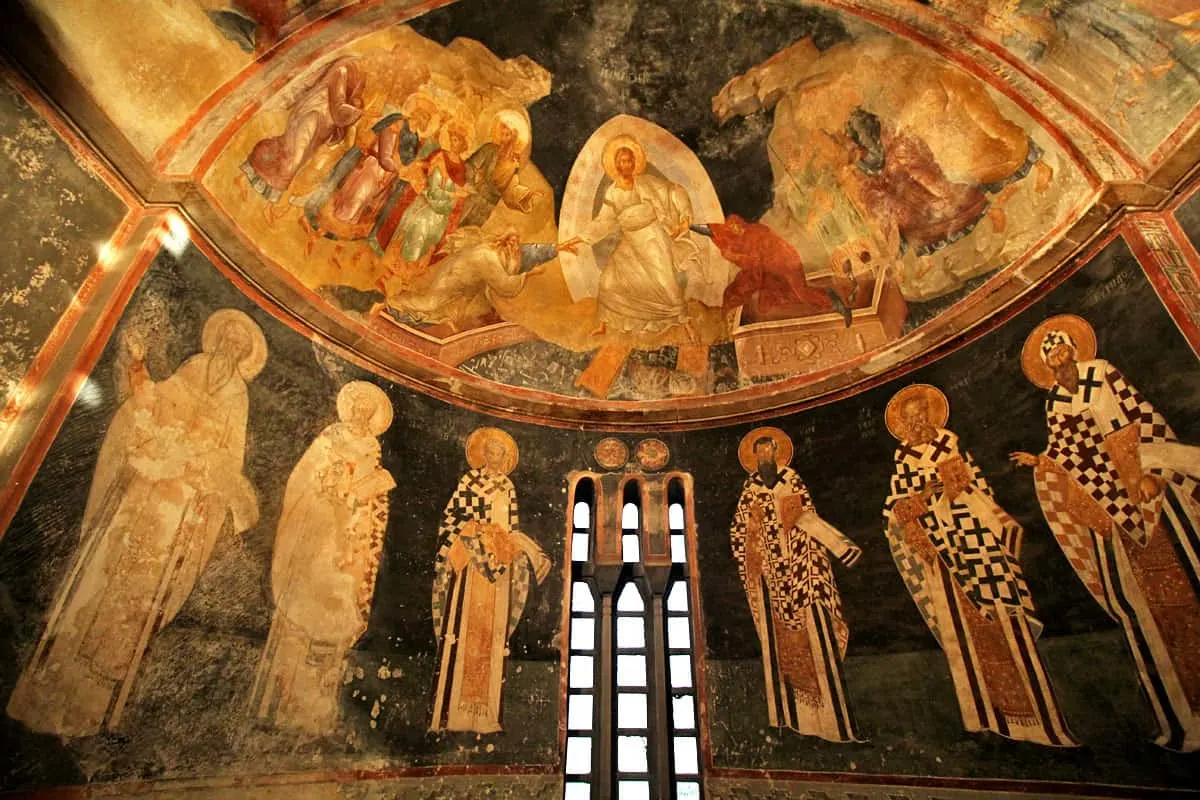 The painted dome of the parecclesion depicting the Virgin Mother with child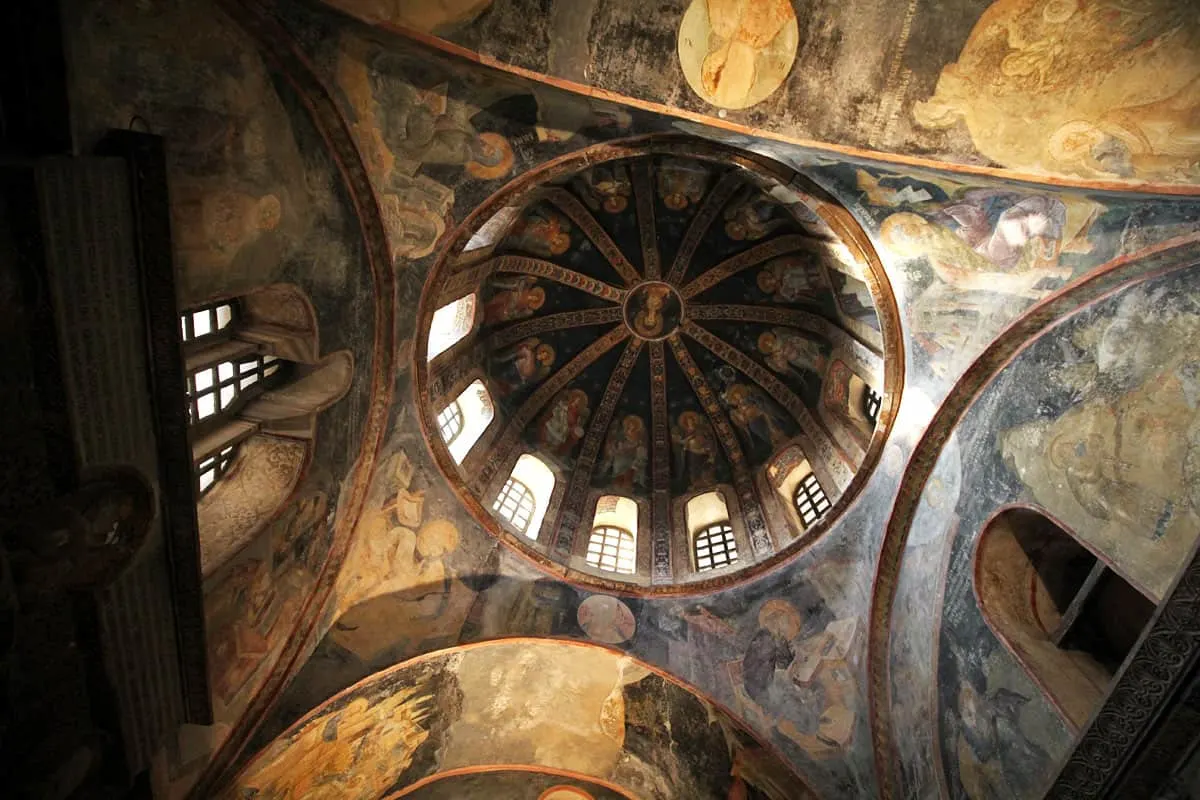 Absent from this post are pictures of the nave, or main body of the church, which was closed at the time for restoration. With the majority of the mosaics located in the narthex, the museum is still very much worth visiting despite the nave not being open to the public. The nave contains three mosaics but the ones in the narthex alone are worth the price of admission.
I read that the restoration will be done in stages so they'll eventually shift their attention to the narthex. When the narthex is closed, then it may not be worth visiting Chora Church until that stage has been completed. Before going, I suggest calling the museum via the number below to check if the narthex will be open.
Chora Church (Kariye Museum), Istanbul, Turkey
Kariye Camii Sokak, No:26 Edirnekapi, Istanbul, Turkey
Tel: +90 212 631 9241
Email: [email protected]
Operating Hours: Thu-Tue, 9AM-4:30PM (Closed Wed)
Entrance: 45TL
Included in 5-day Istanbul Museum Pass: Yes
HOW TO GET THERE:
From Sultanahmet, take the T1 tram to Topkapi station. Transfer to the T4 line and get off at Edirnekapi. It's about a 10-minute walk to Chora Church from Edirnekapi station. If you have Sygic Travel and pocket wifi, then you can use GPS to track it down. I can't stress enough how easy it is to find places with Sygic Travel and GPS. If you don't have access to it, then you'll need to make your way from Edirnekapi station to the other side of the intersection. You need to cross diagonally so be very careful since you'll be crossing highways. Once you get to the other side, walk down Nester Sokak and make a left on Kalfa Efendi Sokak. Walk straight until you reach Chora Church.
Lezizhan Çiğ Köfte
If you'd like to try an interesting snack going to or from Chora Church, then I recommend trying çiğ köfte at Lezizhan. There's a branch located at the corner of Neşter Sokak and Şeyh Eyüp Sokak. You'll pass it coming from Edirnekapi station. Çiğ Köfte is traditionally a raw meat dish that's now vegetarian. (Ironic, I know)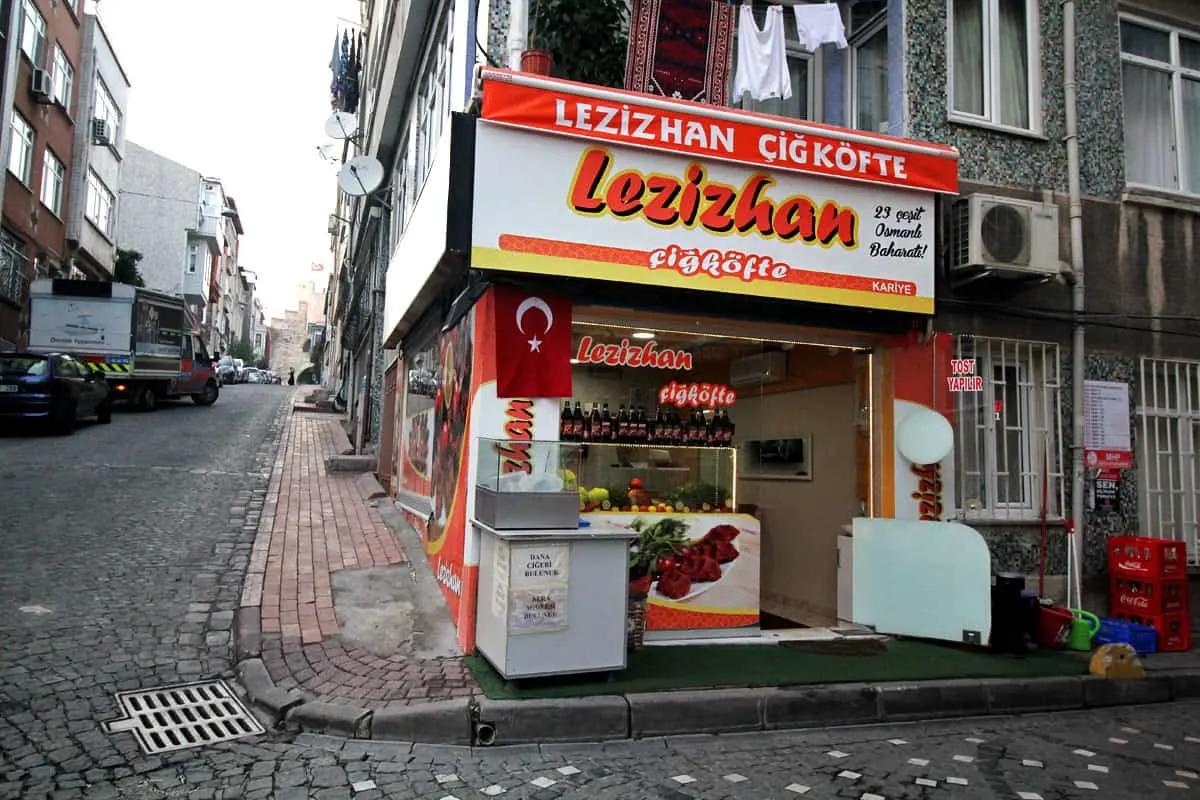 For more Istanbul travel tips, check out our First-Timer's Travel Guide to Istanbul, Turkey