We stayed five full days in Istanbul. The first four were spent exploring all its major tourist areas on foot. From the museums, mosques, and palaces of Sultanahmet to the shops and restaurants of Beyoğlu to the hip neighborhoods of Kadıköy.
As you can imagine, we covered a LOT of ground in those four days. We had already visited all of Istanbul's major sites so we wanted to do something that was fun but a little more relaxed on our fifth and final day. Going on a scenic all-day cruise of the Bosphorus — an experience that some say is one of Istanbul's greatest pleasures — was exactly that.
Bosphorus Cruise
We went on a cruise with Şehir Hatları, Istanbul's official ferry company. They offer three Bosphorus Cruises — Full, Short, and Moonlight (Evening). We went on their Full Bosphorus Cruise which takes you all the way to Anadolu Kavağı, the last dock before the Black Sea. It leaves Eminönü at 10:35AM and gets back around 4:25PM. Full Bosphorus Cruises run everyday year-round and cost 65TL per person.
For people who don't have a full day to spare, Short Cruises last just two hours and cost 32TL.

A word of caution: Be wary of hustlers offering private Bosphorus cruises. Even in Sultanahmet you'll see them holding up private Bosphorus Cruise signs. Though there are reputable companies out there, many are scammers offering overpriced (often double) abbreviated tours on crappy boats. Their tours can hardly be called private either since you'll often be riding with 50 or more people. Avoid them at all costs and go with an established company like Şehir Hatları. Just look for their ticketing office pictured below on the Eminönü ferry dock.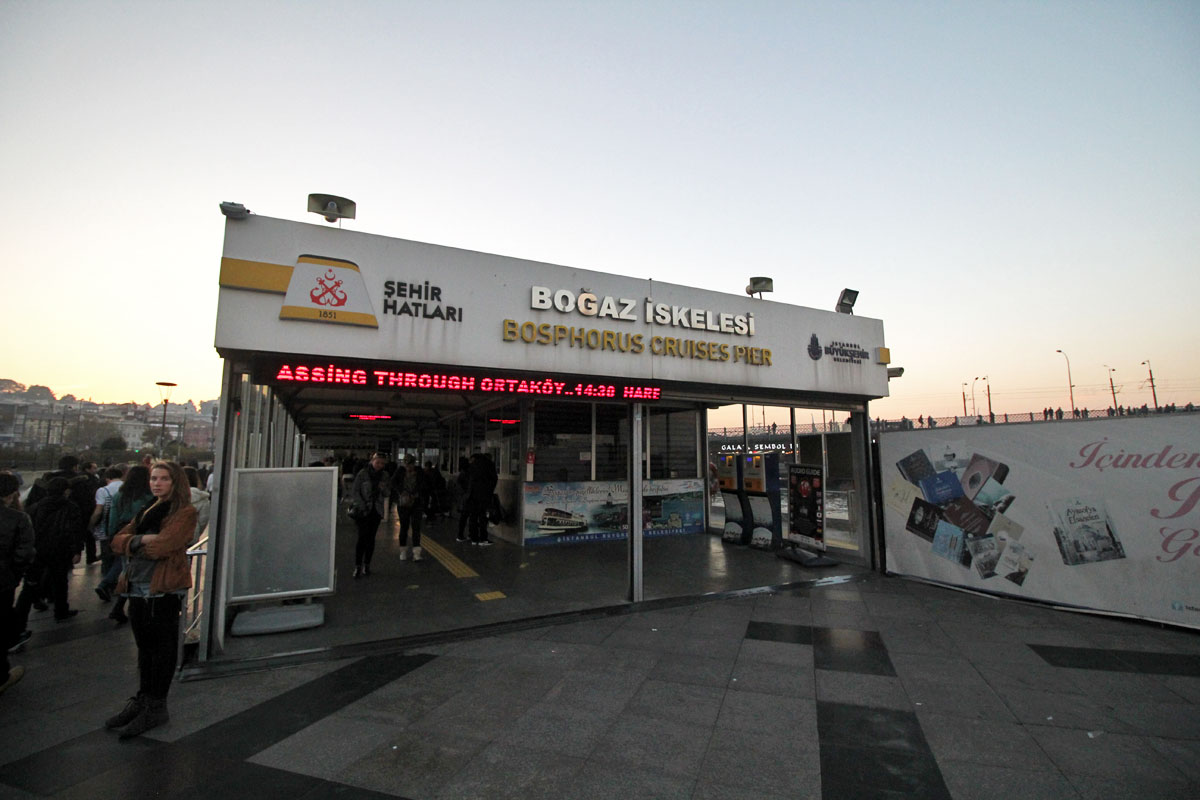 The inside of the ferry. We went in November so the ferry was less than half full. I'm sure they get packed during peak seasons though so be sure to arrive at the dock early to buy your tickets.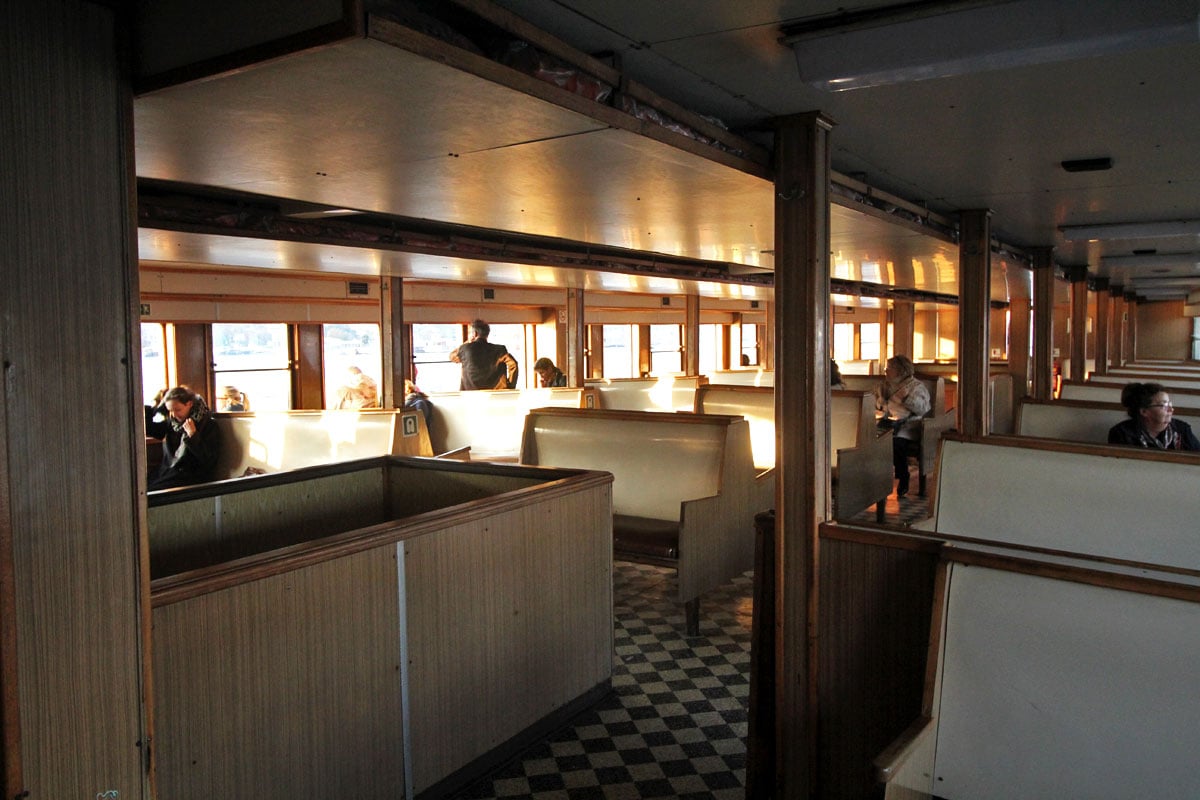 As expected, open air seating is the most popular. We arrived early and elbowed our way to prime seats. 😉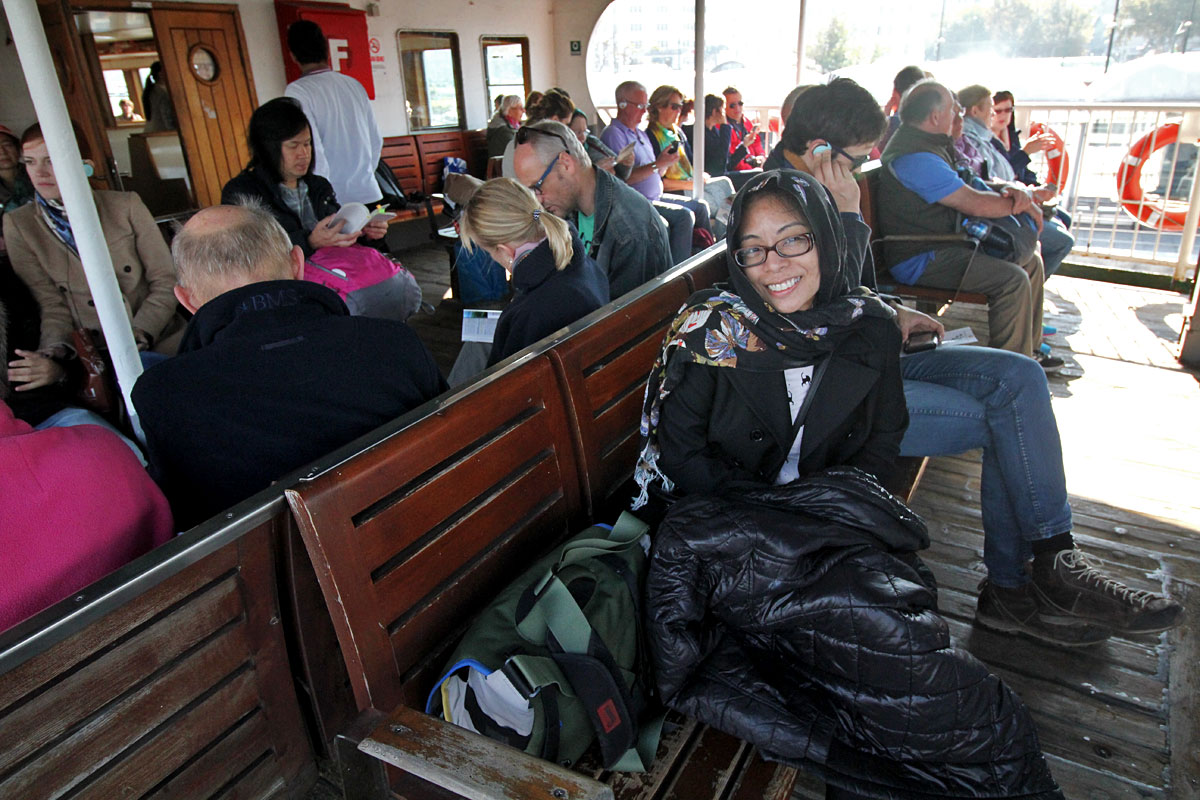 Waiting to set sail from Eminönü ferry dock, there's Galata Bridge with Galata Tower in the distance.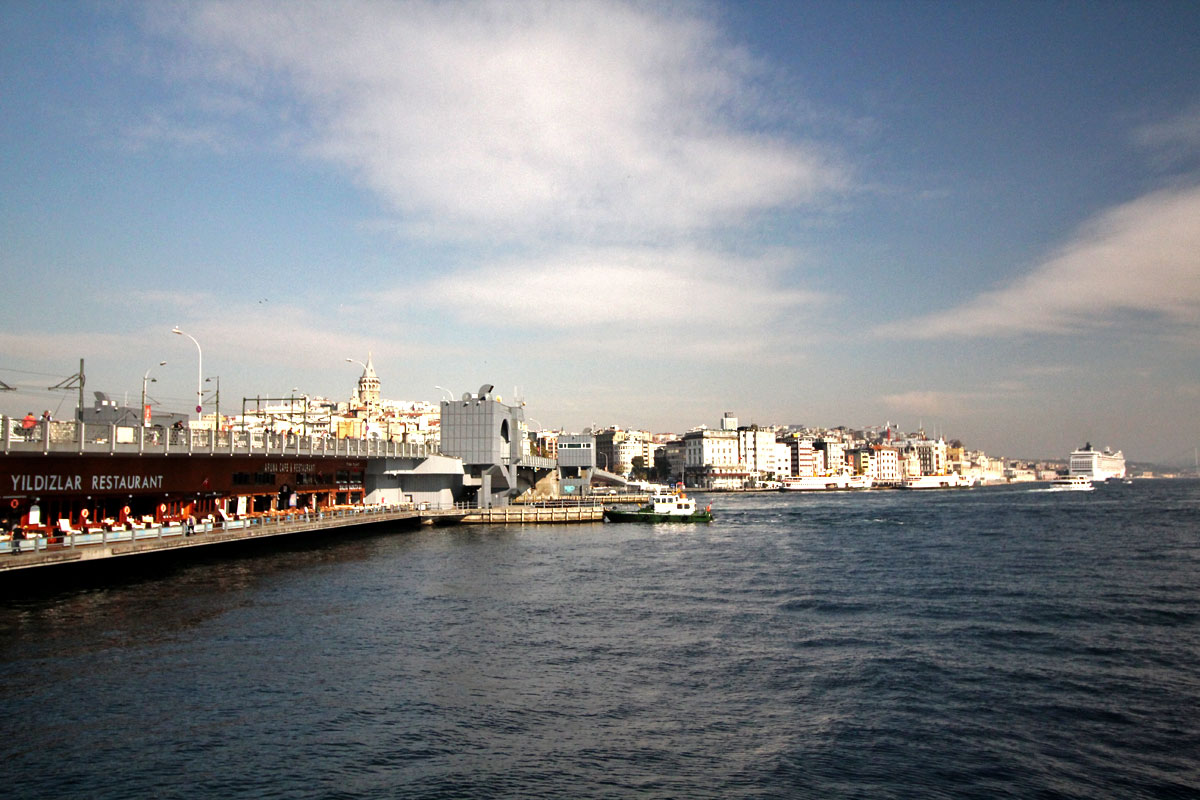 And away we go! The crew makes it a point to feed the birds so the passengers can get pretty shots like this.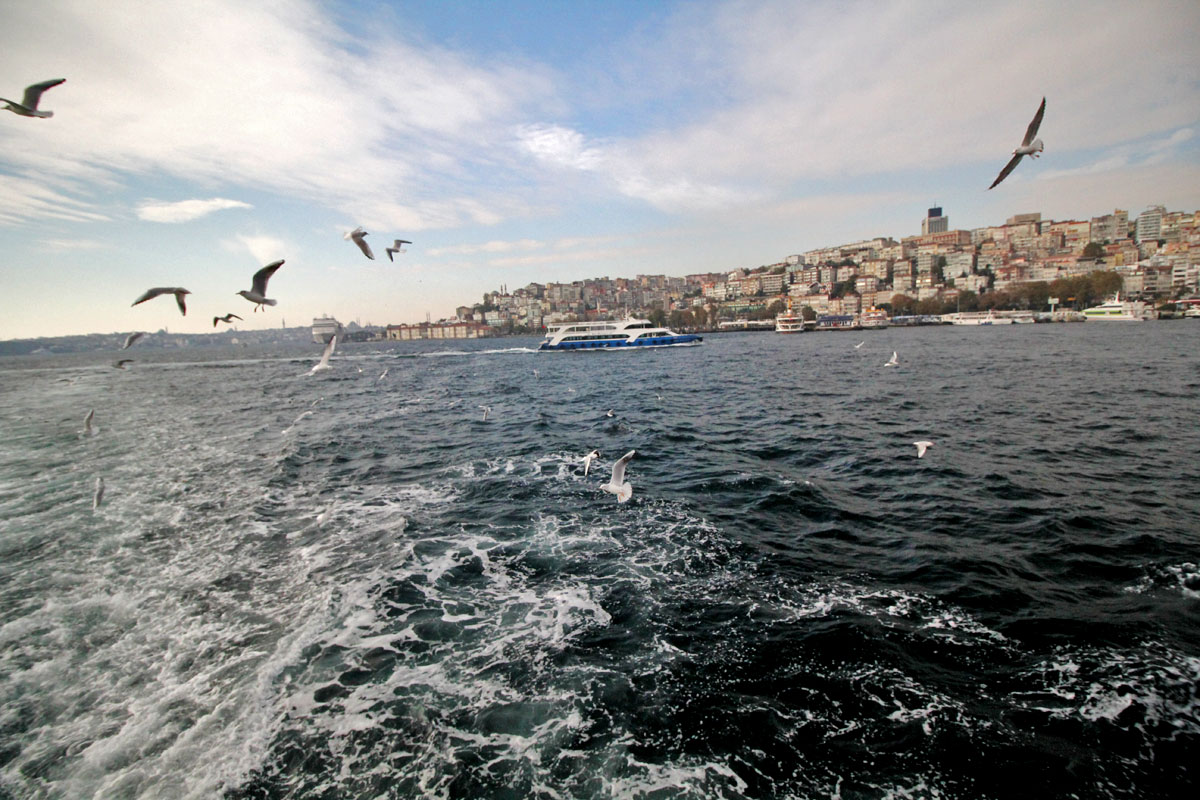 There's Dolmabahçe Palace.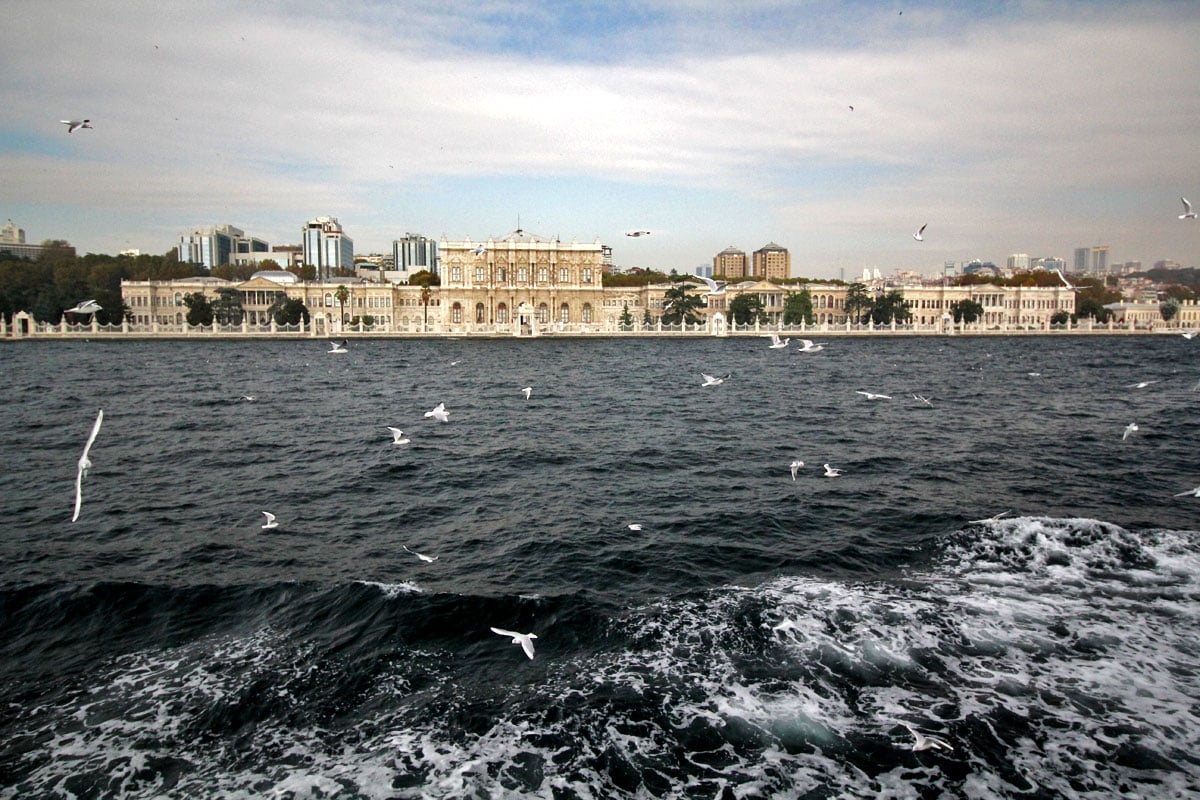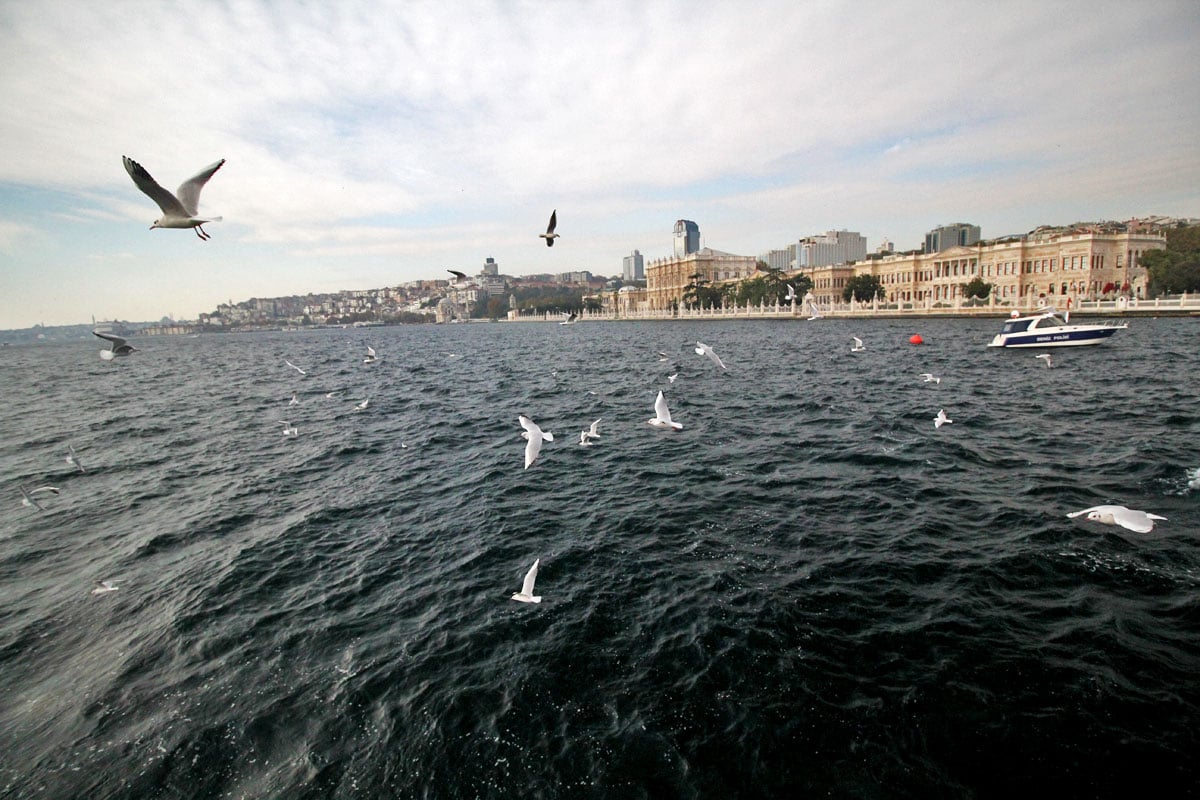 Sailing past Ortaköy Mosque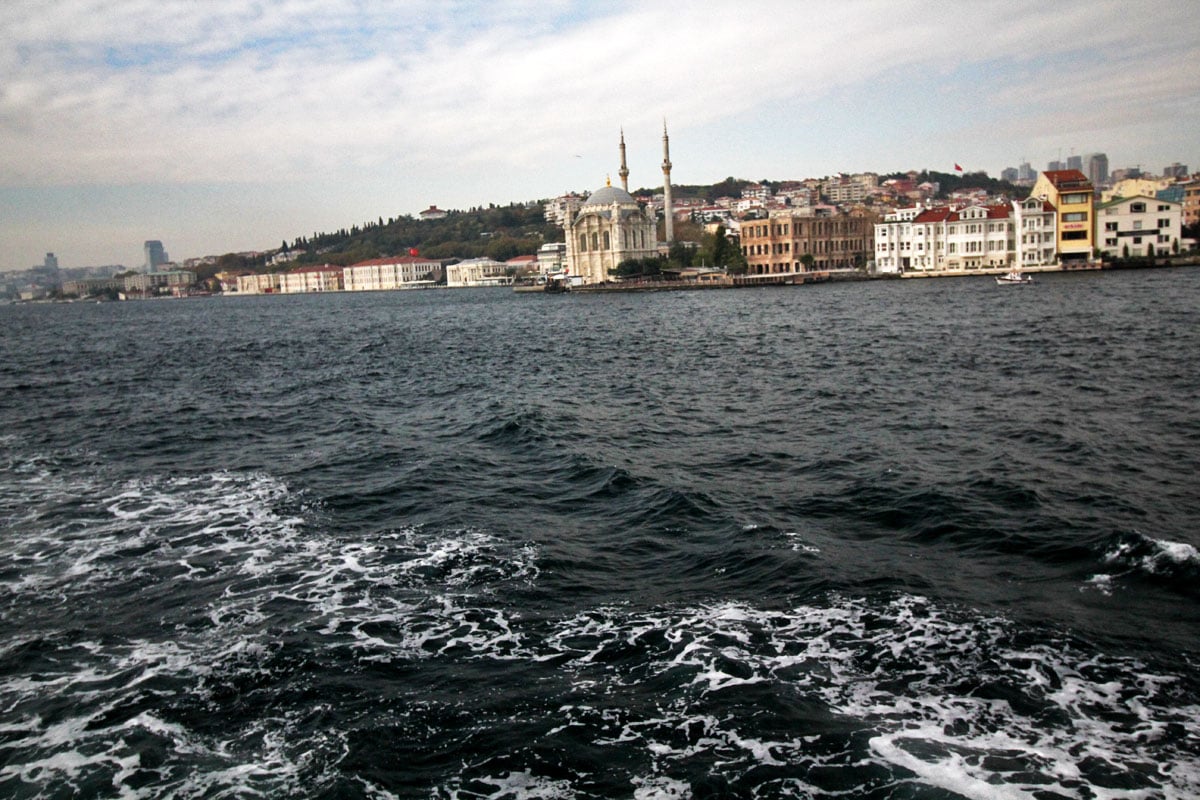 Not sure which port this was but it's one of four the Full Cruise will dock at before Anadolu Kavağı. The Short Cruise will stop just once to pick up more passengers at Ortaköy.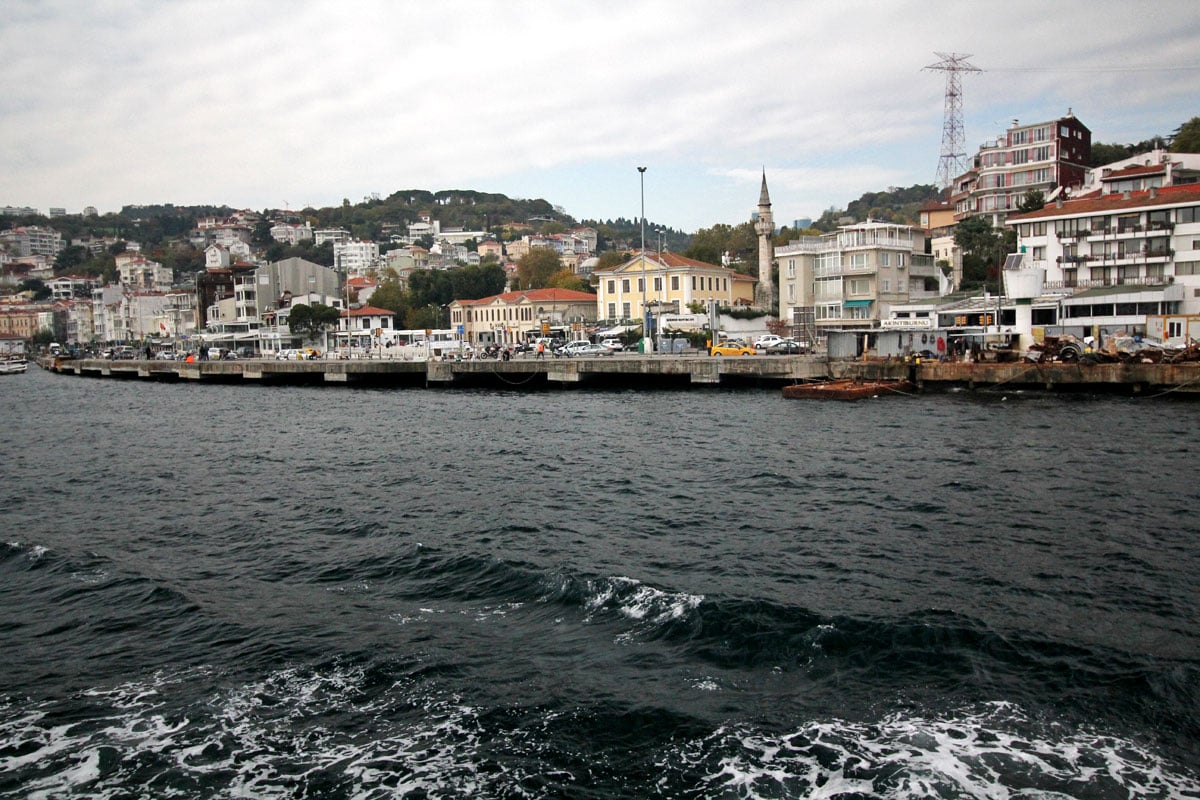 Approaching Rumelihisarı and Fatih Sultan Mehmet Bridge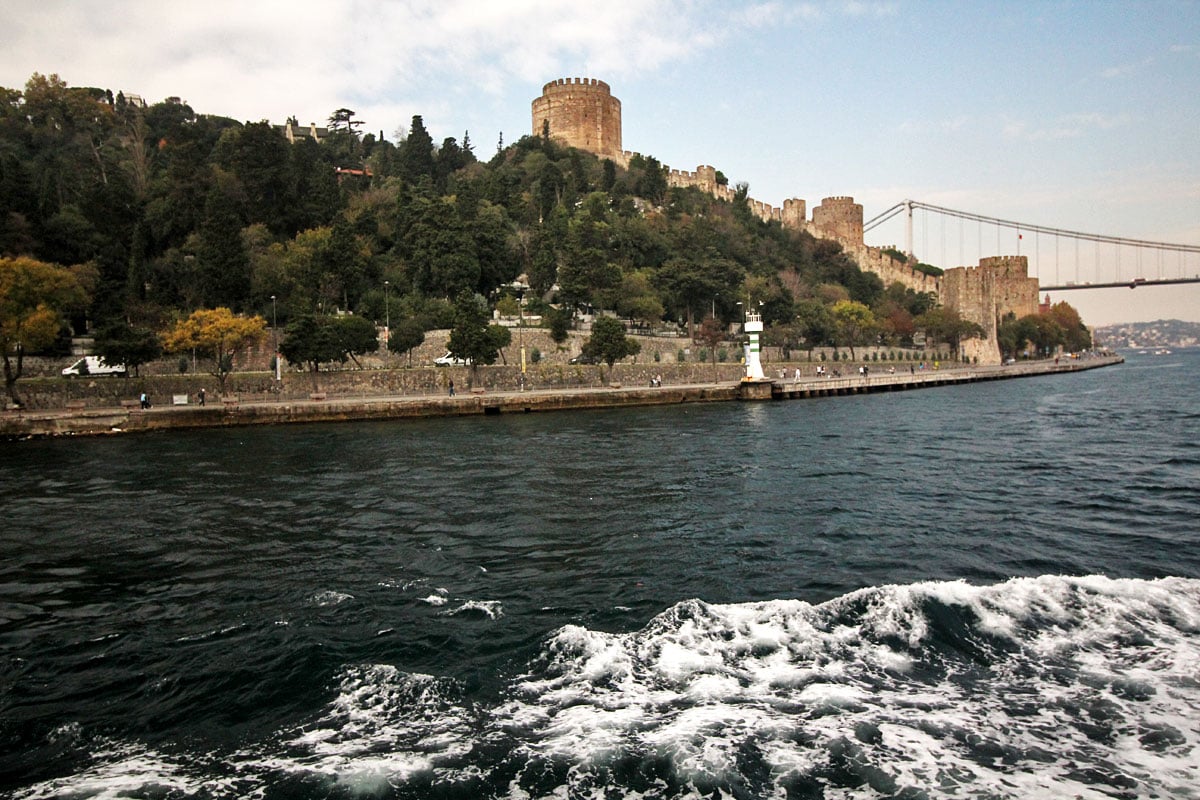 Rumelihisarı, also known as Rumelian Castle, is a fortress located in the Sarıyer district of Istanbul.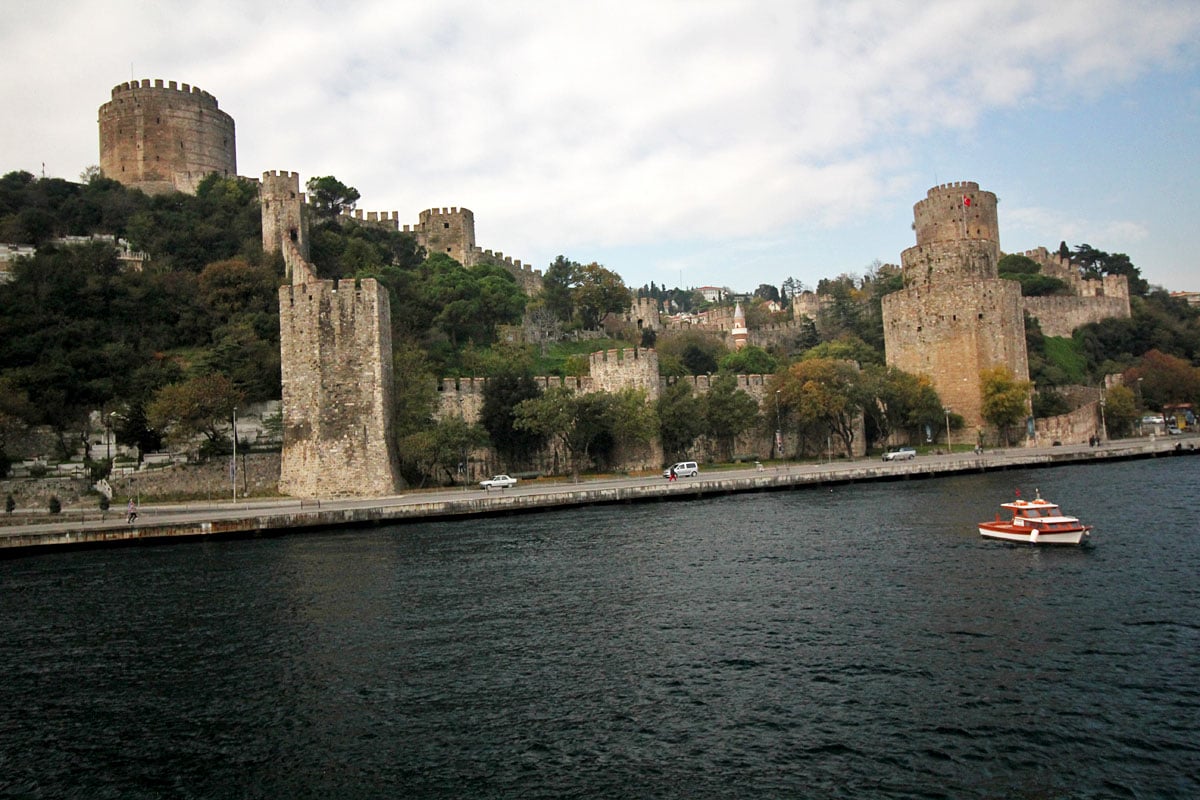 If I remember correctly, up ahead was Rumeli Kavağı, the second to the last stop on the Full Cruise. It takes about an hour and a half to get from Eminönü to Anadolu Kavağı.

And finally, Anadolu Kavağı! All along the pier are seafood restaurants jockeying for your business.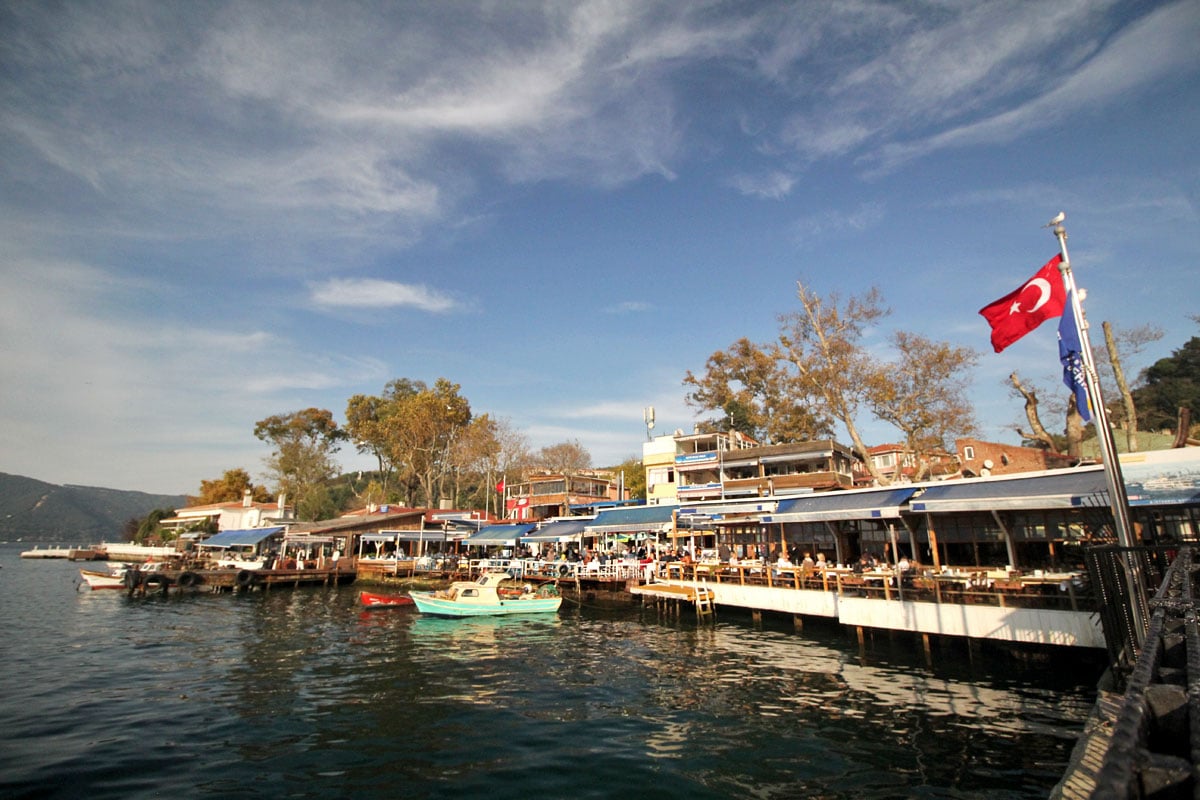 Arriving just after 12 noon, you'll have three hours to have lunch and explore before the ferry heads back to Eminönü at 3PM.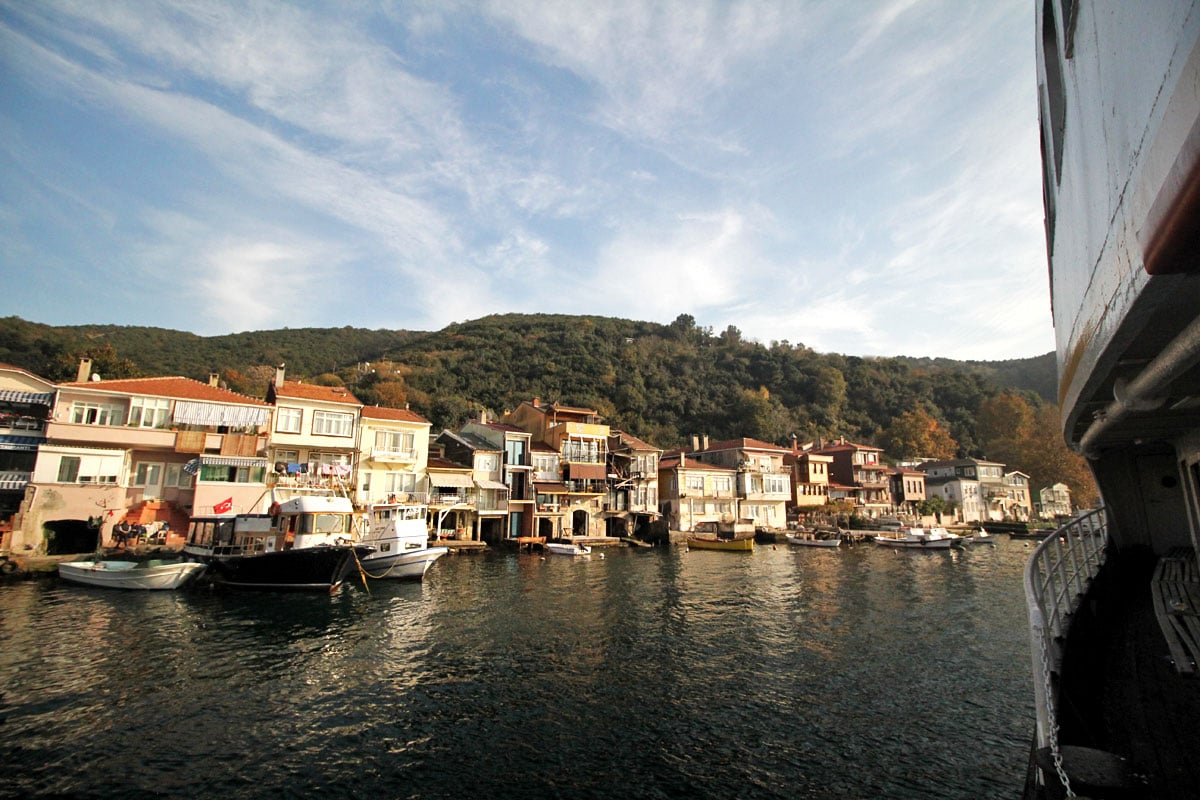 There's my lovely Captain happy to be back on solid ground.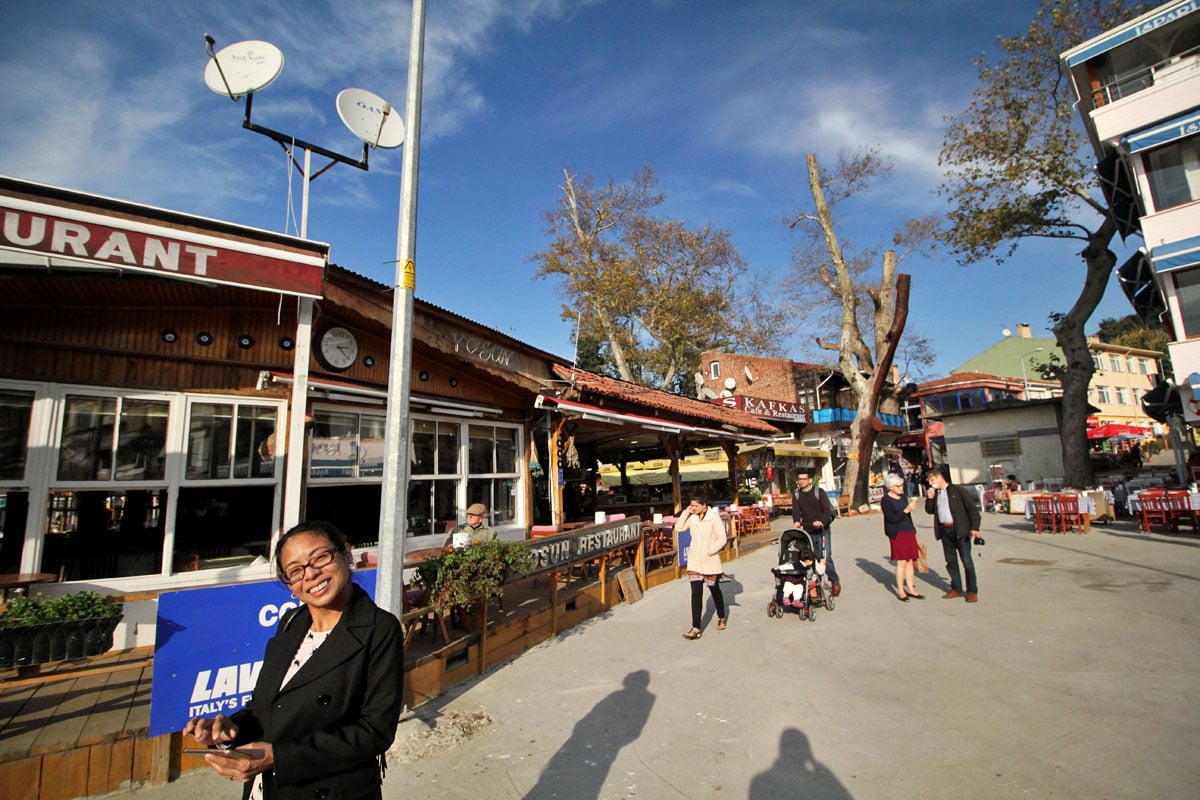 Anadolu Kavağı is a charming seaside town that's home to a number of restaurants and shops. Though they clearly cater to tourists, they don't feel very "touristy" if that makes any sense. A very pleasant atmosphere indeed.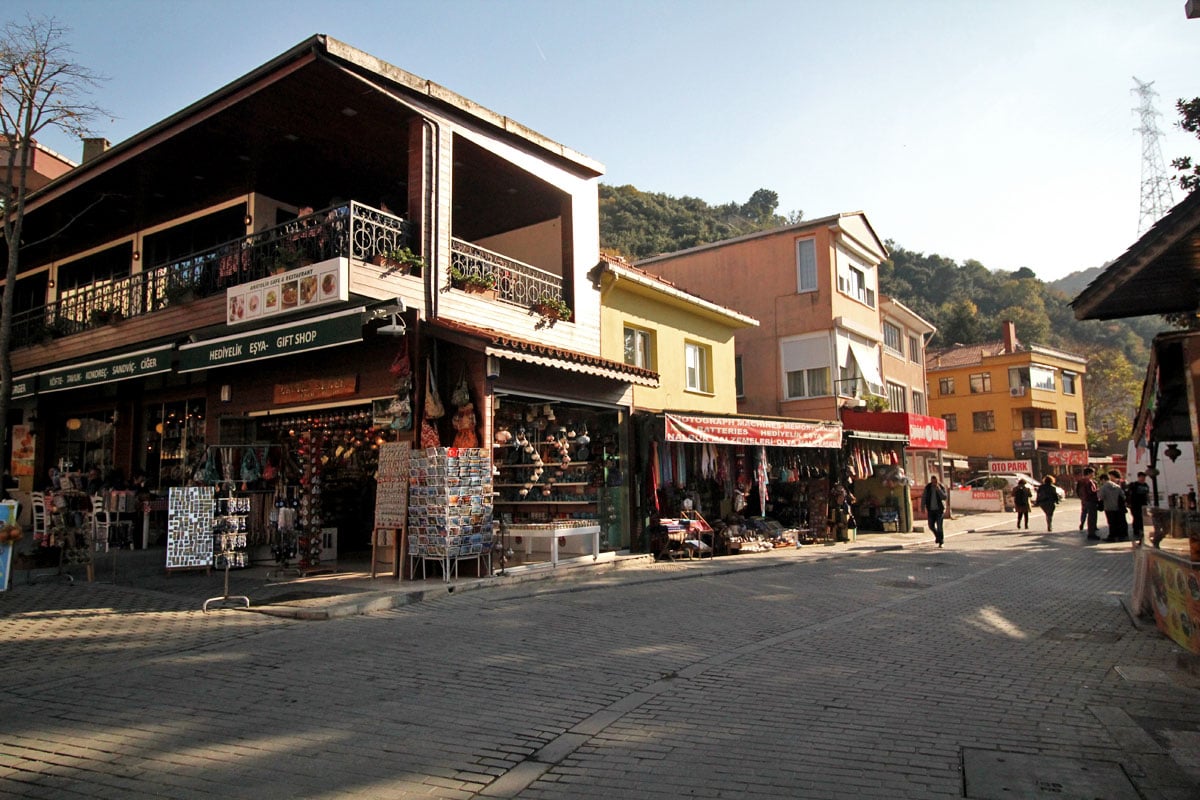 We didn't do it but many people who go on the Full Cruise hike up to Yoros Castle, a medieval fortress perched atop a hill. If you're in the mood for a hike, then you may be interested in doing that since the castle is said to offer breathtaking views.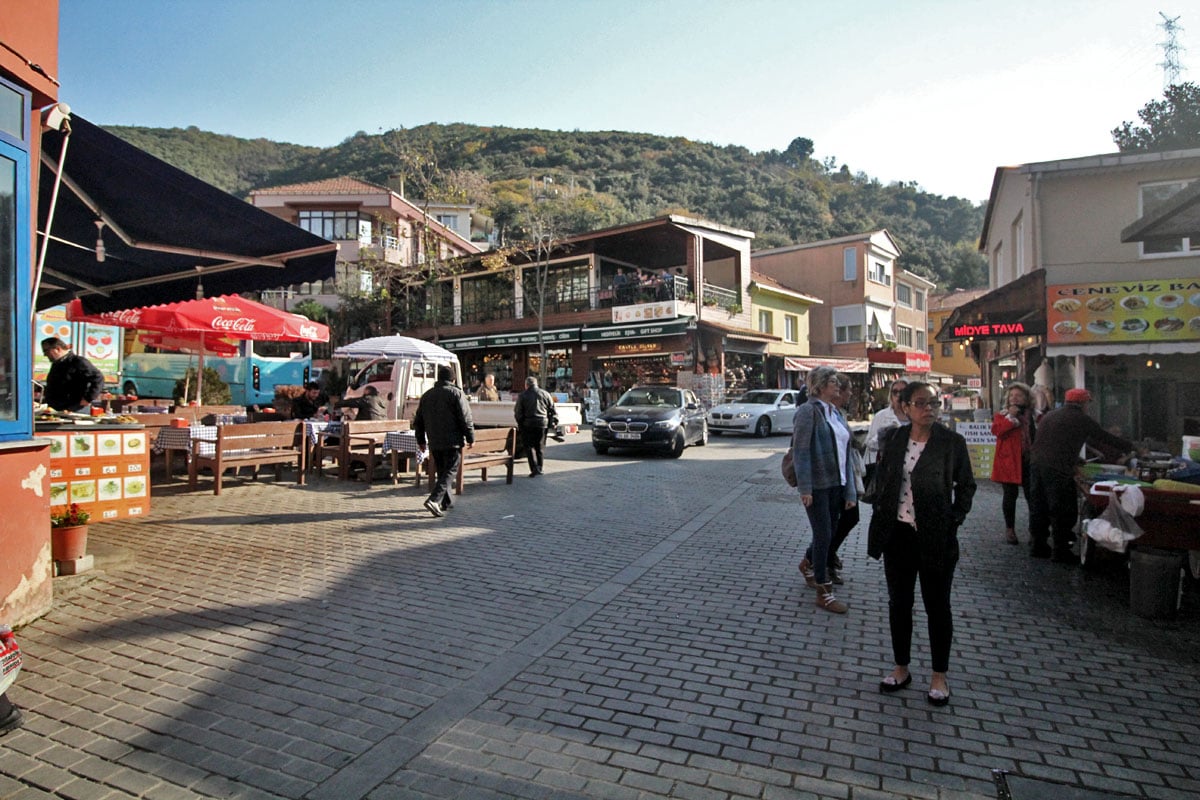 As for us, we were done with walking so the only thing on our agenda today was to sample as much fresh seafood as we could.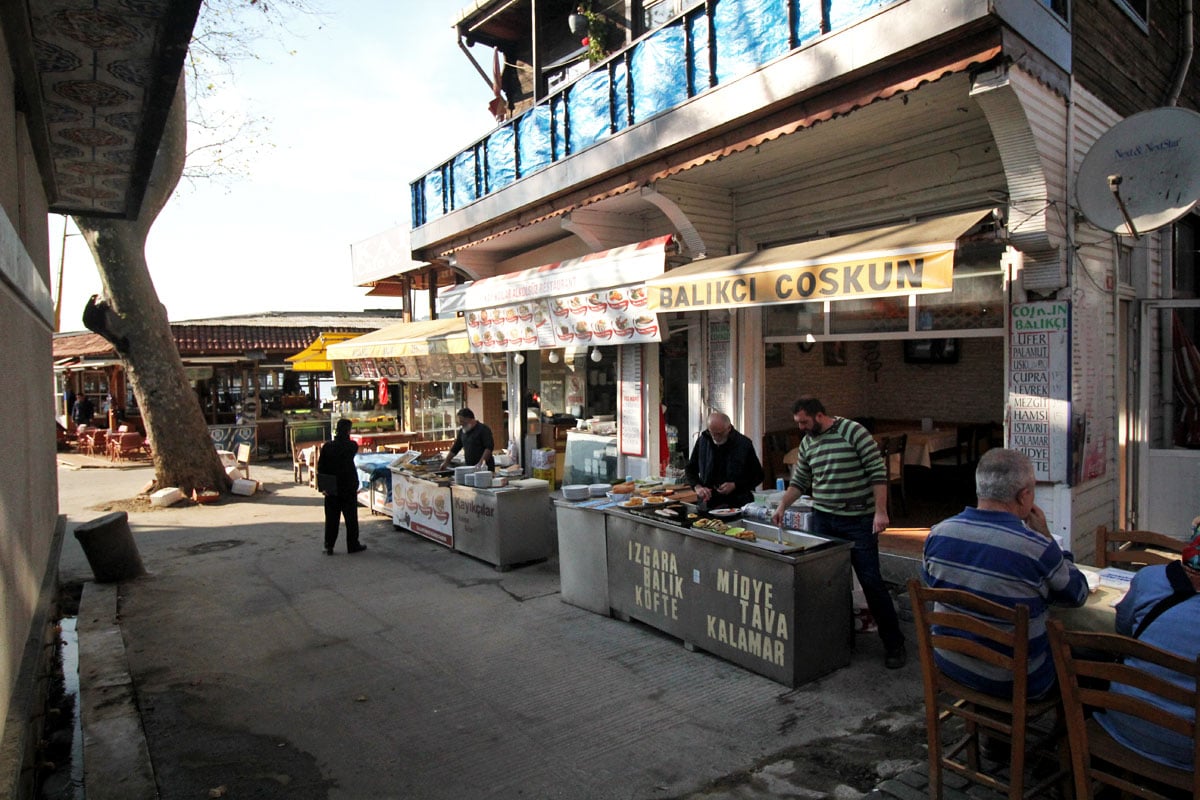 There are dozens of restaurants to choose from in Anadolu Kavağı, though they all pretty much serve the same things so it doesn't really matter which one you walk into.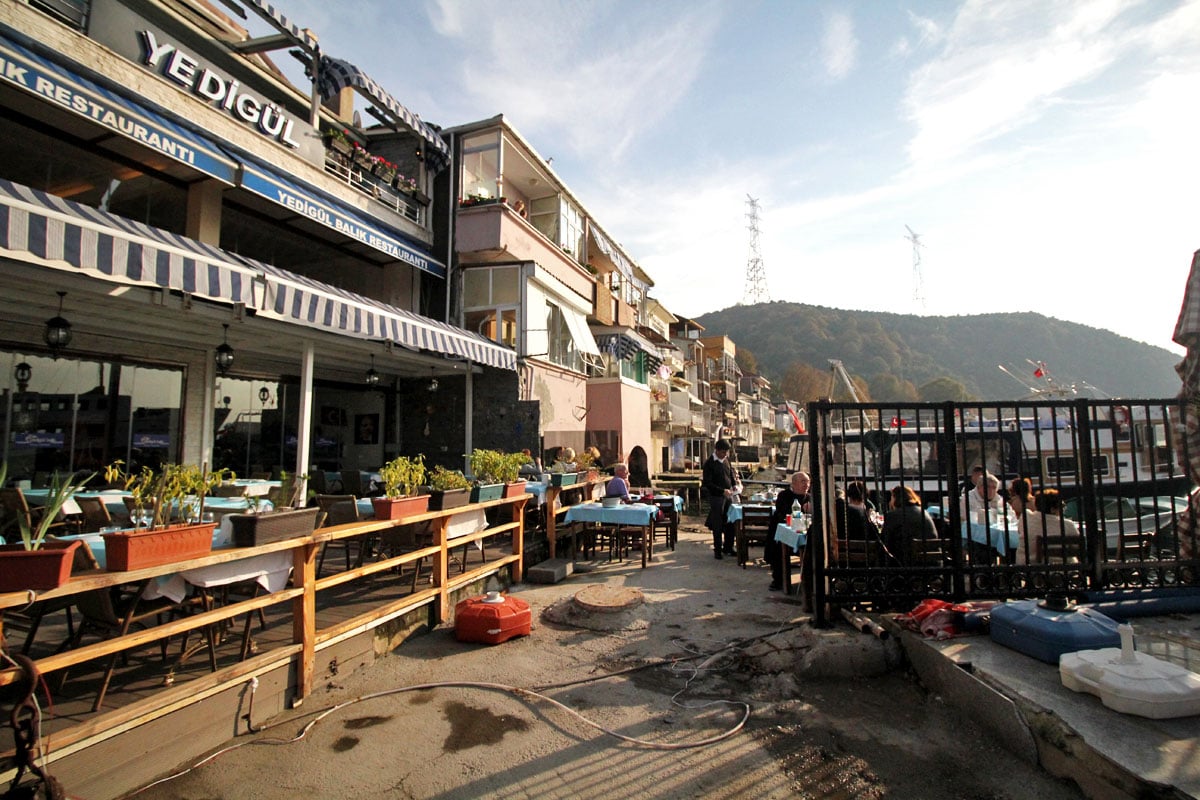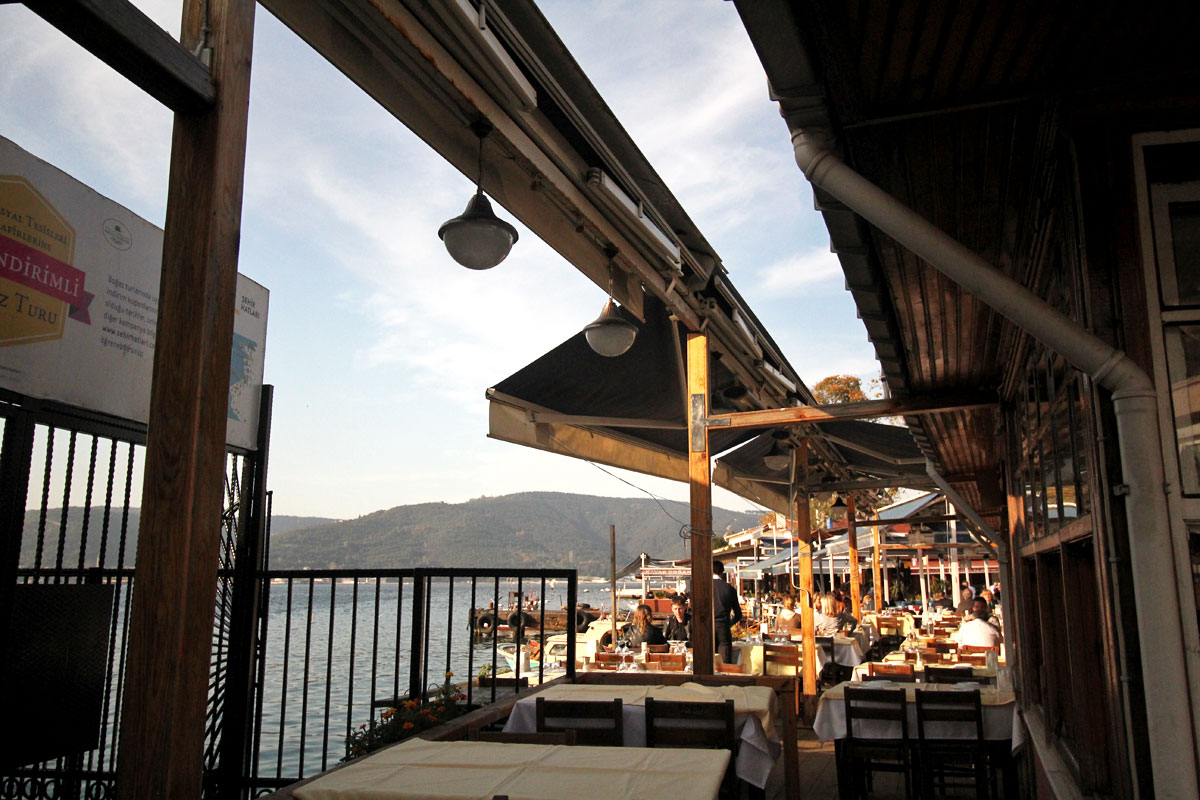 Offering the best views, restaurants by the water seemed the most popular.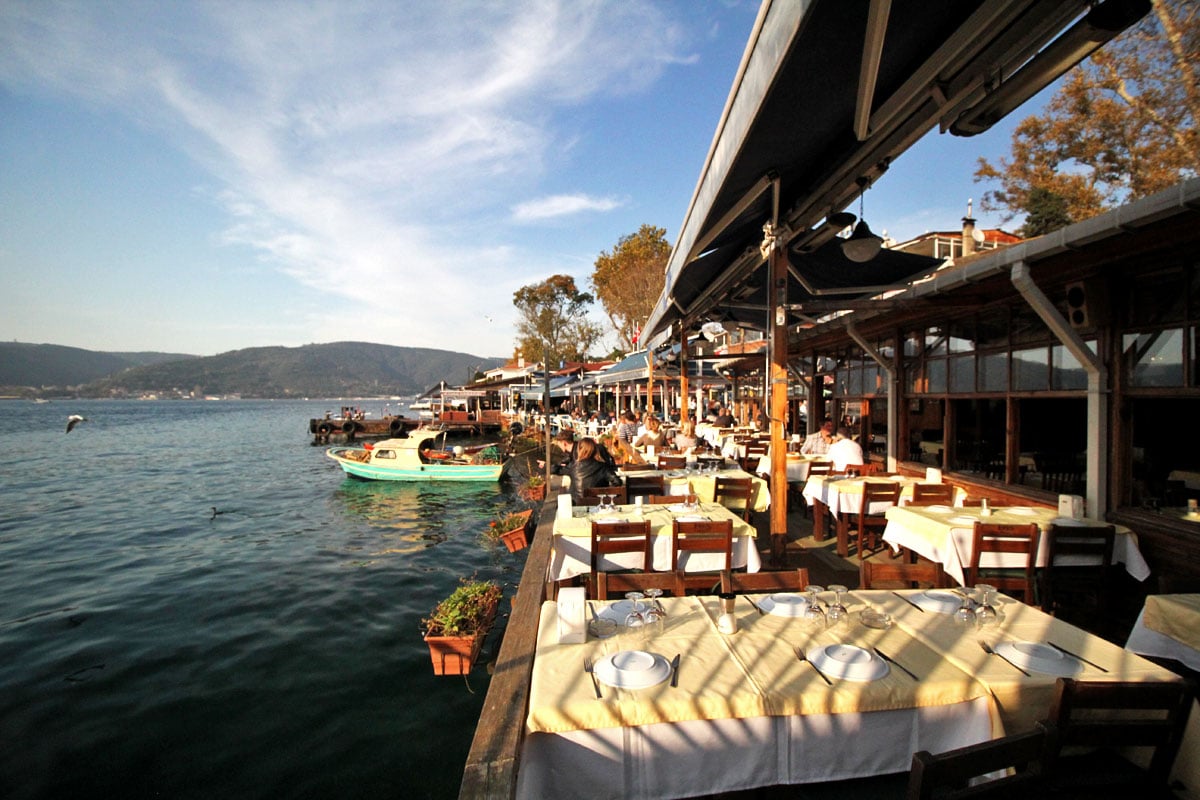 Kavak Baba
We chose Kavak Baba which was the very last restaurant at the end of the street.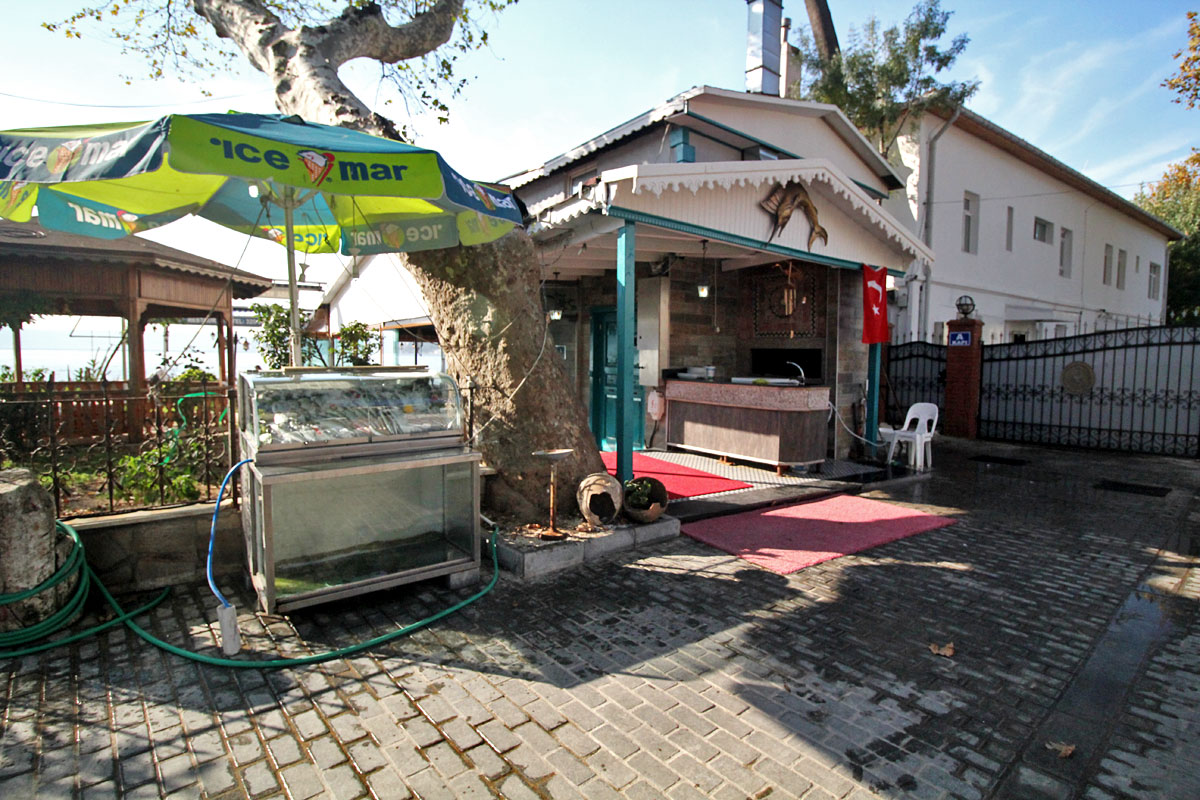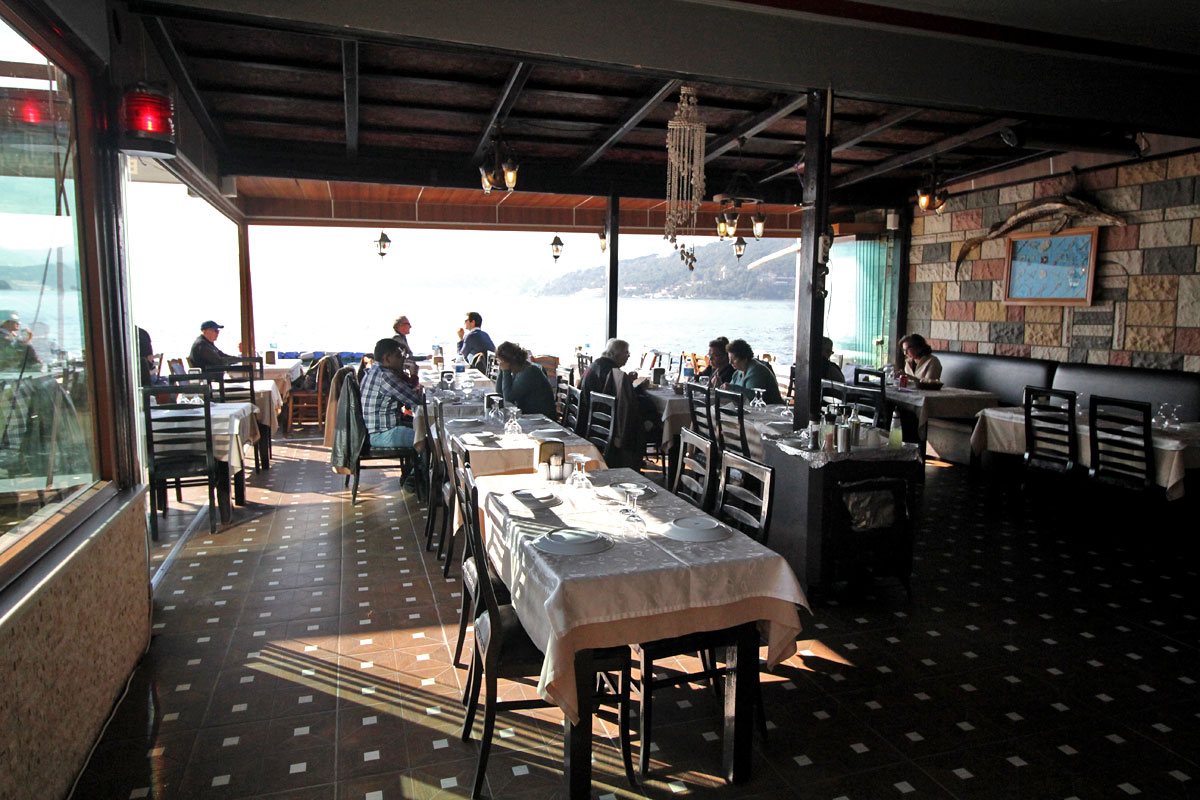 A cloudless sunny day, we sat as close as we could to the banks of the Bosphorus to enjoy a lunch of fresh seafood on our last full day in Turkey. Can life get any better than this? ♥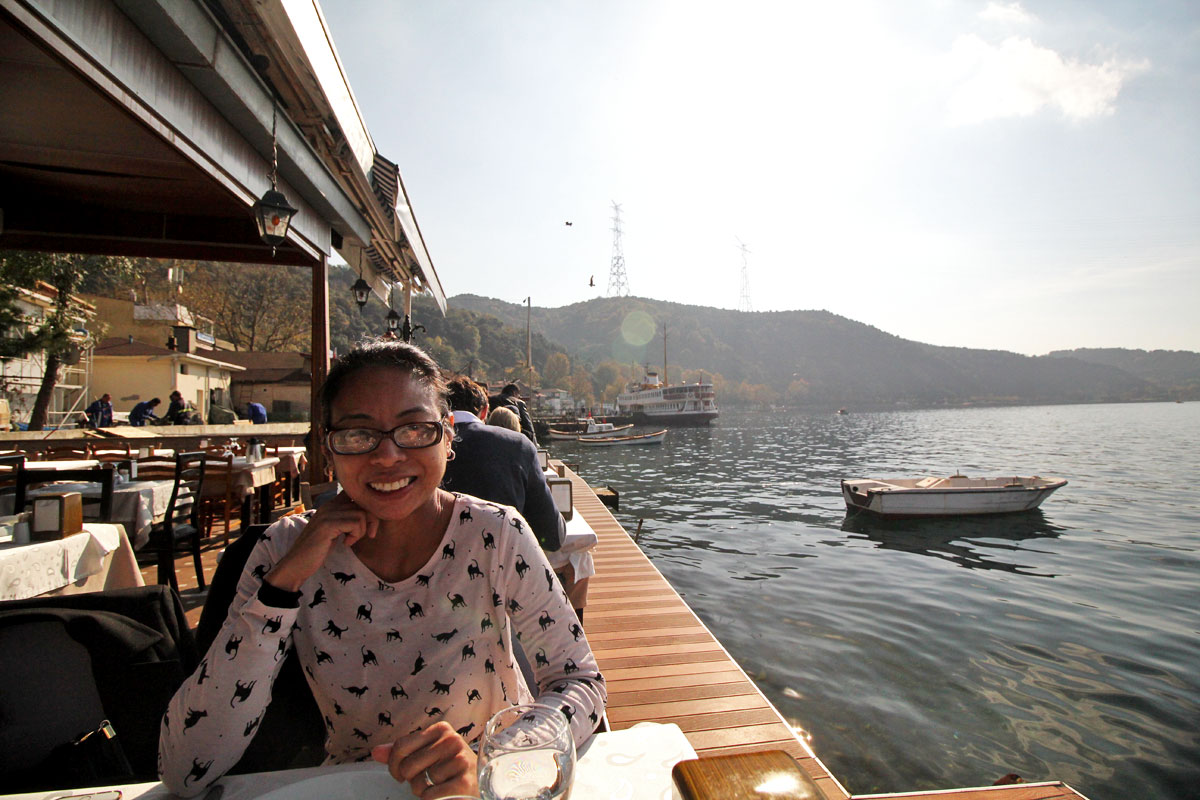 Hamsi — Tasty anchovy fillets in olive oil and spices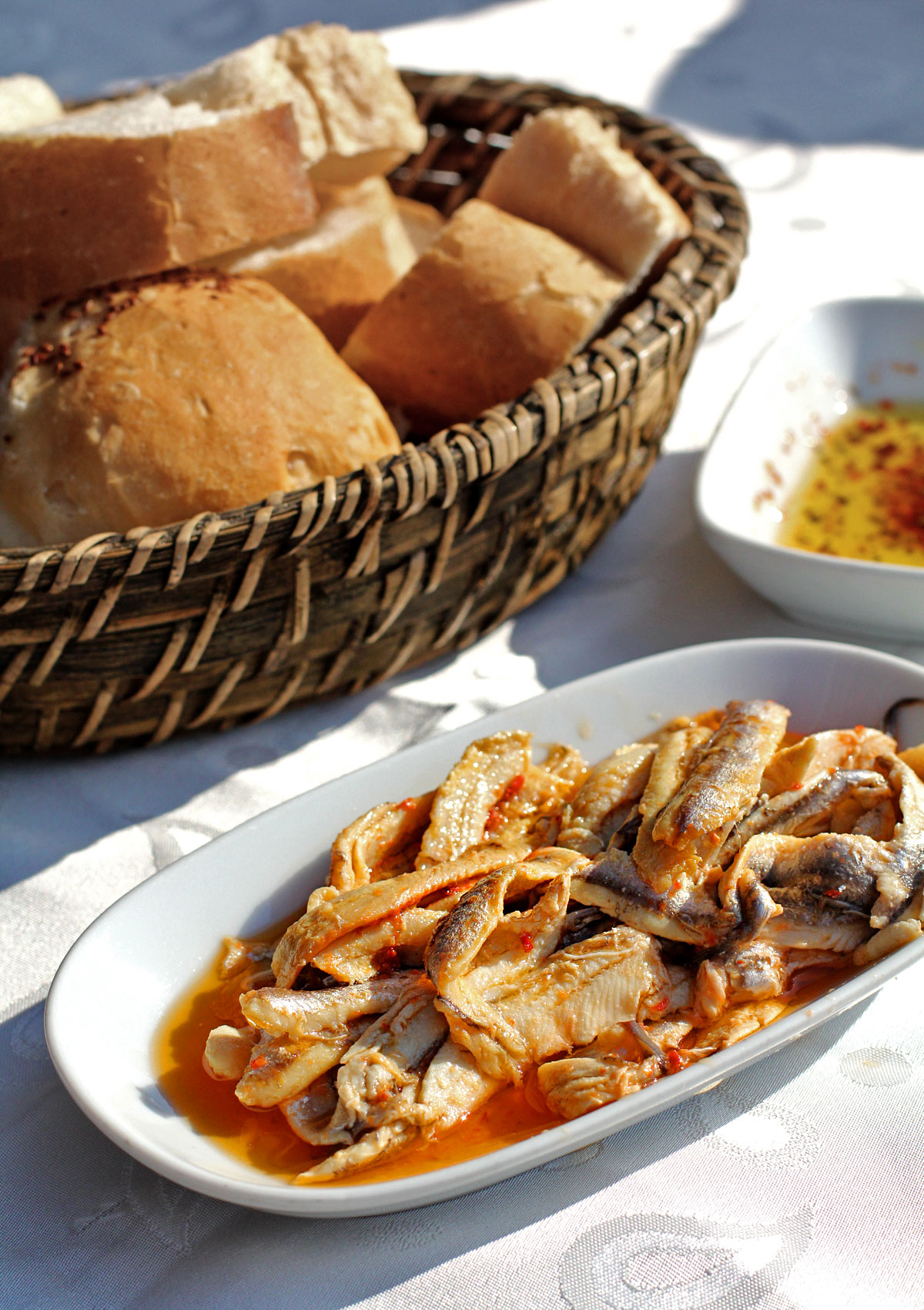 Levrek — The freshest grilled sea bass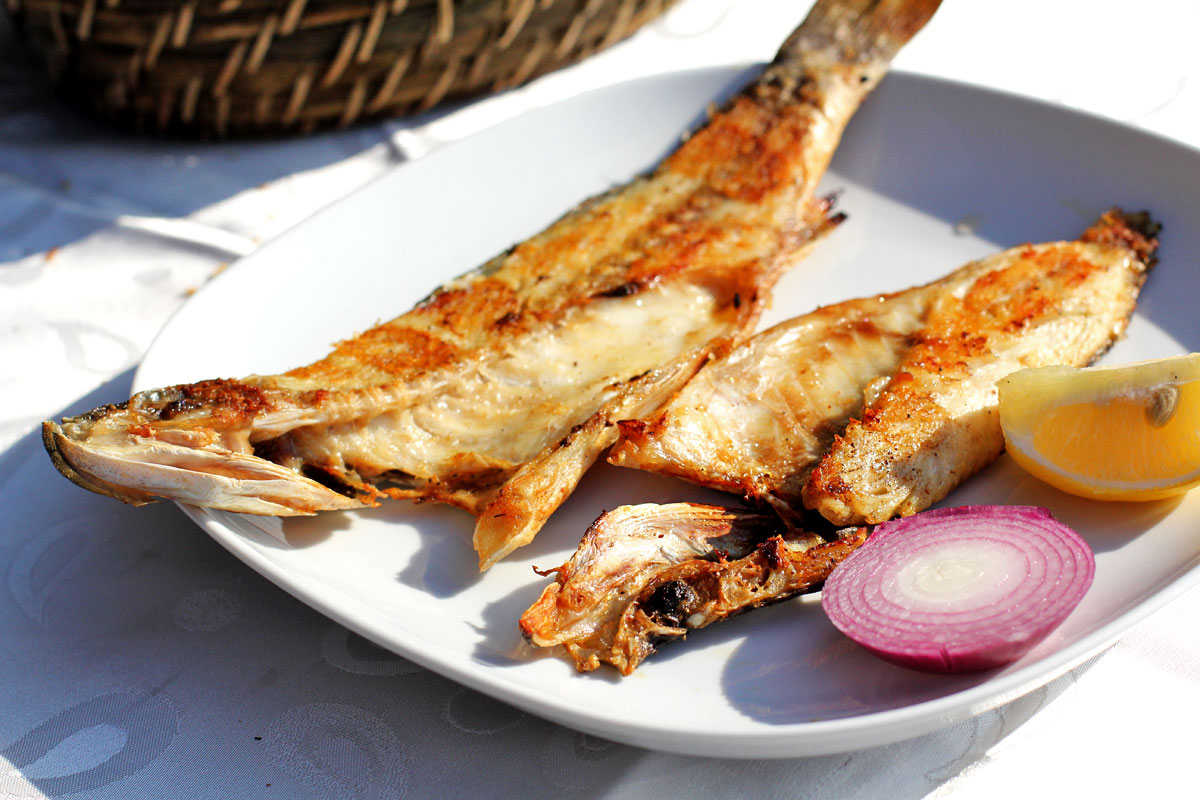 Midye Izgara — Battered and deep-fried mussels. Can't believe we've never had these anywhere before!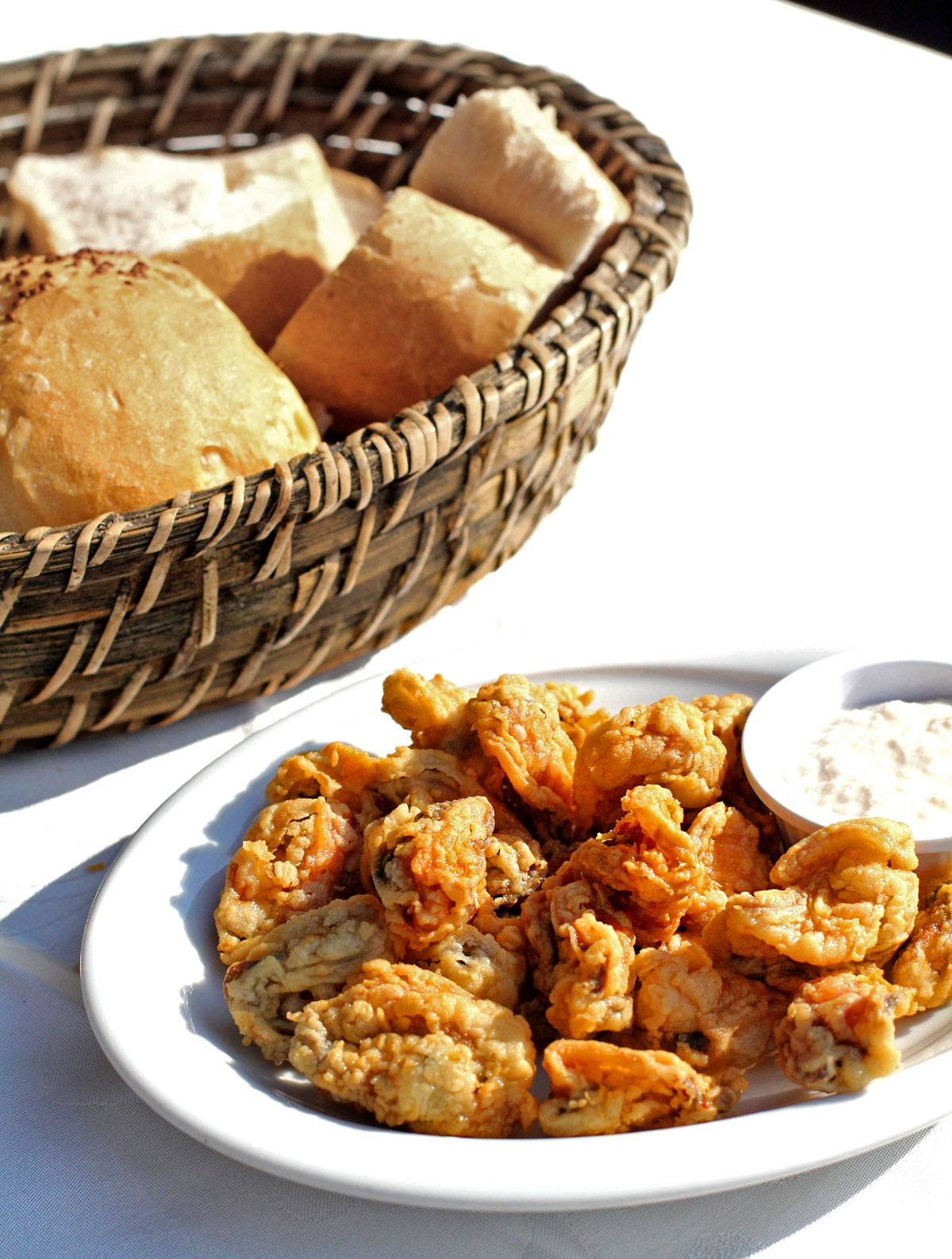 When you fly for food, you learn not to eat too much at one place. This was the perfect example why. Walking out of Kavak Baba just full enough to be content, we immediately spot this balik ekmek stall. Balik ekmek, or "fish bread", is something I've been wanting to try since I first started planning our Turkey itinerary.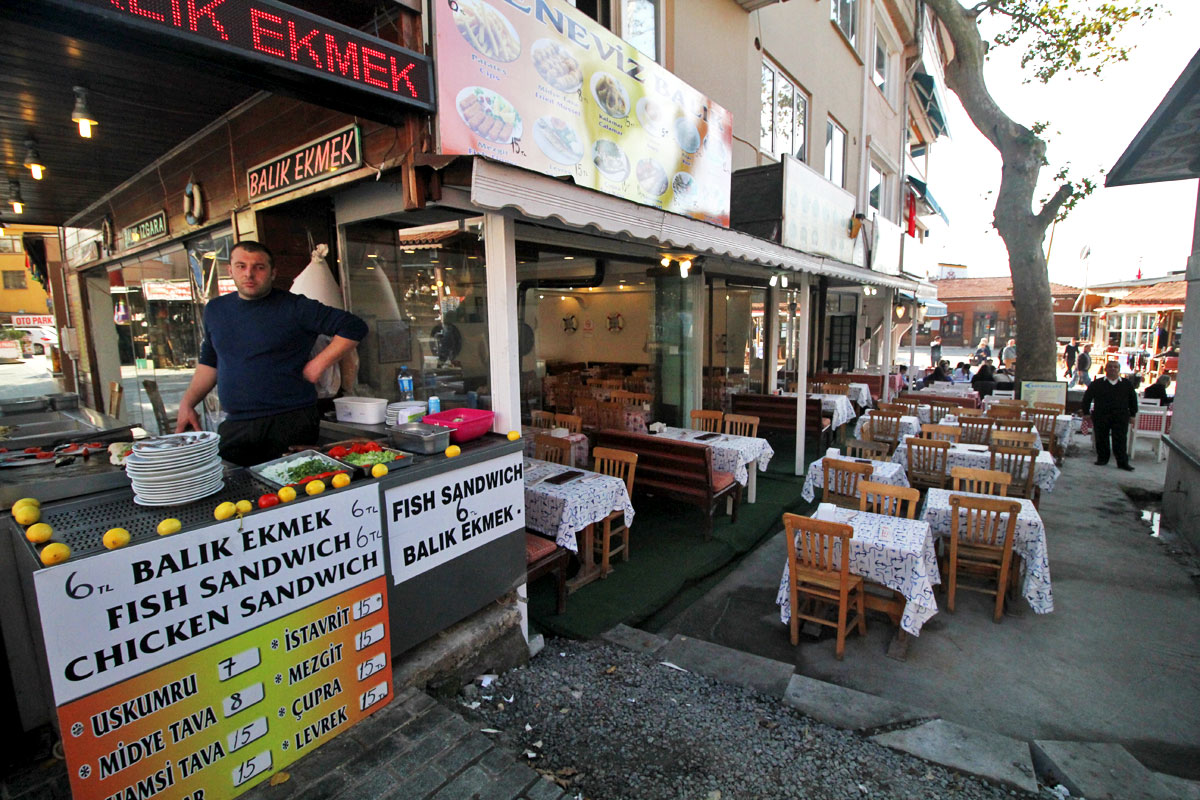 Grilling up the mackerel fillets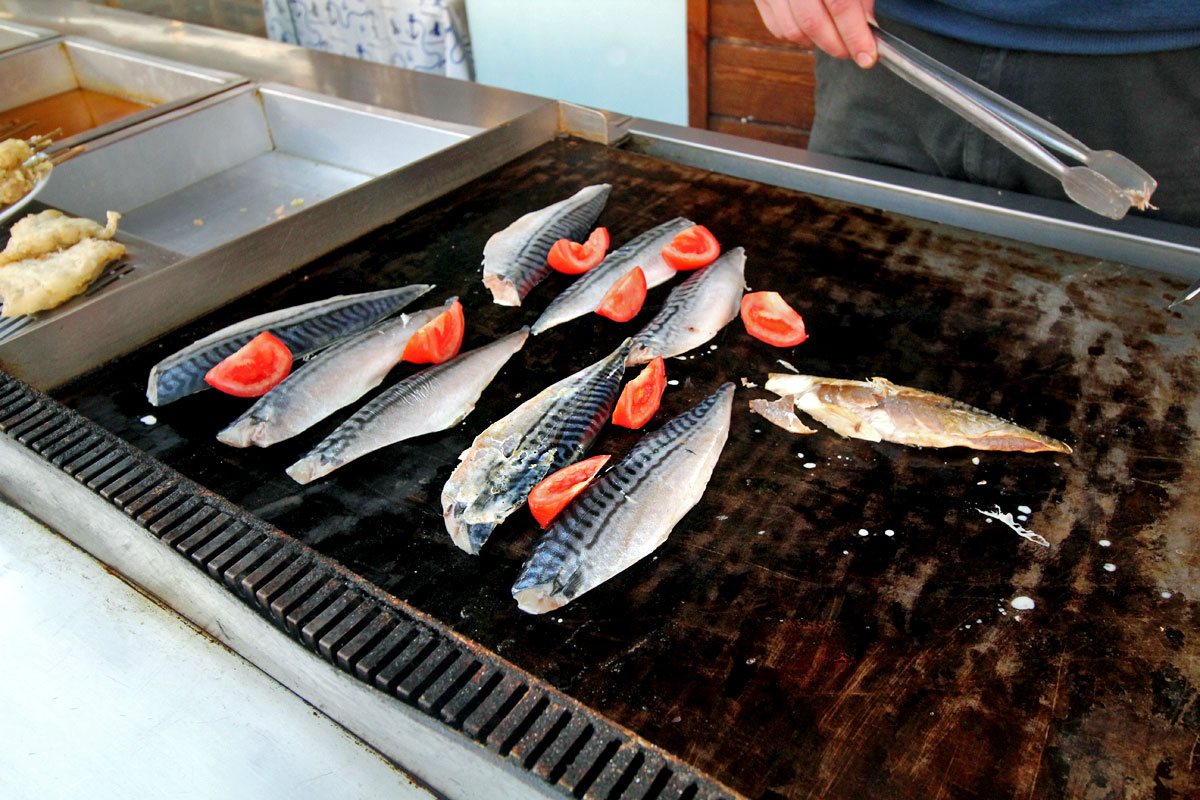 You can get balik ekmek at the various restaurants and stalls along the Eminönü ferry dock as well.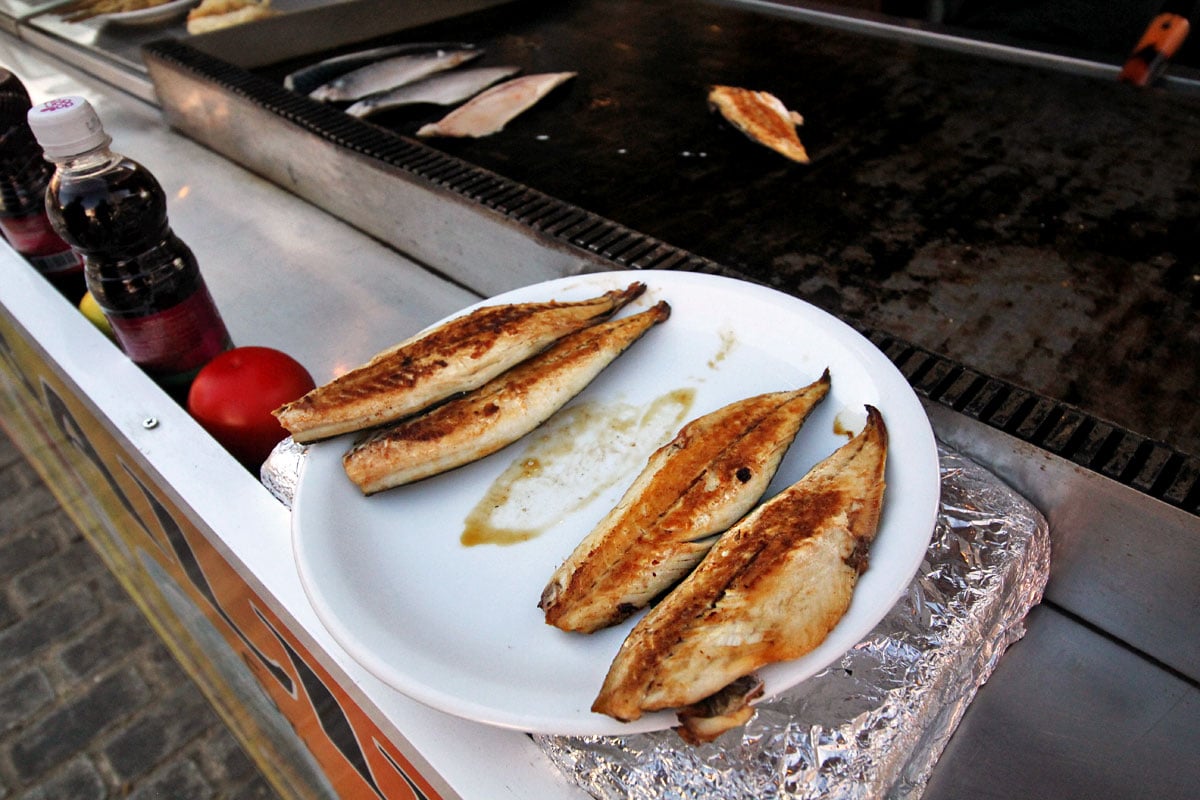 And there you have it — a freshly grilled mackerel fillet sandwich with onion, lettuce, tomato, and a spritz of lemon.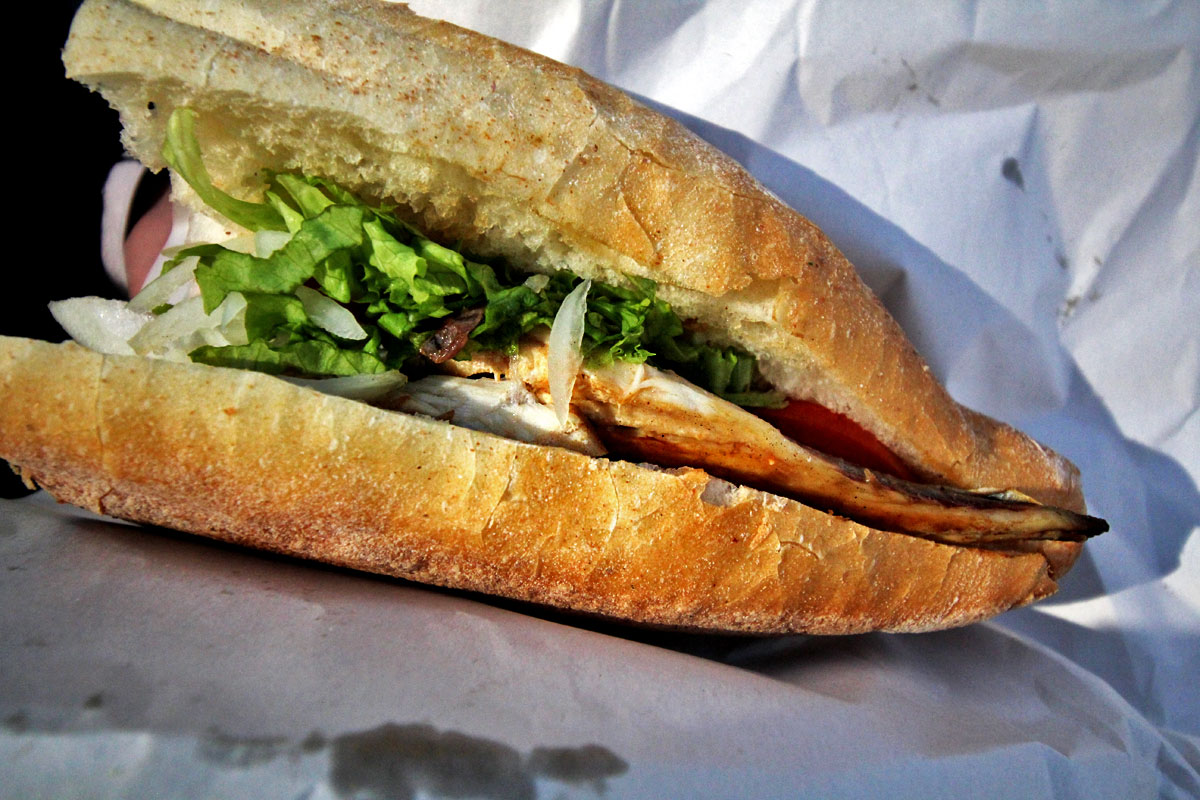 As you'd expect, we weren't done yet. With over an hour left before departure time, we stopped at a pastry shop for coffee and this delicious Turkish apple/almond (?) dessert. I don't know what it's called (or if it were even made with apples for that matter), but it was delicious.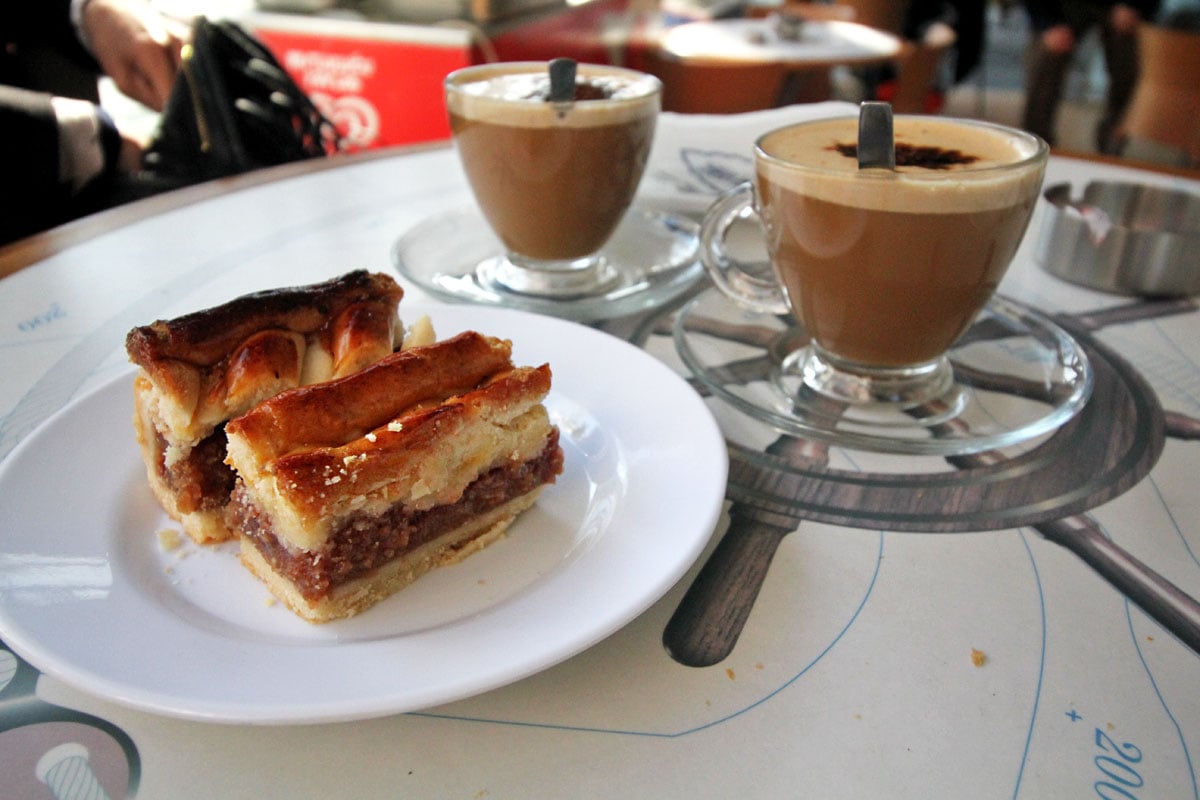 Neither Ren nor I are big fans of boats but we both enjoyed this cruise tremendously. One and a half hours each way, it's just long enough to give you great views of Istanbul without being boring. Any longer then it may have started to feel monotonous.
As enjoyable as it was however, the Full Bosphorus Cruise is a whole day affair so not all travelers will have the time to do it. At just two hours from start to end, the Short Cruise may be the more popular option. Just be aware that unlike the Full Cruise, it isn't available year-round. It's offered daily only during peak seasons.
We didn't do the Moonlight Cruise but based on what I've read, it's a magical experience all its own. You leave right before dusk to enjoy the golden light of sunset and stop for dinner in Anadolu Kavağı before heading back. Regardless of which one you take though, a Bosphorus Cruise is a memorable experience and one you shouldn't miss in Istanbul.
Şehir Hatları, Eminönü, Istanbul, Turkey
Boğaz İskelesi Ferry Dock, Eminönü, Istanbul, Turkey
Tel: +90 212 313 8000
Facebook: sehirhatlari
Twitter: sehir_hatlari
Instagram: sehir_hatlari
YouTube: sehirhatlari1
Flickr: sehirhatlari
Email: [email protected]
CRUISE PRICES:
Full Bosphorus Cruise (Roundtrip) — 65TL (Adult) / 32.50TL (Children under 12)
Full Bosphorus Cruise (One-way) — 39TL (Adult) / 16TL (Children under 12)
Short Circle Cruise — 32TL (Adult) / 16TL (Children under 12)
*All tours are free for children under 6.
HOW TO GET THERE:
From Sultanahmet, take the T1 tram to Eminönü station. Walk to the ferry dock and look for the Şehir Hatları ticketing office pictured at the top of this post.
For more Istanbul travel tips, check out our First-Timer's Travel Guide to Istanbul, Turkey