Sultanahmet Square is ground zero for tourism in Istanbul. It's the historical part of the city and home to many of its top sights. Here you'll find the city's biggest cistern, it's grandest mosque, and the iconic Ayasofya which is Istanbul's most revered tourist attraction.
If it's your first time in the city, then chances are you'll be staying somewhere around here. These are the major sights you'll find immediately surrounding Sultanahmet Square.
At Meydani (Sultanahmet Square)
The name "Sultanahmet Square" refers to a park that was once the Hippodrome of Constantinople. It was a race track in its heyday that served as the sporting and social center of the city. Today, only four fragments from the original structure remain, including the Kaiser Wilhelm II fountain pictured below.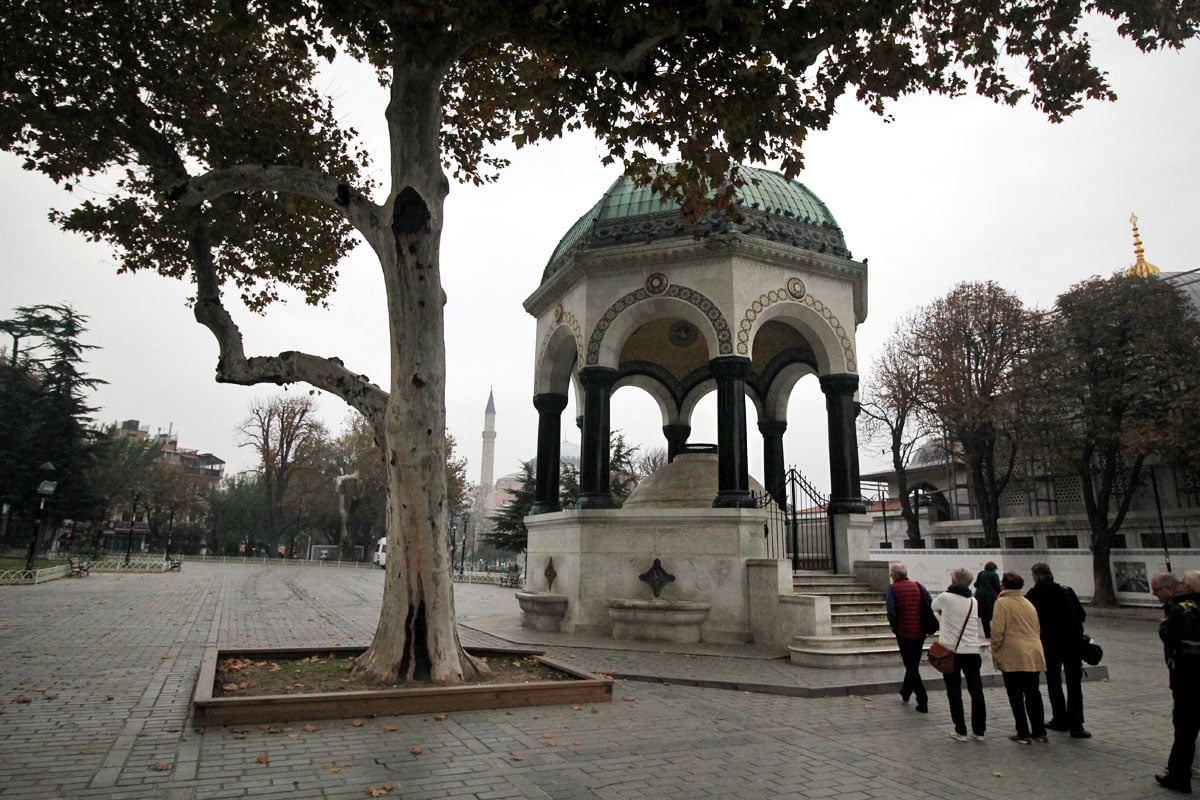 L: The Column of Constantine Porphyrogenitus with the Egyptian Obelisk in the distance.
R: The Serpentine Column. This column used to have a golden bowl at the top supported by three serpent heads. Most of it has been stolen or destroyed but remnants of the heads can be viewed at the Istanbul Archaeology Museums.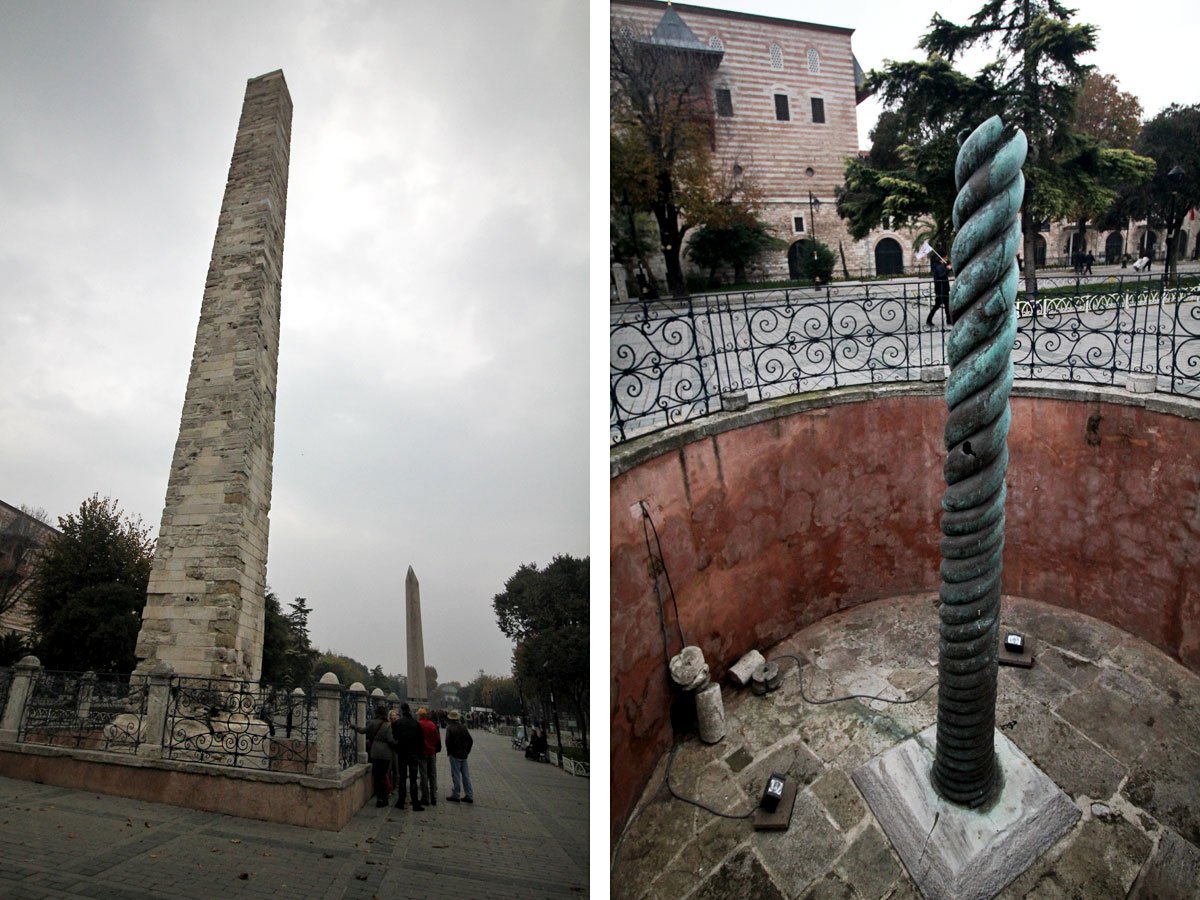 At Meydani, Istanbul, Turkey
Sultanahmet Mh., Atmeydanı Cd., 34122 Fatih/İstanbul, Turkey
Operating Hours: Always open
Entrance: FREE
Sultanahmet (Blue Mosque)
Entrance to the courtyard located right next to the square. Admission to Sultanahmet is free, though donations are welcome.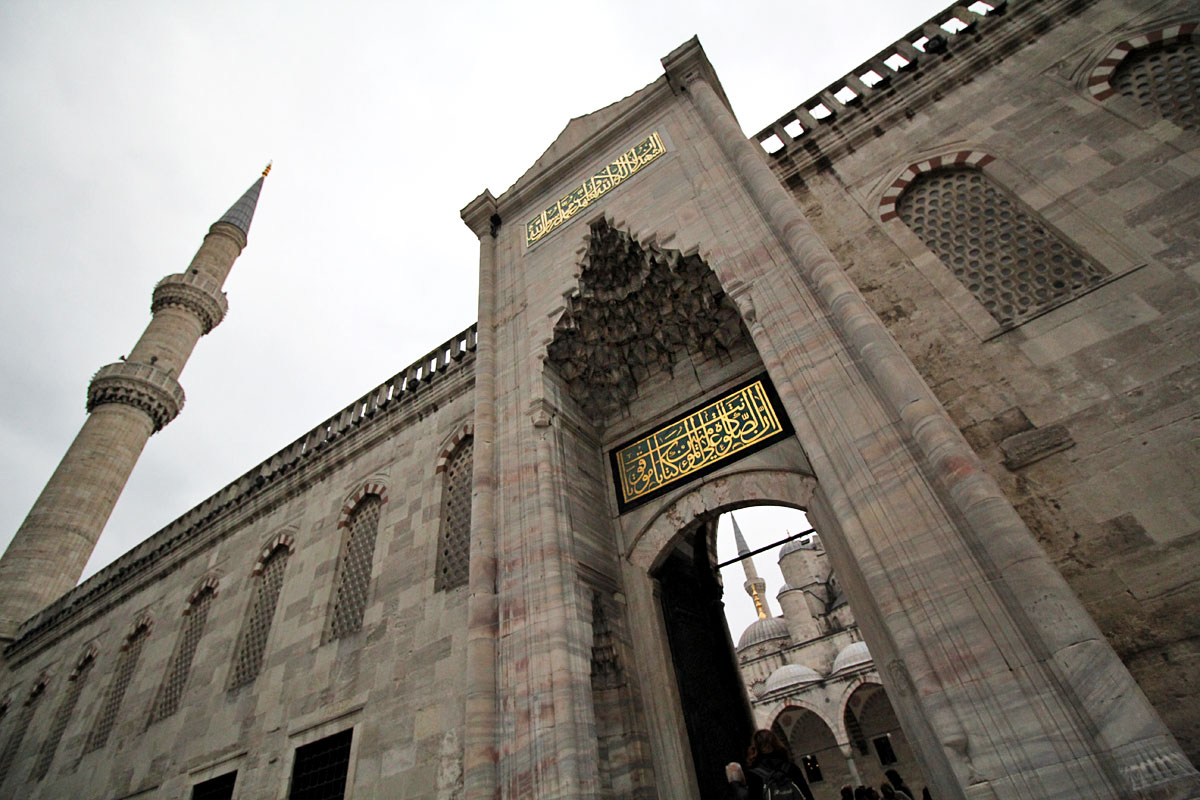 Sultanahmet for me, was the most striking mosque we visited in Istanbul. It's a spectacular sight with its multiple domes and six slender minarets, an unusual feature since most mosques have just one, two, or at most four. Legend has it that Sultan Ahmet I directed his architect to make gold (altin) minarets but was misheard to have said six (alti). The construction of six minarets caused quite a scandal at the time because the Masjid al-Ḥarām in Mecca, the holiest mosque in the world, also had six. To alleviate the situation, the Sultan sent his architect to Mecca to add a seventh minaret to the Haram mosque.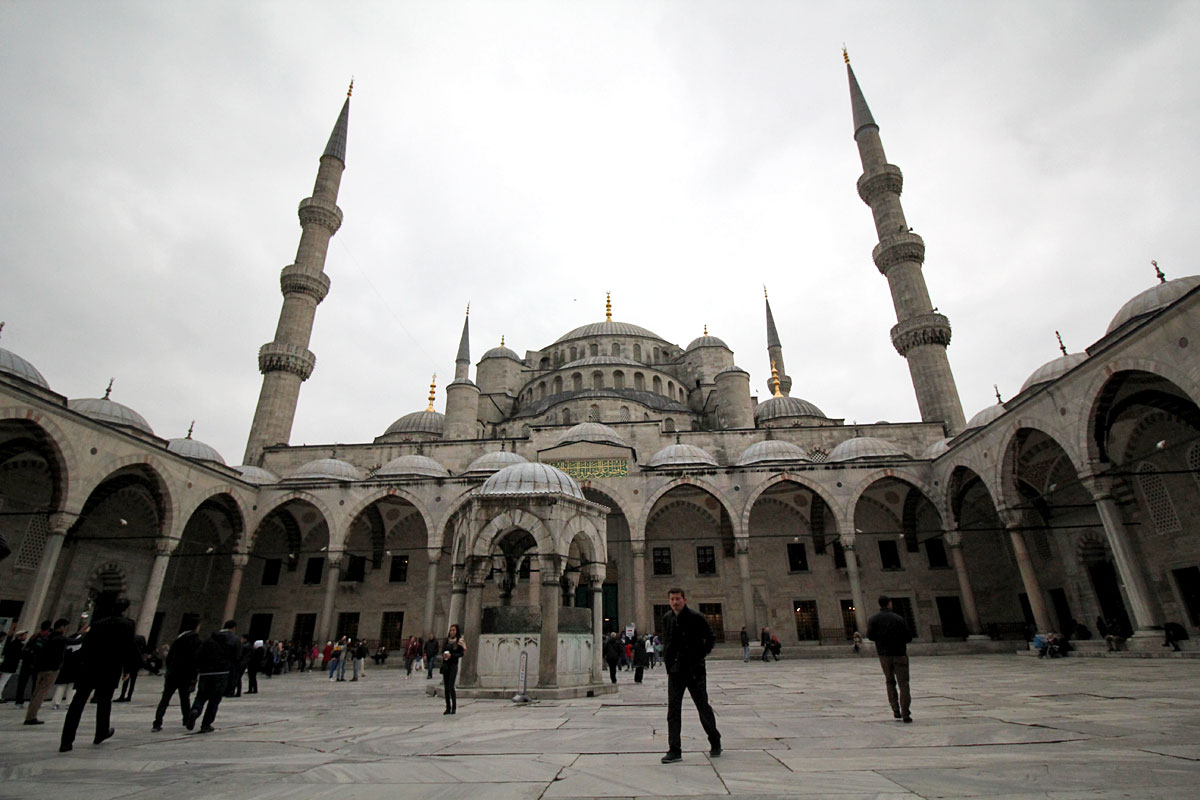 Sultanahmet is a functioning mosque so only worshippers are allowed to enter through the front door. Tourists are funneled in through the south entrance. Lines can get pretty long but they do move quickly.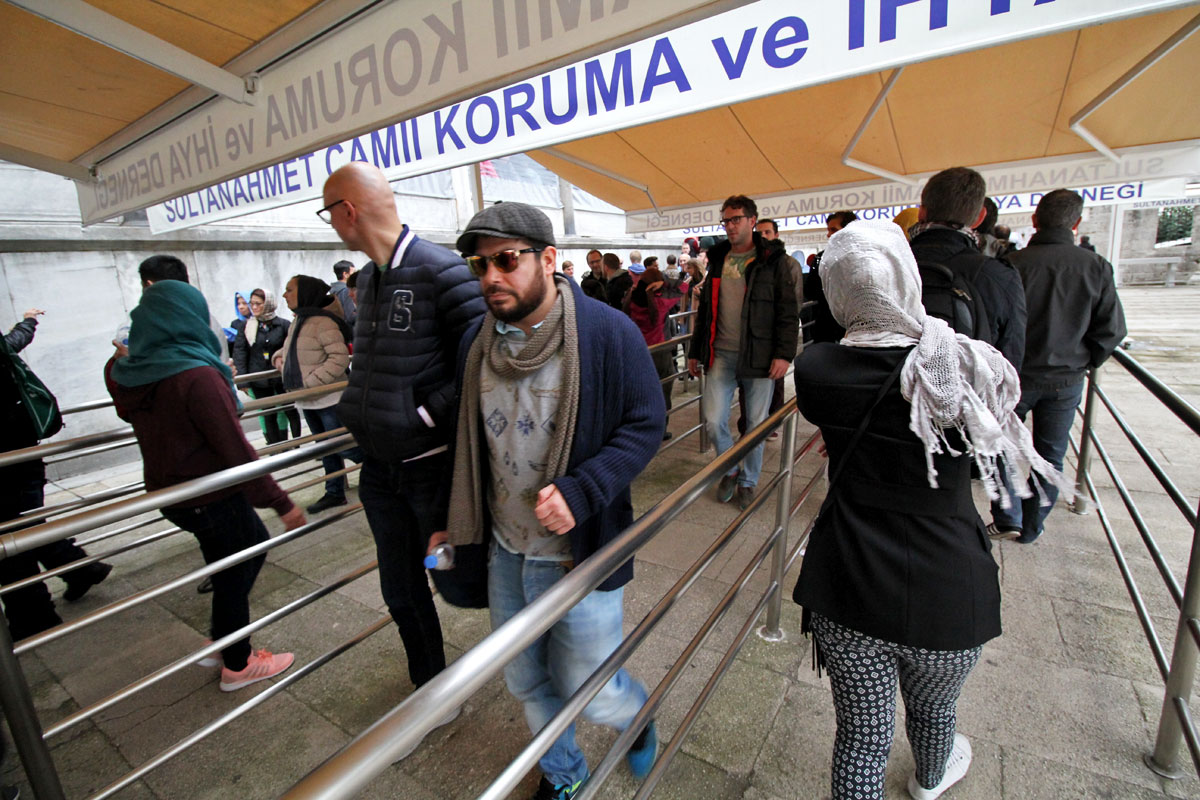 Because it's a functioning mosque, conservative attire that exposes minimal skin must be worn. Shorts and sleeveless shirts are prohibited, and women are provided scarves to cover their heads. You'll be asked to remove your shoes before entering the mosque.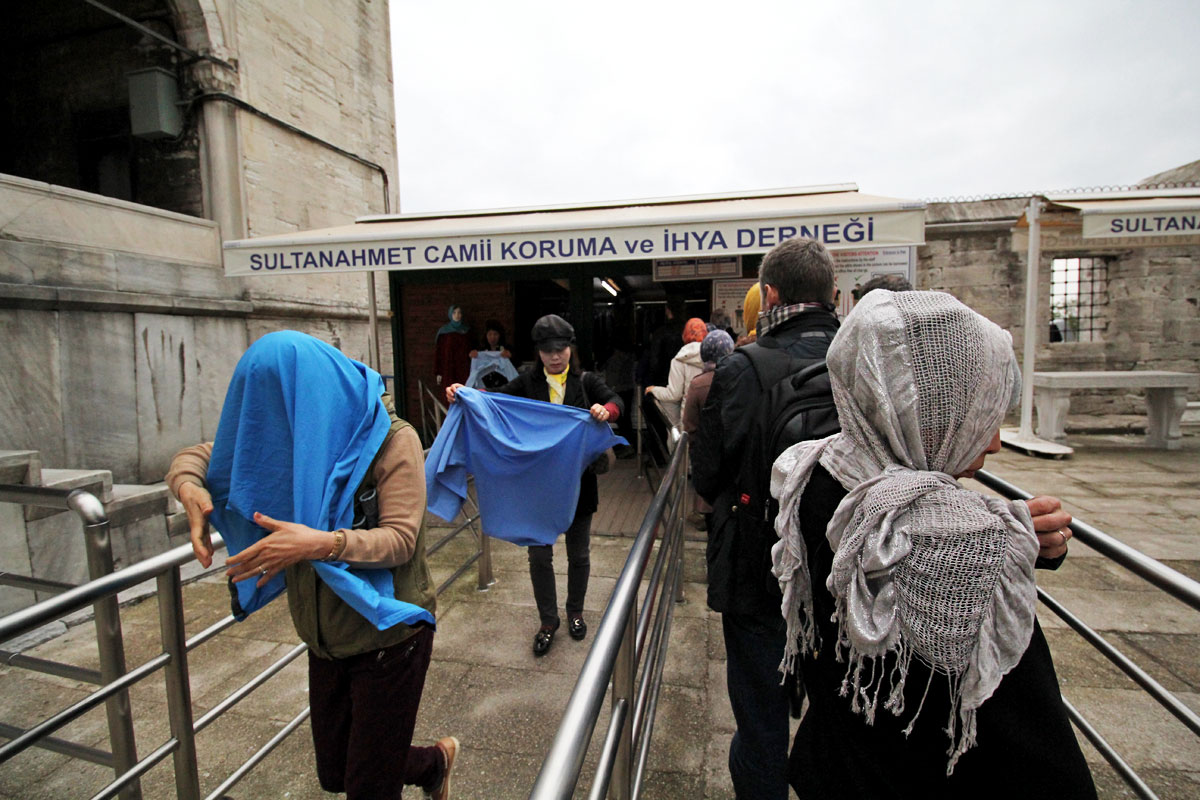 Equally stunning inside and out, seeing the mosque's interior for the first time blew me away. It's impossible to appreciate how massive it is from pictures. Grand and incredibly detailed, it gets its popular name from tens of thousands of blue Iznik tiles that cover its interior.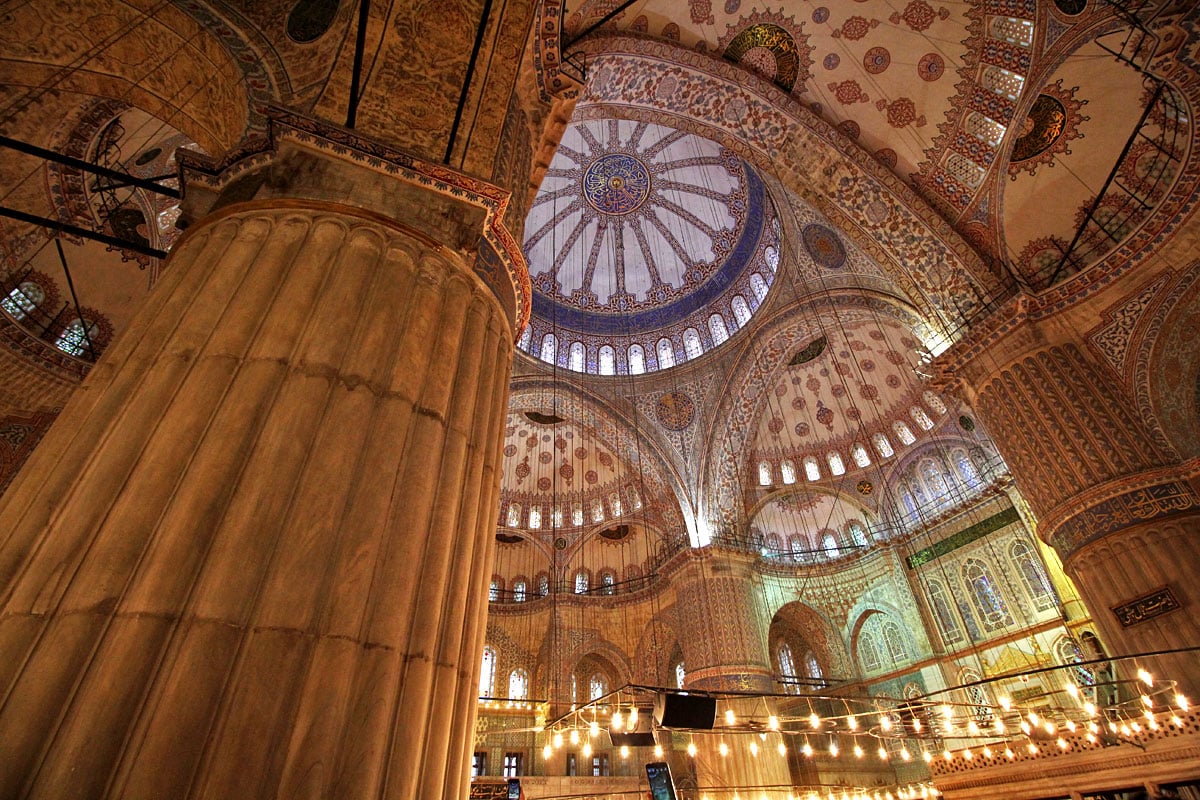 A kaleidoscope of cascading domes and patterns that took seven years to construct. Sadly, the Sultan died of typhus a year after its completion in 1616. He was just 27.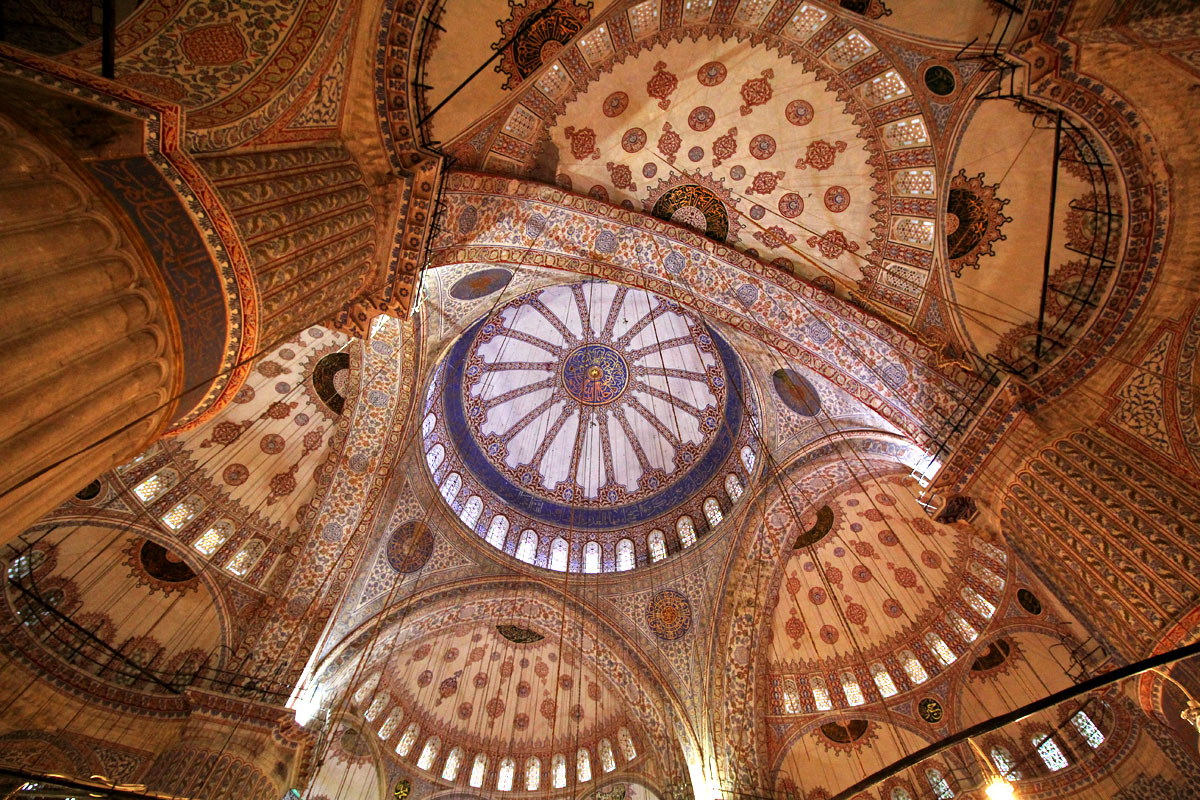 This was taken early in the morning before 9AM. There are few people here at this hour so this may be the best time to go.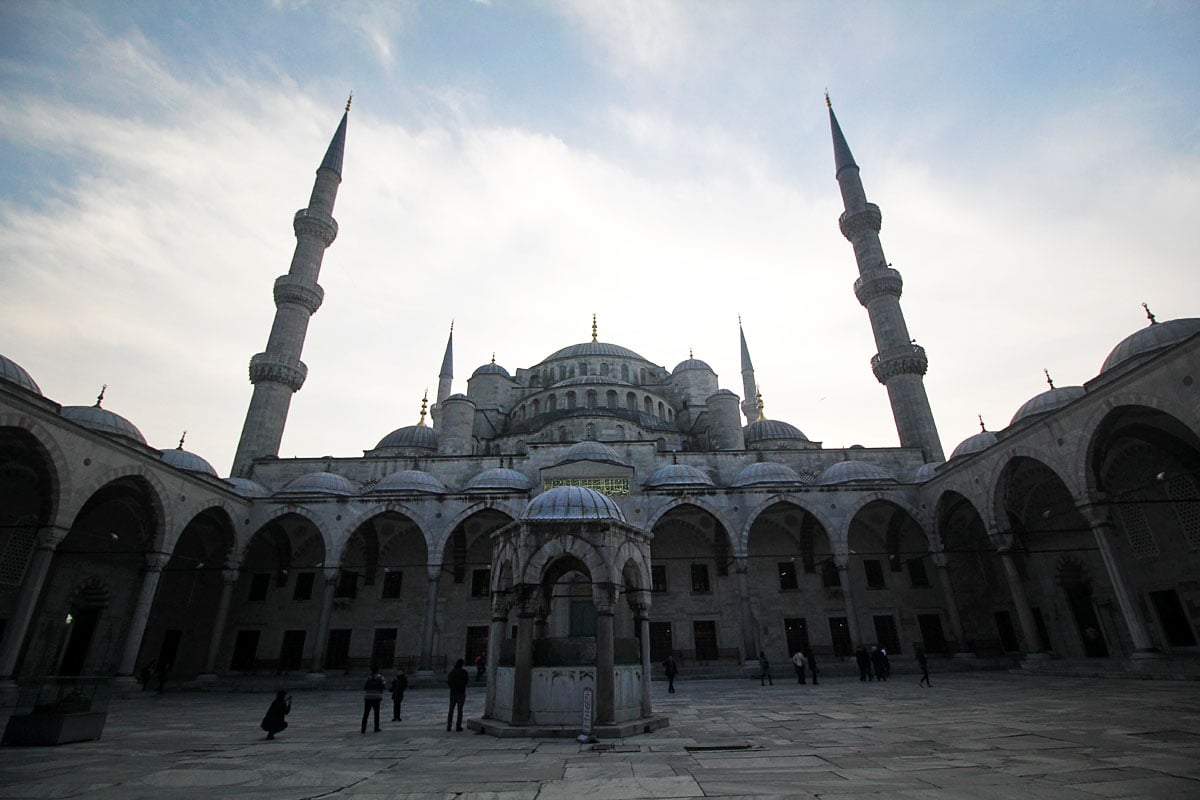 Taken around 7PM, Sultanahmet is striking at any time of the day. You can't see it in this picture but seagulls added drama to the scene by flying to and from the mosque's many domes.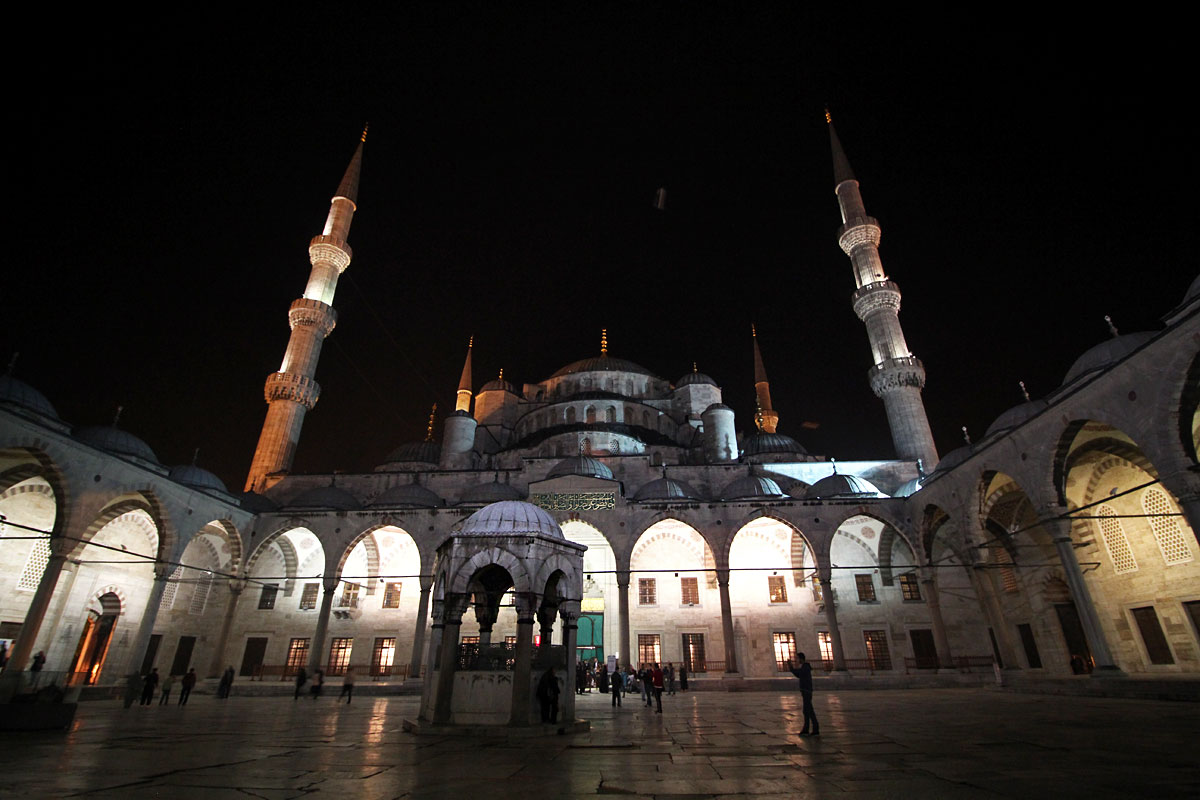 Sultanahmet, Istanbul, Turkey
Sultanahmet Mah, At Meydani Cad, No: 7, İstanbul 34122, Turkey
Tel: +90 212 458 4468
Fax : +90 212 458 4466
Operating Hours: Mon-Sun, around 8:30AM-6:30PM (closed during prayer times)
Entrance: FREE, but donations are welcome
Basilica Cistern
A few minutes' north of the square is the Basilica Cistern. Built in 532 AD, it's the largest surviving Byzantine cistern in Istanbul. It contains 336 marble columns each around 9 meters (30 ft) high, and covers an area measuring 9,800 square meters (105,000 sq ft). Designed to serve the Great Palace, it's capable of holding 80,000 cubic meters (2,800,000 cu ft) of water which is sourced from a reservoir near the Black Sea.
Entrance to the cistern is 190TL per person. Unfortunately, it isn't included in the 5-day Istanbul Museum Pass.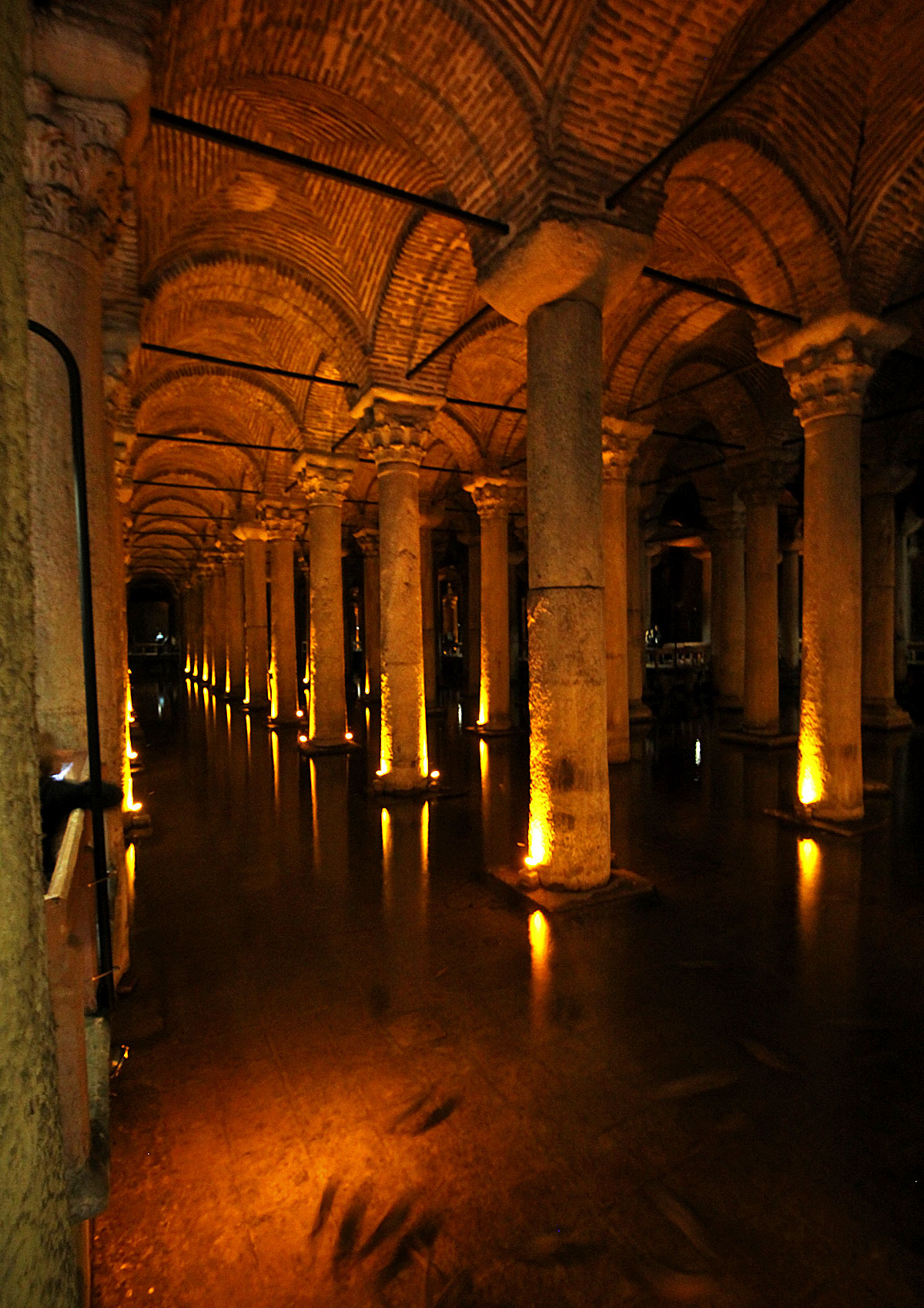 Do you remember the James Bond movie From Russia with Love? There was a scene where 007 was rowing in a boat through a forest of columns. I don't remember it but that scene was filmed here. For those with fewer gray hairs, you'll know the cistern as the place where that climactic scene in Dan Brown's Inferno was set. Seeking to curb the world's population, Dr. Zobrist released his no-child policy virus here. How I wish that was non-fiction.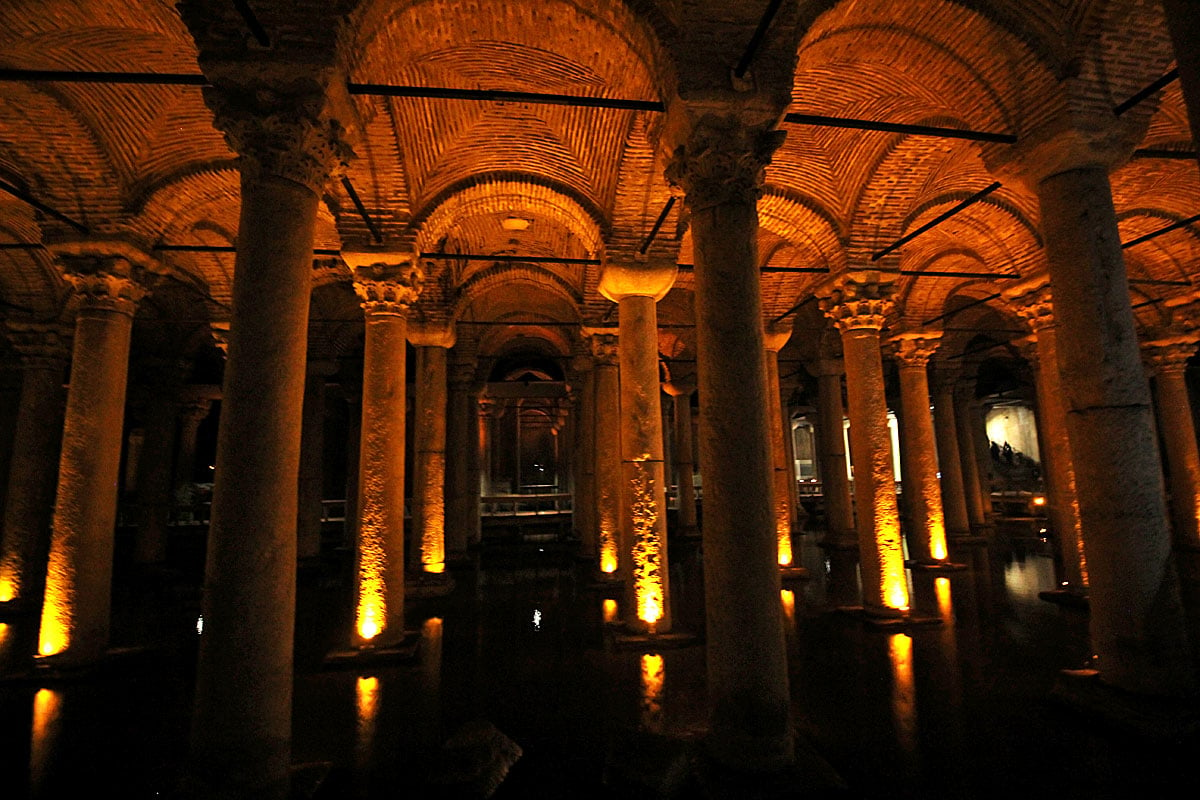 Here's an interesting story about the cistern. Closed and forgotten for centuries when the Byzantine emperors relocated from the Great Palace, it was accidentally rediscovered in 1545 by French scholar Peter Gyllius. He was researching Byzantine antiquities when he noticed how people in the neighborhood were drawing water by lowering buckets through holes in their basement floors. Some would even catch fish that way!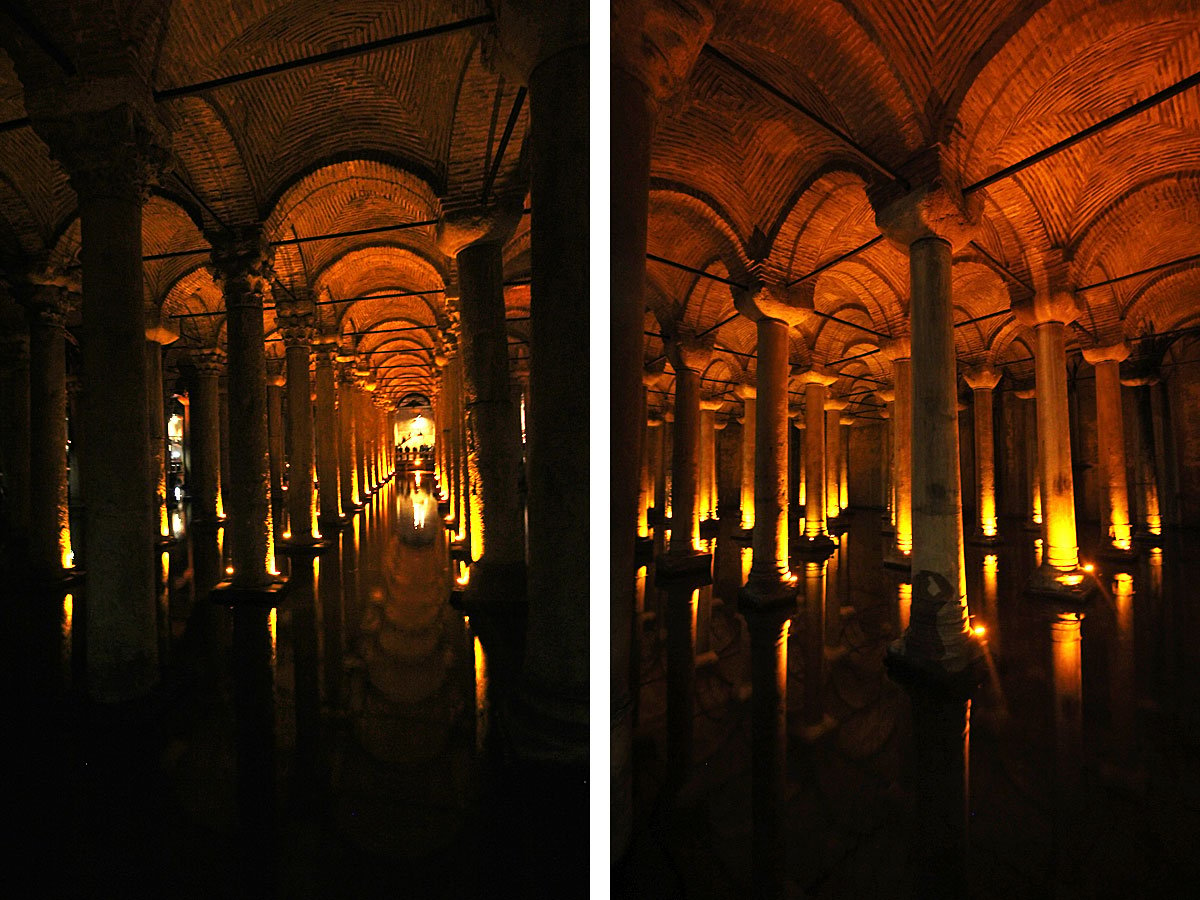 The Hen's Eye column, engraved with raised pictures of a hen's eye, slanted branches, and tears. Ancient texts suggest that the tears pay tribute to the hundreds of slaves who died during the construction of the cistern.
I don't know how this tradition started, but thousands of tourists have been inserting their fingers into that hole in the column to make wishes. If you ask me, the only thing you're wishing for by doing that is a fingerful of bacteria. Yuck.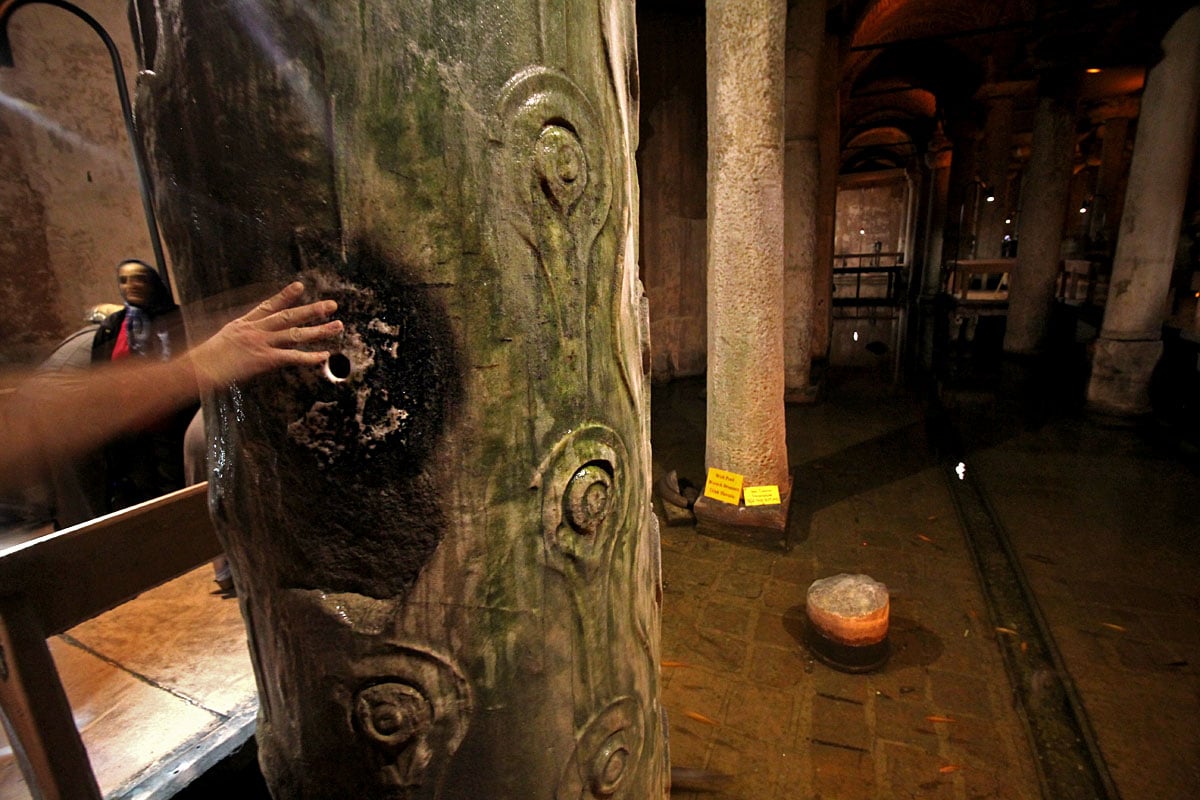 Two Medusa heads that are the subject of much contention. Used as column bases — one positioned upside down and the other on its side — their positioning and origin remain mysteries to this day. Personally, I think they were just heavy as fuck so were left in the position they arrived in.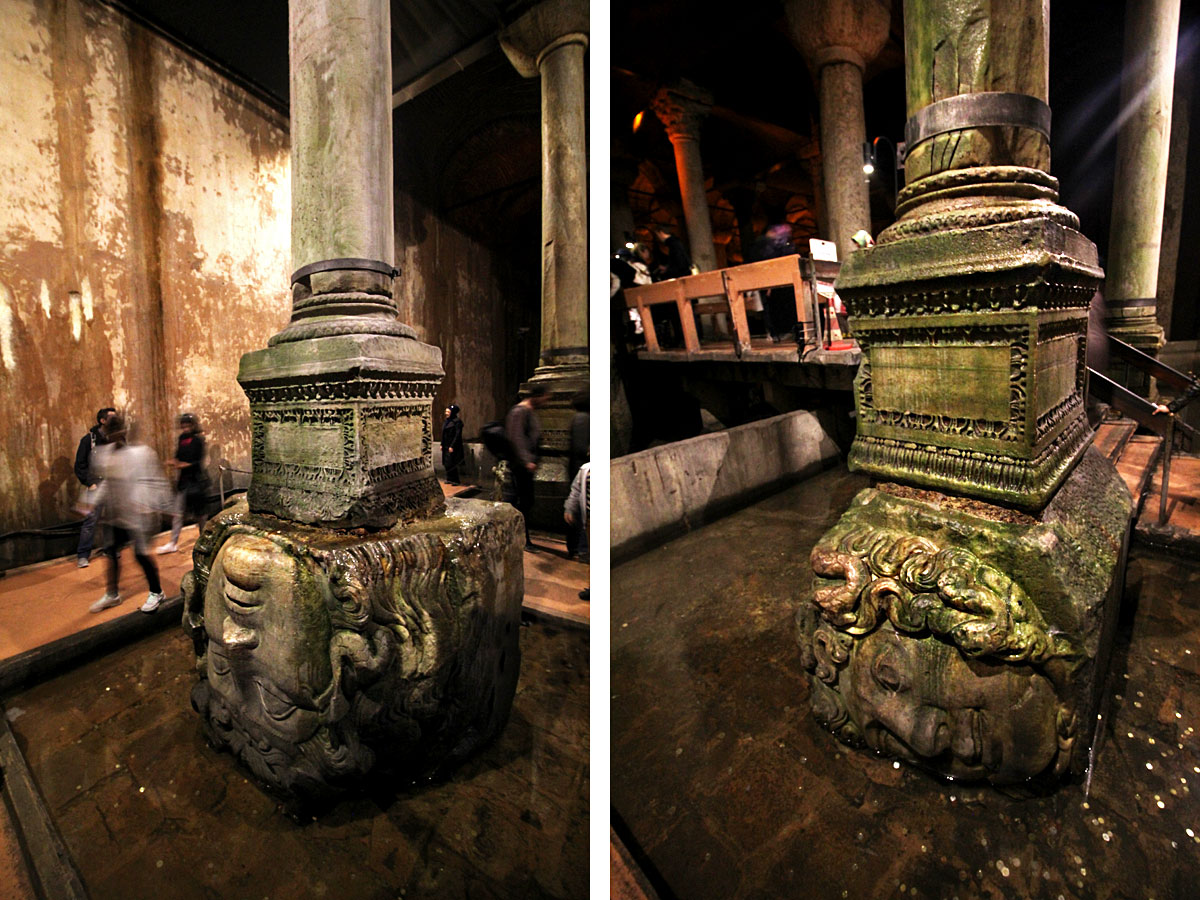 Basilica Cistern, Istanbul, Turkey
Alemdar Mahallesi, Yerebatan Caddesi, No:1/3, Istanbul, Turkey
Tel: +90 212 512 1570
Website: yerebatan.com
Facebook: yerebatansarnici
Email: [email protected]
Operating Hours: Mon-Sun, 9AM-7PM
Entrance: 190TL
Included in 5-day Istanbul Museum Pass: No
Ayasofya (Hagia Sophia)
A short walk east of the cistern is the peerless Ayasofya. Built by Emperor Justinian in 537 AD, it was once considered the greatest church in Christendom. In fact, it was the largest church ever built until St Peter's Basilica was constructed a thousand years later in Rome.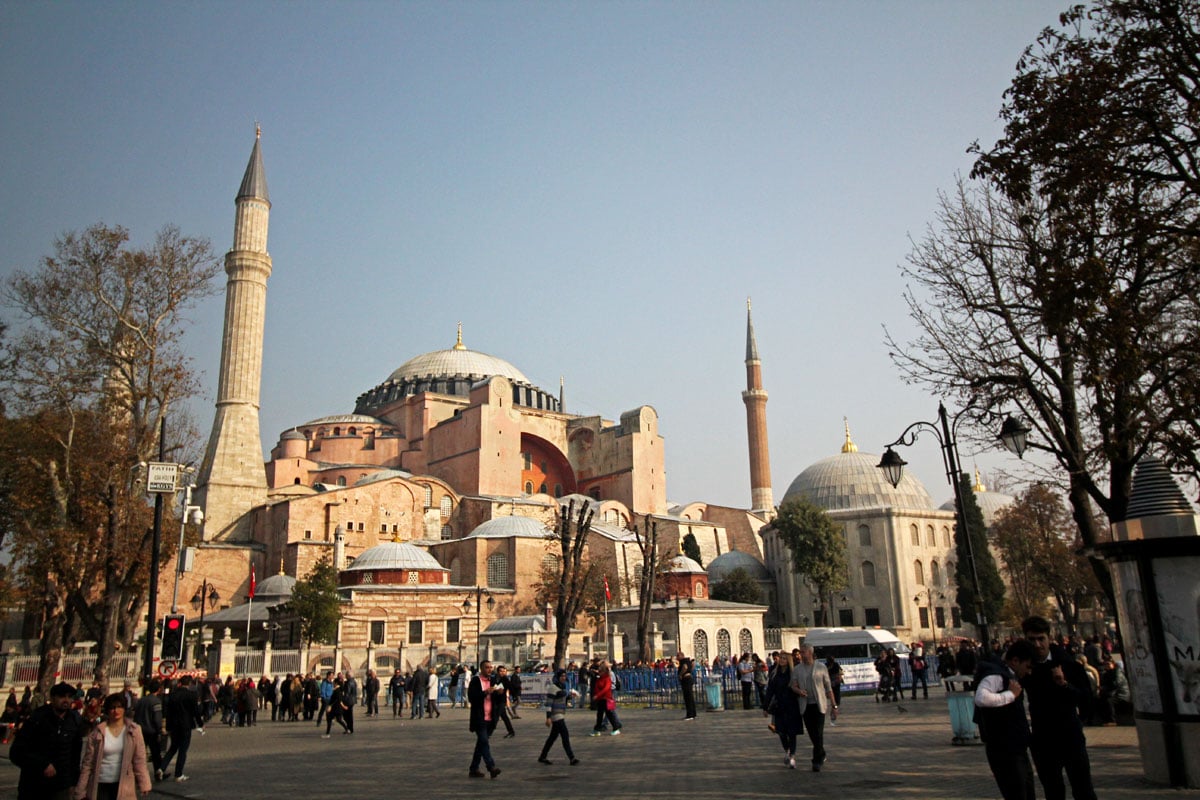 Like Sultanahmet, Ayasofya is massive. The epitome of Byzantine architecture, its wide, flat central dome was considered a marvel of engineering when it was built in the 6th century. Once the world's most impressive building, it was proclaimed a mosque by Mehmet the Conqueror in 1453 before being declared a museum by President Atatürk in 1935.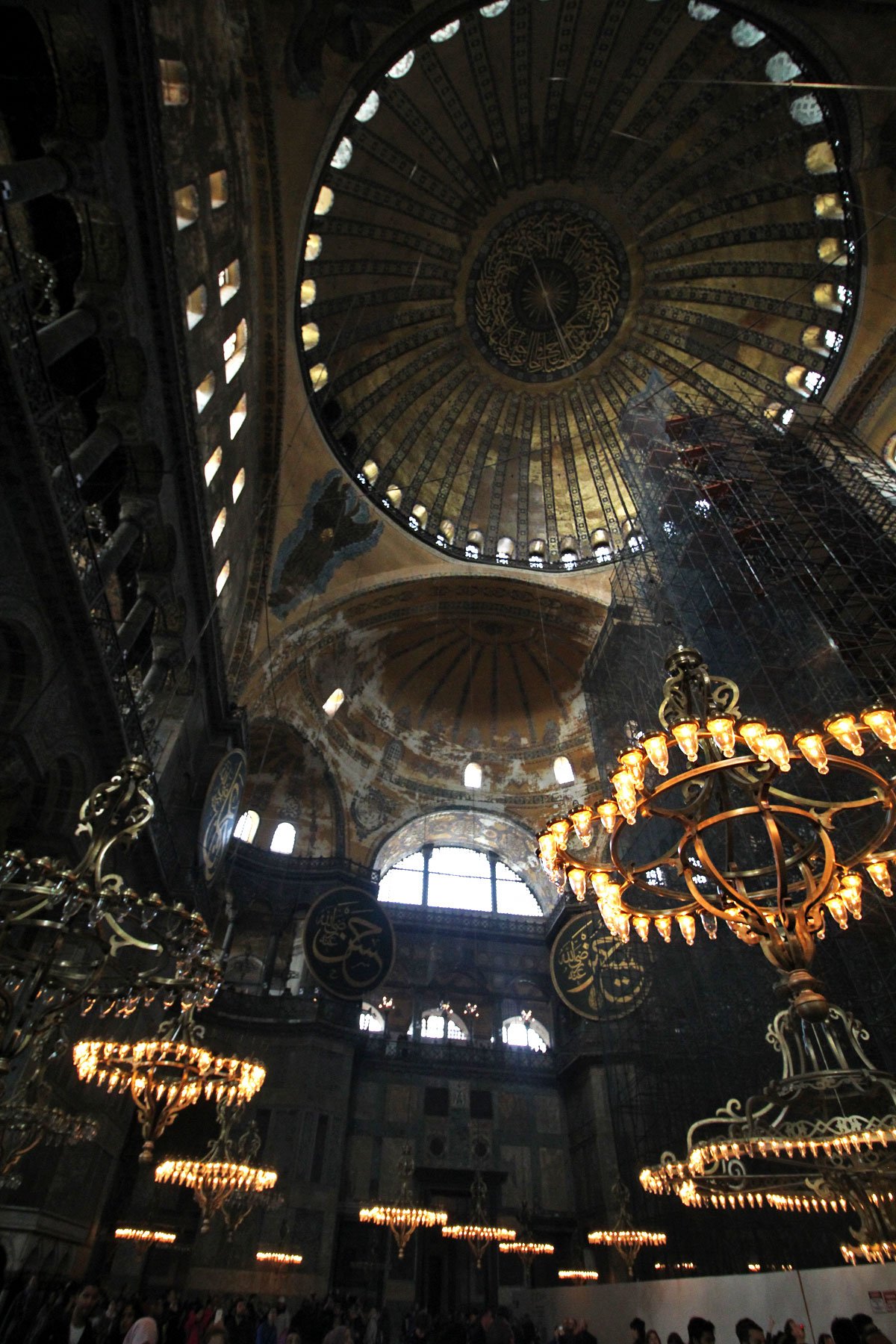 Because Ayasofya functioned as a church as well as a mosque, you can find both Christian and Islamic symbols here. Christian symbols and mosaics that were plastered over when Ayasofya was converted to a mosque have been restored.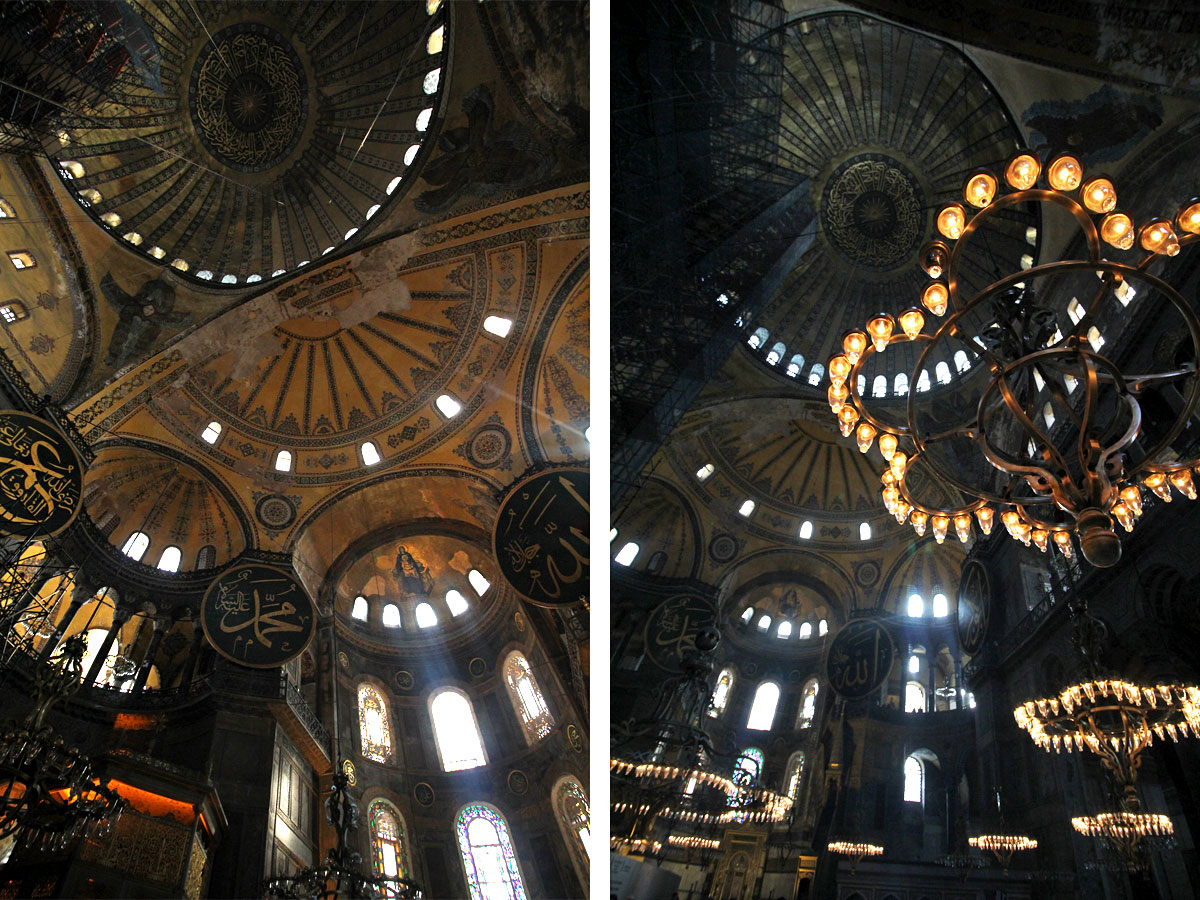 Ornate library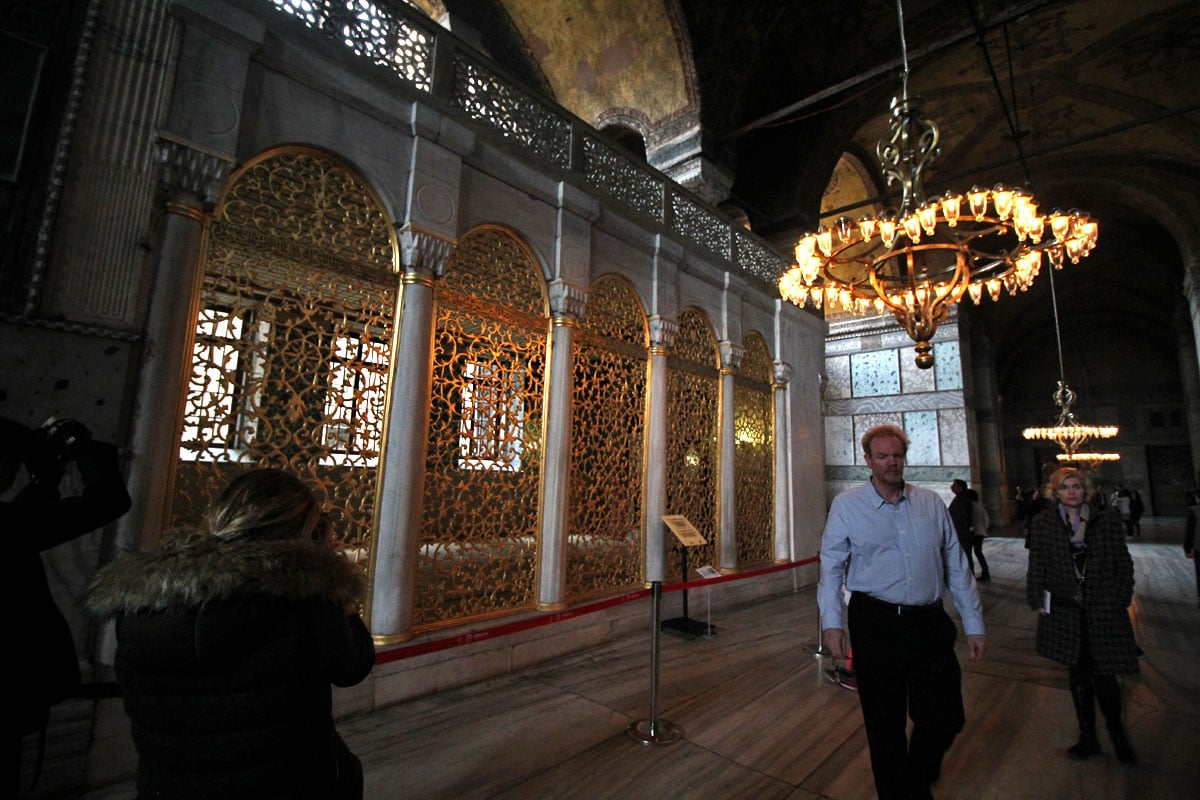 L: If I remember correctly, at the end of this hall was the circuitous ramp leading up to the second floor.
R: The upstairs galleries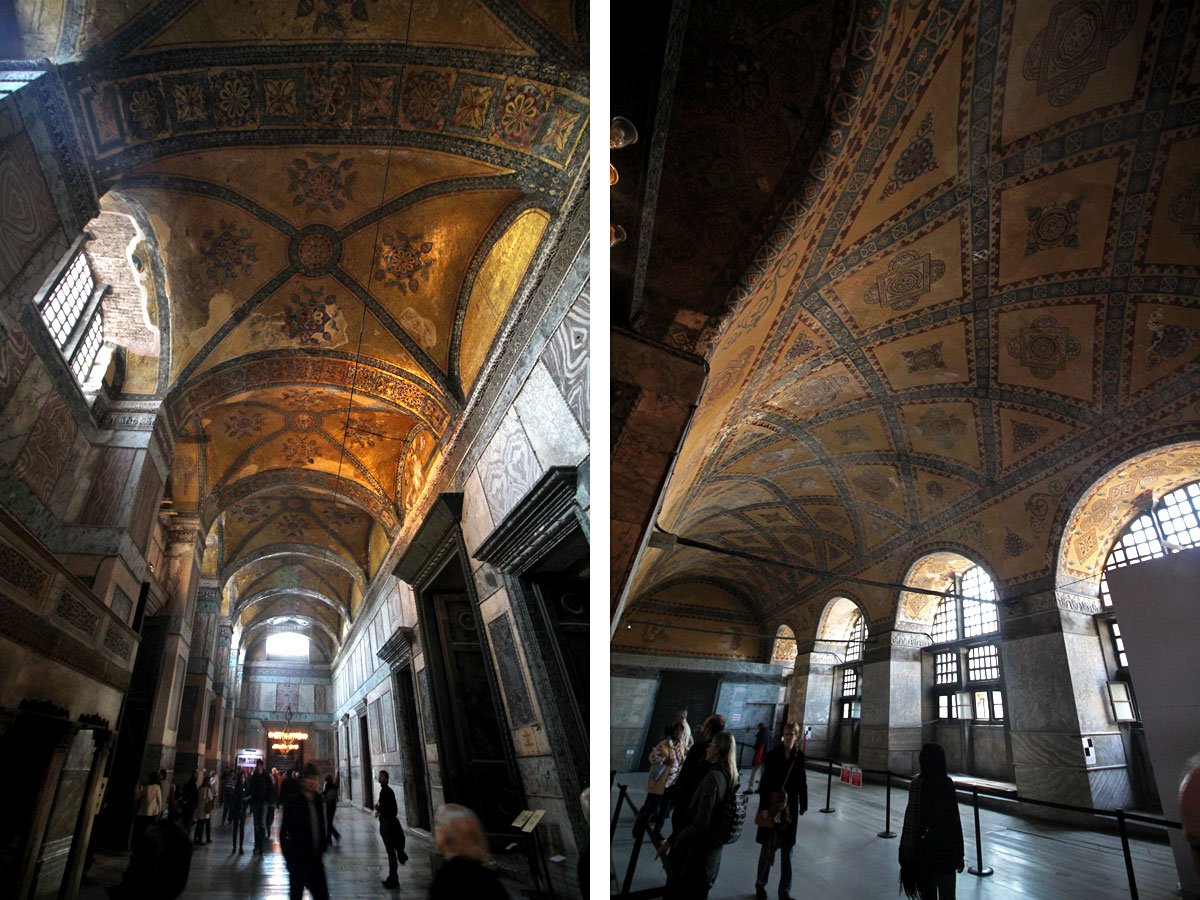 View from an upstairs balcony. Parts of the building were closed for restoration but the interior is still spectacular, even with all the scaffolding.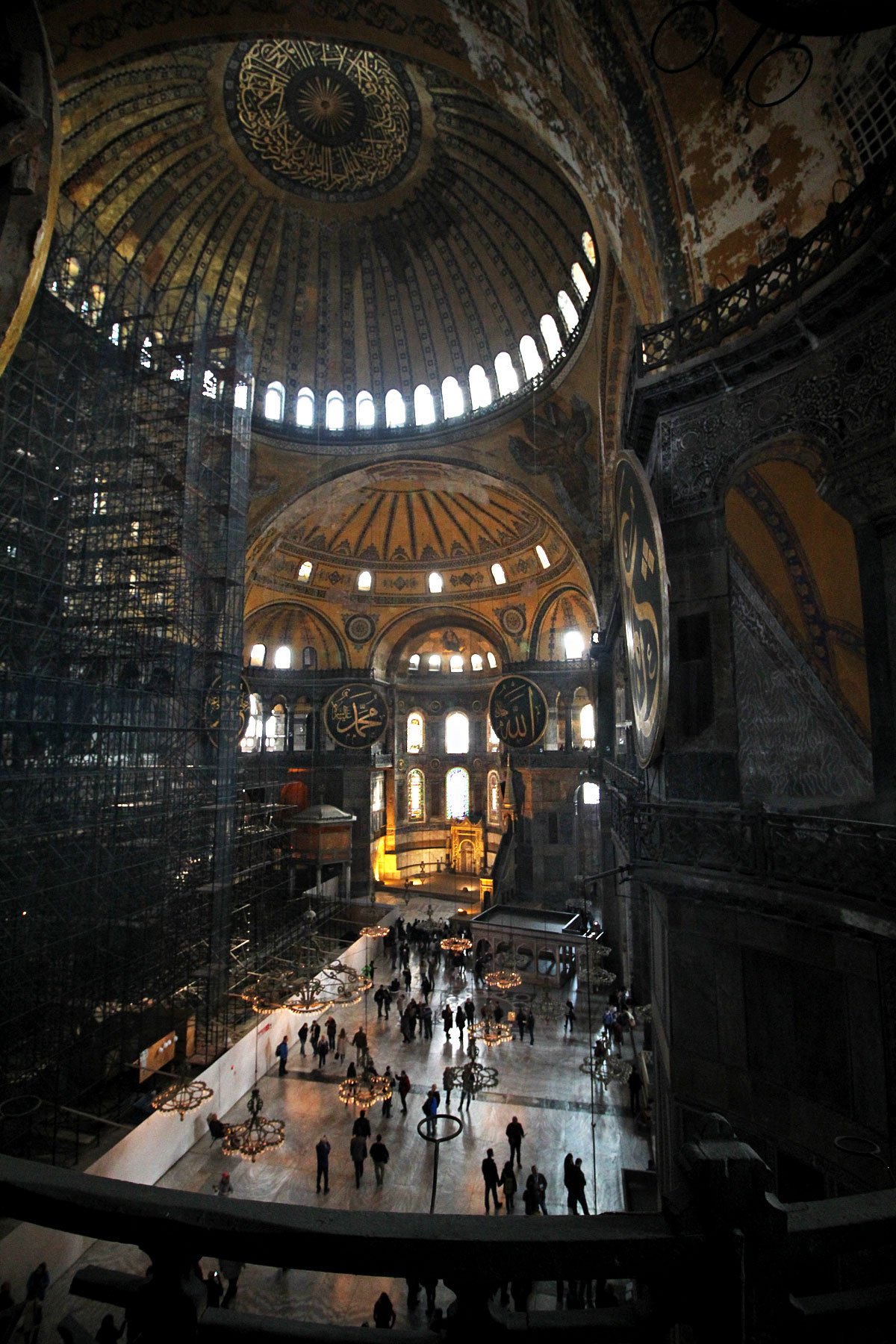 L: Prominent are the large 19th-century medallions inscribed with gilt Arabic letters.
R: A glimpse of a mosaic (or what's left of it) on the far wall.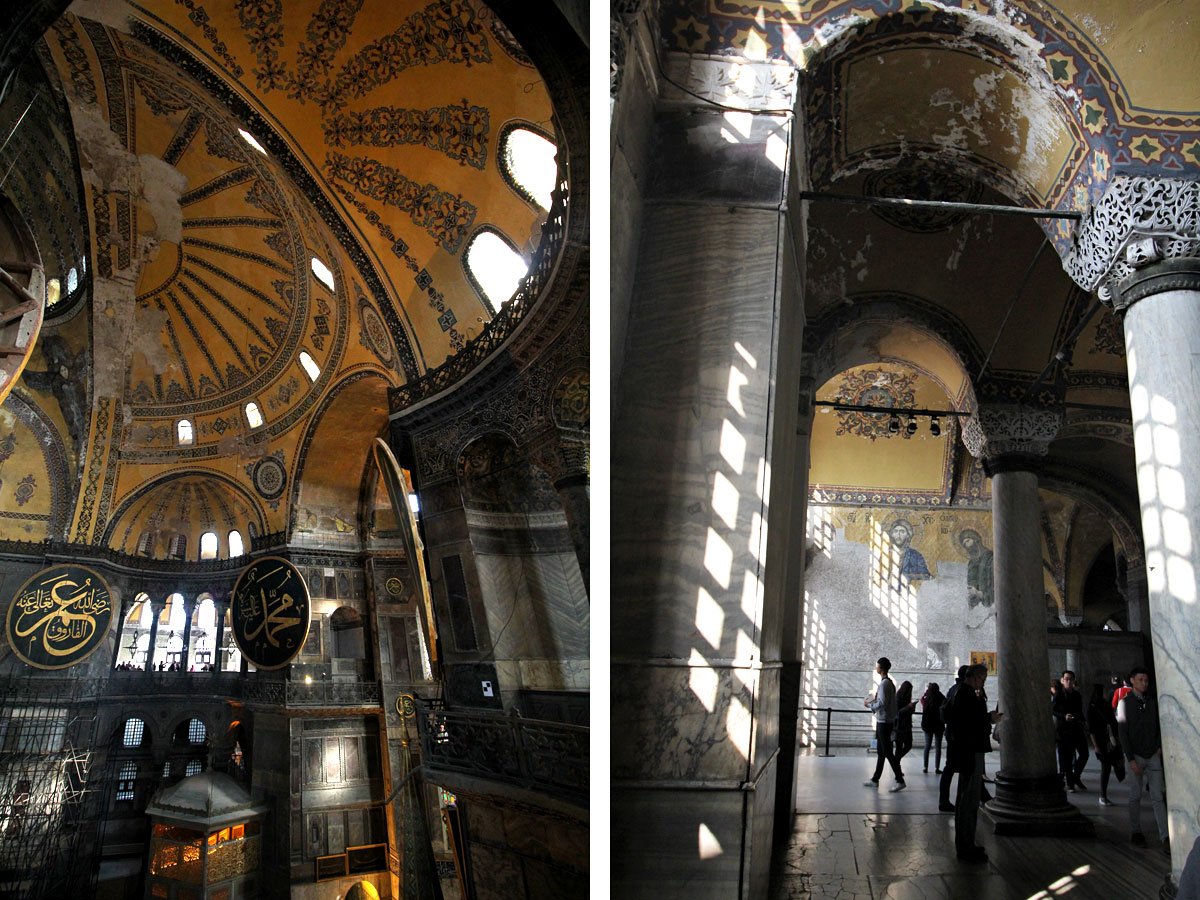 There's no shortage of detail at Ayasofya.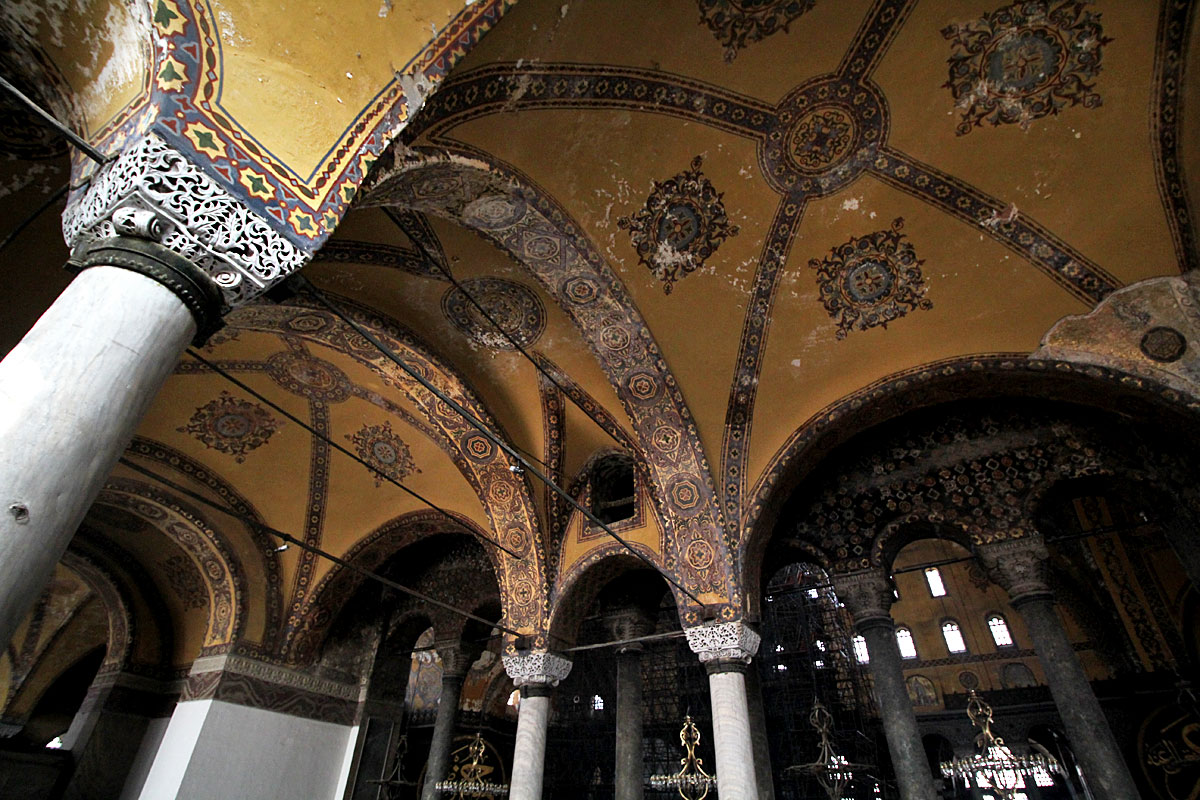 Even the scaffolding is grand.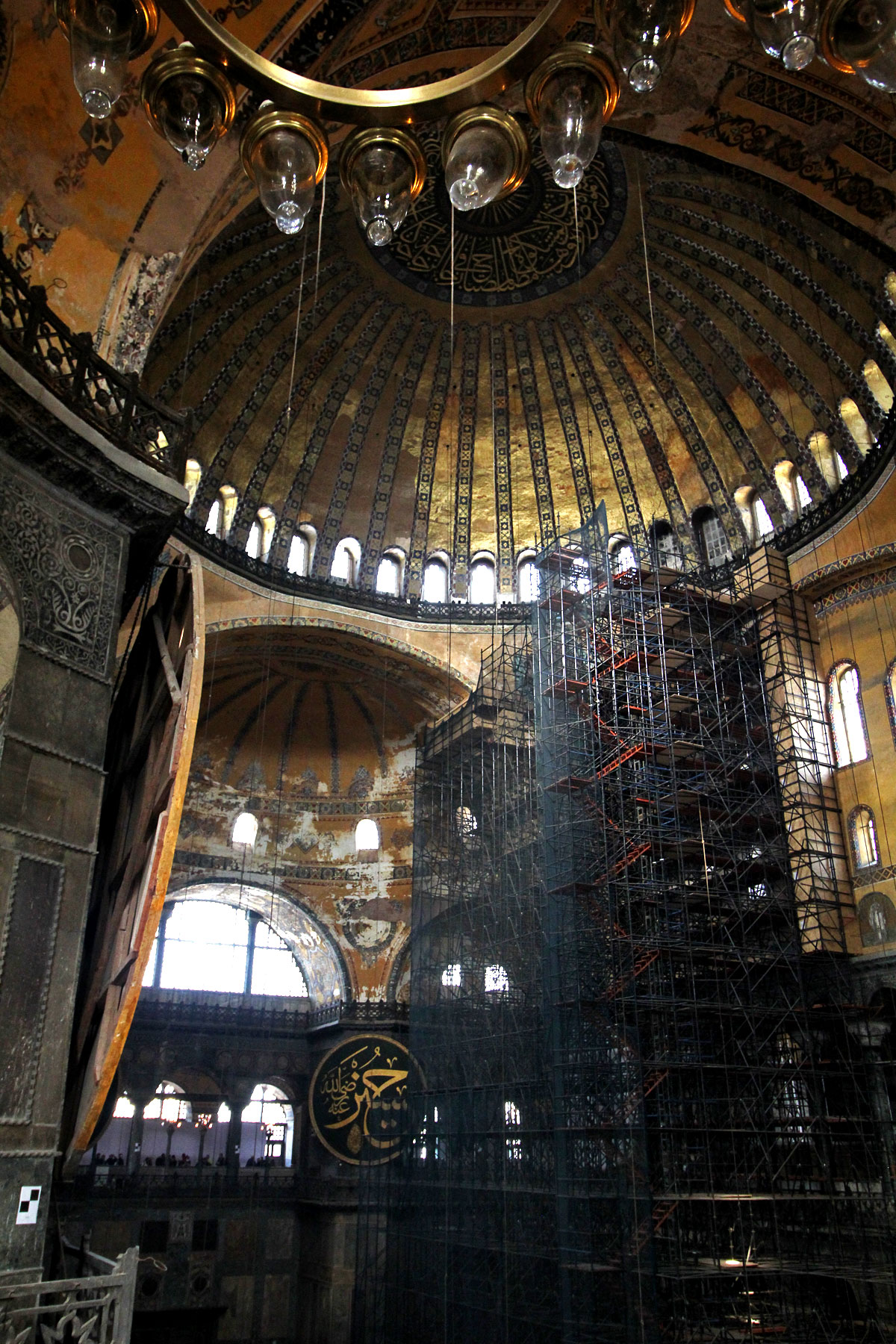 Remnants of a mosaic depicting Christ flanked on either side by the Virgin Mother and John the Apostle. Sadly, the mosaics here have seen better days. For the most breathtaking and best preserved mosaics, I suggest visiting Chora Church in Edirnekapi.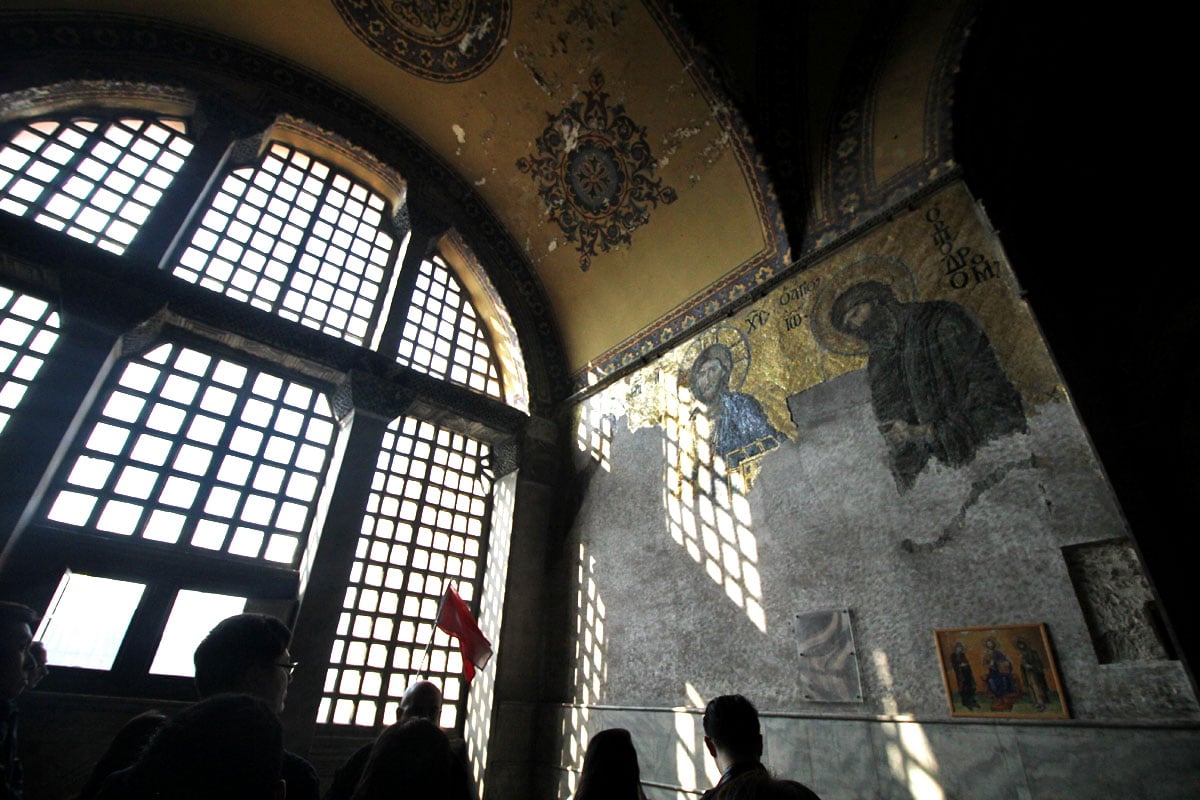 Hagia Sophia, Istanbul, Turkey
Ayasofya Square, Sultanahmet, Istanbul, Turkey
Tel: +90 212 522 1750/ 0989
Fax: +90 212 512 5474
Operating Hours: 10AM-10PM, daily (closed during prayer times)
Entrance: FREE
Included in 5-day Istanbul Museum Pass: Yes
Ibrahim Pasa Palace (Turkish and Islamic Arts Museum)
We didn't have time to go but if you like museums, then you may be interested in visiting the Ibrahim Pasa Palace as well. It houses the Turkish and Islamic Arts Museum which is said to contain an impressive collection of calligraphy and rugs. It's located directly opposite the Blue Mosque on the other side of Sultanahmet Square.
Entrance to the museum is included in the 5-day Istanbul Museum Pass. If you don't have one, then admission is 100TL.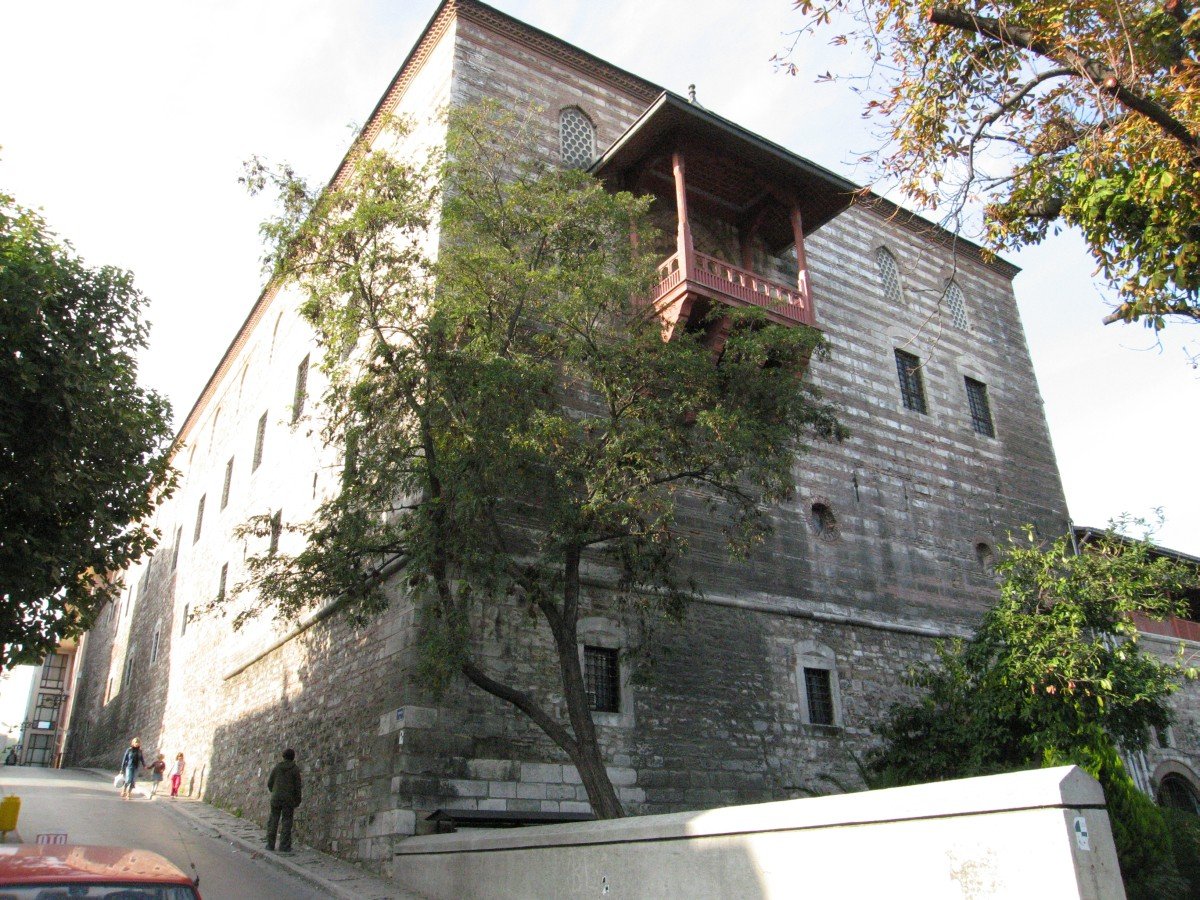 Chapultepec, Public domain, via Wikimedia Commons
Ibrahim Pasa Palace (Turkish and Islamic Arts Museum), Istanbul, Turkey
Sultanahmet Mh., Meydanı Sok. No:46, 34122 Istanbul, Turkey
Tel: +90 212 518 1805
Fax: +90 212 518 1807
Operating Hours: 9AM-6:30PM, daily
Entrance: 100TL
Included in 5-day Istanbul Museum Pass: Yes
For more Istanbul travel tips, check out our First-Timer's Travel Guide to Istanbul, Turkey