If Sultanahmet is the historic part of Istanbul, then the area north of Galata Bridge is the more modern. Sort of.
Though contemporary boutiques and global brands abound there, they're juxtaposed with old world elements like antique trams, cobblestone streets, and 19th century architecture. You could be admiring the latest fashion trends at H&M and turn around to spot a heritage tram riding by. It creates an intriguing atmosphere that looks traditional but feels modern.
Home to the iconic Galata Tower and Dolmabahce Palace as well as the city's most fashionable boulevard in Istiklal Caddesi, the neighborhoods across the Golden Horn provide an interesting mix of old and new that's different in feel to the time-honored charm of Sultanahmet.
Galata Bridge
Galata Bridge spans the Golden Horn and connects the north and south of European Istanbul. To visit all the places mentioned in this post, it's best to start early, around 8:30AM in time for Galata Tower's opening at 9AM. If you're staying in Sulanahmet, then you can take the T1 tram to Eminönü and walk 10 minutes across the bridge. If you don't feel like walking, you can take the tram all the way to Karaköy.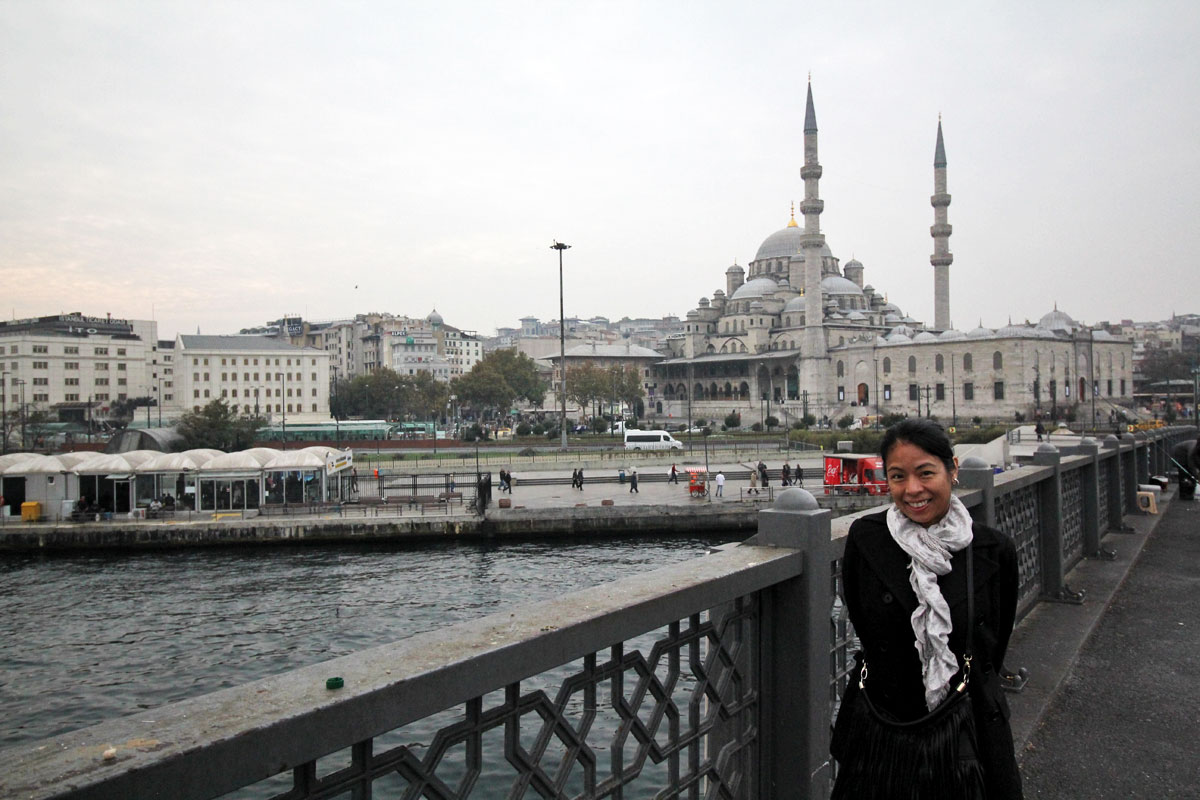 All along the bridge you'll find anglers casting their lines into the Golden Horn. You can't see it in this picture but beneath where we're standing, on the first level of the bridge, is a row of seafood restaurants with al fresco seating.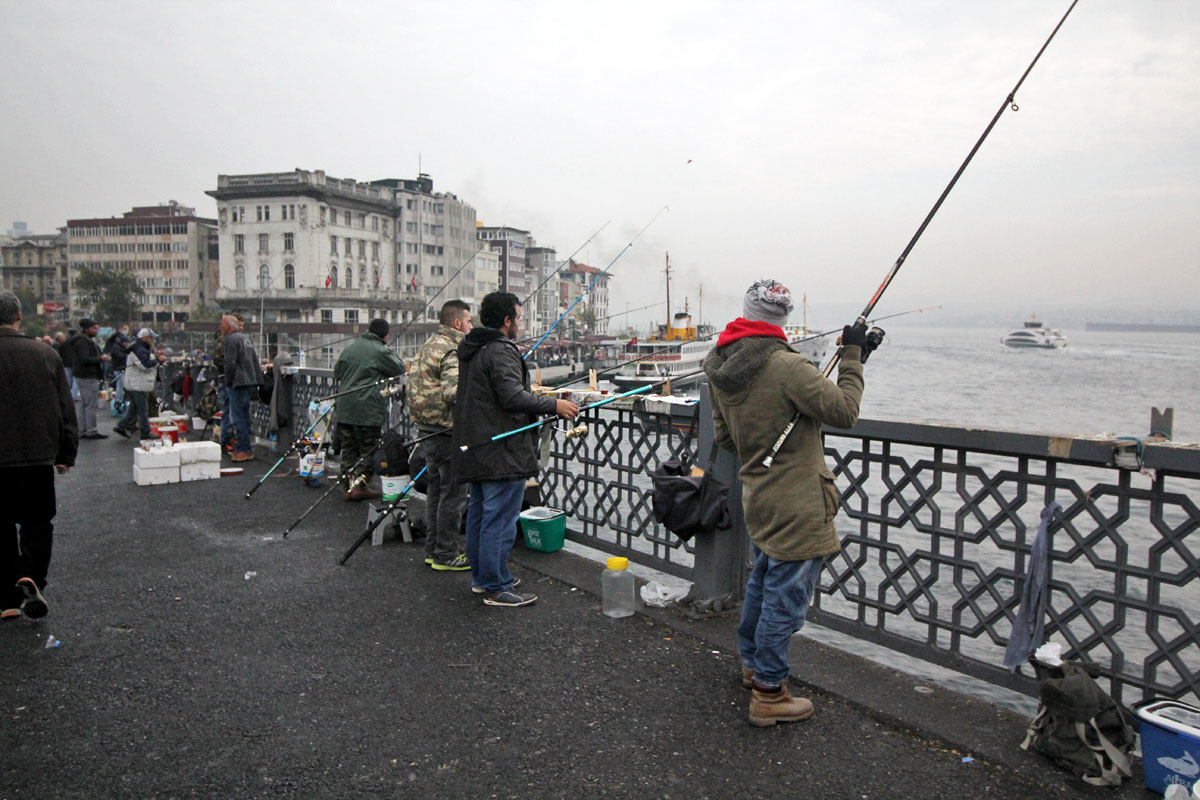 Galata Tower
L: En route to Galata Tower, we walked up this curvaceous stairway known as the Camondo Steps. Named after the once prominent Camondo family, it's a mix of Neo-Baroque and early Art Nouveau styles. Uh huh, can't you tell? 😉
R: Galata Tower hiding at the end of this alley. About a 15-minute walk from the end of the bridge, the streets leading to the tower are lined with interesting shops and cafes.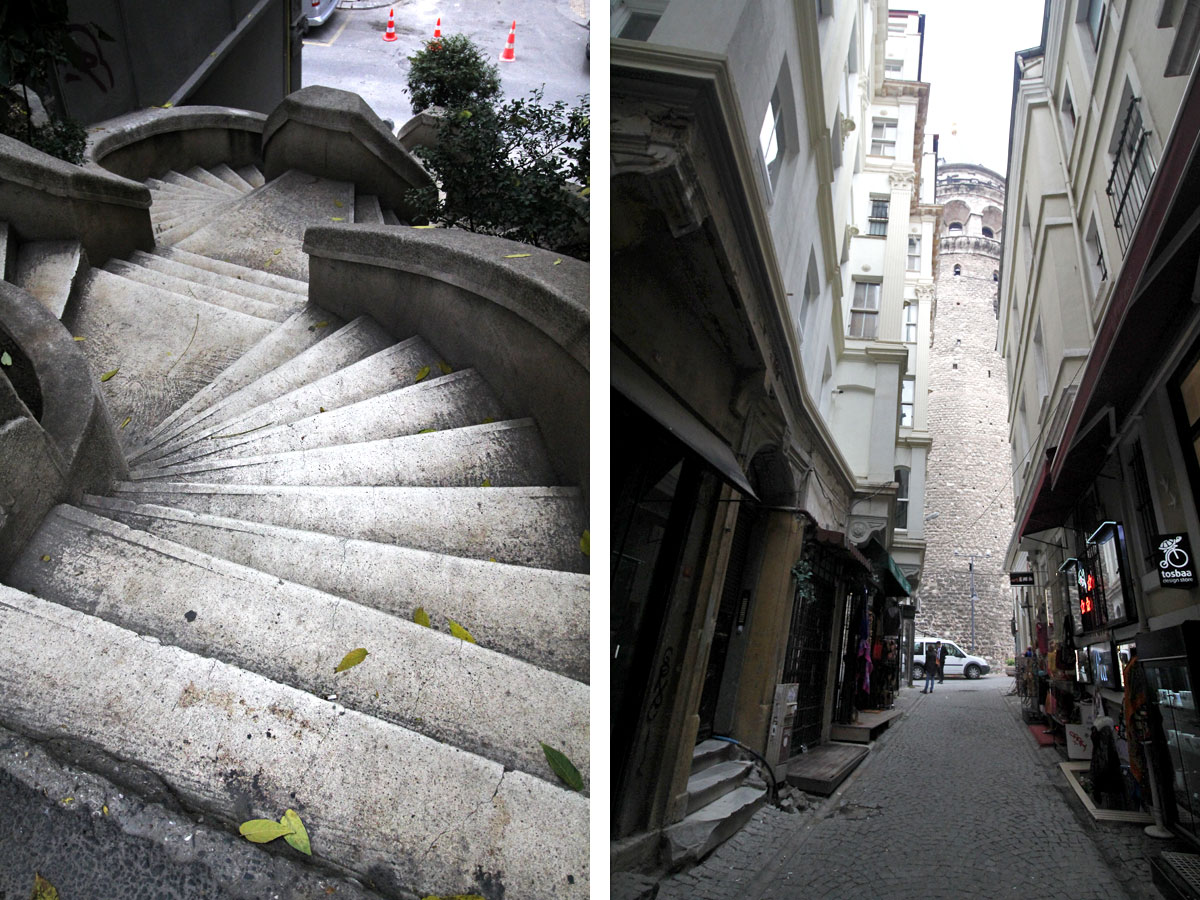 Built in 1348, Galata Tower was the tallest structure in the city for centuries. It's still the first thing you see when you look across the bridge into Beyoğlu. Its uppermost balcony is where we're headed.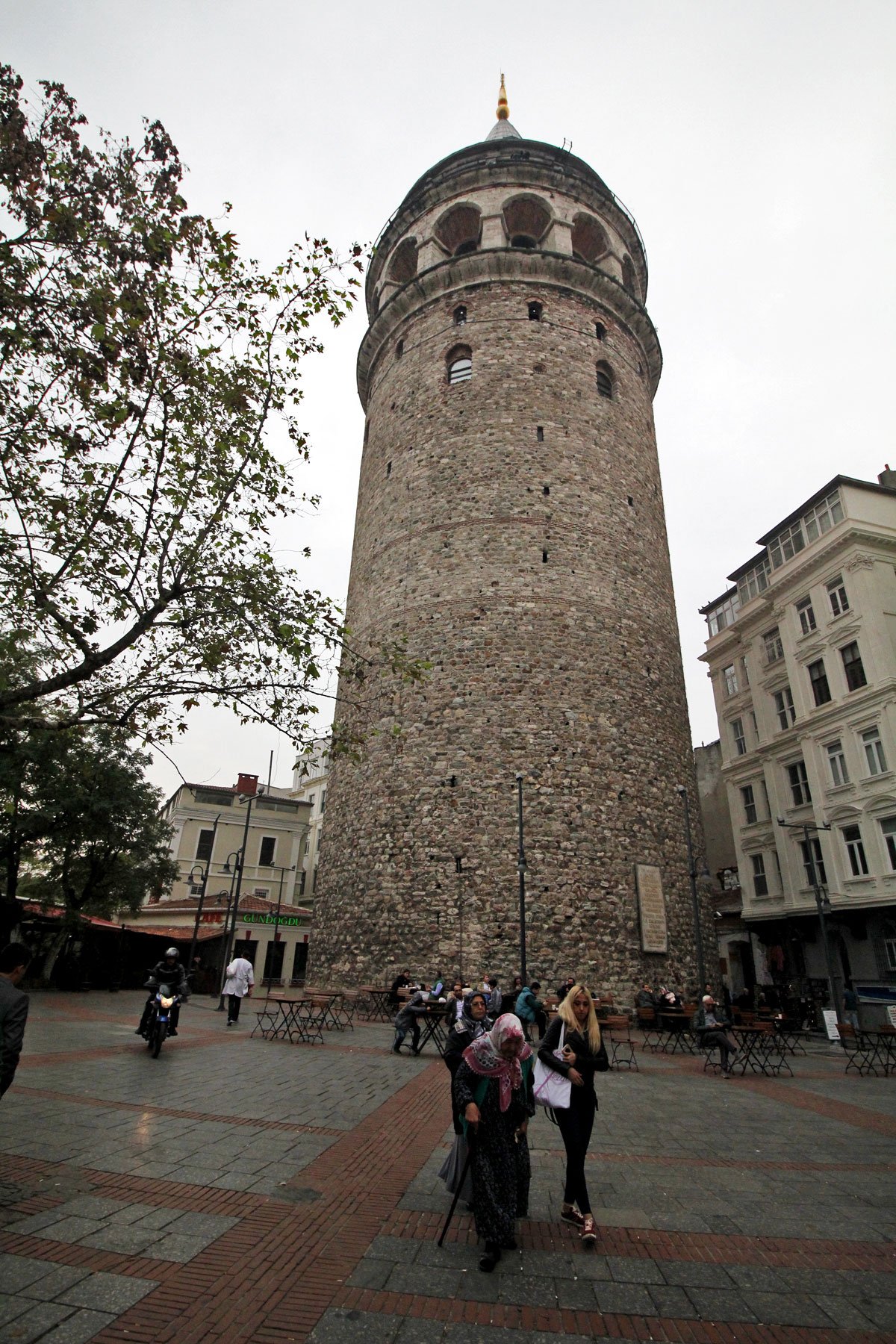 Cafe up top with the 360° viewing deck along its perimeter.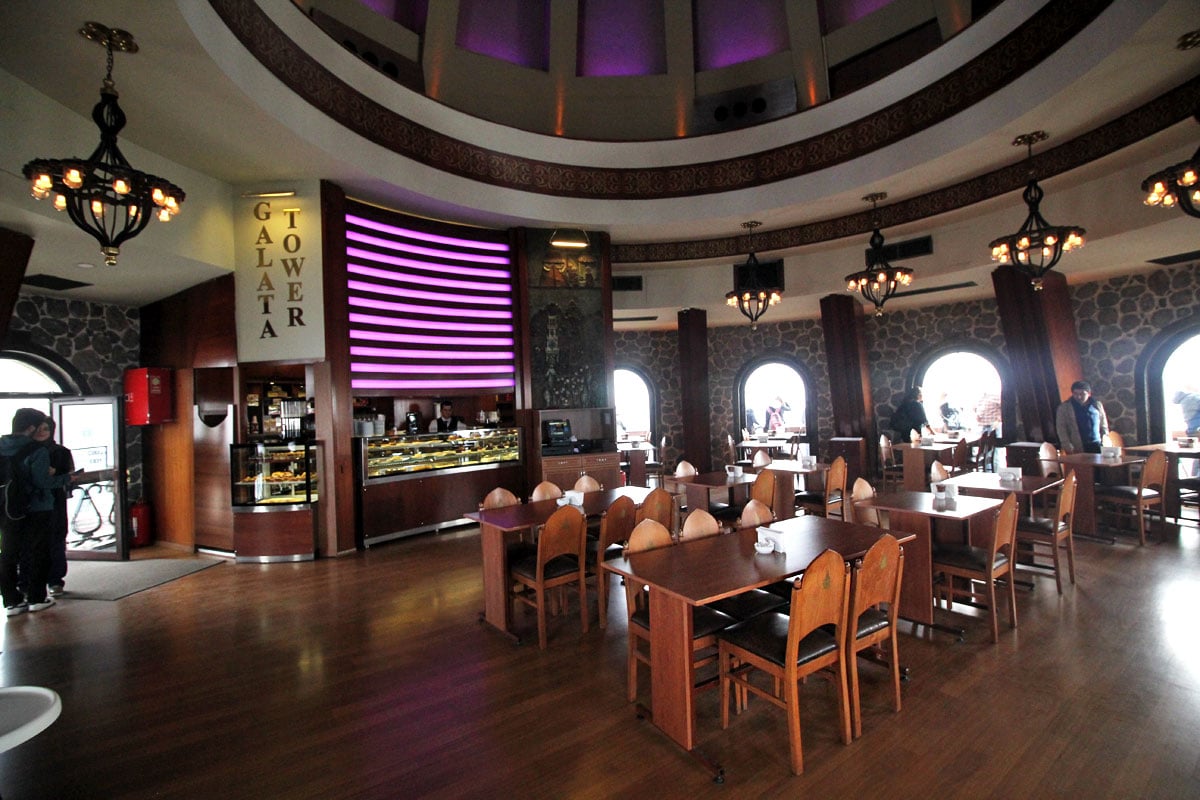 Admission up to the balcony is 175TL. A little steep yes, but as you can see, the view is spectacular.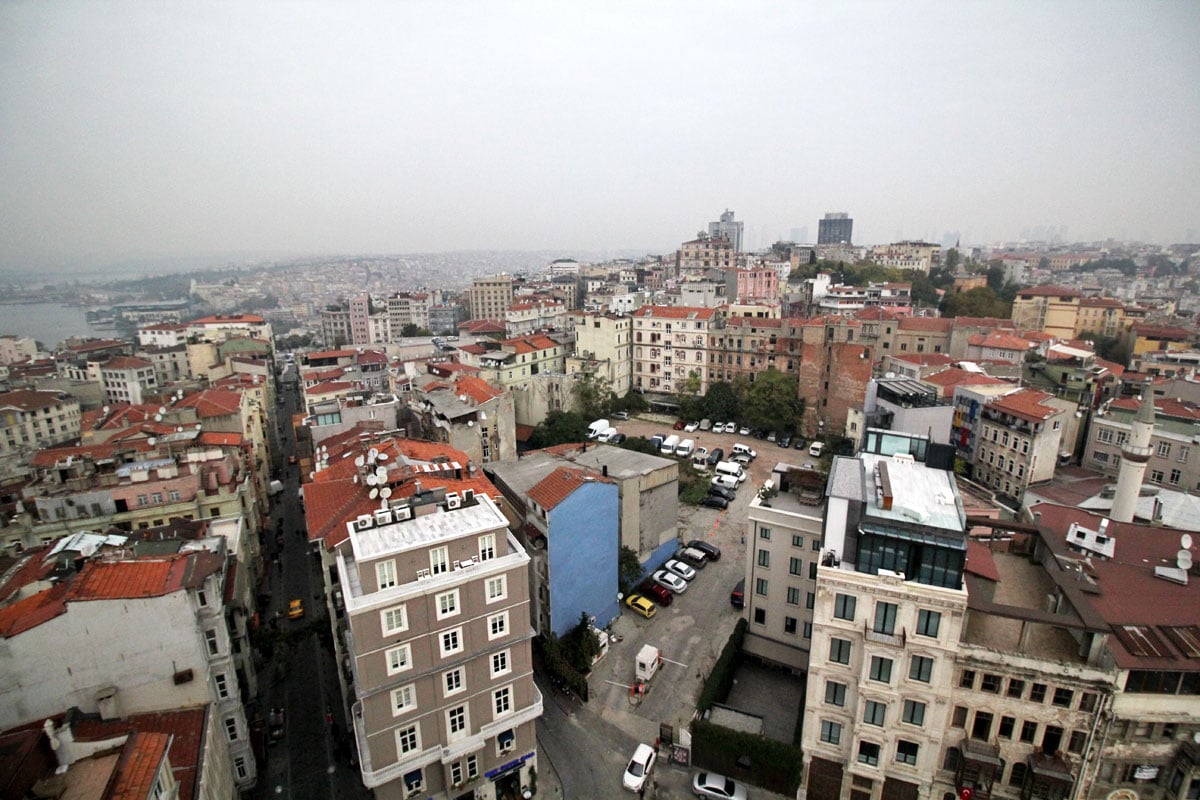 Looking south of the Golden Horn where today's adventure began. Unless I'm mistaken, that's Ayasofya and Sultanahmet to the left and Suleymaniye Mosque to the right.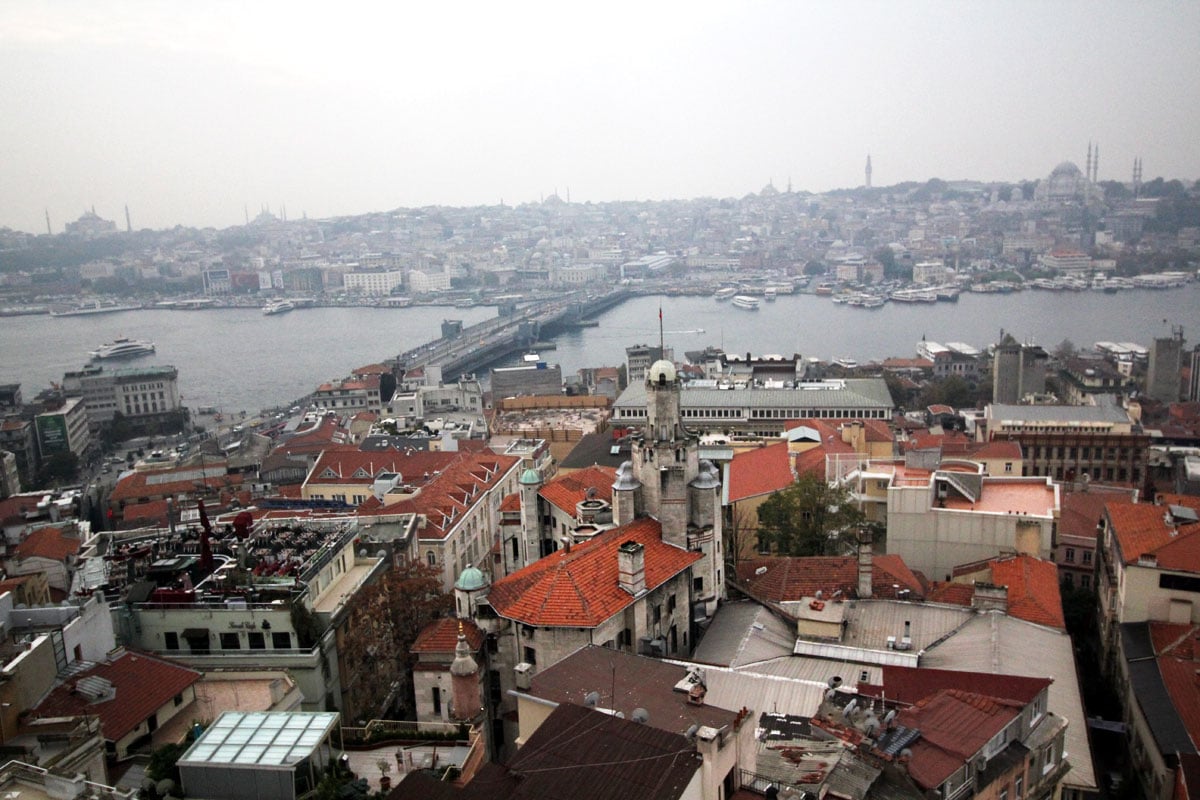 Originally called the Tower of Christ, Galata Tower has served as a watchtower, a prison, a naval depot, a fire lookout post, and now a tourist attraction in its over 650 year history.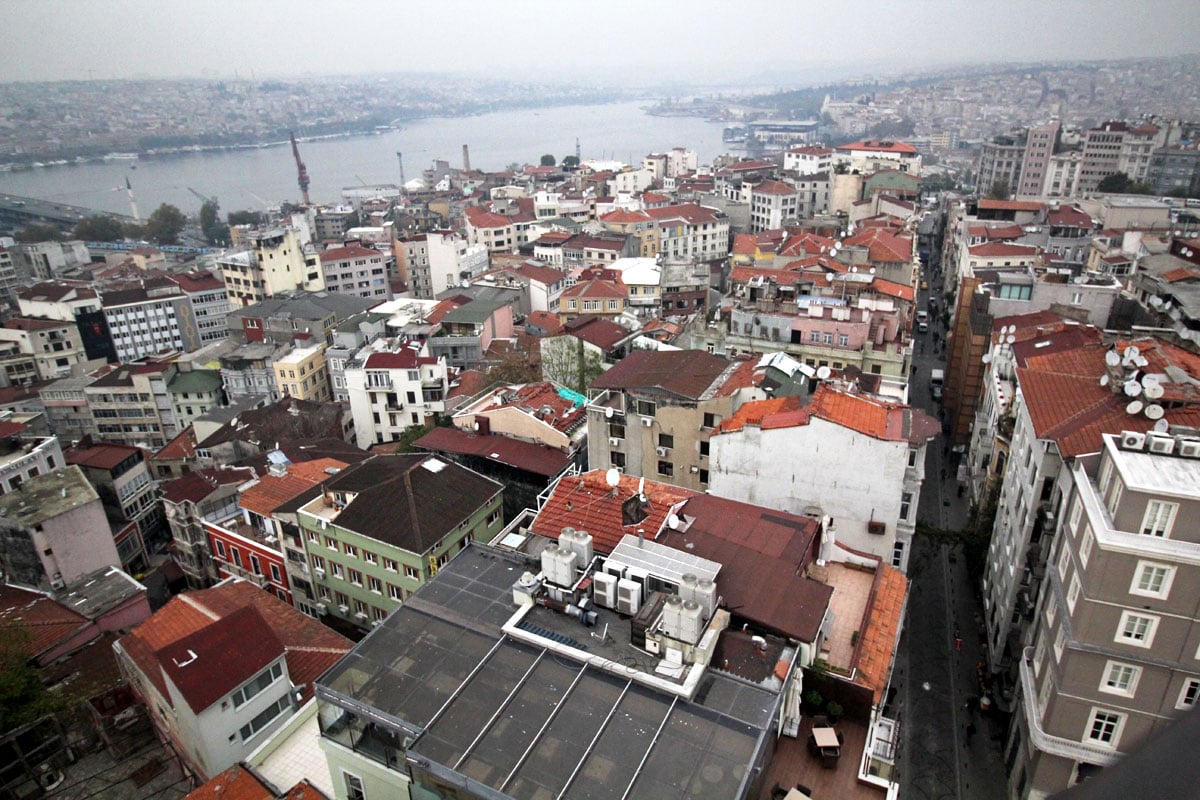 Galata Tower, Istanbul, Turkey
Bereketzade, Galata Kulesi, Beyoğlu/İstanbul, Turkey
Tel: +90 212 293 8180
Fax : +90 212 245 2133
Email: [email protected]
Operating Hours: Mon-Sun, 8:30AM-11PM
Entrance: 175TL (viewing balcony)
Included in 5-day Istanbul Museum Pass: Yes
Istiklal Caddesi (Independence Avenue)
These weren't taken along Istiklal Caddesi but I just wanted to show you the lovely architecture and buildings you'll find in the area. Much of Beyoğlu is interesting and worth a few hours of exploration if you can spare it. Istiklal Caddesi is about a 10-minute walk from Galata Tower.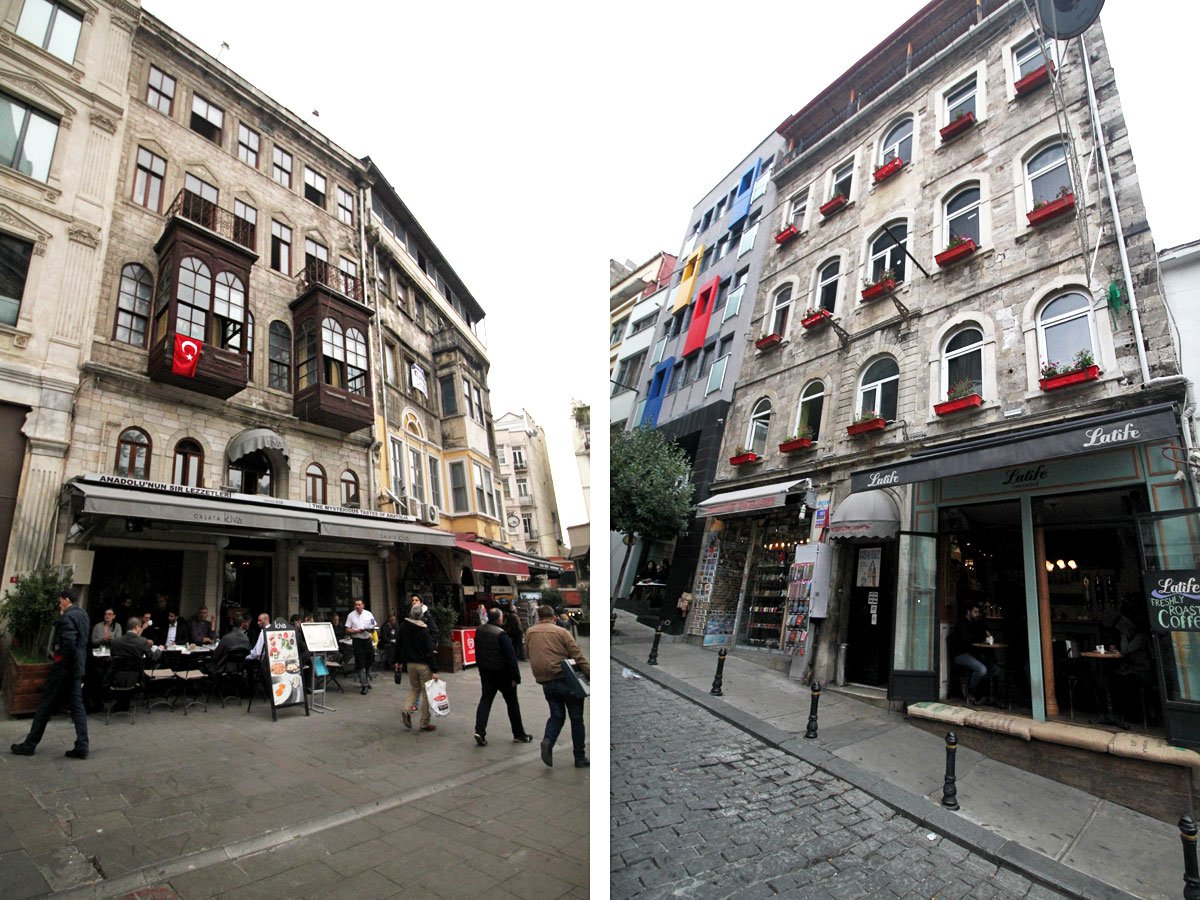 Heritage tram marking the start of Istiklal Caddesi. It doesn't take you far — just up and down the street — so you do it more for the experience.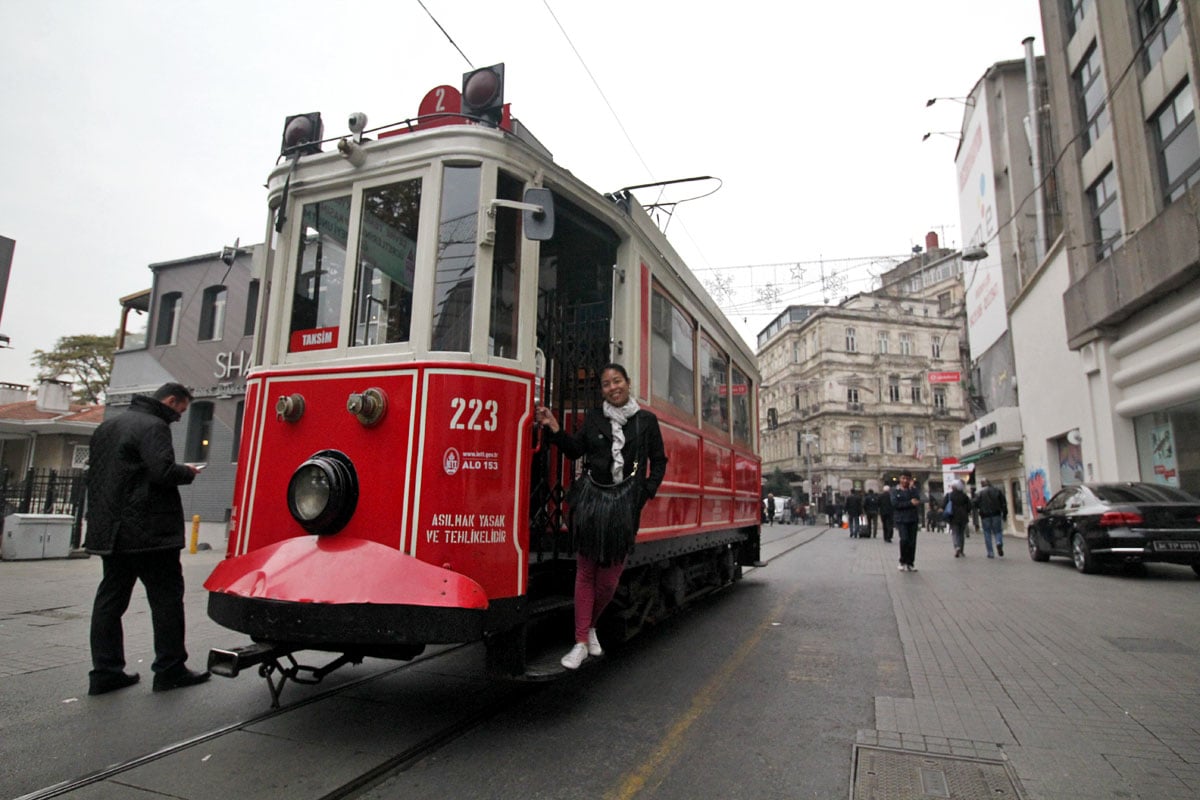 Next to the tram? A Shake Shack! We had never been to one so we made a quick stop here to share a burger and a milkshake. They were delicious and worthy of all the hype.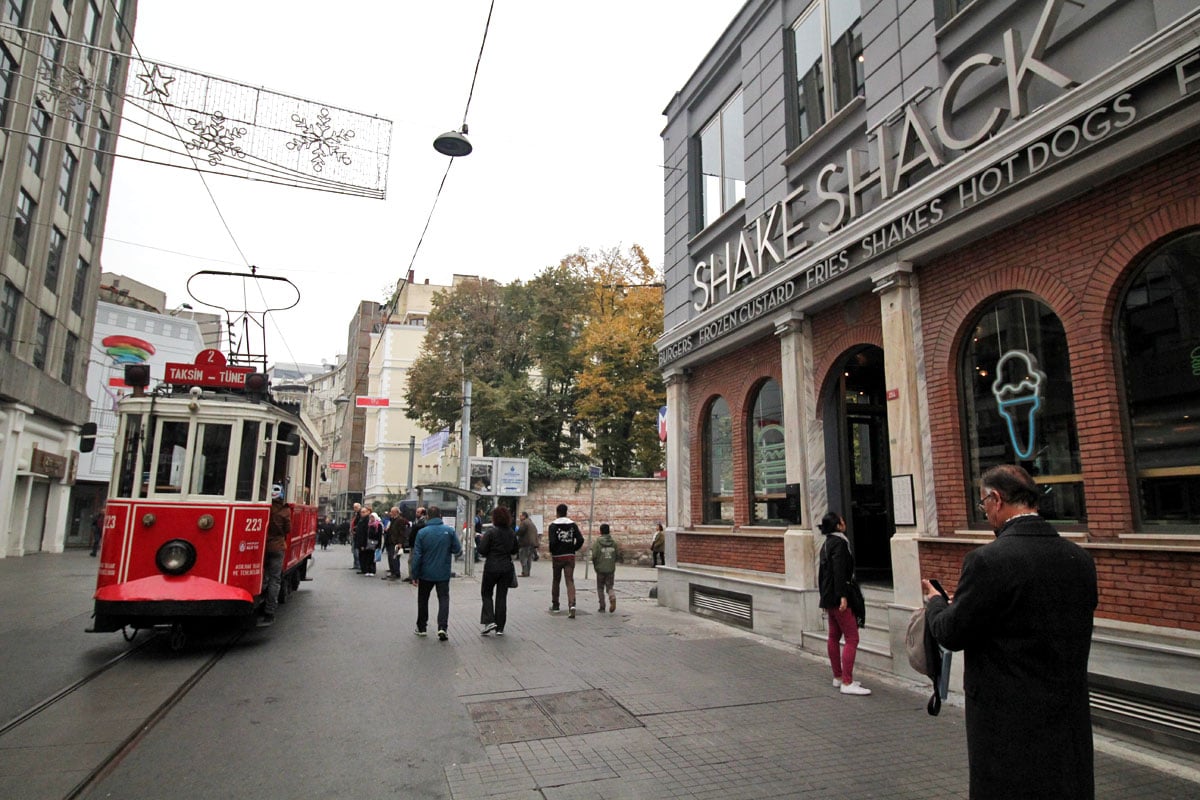 Meaning "Independence Avenue", Istiklal Caddesi is the heart of Beyoğlu and Istanbul's most famous street. It's an exciting blend of traditional and modern where you'll find contemporary shops like H&M and Zara housed in 19th century buildings. If you like to shop, then this is where you need to be.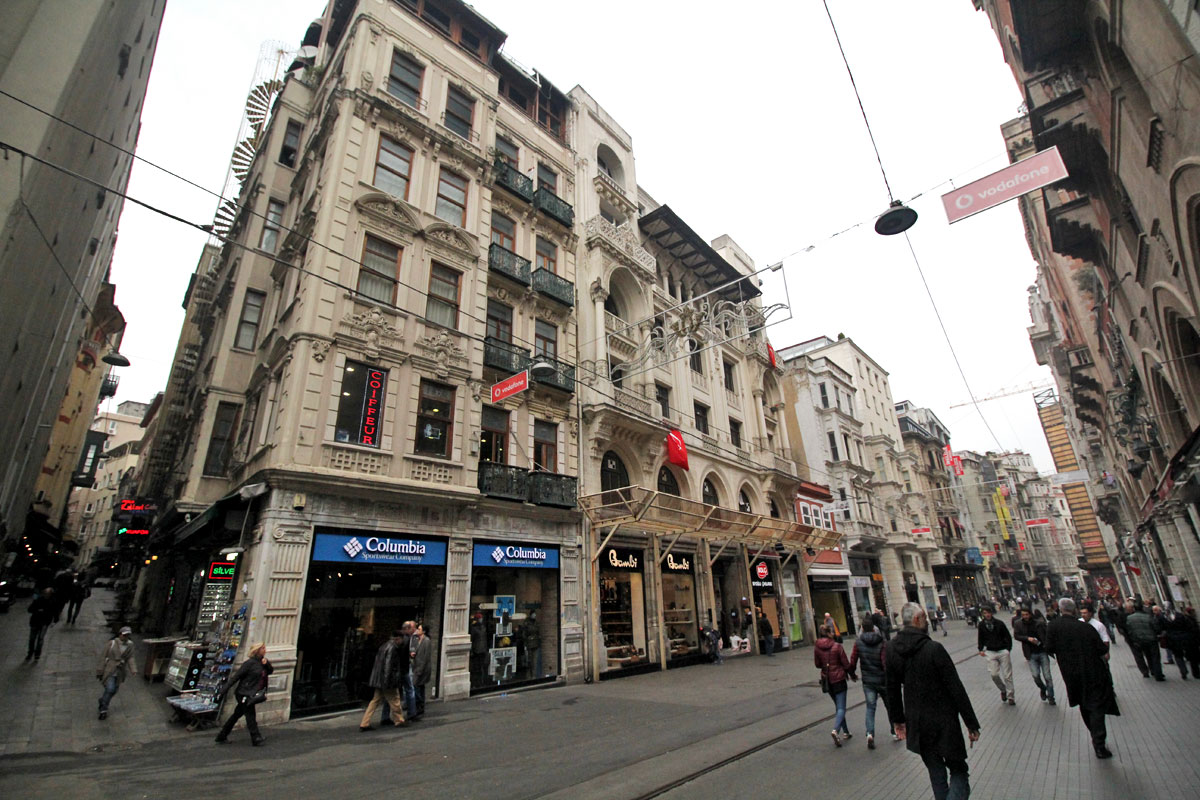 Hands up!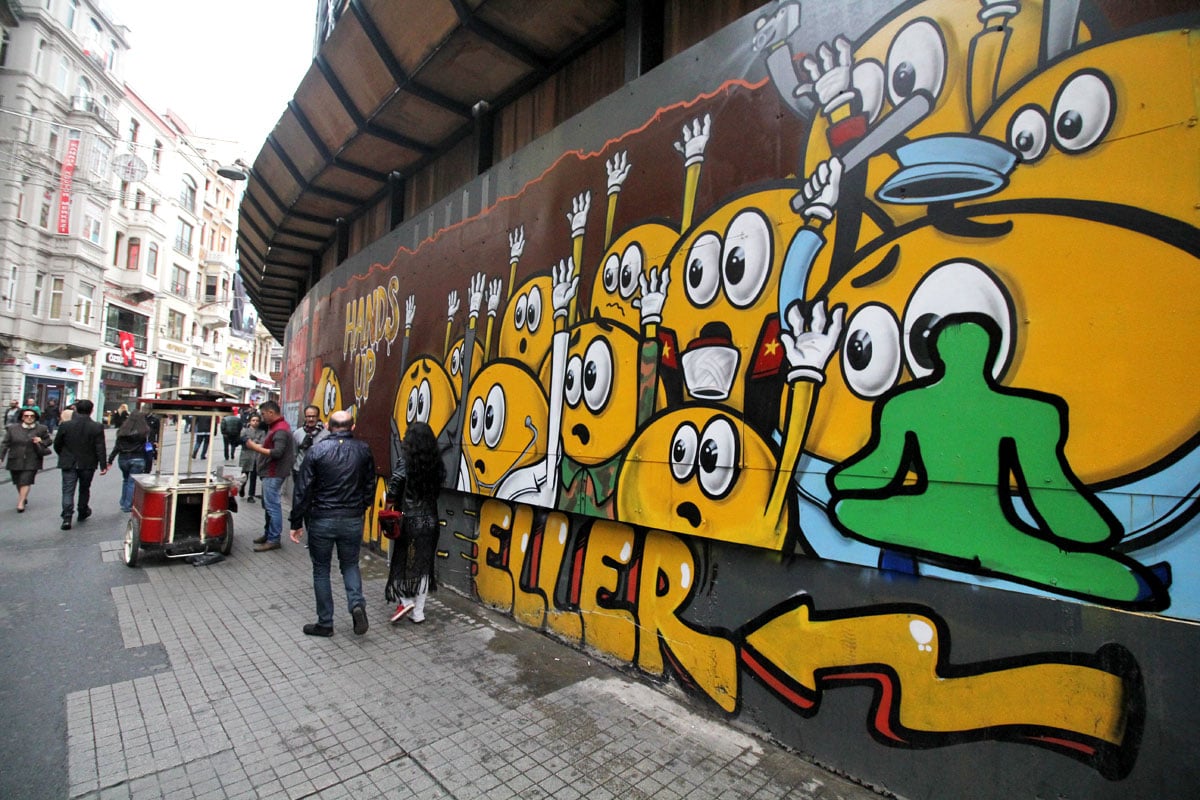 Aside from shops, you'll find many restaurants and street food carts here as well.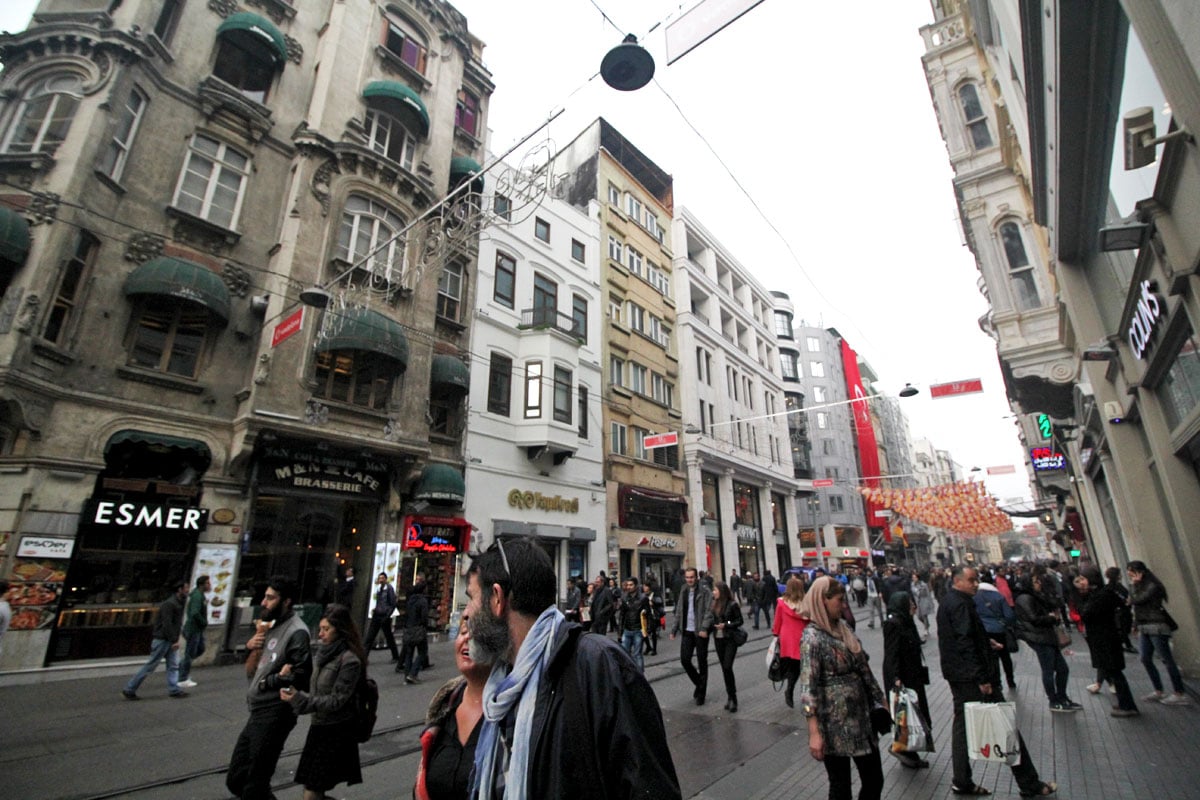 At the other end of Istiklal Caddesi is Taksim Square. This is a favorite site for public demonstrations and rallies so steer clear if you see one. Apart from the recent terrorism events that target large gatherings, some protests have been known to turn violent as well.

Lunch
Dürümzade
There are plenty of restaurants along Istiklal Caddesi but I suggest making your way to Dürümzade which is just a few minutes off the main avenue. It was one of the Istanbul restaurants featured on an episode of No Reservations with Anthony Bourdain. They specialize in dürüm which is a type of sandwich made by rolling flatbread around döner kebab fillings. Really good and cheap too.
Check out my post on Dürümzade in Istanbul and scroll to the bottom of the page for directions on how to get there from Istiklal Caddesi.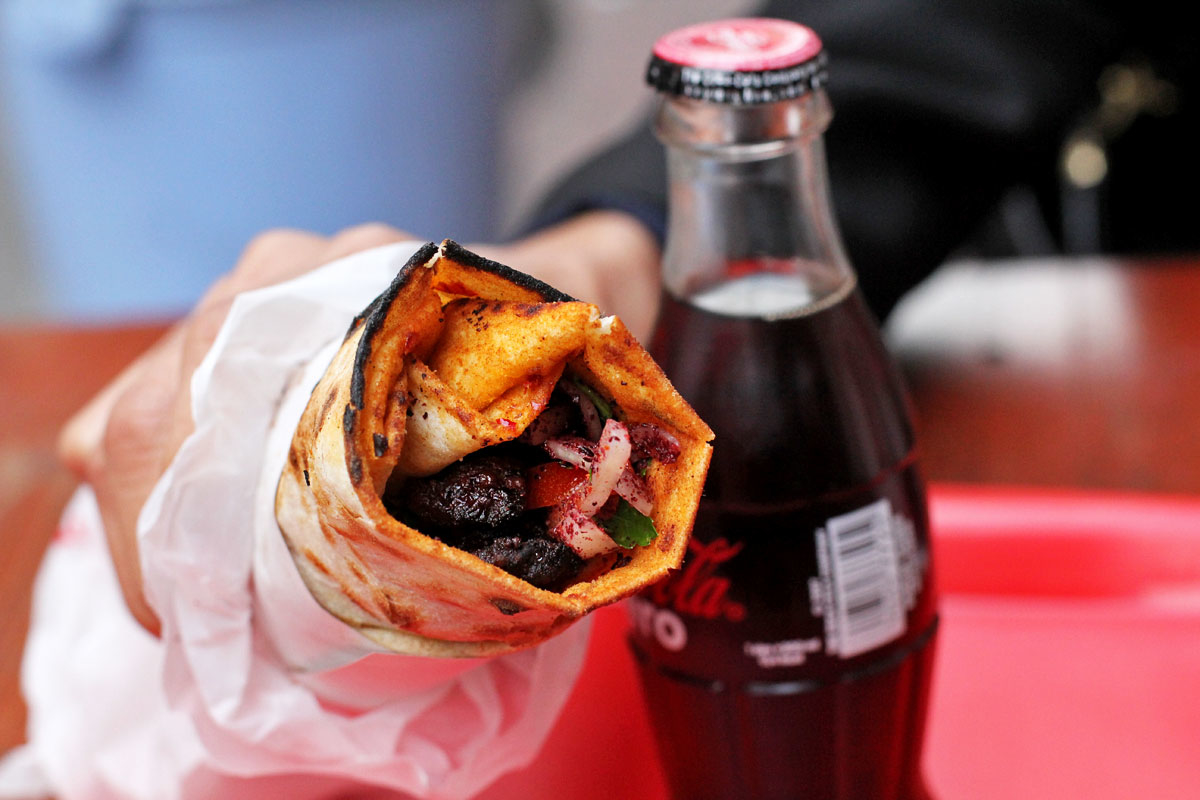 Dürümzade, Beyoğlu, Istanbul, Turkey
Topcekenler Sokagi No. 1, Beyoğlu, Istanbul, Turkey
Tel: +90 212 249 0147
Dolmabahce Palace
Ornate clock tower just outside the Palace entrance. To get here, take the F1 funicular from Taksim down to Kabataş. Dolmabahce Palace is about ten minutes away. It closes at 4:30PM so it's best to arrive by 2PM to give yourself a couple of hours at the Palace.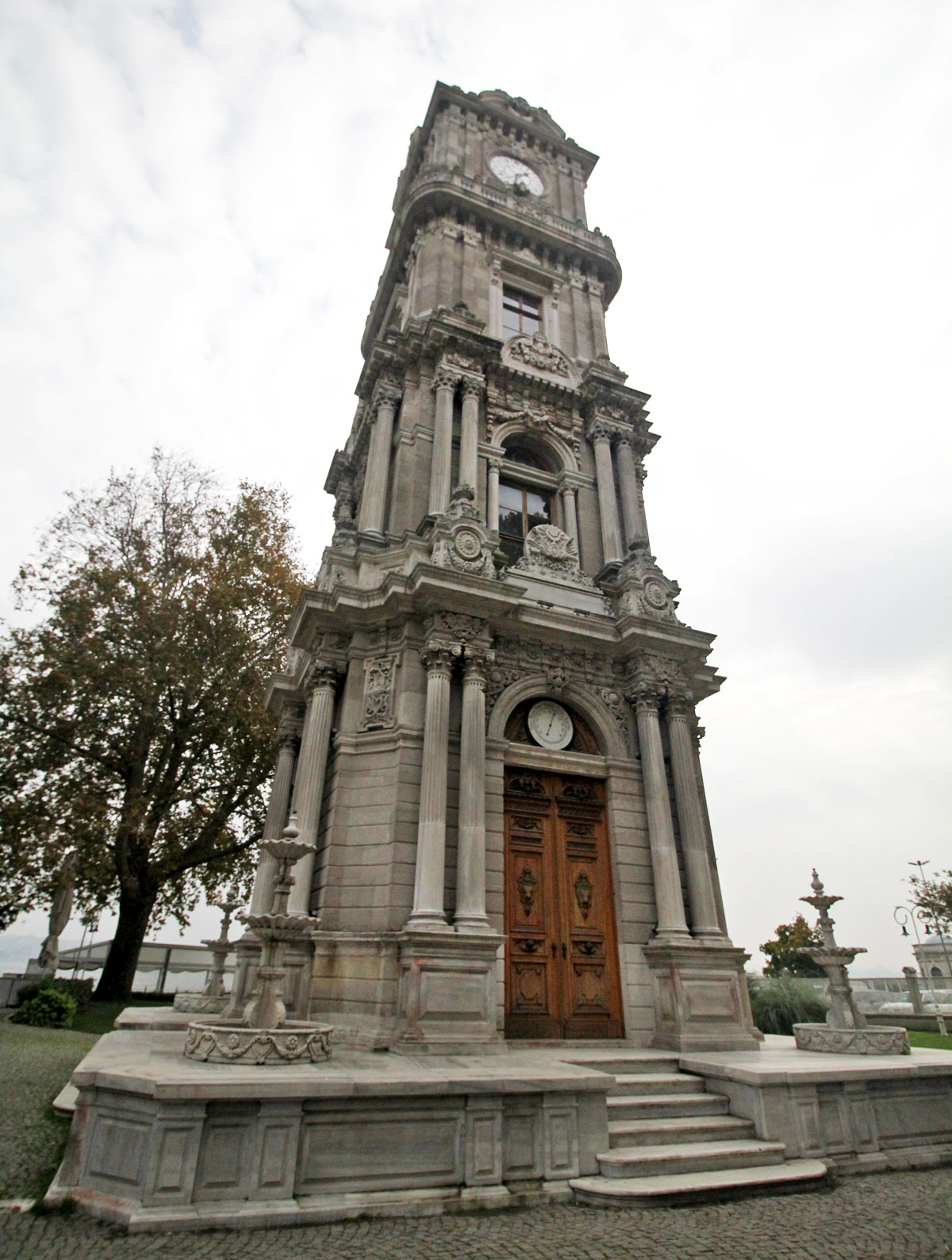 Gate of the Sultan. Dolmabahce Palace is divided into two sections — the Selâmlık (main part) and the Harem. Admission to all sections is 450TL. The Palace is closed every Monday and Thursday. Please be advised that they only allow a maximum of 3,000 visitors a day. It can get crowded on weekends so your best bet would be to go on a weekday.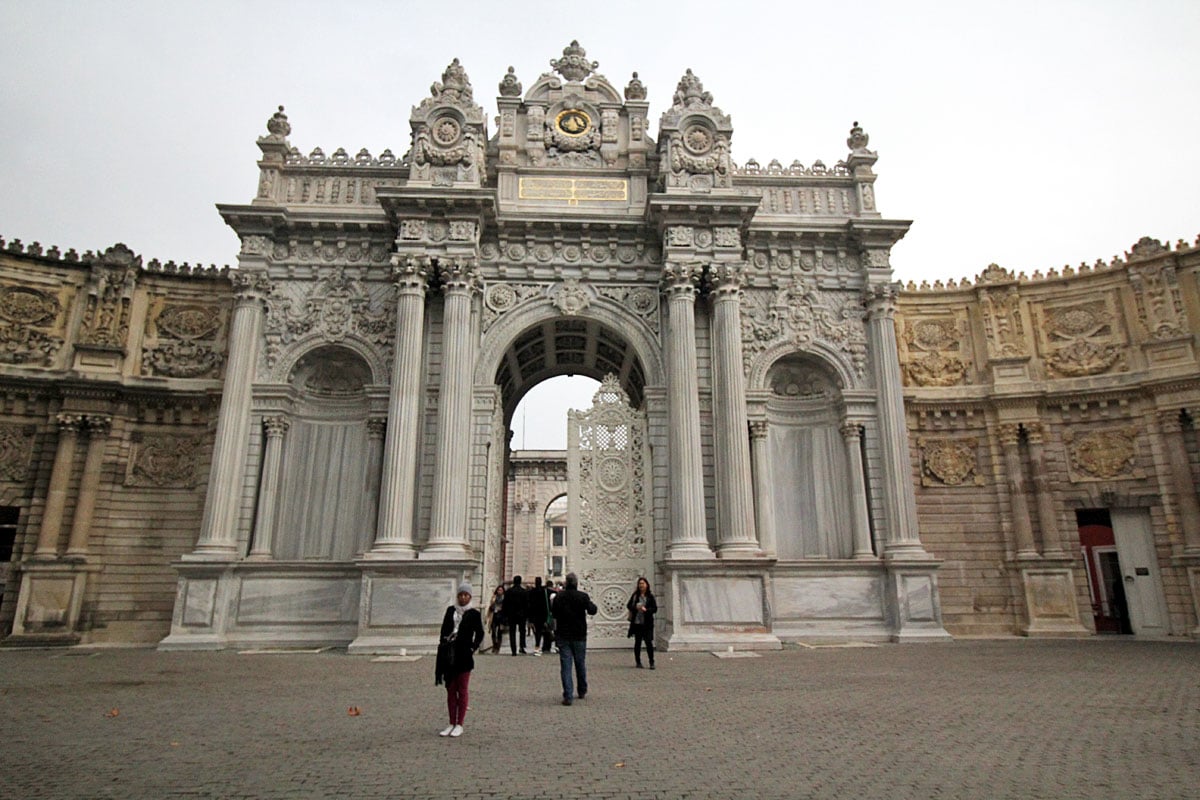 Spread out over an area covering 11.1 acres, Dolmabahce is the biggest palace in Turkey. It contains 285 rooms, 46 halls, and 6 baths (hamam).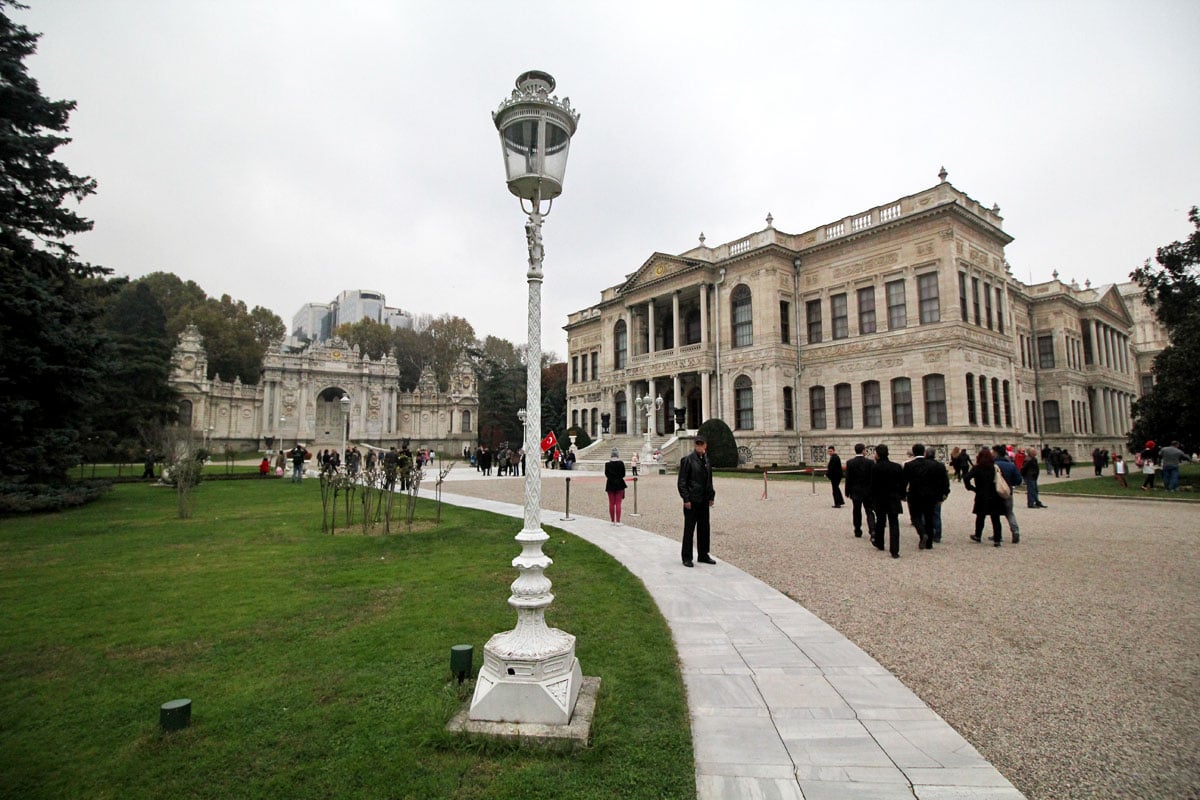 Facade of the Selâmlık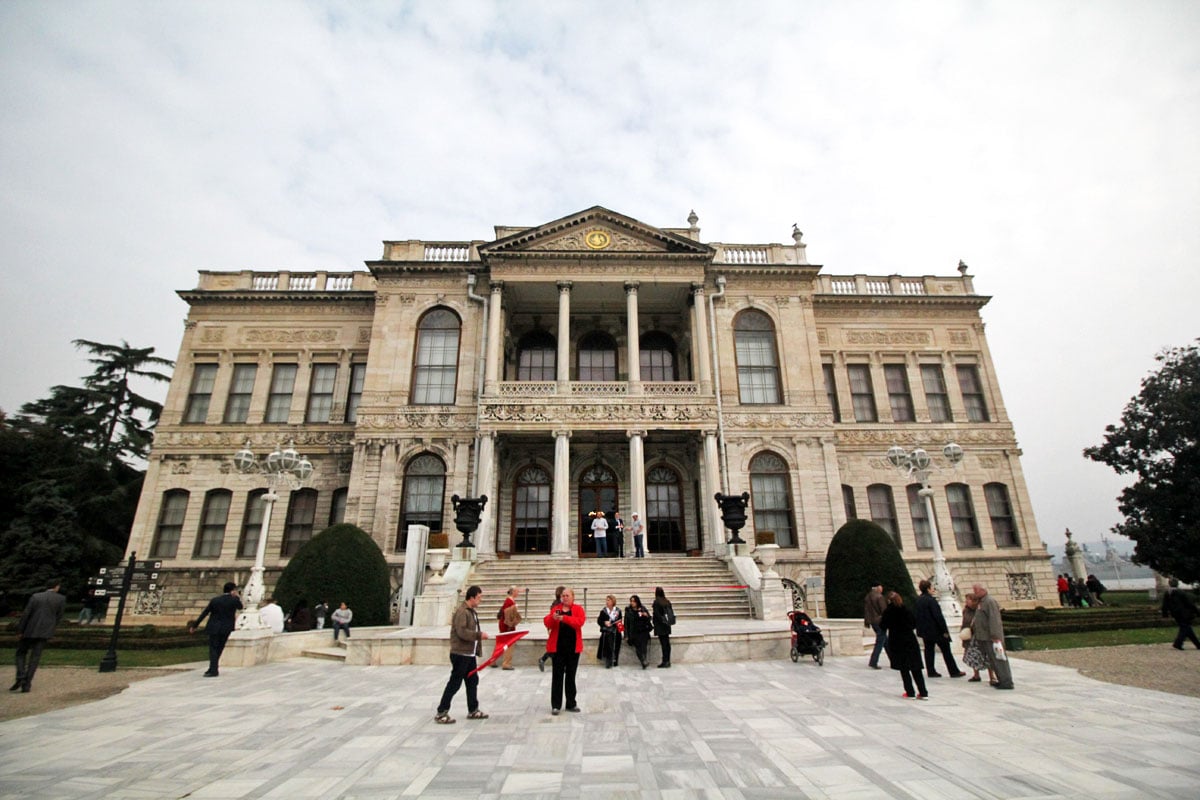 Gate of the Treasury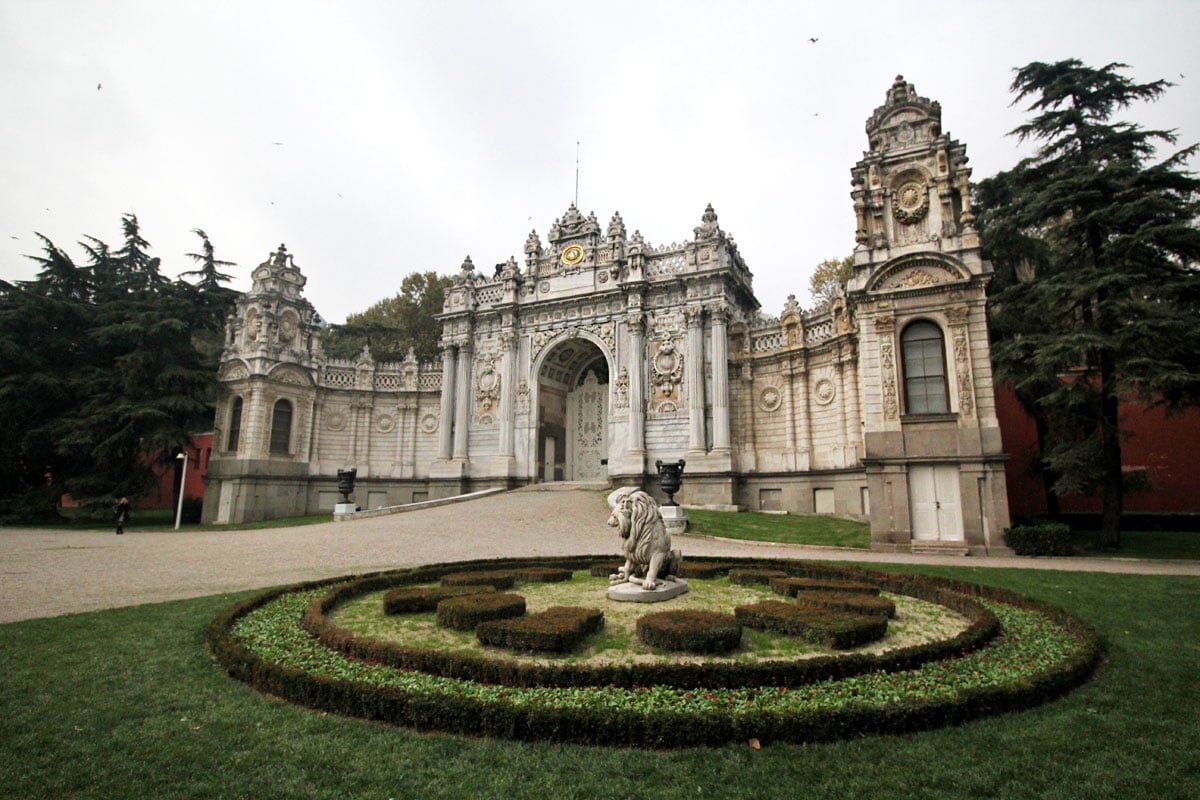 Gate to the Bosphorus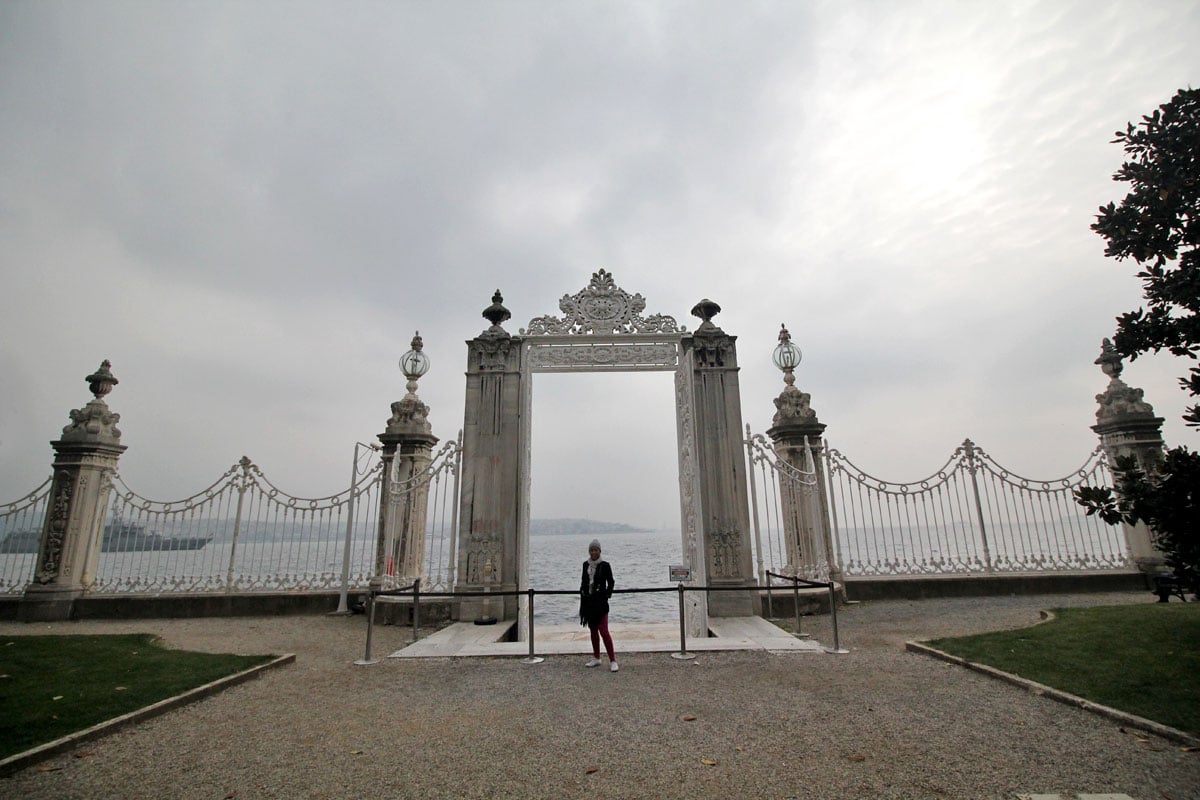 Today was our lucky day. We visited Dolmabahce Palace on November 10 which unbeknownst to us, was also Atatürk Day. It was the very day when the beloved first president of Turkey — Mustafa Kemal Atatürk — died in 1938. To commemorate his passing, entrance to the Palace was free for everyone, including clueless but lucky tourists like us.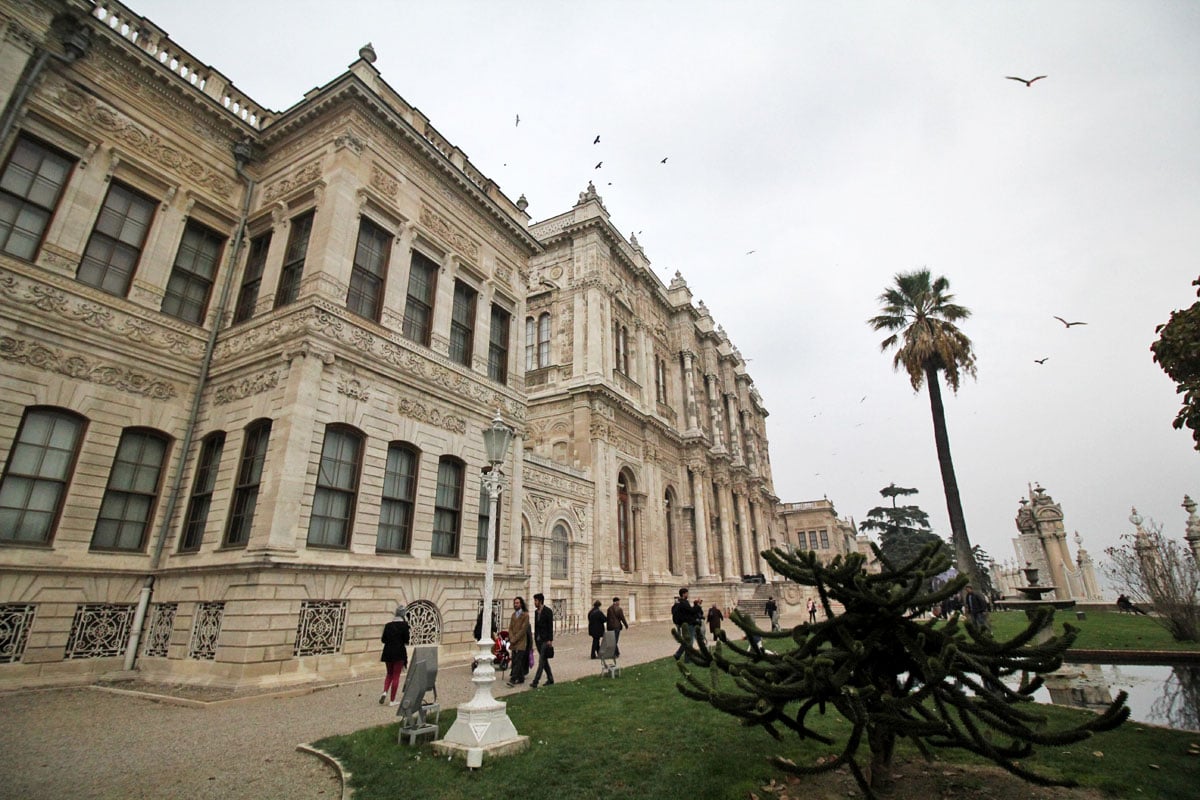 The Palace is stunning because of its ornateness and sheer magnitude. I remember having to strain my neck to take this picture. If you think the exterior is detailed, wait until you see the inside.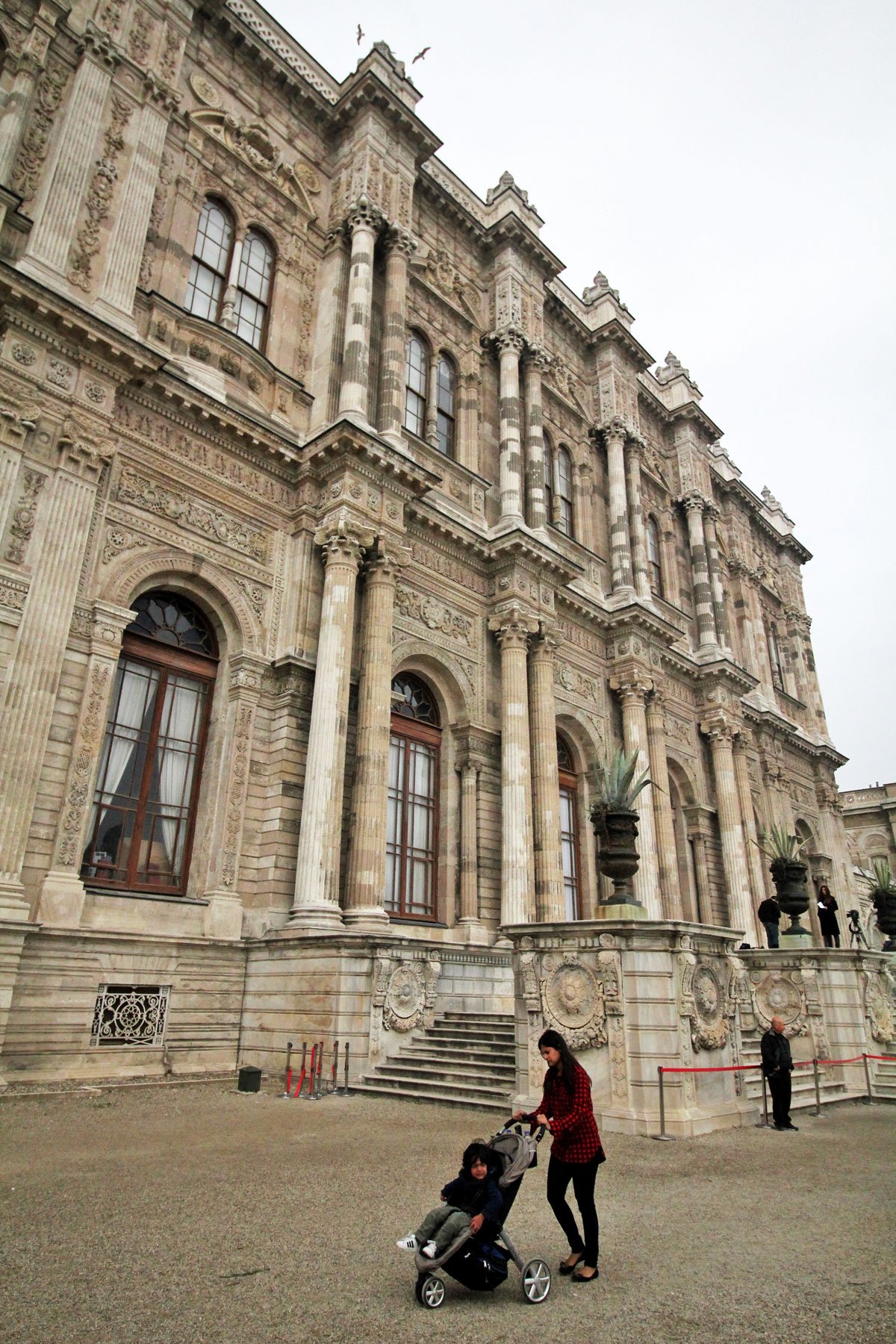 Another example of our good fortune. Taking photographs and video is strictly prohibited inside the Palace, but it was allowed today because it was Atatürk Day. The blogging gods were smiling down upon me. 😀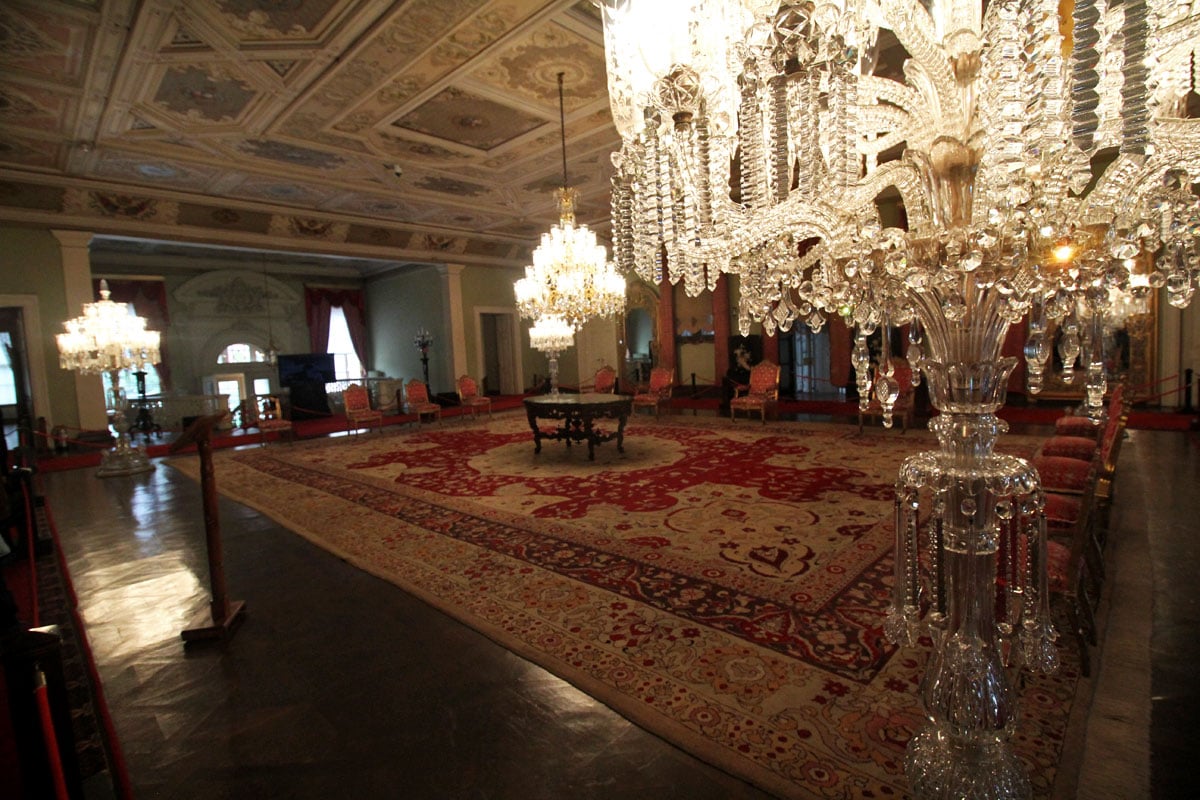 Inside the Selâmlık. Defined as the public area of the Palace, it was where the Sultan met with top government officers, diplomats, and other important visitors. The designer of the Paris Opera did its interiors which is probably why it looks so different from Topkapi Palace. Much more European.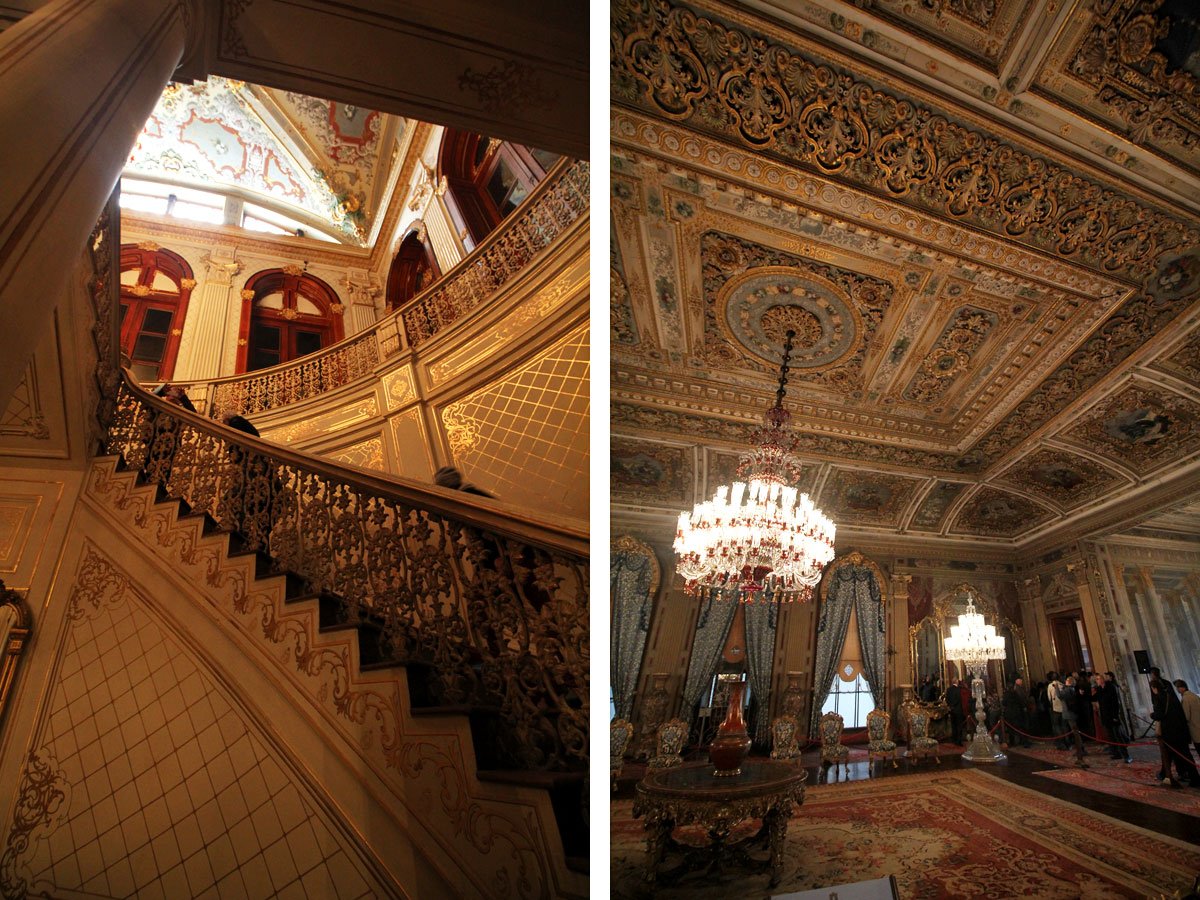 The Ambassador's Hall. Fourteen tons of gold leaf were used to gild the ceilings of Dolmabahce Palace.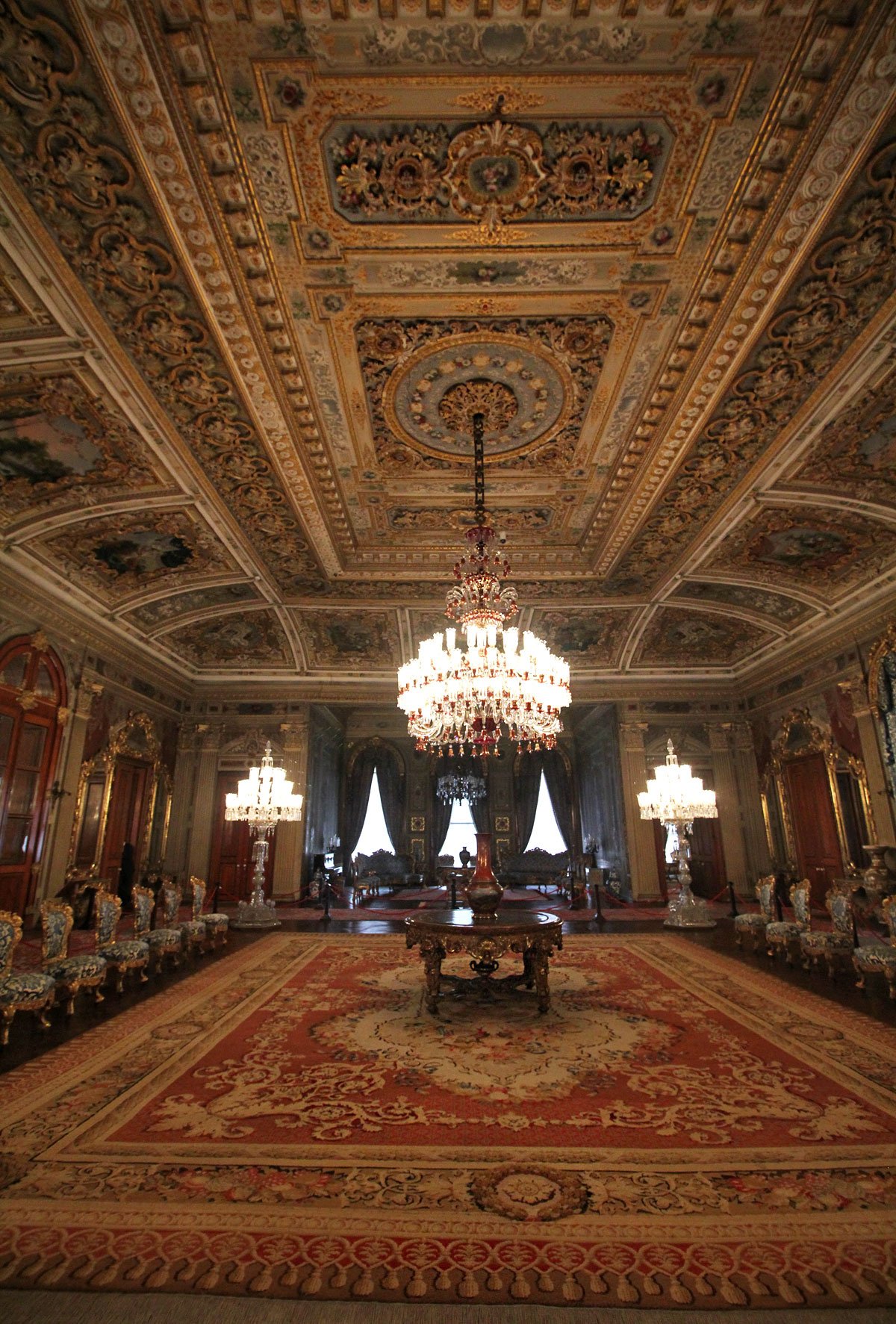 President Atatürk used Dolmabahce Palace as his base in Istanbul. This was his study.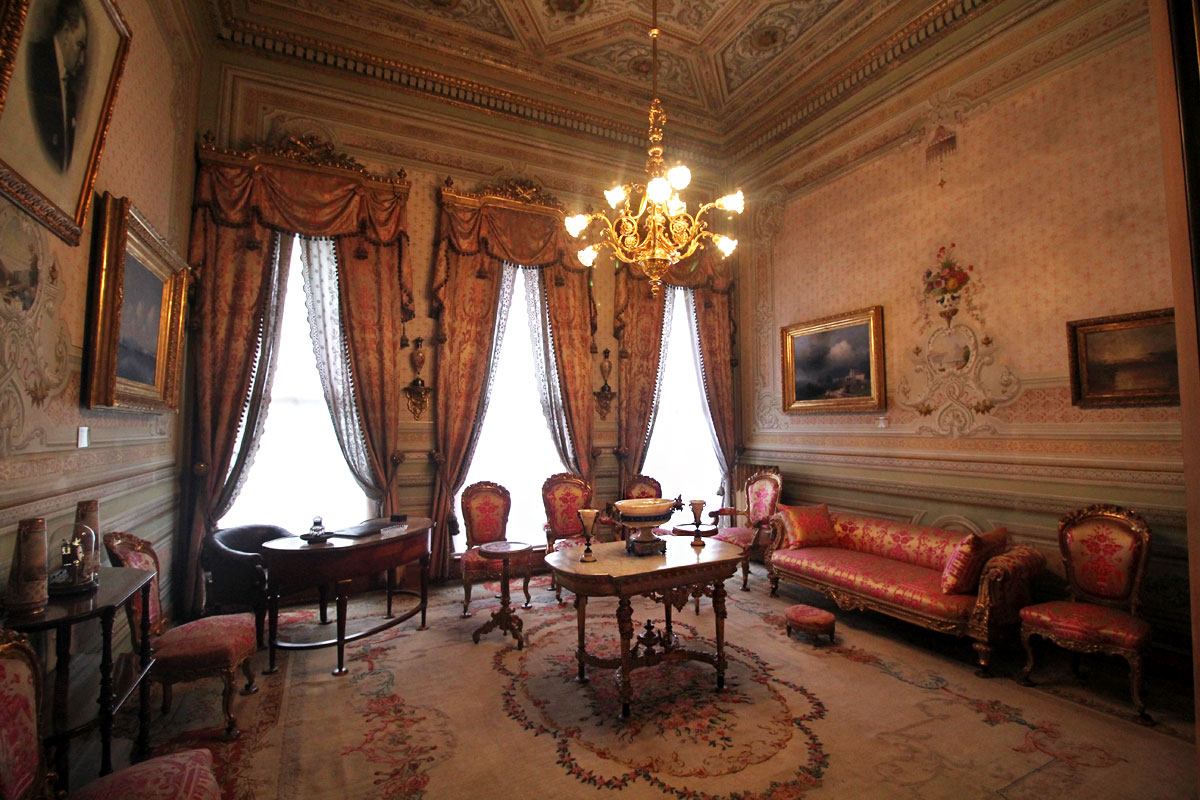 This was the very room and bed where he died on November 10, 1938.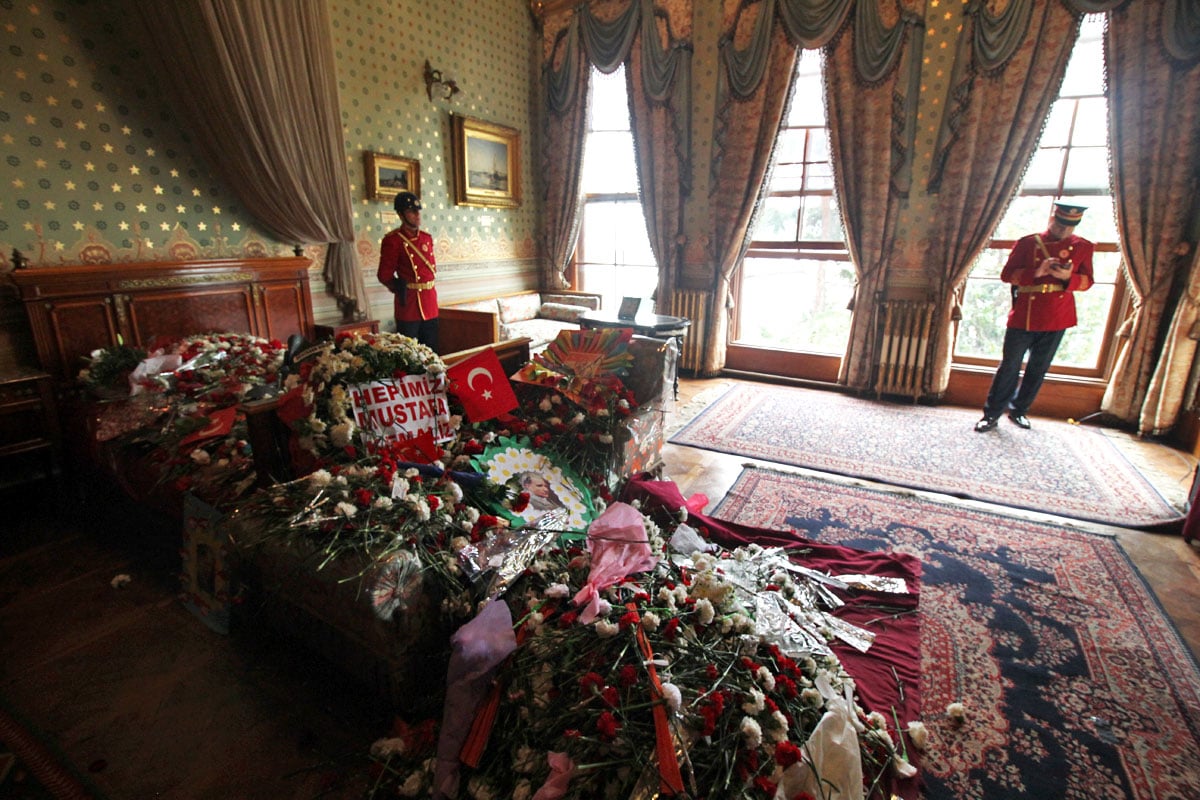 Not sure what this rooms was. Maybe part of the Harem?
To be honest, I expected Dolmabahce Palace to be just another version of Topkapi Palace but it wasn't. Grander and more European in feel, it's a different experience so I suggest doing both if you have the time.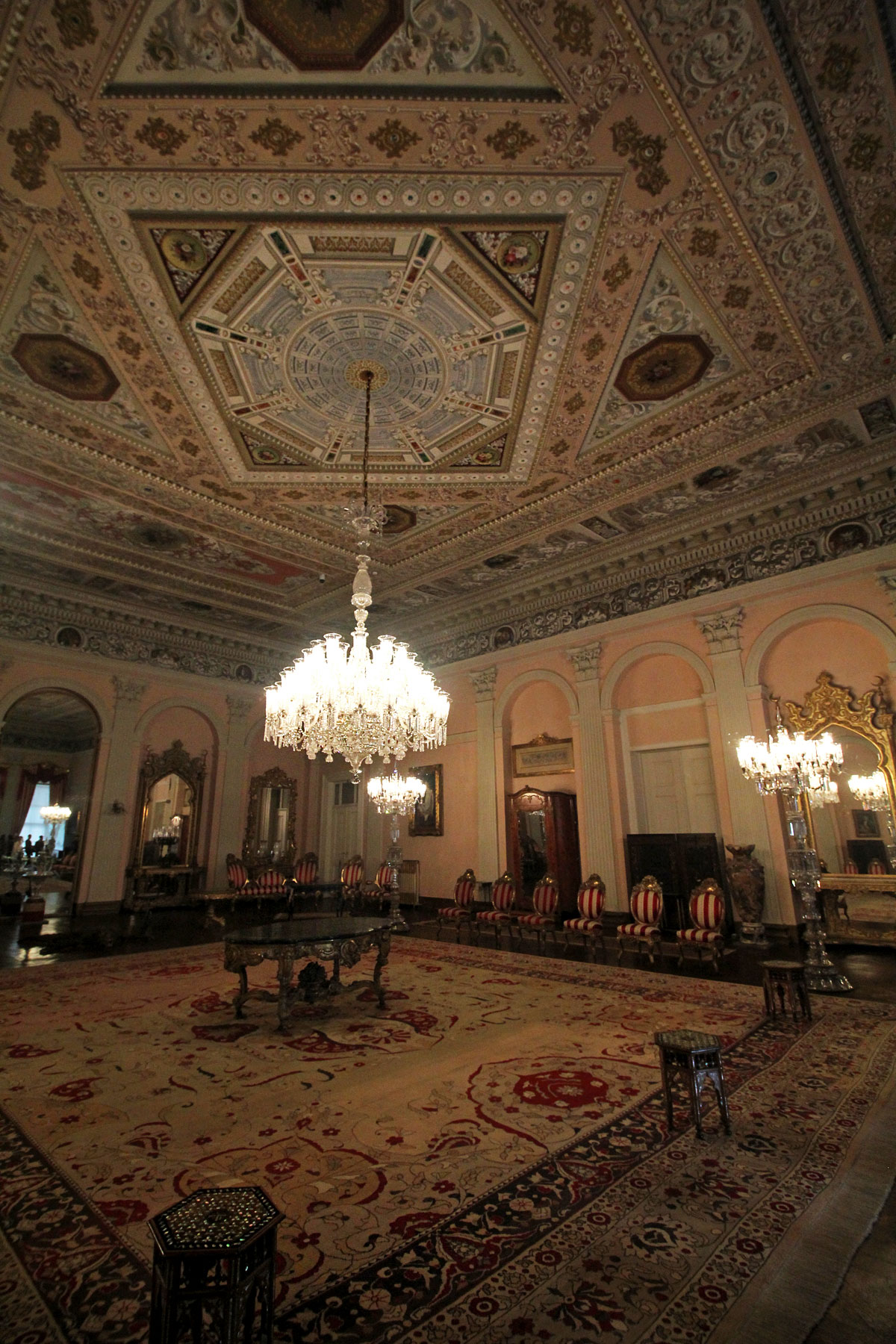 Dolmabahce Palace, Istanbul, Turkey
General Secretariat of the Parliament (National Palace), Dolmabahce Palace, Besiktas/Istanbul, Turkey
Tel: +90 212 236 9000
Fax: +90 212 259 3292
Email: [email protected]
Operating Hours: 9AM-6PM, Tue-Sun (closed Mondays)
Entrance: 450TL
Included in 5-day Istanbul Museum Pass: No
Dinner
Ismail Usta Kebap ve Pide Salonu
If you've worked up an appetite after visiting Dolmabahce Palace, then Ismail Usta Kebap ve Pide Salonu just off Taksim Square is a good place for dinner. They serve some seriously delicious lahmacun. Resembling a thin cheese-less pizza, lahmacun is a type of wrap topped with minced meat (commonly beef or lamb), vegetables, herbs, onions, tomatoes, and parsley. Wafer-thin, crisp around the edges but chewy towards the center, you roll it up like a burrito to eat. So good.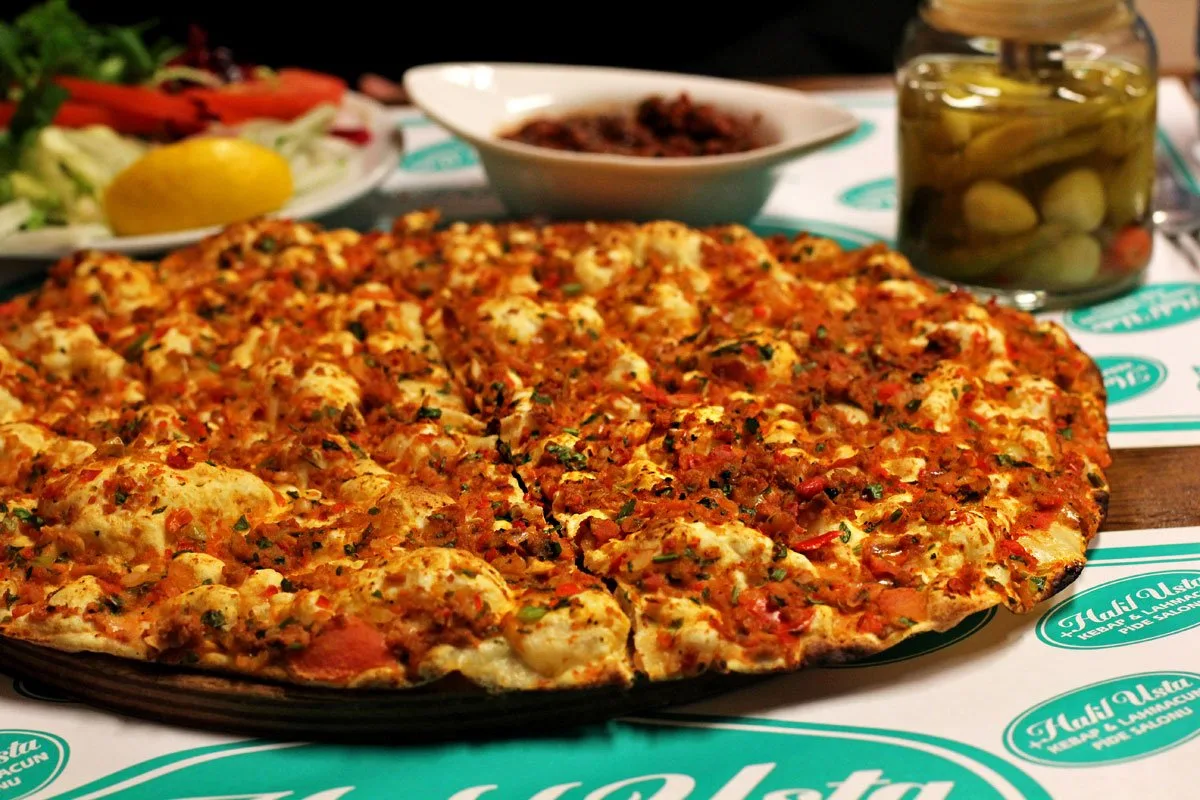 After Hours Grub
Kizilkayalar
The Taksim area is home to many bars and clubs so you may want to grab a drink before heading back to your hotel. And if you get the munchies after downing a few beers, then this is a great place to get some late night grub.
Located on Taksim Square, Kizilkayalar was also one of the restaurants featured on the Istanbul episode of No Reservations. It's home to these strange but appealing "wet" (islak) burgers. They get their radioactive orange coloring from being dunked in a garlicky tomato sauce and being left to steam in a hamam-style glass box. A staple among late night boozers in Taksim Square, they're moist, chewy, garlicky, and dangerously addictive.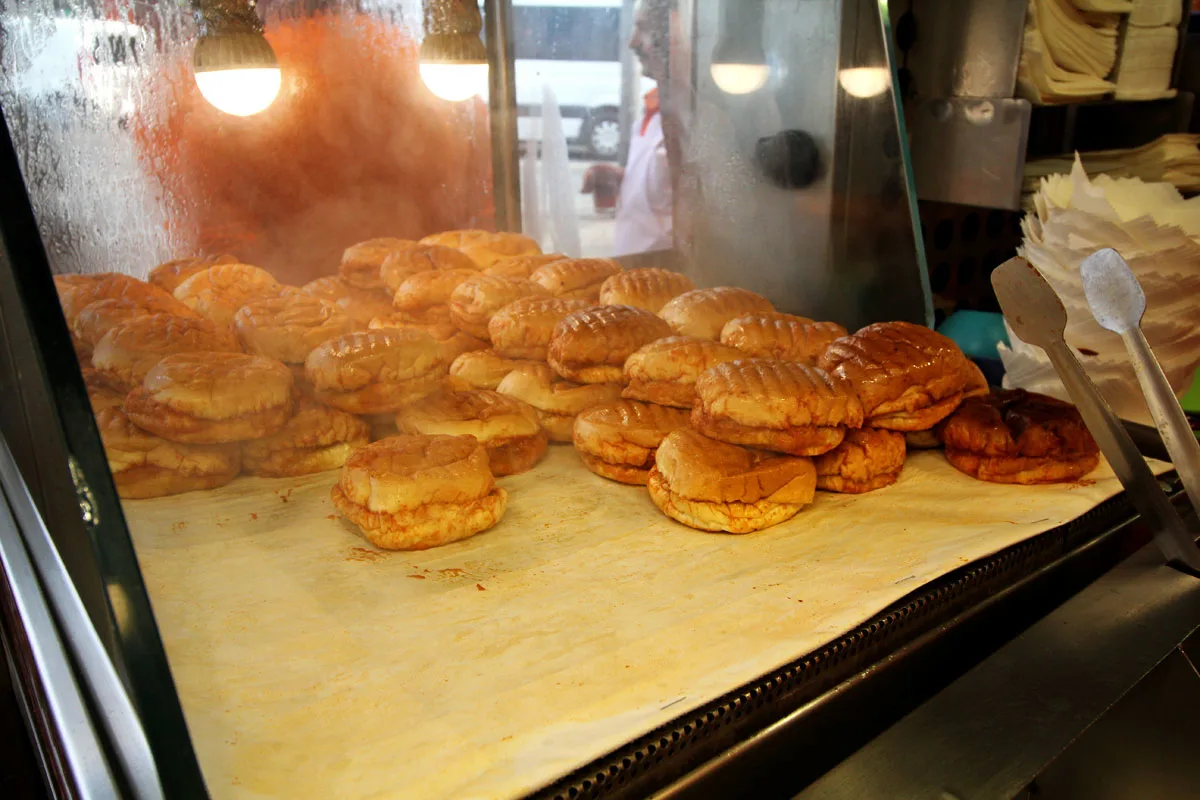 For more Istanbul travel tips, check out our First-Timer's Travel Guide to Istanbul, Turkey