Istanbul is ideal for walking. Many of the old streets are meandering and narrow and still paved with cobblestone. Going up and down hills, traversing alleys and seeing the occasional minaret pop up from behind tiled roofs, it really does feel like you're walking in an old city. The architecture is stunning.
We did a lot of walking in five days in Istanbul and we loved every minute of it. This walk — which takes you from the Blue Mosque in Sultanahmet to the Grand and Egyptian Spice Bazaars — was one of our favorites.
Grand Bazaar
From the SW end of At Meydani Park in Sultanahmet, start walking north on Üçler Sokak. This will become Peykhane Caddesi. Keep walking up Peykhane Caddesi until you reach Divan Yolu Caddesi. After crossing Divan Yolu Caddesi, Peykhane Caddesi becomes Vezirhan Caddesi. Continue along Vezirhan Caddesi then make a left on Tavuk Pazarı Sokak. This will take you to the Grand Bazaar. It should take you around 15-20 minutes to get to the Grand Bazaar from Sultanahmet.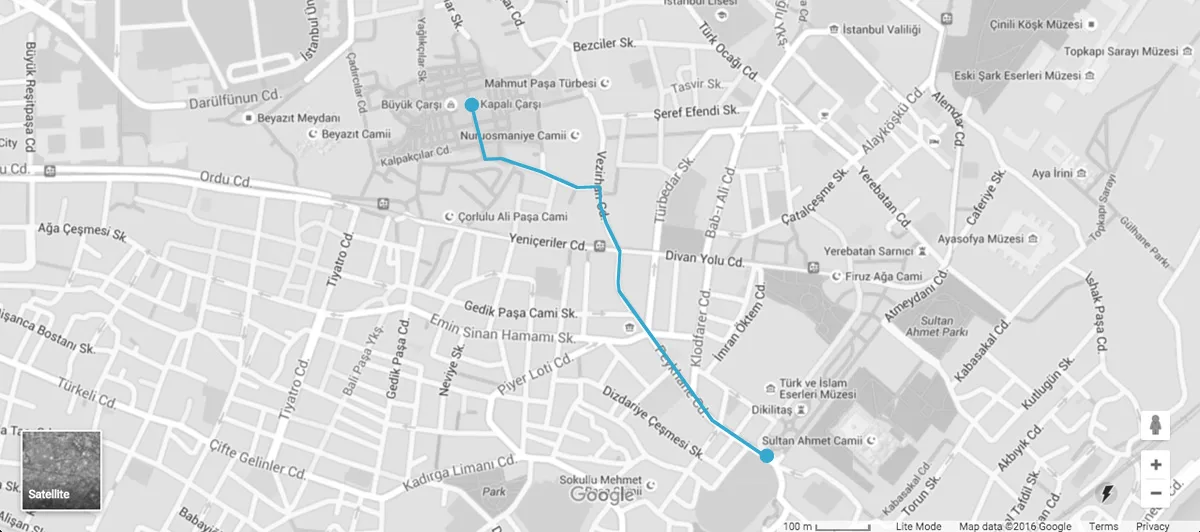 With 21 entrances to the Grand Bazaar, getting in won't be hard. But with all the things you can buy there, getting out could be a little more difficult for many. 😉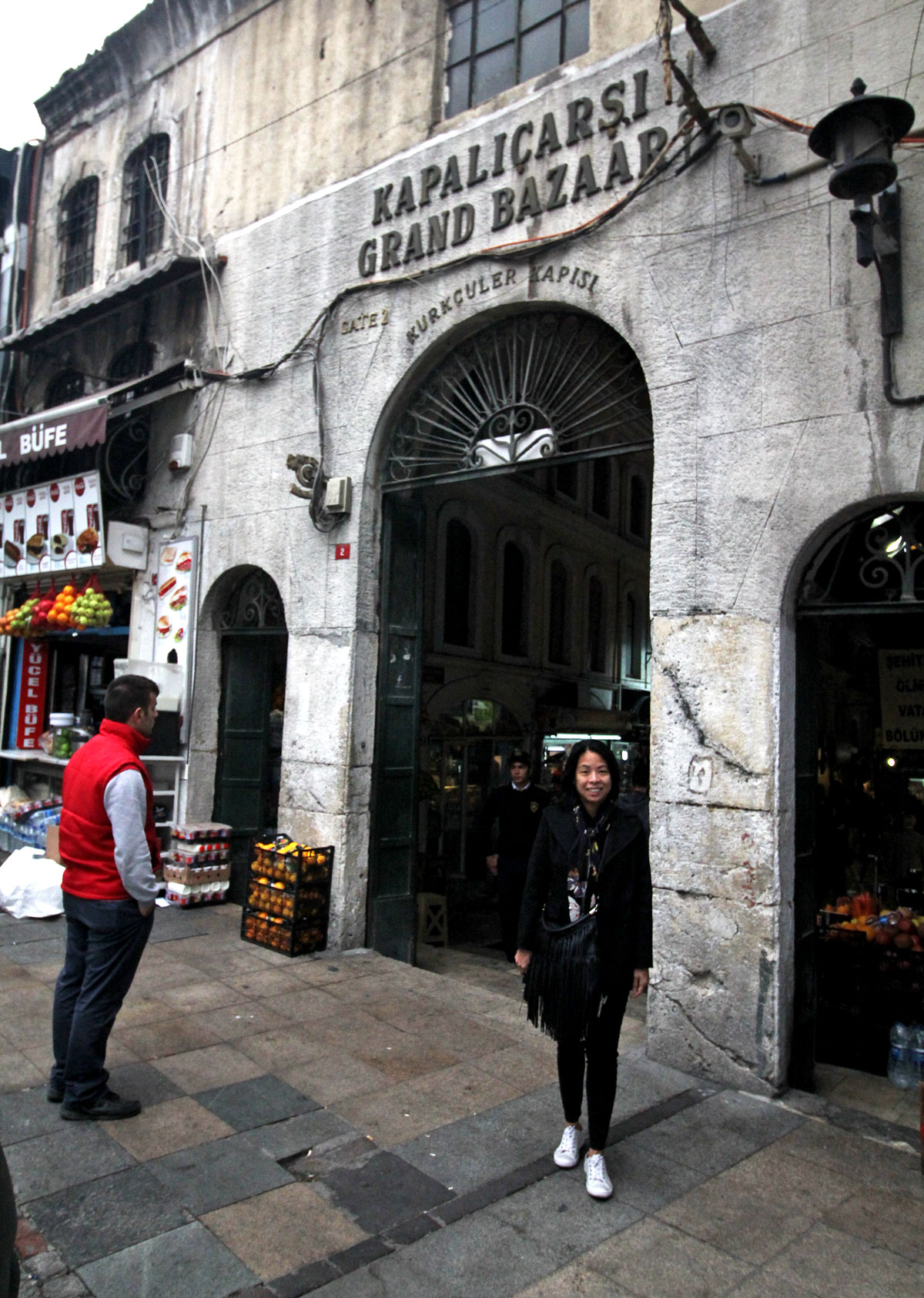 Now that we're in, where do we begin? Consisting of 61 covered streets and over 3,000 shops, the Grand Bazaar is one of the largest and oldest covered markets in the world. It receives an estimated 250,000 – 400,000 visitors daily, making it one of the world's most popular tourist attractions.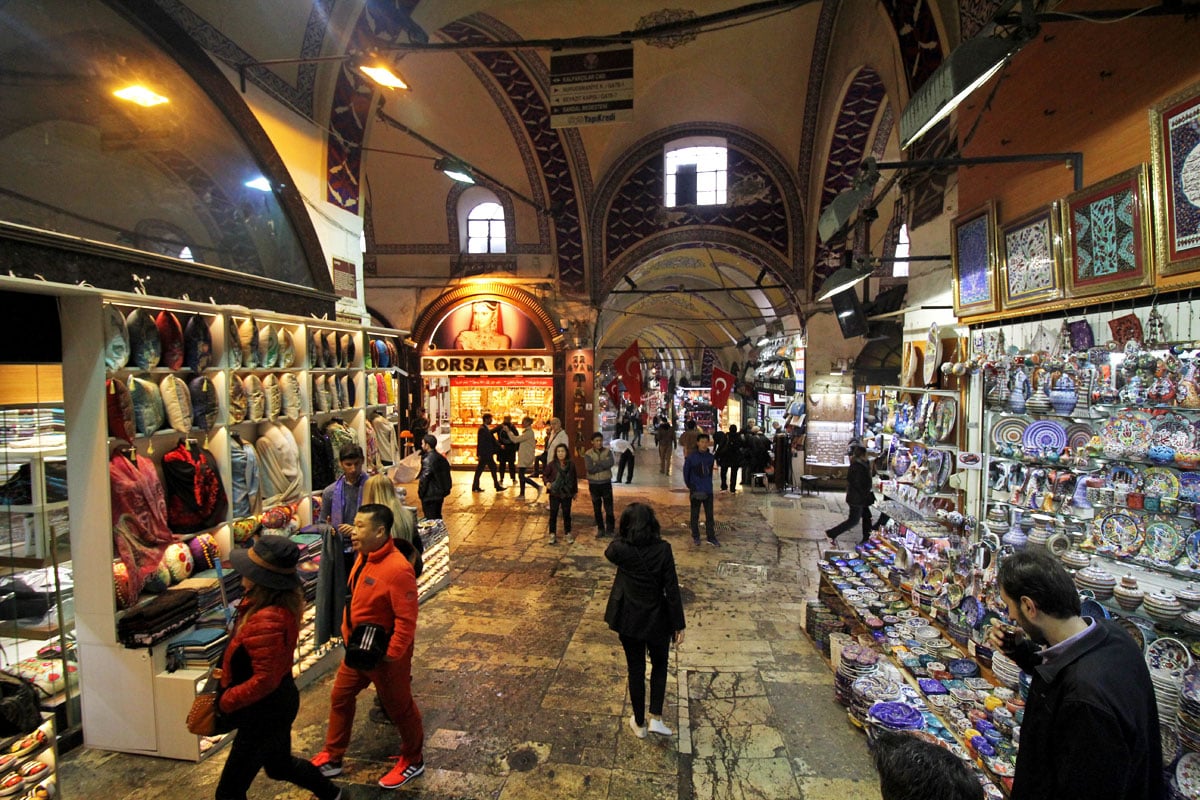 You can buy all sorts of things here that range from the practical to the bric-a-brac, things like leather goods, jewelry, carpets, clothing, furniture, ceramics, and souvenirs.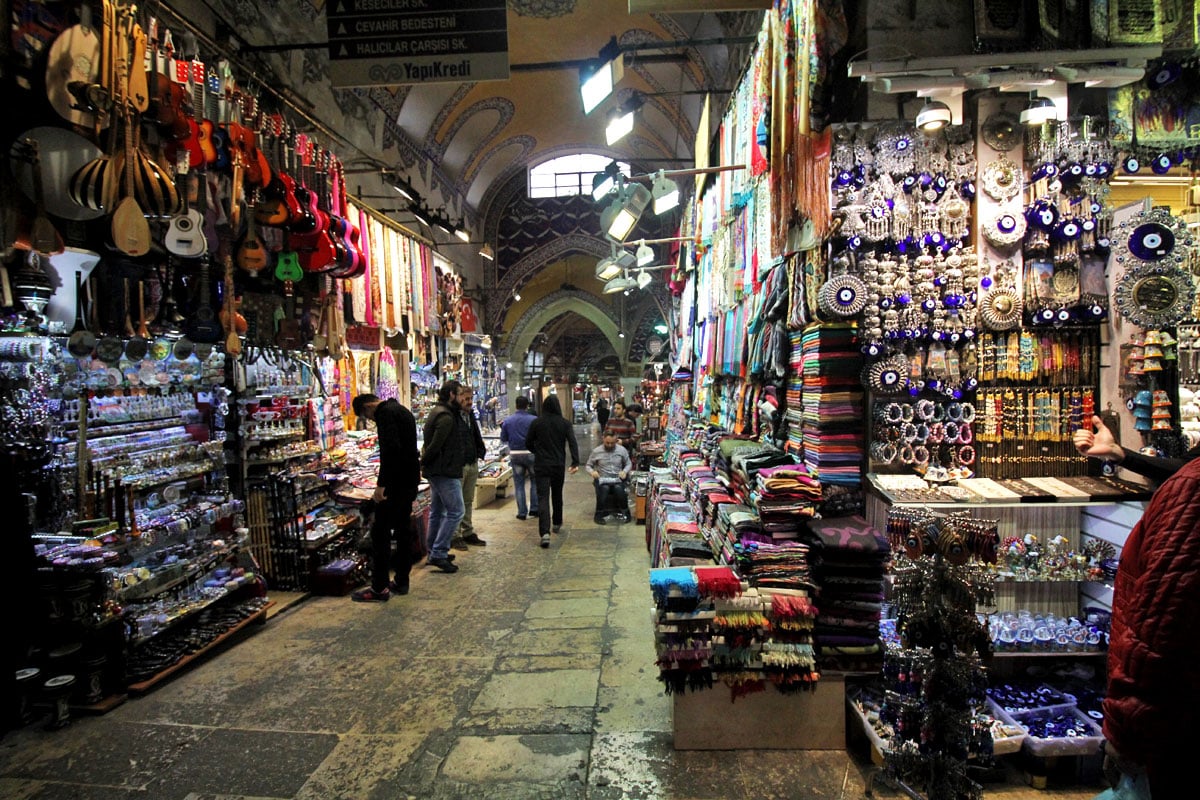 We went first thing in the morning when there weren't many shoppers yet. If you want to avoid the crowds, then this may be a good time for you to go as well.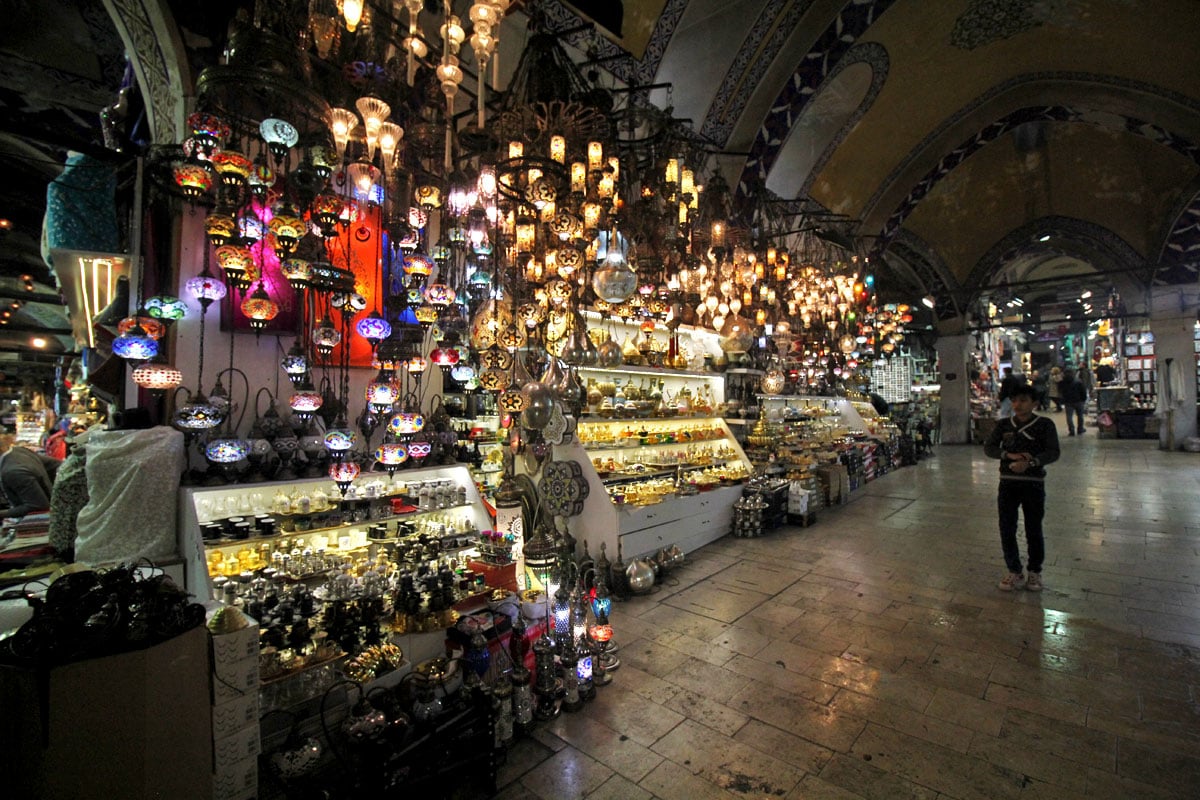 Like many markets, haggling at the Grand Bazaar is commonplace so patience is key. Play it cool, offer less than the asking price, and be prepared to walk away if you can't get it for what you want. Many stores sell similar items so you won't be short on choices here. Just remember where you saw it because it can be hard to find the same stall again. That happened to us with a pair of Tod's loafers that caught Ren's eye. 👿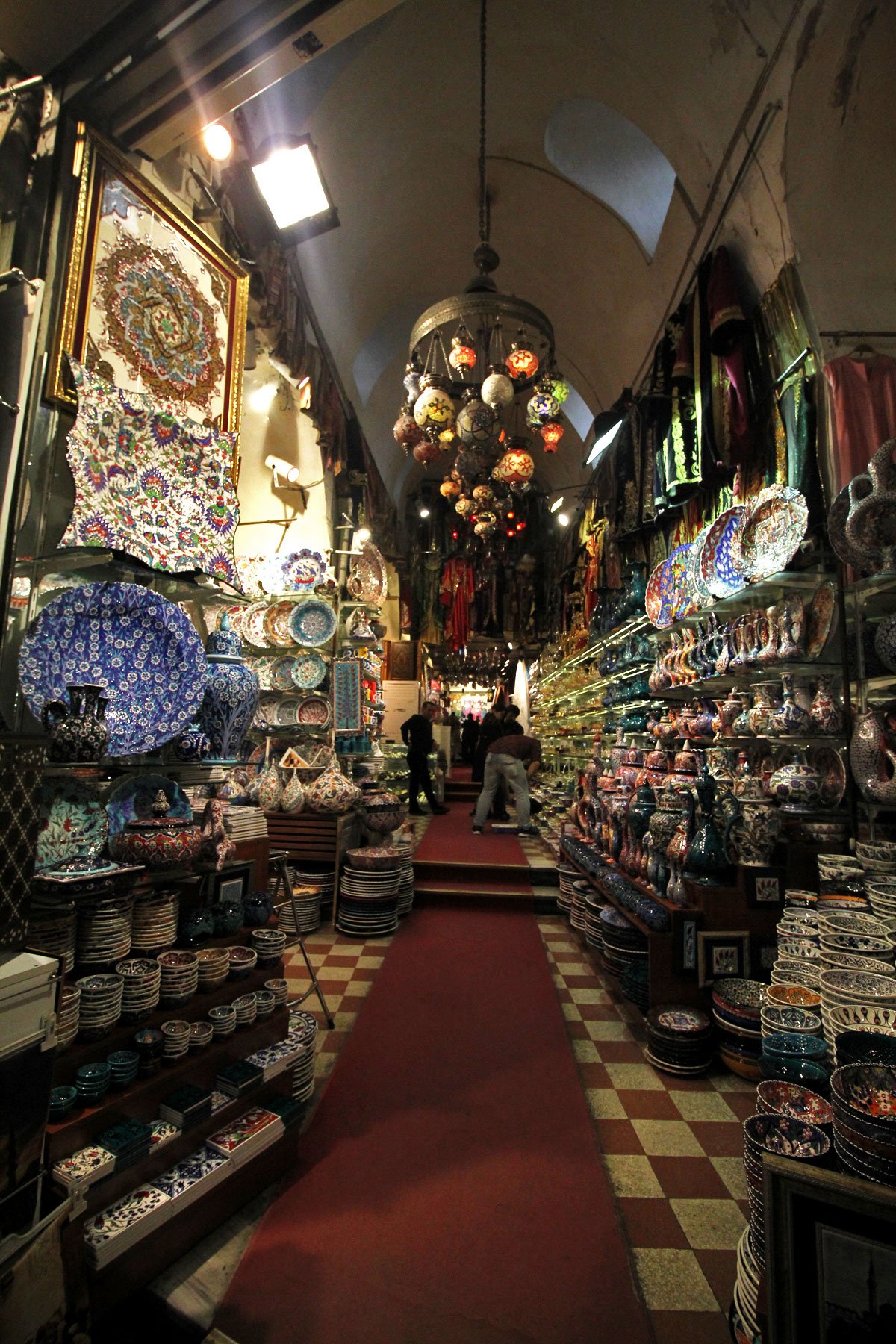 Receiving so many visitors daily, it gets crowded here so be mindful of your belongings.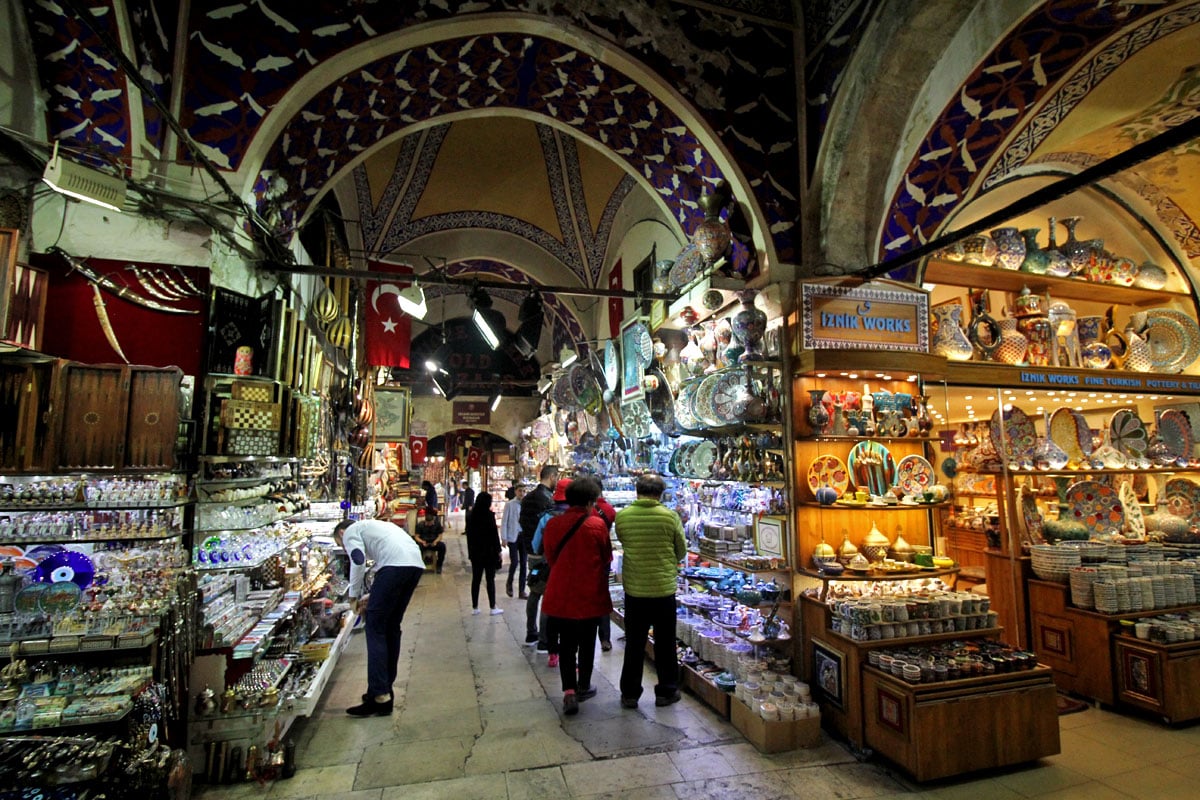 Don't be pressured or bullied into buying anything you don't want either. Some merchants can get pretty aggressive so if you're not interested, don't be afraid to just smile and walk away. 🙂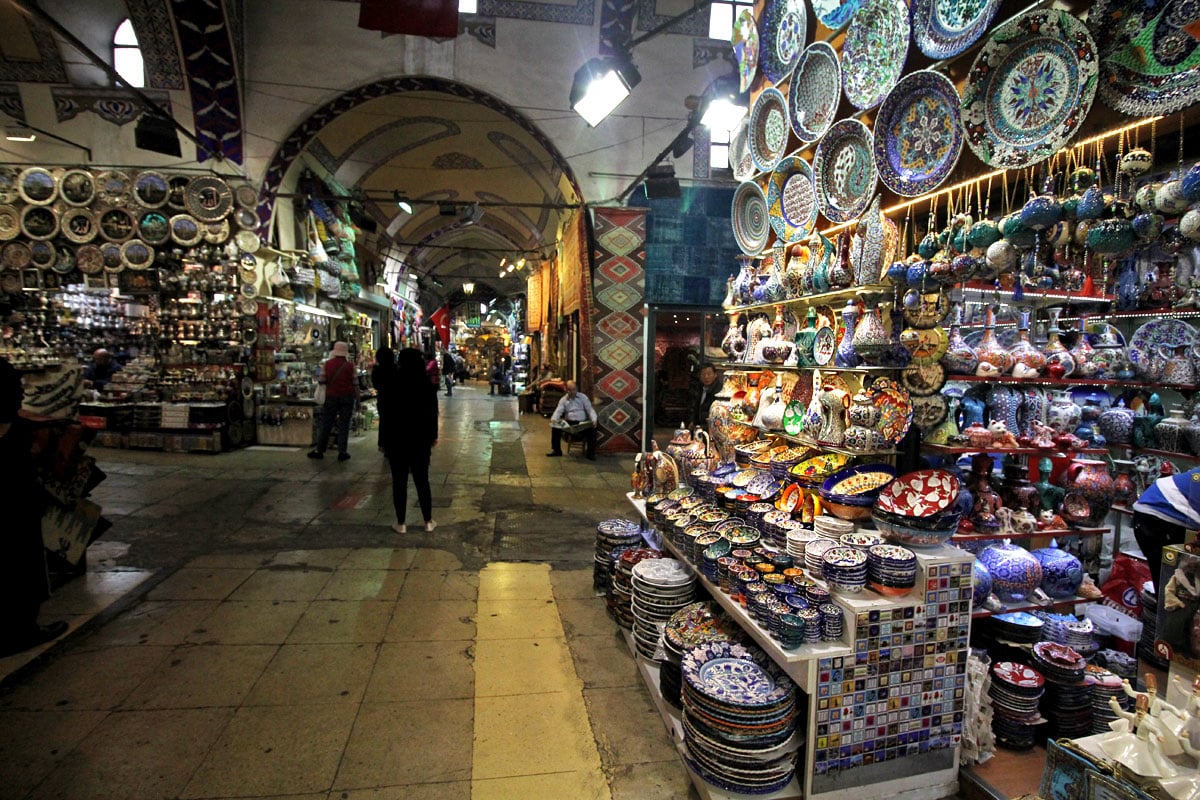 After like the 5th ceramics stall or the 9th carpet shop, things can start looking a little same same. We weren't really here to buy anything, but going through the bazaar and admiring the architecture of the space was fun. So many colors and textures.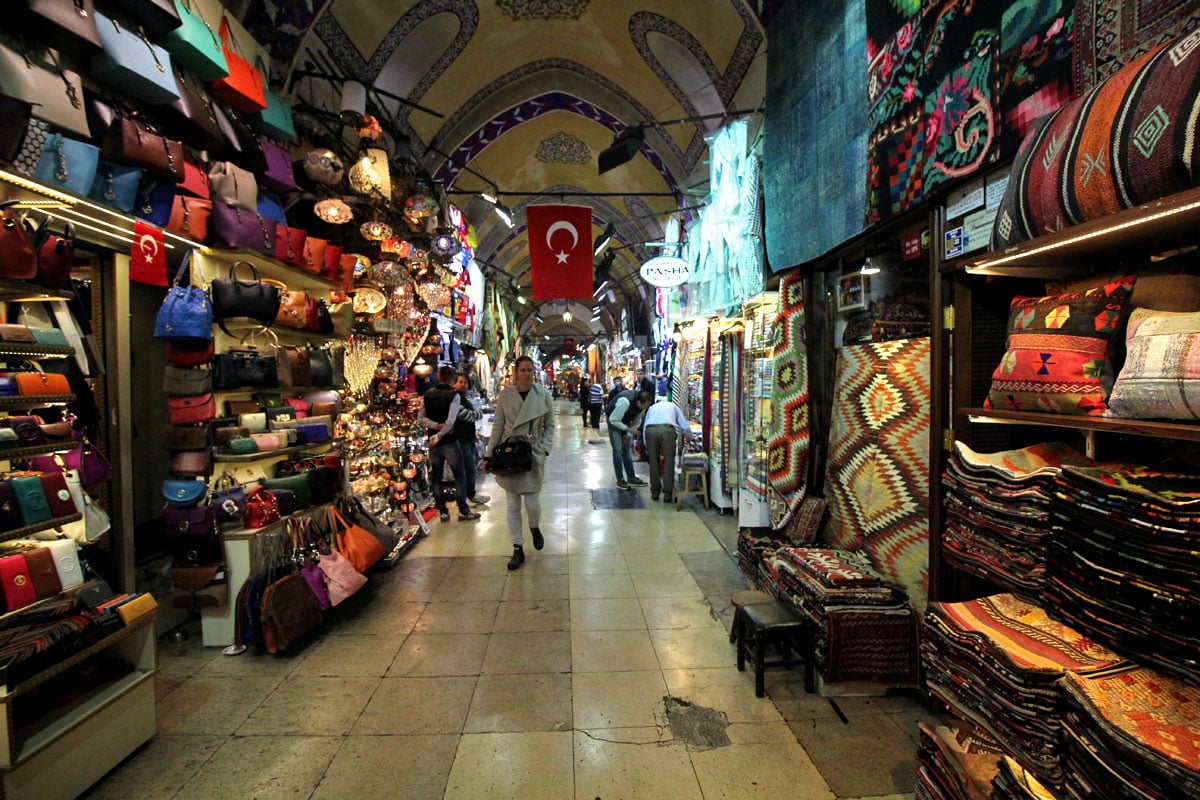 Regardless of whether you're here to seriously shop or just enjoy the atmosphere, a trip to the Grand Bazaar is an integral part of the Istanbul experience and one you can't leave without.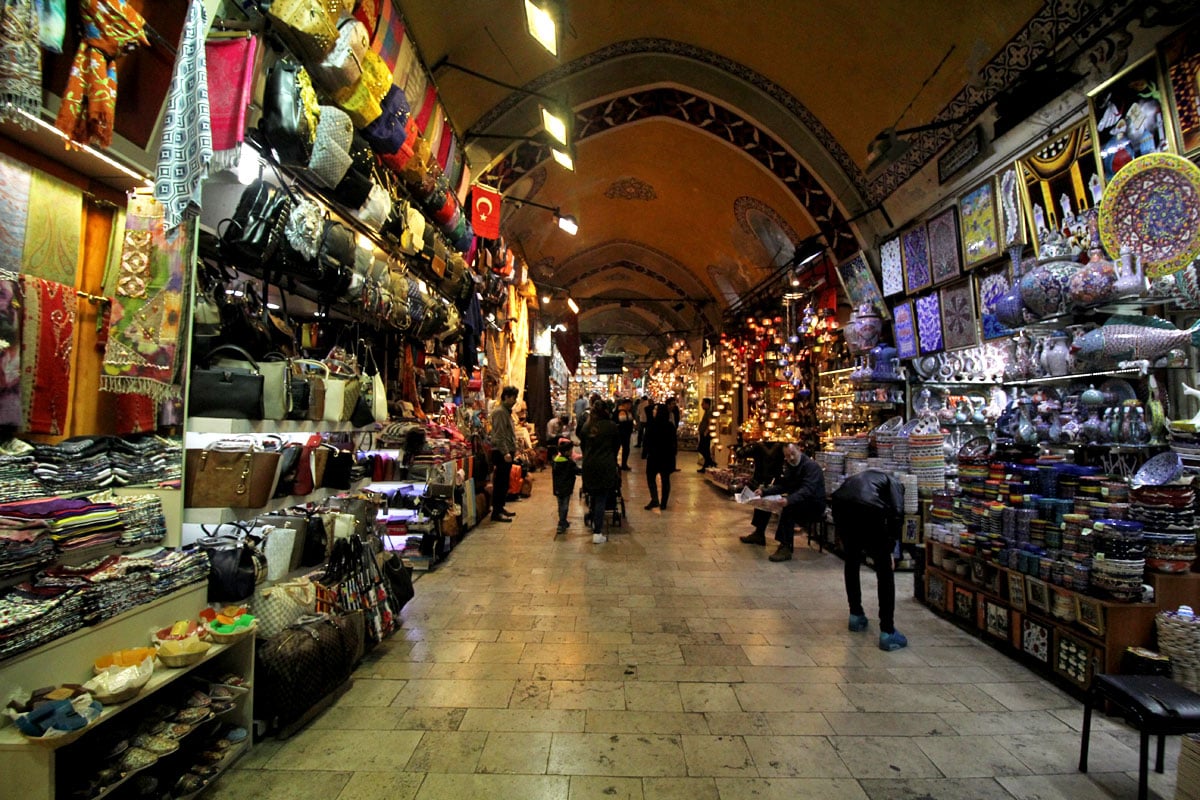 Grand Bazaar, Istanbul, Turkey
Beyazıt Mh., Zenneciler Sk, Istanbul, Turkey
Tel: +90 212 519 1248
Operating Hours: Mon-Sat, 8:30AM-7PM (Closed Sun)
Entrance: FREE
Rüstem Pasha Mosque
There are many exits from the Grand Bazaar, but make your way to Tığcılar Sokak which is to the north of the bazaar. Walk up Tığcılar Sokak and make a left on Mercan Caddesi then a quick right on Uzun Çarşı Caddesi. Walk all the way up Uzun Çarşı Caddesi until you reach Hasırcılar Caddesi. Entrance to Rüstem Pasha Mosque will be at this corner (pictured below). The walk from the Grand Bazaar to the mosque will be around 20 minutes or so.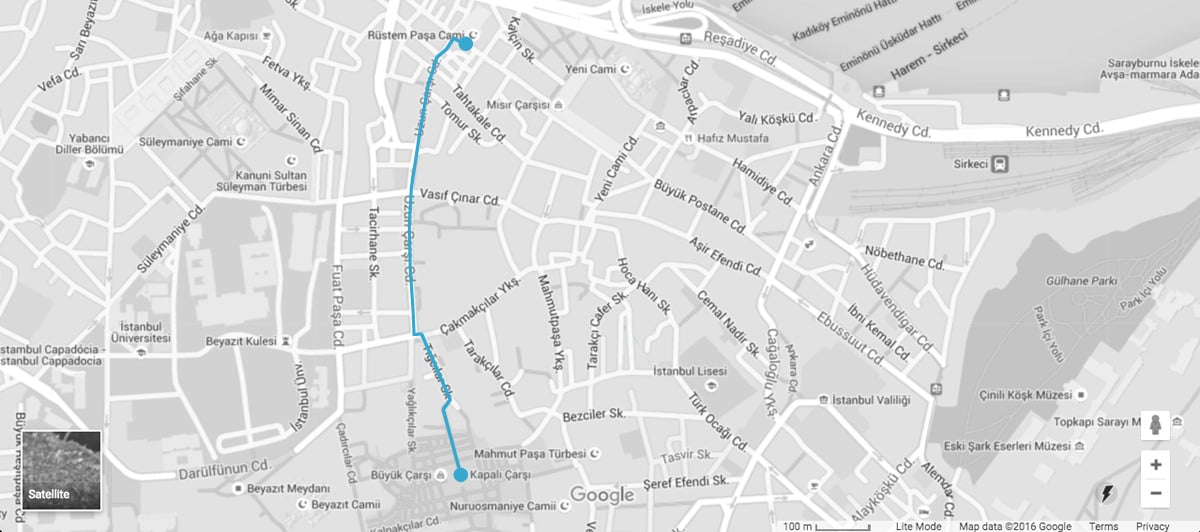 Rüstem Pasha Mosque is on the way to the Egyptian Bazaar and is well worth a stop. As described above, the entrance pictured below is at the corner of Uzun Çarşı Caddesi and Hasırcılar Caddesi. The Egyptian Bazaar is less than 5 minutes away to the right.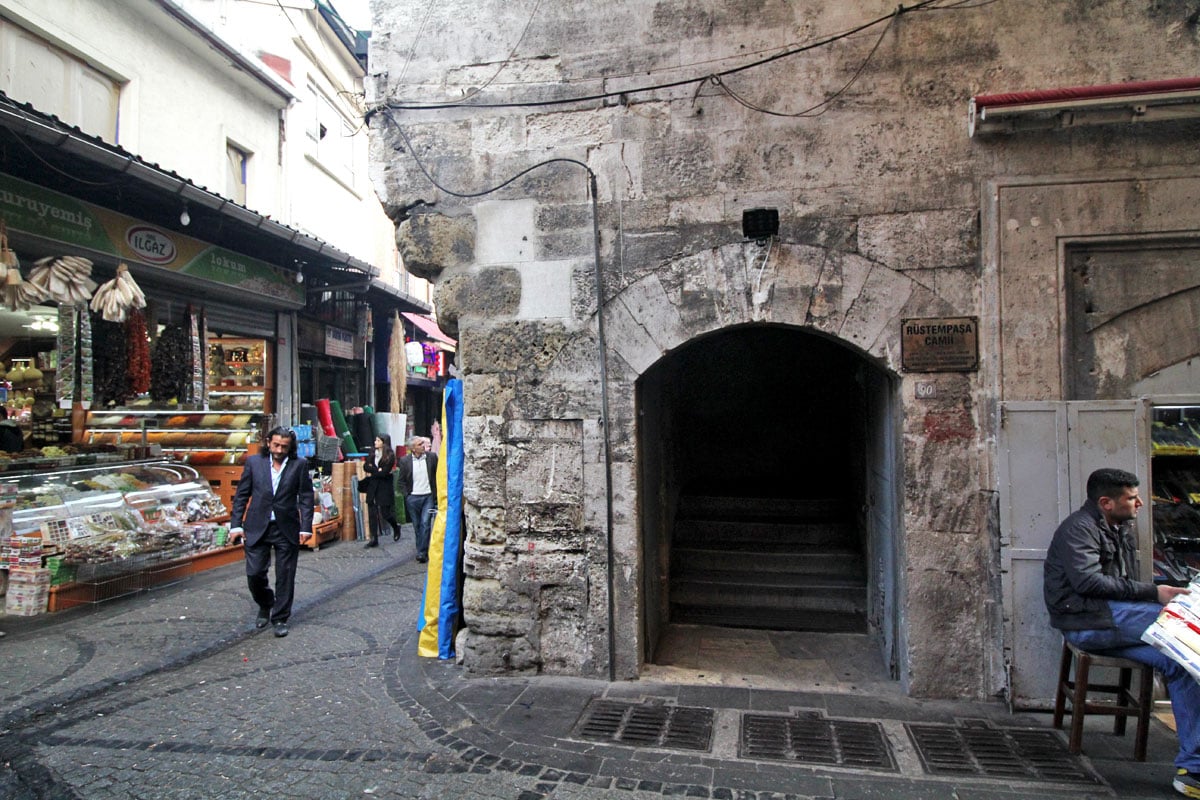 Unlike more celebrated mosques like Hagia Sophia and Sultanahmet, Rüstem Pasha Mosque won't wow you with its grandeur. It's tiny in comparison but what it lacks in size, it more than makes up for in artistic refinement. Blue being its dominant color, it's home to what many call the most beautiful İznik tiles ever produced.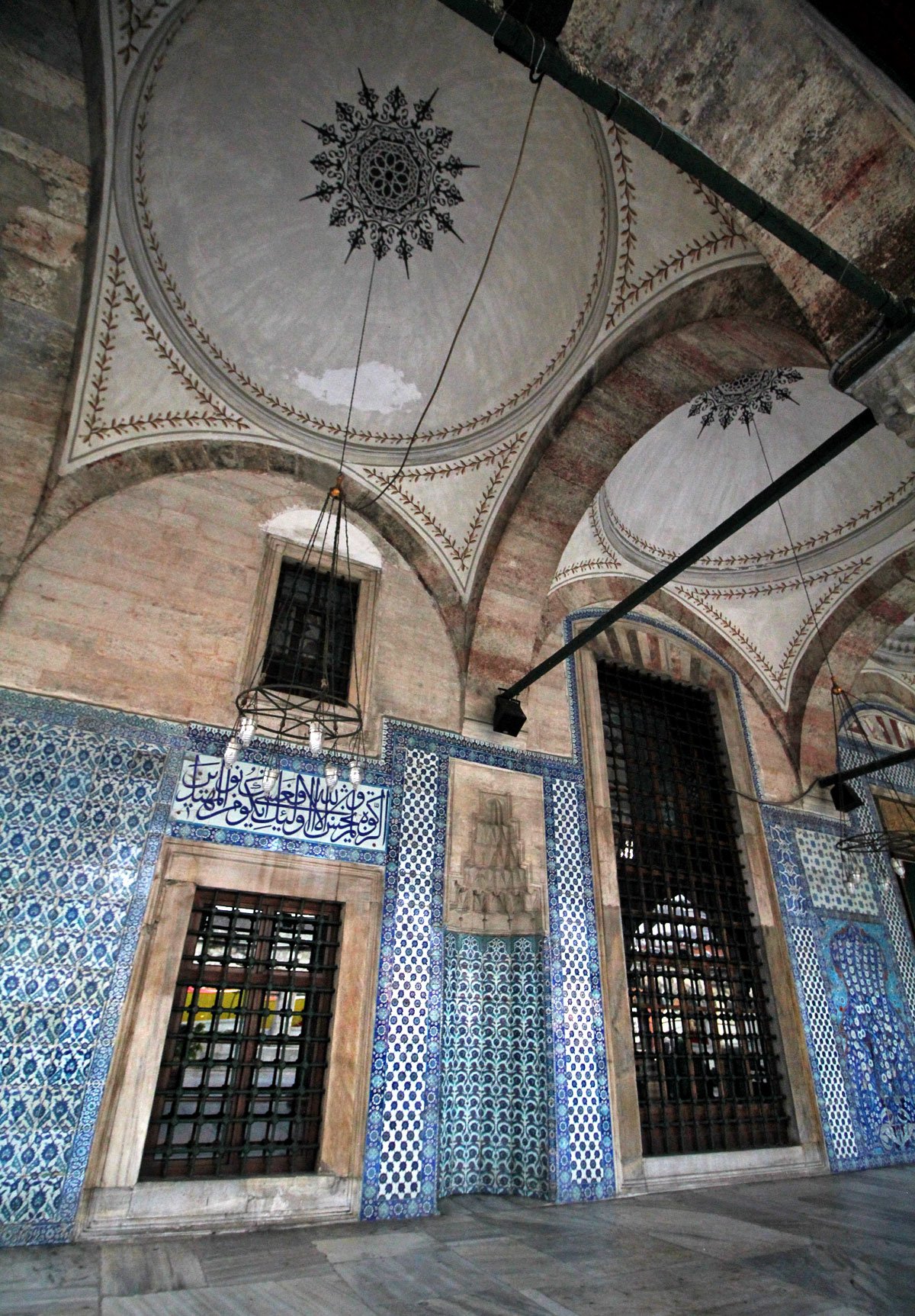 The inside of the mosque. Beautiful isn't it? This is still a functioning mosque so be sure to observe proper mosque etiquette when visiting.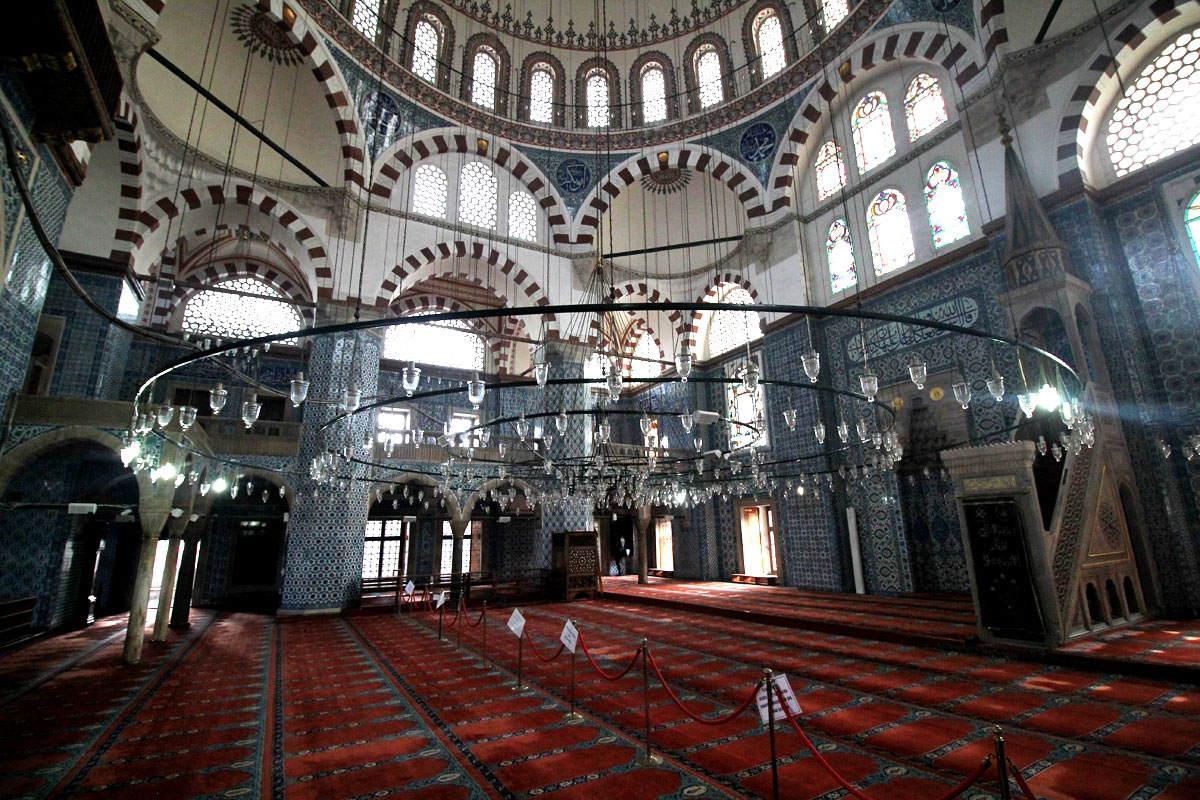 You can't see it in these pictures but I've read that what makes the tiles at Rüstem Pasha Mosque so special, apart from their intricacy and variety of pattern, is that they contain a great deal of red. Blue, yellow, white, and green were easy colors to produce at the time, but red was said to be far more difficult.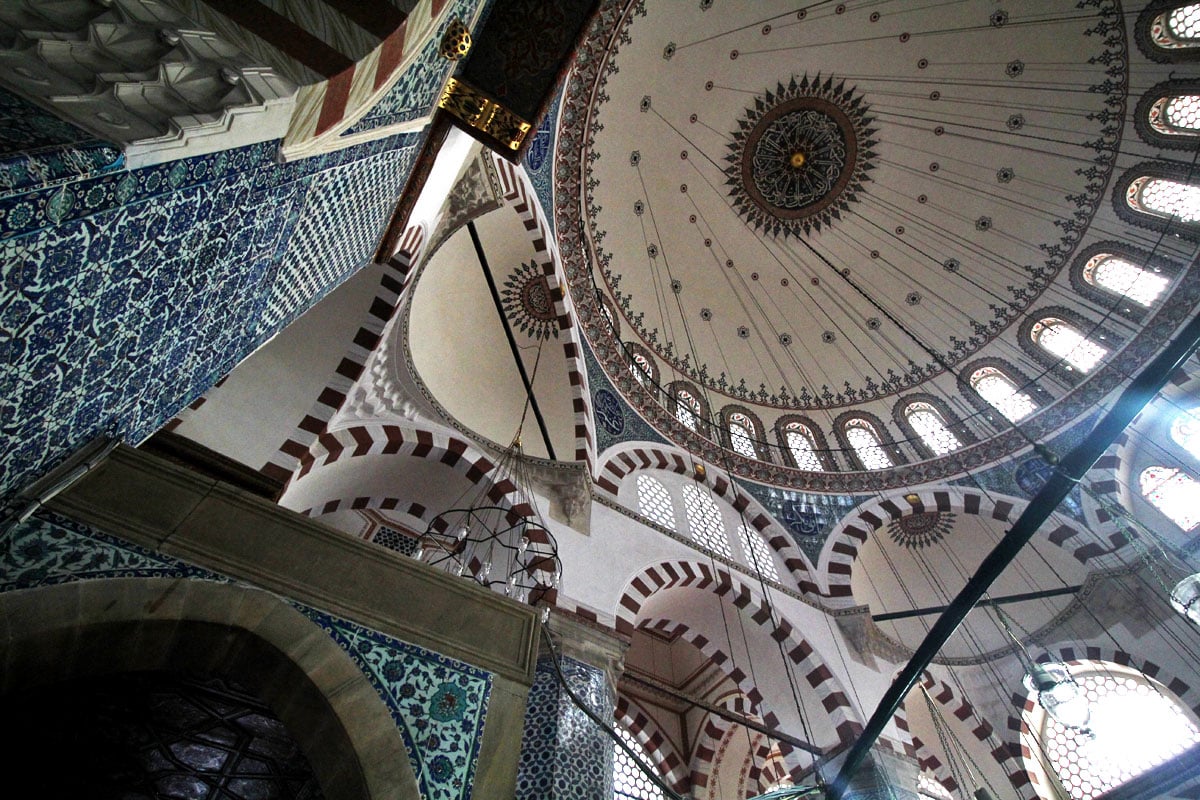 Rüstem Pasha Mosque, Istanbul, Turkey
Rüstem Paşa Mah., Hasırcılar Cd., Rüstem Paşa Cami, No:62, Fatih, İstanbul, Turkey
Tel: +90 212 258 7760
Operating Hours: Mon-Sun, 10AM-6PM
Entrance: FREE, but donations are welcome
Egyptian Spice Bazaar
Exit Rüstem Pasha Mosque where you entered and proceed left on Hasırcılar Caddesi. Walk straight until you reach the Egyptian Bazaar. It'll be about a 5-minute walk from the mosque.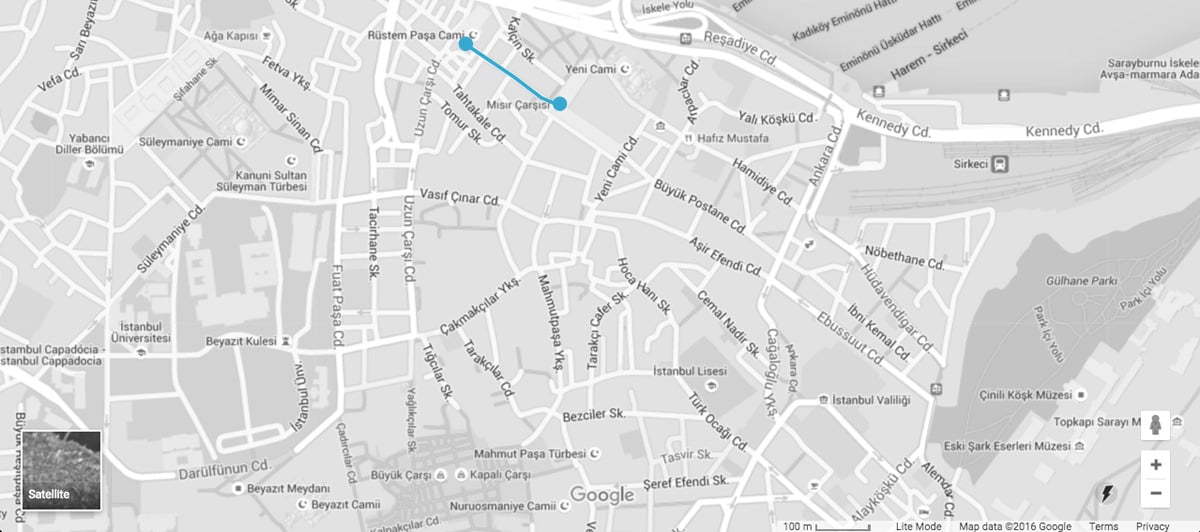 We escaped the Grand Bazaar relatively unscathed (just a pair of shoes for Ren 😆 ), but that wouldn't be the case here. Stocking up on ingredients for future Reneelicious Recipes, we did pretty much all of our shopping here at the Spice Bazaar.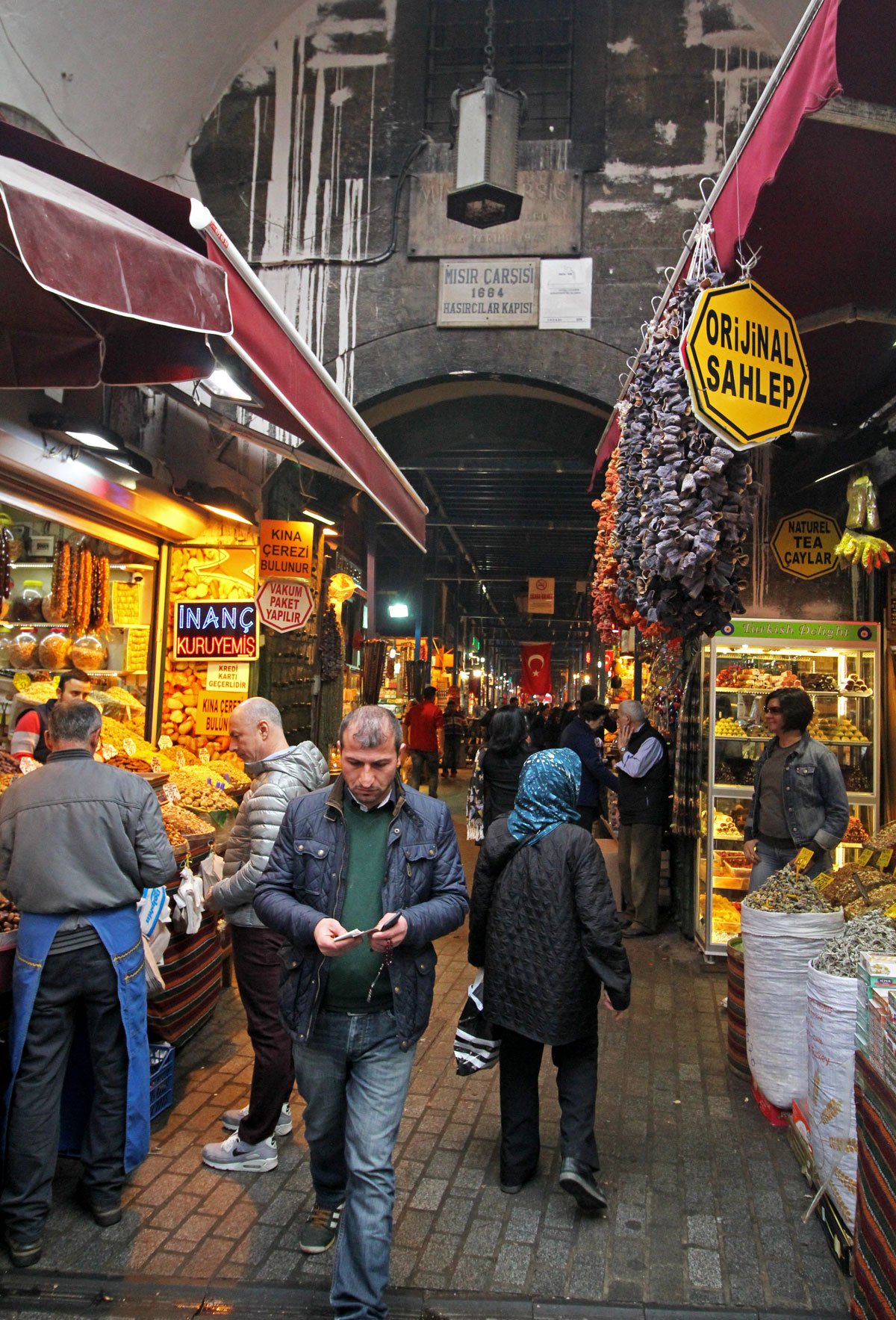 Much smaller than the Grand Bazaar with less than a hundred shops, the Spice Bazaar has a simple L-shaped layout so you won't get lost here.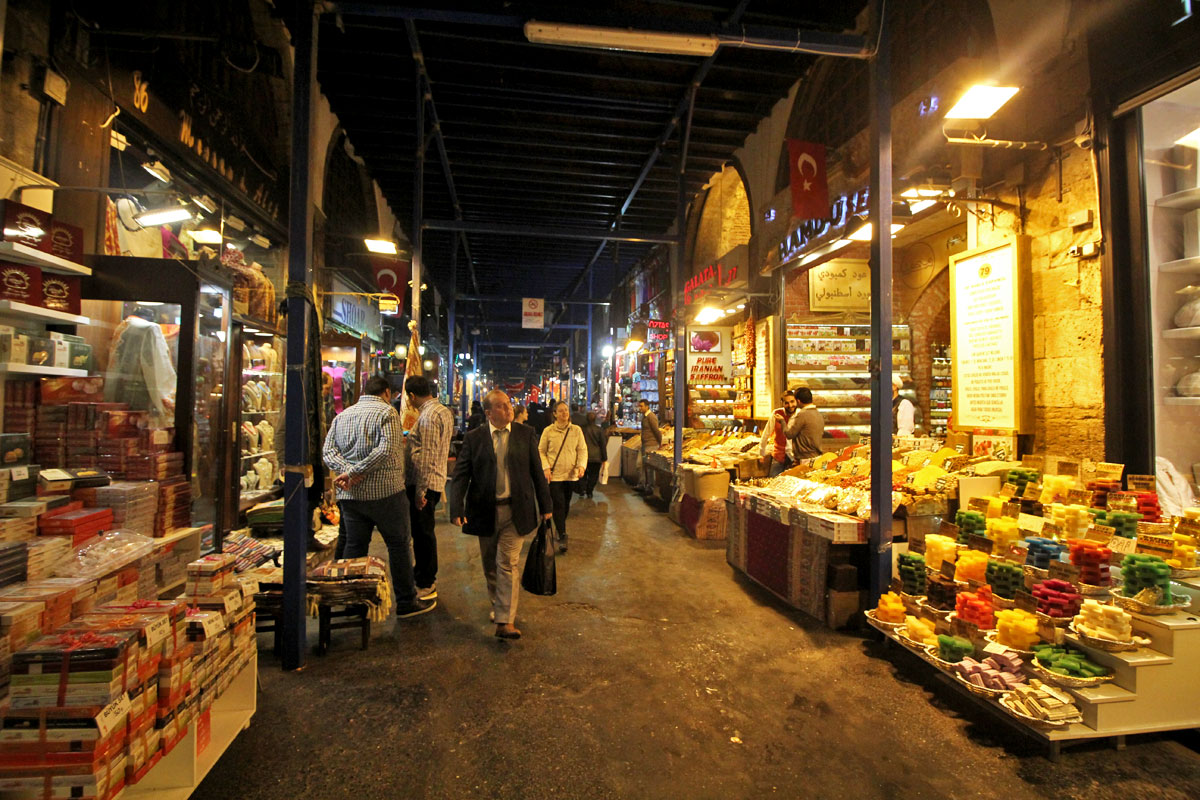 Dried Fruit
All kinds of dried fruits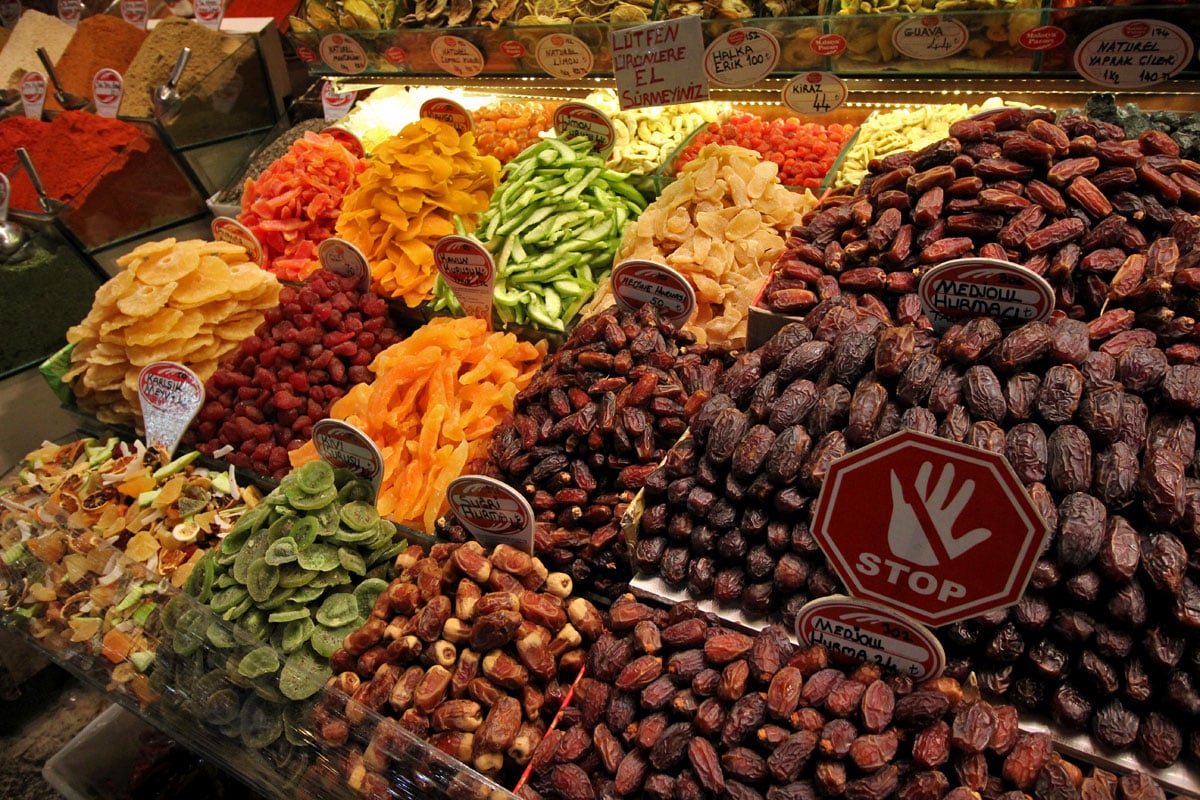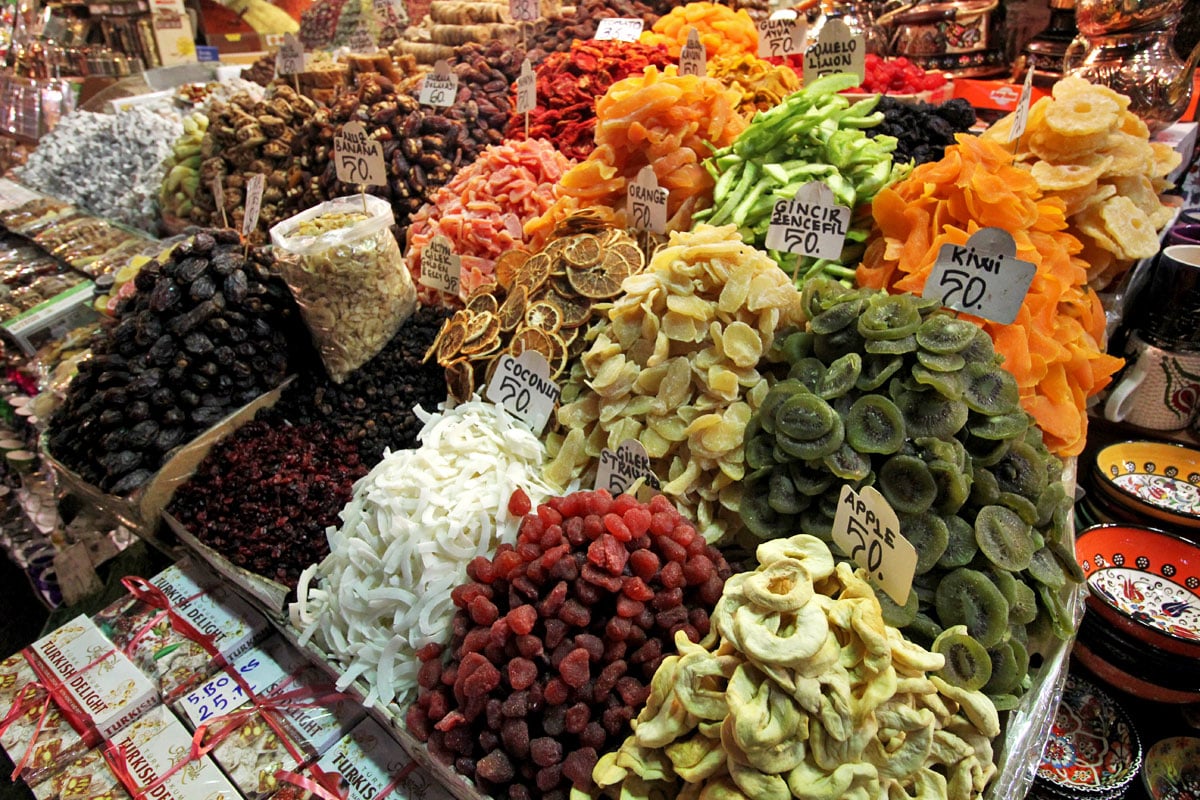 Aren't these pretty? They're dried apricots stuffed with different types of nuts.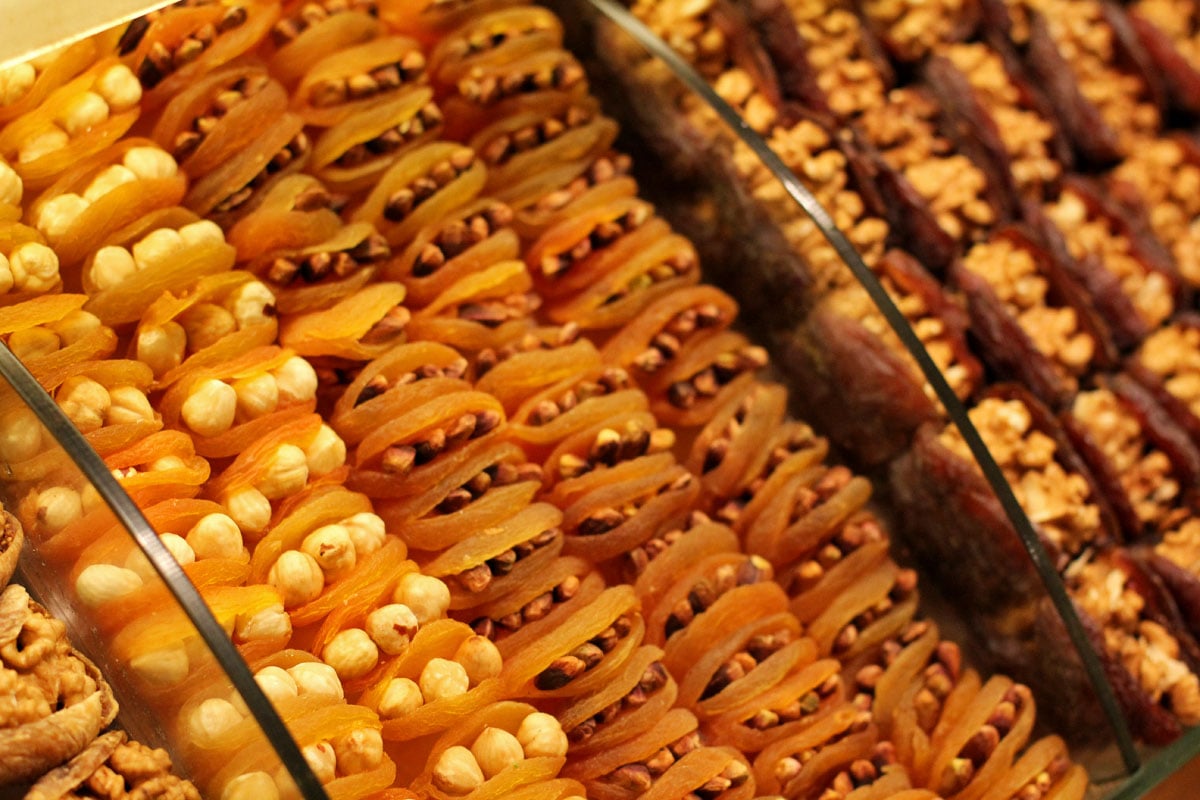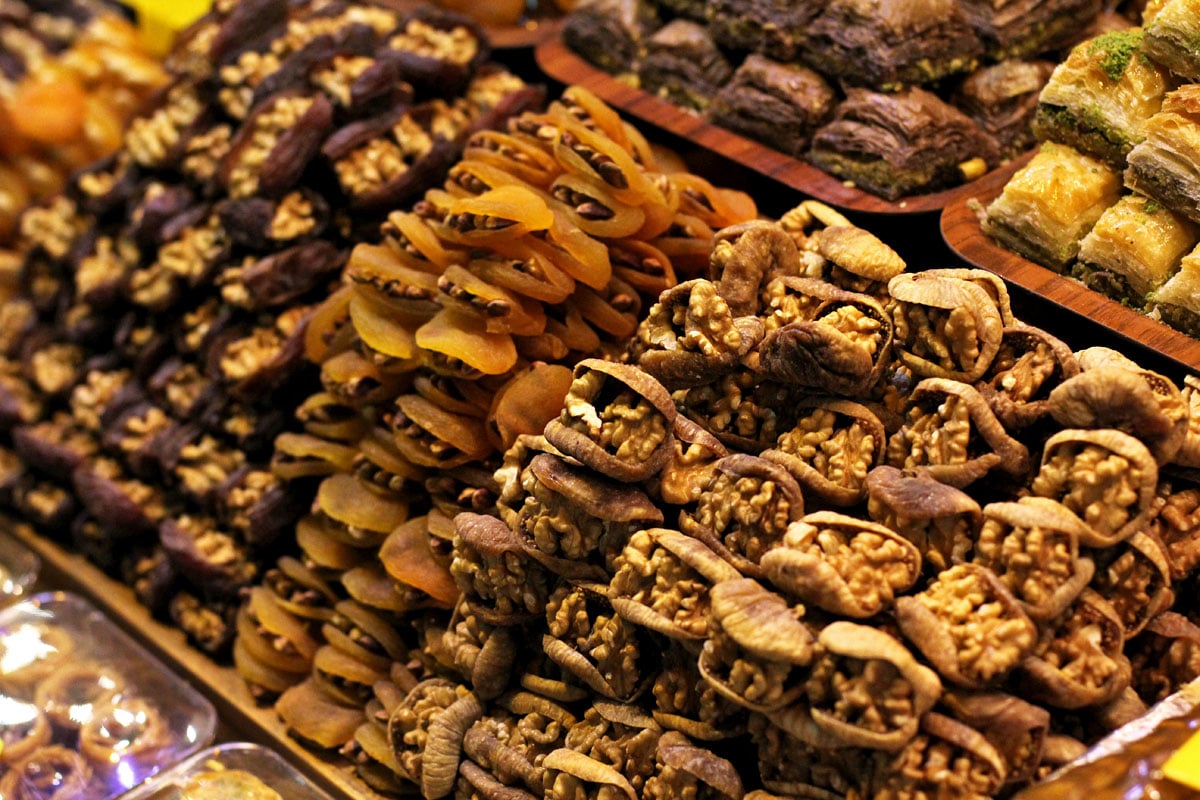 Spices, Tea, Nuts
Spices! Most shops can vacuum seal these for you for convenience when traveling and to prolong freshness. We bought a few kinds along with several boxes of Turkish Delight, bottarga (salted, cured fish roe), and baklava. You can even buy Russian caviar and Iranian saffron here.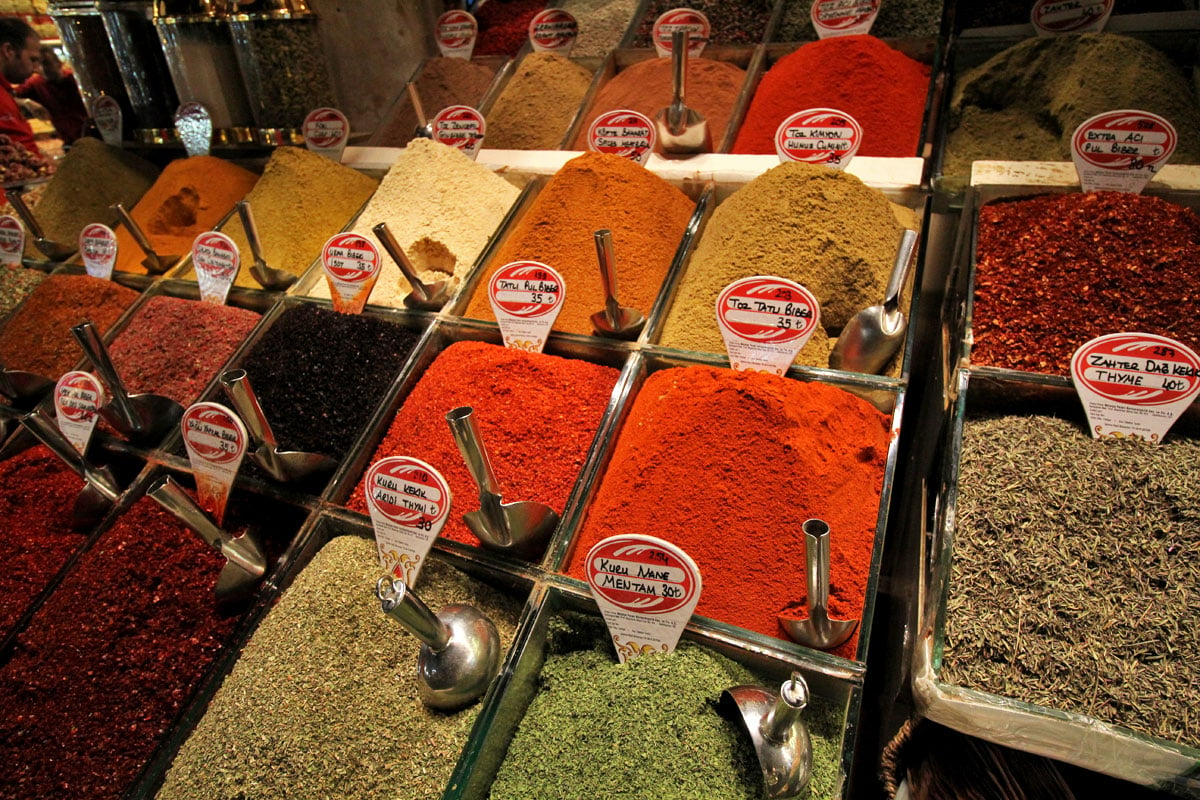 Different types of tea and more spices. See those prepackaged sets up front? Don't get those. They're made to look pretty for tourists but they're of dubious quality. I read that many of these stalls cater primarily to tourists so keep your eye out for shops patronized by locals. Those are the ones you want to buy from.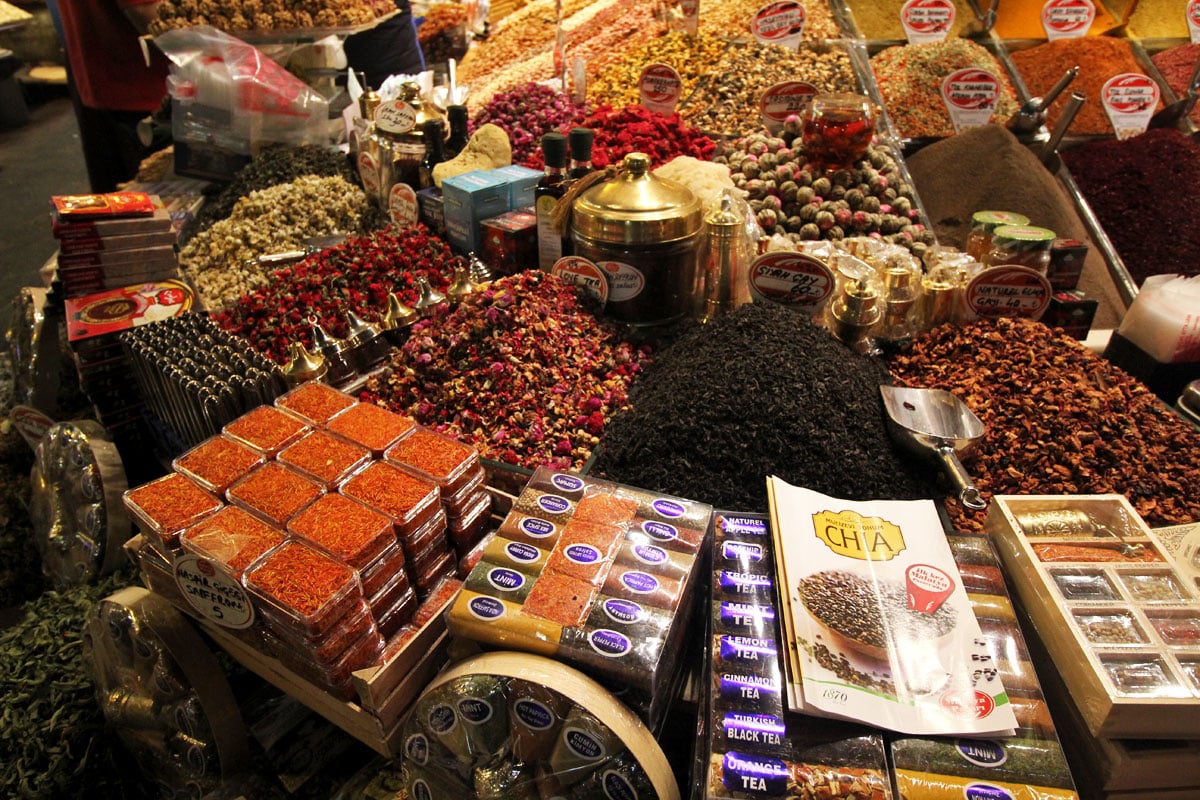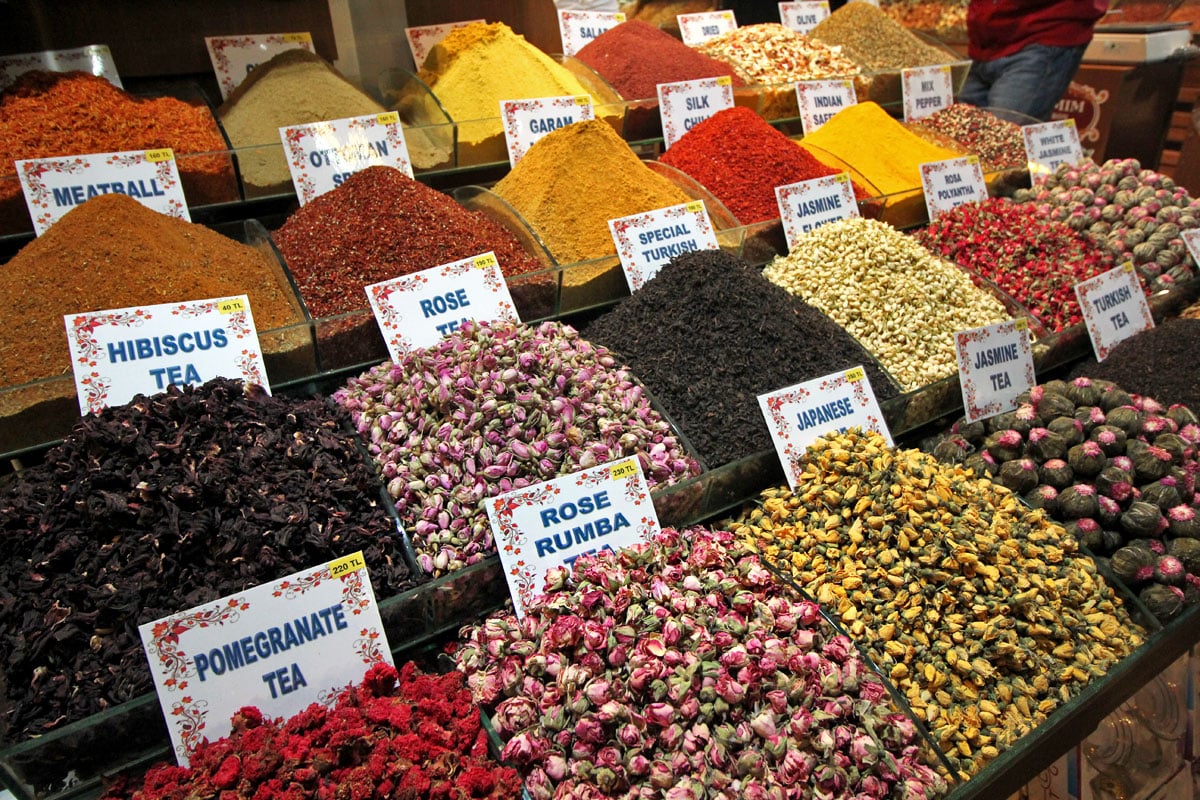 Can you imagine the smells here? So lovely.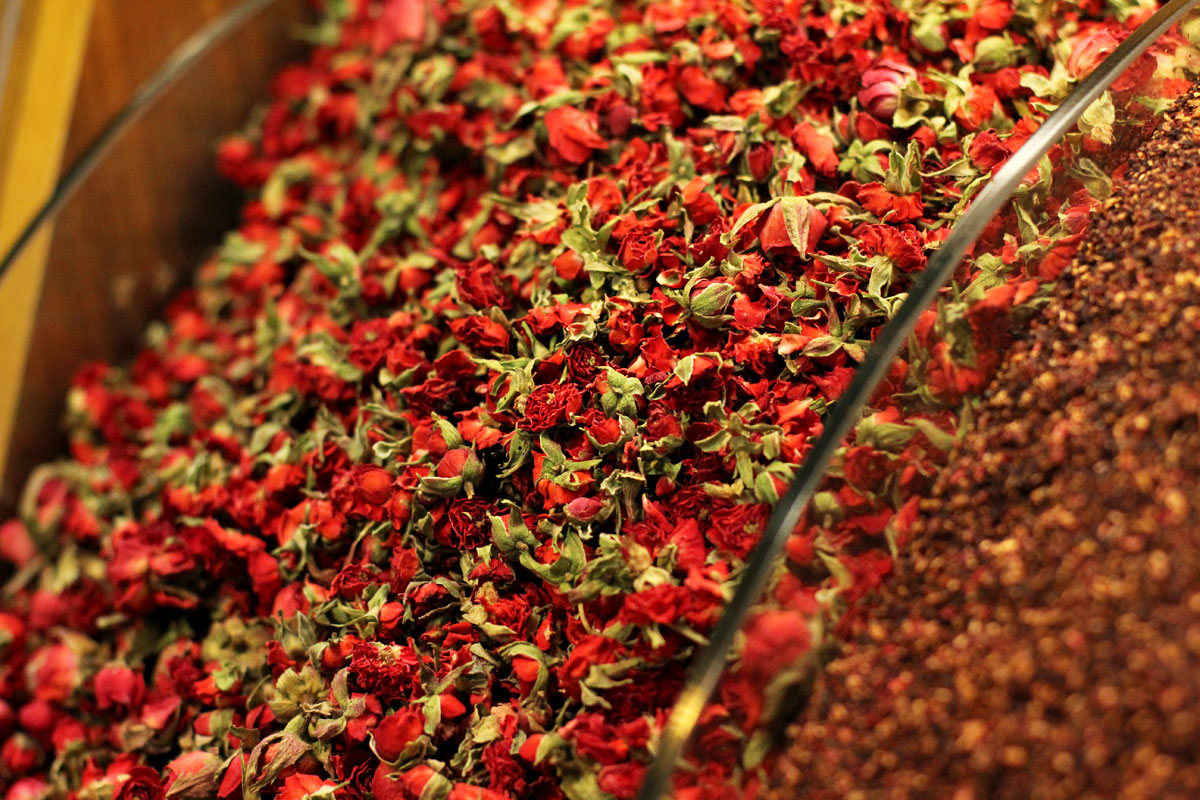 Nuts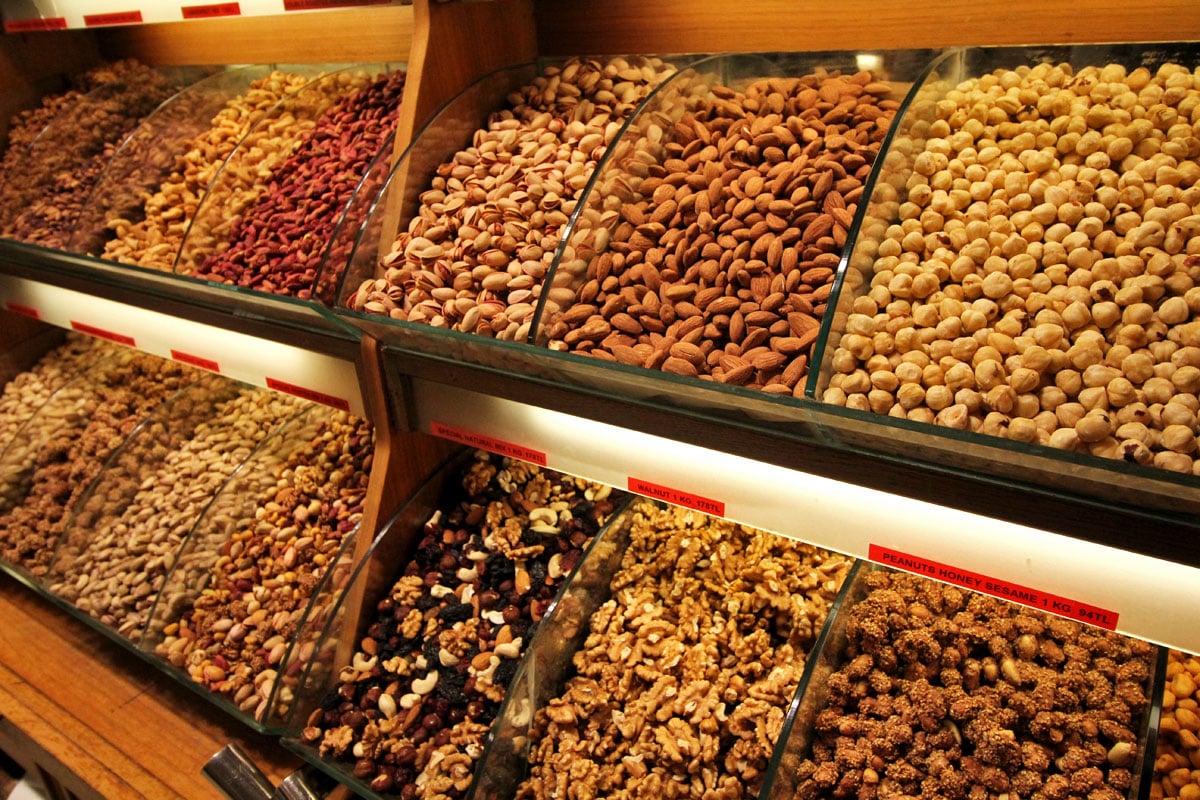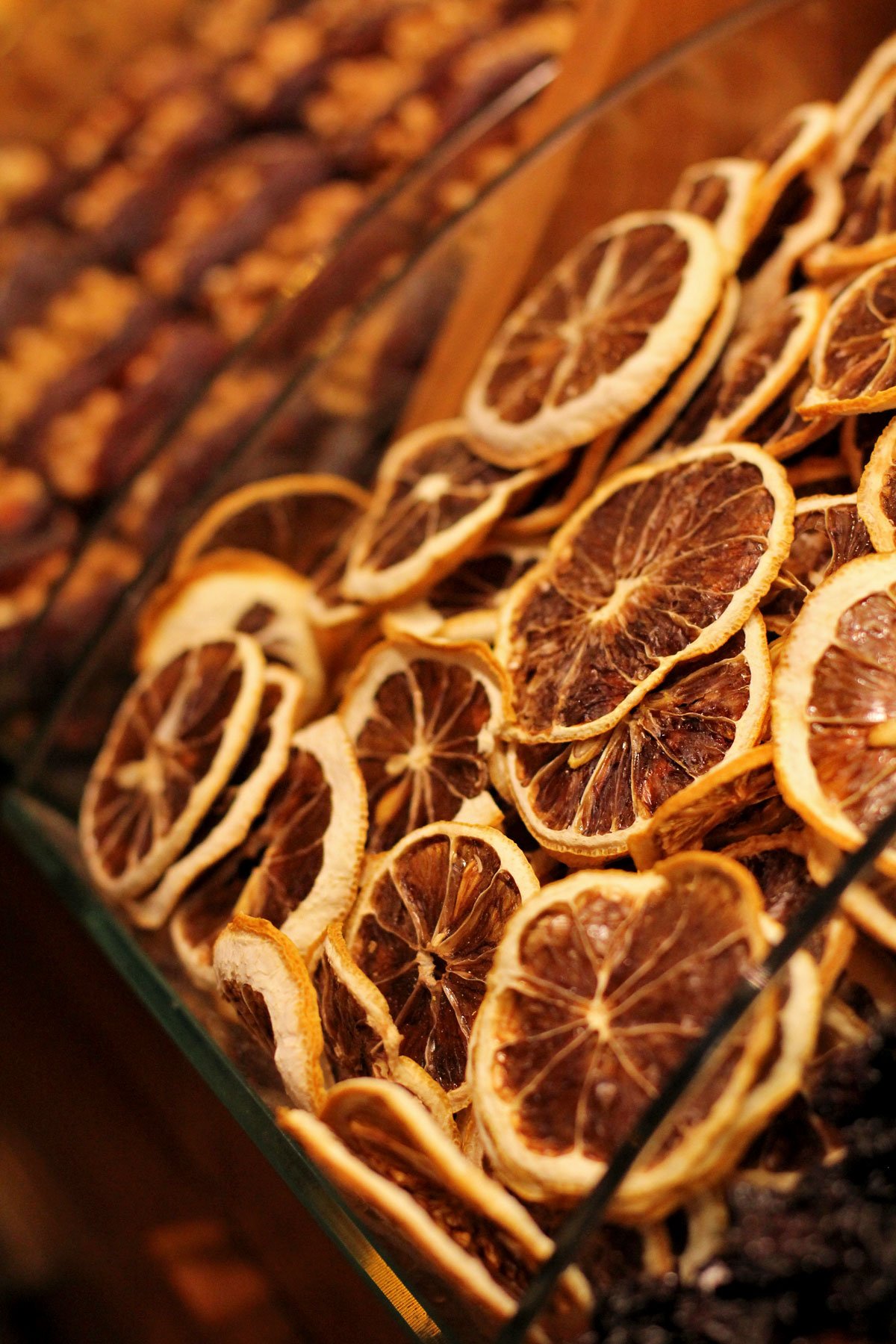 Anyone need some "Naturel Viagra"? 😆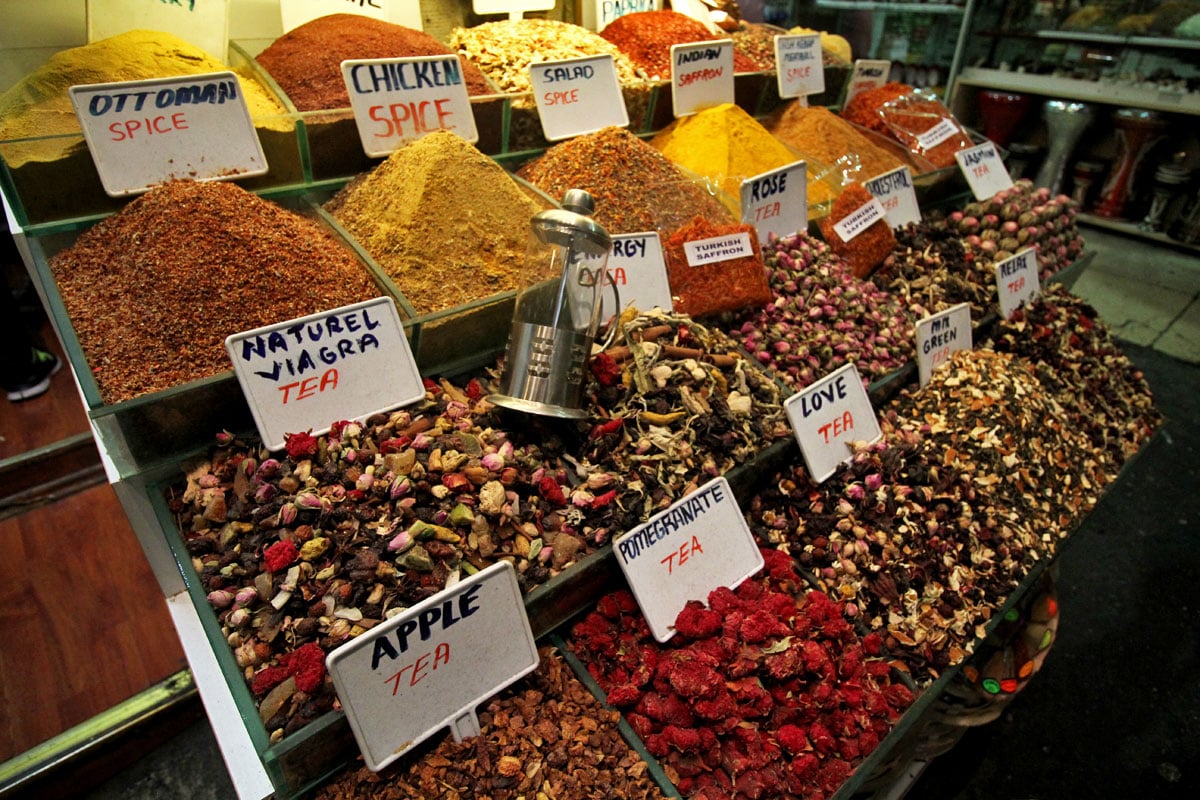 Turkish Delight
One of the most iconic foods in Turkey, you can't leave Istanbul without buying a few boxes of these. Turkish Delight or lokum refers to a family of gelatinous confections commonly flavored with rosewater, mastic, bergamot orange, or lemon.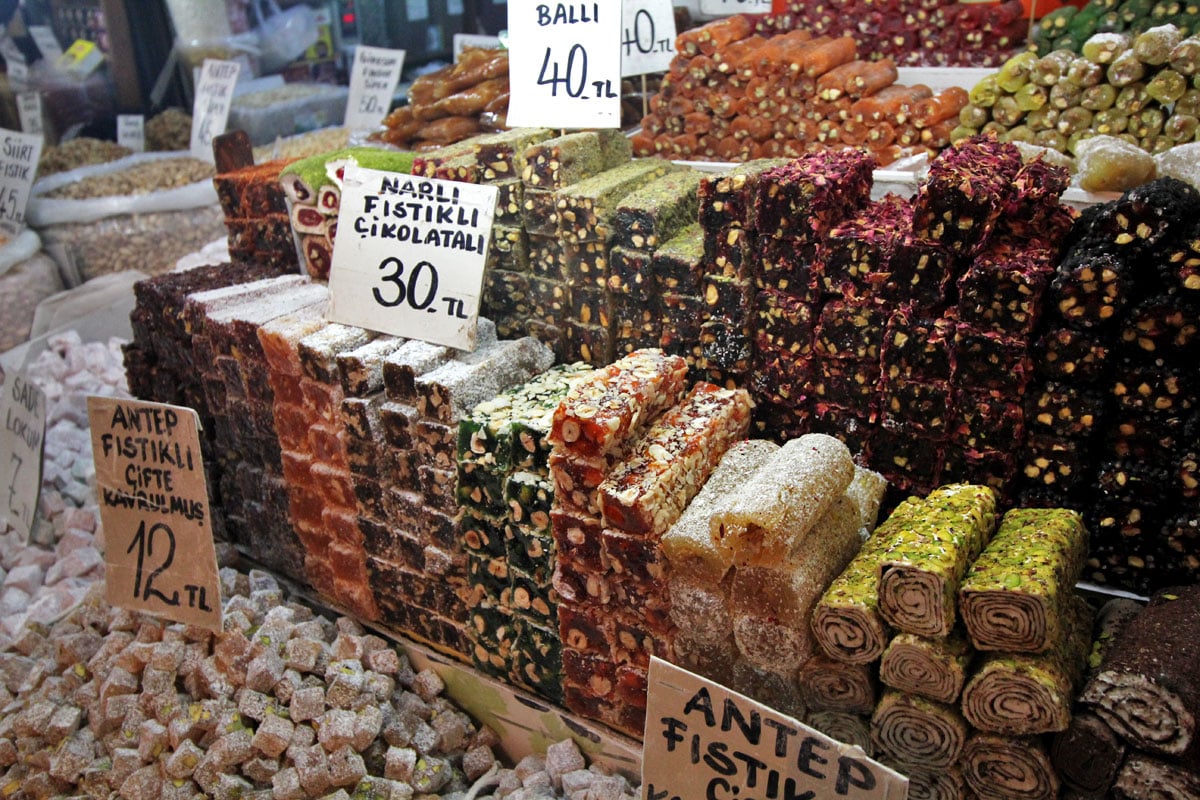 They're commonly cut and eaten in small cubes dusted with powdered sugar to prevent clinging.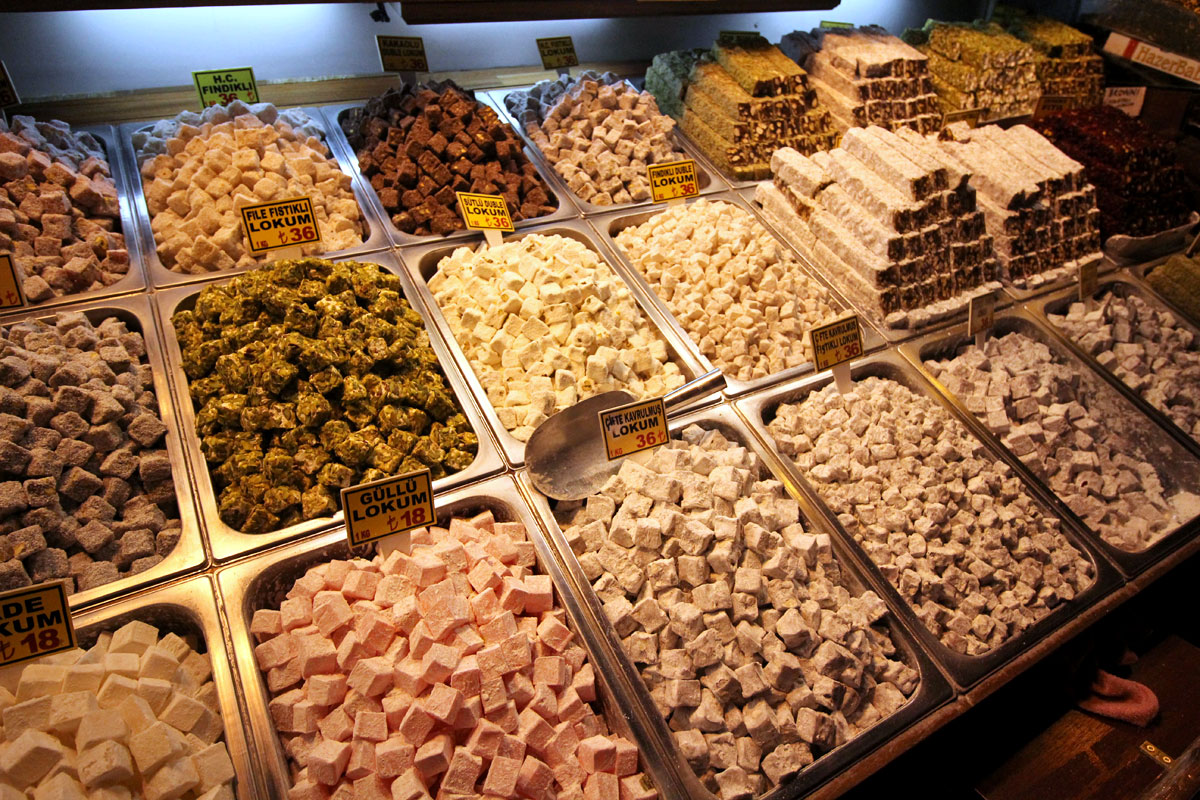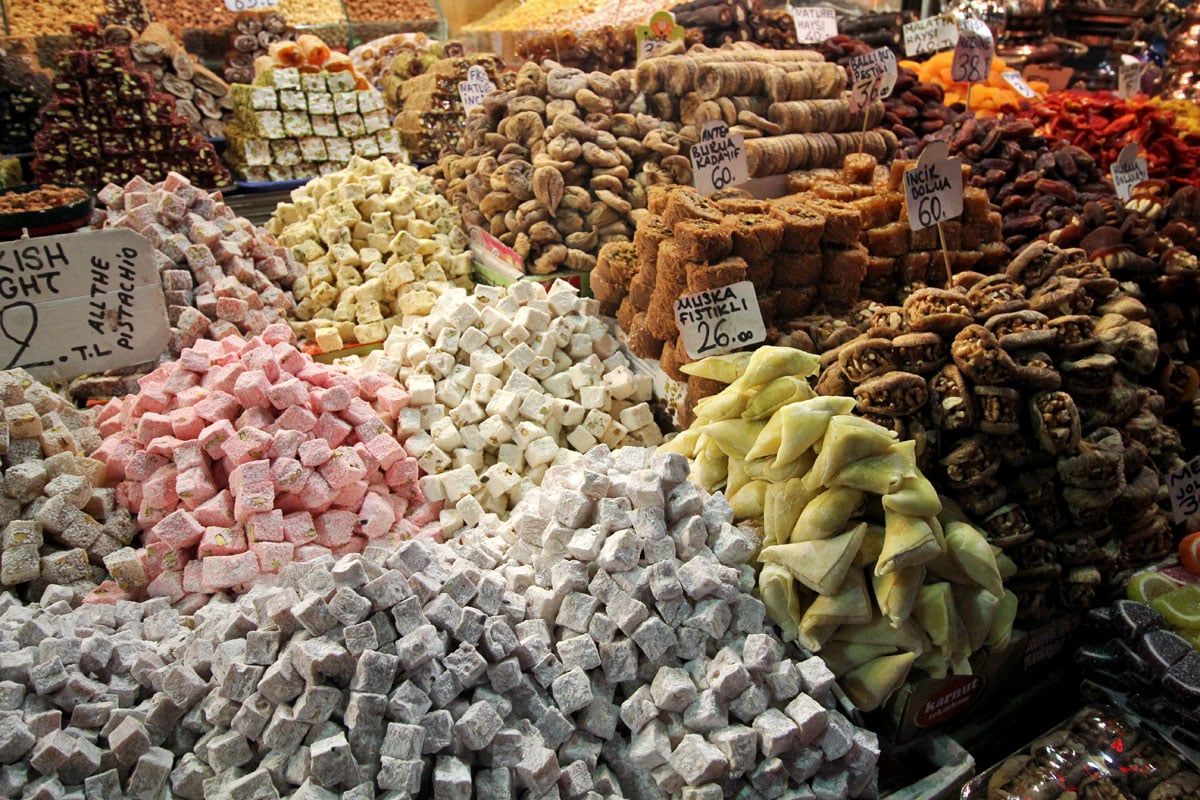 As you can see below, premium varieties have other ingredients bound to the gel like chopped dates, pistachios, hazelnuts, and walnuts. These are more expensive, up to 6x the price of ordinary Turkish Delight.

The really good stuff. We paid 5TL per box for the cheap variety to give as gifts, and 30TL for us for the premium kinds that included pomegranate, pistachio, and black currant. Yum!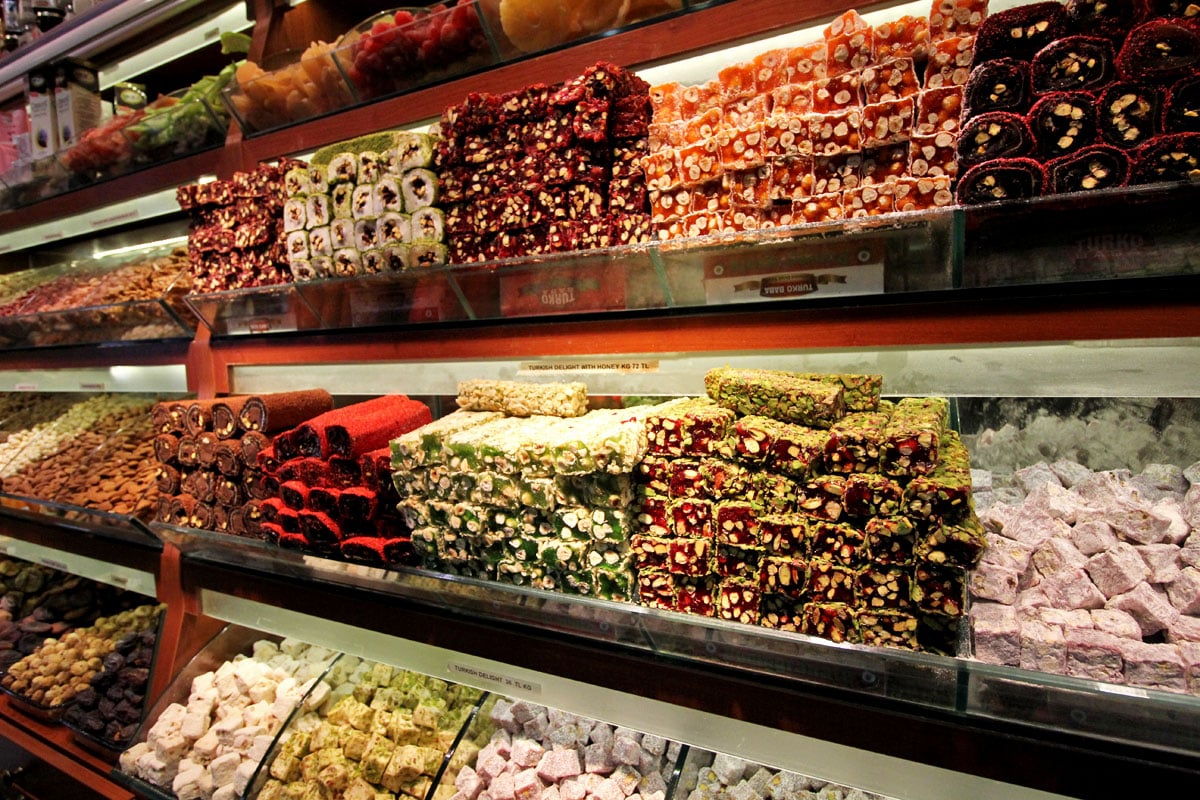 Egyptian Spice Bazaar, Istanbul, Turkey
Eminönü, Fatih, İstanbul, Türkiye
Tel: +90 212 513 6597
Fax: +90 212 513 6990
Email: [email protected]
Operating Hours: Mon-Sun, 8AM-7:30PM
Entrance: FREE
After the Egyptian Bazaar
If you exit the Spice Bazaar on the opposite side from where you entered, you'll find yourself just minutes away from the Eminönü ferry dock, tram station, and Galata Bridge. There's plenty you can do from here depending on what time you finish. If you bought a lot of things, then you may just want to take the tram back to your hotel. Otherwise, you can take the tram to Beyoğlu and explore Taksim and the İstiklâl Caddesi area. Galata Tower is in Beyoğlu and Dolmabahce Palace isn't too far away. If you aren't tired, you can even cross Galata Bridge into Beyoğlu on foot. That's what we did. It's a pleasant walk and it's nice to see all the people fishing from the bridge.
Another option would be to take a Short Bosphorus Cruise which departs from Eminönü ferry dock at 2:30PM. This is a scenic two-hour cruise that takes you up the Bosphorus Strait then back to Eminönü. It's a memorable experience and one you shouldn't miss while in Istanbul.
If you're keen on experiencing a different side of the city, one that first-time visitors often overlook, then you can take a ferry from Eminönü to Kadıköy and the Asian side of Istanbul. Less touristy than Sultanahmet, you'll find yourself in a lively neighborhood teeming with shops, bars, and restaurants. We enjoyed our best meal there at Çiya Sofrası, hailed by more than one local source as possibly the best restaurant in all of Istanbul.
For more Istanbul travel tips, check out our First-Timer's Travel Guide to Istanbul, Turkey