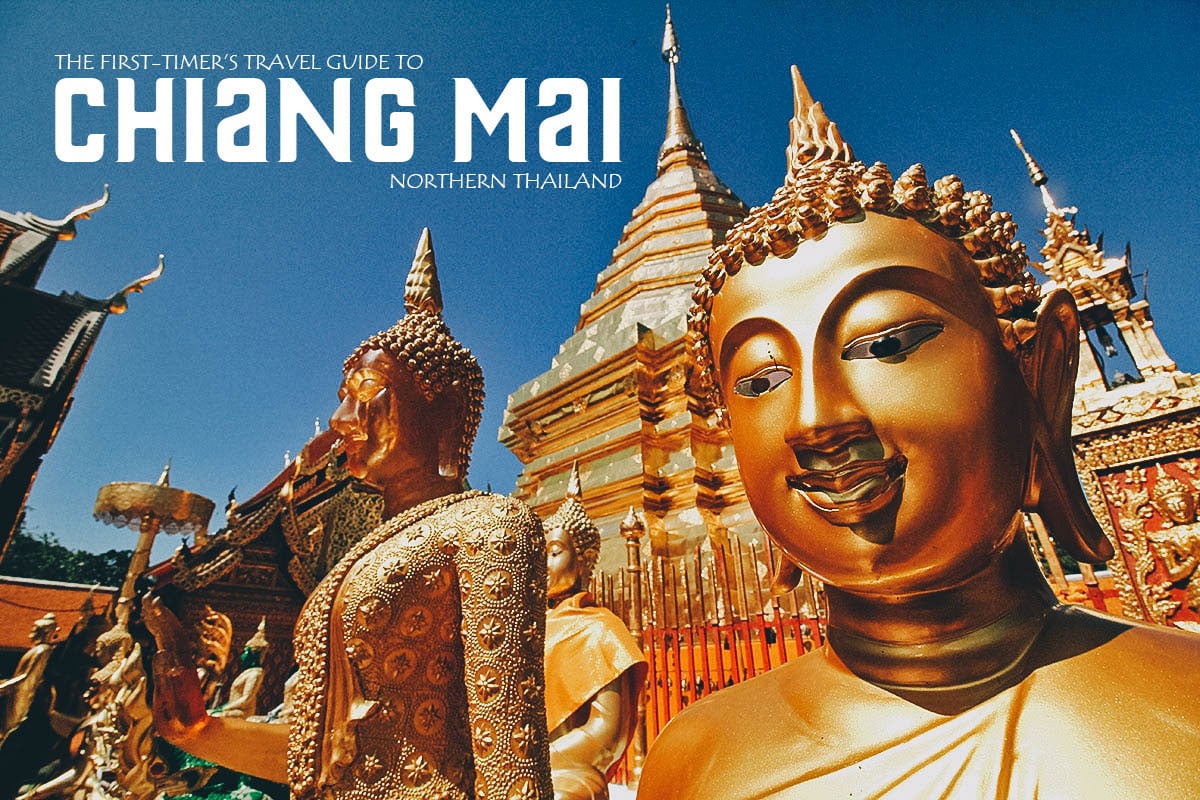 The First-Timer's Travel Guide to Chiang Mai, Thailand
There's something about Chiang Mai. Many long-term travelers seem to fall in love with this place. I've read a few blogs and their stories are always the same. They go to Northern Thailand expecting to spend a couple of weeks there, then they wind up renting an apartment and staying for months, years even. For some, it's become a permanent home.
What is it about Chiang Mai that makes it so alluring to expats and digital nomads? Was it the mountainous landscape? The creative vibe? The welcoming locals and their delicious bowls of khao soi? Chiang Mai is attractive for a variety reasons to many people, but for me, it came down to two things: sky lanterns and rescue elephants. I've been wanting to scratch the Yee Peng Festival and Elephant Nature Park off my bucket list for many years, and I finally got to do that in 2017.
Whatever your reasons may be for wanting to visit the "Rose of the North", I hope this first-timer's travel guide to Chiang Mai helps you plan your trip.
GUIDE TABLE OF CONTENTS
CHIANG MAI AT A GLANCE
Chiang Mai is the largest city in Northern Thailand. It was once the capital of the Lanna Kingdom and is considered one of the most culturally significant cities in the region. At its historical center is the Old City, a roughly 1.6 km walled and moated square that's home to over 30 Buddhist temples, some of which are as old as the city itself.
As well-preserved as it is, don't let the city's historical and cultural appeal fool you. Chiang Mai has modernized in many ways and expanded far beyond the walls of the Old City. In fact, it's become a haven for backpackers and digital nomads in recent years. Go through the travel blogosphere and you'll find that many long-term travelers have spent a good amount of time in Chiang Mai. I don't know when it all started, but I think the city's laid back atmosphere and relatively low cost of living have a lot to do with it.
If you're on a gap year and traveling to Chiang Mai for the first time, then don't be surprised if you wind up staying longer than anticipated. Many people do. Chiang Mai is that type of destination.
BEST TIME TO VISIT CHIANG MAI
Weather-wise, November to February is the ideal time to visit Northern Thailand. It's the coolest and driest time of the year. We visited Chiang Mai in early November to partake in the Yee Peng and Loy Krathong Festivals. It's a popular event that attracts thousands of tourists every year, making it one of the most vibrant times to be in the region.
NOV-FEB: As advised, November to February is the most comfortable time to be in Chiang Mai. Daytime temperatures hover around 25°C (77°F) with few rainy days. The Yee Peng Festival usually happens in November every year so you may want to plan your trip around that. This year, it'll be celebrated on November 22, 2018. If you enjoy flowers, then you may want to go in February to attend the Chiang Mai Flower Festival.
MAR-MAY: March to May is the hottest time to be in Northern Thailand with temperatures often reaching 40°C (104°F). It isn't the most comfortable time to visit, but Songkran or the Thai New Year is celebrated every April and turns the city into a giant water fight. Our Grab driver was telling us how much fun it is to be in Chiang Mai for Songkran, so we'll probably make that trip in the not too distant future.
JUN-OCT: This is the monsoon season in Northern Thailand and probably not the best time to visit the region.
Climate: Annual Monthly Weather in Chiang Mai
To help you better understand the weather in Chiang Mai, I've included average temperature and annual rainfall graphs below. Suggested months to visit are indicated in orange.
Average Temperature


Annual Rainfall


WHAT TO WEAR
Chiang Mai is a laid back city. It's bigger and more developed than Chiang Rai, but you'll probably never have to get dressed up like you would in Bangkok. It's warm, even during the coolest months, so it's best to come in comfortable summer attire.
Unlike the temples in Bangkok, none of the temples I visited in Chiang Mai seemed to enforce any type of dress code, not even at Wat Phra That Doi Suthep or Wat Phra Singh. Just don't walk around the city with your shirt off or stripped down to a bikini. Thais are modest people so dress comfortably, but respectfully.
TRAVELING TO CHIANG MAI
From Bangkok, we flew and spent a couple of nights in Chiang Rai first before taking the 3-hour Green Bus to Chiang Mai. Between the two Northern Thai cities, Chiang Mai is more frequently visited so I imagine most tourists would probably fly or take a train there directly from Bangkok.
From Bangkok
BY AIR: Several airlines make that 1 hr and 15 min flight directly from Bangkok to Chiang Mai. You can do a search on a flight aggregator like skyscanner.com to find the cheapest flights available. I just did a quick check and the airlines that service this route are Nok Air, VietJet, AirAsia, Lion Air, Thai Airways, Bangkok Airways, and Smile Air. I suggest doing a search on skyscanner.com and finding the airline that best suits your budget and schedule, then booking directly on that airline's website. That's what I do.
BY TRAIN: If we had more time, then I would have loved to travel to Chiang Mai from Bangkok via overnight sleeper train, which costs about the same as a flight on a low cost carrier. It takes longer, about 13-14 hours, but the views are better. Plus there's something romantic about traveling by rail. You can check 12Go Asia for a train schedule between Bangkok and Chiang Mai. 12Go Asia is a popular transportation website that services Singapore, Cambodia, Thailand, Malaysia, Vietnam, Laos, and the Philippines. You can follow this link or use the widget below for a train timetable and to purchase tickets.
From Chiang Rai
As described, this is how we arrived in Chiang Mai. We bought advanced tickets through 12Go Asia and took the 3-hour Green Bus from Chiang Rai to Chiang Mai. Looking at their website, it looks like buses leave every hour or so from around 6AM till 6PM. You can go via Express bus (THB 229 or THB 266, one-way) or VIP bus (THB 358, one-way). We took the VIP bus which is a comfortable air-conditioned bus with a bathroom and a steward serving refreshments. You can follow this link or use the widget below for a bus timetable and to buy advanced tickets. Be sure to purchase tickets with "Chiang Rai Bus Terminal 1" as the origin.
From Other Cities
We took a bus to Chiang Mai from Chiang Rai but there are other ways to get there depending on where you are. I suggest checking 12Go Asia to find route options available to you. You can click on the link or use the widget below.
WHERE TO EXCHANGE CURRENCY
SuperRich Money Exchange is widely considered to give the best exchange rates in Thailand. We exchanged our currency at a SuperRich in Bangkok and we did get outstanding rates. We exchanged enough to last us our entire trip, but there are three SuperRich branches in Chiang Mai. One is located within the Old City while the other two are just outside, through the Eastern Gate (Tha Phae) and before the Ping River. For your convenience, I've pinned all three branches on this location map.
Alternatively, you can also withdraw Thai Baht (THB) from an ATM. The rates are competitive. Just be sure to advise your bank you'll be using your ATM card overseas so you don't run into any problems. In my experience, my ATM card works in some machines but not in others.
WHERE TO STAY IN CHIANG MAI
Before our first trip to Chiang Mai, I thought you had to stay in the Old City to be in the mix of things, but that isn't true. While the Old City is centrally located and a convenient place to stay, it isn't your only option. Chiang Mai turned out to be bigger than I thought with plenty of good areas to choose from. I've stayed in two thus far – the Old City and the Nimman area.
OLD CITY: Sherloft Home & Hostel
The Old City is the historical part of town and the heart of Chiang Mai. Measuring about 1.5 sq km and surrounded on all sides by a moat, it's a former walled city that's home to many temples, hotels, and restaurants.
When we stayed at Sherloft in early November 2017, it looked like they had been open for just a few months so everything looked and felt brand new. Based on its name, I believe it's known primarily as a hostel but they do have several private rooms as well. I know many young travelers like staying at "Instagrammable" places these days and Sherloft is exactly that without breaking the bank. Check out my post on Sherloft Home & Hostel to see if it's worthy of your Instagram feed.
We booked a room at Sherloft through AirBnB but you can make reservations through Booking.com or Agoda as well. If you'd like to stay in the area but don't feel that this is the right place for you, then you can search for alternate listings in the Old City on these sites: AirBnB | Booking.com | Agoda. If you're new to AirBnB, then you can get USD 31 free travel credit when you sign up via this link.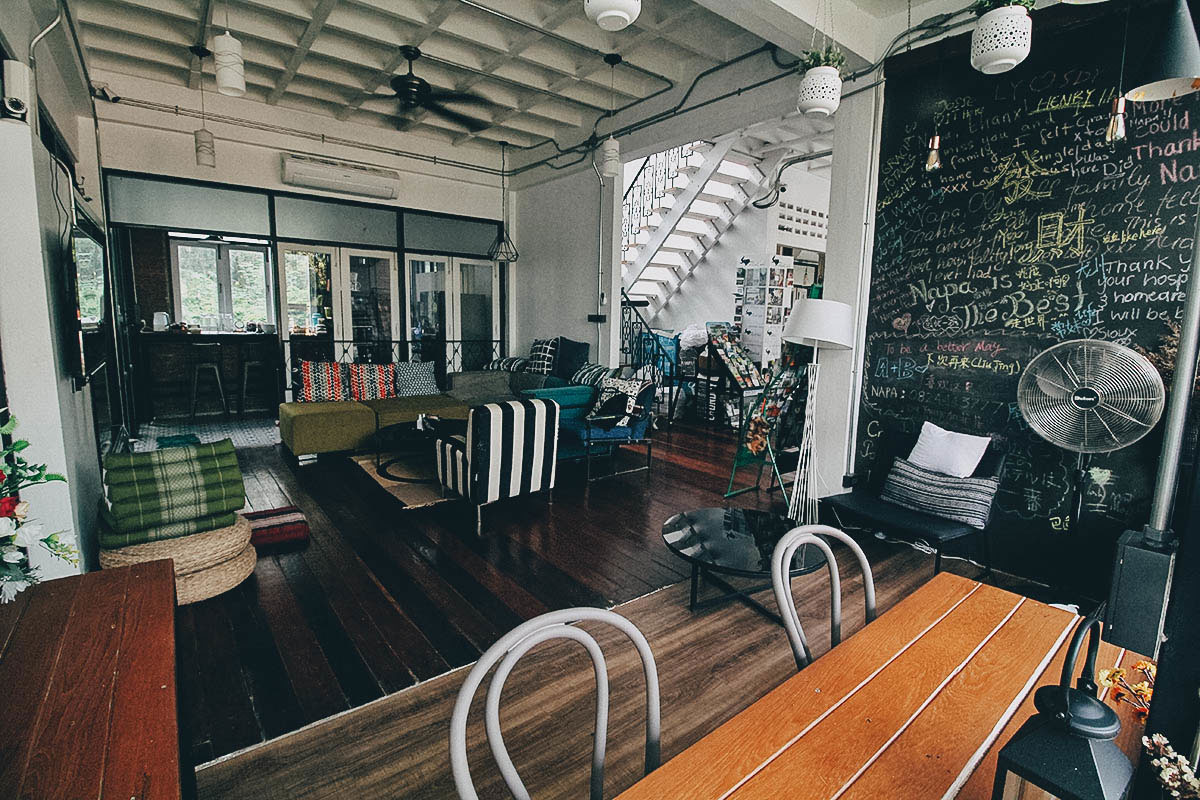 Approximate Room Rate: USD 34 for a private room, USD 11 for the dorm (as of Jan 2018, breakfast included)
NIMMANHAEMIN: 1 Nimman Gallery Hotel
Nimmanhaemin, or Nimman for short, is a trendy area northwest of the Old City. It's a lively area with plenty of modern bars and restaurants. If you'd prefer to stay in a more contemporary part of town, then this is probably where you'll want to be.
1 Nimman Gallery is a boutique hotel just off Nimmanhaemin Road, close to the Maya Lifestyle Shopping Centre. It's a Lanna-style hotel characterized by dark wood furnishings and ethnic accents.
I booked a room at 1 Nimman Gallery Hotel through AirBnB but you can make reservations through Agoda as well. If you'd like to stay in the area but don't feel that this is the right place for you, then you can search for alternate listings in the Nimman area on these sites: AirBnB | Booking.com | Agoda. As described, you can get USD 31 free travel credit if you're new to AirBnB and sign up via this link.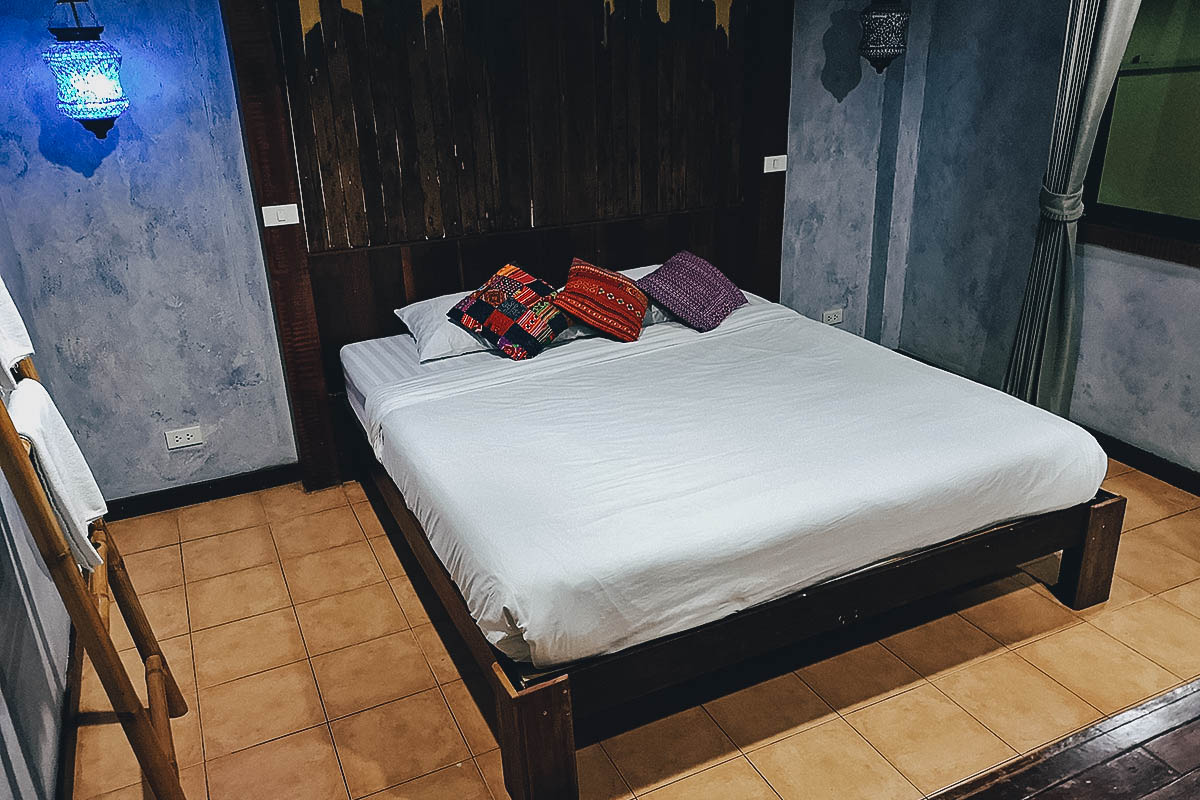 Approximate Room Rate: Around USD 36 per night (as of Aug 2018)
THINGS TO DO IN CHIANG MAI
1. Celebrate the Yee Peng & Loy Krathong Festivals
If you're planning on visiting Chiang Mai in November, then chances are you're looking to be a part of this. The Yee Peng Festival is celebrated around November every year and is characterized by the simultaneous release of thousands of sky lanterns. We went in 2017 and the sight of those lanterns floating into the night sky was one of the most beautiful things we've ever seen. It's absolutely magical. The Loy Krathong Festival happens around the same time as Yee Peng and involves the release of buoyant leaf containers floated down a river.
This year's Yee Peng Festival will be celebrated on November 22, 2018. Tickets for the private event are already on sale now. If you want to purchase tickets or need help planning for it, then you can refer to our guide on how to plan for the Yee Peng Festival in Chiang Mai.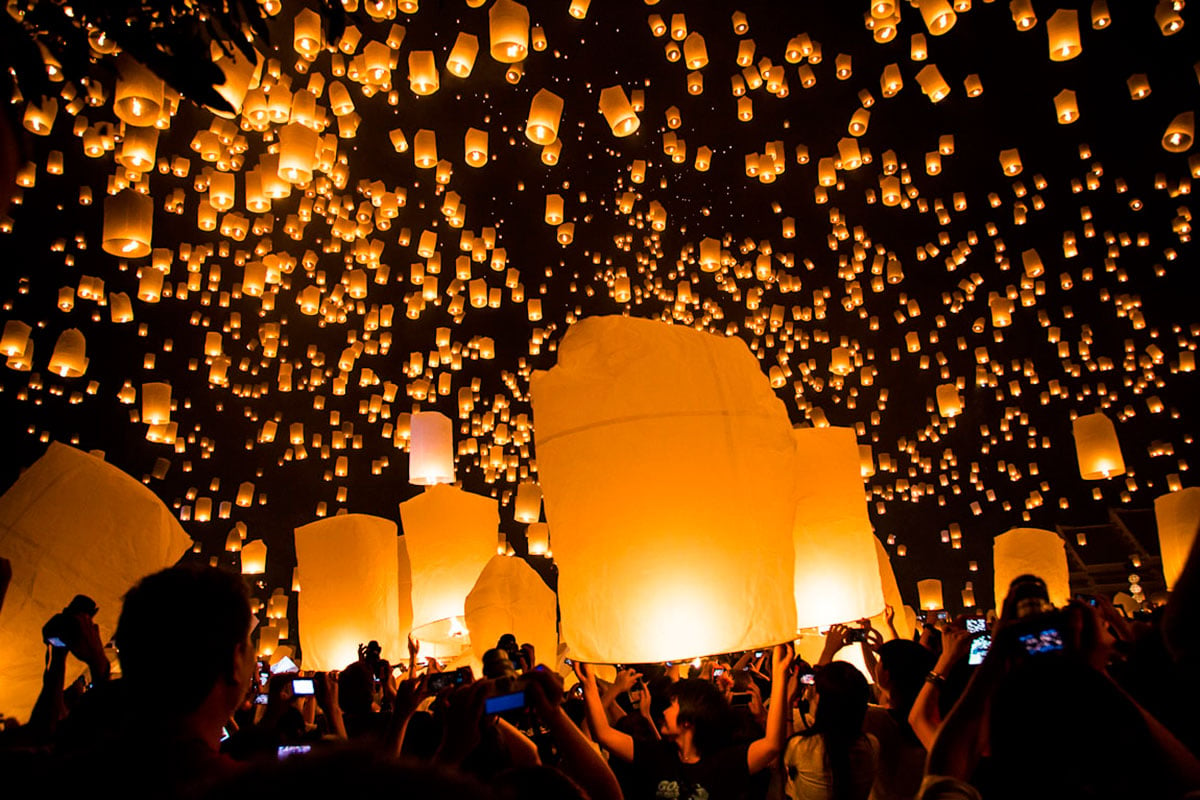 Approximate Length of Event: Around 7 hrs / Cost: Starts at THB 2,800 per person
"003A8622" by John Shedrick, used under CC BY 2.0
2. Take a Thai Cooking Class
One of the most popular things to do in Chiang Mai is to take a cooking class, which isn't surprising considering how delicious and widely accepted Thai food is. Dishes like Pad Thai and tom yum are favorites among travelers so why not take a cooking class and learn how to make it yourself? We took a cooking class at Mama Noi Thai Cookery School where I made the best Thai green curry I've ever tasted in my life. I'm not kidding, it was that good. You can follow that link for more pictures and information. If you like what you see, then you can book the same class through Kkday.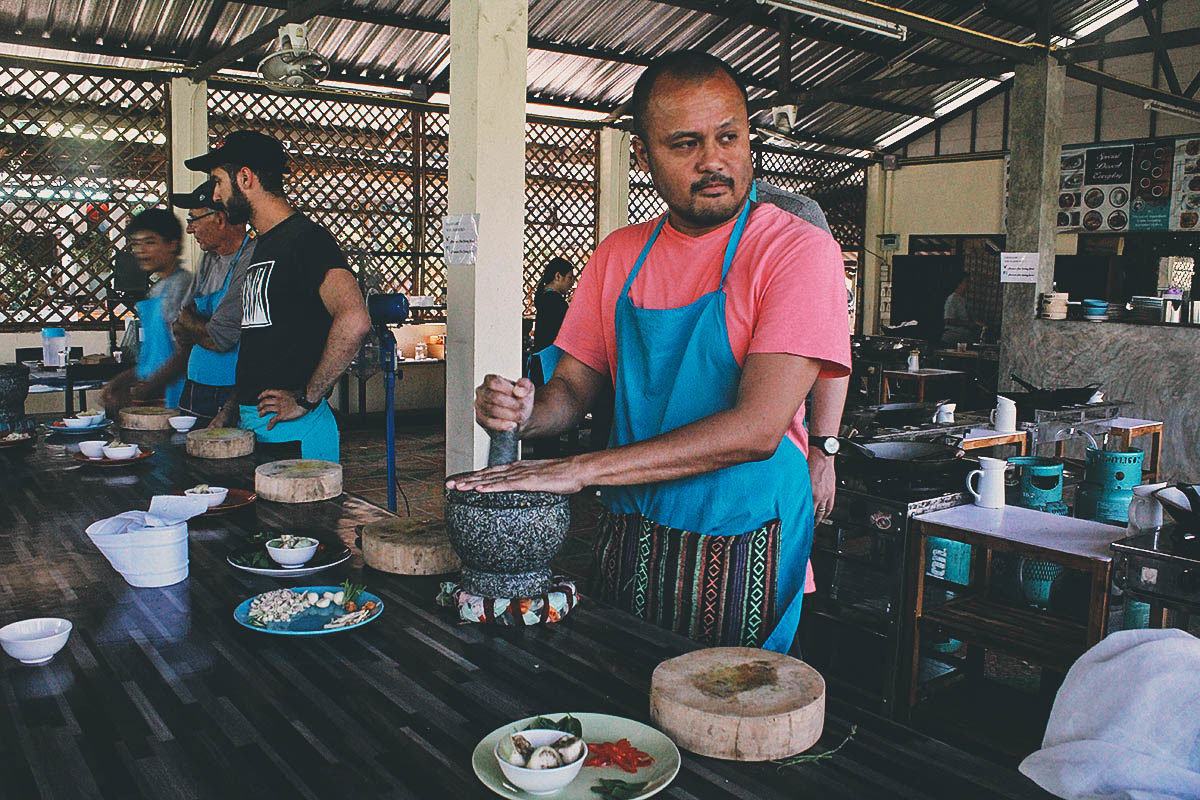 Class Length: At least 4 hrs / Cost: Starts at THB 750
3. Go on a Chiang Mai Food Tour
Ren and I don't like going to touristy restaurants. As much as possible, we try to find places frequented mostly by locals. This guided food tour by A Chef's Tour takes you some of Chiang Mai's best local markets and eateries where we were treated to Northern Thai favorites like sai oua (sausage), larb (pork salad), and nam ngiaw (Shan noodle soup). These aren't the type of restaurants you'll find on your own so if you like eating like a local when you travel, then I highly recommend you take this tour. Check out my post on the Chiang Mai Northern Food Tour by Truck for more pictures and information.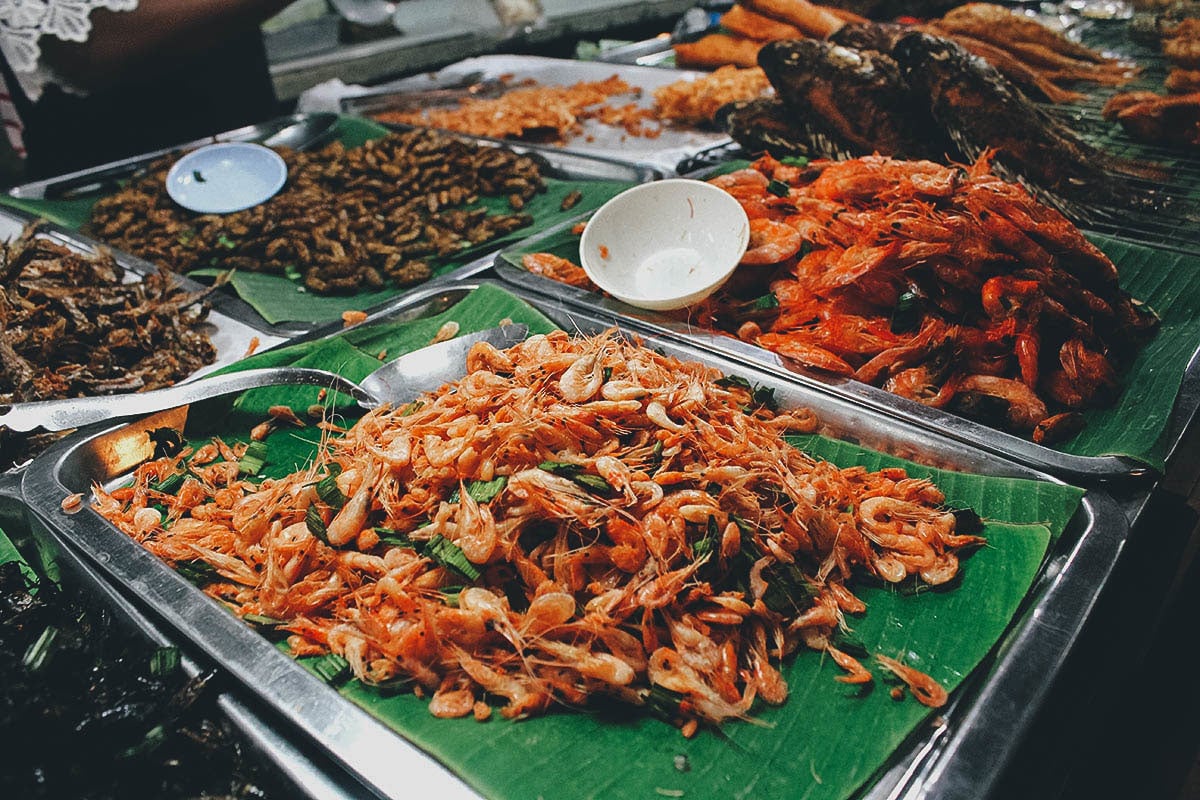 Length of Tour: 4.5 hrs / Cost: USD 59 per person (inclusive of food and drink)
4. Go Temple Hopping in Chiang Mai Old City
The Old City is an attraction on its own. Small but big enough to keep you interested, it's one of those places that begs to be explored on foot. Within the ancient city's walls are several temples you can visit, the most beautiful of which is Wat Phra Singh. There you'll find a stunning golden chedi that's one of the city's biggest and most beautiful. If you have an afternoon to spare, then I suggest spending a few hours temple hopping in Chaing Mai Old City.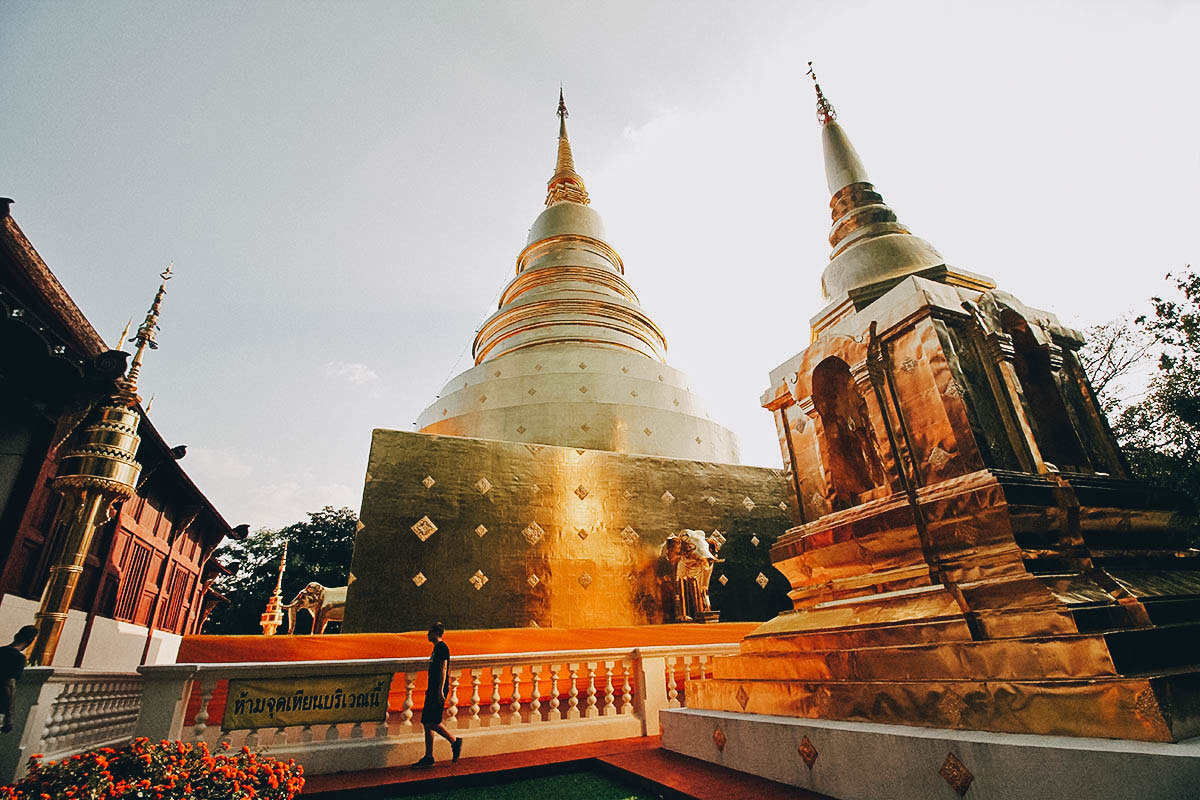 Estimated Time to Spend: About 2-4 hrs / Admission: FREE
5. Pamper Yourself at a Spa
Ren didn't want to join me at Doi Inthanon National Park so I treated her to a deep tissue massage at Kiyora Spa. She's used to getting massages in our home country of the Philippines but she called this massage the best she's ever had. Kiyora Spa is one of many spas in Chiang Mai where you can pamper yourself with a relaxing massage or spa treatment. If you're interested in booking a massage here, then you can do so through Kkday. They offer treatments to other spas as well, so be sure to browse through their site to find the one that best suits you.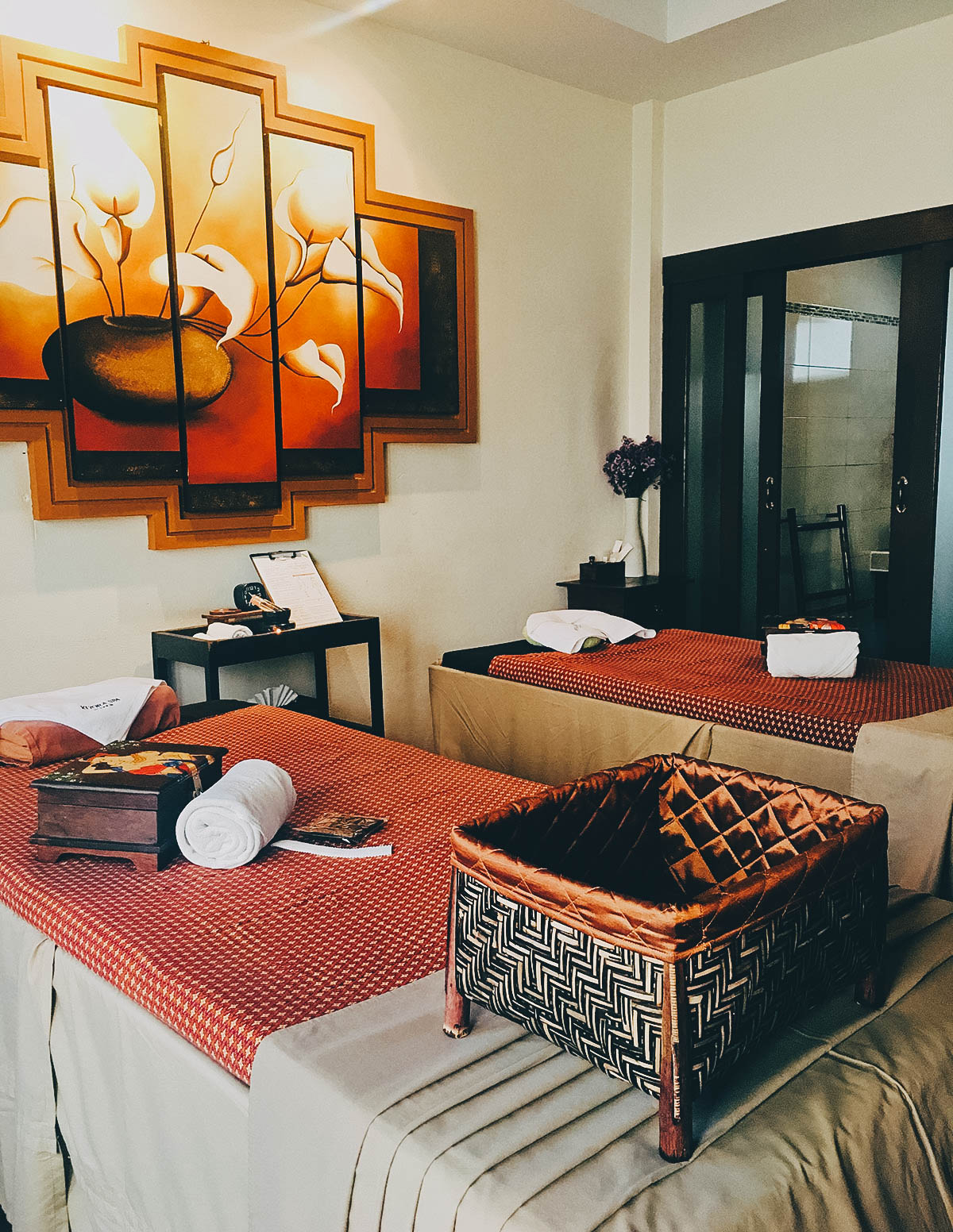 Length of Massage: At least 90 mins / Cost: Starts at THB 1,511
6. Go on a Bike Tour
We didn't do this but a bike tour is always a great way of exploring a smaller city like Chiang Mai. I checked on Kkday and they have this Chiang Mai Highlights Bike Trip which takes you to some of the area's most interesting attractions like Wiang Khum Kham and Somphet Market. They have a night tour option as well which sounds pretty cool. You can follow that link for more information.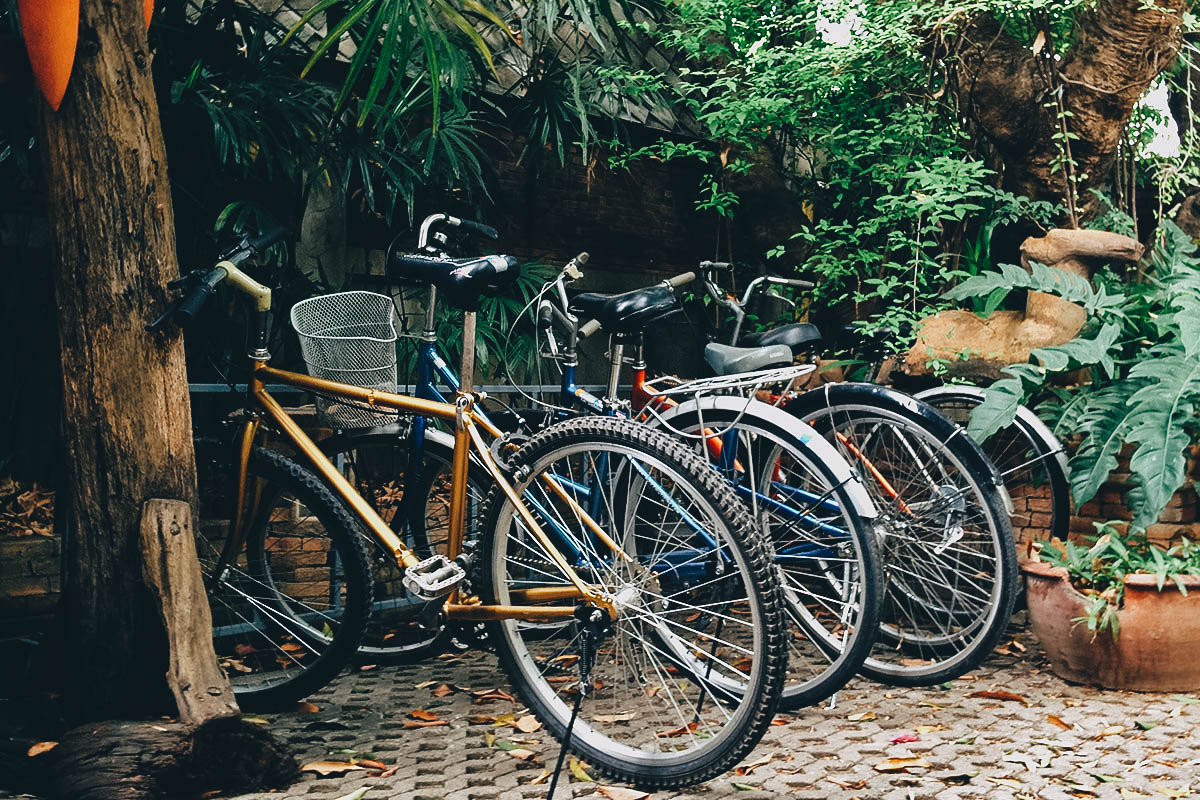 Length of Tour: 5 hrs / Cost: THB 1,200 per person
"Free Bikes, Santitham Guesthouse, Chiang Mai" by David McKelvey, used under CC BY 2.0 / Processed in Photoshop and Lightroom
DAY TOURS FROM CHIANG MAI
1. Pamper Pachyderms at Elephant Nature Park
Aside from the Yee Peng Festival, this is what I was most excited about in Chiang Mai. Elephant Nature Park is an animal sanctuary and rescue center about an hour and a half away from Chiang Mai Old City. They presently have over 35 elephants at the park, most of whom were rescued from the tourism or illegal logging industries. The park employs a Visit & Volunteer program where tourists can stay for the day or up to an entire week working with the elephants. You can check out my post on Elephant Nature Park for more pictures and information. We made the reservation directly with ENP but it looks like you can get a small discount if you book this tour through Kkday.
It's important to note that Chiang Mai province is known for these elephant centers, many of which pose as "sanctuaries" but still partake in cruel practices like elephant riding and painting. Elephant Nature Park has built a reputation for being one of the best and most reputable rescue centers in Thailand, thanks to the work of its founder Lek Chailert who was hailed in 2010 as one of six Women Heroes of Global Conservation.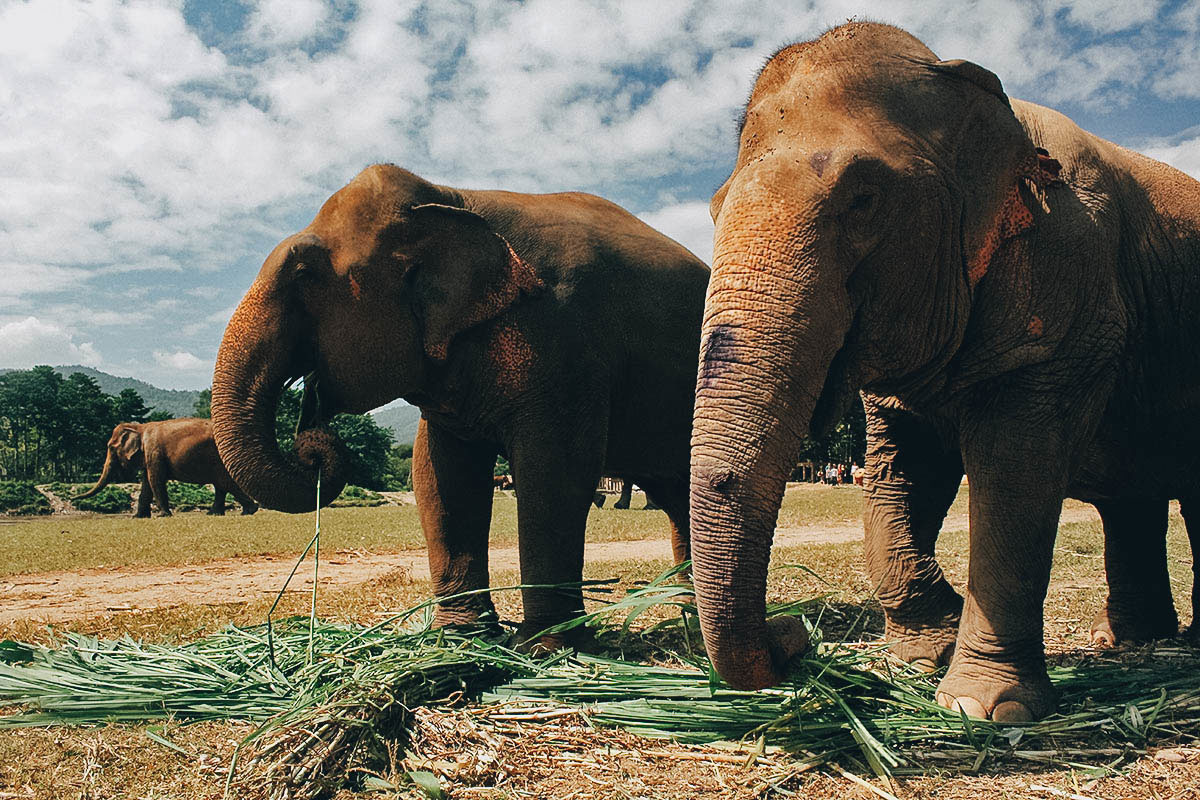 Length of Tour: 10 hrs for the Single Day Visit / Cost: THB 2,500 per person
2. Marvel at the Beauty of Wat Phra That Doi Suthep
I visited many temples in two weeks in Thailand and I found Wat Phra That Doi Suthep to be the most beautiful. Glistening in gold against a clear blue sky, it's a stunning sight and one of the most popular temples in Chiang Mai. It takes less than an hour to get there by songthaew so it's one of the easiest day trips you can make from the Old City. Check out my post on Wat Phra That Doi Suthep for more pictures and information.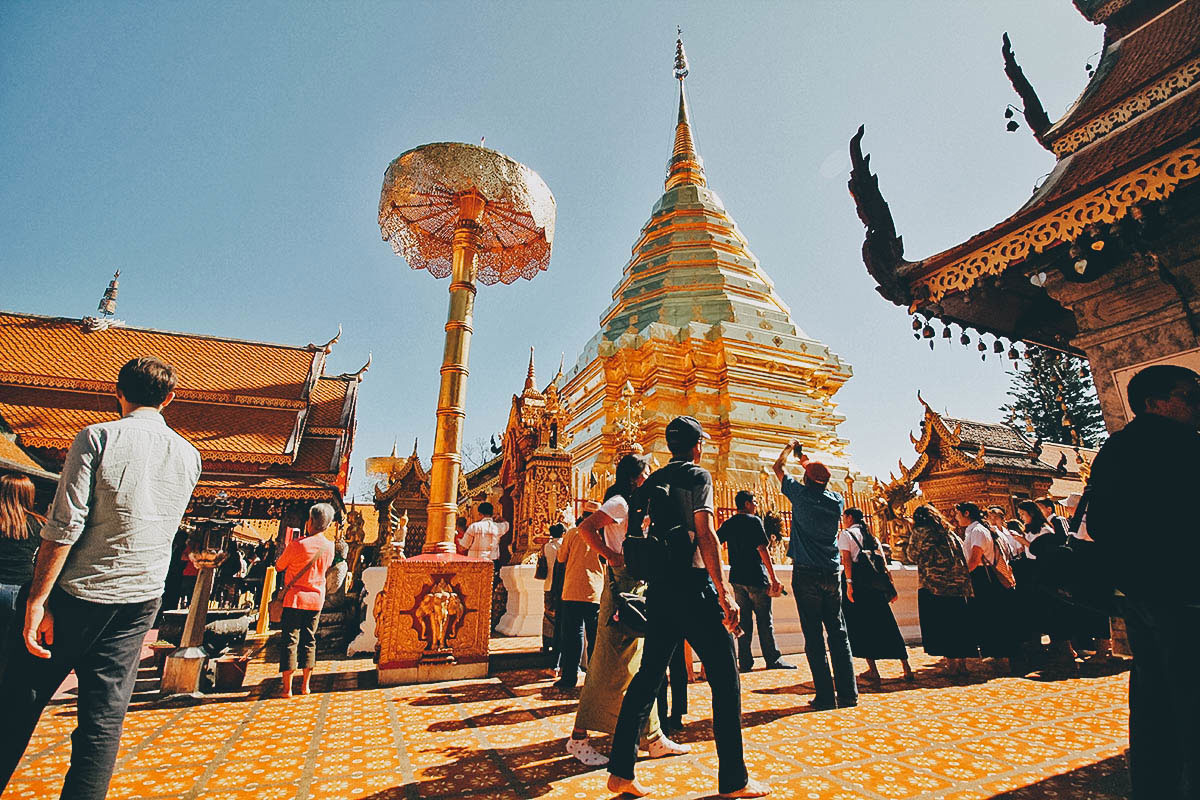 Estimated Time to Spend: Half a day / Admission: THB 50
3. Spend the Day at Doi Inthanon National Park
Doi Inthanon is Thailand's highest mountain. At its peak, it has an elevation of 2,565 meters (8,415 ft) and offers the most picturesque views in Chiang Mai. The park is known for its many waterfalls and hiking trails, though its perhaps best known for its towering twin chedis built in honor of King Bhumibol Adulyadej and Queen Sirikit.
Doi Inthanon National Park is over two hours away from Chiang Mai Old City so it's easiest to visit on a guided tour. Kkday offers a day tour which costs THB 1,120 per person. You can check out my post on Doi Inthanin National Park for more pictures and information.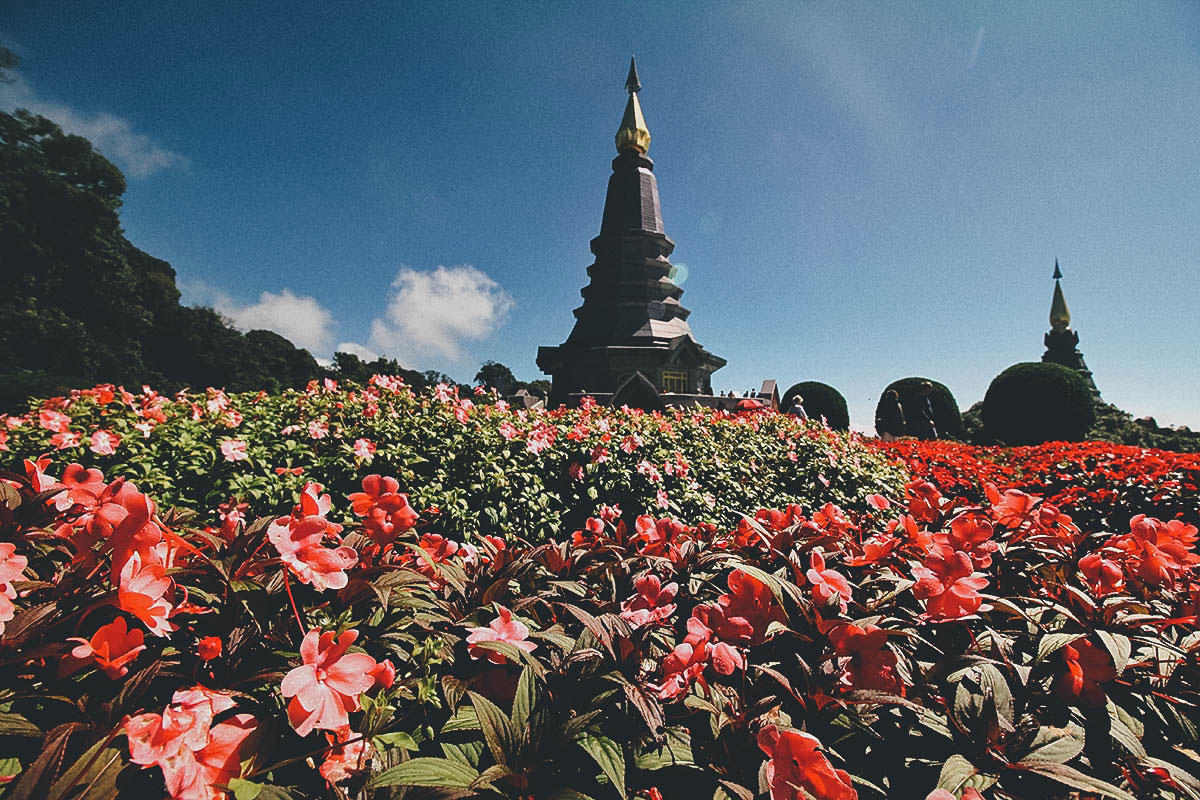 Length of Tour: About 10 hrs / Cost: THB 1,120 for adults, THB 720 for kids
4. Go Ziplining in the Jungle
We were deliberating on doing this till the very end. Ziplining in the Northern Thai jungle is one of the most popular things you can do in Chiang Mai. We're not that into ziplining so we decided against it, but if you want to experience gliding through the forest canopy, then there are many of these aerial adventure parks to choose from. Kkday offers vouchers to several, their most popular being the Chiang Mai Dragon Flight Zipline Adventure. Be sure to check their site to find the park that best suits you.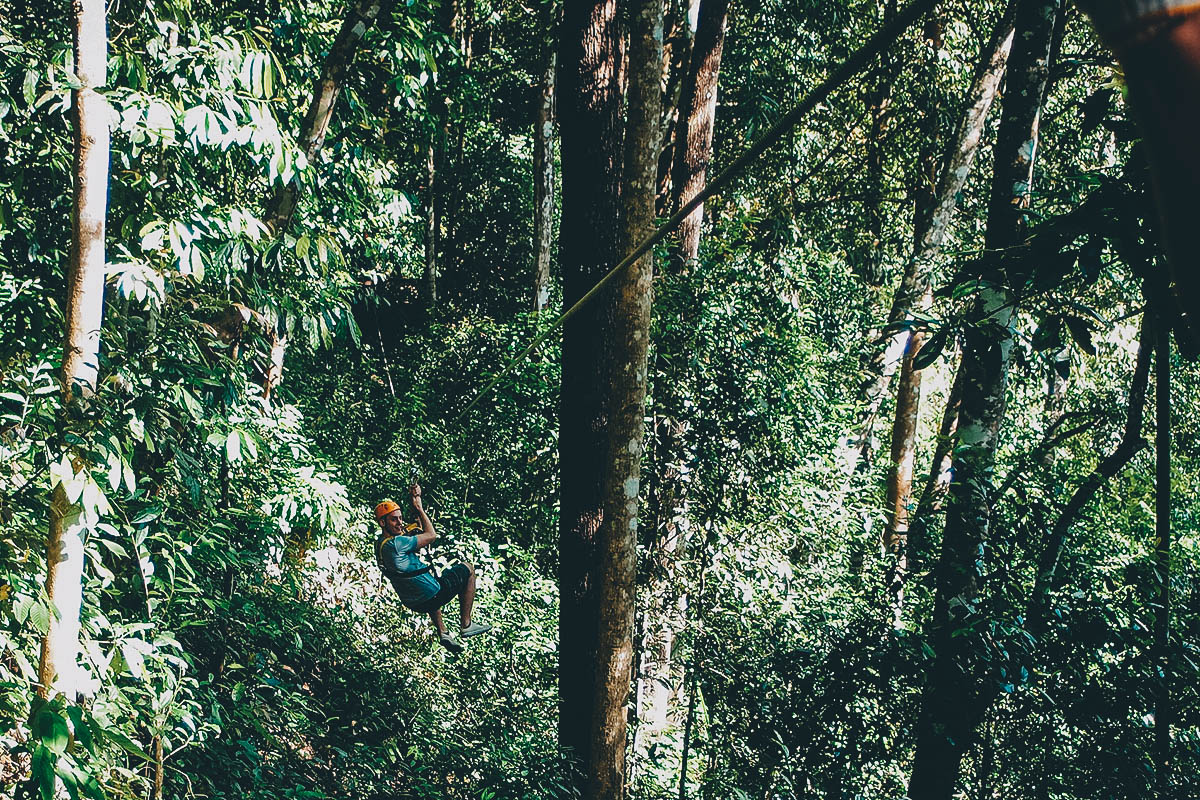 Length of Tour: About 6 hrs / Cost: THB 1,531 per person
"Dragon Flight" by VnGrijl, used under CC BY-SA 2.0 / Cropped, processed in Photoshop and Lightroom
5. Take a Day Trip to Chiang Rai
Similarly named and just three hours away by bus, Chiang Rai is synonymous with Chiang Mai. Many tourists who travel to the region often visit both. Chiang Rai isn't as big as Chiang Mai but it's home to one of Thailand's most interesting and unique temples, Wat Rong Khun or the White Temple.
You can visit Chiang Rai on a day tour from Chiang Mai for as little as THB 854 per person. If you'd like to stay longer, you can go there on your own by bus. Check out our first-timer's travel guide to Chiang Rai to help you plan your trip.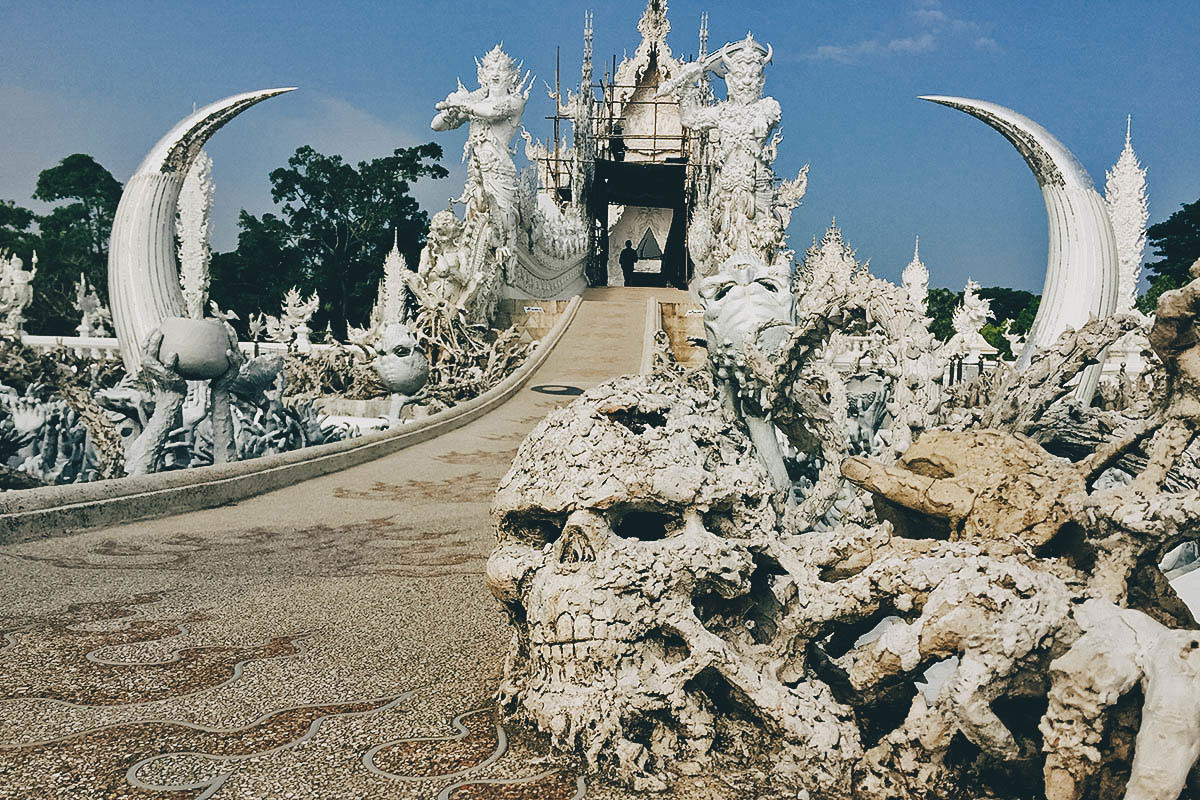 Length of Tour: About 12 hrs / Cost: Starts at THB 854 per person
To get a better feel for these attractions, check out this short video I put together of seven fun things to do in Chiang Mai, which includes footage from many of the activities recommended here.
WHERE TO EAT IN CHIANG MAI
1. Khao Soi Khun Yai
As I described in our Chiang Rai travel guide, every trip to Northern Thailand should begin with a bowl of khao soi. It's the quintessential Northern Thai dish of crispy and soft egg noodles in a creamy, curry-like sauce made with coconut milk. We had khao soi several times in Chiang Mai and Chiang Rai, and the version here at Khao Soi Khun Yai was our favorite. It was delicious, rich and creamy without being too sweet.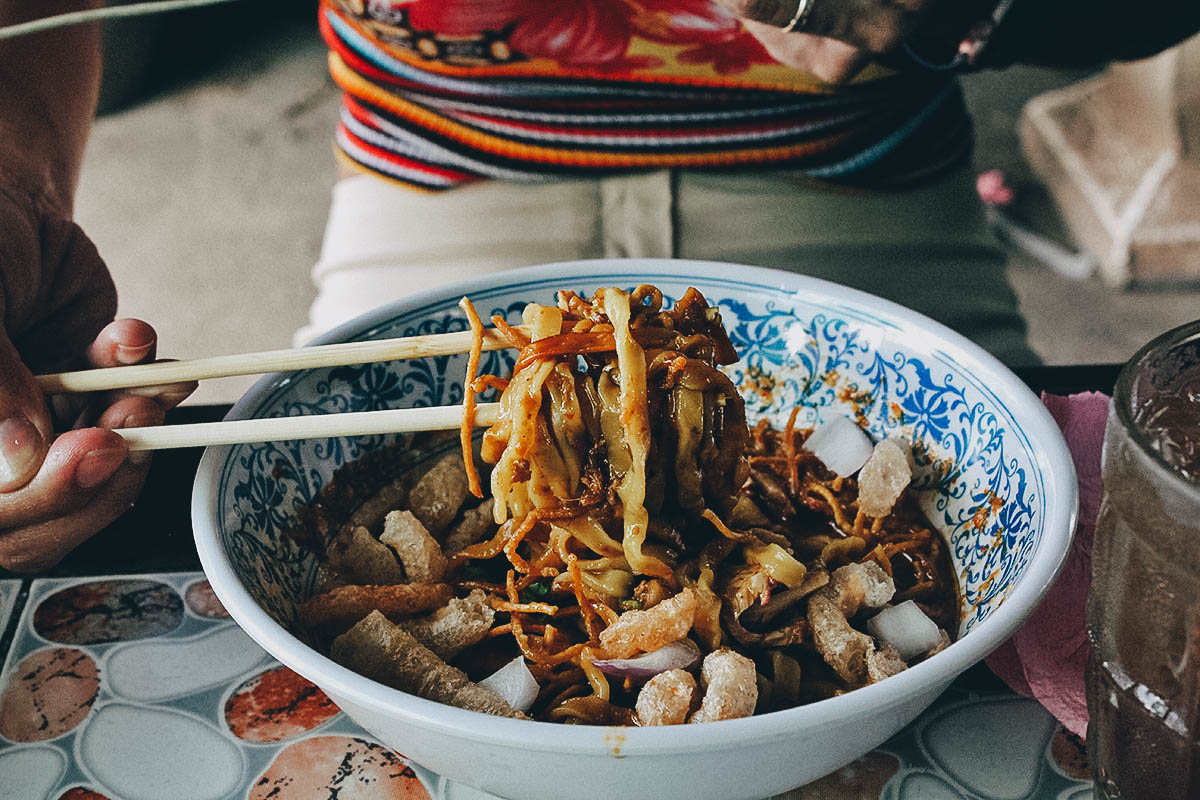 Expect to Spend: THB 35 per bowl of khao soi
2. Khao Kha Moo Chang Phueak (Cowboy Hat Lady)
If khao soi is Chiang Mai's most famous dish, then this food stall is arguably its most popular. Manning the stall is a lady badass wearing a 10 gallon cowboy hat. Known as the Cowboy Hat Lady, she's been described as a Chiang Mai institution with a reputation for serving some of the best khao kha moo in town. Khao kha moo is braised pork leg cooked in Chinese five spice and served over rice with a medium-boiled egg. Cowboy Hat Lady's khao kha moo is fall-off-the-bone tender and absolutely delicious.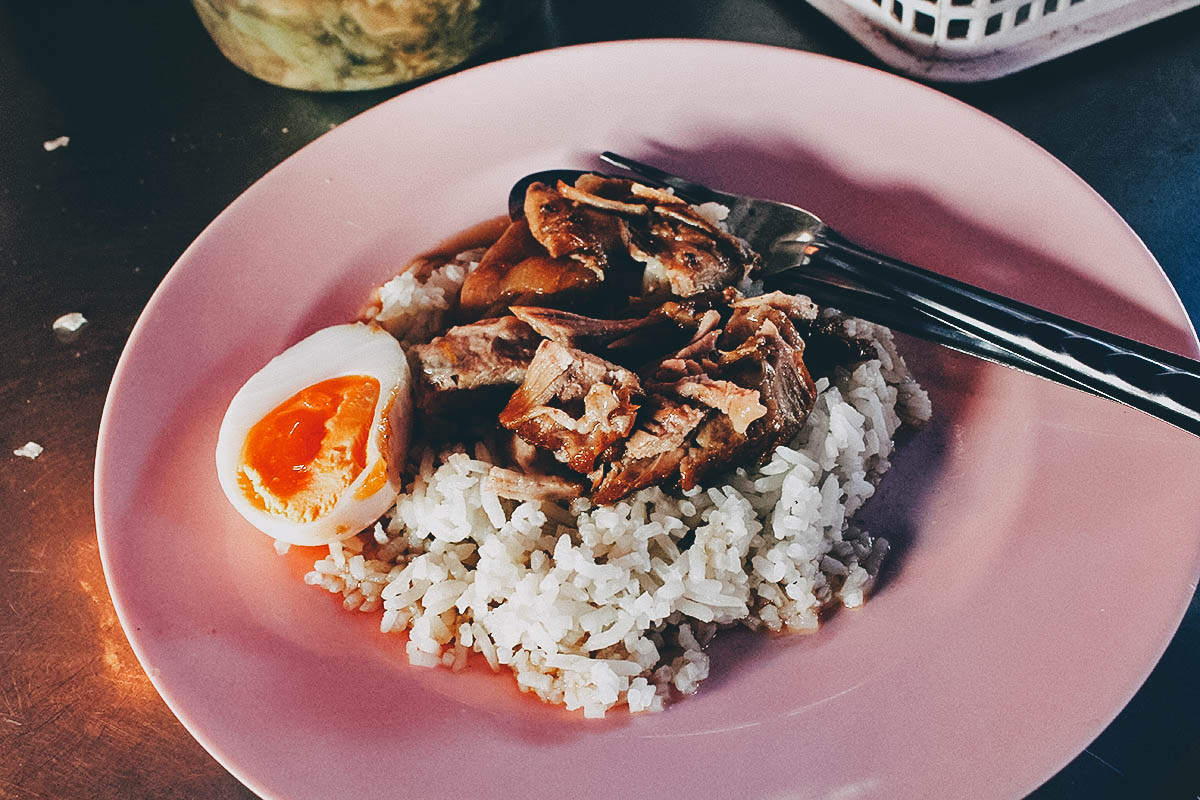 Expect to Spend: THB 30 per small order of khao kha moo
3. Suki Koka
Located in the same cluster of food stalls as the Cowboy Hat Lady, this bowl of Thai suki was one of Ren's favorite things to eat in Chiang Mai. Served wet or dry, Suki Koka's Thai suki consists of vegetables cooked with mung bean noodles and a mix of seafood or your choice of meat. Suki Koka makes their Thai suki with heaps of cabbage cooked briefly in a wok at high heat, keeping it crunchy whilst giving it that wonderful smokey wok hei flavor. Like Khao Kha Moo Chang Phueak, it's one of the most popular eateries in this cluster of North Gate food stalls. Don't leave Chiang Mai without eating at both.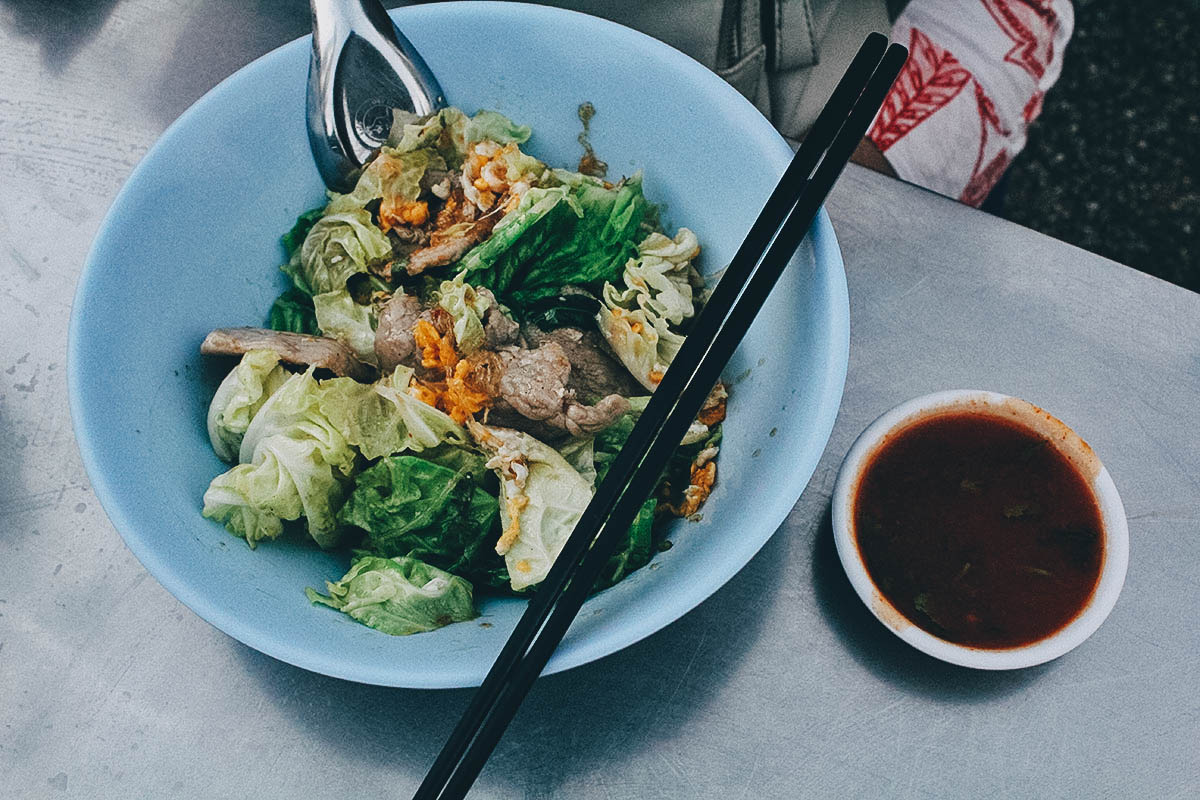 Expect to Spend: THB 40 per order of suki
4. Cherng Doi Roast Chicken
If you're in the mood for kai yang or roast chicken, then Cherng Doi should be at the top of your list. Kai yang is an Isaan dish that's now popular throughout Thailand. A whole chicken is often halved and pounded flat before being marinated then slowly grilled over a low charcoal flame. Together with SP Chicken, Cherng Doi Roast Chicken is often cited for serving some of the best kai yang in Chiang Mai. Both were fantastic, but I preferred Cherng Doi. The meat was tender and juicy with nicely crisped skin. Delicious!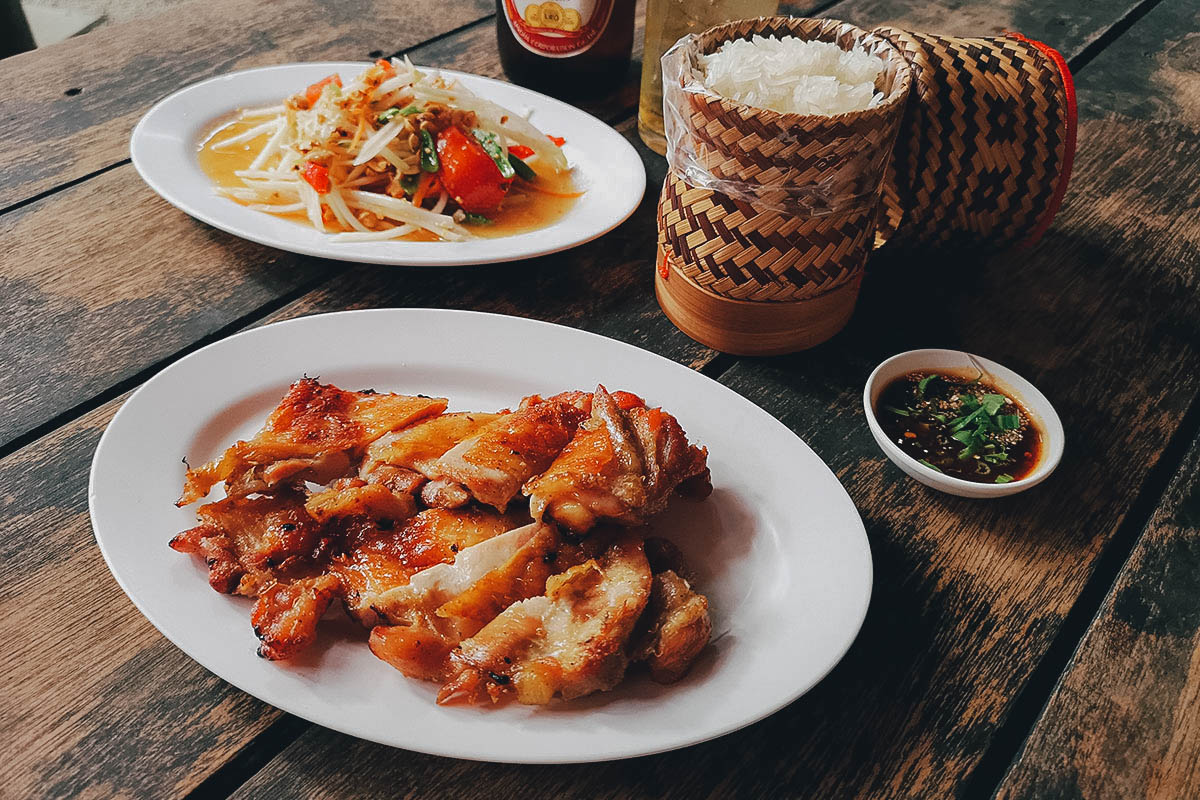 Expect to Spend: THB 80 per order of kai yang nung krob
The four eateries listed above were our favorite places to eat in Chiang Mai. But if four isn't enough for you, then you can check out our post on 11 must-eat restaurants and street food stalls in Chiang Mai for more recommendations.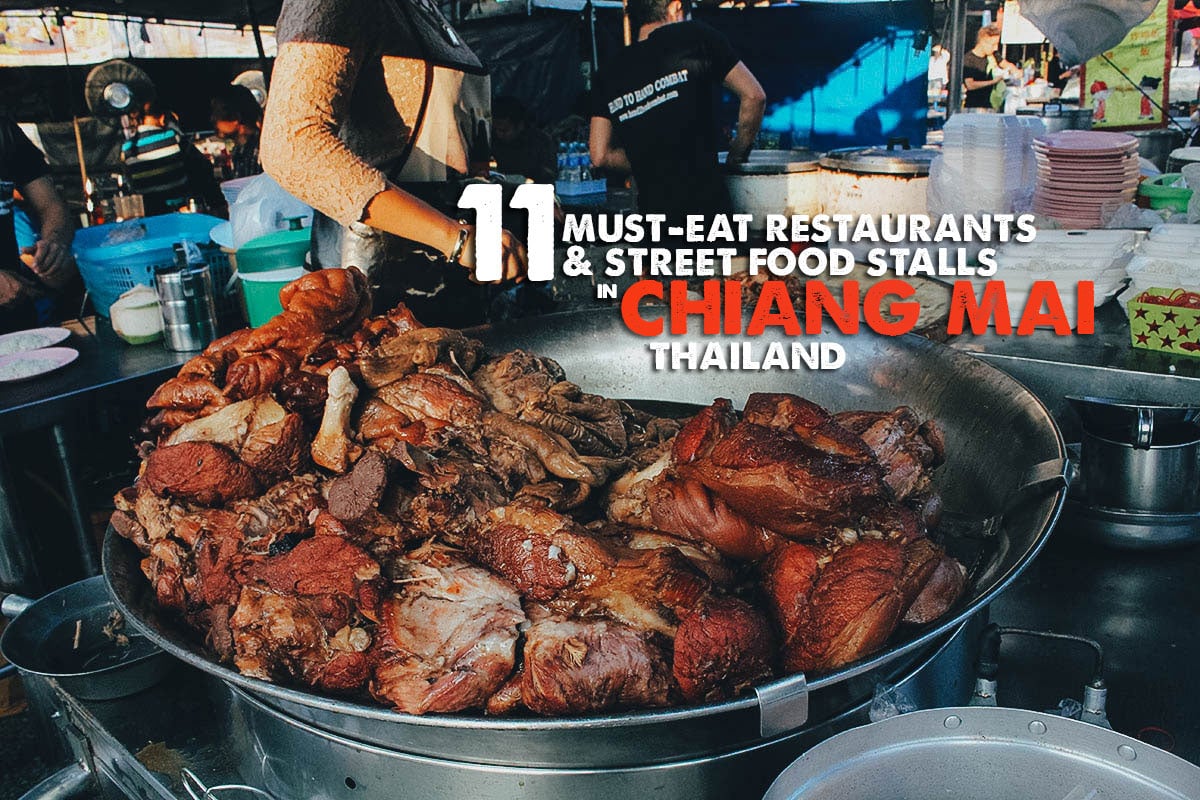 If pictures aren't enough to whet your appetite, then check out this short video I put together featuring some of the eateries recommended here.
POINTS OF INTEREST IN CHIANG MAI
To help you get your bearings, I've created this map so you get a better sense of where everything is. All the places recommended in this guide are pinned on this map.
HOW TO GET AROUND
If you're staying in the Old City, then it's easy enough to get around on foot. But there are times when you may have to go farther. The cheapest and most common way of getting around Chiang Mai is via those red trucks with two rows of seats called songthaews. If you've been to the Philippines, then you'll find them similar to public jeepneys.
I only rode it once to go to Doi Suthep and from what I understand, they cost a minimum of THB 30 per ride. You can hail any passing songthaew and tell the driver where you want to go. If he's going in that direction, then he'll quote you the fare amount and tell you to hop in the back. If not, then you can wait for the next one to come along. I don't have too much experience with them but you can refer to this excellent post on public songthaews for more information.
While songthaews may be the cheapest form of transportation, it isn't the most convenient. Whenever Ren and I needed to go somewhere outside of the Old City, we would use Grab instead. It was more expensive than songthaews but still relatively cheap, especially since our hostel would provide us with promo codes.
We took 7 Grab rides in all and they averaged out to just over THB 51 per ride, with the most expensive trip being from our hostel to the airport for THB 85. If you aren't traveling too far and don't want to deal with the hassle of public songthaews, then Grab is an excellent alternative.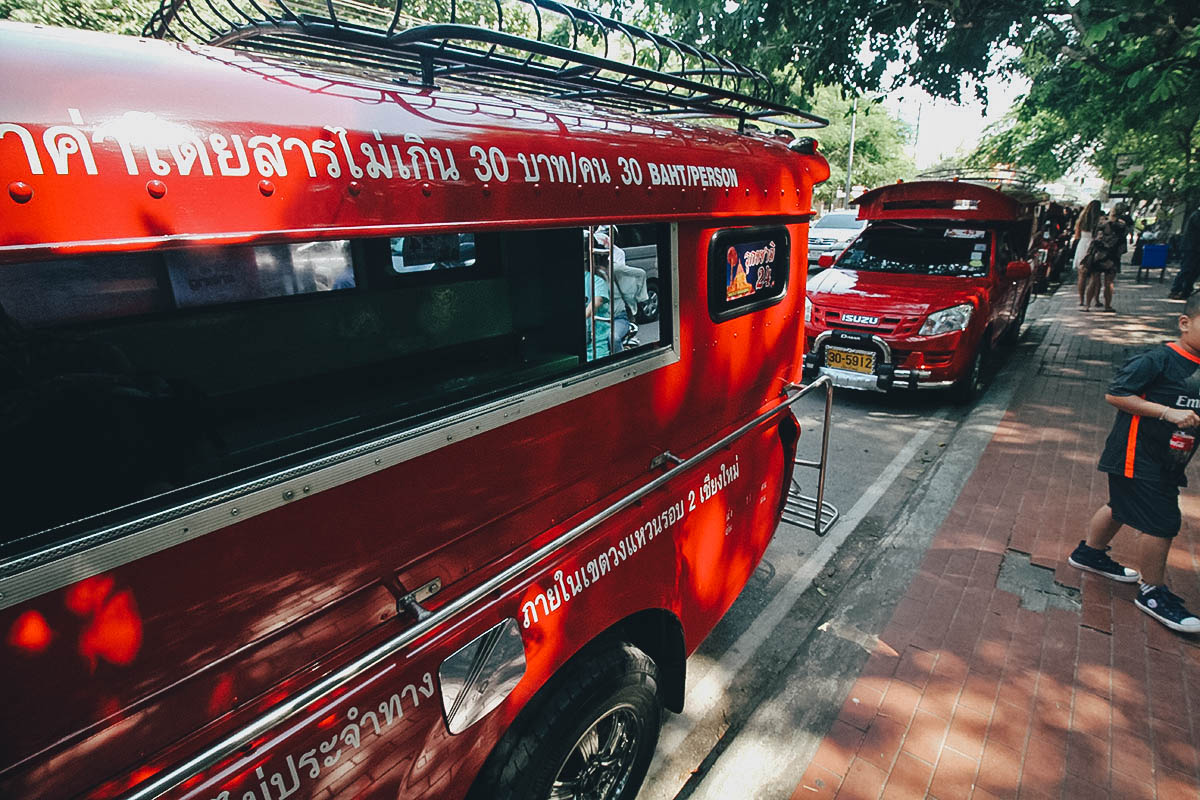 HOW MANY DAYS TO STAY / SAMPLE ITINERARY
Chiang Mai isn't a metropolis like Bangkok but there's a lot to do here. On top of that, it's one of those destinations that invite slow travel. Assuming you aren't in town to celebrate festivals like Yee Peng or Songkran, then I'd say 5 full days is enough to get a good feel for the city. It'll give you enough time to do almost everything in this guide. Here's a sample 5D/4N Chiang Mai itinerary I put together to help you plan your trip.
DAY ONE

• Wat Phra That Doi Suthep
• Wat Phra Singh
• Wat Chedi Luang
• Wat Chiang Man
• Wat Lok Molee
• North Gate Food Stalls

DAY TWO

• Elephant Nature Park
• Khantoke dinner and show at Old Chiang Mai Cultural Center
DAY THREE

• Zipline adventure
• Spa massage
• Ploen Ruedee Night Market
DAY FOUR

• Day trip to Chiang Rai
DAY FIVE

• Thai cooking class
• Chiang Mai food tour
BUDGET / SUMMARY OF EXPENSES
Chiang Mai isn't an expensive city. Hostel accommodations are as low as USD 3 a night and meals can be had for less than USD 2 a plate. It's budget-friendly reputation is part of what makes it such a popular tourist destination and a haven for digital nomads.
The unit of currency in Thailand is the Thai Baht (THB). Assuming you'll be sharing mid-level accommodations with one other person, then a daily budget of around THB 850-1,000 per person should be plenty. This takes into account your accommodations, transportation, meals, drinks, and pocket wifi rental. Here's a quick breakdown of expenses:
ACCOMMODATIONS

This is highly subjective. It depends on several factors like hotel preference and number of travel companions. We booked a private room at a lovely but inexpensive hostel for about THB 1,070 a night. Expect to pay much less if you're staying in a dorm room.
MEALS

Again, this is subjective, but based on our experience, I'd say around THB 150 a day per person. Many filling meals can be had for THB 50 or less.
TOUR / ACTIVITY FEES

This will stretch your budget. Visiting Elephant Nature Park or going on a zipline adventure won't be cheap. It all depends on what you want to do so I've excluded any tour fees from the estimated budget. You can refer to the cost indicated beneath each activity and add it to the total.
POCKET WIFI RENTAL

If you're sharing the cost with one other person, then you'll each be paying THB 90 per day.
TRANSPORTATION

We didn't take it often but the cheapest way of getting around Chiang Mai is by public songthaew, which costs a minimum of THB 30 per ride. As described, we used Grab more often which was still pretty cheap. Assuming you'll be traveling short distances by songthaew and Grab, then a budget of around THB 100 per day should be enough.
TOTAL



This comes out to THB 875 a day per person. As advised, this baseline estimate doesn't include tour costs or shopping. Most of your budget will go to tours so you can add any activity costs to this amount. Ren and I are middle of the road travelers who enjoy good food and drink, so the recommended budget is a good baseline for travelers like us. Adjust accordingly based on your own travel habits.
TRAVEL TIPS
1. Plan your Trip with Sygic Travel (formerly Tripomatic)
I love this app. It makes travel planning so much easier. Sygic Travel allows you to plot points of interest on a map, including your hotel, so you can see exactly how far you need to travel between points. It shows you where each attraction is on a map so you can visit them in the right order and save travel time. With pocket wifi, it turns your mobile phone into a GPS tracking device so people with a poor sense of direction (like me) never get lost again. Pretty sweet right? Check out my post on the Sygic Travel app for more information.
Sygic Travel is what I used to create the location map above. You can view it as a day-to-day itinerary as well. Follow this link to check out our 6-day Chiang Mai itinerary on Sygic Travel. You can also download it in editable Word format from our EAT-ineraries page.
2. Rent a Pocket Wifi Device
A constant wifi connection is a must when traveling these days. You'll need it to do research, convert currencies, use ride-sharing apps, navigate with GPS, etc. We never go anywhere now without renting a pocket wifi device first.
We rented a 4G pocket wifi device for THB 180 per day, which we picked up and dropped off at the Smile Wifi counter in Suvarnabhumi Airport. You can pick it up and drop it off at Don Mueang Airport as well. Both counters are open 24 hours.
It was fast and we never had trouble connecting in our two weeks in Thailand. Aside from Chiang Mai, we spent time in Bangkok and Chiang Rai and it worked flawlessly there as well. The battery life was excellent. I'd switch it on early in the morning and it would last till about mid- to late afternoon. It came with a power bank too which was very handy.
3. Plan Early for the Yee Peng Festival
If you're traveling to Chiang Mai to celebrate the Yee Peng Festival like we did, then you'll need to plan your trip early. It's a popular event which sees thousands of tourists flocking to the city and trying to snap up a limited number of tickets. They will sell out quickly so I suggest booking your tickets and planning your trip as early as possible.
As advised, this year's event will be held on November 22, 2018 with tickets to the Doi Saket Private Event already on sale now. You can refer to my post on planning for the Yee Peng Festival for ticket and event information.
4. Pick the Right Elephant Sanctuary
Chiang Mai is known for its many elephant centers. However, not all are legitimate. Many pose as "sanctuaries" to attract tourists but still engage in cruel practices. If you read about any facilities that allow elephant riding or force the animals into performing tricks like doing headstands or painting pictures, then that's probably not the sanctuary you want to go to. People are entertained out of ignorance but these tourism-related activities are rooted in cruel practices like elephant crushing and the use of bull hooks to control the animals.
If you're an animal lover and don't want to support elephant cruelty, then go to a true sanctuary and rescue center like Elephant Nature Park. It's one of the best and most reputable in Thailand. You can check out my post on Elephant Nature Park for more pictures and information.
5. Check for Discount Passes
There are many websites that offer discount passes to tours and services. One of my favorites is Kkday. They offer deals in many cities around the world, including Chiang Mai. If you're looking for deals on tours, shows, transfers, etc, then you may want to search through Kkday's website for a list of Chiang Mai attractions. You'll often find interesting activities that you wouldn't normally think of yourself, so it's definitely worth a look. Here's a list of some of Kkday's most popular deals in Chiang Mai: (pictures borrowed from kkday.com)
6. Get Travel Insurance
To be honest, it was only recently when we started buying travel insurance. Back when we traveled just once or twice a year, travel insurance felt like an added expense, one we didn't need. But now that we travel more, I understand how important it is to have it. Fact is, you never know what can happen. It's one of those things that you hope you never have to use, but if you do wind up needing it, then you'll be thanking the gods that you had it (or cursing them if you didn't).
Though I do find it more necessary now, it's still up to you if you think you need it. A 3-day trip to Seoul just shopping and eating may not really call for insurance but if you plan on doing more active things like bungee jumping, horseback riding, or even going on a city bike tour, then I'd say travel insurance is a must. We visited Elephant Nature Park on this trip so we did get travel insurance, just in case we got accidentally sat on by a rogue pachyderm.
We buy travel insurance from World Nomads because every long-term traveler I know recommends it. From the sound of it, they're the best in the industry by a mile. Not only do they provide a high coverage limit for medical expenses (up to USD 5 million with the Standard package), they also cover things like trip delays, missed flight connections, theft/loss of passport and luggage, etc. Follow the link or use the widget below to learn more and get a free travel insurance quote from World Nomads. It's super quick and easy.
7. Bring the Right Power Adapter
Electrical outlets in Thailand typically feature two-pronged round or flat sockets, either Type A, Type B, Type C, or Type F. Be sure to bring the right power adapters for your devices. Electrical voltage is 220V and the standard frequency is 50Hz.
For Filipinos
Regarding visas, Filipinos don't need tourist visas to visit Thailand for stays no longer than 30 days.
HOW TO GET CHEAP AIRLINE TICKETS
Ever since I scored my first piso fare from Cebu Pacific, I've been hopelessly addicted to cheap airline tickets. For our trip to Thaland in late October 2017, our tickets to Bangkok Suvarnabhumi Airport with a shared 20 kg baggage allowance came out to just under PHP 6,700 each roundtrip. Not bad right?
These seat sale tickets are limited and sell fast, so you have to be quick. To give yourself an advantage, I suggest liking their Facebook page and following them on Twitter to quickly find out about these seat sales. If you check off "Get notifications" on Facebook, then you'll receive instant alerts every time they post something new.
Other airlines that have direct flights from Manila to Bangkok are Philippine Airlines and Thai Airways.
Have fun!
I'm not an expert on Chiang Mai but I do hope that you find this post useful. I'm only sharing some of the things that I learned from our trip. If you have any suggestions or simply want to share your own experiences, then please feel free to do so in the comments section below. You're welcome to join our Facebook Travel Group as well. We'd love to hear from you.
Thanks for stopping by and have a great time exploring Chiang Mai and Northern Thailand!
OUR GEAR
These are some of the things we brought with us to Chiang Mai. As you can tell, I document a lot of content for this blog so most of the things I bring are photo and video equipment. 😆 If you'd like to see what other gear we use, then you can check out our "What's in Our Backpack?" post. (NOTE: The following links are Amazon affiliate links.)
Disclosure
We're a Kkday affiliate and worked with them on this trip. We paid for our airfare, accommodations, and incidental expenses like transportation and food, but we were allowed to go through their website and choose activities and services in exchange for an honest account of the experience. They gave us vouchers to the Khantoke dinner, Doi Inthanon day tour, and Mamai Noi Thai cooking class. They didn't ask us to do any of these things. We chose them on our own volition. As always, all words and opinions expressed in this post are mine and mine alone.
Some of the links in this guide are affiliate links, meaning we'll get a small commission if you make a purchase at NO extra cost to you. We only recommend products and services that we use ourselves and firmly believe in. We really appreciate your support as this helps us make more of these free travel guides. Thank you!