Chiang Mai is often a long-term destination. It's inexpensive and laid back so it encourages many travelers to stay for weeks at a time, months even. We were in Thailand for two weeks and we spent half of our time in Chiang Mai. Small but big enough to keep you interested, there is much to see and do here without the commotion of a megacity like Bangkok.
Many people who visit Chiang Mai do bucket-list-worthy activities like visiting an elephant sanctuary or attending the Yee Peng or Songkran festivals. But there's a lot you can do within the Old City as well, less epic but equally memorable things like cafe hopping, eating street food, or conversing with monks.
We spent a week in Chiang Mai so we had the luxury of exploring the city at a more leisurely pace. We didn't have much planned on our first day so I spent the afternoon getting lost in the Old City and visiting as many temples as I could. These are the ones I found.
Save This on Pinterest!
No time to read this now? Click on the red save button and pin it for later!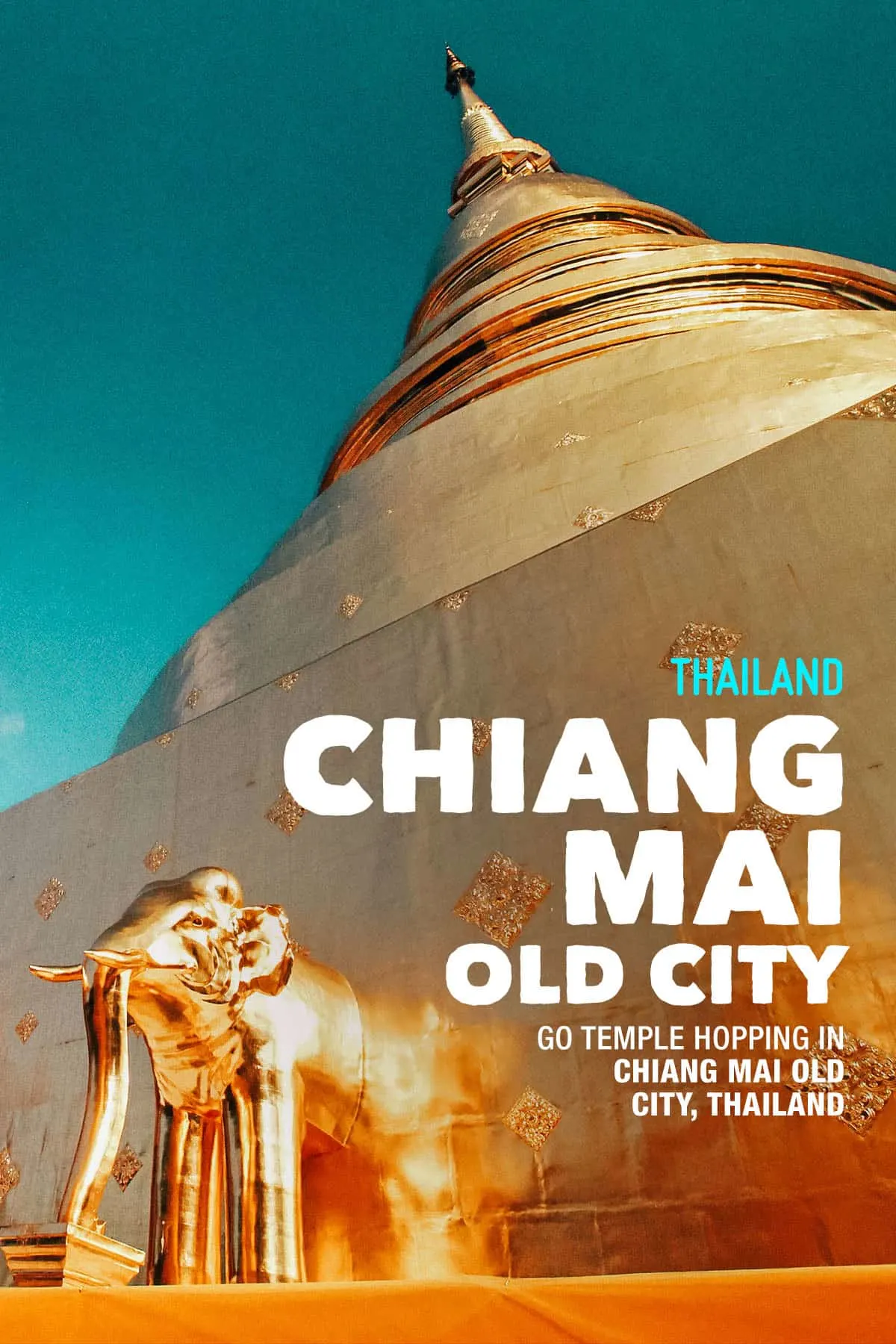 Wat Phra Singh
The is THE temple in the Old City. When I say it's THE temple, I mean it's the biggest and most beautiful. More than one local gushed about its beauty and told us not to miss it. Known as "The Temple of the Lion Buddha", Wat Phra Singh dates back to the 14th century when Chiang Mai was the capital of the Lanna Kingdom. Today, it's widely regarded as one of the finest examples of classic Lanna-style temple architecture in Northern Thailand.
Pictured below is Viharn Luang, which is the largest building at Wat Phra Singh.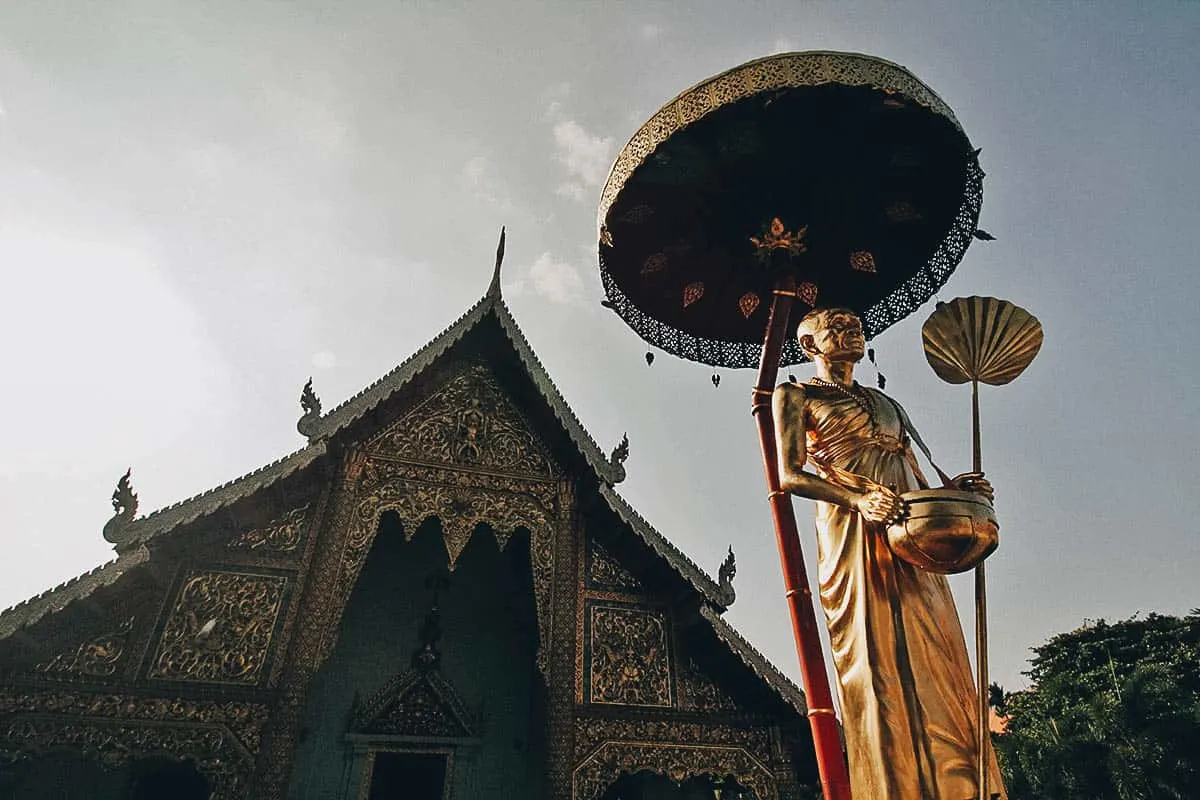 This building is Wat Phra Singh's Ho Trai or scripture library. It's the wat's library where Buddhist scriptures are kept. I read that in the old days, Buddhist scriptures were written on dried palm leaves. To keep insects away from the Ho Trai, which was made of wood, it would be built on stilts over a pond. In Northern Thailand, the Ho Trai is often built on a high brick or stone base. That's the type you'll find here at Wat Phra Singh.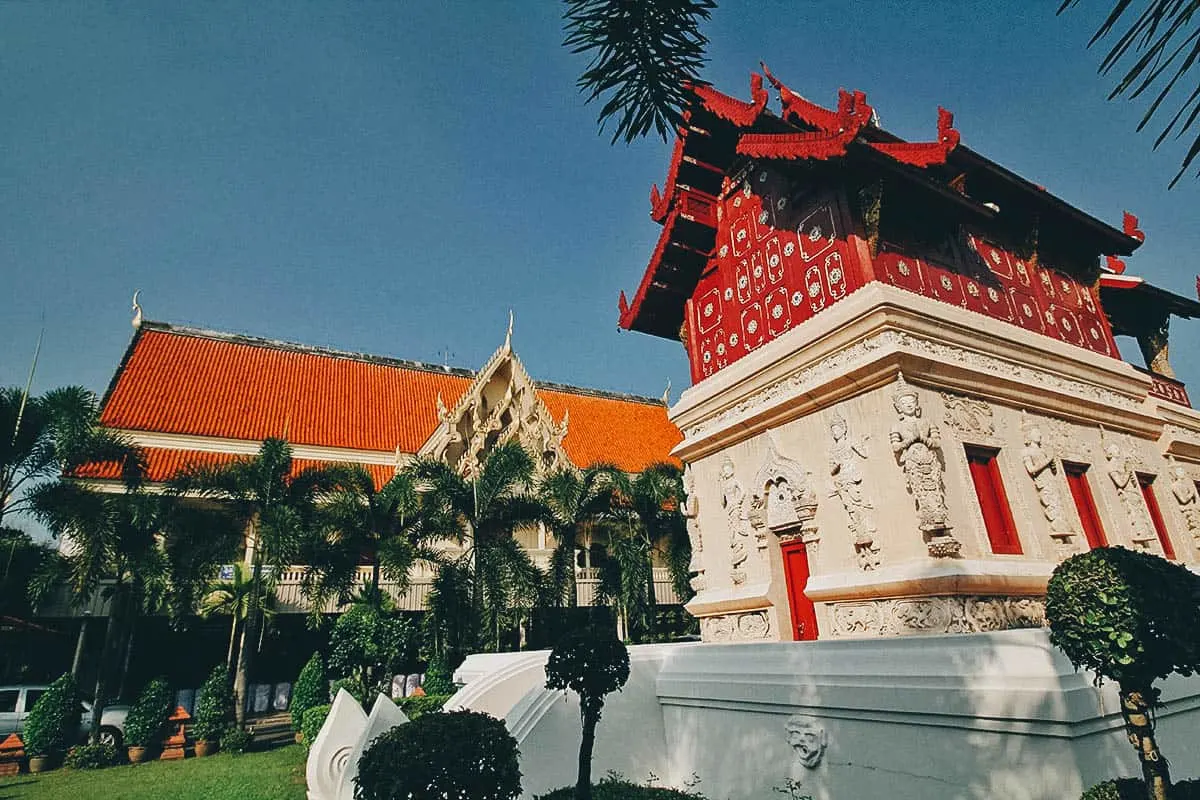 The Ho Trai's base is decorated with elaborate carvings of Devata figures, a type of guardian angel.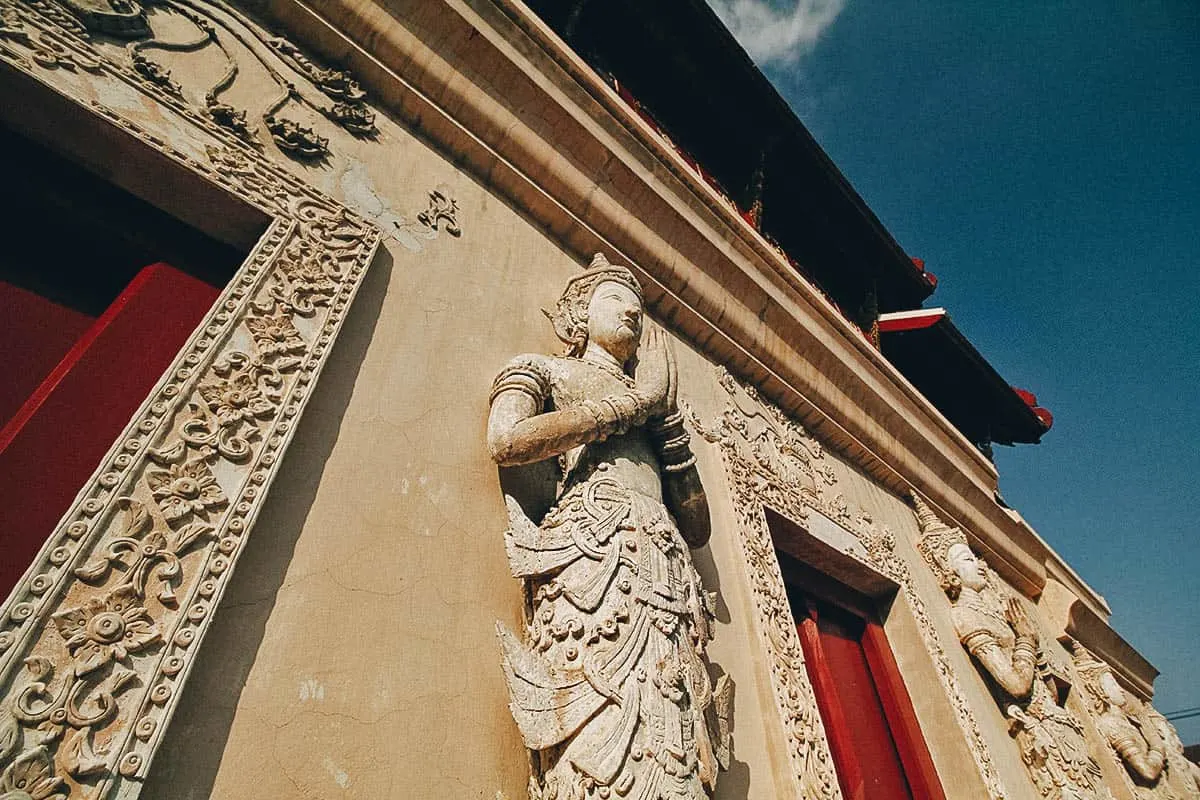 For me, the most striking feature of Thai Buddhist temples is the chedi, particularly the ones covered in gold. Smooth, gilded, and glistening in the sun, it's a remarkable sight.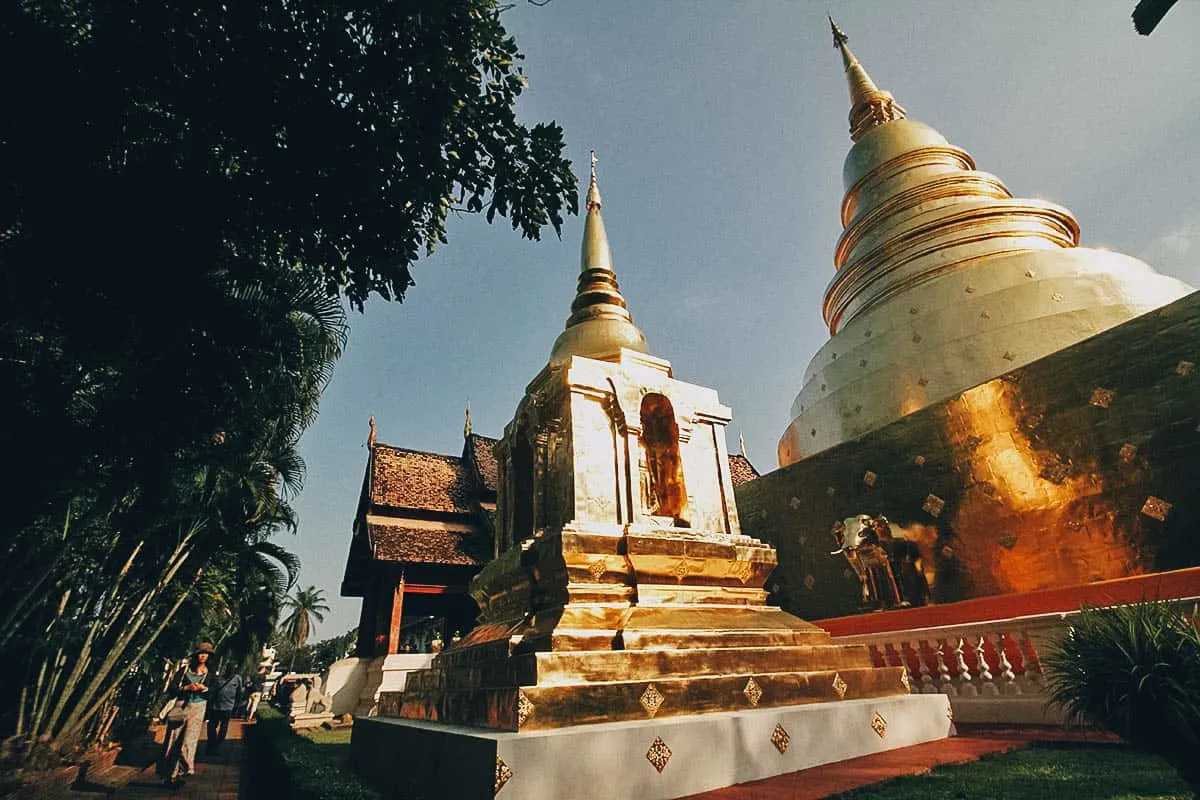 If you think this is impressive, then be sure to check out Wat Phra That Doi Suthep as well. For me, it's the most beautiful temple I've visited thus far in Thailand.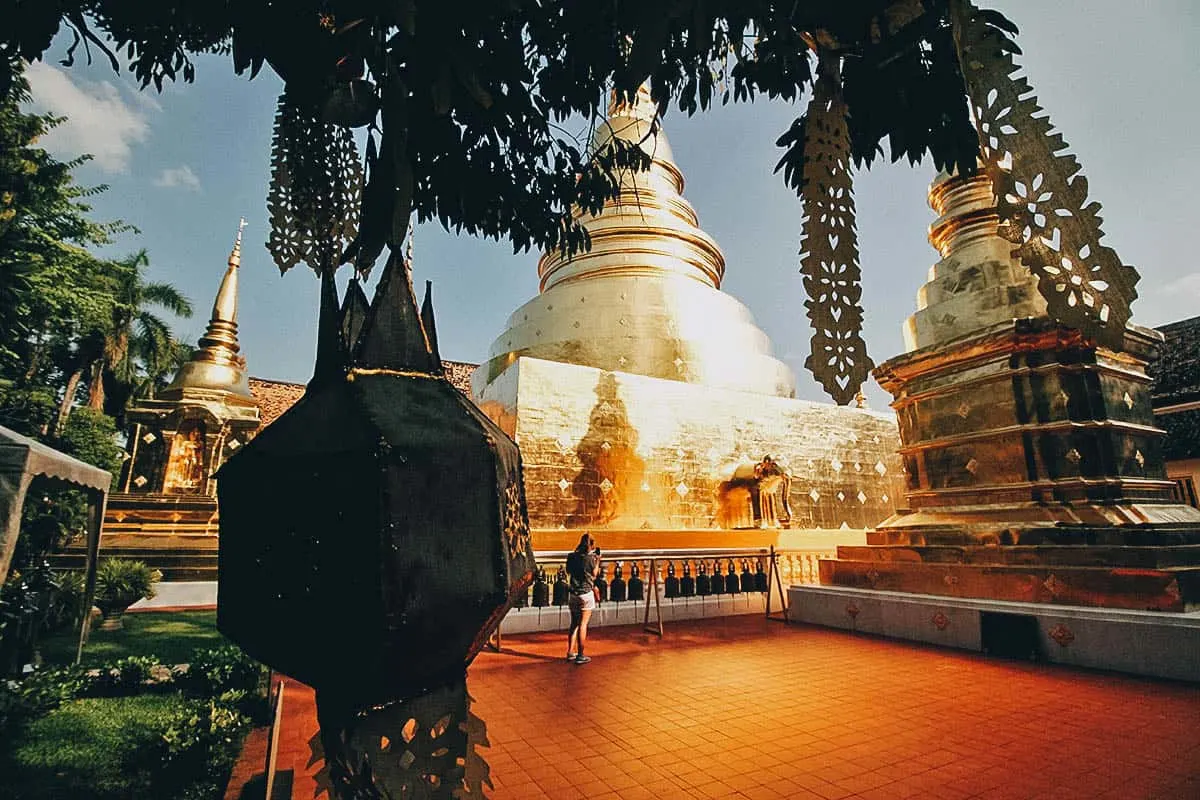 Wat Phra Singh has several golden chedis. This one – Phra That Luang – is the temple's main chedi and its biggest.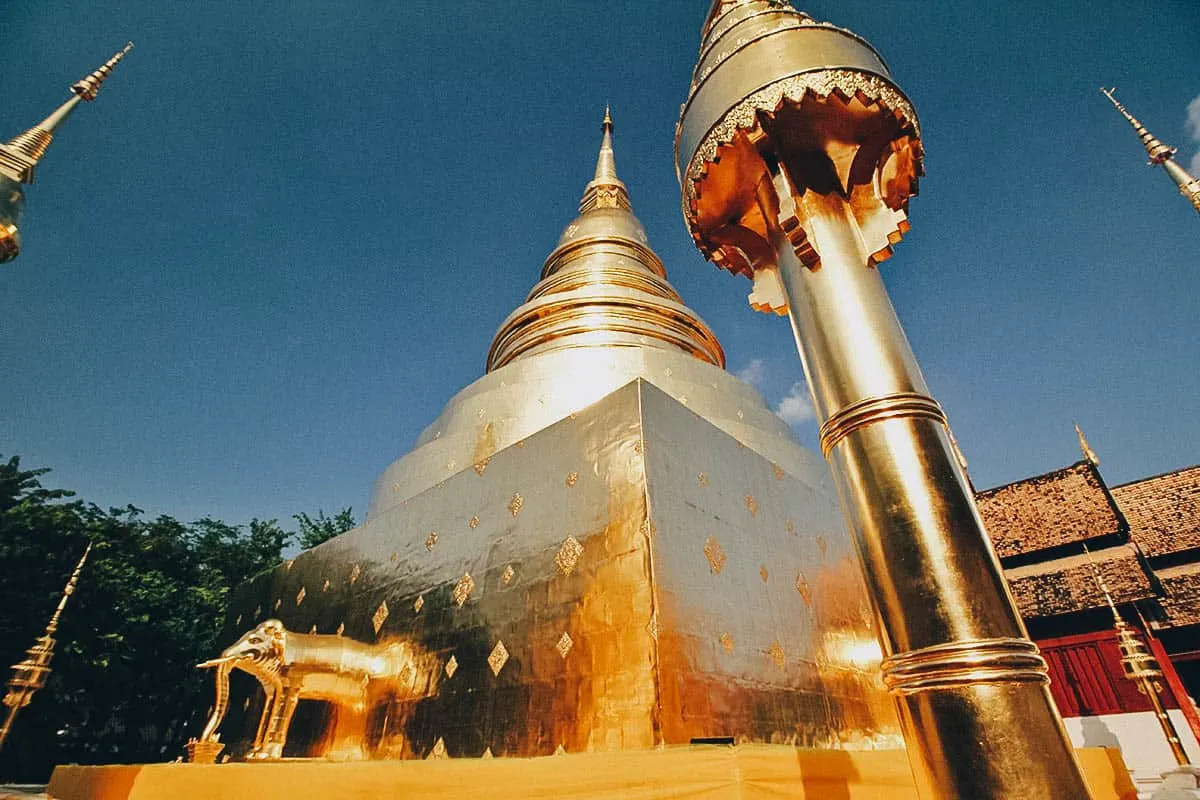 Each side of the chedi features the front half of an elephant.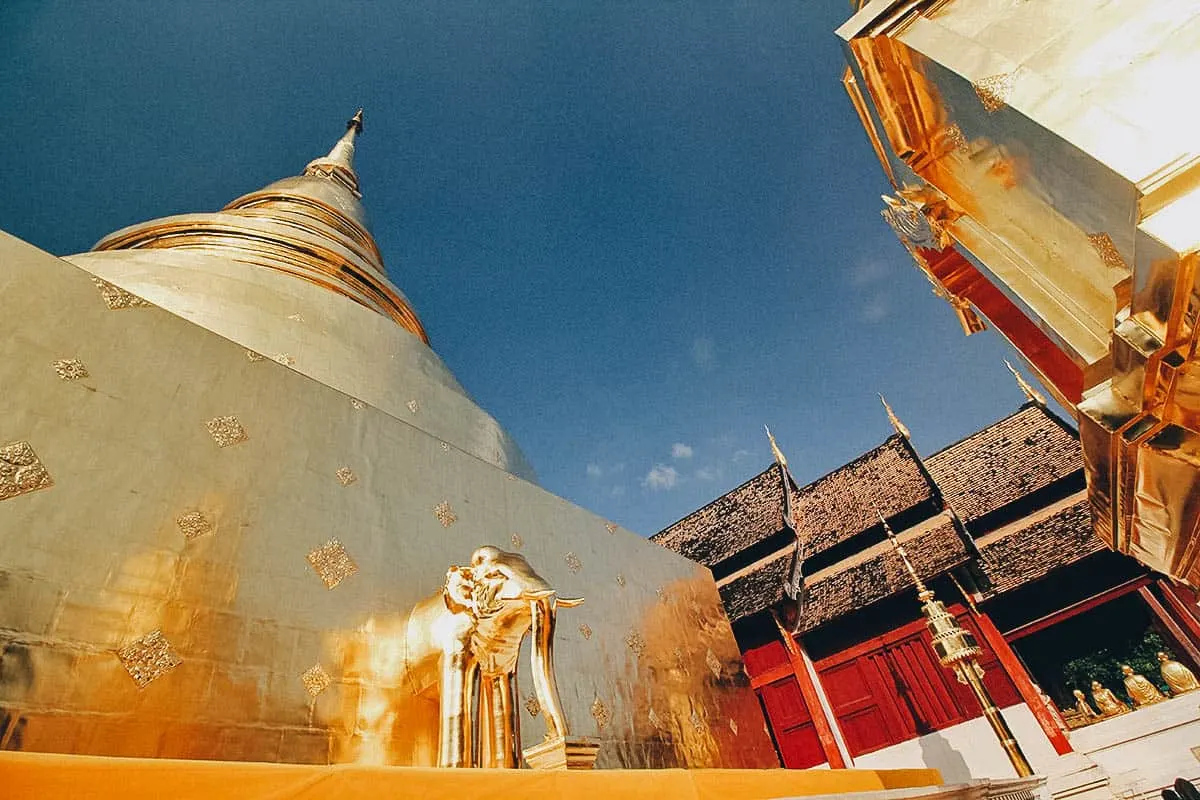 Wat Phra Singh
Si Phum, Mueang Chiang Mai District, Chiang Mai 50200, Thailand
Operating Hours: 6AM-8PM
Admission: FREE (THB 50 for the main viharn)
Wat Chedi Luang
Like Wat Phra Singh, Wat Chedi Luang is one of Chiang Mai's most notable temples. It's known as "The Temple of the Great Stupa" in reference to its massive chedi. Pictured below is one of two viharns or assembly halls at the temple, its entrance guarded by two large and intricately carved Naga serpents.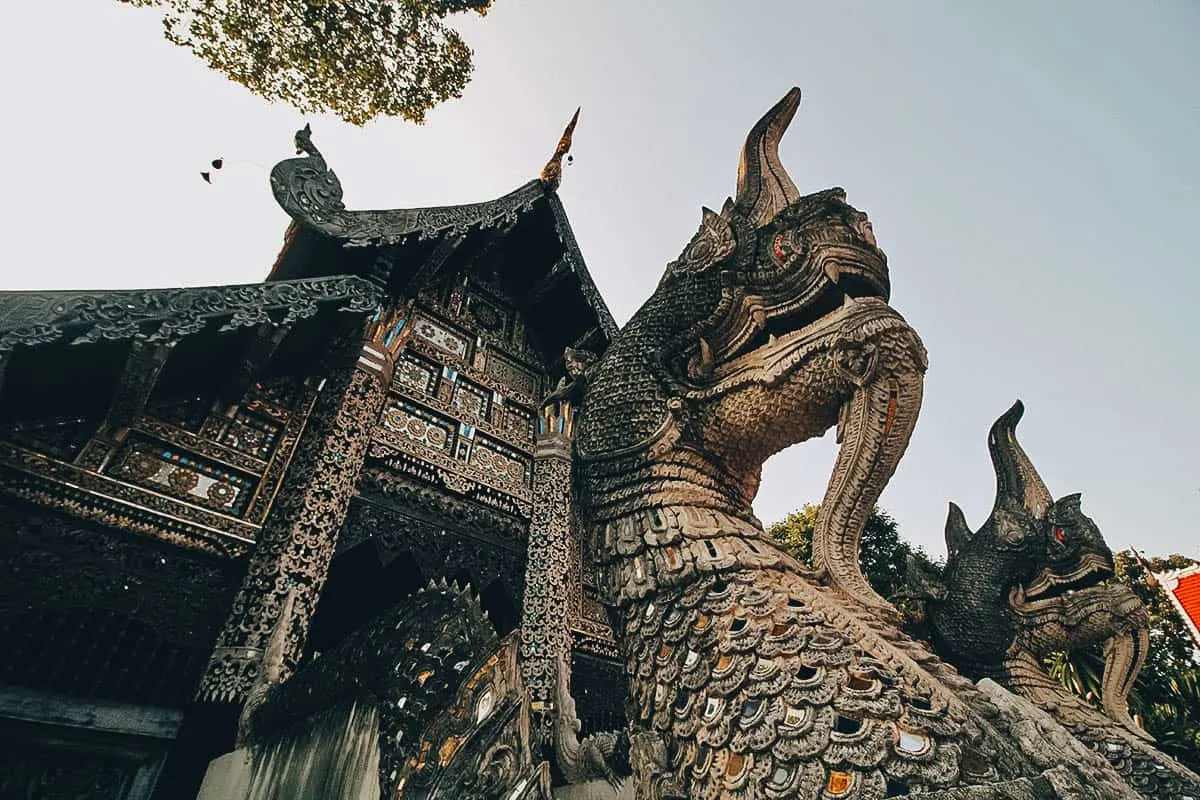 Reclining Buddha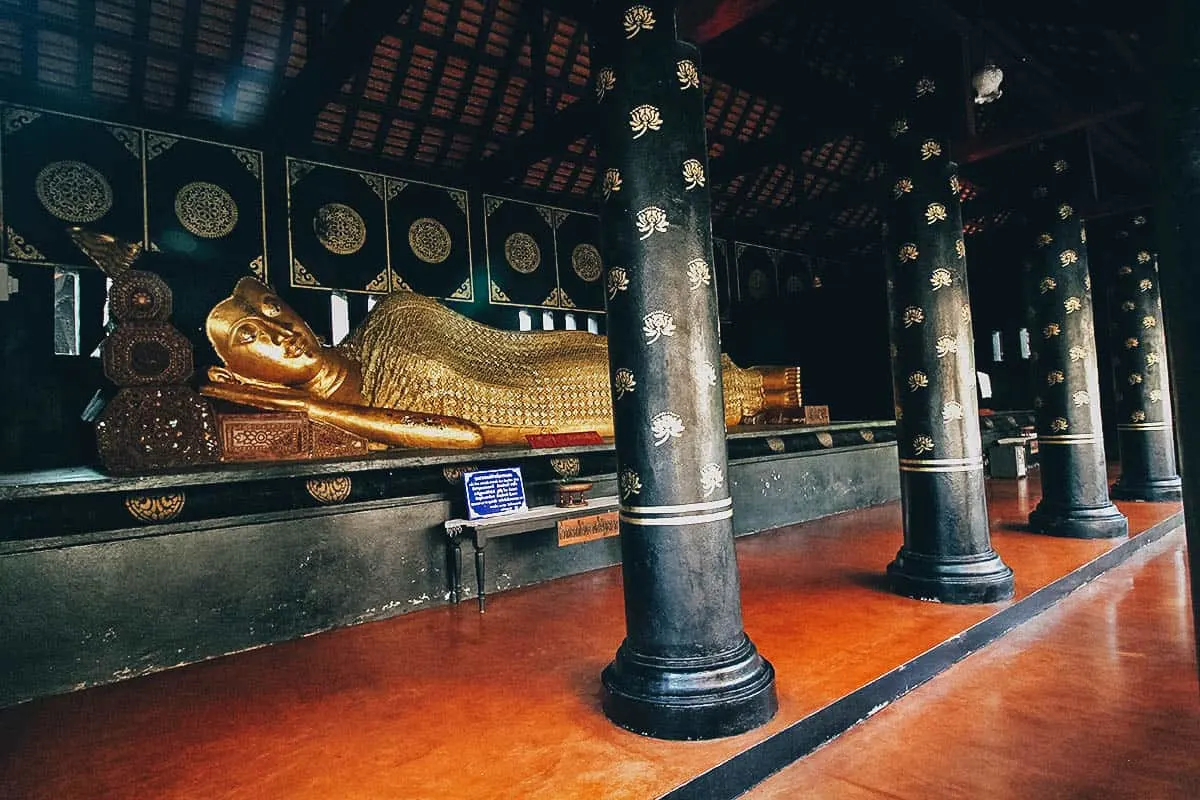 Not Reclining Buddha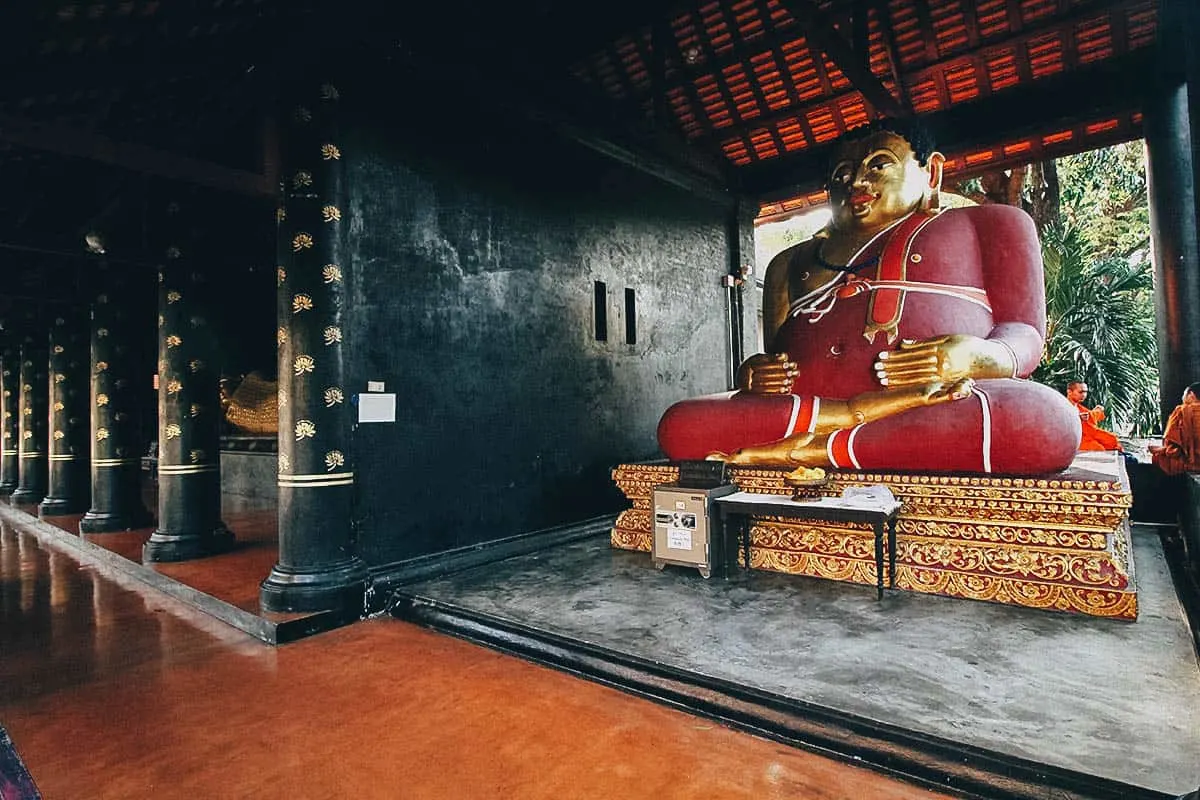 The temple's massive chedi. I visited a few temples in Chiang Mai and this was by far the largest, even though much of it has been destroyed and it's nowhere near as large as it used to be. Built by King Saen Muang Ma to enshrine the ashes of his father, construction on the chedi began in 1391 and it wasn't finished until almost a century later in 1475.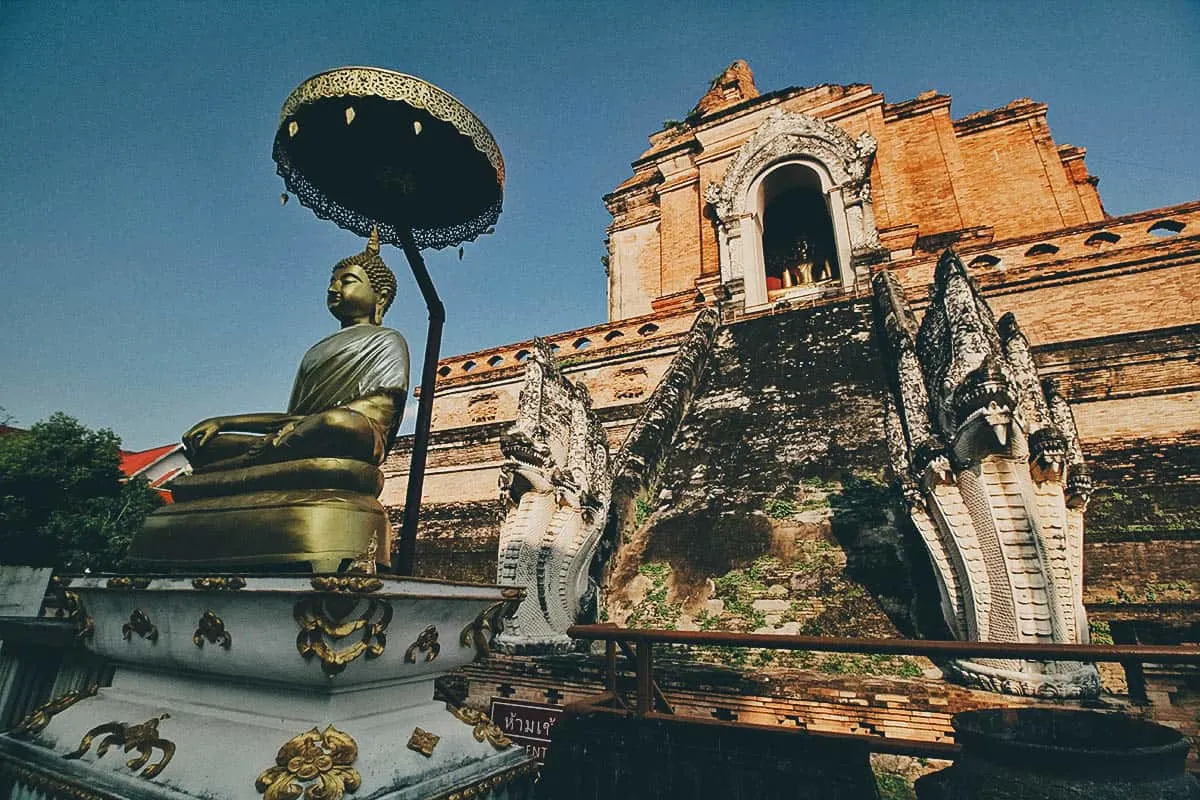 At its peak, the chedi reached a height of about 85 meters (279 ft) and a width of 44 meters (144 ft), making it the largest structure in all of Chiang Mai. Unfortunately, an earthquake destroyed much of the chedi in 1545, leaving what you now see here today. It's an impressive sight nonetheless.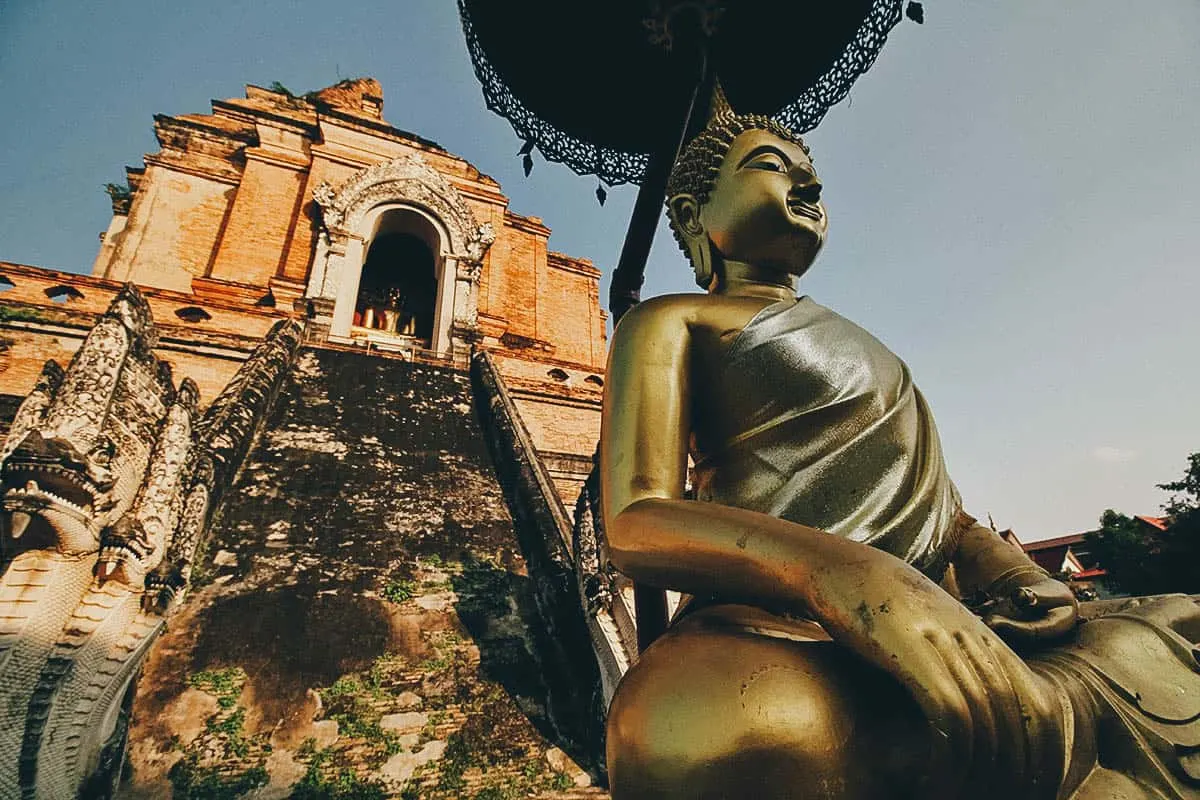 Buddha image chillin' at the chedi. At one point, Thailand's most important and revered Buddha image, the Emerald Buddha, was kept at Wat Chedi Luang. It's now housed at What Phra Kaew in Bangkok but it did stay here for nearly a century.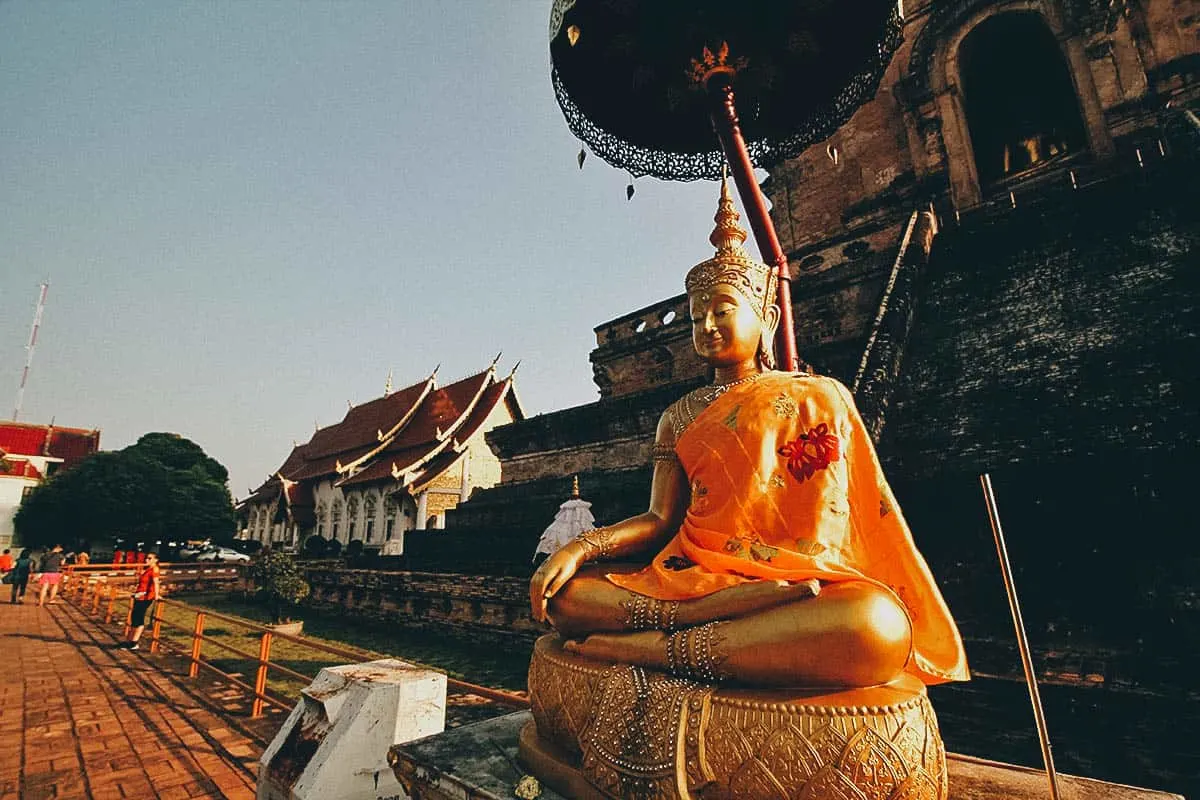 Wat Chedi Luang
103 Road King Prajadhipok Phra Singh, Muang District, Chiang Mai 50200, Thailand
Operating Hours: 6AM-6PM
Admission: FREE
Three Kings Monument Square
At the heart of Chiang Mai Old City is Three Kings Monument Square featuring these bronze statues of King Mengrai, the founder of Chiang Mai, and his two friends credited for helping him build the city, King Ramkamhaeng of Sukothai and King Ngam Muang of Payao. The monument stands in front of the Old Provincial Hall building which is now Chiang Mai's City Art and Culture Center.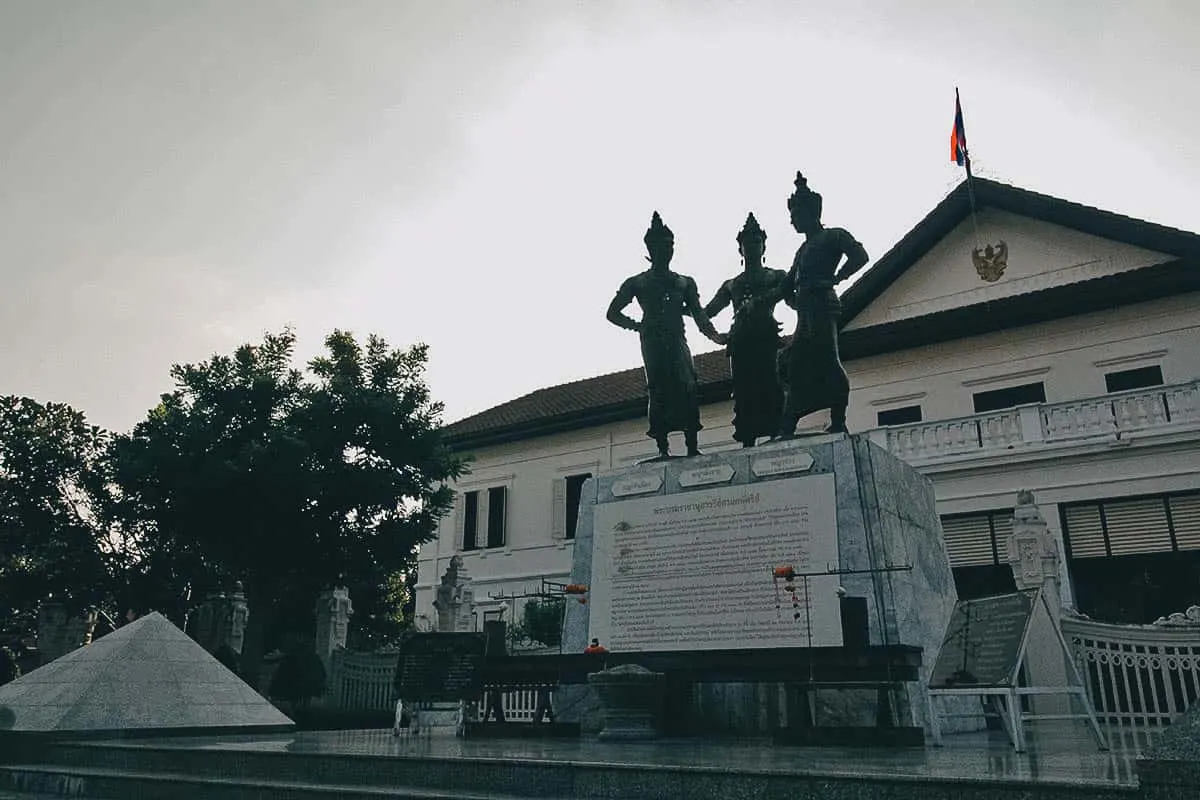 Three Kings Monument Square
127/7 Prapokkloa Rd, Tambon Si Phum, Amphoe Mueang Chiang Mai, Chang Wat Chiang Mai 50200, Thailand
Operating Hours: 24 hrs
Admission: FREE
Wat Chiang Man
Though not as big as the previous two, Wat Chiang Man holds the distinction for being the oldest temple in Chiang Mai. It dates back to the founding of the city in 1296, and was the very first temple built in Chiang Mai.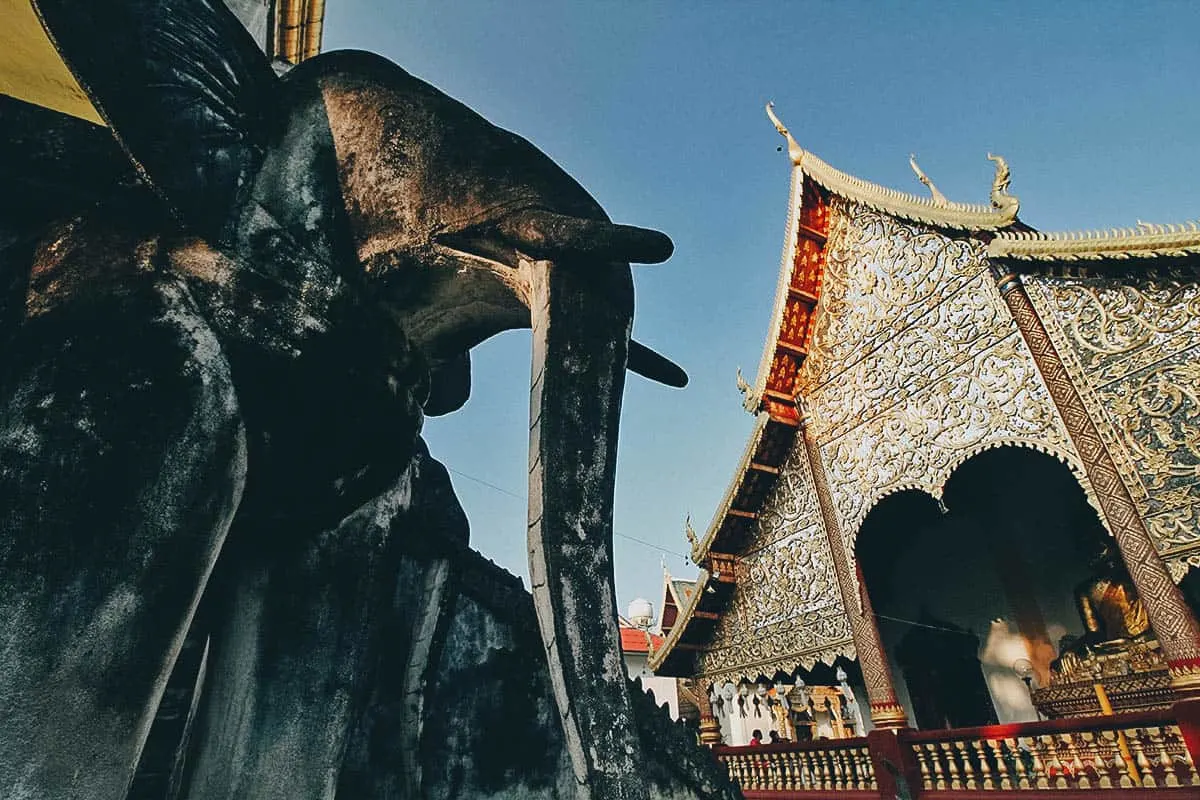 On the left is the viharn and on its right is the temple's chedi. It's called the Elephant Chedi because of fifteen elephant statues emerging from the level just above its base. You can see it better in the previous picture. I read that the chedi is typically the oldest structure at most wats. If Wat Chiang Man is the city's oldest temple, then this chedi must be one of the oldest structures still standing in Chiang Mai.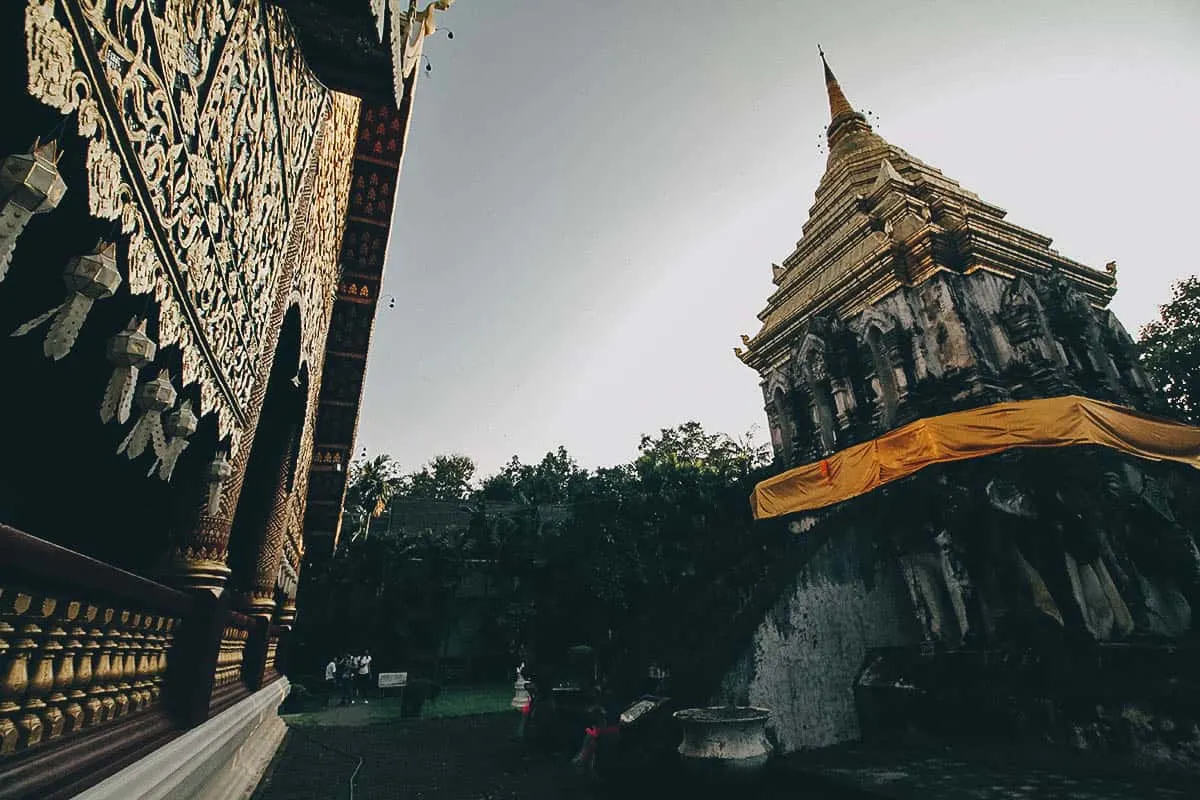 Wat Chiang Man
270 Ratchapakhinai Rd, Thesaban Nakhon Chiang Mai, Amphoe Mueang Chiang Mai, Chang Wat Chiang Mai 50200, Thailand
Operating Hours: 6AM-5PM
Admission: FREE
Wat Lok Molee (Moli)
This temple isn't within the Old City's walls but right outside, just beyond the North Gate. Built in 1527, here you'll find one of Chiang Mai's biggest and most well-preserved chedis.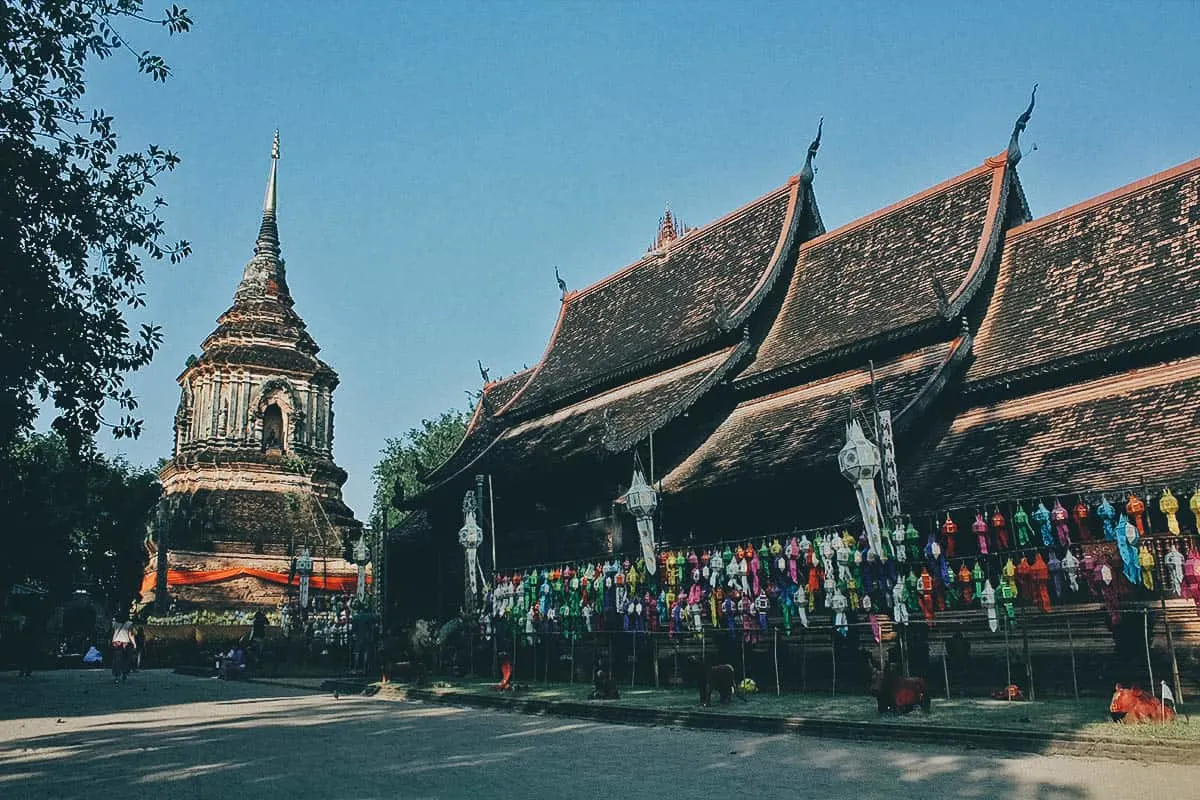 We went on a guided food tour in Chiang Mai and the meeting point was at the base of this 4-headed statue within Wat Lok Molee. Run by A Chef's Tour, the food tour lasts about four hours and takes you to some of the city's best local eateries. I highly recommend it. You can check out my post on the Chiang Mai Northern Food Tour by Truck for more pictures and information.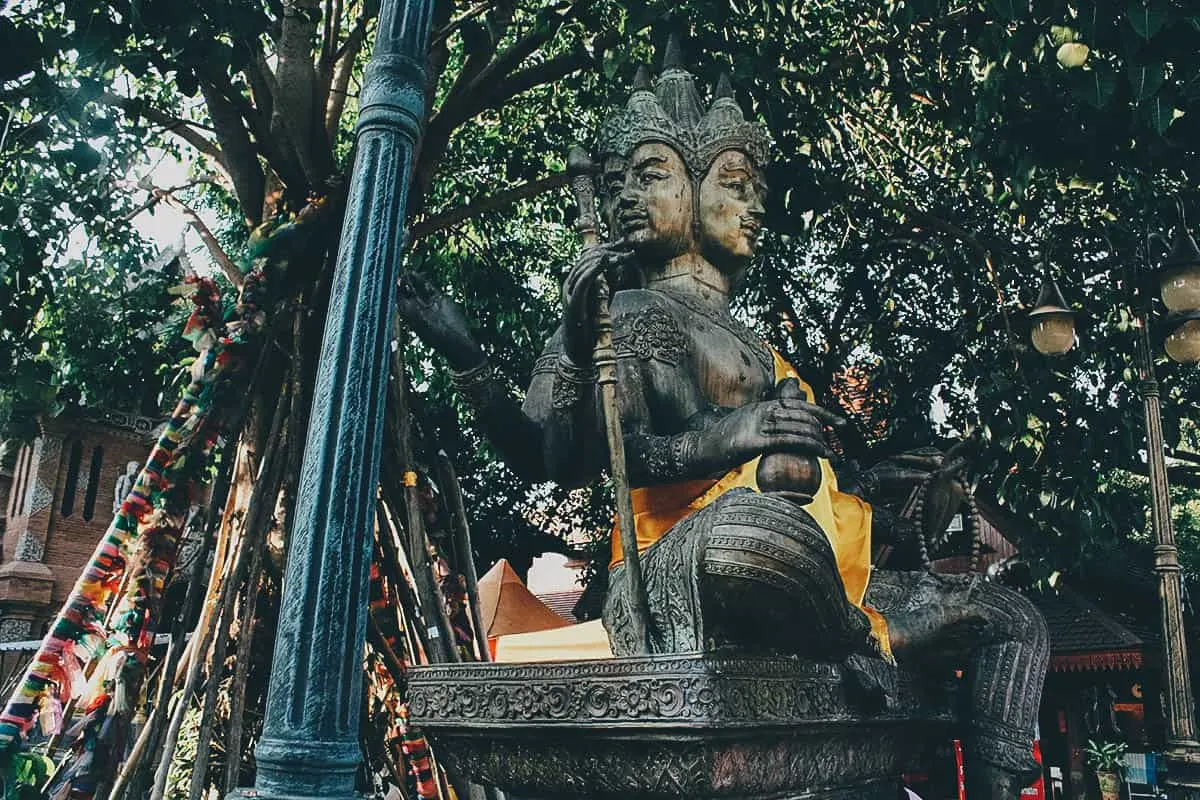 Wat Lok Molee
Si Phum, Mueang Chiang Mai District, Chiang Mai 50200, Thailand
Operating Hours: 6AM-5PM
Admission: FREE
Ploen Ruedee Night Market
Once you've had your fill of temples, you can head over to the Ploen Ruedee Night Market for drinks and dinner, maybe even some dancing? 😆 Open from 5:30PM till midnight, you'll find plenty of food stalls at this trendy night bazaar offering a wide range of both Thai food and international cuisine. There's a live cover band and dance floor, not to mention a few boutique stalls selling unique items that you won't find at your typical Thai night market.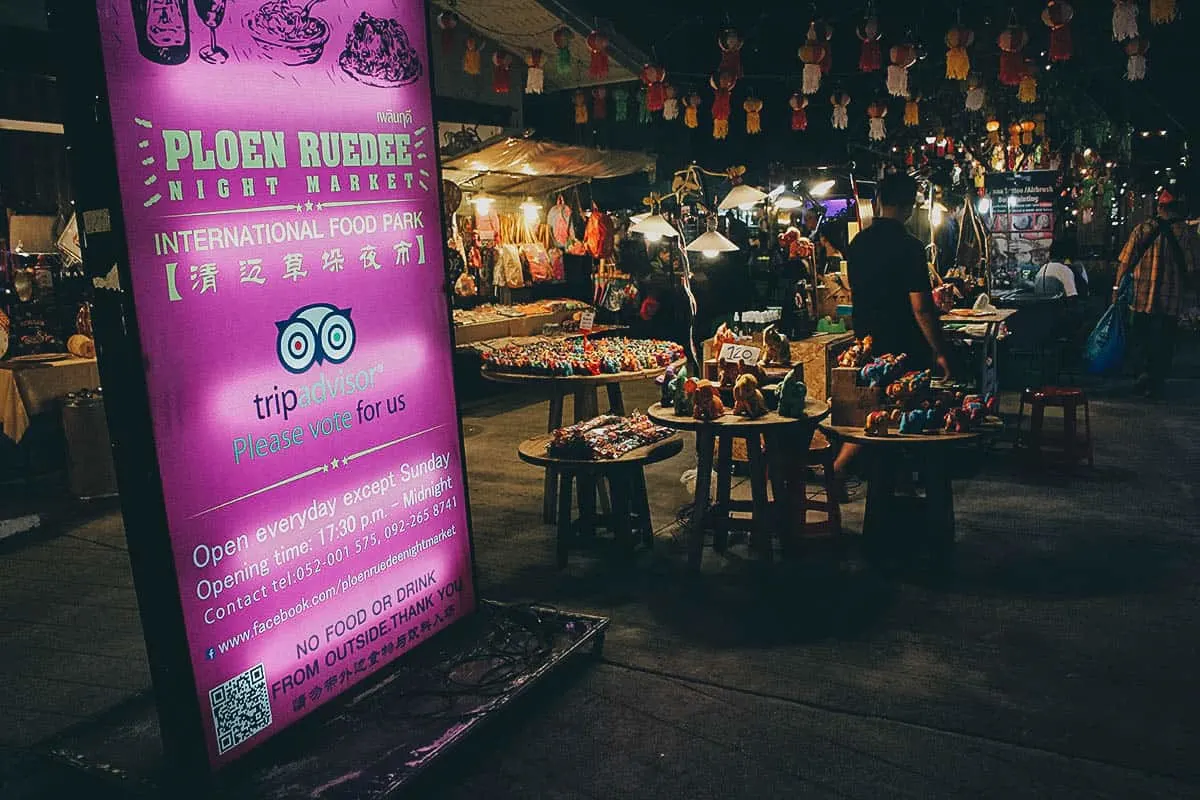 In the middle of all the food stalls is a large seating area with chairs made from repurposed movie theater seats and tables cut from steel drums and cable spools. This is one of the trendiest night markets we've ever been to. Clearly, it caters to tourists but who cares? The atmosphere is lively and a lot of fun.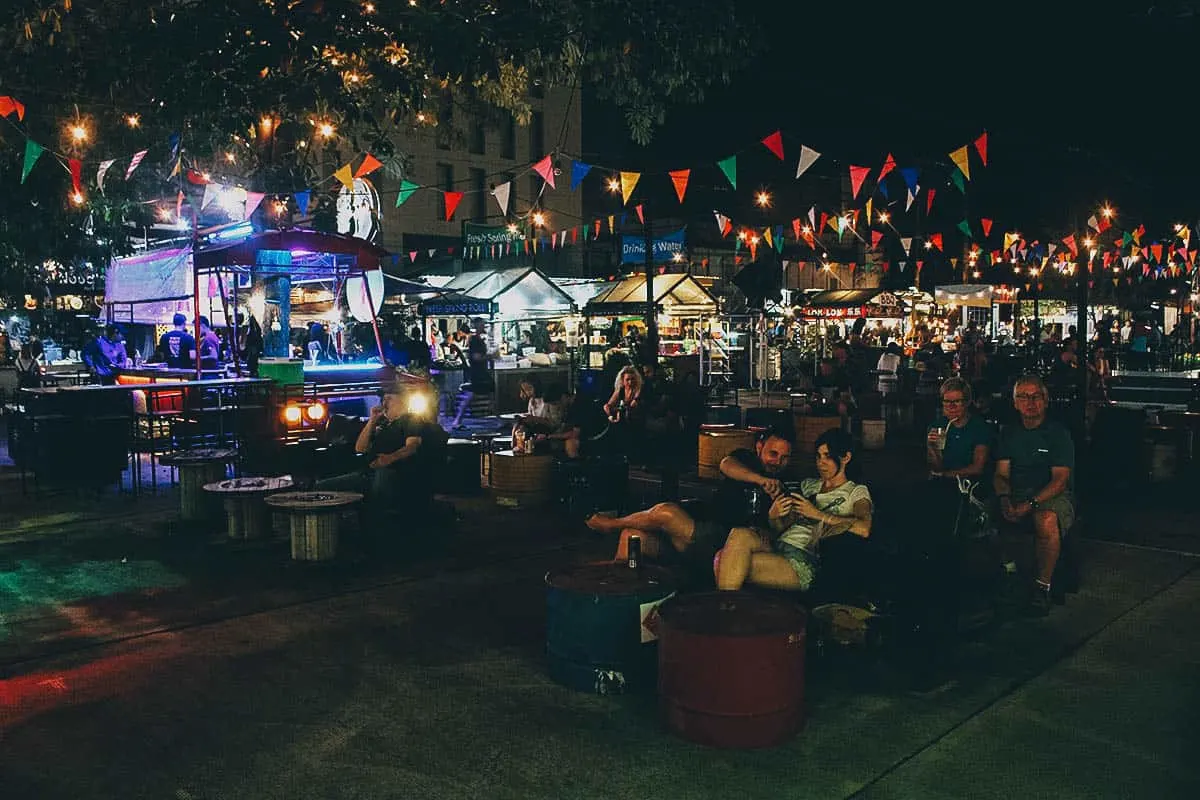 How cool is that? It's a VW Kombi cocktail bar!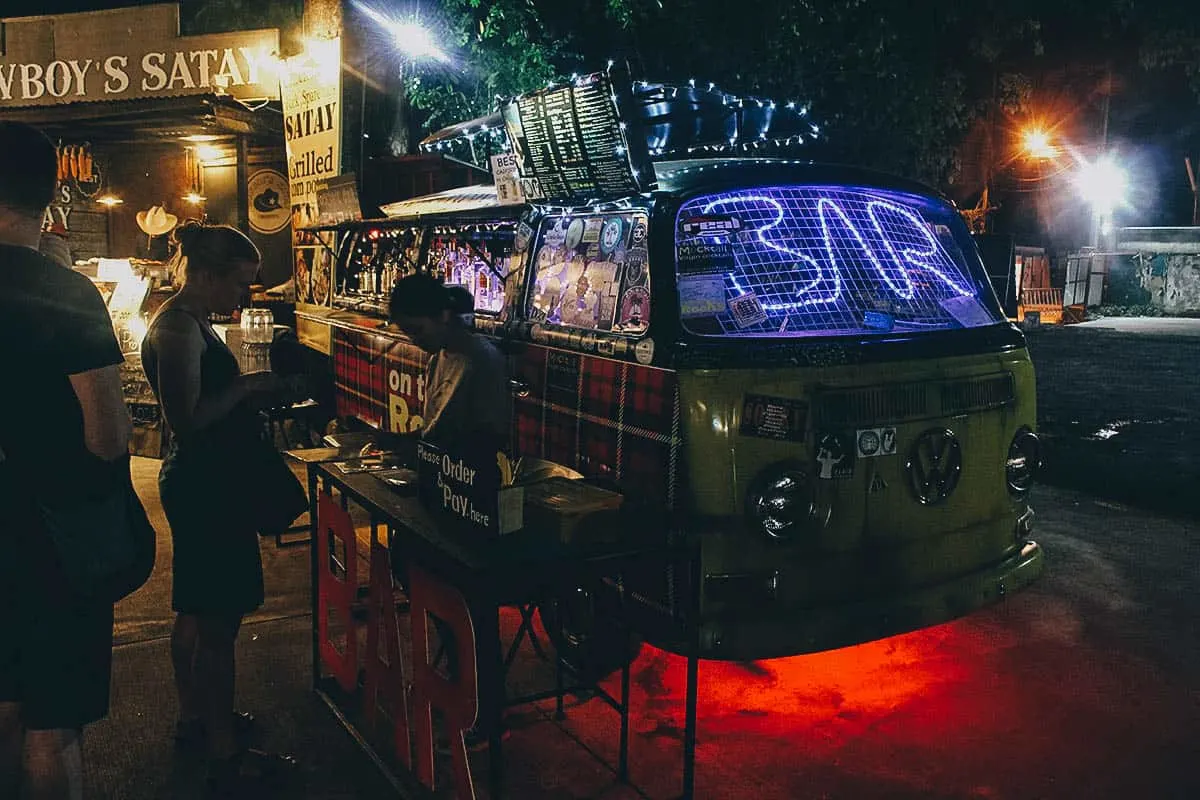 You'll find many different types of international cuisine here like churros.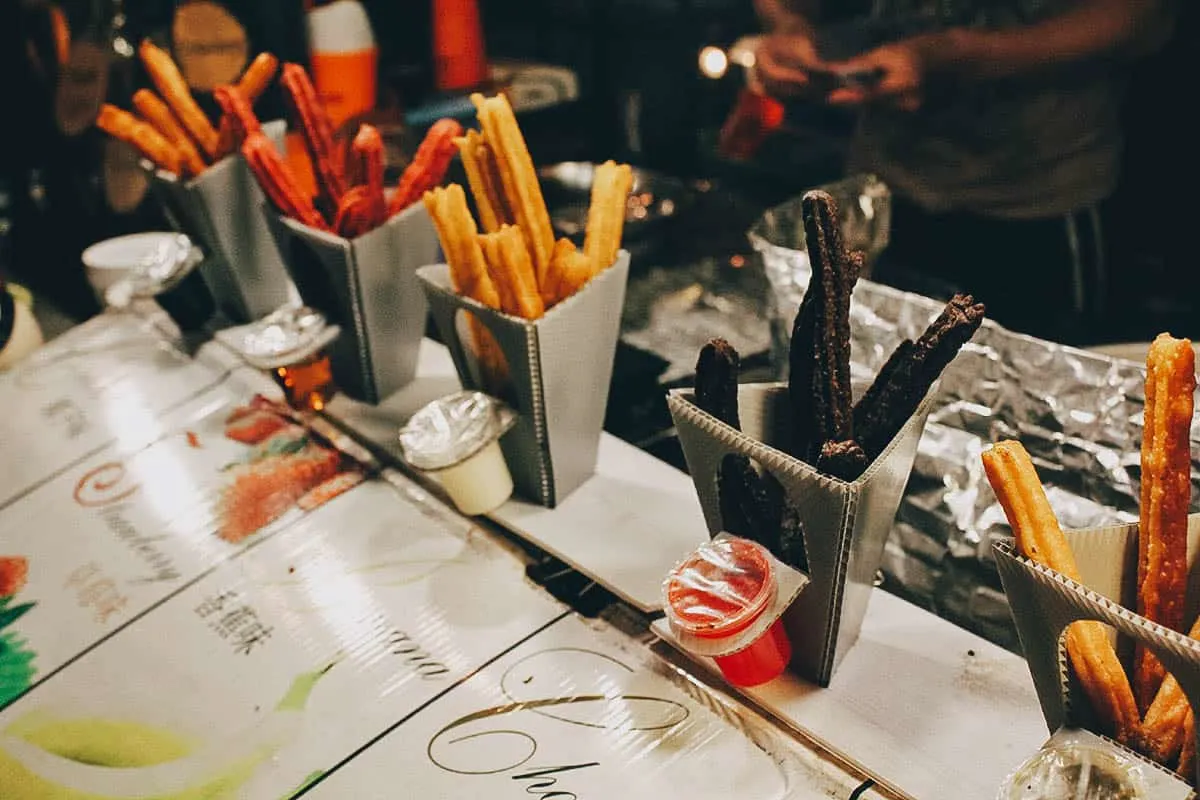 This stall selling gigantic skewers of meat was hugely popular.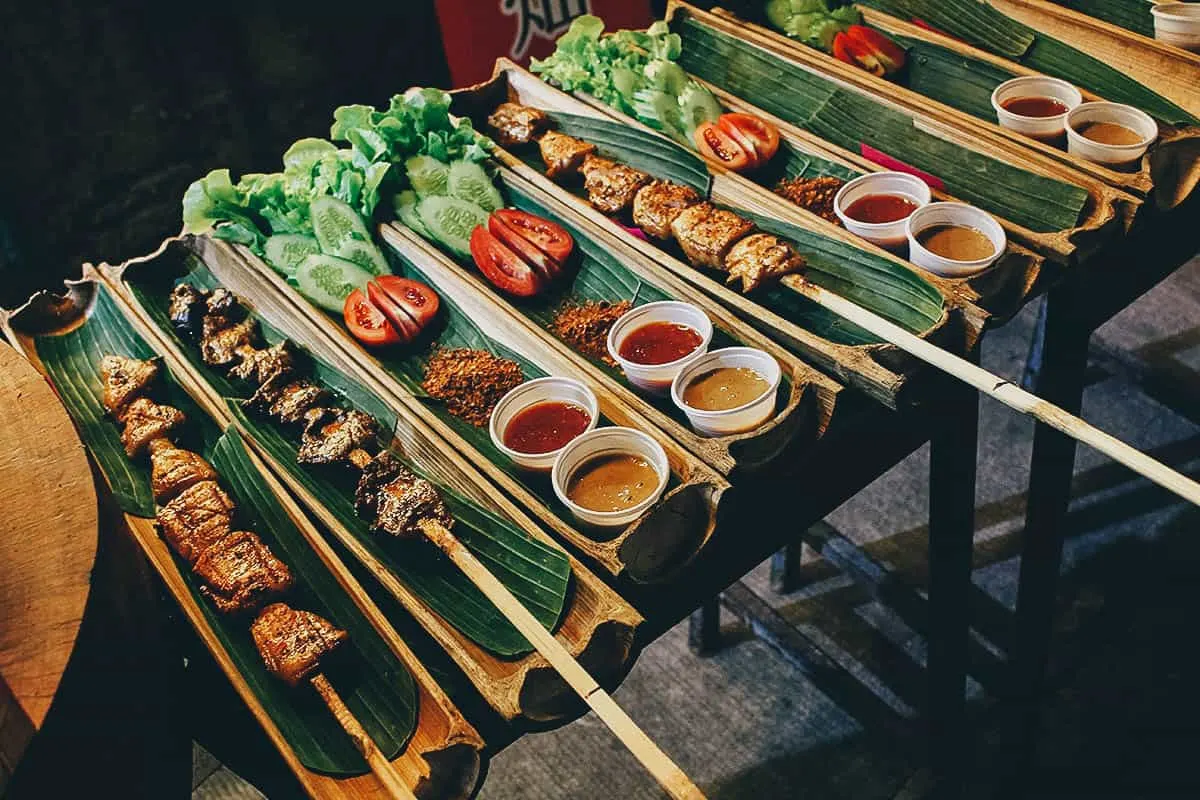 A selection of skewers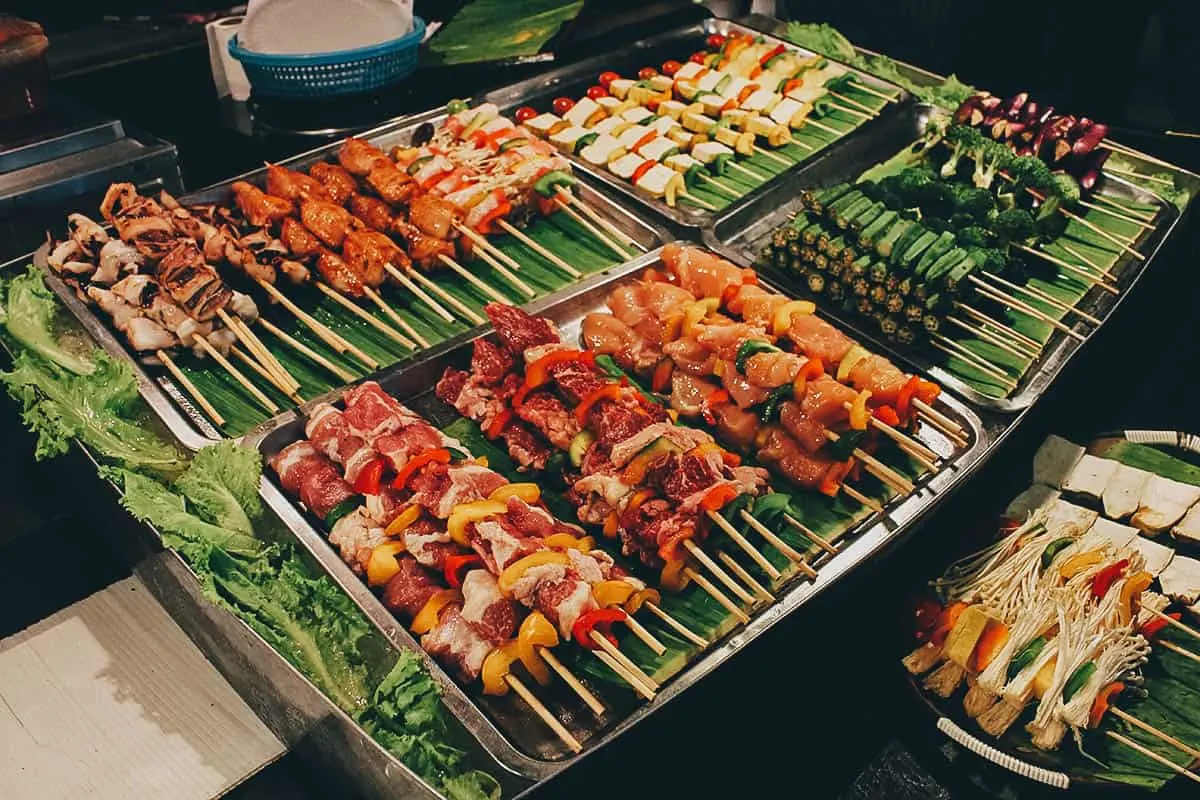 With this being Northern Thailand, it wasn't surprising to find a stall selling deep-fried insects. We had them at Chiang Rai's Night Bazaar. They're pretty good and go great with beer!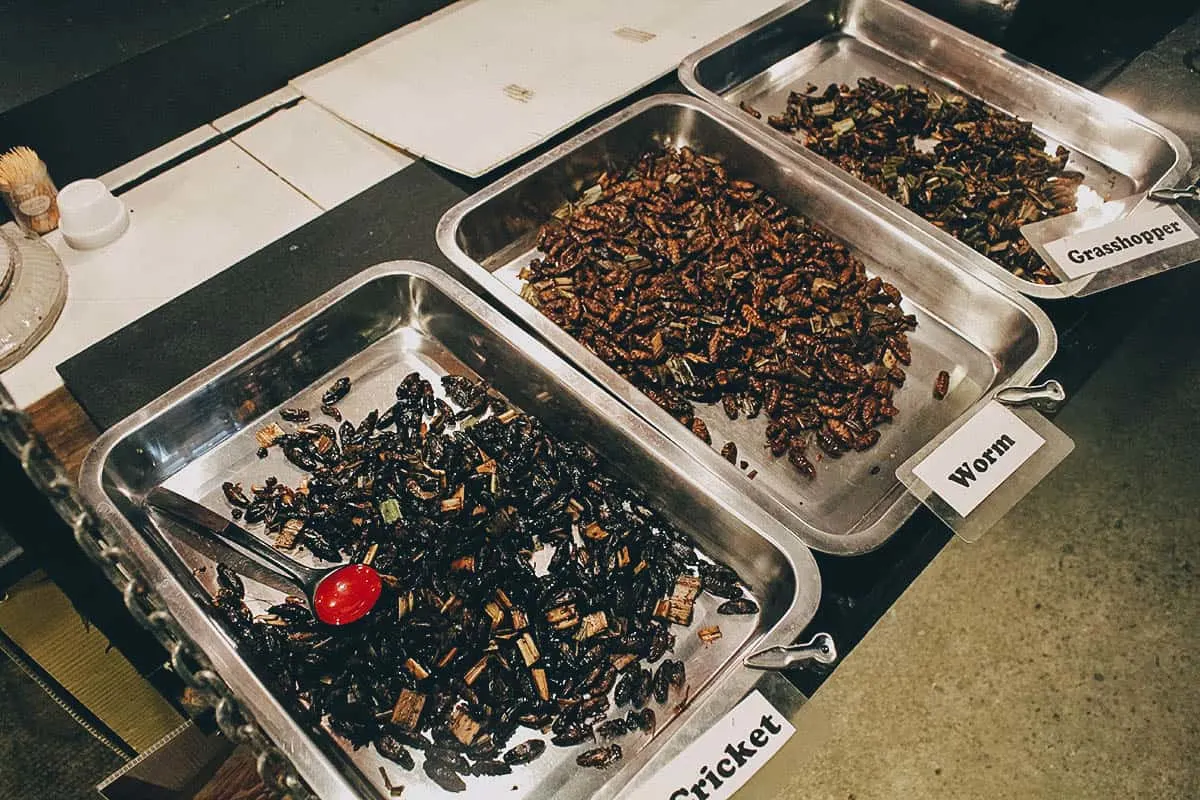 The stall selling these flaming baskets of seafood was one of the most popular at the night market, and with good reason. The cook would set his wok ablaze while cooking the seafood so it was hard not to notice them! Beneath that sumptuous-looking bouquet of crab, mussel, and squid was a bed of noodles. I would have pounced on this had we not been full from a big dinner. It looked and smelled so damn good.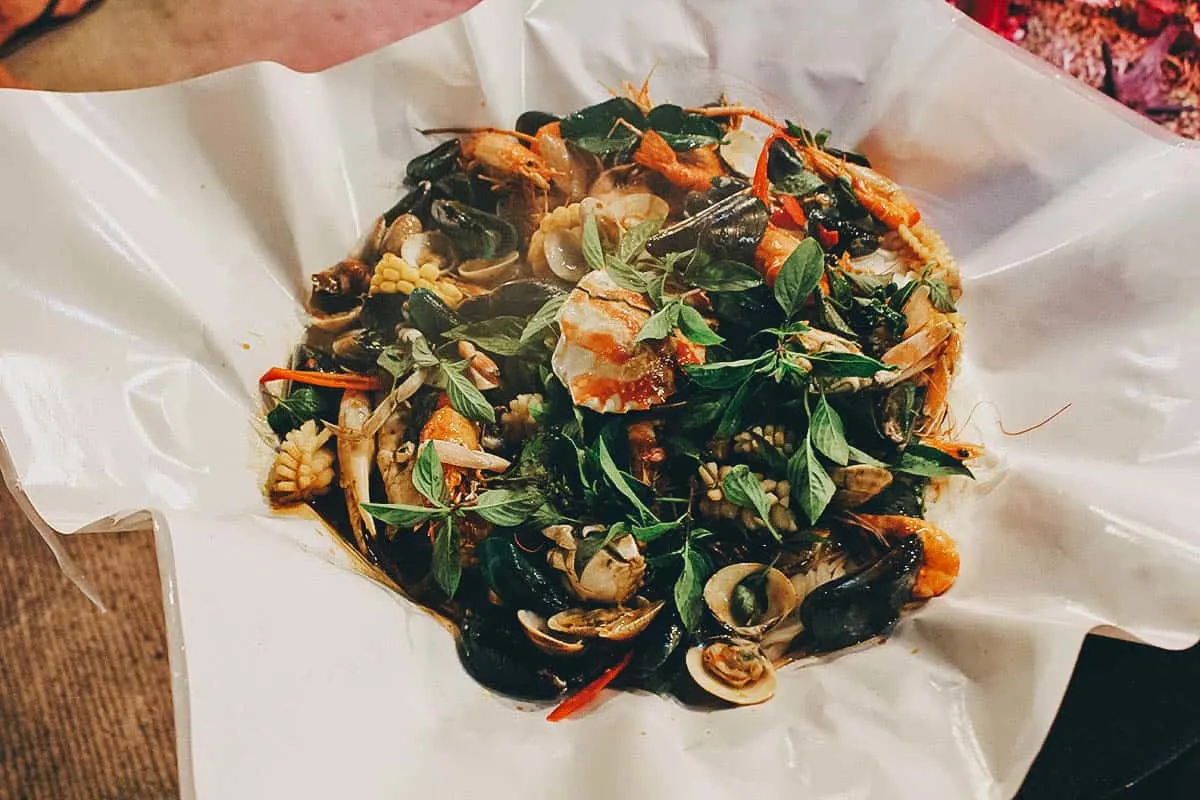 We couldn't leave without having anything so we enjoyed this plate of fresh oyster salad with our beers. Even if you don't have a full dinner here, it's a great place to have a few drinks before winding down. Prices are higher than at typical night markets but the atmosphere is more fun. Just think of it as a trendier, more upscale night bazaar.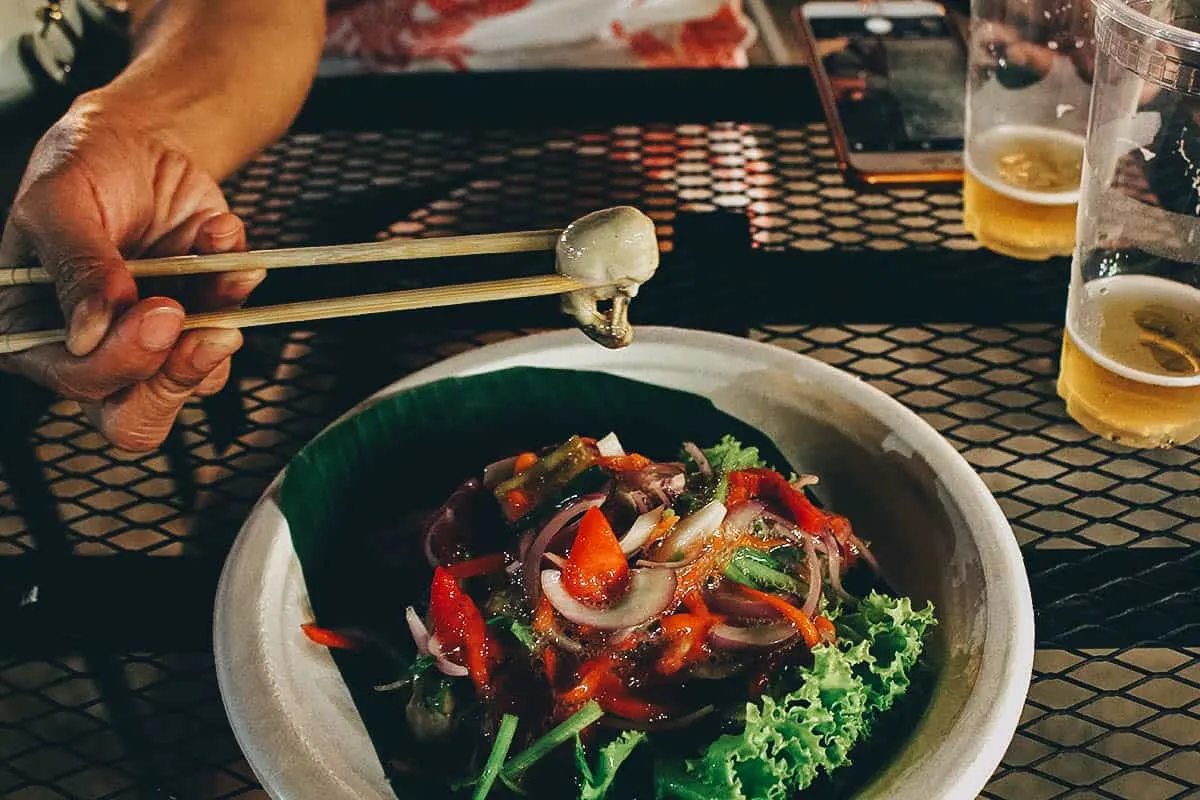 Ploen Ruedee Night Market
Chang Moi, Mueang Chiang Mai District, Chiang Mai 50100, Thailand
Operating Hours: 5:30PM-12MN, Mon-Sat
Admission: FREE
Conclusion
There are plenty of things to do in Chiang Mai. You can go to an elephant sanctuary, get pampered at a spa, spend the day ziplining, or take an all-day cooking class. These are just some of the many fun things you can do to fill up your days in this popular Northern Thai destination.
But if you have the time, then you may want to spend the day just walking around and getting lost in the Old City. A place like Chiang Mai calls for that. Slow and easy, it's a laid back town that invites wistful meandering. Going from temple to temple may not be as exciting as ziplining between trees but it can be just as memorable and rewarding.
For more Chiang Mai travel tips, check out our First-Timer's Travel Guide to Chiang Mai, Thailand