A relative of ours once told me that caring for the environment was a rich person's problem.
That statement struck me because I had never heard it expressed in that way before. I thought sustainability was a global concern, something that everyone should care about regardless of social or economic status. After all, climate change affects everyone on the planet, rich or poor, so why would it be a concern for just a specific demographic?
But what she meant by that was, not everyone has the luxury to care for the environment. They have bigger, more immediate problems. Many people, especially in a third-world country like the Philippines, are just trying to survive. They can't afford to worry about things like single-use plastics or alternative energy sources when they're having a hard enough time putting food on the table.
For many Filipinos in the lower income brackets, sustainability is a foreign concept they can't be bothered with. As unfortunate as it sounded, I started to think this may be the case everywhere in the world, particularly in developing countries, until I spent time with the inspiring people from this remote village deep in the jungles of Northern Thailand.
I went on this foraging adventure with A Chef's Tour eager to have fun picking plants and setting traps for small game, but little did I know I'd come away with a lesson in sustainability and the affirmation that caring for the environment, regardless of who you are or where you're from, is more important than ever.
Save This on Pinterest!
No time to read this now? Click on the red save button and pin it for later!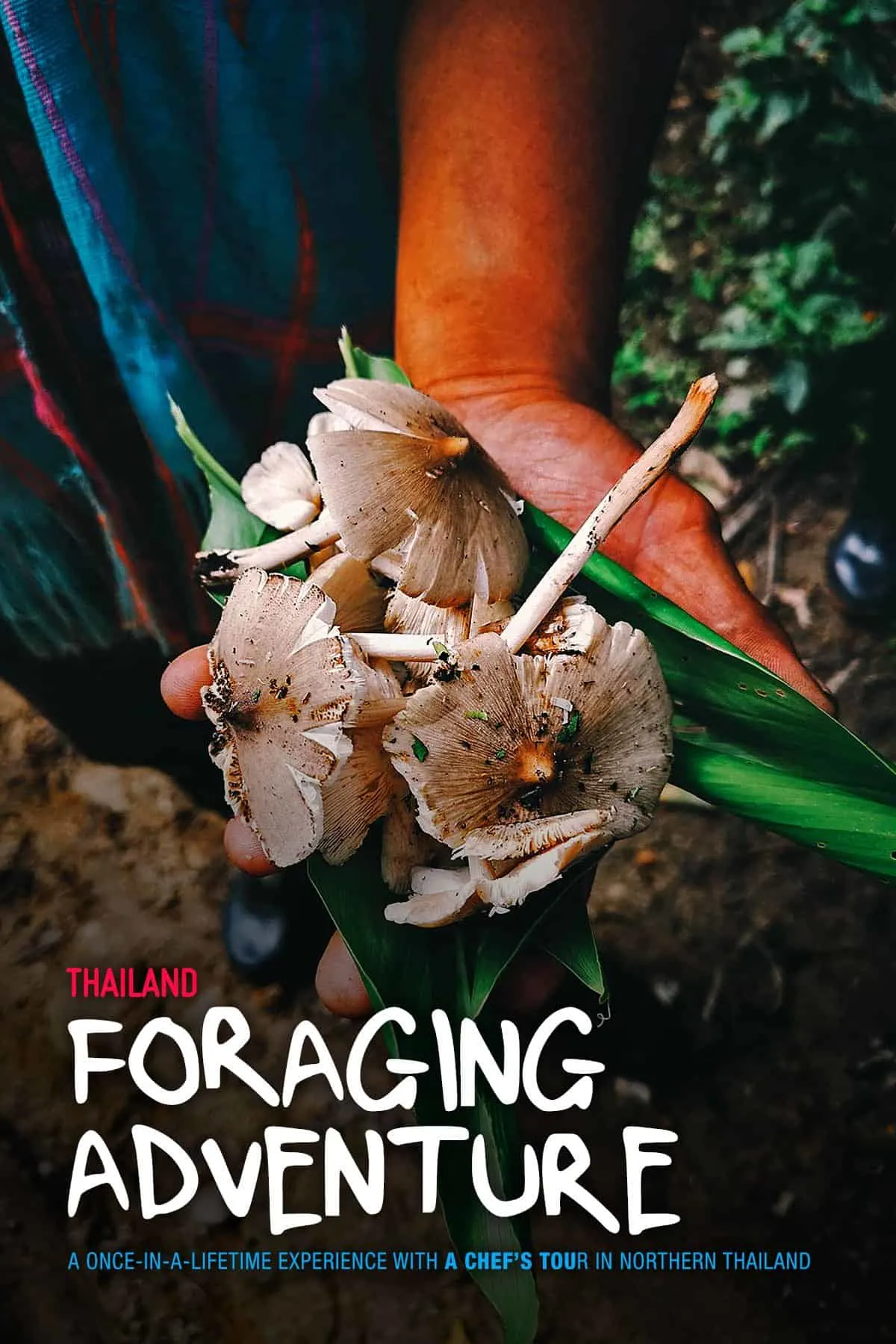 A Chef's Tour
A Chef's Tour is a tour provider that offers food tasting experiences in Thailand and India. They liked the content I created for two of their tours in Bangkok and Chiang Mai so they invited me back to Northern Thailand to try this new foraging adventure. I love having these unusual experiences when we travel, especially the ones that involve food, so I was happy to accept.
This Pai Karen Village Foraging Adventure is an overnight tour that begins in Chiang Mai or Pai. Wanpen the tour guide will pick you up from your hotel early in the morning then take you to the village. It's located about two hours north of Chiang Mai City or 50 km from Pai. The overnight tour costs USD 150 per person and includes meals, lodging, and roundtrip transportation.
Since this is an overnight tour, you'll be staying as a guest in one of the villagers' huts. Wanpen stopped at this market on the way to the village to buy some local Thai food to give as gifts. According to her, the villagers don't get to go to the market often so she likes to bring them small gifts whenever she can. From this vendor she bought some fried pork and sai oua or Northern Thai sausage.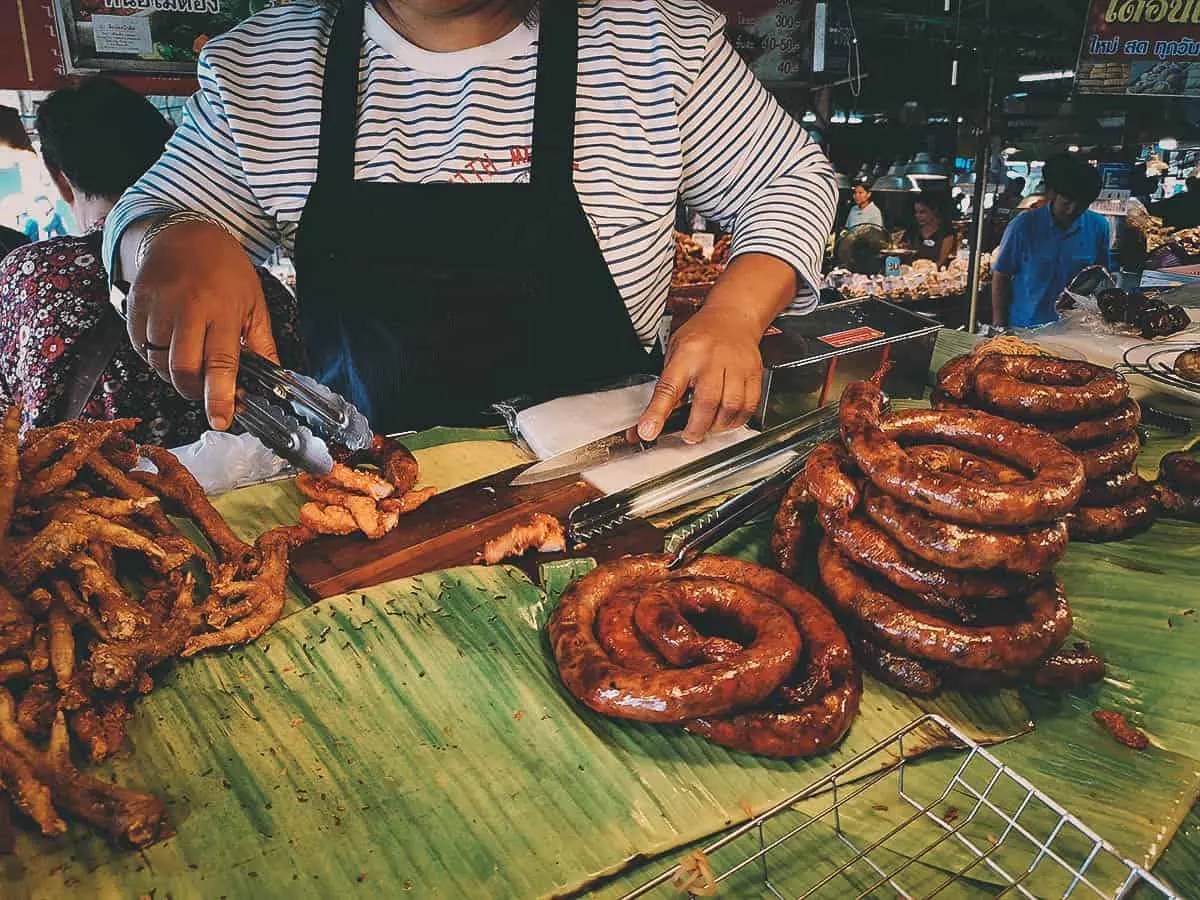 She bought them some rambutan and mangosteen as well.

And lastly, she picked up a few bags of nam prik noom which is a Thai green chili dip.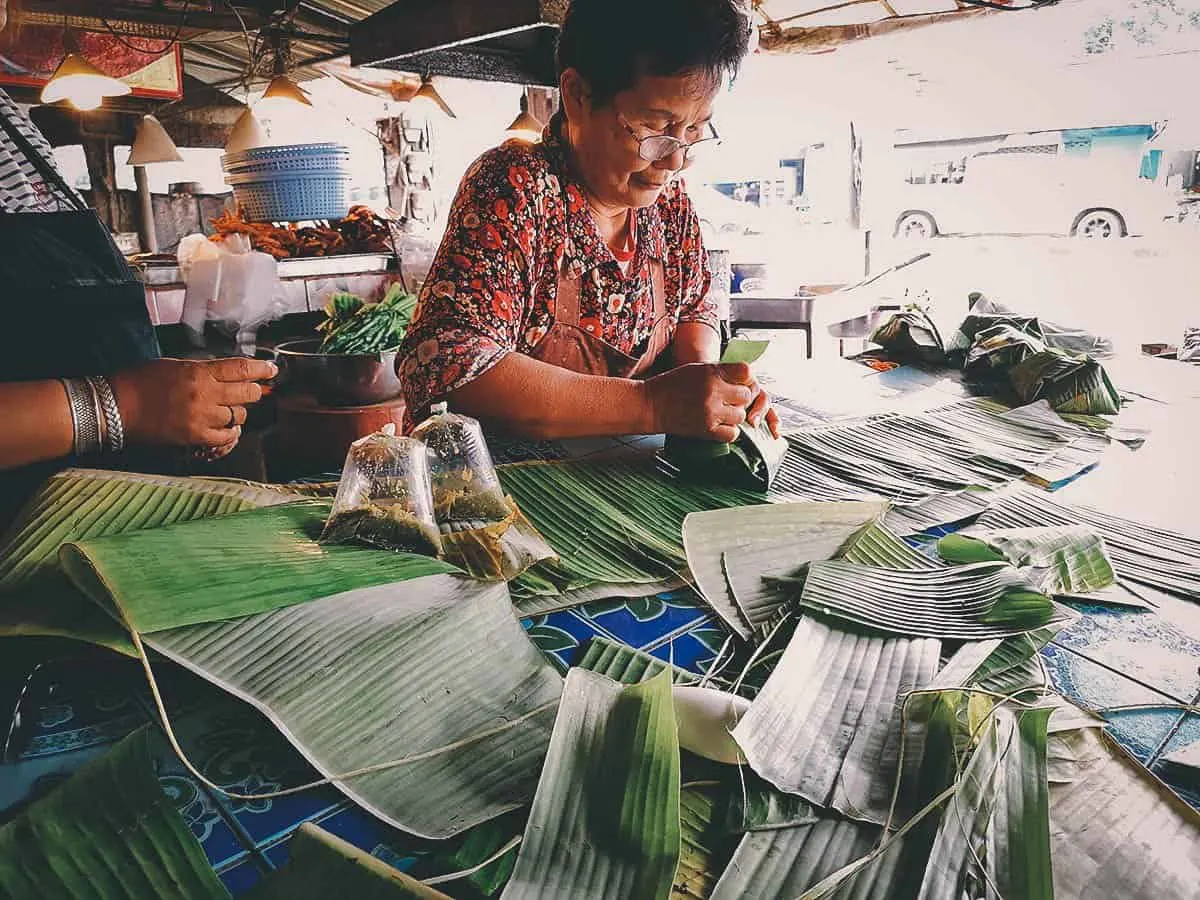 Pai Karen Village
We arrived at the village after two hours of scenic and often twisty and bumpy roads. The village is comprised of sixty Karen families. The Karen people are an ethnic hill tribe group that migrated to Thailand from Burma. They can be found in fifteen provinces all along the Burmese-Thai border in Northern Thailand.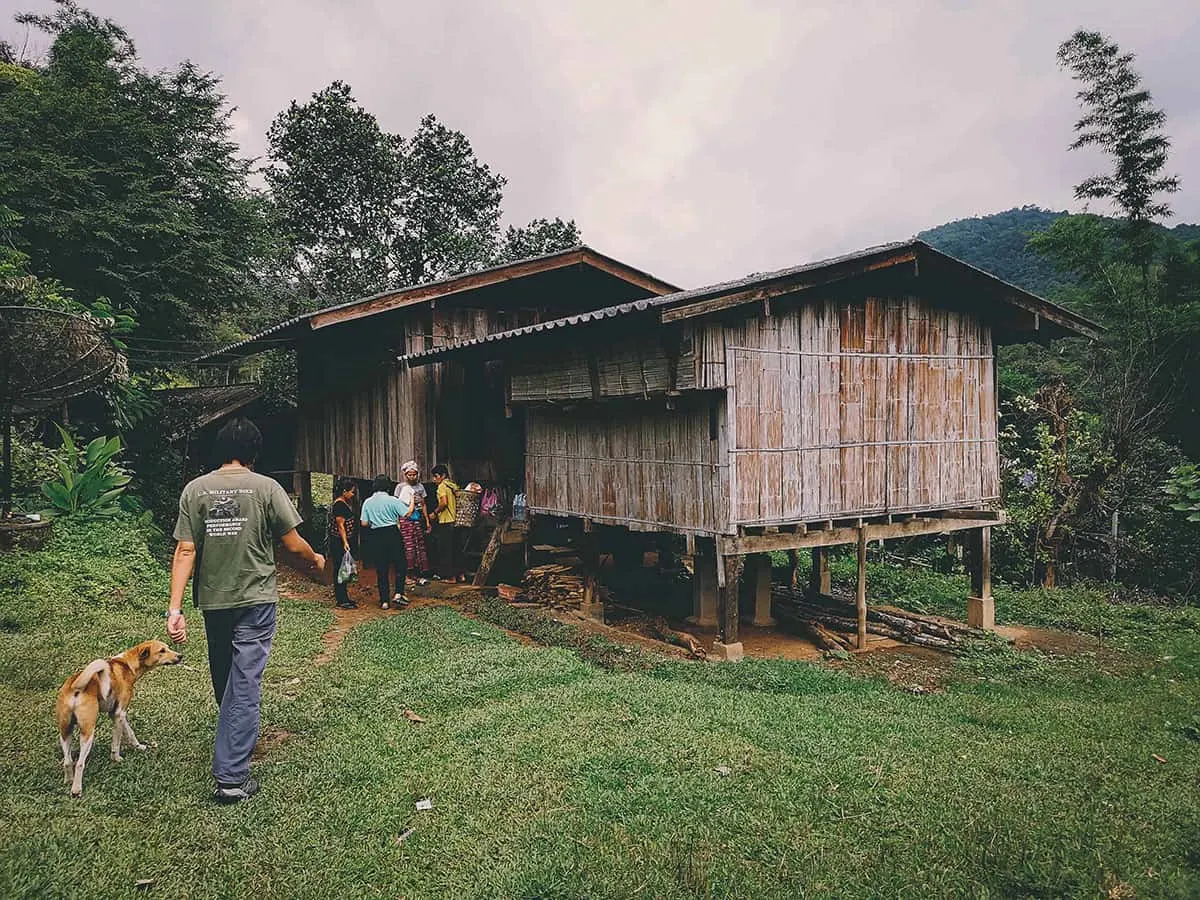 This is the hut where I stayed. It isn't some old hut that's been converted into a tourist attraction. It's an authentic hut in a villager's home and I was here as their guest. If you go on this foraging adventure, then you may be put up in a different hut depending on which family has room.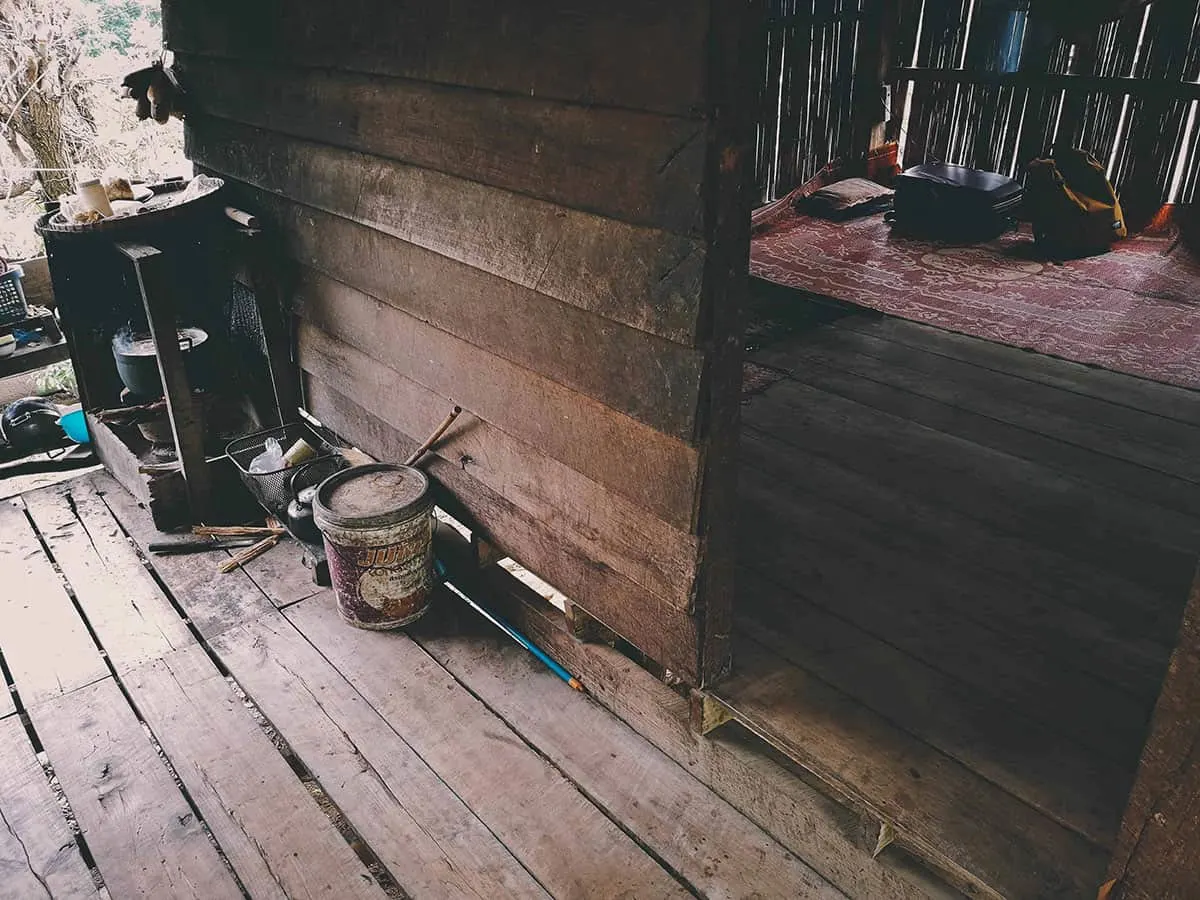 My accommodations for the night. It's definitely rough, but it doesn't get any more real or authentic than this. Talk about an immersive experience!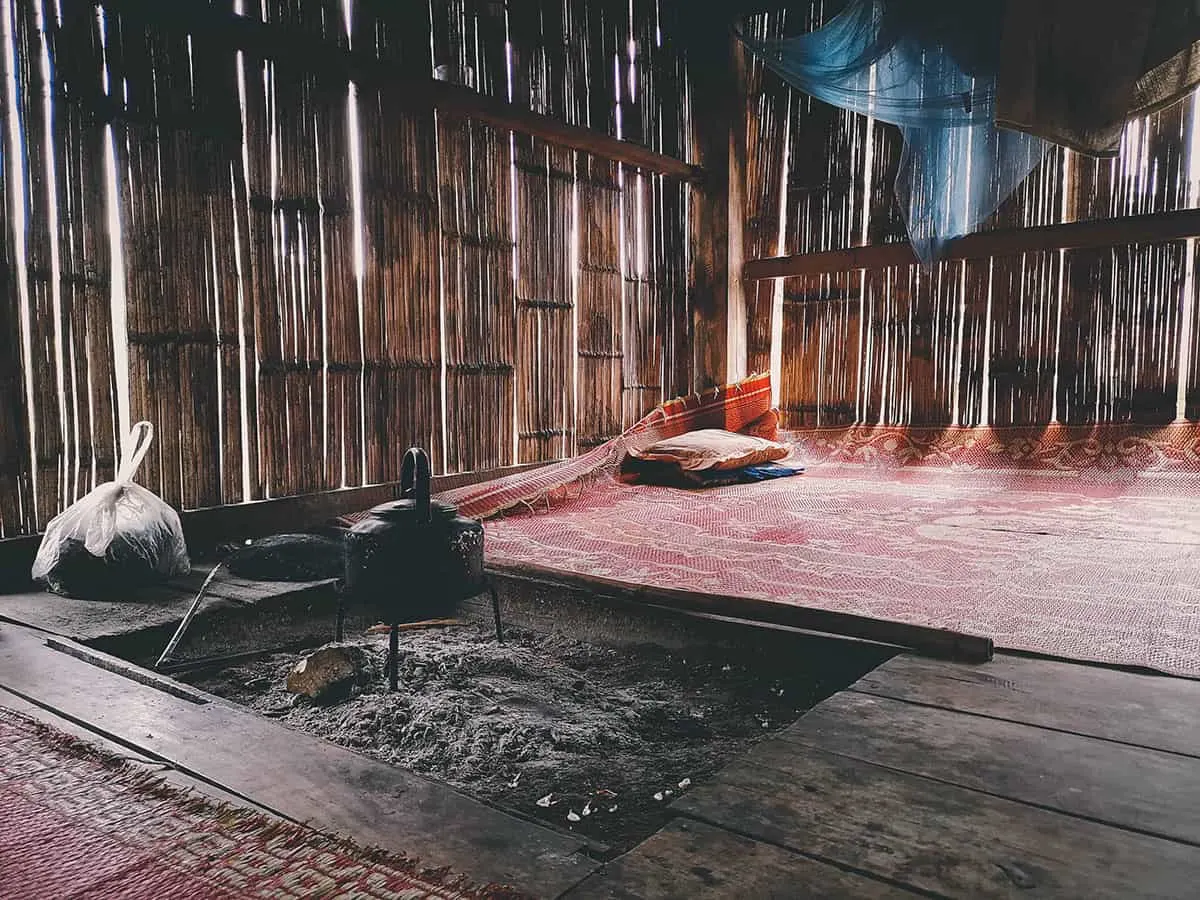 After dropping off my luggage, we immediately set out for the forest to start our foraging adventure.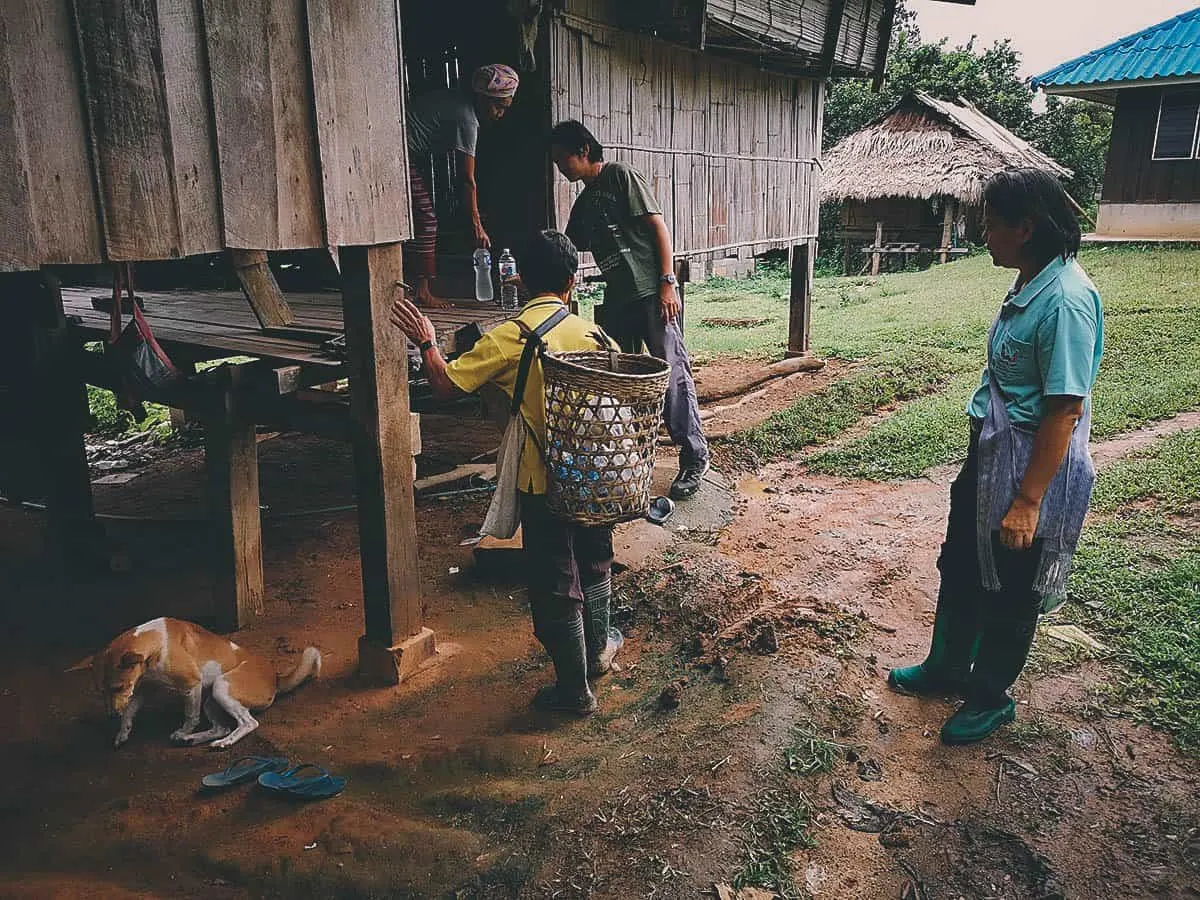 But first, I needed the proper footwear. These knee-high rubber boots were essential for two reasons, and I do mean essential. You'll see why.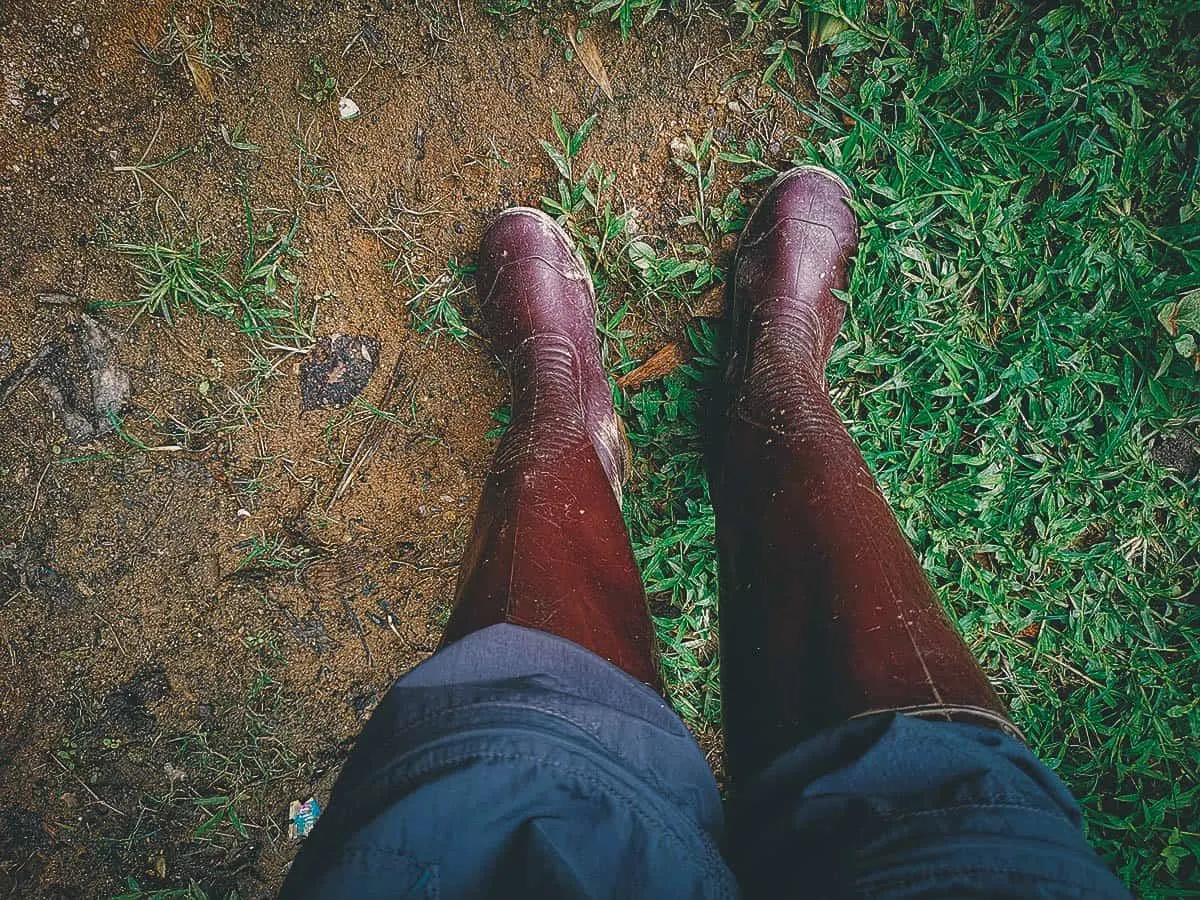 Foraging Experience
Hi ho, hi ho, and off to forage we go! There were six people and one dog in our foraging team.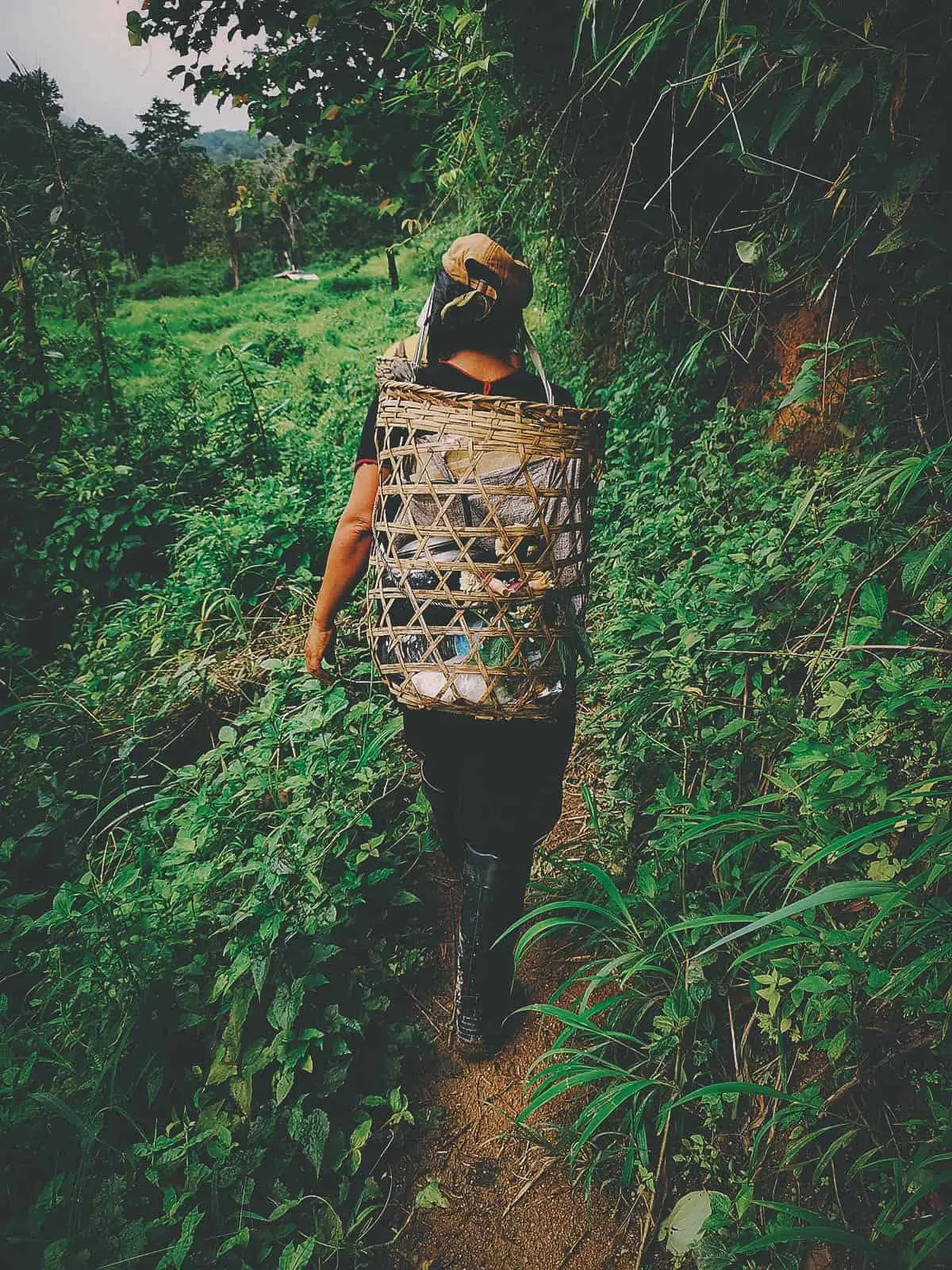 It was rainy season so the trail would often be muddy and slippery, which is one of the reasons why we needed these rubber boots. I'll get to the second reason later. Yuck.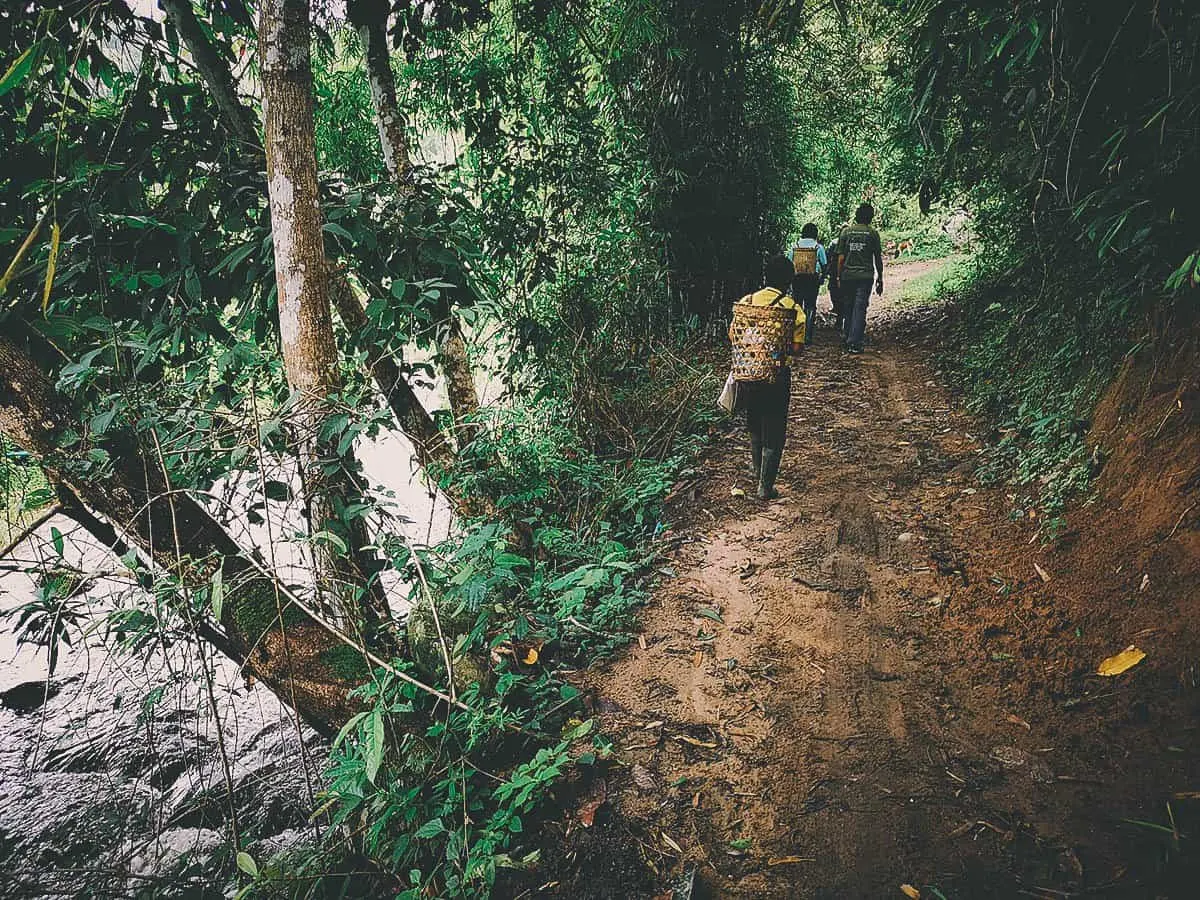 The landscape here is beautiful, remarkable for its lush forests and green rice paddies.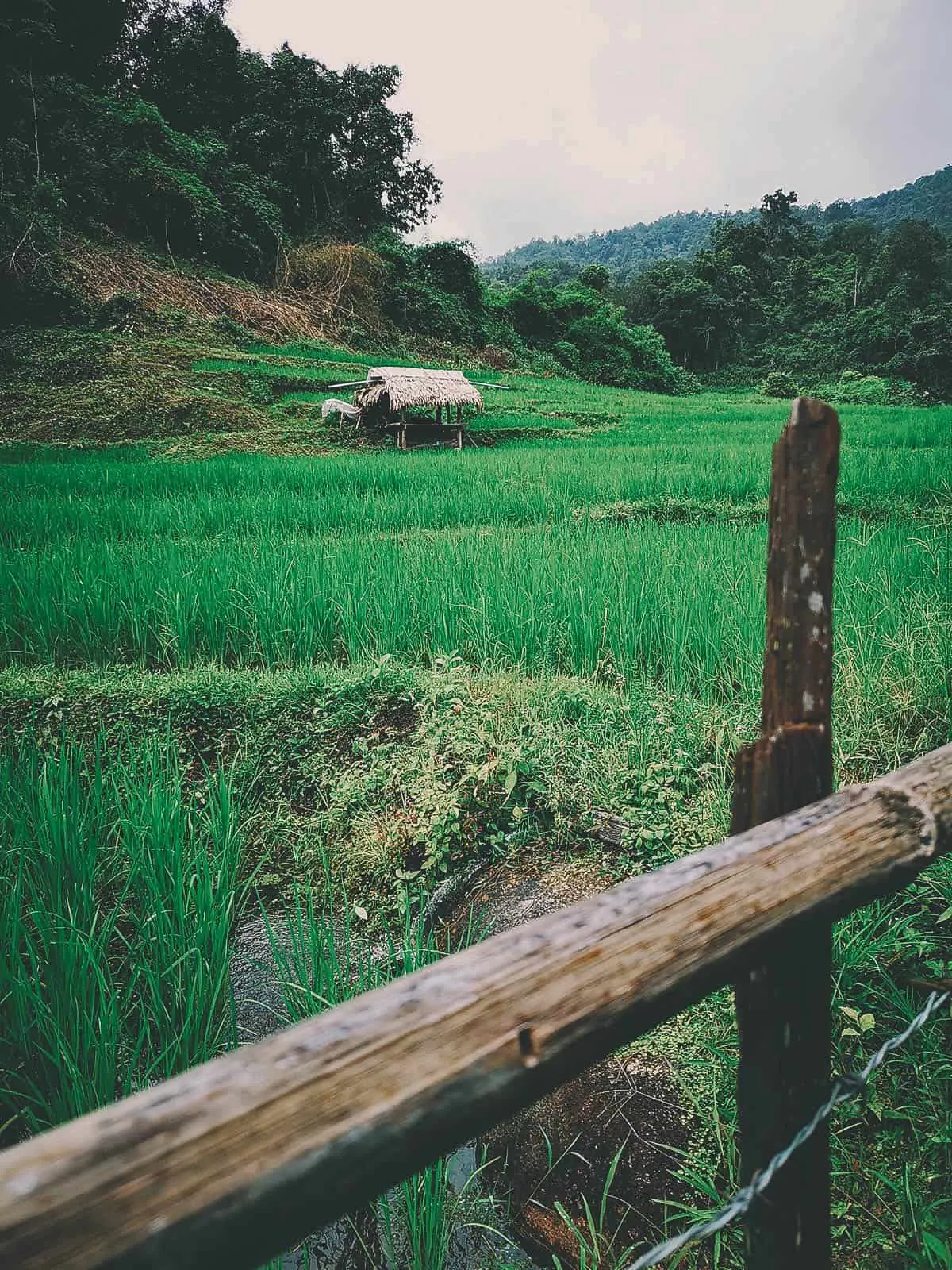 So pretty that you'll often find yourself stopping to take a picture.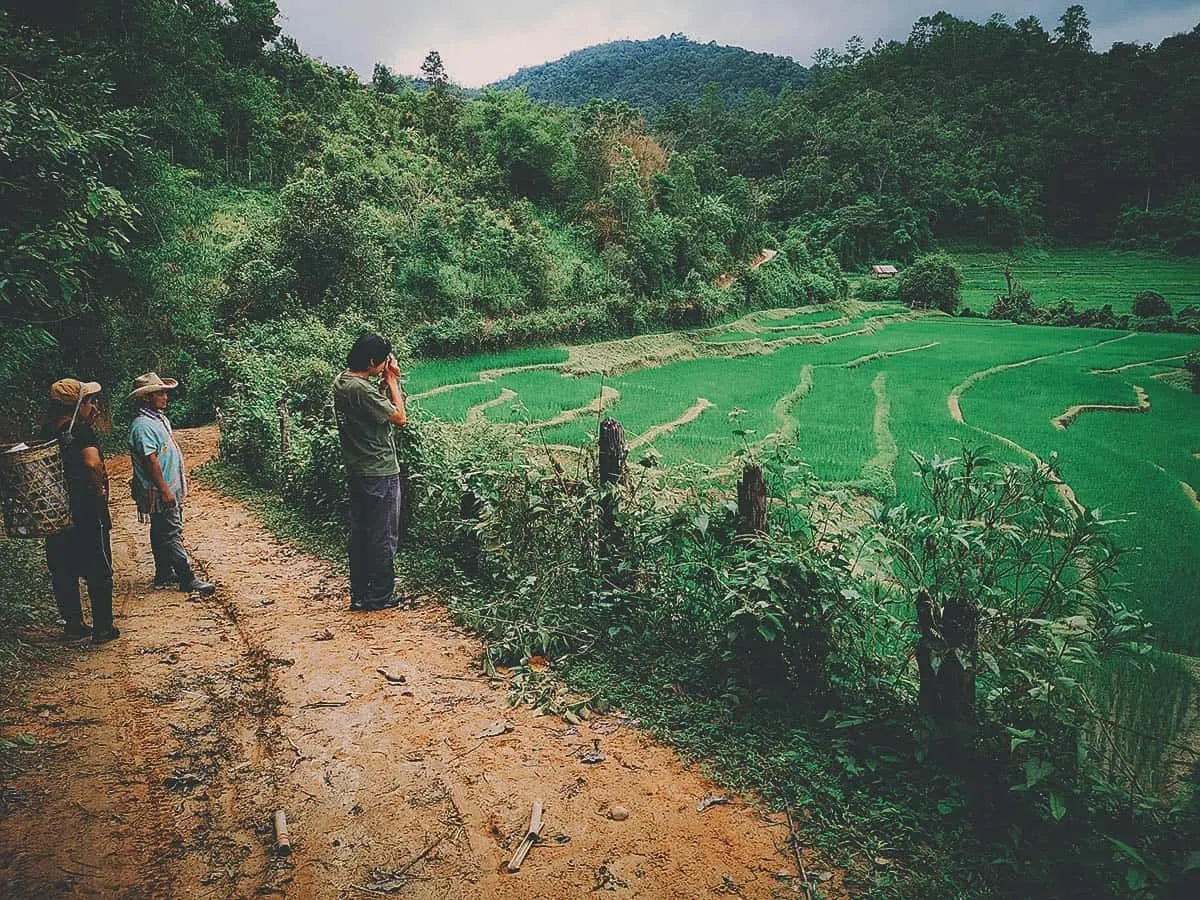 This woman was busy removing weeds from her rice paddies. Cultivating rice is backbreaking work which is why many of the younger generation don't want to do it. You can't blame them either because they can make more doing less physical work. They have better access to information and are more educated, so they often move to bigger cities like Chiang Mai and Bangkok in search of a better life.
I asked Wanpen where this leaves the older villagers. If their children don't want to stay and continue this type of work, then what will happen with these villages? Will they be left for dead? She said that's a big reason why we were here today. The Thai government wants to promote tourism to these remote villages, to give the villagers another source of income. If they can make good money hosting tourists such as myself, then it might encourage more young people to stay.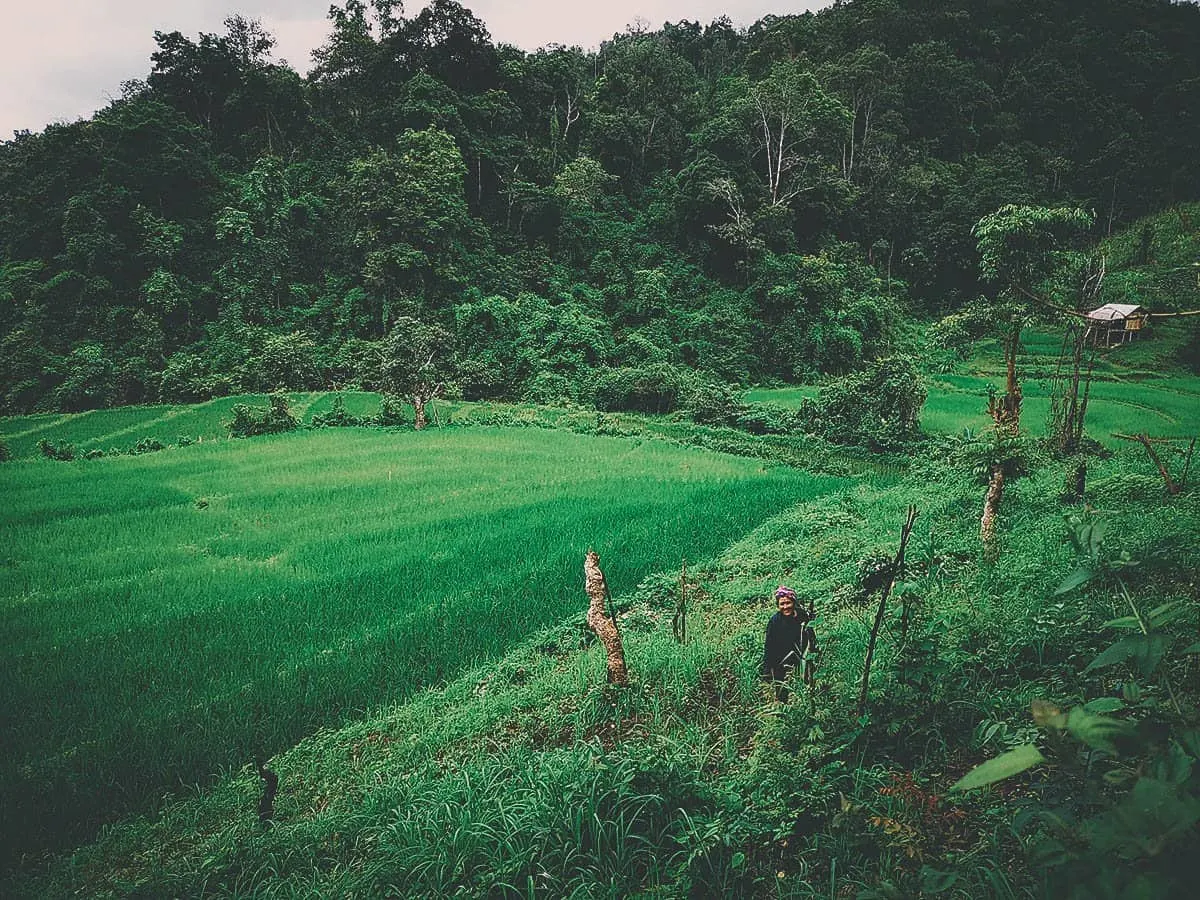 Can you guess what they're foraging for here? Wild tea leaves. The villagers often gather leaves and roots to be used for tea and herbal remedies. They don't have easy access to hospitals so they rely on plants for their medicinal needs.
The man in the yellow shirt is the owner of the hut I stayed at, while the one in the poncho was the assistant to the late village chief. The chief died from cancer recently so they'll be holding an election soon to appoint a new chief. He's in the running so I hope he wins. He was a good foraging leader.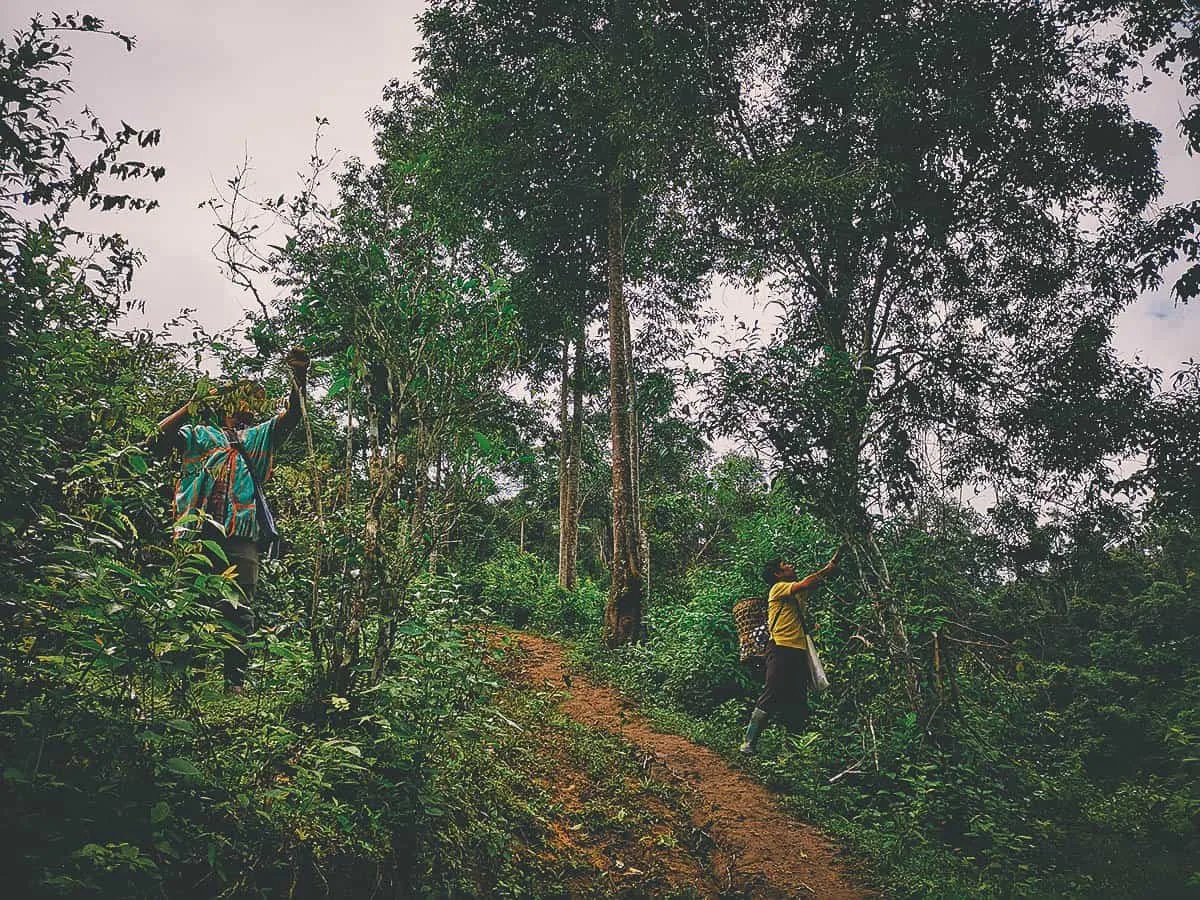 This lovely lady is the sister-in-law of the man in yellow. In her hand is a bunch of wild tea leaves.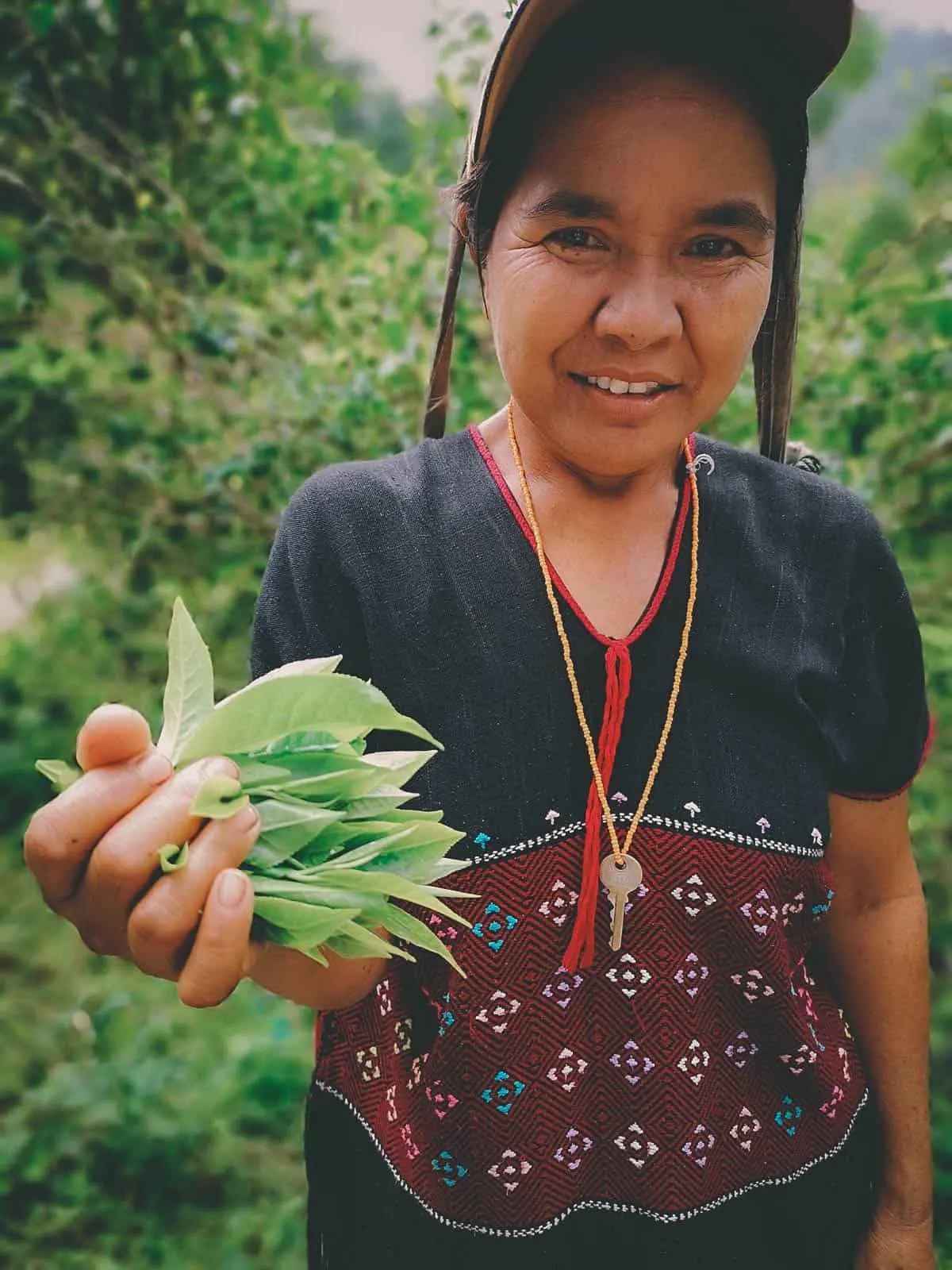 I don't know what they're called but these leaves were used for cooking.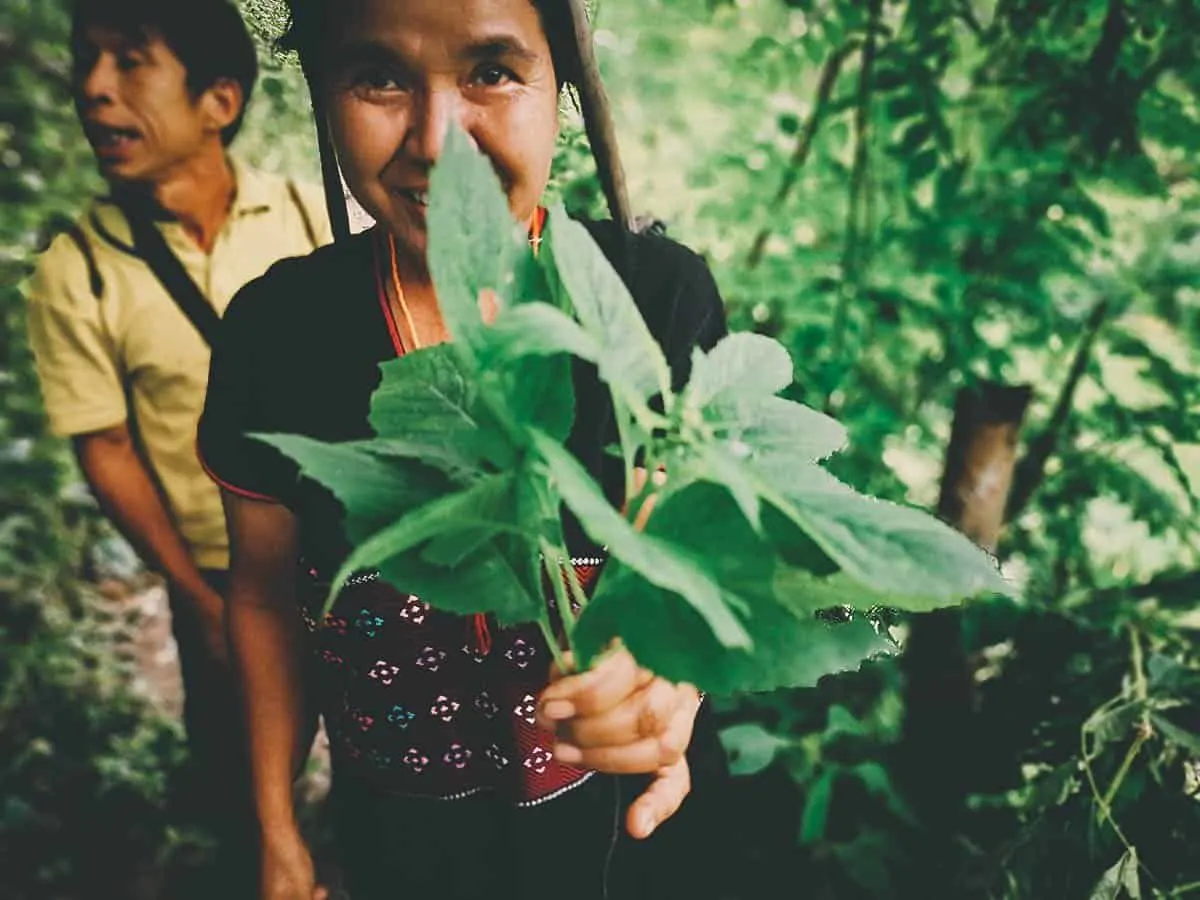 All along the trail were signs of life. With every step I could see tiny frogs hopping out of my way. According to Wanpen, the villagers do eat frogs but only after they reach a certain size. They don't catch small frogs to give them a chance to breed and propagate. This was the first of many lessons in sustainability I'd learn from these villagers.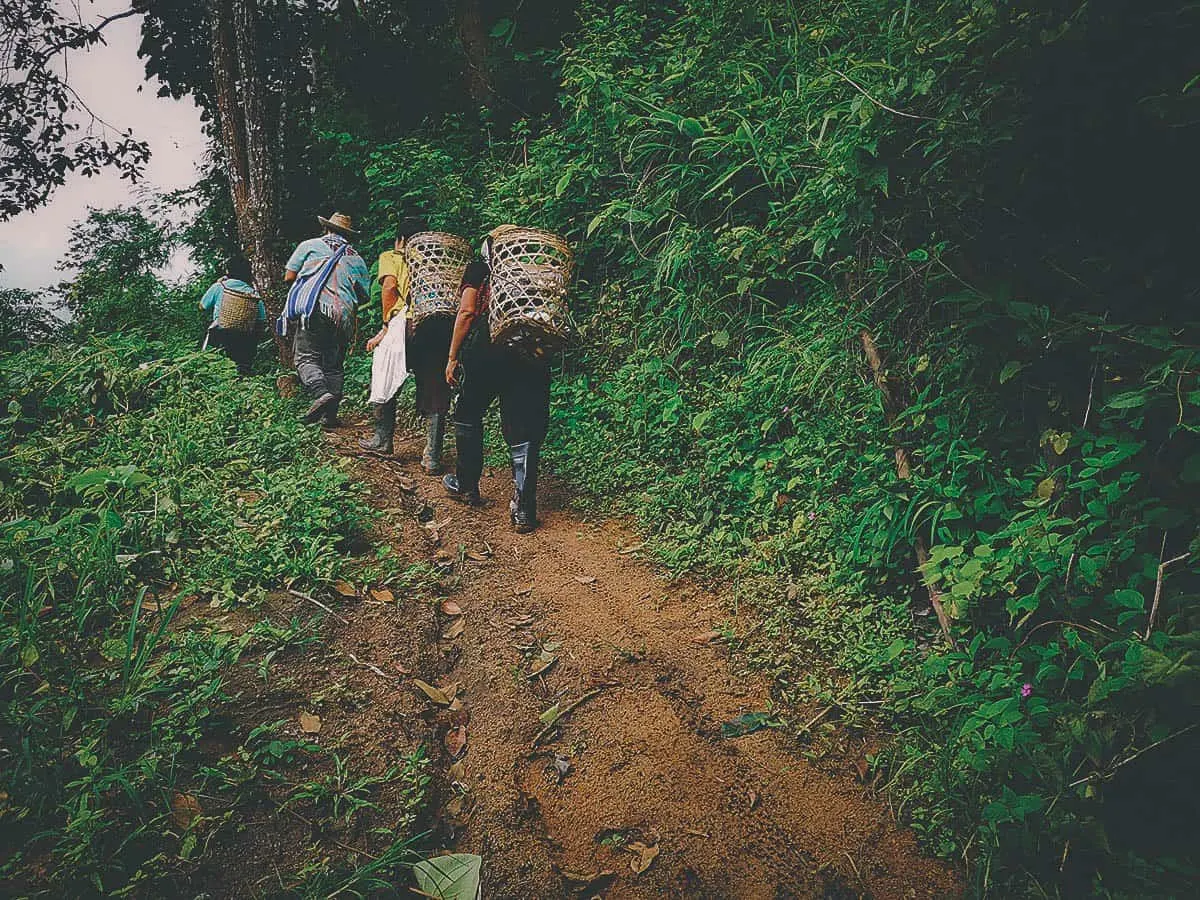 These boots are made for foraging, that's just what they'll do.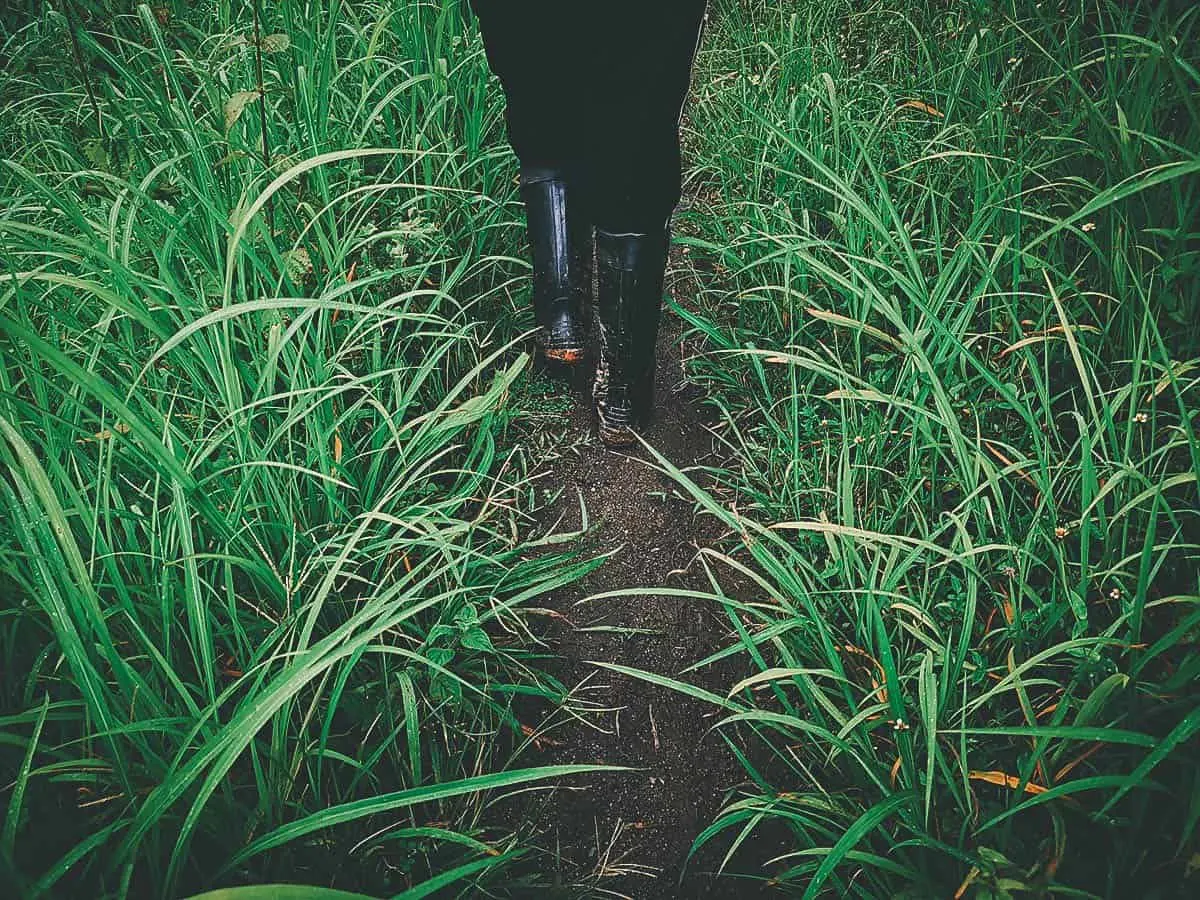 This is the second, more disgusting reason why these knee-high rubber boots are a must, especially during rainy season. Leeches are everywhere. I had never seen one before so it was odd to see how they moved. They get around like slinkies! They latch on to your boot or clothing then slinky their way to a clear patch of skin.
One determined leech slinkied all the way up my leg before chomping down on my belly. They secrete an anaesthetic so you don't feel a thing. In fact, I wouldn't have noticed it had it not been for the spots of blood on my shirt! They release a coagulant too so the blood flows freely, up to 2-3 days before finally clotting. Gross as heck but at least they tasted good. Kidding.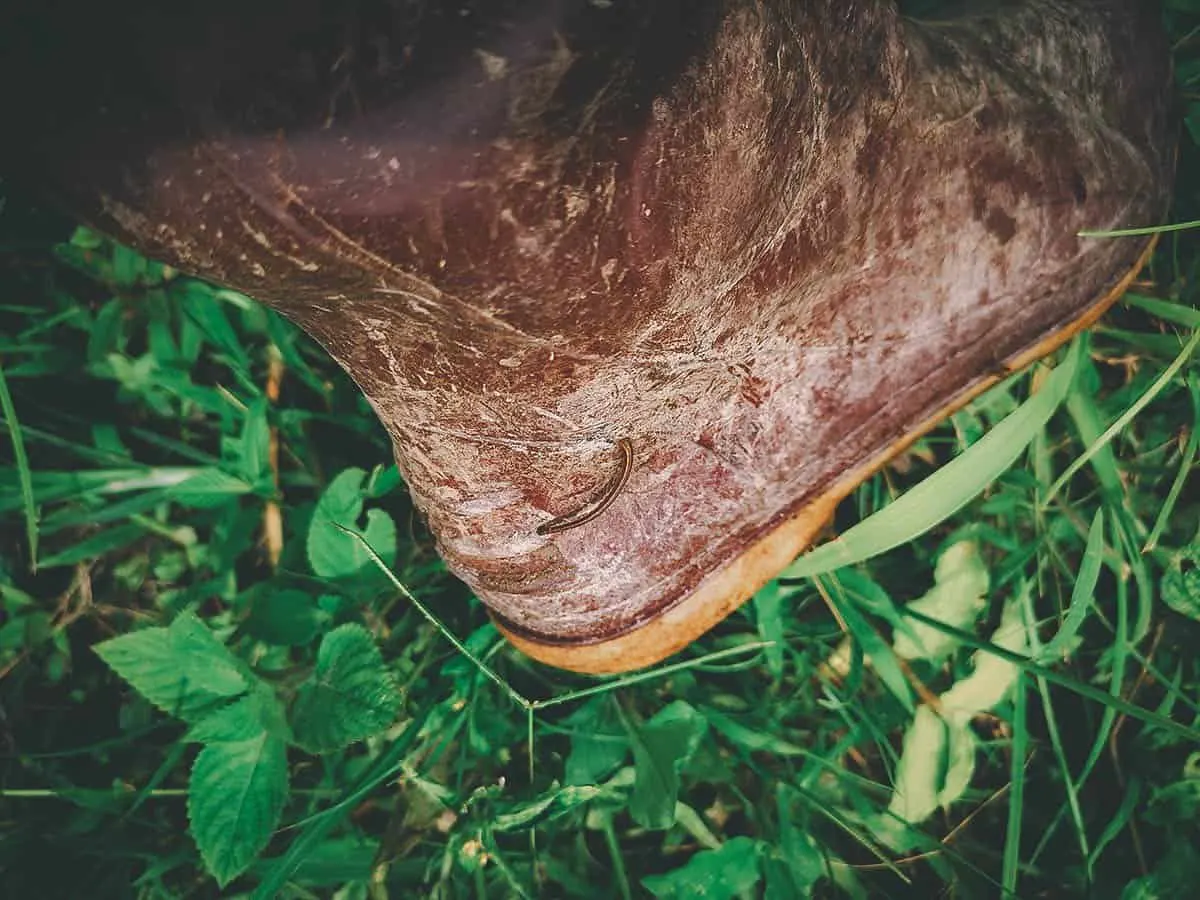 No amount of leeches can ruin this view. It felt so peaceful here. I'm not a materialistic person in the least so I yearn to fill my life with these types of adventures. I was grateful for the experience.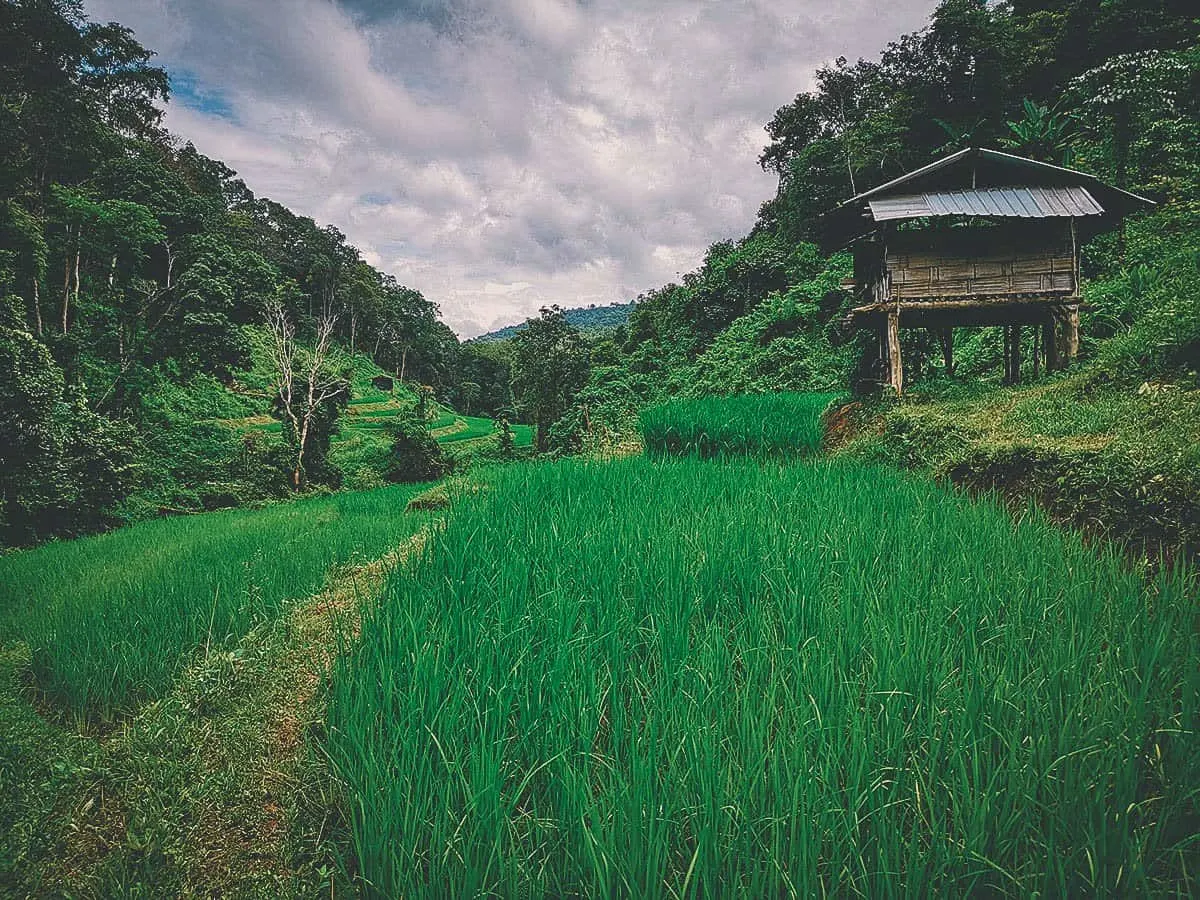 A bag of foraged freshwater snails which we'd have for breakfast the next day. You can find a lot of these guys in the rice paddies. According to the villagers, eating bigger snails can give you a headache but these smaller ones are perfect.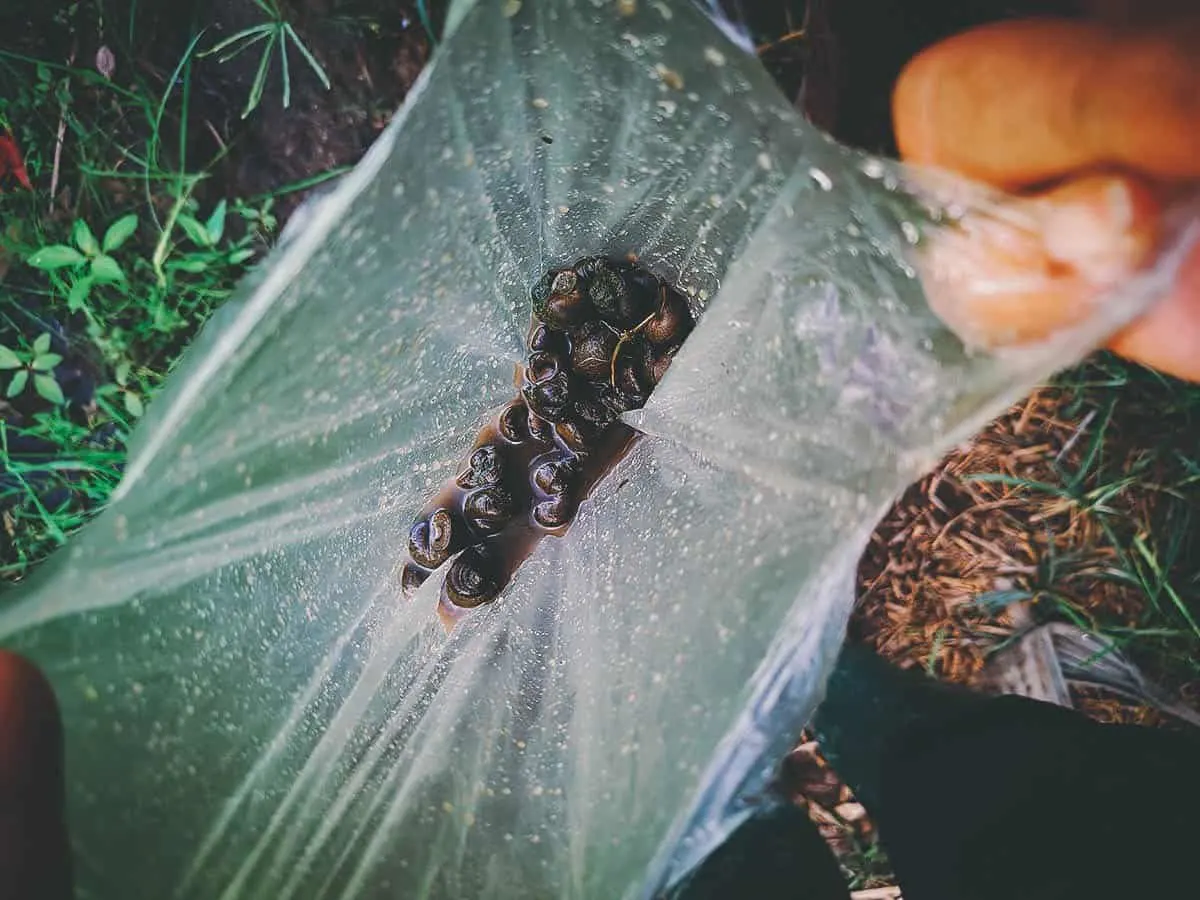 Here's some freshwater seaweed and a rice paddy crab. The village chief's assistant caught the crab just to show it to me, but he didn't keep it. They don't eat these crabs because there aren't enough of them to go around, and doing so might decimate the population. They only forage for things that exist in abundance so he released it back into the water after I took my pictures.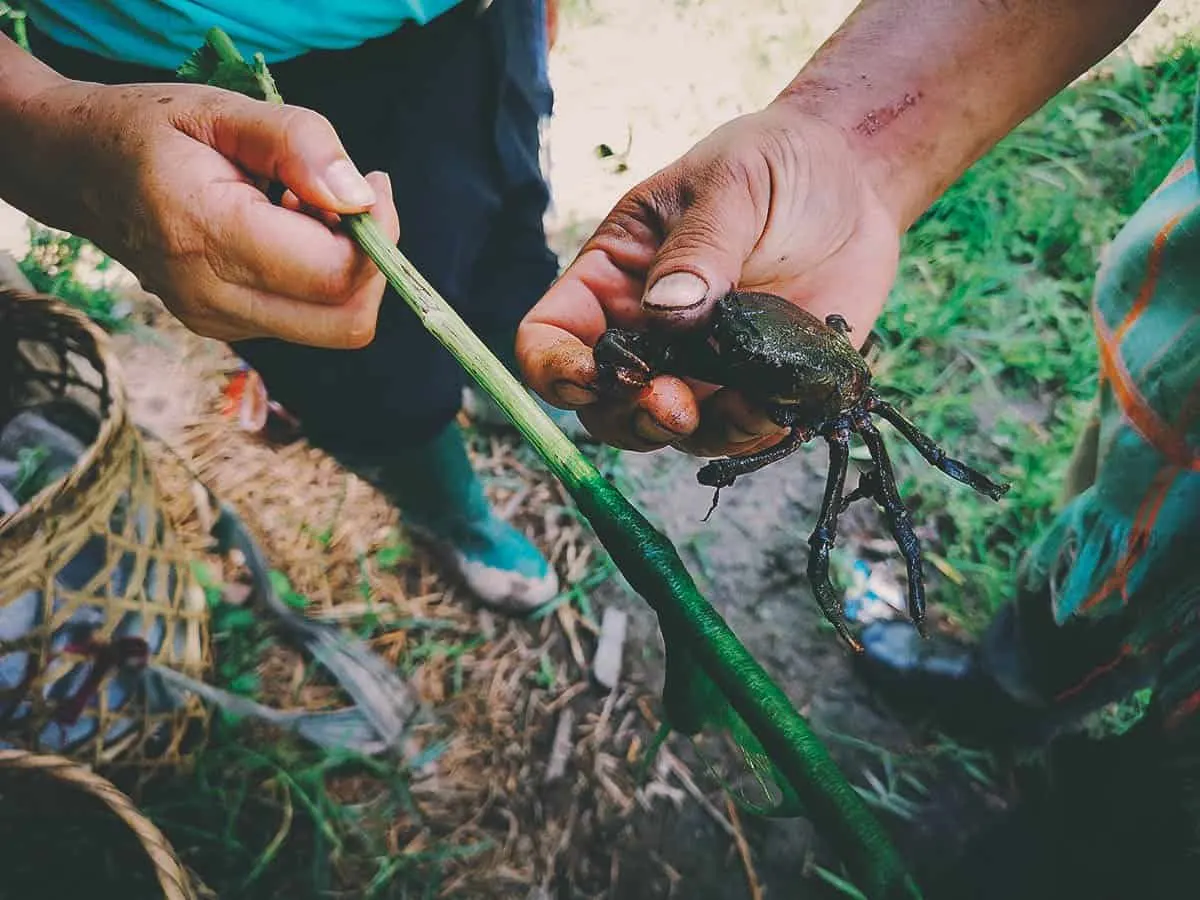 She's harvesting corn to supplement our lunch. She and her husband were responsible for planting all the corn on the side of this hill.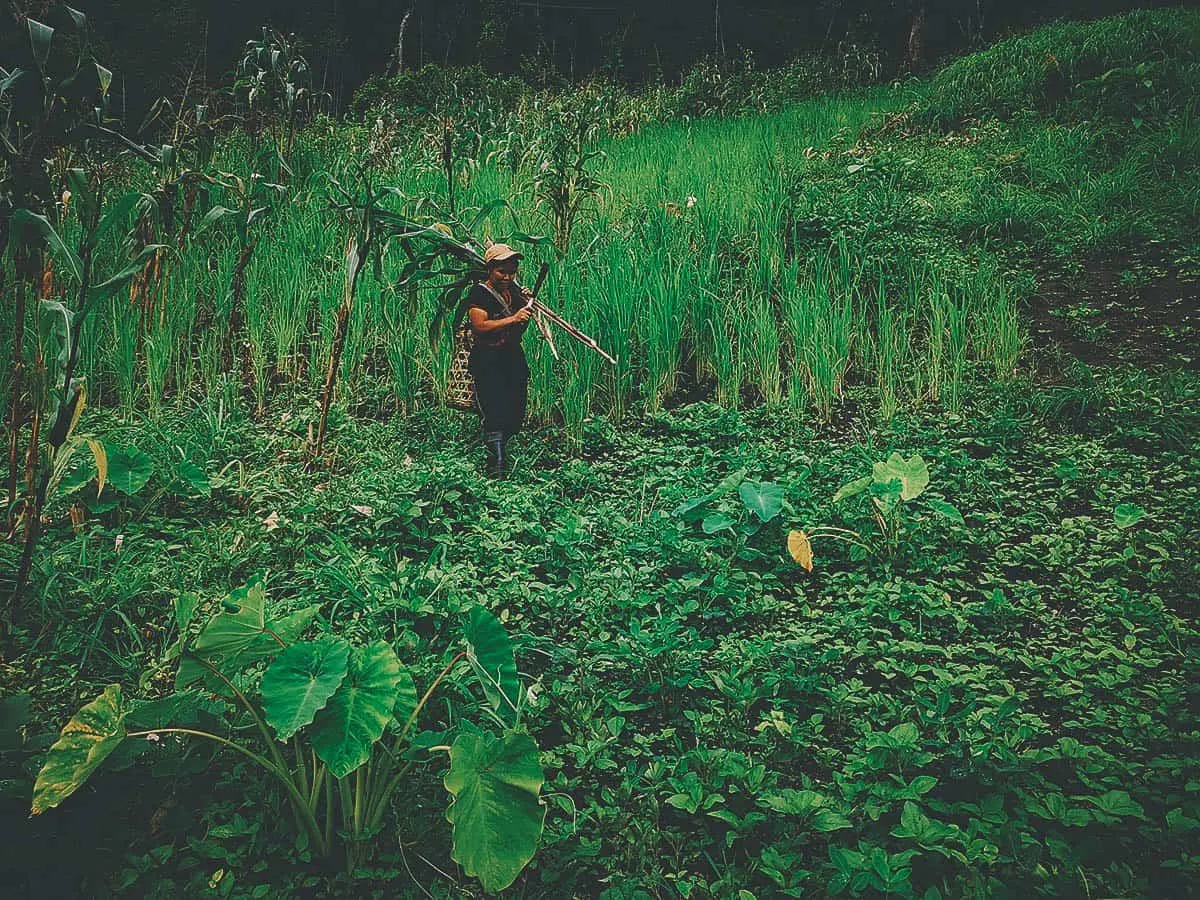 This handful of galangal would make for a mean tom yum.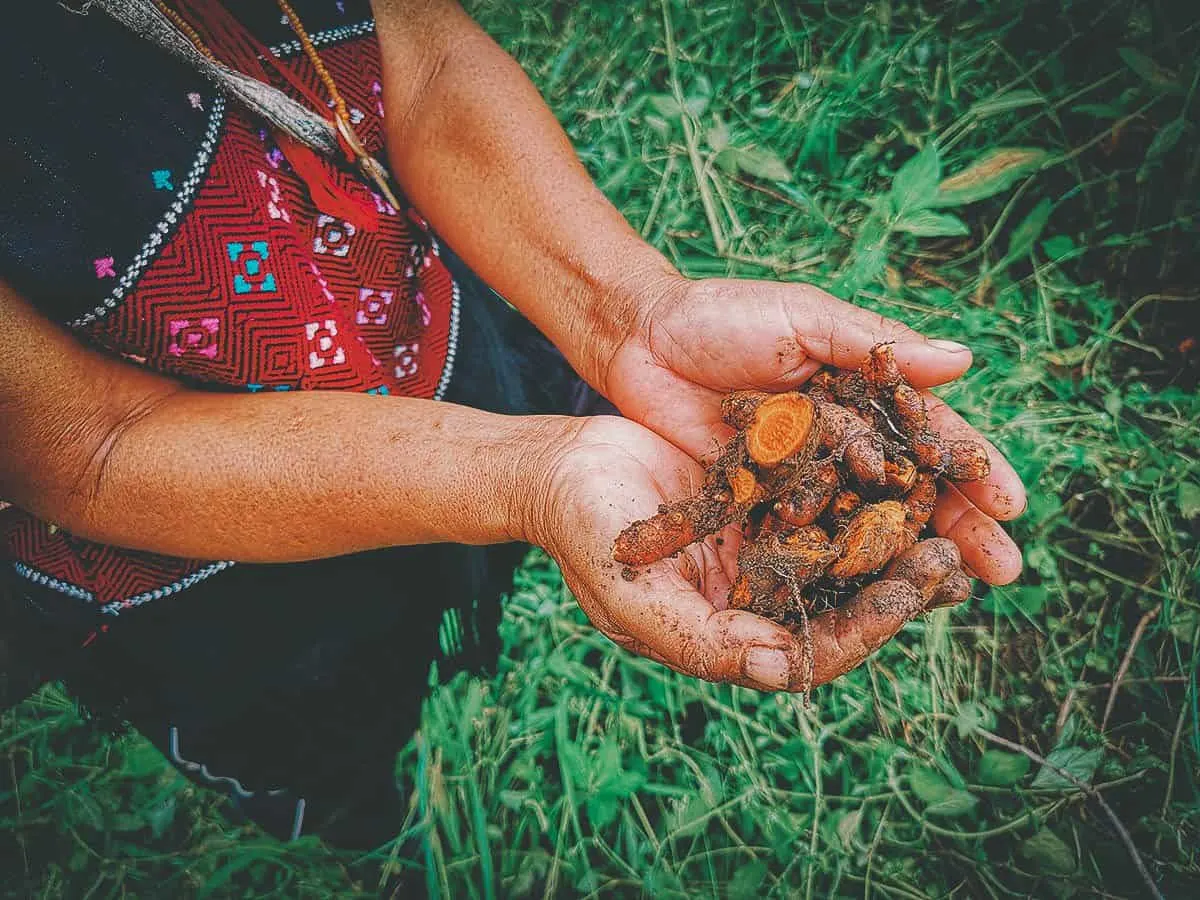 In the summer, they usually catch fish with basket traps, but the river is stronger during the rainy season so they resort to using nets.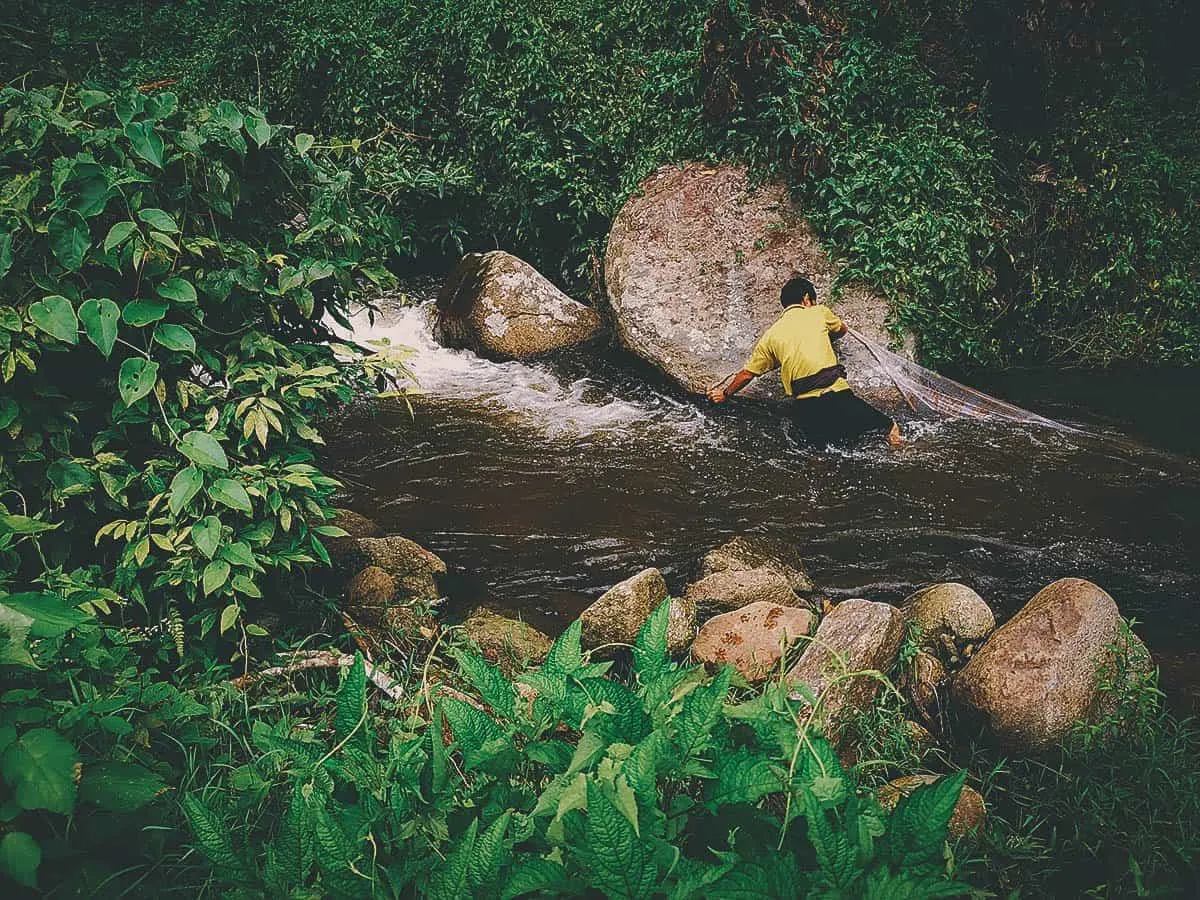 Nothing to see here, just a shack and two villagers catching fish from a river. The landscape here is picture perfect.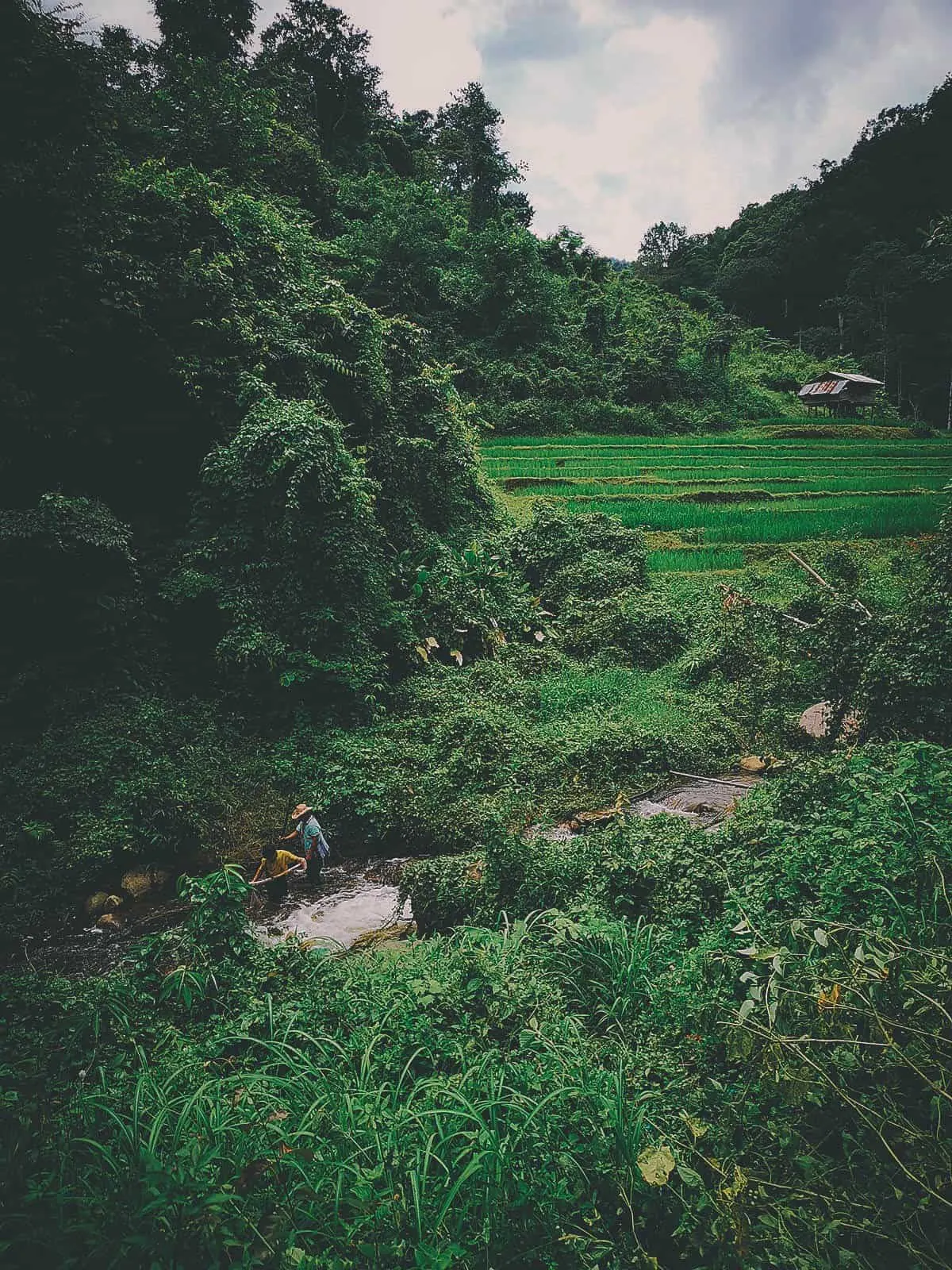 Catching fish from that river isn't easy! We weren't so lucky today, catching just two which we'd have for breakfast the following morning.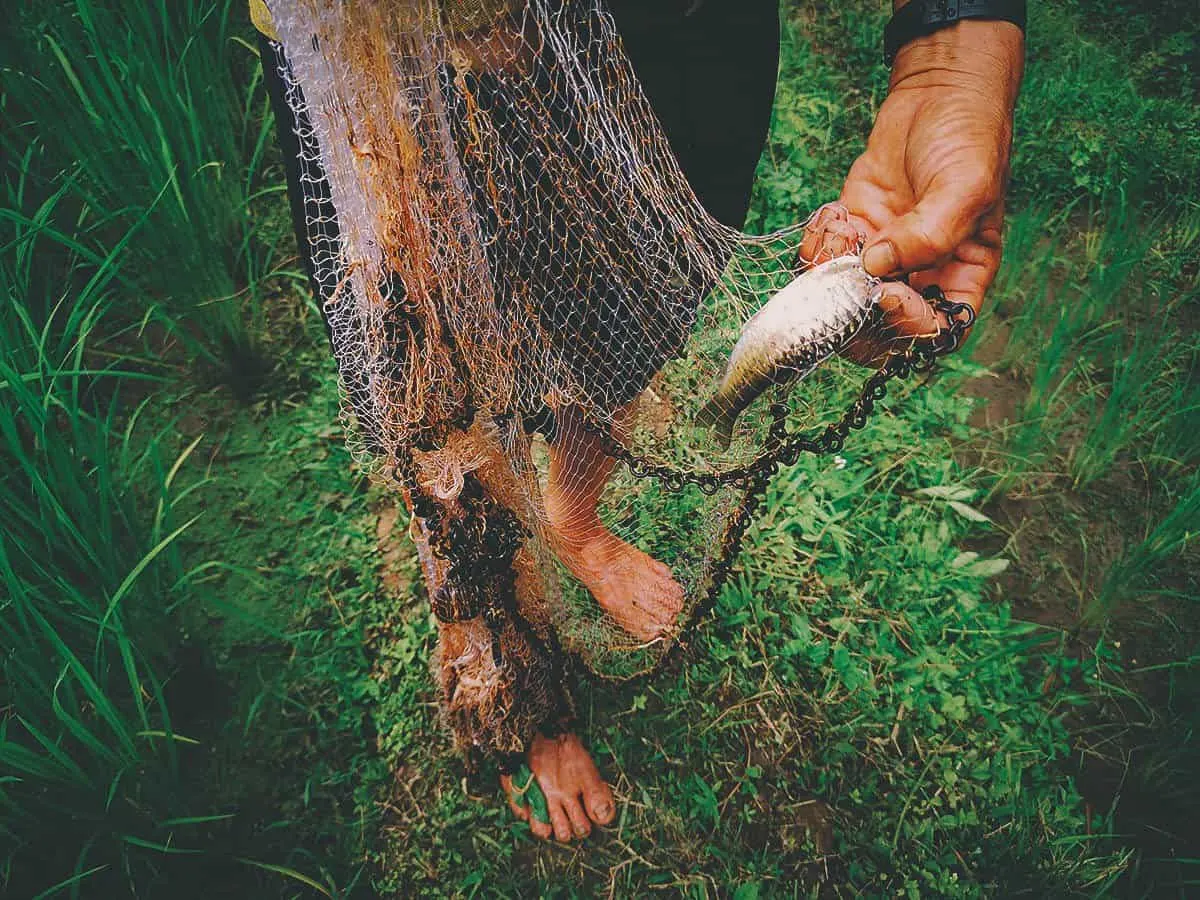 More of that picturesque greenery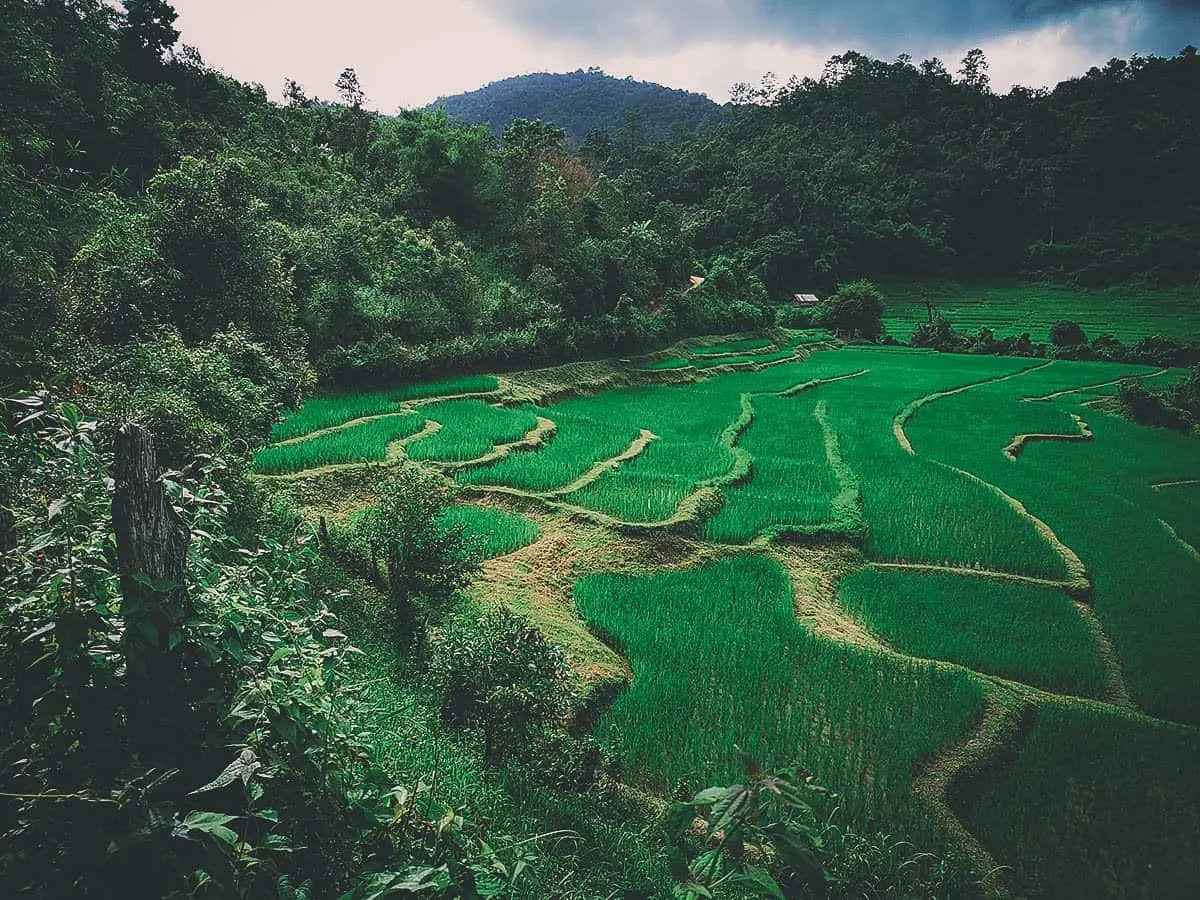 I look like I'm about to go fox hunting, like Sir Charles in those old Right Guard commercials from almost thirty years ago.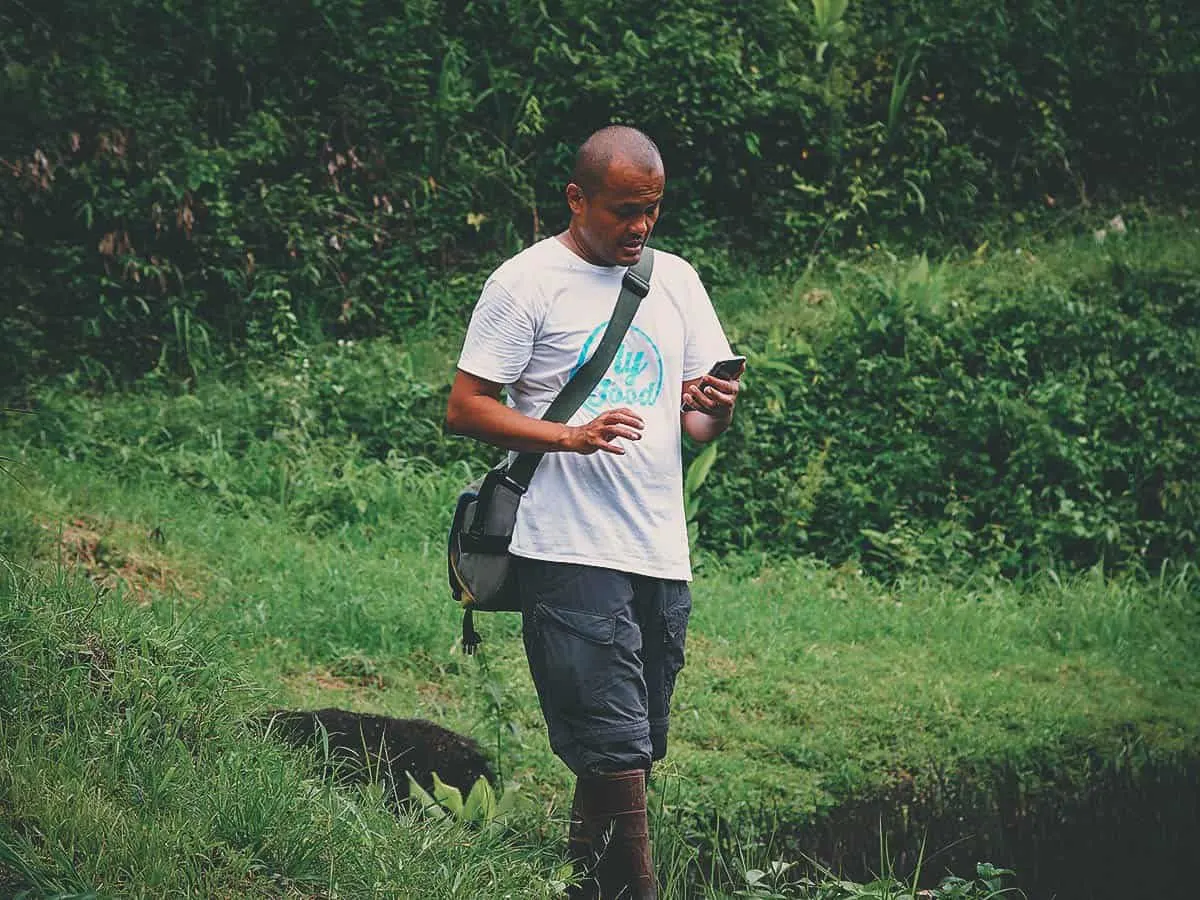 Can you spot what's in his hand? It's something he caught using a homemade trap. Extra points if you can guess before the next picture.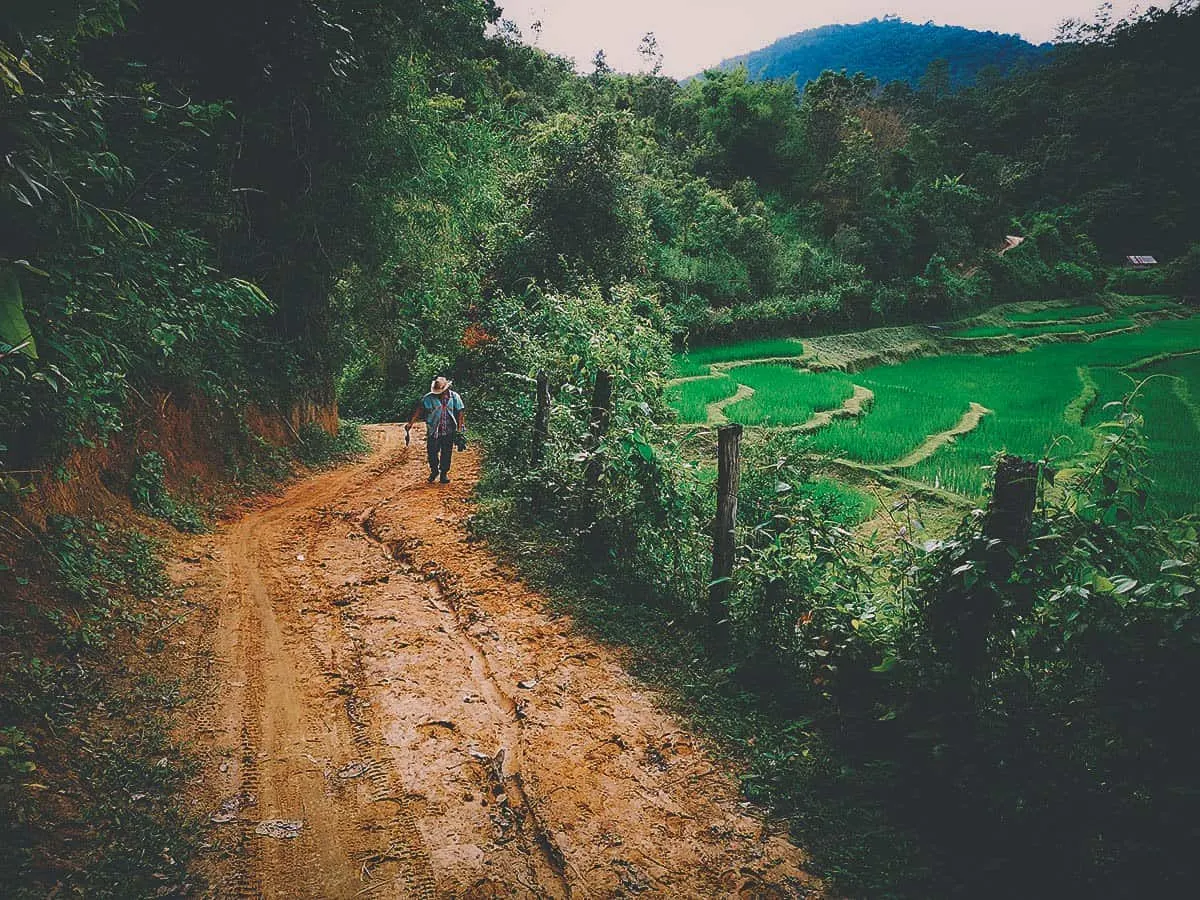 It's a squirrel (I think)! The always entertaining Sonny from the Best Ever Food Review Show did a feature on this tour and this was one of the things he ate. He also ate dung beetles which we unfortunately couldn't catch today because of the rain.
These villagers don't hunt big game. The most they'll do is catch fish or frogs and set traps for jungle rodents like this one. Rodents are plentiful in the summer but they're much harder to come by during rainy season. We were lucky to catch one. After watching Sonny's feature, I was really hoping to get a taste but I guess there wasn't enough to go around. They chop it up before deep-frying with all the bones.
Like rodents, dung beetles are more difficult to come by during the rainy season. It's because the buffalo poop they consume gets washed away by the rain. Harvested beetles are cleaned in water before being deep-fried, and according to Sonny, they're extremely crunchy with a nice, gooey center. How many of you are daring enough to try fried rats and dung beetles?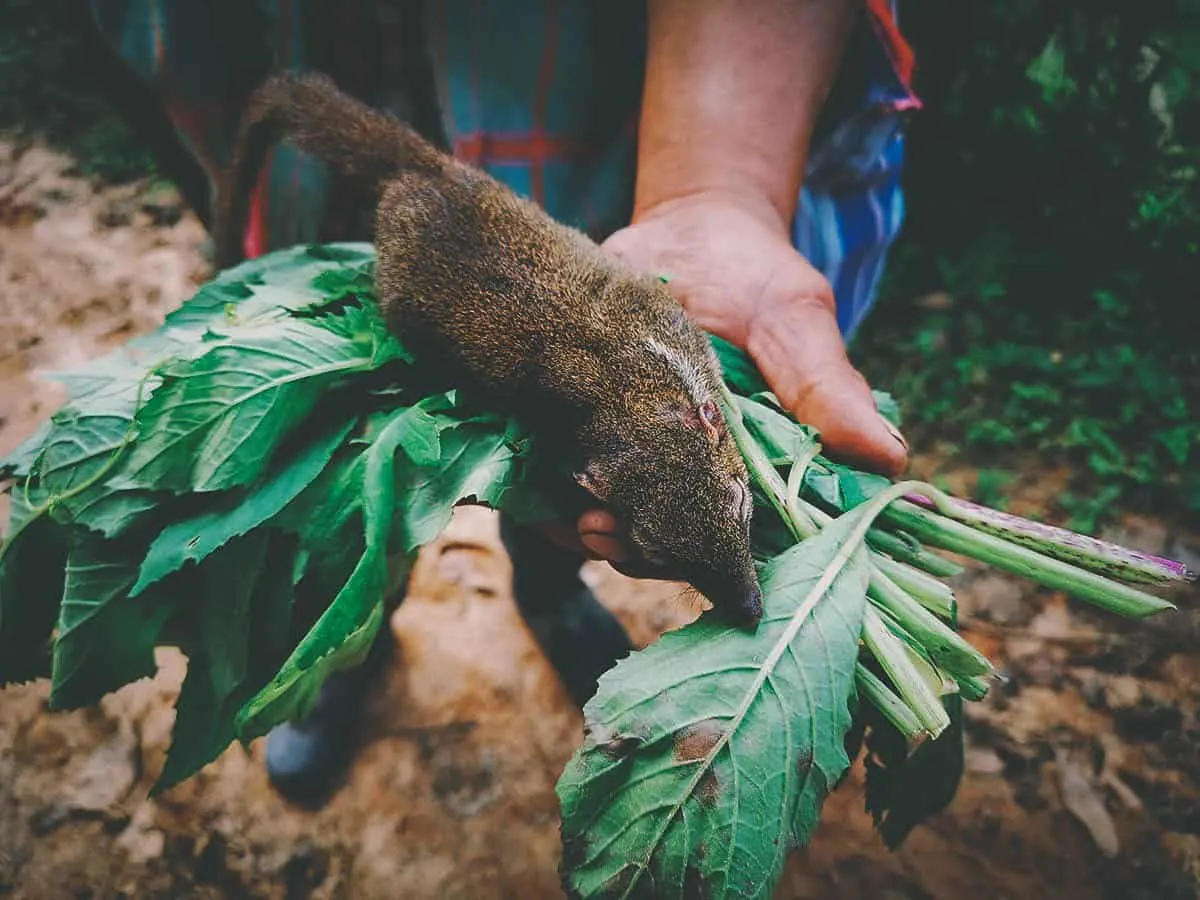 These mushrooms were delicious and the best thing I ate on this foraging adventure. I don't remember the number but Wanpen said they can fetch a good price at the market. I asked how they know which mushrooms are edible and which aren't, and they said bugs are the key. If they observe insects feeding on the mushrooms, then chances are they're safe to eat. In their minds, if an insect can't feed on a mushroom, then how can a human?
The villagers know exactly where to find these mushrooms too. They grow in clumps so they harvest only a small amount at a time to give the rest a chance to regenerate. Just another lesson in sustainability that these villagers were teaching me.

A Foraged Lunch
We foraged for nearly the whole day, but we did break for lunch in that shack next to these gothic-looking stalks of black glutinous rice. High in iron, vitamin E, and antioxidants, it's dark purplish color is due to its high concentration of anthocyanin, the same antioxidant responsible for the color of eggplant. I asked Wanpen why they have just two terraces' worth of the black rice, and she said it's because they only plant enough for their own personal consumption. They don't sell anything.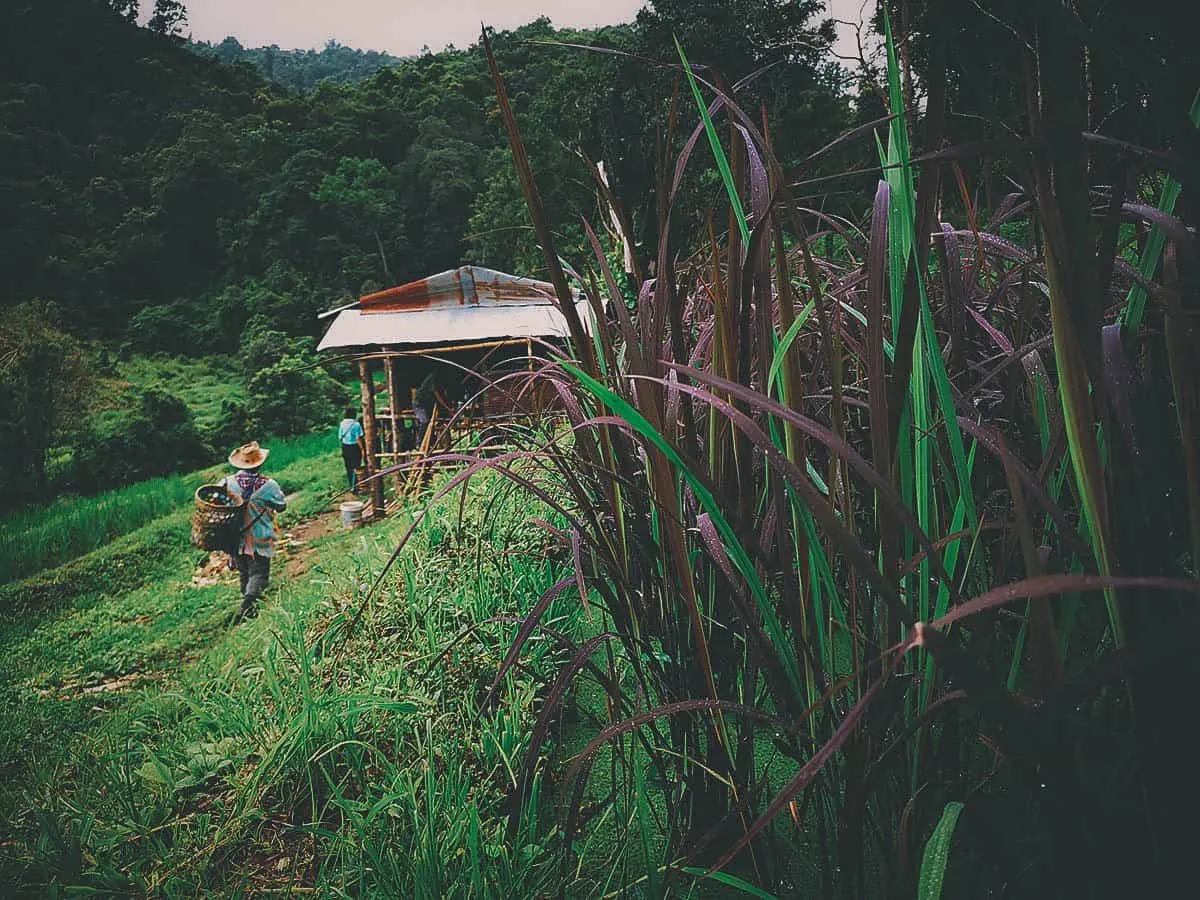 Our foraged bounty consisting mainly of greens and flowers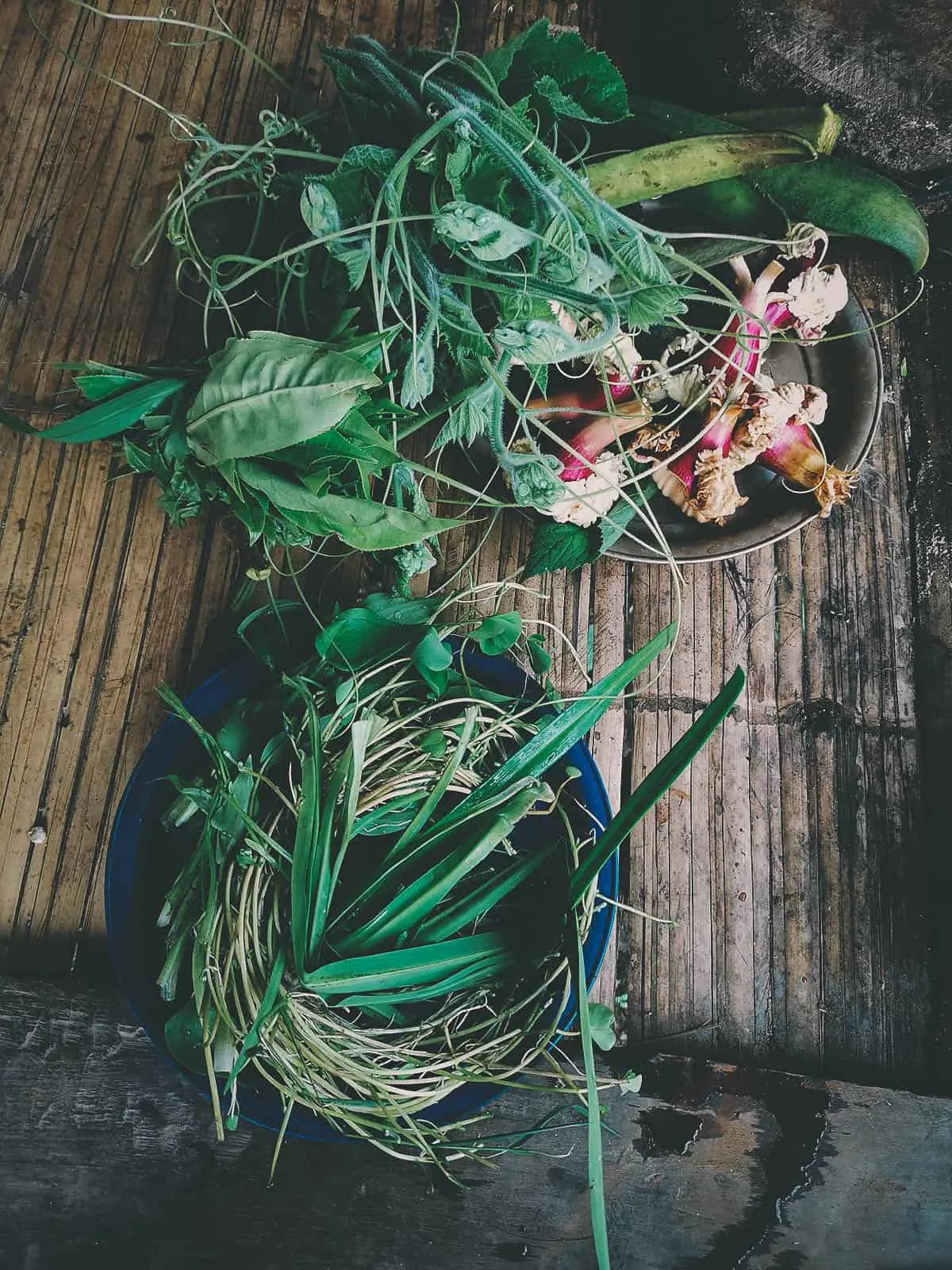 See that large green frond roasting over the fire? I don't know what it is but I think it might be some type of large edible succulent. It was slightly bitter in taste, like a less watery bitter melon.
Wanpen told me that even their firewood is foraged. They don't cut down any trees to make it. Instead, they wait for trees to fall naturally so they can chop it up and share with everyone in the village.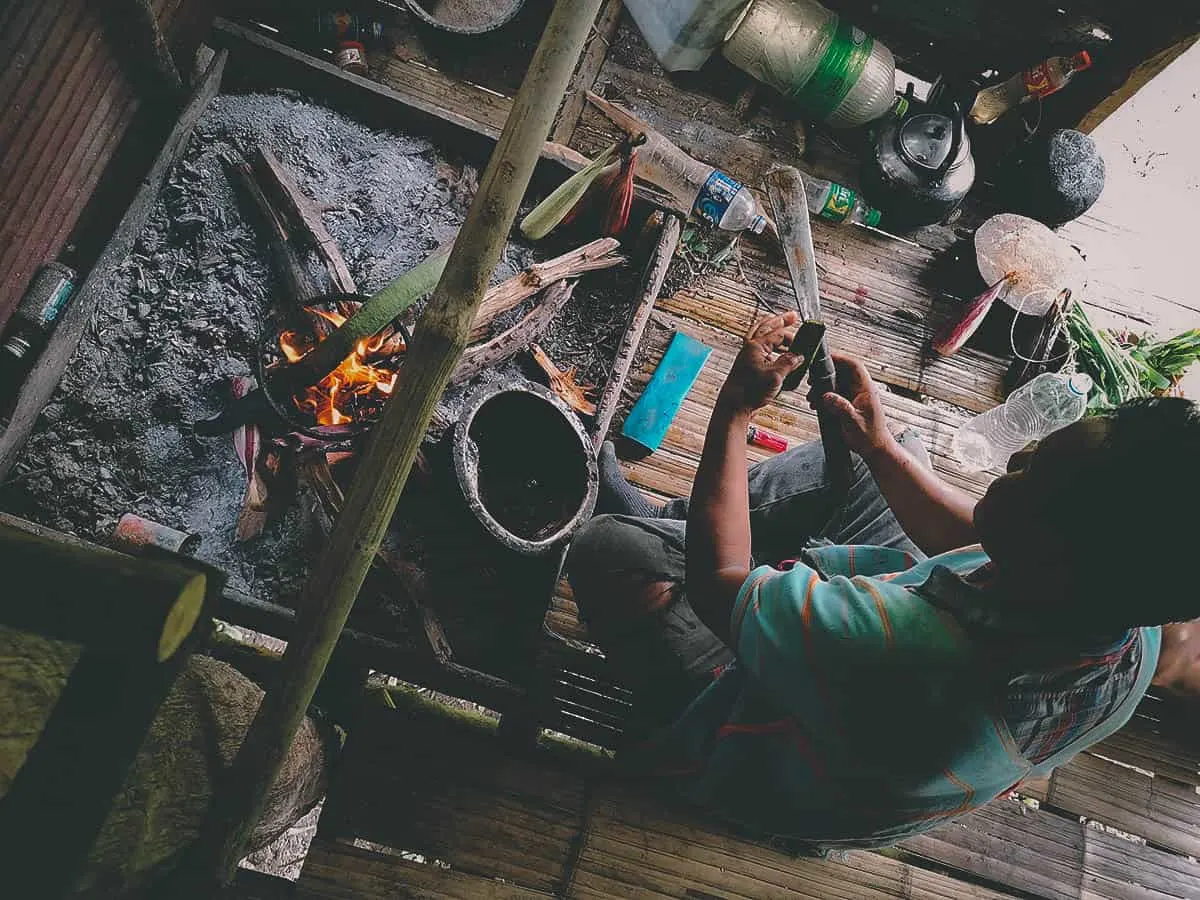 A banquet of foraged greens with the pork and sausages Wanpen bought from the market.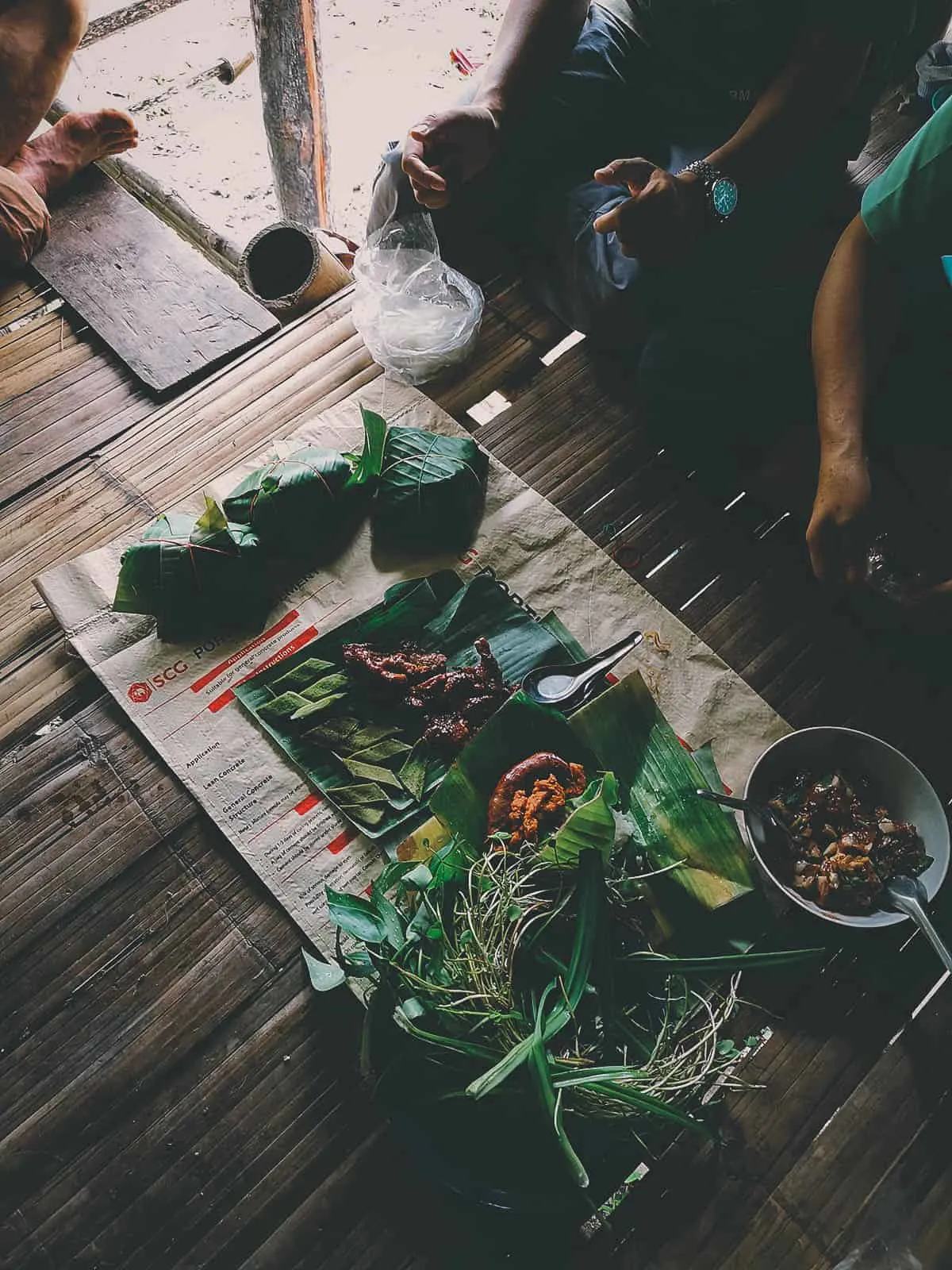 Here's a closer look at that bitter frond after being roasted and sliced into bite-sized pieces. They were a little too bitter on their own but were great dipped in nam prik and eaten with rice. Next to them are these interesting little berries that provided crunchy bursts of sweetness and acidity.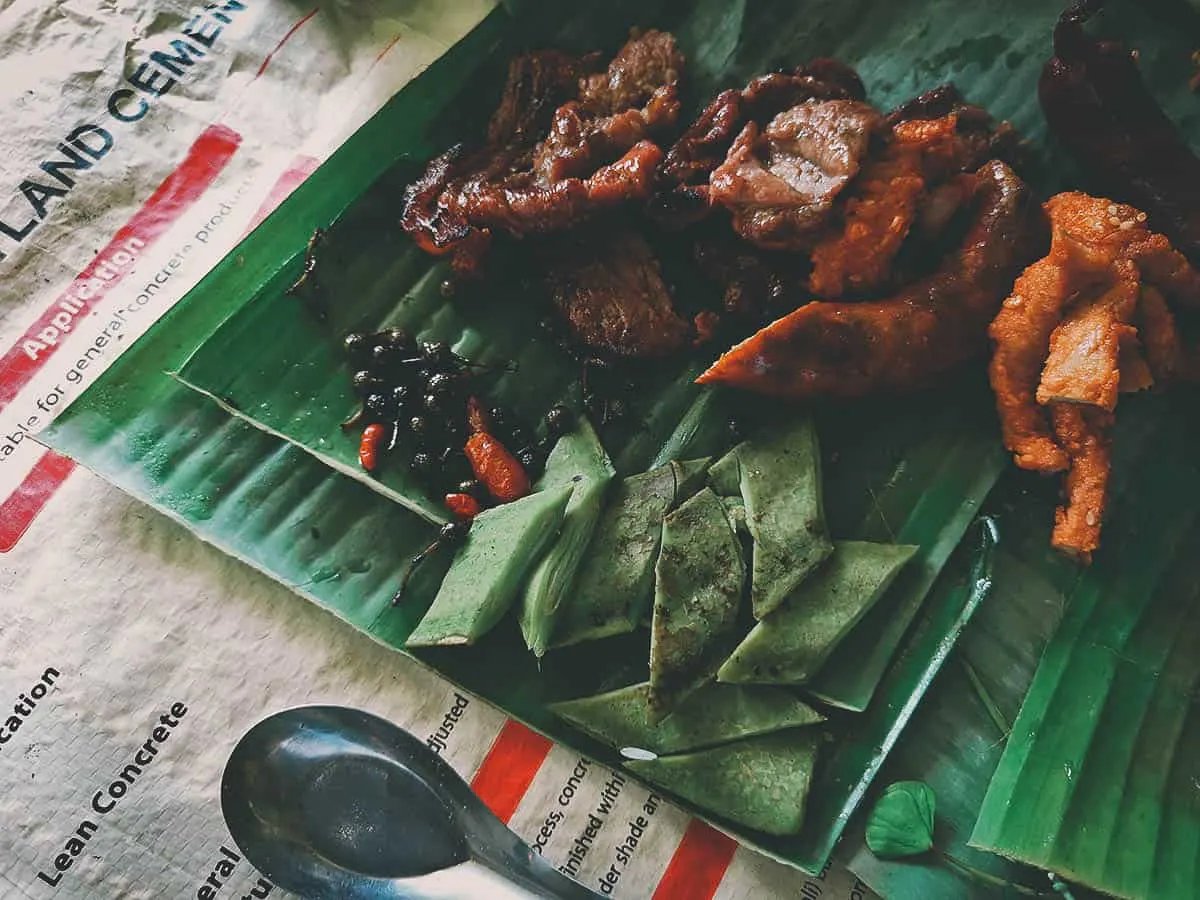 Lovely roasted corn

If I remember correctly, inside this bowl was some type of cold and savory gelatin tofu dish.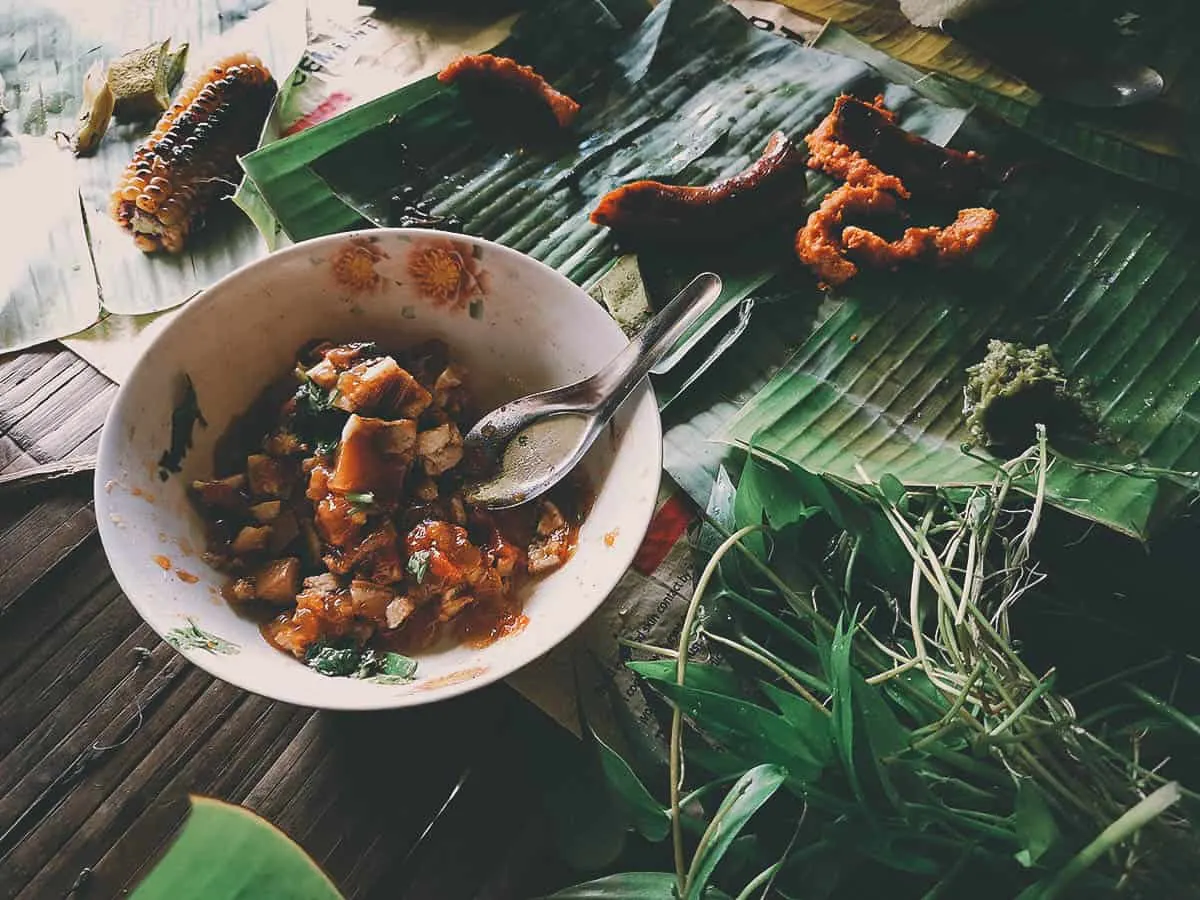 A bamboo cup of wild tea made from the leaves we had foraged earlier. The villagers like to add a pinch of salt to their tea.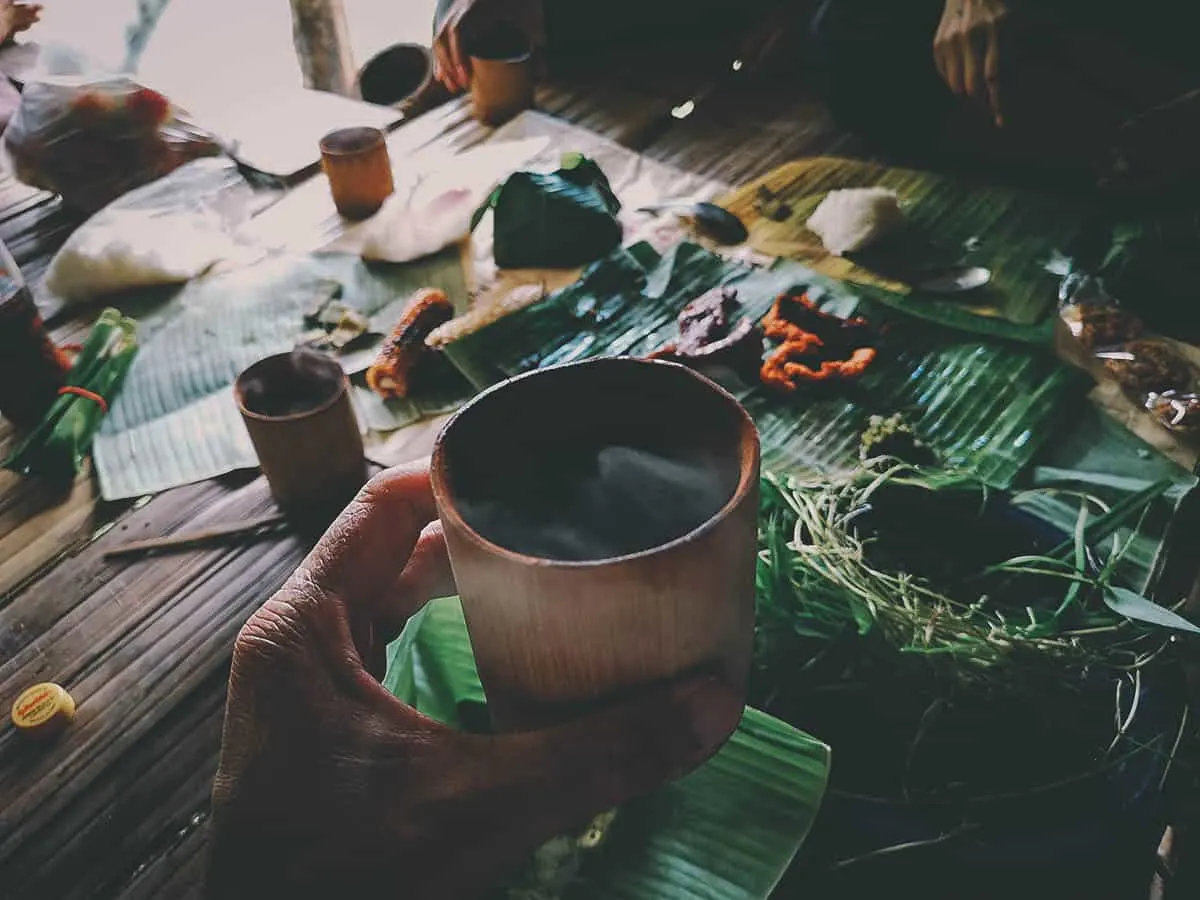 Enjoying a foraged lunch like family in the hills of Northern Thailand. Does travel get any better than this?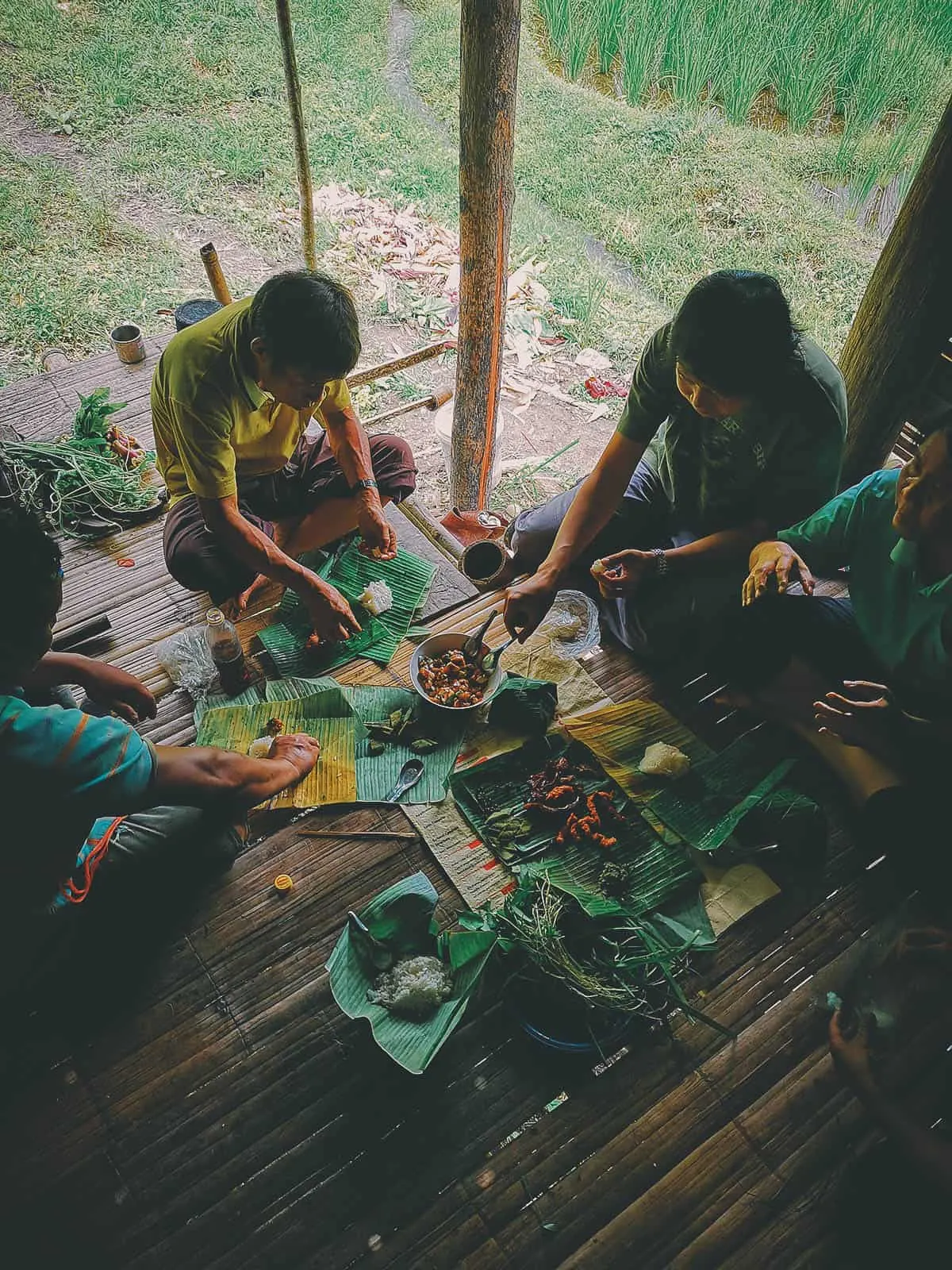 A Foraged Supper
After spending a day foraging in the woods, we returned to the village late in the afternoon to prepare for supper.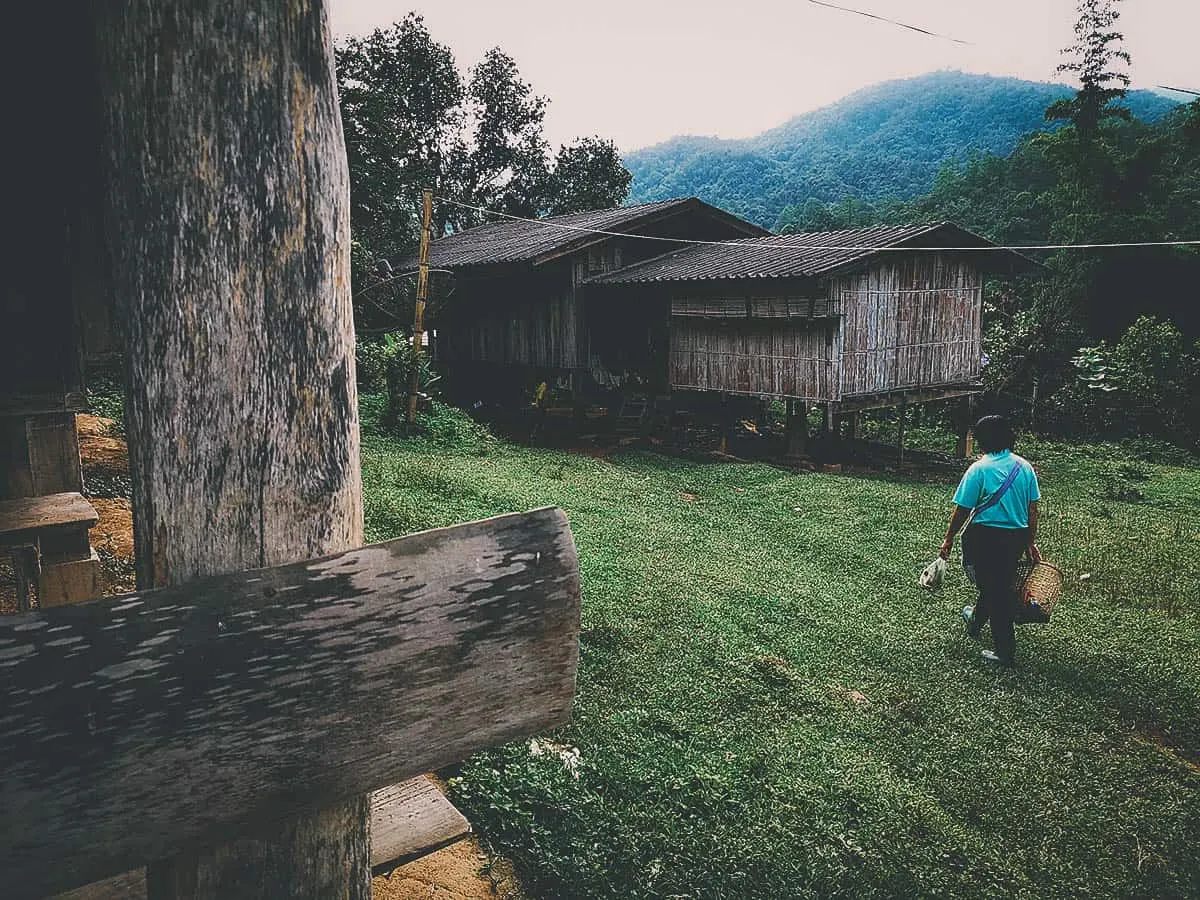 But not before this tired Traveleater can take a quick nap.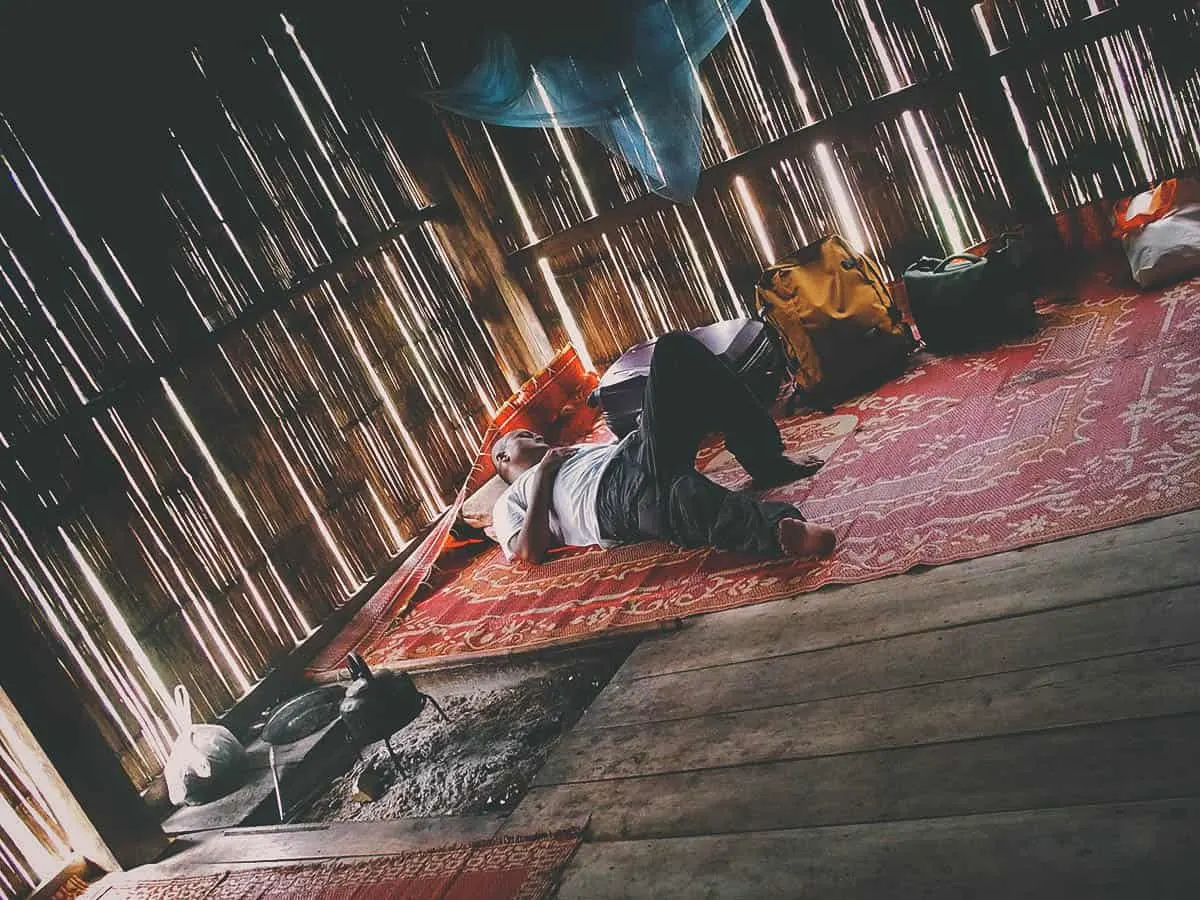 Here's the woman of the house sorting, sifting, cleaning, and preparing our foraged goodies for dinner. After finding out that her husband managed to catch just two small fish, she bragged how she was the expert fisher in the family. No one disagreed.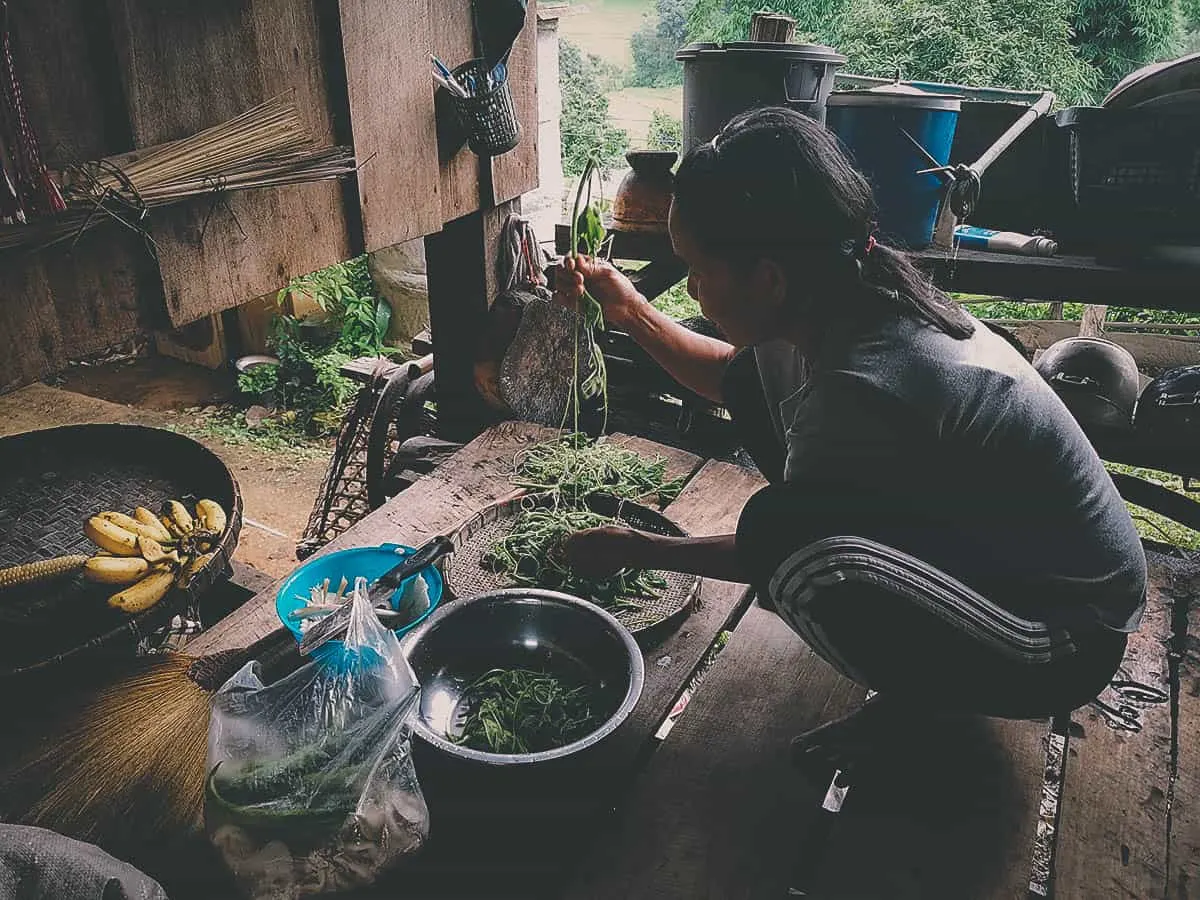 The forager's kitchen. Do you see that silver bowl next to the bright blue one? It contains bamboo shoots which she had been boiling for the entire day. Bamboo shoots are plentiful this time of year but they have to be boiled for a long time to soften them up and get rid of any bitterness.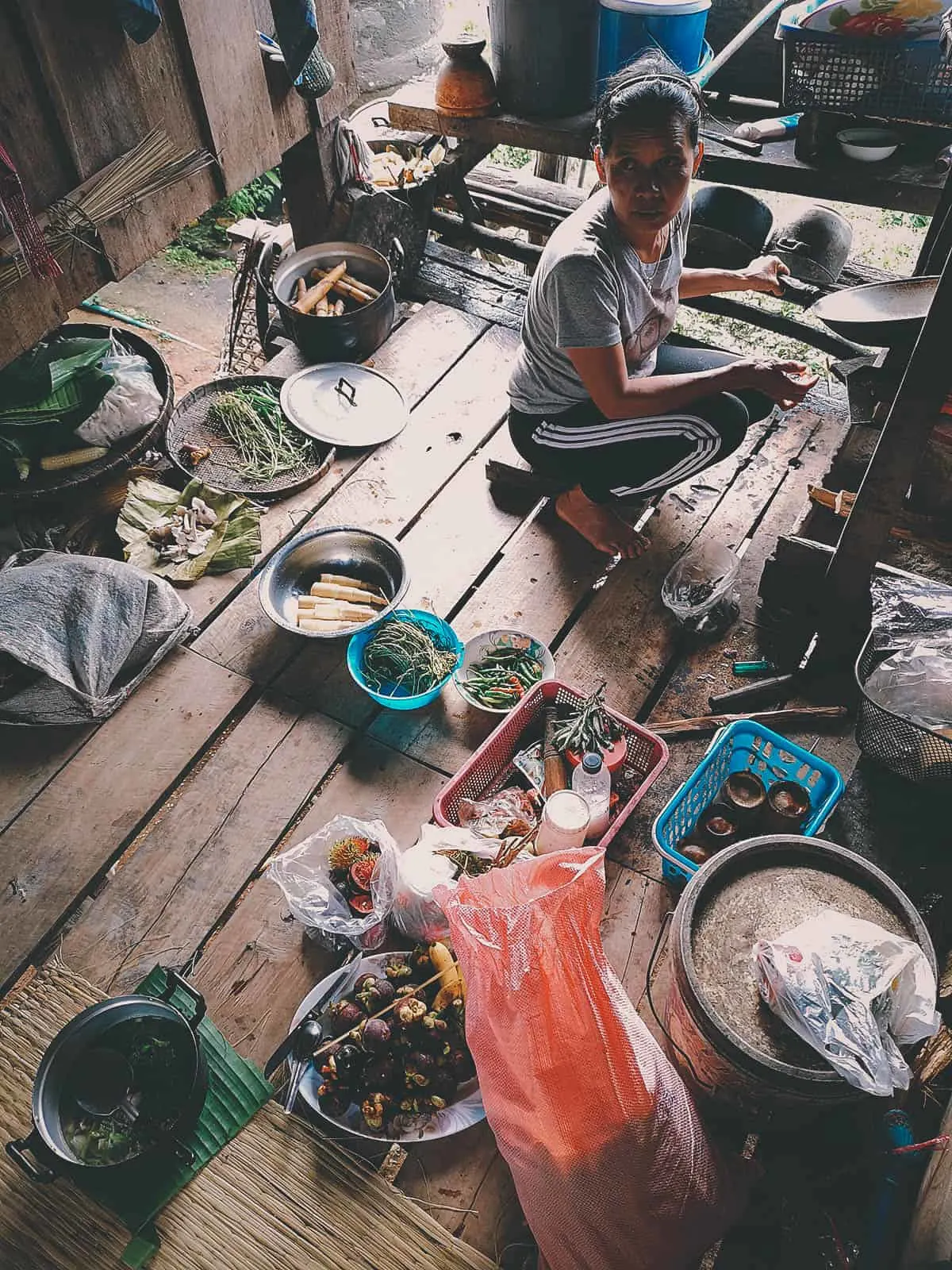 In this pot are the plants and vegetables we foraged along with bamboo shoots and those delicious mushrooms I showed you earlier. This was really tasty and my favorite dish from the three meals we had here.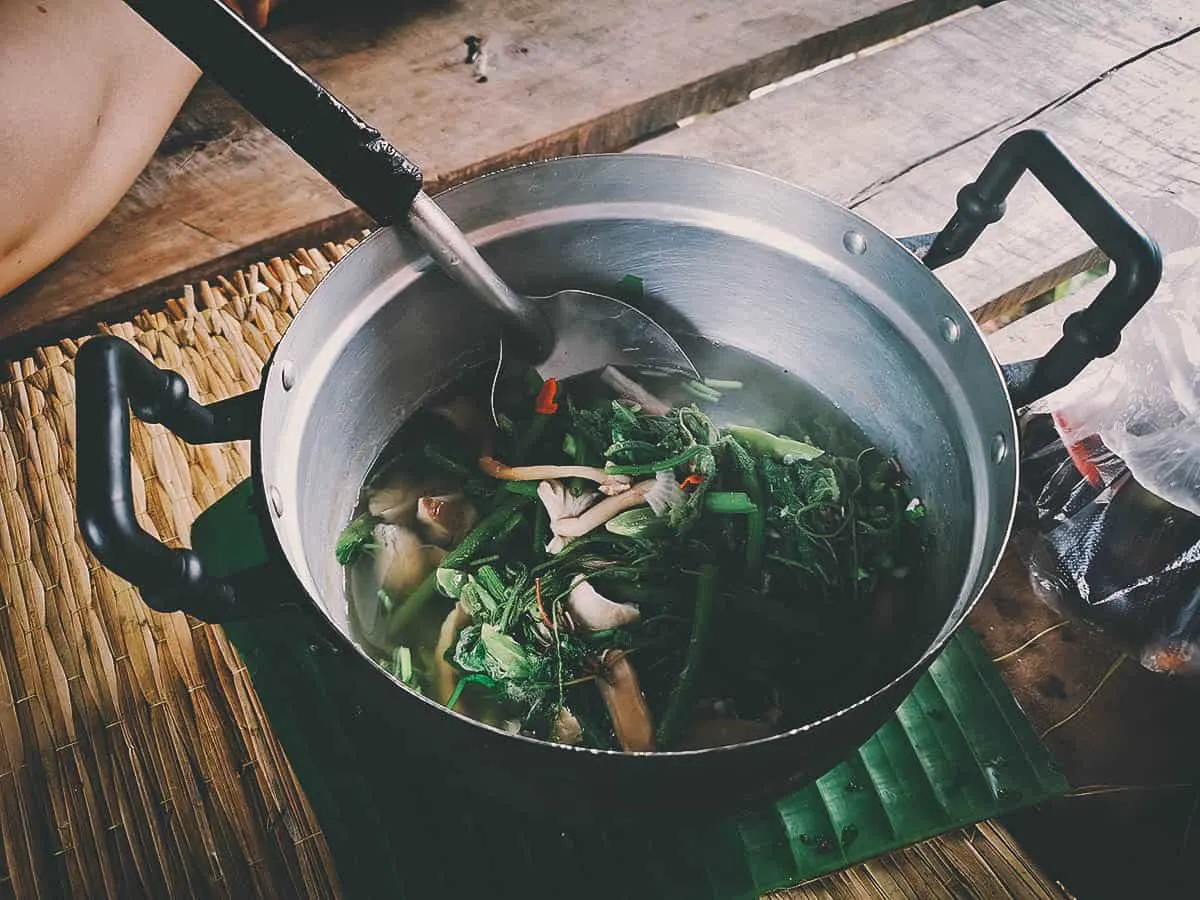 Here's a dried-up frog they were saving. I guess they clean and dry them under the sun for future consumption. I'm not the biggest fan of frogs but I promised myself I wouldn't say no to anything so I took it. It was surprisingly good. She deep-fried it before serving so it was crunchy in parts but mostly tough and chewy, like frog jerky.
As described, they don't catch any frogs until they've grown to a certain size. That way they can be sure that the frog has spawned and left tadpoles for the next generation of frog jerky.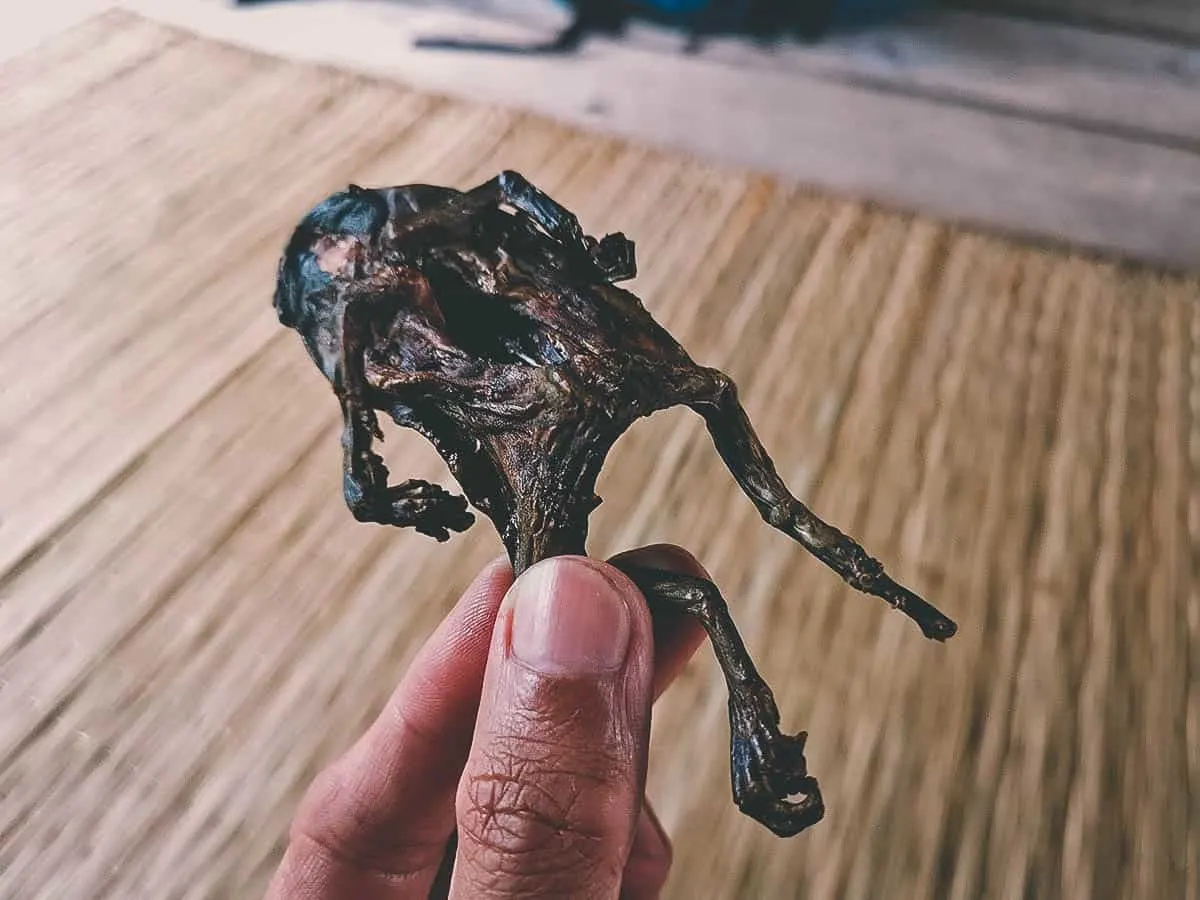 Our dinner of foraged plants, vegetables, mushrooms, bamboo shoots, fried frogs, and fish. Bon appetit!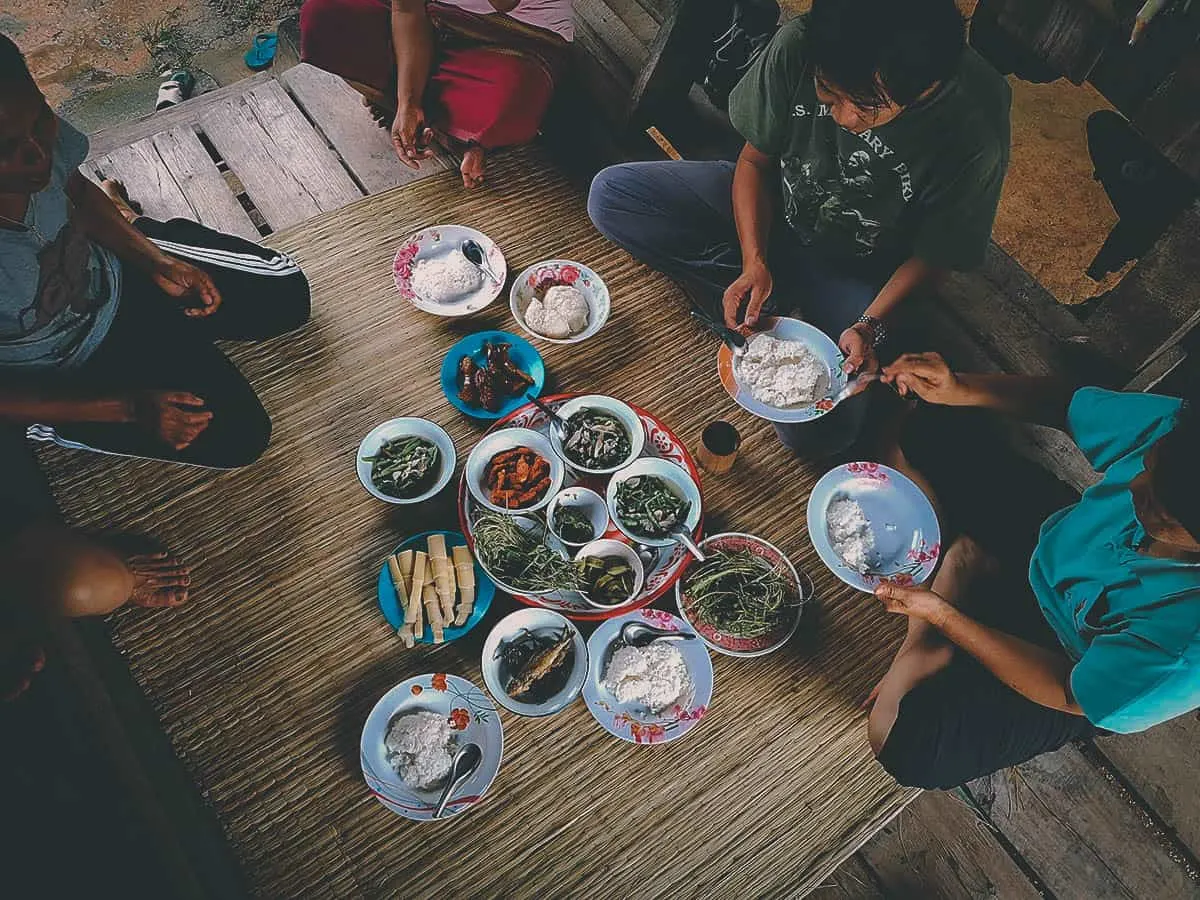 Our host did a wonderful job cooking up this spread. It's a simple meal of mostly boiled vegetables and rice but for these villagers, it's all they need. They barely even touched the pork that Wanpen brought for them from the market.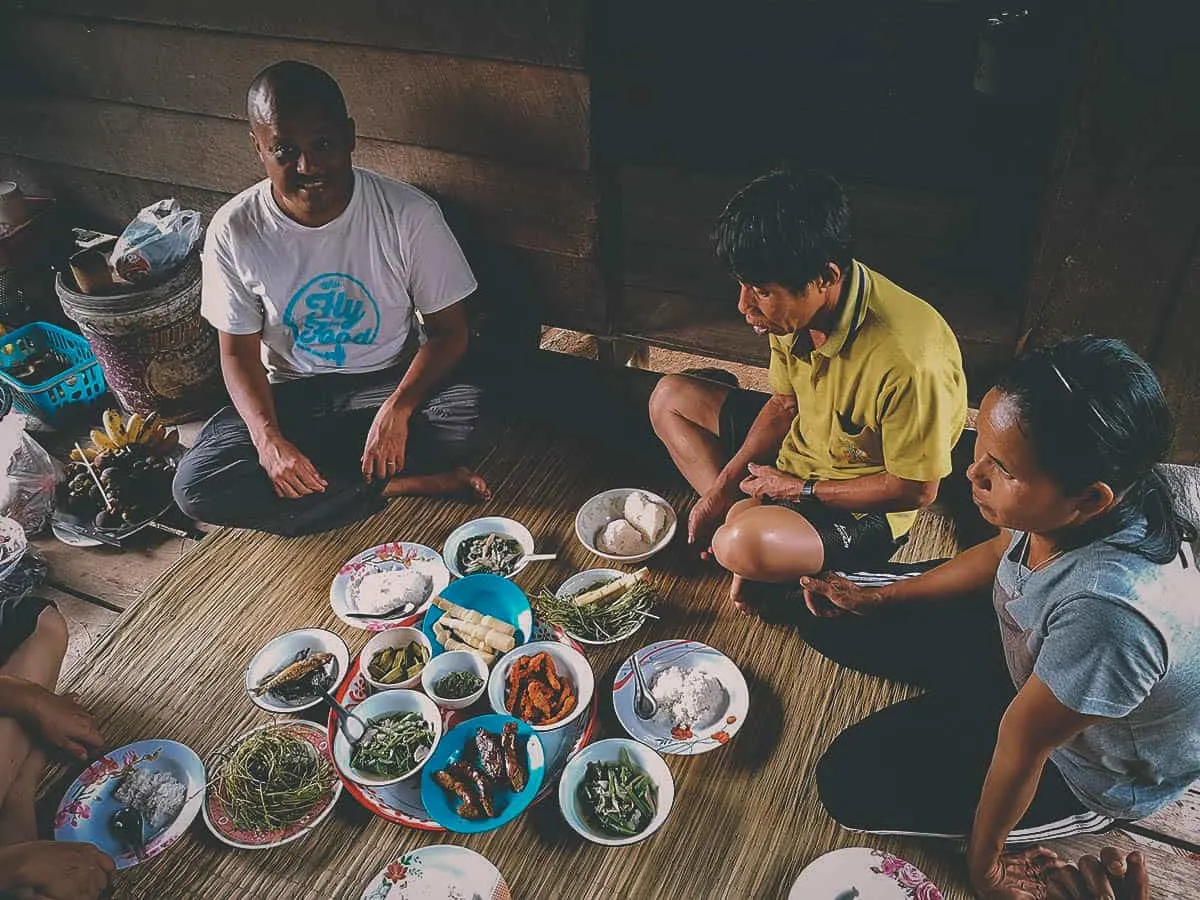 After dinner, we took a walk and visited other families in the village, including its oldest resident. If I remember correctly, she's over a hundred years old and is credited for being the very first settler here. In the spirit of community, it's customary for villagers to go from house to house, either to share in meals or have tea after dinner.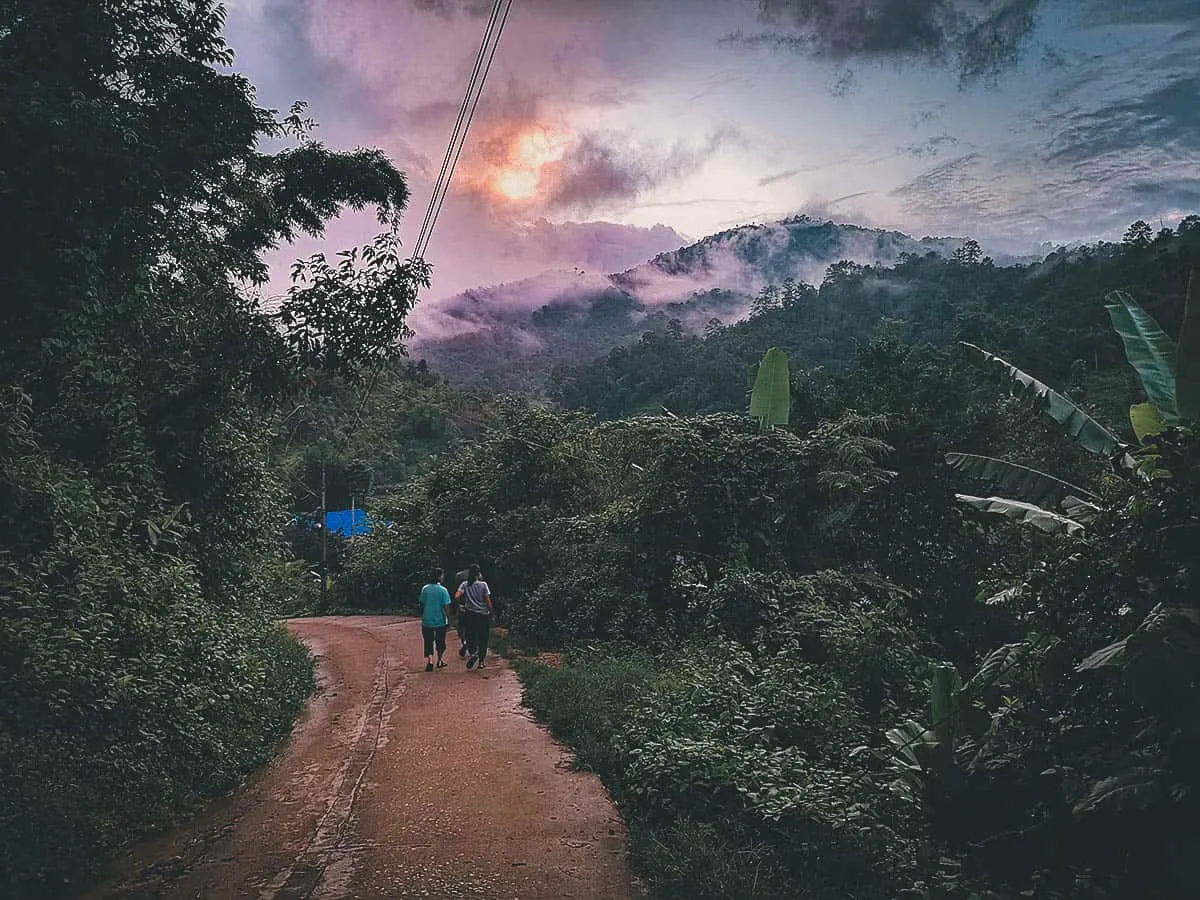 After making our rounds, we went back to my hut and took our turn in putting on kettles of tea and entertaining visitors. None of the villagers could speak any English so Wanpen would translate for me. They don't receive guests often so they're always happy to see tourists like me. They were so eager for me to try everything, from natural "chewing gum" made from leaves to medicinal tea to homemade banana sticky rice. I enjoyed every minute of it.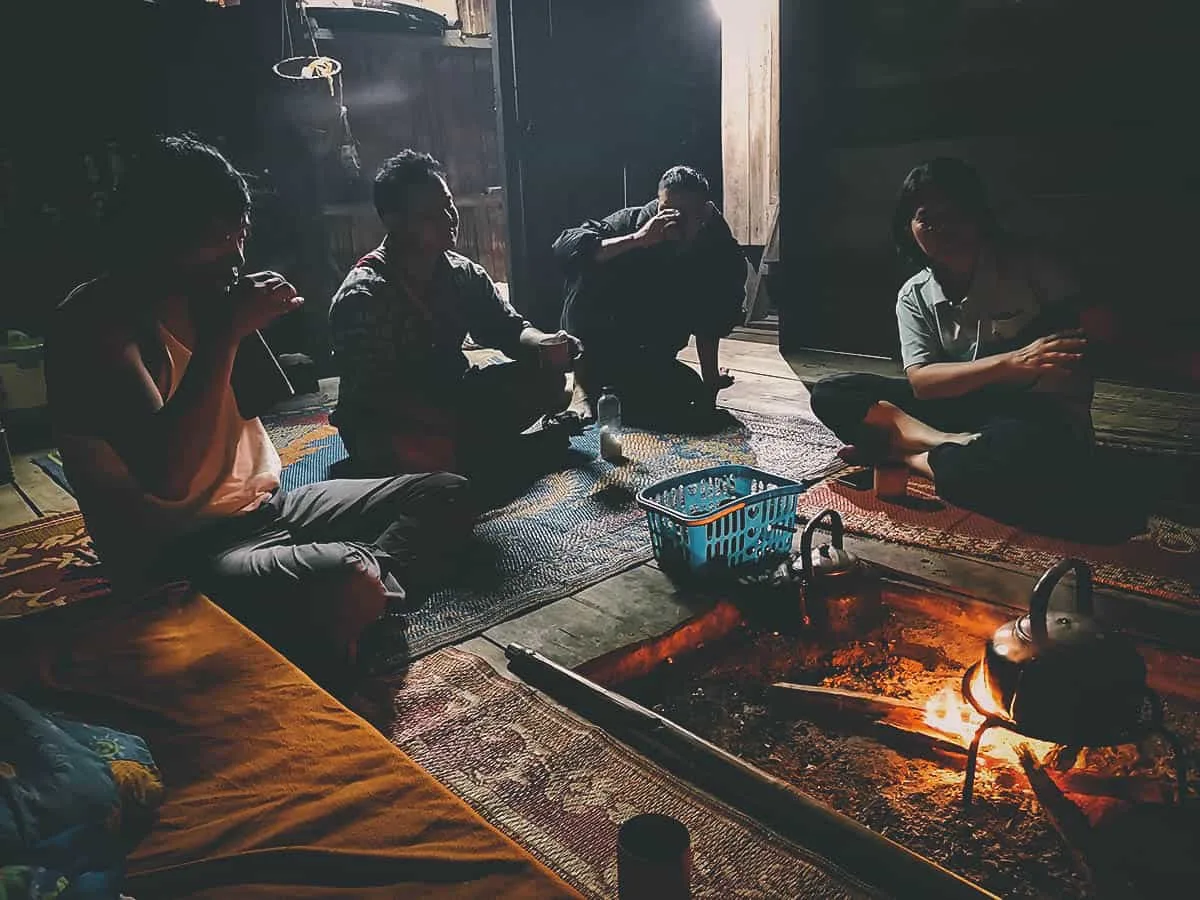 These are the homemade traps used to catch jungle rodents. The village chief's assistant tried to explain the mechanism to me, and if I understood correctly, rodents caught in the trap die from strangulation. When tripped, the rope gets violently yanked by that slender piece of bamboo in the back. There's a noose inside the bamboo tube which wraps around the rodent's neck to strangle it.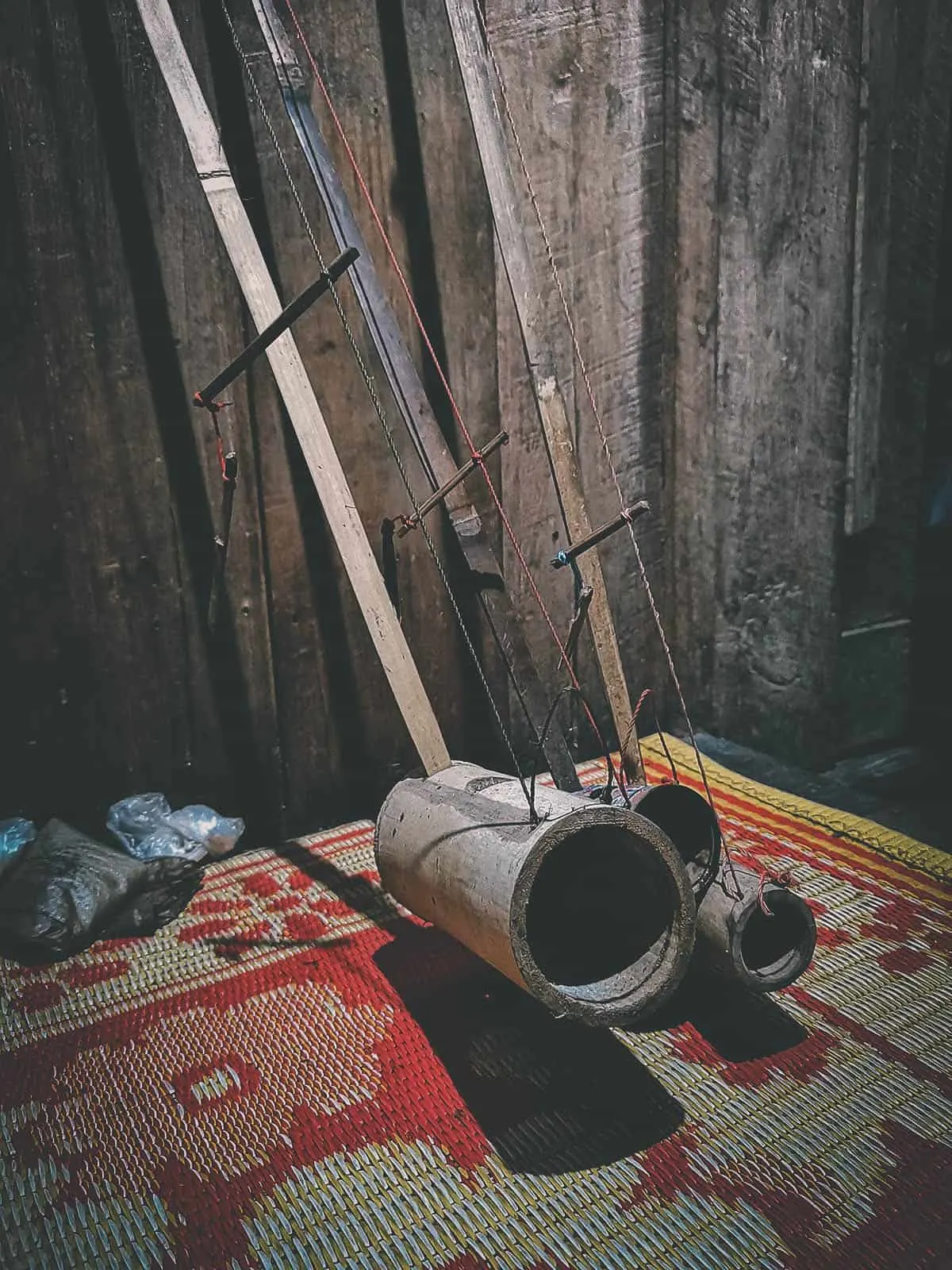 A Foraged Breakfast
The following morning, I awoke to a kettle of tea brewing in the hearth next to my bed. This hearty breakfast would come soon after, followed by new guests to share in the meal. On this tray are the two fish we caught from yesterday along with the snails we foraged and shredded bamboo shoots cooked with egg. It was again a simple but satisfying meal that I know our host spent a lot of time to prepare. We would pack our bags and leave the village shortly after this.
I just wanted to say thank you to all the villagers who welcomed us into their homes, to the village chief's assistant who led our foraging trip, and most especially to the family who took us in and cooked these meals for us. A big thank you to Wanpen, her nephew Tom, and A Chef's Tour for having me as well. It was an eye-opening experience and one I will never forget. Thank you!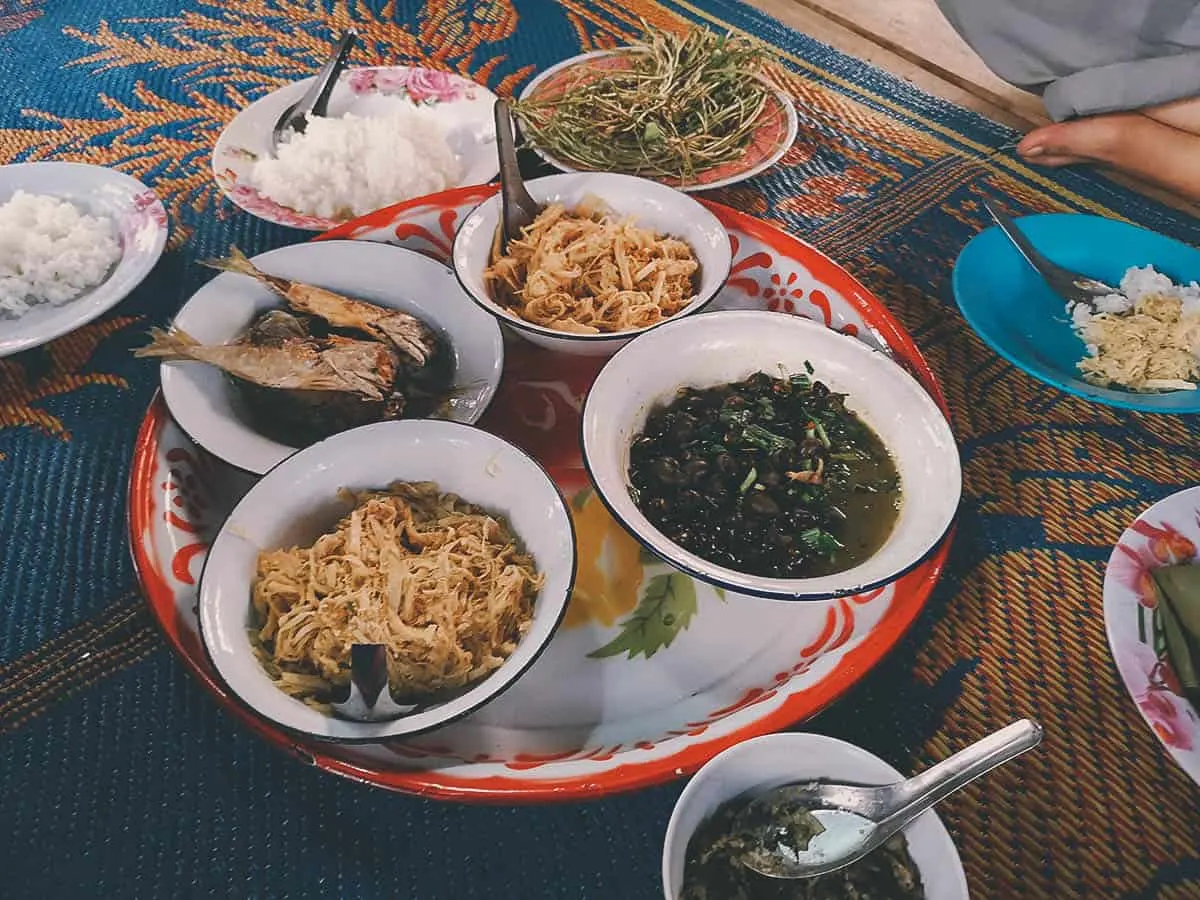 Conclusion
After leaving the village, we'd spend the day visiting many other sites in Northern Thailand like Pai, a few temples, a Japanese bridge, and a Chinese village before I was dropped off in Chiang Mai Old City at around 5PM. You can even visit and swim at a hot spring if you like. Those places were interesting too but I was here for the foraging experience so I'll keep it to that in this article.
Even with all the interesting experiences I had on this foraging adventure, the one thing that struck me the most was this house. Other than the fact that it stuck out like a sore thumb in this village of wooden huts, there was nothing remarkable about the house itself. It was interesting only because no one lived in it.
According to Wanpen, one couple's son had moved to the city and become successful. He wanted to share his success with his parents so he built them this house in the village. But being the simple people that they were, they continued to live in their rustic wooden and bamboo hut. They cared nothing for luxuries and were content with what they had. They had everything they needed and didn't want anything else, not even a mansion.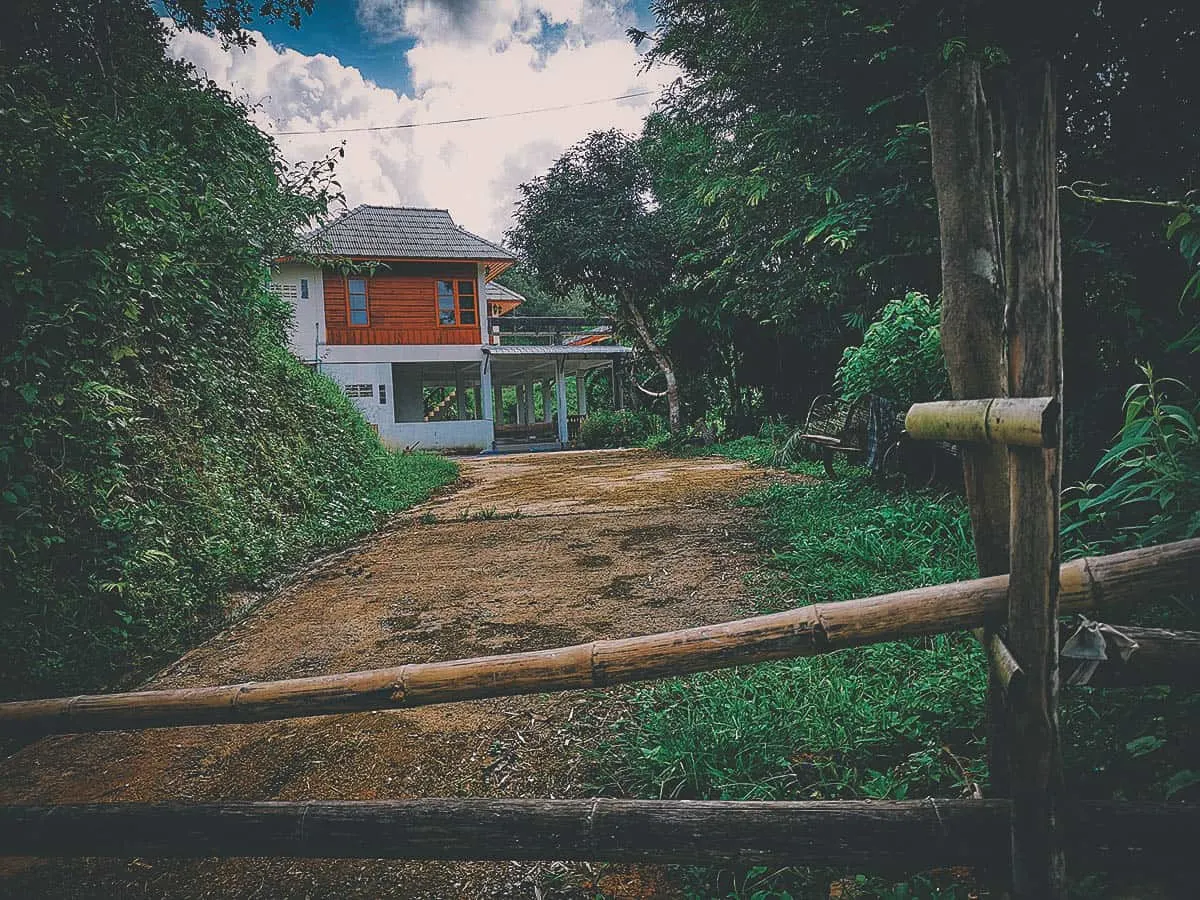 I went into this village eager to learn the art of foraging, but I never expected to come away with so much more. I knew how important environmental sustainability was but to see it in practice from people who actually lived off the land was inspiring. These people don't have much but they have everything. They don't have the privilege of higher education but they know how important it is to protect what they have now when they can, to leave something for future generations.
The fact is, climate change is real. The depletion of natural sources is real. Some of us may have more immediate concerns in life but that doesn't make the problem any less real nor will it make it go away. Practicing sustainability is a lesson we all need to learn regardless of circumstance, now more than ever.
I'll be honest, this foraging adventure isn't for everyone. It's rough, it's tough, the food will challenge you and the accommodations may make you uncomfortable, but it's one of the most memorable things I've ever done in my life and I'm grateful to have experienced it.
If you're visiting Northern Thailand and want to try something authentic and unique, then I highly recommend doing this tour. It's an experience you'll take with you forever. Check out A Chef's Tour for more information.
A Chef's Tour
Website: achefstour.com
Facebook: achefstour
Twitter: achefstour
Instagram: achefstour
Pinterest: achefstour
Email: [email protected]
Cost: USD 150 per person (inclusive of food, lodging, and transfers from Chiang Mai)
For more Chiang Mai travel tips, check out our First-Timer's Travel Guide to Chiang Mai, Thailand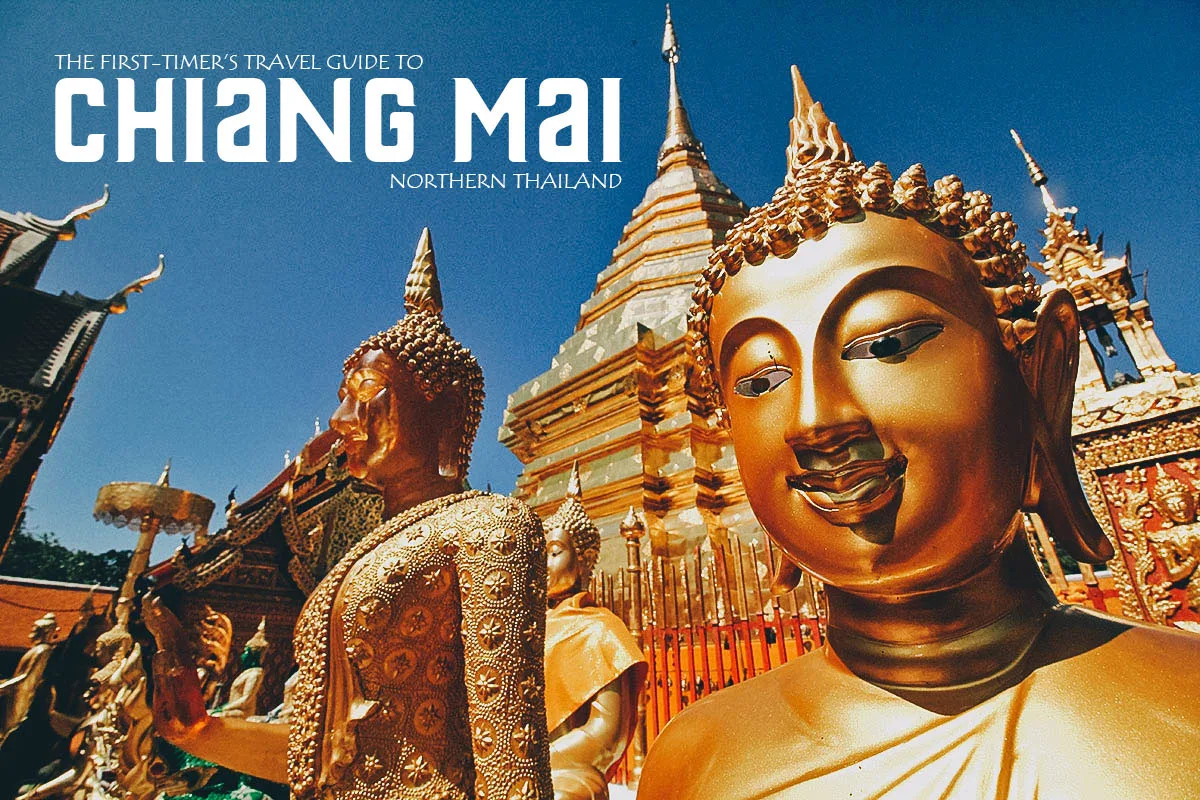 Disclosure
Our friends from A Chef's Tour invited me to try their new foraging tour in Northern Thailand in exchange for an honest account of the experience. As always, all words and opinions expressed in this post are mine and mine alone.