It's amazing how much social media has changed the way people travel. Take choosing a hotel for example.
When my too-old-for-social-media self searches for accommodations, I basically look for three things – value, cleanliness, and location. We're out for most of the day anyway so that's pretty much all we need. But apparently, that isn't enough for many younger people these days. As I recently found out, not only do they want their hotel to be spotless and well-located, but they want it to be Instagrammable as well. You know, something that could serve as a good backdrop for their OOTD.
Well, if you're one of those people and looking for a place like that in Chiang Mai, then I have just the hostel for you. Not only is Sherloft inexpensive, clean, and centrally located, but it's uber stylish as well. Want to feel #blessed?
Save This on Pinterest!
No time to read this now? Click on the red save button and pin it for later!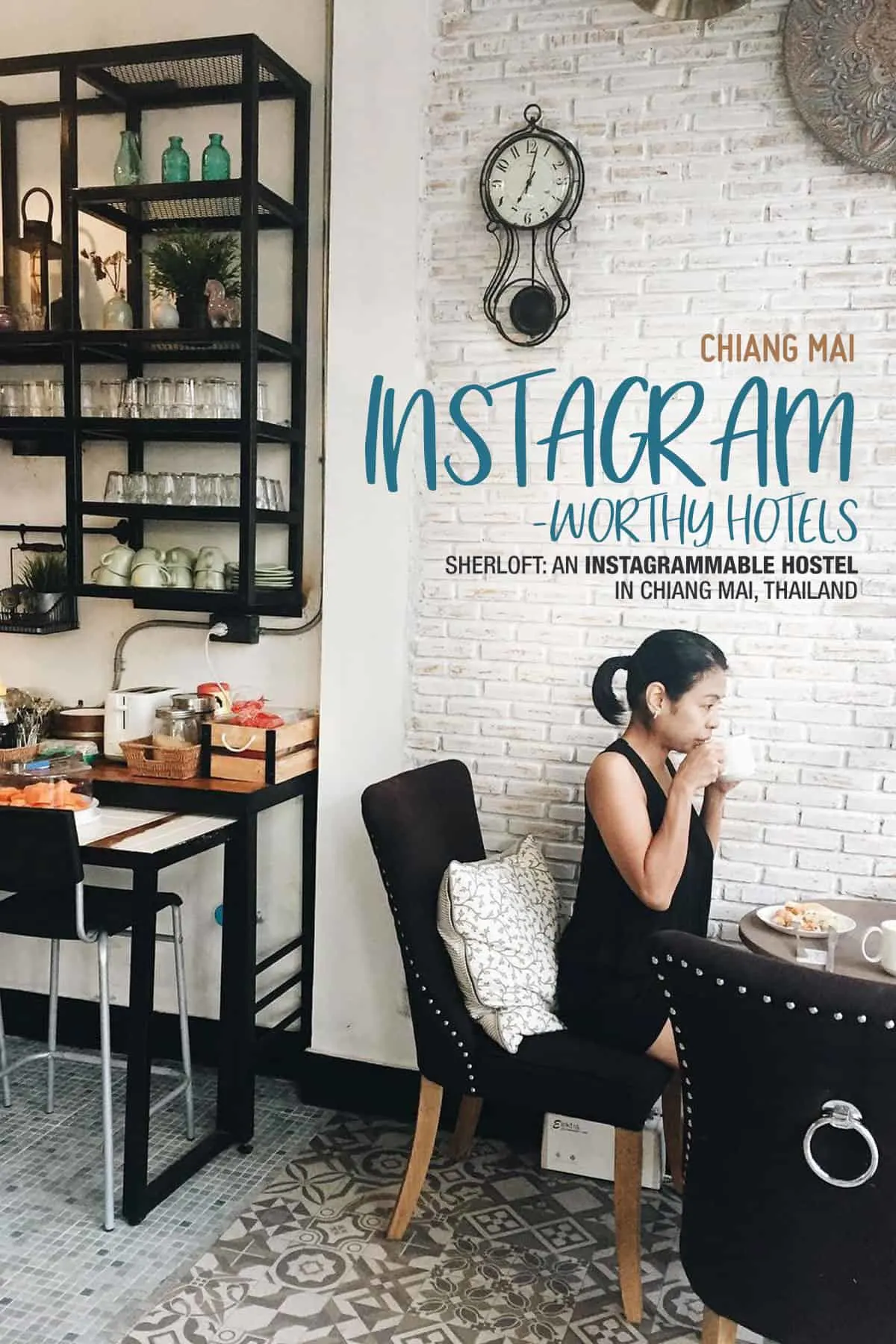 Sherloft Home & Hostel
Sherloft is located in the heart of the Old City, tucked away in an alley far removed from the hustle and bustle of Chiang Mai's busier neighborhoods. It feels very peaceful here, like you're in a secluded residential environment.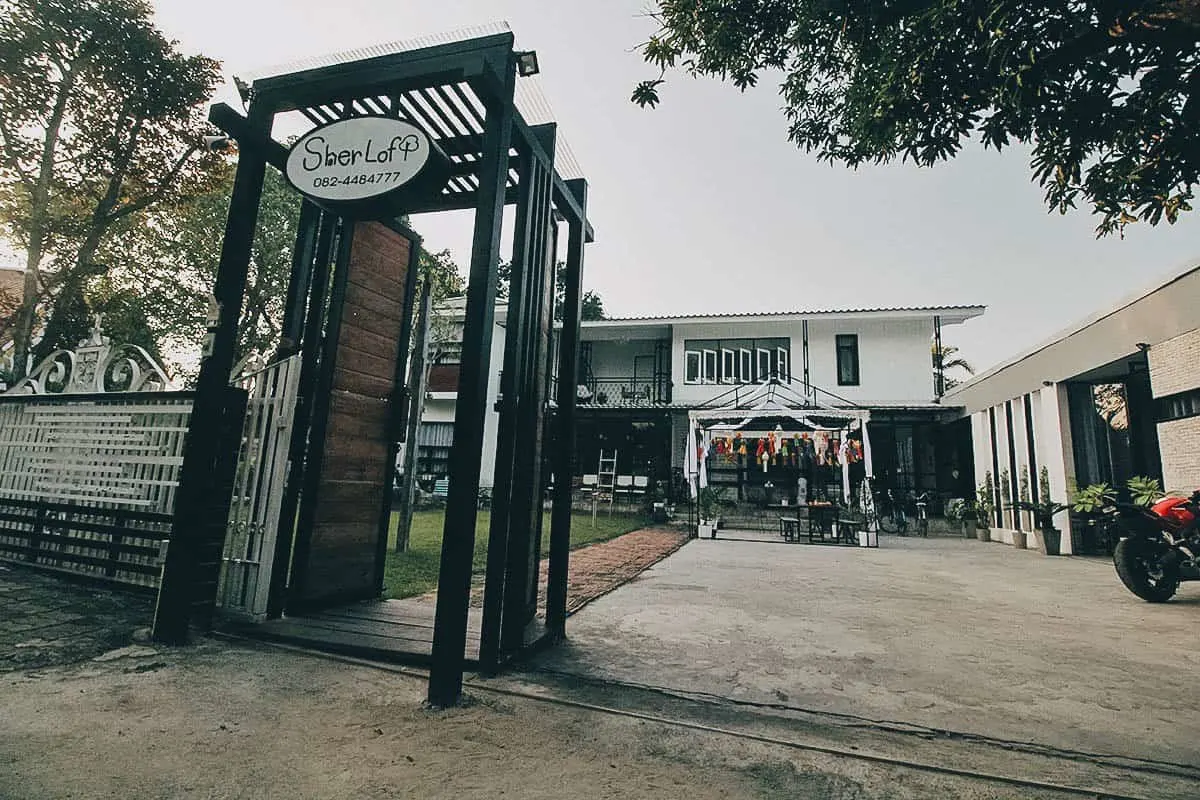 Sherloft is a hostel with dorms, but they do have several private rooms as well.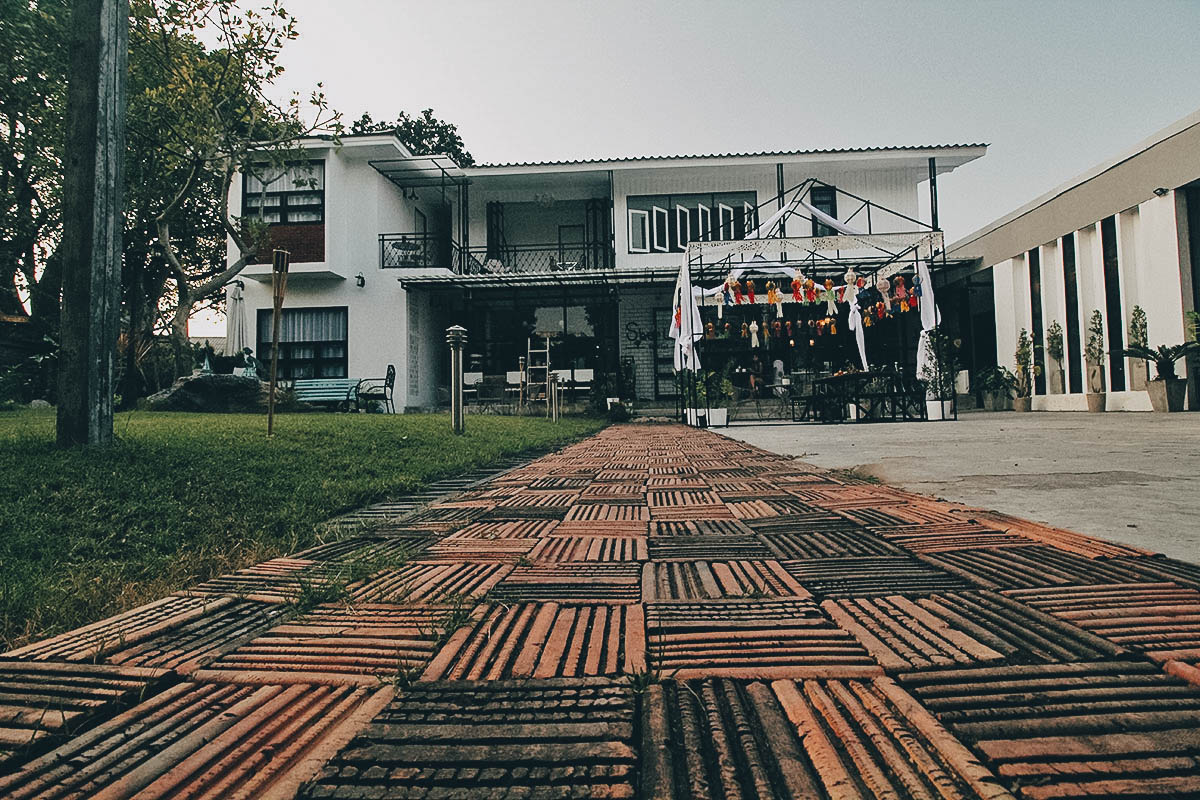 Ren and I would often have breakfast here in the garden.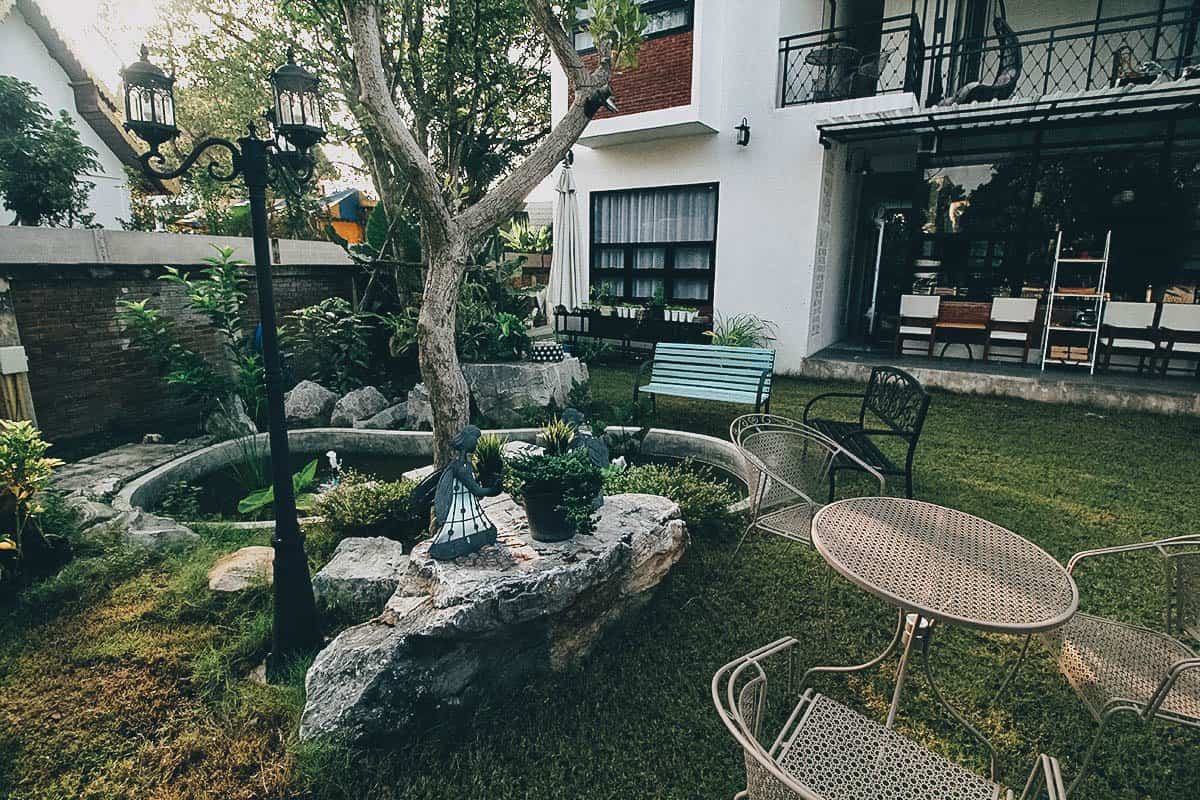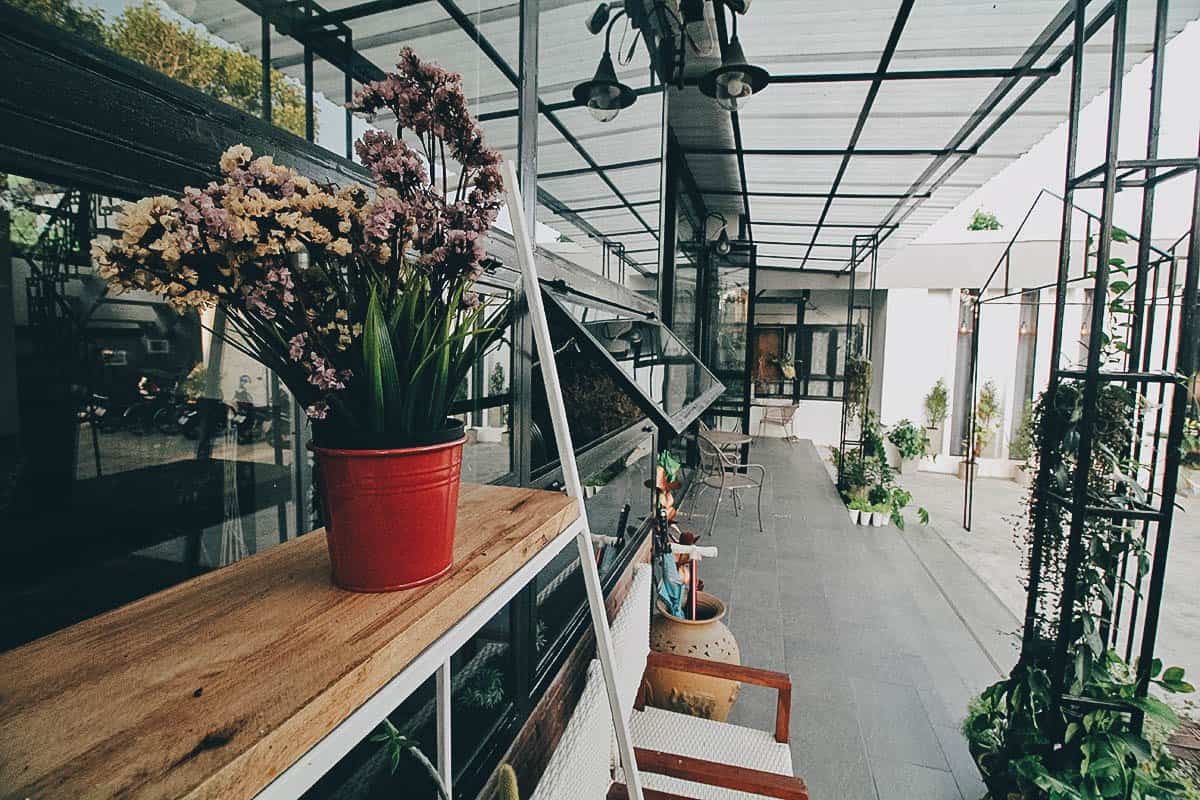 To help keep the place clean, you're asked to leave your footwear outside.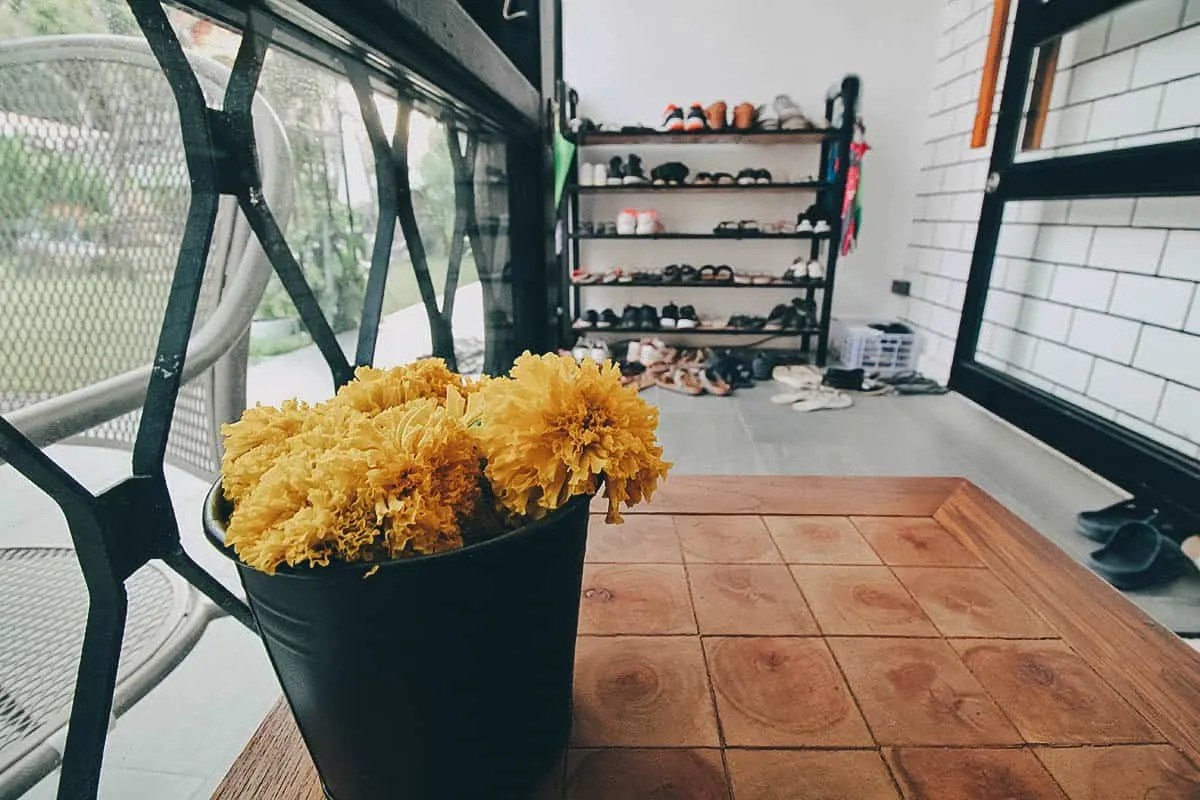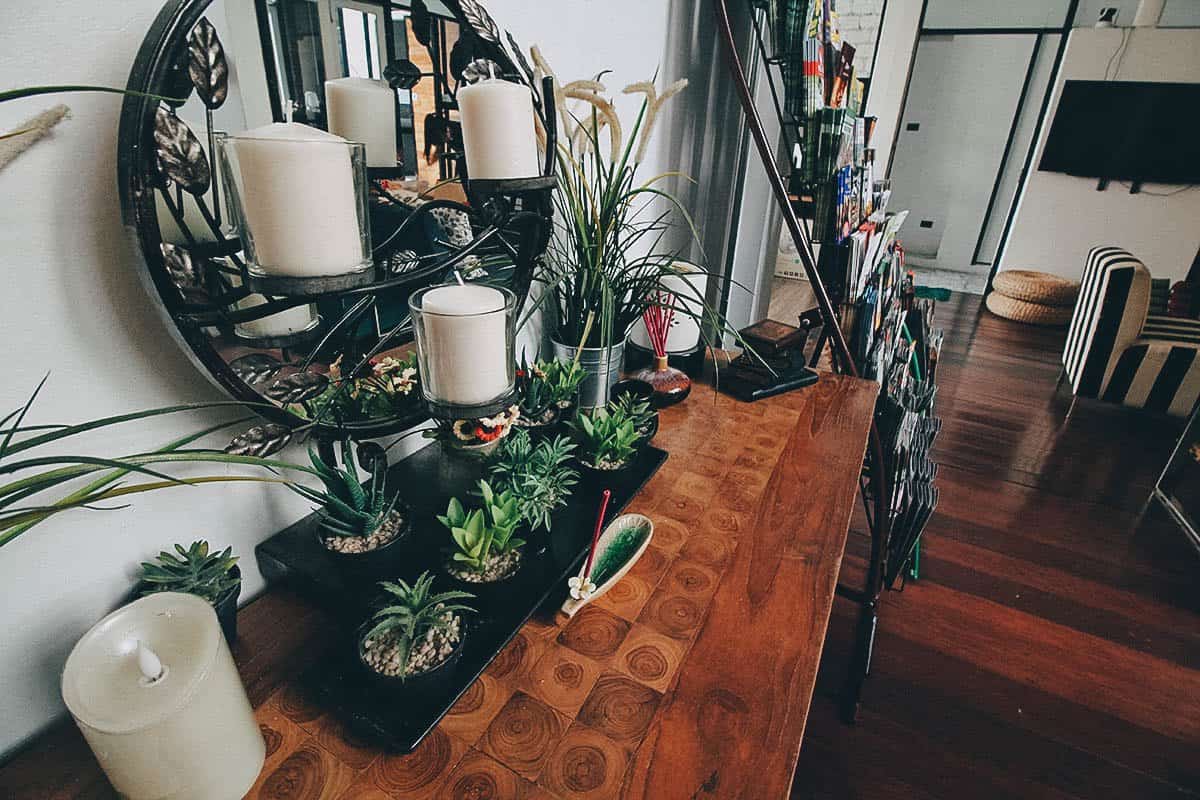 Living Room
This is the main common area. Chiang Mai is a favorite amongst digital nomads so we often found guests with laptops working here.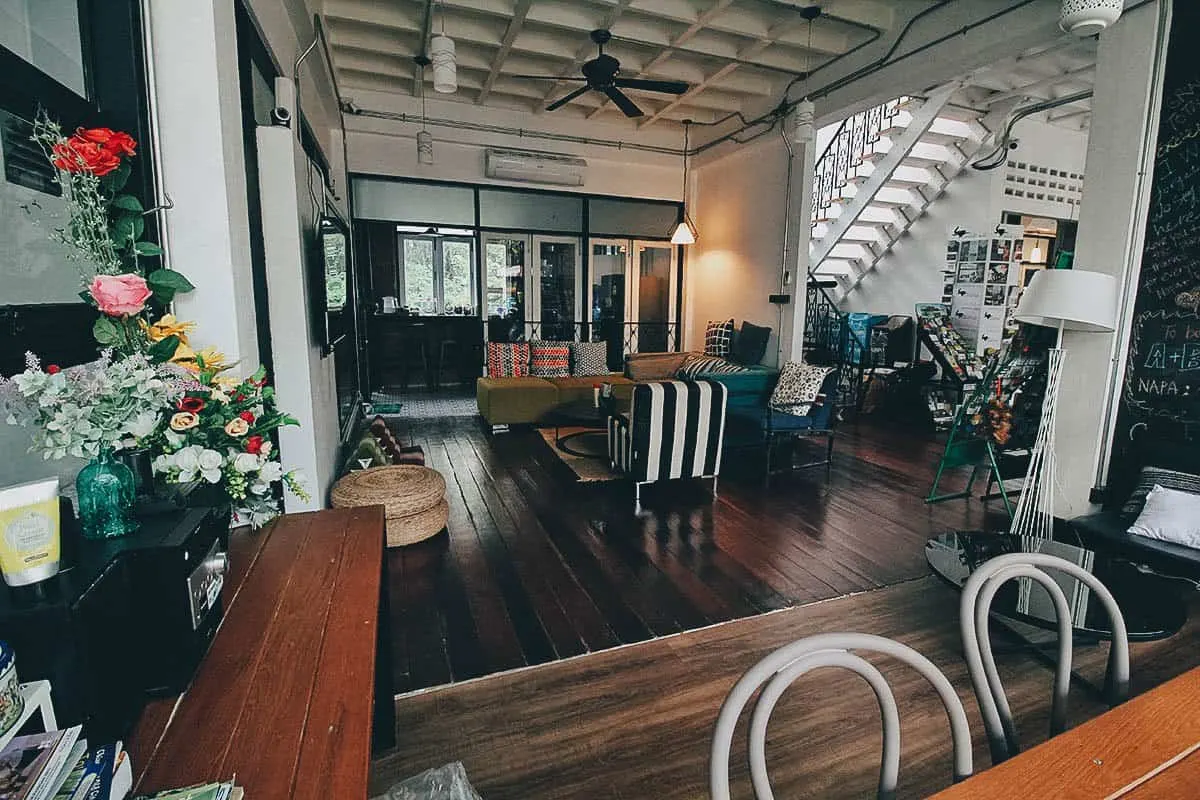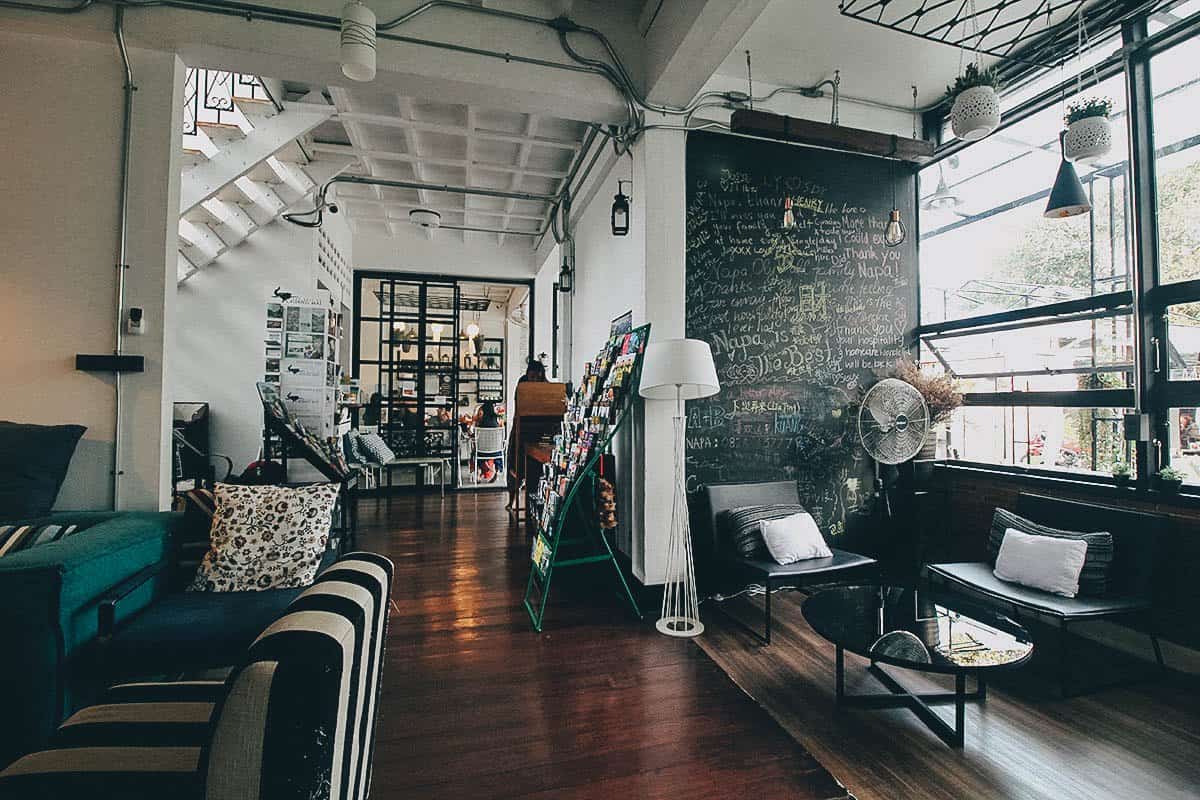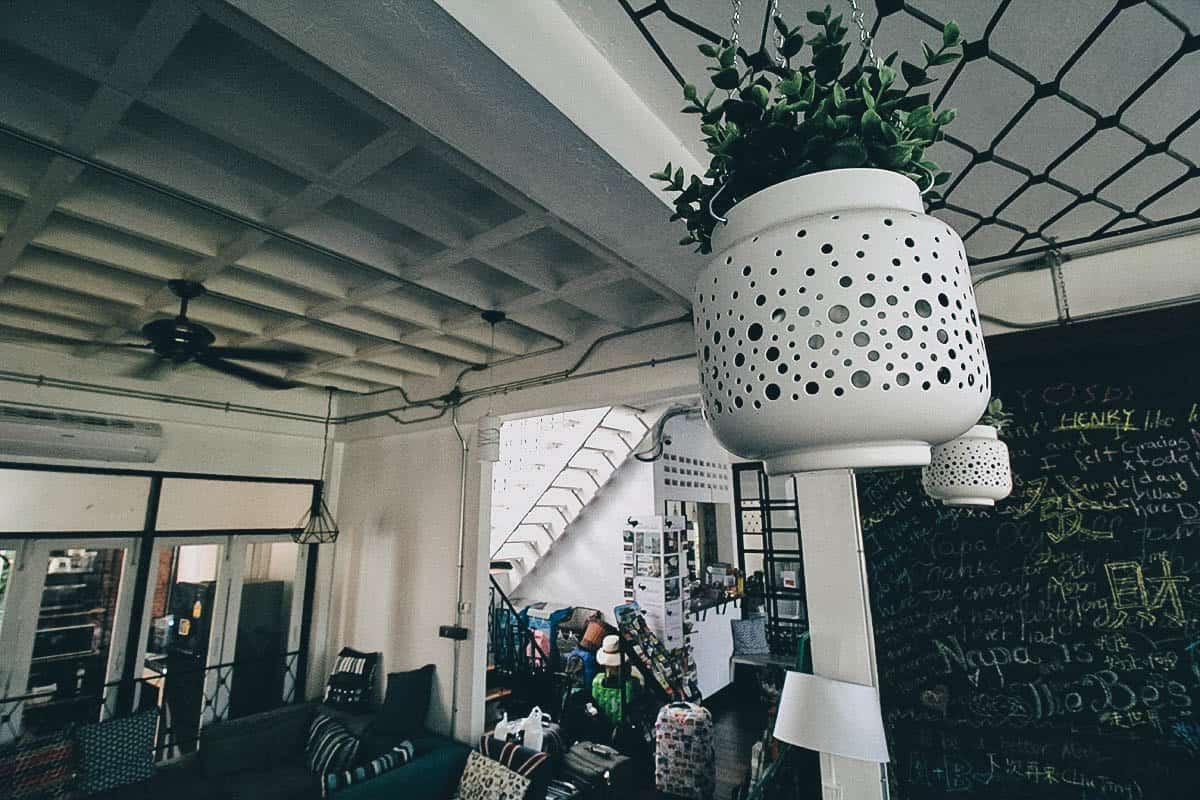 Lots of desk space for working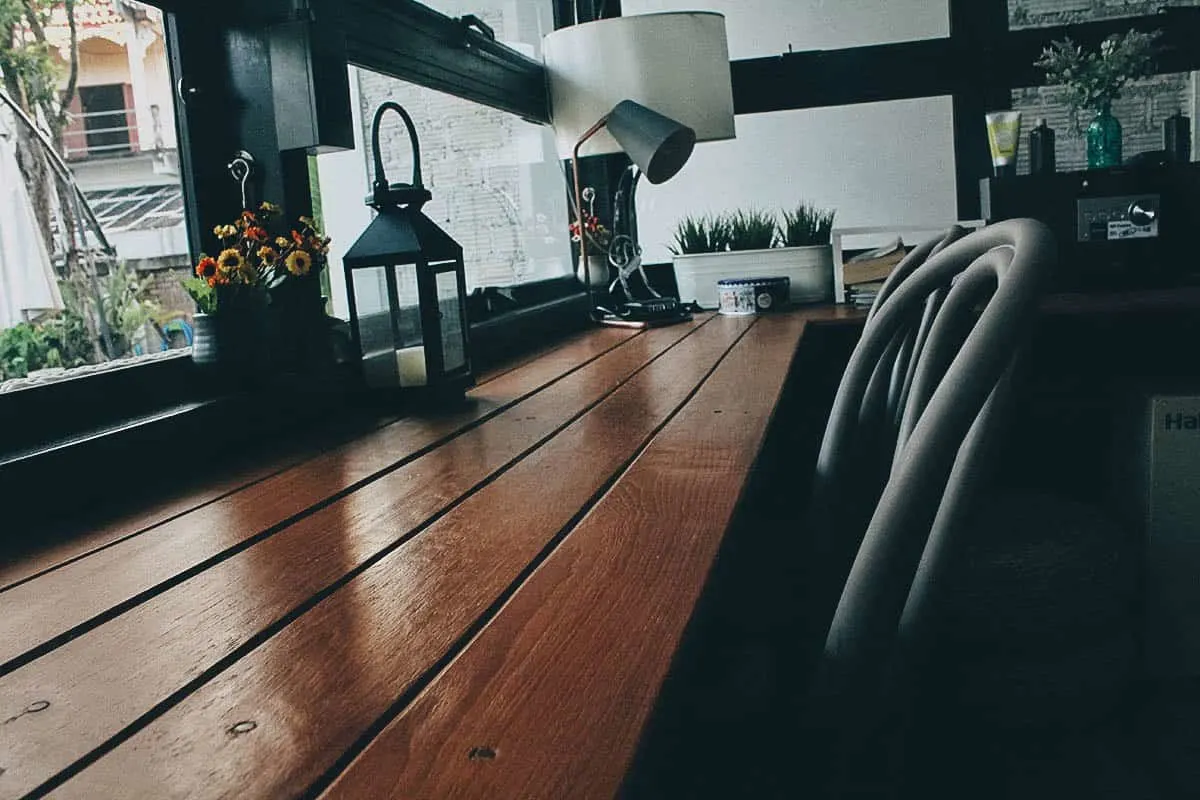 For lounging and socializing. There's a TV here as well.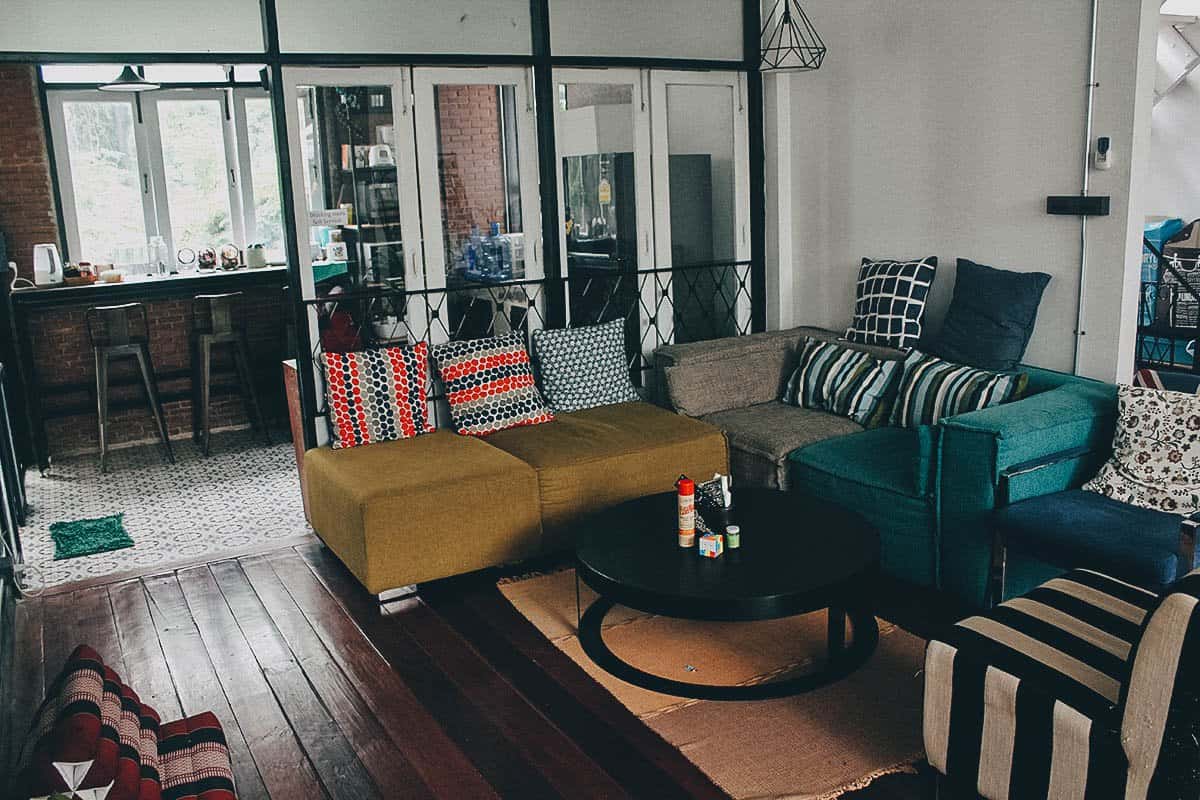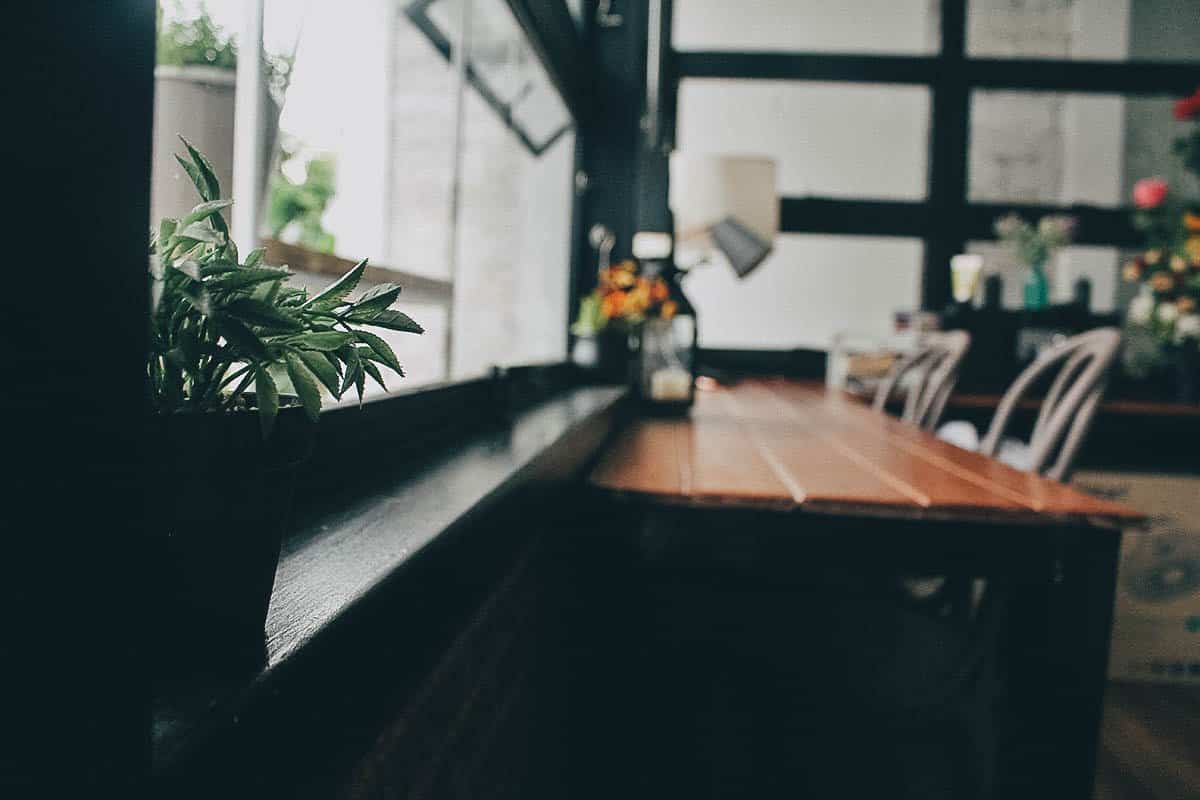 Wall of gratitude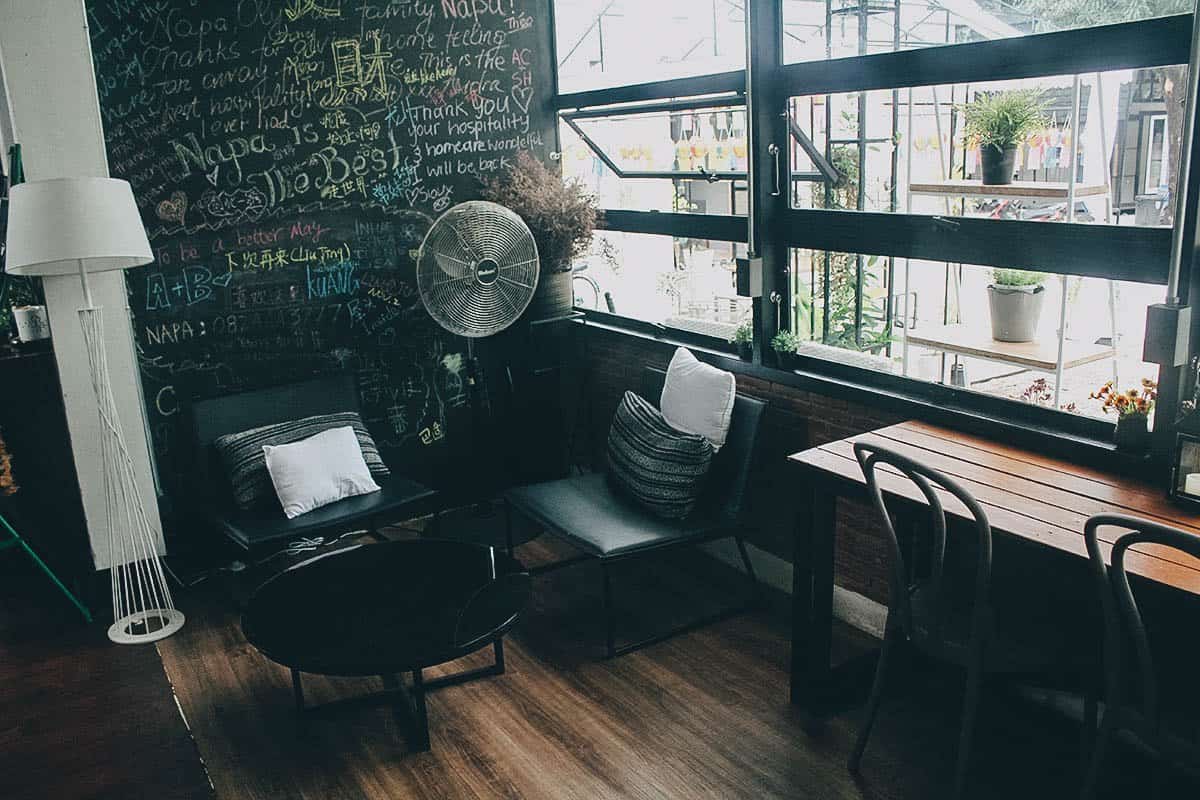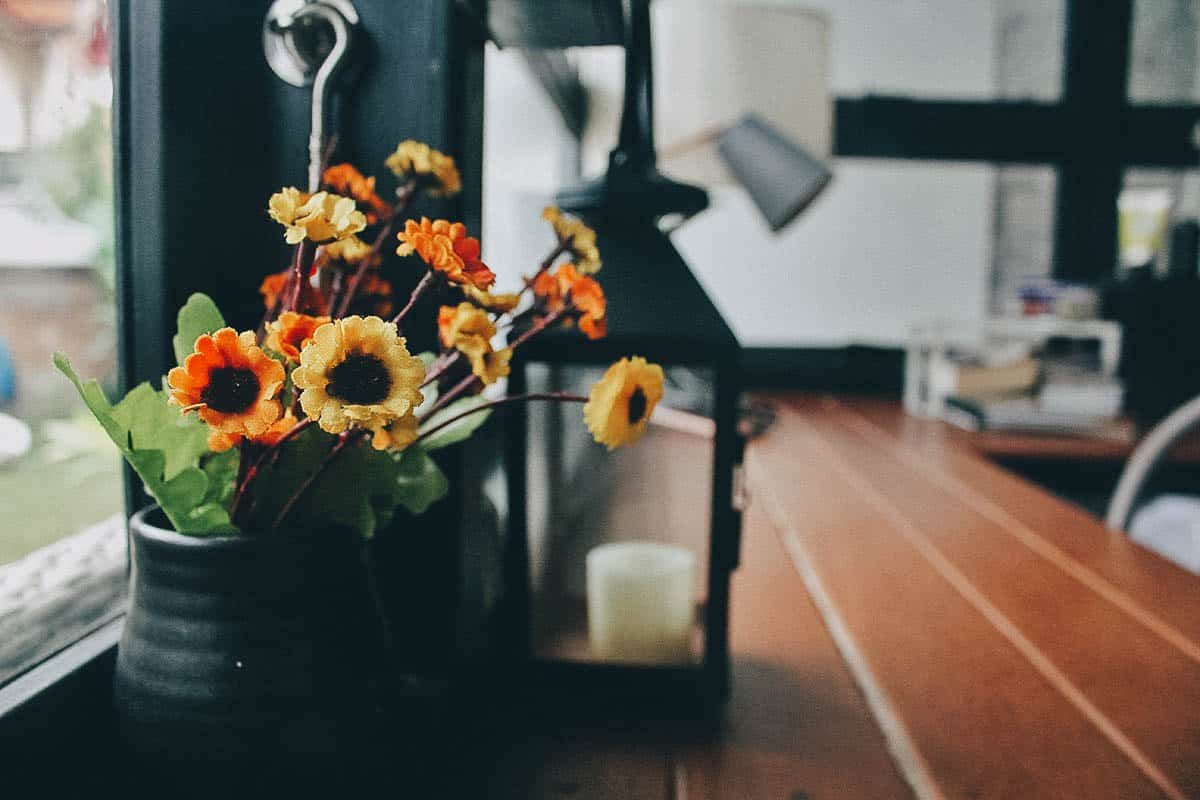 Tea Room
Sherloft has a main dining area where they serve breakfast, as well as this smaller tea room. There's a refrigerator here along with jars of coffee and tea, and any utensils you may need.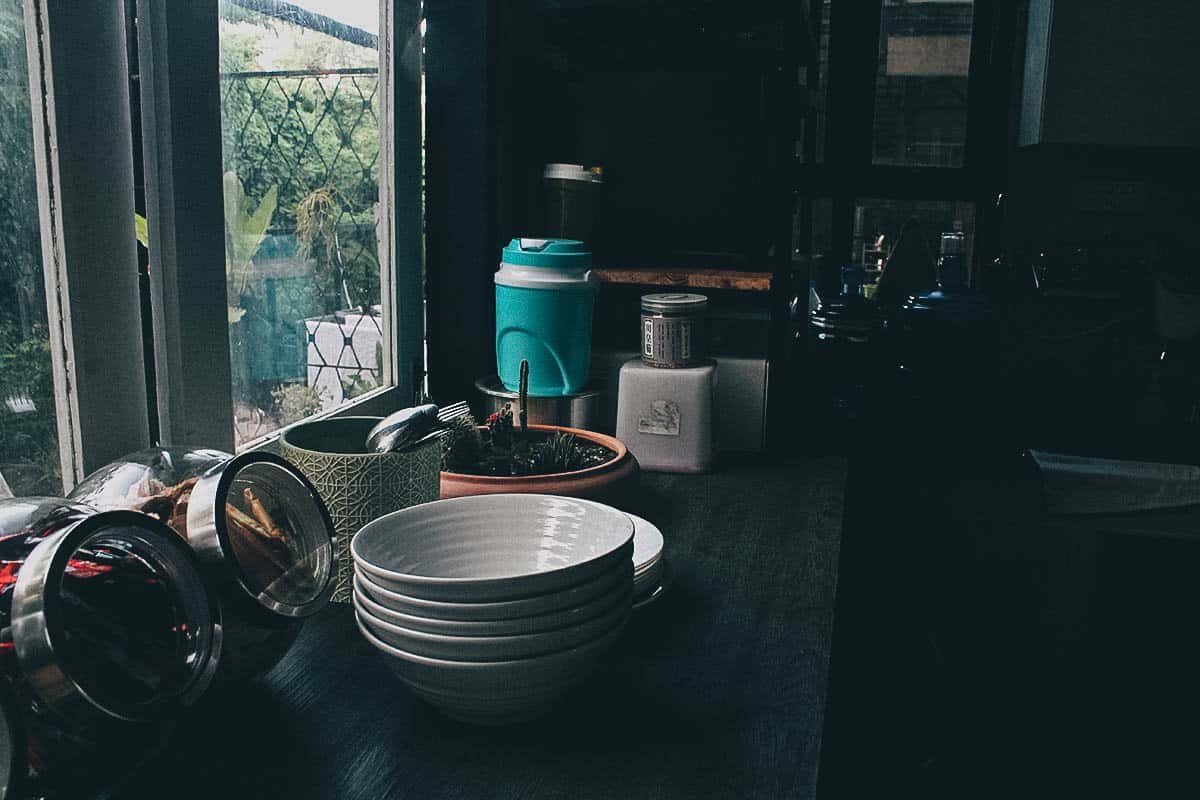 Laundry Area
In the back you'll find washing machines and a place to hang dry your laundry.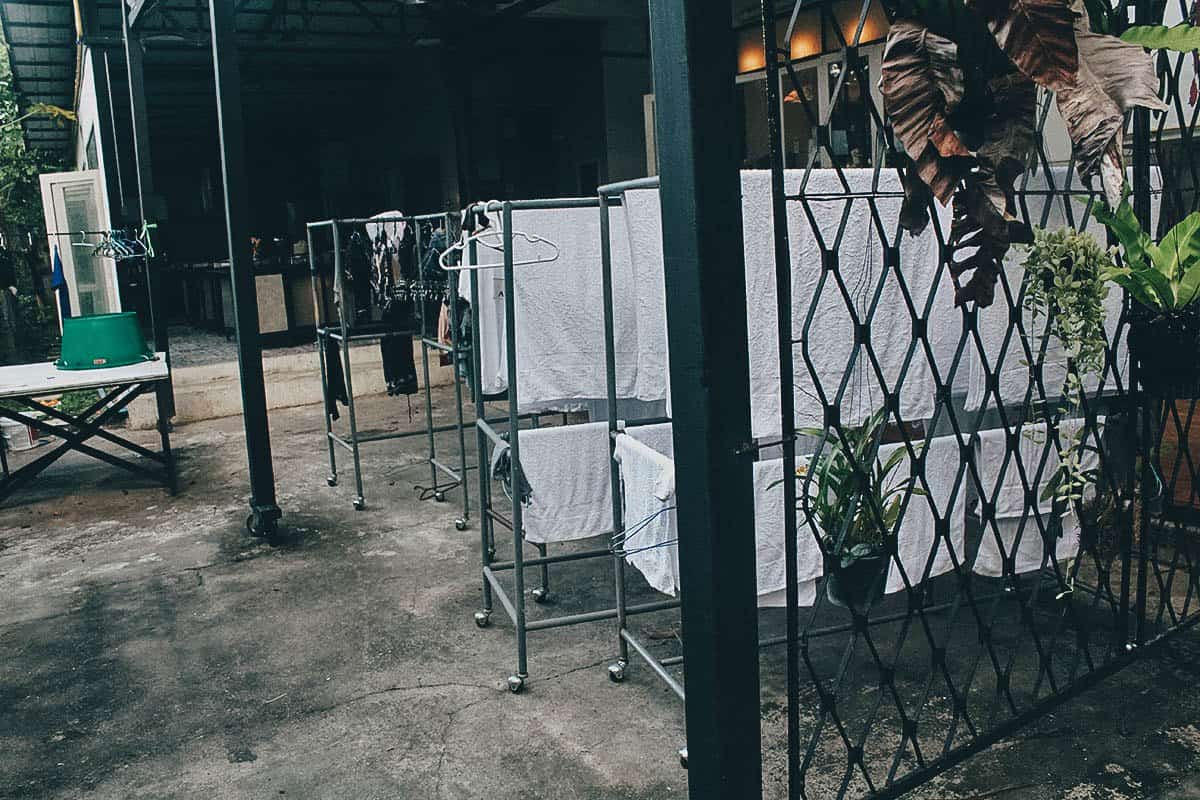 Cooking Class
Cooking classes are popular in Chiang Mai. We took one at Mama Noi Thai Cookery School but Sherloft offers its own cooking classes as well.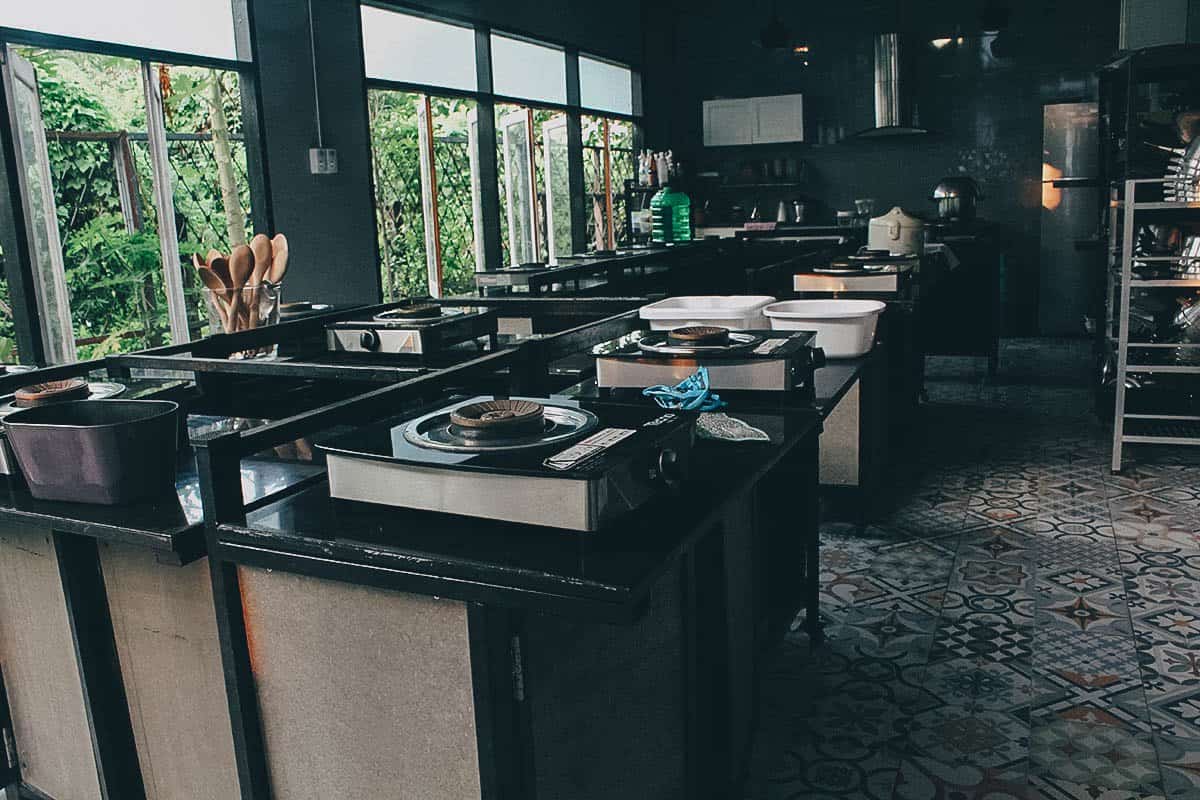 Second Floor
Let's check out the second floor. I was digging all the ironwork at this place.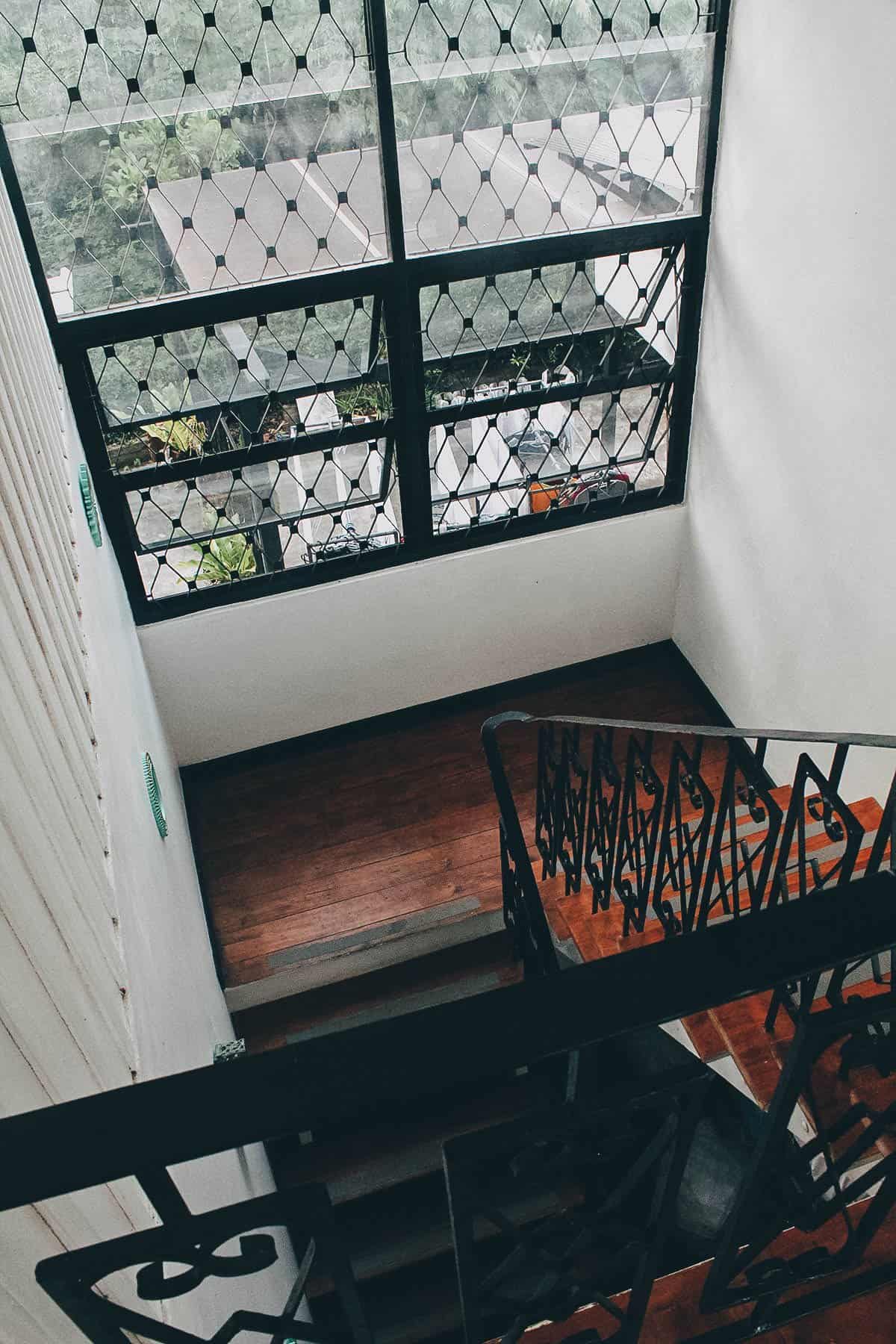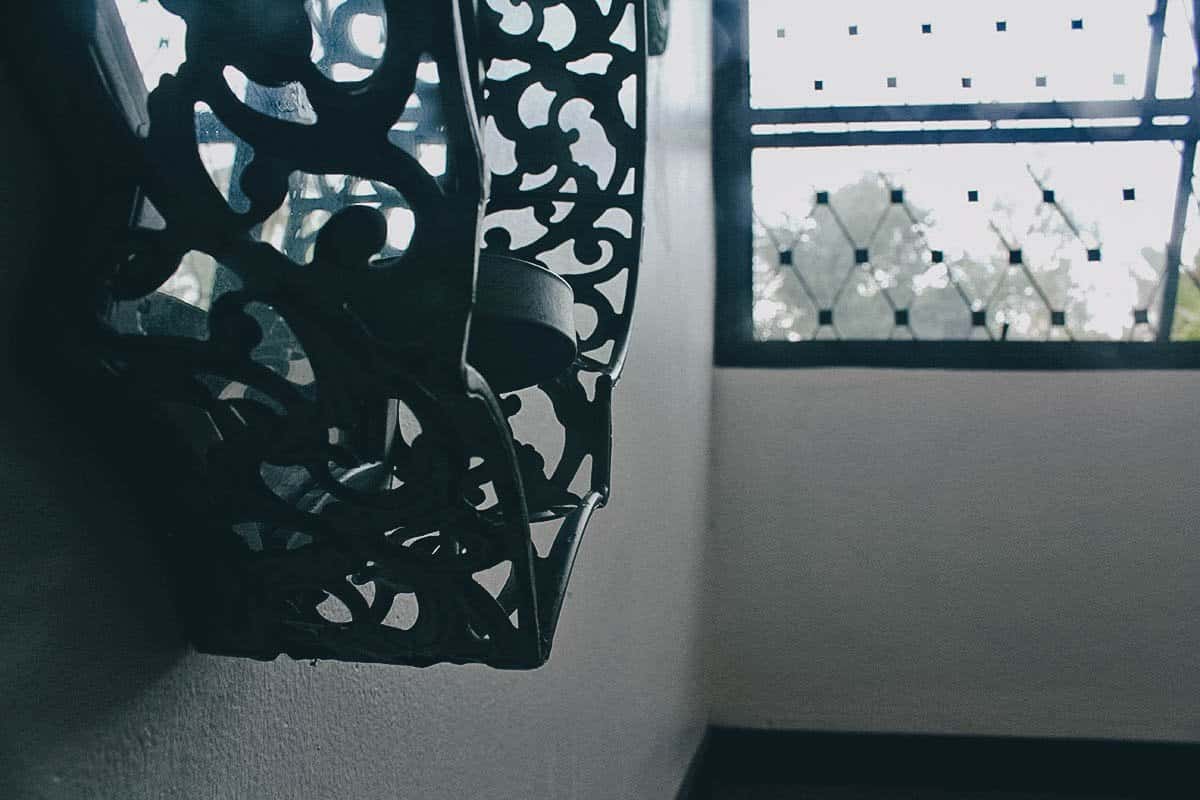 I think the dorm rooms are up here.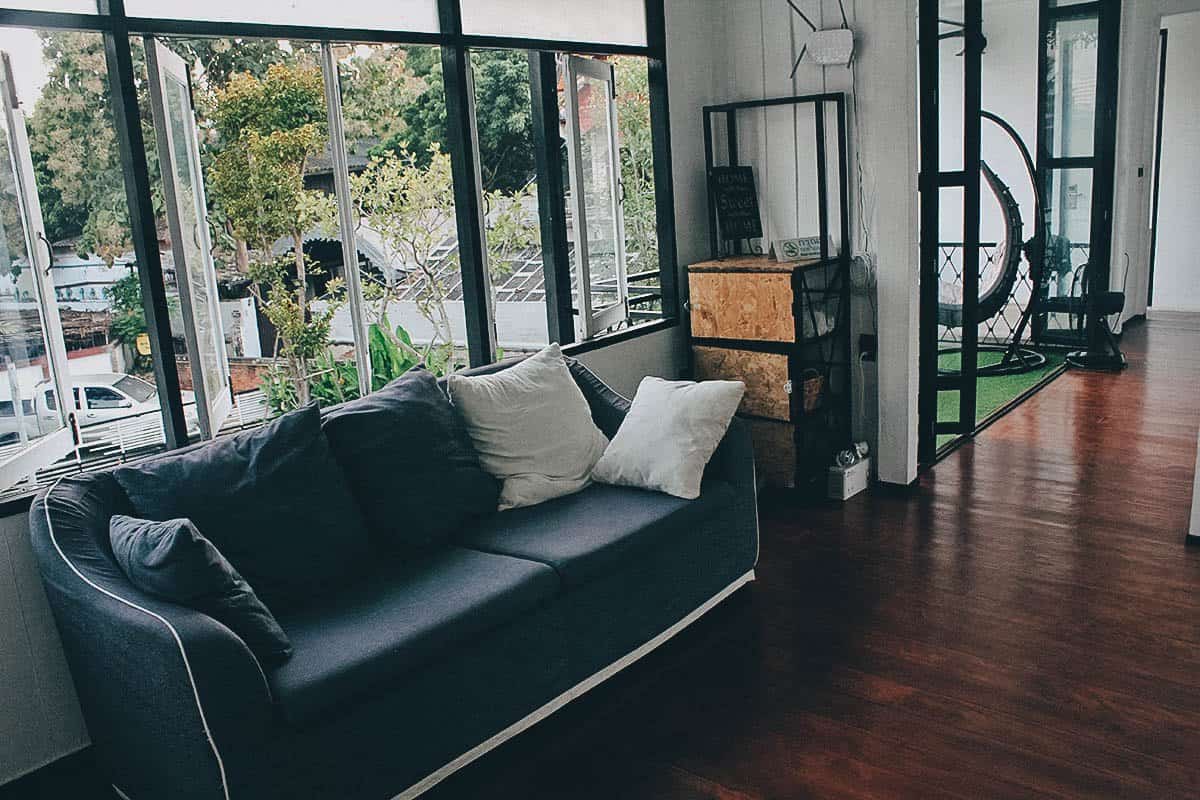 Balcony for chilling and whiling away the time. Some guests would do yoga here as well.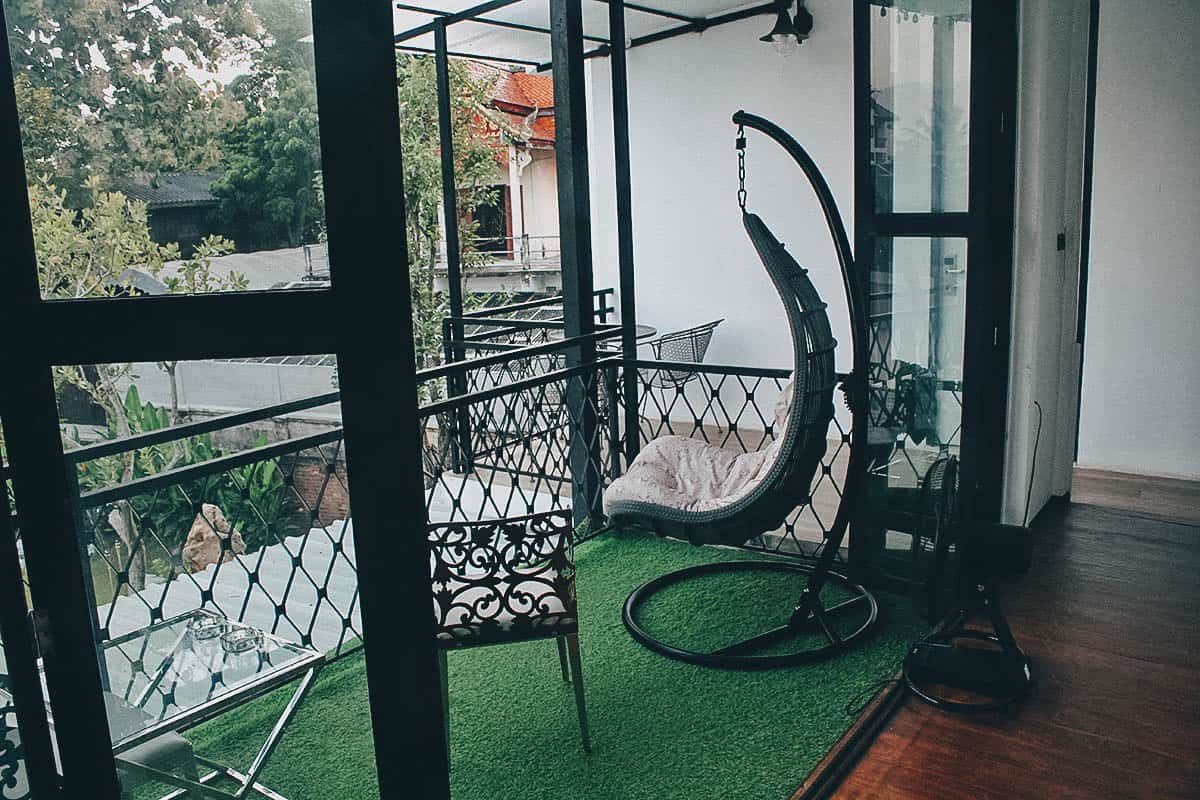 Bedroom
This was our bedroom. Pretty nice right? It was big and clean with our own mini refrigerator and TV.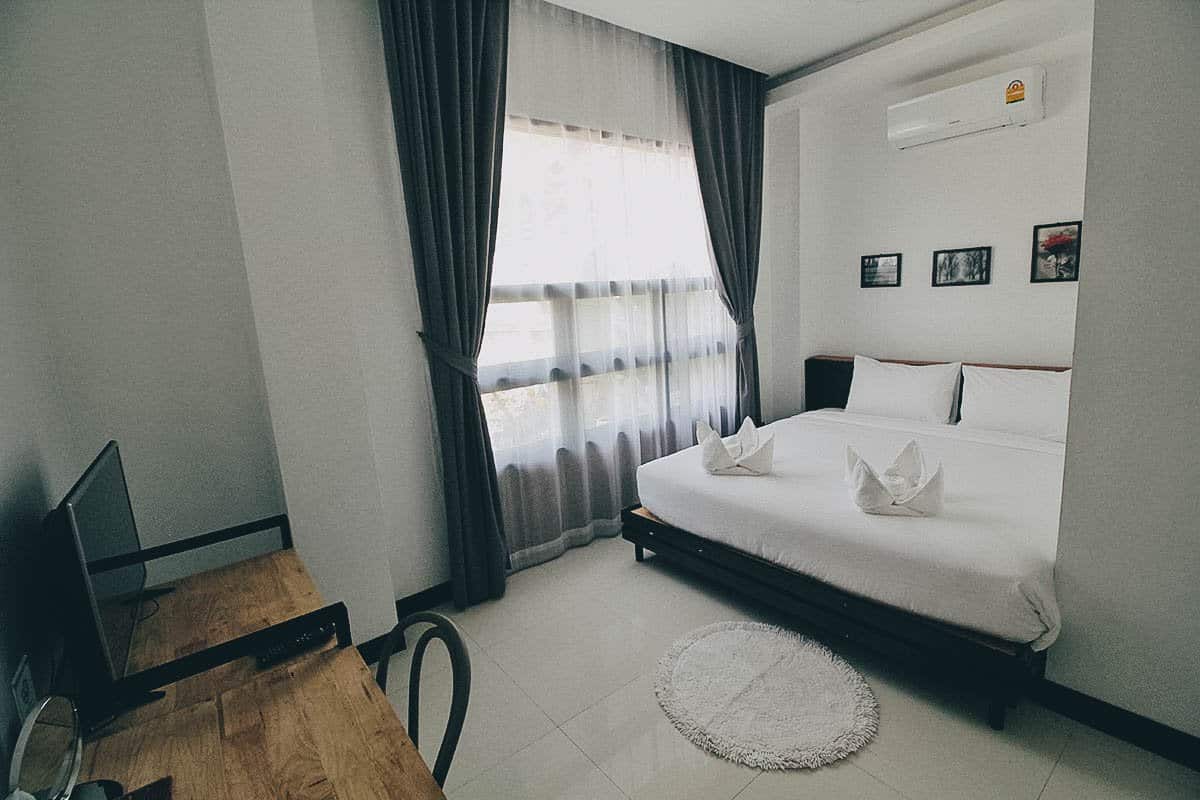 The bathroom was spotlessly clean too.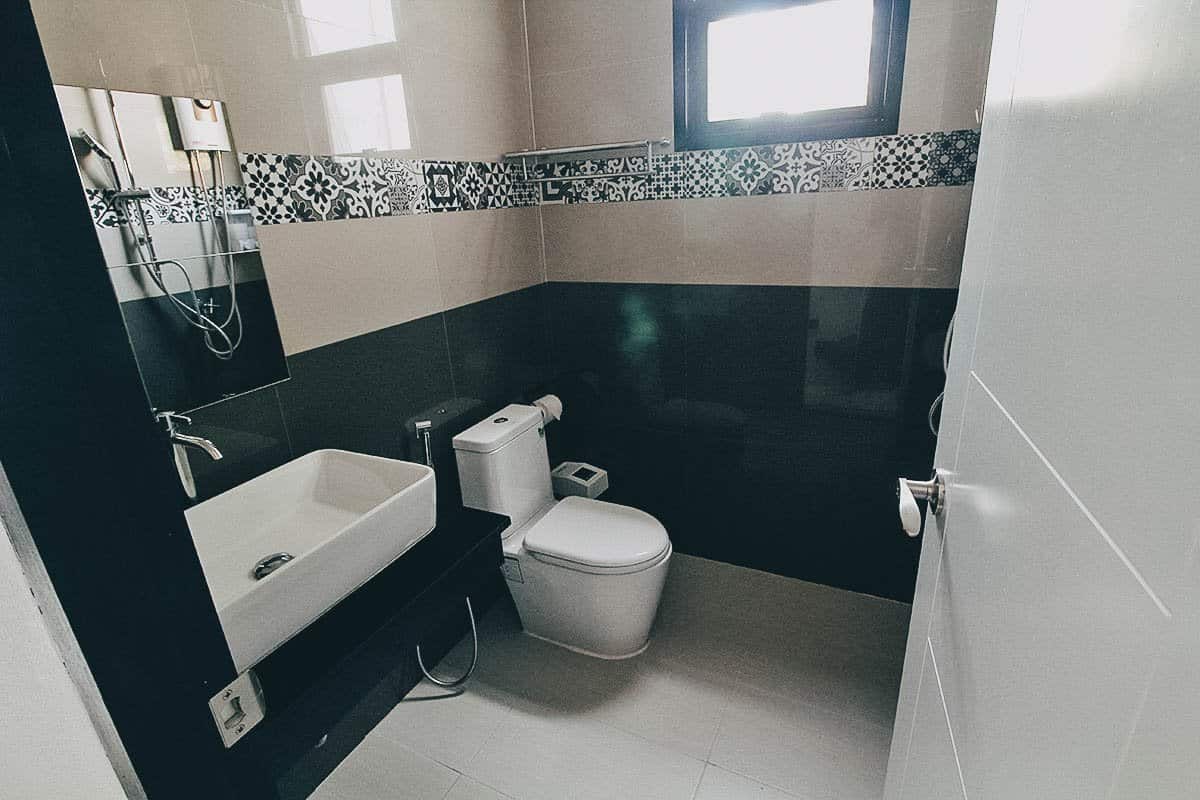 To wind down at the end of the day, Ren and I enjoy drinking beers in our room so refrigerators are always a plus.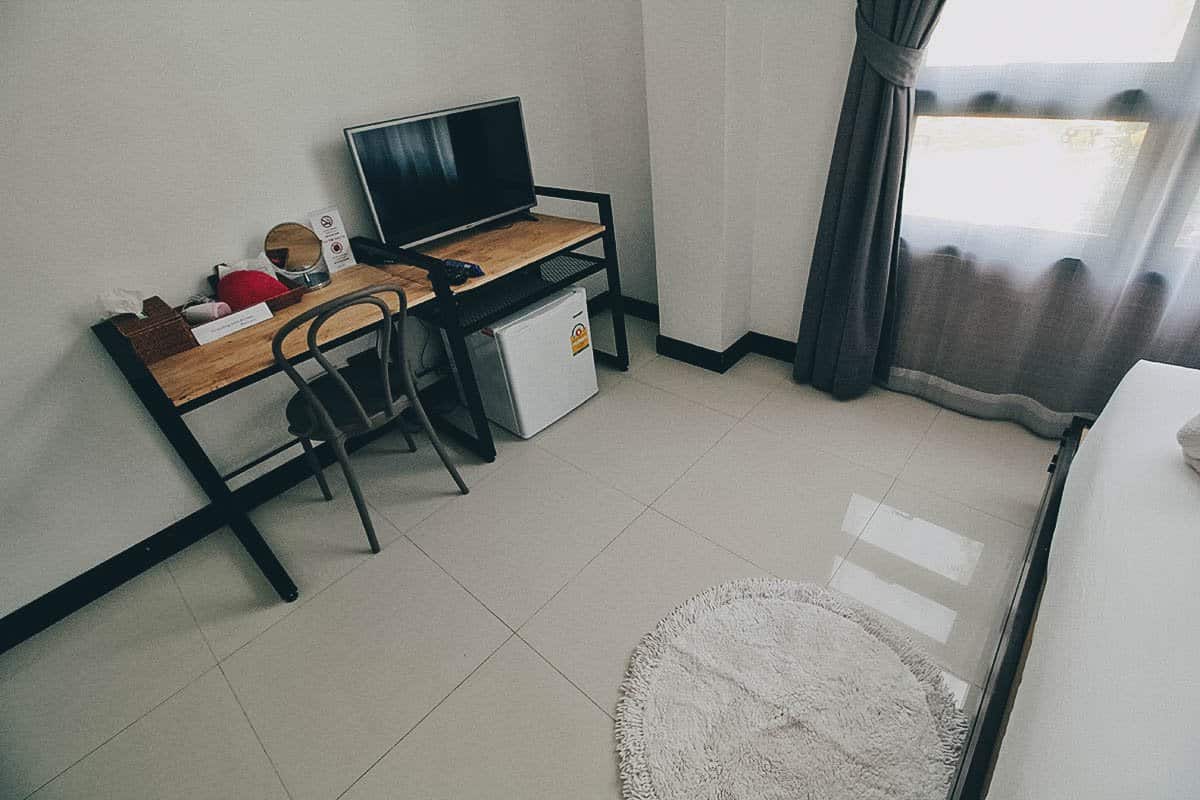 A space to hang your clothes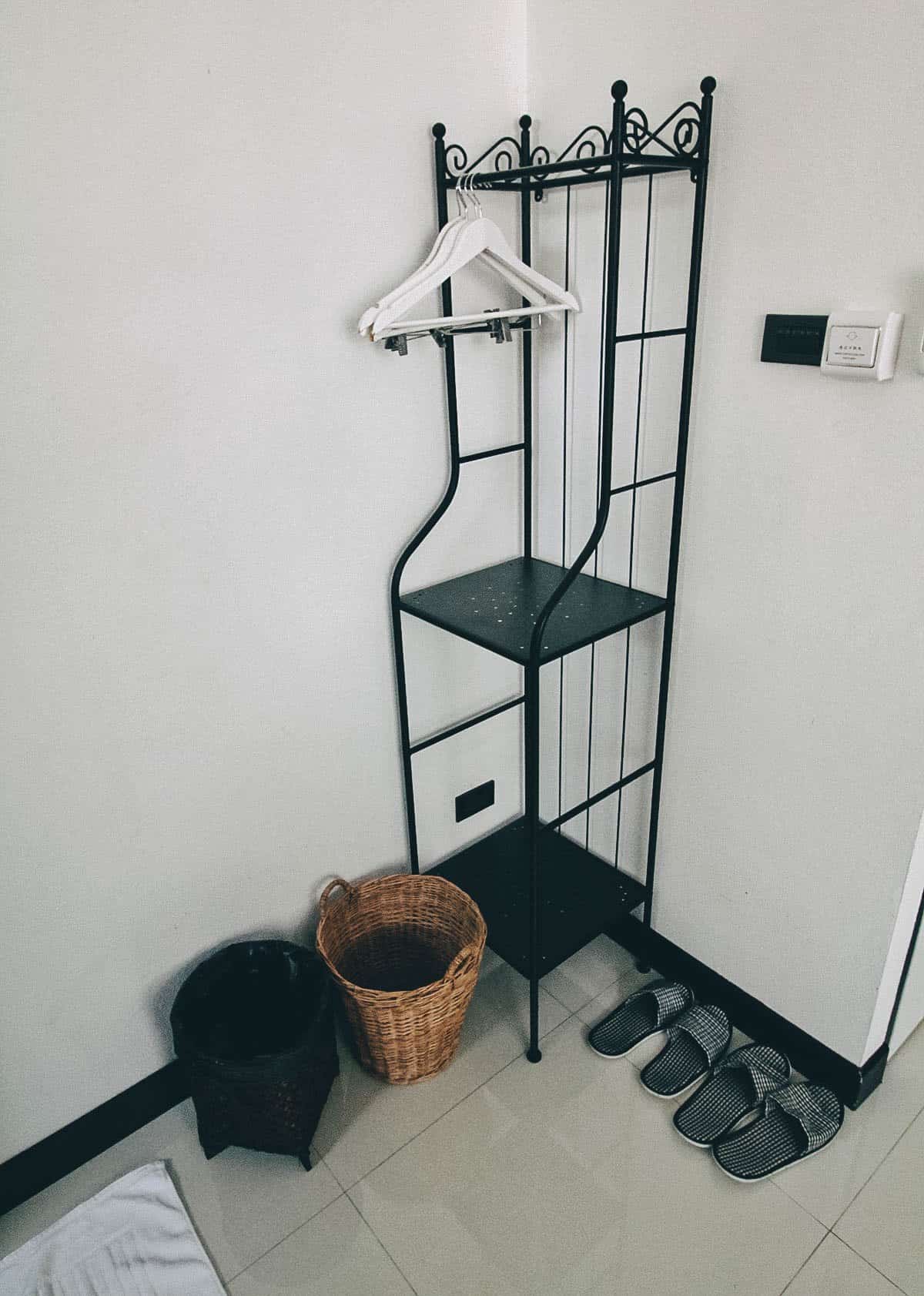 Breakfast
This main dining room was my favorite place at Sherloft. It's so pretty. I love the muted colors and textures!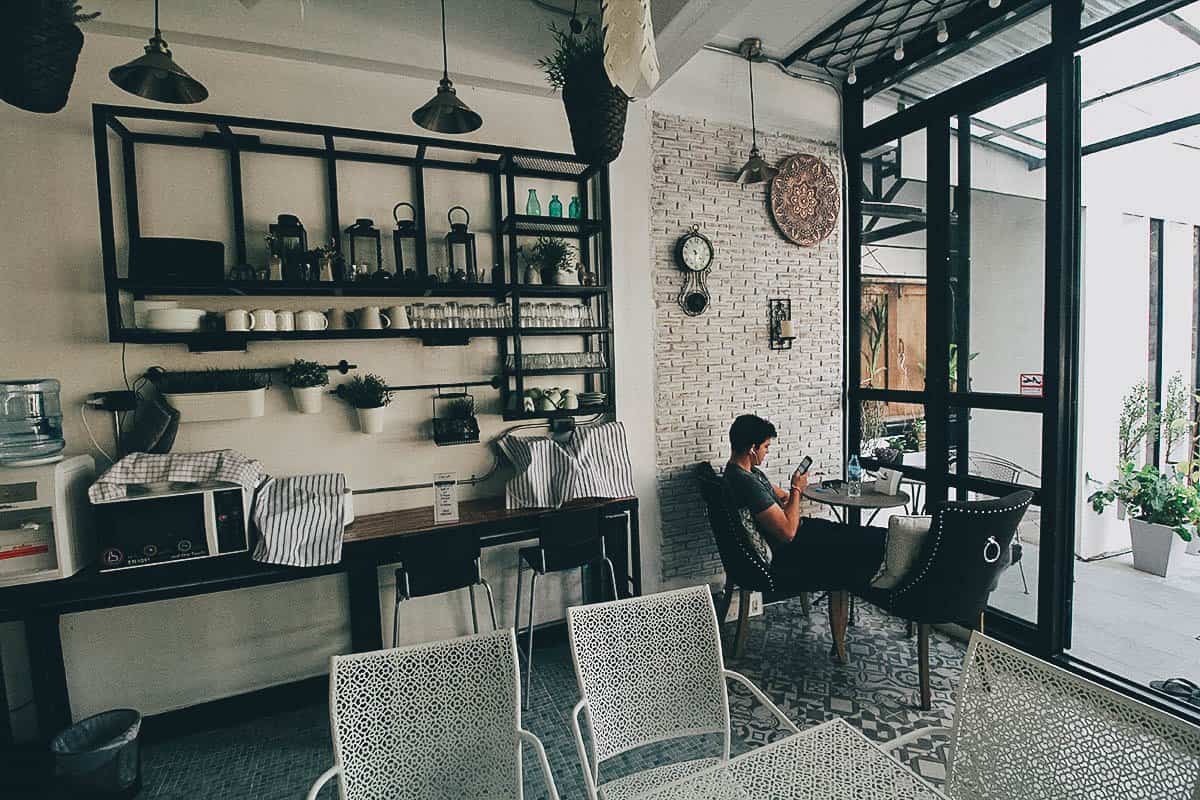 Check out the floor tiles.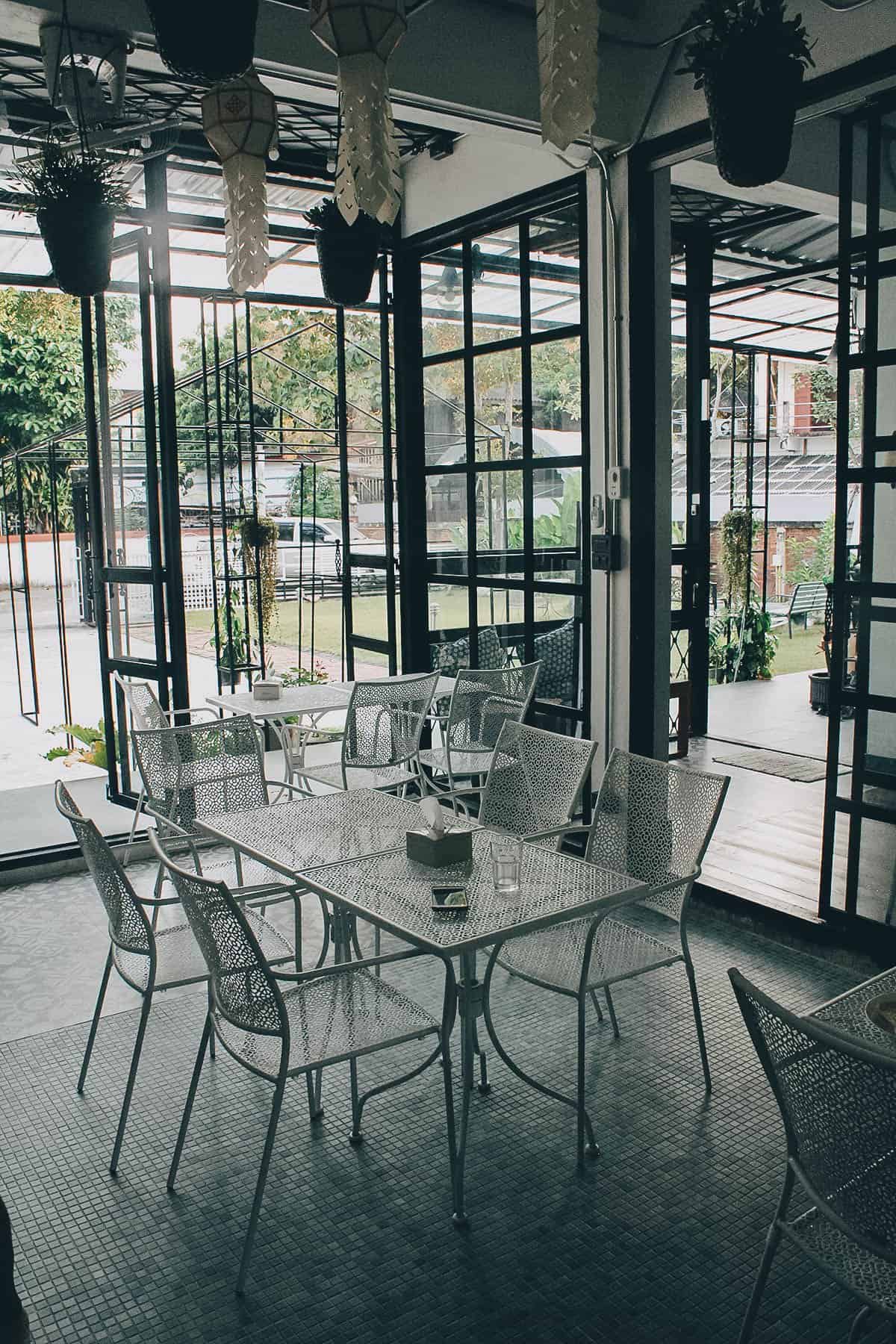 Breakfast was included in our room rate. They would serve a hearty and different breakfast from 7-11AM everyday.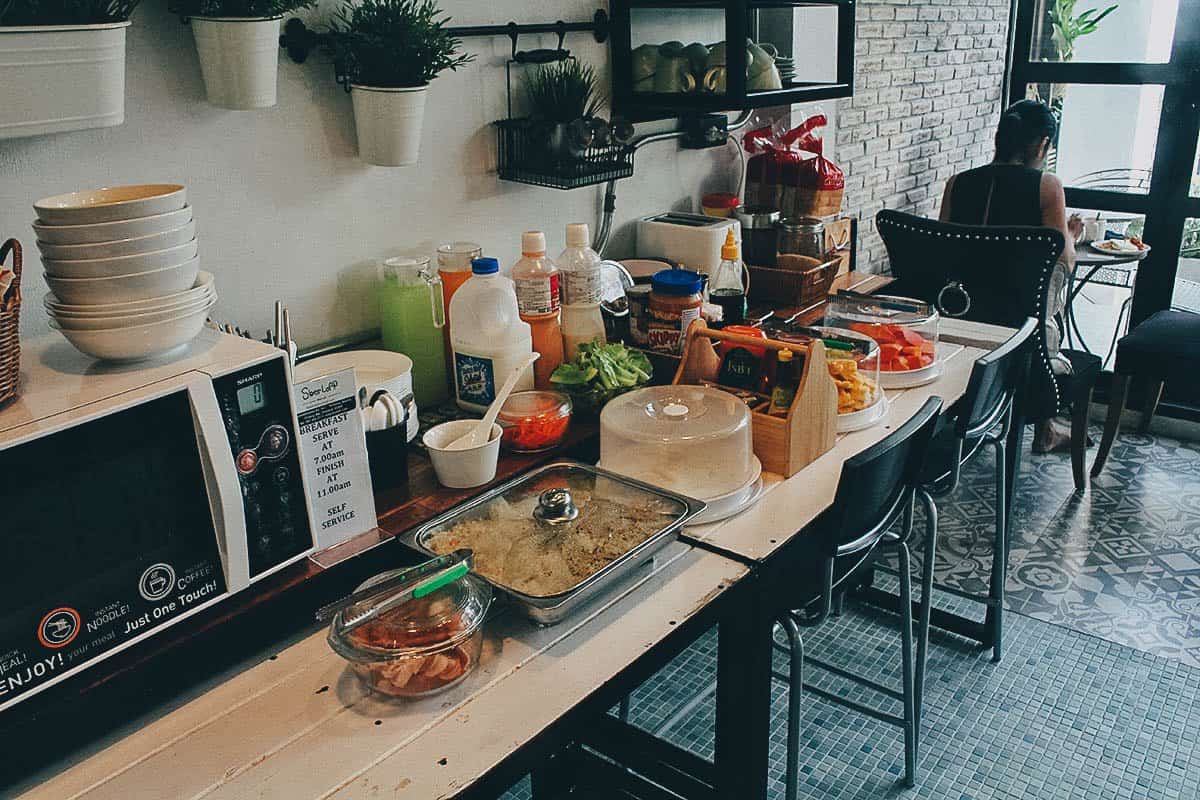 I wonder if they serve Thai food here?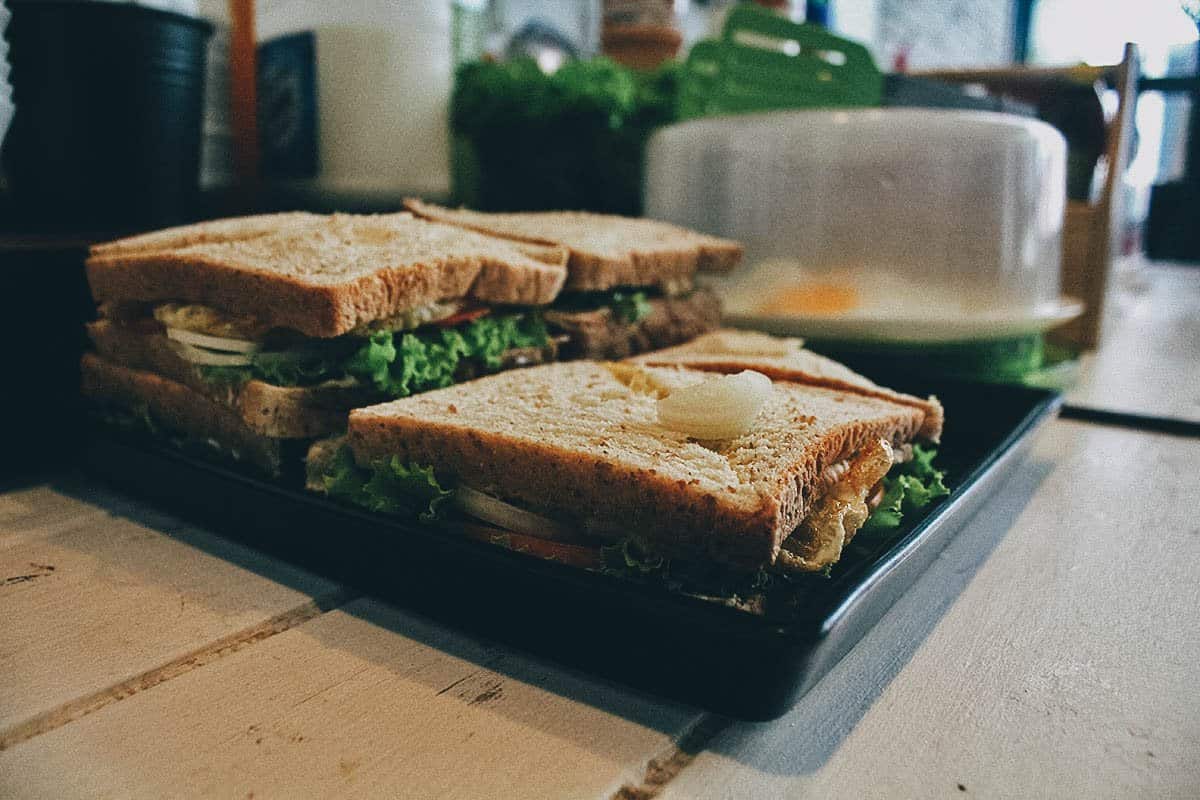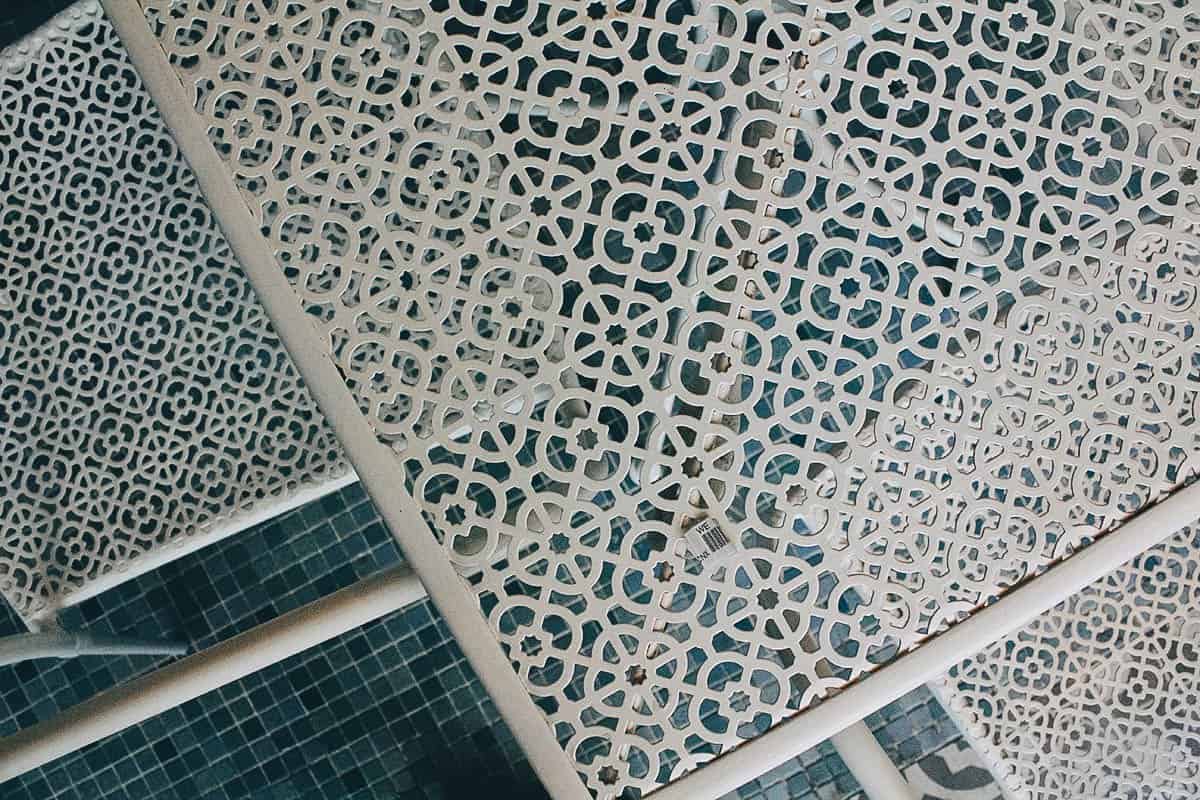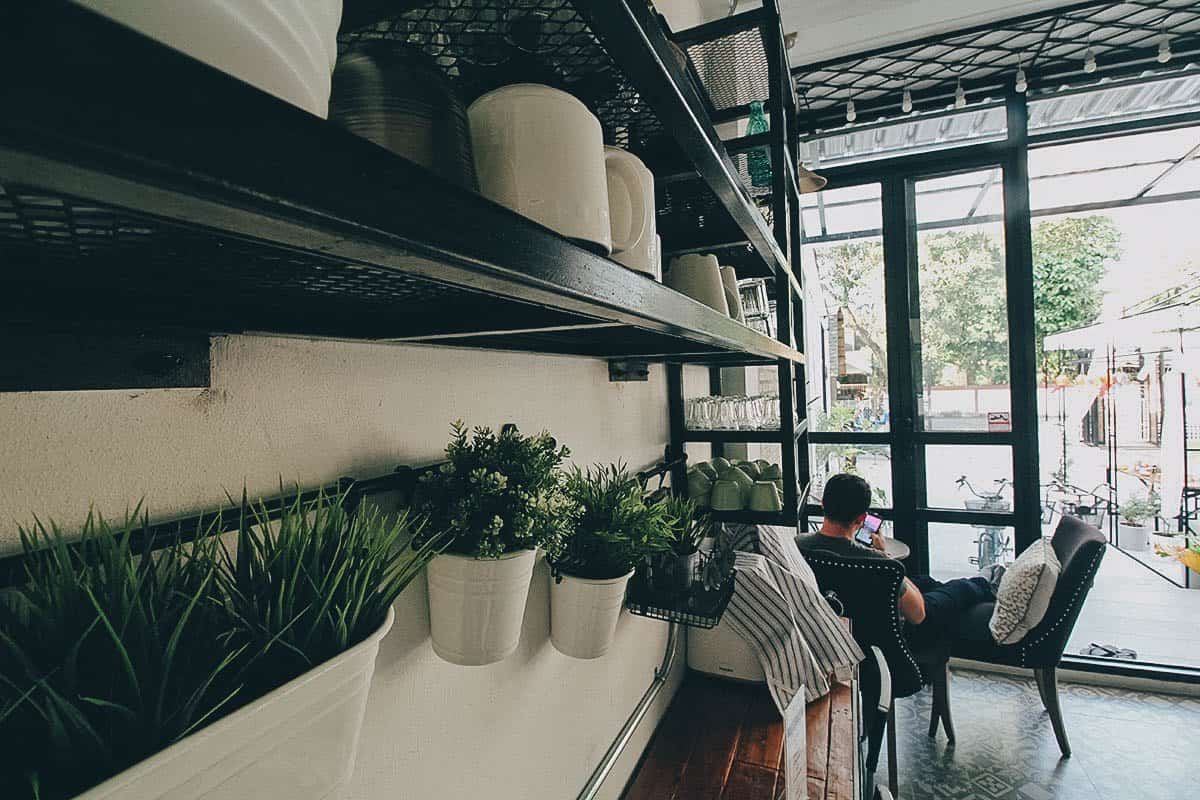 Cup of coffee in hand, staring wistfully out the window. A perfect spot for your "breakfast in Chiang Mai" OOTD? #blessed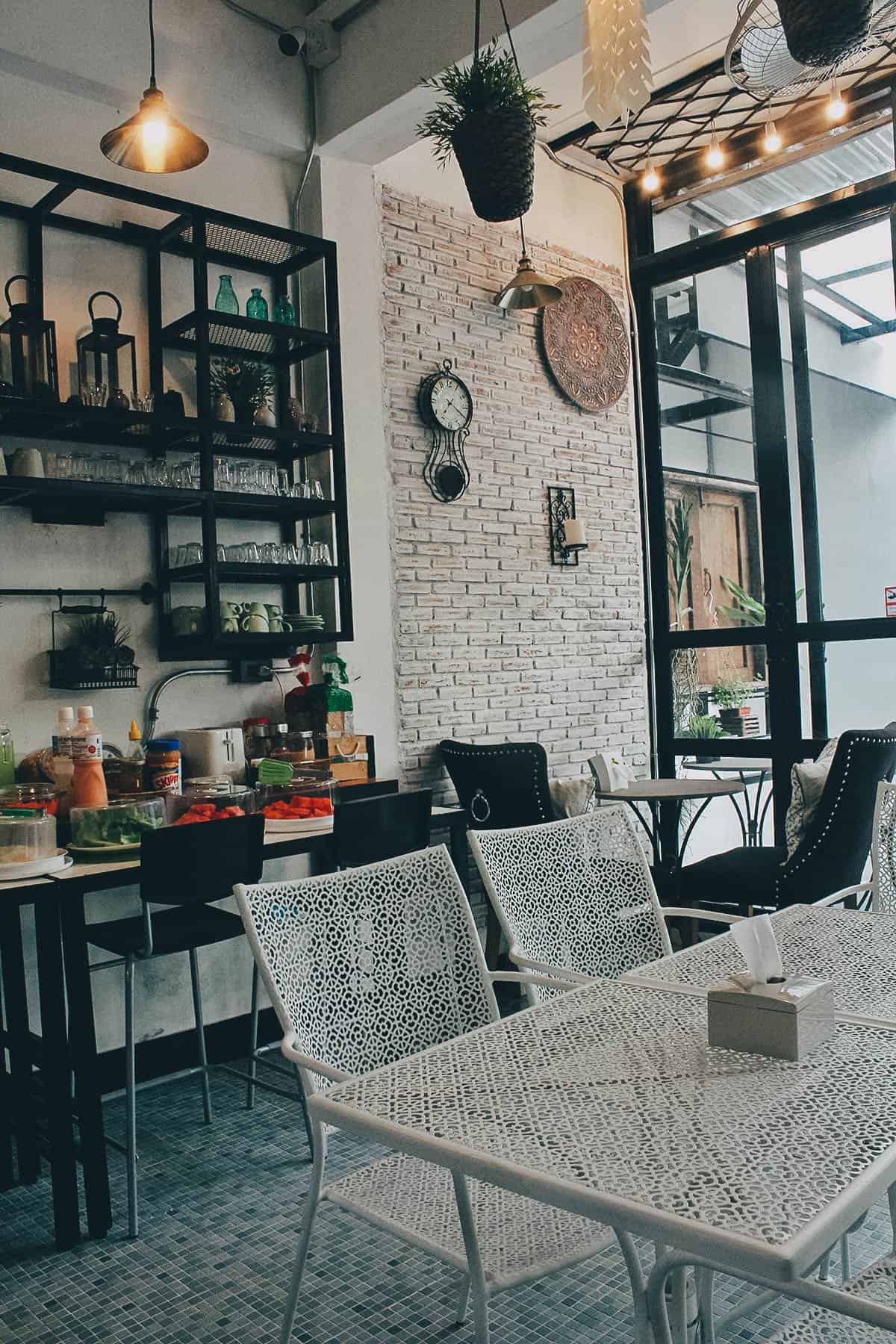 Conclusion
As described at the top of this post, the most important things for us when looking for a hotel are value, cleanliness, and location. When we find a place like Sherloft that's stylish on top of all that, it's a major plus. We may not be trendy Instagrammers but we do enjoy staying at places with a lot of character. Sherloft is that kind of place. For just USD 34 a night for a private room with breakfast included, it's an awesome place to stay in Chiang Mai.
You can book a room here through Booking.com or Agoda. Prices often vary so be sure to check both sites to find the better deal.
Sherloft Home & Hostel
7 Ratchamanka Rd. Soi 7, T. Phrasing, A. Muang, Chiangmai 50200 Thailand
Tel: +66 82 448 4777 | +66 82 444 3777
Website: sherloft.com
Facebook: sherloft
Line: sherloft
WeChat: sherloft
Whatsapp: 66824443777
Email: [email protected]
APPROXIMATE ROOM RATE: (As of Jan 2018, breakfast included)
Private Room: USD 34 per night
Dorm: USD 11 per night
HOW TO GET THERE:
Sherloft is tucked away in an alley off Ratchamanka Road so it can be a little hard to find at first. Best to catch an Uber or Grab from the airport or bus station.
MAKE A RESERVATION: Booking.com | Agoda
For more Chiang Mai travel tips, check out our First-Timer's Travel Guide to Chiang Mai, Thailand