We were in Chiang Mai to scratch two things off my bucket list. The first was to release a sky lantern at the Yee Peng Festival. The second was a visit to this place – Elephant Nature Park.
I don't remember how I first heard about Elephant Nature Park but I do recall following their founder Lek Chailert's account on Facebook. She would post pictures and descriptions of the many elephants residing at the park. One of the stories that really got me was the arrival of a new baby elephant named Dok Geaw. He was less than two years old when he was brought to the park, after having lost his mother at just four months of age. I remember reading about how shy and timid he was, reluctant to join the herd and fearful of his new surroundings. I don't remember her name but Dok Geaw eventually warmed up to one of the females, allowing her to become his nanny.
Every time Lek posted a new picture of baby Dok Geaw – playing in sand or swimming in the river – I would show it to Ren and together we would go "awwwww…." We fell in love with this baby elephant and couldn't wait to meet him at Elephant Nature Park, which is widely regarded as one of the best animal sanctuaries in Chiang Mai.
Save This on Pinterest!
No time to read this now? Click on the red save button and pin it for later!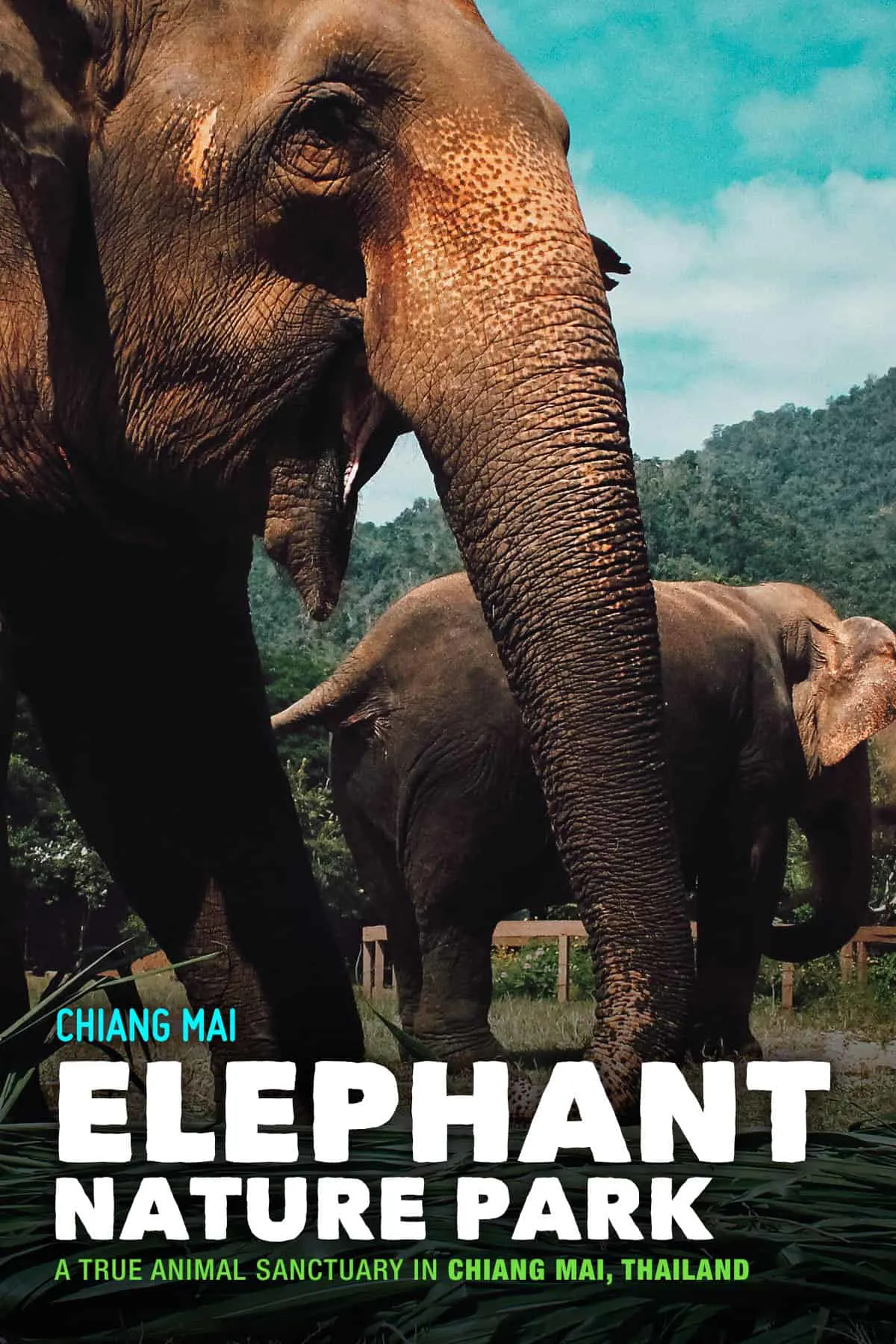 WHAT IS ELEPHANT NATURE PARK?
Elephant Nature Park (ENP) is an elephant sanctuary and rescue center in Mae Taeng District about 60 km (37 miles) north of Chiang Mai City. It was co-founded in 1995 by Sangduen "Lek" Chailert, a Thai animal rights activist who remains the park's primary spokesperson. In many ways, she is the face of ENP, a sprawling 101-hectare facility currently home to over 35 elephants, most of whom were rescued from tourist and illegal logging industries.
What drew me to Elephant Nature Park is it's "no elephant riding" policy. There are no bull hooks here, no elephants forced to kick soccer balls or paint for the entertainment of tourists. Instead, the park functions as a true rescue center and animal reserve. Tourists could visit for the day or pay over USD 400 for week-long stays volunteering and working with rescued animals which now include water buffalo and over 350 dogs saved from the Bangkok floods of 2011. This pay to volunteer business model seems to be doing very well for the park, which is now recognized as one of the best and most well-respected elephant sanctuaries in Thailand.
Lek Chailert's work with elephants has earned her many accolades. She was honored by Hillary Clinton in 2010 as one of six Women Heroes of Global Conservation. She was also one of Time magazine's Heroes of Asia in 2005, as well as the Ford Foundation's "Hero of the Planet" in 2001. Thanks to Lek's work, Elephant Nature Park has become a true "heaven for elephants".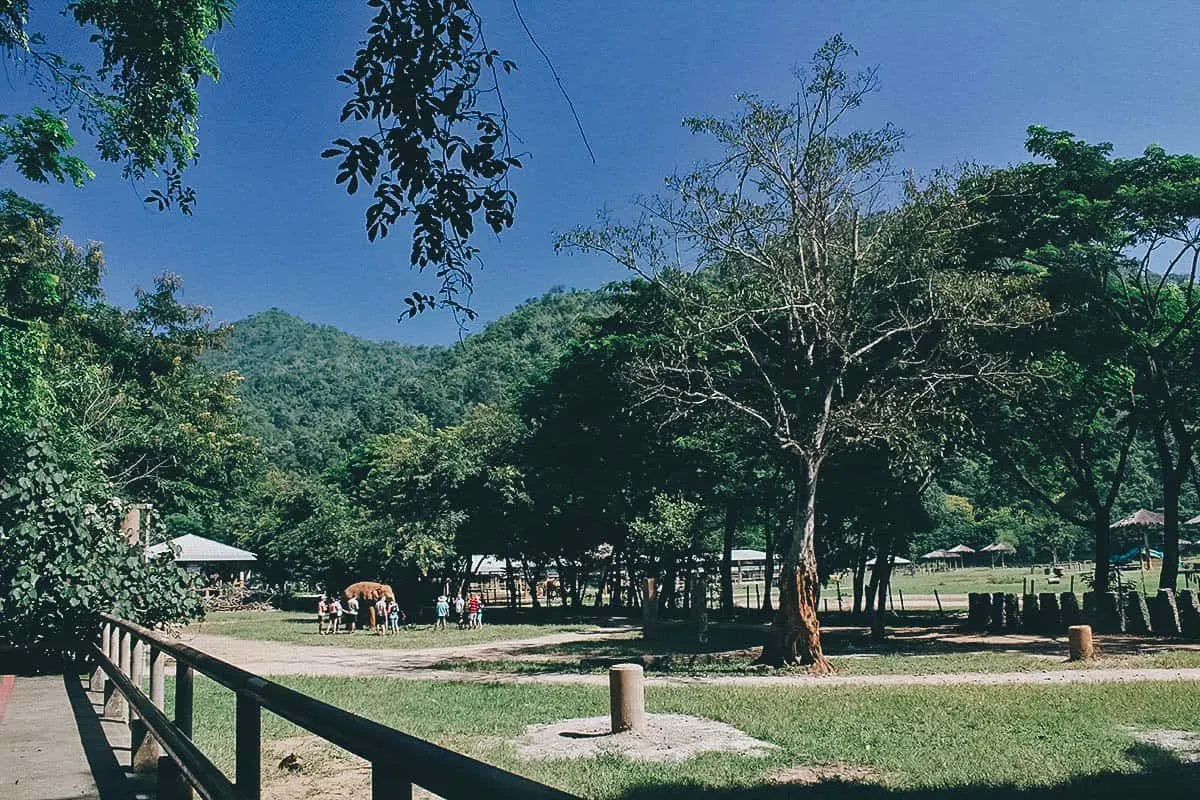 I don't know the exact count but there are over 35 rescued elephants at Elephant Nature Park, most of whom have their pictures and a brief bio on display at the main lodge.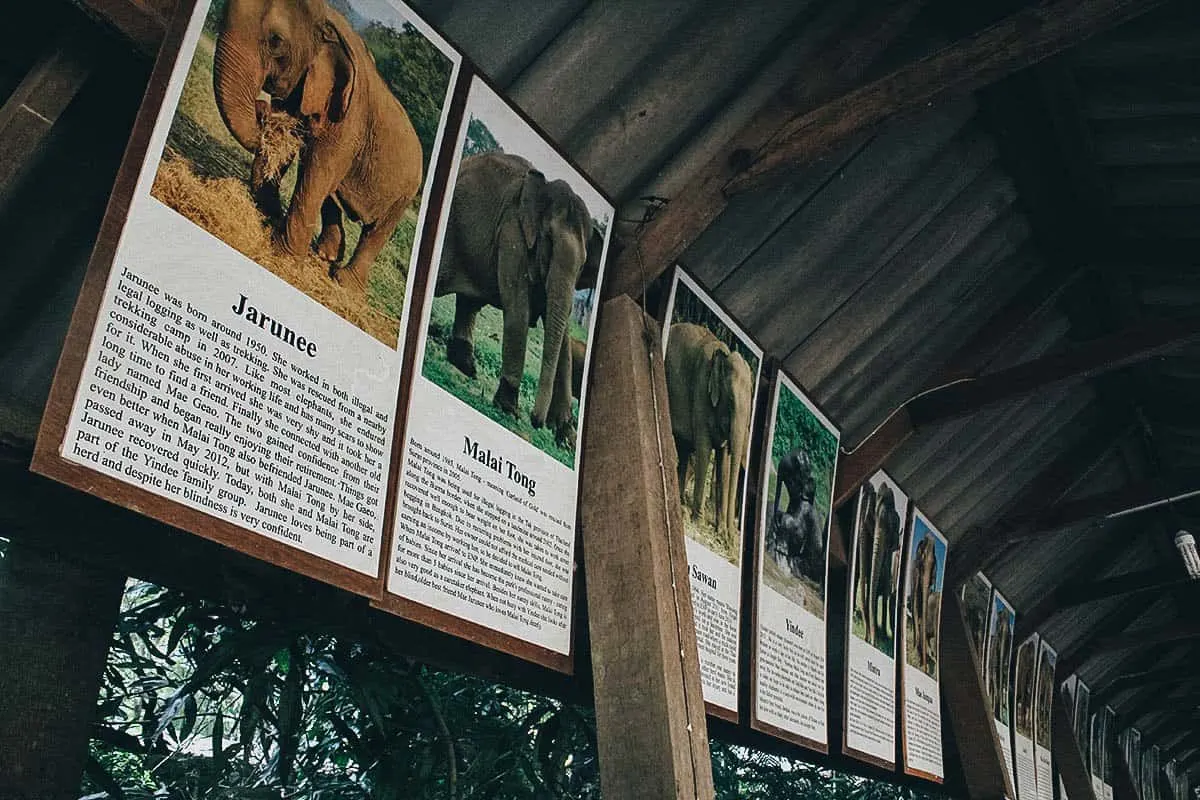 HOW CAN I VISIT ELEPHANT NATURE PARK?
As described, Elephant Nature Park employs a pay to volunteer program that allows tourists to visit the park for a few hours or stay for several nights, even an entire week. We went on the Single Day Visit which is what I'll be describing in this post. It costs THB 2,500 per person and lasts about 10 hours.
Aside from meeting and interacting with several elephants at the park, some of whom I had already read about on Lek's Facebook page, we got to feed and bathe them as well which was really cool. If you're interested in longer term stays, then you can check their Visit & Volunteer page to see what programs they have available.
ELEPHANT NATURE PARK SINGLE DAY VISIT
Our day started at around 8AM when we were picked up from our hostel in Chiang Mai Old City. It's about an hour and a half away to Elephant Nature Park so they played a video for us in the van about park safety guidelines and the reality of elephant abuse. I already knew about "crushing" and the cruelty of elephant riding and bull hooks. What I didn't know was that even the seemingly innocuous act of elephant painting hid a sinister secret as well. A mahout would press a nail against the elephant's soft ear, essentially forcing her to paint in predetermined strokes for the entertainment of tourists.
Most of the elephants at ENP were rescued either from the tourism or logging industries. Some have broken legs, others have limbs partially blown off from stepping on landmines. All arrived at Elephant Nature Park with psychological issues and emotional scars from having lived through a lifetime of abuse.
Elephant Feeding
Shortly after arriving at the park, we had a few minutes of orientation before jumping into our first activity which was elephant feeding. They gave us these big basket of squash and watermelon.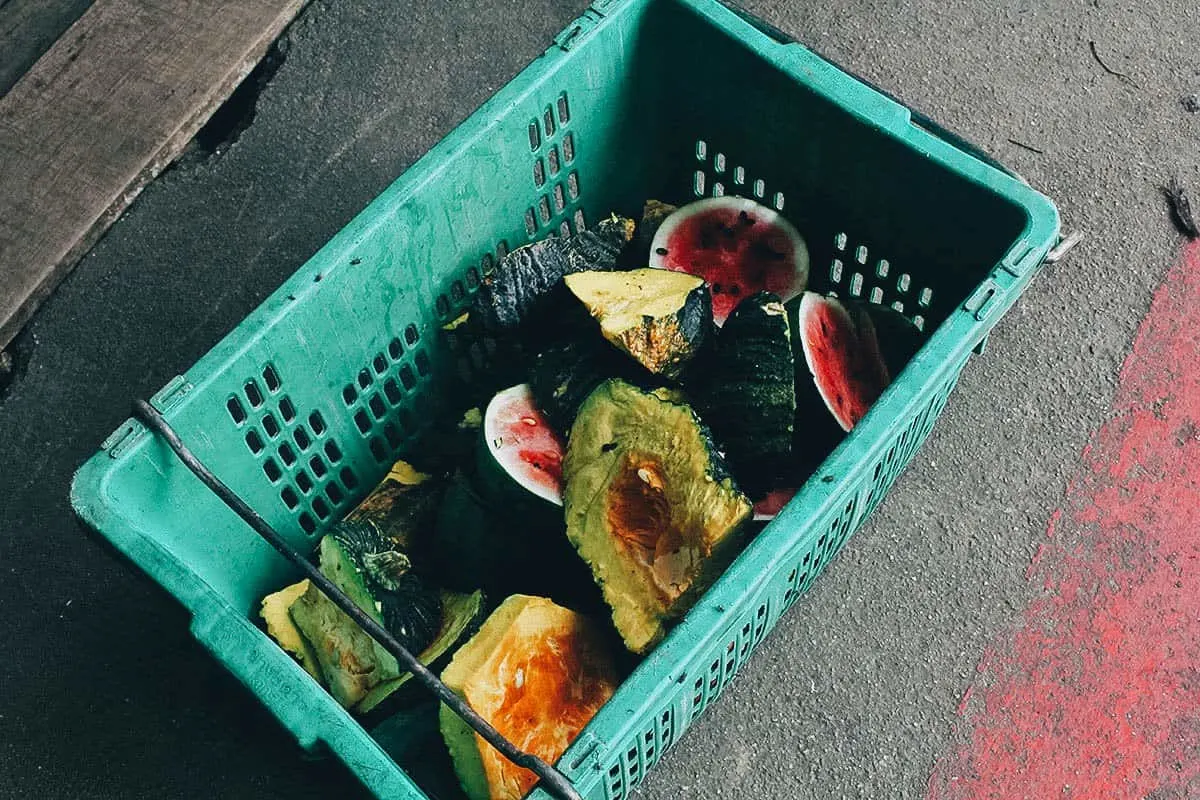 Soon a herd of hungry elephants arrived at the lodge for a quick snack. Each adult elephant consumes an average of 200-300 kg of food and 100-200 litres of water a day. With over 35 elephants to care for, that's a staggering amount of food the park needs to prepare every day! To be honest, it isn't cheap to visit ENP but it makes sense considering how much it costs to provide these elephants with the proper nutrition. To each and every volunteer here, it's money well spent. ♥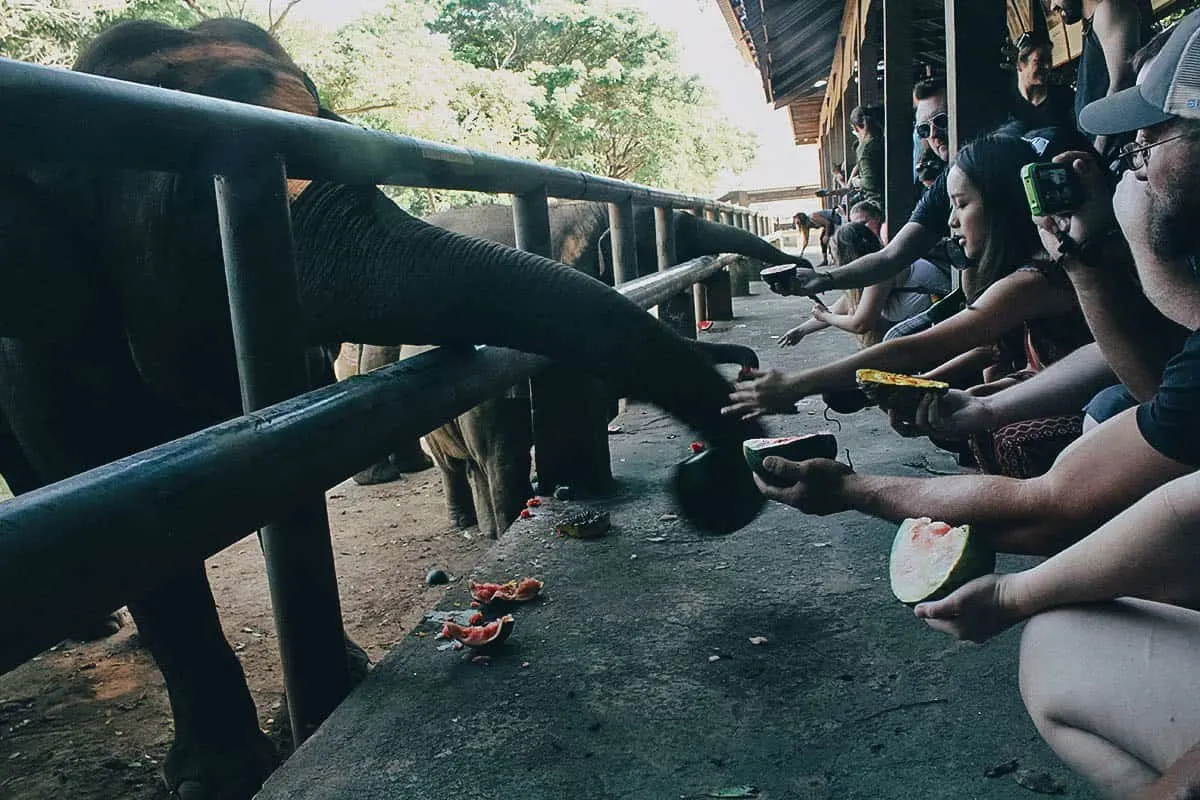 Morning Walk in the Park
We had an hour before lunch so we took a quick stroll around the park with our guide Ei(?). Like any sentient being, elephants have individual personalities. Some choose to remain isolated while others, like these two, become best friends.
I asked Ei about Dok Geaw and she looked around but couldn't find him. Unfortunately, we didn't get to meet him today. 🙁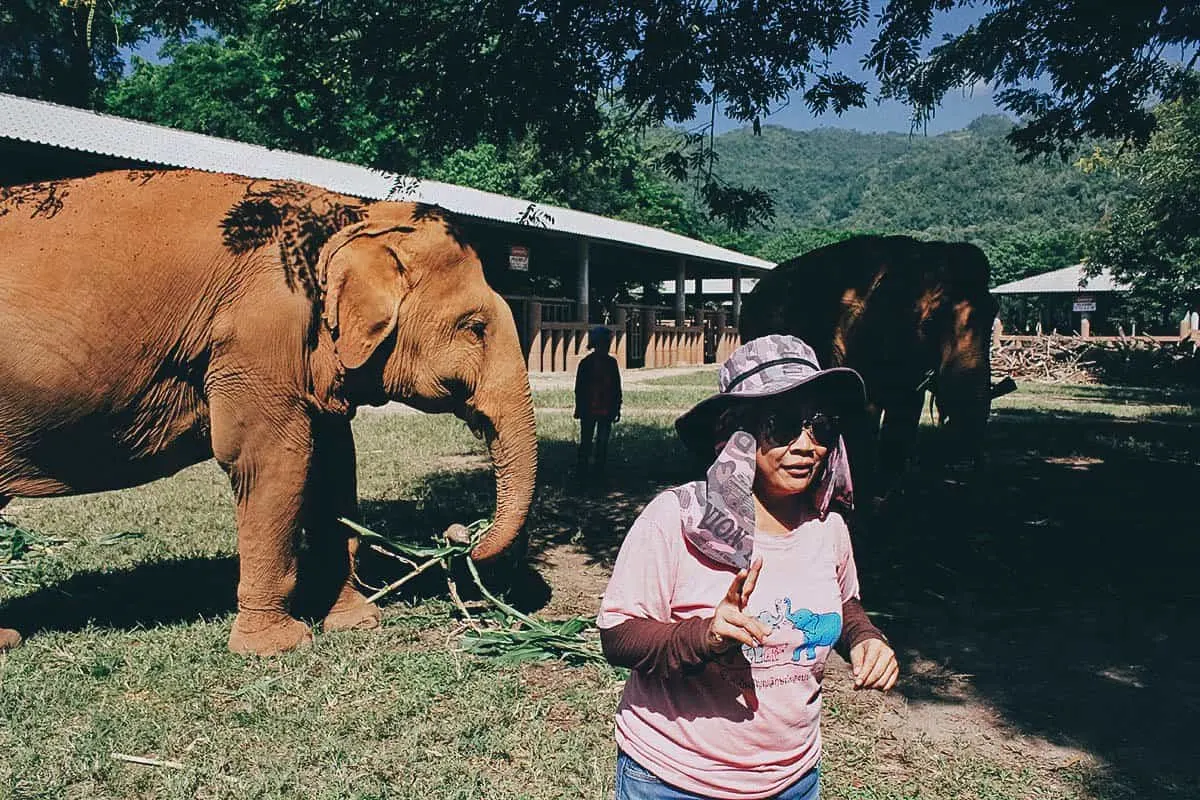 A Thai elephant's diet consists mainly of grass. They're practically eating the entire day.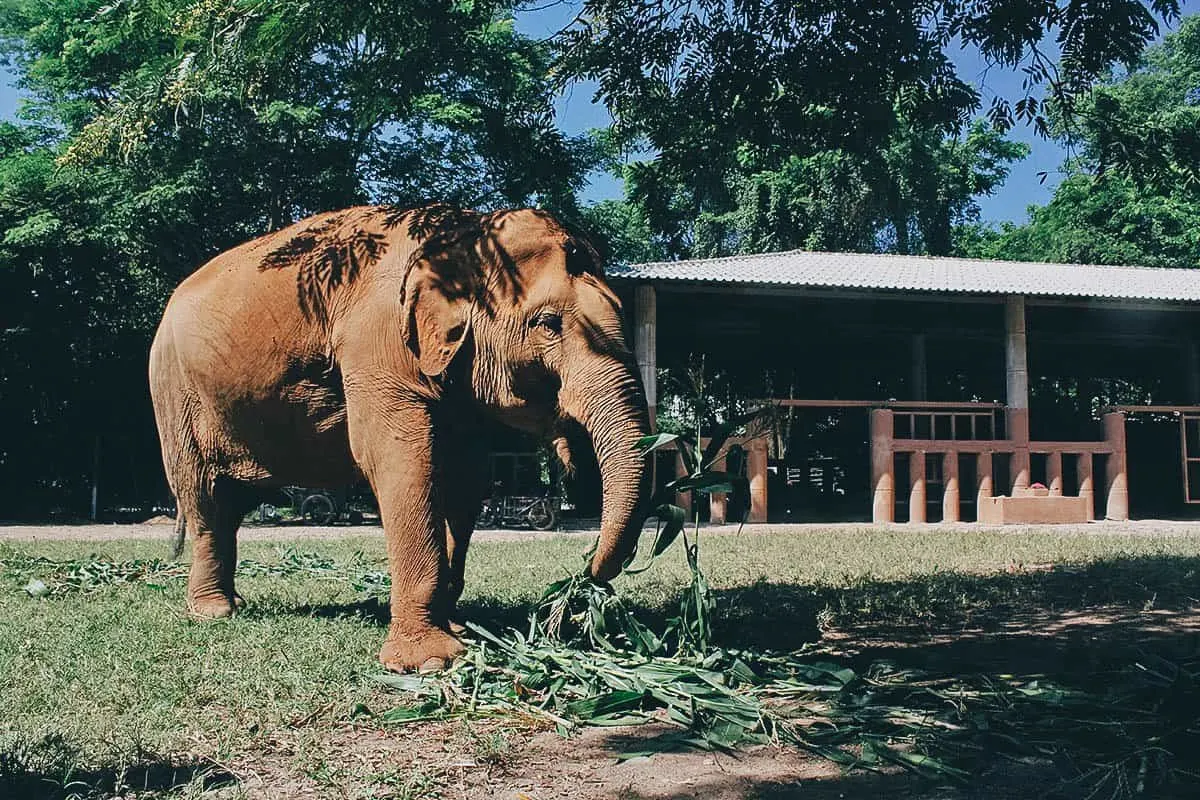 Our first interaction with an elephant. Ei explained that some elephants don't mind you touching them while others don't tolerate it. Their skin feels surprisingly soft and delicate considering their size. This is probably why they're so easy to control with bull hooks and other sharp objects. Their skin is sensitive like a human's so they can easily feel pain. 🙁 I've touched a rhino's hide before and it felt much tougher and thicker than this.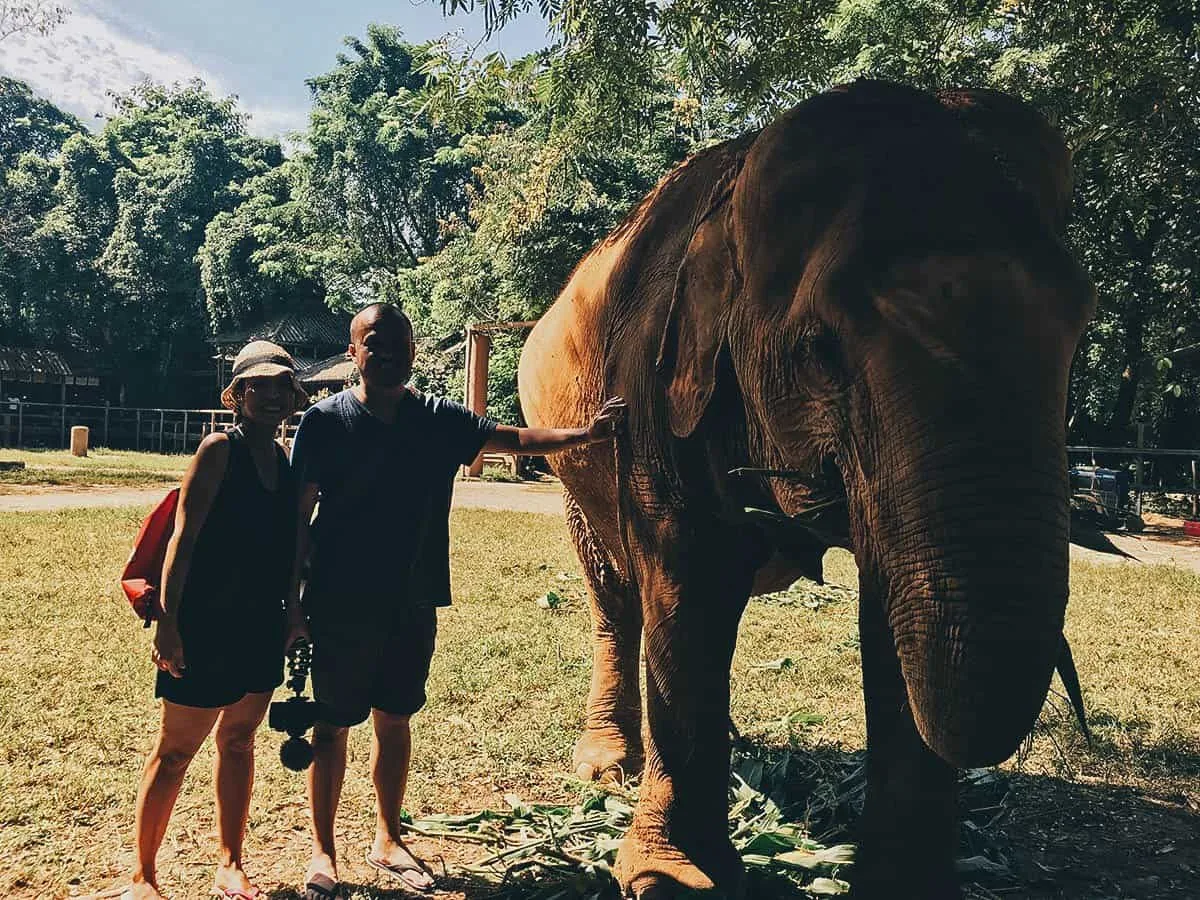 We ventured farther out into the park to meet more elephants.

Here's an elephant with an injured foot. If I remember correctly, she was rescued somewhere near Cambodia where she had stepped on a landmine. It looks like she's doing much better now.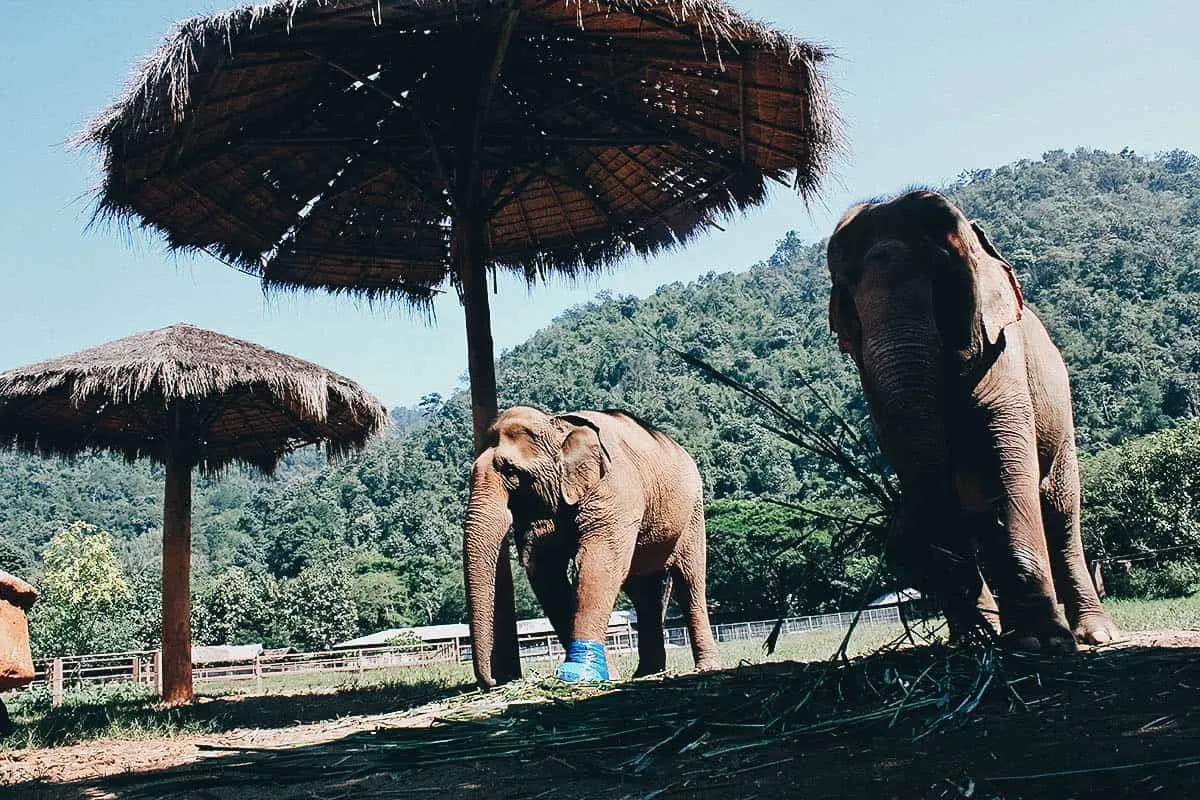 Nom nom nom…which reminds me, it's time for lunch. Back to the lodge we go.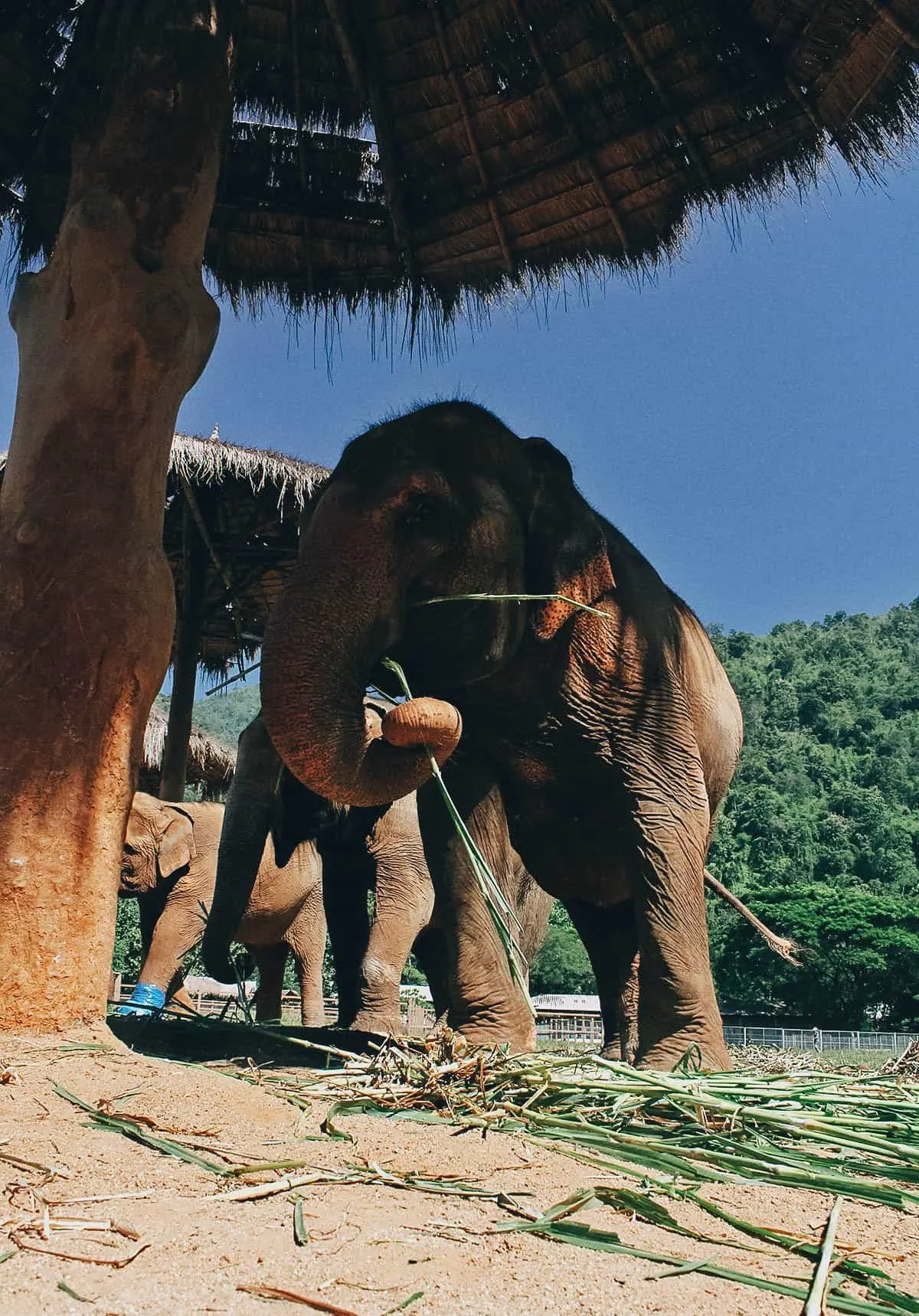 Buffet Lunch
This is the main lodge at Elephant Nature Park. It's a two-story wooden building with plenty of tables and chairs. There's a souvenir shop here too.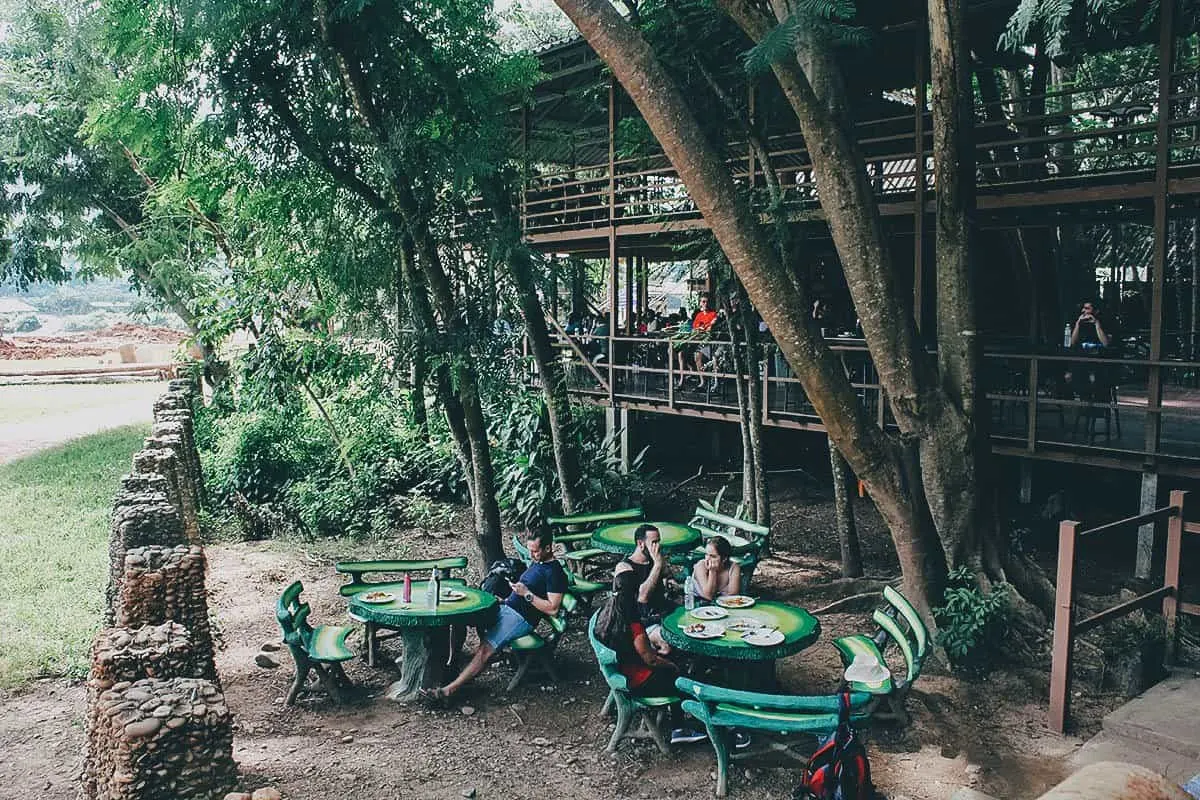 It felt great to just sit here and watch the elephants roam the park freely.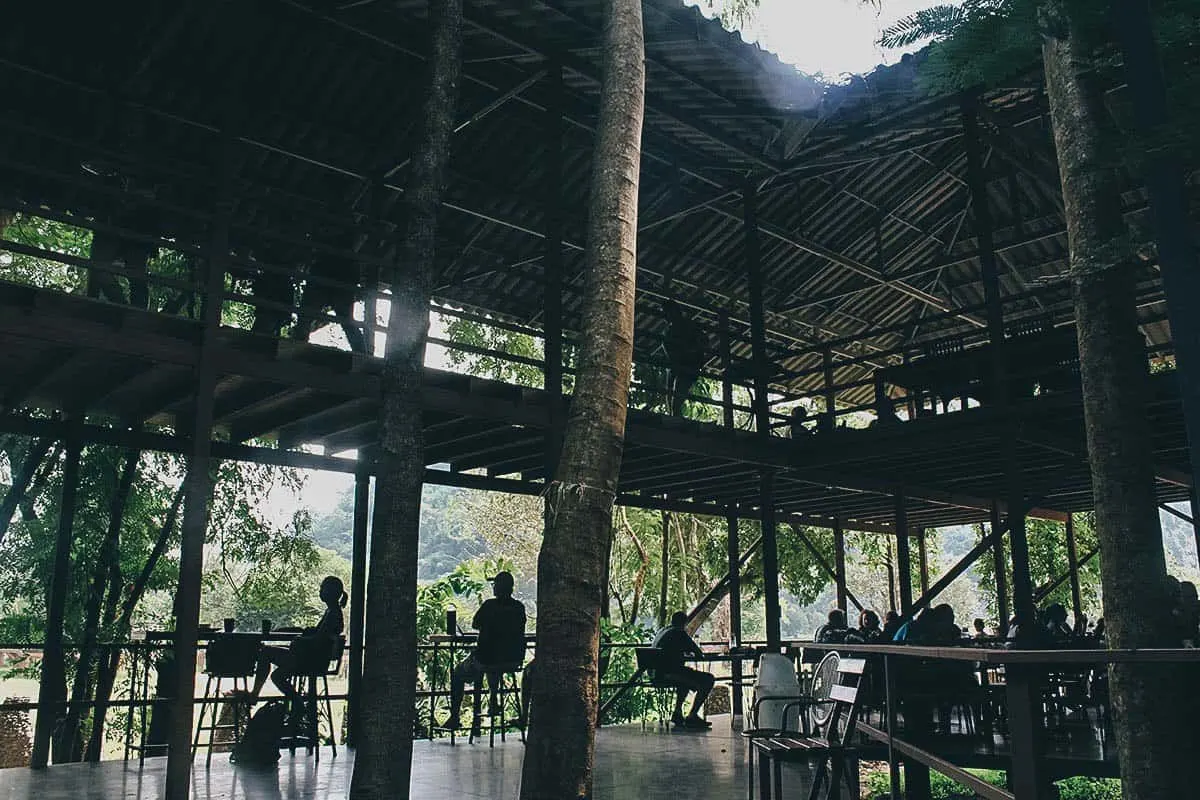 Check out that huge spread of vegetarian Thai dishes! There were two buffet setups like this on the first floor of the lodge. I didn't go upstairs but they may have had them there as well. Lunch is included in the Single Day Visit which consisted of many different types of vegetarian (perhaps even vegan) dishes. Drinking water was freely available but if you wanted something else like soda or beer, then you could purchase them separately at the bar. Surprisingly, drinks weren't overpriced the way they usually are at zoos or theme parks.
As you can see, the place was packed. This was just one section of the lodge. I'm guessing there must have been at least 300 people here today, most of whom were probably here just for the day. It costs THB 2,500 for the Single Day Visit which at today's exchange rate is almost USD 80. I did some research and the estimated cost of feeding an adult elephant in Thailand is about USD 80 a day. Visit the park for a day, feed an elephant for a day. Like I said, money well spent. ♥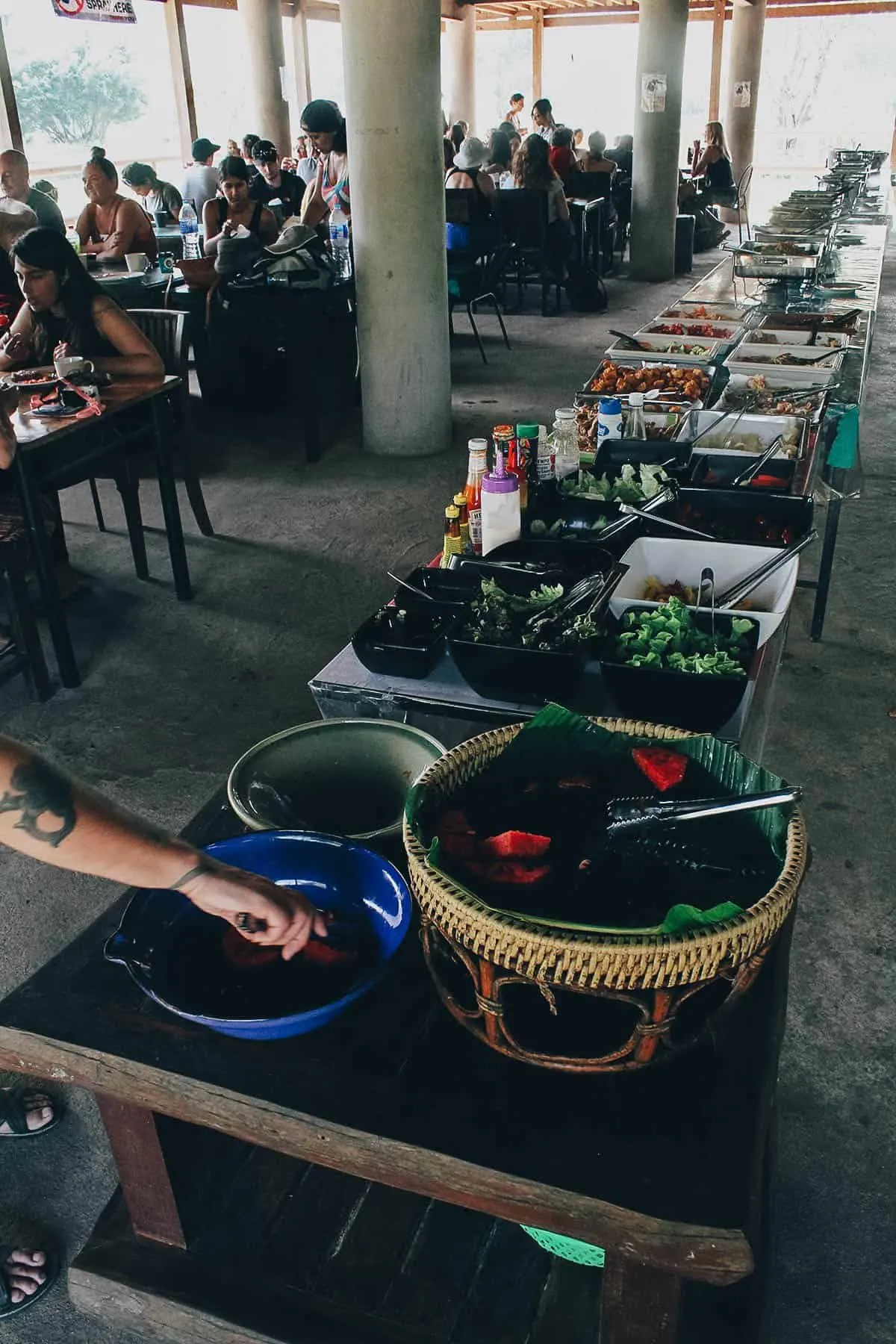 Lunch was delicious. There was so much variety and everything tasted great. If vegetarian dishes were always this good, then I'd have no problem making the leap.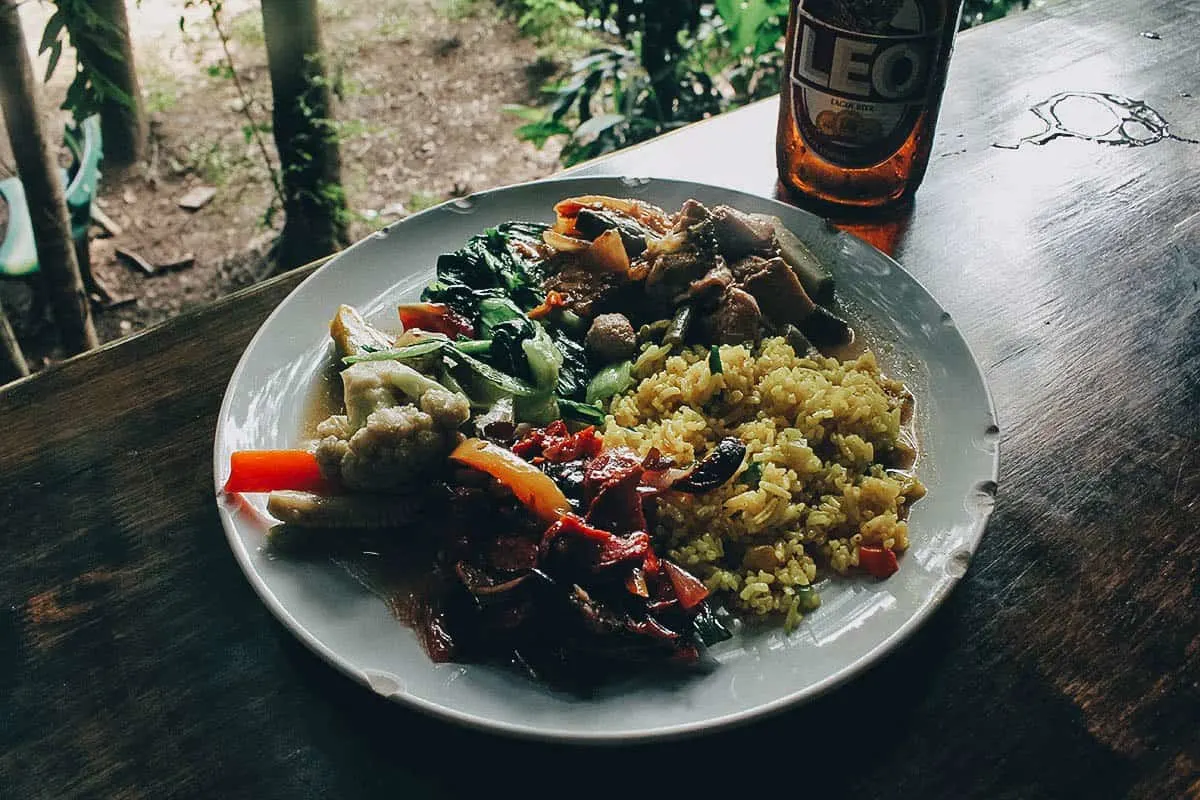 Bathing the Elephants
After lunch, we make our way to the river to take part in one of the day's most memorable activities – elephant bathing. You see that red basket at the end of the elephant's trunk? It's filled with watermelon. That's how they entice elephants to stand still long enough to be bathed.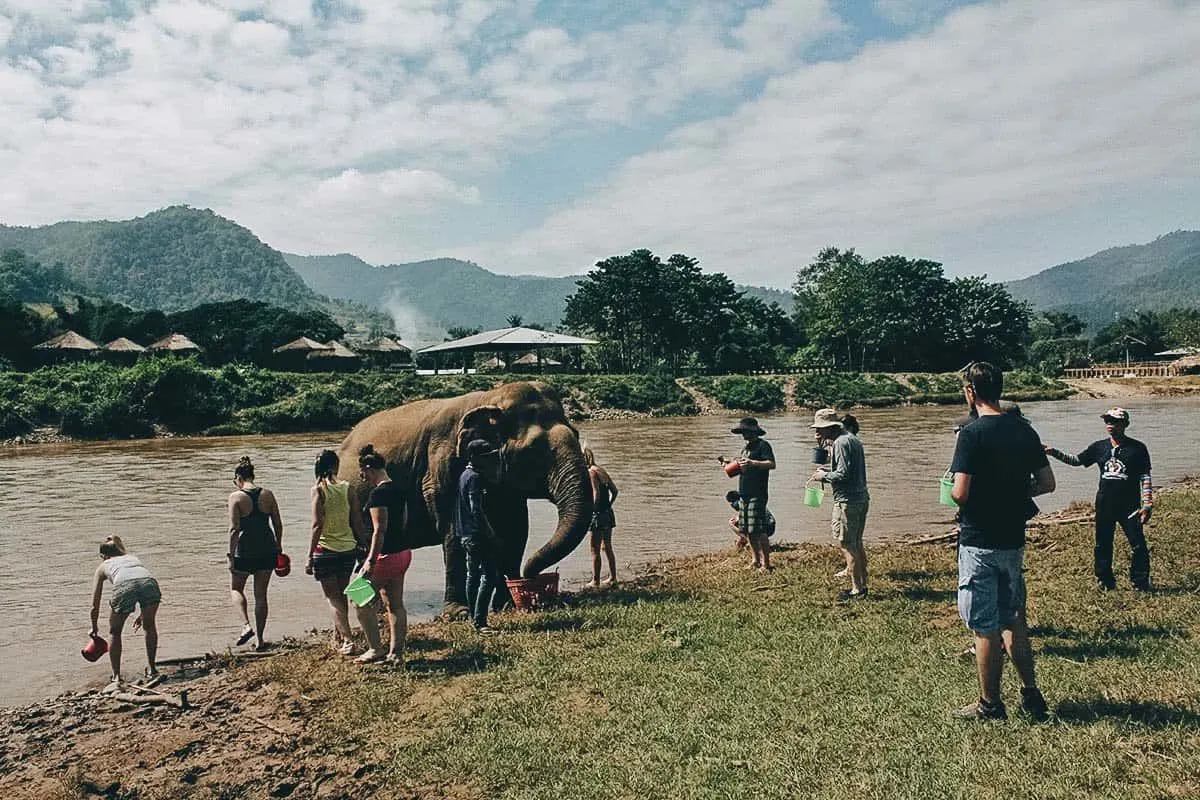 There's Ei in the pink shirt telling us to hurry. Because as soon as that basket of watermelon was gone, so was the elephant. Like a true nature reserve, the elephants at Elephant Nature Park do everything on their own terms. They're never forced or bullied into doing anything. ♥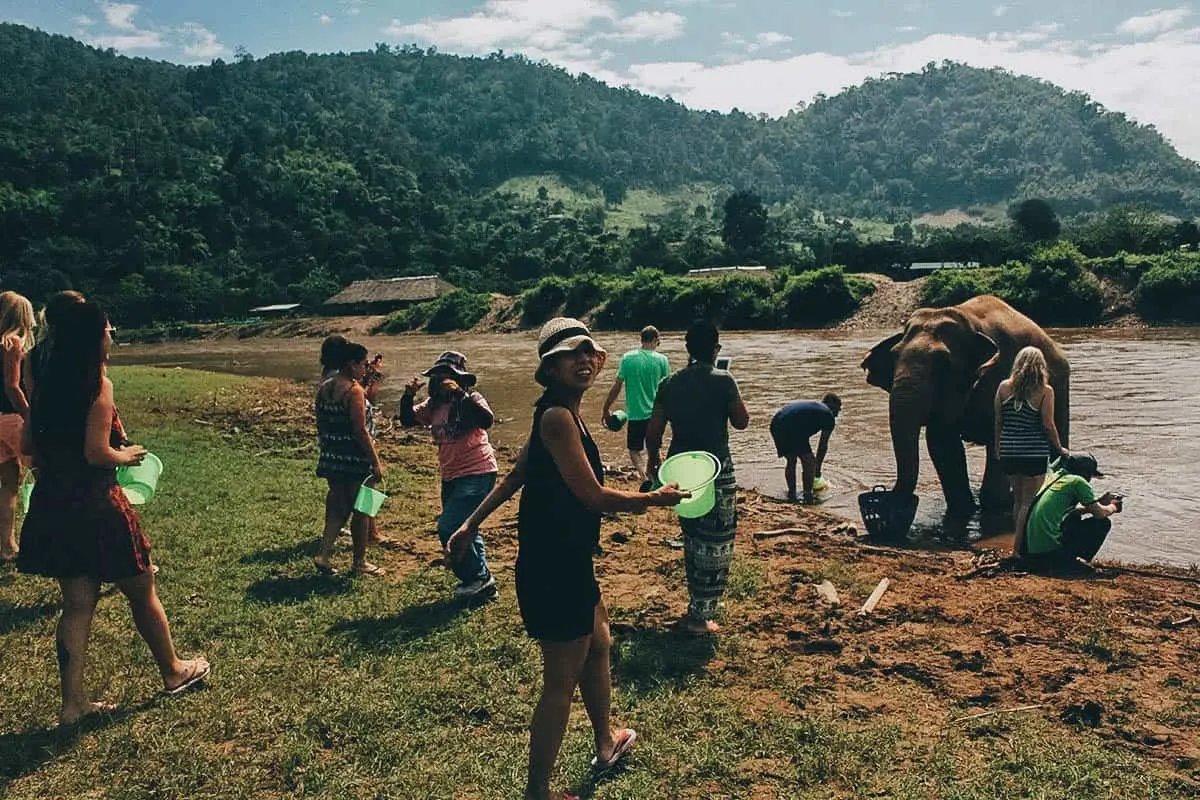 She let us pour buckets of water on her for about 15 minutes. Just as Ei said, she moved right along soon as that basket of watermelon was gone. Thanks for the snack hoomans.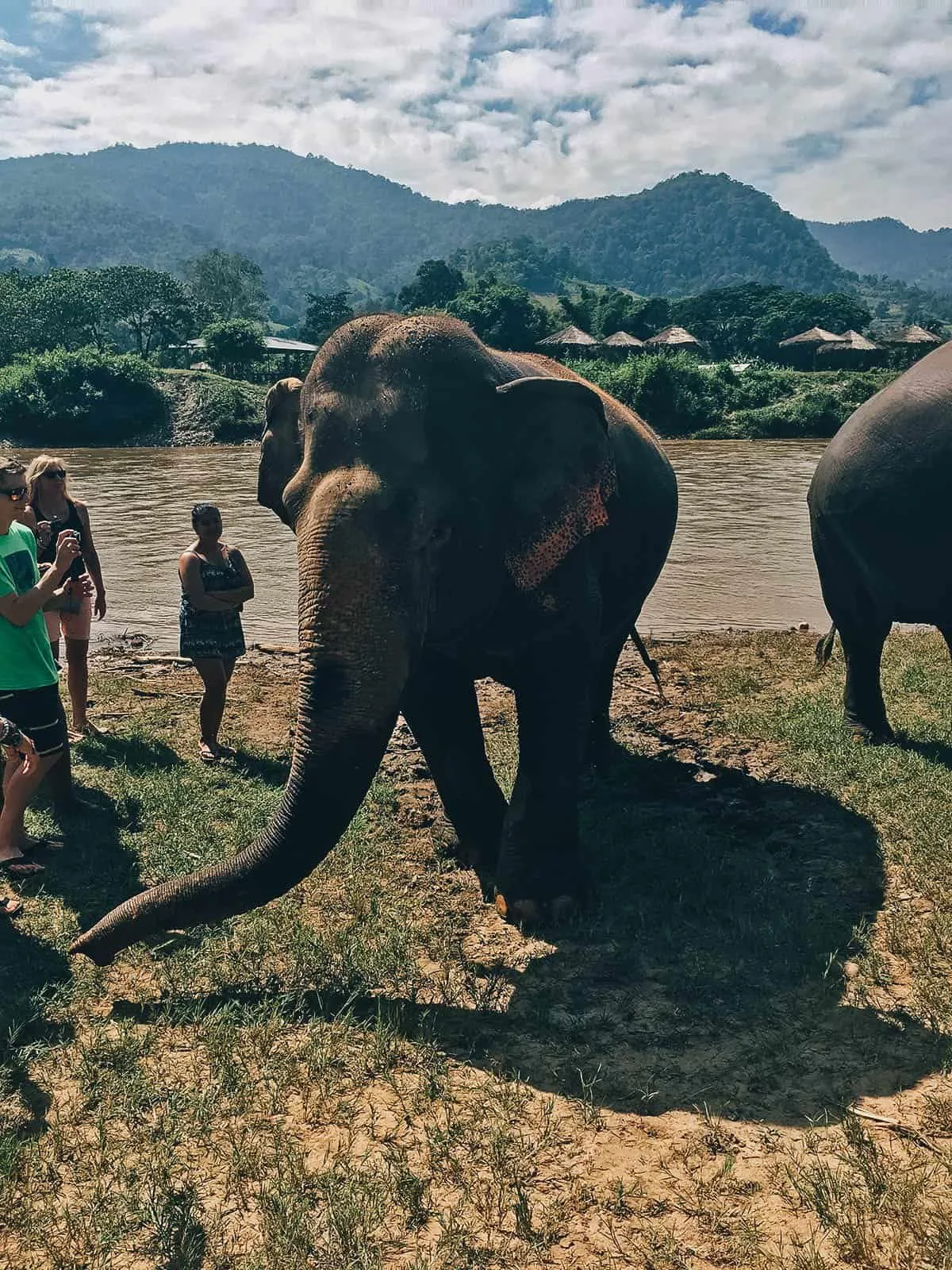 Such gentle beautiful creatures. When I was a kid, I never imagined that a world could exist without elephants, but that's the reality facing them today. At the turn of the 20th century, there were an estimated 100,000 Asian elephants in the wild. Today, that number has dwindled to less than 30,000. Among the greatest threats to Asian elephants are habitat loss and poaching.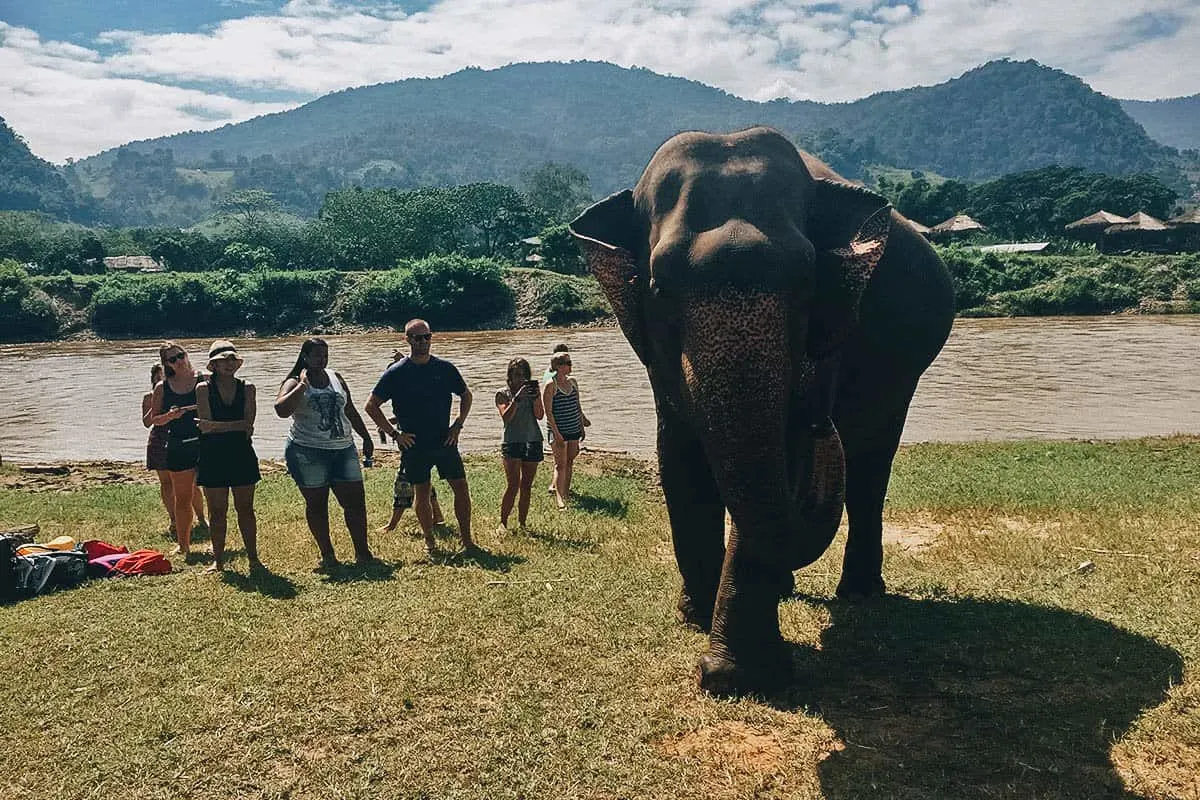 Are you a boy or a girl? Do you have one trunk or two? Unlike African elephants where both males and females grow tusks, only male Asian elephants sport the ivory.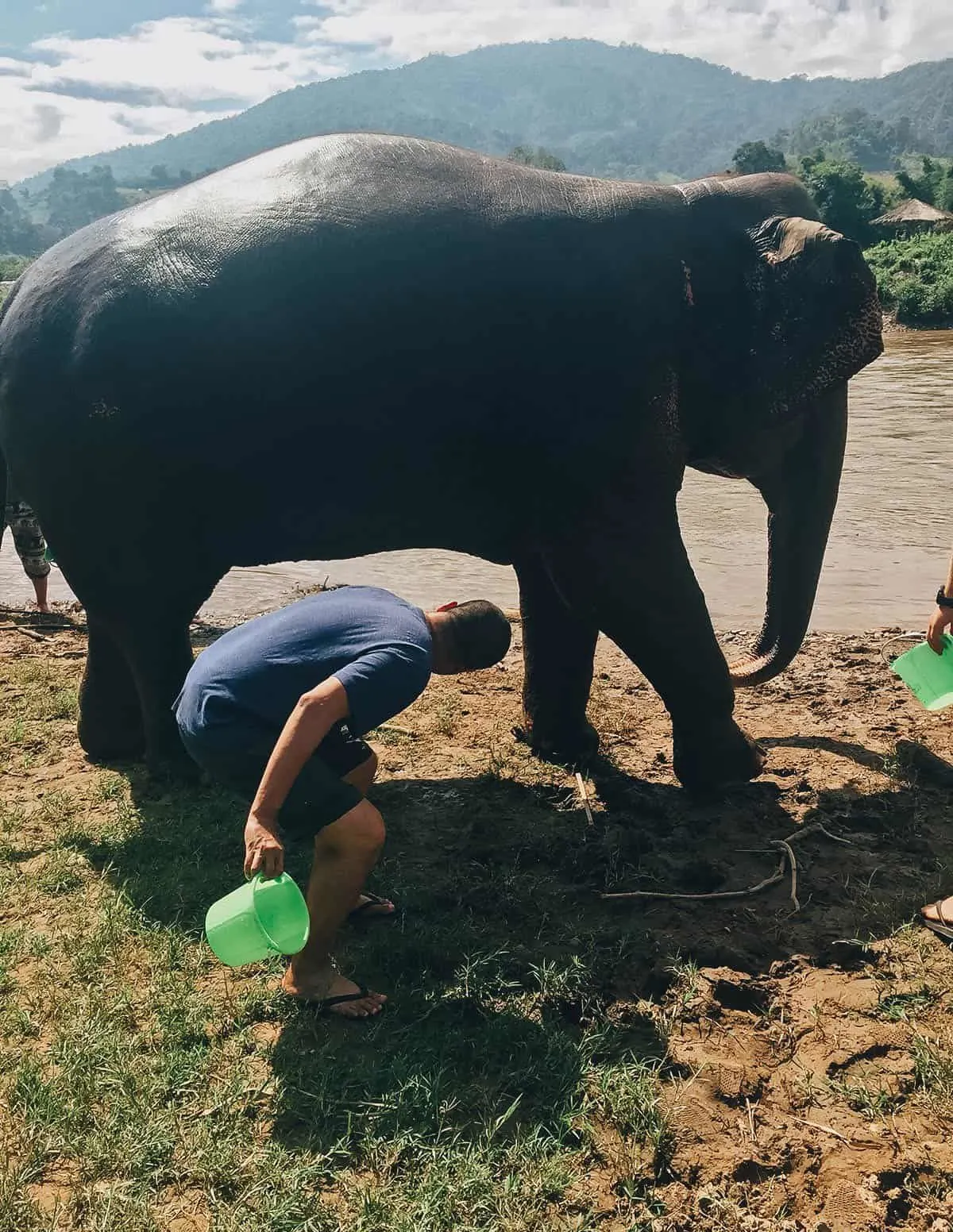 Elephant Meet & Greet
As much fun as it was feeding and bathing the elephants, my favorite part about the day's tour was listening to Ei describe the elephant's personalities.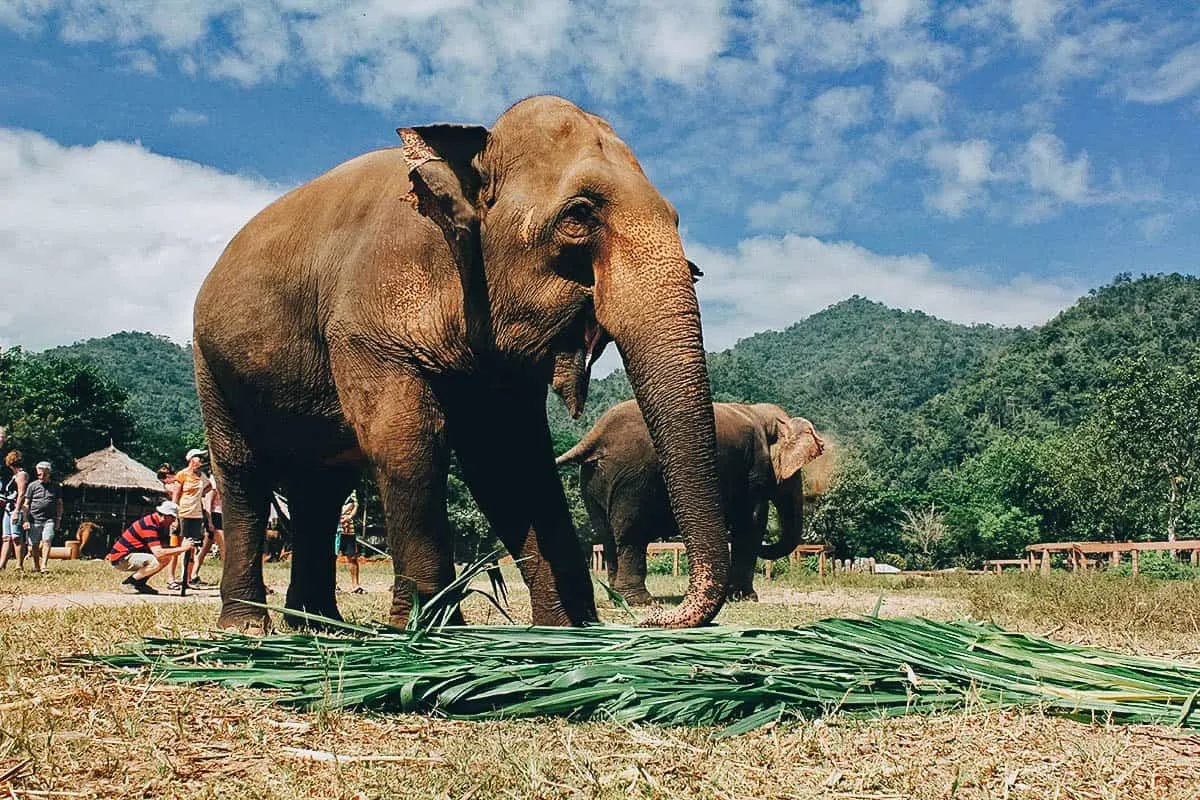 I can't remember her name but Ei described this female as a grumpy girl who doesn't let any other elephant near her, except for this one.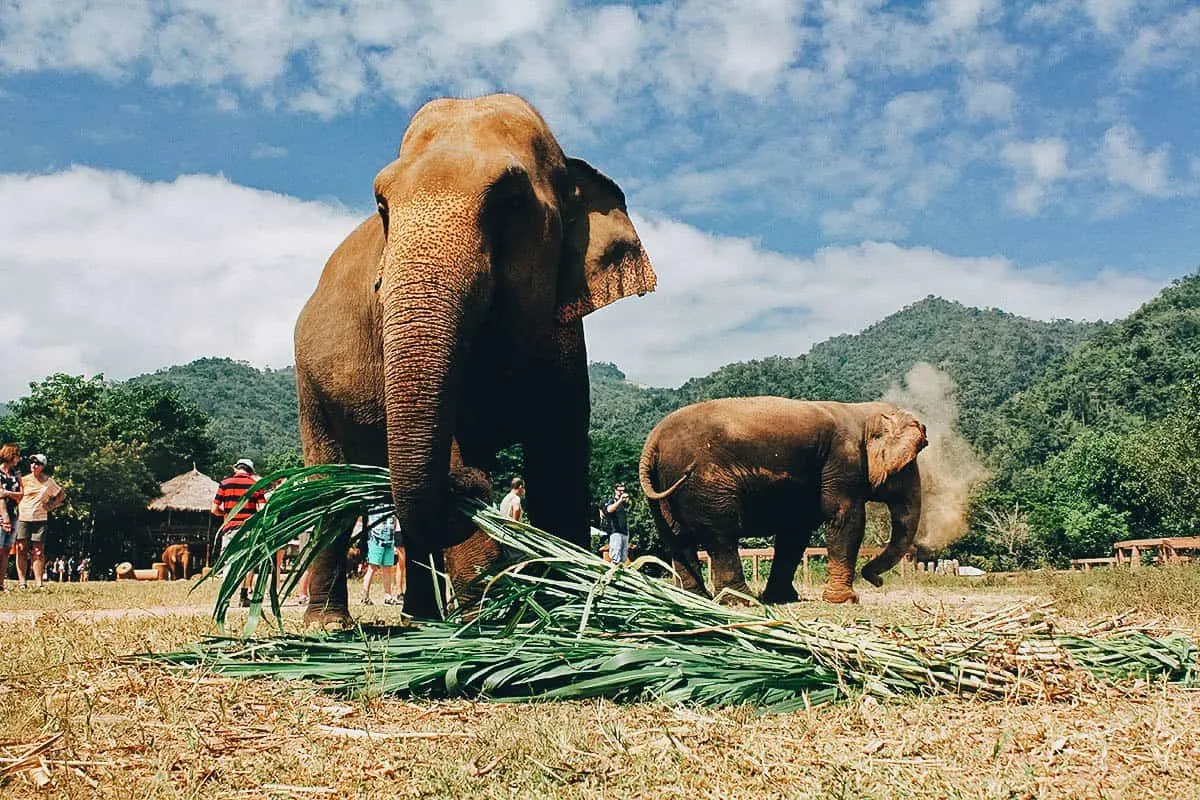 But Ei was quick to point out that even though this female tolerated the other's presence, they weren't friends because she refuses to share her food with her. And true enough, soon as the other elephant drew near, she started moving her stalks of bana grass away from her. 😆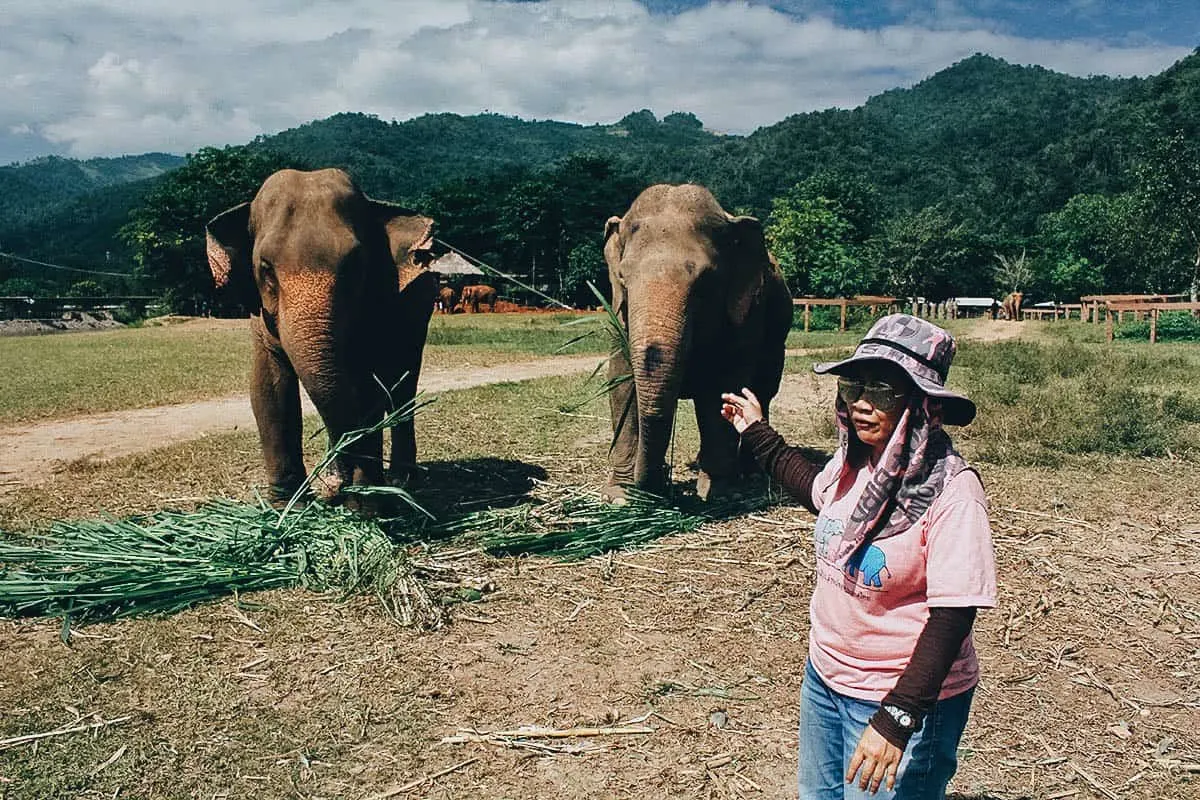 You can stand next to me, but don't you dare touch my food!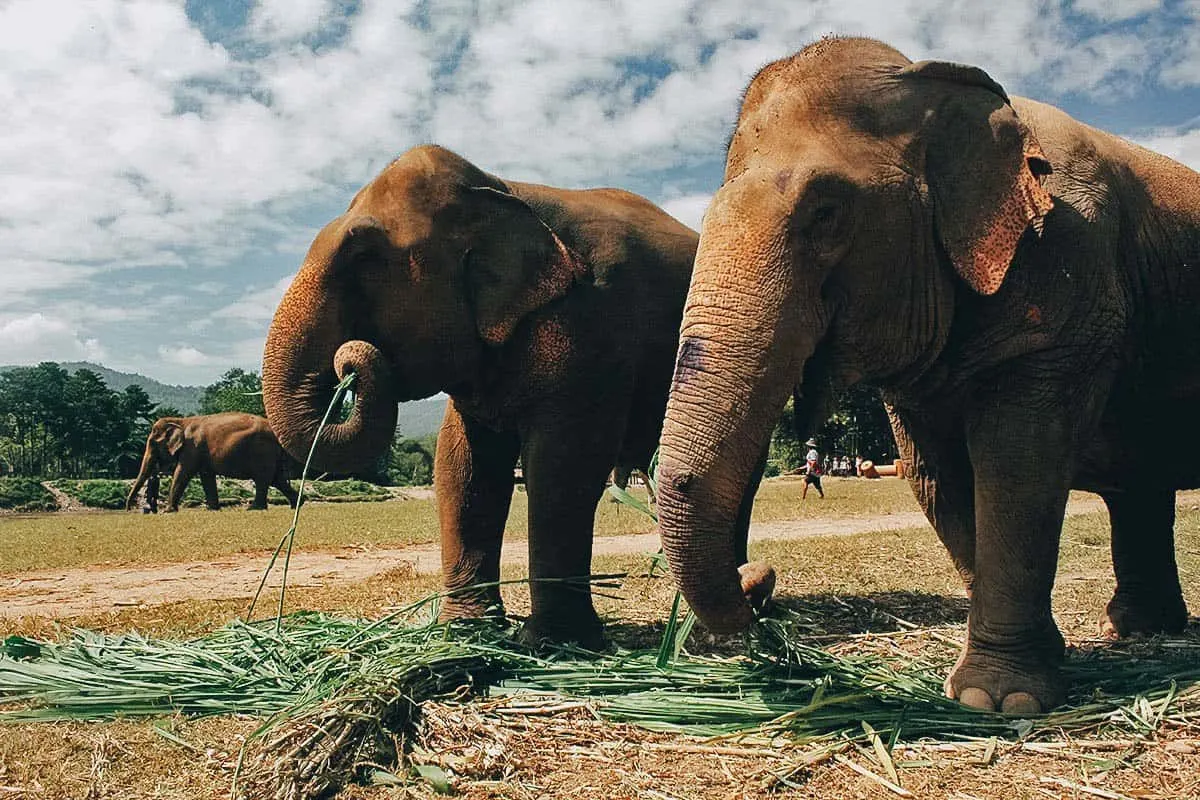 Elephant booty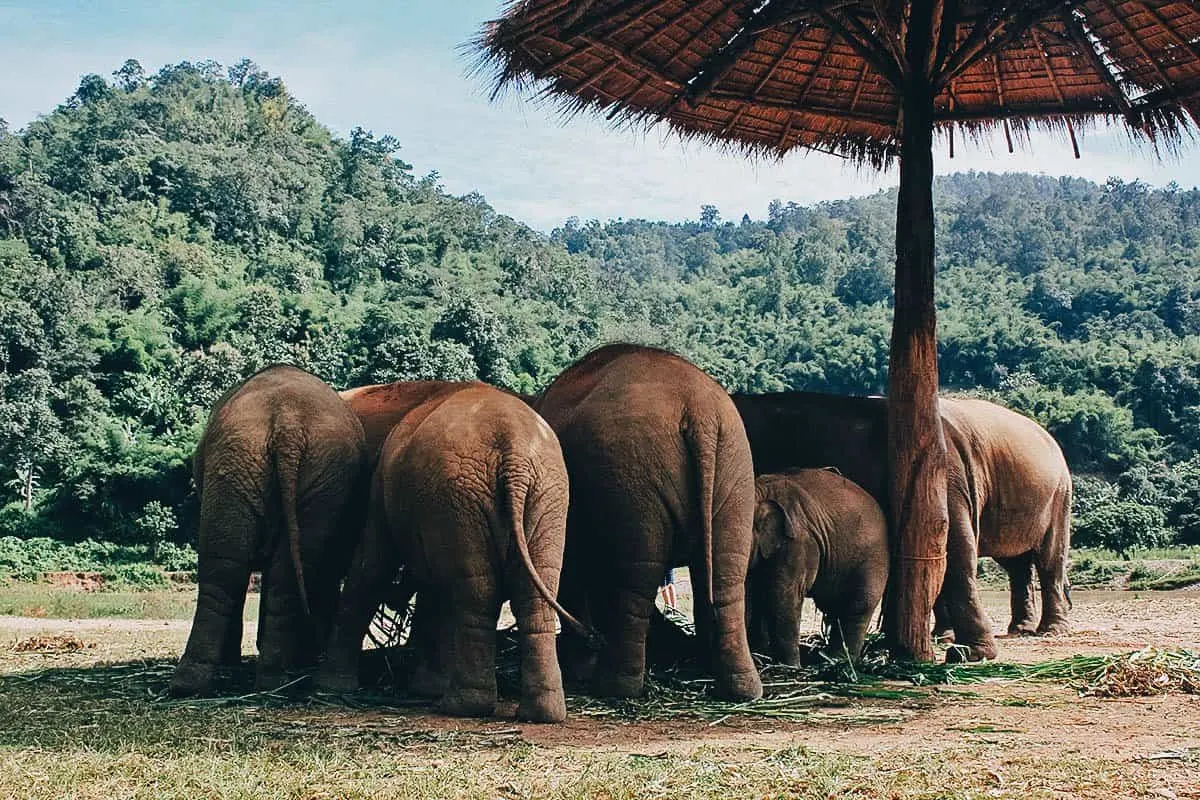 Check out this cute little guy! Some of the younger elephants here were rescued after being orphaned in the wild.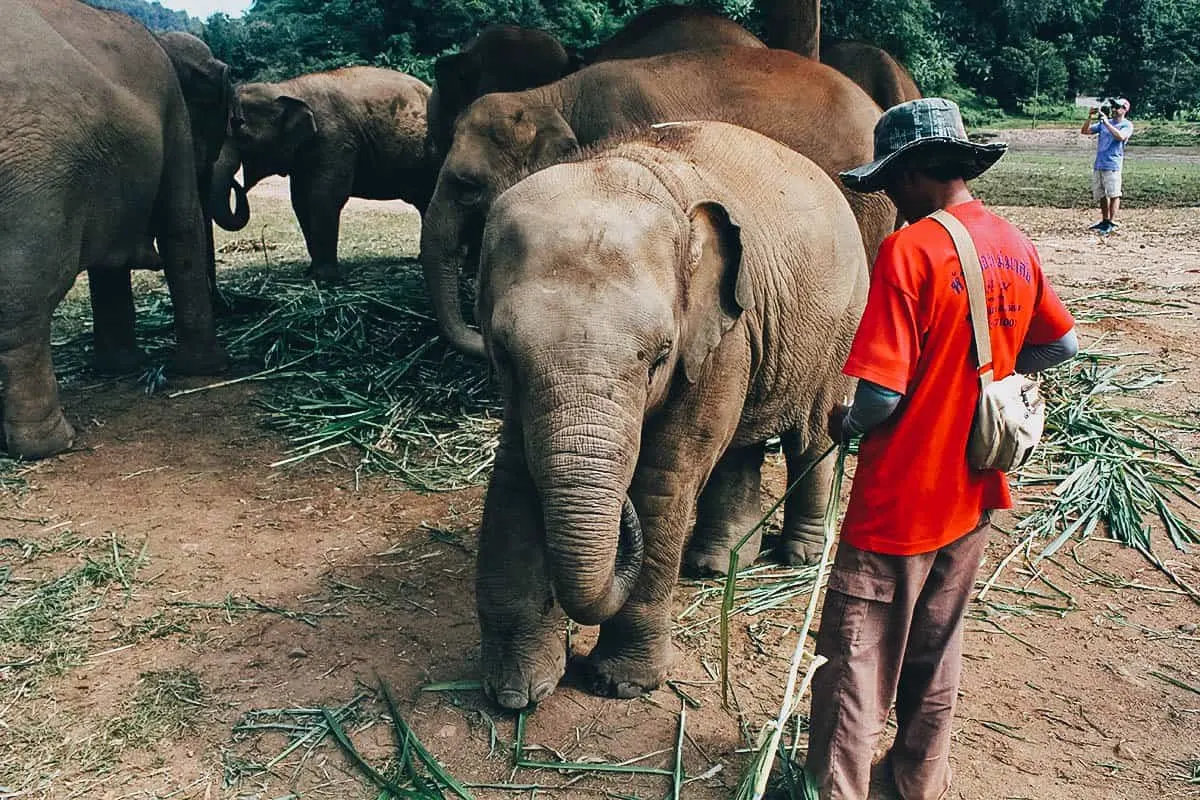 Want a snack little fella?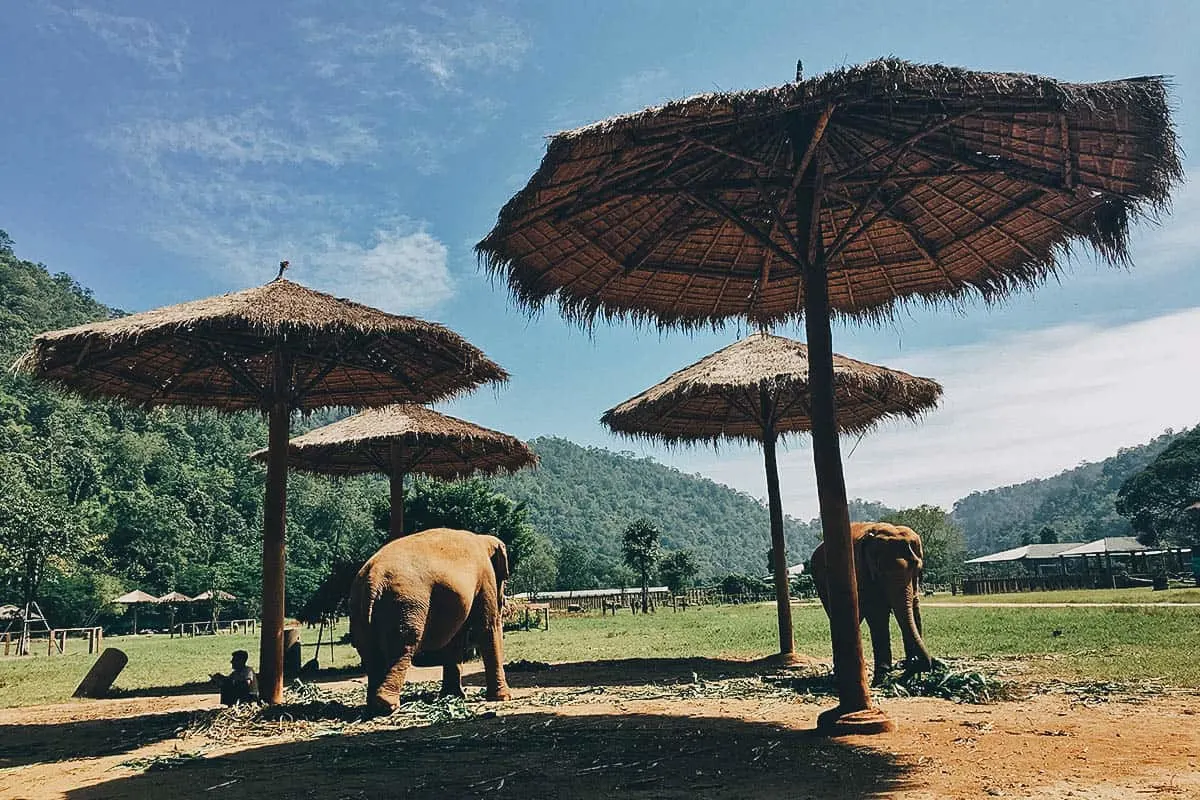 Female elephants or cows can be as tall as 2.3 meters (7.5 ft) and weigh between 2.3–4.5 tonnes. Males or bulls are even bigger. They can reach up to 2.7 meters (9 ft) in height and weigh up to 5 tonnes.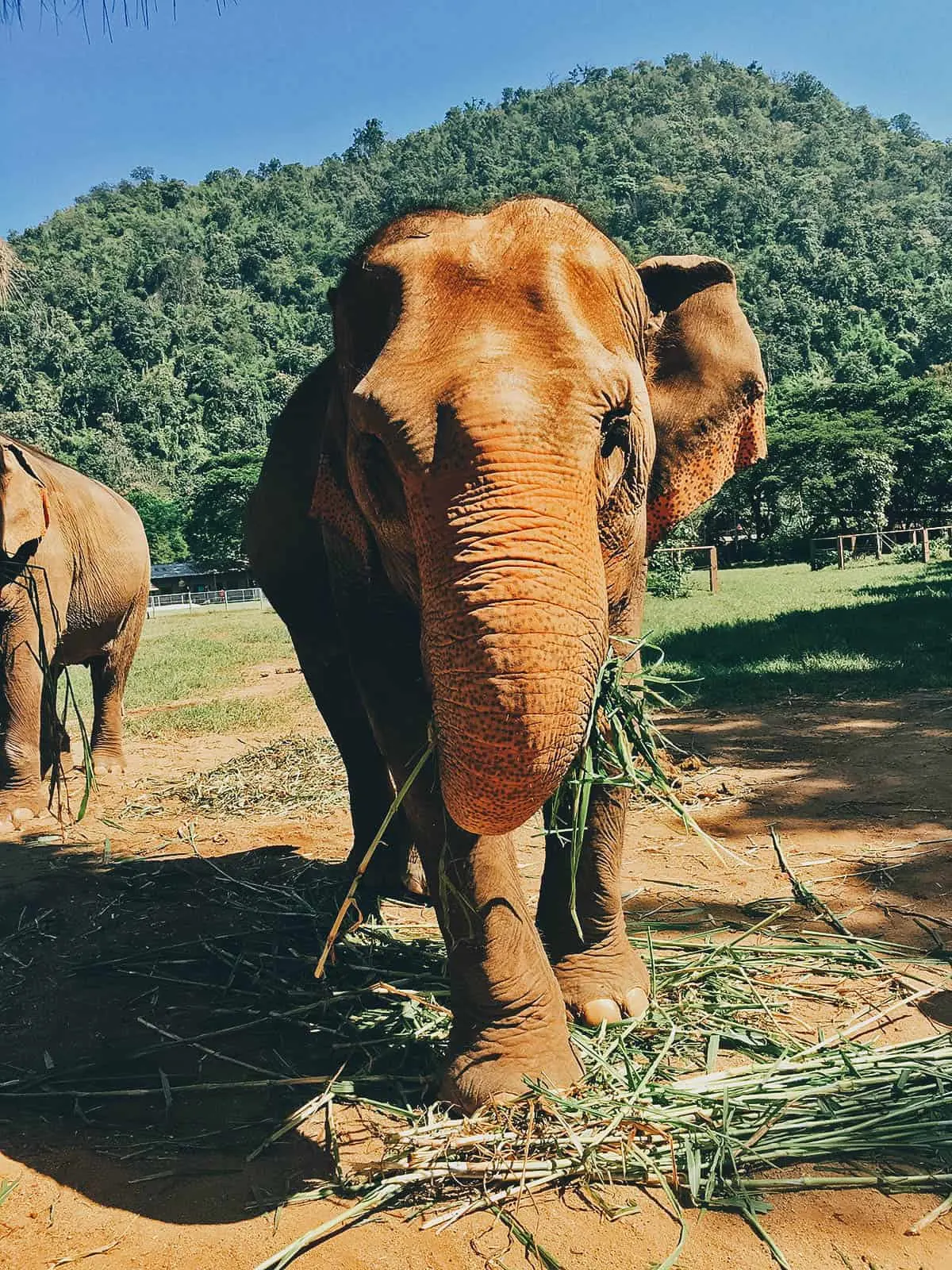 That little guy on the left was funny. You see his tusks starting to grow out? He thinks he's a big boy now so he would often separate from the herd to explore the park.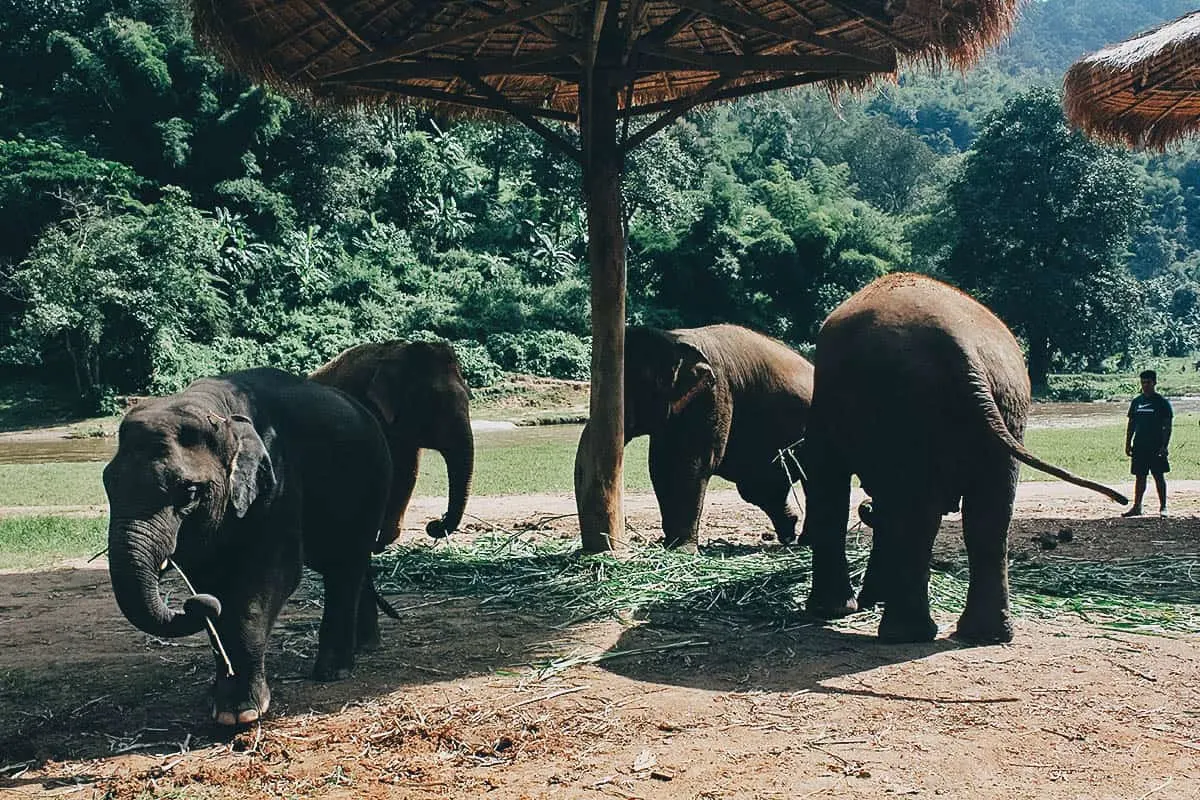 And there he goes. Ei says he fights with those tires everyday to show what a big bad boy he is now. But whenever he walks too far and gets into trouble, he starts crying and calling for his mum. 😆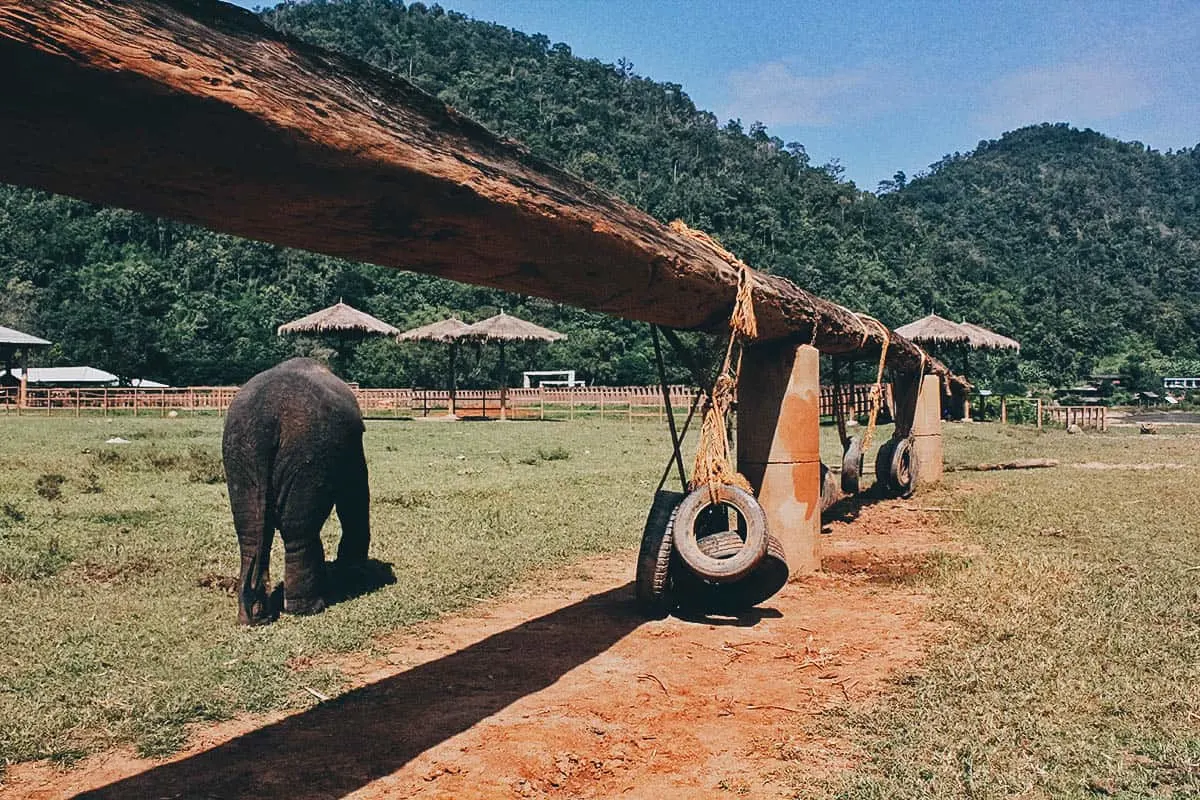 Here are two of the park's larger males. Elephants live in tight matriarchal herds led by the oldest and often largest female. Males typically leave the herd between the ages of 12-15. They often lead solitary lives or live temporarily with other males, which is probably why they've segregated these two. If I remember correctly, Ei described them as being very aggressive which is why this was as close as we were allowed to get.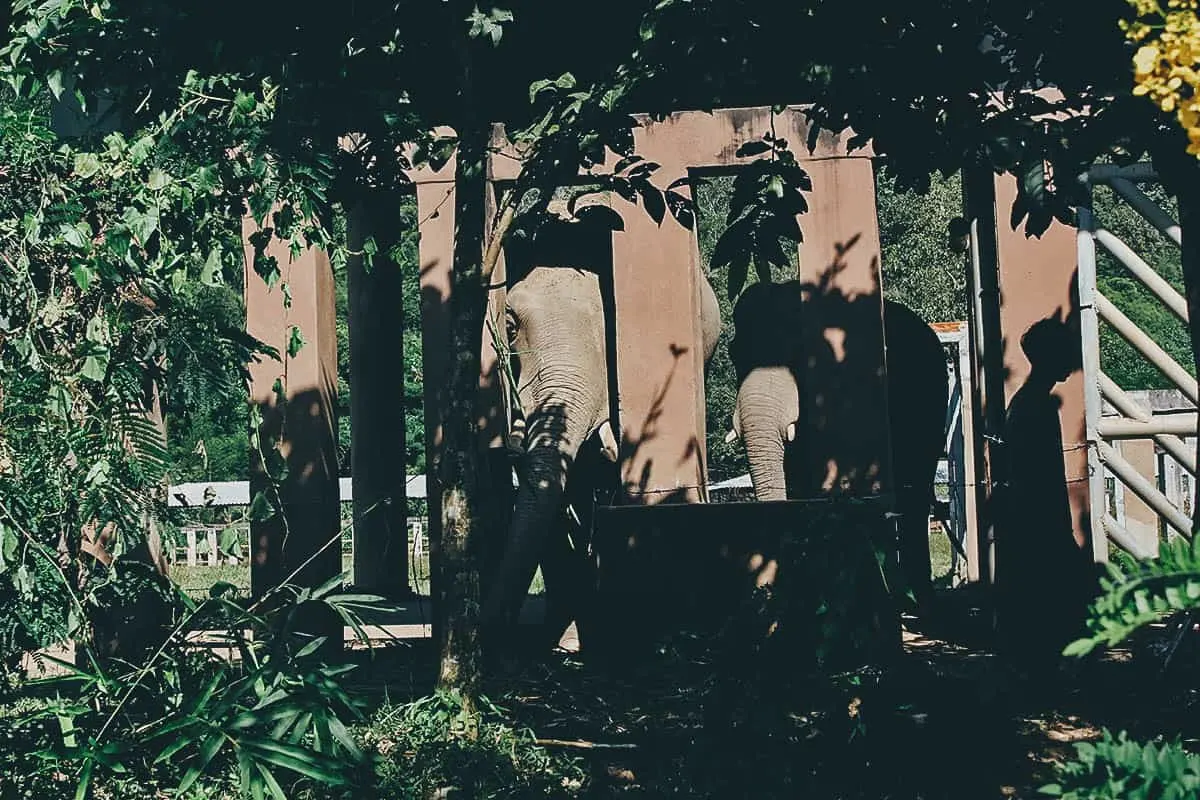 This was so sad. This female has a permanent limp from a broken leg suffered in a logging accident. Forced to haul timber, it isn't uncommon for elephants to slip and break their legs. Thank god this one was rescued by ENP. She's such a gentle girl too and one of the few we were allowed to pet today.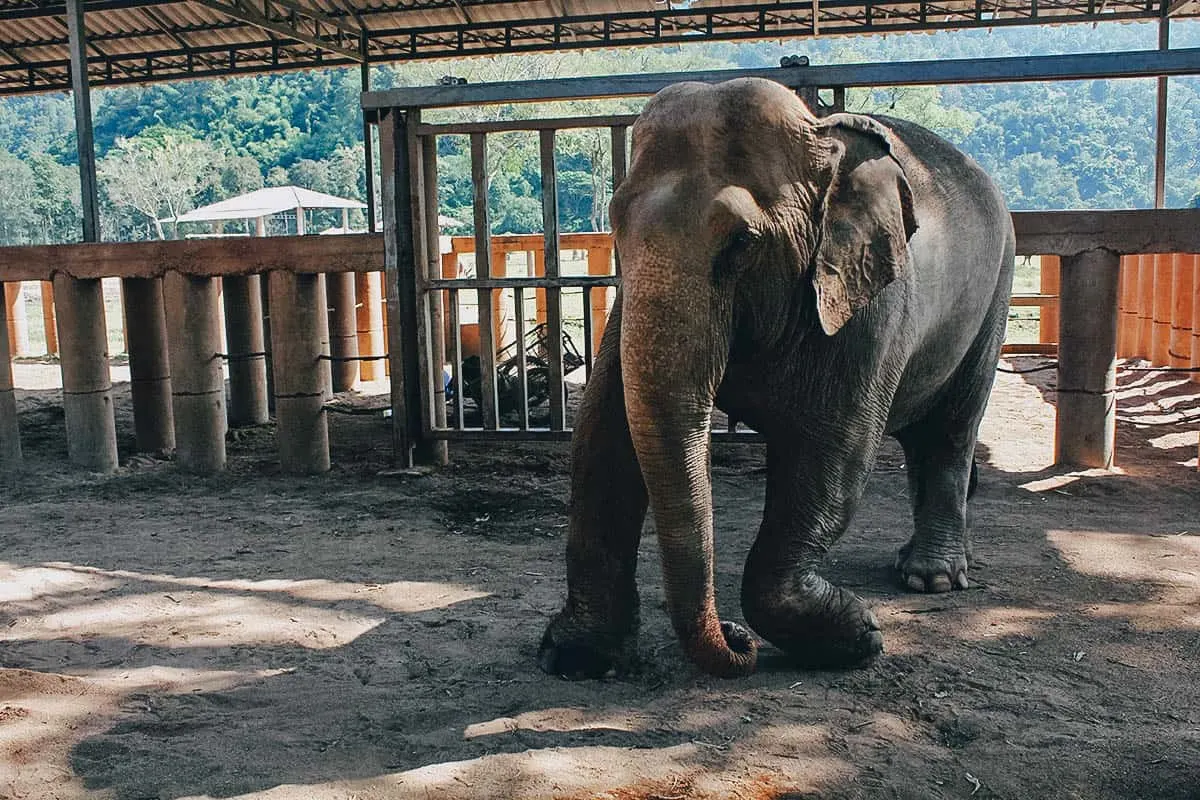 Can you guess what these are? They're elephant teeth.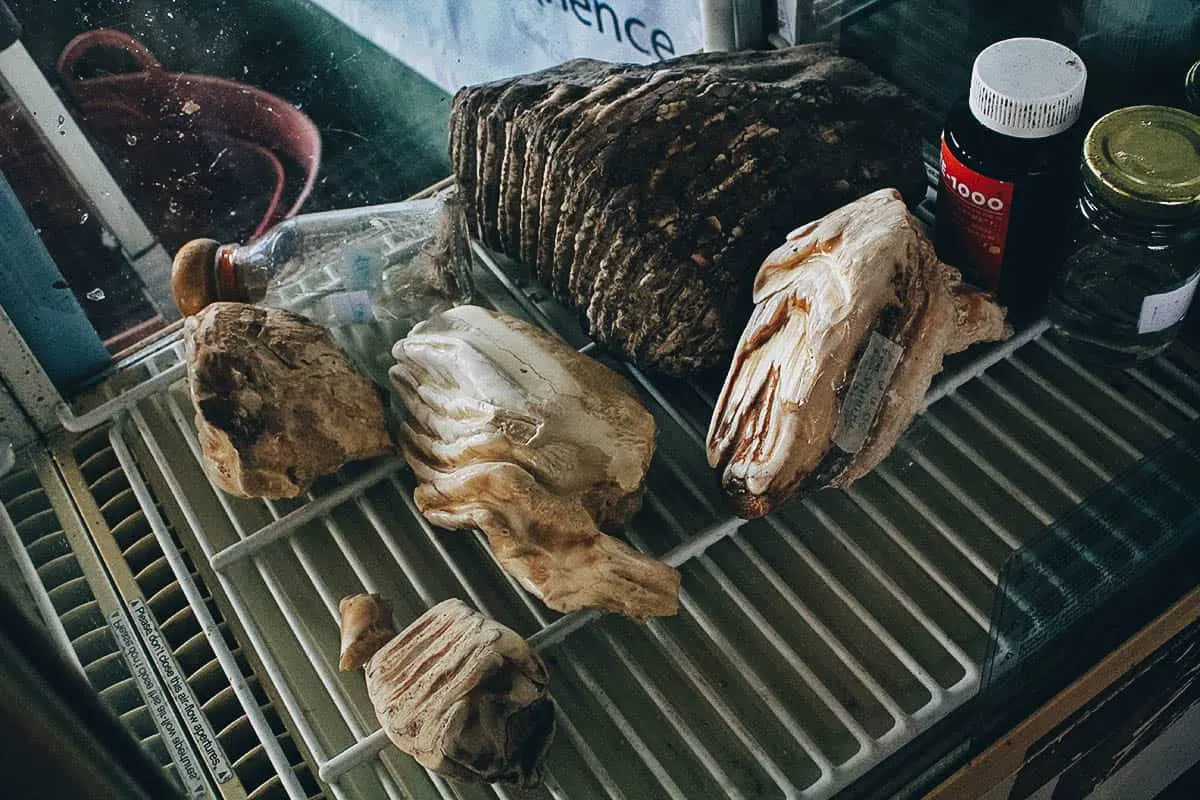 Other Rescue Animals
As described, Elephant Nature Park isn't just a rescue center for pachyderms. There are plenty of rescue buffalos and dogs here as well.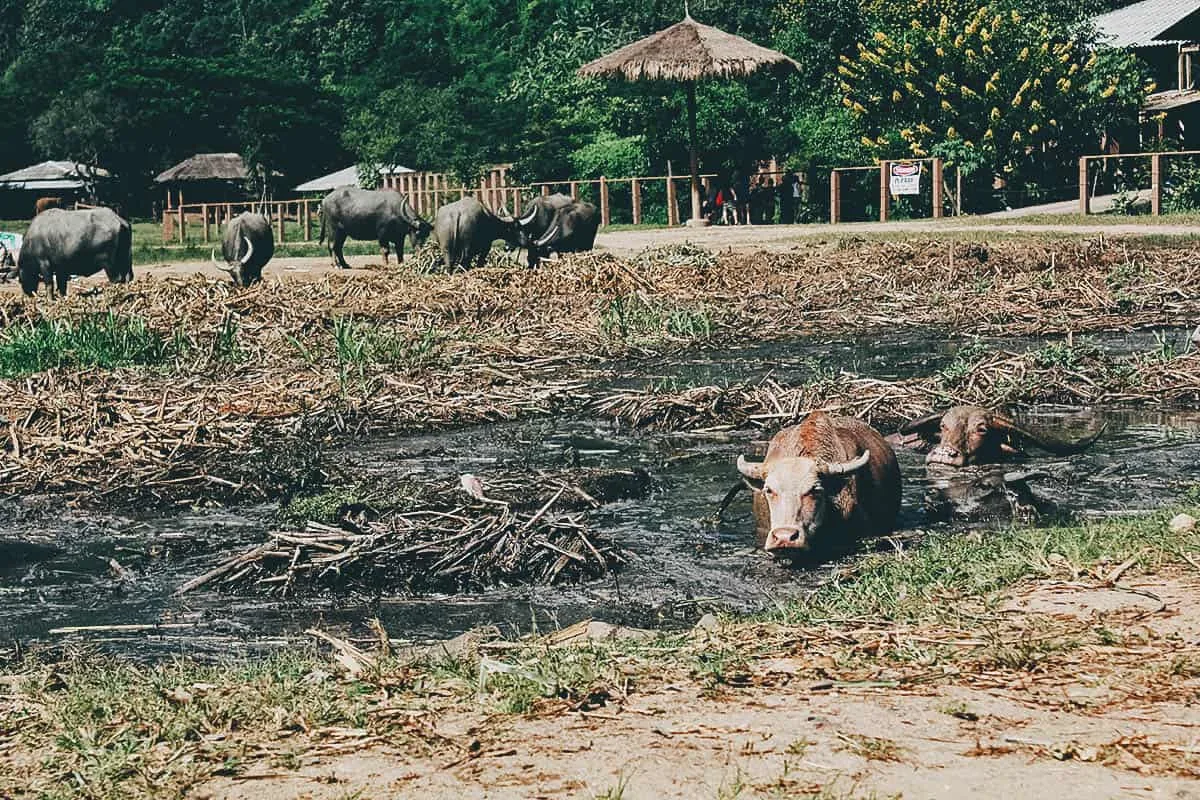 One of the many rescue dogs allowed to freely roam the park. Most of the 350+ dogs at ENP were rescued from the Bangkok floods in 2011. As far as I know, every single dog here is available for adoption. They all looked so healthy and happy. A true haven for animals indeed! ♥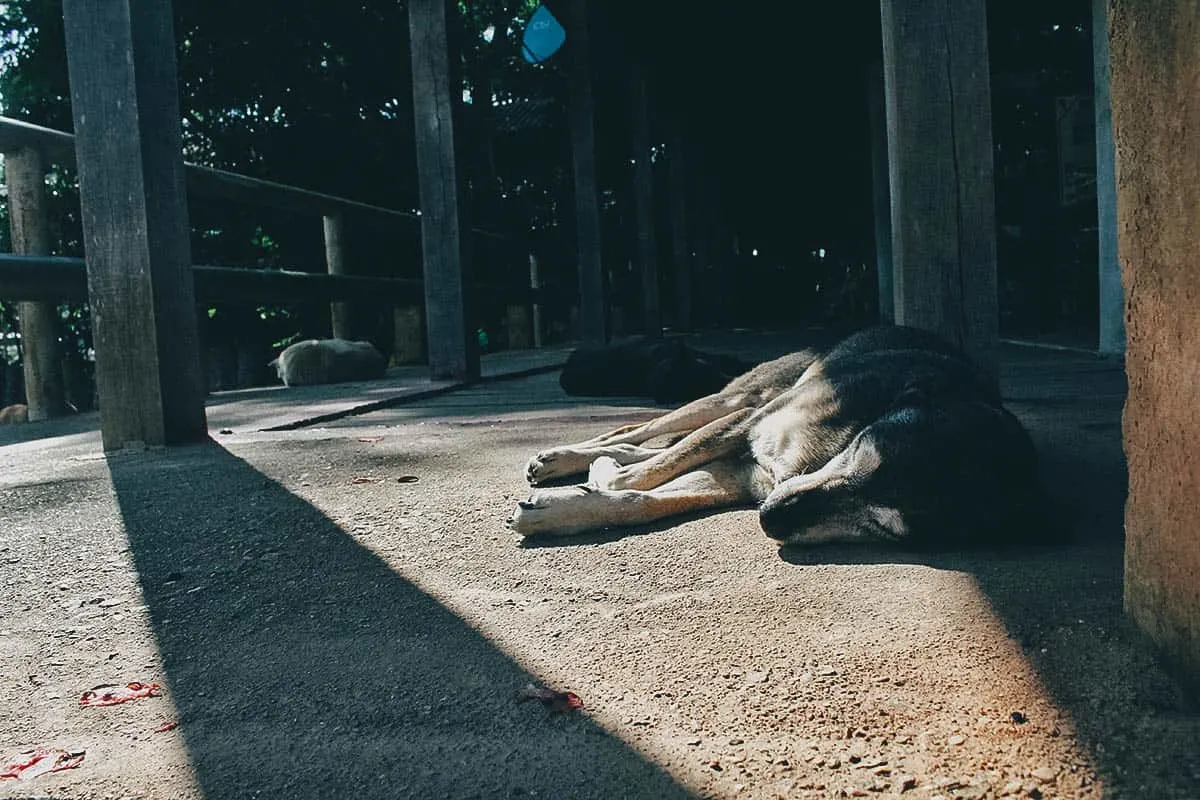 ARE ALL ELEPHANT "SANCTUARIES" IN CHIANG MAI LEGITIMATE?
A week before arriving in Chiang Mai, we met a local in Bangkok who works as an animal behaviorist. We asked for her thoughts on Elephant Nature Park and I was surprised when she was less than gushing in her opinion. Everything I had read seemed to indicate that ENP was THE elephant sanctuary in Chiang Mai. I was expecting her to say: "Yes, that place is the best!", but her lukewarm reaction made me second guess myself. Did I just fall for the hype? Did I make the wrong decision?
Thankfully, my doubts were quelled after spending the day at Elephant Nature Park. This truly is a wonderful reserve and rescue center that genuinely cares for the well-being of these animals. You feel it from the staff members. The way they describe the animals so fondly, it's like they're talking about members of their own family. You hear it from the long-term volunteers who've gone behind the scenes and worked with these animals first-hand. And most convincing of all, you feel it from the animals themselves. I'm no animal behaviorist but I can see just how well cared for the animals here seem to be.
To be clear, that local never spoke ill of Elephant Nature Park. Her reservations seemed to be with its founder, Lek Chailert. She claimed that Lek has been known to describe ENP as the only true elephant sanctuary in Chiang Mai, that all others are fake or don't care for their animals as well as she does. That may or may not be true. It's only natural for Lek to believe that ENP is the best, but I'd like to think that there are others here like her, animal lovers who have nothing but the best intentions for these elephants. In order for this species to survive, there have to be.
In any case, there's no doubting the existence of dodgy "sanctuaries" in Chiang Mai. I've read about them, places that pose as sanctuaries but still engage in cruel practices like elephant painting or using bull hooks. In fact, on our way to Elephant Nature Park, we passed a few elephants with people riding on their backs. If you're considering other sanctuaries other than ENP, then be sure to read enough reviews because you don't want to wind up at one of those places.
CONCLUSION
The day we spent at Elephant Nature Park was one of the highlights from our two-week trip to Thailand. A few places we visited didn't live up to our expectations but Elephant Nature Park exceeded them.
It's crazy to think that elephants could be gone within our lifetime. I've lost faith in most zoos so we were abundantly grateful for the opportunity to interact with these beautiful sentient beings in this environment, so closely and without cruelty. As heartbreaking as it was to hear about their past, it was comforting to know that they can now live the rest of their lives in peace after suffering a lifetime of abuse.
Thank god for people like Lek Chailert. Aside from rescuing and caring for these animals, she brings much needed awareness to the public about the plight of elephants. Because only with education can we ever hope to save them.
If you love animals, then a visit to a place like Elephant Nature Park is a must in Chiang Mai.
Elephant Nature Park
1 Ratmakka Road, Phra Sing, Chiang Mai 50200, Thailand (office)
Tel: +66 (0) 53 272 855, +66 (0) 53 818 932
Website: elephantnaturepark.org
Facebook: ElephantNaturePark
Twitter: ElephantNatureP
Instagram: elephantnaturepark
Pinterest: elephantnaturep
Youtube: elephantnews
Operating Hours: 7AM-5PM, daily (office)
For more Chiang Mai travel tips, check out our First-Timer's Travel Guide to Chiang Mai, Thailand