Ren and I fly for food so we aren't as taken by temples, churches, and palaces as other people. We can appreciate them when we travel but we don't have a desire to see every single one. Temple fatigue sets in, and after the first few, they start to look and feel a little "same same".
Not so with Wat Phra That Doi Suthep.
You'd think they'd all look the same to me after two weeks of temple hopping in Thailand, but Wat Phra That Doi Suthep, which I visited on our last day in Chiang Mai, still managed to stand out. In fact, I liked it even more than the spectacular Wat Rong Khun in Chiang Rai. It may not be as unique as the White Temple or as grand as Wat Pho in Bangkok, but for me, it was the most beautiful. It's a striking temple and my favorite thus far in Thailand.
Save This on Pinterest!
No time to read this now? Click on the red save button and pin it for later!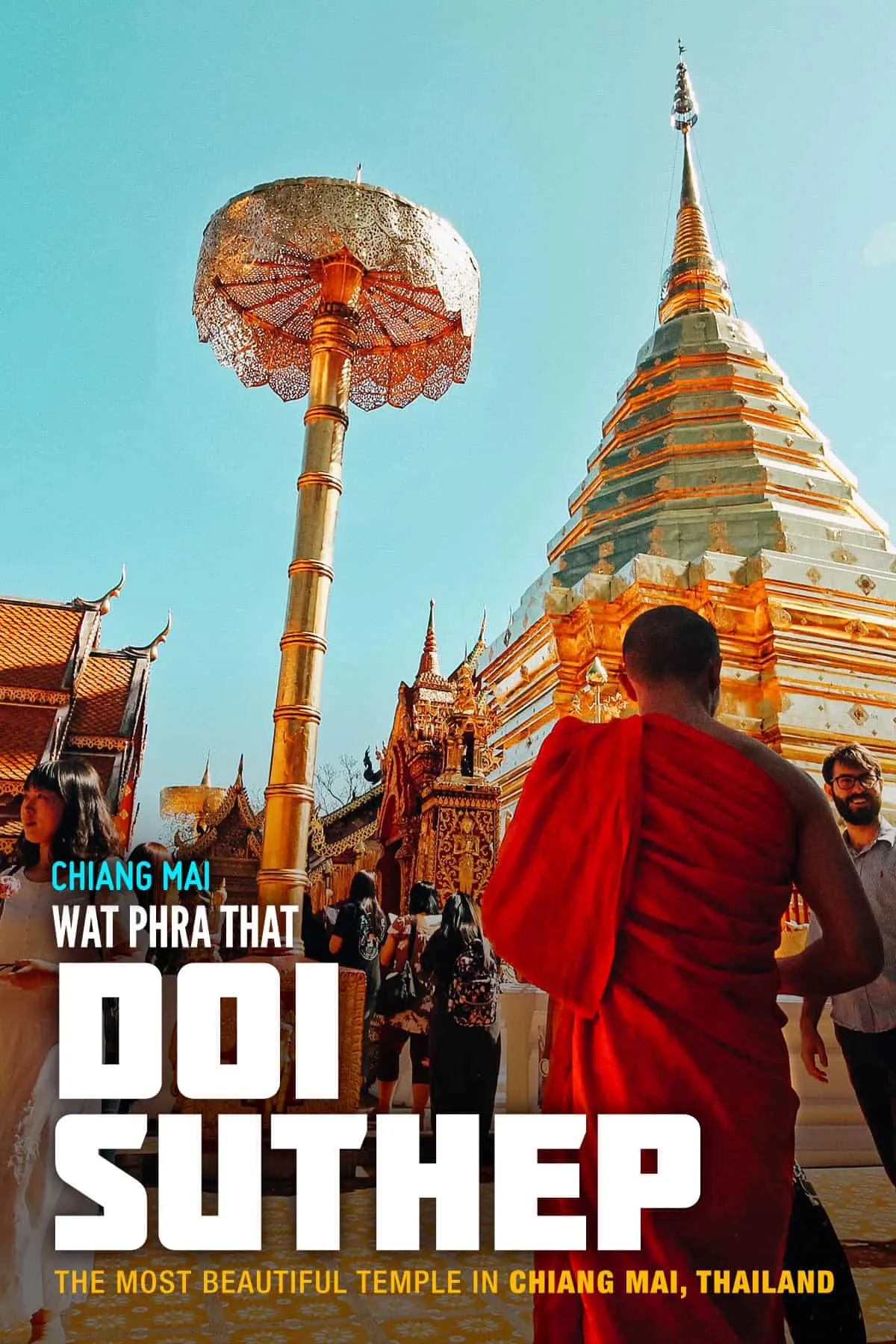 The Legend of the White Elephant
There's an interesting story as to how this temple came to be. According to legend, a monk named Sumanathera was told in a dream to go to Pang Cha and look for some type of relic. He did, and he found a bone which displayed magical powers. It glowed, it had the power to vanish, and it could move and replicate itself. As a result, many were led to believe it was Gautama Buddha's shoulder bone.
Sumanathera took the relic to King Dhammaraja of Sukhothai. However, the relic displayed no magical powers in his presence so the king became doubtful of its authenticity. He lost interest in the relic and told Sumanathera to keep it.
King Nu Naone of Lan Na heard of the relic and asked Sumanathera to bring it to him in Nortehrn Thailand. Once there, the relic broke into two pieces. The smaller piece was enshrined at a temple in Suandok, while the larger piece was placed by the king on the back of a white elephant which was then released into the jungle. The elephant climbed up Doi Suthep where it stopped, trumpeted three times, before dropping dead.
This was interpreted as an omen so King Nu Naone ordered the immediate construction of a temple at the site of the elephant's death. Wat Phra That Doi Suthep is that temple.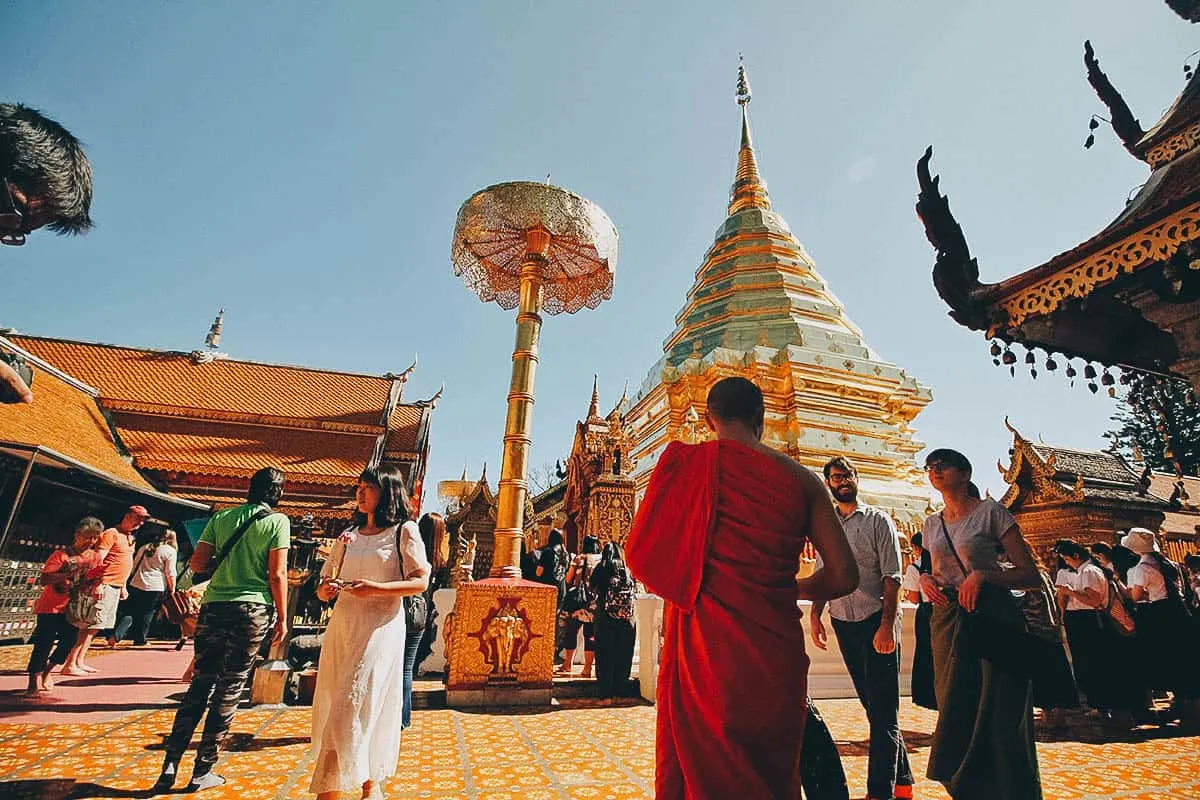 Isn't it stunning? Seeing all that shimmering gold against a clear blue sky was breathtaking. I was so taken by the golden chedi I let out an involuntary "whoa!" when I first saw it.
To clarify, people often call this temple "Doi Suthep", but that term actually refers to the mountain it's on. The true name of the temple is Wat Phra That Doi Suthep. Mysticism and legend aside, the temple is believed to have been founded in 1383 when the first stupa was built.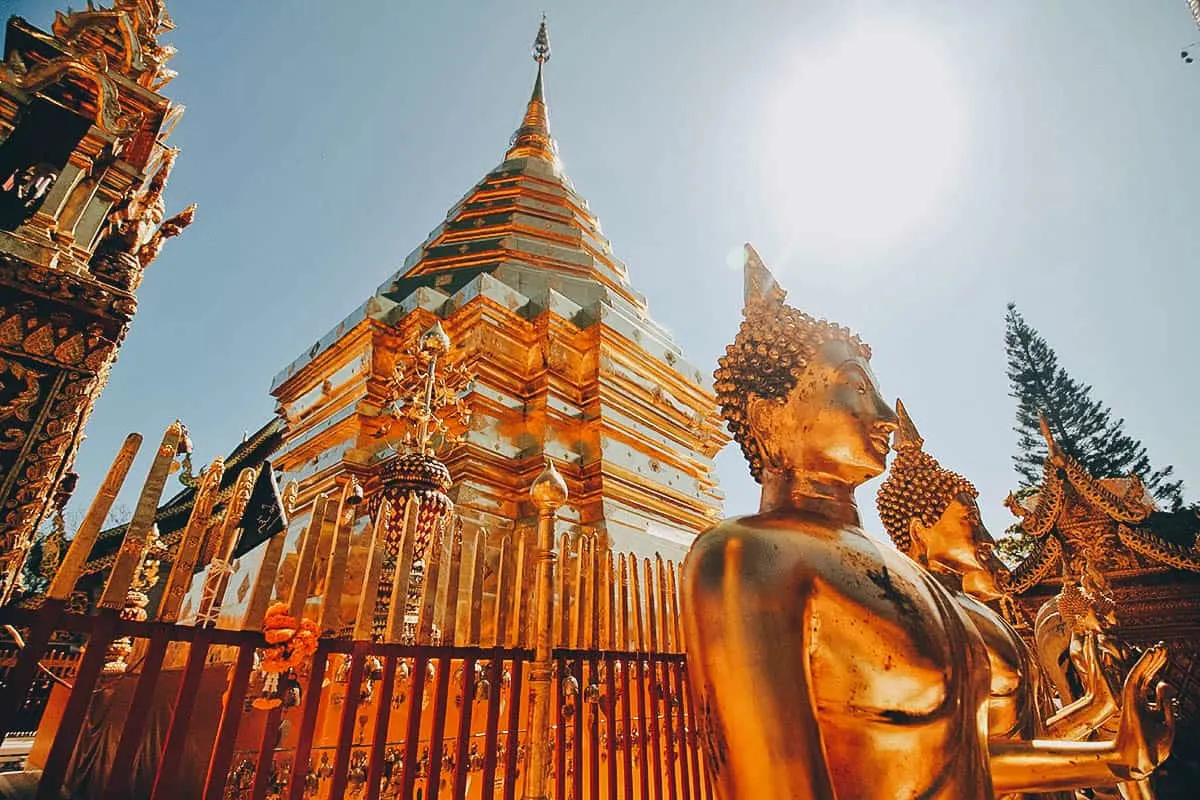 Circling the chedi or stupa is this path where worshippers would walk whilst chanting prayers. I read up on it and the path surrounding a chedi is called a Pradakshina path, with Pradakhshina meaning "circumambulation". Devotees would circle the chedi in a clockwise direction because it's believed that doing so would "produce good fortune by imitating the auspicious journey of the sun."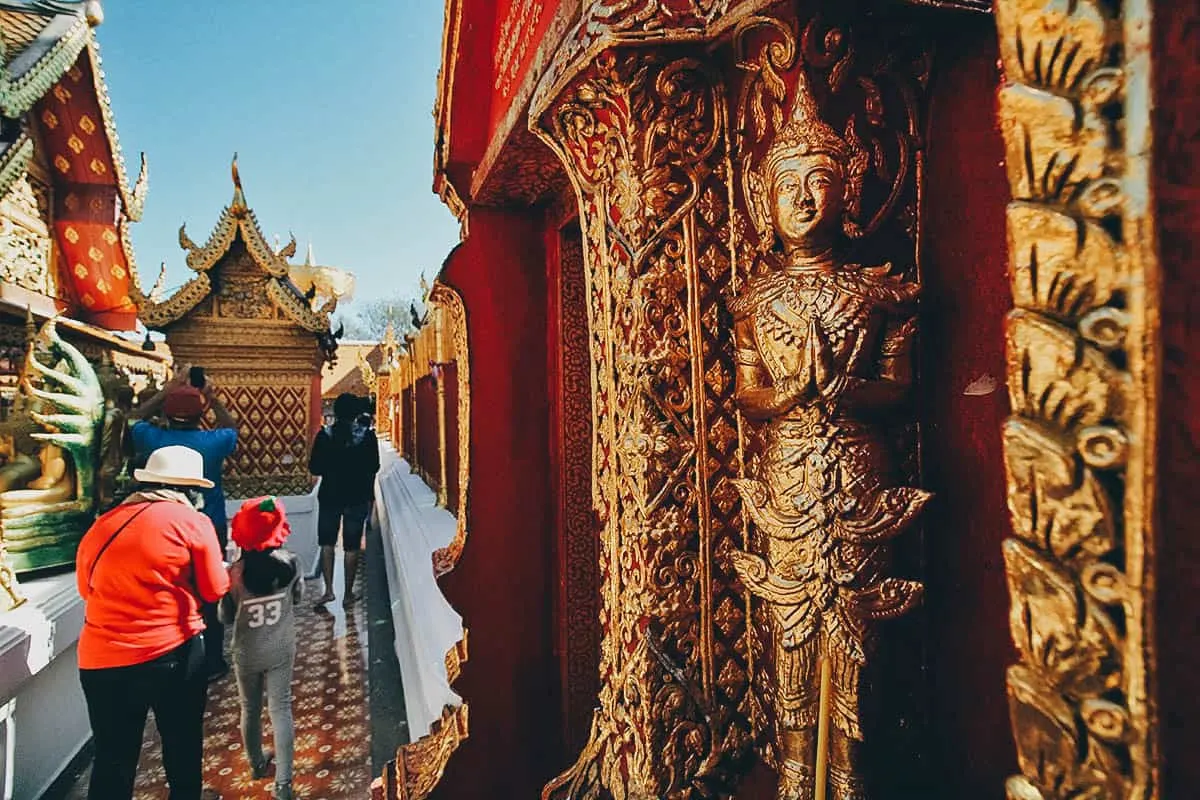 At the four corners of the chedi are these parasol-like structures called chatras. They're a Buddhist symbol of protection.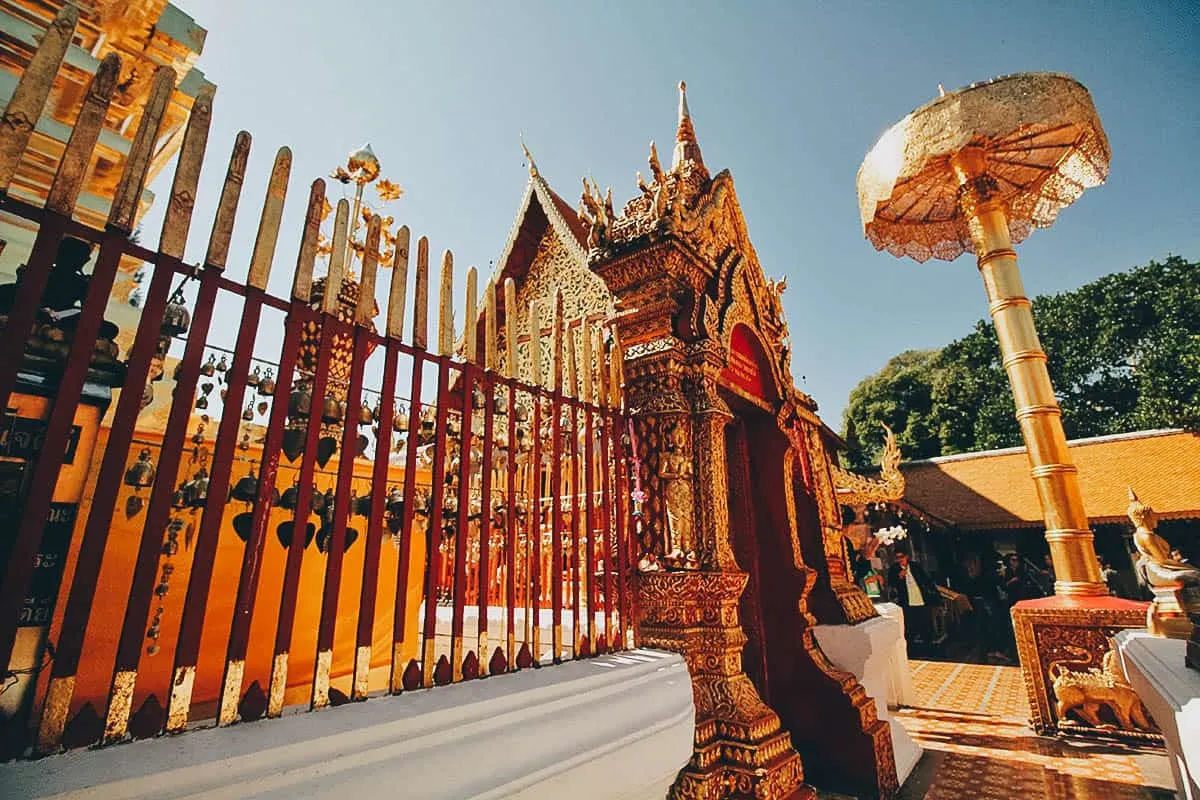 Admission to the temple is THB 50, which includes roundtrip transportation on the funicular. If you're in the mood to walk up the 300+ steps of the Naga Serpent Staircase, then you'll only need to pay THB 30.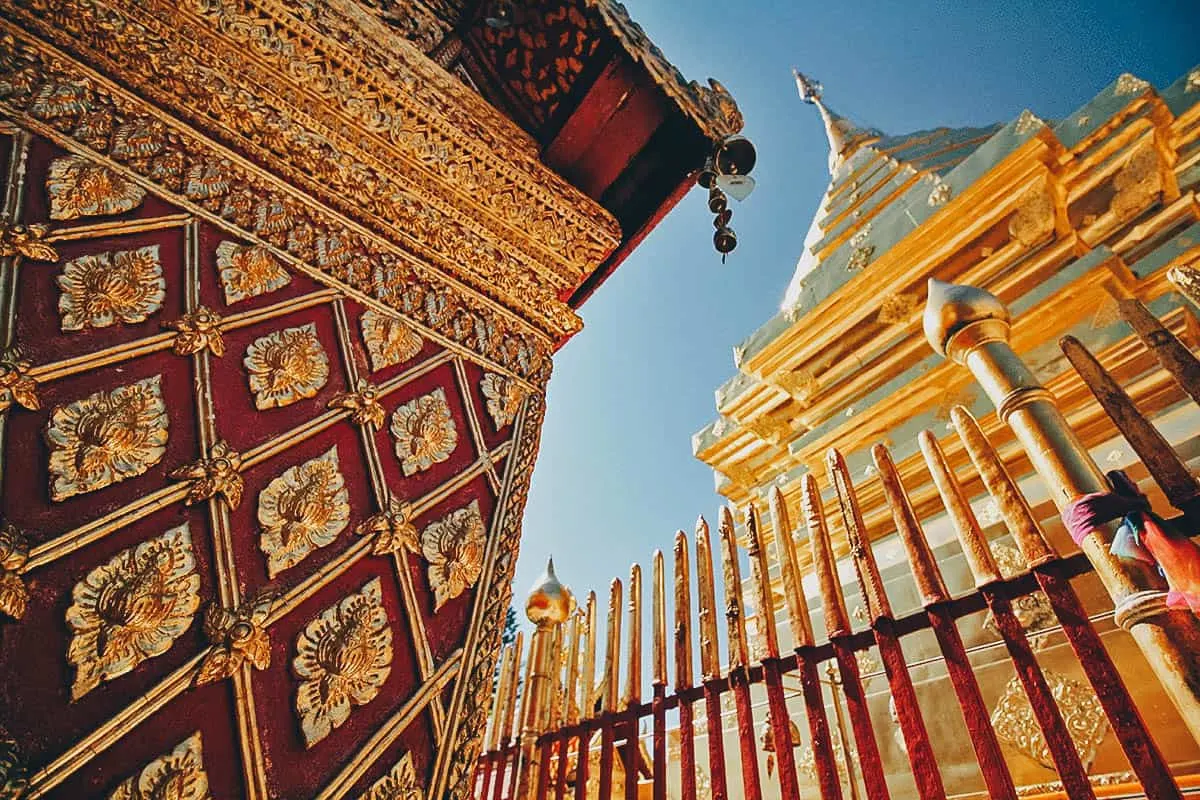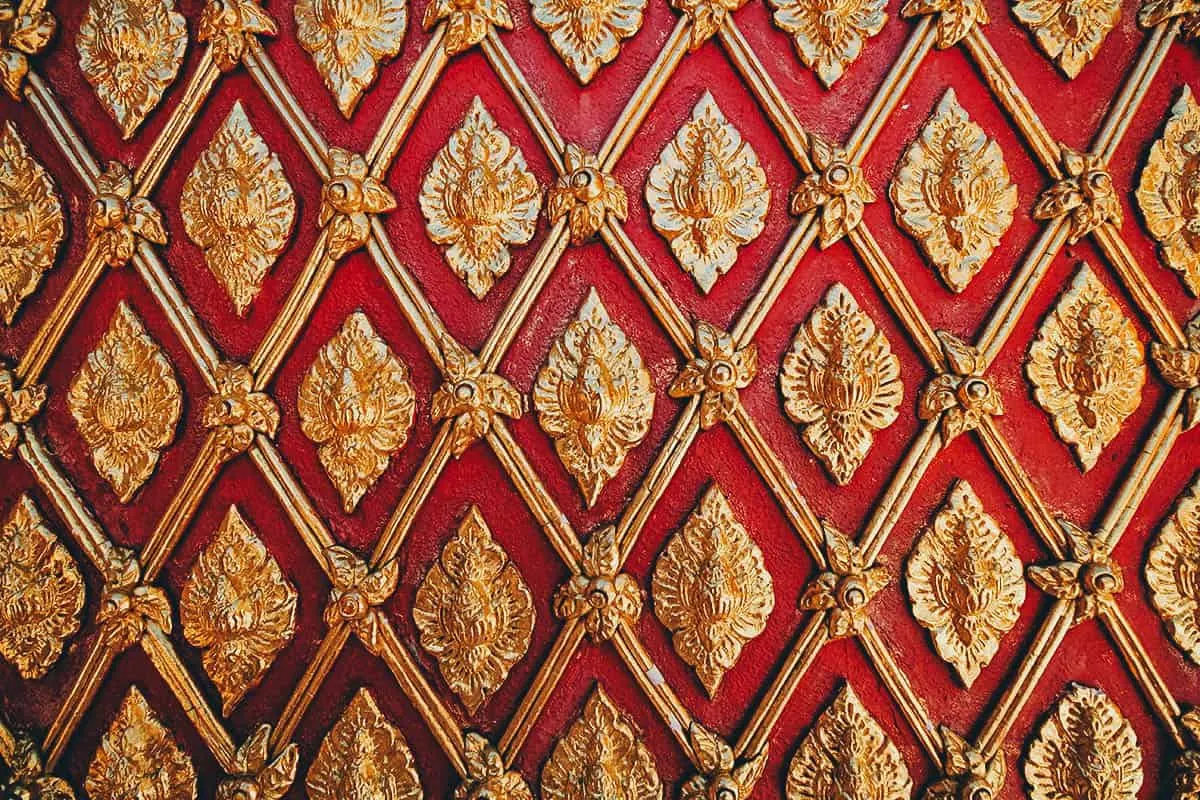 The golden chedi glistening in the morning sun.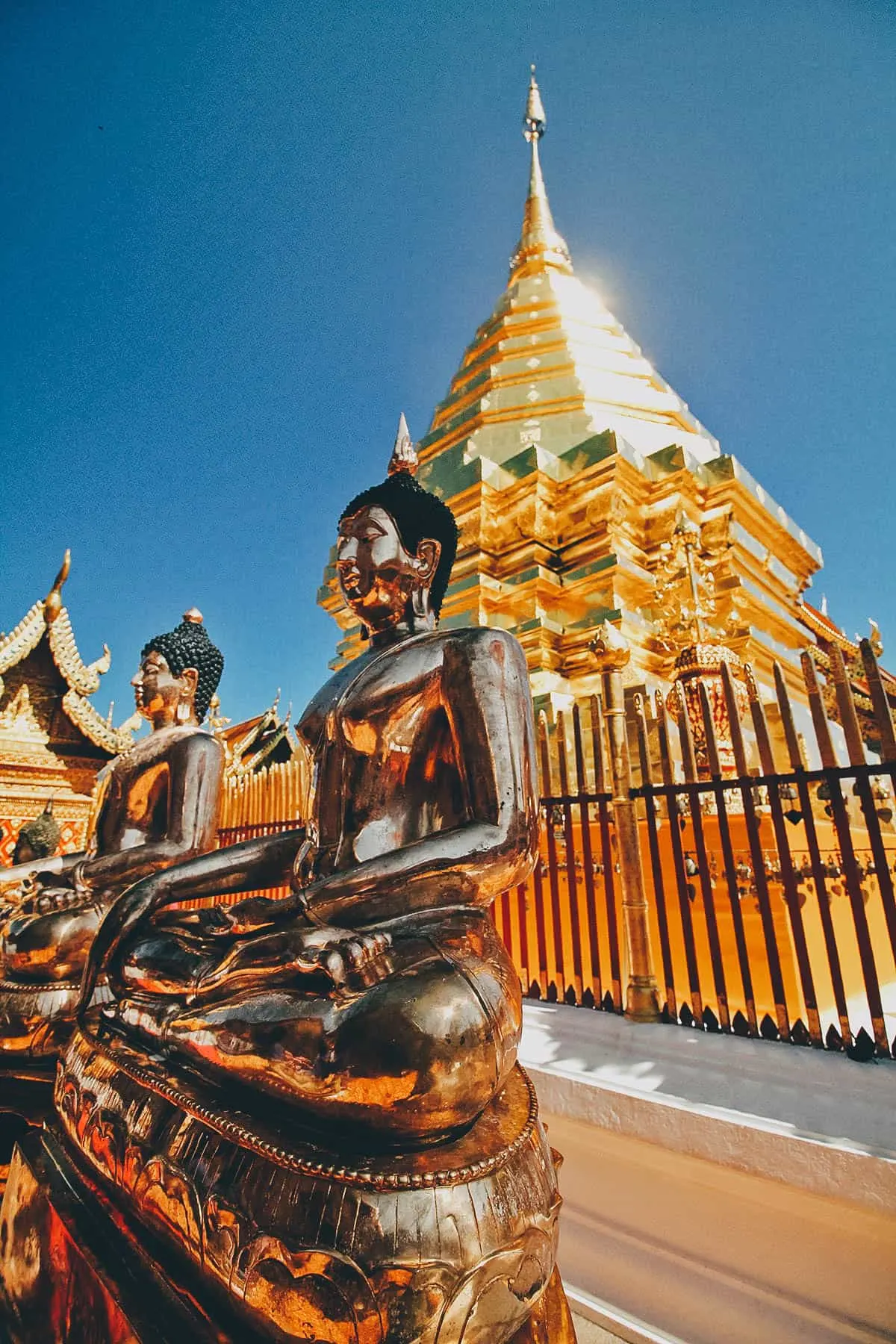 I was here around 10AM and the place was already packed with tourists. It didn't matter though. The beauty of the chedi more than made up for it. You'll notice in this picture that everyone has their shoes off. You aren't allowed to have any footwear at the temple so bring socks if you don't want to go barefoot.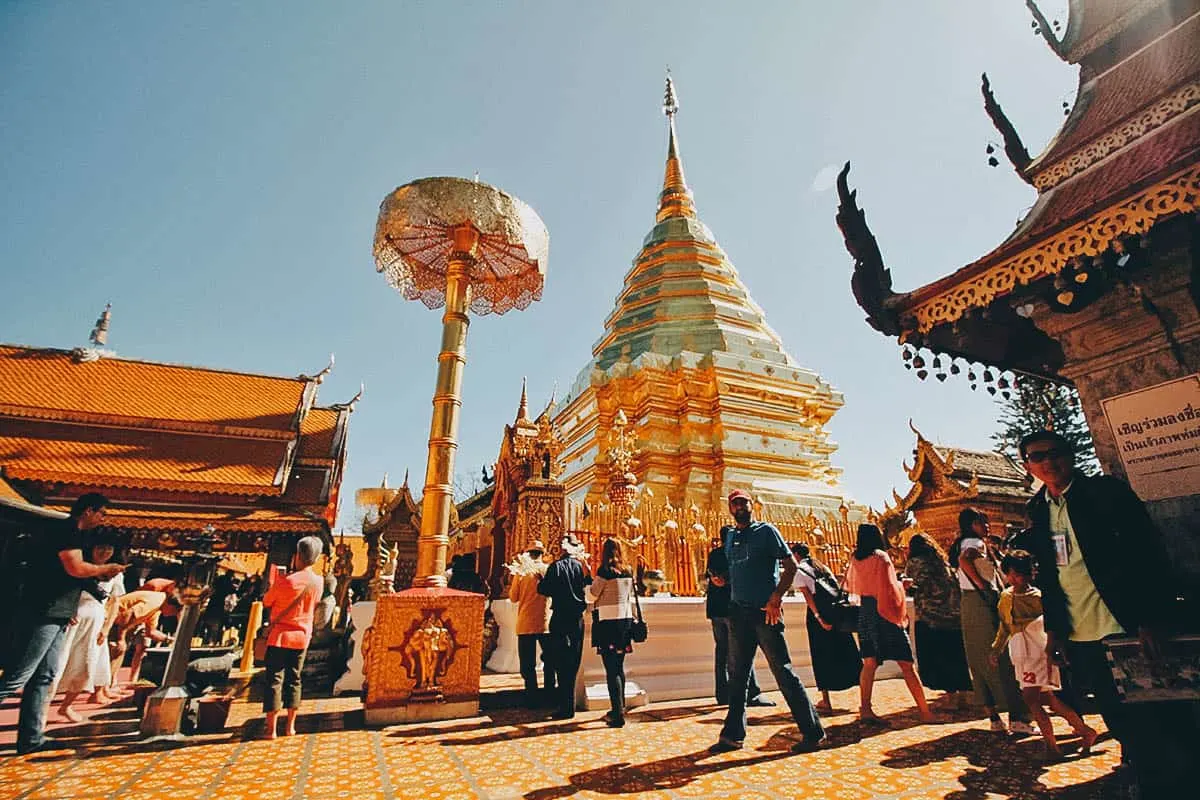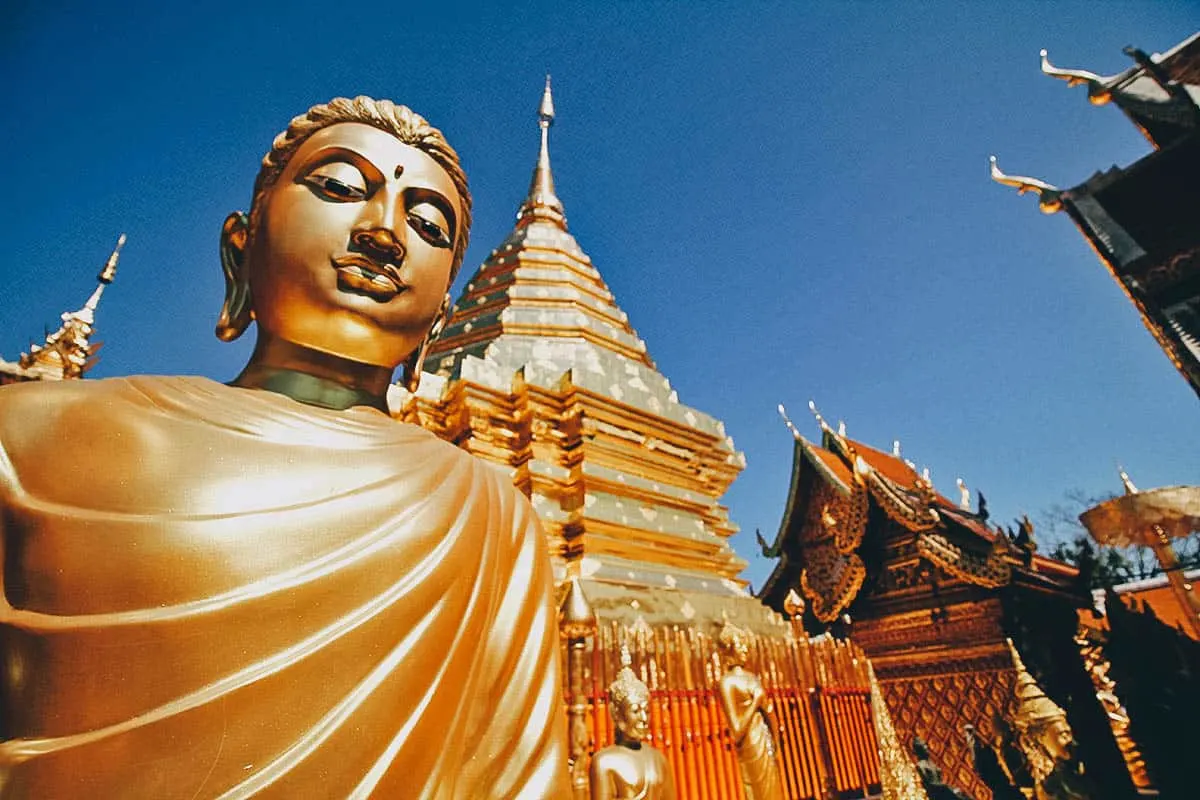 Seeking refuge under the chatra.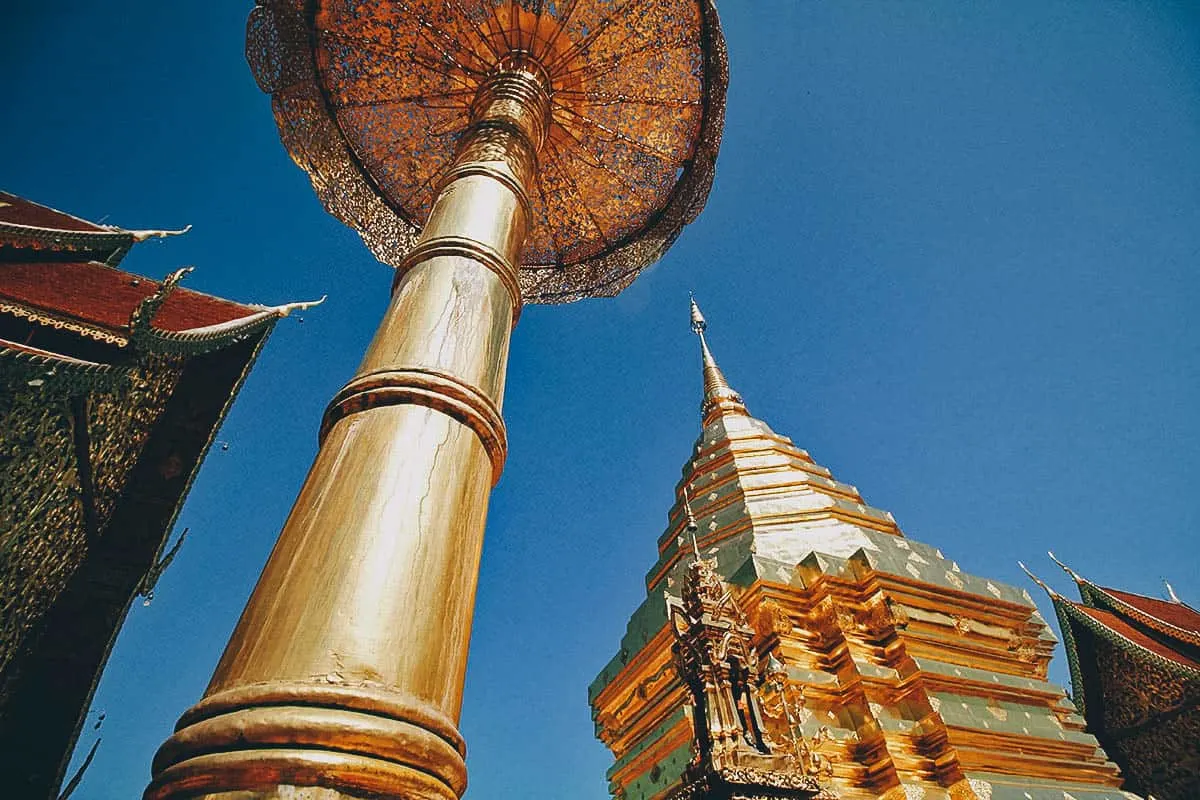 Chedis are said to contain relics, typically the remains of Buddhist monks or nuns.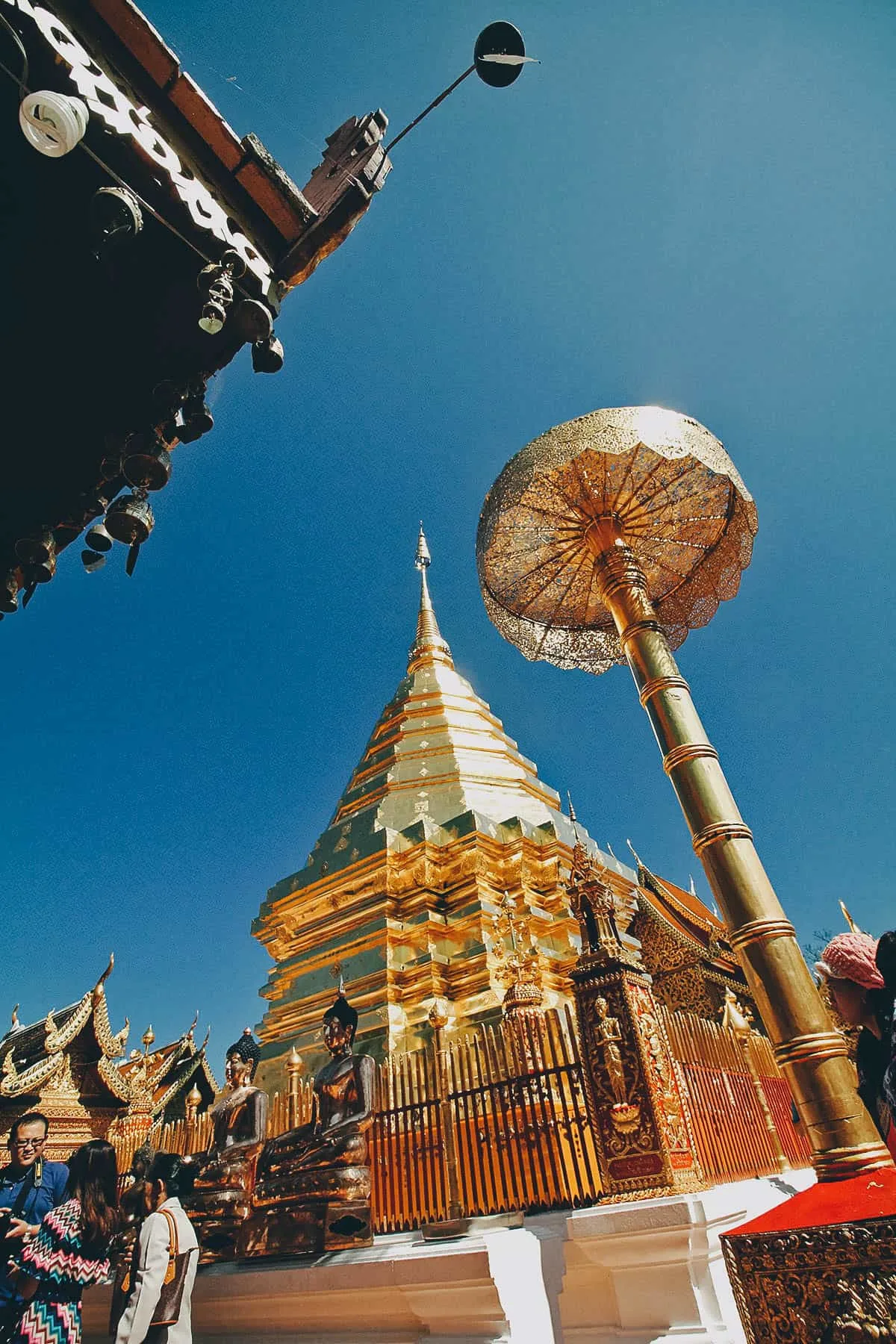 Light a candle, say a prayer.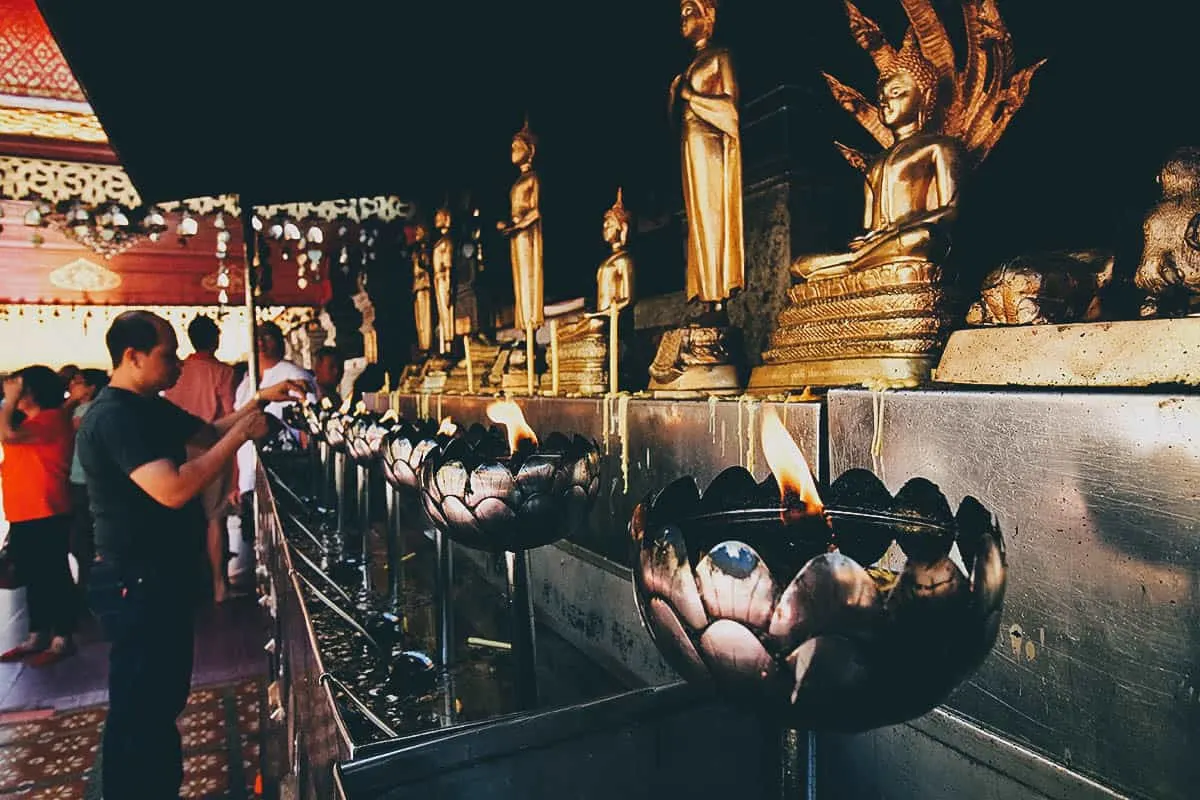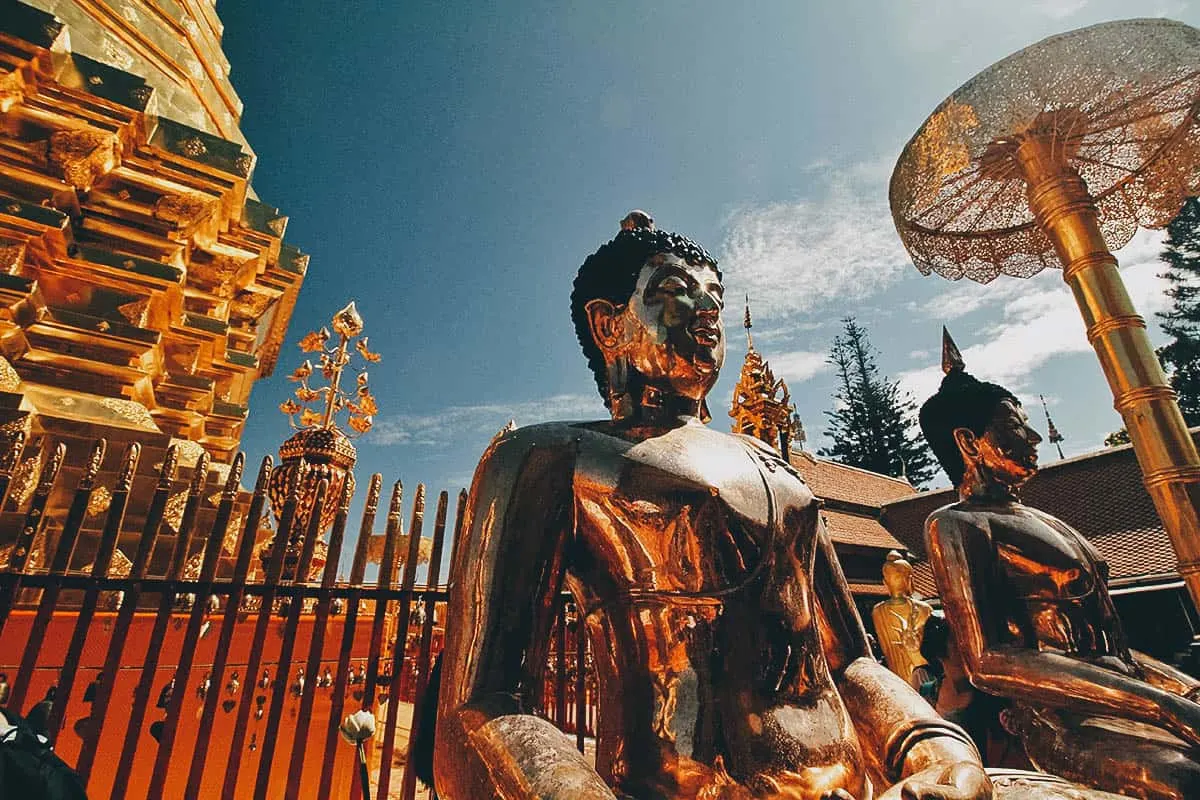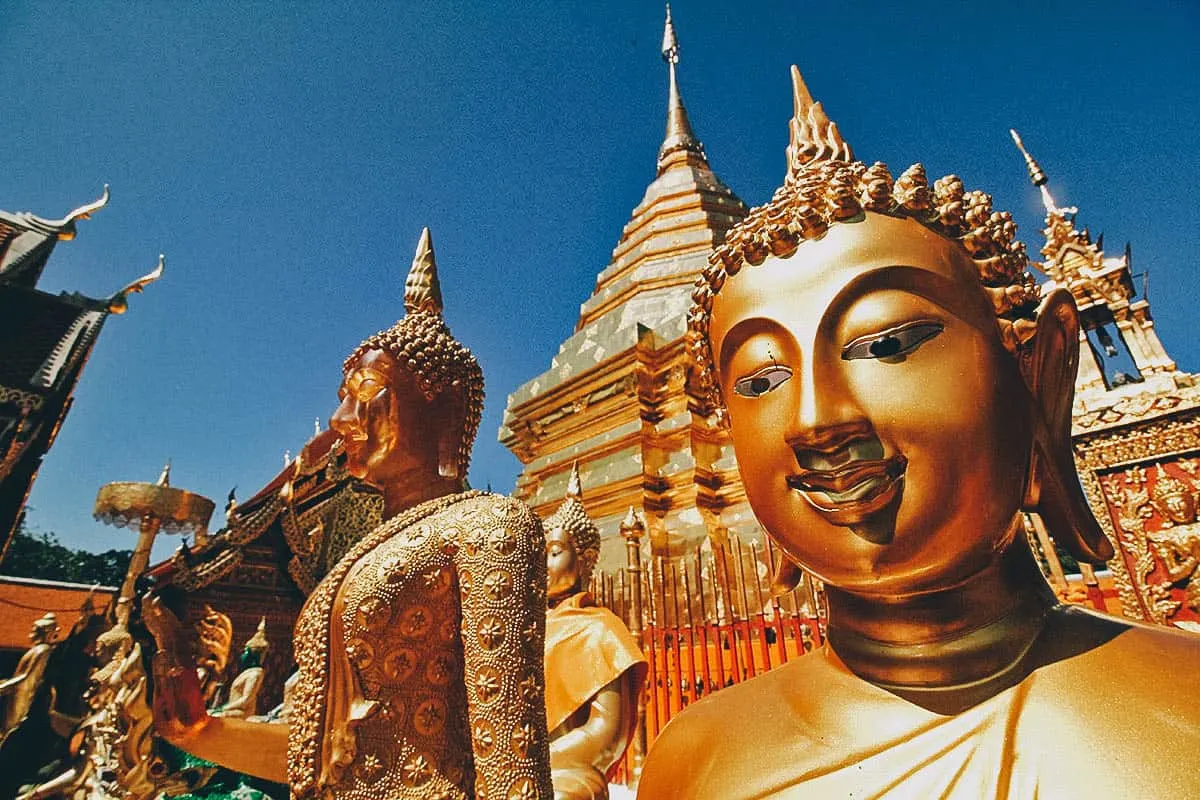 I was so mesmerized by the golden chedi that I didn't bother exploring the other buildings. Surrounding it must have been the ubosot, or ordination hall, and viharn, or sermon hall. From what I understand, every Thai Buddhist temple has all three.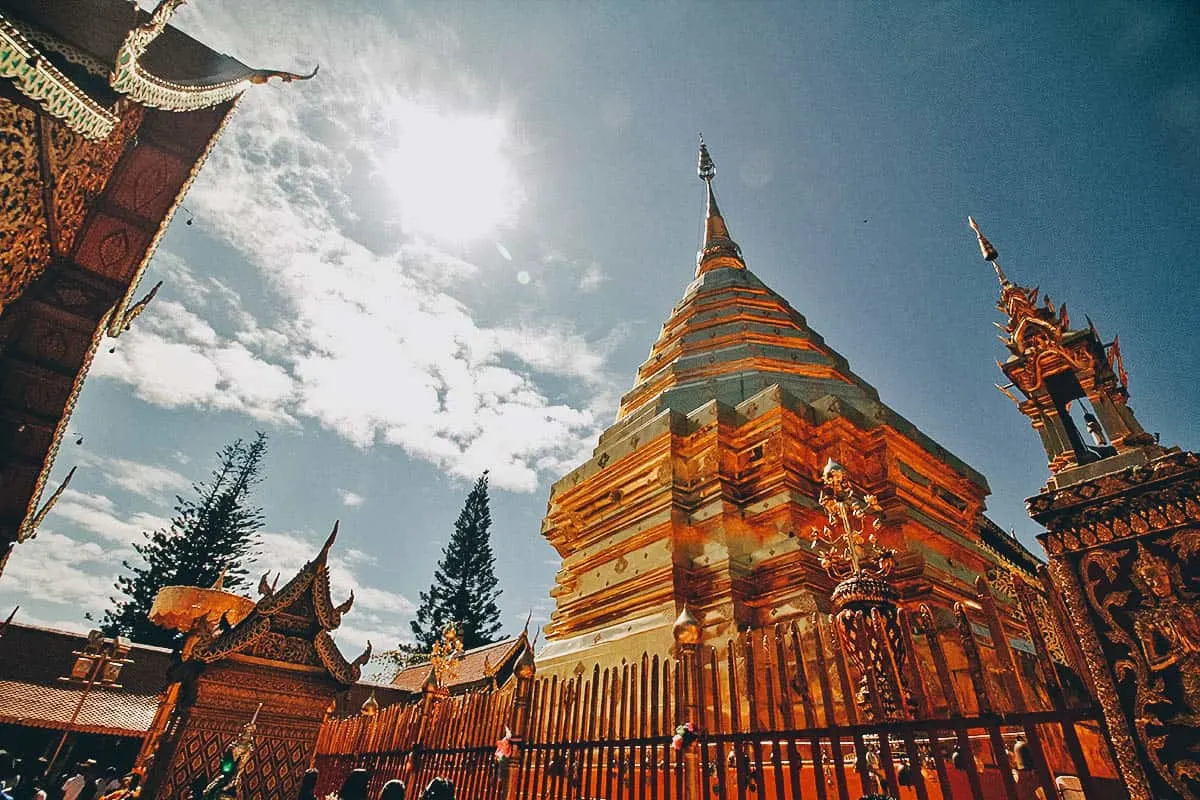 People were doing the Pradakshina all morning. If I remember correctly, you were supposed to circumambulate the chedi a total of five times whilst chanting a prayer.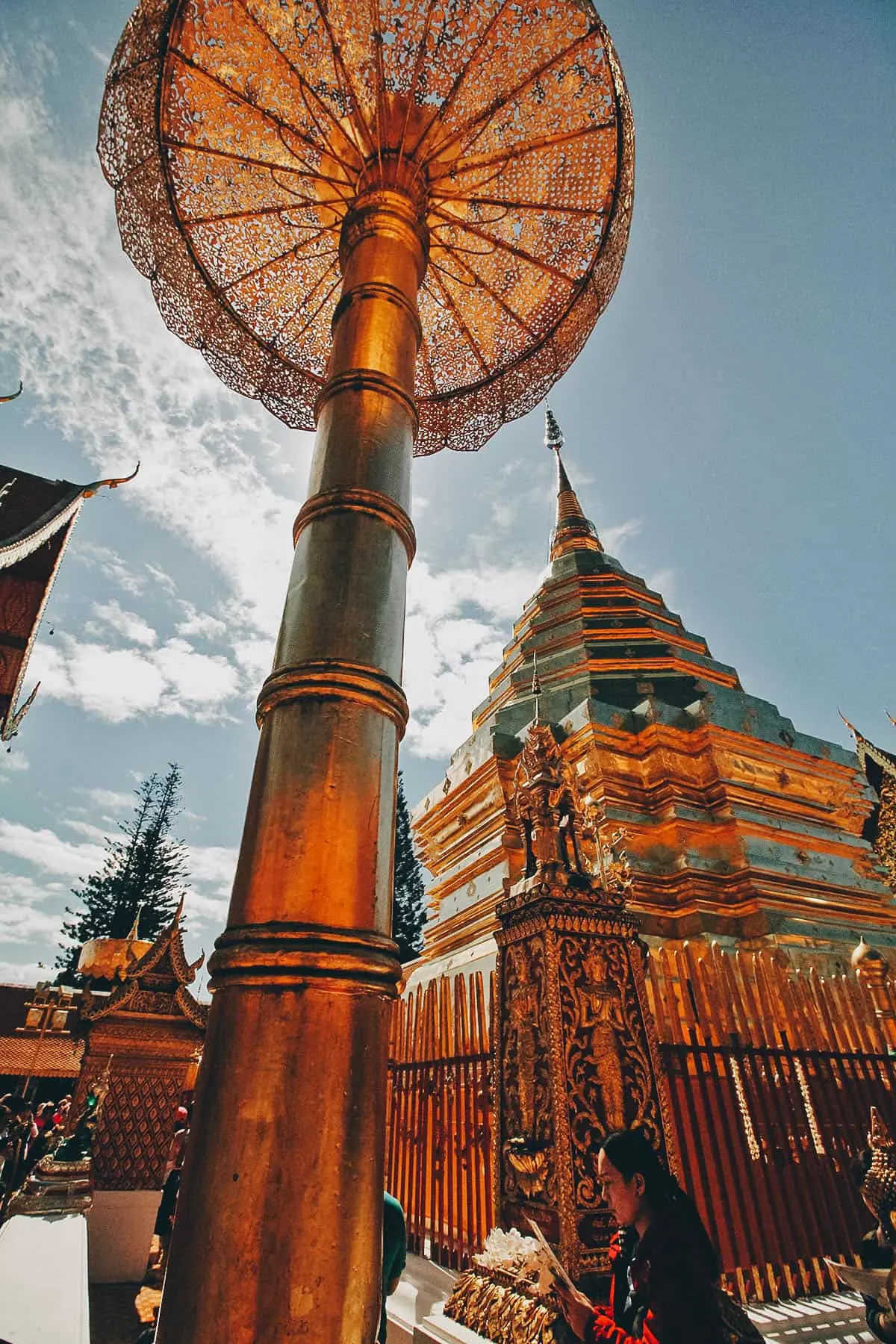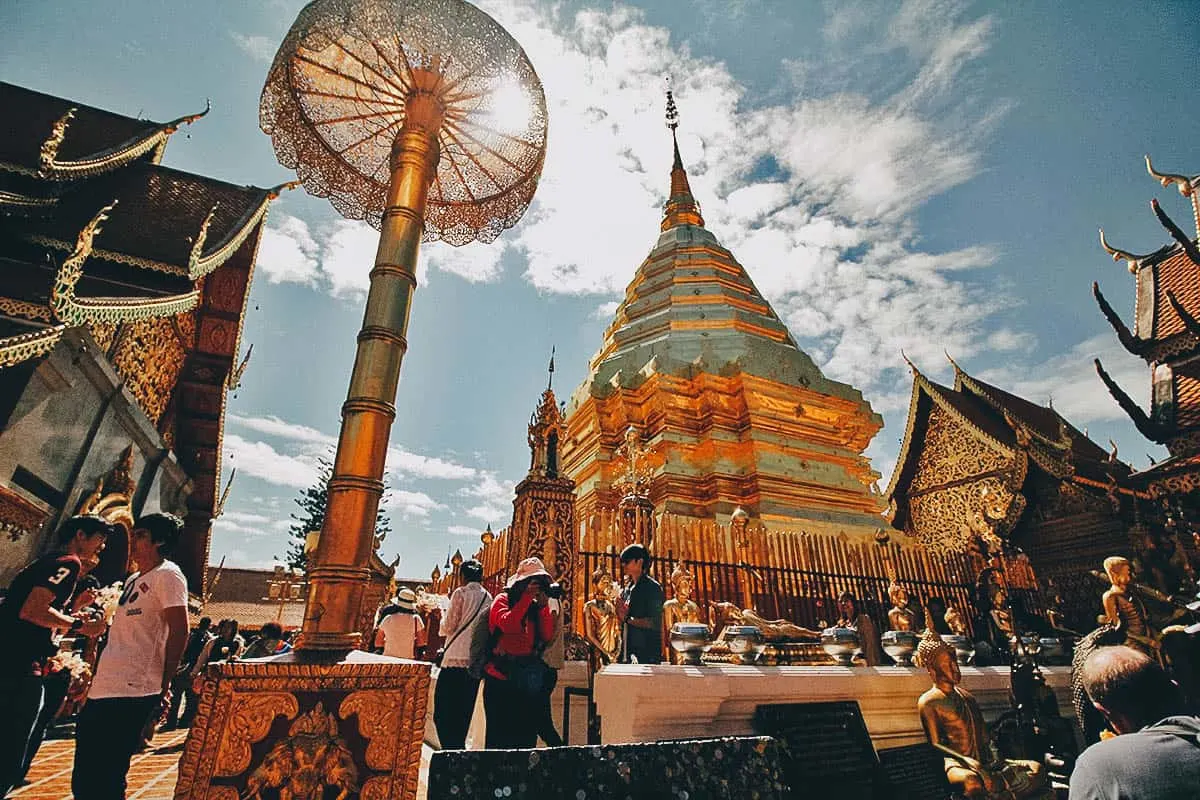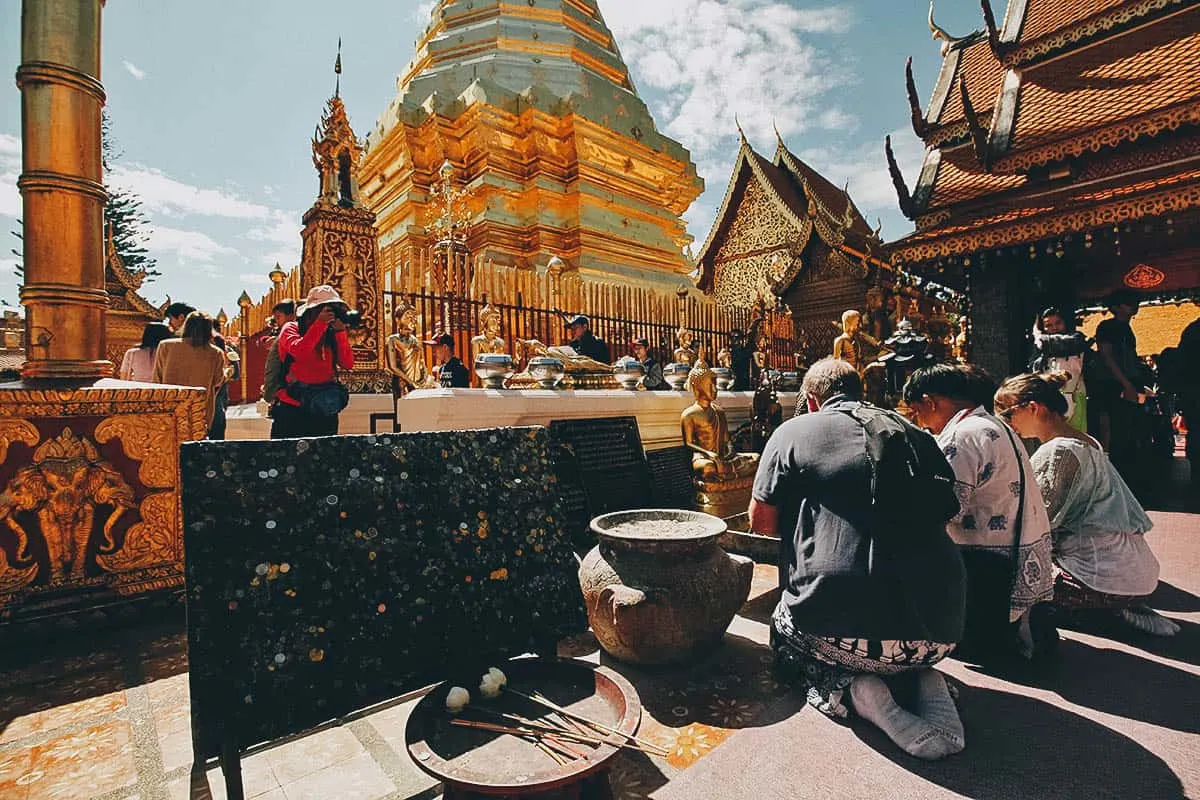 Here you can see the laminated prayer cards people could read from while doing the Pradakshina. Flowers were provided for devotees as well.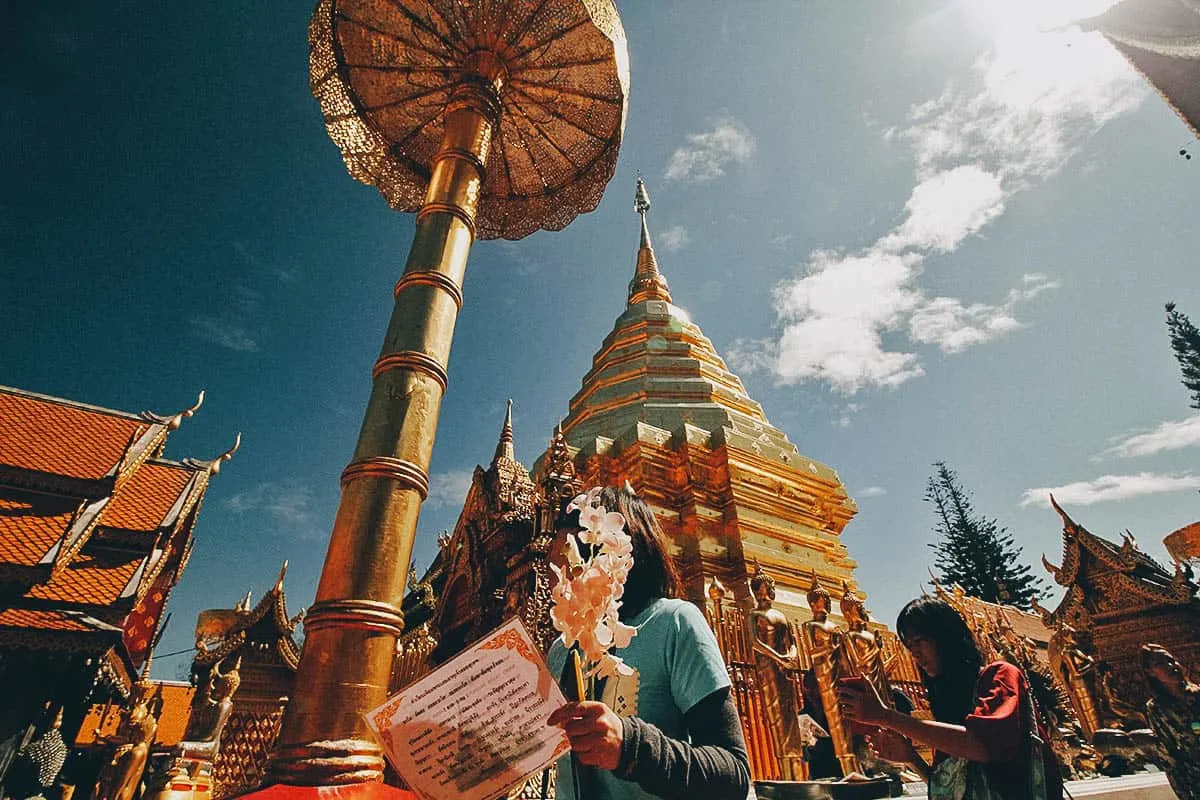 I got a kick out of this. As described, you're supposed to take your shoes off before visiting the temple. I saw this parking lot of footwear so I started to take mine off, until I looked up at the sign. I guess many people just don't bother to read. 😆 There's a designated shoe rack near here where you're meant to leave your shoes.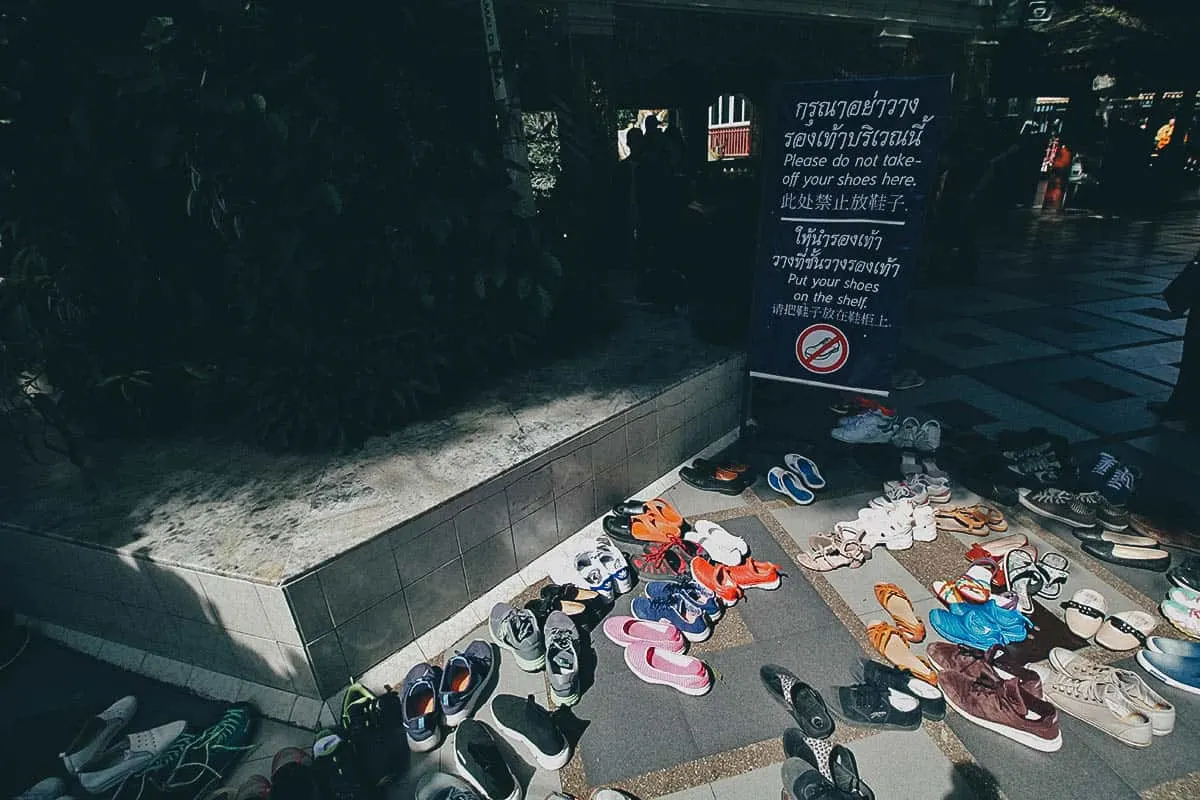 How to Get to Doi Suthep
Doi Suthep is easy to get to using public transportation. Just go to the area near the North Gate where the Thai food stalls set up at night. You'll see a few of these red songthaews parked there.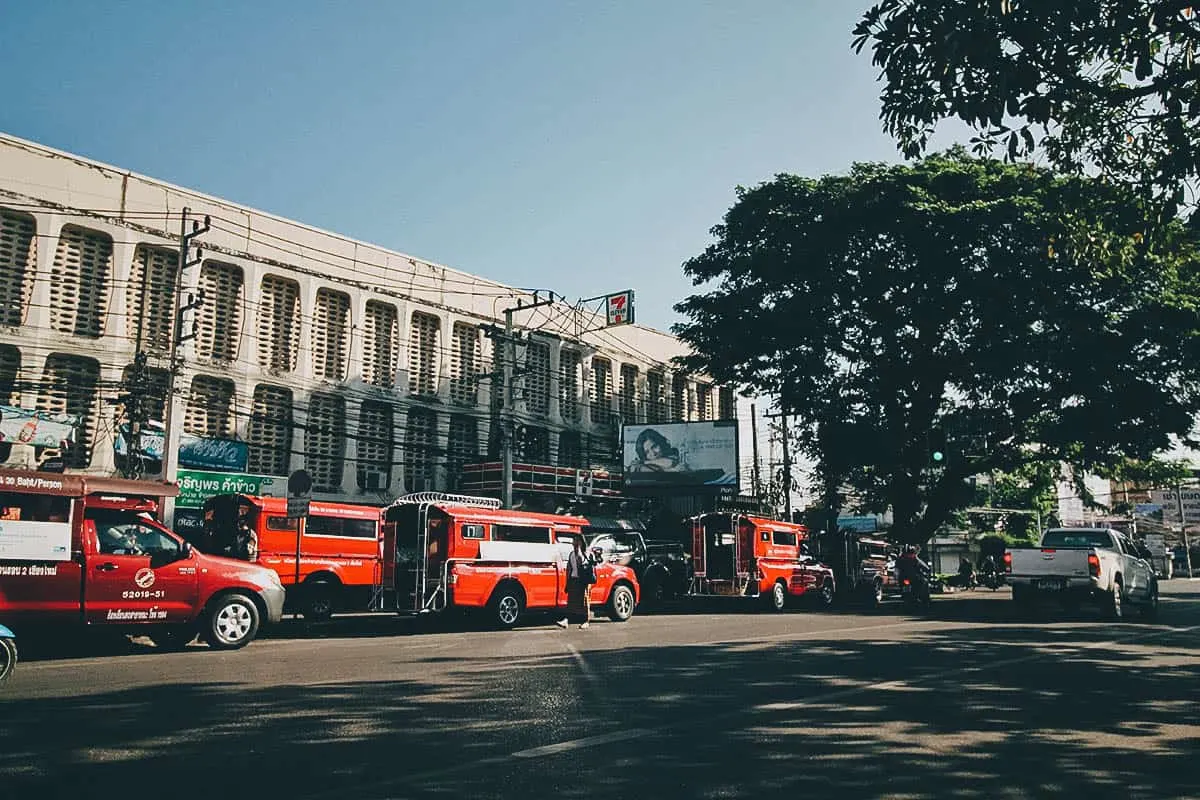 It costs THB 50 each way and it takes less than an hour to get to and from Doi Suthep.

Conclusion
Regardless of how you feel about temples, Wat Phra That Doi Suthep is a must-visit in Chiang Mai. I'm not as easily enamored by temples but I became smitten with this one. It's a striking temple, which oddly enough, I found calming and soothing in spite of the mass of tourists. A strange feeling considering my aversion to heavy crowds. I felt so at peace here that I was inspired to do the Pradakhshina myself, something I had never done before. Hopefully my prayers come true.
One or two hours may be enough time to spend at the temple but you might want to spend the whole day here. Wat Phra That Doi Suthep is the main attraction but there are other things to do on Doi Suthep. It's a national park with picturesque hiking trails, including some that lead to waterfalls like Huay Kaew and Monthathan Falls. Both are described as popular picnic spots.
The Royal Winter Palace or Bhubing Palace is here as well, as are a number of hilltribe villages.
Wat Phra That Doi Suthep
Wat Phra That Doi Suthep Road Tambon Su Thep, Chiang Mai Chang Wat Chiang Mai 50200, Thailand
Tel: +66 53 295 002
Operating Hours: 6AM-8PM
Admission: THB 50
For more Chiang Mai travel tips, check out our First-Timer's Travel Guide to Chiang Mai, Thailand