If you're traveling to Chiang Rai, then you're probably going there to visit Wat Rong Khun, or the White Temple. It's that striking all-white temple known for its ghoulish statues and ocean of hands reaching out from either side of a bridge. It's far and away Chiang Rai's premier attraction and a big reason why many tourists make that 3-hour trip from Chiang Mai.
But as popular as the White Temple is, it isn't Chiang Rai's only draw. Lesser known but equally colorful attractions are the Baan Dam Museum, aka Black House, and Wat Rong Suea Ten, otherwise known as the Blue Temple. White, black, and blue – colorful names for interesting places, all of which you may want to see when visiting Chiang Rai.
Save This on Pinterest!
No time to read this now? Click on the red save button and pin it for later!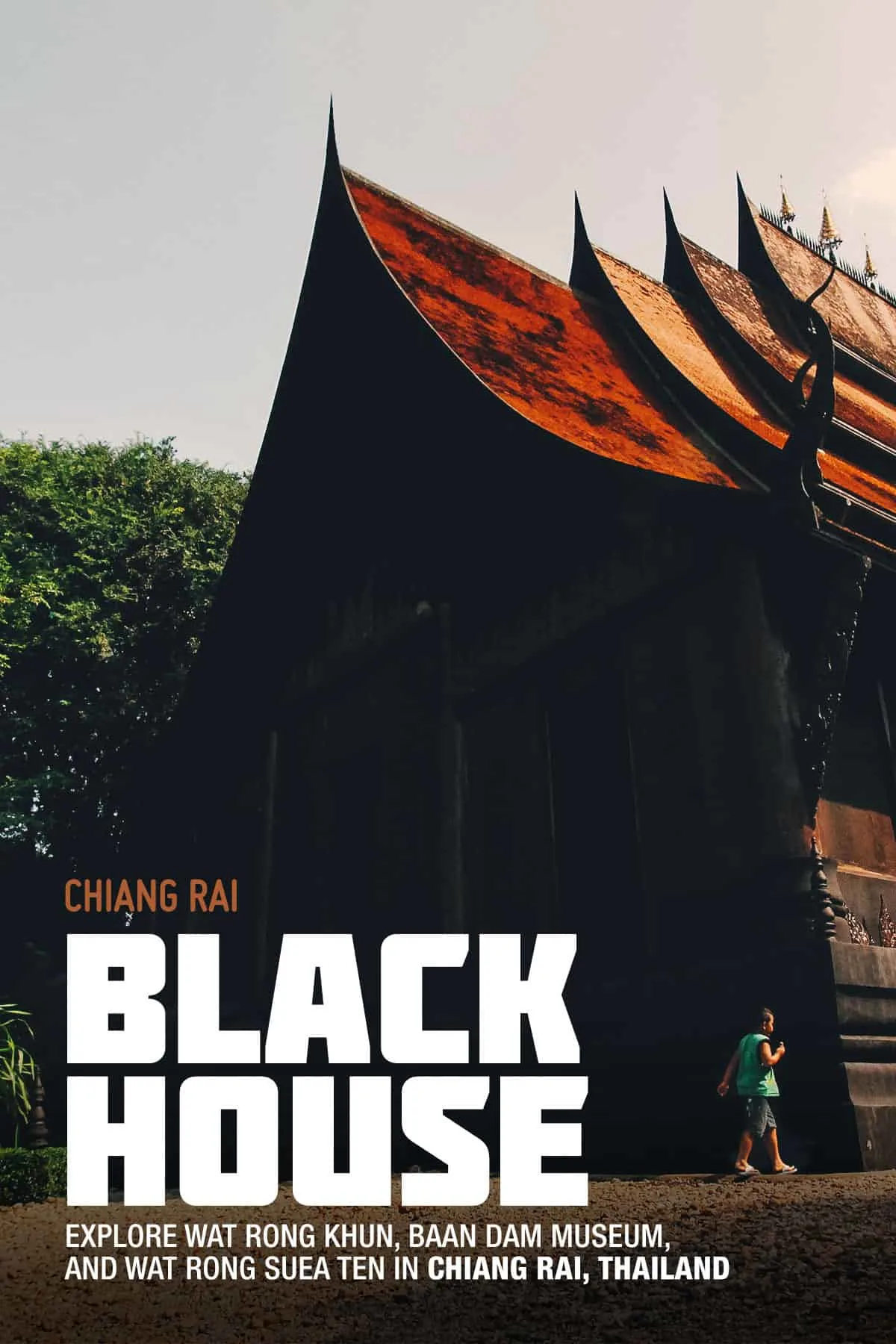 How Do I Go to the White Temple, Black House, and the Blue Temple?
The easiest and fastest way to visit all three is to hire a tuk-tuk or taxi. Before we went, I did my research and read that it should cost around THB 500 to hire one for half a day, which is plenty of time to see all three attractions.
Just wait by the side of a busy street and flag down any tuk-tuk or taxi driving by. We hailed a tuk-tuk passing by our hotel and the driver quoted us THB 400. We were extremely happy with that, though it didn't seem like he had any idea how much to charge us. Because I had read that THB 500 was a fair amount, that's what I decided to give him at the end of our trip.
Once you've agreed upon an amount, you'll start by going south to Wat Rong Khun before heading up north to Baan Dam Museum. Wat Rong Suea Ten is on the way back so you can make a quick stop there before being dropped off in the city. The driver will wait for you while you explore each place. Out of courtesy, try not to stay much longer than an hour at each stop.
Wat Rong Khun (White Temple)
When I first saw pictures of Wat Rong Khun, I wasn't entirely sure what it was. Was it an art installation? Or was it a functioning Buddhist temple? From what I understand, it's both.
When the original Wat Rong Khun fell into a state of disrepair, local Chiang Rai artist Chalermchai Kositpipat took it upon himself to rebuild the temple using his own money. He designed and constructed the new temple himself, before reopening it to the public in 1997. Kositpipat considers the temple to be an offering to Buddha and believes the project will give him immortal life. I hope so. He's spent over THB 40 million of his own money on the project to date, which isn't expected to be completed until 2070.
Here's the Thai Iron Man greeting visitors as they enter the temple grounds.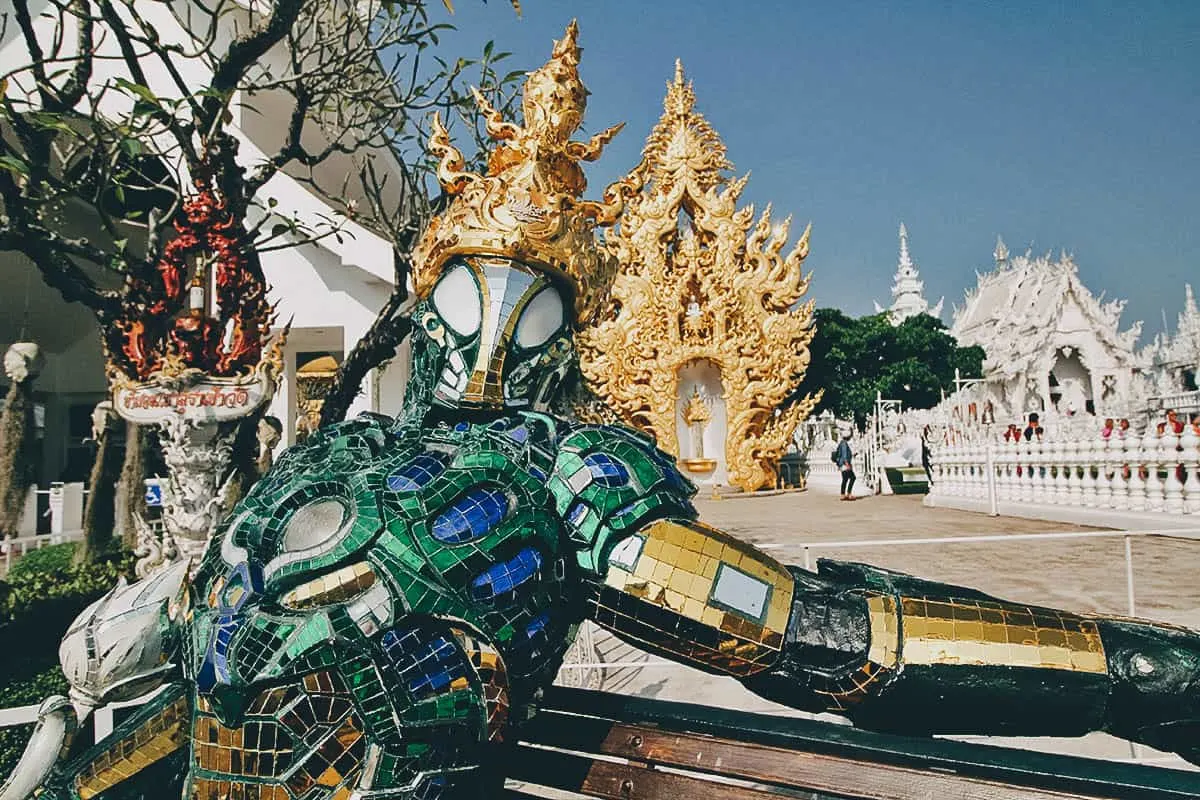 Clad all in white, Wat Rong Khun is a remarkable sight, especially when framed against a clear blue sky. When you look at the temple from up close, you'll see tiny mirrors stuck to the plaster. This makes the temple look like it's sparkling in the sun. The white color is said to signify the purity of the Buddha while the mirrors symbolize the Buddha's wisdom and teachings.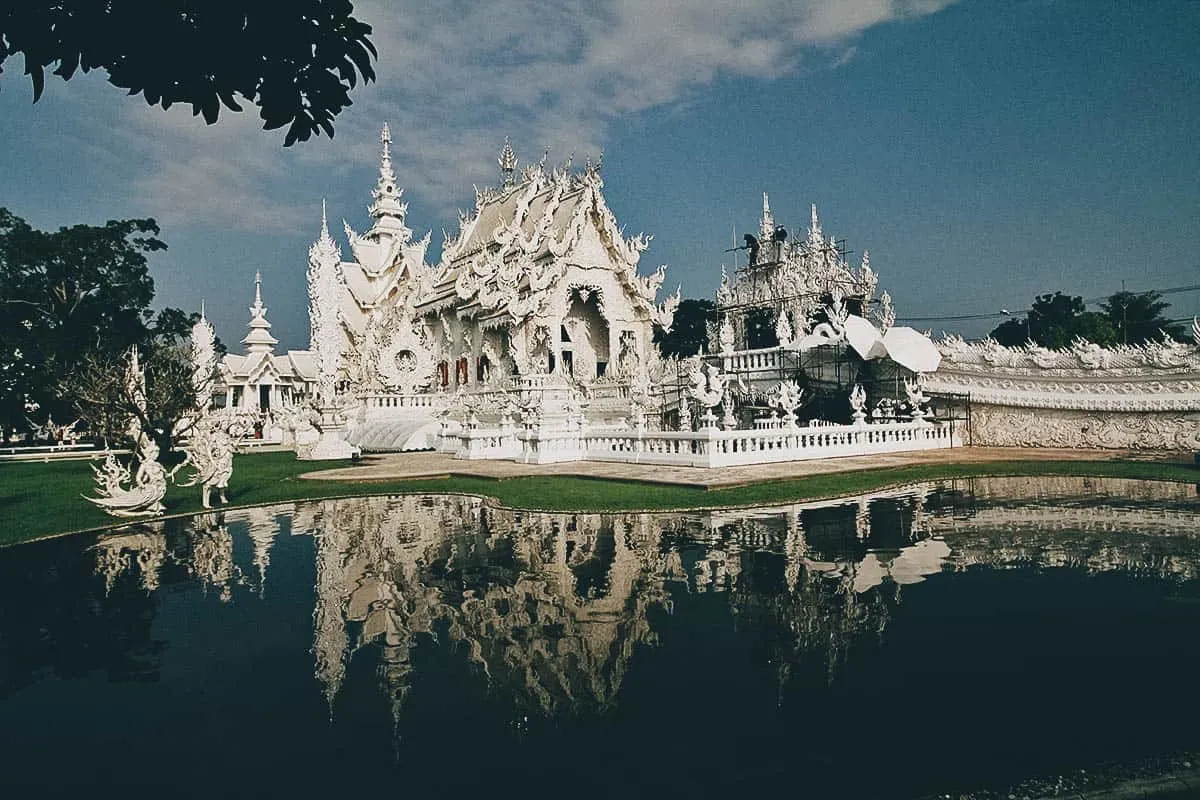 Most of the buildings in the temple compound are white but there are a few structures in gold, like this one. I'm not sure what it is though. A fountain maybe?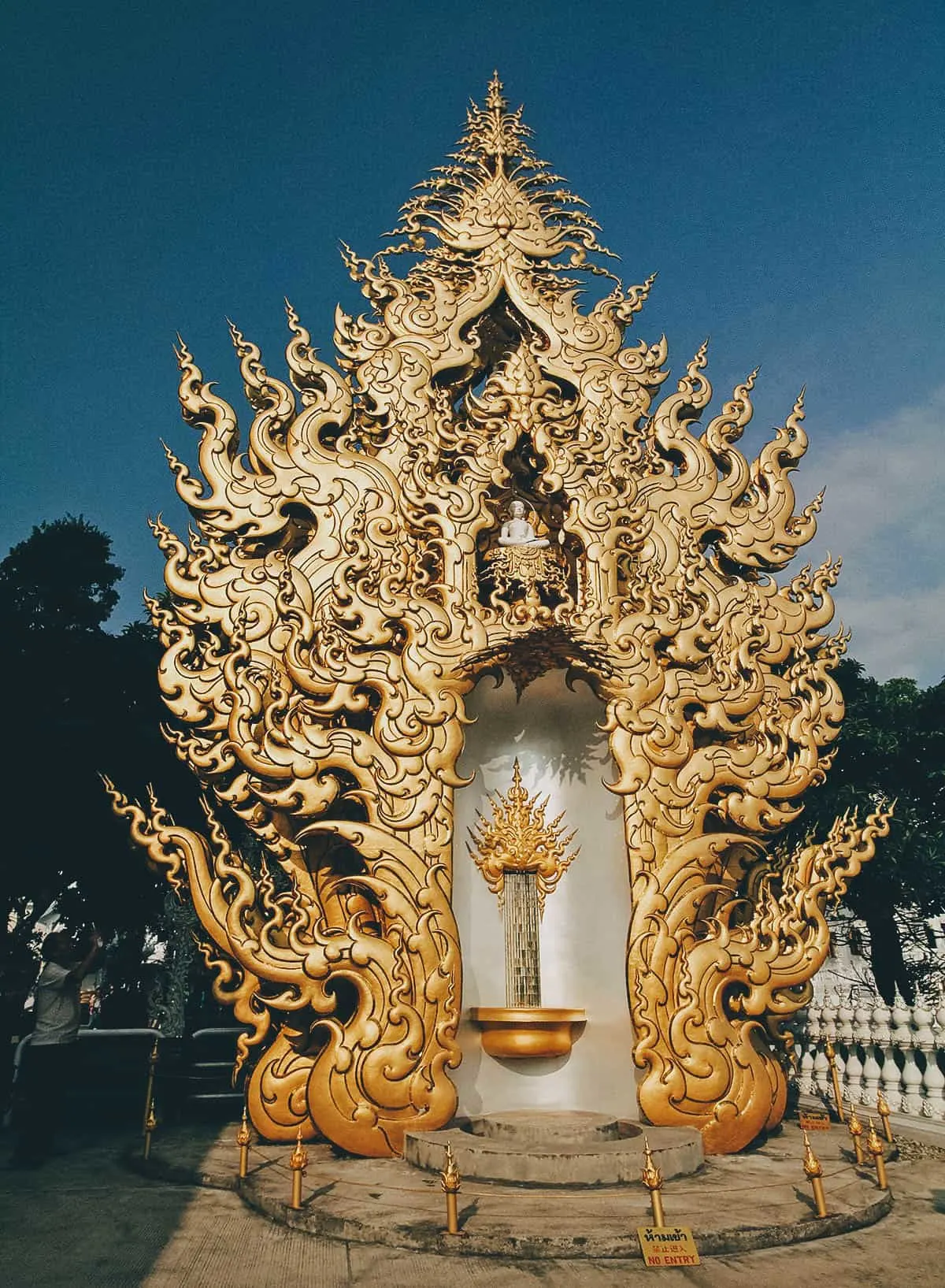 Wat Rong Khun's famous sea of hands. These outreaching hands are meant to symbolize unrestrained desire. Crossing that bridge into the temple signifies that the way to happiness is to forgo temptation, greed, and desire.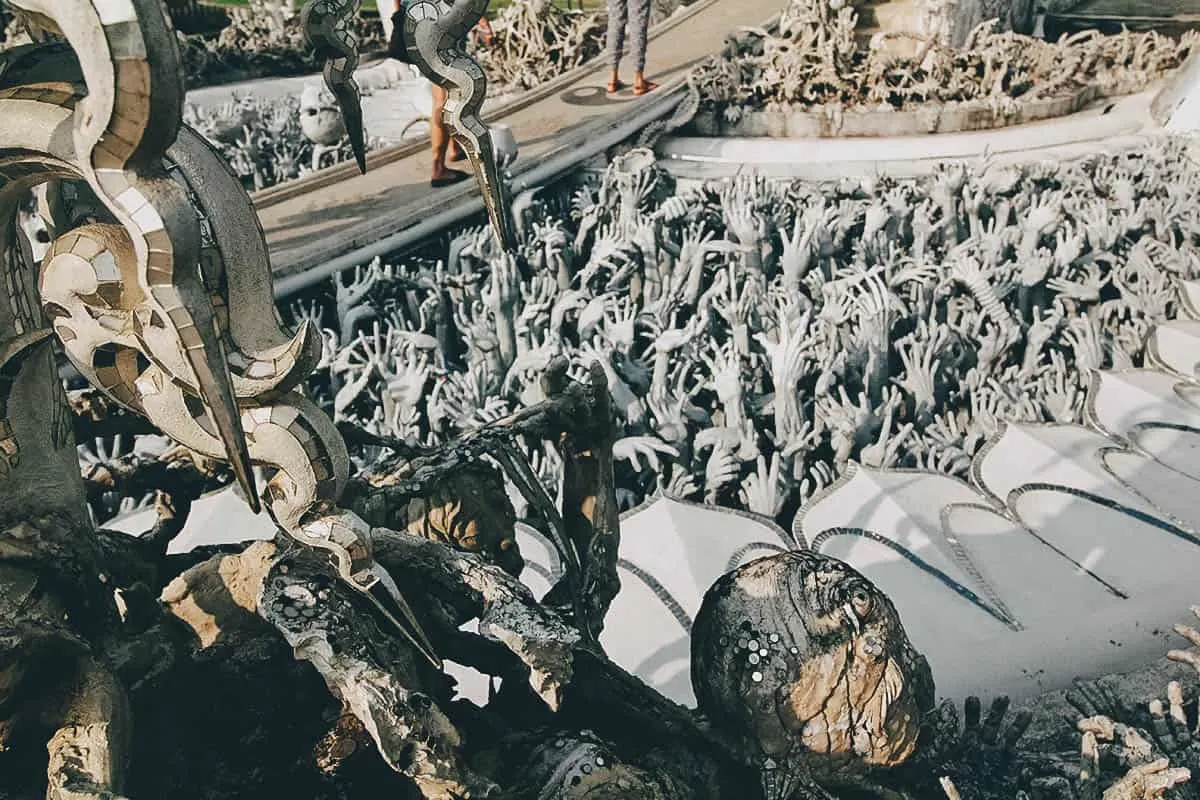 One of the many ghoulish faces surrounding the ubosot or principal building of the temple. This reminded me of the work of Polish artist Zdzisław Beksiński. It felt like I was entering his world.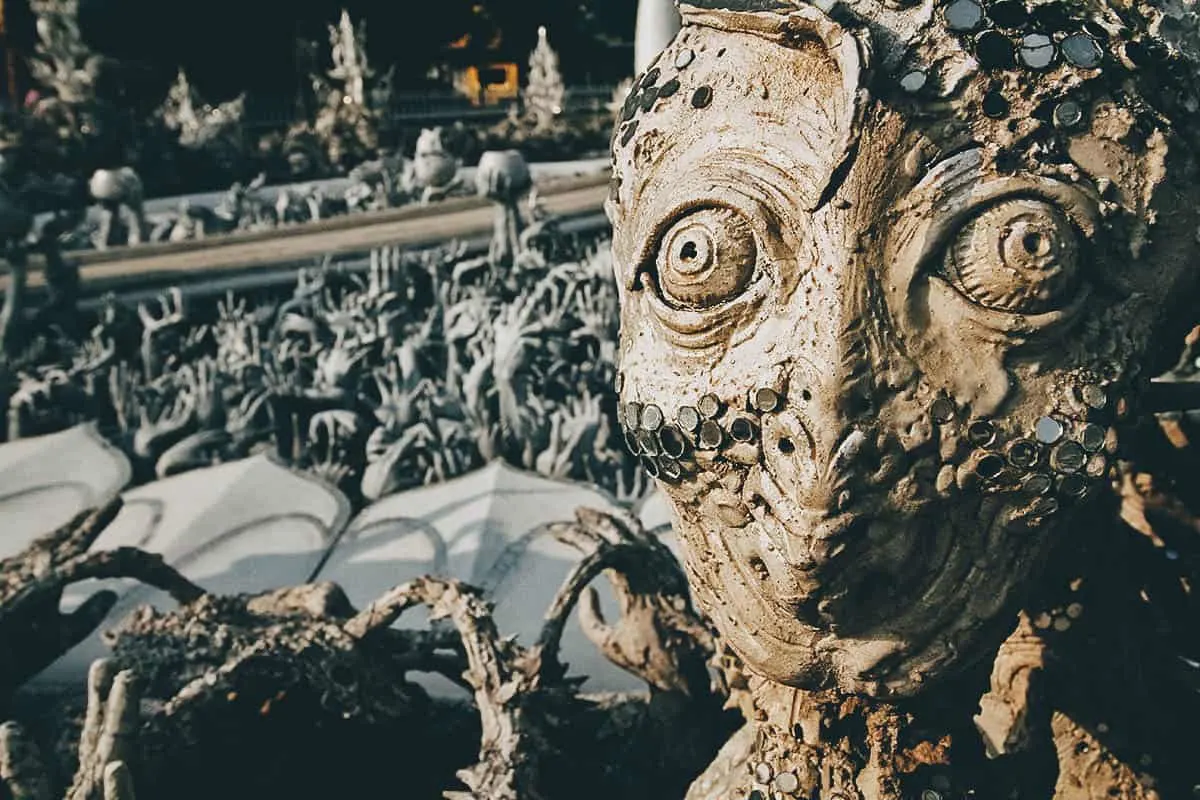 Do you see those circular objects on the sculptures? Those are the mirrors I was describing earlier. Viewed from a distance, they make the building look like it's glistening in the sun. Clever!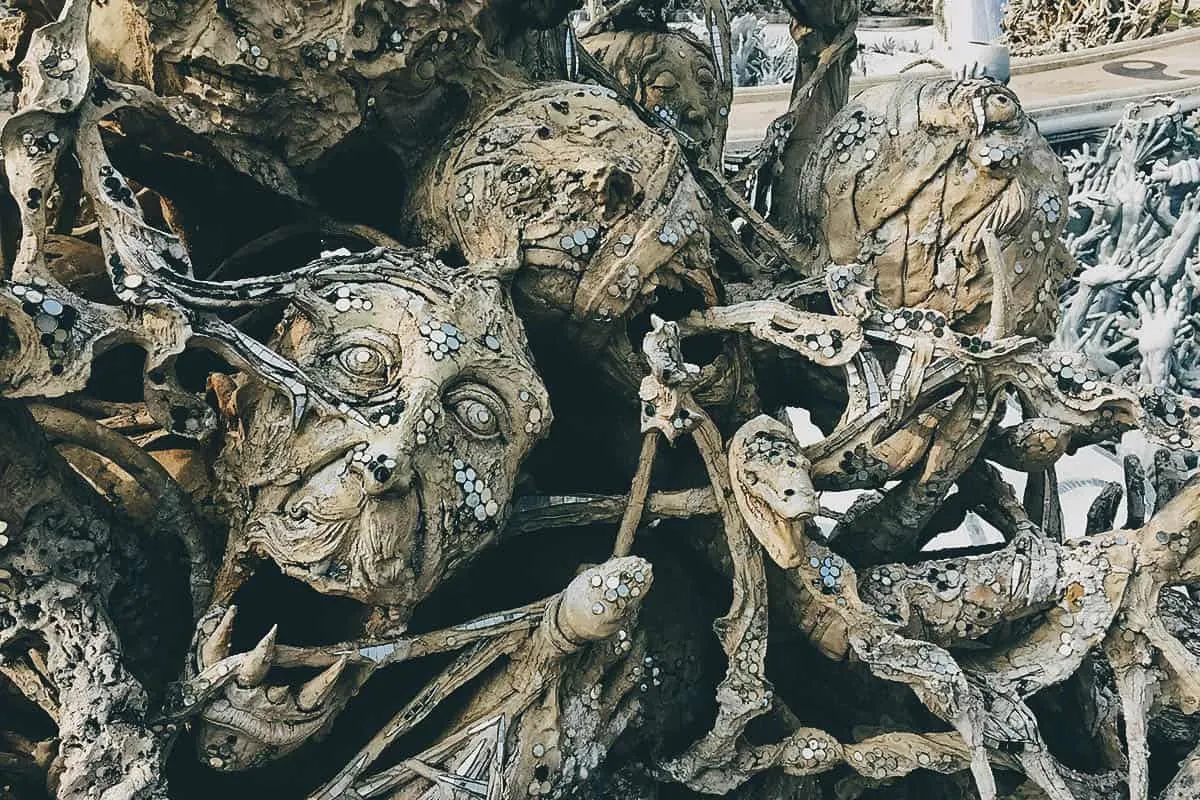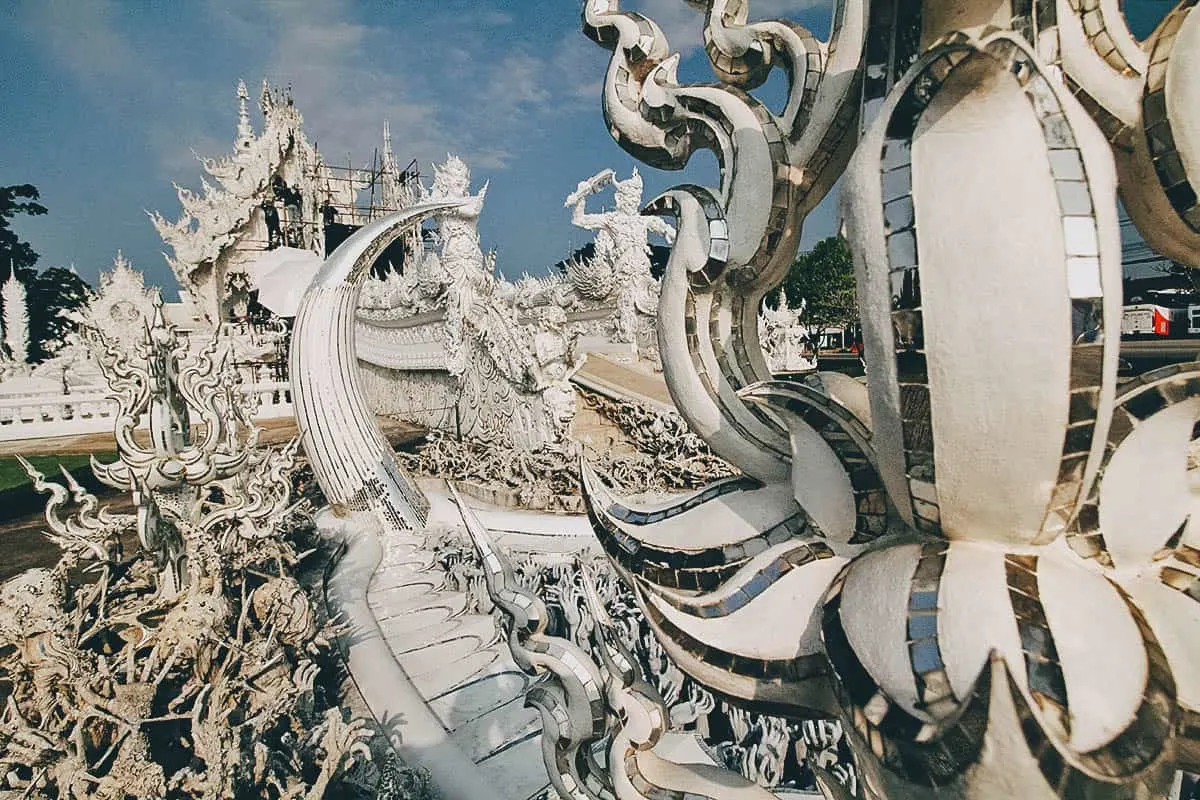 There's me and my CabinZero forgoing all temptation on the way to happiness. This bridge is known as The Bridge of "The Cycle of Rebirth".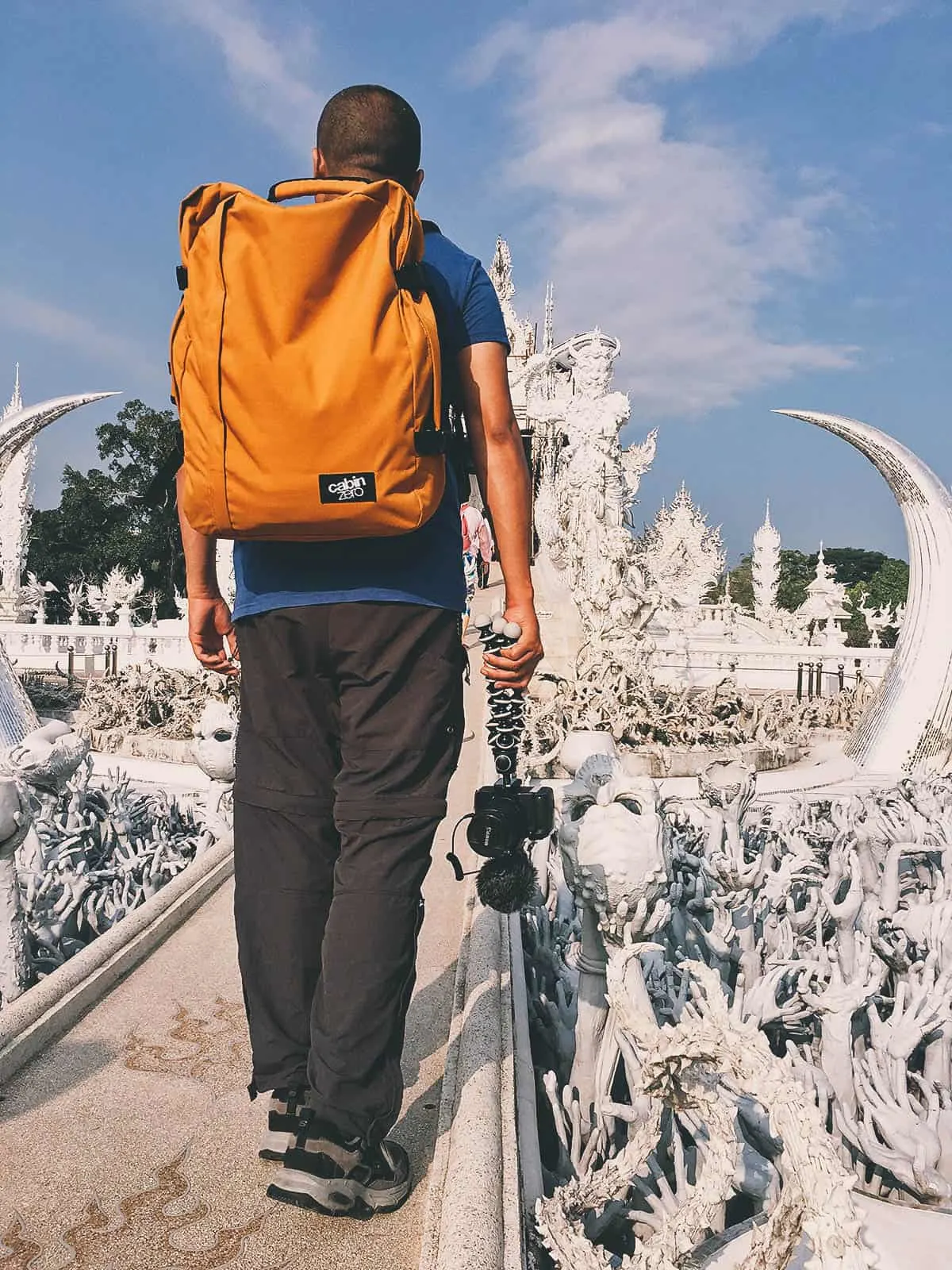 Rockstar skull crowd surfing its way to happiness.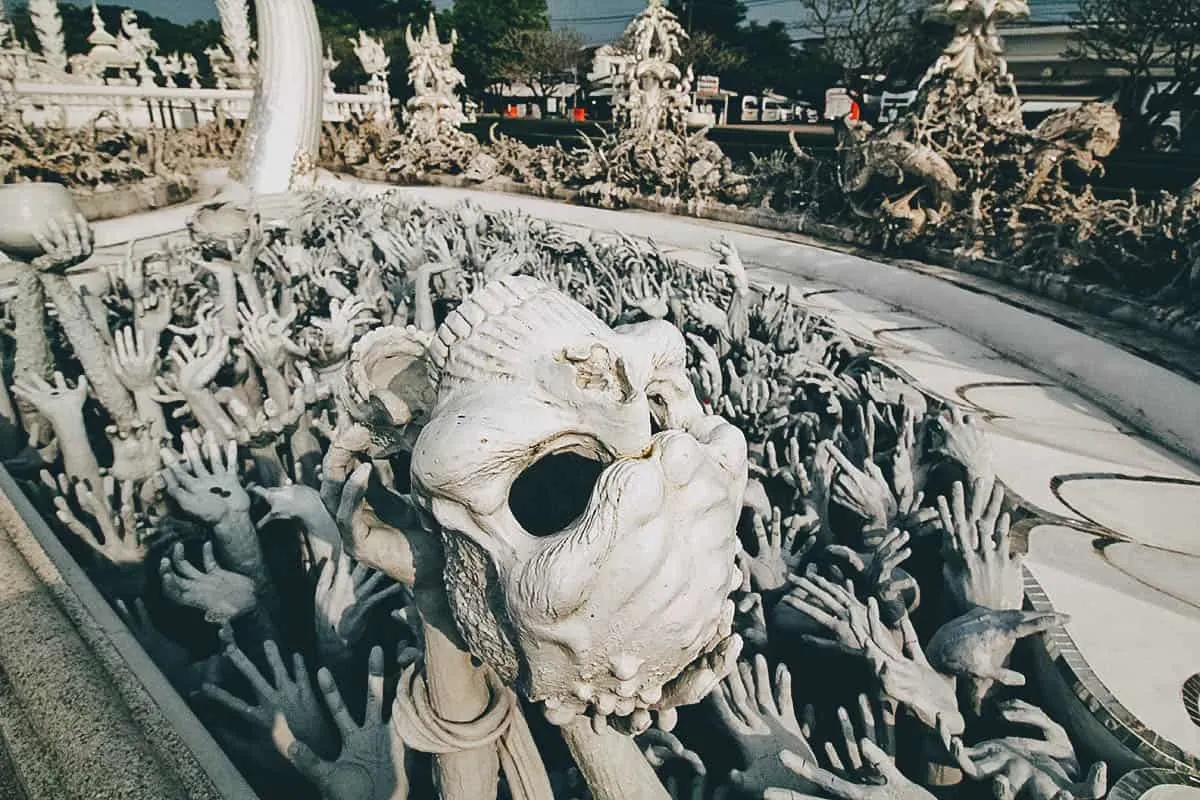 Pretty eerie, eh? Note that face on one of the palms in the upper left corner.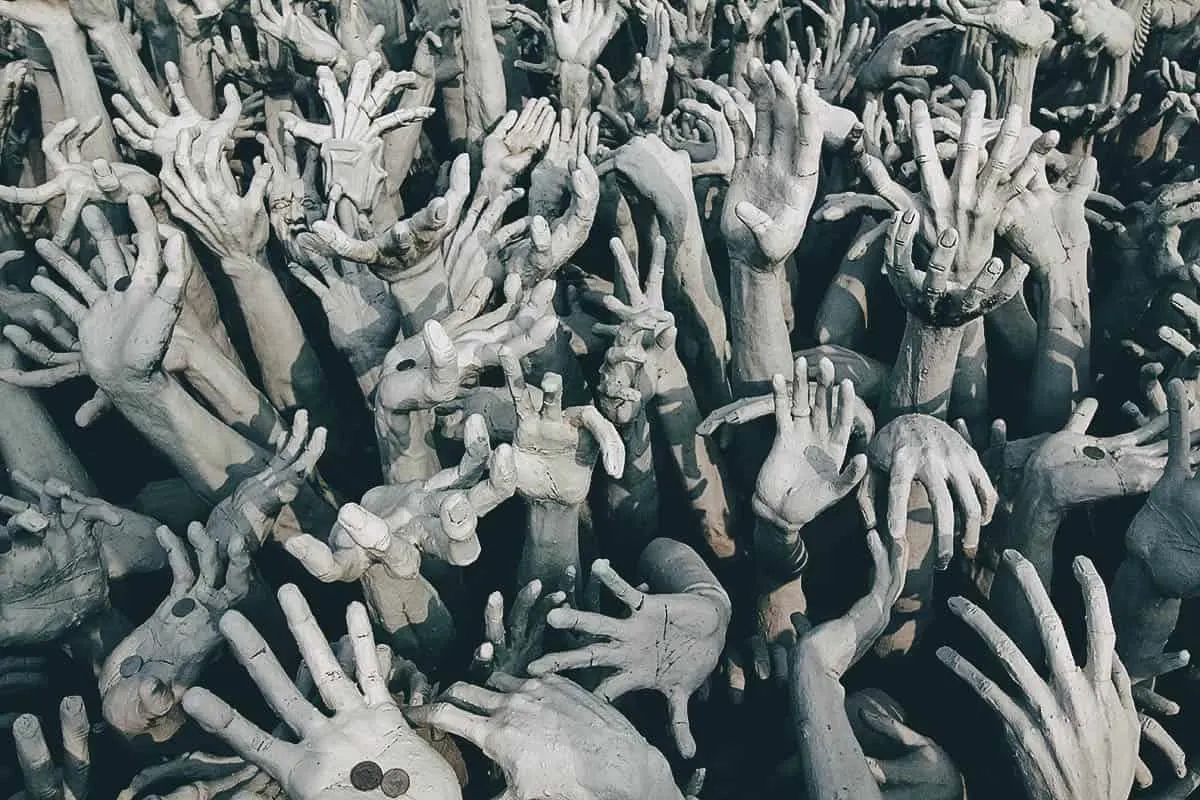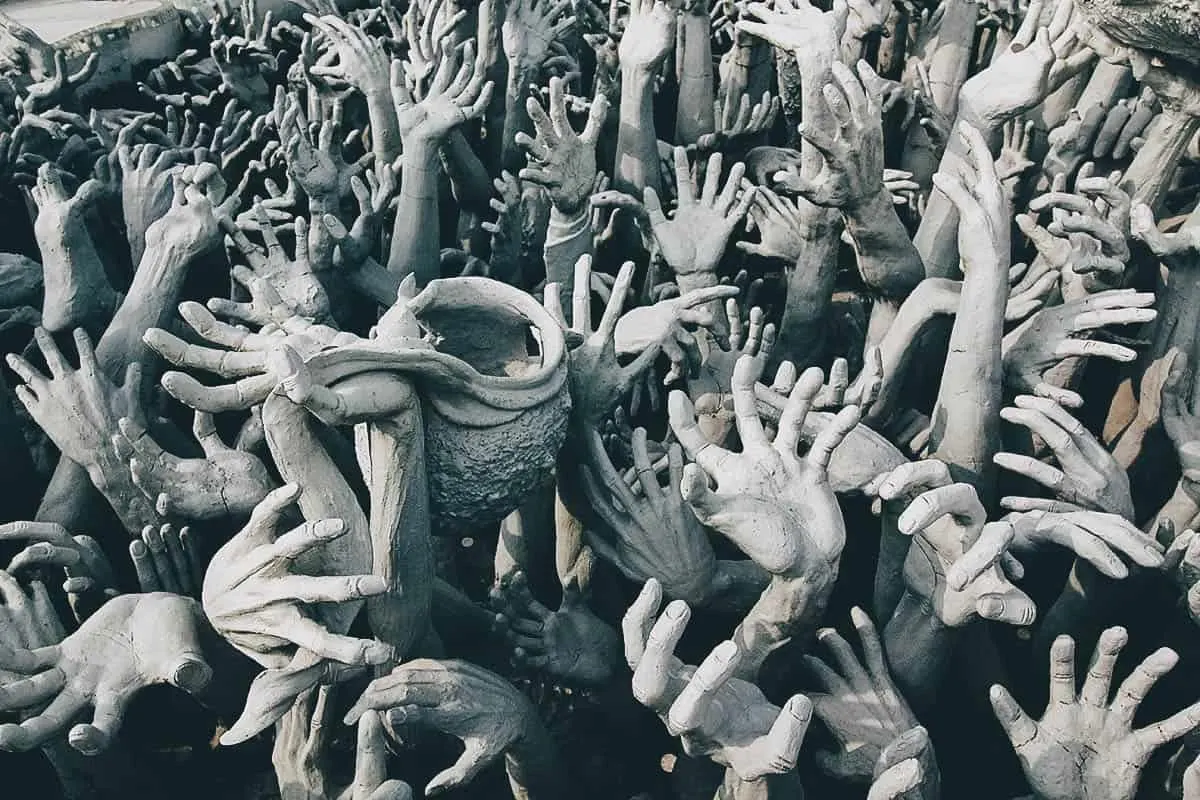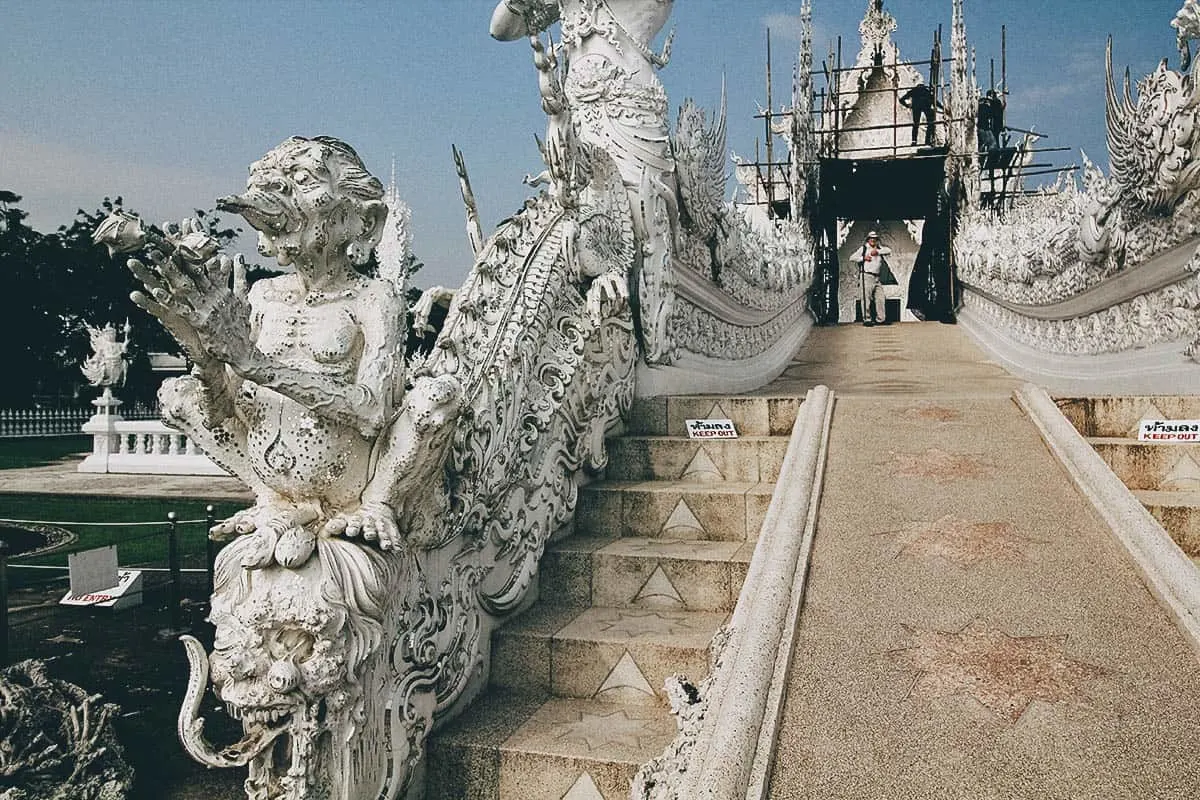 Crossing the bridge takes you to the Gate of Heaven, which is guarded by two creatures representing Death and Rahu. Rahu, as it turns out, decides the fate of the dead.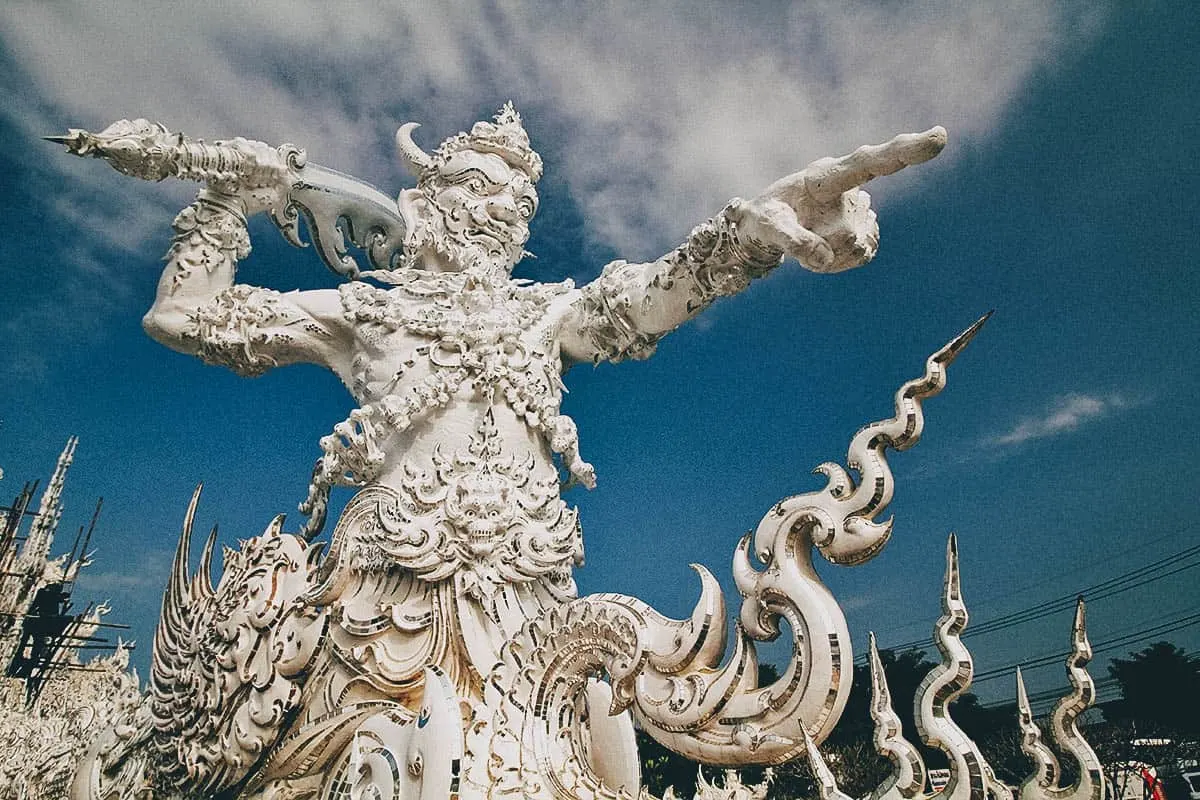 This is the ubosot or holiest prayer room. I didn't want to take off my shoes so I didn't go inside.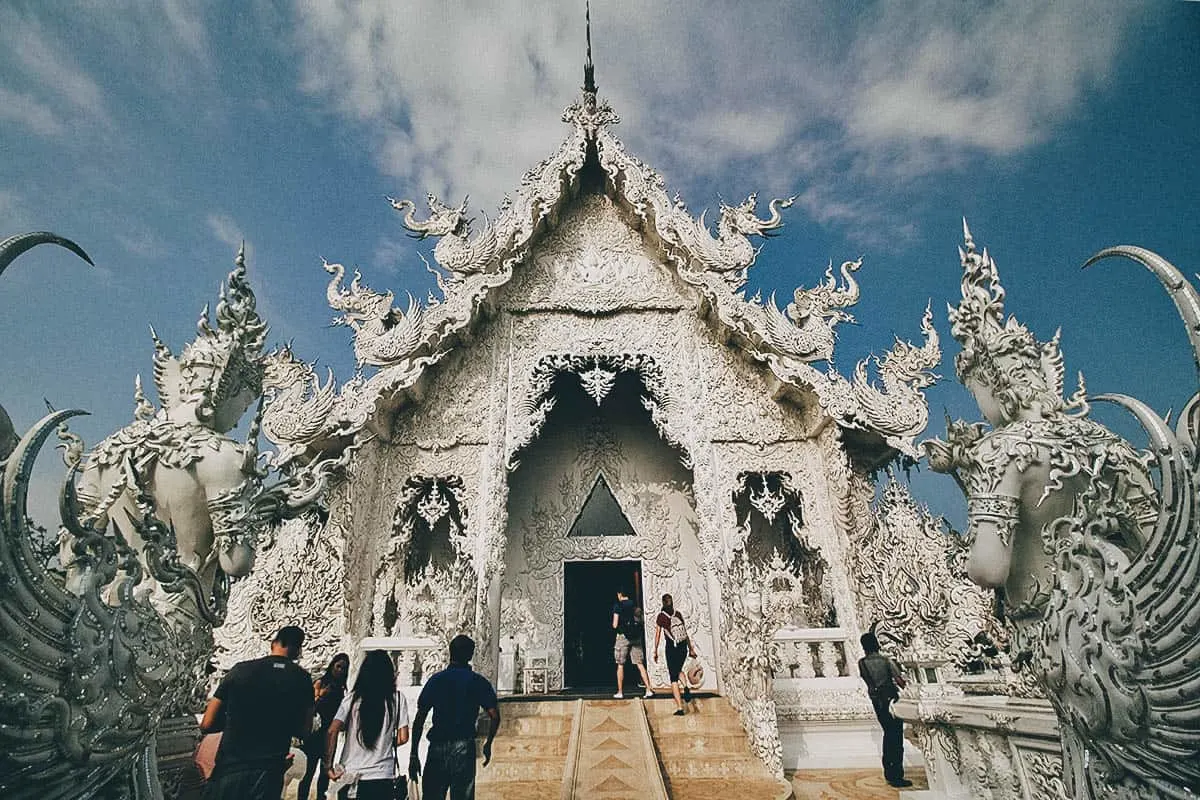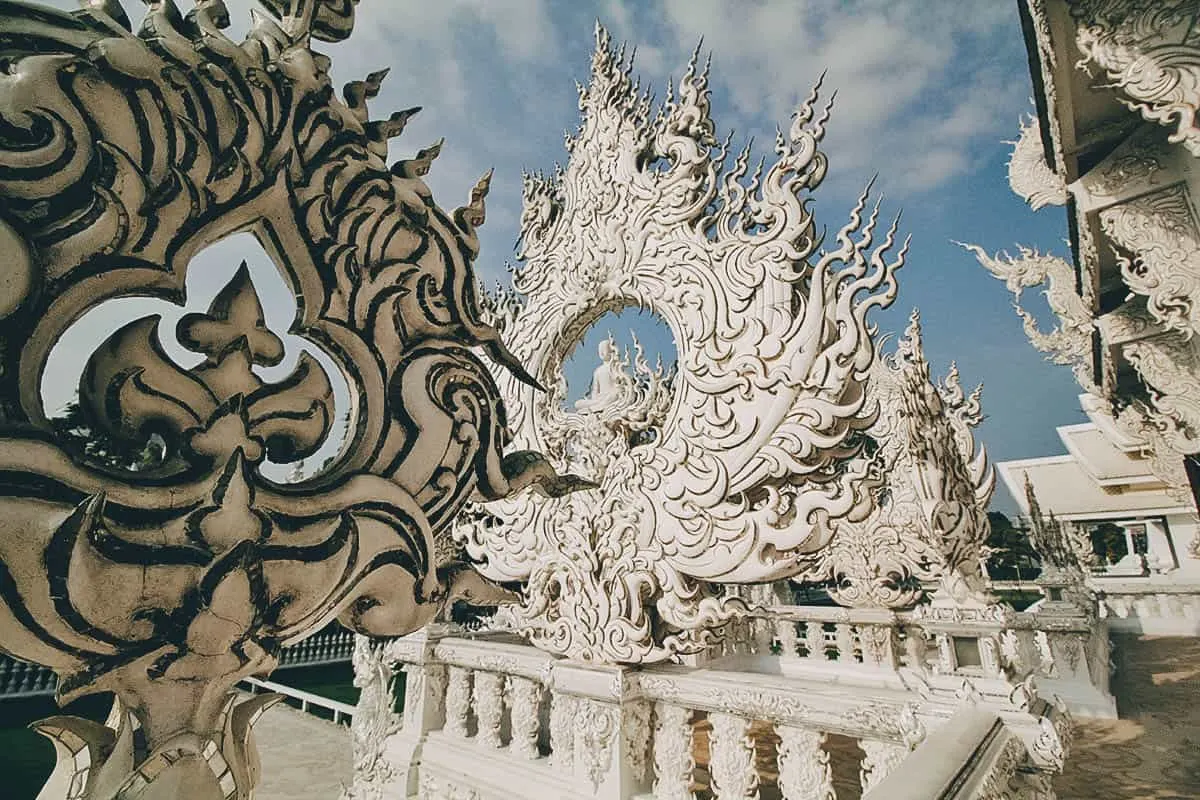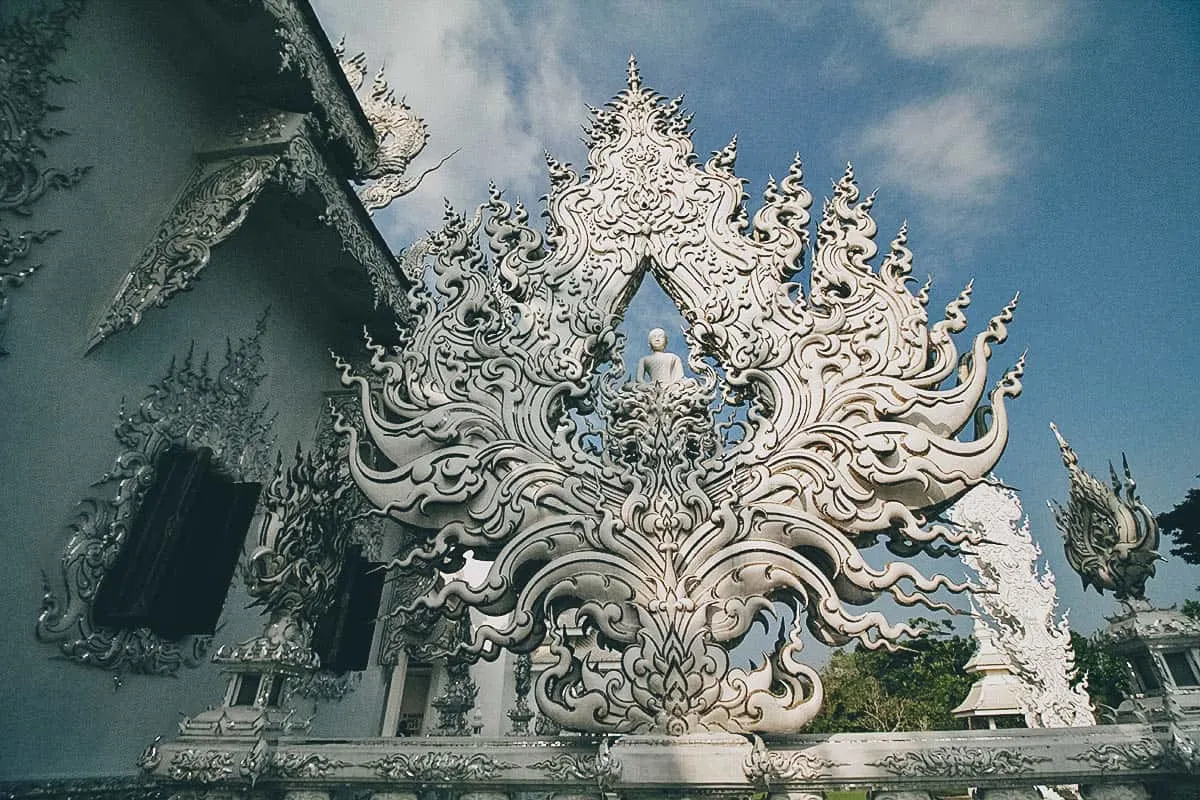 The amount of detail Kositpipat put into this building is astounding. I'm still amazed by the genius of the little mirrors. On a sunny day, the temple really does look like its sparkling white!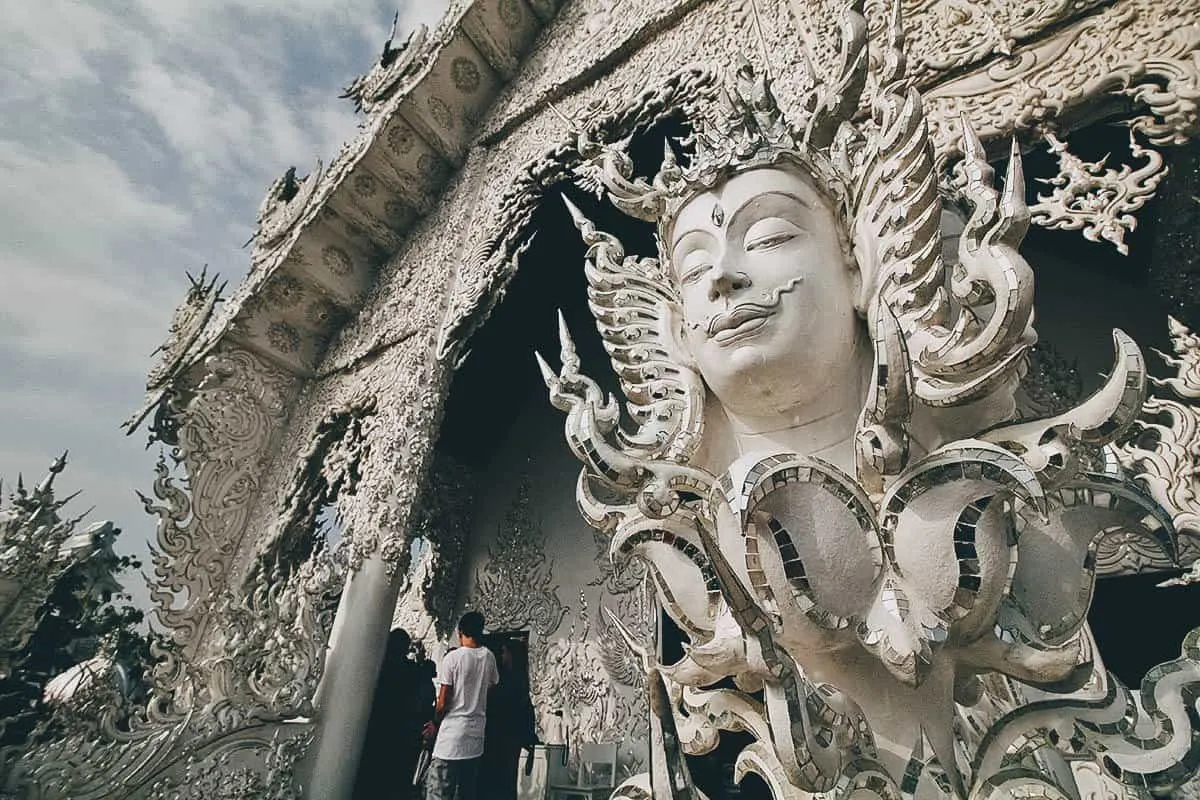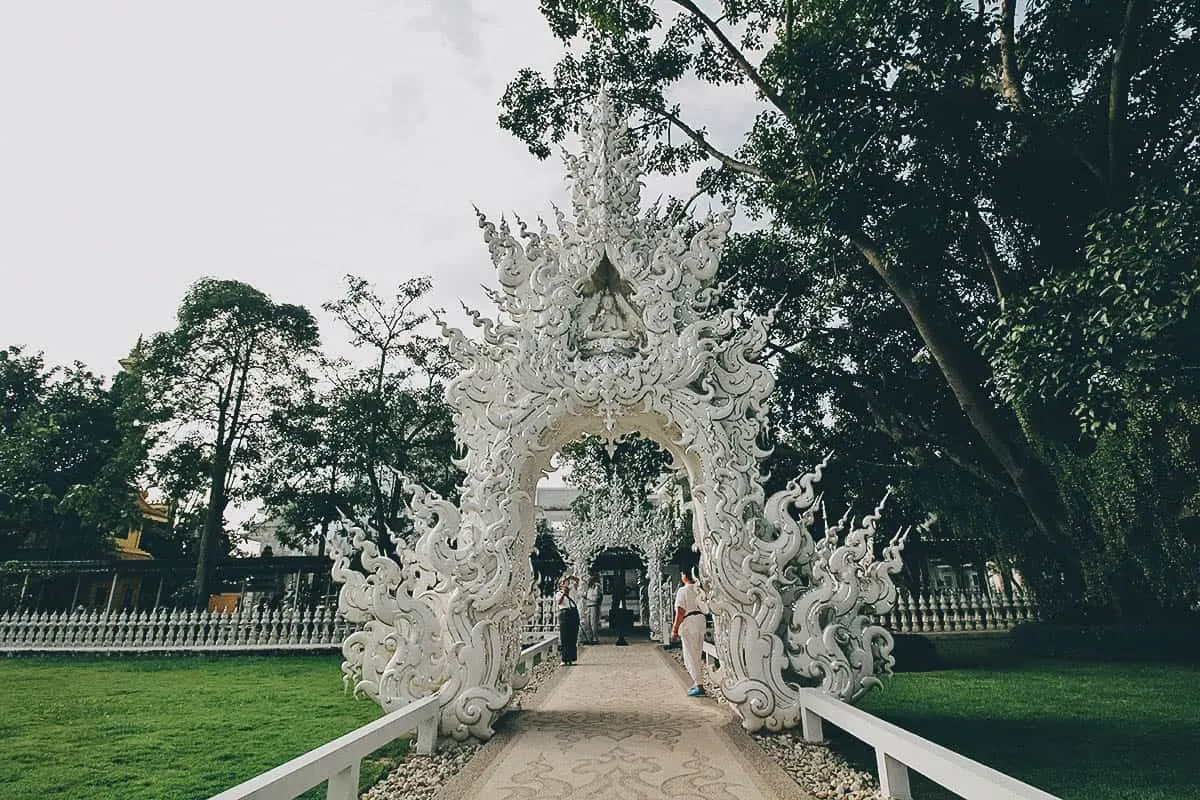 Another golden structure in the temple compound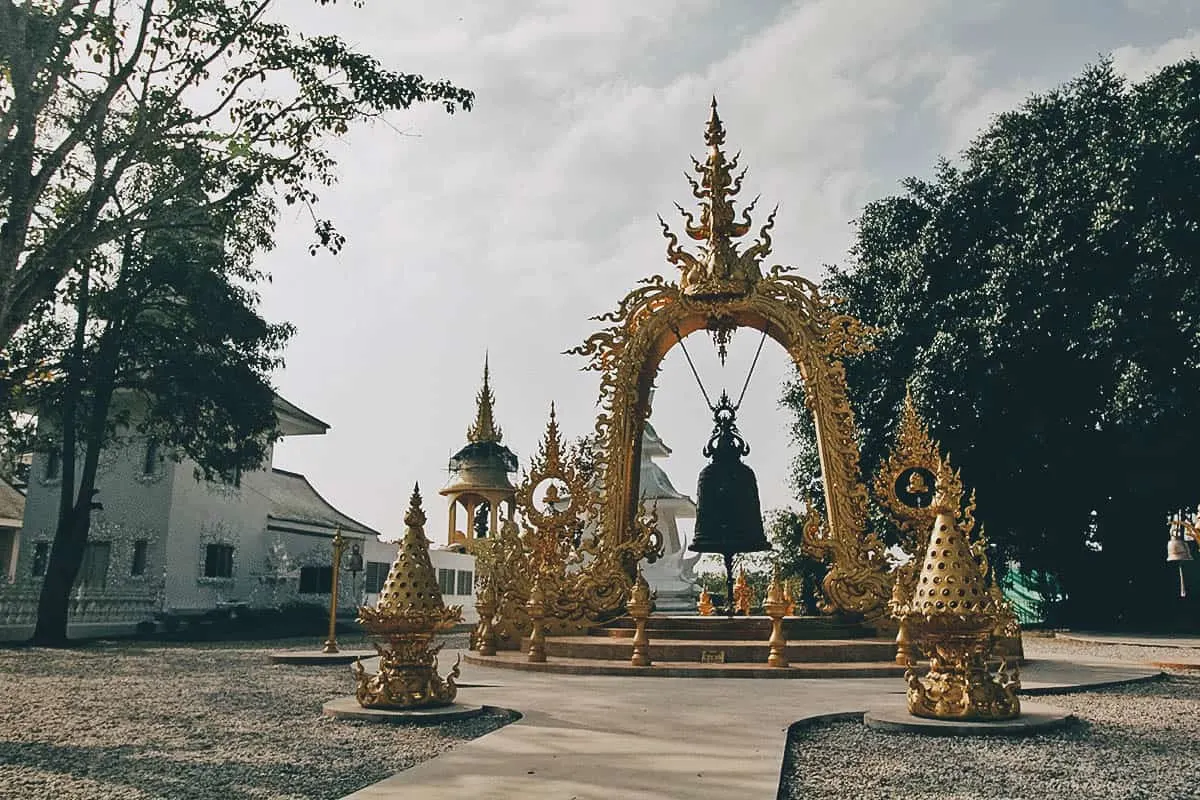 For THB 30, you can purchase one of these ornaments to write down your name and commemorate your visit. Remember to make a wish too before hanging it up. Awwww…JB & Ren forever. ♥

As you'd expect, the ornaments have accumulated over the years so you'll find them in the thousands here.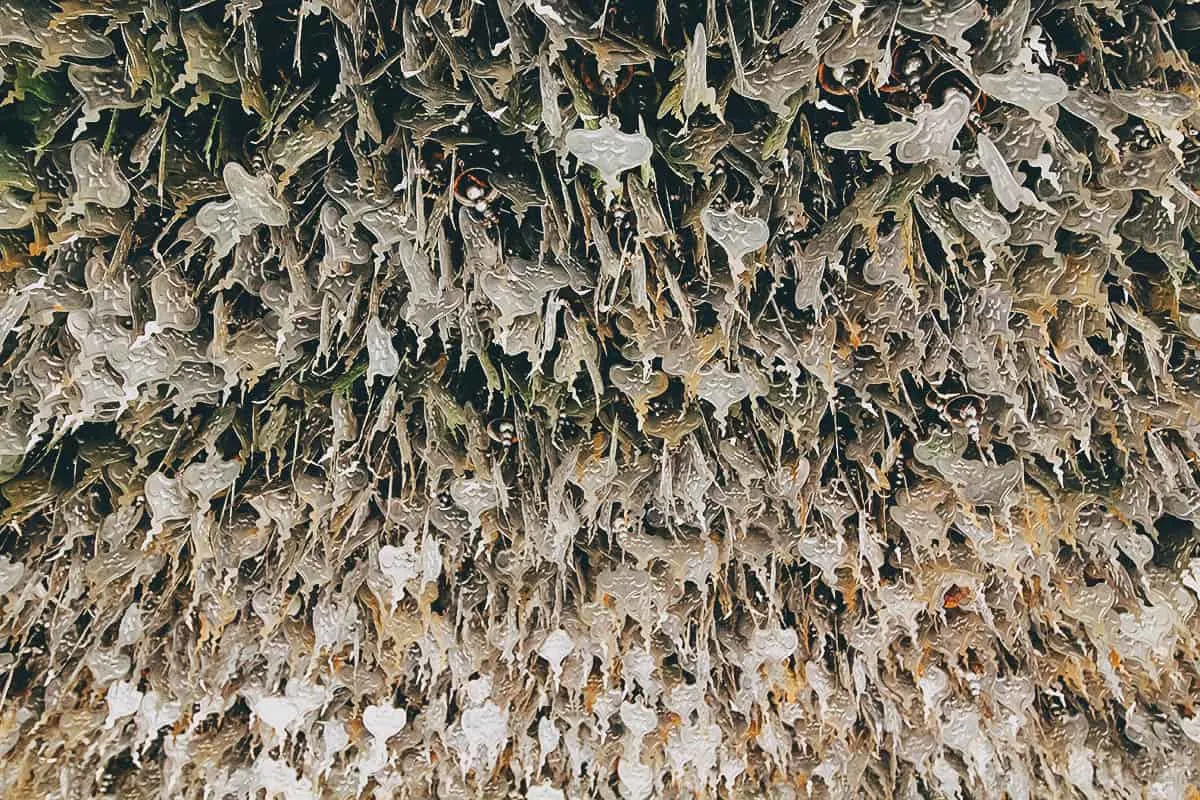 In the distance there is a grand golden structure that isn't accessible to the public yet. By the time it's done, the temple compound will have nine buildings, which include the ubosot, a hall of relics, a meditation hall, an art gallery, and living quarters for monks.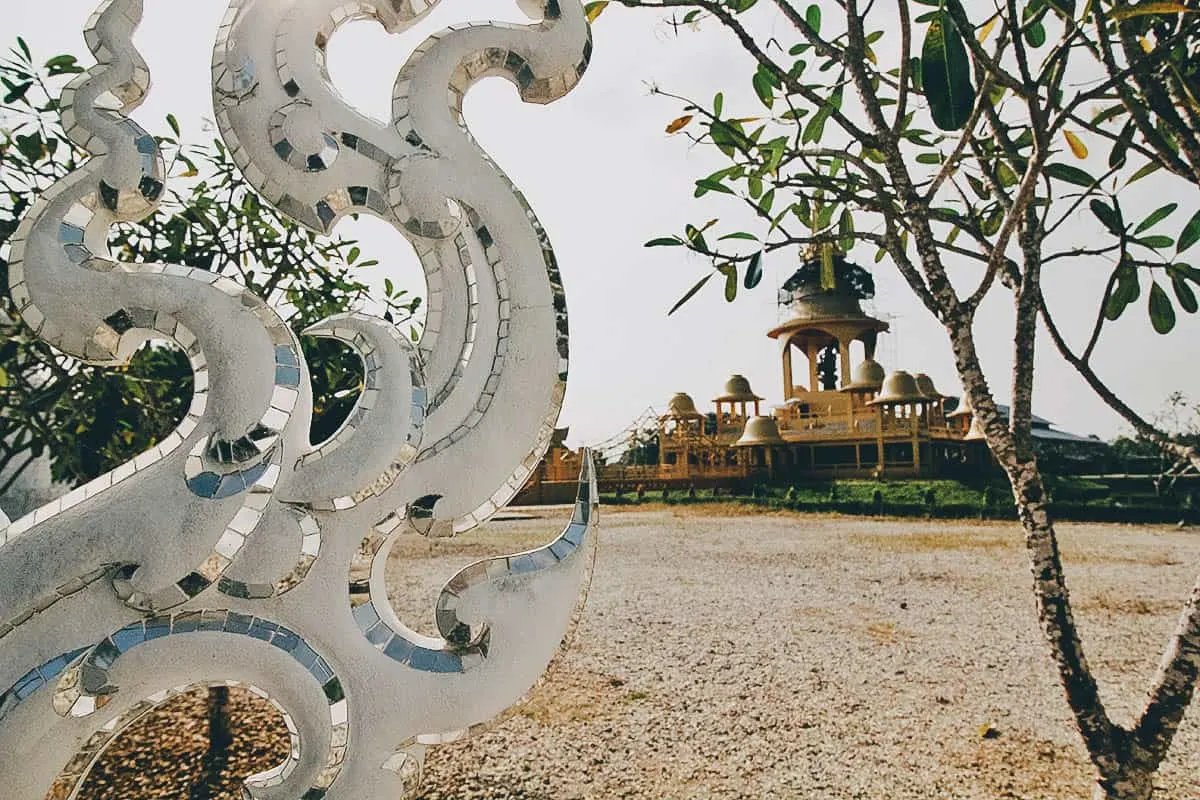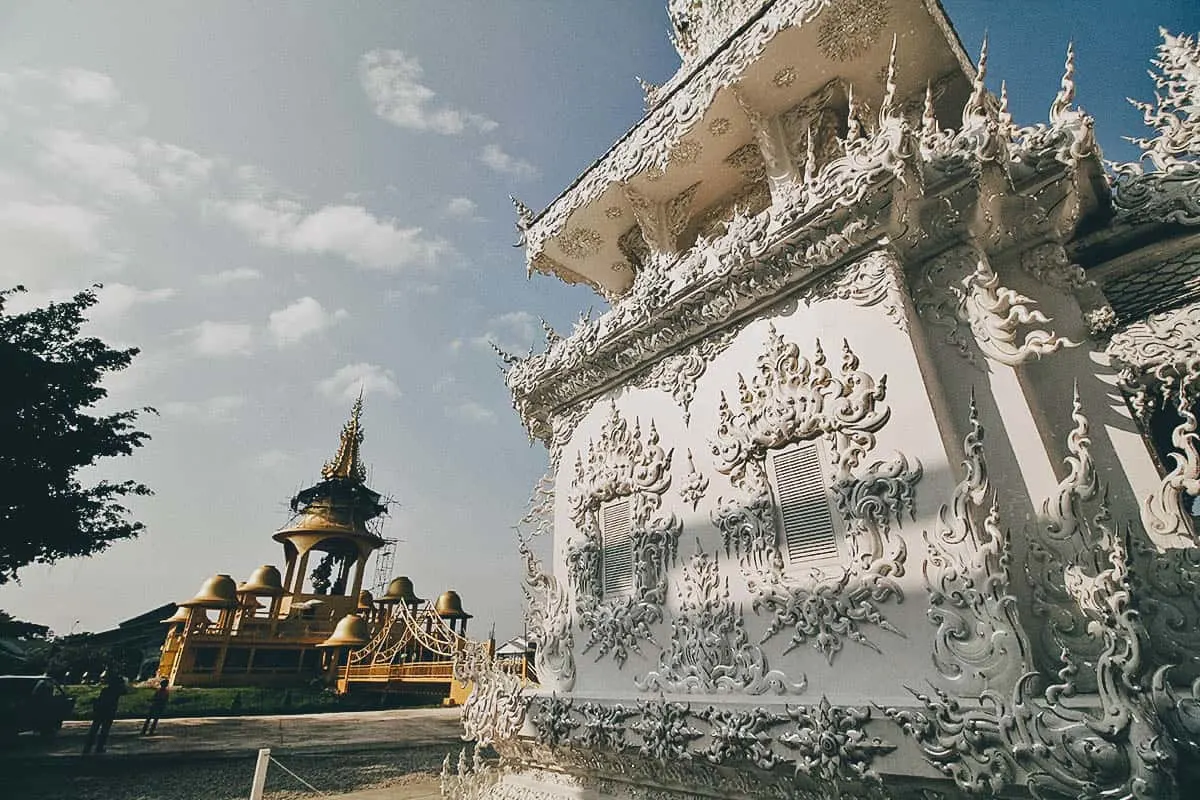 Golden wishing well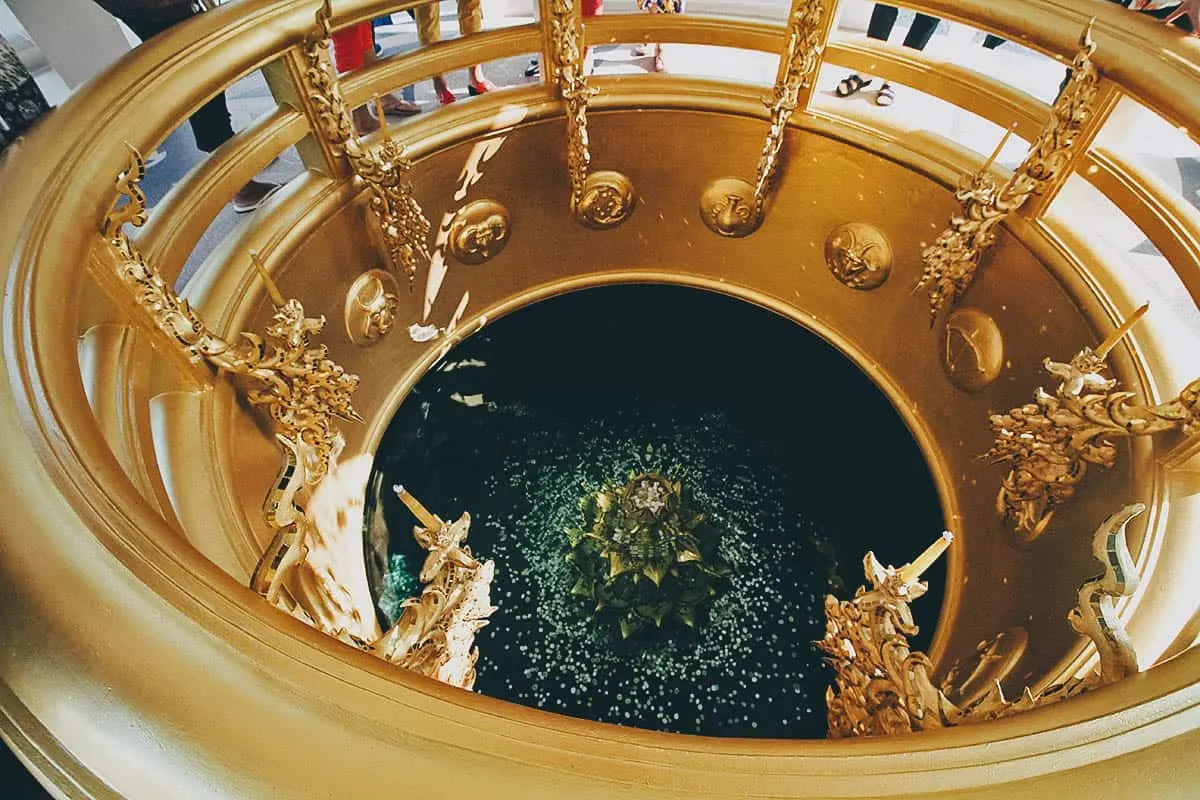 Have you ever seen a bathroom as lavish as this? Inside this ornately decorated golden building are the restrooms. Gold is meant to symbolize the body and earthly desires while white represents the mind. Excuse me while I go relieve my body before moving on to our next stop.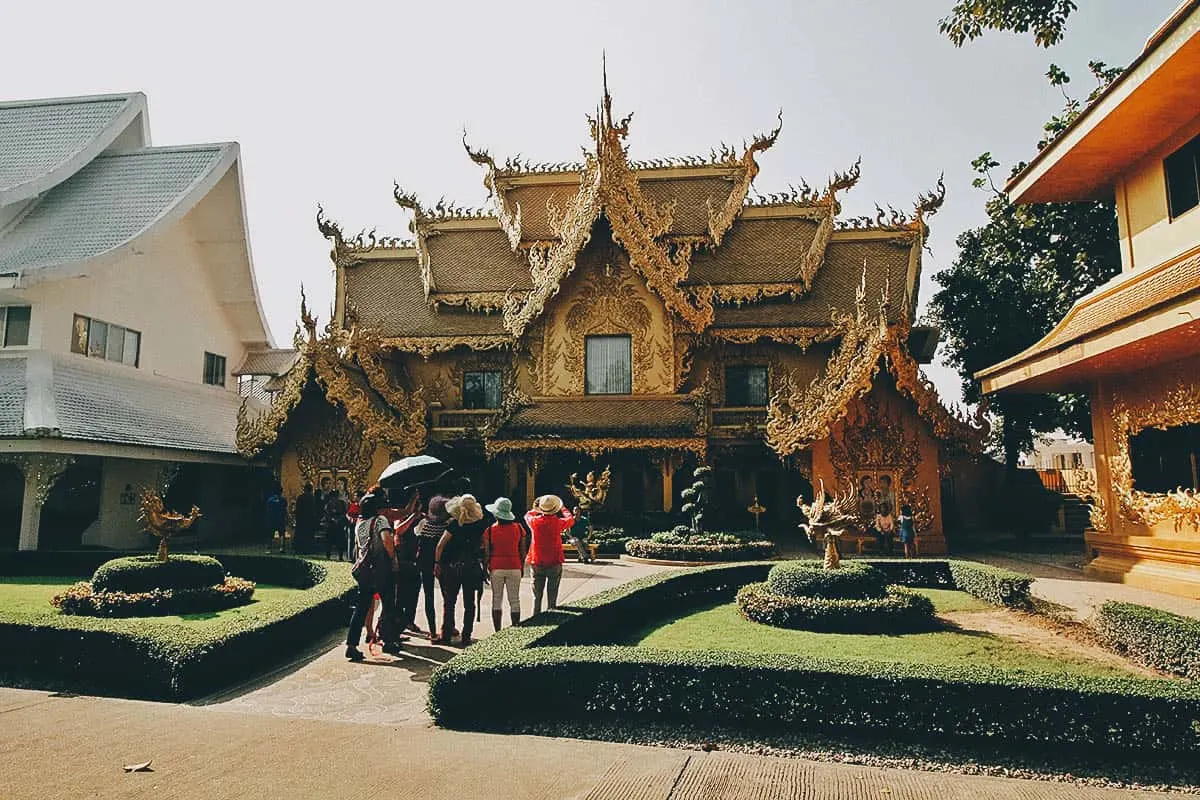 Wat Rong Khun (White Temple), Chiang Rai, Thailand
San Sai, Mueang Chiang Rai District, Chiang Rai 57000, Thailand
Tel: +66 53 673 579
Operating Hours: 8AM-5PM, daily
Admission: THB 50
Baan Dam Museum (Black House)
Baan Dam Museum was the home and studio of the late Thawan Duchanee, a National Artist of Thailand famous for his paintings and architecture. Meaning "black house" in Thai, Baan Dam is considered Duchanee's architectural masterpiece. It's located north of the city, about a 45-minute tuk-tuk ride from Wat Rong Khun.
Baan Dam isn't just one singular structure, but a collection of about 40 buildings spread out over a landscaped garden. Pictured below is the largest building at the museum and the first one you'll be entering.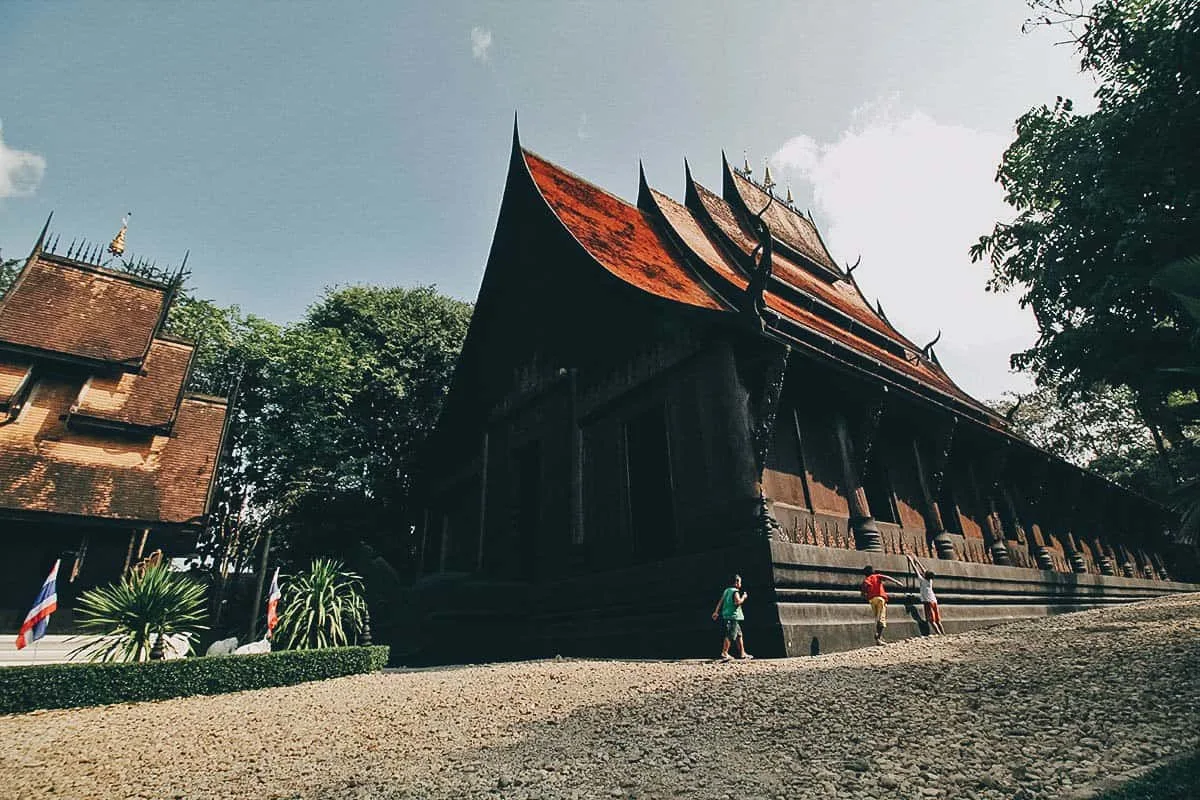 There was this group of kids playing what looked to be traditional Thai instruments in the main building.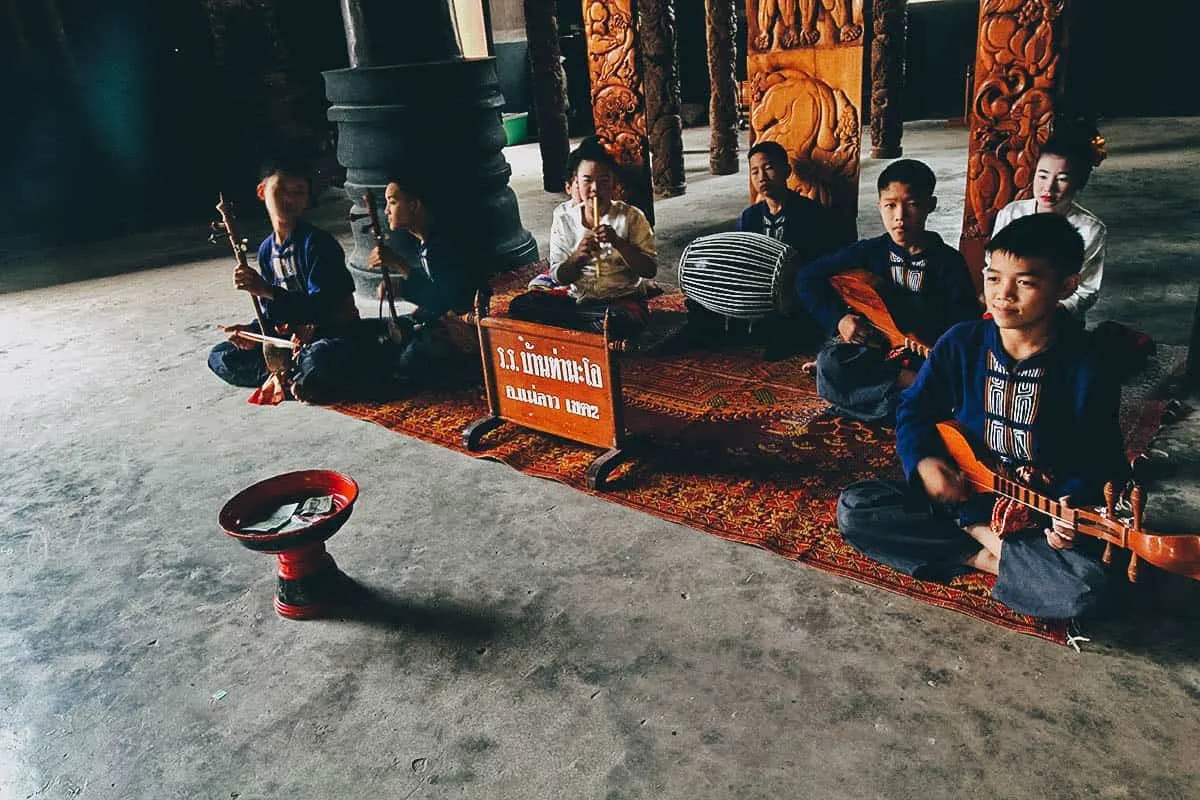 Duchanee excelled at wood carving so you'll find many of these intricately carved pieces at the museum.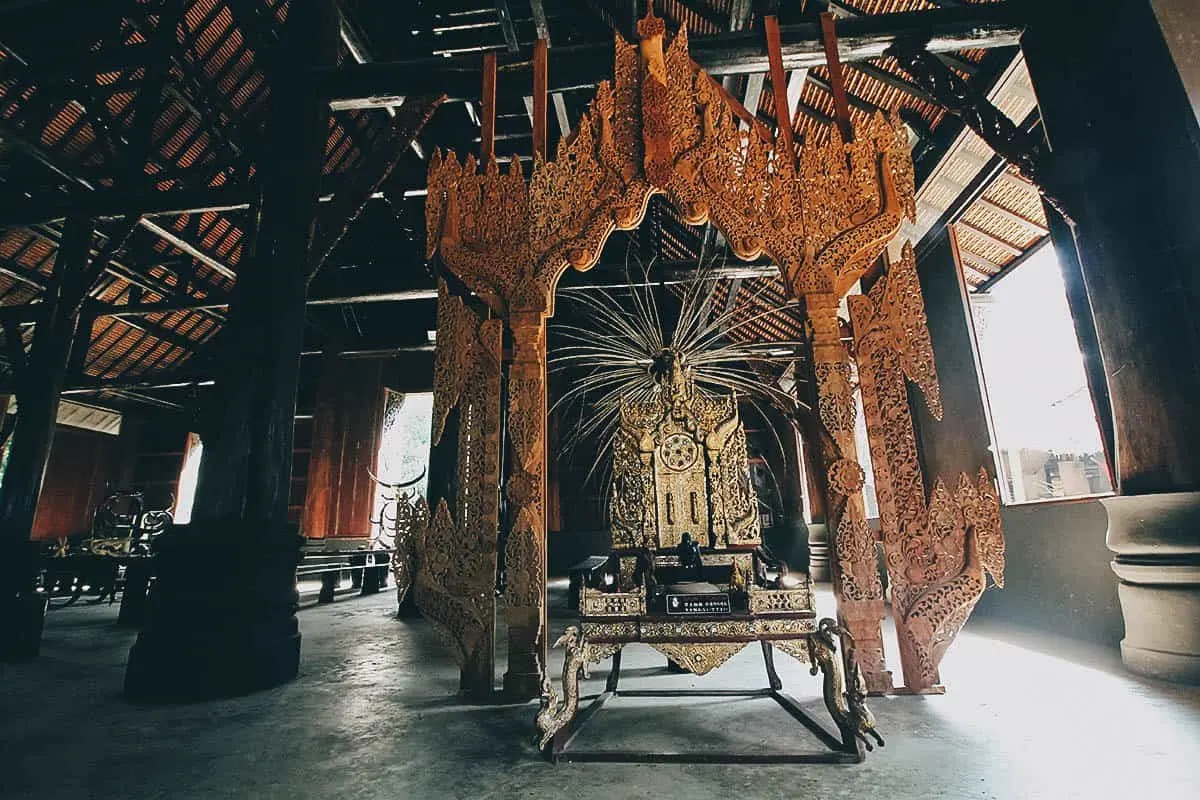 Within minutes of being here, you'll notice that Duchanee had a fascination for animal remains. He has dozens of these alligator skins as well as furniture made from buffalo horn and different types of large seashells. If you're an animal lover, then you probably won't like this place too much.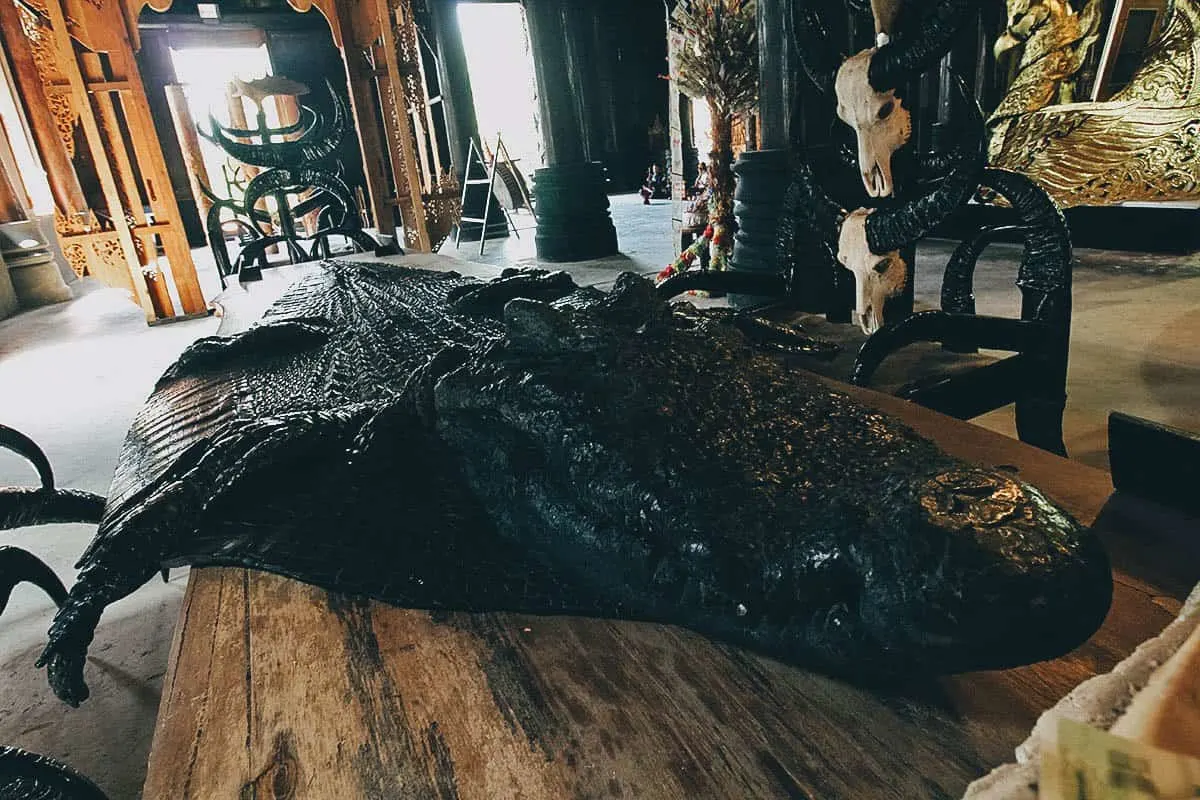 There's one of the chairs I was talking about made with buffalo horn. The large painting behind it depicts Duchanee in his youth and in old age. He died of liver failure in 2014 at the age of 74.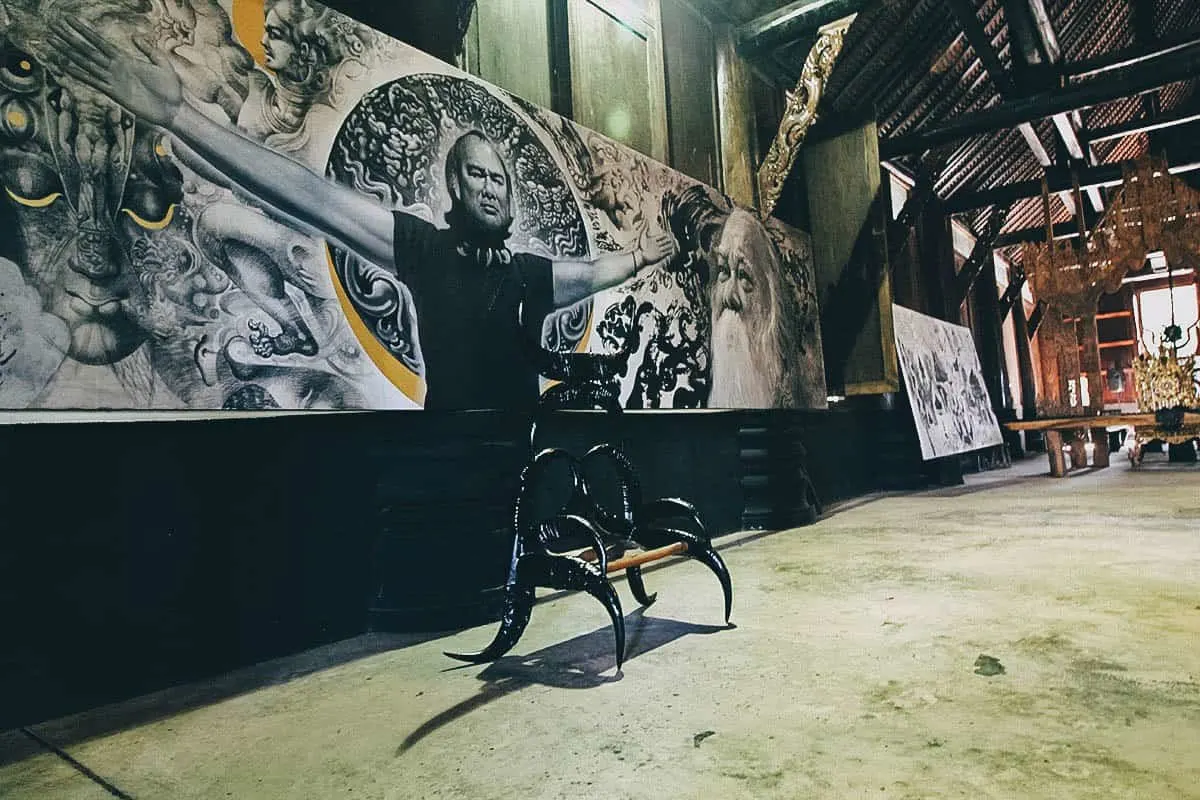 Toilet adorned with more animal remains and other trinkets.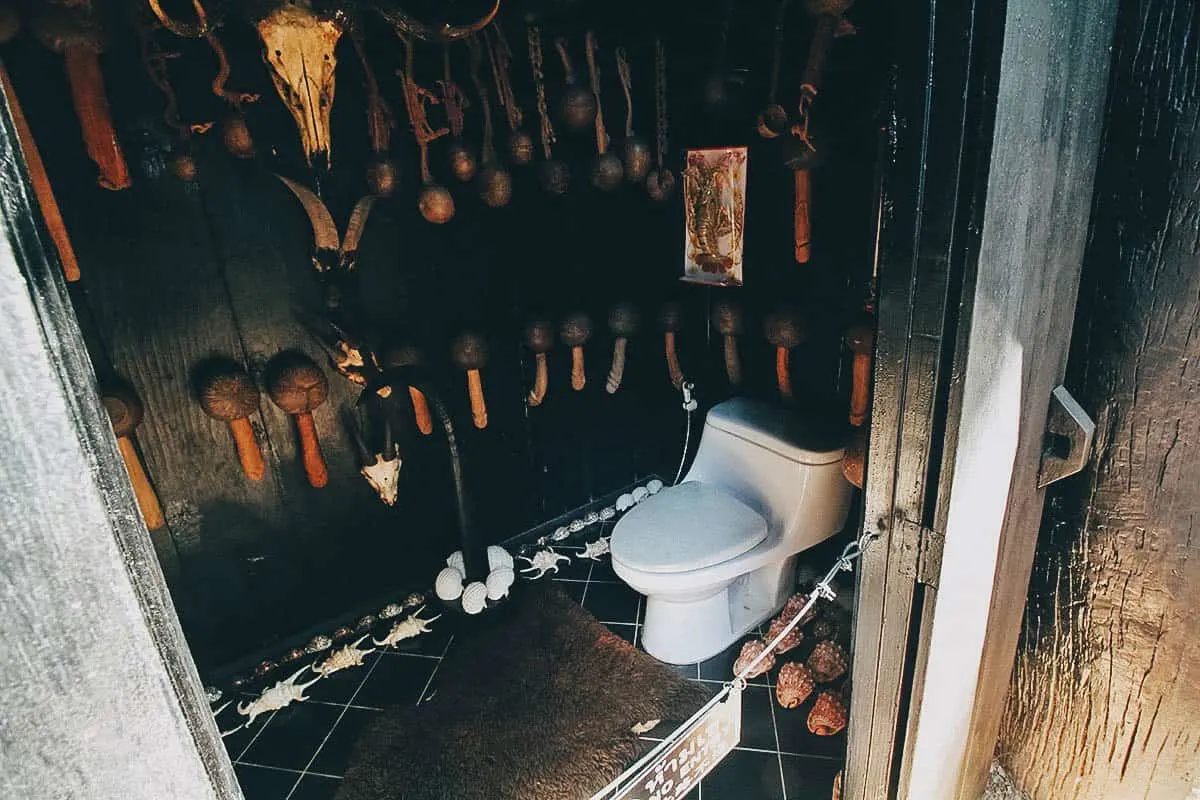 Duchanee's carvings are beautiful. It's incredible to think that one man was responsible for creating all these intricate works.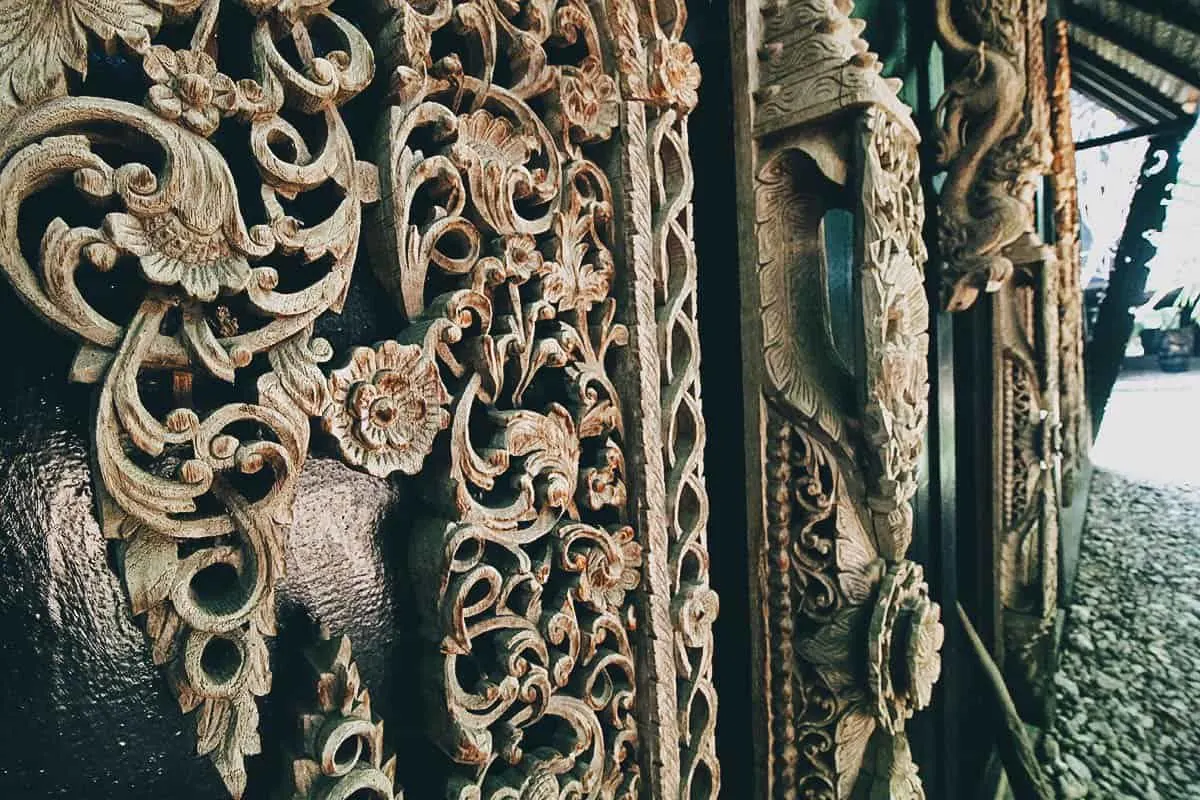 He probably created these sculptures of Ganesha as well.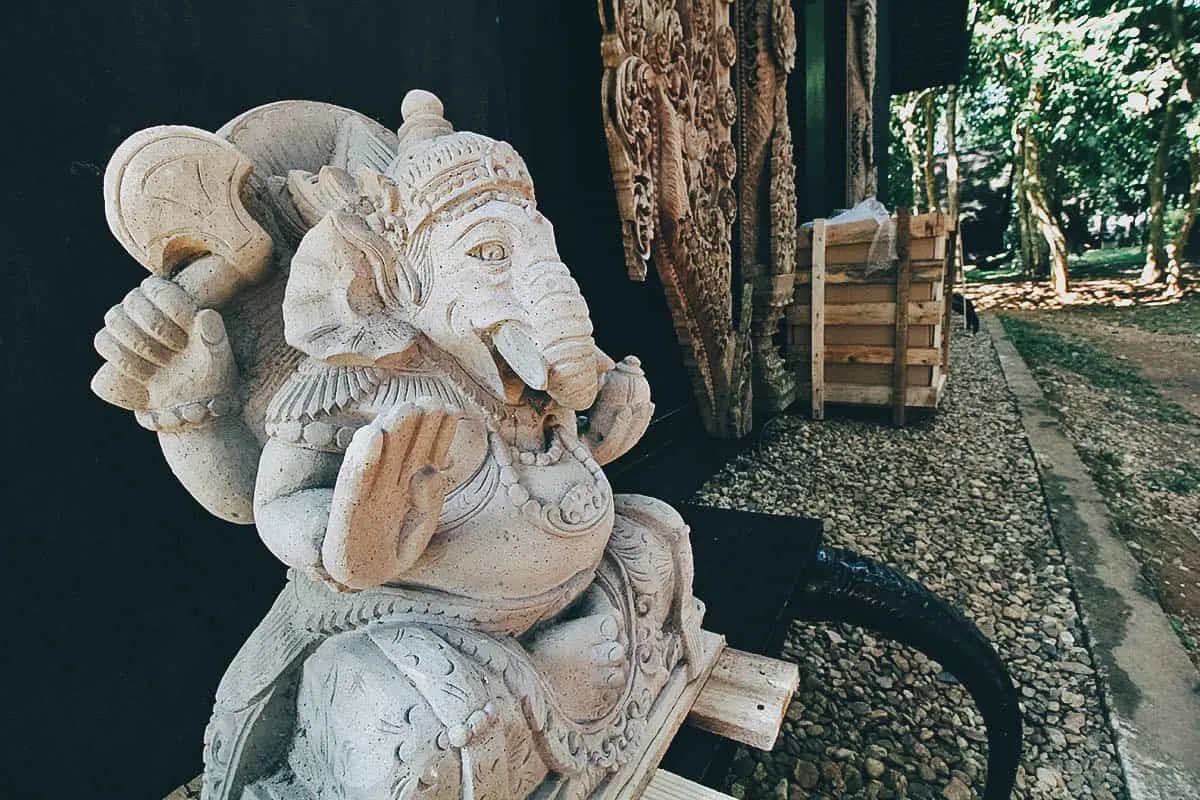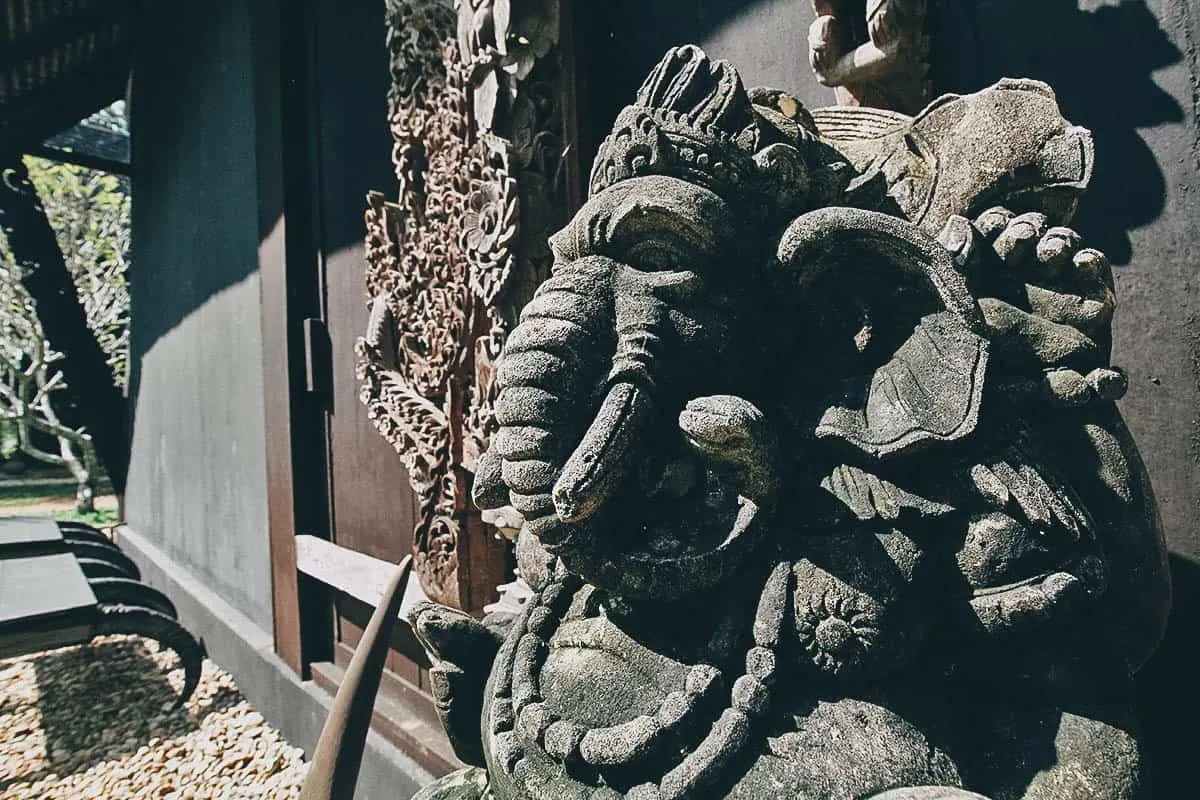 Where can I get a door like that for our bathroom?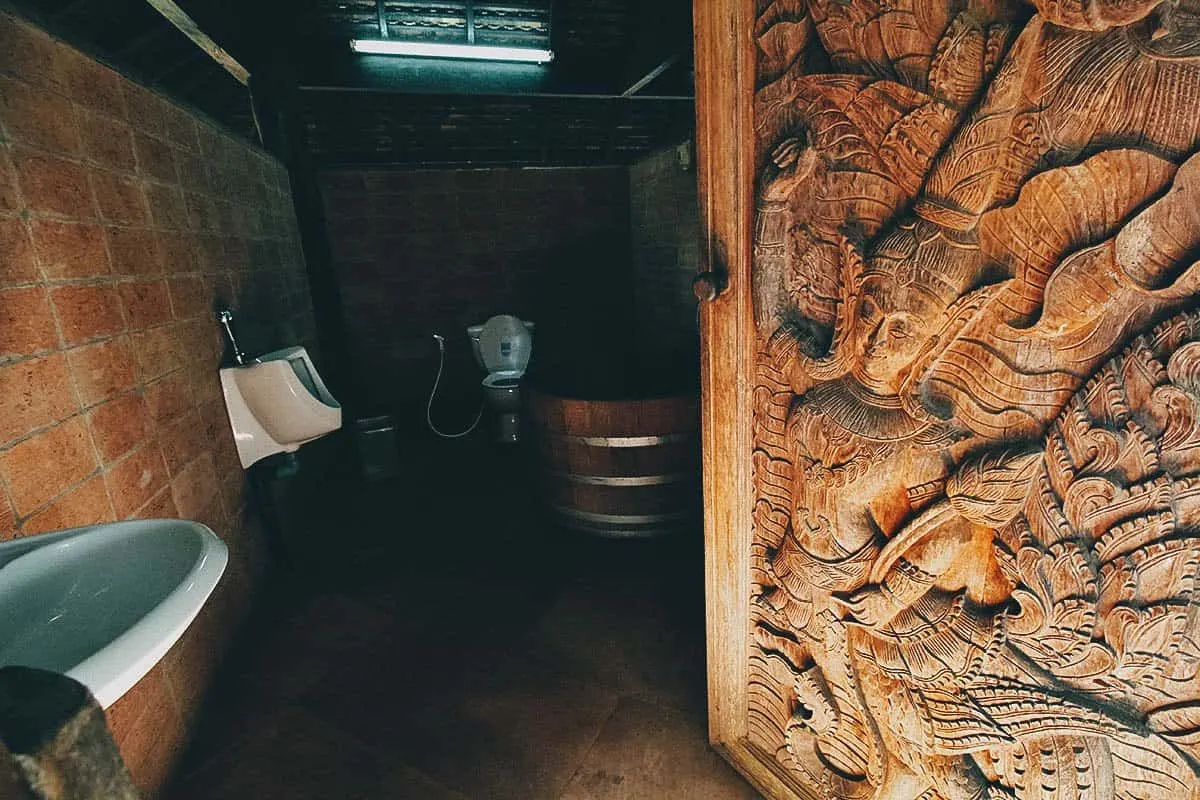 I loved this bathtub! It looks like Baan Dam can accommodate guests but overnight stays don't seem to be open to the public. I read that some parts of the museum can indeed be used for meditation, but only by members of the royal family.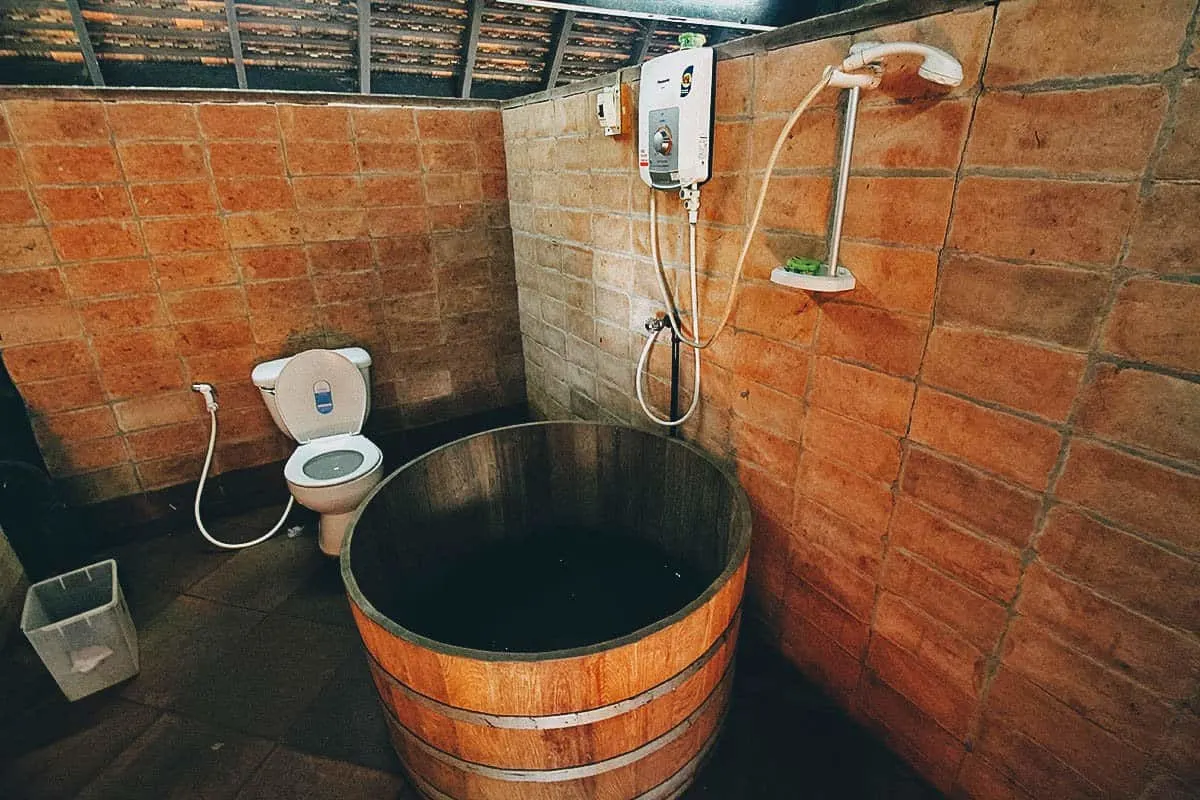 More of Duchanee's incredibly intricate carvings adorning the exterior of the buildings.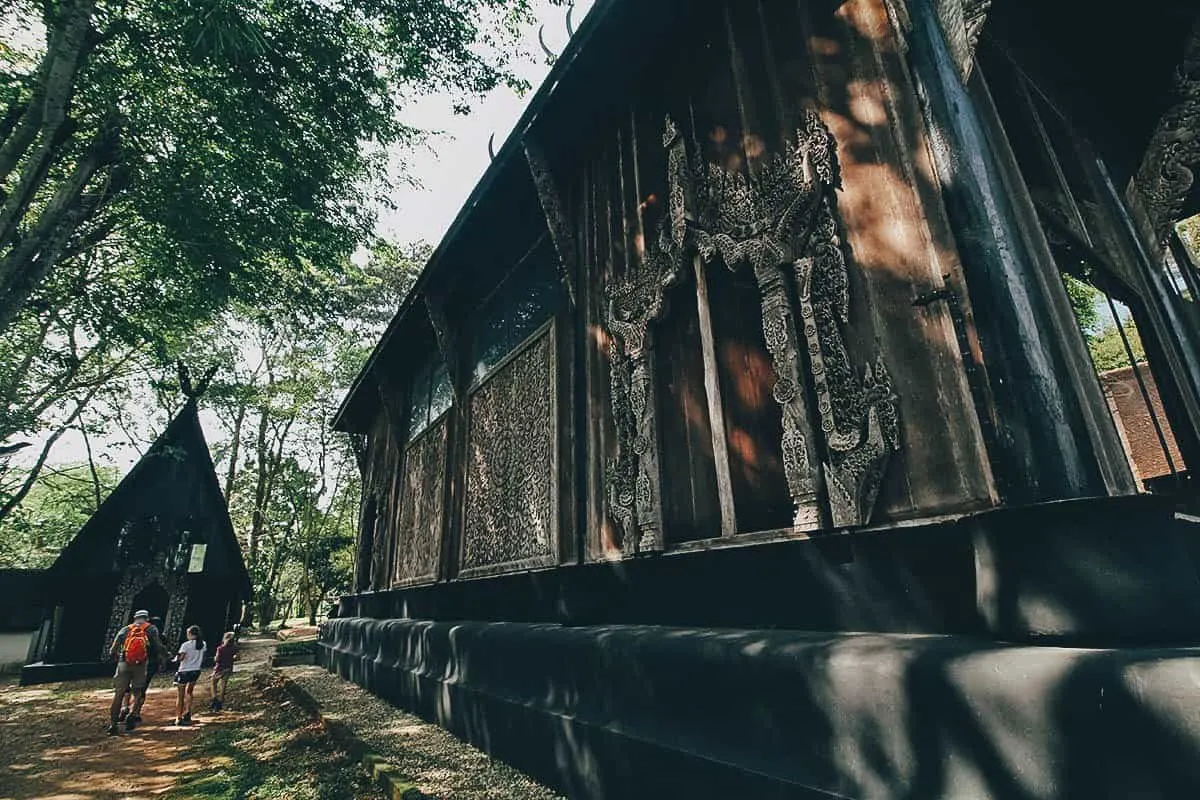 See what I mean about the alligator skins? You get sick of seeing them after a while. Like I said, Baan Dam Museum isn't for everyone.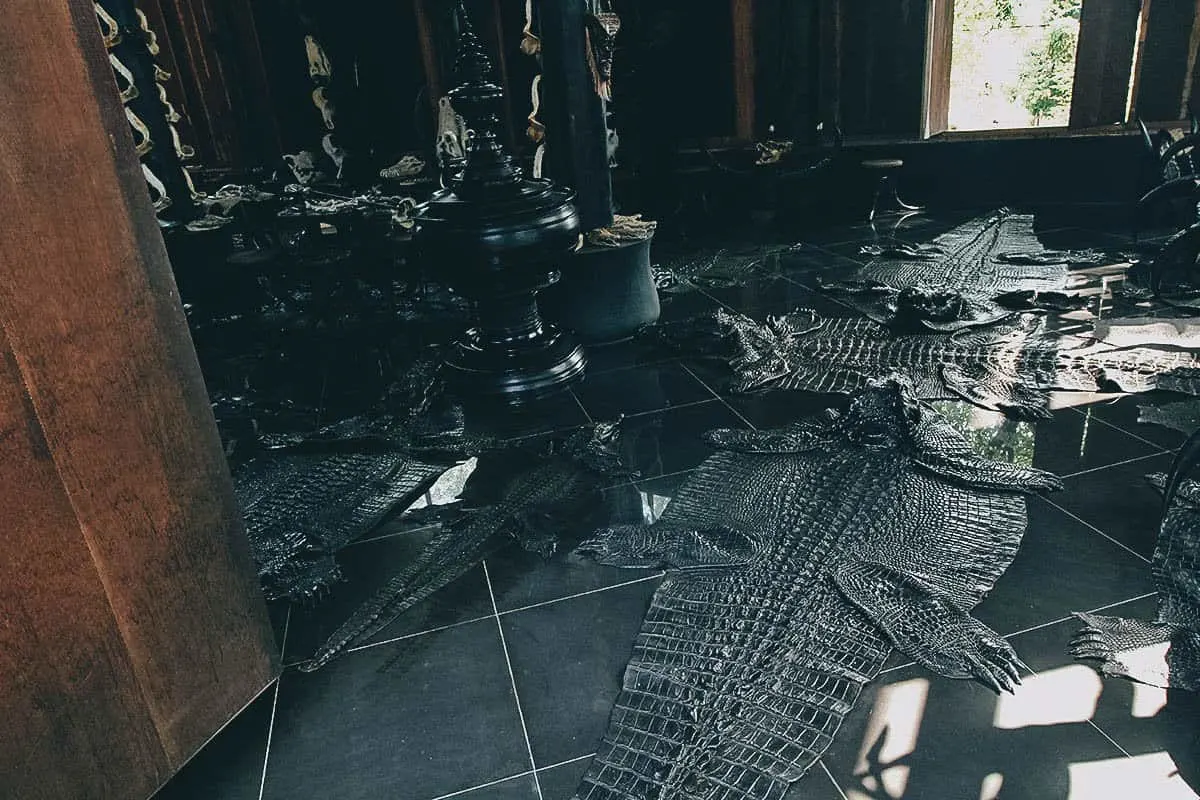 Interesting Thai architecture abounds here.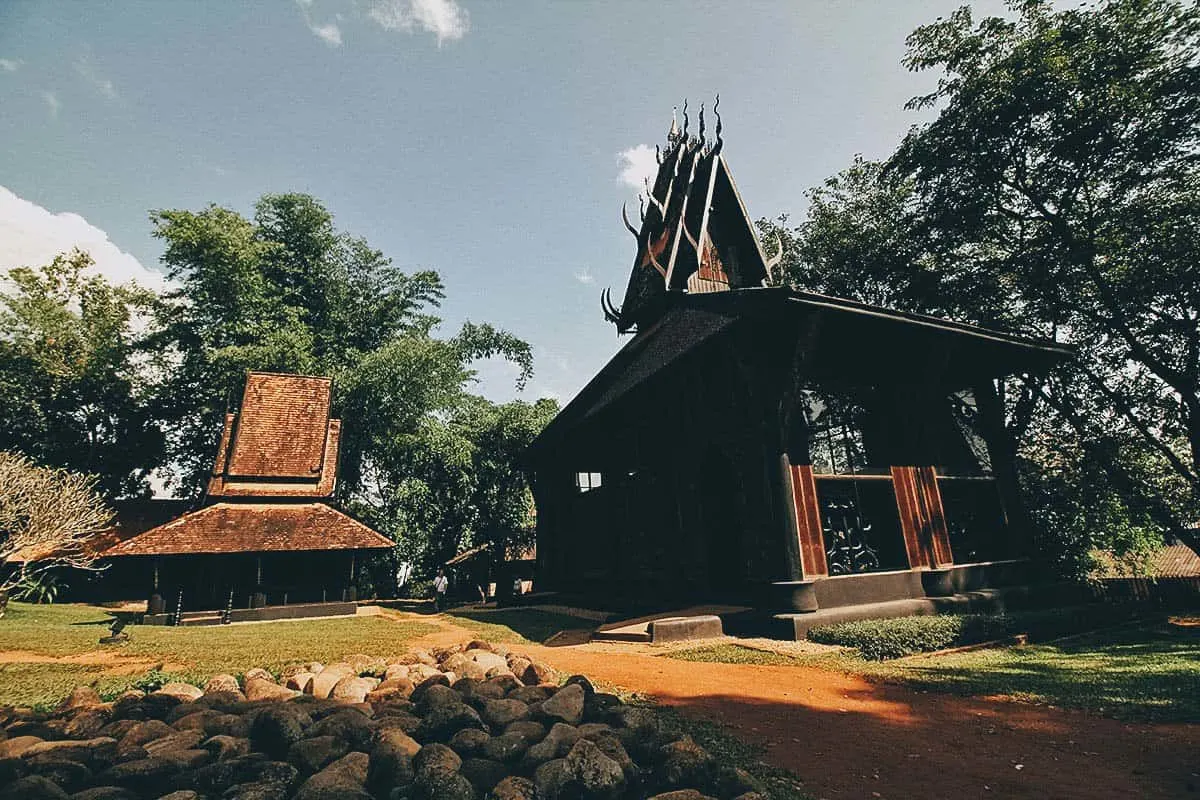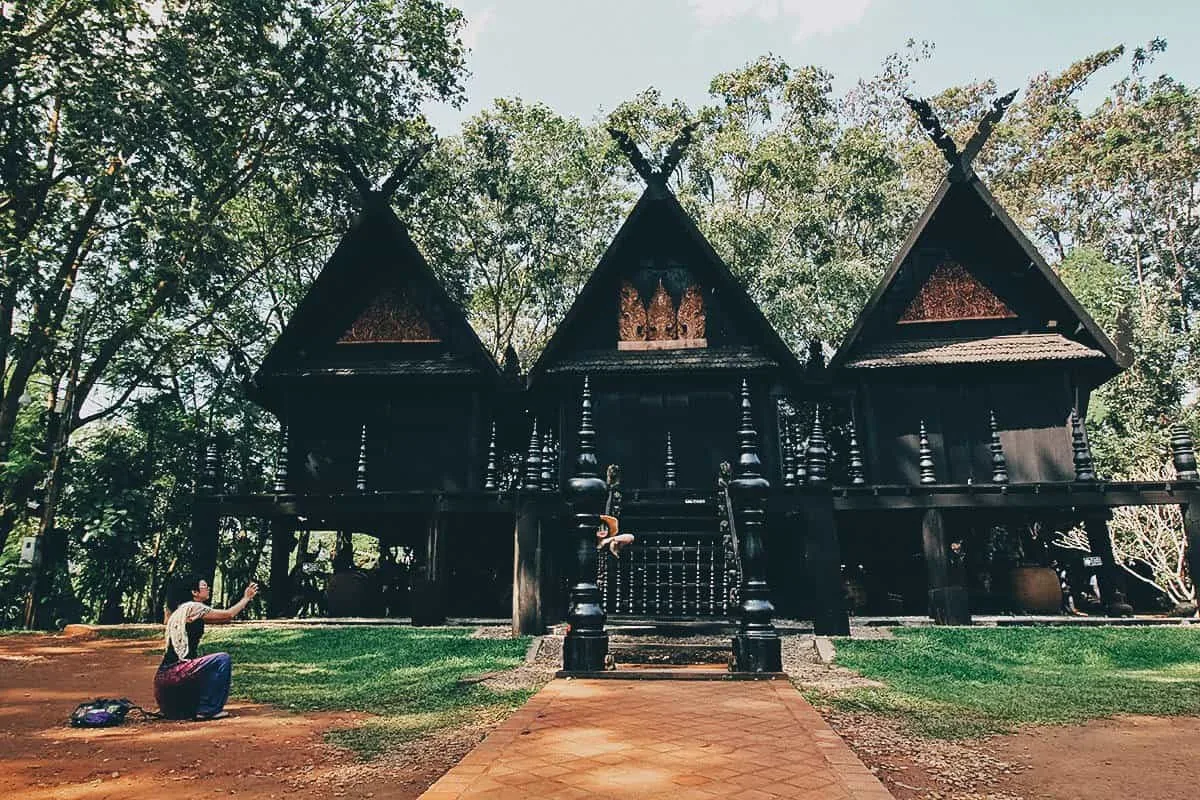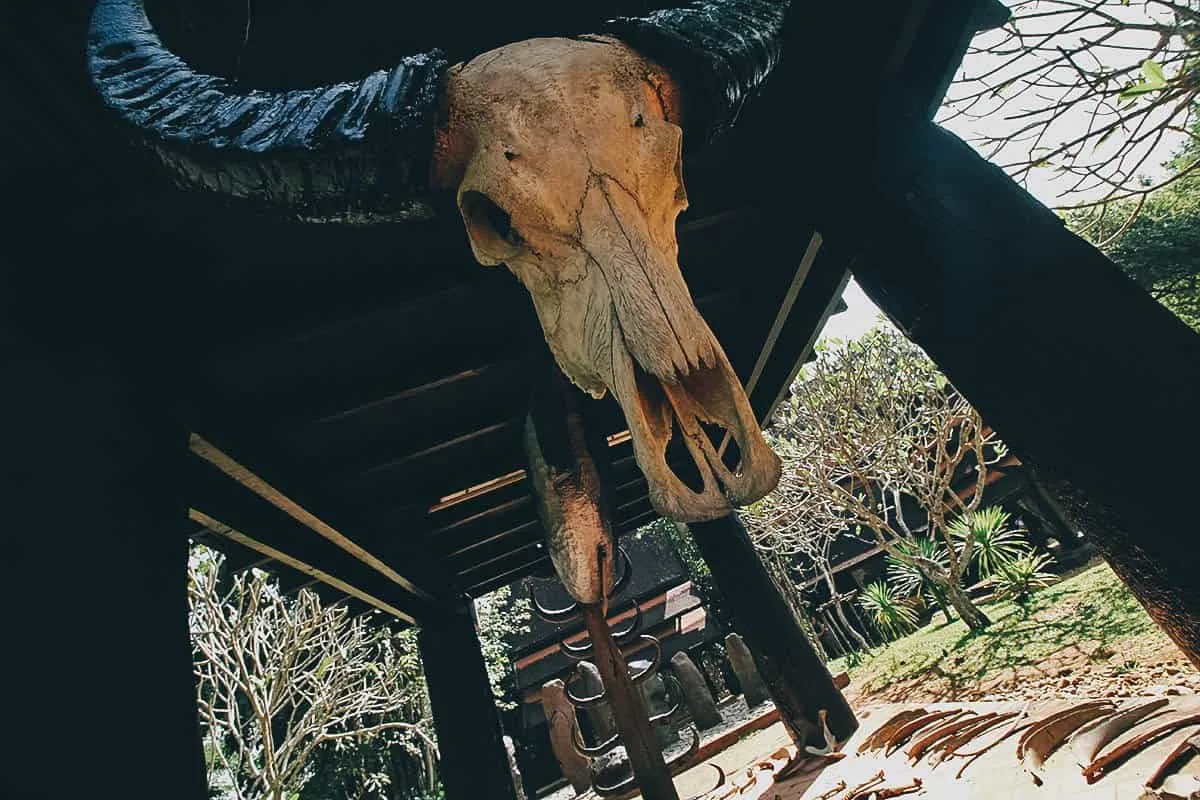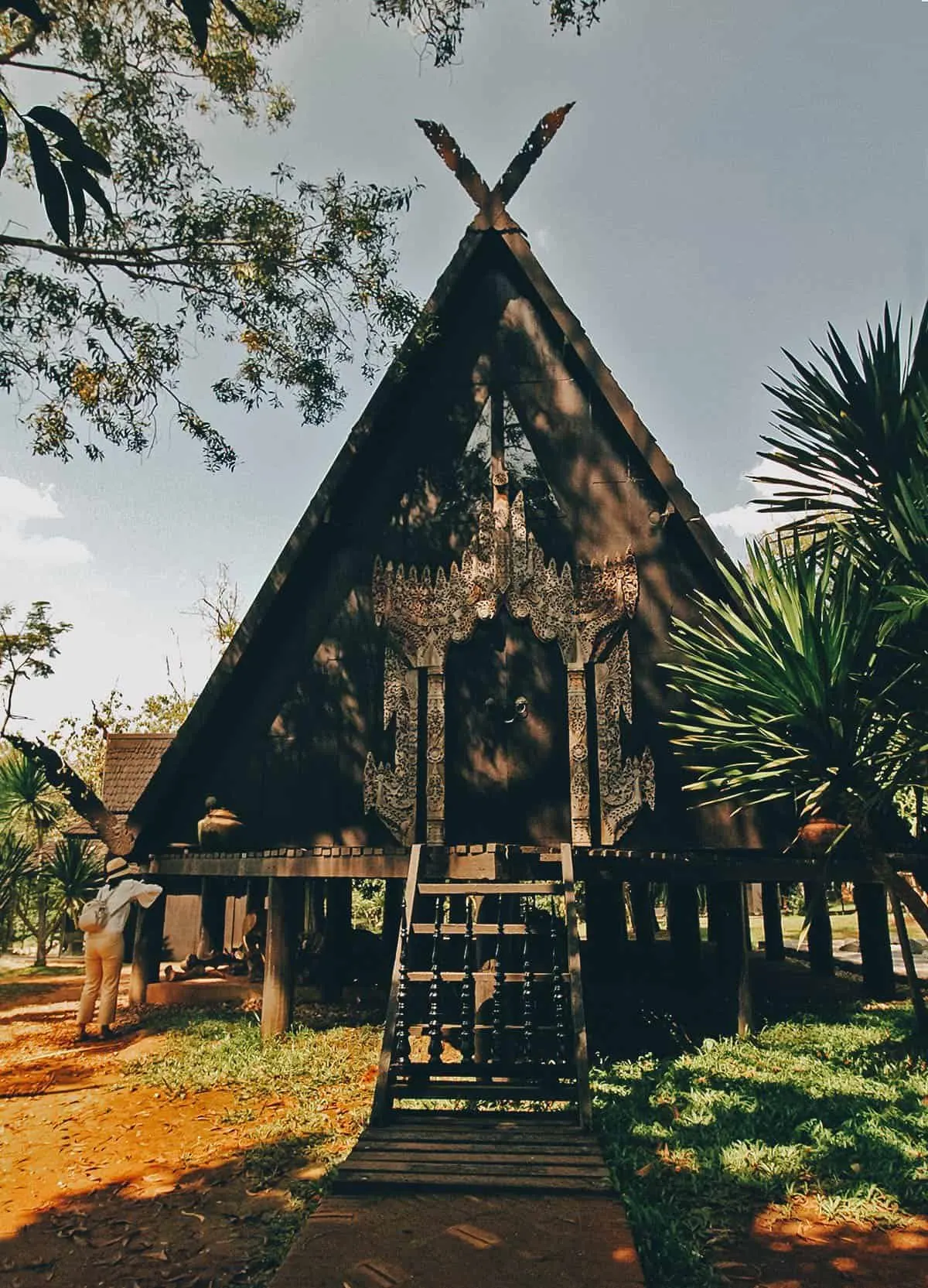 Aren't these cool? These igloo-like structures were my favorite part of the museum.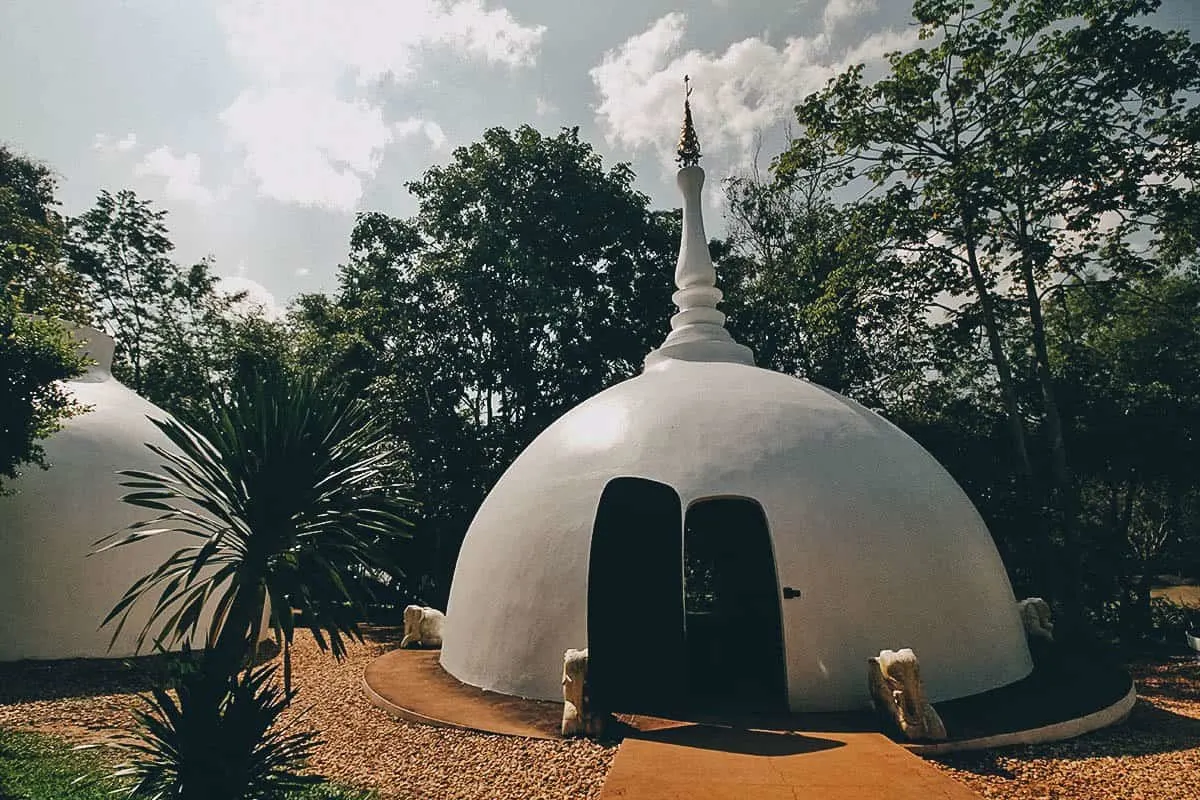 Each one had large curved metal doors with…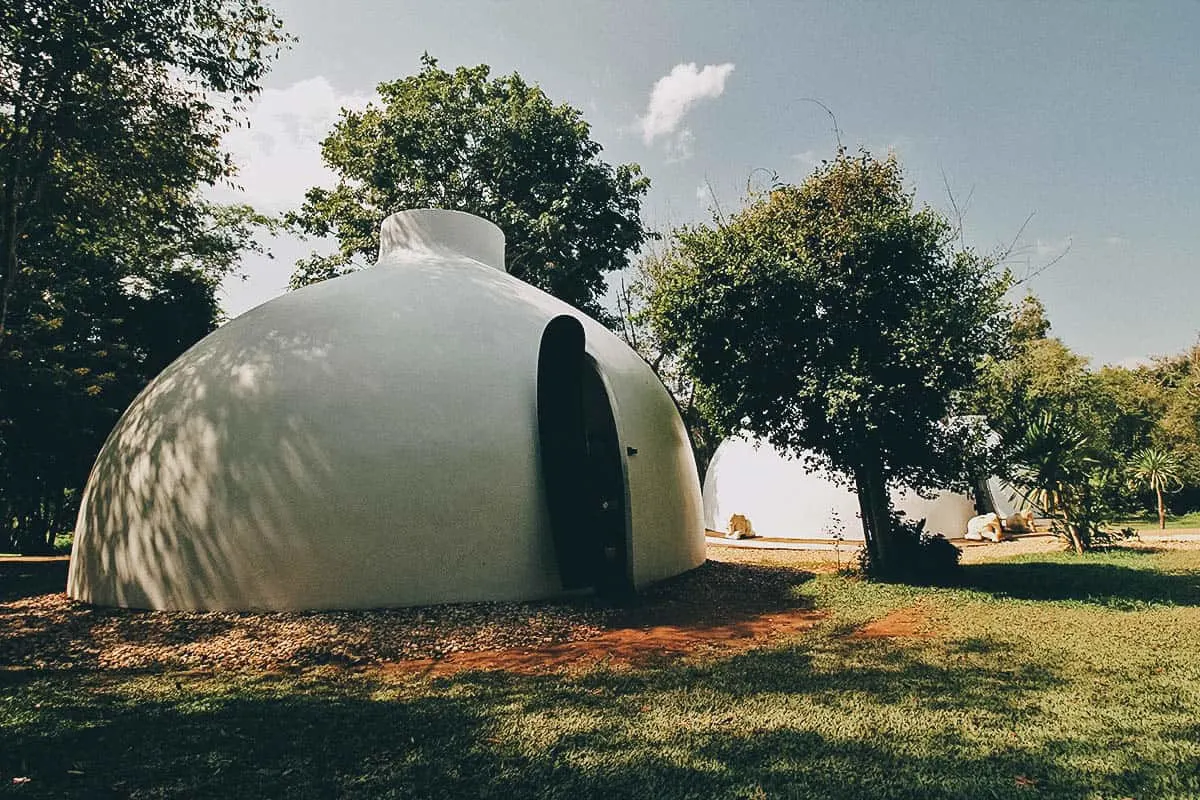 …elephant door stoppers.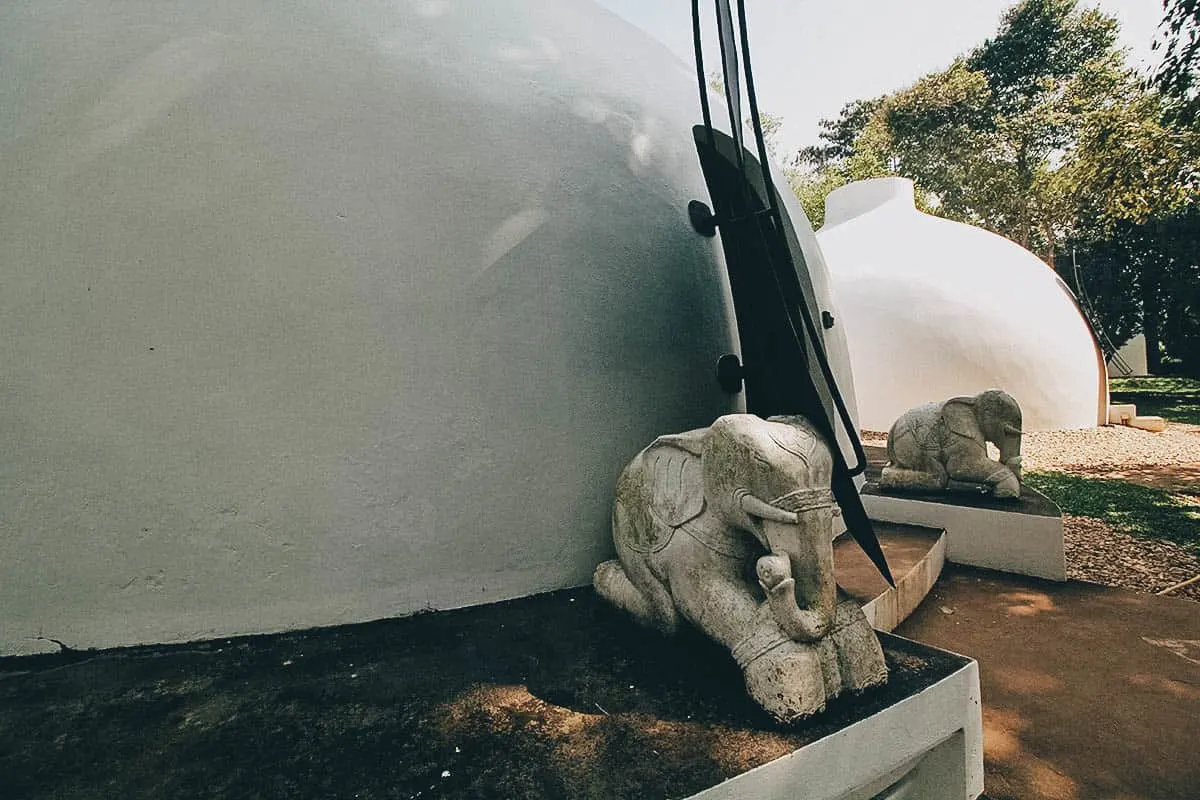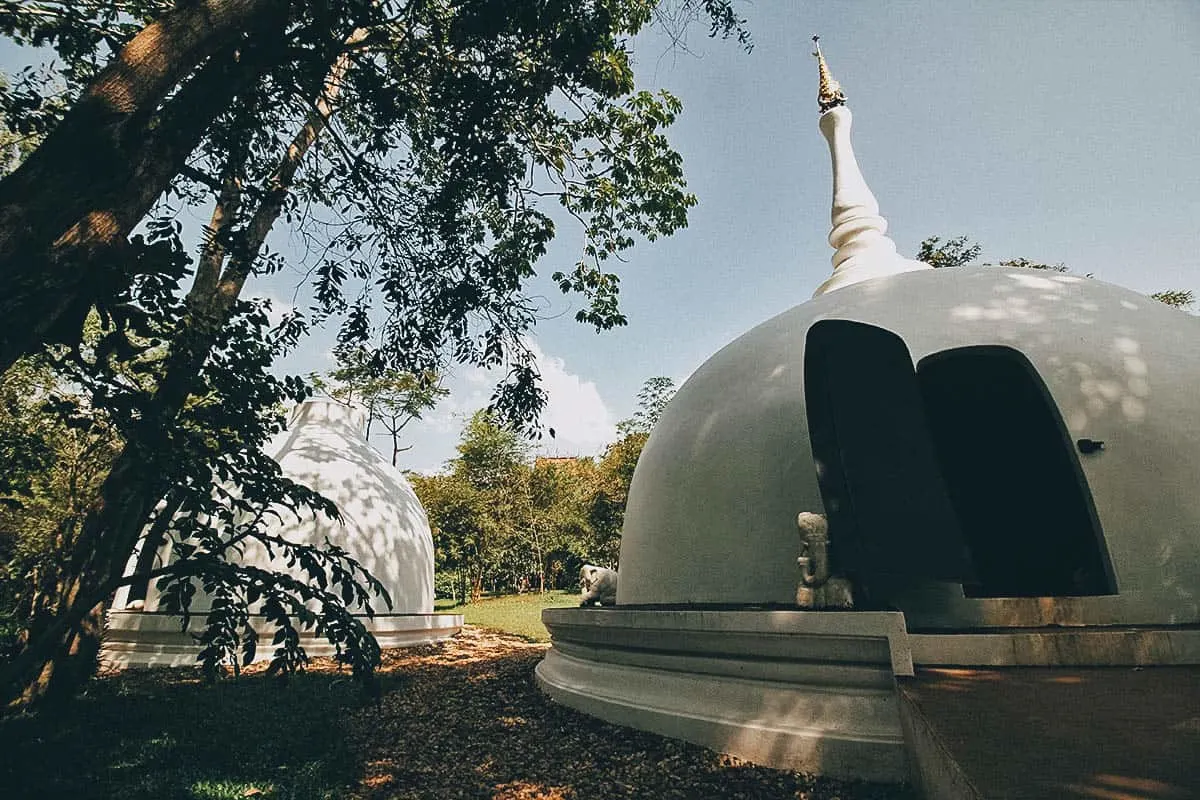 That has to be the tallest, skinniest door I've ever seen!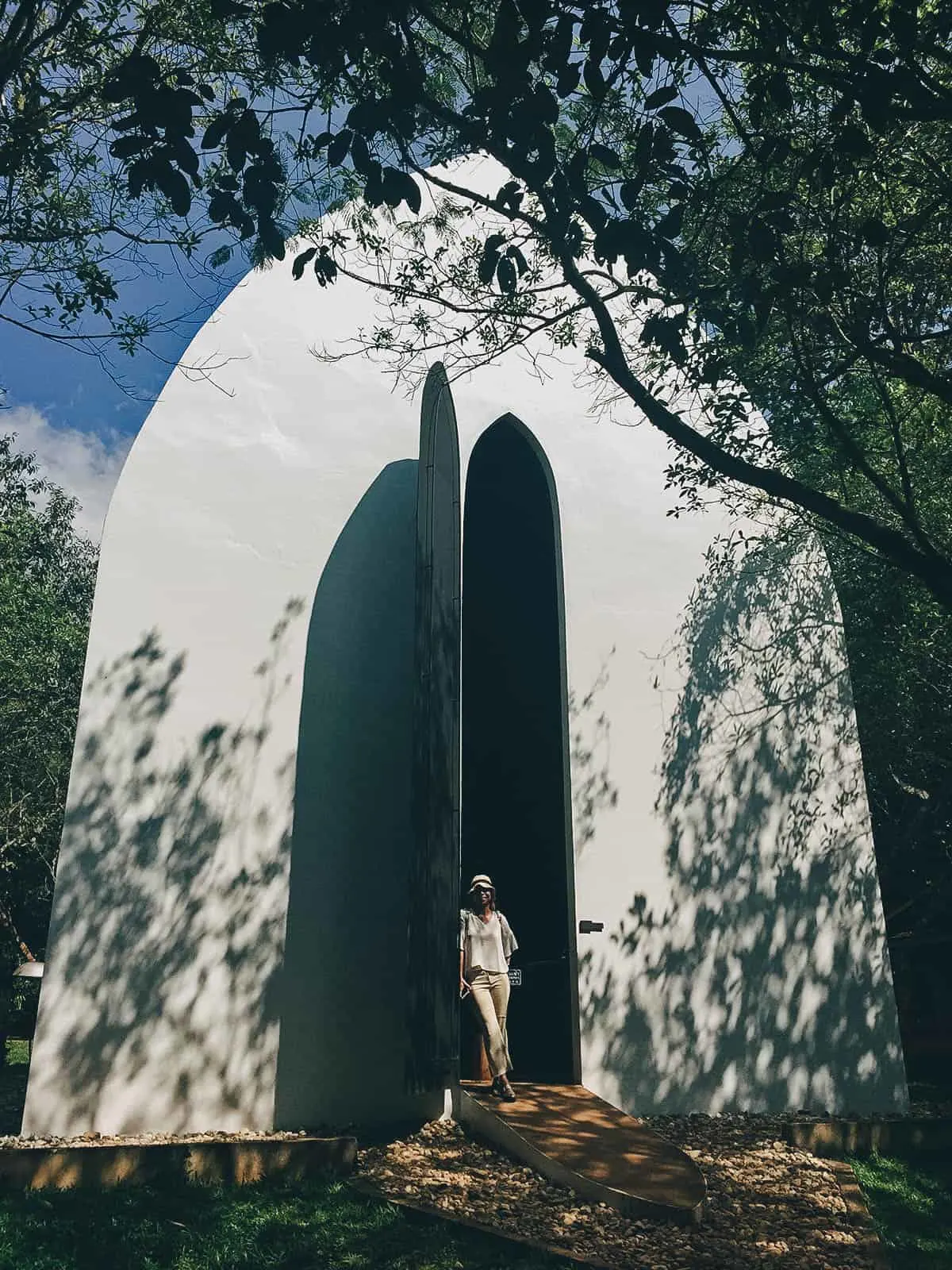 So what are inside these odd igloo-like structures? More furniture made with buffalo horn, animal skins, and sea shells. Surprise surprise. You can't really tell from this angle but that big wooden sculpture had a massive boner. "Welcome to Baan Dam Museum. I'm so happy to see you." I can see that.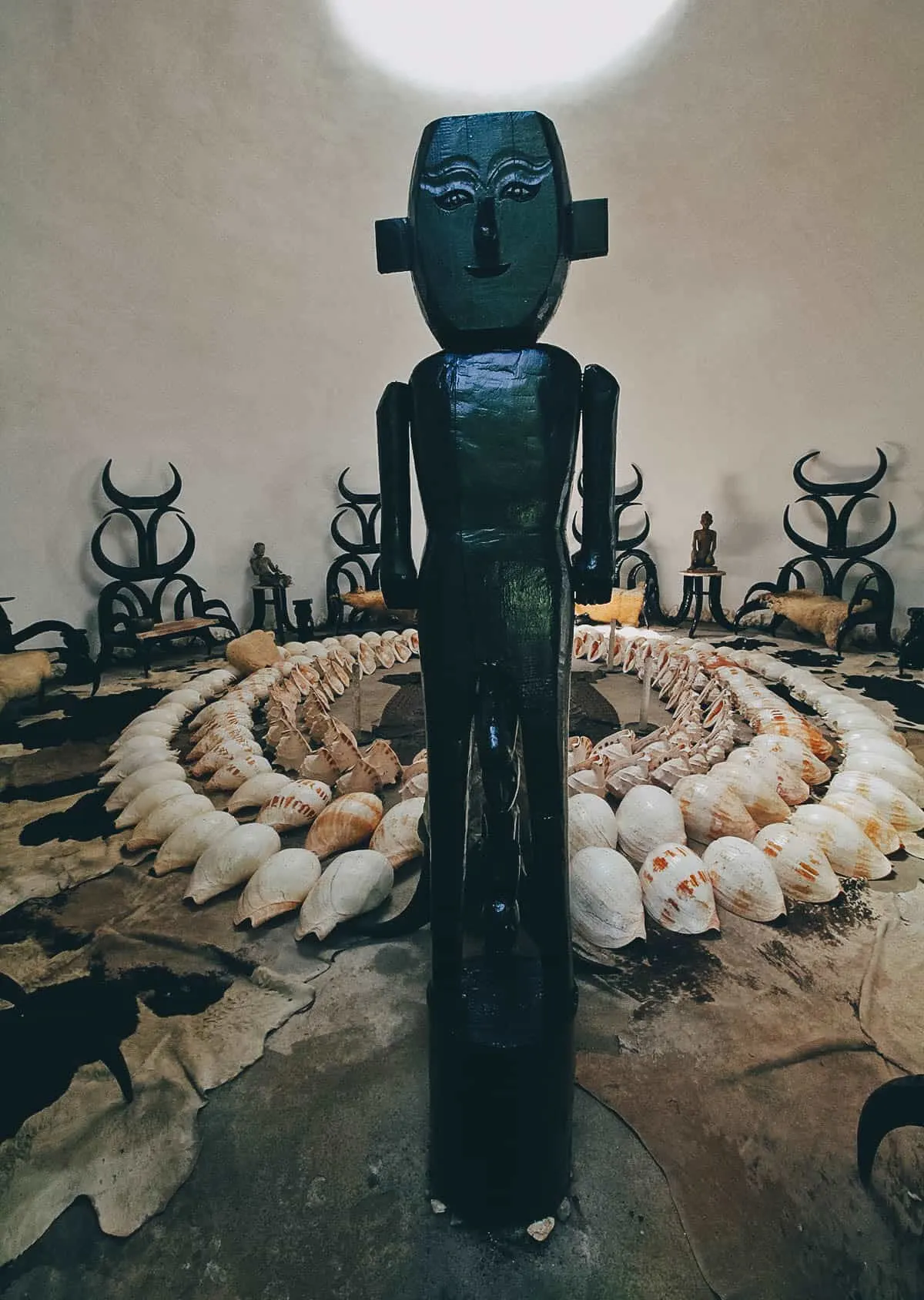 This unusual elephant-like structure used to be Duchanee's bedroom. It was closed so you couldn't go inside, but I took a peek through that round window. Inside were a bunch of elephant tusks. Ugh. I've had enough of this place.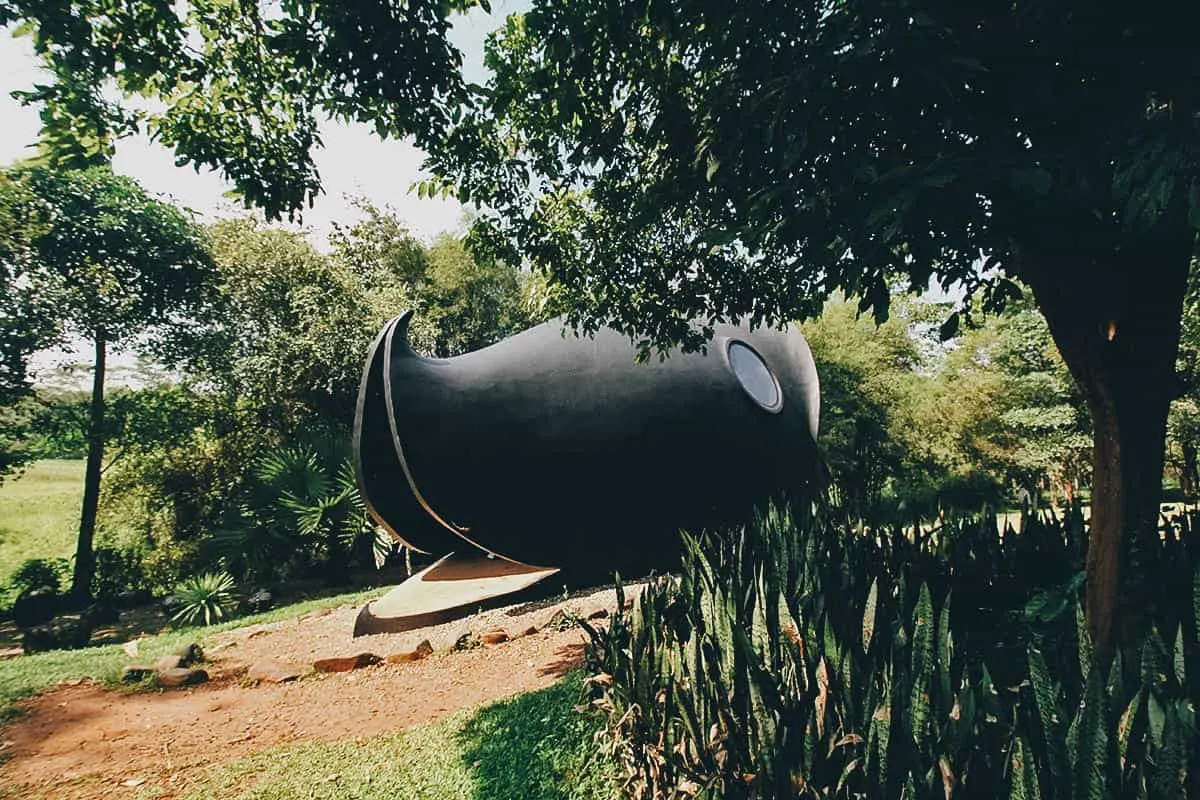 Baan Dam Museum (Black House), Chiang Rai, Thailand
414 Moo 13, Chiang Rai 57100, Thailand
Tel: +66 53 776 333
Facebook: thawanduchaneefanpage
Email: [email protected]
Operating Hours: 9AM-5PM, daily
Admission: THB 80
Wat Rong Sear Tean (Blue Temple)
On the way back to the city, you can ask your driver to make a quick stop here. Located just outside of town, Wat Rong Sear Tean, or the Blue Temple, was created by one of Chalermchai Kositpipat's students. As its name suggests, the temple, beneath all that gold detail, is predominantly blue, including its interior.
We had our tuk-tuk driver drop us off at the famous Lu Lam restaurant for lunch so we skipped this temple, but you may want to make a stop here to take a few pictures. It's a unique temple that looks particularly beautiful during sunrise and sunset.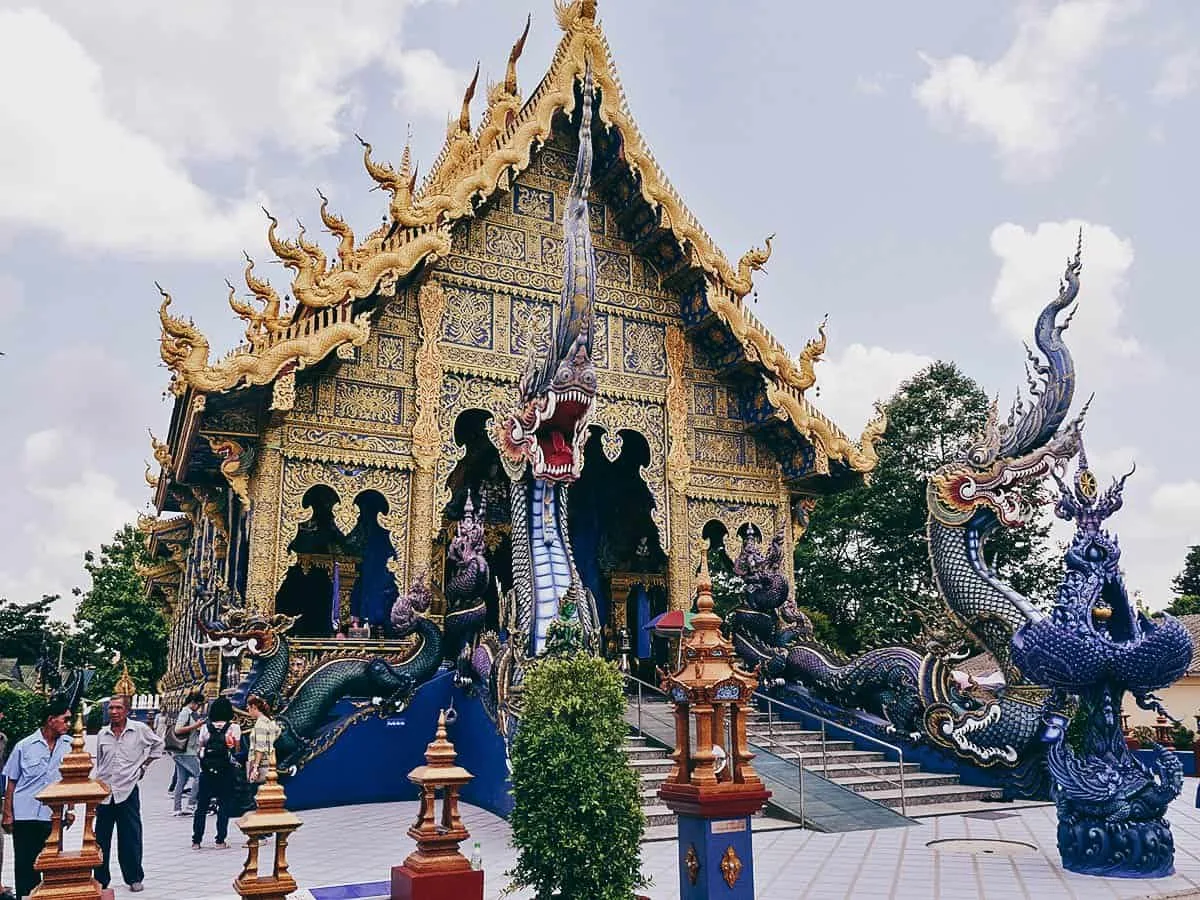 "Wat Rong Suea Ten, Templo Azul, Chiang Rai, Tailandia" by Edgardo W. Olivera, used under CC BY 2.0 / Cropped, processed in Photoshop and Lightroom
Wat Rong Sear Tean (Blue Temple), Chiang Rai, Thailand
306, Moo 2, Rim Kok, Chiang Rai 57100, Thailand
Admission: FREE
Conclusion
Chiang Rai is a small city, much smaller than Chiang Mai, so most tourists stay here for no longer than one or two nights. It doesn't have a lot of attractions like Chiang Mai does so one or two nights should be more than enough time.
Of these three attractions, Wat Rong Khun is a must. It's a striking temple that's unlike anything we've ever seen. I'm pretty sure the majority of tourists come to Chiang Rai specifically for the White Temple. We did and we weren't disappointed. Baan Dam Museum is interesting too. In many ways, we enjoyed it more than Wat Rong Khun because it's such a pleasant environment. The grounds are lovely and the architecture is striking. But seeing all the animal remains, especially the elephant tusks, was a buzzkill. A few pieces would have been forgiveable but seeing room after room filled with skins and furniture made from horns became repetitive and disappointing. Clearly, this man had a fascination for animal remains which will likely be off-putting for many. Only visit Baan Dam Museum if that type of thing doesn't bother you.
As described, we didn't visit the Blue Temple but it looks stunning in pictures. One TripAdvisor reviewer commented that she took the best pictures of her life there at sunset. That blue and gold temple against an orange sky, I can certainly believe it.
For more Chiang Rai travel tips, check out our First-Timer's Travel Guide to Chiang Rai, Thailand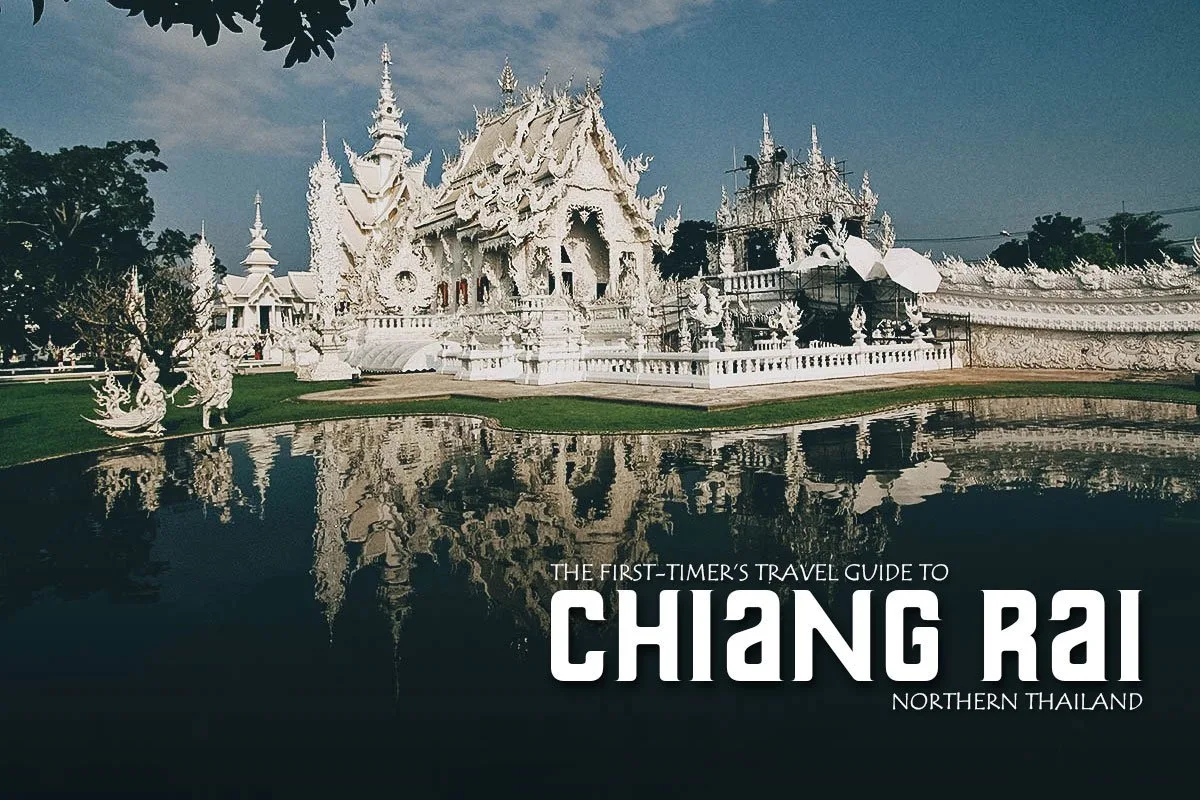 For travel tips to Chiang Mai, check out our First-Timer's Travel Guide to Chiang Mai, Thailand