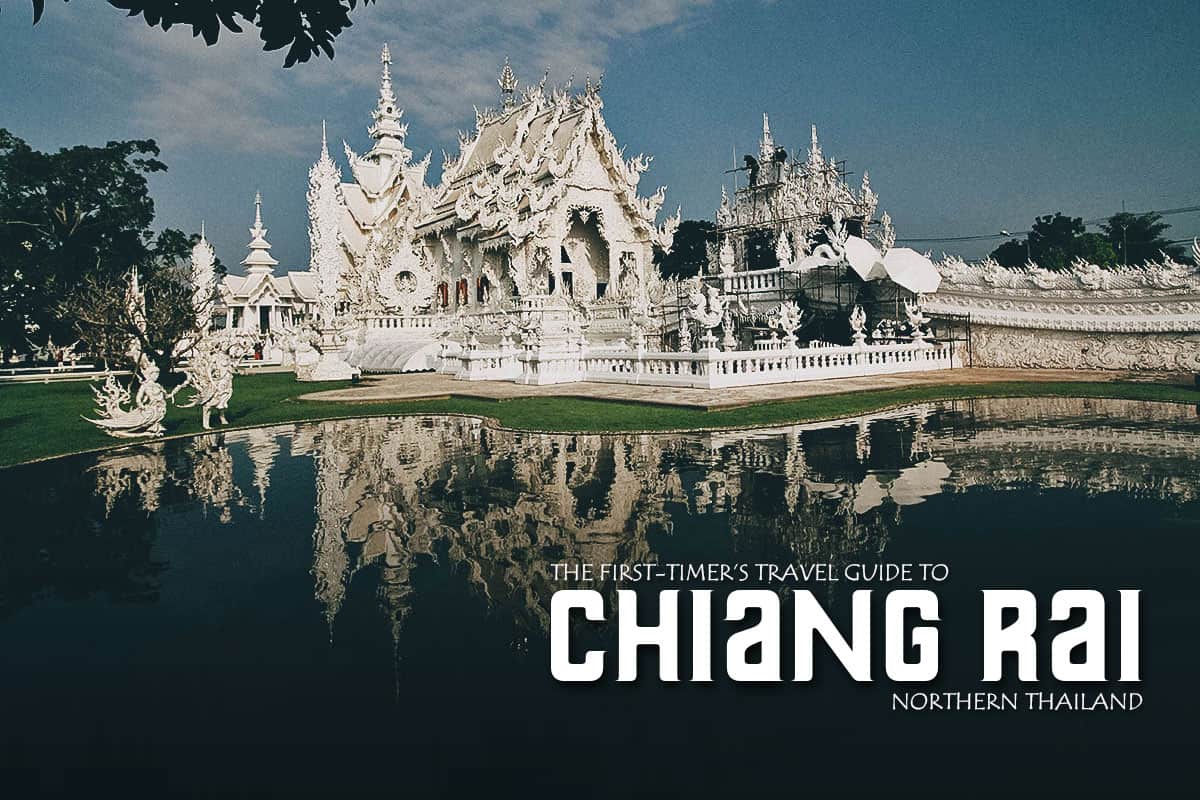 The First-Timer's Travel Guide to Chiang Rai, Thailand
NOTICE: Some of our articles contain affiliate links. The ones that do will have a disclosure statement at the bottom. You can refer to our privacy policy and terms of use for more information.
The first time I heard about Chiang Mai was over twenty years ago. I was in Bangkok with a buddy of mine and we were on our way down south, to Koh Samui. Fresh out of college, we were stoners at the time so it didn't take us long to find weed in Bangkok. We bought a small packet from a tuk-tuk driver and he was the one who told us about Chiang Mai up north. He described how opium was abundant in the region and that the Golden Triangle was one of the largest opium-producing areas in the world. Being a pair of potheads, we were intrigued.
That stoner trip to the Golden Triangle never came to fruition but it did get me interested in the area. Through the years, I learned that Chiang Mai was synonymous with elephants, digital nomads, and the similarly named city of Chiang Rai. Rarely did I read about Chiang Mai without Chiang Rai being mentioned with it. In my mind, it became a given that you couldn't visit one without the other. You had to do both.
It may have been twenty years in the making, but my trip to Northern Thailand finally happened in 2017 when Ren and I decided to attend the Yee Peng Festival in Chiang Mai. Chiang Rai was our first stop.
Save This on Pinterest!
No time to read this now? Click on the red save button and pin it for later!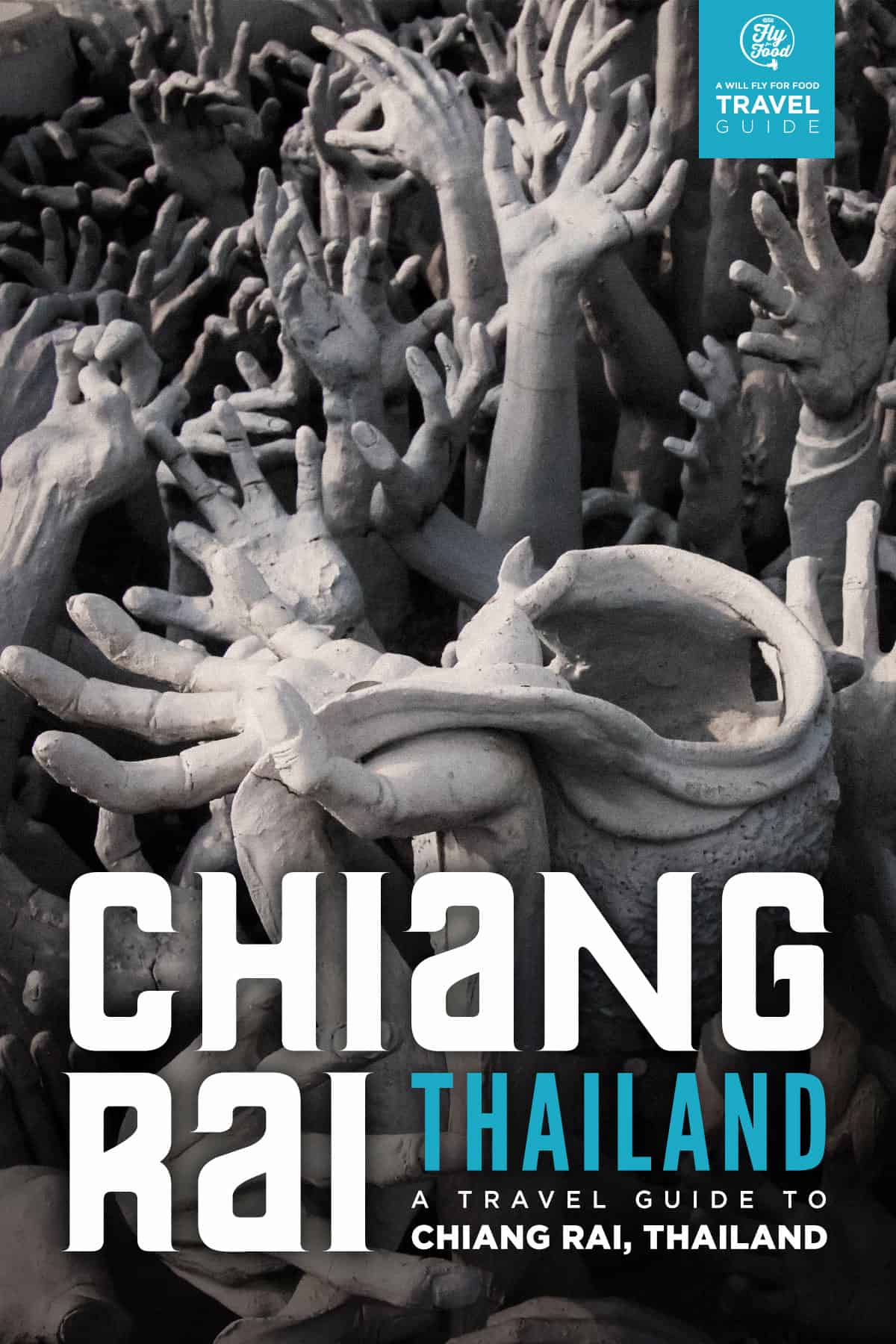 GUIDE TABLE OF CONTENTS
WHAT'S IN CHIANG RAI?
Chiang Rai is regarded as the northernmost "large city" in Thailand, though it isn't actually that big. It's much smaller and less developed as a tourist destination than neighboring Chiang Mai. It's perhaps best known for Wat Rong Khun, a striking all-white temple located about 14 km south of the city. The ornate structure serves as both a Buddhist temple and an art exhibition, its most distinguishing characteristic being an ocean of sculpted hands reaching out from either side of a bridge. So unique and spectacular is the White Temple that many tourists make the 3-hour trip from Chiang Mai just to see it.
BEST TIME TO VISIT CHIANG RAI
Chiang Rai is three hours north of Chiang Mai by bus. Weather-wise, November to February is the best time to visit the region. It's the coolest and driest time of the year. We were there in early November to attend the Yee Peng and Loy Krathong Festivals in Chiang Mai. Celebrated annually on the full moon of the twelfth lunar month, it's a famous event and one of the most festive times to be in the region.
NOV-FEB: Like any Southeast Asian city, it can get hot and humid in Chiang Rai so shoot for November to February for the most comfortable weather. Daytime temperatures hover around 25°C (77°F) with few rainy days. As described, the Yee Peng Festival happens in November every year so you may want to plan your trip around that. That's what we did. If you enjoy flowers, then you may want to go in February to attend the Chiang Mai Flower Festival.
MAR-MAY: March to May is the hottest time to be in Chiang Rai with temperatures often reaching 40°C (104°F). It isn't the most comfortable time to visit, but Songkran or the Thai New Year is celebrated every April. The Songkran Festival in Chiang Mai turns the city into a big water fight making it a fun time to visit.
JUN-OCT: This is the monsoon season in Northern Thailand and probably not the best time to visit the region.
Climate: Annual Monthly Weather in Chiang Rai
Follow the link for more on Chiang Rai's weather. For your convenience, I've created average temperature and annual rainfall graphs below. Suggested months to visit are colored in orange.
Average Temperature


Annual Rainfall

TRAVELING TO CHIANG RAI
We flew in to Chiang Rai from Bangkok, but the majority of tourists will probably travel by bus from Chiang Mai. It's just three hours away so it's even possible to do it on a day tour.
From Chiang Mai
BY BUS: The Green Bus plies daily routes between Chiang Mai and Chiang Rai. Looking at their website, it looks like buses leave for Chiang Rai throughout the day from around 5AM till 6PM. Some buses will take you to different cities in Chiang Rai province so be sure you choose one that lists just "Chiang Rai" as the destination. The trip will take a little over 3 hours and you'll be dropped off at the old station (Terminal 1) by the Night Bazaar.
You can go via the Express or VIP bus. We took the VIP bus which is a comfortable air-conditioned bus with a bathroom and a steward serving refreshments. You can follow this link or use the widget below for a bus timetable and to purchase advanced tickets.
BY PRIVATE TRANSFER: It'll be more expensive but you can also book private transfers from Chiang Mai to Chiang Rai through Klook.
BY DAY TOUR: If you're interested in seeing the must-visit attractions in Chiang Rai but don't want to spend the night, then you can do so on a guided day tour from Chiang Mai. These Chiang Rai day tours (option 1 | option 2 | option 3) take you to key attractions like Wat Rong Khun (White Temple), Baan Dam Museum (Black House), and Wat Rong Sear Tean (Blue Temple).
From Bangkok
BY AIR: Our trip revolved around the 2017 Yee Peng Festival so we decided to visit Chiang Rai first before proceeding to Chiang Mai. We flew in from Bangkok via AirAsia for a little over THB 1,280 each with a 20 kg shared baggage allowance. The flight takes around 1 hour and 15 minutes.
Once you arrive at Chiang Rai International Airport (CEI), exit through the left and look for the metered taxi stand pictured below. Give them your hotel's name to be assigned a taxi. It should cost you around THB 120-150 to get to downtown Chiang Rai. It seems more expensive but you can book a private transfer in advance through Klook as well.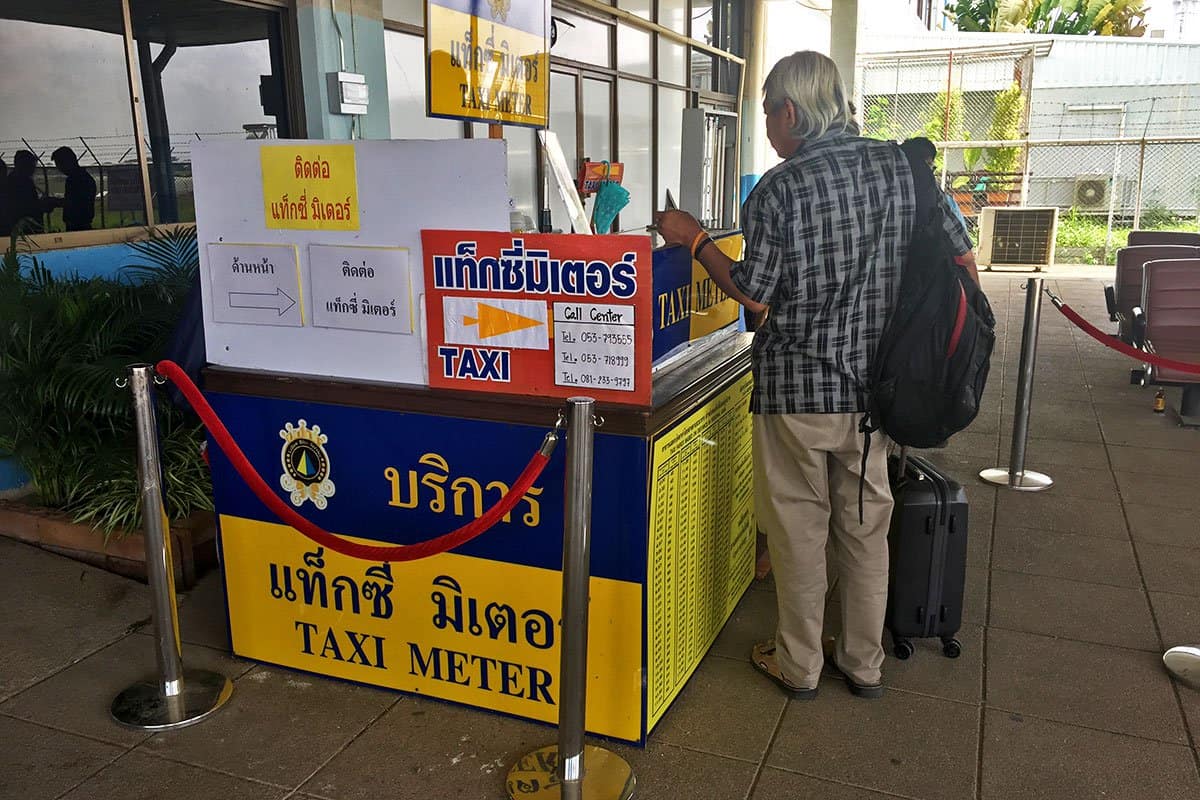 From Other Cities
The methods above outline the most common means of getting to Chiang Rai, but there may be other ways of getting there depending on where you are. I suggest checking 12Go Asia to find route options available to you. You can click on the link or use the widget below.
WHERE TO EXCHANGE CURRENCY
The unit of currency in Thailand is the Thai Baht (THB). SuperRich is considered by many to give the best exchange rates in Thailand. We exchanged our currency at a SuperRich in Bangkok and we did get outstanding rates.
However, there don't seem to be any Super Rich branches in Chiang Rai. If you can't exchange currency at a Super Rich in a bigger city like Bangkok or Chiang Mai, then your best bet in Chiang Rai would probably be a bank.
A better option in Chiang Rai may be to withdraw THB from an ATM. You'll usually get good rates but just be sure to advise your bank you'll be using your ATM card abroad so you don't run into any problems. In my experience, my ATM card works in some machines but not in others. I didn't have any problems with it in Thailand.
WHERE TO STAY IN CHIANG RAI: Chiang Rai Hotel
If you want a centrally located hotel, then I doubt you'll find a more centrally located hotel than this one. Chiang Rai Hotel is a minute away from the Clock Tower and walking distance to the city's points of interest like the Night Bazaar and the old bus station (Terminal 1). The hotel's a little old but it's cheap and the rooms are huge. There's cable TV with a few English channels too.
You can book a room at Chiang Rai Hotel through Agoda or AirBnB. If Chiang Rai Hotel isn't to your liking, then you can browse through those links for other listings as well. Be sure to check both sites to find the best deal. If you're new to AirBnB, then you can get up to USD 43 free travel credit by signing up via this link.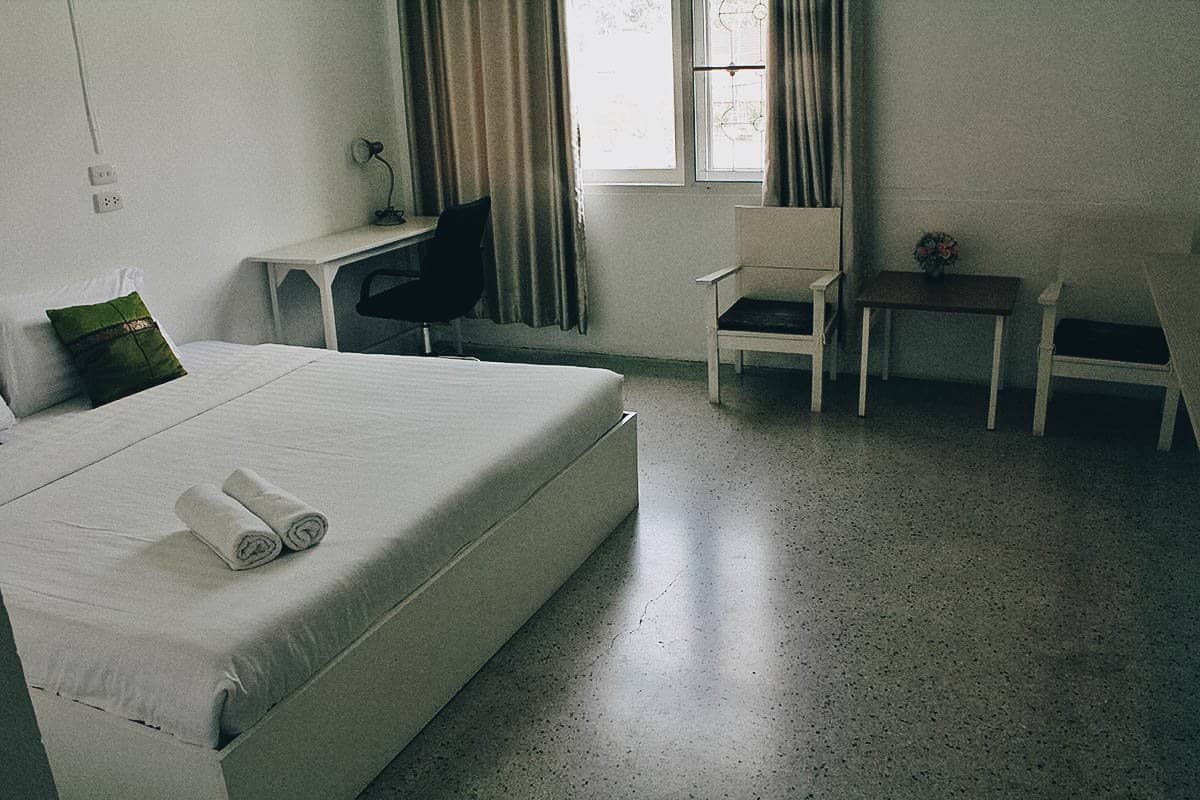 Approximate Room Rate: USD 24 per night (as of Jan 2018)
Down the street from the hotel is Chiang Rai's famous Golden Clock Tower. Like I said, it doesn't get more centrally located than this.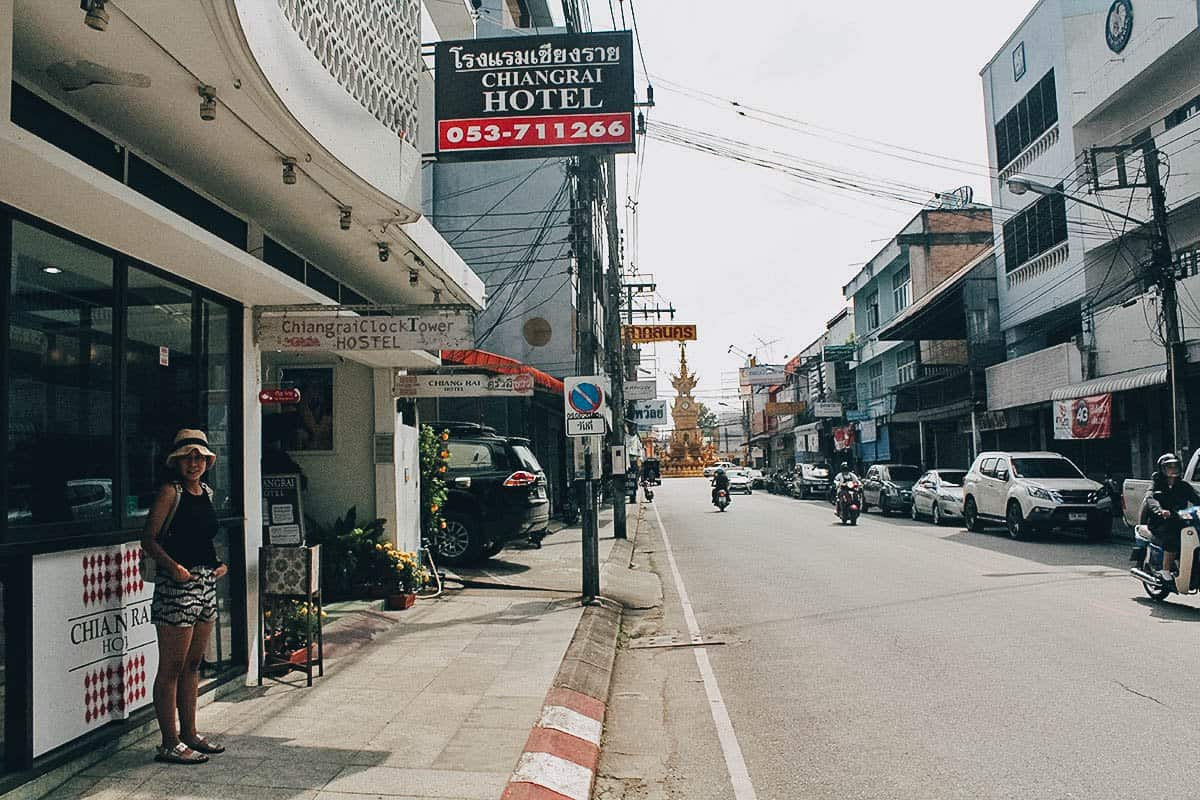 THINGS TO DO IN CHIANG RAI
1. Marvel at the Sight of Wat Rong Khun (White Temple)
Wat Rong Khun or the White Temple is far and away Chiang Rai's premier attraction. I wouldn't be surprised if many people make the trip from Chiang Mai specifically for this temple. We did.
A work-in-progress that was designed and created by local artist Chalermchai Kositpipat, the entire temple is almost entirely white with small mirrors attached to the plaster. This makes the temple look even brighter, like it's glistening in the sun. It's an incredible sight, one you won't find anywhere else in Thailand. Check out my post on Wat Rong Khun for more pictures and information on how to arrange for a DIY day trip.
We visited on our own but you can go on a guided tour as well. You can book half-day or full-day tours through Klook. Either tour will take you to Wat Rong Khun and other key attractions in Chiang Rai.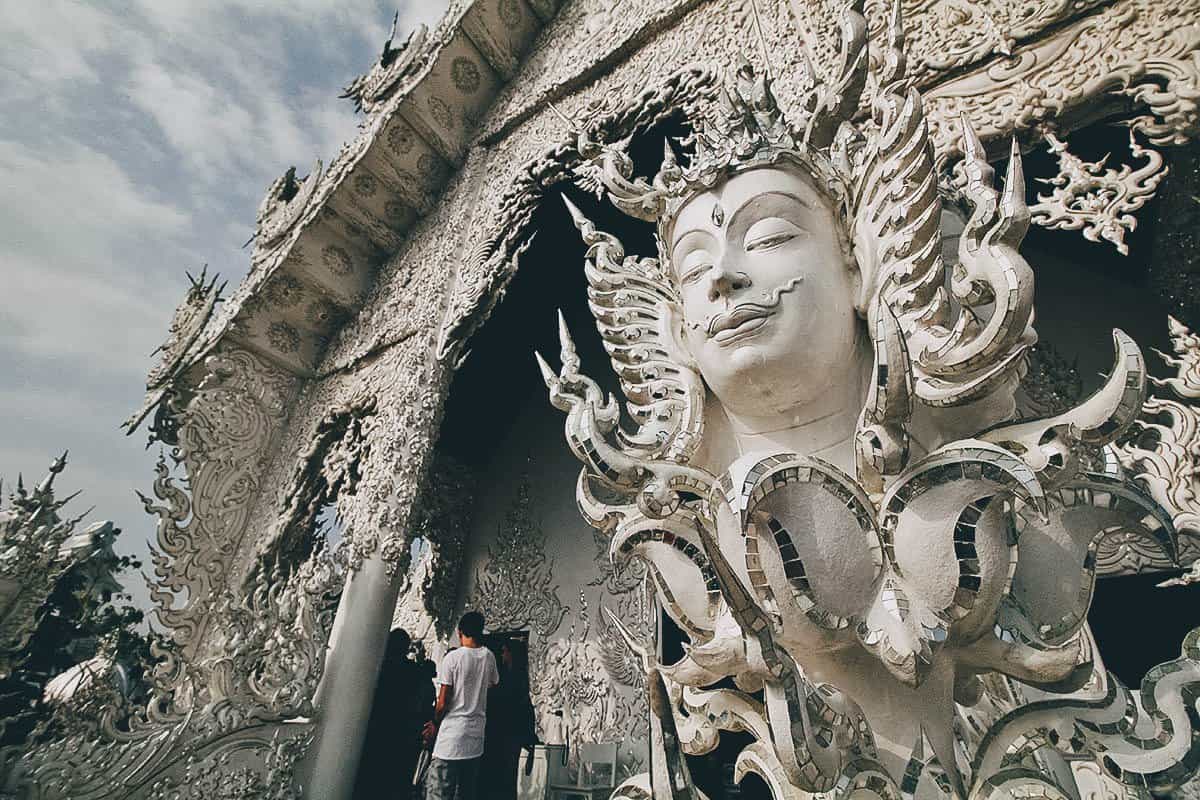 Estimated Time to Spend: Around 1-2 hours / Admission: THB 50
2. Visit the Home of a Thai National Artist at Baan Dam Museum (Black House)
Baan Dam Museum or Black House is the home and studio of the late Thawan Duchanee, a National Artist of Thailand famous for his paintings and architecture. It's considered Duchanee's architectural masterpiece and is comprised of a collection of about 40 buildings spread out over a landscaped garden. Located north of the city, you can visit Baan Dam Museum on the same day trip as Wat Rong Khun. Check out my post on Baan Dam Museum for more pictures and information on how to arrange for a DIY day trip.
Like the White Temple, we visited the Black House on our own but you can go on a guided tour as well. You can book half-day or full-day tours through Klook. These are the same tours that take you to Wat Rong Khun.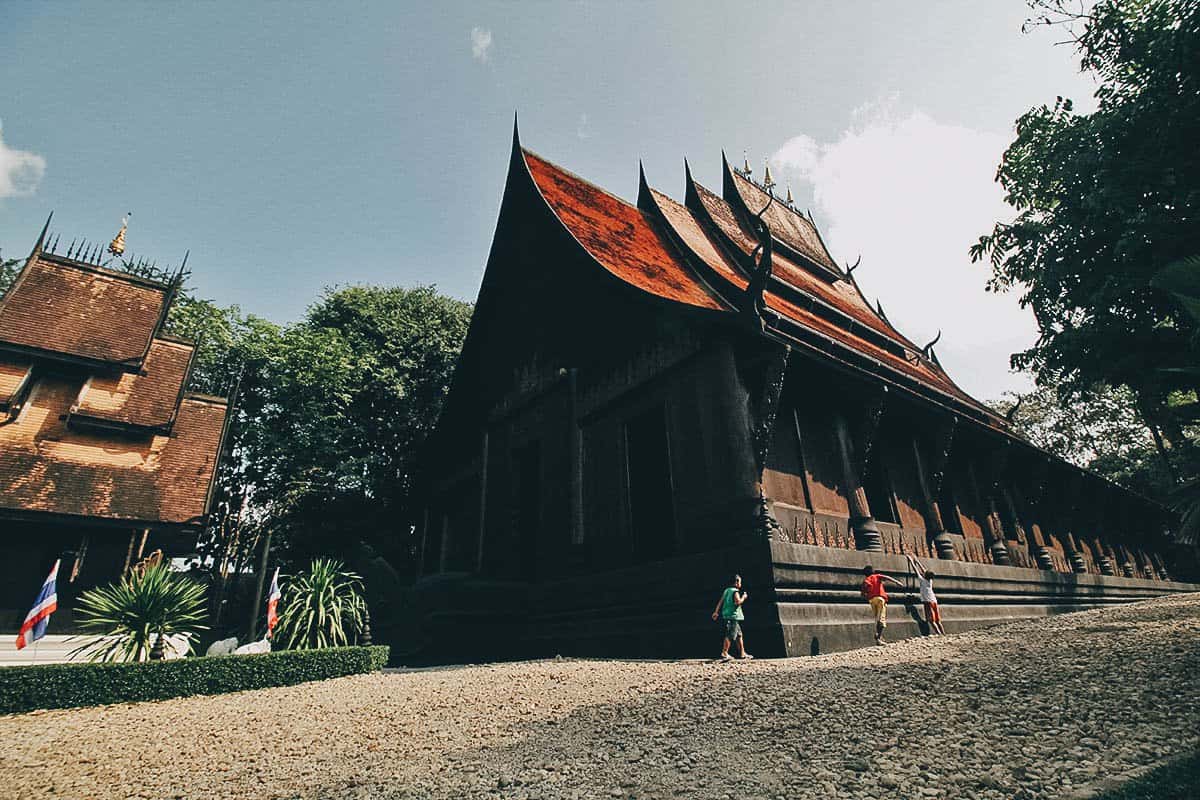 Estimated Time to Spend: 1-2 hours / Admission: THB 80
3. Enjoy the Uniqueness of Wat Rong Sear Tean (Blue Temple)
Like Wat Rong Khun, Wat Rong Sear Tean or the Blue Temple is probably one of the most unique temples in Chiang Rai. As its name suggests, its a predominantly blue temple bespeckled with ornate golden details. If Wat Rong Sear Tean reminds you of Wat Rong Khun, it's because the Blue Temple was designed by one of Chalermchai Kositpipat's students. Located just north of the Kok River, you can make a stop here on your way back to the city from Baan Dam Museum. Check out this post to find out how.
You can easily visit the Blue Temple on your own but if you'd rather go on a guided tour, then you can book half-day or full-day tours through Klook. These are the same tours that take you to Wat Rong Khun and Baan Dam Museum.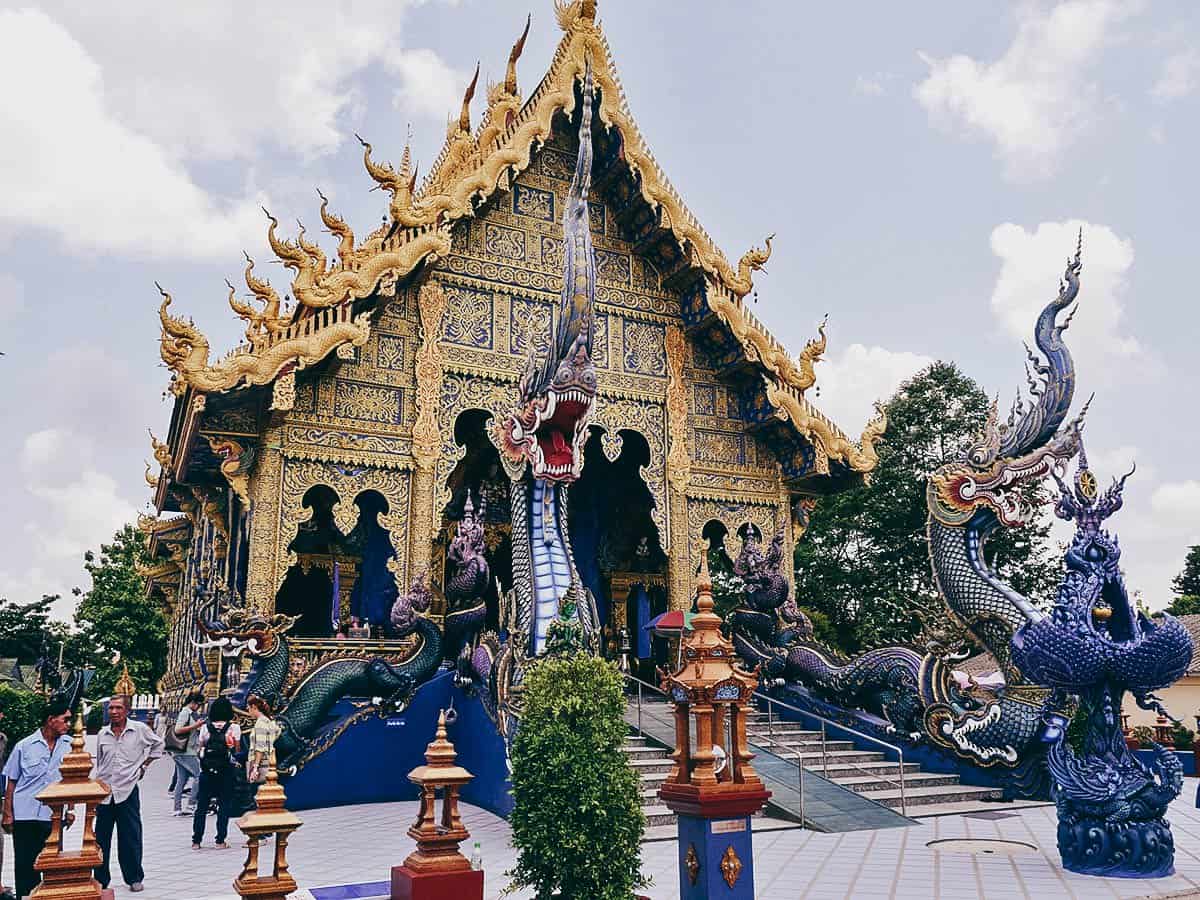 Estimated Time to Spend: 1 hr / Cost: FREE
"Wat Rong Suea Ten, Templo Azul, Chiang Rai, Tailandia" by Edgardo W. Olivera, used under CC BY 2.0 / Cropped, processed in Photoshop and Lightroom
4. Explore Chiang Rai City
Chiang Rai's main attractions may lie beyond the city's limits, but you'll find a few points of interest within the city as well. There's the Golden Clock Tower for one, and lesser known temples like Wat Phra Kaew, Wat Phra Sing, and Wat Klang Wiang are all worthy of a visit if you have the time. If you're staying in downtown Ching Rai, then you can easily walk to each of these places from your hotel. Check out this post on exploring Chiang Rai City for more pictures and information.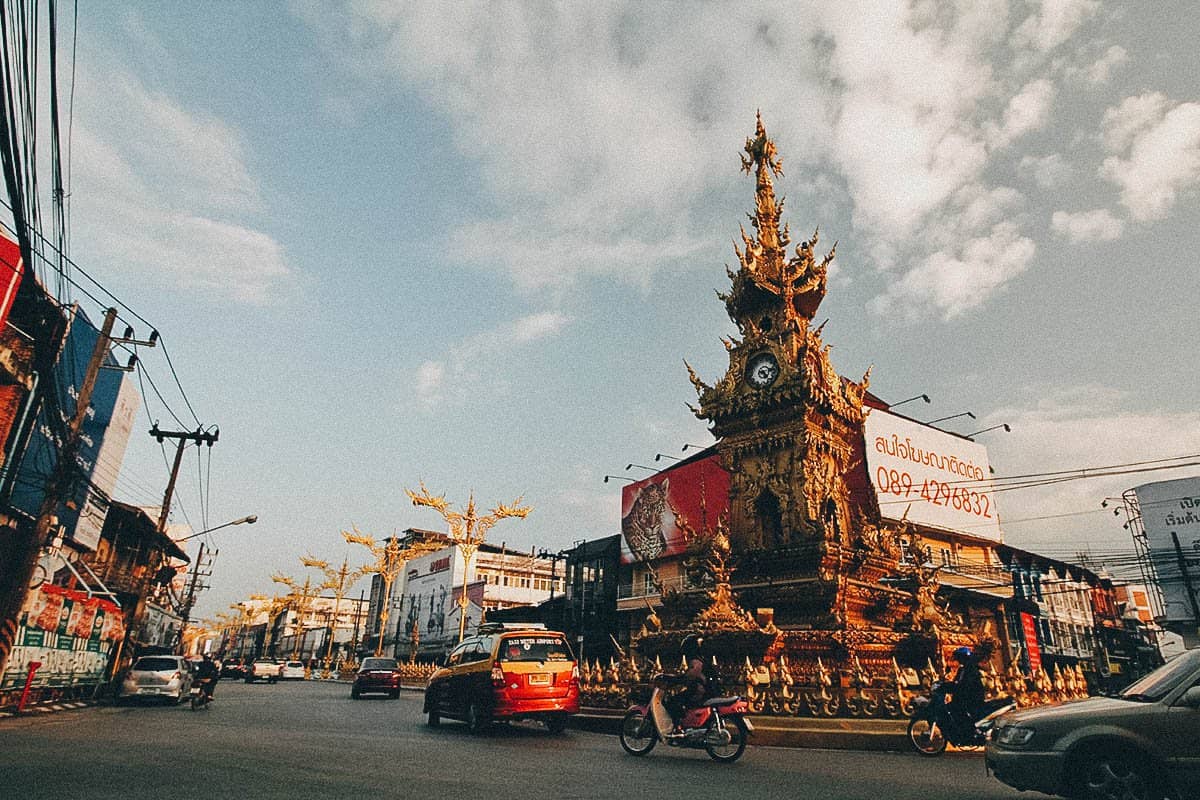 Estimated Time to Spend: Around 2-3 hours / Cost: FREE
5. Shop & Eat at Chiang Rai Night Bazaar
Once the sun has come down and you've had your fill of temples, then it's time to head over to the Night Bazaar for some late night shopping and eating. Chiang Rai's Night Bazaar is a small outdoor market offering the usual goods like hill tribe jewelry, elephant pants, and silk scarves, but what we enjoyed most about it was the food. More on that in the next section of this guide.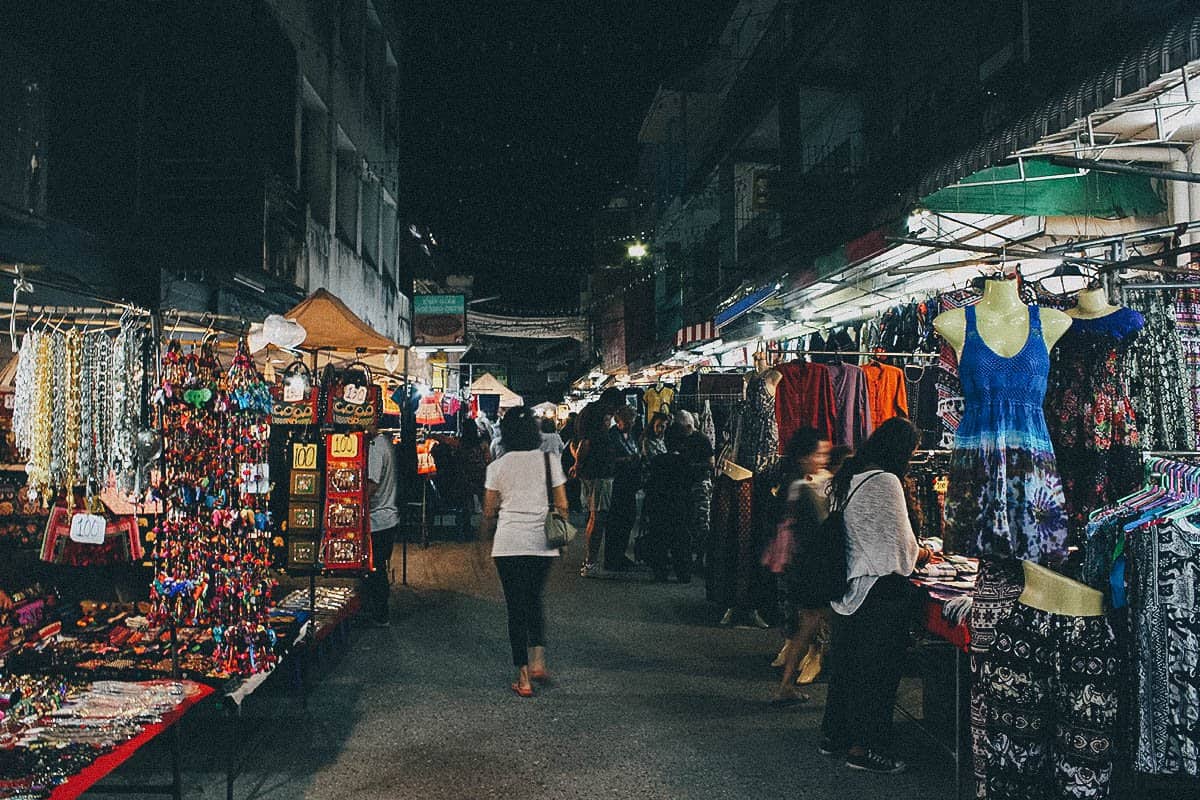 6. Take a Cooking Class
Ren's a great cook so a cooking class is something we always try to make time for on a trip. So far, we've taken cooking classes in Bali, Phuket, Chiang Mai, and Hoi An. All have been excellent and have taught us a lot about the local cuisine. It's one thing to taste unfamiliar food, but it's quite another to look under the hood and learn what goes into making each dish.
Many tour providers offer cooking classes but Cookly is the only site I know of that focuses exclusively on cooking classes. They offer one-day cooking classes in many cities around the world, including Chiang Rai. Follow the link to check out Cookly's list of cooking classes in Chiang Rai.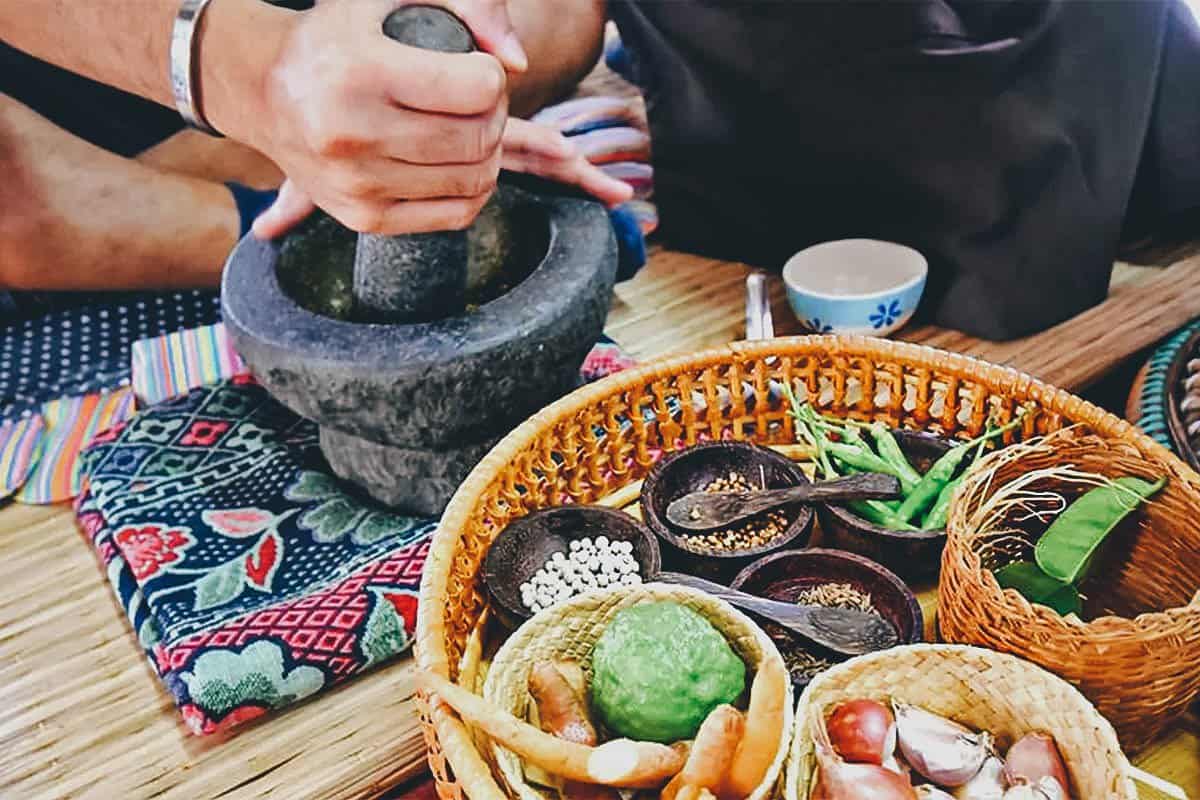 Picture borrowed from Cookly
7. Experience and Give Back with Backstreet Academy
Learning about the local culture is great. But learning about the local culture and giving back to the community is even better. That's what Backstreet Academy does. They're a leader in the impact travel movement and aim to provide tourists with authentic experiences that also benefit the local communities.
When you book a tour with Backstreet Academy, up to 80% of the proceeds go back into the communities. Follow the link to search through their list of experiences in Chiang Rai.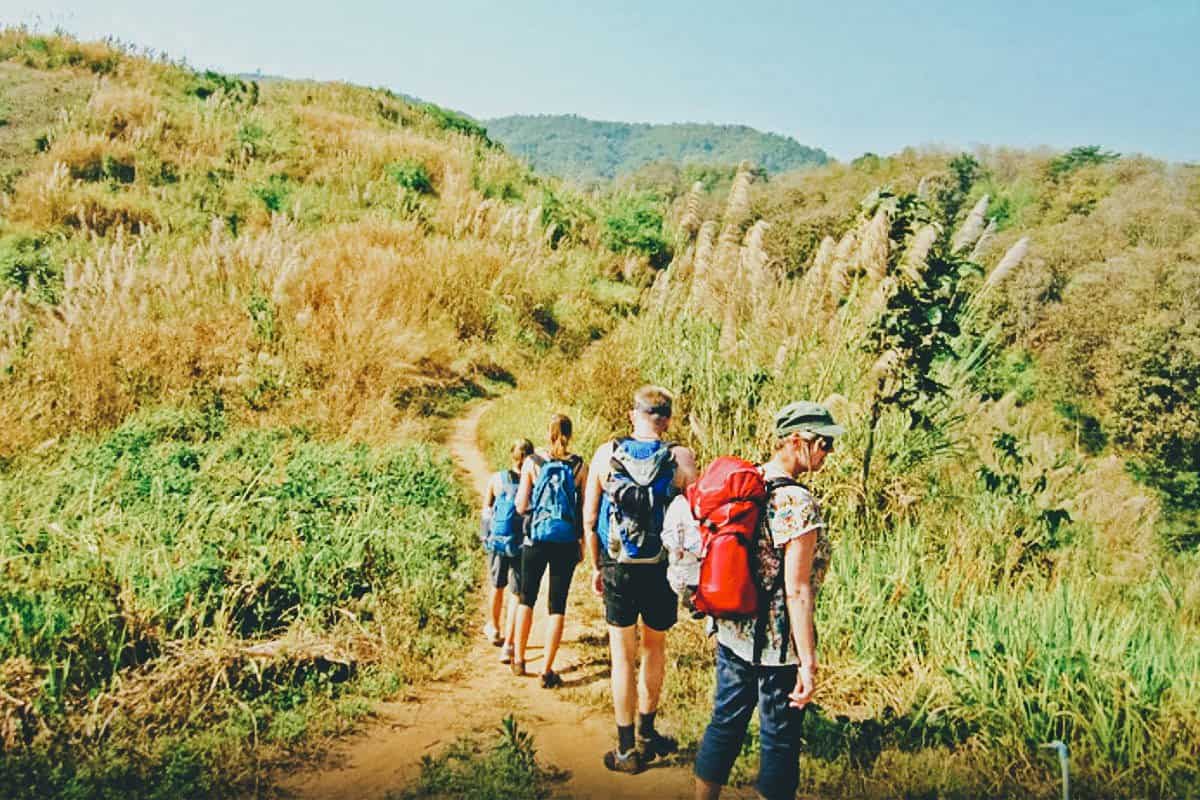 Picture borrowed from Backstreet Academy
WHERE TO EAT IN CHIANG RAI
1. Khao Soi Phor Jai (Pho Chai)
Every trip to Chiang Rai or Chiang Mai should begin with a bowl of khao soi. It's believed to be a Burmese-influenced dish consisting of crispy and soft egg noodles in a creamy, curry-like sauce made with coconut milk and meat, usually chicken or beef. It's typically served with a side of chopped red onions, pickled cabbage, and a wedge of lime. If you were to have just one dish in Chiang Rai, then it should be khao soi. It's the quintessential Northern Thai dish.
You'll be spoilt for choice with all the restaurants serving khao soi in Chiang Rai, but Khao Soi Phor Jai is said to be one of the best. Aside from the usual chicken khao soi, they offer shrimp and fish khao soi as well, the latter being a more rare variety based on what I've read. Ren and I got the chicken and shrimp, both of which were supremely delicious, but you may want to get the fish if you want something different. We got ours with a packet of pork rinds for some extra crunch. Yum!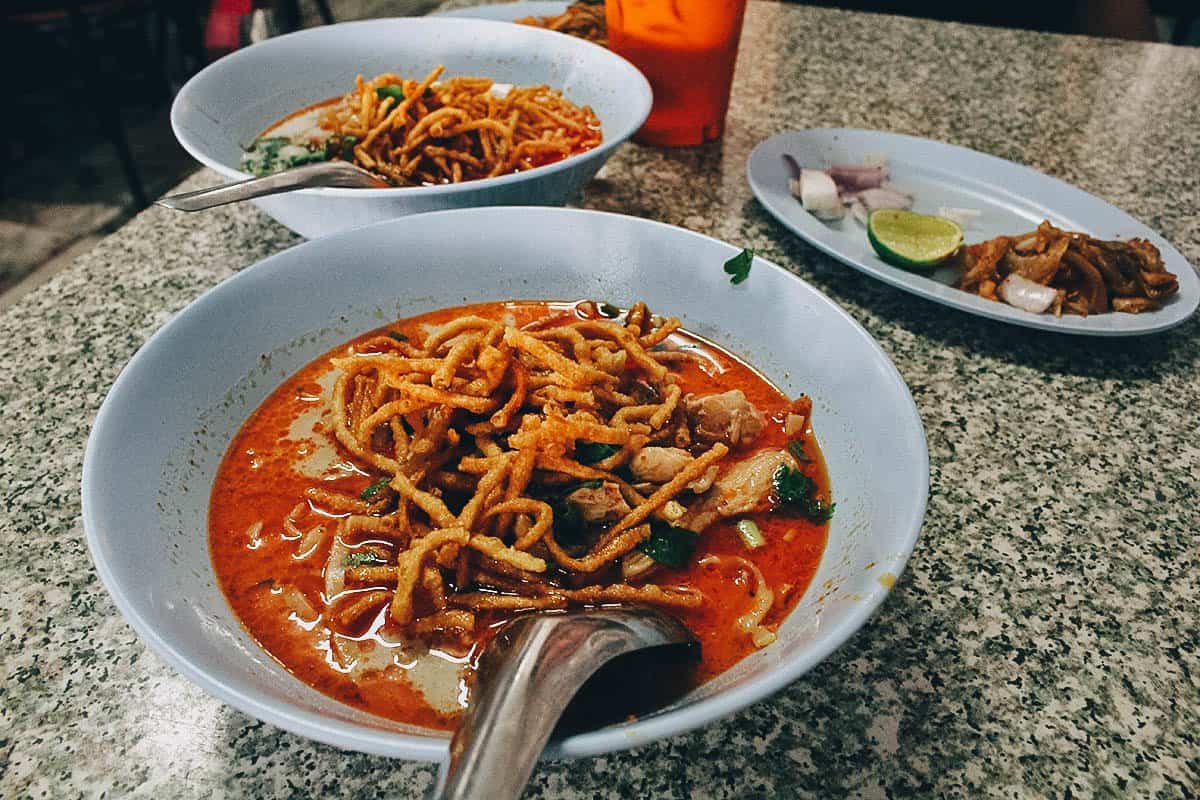 Khao Soi Phor Jai was packed with both locals and tourists when we were there. It's just a short walk from the Clock Tower so it's easy to get to on foot.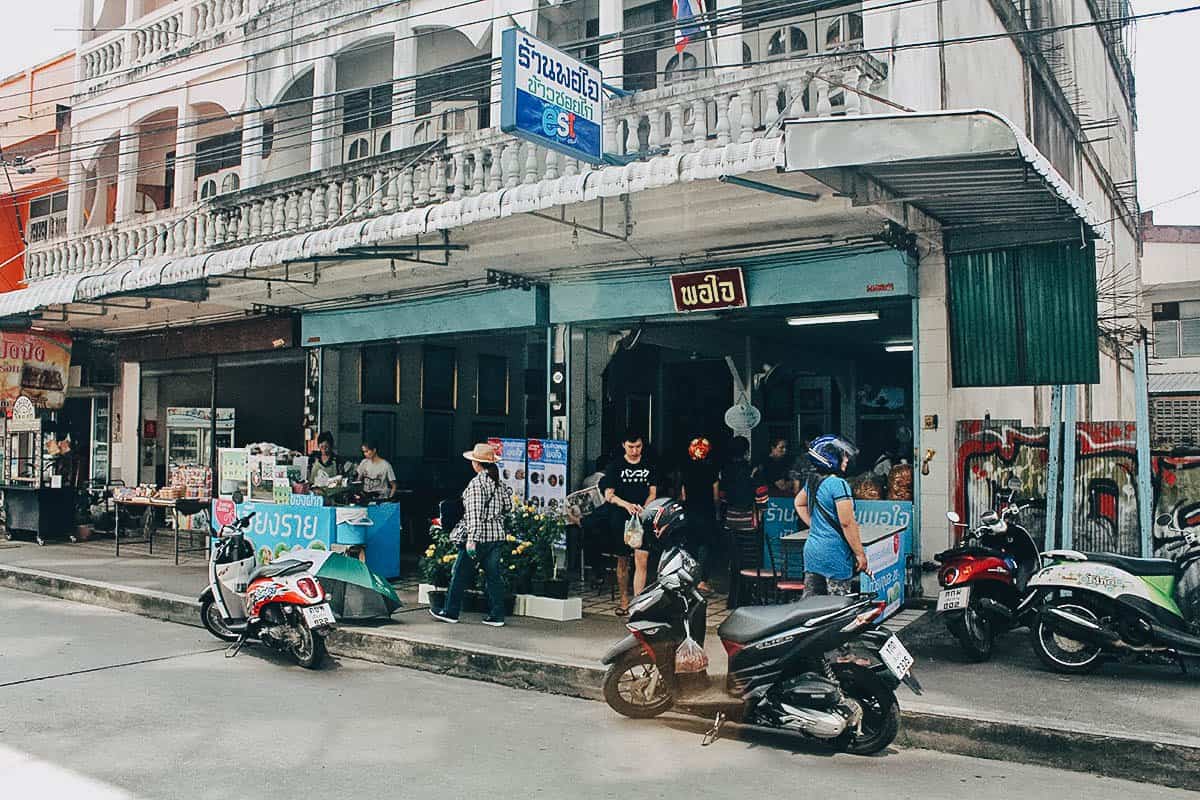 Estimated to Spend: THB 40 per bowl of khao soi
2. Ran Lab Sanam Keela
Ran Lab Sanam Keela is one of the most popular local restaurants in Chiang Rai. They're known for serving authentic Lanna food. I learned about this restaurant from eatingthaifood.com and the one dish that jumped out at me was the pla tabtim tod kratiem. It's a dish of deep-fried golden tilapia served under a mountain of garlic. How insanely beautiful does that look?
The garlic cloves were coated in a thin layer of batter while the fish was deep-fried to crispy perfection, so much so that you didn't have to worry about any bones. You could just crunch your way through the whole fish! We had a few other dishes at Ran Lab Sanam Keela, which I'll write about in a separate post soon, but this was definitely the highlight of our meal. It's a big fish that can easily be shared by 2-3 people.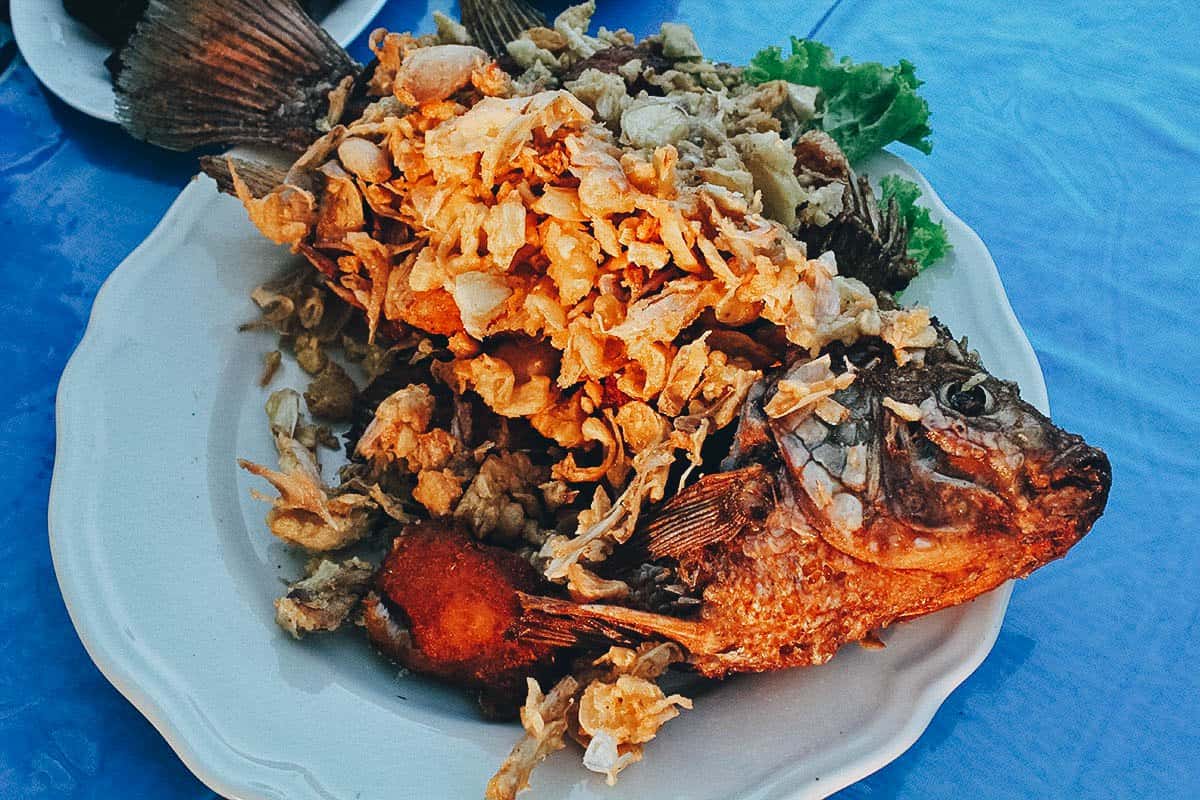 Ran Lab Sanam Keela is located on the outskirts of town so it may be too far to walk. You might want to take a tuk-tuk, taxi, or Uber. We took Uber and it cost us just a little over THB 56 each way from Chiang Rai Hotel.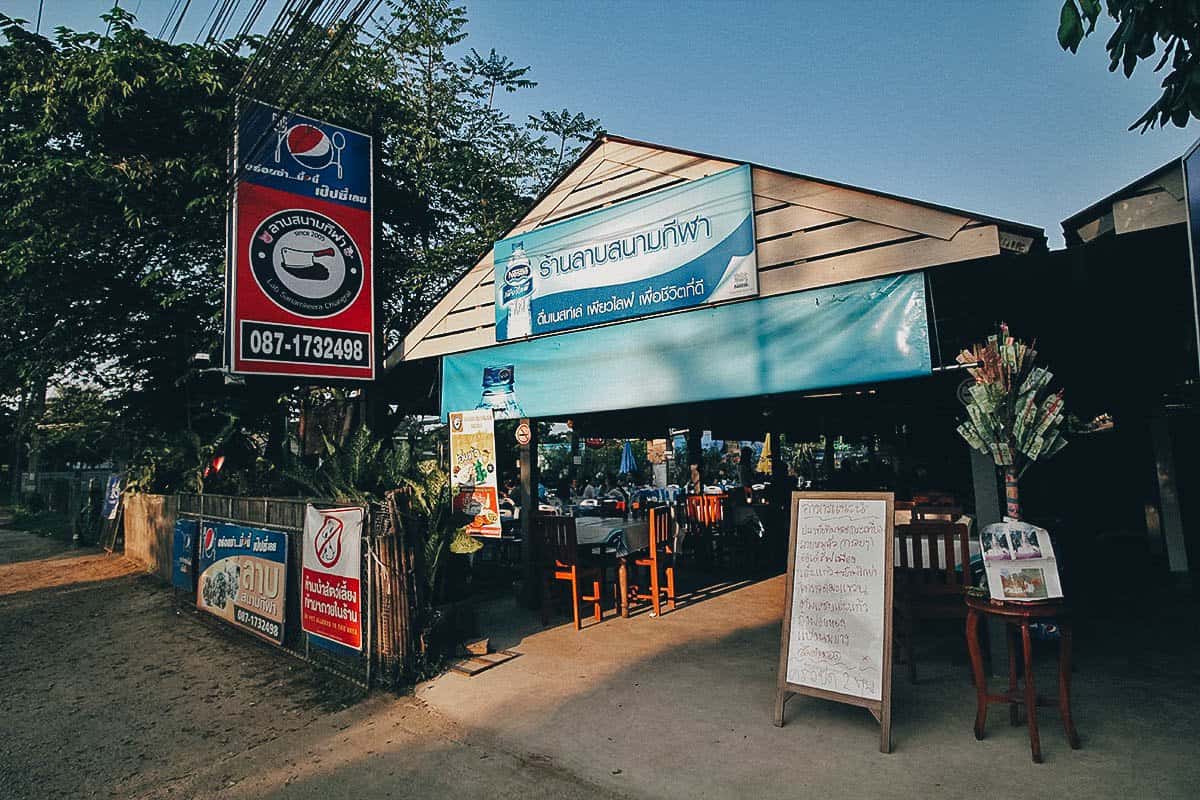 Estimated to Spend: THB 200 per order of pla tabtim tod kratiem
3. Lu Lam Restaurant
Like Ran Lab Sanam Keela, Lu Lam is another of Chiang Rai's most popular local restaurants. It's situated by the Kok River giving you pleasant views of the water. Lu Lam specializes in Northern Thai cuisine so it's a great place to try staples like larb (minced pork), sai oua (Northern Thai sausage), and this nam prik ong (chili-based dip). We had nam prik ong (red chili) and nam prik noom (green chili) several times on this trip and the version at Lu Lam was excellent. For the most daring, I read on migrationology.com that Lu Lam is a good place to try lou, or raw pig's blood soup. Yes, RAW pig's blood soup.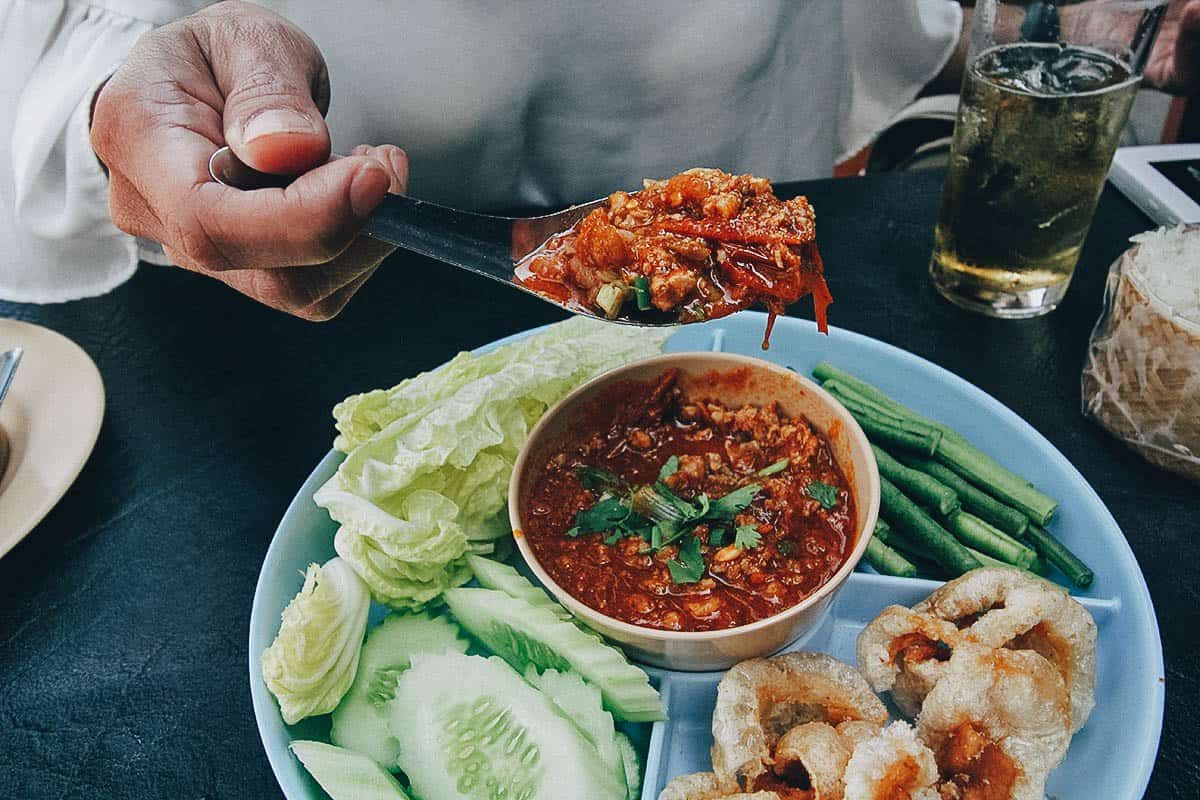 Like Ran Lab Sanam Keela, Lu Lam is located on the outskirts of town, right by the Kok River, so it may be best to go via taxi, tuk-tuk, or Uber. We had our tuk-tuk driver drop us off here for lunch after visiting Wat Rong Khun and Baan Dam Museum. We then took an Uber back to our hotel for less than THB 50.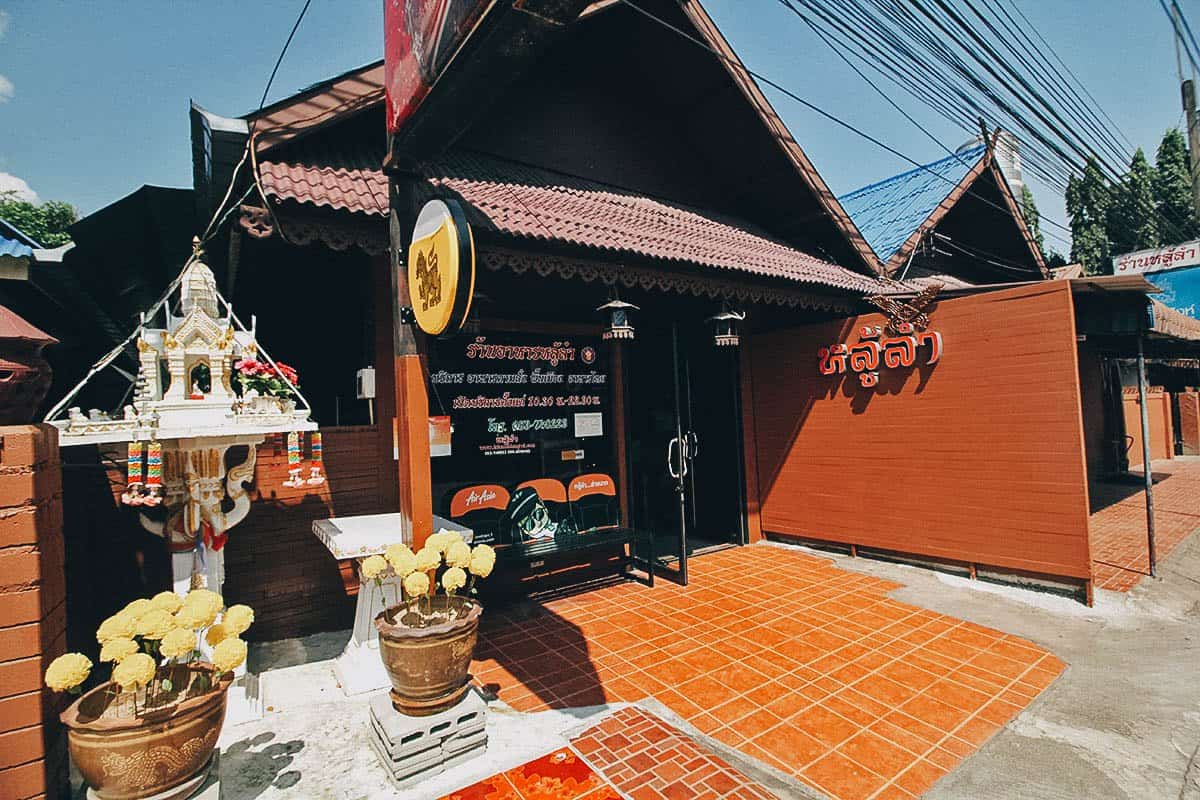 Estimated to Spend: Around THB 150 per person
4. Ja Jaroenchai
Ja Jaroenchai is a restaurant that specializes in Thai Chinese food. Like Ran Lab Sanam Keela and Lu Lam, I learned about this place from eatingthaifood.com. I read that some of their most famous dishes include pad makua sawuy, which is a dish of stir-fried eggplant with minced pork. We wanted to get the pad yod on tandawan moo krob as well, which is stir-fried sunflower sprouts with crispy pork belly, but they were out of the sprouts so they substituted it with bok choy instead. Both dishes were very tasty.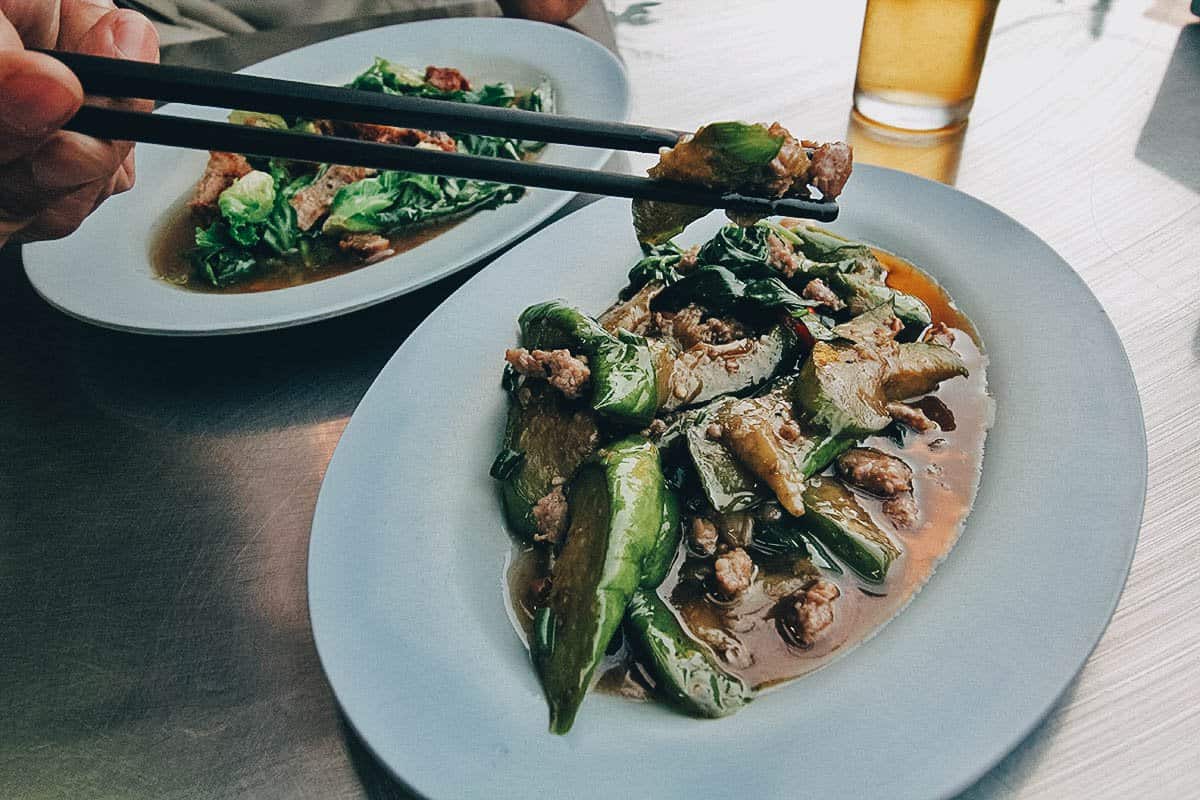 Ja Jaroenchai is a popular restaurant about a block away from the Clock Tower.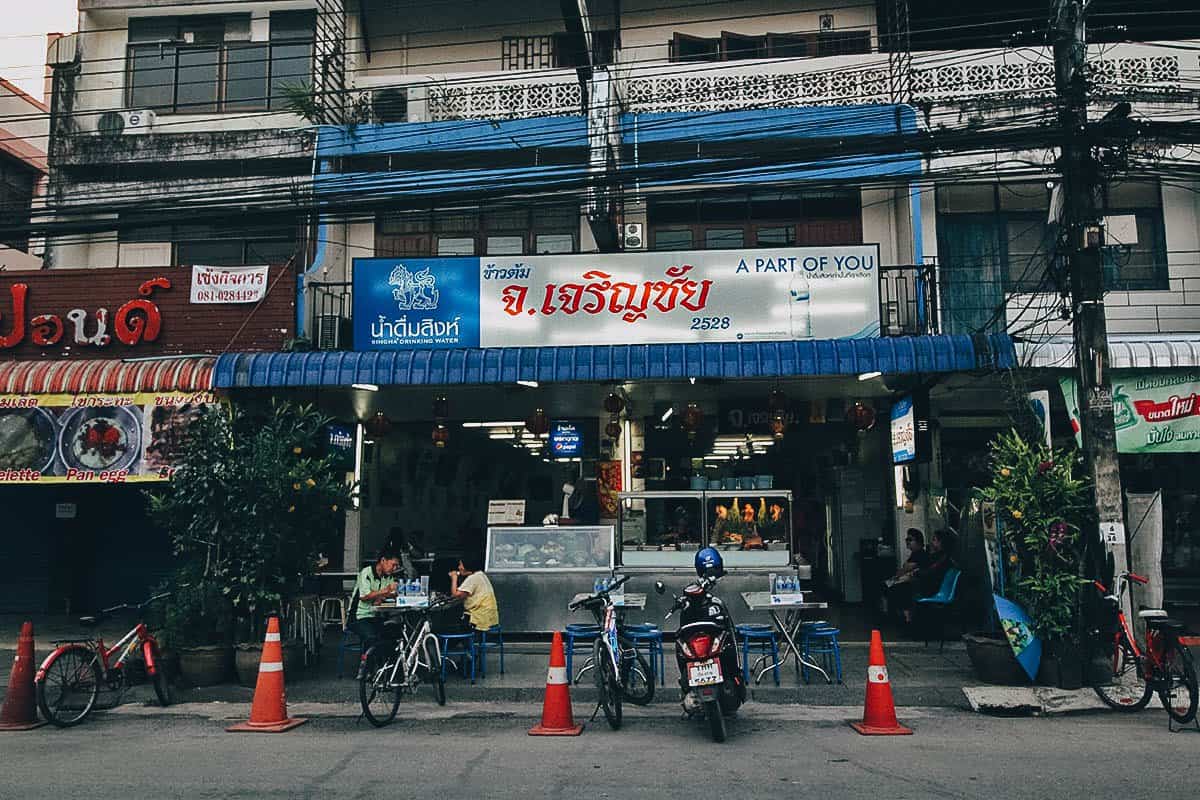 Estimated to Spend: Around THB 60 a plate
5. Chiang Rai Night Bazaar
The food court at the Night Bazaar is a great place to try different types of Thai food, including street food. One of the most popular dishes is hotpot. When you order it, a clay pot over hot coals and containing a soup base is brought to your table along with a basket of vegetables, eggs, and proteins like meat or seafood. Like any Asian hotpot, you'll cook the food yourself at your table.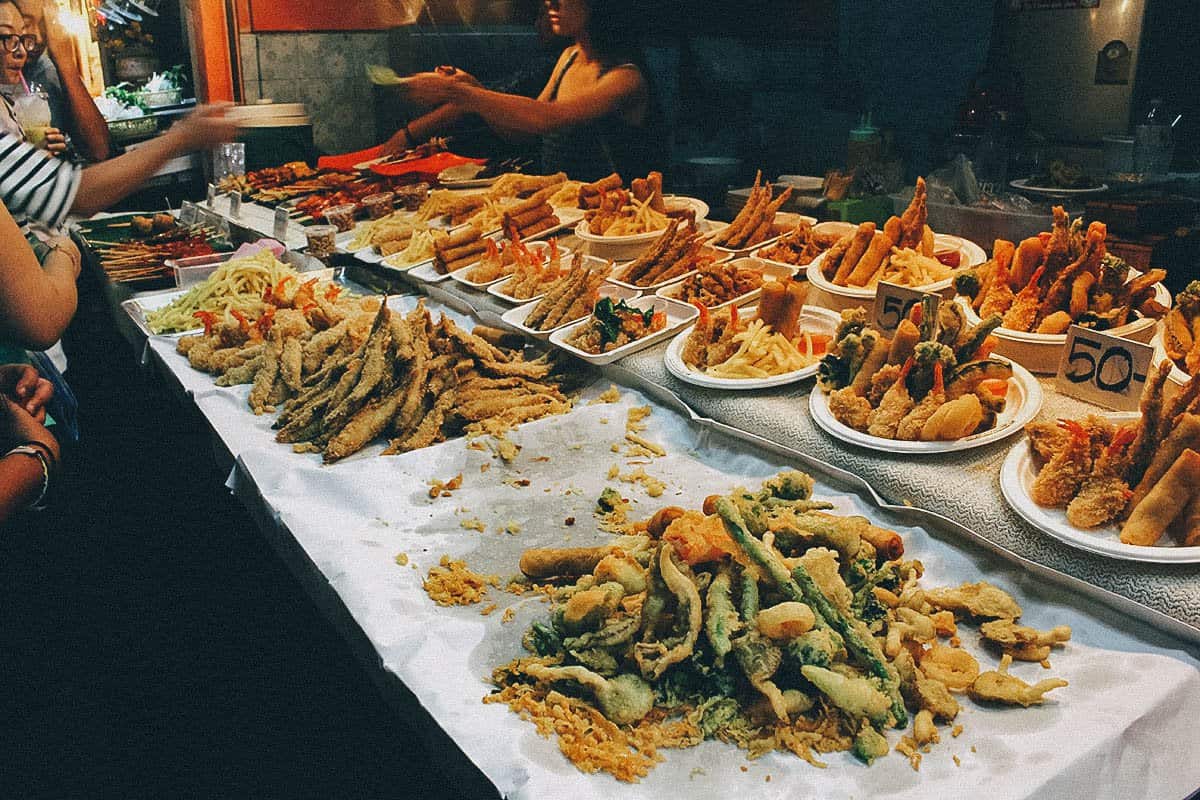 We had already eaten dinner so we were here to drink beer and snack on more exotic fare like deep-fried insects and this goong ten, or "dancing shrimp". If you've never had it before, it's a ceviche-like Isaan dish of tiny live shrimp "cooked" in lime juice. It isn't as common to find this dish so I suggest trying it if you see it. It's delicious. Check out my post on the Night Bazaar for more pictures and information.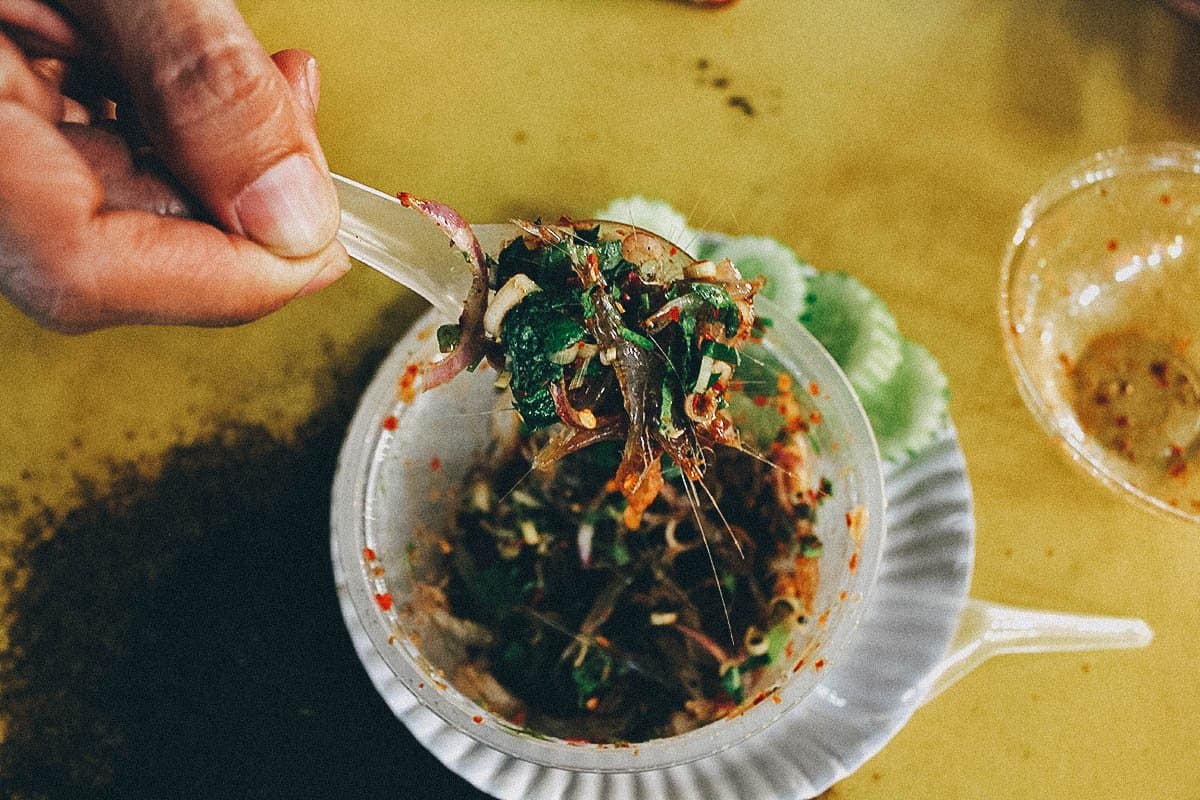 Estimated to Spend: Around THB 50-100 per person
POINTS OF INTEREST IN CHIANG RAI
To help you get your bearings, I've created this map so you get a better sense of where everything is. All the places recommended in this guide are pinned on this map.
HOW TO GET AROUND
Chiang Rai is a small city so you can easily explore it on foot. You'll need to arrange for transportation though to see it's major attractions like Wat Rong Khun and Baan Dam Museum. We hired a tuk-tuk to take us to both places, wait for us, then drop us off at Lu Lam restaurant for THB 500. If you're interested in seeing the Blue Temple, then you can ask him to make a quick stop there as it's en route to the city from Baan Dam Museum.
If you're interested in dining at Ran Lab Sanam Keela or Lu Lam restaurant, then you can go via tuk-tuk, taxi, or Uber. We used Uber a few times in Chiang Rai. It's cheap and readily available.
HOW MANY DAYS TO STAY / SAMPLE ITINERARY
As described, Chiang Rai is usually a short stay destination for many travelers. If you're spending time in Chiang Mai and making a side trip to Chiang Rai, then one full day should be enough. Here's what you can do with one day in Chiang Rai.
MORNING

• Wat Rong Khun
• Baan Dam Museum
• Wat Rong Sear Tean
AFTERNOON

• Lunch at Khao Soi Phor Jai
• Clock Tower
• Wat Phra Kaew
• Wat Phra Sing
• Wat Klang Wiang
EVENING

• Dinner at Ran Lab Sanam Keela
• Night Bazaar
• Clock Tower Light Show
BUDGET / SUMMARY OF EXPENSES
Chiang Rai is cheap. Most travelers will probably be staying for just one or two nights so you won't need to budget a lot for it.
The unit of currency in Thailand is the Thai Baht (THB). Assuming you'll be traveling by bus from Chiang Mai and booking an overnight stay with one other person, then a trip budget of around THB 1,500 per person should be enough. This takes into account your accommodations, round trip transportation from Chiang Mai, transportation within Chiang Rai, entrance fees, meals, drinks, and pocket wifi rental. Here's a quick breakdown of expenses:
ACCOMMODATIONS

This is highly subjective. It depends on several factors like hotel preference and number of travel companions. We stayed at the centrally located but inexpensive Chiang Rai Hotel for about USD 24 a night. Expect to pay much less if you stay in a hostel. I saw on Booking.com that dorm room stays cost as little as USD 4 a night.
MEALS

Again, this is subjective, but based on our experience, I'd say around THB 150 a day per person. Filling meals can be had for THB 60 or less.
ENTRANCE FEES

Entrance fees for Wat Rong Khun and Baan Dam Museum add up to just THB 130.
POCKET WIFI RENTAL

If you're sharing the cost with one other person, then you'll each be paying THB 90 per day.
TRANSPORTATION TO CHIANG RAI FROM CHIANG MAI

The Express Green Bus from Chiang Mai to Chiang Rai costs just THB 229 per person each way.
TRANSPORTATION WITHIN CHIANG RAI

Expect to pay around THB 500 to hire a tuk-tuk or taxi to take you to Wat Rong Khun and Baan Dam Museum.
TOTAL



This comes out to just under THB 1,500 for a full day stay per person with roundtrip transportation from Chiang Mai. Ren and I are middle of the road travelers who enjoy good food and drink, so the recommended budget is a good baseline for travelers like us. Adjust accordingly based on your own travel habits.
TRAVEL TIPS
1. Plan your Trip with Sygic Travel
I've been using this free trip planning app for several years now, back when it still used to be called Tripomatic. It's easy enough to find a city's top attractions, but how do you organize them all to maximize what limited time you have?
What Sygic Travel does is make it easy for you to see where everything is on a map so you can lump attractions that are in close proximity to one another to create an efficient itinerary. Check out my post on the Sygic Travel app for more information.
Sygic Travel is what I used to create the location map above. You can view it as a day-to-day itinerary as well. Follow this link to check out our 2-day Chiang Rai itinerary on Sygic Travel. You can also download it in editable Word format from our EAT-ineraries page.
2. Rent a Pocket Wifi Device
Having a stable wifi connection is a must when traveling these days. You'll need it to post on social media, do last minute research, and learn how to say "where is the best bowl of khao soi" in Thai.
We prefer renting pocket wifi devices when we travel but a sim card will be fine as well. Assuming you'll be going through Bangkok or Chiang Mai before arriving in Chiang Rai, you can either pick up a 4G sim card at Chiang Mai International Airport, or get a 4G sim card (option 1 | option 2) or rent a pocket wifi device in Bangkok.
3. Check for Discount Passes
There are many online booking platforms that offer travel deals around the world, but when it comes to Asia, my favorite is Klook. Not only is their website the most user-friendly, but they often have the widest selection of activities at the best prices. Follow the link to check out Klook's list of tours and services in Chiang Rai.
4. Get Travel Insurance
Whether or not to get travel insurance is a personal choice. For me, it depends on where you're going and what you'll be doing. If you're just going to a country like Hong Kong to traveleat for a few days, then you probably won't need it as much. But if you're going to Pakistan to free solo like Alex Honnold, then it may be a good idea to pick up a policy.
When we do feel the need for insurance, we get it from World Nomads or SafetyWing. They're both leading travel medical insurance providers often used by many long-term travelers. Check out my article on why we buy travel insurance for a description of the two. You can follow the links to get a free quote from World Nomads or SafetyWing.
5. Bring the Right Power Adapter
Electrical outlets in Thailand typically feature two-pronged round or flat sockets, either Type A, Type B, Type C, or Type F. Be sure to bring the right power adapters for your devices. Electrical voltage is 220V and the standard frequency is 50Hz.
Have fun!
No way am I an expert on Chiang Rai but I do hope you find this guide useful. I'm only sharing some of the things I learned from our trip. If you have any suggestions or simply want to share your own experiences, then please feel free to do so in the comment section below. We'd love to have you join our Facebook Travel Group as well.
Thanks for stopping by and prepare to be amazed by Wat Rong Khun in Chiang Rai!
OUR GEAR
These are some of the things we brought with us to Chiang Rai. If you'd like to see what other gear we use, then you can check out our "What's in Our Backpack?" post. (NOTE: The following links are Amazon affiliate links.)
Disclosure
Some of the links in this post are affiliate links, meaning we'll earn a small commission if you make a purchase at no added cost to you. We really appreciate your support as it helps us keep this website going. Thank you!
JB and Renée are the Traveleaters behind Will Fly for Food, a travel blog for the gastronomically inclined.  They enjoy experiencing food from different cultures so they've made it their mission to try every country's national dish.  Read more about them and their National Dish Quest here.