Chiang Rai is a small city, much smaller than Chiang Mai, so most tourists usually stay for just one or two days. Realistically, you could see the area's highlights in just half a day. Ren and I hate rushing so we spent two nights in Chiang Rai so we could explore the city at a more leisurely pace.
Major attractions like Wat Rong Khun and Baan Dam Museum are located outside of the city, but there are a few lesser known temples you can visit within the city's limits. They aren't as spectacular as the White Temple but they do make for a pleasant few hours of temple hopping without the distraction of crowds.
If you're staying in downtown Chiang Rai, then here are a few attractions you can easily walk to from your hotel.
Save This on Pinterest!
No time to read this now? Click on the red save button and pin it for later!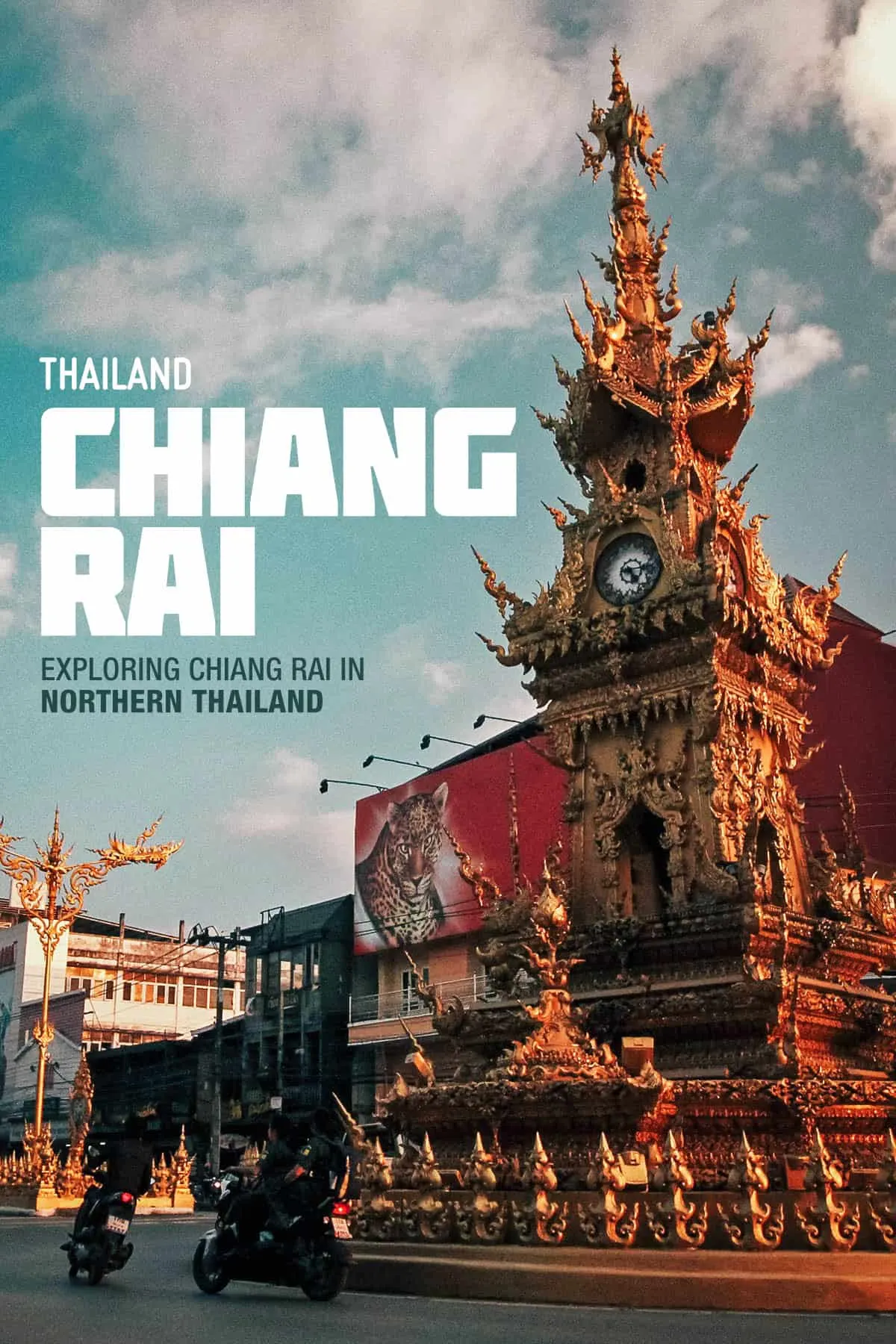 Clock Tower
This is downtown Chiang Rai's most recognizable landmark. Known as the Golden Clock Tower, or Hoh Nalika Chalerm Prakiat in Thai, it was designed by artist Chalermchai Khositpipat, the same man who rebuilt Chiang Rai's most famous attraction – Wat Rong Khun or White Temple. I don't see any resemblance though between the two, do you? 😛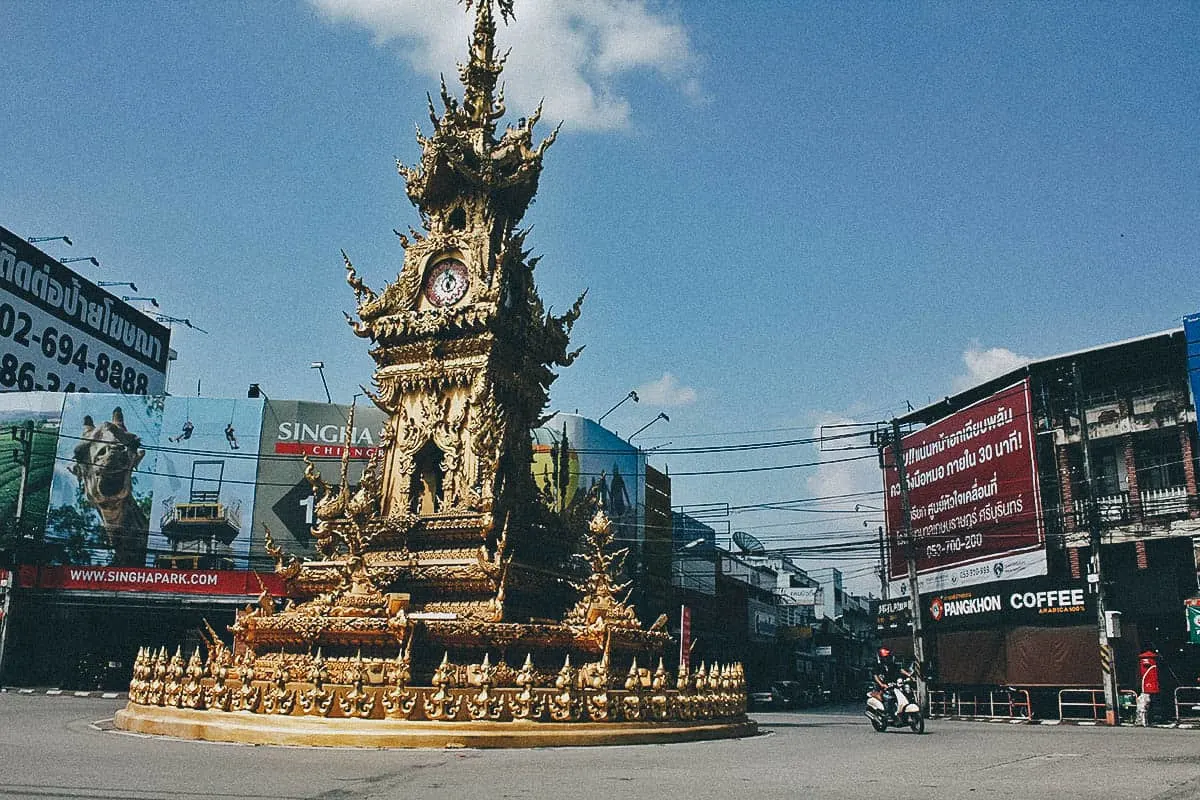 Even the street lights and barricade on either side of the clock tower are gilded and incredibly ornate. Located at the roundabout intersection of Thanon Baanpa Pragarn Road and Jeytod Road, the clock tower was unveiled in 2008 to honor the late king, His Majesty Bhumibol Adulyadej.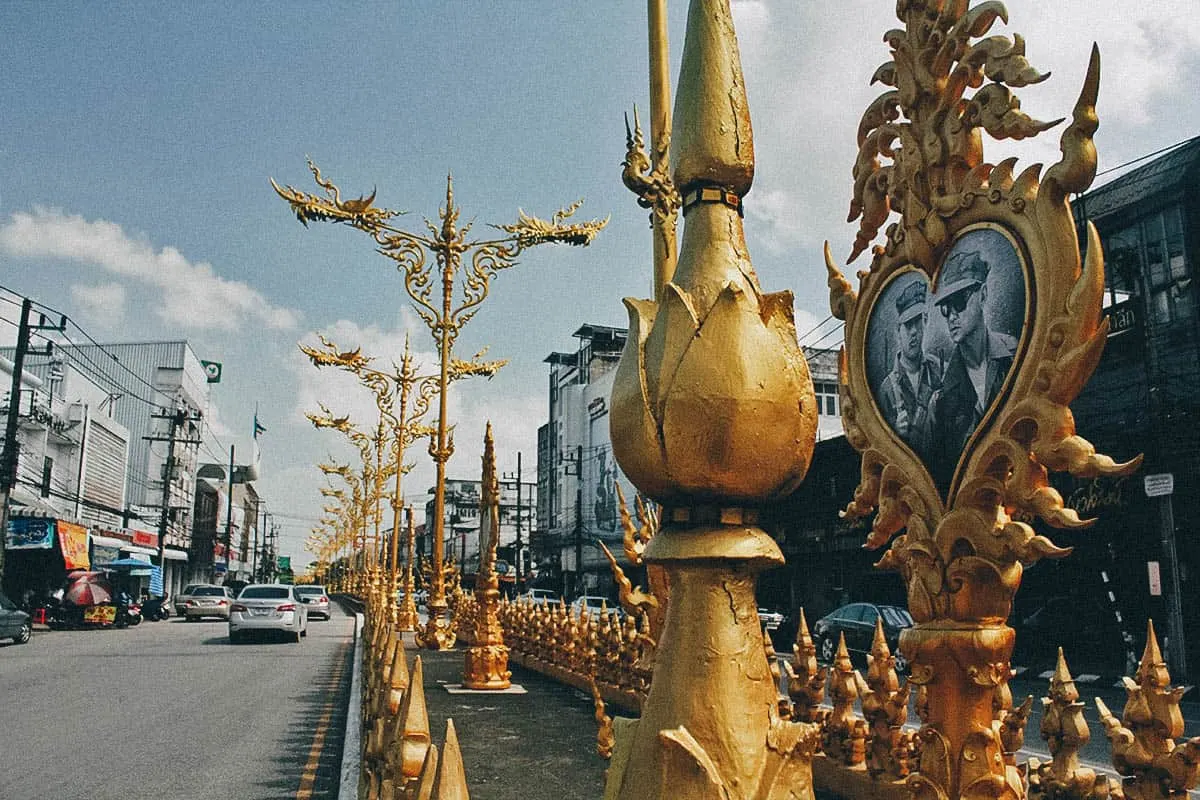 This has got to be the flashiest clock tower I have ever seen. A deep golden orange in the late afternoon sun, try coming back at sunset when the clock is at its most spectacular. There's a nightly music and light show as well at 7PM, 8PM, and 9PM.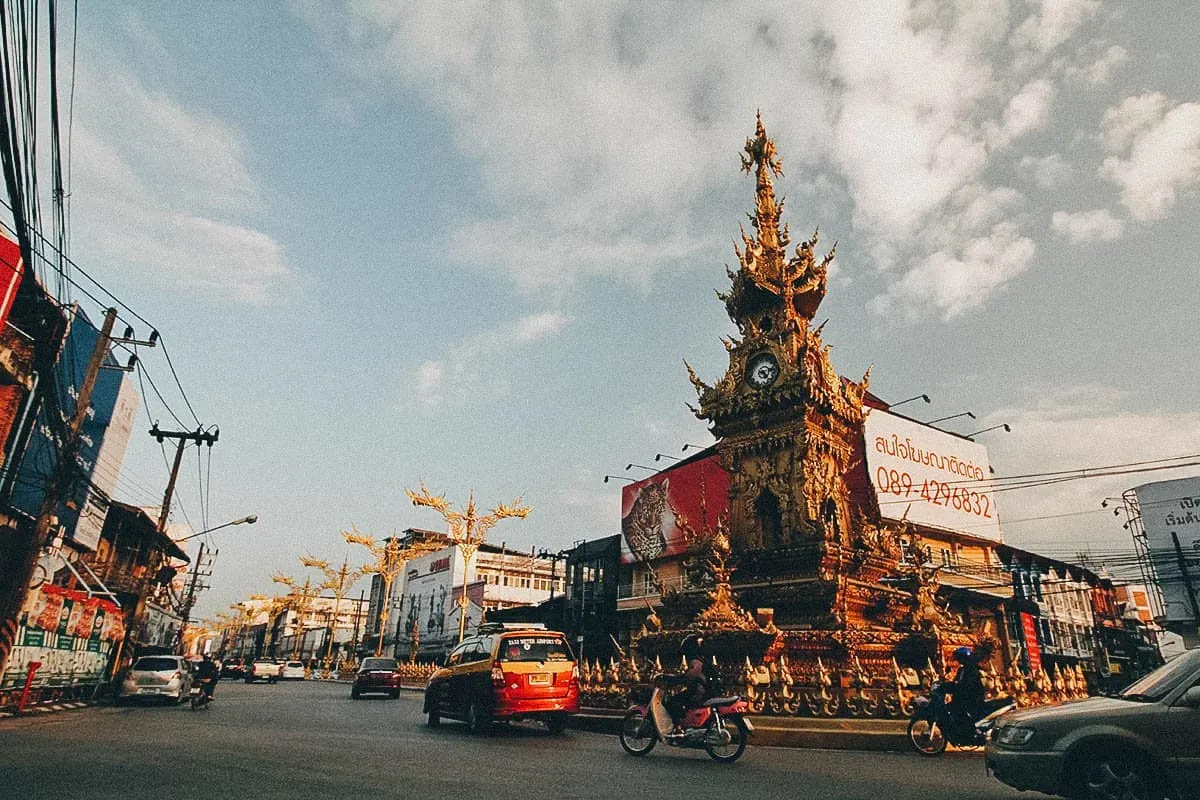 Hoh Nalika Chalerm Prakiat (Golden Clocktower)
Intersection of Thanon Baanpa Pragarn and Thanon Jet Yot
Light Show: 7PM, 8PM, 9PM, nightly
Wat Phra Kaew
Located just a short walk from the clock tower is Wat Phra Kaew, one of the oldest and most revered Buddhist temples in Chiang Rai. The exact year the temple was founded isn't known, but it's believed to date back to at least the end of the 14th century. I don't know anything about Buddhist temples, but I think the building pictured below is the viharn or sermon hall. Based on what I've read, it seems like every Thai Buddhist temple has a viharn, ubosot, and chedi.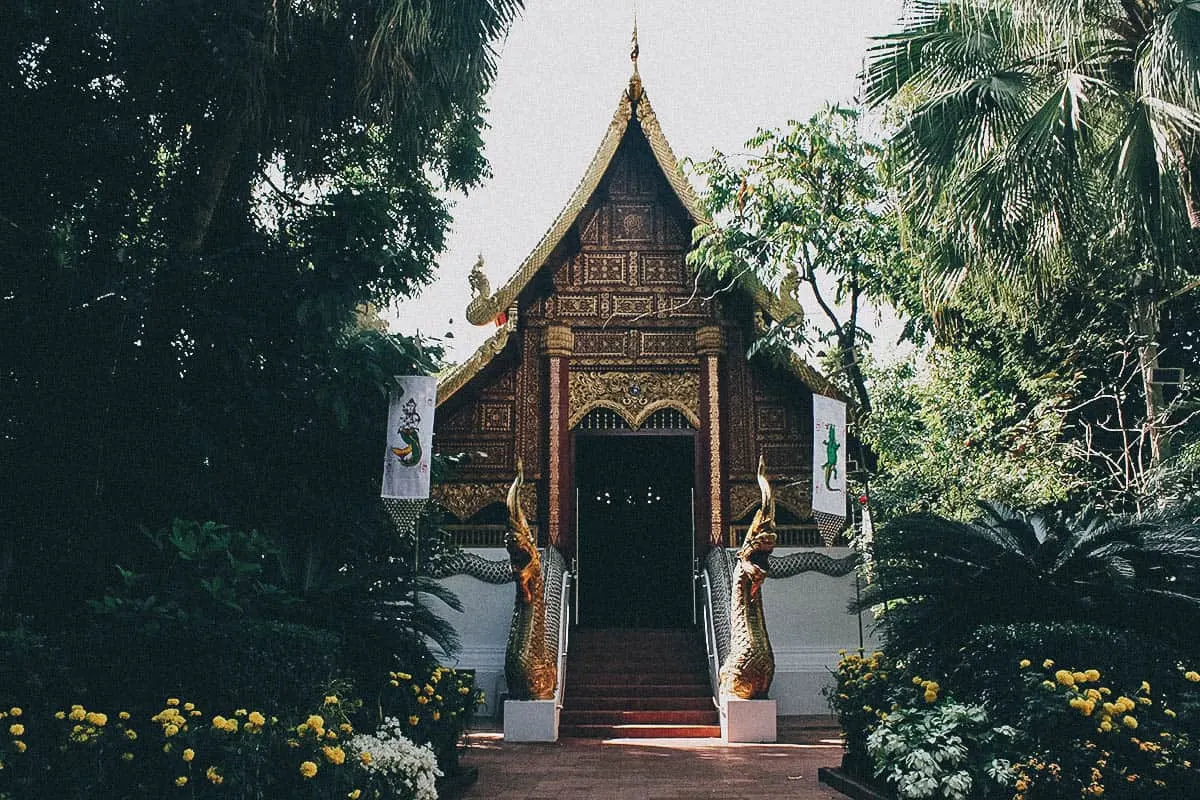 Wat Phra Kaew is an important temple because it's said to be the original home of the translucent green Buddha, which is now on display at Bangkok's Grand Palace. A bolt of lighting hit an old Chedi in 1434, revealing a stucco-covered emerald Buddha.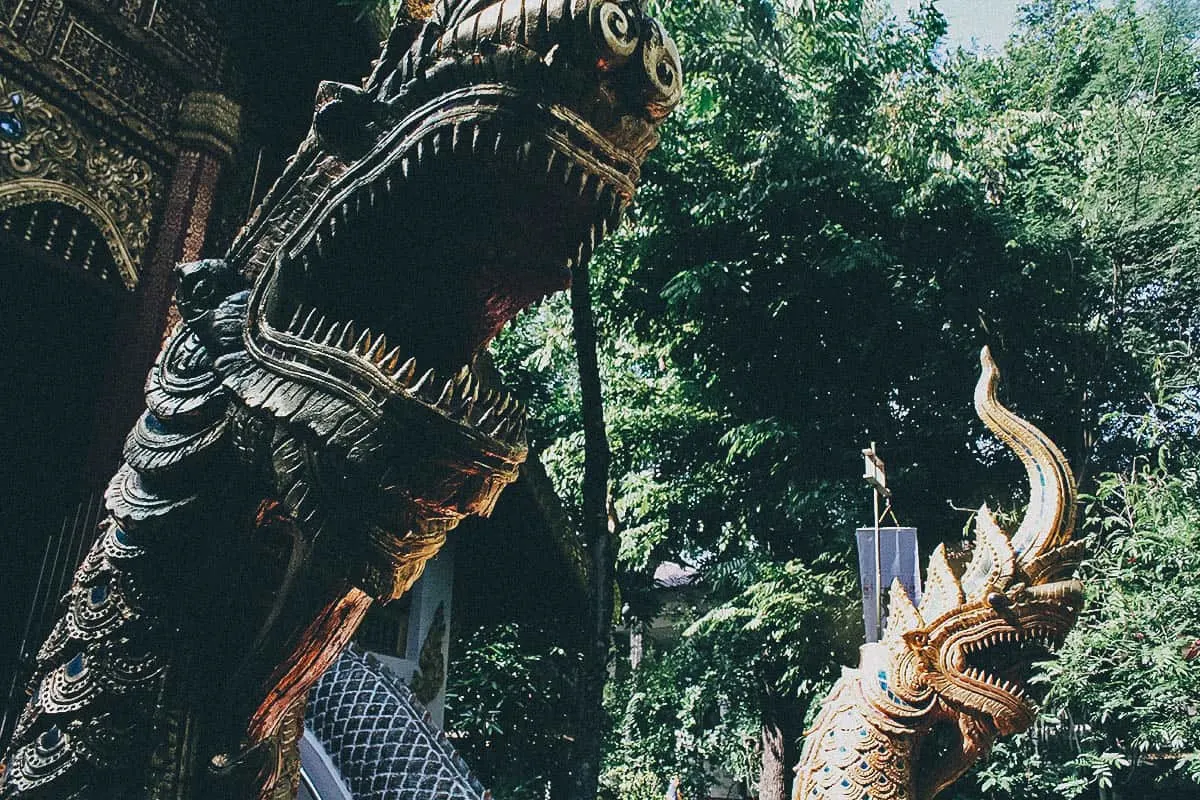 On the left there is the ubosot or ordination hall. Inside are beautiful mural paintings, but I didn't want to take my shoes off so I didn't see them.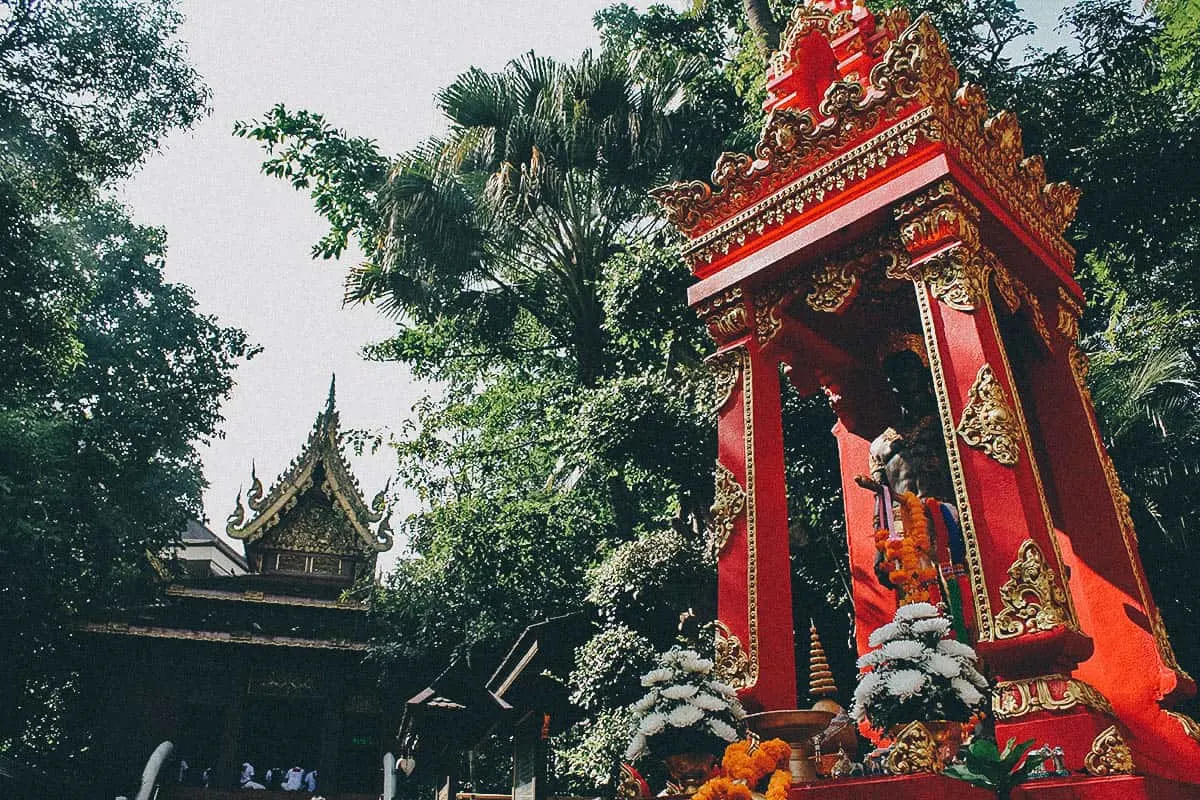 Wat Phra Kaew was my favorite among the few temples I visited in Chiang Rai today. There were a lot of trees and plants with benches where you could just sit and enjoy the breeze. I spent many minutes here pondering the meaning of my existence.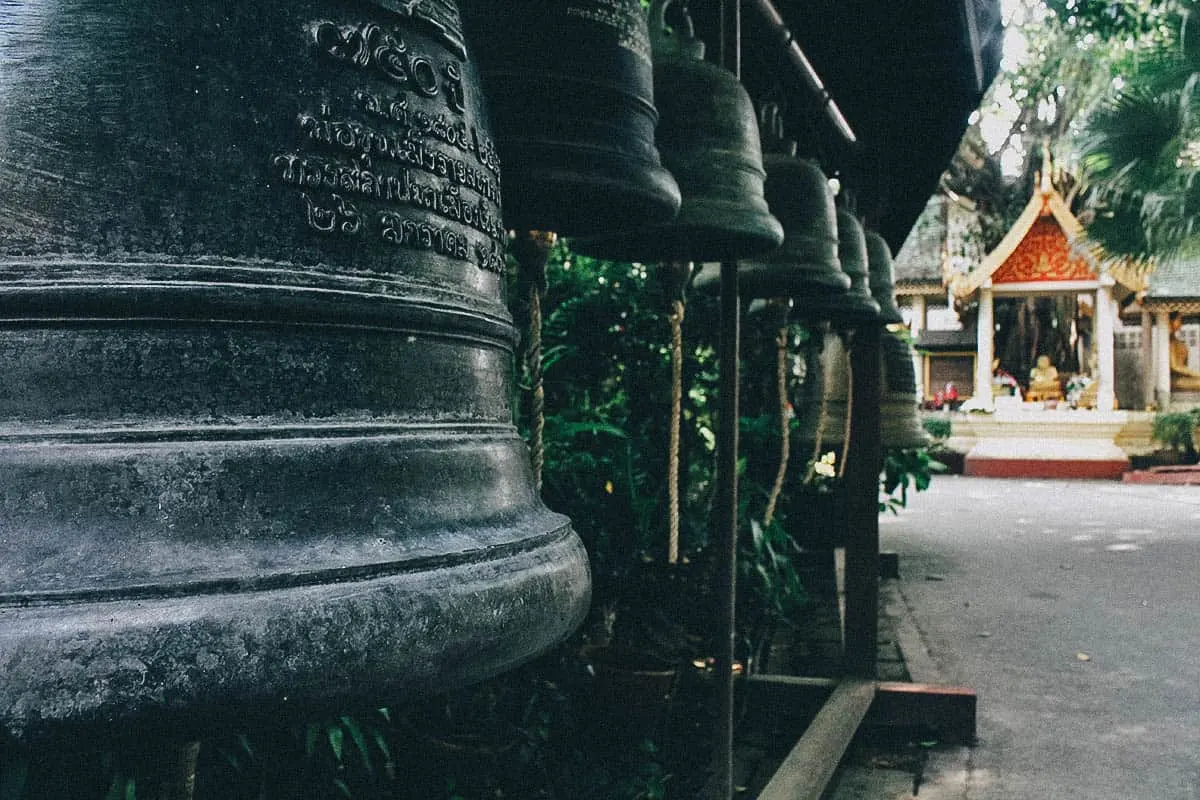 Wat Phra Kaew
Phra Borom Maha Ratchawang, Phra Nakhon, Bangkok 10200, Thailand
Tel: +66 2 623 5500
Temple Hours: 7AM-6PM
Admission: FREE
Wat Phra Sing
Not to be confused with Wat Phra Signh, Chiang Mai's grandest and most beautiful temple, Wat Phra Sing is a more humble temple and also one of Chiang Rai's oldest. It was built in 1385.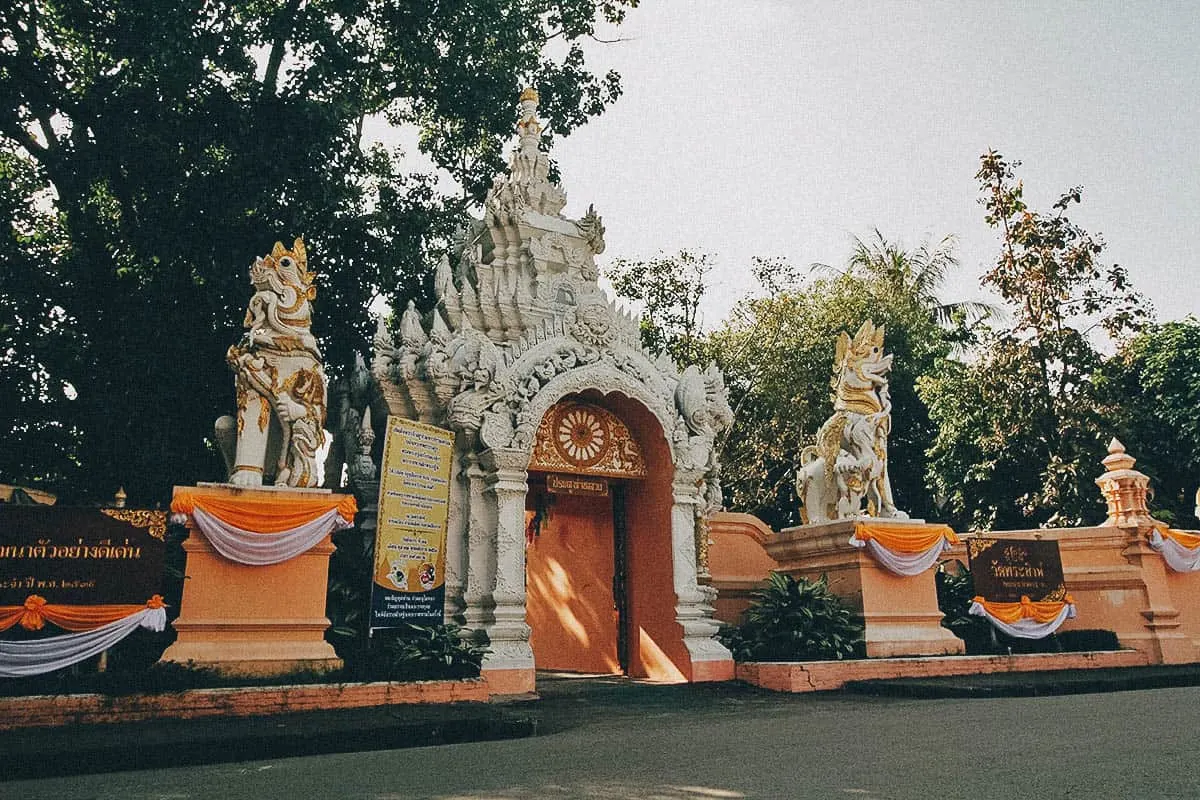 I believe this is Wat Phra Sing's viharn.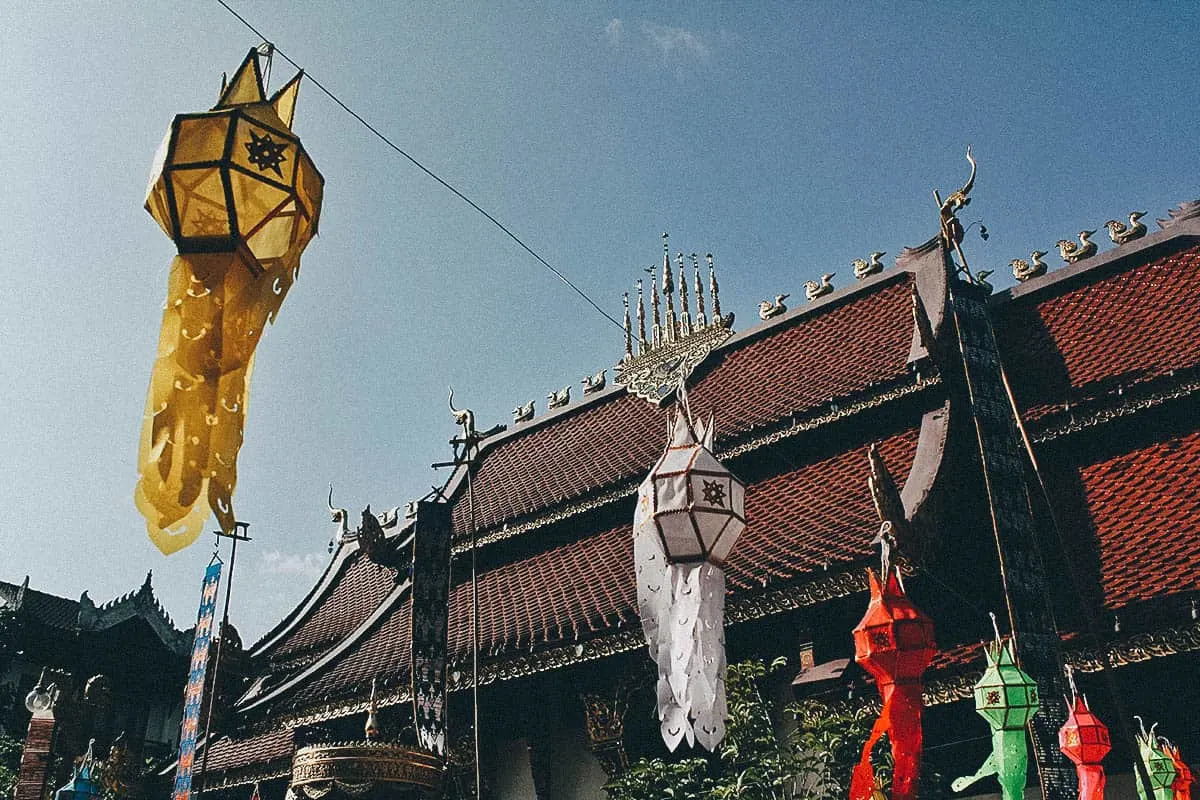 Behind the viharn is this beautiful golden chedi or stupa. A chedi is a mound-like structure containing relics – typically the remains of Buddhist monks or nuns – and is used as a place of meditation.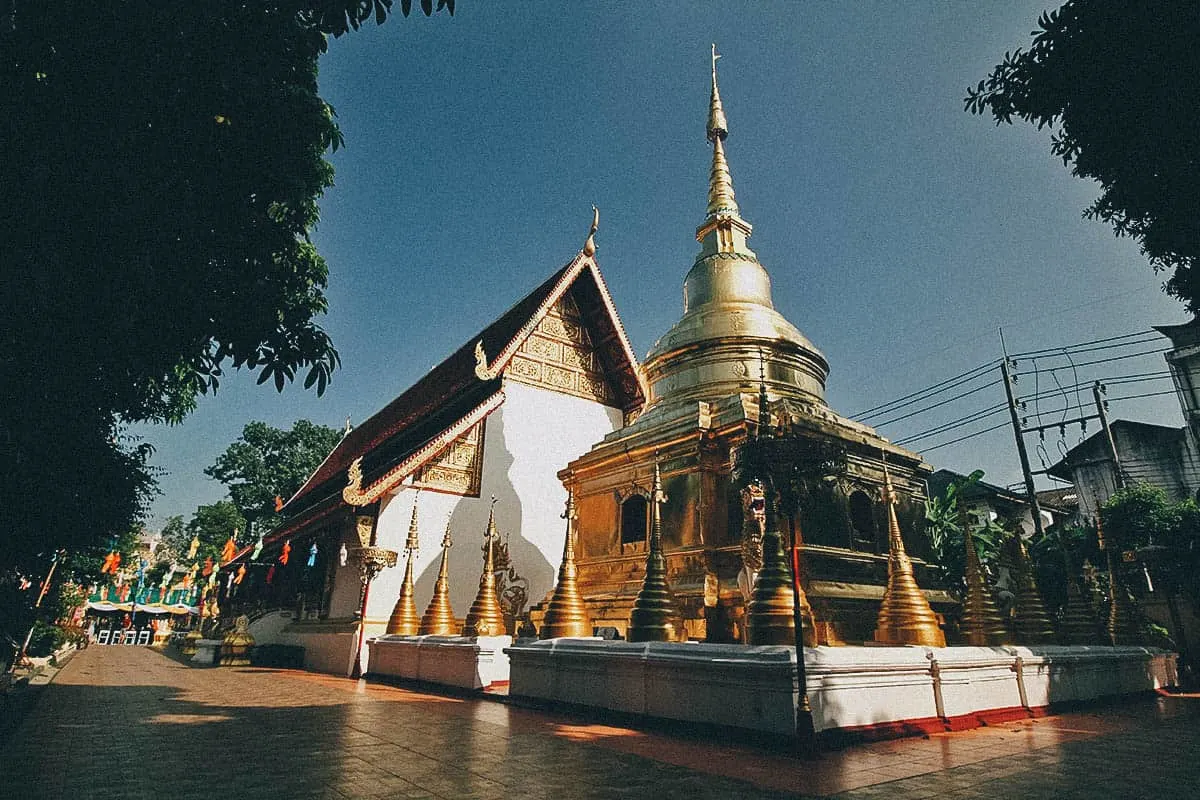 Pretty isn't it? Chiang Mai's Wat Phra Singh has a much bigger and even more spectacular golden chedi.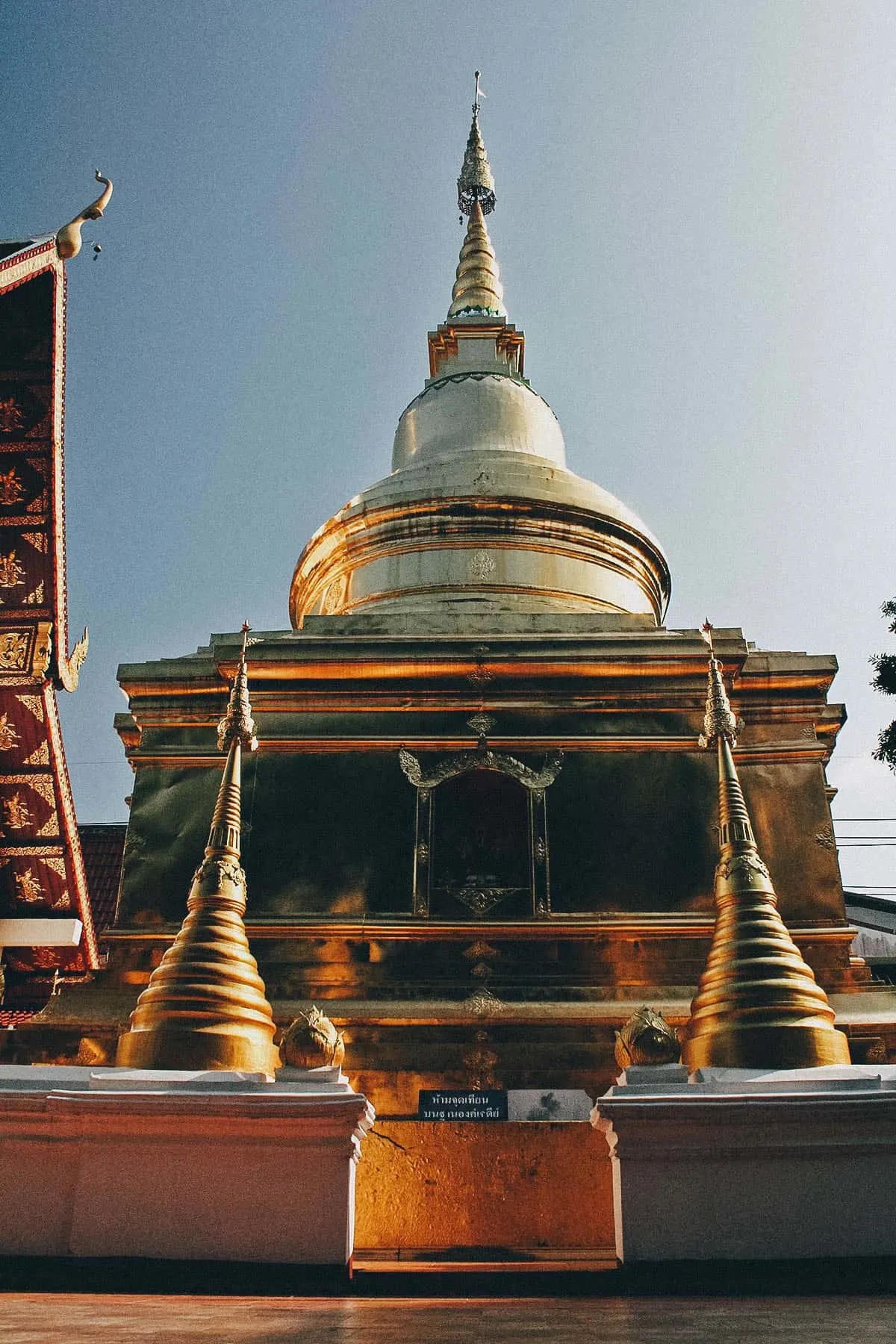 Wat Phra Sing
2415 Ruangnakron Rd, Tambon Wiang, Amphoe Mueang Chiang Rai, Chang Wat Chiang Rai 57000, Thailand
Tel: +66 53 711 735
Temple Hours: 6AM-5PM
Admission: FREE
Wat Klang Wiang
Among the three temples I visited today, Wat Klang Wiang is probably the least well known though it's arguably the most decorated and beautiful. I was the only visitor at the time, the only other person being this temple monk sweeping away everyone's wants and desires.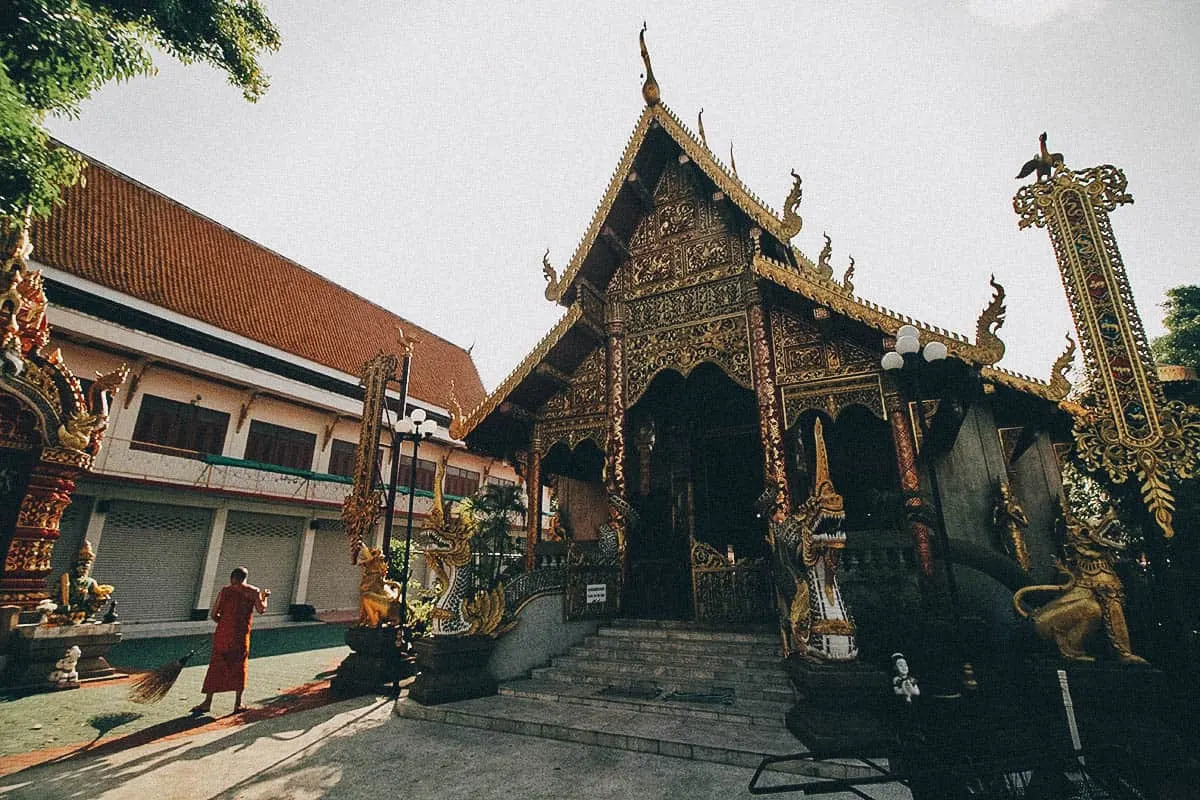 I believe the structure on the left is the viharn, the one in the middle the chedi, and the one on the right the ubosot.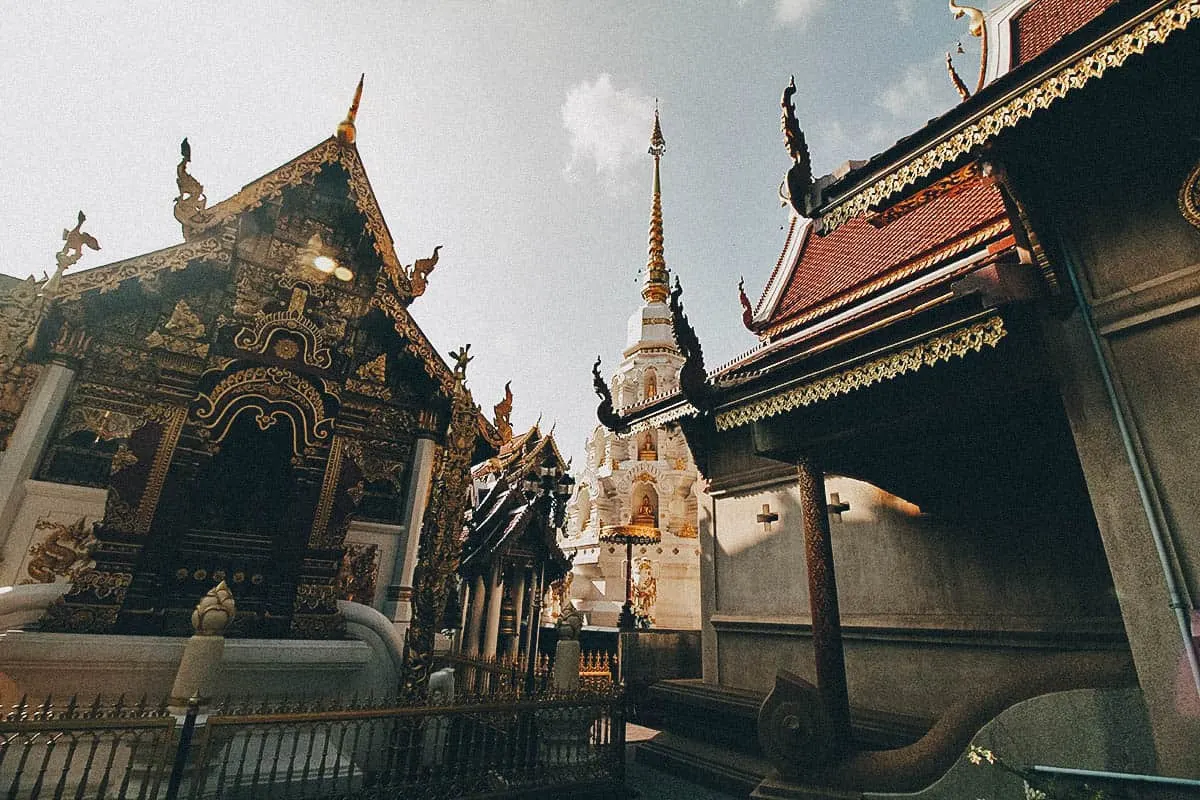 Unlike Wat Phra Sing's golden chedi, Wat Klang Wiang has a richly decorated white chedi with multiple niches, each housing a small golden Buddha image.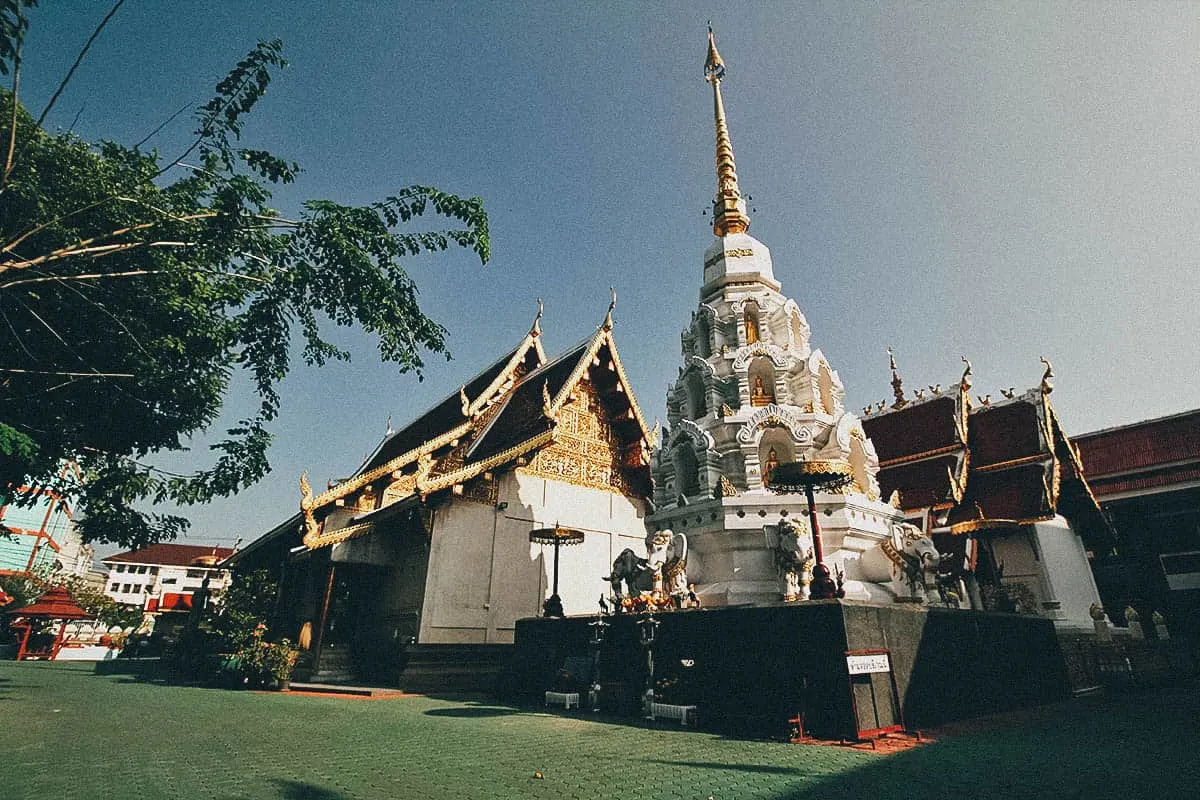 That parasol-like structure is called a chatra which is a Buddhist symbol of protection.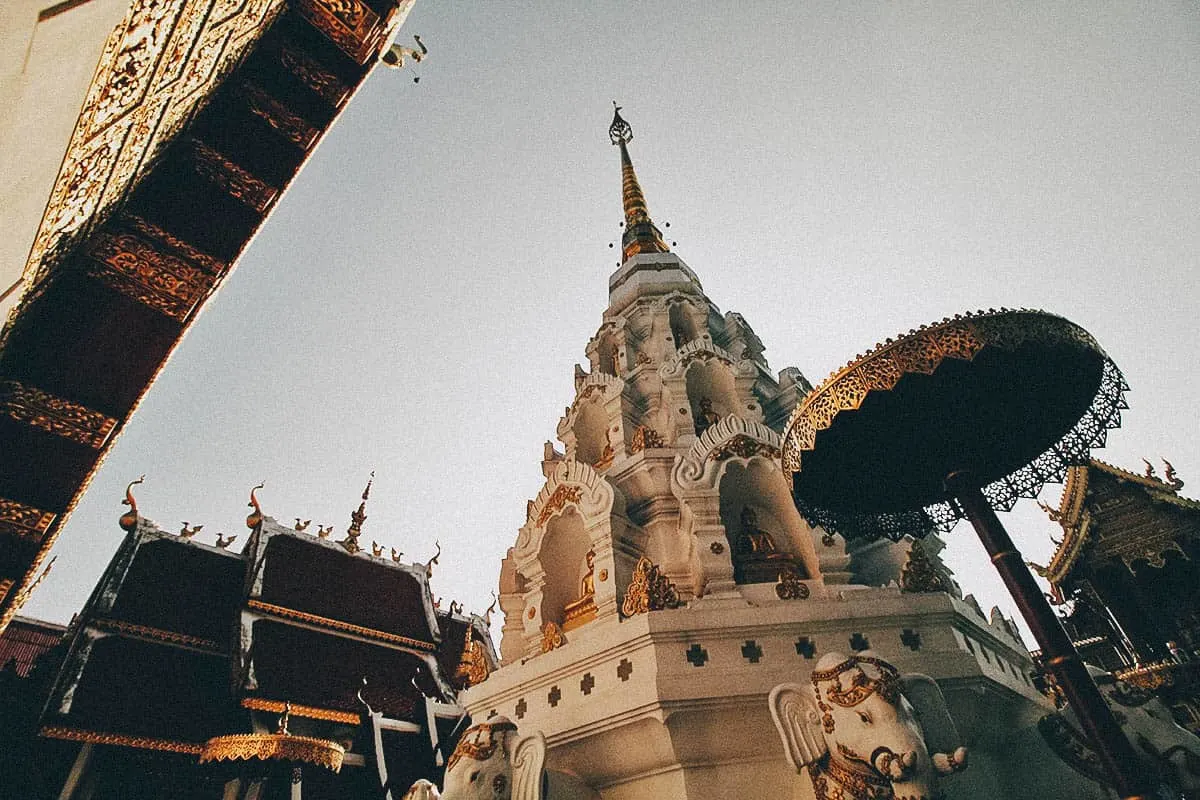 Wat Klang Wiang
Wiang, Mueang Chiang Rai District, Chiang Rai 57000, Thailand
Tel: +66 53 768 187
Temple Hours: 6AM-5PM
Admission: FREE
Chiang Rai Night Bazaar
Once the sun has gone down and you've had your fill of temples and culture, it's time to stimulate Chiang Rai's economy by going shopping and eating at the Night Bazaar. It starts at 6PM and closes at around 11PM every night.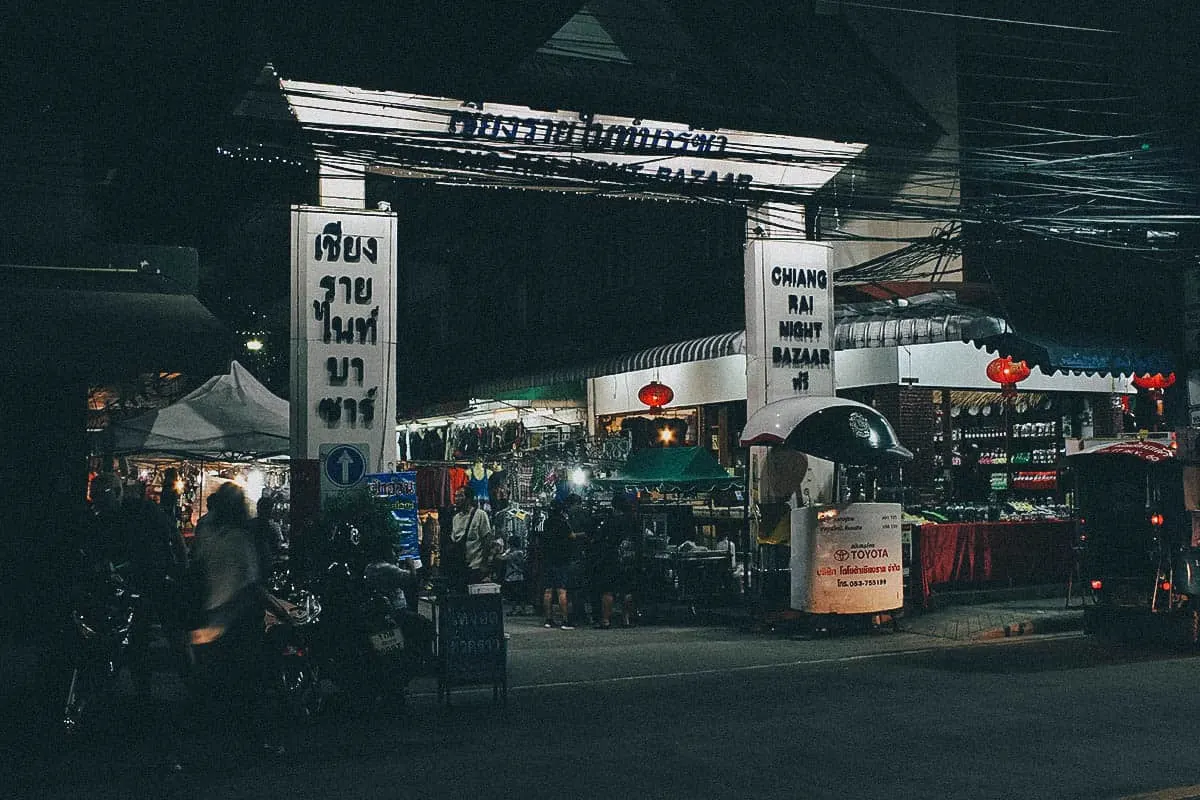 You'll find typical Thai market products here like hill tribe jewelry, harem pants, hand-carved soaps, and pirated DVDs.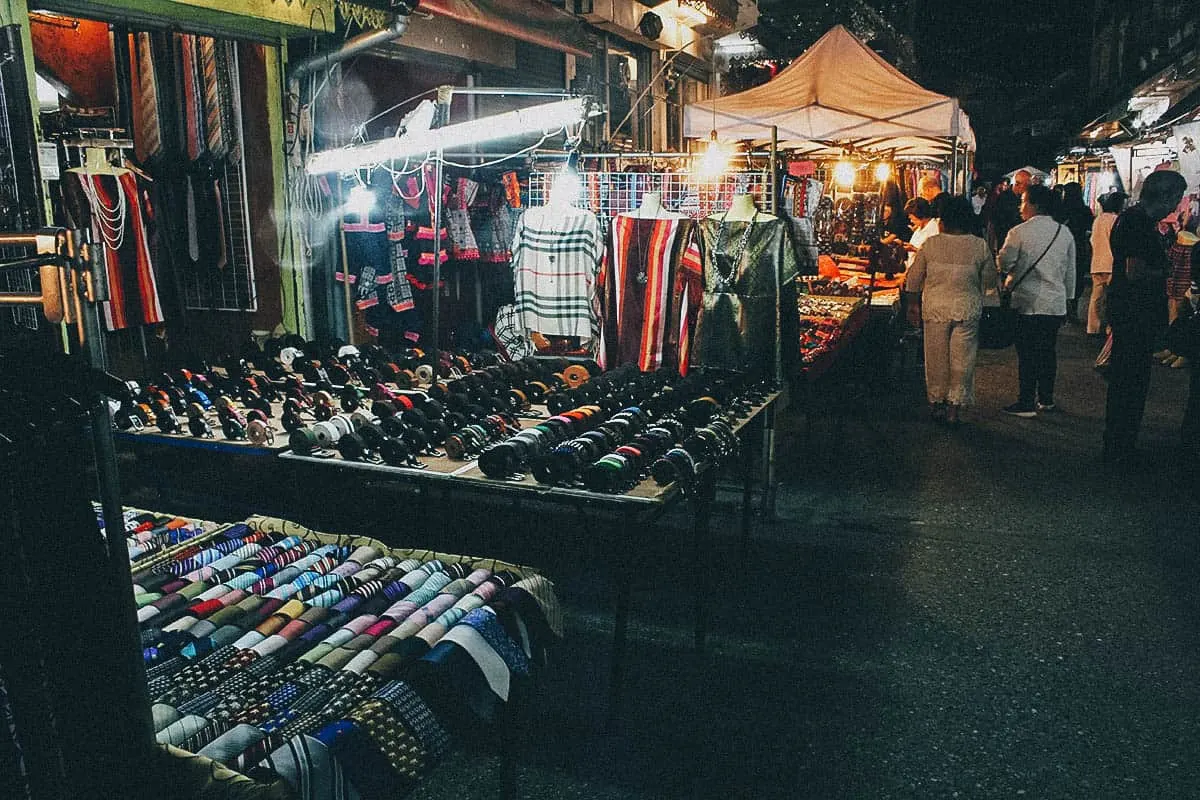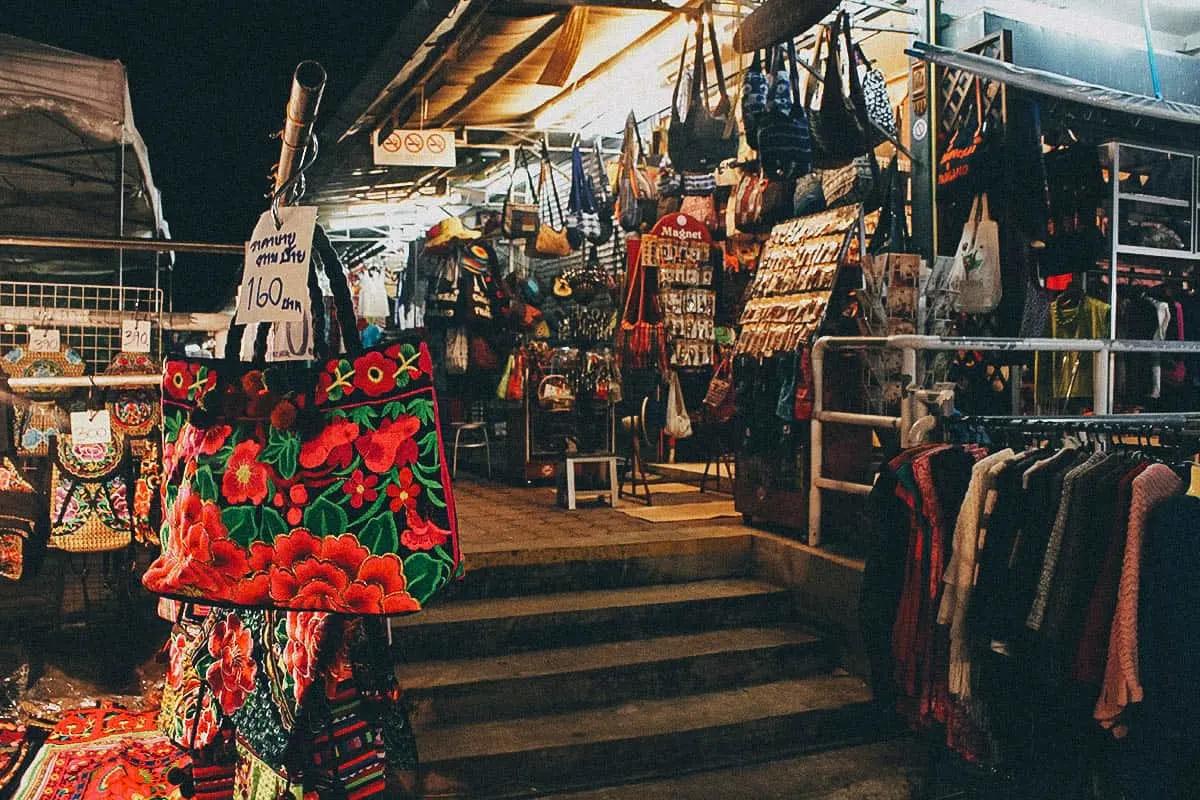 What we were here for was the Thai food. At the Night Bazaar is an open air food court which I read is the likeliest place to find some of Northern Thailand's most exotic delicacies.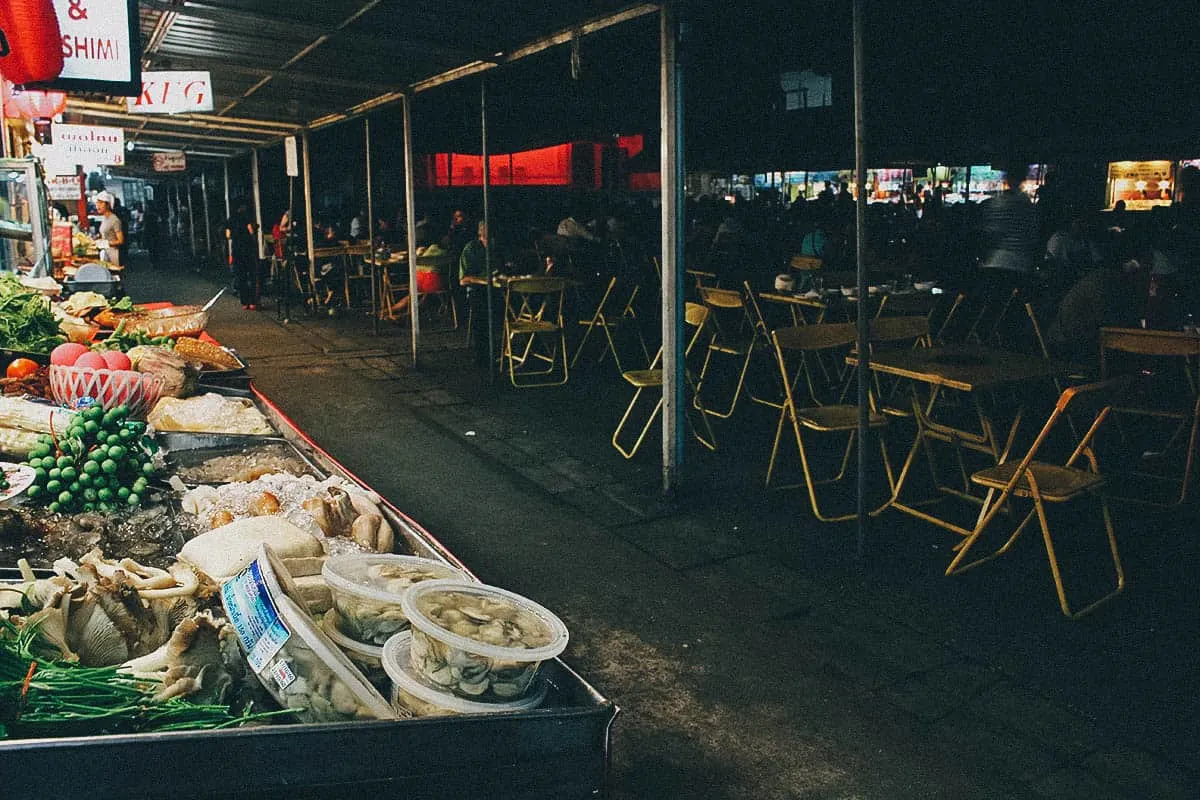 There are many food stalls here offering different types of seafood. We didn't have any but food in general at the Night Bazaar is relatively cheap, including the seafood.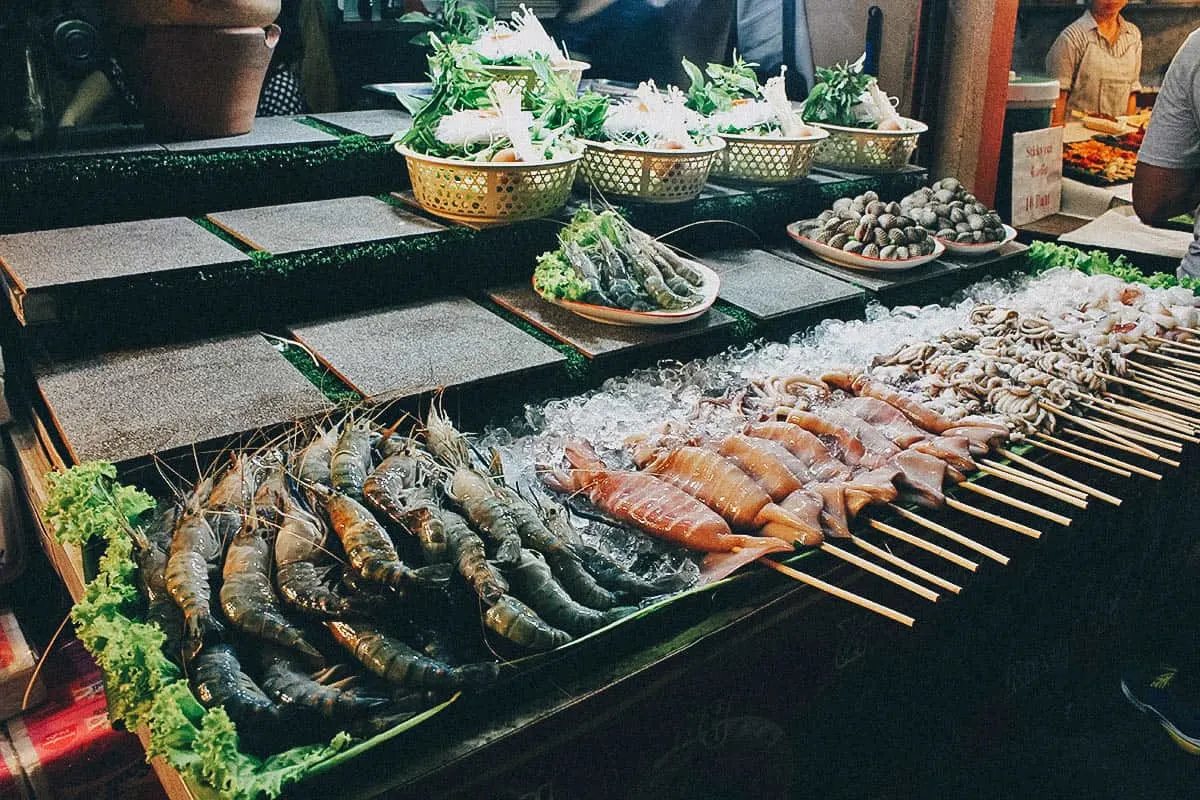 Assorted platters of deep-fried goodies like tempura shrimp and vegetables, spring rolls, and fries.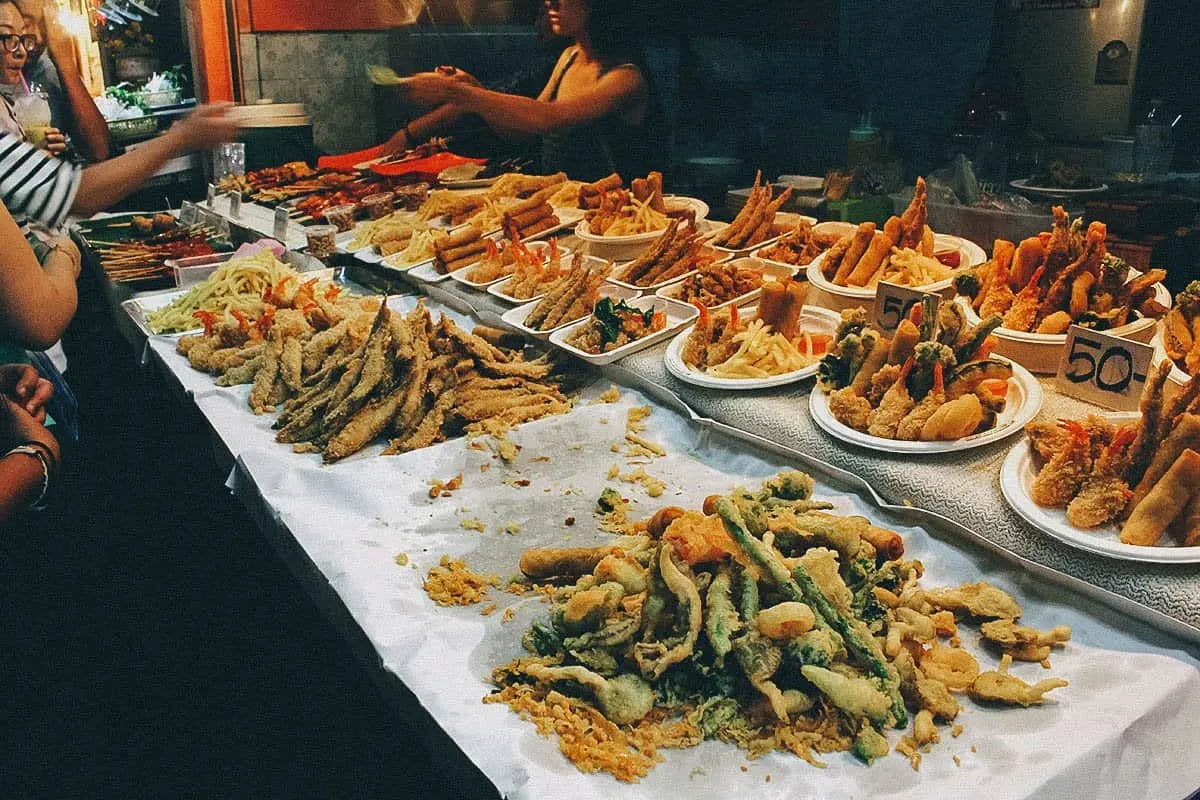 A basket of ingredients for hotpot. Hotpot seemed to be a popular dish here so you may want to try this. A clay pot over hot coals and containing a soup base is brought to your table along with a basket of vegetables, eggs, and proteins like meat or seafood. Like any form of Asian hotpot, you then cook the ingredients yourself right at the table. Had we not been full from a big dinner, then we probably would have tried this. I think it goes for about THB 70-100, depending on size and choice of protein.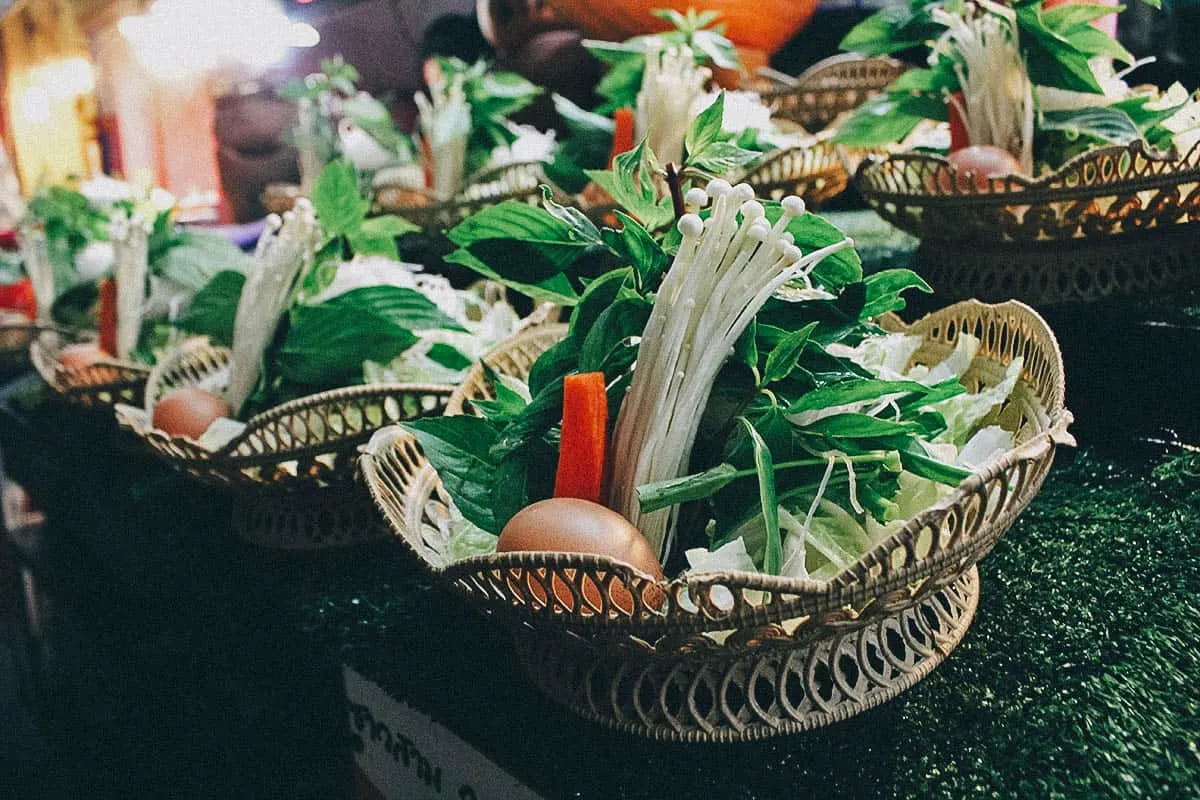 Remember what I said about exotic delicacies? This is what I was talking about. I read that markets were a great place to look for fried insects in Northern Thailand, so were happy to find a couple of stalls selling them here.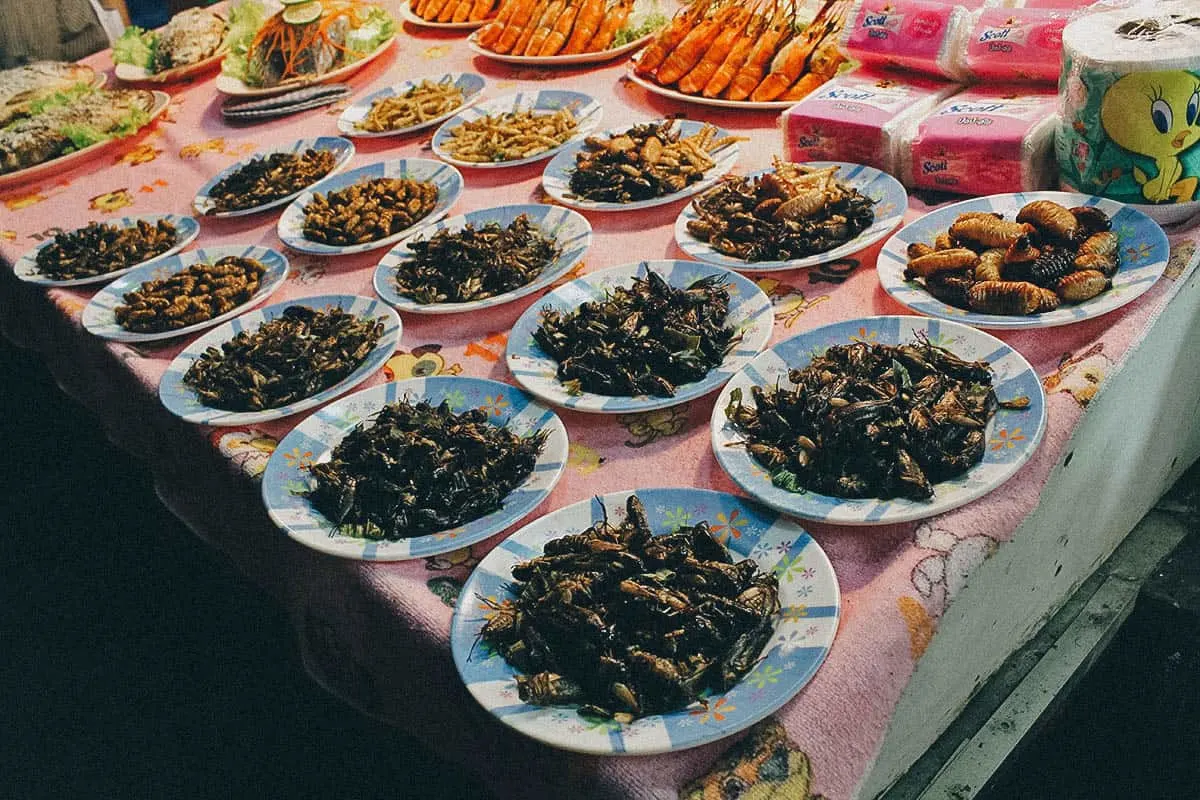 We got the assorted platter which had deep-fried crickets, grubs, silkworm larvae, and bamboo caterpillars. This plate was about THB 30-40 if I remember correctly.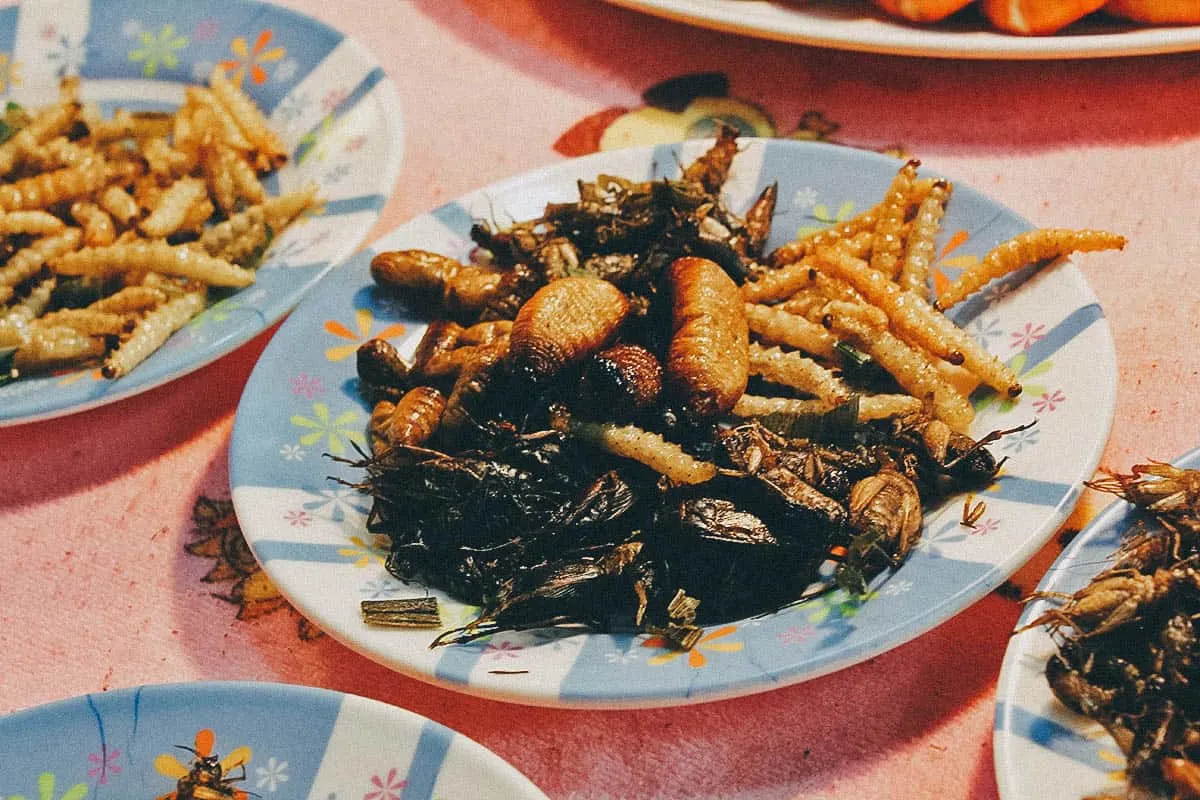 The perfect bite. Fried insects are actually pretty good. They're crunchy and nutty, like you're eating from a bowl of mixed nuts. I've always been a proponent of eating insects. They're abundant, easy to grow, and a good source of protein. Believe it or not, Ren and I raised superworms for food at one time. We deep-fried them like tempura. 🙂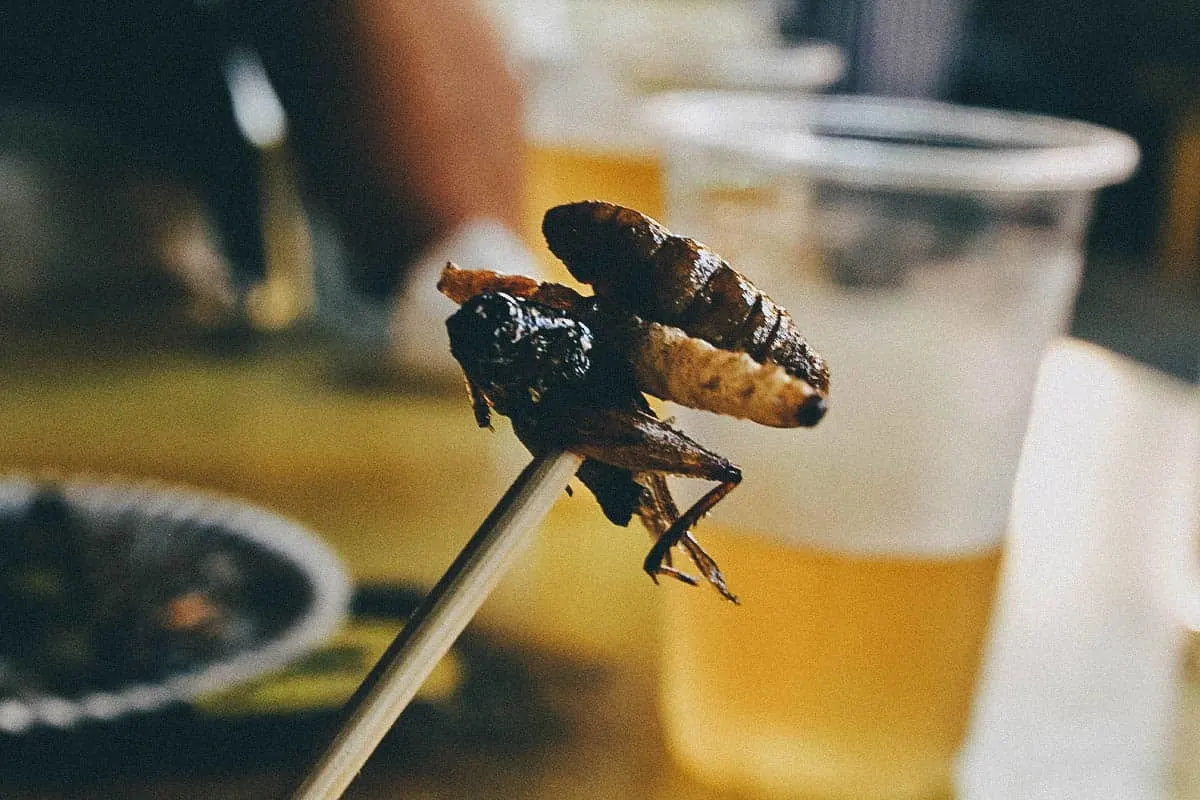 I was expecting to find the fried insects but this tank of tiny translucent shrimp was a pleasant surprise. Ren and I first had these on the streets of Bangkok almost 15 years ago. Known colloquially as "dancing shrimp", goong ten is a traditional Isaan dish commonly found in Northeastern Thai provinces along the Mekong River.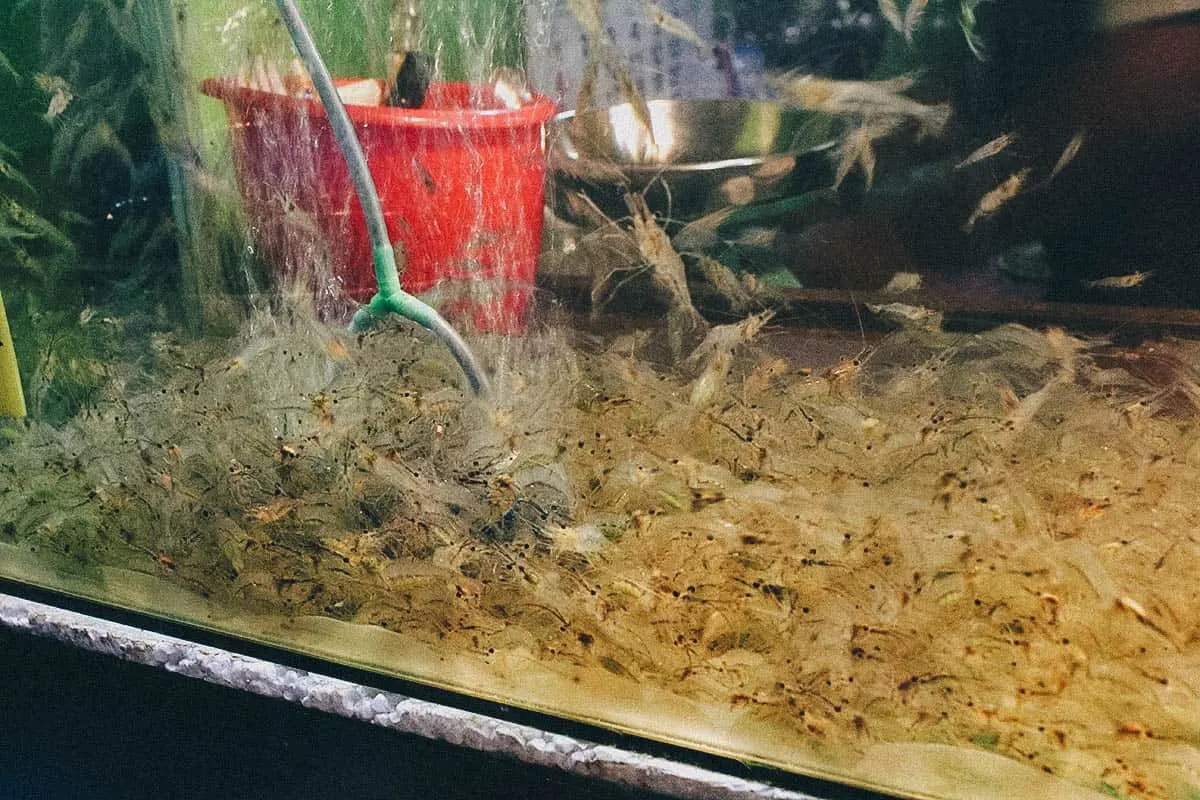 I read that Isaan cuisine often calls for the preparation of raw food, and dancing shrimp is no different. The inch-long shrimp are marinated in a mixture of finely shredded lemongrass, shallots, garlic, bird's eye chili, ginger, mint leaves, lime juice, fish sauce, and chilli powder. Like ceviche, the acidity from the lime juice essentially cooks the live shrimp, causing them to jump about inside the container. That's how the dish gets its name. Sorry, but I don't remember exactly how much the dish cost, but it may have been something like THB 80 for this container.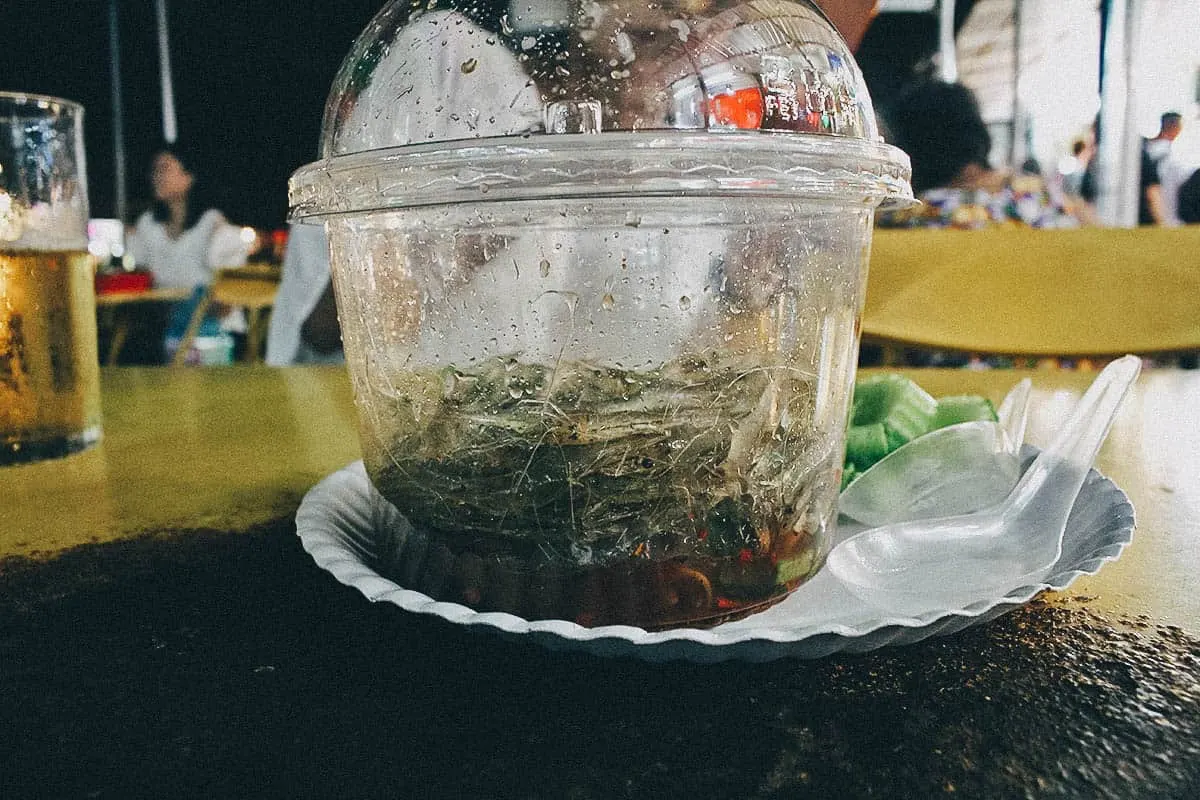 If you like strong flavors, then you're going to enjoy goong ten. It's an intensely flavorful dish that's reminiscent of a crunchier, brinier ceviche. It's crunchy because you're basically eating the shrimp whole, with the shells still intact. It's a must-try dish if you're into unusual food. I read that dancing shrimp is a dying dish that's harder to come by these days, so we were ecstatic to find it here tonight. If you see it, get it.
As far as the dish being cruel, the verdict doesn't seem to be out on that yet. For the longest time, it was widely accepted that invertebrates like shrimp and lobster aren't capable of feeling pain. Recent evidence however, seems to point to the contrary so I'm not sure what to believe.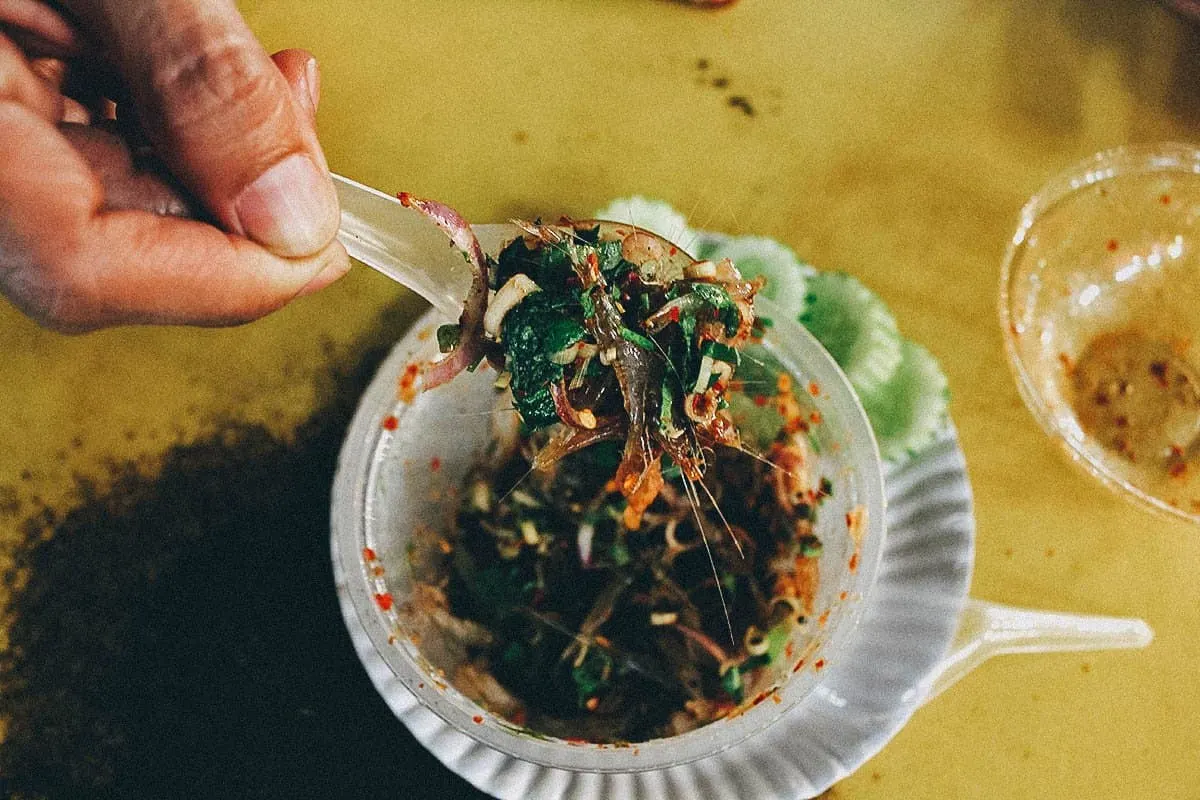 Chiang Rai Night Bazaar
Wiang, Mueang Chiang Rai District, Chiang Rai 57000, Thailand
Operating Hours: 6PM-12MN, daily
Conclusion
Chiang Rai is like a ghost town compared to Chiang Mai. There isn't as much to do here, but therein perhaps lies its appeal. I enjoyed the fact that there weren't many tourists at the temples so the experience felt more intimate and local. No one was photobombing my pictures and at times, I felt like I had the entire place all to myself. It was peaceful and very relaxing, a nice change of pace from the tourist frenzy that is Wat Rong Khun.
For more Chiang Rai travel tips, check out our First-Timer's Travel Guide to Chiang Rai, Thailand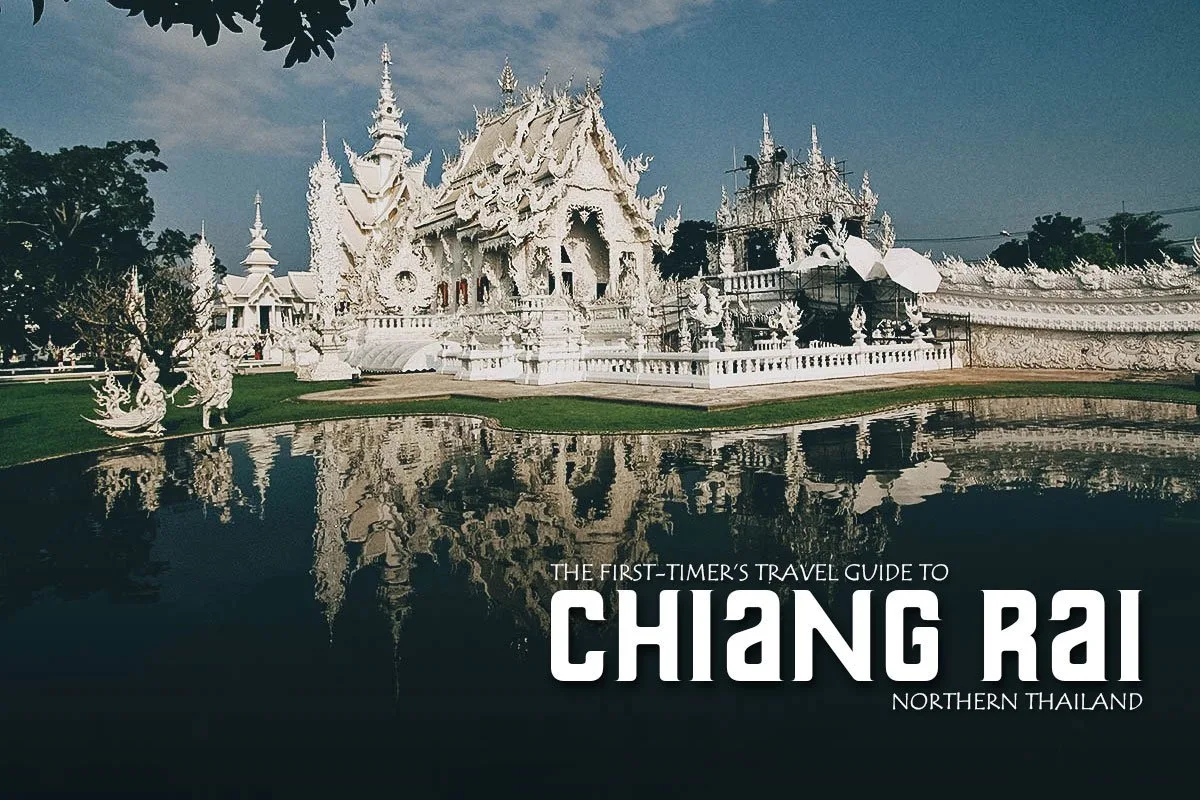 For travel tips to Chiang Mai, check out our First-Timer's Travel Guide to Chiang Mai, Thailand