Lezizhan: Where to Try Çiğ Köfte (Traditional Raw Meat Dish) in Istanbul, Turkey
It had to be the picture. We walked past hundreds of restaurants in Istanbul but none made us curious enough to stray from our itinerary, except for this one.
We were on our way to Chora Church in Edirnekapı when a mural-sized picture of these mysterious patties caught our attention. Scalloped in shape and a mottled reddish brown, they looked to be some type of meat. Before leaving for Turkey, I had made a list of all the interesting dishes we should try in Istanbul but I never came across this one. Thanks to google, we discovered that it was raw meat.
With so many dishes to experience in Istanbul and limited room in our bellies, we had to be disciplined with what we ate. Every meal during our 5-day stay was mapped out with restaurants carefully researched on the web. But Turkish raw beef eaten in a dürüm (wrap) is the kind of dish that curious eaters dream about so we had to break protocol and try it.
Lezizhan is a chain of restaurants specializing in çiğ köfte. The one we went to is on the corner of Neşter Sokak and Şeyh Eyüp Sokak in Edirnekapi. It's en route to Chora Church from the Edirnekapi Tram stop.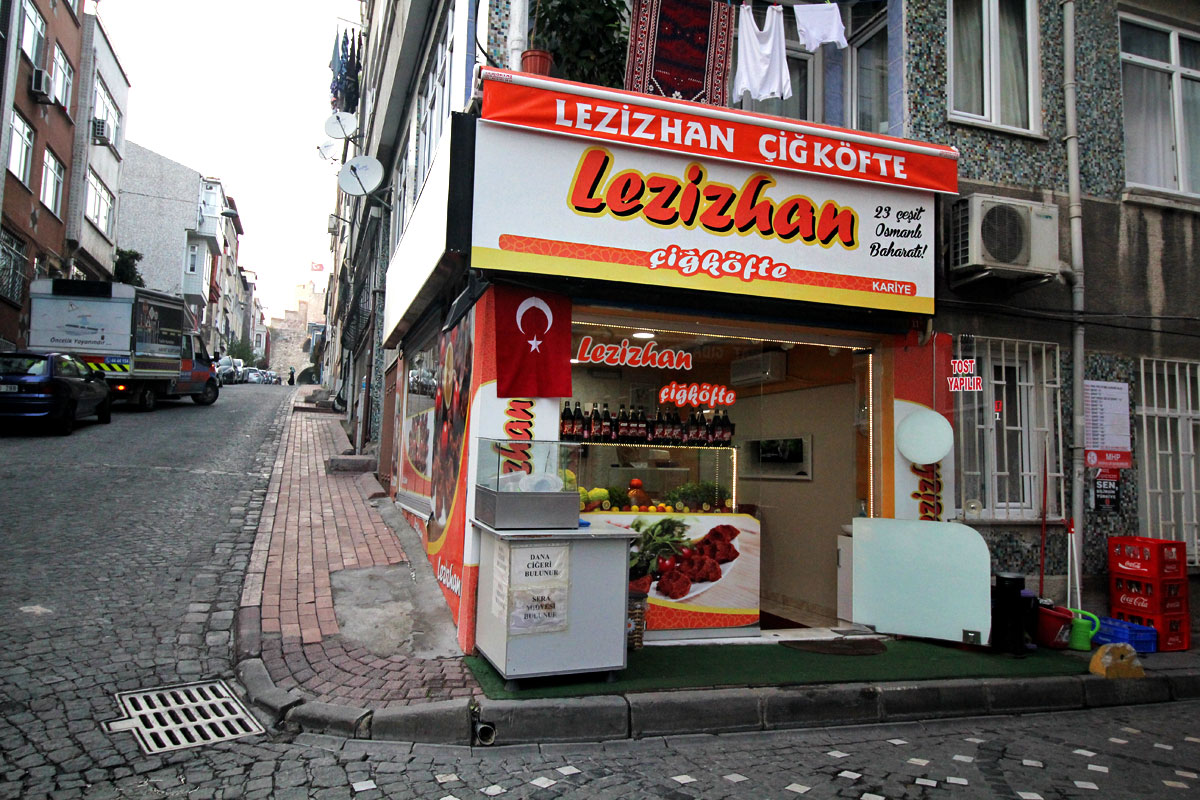 The çiğmeister preparing our çiğ köfte. You can order it in a dürüm (3TL) or in half and full portions (6/12TL). Half and full portions come with lettuce, wraps, and two sauces so you then roll them up yourself.



Çiğ Köfte (One portion, 500g) — 12TL
Çiğ köfte is traditionally a raw meat dish made with either beef or lamb and commonly served cold as a meze or in a dürüm. Kneaded into a thick mixture, it's made with very finely ground fatless raw beef together with bulgur and a slew of spices and other ingredients like onion, tomato, fresh mint, and parsley. Cold and spicy with a distinct peppery flavor — likely from the isot which is a dried pepper from Southeastern Turkey — it was without a doubt one of the most interesting dishes we had on this trip.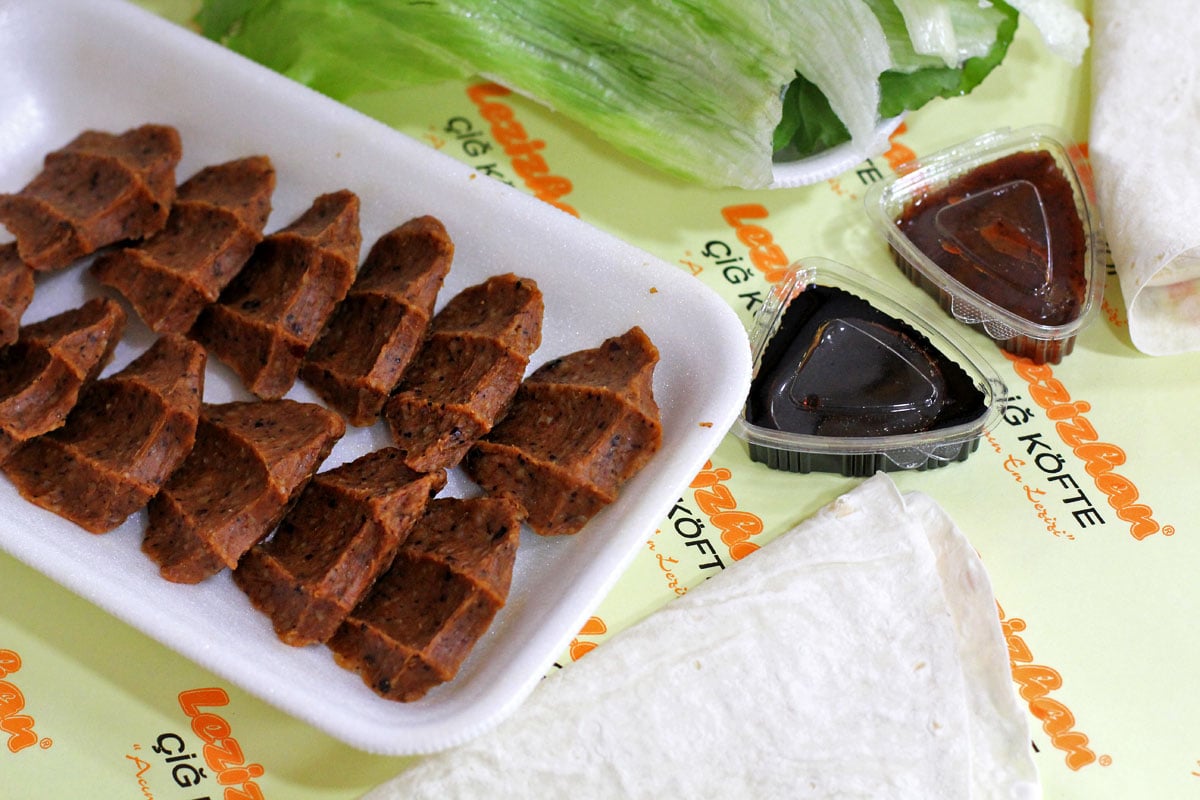 Midye Dolmas (Stuffed mussels) — 10TL
We're suckers for midye dolmas so we couldn't help but order a few of these. A popular street food sold for 1-2TL apiece, midye dolmas are mussels stuffed with herbed rice, pine nuts, and currants. Really good.

Talk about being overly eager. In spite of Ren's protests, I wound up over-ordering and getting a full portion of çiğ köfte which amounted to about four dürüms. We would have been perfectly happy with just one dürüm each or sharing a half portion between us. If you want to try this curious dish as a snack without filling yourself up, then one dürüm for just 3TL would be perfect.
Interestingly, I learned when doing research for this post that the sale of authentic çiğ köfte, the kind made with actual raw meat, has been banned since 2009 as a health precaution. Most commercially available çiğ köfte are now made without meat. I couldn't confirm if Lezizhan's çiğ köfte are indeed vegetarian but I'm pretty sure they are. Either way, it makes for an interesting unique snack.
Looking at their WEBSITE, Lezizhan appears to have several branches in the Beyoğlu district. İstiklâl Caddesi and Taksim Square are in this area so it would be a convenient place to try it. But if you'll be visiting Chora Church, which we highly recommend, then stopping by a for a quick bite at the branch pictured above would be a good option.
Lezizhan Çiğköfte, Istanbul, Turkey
Website: lezizhancigkofte.com
Facebook: Lezizhan
Twitter: lezizhann
Google+: lezizhan
Vimeo: lezizhancigkofte
Expect to Spend: About 6-9TL per person with drinks
Reservations: Not required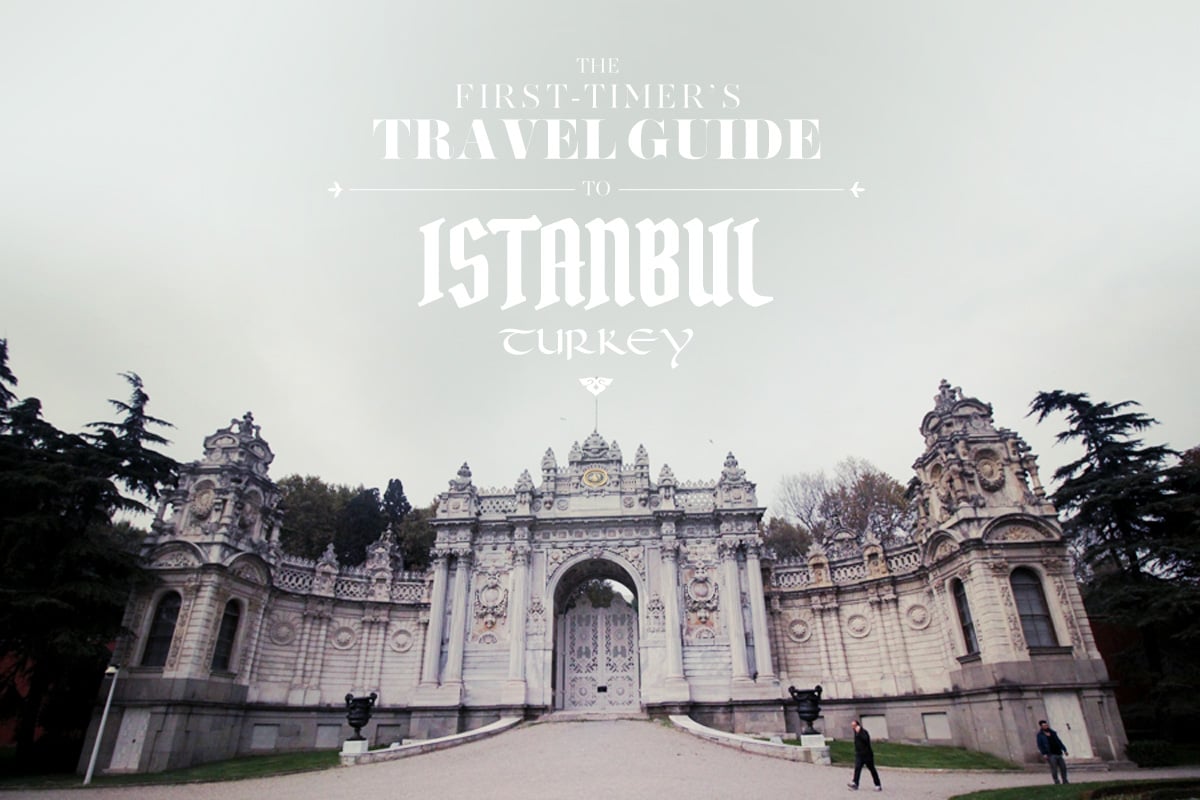 JB is one half of Will Fly for Food and its chief itinerary maker.  He's the one to blame for all the crappy photos and verbal diarrhea on this blog.  Don't listen to him.
Latest posts by JB Macatulad (see all)