Angkor Wat and the Search for Siem Reap's "Happy" Pizza
If neither of us is an avid temple enthusiast, then why Siem Reap? After all, isn't Siem Reap known primarily for Angkor Wat and its network of temples?
Yes, that's correct, but we aren't talking about just any temple here. We're talking about THE temple of temples. Describing Angkor Wat as just a temple would be akin to referring to the Great Wall of China as just a wall. It wouldn't begin to do it justice. Majestic beyond your imagination, it was most eloquently described by a 16th century Portuguese monk:
"[It is] of such extraordinary construction that it is not possible to describe it with a pen, particularly since it is like no other building in the world. It has towers and decoration and all the refinements which the human genius can conceive of."
Today, almost 500 years later, his words still ring true.
So again, why Siem Reap for our 7th year wedding anniversary? I believe I've already told you why. For the once-in-a-lifetime opportunity of visiting Angkor Wat, the greatest temple ever built, and one of the most magnificent, most iconic human creations of all time.
Well, that and to get us a slice of some "happy" pizza. 😆

How awesome is this? Ren's cousin, Capt. Brooke Castillo, flew our plane to and from Siem Reap. For all you girl power trivia buffs, Brooke is the very FIRST female commercial jet captain pilot in the Philippines. How you like them apples? 😉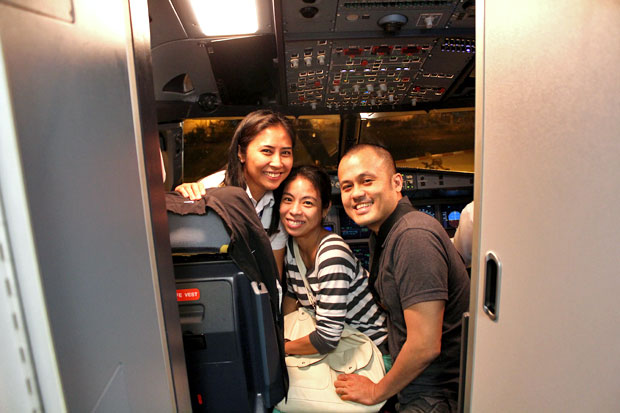 Itinerary
With the sheer size and volume of temples to be visited in the Angkor complex, it can be a daunting task to plan an itinerary to Siem Reap, which is why we didn't. As always, our trip evolved on its own. Neither Ren nor I are too big on temples to begin with, so this trip was just as much about Khmer food as it was about Angkor Wat.
The following itinerary recounts the touristy things that we did during our four-day stay in Siem Reap. Please bear in mind that Ren and I aren't the type of travelers who need to obsessively pack every minute of every vacation day with something to do. Quite the contrary, we like to take our time, leisurely visiting the various sights at our own relaxed pace. If you're more temple-hungry than we are, then you can easily pack more into the itinerary below.
Day 1
AM – Explored Siem Reap
PM – Continued exploring Siem Reap, then bought Angkor passes before 5 PM and observed sunset from Phnom Bakheng Temple
Day 2
AM – Angkor Wat
PM – Ta Phrom and Ta Keo
Day 3
AM – Bantaey Srei, Landmine Museum, Angkor Butterfly Center
PM – Shopping, buying pasalubong (gifts)
Day 4
AM – Angkor Wat at sunrise
PM – Relaxed, waited to go to airport for evening flight
Currency
Surprisingly but conveniently, the primary currency used in Siem Reap is USD. It will be accepted virtually everywhere you go, from hotels, to shops, to restaurants, even by tuk tuk drivers.
Though Cambodian Riel is the national currency and is equally acceptable, practically all prices are quoted in USD, with Riel being given to you only as small change for purchases. This makes paying for things that much more convenient, since you won't need to do any mental calculations on prices. Plus, you won't need to worry about bringing the newest, crispest bills either, the way you would at other Asian destinations.
Soria Moria Boutique Hotel
A relatively intimate, cozy, and quiet Norwegian-owned boutique hotel with 38 rooms, Soria Moria is conveniently located along Wat Bo Road, just a few minutes away from noisy Pub Street. For us, it couldn't have been more perfectly located. Pub Street, as you'll see, can get pretty rowdy at night, so it was nice to be far enough from the chaos, but still be just a short, leisurely, 5-minute walk away.
Also, it turned out that Wat Bo Road is home to several very nice, less touristy restaurants, which for food lovers like Ren and myself, was similar to discovering electricity. We absolutely LOVED this hotel. 😀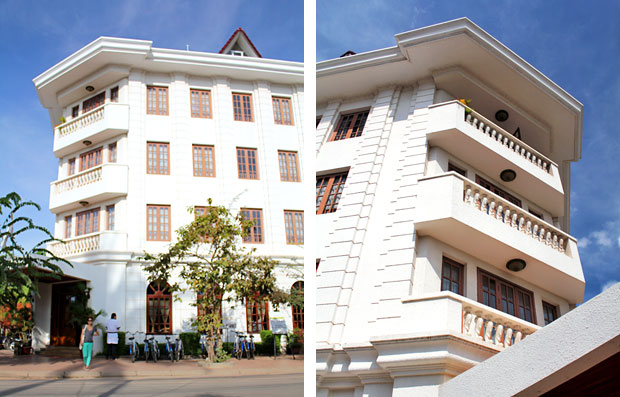 An oasis in the sweltering heat of Siem Reap. For just USD 50 a night, our standard room with twin beds was spacious, clean, very comfortable, and equipped with powerful A/C. The TV had tons of channels too, along with free wi-fi for the entire building. Awesome!
You will undoubtedly spend lots of time in your room resting between temples. The heat can be intense, even in the coolest month of December, as I have never before been so zapped of energy on any trip.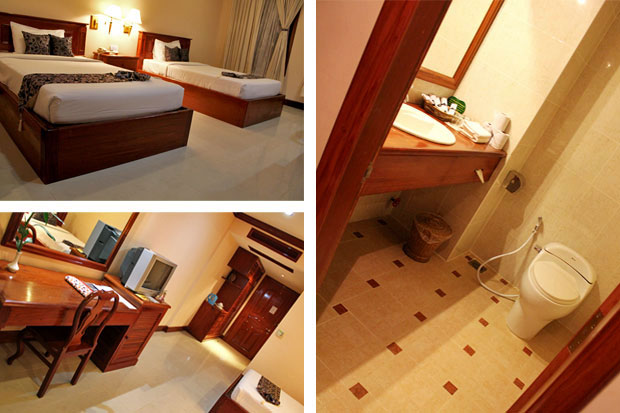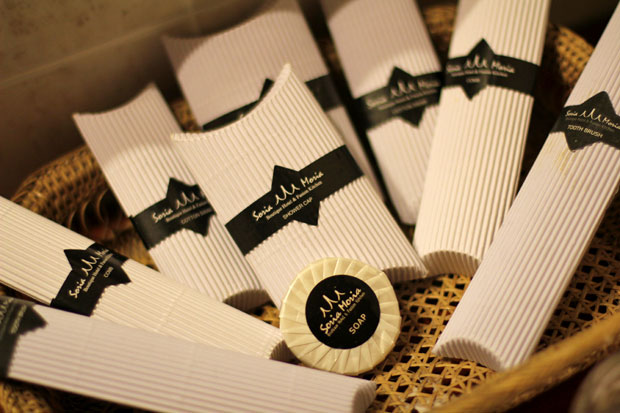 Bicycle rental for charity, with the proceeds going to providing clean drinking water for villages and scholarships for underprivileged youth. Just one of the many philanthropic practices of this socially responsible, environmentally aware hotel. Winner of the 2012 responsible tourism award for being the Best in Community Engagement and Development, Soria Moria is involved with many other charitable programs, including Postcards for Charity, Angkor Hospital for Children, Cambodian Youth who Handicraft, and Sangkheum Center for Children, just to name a few.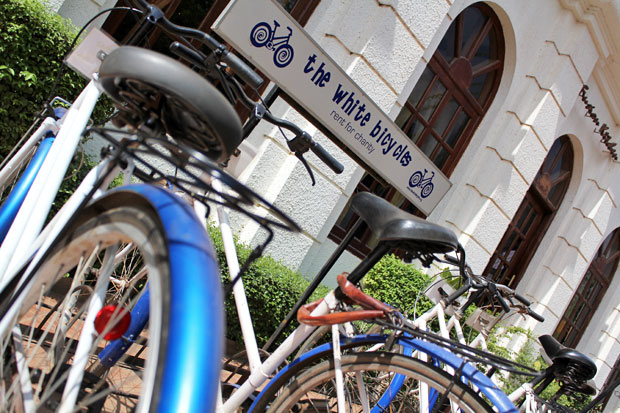 In addition, the hotel established the Soria Moria Educational Development Program, an initiative which seeks to empower locals through higher education, on-site management training, and share ownership. To date, 51% of the hotel business has been handed over to the local employees, with the staff currently being trained to take over the responsibility and management of the hotel operations and its outreach programs. A revolutionary project which is the first of its kind in Cambodia, the ultimate goal is to hand over the remaining 49% of the ownership to the local employees, or look at ways to use this platform to grow the business.
How effective has this educational program been? Take hotel general manager Sam Sokha as an example. Starting out as a dishwasher at Norwegian owner Kristin Holdø Hansen's first guesthouse, the only English she knew back then was how to introduce herself. But with Soria Moria's help, not only is she the present general manager, but she is also now pursuing a Masters in Business Administration (MBA). These guys rock.
For more information and to make online reservations, please visit their website at thesoriamoria.com.

Around Siem Reap
Downtown Siem Reap is pretty small, so you won't need more than a day to really explore everything. Apart from a few scattered places of interest, most everything is centrally located around Pub Street and the adjacent markets.
Pub Street
To be honest with you, I never knew exactly which specific street was known as "Pub Street", because the term felt more like it referred to an entire area, rather than just one street.
Our introduction to Pub Street came shortly after we arrived in Siem Reap late in the evening, when it was alive and bustling with loud music and drunken tourists. A small, neon-lit network of streets and alleys teeming with restaurants, bars, and clubs, it reminded me of similar party spots in Bali and Boracay. Very touristy, quite noisy, but fun nonetheless. You will undoubtedly spend much time here when you visit Siem Reap.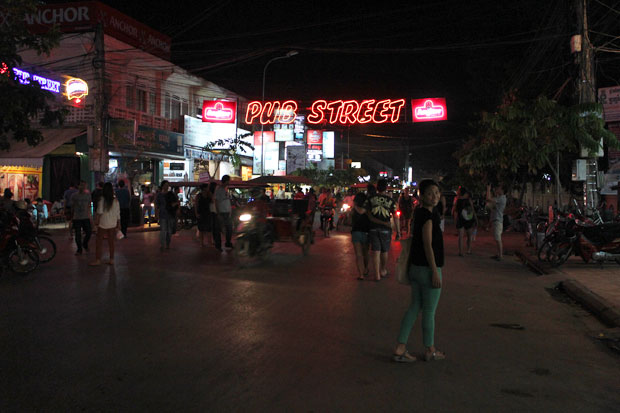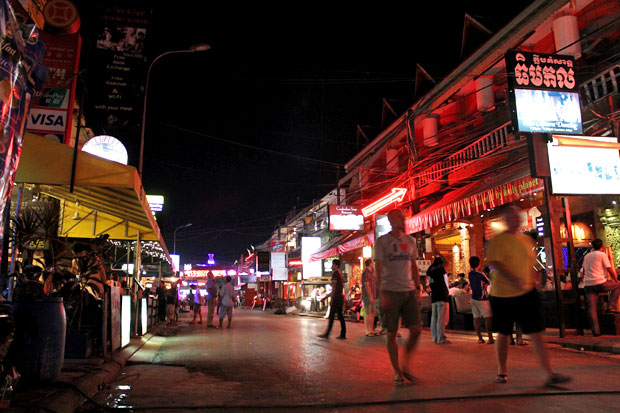 There's no shortage of restaurants here. For our first meal, we dined at Le Tigre de Papier.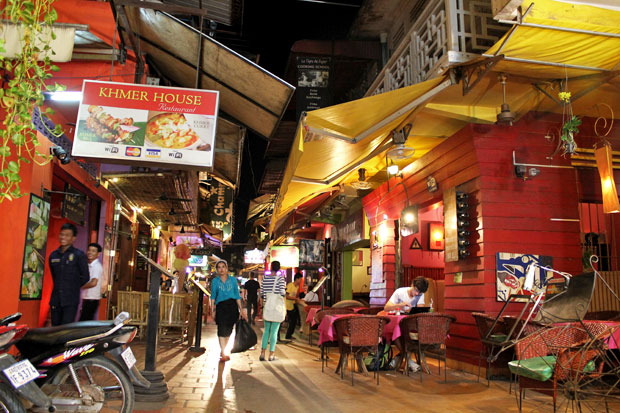 Like night, and day. Charming eh? You could see the French influences all around.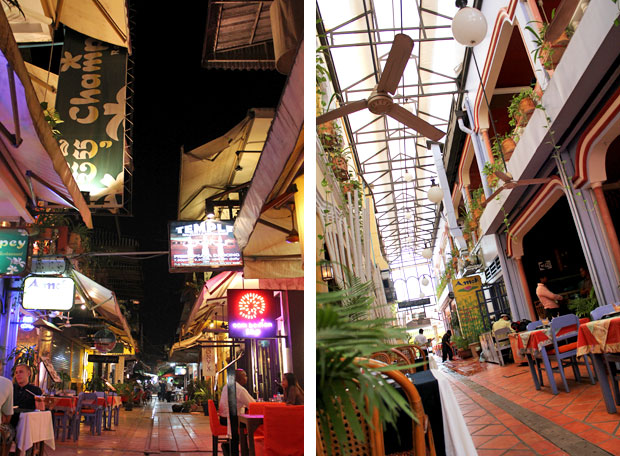 😆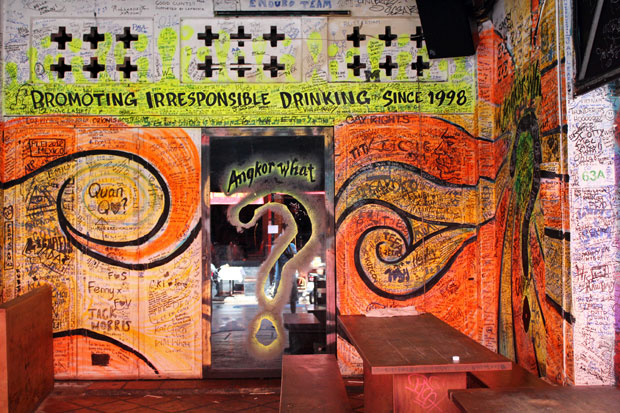 These two building were right next to each other. Cute right? Love the French windows.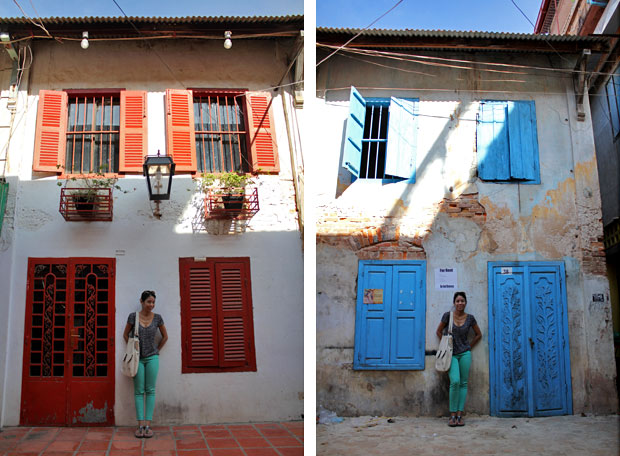 I swear, no matter where we go…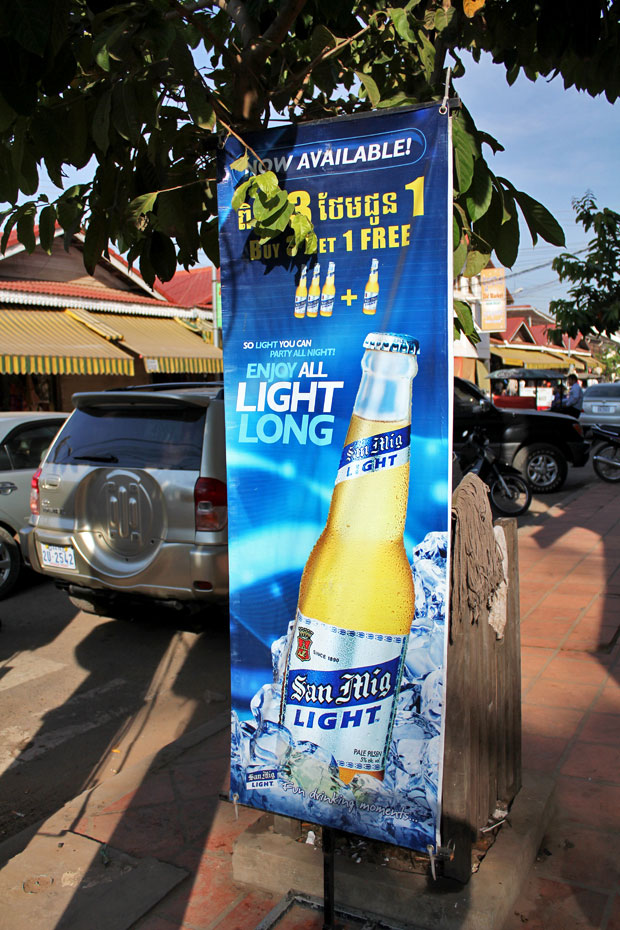 Na na na na na na na na na na na na na na na na na na na na na na na…



With many French-inspired buildings, it felt in spots like you were walking through Paris.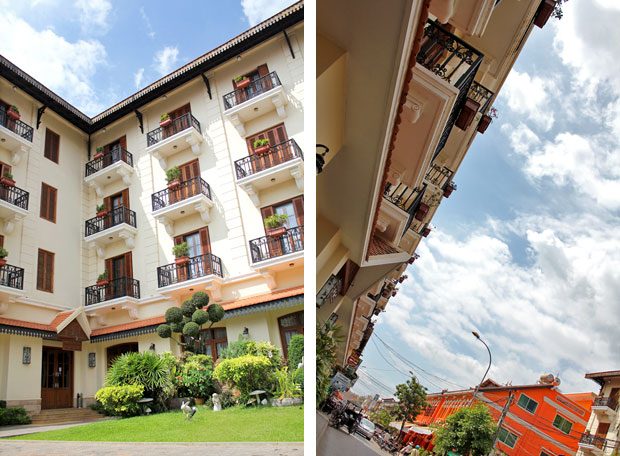 Old Market
With various wares like dried packaged fruit, spices, shirts, silver, scarves, and so on, the Old Market is undoubtedly the best place to buy souvenirs in Siem Reap. Apart from the spices, most of the stuff they sell here is fairly typical, so nothing to get really excited about.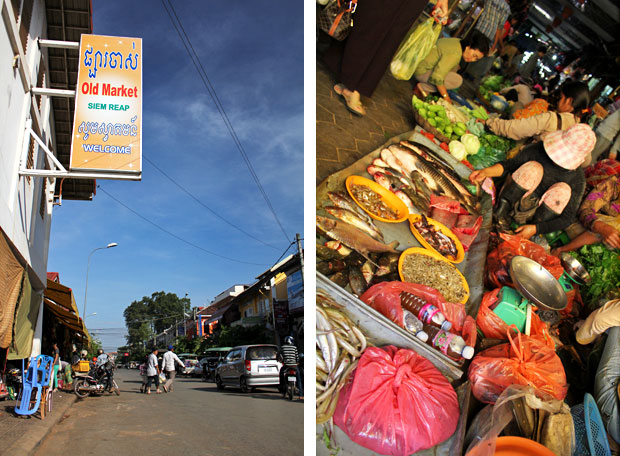 Pickled stuff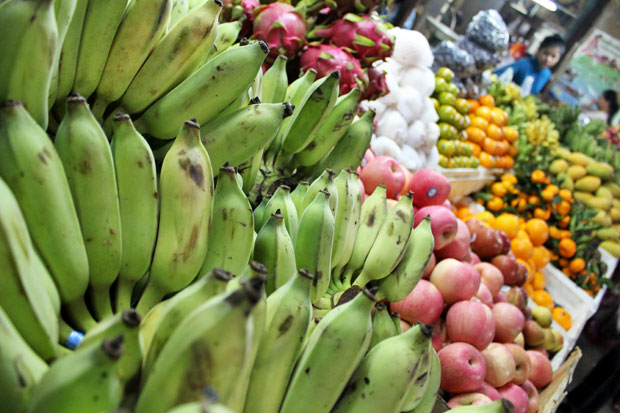 Spices galore! Ren brought back a bunch, which I'm sure you'll be reading about in future Reneelicious Recipes. 😉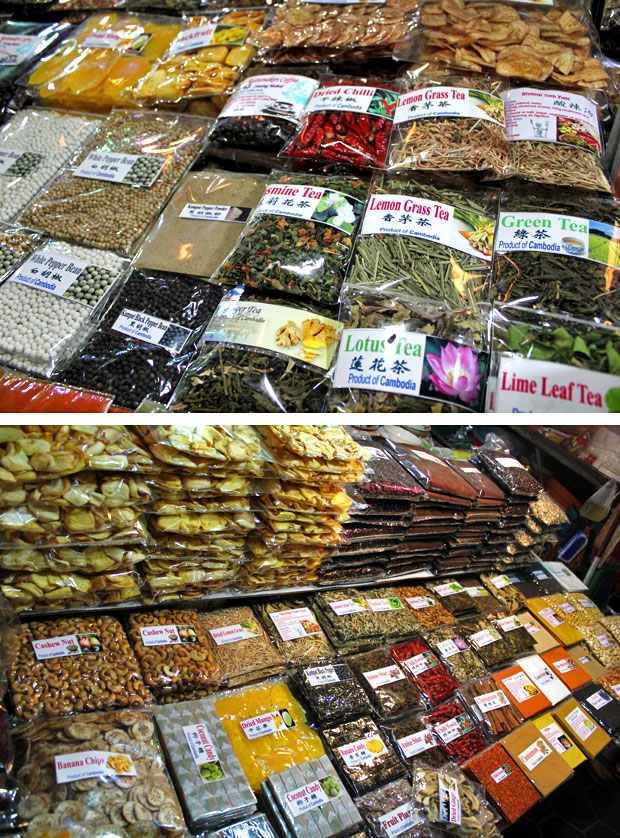 Beautiful lemongrass. Ren says that our local lemongrass is inferior to these mighty fine specimens.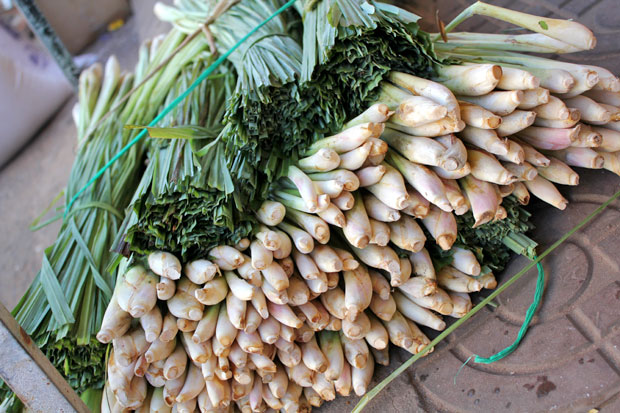 Cambodian charcuterie. Flies are optional. 😀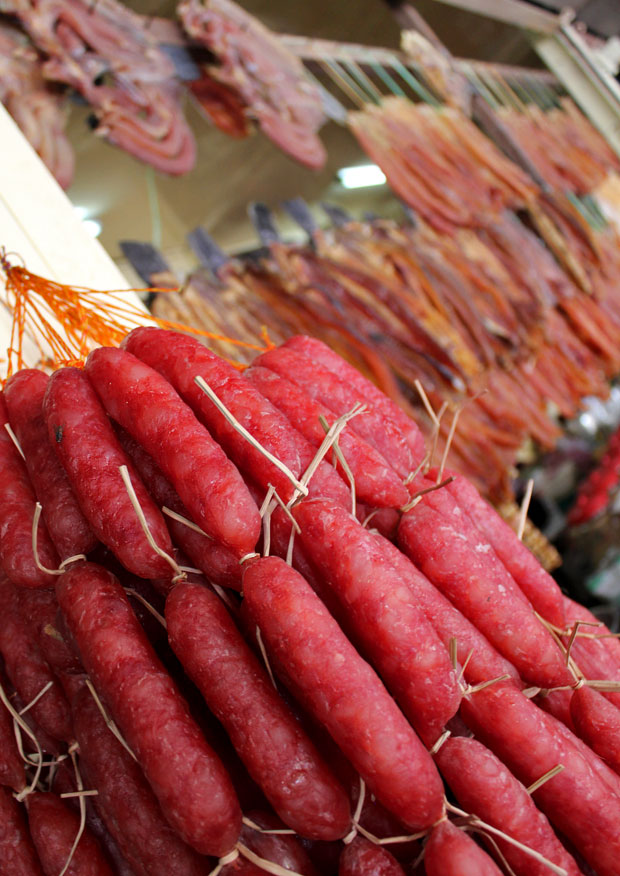 Lotus pods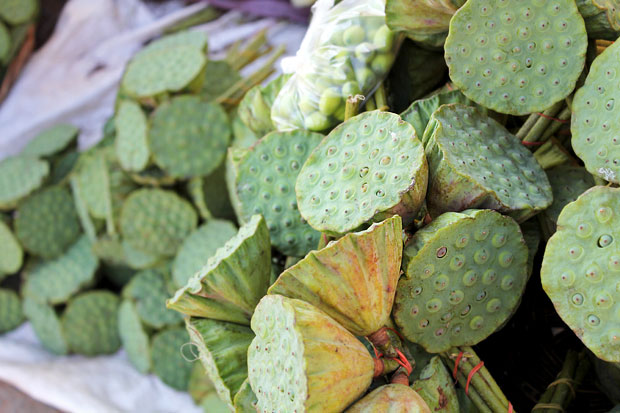 925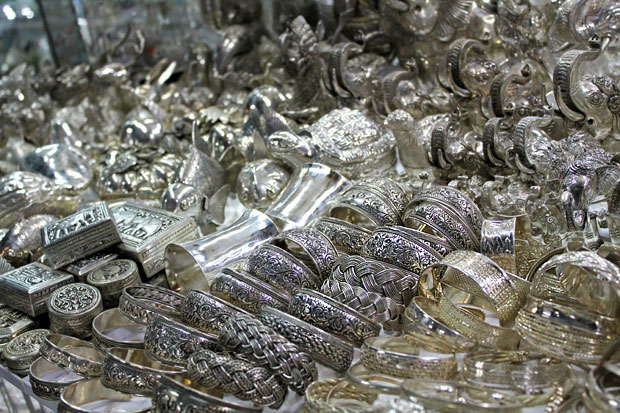 Souvenir urns with ashes of dead monks. Just kidding. I have no idea what these are.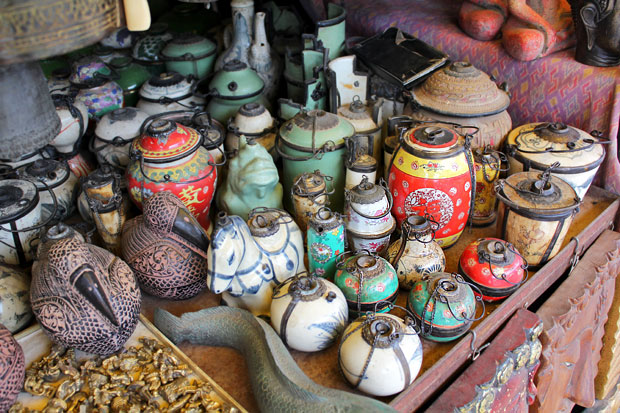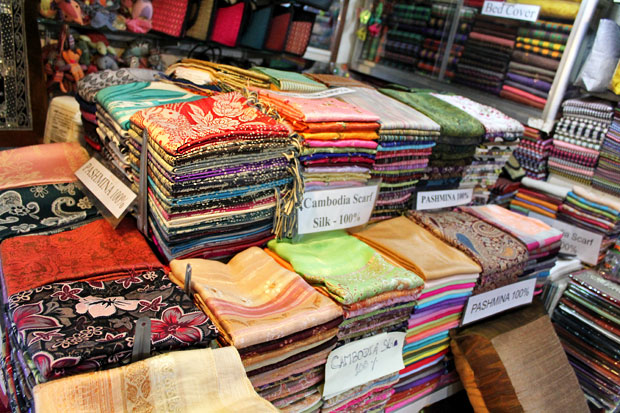 Night Market
Located a few short blocks from the Old Market, the Night Market is similar, though slightly more upscale and without any food items. Here you'll find more modern nicknacks, Cambodian folk art, jewelry, even fake Beats by Dr. Dre stuff that may have fallen off the back of a tuk tuk.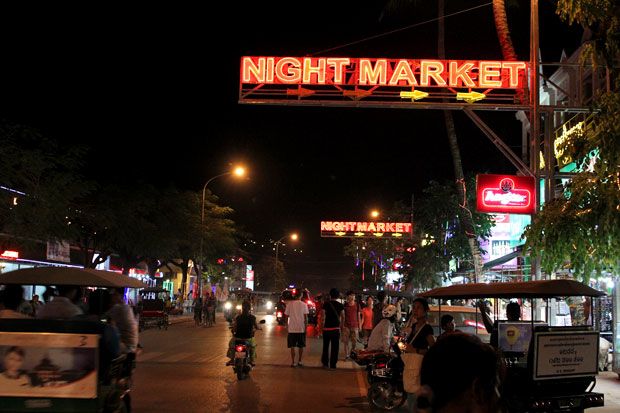 Scents and massage oils. You know, the manly stuff. Can't you tell from the fuschia and lavender packaging? 🙂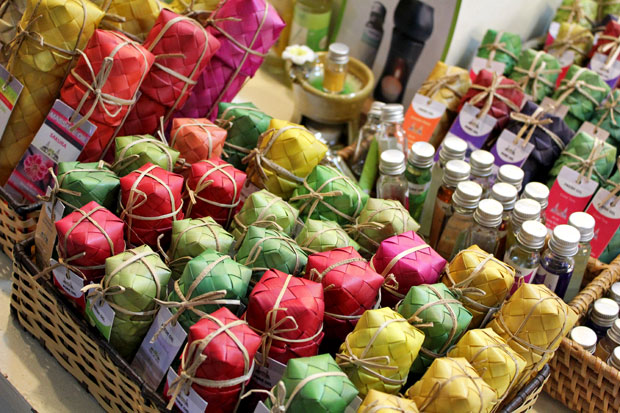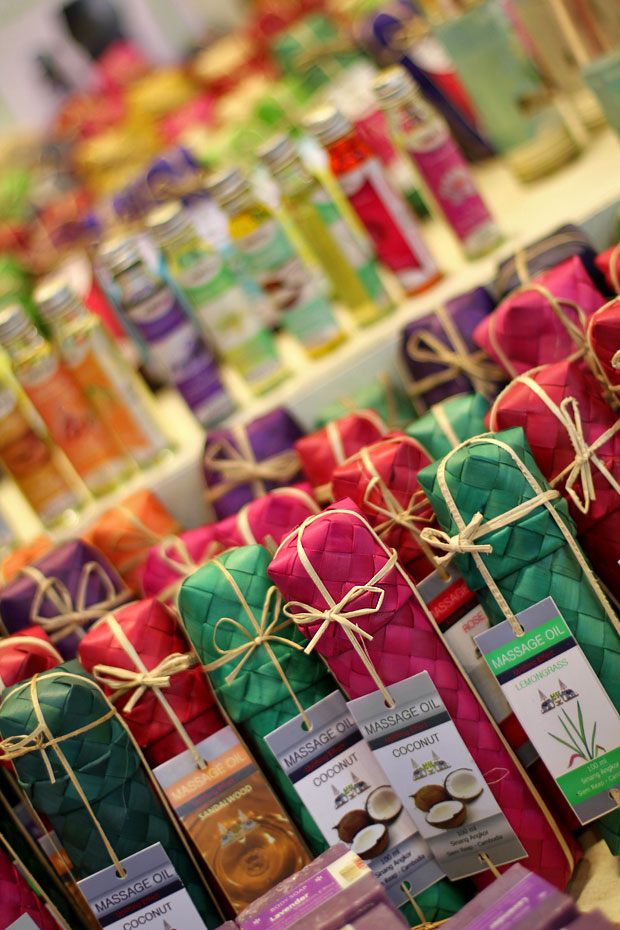 Snakes and scorpions inhumanely killed, bottled, then sold as wine for "virility." I'm an animal lover, so I always hate seeing shit like this. What a waste of life. We humans can often be so stupid.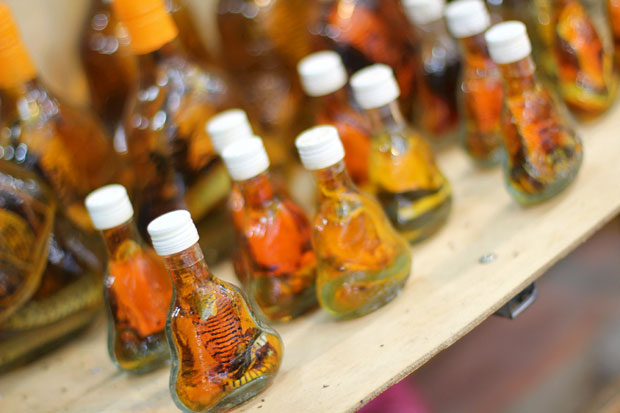 Specialty Boutiques
Apart from the two main markets above, you'll find a few of these boutique shops scattered around Siem Reap as well. Here's a more contemporary-looking shop from which Ren bought the majority of her gifts. It's located right next to The Blue Pumpkin, which I'll talk more about in the Food! section of this post.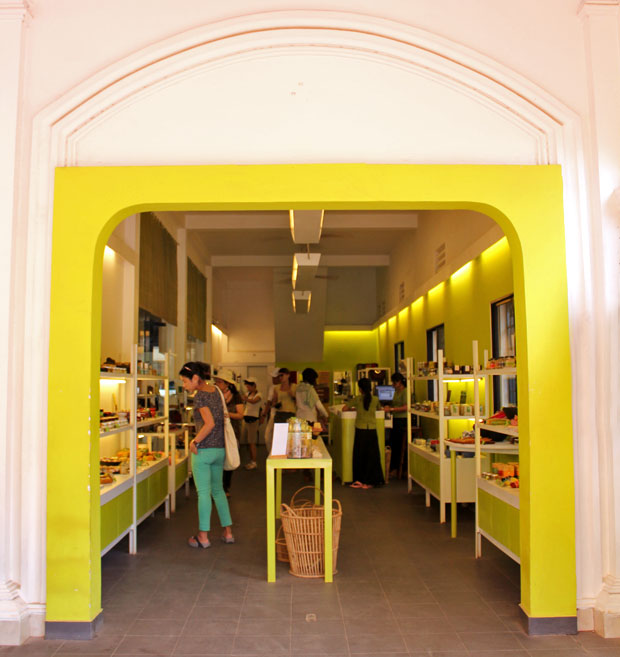 More of that manly stuff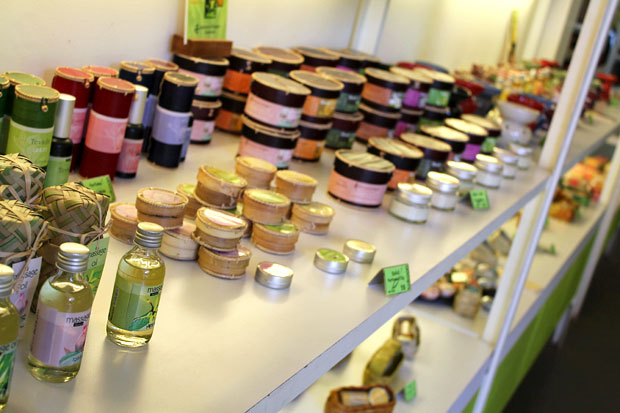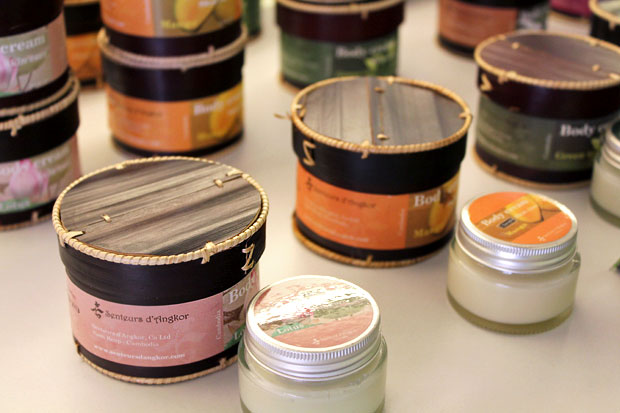 Dood lok lak a ledi. Lok lak is a Khmer pepper spice mixture.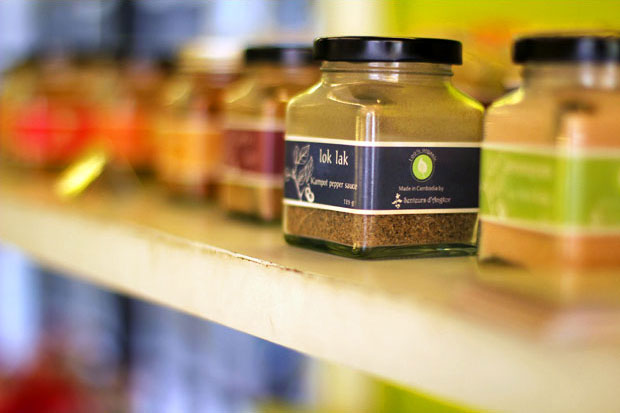 Fish Massage
After getting our first taste of "happy" pizza, what better way to enjoy the happiness than a nice fish foot massage with draft beer, for just USD 3 apiece? 😆
If you've never had a fish massage before, it entails lowering your feet into a tank full of "doctor fish", from the species Garra Rufa. Found mainly in the river basins of the Northern and Central Middle East, these fish feed only on your feet's dead skin, leaving the healthy skin untouched. My usually coarse feet felt smooth as a baby's butt, soon as the fish had their fill. Nice!

Well I sure hope not! 😆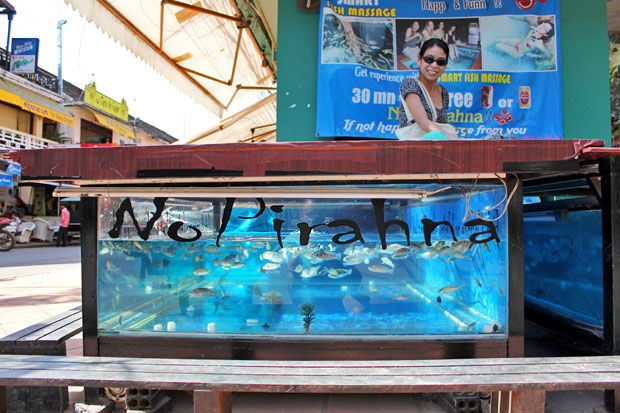 Tank with smaller fish for Ren's dainty, princess-like feet…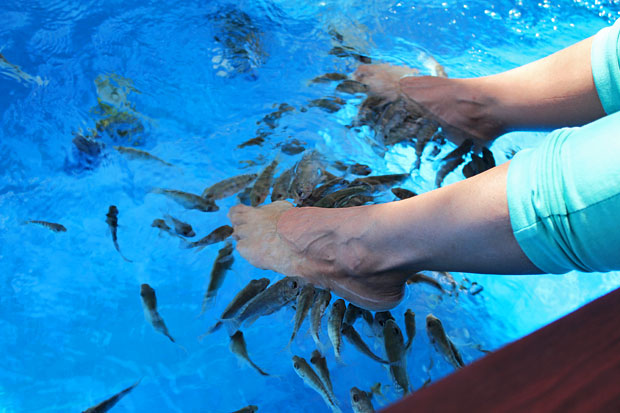 …and an adjacent tank with bigger fish for my ox-like hooves. Don't I look like I'm wearing Lady Gaga designed slippers?
At first, the sensation of the fish nibbling on your feet feels extremely ticklish, so much so that you don't think that you'll be able to stand it. The ticklishness lasts just a few minutes though, and you soon become accustomed to the feeling. Our first time trying it, it was pretty enjoyable I have to admit.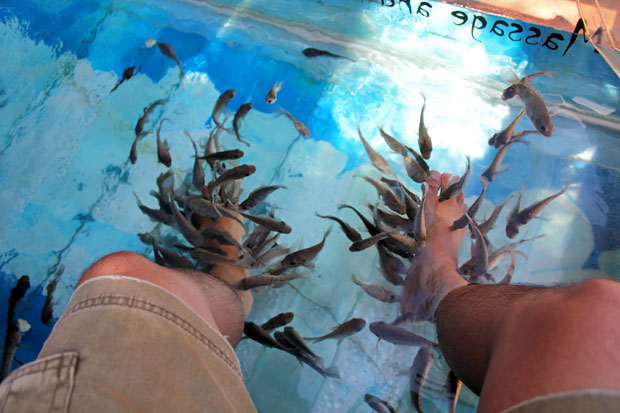 Draft beer at 11 in the morning, while getting a fish massage along the middle of the sidewalk. That's when you KNOW you're on vacation. 😉 Notice how "happy" Ren's eyes look? 😆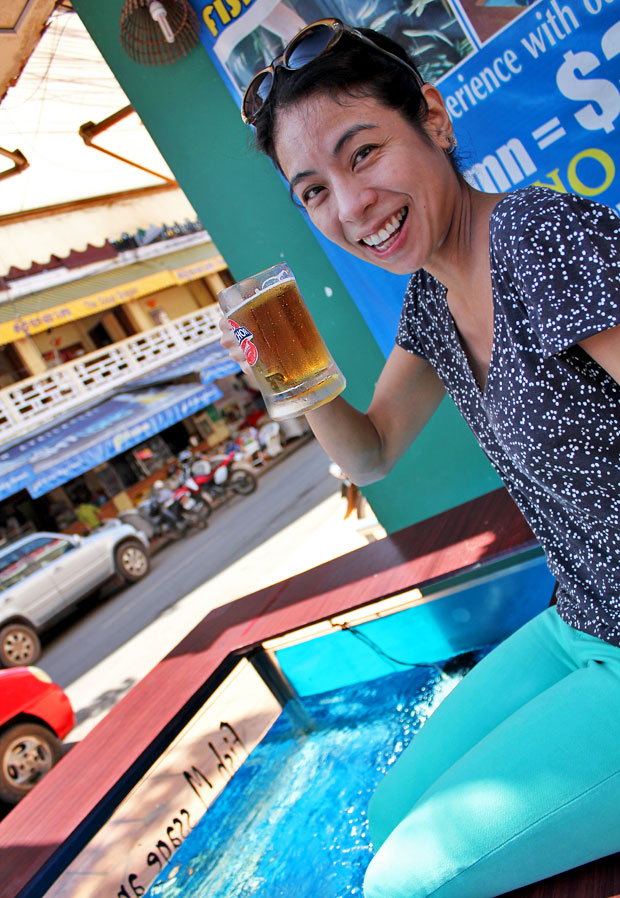 Food!
Ren and I love to eat, and nothing excites us more than the prospect of dining on something curious and new. Food plays such an integral role in our trips that we often find ourselves planning entire vacations around it. No matter how interesting a place may seem, if we find out that they don't have appealing cuisine, then we won't go. Obviously, Siem Reap passed our litmus test. 😉
Soria Moria
Delicious, complimentary buffet breakfast at the hotel. Those heart-shaped pancakes and French toast were delish! They had a daily omelette station as well.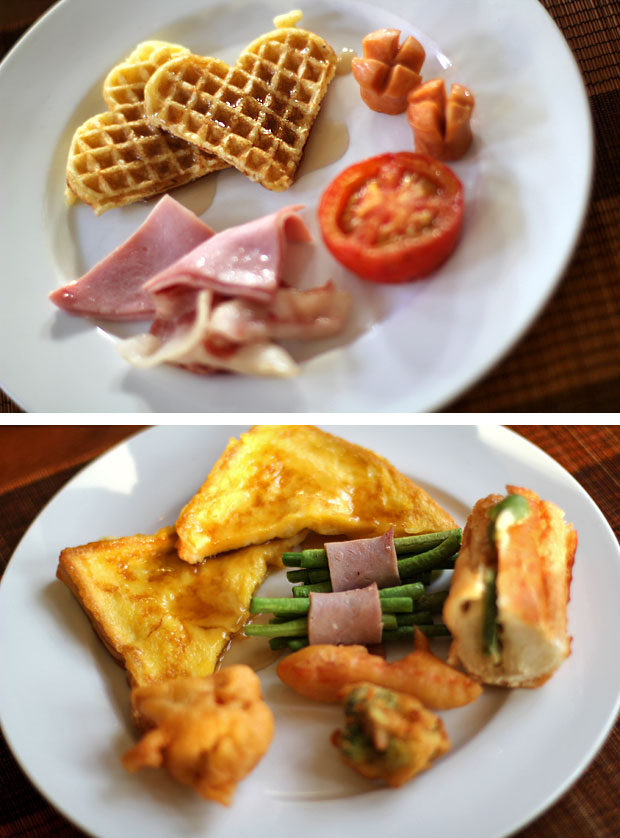 Every Wednesday is dollar night at Soria Moria, so every item on their tapas menu and bar list can be had for just a buck. How wicked is that?! Though dollar night was clearly the most popular, they also offer deals the other nights of the week, like Ladies' Night Tuesdays, and Half-off Thursdays.
Clockwise from upper left: bruschetta, mackerel, tempura-fried kangkong, Swedish meatballs. Everything was dee-licious!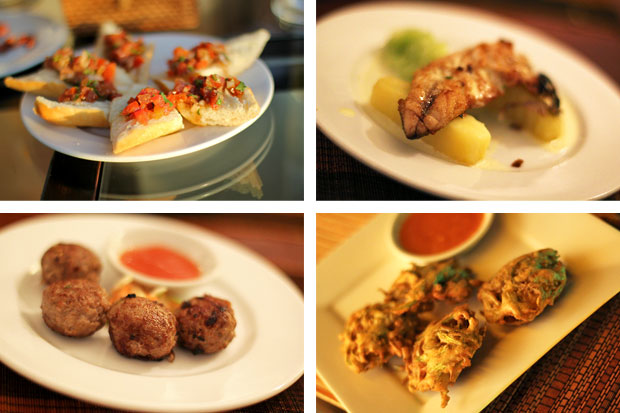 The bread in all of Siem Reap is to die for. Similar to Parisian French bread, it's crusty on the outside, soft and chewy on the inside. We loved it so much that we smuggled a few loaves back. 😉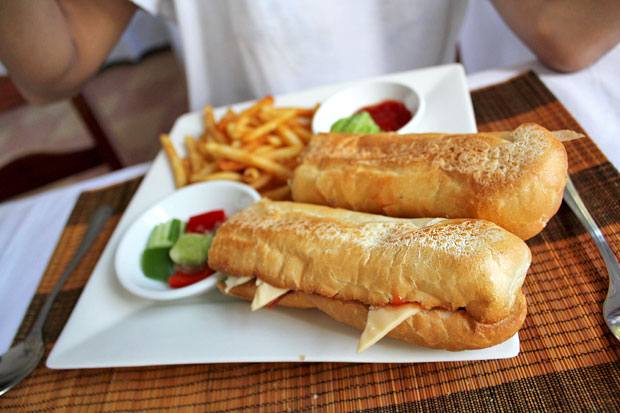 Cambodian BBQ
A lot of restaurants in and around Pub Street offer "Cambodian BBQ." I don't know how authentic Cambodian BBQ really is, but it was a lot of fun to eat regardless. Similar to Korean BBQ, you have a small burner on your table where you cook the proteins yourself.
Being the ever curious, intrepid eaters that we are, Ren and I opted for the most exotic set meal, consisting of kangaroo, crocodile, snake, beef, and shrimp proteins, all for just USD 13. 😈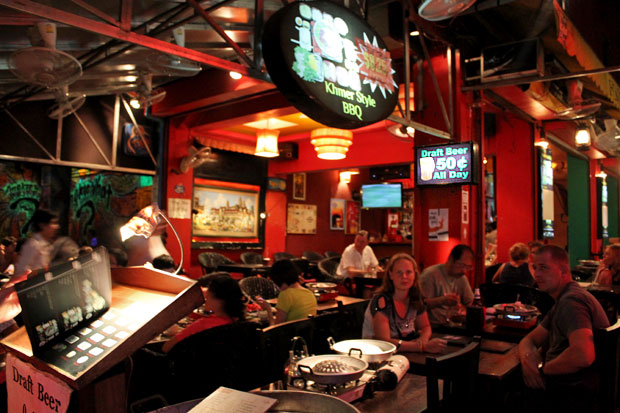 First, you pour water along the perimeter of the grill. There you'll place all your vegetables and noodles to cook. You then grease the center of the grill with that big hunk of pork fat before firing up the proteins.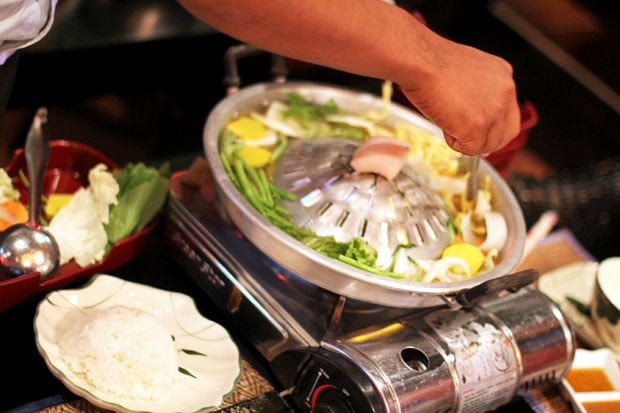 First course: Kangaroo. We tried kangaroo meat once before, at Wolfies in Sydney, Australia, and we both enjoyed it. It's very similar in taste and texture to beef, except gamier.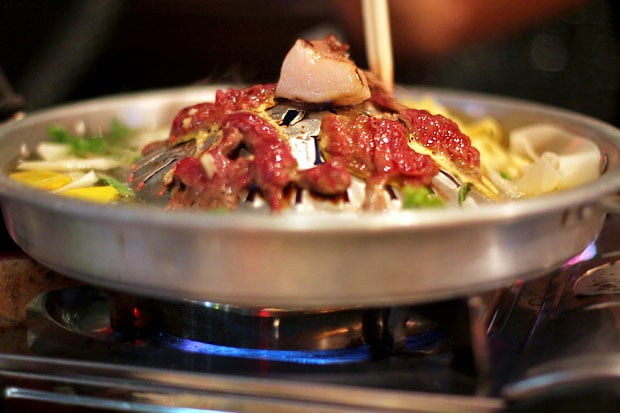 Second course: Crocodile. I tried crocodile meat once before as well, and it tasted similar to chicken, but chewier. This one though was very tough.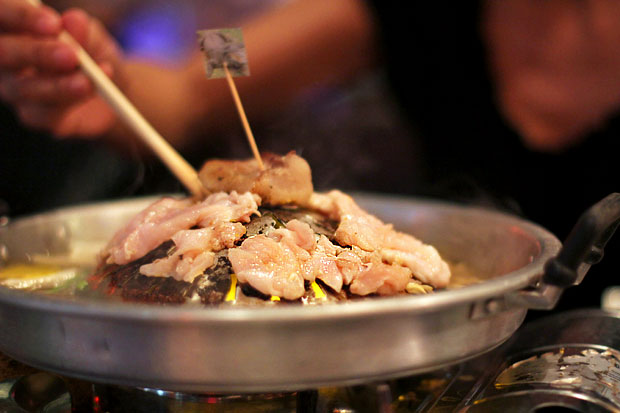 Third course: Snake. Our first time trying snake meat, it was similar in taste and texture to the crocodile, except even tougher, giving my jaw a good workout. Born with incisors designed to chew only on French macarons and canonigo, Ren didn't like it at all. 😆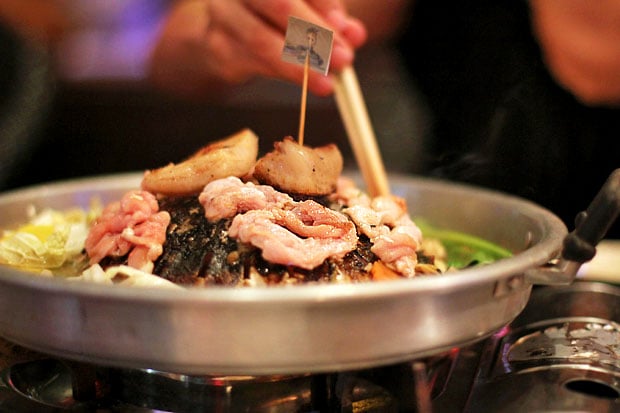 Fourth course: Beef. There's the beef.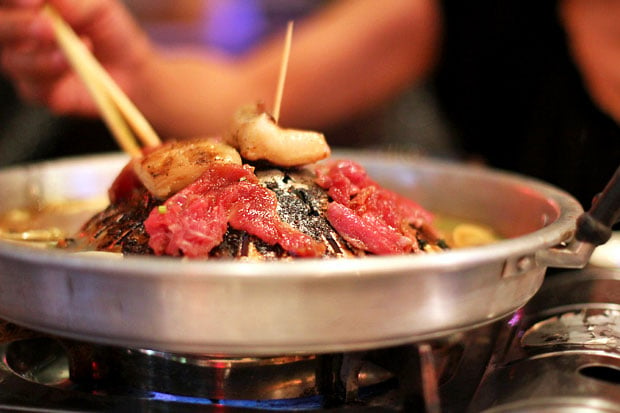 Fifth course: Shrimp. Not the freshest specimens, I wound up eating all three pieces. Ren's allergic to seafood that isn't ultra fresh, making her lips puff up like Angelina Jolie. In hindsight, I probably should have coaxed her to eat one, just to complete the Lara Croft, Tomb Raider look. 😆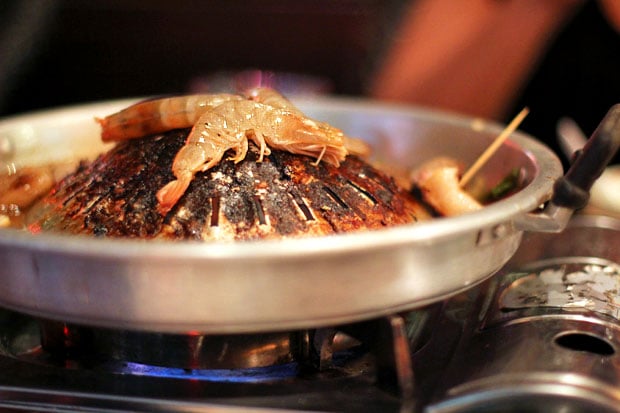 The Blue Pumpkin
As previously described, Siem reap is HOT, even in December. Exposed and unprotected under the sun while exploring temples, you'll often be in dire need of cold drinks or ice cream to keep your engine from overheating. The Blue Pumpkin, a French patisserie and ice creamery just off Pub Street, has both.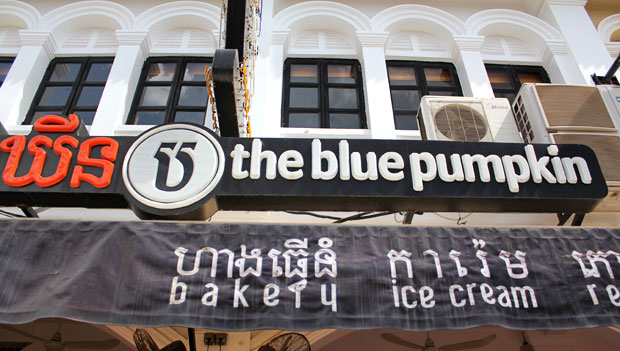 We got a scoop each of four spices and ginger & black sesame ice cream. As you can see in the picture, the ice cream was generously spattered with bits of each spice. Exotic enough for you? 😀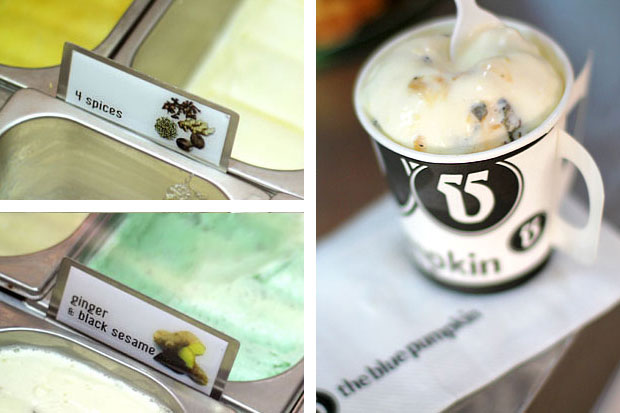 Ren's incisors doing what Ren's incisors do best – chomping on their favorite French macarons. These were bigger than the ones you can find at Bizu.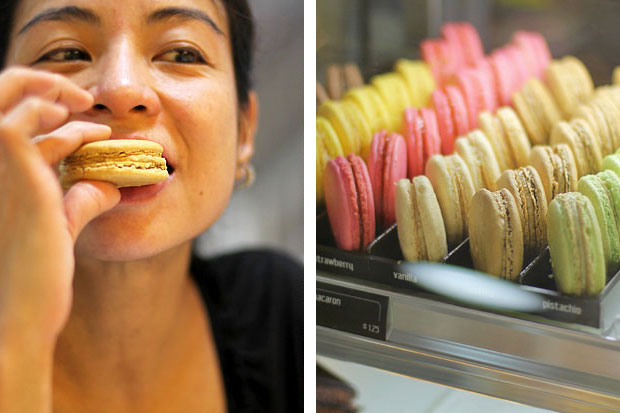 Upstairs was the "Cool Lounge" with these huge, bed-sized sofas and trays. Here you could take off your shoes and relax while enjoying their coffee and desserts. We cooled ourselves off here on our last day, before leaving for the airport.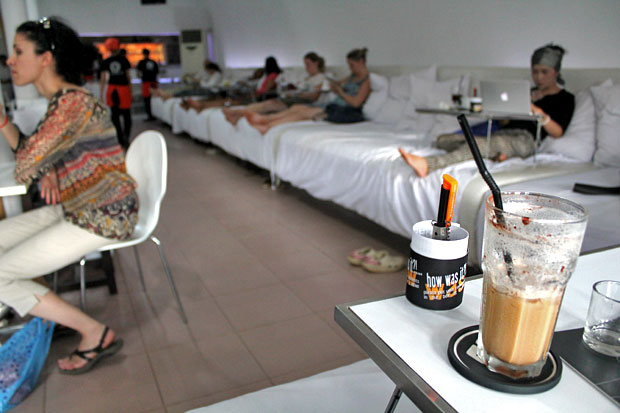 Viroth's
One of two fancy but inexpensive restaurants that we dined at during our stay in Siem Reap. Just a stone's throw away from our hotel along Wat Bo Road, Viroth's was beautiful and romantic, perfect for a quiet couple's night out. Despite the elegant ambiance and terrific food, we wound up spending just USD 20 for dinner. I love Siem Reap! 😀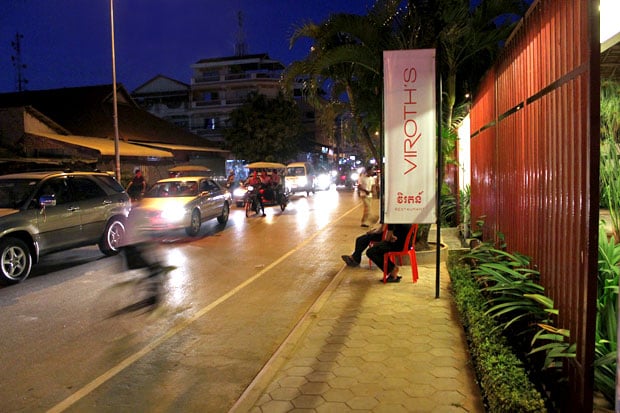 Lovely lovely lovely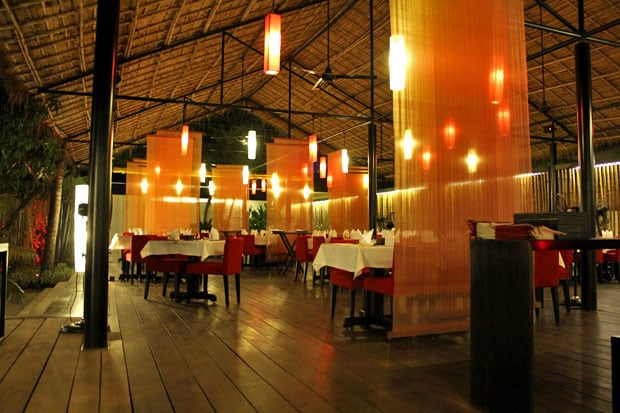 Water features all around to help set the mood.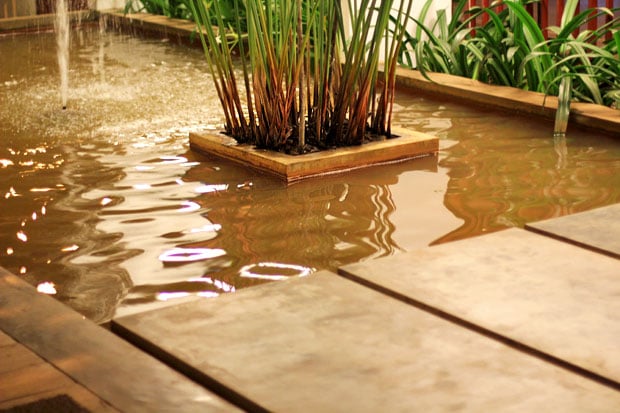 Notice how precariously close some of the tables are to the water? We had read on TripAdvisor how some people had fallen into the water after getting up on the wrong side of the table. One observer described such an incident as being "very funny." With my chair just a couple of feet away from the water's edge, I made sure not to give anyone a good laugh tonight. 😆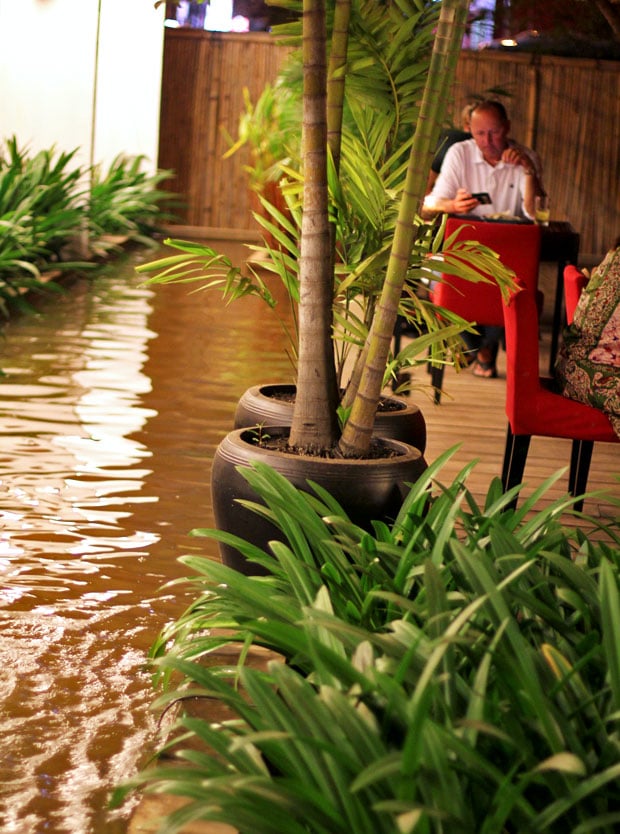 At our server's recommendation, we ordered this eggplant with minced pork. Dee-licious!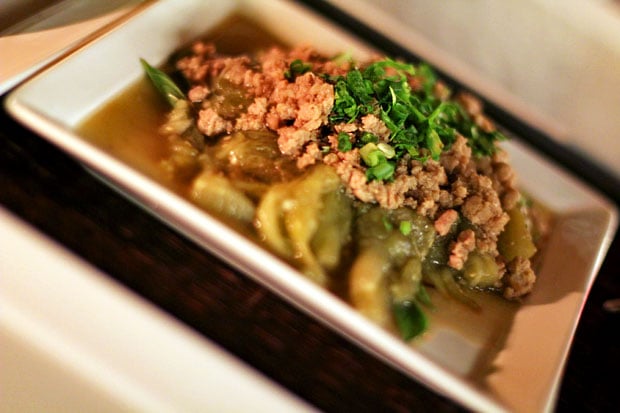 Amok fish, one of Cambodia's most popular local delicacies. A traditional Khmer dish of steamed curried fish, it's basically fish coated in a thick coconut milk with kroeung (Khmer spice mixture), and either steamed or baked in a cup made from banana leaves. Again, very very tasty.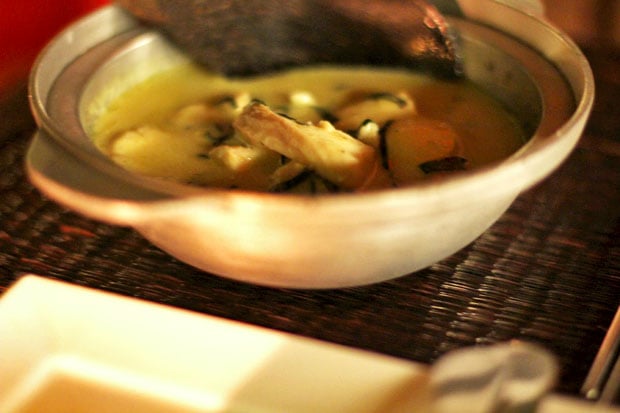 The Square 24 St
The second of two aforementioned special dinners on this trip. Like Viroth's, this restaurant was literally a minute's walk from our hotel. Didn't I say that Soria Moria was perfectly located? 😉



Stunningly beautiful restaurant, complete with entrance music.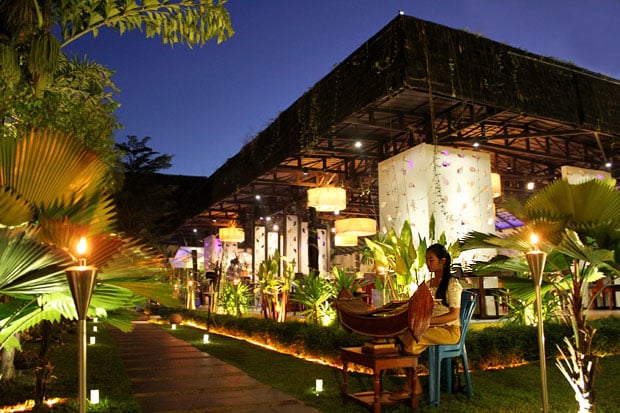 I always love being the first one to arrive at a restaurant. That way I don't have to feel embarrassed about taking as many pictures as I want.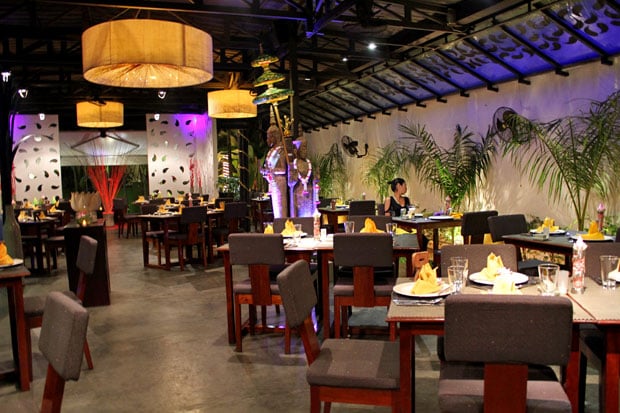 Again, our table was right along the water's edge. This one was even more precarios since the water wasn't as obvious, its surface obscured by lily pads. Asking our servers if anyone had ever fallen into the water, they gave a hearty laugh and said yes. Obviously, it was also "very funny." 😆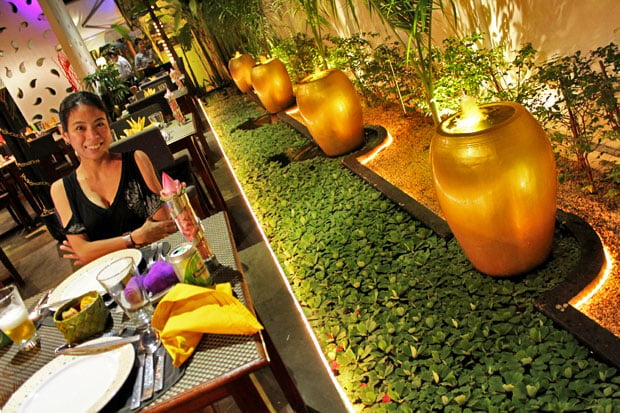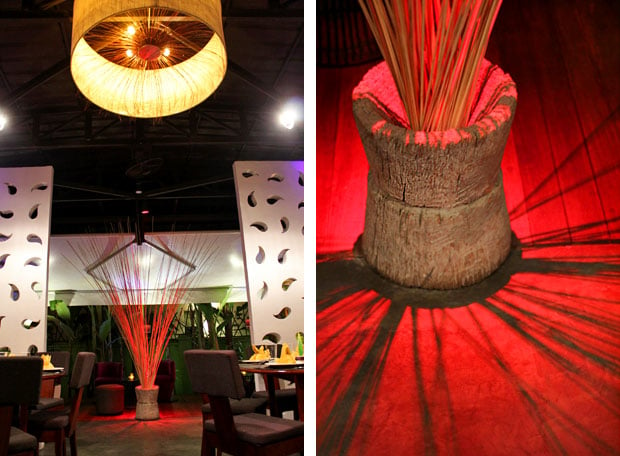 Beautiful decor with much attention paid to detail. The table napkins were even done up as gondolas! 😆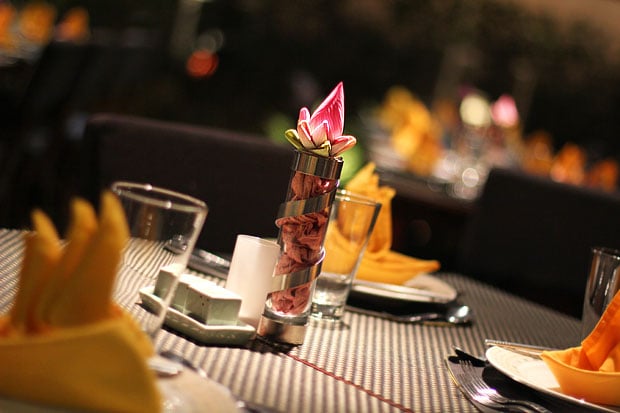 The lamp on the right was pretty cool. Those wire-thin sticks are actually "walis tingting" strewn together to create a textured, organic-looking design. How simple but inventive!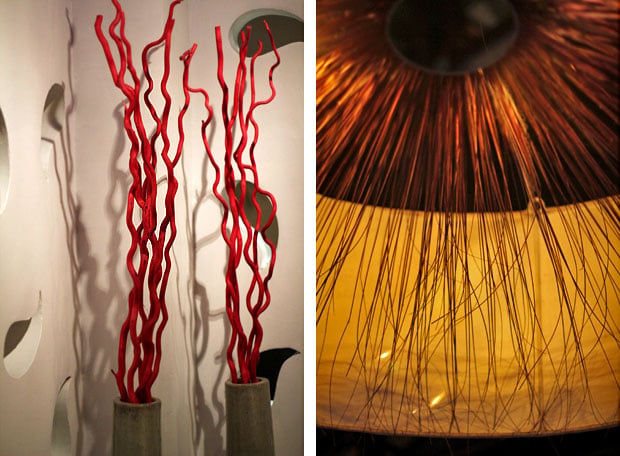 To give us a good taste of everything, we ordered the "Passionately Khmer" set menu, which was good enough for two, for just USD 18. As you can probably tell by now, we ate like kings on this trip. 🙂
First course: Green mango salad with crispy pork belly. Very tasty and refreshing, though the pork belly wasn't at all crisp.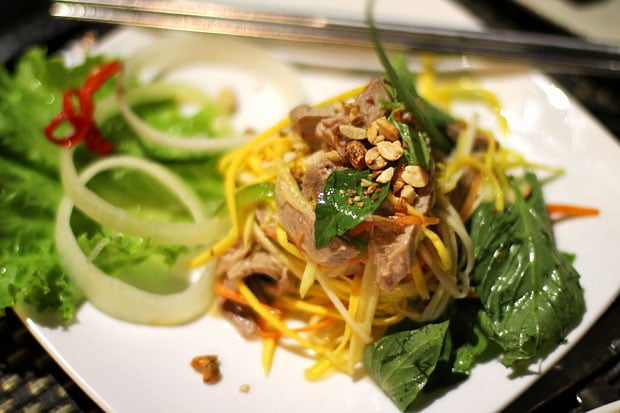 Second course: Marinated beef skewers. These were really, really good. The big, bold flavors of the beef and marinade really hit you soon as you took a bite.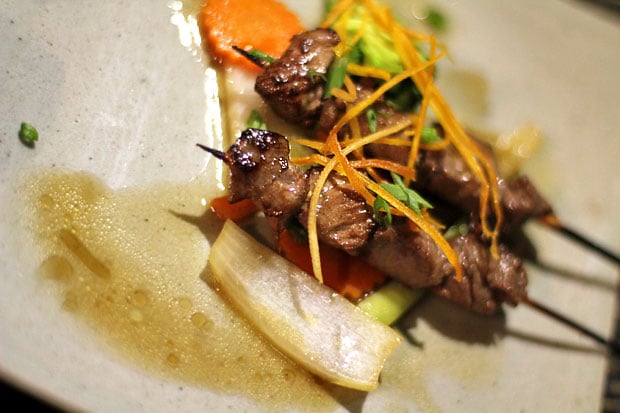 Third course: Stir-fried kangkong with oyster sauce. These were pretty good as well, though nothing worth remembering.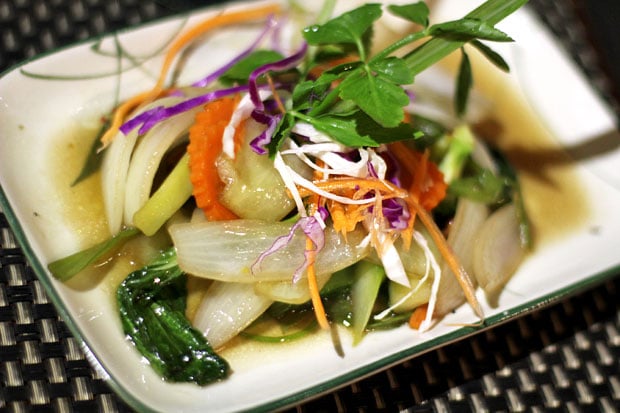 Fourth course: Steamed lake fish with vegetables and sweet and sour sauce. Tender, flaky, and succulent, the fish was just perfect.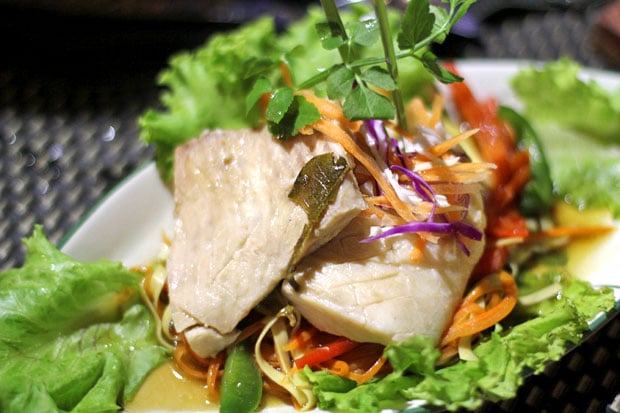 Fifth course: Tartare of fresh fruits marinated in rice wine and mint leaves. A refreshing end to our meal, the rice wine gave the fresh fruits a rich, honey-like sweetness. Very nice.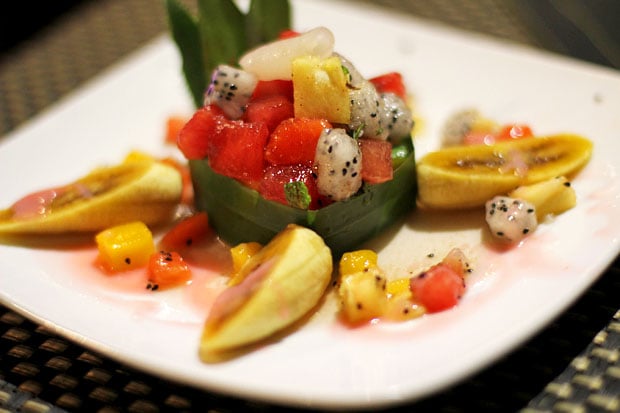 "No, thank you, I can't possibly eat any more."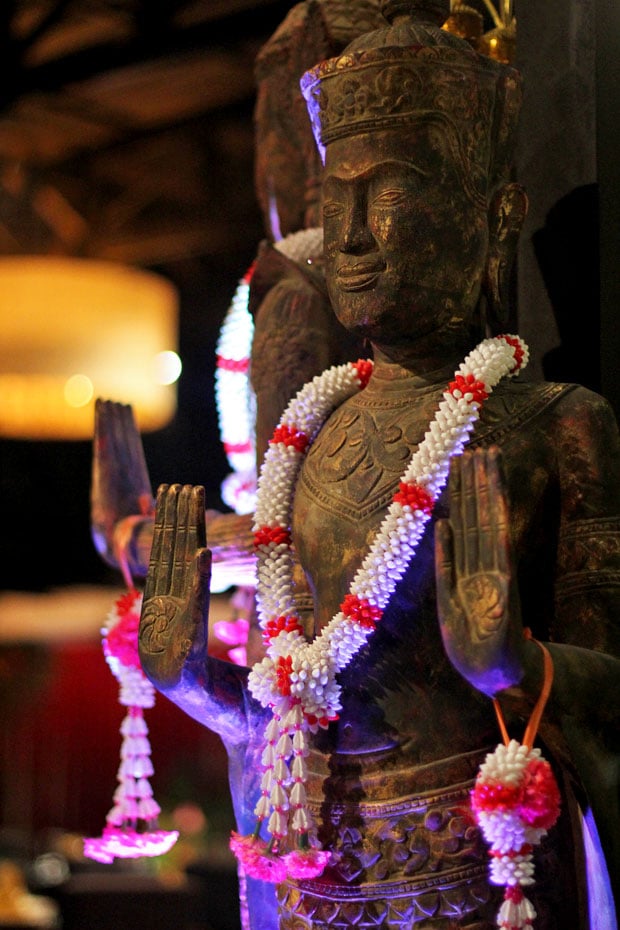 Happy Herb Pizza
And the search is over. At long last, we finally discover Siem Reap's infamous "happy" pizza, the one and only reason for our pilgrimage to Cambodia. Just kidding. 😆
Truth be told, unlike Indiana Jones and the Holy Grail, it wasn't much of a search at all. We found it the morning after we arrived, at 9:30 in the morning, shortly following a hearty breakfast. Excited much? 😆
Suggested to us by a friend, Happy Herb Pizza is located at House 69, Mundol 1, directly opposite the provincial hospital. There are a couple of other pizzerias next to it with similar names. One's called Happy Pizza, and another Ecstatic Pizza. I'm guessing that these places serve "happy" pizza as well, though we didn't try. Had there been one named Dazed and Confused Pizza, then I would have been there in a heartbeat. 😆
L: The interior of Happy Herbs Pizza. R: Got enough condiments there big fella? In general, Khmer cuisine is mildly flavored, hence the need for all the spices and condiments.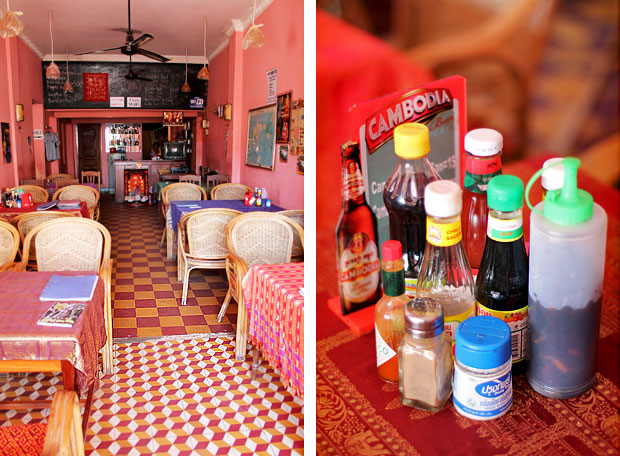 Aaaaah, our first taste of the legendary "happy" pizza. As Jamie Oliver would say, one bite, "and you're laughing." 😆
For our first experience, we tried this medium-sized pie topped with mushrooms for just USD 6. Having just eaten a big breakfast, it was enough for the both of us. I read online that they don't make "happy" pizzas for everyone, so be sure to tell your server that you want yours to be "extra extra happy." I'm sure a wink and a soft elbow nudge wouldn't hurt either. 😉
Made with real mozzarella and one secret herb and ingredient, it wasn't the tastiest of pizzas, but that mattered little. Why? Because a couple of hours later, we were indeed laughing. Mild but oh so pleasant, the happiness lasted all day long too.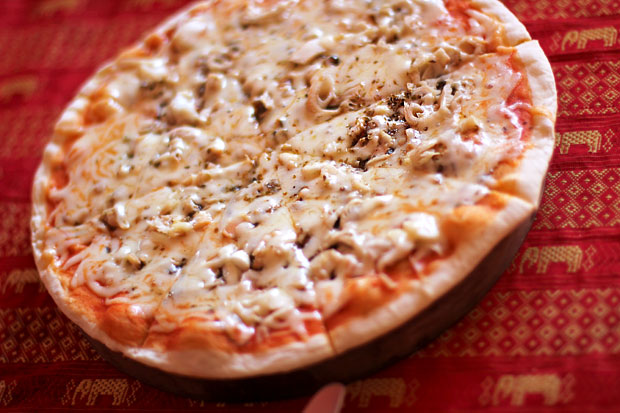 Nothing says "vacation" quite like an ice-cold, draft beer at 9:30 in the morning. 😆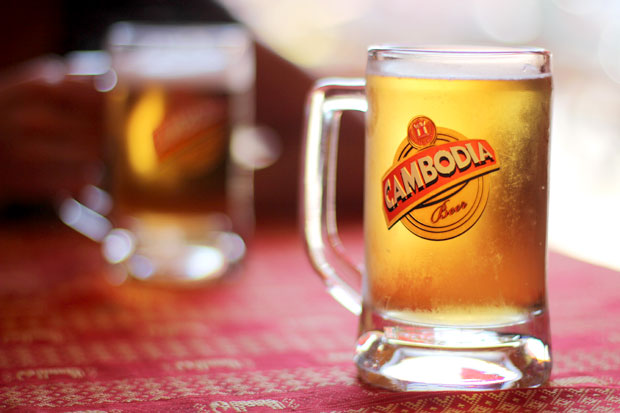 After just three slices, here's Reneelicious on the cusp of happiness.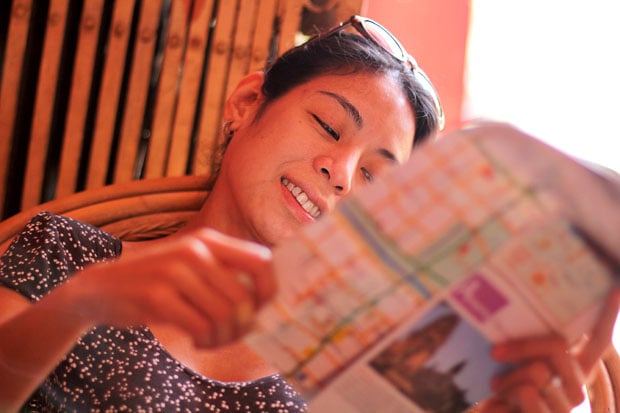 Of course, we knew that one experience would hardly be enough, so we came back for lunch the very next day and ordered one medium pepperoni and one small vegetarian, both of which were again "extra extra happy." 😀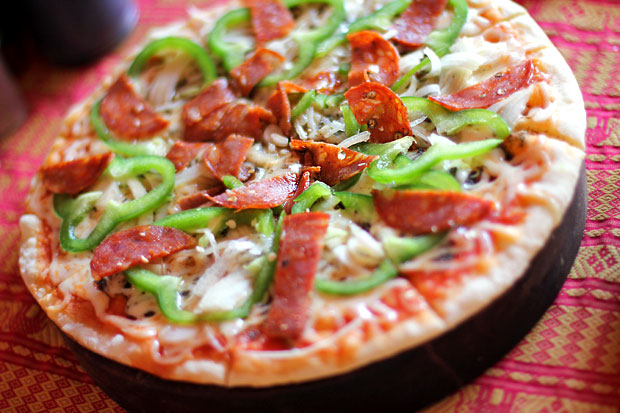 Just right for one petite diner, the small went for USD 3.50, if I remember correctly. They have two pages of pizza flavors and three sizes to choose from, so there's certainly plenty here to keep you "happy." 😉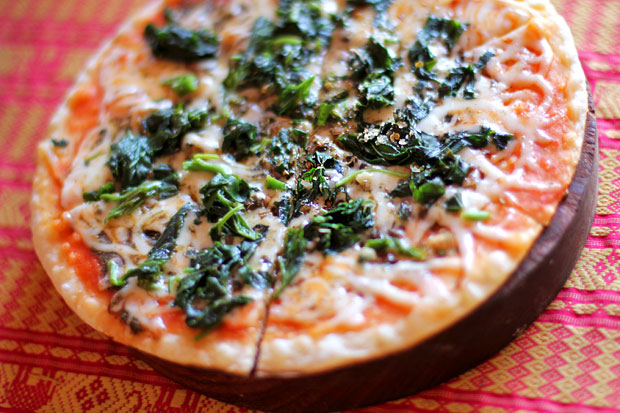 Beer
A traveler's best friend. Dining at the many restaurants, you'll notice that the majority of tourists here drink nothing but draft beer. For just USD .50 a mug, can you really blame them? 😆 There are several good local beers to choose from, most notably Angkor and Cambodia beer, but for a little more, you can quench your thirst with a few imports like Heineken as well.
Meet Angkor beer, our most welcome third wheel, all week long. It tasted similar to SMB Pale, though not quite as bold.

Angkor Archaeological Park
Wait, so you're telling me that there are actually temples in Cambodia? Just kidding. 😆
As mentioned up top, Ren and I aren't avid temple-goers. Being more of a nature guy, I probably would have visited even fewer temples had it not been for this blog and my DSLR. With that said however, Angkor Wat is no mere temple. It is THE temple. A Cambodian national symbol, it is iconic and majestic and well worth the journey. I, for one, feel blessed to have seen and photographed it.
Apart from Angkor Wat, there are a few other picturesque temples worth exploring. Among these are Bantaey Srei, Angkor Thom, and Ta Phrom. There are plenty of others, so it really depends on how interested you are in temples and how many you'd care to visit.
Tuk Tuk
Meet the tuk tuk, your chariot in Siem Reap. Unless you rent a bicycle or hire a car, you'll be riding this to and from the temples. The breeze from the ride feels a lot like airconditioning after a hot, exhausting day exploring temples.
Be warned that though harmless, many tuk tuk drivers around town are agressive and will try to get you to hire them. To avoid being taken for a ride, arrange trips through your hotel as much as possible. Prices may vary slightly between hotels, but here's what we paid for all our trips. Unless otherwise indicated, prices listed are for two people round trip.
Angkor Wat (sunrise or sunset, just one temple) – USD 5
Angkor circuit (several temples) – USD 14
Bantaey Srei – USD 22
To airport (one-way) – USD 5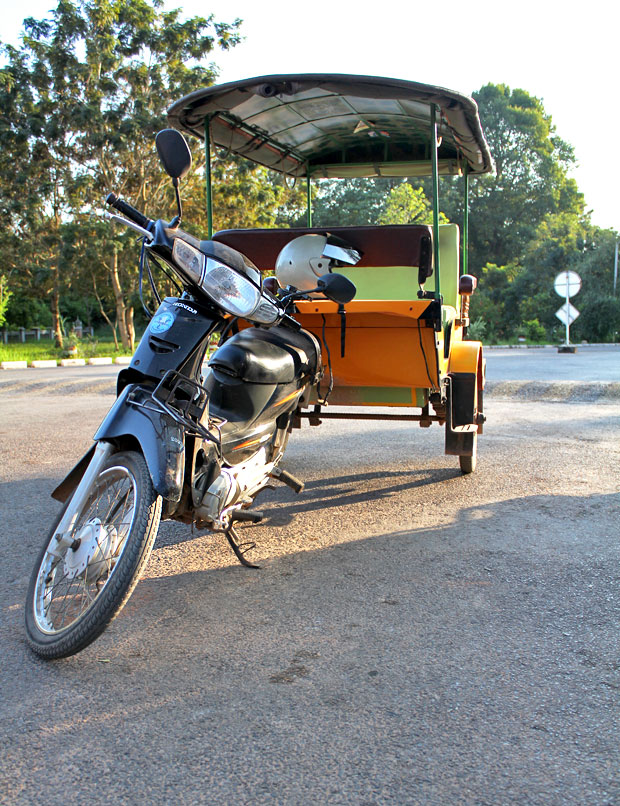 The lovely passenger. ♥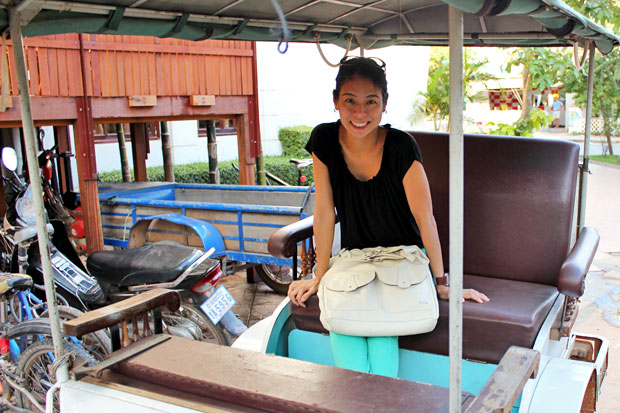 Tickets
Ren is even less into temples than I am, so opted for the one-day pass. For the casual temple-goer, I'd say that the three-day pass is perfect. It's good for the entire week, so you can choose on which days you'd like to allocate those visits. Ticket prices were as follows, as of December 2012:
One day – USD 20
Three days – USD 40
One week – USD 60
It's a good idea to purchase your tickets before 5 PM the day before you intend to use them, because they will allow you free entry into the park to watch the sunset from Phnom Bakheng Temple.

Our tickets with our pictures on them. Ren got the one-day pass, I got the three.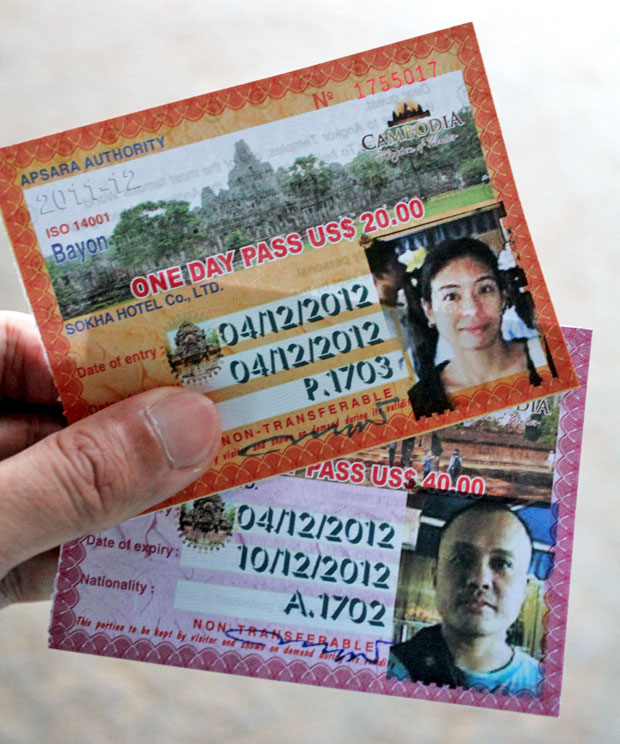 With our tickets in tow, off we went to Phnom Bakheng Temple to watch the sunset. There's our humble chariot driver for the week, Piseth.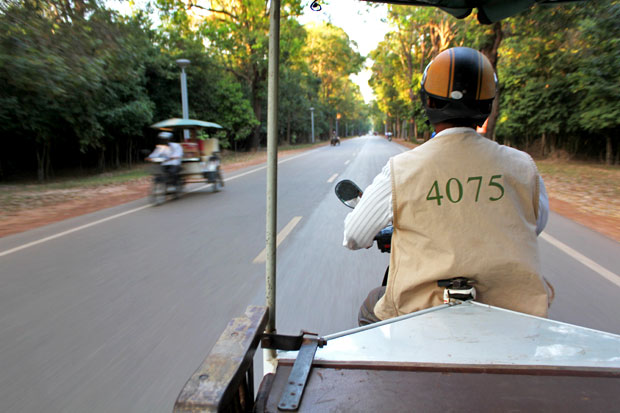 Phnom Bakeng
To reach the temple, you'll need to go on a moderately short hike up a hill. It isn't difficult, but the dirt road is full of gravel and crowded with tourists, so if you have any difficulty walking, then I'd suggest skipping this altogether. As you'll soon learn, there are massive hordes of tourists everywhere you go in the Angkor complex, making the experience somewhat frustrating at times.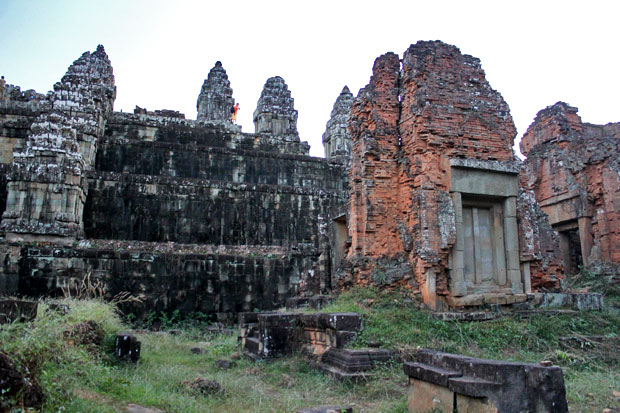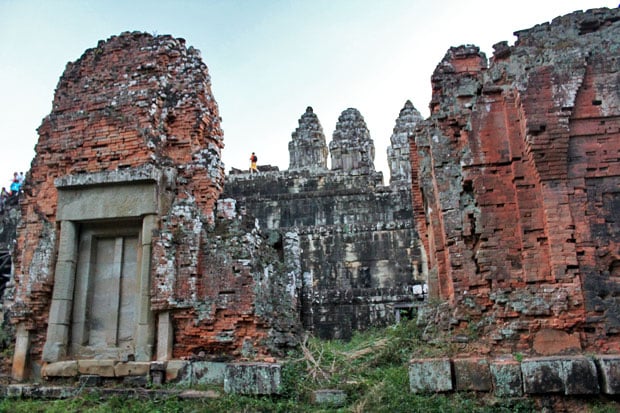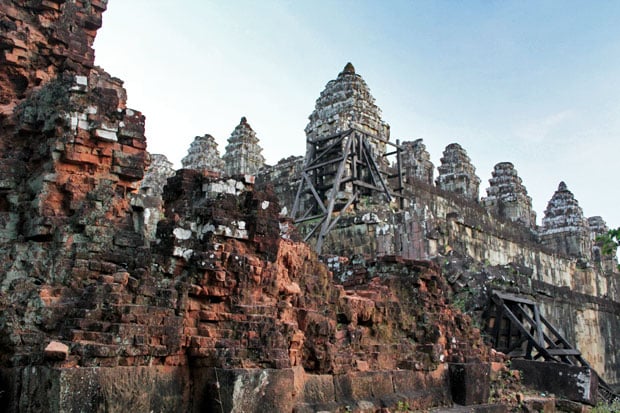 The sun, almost completely set. In hindsight, I probably would have skipped this myself. It is absolutely packed with tourists and their cameras jockeying for position, making it very difficult to get a clear shot of anything without having someone's head pop up in your frame. On top of that, the setting sun isn't really within context of any temple, resulting in a photograph that's just about the sun and little else.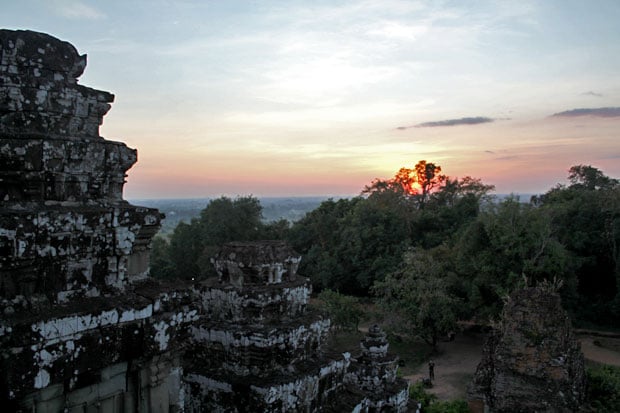 Ta Phrom
Home to giant roots reclaiming the ruins, and where Tomb Raider was actually filmed! The sight of those massive roots enveloping the temples was awesome to say the least. Definitely a must-see.

A short, cool, shaded walk to the temple.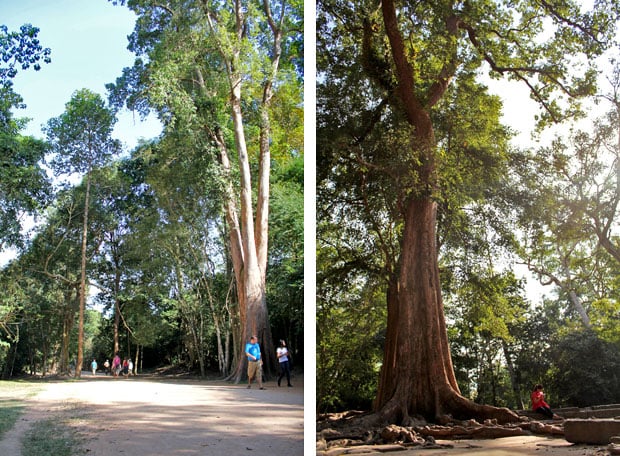 Here we go baby!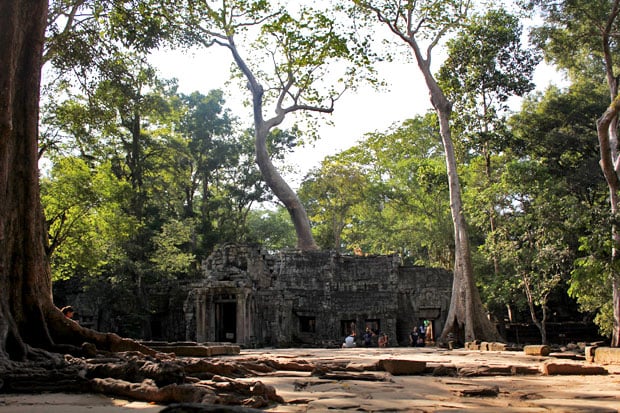 That. is. fucking. WICKED.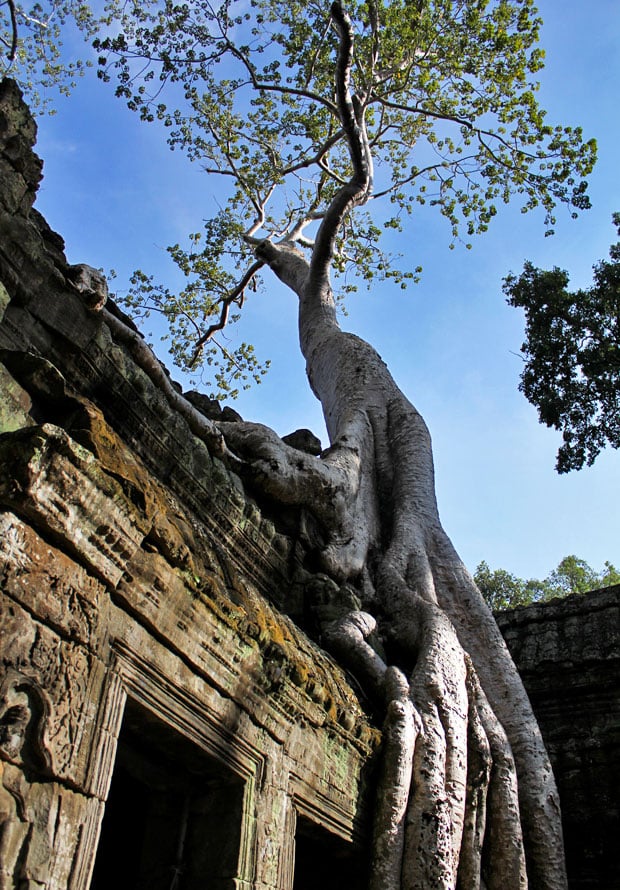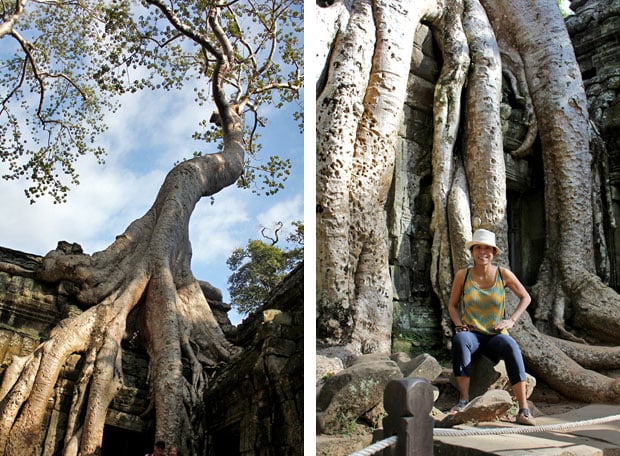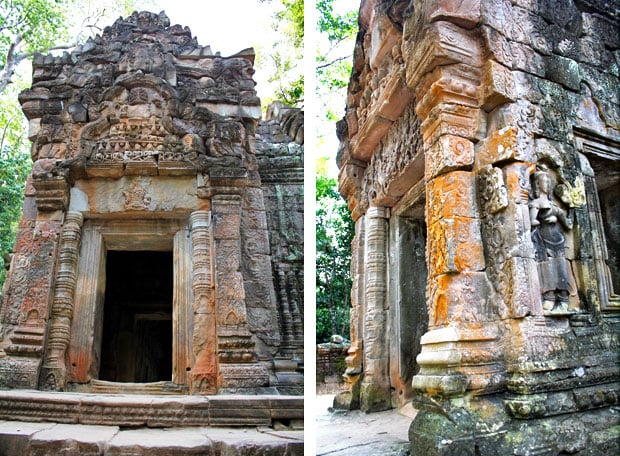 Interesting carvings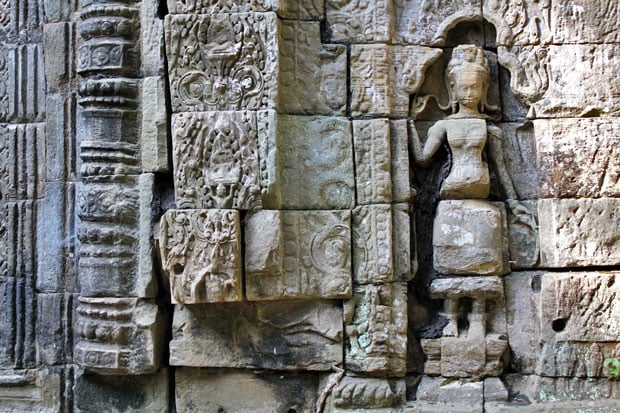 Signs of dilapidation…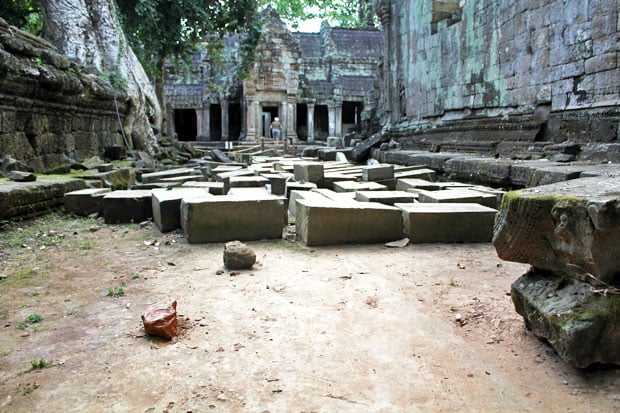 …and restoration all around.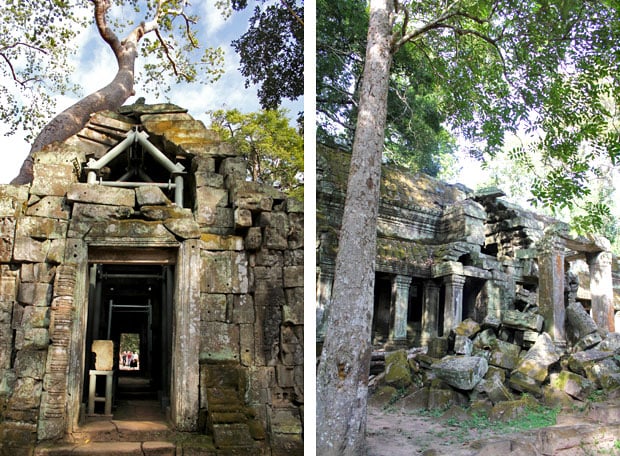 That is one massive root. That's what she said! 😆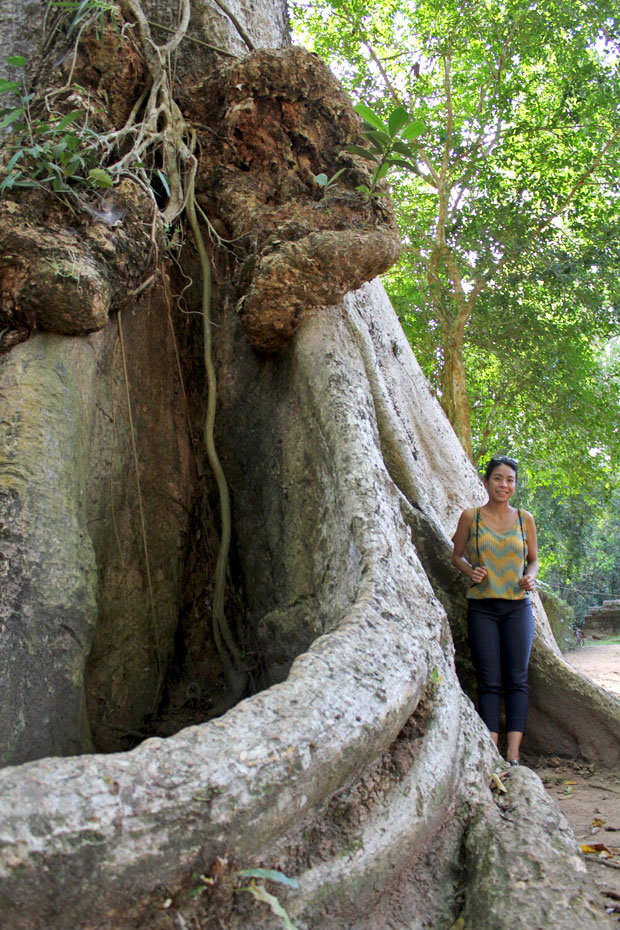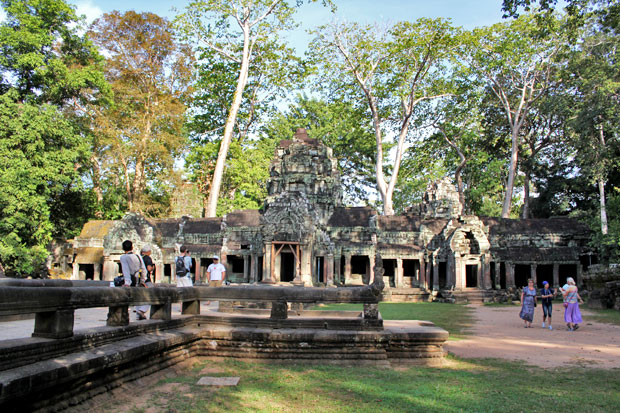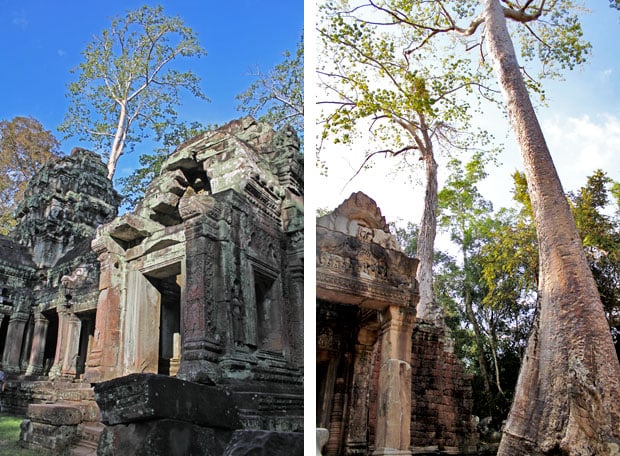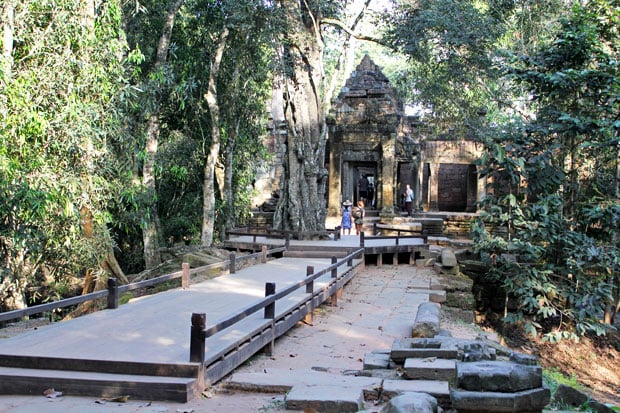 Hmmm, Lara Croft Lite looks like she's up to something.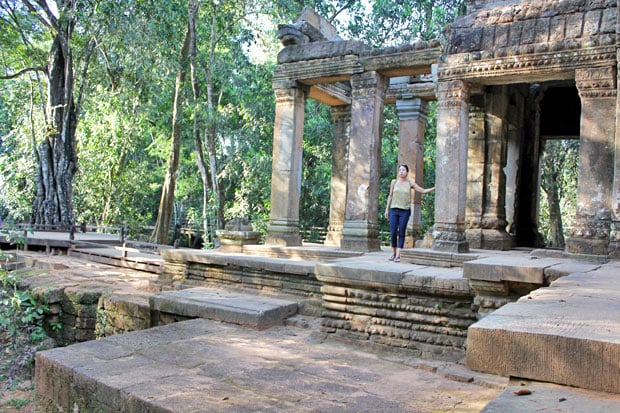 *facepalm* 😆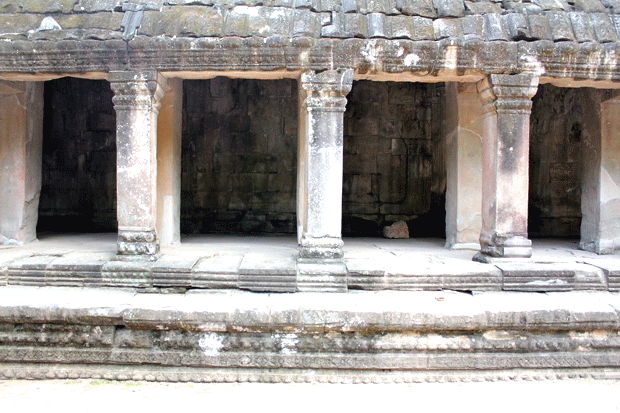 Ta Keo
You know what this relatively small temple is all about? Steep, terrifying, vertigo-inducing steps. Lots of them. 😯



Nope, that's not what I'm talking about.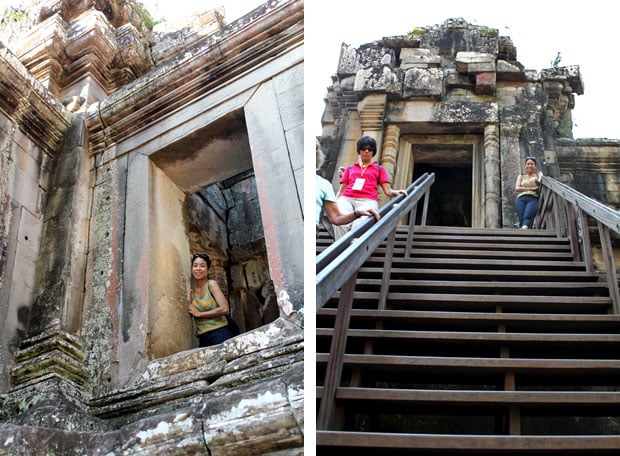 THAT'S what I'm talking about. To be honest with you, this picture doesn't even do the narrowness and incline of the steps any justice. If you have paddles for feet, then walk sideways. 😆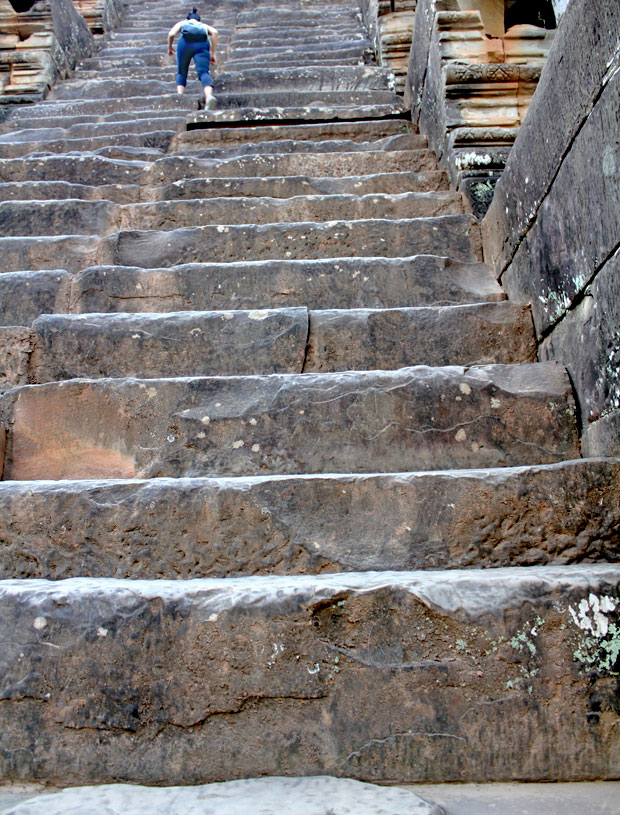 View from the top. See what I mean? At this point, I'm asking myself, "What the fuck did I just get myself into?"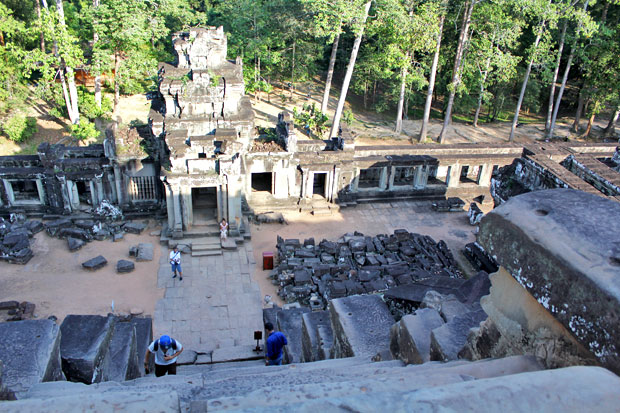 But wait, there's more! 😆 Though not for us, because my height-fearing ass has climbed high enough.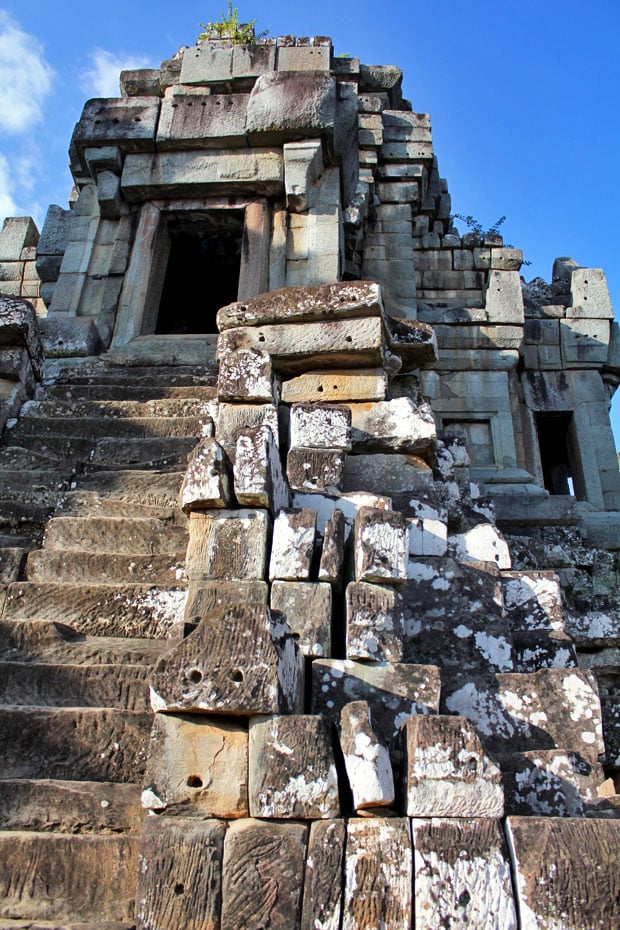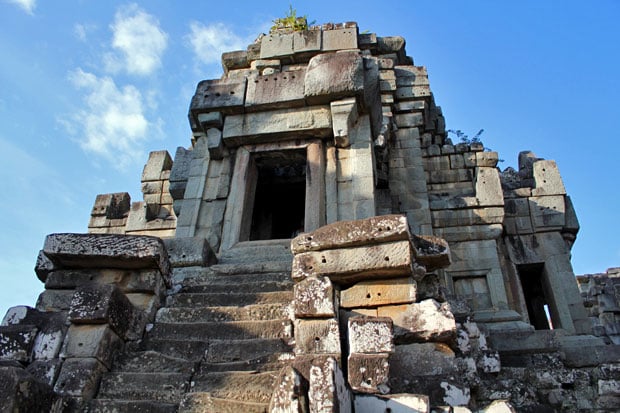 Now begins the precarious climb down. Notice how these wimps are going down sideways? Well, the way I went down was way manlier. I climbed down Spider-Man-style, completely facing and hugging the steps all the way down. Fuck off. 😆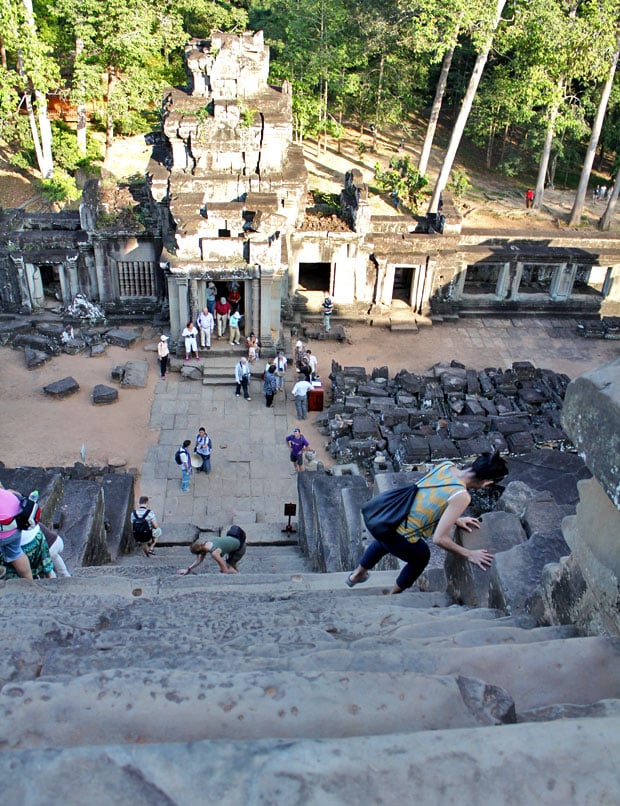 Angkor Wat
The Holy Grail of temples. This iconic structure, much like the Great Wall of China, the Pyramids of Giza, or Machu Pichu, is something that you definitely need to see. The largest Hindu temple complex in the world, it is a massive structure surrounded on all sides by a moat. How they managed to build this thing in the 12th century is absolutely mind-blowing.

Ren posing with the temple guardians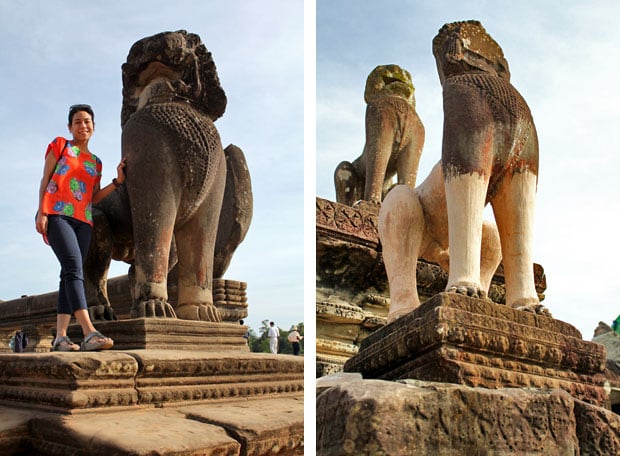 The long walk towards the temple. Notice the moat on either side.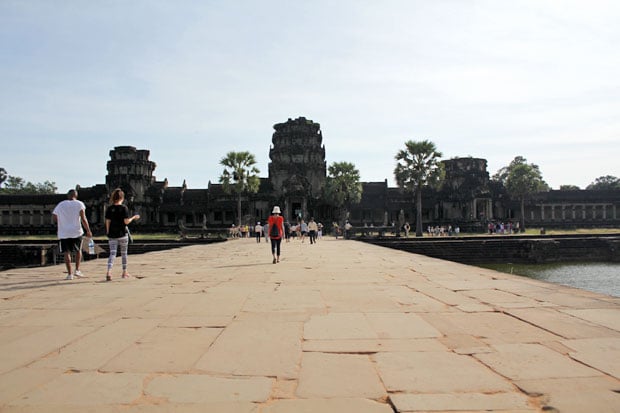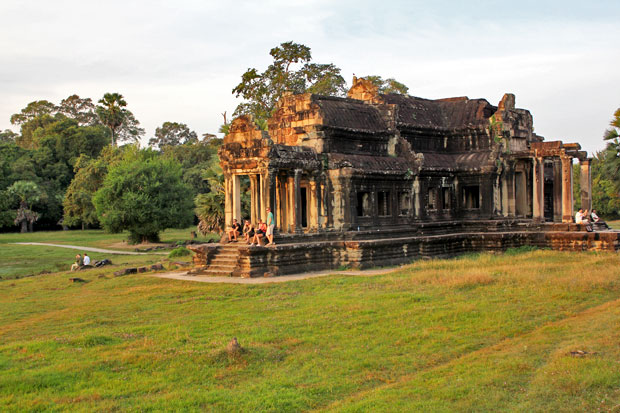 ♥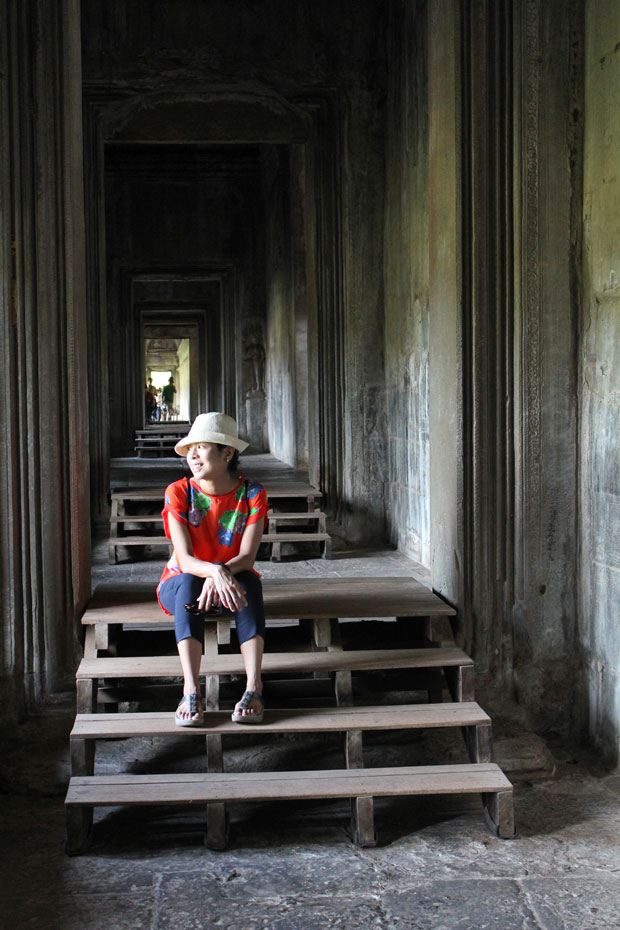 Intricate carvings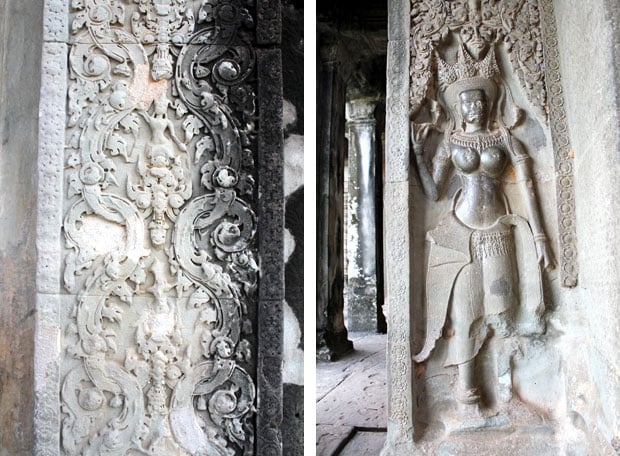 Ren swallowed up by an entire wall of carvings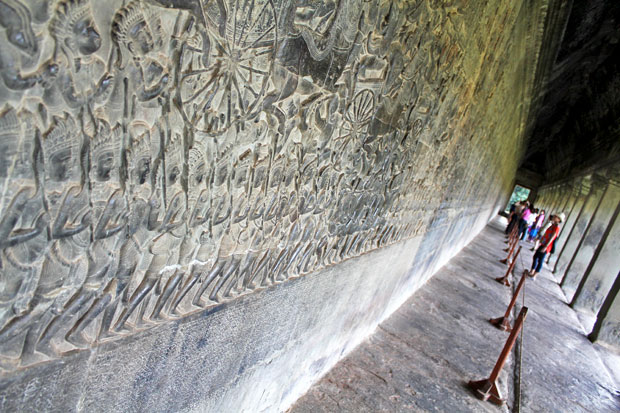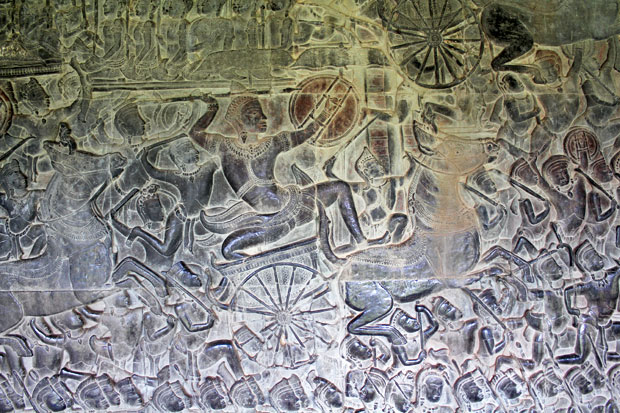 I can't even begin to think how long some of these carvings took to make.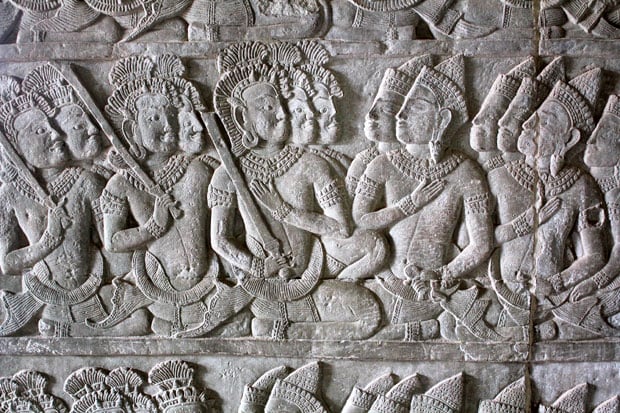 All templed out sweetheart?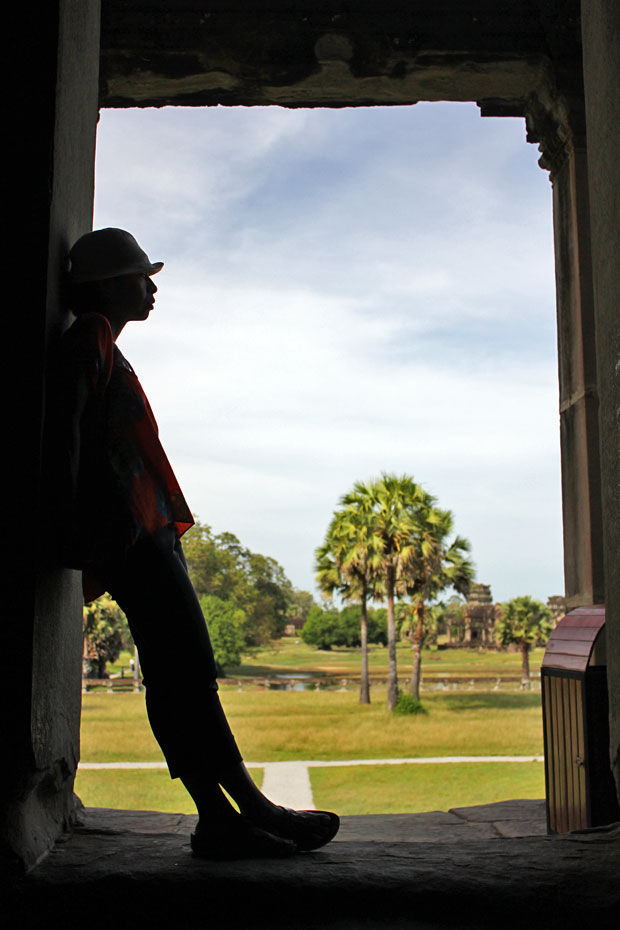 Strike a pose!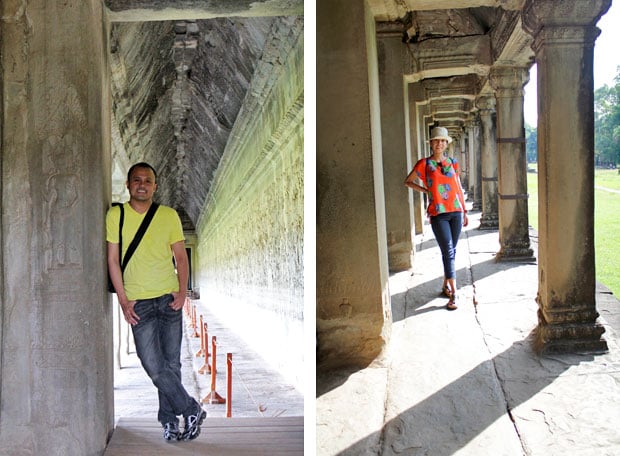 When in Rome. Of course, my dyslexic, can't-tell-my-right-from-my-left-ass has it the other way around. 😆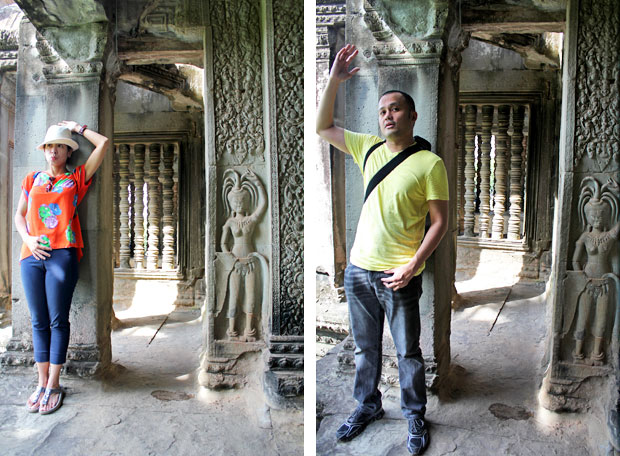 Ok, back to the temples…Oooooohhh, more carvings…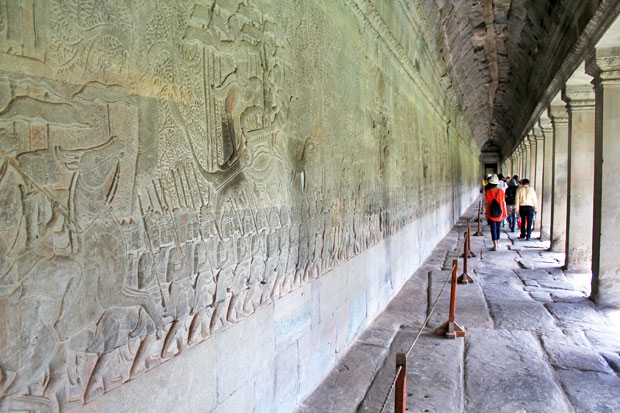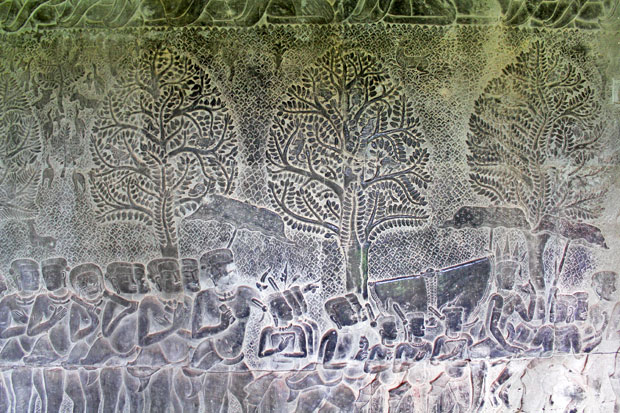 Incredible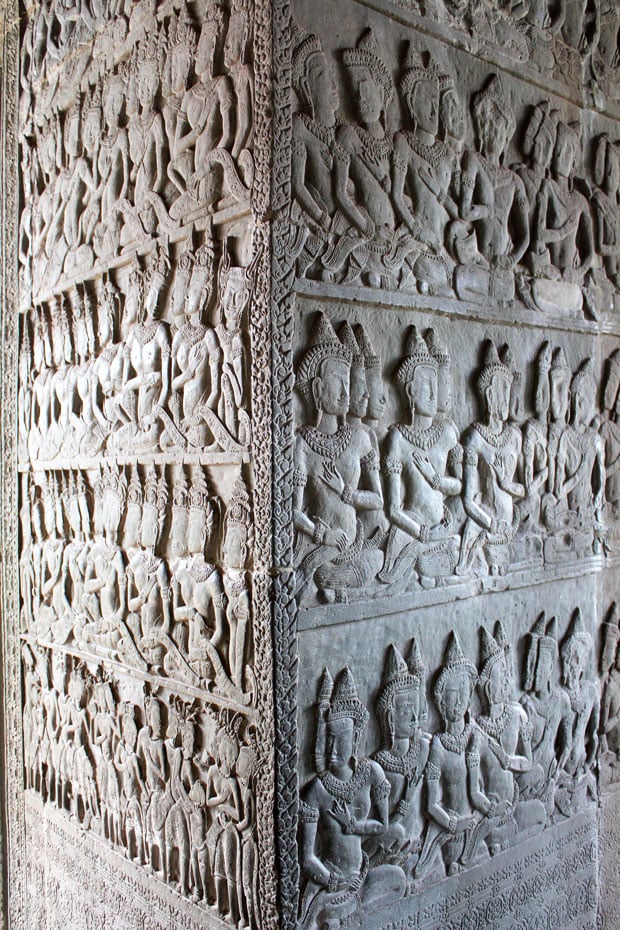 The iconic spires. Quick, how many spires does the main temple have?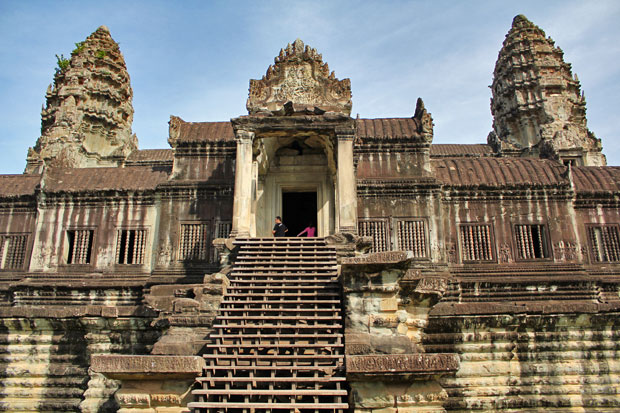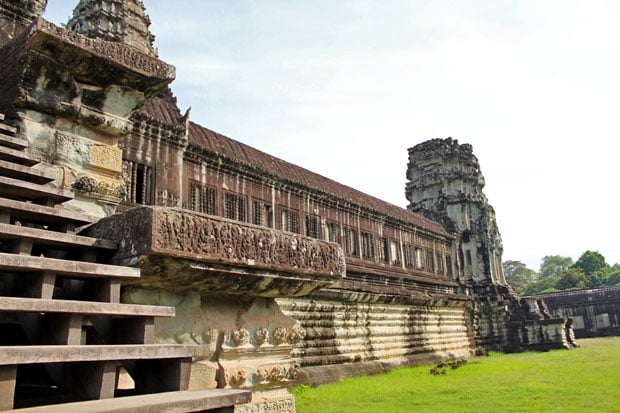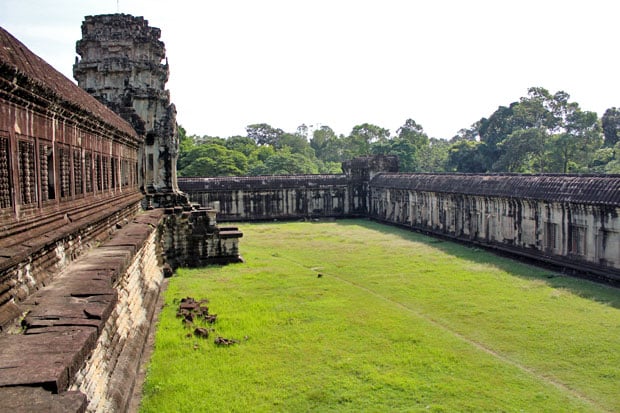 "Wehkam tu dah tehmphow…yu bhuy soobeneeyuh? jhas wan dalahh!"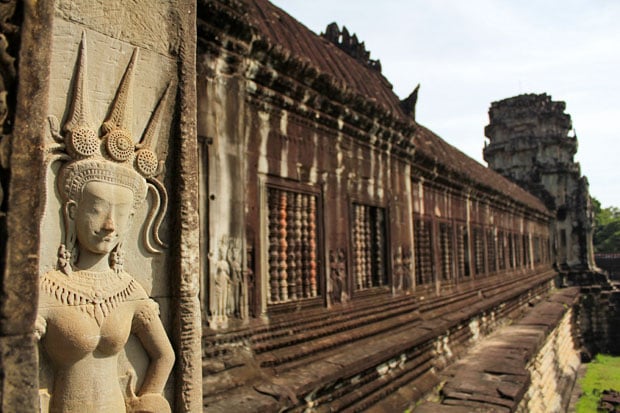 Corner temple, for misbehaved monks. Kidding. 🙂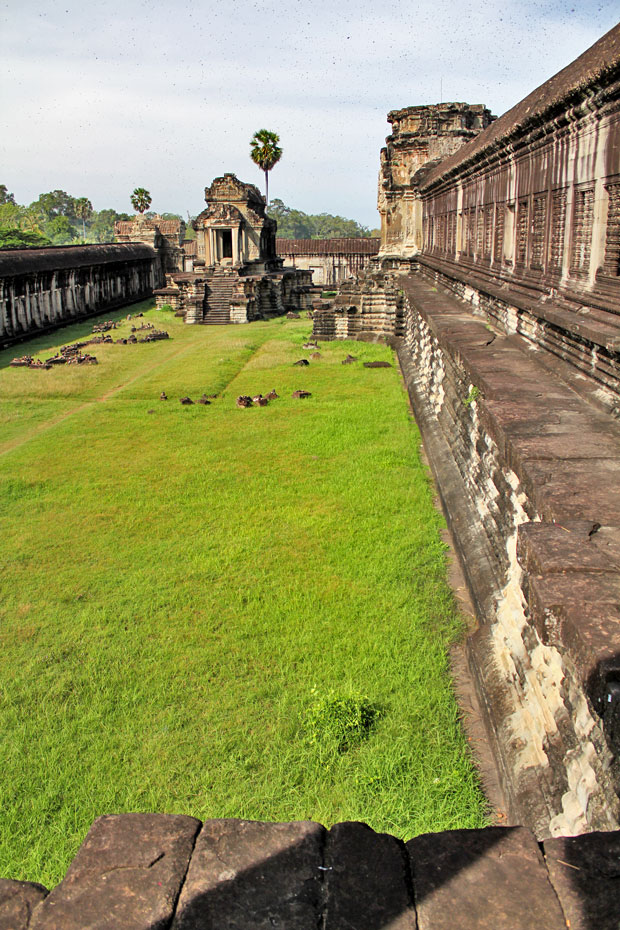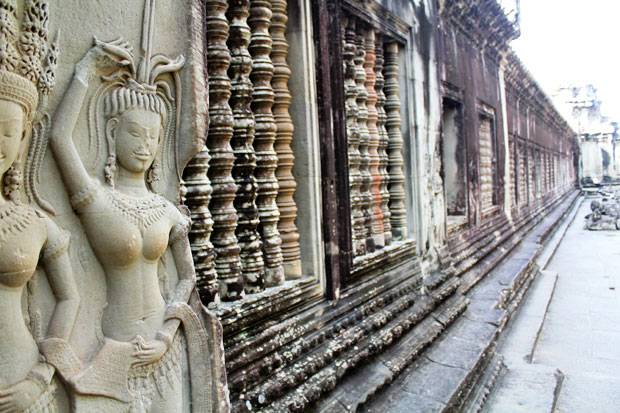 Making my way to the spires. In answer to my earlier question, there are five. 😉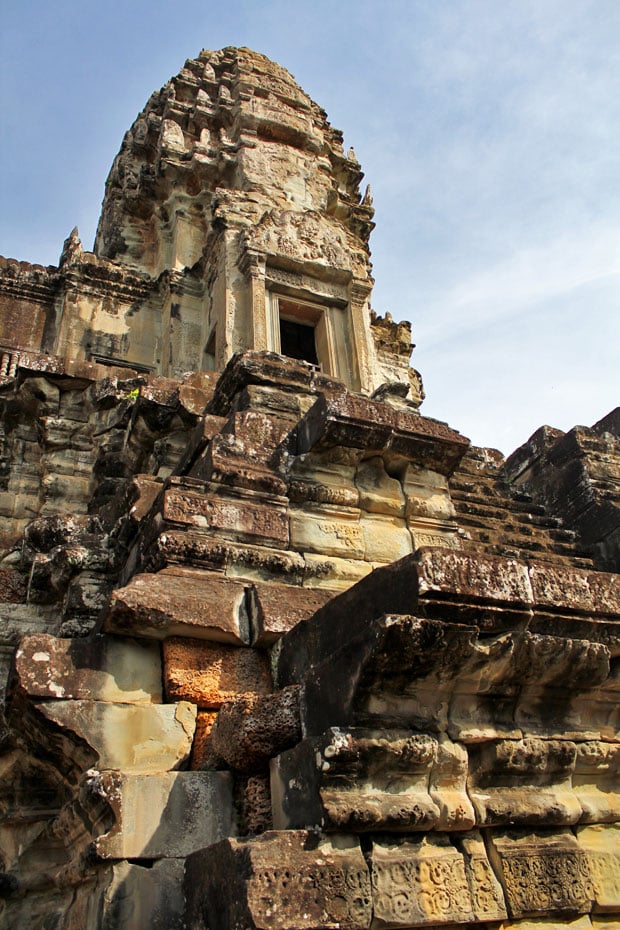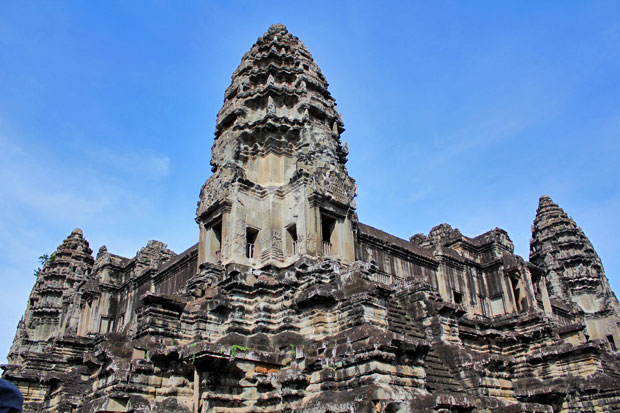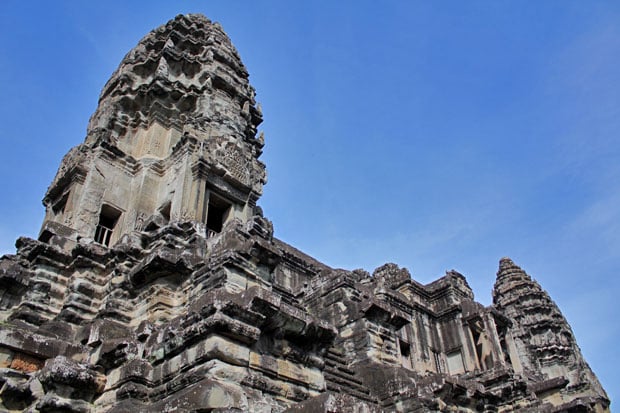 The climb to the highest point of the temple.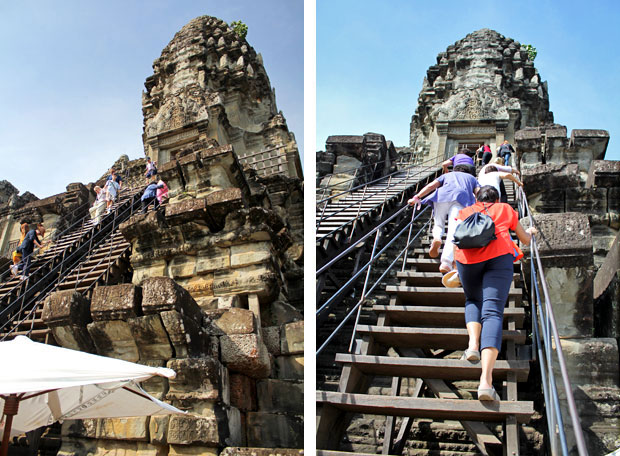 This is about as close as you can get to the spires. Pretty cool eh?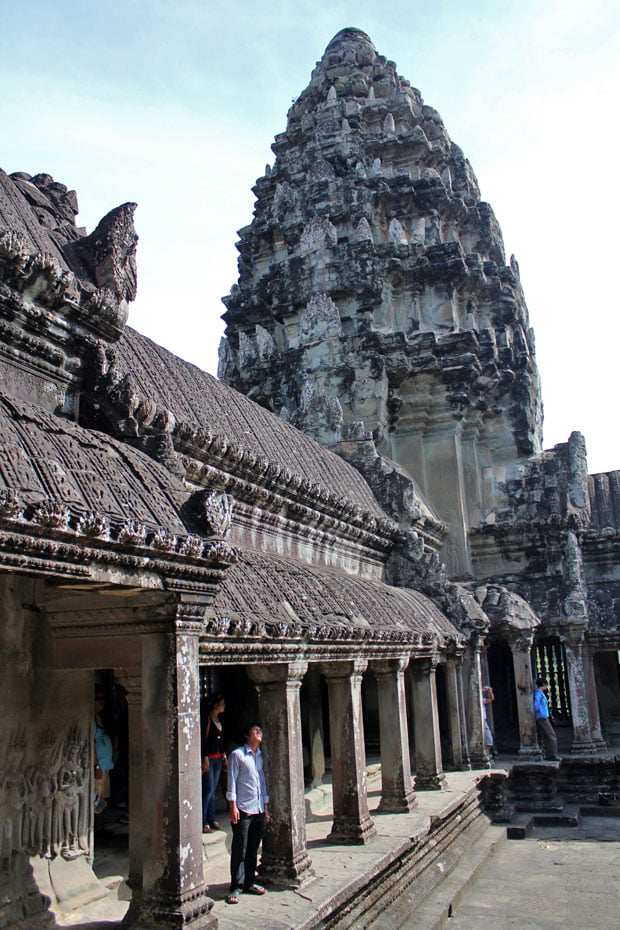 Beautiful carvings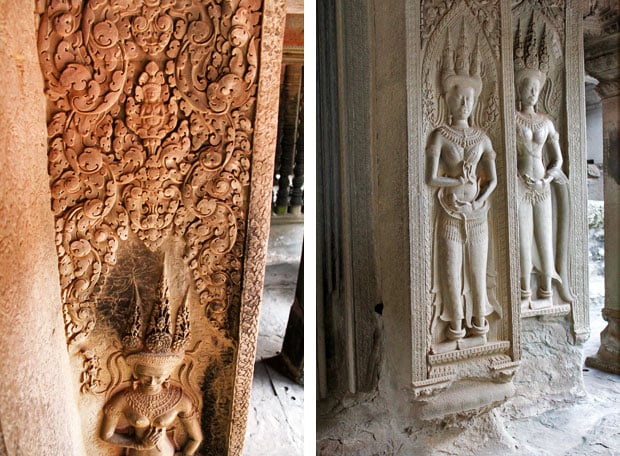 A view from the top. Notice that yellow thing in the distance? That's a hot air balloon tethered to the ground. Starting at USD 35, you can pay to be taken up for a bird's eye view of the park.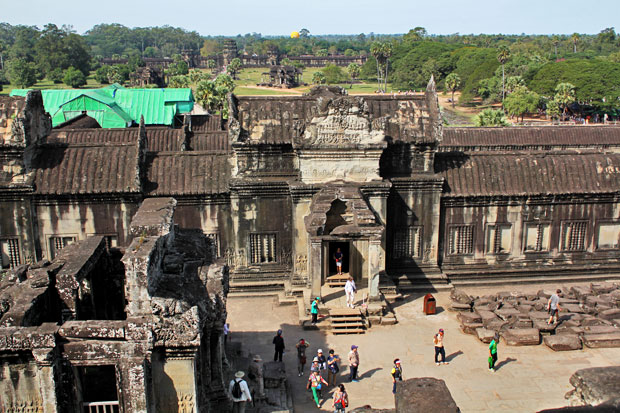 Bantaey Srei
Ren already had her fill of temples after just one day, so I had to make the lonesome trek to Bantaey Srei all by myself. 🙁 The temple is around an hour away by tuk tuk from the main Angkor complex, so Piseth and I departed bright and early at 6:30 in the morning.
So what makes this tiny temple worth the trip? Though miniscule in comparison to Angkor Wat, it is the only temple made from pink sandstone, and boasts far and away the best, most intricate temple carvings in all of Angkor Archaeological Park. Again, a definite must-visit.

Packed breakfast, private tuk tuk, on my way to Bantaey Srei to take photos. Like a boss baby! At that hour, it was cold as fuck in the tuk tuk though. 😆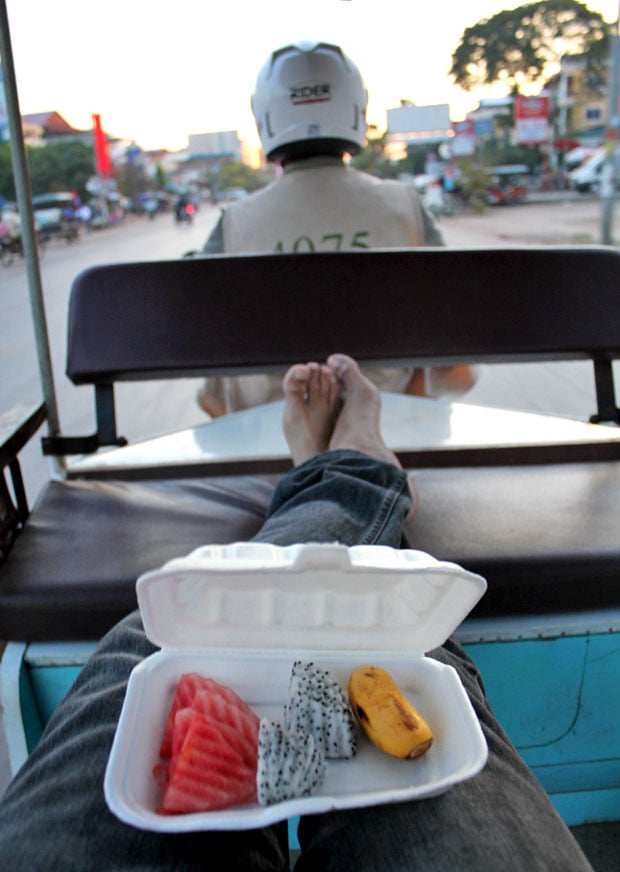 I don't know the name of this temple but we passed it along the way. See how much better they photograph in the soft morning light? It's no wonder that all landscape photos in magazines are taken either at sunrise or sunset. Midday, everything looks washed out and colorless.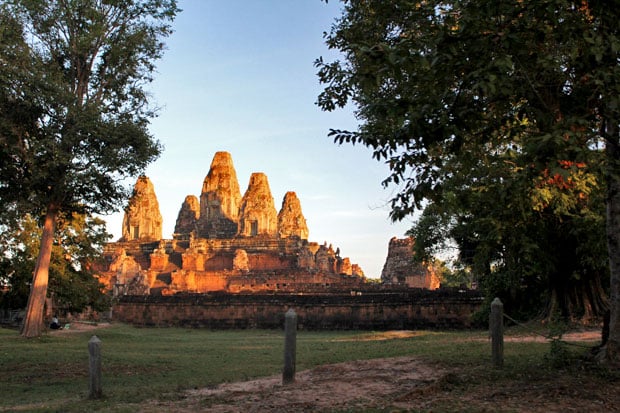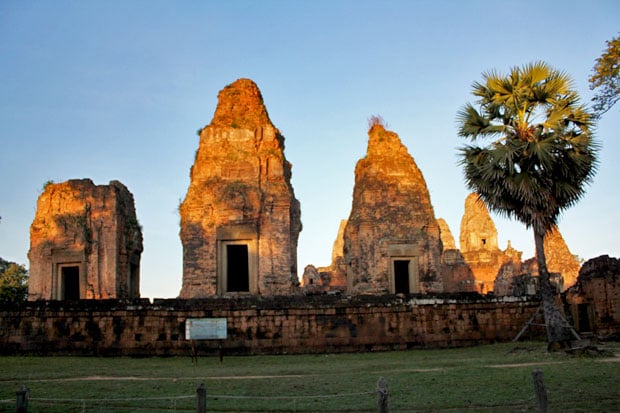 The entrance to Bantaey Srei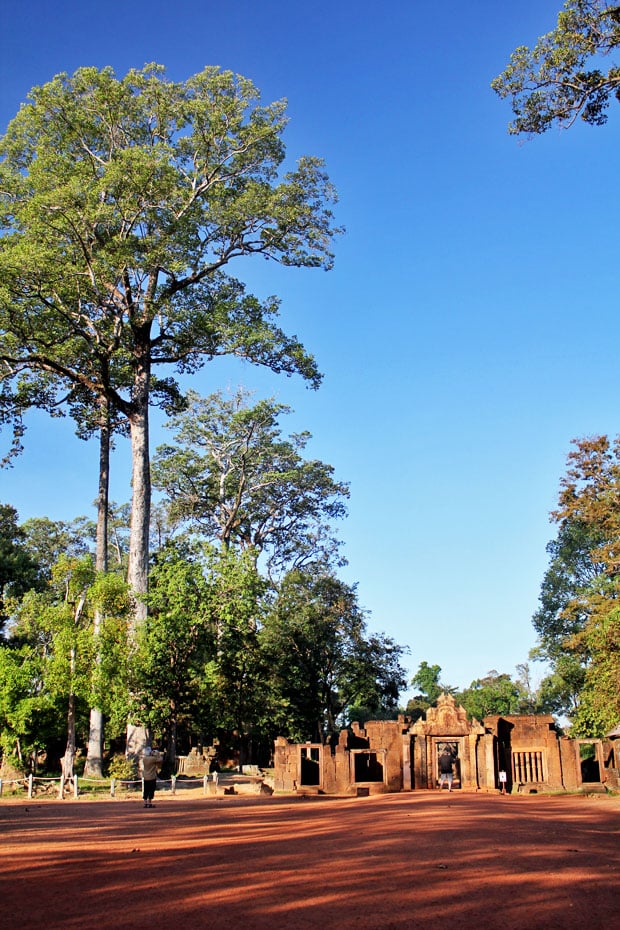 What did I tell you? 😀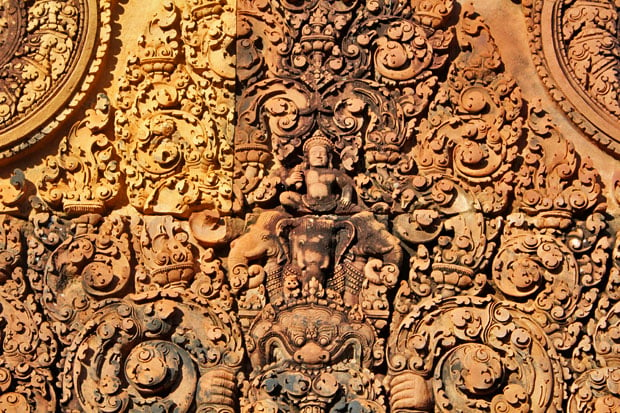 Love is in the details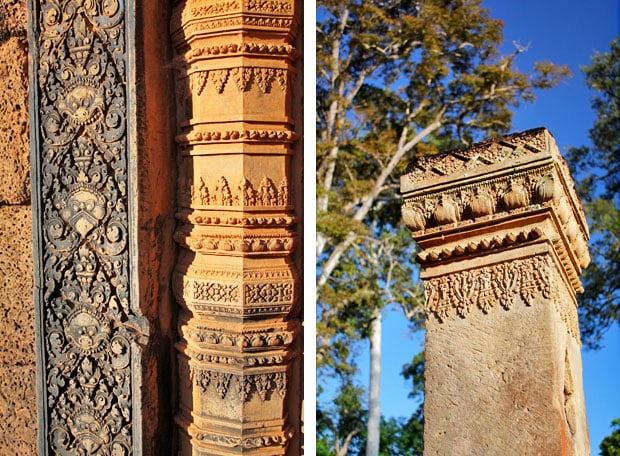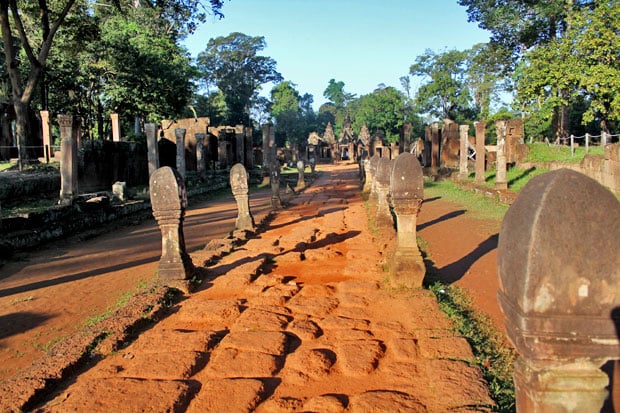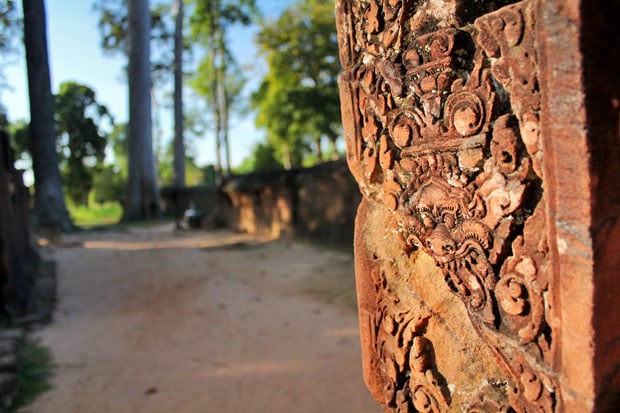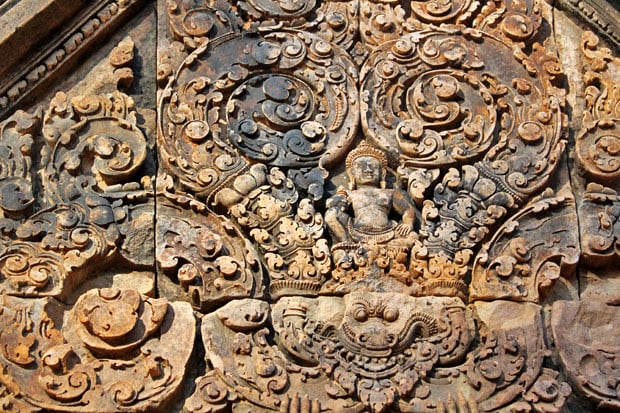 The detail is stunning. Beautiful, beautiful work.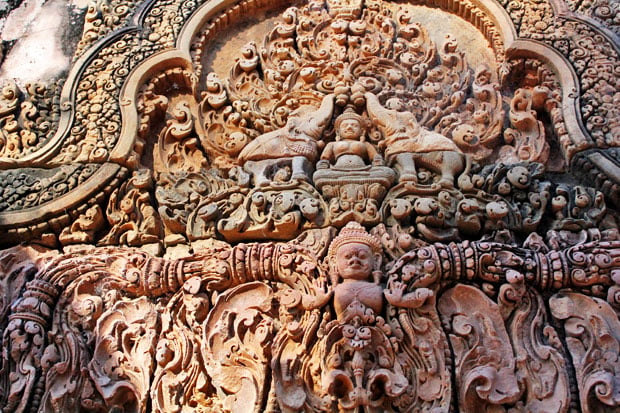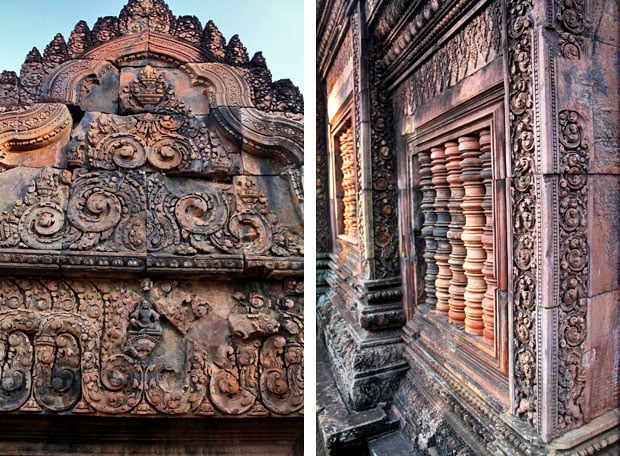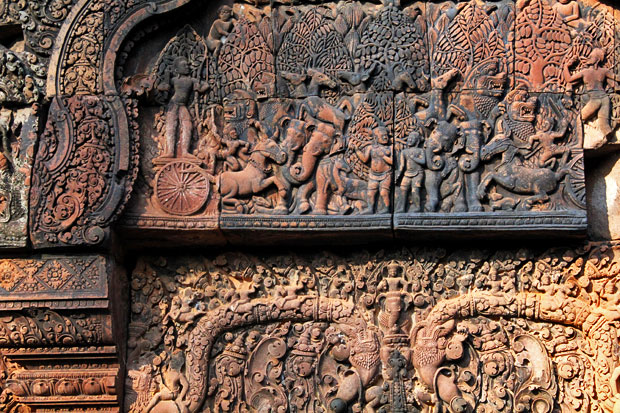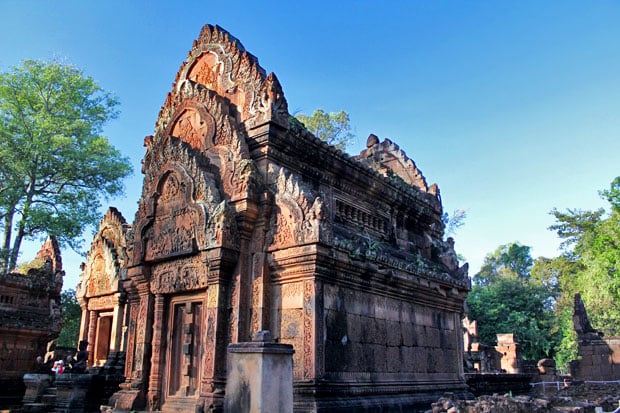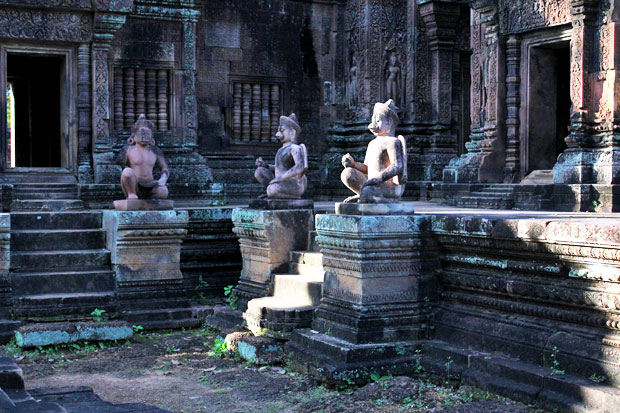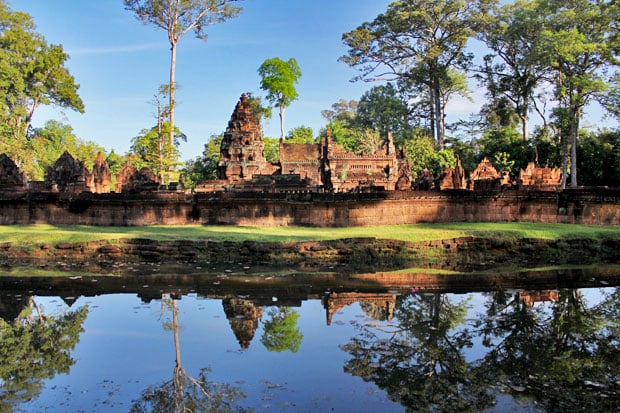 Angkor Wat at Sunrise
Remember what I said earlier about landscape photos being taken only at sunrise or sunset? Well, I didn't want to leave Siem Reap without my iconic shot, so I used the third and final day of my Angkor pass to photograph sunrise at Angkor Wat. Making my way to the temple at the ungodly hour of 4:30 AM, I set up my camera on a tripod and waited for the sun to come up. These are just a few of the photos I came back with.

One of the first people to arrive at the temple, it was still pitch black when I got there, so I had to use my cellphone to illuminate the path so I wouldn't trip and fall into the moat.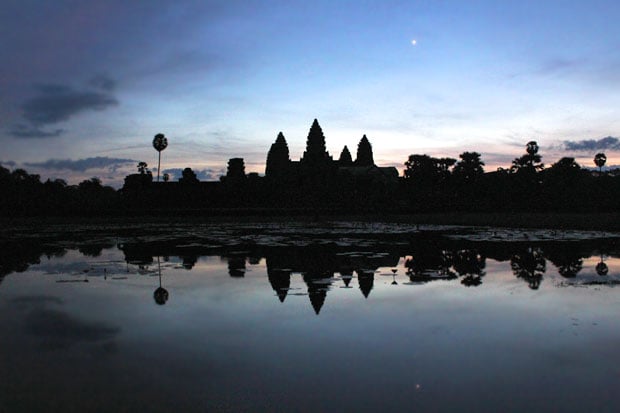 The sun slowly rising.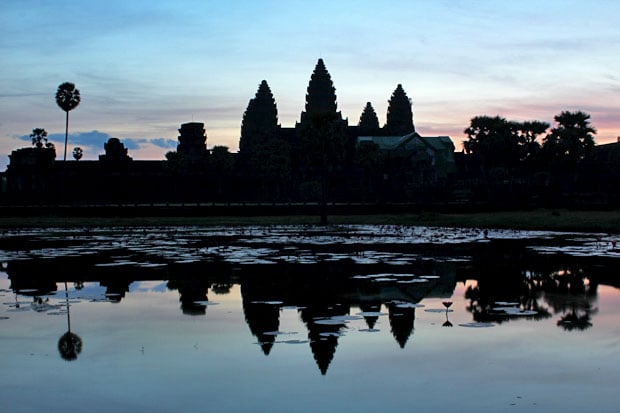 There she is. Though these pictures came out ok, they're not exactly what I was hoping for. I wasn't expecting the sun to rise up from behind the temple, effectively backlighting my subject. I was expecting to get a shot of a golden orange Angkor Wat, but alas, it wasn't meant to be. Oh well.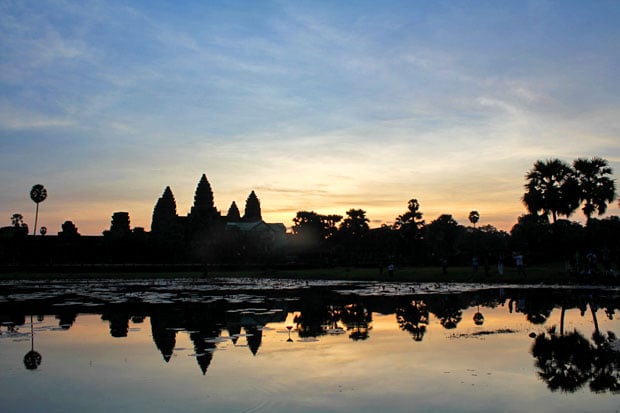 Still pretty damn beautiful eh? What an amazingly BIG world we live in.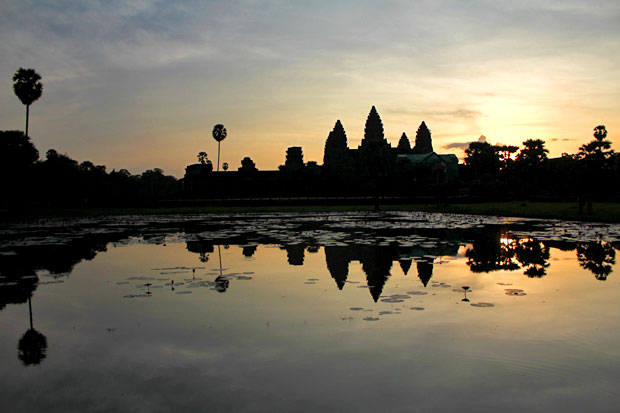 At 4:30 in the morning, you'd think that you'd have the place all to yourself right? Wrong! Like everywhere else in Siem Reap, there's never a private moment. *sigh*
Though one of the first to arrive, I noticed just how quickly the tourists were trickling in, so I had to camp out as close to the edge of the reflecting pool as possible, just to ensure that I had a clear shot. And thank God that I did, because by the time the sun started to peek out from behind the temple's spires, there were around three to four rows of people boxing each other out to get the perfect shot.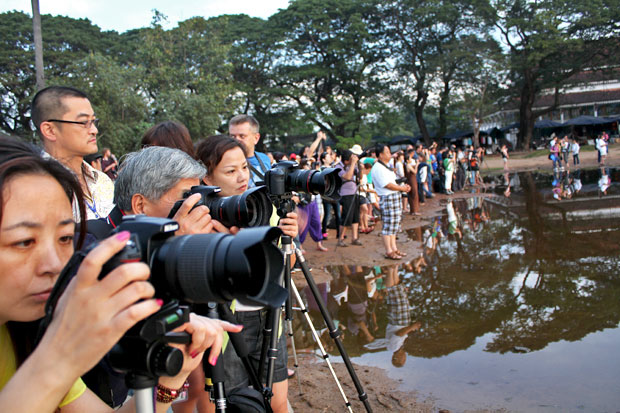 Other Temples
If you've visited the Angkor temples before, then you'll notice that there is one glaring omission here, Angkor Thom. The largest of all the Angkor temples and the second most visited after Angkor Wat, this exclusion wasn't deliberate. Having thought the entire time that we had already visited it, I only found out when assembling this post that we in fact had missed it altogether. DOH! I told you we weren't avid temple-goers. 😆
Reading up on Angkor Thom, I find out that the grounds are massive, covering nine square kilometers, most of which leaves you exposed and under the sun. Ren would have hated that. There is one thing though that I definitely regret not seeing, and that's Bayon Temple, which is nestled within Angkor Thom, and home to those massive, carved stone heads pictured below.
Ren doesn't really care about the oversight, and truthfully, I probably wouldn't either if it weren't for this blog and my DSLR. But the fact is, I do, so I'm kinda kicking myself in the head for the stupidity. Oh well, at least we got to try "happy" pizza. 😆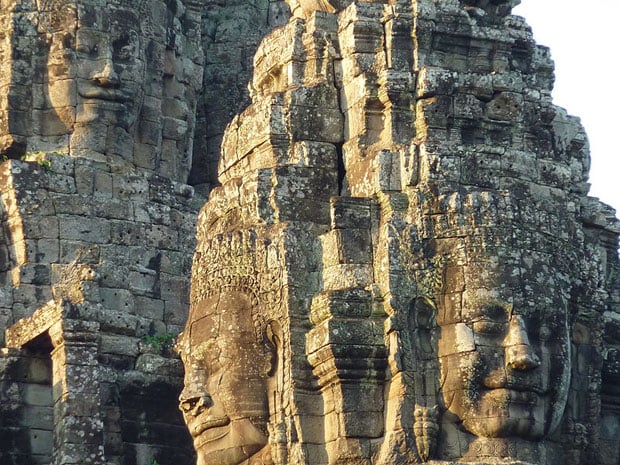 By Photo Dharma from Penang, Malaysia (002 Tower Faces) [CC BY 2.0], via Wikimedia Commons.
Other Places of Interest
Apart from the Angkor Archaeological Park, there really isn't much else to see in Siem Reap, which is just fine since the temples will be taking up most of your time anyway. Aside from the Landmine Museum below, other sites frequented by tourists are the floating village on Tonle Sap Lake and the Angkor Silk Farm. Being Asian, neither attraction was really new to us, so we decided to pass on both, especially since they were located several kilometers away from the city center. But if you've never experienced anything like that, then I'm sure that they'd be well worth your visit.
Landmine Museum
This landmine museum is on the way to Bantaey Srei, and is a must-stop on your return trip back to town. Entrance was USD 3.
Founded in 1997 by Aki Ra, a former Khmer Rouge child soldier turned landmine defuser, it tells the story of landmines in Cambodia, and their sobering impact on the country's past, present, and future. Apart from being a museum, it's also a relief facility home to village children who are still at risk from countless, undefused landmines scattered throughout the country. You have to understand that no records were kept of said landmines, making the threat very real and ever present.
For his lifelong, life-threatening work freeing his country from landmines, Aki Ra was chosen as a Top 10 CNN Hero in 2010. A well-deserved honor.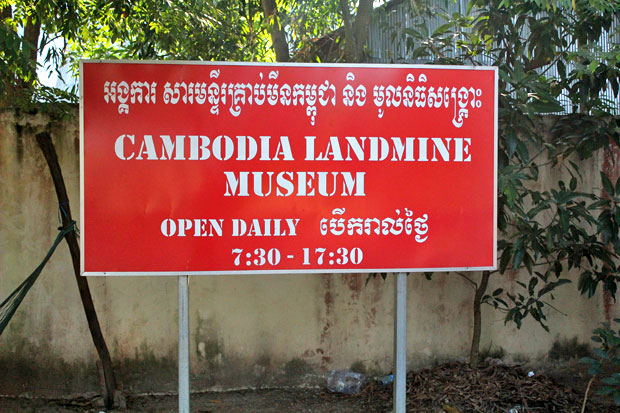 The ghosts of war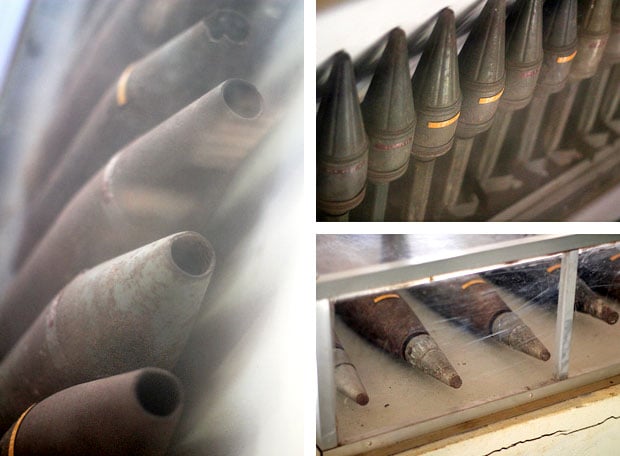 Once activated, landmines will stay active and ready to go off forever.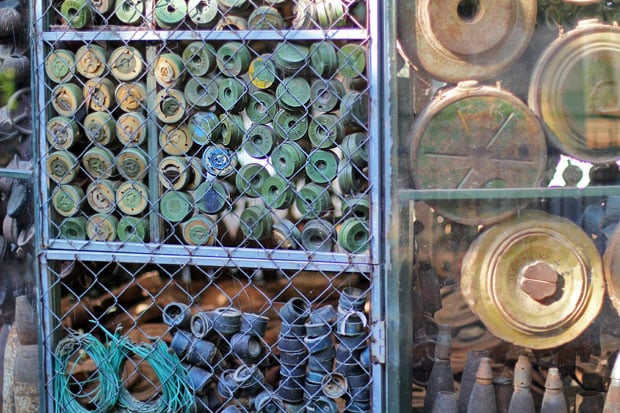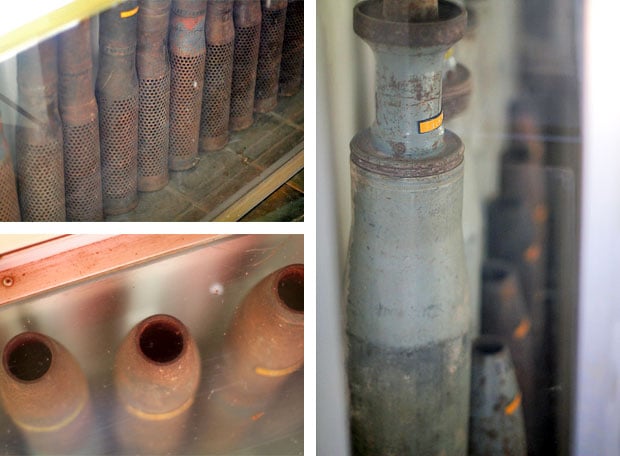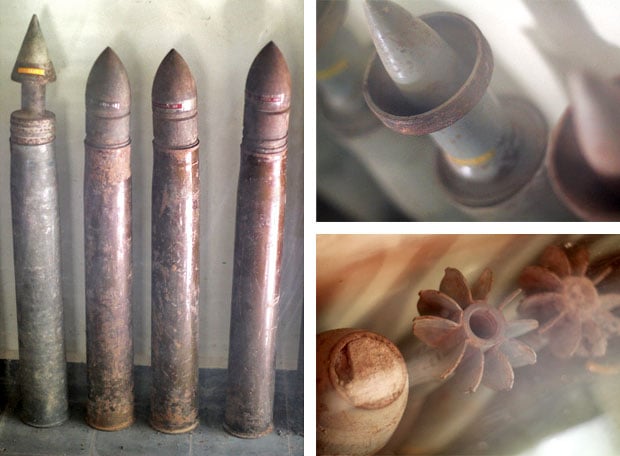 It costs approximately USD 1 to produce one landmine. It costs approximately USD 1,000 to find and defuse it.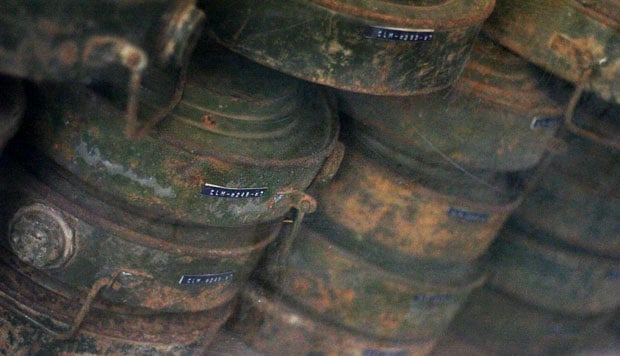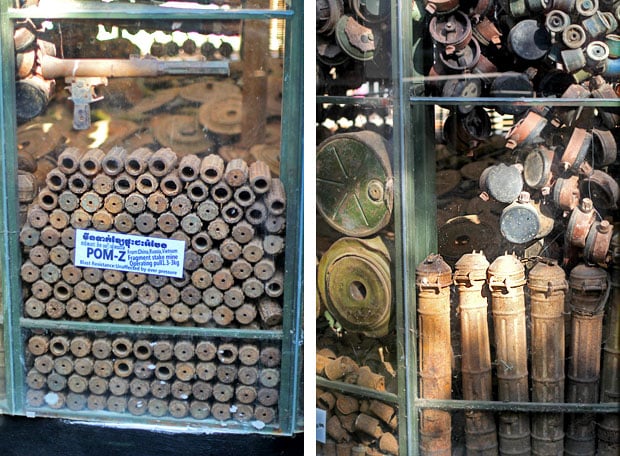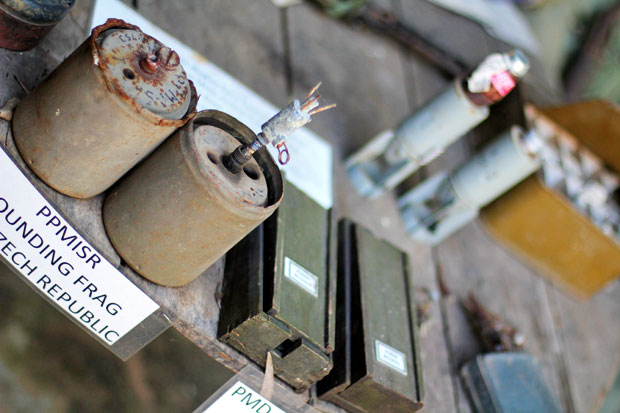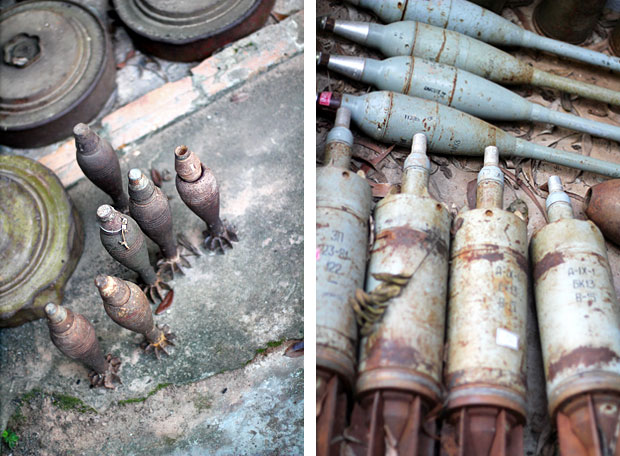 Landmines were designed to maim, not kill, the rationale being that a wounded soldier is more expensive than a dead one.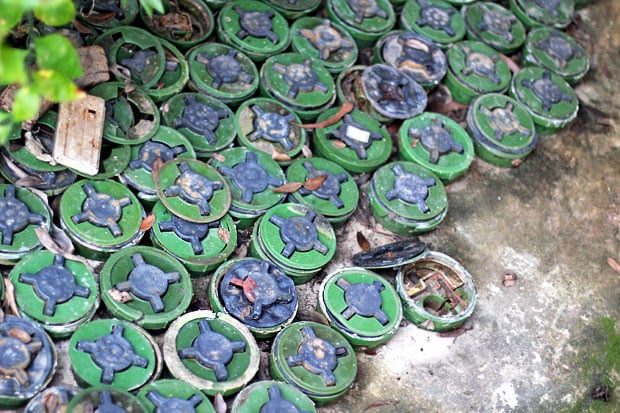 A harrowing image that summarizes the debilitating impact of landmines on this country. During our trip, I spotted a few beggars and peddlers short of limbs, undoubtedly a result of inopportune encounters with landmines.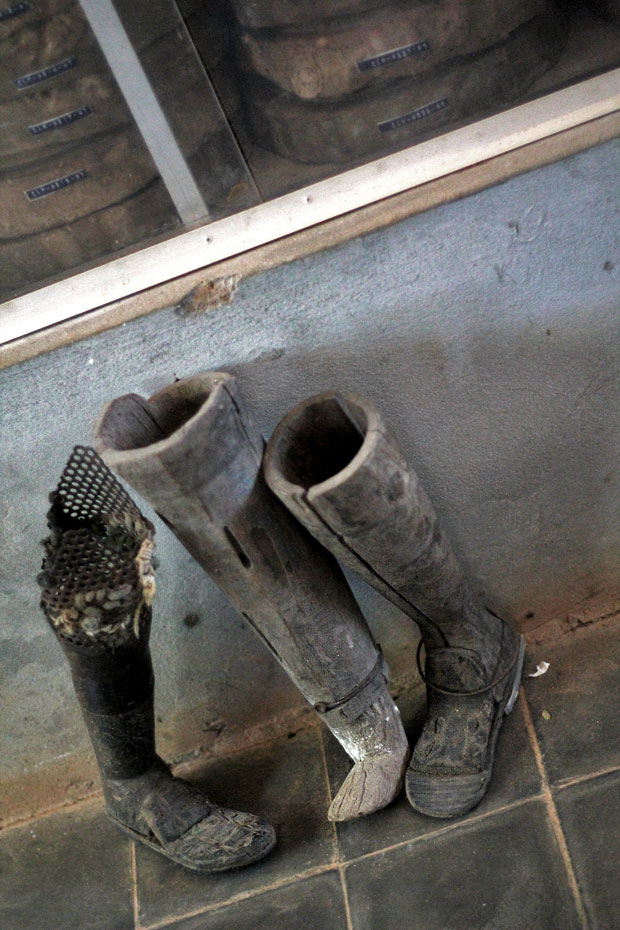 Angkor Butterfly Center
On every trip, I make sure to visit the local zoo. Siem Reap didn't have one, so I went to this butterfly center instead. A nice, refreshing deviation from the norm, it imparted some variety to an otherwise temple-centric trip.
Like the landmine museum, it's on the way to Bantaey Srei, so you can make a quick stop here on your return trip. Entrance was USD 4.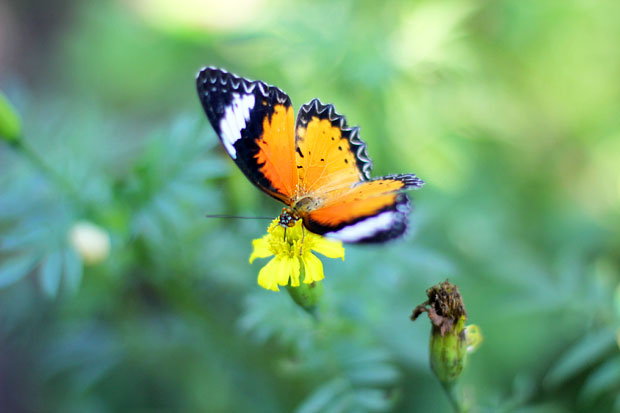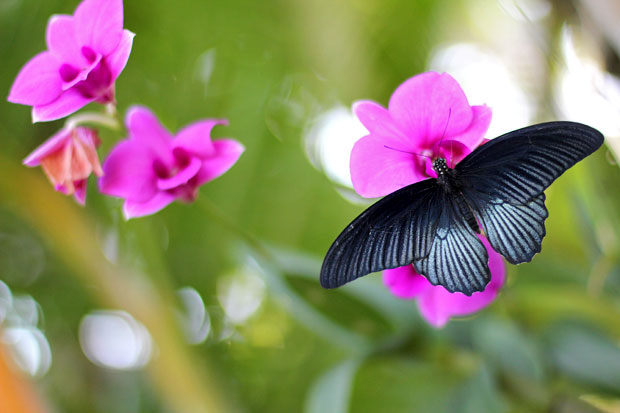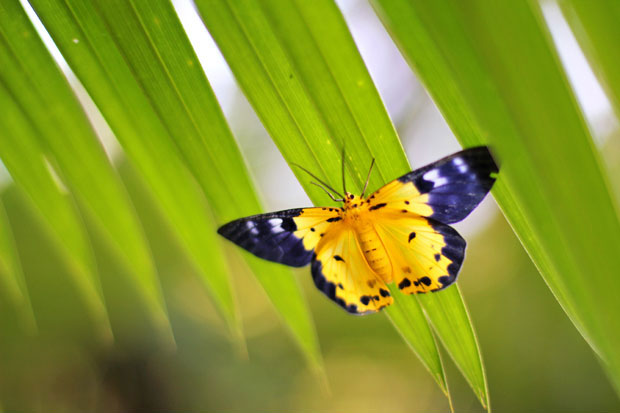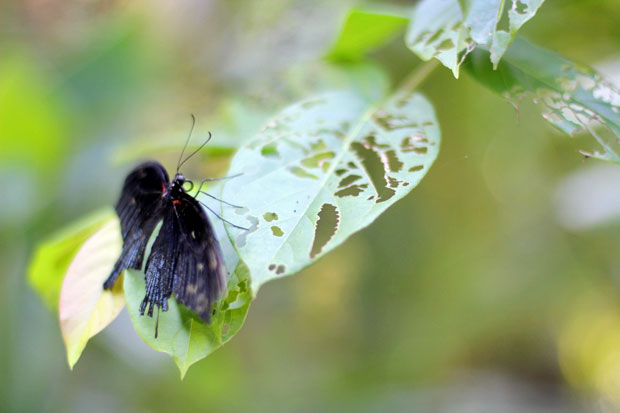 A collection of chrysalides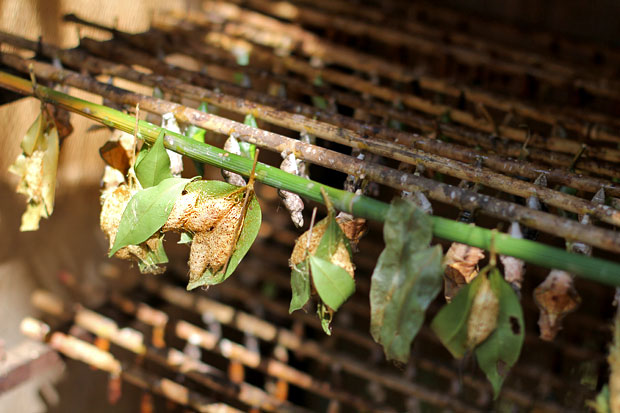 A large Birdwing Butterfly emerging from its pupa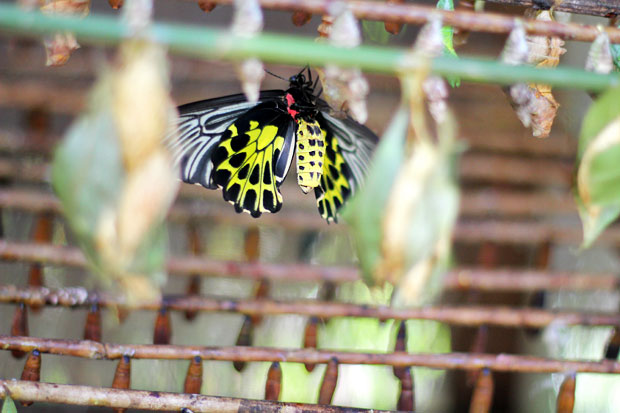 Hope for the flowers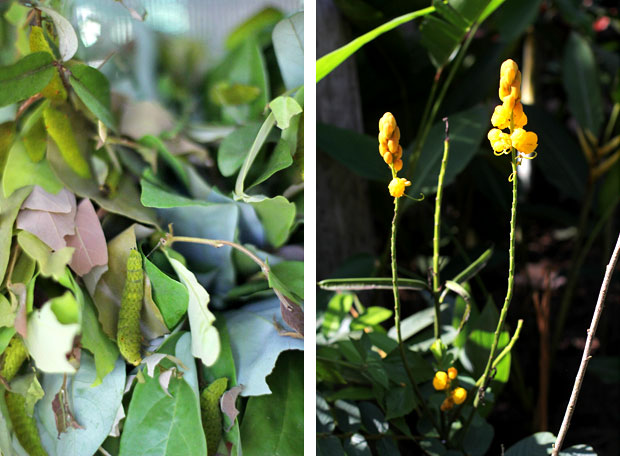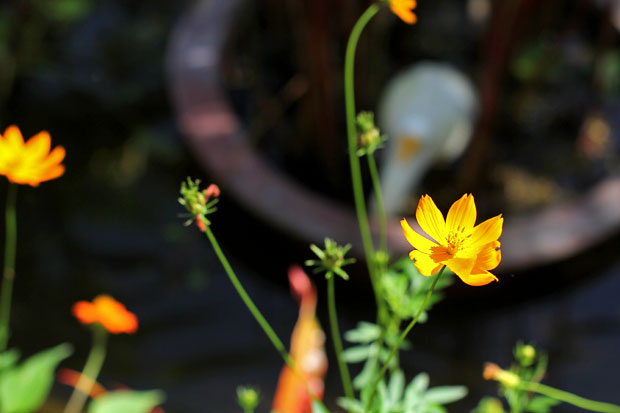 Pitcher plants. My first time seeing these from up close, pitcher plants, like Venus Fly Traps, are carnivorous plants. They attract insects with visual lures or nectar, causing them to slip and fall into the trap where they drown and are gradually dissolved by the liquid within. Wicked. 😈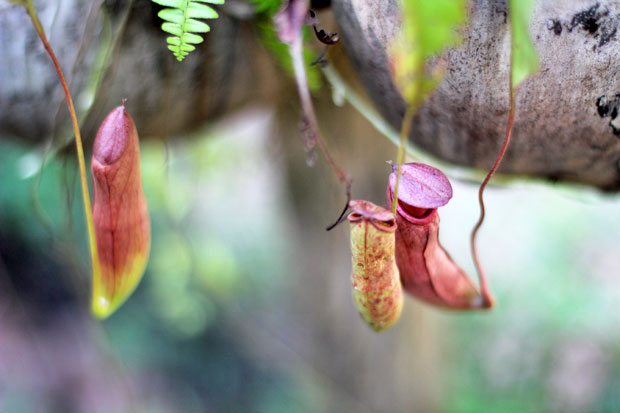 A trio of phasmids. That's "stick insects" to you non-geeks. 😉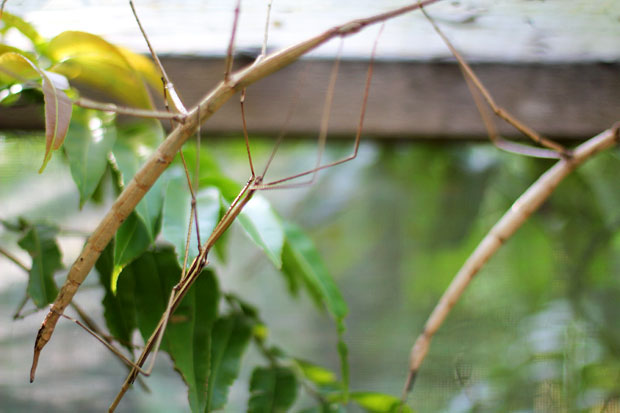 Afterword
Here for our 7th wedding anniversary, this was but one of two photos taken during the entire trip that included both Ren and I, and I came back with nearly 7 GB worth of photos. It always makes me slightly unnerved to hand my camera off to someone else, an apprehension justified by the guy who took this picture, who admitted that he had never before held a DSLR in his hands. 😆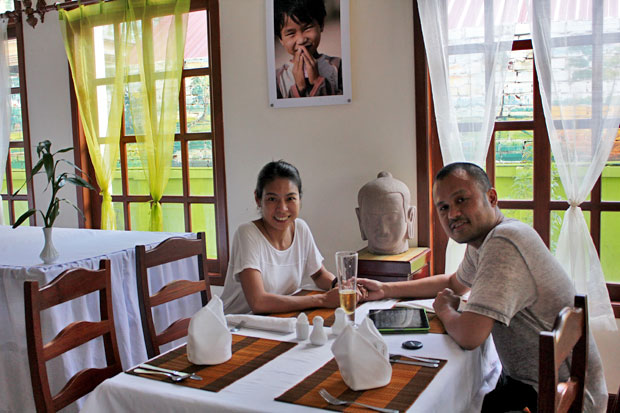 In hindsight, based on our leisurely itinerary, we probably could have shortened our trip by a day and still gotten everything done. However, that would have meant having to go at a more frenzied pace, which neither Ren nor I are too keen on doing. This was a vacation after all, and we always like to feel relaxed and unhurried. Spending a carefree day at the local market is just as important to us as visiting the temples, so the length of our stay was just perfect for us.
As previously mentioned, I do regret having missed Bayon Temple and Angkor Thom, so that would be the one thing that I would do over. With that said, it's a small regret in the grand scheme of things because we had a terrific time regardless. If you're like us and not really temple-crazy, then all the temples will feel a little "same same" after a while. For me, there's really no need to check them all out. Provided that you visit Angkor Wat, Angkor Thom / Bayon Temple, Ta Phrom, and Bantaey Srei, then you've had a complete Angkor experience in my book. If you do go to Bantaey Srei, be sure not to miss the Landmine Museum as well. With landmines still a threat here, they are very much relevant to present day Cambodian life and thus worth learning about. You can easily visit all these temples, plus the Landmine Museum, in just two days.
As for the food, we were hoping to try more local exotic fare like giant spiders and fried bee larvae which I had previously read about. I asked around and apparently, such exotic fare may no longer be sold legally in town, so you have to go to more remote villages to find them. Oh well, no worries as we were quite pleased with the more conventional cuisine that we did get to try. Among all the food that we ate and all the restaurants that we went to, I suggest getting some Cambodian BBQ for the experience, going to Viroth's and The Square 24 St for delicious but inexpensive Khmer food set in beautiful, non-touristy surroundings, and of course, getting a slice of heaven at Happy Herb Pizza for an afternoon of smiles, harmony, and all-around good vibes. 😉
Thank you Siem Reap and Angkor Wat for the most unforgettable trip! We loved it. 😀
CLICK HERE for a First-Timer's Travel Guide to Siem Reap, Cambodia
Disclosure
Some of the links in this post are affiliate links, meaning we'll get a small commission if you make a purchase or reservation at NO extra cost to you. We really appreciate your support as this helps us keep this website going. Thank you!
JB is one half of Will Fly for Food and its chief itinerary maker.  He's the one to blame for all the crappy photos and verbal diarrhea on this blog.  Don't listen to him.
Latest posts by JB Macatulad (see all)