A lot of restaurants in and around Pub Street in Siem Reap, Cambodia offer Cambodian BBQ, or Phnom Pleung as it's traditionally called, which literally means "Hill of Fire". At first, I thought this to be a bastardized tourist phenomenon, but a quick Google search told me otherwise. It's basically similar to Korean BBQ, in that you have a small burner on your table where you cook the proteins yourself, the primary difference being the well around the perimeter in which to boil noodles and vegetables.
Cambodian BBQ is sold around town as set "degustation" meals, with many protein combinations to choose from, both conventional and exotic. Of course, being the ever inquisitive, intrepid eaters that we are, Ren and I opted for the most exotic set meal, consisting of kangaroo, crocodile, snake, beef, and shrimp proteins, all for just USD 13. 😈
First, your server kickstarts your meal by pouring water along the perimeter of the grill. There he'll place all your vegetables and noodles to boil, before greasing the center of the grill with that big hunk of pork fat.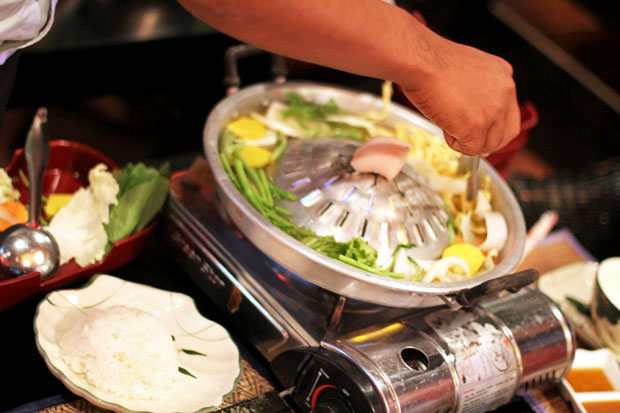 Once adequately greased, he then lays out the first course of proteins to cook, before leaving the rest to you.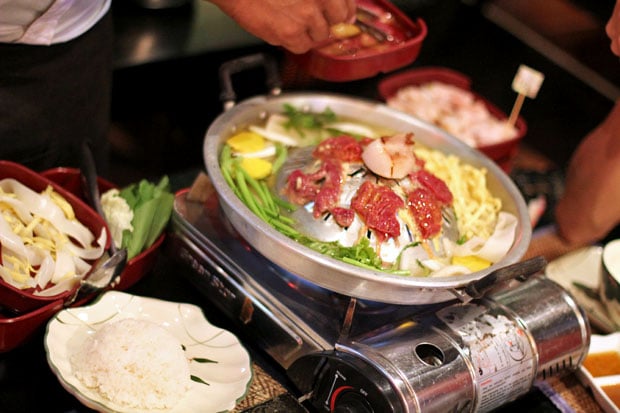 First course: Kangaroo. We've tried kangaroo meat once before, at Wolfies in Sydney, Australia, and we both enjoyed it. It's very similar in taste and texture to beef, except gamier. Unless something is too gamey, I welcome gaminess as more flavor, so I thought the kangaroo to be better than beef in that regard.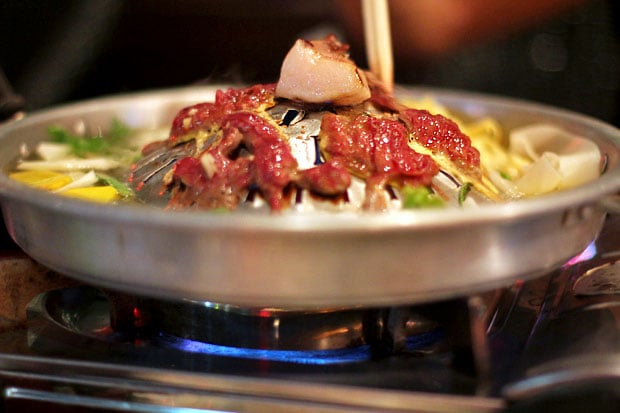 Second course: Crocodile. I've tried crocodile meat once before as well, and it tasted similar to chicken, but chewier. Because crocodile meat contains little fat, it can be hard to cook. This one was especially tough and chewy.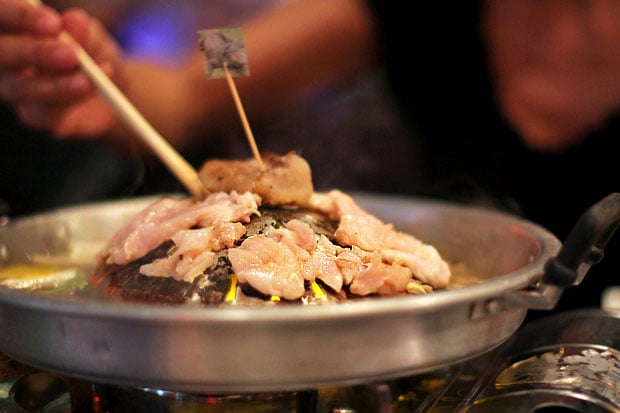 Third course: Snake. Our first time trying snake meat, it was nearly identical in taste and texture to the crocodile, except even tougher, giving my jaw a good workout. Born with incisors designed to chew only on French macarons and canonigo, Ren didn't like it at all.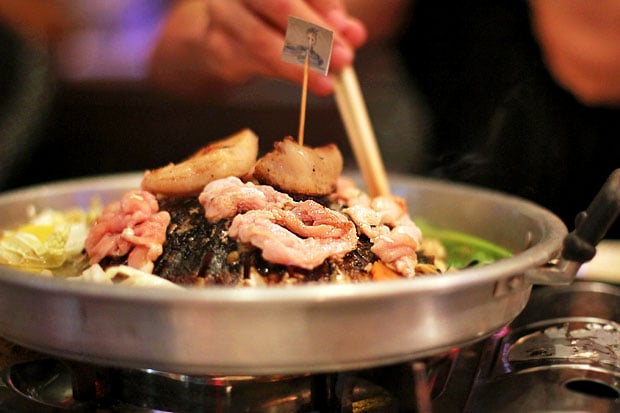 Fourth course: Beef. There's the beef.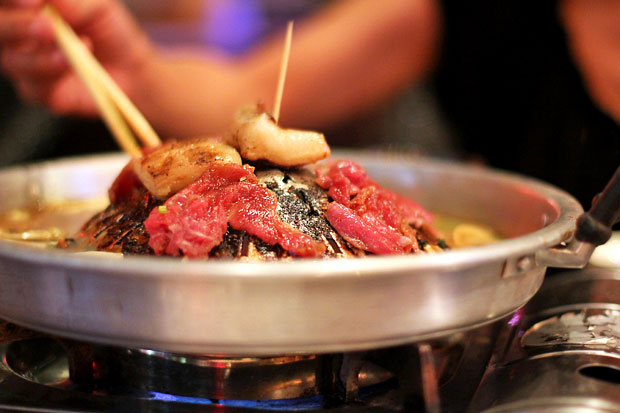 Fifth course: Shrimp. These weren't the freshest specimens, so I wound up eating all three pieces. Ren's allergic to seafood that isn't ultra fresh, making her lips puff up like Angelina Jolie. In hindsight, I probably should have coaxed her to eat one, just to complete the Lara Croft, Tomb Raider look. 😆
This was my least favorite of the five proteins, so I probably would have substituted it for something else, like frog, just to make this meal as exotic as possible. 😉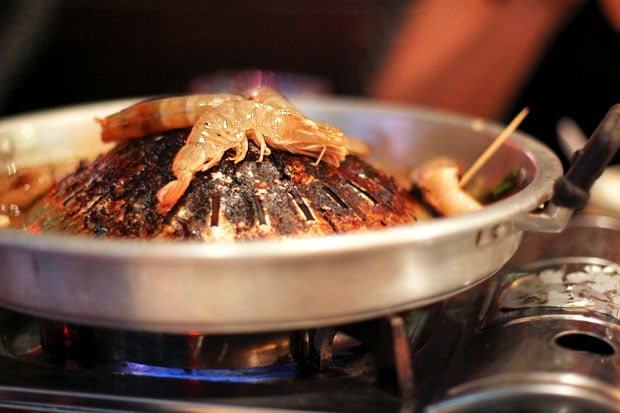 Three sauces in which to dip your cooked proteins. If I remember correctly, the left was sweet and sour, the middle peanut-based like satay sauce, and the right fruity and acidic, perhaps made with tamarind. You really needed these because as with most of the Khmer food that we tasted on this trip, the proteins were underseasoned and lacked flavor. I liked the tamarind-based sauce the best.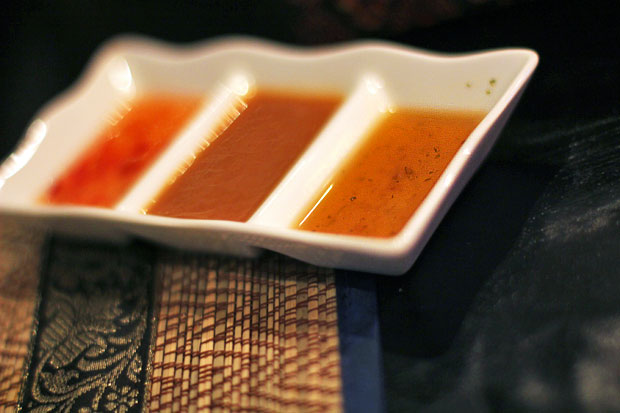 Overall, this meal was more fun than good for all the reasons described above. Regardless of its shortcomings however, I enjoyed it immensely, simply because it gave me a new and exciting experience. Unless we go back to Cambodia, I don't think I'll ever get to try Phnom Pleung again, so this was an experience that I will definitely remember forever.
If you ever visit Siem Reap, then I suggest you try this just once for the experience. And no worries, if you're not an adventurous eater, there are plenty of other conventional proteins for you to choose from, like chicken, pork, or fish. If you can muster up the courage to try something new though, then I suggest you at least sample the kangaroo, because it really is quite good. 😀
For more Siem Reap travel tips, check out our First-Timer's Travel Guide to Siem Reap, Cambodia