In celebration of our 7th wedding anniversary, Ren and I flew to Siem Reap this December, to go tomb raiding in Angkor Wat.
Though more a nature guy myself, who in most cases would prefer a quiet trek through the woods over anything manmade, Angkor Wat, modestly put, is a rare exception. A Cambodian national symbol and a structure unlike any other on Earth, it is transcendent and iconic, and worthy of a spot high on anyone's bucket list. A 16th century Portuguese monk put it best, when he described it as being "of such extraordinary construction that it is not possible to describe it with a pen, particularly since it is like no other building in the world. It has towers and decoration and all the refinements which the human genius can conceive of."
Today, almost 500 years later, the sincerity and awe in that monk's words still ring true, and I for one, feel extremely blessed to have seen and photographed it.
Here are pictures from our 2012 Angkor adventure.
Tuk Tuk
Meet the tuk tuk, your chariot in Siem Reap. Unless you rent a bicycle or hire a car, you'll be riding this to and from the temples. The breeze from the ride feels a lot like airconditioning after a hot, exhausting day exploring temples. Booking all trips through our hotel, here's what we paid for each round trip for two.
Angkor Wat (sunrise or sunset, just one temple, half day) – USD 5
Angkor circuit (several temples, all day) – USD 15
Bantaey Srei – USD 22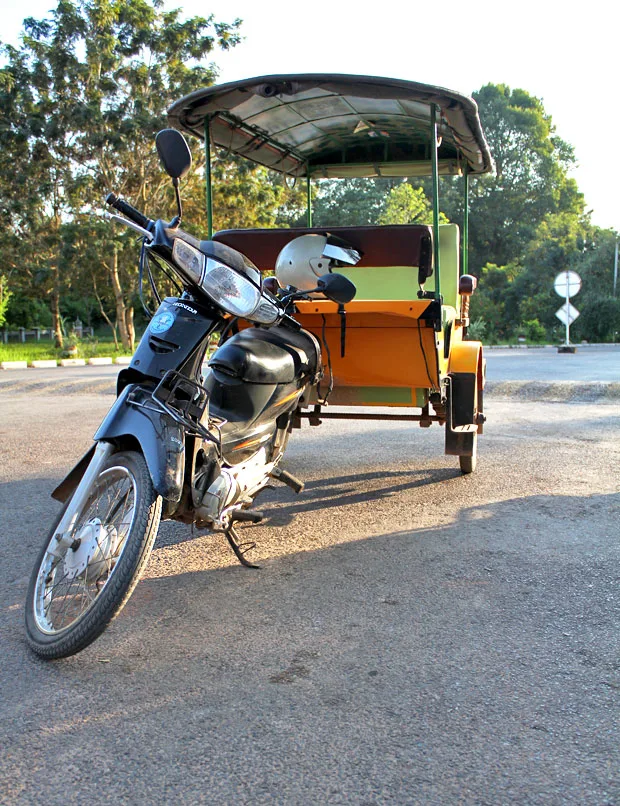 The lovely passenger. ♥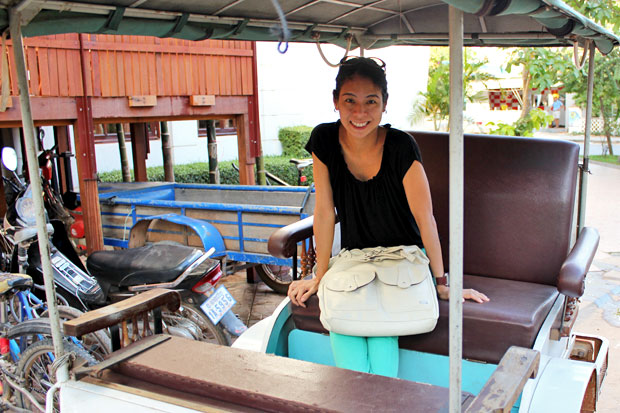 Tickets
If you're only in Siem Reap for a day or don't care too much about temples, then the one-day pass is fine. For a more complete experience that doesn't feel too rushed, then the three-day pass is perfect. It's good for the entire week so you can choose on which days you'd like to allocate those visits. Here are the ticket prices as of April 2021:
One day – USD 37
Three days – USD 62
One week – USD 72
It's a good idea to purchase your tickets before 5 PM the day before you intend to use them, because they will allow you free entry into the park to watch the sunset from Phnom Bakheng Temple.
With our tickets in tow, off we went to Phnom Bakheng Temple to catch the sunset.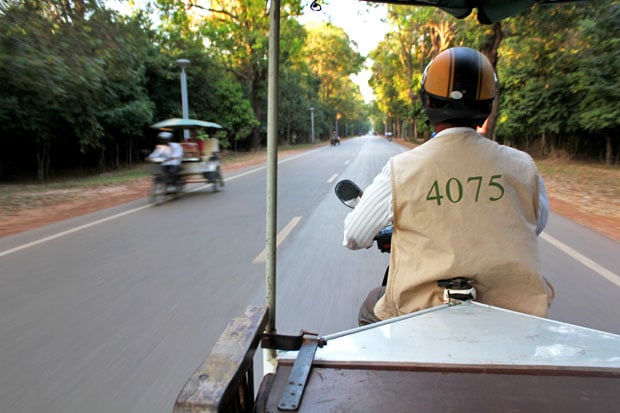 Phnom Bakeng (Free Day)
To reach the temple, you'll need to go on a moderately short hike up a hill. It isn't difficult, but the dirt road is full of gravel and teeming with tourists, so if you have any trouble walking, then I'd suggest skipping this altogether. As you'll soon learn, there are massive hordes of tourists everywhere you go in Siem Reap, making the experience somewhat taxing and frustrating at times.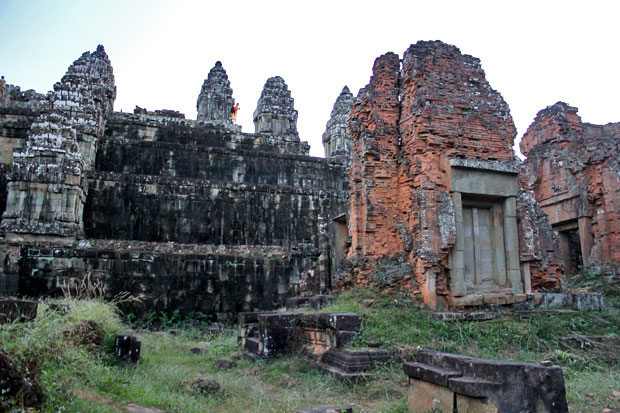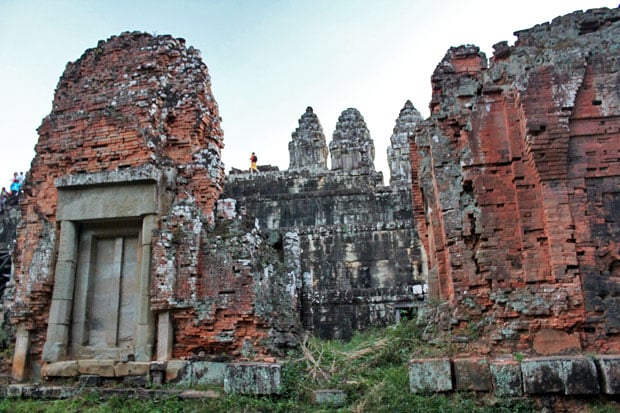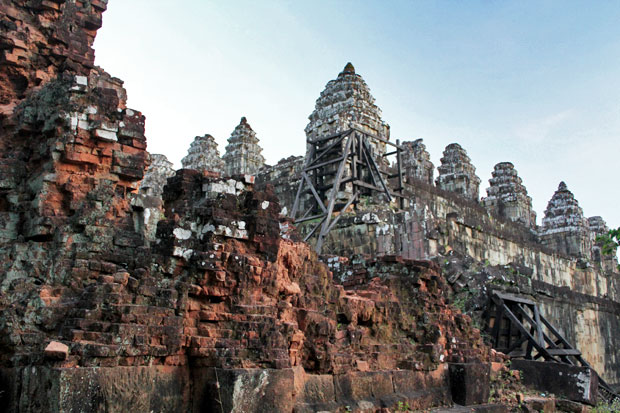 The sun, almost completely set. In hindsight, I probably would have skipped this myself. It is absolutely packed with tourists and their cameras jockeying for position, making it very difficult to get a clear shot of anything without having someone's head pop up in your frame. On top of that, the setting sun isn't really within context of any temple, resulting in a photograph that's just about the sun and little else.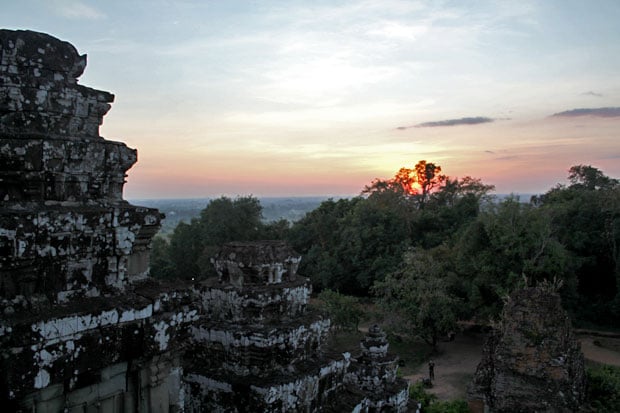 Ta Phrom (Day One)
Home to giant roots reclaiming the ruins, and where Tomb Raider was actually filmed! The sight of those massive roots enveloping the temples was awesome to say the least. Definitely a must-see.
A short, cool, shaded walk to the temple.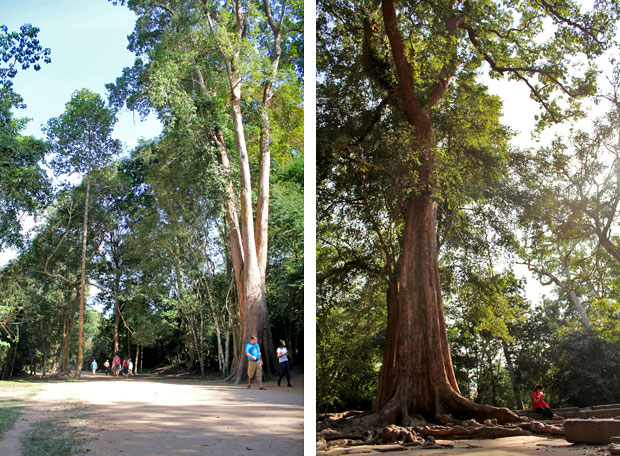 Here we go baby!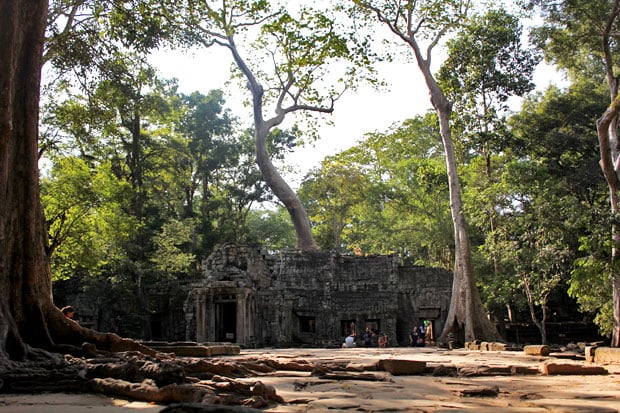 That. is. WICKED.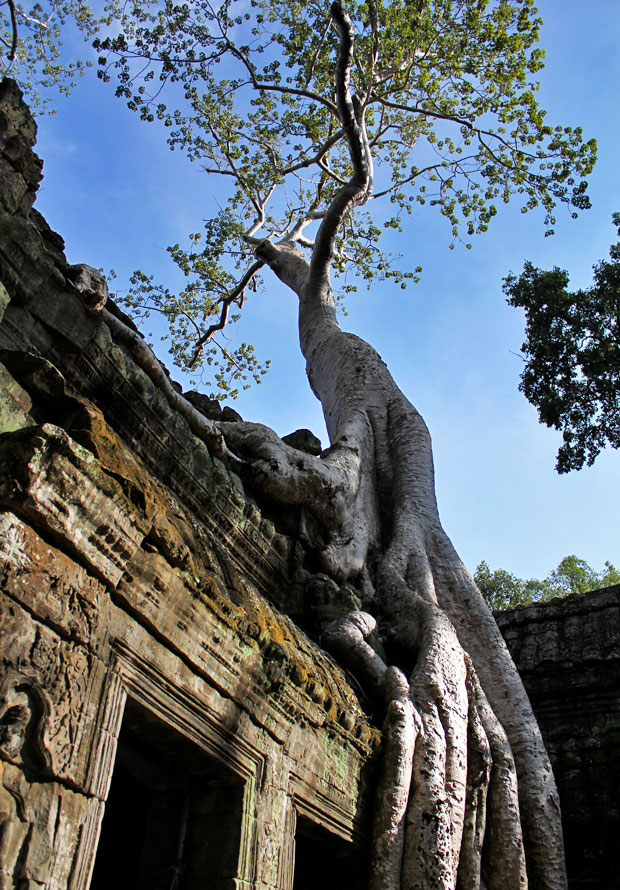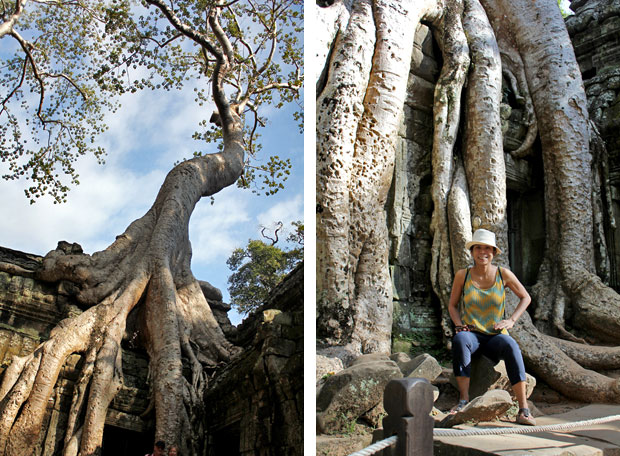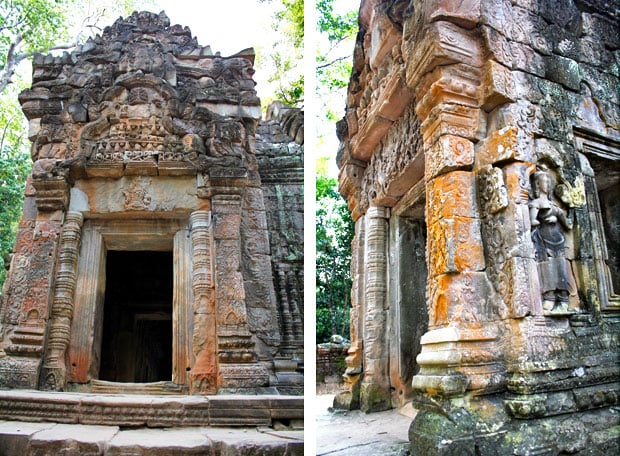 Interesting carvings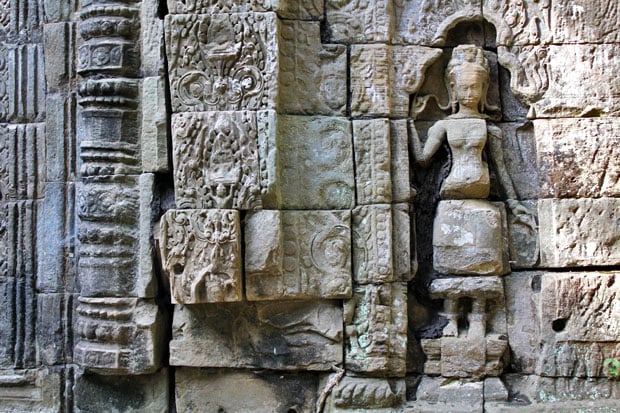 Signs of dilapidation…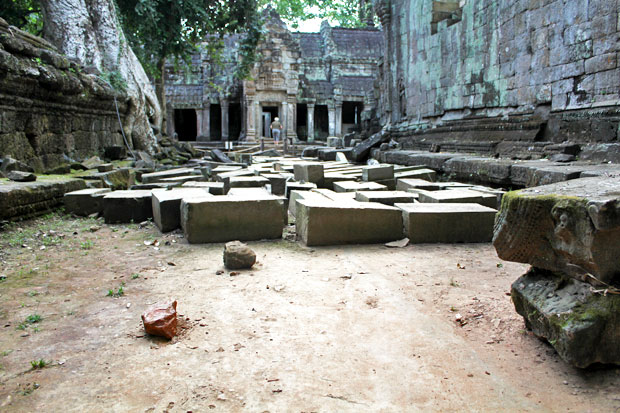 …and restoration all around.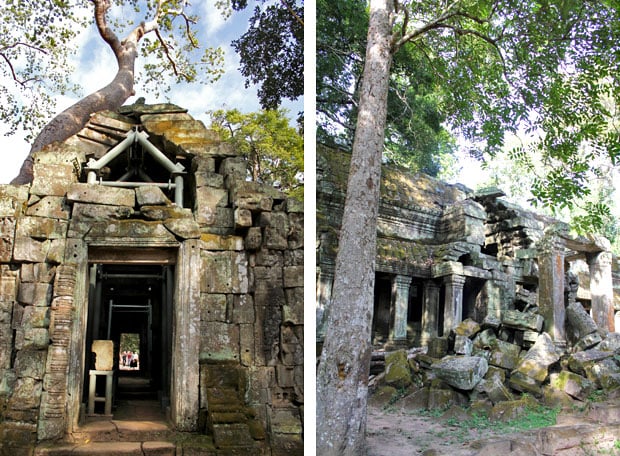 That is one massive root. That's what she said!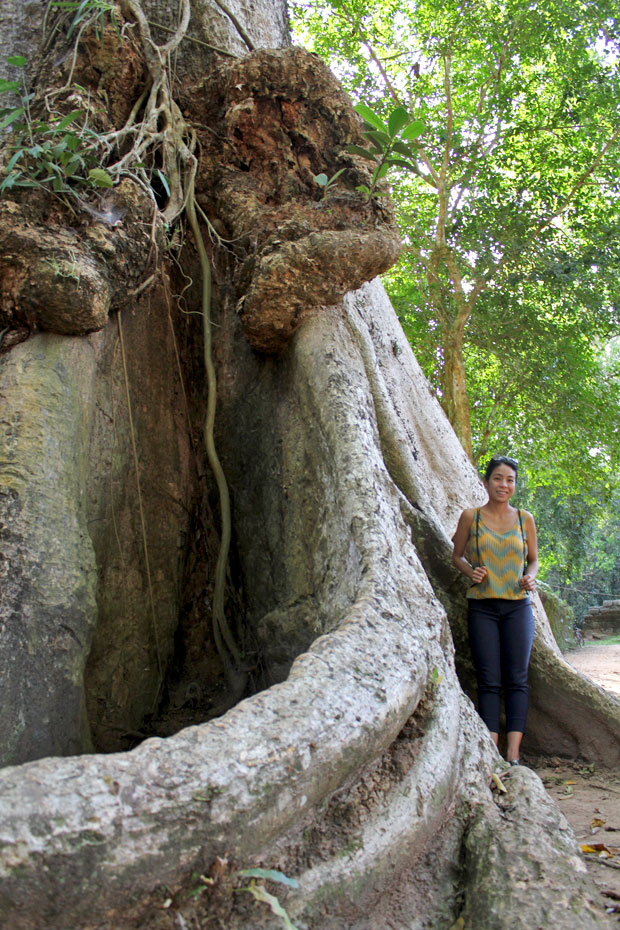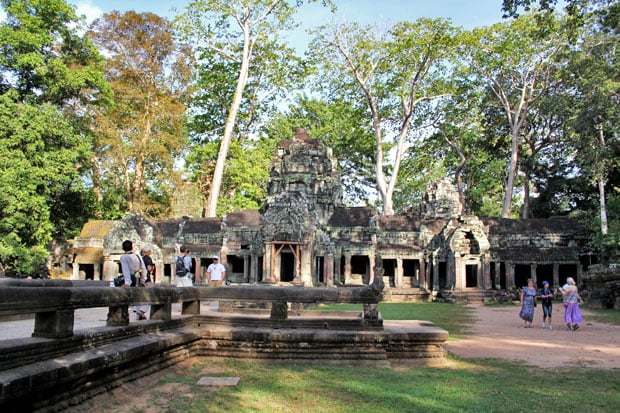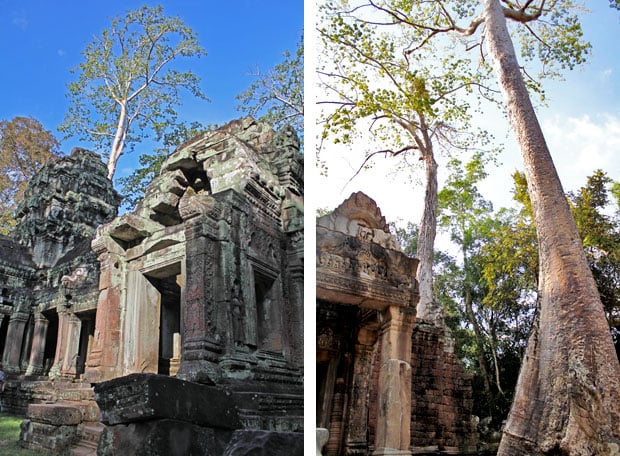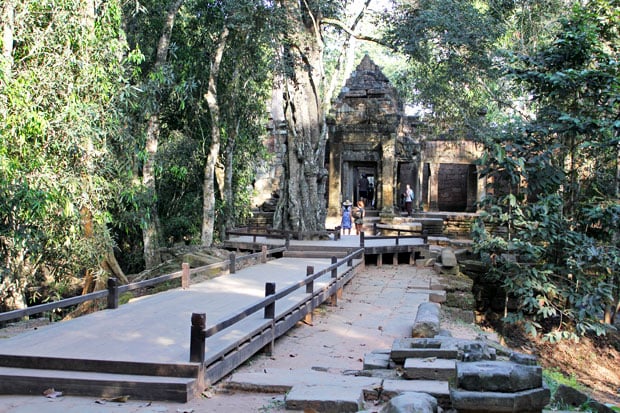 Hmmm, Lara Croft Lite looks like she's up to something.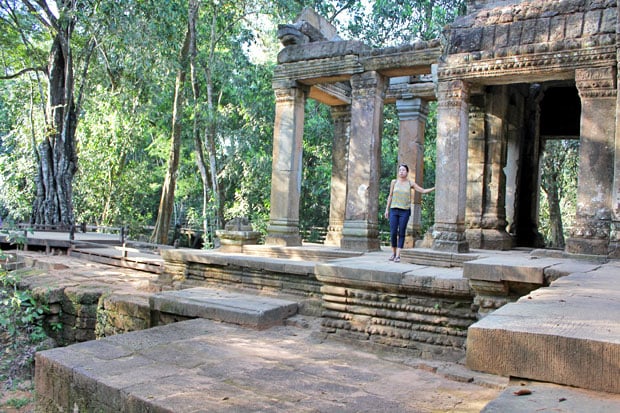 *facepalm*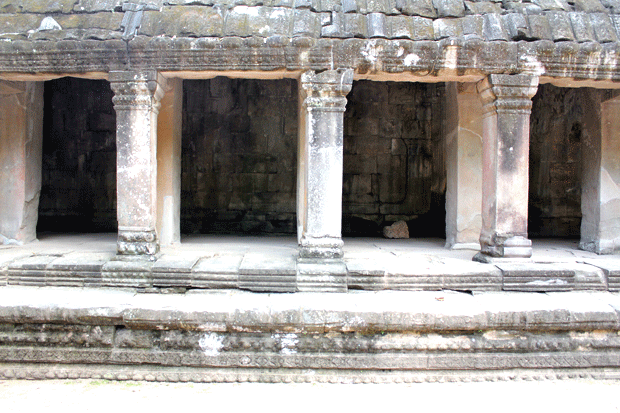 Ta Keo (Day One)
You know what this relatively small temple is all about? Steep, terrifying, vertigo-inducing steps. Lots of them.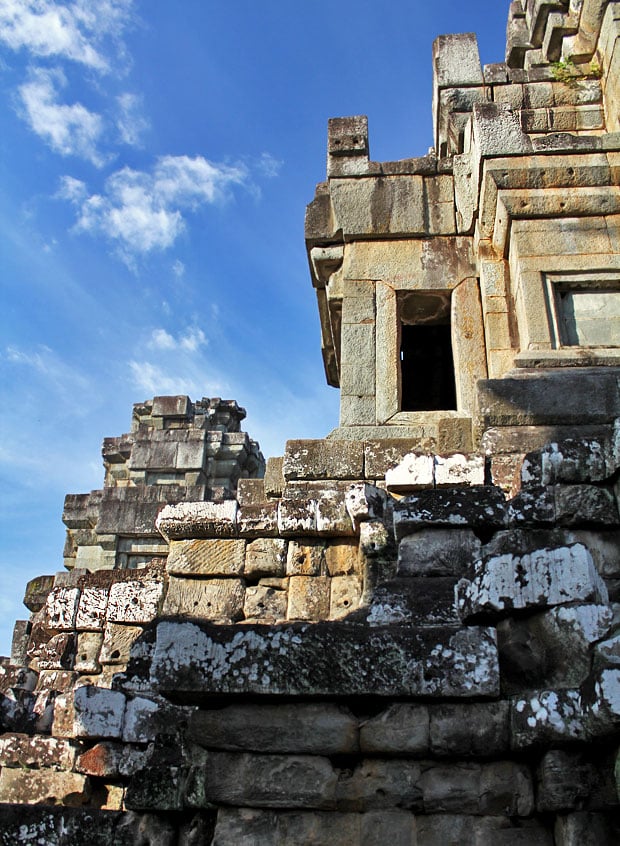 Nope, that's not what I'm talking about.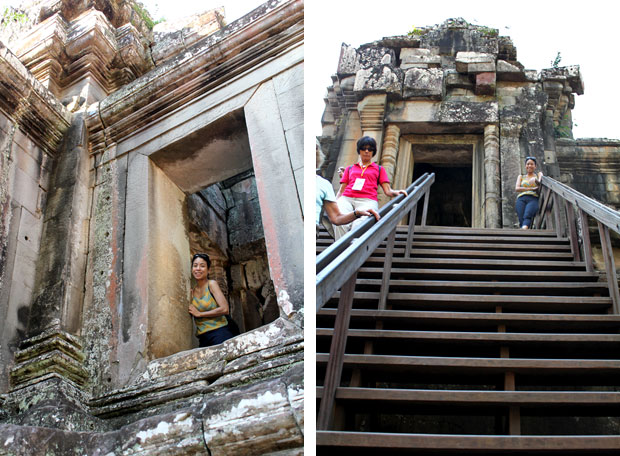 THAT'S what I'm talking about. To be honest with you, this picture doesn't even do the narrowness and incline of the steps any justice. If you have paddles for feet, then walk sideways.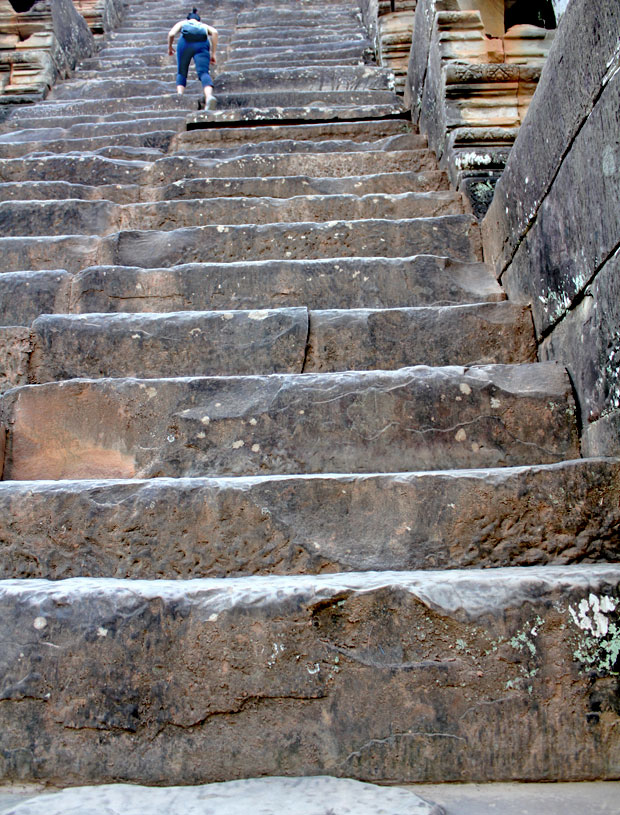 View from the top. See what I mean? At this point, I'm asking myself, "What the fuck did I just get myself into?"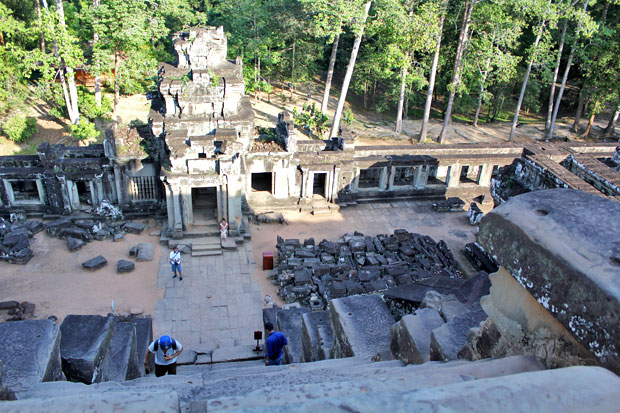 But wait, there's more! 😆 Though not for us, because my height-fearing ass has climbed high enough.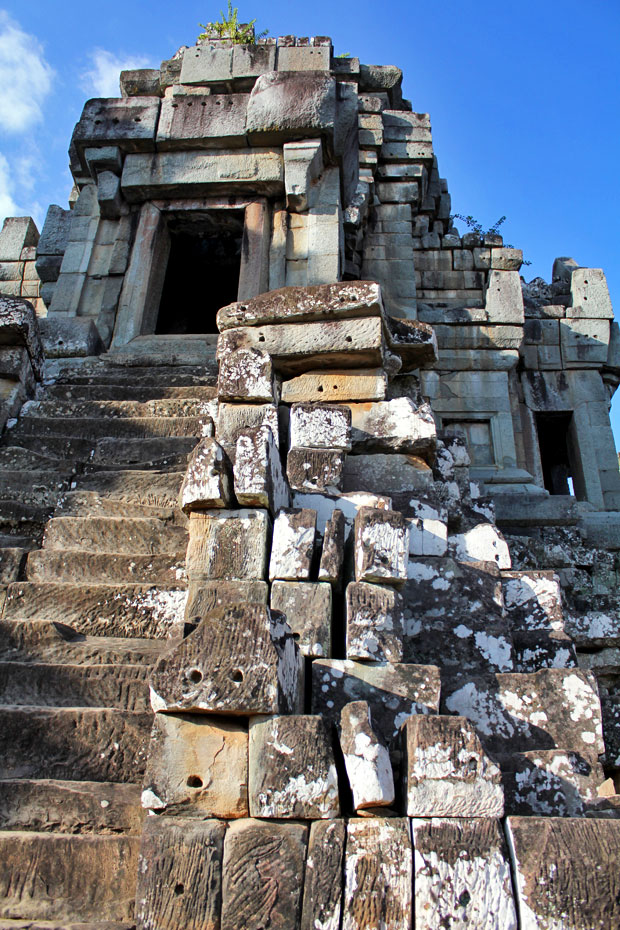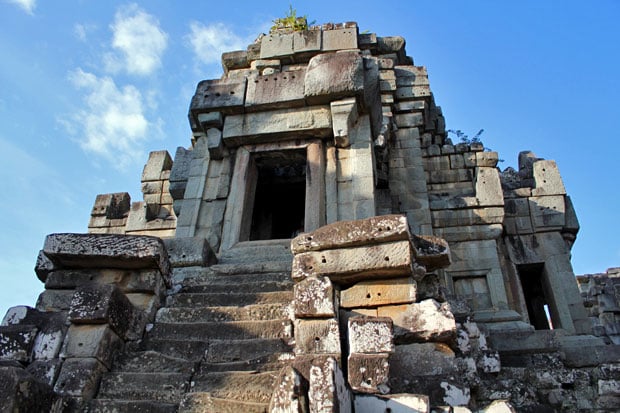 Now begins the precarious climb down. Notice how these wimps are going down sideways? Well, the way I went down was way manlier. I climbed down Spider-Man-style, completely facing and hugging the steps all the way down.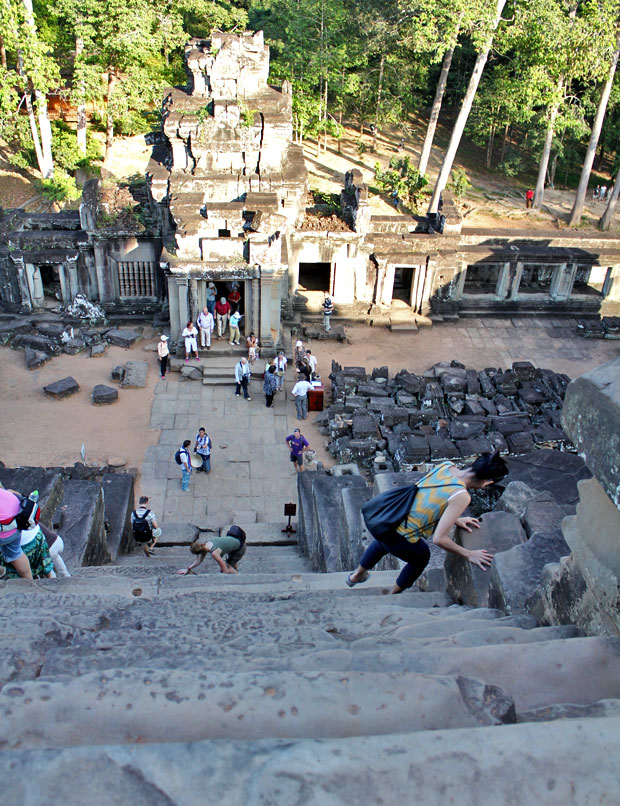 Angkor Wat (Day One)
The Holy Grail of temples. This iconic structure, much like the Great Wall of China, the Pyramids of Giza, or Machu Pichu, is something that you definitely need to see. The largest Hindu temple complex in the world, it is a massive structure surrounded on all sides by a moat. How they managed to build this thing in the 12th century is absolutely mind-blowing.
Ren posing with the temple guardians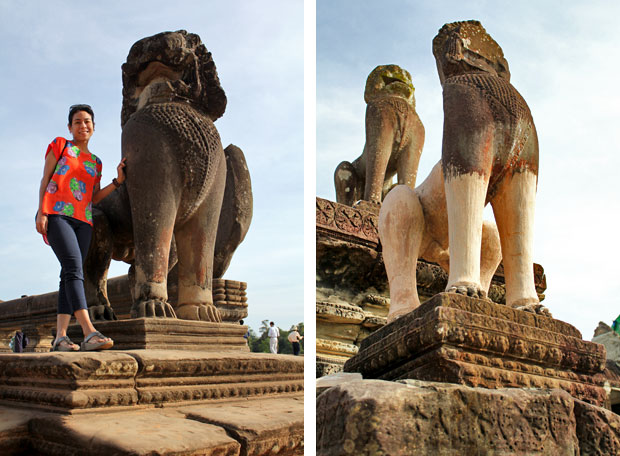 The long walk towards the temple. Notice the moat on either side.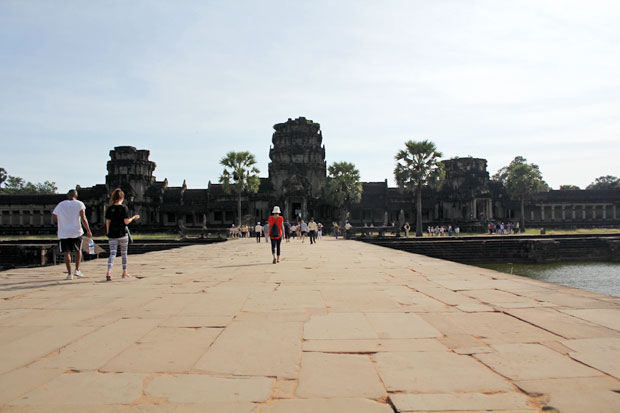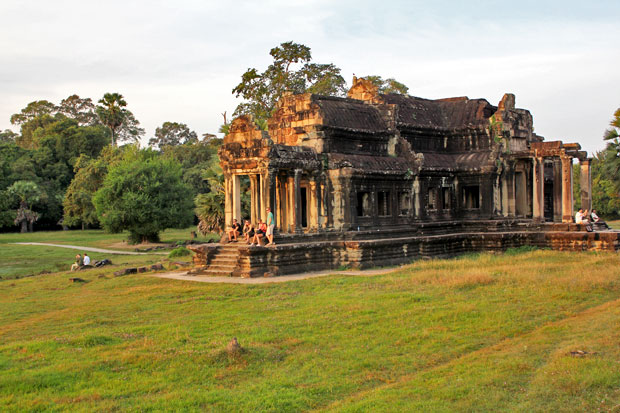 ♥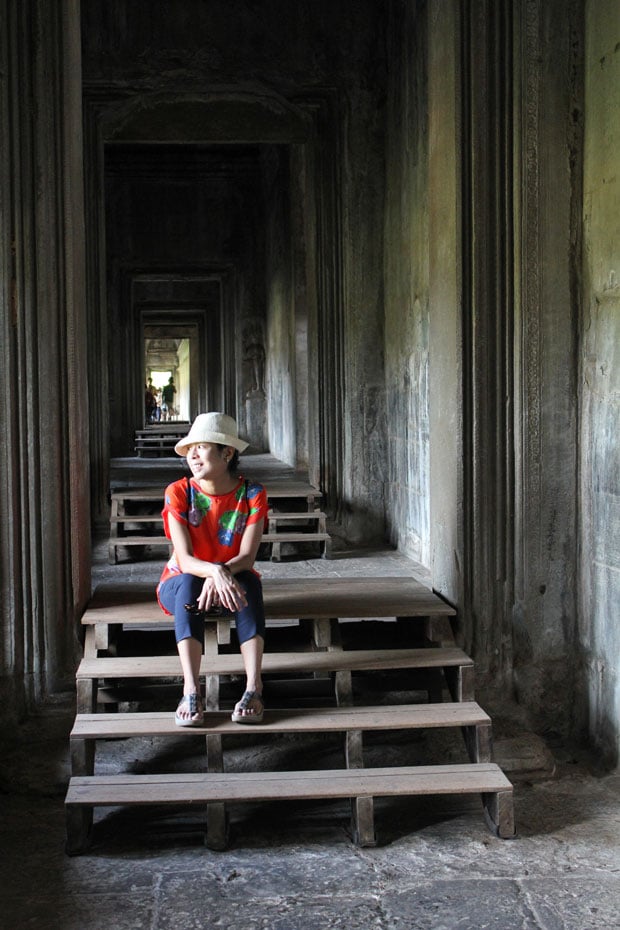 Intricate carvings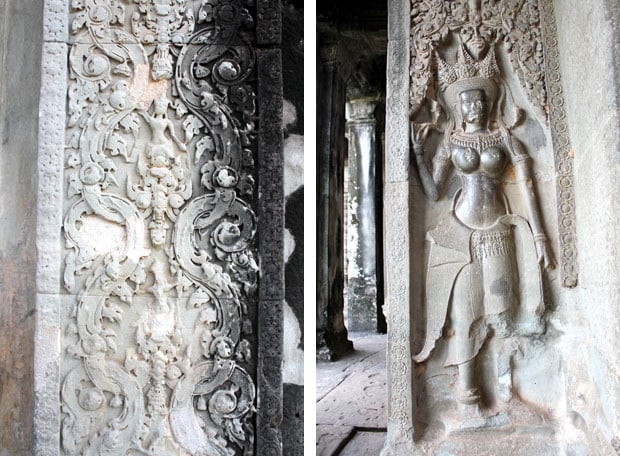 Ren swallowed up by an entire wall of carvings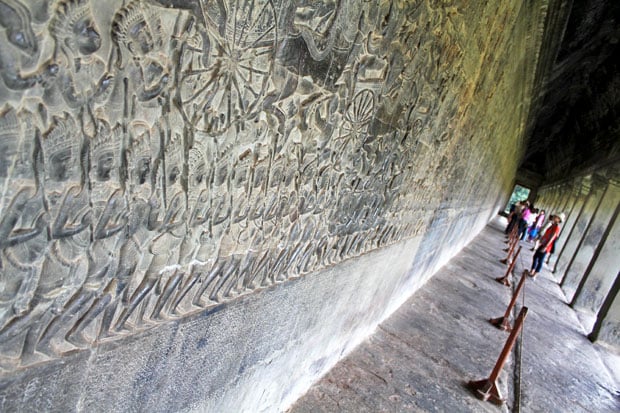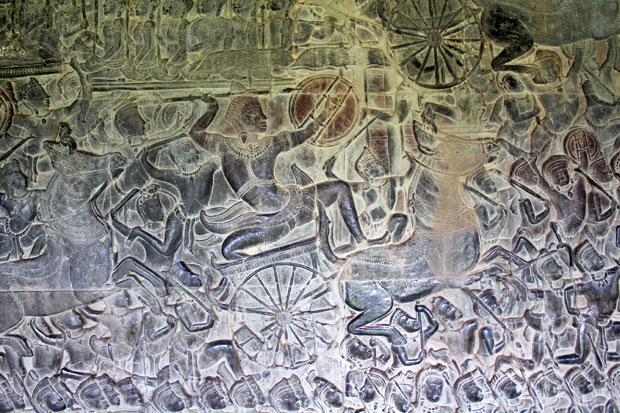 I can't even begin to think how long some of these carvings took to make.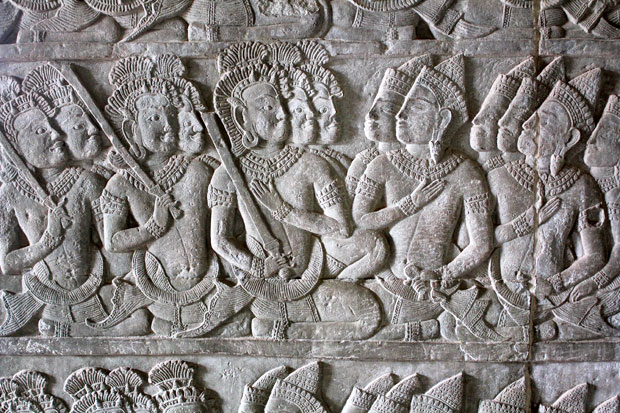 All templed out sweetheart?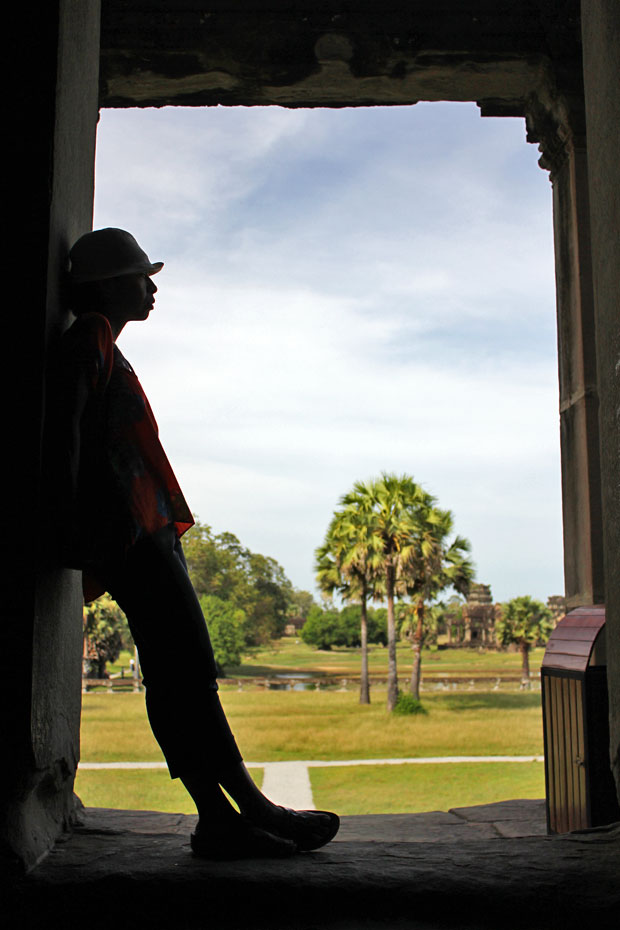 Strike a pose!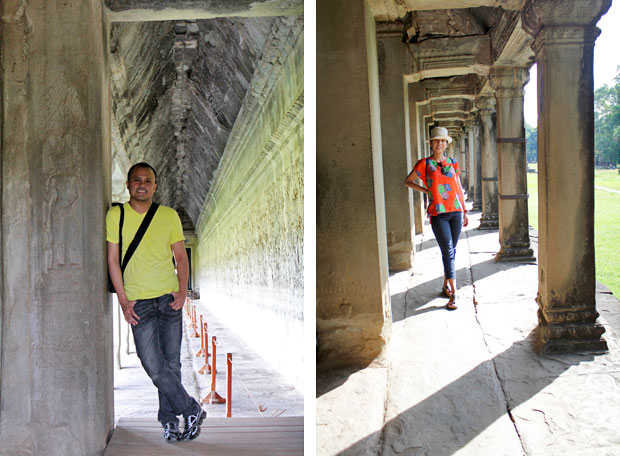 When in Rome. Of course, my dyslexic, can't-tell-my-right-from-my-left-ass has it the other way around.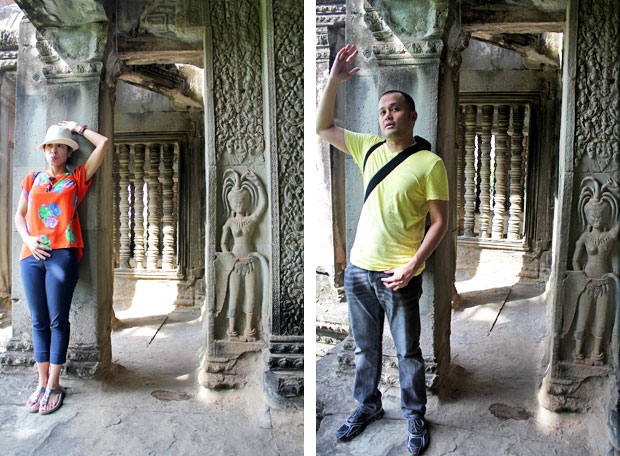 Ok, back to the temples…Oooooohhh, more carvings…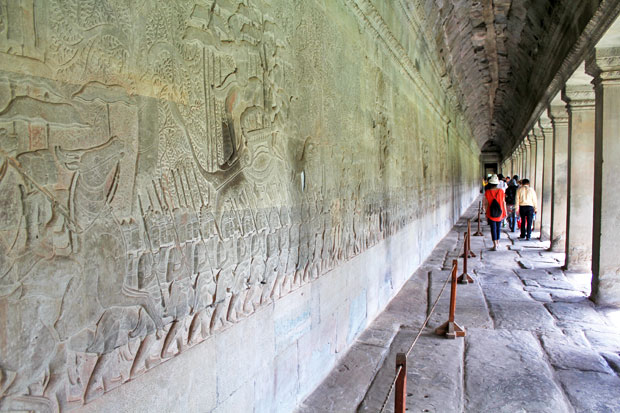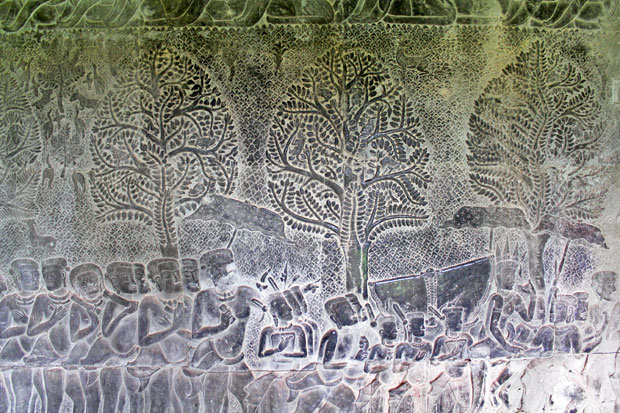 Incredible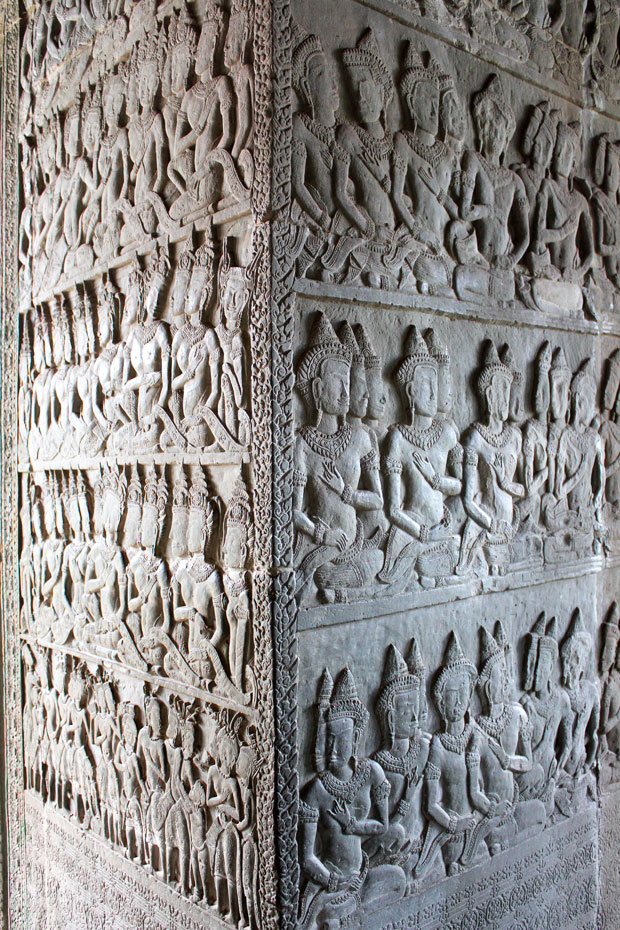 The iconic spires. Quick, how many spires does the main temple have?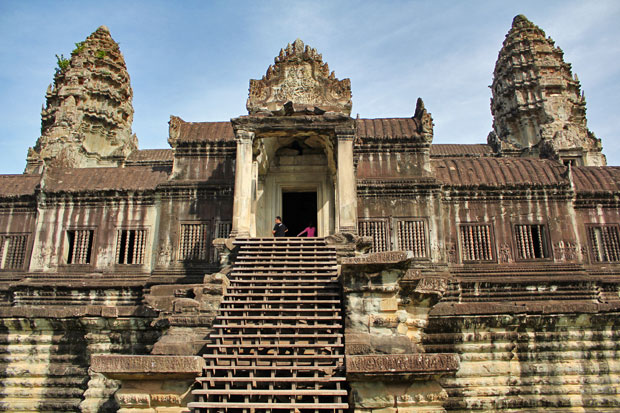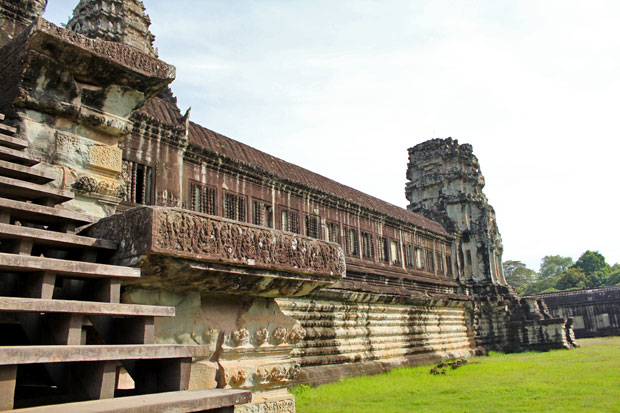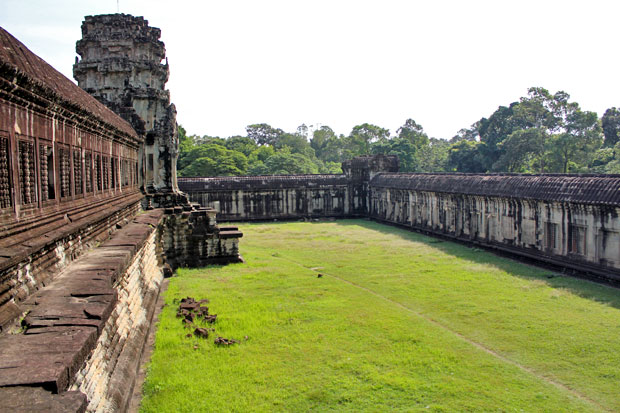 "Wehkam tu dah tehmphow…yu bhuy soobeneeyuh? jhas wan dalahh!"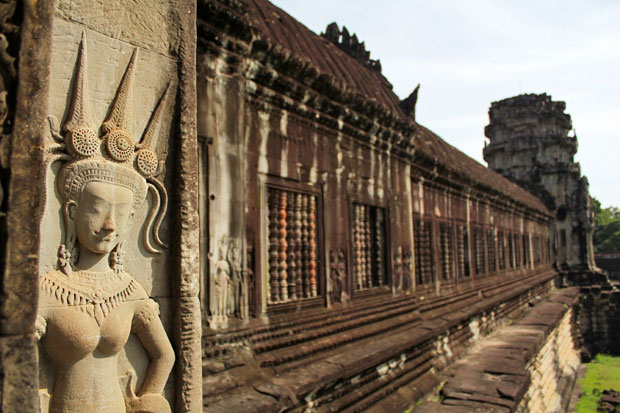 Corner temple, for misbehaved monks. Kidding. 🙂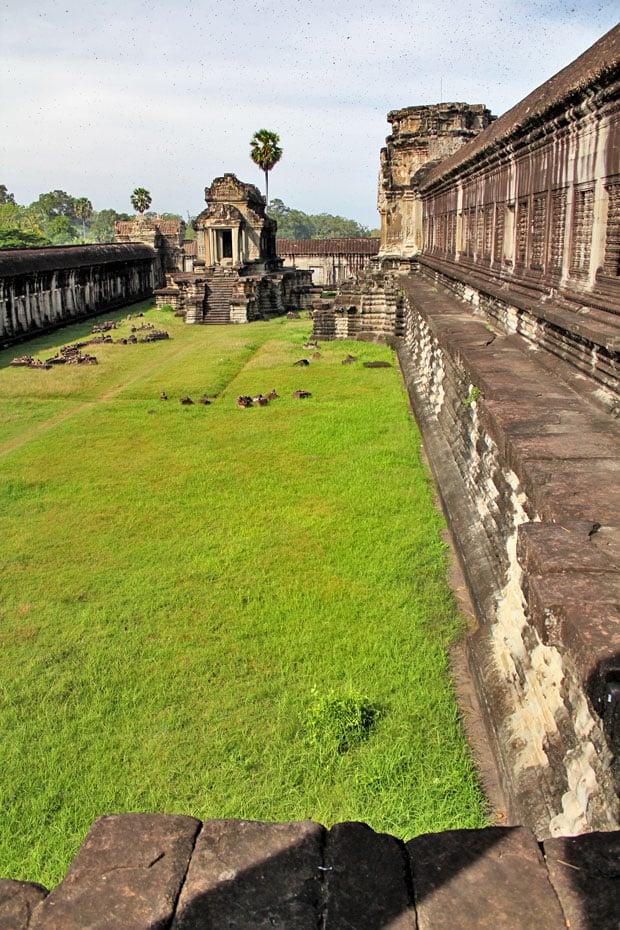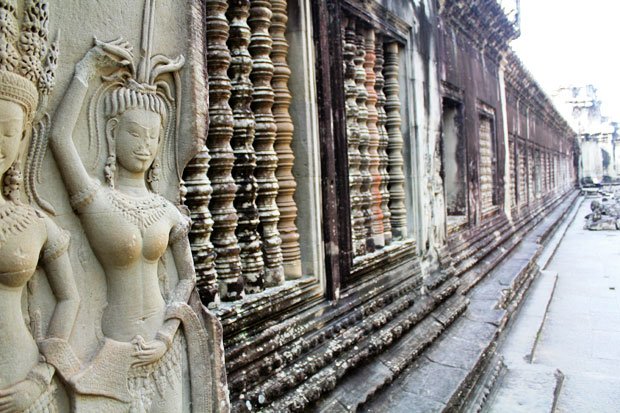 Making my way to the spires. In answer to my earlier question, there are five.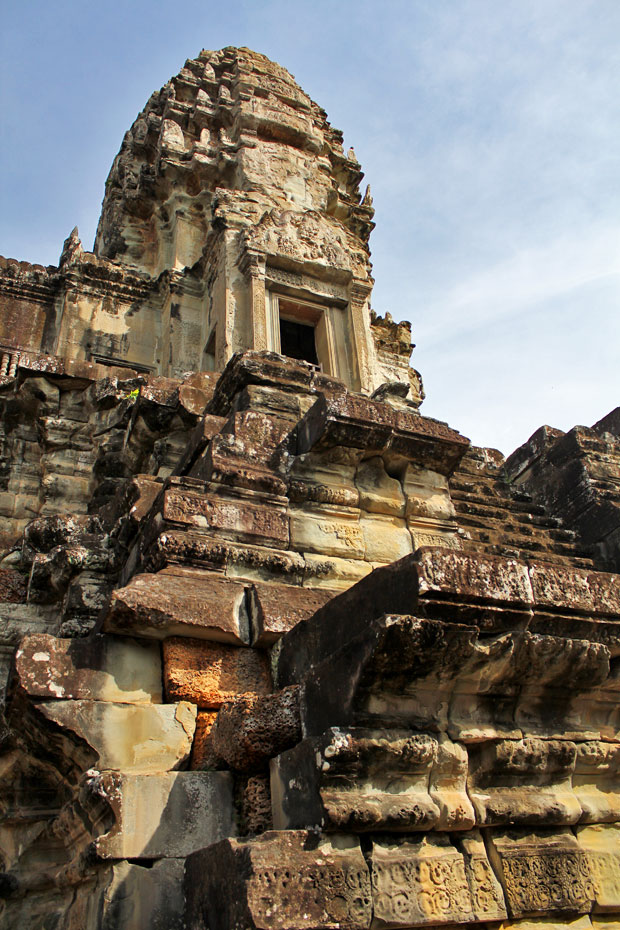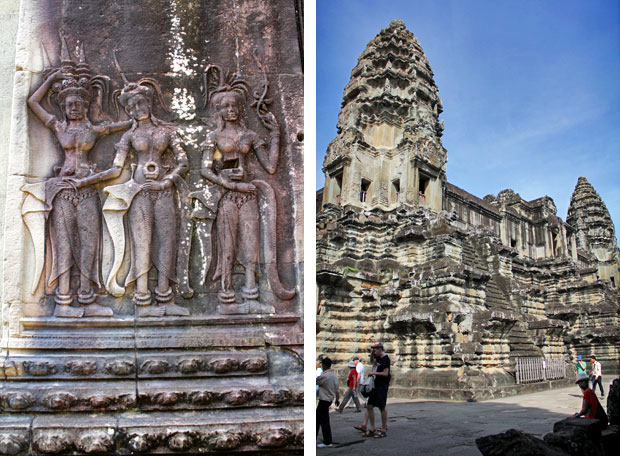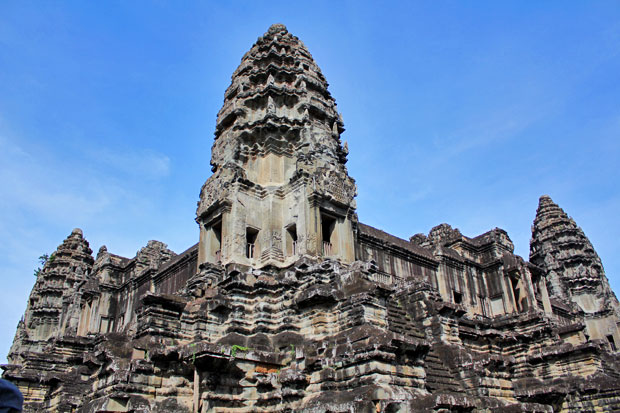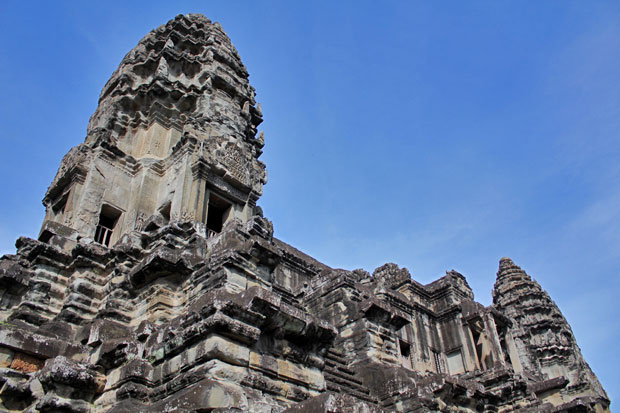 The climb to the highest point of the temple.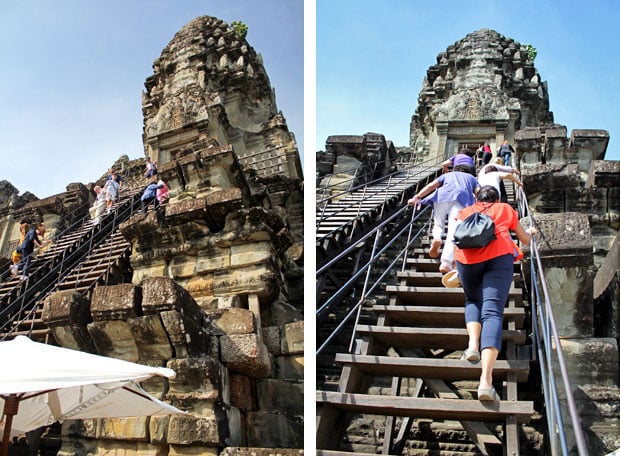 This is about as close as you can get to the spires. Pretty cool eh?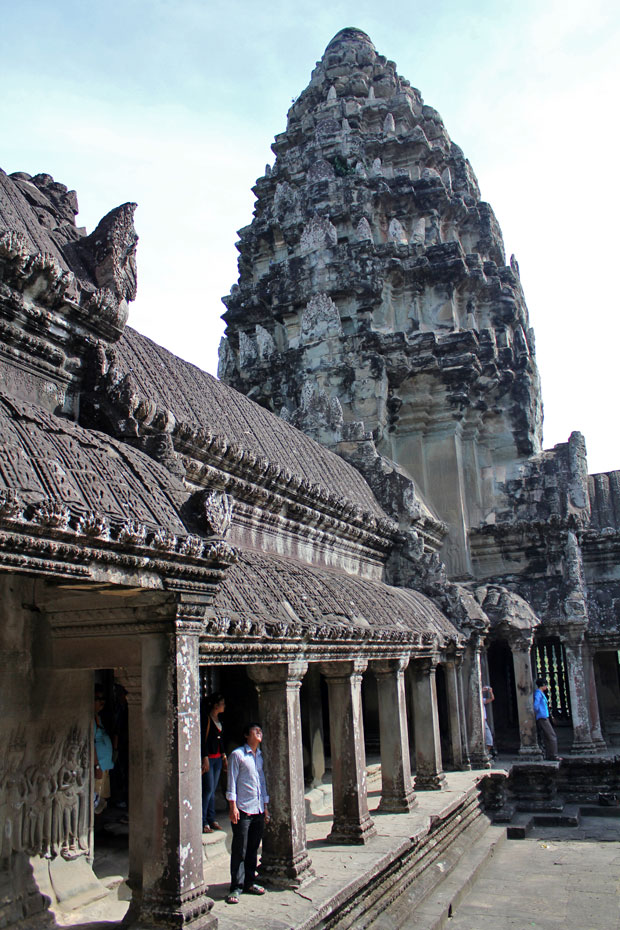 Beautiful carvings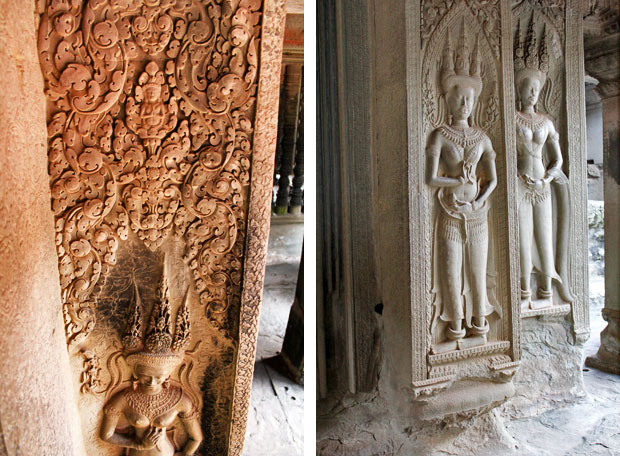 A view from the top. Notice that yellow thing in the distance? That's a hot air balloon tethered to the ground. Starting at USD 35, you can pay to be taken up for a bird's eye view of the park.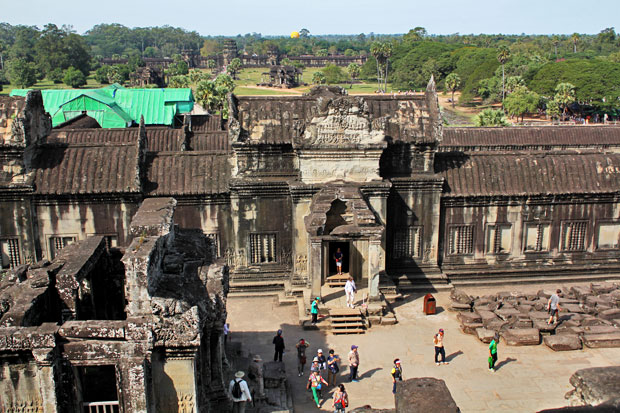 Bantaey Srei (Day Two)
Ren already had her fill of temples after just one day, so I had to make the lonesome trek to Bantaey Srei all by myself. 🙁 The temple is around an hour away by tuk tuk from the main Angkor complex, so I departed bright and early at 6:30 in the morning.
So what makes this tiny temple worth the trip? Though miniscule in comparison to Angkor Wat, it is the only temple made from pink sandstone, and boasts far and away the best, most intricate temple carvings in all of Angkor Archaeological Park. Again, a definite must-visit.
Packed breakfast, private tuk tuk, on my way to Bantaey Srei to take photos. Like a boss baby! At that hour, it was cold as fuck in the tuk tuk though. 😆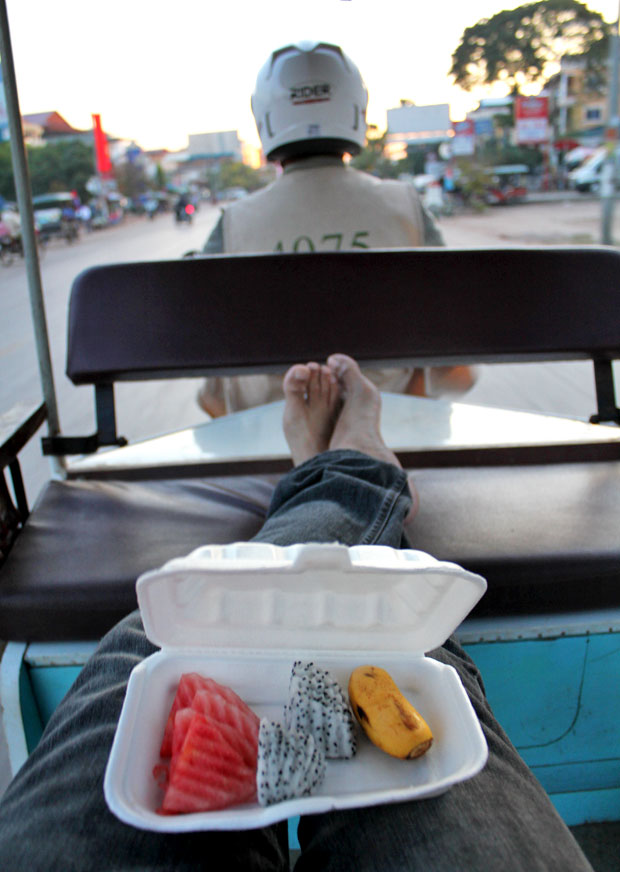 I don't know the name of this temple but we passed it along the way. See how much better they photograph in the soft morning light? It's no wonder that all landscape photos in magazines are taken either at sunrise or sunset. Midday, everything looks washed out and colorless.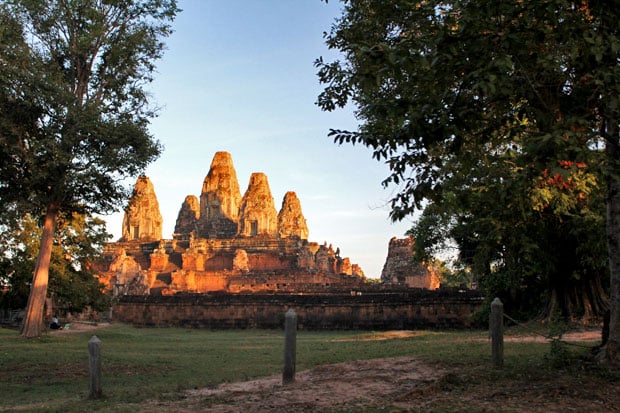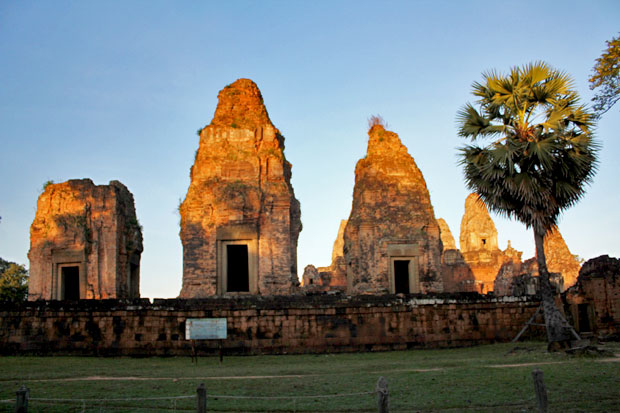 The entrance to Bantaey Srei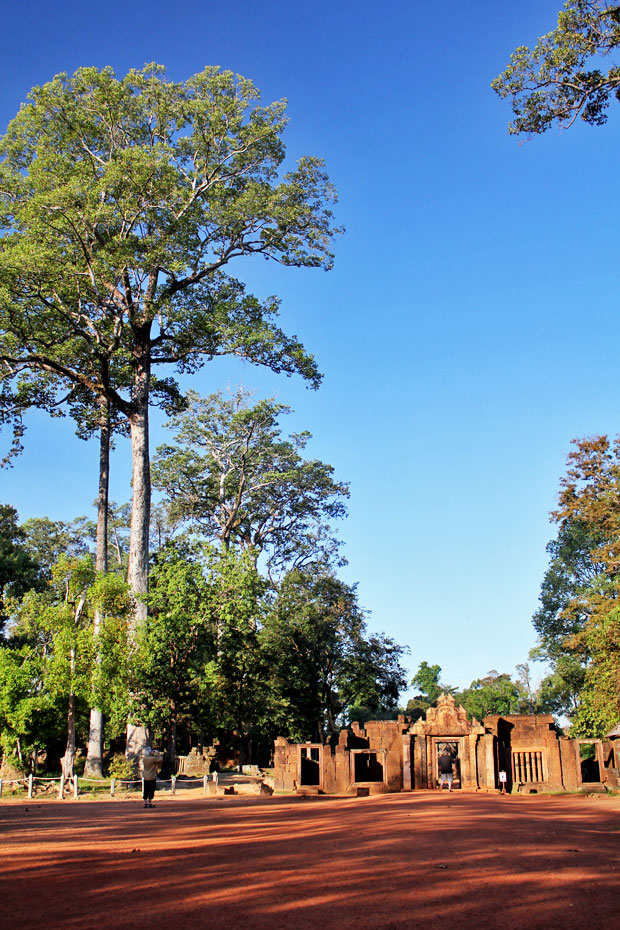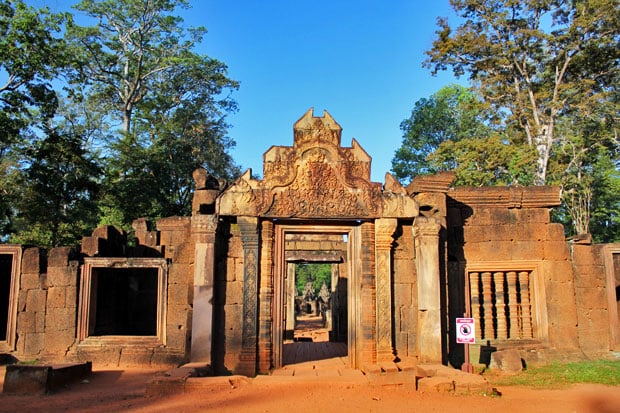 What did I tell you?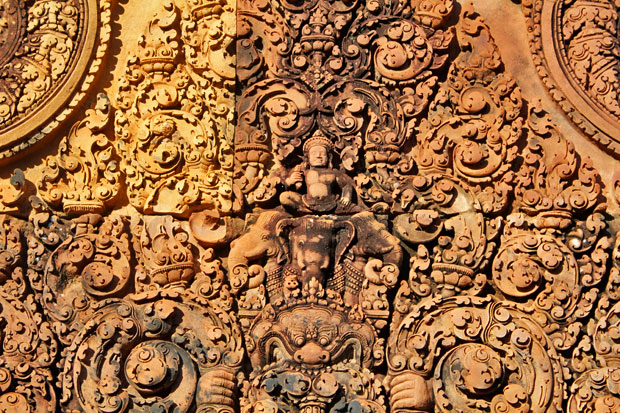 Love is in the details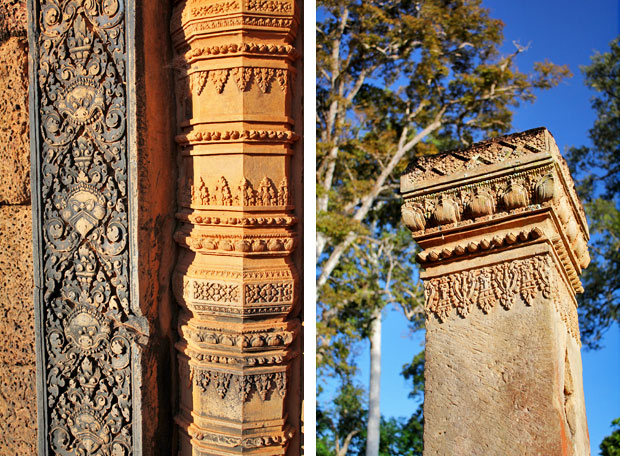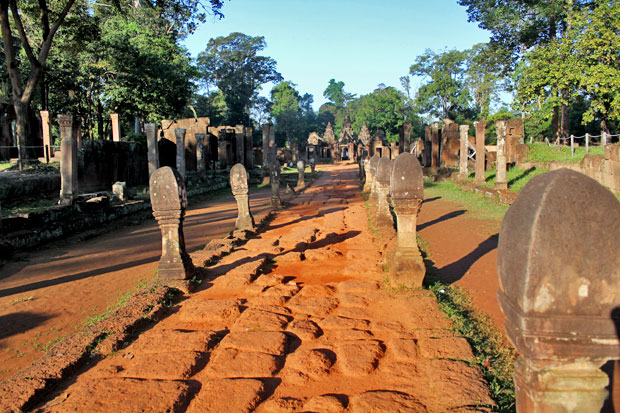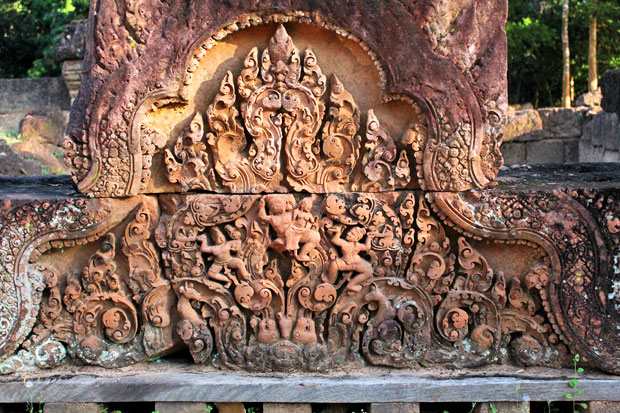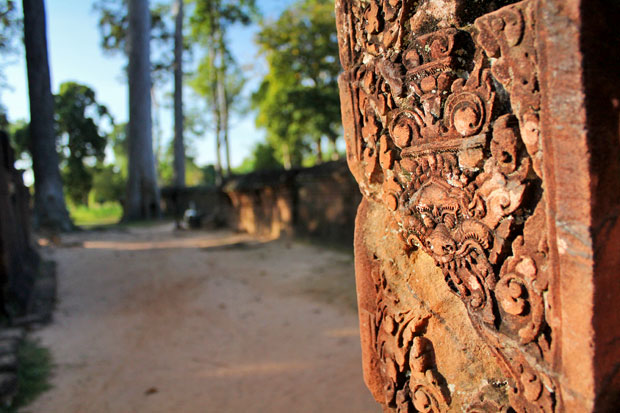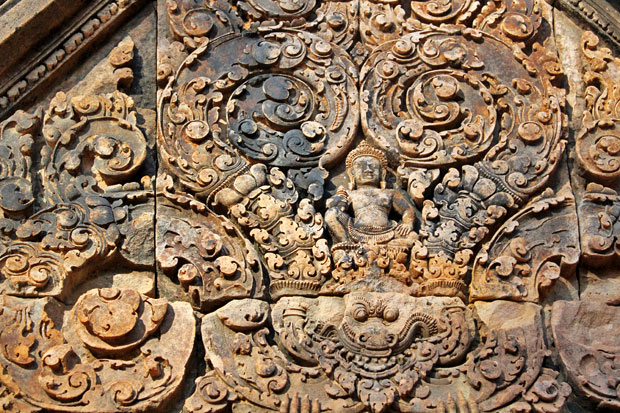 The detail is stunning. Beautiful, beautiful work.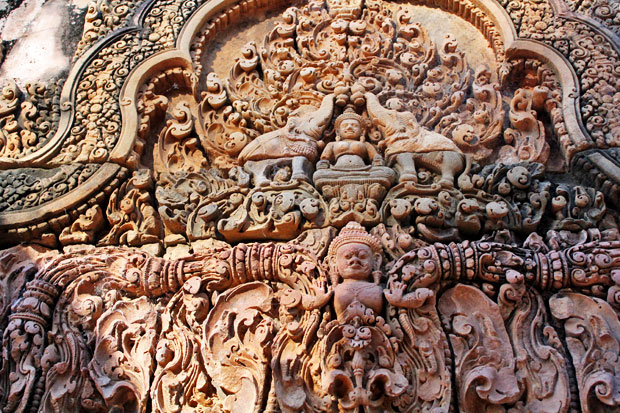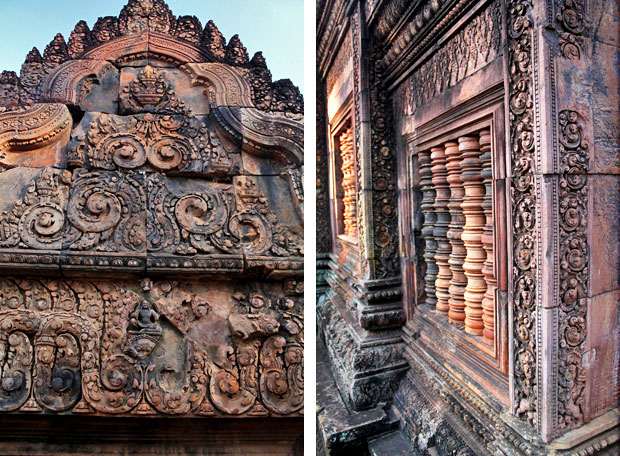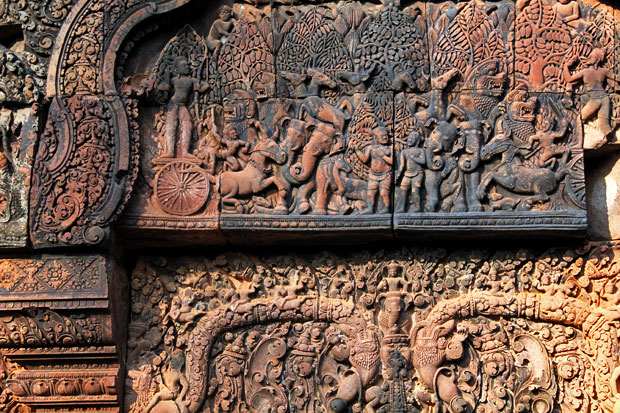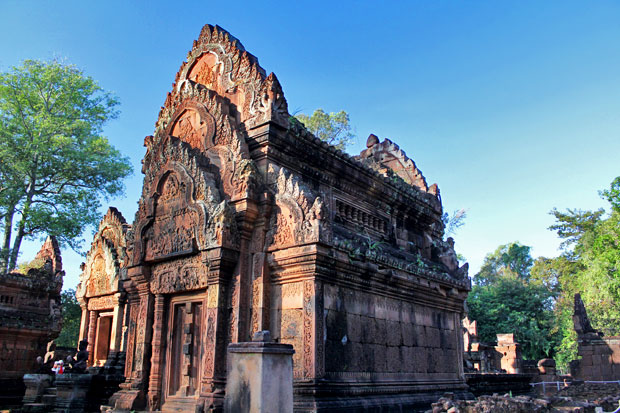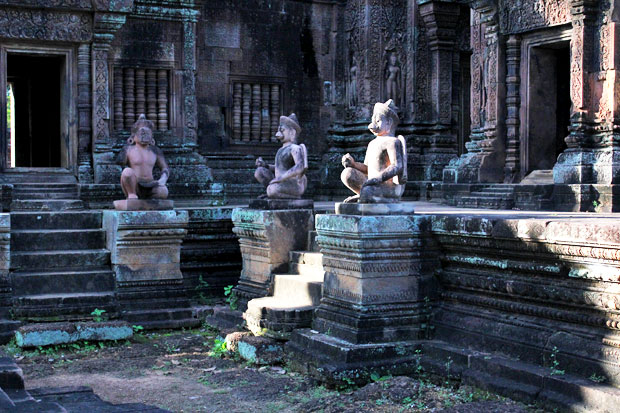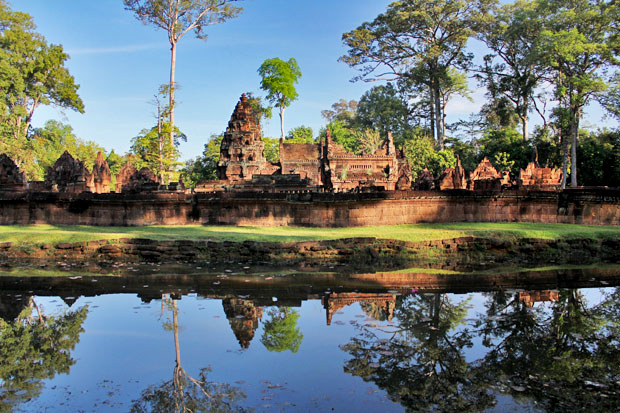 Angkor Wat at Sunrise (Day Three)
Remember what I said earlier about landscape photos being taken only at sunrise or sunset? Well, I didn't want to leave Siem Reap without my iconic shot, so I used the third and final day of my Angkor pass to photograph sunrise at Angkor Wat. Making my way to the temple at the ungodly hour of 4:30 AM, I set up my camera on a tripod and waited for the sun to come up. These are just a few of the photos I came back with.
One of the first people to arrive at the temple, it was still pitch black when I got there, so I had to use my cellphone to illuminate the path so I wouldn't trip and fall into the moat.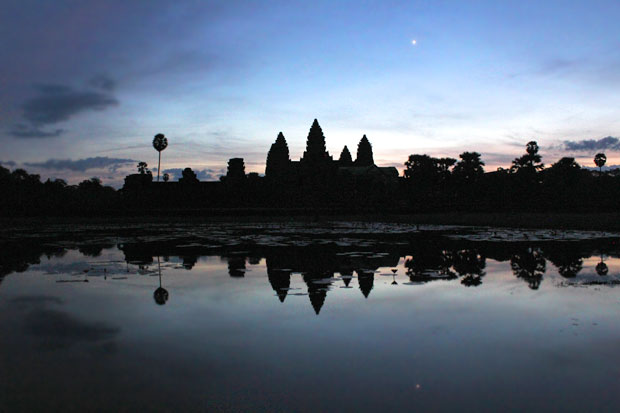 The sun slowly rising.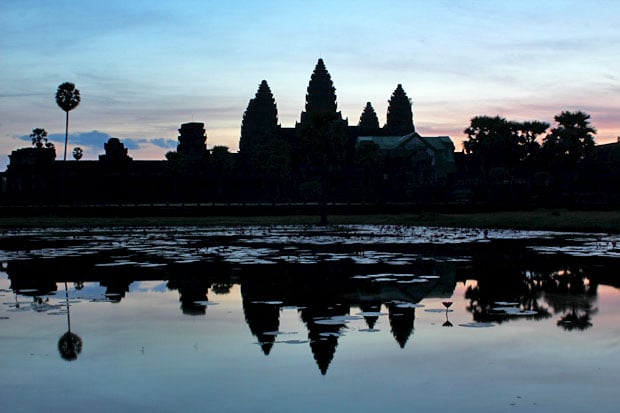 There she is. Though these pictures came out ok, they're not exactly what I was hoping for. I wasn't expecting the sun to rise up from behind the temple, effectively backlighting my subject. I was expecting to get a shot of a golden orange Angkor Wat, but alas, it wasn't meant to be. Oh well.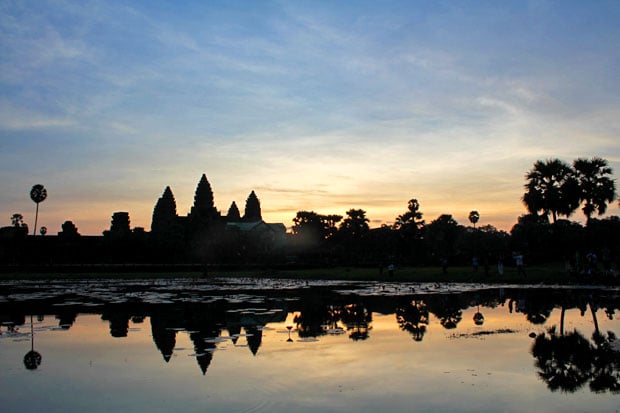 Still pretty damn beautiful eh? What a magnificently BIG world we live in.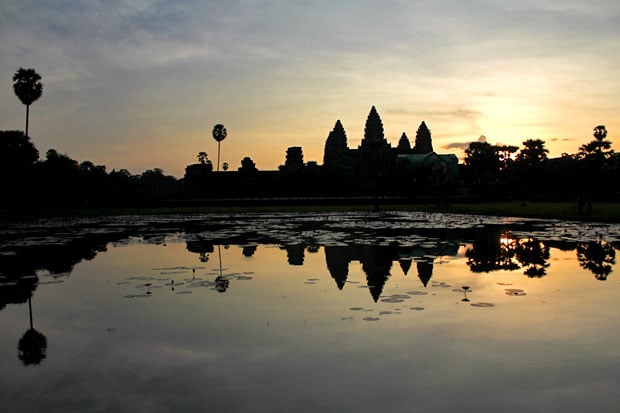 At 4:30 in the morning, you'd think that you'd have the place all to yourself right? Wrong! Like everywhere else in Siem Reap, there's never a private moment. *sigh*
Though one of the first to arrive, I noticed just how quickly the tourists were trickling in, so I had to camp out as close to the edge of the reflecting pool as possible, just to ensure that I had a clear shot. And thank God that I did, because by the time the sun started to peek out from behind the temple's spires, there were around three to four rows of people boxing each other out to get the perfect shot.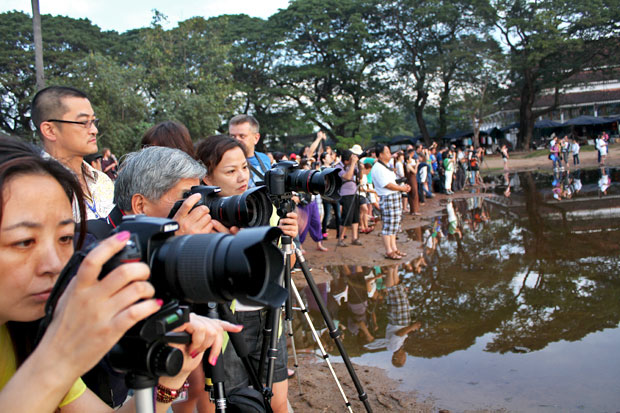 Other Temples
If you've visited the Angkor temples before, then you'll notice that there is one glaring omission here, Angkor Thom. The largest of all the Angkor temples and the second most visited after Angkor Wat, this exclusion wasn't deliberate. Having thought the entire time that we had already visited it, I only found out when assembling this post that we in fact had missed it altogether. DOH!
Reading up on Angkor Thom, I find out that its grounds are massive, covering nine square kilometers, most of which leaves you exposed and under the sun. Ren would have hated that. There is one thing though that I definitely regret not seeing, and that's Bayon Temple, which is nestled within Angkor Thom, and home to those massive, carved stone heads.
Ren doesn't really care about the oversight, and truthfully, I probably wouldn't either if it weren't for this blog and my DSLR. But the fact is, I do, so I'm kinda kicking myself in the head for the stupidity. Oh well, at least we got to try "happy" pizza.
As mentioned above, I do regret having missed Bayon Temple and Angkor Thom, so that would be the one thing on this trip that I would definitely do over. With that said, it's a small regret in the grand scheme of things, because we had a terrific time nonetheless.
If you're like us and not really temple-crazy, then all the temples will feel a little "same same" after a while. For me, there's really no need to check them all out. Provided that you visit Angkor Wat, Angkor Thom / Bayon Temple, Ta Phrom, and Bantaey Srei, then you've had a complete Angkor experience in my book. If you do go to Bantaey Srei, be sure not to miss the Landmine Museum as well. You can easily visit all these temples, plus the Landmine Museum, in just two days.
For more Siem Reap travel tips, check out our First-Timer's Travel Guide to Siem Reap, Cambodia