It was my mother-in-law's 88th birthday the other day. A food lover throughout much of her 88 years, one of her greatest joys in life is to eat at restaurants. Sadly, with her health in decline, she hasn't been able to do that for the last four years. She's been dependent on a ventilator that sees her confined to her room under the watchful care of 24-hour nurses.
This year, Ren and her sister Rosalie wanted to do something special for her. Going to a restaurant was out of the question so they wanted to somehow bring the restaurant experience to her. They were sitting inside their mom's room when Ren looked out the window and saw their banana tree outside. Seeing the fresh banana leaves made her think, "Why not prepare their own boodle fight at home?" What a brilliant idea!
They started to discuss the logistics of the meal – what dishes to include, where to order them from, which dishes to make themselves, etc. – when by serendipity I saw Great Big Story's feature on Boodle Fight Manila. They had produced and shared a story on their Facebook page about this catering service that would come to your house, office, or event and prepare a boodle feast for you. They were like any other caterer, except they specialized in boodle meals. It was a novel idea and exactly what Ren and her sister needed.
Up until I saw the feature, I thought you had to go to restaurants in Manila to enjoy a boodle fight. But as it turns out, Boodle Fight Manila can bring the whole boodle fight experience to you.
Save This on Pinterest!
No time to read this now? Click on the red save button and pin it for later!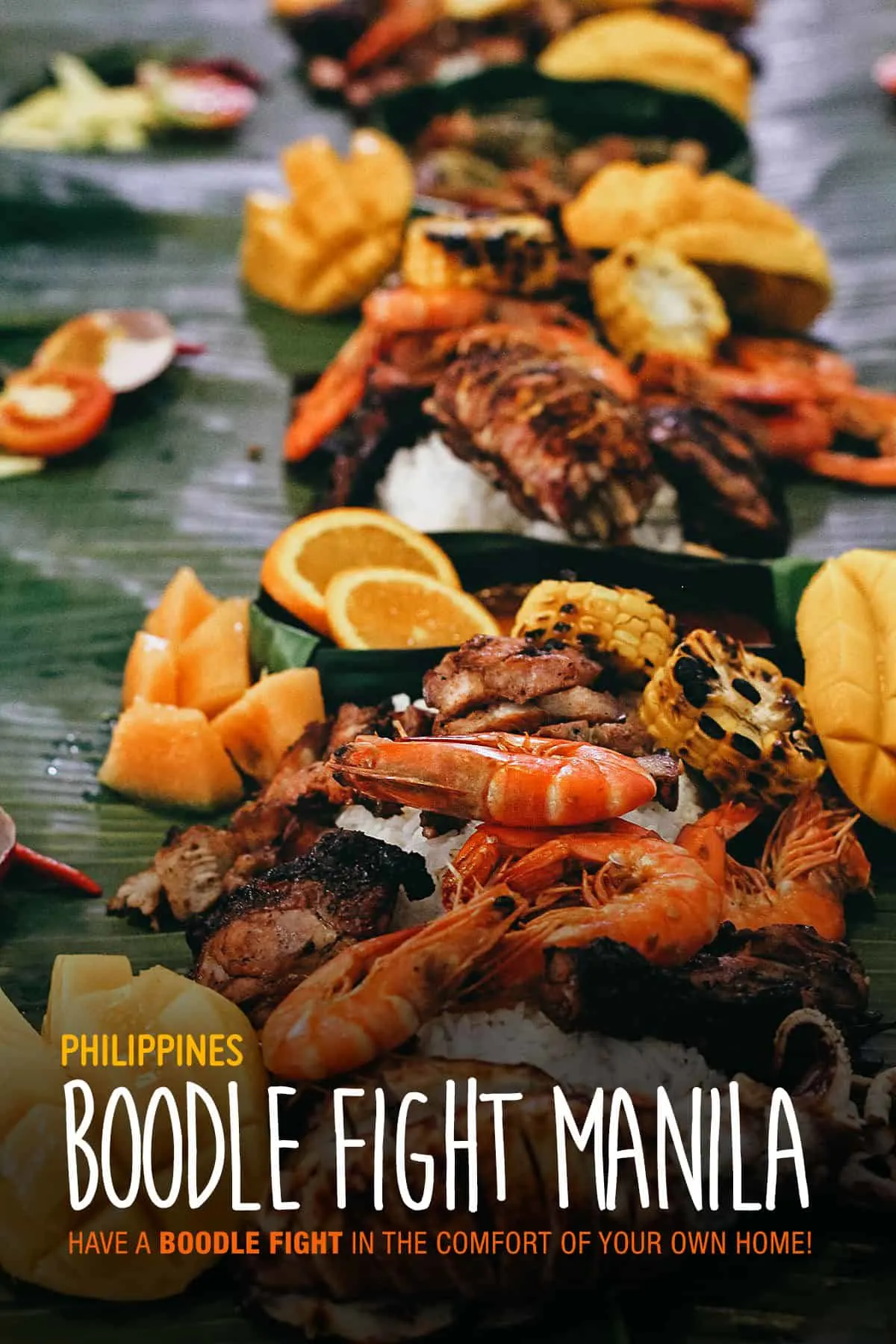 What is a Boodle Fight?
A boodle fight is a Philippine military tradition where a central mound of food – typically consisting of white rice and a variety of viands, fruits, and vegetables – would be piled high on banana leaves for soldiers to share. Gathered around the table, diners are meant to eat while standing without the use of cutlery. Everything is consumed kamayan-style, which means to "eat with one's hands".
No one seems to know for sure where the term "boodle" came from. One source claims it's American military slang for contraband sweets. Another suggests it's from the English phrase "whole kit and caboodle" which means "everything". Regardless of its origin, one thing is for sure. Diners are expected to be aggressive with the food lest they wind up with hardly anything, hence the term "boodle fight". You have to "fight" for your food. It's said that a senior officer would utter this command to signal the start of the feast: "Ready on the left, ready on the right, commence boodle fight!"
I don't know how long this has been a military tradition but boodle fights as a mainstream way of dining is a relatively new concept, maybe just twenty or so years old. I don't remember it being a thing when I was growing up. We had a popular Filipino restaurant called Kamayan where you would eat with your hands, but I didn't hear the term "boodle fight" until after I relocated back to the Philippines in 2001.
Nowadays, it's common in Manila and gaining traction overseas as well. I don't remember the name of the restaurant but I recall my brother enjoying a boodle feast in New York with his friends not too long ago. It's a fun dining concept that's very Filipino.
Boodle Fight Manila
Boodle Fight Manila is a family-run business. As described up top, they're basically a caterer that specializes in boodle feasts. Ren was chatting it up with one of the owners who came with her brother to set up our meal, and she said the business was the brainchild of their eldest sister, who happens to be a chef. Instigating boodle fights all across the metro, this enterprising and hard-working family does all the marketing, cooking, delivery, and setting up themselves.
Boodle Fight Manila offers several menu options on their Facebook page. Ren chose the "Super Card" menu which is priced at PHP 450 per person. To go with plain rice, we had one choice each of pork, chicken, drink, and dessert, to go with two choices each of seafood, vegetable, fruit, and sides. The Super Card menu is the midrange option. There's also the "Main Event" and "Undercard" menus for PHP 500 and PHP 300 per head respectively, along with a "Wild Card" menu that's completely customizable. All menus require a minimum of 10 people.
Here's how our Super Card boodle feast turned out. We had grilled liempo, chicken bbq, butter garlic shrimp, grilled squid, pinakbet, steamed kamote tops, ensaladang mangga, salted egg with tomato, melon, ripe mango, leche flan, and sago't gulaman. Kainan na!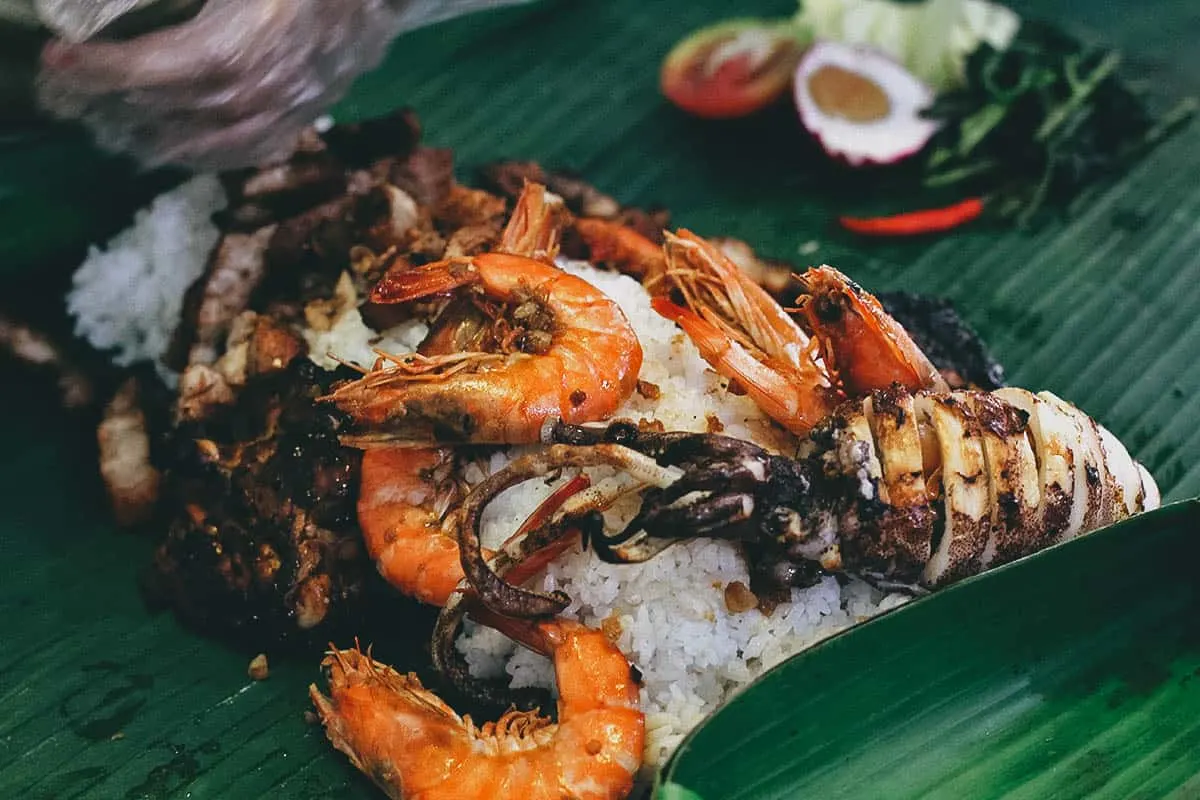 There are no specific dishes that define an authentic boodle fight. As long as it winds up on a banana leaf, then anything Filipino goes.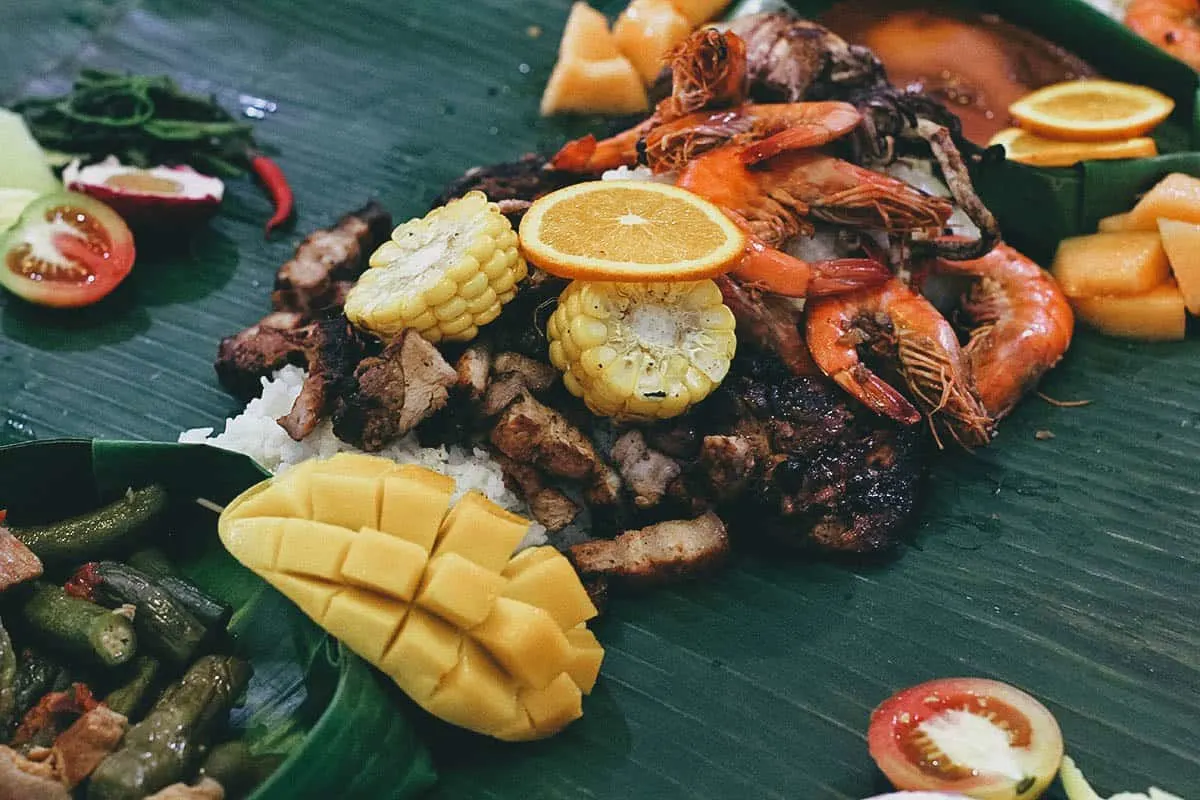 Simply put, boodle feasts are beautiful. It's stunning to look at all this food piled high on banana leaves. So much color and texture!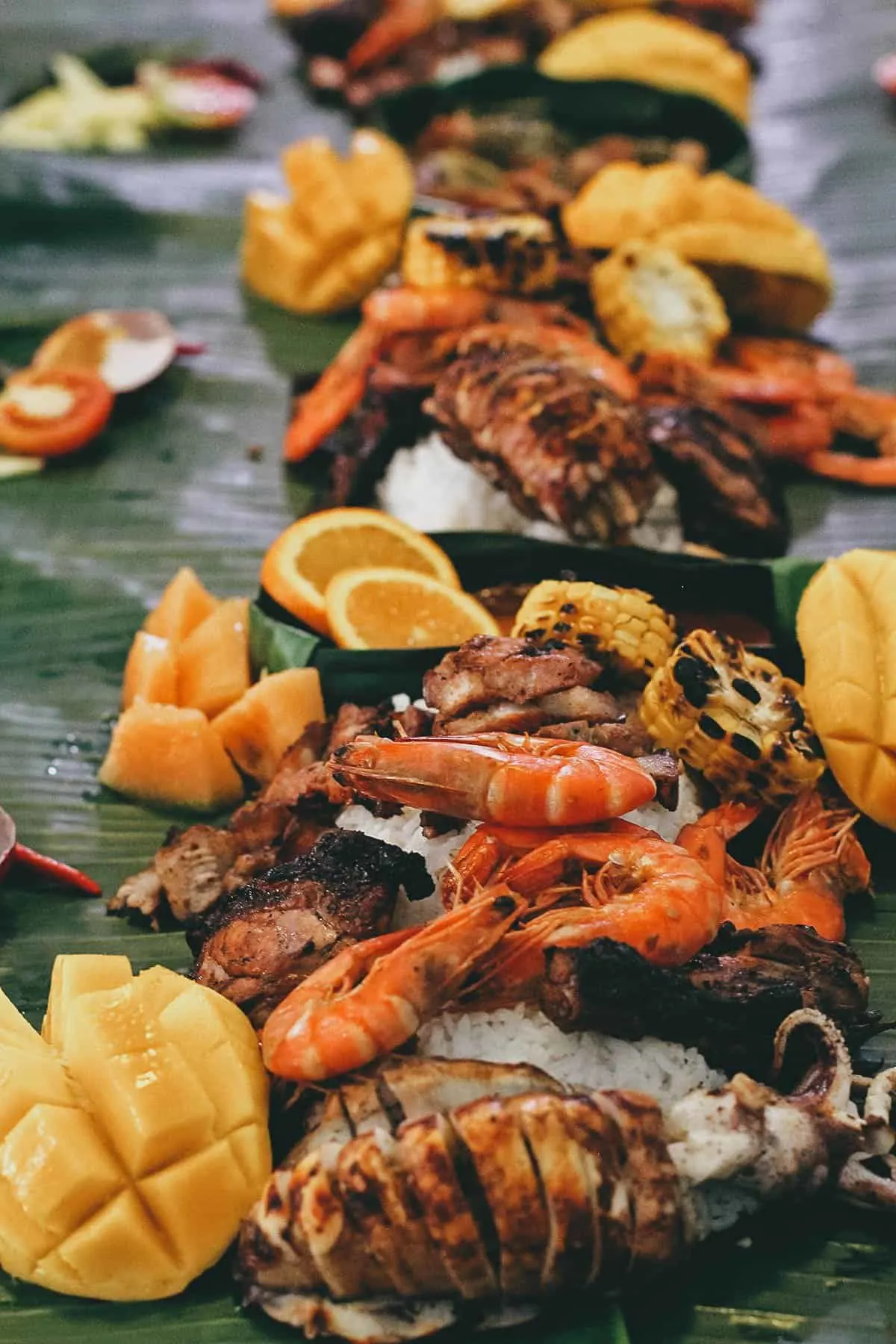 Most of us today cheated and ate with cutlery, but for the full Filipino boodle experience, you're meant to eat only with your hands.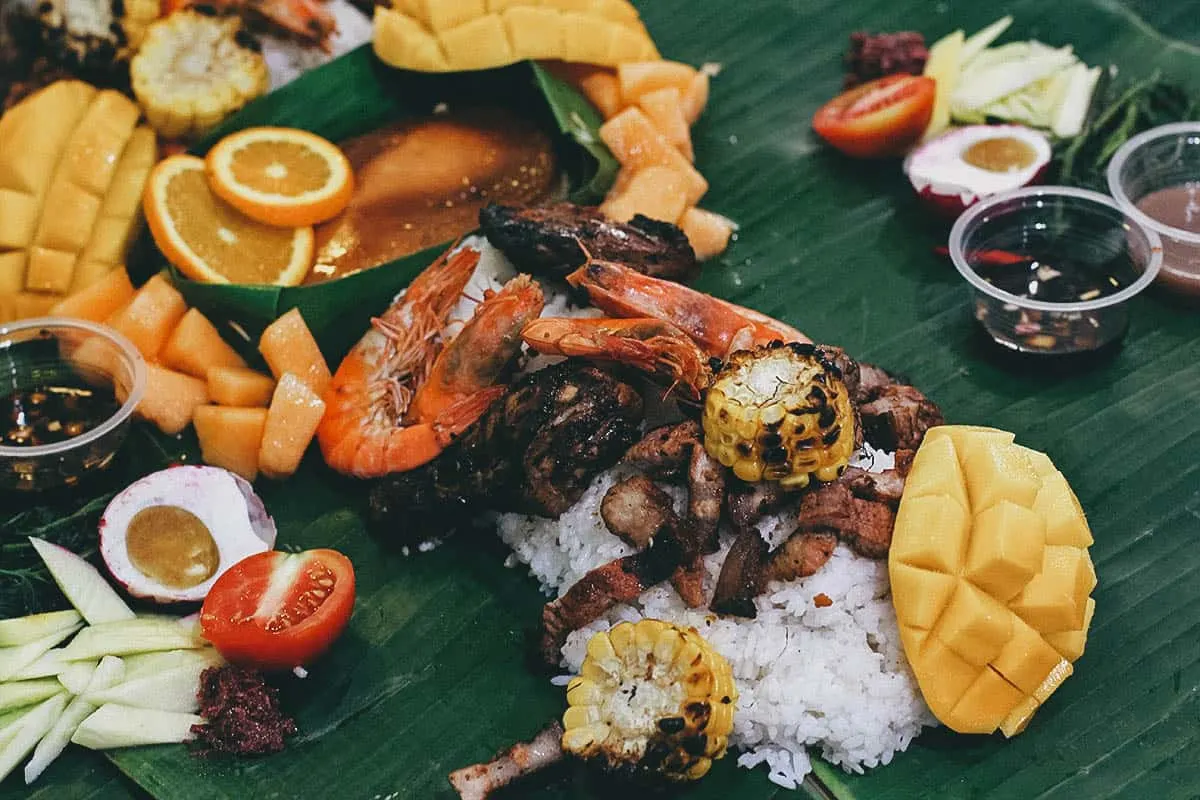 I can't think of a better way to welcome foreigners to the Philippines than with a boodle feast. No only will they enjoy Filipino food on banana leaves, but they get to experience what it's like to eat with their hands sharing food family-style. In fact, when a big international blogger conference was held in Manila in October 2016, one of our lunches was a boodle feast. It was a brilliant idea which everyone loved and enjoyed. You could really feel the festive atmosphere in the dining hall!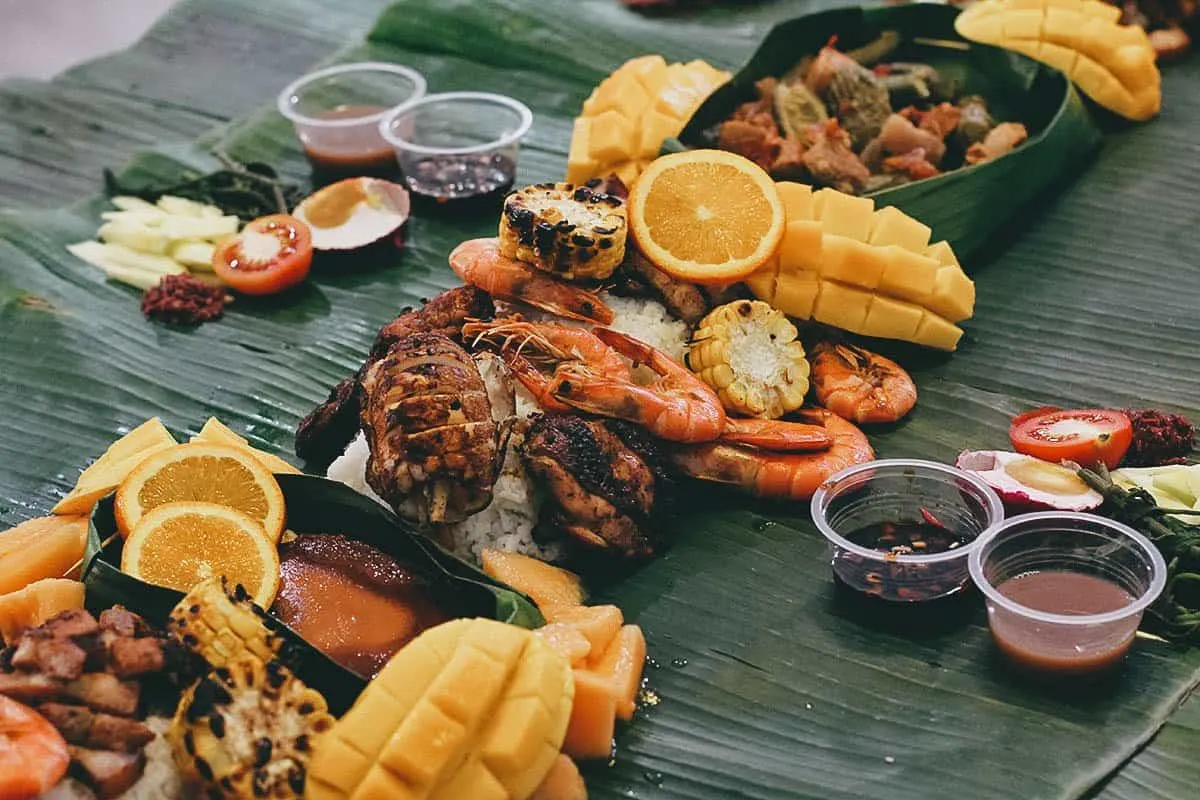 Boodle Fight Manila uses the power of social media to spread word about their business. They encourage diners to post pictures of their experience on social media with the hashtag #boodlefightmanila. They even have a couple of placards with their logo and the words "Kainan na!" which they ask diners to hold up while they take pictures and post them on their social media channels.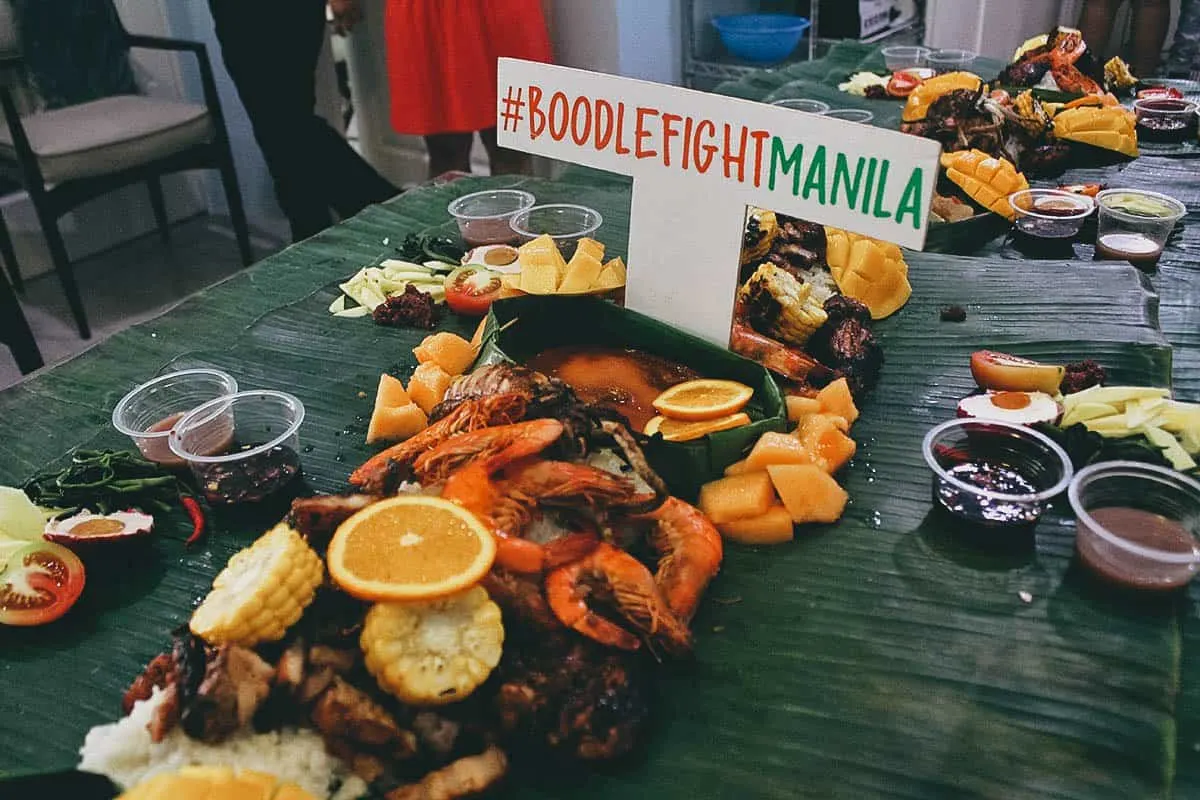 Thank you so much for giving my mother-in-law a birthday to remember Boodle Fight Manila! The food was delicious and the presentation was beautiful. We had so much fun!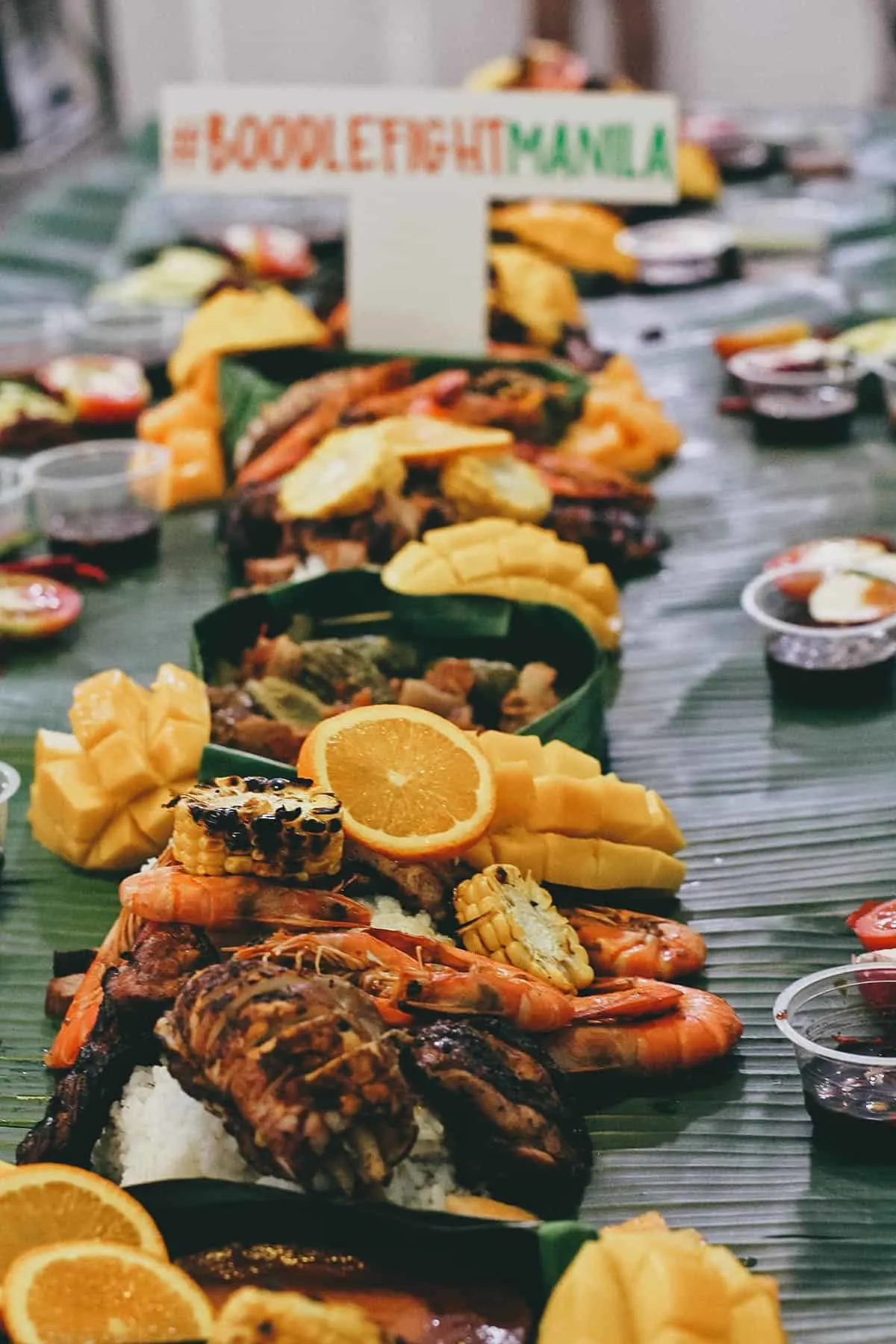 The boodle feast we had today was an intimate lunch with just twelve people, but we are planning a bigger one in December to celebrate my father-in-law's 90th birthday. We're looking to have at least thirty guests for that one. And if the weather permits, then we'd love to hold it outside. This time, we'll make sure that everyone eats with their hands.
If you're interested in booking your own boodle feast, then you can contact Boodle Fight Manila via the channels below.
Boodle Fight Manila
Mobile: +63 915-721-7679
Facebook: boodlefightmanila