I'm usually pretty timely about writing my blog posts, but this meal at Locavore was from late July 2018. Hard to believe it's been over seven months.
I still remember this day well. I booked a table for lunch so I made sure to keep that morning free of any activities. We didn't want to walk into a nice restaurant smelling like the sun so we woke up later than usual, took a shower, and got dressed in the outfits we were saving specifically for this meal.
We had coffee and shared a light breakfast of fruits and granola at Clear Cafe, before stopping at a spa a few doors down from Locavore to get a foot massage. Yes, a foot massage. It wasn't something we planned on doing. We were just so excited to eat here that we got to the restaurant way too early and needed to kill time.
Even then, we were still too early so we had to sit outside like a pair of groupies and wait for them to let us in. Seriously, I don't think anything can get us that excited other than the promise of good food, especially good Balinese food.
It's funny. I'm 45 years old now and sometimes have difficulty remembering what I did last weekend. But meals like this, from Indonesia's top restaurant and one of the 50 best in Asia, aren't so easily forgotten.
Save This on Pinterest!
No time to read this now? Click on the red save button and pin it for later!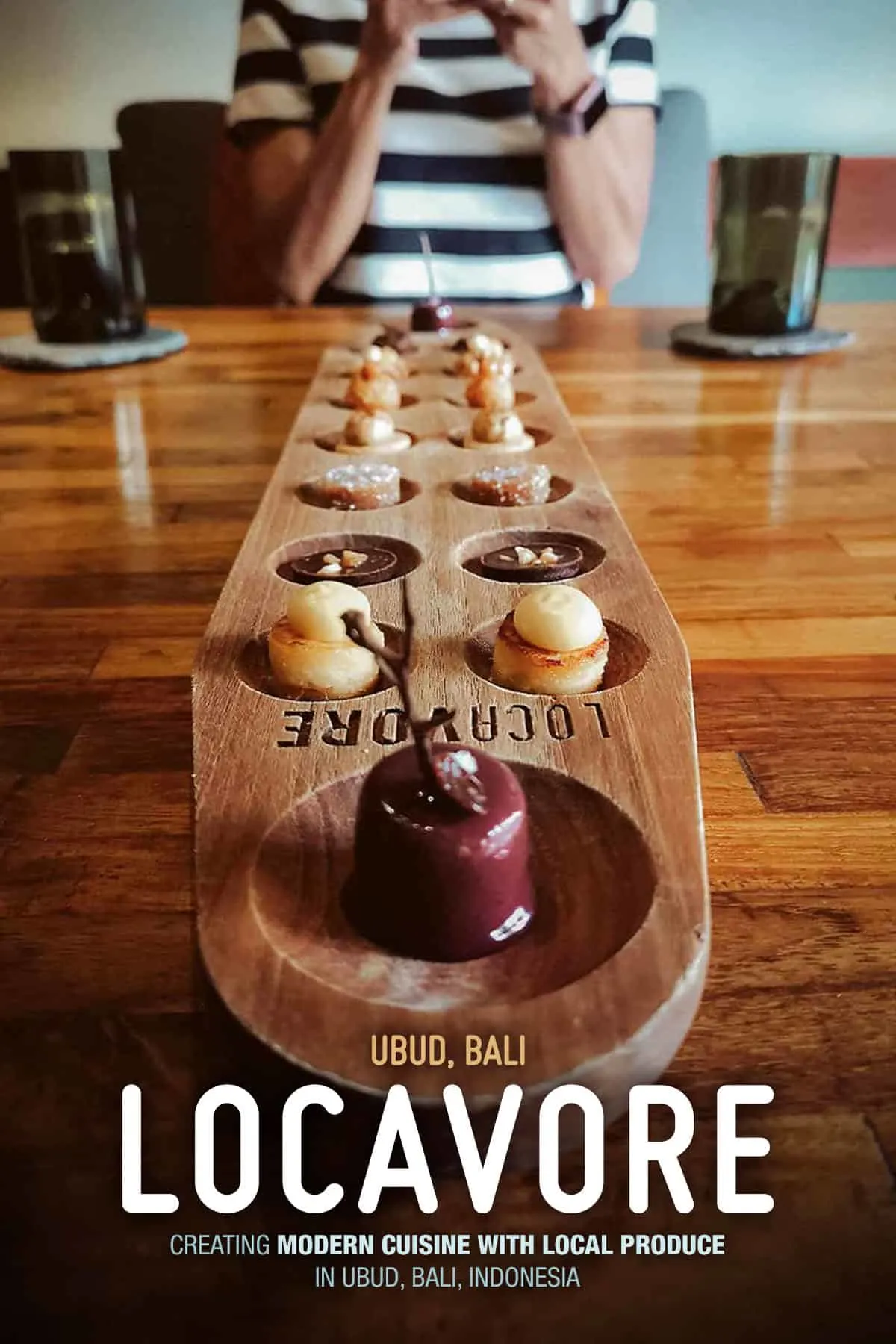 What is Locavore?
Locavore is a modern European-Indonesian restaurant located in Ubud, Bali. As its name suggests, they're all about using local products. About 95% of their ingredients are sourced from within the country, from the Balinese Kintamani coffee and hand-crafted sea salt to the pickled seaweed from Lombok to the beef short ribs from Malang, Java. Even the restaurant's plates, silverware, and glasses are made in nearby workshops.
In so doing, not only are guests treated to the freshest seasonal produce, but it promotes sustainability within the community as well. Locally sourced ingredients reduce the carbon footprint of imported foods, while relationships with local farmers ensure that animals are ethically fed and humanely killed. Locavore chefs use as much of the animal as possible so little goes to waste. Any edible waste is then fed to pigs or composted for the vegetable garden.
Locavore is spearheaded by the three-man team of Eelke Plasmeijer, Ray Adriansyah, and Adi Karmayasa. Eelke Plasmeijer is a Dutch-born chef who moved to Jakarta in 2008 where he met Indonesian chef Ray Adriansyah. Together they relocated to Bali and teamed up with restaurant manager Adi Karmayasa to create Locavore in November 2013.
Since then, the trio has achieved much commercial success and garnered multiple awards, including best restaurant in Indonesia for consecutive years and a spot on this list of Asia's 50 best restaurants.
Modern Cuisine, Local Produce
Locavore is located in the inland Balinese town of Ubud. The restaurant is popular so making reservations at least two weeks in advance is highly recommended. I made ours over three months in advance. You can make a booking via the Locavore website.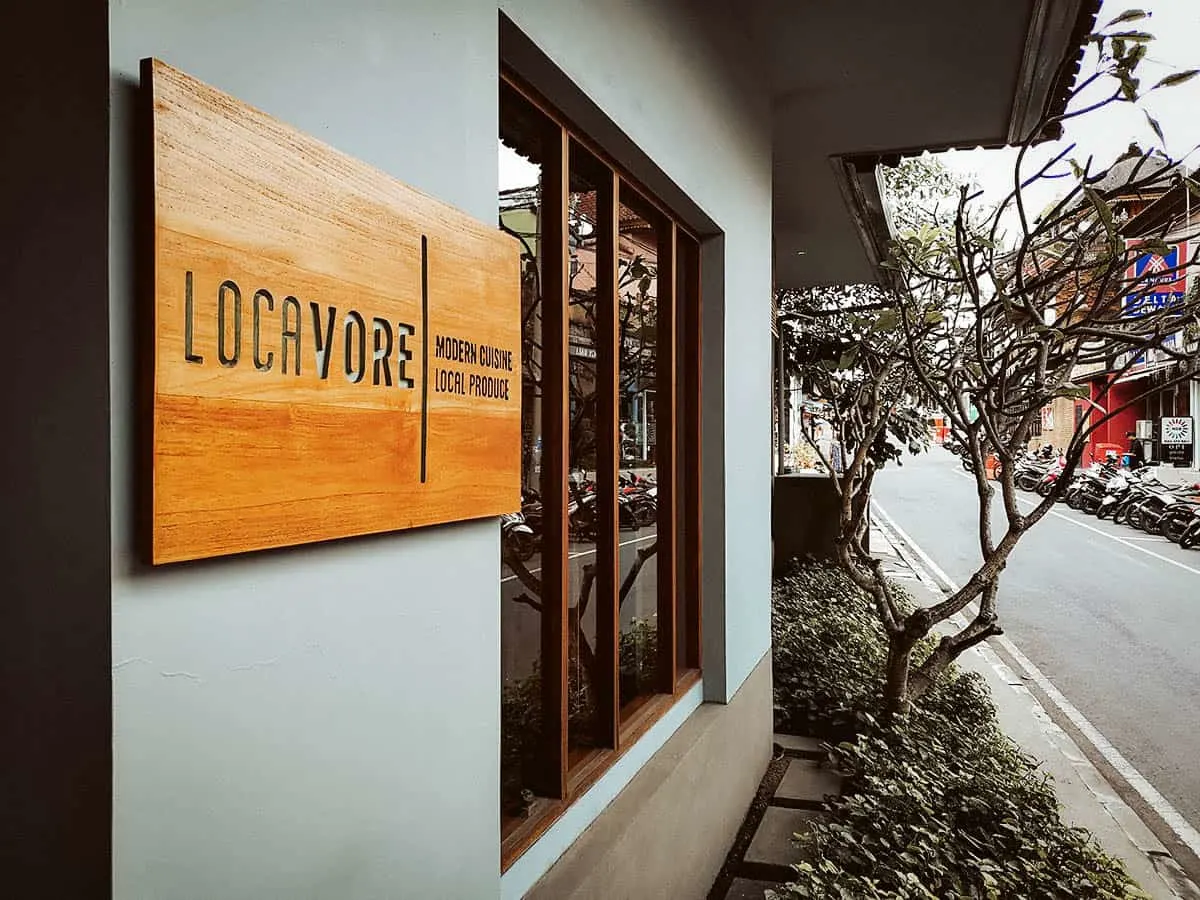 Locavore serves modern casual fare. The restaurant's interior and relaxed ambiance is reflective of this. Ren and I cleaned up for today's lunch but the pair sitting next to us was wearing singlets, shorts, and flip-flops. This is Bali after all.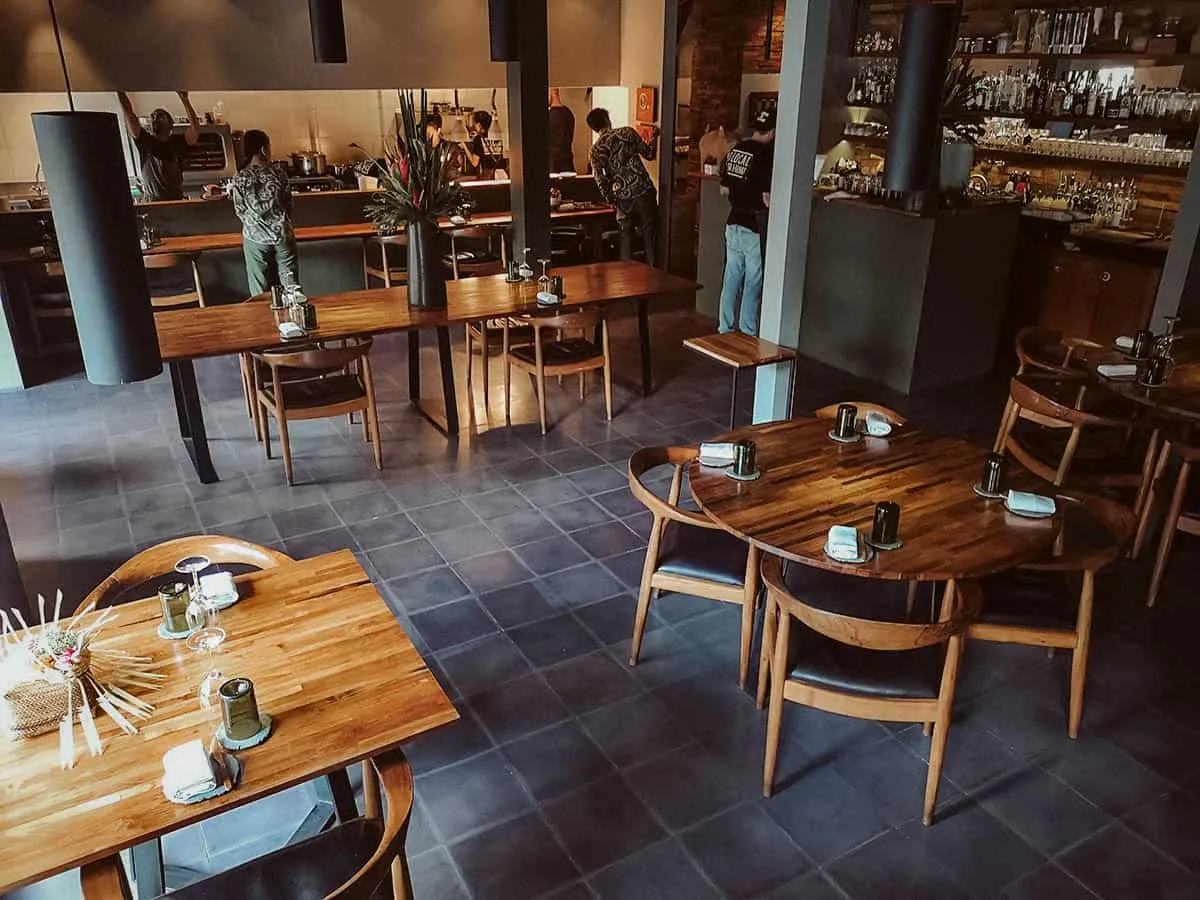 Locavore / Herbivore Tasting Menus
Locavore offers ala carte options but if it's your first time here, then you may want to go with one of their tasting menus. They have a non-vegetarian (Locavore) and vegetarian (Herbivore) menu, each with six or nine dishes and an option for drink pairing.
LOCAVORE MENU
6 dishes – IDR 895,000++ w/ drink pairing + IDR 500,000
9 dishes– IDR 1,195,000++ w/ drink pairing + IDR 650,000
HERBIVORE MENU
6 dishes– IDR 795,000++ w/ drink pairing + IDR 500,000
9 dishes – IDR 1,095,000++ w/ drink pairing + IDR 650,000
At the time of our meal in July 2018, they were only offering five or seven dishes per tasting menu. I went with the seven-dish Locavore menu while Ren had the five. Looking at their current menu, it looks like only one dish remains from our meal – Into the Sawah. This is their signature dish and a constant on all their menus. More on that later.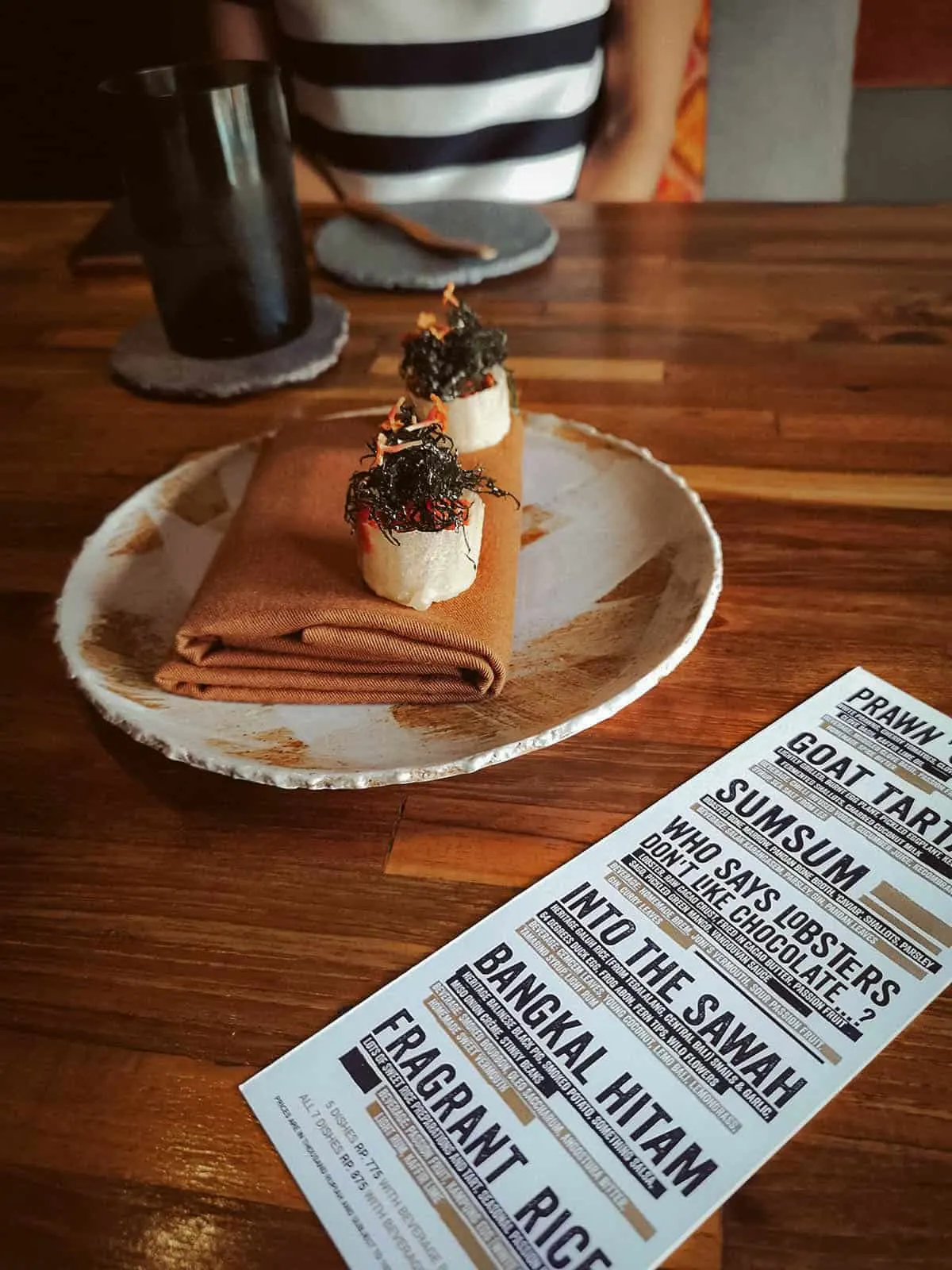 Snacks
Locavore's tasting menus are fairly priced to begin with, but what makes them an even better value are all the starters they give you. We received eight "snacks", mostly amuse-bouche, before we were served the first dish from the Locavore menu. Fantastic!
I love to eat but I'm not the most well-versed when to comes to ingredients and cooking techniques so I'll just leave you with a brief description of every dish. Just know that everything from start to finish was phenomenal and well thought-out.
For our very first snack, we were served this watermelon tartare in a crunchy cup topped with seaweed and edible flowers.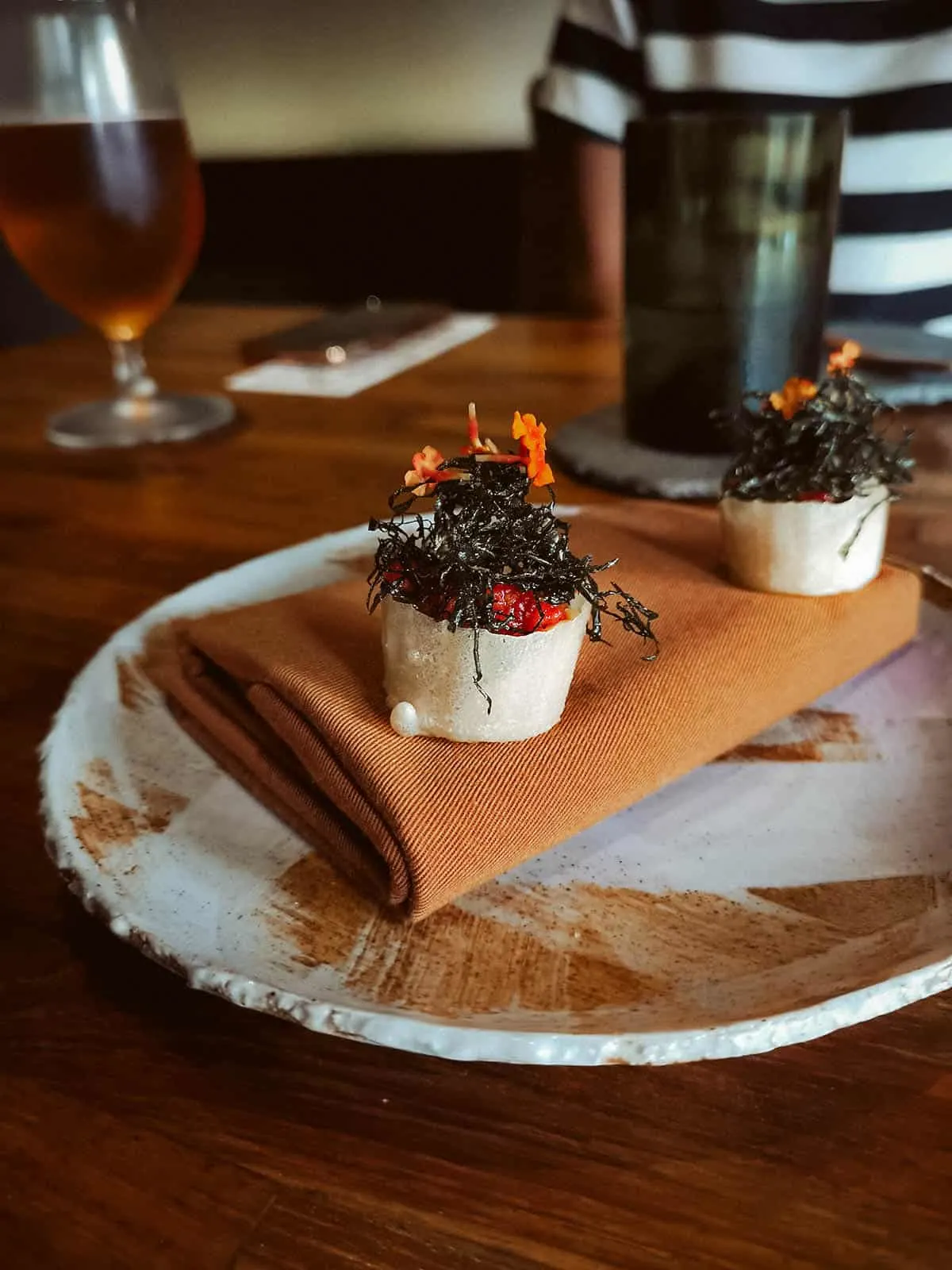 Pickled eggplant topped with sesame seeds in a dashi broth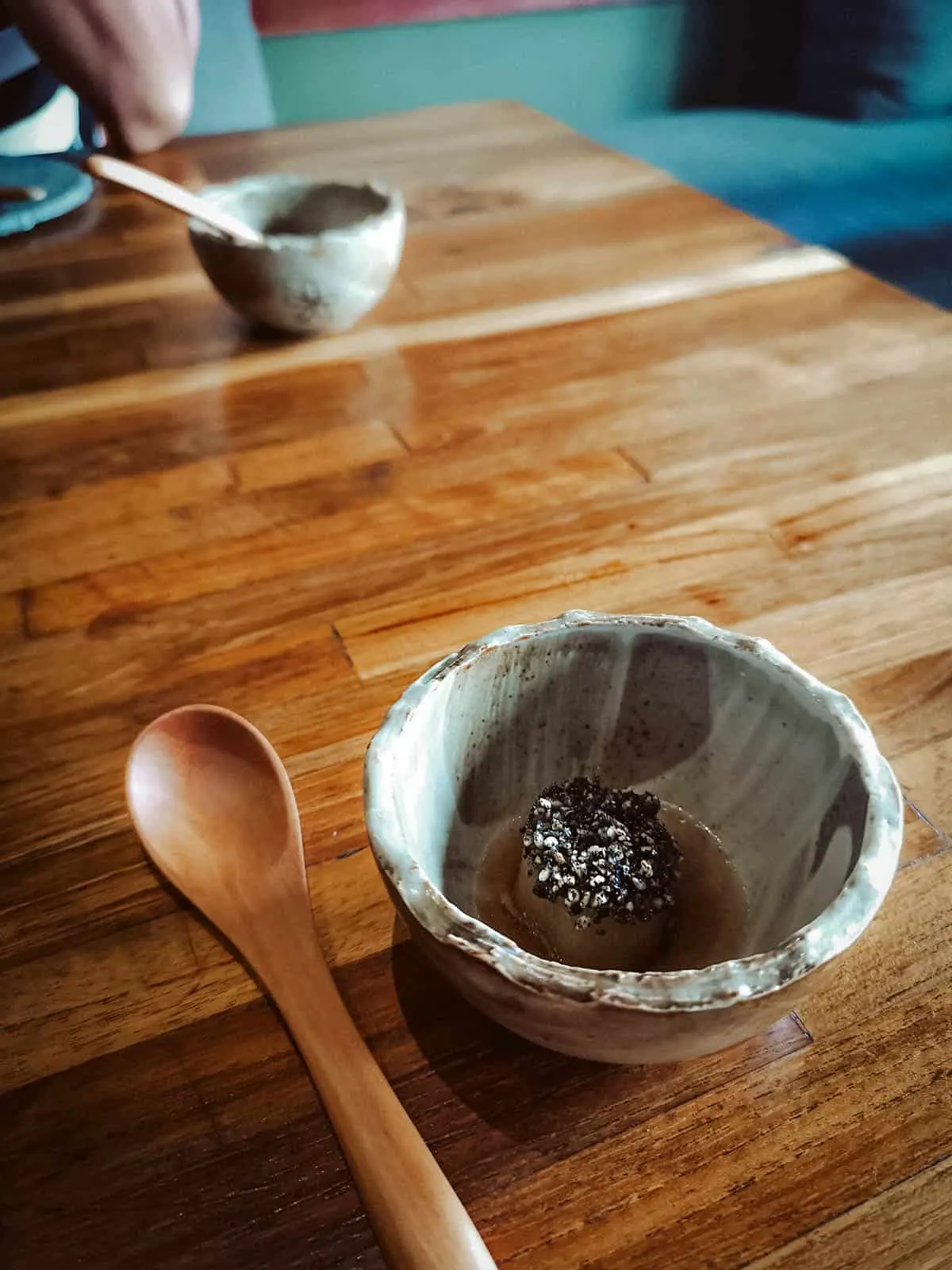 This was interesting. It's fermented sambal on a cassava leaf "chip" topped with a lemon basil leaf.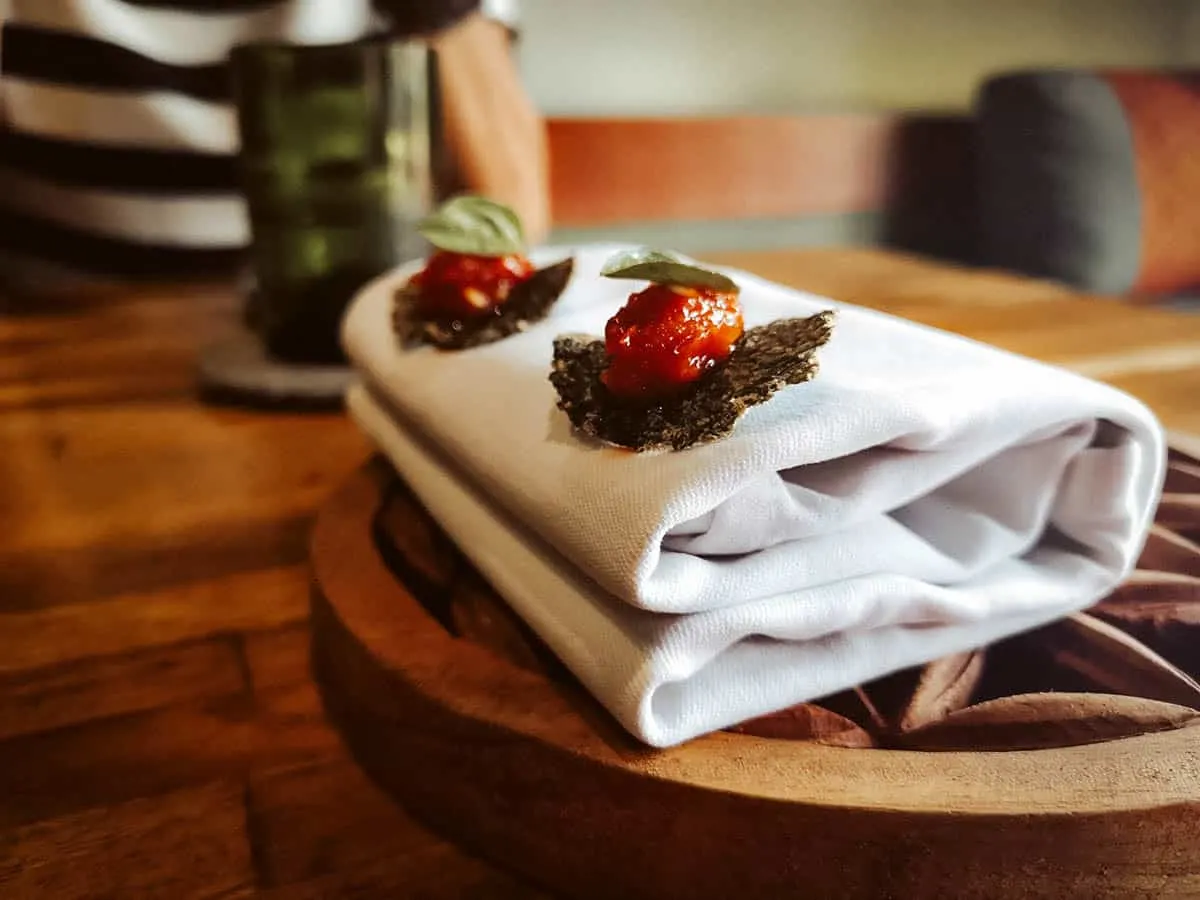 For me, this was the prettiest dish from today's meal. It's a sweet "potato chip" made with yam and sprinkled with turmeric powder and wild flowers. Love the presentation!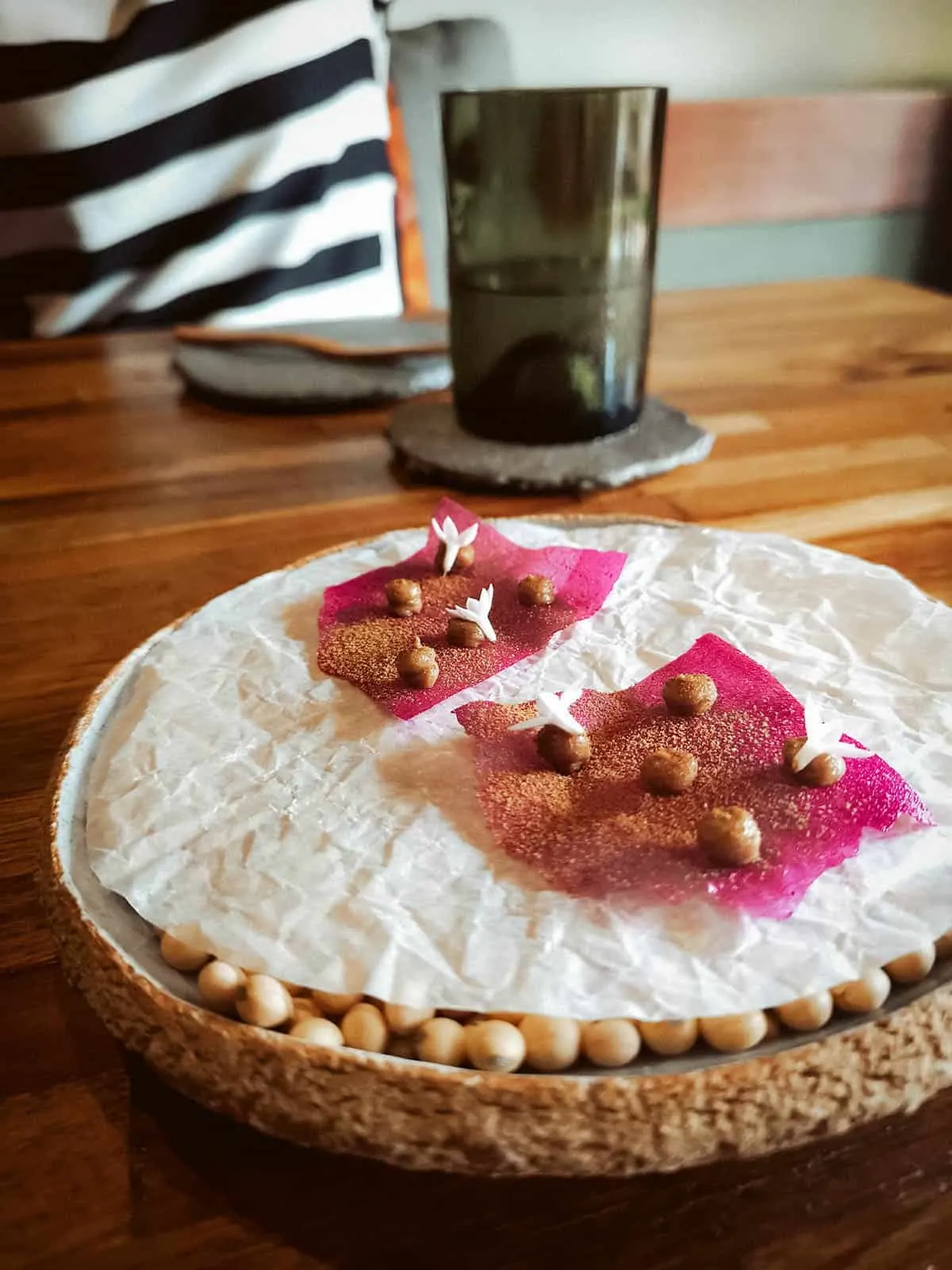 Some things are (almost) too pretty to eat.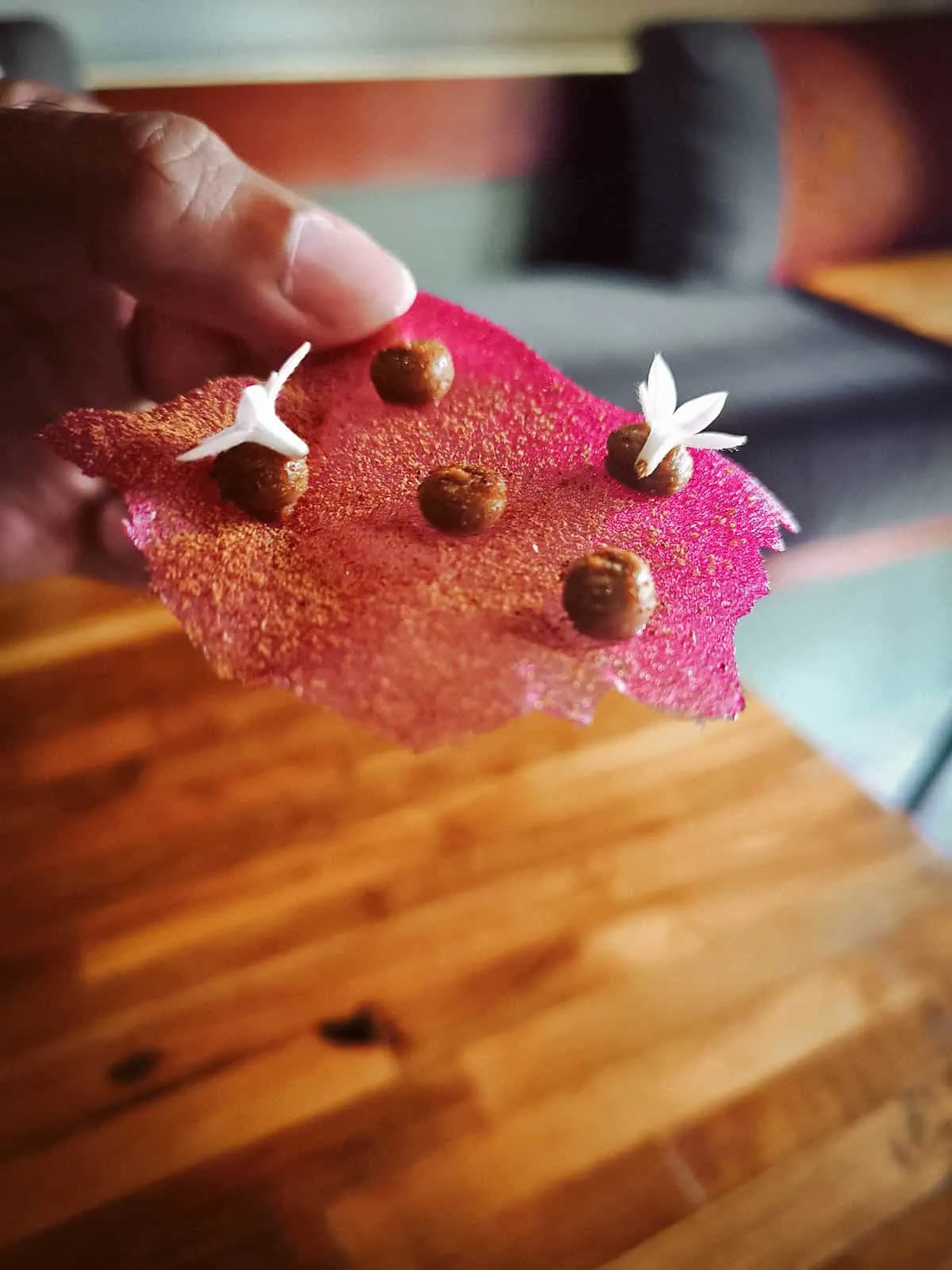 Black rice blini topped with smoked egg emulsion and brown rice puffs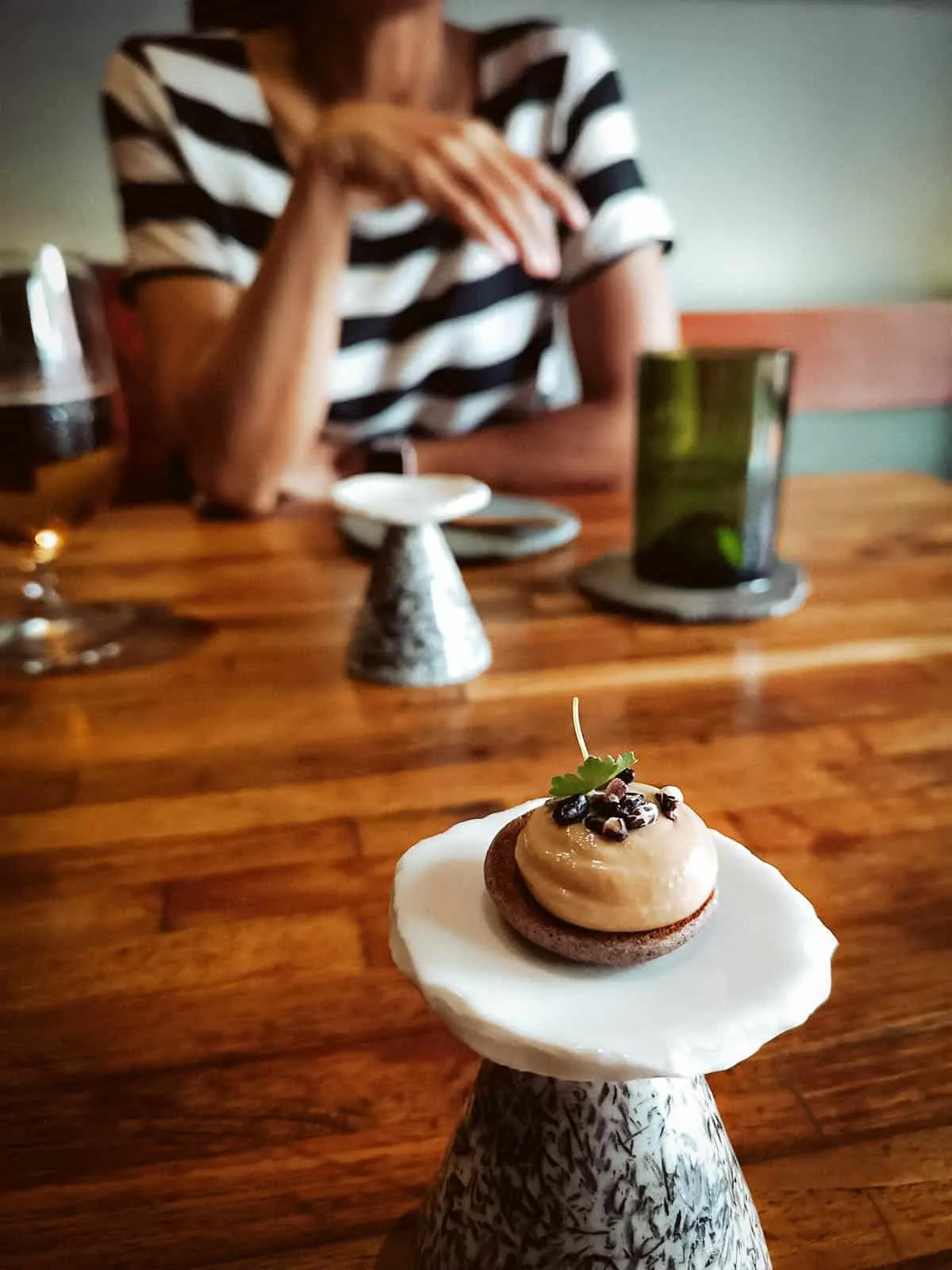 I think they served this to us as a palate cleanser. Smokey, sweet, and sour, it's grilled mango marinated in passionfruit juice and dusted with a spice mixture.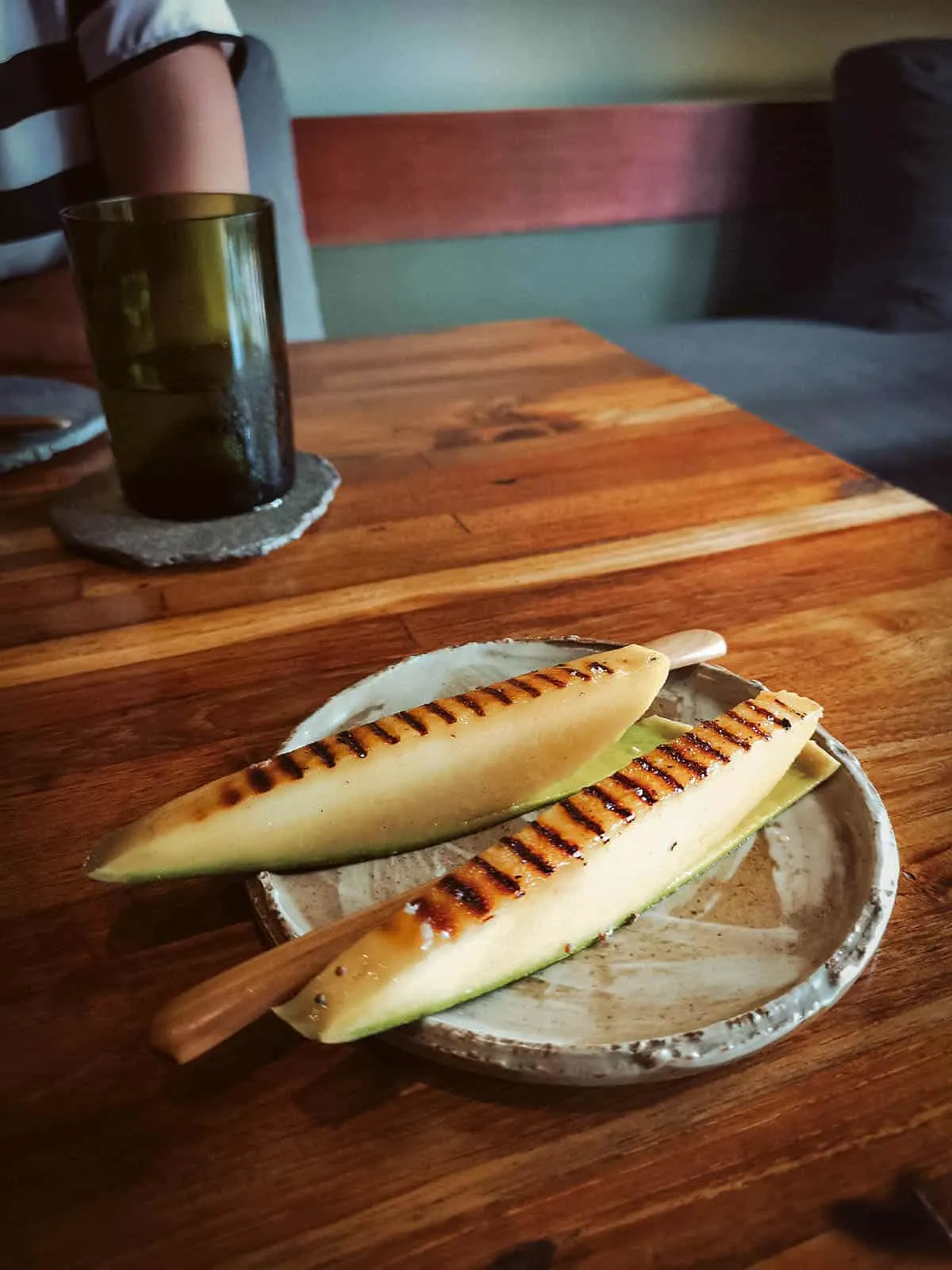 Cold tomato sorbet served on a tomato slice in warm tomato and celeriac consommé. Interesting balance of temperatures!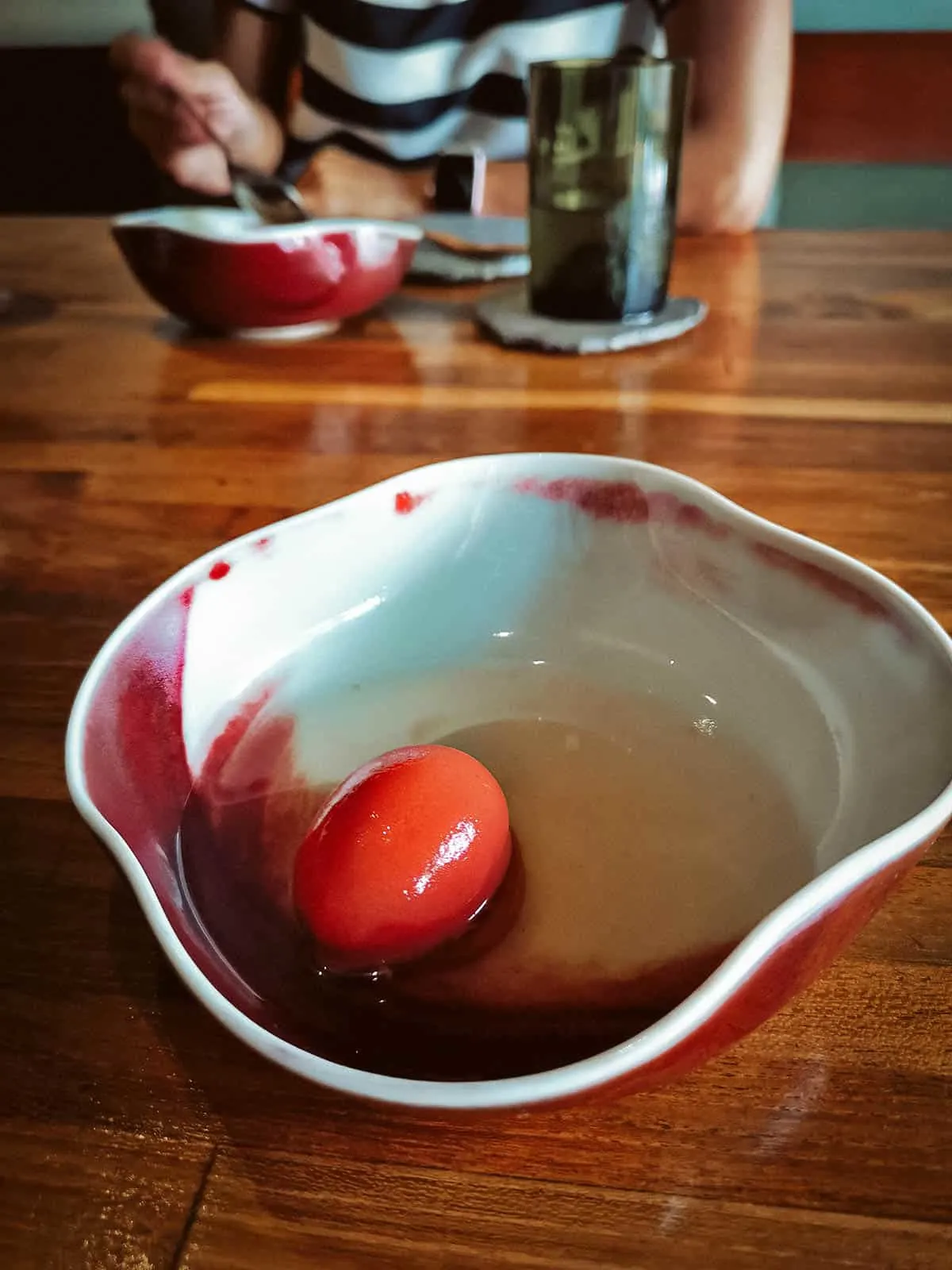 Crunchy flatbread with three condiments – ground peanuts, peanut oil, and salsa. We were told to break off pieces of the bread and top it will all three condiments. It was delicious and the last of today's snacks.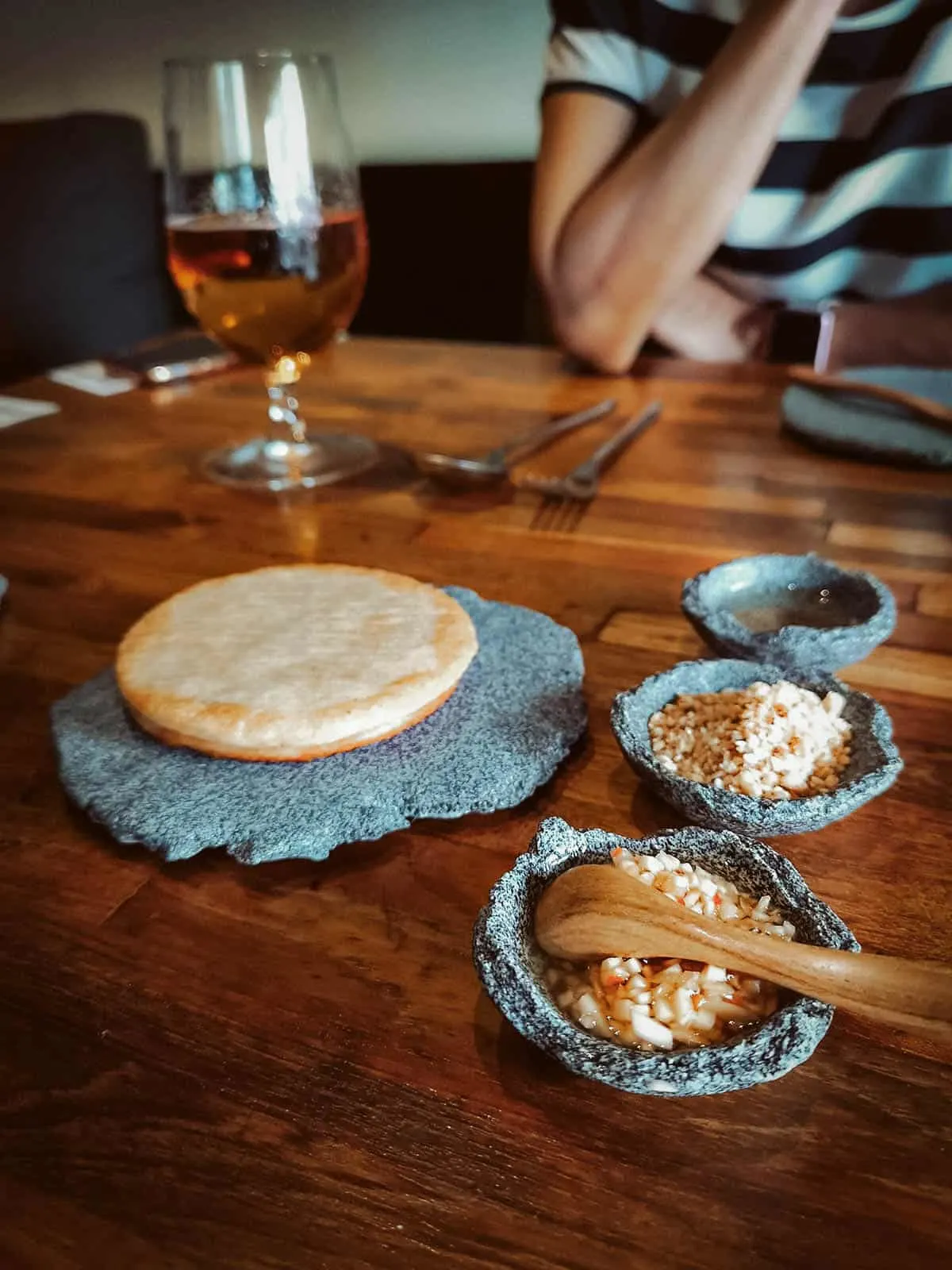 7-Course Locavore Menu
The first course from today's 7-course Locavore menu was this prawn ceviche made with white prawns, cherry tomatoes, clove, passion fruit chilled marinade, clove basil, and kaffir lime oil.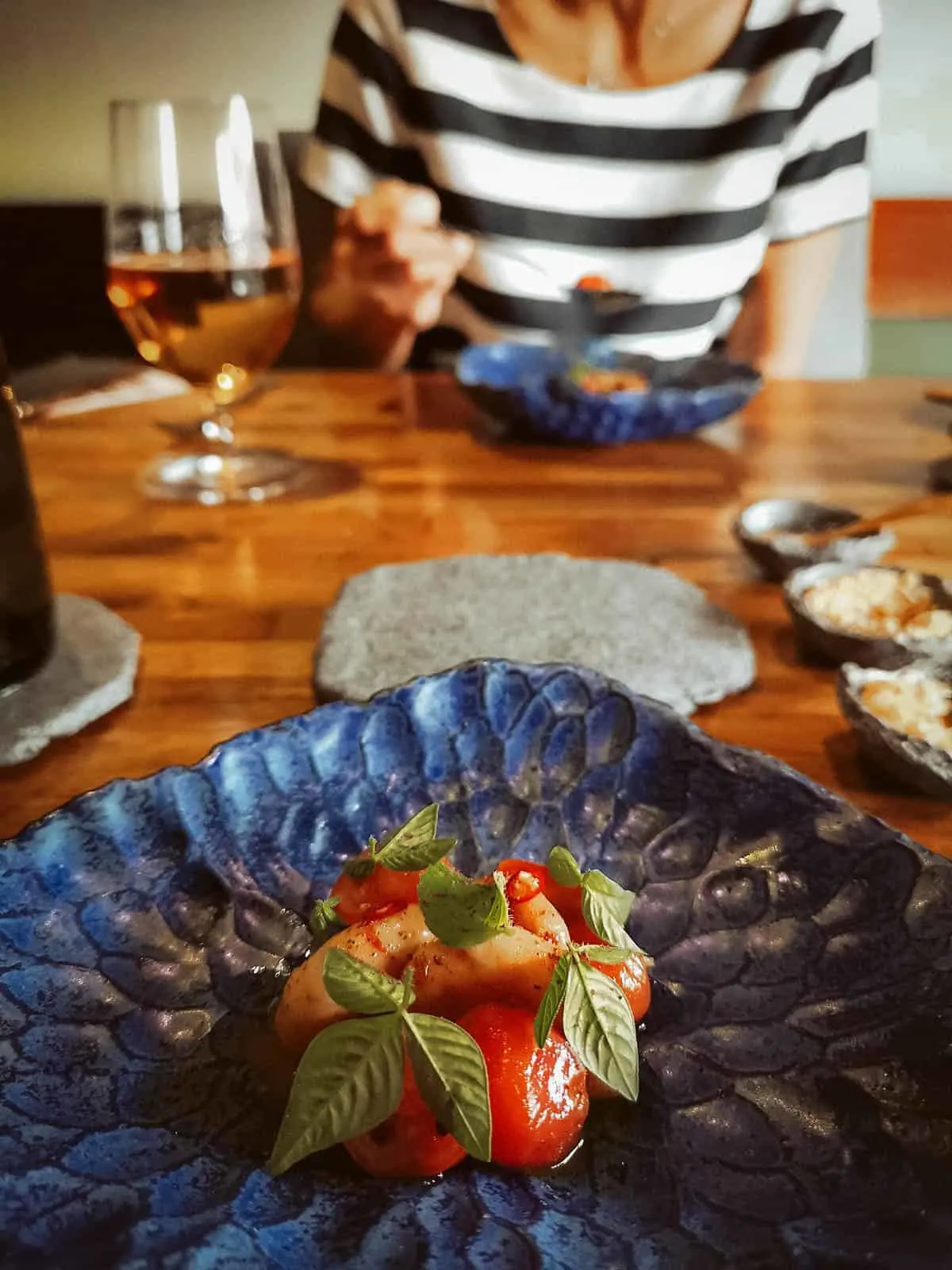 Next up was this beautiful bowl of goat tartare (2nd) made with burnt eggplant, pickled eggplant, kecombrang, fermented shallots, and charred coconut milk. Here's the server pouring the coconut milk into my bowl. So good!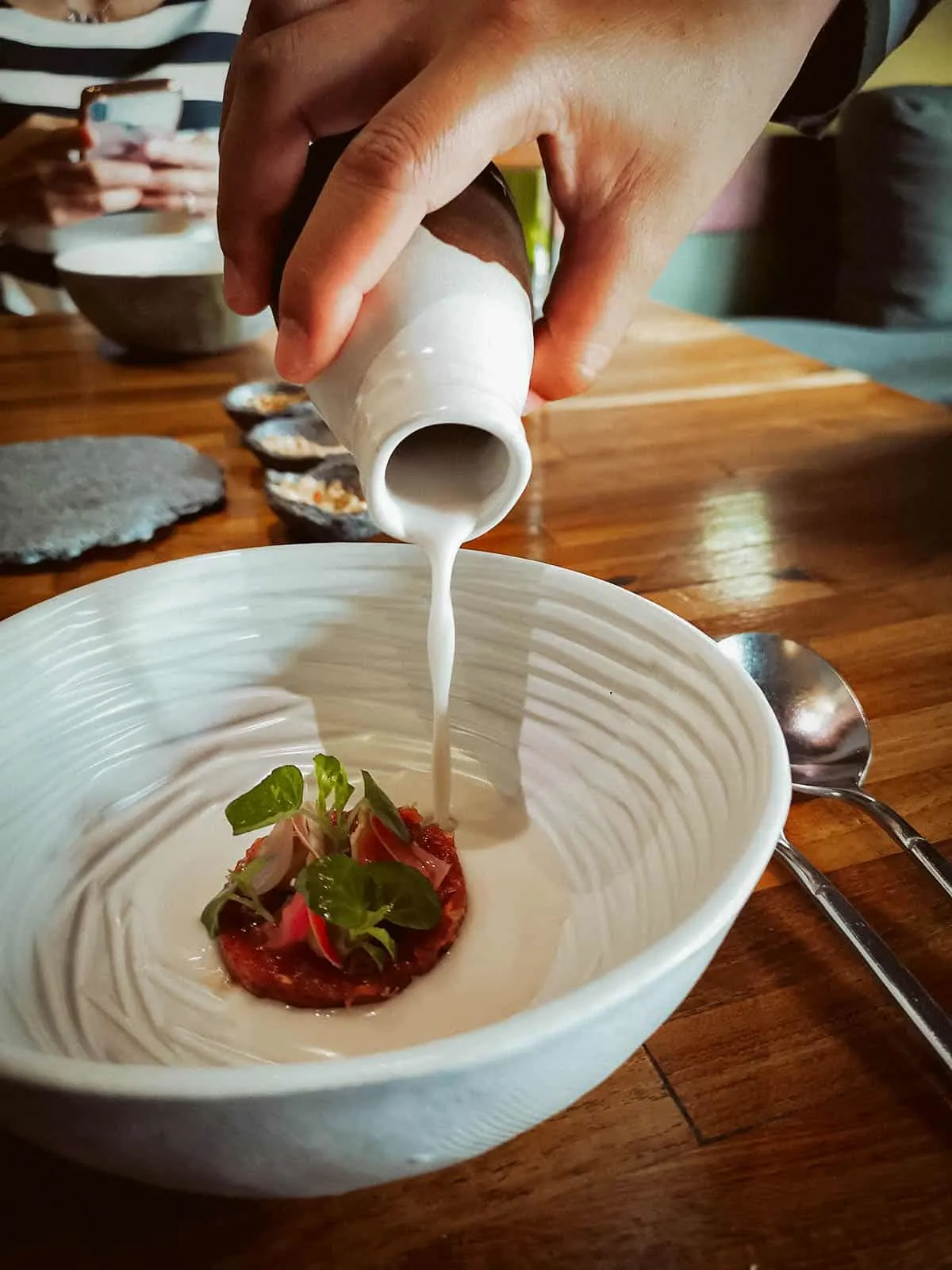 Edible art at its finest. I love the presentation of this dish. It feels like a painting hanging at a contemporary art museum, except I can eat it.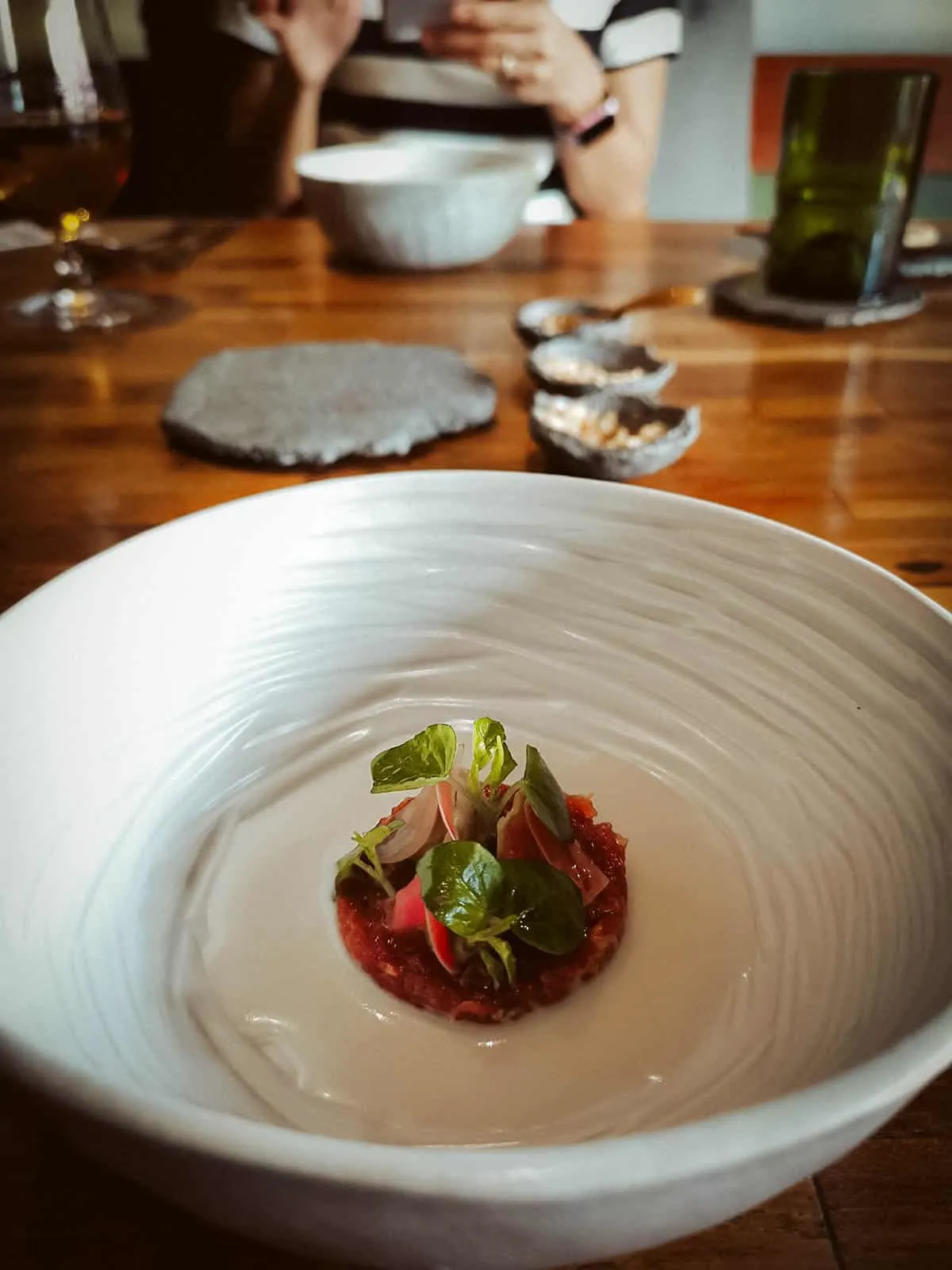 Ren had the 5-course so she unfortunately didn't get this one. It's called sumsum (3rd) and it's made with roasted bone marrow in pandan bone broth with "caviar", shallots, and parsley.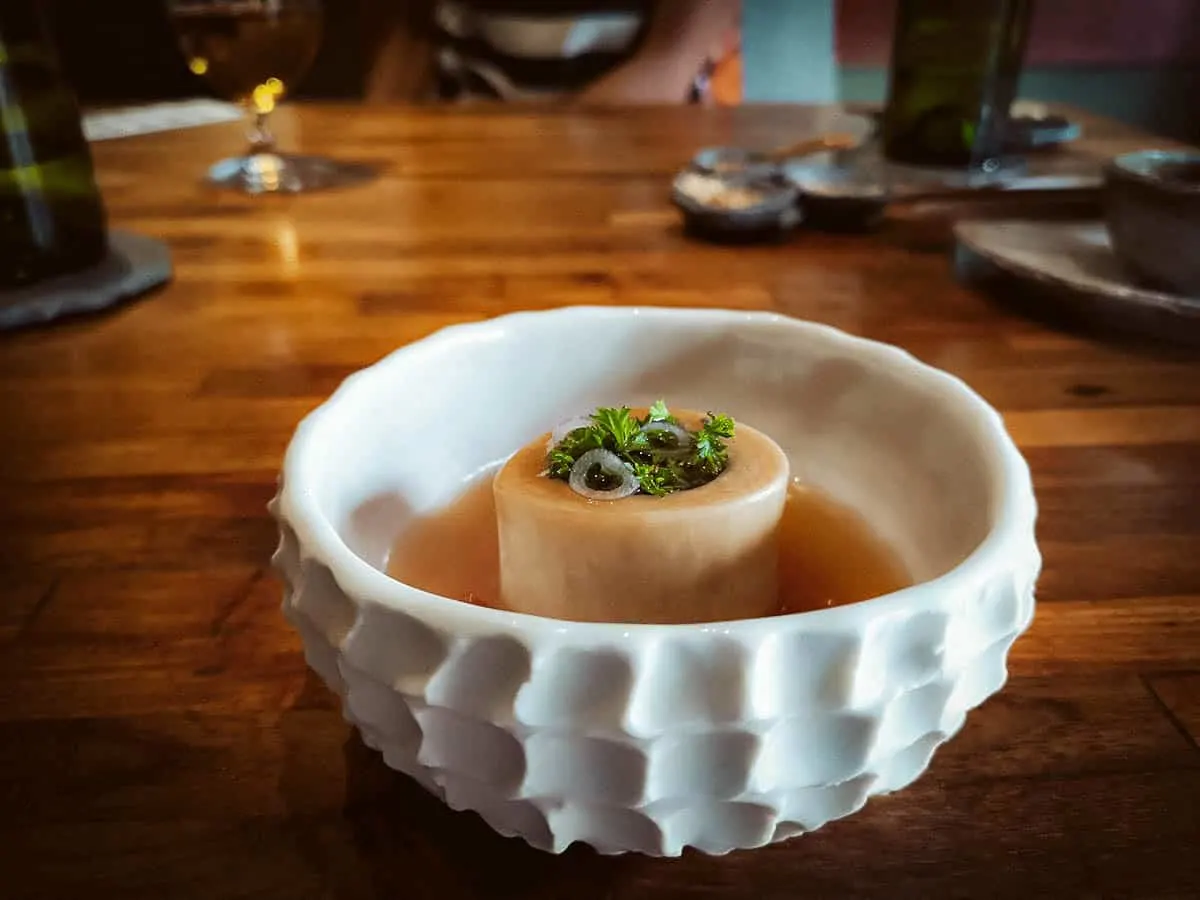 The dish is brought to your table with the bone still encasing the marrow. Using wooden tongs, our server would then slide it off to reveal…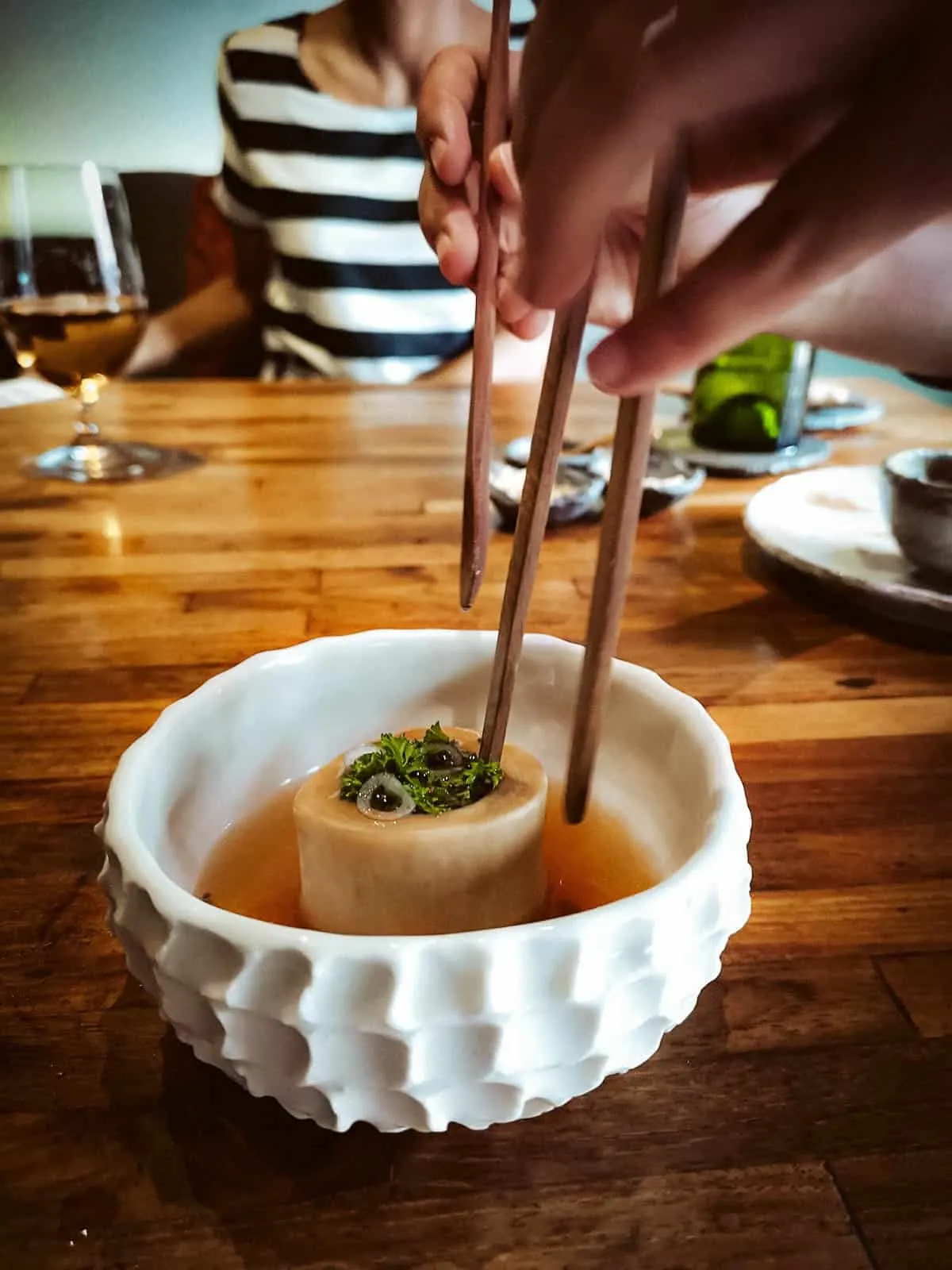 …the beautiful roasted marrow sitting inside. She'd top it off with fried shallots before letting me attack it with a vengeance. I shared it with Ren of course.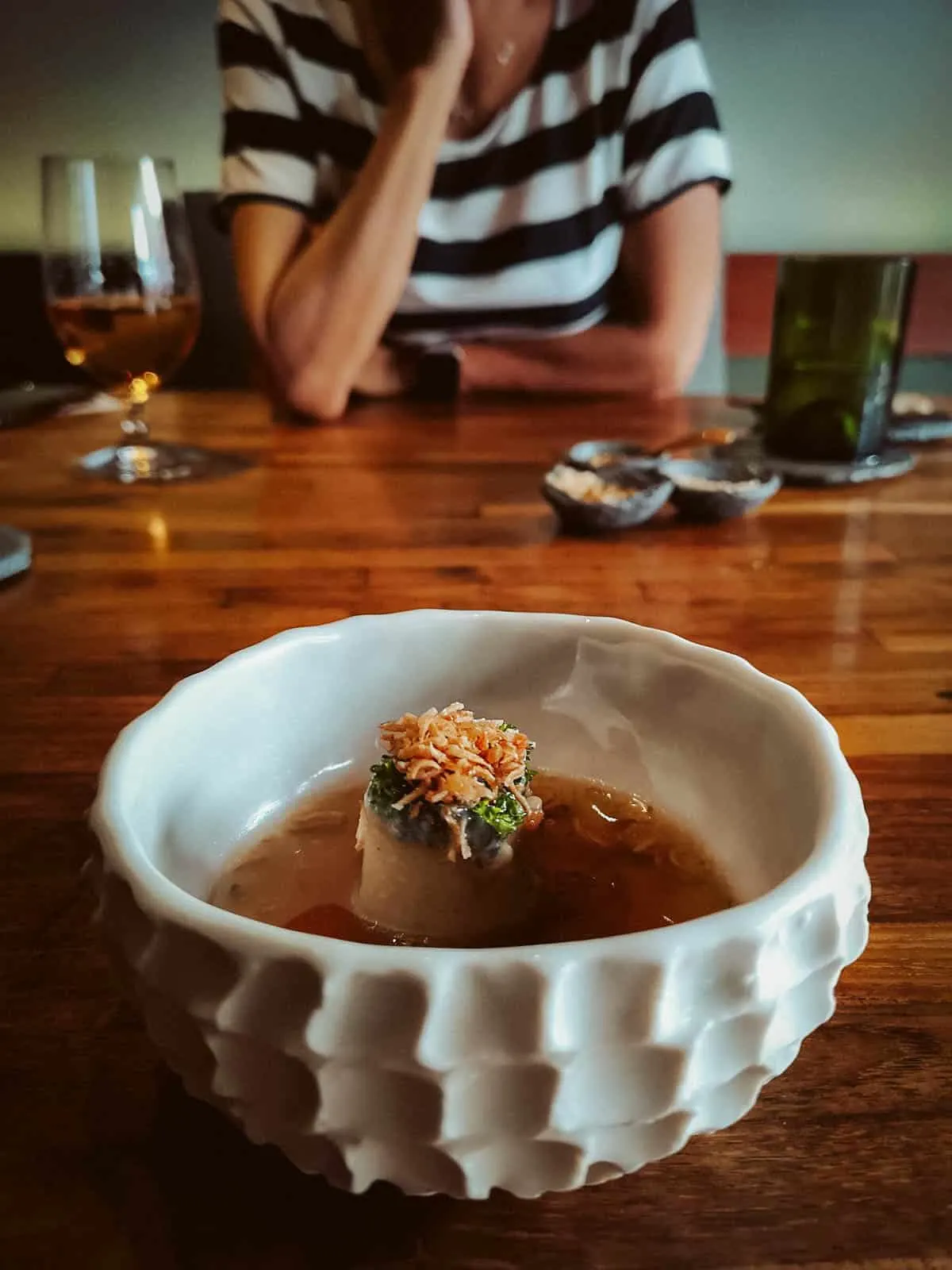 This was one of the most interesting dishes from today's meal. Whimsically named Who Says Lobsters Don't like Chocolate…? (4th), it's made with lobster, raw cacao crust, cacao butter, passion fruit sago, and pickled green mango in vandouvan sauce. You wouldn't think this dish contained lobster and chocolate just from looking at it right?
I didn't know what vandouvan sauce was so I googled it. Apparently, it's a French derivative of masala. It's basically an Indian curry blend infused with aromatics like shallots and garlic.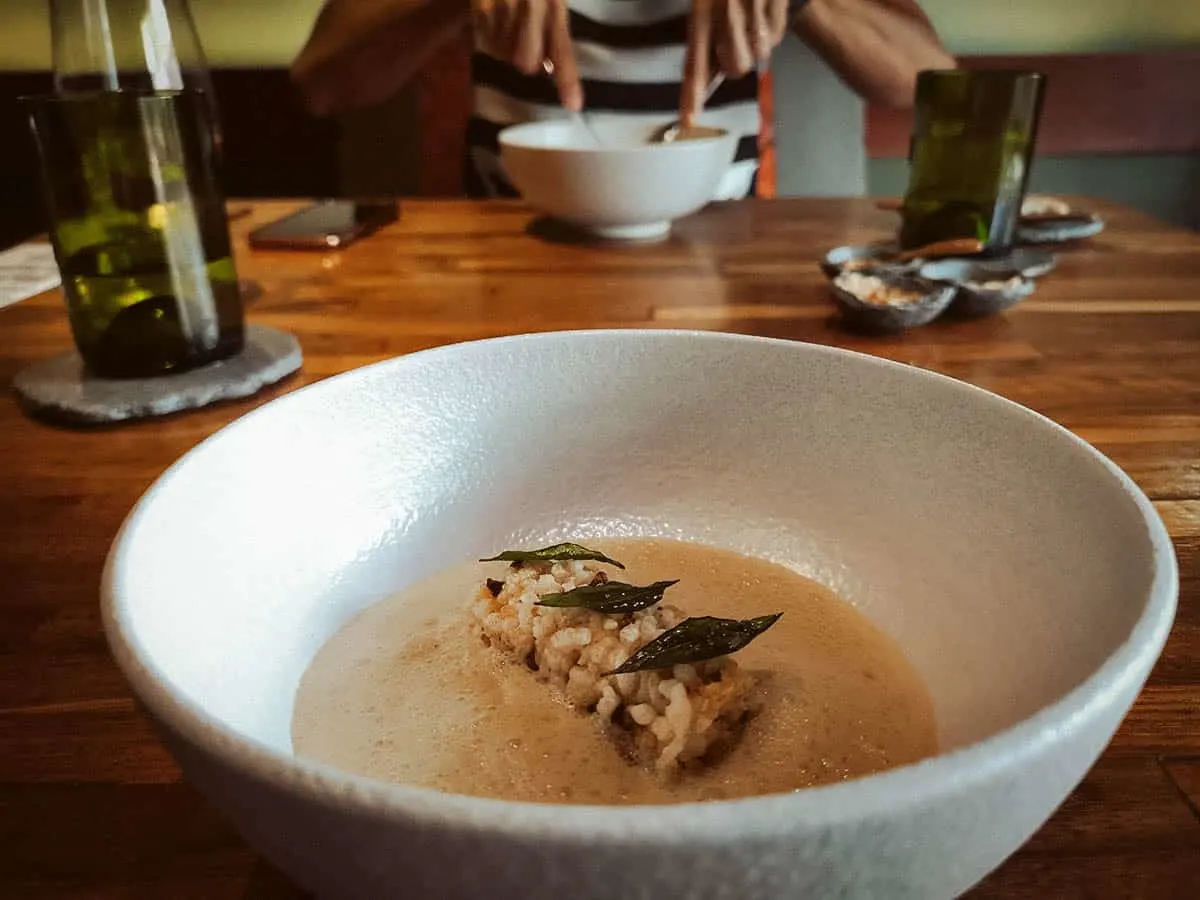 As described, this looks to be the one constant on the Locavore menu. Called Into the Sawah (5th), it's made with heritage galuh rice (from Tegalalang, Central Bali), snails, garlic, a 64° duck egg, frog abon (floss), fern tips, and wild flowers. Beautiful isn't it?
This dish has been on the Locavore menu since they first opened in 2013. Looking at those ingredients, it seemed like an eclectic mix so I was curious to learn if there was a deeper connection. Interestingly, it seems to have been inspired by the Bali rice fields. Sawah in English means "rice fields", and the main components of this dish – duck, snail, frog, fern, wild flowers, and rice – can all be found in a Balinese rice field. I was already impressed with this dish but I appreciated it even more after learning what inspired it.
One last thing, I was expecting the egg to burst with runny yolk but it didn't. In fact, it wasn't runny at all. Instead, it had a thicker and stickier texture, like a heavy custard or yema.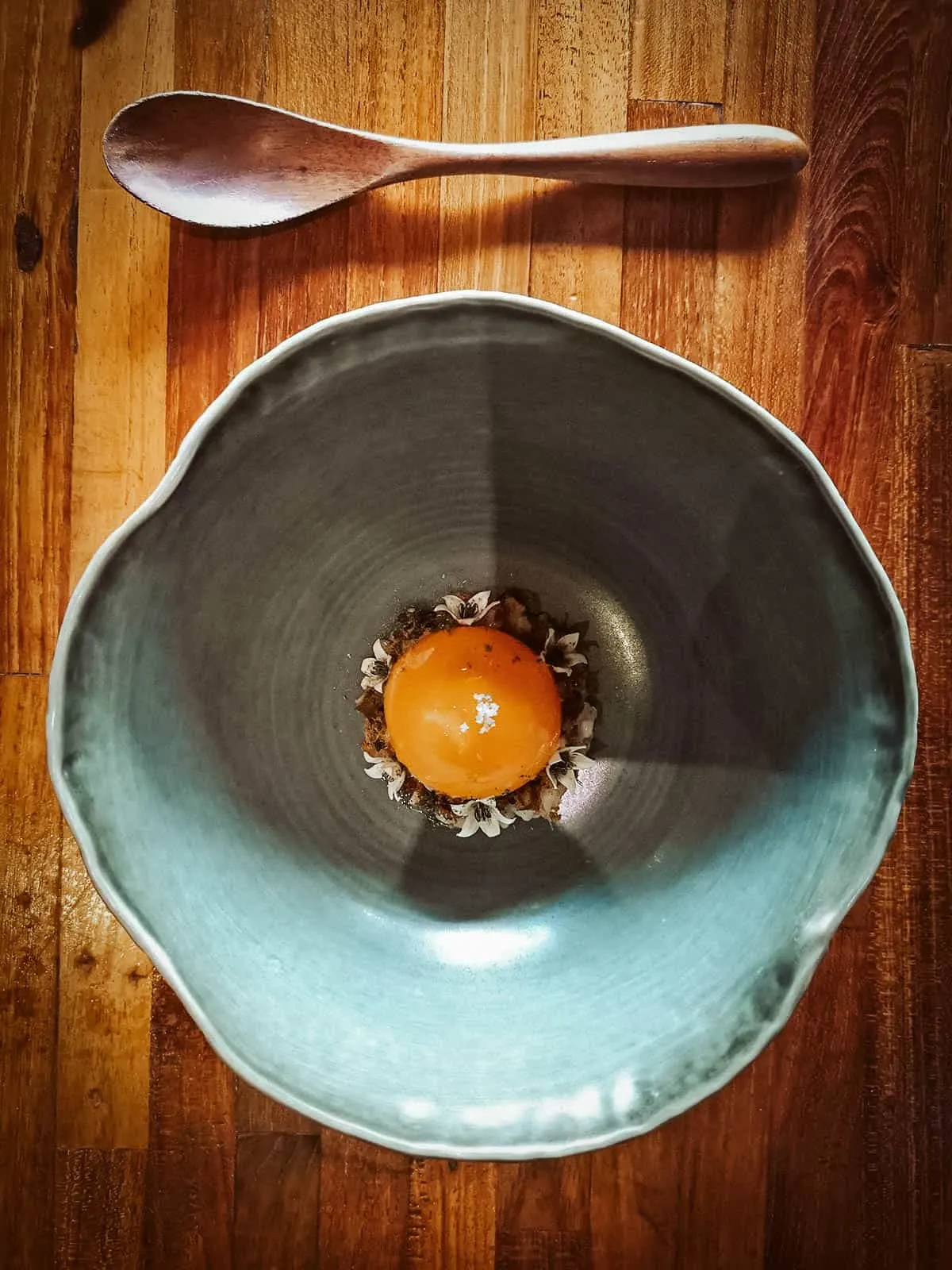 This bangkal hitam (6th) dish was today's main course. It's made with heritage Balinese black pig, smoked potato, salsa, miso onion creme, and stink beans.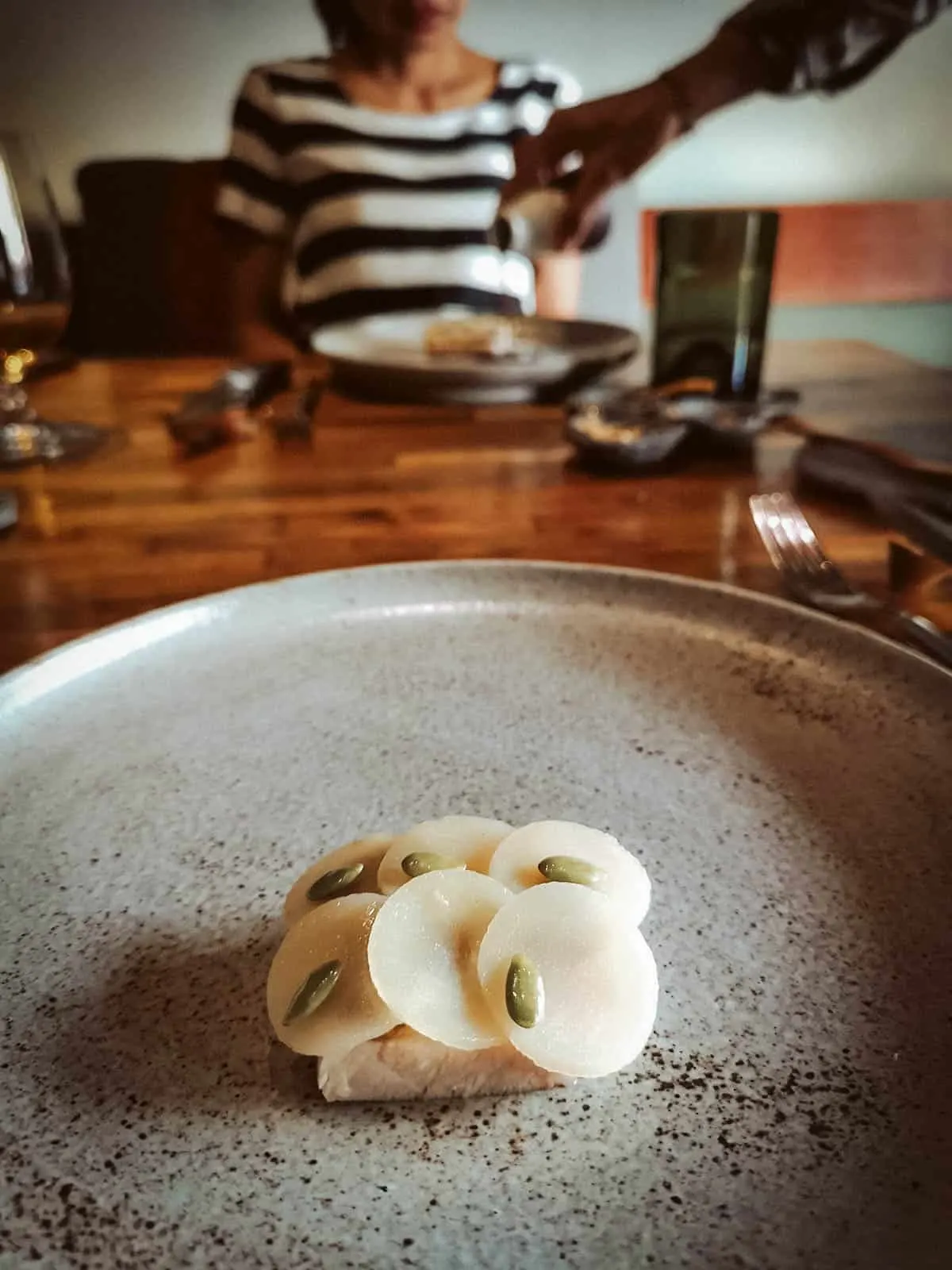 Pouring dark sauce over our bagkal hitam.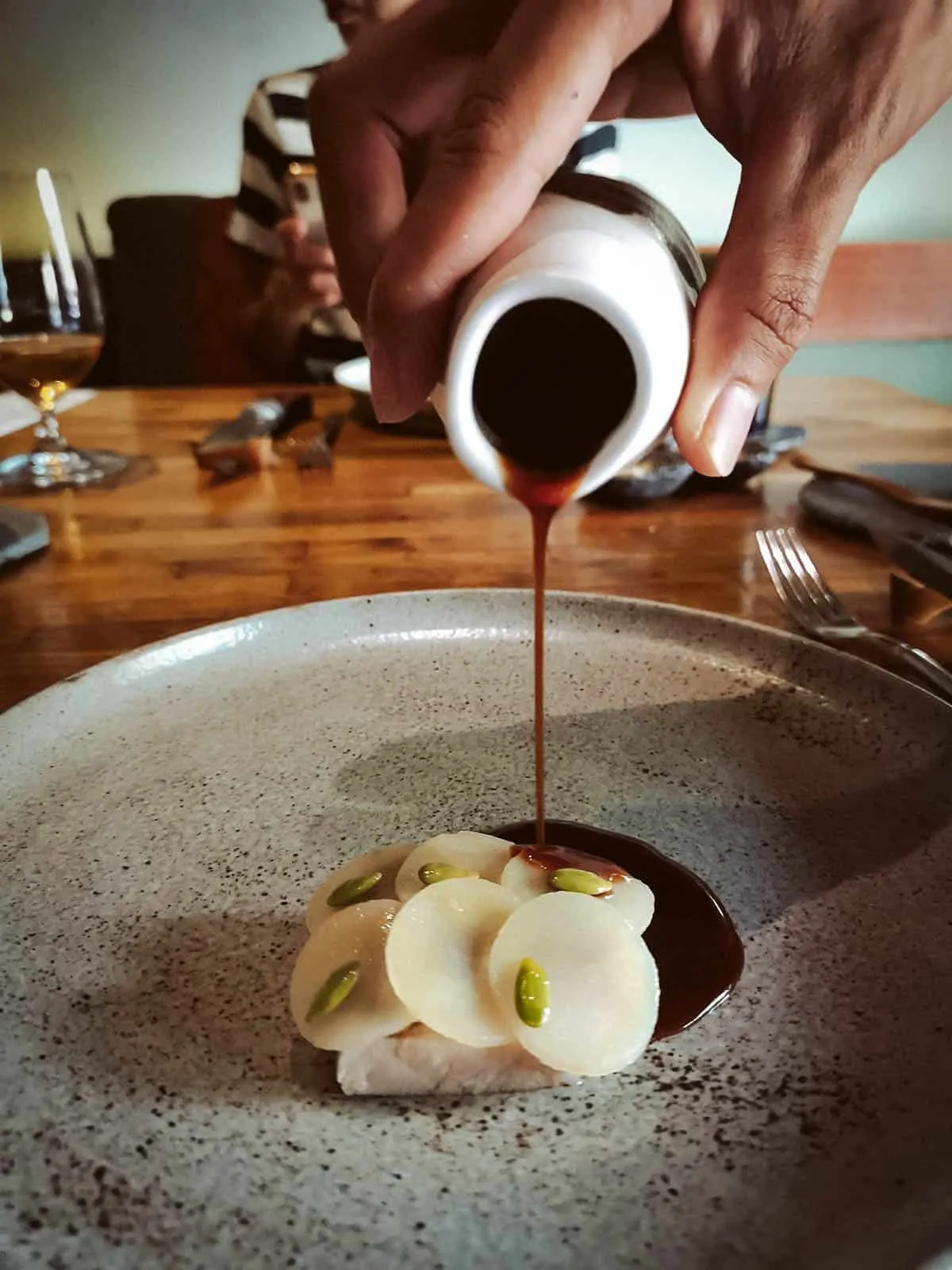 I don't remember what this was but it looks like slices of potato, the same type used to top our cuts of pork.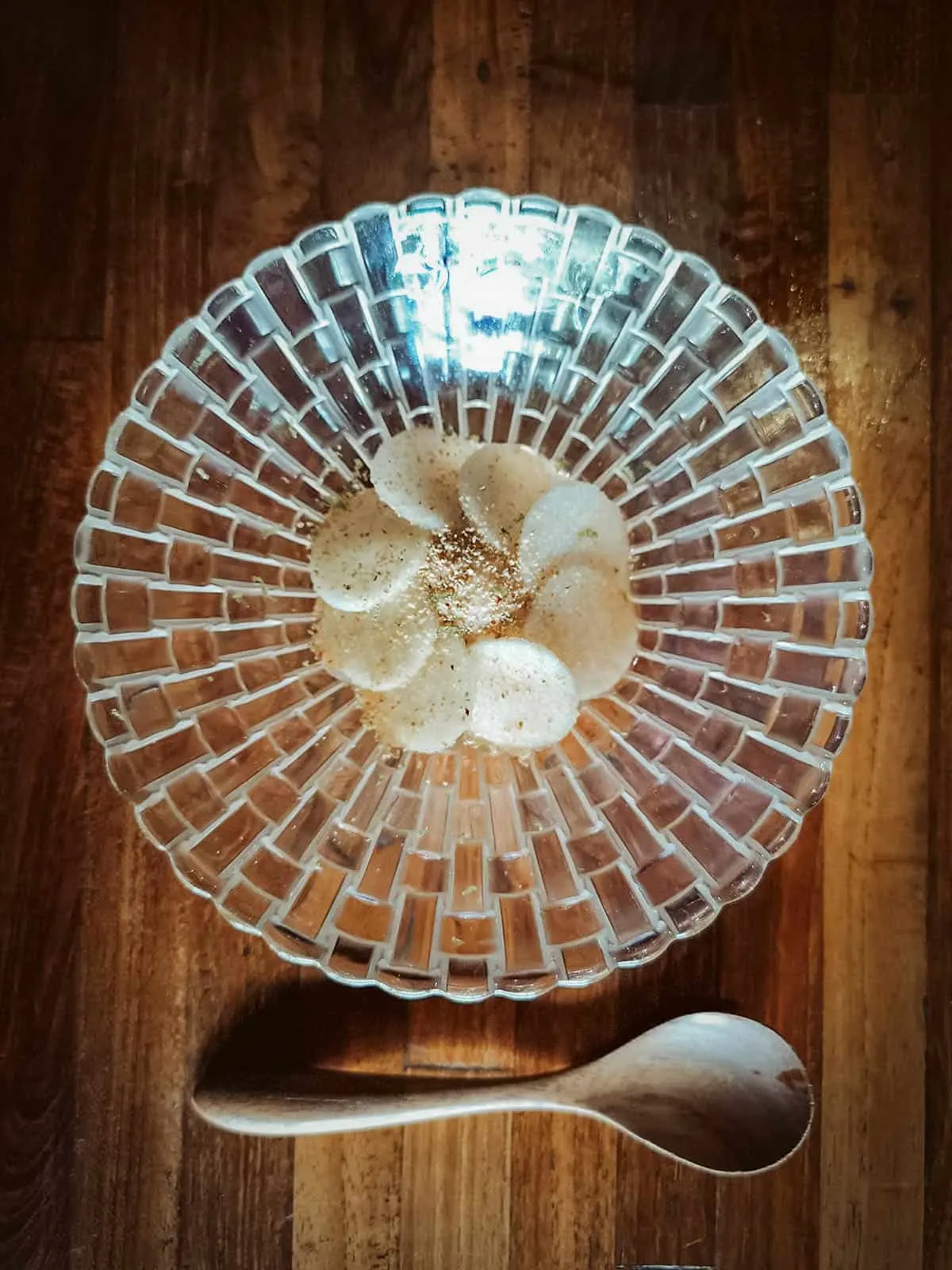 This fragrant rice (7th) dish was the last course from our tasting menu. You'd think that a dish named "fragrant rice" would be savory, but this wasn't. It's actually a dessert made with sweetened rice prepared in different ways along with tart, seasonal passion fruit.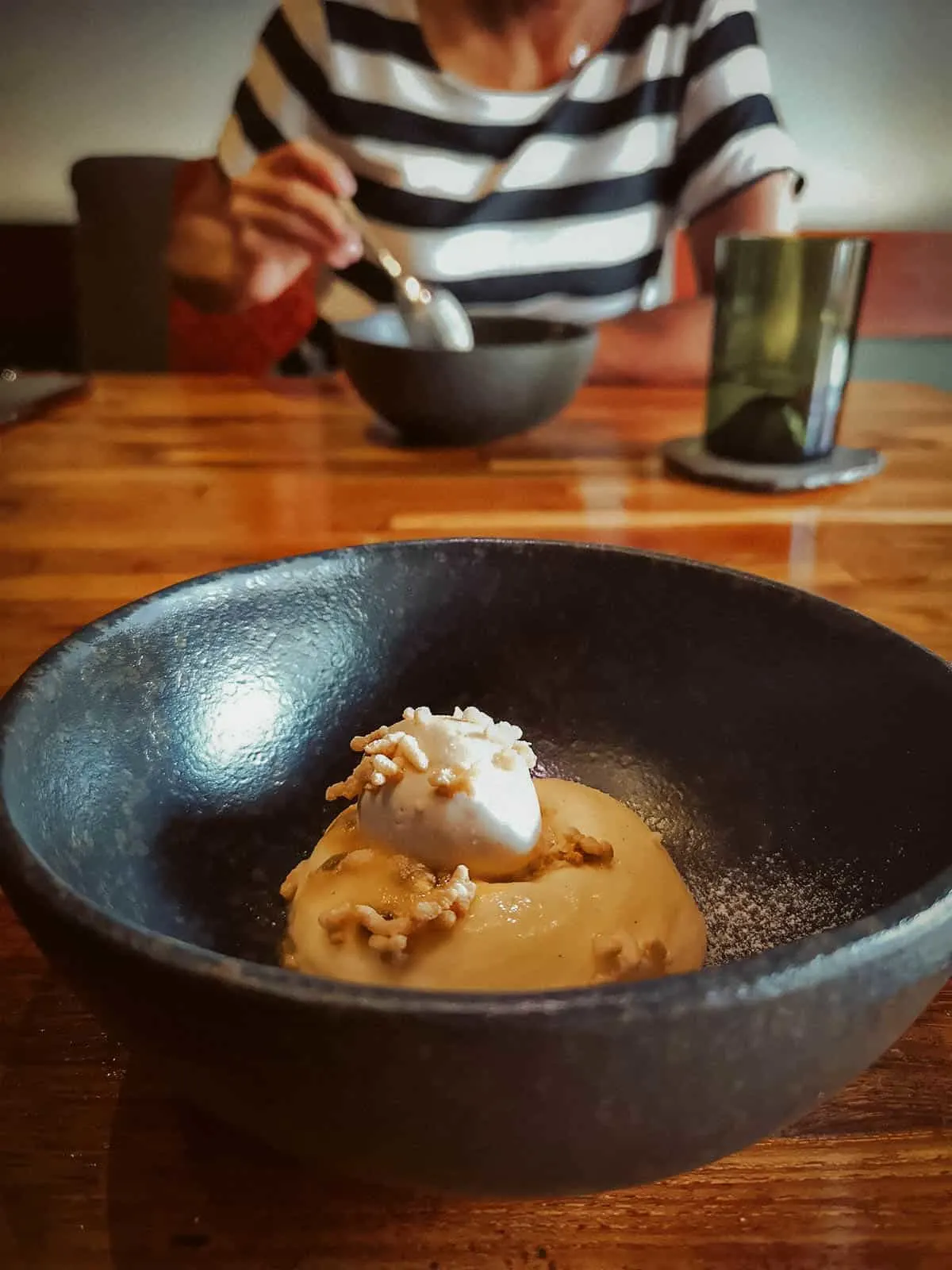 Sweets
Isn't this incredible? After our tasting menus, they gave us two extra courses for dessert, the first being this congklak board filled with different types of chocolate. Congklak is a traditional Indonesian game that's played throughout Southeast Asia. In our native Philippines, it's called sungka. My grandmother used to play it all the time.
It involves a carved wooden board and many small shells, seeds, or stones that are moved from well to well. I thought this was one of the most clever presentations of food I've ever seen.
The gave us a card which described what type of chocolate was in each well: (1) ganache, rosella, grape (2) tape cake, jackgruit gel, coconut (3) peanut and chocolate gianduja (4) salak pate de fruit (5) toraja rice cookie, coffee creme, coffee powder (6) miso and caramel onde-onde (7) kaffir lime krokant, coconut creme (8) dried pineapple, 60% chocolate, long pepper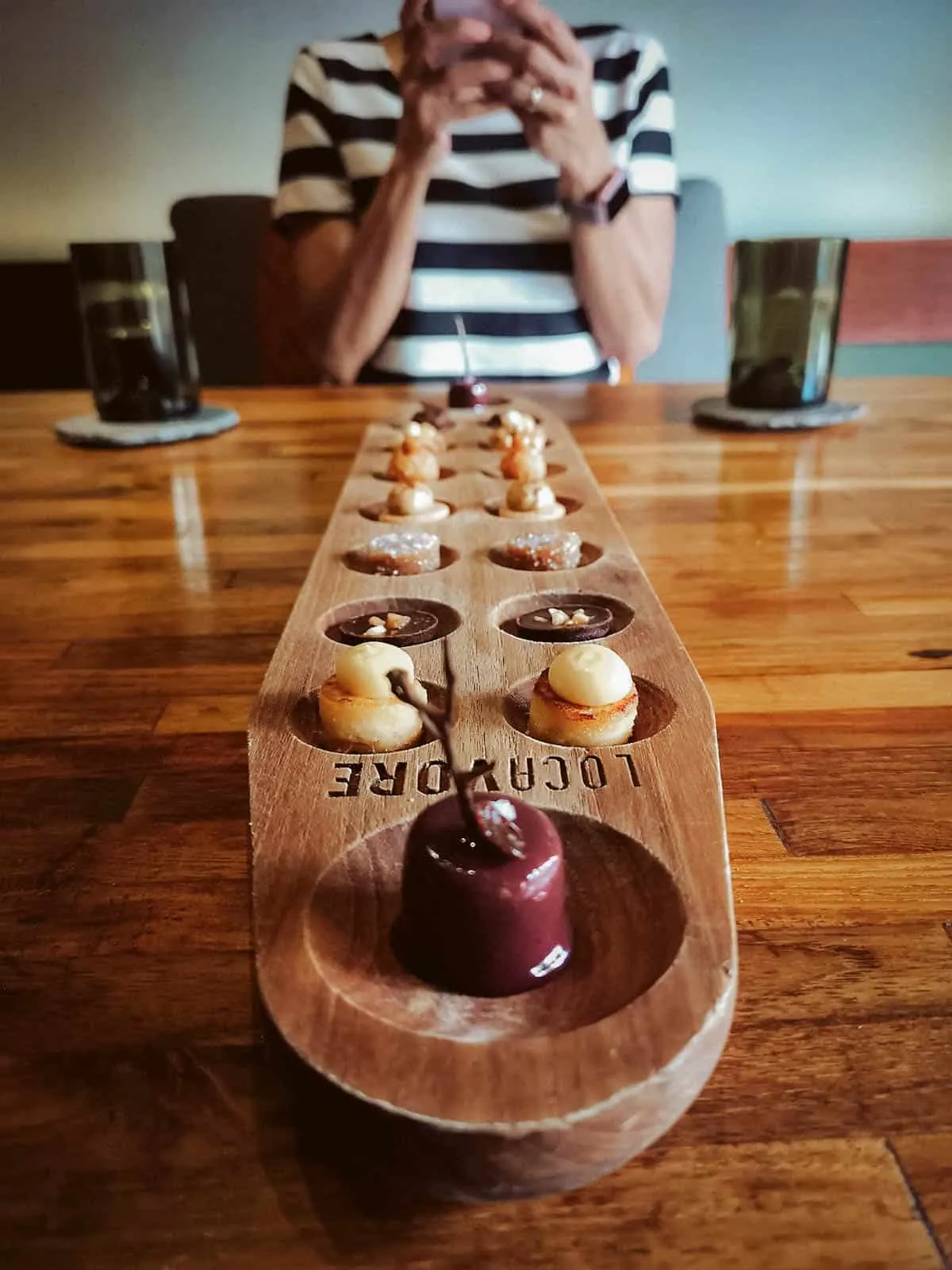 Sorbet
We were given a refreshing sorbet at the very end. I believe it was coconut.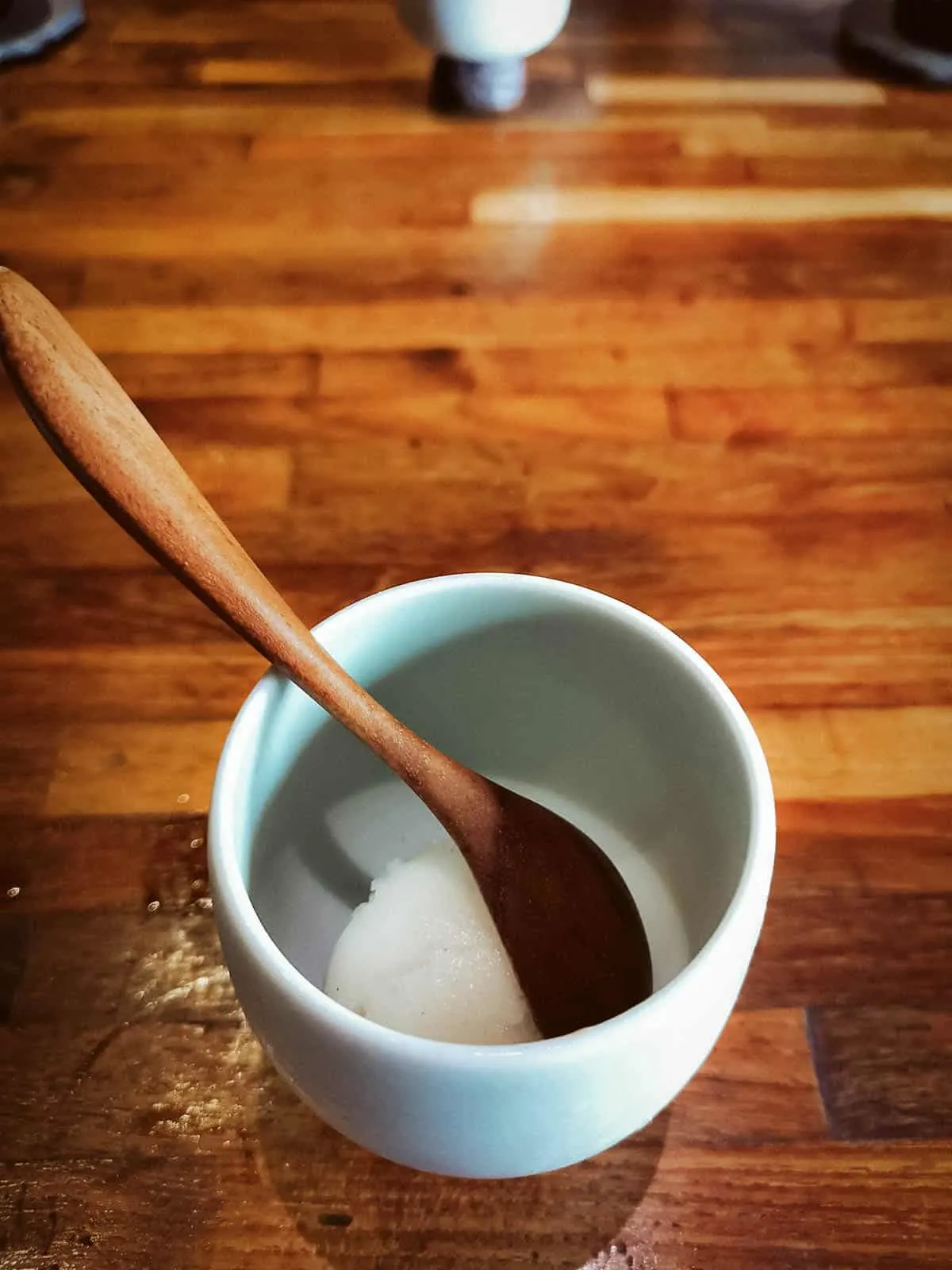 More from Locavore
Because of Locavore's success, the group has been able to expand and create new concepts. Across the street from the restaurant are Locavore to Go and Local Parts. Locavore to Go is a deli specializing in unusual sandwiches while Local Parts is a butcher shop selling all cruelty-free animal products.
We didn't go but they also have a cocktail bar called Night Rooster and another restaurant, their newest, called Nusantara. It aims to celebrate Indonesian food by offering a menu of classic regional dishes that most non-locals have probably never heard of.
It's amazing to see how much the Locavore group has accomplished in the five years since their opening.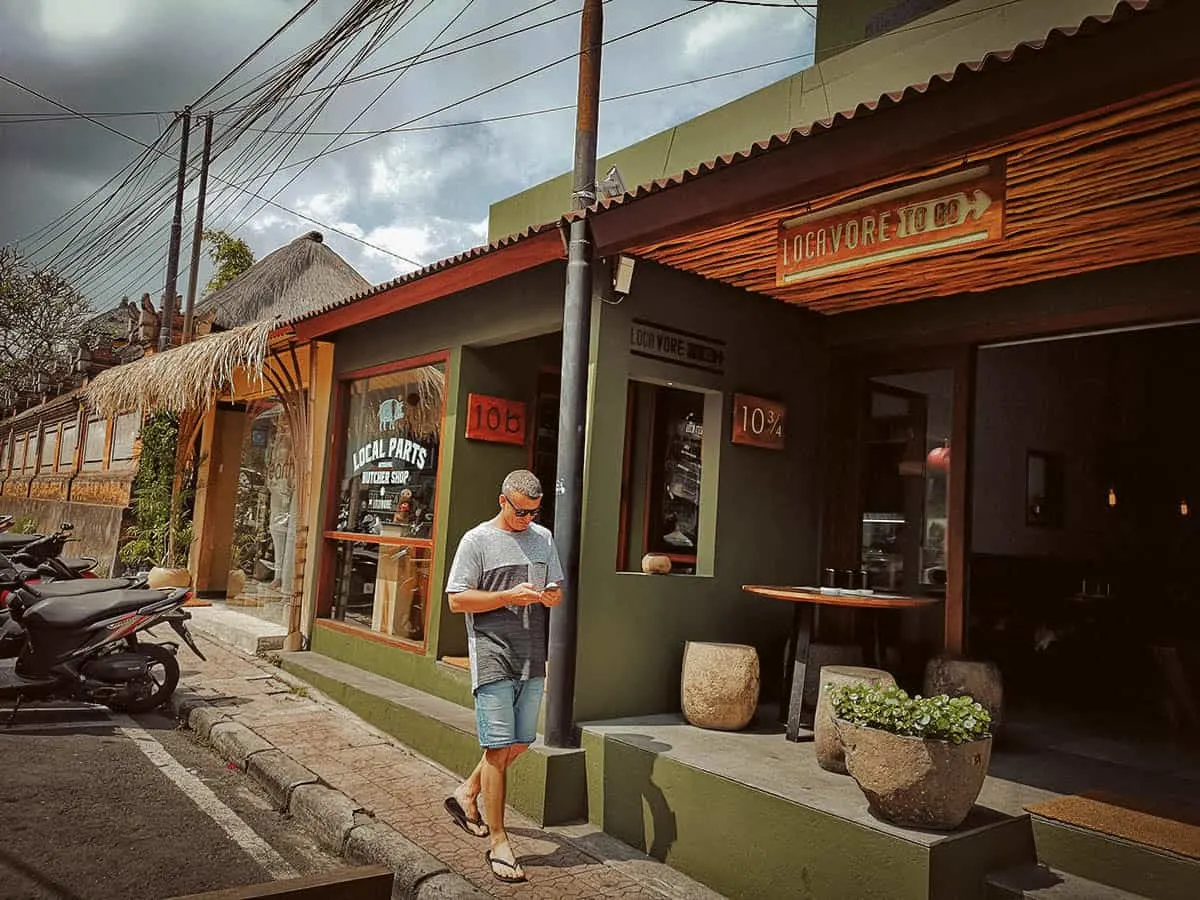 Conclusion
It's no surprise that this was the best meal in our two weeks in Indonesia. Not only were the courses delicious and beautifully presented, but they were fun, cohesive, and told a story – a story of the chefs inside the kitchen and this place they've chosen to call home, Bali. It was inspired from start to finish and well worth its menu price, especially with all the extras they give you.
I don't know when we'll be returning to Bali but I'd like to experience this again. If not at Locavore, then definitely at Locavore to Go or Nusantara.
Promoting sustainability, preserving tradition, and championing the ethical treatment of farm animals, these guys truly are doing great things, both in and out of the kitchen.
Locavore
Jl. Dewisita No.10, Banjar Padang, Tegal, Kabupaten Gianyar, Bali 80571, Indonesia
Tel: +62 361 977733
Operating Hours: 6:30-10PM, Mon / 12NN-2:30PM, 6:30-10PM, Tue-Sat / Closed Sundays
Website: locavore.co.id
Facebook: RestaurantLocavore
Instagram: restaurantlocavore
Expect to Pay: At least IDR 895,000++ (Locavore) / IDR 795,000++ (Herbivore)
HOW TO GET THERE: Locavore is located in the heart of Ubud. From the sacred monkey forest, walk north along the main road then make a right on Jalan Dewisita. Walk straight and the restaurant will be on your left.
Check out our Bali Food Guide for more restaurant suggestions in Ubud and Seminyak.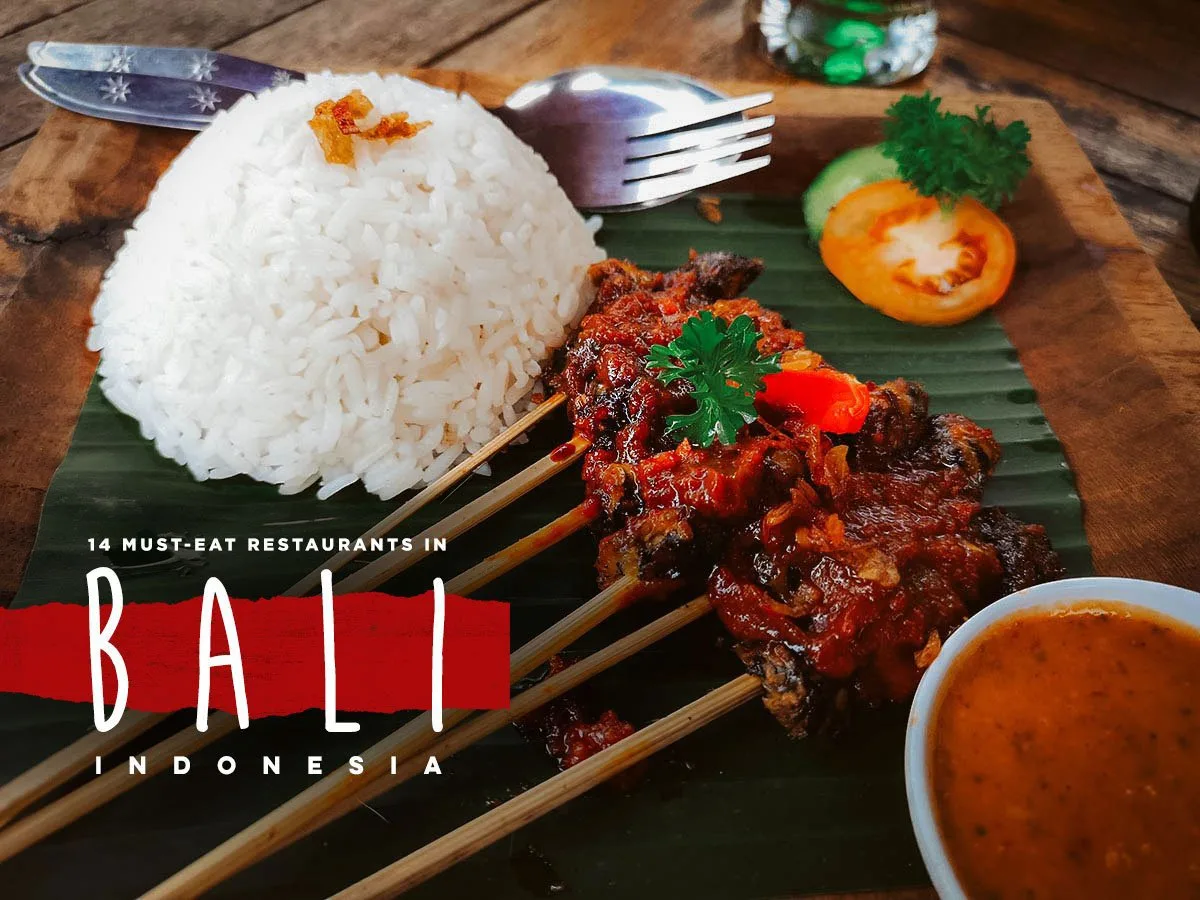 For travel tips to Ubud, check out our The First-Timer's Travel Guide to Ubud, Bali, Indonesia.