EDITOR'S NOTE: Please be advised that as of 24 July 2023, the US Department of State is advising against all travel to Myanmar due to "civil unrest and armed conflict." Please visit travel.state.gov for more information.
To be honest, Yangon was never on my radar. Bagan for sure, but not Yangon.
Like many big cities in Southeast Asia, I looked at it as little more than an entry point into the country, an overnight stopover before proceeding to more exotic destinations in Myanmar like Bagan and Inle Lake. But I was wrong.
As I expected, Bagan didn't disappoint. But surprisingly, neither did Yangon. It was my first time in the city and I enjoyed every minute of my time there. Mohinga quickly became a favorite and Shwedagon Pagoda was nothing short of mesmerizing. I thought it would be like any other Buddhist stupa in Southeast Asia but nothing I had ever seen before was quite like it.
As is often the case with these cities I tend to overlook, Yangon wasn't on my radar but it's now on my list of places I'd like to visit again. It doesn't seem to have as much in the way of tourist attractions but something about this city made me want to be there.
Save This on Pinterest!
No time to read this now? Click on the red save button and pin it for later!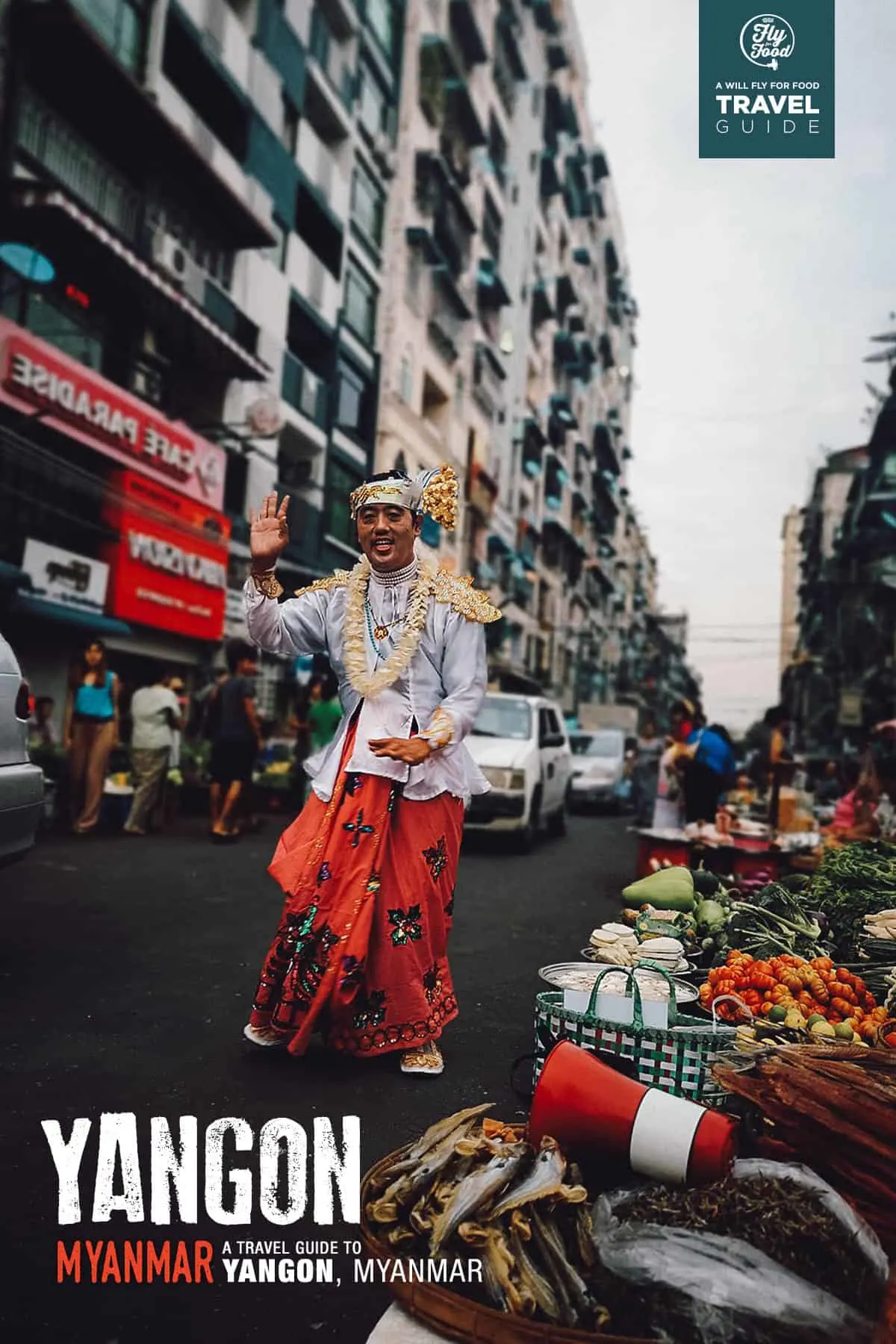 GUIDE TABLE OF CONTENTS
TRAVEL RESTRICTIONS
Because of the current global situation, travel guidelines have been changing often. Our friends at SafetyWing created a website that lists detailed information on travel restrictions around the globe.
Before planning a trip to Yangon, be sure to check the Flatten the Curve website for information on travel restrictions to Myanmar.
YANGON AT A GLANCE
Yangon, formerly known as Rangoon, is Myanmar's former capital and its center of commerce. It's the country's largest city, home to a metropolitan population of over 7 million people.
From a tourism standpoint, it's one of the most visited destinations in Myanmar and where you'll find the country's most sacred Buddhist temple – Shwedagon Pagoda. It's an impressive 326 foot tall (99 meters) gilded structure that's believed to contain relics of four previous Buddhas. If you were to visit just one attraction in Yangon, then that should definitely be it.
I didn't realize this at the time but Yangon is also home to the largest number of colonial-era buildings in Southeast Asia. Burma was a former British colony, with Rangoon serving as the commercial and political hub of British Burma. If you like architecture, then all the more reason to visit Yangon.
BEST TIME TO VISIT
Like many cities in Southeast Asia, Yangon experiences two seasons – rainy and dry. The rainy season is from May till October while the dry season is from November till April. When it rains in Yangon, it pours, so it's best to go during the dry season. March and April are two of the hottest months so the ideal time to visit is from around mid-November till February.
NOV-FEB: This is the dry season and the best time to visit Yangon. I was there in mid-December and the weather was indeed ideal. There were clear blue skies everyday.
MAR-APR: This is still the dry season, but it's also the hottest time of the year with the temperature often hitting 40°C (104°F). Being in Southeast Asia, it's already hot even in the coolest months so this may not be the most comfortable time to go.
MAY-OCT: The rainy season starts around mid-May and goes until October. Monsoons become a regular occurrence and bring bucketfuls of rain from June till August. I've been creating these weather graphs for many destinations, and Yangon experiences the second heaviest rainfall I've seen so far, behind only Mumbai. For most travelers, this is probably not the best time to go.
Climate: Annual Monthly Weather in Yangon
For more on Yangon's weather, check out these climate graphs from weather-and-climate.com. I've also created average temperature and annual rainfall graphs with the most ideal months to visit marked in orange.
Average Temperature


Annual Rainfall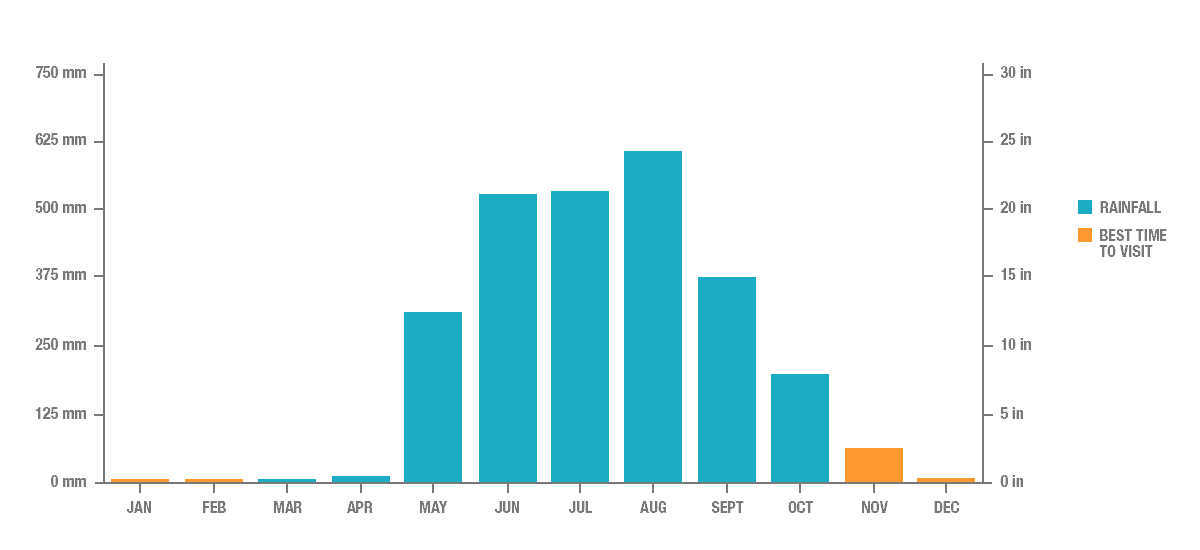 TRAVELING TO YANGON
I flew to Myanmar from Kuala Lumpur so I arrived at Yangon International Airport. If you're flying into Yangon, then there are a few ways to get to your hotel from the airport.
BY GRAB: This is what I did. I arrived early in Yangon so I booked a Grab straight to Shwedagon Pagoda. A Grab ride from the airport to the Sule Pagoda area in downtown Yangon should cost you around MMK 6,000-7,000. It's the easiest and most convenient way of getting to your hotel from the airport.
BY TAXI: Because of Grab, I didn't take taxis at all in Yangon but based on what I've read, a taxi ride from the airport to the Sule Pagoda area should run you around MMK 10,000-15,000. You can book one from the airport's taxi kiosk.
BY BUS: At just MMK 500, this is by far the cheapest way to get to the downtown area from the airport. The Omni Focus bus has two routes running between Yangon International Airport and Central Railway Station. After exiting the terminal, turn left and walk straight until you reach the bus stop. Stops for both routes are posted in English so you can take the one with a stop closest to your hotel. Buses operate 24 hours and run every 15-30 minutes or so.
BY PRIVATE TRANSFER: If you'd like to book a private transfer in advance, then you can do so through Bookaway. This is the most comfortable option but also one of the most expensive.
I flew to Yangon but there are other ways to get there depending on where you are. I suggest checking Bookaway to find route options available to you. You can click on the link or use the widget below.
WHERE TO EXCHANGE CURRENCY
The unit of currency in Myanmar is the Burmese Kyat (MMK). I withdrew all my MMK from ATMs but if you'd like to exchange foreign currency in Yangon, then you can do so at banks or licensed money changers. You'll find plenty of reputable money changers at popular tourist spots like Bogyoke Aung San Market and Sule Pagoda.
I used to exchange currency all the time but I find myself withdrawing from ATMs more often these days. Rates are competitive and it's more convenient because you don't have to carry large sums of foreign currency with you. Just make sure to let your bank know that you'll be using your ATM card overseas so you don't run into any problems. In my experience, my card works in most machines but there have been a couple of times when it didn't.
NOTE: Some ATMs may ask if you'd like to proceed "with or without conversion". Always proceed WITHOUT conversion. If you proceed with conversion, then that authorizes the foreign bank operating the ATM to do the conversion instead of your local bank, usually at less than favorable rates. According to this article, the difference in rates can be as high as 10%.
BEST AREA TO STAY
Yangon doesn't have an extensive transportation system so I think it's best to stay in the downtown area. But if you'd like to be closer to Shwedagon Pagoda and Kandawgyi Lake, then you can stay in the Bahan area which is just north of downtown.
I've created the color-coded map below to help you better understand where each of these areas are. Click on the link for an interactive version of the map. (Please note that marked areas are approximations only)
RED – Downtown Yangon
BLUE – Bahan
I'll provide targeted links under each description but you can book accommodations in Yangon through Booking.com or Agoda.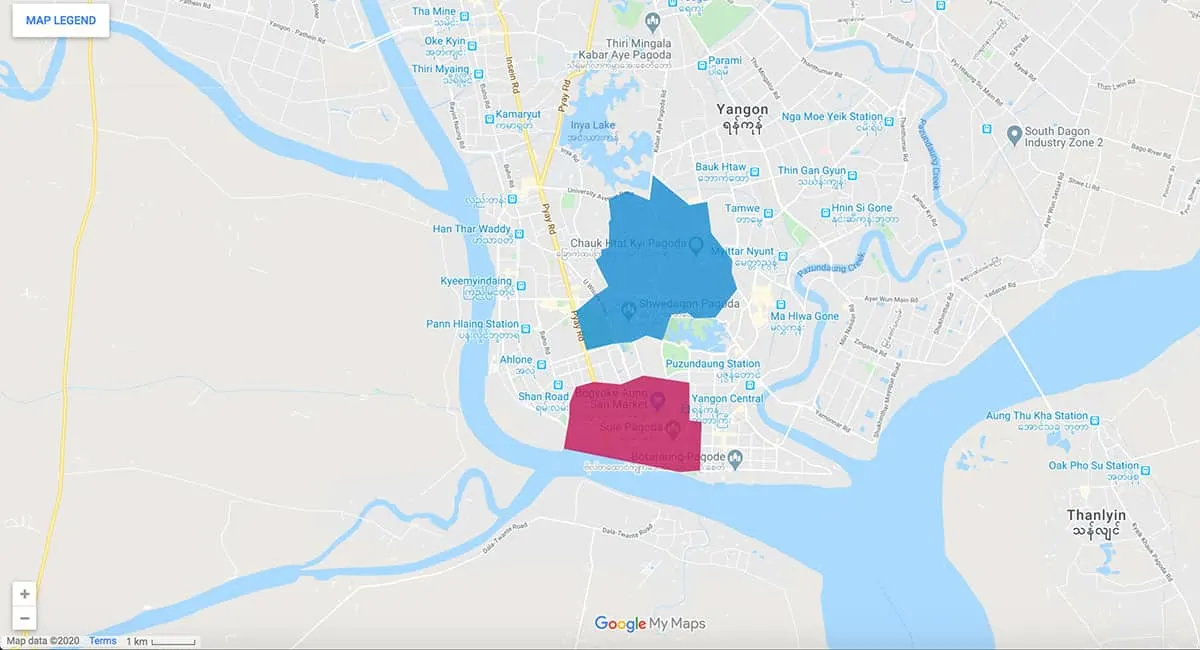 DOWNTOWN: Scott @ 31st Street
Staying in downtown Yangon will put you close to most of the attractions and restaurants listed in this guide. Places like Yangon Central Railway Station, Sule Pagoda, Bogyoke Aung San Market, and 19th Street are all in the downtown area.
I had never stayed in a hostel before this trip. I wanted to experience what it was like so I made a booking at Scott @ 31st Street. They have 6-bed dorm rooms with curtains and lockers beneath your bed. The bathroom was nice and clean and best of all, there was a cafe on the first floor with good coffee and fast wifi.
You can make a booking at Scott @ 31st Street through Booking.com or Agoda. If you'd like to stay in downtown Yangon but don't feel this is the right place for you, then you can search for alternate listings on Booking.com or Agoda.
Approximate Room Rate: USD 7 per night (as of December 2019)
BAHAN
If you'd like to be closer to Shwedagon Pagoda, then Bahan Township is one of the most convenient areas for you to stay. It's quieter and more pleasant than downtown Yangon, especially around Kandawgyi Lake. You can search for hotels in the Bahan area on Booking.com or Agoda.
THINGS TO DO
1. Visit Shwedagon Pagoda
Shwedagon Pagoda is the most sacred Buddhist pagoda in Myanmar and Yangon's most visited attraction. It's believed to contain relics of four previous Buddhas – Kakusandha's staff, Koṇāgamana's water filter, a piece of Kassapa's robe, and eight strands of Gautama's hair. I've seen a few Buddhist stupas throughout Southeast Asia but Shwedagon Pagoda is one of the largest and most impressive.
Standing 326 feet tall (99 meters), this gilded structure was under maintenance at the time but that didn't make it any less imposing or extraordinary. You can't see it beneath all the scaffolding in this picture but the entire stupa is covered in gold plates. I read that Burmese monarchs and citizens have been donating gold to maintain the stupa since the 15th century.
It was an incredible sight even with all the scaffolding so I can only imagine what it must be like unobscured and shimmering in its full glory.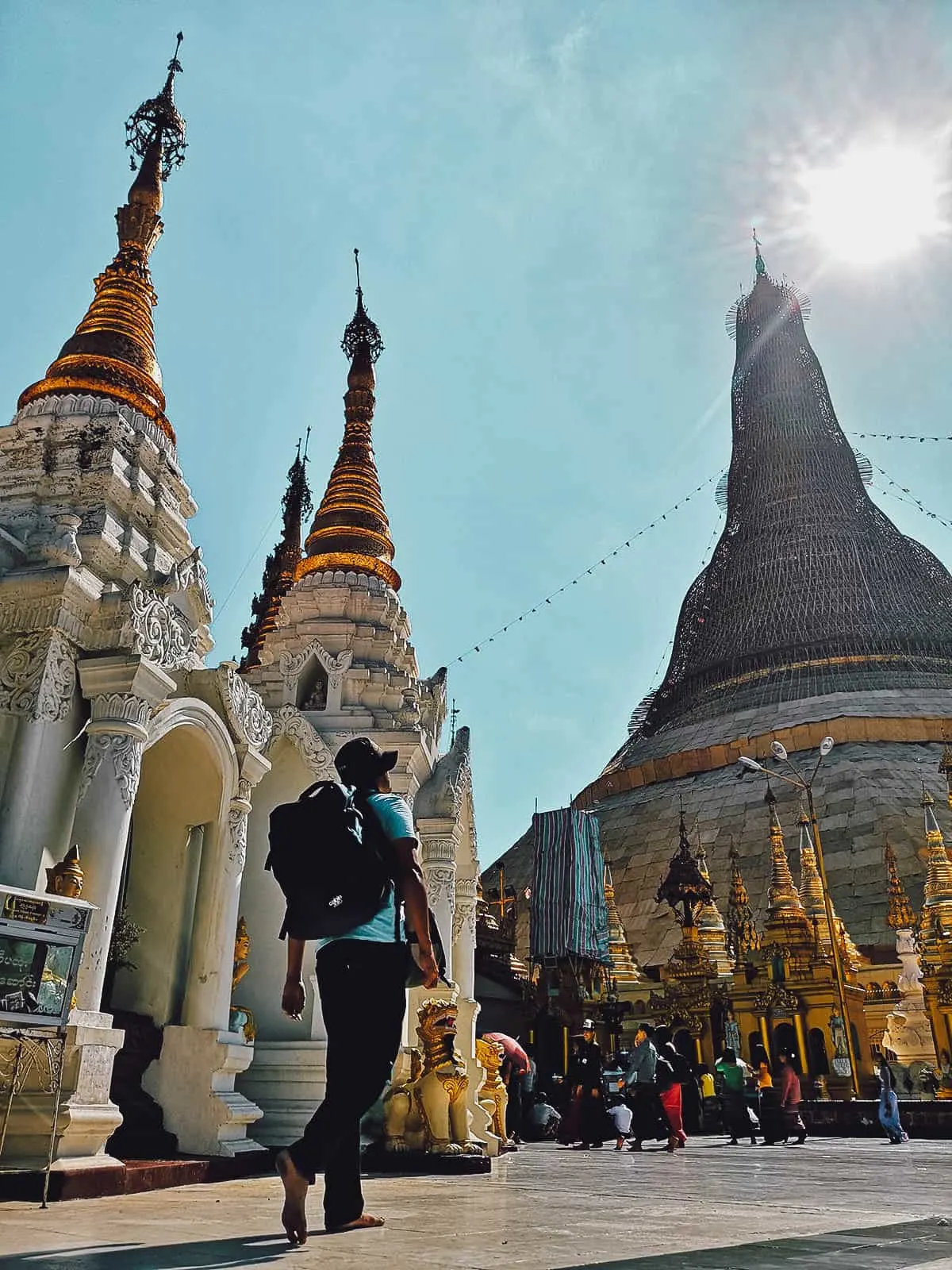 The golden stupa is the focal point of Shwedagon Pagoda but the temple complex is comprised of several shrines, monuments, and other secondary structures. There's a lot to see here other than the stupa so you can easily spend at least two hours at the complex. It was crowded when I was there but with Shwedagon pagoda being the most popular Buddhist pilgrimage site in Myanmar, I think you can expect that at any time of the year.
It's easy enough to visit on your own but if you'd like to go on a guided tour, then you can check out these Yangon city tours on Klook and Get Your Guide. Some of them feature stops at Shwedagon Pagoda. We don't often go on guided tours but a part of me wished I had someone explaining things to me here. It would have been cool to learn more about the relics of the four Buddhas.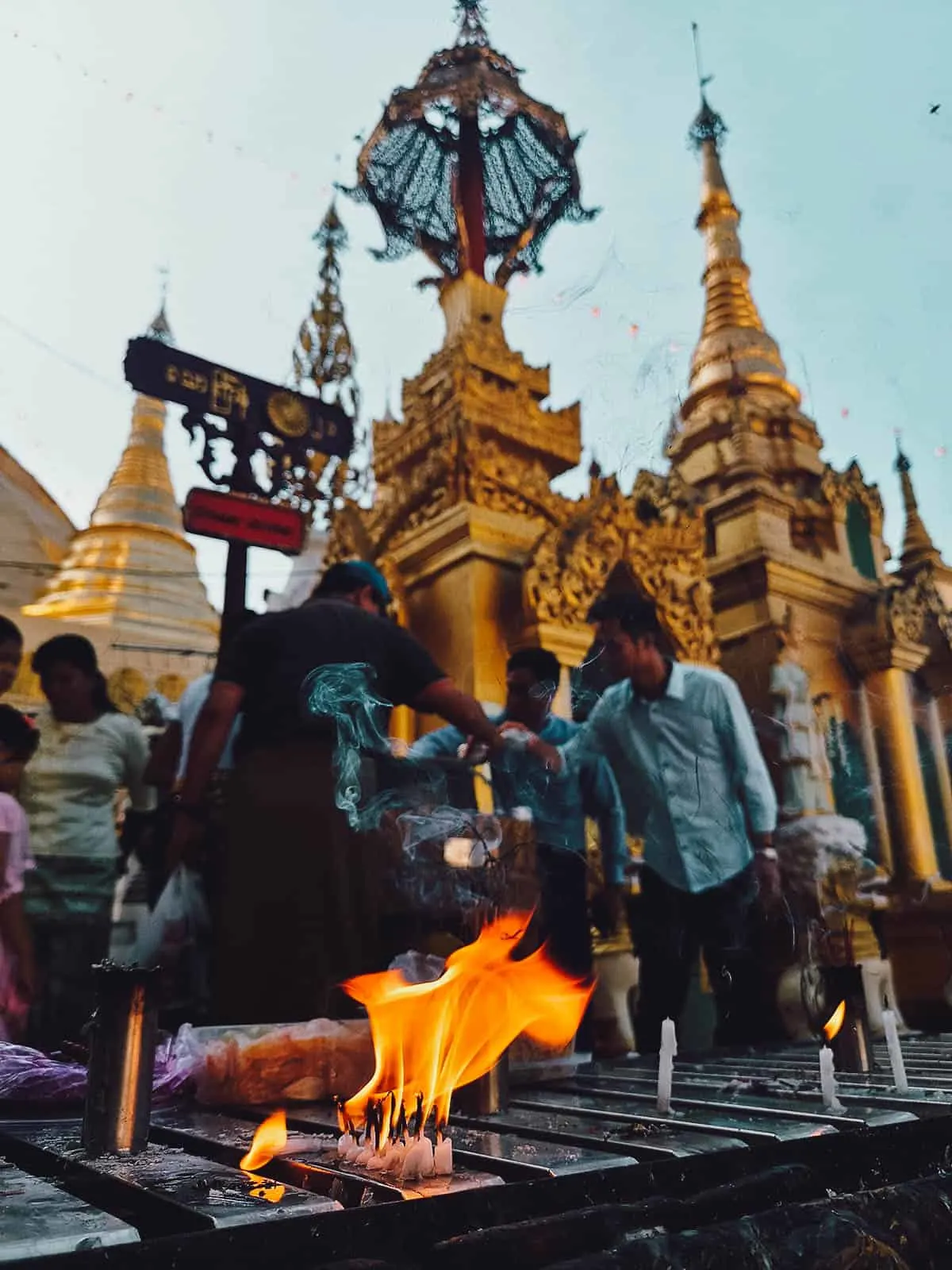 Estimated Time to Spend: 1.5-2 hrs / Admission: MMK 10,000
2. Experience Local Life on the Yangon Circular Railway
Yangon doesn't have a metro system but it does have the circular railway – a local commuter network that services the Yangon metropolitan area. It's a 45.9 km (28.5 miles) 39-station rail system that runs in a loop and connects satellite towns and suburban areas to Yangon.
Though locals use it everyday to get in and out of the city from the suburbs, it's mostly a tourist attraction for visitors to Yangon. If you have three hours to spare, then you can hop on for one full loop to do some sightseeing and get a taste of local life in the city. Other than Shwedagon Pagoda, this was the one attraction I enjoyed most in Yangon.
If three hours on a train is too much for you, then you may be interested in this Yangon city tour that includes just a quick 15-minute ride on the circular train.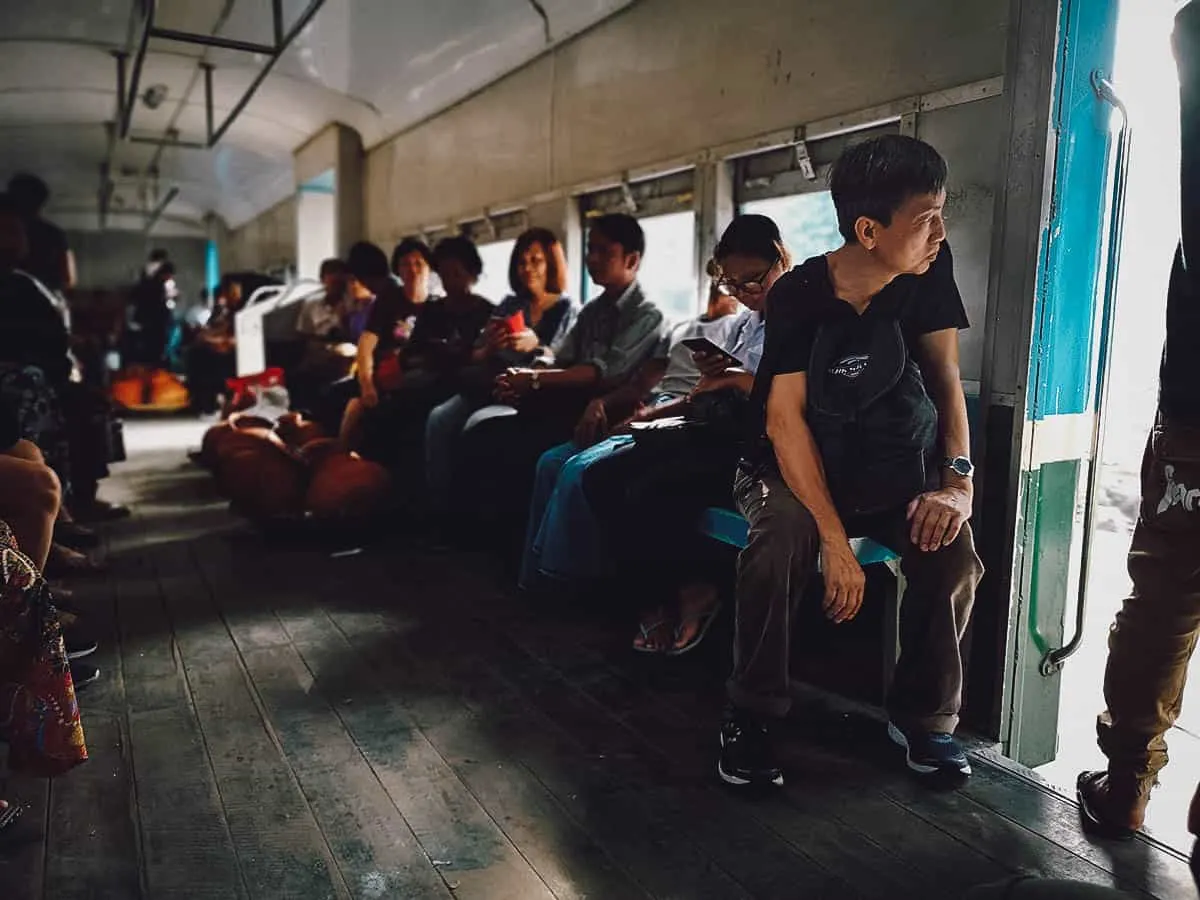 A ticket on the circular railway costs just MMK 200. For what amounts to about thirteen US cents, you'll have access to food and entertainment throughout the three-hour train ride. Buskers and vendors selling all types of snacks like these slices of unripe fruit with chili and shrimp paste are a common sight on these trains.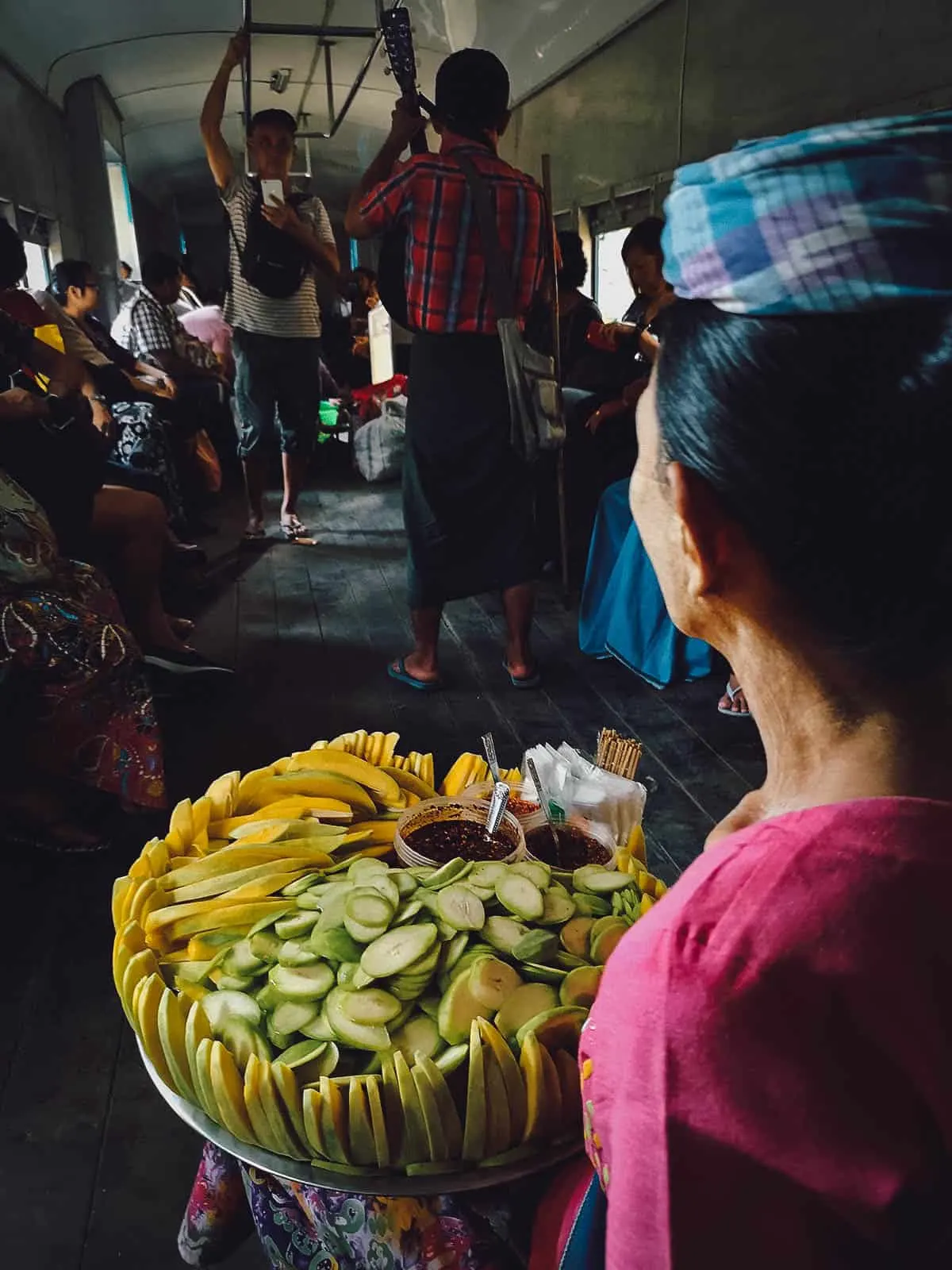 Towards the end of the loop, the closer you get to Yangon, vendors with these big bushels of fresh produce will board the train to sell their wares in the city. It's a colorful sight and an inexpensive way to spend three hours. If you're into street photography, then you'll have lots to shoot on this train ride.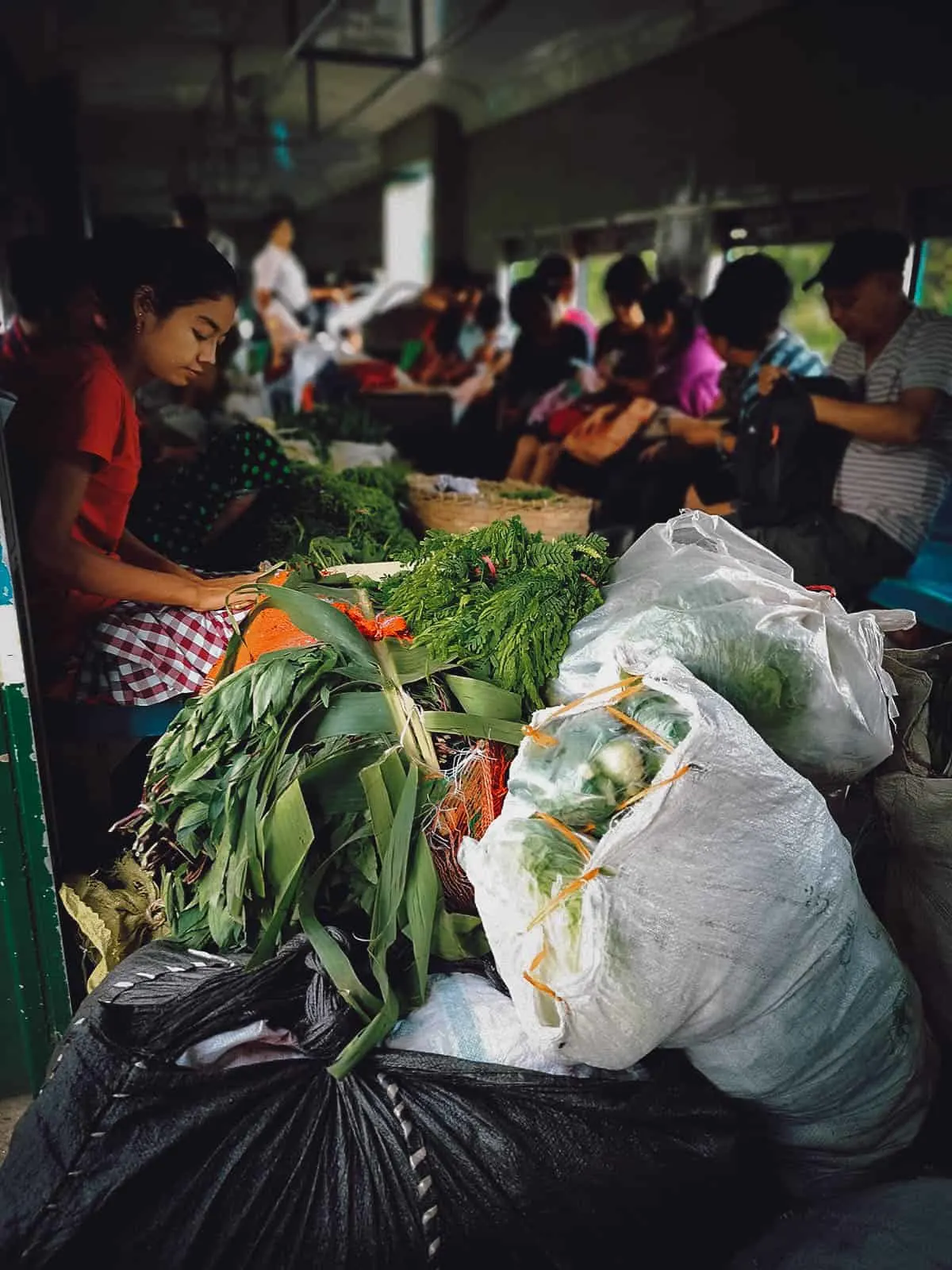 Estimated Time to Spend: About 3 hrs / Cost: MMK 200
3. See the Giant Reclining Buddha at Chaukhtatgyi Paya
Chaukhtatgyi Buddha Temple is home to a 66 meter long (215 feet) reclining Buddha statue that's even bigger than the more famous image in Bago. Unfortunately, like the stupa at Shwedagon Pagoda, this too was covered in scaffolding and undergoing maintenance at the time of my visit.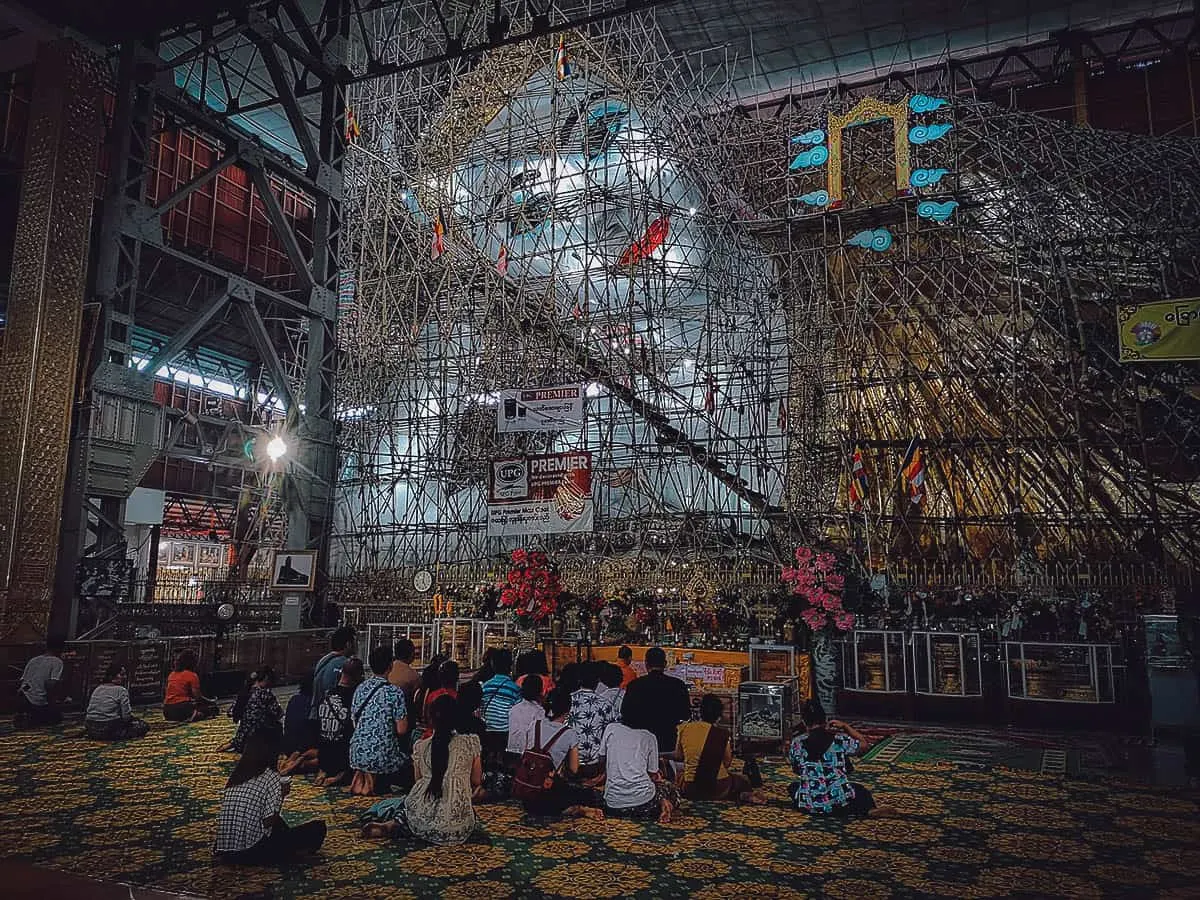 The large red undersoles of the Buddha's feet looked pretty cool. Too bad it had to be obscured by all the scaffolding. Was it makeover week in Yangon?!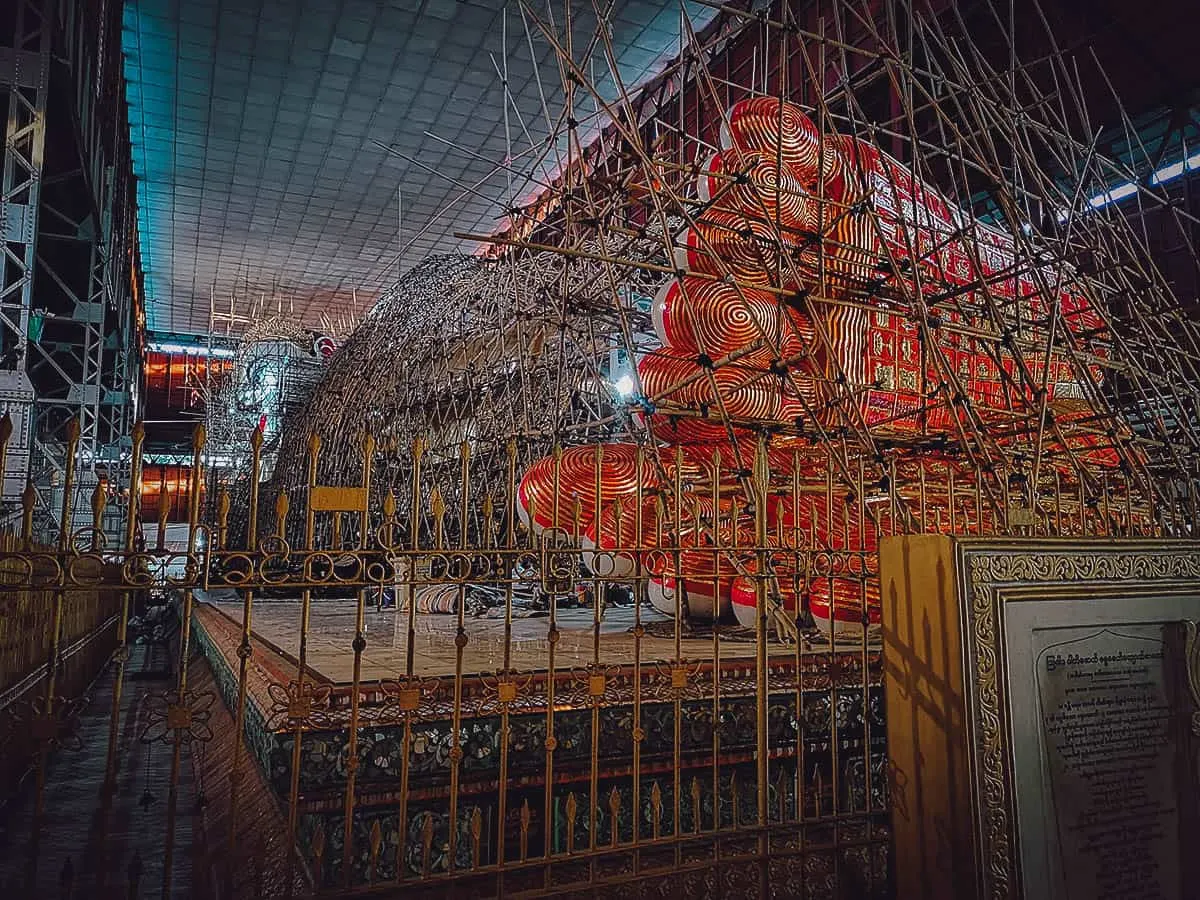 You'll find these smaller images all around the giant reclining Buddha. Located north of Shwedagon Pagoda, I booked a Grab to Chaukhtatgyi Paya on my own but if you'd like to visit on a guided tour, then you can check out these Yangon city tours on Klook and Get Your Guide.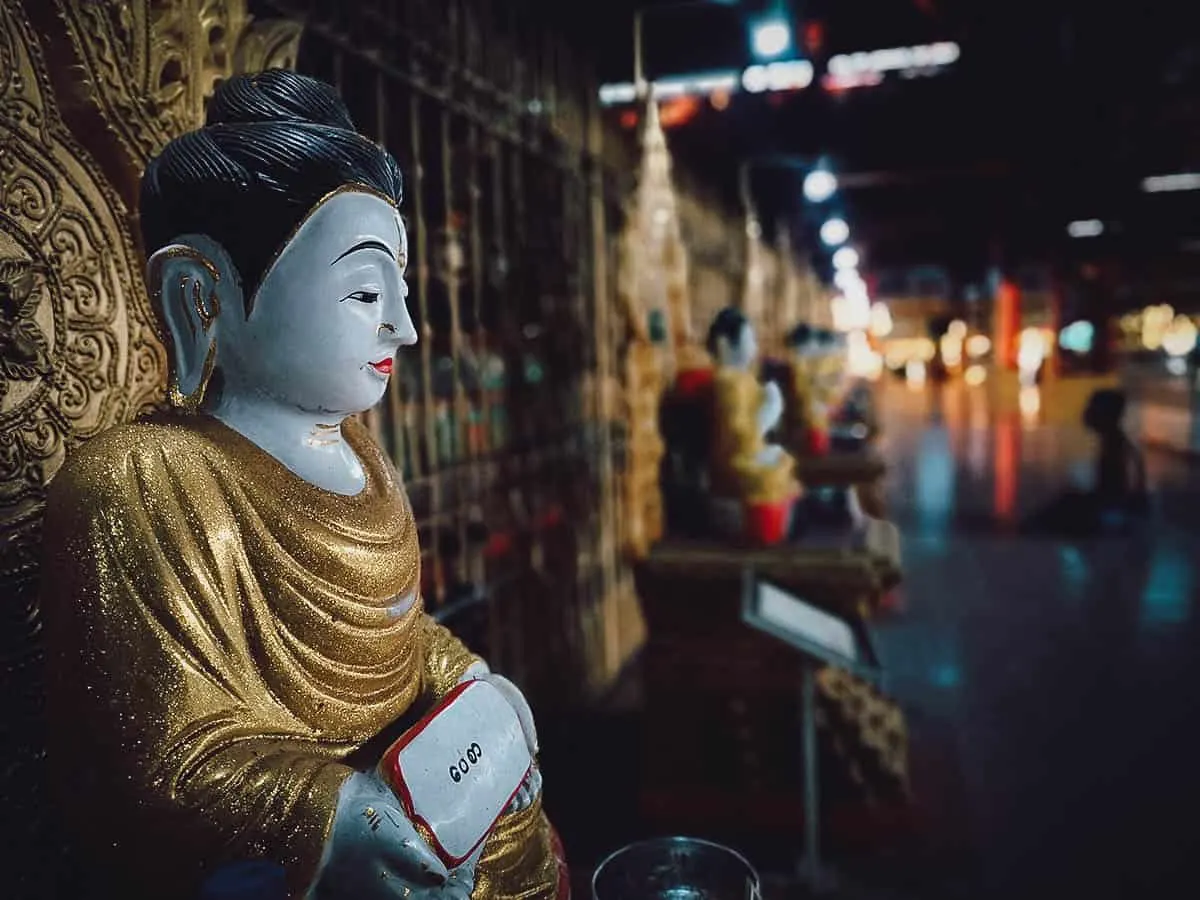 Estimated Time to Spend: 1 hr / Admission: FREE
4. Take a Stroll Around Kandawgyi Lake
Kandawgyi Lake is an artificial lake just east of Shwedagon Pagoda. It's a peaceful area that's home to lots of trees and a few restaurants, including this popular and highly conspicuous boat-shaped restaurant called Karaweik Palace. I had lunch there after visiting Shwedagon Pagoda.
If you're looking for a quick escape from the chaos of Yangon, then Kandawgyi Lake is a great place to kill a few hours. It's about 5 miles in circumference (8 km) so you can spend a relaxing day taking a stroll around its banks.
Get Your Guide offers a few guided tours that take you to Kandawgyi Lake. It was one of my favorite areas in Yangon.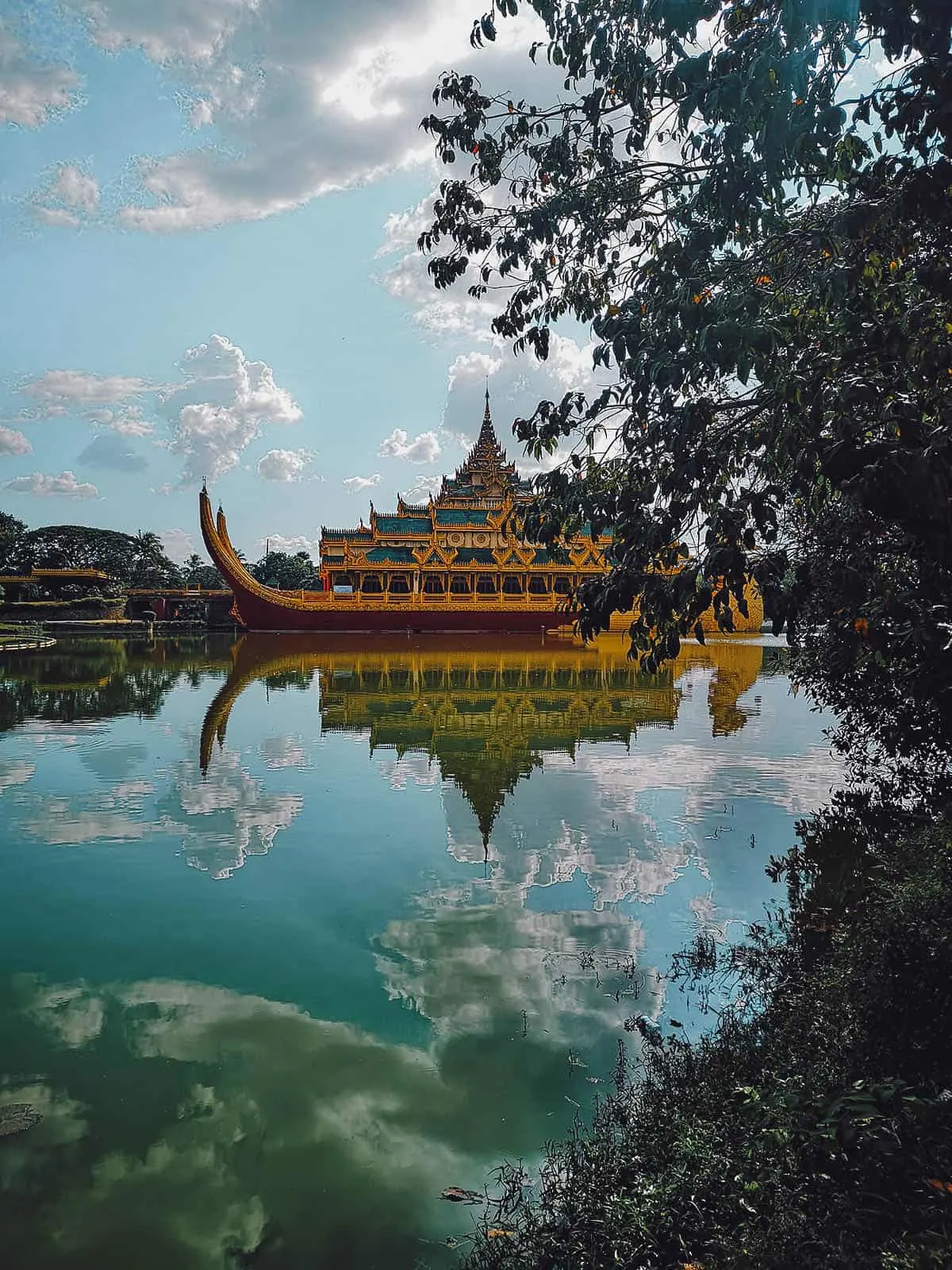 5. Visit a Temple, a Mosque, a Synagogue, and a Church
Sule Pagoda is a 2,600 year old Burmese stupa that's said to be even older than Shwedagon Pagoda. It's located in the heart of downtown Yangon, at the center of a busy roundabout.
Sule Pagoda is one of the most popular landmarks in the city and has on more than one occasion served as the rallying point for key political demonstrations in the city. You can easily visit on your own or go on a guided tour.
Being such an important site, I had Sule Pagoda on my itinerary but little did I know that visiting this Buddhist temple would also take me to a Muslim mosque, a Jewish synagogue, and a Catholic church all within 2 km of each other!
Myanmar is predominantly Buddhist, about 88%, but other religions are practiced in the country like Christianity, Islam, Hinduism, and Judaism.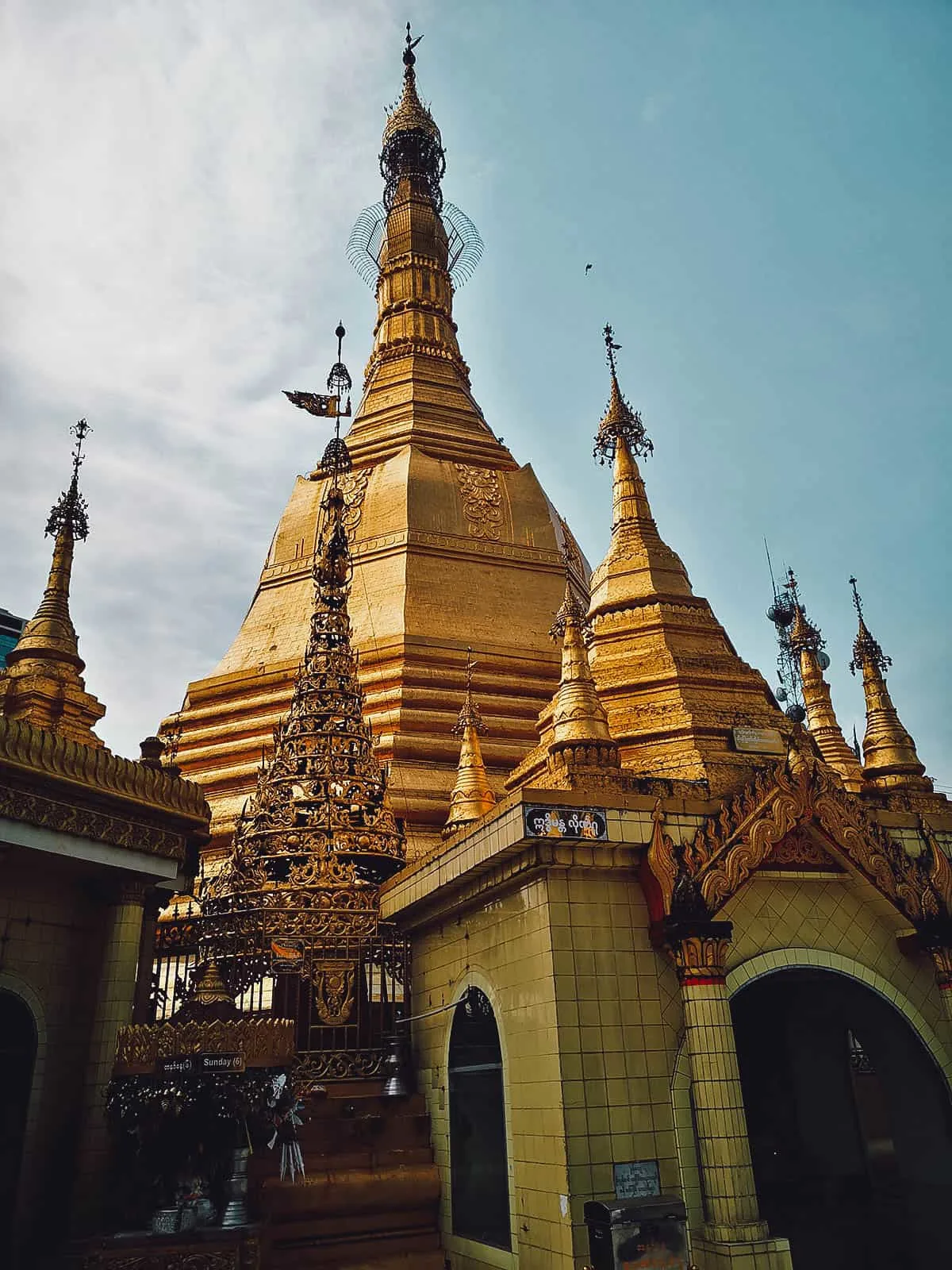 On the north end of the Sule Pagoda roundabout is the Bengali Sunni Jameh Mosque, one of several mosques in downtown Yangon. An estimated 4-5% of Myanmar's population is Muslim.
Located about 600 meters west of Sule Pagoda is Musmeah Yeshua Synagogue, Myanmar's only synagogue. In existence since 1854, it serves the few remaining Jews in Myanmar, most of whom are descendants of Baghdadi Jews from Iraq.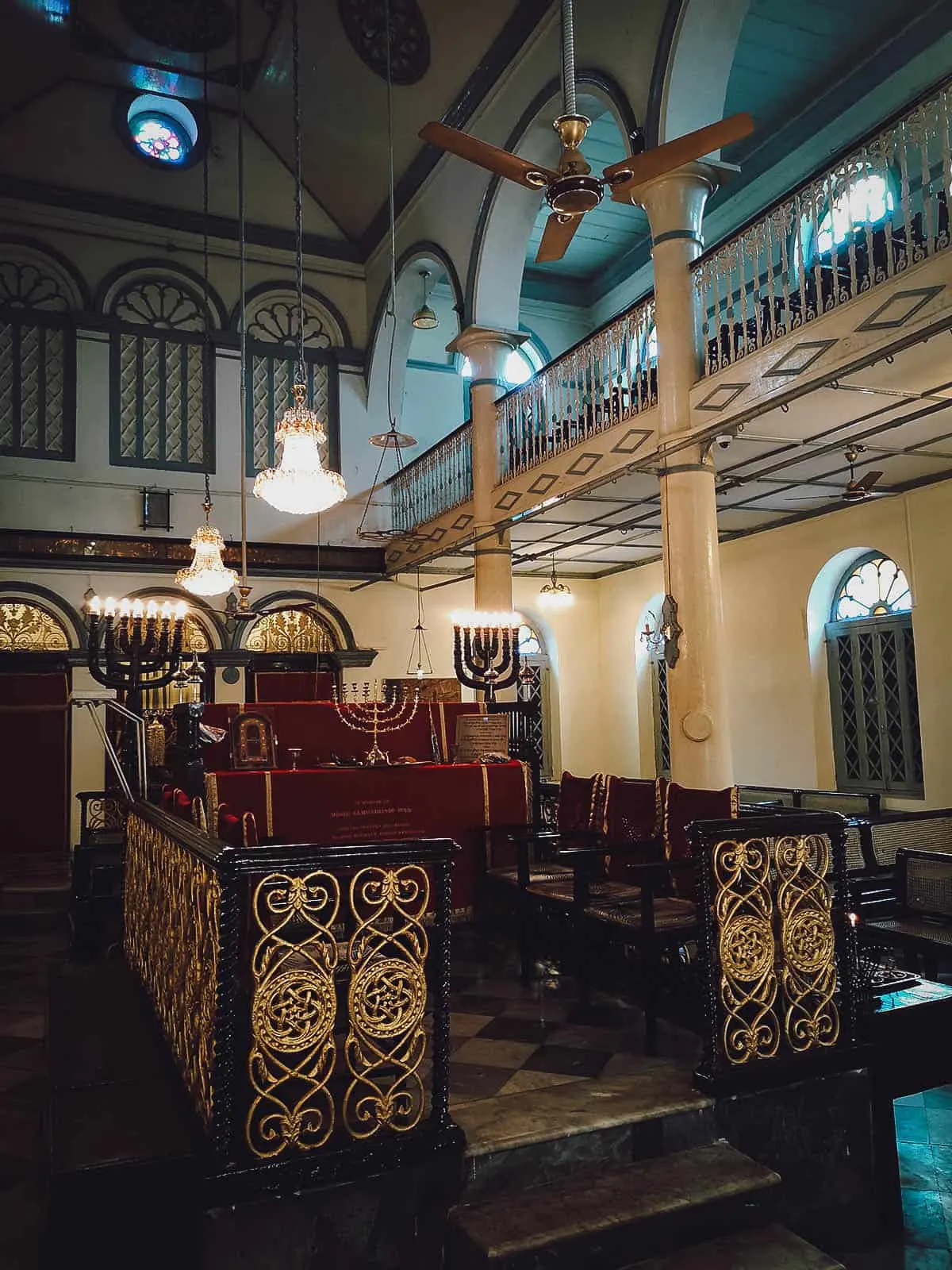 About 1.5 km northeast of Sule Pagoda is St. Mary's Cathedral, the largest Catholic cathedral in Myanmar. Christians are the second largest religious group in the country, constituting about 6-7% of the population.
I'm not religious but I found it interesting to have so many different houses of worship so close to each other in downtown Yangon.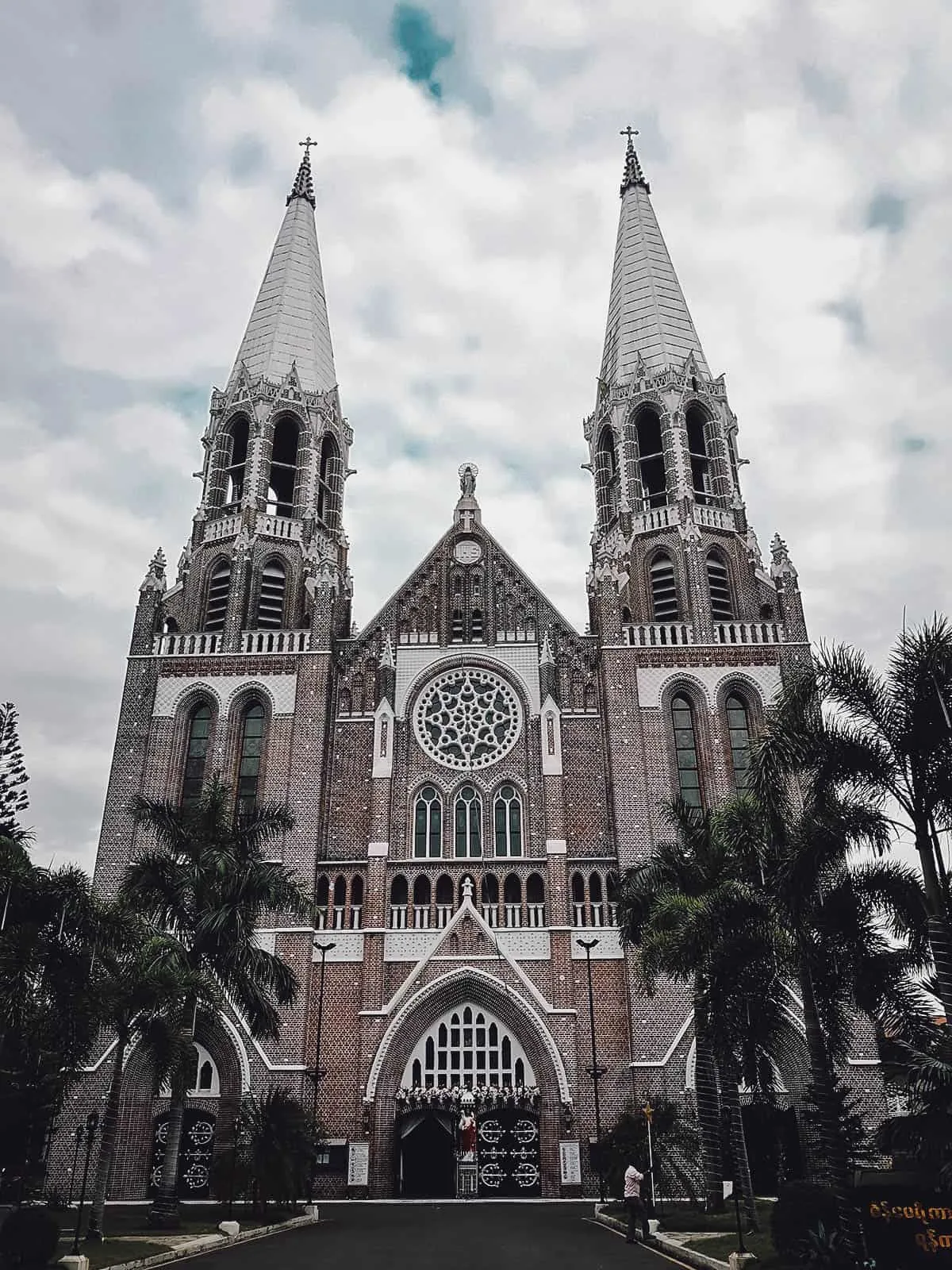 Estimated Time to Spend: About 30 mins per stop / Admission to Sule Pagoda: MMK 4,000 (entrance), MMK 1,000 (shoes)
6. Go Shopping at Bogyoke Aung San Market
Located about a kilometer north of Sule Pagoda is Bogyoke Aung San Market, an historic covered market with over 2,000 shops spread out over two floors in an old colonial building. If you're looking for Burmese antiques, handicrafts, jewelry, textiles, and souvenirs, then this is the best place to go.
It's easy enough to find Bogyoke Aung San Market on your own, but if you'd like to go on a guided tour, then you can book one through Get Your Guide.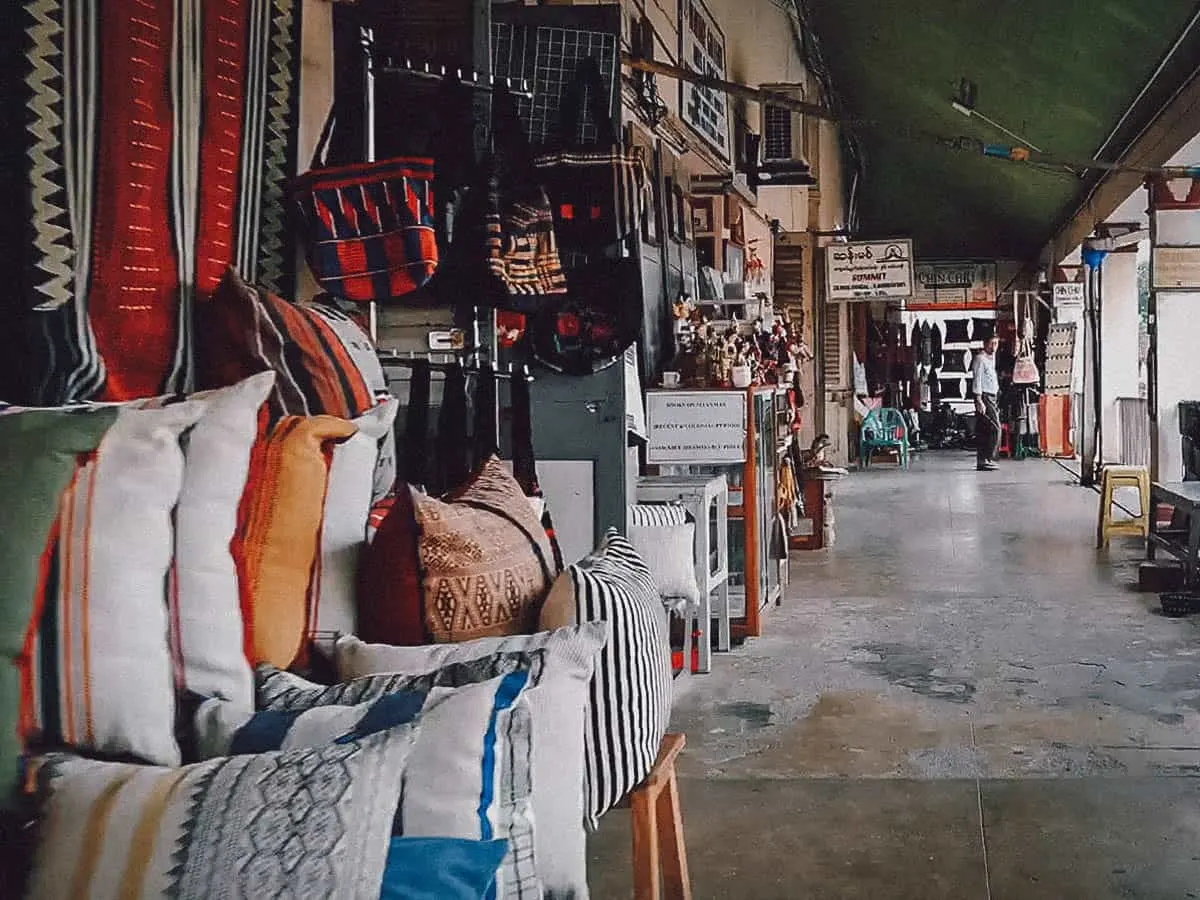 7. Go on a Food Tour
The reason I was in Yangon was to check out this food tour from our friends at A Chef's Tour. It's a 4-hour eating binge that lets you sample some of the best Burmese dishes in the city. If tasting the best local food is important to you, then there's no better way to do that than by going on a food tour. Simply put, no one knows local food better than a local.
Check out my article on this Yangon food tour with A Chef's Tour for more pictures and information. You can book the tour through Get Your Guide.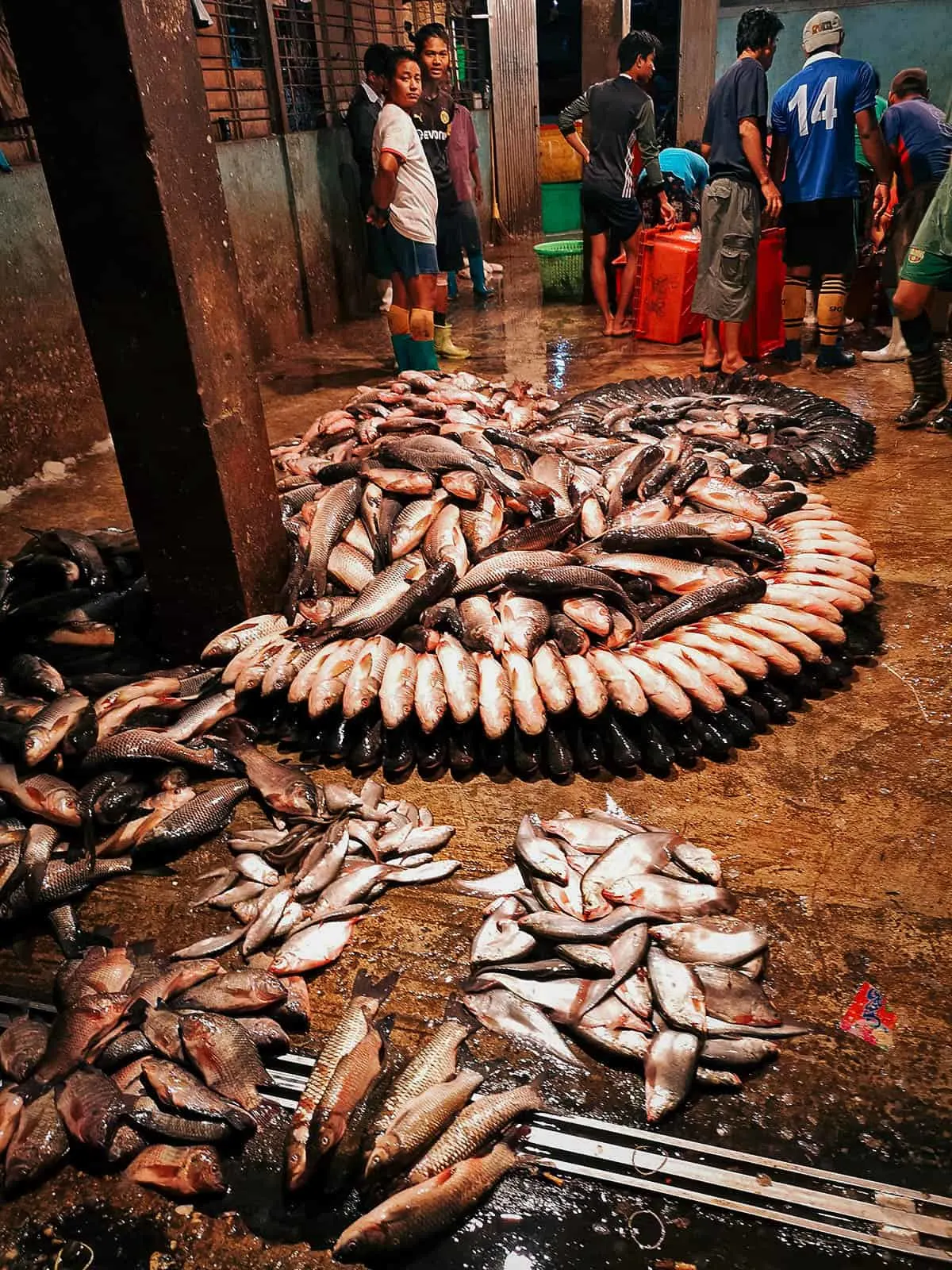 Length of Tour: 4 hrs / Cost: USD 45
8. Take a Cooking Class
Going on a food tour teaches you what to eat and where to find it. But if you really want to learn about a local cuisine, then there's no better way to do that than by taking a cooking class. It's like looking under the cuisine's hood.
I didn't take one in Yangon but Ren and I have taken cooking classes in a few cities in Asia like Hoi An, Phuket, and Bali. I'll be taking one soon in Tokyo as well. It's just a fun, hands-on way of familiarizing yourself with the local cuisine.
They don't have a lot in Yangon yet, but one of the best places to book one-day cooking classes is Cookly. They're a booking platform that focuses solely on cooking classes. Follow the link to check out Cookly's cooking classes in Yangon.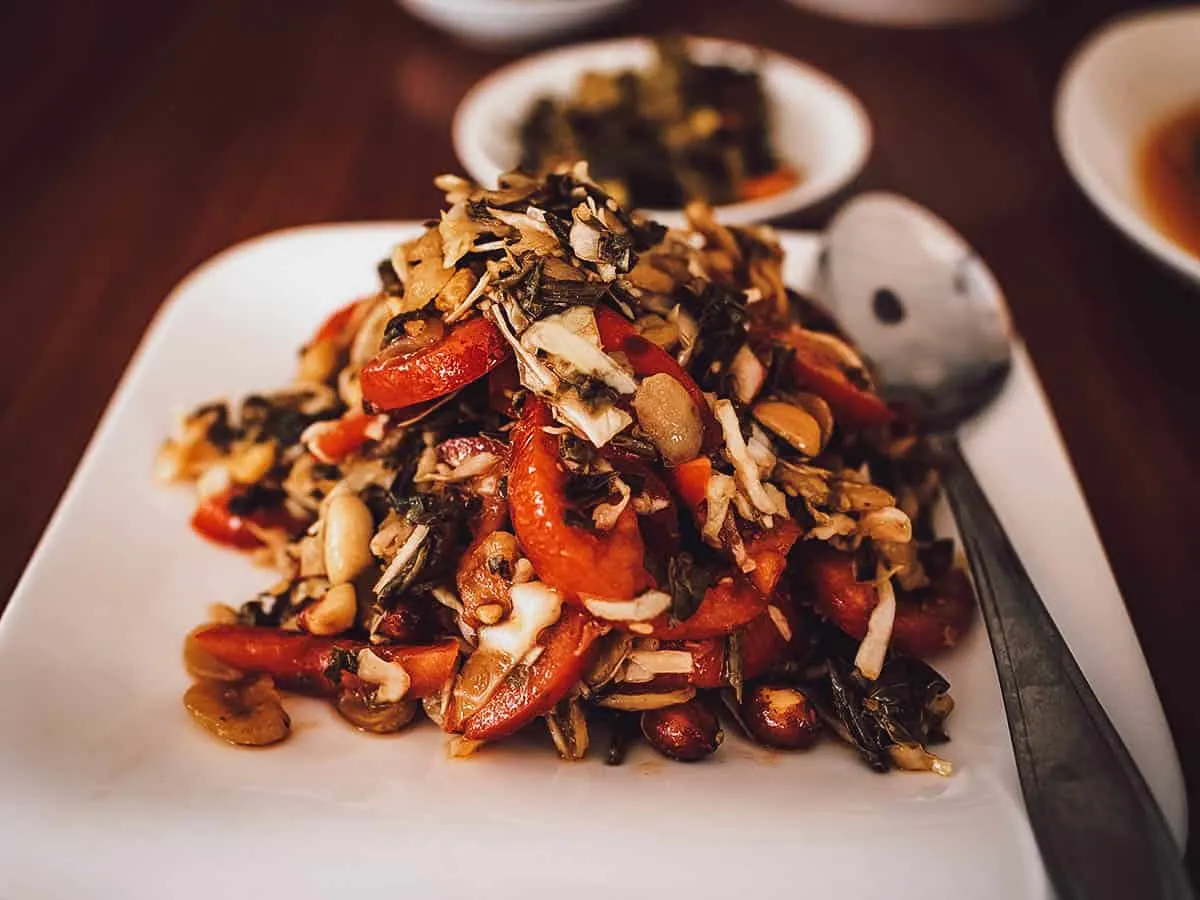 Photo by Edward Giovanni Luna via Shutterstock
9. Take a Day Trip to Bago
Located about 91 km (57 miles) northeast of Yangon is the city of Bago, the ancient capital of Burma. It's home to a few key sites like Shwemawdaw Pagoda, Kanbawzathadi Palace, and Shwethalyaung Buddha – a giant 55 meter long (180 ft) reclining Buddha.
If you have enough time in Yangon and want to go beyond the city, then you may want to book a day tour to Bago on Klook or Get Your Guide.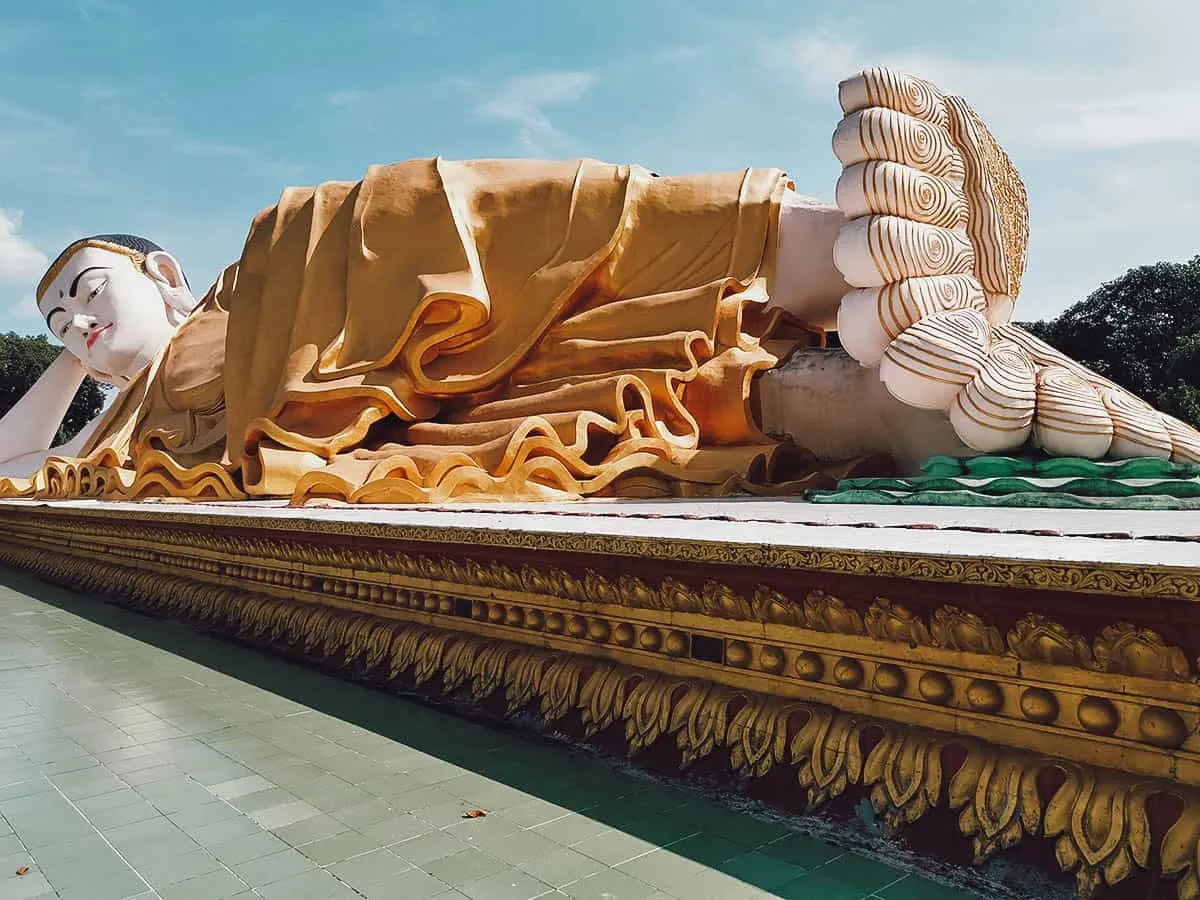 Length of Tour: Full Day / Cost: USD 40
Photo by Simpelvel via Shutterstock
WHERE TO EAT
1. Lucky Seven Tea Shop
If you were to have just one dish in Myanmar, then it should probably be mohinga. It's the country's national dish. I googled "best mohinga in yangon" and one of the places that often came up was Lucky Seven Tea Shop.
Mohinga is a Burmese dish of rice vermicelli in a flavorful fish broth thickened with toasted chickpea and rice flour, then topped with any number of ingredients like hard-boiled eggs, fish cake, and crispy fried fritters. It's a popular breakfast dish that used to be sold by street hawkers only in the mornings. These days, you can have it at any time of the day at street food stalls, restaurants, even formal functions.
At Lucky Seven Tea Shop, they give you the option of adding boiled egg, fried gourd, onion fritters, fried peas, and fried fish cakes to your mohinga. I wanted a basic mohinga experience so I had it only with hard-boiled eggs. It was delicious – savory and a bit tangy and redolent with fish flavor. It's a comforting dish and one of my favorite things to eat in Myanmar.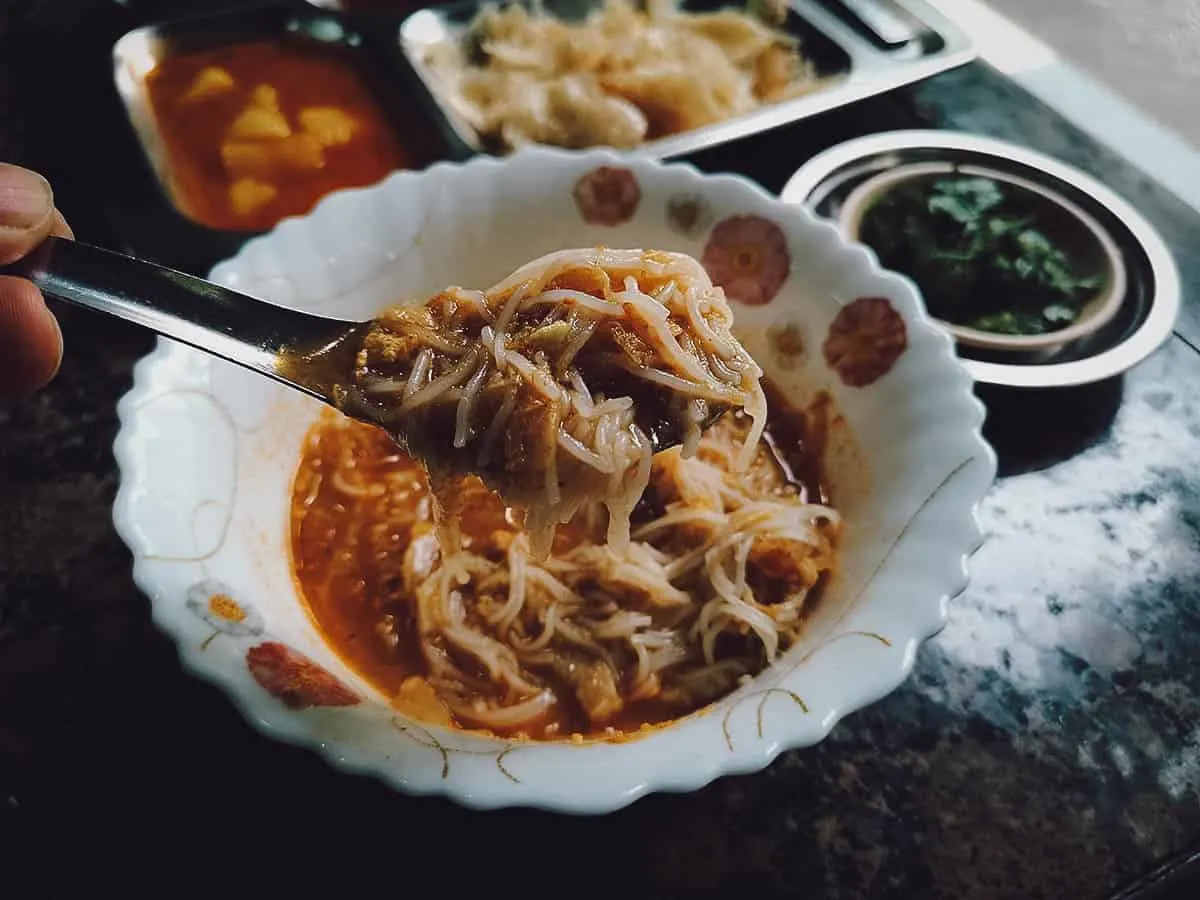 As tasty as mohinga is, I don't find it to be a very filling dish so I ordered a side of paratha with potato curry. Myanmar shares borders with Bangladesh, India, China, Laos, and Thailand hence the foreign influences in its food. In the case of this roti prata and curry, the culinary influence is from India.
The potato curry was nice but I found myself dipping the paratha more in my mohinga! It was delicious with the fish broth – soft and flakey and a bit chewy.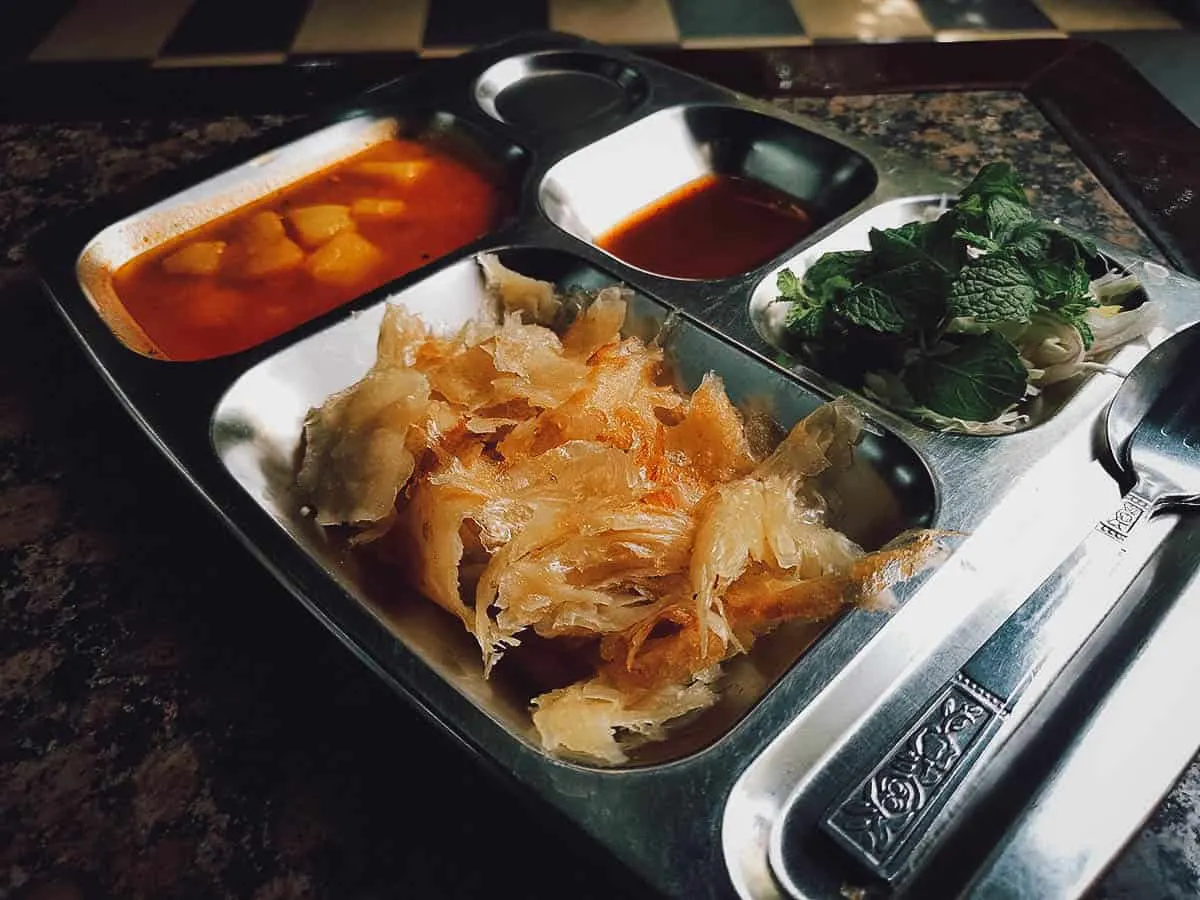 Lucky Seven Tea House makes a mean mohinga. They're a TripAdvisor Certificate of Excellence awardee with a near perfect 4.5-star rating.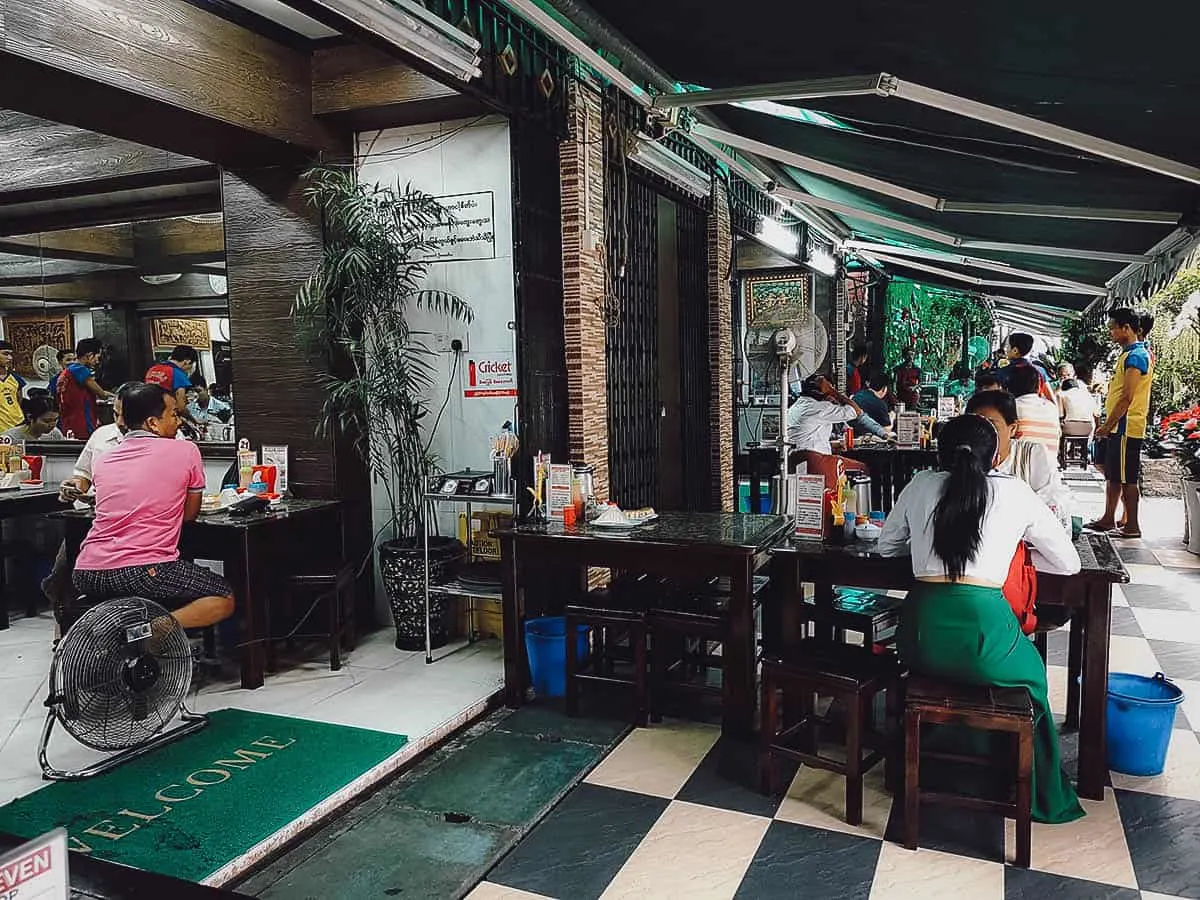 What I Paid: MMK 3,100 for mohinga, roti prata, and a drink
2. 999 Shan Noodle Shop
Another must-try dish in Myanmar is shan noodle soup. The term "shan" refers to Burmese people from Shan state in northeast Myanmar.
Like mohinga, it's a comforting noodle soup dish made with rice vermicelli in chicken or pork broth, and typically served with a side of pickled mustard greens for some acidity and crunch. I like to think of it as the Burmese version of chicken noodle soup, something I'd love to have when I'm feeling under the weather.
I didn't find it to be as interesting as mohinga but it's just as tasty and a must-try in Yangon. I washed it down with a cup of Burmese milk tea. Like paratha, it's a product of Indian influence that tastes similar to chai tea, except its richer and sweeter because it's made with both condensed and evaporated milk.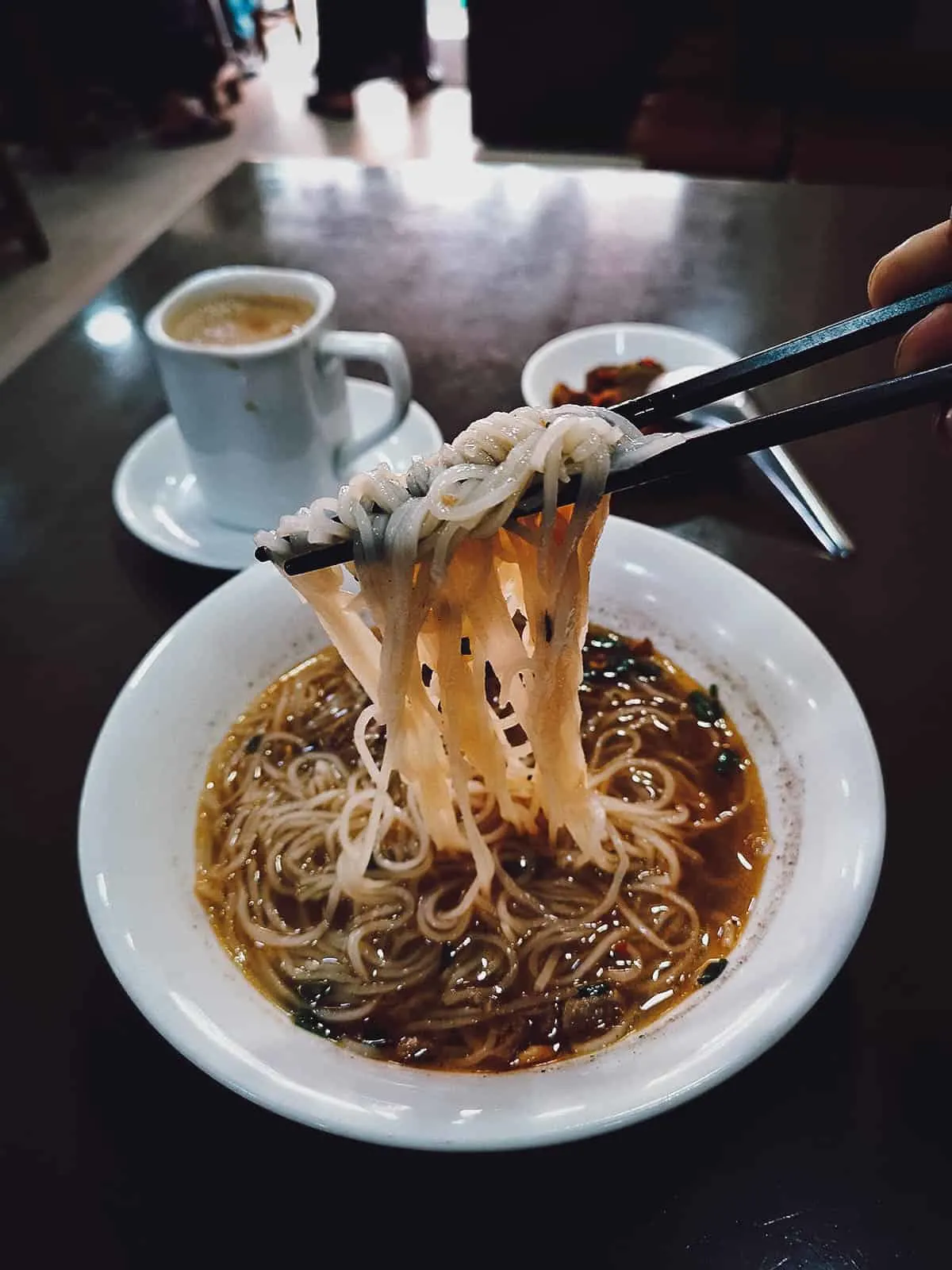 Google "where to eat in yangon" and 999 Shan Noodle Shop will often come up. It's a popular restaurant chain that specializes in shan noodles that can be served either in a soup, which is what I had, or dry. The dry version is referred to as a "salad".
I had eaten here on my own but it was also one of the stops on my food tour with A Chef's Tour. They're a TripAdvisor Certificate of Excellence awardee with a stellar 4.5-star rating, even after 2,100+ reviews.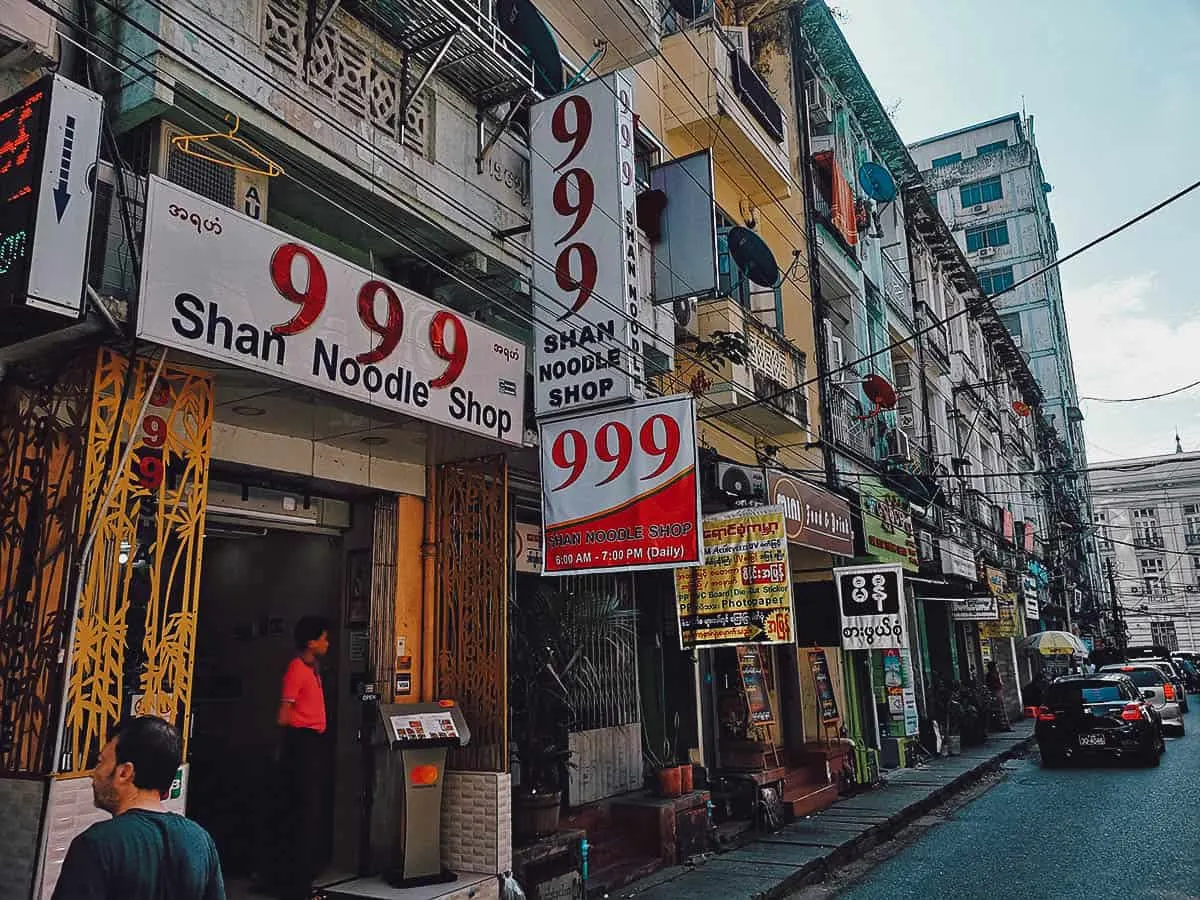 Expect to Pay: MMK 1,900 per order of shan noodles
3. Min Lan Seafood
This was one of the best meals I had in Yangon. Min Lan Seafood was one of the places the late great Anthony Bourdain visited on the Myanmar episode of Parts Unknown. I already had it etched on my itinerary so I was thrilled when my food tour guide took me here.
Min Lan is one of the best places to have seafood in Yangon. There are a few branches in Yangon but I believe we went to the branch on Parami Road. There are several large aquariums at the restaurant housing different types of live seafood like long arm prawns, mantis shrimp, soft shell crabs, and this beautiful lobster.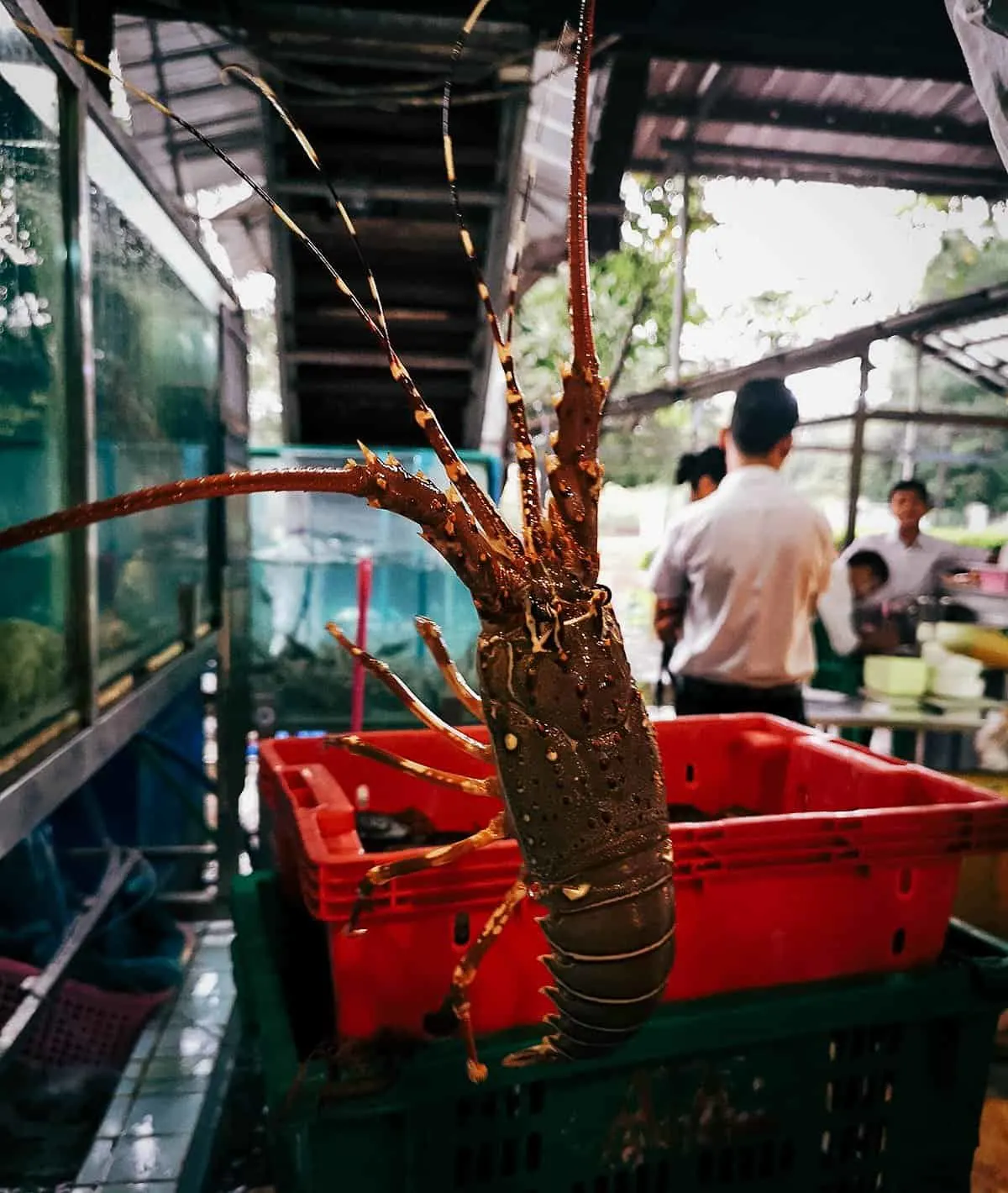 My tour guide ordered a few dishes but this platter of soft shell crab curry was the showstopper. Can you make out the shapes of the crabs below? There were three whole crabs on the plate. They were soft and juicy and smothered in vegetables and a thick curry sauce made with chili and copious amounts of cumin. If you like seafood, then you need to eat here.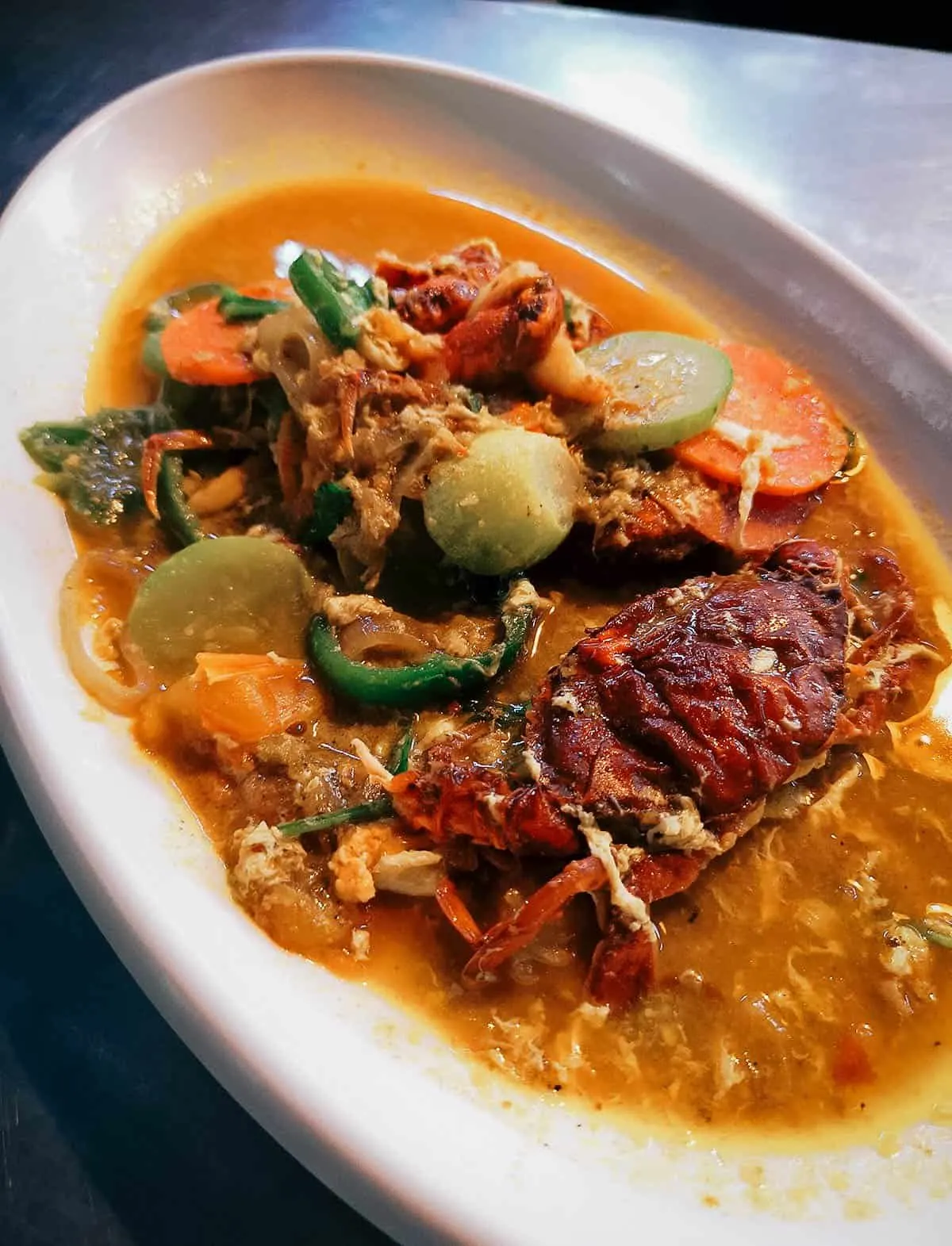 Expect to Pay: About MMK 20,000 per person
4. Root
This was the most contemporary restaurant I visited in Yangon. It was also where I had one of the best meals from my trip. I know nothing about Myanmar's administrative regions but according to the booklet on my table, Root features Burmese cuisine from the Wa Self-Administered Division of Shan State. The region seems to be known for moik, a rice dish typically paired with spicy meat salad or grilled meat.
I was at Root for lunch when they offer set meals between 11AM and 3PM. With moik being featured so prominently on the restaurant's booklet, I went with this grilled moik set with fennel moik, grilled chicken, and wa lentils.
I don't need to say much about the chicken. It was every bit as delicious as it looks in this picture. It was juicy and tender with the most perfectly grilled charred skin that was crisp in parts, soft in others. The bowl of lentils, which I believe are black gram beans, were delicious as well. It was soupy and exceedingly tasty.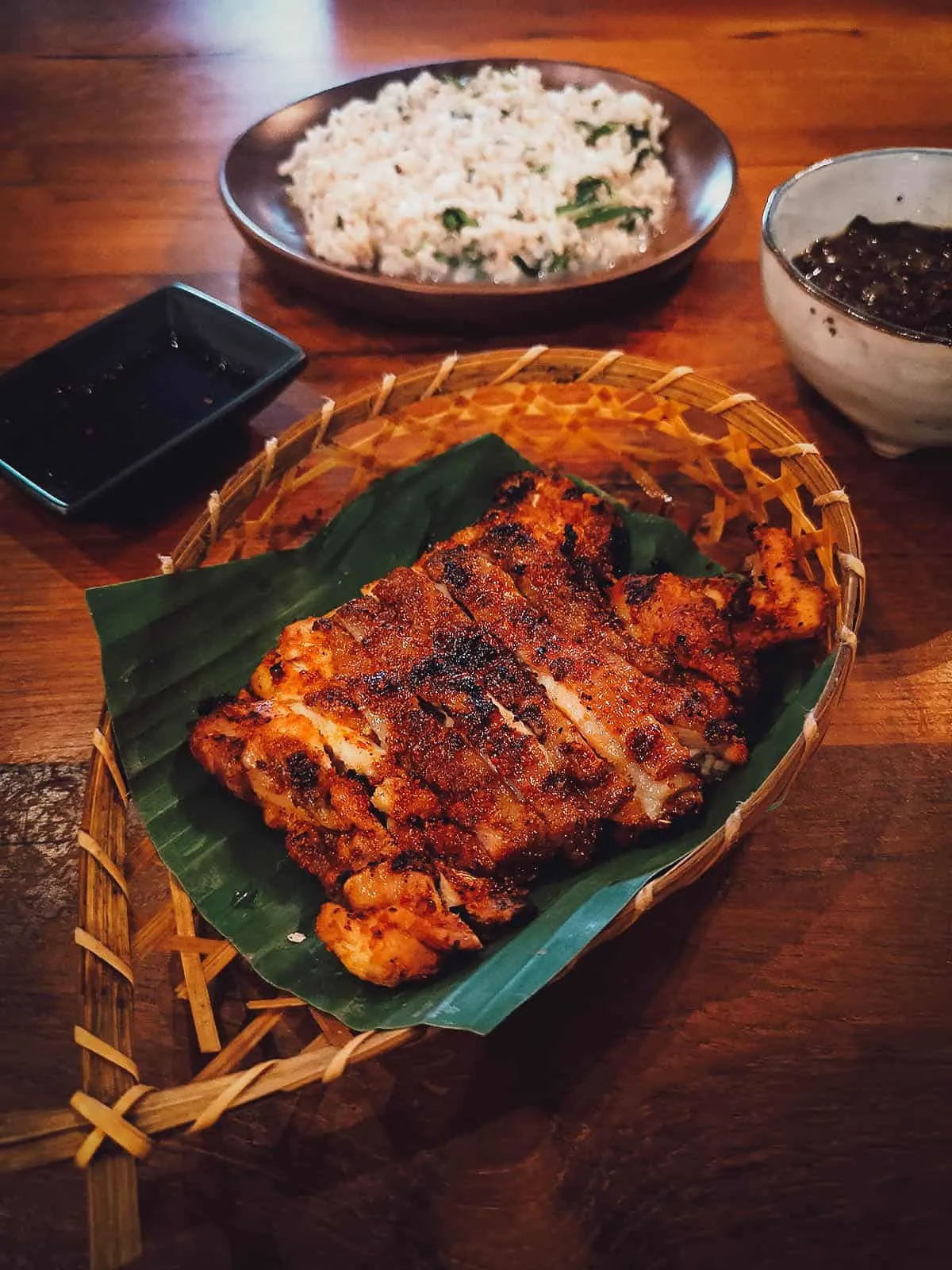 Here's a look at the fennel moik. According to their booklet, brown rice – which is widely grown in the Wa region – is essential for moik. There are three types of moik – dry, wet, and soupy. Root only serves this wet type of moik which they vary in the broth, meat, and types of vegetables used.
On my set menu, I had a choice between pumpkin or fennel. I went with the latter based on my server's recommendation. Made with chicken stock, it was nutty and a bit soupy, like a drier rice porridge, and had some green leafy vegetables mixed in. It was delicious and filling and went very well with the grilled chicken and lentils.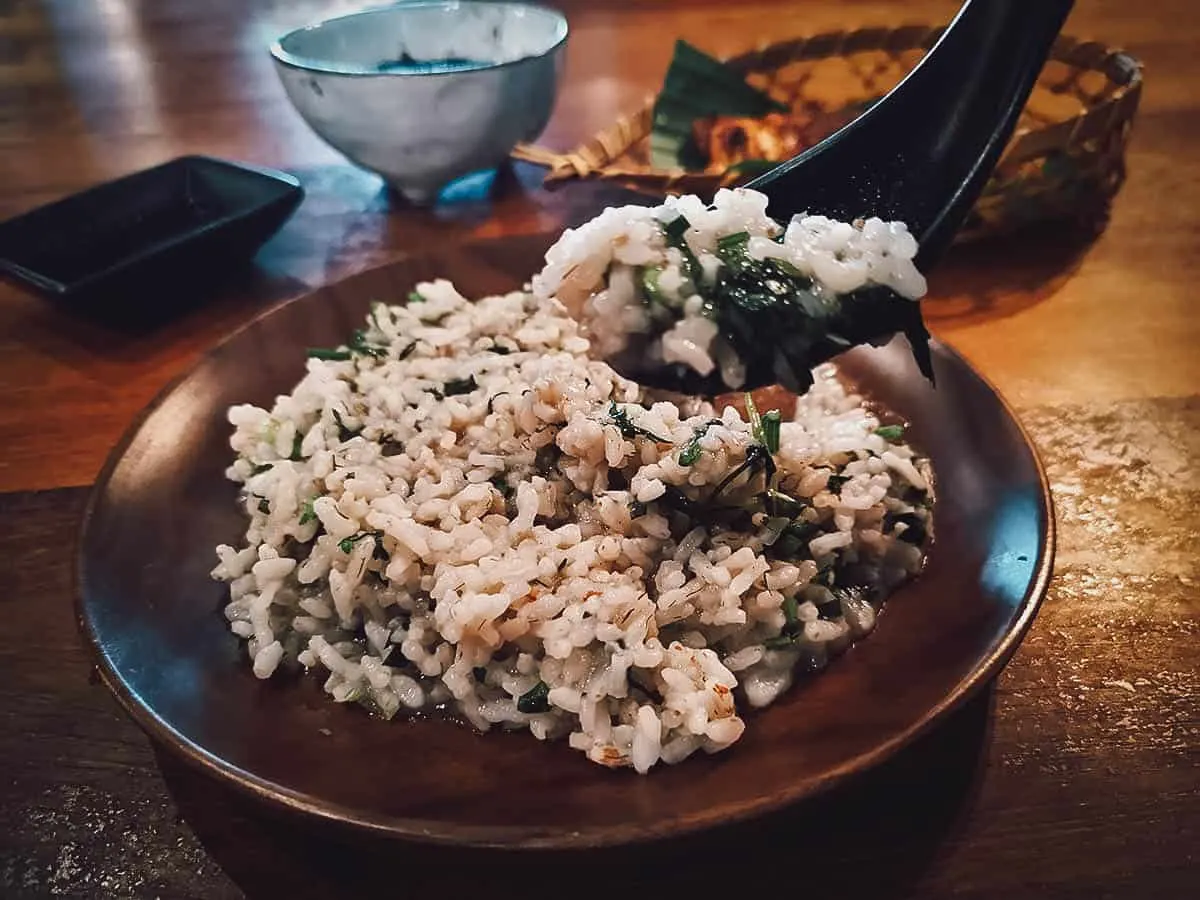 Here's a shot of the restaurant's interior and the booklet I was talking about. They had one on every table.
Root offers happy hour deals from 3-7PM. I didn't try any but it looks like they make their own cocktails as well which were designed to pair with their food. According to their booklet, Root serves a type of Wa liquor from Yin Phang Township which you might want to try.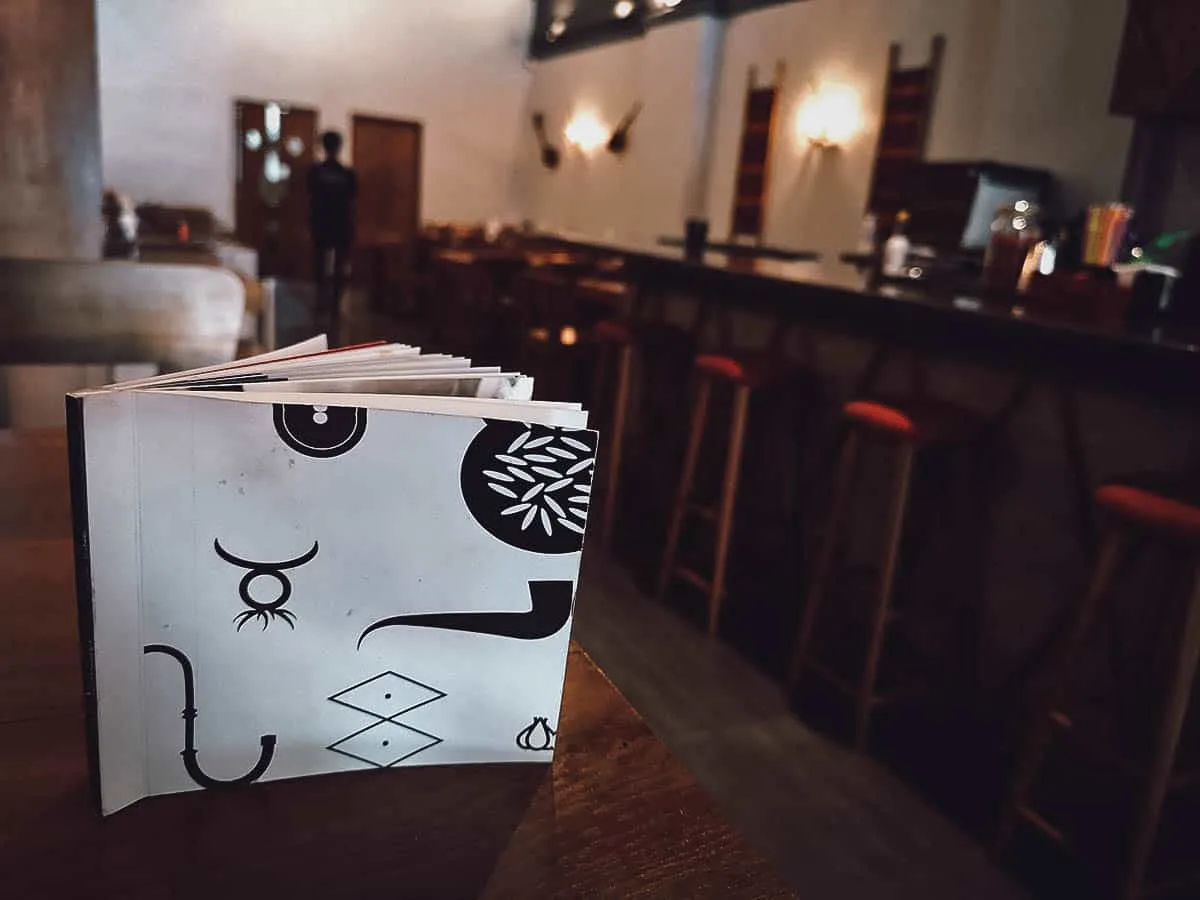 Expect to Pay: Between MMK 7,500-8,500 for the set meals
5. Karaweik Palace Restaurant
If Root were the most contemporary, then this restaurant was by far the most opulent. Depending on who you ask, it may even be described as kitschy.
Karaweik Palace Restaurant is a gilded and palatial restaurant shaped like a boat on Kandawgyi Lake. Restaurants like this scream "touristy" and are the types we actively avoid, but I needed a good place to have lunch at the lake and this restaurant had decent reviews so I decided to give it a try.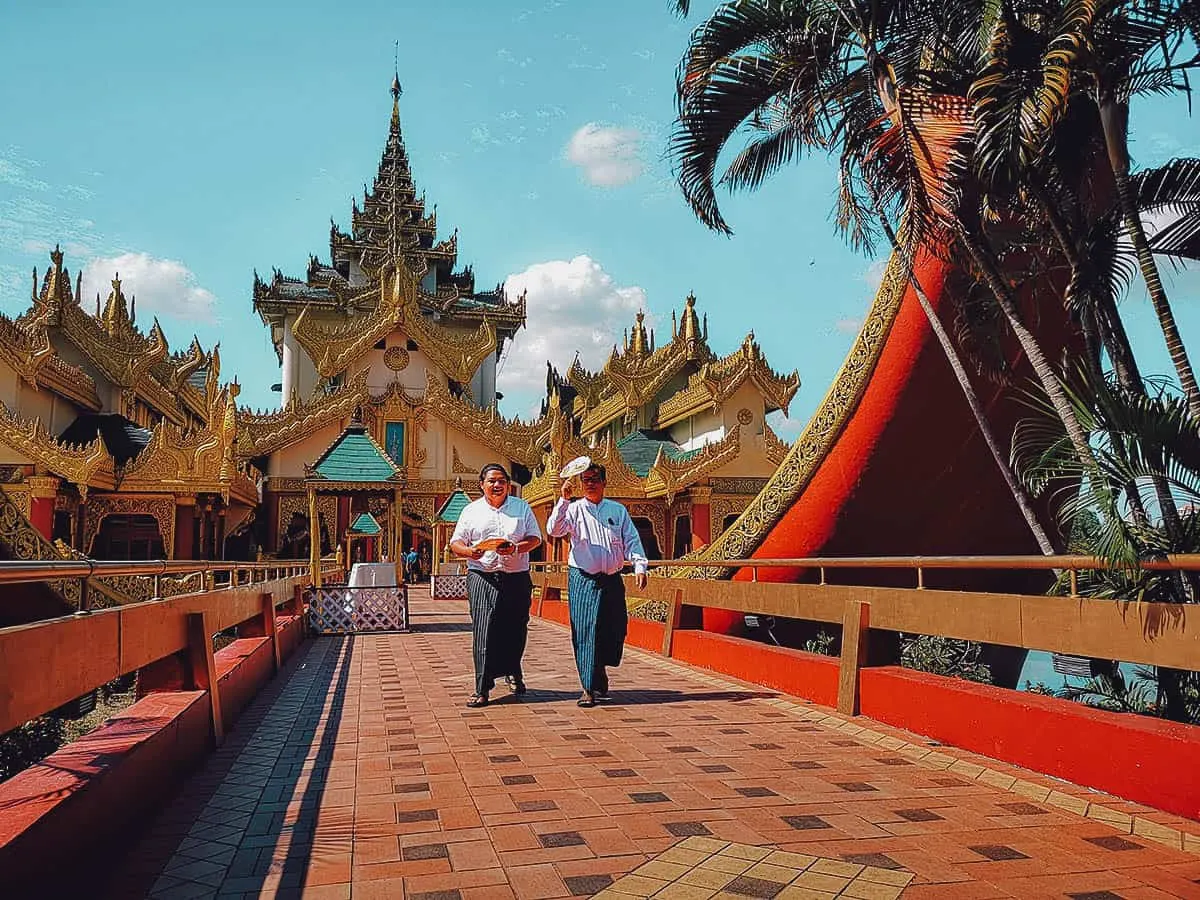 See what I mean by opulent? Was I here to eat mohinga or watch an opera? Had it not been for their reasonable prices, which was surprising considering the grandness of the space, then I probably would have steered clear of this place. But I'm glad I didn't because their food was pretty darn good.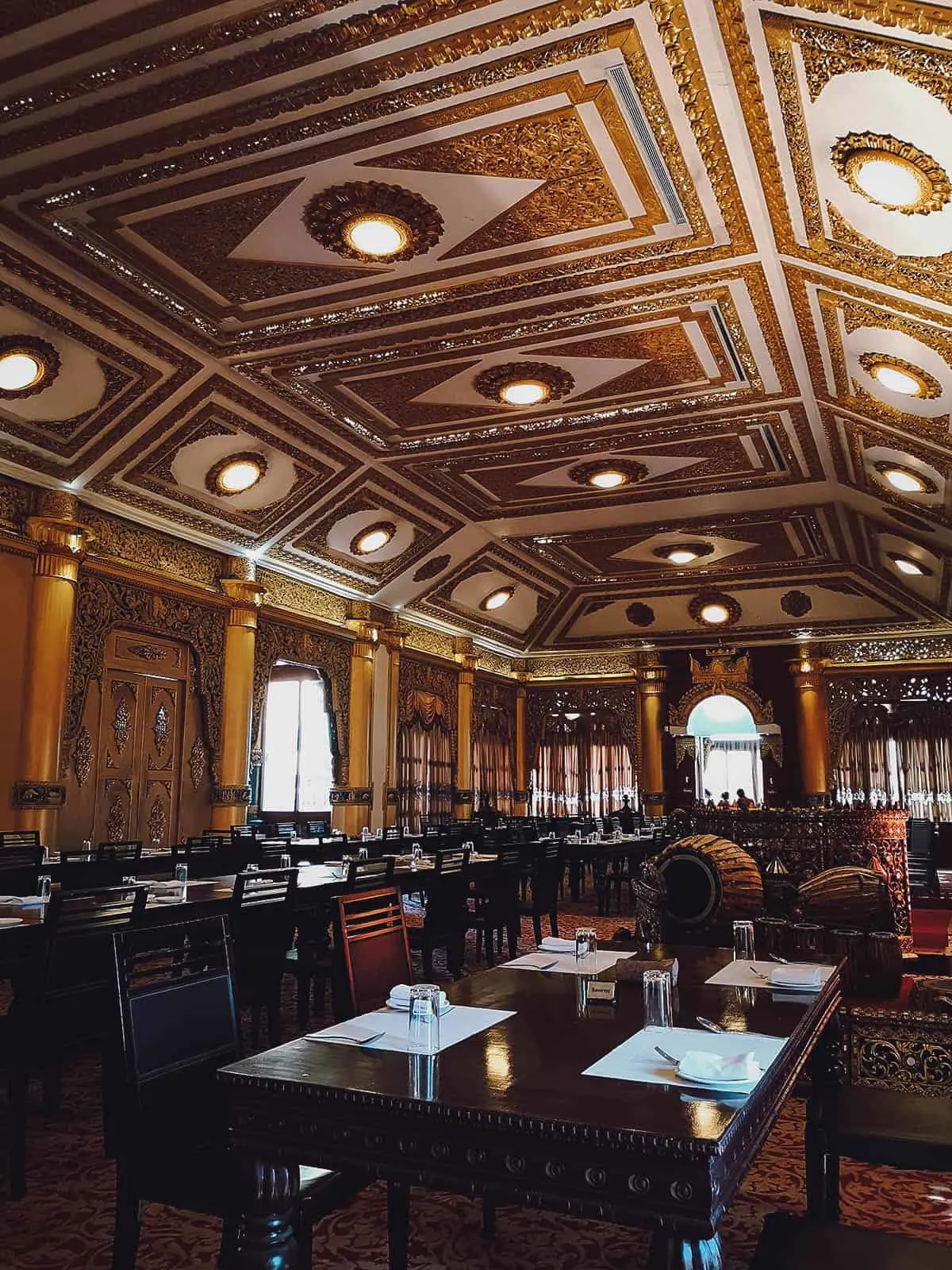 I started off with Burmese vegetable tempura which was good, but I was here specifically for the mohinga. Unlike the mohinga served at Lucky Seven Tea Shop, Karaweik Palace serves theirs deconstructed. The fish broth, noodles, and toppings are served separately so you can assemble your bowls yourself.
I believe mohinga is typically served with all the ingredients together so this was an interesting, more modern way of presenting Myanmar's national dish.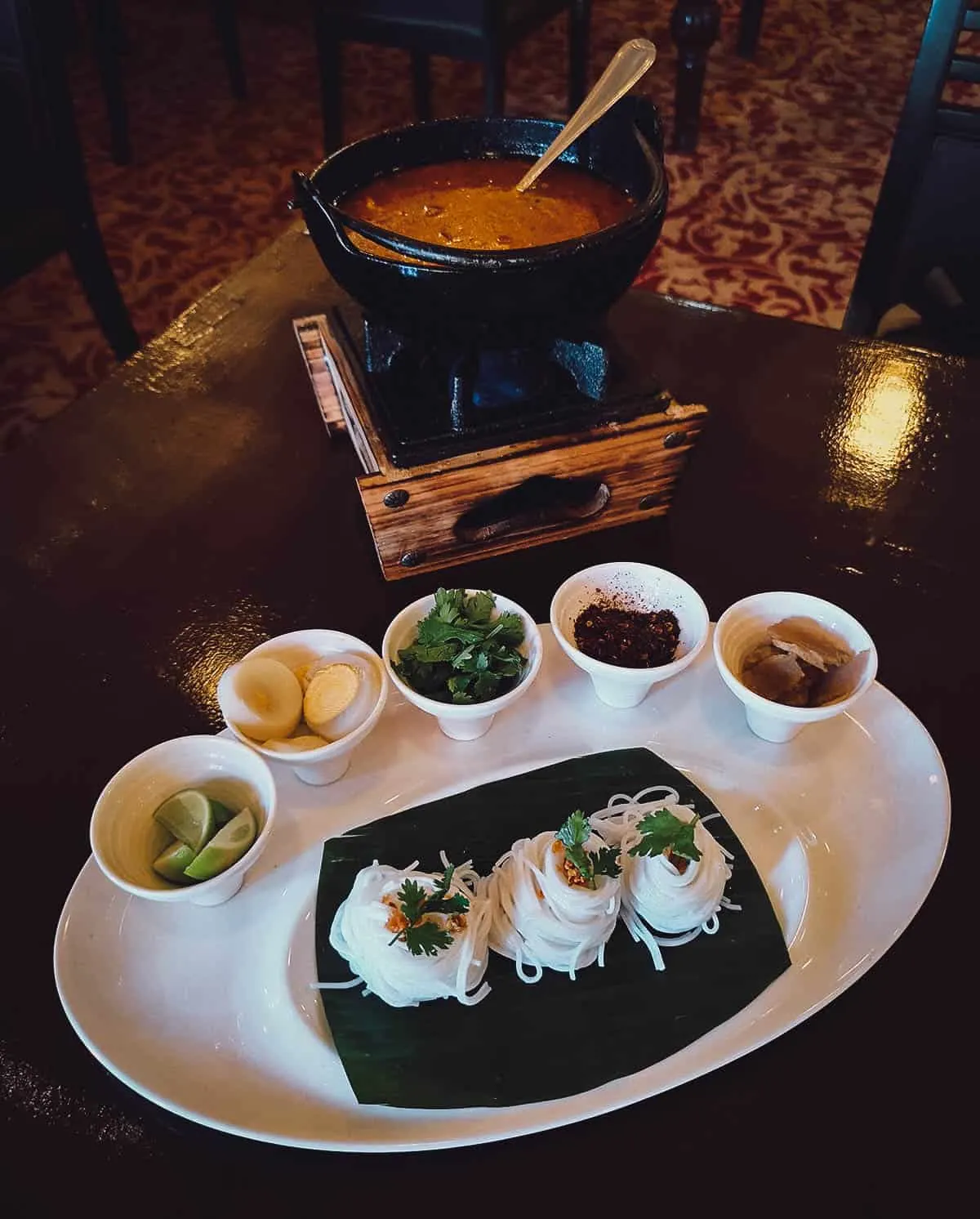 Here's what it looks like put together. I'm not an expert on mohinga but I found this to be delicious and every bit as tasty as the mohinga at Lucky Seven Tea Shop.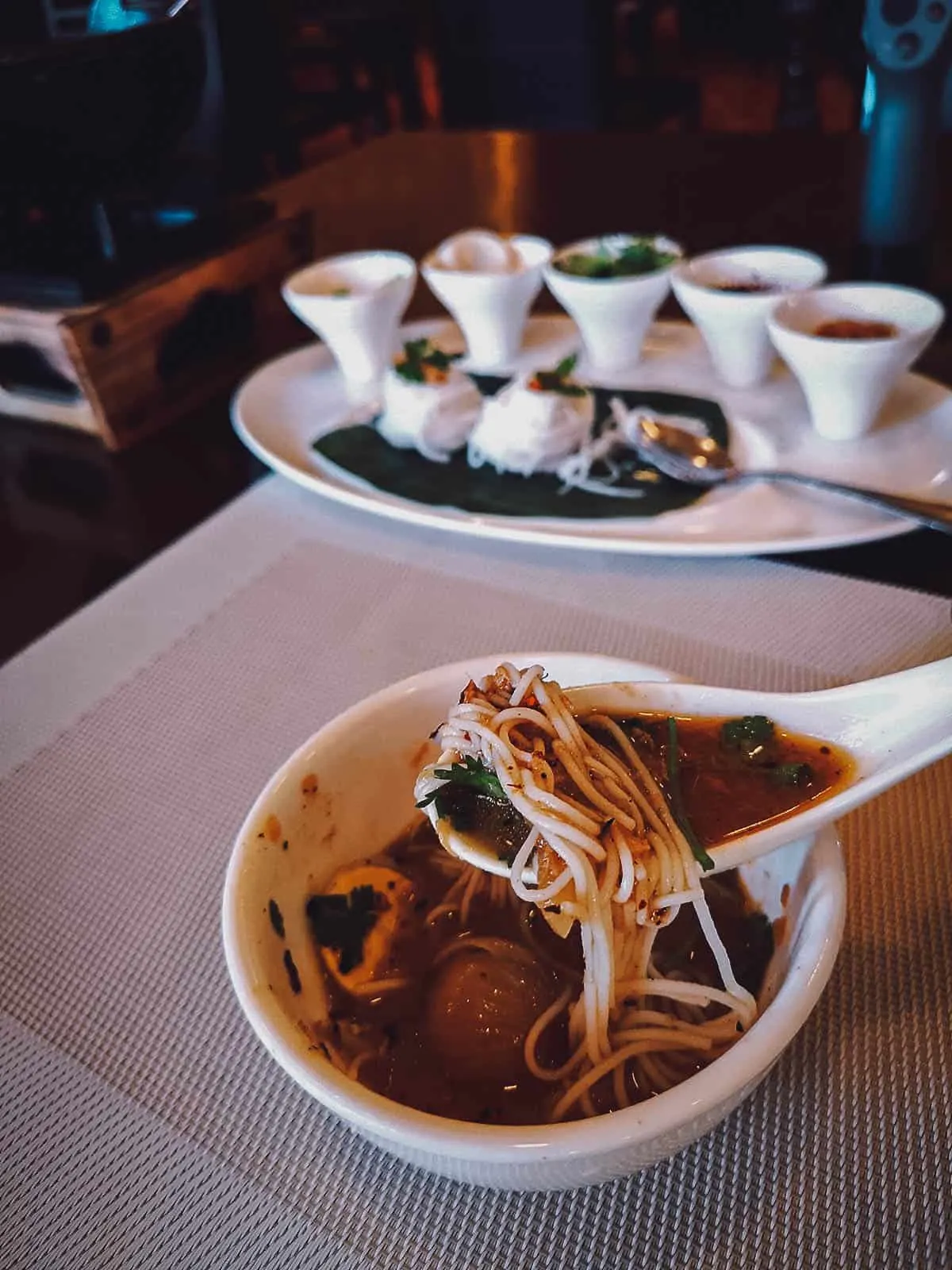 Expect to Pay: MMK 4,000 for mohinga
6. Tokyo Love Story
If Root were the most contemporary and Karaweik Palace the most opulent, then this next place was the most surprising. I don't remember exactly how I found it but I think I was looking for a highly-rated restaurant near my hostel and came across Tokyo Love Story. Its Google reviews caught my attention but the fact that it was a Japanese izakaya in downtown Yangon is what made me want to go.
According to the Burmese bar girls tasked to serve me, Tokyo Love Story is owned by a Japanese businessman who frequently flies to Yangon on trips. I'm not sure if he lives there permanently but he's in Yangon often enough to open this hidden bar frequented mostly it seems by Japanese businessmen. What an odd and cool find!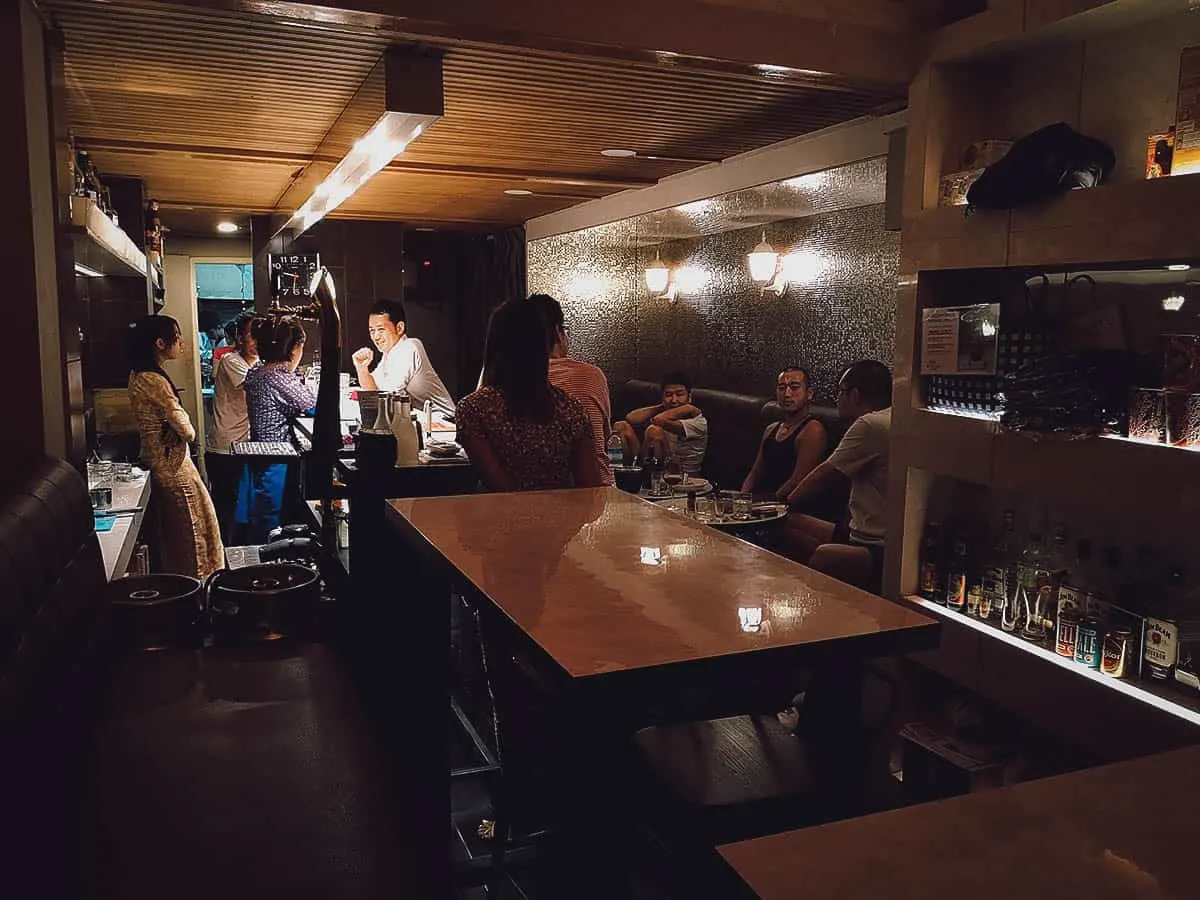 Tokyo Love Story is mainly a bar that serves a few Japanese dishes like takoyaki, katsu, soba, and udon. I was here for dinner so I went with this curry rice made with ground chicken. It was good!

Tokyo Love Story isn't as easy to spot so look out for this door with the rooster logo. I walked past it a couple of times before noticing the words on the glass door.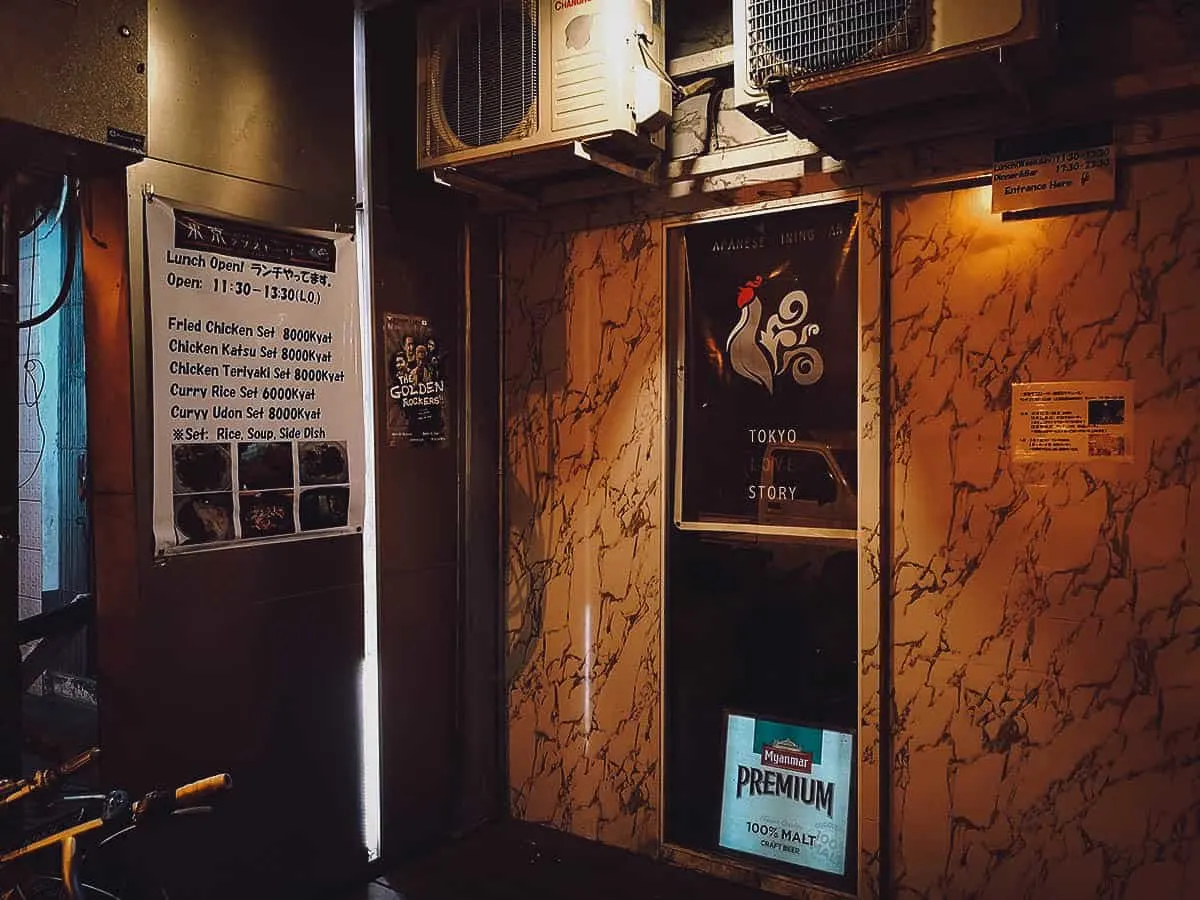 Expect to Pay: Between MMK 4,000-6,000 for rice or noodle meals
7. Kaung Myat
19th Street is like the Jalan Alor, Vinh Khanh, or Bia Hoi corner of Yangon. It's where you go to have street food and beer at night in the city. Located in Yangon's Chinatown, here you'll find restaurant after restaurant serving mostly barbecue and seafood to enjoy with ice-cold bottles of local Burmese beer.
19th Street was one of the stops on my food tour with A Chef's Tour. However, we just walked through and didn't actually eat here so I came back the following day for lunch. Based on my research, Kaung Myat was one of the best places to go.

I asked my server for recommendations and he suggested either the steamed fish with lemon, the prawn tempura, or the spicy basil leaves with chicken or pork. I didn't feel like having seafood today so I went with the chicken with basil and a bowl of white rice. It was very tasty and something I'd be happy to have again.

Here's what 19th Street looks like at night. The difference in atmosphere between lunch and dinner is literally like night and day. I was traveling alone so I didn't want to have drinks by myself, but it's best to check out 19th Street at night. The atmosphere is electric and it's a fun place to spend an evening out in Yangon.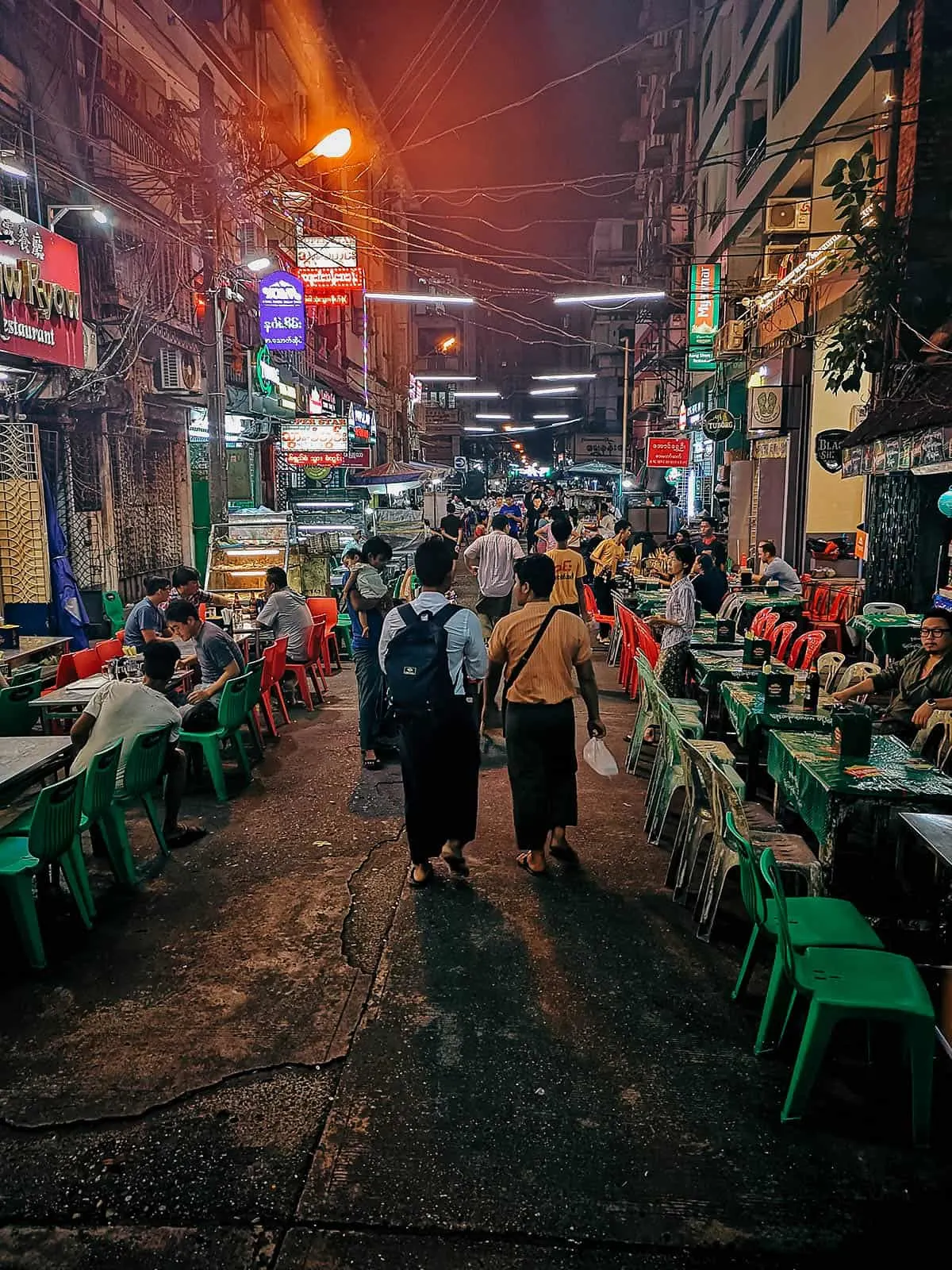 What I Paid: MMK 4,500 for the chicken with basil
8. Chinatown 125 Cafe
After lunch at Kaung Myat, I was walking down 19th Street when this cute cafe caught my eye. I walked in and found this lovely Chinese-themed cafe with great air-conditioning and tasty-looking desserts. It has a predominantly red interior with lanterns and other interesting knick-knacks to spruce up your Instagram feed.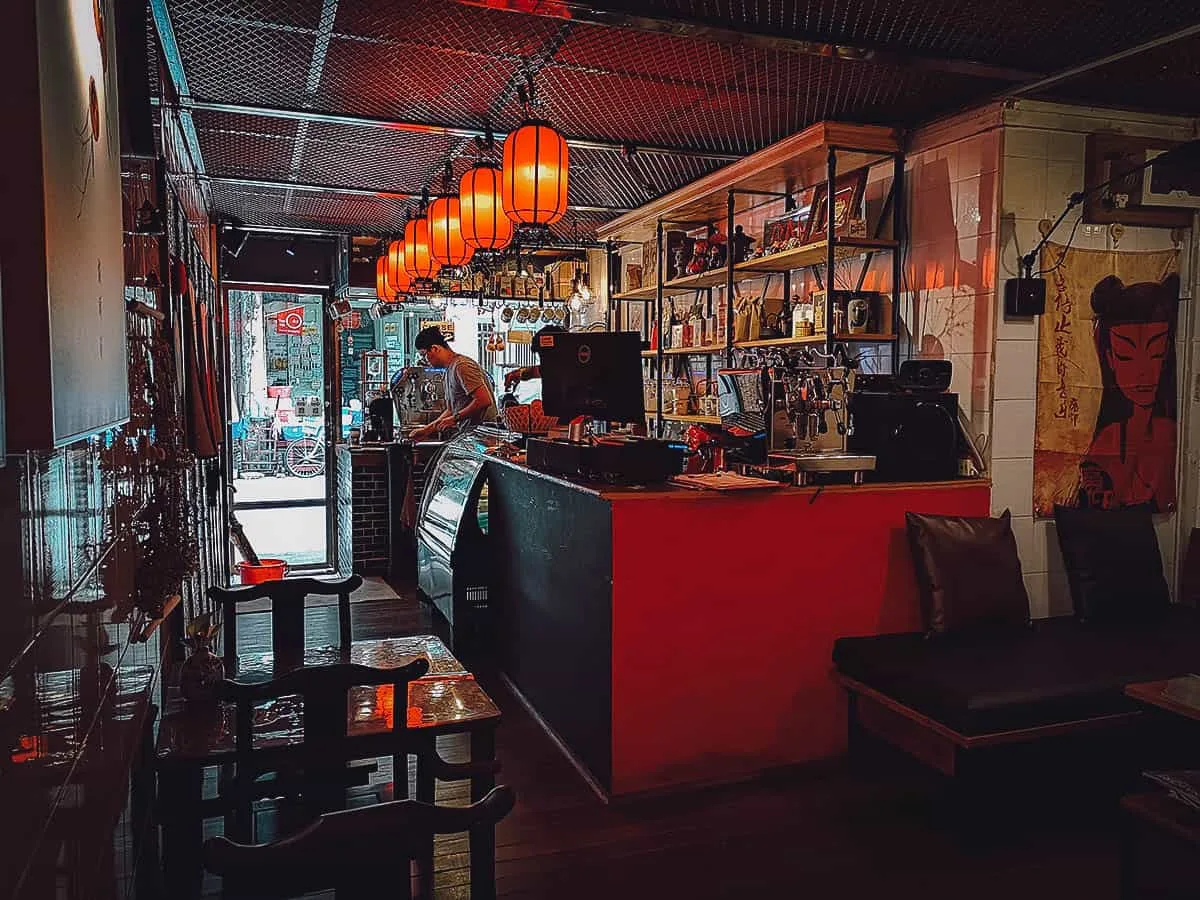 I had this soft and moist pistachio cake to go with my latte. Looking at their TripAdvisor page, they serve savory dishes as well like dumplings and fried rice so you may want to have more than just dessert here. It's a nice, comfortable place to spend a few hours and escape Yangon's intense midday heat.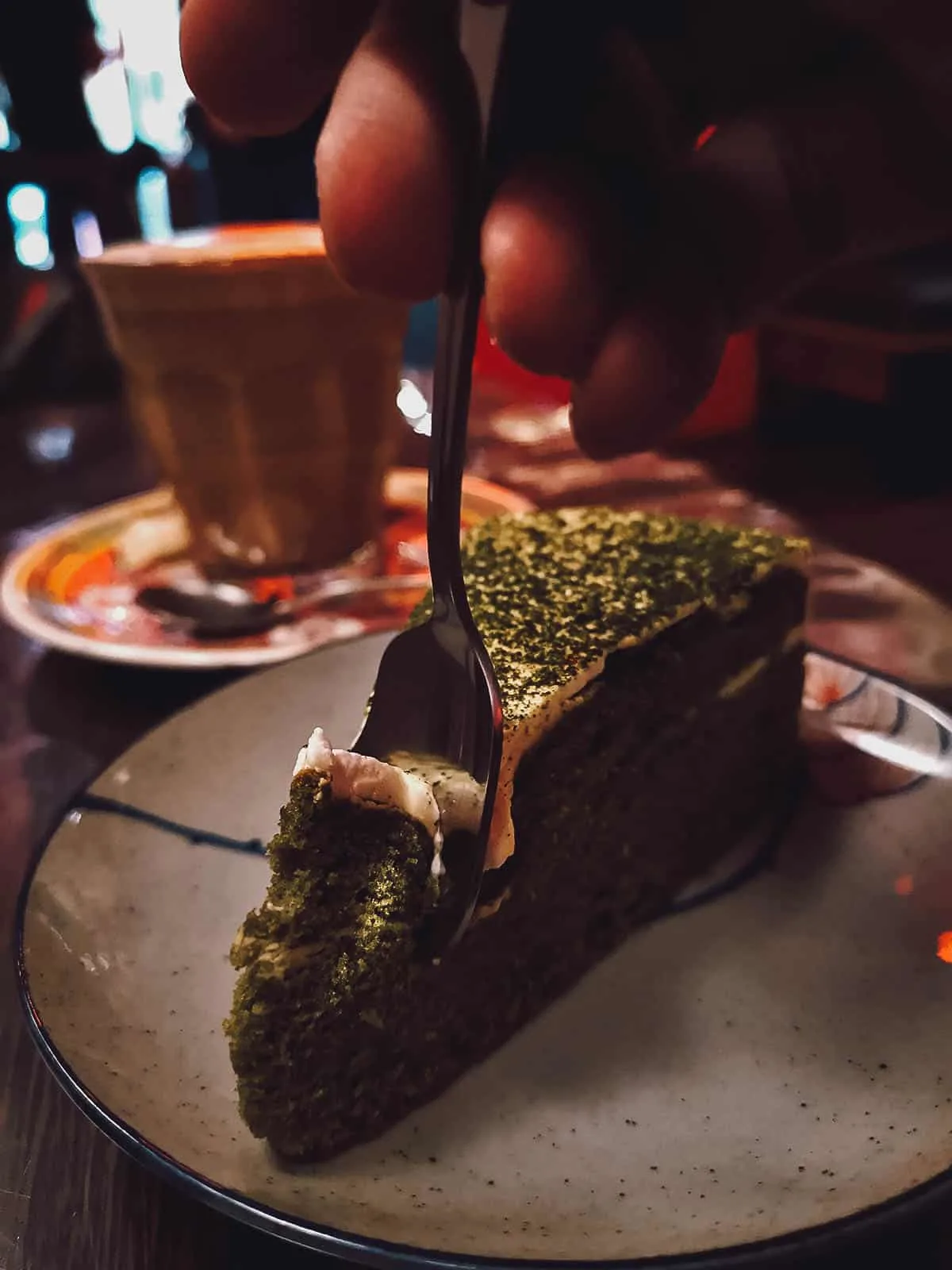 POINTS OF INTEREST IN YANGON
To help you visualize where everything is, I've pinned the places recommended in this guide on this map. Zoom in for a closer look.
HOW TO GET AROUND
I stayed in the downtown area so I got around pretty much everywhere on foot. The only time I needed to arrange for transportation was when I went to Shwedagon Pagoda and Kandawgyi Lake.
Yangon doesn't have a developed public transportation system so if you need to travel longer distances, then the best way to do that is by Grab or taxi. Personally, I prefer the former but people on forums say regular taxis are fine too. You can use whichever is more convenient for you at the time. If you're at popular tourist spots like Shwedagon Pagoda for example, then it may be easier to just hail a taxi since there will be plenty already waiting.
Just know that taxis in Yangon don't use the meter so you'll need to agree on a price beforehand. Based on what I've read, it should cost you no more than MMK 4,000 to get to most destinations within the city. You can use the Grab app for estimates on taxi fares.
To help you get around, I recommend using the Google Maps app (iOS|Android). It'll tell you all the possible ways to get from point A to point B using any city's public transportation system. I use it on every trip and find it to be very reliable.
HOW MANY DAYS TO STAY / SAMPLE ITINERARY
From a tourism standpoint, there isn't as much to do in Yangon so you can realistically see everything in one full day. It'll be pretty hectic so if you have the time, then it's best to spread it out over two days.
If you're heading out to other destinations in Myanmar like Bagan, then you can stay one night in Yangon then take an overnight bus to your next destination the following evening. Here's a sample 2D/1N Yangon itinerary to help you plan your trip.
DAY ONE
• Sule Pagoda
• Bogyoke Aung San Market
• Circular Railway
• 19th Street
DAY TWO
• Shwedagon Pagoda
• Kandawgyi Lake
• Chaukhtatgyi Paya
BUDGET / SUMMARY OF EXPENSES
Yangon is cheap. I found it to be inexpensive even by Southeast Asian standards. Assuming you'll be sharing a hotel room with one other person and staying in the city for just two days, then a budget of around MMK 40,000-45,000 per day should be enough. This takes into account your hotel room, meals, admission fees, transportation, and pocket wifi rental. Here's a quick breakdown of expenses:
ACCOMMODATIONS
It's never easy giving hotel recommendations because everyone has their own preferences. On this trip, I stayed at a hostel dorm room and paid just USD 7 a night. But not everyone wants to stay in a hostel. If you're traveling with one other person and would prefer to stay in a private room, then you'll find plenty of good hotels in the USD 20-25 a night range.
MEALS
Food is cheap in Yangon. A bowl of shan noodle soup costs less than MMK 2,000. If you stick to local food like mohinga, then a food budget of MMK 10,000 per day will be plenty.
ADMISSION
Total cost of admission to Shwedagon Pagoda, Sule Pagoda, and the circular railway is MMK 15,200.
TRANSPORTATION
As advised, I only needed to book transportation to go to Shwedagon Pagoda, Kandawgyi Lake, and Chaukhtatgyi Paya. If all you need is transportation to go from downtown Yangon to the Bahan area and back, then a total transportation budget of MMK 10,000 should be enough. Please keep in mind that this doesn't include transportation to and from transport hubs like bus stations and the airport.
POCKET WIFI RENTAL
It depends on where you rent it from but it looks like it'll cost you around MMK 3,000-5,000 per day to rent a pocket wifi device. More on pocket wifi devices and sim cards in the TRAVEL TIPS section of this guide.
TOTAL


This comes out to about MMK 40,000 a day per person for a 2-day Yangon stay. Ren and I are middle of the road travelers who enjoy good food and drink so the recommended budget works for travelers like us. Adjust accordingly based on your own travel preferences.
TRAVEL TIPS
1. Plan your Trip with Sygic Travel
Finding all the "must-dos" and "must-eats" in any city is relatively easy. What's harder is putting them all together in an efficient itinerary, one that allows us to spend as little time as possible in transit. Thankfully, I have Sygic Travel to help me with that.
I've been using this free trip planning app for several years now. It allows me to plot all points of interest on a map so I can come up with as efficient an itinerary as possible. Follow the link to check out my 2-day Yangon itinerary on Sygic Travel.
2. Rent a Pocket Wifi Device
Having a fast and reliable connection to the internet is a must when traveling. You'll need it to do research, use ride sharing apps, convert currencies, and stay connected on social media. Ren and I never go anywhere now without renting a pocket wifi device first.
However, pocket wifi devices don't seem all that common in Myanmar yet. I brought my own device with me so I didn't need to worry about wifi connectivity in Yangon, but it looks like the more common option is to purchase a SIM card with a data package. You can do so at the airport.
If you're traveling to Yangon from somewhere in Asia, then you may be able to book a pocket wifi device or purchase a SIM card in advance through Klook.
3. Check for Discount Tickets
You can get deals on tours and travel-related services from many reputable websites, but for trips within Asia, our favorites are Klook and Get Your Guide. They often offer the widest selection at the best prices. Follow these links for a complete list of Yangon deals on Klook and Get Your Guide.
4. Get Travel Insurance
Travel insurance is something you may or may not want to get, depending on the nature of your trip. For us, it's all about what we'll be doing or how long we'll be traveling for. If we're away for several weeks, then we'll probably get it regardless of what we do. If we plan on doing anything physical that could land us in the hospital, then we'll definitely get it no matter how short the trip.
For this trip, I was only in Yangon for about three days and I didn't do anything physical, but I purchased a policy anyway. I did that because I spent a few days riding an e-bike around Bagan as well so I needed an insurance policy in case I crashed face first into a temple.
When we do feel the need for insurance, we always buy it from SafetyWing. They're a travel insurance provider often used by many long-term travelers. You can follow the link to get a free quote from SafetyWing.
5. Bring the Right Power Adapter
Myanmar has Type C, Type D, Type F, and Type G electrical outlets so be sure to bring the right power adapters for your devices. Electrical voltage is 230V and the standard frequency is 50Hz.
Have fun!
By no means am I an expert on Yangon but I do hope you find this guide helpful. I'm only sharing the things I learned from my time there. If you have any questions or comments, then please feel free to leave them in the comment section below. You're welcome to join our Facebook Travel Group as well.
Thanks for reading and have an awesome time traveleating in Yangon!
Disclosure
Some of the links in this guide are affiliate links, meaning we'll earn a small commission if we make a sale at no added cost to you. We only recommend products and services that we use ourselves and firmly believe in. We really appreciate your support as this helps us make more of these free travel guides. Thank you!