EDITOR'S NOTE: Please be advised that this Kolkata travel guide hasn't been updated to reflect 2023 prices and travel guidelines. We'll update it as soon as we can. Thanks for your patience.
I stood nervously while the immigration officer at Kolkata Airport went through my passport and e-Visa. Even though my papers were in order, I always get jittery at immigrations so the few seconds he spent perusing my papers felt like an eternity.
"First time in India?" he finally asked, looking up at me. I answered yes.
"Here in Kolkata?" he added with what looked like a wry smile. It sounded less like a question and more like a loaded statement. It was my first time in India so yes, it was my first time in Kolkata as well.
He gave a slight shake of the head and flashed that same smile before handing me back my passport. "Ok then, have a good trip." he said and sent me through.
I didn't know what to make of that exchange at the time but after my trip, I think I understood.
Kolkata, like the rest of India, is a life-changing experience. All the more for a first-time visitor like myself.
Save This on Pinterest!
No time to read this now? Click on the red save button and pin it for later!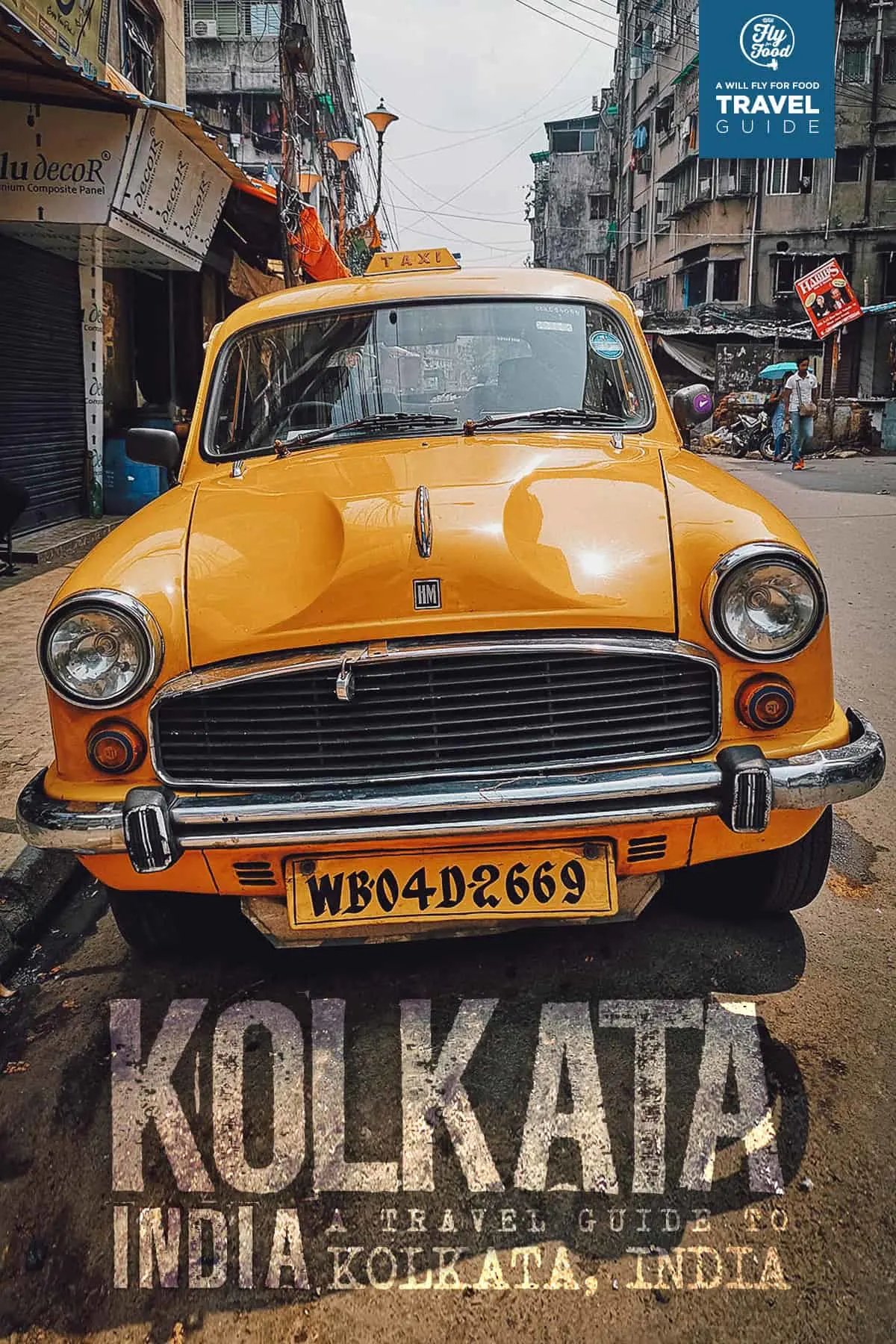 GUIDE TABLE OF CONTENTS
TRAVEL RESTRICTIONS
Because of the current global situation, travel guidelines seem to change on a daily basis. Our friends at SafetyWing created a website that lists detailed information on travel restrictions around the globe.
Before planning a trip to Kolkata, be sure to check the Flatten the Curve website for information on travel restrictions to India.
HOW TO APPLY FOR AN E-VISA TO INDIA
Applying for an e-visa to India was easy. The process is done online and my e-visa was emailed to me in a little over 24 hours after making payment. You can refer to my post on applying for an e-Visa to India for a step-by-step process.
KOLKATA AT A GLANCE
Kolkata (formerly Calcutta) is the capital of West Bengal and the third largest metropolitan area in India, after the National Capital Region and Mumbai. Located on the east bank of the Hooghly River, it served as the capital of British India from 1772 till 1911.
The capital was moved from Calcutta to New Delhi in 1911 partly because of growing nationalism in Bengal. It was home to the Indian Independence Movement which aimed to put an end to British rule in India. This revolutionary spirit has come to define Kolkata as a city of revolutionaries and intellectuals. It's regarded as the cultural capital of India, having spawned generations of artists, poets, writers, film producers, and Nobel Prize winners.
Curiously, Kolkata's nickname is the "City of Joy", a name whose meaning was lost on a visitor such as myself. It didn't seem particularly joyous to me. It may be the intellectual and cultural capital of India but opportunities within the city seem few and far between.
Kolkata was once a promising city that's suffered through decades of economic decline following India's independence in 1947, much of it due to steep population increases and a rise in militant trade-unionism. Signs of decay and poverty are apparent throughout Kolkata, to the point it's been called a "dying city" due to its economic woes and overall lack of opportunity.
BEST TIME TO VISIT
The best time to visit Kolkata is from October till March. Temperatures are cooler and skies are clear.
OCT-MAR: As advised, this is the best time to visit Kolkata. The weather is mild, even during the coldest months of December and January. If you like festivals, then around October is a great time to go. The Hindu festivals Durga Puja, Lakshmi Puja, and Kali Puja are held around October or November every year. I was in Mumbai for Ganesh Chaturthi and experienced what great fun Hindu festivals can be.
APR-MAY: These are the hottest months in Kolkata and probably not the best time to go. The city can be crowded and overwhelming as it is so I can only imagine what it's like at the height of summer.
JUN-SEPT: This is monsoon season in Kolkata and perhaps the least favorable time to go. I was in Kolkata around mid-September, just as monsoon season was ending, and experienced a day of heavy rains. It makes sightseeing unpleasant and difficult.
Climate: Annual Monthly Weather in Kolkata
Follow the link for more on the weather in Kolkata. I've also created the average temperature and annual rainfall graphs below. Suggested months to visit are colored in orange.
Average Temperature


Annual Rainfall


TRAVELING TO KOLKATA
Kolkata is located in West Bengal, on the eastern tip of India. I flew in to Kolkata from Kuala Lumpur but there are many ways to get there depending on where you are.
BY PLANE: People flying in to Kolkata will arrive at Netaji Subhash Chandra Bose International Airport. Flying is the fastest way to travel between cities in India but it's also the most expensive. I suggest using an airline aggregator like Skyscanner to search for the cheapest flights to Kolkata from wherever you are. I used Skyscanner to book all my flights in India.
The airport is about an hour north of the city so you'll need to arrange for a transfer to your hotel. There's an Uber booth just before exiting the terminal. I arrived late at night and booked an Uber ride to my hotel on Sudder Street for INR 350. There's a prepaid taxi counter as well. You can also try arranging for a private transfer through your hotel or booking one in advance through Klook.
BY TRAIN: I flew in to Kolkata but you may want to take the train if you have the time. India has an extensive rail network that can take you pretty much anywhere you need to go. Experienced travelers consider it the best way of getting around and experiencing this vast country. The easiest way to book train tickets in India is through 12Go Asia. It's much easier to use than the very confusing IRCTC website.
BY BUS: I haven't experienced bus travel in India but based on what I've read, the cost between trains and sleeper buses is comparable. Buses can sometimes be more convenient because of the location of the stations, but they're considered less comfortable than trains in general. Bus tickets can be purchased online through redbus.in or makemytrip.com.
OTHER OPTIONS: There may be other ways to get to Kolkata from wherever you are so I suggest checking 12Go Asia to find route options available to you. You can click on the link or use the widget below. Klook also offers private transfers to and from Kolkata from Digha, Mandarmani, Shantiniketan, or Bishnupur in West Bengal.
WHERE TO EXCHANGE CURRENCY
The unit of currency in India is the Indian Rupee (INR). I arrived at midnight so I was worried about not being able to exchange currency in case my ATM didn't work, but there was a booth by the baggage claim area that was still open. Rates were terrible however, just INR 6,100 per USD 100 at the time. Thankfully, my ATM worked so I was able to withdraw INR to pay for my airport transfer.
I exchanged currency at this shop near my hotel on Sudder Street the next morning. They gave me a rate of INR 7,150 per USD 100. So much better than the airport!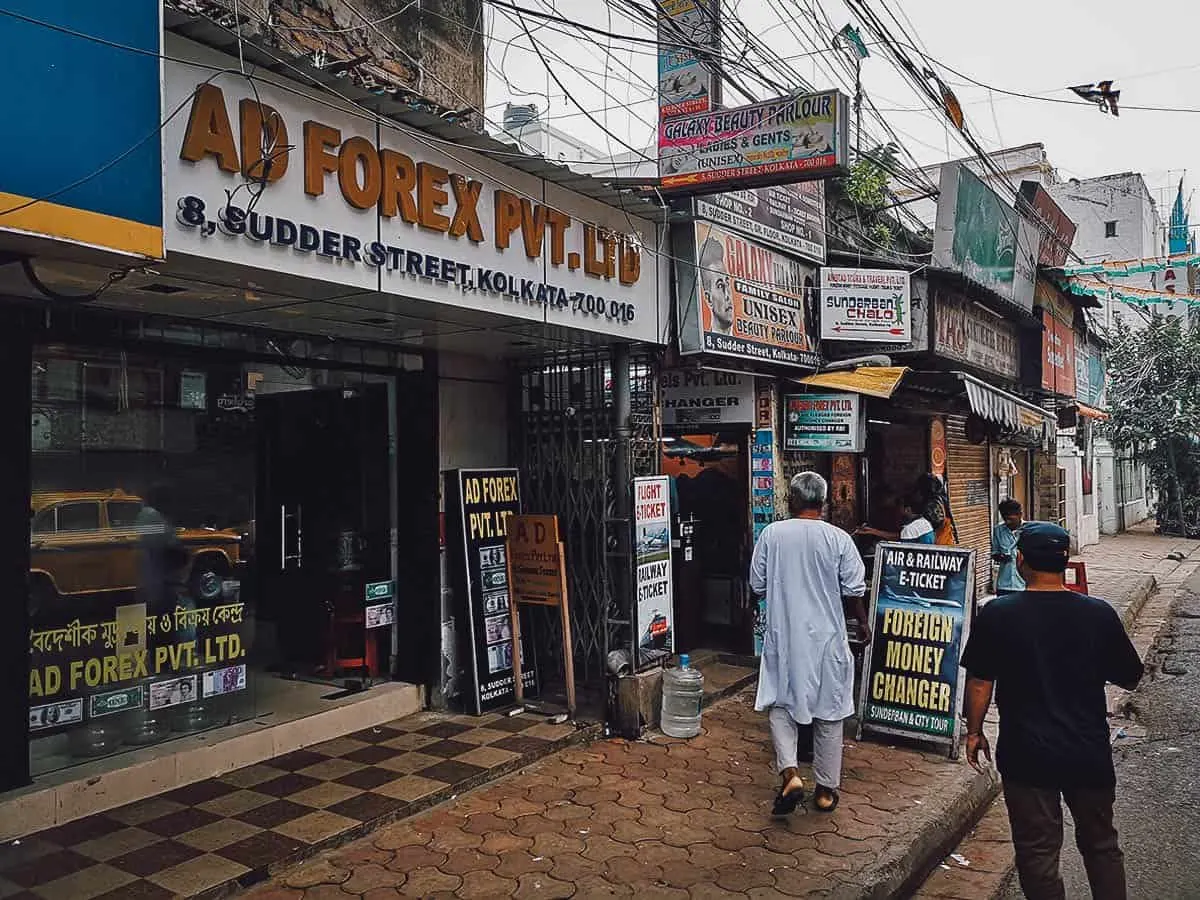 I posed this question on TripAdvisor and the consensus was that ATMs are the way to go in India. Rates are comparable. Just be sure to advise your bank you'll be using your ATM card overseas so you don't run into any problems. In my experience, my ATM card works in some machines but not in others.
NOTE: Some ATM machines will ask if you'd like to proceed "with or without conversion". Always proceed WITHOUT conversion. Otherwise, the bank operating the ATM will do the conversion, usually at terrible rates. According to this article, the difference between rates can be as high as 10%.
BEST AREA TO STAY
Do a search for "best area to stay in kolkata" and many will suggest Park Street or Sudder Street. These are general "tourist areas" in Kolkata with plenty of hotels, shops, and restaurants, as well as easy access to the Kolkata Metro. I stayed on Sudder Street in the New Market area and did find the location to be ideal.
Listed below are some of the most convenient areas to stay in Kolkata, along with a color-coded map to help you better understand where each of these areas are. Click on the link for an interactive version of the map. (Please note that marked areas are approximations only)
RED – New Market Area
BLUE – Park Street Area
ORANGE – Ballygunge
I'll provide targeted links under each description but you can book accommodations in Kolkata through Booking.com or Agoda.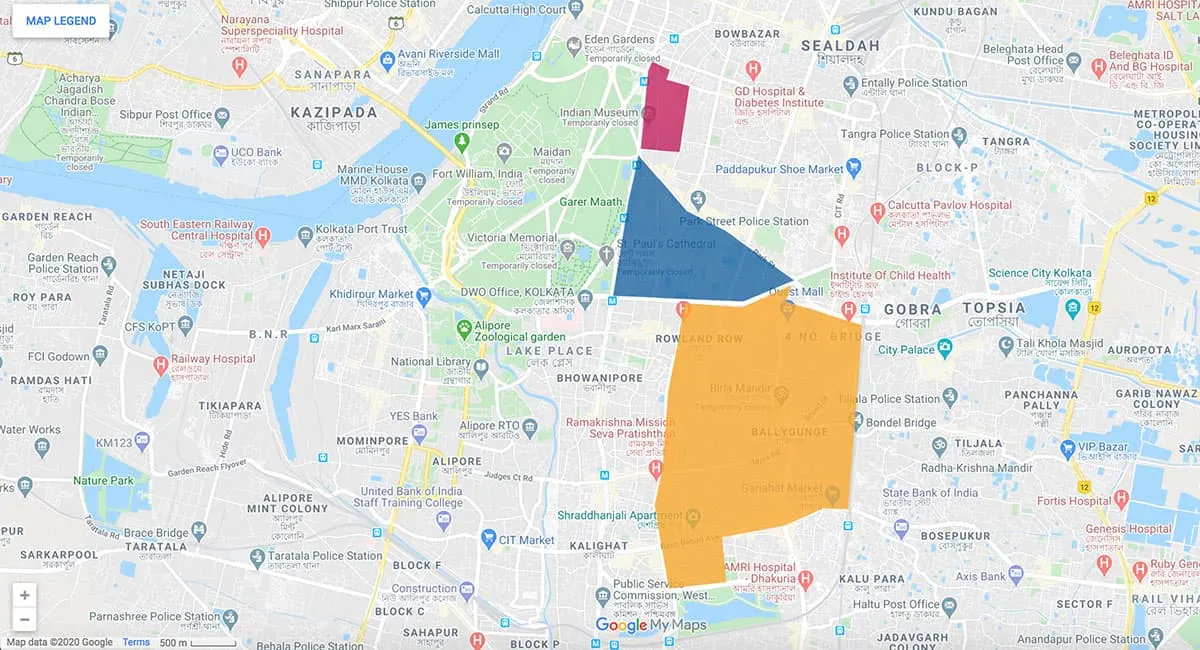 NEW MARKET AREA: OYO Townhouse 011 Esplanade
As advised, I stayed in a hotel on Sudder Street which is very close to the New Market. All around are plenty of shops and restaurants. At the end of the street is the Indian Museum and just a short walk away is the Esplanade Metro station. Staying here will put you in the heart of the city, though the area does feel a bit hectic.
I stayed at OYO Townhouse 011 Esplanade (about USD 49/night), a chain of hotels with multiple outlets throughout the city. It's a clean and comfortable hotel with basic rooms at affordable prices. You can book a room there on Booking.com or Agoda. If you'd like to stay in the New Market area but don't think this is the right hotel for you, then you can check out alternate listings on Booking.com or Agoda.
PARK STREET AREA
The area just south of Park Street is another often recommended place to stay in Kolkata. It's similar in feel to Sudder Street with plenty of hotels, shops, and restaurants all around. Victoria Memorial and South Park Street Cemetery are within walking distance, as are the Park Street and Maidan Metro stations. You can find a hotel in the Park Street area on Booking.com or Agoda.
BALLYGUNGE
Ballygunge is south of Park Street. I didn't explore Ballygunge but based on what I've read, it's a more residential area with green spaces and nice guest houses. If the Sudder and Park Street areas are too noisy for you, then this may be a good alternative, though it may put you a bit farther away from transportation options. You can search for accommodations in Ballygunge on Booking.com or Agoda.
PLACES TO VISIT
1. Mother House
The Mother House is the headquarters of the international religious congregation of the Missionaries of Charity. It was Mother Teresa's home since 1953 till her passing, and where her body was laid to rest.
You can pay your respects at her tomb and visit a small museum displaying a few of her personal belongings. You can visit her room upstairs as well.
I visited on my own but if you'd like to go with a guide, then you may be interested in this Mother House and church tour.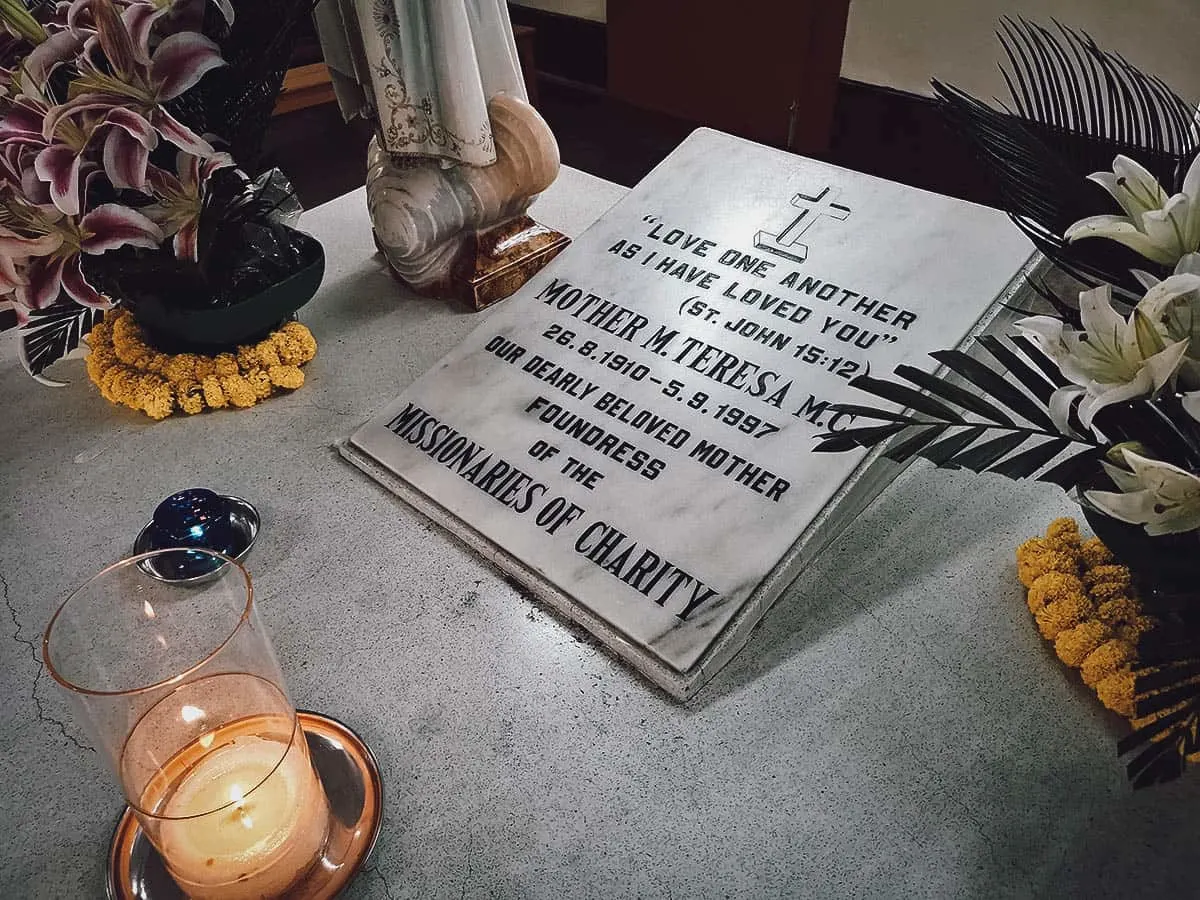 Suggested Length of Visit: 30 mins – 1 hr / Admission: FREE
2. Victoria Memorial
The Victoria Memorial is a marble building in the Maidan, the largest urban park in Kolkata. It was built using Makrana marble, the same prized marble used to construct the Taj Mahal. It's a large stately-looking building dedicated to Queen Victoria of England who was also referred to as the Empress of India.
There's a museum with exhibits inside but I enjoyed the grounds and garden the most. It's within walking distance from the Park Street area and is a lovely place to escape from the chaos of Kolkata.
If you'd like to visit with a guide, then you can book one of a few Kolkata city tours that make stops at the Victoria Memorial.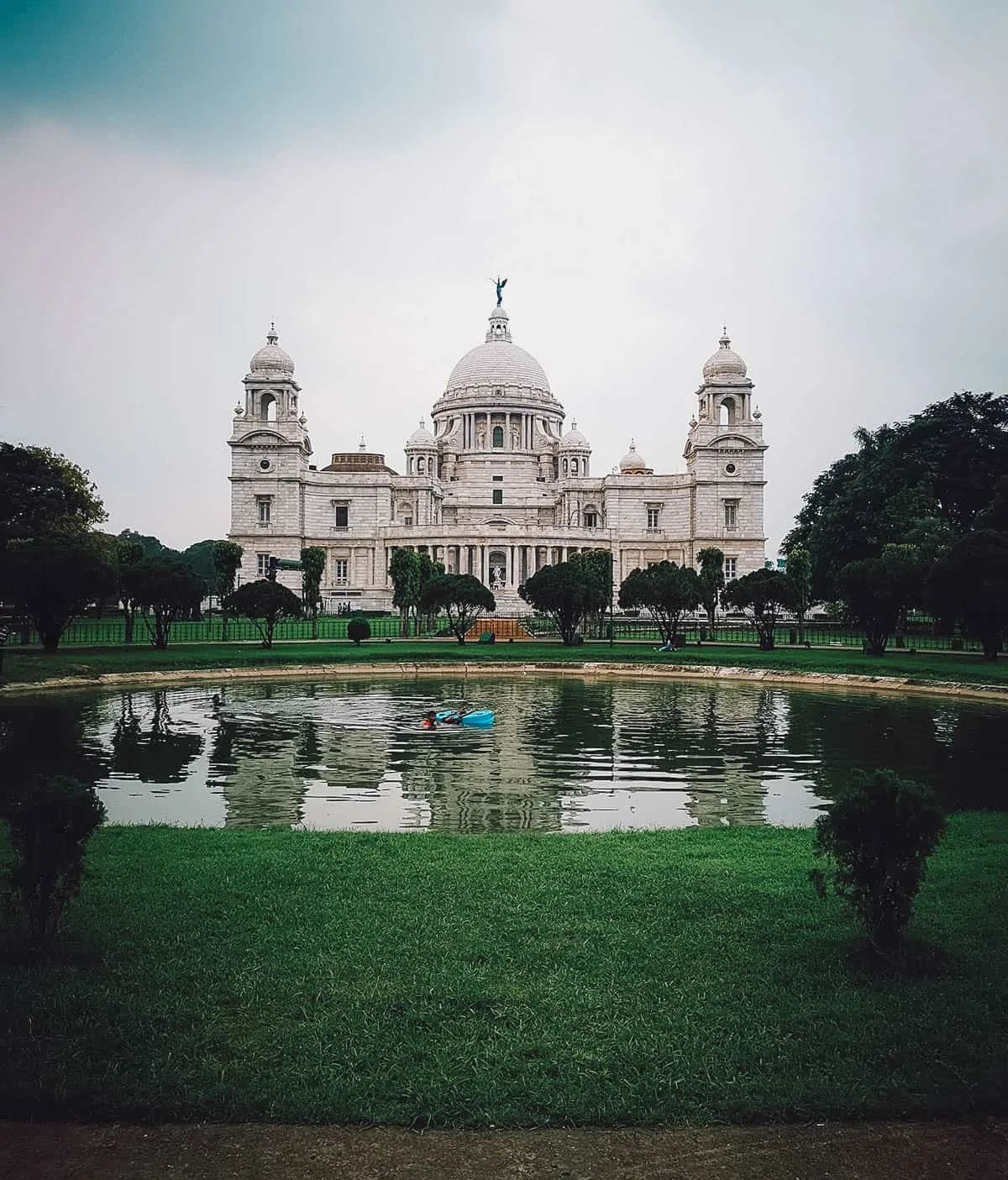 Suggested Length of Visit: 1 hr / Admission: INR 500
3. Indian Museum
This was one of my favorite places in Kolkata. Located at the west end of Sudder Street, the Indian Museum is the largest and oldest museum in India. It features a variety of exhibits showcasing antiques, ornaments, fossils, weapons, mummies, and paintings. You can easily spend a couple of hours here.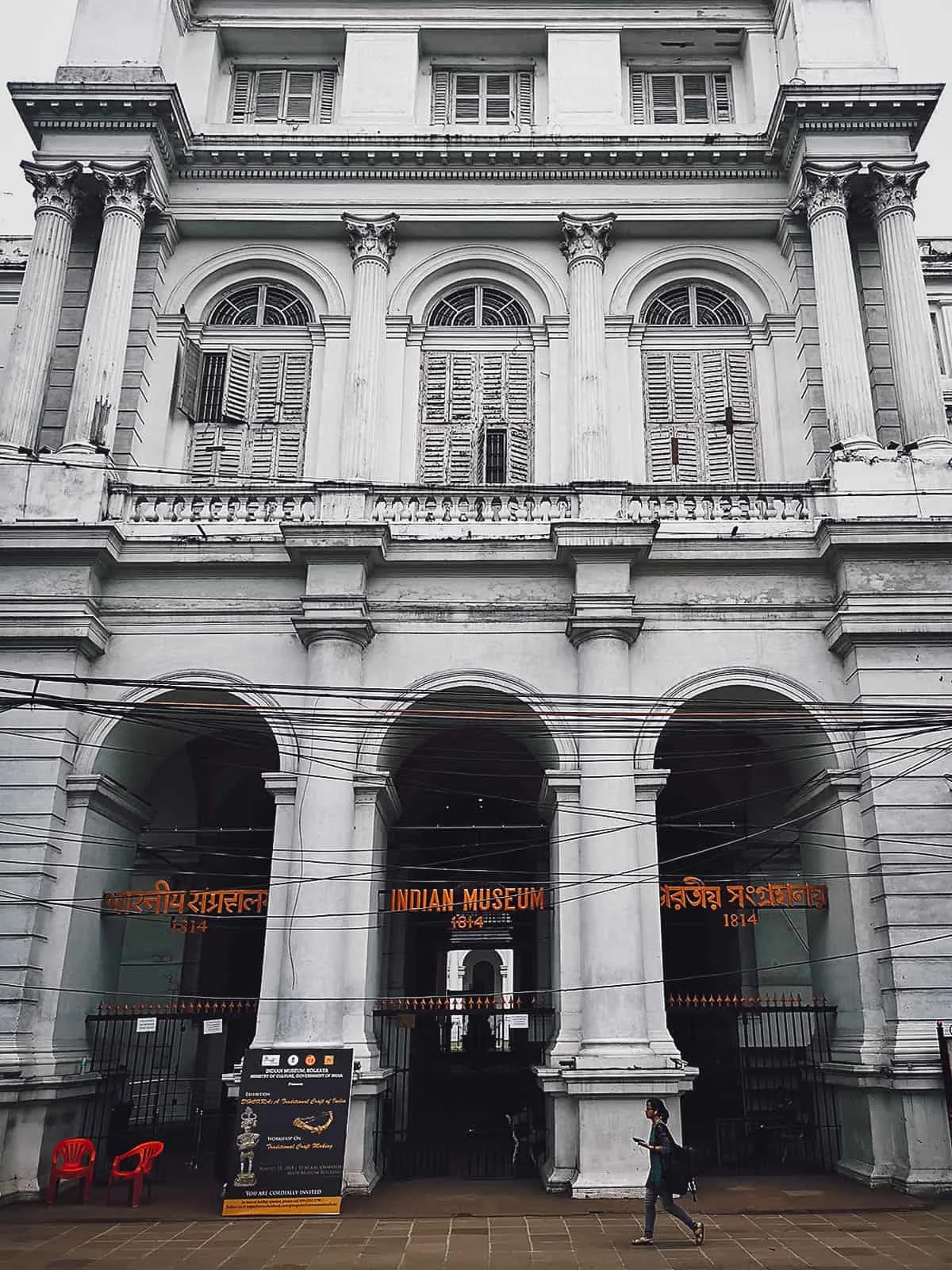 I went first thing in the morning to beat the crowds so I had the museum pretty much to myself. I read it can get crowded on weekends.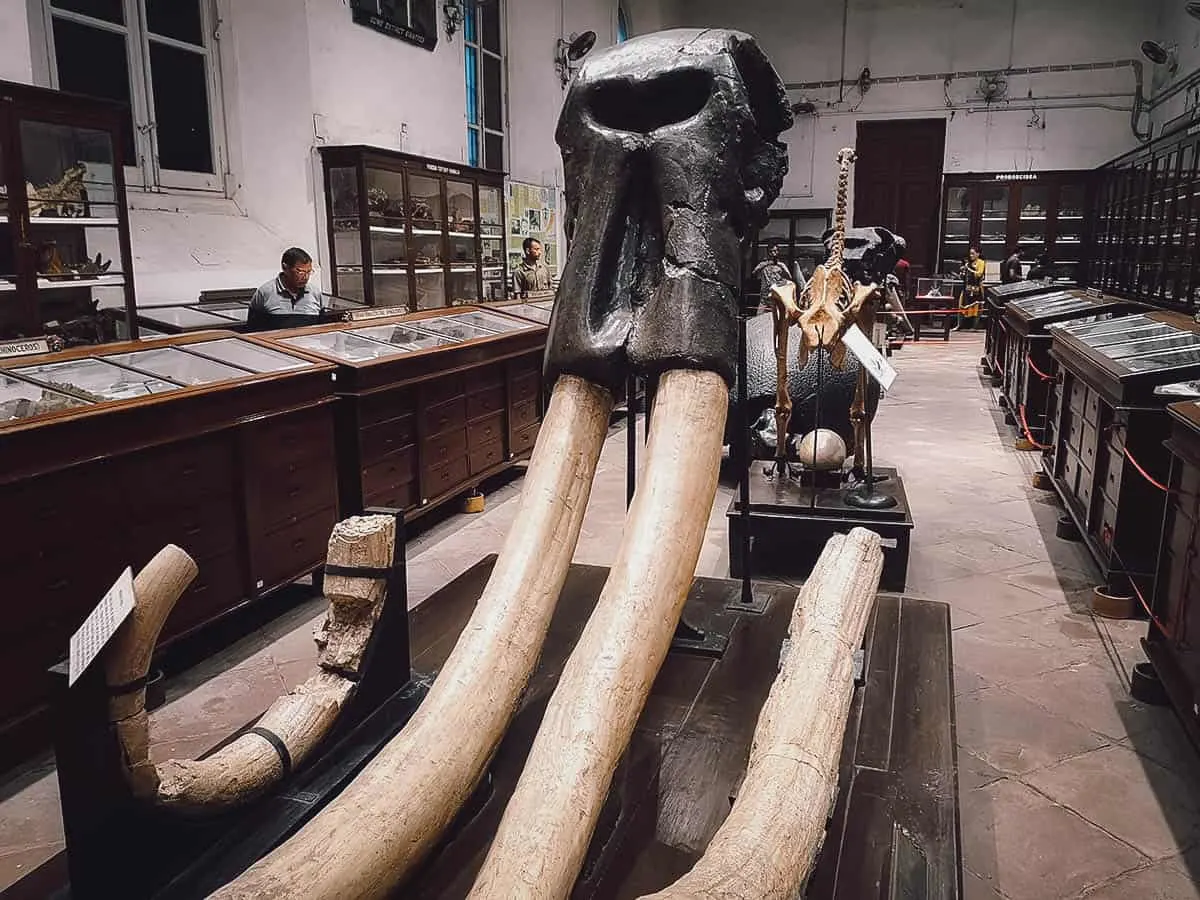 You can visit the museum on your own but many of the same city tours that take you to Victoria Memorial will make a stop at the Indian Museum as well.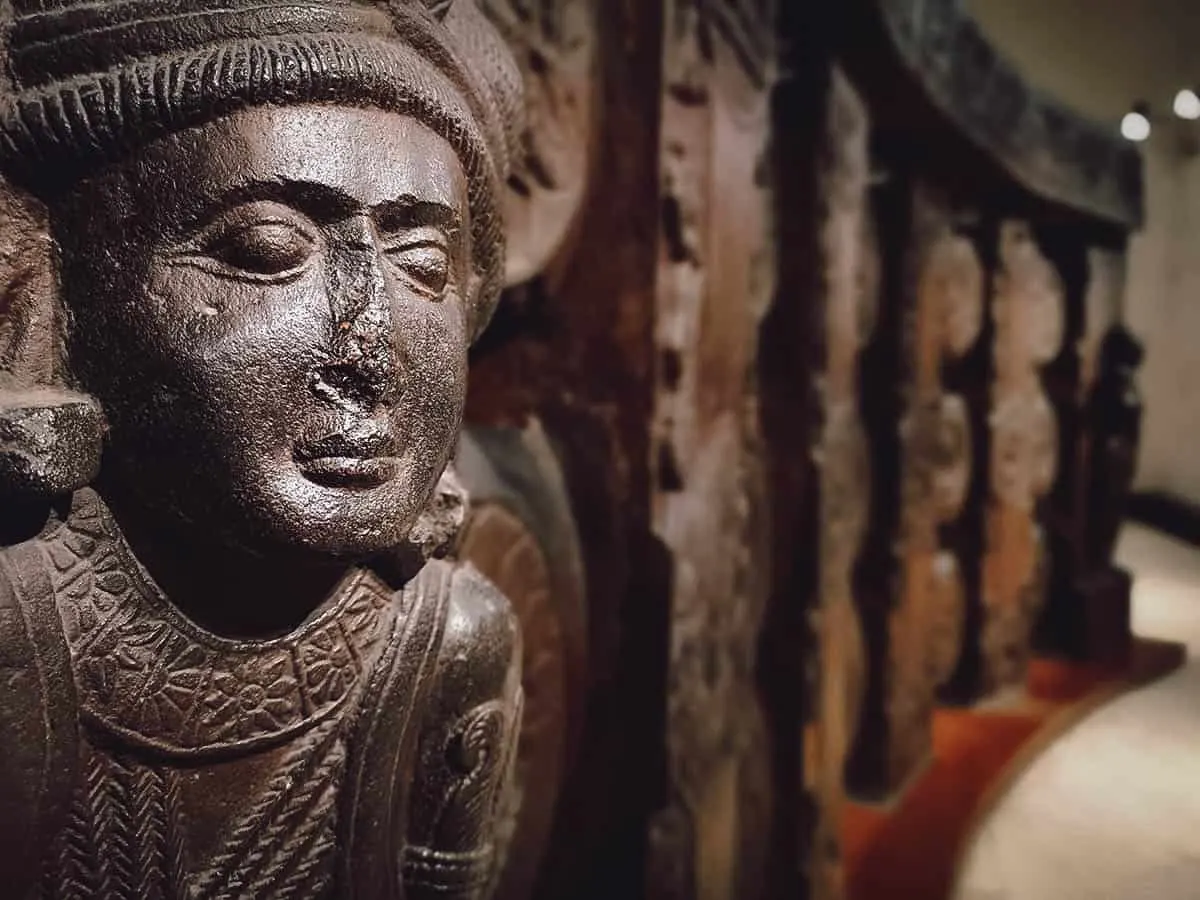 Suggested Length of Visit: 2-3 hrs / Admission: INR 500
4. South Park Street Cemetery
This was another of my favorite places in Kolkata. I enjoyed it because it gave me brief respite from the often overwhelming atmosphere of the city.
Opened in 1767, it was in use until around 1830 and is now a protected heritage site. Many of the nearly 1,900 graves are large and imposing, a few of them belonging to well-known European military and political figures of the time.
The same church tour that takes you to the Mother House will bring you to South Park Street Cemetery as well.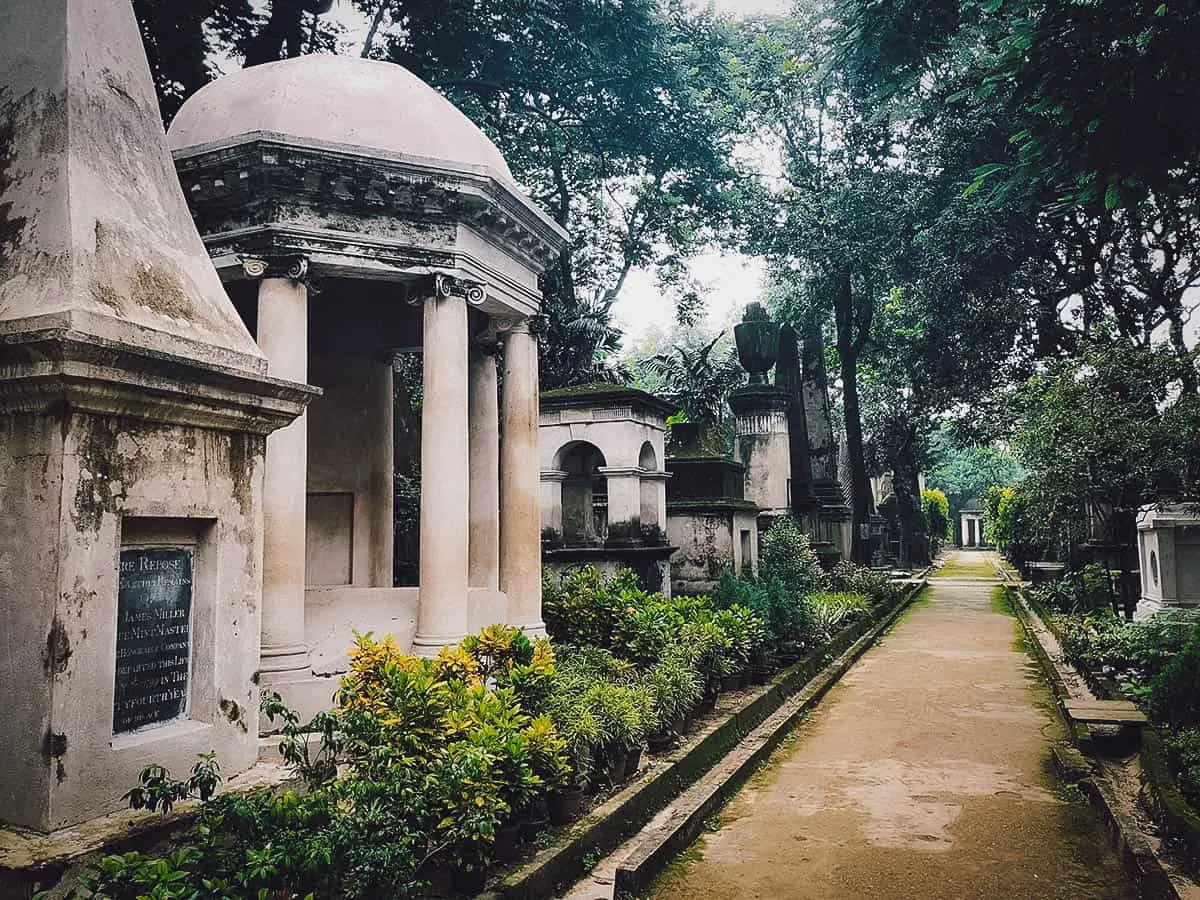 Suggested Length of Visit: 30 mins – 1 hr / Admission: INR 20
5. Belur Math
This beautiful building is located on the west bank of the Hooghly River. It's the temple headquarters of the Ramakrishna Math and Mission, a Hindu religious and spiritual organization. The temple is noted for combining Christian, Islamic, Hindu, and Buddhist architectural elements to symbolize unity among religions.
Belur Math is about 7-8 km north of Howrah Bridge. After exploring Mallick Ghat Flower Market, I walked across Howrah Bridge and took a prepaid taxi to Belur Math from Howrah Railway Station. It's easy enough to visit on your own, but if you'd like to go on a guided tour, then you can book one through Klook or Get Your Guide.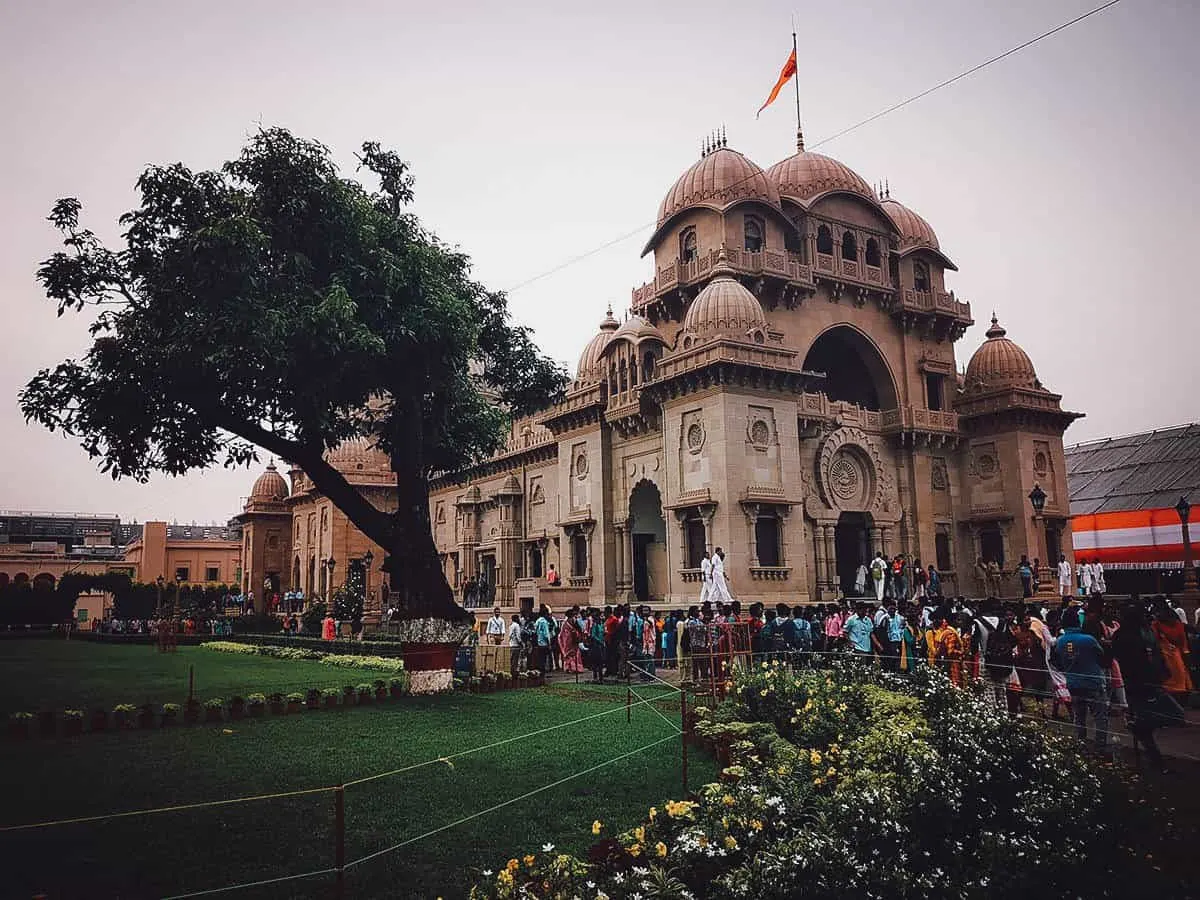 Suggested Length of Visit: 1 hr / Admission: FREE
6. Dakshineswar Kali Temple
Located a bit farther north across the river from Belur Math is Dakshineswar Kali Temple. It's a striking Hindu temple dedicated to Kali. The temple is impressive at any time of day, but I was here late afternoon when the temple looked even more magnificent in the golden glow of sunset.
From Belur Math, I took a short ferry ride up the river to Dakshineswar Kali Temple for INR 11. After visiting the temple, I took a local train back to the downtown area. Like Belur Math, Dakshineswar Kali Temple is one of the stops on these tours from Klook and Get Your Guide.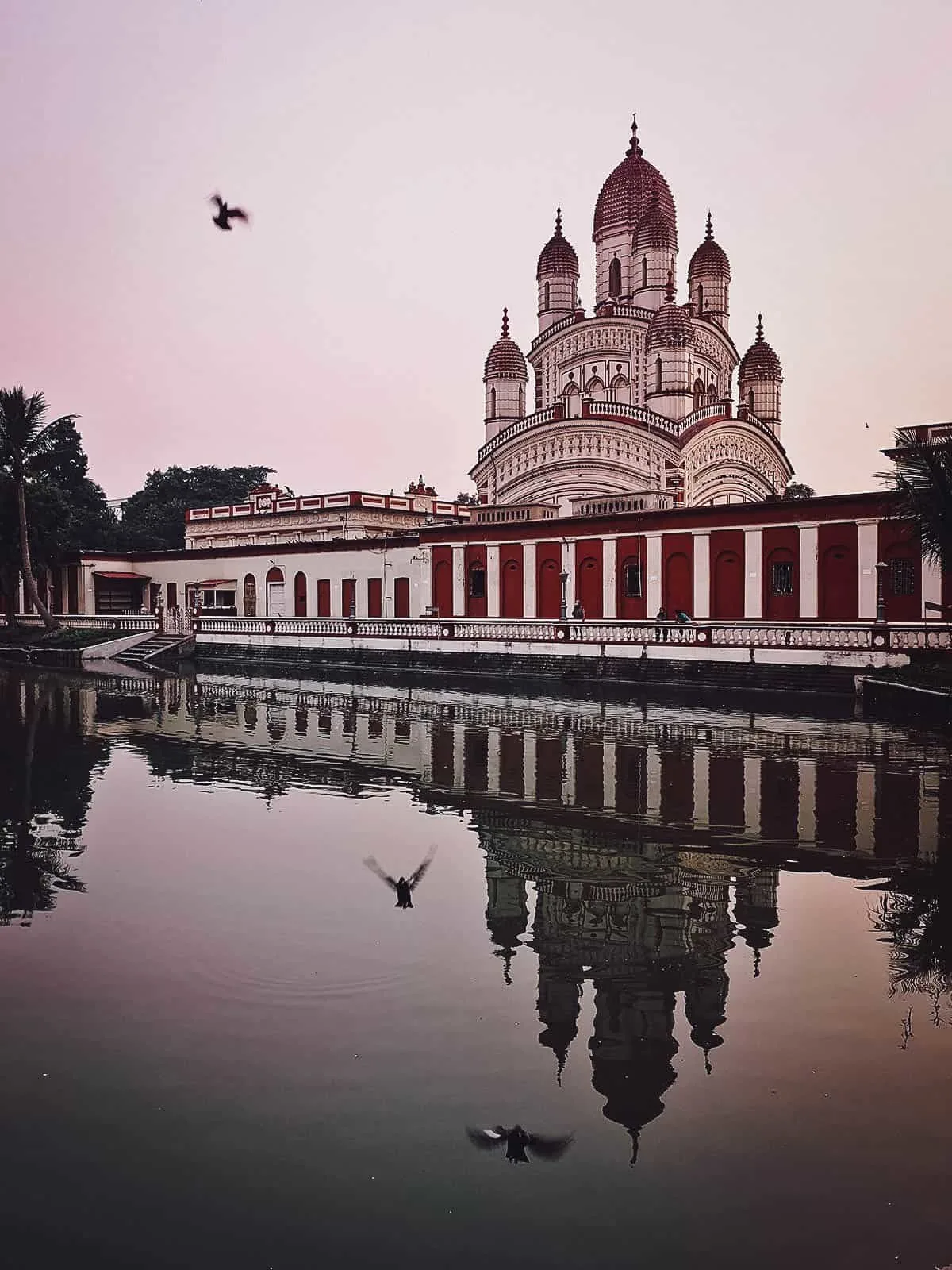 Suggested Length of Visit: 1 hour / Admission: FREE
THINGS TO DO
1. Explore Mallick Ghat Flower Market
This has to be one of the liveliest and most colorful places in Kolkata. Located underneath Howrah Bridge on the river's east bank is Mallick Ghat Flower Market, India's largest flower market and one of the biggest in Asia.
The market is a continuous exchange of color with vendors and buyers haggling over bushels of roses, lotuses, marigolds, and sunflowers. If you're into street photography, then you're going to love this place.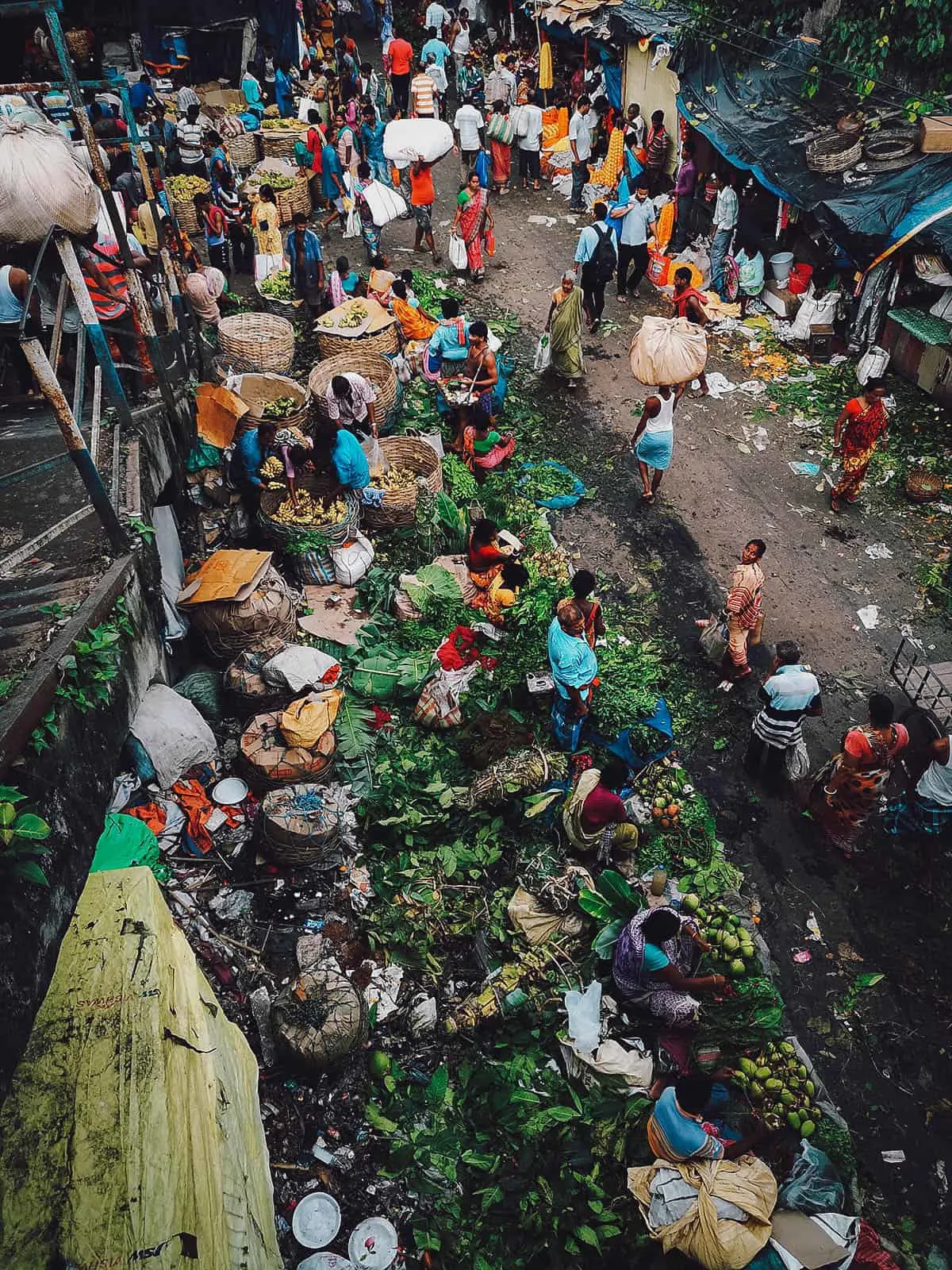 The market is liveliest in the morning so it's best to come as early as you can. I visited on my own but if you'd like to go with a guide, then you can book a tour through Klook or Get Your Guide.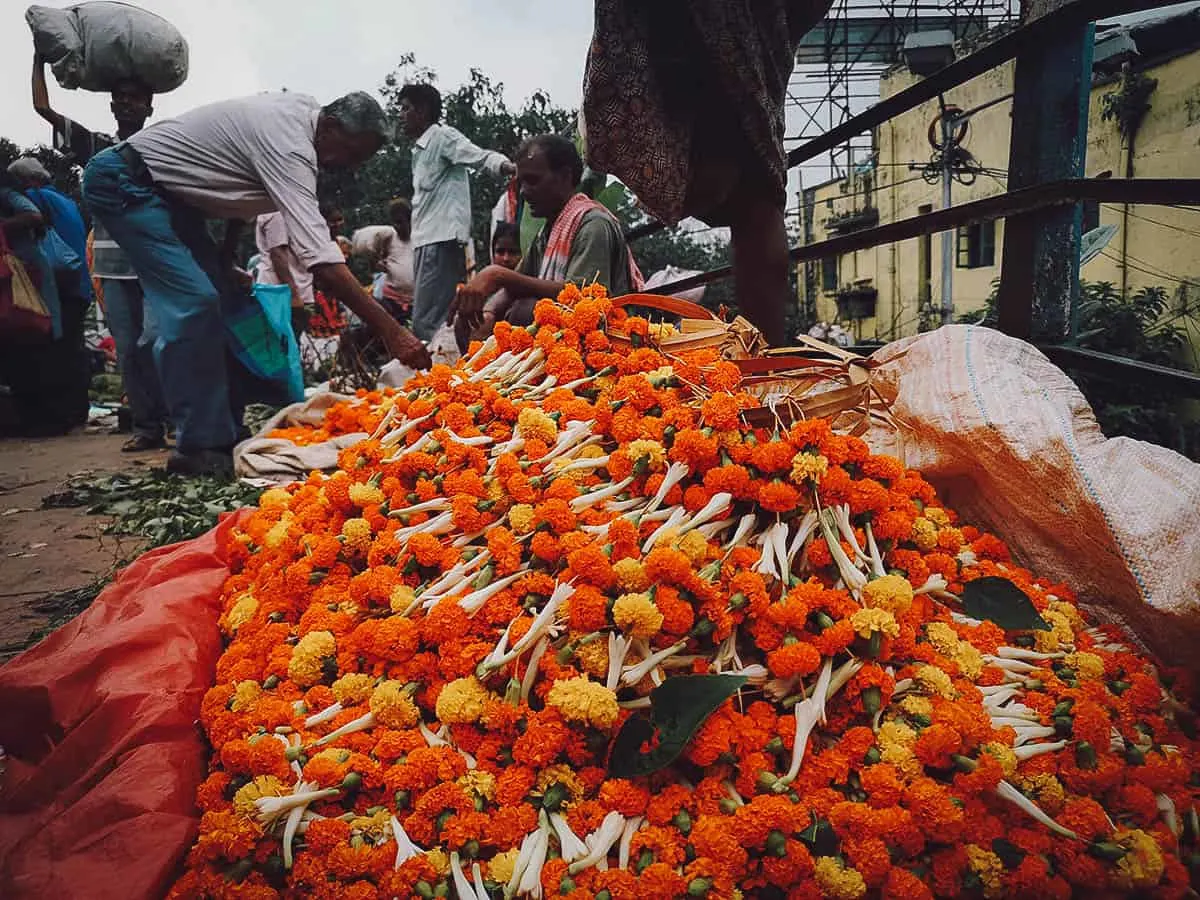 Suggested Length of Visit: 1-2 hrs / Cost: FREE
2. Walk Across Howrah Bridge
After exploring the flower market, you can walk across Howrah Bridge to the other side of Hooghly River. Howrah Bridge is a famous suspension bridge that's become a symbol of Kolkata and West Bengal. It's only about a kilometer long so you can get to the other side in about 15 minutes.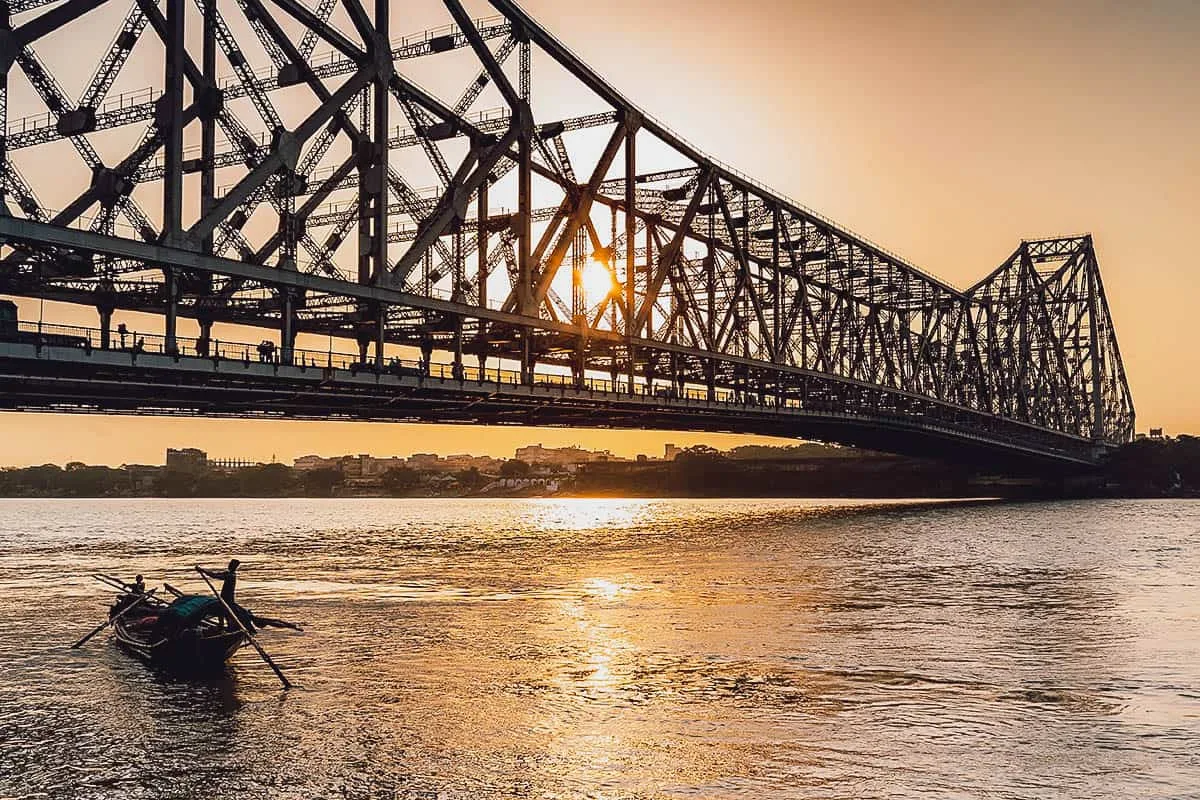 Suggested Length of Visit: 30 mins
Photo by ABIR ROY BARMAN via Shutterstock
3. Experience Bengali Cuisine on a Food Tour
I've always loved north Indian food but this was my first experience with Bengali cuisine. You can do all the research you want to try and find the best places to eat, but nothing will ever compare to local knowledge.
I went on this immersive food tour with Avik of A Chef's Tour and got to sample over ten delicious dishes like Bengali fish curry, slow-cooked mutton curry, puchkas, and kanda bhaji. Nearly every place we visited on this tour was a heritage stall serving the same iconic dish for generations.
Check out my post on the Kolkata Uptown Food Tour for more pictures and information. You can book the tour on Get Your Guide.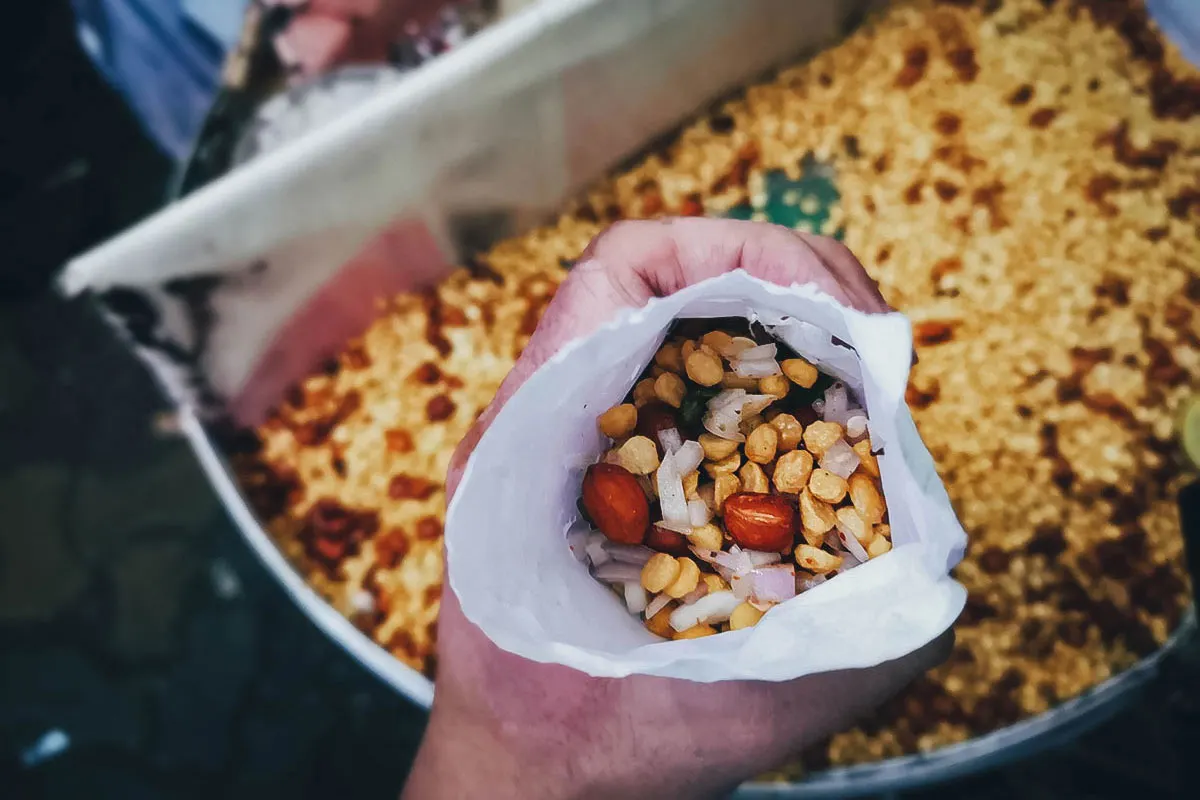 Length of Tour: 4 hours / Cost: USD 49
4. Cook Bengali Food
Food tours show you where to find the best examples of local food, but if you really want to get to know the cuisine, then one of the best things you can do is to take a cooking class. Ren's a great cook so we try to make time for one cooking class on every trip. There don't seem to be as many in Kolkata but I did find a couple on Klook.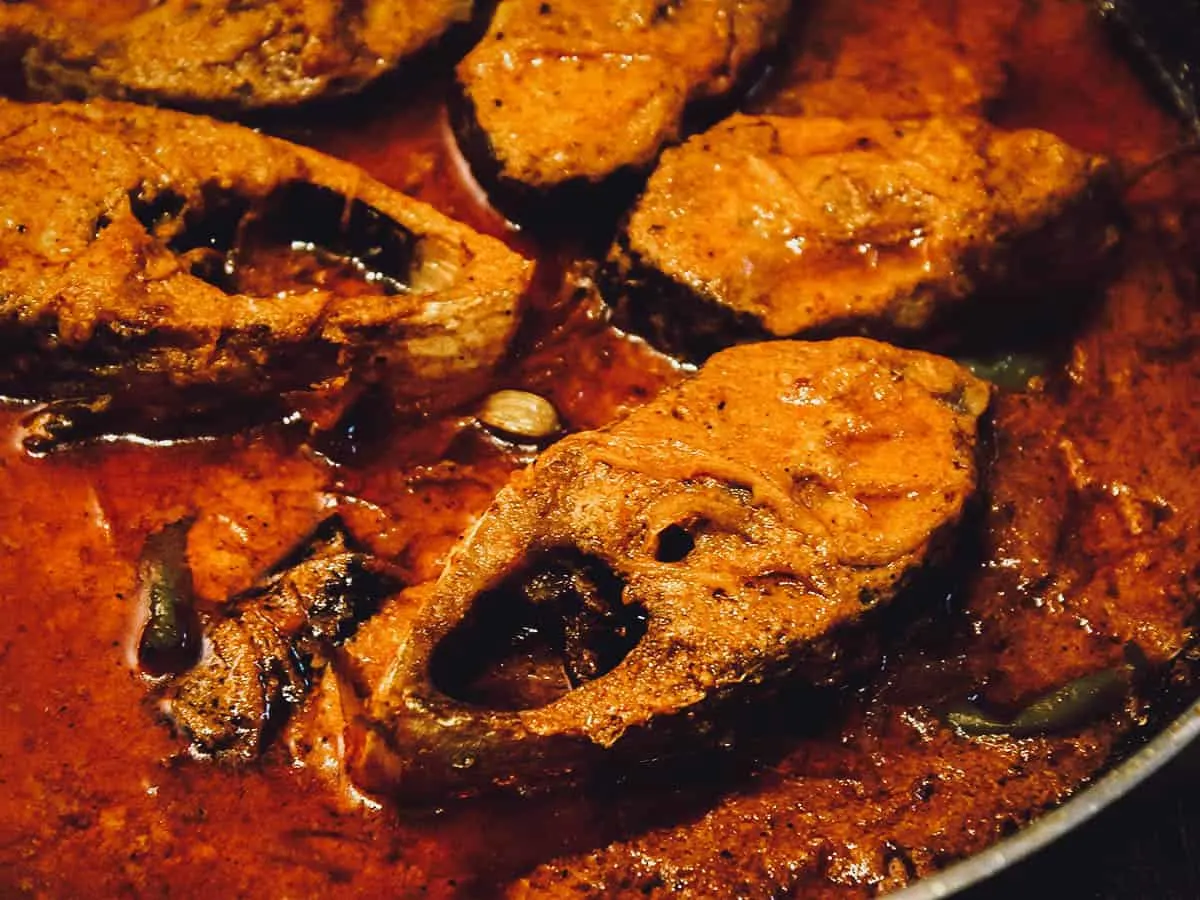 Length of Class / Cost: Varies
Photo by adycreative via Shutterstock
5. Take a Day Trip to the Sundarbans
I had seen a documentary on man-eating wild tigers in the Sundarbans so this was something I really wanted to do. Unfortunately, I didn't have time for it. If you have a fascination for nature and wildlife, then this may be something you'd be interested in.
The Sundarbans is a mangrove area in the Bay of Bengal, spanning the Hooghly River in West Bengal to the Baleswar River in Bangladesh. It's home to hundreds of species of wildlife, the most sought after being the endangered Bengal tiger. The Sundarbans is over a hundred kilometers from Kolkata but it's possible to explore it on this day tour.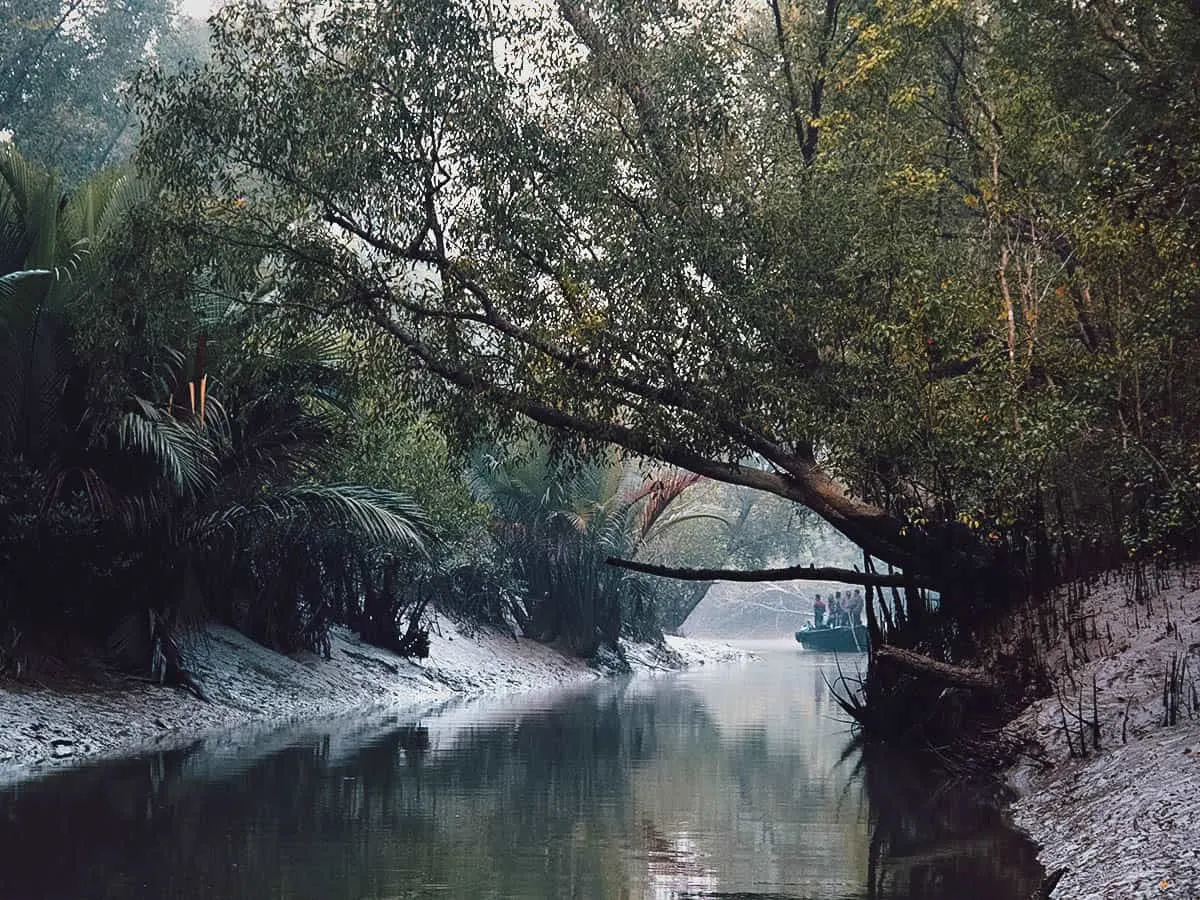 Length of Tour: Full Day / Cost: INR 3,500
Photo by nicolasdecorte via Shutterstock
WHERE TO EAT
1. Nizam's
Nizam's has been open since 1932 and is credited for inventing the kathi roll, a famous Indian street food that has its roots here in Kolkata. In its original form, a kathi roll is a skewer-roasted kebab wrapped in paratha bread, but the term has expanded to include similarly styled wraps using different ingredients.
Pictured below are my chicken and mutton kathi rolls (about INR 100 each) with egg. It's been a while since I had these but I can still remember them well. The roasted meats were flavorful with loads of spices and the bread was both crisp and chewy. They were delicious, albeit a little oily.
According to the restaurant's menu, kathi rolls were invented as a way of easily eating kebabs. Nizam's used to sell kathi kebabs and parathas but the British didn't like getting oil on their hands, so they came up with the idea of rolling the kebabs and bread in thin sheets of paper. And so was born the kathi roll.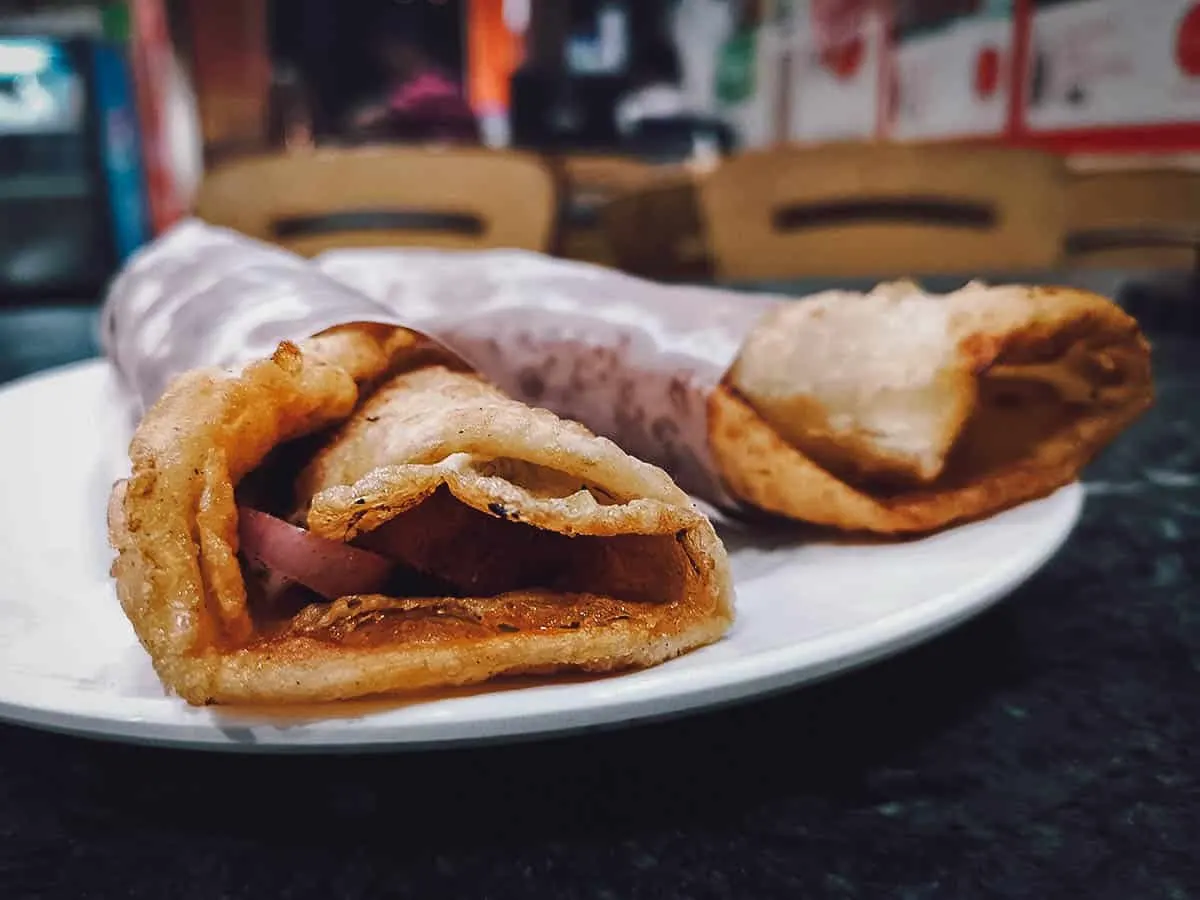 The owner recommended I try their zafrani firni (INR 40) for dessert, so I did. I didn't know what it was at the time but zafrani firni is a rich and aromatic dessert made with rice, almonds, saffron, cardamom, and other ingredients.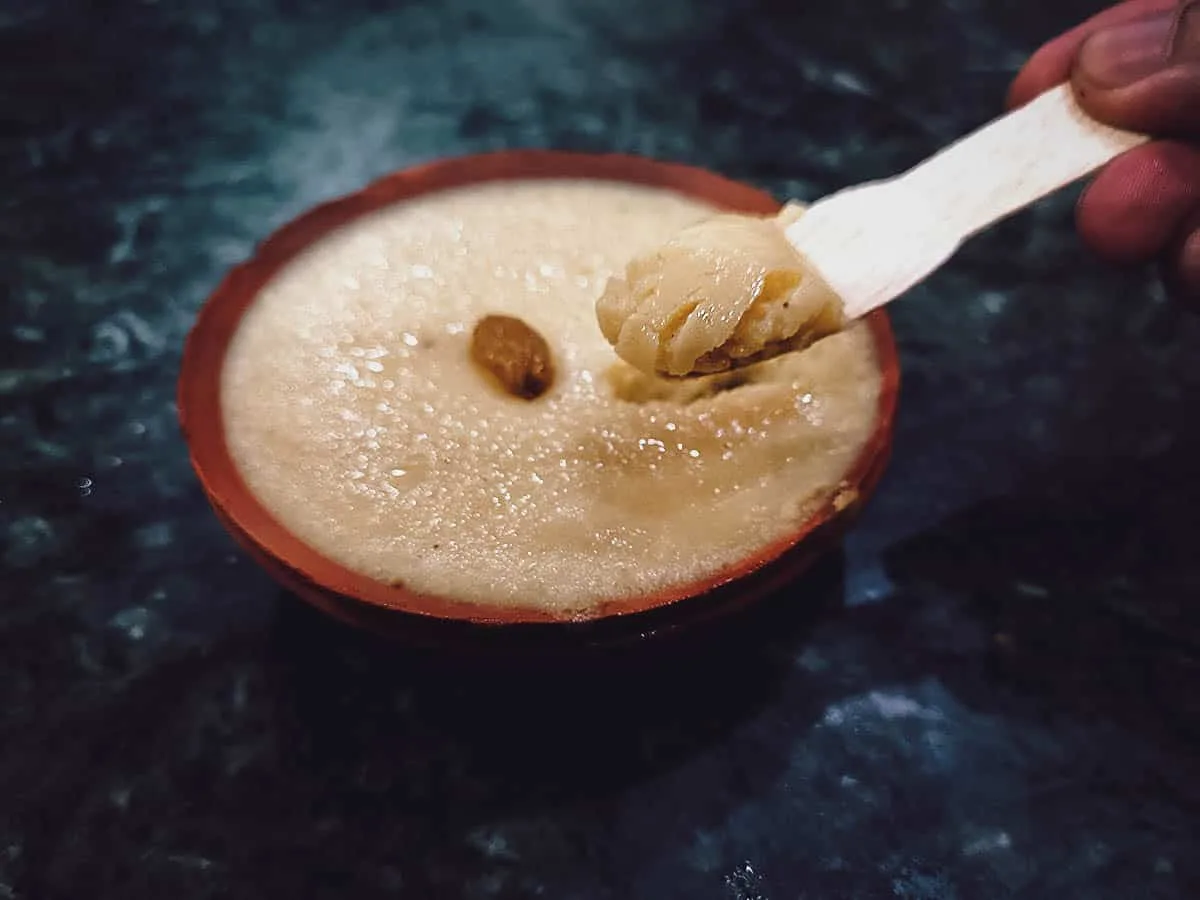 Nizam's is located in the New Market area. I remember seeing two Nizam's restaurants right next to each other, both with signs saying they've been open since 1932.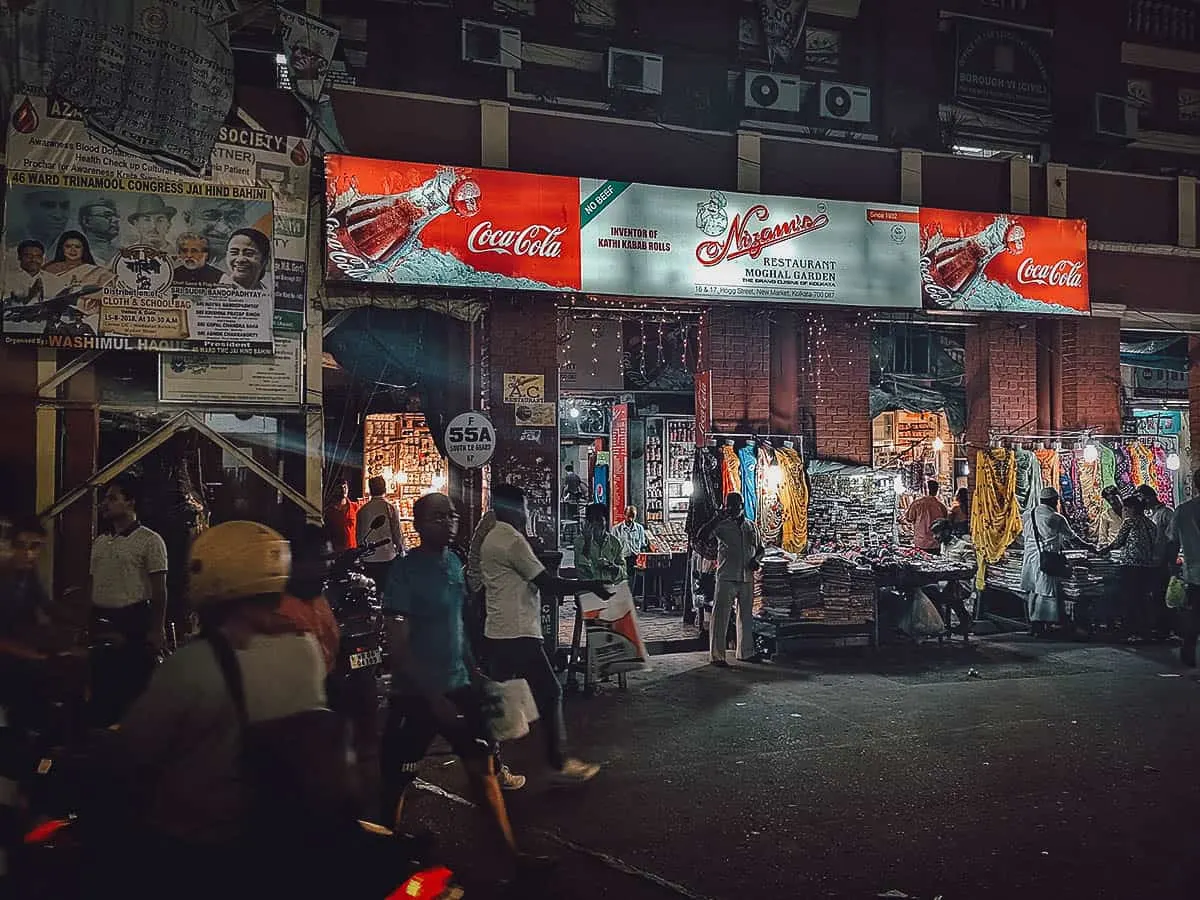 Expect to Spend: Around INR 70-120 per kathi roll
2. Kusum Rolls
I enjoyed Nizam's kathi rolls so much I needed to have it again. Another often-recommended place is Kusum Rolls. Here's the server loading up my paratha with heavily-spiced cubes of chicken and loads of onions and green peppers. This was gonna be good!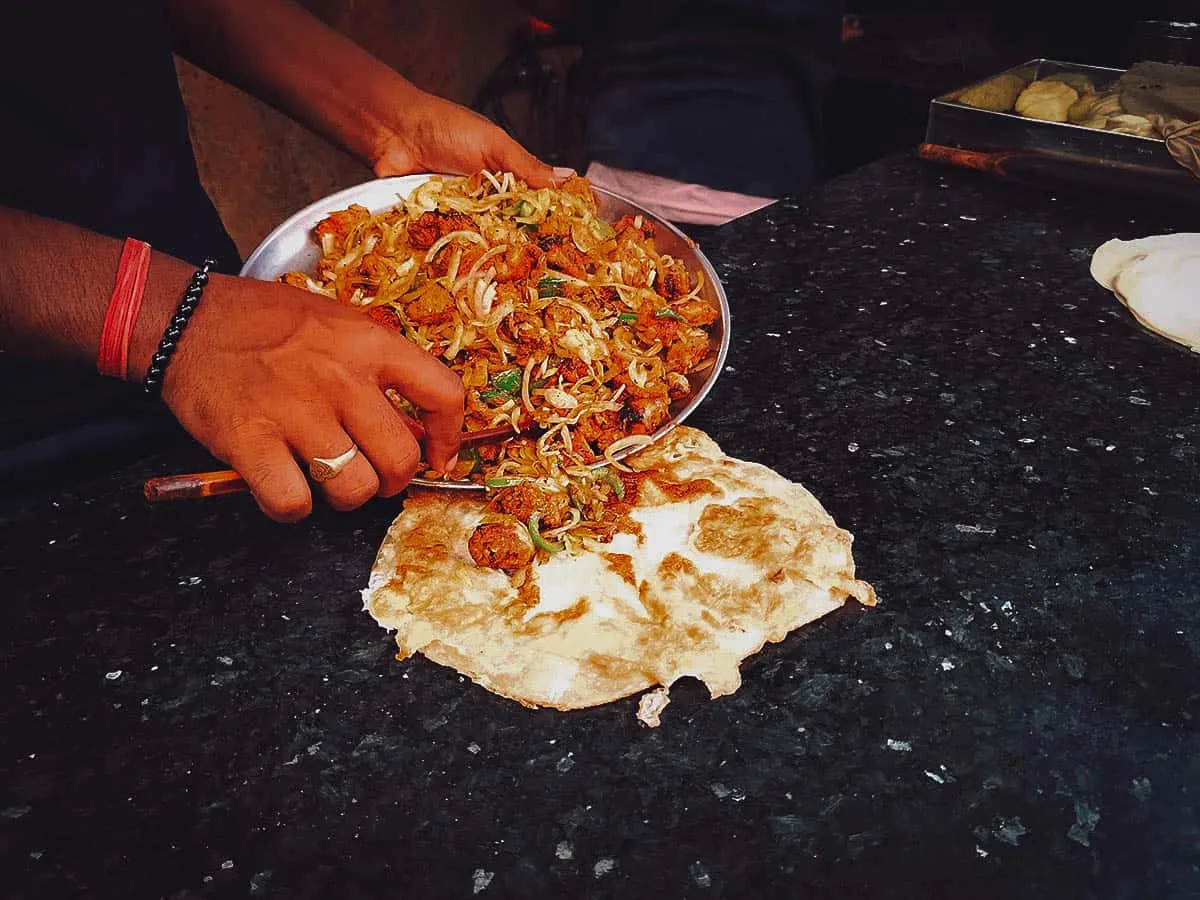 My beautiful chicken roll (INR 50) wrapped up and ready to roll. One of the things I enjoyed about kathi rolls is how easy they are to eat. I was filming myself eating this while walking on the street. Kusum Rolls' kathi rolls are tastier than Nizam's but also way oilier. My hand was practically dripping with grease when I was done with this.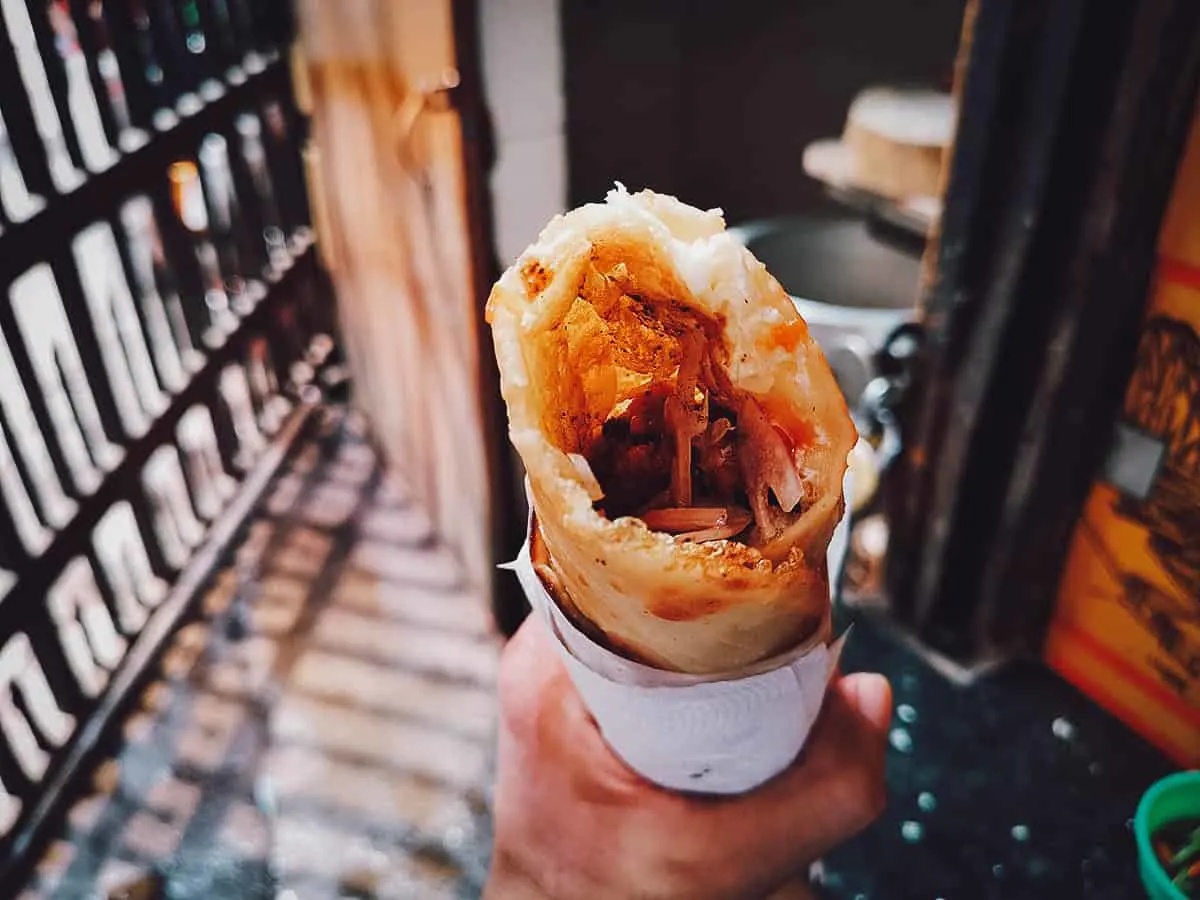 Kusum Rolls (or should I say Kusum Roll's) is located along Park Street near the Maidan.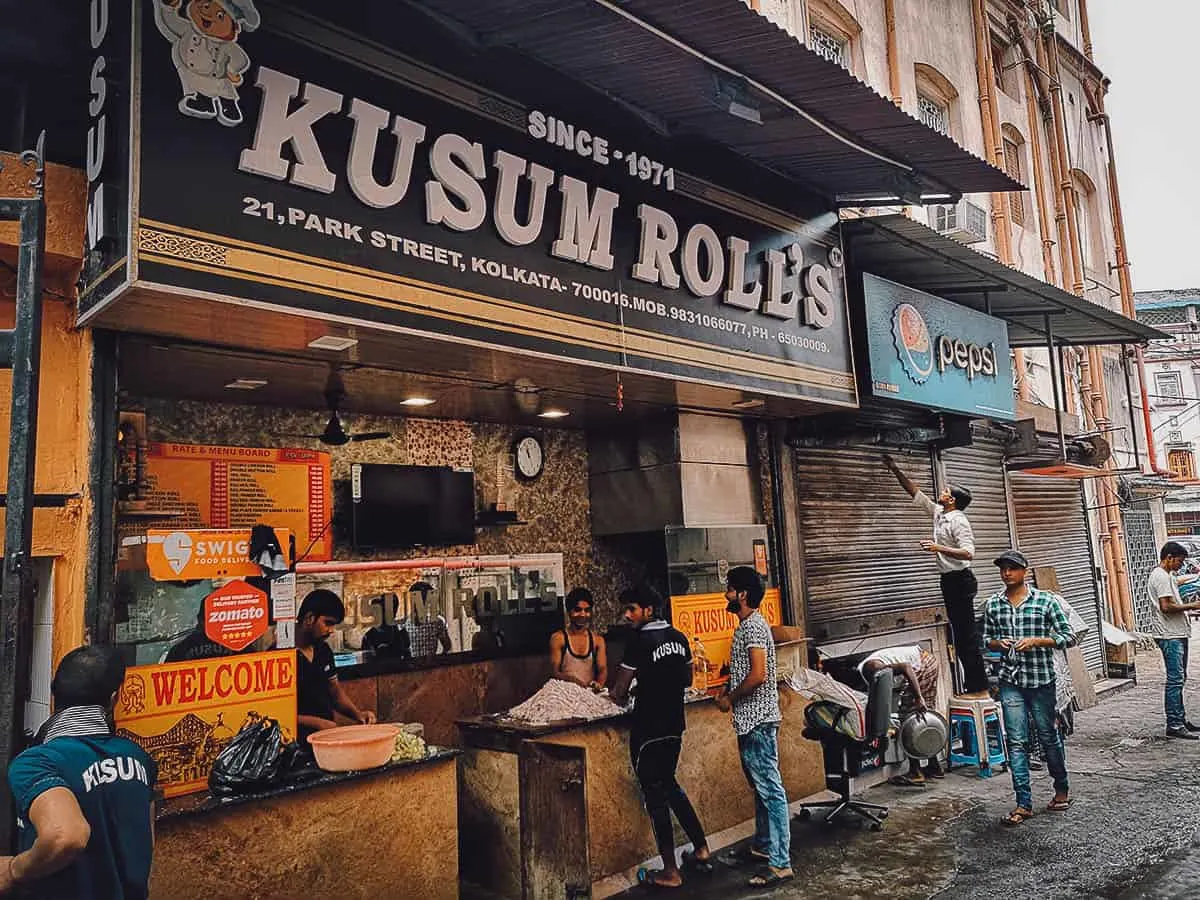 Expect to Spend: Between INR 30-160 per roll
3. Arsalan
Arsalan is a Mughlai restaurant known for serving some of the best biryanis in Kolkata. A biryani is a popular Indian-Muslim dish made with long-grain rice (like basmati) flavored with a multitude of spices and condiments like saffron, cardamom, nutmeg, cloves, ghee, and garlic. It can be made with different types of meats and vegetables in a thick gravy cooked over a low flame in a pot sealed with dough.
Arsalan offers different types of biryani, some of the most recommended being their mutton and Hyderabad biryanis. I went with the mutton biryani (INR 190) and it was delicious. They serve it with some type of green chutney sauce that you pour over the rice.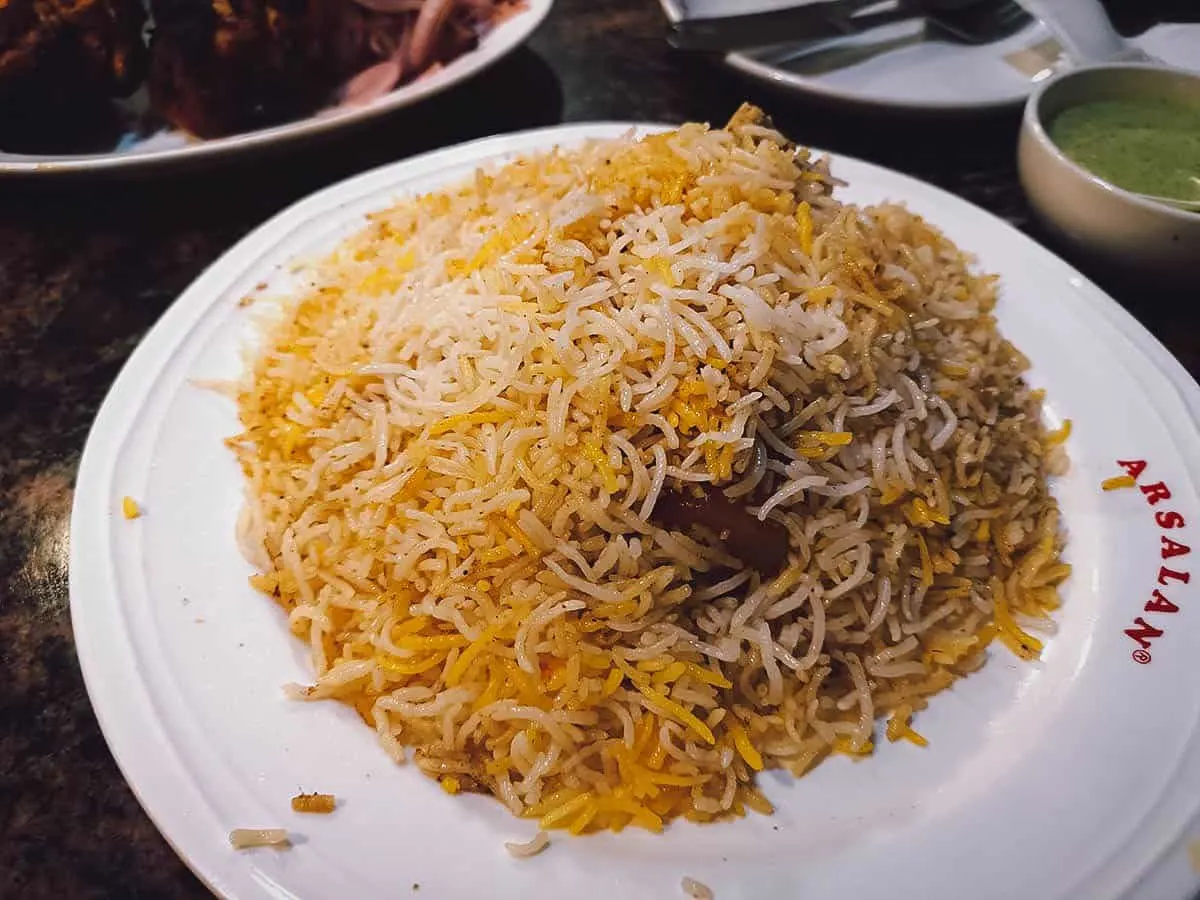 The pieces of mutton weren't enough so I ordered some tandoori chicken (INR 170) to go with my biryani. The charred chicken was smokey and juicy and went very well with the rice.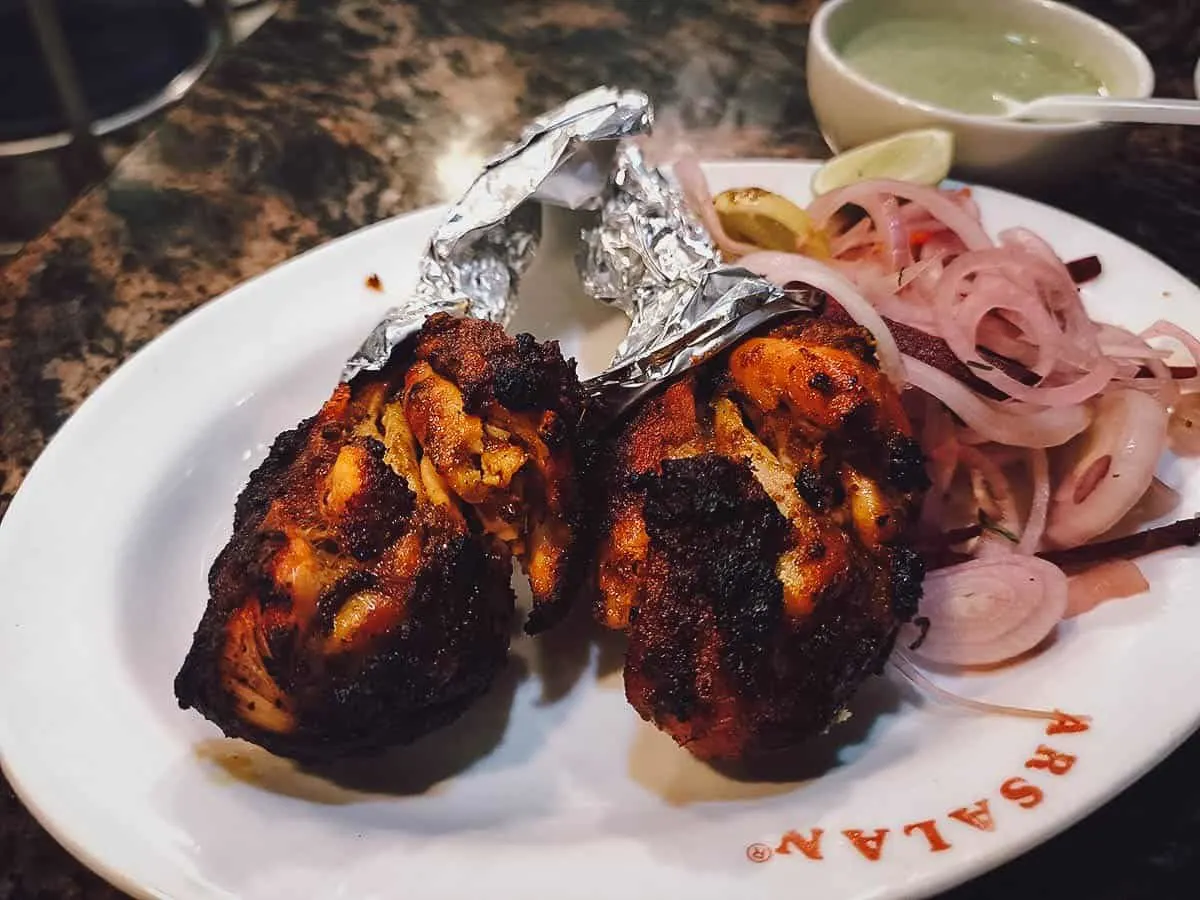 Arsalan is located just off Park Circus circle. I had lunch here after visiting the South Park Street Cemetery.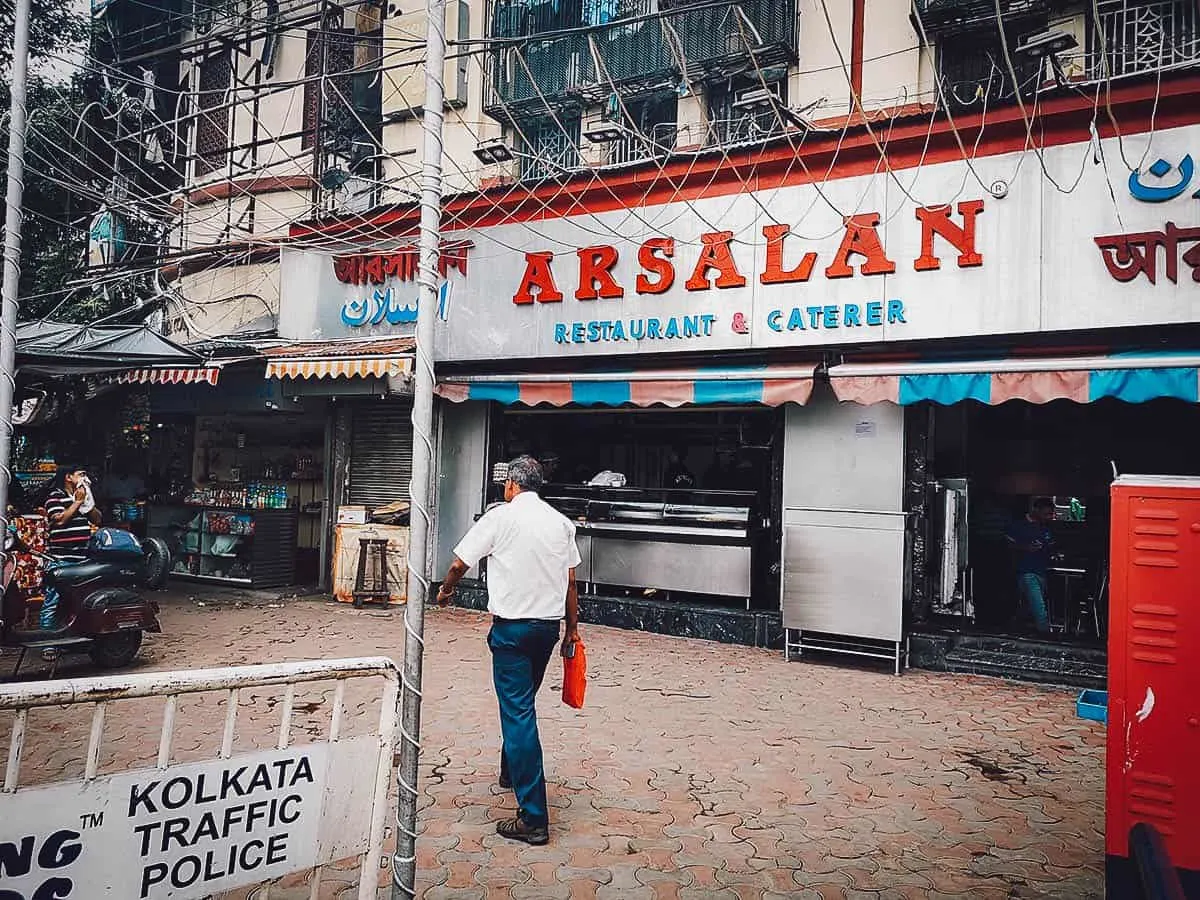 Expect to Spend: Around INR 150-280 per order of biryani
4. Peter Cat
Peter Cat often came up in my search for recommended restaurants in Kolkata. They're known for their chelo kebab (INR 385) which is traditionally a Persian dish made with kebabs, buttered saffron rice, and a fried egg. Many Indo-Persian dishes have been accepted as local Mughlai cuisine but I'm not sure if chelo kebab is one of them. Nonetheless, Peter Cat labels their chelo kebab as a "protected regional product of West Bengal".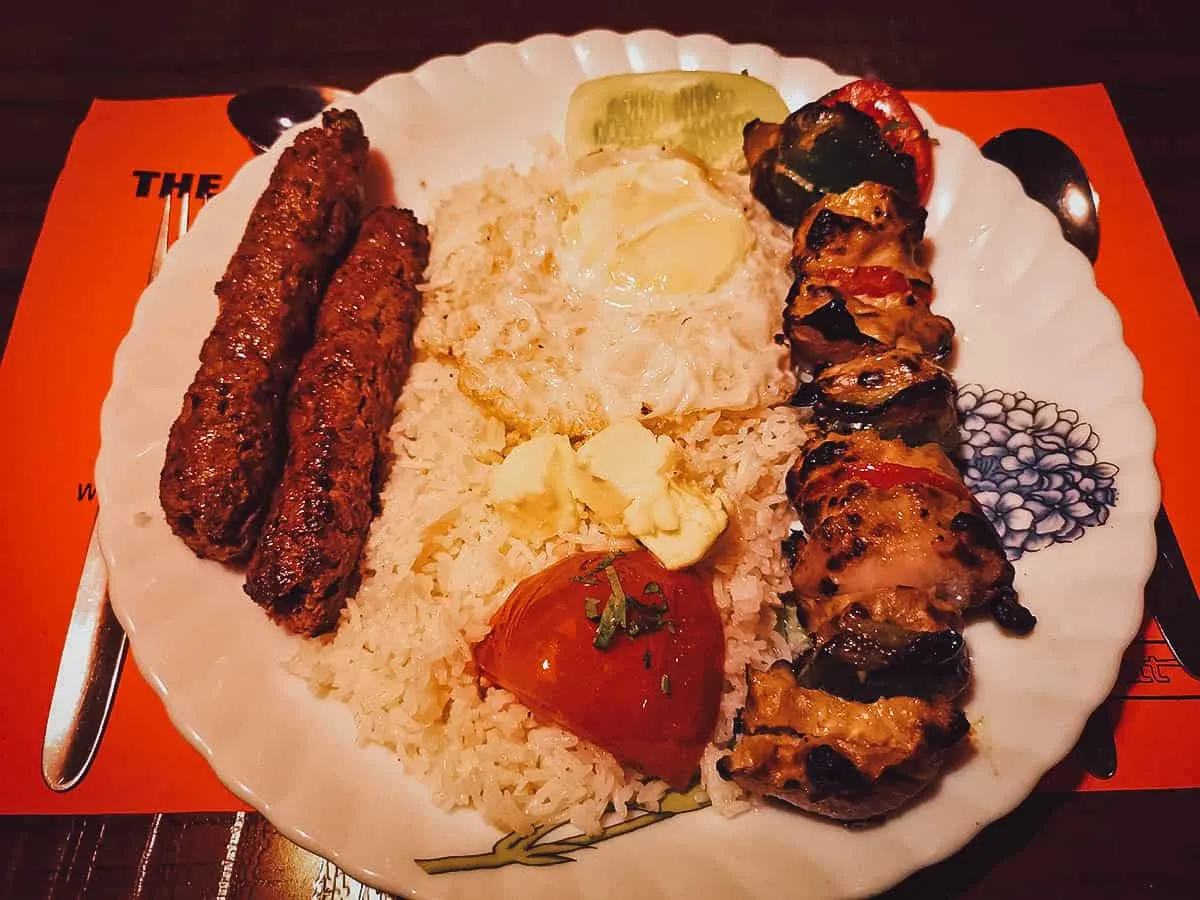 Peter Cat serves their chelo kebab with a skewer of chicken kebab and koobideh, which is a type of ground beef kebab. Chelo kebab and koobideh are popular in my native Philippines so I was already familiar with this dish. It was delicious and one of the best meals I had in Kolkata.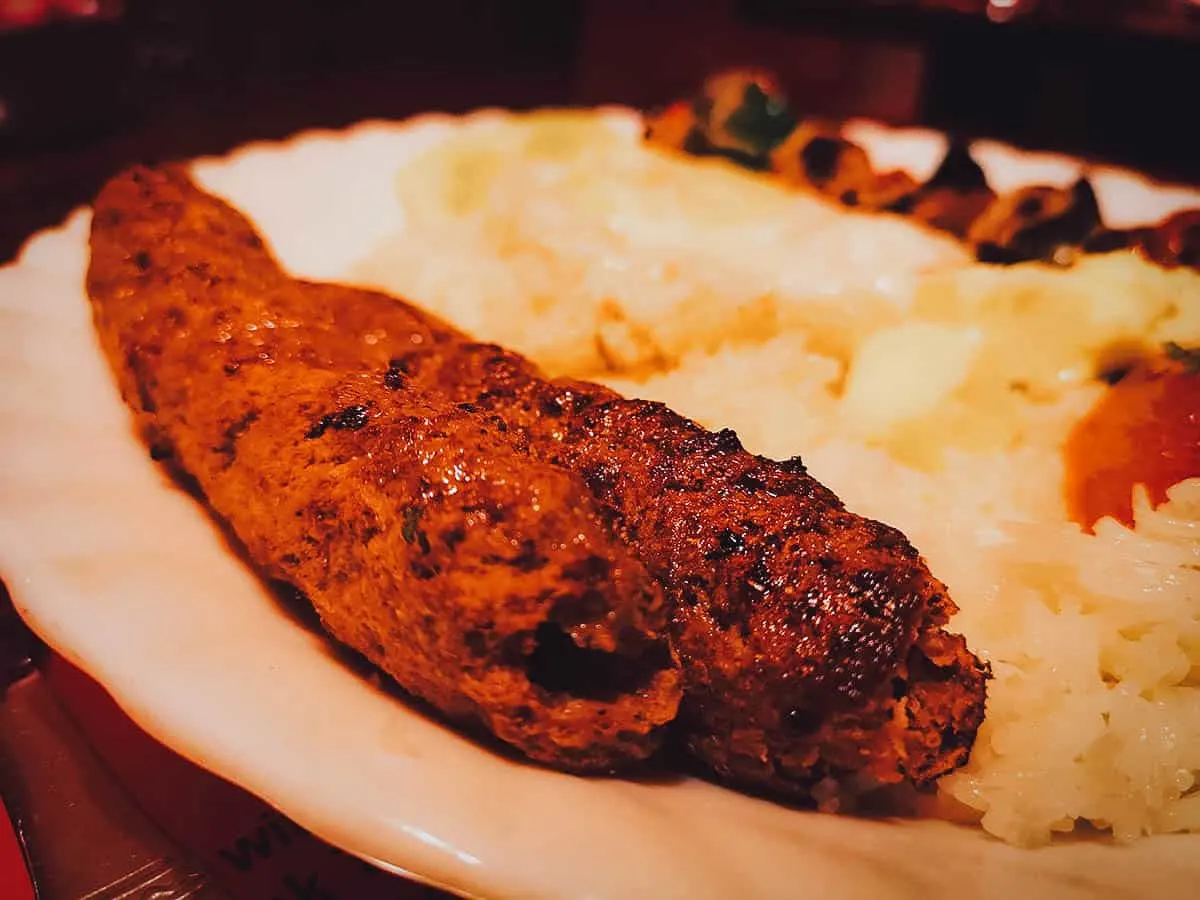 Peter Cat is a groovy, dimly lit restaurant along Part Street near the Maidan.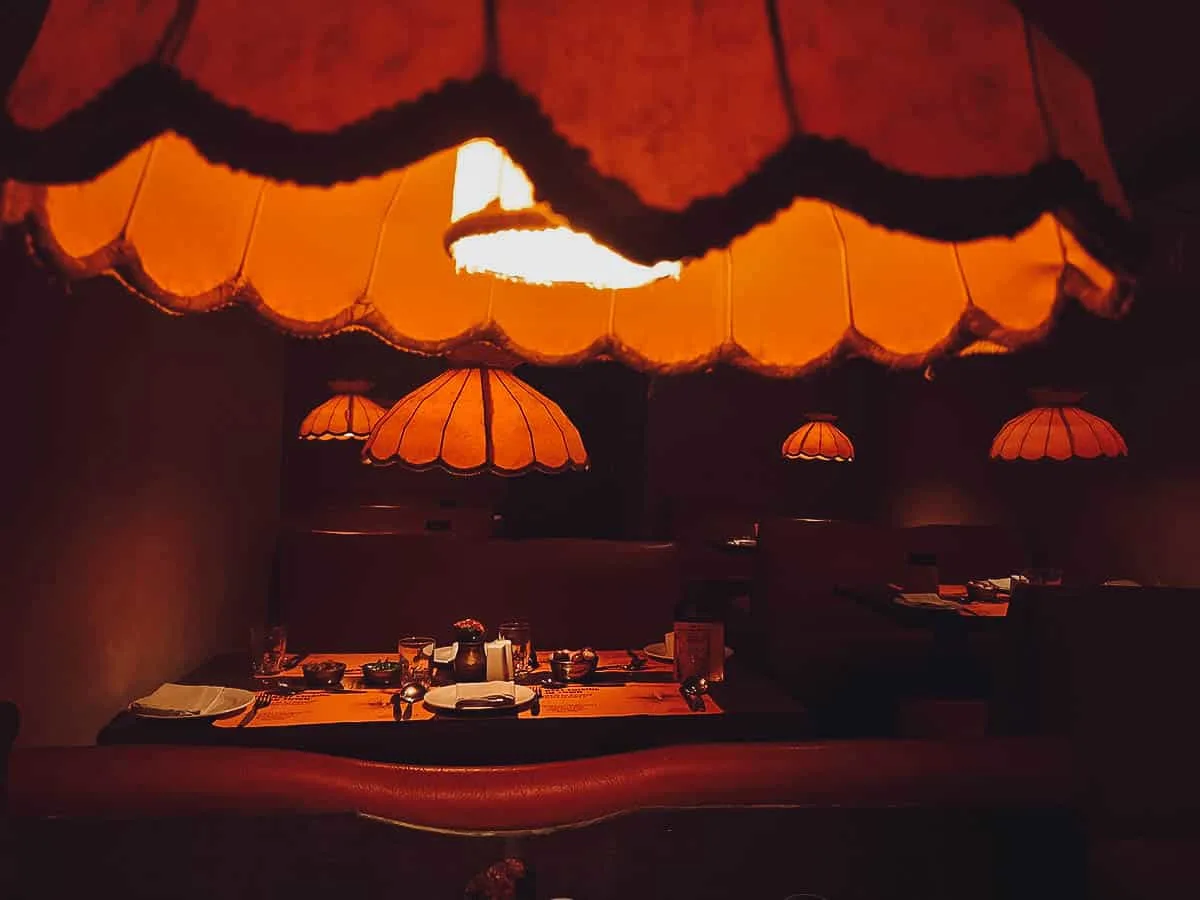 Expect to Spend: INR 385 for chelo kebab
5. Ganguram & Sons
I'm not as into dessert but Ganguram & Sons was recommended in many must-eat lists. They've been around since 1885 and are known for making some of the best Bengali sweets in Kolkata.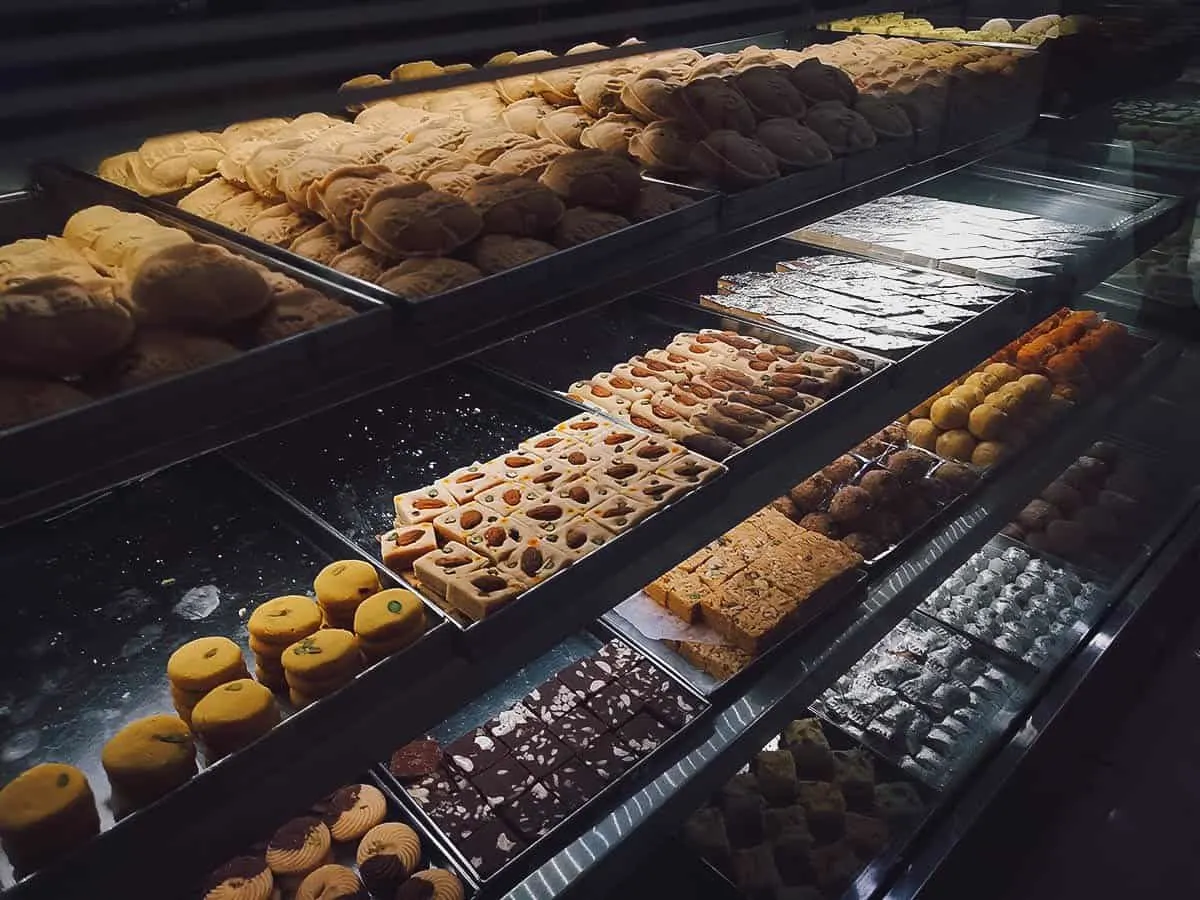 One of their most popular sweets is their mishti doi (INR 32). It's an interesting type of fermented sweet yogurt made by sweetening boiled milk and allowing it to ferment overnight. Earthenware is always used to make mishti doi to facilitate evaporation through its porous walls and thicken the yogurt.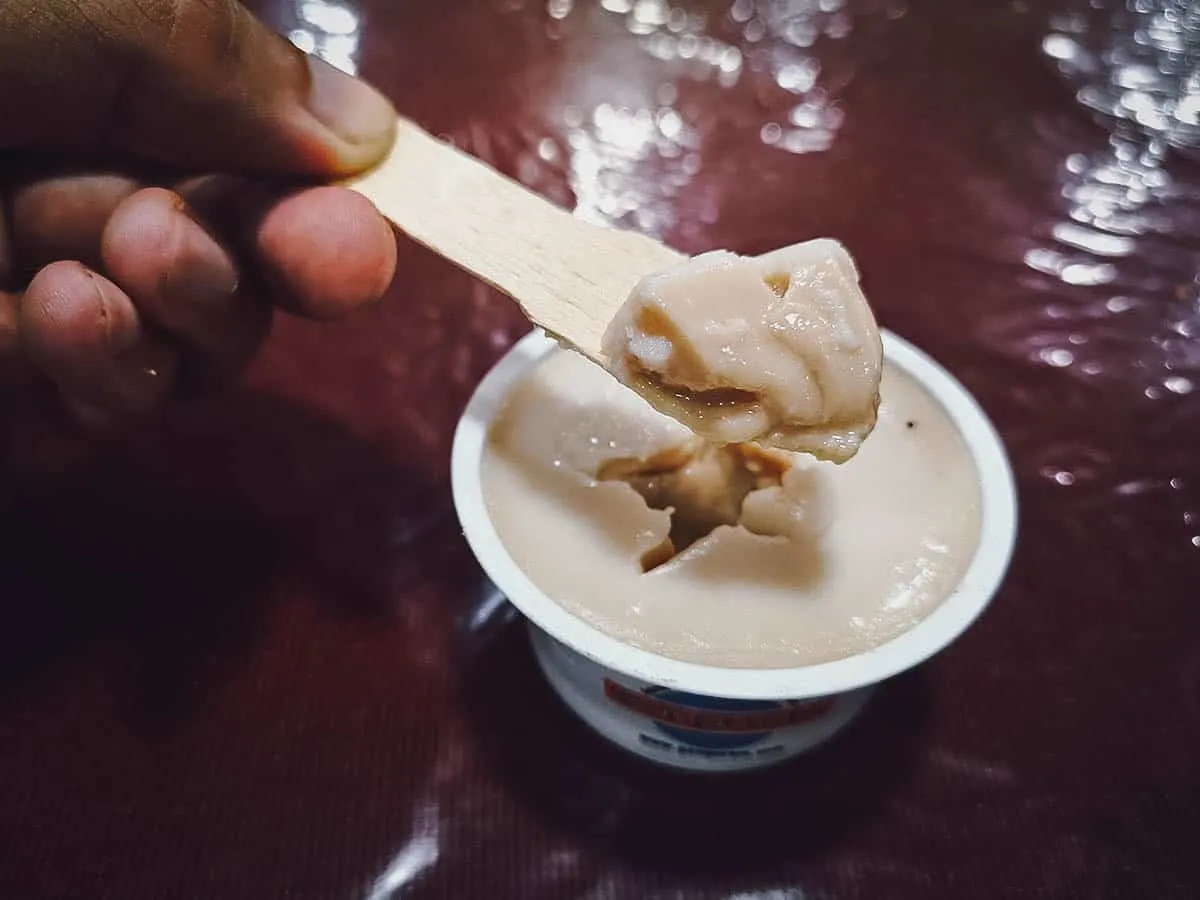 Ganguram & Sons has a few branches but I went to the one on Shyama Prasad Mukherjee Road, right next to the Maidan.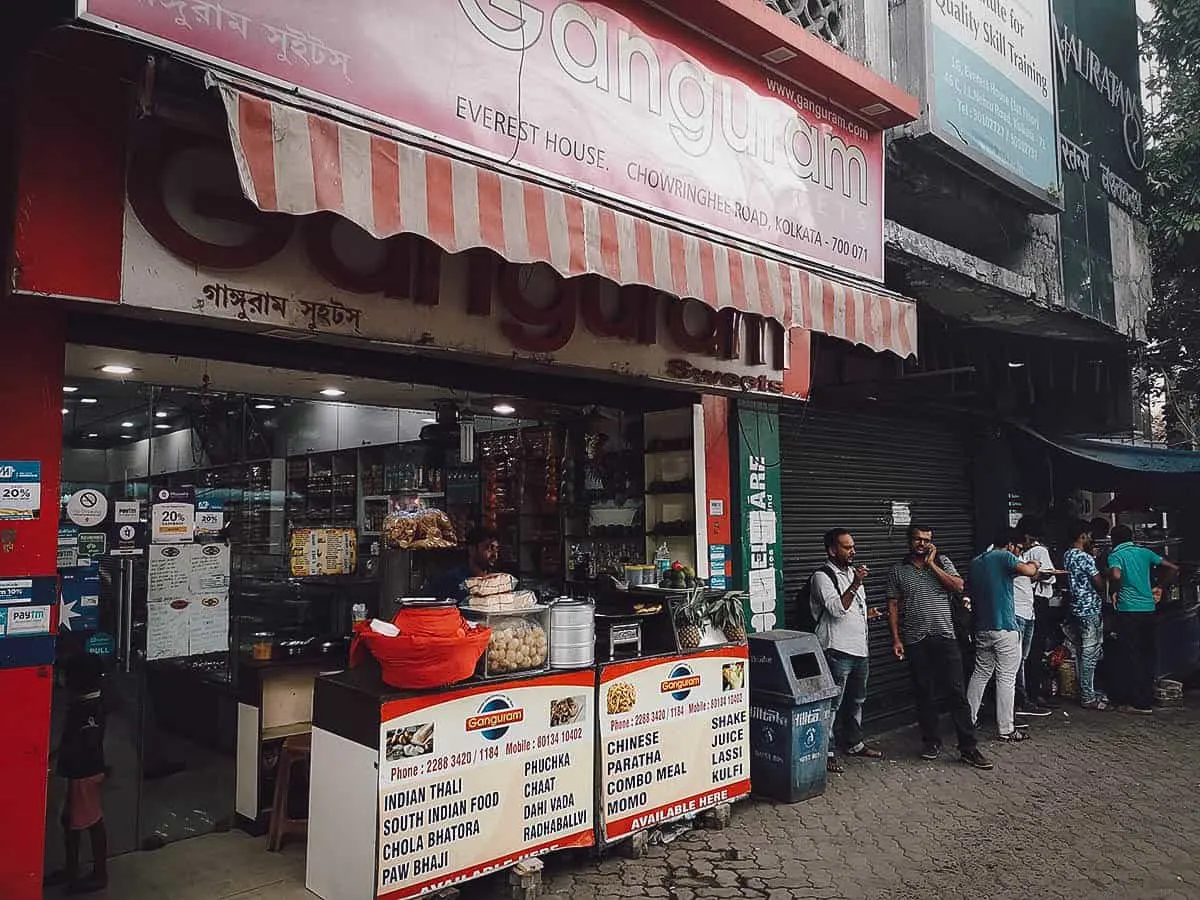 Expect to Spend: INR 32 per cup of mishti doi
INDIAN STREET FOOD GUIDE
I made a few recommendations in the previous section but if you enjoy street food as much as I do, then check out our guide on Indian street food for 30 of the most popular and interesting street food dishes to try in India.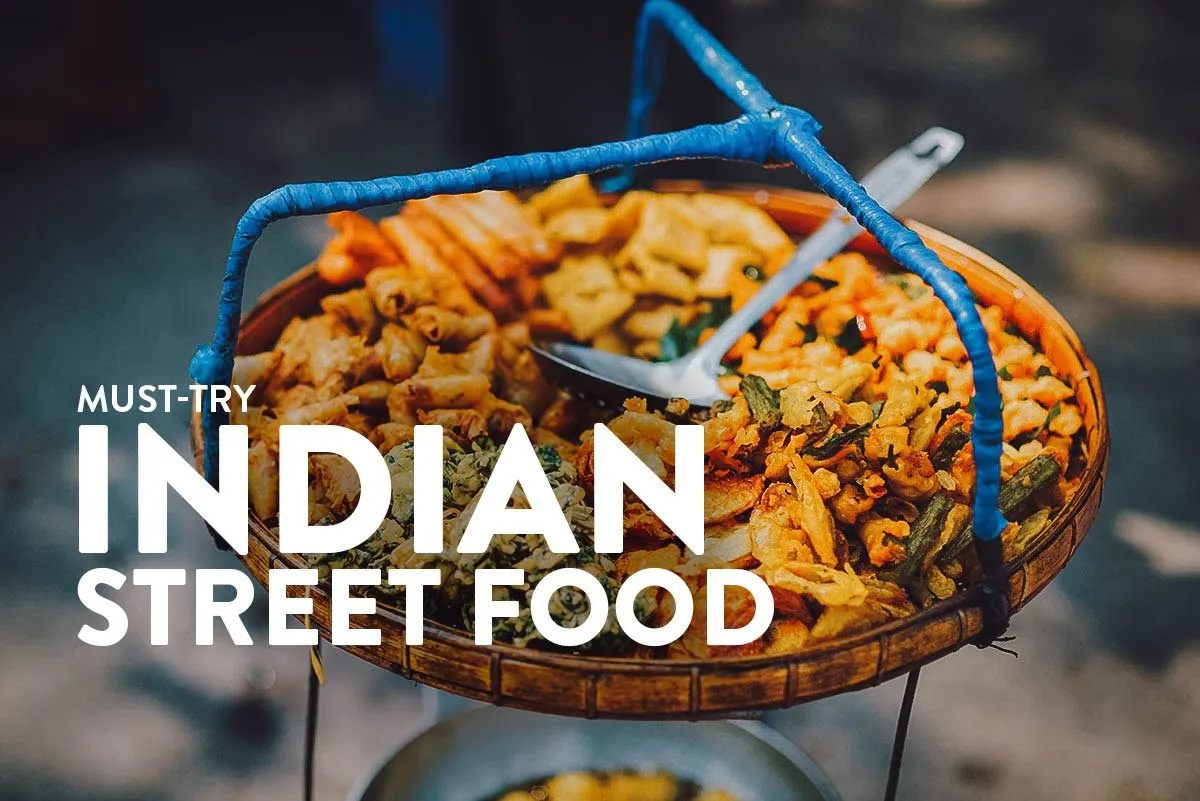 Photo by Yarygin via Deposit Photos
POINTS OF INTEREST IN KOLKATA
To make it easier for you to visualize where everything is, I've pinned all the places recommended in this guide on this map.
HOW TO GET AROUND
I found getting around Kolkata to be a bit challenging. Not because there weren't enough transportation options, but because getting from point A to point B always required some measure of haggling. Kokata does have a cheap metro system but it isn't as extensive yet. In any case, here are a few ways to get around Kolkata.
BY KOLKATA METRO: This is always my preferred means of transportation but unfortunately, the Kolkata Metro isn't as developed yet. At the moment, it has just one operating line that takes you from north to south. Not sure when they'll be operational but there are other lines and stations in the works. Trains are crowded but clean and cheap, with every ride starting at just INR 5.
BY LOCAL TRAIN: It isn't as nice but the local rail network is far more extensive than the metro. I took it once to go from Dakshineswar back to my hotel in the New Market area. However, none of the stations are as close to the main tourist areas so you may have to do some walking. Like the metro, fares start at just INR 5.
BY UBER/OLA: I didn't have much luck with Uber. I tried securing rides several times but I'd wind up canceling after waiting too long for cars to show up. There is a local competitor called Ola that may be more reliable.
BY TAXI/TUK-TUK: One of my favorite photo subjects in Kolkata were these iconic yellow Ambassador taxis. As far as I know, they can be found only in Kolkata. But as charming as they are, I found them to be stressful because none of the taxi drivers I encountered were willing to use the meter. You have to negotiate a fare and I was always quoted a much higher price than what it should have been. Tuk-tuks are the same way so I gave up on them after a while. The only time I'd be comfortable hopping into a cab in Kolkata, is if it were booked through one of those prepaid taxi stands. I did that to get from Howrah Railway Station to Belur Math.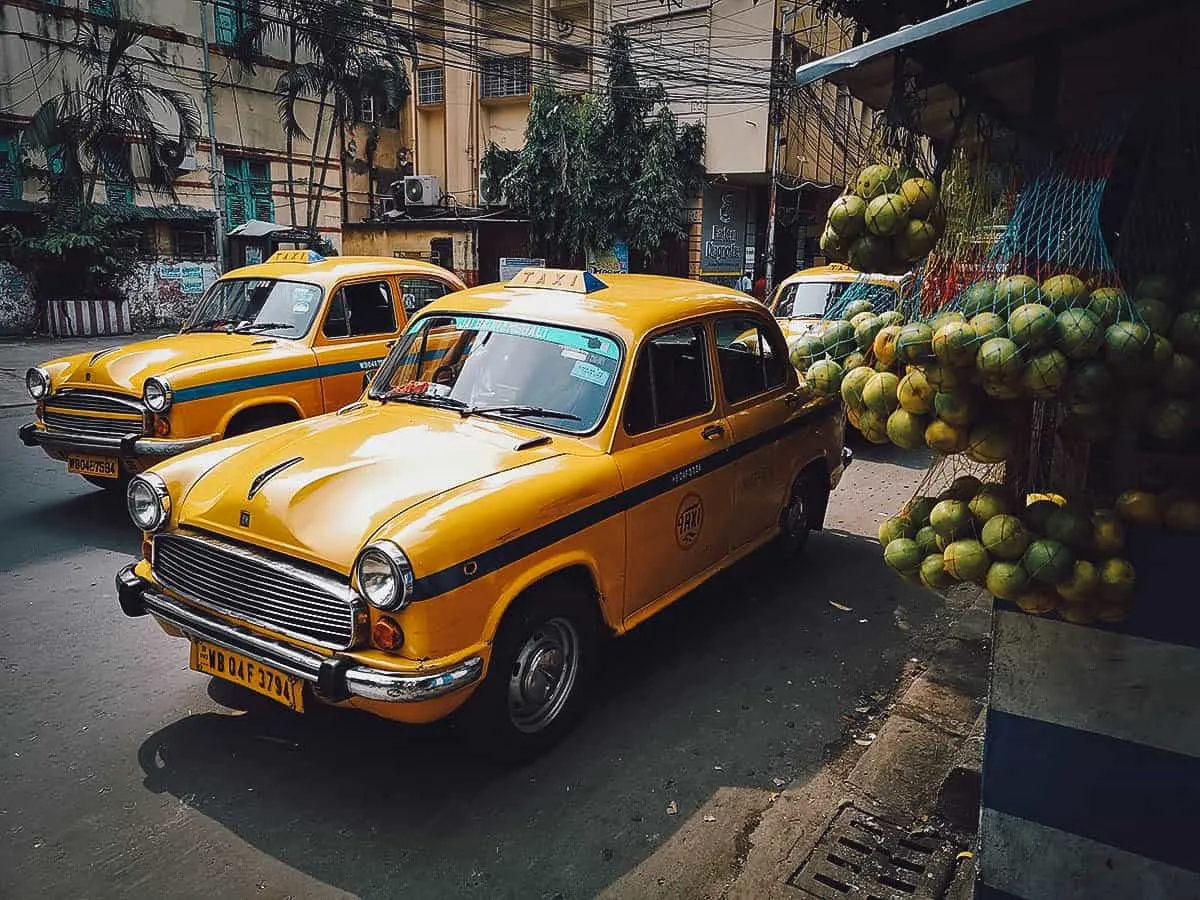 BY RICKSHAW: Kolkata is one of the few remaining cities in India that still have these hand-pulled rickshaws. According to my guide, they're mostly farmers who come to the city to do this line of work during the offseason. They do it voluntarily so it isn't a form of exploited labor. With that said, it's more a novelty than anything and probably best for short distances only.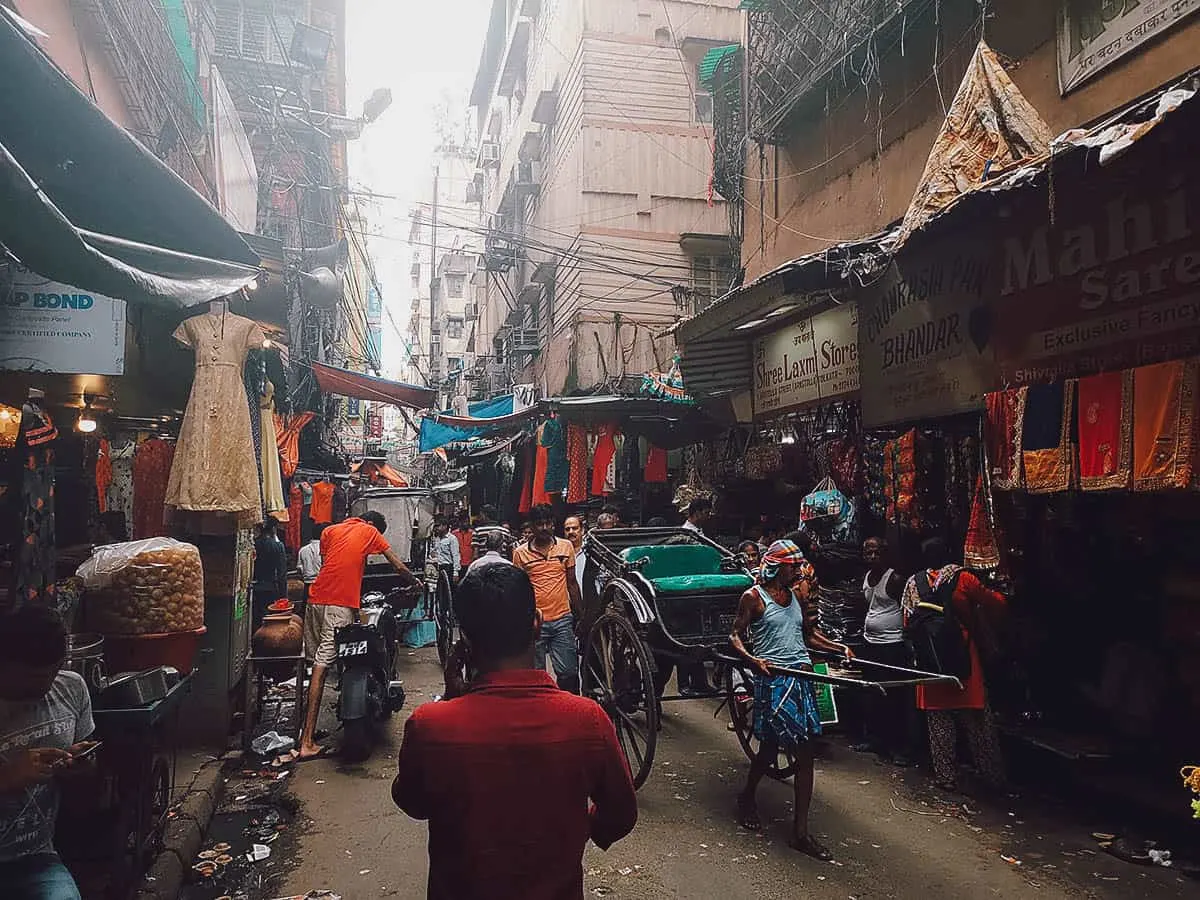 BY TRAM: The Kolkata tram is the oldest operating electric tram system in Asia. My guide told me that it's a deficit enterprise and is only being kept alive for its heritage value. It may be fun to experience for tourists though I'm not sure how practical it is as a means of transport.
No matter which mode of transport you choose, I highly recommend using the Google Maps app (iOS|Android). It'll tell you all the possible ways you can get from point A to point B using any city's public transportation system. I use it to navigate on every trip and find it to be very reliable.
HOW MANY DAYS TO STAY / SAMPLE ITINERARY
Kolkata can be overwhelming for some. To be honest, it wasn't my favorite city in India. It's chaotic and dirty and can often be stressful. If you just want to see the top sights, then two full days should be enough. Here's a sample 2D/3N Kolkata itinerary to help you plan your trip.
DAY ONE
• Indian Museum
• Victoria Memorial
• Mother House
• South Park Street Cemetery
DAY TWO
• Mallick Ghat Flower Market
• Howrah Bridge
• Belur Math
• Dakshineswar Kali Temple
BUDGET / SUMMARY OF EXPENSES
Kolkata is cheap. It was the least expensive city I visited in India. Assuming you'll be staying in Kolkata for 2 full days and sharing inexpensive accommodations with one other person, then a daily budget of around INR 1,600-2,000 per person should be enough. This takes into account your accommodations, transportation, attraction fees, meals, drinks, and pocket wifi rental. Here's a quick breakdown of expenses:
ACCOMMODATIONS
This is subjective. I stayed at OYO Townhouse 011 Esplanade along Sudder Street for around USD 49 a night, which I think is high. A quick search shows many listings in the New Market area for around USD 20-25 a night. Expect to pay as little as USD 5 a night if you're staying in a hostel dorm room.
MEALS
Food is cheap anywhere in India. If you stick to inexpensive but delicious dishes like kathi rolls and biryani, then around INR 300-400 per day will be plenty.
TRANSPORTATION
If you're staying in the New Market or Park Street areas, then you can get to many of the city's top attractions on foot. The only time I really needed to take public transportation was to go from Howrah Bridge to Belur Math and Dakshineswar Kali Temple. If you take the local train and ferry, then a transportation budget of INR 50 should be more than enough.
ENTRANCE FEES
If you go to the Indian Museum, Victoria Memorial, and South Park Street Cemetery, then you'll pay INR 1,020 in admission fees.
POCKET WIFI RENTAL
Renting a pocket wifi device will run you INR 173 per day.
TOTAL


This comes out to about INR 1,634 a day per person. Ren and I are middle of the road travelers who enjoy good food and drink, so the recommended budget works for travelers like us. Adjust accordingly based on your own preferences.
TRAVEL TIPS
1. Plan your Trip with Sygic Travel
I've been using this free trip planning app for many years now, back when it was still called Tripomatic. It allows me to plot all points of interest on a map – places like our hotel, restaurants, attractions, and metro stops – so I know exactly where everything is in relation to one another. That way I can group them by day to come up with the most efficient itinerary. Check out my post on the Sygic Travel app for more information.
Sygic Travel is what I used to create the location map above. You can also view it as a day-to-day itinerary on Sygic Travel or download it in editable Word format from our EAT-ineraries page. It covers Kolkata, Mumbai, Delhi, and Agra.
2. Rent a Pocket Wifi Device
Having a strong and uninterrupted wifi connection is a must when traveling, especially when you're in a city as chaotic as Kolkata. Being able to navigate with Google Maps alone makes it worthwhile.
This trip to India was put together at the last minute so I wan't able to rent a pocket wifi device in time. Thankfully, I had my Pokefi which is a global wifi device, but if you need to rent one in India, then you can do so through Klook.
3. Exercise Caution with Street Food
Have you ever heard of "Delhi belly"? It's what they call traveler's diarrhea in India. It's very much a real thing and it doesn't just happen in Delhi. Thankfully, I didn't come down with it in Kolkata but I did get it in Mumbai. In my case, I believe it was caused by street ice cream.
Delhi belly can be crippling so I suggest checking out Hippie in Heels' tips on how to safely eat street food in India. These are the most important things to remember:
Only eat at popular stalls. The more popular a stall is, the safer its food is likely to be.
Avoid dishes and drinks with water. Water is the leading cause of Delhi belly so it's best to avoid dishes made with any water or sauce. Ice cubes are to be avoided and any fruits or vegetables washed in undistilled water must be treated with caution. If you can, try to look for stalls that prepare their food using distilled water.
Fried or grilled dishes are safer. Heat kills bacteria so fried or grilled dishes are generally safer to eat. The same applies to drinks. Hot drinks are typically safer because the water used to make them has been boiled. When it comes to street food, exercise caution with any dishes made with meat because you don't know how long it's been sitting out.
4. Count Your Change
Some people in India will try to short change you. This happened to me once in Kolkata. I paid for a taxi coupon and the guy behind the counter tried to short change me by INR 50. The moment I turned back to him, he almost instantly handed me the INR 50. I had read about this scam before my trip so I was prepared for it. If you pay for anything in Kolkata, or anywhere else in India for that matter, then be sure to count your change before walking away.
5. Get Discount Tickets
I buy travel vouchers from several different websites. There don't seem to be as many deals for Kolkata but among the sites I use, Klook and Get Your Guide have the most.
If you're looking for vouchers on things like airport transfers, pocket wifi rental, tours, and fast track tickets, then you may want to check out Klook and Get Your Guide for a list of deals in Kolkata. Even if I don't buy anything, it's always fun to look just to see what's available. I often learn about attractions and activities I didn't know about before.
6. Get Travel Insurance
Whether or not to get travel insurance is something we consider before every trip. If we plan on doing anything physical, anything that might cause us injury, then we'll definitely get it. But if all we'll be doing is eating in a city like Hong Kong for a couple of days, then we probably won't. Our credit cards give us free basic travel insurance anyway.
With that said, India is a different animal. The threat of Delhi belly alone makes it a necessity. I've heard of travel bloggers coming down with severe cases of traveler's diarrhea in India, so I think getting travel insurance is a must.
Whenever we need travel insurance, we buy it from SafetyWing. They're a popular travel insurance provider used by many long-term travelers. You can follow the link to get a free quote from SafetyWing.
7. Bring the Right Power Adapter
India has Type C, Type D, or Type M electrical outlets so be sure to bring the right power adapters for your devices. Electrical voltage is 230V and the standard frequency is 50Hz.
8. Prepare Yourself for the Poverty
There is much poverty and pollution in Kolkata. Among the cities I visited in India, Kolkata was the dirtiest with the most visible poverty. Homeless people were everywhere, even along the street of my hotel which is a popular tourist area. I'm from the Philippines which is also a poor country, but I've never seen urban poverty to this level. It was shocking and gut-wrenching to see.
If you're from the west and aren't used to seeing poverty, then you need to prepare yourself mentally and emotionally for what you're bound to experience in India. It may be a lot to take in for some.
9. Have Patience and Stay Cool
Like I said at the top of this article, India is a life-changing experience. It will shock or awe you, or both. There doesn't seem to be a middle ground when it comes to opinions about this country – people either love it or hate it. But regardless of how you feel, it's always a good idea to remain calm and keep a cool head.
To be honest, I found India to be incredibly frustrating at times. Order and discipline can seem like foreign concepts in this country. Drivers are reckless, people often don't form orderly lines, some will try to cheat you, while others are just downright rude. Not once did I hop into a taxi, tuk-tuk, or rickshaw without the driver trying to rip me off. If you're from a developed country, then you can't visit India expecting things to work like they do in your country. It will just lead to frustration.
When something upsets you, just take a deep breath and have a look around. You're in India. This is how it's supposed to be.
Have fun!
I'm not an expert on Kolkata but I do hope you find this guide helpful. I'm only sharing some of the things I learned from our trip. If you have any questions, then please feel free to ask us in the comment section below. You're welcome to join our Facebook Travel Group as well. We'd love to hear from you.
Thanks for stopping by and have an eye-opening time in Kokata.
Disclosure
This travel guide contains affiliate links, meaning we'll get a small commission if you make a booking at no extra cost to you. We only recommend products and services that we use ourselves and firmly believe in. We really appreciate your support as this helps us make more of these free travel guides. Thank you!