Land, air, and sea. We had already covered the first two by going to Singapore Zoo and Jurong Bird Park so it was time to visit S.E.A. Aquarium at Resorts World Sentosa to complete the trifecta.
Ren and I love animals but the last time we visited an aquarium was two years ago in Osaka. It's been longer than that for zoos, the last ones being in Australia over four years ago. Following a slew of hideous substandard zoos, we vowed only to go to world-class facilities that put the well-being of animals first. Singapore has those in spades and S.E.A. Aquarium is one example.
S.E.A. Aquarium
As described, S.E.A. Aquarium is located at Resorts World Sentosa. You'll enter the building on the second floor then make your way through an exhibit down to the entrance of the aquarium at the basement. I'm not sure if they change the exhibits but they had this impressive Noah's Ark type display when we were there.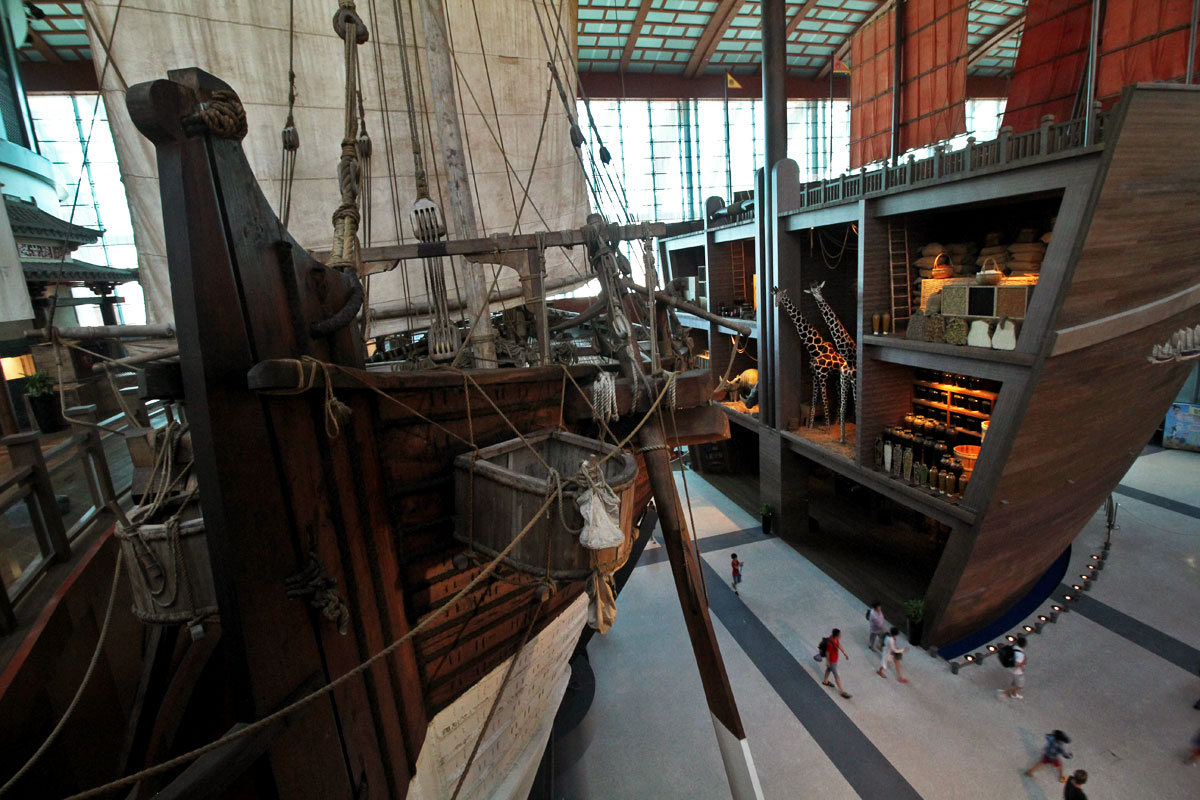 Looking up at the ark from the basement floor. This was pretty cool actually.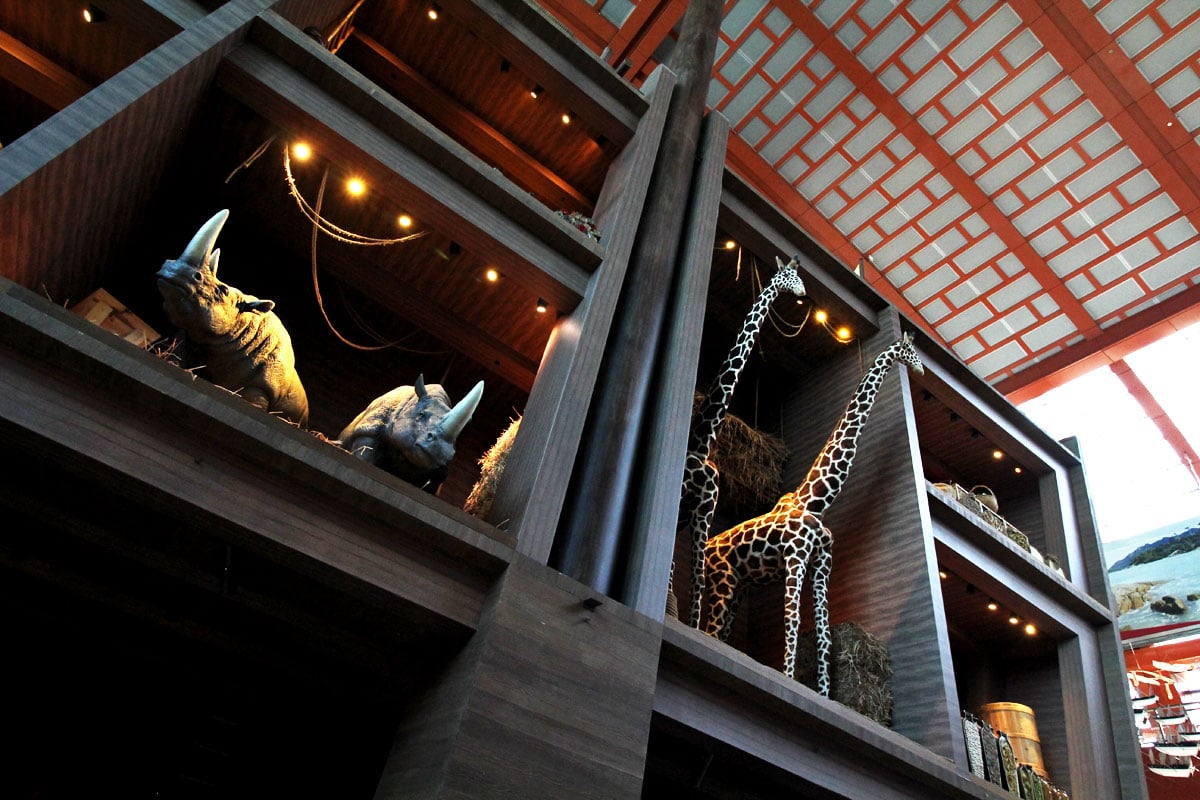 Time to find Nemo! "S.E.A." stands for South East Asia. 😉 Entrance to S.E.A. Aquarium is normally SGD 39 for adults and SGD 29 for kids aged 4-12 but discounts are available. More information at the bottom of this post.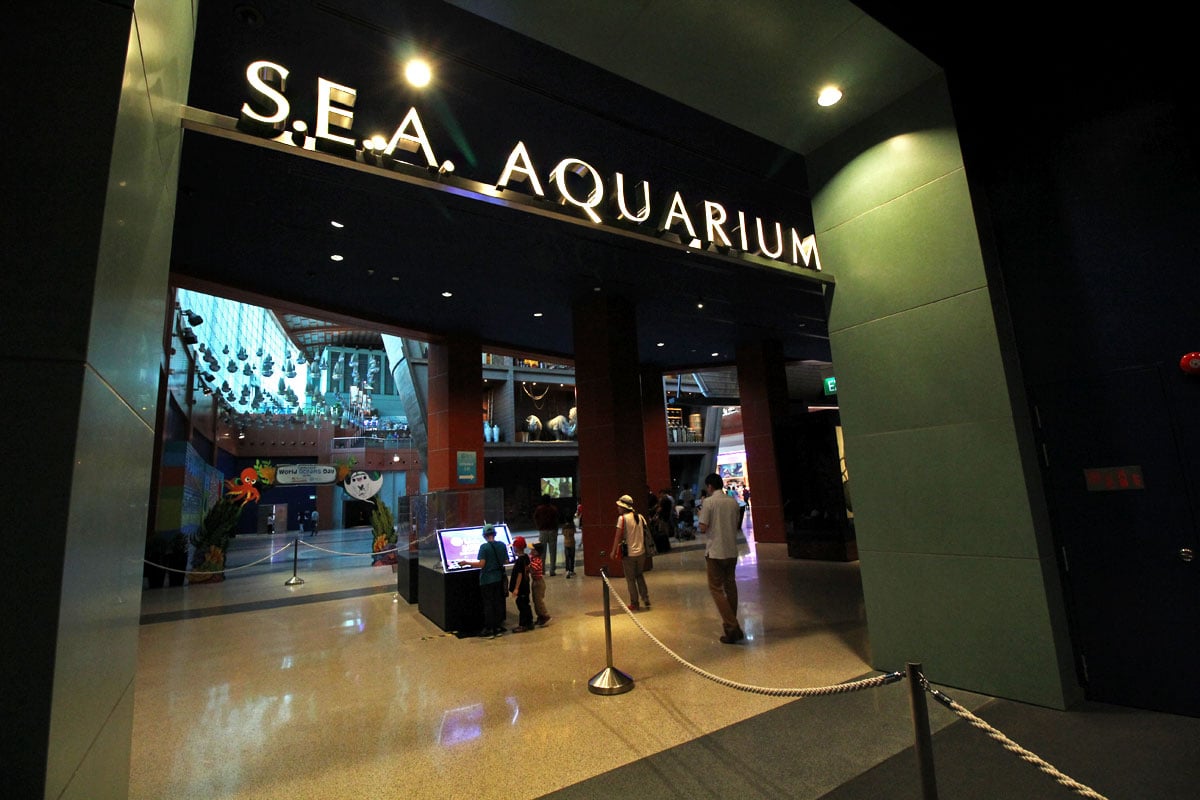 Any self-respecting aquarium should have a tunnel like this these days. S.E.A. Aquarium houses over 100,000 marine animals and once held the title of world's largest aquarium by total water volume with over 42.8 million liters! 😯 Not that I really know what that means but I guess it's a lot.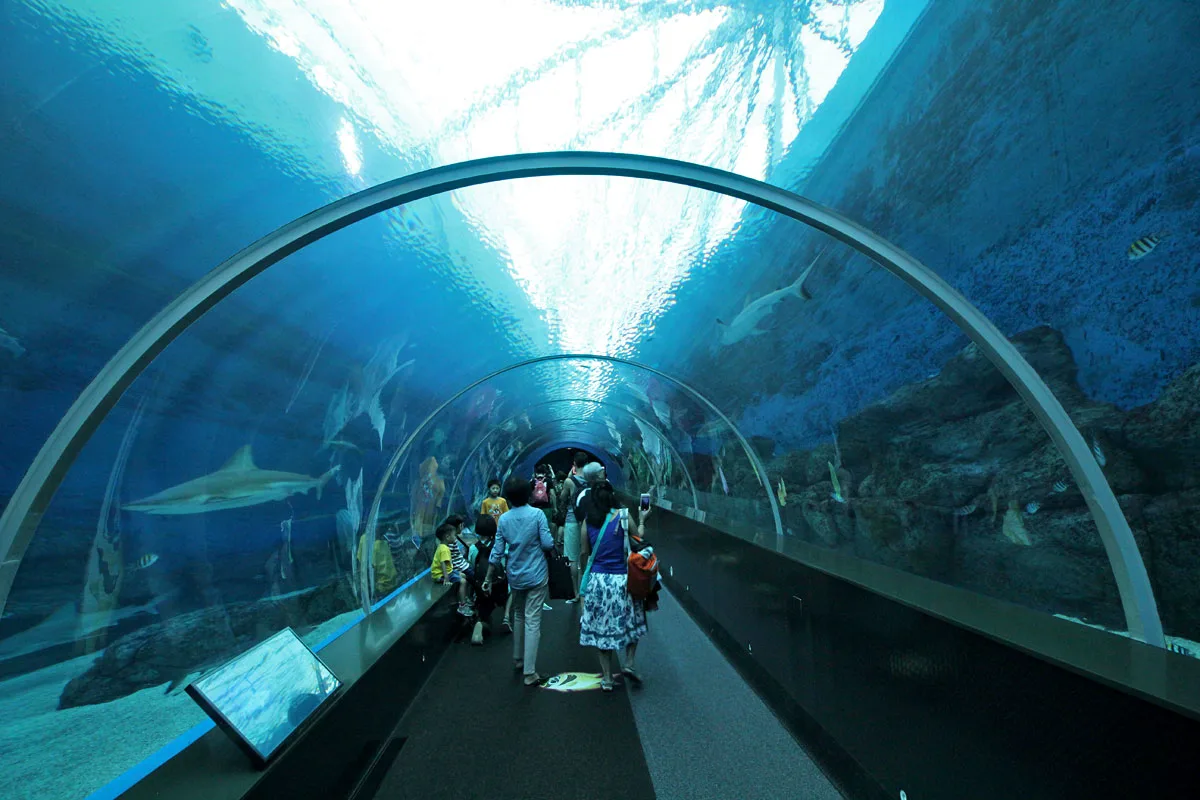 Here are 11 of those 100,000 marine animals. 12 if that one shadow by the corner is actually a shark.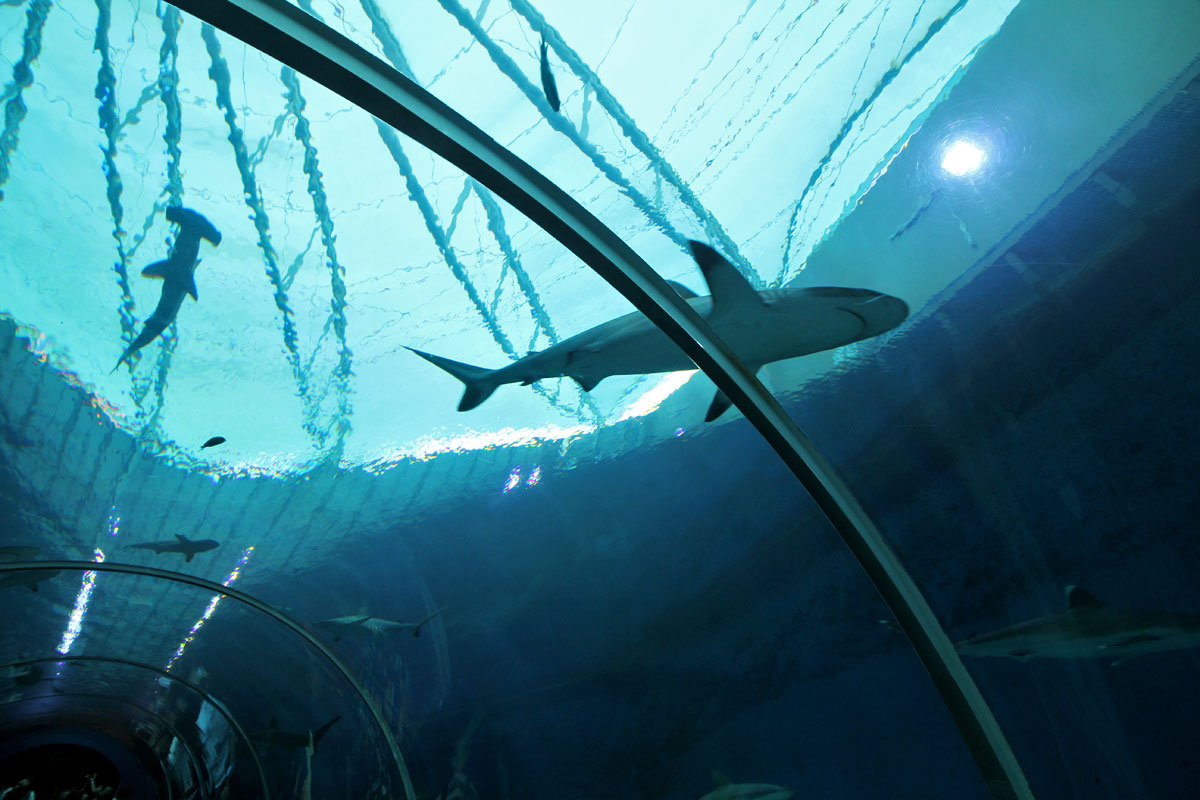 Nurse sharks doing nurse shark things. Looks kinda like Voldemort.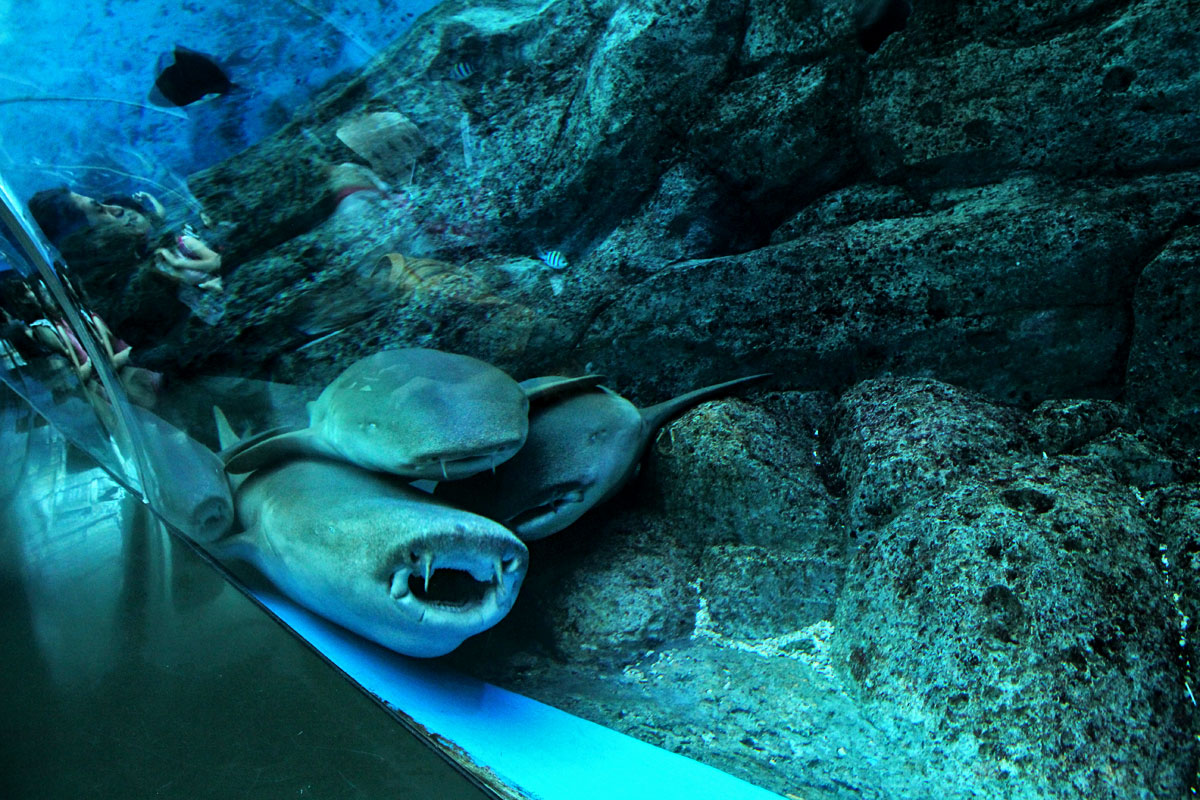 I loved this exhibit. It contained a bunch of adult moray eels chilling out in these clay pots. To the left of the exhibit is a small hole kids could crawl into to view the eels from inside a glass dome. It's a tight fit but adults can squeeze in there too. I did, but never again.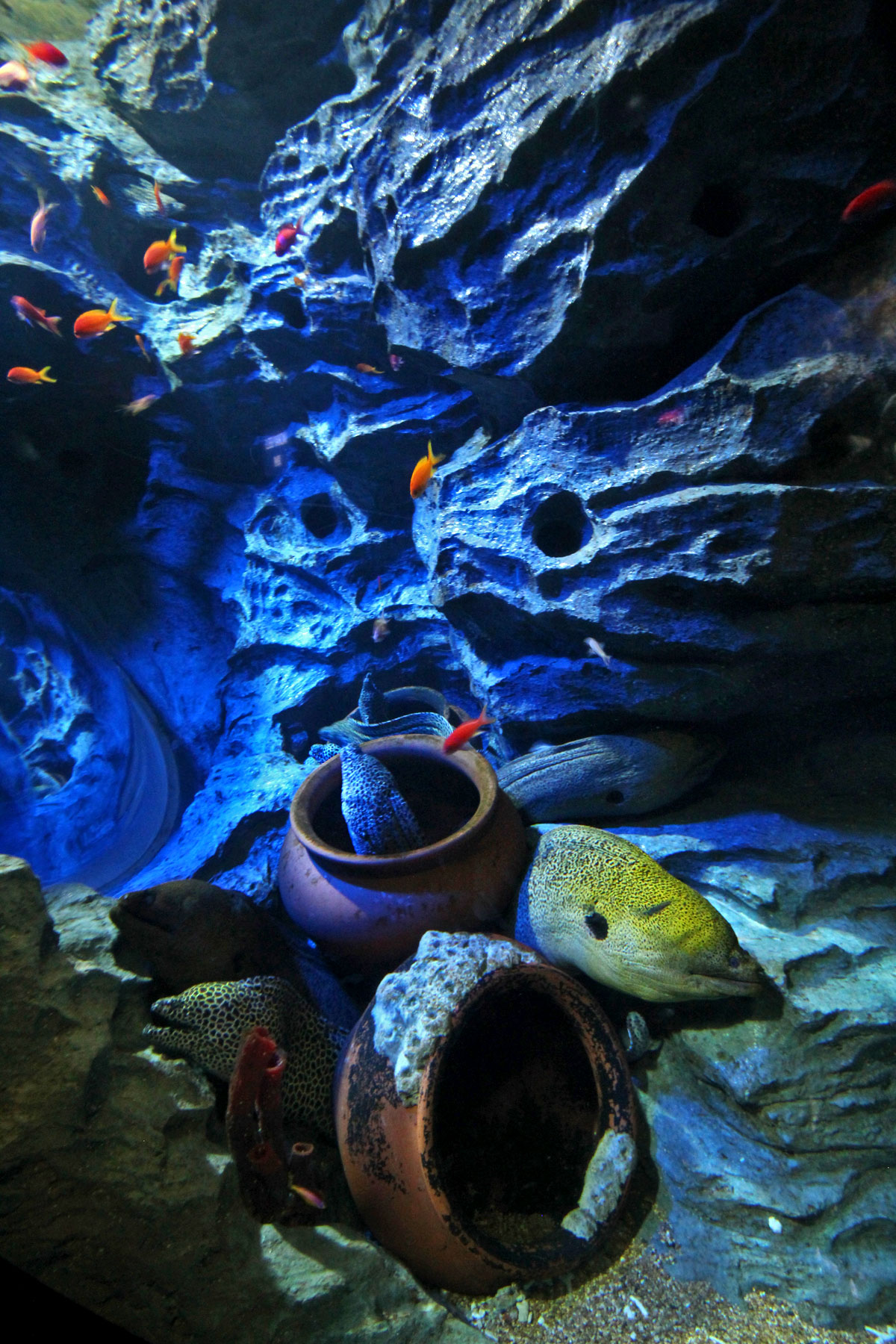 Can you find Dory?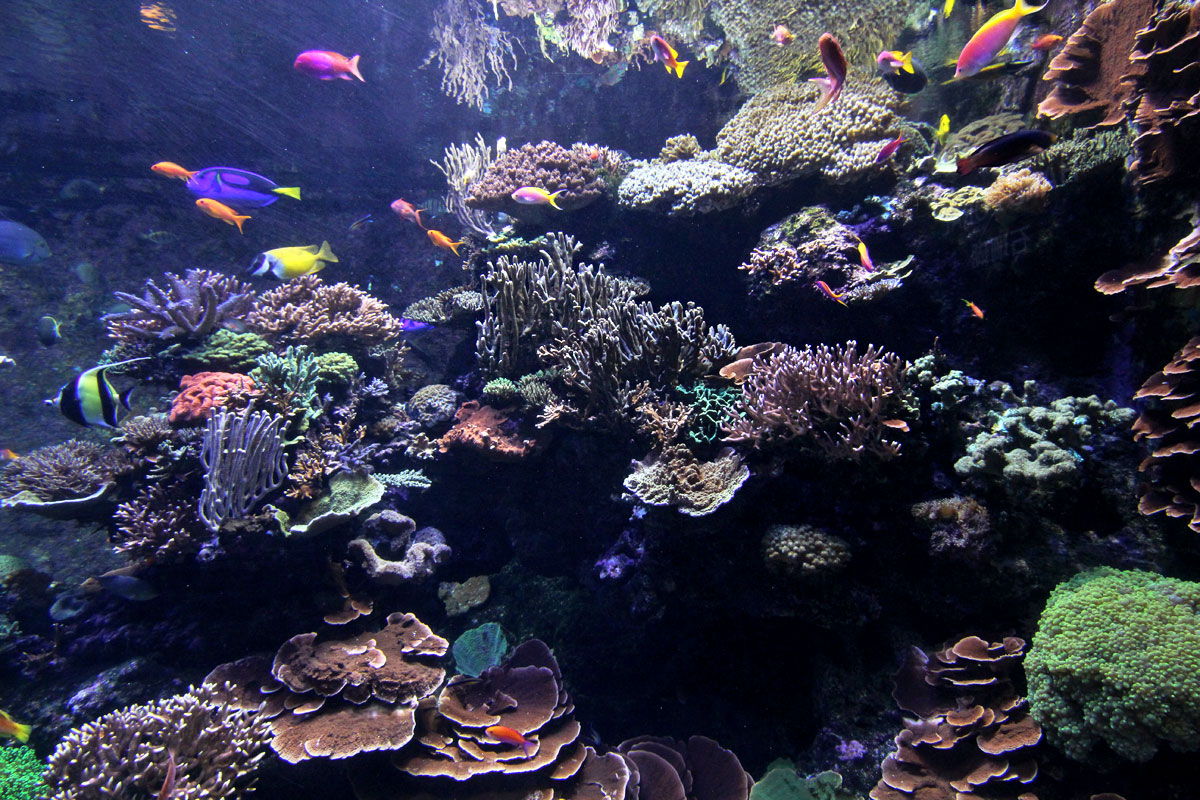 S.E.A. Aquarium is made up of 49 habitats.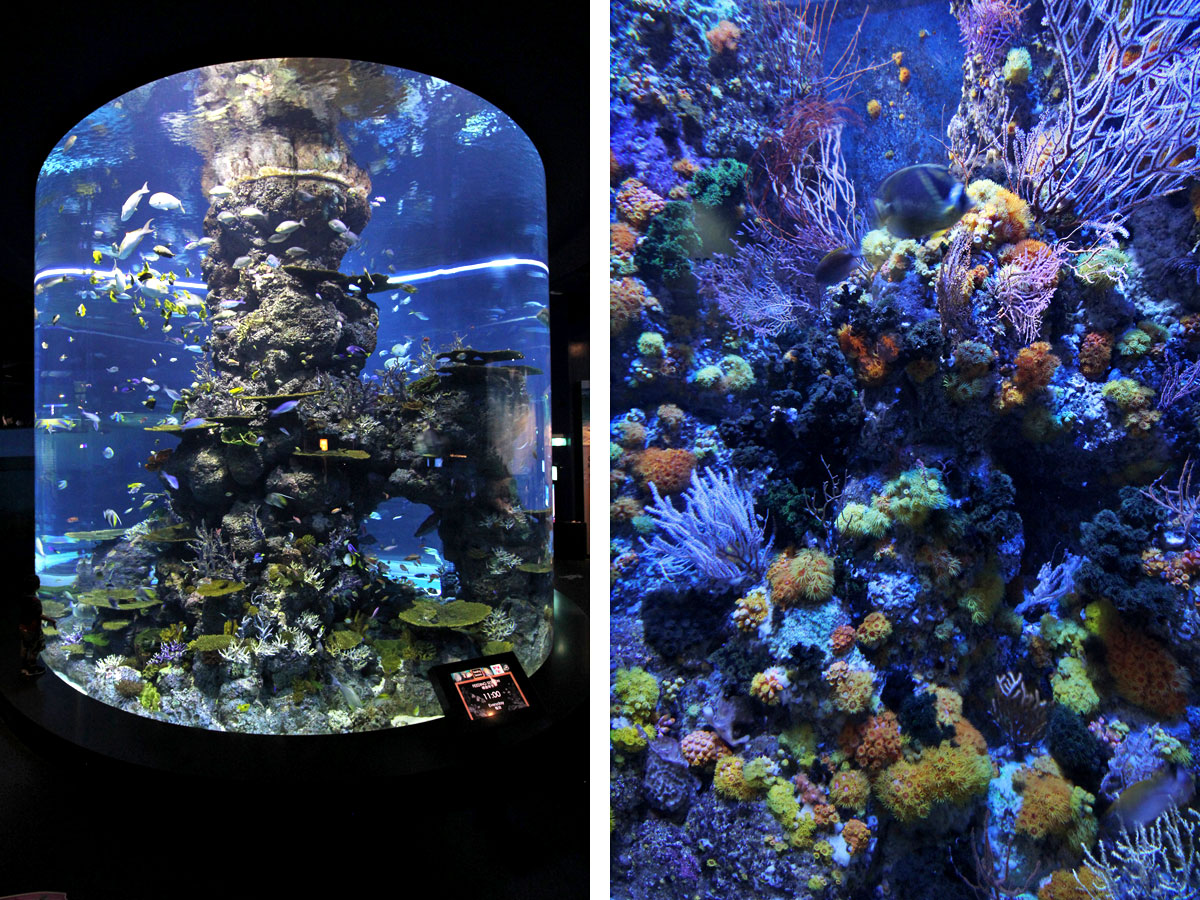 I think this was a freshwater exhibit.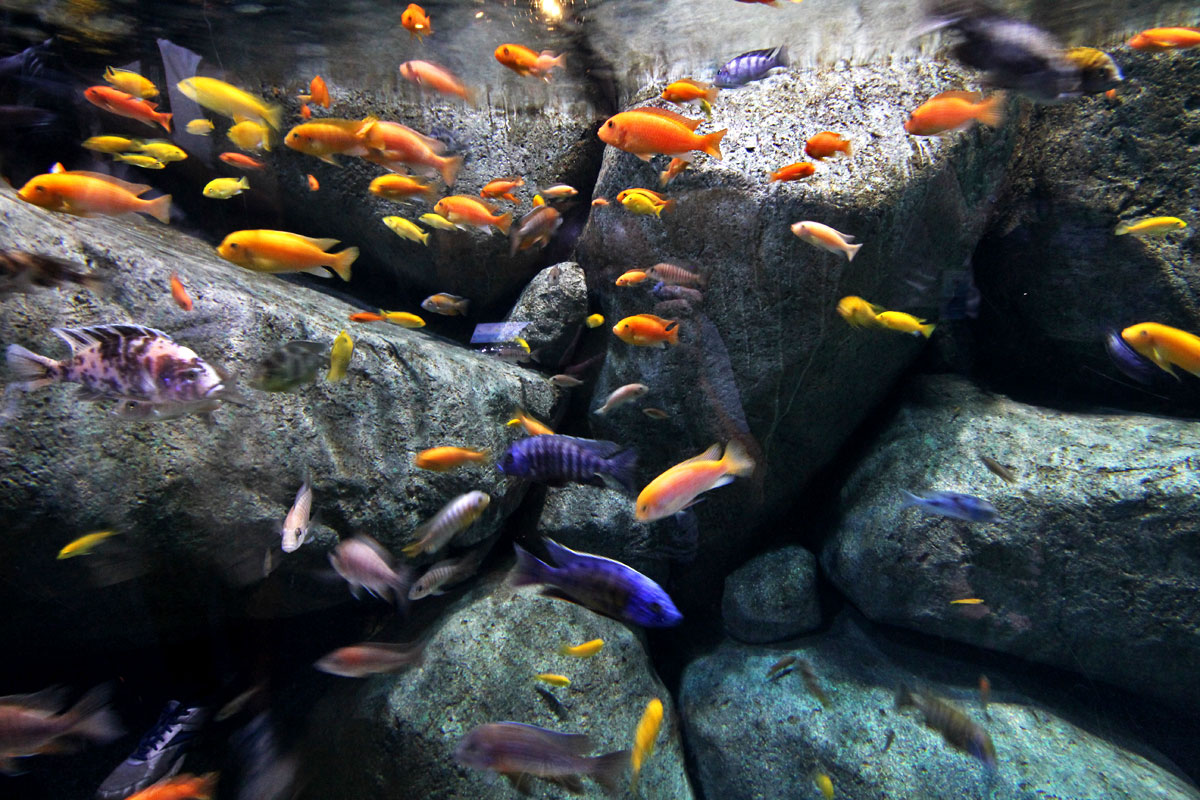 There's Nemo! Clownfish have got to be some of the most photogenic fish around. Sadly, it makes them a popular target for aquarium hobbyists as well. 🙁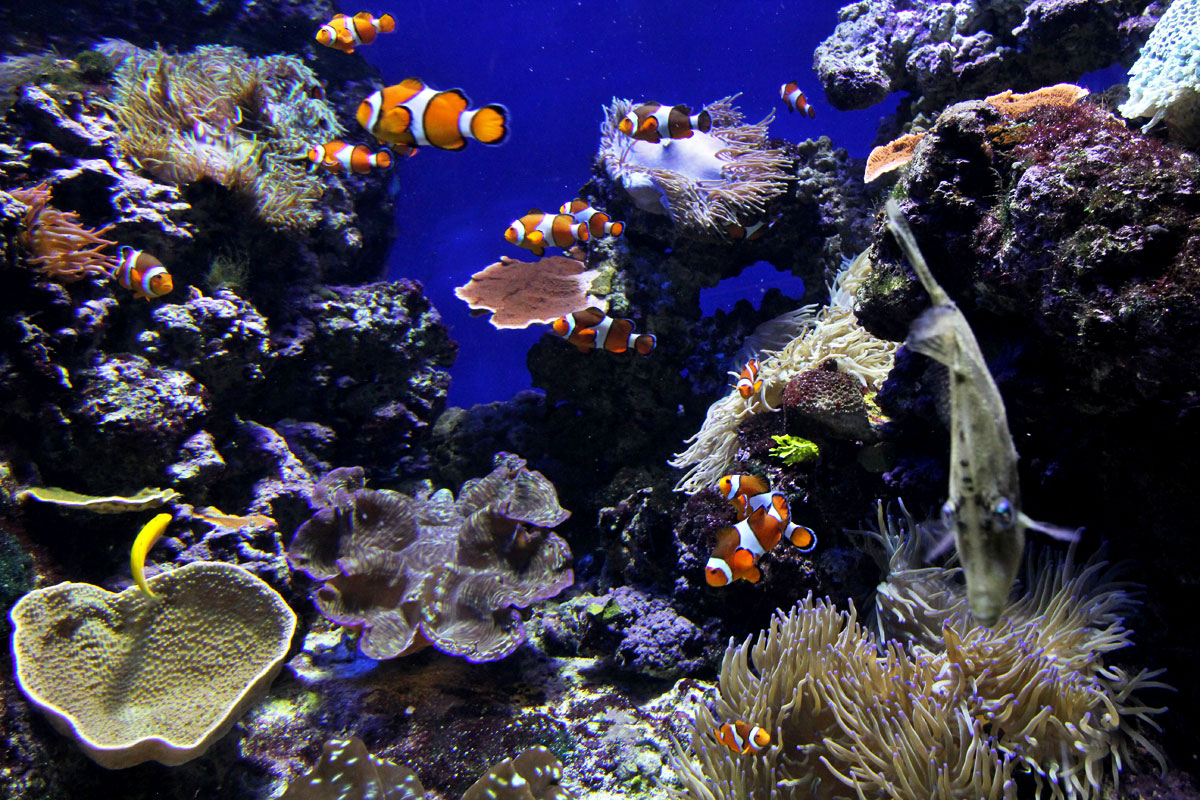 Different colors and textures at S.E.A. Aquarium.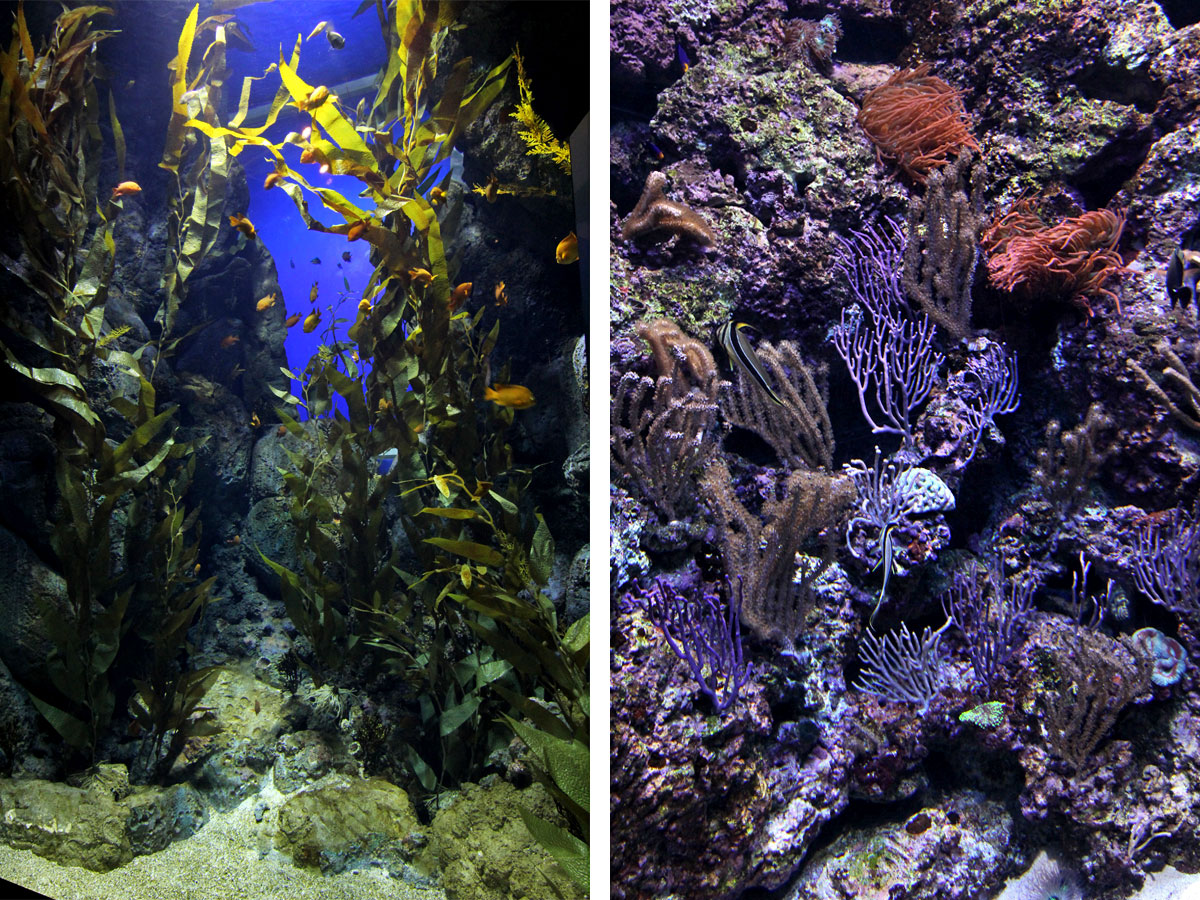 The Open Ocean habitat is the aquarium's biggest. That 36 x 8.3 meter pane of glass is 700 mm thick and weighs more than 250,000 kilos! This is the last place I'd want to be in an earthquake. 😯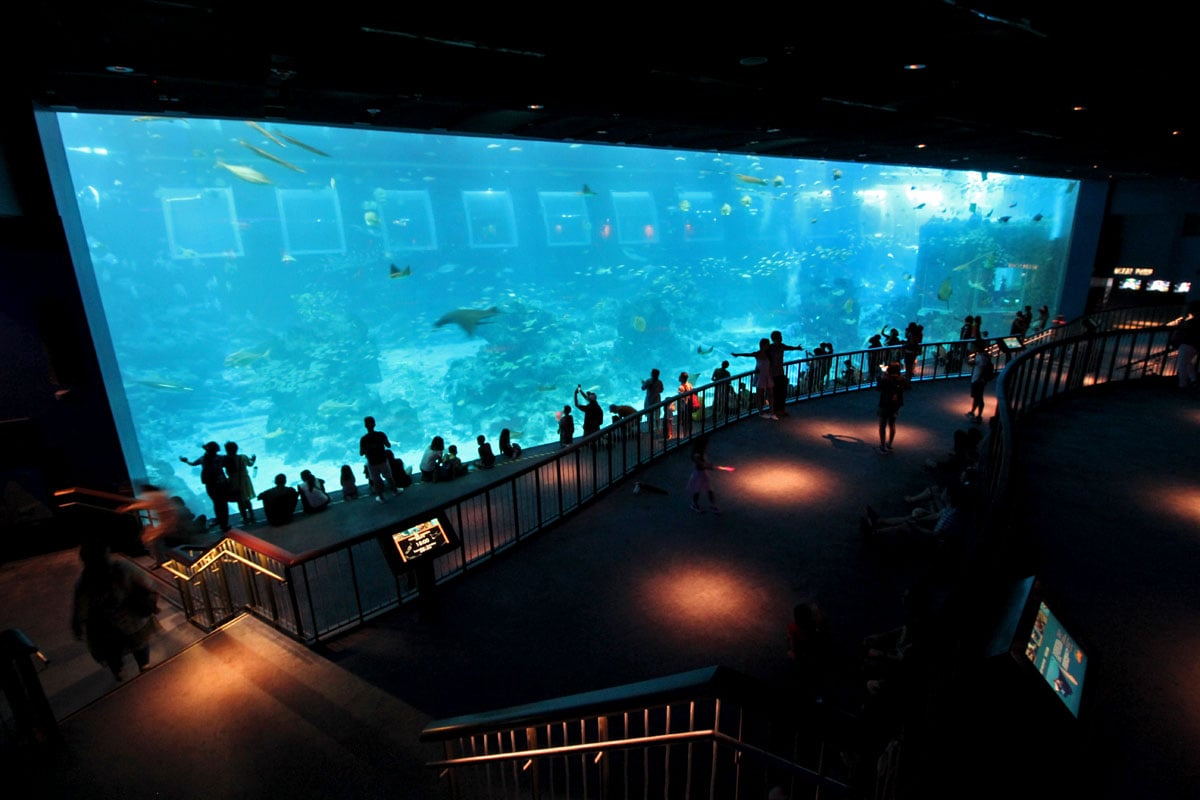 The jellies, always an acid lover's favorite. They can sit in front of these beauties for days.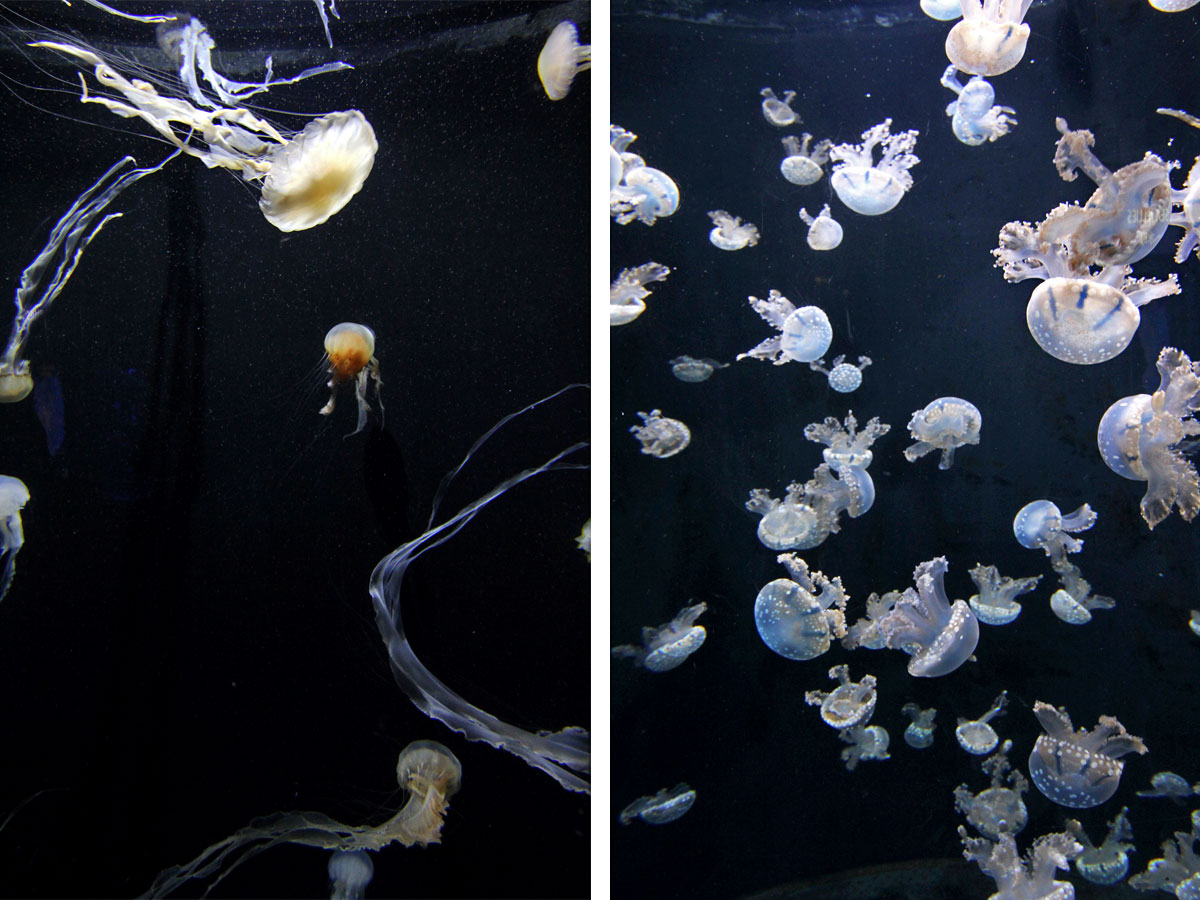 This was cool. Lights would turn different colors to illuminate the jellyfish from blue…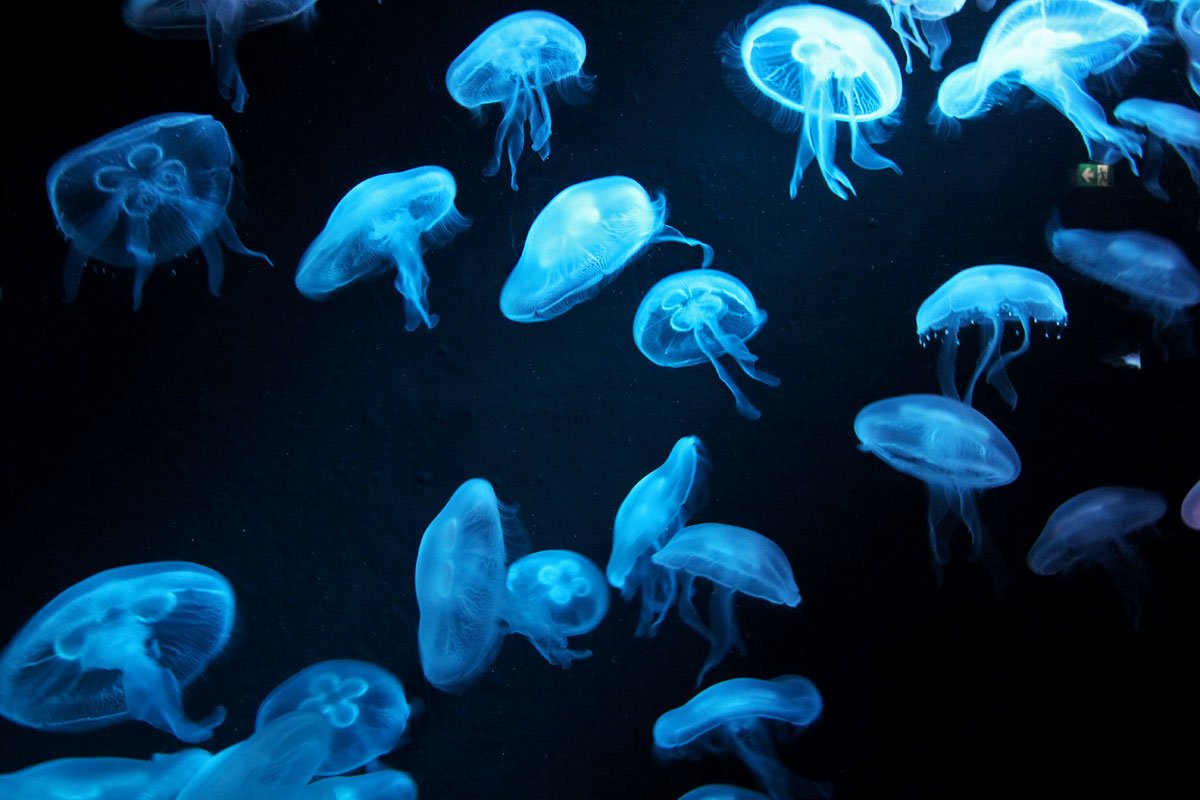 …to magenta…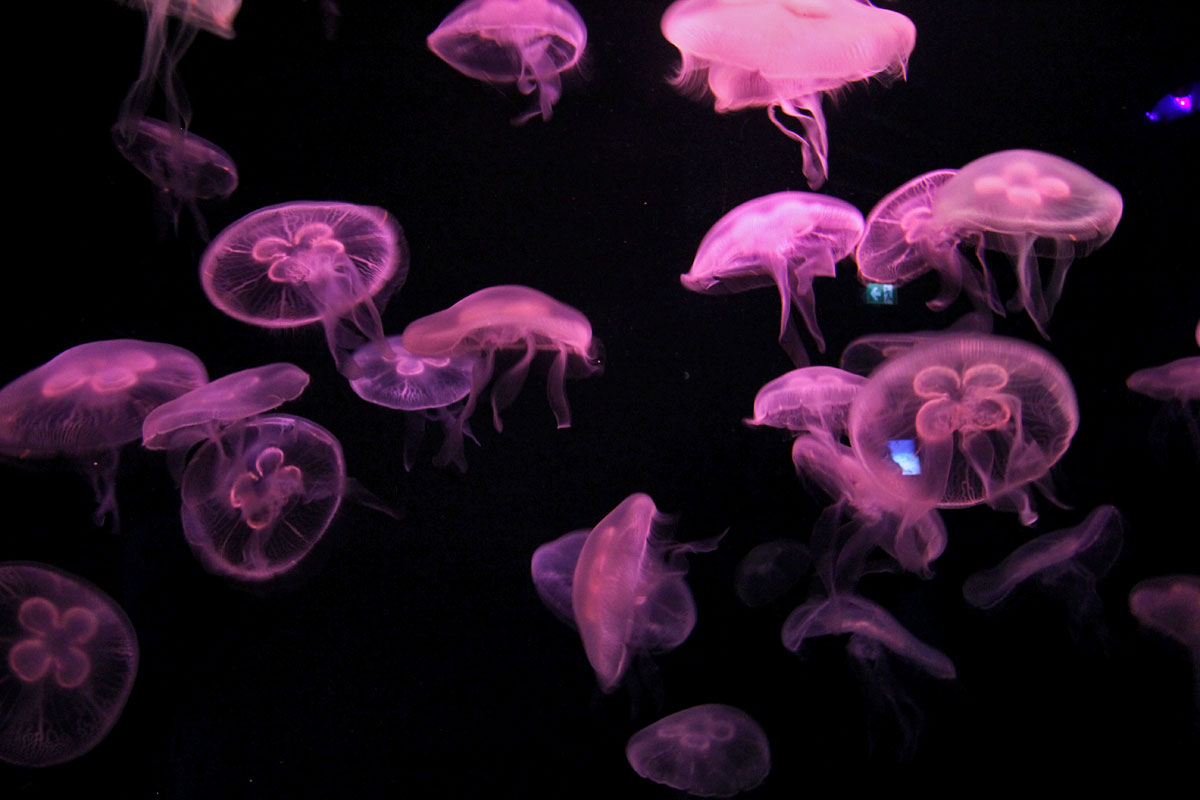 …to green. Trippy man.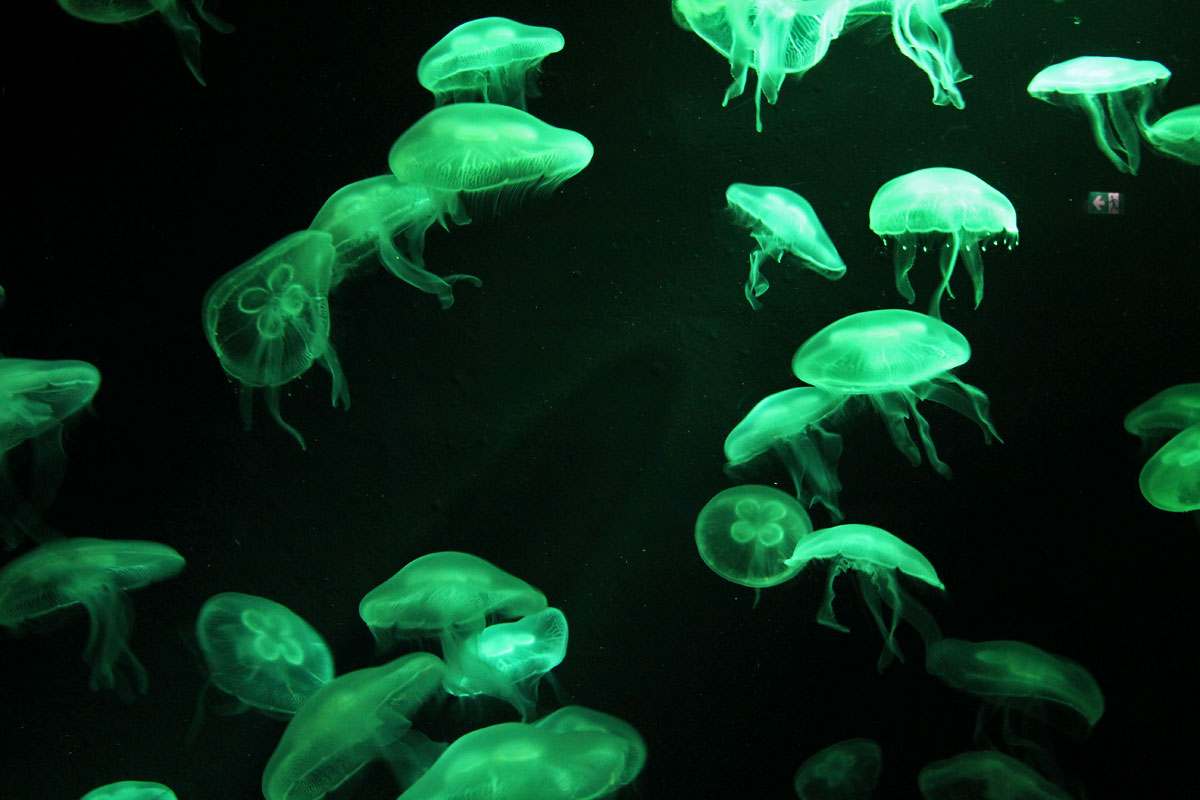 Isn't this display gorgeous? The yellow fishes just pop against that purple coral.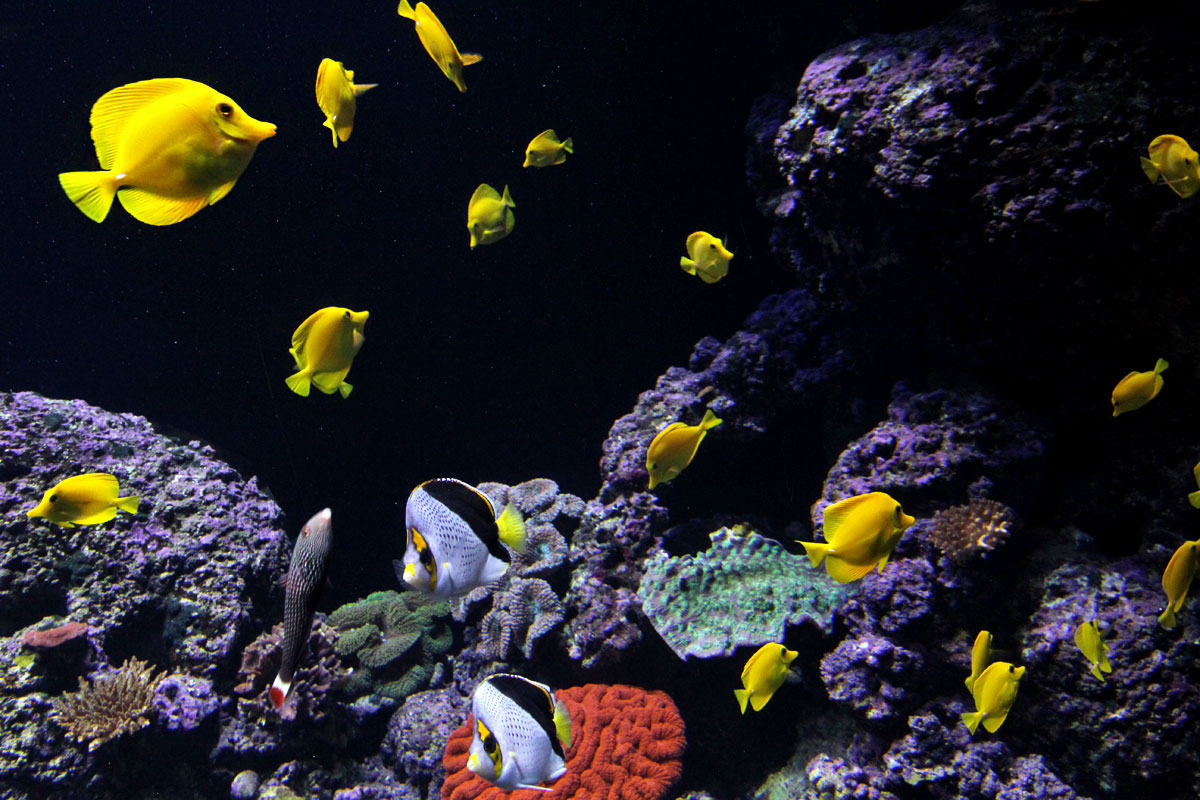 Beautiful or bad hair day? Either way, sea dragons look pretty bad ass.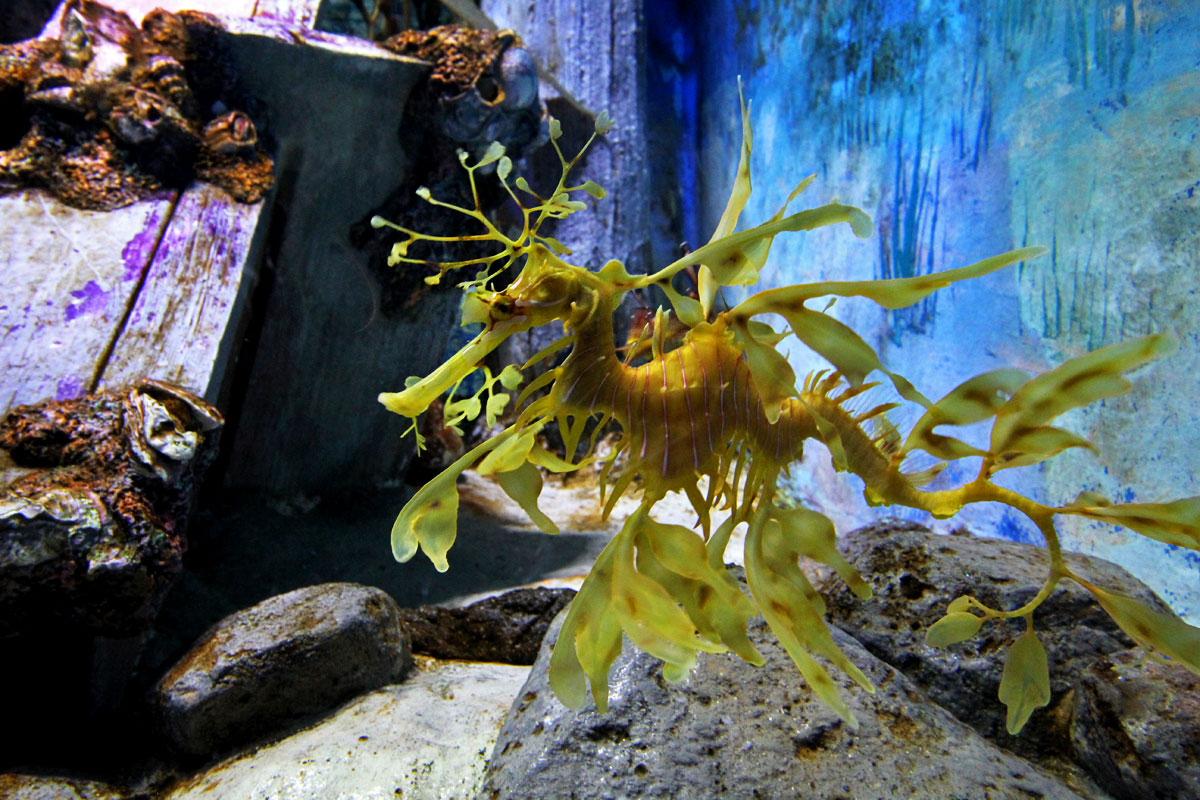 S.E.A. Aquarium is awesome. It's one of the biggest and best aquariums we've been to thus far. It's a TripAdvisor Certificate of Excellence awardee with a stellar 4.5 star rating, which is pretty much par for the course in Singapore. Attractions here, as a whole, are just better.
With that said, this brings me to the one thing I didn't like about S.E.A. Aquarium — the dolphins. They shouldn't be here. The moment I spotted them, I became disappointed and moved on to the next exhibit. Dolphins can swim up to 100 miles per day hunting and playing so no tank on earth can possibly provide them with enough space to facilitate their natural behaviors. It would be cruel to do so. There's a growing number of people in the world who are against keeping cetaceans in captivity and I'm one of them. Dolphins aren't fish. Like us, they're highly intelligent mammals that live in complex social groups. Keeping them in undersized aquariums is inhumane and something we really shouldn't be doing anymore.
The funny thing is, it struck me how much people seemed to care about animal welfare in Singapore. I saw signs for it often, from retail posters protesting animal fur products to placards at Singapore Zoo educating the public about the ivory trade. They seem as advanced with their moral progress as they do with their technology which is why I was surprised to find the dolphins at S.E.A. Aquarium. Anyway, just my thoughts.
Admission to S.E.A. Aquarium is normally SGD 39 for adults and SGD 29 for kids aged 4-12. You can save on the entrance fee by purchasing a Sentosa FUN Pass. For just SGD 48, the PLAY 3 pass gives you access to 3 out of 20 Sentosa attractions, including S.E.A. Aquarium. You can also get a PLAY 5 pass for SGD 65 and a PLAY MAX pass (20 attractions) for SGD 115. You can follow this link for more information on the Sentosa FUN Pass.
If you don't want to get a Sentosa FUN Pass for whatever reason, then you can get a discount to S.E.A. Aquarium by purchasing your ticket from Klook. Follow the link to buy tickets to S.E.A. Aquarium from Klook.
S.E.A. Aquarium, Resorts World Sentosa, Singapore
8 Sentosa Gateway, Sentosa Island, Singapore
Tel: +65 6577 8888
Blog: seaa.rwsentosablog.com
Email: [email protected]
Operating Hours: 10AM-7PM daily
ADMISSION:
Adult – SGD 39
Children (ages 4-12) — SGD 29
HOW TO GET THERE:
There are many ways to get to Sentosa Island but the most popular for tourists would probably be by monorail or cable car. First, take the MRT to HarbourFront station. From there, you can follow the signs to go either by Sentosa Express (monorail) or by cable car. Sentosa Express costs SGD 4 per person (unlimited rides) while the cable car costs SGD 29 for adults and SGD 18 for kids ages 3-12 (round trip). If you've got energy to burn, you can even walk to Sentosa if you like.
For more Singapore travel tips, check out our First-Timer's Travel Guide to Singapore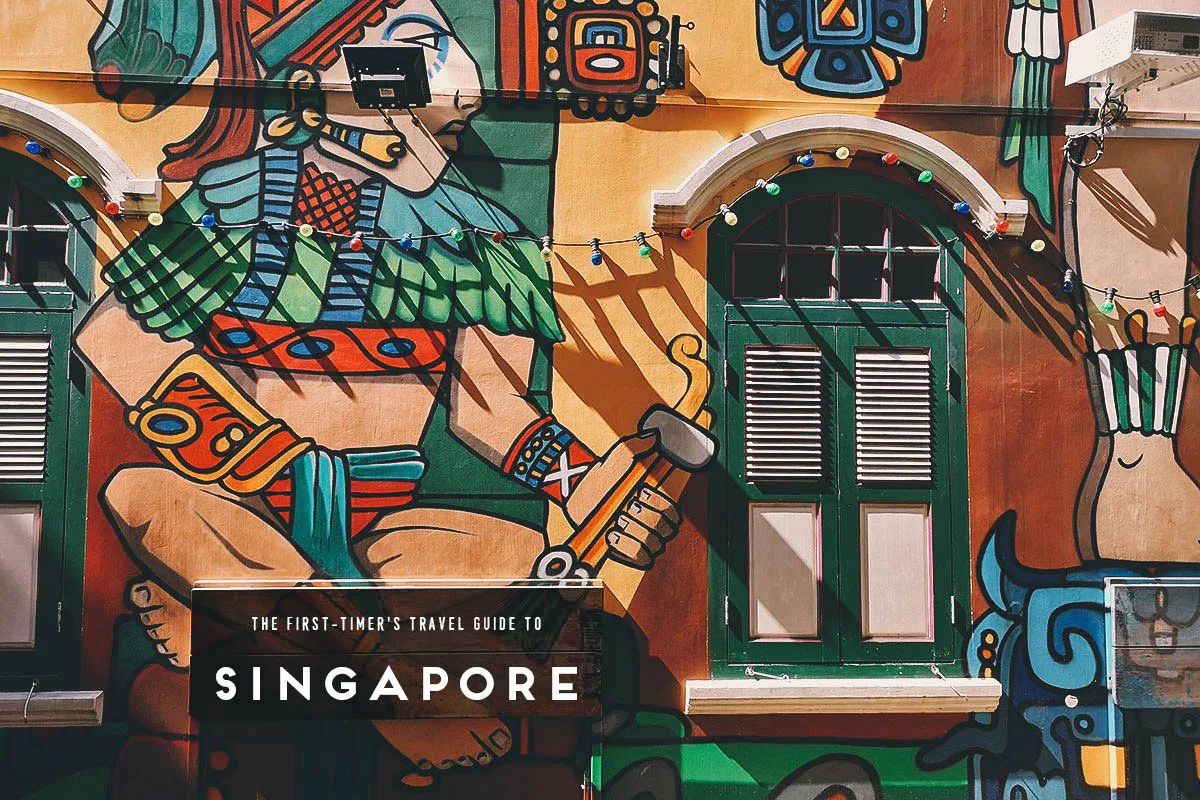 Disclosure
Some of the links in this post are affiliate links, meaning we'll get a small commission if you make a purchase or reservation at NO extra cost to you. We really appreciate your support as this helps us keep this website going. Thank you!