I have mixed feelings about zoos. I love animals and enjoy being near them but a big part of me feels they're better off in the wild. I think more and more people feel that way these days.
I used to go to the zoo once a week to sketch animals when I was still in art school. When I couldn't go home for Christmas one year, I drove from San Francisco to spend the holidays at San Diego Zoo. When Ren and I got married and started traveling, I made it a point to visit at least one local zoo on every trip. But that stopped a few years ago. As much as I enjoyed going to zoos, some were negligent in their husbandry practices. It was depressing to see the animals in such a poor state. Zoos were supposed to make you feel happy, not sad, so we decided to go only to zoos that we knew put the well being of animals first. That's where TripAdvisor comes in.
TripAdvisor is my go-to travel website which I use to plan every trip. I refer to its wealth of user reviews to evaluate hotels, attractions, restaurants, and zoos. If I see a poor rating or too much negative feedback, then I avoid it at all costs. This applies ESPECIALLY to zoos.
I had heard wonderful things about Singapore Zoo and going to their TripAdvisor page only confirmed the hype. Not only is Singapore Zoo a TripAdvisor Certificate of Excellence awardee with a stellar 4.5 star rating, it also ranked 5th OVERALL on their list of the world's 10 best zoos as determined by TripAdvisor users. That type of crowdsourced information speaks for itself.
It's been four years since we last visited a zoo — Taronga Zoo and Featherdale Wildlife Park in Sydney, Australia — so to visit the world's 5th best zoo after a four-year drought was pretty exciting. Admission to the zoo is normally SGD 35 for adults and SGD 23 for kids, though discounts are available. More information at the bottom of this post.
Singapore Zoo
Soon as you pass the turnstiles, you'll be greeted by this awesome cotton-top tamarin exhibit. It's an open-air setup so the tamarins aren't inside any enclosure. The exhibit consists of two trees connected by bamboo stalks which they use to cross back and forth. Really cool!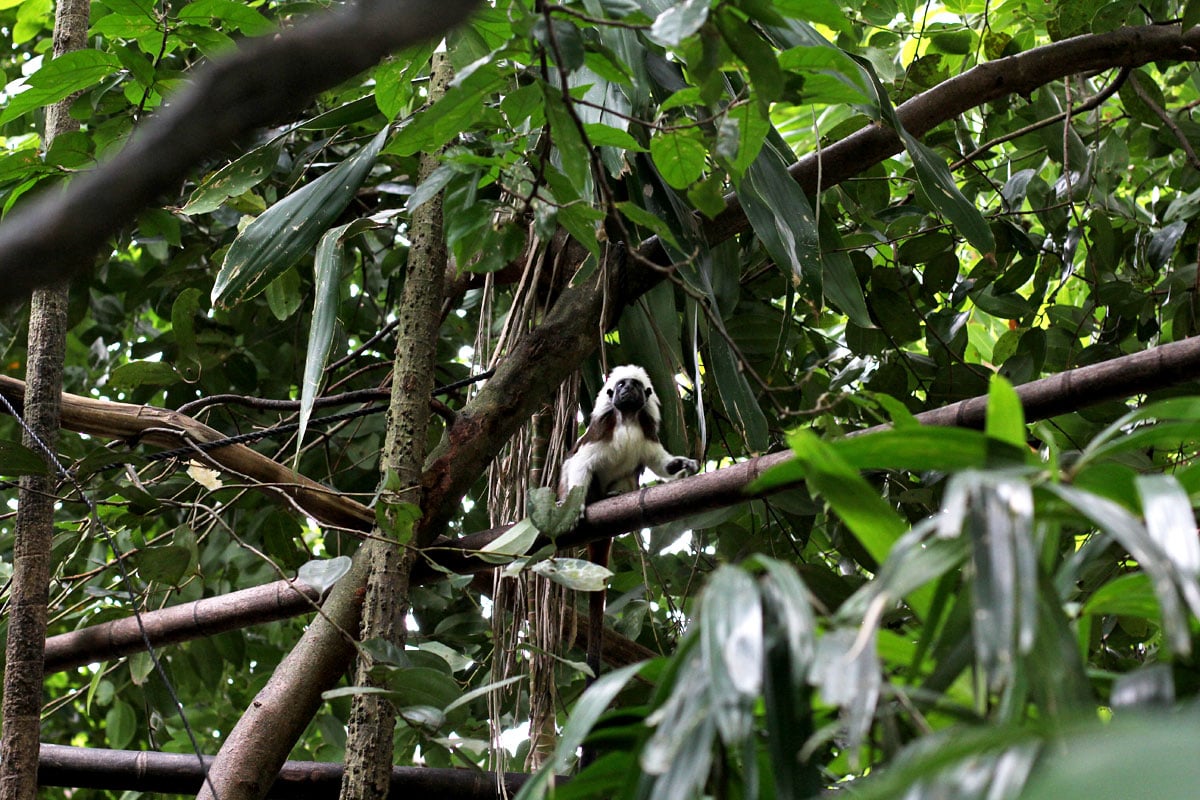 Aren't these little guys cute? There was a whole group of them running back and forth between the trees. The bamboo stalks are high enough (I hope) to keep any idiots from trying to touch the tamarins, or worse, grab their tails. 👿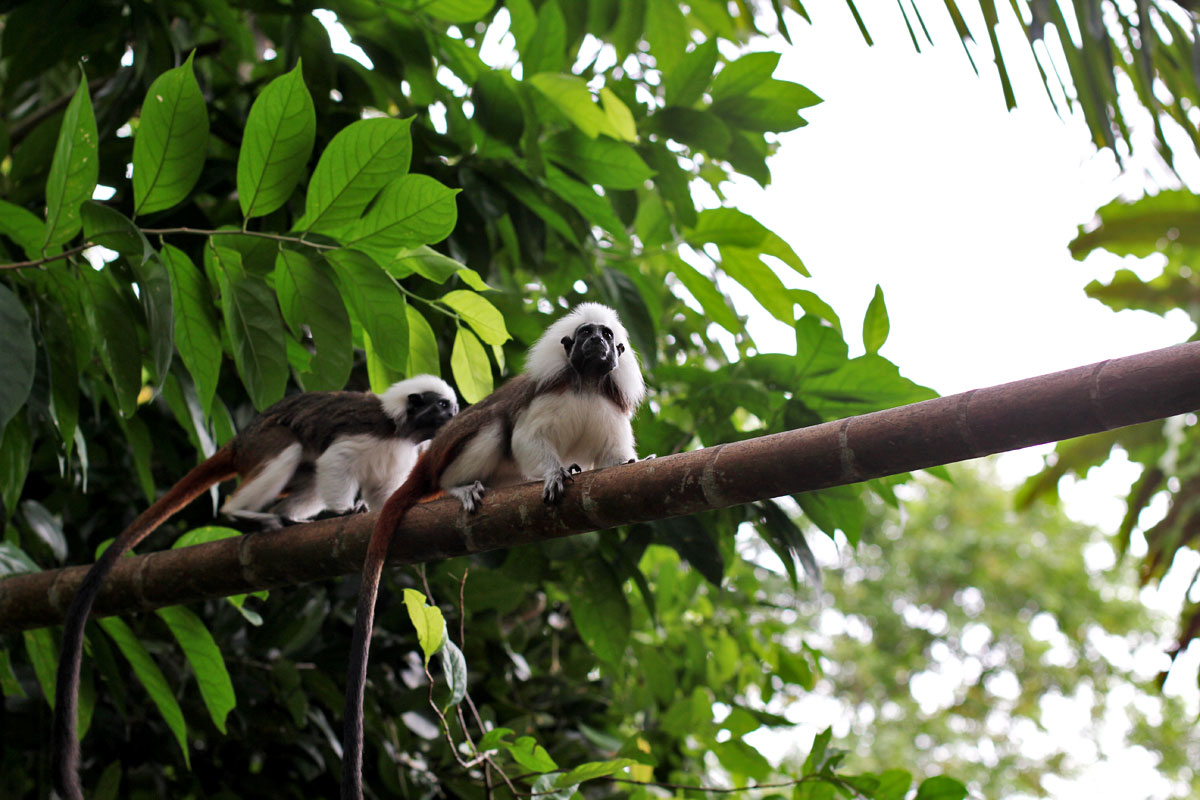 White rhinoceros with funky earring. I may have mixed feelings about zoos but seeing this big guy safe with his horn intact makes me thankful we have them. Singapore Zoo is spread out over 26 hectares of land and houses more than 2,800 mammals, birds, and reptiles. It's a 9-time recipient of the Best Leisure Attraction Experience Award from the Singapore Tourism Board.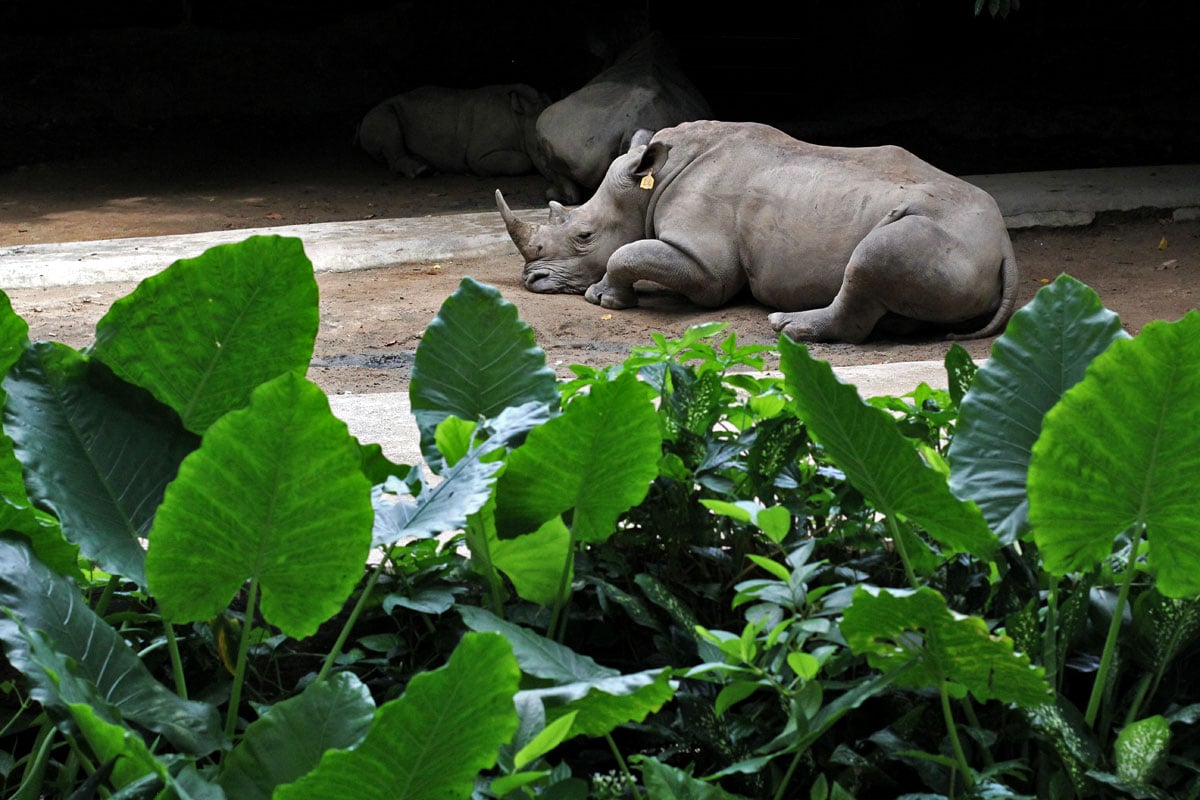 Cheetah pacing back and forth in front of the glass. I think this girl wanted to hunt. The enclosures at Singapore Zoo are nice and spacious with naturalistic settings. Some have viewing panels to the side like this one.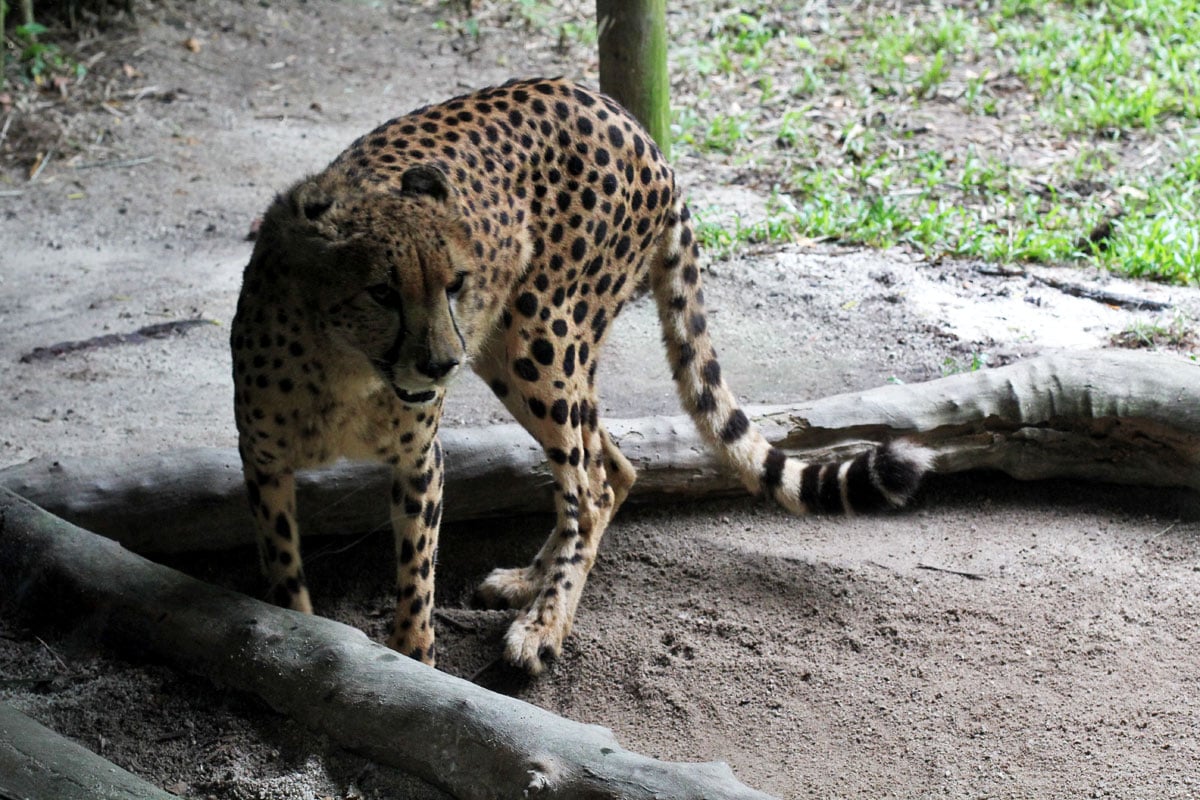 A pair of zebras. I wonder if a cheetah can take down an adult zebra. Probably not.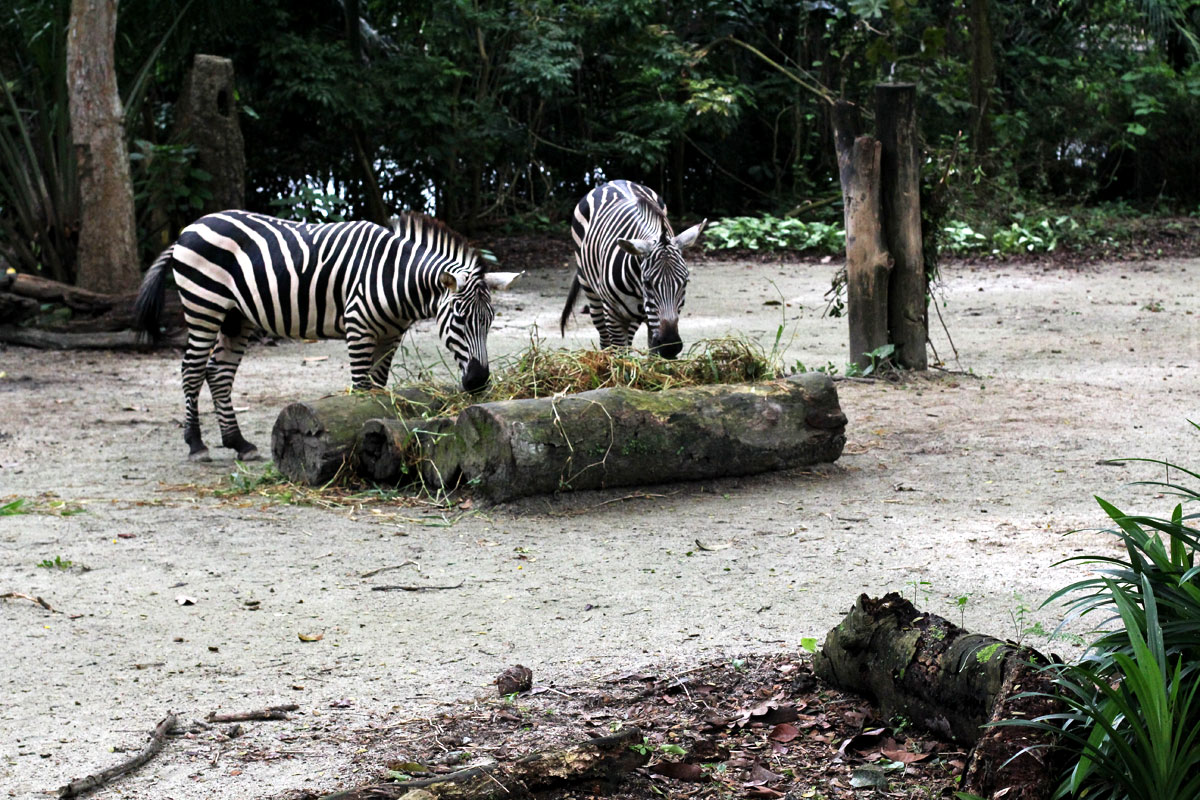 Warthogs doing warthog things. Hey Pumba, where's Timon?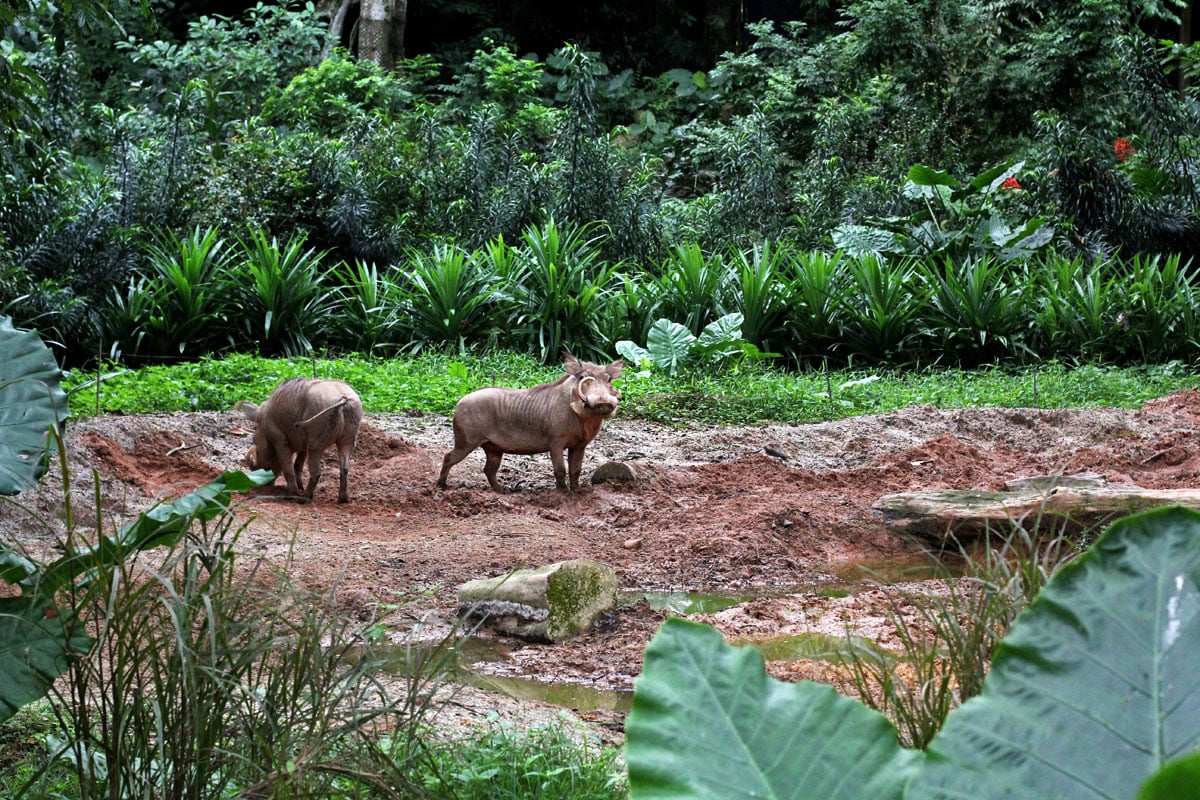 There he is! Cute little buggers these meerkats. 🙂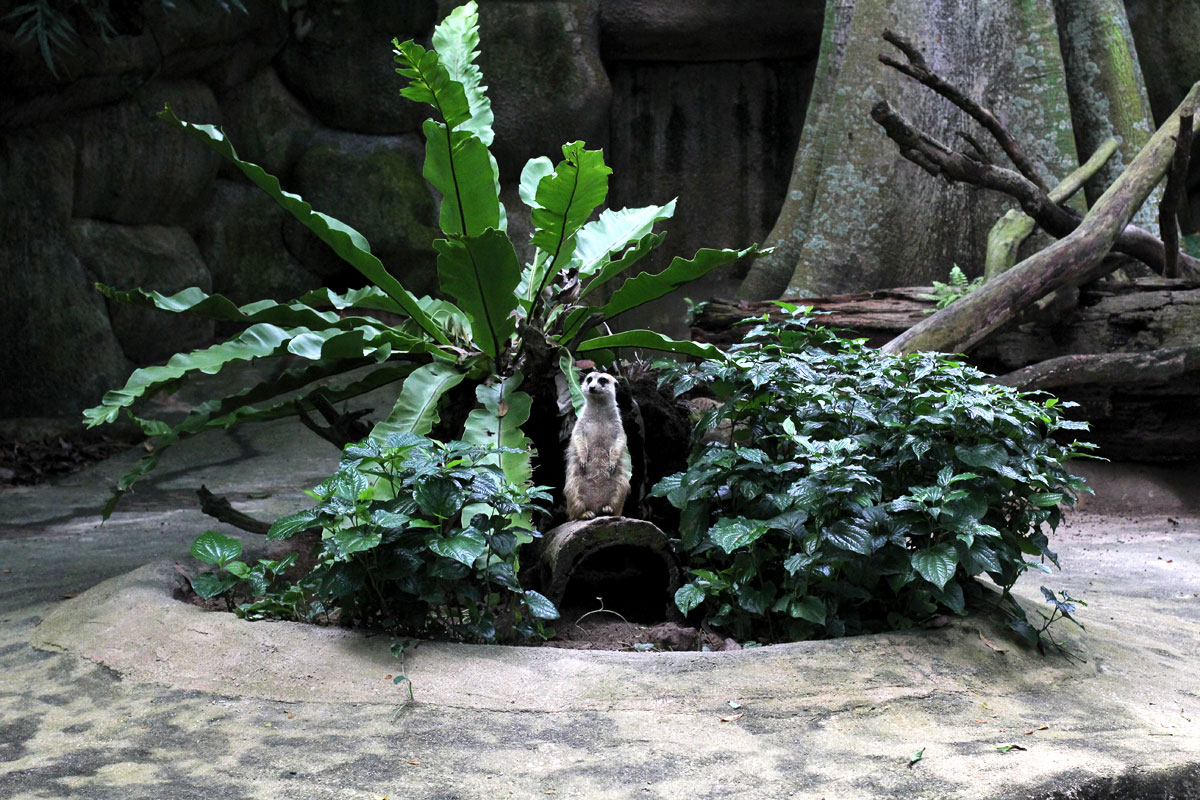 This was fun. The zoo has a feeding program where they allow guests to feed certain animals at different times of the day. We got here just in time for the giraffe feeding. They also offer feedings for many of the other animals like the elephants, goats, rhinos, lions, and baboons. That little guy is still too short to reach over the rails so all he can do is watch while his parents get all the treats. 😆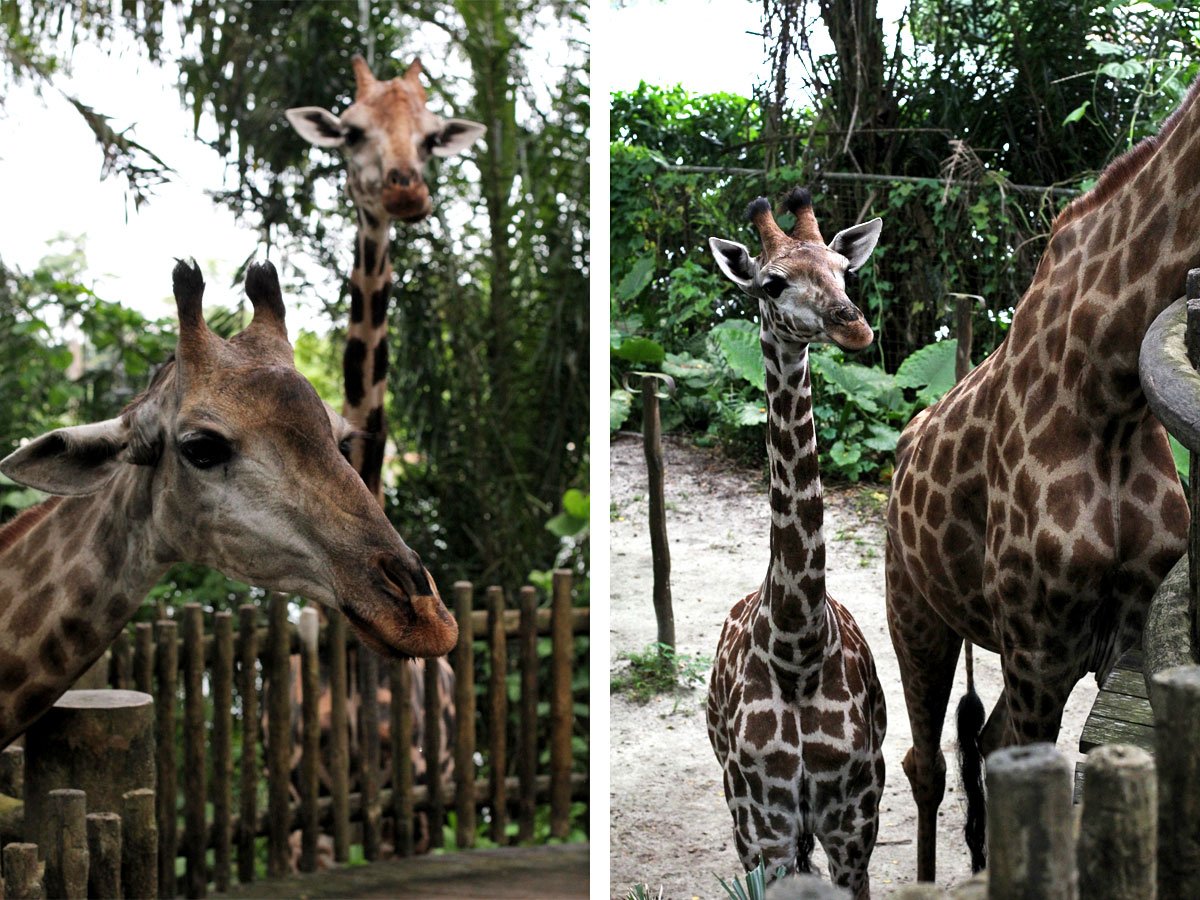 If I remember correctly, it cost SGD 5 to feed the giraffes. I wanted Ren to do it so I could take pictures of her, but they didn't have any change. Be sure to bring small bills because it looks like a lot of fun. We envy you blurry face lady! 🙁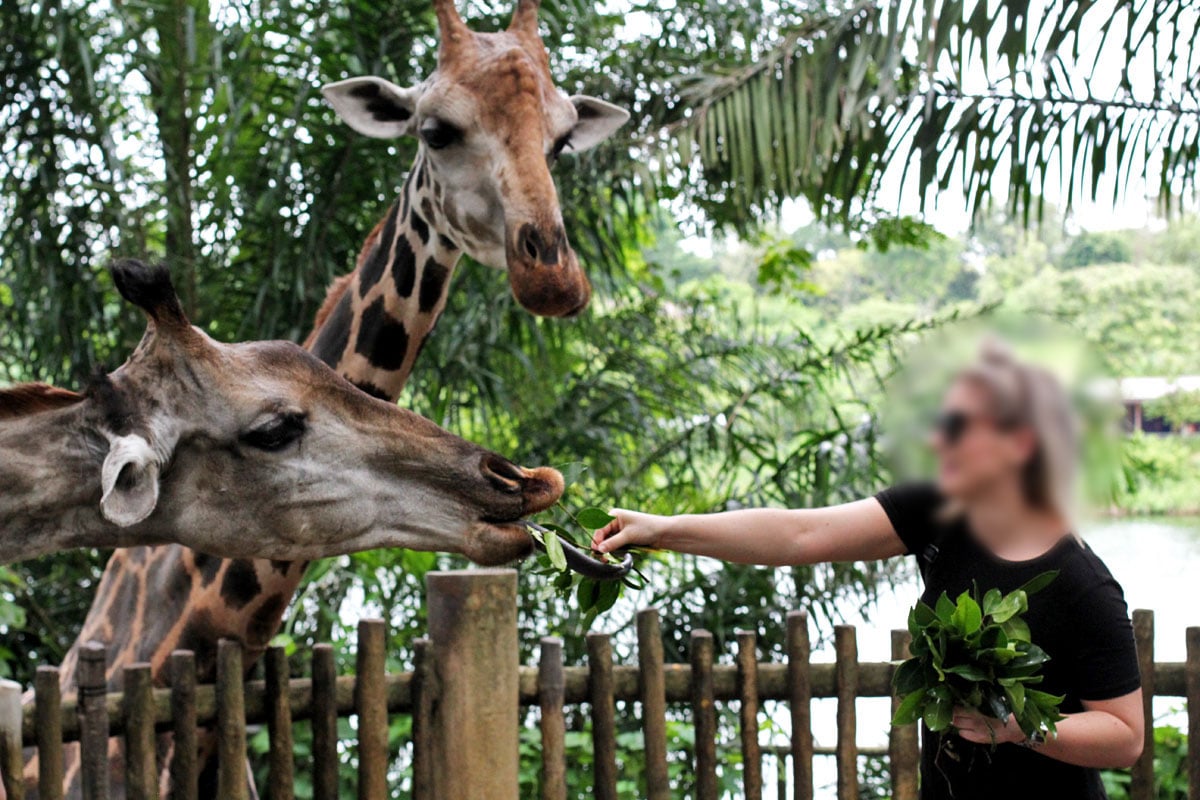 Check out that tongue! 😯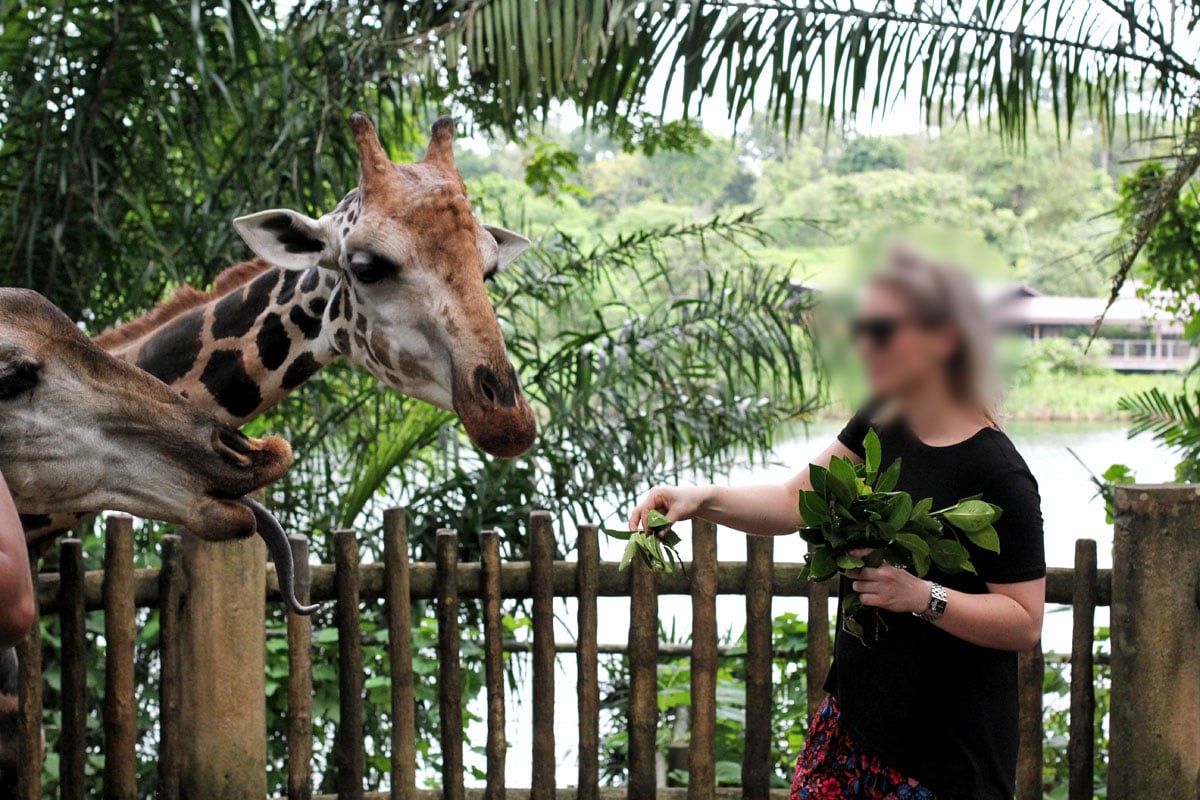 The mighty leopard. She looks so much more powerful than the cheetah.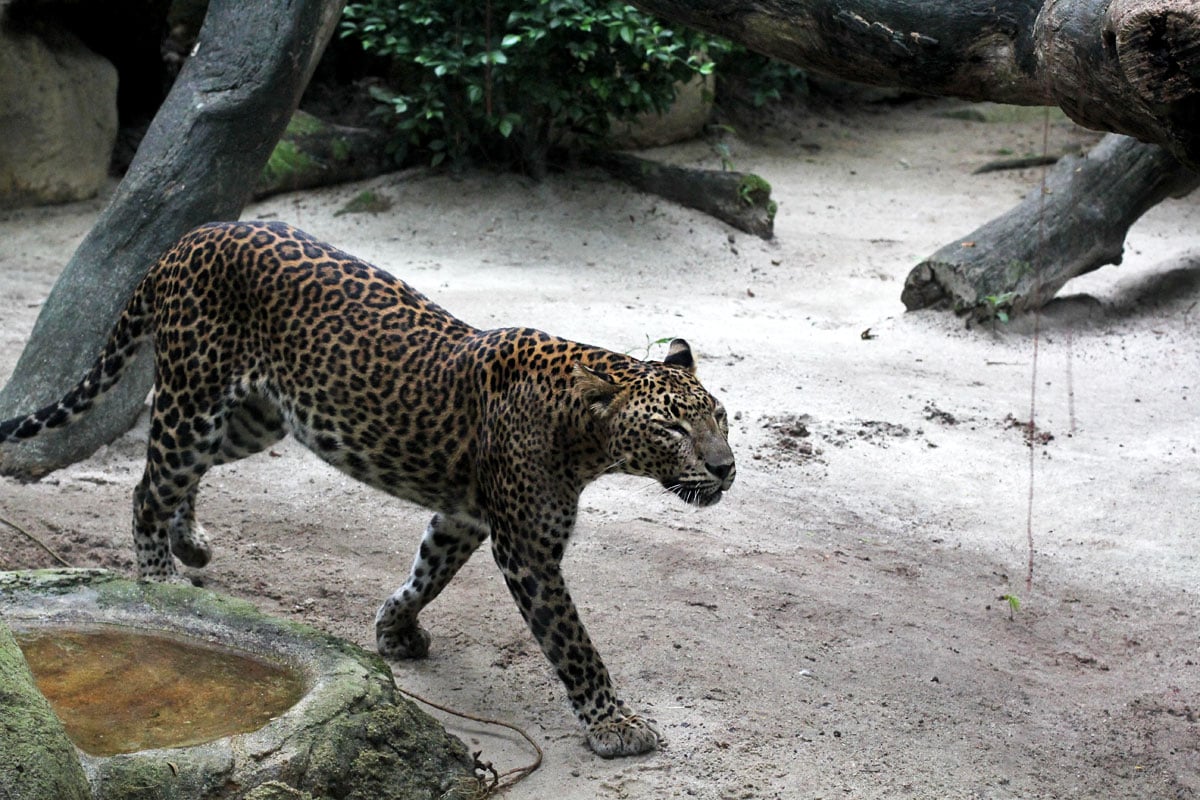 Eensie weensie caiman catching some rays.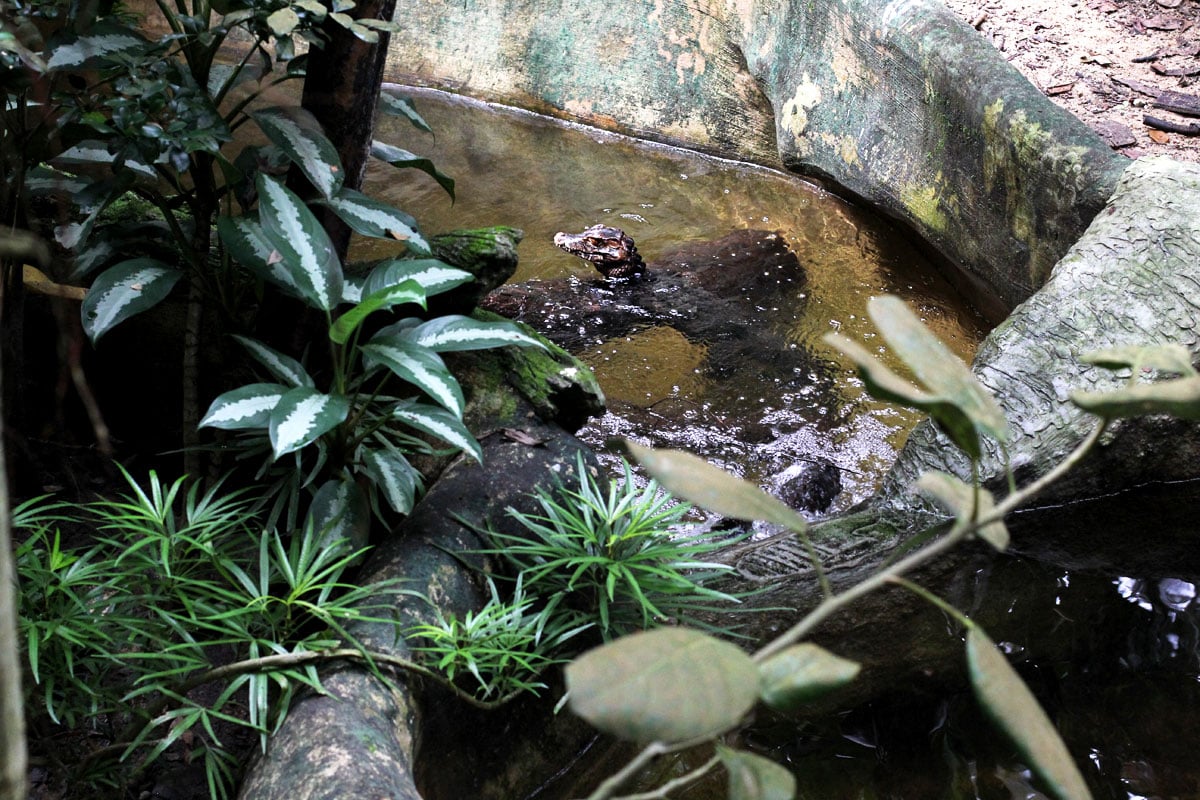 Iguana chillin' like a boss.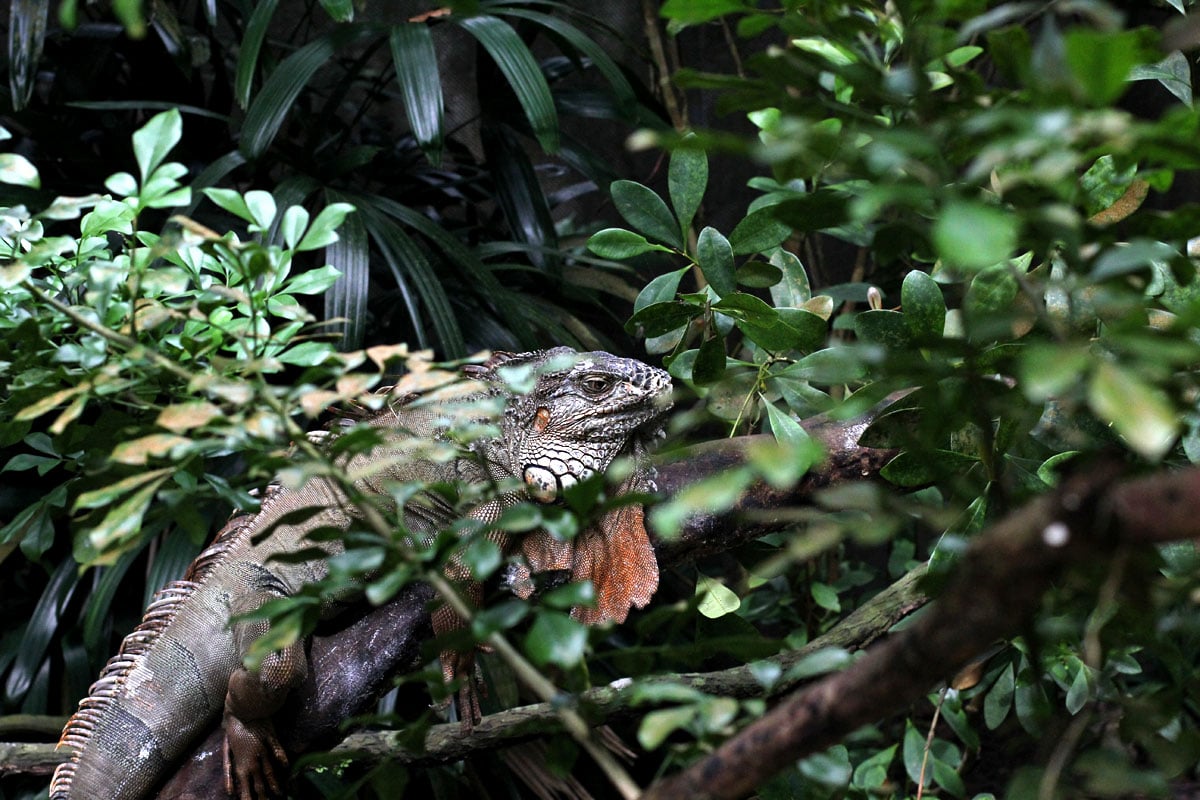 Gila monster. Isn't she a beauty? Gila monsters are one of the few lizard species that are venomous.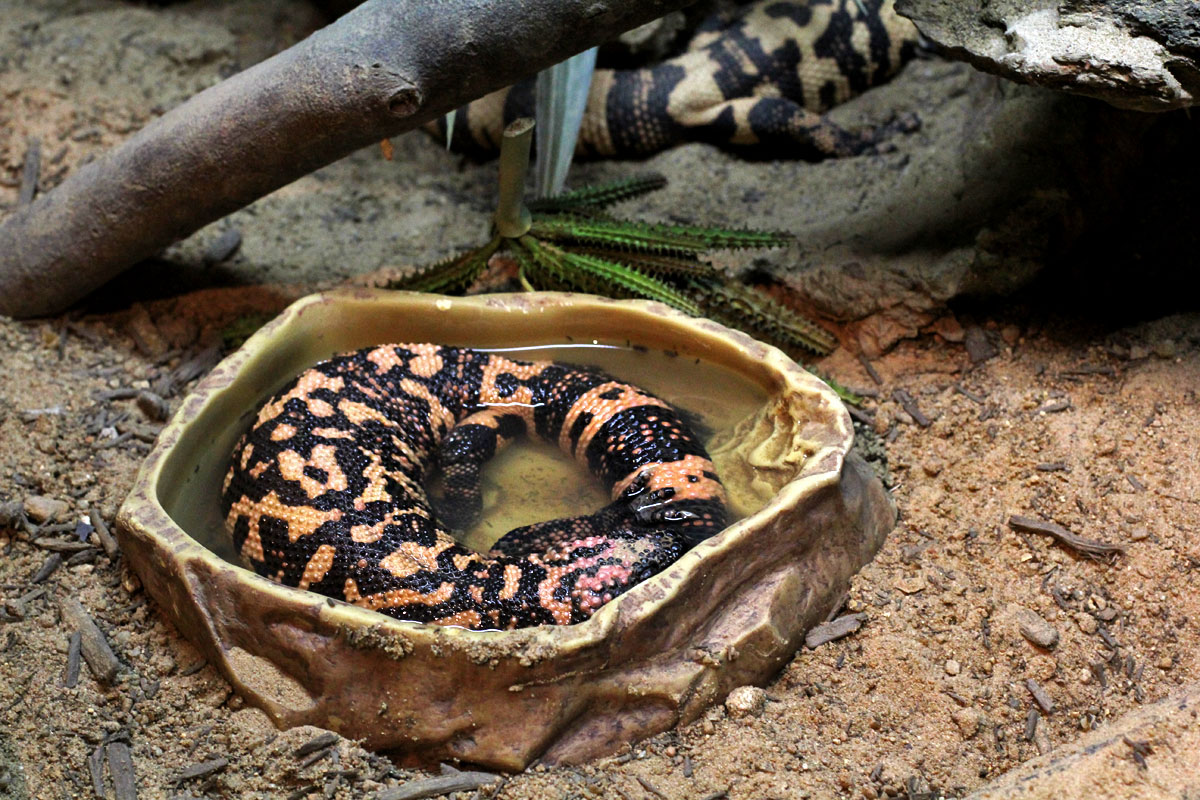 Vine snake looking coy.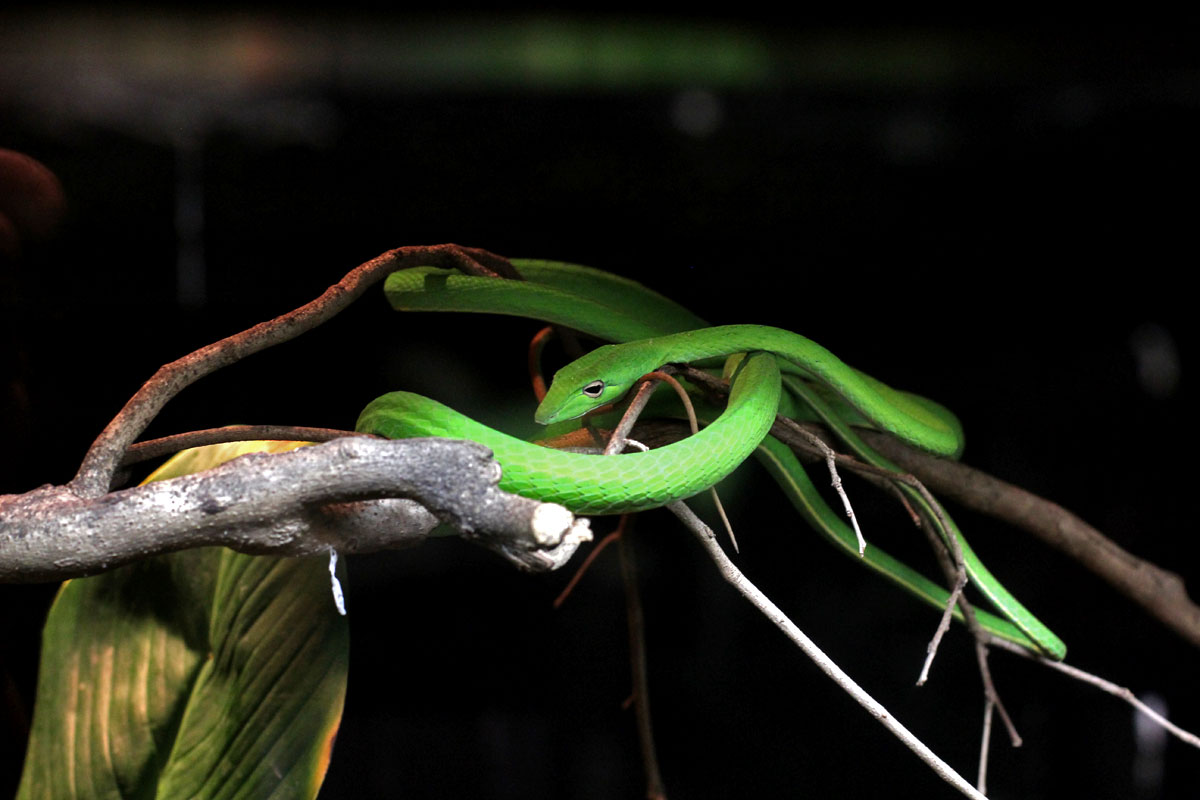 Komodo dragon, the badasses of the lizard family. It was once thought that toxic bacteria in the dragon's saliva was responsible for taking down prey, but it's been found that they actually kill with venom. The dragon's venom rapidly decreases blood pressure, expedites blood loss, and sends its prey into shock and ultimately death.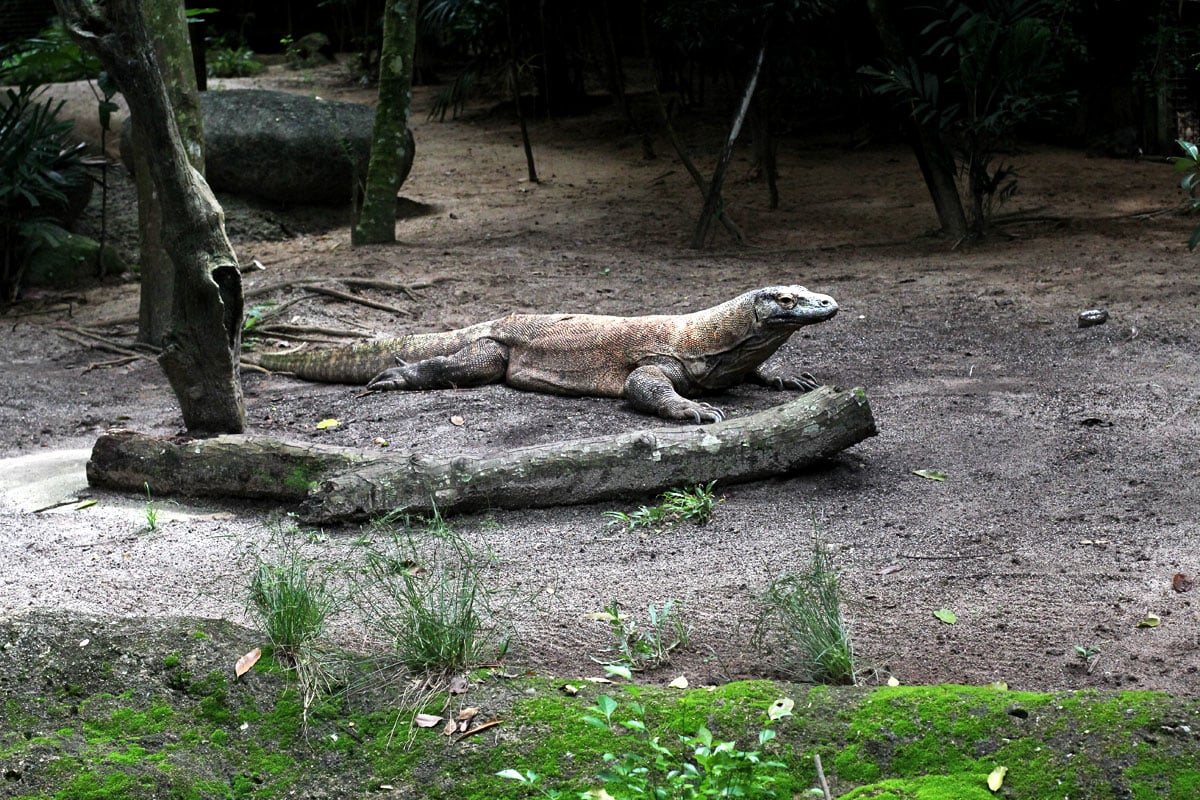 Giant Aldabra tortoises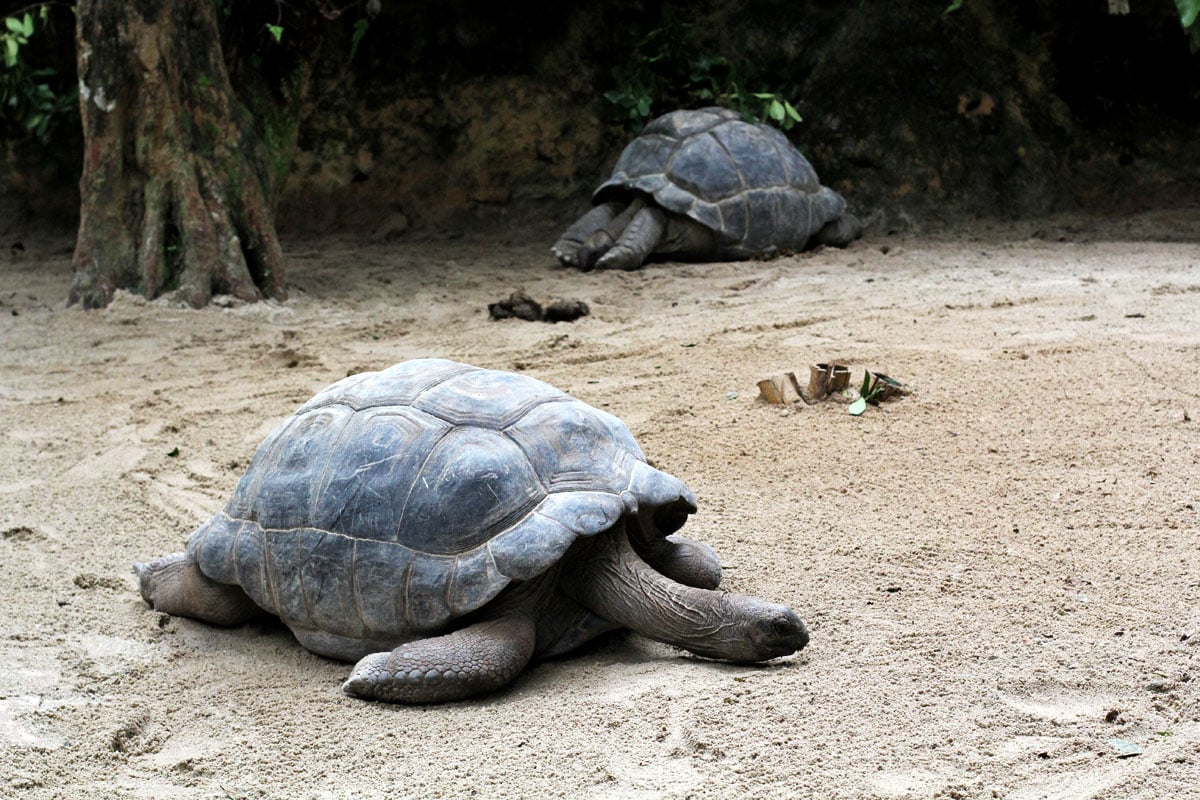 Bornean orangutan just hanging out.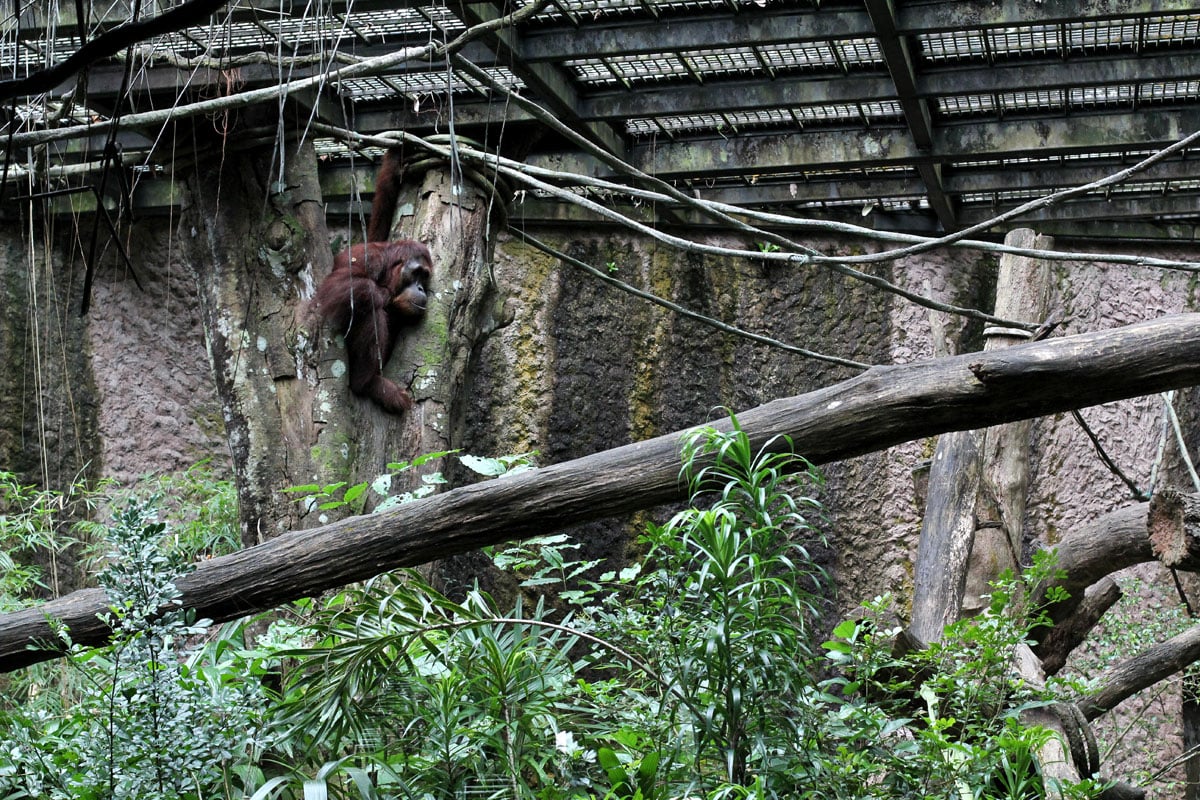 African penguins saying what up?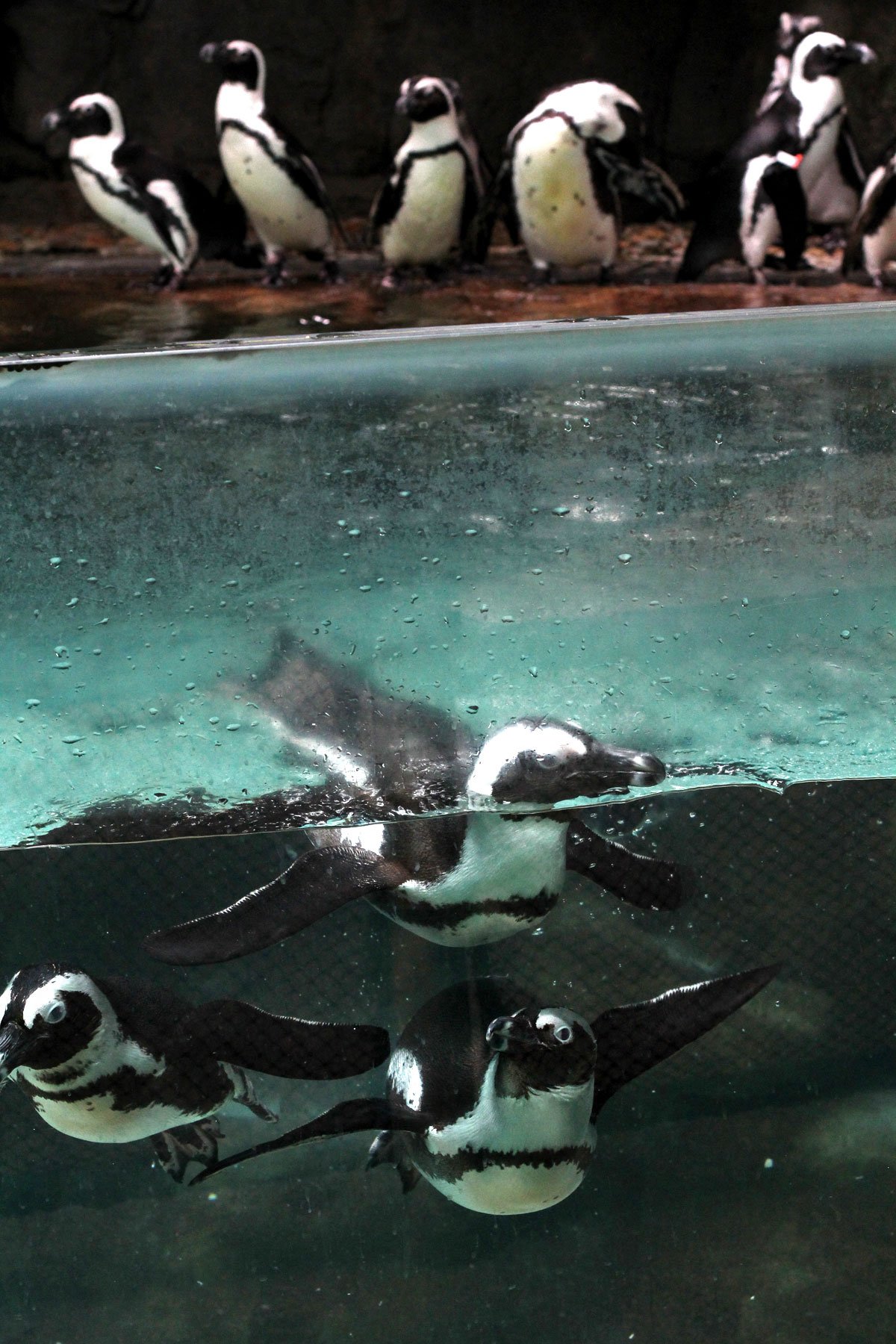 Not sure what these large birds are. Storks maybe?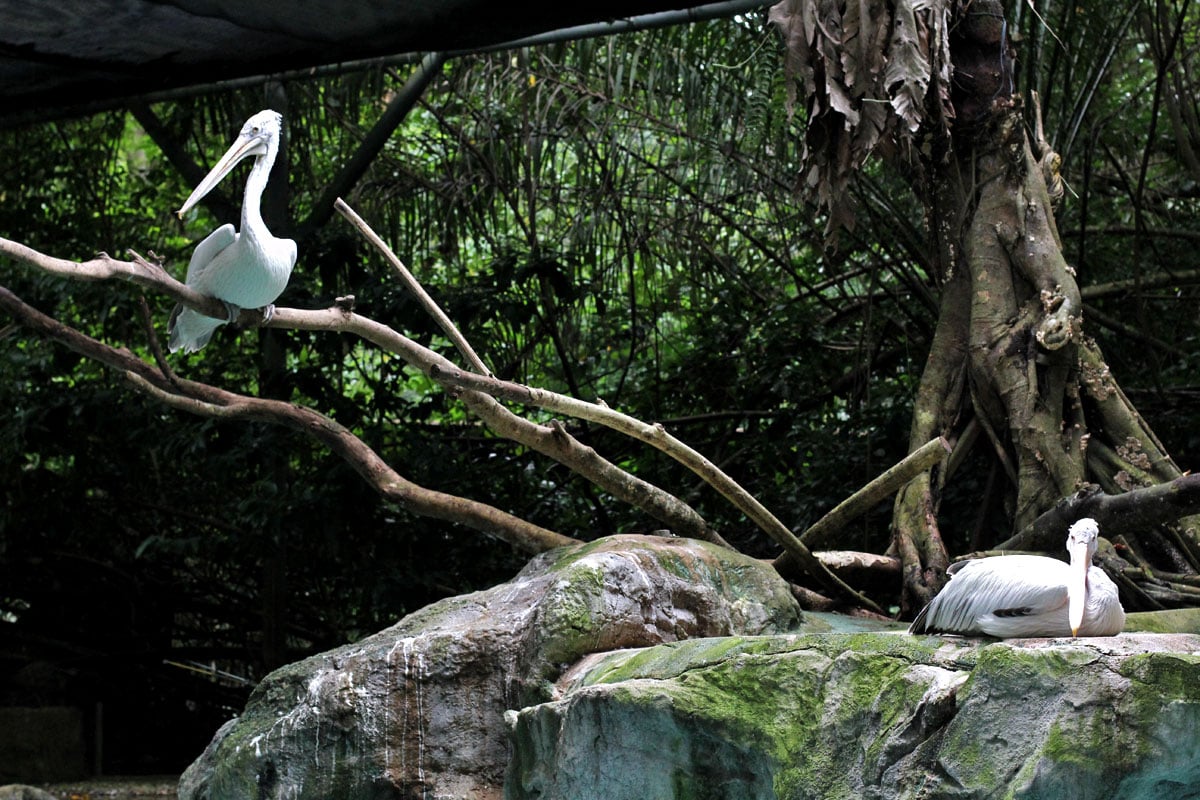 Asian elephants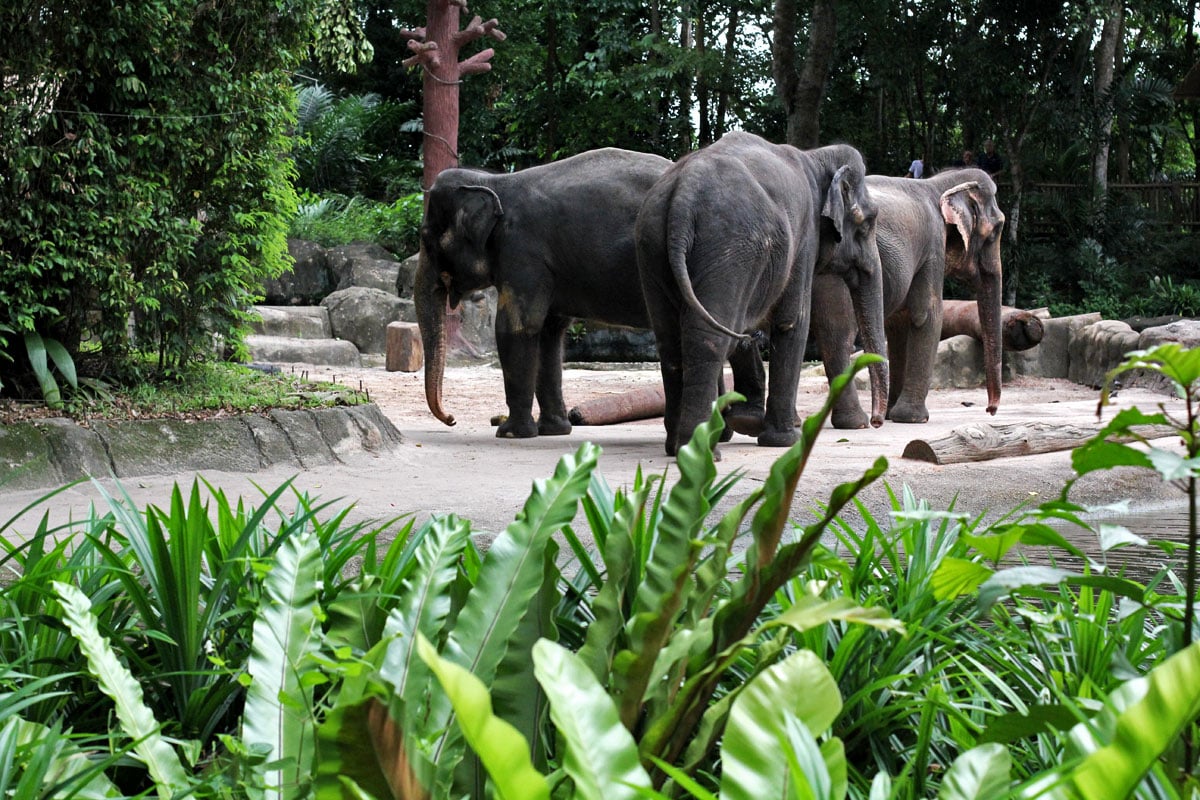 This exhibit was awesome. All around the moat surrounding these elephants were huts with stadium style seats which you can get to via a wooden circular platform. We didn't watch it but you can catch the Elephant Show here at 11:30AM and 3:30PM daily.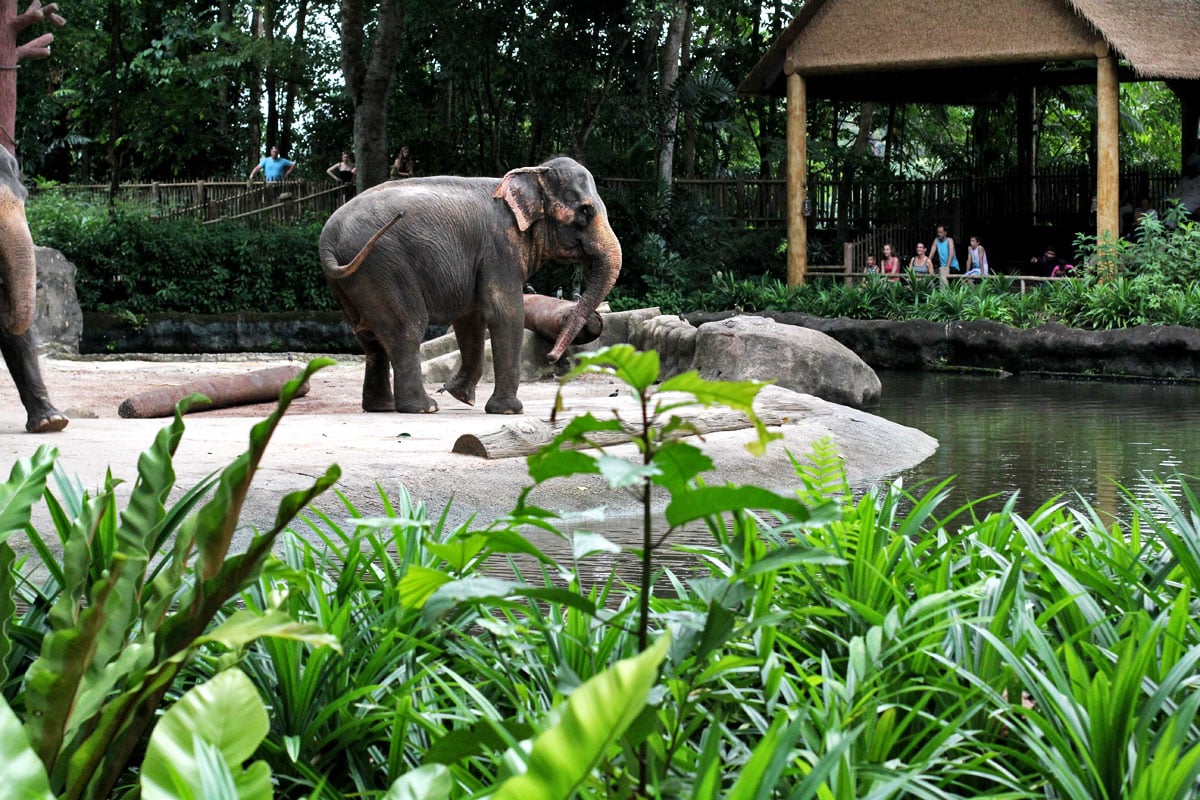 This was a scene from the Rainforest Fights Back show held at 12:30PM and 2:30PM everyday. It was lame so don't even bother unless you have kids. 😆 Apart from these two shows, there's also the Splash Safari and Animal Friends Show. The Splash Safari features sea lions while the Animal Friends Show has domesticated animals doing tricks.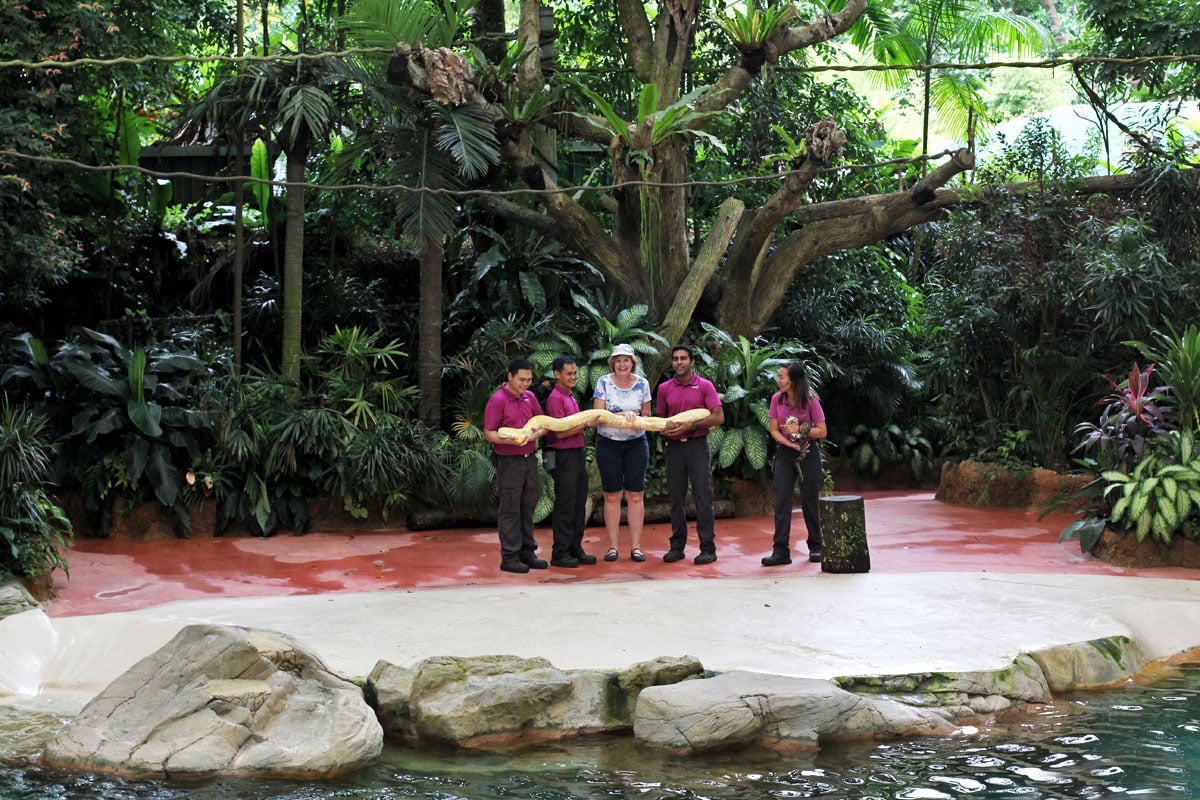 "Excuse me, but do you know the way to San Jose?"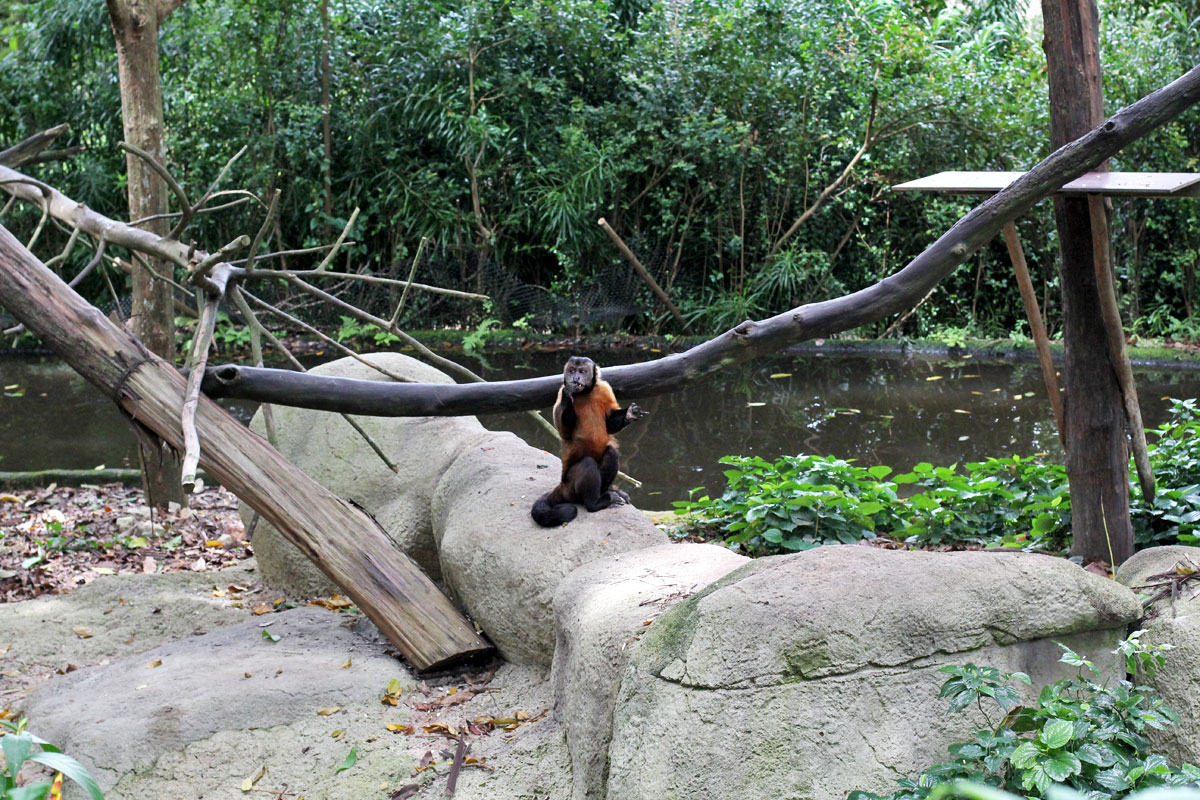 Baby got back! Check out the crested macaque parading around its big red butt.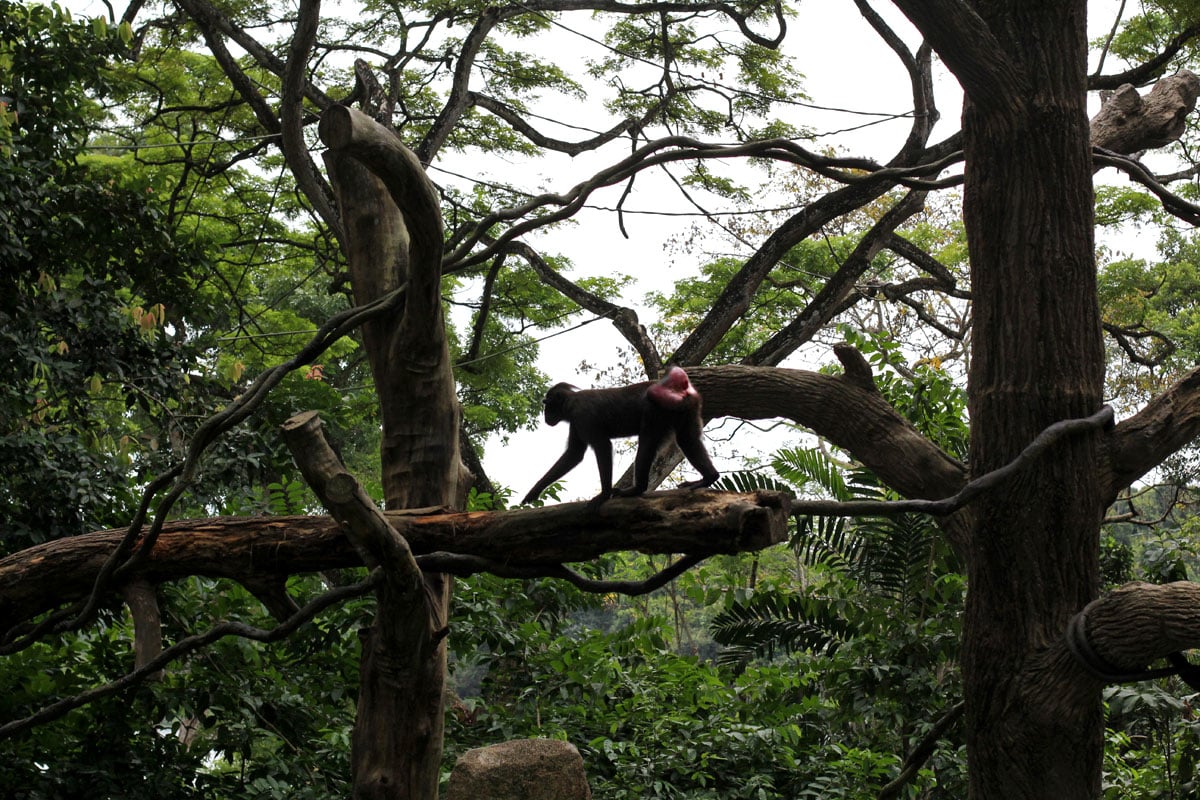 Smack that ass!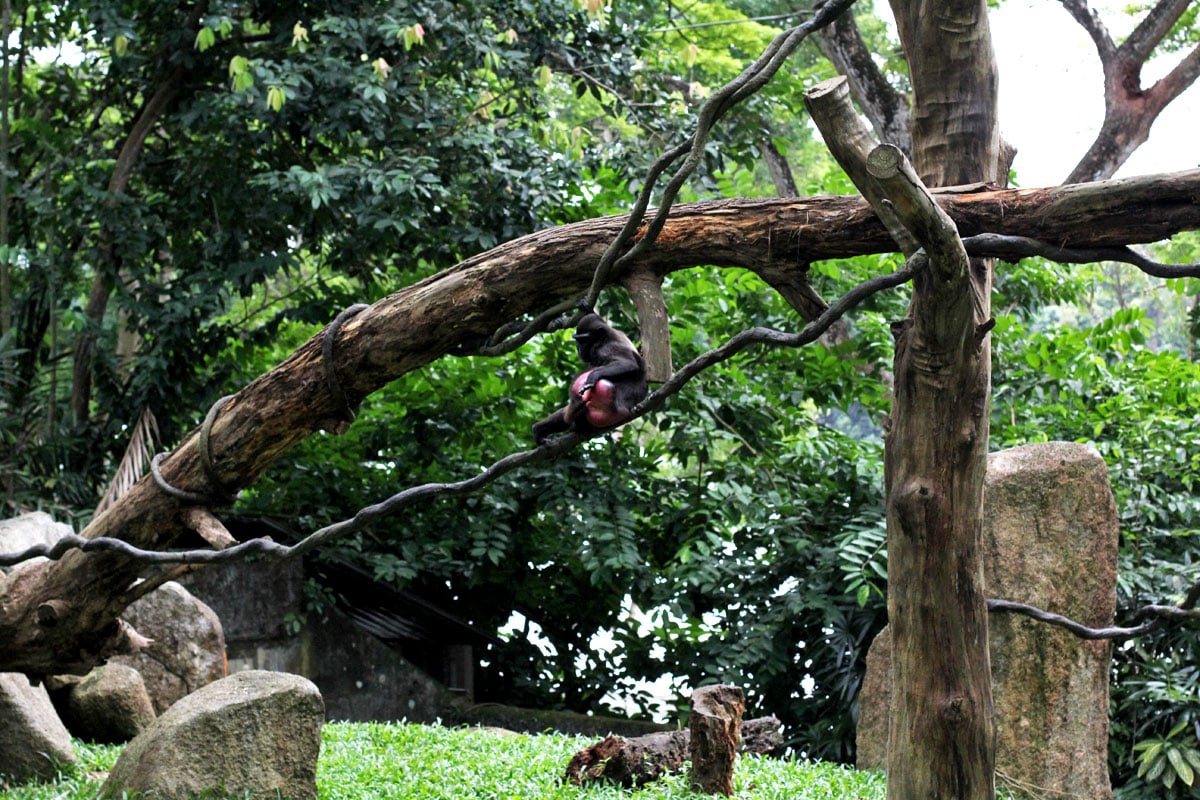 The mysterious white tiger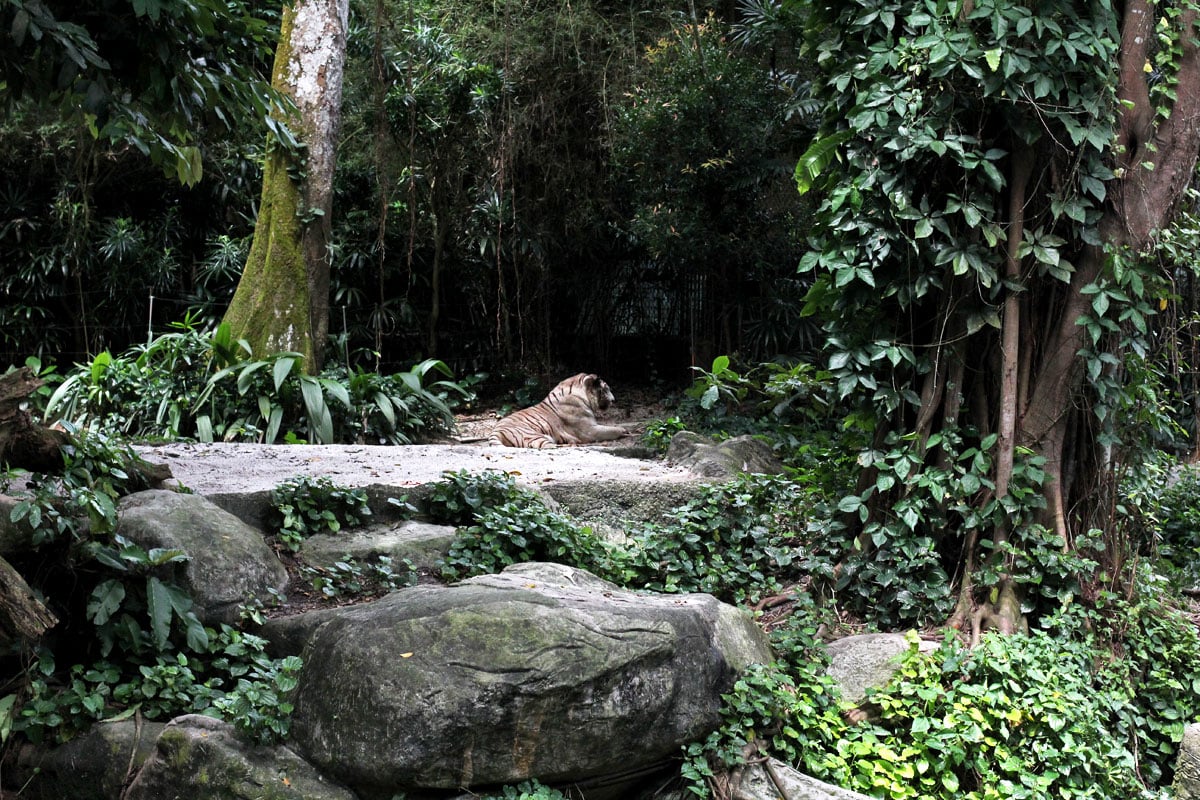 Pygmy hippo taking a dip.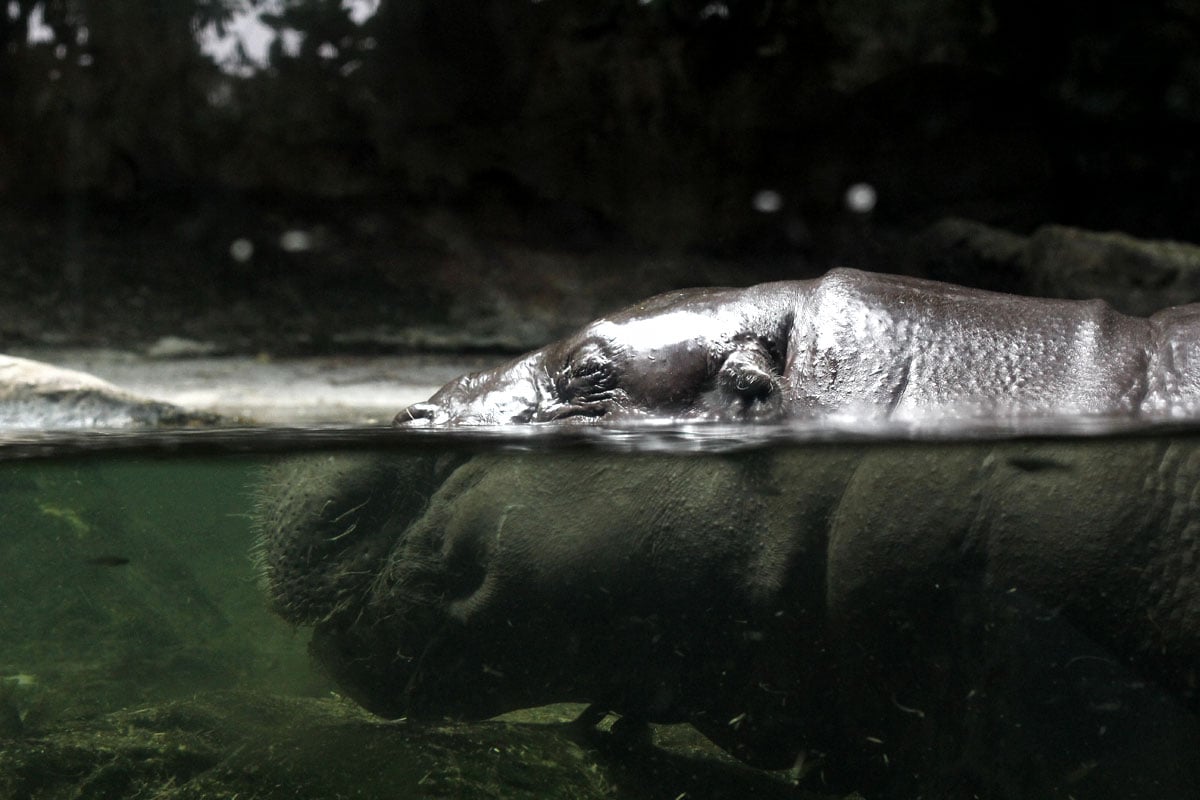 The TripAdvisor community got this one absolutely right. They usually do anyway which is why I love them. I've visited a few zoos in Asia, North America, and Australia and Singapore Zoo is one of the best and most pleasant I've been to thus far.
The animals pictured above are just a fraction of what you can find at the zoo so I've included a link to the Singapore Zoo map to show you exactly what's there. It's a big, beautifully landscaped zoo with a diverse collection of animals that look happy and well cared for. Space and husbandry don't seem to be issues here. Like the rest of Singapore, the grounds are clean and immaculately kept. There are plenty of signs with tidbits of information about the animals, including some that are meant to educate the public on the threats these animals face and what we can do to help them.
Admission to the zoo is usually SGD 35 for adults and SGD 23 for kids ages 3-12. But if you purchase advance tickets online, then you can lower the cost of admission by getting a ParkHopper Pass. If you go to any 2 of these 4 animal parks in Singapore — Singapore Zoo, Jurong Bird Park, Night Safari, and River Safari — then admission to each one can be as low as SGD 22.05 for adults and SGD 13.05 for kids. If you go to all 4, then admission to each drops to SGD 15.53 and SGD 11.03 respectively! ParkHopper passes are valid for 7 days from the date of your first visit. You can follow this link to the Singapore ParkHopper page for more information.
If you want to visit just Singapore Zoo, then you can get a discount on admission by purchasing your tickets from Klook. Follow the link to purchase tickets to Singapore Zoo from Klook.
Singapore Zoo
80 Mandai Lake Road, Singapore
Tel: +65 6269 3411
Website: www.zoo.com.sg
Twitter: tweetWRS
Email: [email protected]
Operating Hours: 8:30AM-6PM daily
ADMISSION:
Adult – SGD 35
Children (ages 3-12) — SGD 23
HOW TO GET THERE:
Take the MRT to Ang Mo Kio station (NS16). Exit the MRT station and cross the street to the bus station. Take Bus 138 to Singapore Zoo.
For more Singapore travel tips, check out our First-Timer's Travel Guide to Singapore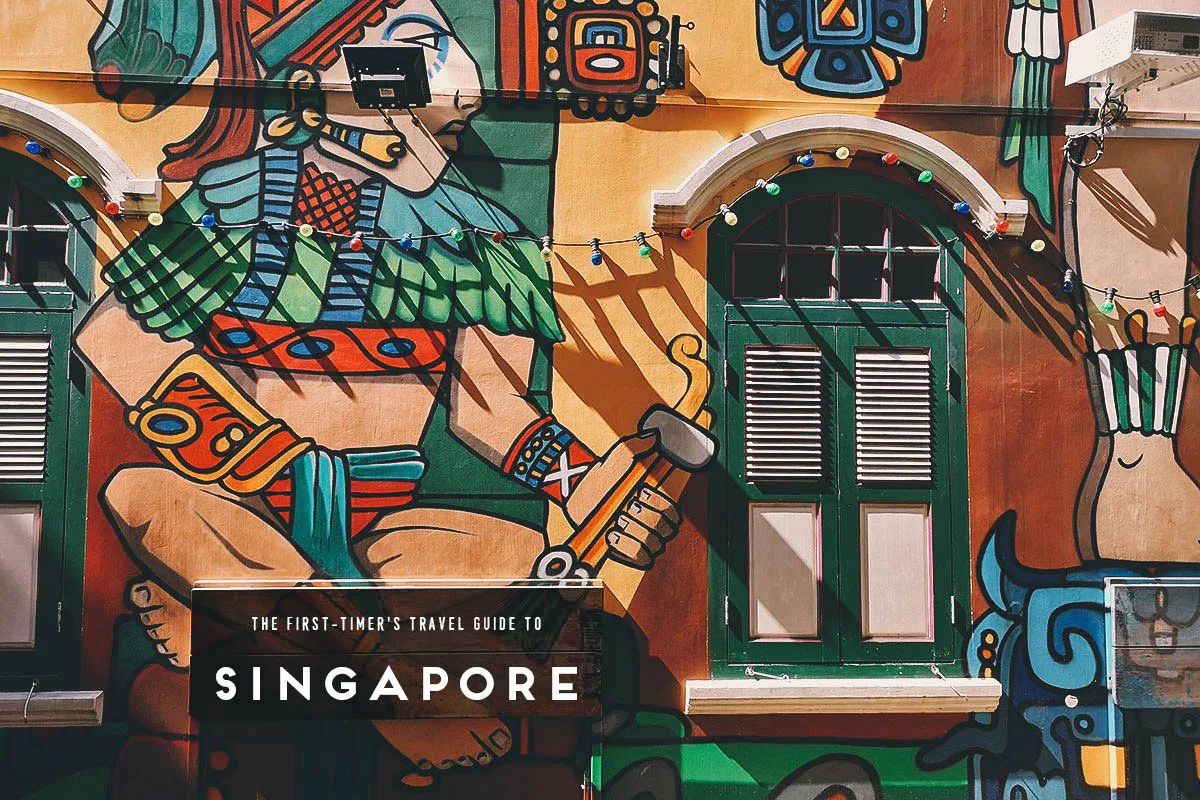 Disclosure
Some of the links in this post are affiliate links, meaning we'll get a small commission if you make a purchase or reservation at NO extra cost to you. We really appreciate your support as this helps us keep this website going. Thank you!