Wow. Just WOW. Gardens by the Bay is pretty spectacular overall but this conservatory in particular just blew us away. It's one of the most breathtaking attractions we've ever been to.
The Cloud Forest is a domed conservatory featuring a 35-meter-tall mountain covered in lush vegetation. The mere sight of it will have your jaw on the floor. Densely planted with orchids, ferns, bromeliads, and even carnivorous pitcher plants, it's meant to mimic tropical highlands environments up to 2,000 meters above sea level. The artificial mountain boasts the world's tallest indoor waterfall and features an amazing Cloud Walk platform that gives you stunning aerial views of the entire conservatory.
Singapore is teeming with awesome attractions but this Cloud Forest may be the best of them all.
Cloud Forest
Coming up to the Cloud Forest. To its left is the Flower Dome which is just as spectacular. Combined admission to both conservatories is SGD 30 for adults and SGD 18 for kids ages 3-12, though discounts are available. More information at the bottom of this post.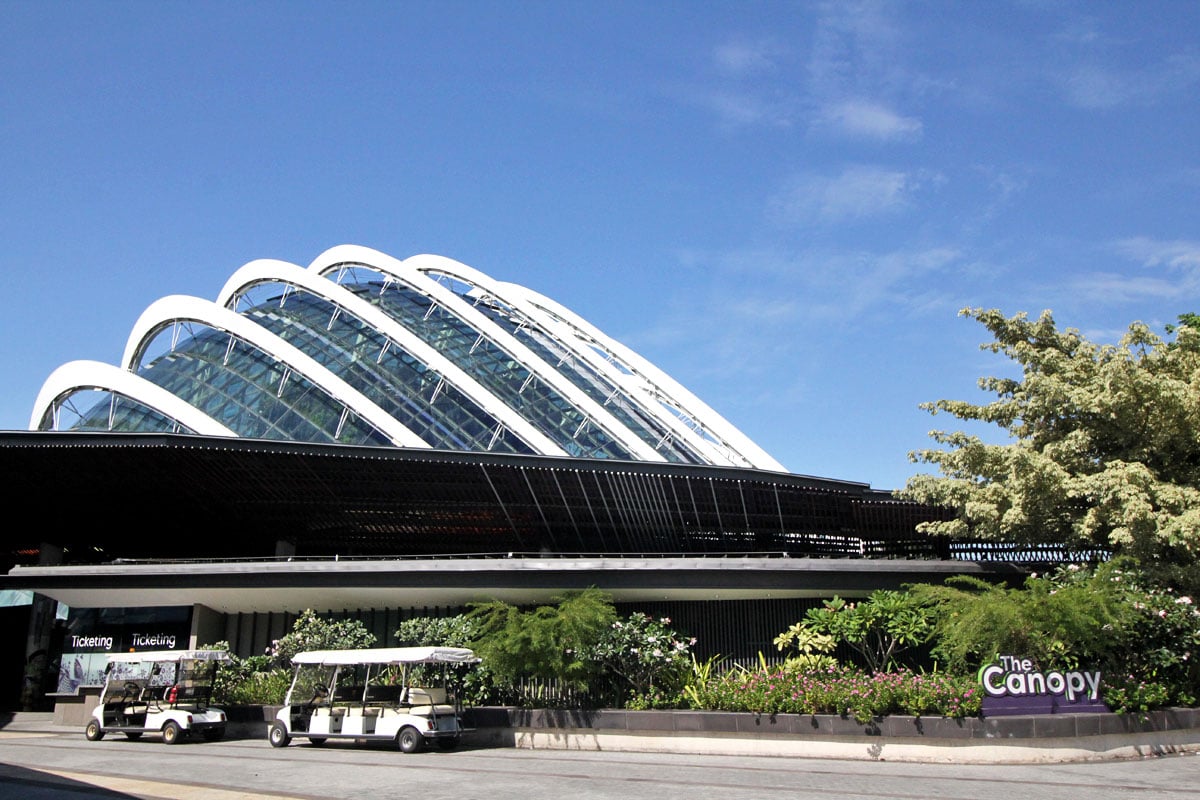 BANG. This is what you see the moment you enter the dome — the world's tallest indoor waterfall. It's a breathtaking sight that really sets the tone for your visit. See that platform to the left of the mountain? You can go there to view the waterfalls from up close.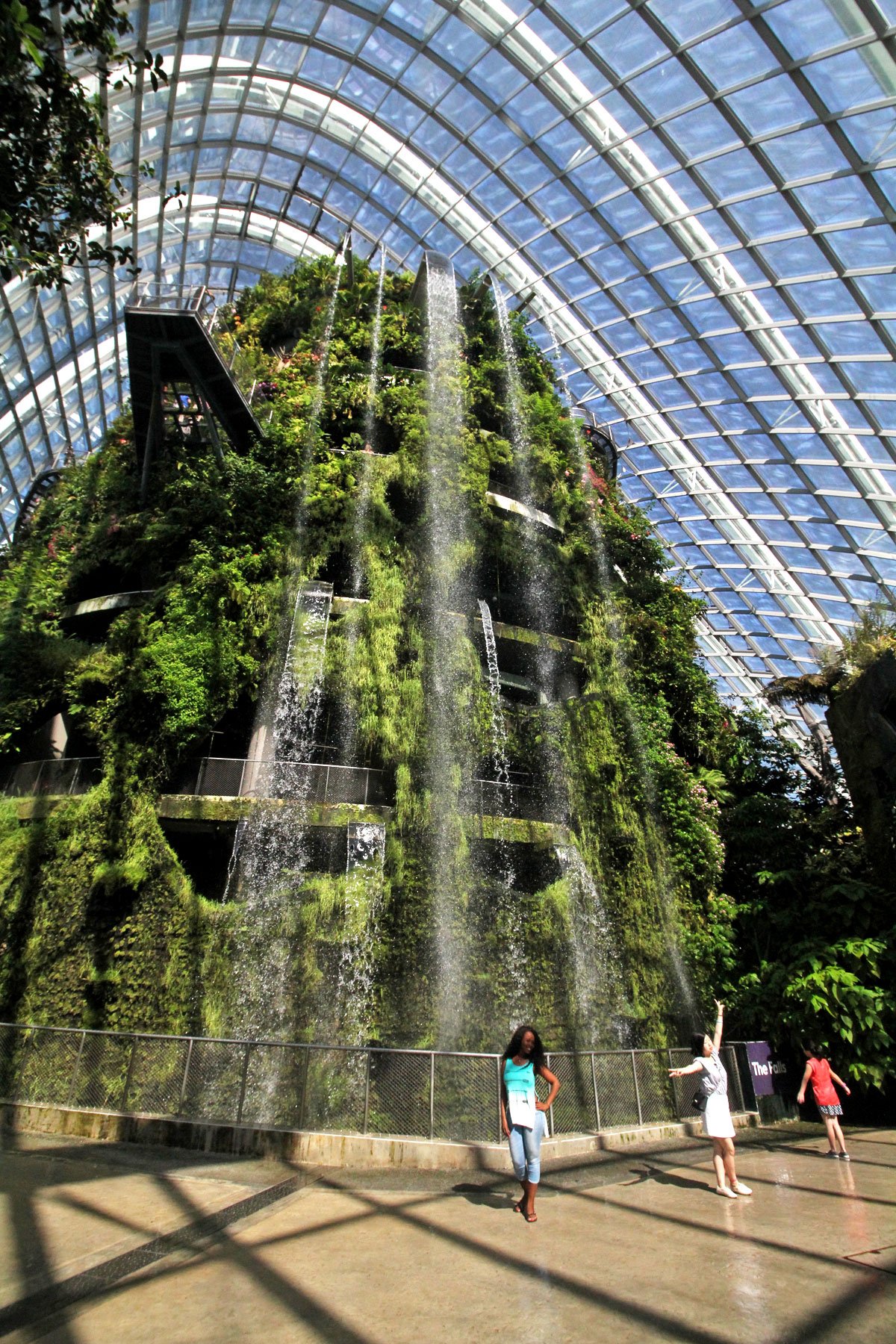 The Cloud Walk platform. We couldn't wait to get up there!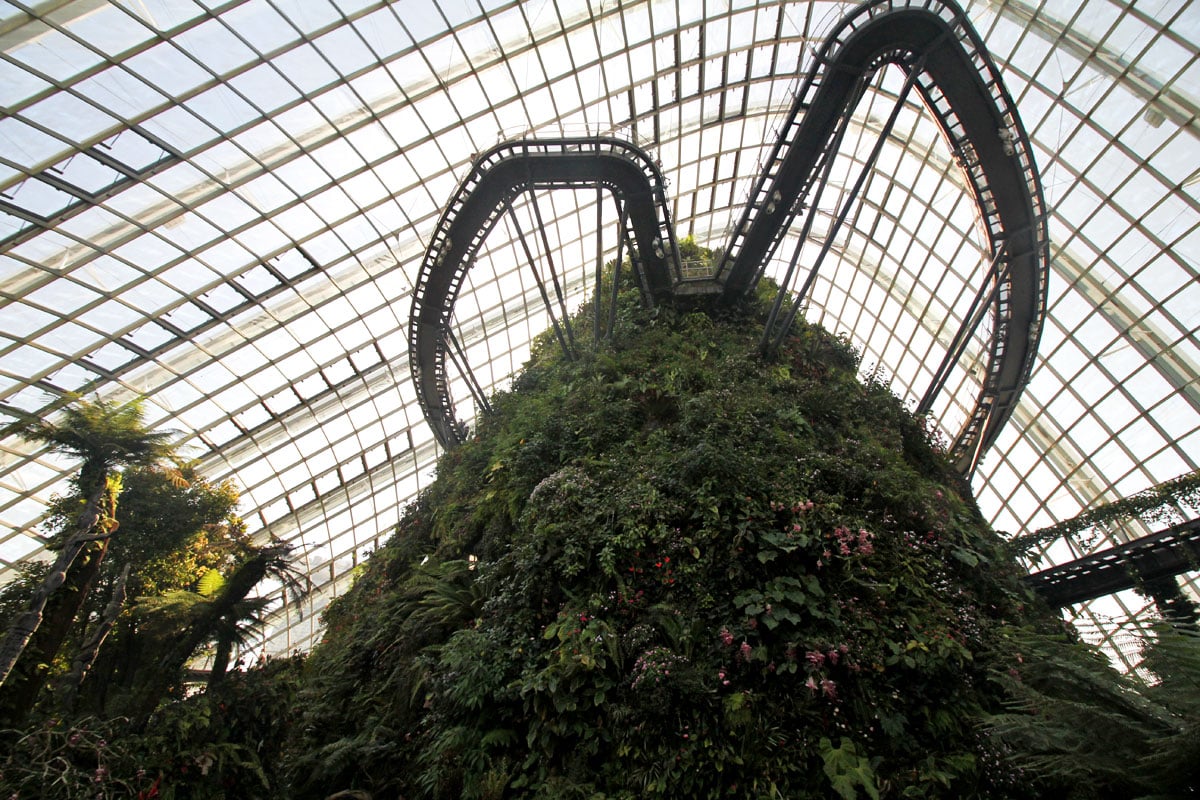 The conservatory is lush and teeming with vegetation, and not just on the mountain either. Plants and trees are everywhere.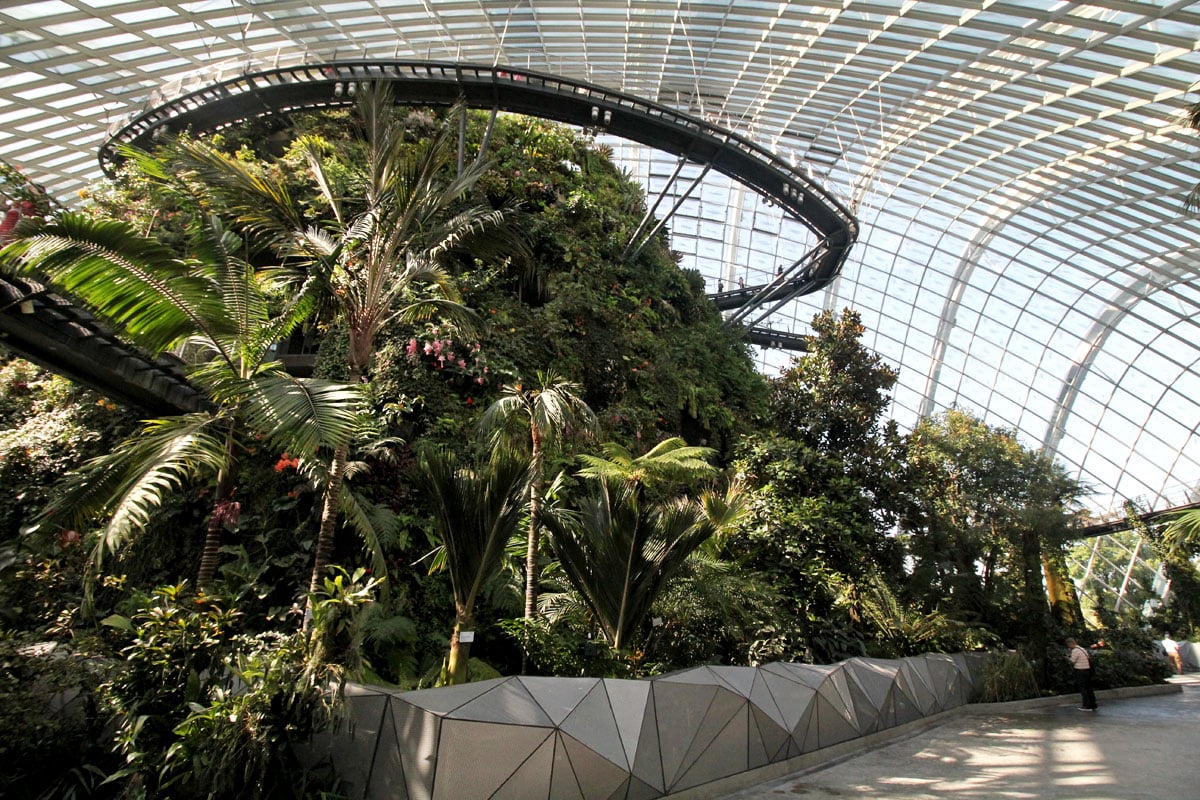 Cloud Forest has two sets of platforms — the Cloud Walk and this Tree Top Walk which is lower to the ground.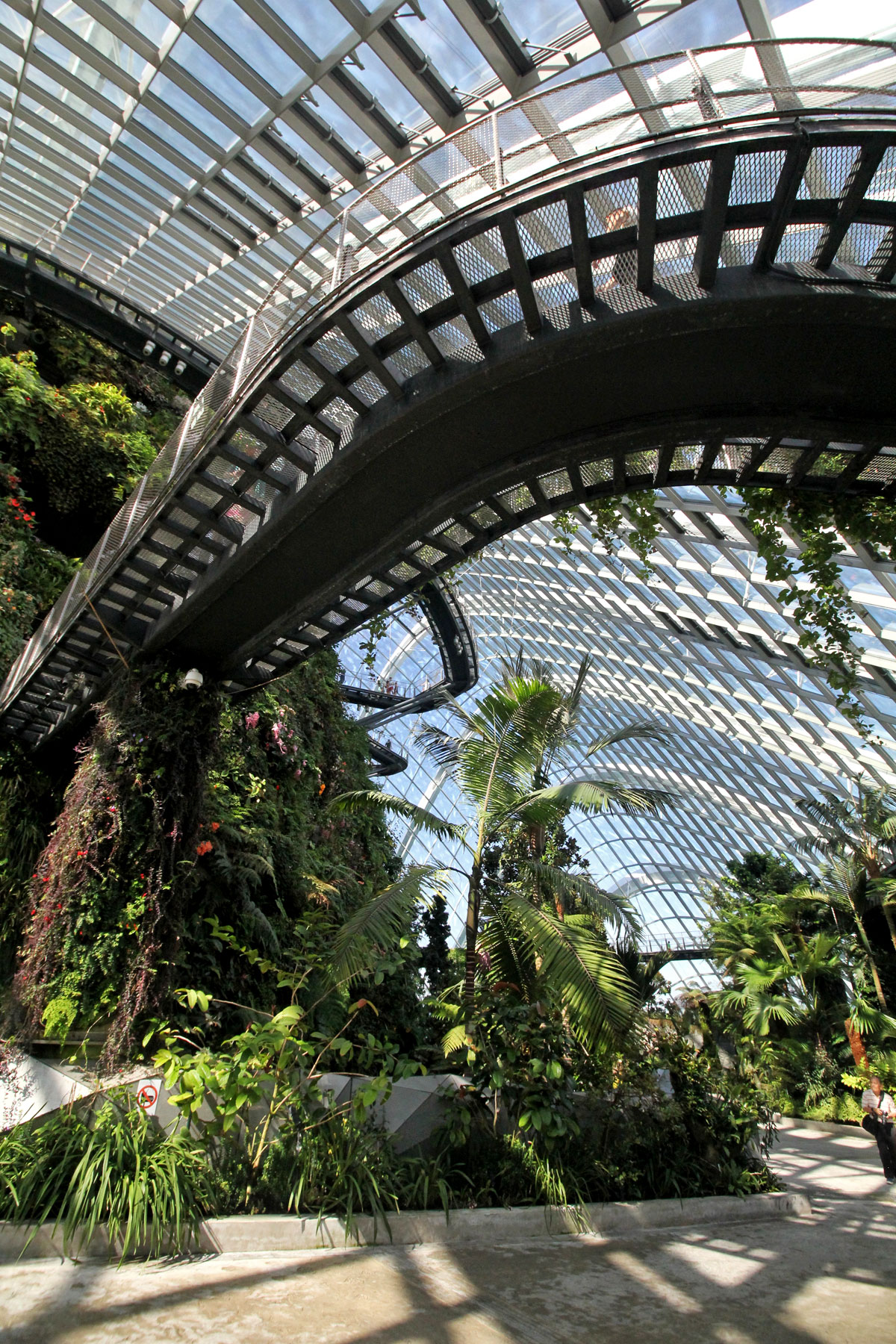 The plants that blanket the artificial mountain are known as epiphytic plants. Epiphytic plants grows harmlessly on other plants (like trees) and derive their moisture and nutrients from the air.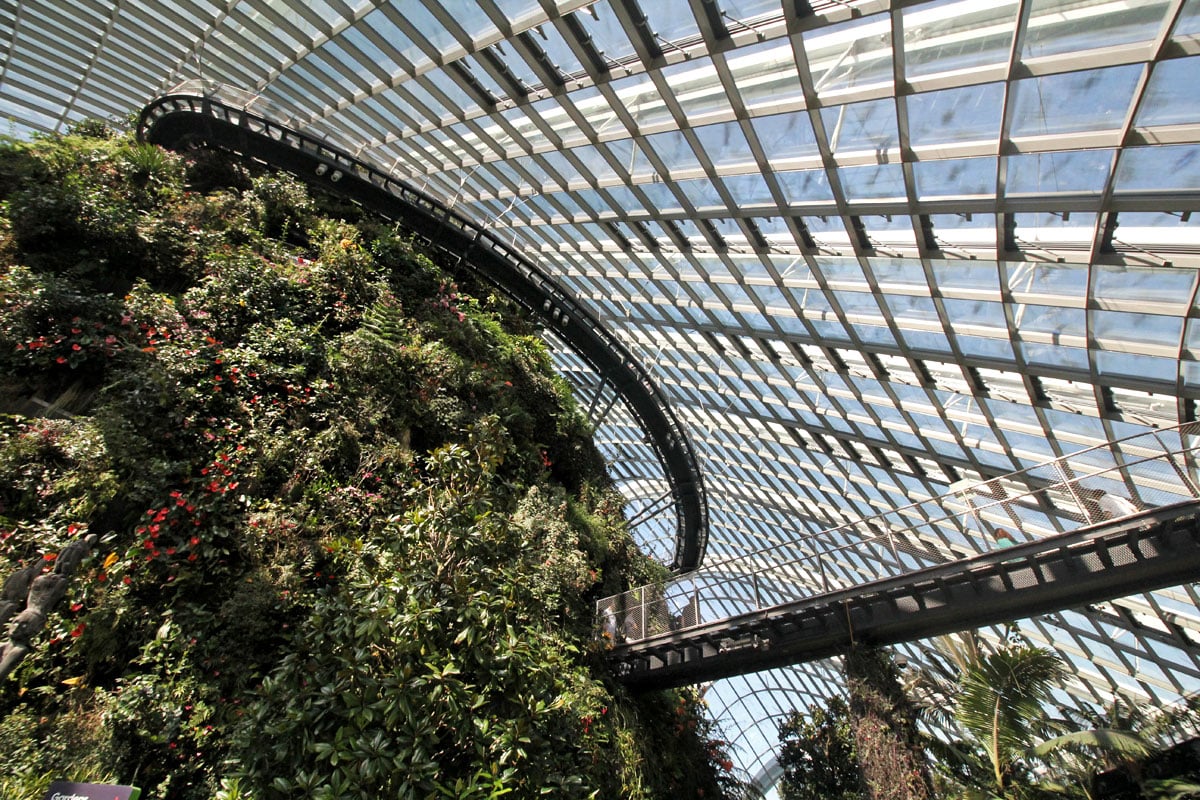 A cluster of pitcher plants surrounded by Lego models. Pitcher plants are cool. They're carnivorous plants which trap and kill insects that fall into their cup. Attracting them with nectar, the rims of the cups are slippery causing the insects to fall into a deep chamber filled with digestive fluids. 😈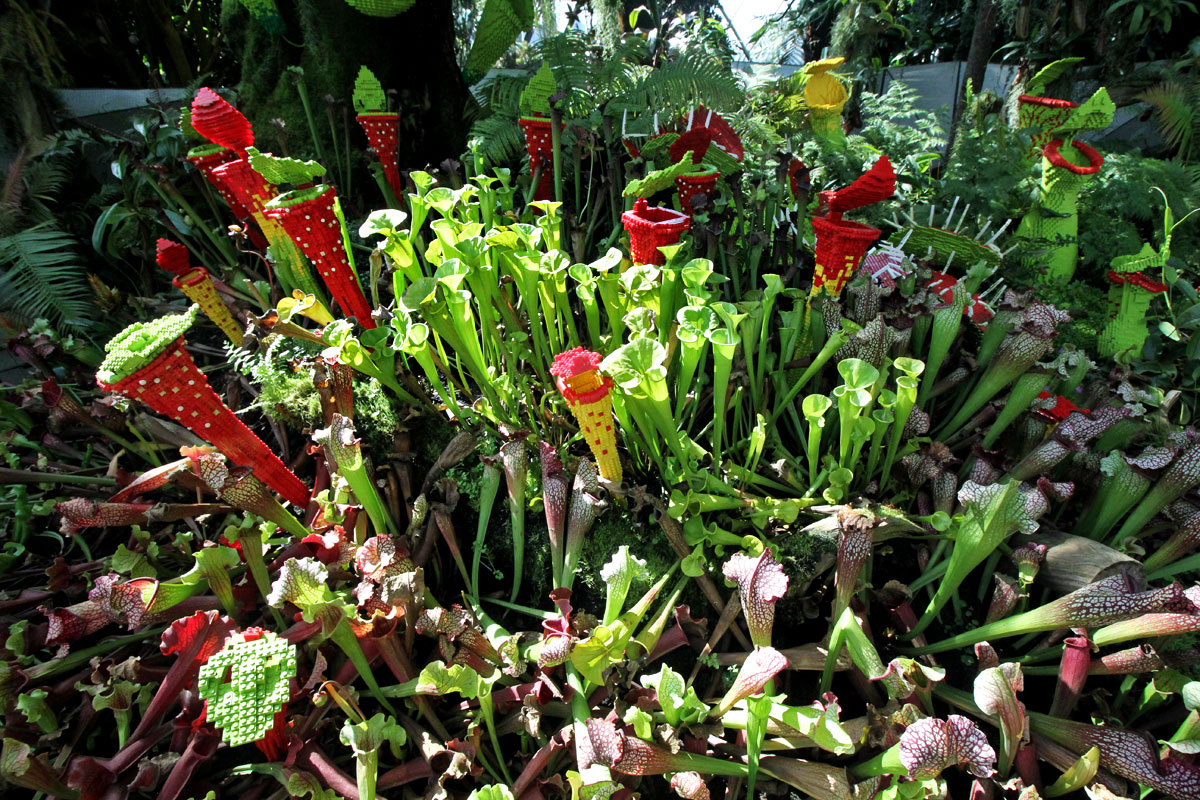 Equally awesome, equally carnivorous Venus fly traps.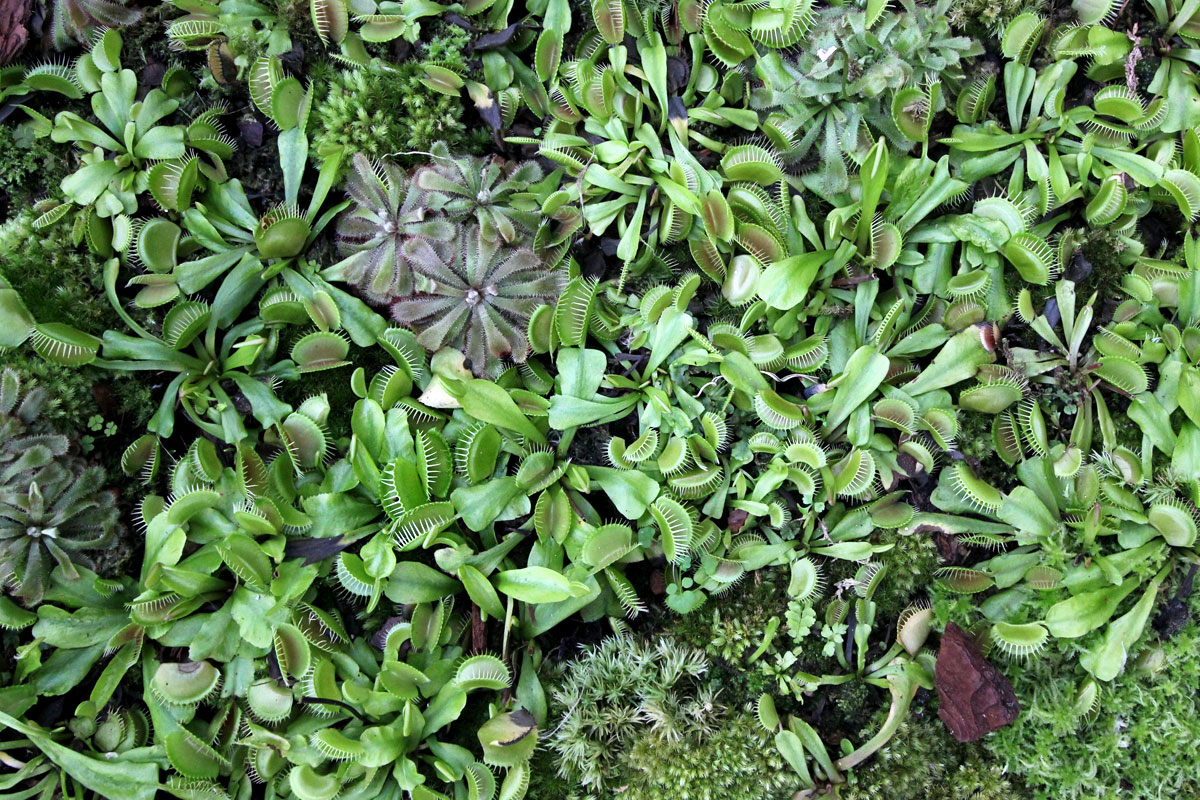 Your tour starts at the highest level of the mountain. A lift takes you to the top.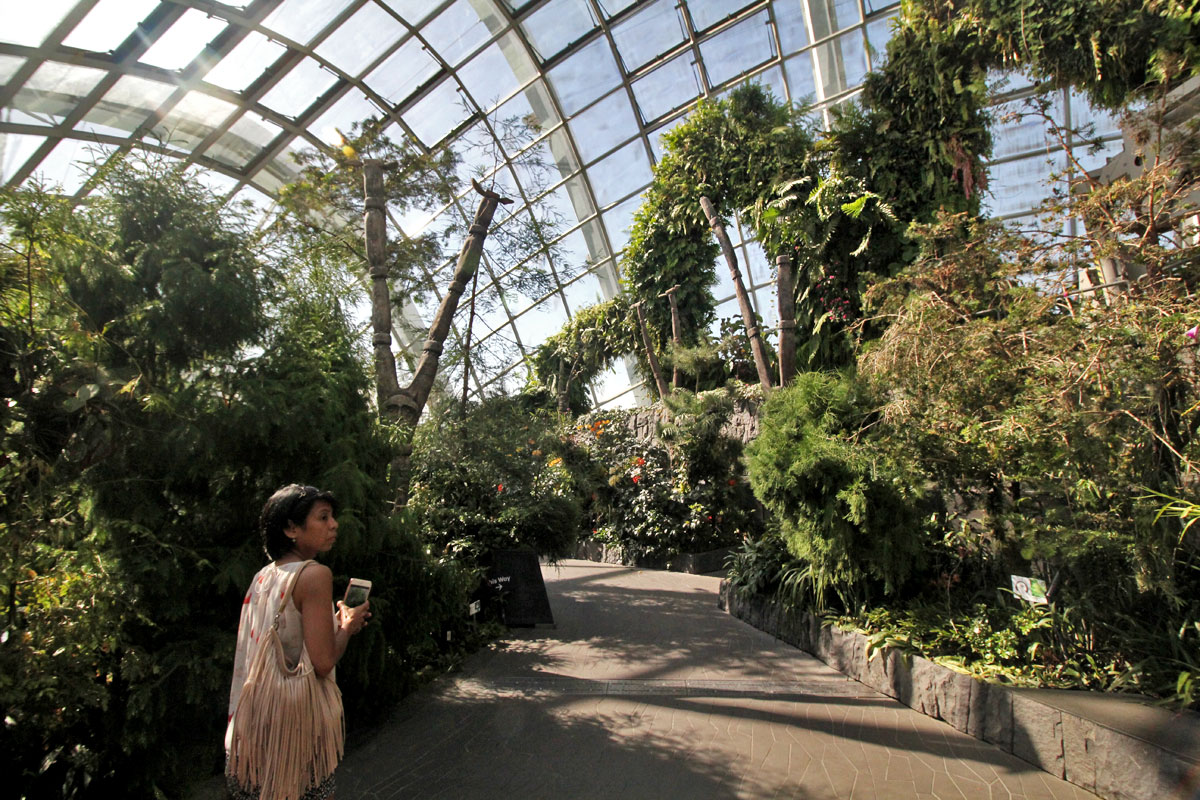 The Lost World exhibit features cloud forest vegetation typically found around 2,000 meters above sea level. Isn't it gorgeous? Dreamlike in feel, I felt like I had walked into Willy Wonka's Chocolate Factory, except I couldn't eat anything.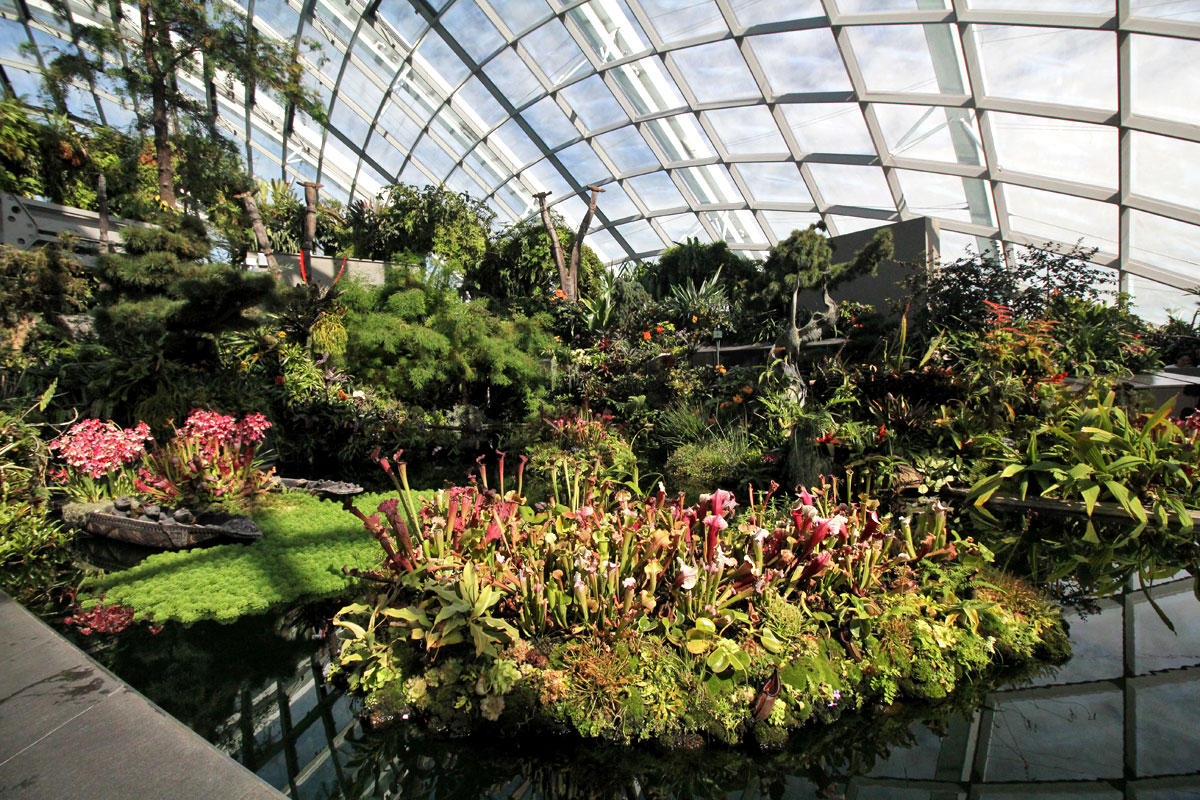 Now on to the Cloud Walk!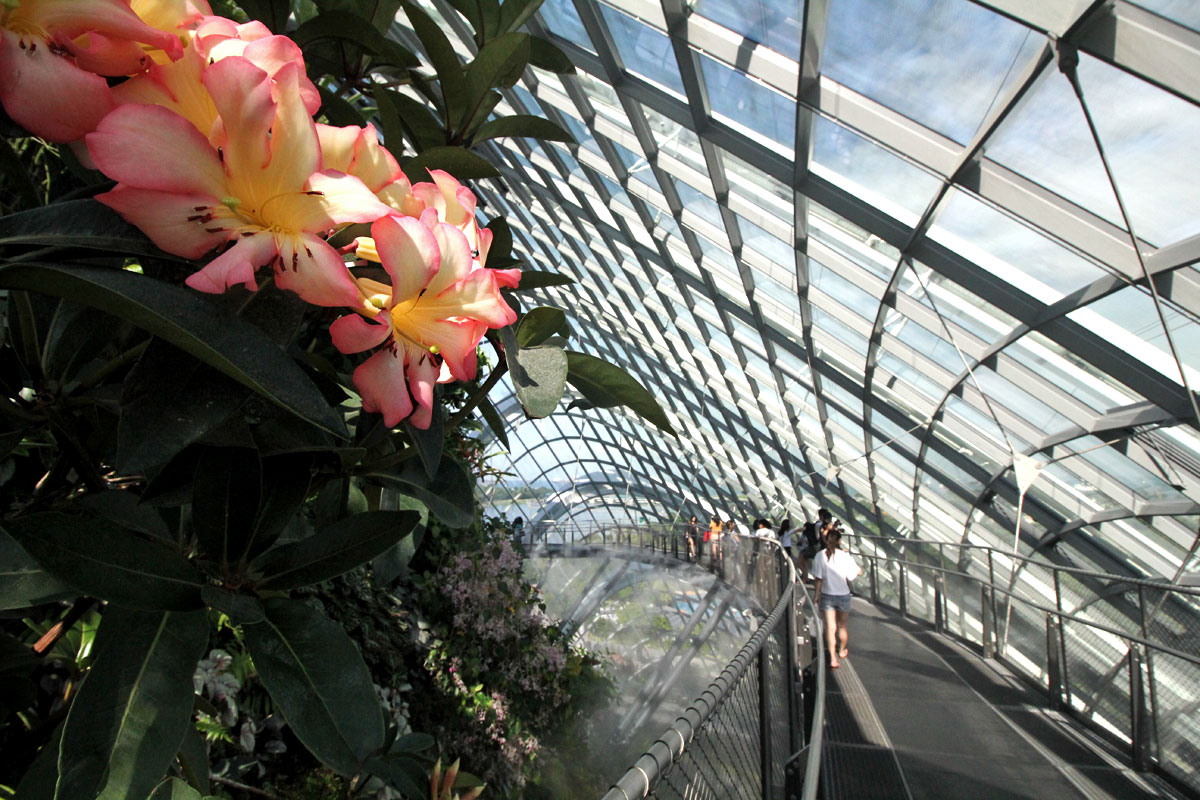 I know, pretty amazing right? The views from up here were stunning. They do mistings every two hours so it does feel like you're taking a walk through the clouds.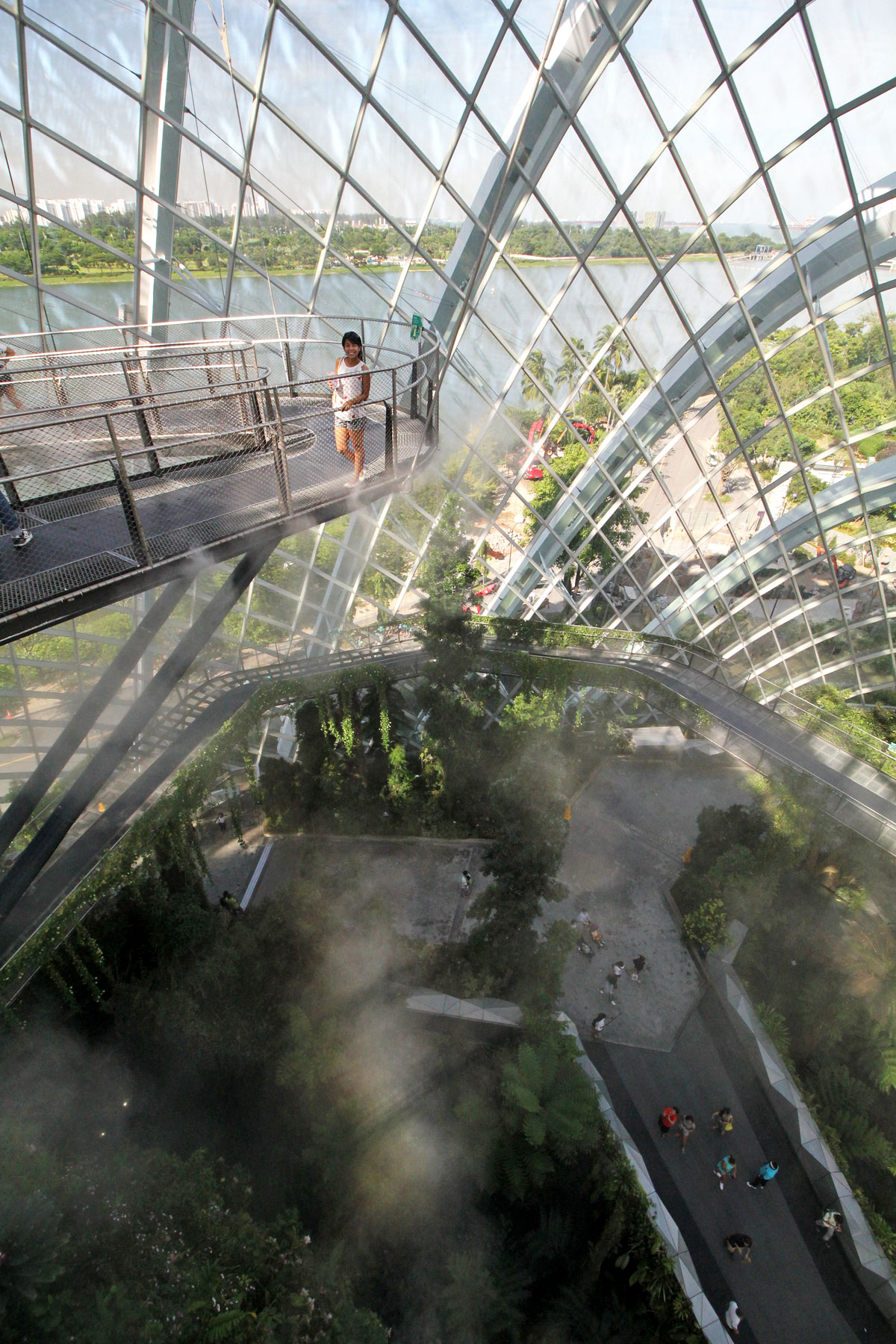 The plants blanketing the mountain were gorgeous.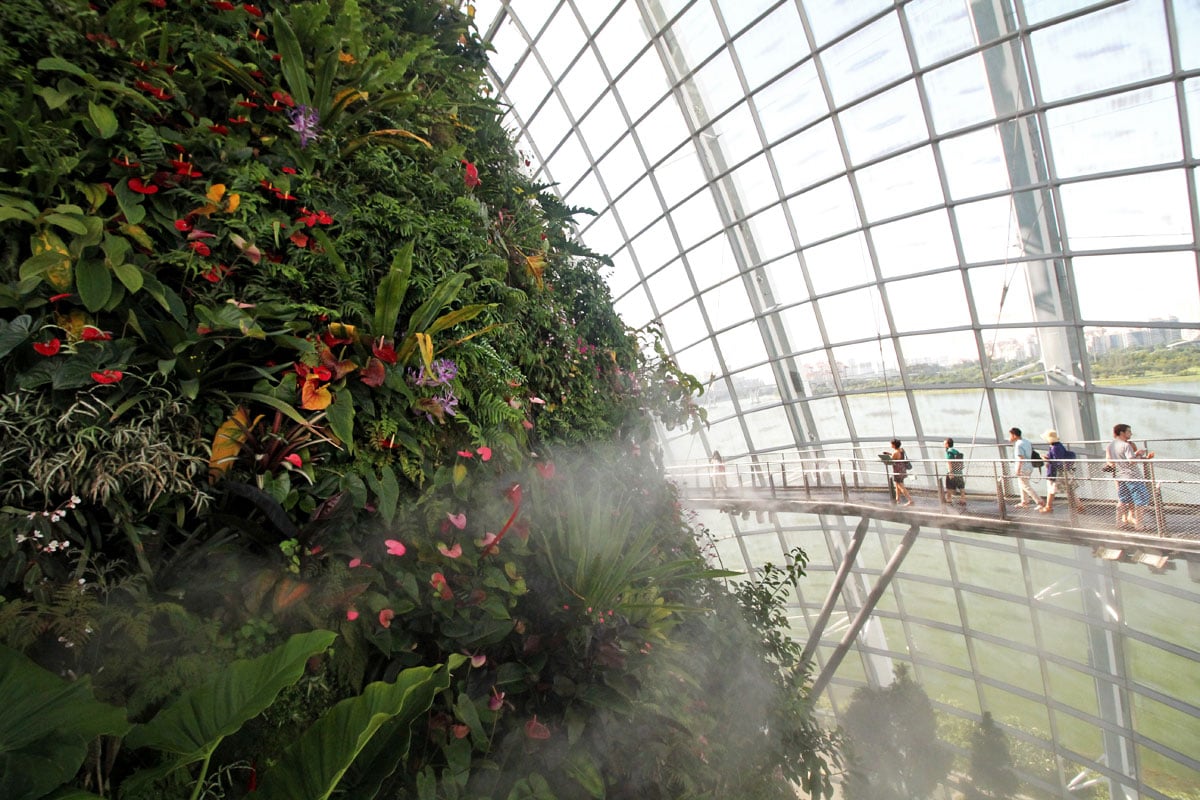 The Cloud Walk platform wraps around the mountain.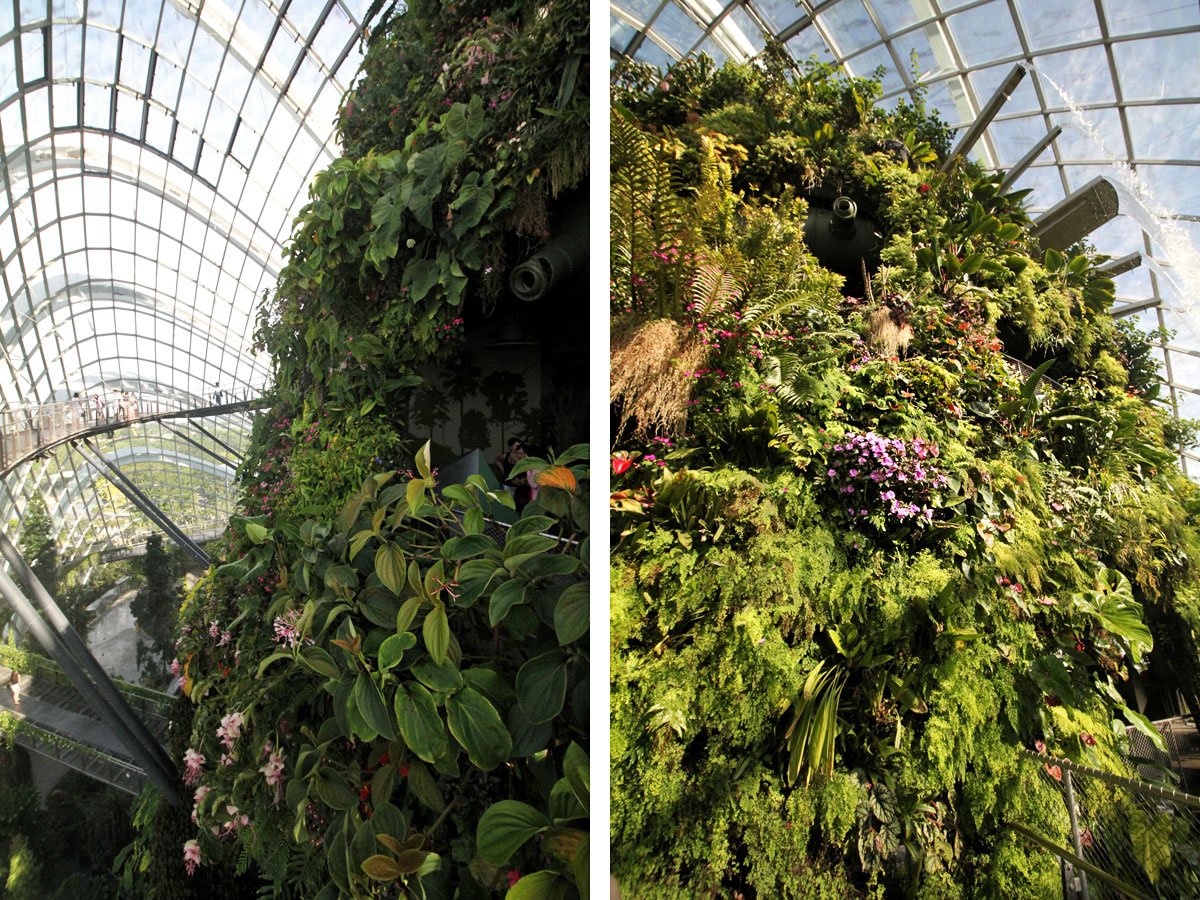 Remember the platform next to the waterfall at the top of this post? This picture was taken from there.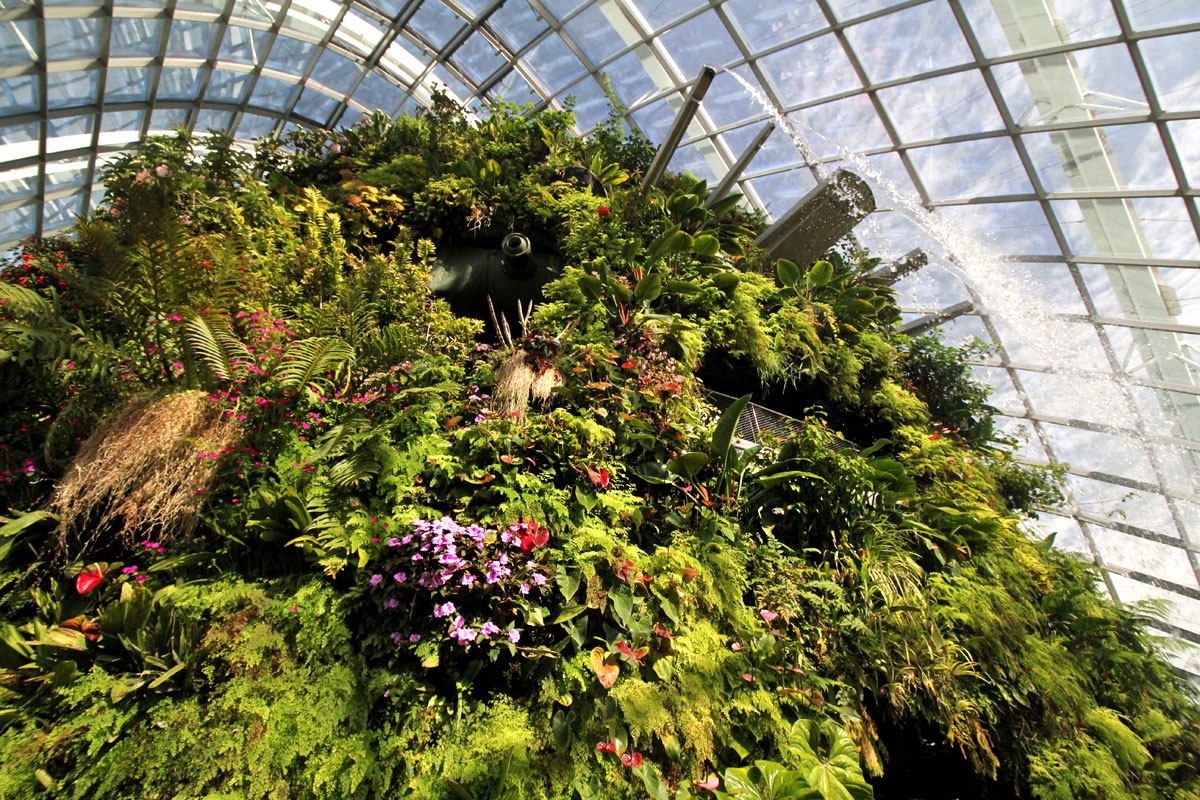 If you're afraid of heights, then it's probably best not to look down.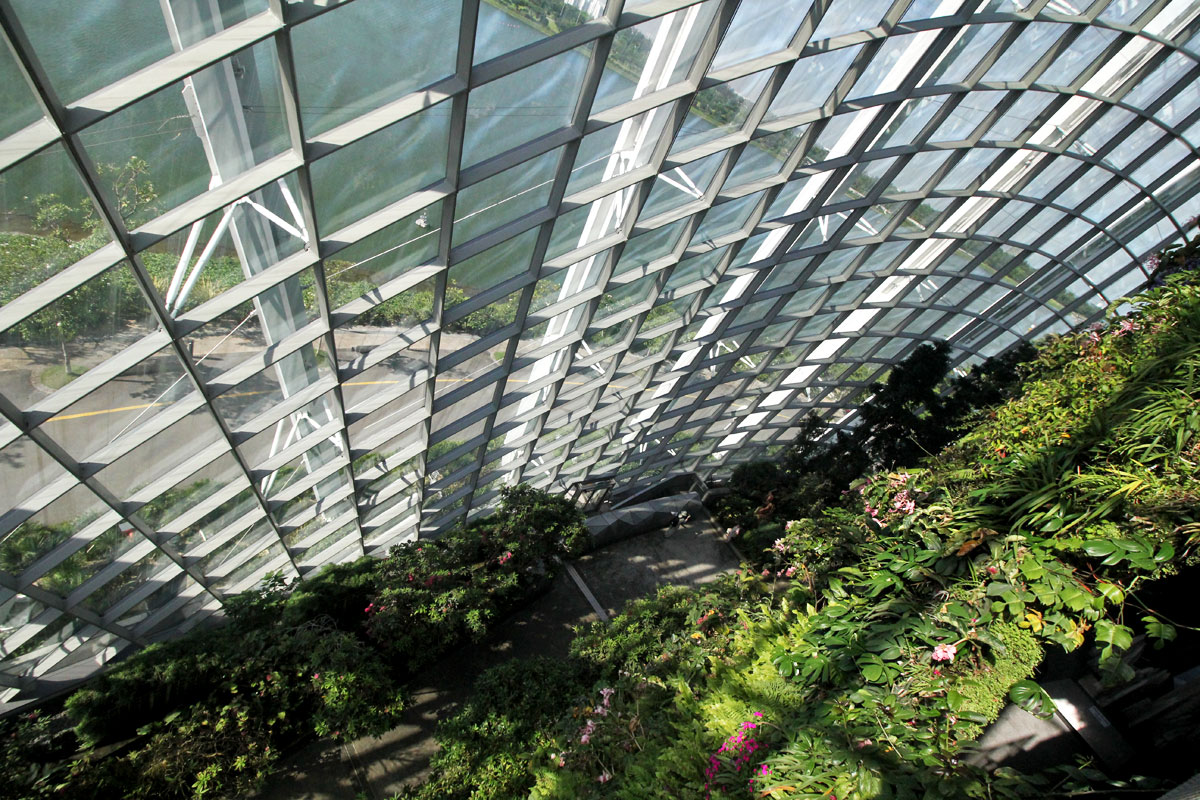 Once you make your way around the Cloud Walk, you'll take an escalator down to the next level. Inside the mountain are exhibit halls.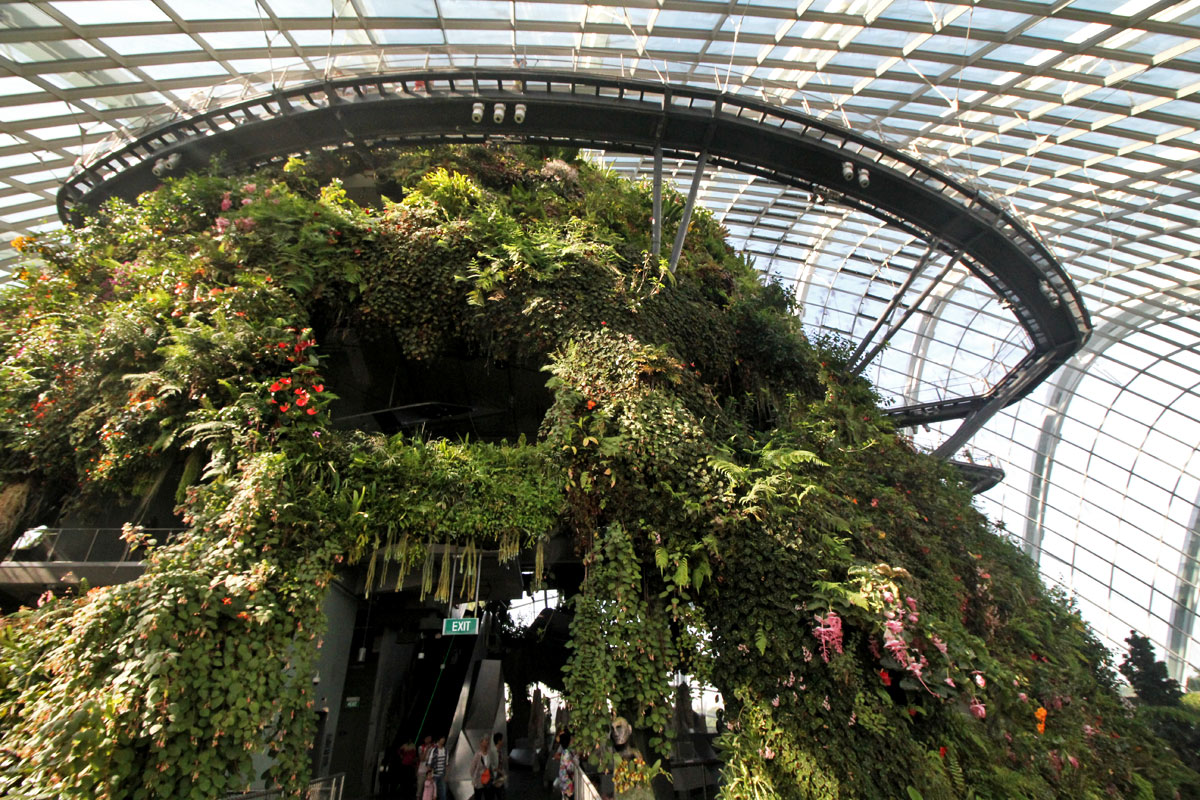 Making our way through the Tree Top Walk which is longer than the Cloud Walk.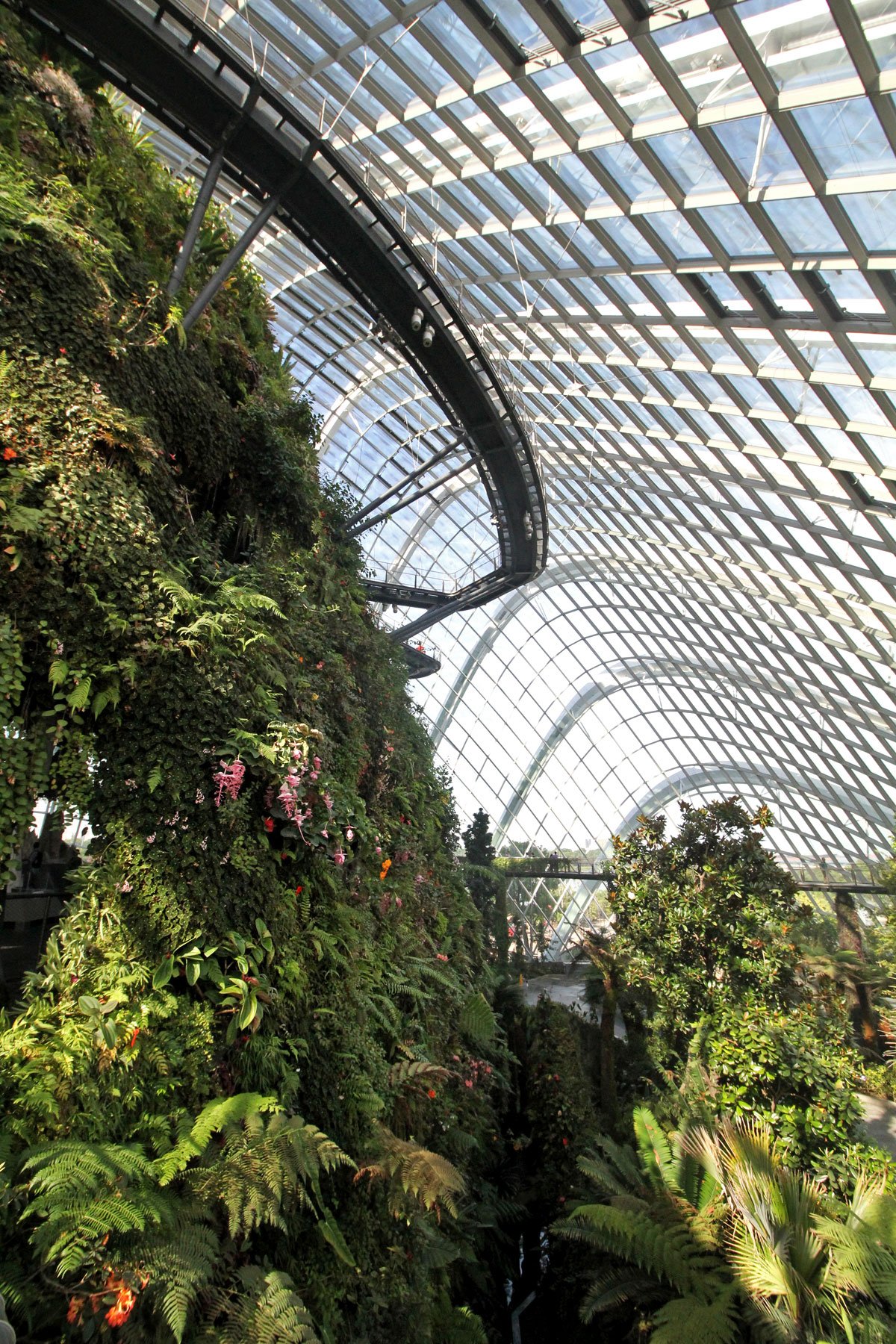 As spectacular as this was, I couldn't help but wonder if this were a glimpse into a bleak future. With the effects of climate change and habitat destruction looming, is this how future generations will be enjoying nature? In artificial biodomes? 🙁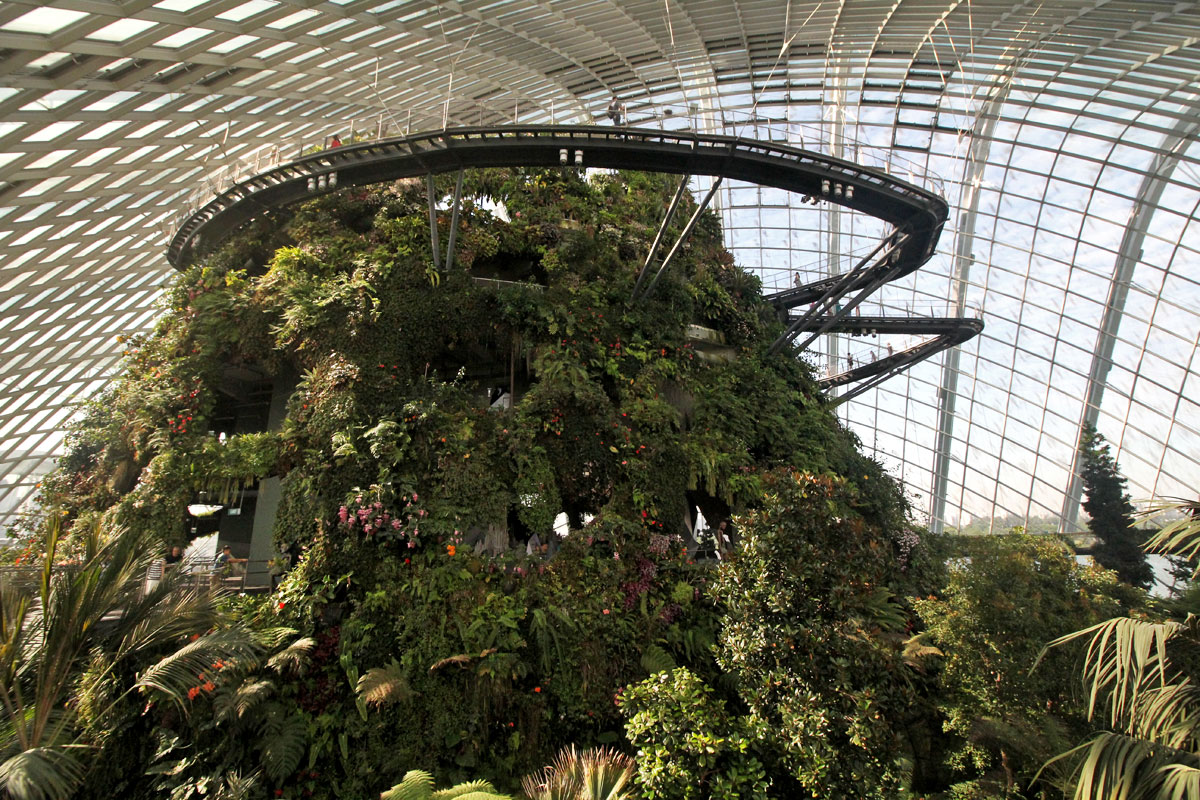 Once you make your way through the Tree Top Walk, you'll go down to a subterranean level containing more exhibits and a short interactive film detailing the effects of climate change. You'll then find yourself at the very last section known as the Secret Garden.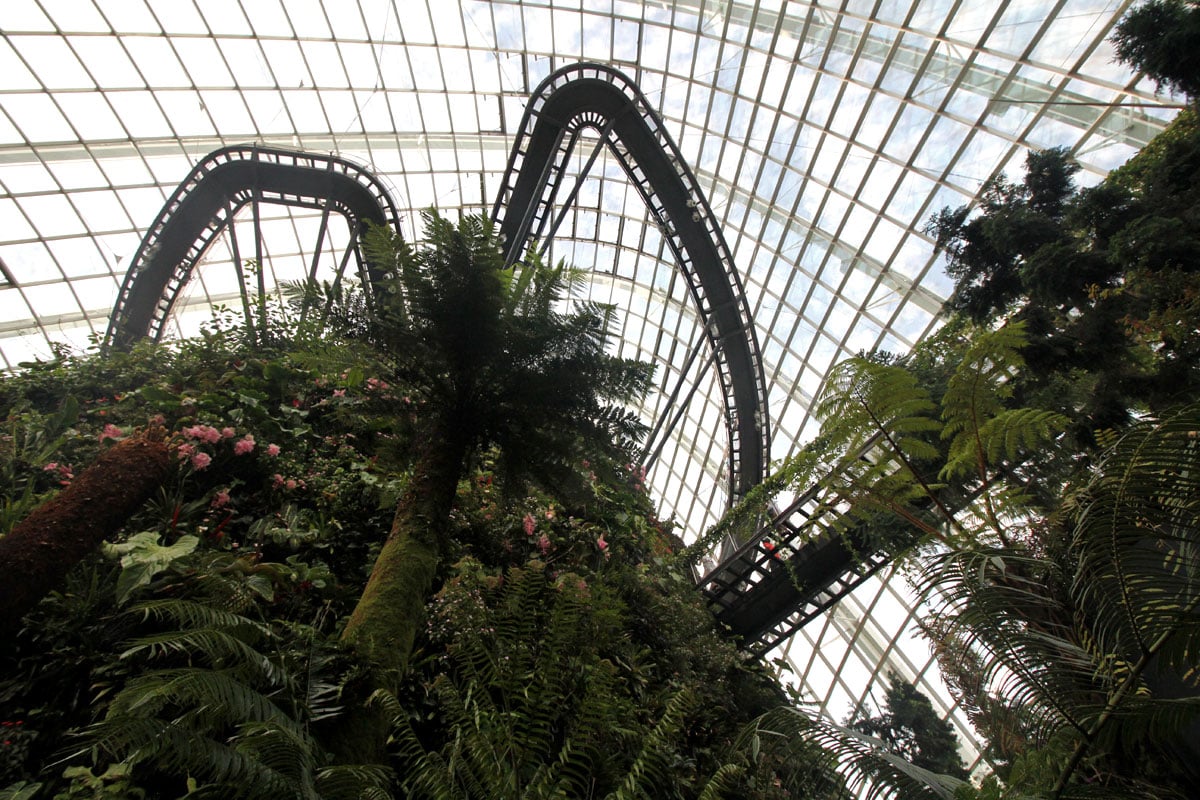 The Secret garden is home to rare species of plants. It was pretty cool to look up at the mountain and Cloud Walk from down here.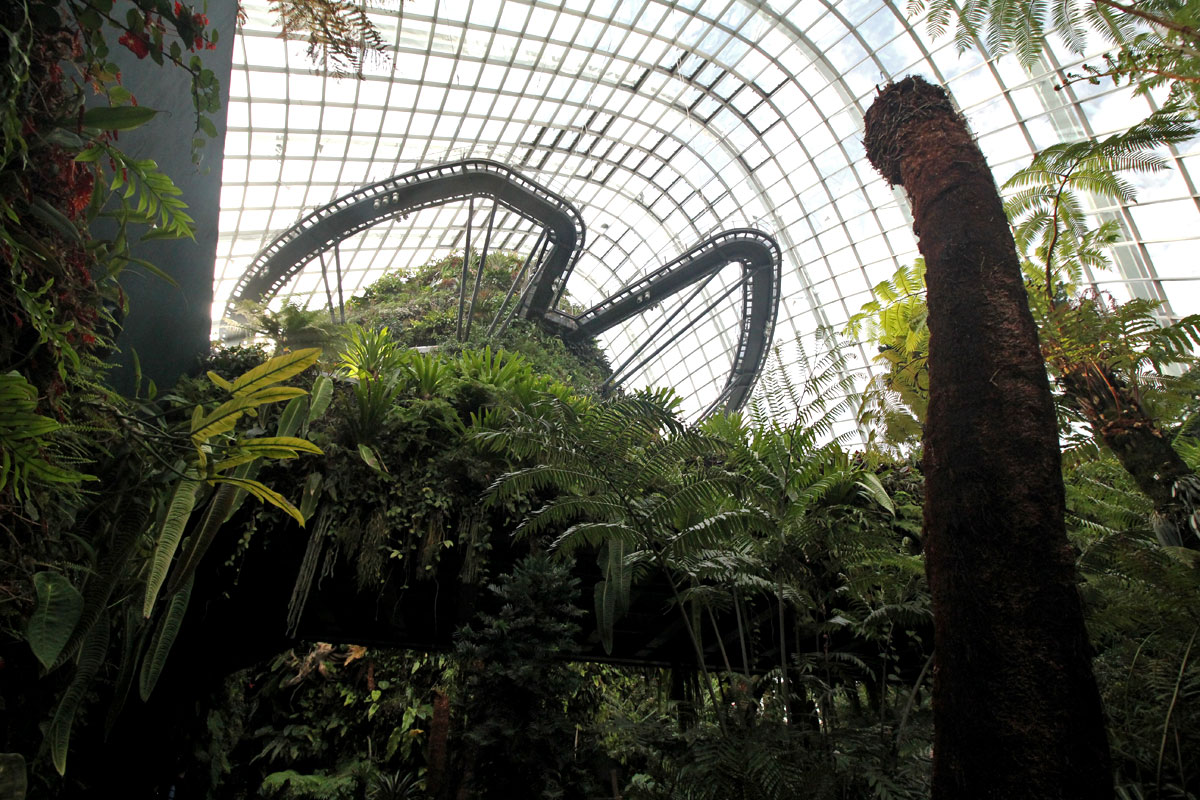 Think that's just an ordinary piece of driftwood?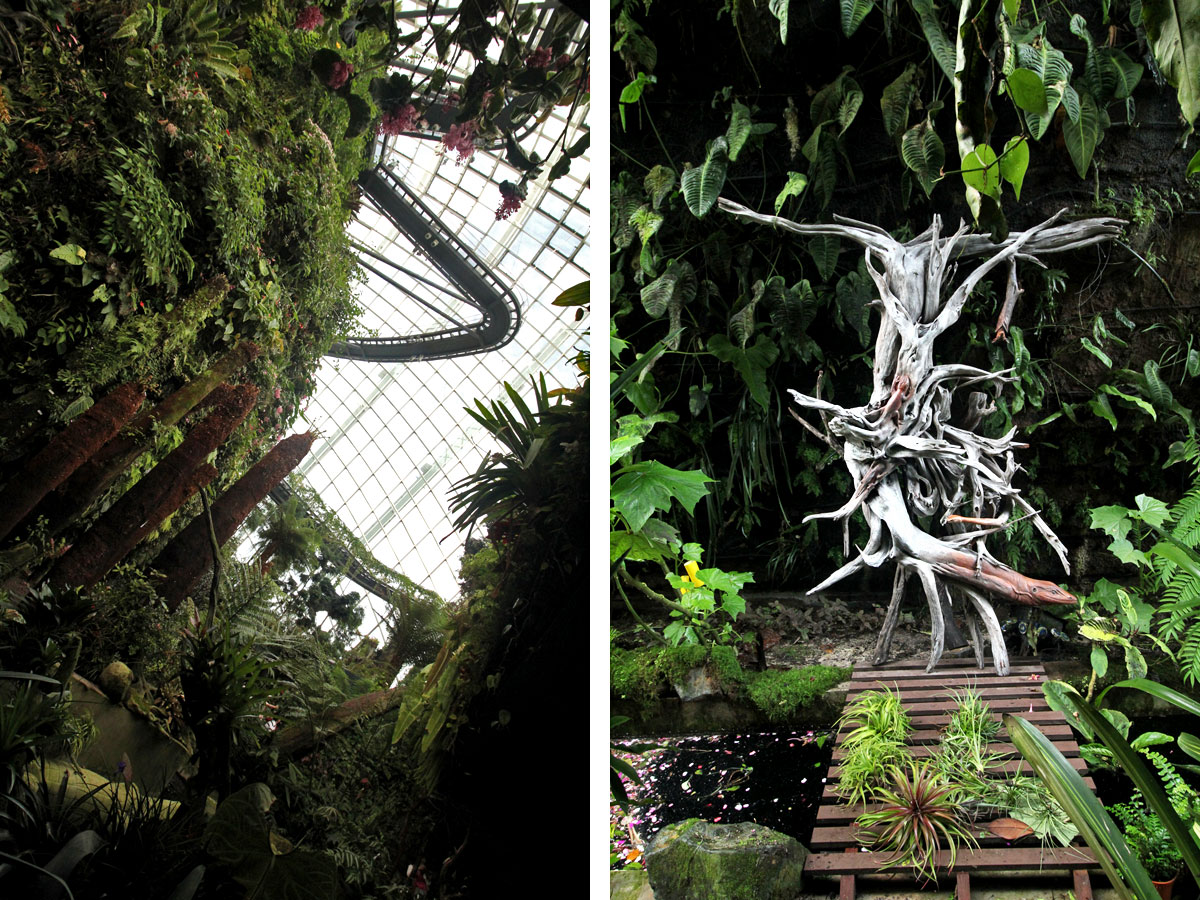 Look more closely. You'll find different animals carved into the wood. The attention to detail here, and pretty much at every other attraction in Singapore, is remarkable.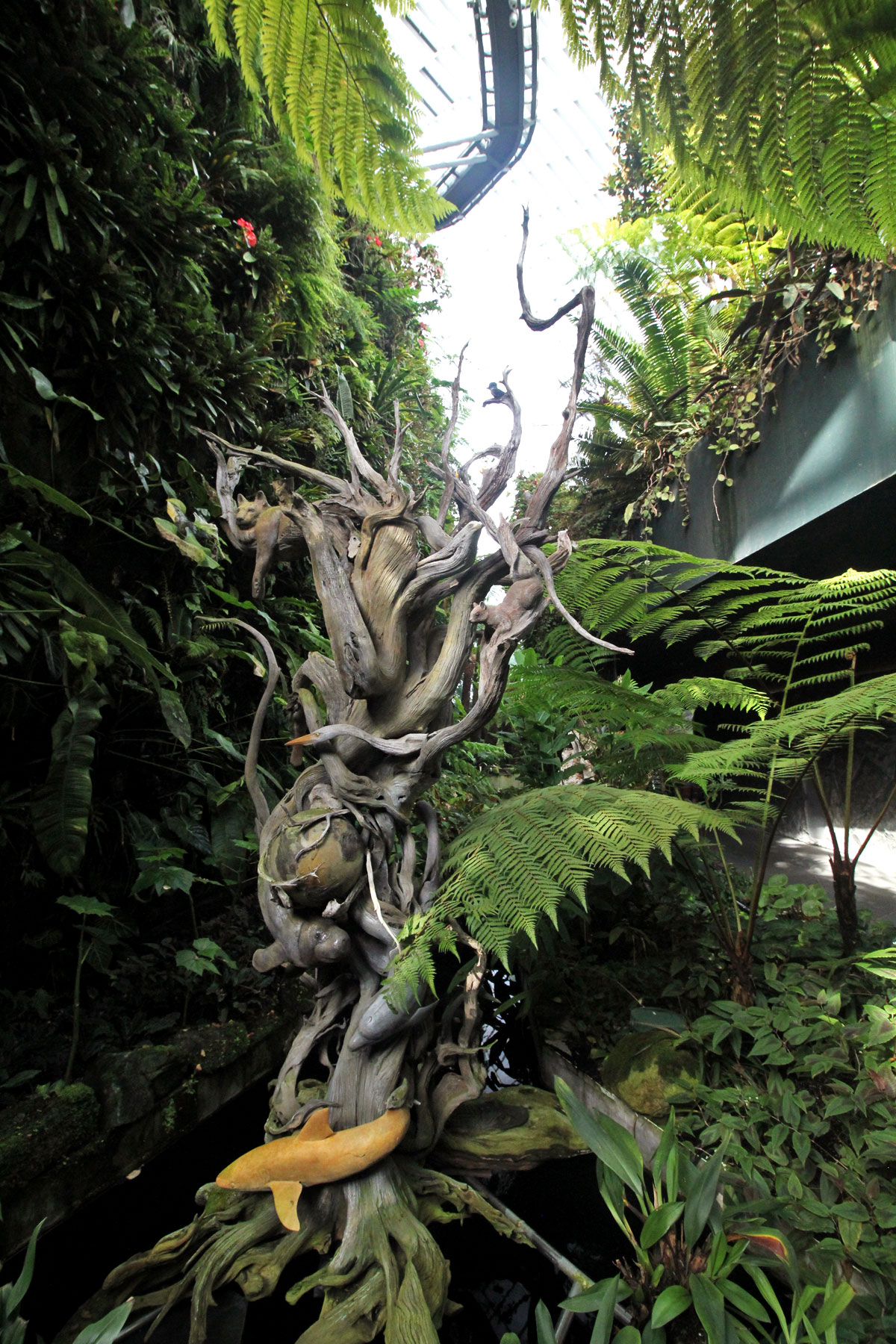 Gardens by the Bay is the top overall attraction in Singapore according to TripAdvisor users. Considering Singapore's wealth of world class attractions, that's really saying a lot. We loved everything at Gardens by the Bay but this Cloud Forest conservatory was our hands down favorite. We had never seen anything like it and I doubt you'll find many places like this in the world. It has a magical combination of natural and man-made that's got an "Avatar meets Willy Wonka" type feel to it.
I'm a nature guy so I'm usually drawn to natural attractions like the moonscape of Cappadocia or the Himalayan mountain range. This Cloud Forest is right up there though with anything I've ever seen. It's extraordinary.
Combined admission to both the Cloud Forest and Flower Dome conservatories is SGD 30 for adults and SGD 18 for kids. As far as I can tell, they don't offer individual tickets to each unless one is closed for maintenance. You can get a discount on admission by purchasing your tickets from Klook. Follow the link to buy tickets to the Cloud Forest and Flower Dome conservatories from Klook. Before you go, be sure to check this page for Gardens by the Bay closure dates. As described, they close each conservatory for maintenance about once a month so plan accordingly.
Cloud Forest Conservatory, Gardens by the Bay, Singapore
18 Marina Gardens Drive, Singapore
Tel: +65 6420 6848
Website: gardensbythebay.com.sg
Facebook: gardensbythebay
Twitter: GardensbytheBay
Instagram: gardensbythebay
YouTube: gardensbythebay
Flickr: gardensbythebay
Email: [email protected]
Operating Hours: 9AM-9PM daily
ADMISSION: (Cloud Forest & Flower Garden)
Adult — SGD 30
Children (ages 3-12) — SGD 18
HOW TO GET THERE:
Take the MRT to Bayfront station. Take Exit B and follow the underground linkway. Exit and cross the Dragonfly Bridge or Meadow Bridge into Gardens by the Bay.
For more Singapore travel tips, check out our First-Timer's Travel Guide to Singapore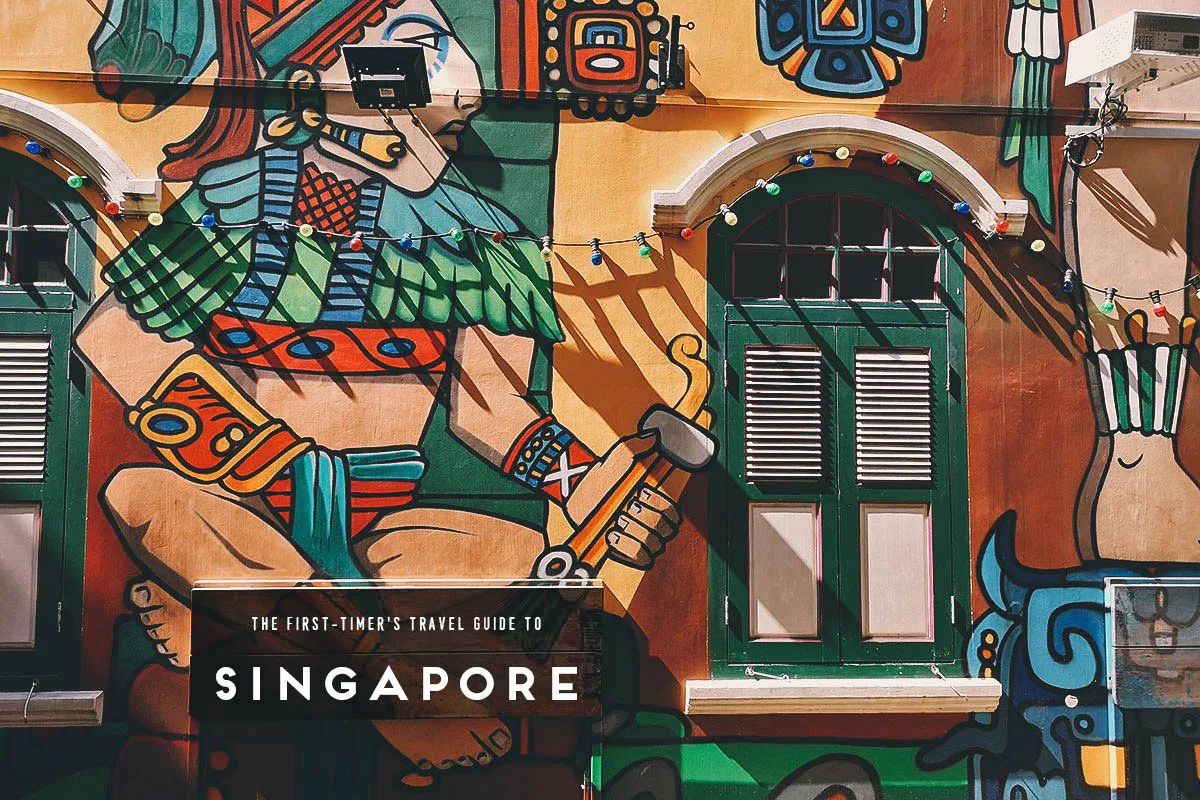 Disclosure
Some of the links in this post are affiliate links, meaning we'll get a small commission if you make a purchase or reservation at NO extra cost to you. We really appreciate your support as this helps us keep this website going. Thank you!